Point Hacks reader swena23 posted this on the Questions & Answers section of our website:
My family and I are flying Etihad from Sydney to Paris then London to Sydney with two adult fares and one infant in First and three adult fares (our children) in Business. One adult in First has Velocity Gold and the rest are Red (base) members.
Currently, all of the family is pooled together, with the Gold member as the beneficiary. We have paid cash for the tickets.
Are we better off crediting to Velocity for the flight or for everyone to sign up to Etihad Guest?
A great choice of airline and aircraft
Firstly, let's take a look at the amazing products this family will be flying all four segments on the Airbus A380.
Those at the pointy end will be flying First Apartments, which are fully-enclosed suites with a separate seat and bed and an onboard shower: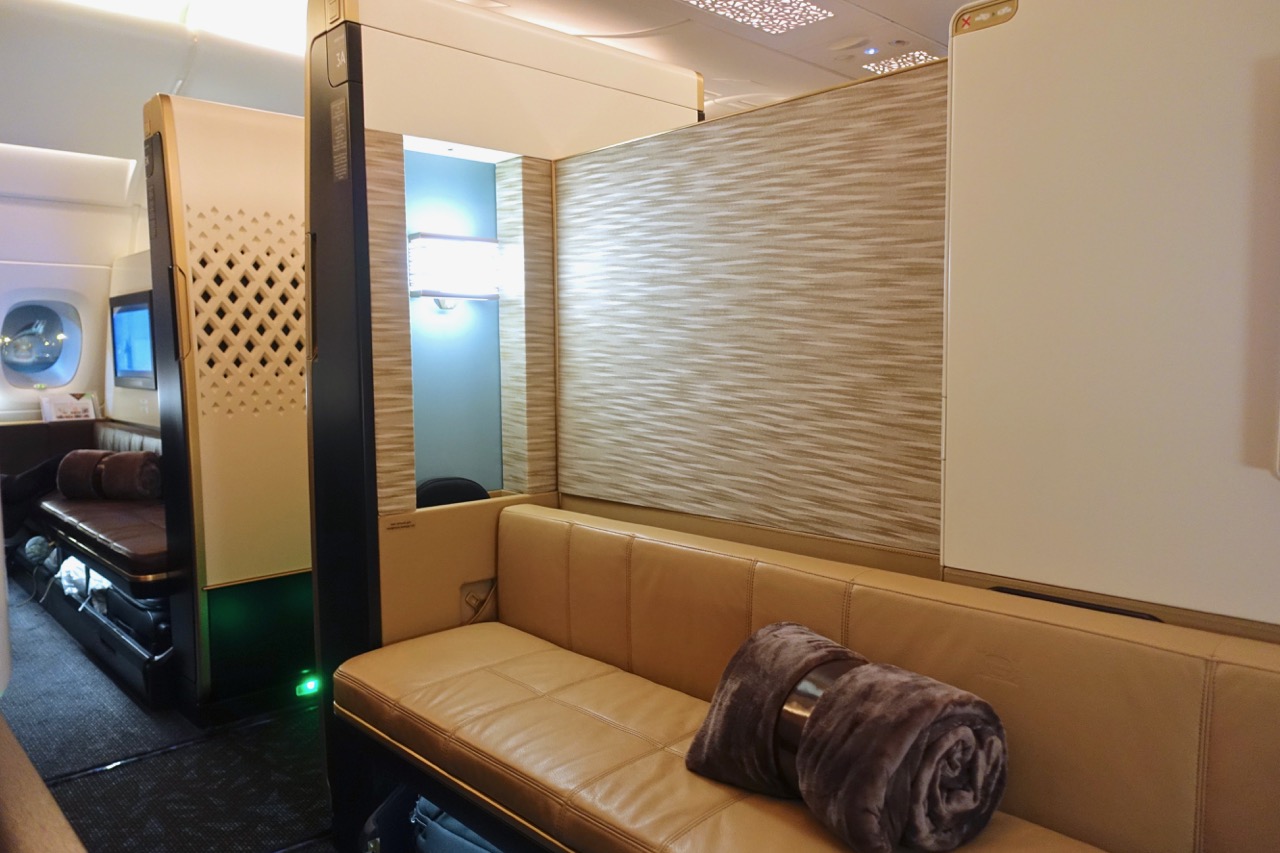 The elegant Etihad A380 First Apartment
whilst those in Business Class will still enjoy a lie-flat seat as part of the Business Studios product.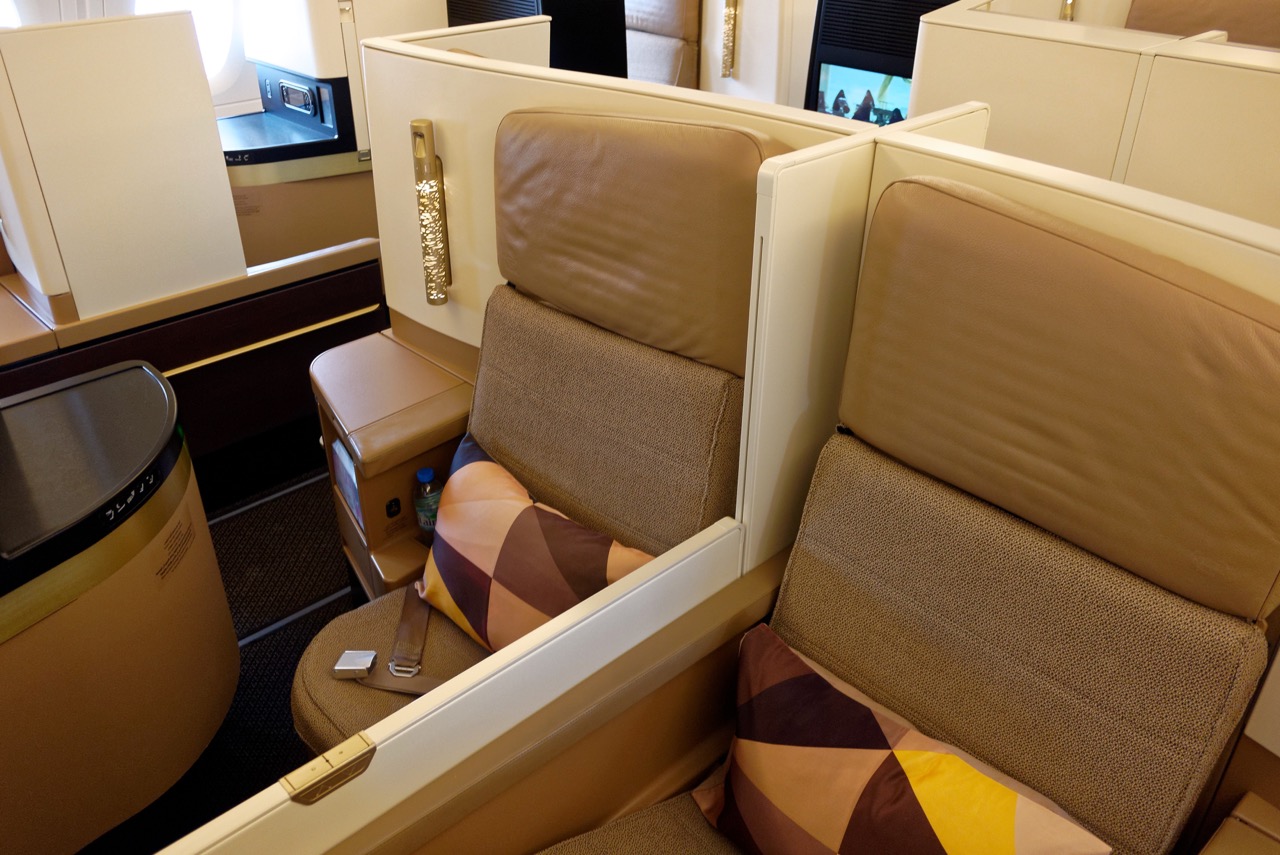 The world-class Etihad A380 Business Studios offering
All passengers will enjoy Etihad lounge access at all airports.
The best way to book these flights with points
For those without the means to pay cash for these tickets, the three main points currencies Australia-based travellers can use are:
Etihad Guest miles
AAdvantage miles
Ad – Scroll down to continue reading.Minimum spend, terms & conditions apply.
The best way to book these flights with cash
For those wishing to fork out cash for the flights, as the reader did, I did a dummy search for these flights for the family of six and the total price started at ~$50,000.
If the purchaser clicked through the Cashrewards website when making a purchase through the Etihad website, they would earn 1.6% cashback, or $800, whilst if they booked the flights as codeshares through the Virgin Australia website using the Cashrewards link, then they would earn 1% cashback, or $500.
Earning points
Now onto the actual question: should they credit to Velocity or Etihad Guest? The determining factors are:
the fare class (found on the e-ticket)
whether the flights are booked on an Etihad (EY) flight number or a Velocity (VA) codeshare
the status the traveller/s hold/s
We know that the reader has Velocity Gold status themselves but it seems they do not have status with Etihad Guest. Let's assume that the passengers in First Class are travelling in A fare class and those in Business in D fare class. Let's also assume that they have booked under an EY flight number.
Here is a comparison of the total earnings:
| Passenger | Velocity | Etihad Guest |
| --- | --- | --- |
| First Class (Velocity Gold) | 75,890 | 54,181 |
| First Class (Velocity Red) | 54,180 | 54,181 |
| Business Class | 37,926 | 37,926 |
| Business Class | 37,926 | 37,926 |
| Business Class | 37,926 | 37,926 |
| New Etihad Guest member bonus | - | 5x 500 |
| Total | 243,848 Velocity Points | 224,640 Etihad Guest miles |
So the earn rates are almost identical save the Velocity Points bonus for the Velocity Gold member and the bonuses for new Etihad Guest members.
A couple of notes:
Given we value Velocity Points higher than Etihad Guest miles, the points earn for the whole family is worth a cool $4,877 in Velocity Points or $3,594 in Etihad Guest miles.
Earning Status Credits
This is where the clear winner emerges.
Velocity
With these premium cabin tickets, each passenger will earn a huge 560 Status Credits with Velocity, for a total of 2,800 Status Credits for the entire family's trip! Remember, family pooling with Velocity includes Status Credits as well as points.
Given that Platinum status is bestowed upon an individual when they reach 1,000 Status Credits, the reader could keep themselves as the beneficiary for the trip over to Europe, earning them Platinum status; then they could switch the beneficiary to their partner before they depart Paris, thereby allowing the partner to earn Platinum status too! (Status Credits earn is based on who the beneficiary is listed as when the flight is taken).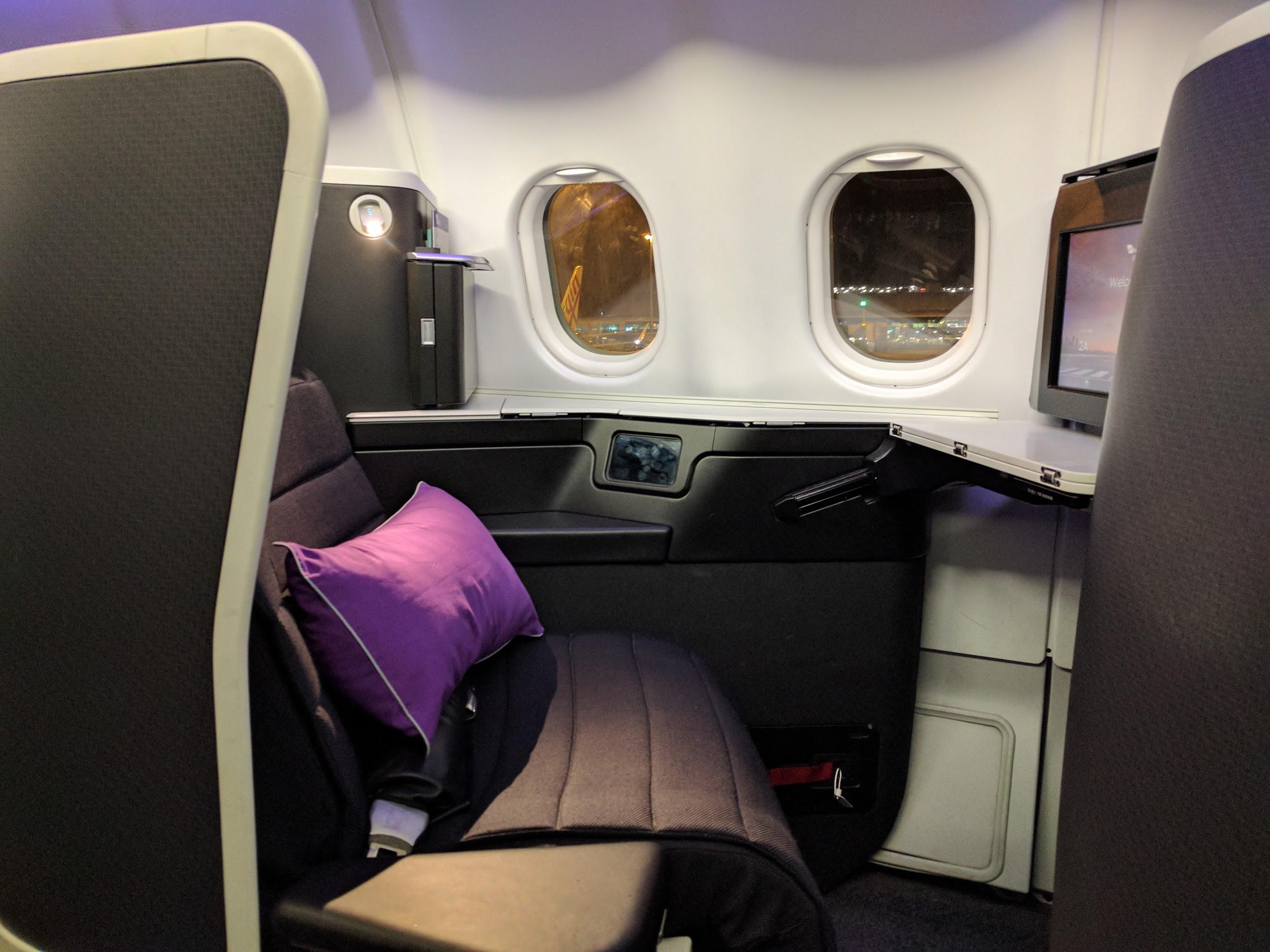 One of the benefits of Platinum status is the ability to use points to upgrade Economy Freedom fares to Business Class on flights to Los Angeles
However, there is the issue of 'eligible sectors'. You need fly four of those to reach Gold and eight for Platinum. Eligible sectors are defined as individual segments flown on a VA flight number, so if these Etihad flights were booked as codeshares, there would be no problem.
But if they were not, then the reader would need to make sure that they (and potentially their partner) meet that requirement either before or after their Europe trip.
Etihad Guest
Etihad Guest, on the other hand, does not allow for family pooling of Tier Miles (their version of Status Credits). As far as I can tell, Etihad Guest Tier Miles are earned at 1 Tier Mile per mile flown in Economy Class, boosted to 1.5 for Business and 2 for First Class.
So the First Class passengers would earn 43,344 Tier Miles each and the Business Class passengers 32,508 Tier Miles each. That would get each of them Etihad Guest Silver status, which does not even get them any valuable lounge access or priority boarding privileges (Gold status requires 50,000 Tier Miles).
Summing up
Question: Should I credit my Etihad First and Business Class flights to Velocity or Etihad, given I am a Velocity Gold member and have family pooling?
Answer: You should definitely credit your flights to Velocity in this case, as you will earn more points in total and those Velocity Points are more valuable than Etihad Guest miles.
From a status point-of-view, you could upgrade from Gold to Platinum status and your partner may be able to get Platinum status too!
Enjoy your flights to and from Europe and also the status benefits and redemption options that will continue well after your trip has finished! Remember you can transfer Velocity Points to KrisFlyer too.
And now that you will have earned those points, here are some ideas on how to get the best value from them.
---
Do you have a travel-related question?
Search the Point Hacks website using the Looking For Something? box (located to the right-hand side of any post) to see if we have already answered your question in a post.
You can post your question in the Questions & Answers section of our website and someone from the Point Hacks community, whether another reader or one of our team members, will hopefully be able to help you out.
Reader question: should I credit my Etihad flights to Velocity or Etihad Guest?
was last modified:
November 16th, 2021
by