Bad news from Qantas – changing an award flight booked using Qantas Points will soon cost you an extra 1500 points, and cancellation 1000 points more under new rules to come into effect from 15 December 2016.
The new conditions were added to their updated terms and conditions on the Qantas website earlier this week, and show that until 14 December 2016 it will cost you 3500 points to change a ticket, but that will jump to 5000 points from the next day and into the new year.
Cancelling a ticket will jump to 6000 points from the previous 5000 points.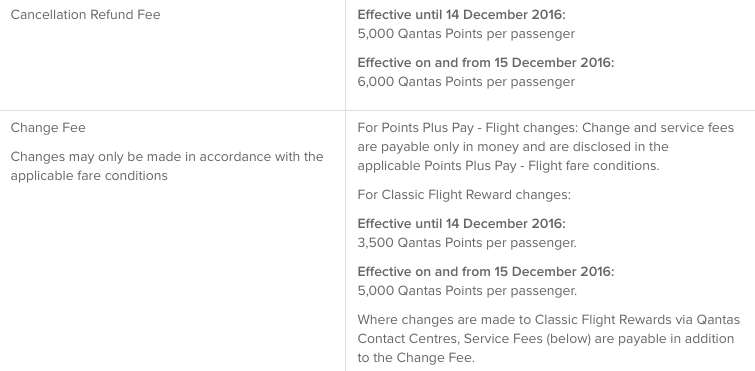 Comparing with Velocity, there is no difference in changing or cancelling an award flight: 4500 points or $35 for a domestic flight (500-1500 points less than Qantas), or 7500 points or $60 for international (1500-2500 points more than Qantas).
We have updated our full comparison of award flight/points redemption cancellation policies guide to reflect Qantas' changes.
Ad – Scroll down to continue reading.Minimum spend, terms & conditions apply.
Our take on the changes
Bigger picture – I much prefer Velocity's policy of allowing cancellation in cash, rather only in points. The extra flexibility in whether you use points or cash allows you to decide based on how many points you have in your account, what you're planning on using them for, and how you value them.
Qantas' policy of only allowing cancellation fees for award tickets to be paid using points is a fast way to have your points balance reduced if you need to make multiple changes to a reservation – and the fact there's no way around this is galling.
It's also really inconvenient in the scenario where someone has saved up a points balance that's just large enough to make a specific redemption, but then for some reason they need to cancel and rebook another itinerary at a similar price. They are then short of the necessary points to make this booking. It's all a bit frustrating.
As for these changes, to my knowledge, no reason has been given for the price increase, so we just have to assume it's because Qantas feel like it – and want more points off their books by using up their member's points balances more aggressively.
Has there been an increase in the cost of processing changes or cancellations? Probably not, and we don't know the justification for the change.
One outcome is that the incentive to make a tentative booking that you then change or cancel later will reduce slightly, given the higher cost penalty of doing so. I think this is especially true of itinerary changes now costing 5,000 Qantas Points instead of 3,500 Qantas Points, which is a bigger number to swallow.
This is especially true if making a change on the lowest Qantas Point redemptions – for example, with just 8,000 points for a one way short domestic Economy flight, making a simple time change could have you spending 5,000 points, or losing 6,000 points for cancellation – 75% of the value of the points used to make the booking in the first place.
What to remember
If you have any existing reservations that you suspect may need changes or cancellations, set yourself a reminder to look at these in early December in case you can make the changes and avoid the increased fees that come in on the 15th
From 15th December, remember that cancellation and change fees are higher, which may sway your decision making on whether you make a tentative reservation or not given you'll be incurring a larger fee if you have to cancel or change.
Qantas increases award flight change and cancellation fees from December
was last modified:
November 14th, 2018
by