Photo tour: onboard Virgin Australia's new Boeing 737 MAX 8
Here's a peek inside the plane that'll serve the airline's Tokyo flights from later this month.
Posted:
July 8, 2023 - 3:24 pm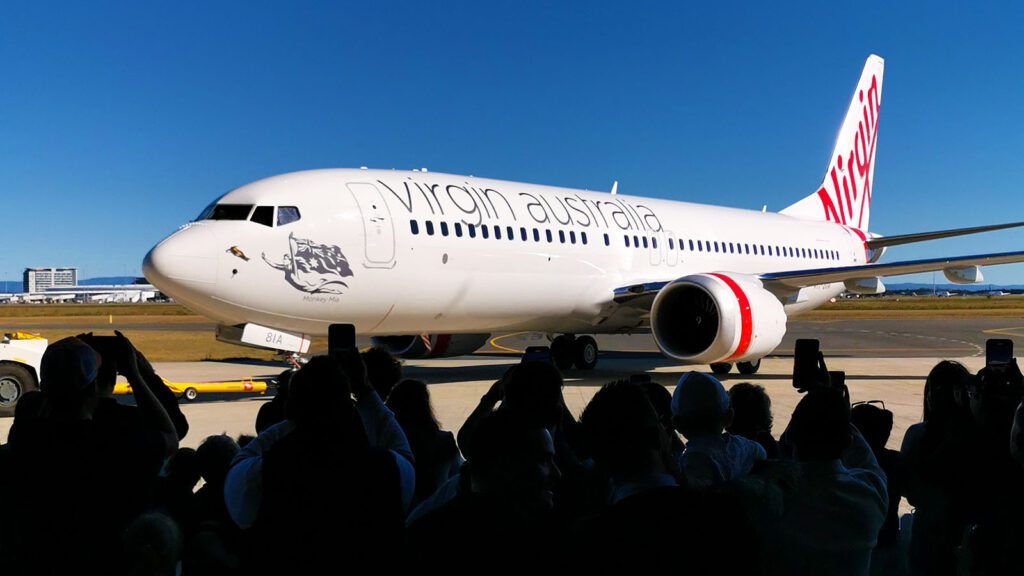 What we'll be covering
Virgin Australia's first Boeing 737 MAX 8 jet is now officially part of the airline's fleet. It'll soon begin serving on Virgin's domestic and international flights – including Cairns to Tokyo, from 30 July. But before its inaugural passenger flight, I ventured out to the Virgin Australia hangar at Brisbane Airport for a sneak peek inside.
One big improvement for every passenger is USB power at every seat. After all, the airline relies on travellers to view entertainment via their own devices, so it's a smart move. Larger overhead lockers also provide up to 50% more space than those of Virgin Australia's current Boeing 737s.
This jet – registration VH-8IA – is the first of eight MAX 8s on order by Virgin Australia. The airline aims to have seven of those by Q1 2024. And from late 2024 onwards, a further 25 Boeing 737 MAX 10 jets will begin joining the fleet as well.
This Boeing 737-8 is the first into the fleet. We're not yet planning the 737-10's network, but the 737-8 coming into the network gives just a bit more reach. Cairns-Haneda is the first step in that process. We're really excited about it.

– Jayne Hrdlicka, Virgin Australia Group CEO, 8 July 2023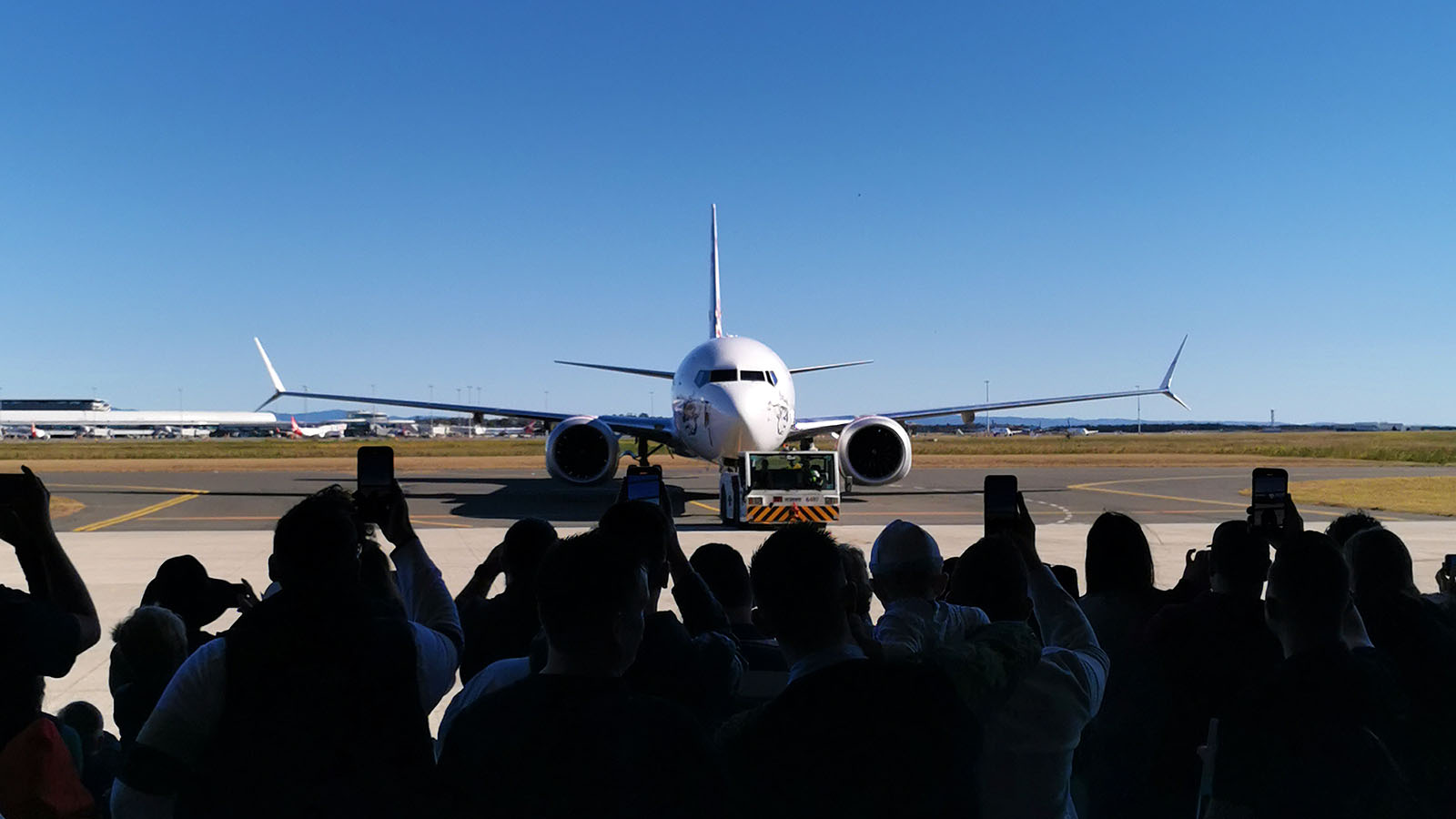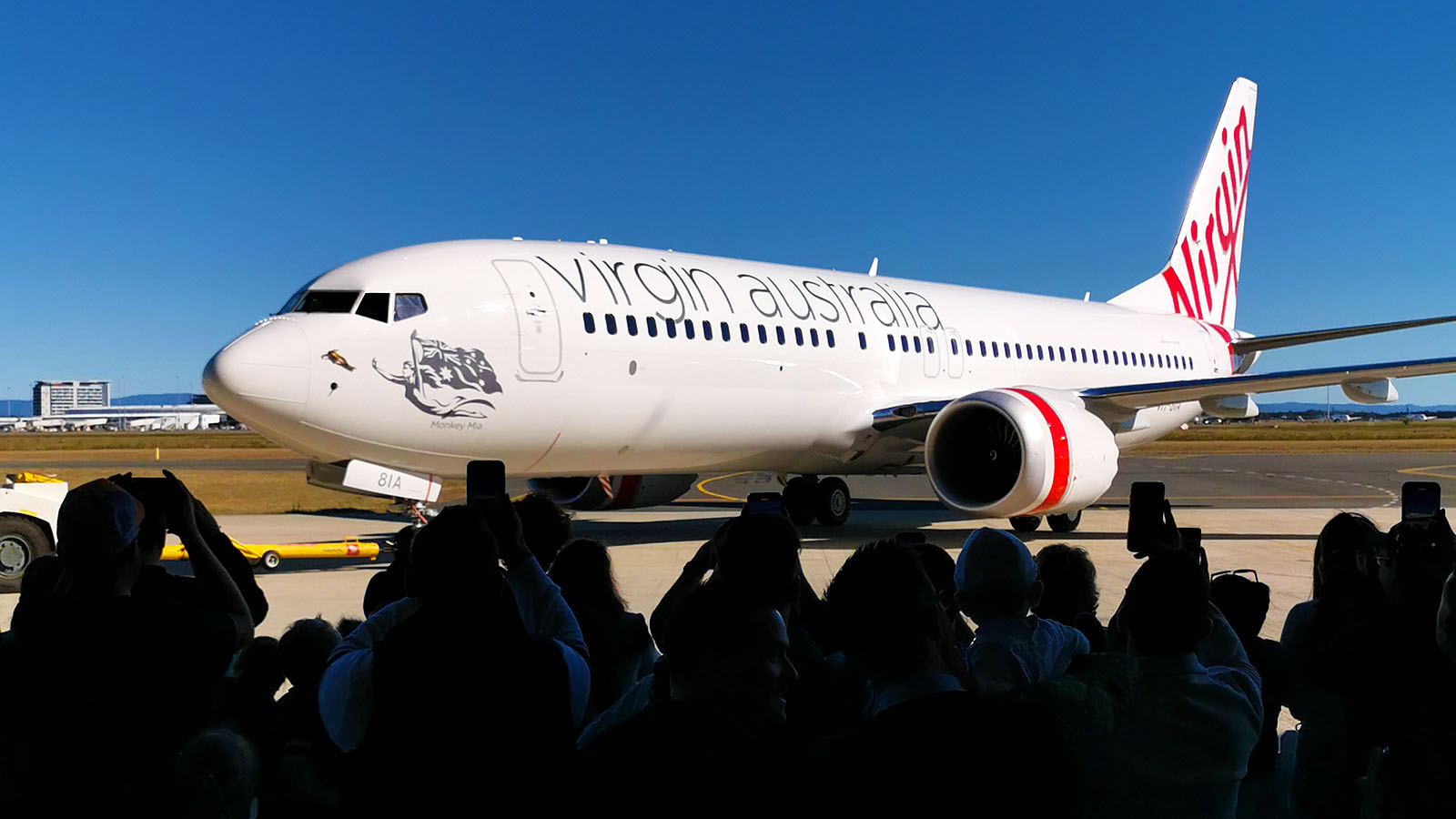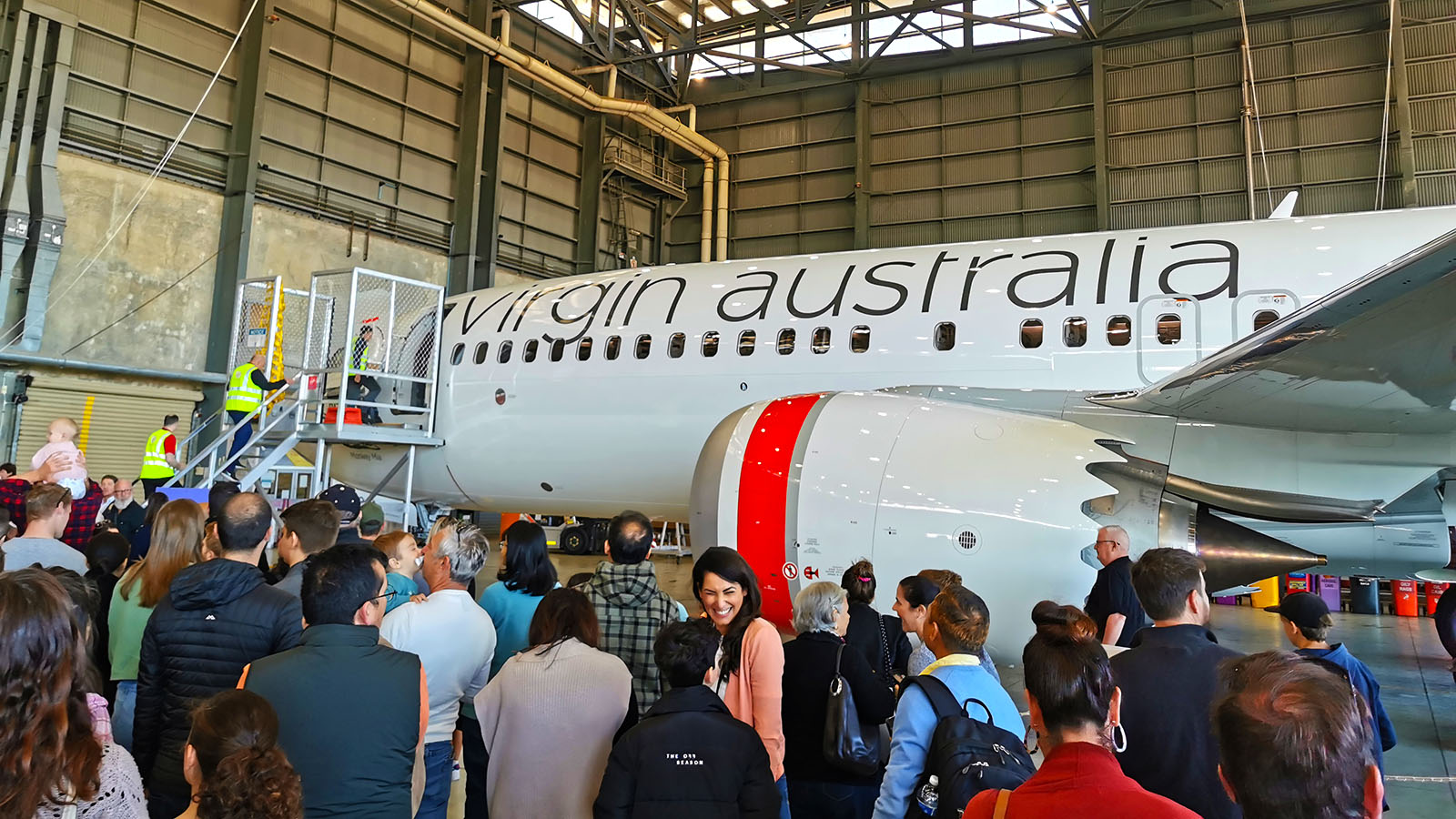 Now that you've seen the outside, here's a look inside those cabin walls. But, spoiler alert, the seats are very similar to those found in Business Class and Economy Class on Virgin's newer Boeing 737-800s. So there's a chance you may have flown in these seats before – just not on a MAX in Virgin Australia colours.
Virgin Australia's Boeing 737 MAX 8 Business Class
Business Class aboard Virgin Australia's new Boeing 737 MAX 8 planes comes in a familiar 2-2 layout. Right off the bat, it's fair to point out: these chairs don't transform into beds. While this is Virgin's newest plane, the MAX won't be dedicated solely to Cairns-Tokyo flights. These jets will instead appear right across the airline's network.
So, whether it's a quick Sydney to Melbourne hop or a longer trek across the country from Perth, you'll find eight reclining Business Class seats at the pointy end. Compared to Virgin Australia's current 'standard' Business Class cabin, these seats introduce leg rests to improve comfort. There's also a fold-out footrest.
AC and USB power outlets are tucked away within the centre console. There's also an adjustable headrest, and for those in the second row, a literature pocket sits right in front as well. When it comes to watching content on your own device, the tray table has an additional arm to hold your screen in place. Very handy, to mix dining and viewing.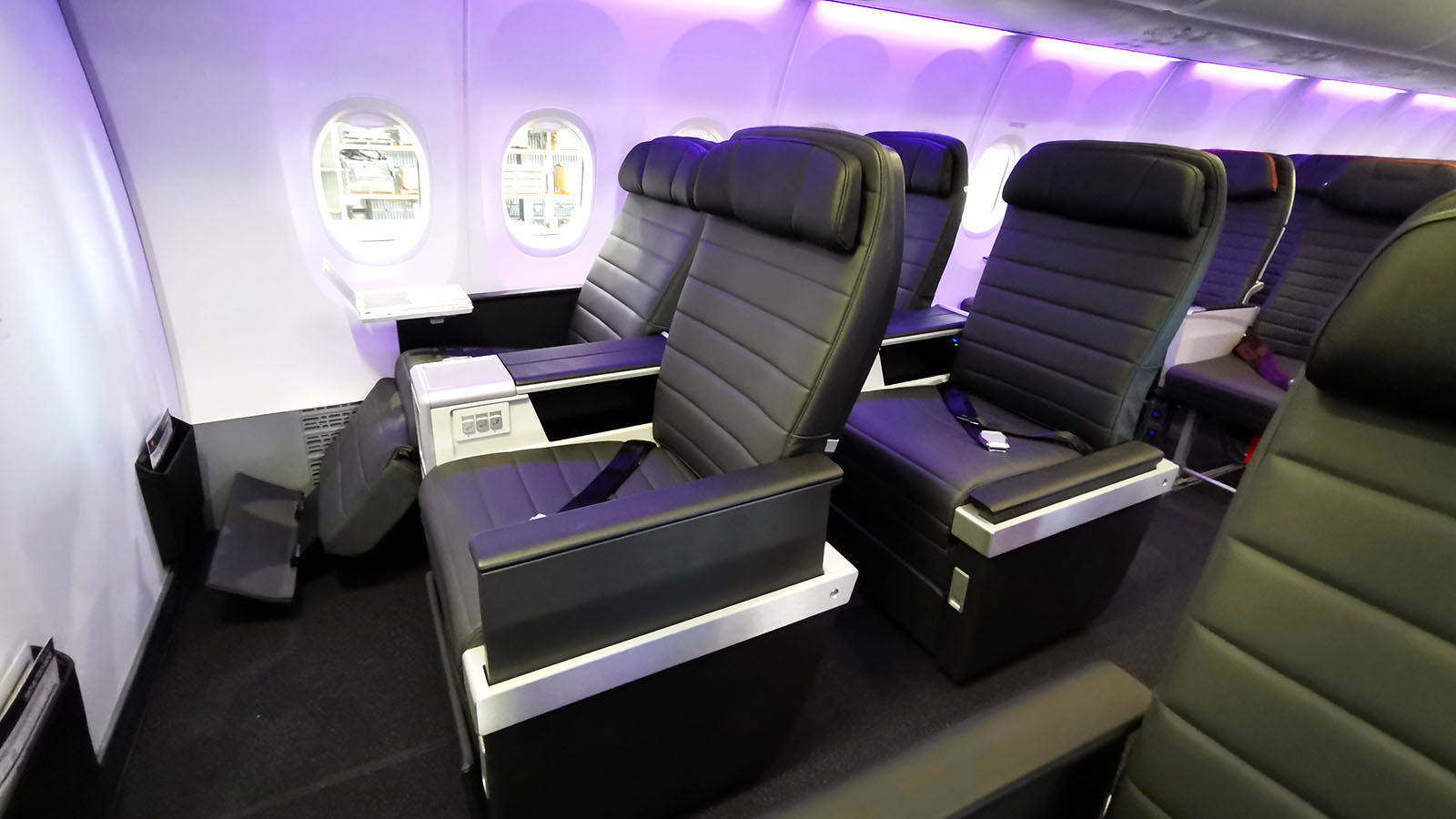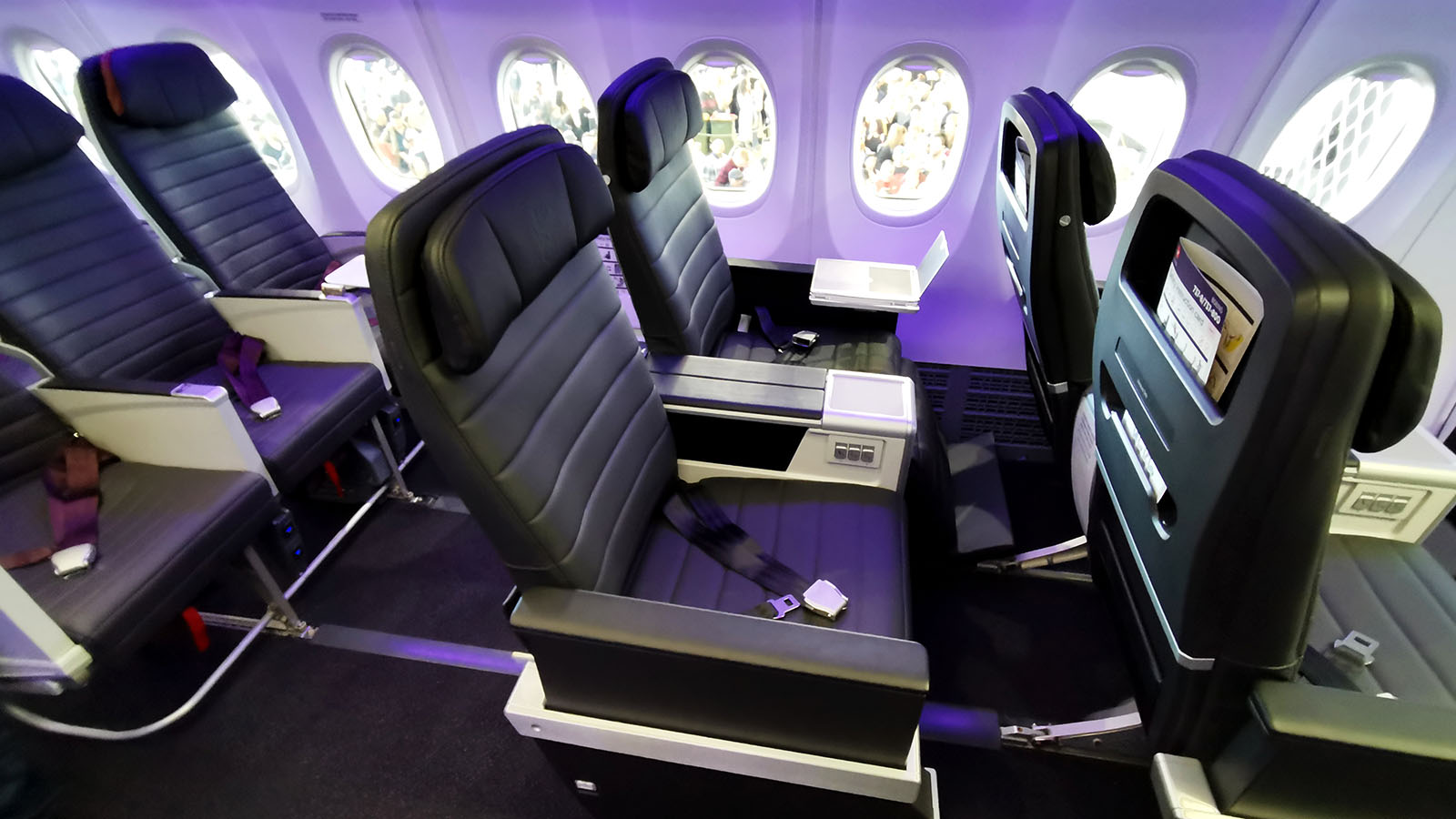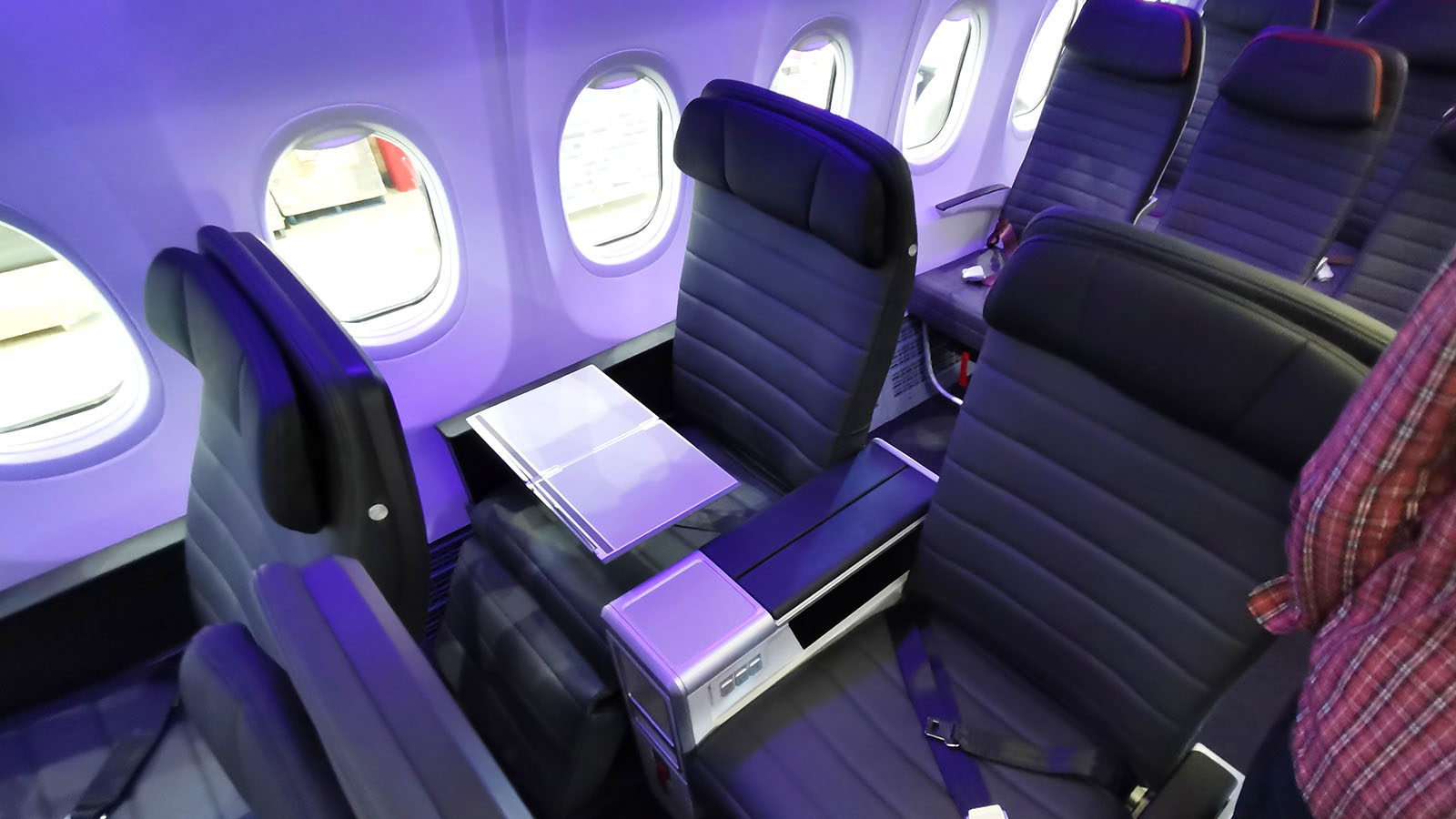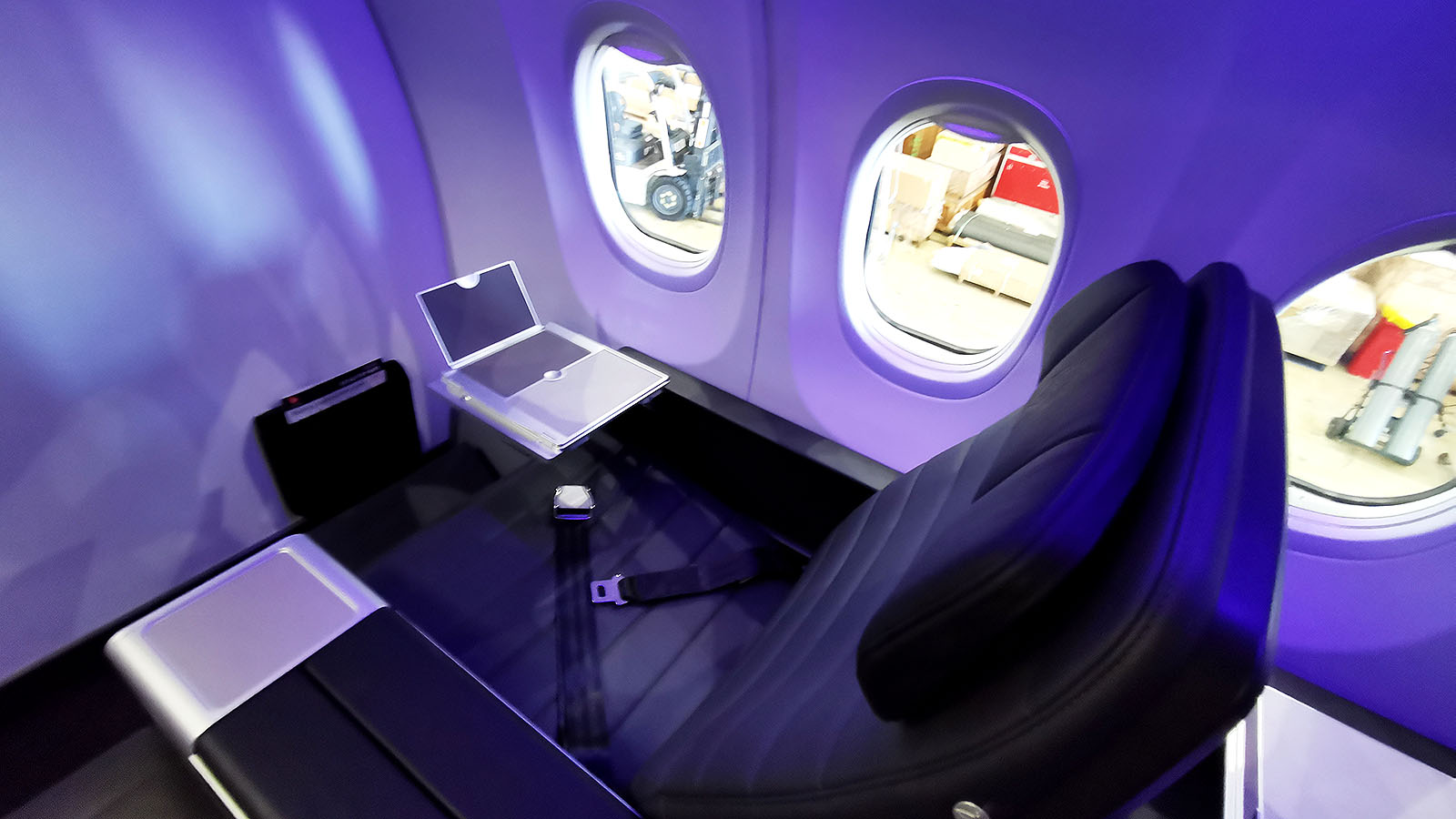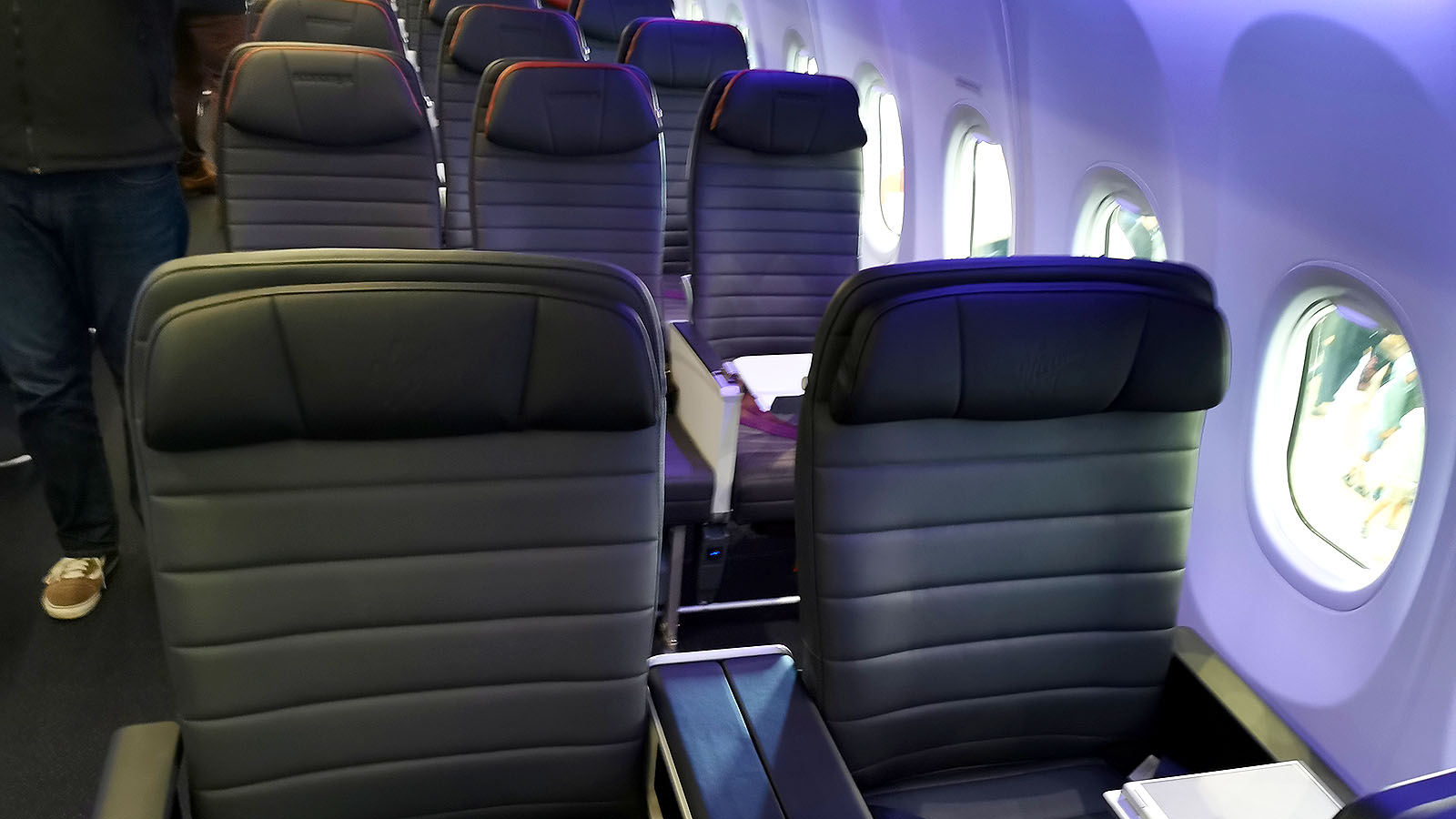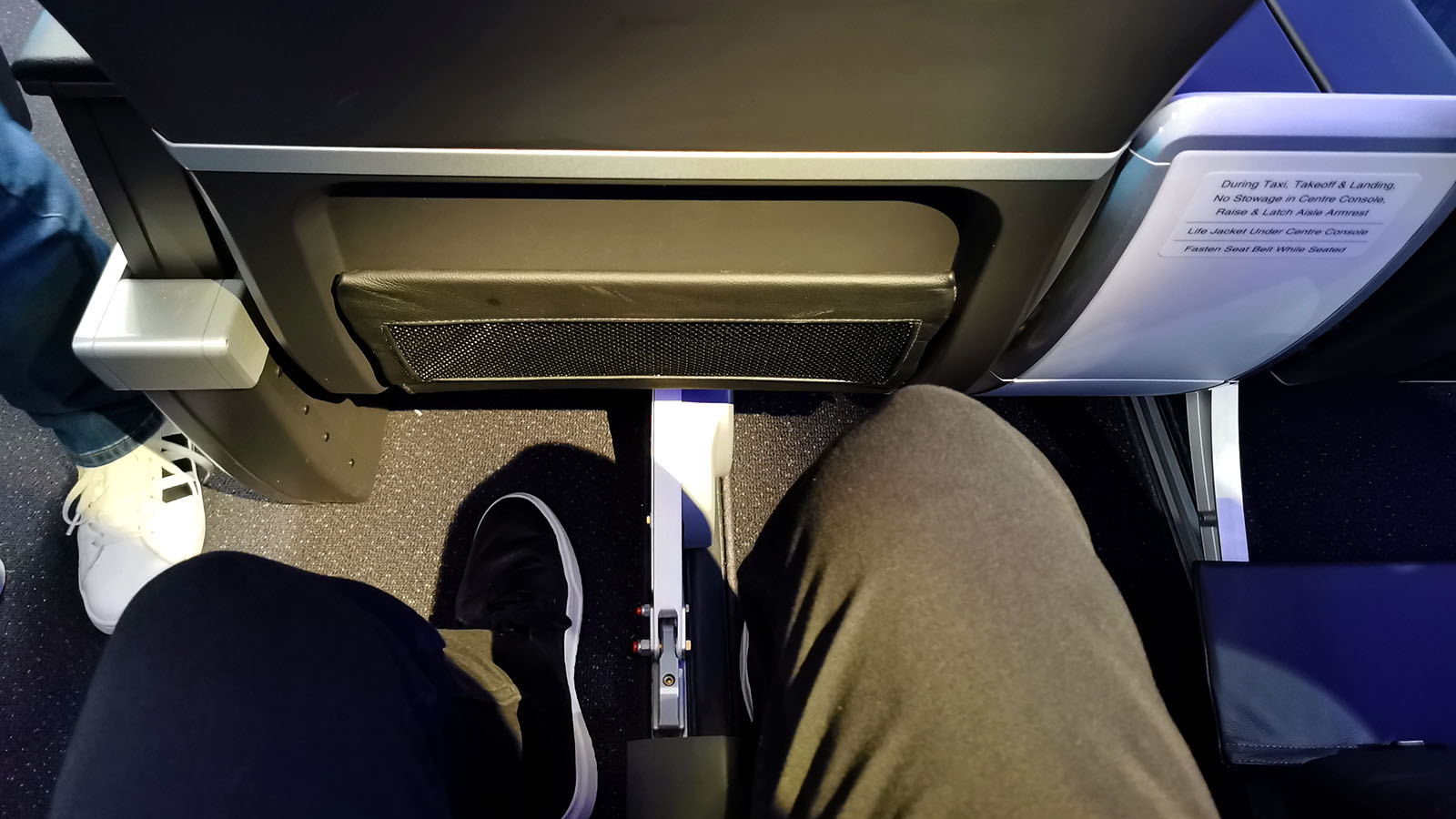 One thing you may notice though is the absence of a divider between Business Class and Economy Class. On most of Virgin Australia's existing Boeing 737s, a white wall sits between the two cabins. It also doubles as a place to hang jackets for those in Business Class.
But passengers will have to wait a little longer for Cabin Divider 2.0 aboard the MAX 8s. To ask about that, I went straight to the top…
We found a solution to create a separation between Business Class and Economy. It's not yet on this aircraft, but it will be on all the aircraft.

– Jayne Hrdlicka, Virgin Australia Group CEO, 8 July 2023
The divider is coming! We're not going to give you the details of the new divider design today, but stay tuned for that one. We will do a big reveal in good time.

– Sarah Adam, Virgin Australia Group General Manager of Product and Customer, 8 July 2023
Ad – Scroll down to continue reading.Minimum spend, terms & conditions apply.
Economy X on Virgin Australia's Boeing 737 MAX 8
Mirroring Virgin Australia's current Boeing 737-800s, the new MAX 8s offer five rows of Economy X. That's the airline's branding for its extra legroom seating. In the standard 3-3 layout, this means up to 30 passengers per flight can have more space to stretch out. Of course, this comes without the price tag of Business Class.
Row three remains the choice pick, situated just behind Business Class. The current absence of that divider means there's even more room to kick your feet forwards. And for now, to keep smaller bags underneath the Business Class seats in front.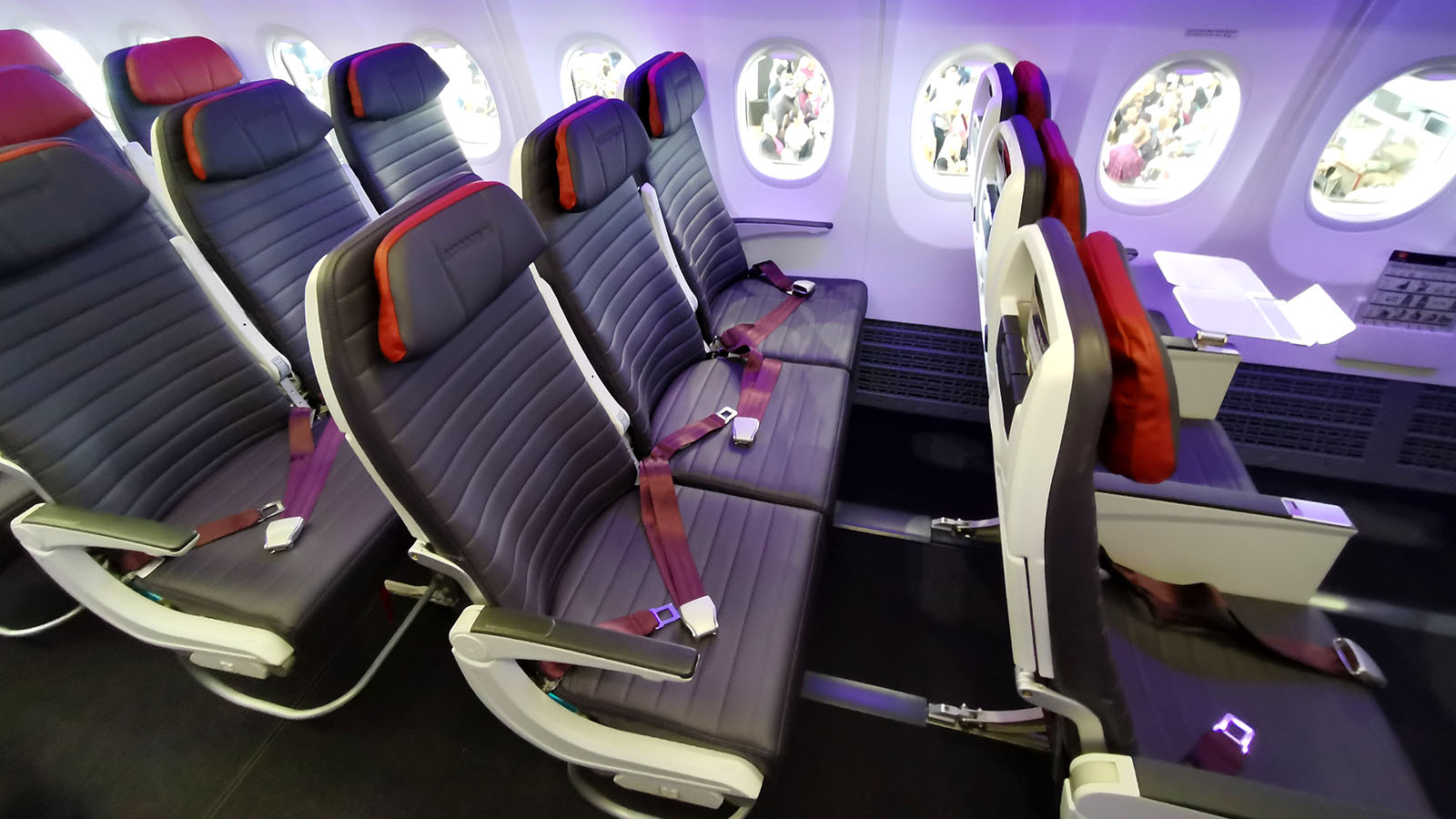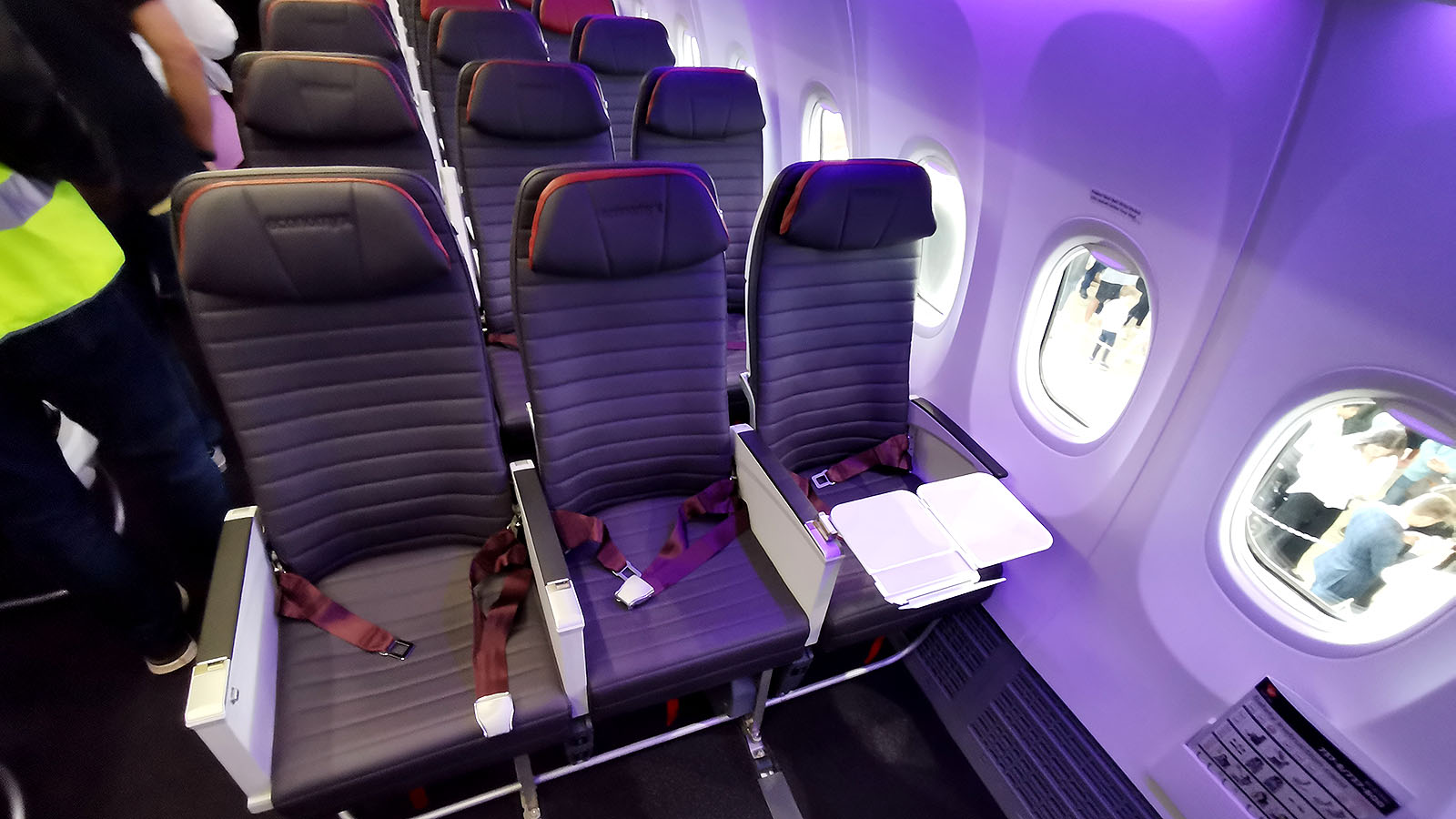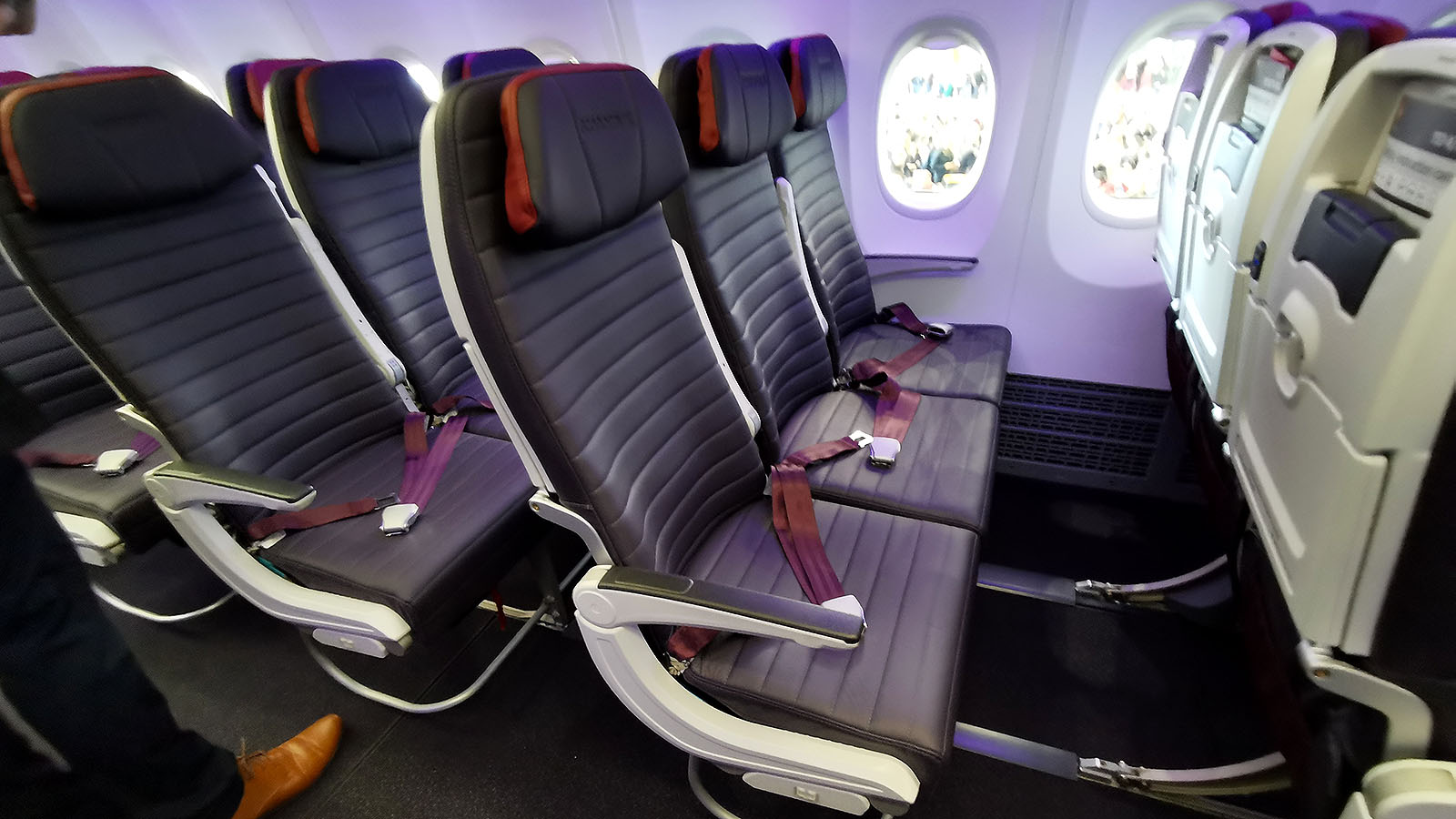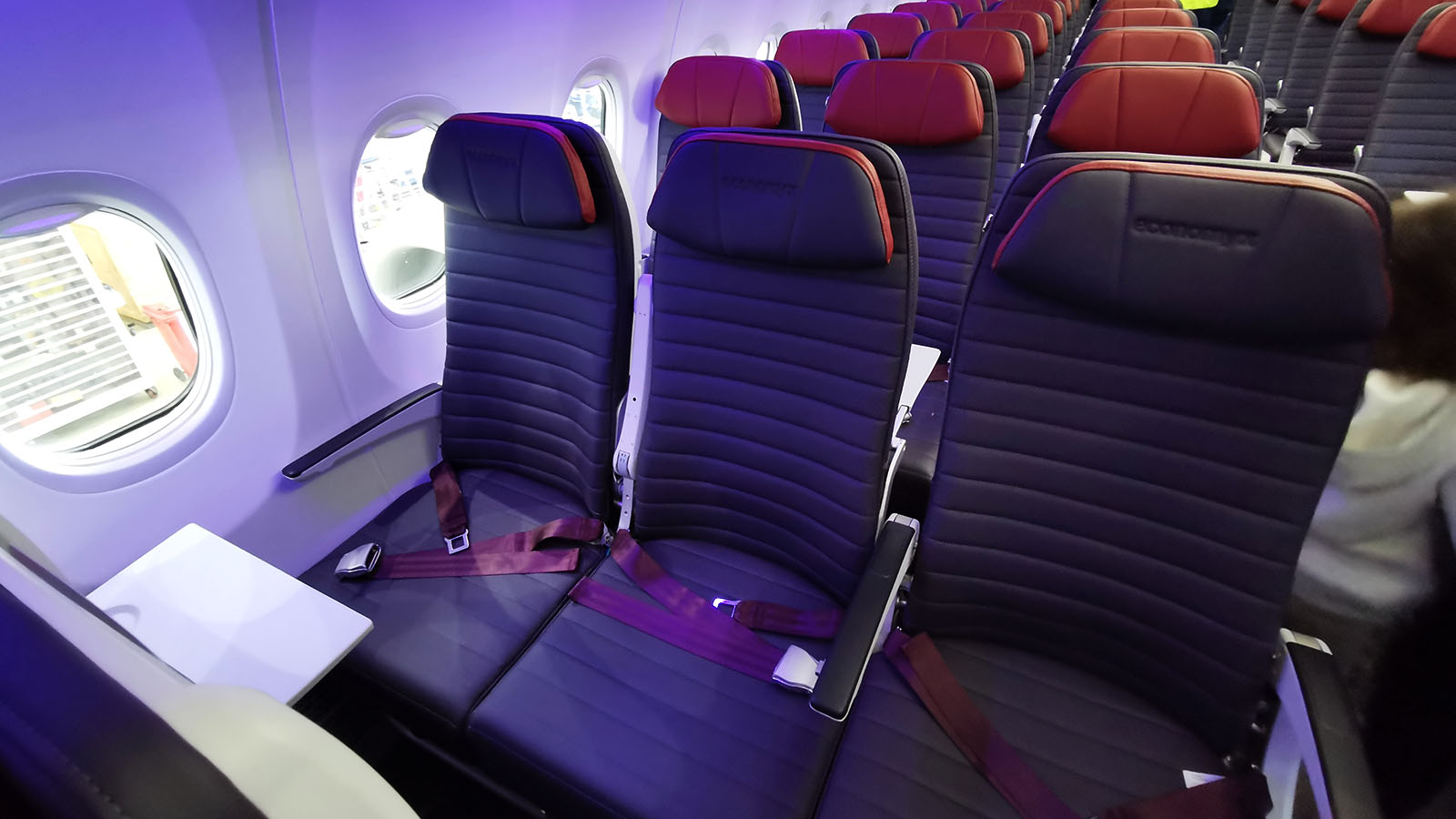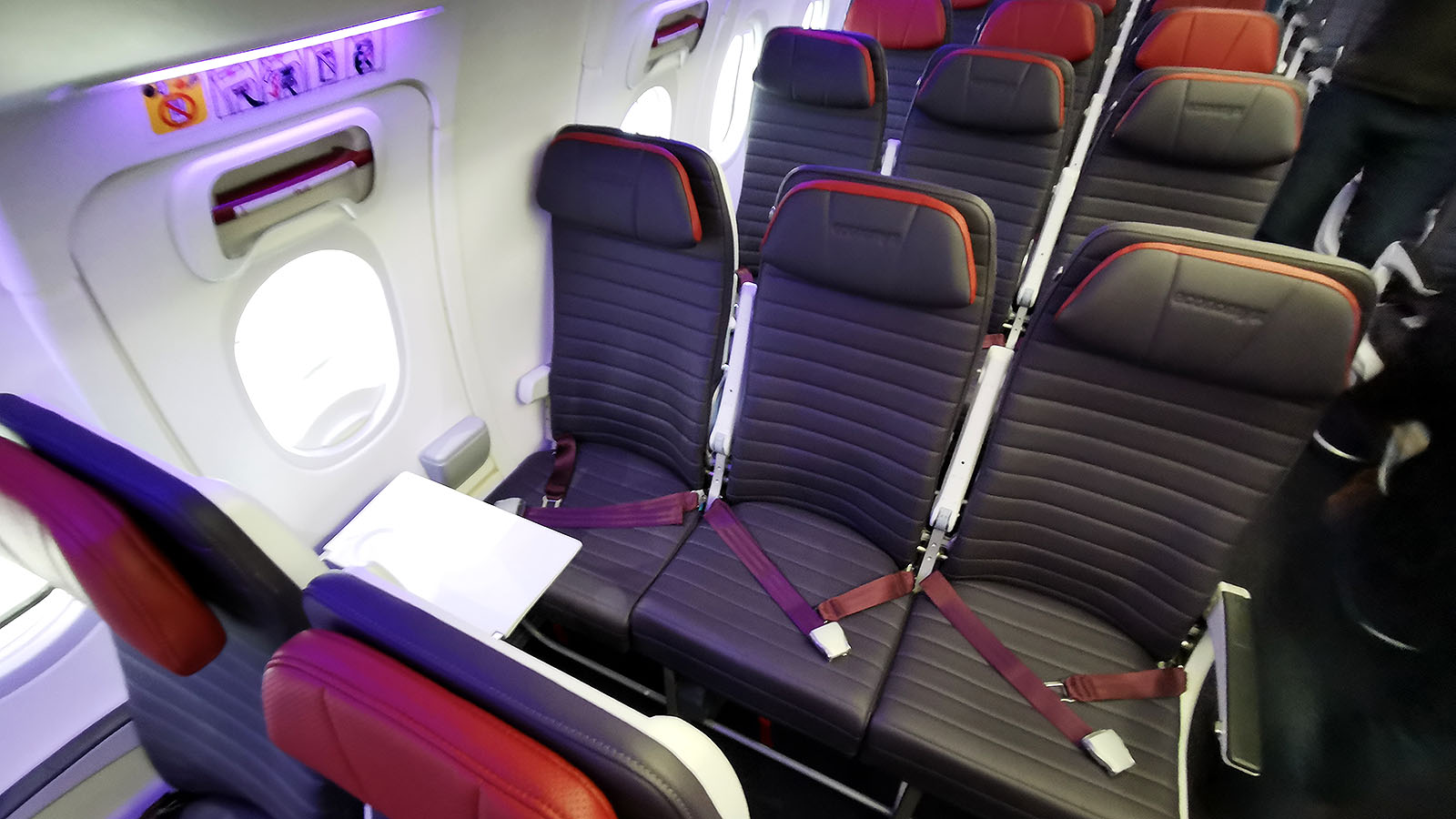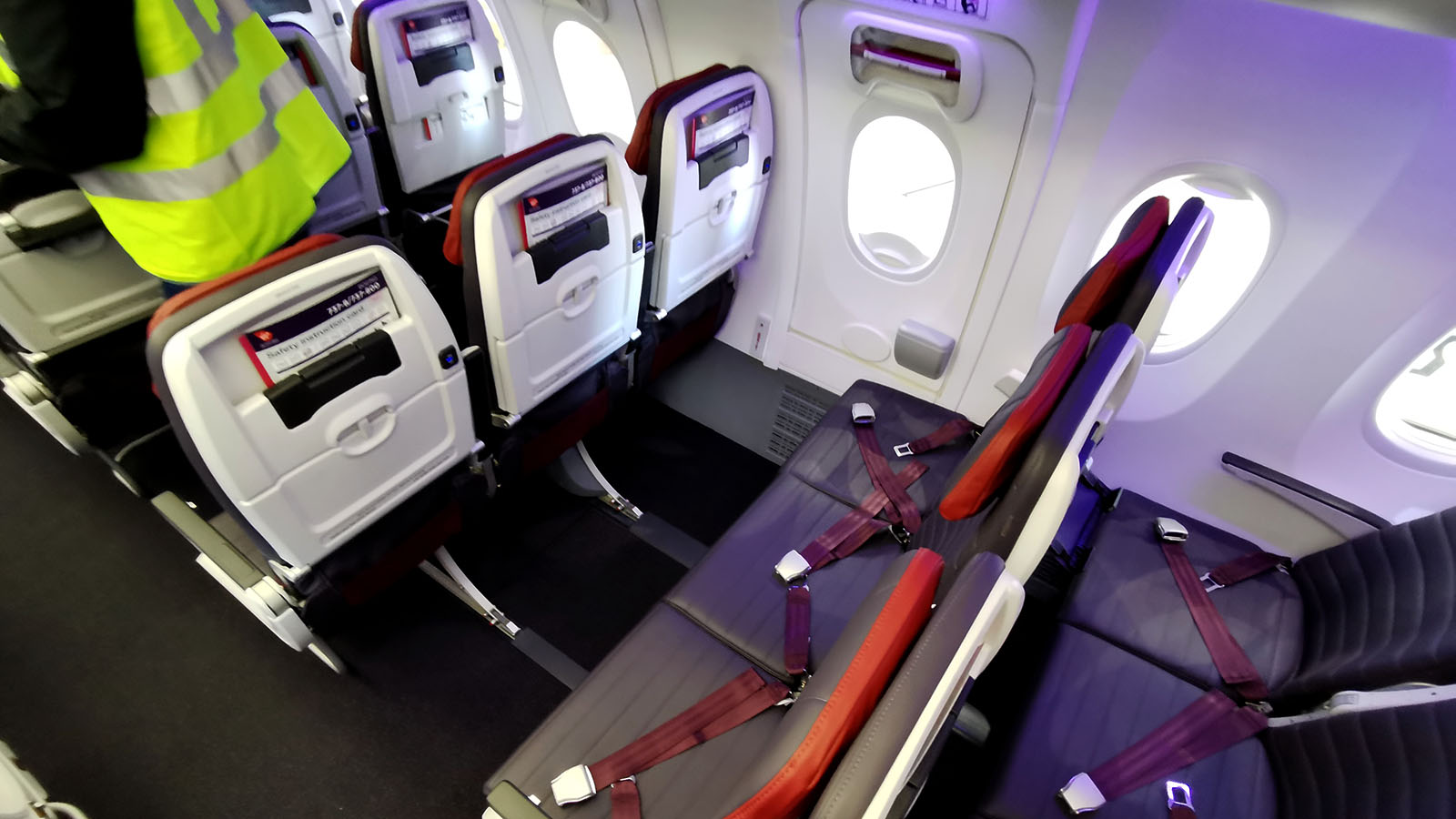 For most passengers, Virgin Australia sells Economy X seats at an extra charge. The price can vary from flight to flight. But it tends to be pricier on longer routes where many will appreciate having extra legroom even more. On shorter hops, the cost isn't as high.
Those charges are waived for Velocity Platinum and Virgin Australia Beyond members. Economy X is also complimentary for all companions travelling together on the same booking as one of these high flyers.
But be aware, Virgin Australia is planning to reconfigure its entire Boeing 737 fleet – including the Boeing 737 MAX 8 just delivered. As part of that change, Economy X will reduce from five rows to four on every flight. This will mean a maximum of 24 Economy X seats per flight, rather than 30 at present.
Virgin Australia's Boeing 737 MAX 8 Economy Class
The rest of Virgin Australia's Boeing 737 MAX 8 cabin is given over to standard Economy Class. As in Economy X, these seats come in a 3-3 layout. In fact, the seats are identical between Economy X and Economy. It's just that Economy X has a little more room around the knees, as each row is further apart.
That said though, I'm six feet tall – and in a standard Economy seat, there's still room between my knees and the seat in front. Even the very back row, which sits against the rear cabin wall, has a little space to recline. As far as Boeing 737 Economy goes, this is definitely on the better side.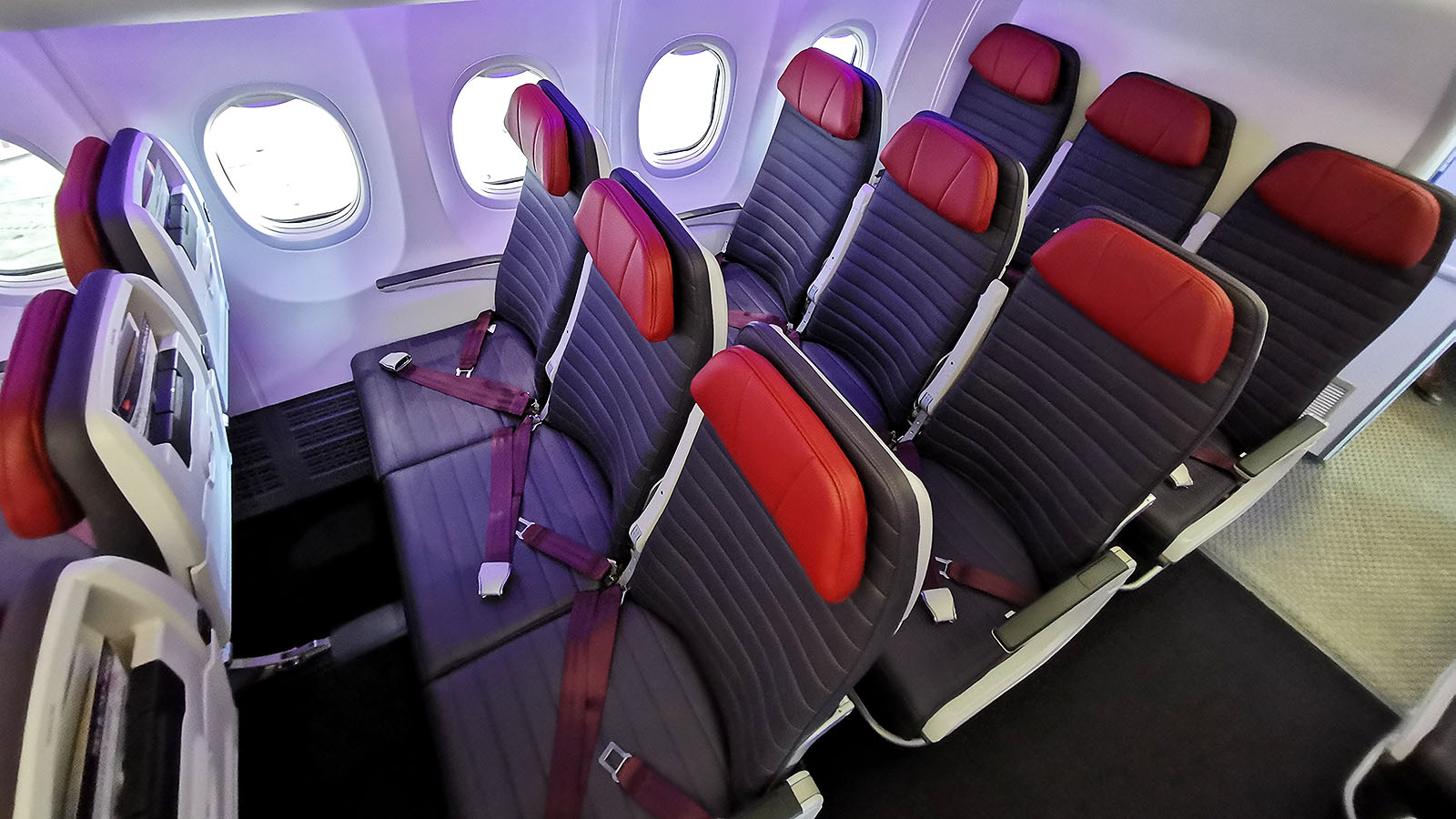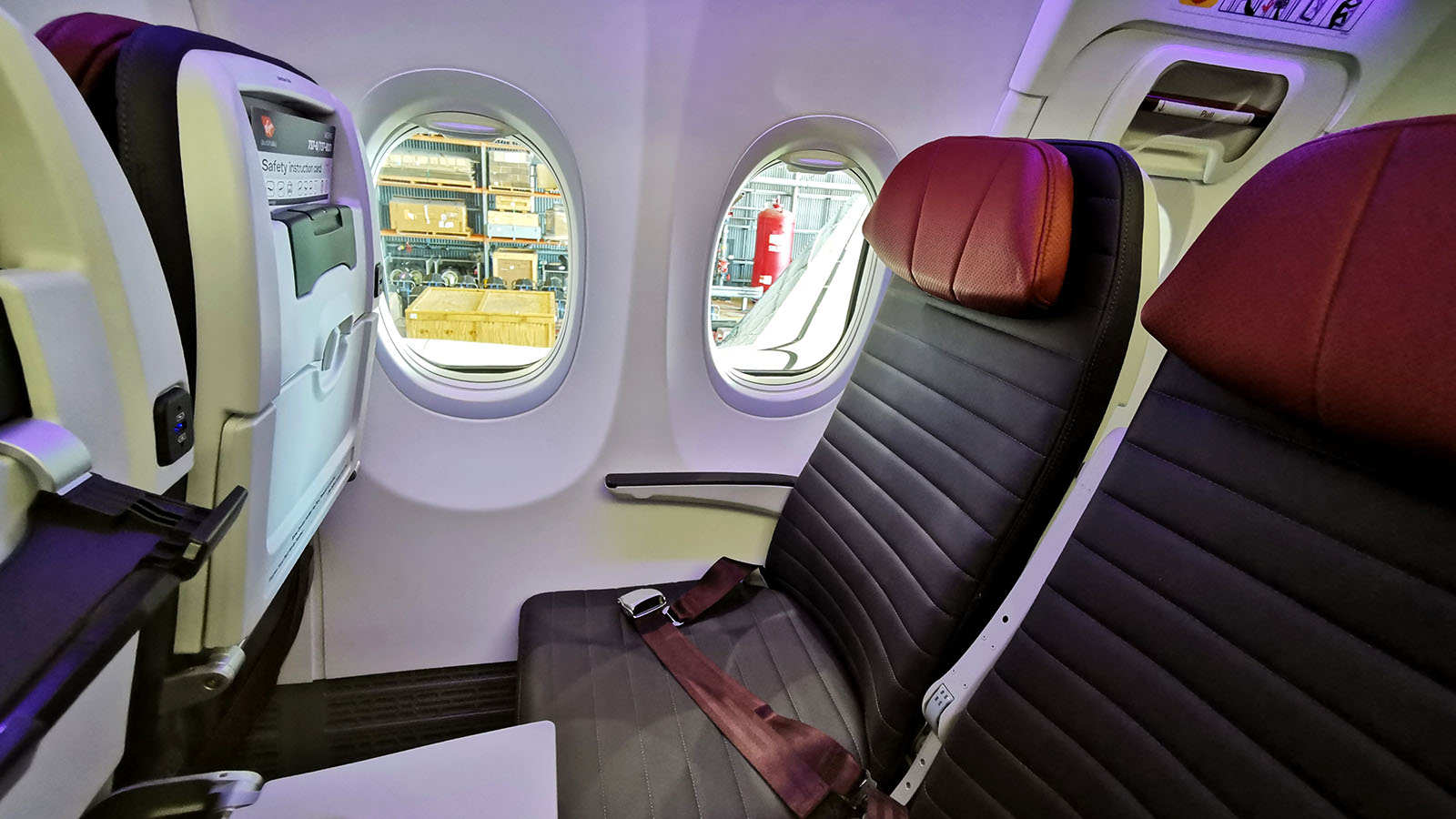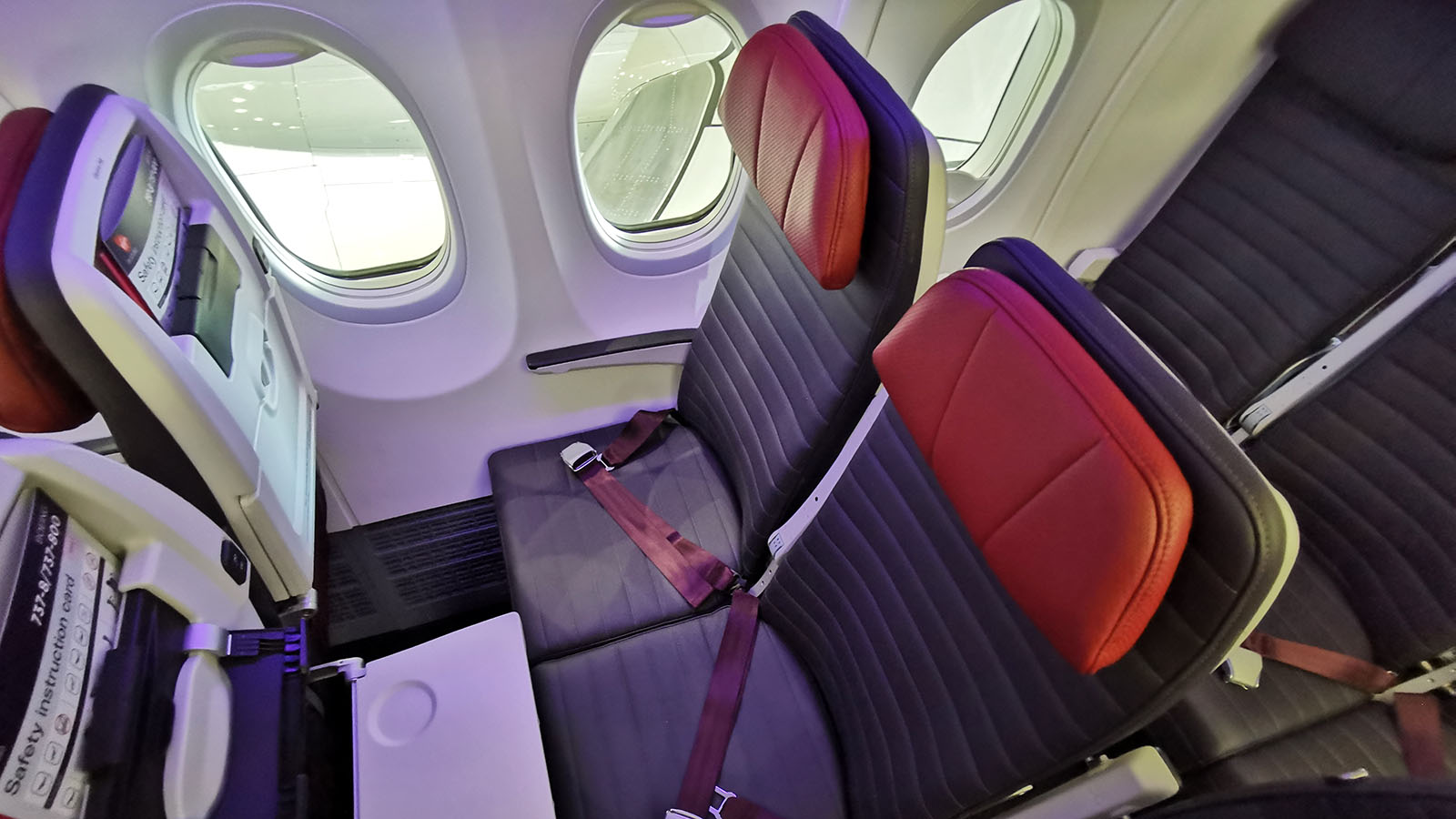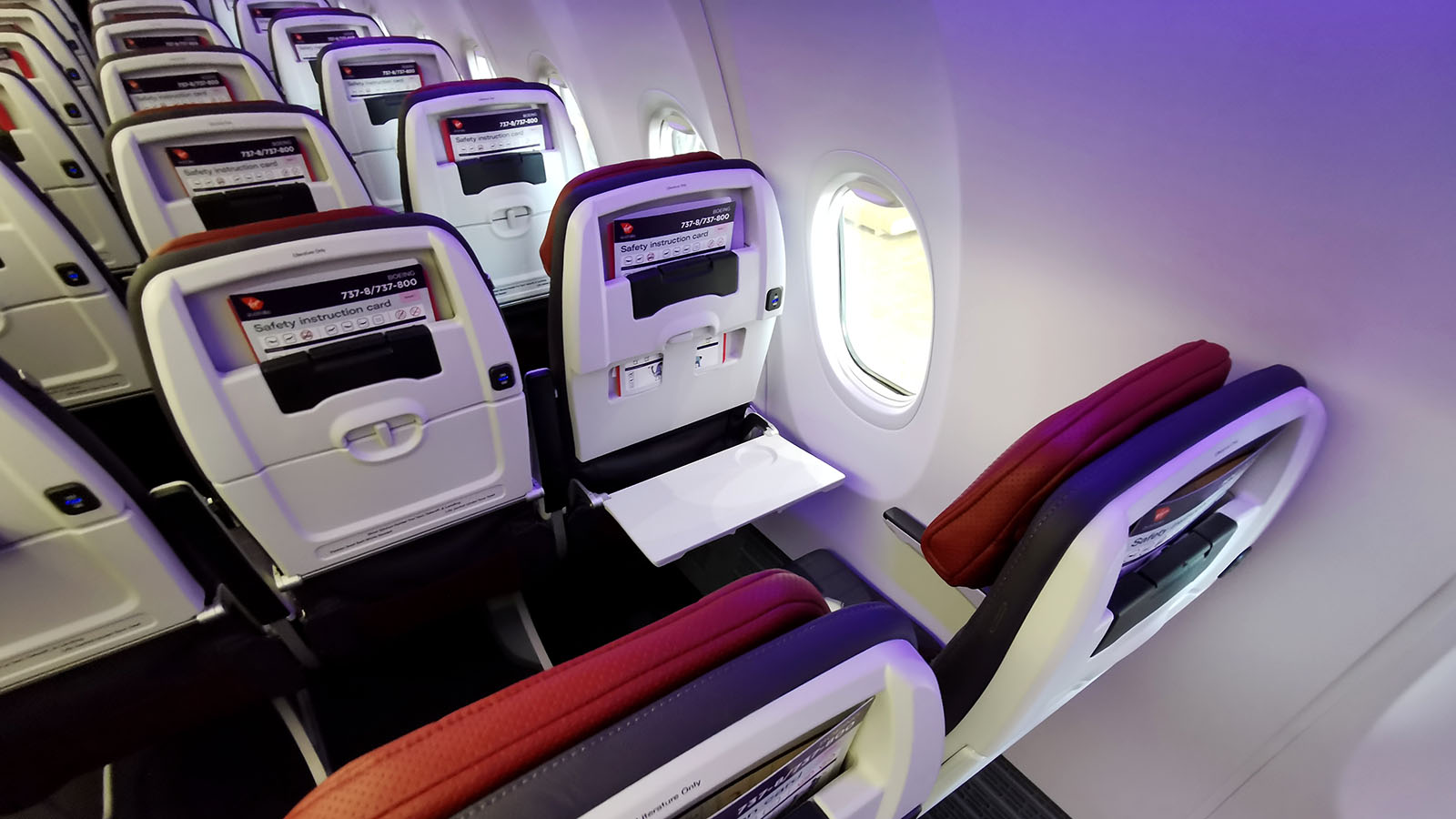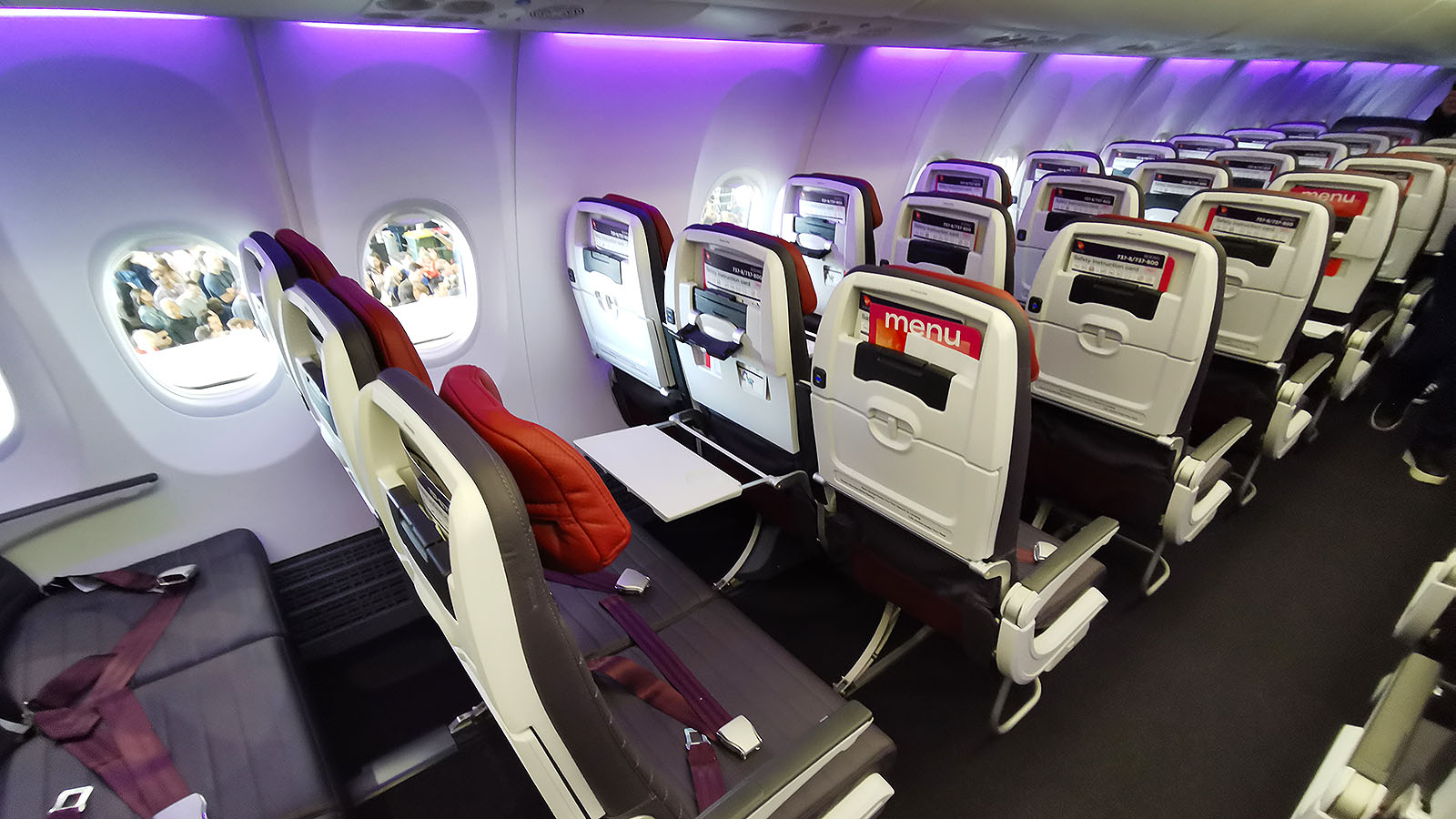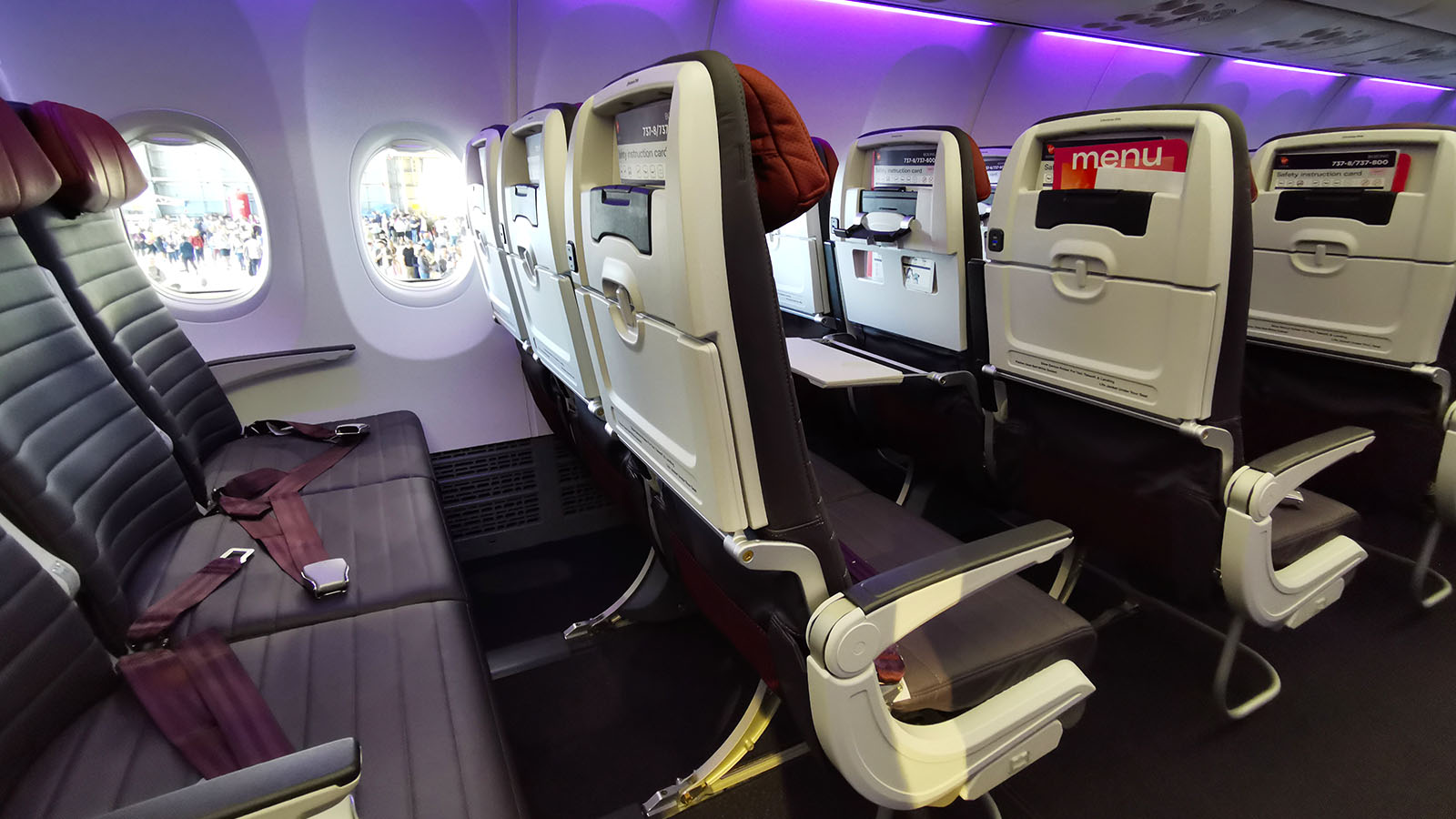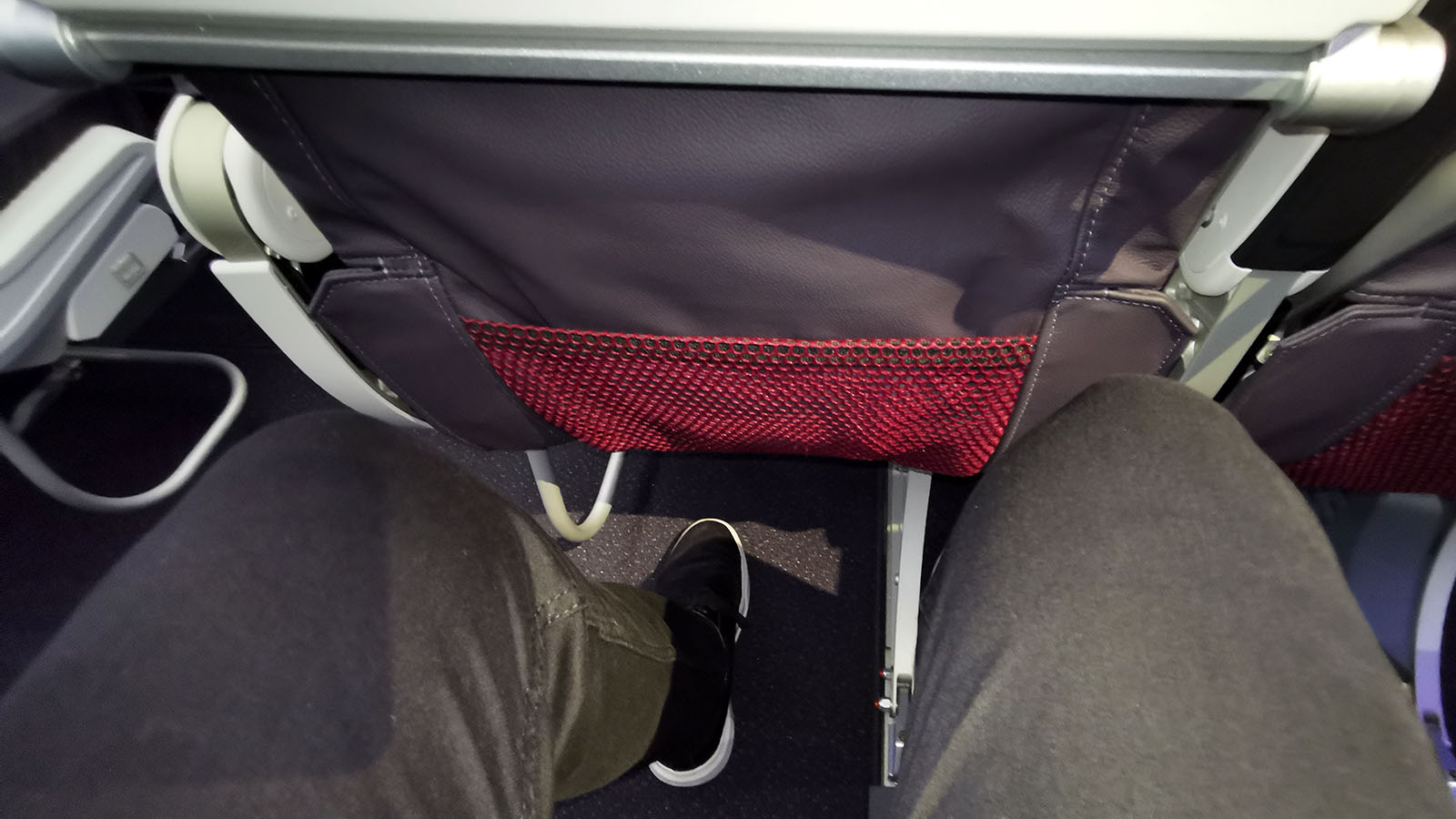 There's a fold-down tray table, as you'd expect. But these seats bring a few extra features compared to what you'd find aboard most of the airline's other Boeing jets. At the top of the seatback sits a literature pocket – handy to keep bulky magazines and newspapers away from your knees to preserve that all-important legroom.
Then, there's a tablet and device holder. It's tucked away within the black section of that seatback. Pull a button and it folds out to hold something small. Larger tablets can fit as well, with a retractable arm holding things snugly in place. After all, you wouldn't want your screen to plonk down onto your tray table when you've just ordered a hot coffee!
USB-A power is available at every seat. Virgin Australia plans to include USB-C outlets as well during a future update. But from what I've been told, there are no plans for AC power in Economy or Economy X.
For a closer look from tip to tail, watch this 45-second video, provided by Virgin Australia:
Summing up
Virgin Australia's first Boeing 737 MAX 8 jet is finally Down Under. Once it enters into service, it'll appear on Australian domestic flights throughout July. It'll then be deployed onto Cairns-Tokyo flights from 30 July 2023.
For those bound for Tokyo, it'll come as a noticeable upgrade to the Boeing 737-700s currently darting between Queensland and Haneda. Certainly, that's still a long way to go in any single-aisle plane. But having power at every seat to keep personal screens recharged – and of course, mood lighting – no doubt makes things a tad easier.
The news comes as Virgin Australia also plans to overhaul its existing Boeing 737-800 fleet, with the same seats as found on the new MAX. These refurbishments are set to begin later this year.
Also read: Virgin Australia plans $110 million upgrade to Boeing 737 cabins and inflight Wi-Fi
Photography by Chris Chamberlin.
---
Stay up to date with the latest news, reviews and guides by subscribing to Point Hacks' email newsletter.
Photo tour: onboard Virgin Australia's new Boeing 737 MAX 8
was last modified:
August 24th, 2023
by