While those on the East of Australia have it easy with a 3-4 hour flight to NZ, those in WA have it much tougher.
In this guide Immanuel covers off how he uses his points for redemptions on one of the more challenging routes to travel on – Perth to NZ is nearly long-haul in terms of time flown.
This makes it an ideal opportunity to use your points to get into Business Class for such a long flight, and once again, we've updated this set of comparisons in light of recent Velocity award chart changes. Here's how it's done!
This article has been updated to reflect both Velocity's June 2016 and AAdvantage's March 2016 award chart changes, so all referenced pricing should be up-to-date.
Using points to get to New Zealand from Western Australia
As a Western Australia Point Hacks reader you might sometimes feel left out by all the travel opportunities the East seems to have, especially when it comes to quick hops across the pond to New Zealand.
For those living on the West Coast there are some really nice tactics you can employ for travel to New Zealand in Business Class for a fraction of the cost by using points.
In this guide we will focus on all the point opportunities that are available when flying in Business Class from Perth to Auckland. Business Class is where it's at in terms of comfort and value from your points on a long route like this.
There are opportunities here for different levels of points expertise, even if you are not a big credit card spender or a frequent flyer – it just takes a little research and planning.
There are less than a handful of airlines readily available to frequent flyer points users for travel from Western Australia.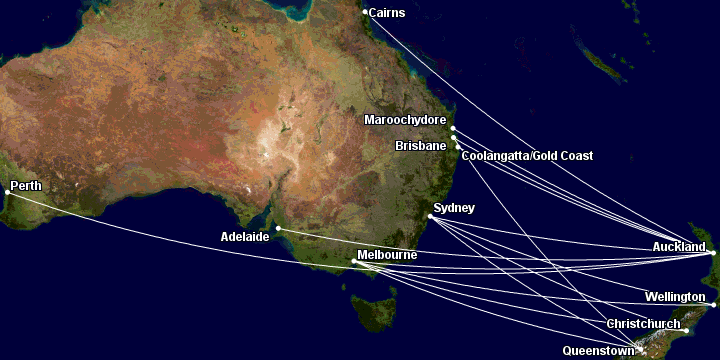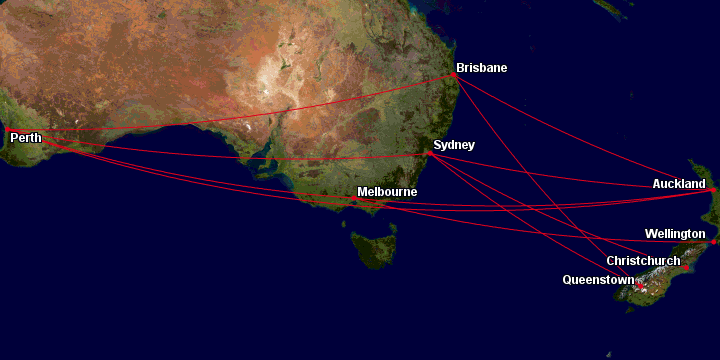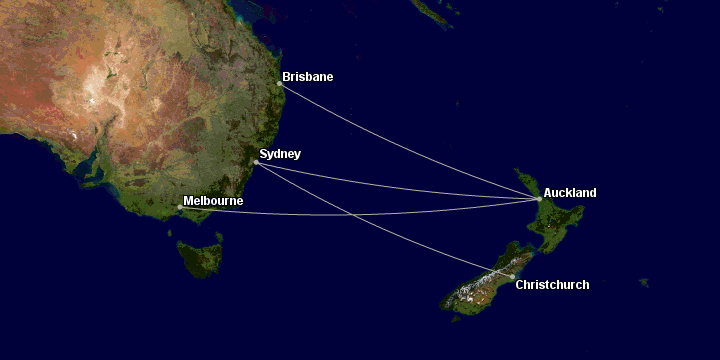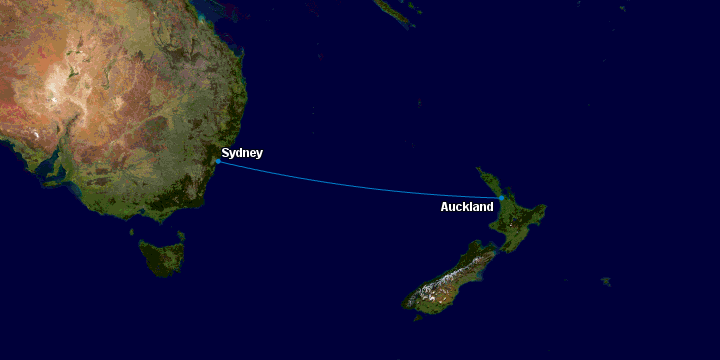 There are one or two other international airlines also plying the East Coast too, but these are far less readily available (to my knowledge) using points.
So, to complete this journey we have multiple options from a variety of airline alliances and points programs to choose from.
Let's get to the conclusion first – here's a comparison table of all the options:
Frequent Flyer Program
Airlines
Points Required
Qantas Frequent Flyer
Qantas, Emirates, LAN Airlines
50,000 Qantas Points one way

60,000 Qantas Points one way via Brisbane
Velocity Frequent Flyer (all connections)
Virgin Australia
usually 49,500 Velocity points one way, unless a longer than usual routing
Singapore Airlines KrisFlyer
Air New Zealand

Virgin Australia
56,000 KrisFlyer miles return (ANZ)
59,000 KrisFlyer miles one way (Virgin Australia)
American Airlines AAdvantage
Qantas, LAN
25,000 AAdvantage miles one way
Cathay Pacific Asia Miles
Qantas, LAN
45,000 Asia Miles one way
80,000 Asia Miles return
Etihad Guest
Virgin Australia
55,600 Etihad Guest miles one way
Availability for your chosen dates of travel being equal, my pick for using points from credit card spend would be…
If you have access to Asia Miles from American Express Membership Rewards, Westpac Altitude Rewards, ANZ Rewards or Citi Rewards, transfer them directly to Asia Miles to redeem
If you have an AAdvantage balance already from buying miles or picking some up from promotions, then consider transferring the remainder needed from American Express Membership Rewards points, to Starwood and then over to American Airlines
Or if you prefer, get similar value as Asia Miles from a transfer to Velocity.
For those with a decent Velocity balance, Velocity has one of the better values for this route so this would be a good use of Velocity points too.
Redeeming points for Perth – NZ travel through Velocity Frequent Flyer
Velocity and Qantas Frequent Flyer are probably the most straightforward to understand, and the most logical starting point for frequent flyers looking to redeem points on routes between the West Coast and New Zealand.
Velocity redemptions price at 49,500 Velocity points plus, at the time of writing, $111.41 in fees. This example is for a flight from Perth to Christchurch which is usually my end destination.
But getting all the way to Christchurch using points is not a huge factor in my point planning as the short hop from Auckland to Christchurch is only 1 hour or so and usually costs no more than $60.
Since Velocity partner with Air New Zealand there are opportunities to snap up a seat on a more direct route with Air New Zealand, but this is very rare – I've yet to find an available reward seat through this partnership.
What about Premium Economy on Air New Zealand?
Air New Zealand offer a premium economy cabin for it's direct flights from Perth to Auckland, and although this is certainly an improvement compared to your regular seat, don't expect anything spectacular.
Unlike the space seats offered on flights to Los Angeles, these seats are only a tad more comfortable than your standard economy. I flew in this cabin a couple of years ago and in my opinion the best bit was the food & service – back then I scored these flights using the "bid for upgrade" feature Air New Zealand offers to all passengers.
Redeeming points for Perth – NZ travel through Etihad Guest
Etihad Guest offer Virgin Australia as a redemption partner. The Virgin Australia partner chart for Etihad Guest is here.
You'll see that Perth – Auckland isn't specified as a redemption option in the chart as it needs a connection – so the cost is, for example, the cost of a Perth – Sydney flight plus a Sydney – Auckland flight. This would come in at 33,800 plus 21,800 Etihad Guest miles, for a total cost of 55,600 Etihad Guest miles each way.
Etihad Guest miles are transferrable from American Express Membership Rewards at 1 Membership Reward point = 1 Etihad Guest Mile.
Availability of award seats on Virgin Australia through Velocity should generally match those available when using Etihad Guest miles, although you'll need to call to book.
Redeeming points for Perth – NZ travel through Qantas Frequent Flyer
By comparison, a redemption on Qantas' Perth to Auckland direct flight costs around $2498 or 100,000 Qantas Points return + $172.82 in fees, at the time of writing.
This is the direct seasonal flight (QF111 which departs Perth at 8.30PM and arrives around 8AM local time. The same route back to Perth departs on Sunday as QF112 at 12:25pm, touching down in Perth at 3pm on the same day.
Alternatively, you can look out for the LAN Airlines flight from Auckland to Sydney which has a good new Business Class cabin on their 787. You can then connect onto a Sydney – Perth flight and hopefully experience the new Qantas business class seat.
You could also use any Emirates award seat availability on their services across the Tasman from Melbourne and Brisbane to Auckland and Sydney to Christchurch.
Qantas operate an upgraded A330 on the Perth to Auckland route during the summer season with an excellent lie-flat Business Class product.
The direct flight operates weekly from late October to December, then twice-weekly from December to late March, and I've found that generally points seat availability in Business Class is fairly good when looking a few months in advance.
Redeeming points for Perth – NZ travel through Krisflyer on Air New Zealand
Since my partner is a Kiwi and I lived in New Zealand for about 6 years, I've noticed that Air New Zealand receives god-like status and unmatched loyalty from many Kiwis.
What would a better way to fly directly to NZ than with the national carrier in Business class? Unfortunately when paying cash, this comes at a rather hefty price tag; around $3278 (give or take depending on your dates).
In my opinion the Airpoints program from Air New Zealand is really not worth my time and effort, unless you live in NZ and commute daily between major cities.
There are alternatives to Airpoints though.
Air New Zealand is a Star Alliance member which comes in handy for redeeming KrisFlyer miles on partner airlines. Even if you don't fly Singapore Airlines there is a good chance you can aquire or transfer a chunk of points over to Krisflyer.
It's 56,000 Krisflyer miles for a return booking between Perth and New Zealand in Business Class, plus S$134 in taxes and fees – but the downside is limited availability for redemption on Air New Zealand operated flights made available to partners by Air New Zealand.
As of recently Velocity and KrisFlyer have teamed up on a points transfer scheme, this is excellent news for those wanting more opportunities when it comes to redeeming points in either program.
Points transfer at a rate of 1.35 Velocity points = 1 Krisflyer mile, and the transfer is instant.
Another source of KrisFlyer points is from American Express Membership Rewards points, which transfer across to either Velocity or KrisFlyer at 1:1.
It used to be that you need to call the Krisflyer hotline to book partner airline award flights. But from December 2017, you can redeem award flights with your KrisFlyer points on an Air New Zealand flight online via either the singaporeair.com or the Singapore Airlines app. But from my experience the seats made available by Air New Zealand for redemption are really hard to come by.
Availability can change closer to the date of departure so if you are willing to gamble you can always place a seat alert on Award Nexus or Expert Flyer so you can snap up seats the moment they are released.
Finally, it's also worth noting that KrisFlyer miles can be redeemed directly for travel on Virgin Australia, but the costs for this route (and on Virgin Australia generally) are not so appealing, with a return running at 118,000 KrisFlyer miles!
Redeeming points for Perth – NZ travel on Qantas and LAN Airlines through American Airlines AAdvantage or Asia Miles
Last time I flew to New Zealand I used AAdvantage miles to book flights on Qantas in Business Class, and on the way back in Business Class on LAN from Auckland to Sydney, connecting to a Qantas Sydney – Perth service.
Why LAN Airlines?
Although this South American airline might seem like an odd choice, it was the only one available at the time.
Their Business Class product is fully lie-flat and is part of their Santiago – Auckland – Sydney route, and Business Class seats are more readily available. I personally think this is one of the best deals around and something you can use even if you're not an avid points collector.
You can book onto either Qantas or LAN Airlines services with any oneworld frequent flyer program – including American Airlines AAdvantage, or Cathay Pacific's Asia Miles.
Redeeming points for Perth – NZ travel using AAdvantage Miles
You'll need an AAdvantage account that's a minimum of 2 weeks old, so go sign up for one now.
Once done, keep an eye out for the many AAdvantage miles promotions to buy miles that come around fairly frequently.
When buying AAdvantage miles to redeem immediately on this route, Business Class return flights to New Zealand can end up costing around $850 in Business Class (yes that's correct, cheaper than economy!)
The total cost is dependent on the offer and how you acquire your AAdvantage miles.
The reason this AAdvantage is lucrative for us in WA is that they have a flat-rate price of 25,000 for Australia-NZ flights, one way. A return is 50,000 points and US$124.60 in taxes and fees, at the time of writing.
So even if you fly from Sydney to Auckland, or Perth to Auckland, the price stays the same, although of course the latter offers the most value.
Keep in mind you will not get any status and points into your Qantas Frequent Flyer account on these flights when booking your flights this way – but to me this doesn't matter since you can enjoy all the perks that Business Class has to offer at a much reduced price.
Redeeming points for Perth – NZ travel using Asia Miles
Asia Miles are readily transferrable from a range of credit card partners in Australia, including American Express Membership Rewards, Westpac Altitude Rewards and Citi Rewards (as a Citi Prestige cardholder).
Perth to Auckland would come in at 80,000 Asia Miles return in Business Class through any readily available and mostly direct routing.
A one way trip would be 45,000 Asia Miles in Business Class. If you have credit card points you can transfer over to Asia Miles, this is a pretty competitive price and possibly the best way to go. Redemptions for Qantas-only travel can be made online at the Cathay Pacific website.
Read the full guide to Asia Miles here →
Immanuel's Case Study – heading to a wedding in New Zealand
Note: I booked this itinerary before AA's award structure increased the price of this ticket from 17,500 to 25,000 miles on 22 March 2016.
Last year US Airways, now merged with American Airlines, had one of their frequent mileage bonus sales running. These are available a few times during the year, so make sure you're ready when they show up.
As you might have learned from reading this site, we always advocate buying points with a purpose, and for me this was a friends wedding in Wanaka.
Since I could only take a few days off work flying in Business Class would be worth the cost. There is nothing worse than arriving at 8am in the morning in frosty New Zealand after being sandwiched in economy for 7 or so hours – and arriving on the day of the wedding.
Since the wedding was at 2PM I figured I could make this work: depart Perth Friday night (sleep), arrive in Auckland, catch a connecting flight to Queenstown, jump in a rental car and take the 1 hour drive to Wanaka.
As I mentioned above, Air New Zealand points availability is limited and as expected, for my trip there was no availability.
I then looked at availability on Qantas or oneworld, either through Qantas Frequent Flyer or US Airways (now part of AAdvantage.) Since the 100% bonus point sale was on I decided to save my Qantas Points for later and use them for my annual Euro trip.
My preference for this trip was for the QF111 seasonal flight directly to Auckland on Friday night, departing at 8.30pm and arriving 8am local time.
For the return I booked LAN's Auckland to Sydney service, connecting onto a Qantas flight to Perth. The direct Qantas flight back to Perth wasn't available in Business Class.
In my case I took advantage of a 100% bonus offer US Airways was offering at the time, and purchased the miles required for this trip outright at a cost of around $850. They were redeemed immediately for this trip after putting the itinerary on hold with US Airways. The same tactics can be employed with AAdvantage, with an example booking on the AAdvantage site shown below.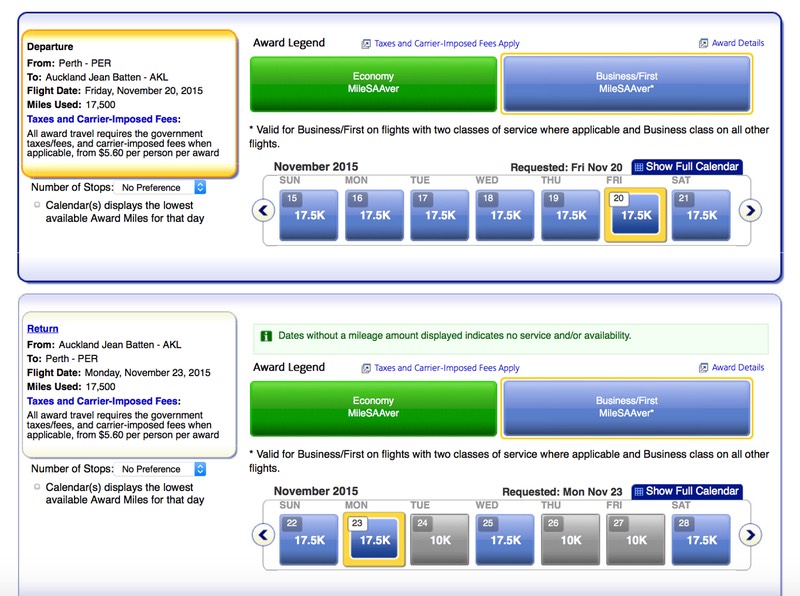 I then booked a cheap ticket on Jetstar NZ from Auckland to Queenstown to complete my itinerary.
Coming November I will be doing it all again – this time I'm thinking of using a combination of a Qantas direct flight to Auckland and then using Velocity points for Virgin Australia Christchuch – Sydney – Perth on the way back, since there are slightly less points required in comparison.
Since I now have Star Alliance Gold status with Turkish Airlines thanks to a status match promotion, I chose Air New Zealand over the Jetstar domestic service so I can make use of their Koru Club lounge in Auckland and Christchurch.
Summing Up – Redeeming points to get to New Zealand from Western Australia
This is a useful route to redeem points on given the flight length and associated costs of both economy and premium cabin seats.
You'll need to be prepared to do a bit of availability research given the numerous airlines and route combinations possible once you add in a stop on the East Coast (if you're prepared to fly indirect).
In my view though it's worth putting in that effort to try and get yourself more space and comfort on a relatively long journey. Good luck!
How to use your points to fly to New Zealand from Perth & Western Australia
was last modified:
November 13th, 2018
by