Thailand has long been among the top overseas destinations for Australians. And it's not hard to see why – this diverse southeast Asian nation is brimming with natural wonders, delicious local fare and some of the world's most scenic beaches. But in order to elevate your experience, it's important to choose the right accommodation. Thailand offers an array of accommodation options to suit every traveller, from the budget-conscious to those seeking top-tier luxury – so you're bound to find the perfect spot to unwind.
And did you know that you can fly to Thailand from Australia for less if you've got Qantas Points, Velocity Points or Krisflyer miles up your sleeve? Just 18,000 Qantas Points can have you jetting from Perth to Bangkok via Bali with Jetstar, while 35,000 Krisflyer miles can take you to Bangkok direct from Melbourne or Sydney with Thai Airways.
Running low on points? Credit card sign-up bonuses can give your balance a boost. Take a look at the Westpac Altitude Qantas Platinum, Qantas American Express Ultimate or American Express Velocity Business cards that offer a generous stash of bonus points so you can soar to Thailand sooner.
If a Thailand escape is on your mind and you're not sure where to stay, keep reading for our ultimate accommodation guide.
Where to stay in Thailand for first-timers: Bangkok
If you're flying to Thailand from Australia, it's likely that Bangkok will be your entry point. There are direct flights to other popular destinations like Phuket, too. But if it's your first time in Thailand, why not get your bearings by exploring the nation's capital? Thanks to the city's extensive metro system and the presence of rideshare options like Grab, getting around is a breeze.
Bangkok is home to some of the world's largest shopping malls, so it's an excellent destination if retail therapy is on your itinerary. There's something to cater to everyone – from local handicrafts to leading designer brands, and everything in between. The area of Siam in Bangkok has a whopping five malls located within walking distance of each other. If you'd rather test your haggling skills, you'll also find plenty of markets dotted throughout the city.
The city provides an ample introduction to many elements of Thailand's rich culture, with temples waiting to be explored and lots of local dishes to tantalise your tastebuds. And if you've only got a bit of time to spend in this bustling metropolis, have a read of our itinerary to see what we got up to when we spent five nights in Bangkok.
Bangkok accommodation
Bangkok offers a variety of accommodation options to suit all budgets. You'll find all the big global hotel brands here, in addition to boutique accommodation. Many hotels come equipped with a swimming pool, which provides much-needed relief from Bangkok's heat.
And if you want to learn how to earn points from your stay, our Point Hacker's pocket guide to Bangkok covers everything you need to know to maximise your rewards.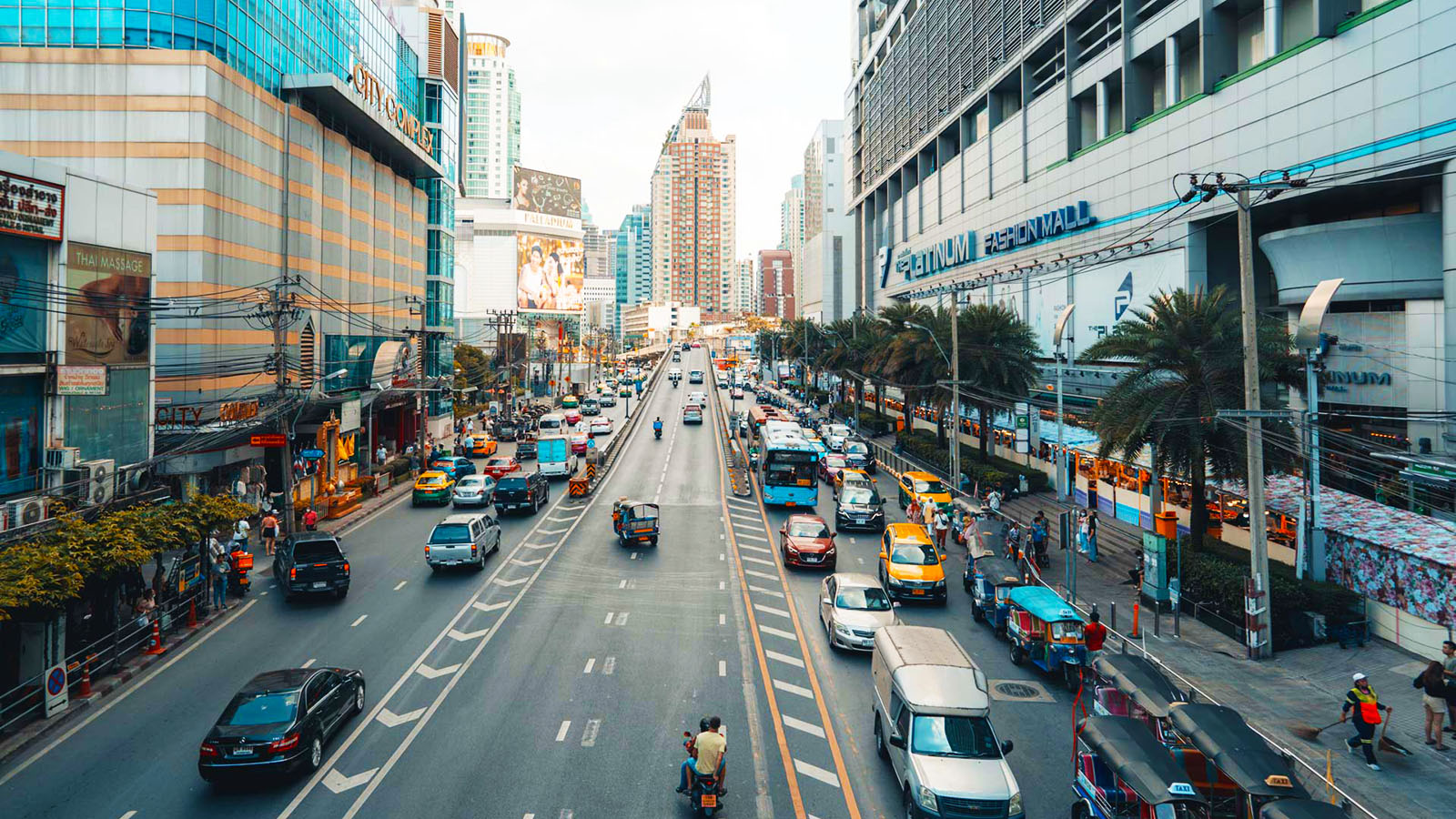 Where to stay in Thailand for the best beaches: Phuket
The island of Phuket is at the top of the list for many beach-loving travellers, and it's easy to see why. Soft, white sand stretches as far as the eye can see, complemented by crystal-clear waters and year-round warm temperatures. With a beach towel in one hand and a cocktail in the other, you can spend the day soaking up the sun along Phuket's gorgeous coastline. We did just that during our 5-night Phuket itinerary.
And when the sun goes down, Phuket comes alive. Patong beach plays host to the island's best nightlife. Bars, clubs and live entertainment pump on until the early hours of the morning almost daily. But for a more mellow evening by the beach, book a table at one of Phuket's many seaside restaurants. Fresh seafood and a cool ocean breeze are the best combination.
Phuket accommodation
Phuket has some of Thailand's best beaches – so why not choose accommodation close to the action? Solo travellers can select from a variety of backpacker hostels and guesthouses. If you're travelling as a group, opt for a unique Airbnb for maximum space and privacy. You can even pocket Qantas Points from your booking. And if you're heading to Phuket for a romantic getaway, there's no shortage of luxury waterfront resorts, including the spectacular Pullman Phuket Arcadia Naithon Beach.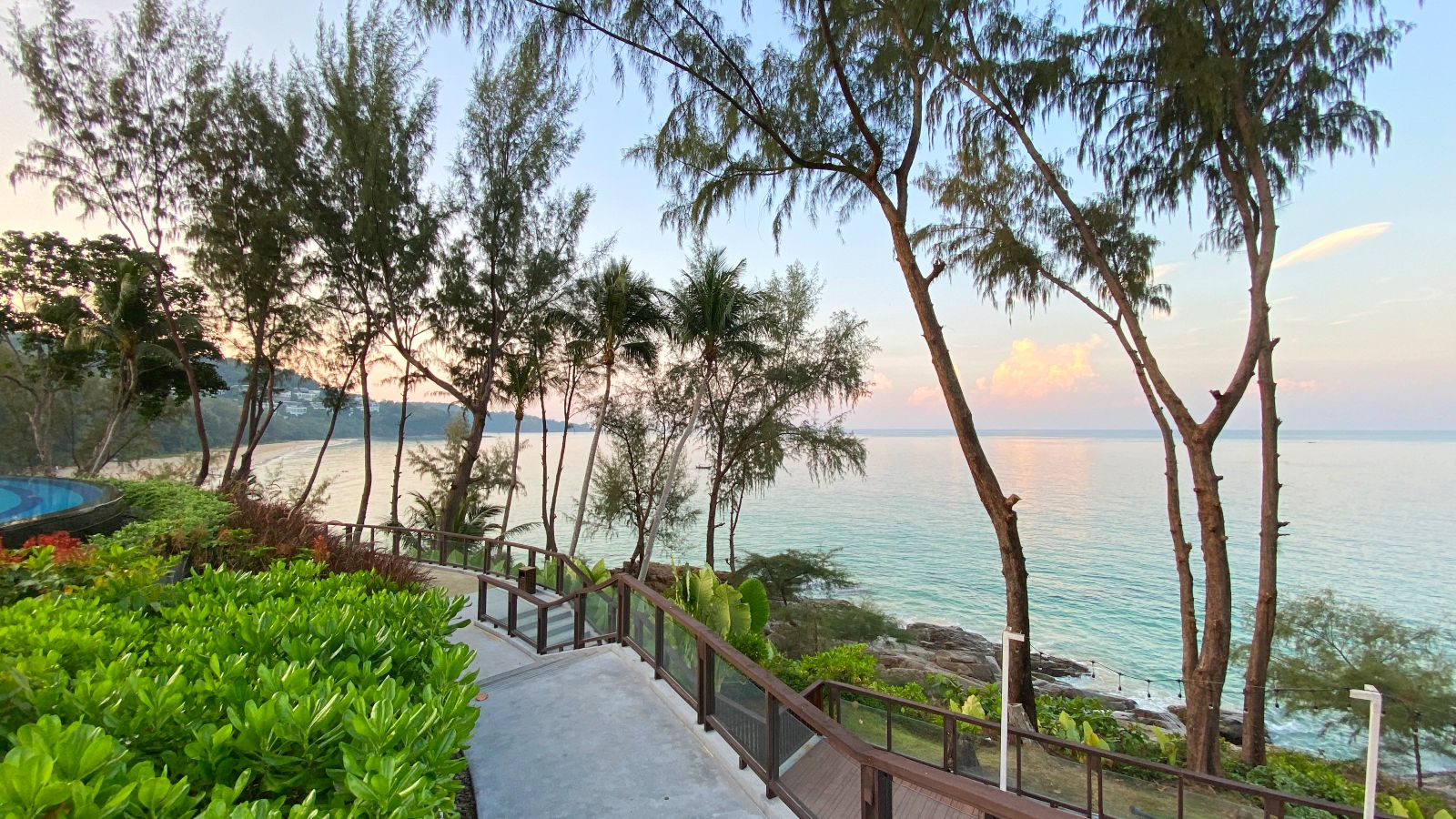 Where to stay in Thailand for couples: Koh Samui
Thailand is a popular honeymoon destination, and the island of Koh Samui is the perfect spot for some post-nuptial R&R. Pristine beaches set the scene for a peaceful getaway, while tranquil tropical forests invite you to immerse yourself and discover some of Thailand's native flora and fauna. This is one location where you should go chasing waterfalls, with plenty of hidden cascades scattered across the island. Some are so secret that you may just have the entire place to yourself.
If you want to venture beyond the island, Koh Samui is surrounded by other smaller islands. Jump on a boat for an island-hopping day trip, and don't forget to bring your bathers for a quick snorkel to discover the vibrant marine life. After a long day of exploring, unwind at one of Koh Samui's many wellness spas, followed by a romantic fine-dining experience at some of the island's trendiest establishments.
Koh Samui accommodation
Koh Samui caters to couples with an array of luxury, all-inclusive resorts to select from. Many offer indulgent amenities like infinity pools, on-site spas and high-end dining. Some resorts in Koh Samui even have direct beach access, making it easier for you to slip out of bed and into the sea.
Resort accommodation can often come at a premium, but there are ways to get rewarded and enjoy extra benefits during your stay. Sign up for a hotel loyalty program to take advantage of member-exclusive rates and work your way towards high-tier benefits like a welcome drink, late check-out and complimentary upgrades to make your couples' getaway to Koh Samui more memorable.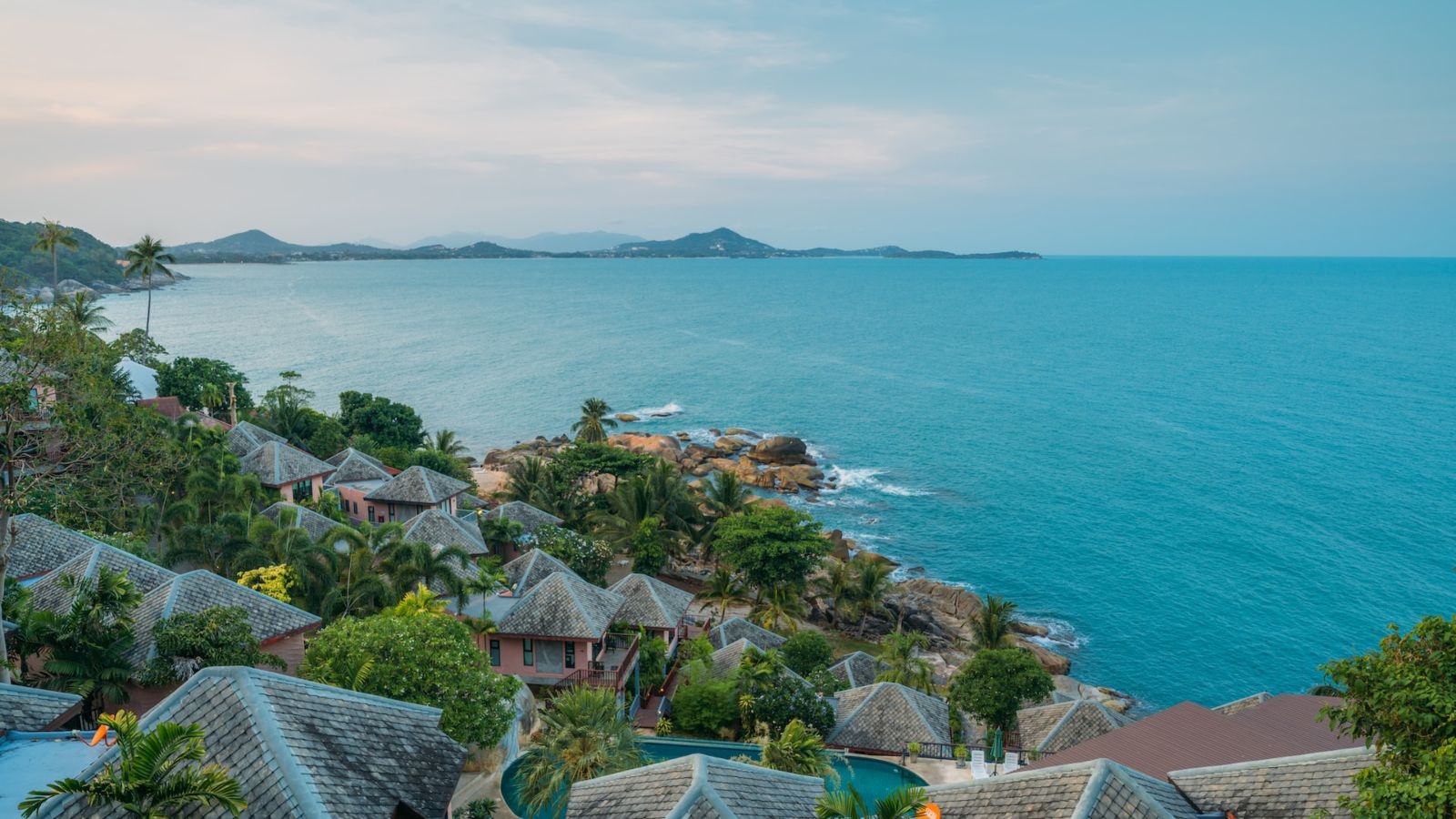 Where to stay in Thailand for families: Chiang Mai
Chiang Mai offers a more laid-back atmosphere than many other areas in Thailand, making it ideal for a family getaway. The city is far less bustling than Bangkok but maintains an otherworldly charm. Old City, the heart of Chiang Mai, is defined by ancient walls that house many of the city's 300 temples. You could easily spend an entire day strolling through the streets (or jumping aboard a tuk-tuk) and discovering the many hidden gems in Chiang Mai.
Every Sunday, a one-kilometre strip of road in Chiang Mai's Old City completely closes to traffic. From 4 pm the street transforms into one of Thailand's most vibrant night markets. Eat your heart out with dozens of street food vendors offering everything from pad thai to mango sticky rice. Work your way down the main street – and into the adjacent side streets – and marvel at the stalls selling local handicrafts, clothing and souvenirs.
Chiang Mai accommodation
The relaxed surroundings of Chiang Mai are echoed in its accommodation options, with plenty of family-friendly resorts in and around the heart of the city. Many family resorts have amenities like play equipment, kids' activities and babysitting services, and most offer swimming pools for when the weather warms up in Chiang Mai. Choosing centrally-located accommodation can also save on transport costs, and the ability to walk to major attractions means you can explore at a leisurely pace.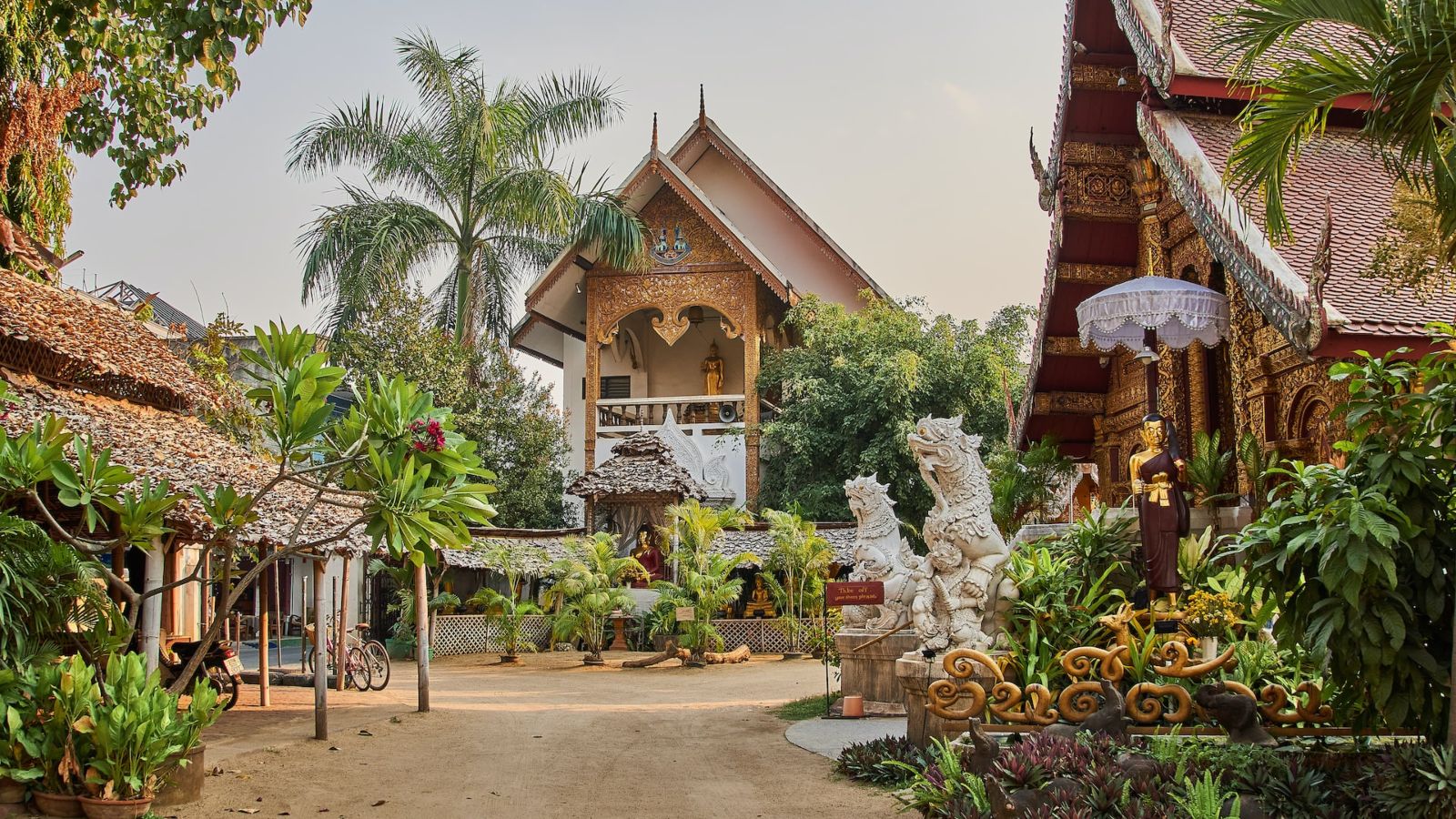 Where to stay in Thailand for nightlife: Pattaya
When it comes to the best nightlife in Thailand, Pattaya takes the cake. This coastal city is located around a two-hour drive from Bangkok along the Gulf of Thailand. While it's a prime location for a day trip, night owls should set aside some time to discover why Pattaya is dubbed Thailand's party central. From the moment you set foot in the city, you'll feel its vibrancy. Restaurants, bars and entertainment venues form the famous Walking Street, a hive of lights, sound and activity. There's something to cater to everyone, with locals and tourists alike flocking to the area.
And if you need ideas to tide you to your next nighttime jaunt, Pattaya during the day certainly doesn't disappoint. The beaches are popular spots for swimming, sunbathing and watersports. Grab a drink (and plenty of sunscreen!), stake a patch of sand and feel the anticipation building before Pattaya bursts to life in the evening.
Pattaya accommodation
If you're planning to sling a few too many Singhas, it helps to have a nearby base after a big night out. Booking accommodation near Central Pattaya – Asia's biggest beachfront shopping mall – gives you easy access to Pattaya's best shopping, nightlife, and of course, beaches. Venture beyond Pattaya beach to the nearby Naklua or Jomtien beaches for a different – albeit just as lively – part of Pattaya.
All of these areas offer an excellent selection of beachfront accommodation, as well as options that are slightly more tucked away from the main roads. If you're looking for accommodation in Pattaya that's easy on the pocket, you'll find an array of hostels and guesthouses. Alternatively, if you prefer your creature comforts, there's an exceptional selection of mid-range to high-end hotels and resorts in and around Pattaya.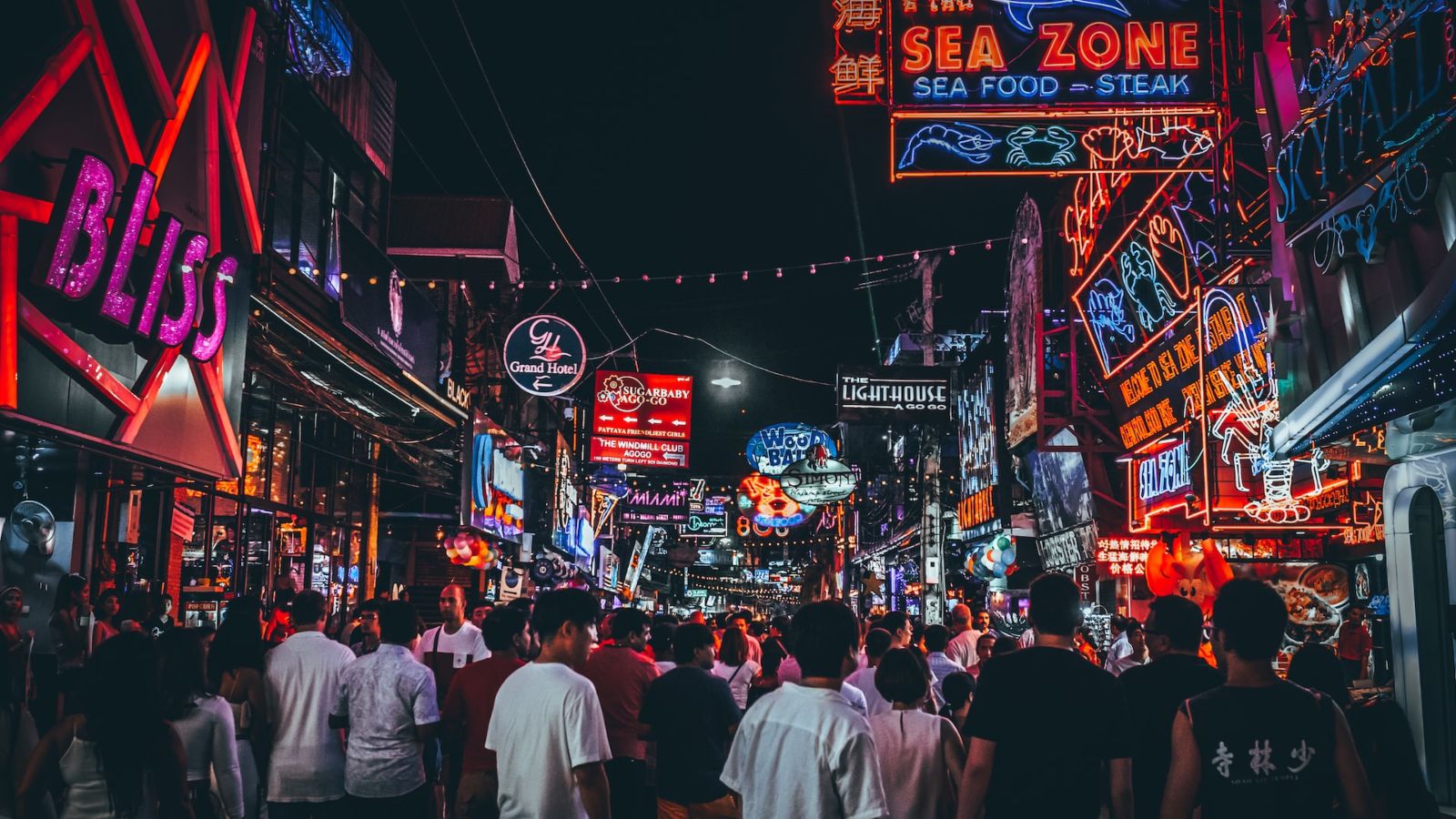 Where to stay in Thailand for adventure: Krabi
Consider yourself an adrenaline junkie? Then make your way over to Thailand's west coast to appease your adventurous side. Located around 800 kilometres from Bangkok, this port town is a gateway to some of Thailand's best natural landscapes. Krabi's scenery comprises limestone cliffs, white beaches and lush forests – the area just screams adventure. Rock climbing provides a panoramic view of Krabi, while ATV riding will keep you closer to the ground. There's also zip-lining, white water rafting and kayaking, among other activities. And if getting the adrenaline pumping isn't on your to-do list, you can also take a relaxing dip in Krabi's turquoise-coloured waters.
Krabi is also the main access point to the popular Phi Phi Islands, located just a short boat ride away from the town centre. While often touted as a party destination, the Phi Phi Islands are surrounded by vast coral reefs, making them an ideal location for snorkelling and diving.
Krabi accommodation
Keep the adventure going with a stay at a beachfront bungalow in Krabi. The area is known for its simple hut-style accommodation that will have you feeling one with your surroundings. If you're seeking something a bit higher up the scale, villas are another popular accommodation choice, providing increased comfort and amenities. Of course, with Krabi being a coastal town, you'll find traditional options like resorts and hotels, too.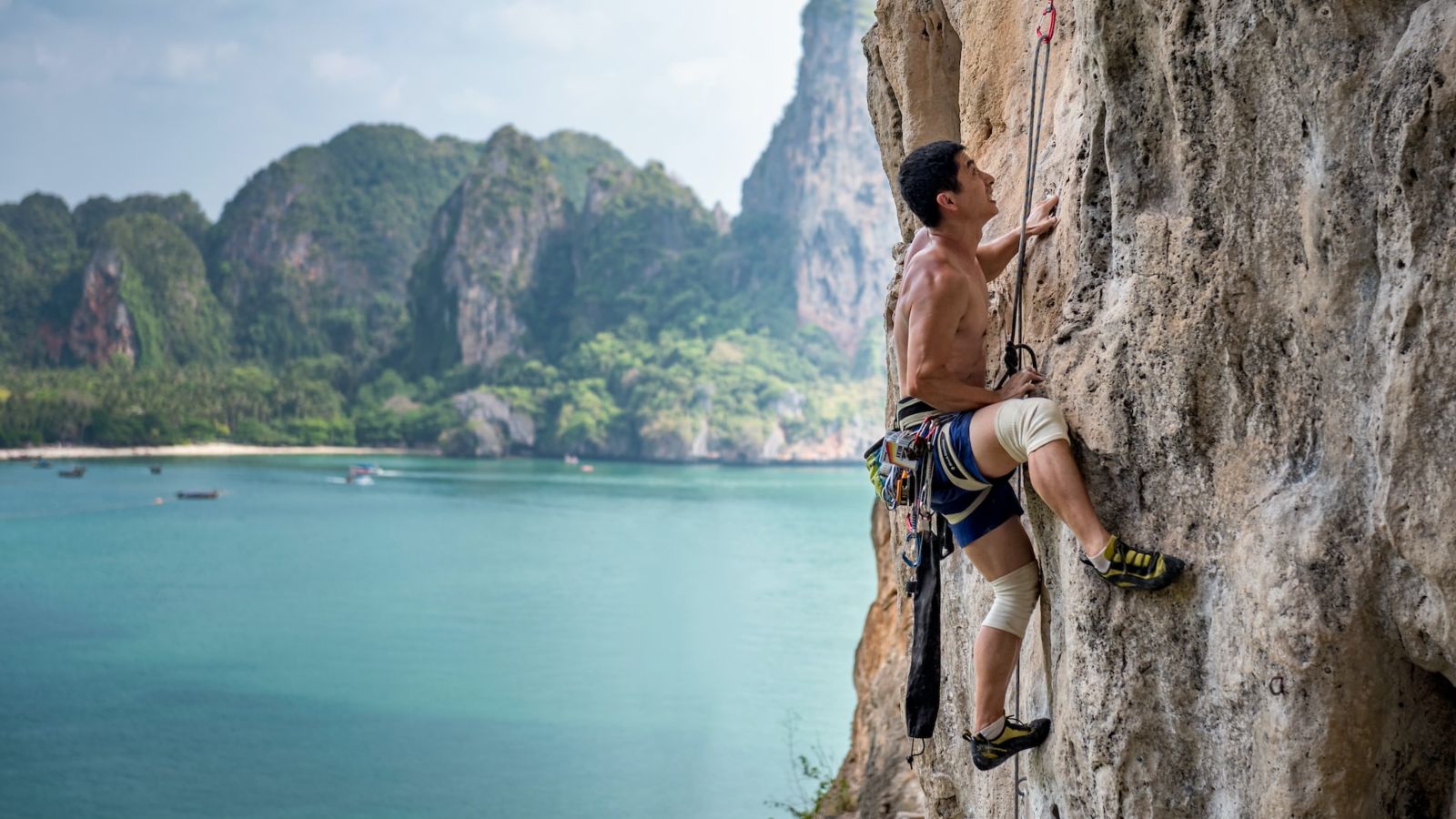 Types of accommodation in Thailand
In addition to knowing where to stay in Thailand, it's important to know the types of accommodation on offer. Thailand's diverse regions lend themselves to a variety of accommodation options, from beachfront luxury to budget-friendly stays. Here's what you can expect when booking accommodation in Thailand.
Hotels in Thailand: convenience and comfort
For many travellers, hotels are the go-to when it comes to accommodation. Offering all the comforts of home, and then some, it's hard not to love a fully-stocked mini-bar, on-site health and wellness facilities, or even the simple delights of a pillow menu. And with Thailand firmly on the map as one of the top destinations in Asia, several global hotel brands have set up shop to cater to the millions of tourists that venture to the country each year.
You'll find dozens of properties across brands like Accor, Marriott and Hyatt, to name a few. And what's even better than an escape to Thailand? Getting rewarded for your escape. Many hotels are affiliated with a hotel loyalty program, with members pocketing exclusive perks depending on your tier. Note that you'll need to book directly with the hotel to count the stay towards your membership.
And even if the hotel you're eyeing doesn't have a loyalty program, you can still earn rewards from your stay. Booking.com's Genius loyalty program gives you a discount of 10-20% at selected properties, plus you'll unlock complimentary upgrades and free breakfast with the program's highest tier. Alternatively, you can pocket Qantas Points on hotel bookings made via Qantas Hotels.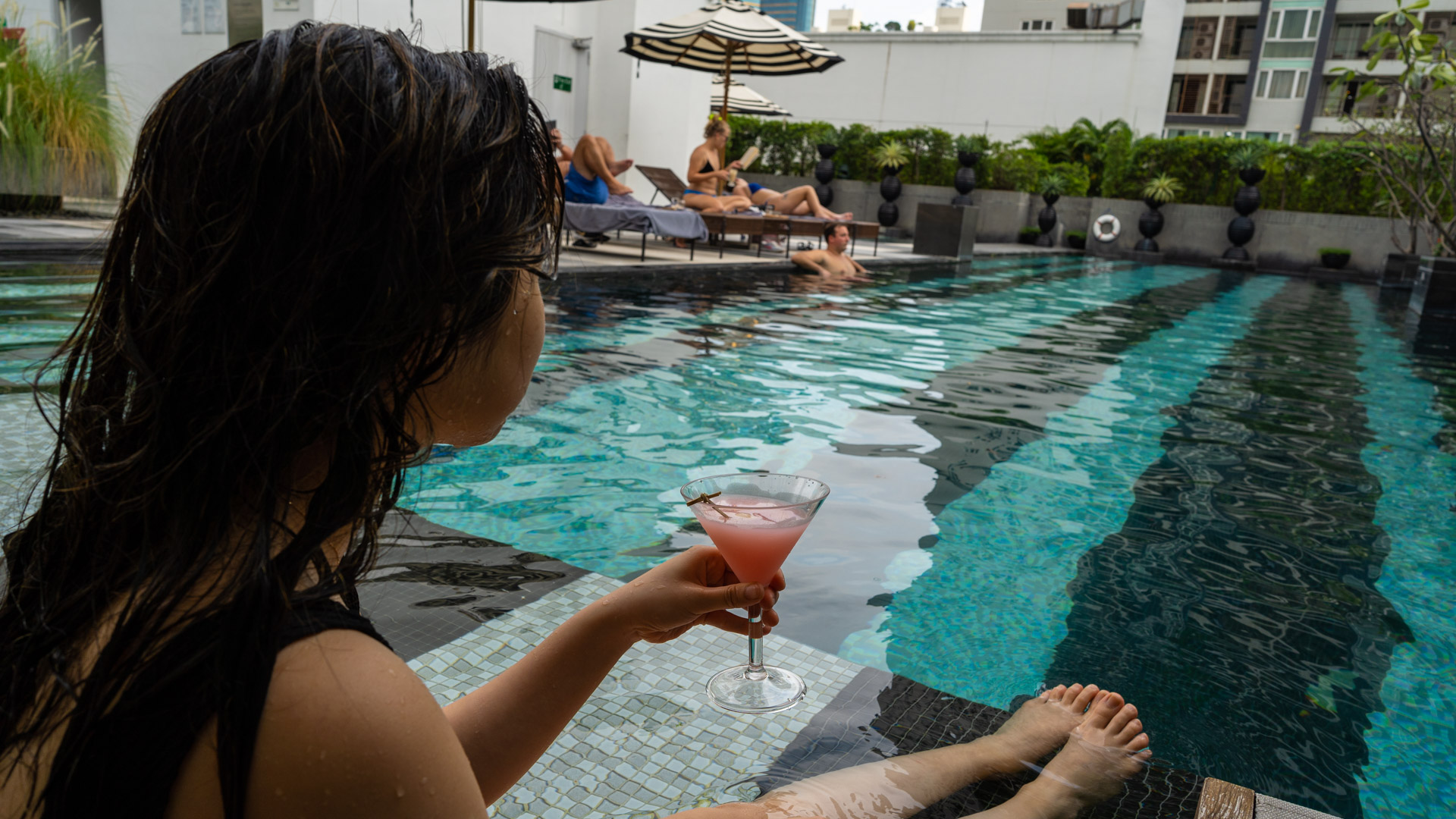 Airbnbs in Thailand: best accommodation for groups
Thailand is just a short hop away from Australia, making it a popular destination for group holidays. Whether you're travelling as a family, a group of friends, or celebrating a special occasion, finding accommodation for a group can be tricky. You want privacy, but you also want enough space to spread out. And of course, convenience matters – especially with so much to see and do in Thailand!
Airbnbs are great for large groups. Booking an entire house or villa not only gives you ample room but can also be more cost-effective than several individual hotel rooms, too. Often you'll have access to all the amenities of home – a full kitchen, a lounge room, and even an al fresco area to bask in Thailand's gorgeous weather. And if you're still not convinced, there are plenty of Airbnb listings that include a private swimming pool.
Thinking of letting loose? That's best saved for one of Thailand's popular party districts. Airbnb has a strict global ban on parties that came into effect on 20 August 2020.
If you're hesitant about booking an Airbnb, all bookings automatically include Airbnb's AirCover. This covers guests for check-in, safety and booking cancellations to ensure a smooth stay.
Don't forget that Airbnb bookings made via Qantas Hotels net you one Qantas Point per $1, and you'll also receive 500 bonus Qantas Points if it's your first Airbnb booking via Qantas Hotels.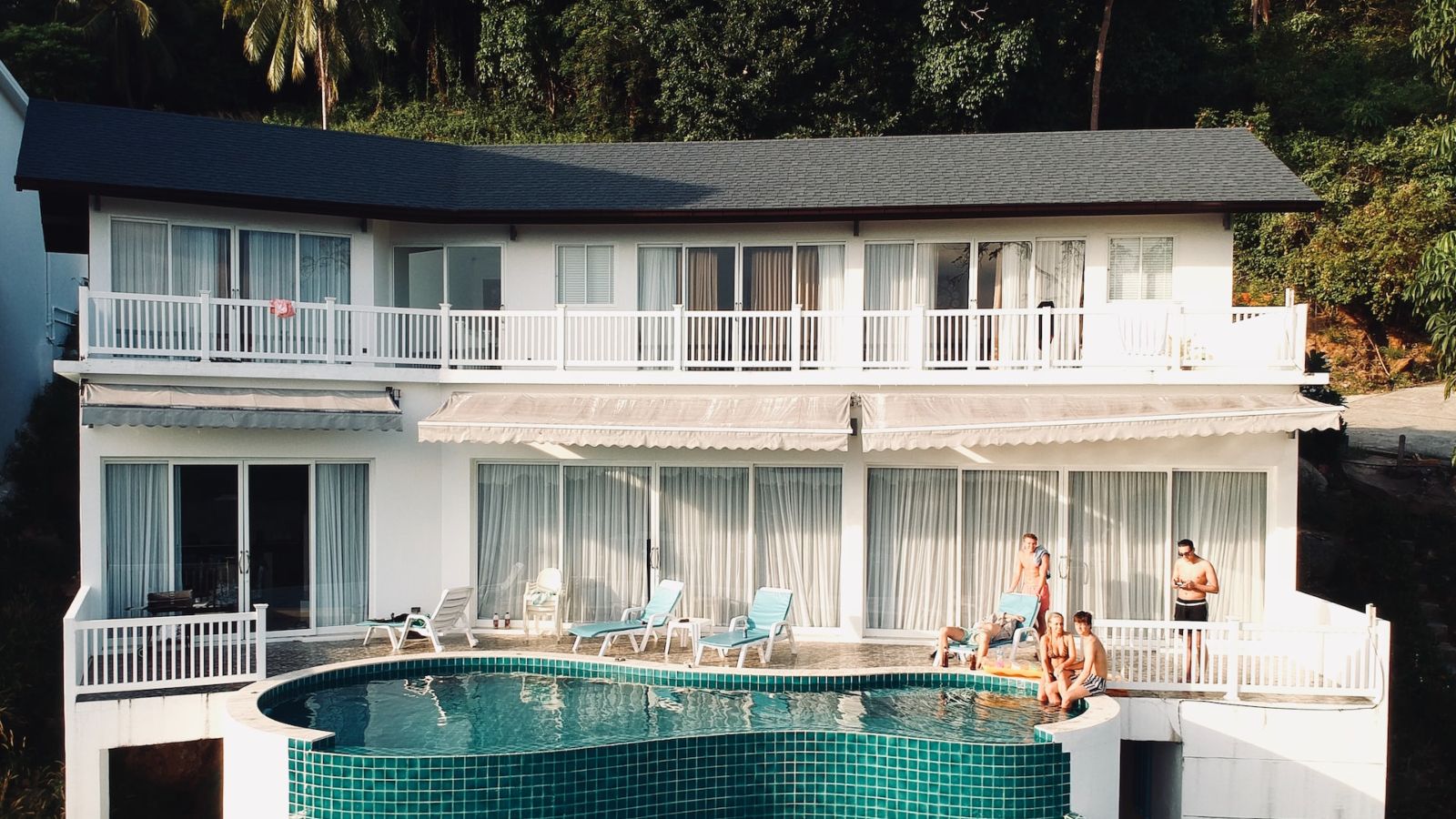 Resorts in Thailand: an all-inclusive getaway
There are a few prerequisites when it comes to a holiday in Thailand with kids – ample entertainment, child-friendly activities and babysitting services for when you need to duck away for a moment. And many family-friendly resorts offer just that and more. Keep an eye out for amenities like kids' clubs, swimming pools, games rooms and playgrounds that are sure to keep little ones engaged.
All-inclusive resorts are a great choice for a romantic couples' getaway, too. If you're heading to Thailand for your honeymoon, be on the lookout for resorts with packages that may include a bottle of wine, a massage or a romantic dinner. The benefit of choosing a Thailand resort for your honeymoon is that you don't need to venture too far to enjoy luxury, putting more quality time on the cards.
Note that while an all-inclusive holiday takes the stress out of planning, it can come at a premium. Food, activities and tours in Thailand can often be independently organised for less. And if you want a true taste of the country, venture beyond the resort to discover some local gems.
Beach bungalows in Thailand: a laid-back experience
Few beaches in the world are as idyllic as those found in Thailand. And what better way to enjoy the serenity – and be just steps away from the shore – than with your own private bungalow?
Bungalows are built with simplicity in mind. They provide a casual accommodation experience and are often nestled among trees for natural cooling and have wide windows to allow natural light. Don't expect to fork out too much, either – bungalows can be an inexpensive way to disconnect from the world and spend a few days in utter bliss.
While you'll find beach bungalows throughout Thailand, including in popular areas like Phuket, they're not all bookable online. Some accept bookings via email or phone, while others will accommodate walk-ins. But you certainly can pre-book your beach bungalow experience, with several listings on sites like Booking.com, Agoda and even Qantas Hotels.
Bear in mind that most beach bungalows are small – suitable for two people at most. They may not be ideal for families or large groups that require more space. Some bungalows are fitted with basic cooking facilities, but not all – and separate lounge and dining areas are even harder to come by. But with the ocean at your doorstep, you can whip up a simple feed and then head outdoors to enjoy the view.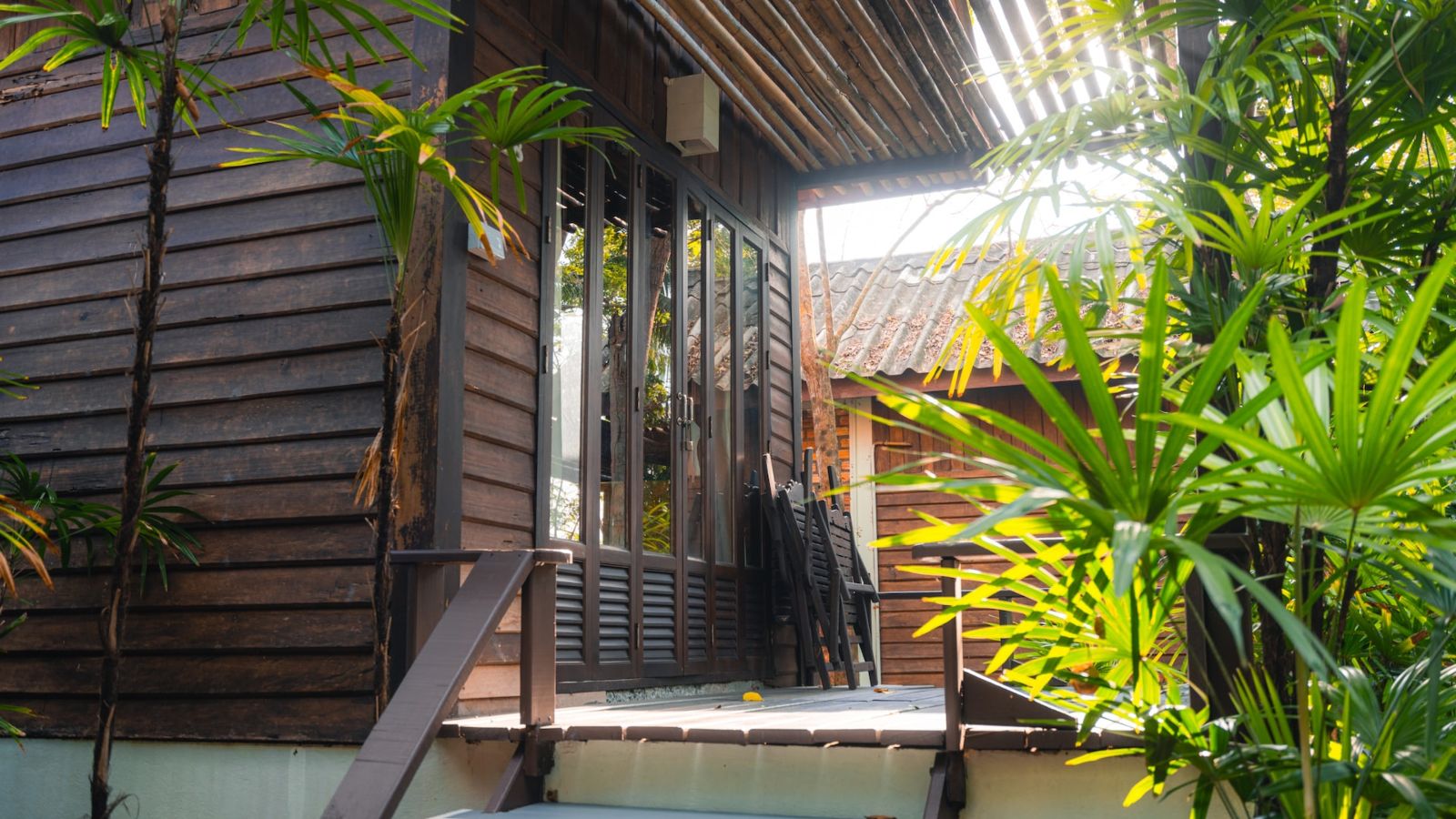 Travel to Thailand from Australia
Found your dream accommodation in Thailand? It's time to start planning your holiday. Qantas and Thai Airways fly direct from Australia to Thailand, while Singapore Airlines offers smooth one-stop journeys via Singapore. And if you're after the ultimate comfort, you can even fly there in style in Singapore Airlines A350 Business Class.
Check out all of our Thailand travel guides for more tips and tricks.
Featured image: Sara Dubler, Unsplash
FAQs
Where should I go for the first time in Thailand?
Bangkok is a great starting point for your first trip to Thailand. It's packed with plenty to see and do – temples, markets, an array of dining options, plus some of the world's largest shopping malls. And getting around is easy via train or the rideshare app Grab.
Where is the best part of Thailand to stay?
Each area of Thailand has its own unique charm, and the best place to stay is entirely dependent on your personal preferences. If you like history and cooler weather, Chiang Mai in the country's north won't disappoint. If you enjoy bright lights and city vibes, Bangkok is an absolute must. And if you're looking for a relaxing beach holiday, head to the popular areas of Phuket or Koh Samui.
Which is the best island to stay in Thailand?
Thailand is home to 1,430 islands, but the best one for you depends on your budget, preferences and travel style. Some of the most popular islands are Phuket, Koh Samui and Koh Phi Phi, but there are many more waiting to be discovered.
Which part of Thailand has the best beaches?
Phuket is highly regarded as having the best beaches in Thailand. Its long stretches of sand, turquoise waters and abundance of watersports and other activities make it one of the top places to visit in Thailand.
Ultimate guide to Thailand accommodation: where to stay
was last modified:
April 17th, 2023
by