Booking.com is one of the world's leading third-party hotel booking platforms. Its loyalty program, Genius, offers generous discounts and member-exclusive benefits at participating properties across the globe.
We delve into the details of Booking.com's Genius loyalty program and why it's worth considering.
How does the Booking.com Genius program work?
The Booking.com Genius loyalty program is an easy way to book accommodation at participating properties worldwide for a discounted price.
There are three levels of the Genius rewards program:
Level 1 is the program's entry-level tier, where you can instantly access a 10% discount on your stay.
To unlock Level 2, you must complete five stays across a two-year period. You'll earn a discount of up to 15%, plus complimentary breakfast and free room upgrades on select stays.
To reach Level 3, you need to complete 15 stays within two years. This level awards you a discount of up to 20% and priority support, plus select stays enjoy a free room upgrade and free breakfast.
To progress to the next level, you'll need to complete a set number of stays rather than nights. This means that if a single booking consists of four nights, this counts as one stay. But given that you need a mere five stays to reach Level 2, those short overnight getaways can add up quickly. And there's no reason that you can't explore a few different hotels over the duration of your holiday.
Unlike typical hotel loyalty programs, there's no need to maintain your status with the Booking.com Genius program. Once you've unlocked a level, you'll enjoy the benefits for life.
Note that the discounts and benefits only apply to participating properties listed on Booking.com, and discounts are applied before taxes and charges. Participating properties are indicated by a blue Genius logo next to the name of the property.
And don't forget that your stays accumulate over a period of two years. The ability to mix and match brands and price points over a longer timeframe is certainly a highlight of Booking.com's Genius loyalty program.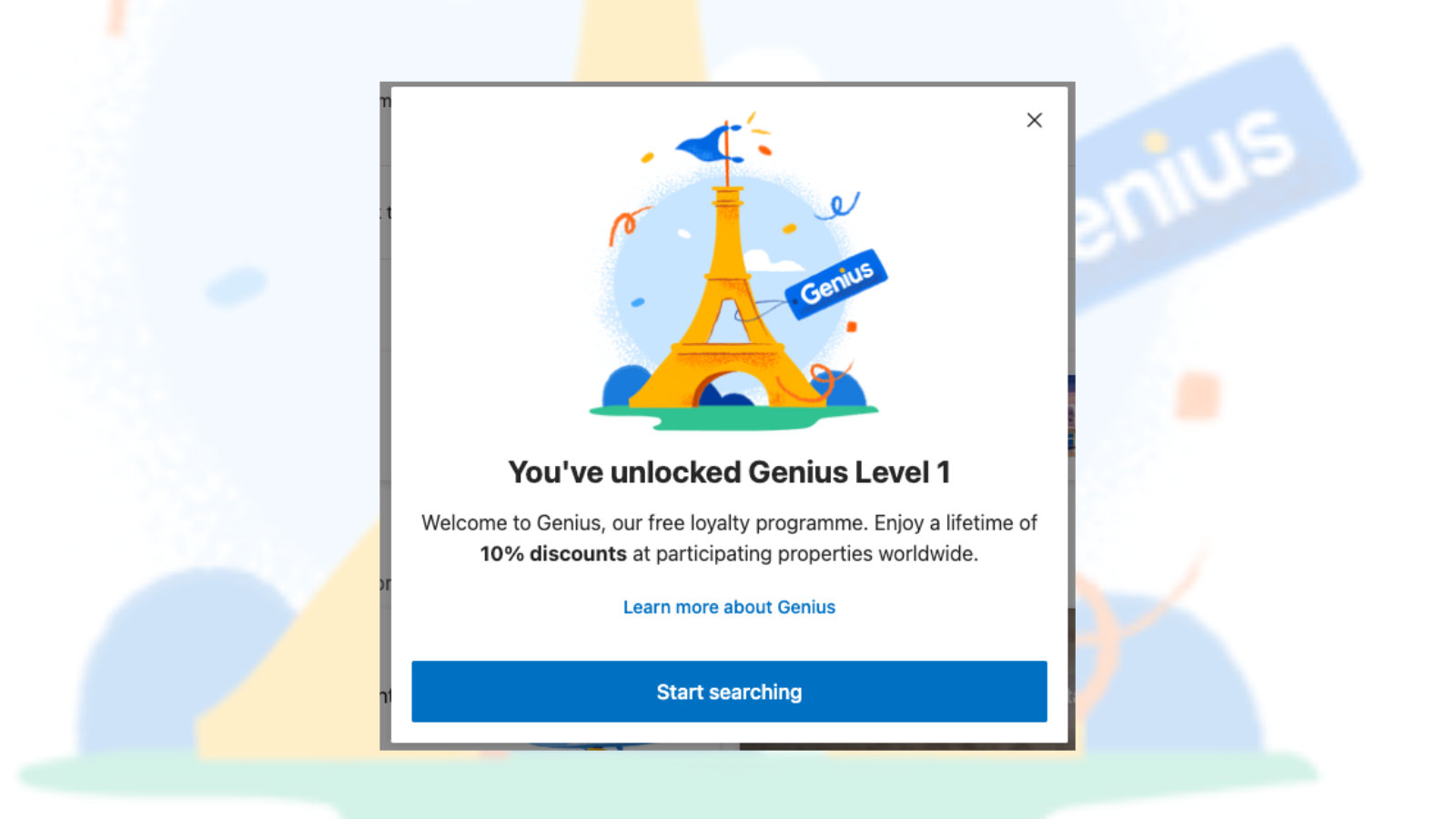 How do I join the Booking.com Genius loyalty program?
Signing up for the Genius program is free. You'll just need to create an account on Booking.com to begin earning rewards instantly. Plus, you can track and manage your bookings from your account's dashboard.
How do I redeem Booking.com Genius discounts?
The discount applicable to your level is automatically applied when you book a stay at a participating property. There's no need to enter a code or do anything special to obtain your discount. Simply keep an eye out for the blue Genius logo next to the name of the property when searching – this lets you know that you'll receive benefits as a Genius member. You'll also see the discount percentage highlighted, and you can hover over the total price to see your savings.
How do I maximise my Booking.com Genius rewards?
Here are a few tips and tricks to get the most out of your Booking.com reservation.
1. Look for the blue Genius logo
This denotes that the property is part of the Genius program, and you'll receive the benefits applicable to your level. You can also filter your searches by properties that are participating in the program by selecting 'Genius Discount'.
Booking.com states that properties must be well-reviewed to participate in their loyalty program – so you can make your booking with confidence.
2. Book accommodation using Booking.com for other people's travel
If you're normally the designated 'travel planner' at work or among your personal network, you can amass plenty of stays just by booking travel for others. Simply log into your Booking.com account to make a reservation, ensuring you enter the details of the primary traveller. The stays will be credited to your account.
3. Use Booking.com to book apartments and hostels
Airbnb is the go-to platform for sourcing apartments and unique accommodation, and you can even earn Qantas points on Airbnb bookings.
But if you're chasing the perks of Genius membership, you'll find plenty of spacious apartments, quirky homes and even budget-friendly hostels on Booking.com that can inch you closer to the next level.
4. Pay with a points-earning credit card
Get more out of your booking by paying with a credit card that earns frequent flyer points. There are a number of credit cards in Australia that can earn you Qantas Frequent Flyer Points or Velocity Points, like the Qantas American Express Ultimate and American Express Velocity Platinum.
5. Skip the foreign transaction fees
Notably, many properties on Booking.com require payment in the local currency. The extra bank fees incurred may offset the savings from your membership level, especially on more affordable properties. You can bypass this and save yourself several dollars by booking with a card that has no foreign transaction fees, like the Bankwest Qantas Platinum Mastercard.
Can I use promo codes on Booking.com and still earn rewards?
It's entirely possible to combine certain discounts on Booking.com. This means your Genius discount can stack on top of property-specific discounts and offers, so you'll save even more while collecting stays.
For example, this property offers a whopping 32% discount – 10% from Genius membership, and the remainder is attributed to an 'Early Booker Deal'.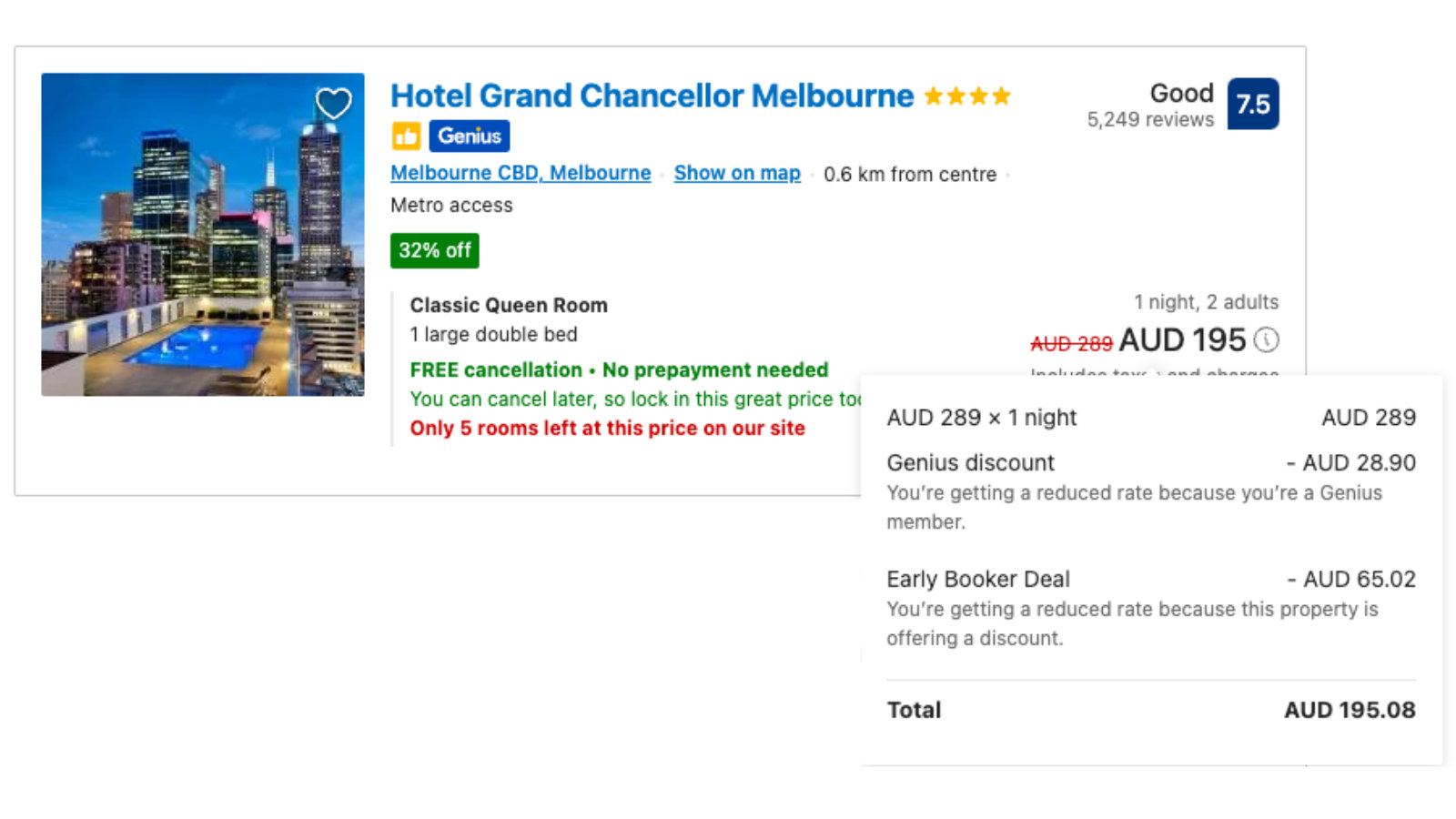 The Booking.com mobile app also offers a 'mobile discount' on certain properties, so you can stay for even less simply by booking on a mobile device.
What are the downsides of Booking.com Genius rewards?
We've highlighted the two-year timeframe to amass stays to progress to the next level. But for infrequent travellers, collecting stays rather than nights can make it challenging to move up. Stays older than two years do expire and won't be credited towards your progress. But given that the benefits are lifelong, it may be worth squeezing in a one-night stay at a wallet-friendly property (make sure it's got the blue logo!) to secure the perks for future stays.
If you're already a member of the hotel's loyalty program, you can't double-dip on rewards. Unless you book directly with the hotel, you won't be entitled to the status benefits of its loyalty program.
High-tier members of hotel loyalty programs often already receive complimentary breakfast and room upgrades – the key benefits of the Genius rewards program – among other perks. In such a scenario, it may be more beneficial to retain status with your preferred hotel chain by booking directly.
Summing up
Booking.com's Genius loyalty program is a great alternative to chasing status with a particular hotel loyalty program, especially if you're an infrequent traveller and enjoy the variety of different brands.
And given that the perks are lifelong, it's worth working towards the next level so you can lock in discounts for future travel.
FAQs
How does Booking.com's Genius program work?
The Genius loyalty program rewards members who complete a set number of stays across a two-year period. Each level unlocks greater discounts and benefits, which are yours to enjoy for life.
How do you become a Booking.com Genius member?
To join the Genius loyalty program, simply sign up for a free account on Booking.com.
How many Booking.com Genius levels are there?
There are three levels of Booking.com's Genius loyalty program, the highest of which offers up to 20% discount on stays.
Can I earn Booking.com Genius rewards when I use a promo code?
Booking.com promo codes can stack on top of any Genius discounts, saving you more on your stay.
The Ultimate Guide to Genius
was last modified:
October 19th, 2023
by