Thailand is a treasure trove for travellers seeking a balance of picturesque beaches, historical monuments and sprawling natural landscapes. There's something to entice every explorer, and knowing what Thailand's weather is like throughout the year can help you plan for a memorable getaway.
Regardless of when you travel to Thailand, it's crucial to have travel insurance under your belt – you never know what the weather may bring. Credit cards like the St.George Amplify Qantas Platinum, Westpac Altitude Qantas Platinum and the American Express Qantas Business Rewards include complimentary travel insurance. And there are even bonus frequent flyer points up for grabs when you sign up and are approved for a new card, plus meet the minimum spend requirement – so you could be soaring to Thailand sooner.
But before you get stuck into planning your trip, our guide below to the weather in Thailand by month can help you choose the best time of year to visit.
What is the weather like in Thailand?
Thailand spans over 1,700 kilometres from north to south, and the weather across the country varies greatly depending on the region you're planning to visit. The northern regions of the country are mountainous, with lush forests and sweeping national parks. To the south of the country, you'll find pristine beaches, stunning islands and crystal-clear waters. Thailand experiences two distinct seasons – wet and dry. But no matter what time of year you choose to visit, there's sure to be something to delight.
We break down the weather in Thailand by month so you'll know what to expect during your trip.
Thailand weather by month
Thailand weather in January
In January, the northern areas of Thailand are cool and dry, making it ideal for trekking, cycling and other outdoor activities. Daytime temperatures average between 20°C to 24°C before dropping in the evening. The nation's capital, Bangkok, sits at a lower altitude and experiences temperatures in the high 20s for most of January. If you're heading to the coast, brace yourself for the odd downpour. But don't let this dampen your hopes of diving, snorkelling or island hopping – Thailand's weather in January provides calm, clear oceans that are perfect for marine exploration.
Thailand weather in February
Cool, dry conditions make Thailand favourable for a visit in February. The northern parts of the country experience temperatures of around 22°C to 25°C during the day, accompanied by a light breeze. If you're looking to immerse yourself in the rainforest of Khao Sok National Park, February is a great time to do so.
A visit to Thailand in February isn't complete without attending one of the many events held throughout the country. Of note is the Chiang Mai Flower Festival that runs for three days in February. Experience an explosion of colour as floats donned with elaborate floral arrangements weave through the city. Food stalls, art exhibitions and traditional performances are also on display, with comfortable weather that's ideal for enjoying the festivities from dawn 'til dusk.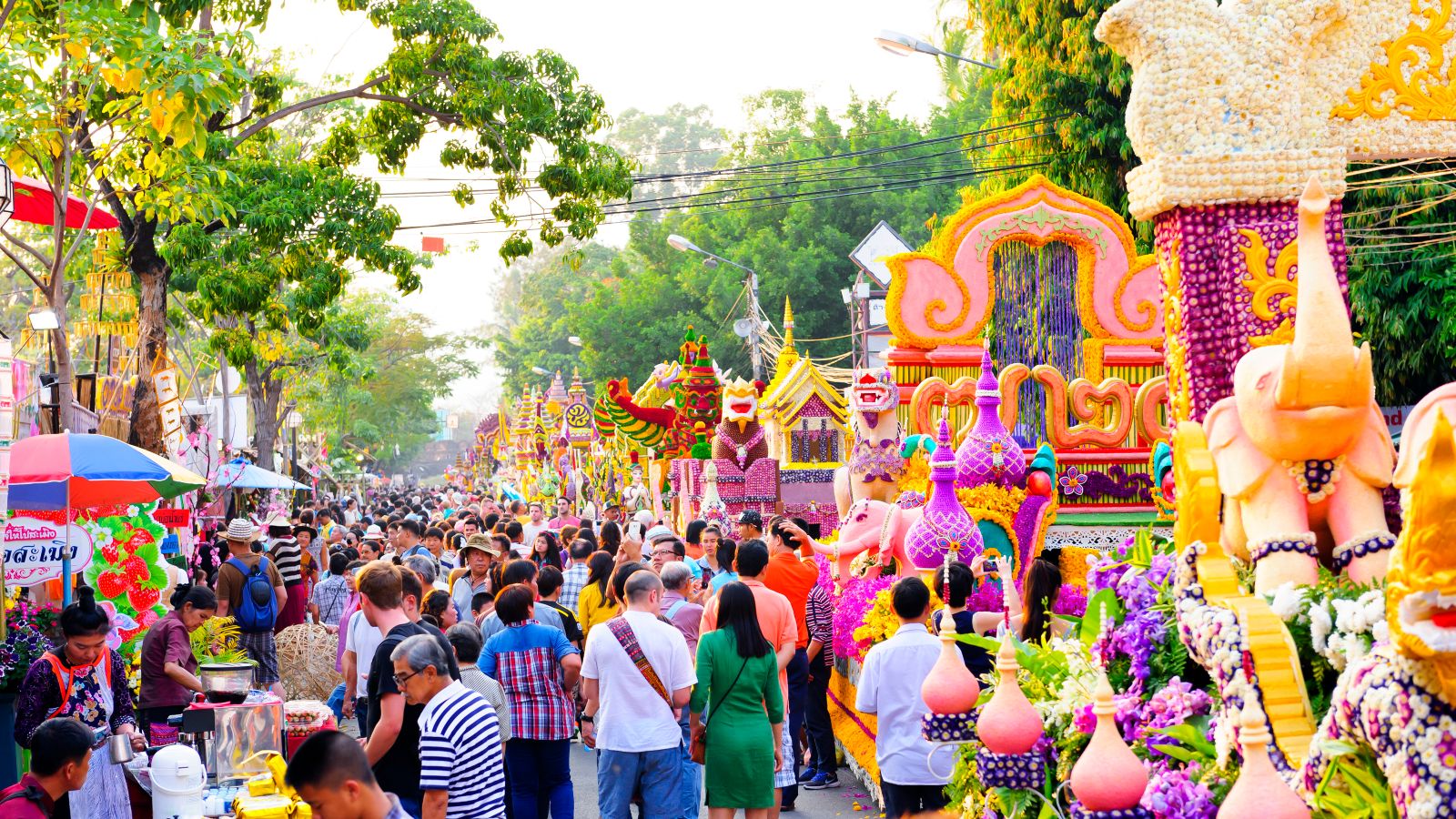 Thailand weather in March
During March, the weather in Thailand begins to rise in preparation for the summer period. You can expect daily temperatures to hover around 26°C to 31°C, and even higher in some parts of the country. The skies are clear and there's an abundance of sunshine to enjoy.
If you're looking to cool down, head to Thailand's coast to bask in its gorgeous beaches. Given the little chance of rain, March is a popular month to visit Ko Samui, Krabi or the Phi Phi Islands. Crowds start to wind down as the dry season draws to a close, but it's best to secure your accommodation in advance.
March has a few national days – National Thai Elephant Day observed each year on March 13, and National Muay Thai Day celebrated annually on March 17. These two days honour some important aspects of Thailand's rich culture, with activities, events and ceremonies held throughout the country.
Thailand weather in April
April is the end of the dry season in many parts of Thailand, and also the hottest month of the year. Temperatures sit at a scorching 30°C to 35°C during the day and night. This can make sightseeing and outdoor activities unbearable during the day, so plan to head out early morning or in the evening to avoid the blazing sun. Some of the largest shopping malls in the world are located in Bangkok, making retail therapy the perfect escape from the heat.
Thailand's most popular festival, Songkran, is held in April. An important event on the Buddhist calendar, Songkran marks the start of the Thai New Year. Crowds take to the streets with water buckets and water pistols to engage in the world's biggest friendly water fight. The three-day event also features music, processions and traditional rituals. Despite the heat, April is a great month to travel to Thailand to experience one of its most exciting events.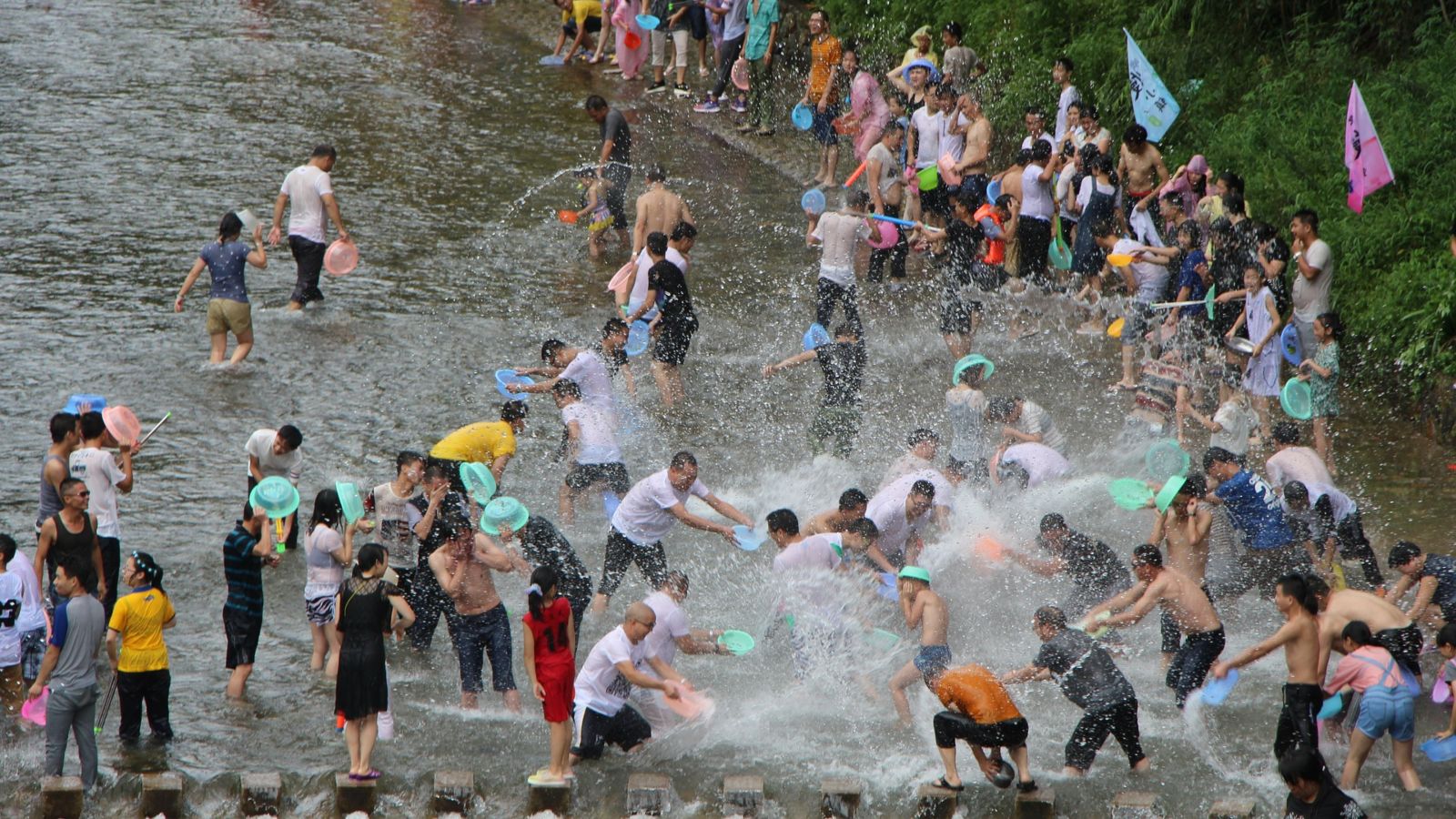 Thailand weather in May
The weather in most regions of Thailand during May is hot and humid, with an average temperature of 35°C. May is the tail end of Thailand's dry season, with the wet weather kicking in the following month. So if you're chasing sunny days – and want to avoid the crowds – May is a wonderful time of year to plan your trip to Thailand.
With the rain still holding off in May, it's a great time to explore Thailand's nightlife. Bangkok, Phuket and Pattaya are a few starting points for night owls, with restaurants and bars that pump on until the early hours of the morning. Or for a bird's eye view, make your way to a rooftop bar and dazzle at the city lights, just like we did when we spent five nights in Bangkok.
Thailand weather in June
June marks the start of the rainy season in Thailand. But don't let a little drizzle get in the way. Temperatures remain high at around 29°C to 31°C and showers are sporadic. The country's lush greenery begins to appear, and it's an excellent time of year to soak in Thailand's natural scenery and avoid being soaked yourself.
For breathtaking views, head to Erawan National Park in the Kanchanaburi province. Its famous seven-tiered waterfall is at its fullest during June, and you can explore the natural pools scattered throughout the park.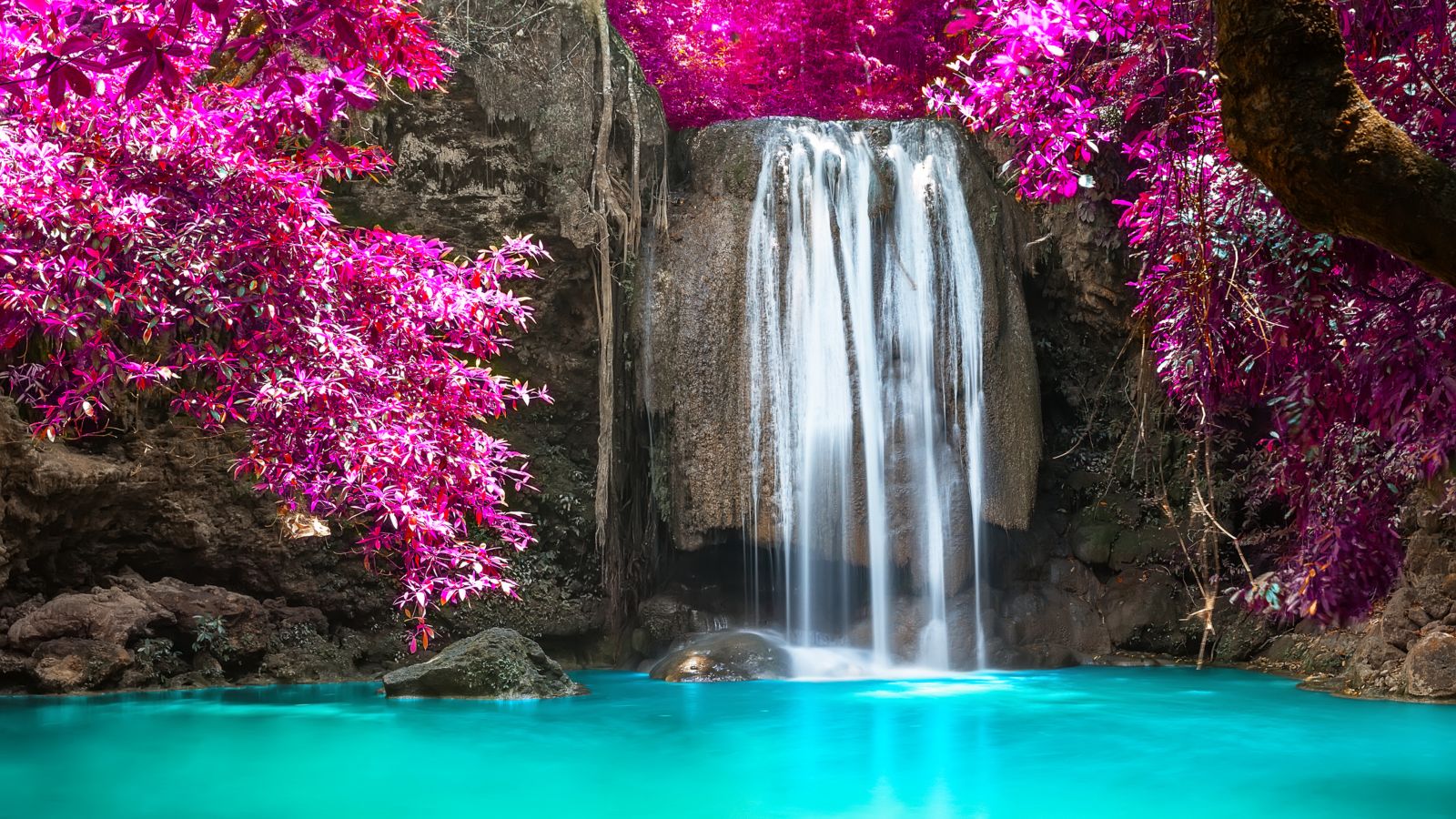 Thailand weather in July
With Thailand's rainy season well and truly underway in July, you can expect temperatures to drop to around 28°C. While still relatively warm, most days are filled with thunderstorms and rain. As you may expect, tourist numbers fall significantly during July, making it one of the cheapest months to visit Thailand.
Accommodation, flights and tours are competitively priced. So if you find yourself jumping on a deal, you'll be glad to know there are still plenty of things to do in Thailand during July. Head to Loei province to experience the Phi Ta Khon festival, or 'ghost festival', which, despite its name, is filled with plenty of lively performances. Alternatively, head to the northeast city of Ubon Ratchathani for the Candle Festival, showcasing some very impressive large-scale wax sculptures. July also marks the beginning of the Buddhist Lent period, with processions and ceremonies held throughout Thailand.
Thailand weather in August
August is the wettest month in Thailand, with rainfall and thunderstorms expected on most days. The weather is hot and humid with temperatures averaging around 28°C. The northern regions can be difficult to navigate during bouts of unpleasant weather, and many beaches along the west coast cease watersports due to unpredictable forecasts.
But that's not to say that it's all bad when you travel to Thailand during August. Much like in July, crowds have cleared and you can nab some excellent deals on your holiday. Some areas of the country remain dry, with the wet weather not in full force until September. Make your way to Koh Samui, Koh Pha Ngan or Khanom along the east coast to catch the last bits of sunshine and have the place virtually to yourself.
Thailand weather in September
Monsoon season is underway across Thailand in September, with the temperature dropping to an average of 25°C. Humidity is at its peak, and thunderstorms are prevalent for much of the month.
But you can still make a trip to Thailand in September work in your favour. Visitor numbers are at their lowest, so you can enjoy many of Thailand's top attractions at your leisure – if you don't mind a little drizzle, of course. The country's mountain regions, national parks and lakes come alive as the rain brings spectacular colours and unparalleled serenity. And if you fancy taking a dive into the country's history, you'll be surprised at how many temples you can knock off in a shorter timeframe when you're not battling crowds.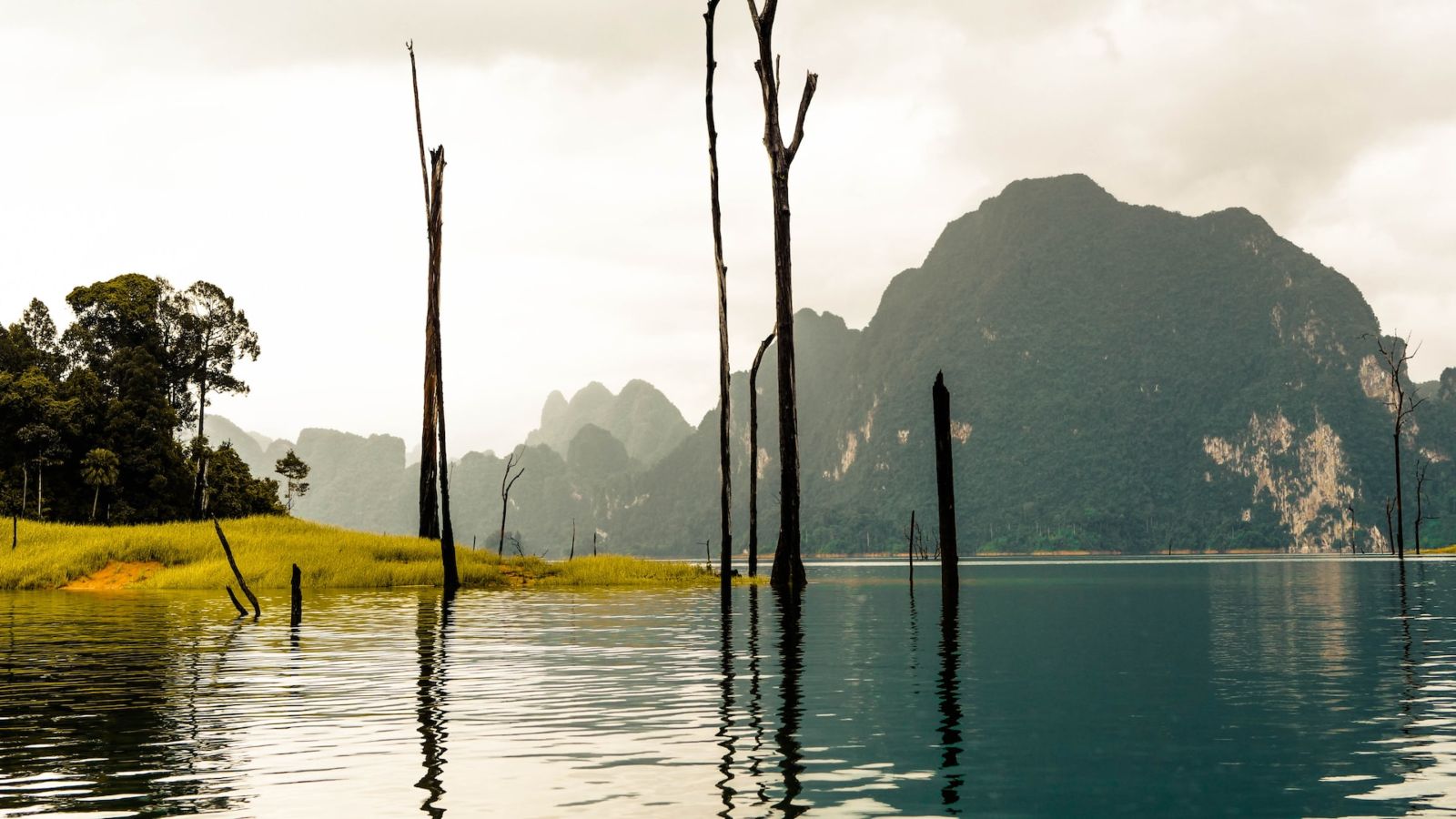 Thailand weather in October
During October, there's a noticeable shift in the weather across much of Thailand as the cooler season looms. Temperatures drop to a more comfortable 25°C to 27°C and the chance of rain recedes.
Regions in the north of Thailand, like Chiang Mai, inch closer to winter. October is a great time to explore while the weather remains pleasant. Take to the streets of Chiang Mai every Sunday for the popular Sunday Walking Street Market, where you can sample local delicacies, enjoy an open-air foot massage and pick up plenty of souvenirs. For something a bit more leisurely, kick back on a scenic cruise along the Kok River, a major waterway that runs through Chiang Mai and Chiang Rai.
Thailand weather in November
November marks the beginning of the dry season in Thailand. Humidity falls, and temperatures across the country average between 22°C to 32°C.
With little to no rain to be expected, it's a great time to head to the coast and nab a patch of sand to yourself before the busy Christmas and New Year period is underway. Clear skies are the perfect backdrop for adventure activities like rock climbing, kayaking and trekking, with windsurfing and jetskiing also ideal with calm waters.
Festivals are held throughout November in Thailand. Loy Krathong, or Festival of Lights, takes place on the full moon of the 12th lunar month, which normally falls in November. This event is celebrated across the country and features candle-lit boats floating down rivers and lakes to pay respects to the goddess of water. Chiang Mai's Yi Peng Festival is held at the same time, where lanterns are released into the sky to wish for good fortune.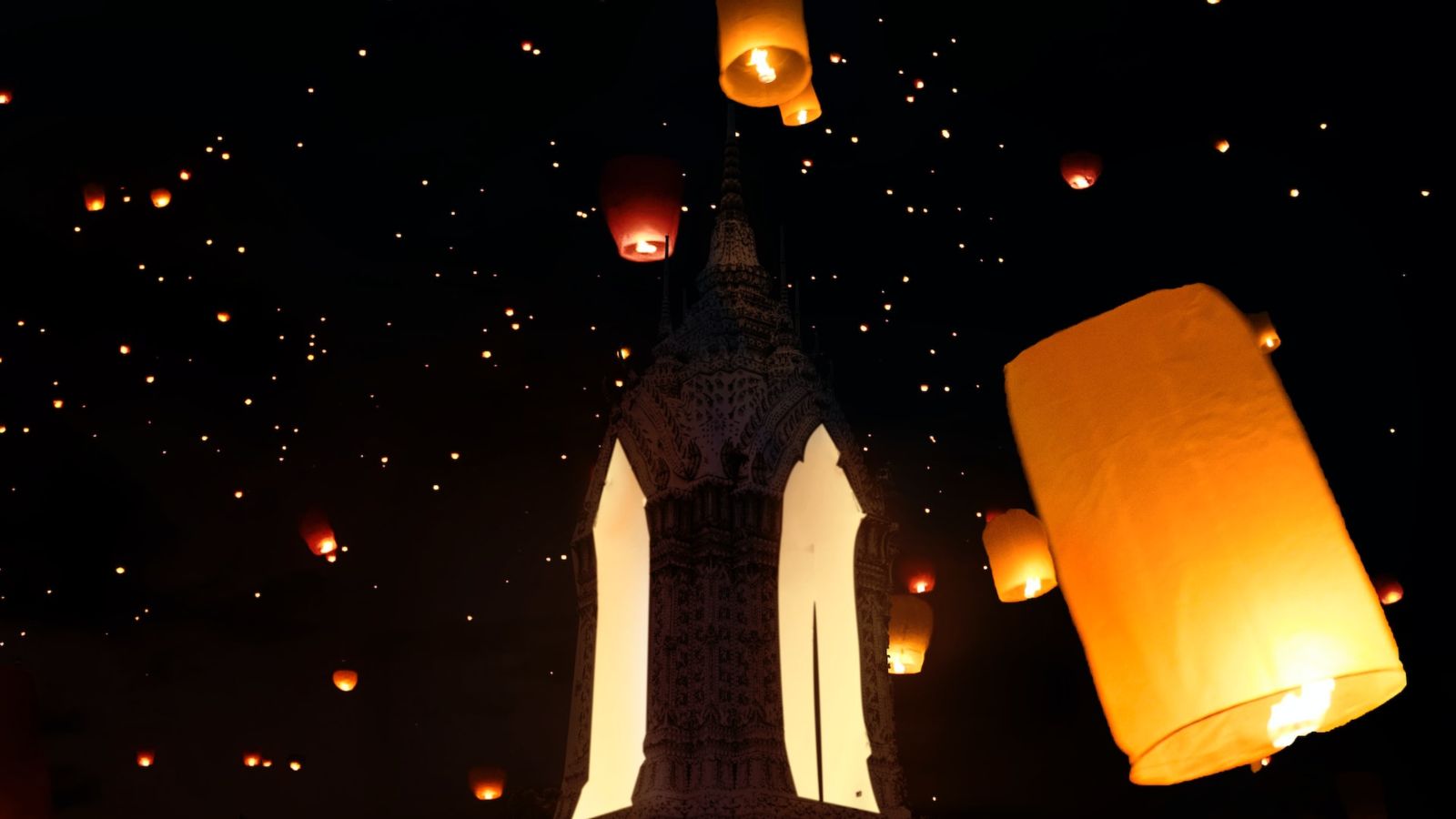 Thailand weather in December
December is one of the busiest times of the year in Thailand. Exceptional weather complements the range of events on offer for travellers, with many making the journey to Thailand over the Christmas and New Year break. Temperatures sit between 20°C to 30°C and humidity is at a low.
Be prepared to book early if you're planning a trip to Thailand in December – it's one of the best times of year to visit, after all. Make the most of the sunshine by island hopping or head to the mountains for a spot of hiking.
Celebrating the New Year in Thailand? The country observes a mixture of traditional and modern celebrations. Bars, beaches and shopping malls are especially popular for events, while a visit to a temple provides a glimpse of some cultural celebrations.
Regardless of what you've got planned for your trip, secure your bookings early. Flights, accommodation and activities book out quickly, with December being one of the most popular months to visit Thailand.
So when is the best time to visit Thailand?
A trip to Thailand is great year-round. Local festivals are held across the country, while temples and historical sites are waiting to be discovered. Whether you're seeking a cocktail-infused getaway or prefer to explore without the crowds, Thailand is an essential destination to add to every traveller's bucket list.
Fly to Thailand from Australia
With flights from Australia to Bangkok with Qantas, Thai Airways and Singapore Airlines, your trip to Thailand is just around the corner.
And if you want to fly to Thailand for less, our Point Hacker's pocket guide to Bangkok is filled with tips and tricks to help you make the most of your frequent flyer points.
Featured image: Evan Krause, Unsplash
FAQs
What is the best month to visit Thailand?
The best time of year to visit Thailand is from December to March, during the country's dry season.
What are the rainy months in Thailand?
Thailand's rainy season is primarily between July and October. During these months, accommodation costs are low and you can explore popular tourist attractions without the crowds.
What is the hottest month in Thailand?
The hottest month in Thailand is April, with temperatures across the country averaging between 30°C to 35°C.
What is the best month to visit Phuket?
The best months to visit Phuket are between December and March when the weather is dry and relatively mild.
The best time of year to visit Thailand: weather by month
was last modified:
August 24th, 2023
by