Virgin Australia's Beyond Lounge isn't your typical Sydney Airport experience. While most regular travellers are content with the 'normal' Virgin Australia Lounge, there's something special tucked away for a very, very select few.
Flying Business Class? Sorry. Have Velocity Platinum status? Sorry again. Travelling Business Class with a Velocity Platinum card? It's still a no.
This goes beyond what's published and public about Velocity Frequent Flyer. There's a secret above-Platinum tier level, unlocking a trio of similarly-secret lounges found in Sydney, Melbourne and Brisbane.
Welcome to the invitation-only world of Virgin Australia Beyond.
Location
Being a private club, if you need to ask for the location, chances are, you don't belong!
But I know you're curious. Virgin Australia's Beyond Lounge in Sydney sits one level above the main floor of its public lounge. Simply scan your Beyond membership card or boarding pass at the private entrance, and the glass doors glide open.
From the outside, it looks like you're entering nothing more than a typical office. And that's by design, to avoid drawing attention. Even the lobby space is muted, with no hint as to what awaits beyond.
Making your way through to the lounge is something of a 'platform 9 and 3/4' scenario. With three sets of doors to choose from, two are decoys, while the third swings open as you're just about to walk into it.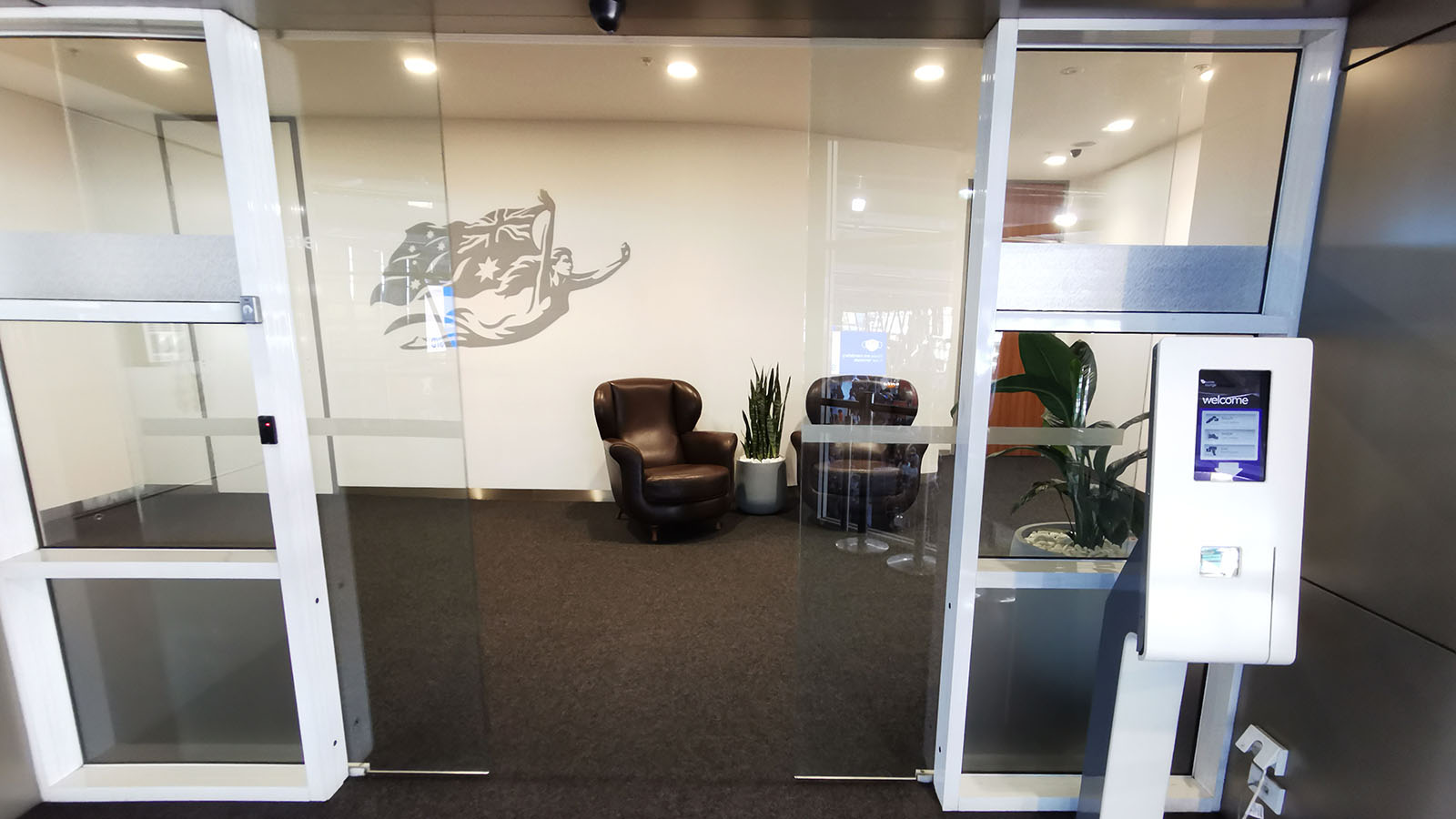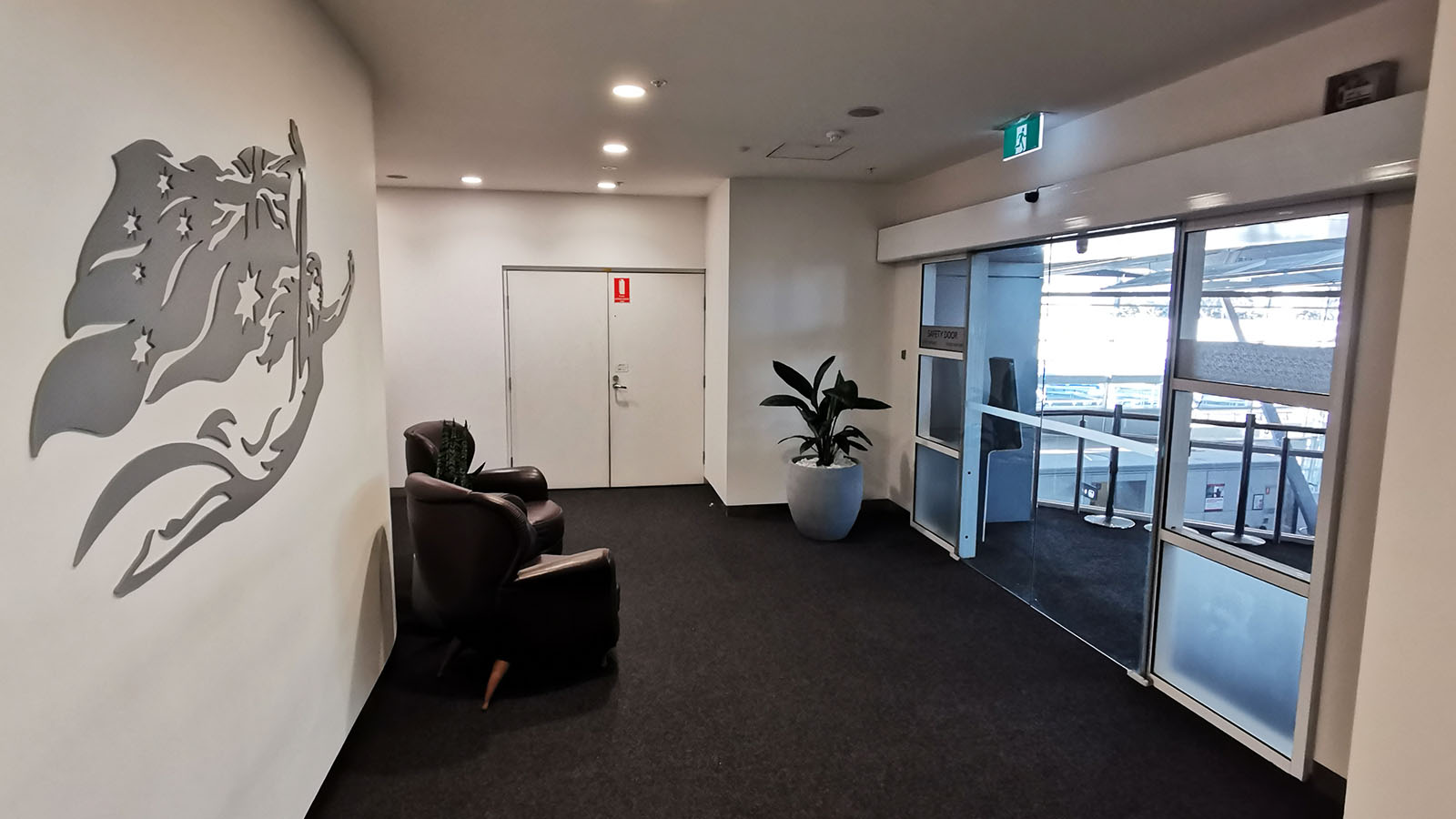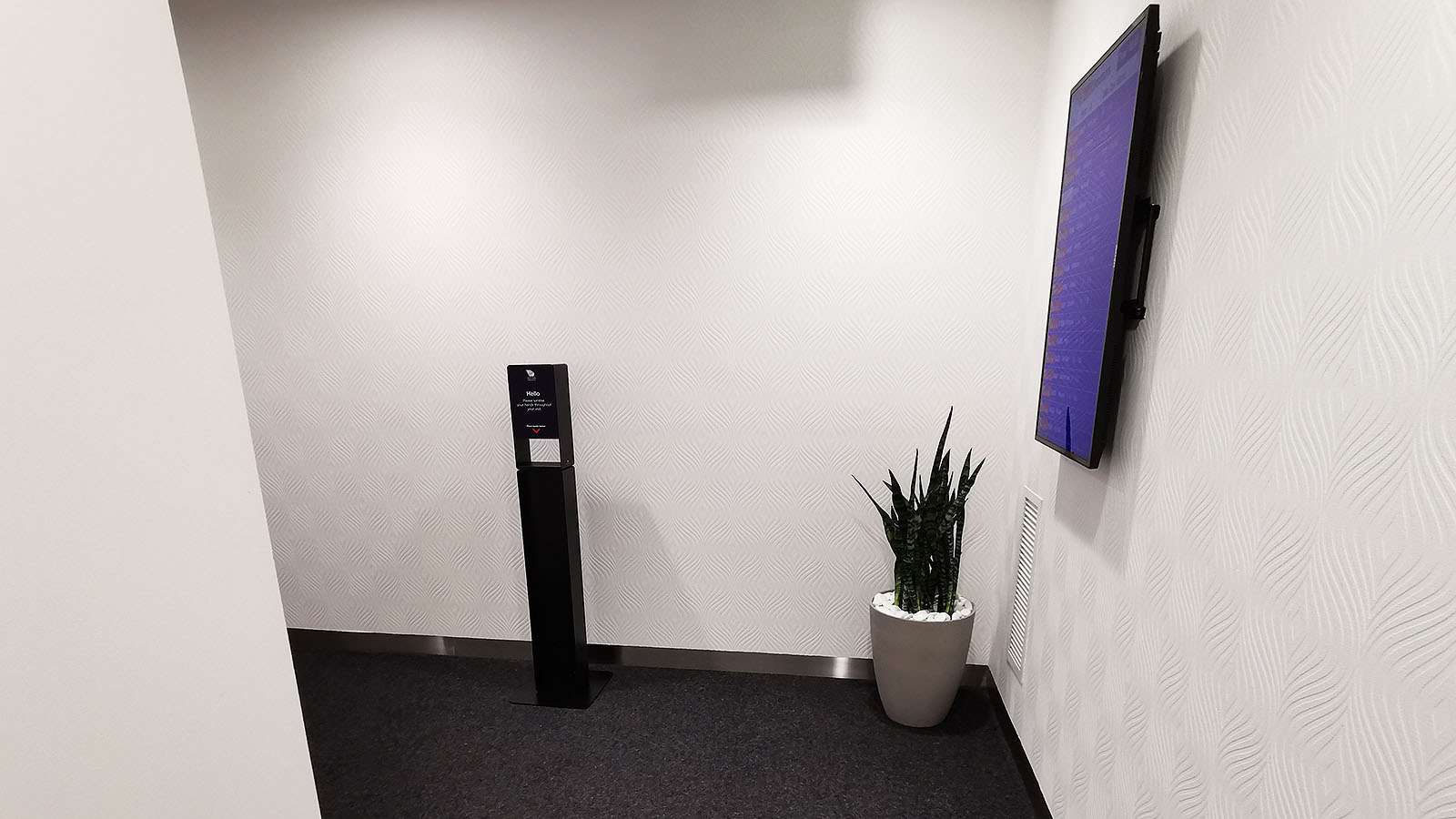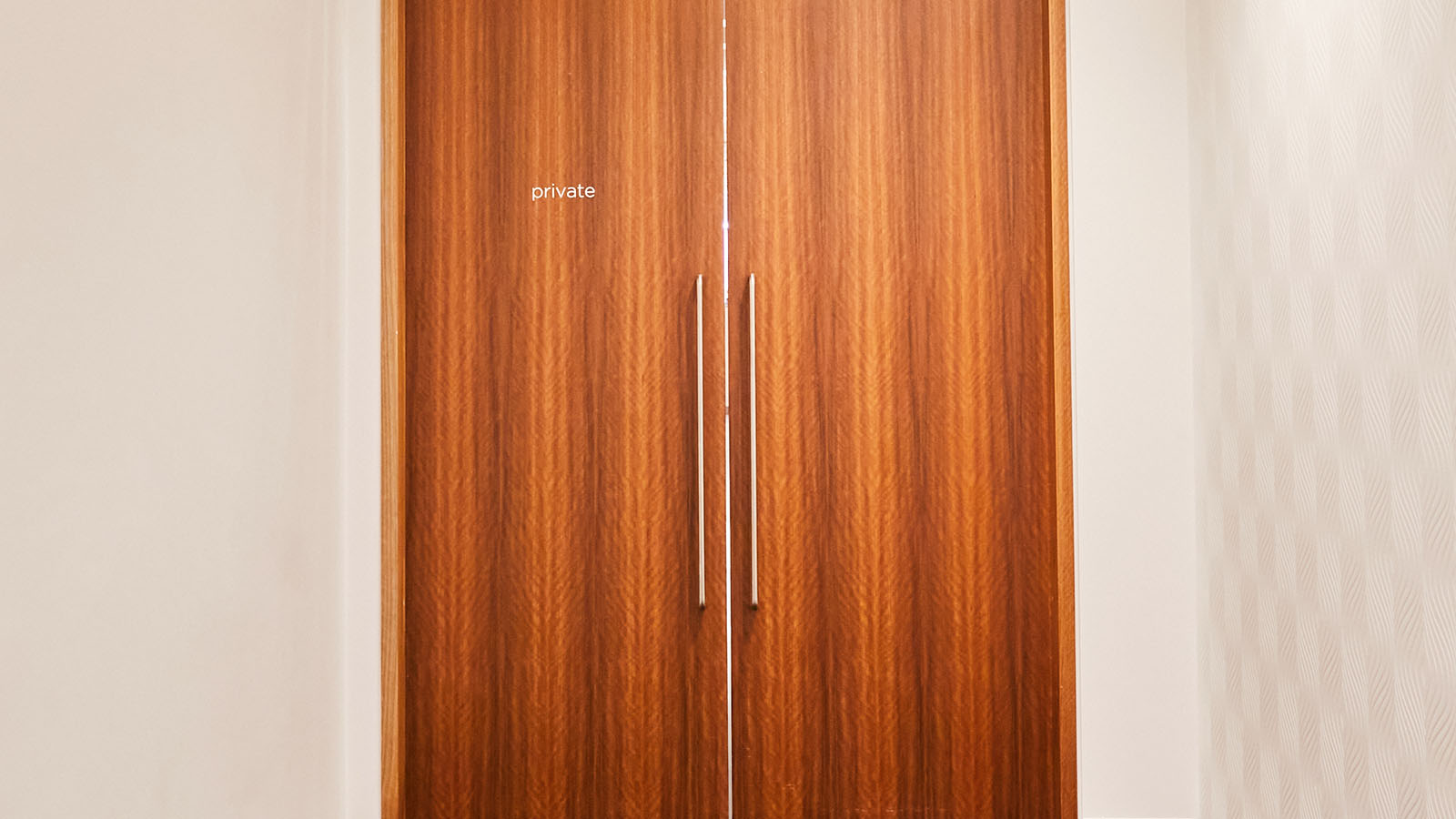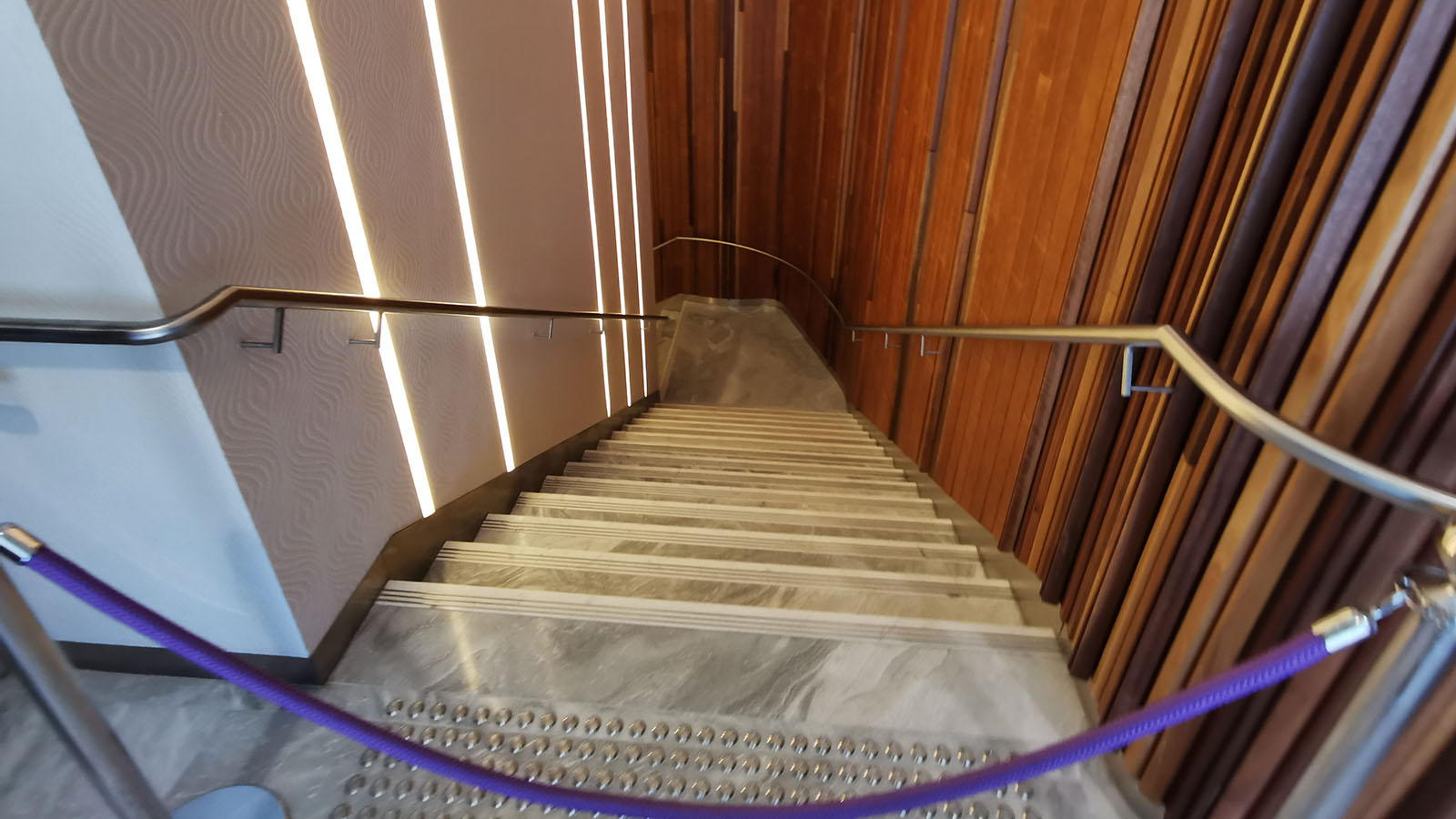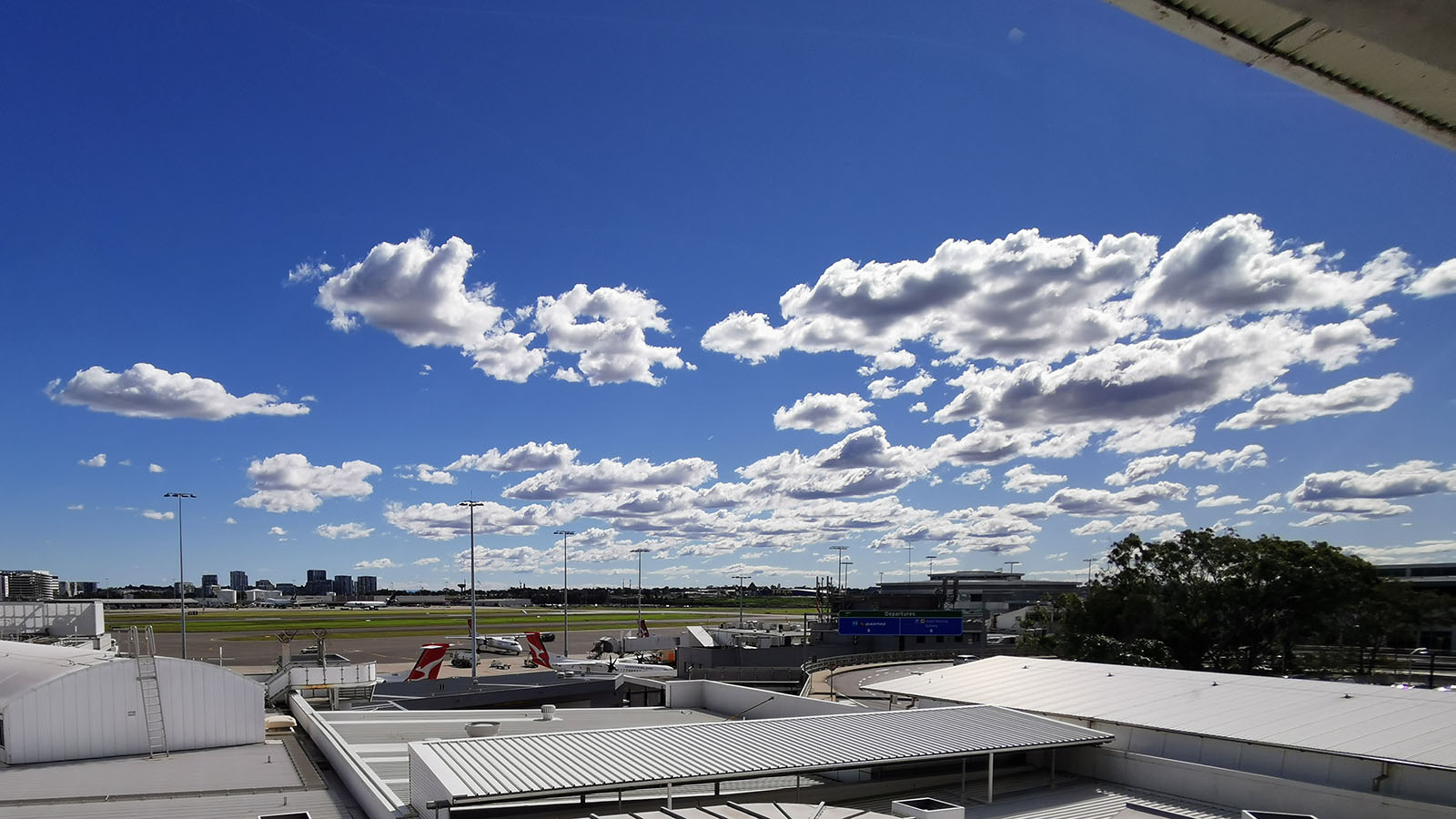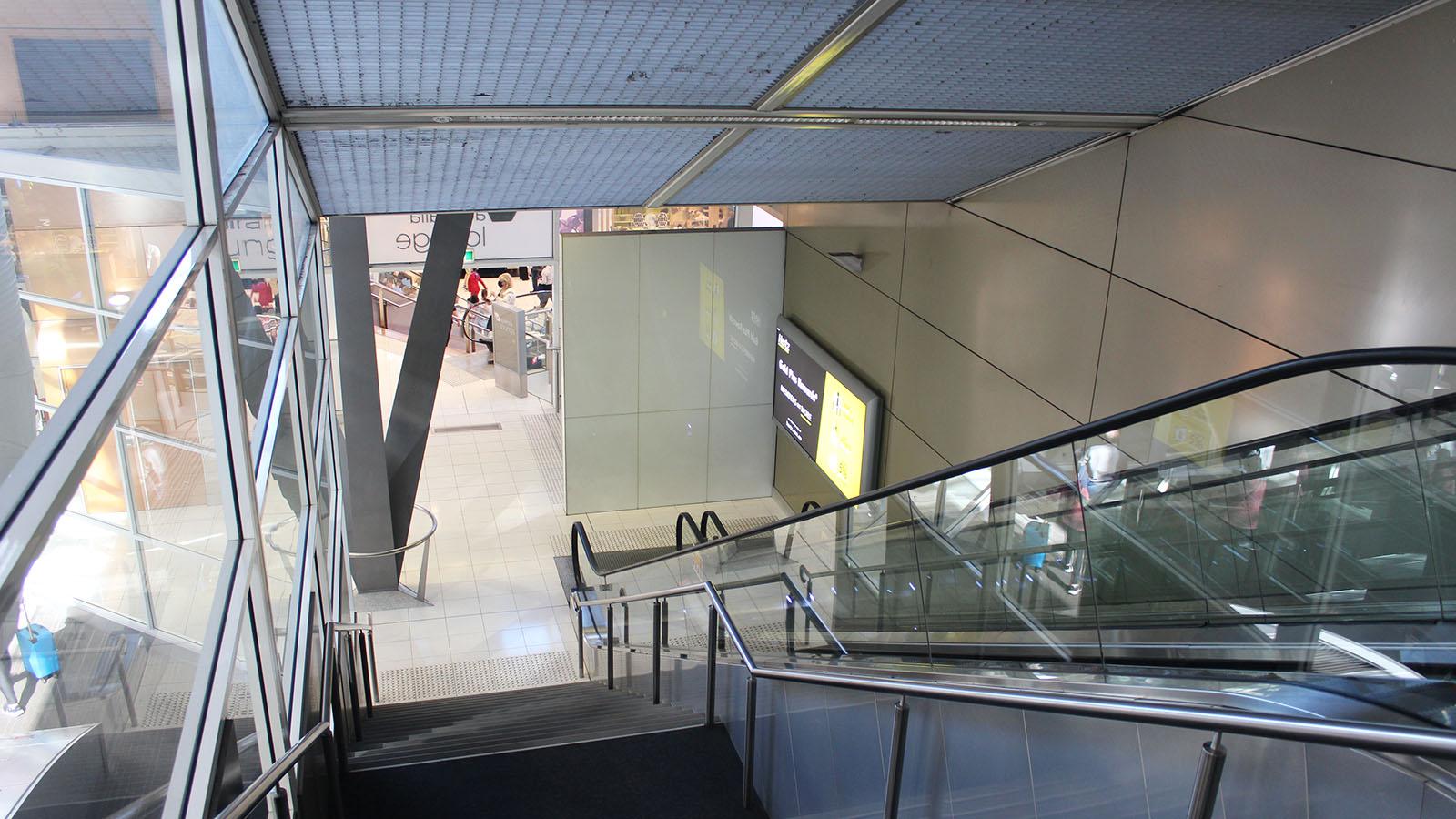 From there, it's a winding white corridor. But as the walk progresses, you get the sense that you've chosen the right door. The plain white walls transition to a more premium textured pattern. A flight screen pops up. And then, you reach the final barrier: a double wooden door simply marked 'private'.
Walk towards it, and whoosh, you've crossed into the world of Beyond.
Lounge layout and seating
As you arrive, a Beyond Lounge Host is ready to greet you. And that greeting is personalised by name. By scanning yourself into the lounge, the staff know you'll be swanning through those doors at any moment.
Virgin Australia's Beyond Lounge in Sydney largely adopts an 'L' shape. The far corner is where you'll find the largest open space and the best airport views, plus the main dining area and the bar.
Think of it as the perfect zone for either socialising or networking. The other side of the 'L' is much more about privacy – and here, there's plenty of it.
There's a sea of privacy pods, each wrapped by the airline's signature 'linen print' glass, and with two Chester-style armchairs.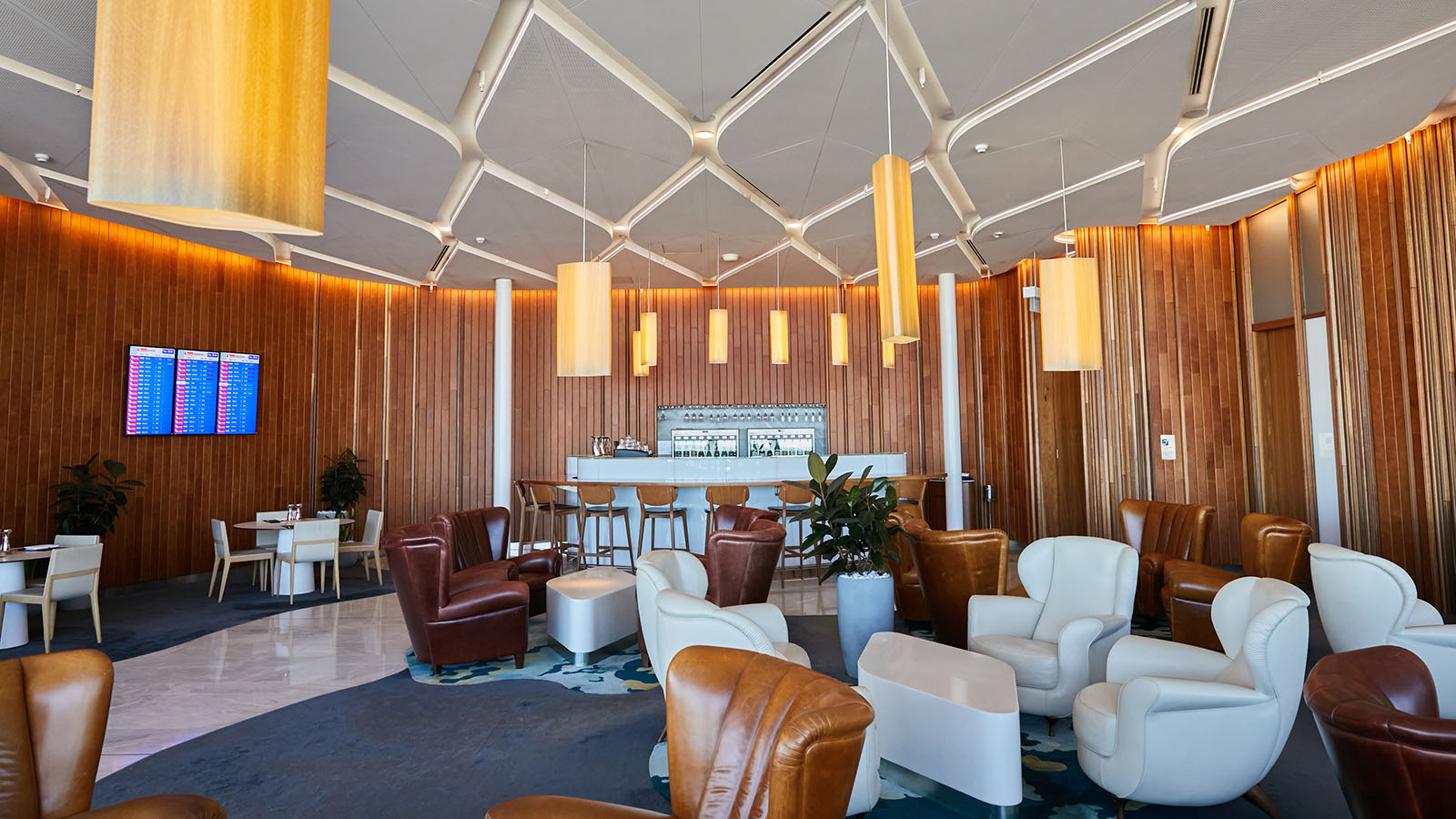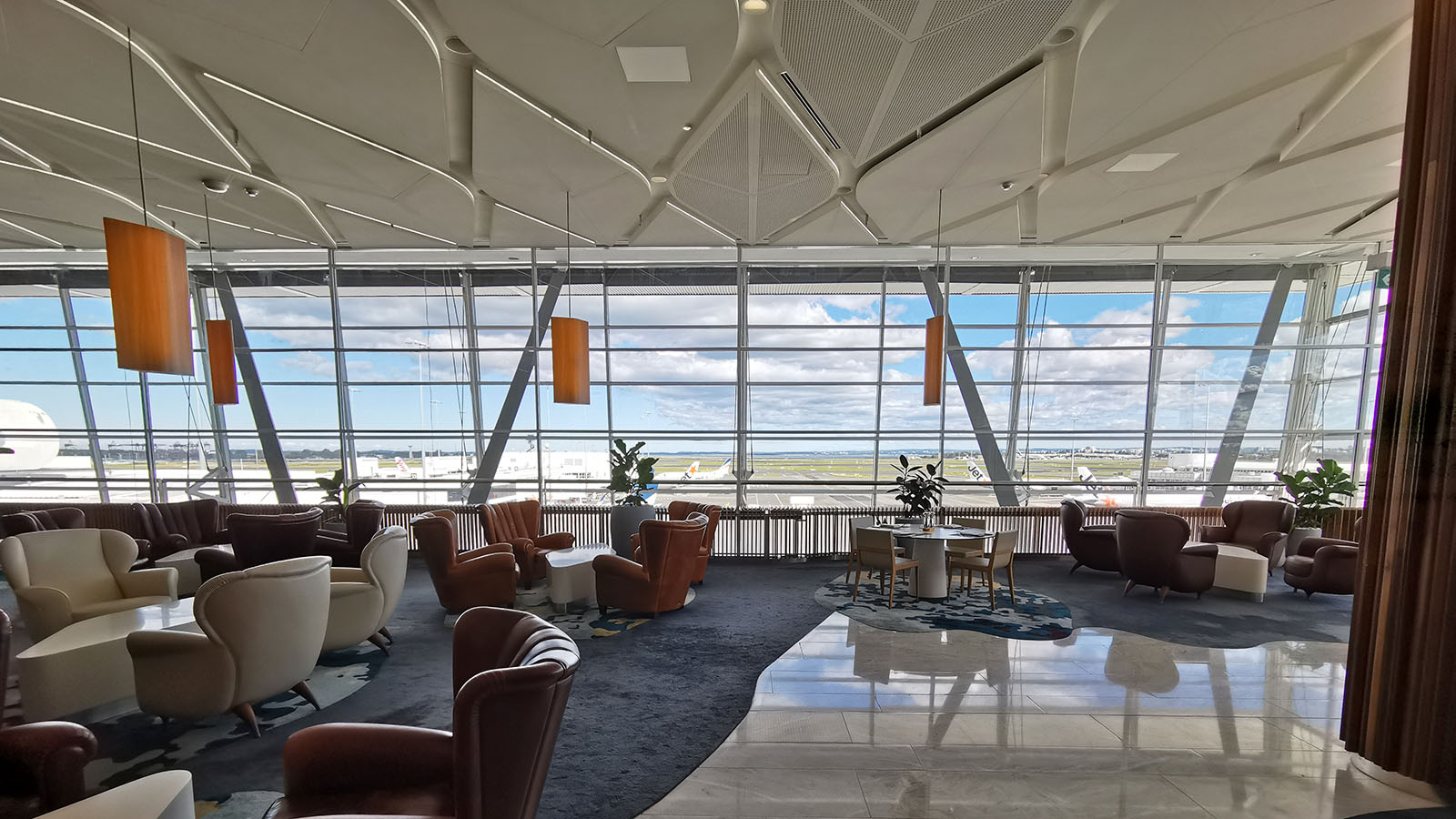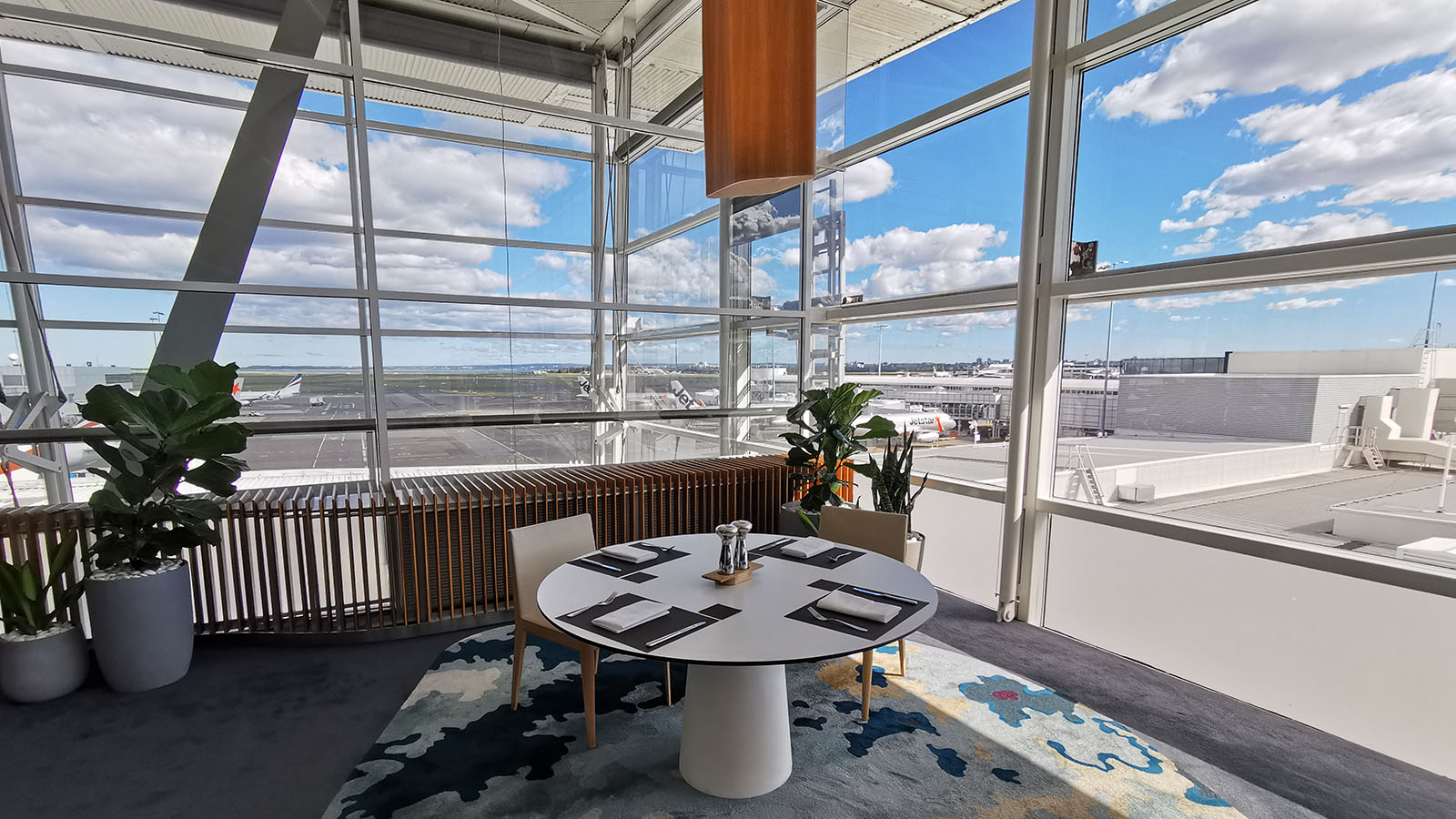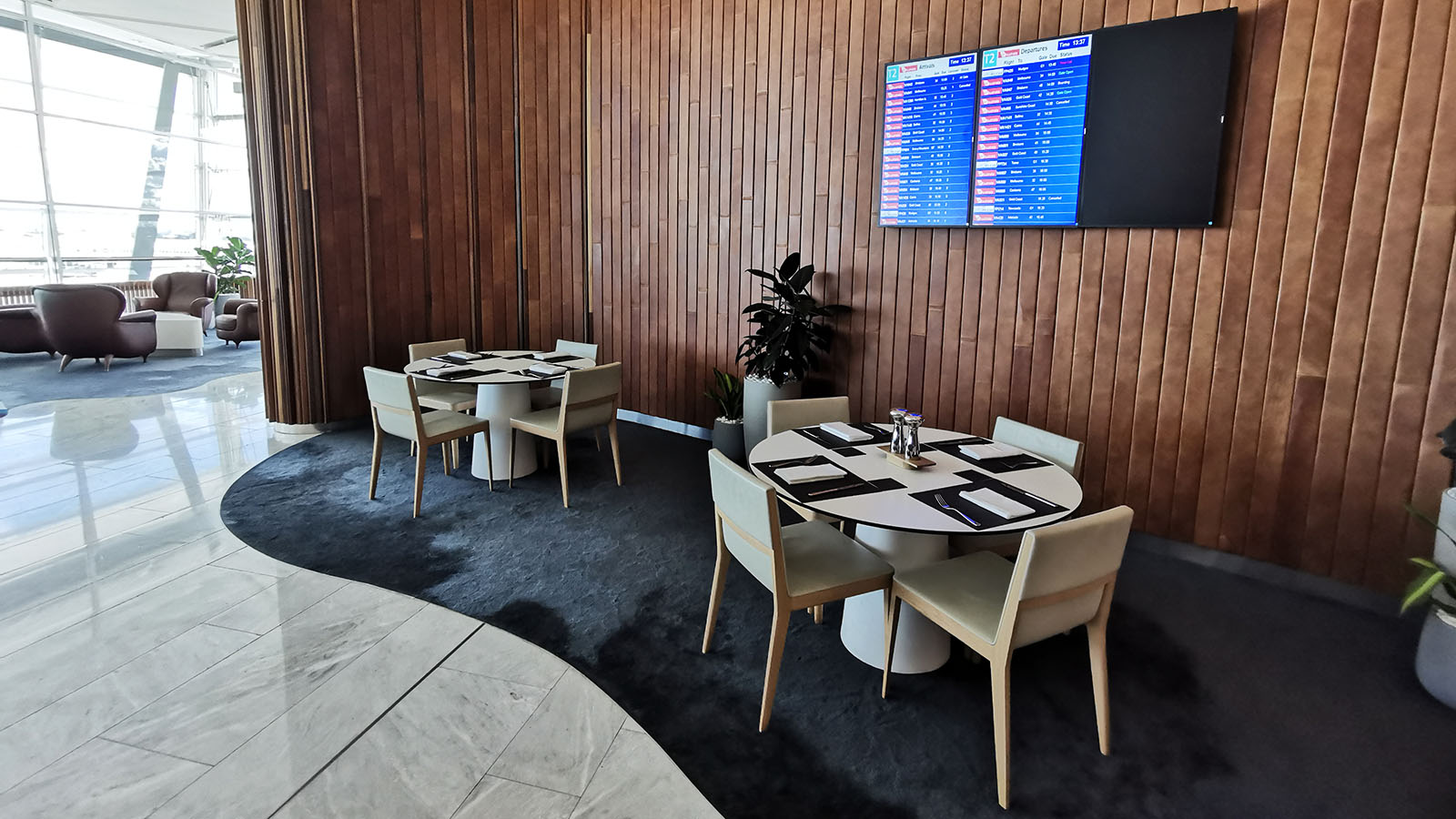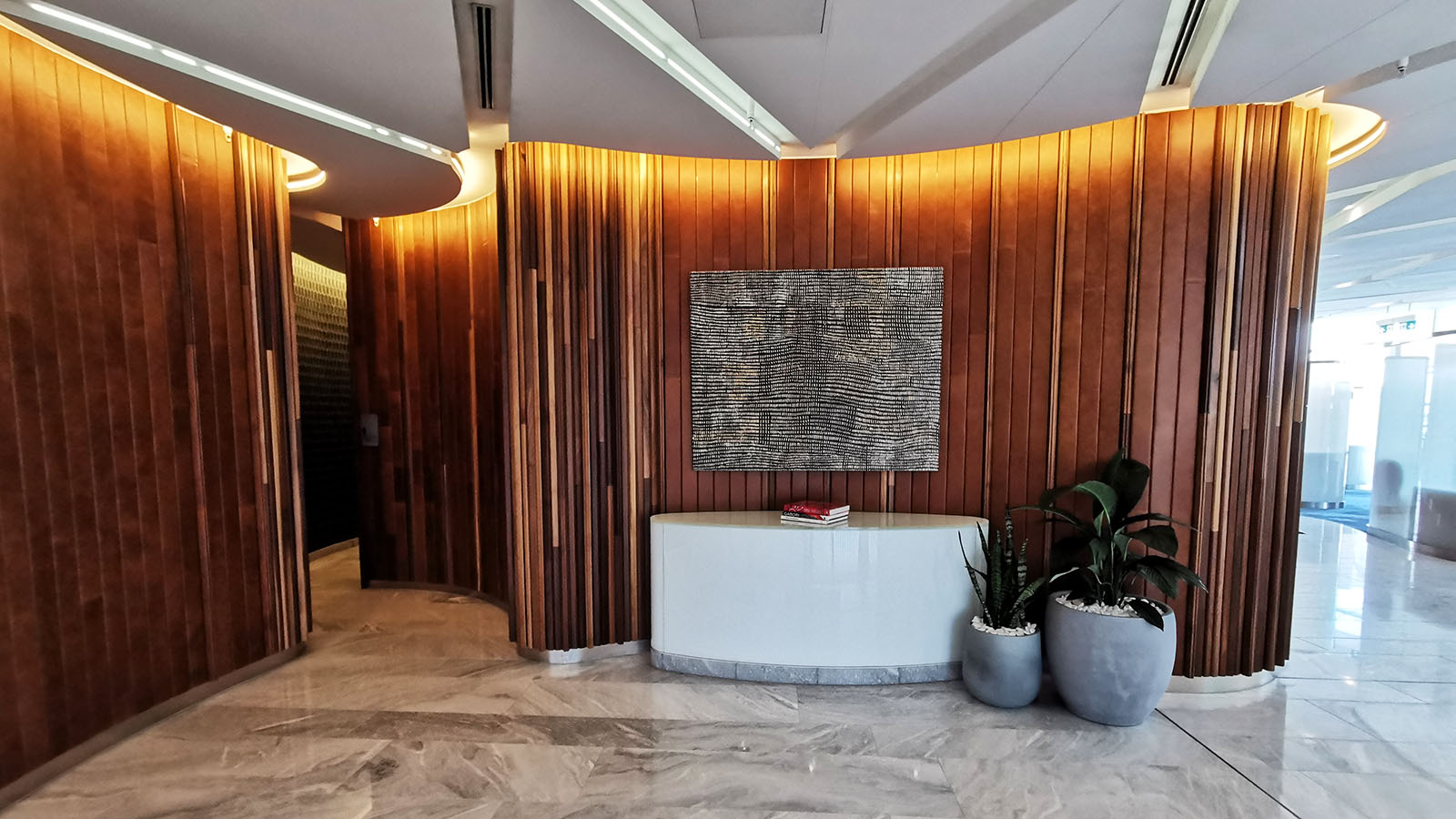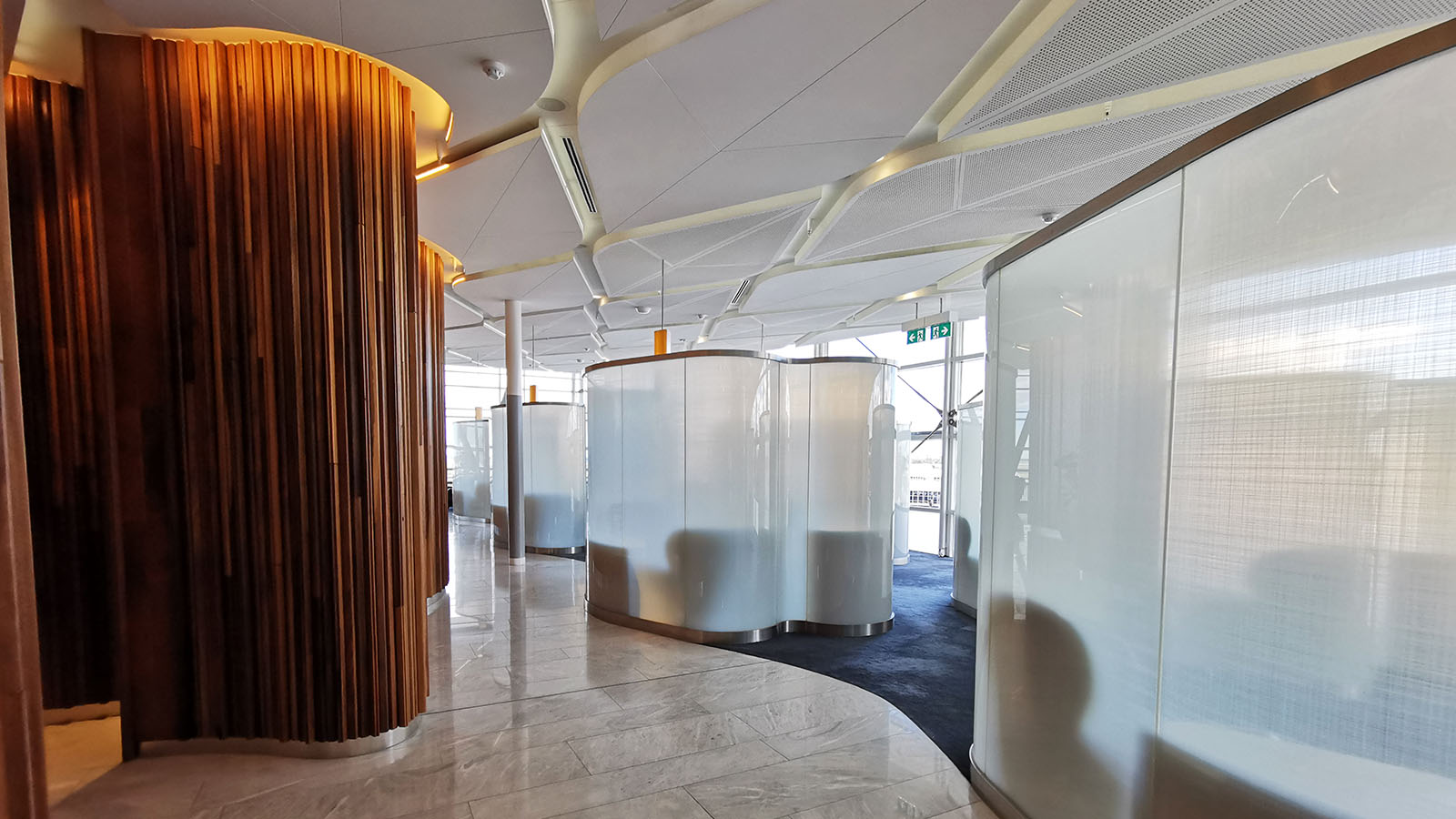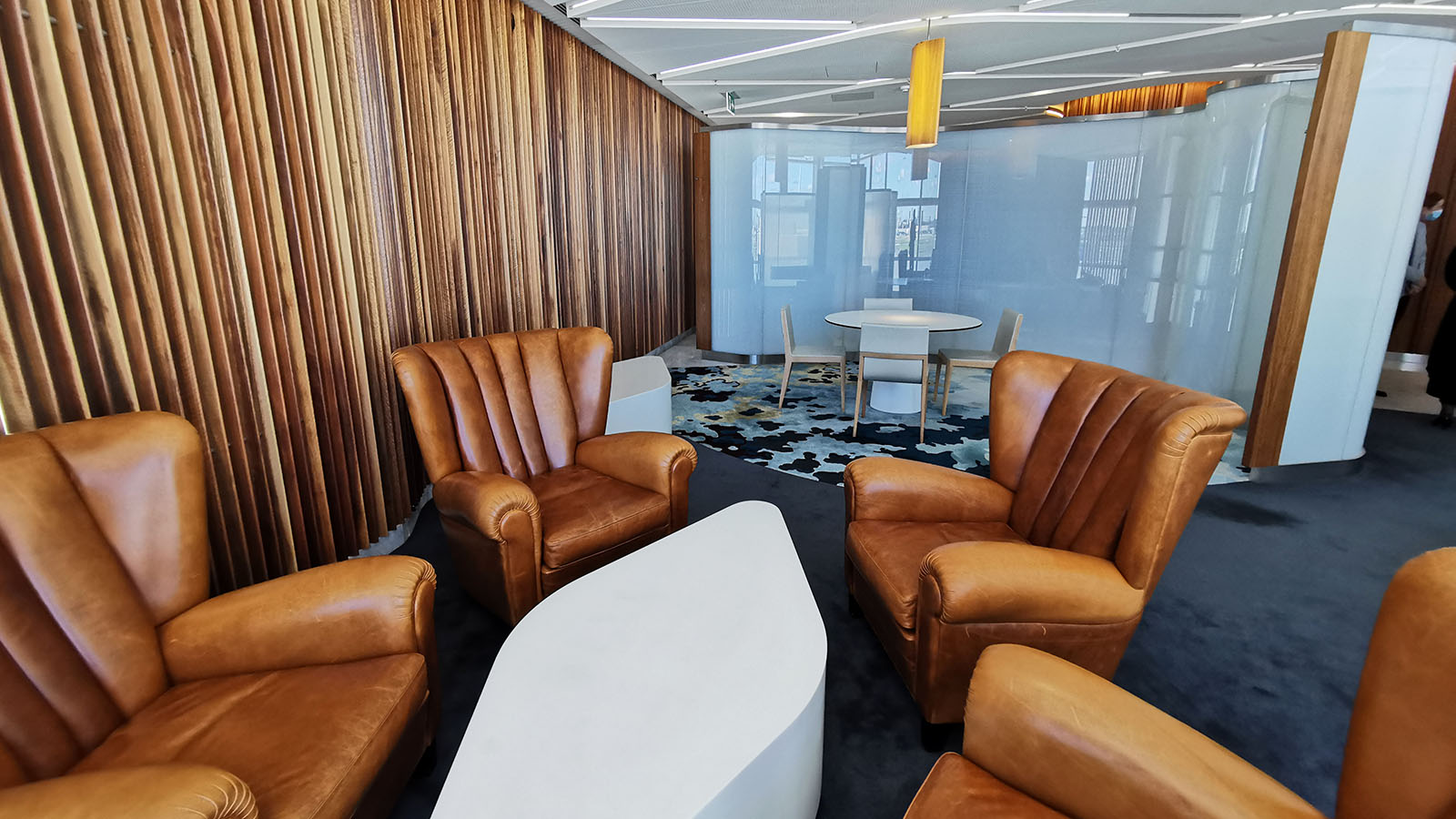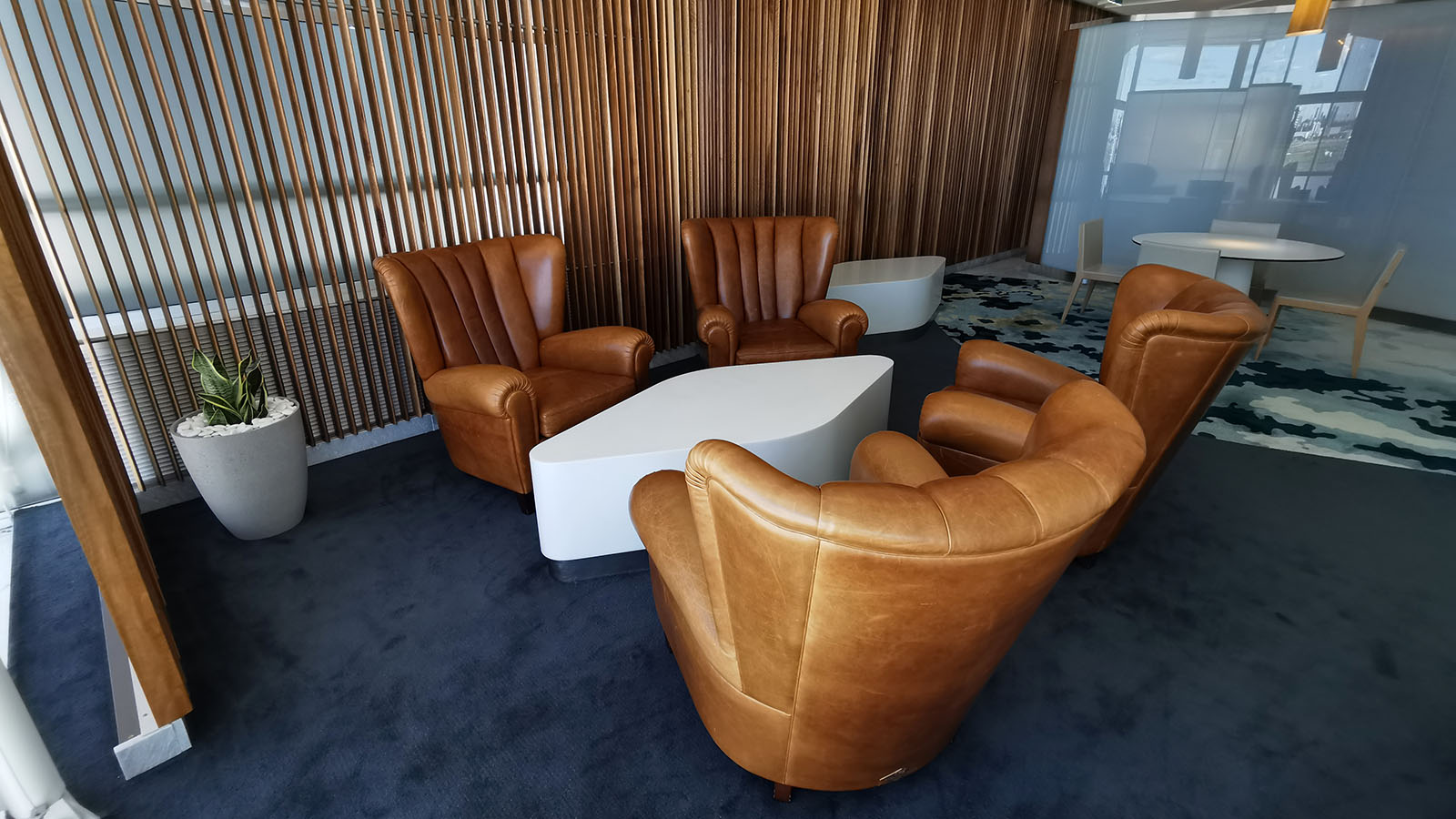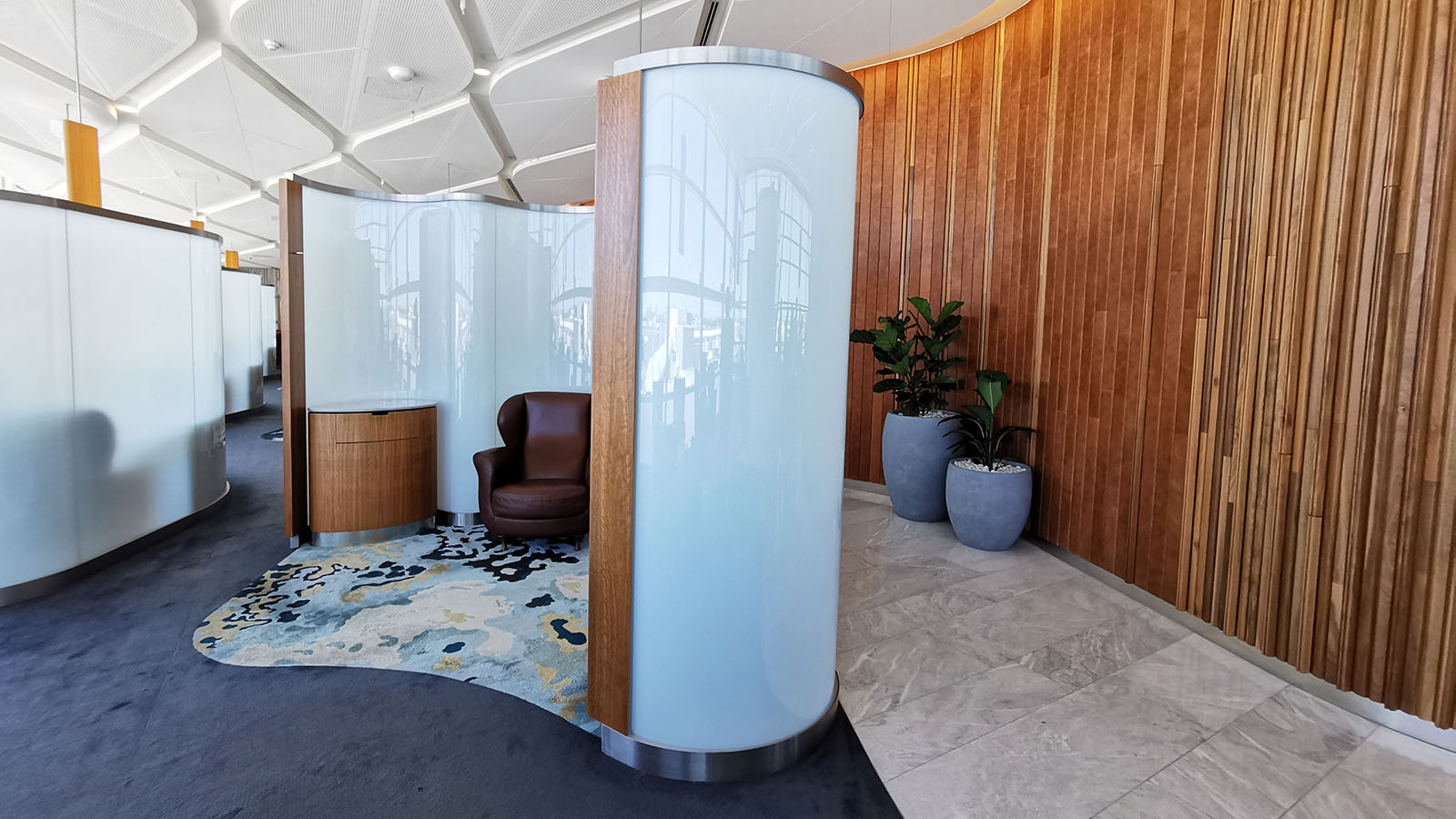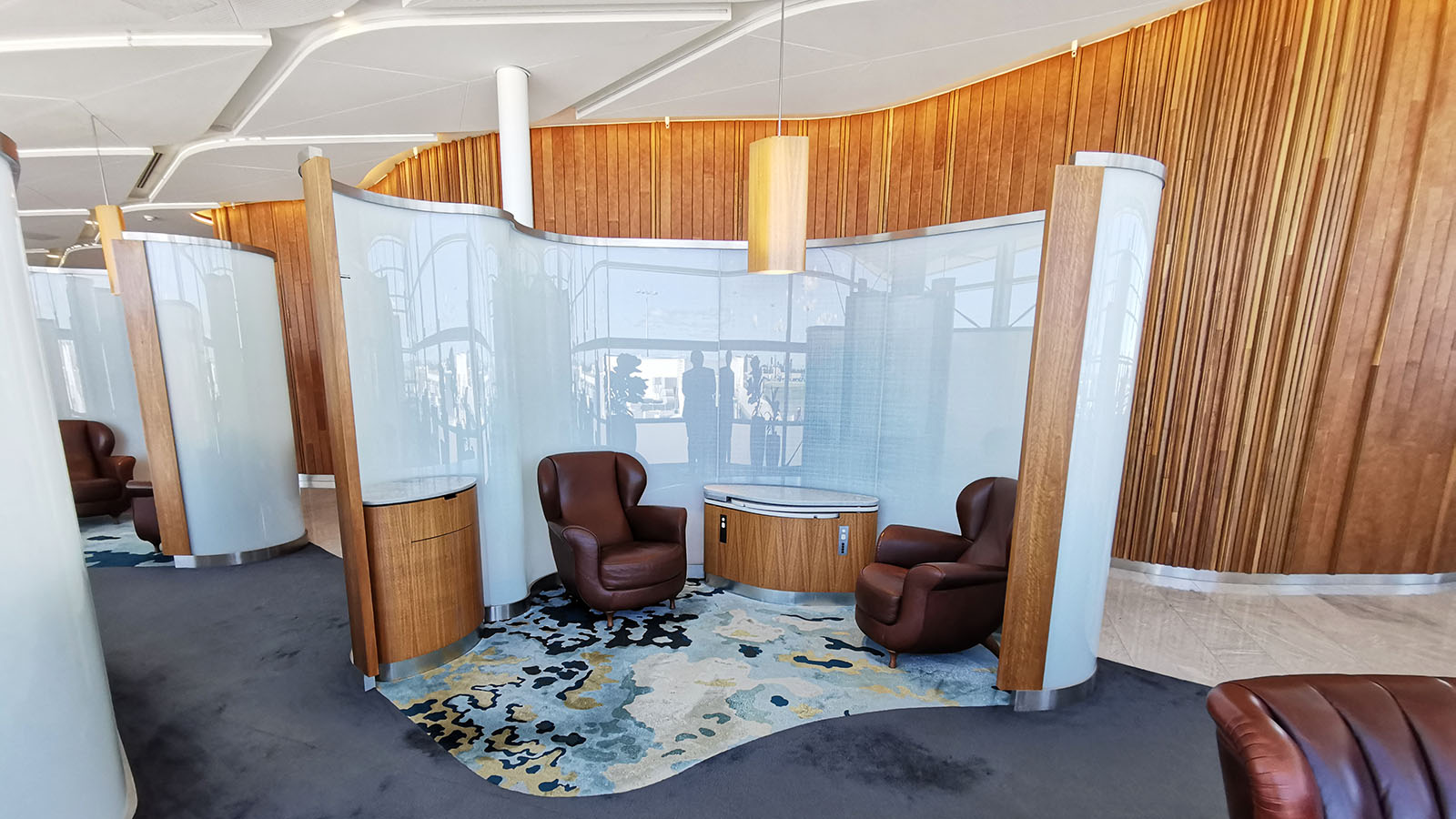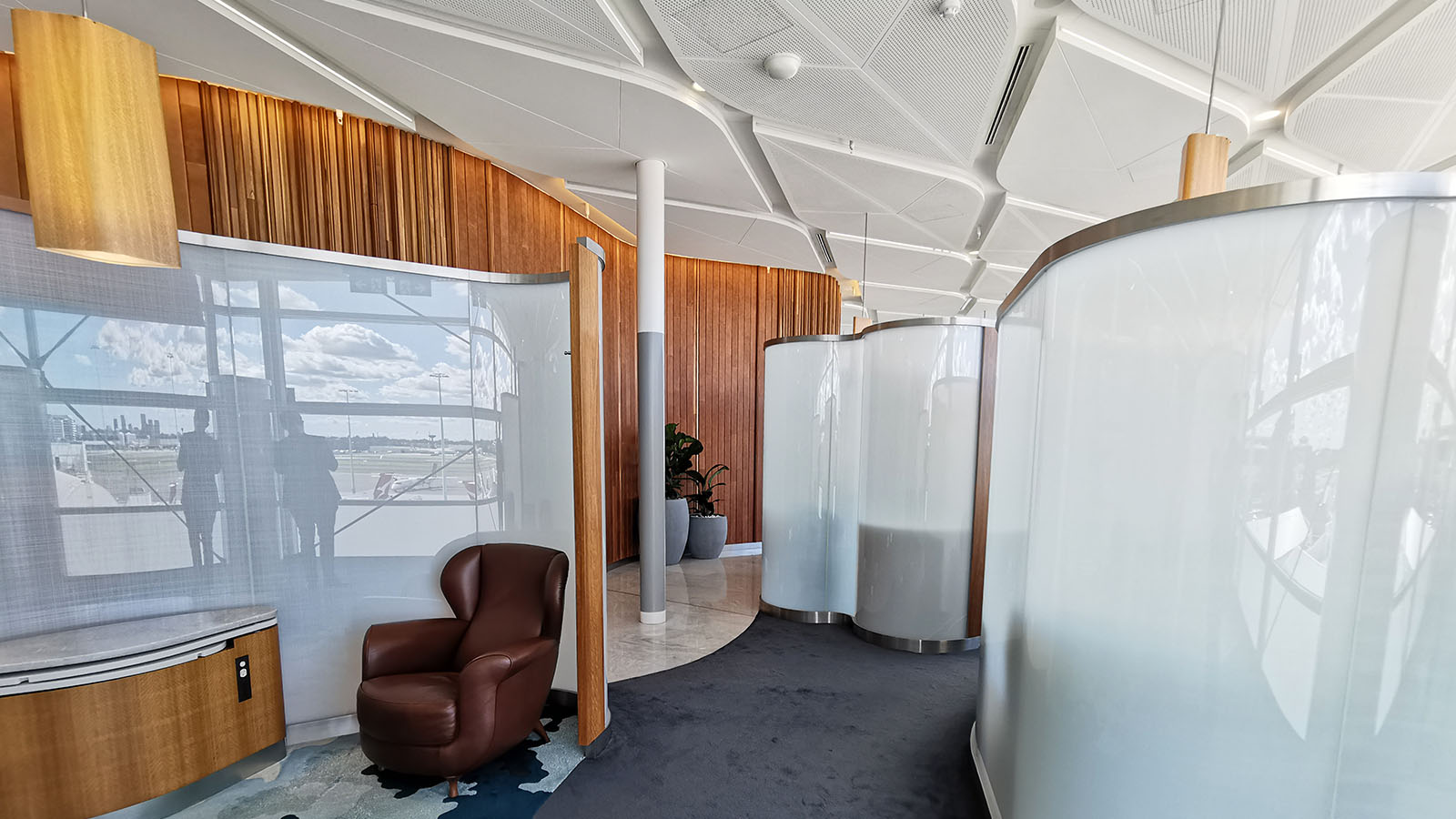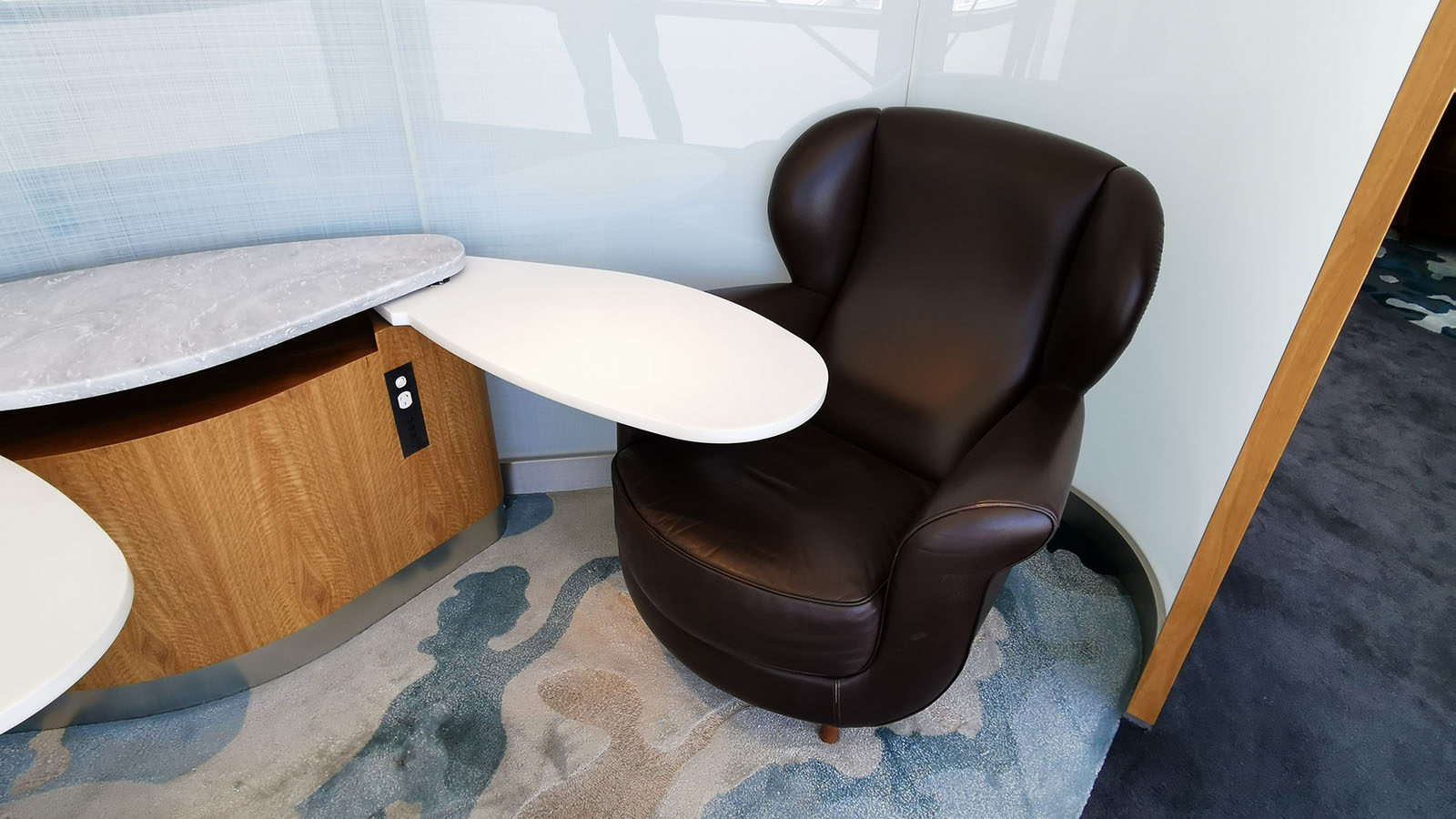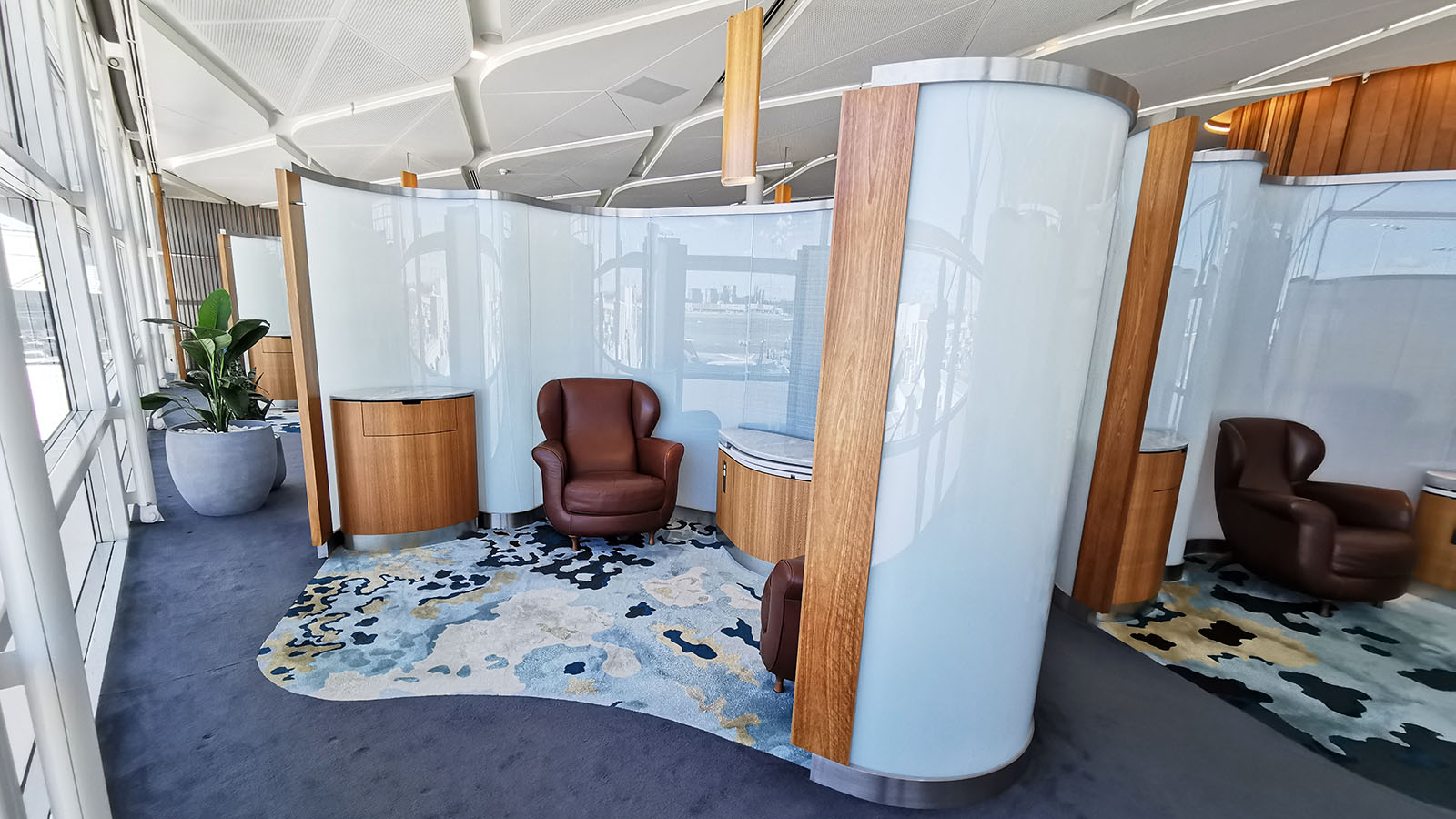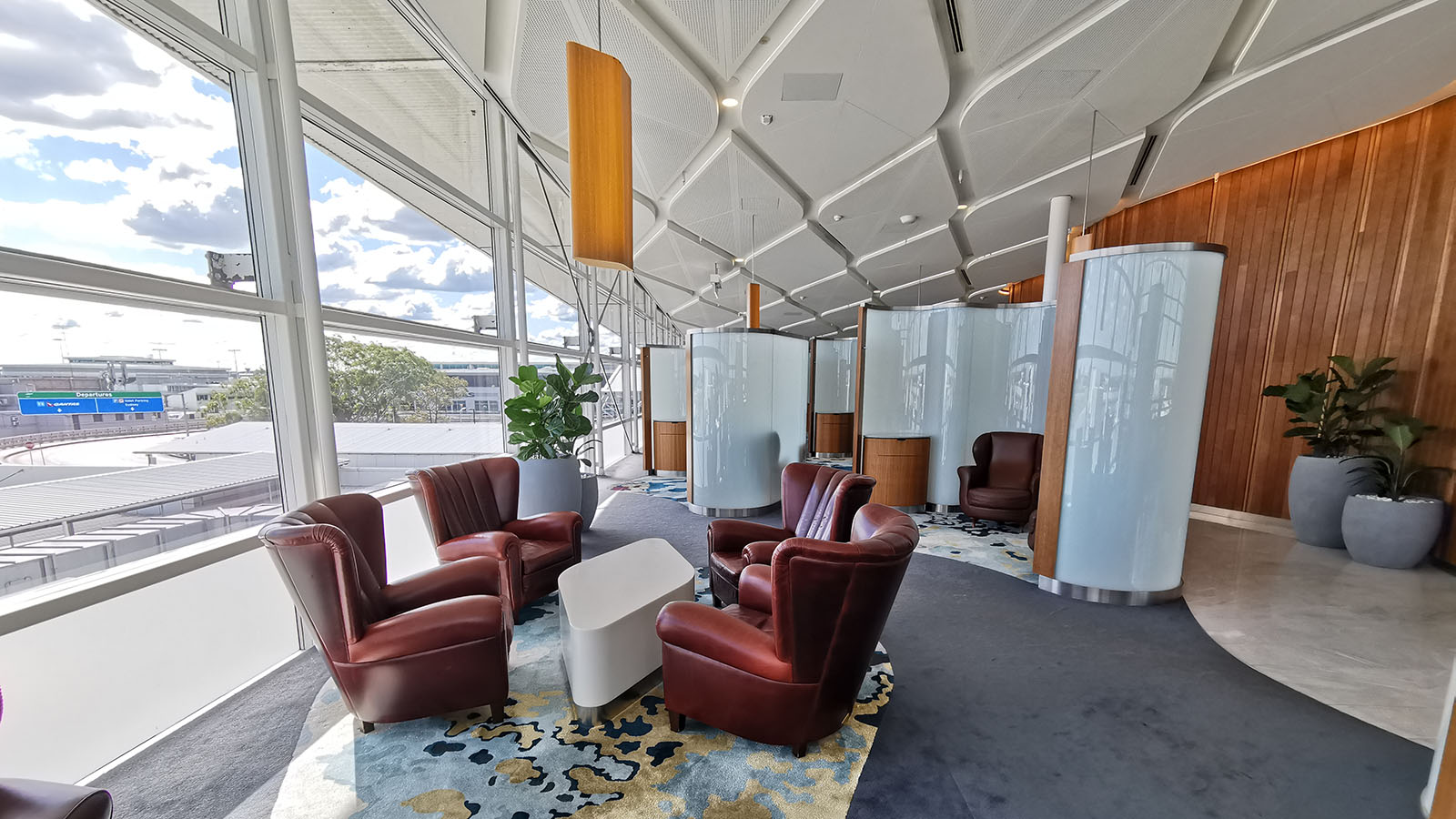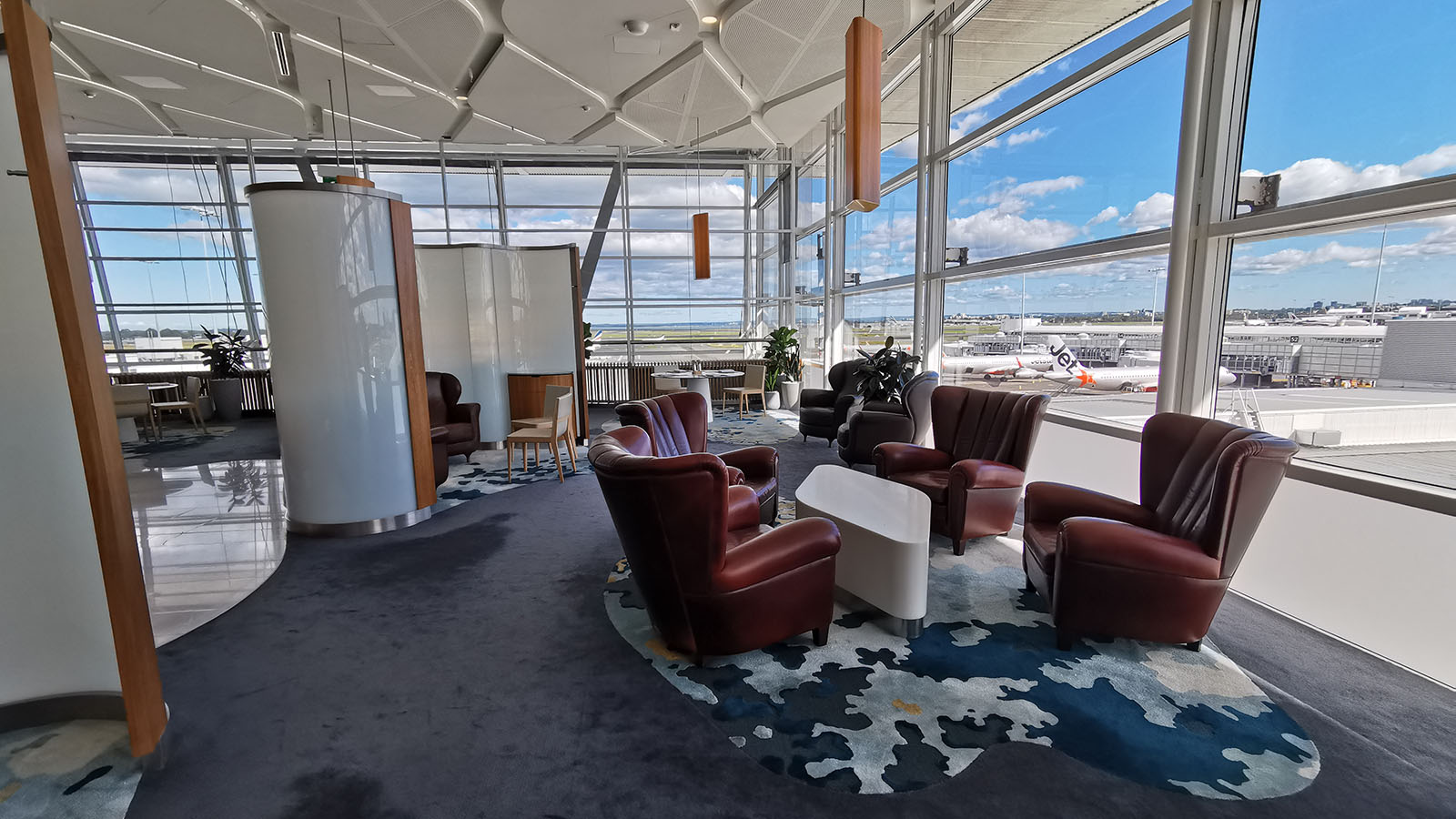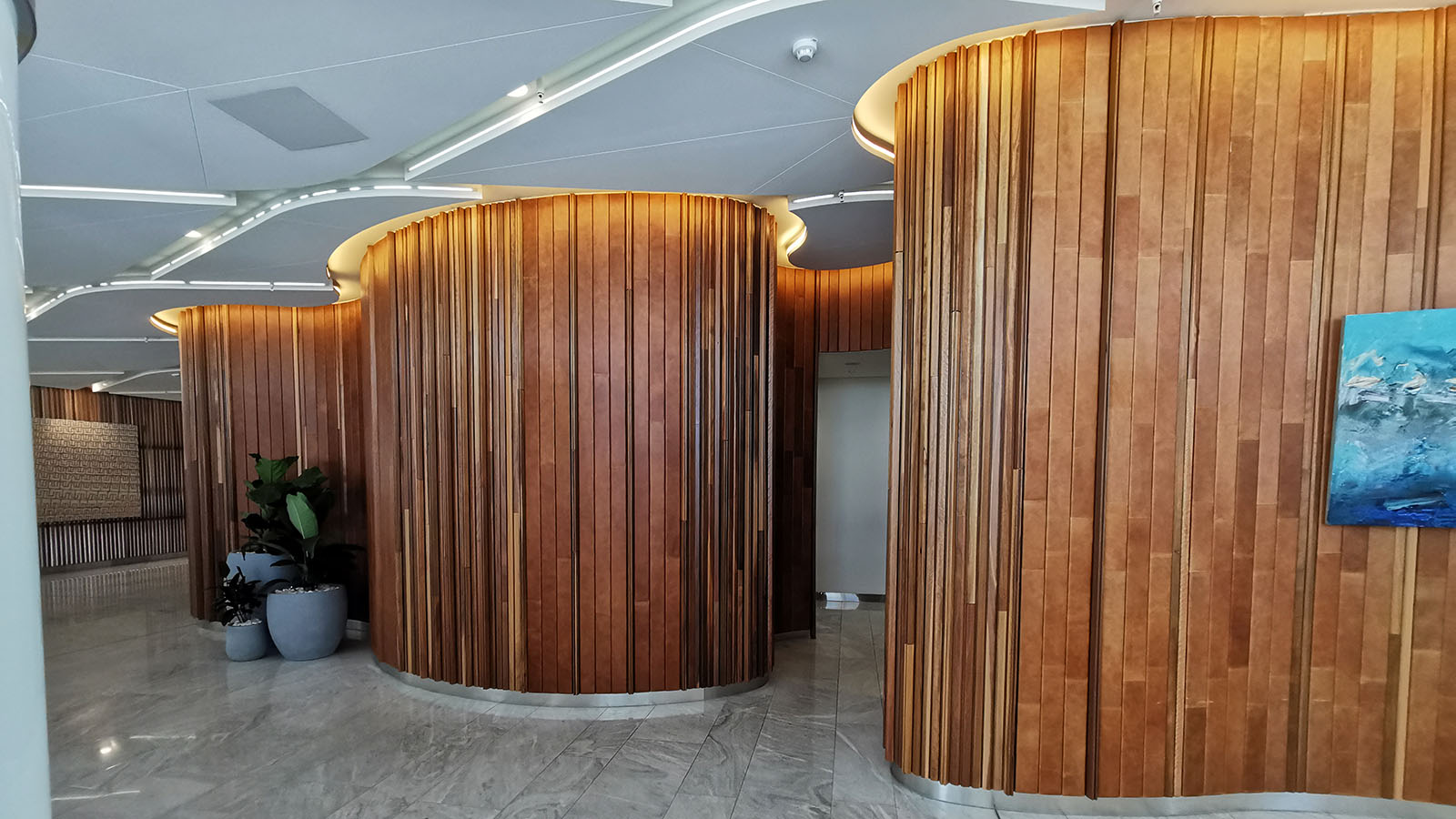 Doubling as working suites, these pods also feature timber cabinetry – and it's not just for decoration. Whether you want to work or dine, a wing slides out and creates a table space. Power points are within easy reach, and you can even adjust the lighting to suit your mood.
But what if you have a larger group, and still want to dine in private? Problem solved – there's a private dining area here too, with a secluded social space as well.
While the design of Sydney's Beyond Lounge is echoed across Melbourne and Brisbane, subtle colour changes help remind regular guests where they are in the world.
In Sydney, the carpets centre around sky blues. Down in Melbourne, deeper blues draw on more of an ocean palette – with blue glass shells to match. Up in Brisbane, the colour blend instead reflects Australia's vast outback terrain.
Food and beverage in Virgin Australia's Sydney Beyond Lounge
Settle into this secret Virgin Australia space, and it's not long before a Beyond Lounge Host delivers a menu. Forget grabbing food from a buffet, or lining up for coffee – here, everything comes to you.
Perusing the menu finds a list of breakfast favourites, hearty dishes for lunch and dinner, as well as desserts. But beyond what's printed on the menu, there's an old favourite still available from The Club: truffle fries. Highly recommended!
These also accompany the grass-fed steak sandwich, if you'd prefer a smaller portion.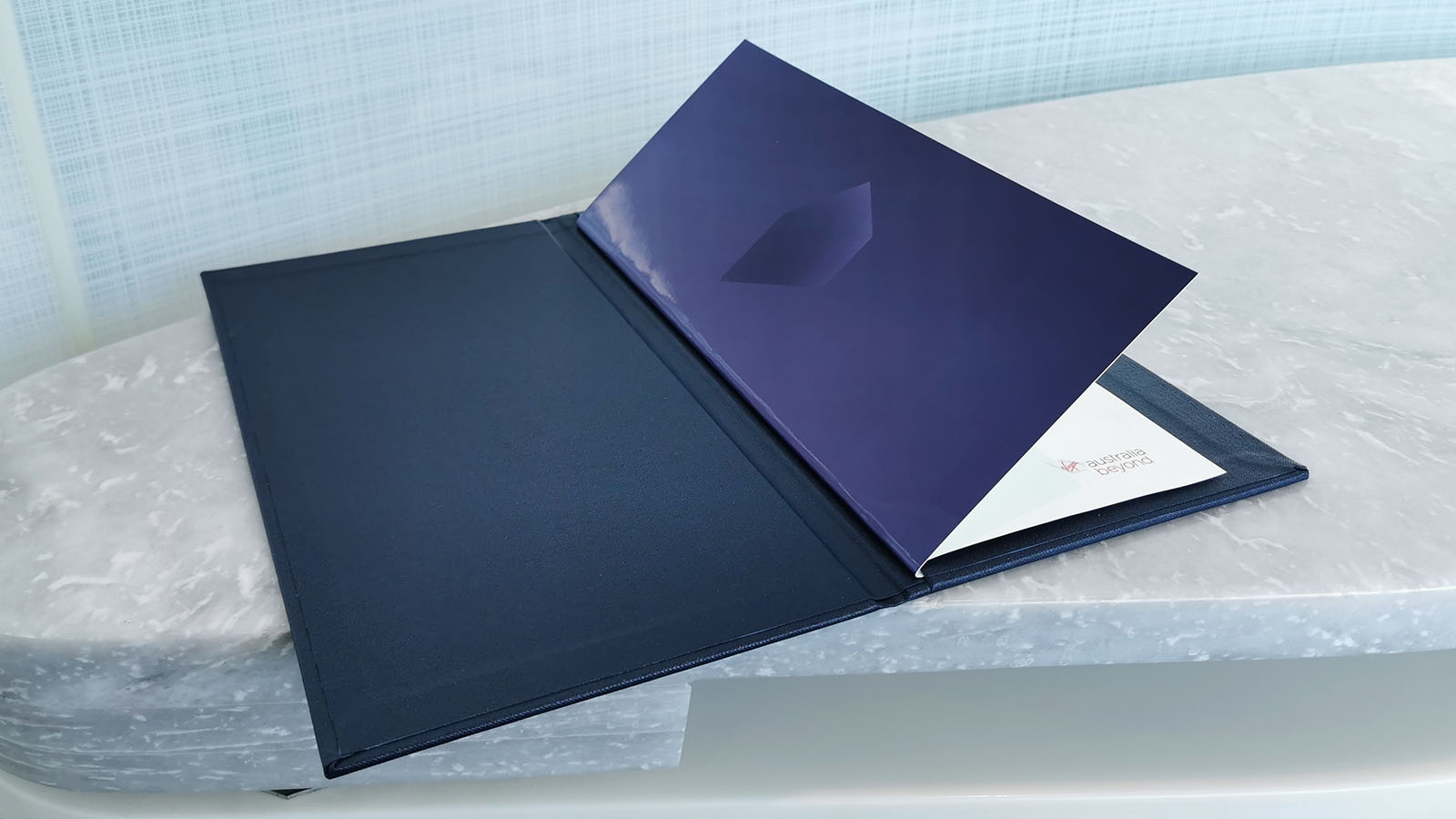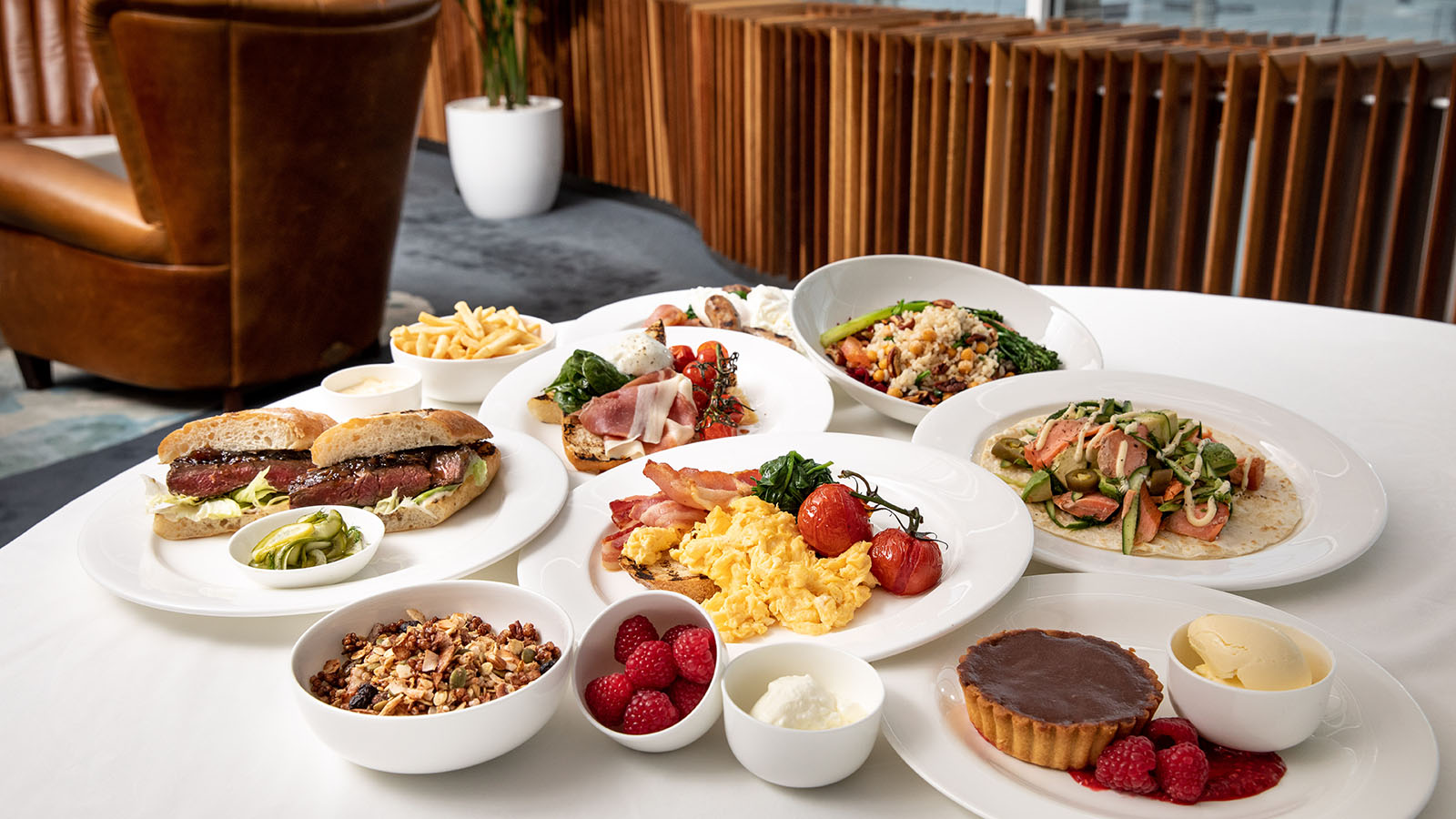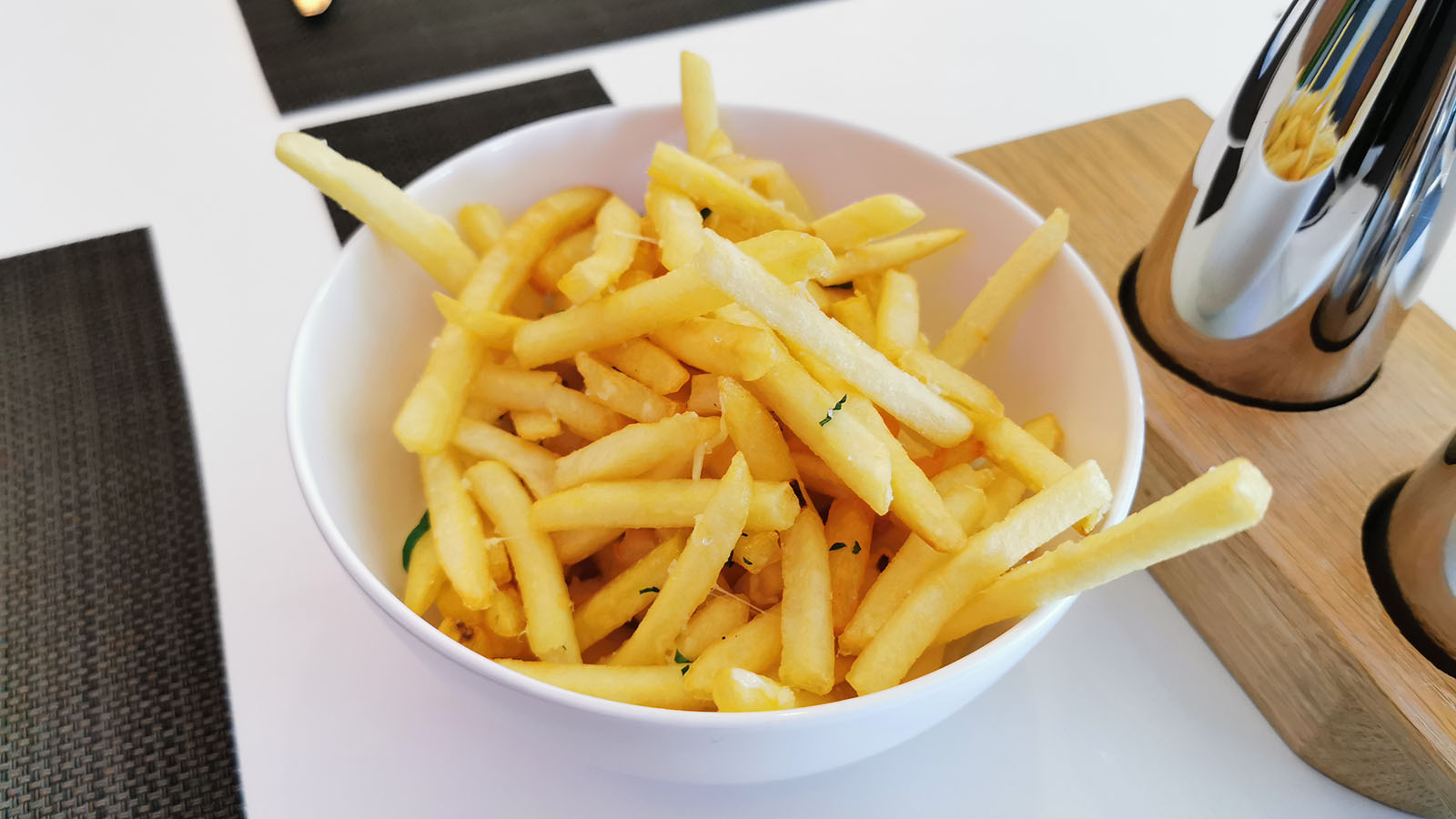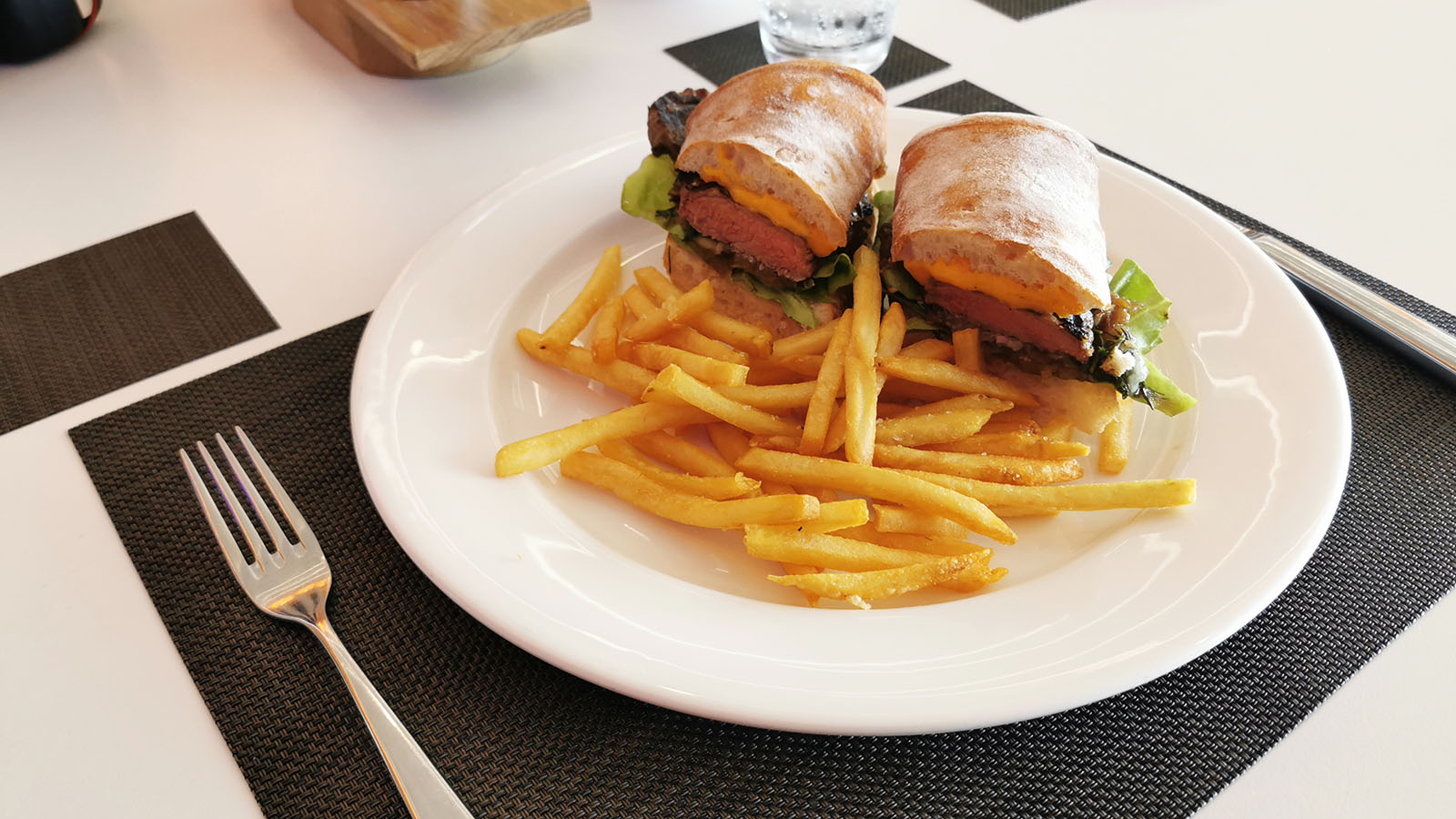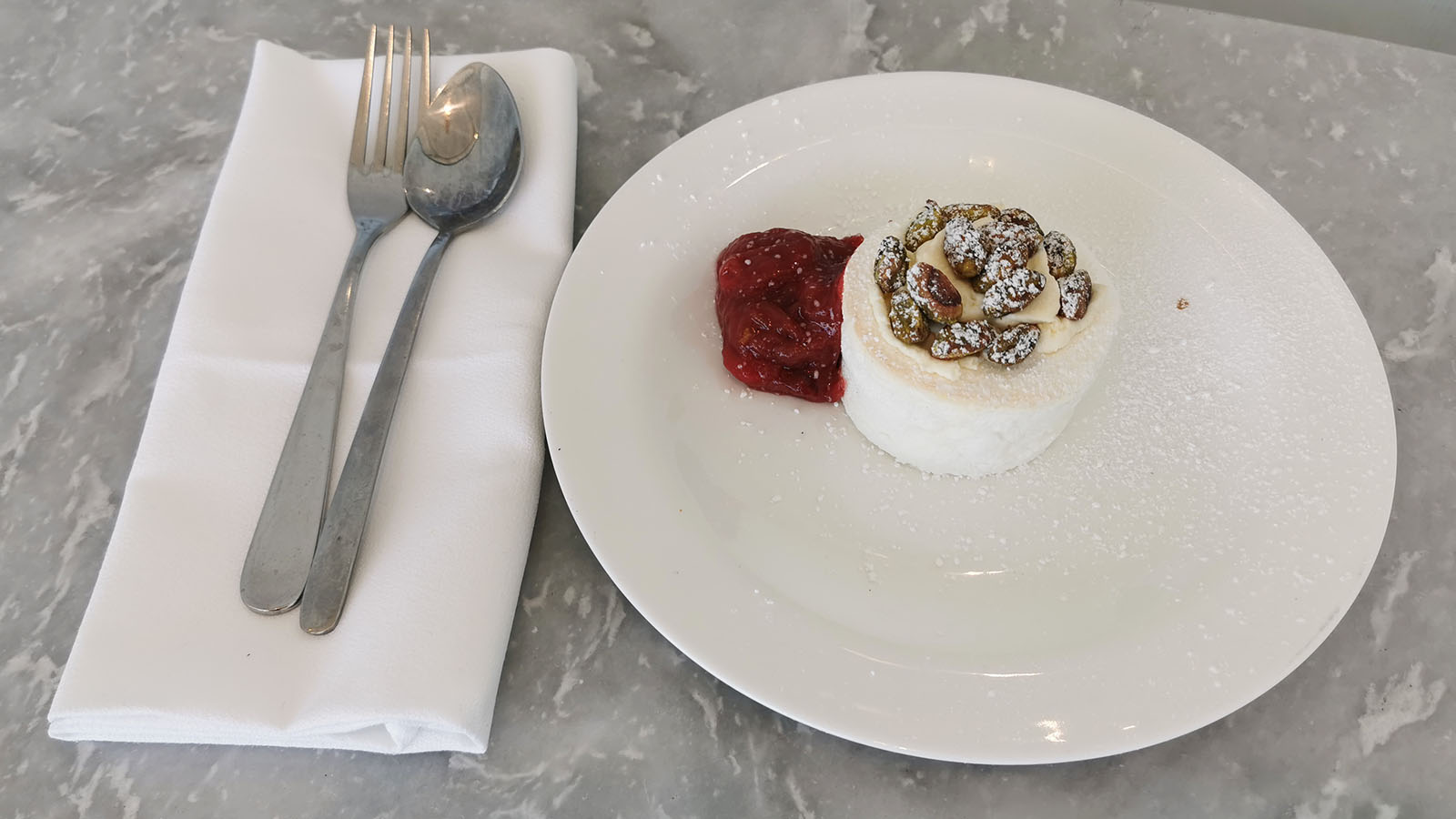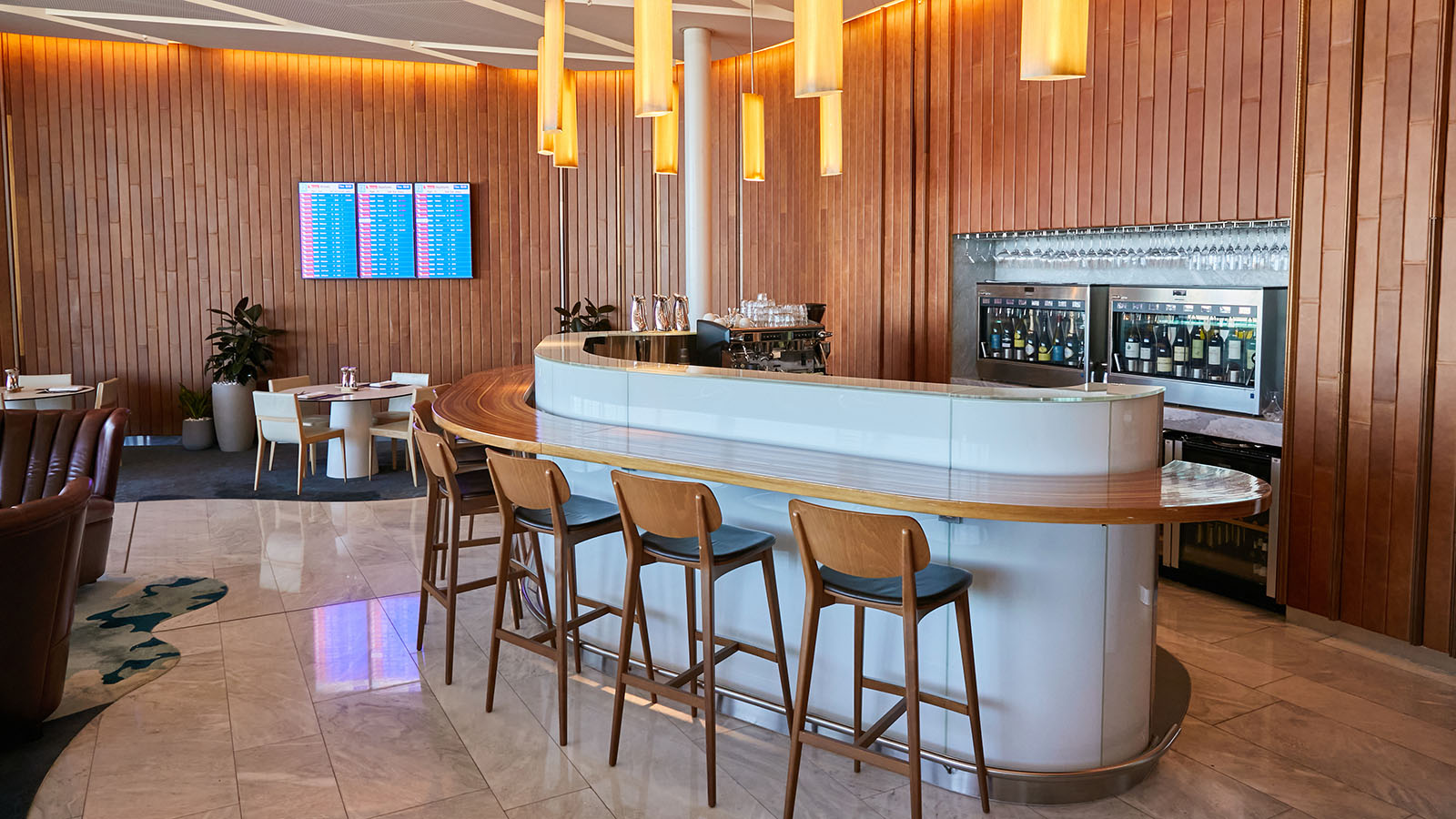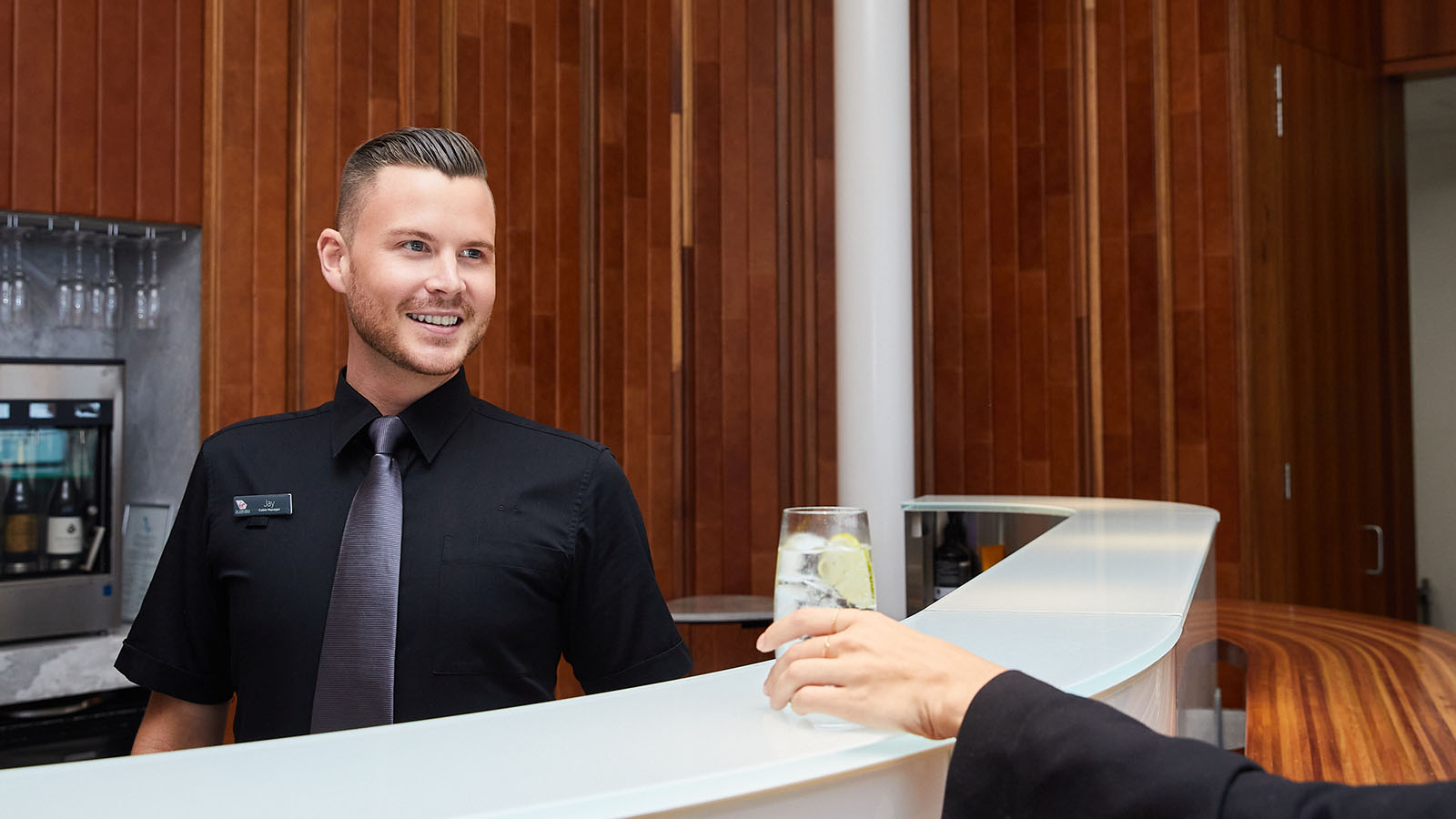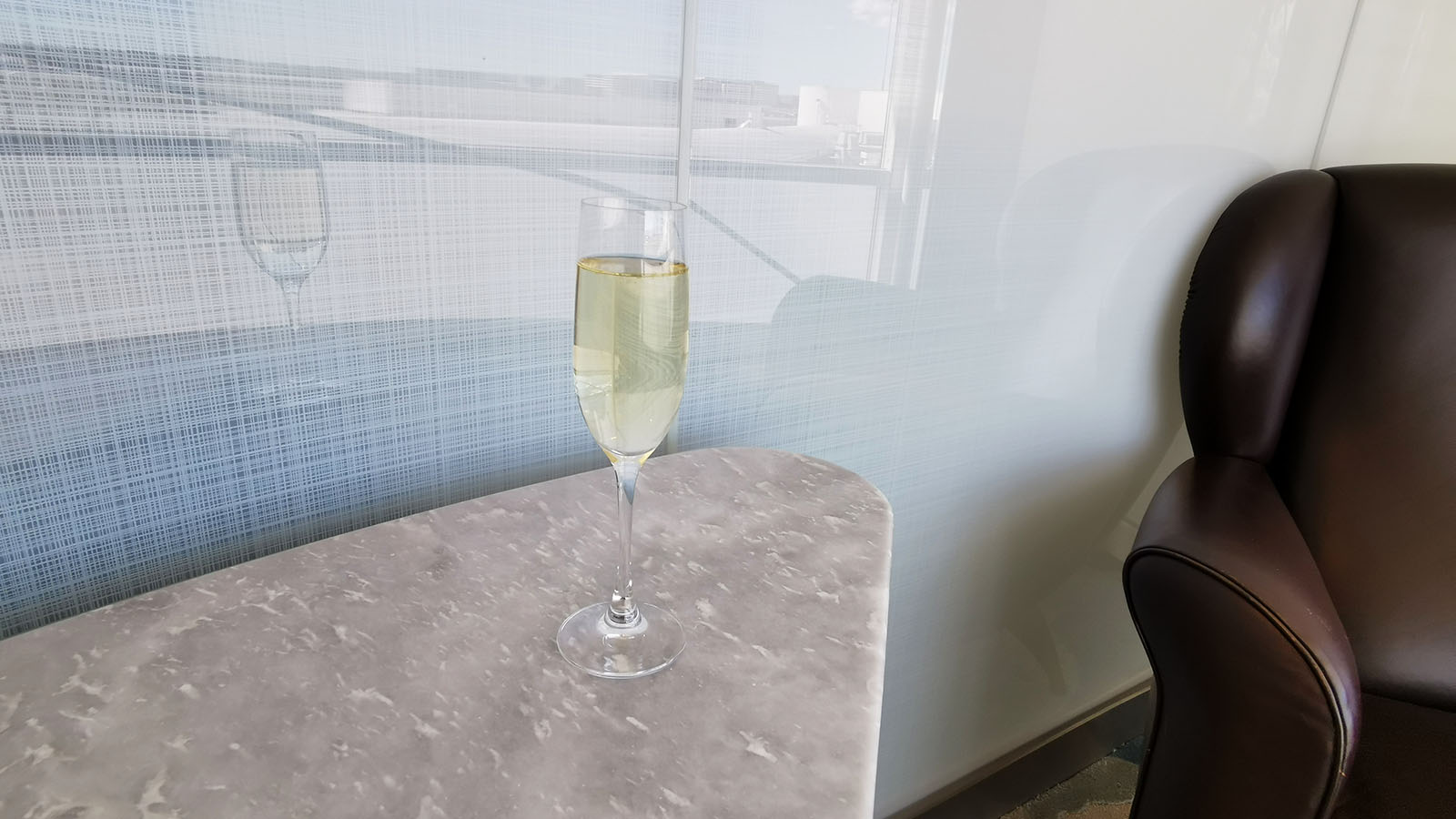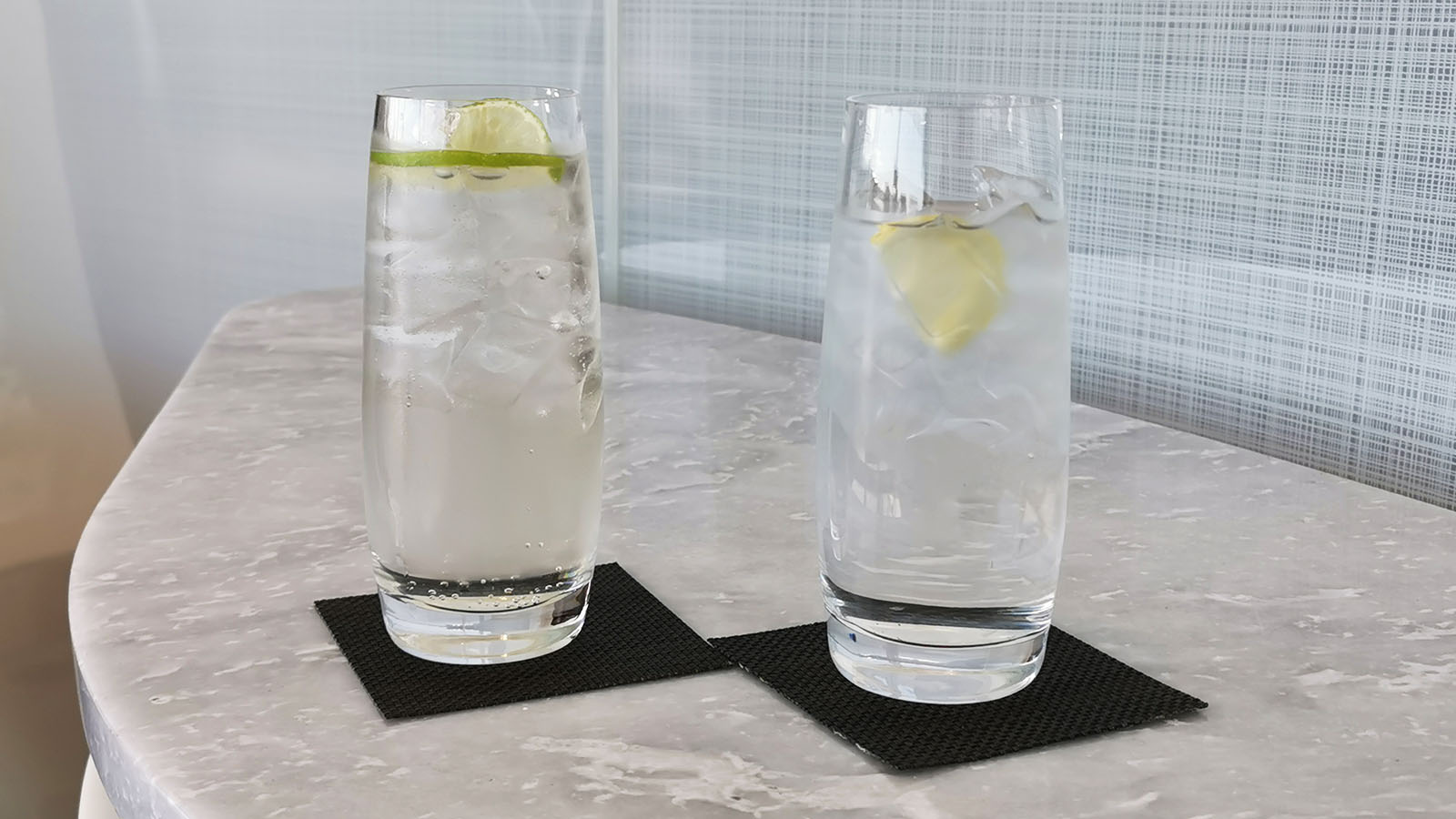 Virgin Australia describes the new menu as 'relaxed', and that's apt. But it's not all fried food and pub-style favourites. Other highlights include crispy skin salmon, seasonal pasta dishes, superfood salads and artisan cheese platters. I look forward to trying these on a future visit, as there's only so much one person can eat!
Having said that, there's always room for dessert. The pistachio pavlova caught my eye: and of course, the 'pav in a glass' is a tasty staple of the rival Qantas Chairman's Lounge and Qantas First Lounge. Virgin's dish comes plated instead, and is also quite refreshing.
Barista-made coffee is available throughout the day, while the bar opens at 10:30 am. That's 90 minutes earlier than the public lounge downstairs, for those fancying a mimosa with brunch.
Speaking of bubbles, the house drop is the Tasmanian Arras Brut Elite Cuvée. Taking a glass to my private pod is clearly the best way to prepare for an afternoon flight. Closer to departure, my 'usual' gin and tonic appears, and I'm ready to take off.
Lounge amenities
The Virgin Australia Beyond Lounge comes loaded with little niceties in Sydney.
Firstly, the lounge has a brand new internet connection. Say goodbye to the slow speeds of days gone by, and hello to lightning-fast Wi-Fi. My speed tests reveal average downloads of 210Mbps, and uploads just shy of 220Mbps. Whether you're jumping on a video call or downloading Netflix favourites for the flight ahead, you're covered.
Looking to power up your devices? Outlets are mainly found in those privacy pods. These nooks also feature very handy jacket hooks. It's clear that when the lounge was designed, the passenger journey was front and centre. It's practical, not just pretty.
And speaking of practicality, each pod has a drawer with additional cutlery, just in case you need it.
But what I appreciated most was the peace and quiet. I spent several hours here and didn't hear a single announcement. That's because there are no boarding calls in this space. When it's time to fly, a Beyond Lounge Host informs you personally. This made the lounge a very productive place to concentrate and get things done.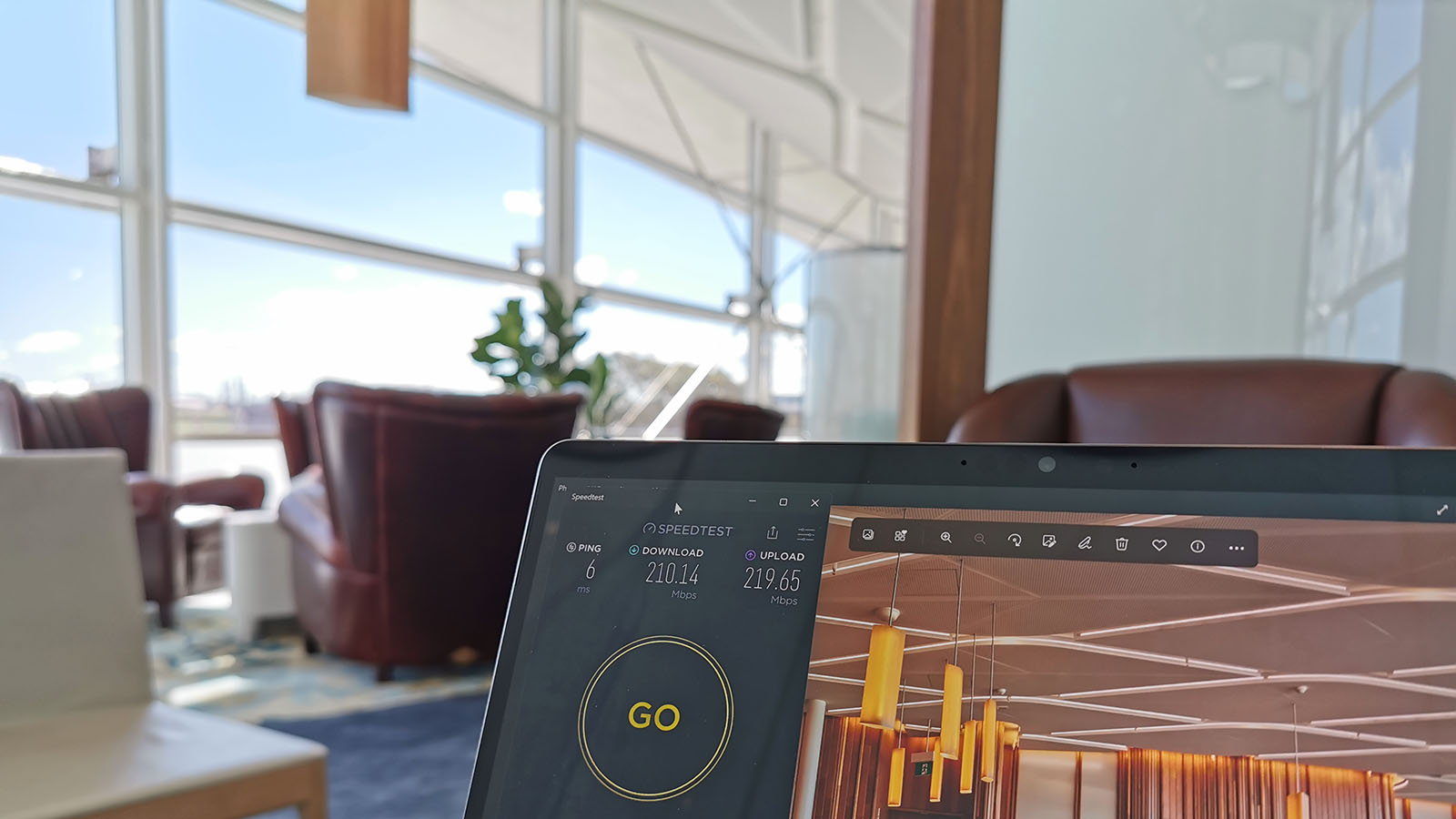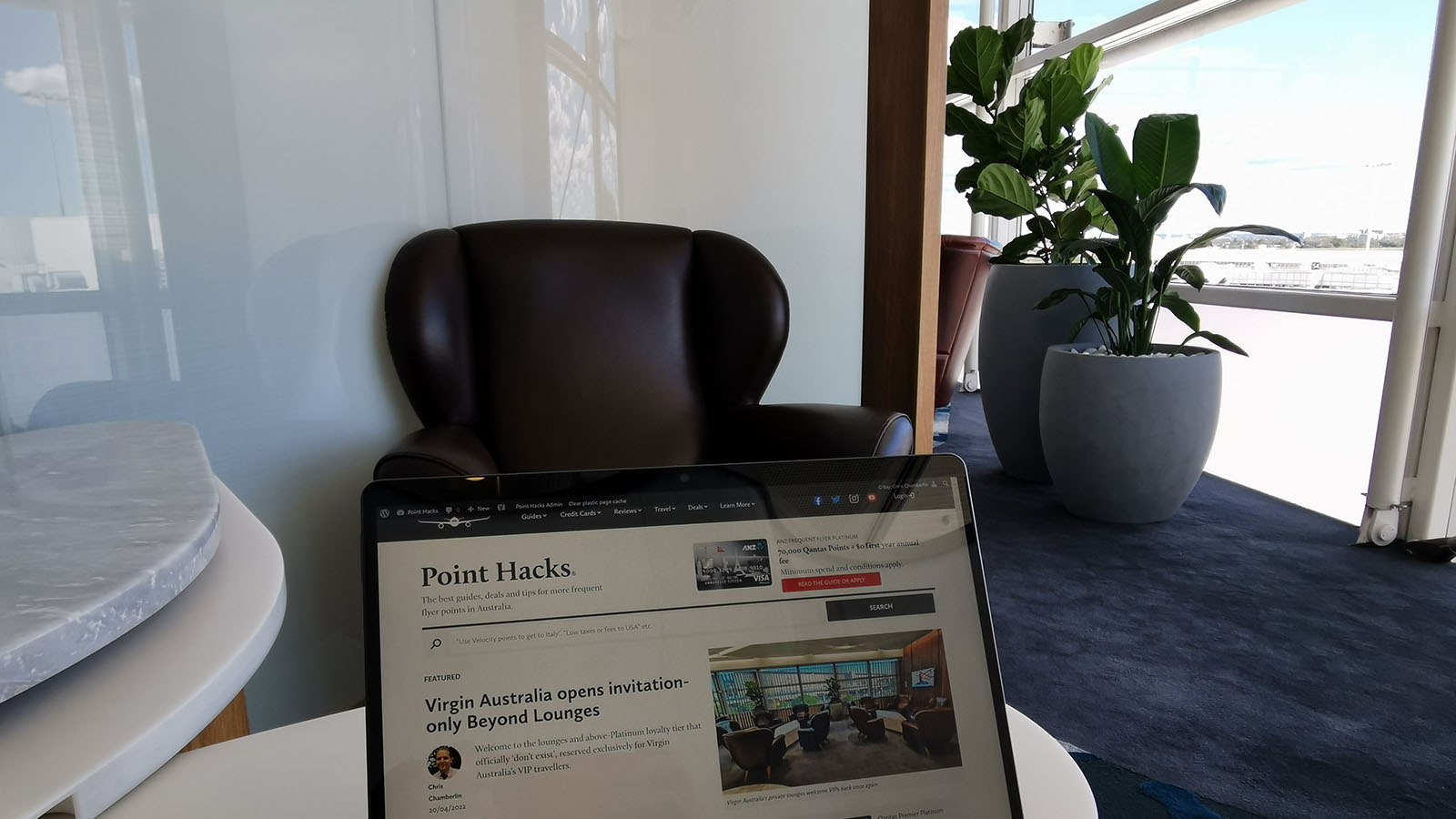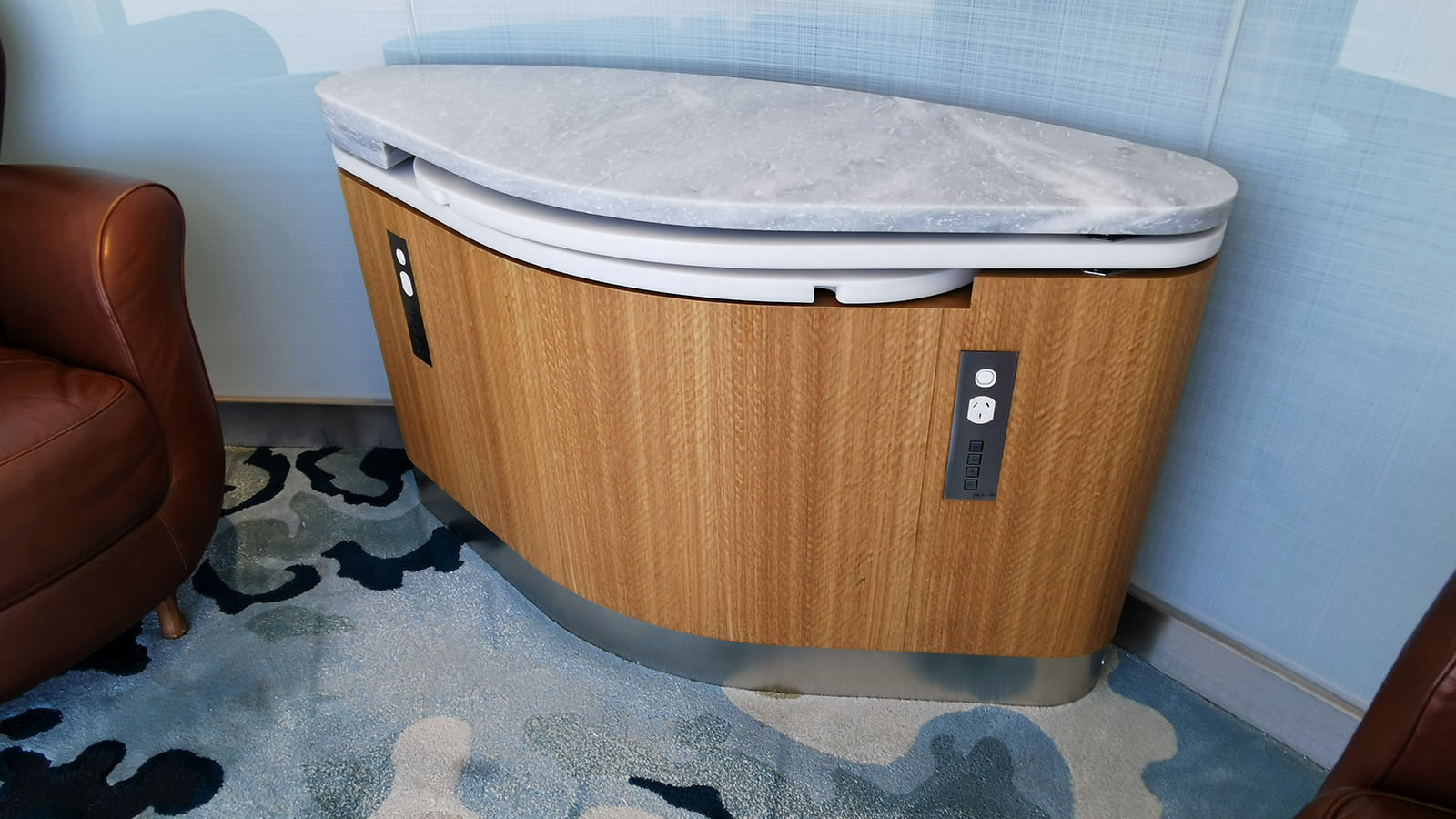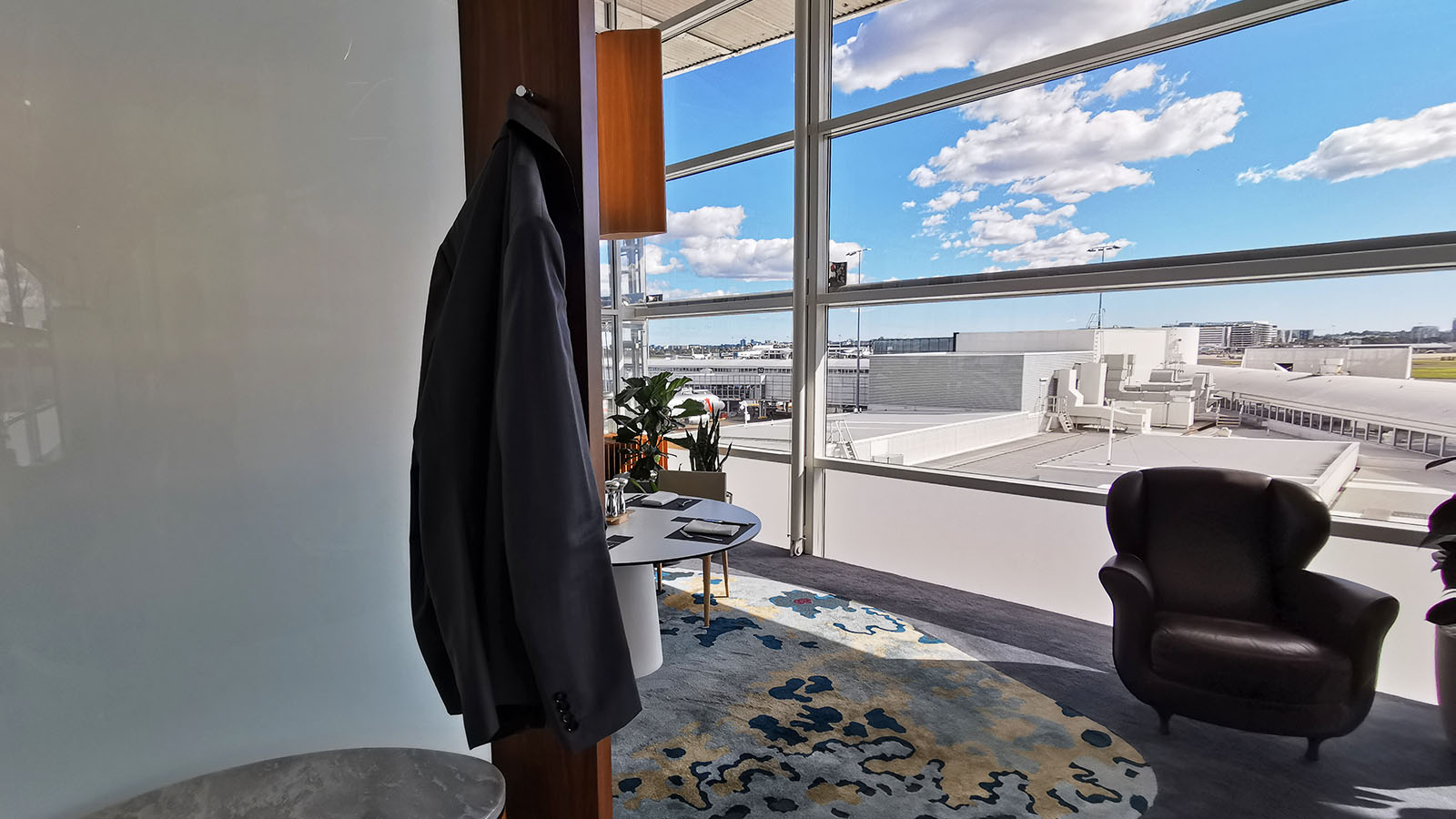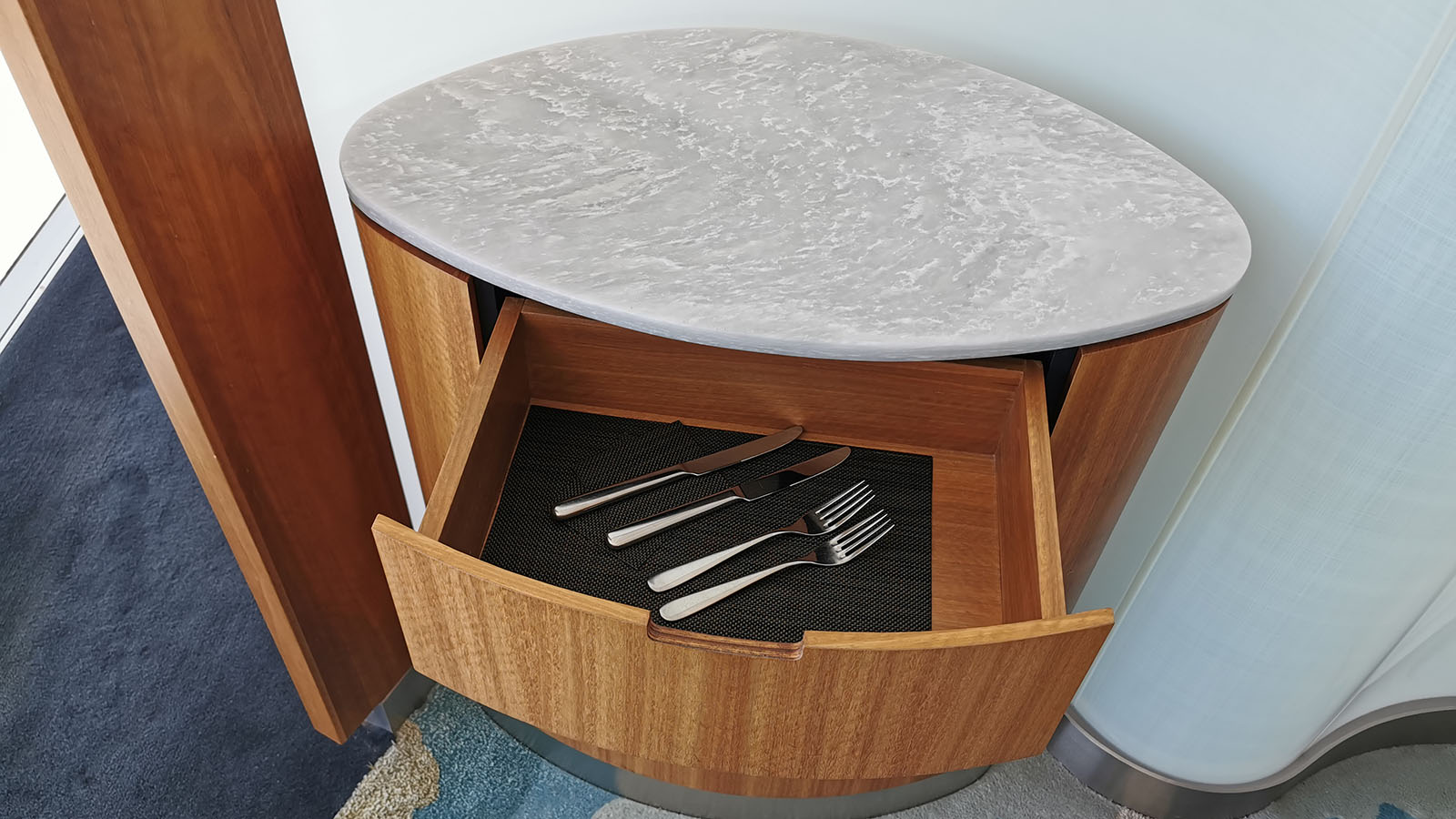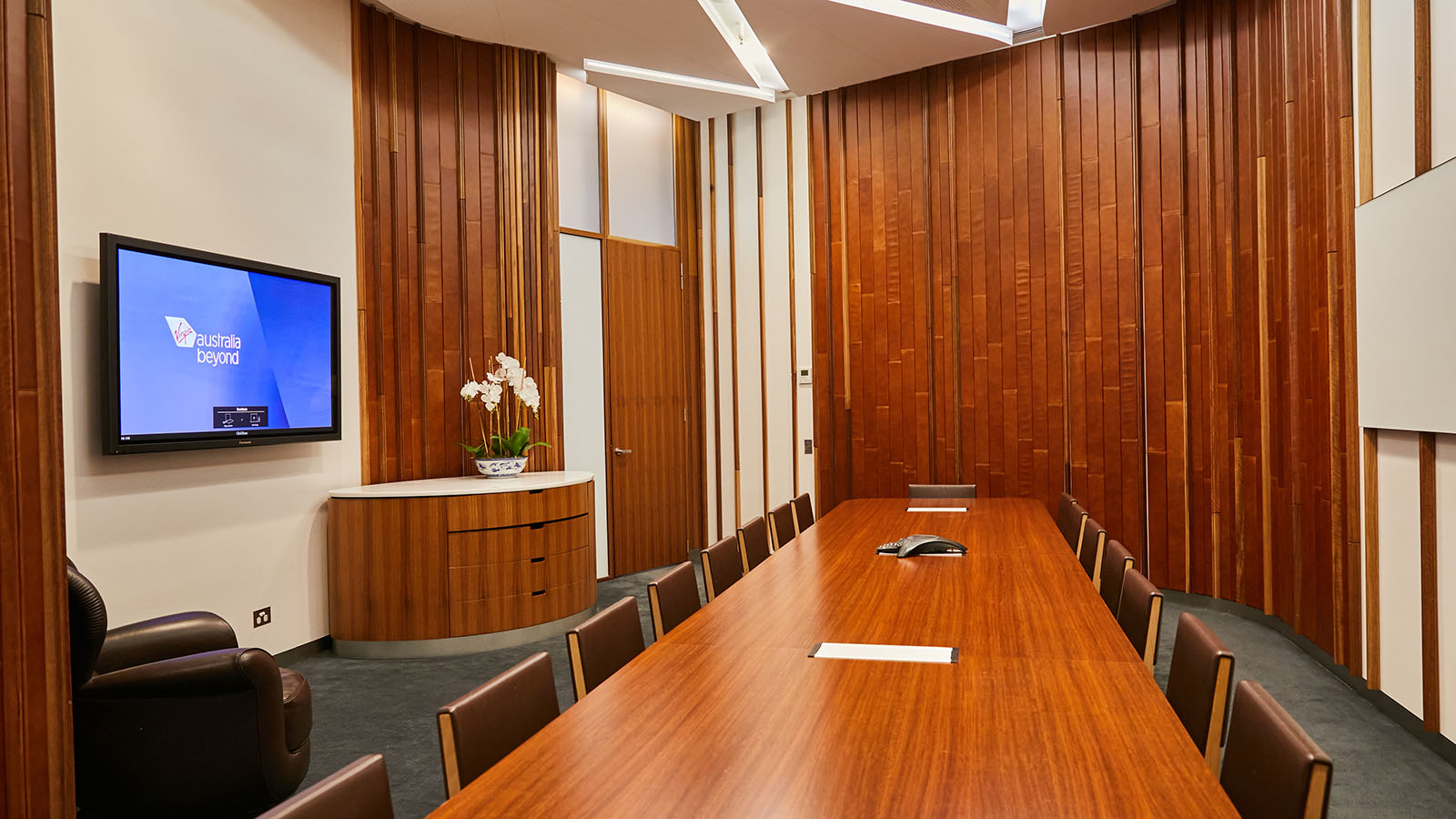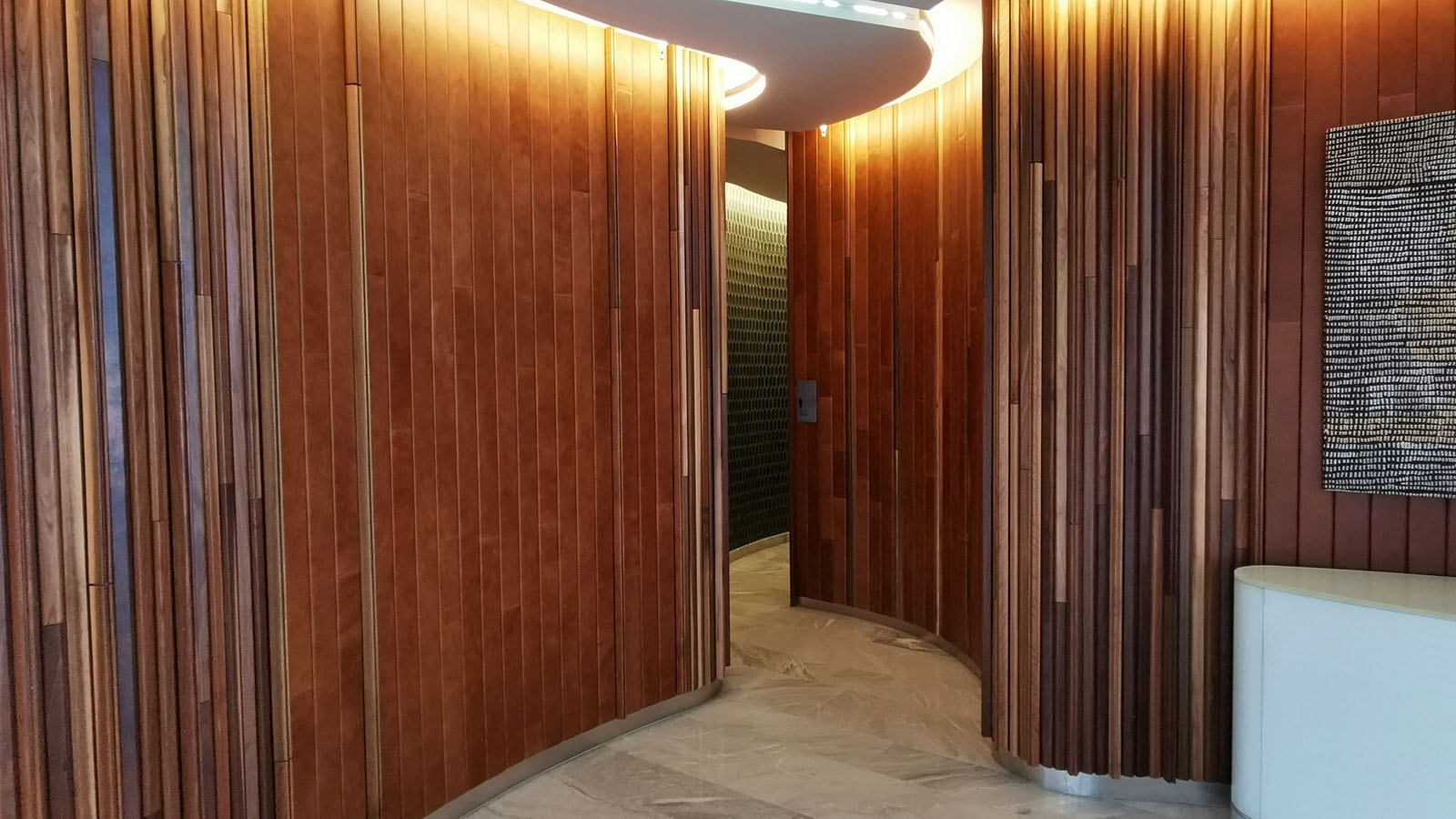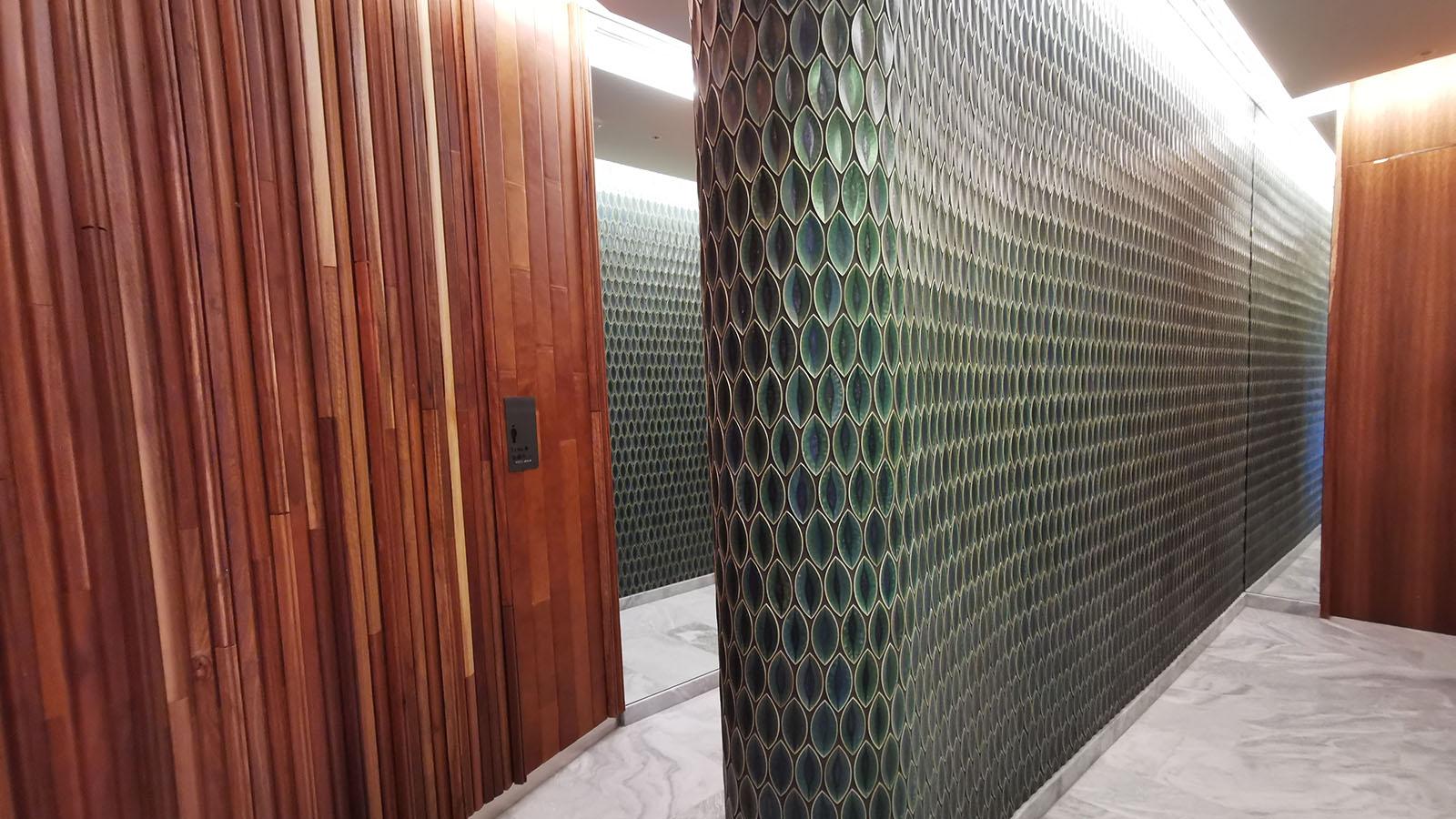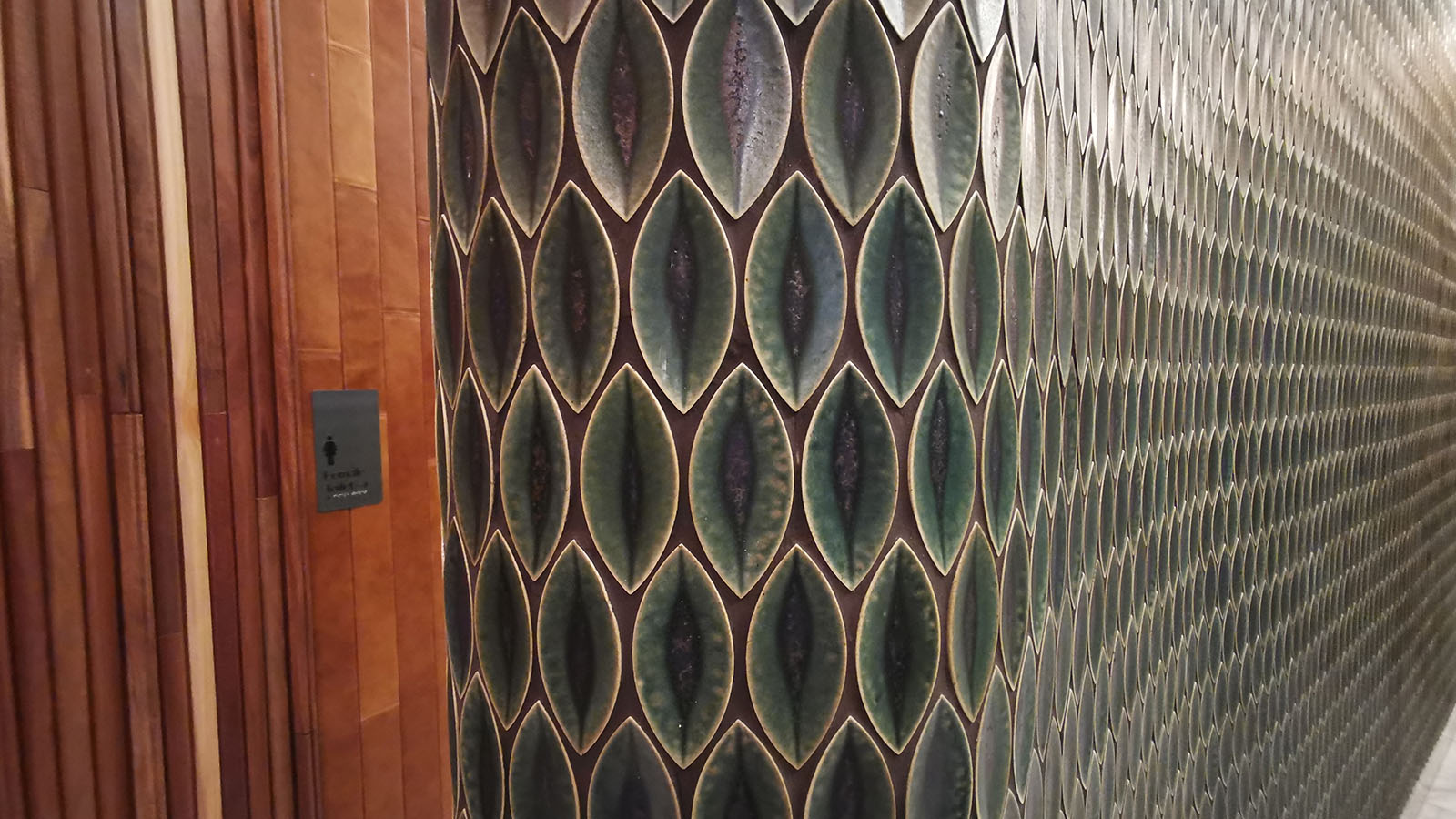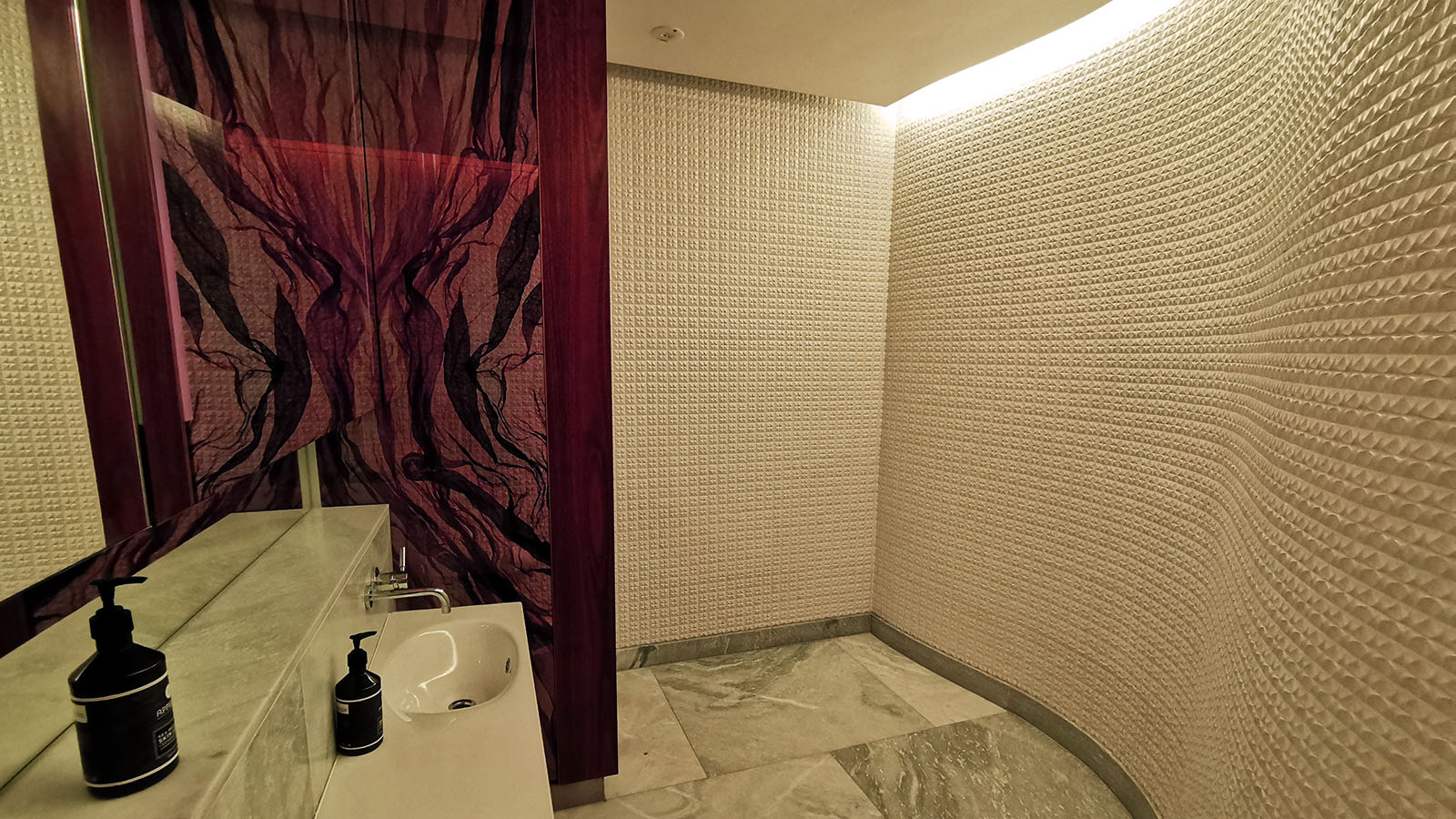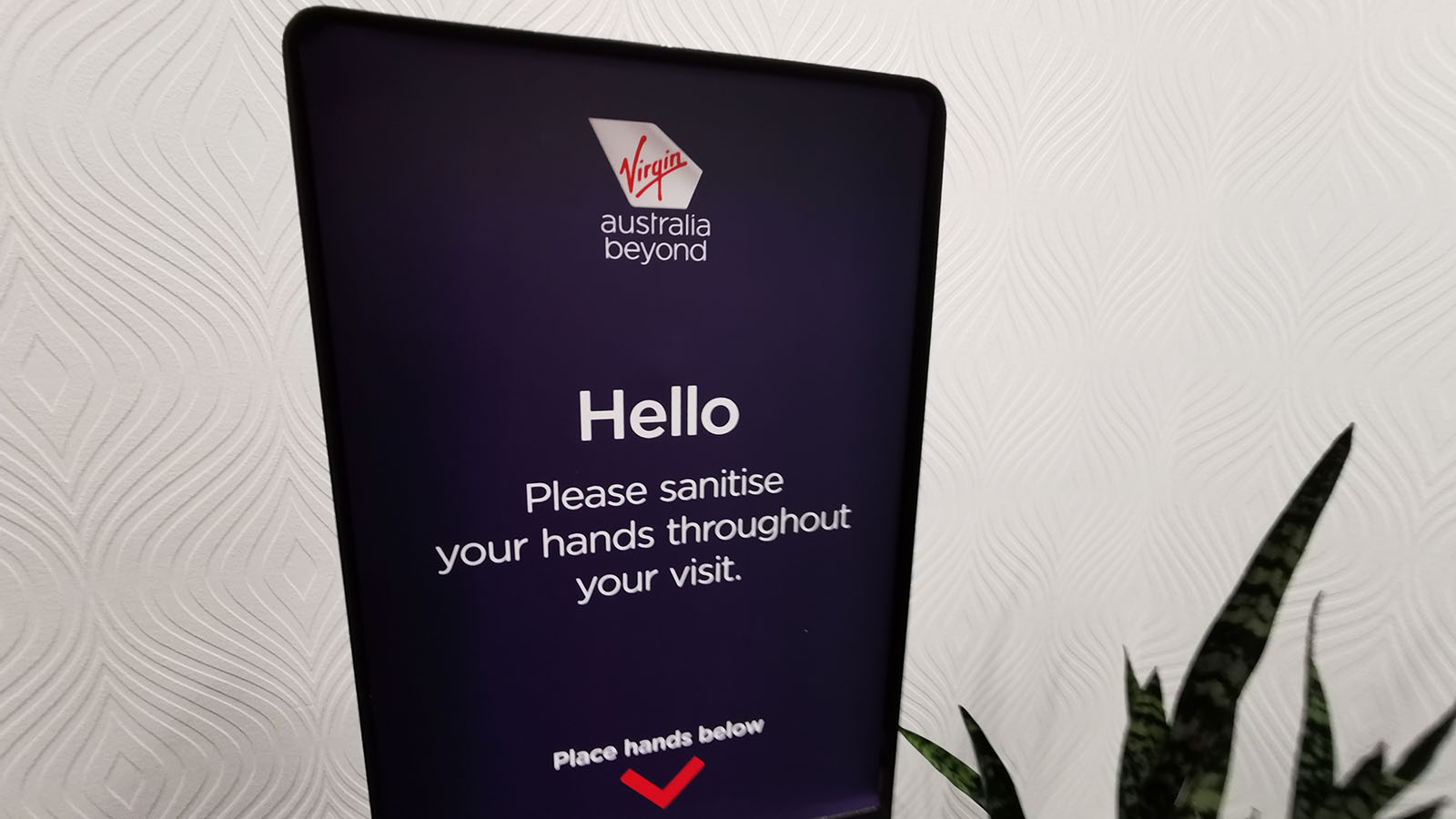 For work that requires even more seclusion, the lounge also features one private office, as well as a boardroom. These facilities can be booked by Beyond members prior to their trip, or on arrival in the lounge where available.
In keeping with the lounge's grand style, the corridor to the restrooms is equally eye-catching.
Walls along the winding path mix oak timber with leather cladding. That leads through to a striking green wall. On closer inspection, it's a collection of leaf-shaped tiles – a nod to the airline's signature 'roof leaf' pattern, seen across both its public and private lounges.
Each restroom is a private suite, with showers also opening on 1 July 2022.
Accessing Virgin Australia's Sydney Beyond Lounge
Curious to experience Virgin Australia's super-secret Beyond Lounge for yourself? I hate to be the bearer of bad news, but crossing the threshold into the world of Beyond is strictly by invitation only.
You can't buy a Beyond Lounge membership, and there's no sweet-talking your way in. If you're not a Beyond member, it's 'computer says no' at the front door – you won't even set foot in the office-like entry lobby.
I know what you're thinking: so how does somebody get that exclusive invitation?

'Members must be invited by the CEO (Jayne Hrdlicka) or company executives,' Virgin Australia confirms. Its members are generally 'Virgin Australia's most loyal guests from the worlds of business, travel, politics, sport, music, entertainment and society.'
It's also not necessarily a club for the airline's most frequent flyers. After all, simply surpassing Velocity Platinum won't automatically see your status switch to Beyond. It's more of a haven for decision-makers, such as the CEO and Chair of companies signing significant corporate travel accounts with Virgin Australia.
'We are confident we have the right model in Beyond to drive exceptional loyalty from corporate Australia while delivering strong commercial outcomes for Virgin Australia,' says Hrdlicka.
If you haven't yet been invited to Beyond and believe you should have been, the airline encourages you to speak with your travel manager or Virgin Australia account manager.
Also read: Inside Virgin Australia Beyond, the airline's invitation-only tier
Summing up
In business circles, Virgin Australia was widely regarded for its unpublished VIP services prior to the pandemic. Benefits such as a flexible baggage allowance, airport concierge and a 24/7 contact line helped eliminate the stresses of travel.
Fast-forward to 2022, and the VIP program is back in full swing. There may be fewer private lounges than before, but Point Hacks understands that most VIP-tier members travel on Golden Triangle routes anyway, and so would rarely miss out.
With access to the Beyond Lounge also available on arrival, there'll be plenty of opportunities for members to enjoy the hospitality. And for those who'd usually default to the Qantas Chairman's Lounge, Virgin Australia's revitalised offering gives business leaders much to consider. Of course, that's the whole idea.
Also read: Virgin Australia opens invitation-only Beyond Lounges
Photography by Chris Chamberlin, who travelled to Sydney as a guest of Virgin Australia. Feature image courtesy of Virgin Australia.
---
Stay up to date with the latest news, reviews and guides by subscribing to Point Hacks' email newsletter.
Virgin Australia Beyond Lounge, Sydney
was last modified:
April 21st, 2022
by