When you think of Qantas' best international lounges, it's fair to say that the Sydney and Melbourne First lounges probably come straight to mind. But there's a spot in Brisbane that's worth a visit too – the catch-all Qantas International Lounge.
Sure, it's no First Lounge. But there's a distinct local theme blending both visual and edible touches to really drive that vibe home. Let's take a look.
Location of the Qantas International Lounge in Brisbane
Unlike the busier east coast airports in Sydney and Melbourne, Qantas offers just a single lounge for international flyers departing Brisbane. This finds the space catering to everybody from Qantas Club cardholders through to Chairman's Lounge members.
For a spot of trivia, Qantas previously had a small First Lounge here, mirroring the current setup in Auckland. But this changed many years back when the lounge precinct was redeveloped. Regardless of your eligible status or seat number though, finding this lounge is simple enough.
Make your way through Brisbane Airport's obligatory duty-free maze and continue straight ahead. The stroll runs perpendicular to the terminal's external windows. If you find yourself wandering towards them, you're going the wrong way. Overhead signage points you in the right direction.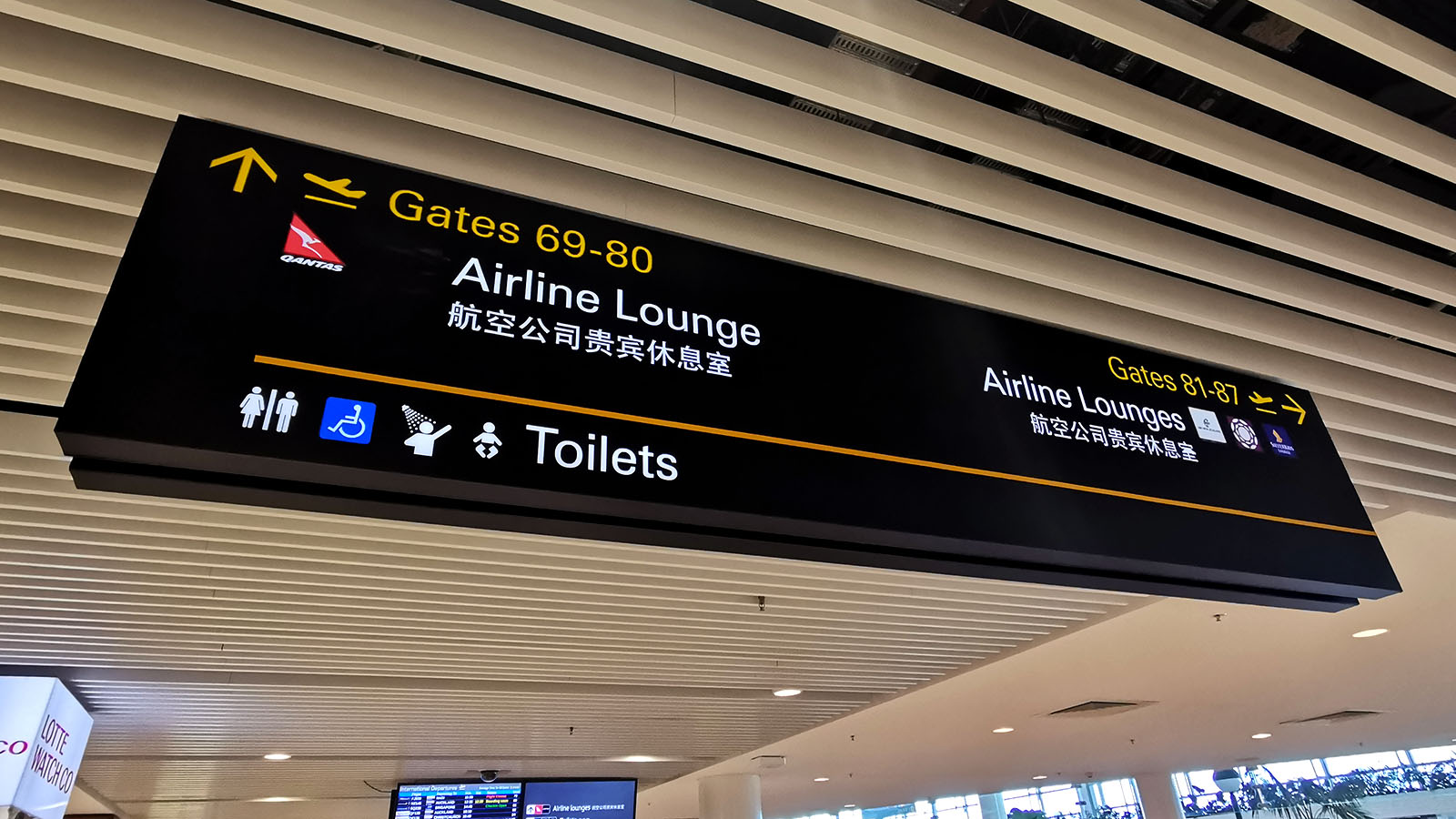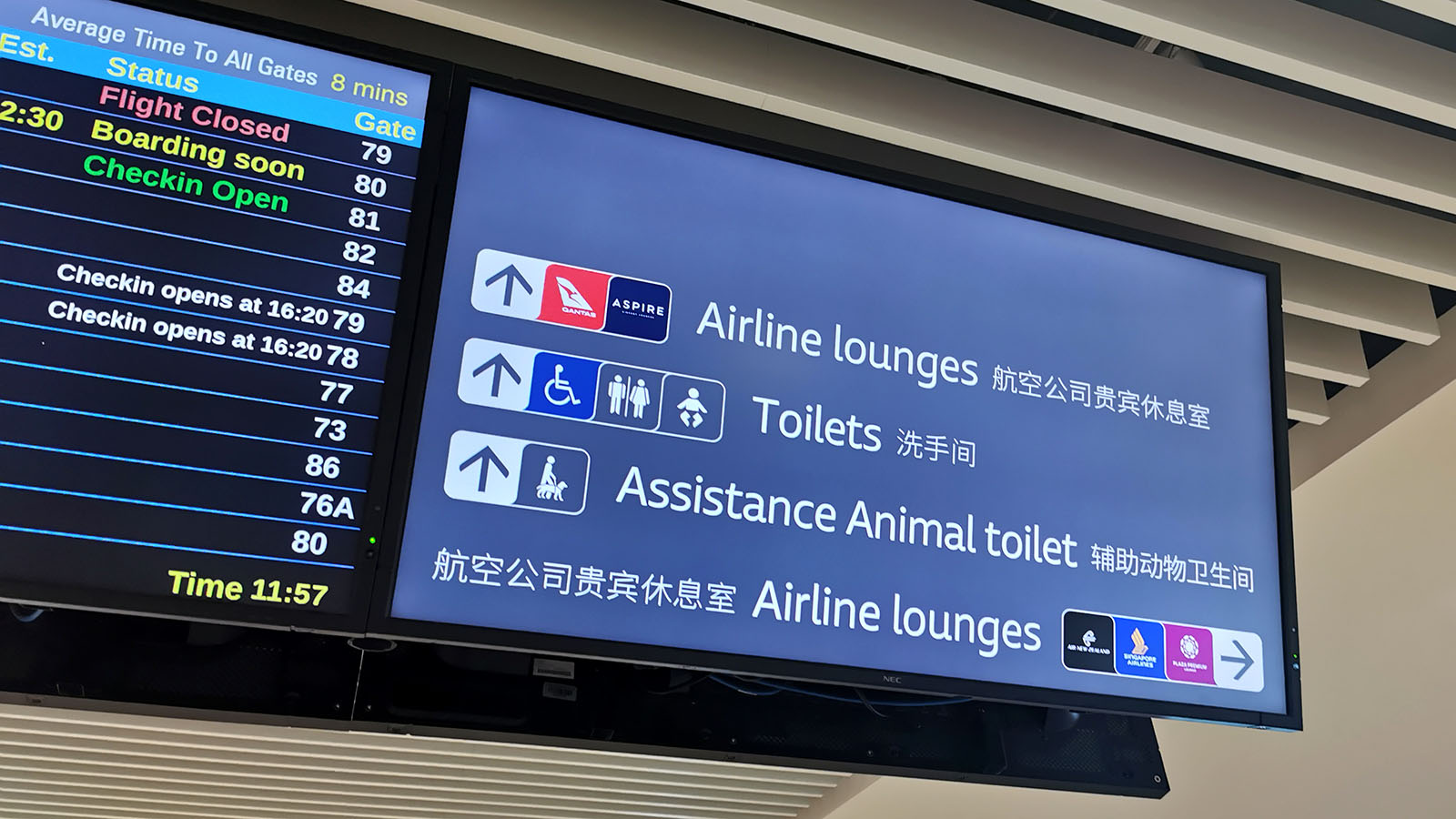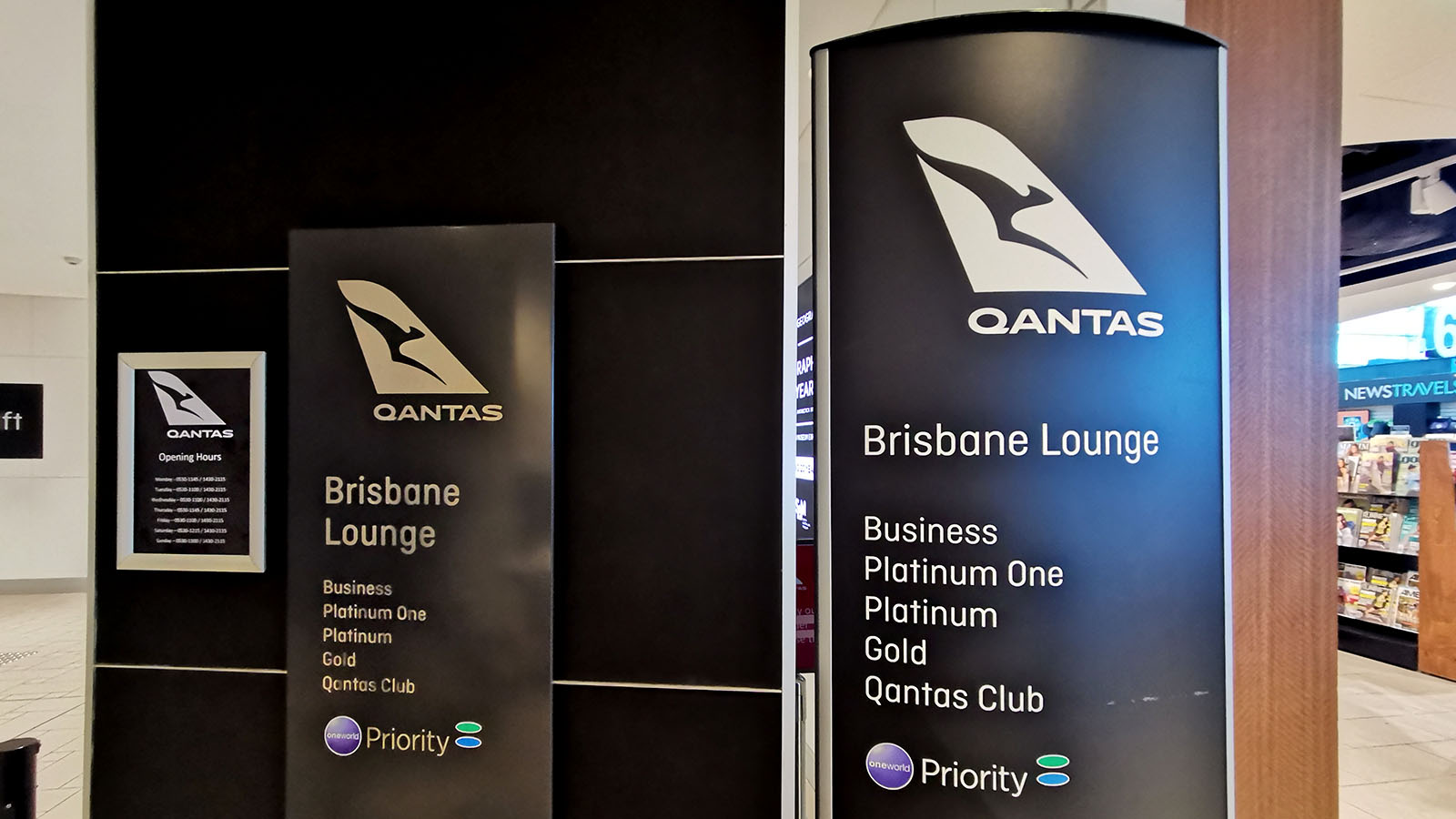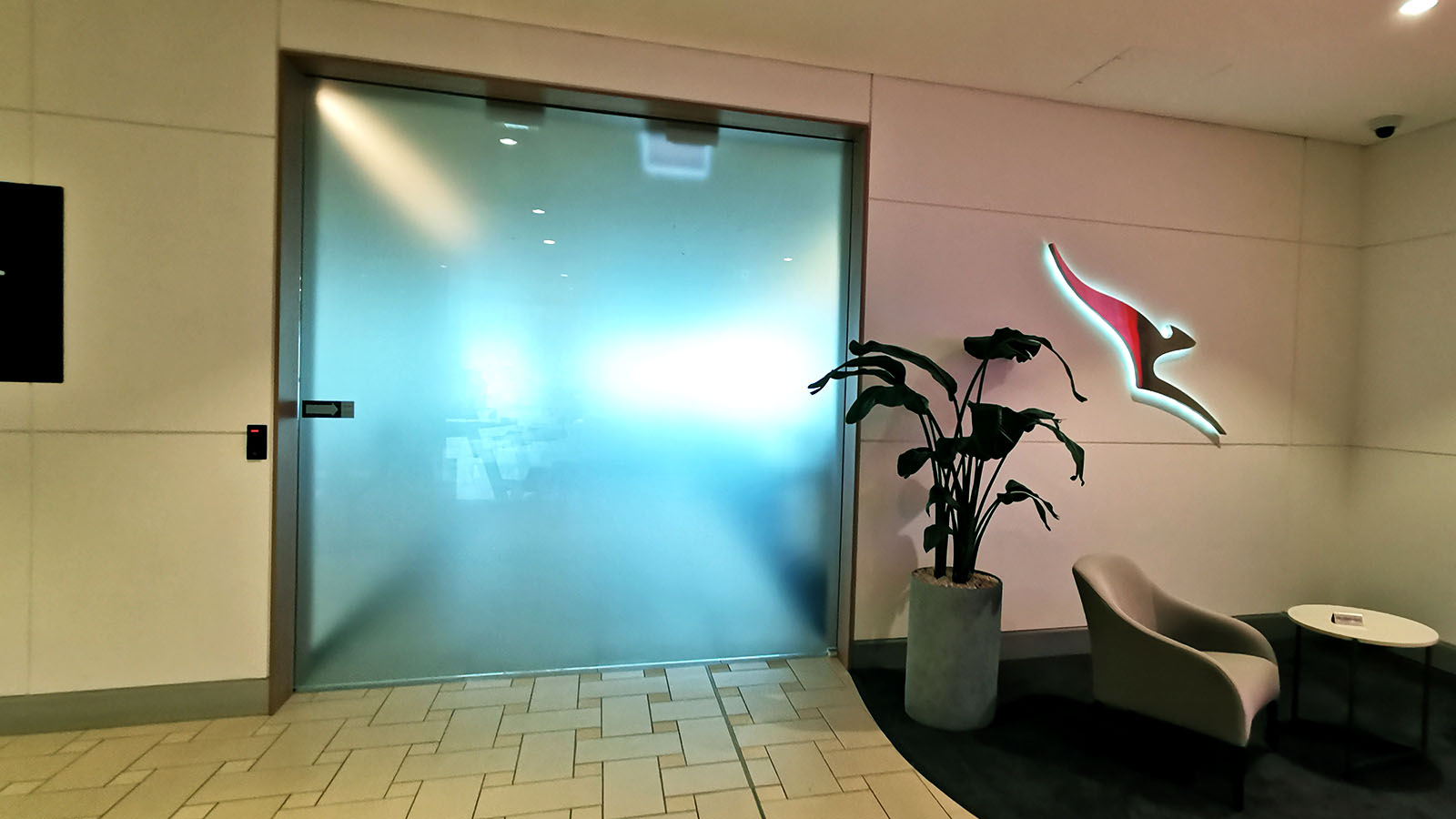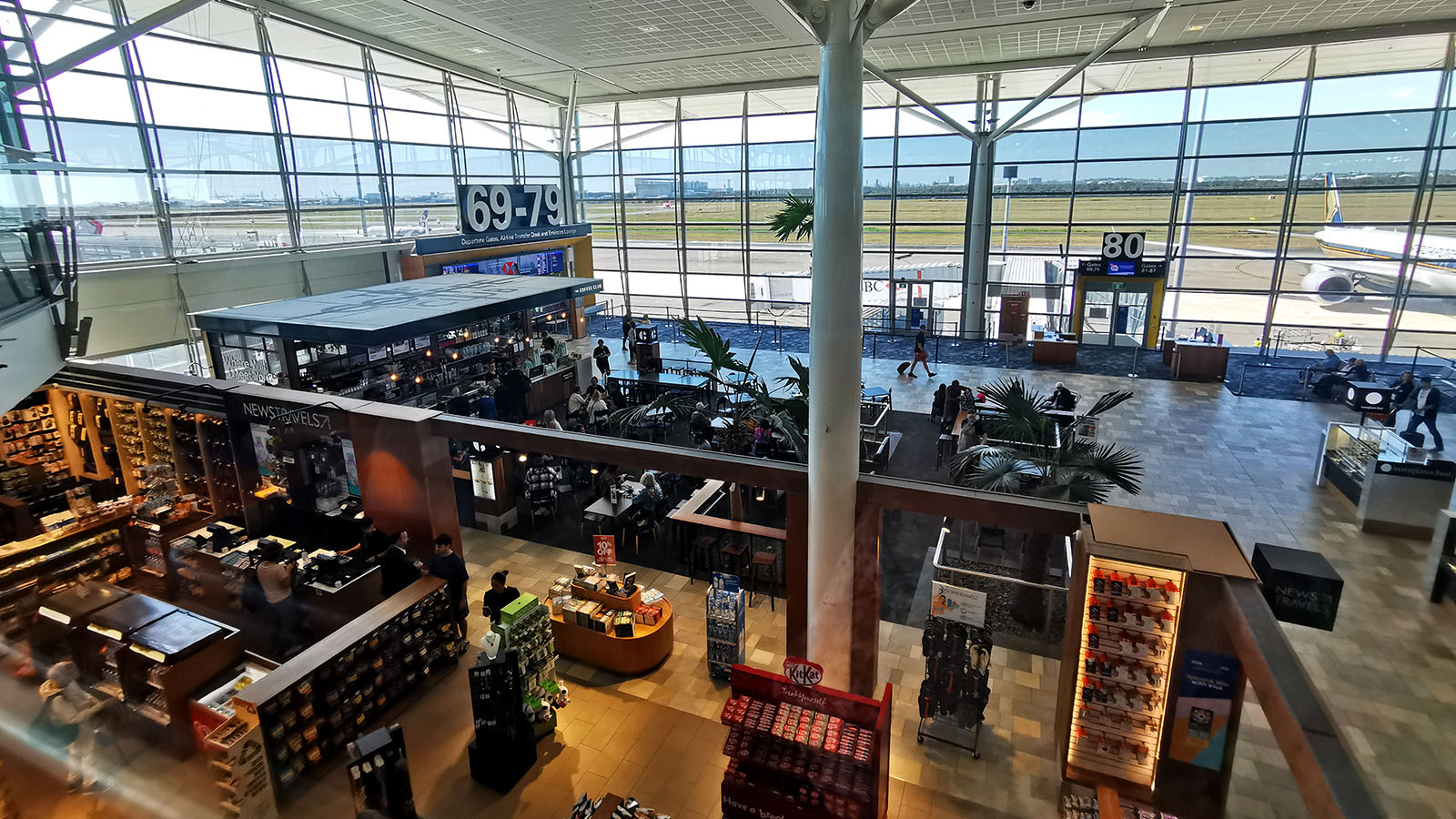 The Qantas lounge sits at the end of that walkway. But depending on the passenger numbers each day, you may have a couple of options. This precinct actually spans three levels. The ground floor – in the footprint of the former Air New Zealand lounge – has its own entrance and reception. The upper levels share a separate entrance atop the nearby escalators.
For another piece of trivia, this came about because those upper levels opened first – while Air NZ still lived downstairs. That first floor space was later taken over by Qantas, giving it all three storeys. I'm told that Qantas now hopes to create a single entry point on that lower level with access to all three floors. But talks with Brisbane Airport are ongoing to move that forward.
Qantas' pre-COVID international network from Brisbane still hasn't returned, so the lounge's opening hours vary significantly from day to day. Check the Qantas website for the latest. The hours may broaden over time if flights return to the likes of Hong Kong and San Francisco.
Layout and seating of the Qantas International Lounge, Brisbane
With three distinct storeys, I arrive in time to explore each one.
Level one
This part of Brisbane's Qantas International Lounge is accessed by walking straight ahead once inside the lounge precinct, rather than taking the escalator upstairs. As the freshest floor to open here, it still has quite a 'new' vibe. And given the lounge's presence in Queensland, Qantas isn't shy in using the state's natural wonders to inspire the design palette here.
Carpets take on an ocean blue base with splashes of azure, creating a subtle wave effect. These carpeted areas sit aside a more neutral-coloured walkway, mimicking a scene of the ocean lapping at a sandy shore. That beachy vibe continues into the furniture, where light brown timber joins the mix. White tabletops also mimic the wash created by a boat soaring across the bay.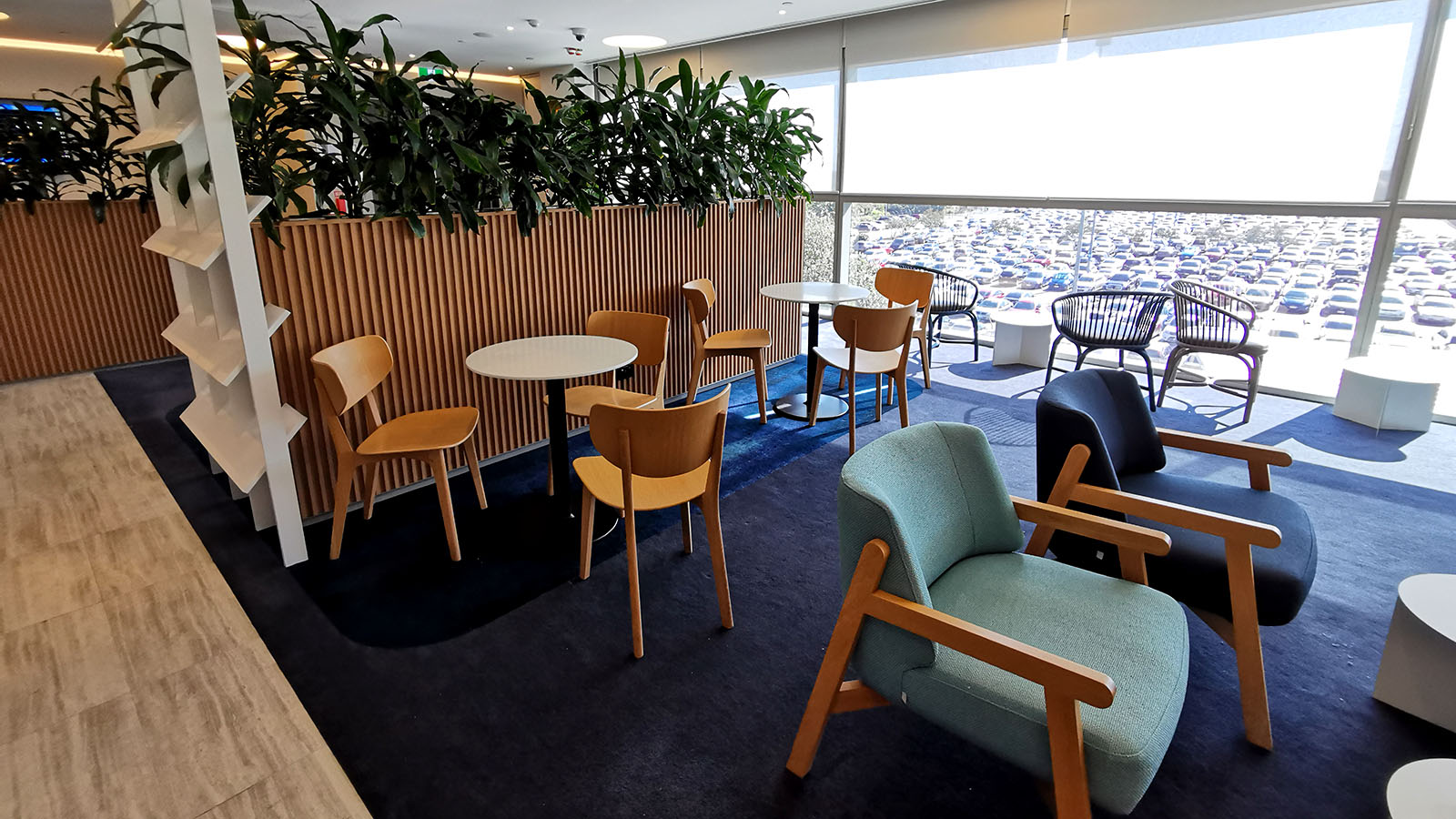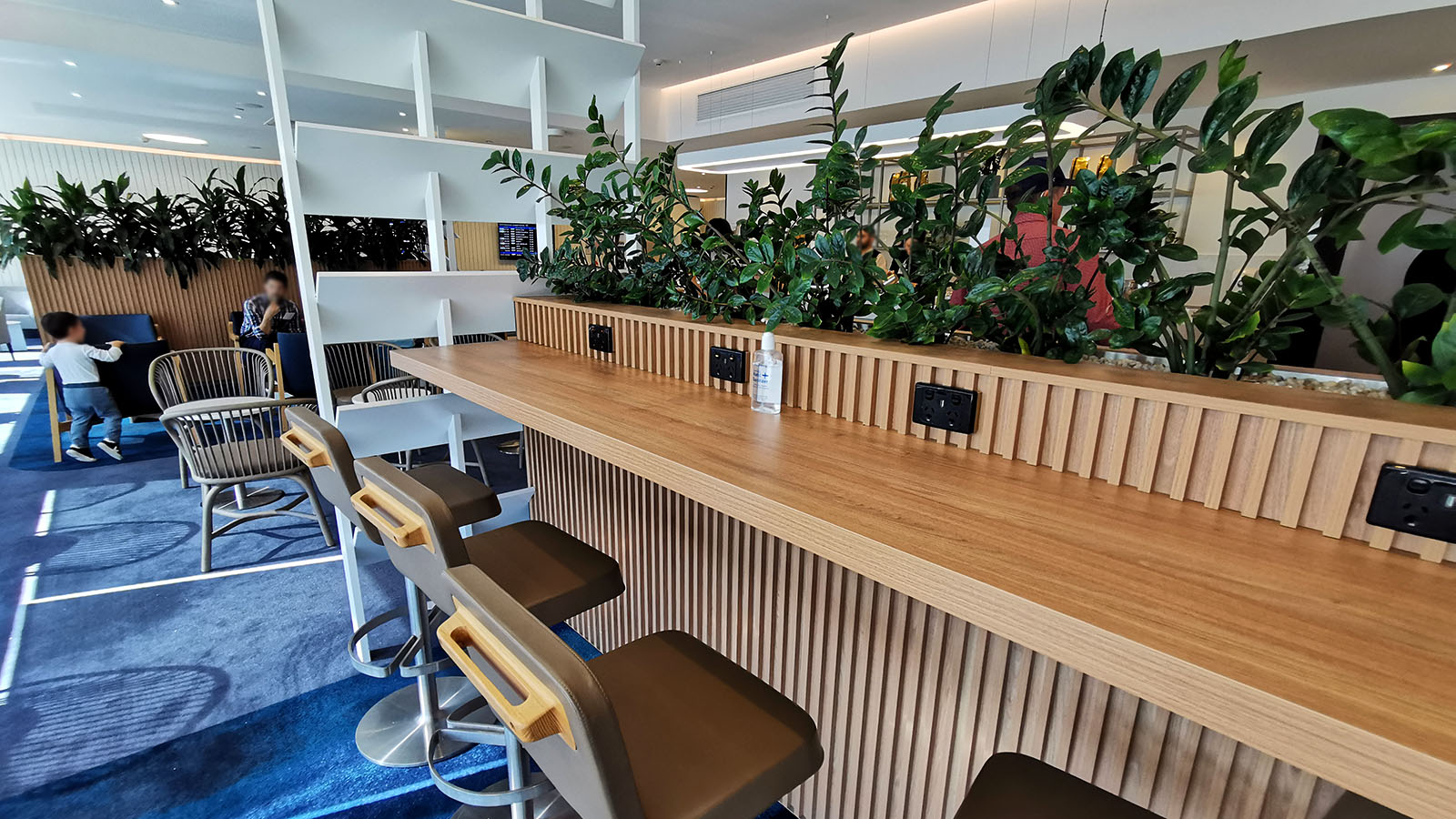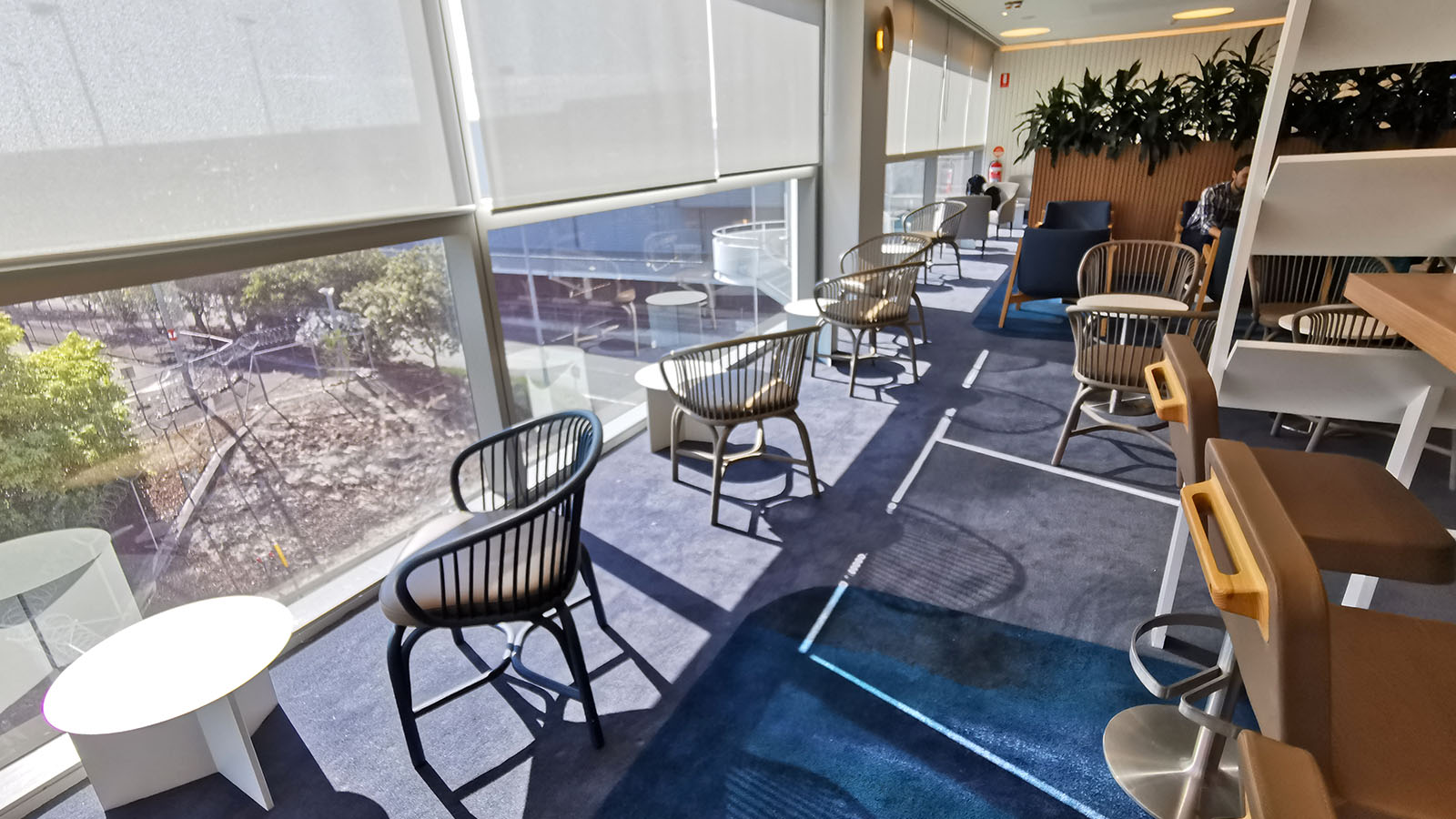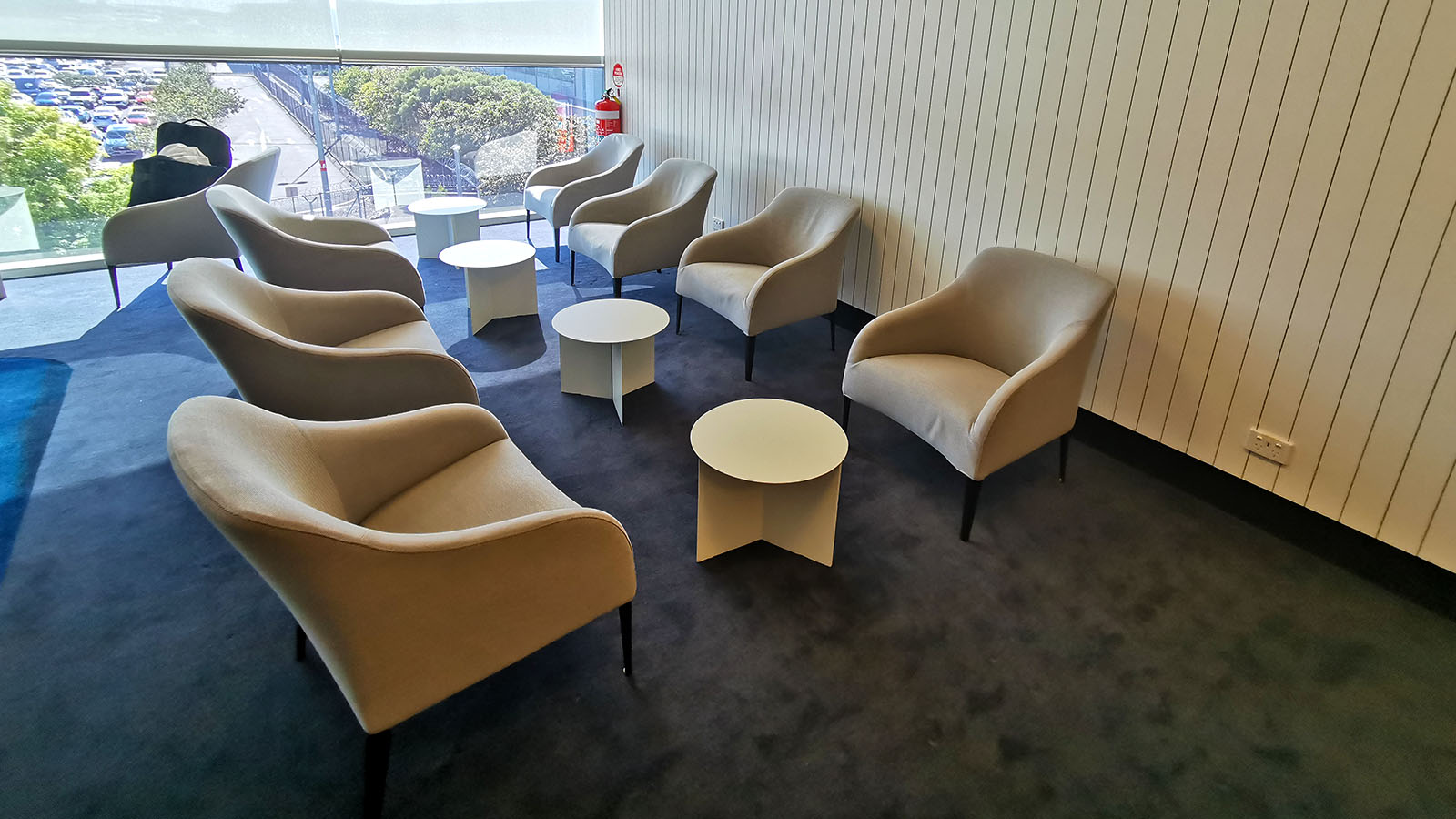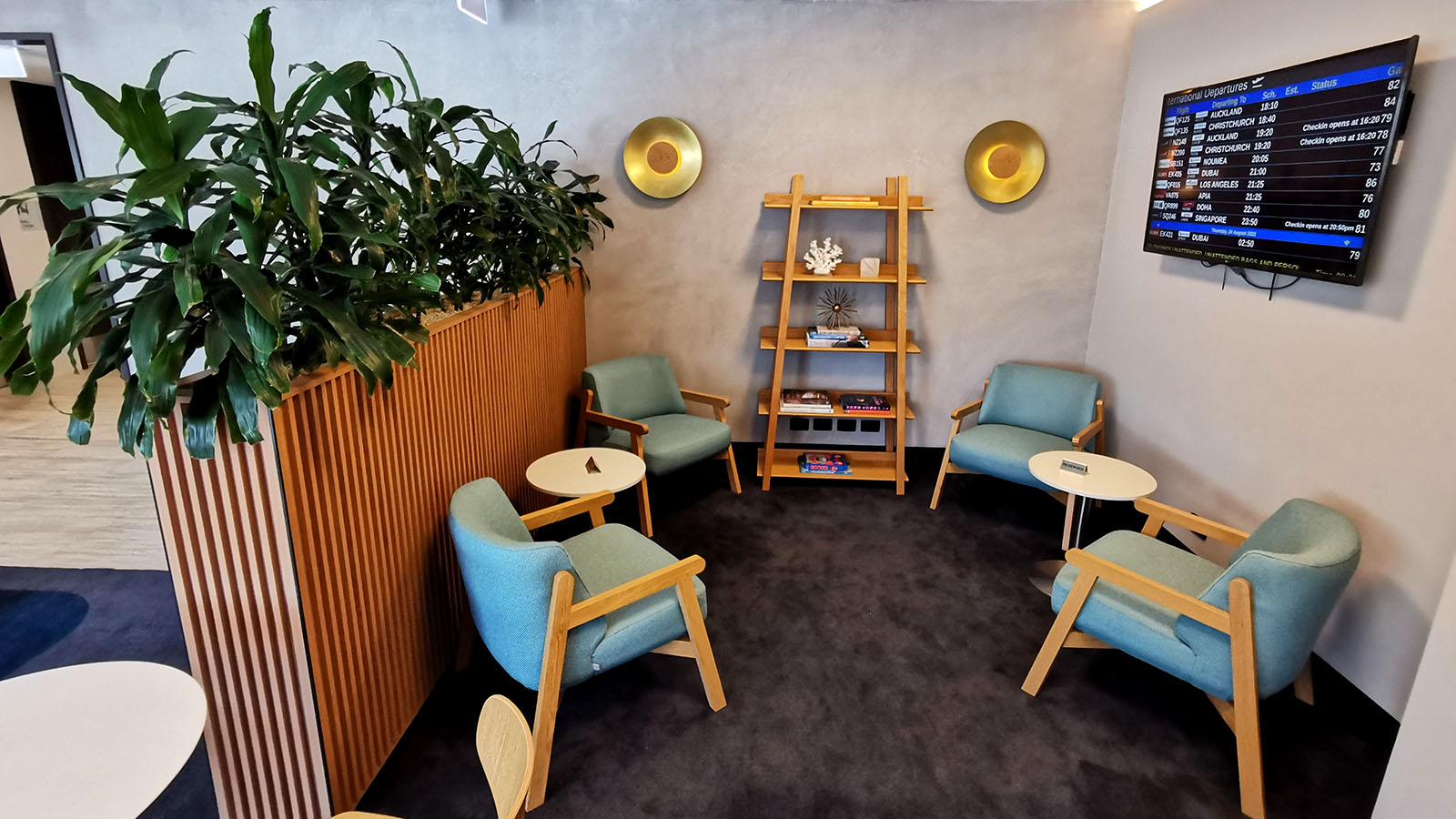 But it's not just quirky for the sake of design – the space is also very practical. Many tables are suited to more formal dining, with high-top work benches offering easy access to power. Other seats are more comfortable for kicking back with a pre-flight beverage. Some also line the windows, to make the most of the natural light during the day. There's no real view from this level, though – except of a staff car park.
For any passengers requiring a little extra privacy, there's a secluded nook in the back corner. It's tucked away behind some greenery – so unless you know it's there, you're unlikely to come across it.
Level two – the OG
Before Brisbane's Qantas International Lounge grew to span three storeys, it lived on a single level. That's here, on what's now the middle floor. The entrance sits in the footprint of the former First Lounge. Wandering inside quickly finds a variety of seating – also in that beachy theme.
Make your way past the bar and barista station and you'll emerge into what's arguably the 'main' part of the lounge. There's a dining island ahead of a buffet, and then large bays of seats. Most have power points nearby – if you can't find one, just look below at foot level.
These are noticeably absent from the dining island. It's an area that often sits empty, and which could otherwise be used as a workstation. But at the same time, it creates a distinct place to dine where you're not usually faced with the click-clack of keyboards. Or for that matter, the sound of others joining virtual meetings and taking phone calls.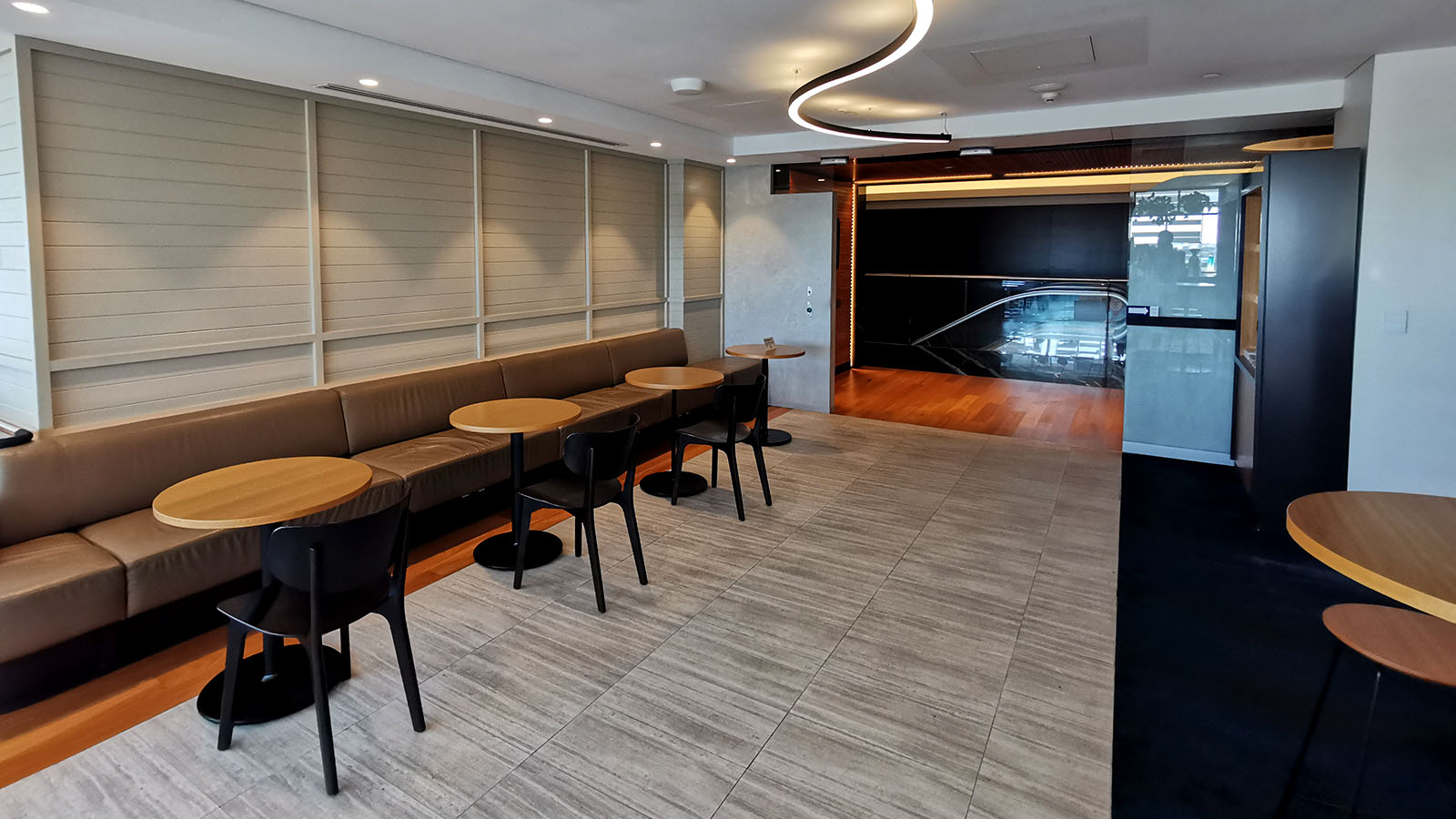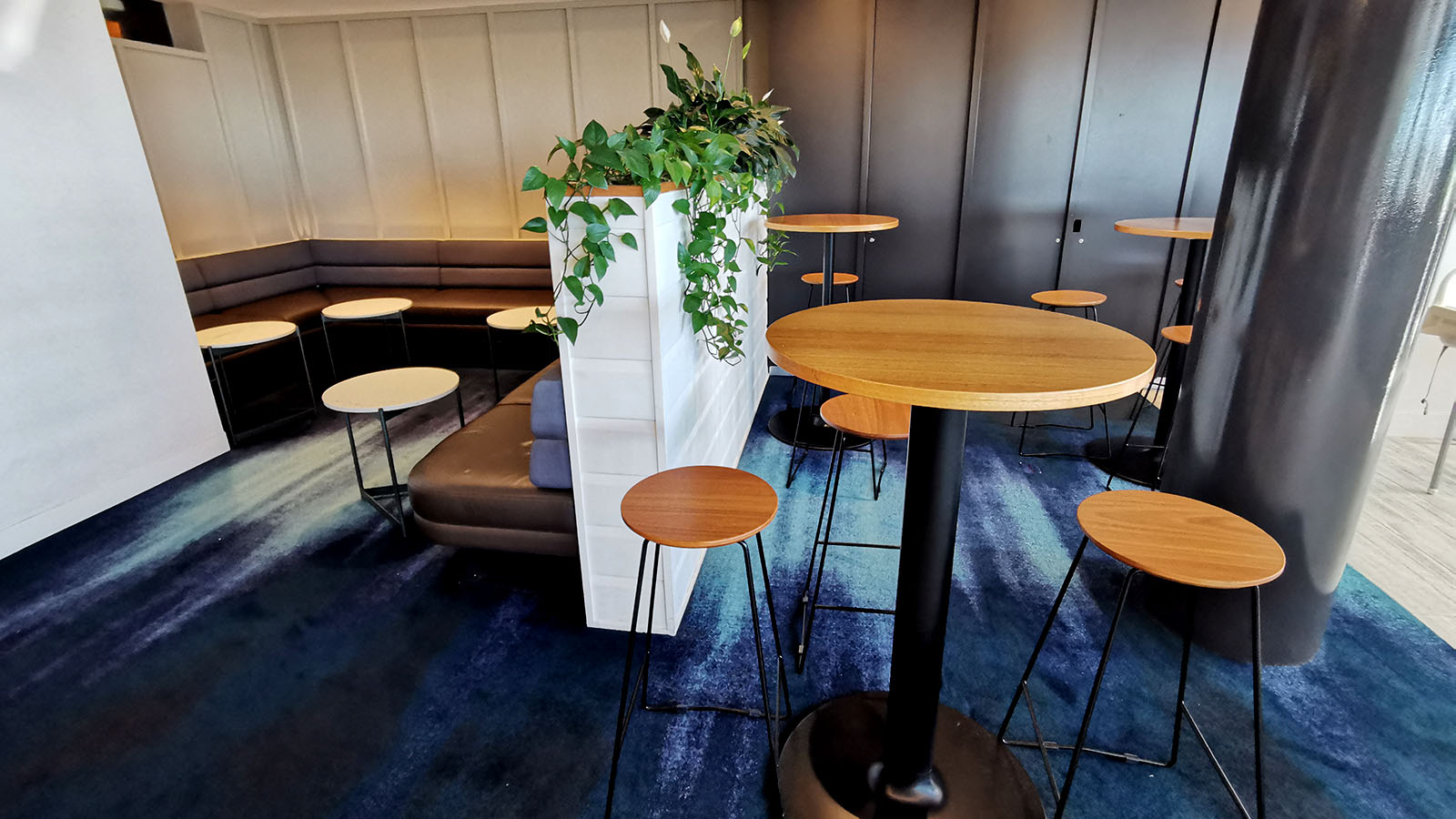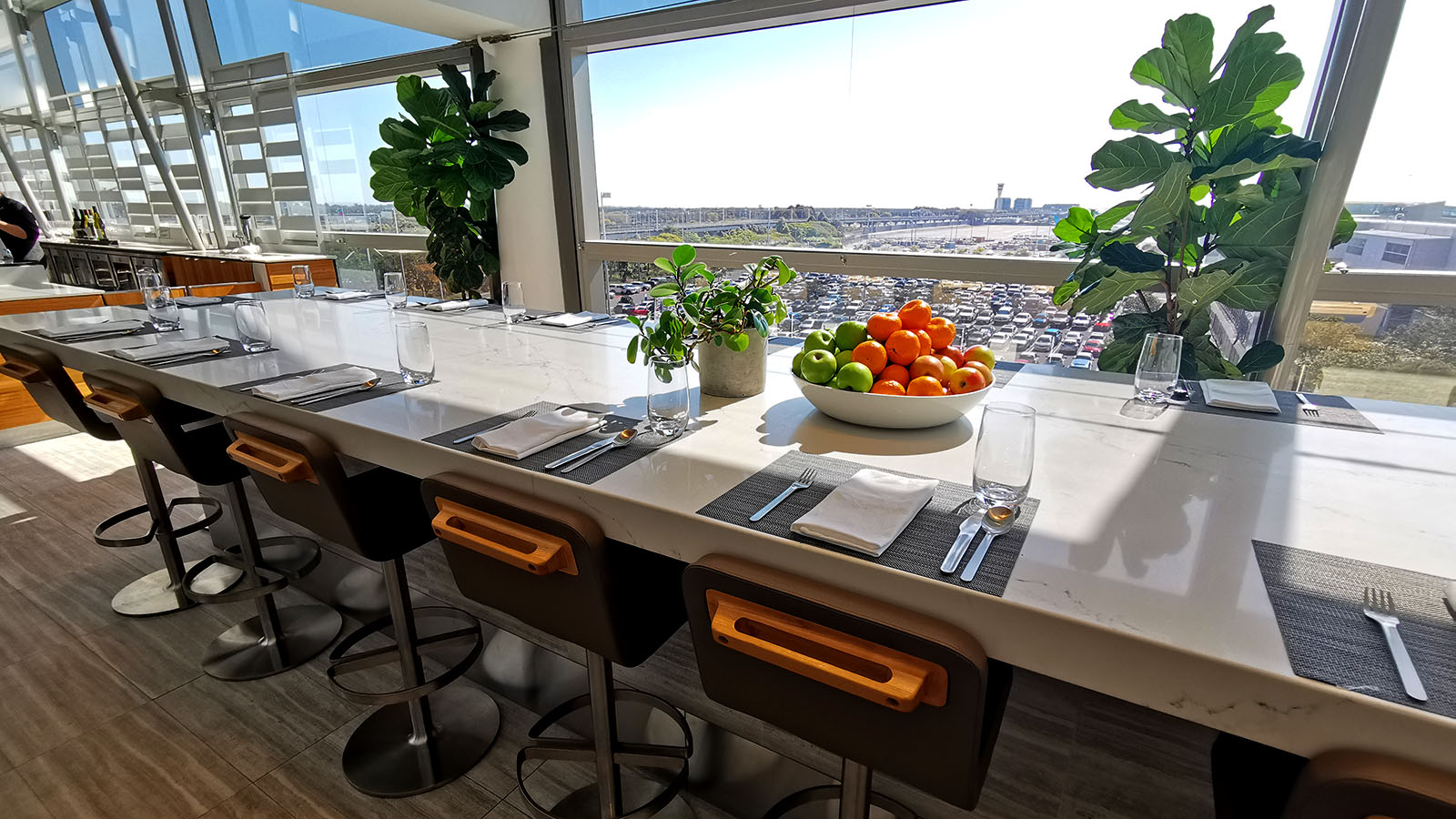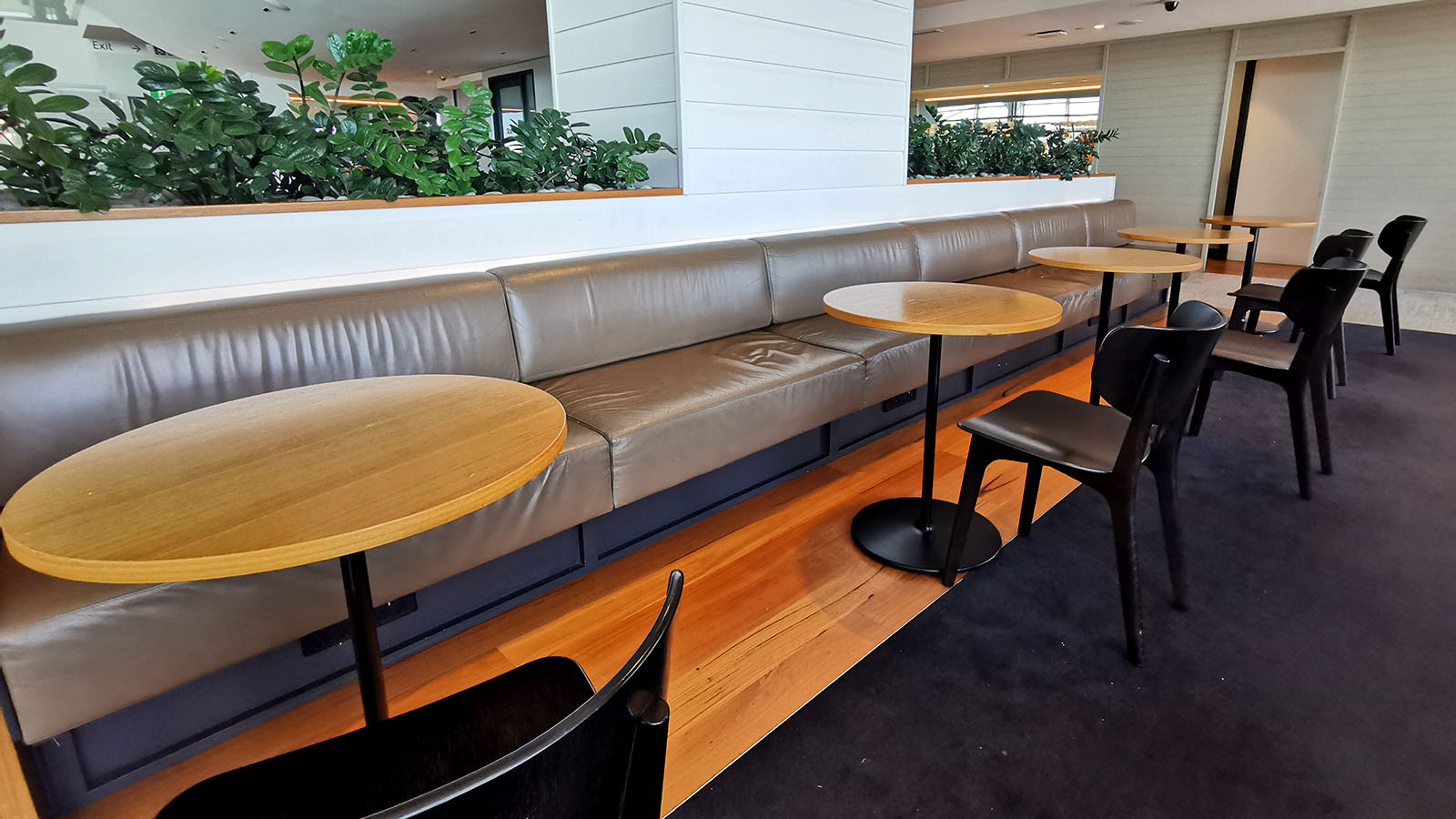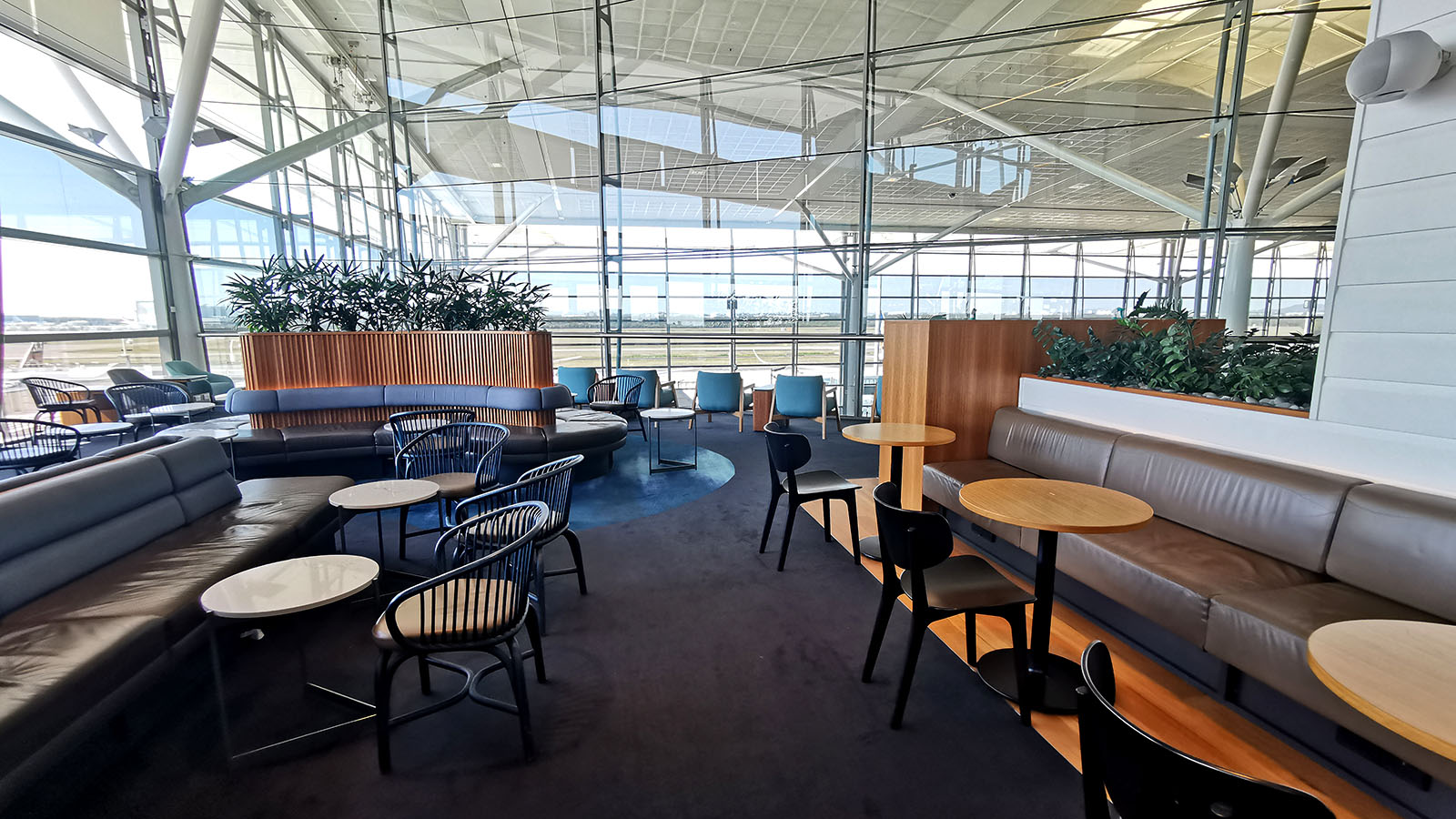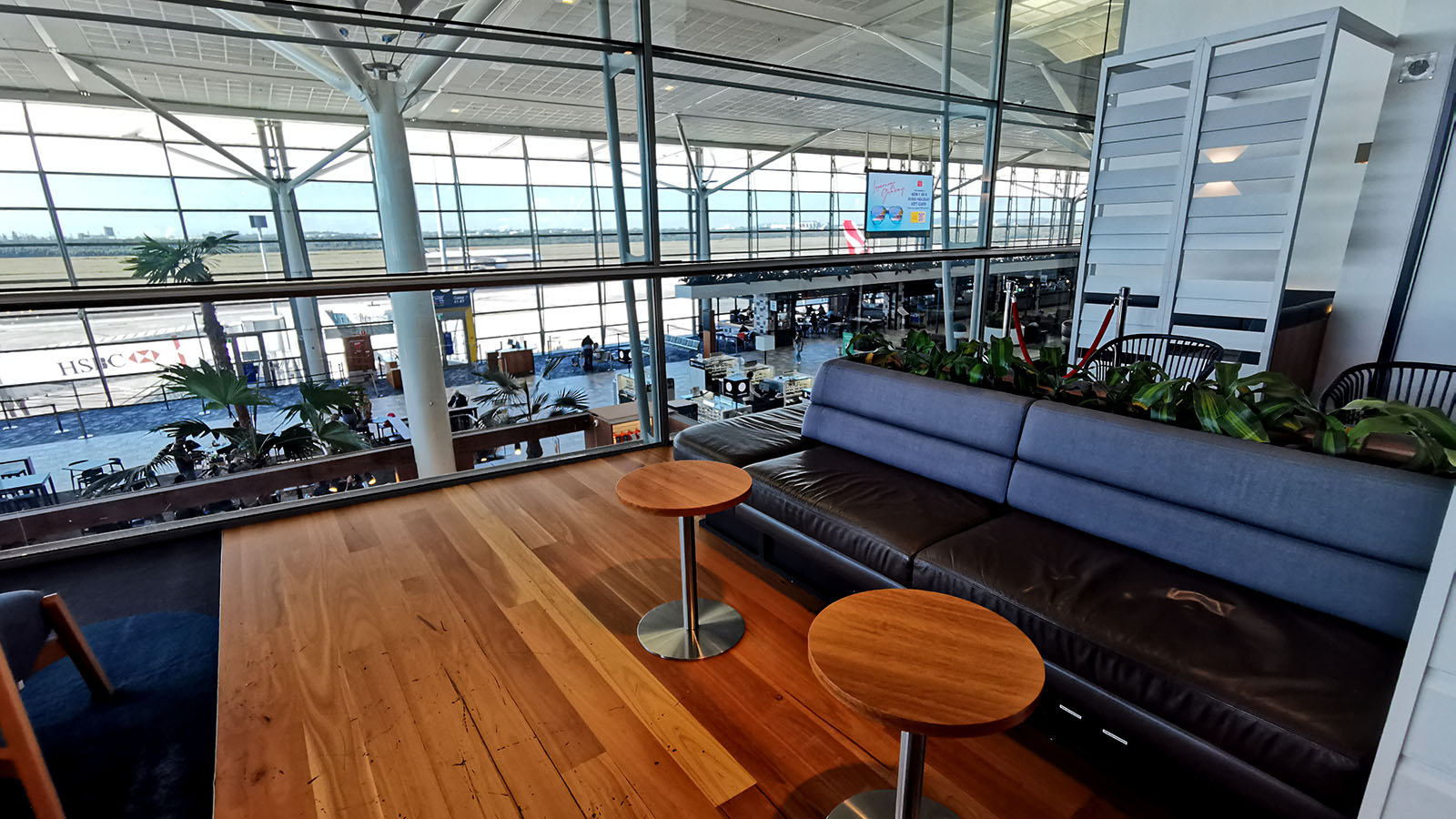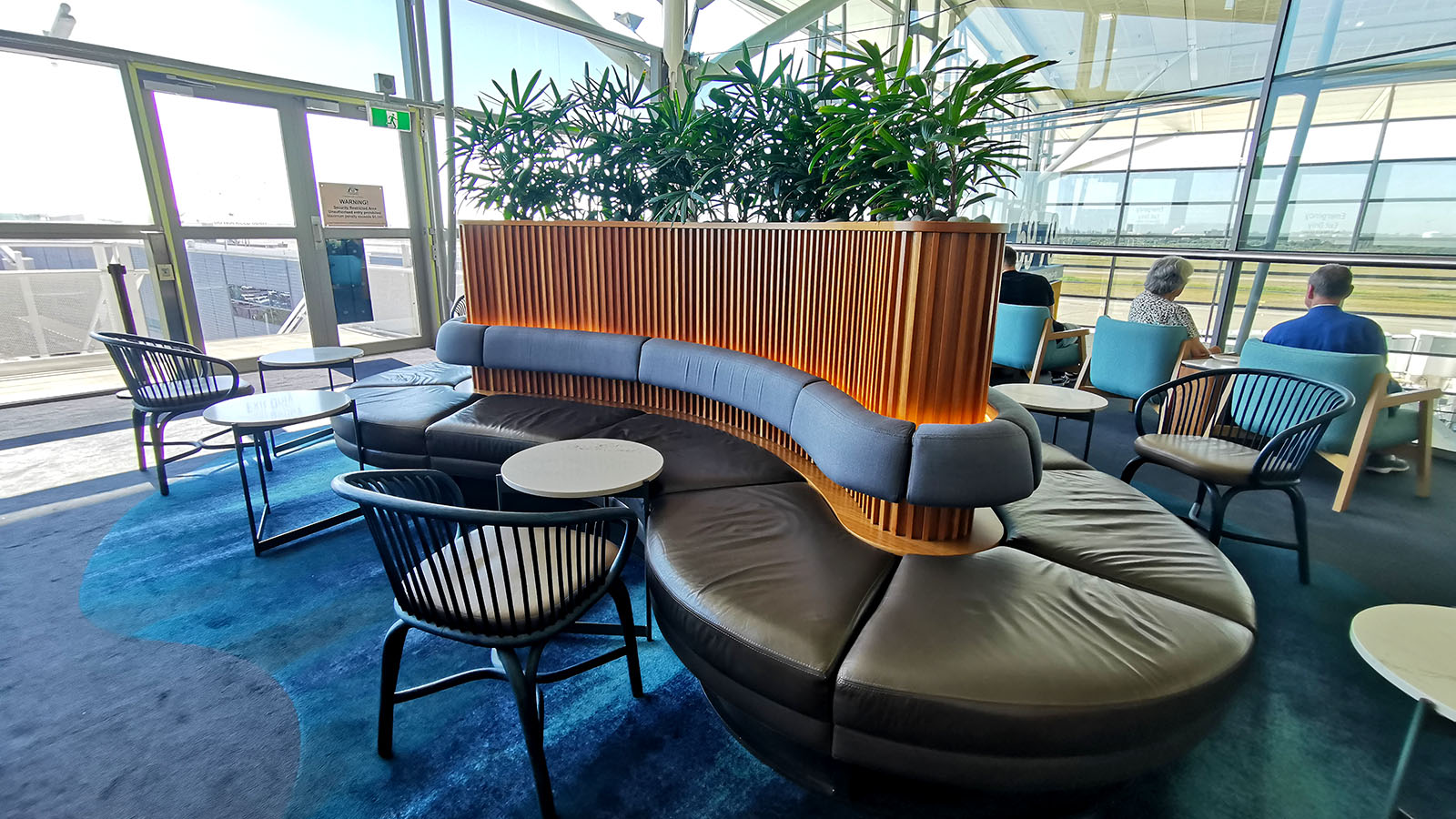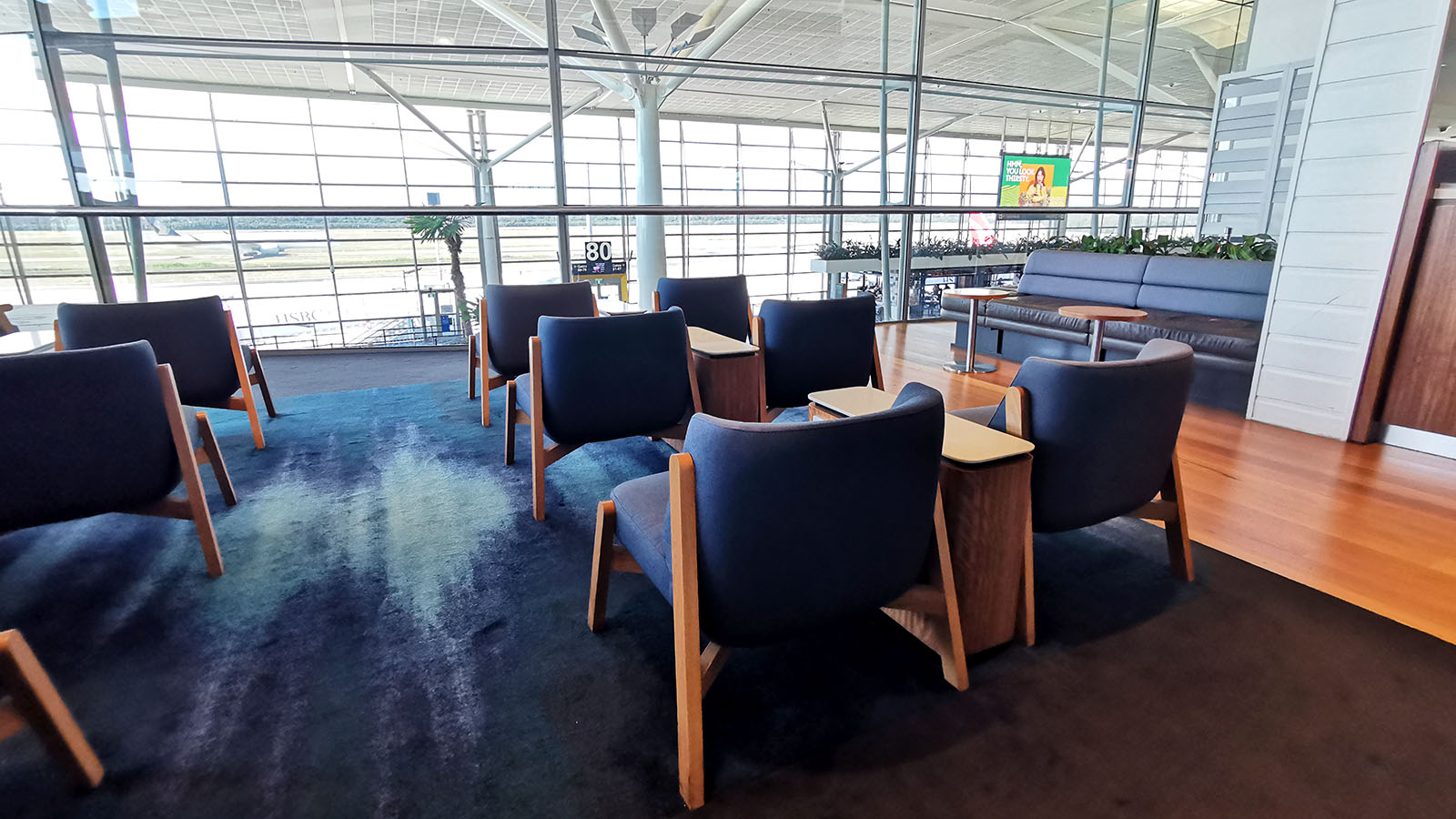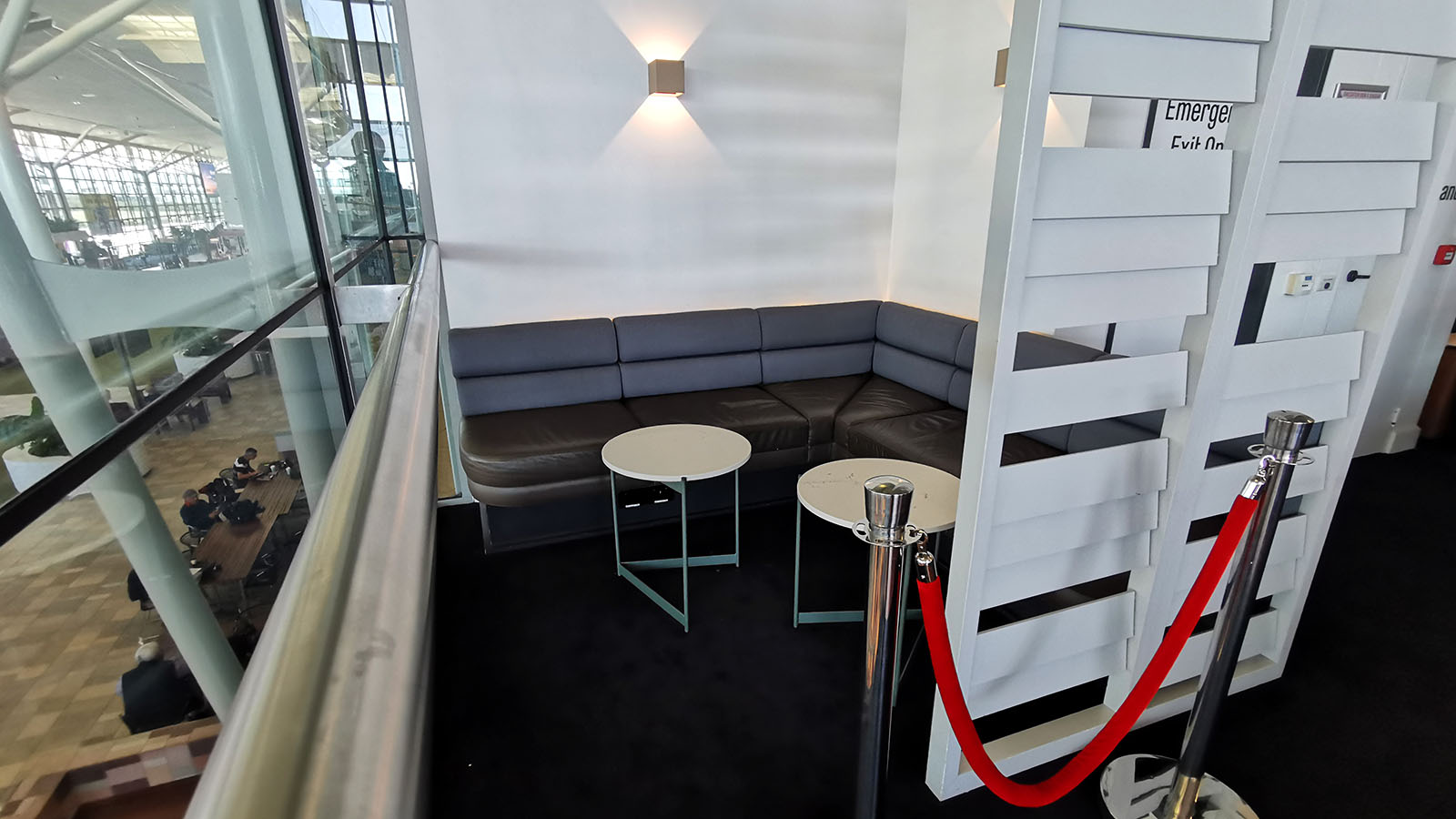 If you meander right to the very back of the lounge, you'll be in prime position for airport views. Although the lounge doesn't sit against the terminal's exterior windows, it's lined by glass from the floor right to the ceiling. This offers a vista over the public concourse and boarding gates – and then to the airfield beyond.
There's a small business nook and quiet zone further around the back. And joining that, a semi-private booth that can again be ideal for travellers seeking a little peace from any crowds. I'm told that Chairman's Lounge members rightfully have 'first dibs' by requesting access in advance. But if the rope is open and the space is vacant, it's first-come, first-served.
Level three
There's one final floor to the Qantas International Lounge in Brisbane – just take the stairs or lift to get up here. Of the three levels, this is always my favourite. And mostly, that's because it tends to be the quietest.
Seating options are much the same as downstairs. Think, the usual mix of dining tables, banquette seating, working benches and personal sofas. Up here, everything feels a little closer together – it wouldn't be my go-to on the busiest of days. But its secluded location generally makes it the most peaceful.
Of course, that comes with a downside. The other floors both have comprehensive buffet stations, tended bars and barista coffee. Up there, there's simply a counter with light refreshments, and not much else.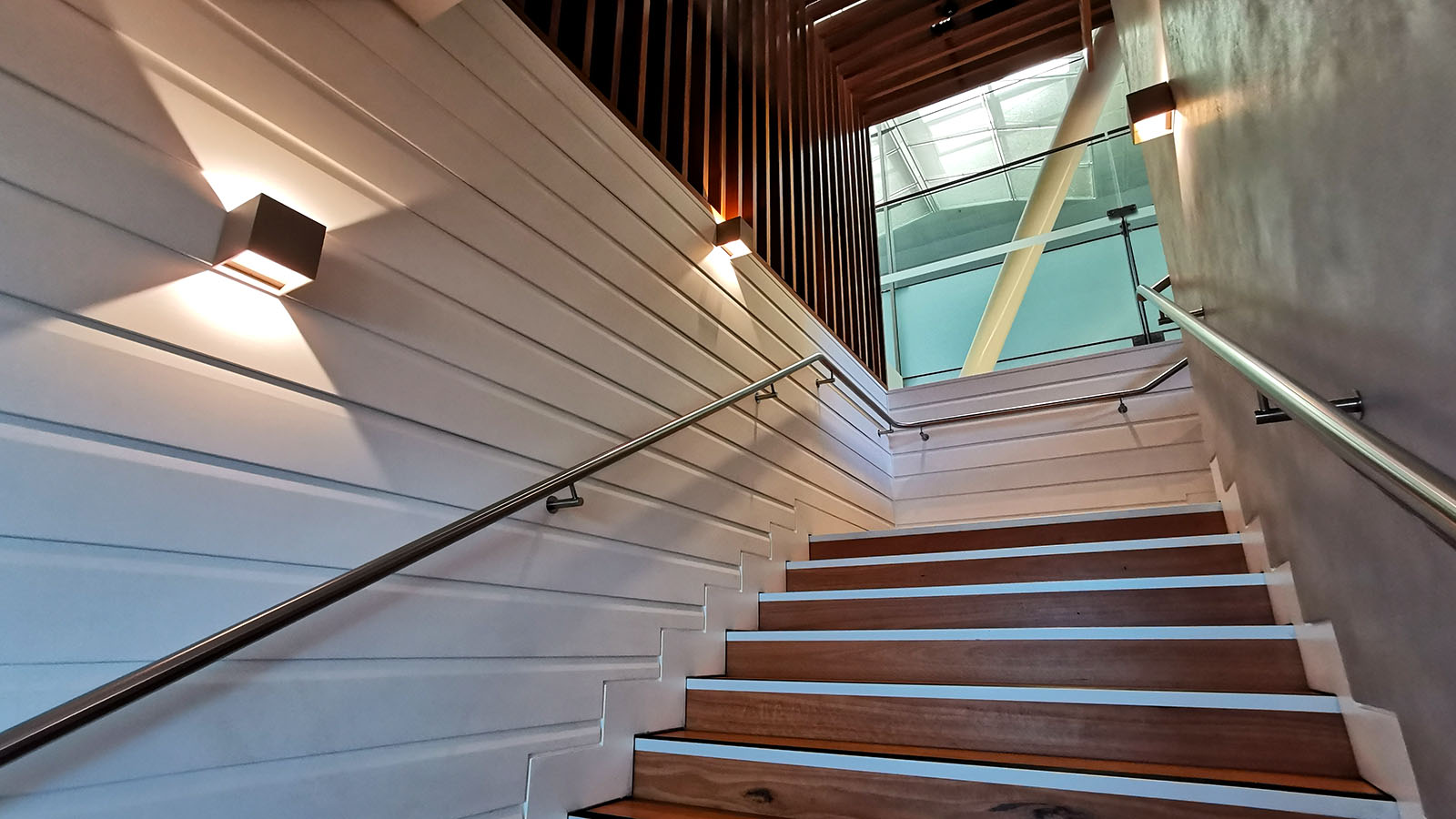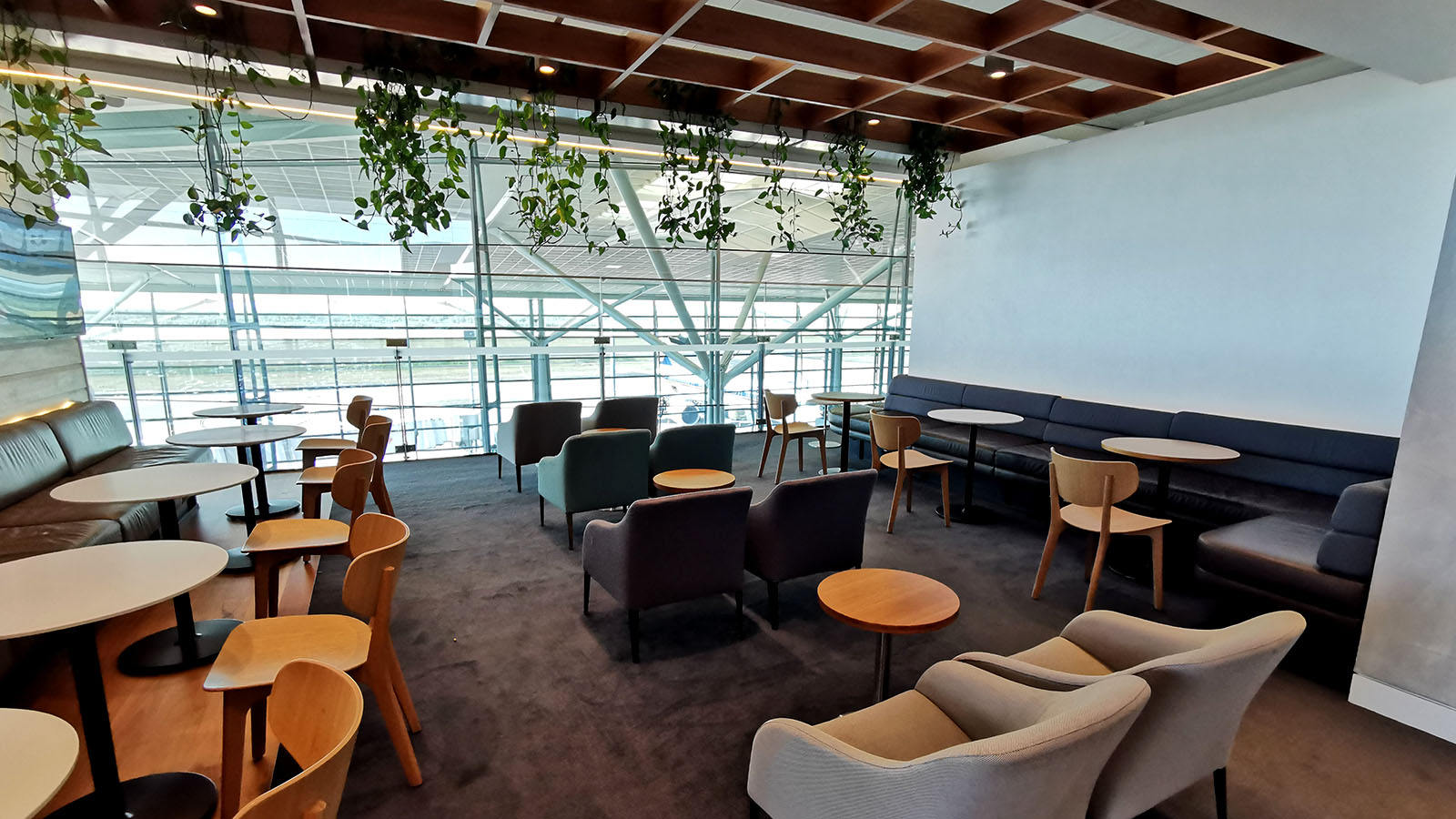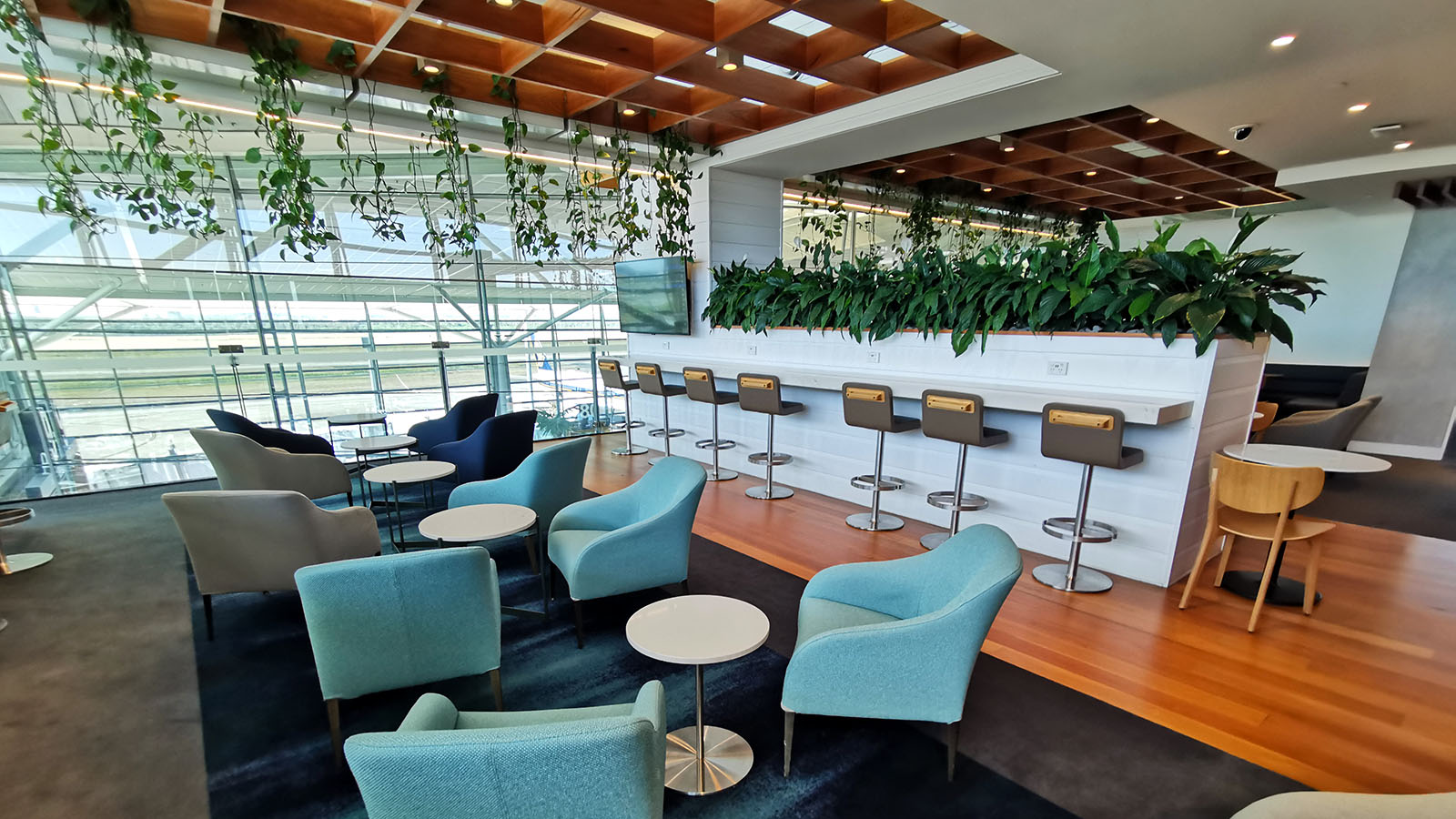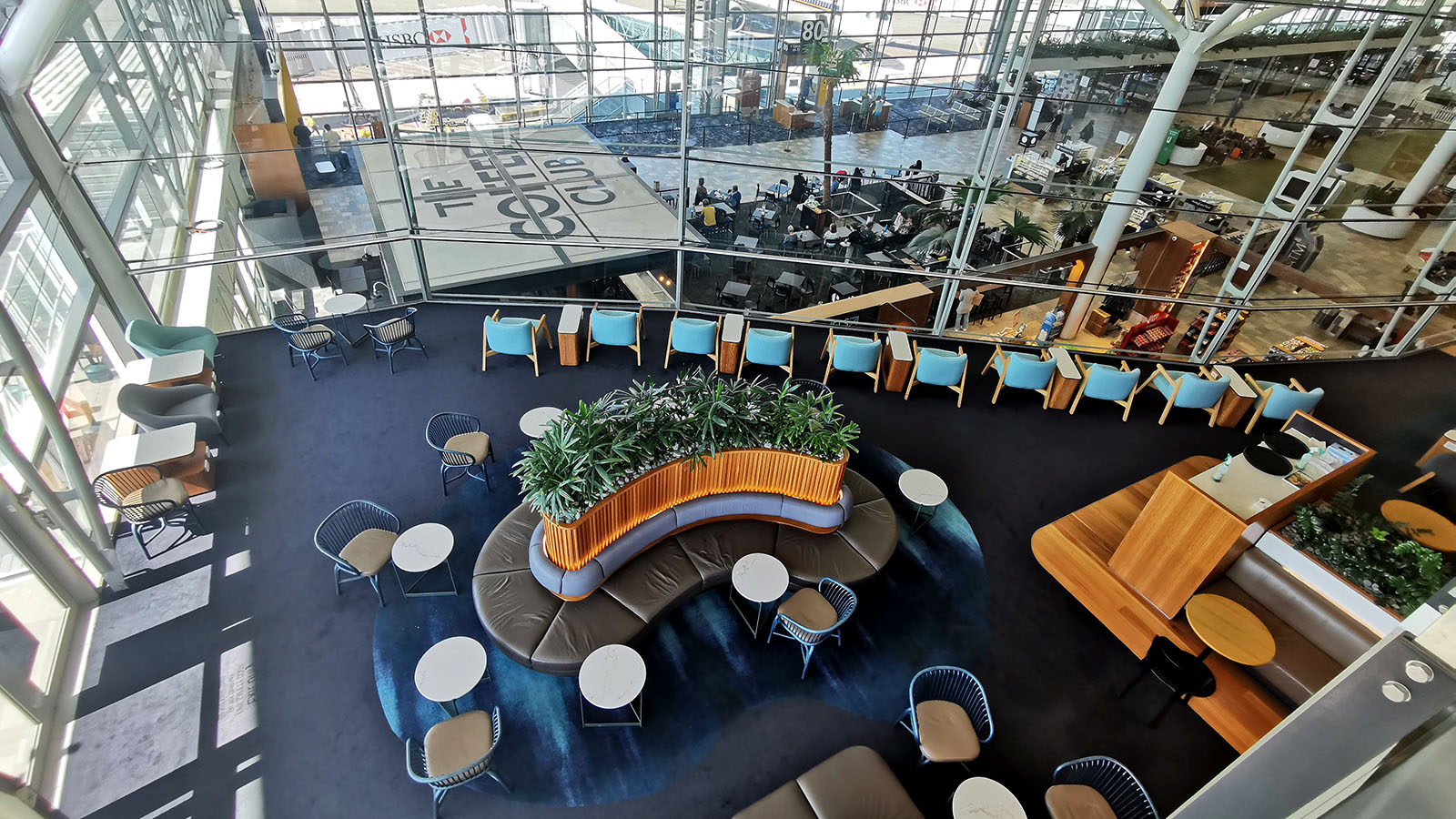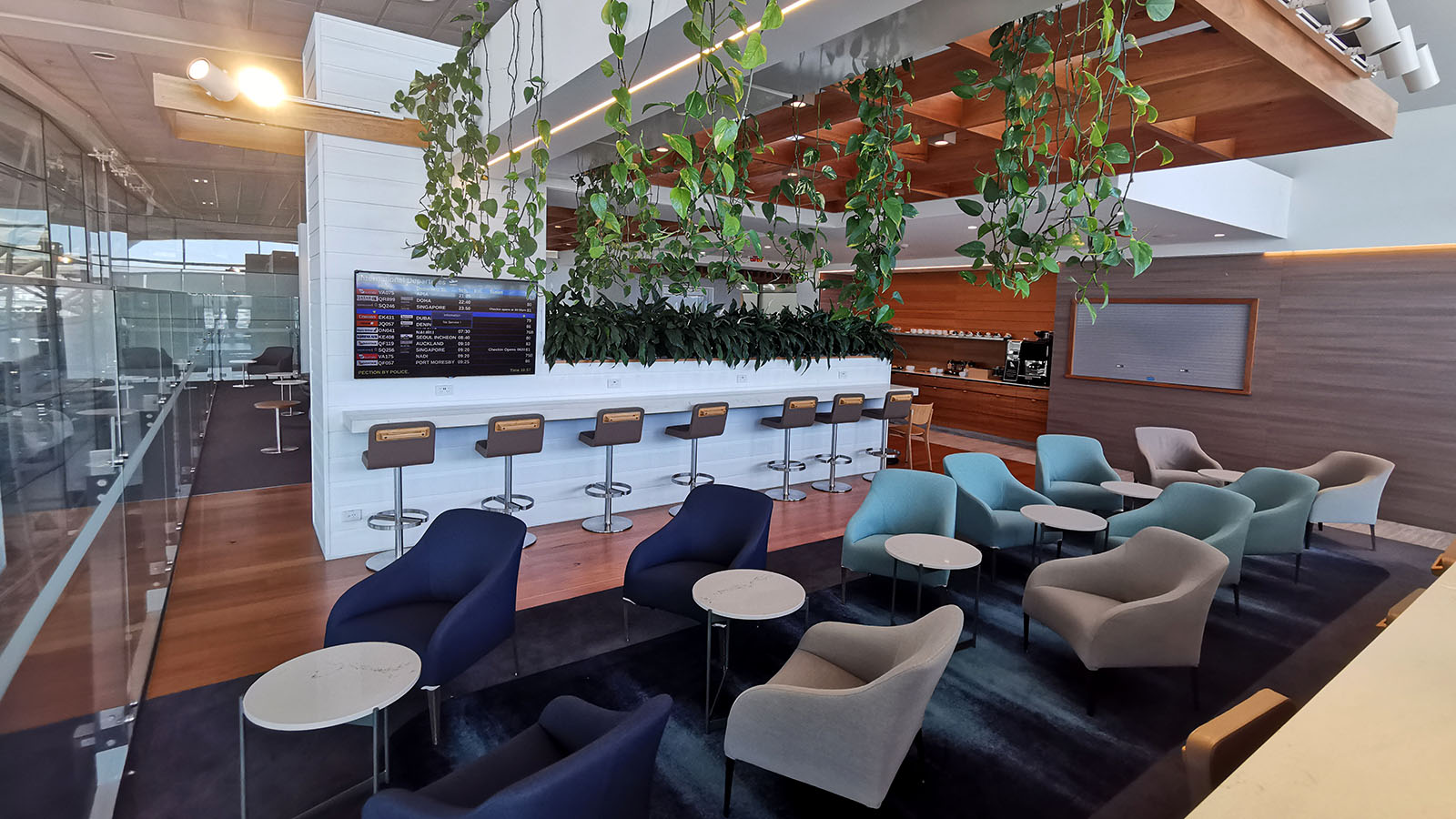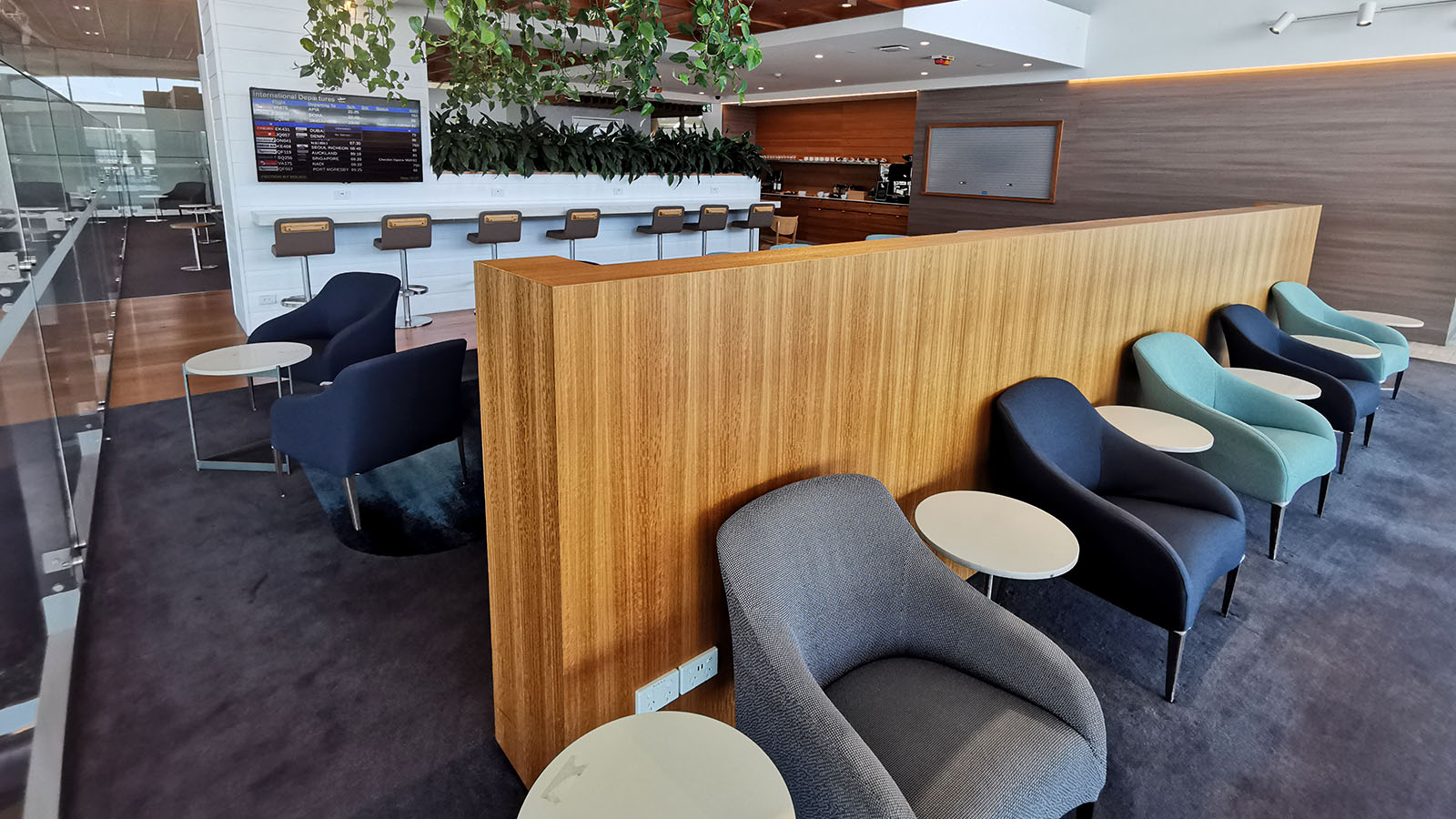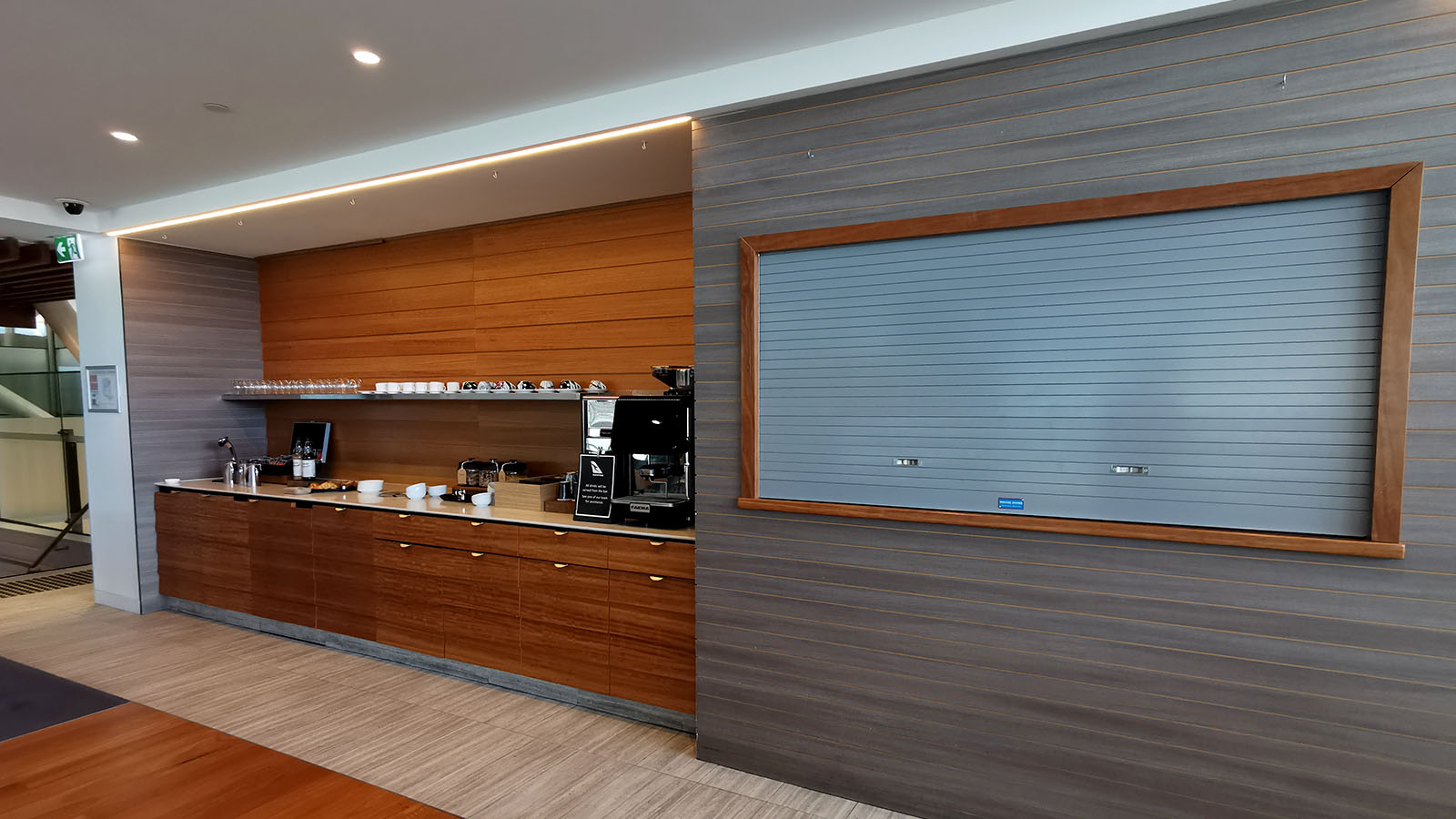 There's nothing stopping you from grabbing food or a drink from the floor below and bringing it up. But it's not as convenient – so most seem to gravitate to the lounge's main level. In fact, back when it opened, the top floor had its own unique feature: the 'Brisbane Breakfast Hatch'. Passengers would make a trek up here specifically for the day's egg dish or breakfast bowl. But the Breakfast Hatch hasn't returned – the shutters just sit closed, with nothing replacing it.
This could change if or when more Qantas international flights return to Brisbane. But these days, breakfast just isn't as busy here as it was before. Qantas previously had morning services to the likes of Los Angeles, San Francisco and Hong Kong. LA is back – but on a smaller plane and as an evening departure. As for Hong Kong, it's currently only served by partner airline Cathay Pacific, and those flights leave in the evenings too. And San Francisco? Well, you'd now have to book with rival United to take a direct flight.
Food and beverage
I'm able to spend several hours here in Brisbane's Qantas International Lounge. This gives me a chance to see the latest breakfast offering as well as the all-day dining options.
Breakfast and coffee
I arrive bright and early, so the coffee counter is my first port of call. I always enjoy the barista-made brews in this lounge. Not only is the coffee good, but the glassware is distinctly different to Qantas' other lounges. Brisbane flyers can sip from a range of patterned Vittoria cups. And without trying, I seem to get a different style each time.
Beyond that, you'll find a general buffet on levels one and two. On the lighter side, expect to find fruits, yoghurt, chia seed pudding and pastries. Hot food options include both boiled and scrambled eggs, baked beans, bacon, grilled tomatoes and hash browns.
Remember that dining island on the main floor – the one without power points? Settle in here between 8-10 am each morning and you'll also be offered the lounge's plate of the day. On my visit, it's a zucchini, basil and lemon bruschetta on sourdough, served with a poached egg and topped with parmesan. I'm always on the lookout for slightly healthier options in lounges, so it's nice to encounter something without the more typical staples of ham or bacon.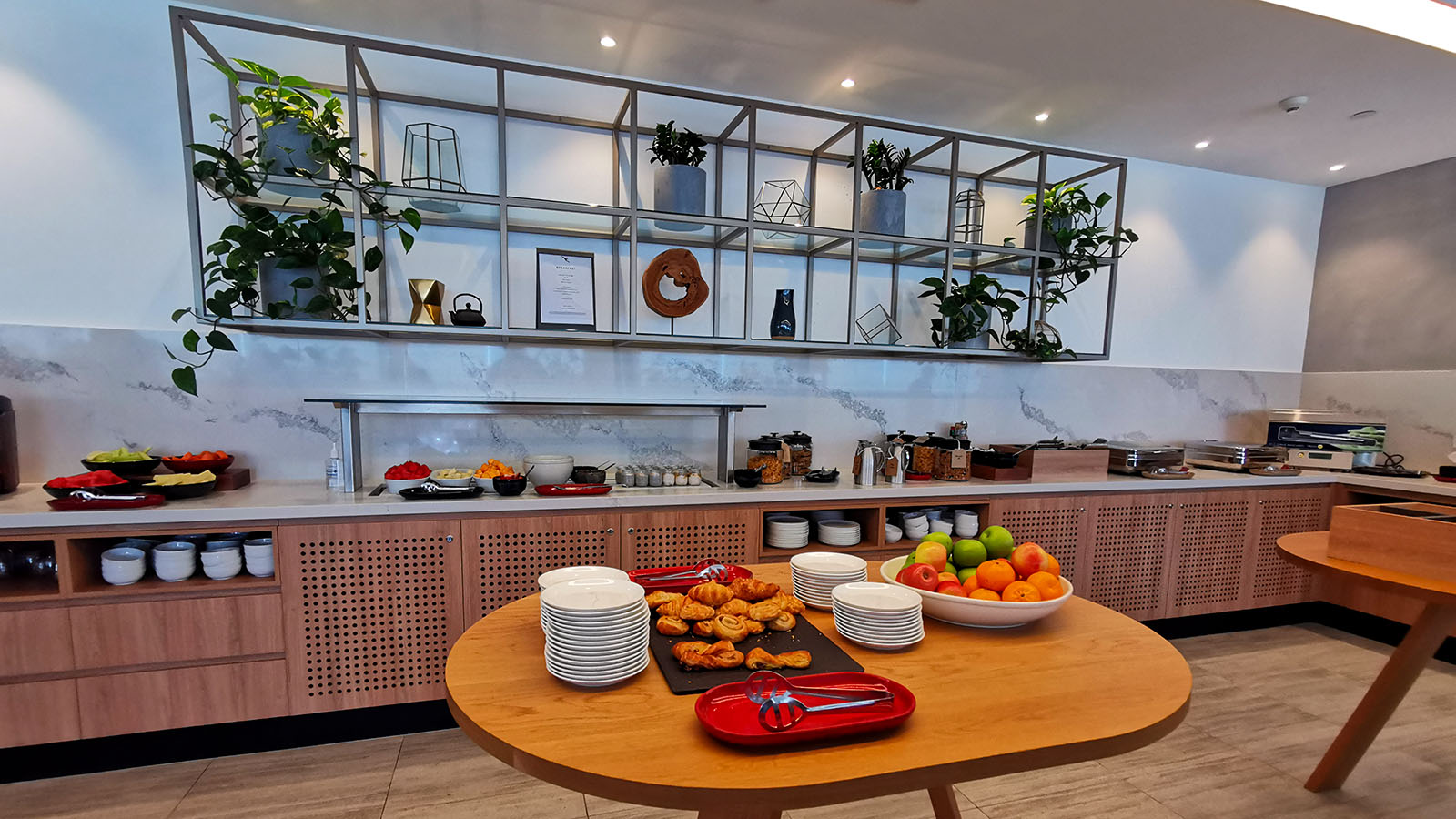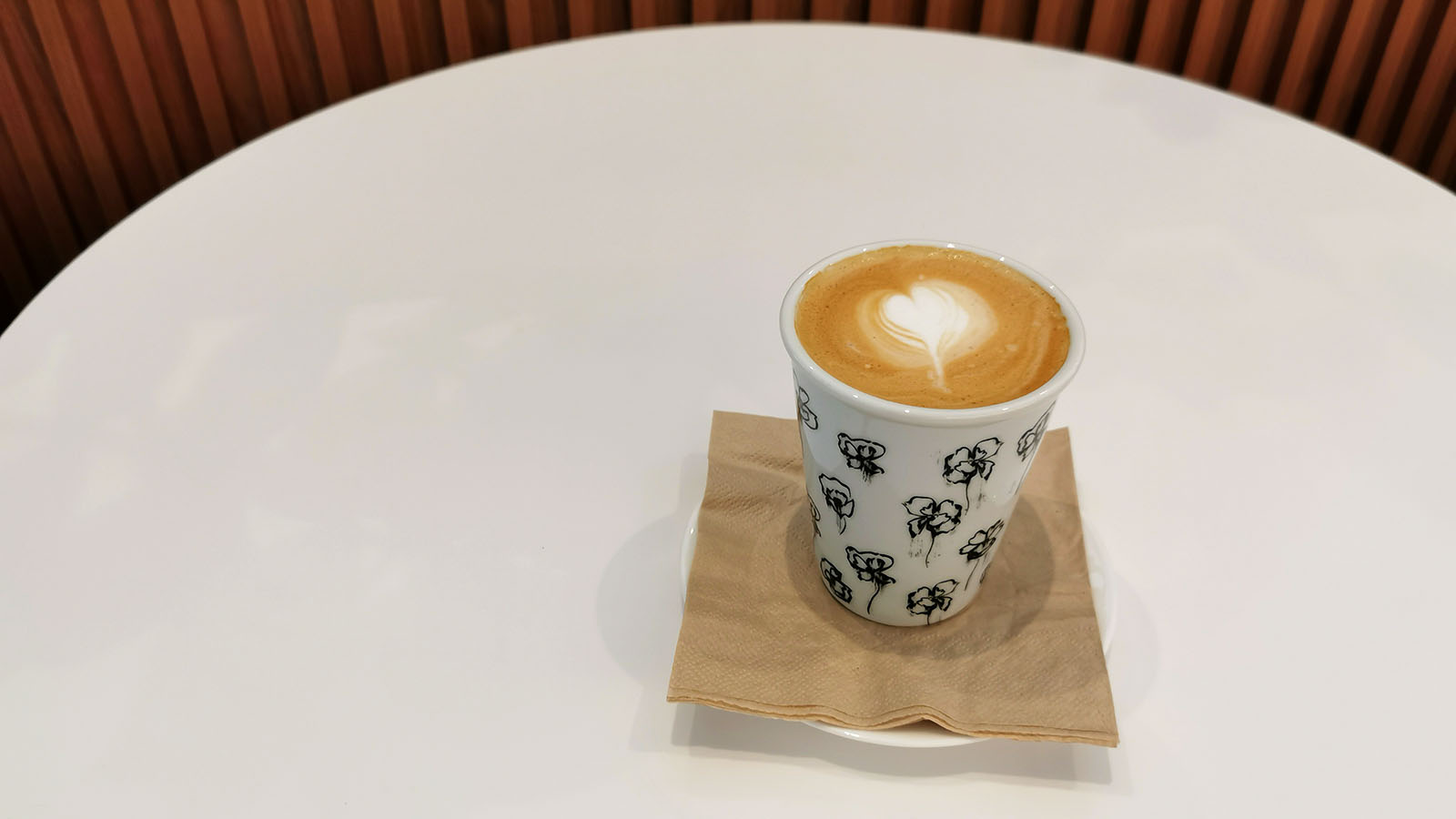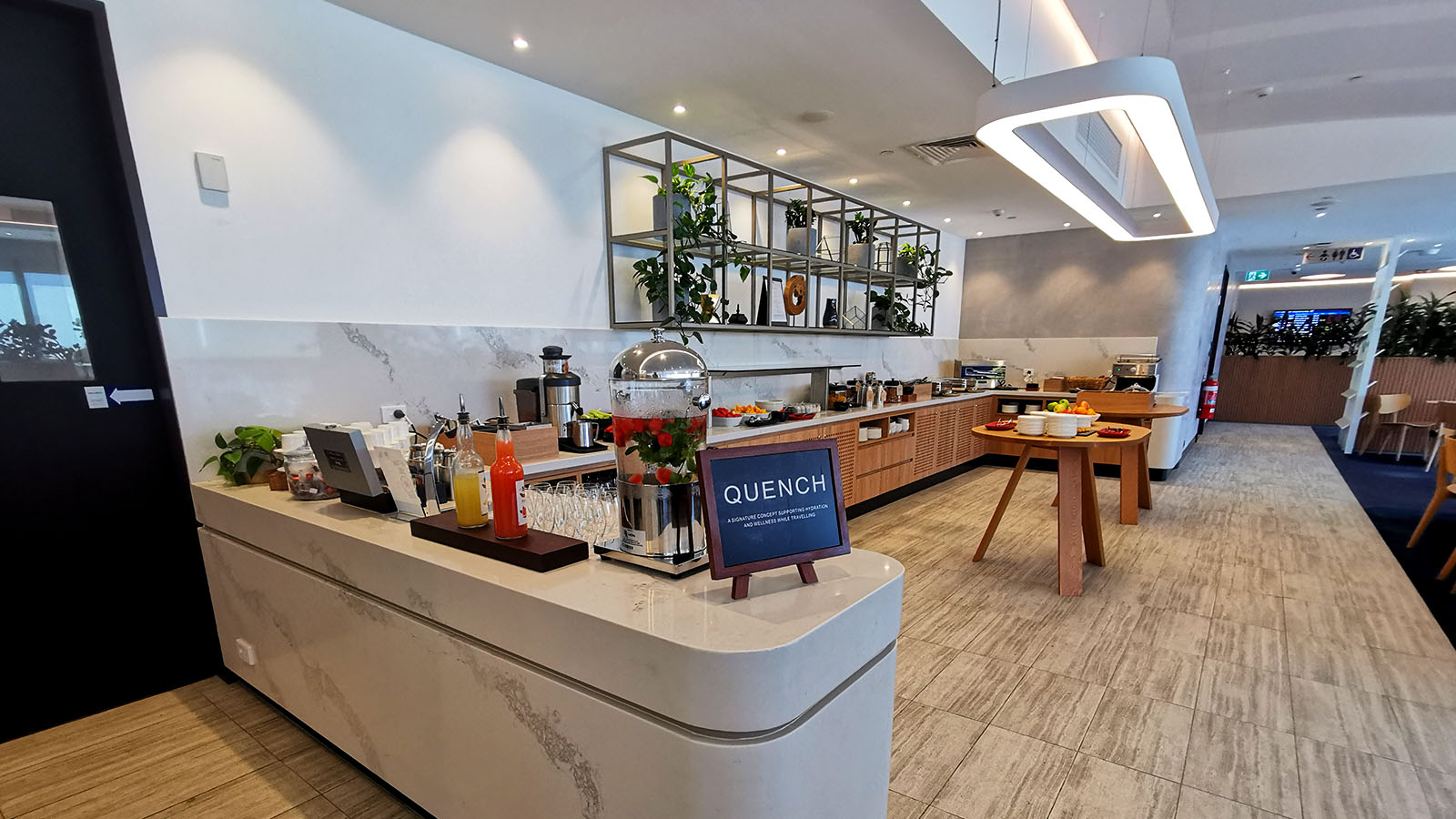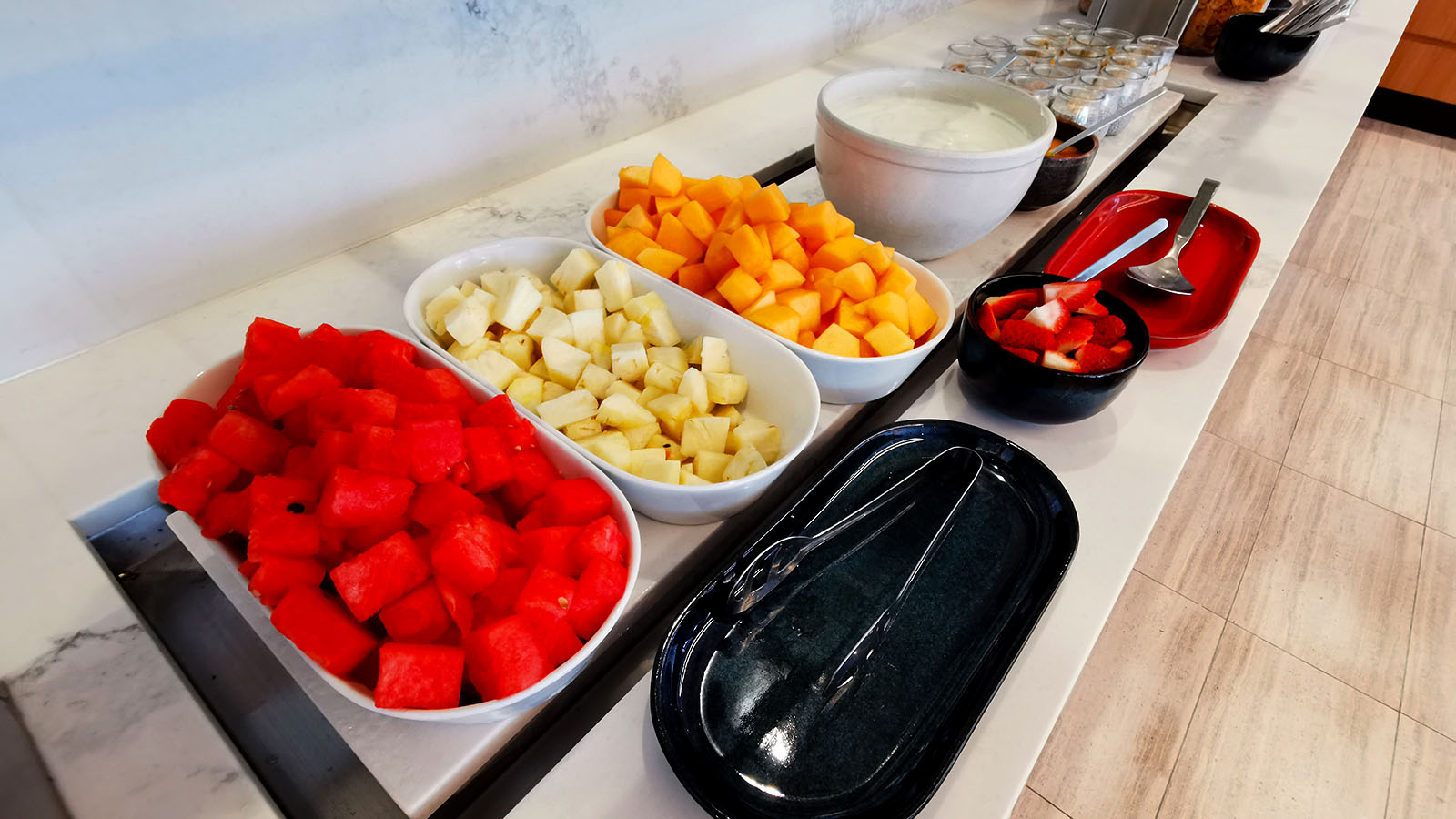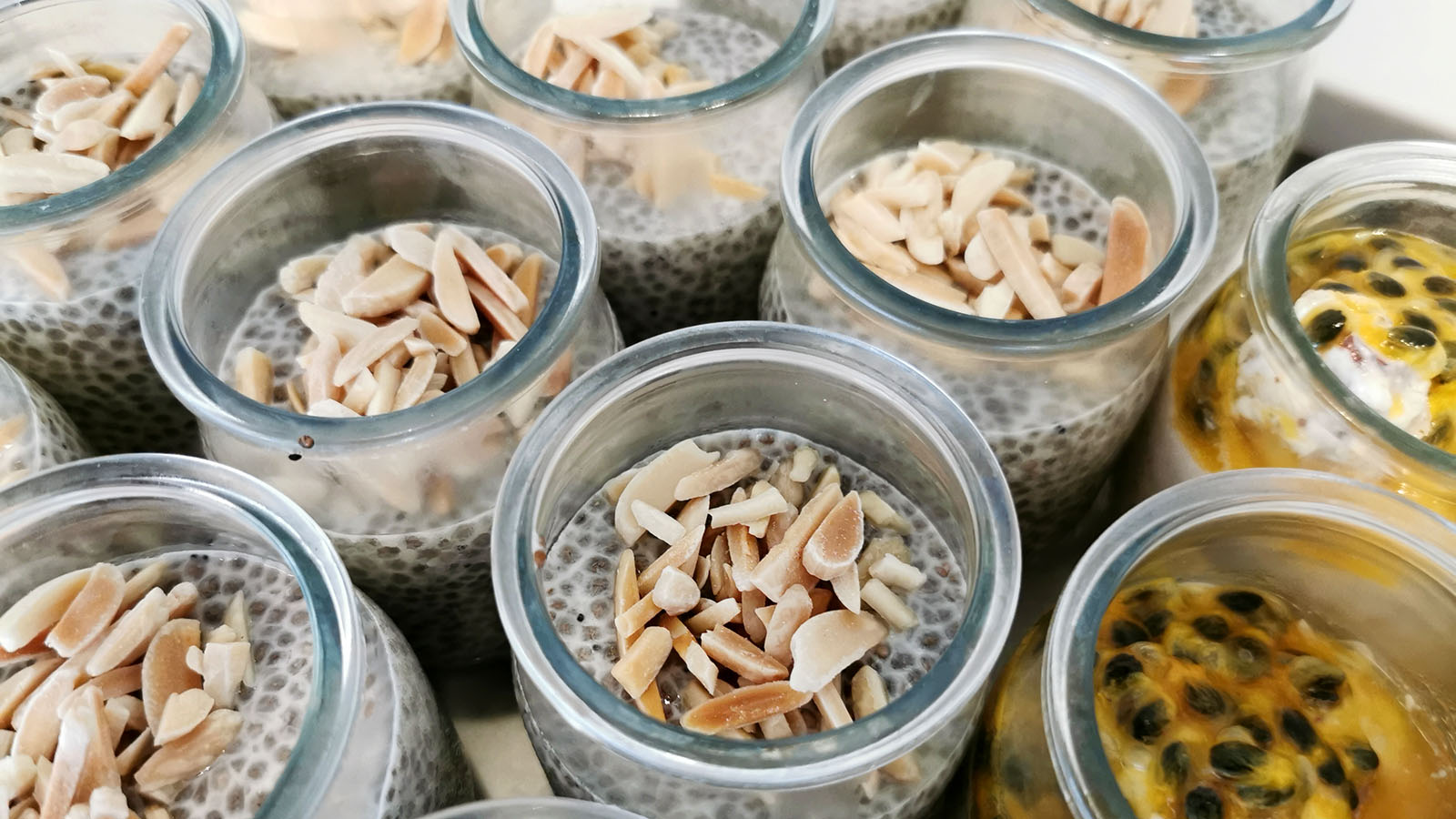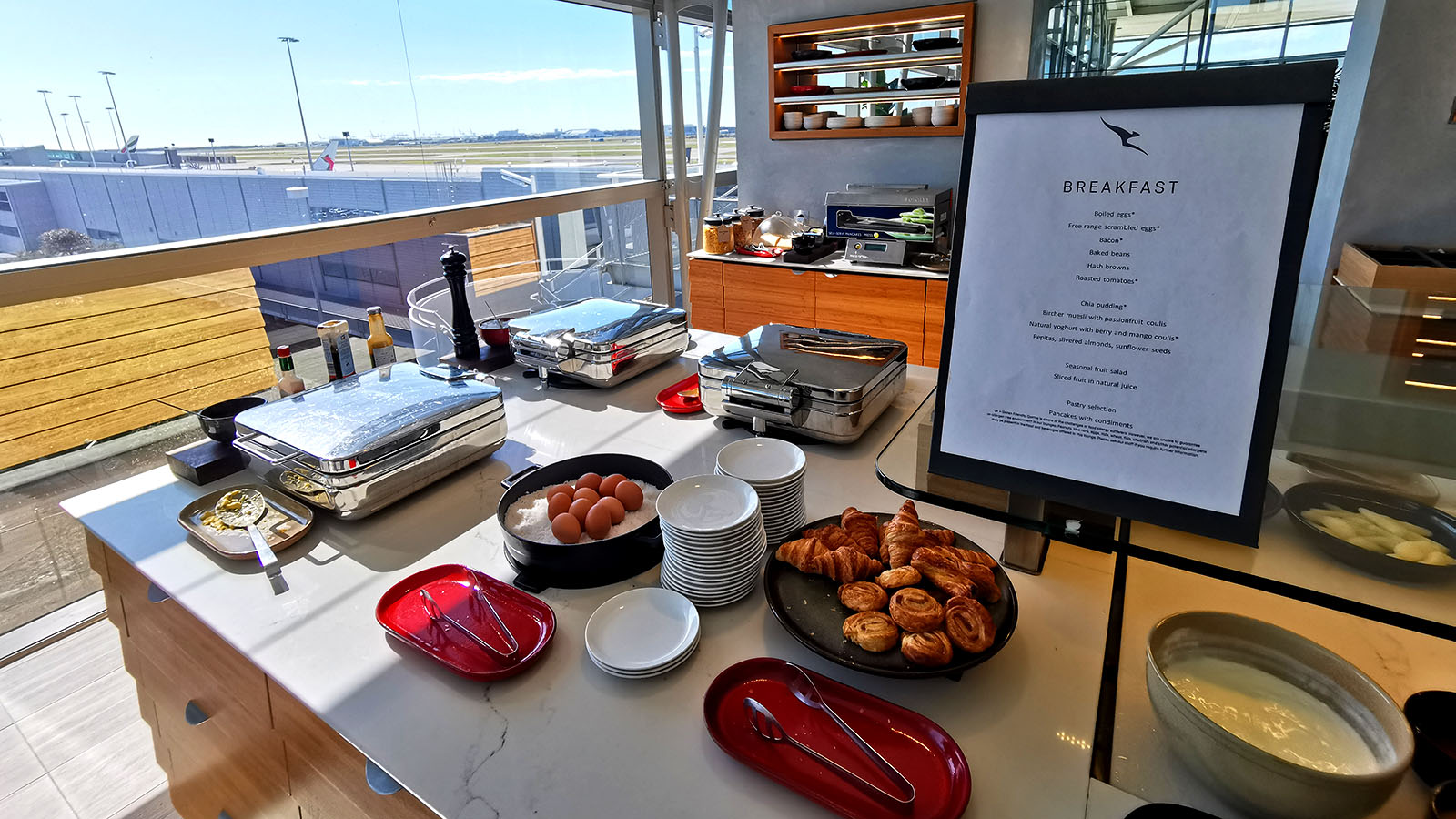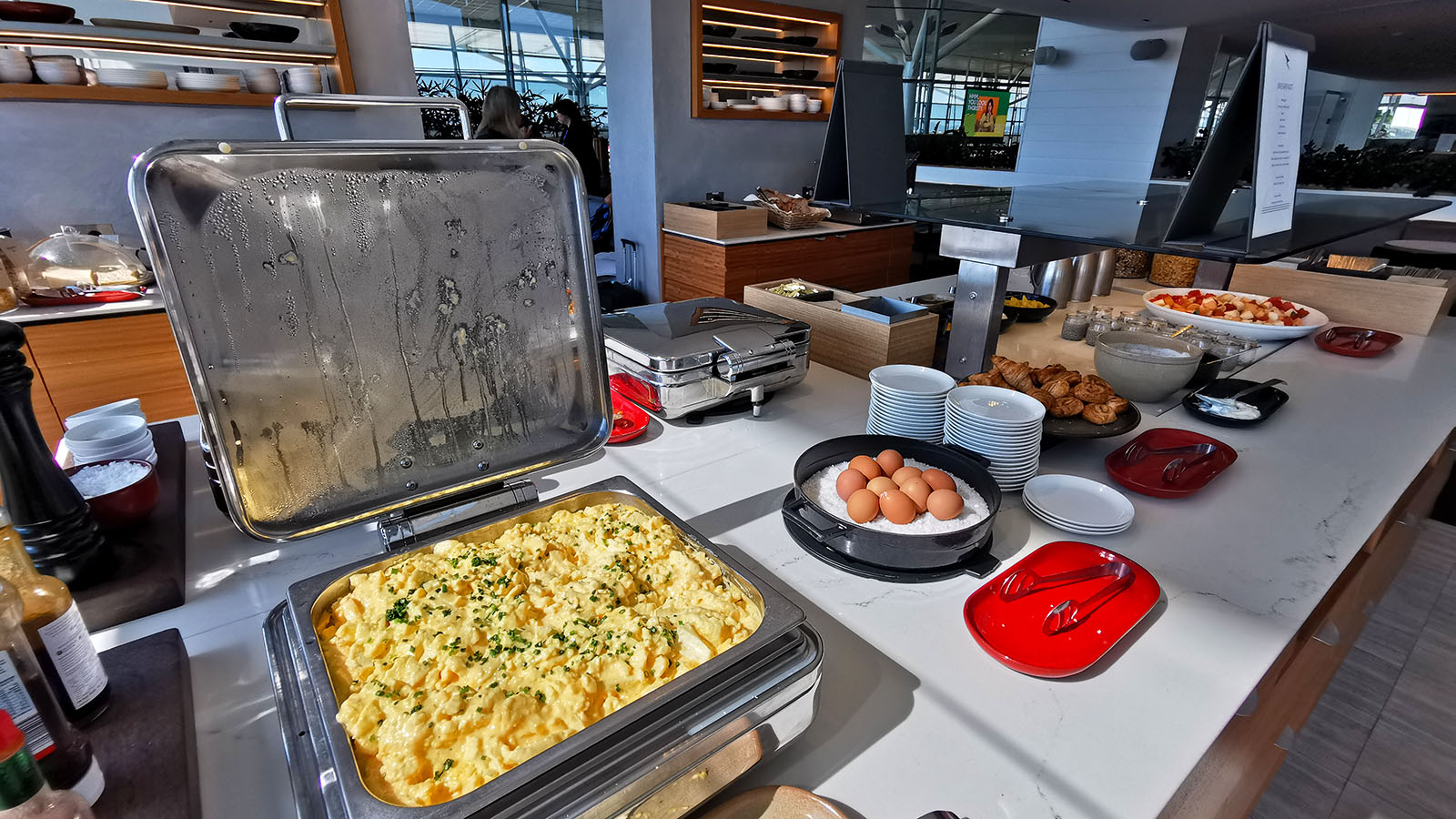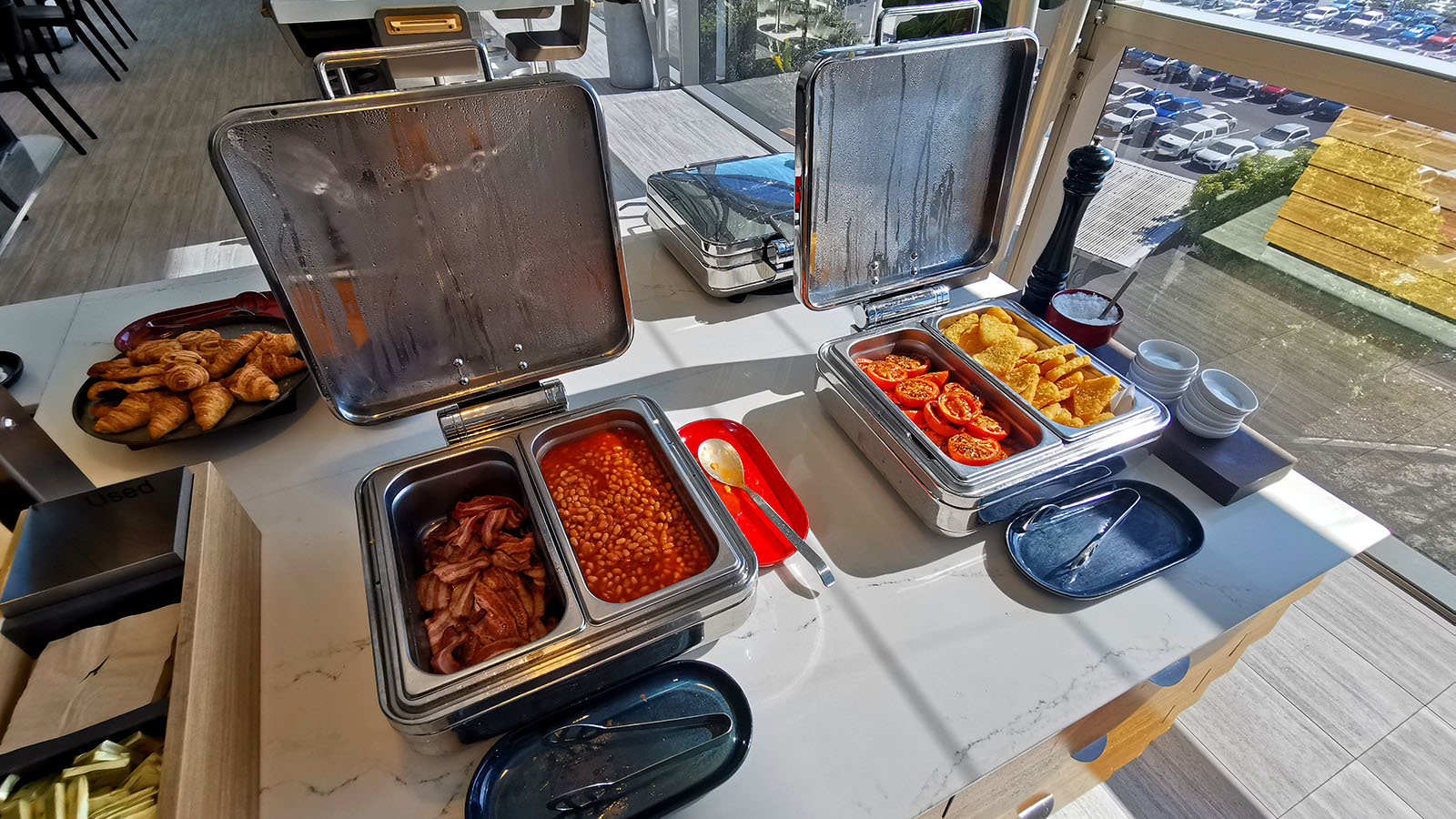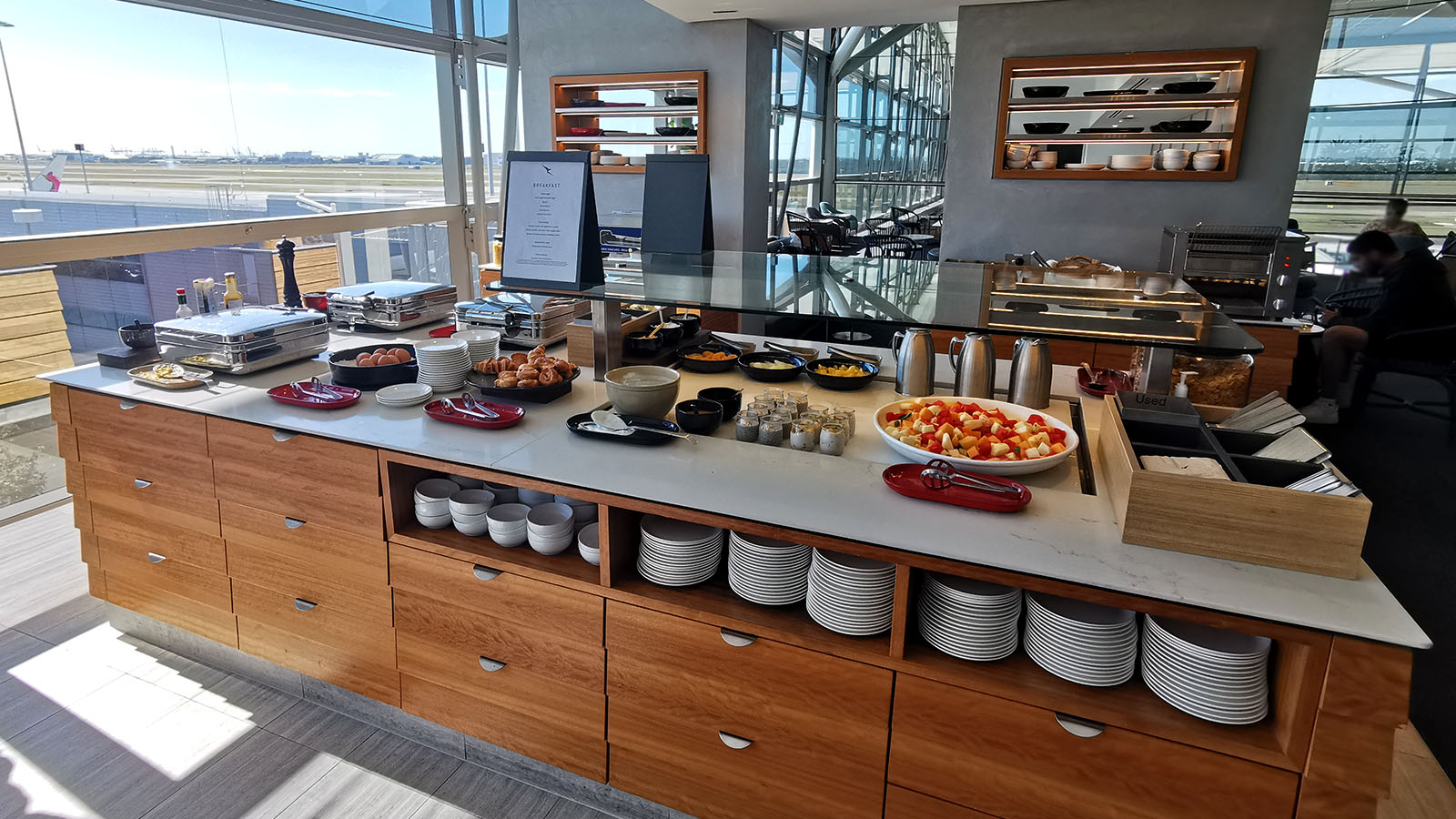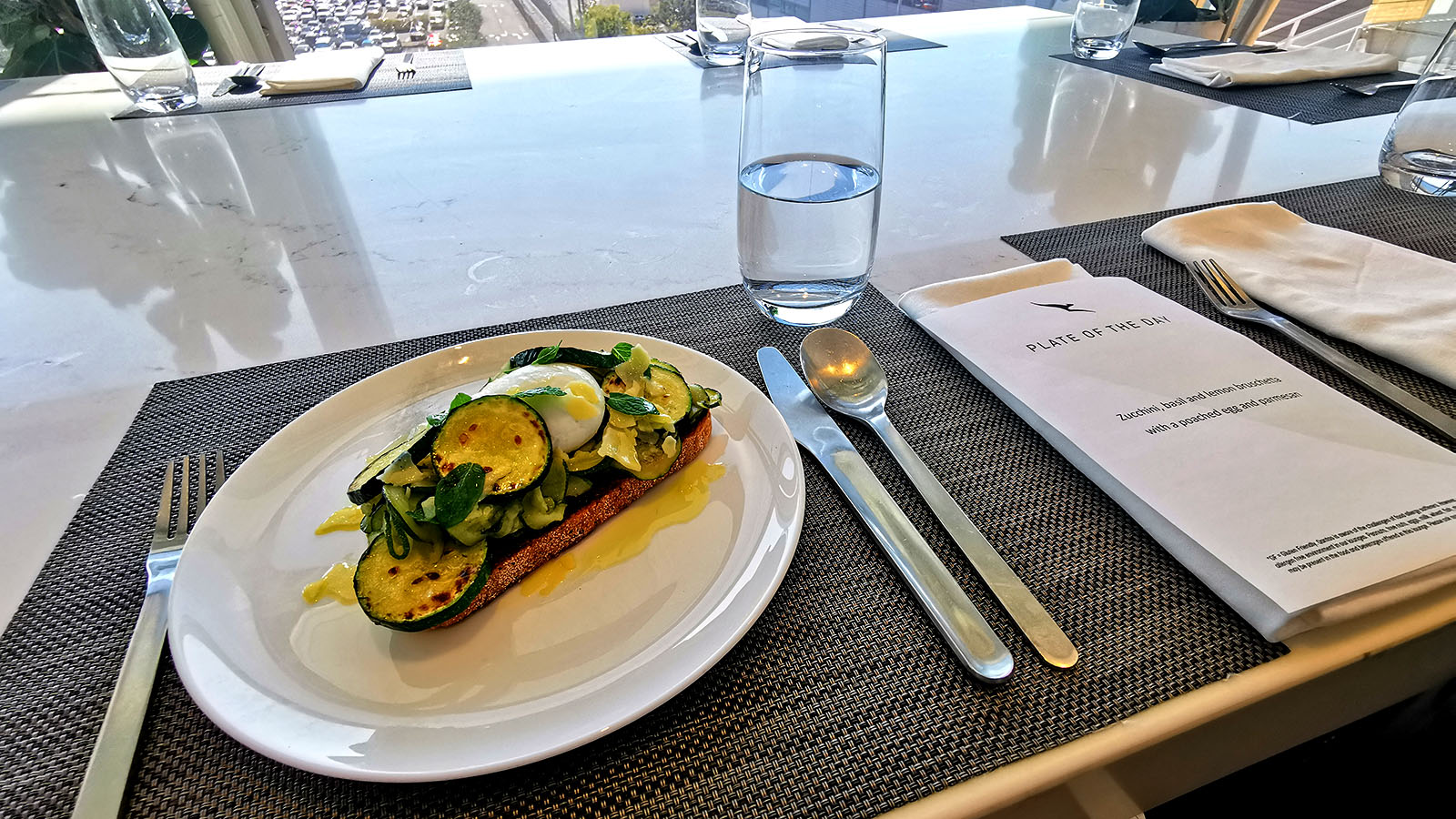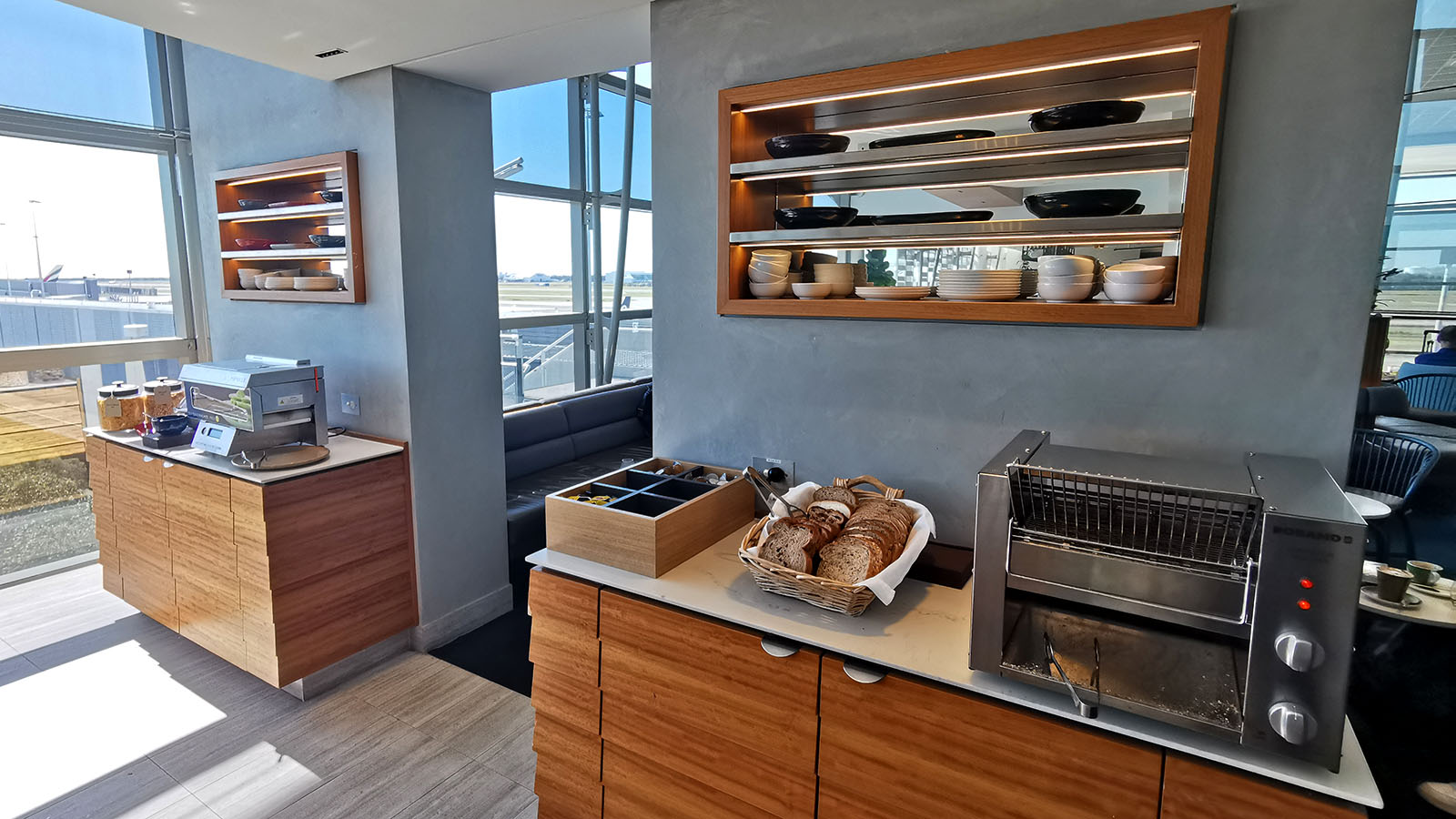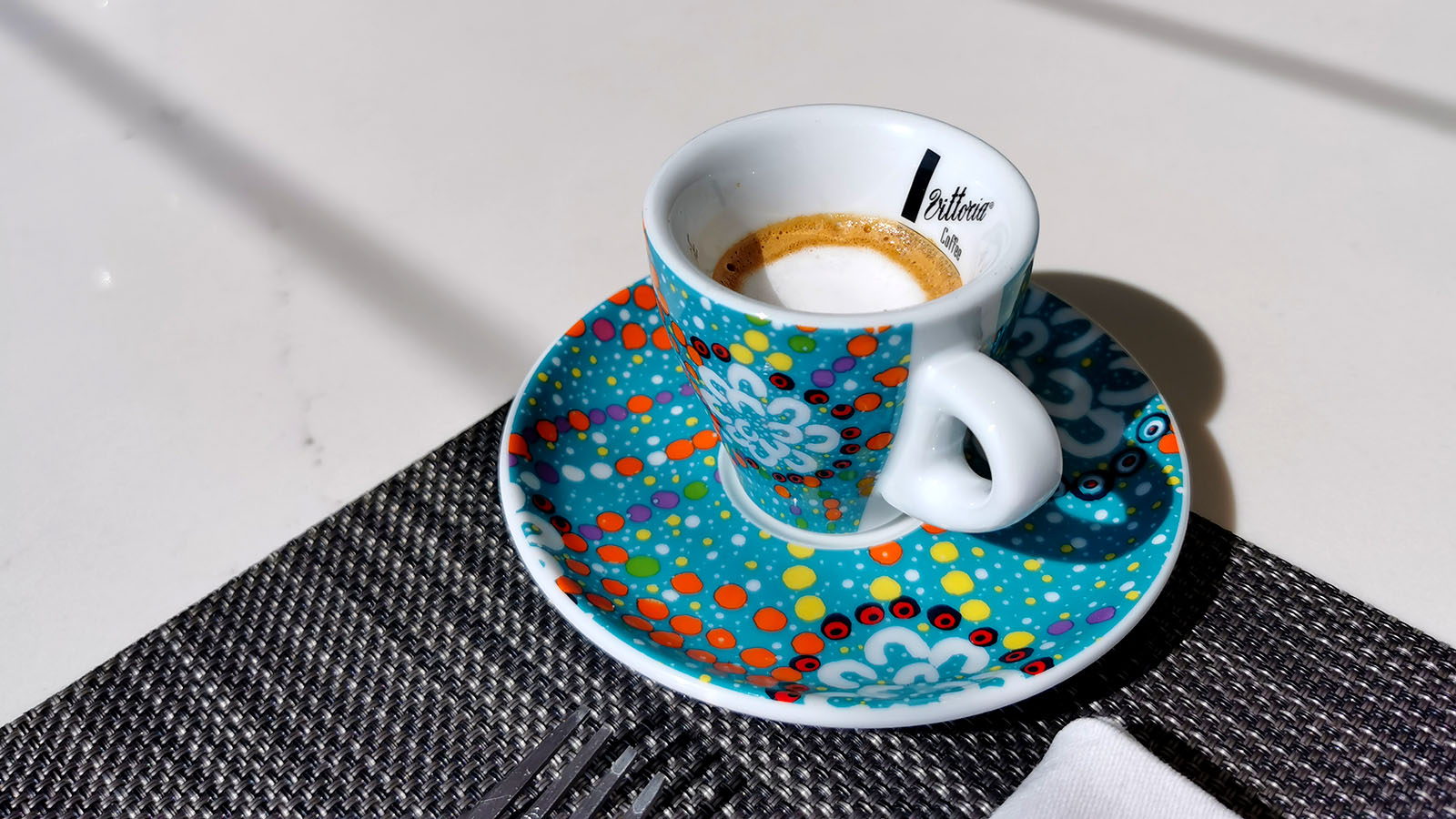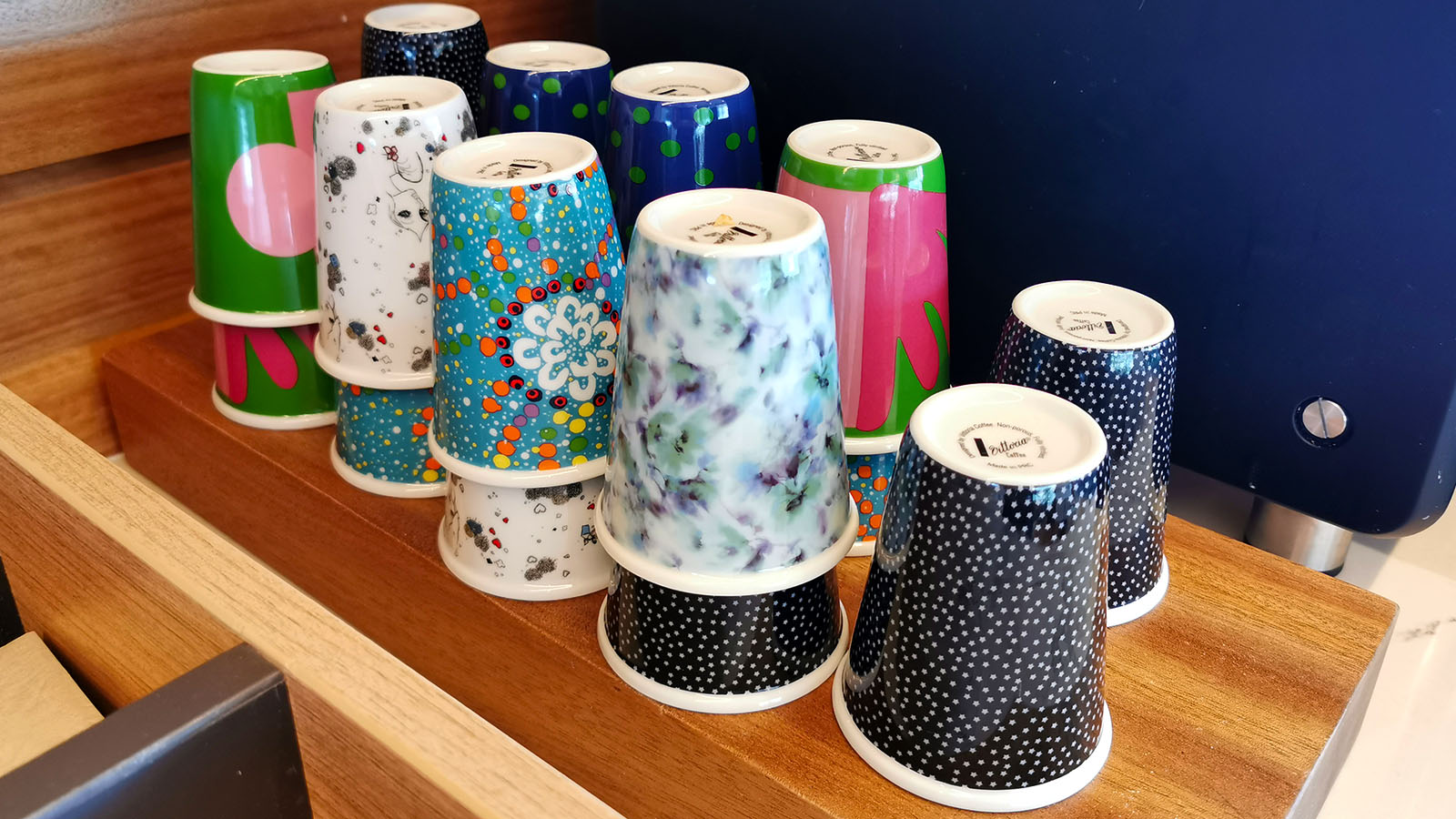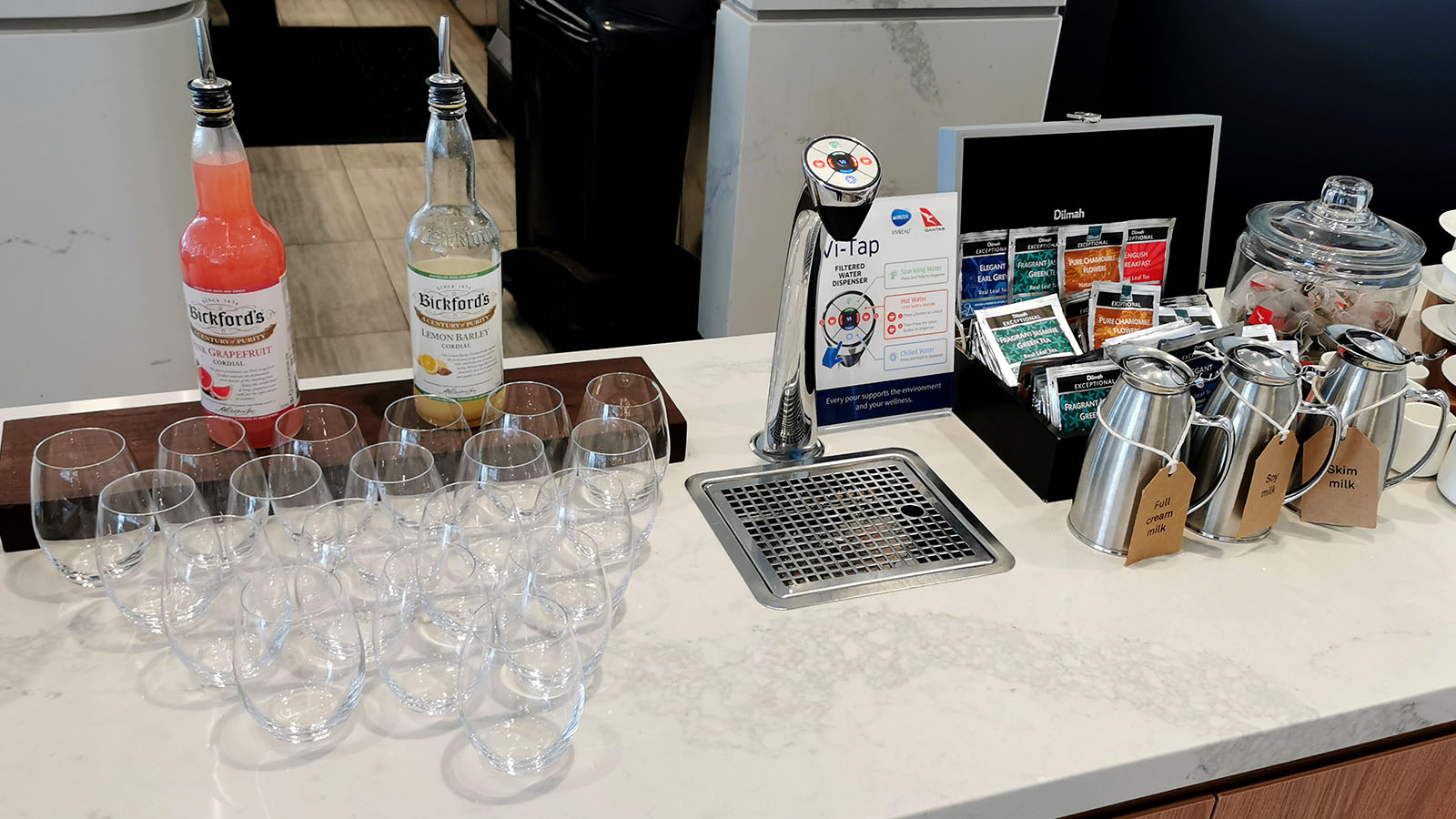 I take the chance to order a short macchiato for a second coffee kick. It's exactly what I'm looking for – and as luck has it, it once again comes in a cup and saucer I haven't seen here before. I later stretch my legs and pop by the coffee machine for a closer look. I see some familiar patterns, and other new ones. I'll look forward to continuing 'coffee bingo' on my next visit to Brisbane's Qantas International Lounge.
For a refreshing alternative at any time of day, head to the self-serve Quench stations. Here you'll find fruit-infused water, or syrups to make your own flavour with still or sparkling water.
Lunch and drinks
Once breakfast is done, the lounge transitions to an all-day menu covering lunch, dinner and everything in between.
Beginning with the lighter choices, a tasty carrot and cumin soup comes with croutons and dinner rolls on the side. The salad options are also fresh and filling. On one side, there's a kale and brown rice mix with a sweet soy dressing. On the other, a more colourful combination of lentil, fig, radicchio, mint and feta with a honey and bacon dressing.
Simple green leaves, slaw and fresh fruit are also available. There's a respectable crudités selection too, revolving around a tzatziki dip. Heartier choices include a Sri Lankan pumpkin curry (yum!) with steamed jasmine rice, plus chicken alfredo. Simply put, you won't go hungry here.
To finish, help yourself to a chocolate brownie or a scoop from the lolly jars. The liquorice allsorts are a staple of many Qantas lounges, but you'll only find the pineapples here in Brisbane – another nod to the lounge's Queensland theme.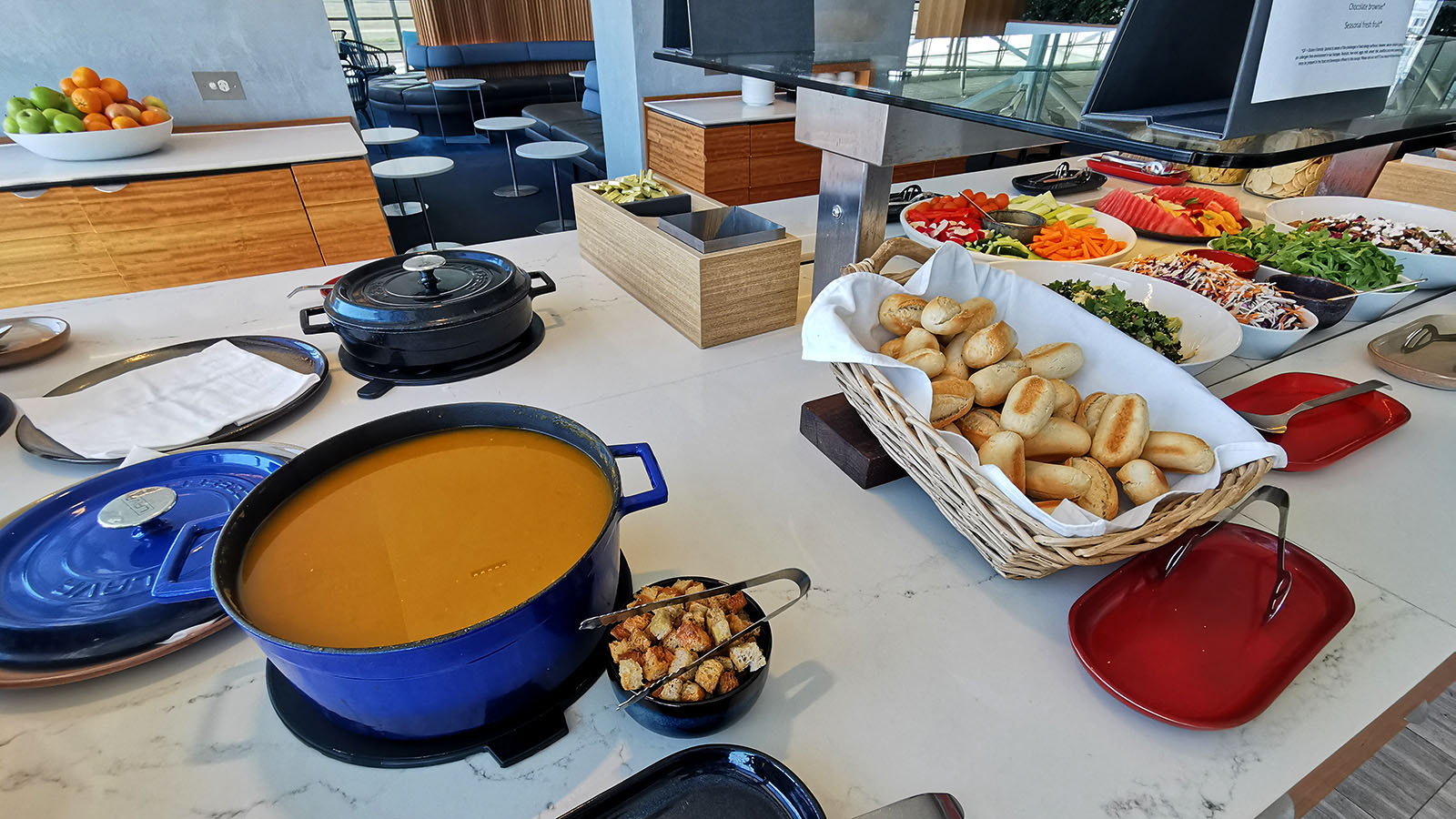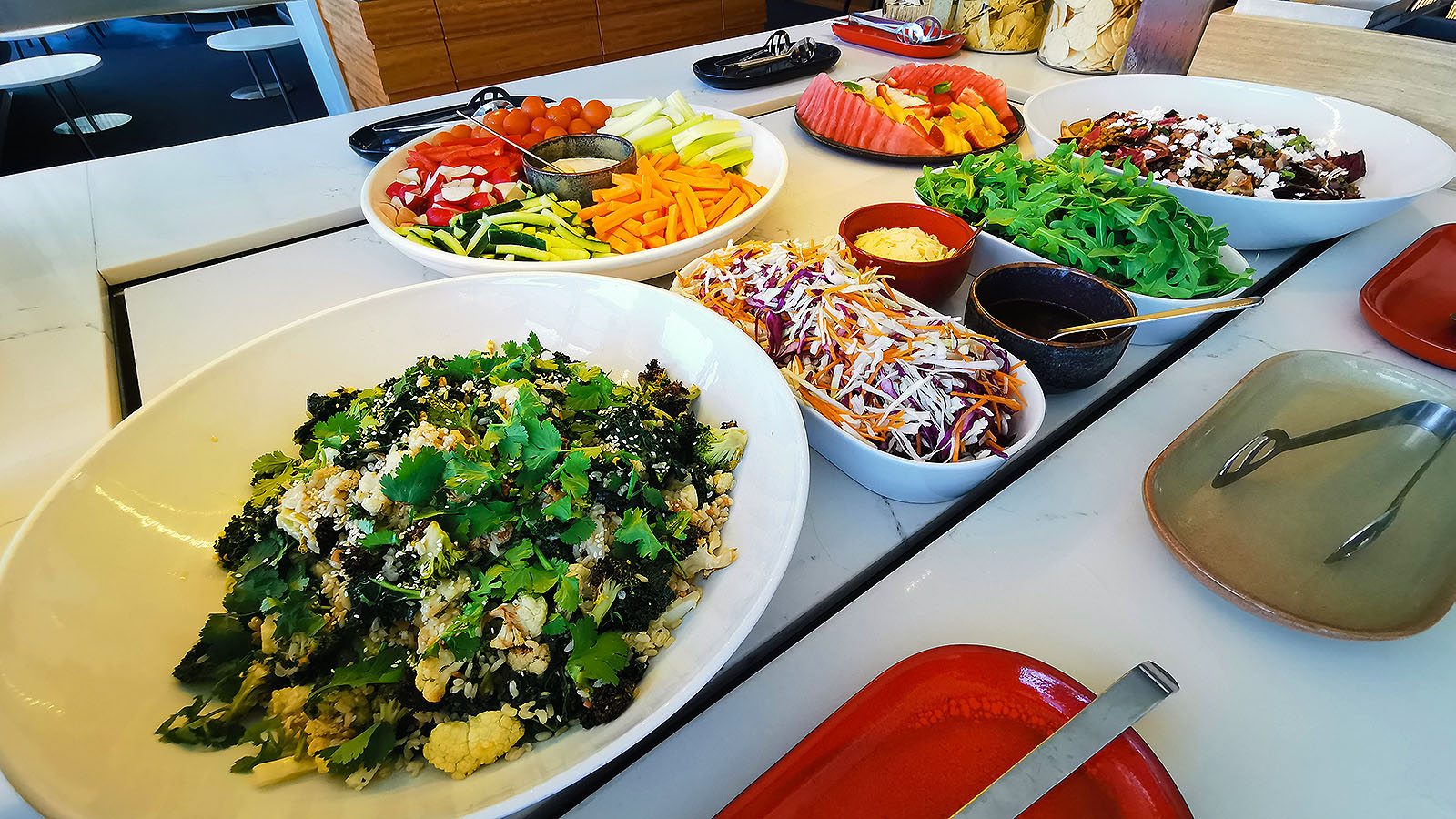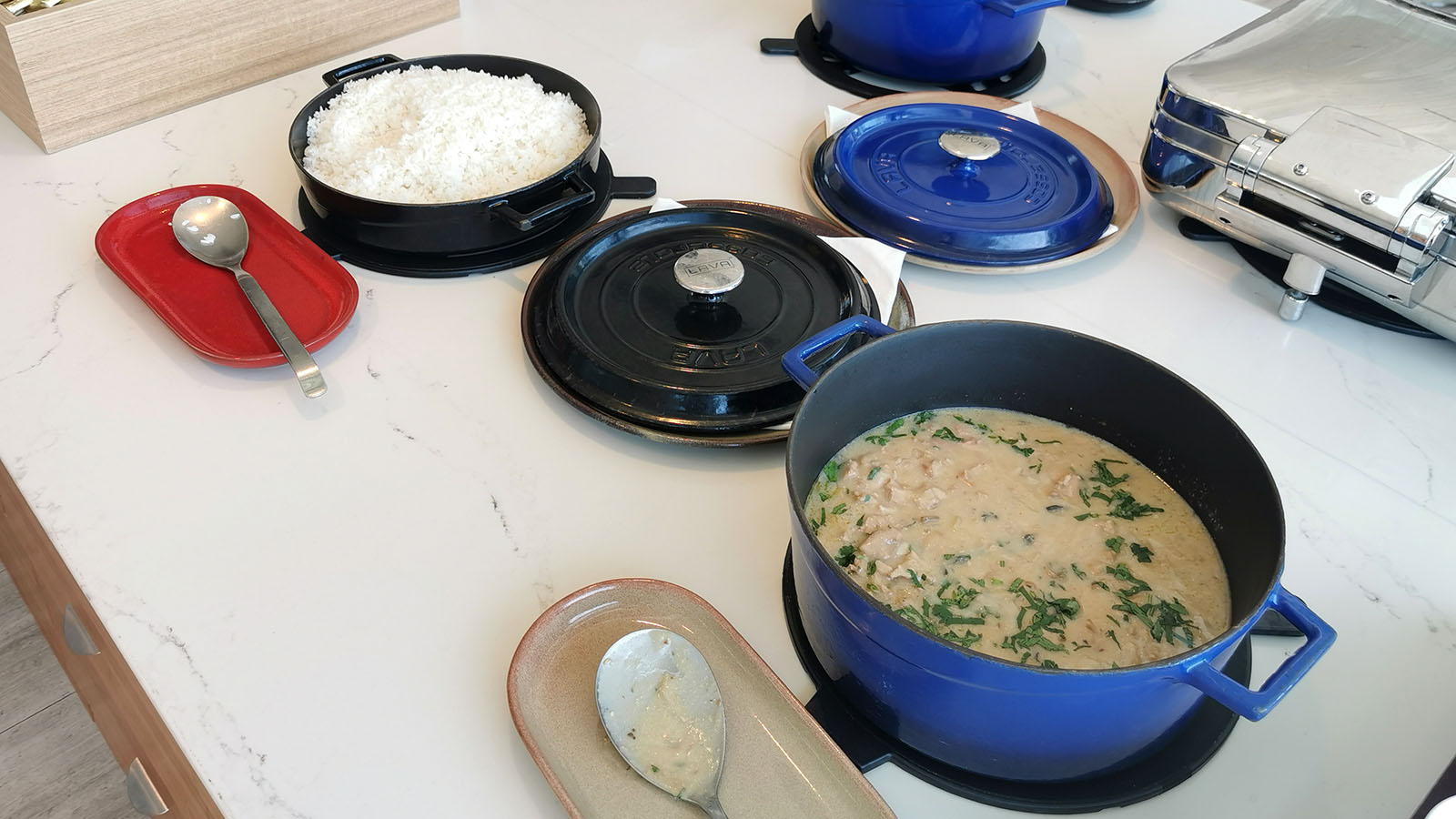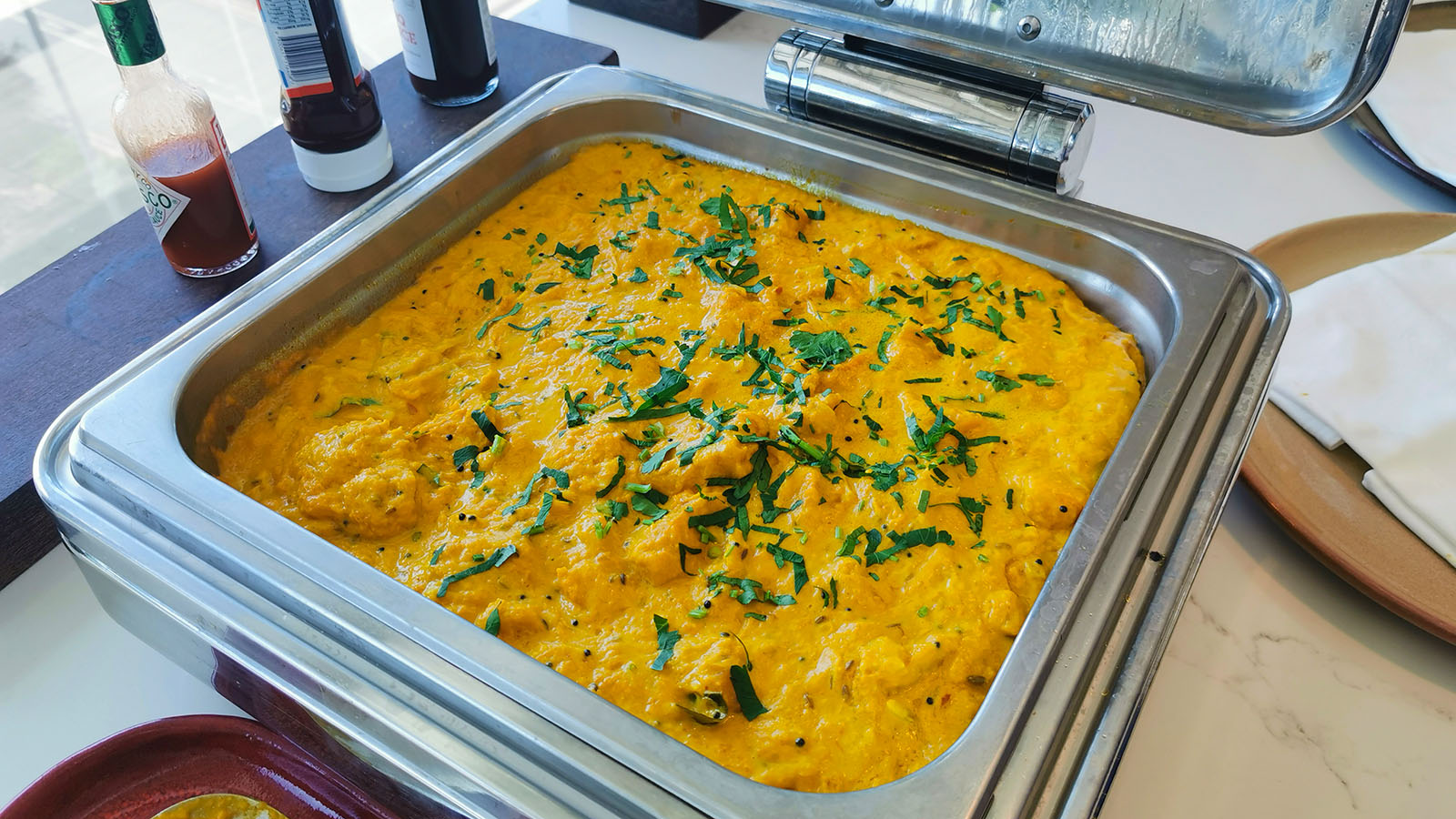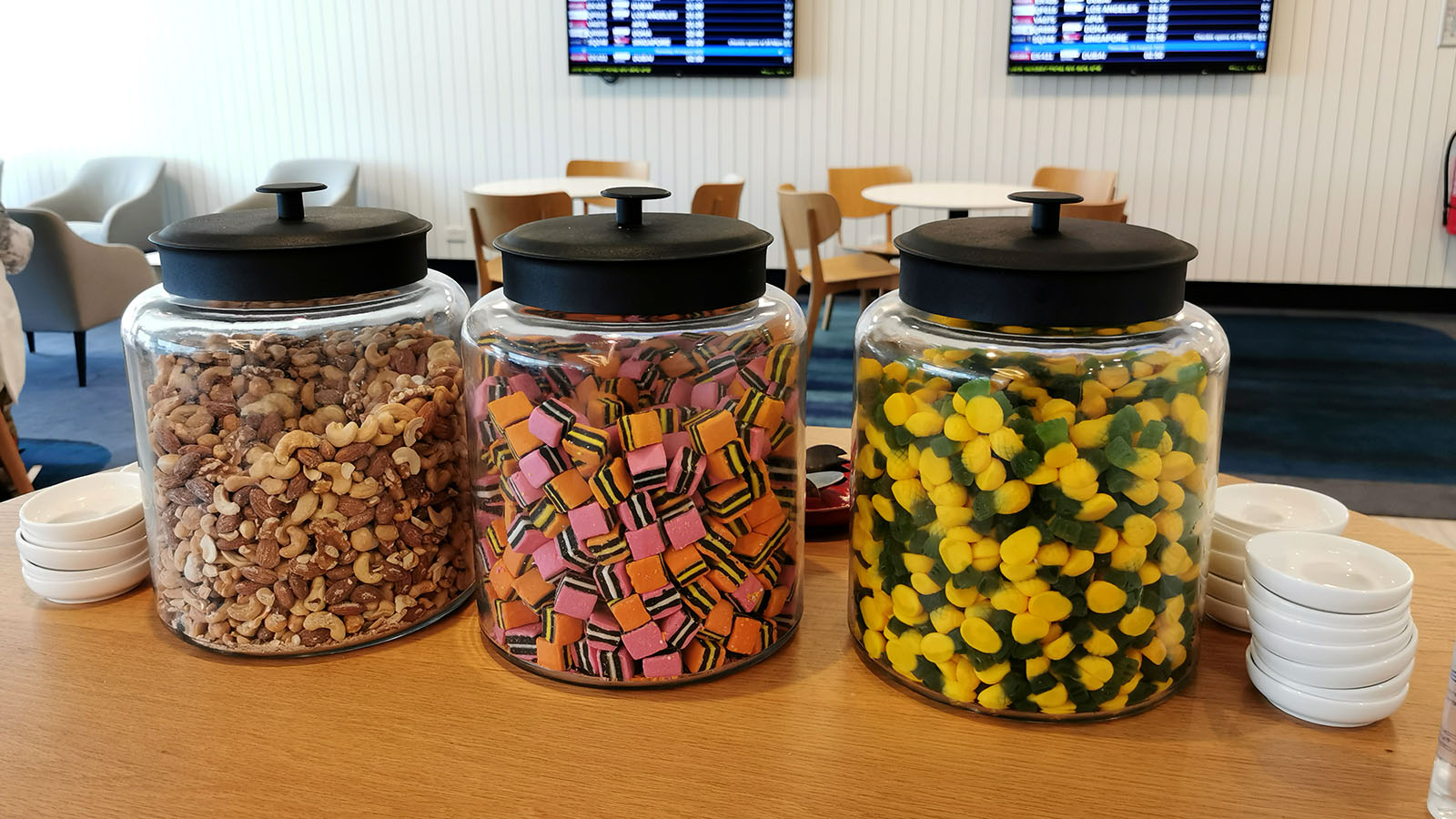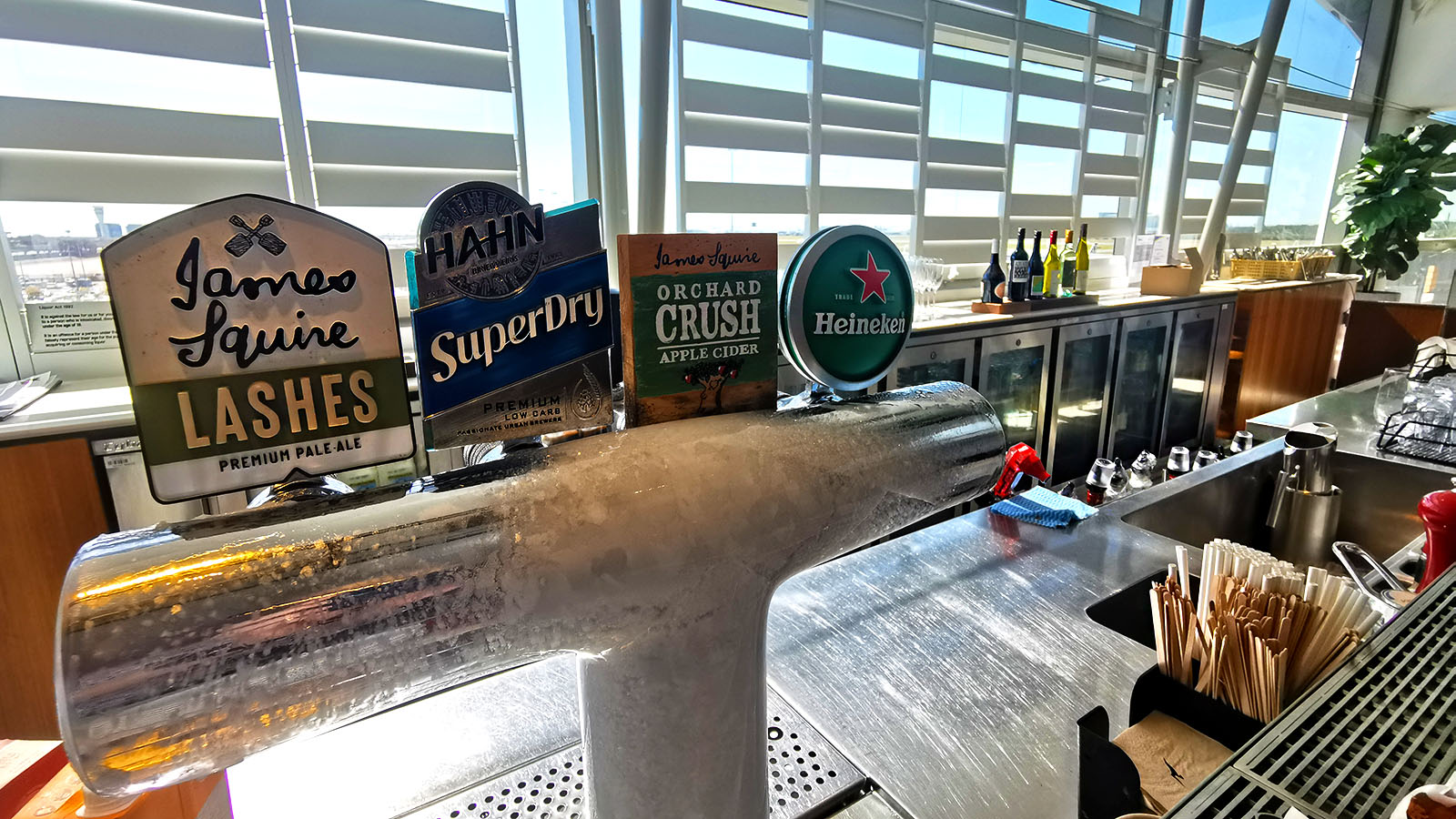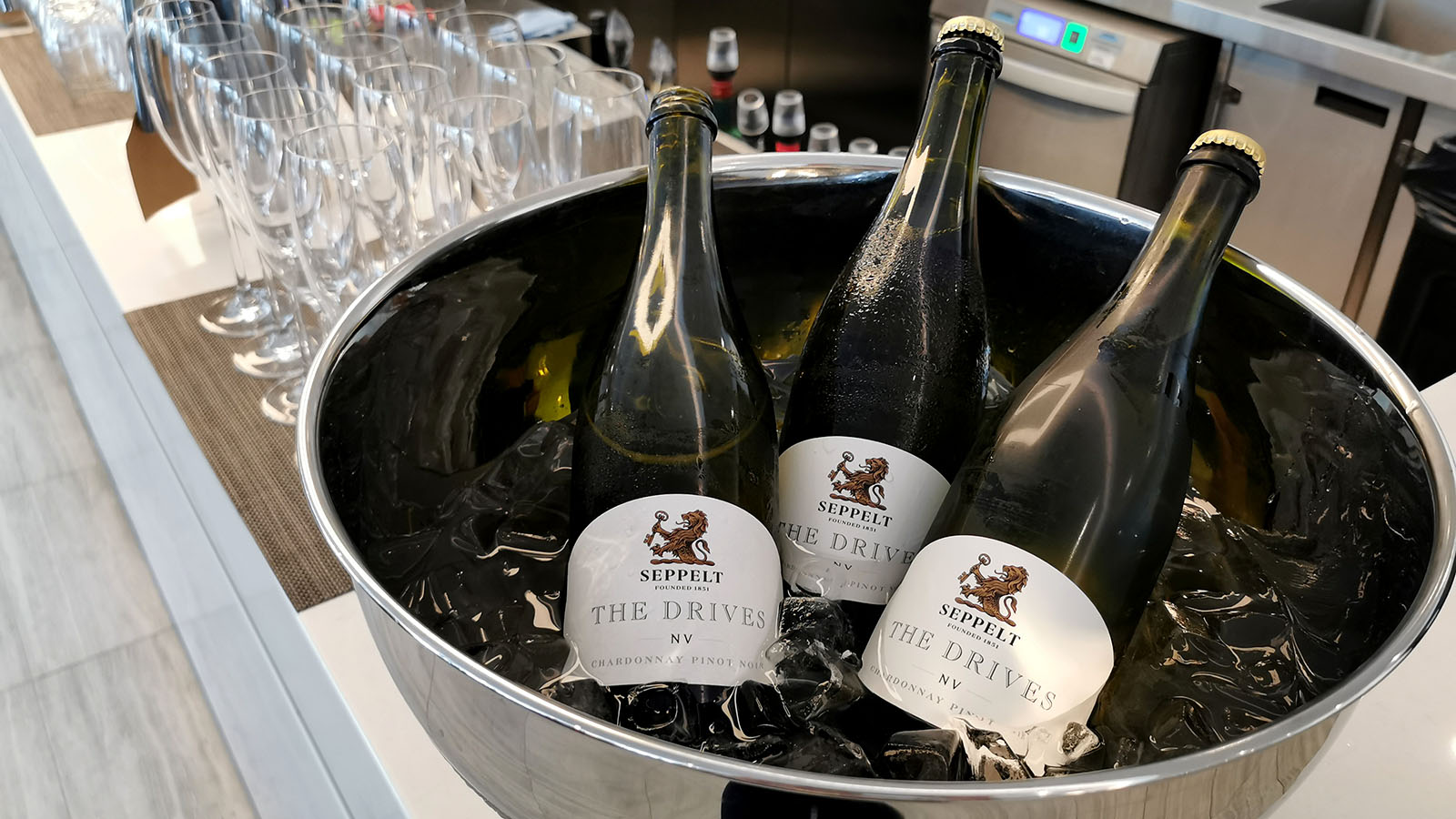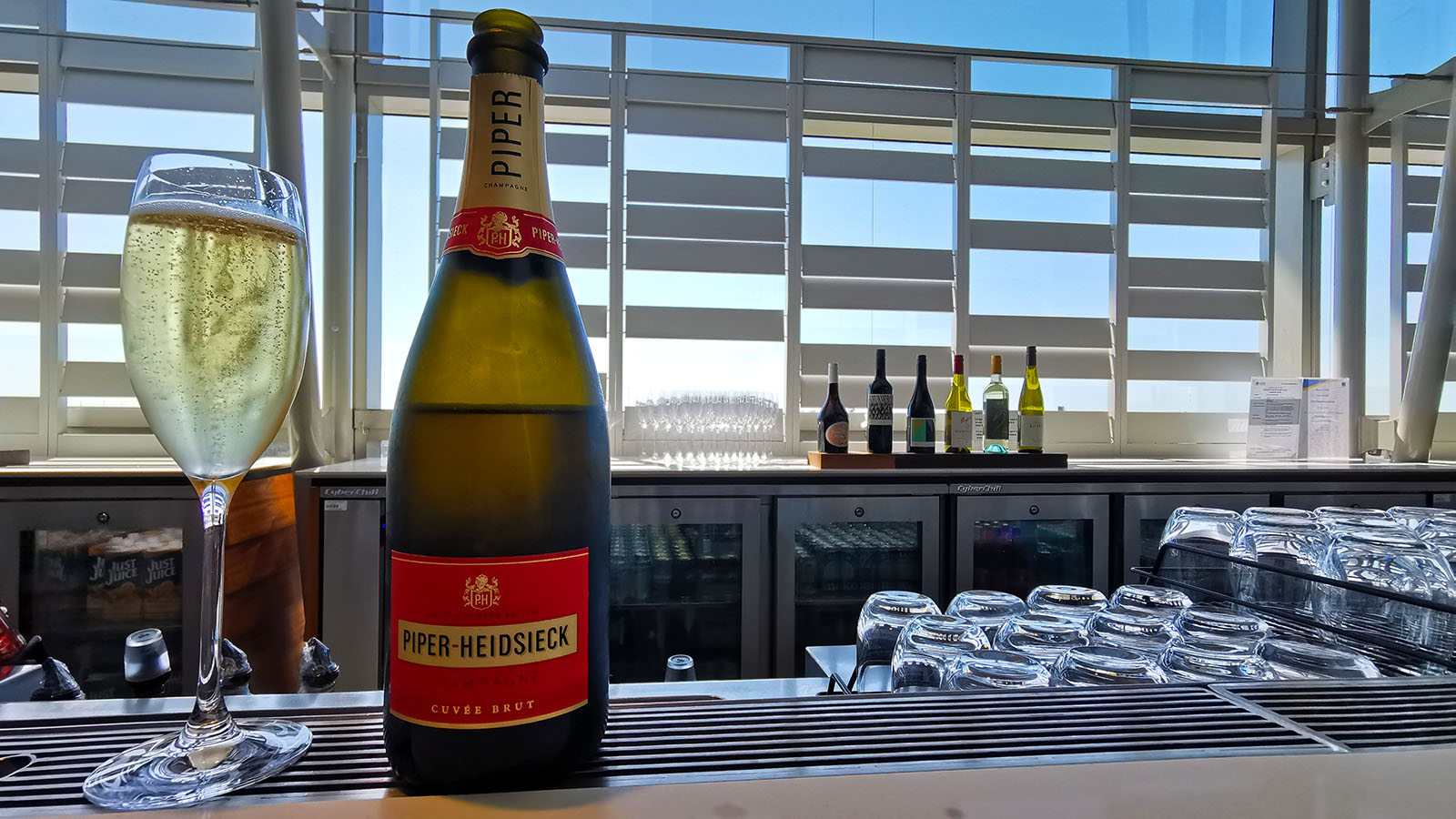 Bar service is available whenever the Qantas International Lounge is open. This includes first thing in the morning, if you're so inclined. There's beer and cider on tap, a revolving selection of red and white wines and Qantas' typical in-lounge sparkling wine, Seppelt The Drives NV. But, hot hint. If you know to ask for 'Champagne', there's Piper-Heidsieck Cuvée Brut (NV) tucked away. It's normally offered to Platinum One and Chairman's Lounge members. But a polite request never goes astray – wink.
In more of a cocktail mood? The bar is also stocked with spirits, but something else catches my eye – the Sofi Sky Spritz. It's often carried in Qantas' premium cabins on international flights. But you'll find it here too – and it's refreshing.
Amenities in the Brisbane Qantas International Lounge
There's more to uncover in Brisbane's Qantas International Lounge. For instance, peruse a range of reading material at your leisure. A small collection of magazines can be found just past the entrance on level one. A broader range is stocked on the main level – also close to reception.
Multiple shower suites are available here too. Just grab a towel pack from the shelves opposite. Flight information screens are located throughout, with boarding calls made for most flights.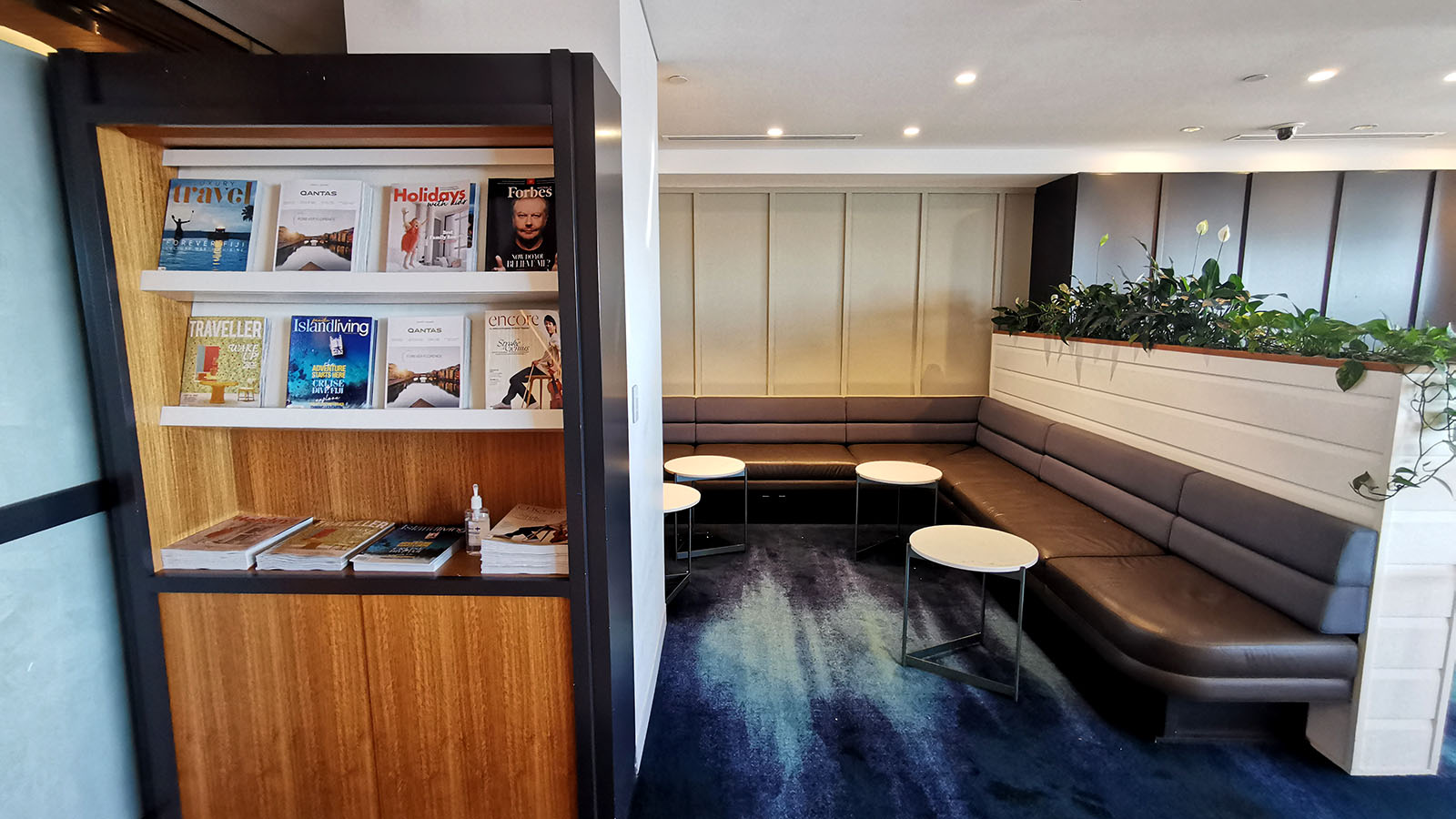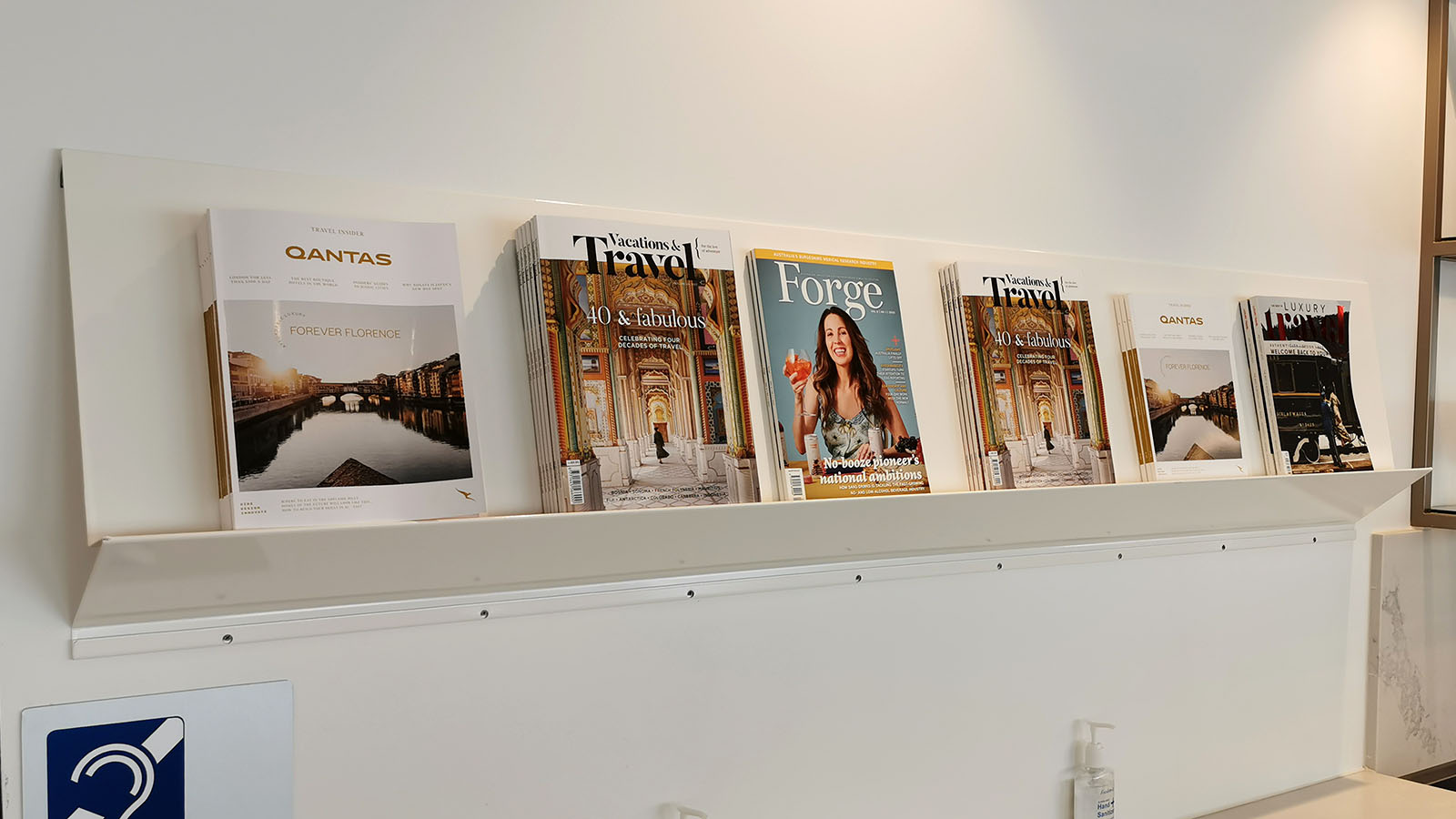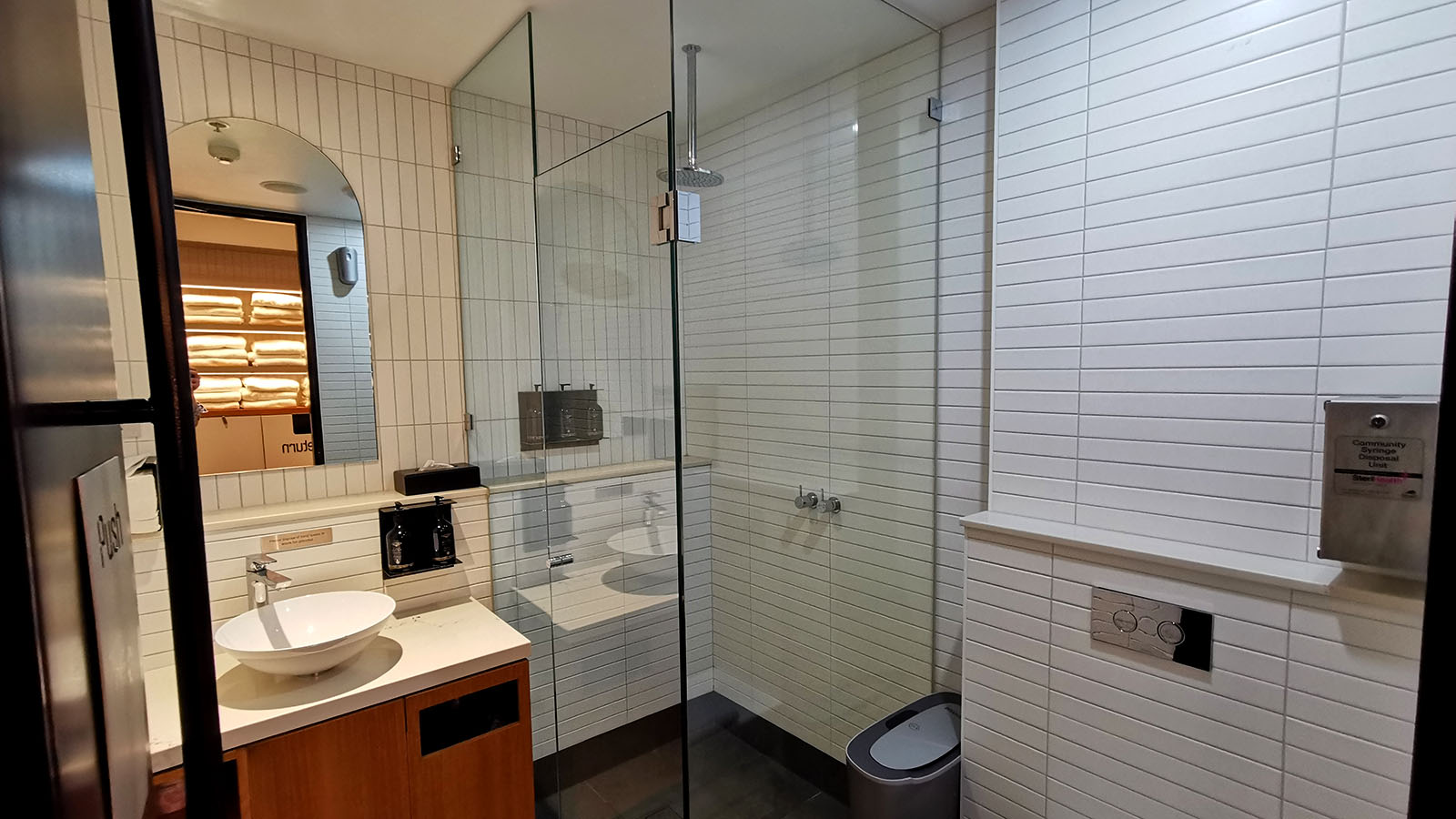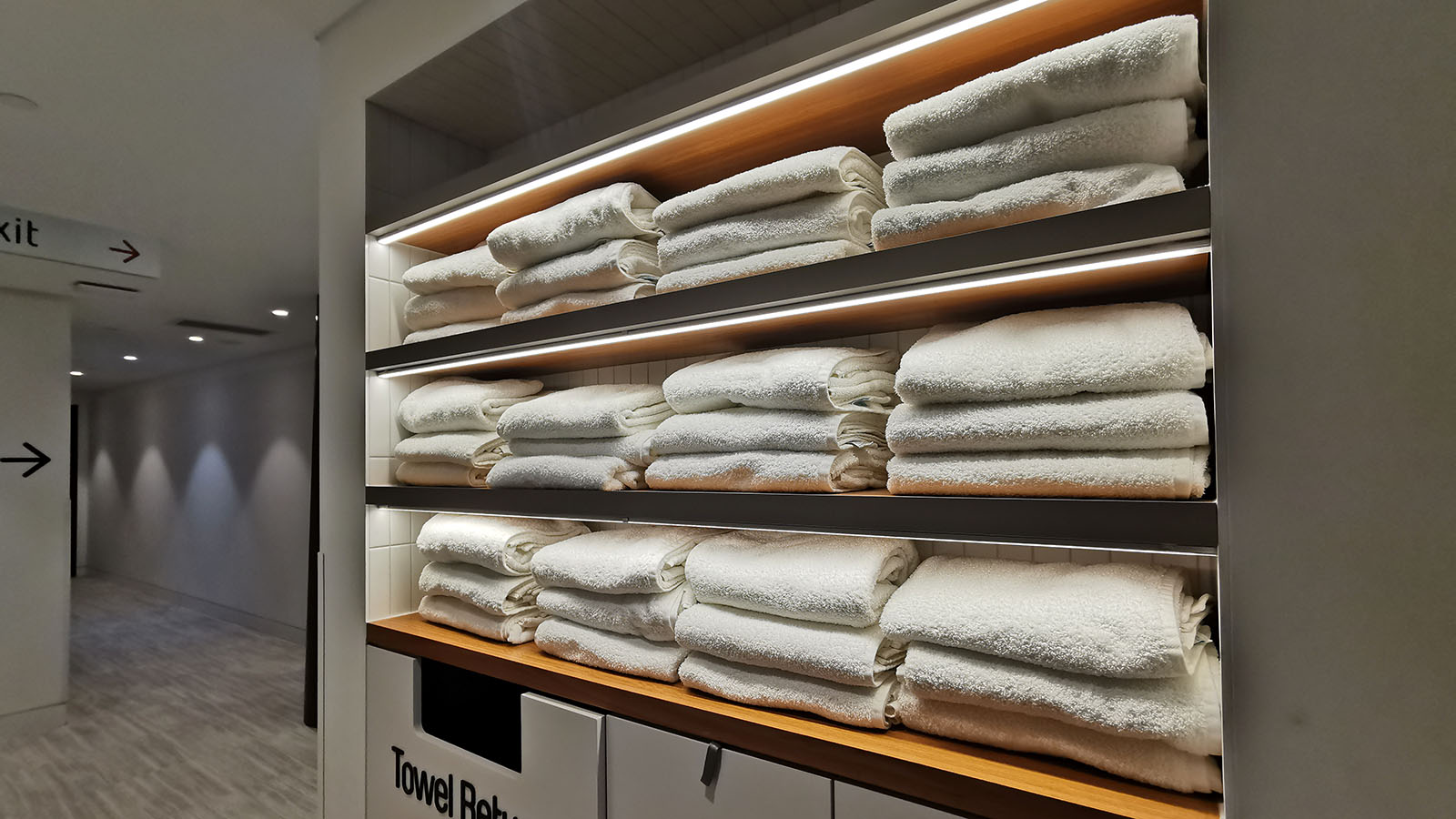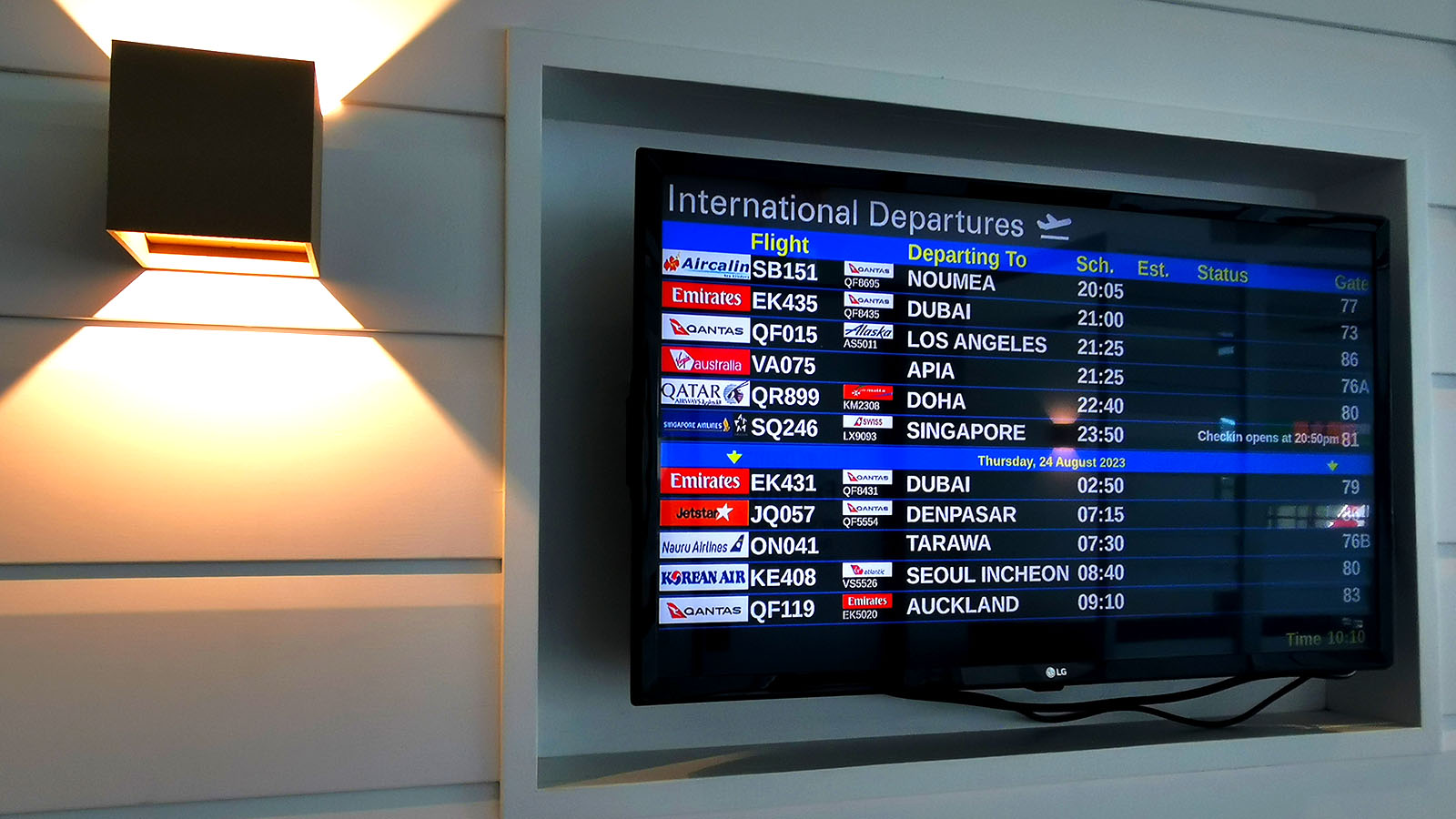 Wi-Fi coverage blankets all three floors of the lounge. During this visit, tests reveal average download speeds of 40.2Mbps. Uploads are close behind at 33.2Mbps. That's sufficient for most needs.
Accessing the Qantas International Lounge, Brisbane
The Qantas International Lounge welcomes a wide variety of passengers flying from Brisbane. Here's a rundown of who qualifies, remembering that opening hours also need to align.
By cabin class:

Business Class passengers of Qantas, Aircalin, Cathay Pacific, China Airlines (when booked on a QF code only), China Eastern (from 29 October 2023), Emirates (excluding Business Class Special fares), Fiji Airways, Jetstar (Business Max fares only) Qatar Airways and Solomon Airlines.
First Class travellers on Emirates (+1 guest).
Passengers connecting between a oneworld international flight of 5+ hours in Business Class, and a oneworld flight of fewer than five hours in a lower cabin. (For example, arriving from Los Angeles in Qantas Business, and continuing to Auckland in Qantas Economy.)

Courtesy of frequent flyer status:

Qantas Gold, Platinum and Platinum One (+1 guest), along with Chairman's Lounge (+2 guests). Available prior to Qantas, oneworld, China Eastern, Emirates, Jetstar and QF-coded flights.
Other oneworld Sapphire and Emerald frequent flyers, prior to Qantas and oneworld flights (+1 guest).
Air France/KLM Flying Blue Gold, Platinum, Ultimate Platinum, Skipper and Club 2000 members prior to Aircalin and eligible Qantas flights (+1 guest). When flying Qantas, must be booked on an AF or KL flight number.
China Eastern's Eastern Miles Gold and Platinum cardholders, prior to China Eastern flights (+1 guest).

Emirates Skywards Gold, Platinum and iO (+1 guest). Available prior to a Qantas or Emirates flight booked on a QF or EK flight number.

Via airport lounge membership, lounge pass or paid entry:

Qantas Club members departing on a QF flight number (+1 guest). Funnily enough, that guest can now be travelling on any oneworld flight, while the actual Qantas Club member must be booked on a QF code.
Alaska Airlines Lounge+ members prior to Qantas flights (+2 guests or immediate family).
American Airlines Admirals Club cardholders flying with Qantas on a QF or AA flight number (+2 guests or immediate family).
Travellers who redeem a single-use Qantas lounge pass for access when travelling with Qantas or Jetstar. These passes are offered to Qantas Silver members as well as via selected co-branded credit cards.
The verdict
Given Brisbane doesn't have a Qantas First Lounge, the airline's catch-all International Lounge strikes a happy medium. It effectively creates three lounges in one. You could spend time on a different level each visit and feel like you've been through three different airports.
The space is also leaps and bounds ahead of the Sydney and Melbourne Qantas International Business lounges. For those who don't qualify for First Lounge access, it's a compelling reason to transit through Brisbane. But for the Platinum crowd, things could be a little better.
Keeping the Champagne tucked away strikes me as a little bit sneaky. Champagne is a staple of those First lounges down south – which Platinum members can freely access. Sure, it's not something normally offered in a Qantas Business Lounge. But I'm also mindful that Brisbane had a Qantas First Lounge (bursting with Taittinger), and this combined precinct replaced it.
With so much space to work with, Qantas could easily designate one floor as something of a 'mini First Lounge'. For instance, the lowest floor already has a separate entrance and reception desk. Given the amount of flying needed to retain Qantas Platinum and Platinum One – or corporate spending, for Chairman's Lounge – it'd be an easy way for Qantas to dial the experience up to 11.
More broadly though, Brisbane is still a strong performer. I find that also comes down to the staff here. I always look forward to a warm welcome from Gail or Kate, or Beverly's now-familiar boarding calls. You may have heard them on the domestic side too. And come October 2023, after 35 years, she'll make her very last boarding call before relaxing into retirement.
On behalf of the many travellers whose days you've brightened over the years, thanks for everything, Beverly. Hopefully, we'll now see you in the lounge as a passenger, jetting off somewhere exotic. Don't worry, we'll make sure your flight still gets called.
Also reviewed: Is it worth going the extra mile from Qantas Platinum to Platinum One status?
All photography by Chris Chamberlin, who accessed the lounge as a guest of Qantas.
---
Stay up to date with the latest news, reviews and guides by subscribing to Point Hacks' email newsletter.
Qantas International Lounge, Brisbane
was last modified:
October 3rd, 2023
by