With Singapore being a major business and financial hub, it's no surprise to find an Emirates Lounge at Changi Airport. Serving multiple daily flights to Dubai and beyond, it welcomes a mix of premium cabin passengers and elite frequent flyers.
In fact, many Qantas passengers also make the cut – and that's exactly how I stepped inside.
Location
Once you're gliding your way through Terminal 1, wheel your cabin bag along the airport's signature patterned carpets towards gate C1. You'll find Singapore's Emirates Lounge up the nearby escalator and to your left.
It's an enviable location, being just a short walk from the terminal's central immigration departure point. But more excitingly, the lounge enjoys some fantastic airfield views – and not just of the nearby gates. Here, you can relax and sip Champagne with a clear view of runway 02L/20R.
I'm here not even five minutes and I've already spotted an airline touching down that we don't get in Australia: Turkish Airlines. It's a nice reminder that international flying is getting back to how things were before 'the big pandemic pause'.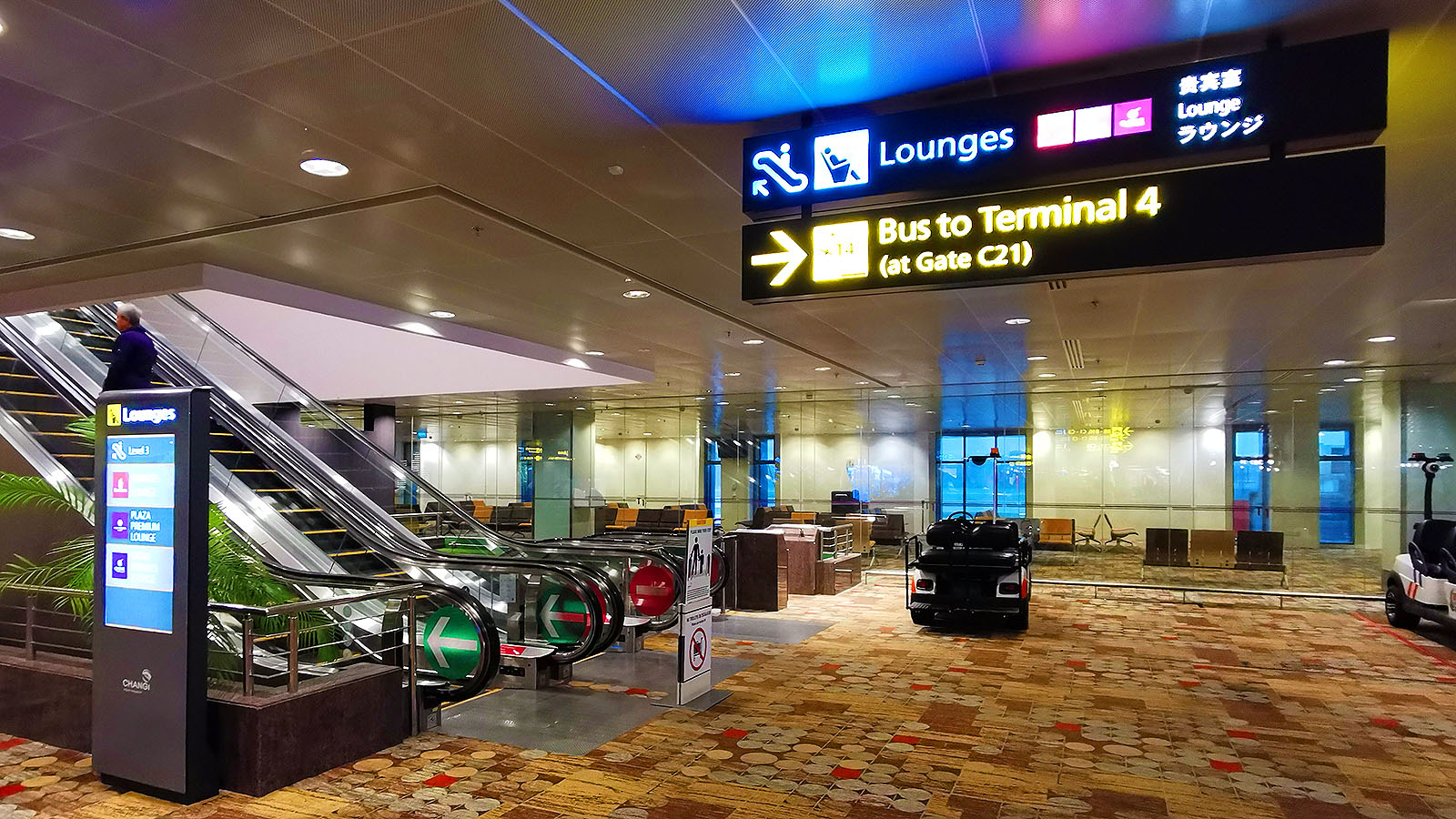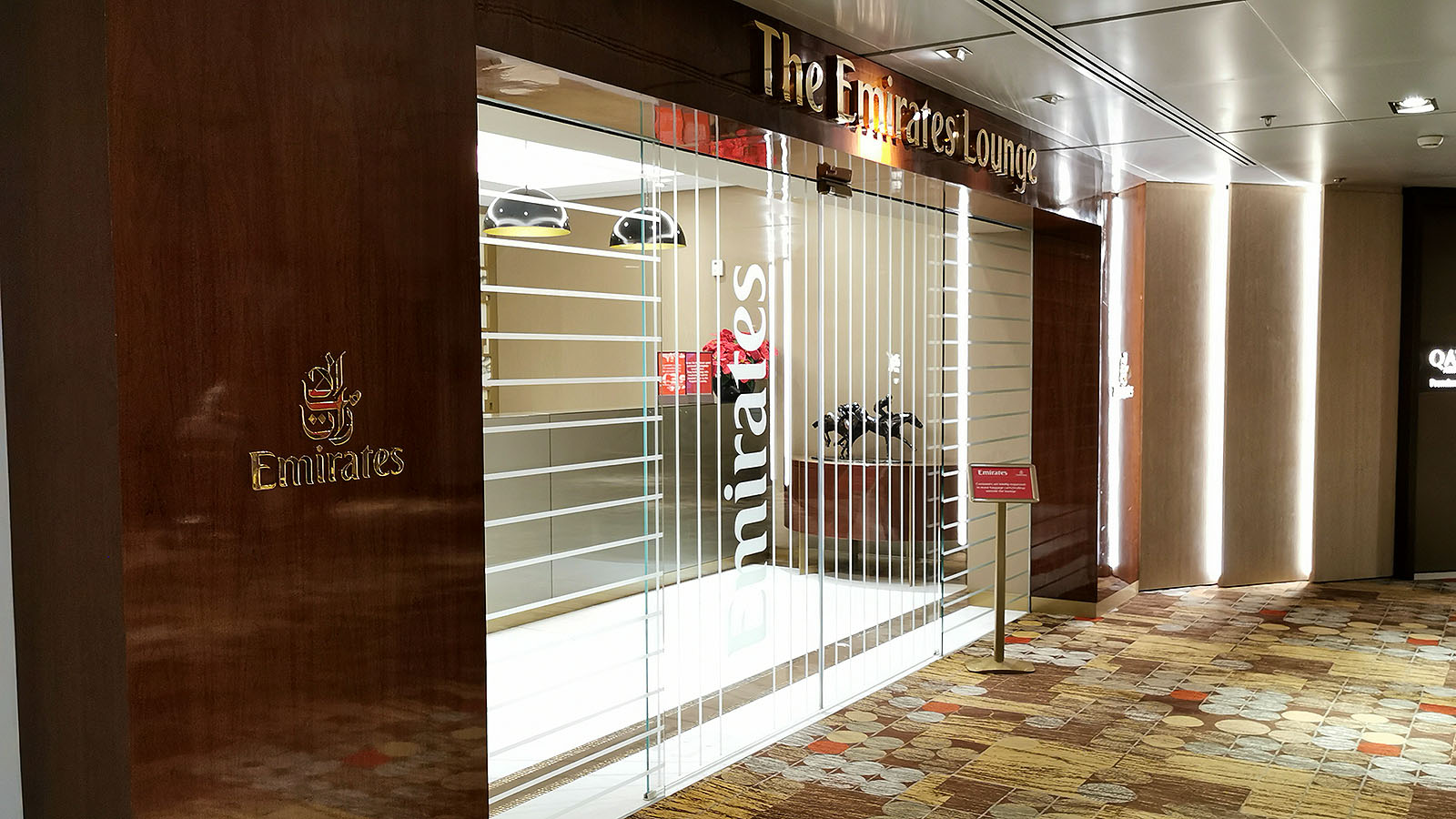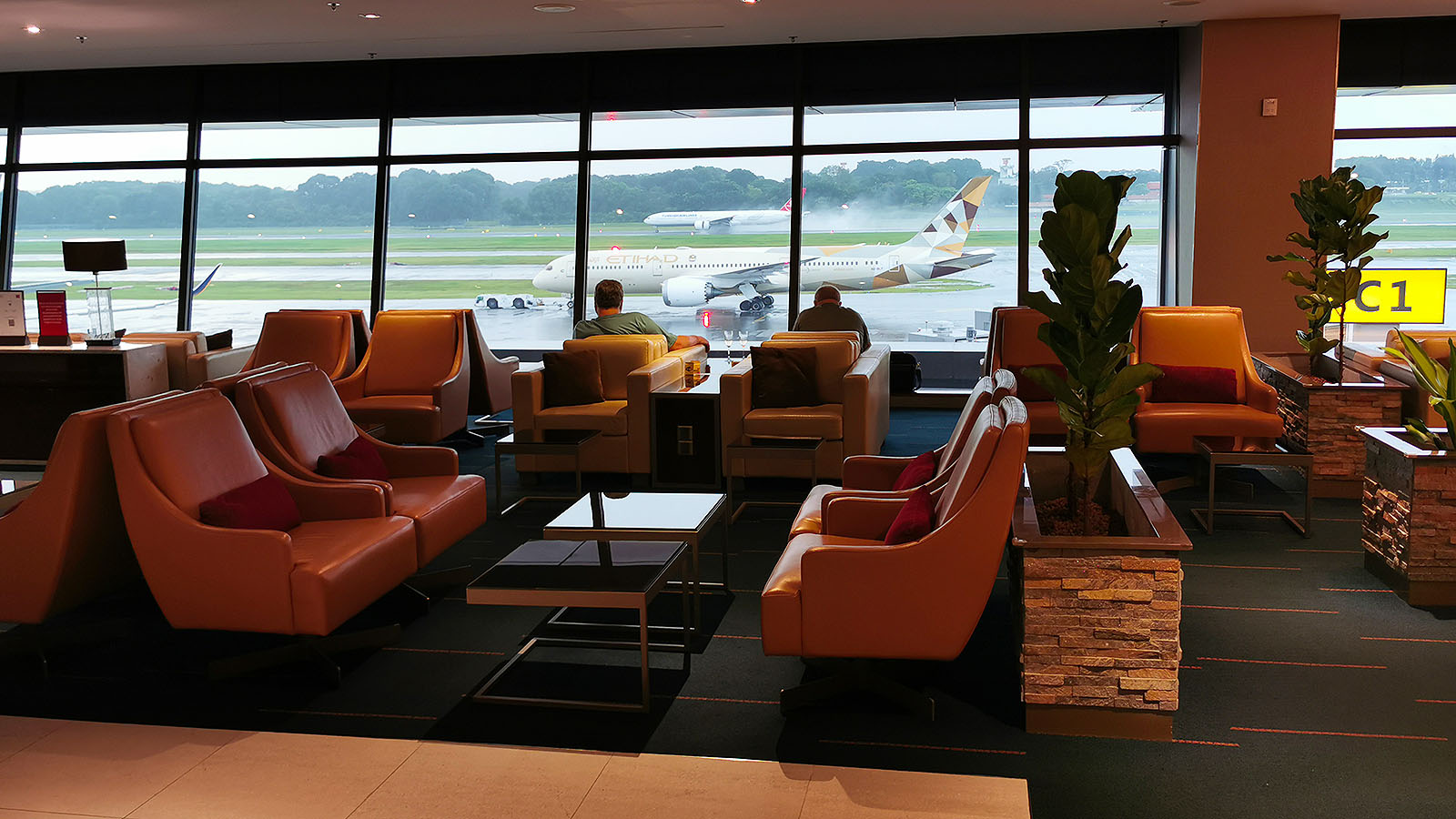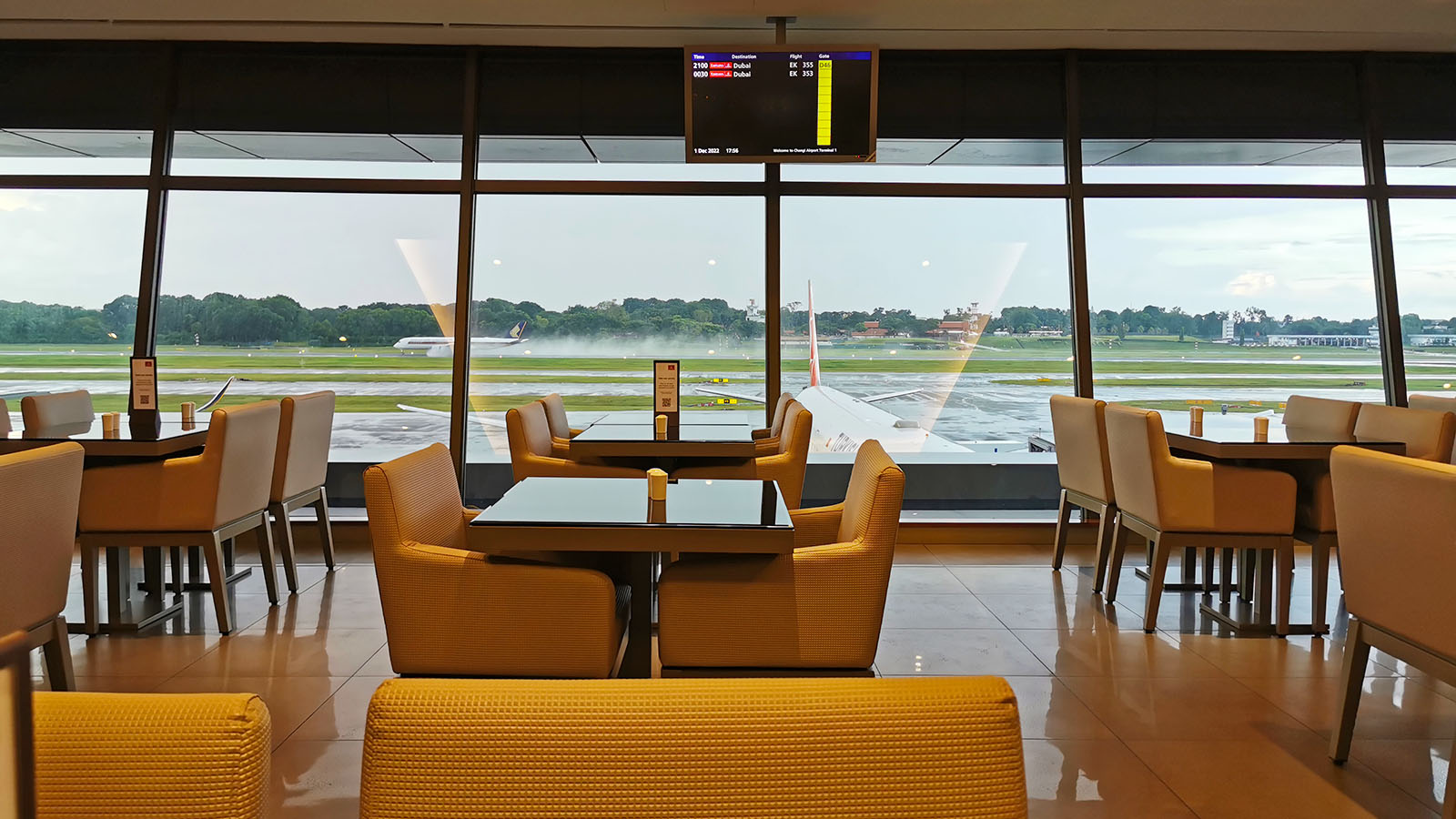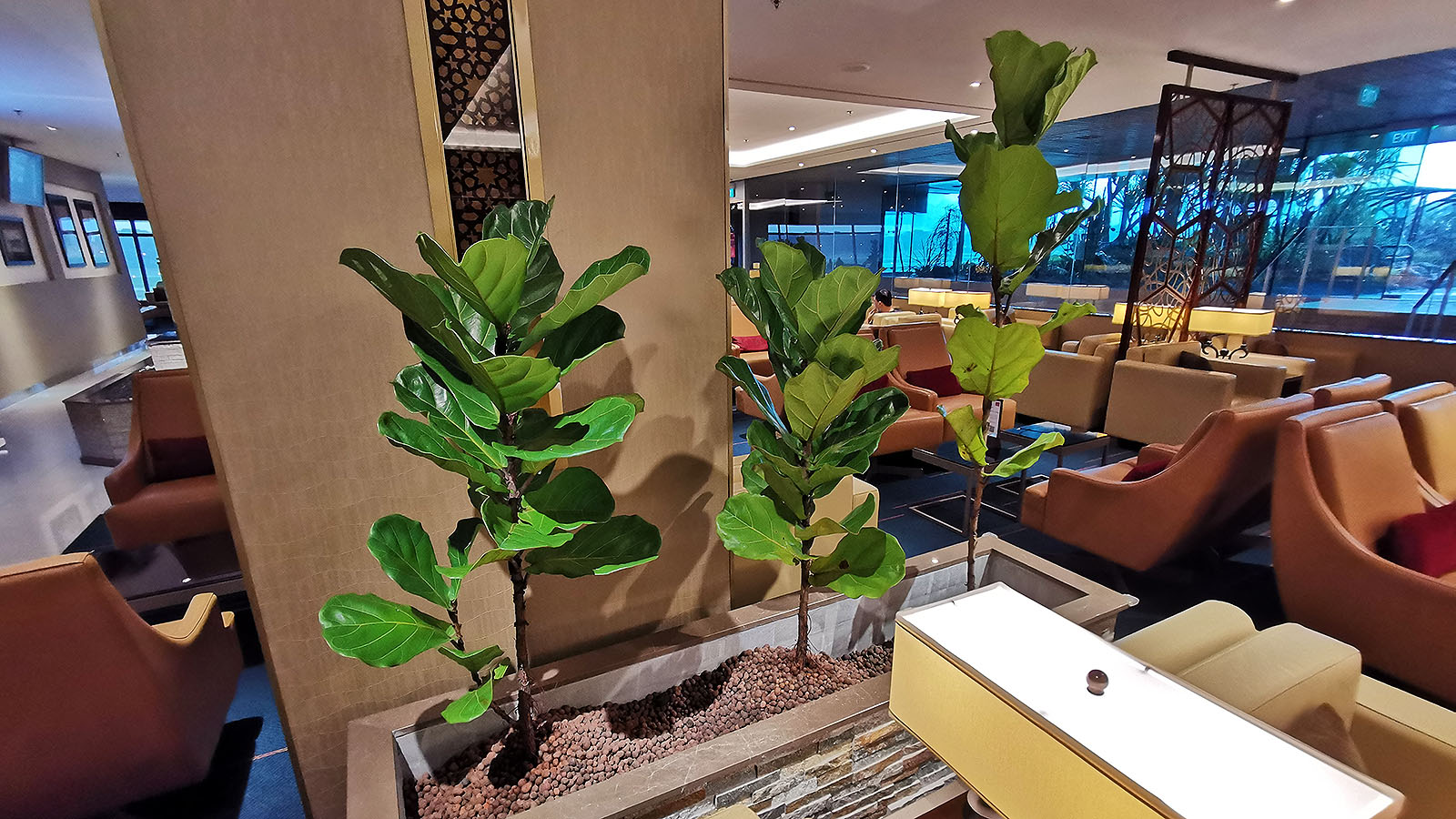 Opening hours here are shaped to suit Emirates' flights to Dubai. This currently sees the lounge welcoming travellers from 7:10 am to 10:10 am each day prior to EK349. The lounge then reopens at 5 pm ahead of EK355, and remains in action until 12:30 am to match with EK353, which departs just after midnight.
In practical terms, these opening hours also align well with most Qantas flights to both Australia and London – but more on that later.
Lounge layout and seating
The bulk of Singapore's Emirates Lounge wraps itself around an L-shaped footprint. Sometimes, layouts like this can foster sections that prove really busy – close to the entrance, most commonly – contrasted by quieter pockets towards the back. But the layout here cleverly avoids this, and actually helps travellers experience the lounge in full.
Once you've passed reception, the first group of seats are marked as a family zone. This encourages you to keep walking, at which point, you're drawn to those terrific runway views. As you meander towards them, the adjacent part of the 'L' reveals itself, home to the dining area and buffet. Without even trying, you've taken the full tour.
Those who fly with Emirates regularly will know that outside of Dubai, the airline's lounges typically fall into one of two categories. Some are 'renovated and modern', while others could endearingly be called 'not renovated yet'. In Singapore, the Emirates Lounge is gleefully the former.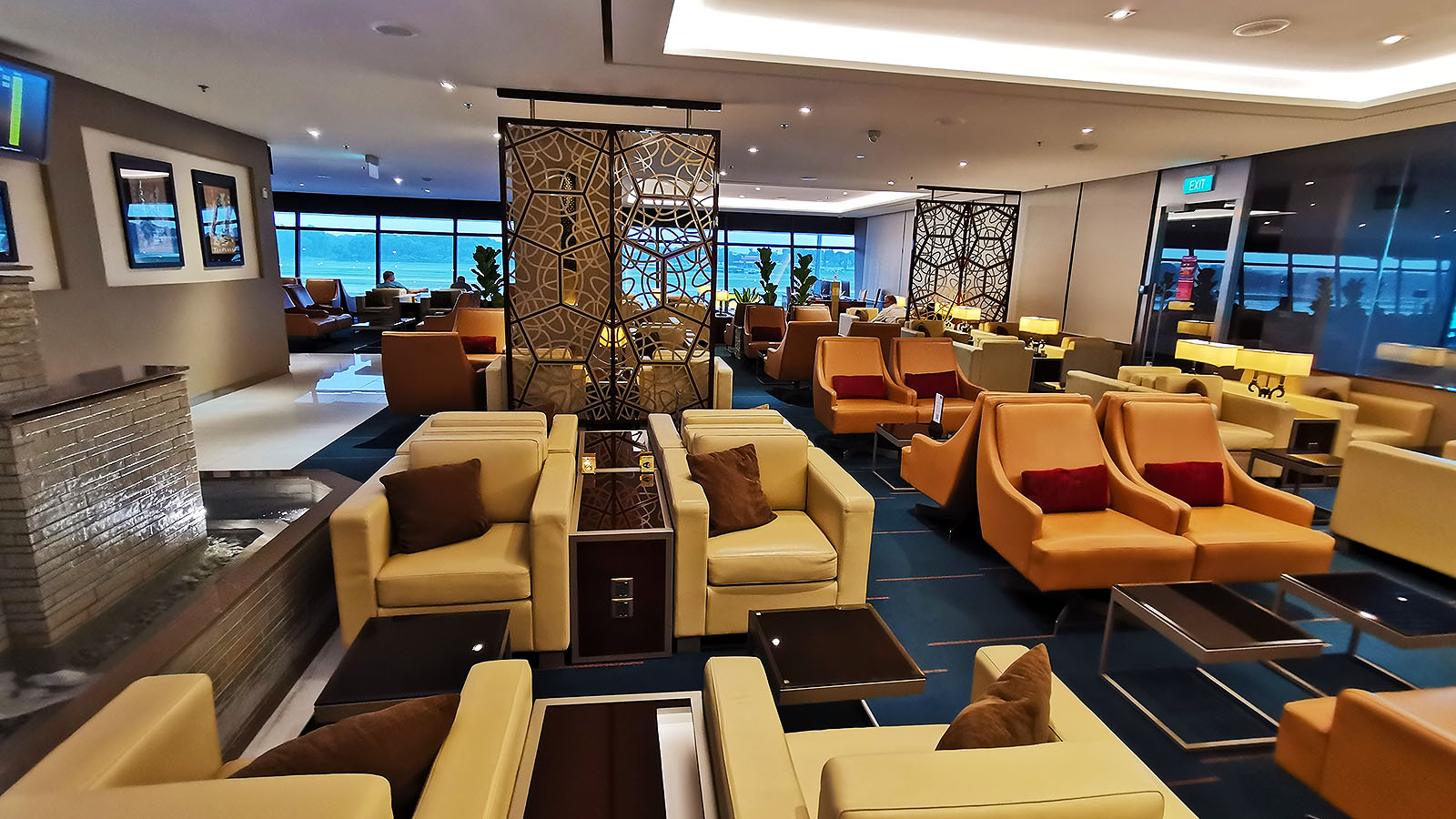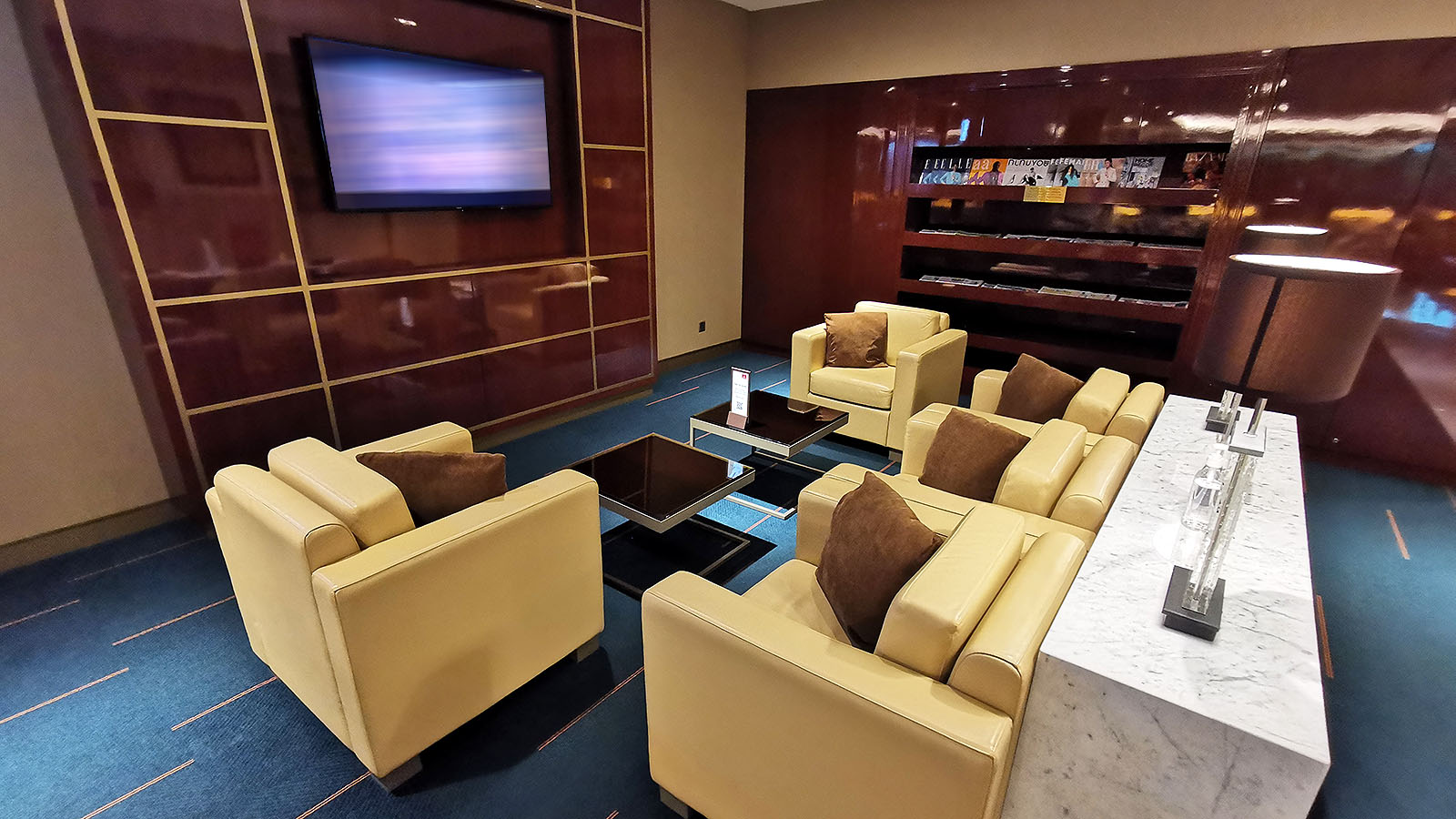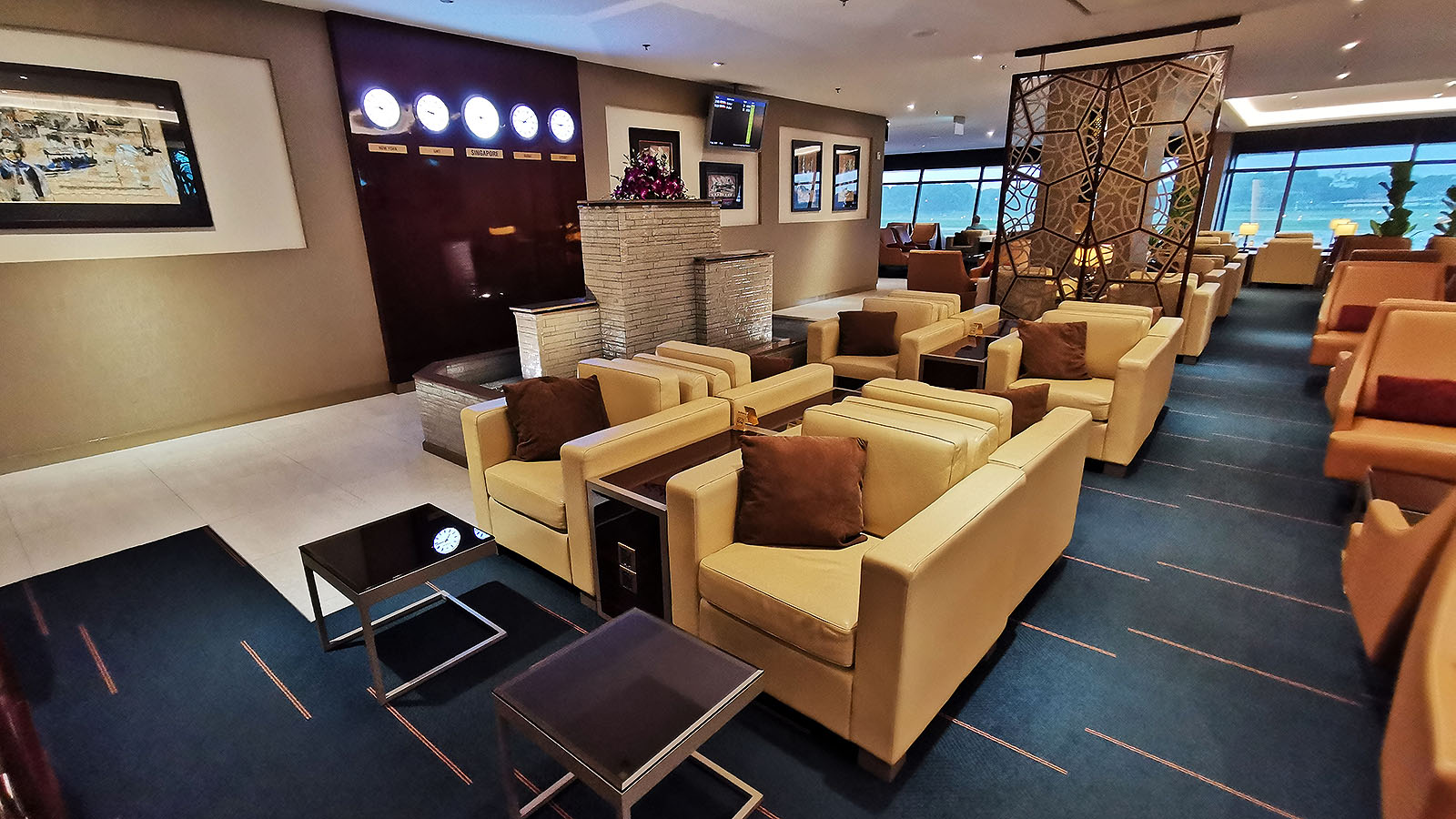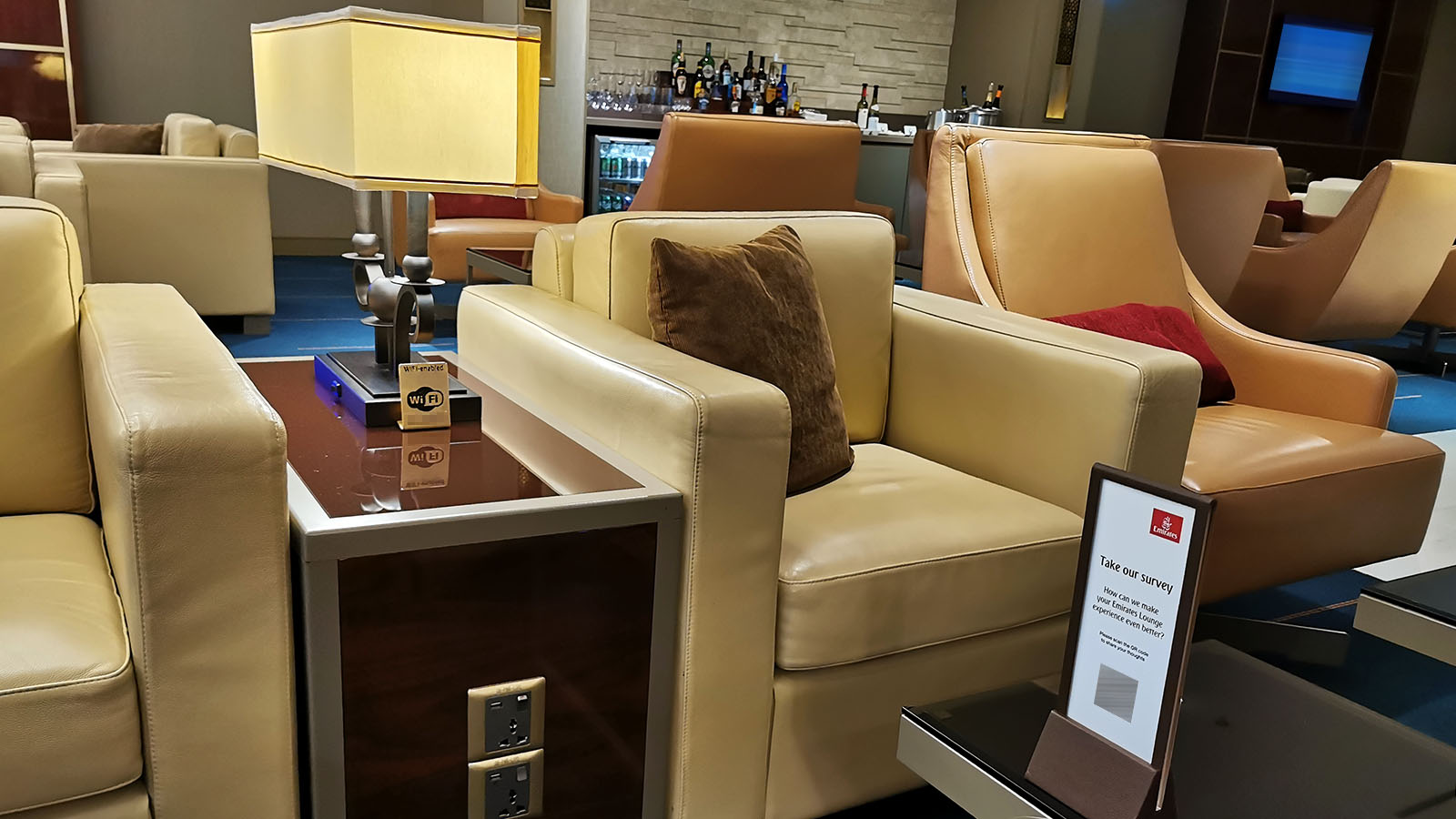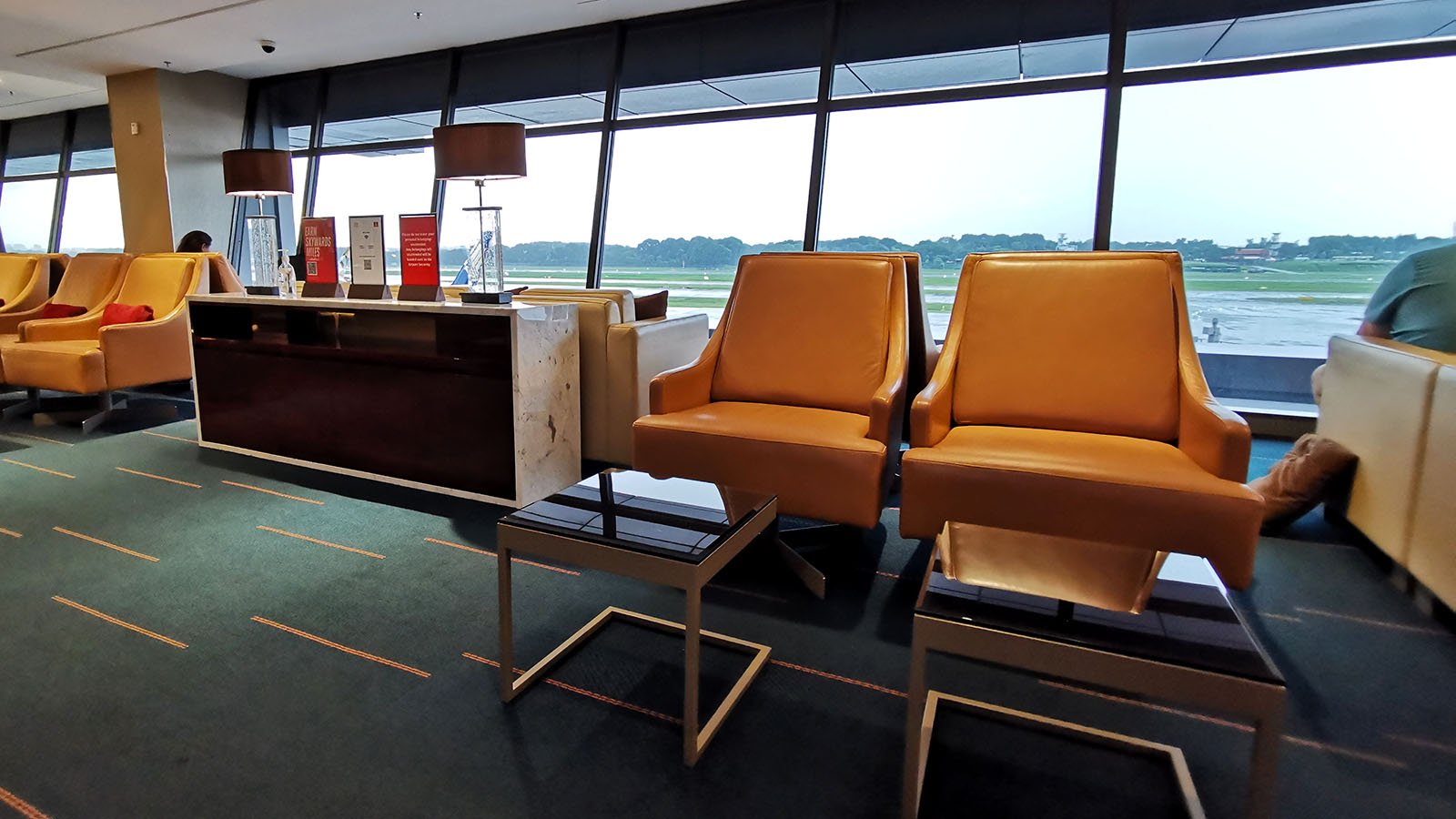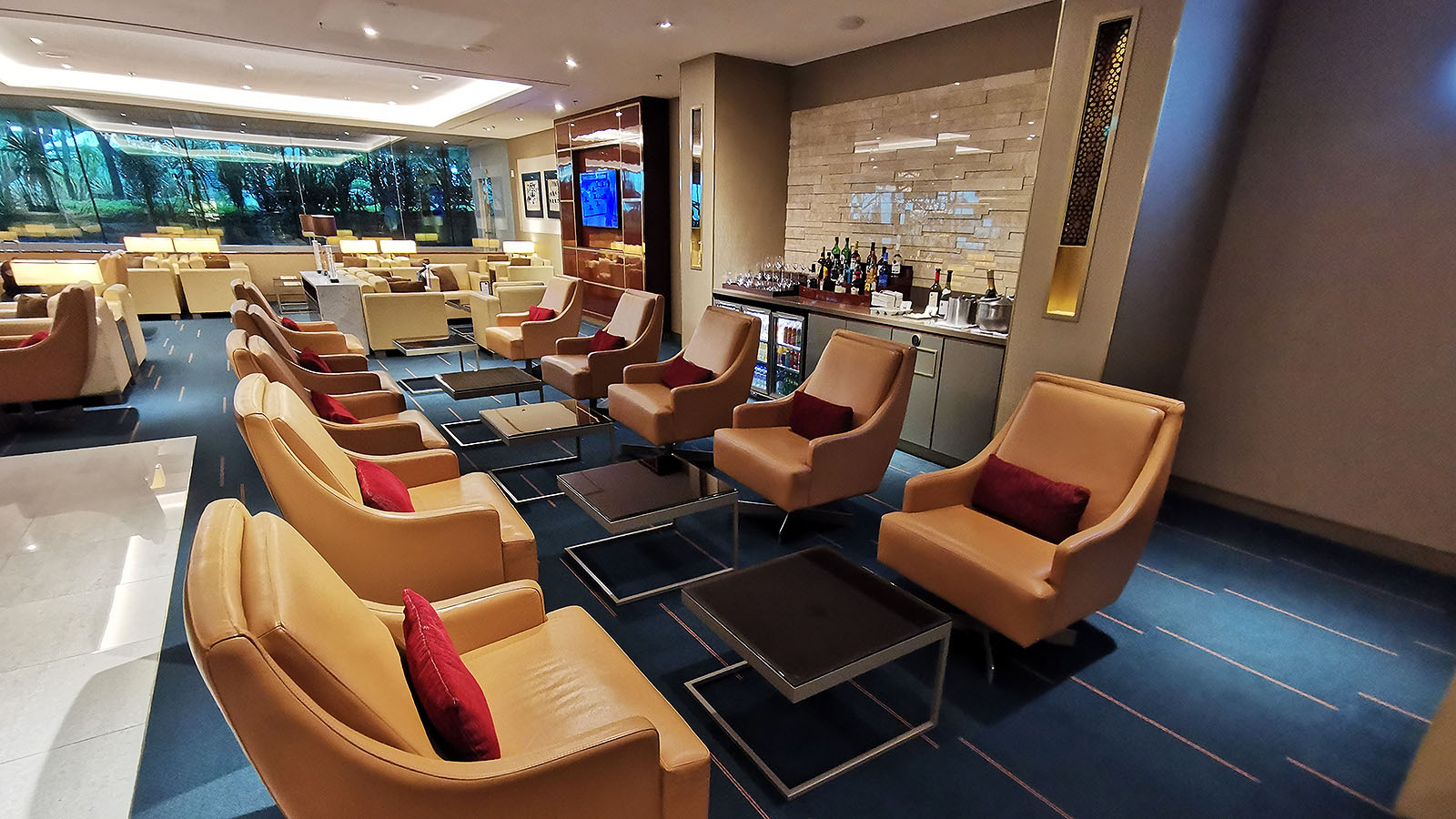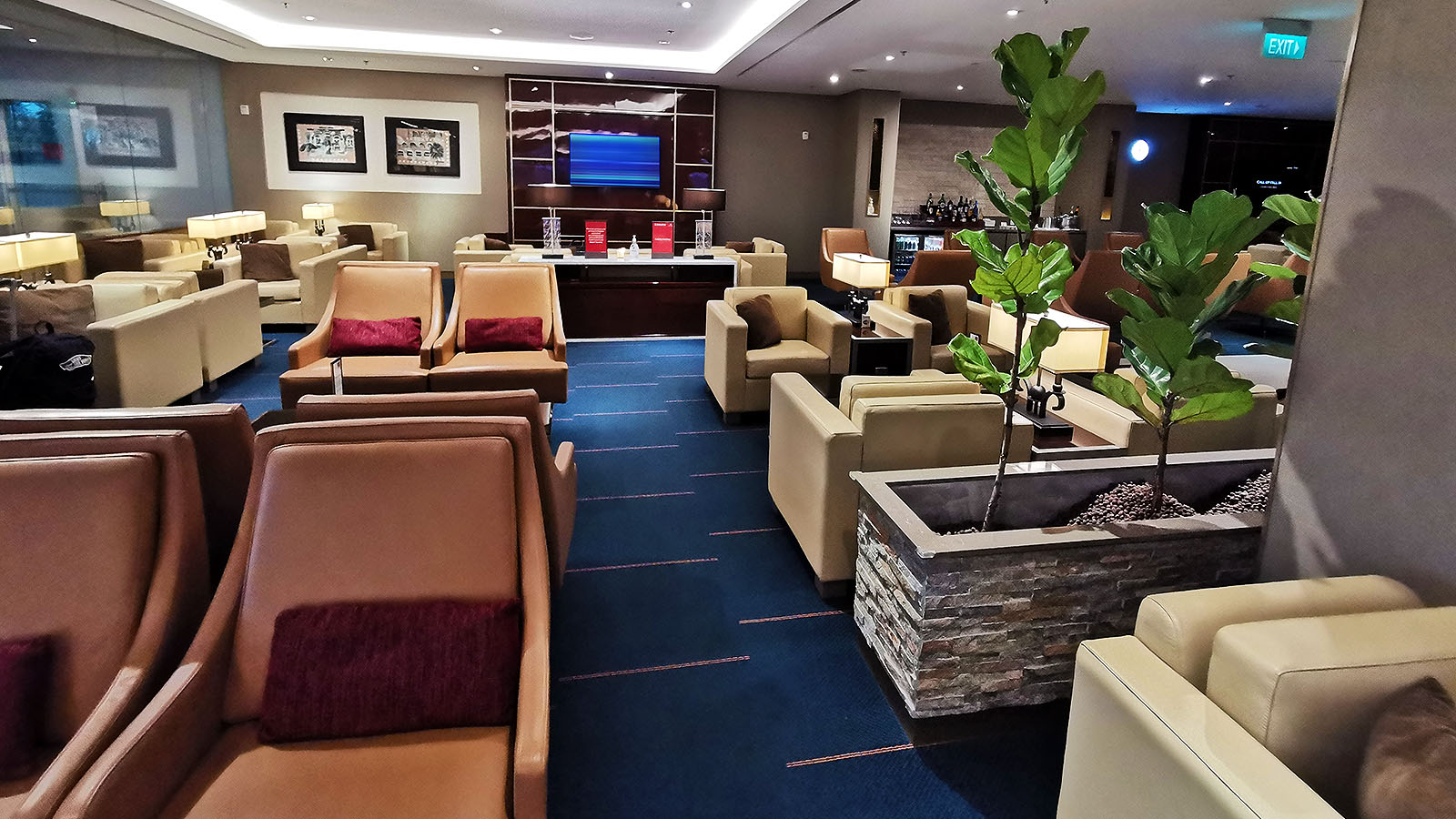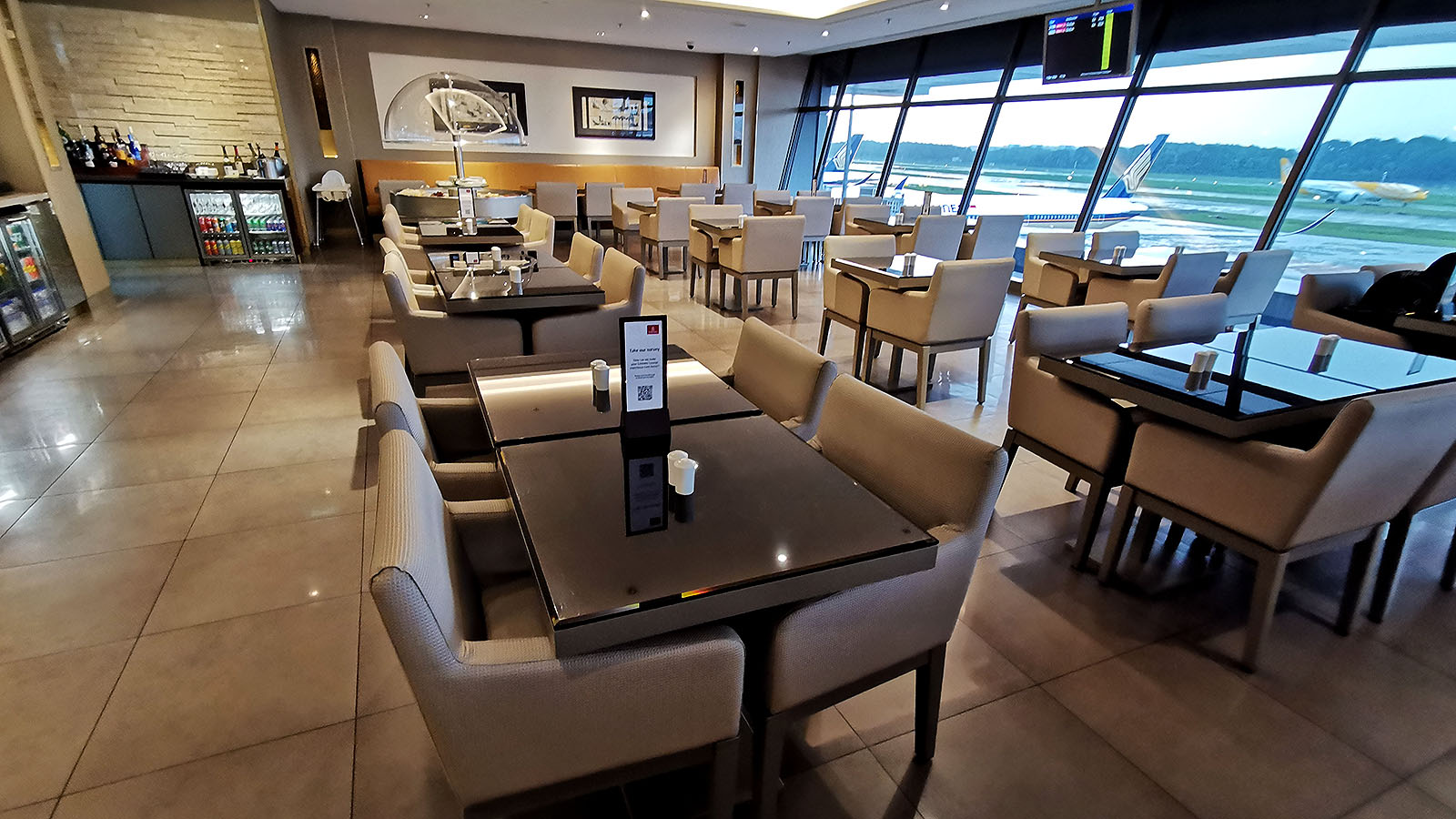 In a nod to the sands of the Arabian Desert, cream-coloured leather makes a frequent appearance throughout the lounge. That's contrasted by other chairs with more of a tan tint. They're adorned with red cushions, reflecting Emirates' key corporate shade.
Blue ocean-coloured carpet makes for a smooth contrast between the hues of the land and the Persian Gulf, against which Dubai resides. It's subtle, but it all comes together as being distinctly 'Emirates'. Bursts of greenery also appear but are at a premium – again taking a leaf from the UAE, so to speak.
Food and beverage in the Emirates Lounge, Singapore
Outside of Dubai, Emirates' lounges operate as something of a hybrid. That is, they cater for Business Class and First Class – and also for both Gold and Platinum frequent flyers – in a single space.
But regardless of your seat number or status, the service in Singapore's Emirates Lounge remains the same for every guest. (No, there's no 'secret Champagne' if you're flying Emirates First Class from Singapore – I've done that research before!)
What you'll find is a comprehensive buffet and self-serve bar, designed to please a wide variety of tastes and preferences. I stop by a little after 5 pm, when the lounge reopens for the evening, and find everything from light snacks through to substantial mains and sweets for dessert.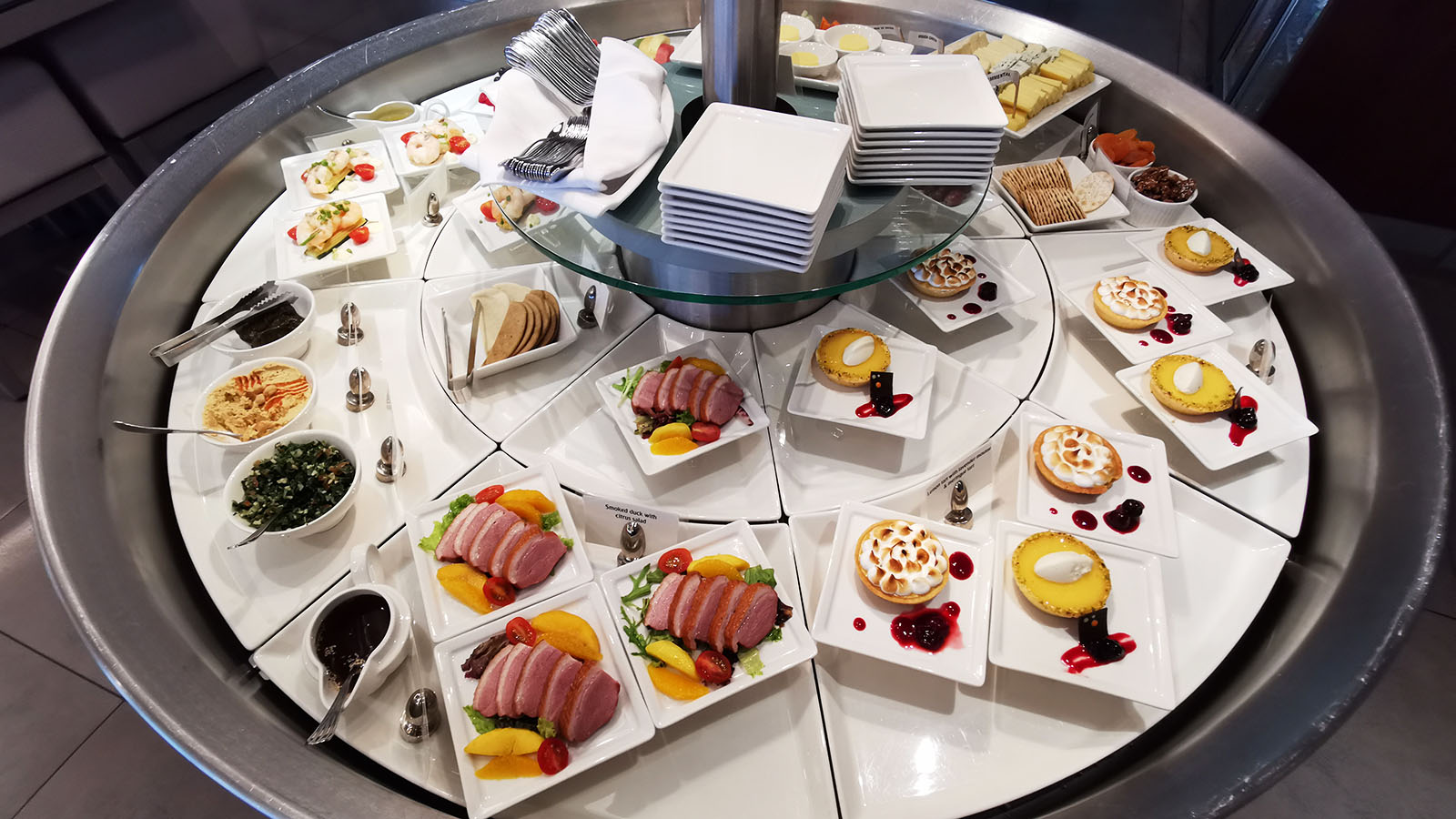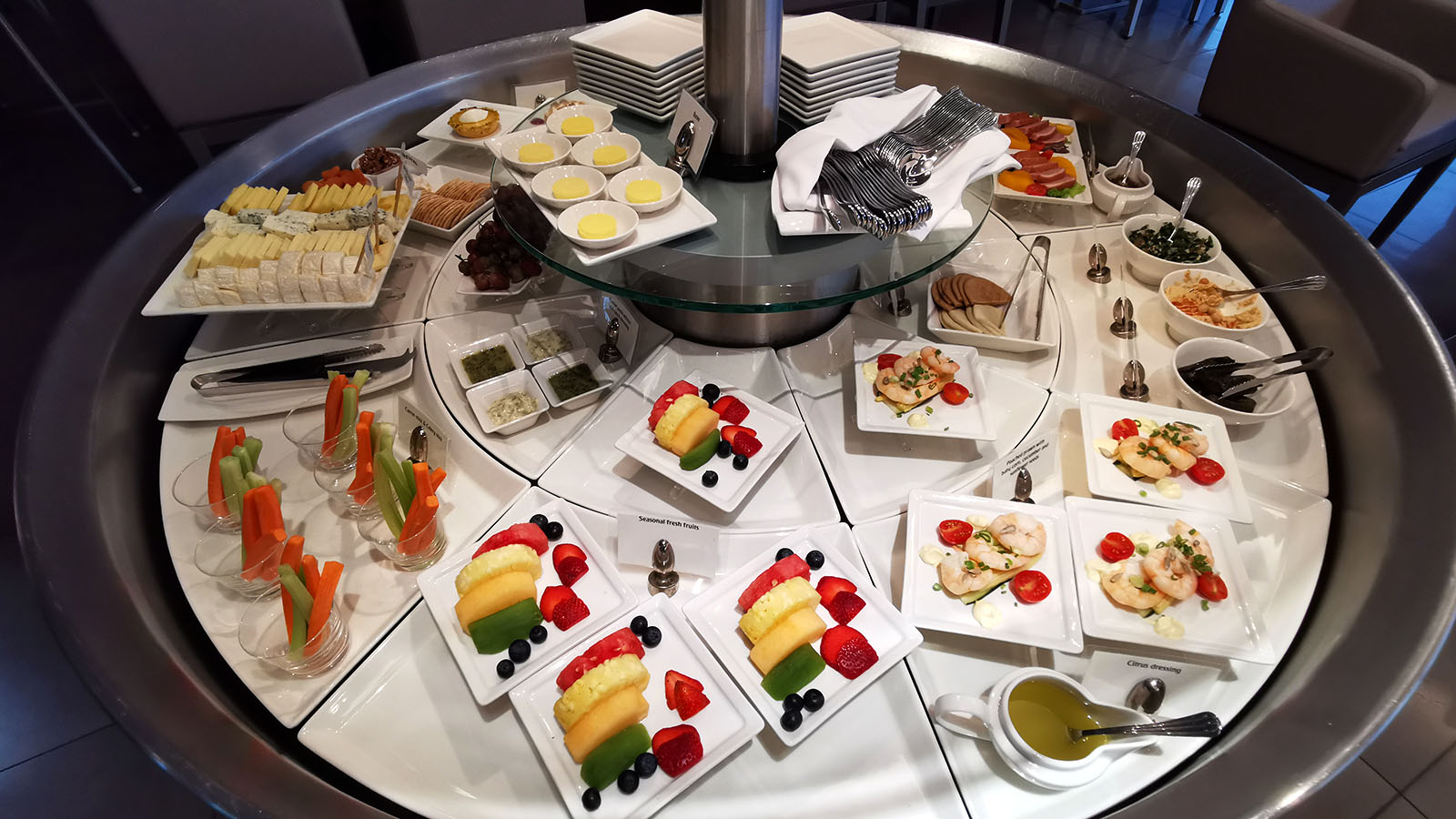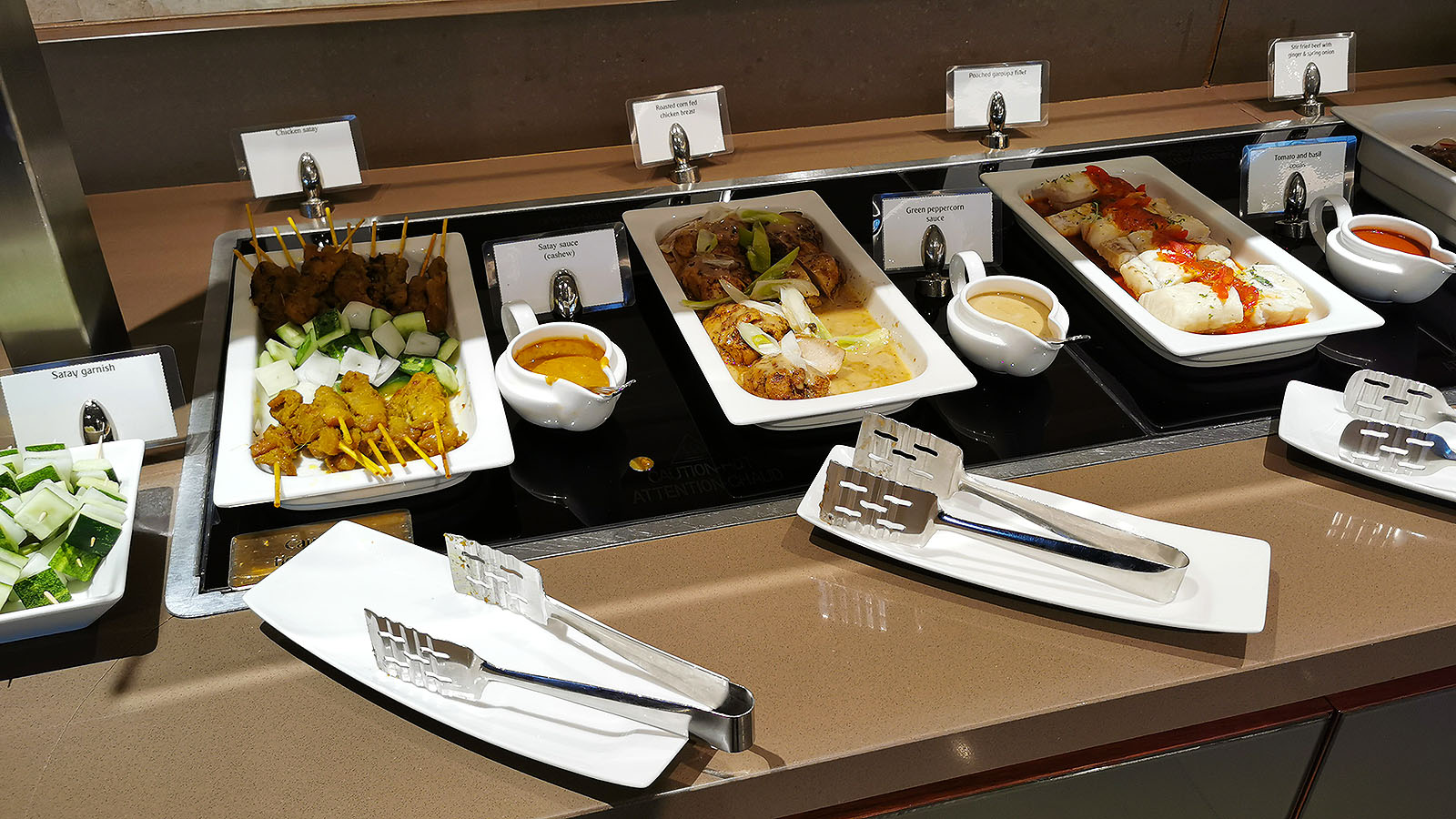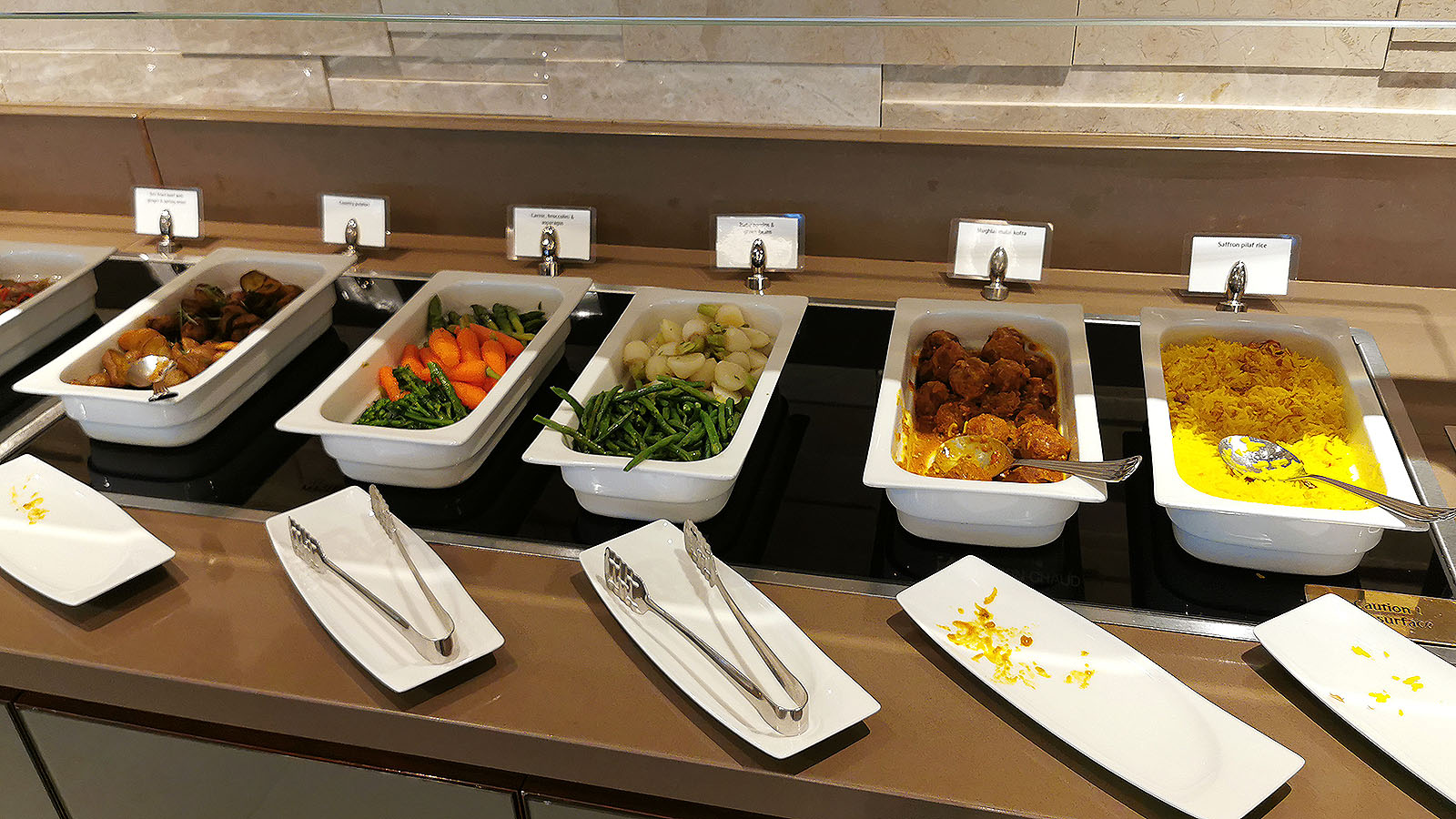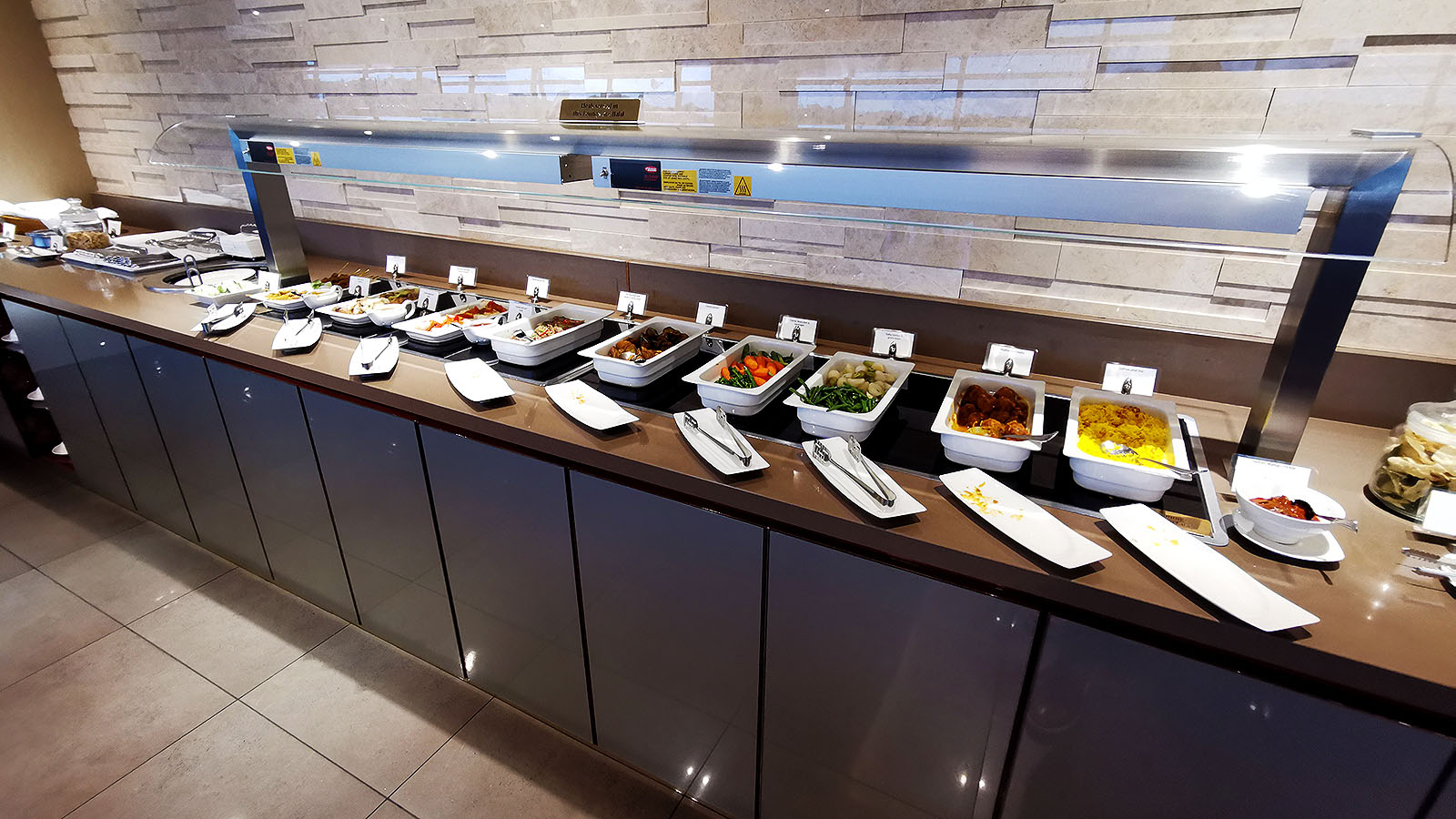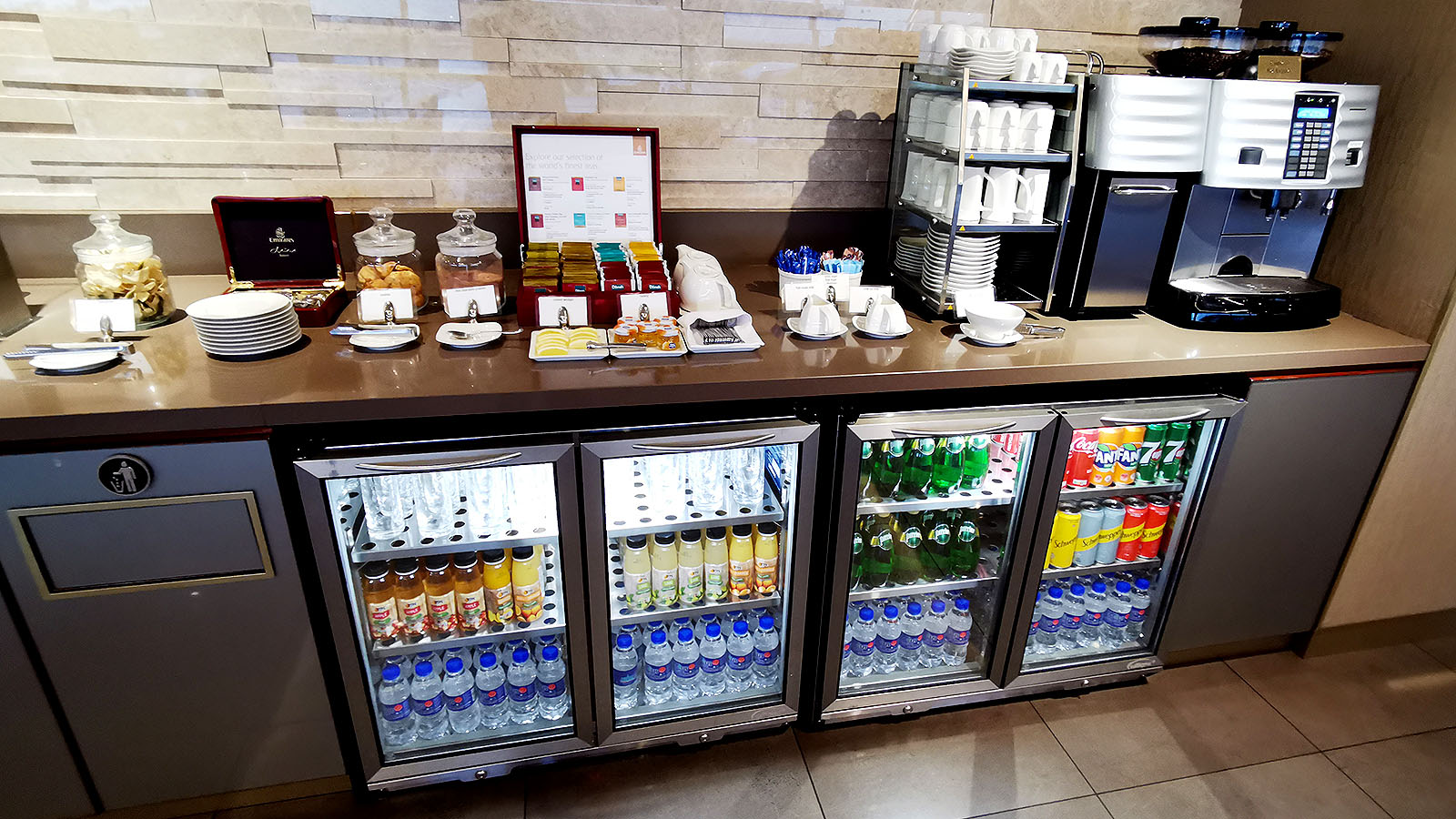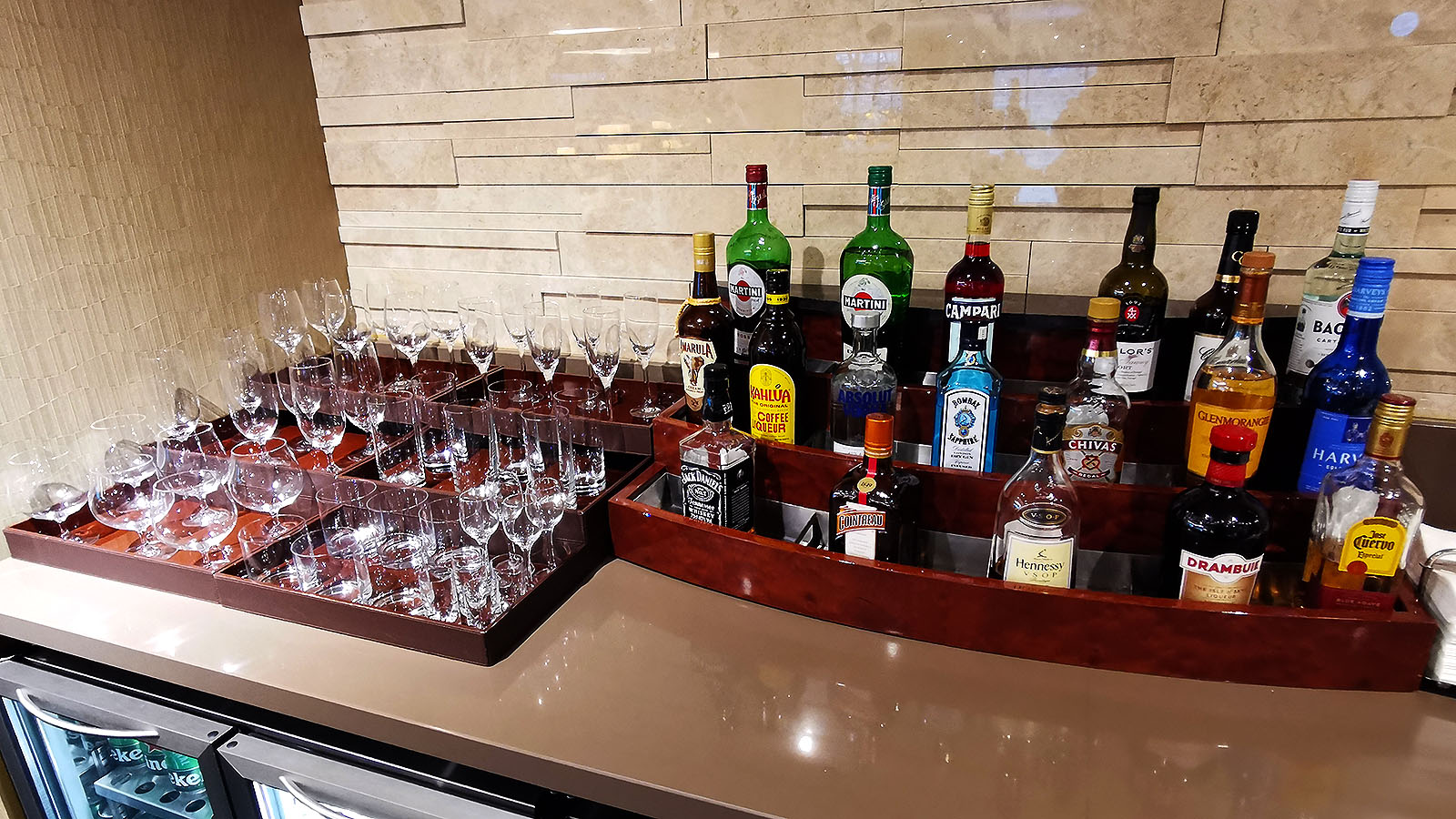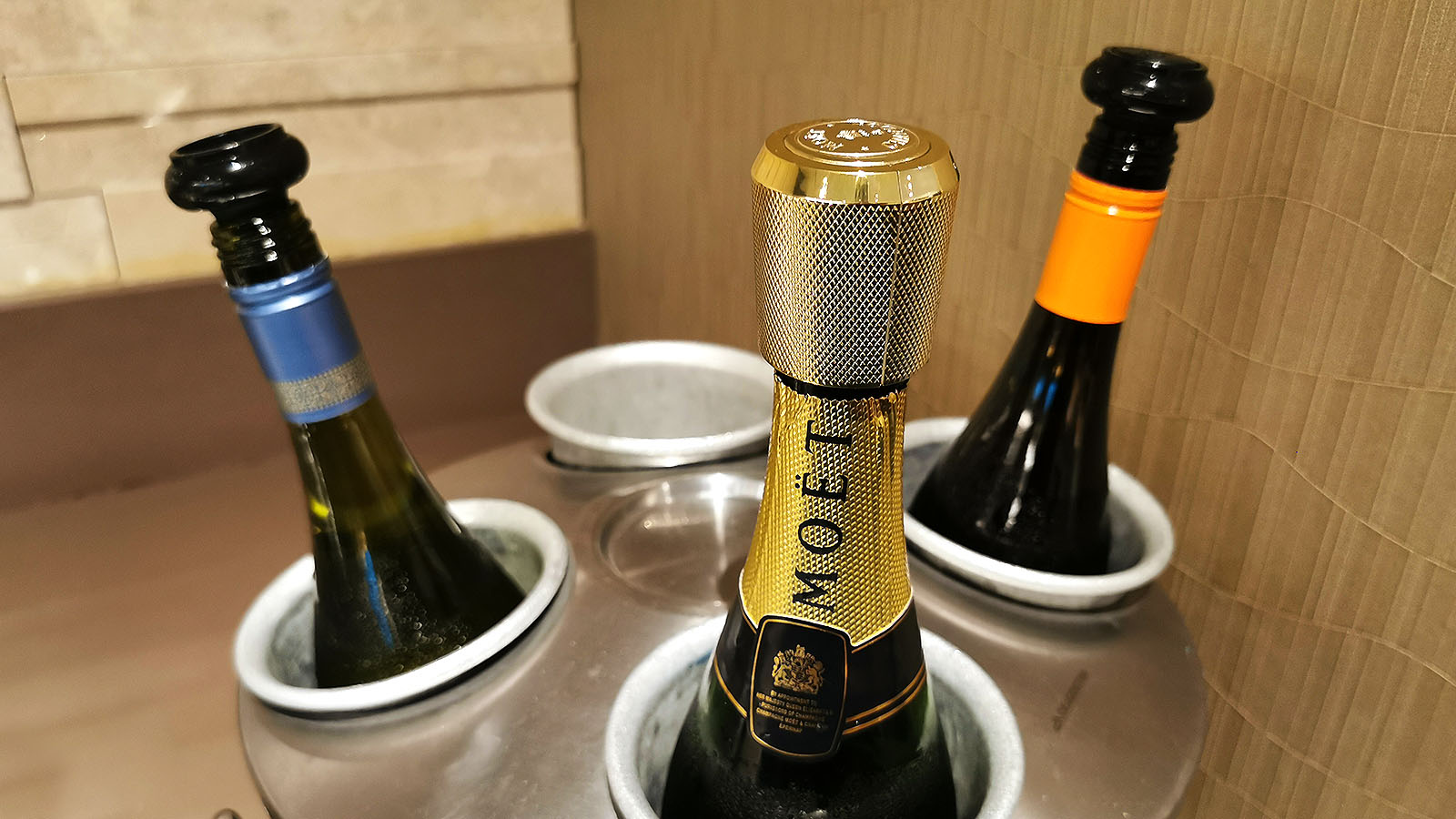 From the selections, the chilled prawns are fresh and tasty – and this wouldn't be Singapore without some great satay. But my itinerary also provides me with access to Singapore's Qantas International First Lounge, so I save some space for the great restaurant dishes there.
The Emirates Lounge bar provides a reasonable selection of spirits, including Bombay Sapphire for me as a gin drinker. My eyes also cast across to the bottle of Moët & Chandon Brut NV in the chiller, although I usually prefer the Veuve Clicquot NV here, which happened to be out of stock this time.
As I depart the lounge, I spot a very large delivery of Veuve coming through the front door: easily a couple of hundred bottles. Hopefully, one will be chilled and ready to enjoy when I next stop by.
Lounge amenities
Travellers rightly expect a lot from Emirates' lounges, but before we get into the other amenities, there's one that stands out from the pack. That's the pleasing water feature, which fittingly comes topped with Singapore orchids. With the nice trickles of water making a calming change to the typical airport vibe, it's relaxing to sit nearby and settle in.
Most of the seats here have USB-A and AC power points nearby, as do many others throughout the lounge. Thoughtfully, the AC outlets are international style. These are capable of accepting the squared, 'type G' plugs common of Singapore, the UAE and elsewhere like the UK. But they also make it easy for Aussies, as our 'type I' plugs from Down Under don't need an adaptor.
For more serious work, venture to the business corner. Desktop computers stand ready if you need them, but there's also space to plug in and work on your own device.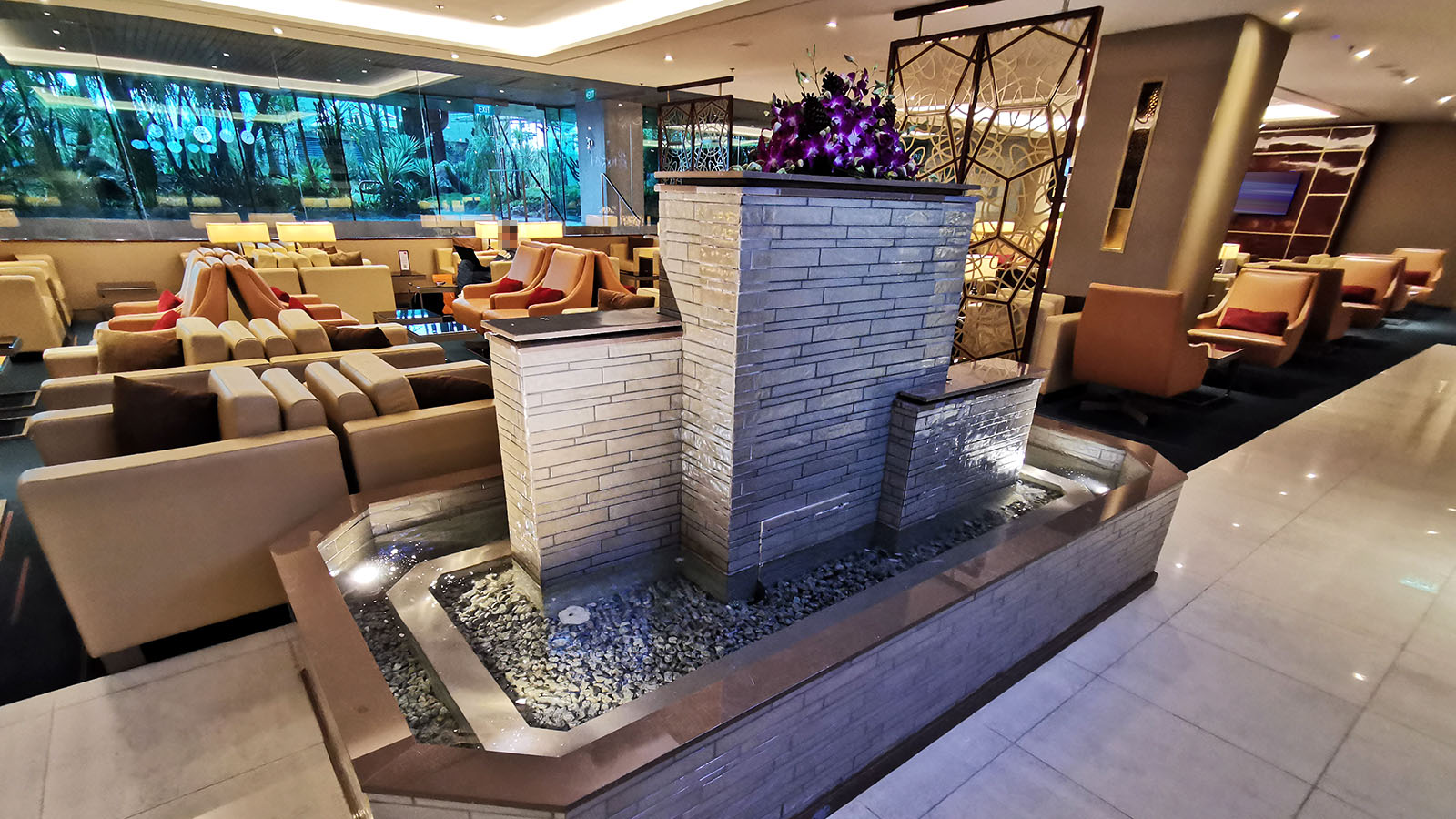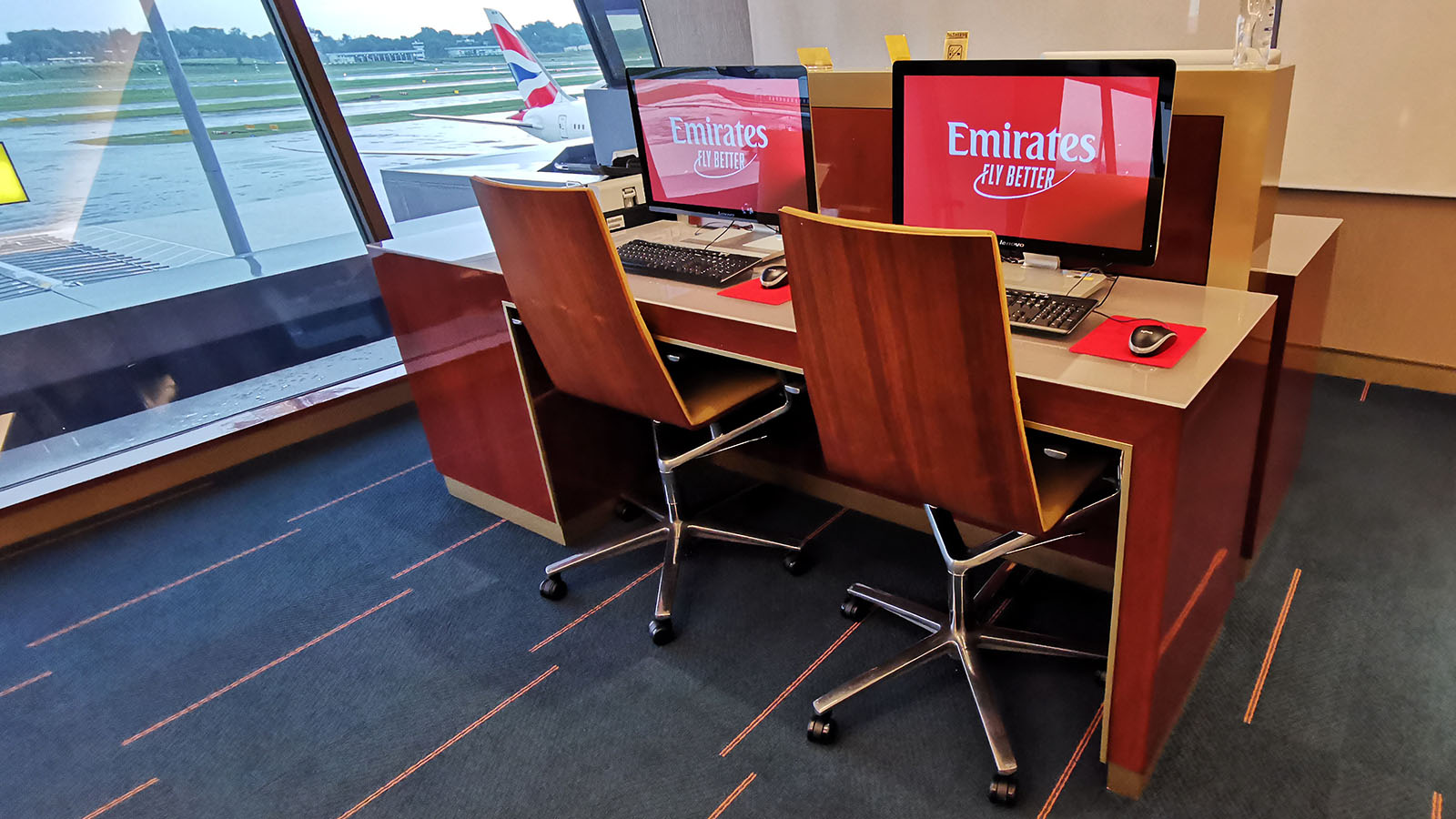 Shower facilities are available, yet relatively limited. But don't forget – if you can access Emirates' Singapore Lounge, you can also visit the nearby Qantas International Business Lounge. It features a long line-up of shower suites, so you shouldn't be kept waiting long.
Unfortunately though, the Emirates Lounge Wi-Fi will indeed keep you waiting.
On this visit in December 2022, speeds averaged just 9.63Mbps down and 7.58Mbps up – and that's when the lounge was close to empty. It's fast enough for basic video calls and video streaming, but uploading images or backups to cloud drives will be slow.
The Qantas International Business Lounge again has Emirates beat in this respect. On the same afternoon, I measured Wi-Fi speeds there of 242Mbps down and 173Mbps up. Similar speeds were also later observed in the Qantas International First Lounge, even during its busiest hours.
Access the Emirates Lounge, Singapore
Even though this is an Emirates Lounge, you don't need to be flying Emirates from Singapore to get inside. In fact, you may even have access when travelling with Qantas to Australia or the UK, as below.
By class of travel:

Emirates First Class (+1 guest).
Emirates Business Class, excluding passengers booked on Business Class Special fares.
Qantas First Class (+1 guest).
Qantas Business Class.

Courtesy of elite status:

Invitation-only Emirates iO members (+ guests), regardless of airline or flight number.
Emirates Skywards Platinum (+1 adult guest and +2 children), departing on Emirates or Qantas.
Emirates Skywards Gold (+1 adult or child guest), departing on Emirates or Qantas.
Qantas Gold, Platinum, Platinum One and Chairman's Lounge (+1 guest), with an onward flight operated by Qantas or Emirates and booked on a QF or EK flight number. By nature, this excludes QF codeshares operated by other airlines, such as Air France, KLM and Jetstar Asia.
On this trip, my access came via Qantas status when travelling on a Qantas flight. I simply presented my Qantas boarding pass for QF2, bound for Sydney. Even though my status correctly appeared on the document, I also needed to flash my Qantas Frequent Flyer card to confirm my membership number.
That's because Qantas no longer prints that detail on the boarding pass itself. I had no issues showing my digital Qantas membership card via the 'dancing kangaroo' screen of the Qantas app, and was promptly welcomed inside.
Do note, Qantas Club members have no access here, unless eligible for entry by cabin class. A Qantas Club card can instead grant access to Singapore's Qantas International Business Lounge when departing on an eligible flight. This includes flights operated by Emirates when booked on the QF codeshare.
Summing up
The Emirates Lounge in Singapore is one of the airline's nicer outstation lounges. Combining a renovated space with airfield and runway views, it's a comfortable and relaxing place to await your flight.
But Changi Airport is home to many great lounges. And as highlighted above, travellers may qualify for entry into more than one. There's always the option to go exploring, although that assumes an arrival with much time to spare.
When having to choose just one lounge, I'd suggest Emirates as the best all-rounder for those flying Emirates Business Class. It'd also be a respectable lounge of choice for Qantas Gold and Skywards Gold members – although the Qantas International Business Lounge certainly has its merits too.
However, passengers flying Qantas Business may instead prefer the à la carte dining of the nearby Qatar Airways Premium Lounge, accessible under oneworld Alliance rules. Those flying First Class with Qantas or Emirates, or with Qantas or Skywards Platinum card (or above) may be drawn to the Qantas International First Lounge instead.
There's no 'wrong' choice, of course. Why not use Changi Airport's early check-in facility when you next fly from the Lion City to find your own favourite?
Also reviewed: British Airways Lounge, Singapore
All photography by Chris Chamberlin, who accessed the lounge courtesy of frequent flyer status when travelling on a paid ticket.
---
Stay up to date with the latest news, reviews and guides by subscribing to Point Hacks' email newsletter.
Emirates Lounge, Singapore
was last modified:
January 24th, 2023
by