Anyone looking to jet around Europe from London will probably be considering British Airways – until they lay eyes on the price tag and baulk. Much like Qantas in Australia, British Airways is a legacy carrier in the UK, and the fares reflect that.
But most savvy Point Hacks readers will know that Avios – the points 'currency' of British Airways Executive Club, Iberia Plus, Qatar Airways Privilege Club and soon, Finnair Plus – offers excellent value on short-haul flights, particularly for jaunts around Europe.
While planning my second trip to Europe with my fiancée, I use up some spare Avios to book a flight from London to Amsterdam. It only costs 3,700 Avios + £32.5 per person for a fare that later peaks at £286 per person! (No joke – it was during the period of school holiday strikes at the airport.) Here's what to expect in British Airways' Euro Traveller Economy, especially for those with oneworld Emerald status.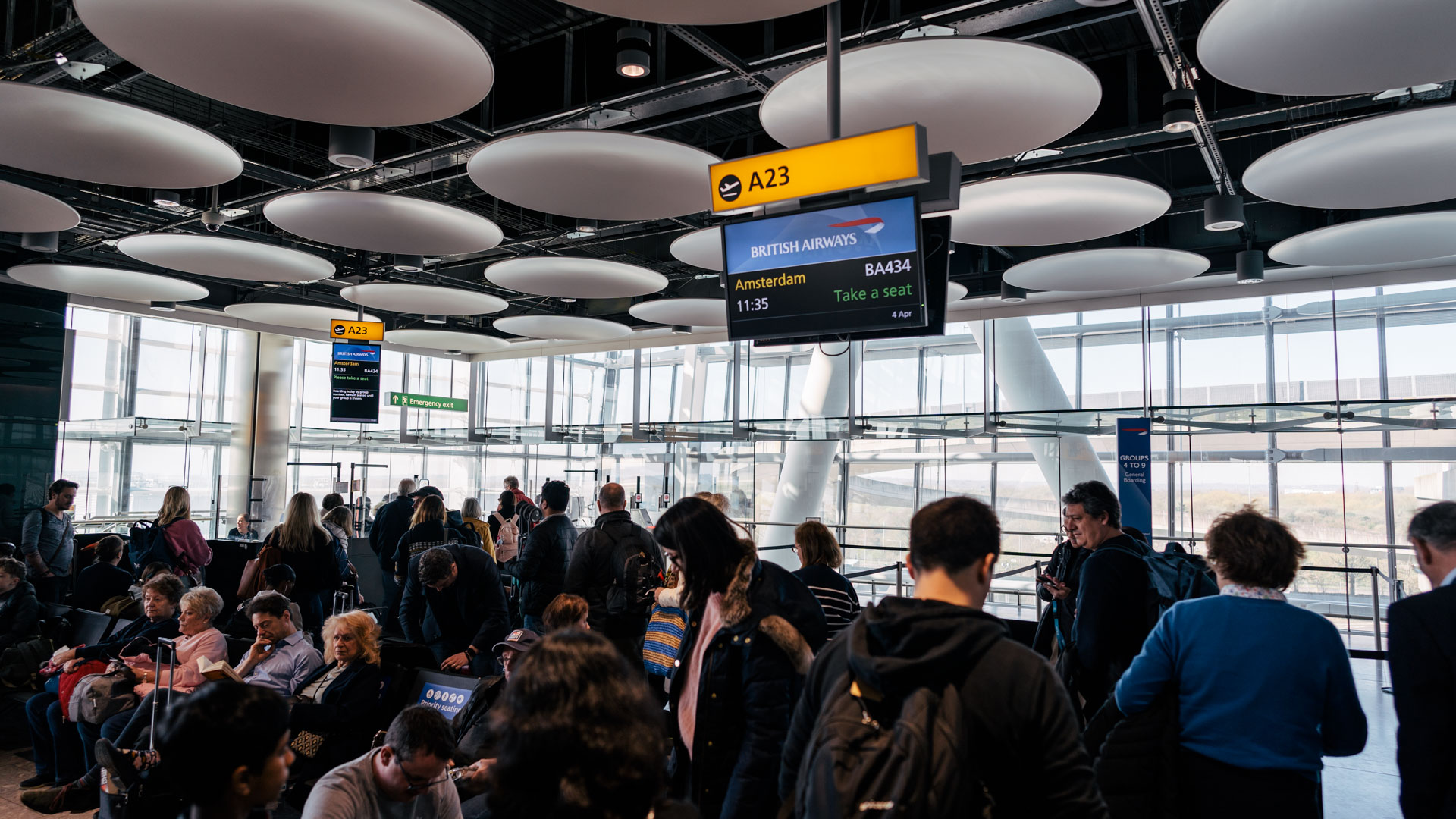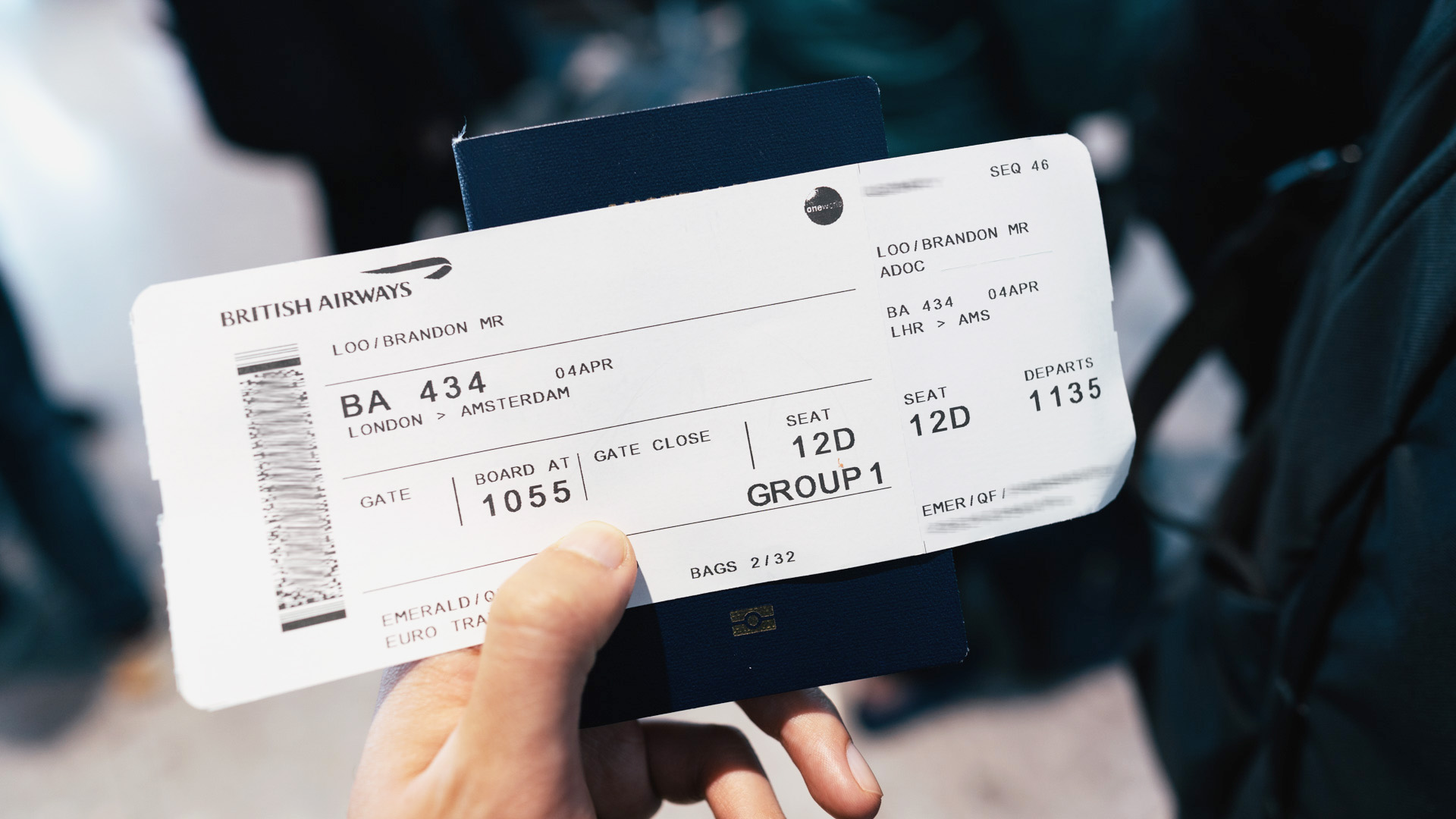 Check-in, lounge and boarding
With the 2023 Easter strikes in full swing, we venture out to Heathrow Terminal 5 a bit earlier than usual. Qantas Platinum status lets us whizz past the growing queues and check-in at the dedicated First Wing.
Avios redemption fares include 1x 23kg checked bag in Economy – another win for using points as the cheapest cash fare, given Economy Basic is hand-carry only. Oneworld Emerald status entitles me to an additional checked bag, though I don't need the allowance this time round. We'll shop harder next time.
From the First Wing, there's usually a dedicated security passage straight to the lounges. How cool is that! Unfortunately, it's closed due to the security staff strikes. Instead, we patiently go through the 'Fast Track' security line in the main terminal. It takes a bit longer than usual, but we're still through ahead of the general queue.
To be clear, British Airways Economy tickets don't include lounge access by default. But many passengers will have access to a lounge, thanks to status or lounge memberships: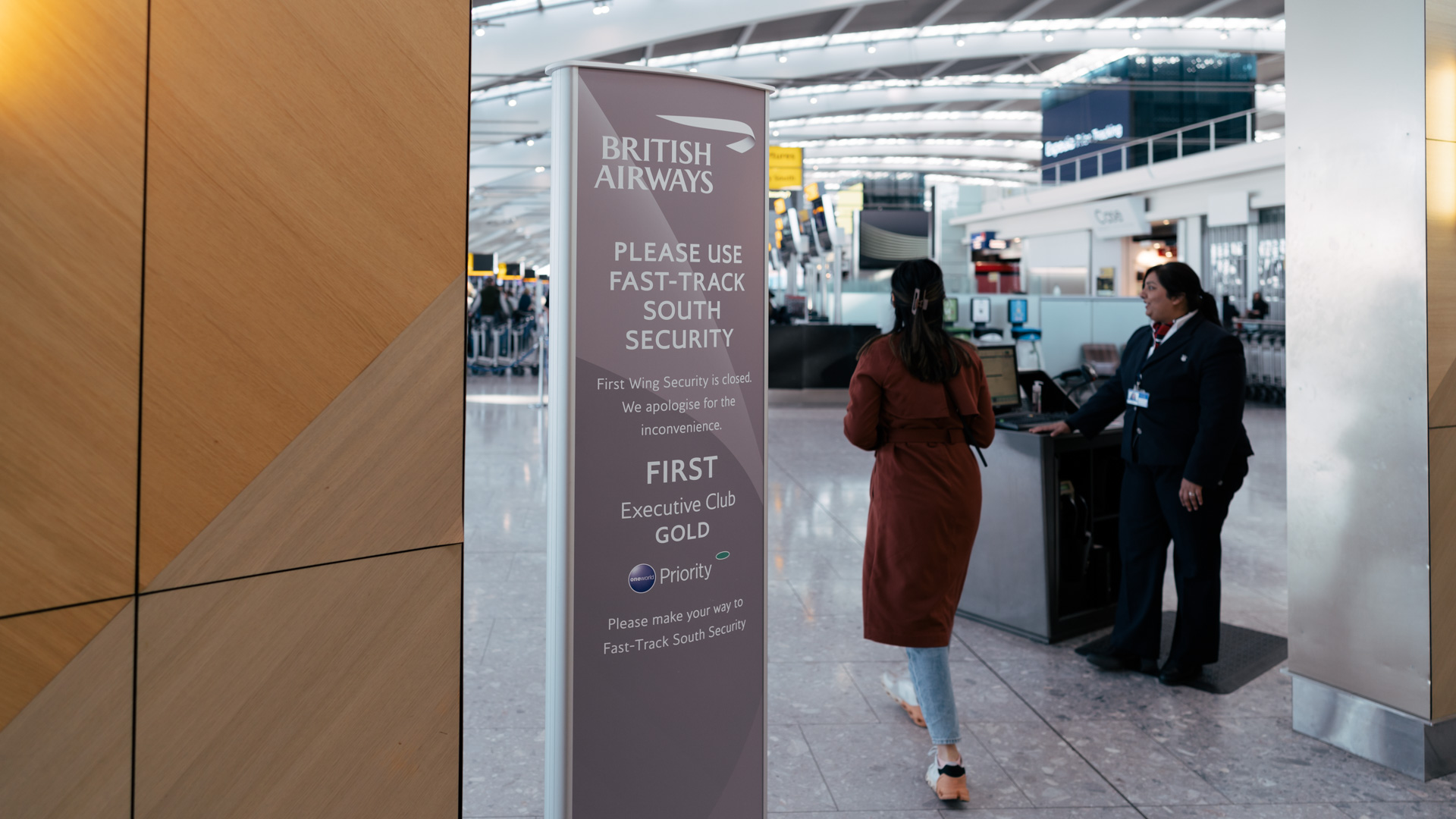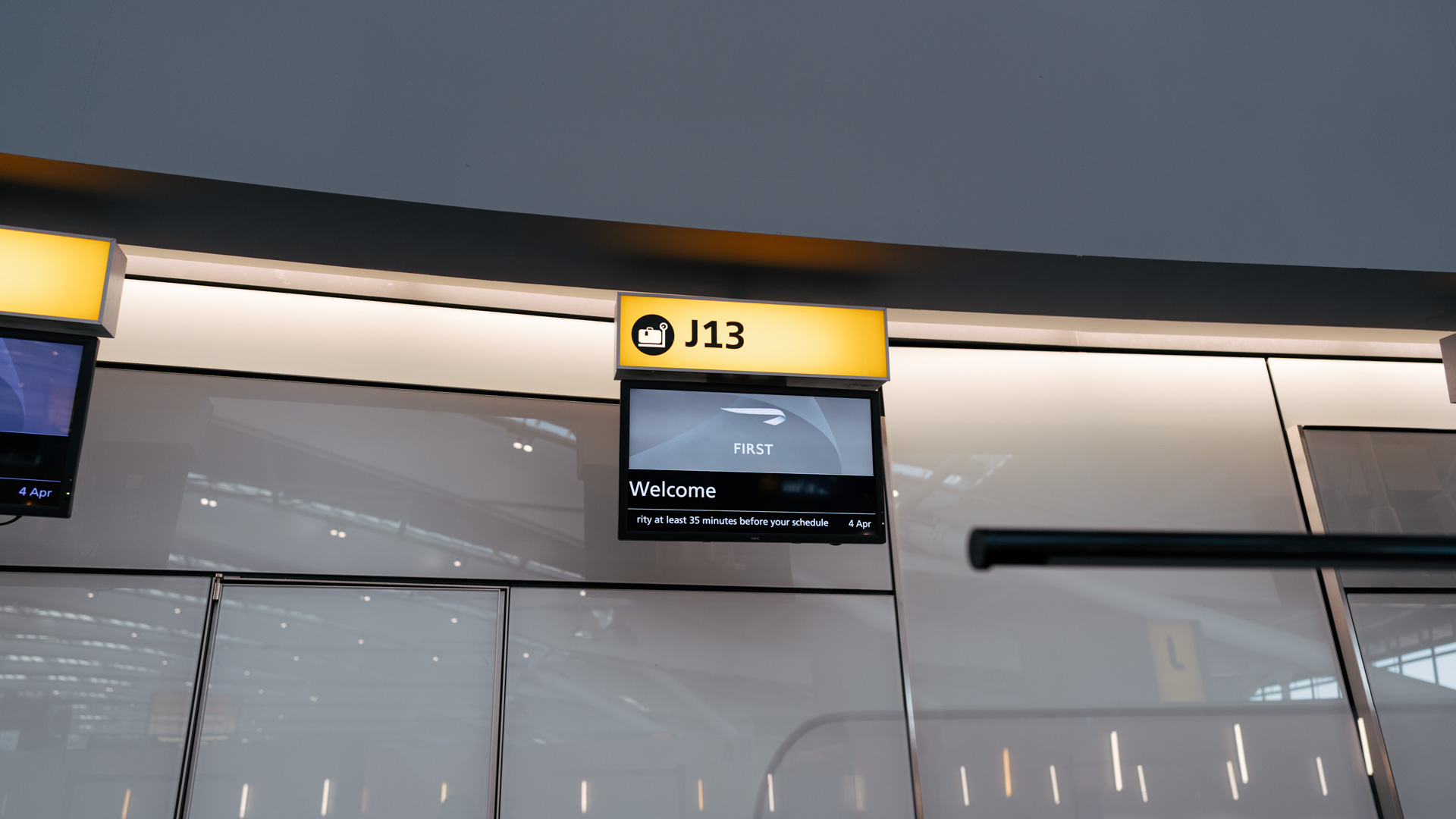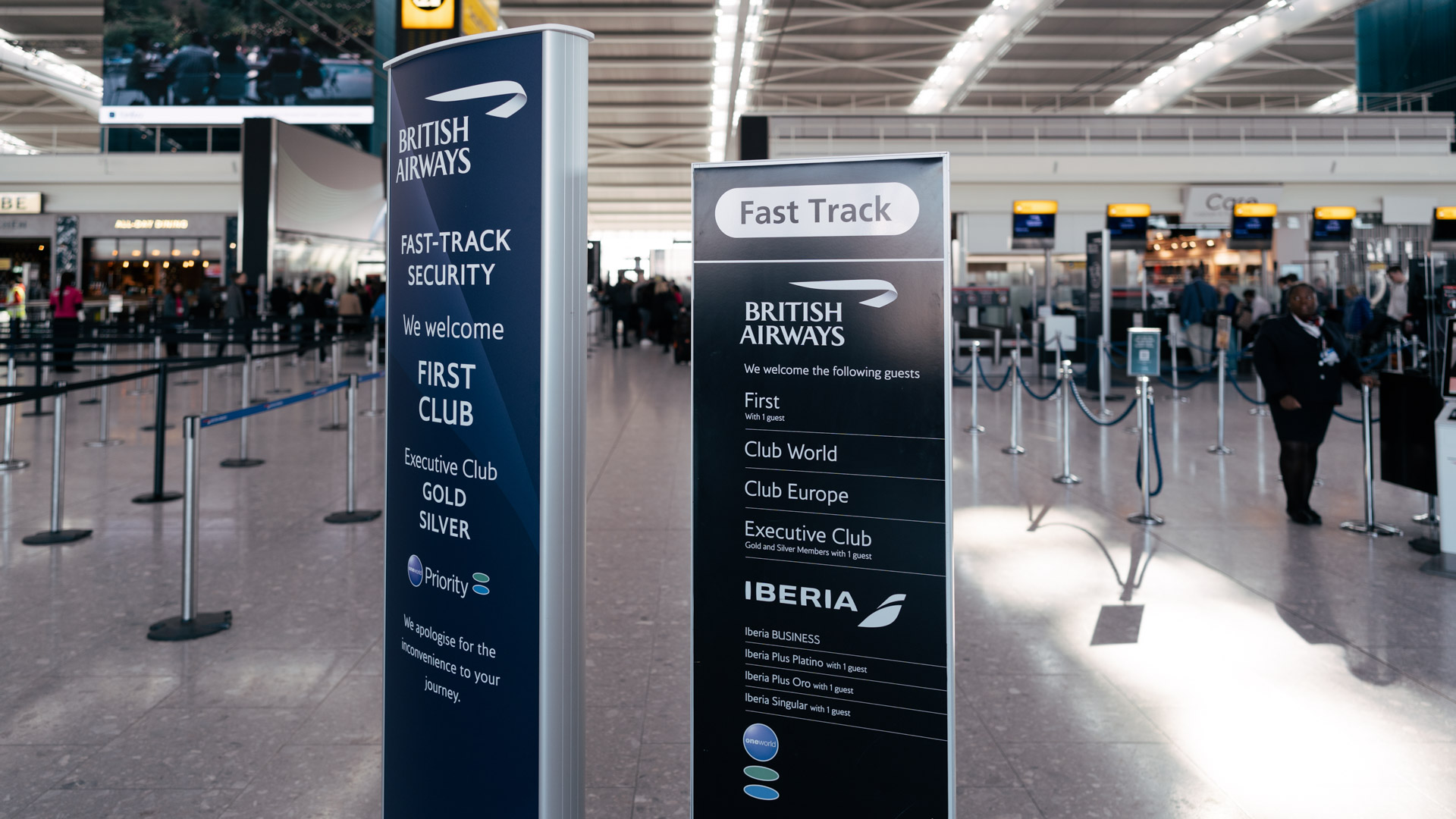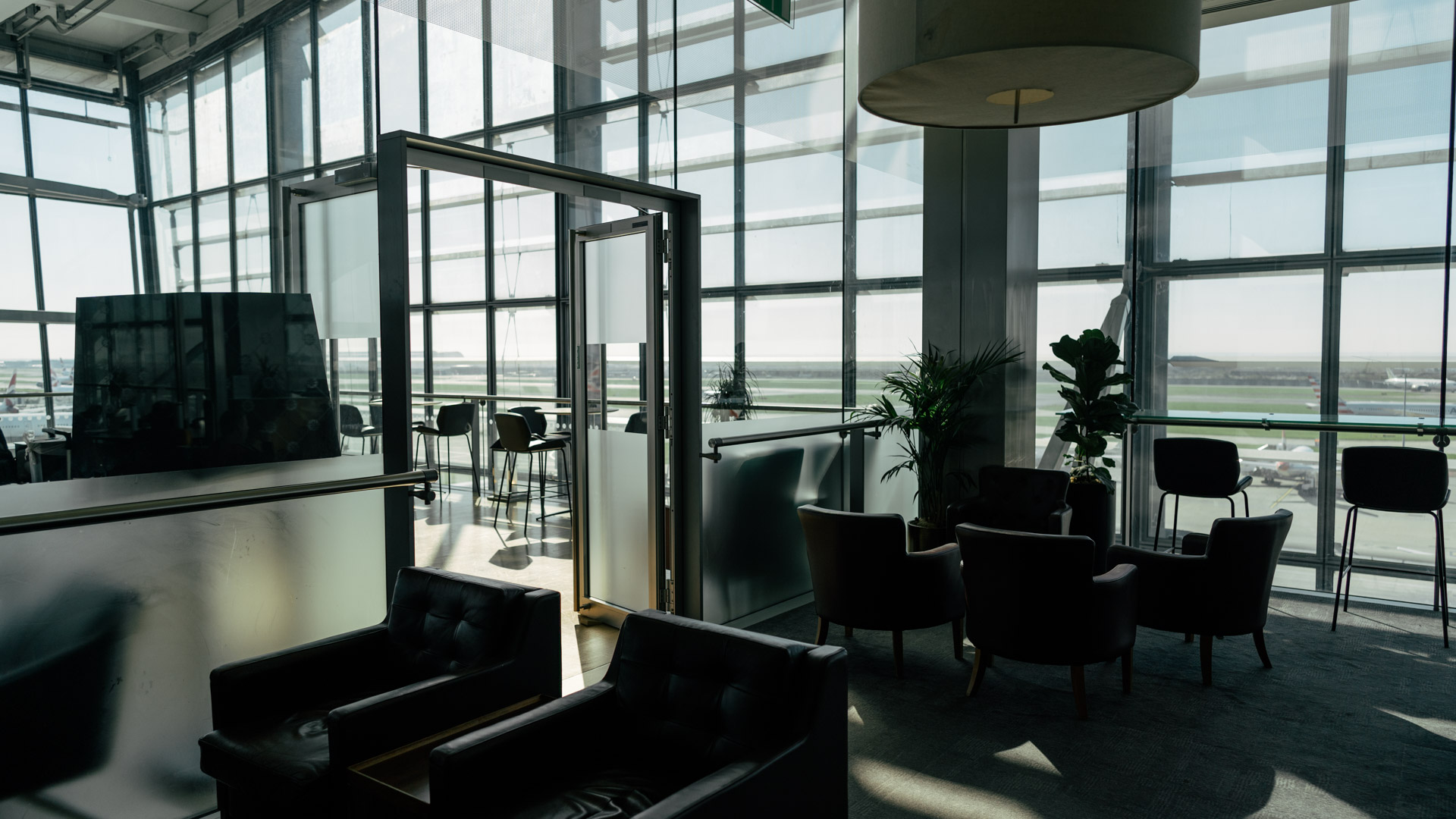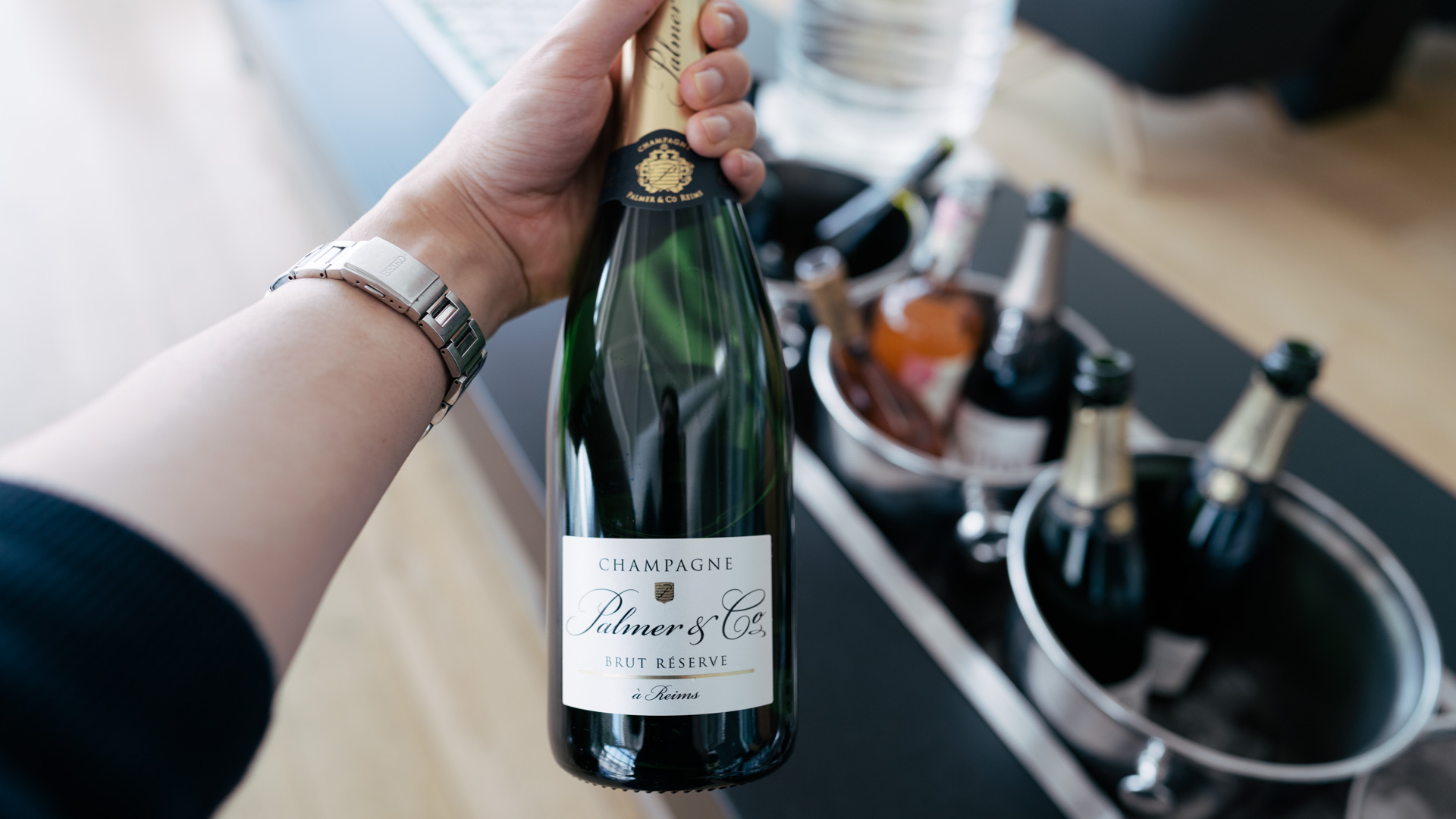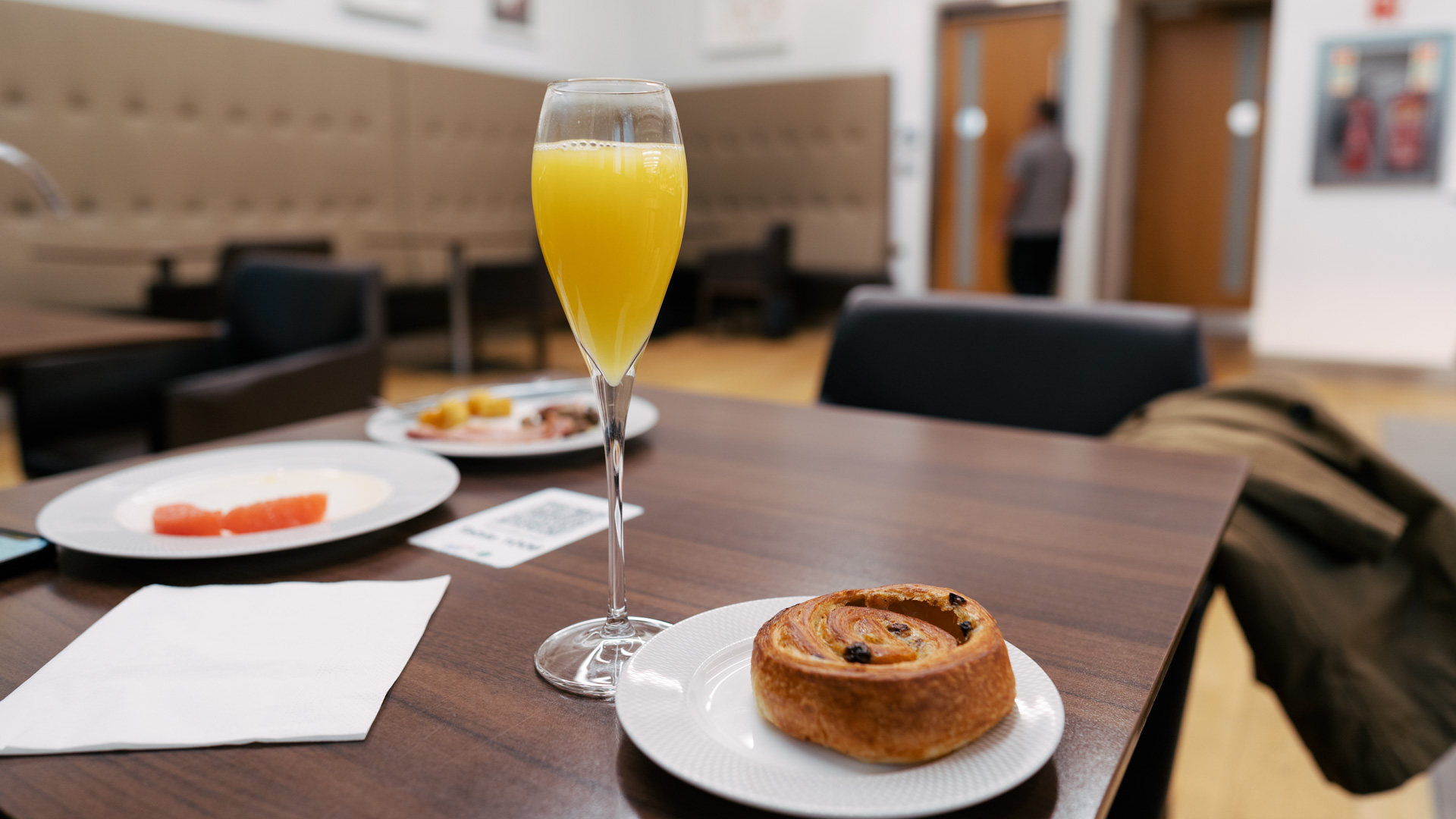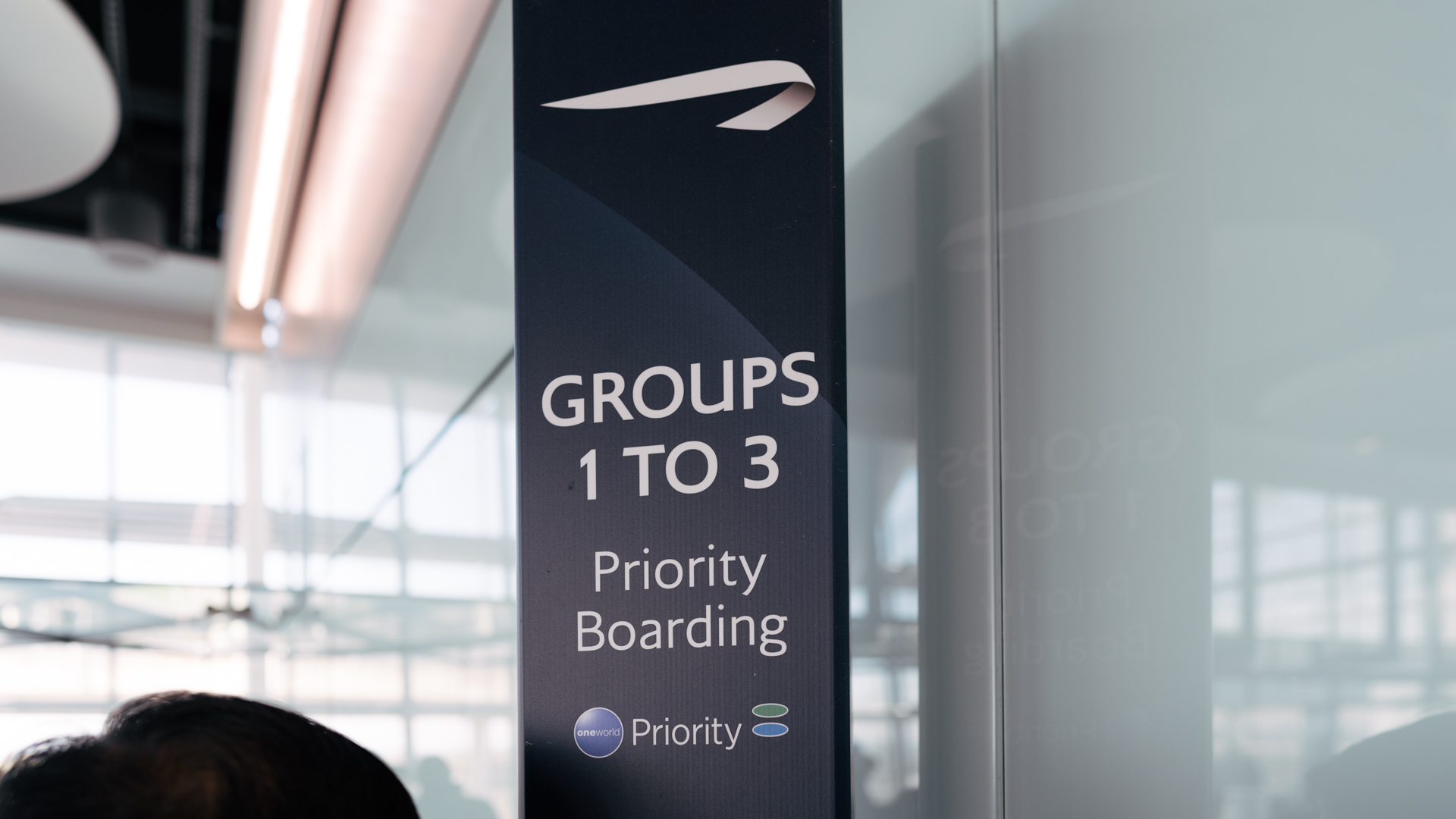 Anyone accessing the First Wing will have access to the Galleries First Lounge, so that's where we park ourselves for the next hour. Glasses of Champagne, mimosas and fresh pastries take the edge off a slightly rushed morning.
Most British Airways European flights depart from the 'A' gates. Our journey to Amsterdam is no exception. Though the flight is briefly delayed, boarding starts soon after the delay announcement (lucky we didn't wander back to the lounge). With Oneworld Emerald status, our boarding passes boldly display 'Group 1' so we enjoy priority boarding and get settled onboard earlier.
British Airways Airbus A320neo Economy seating
The Airbus A320neo is a modern evolution of the classic Airbus A320 family. Most will agree that the refreshed cabin interior enhances the passenger experience. Overhead lockers are bigger, so suitcases can slide in wheels-first and on their side. Wi-Fi and USB power at every seat is handy as well.
Advance seat selection comes at a cost in Economy, though Economy Plus and redemption tickets can choose seats for free when online check-in opens. But if you do have Oneworld status, then seat selection becomes free at any time. With my Qantas membership number attached to the booking, I'm able to select any seat, including the emergency exit rows. Row 12 is an easy pick – and a good one too, as I later find out.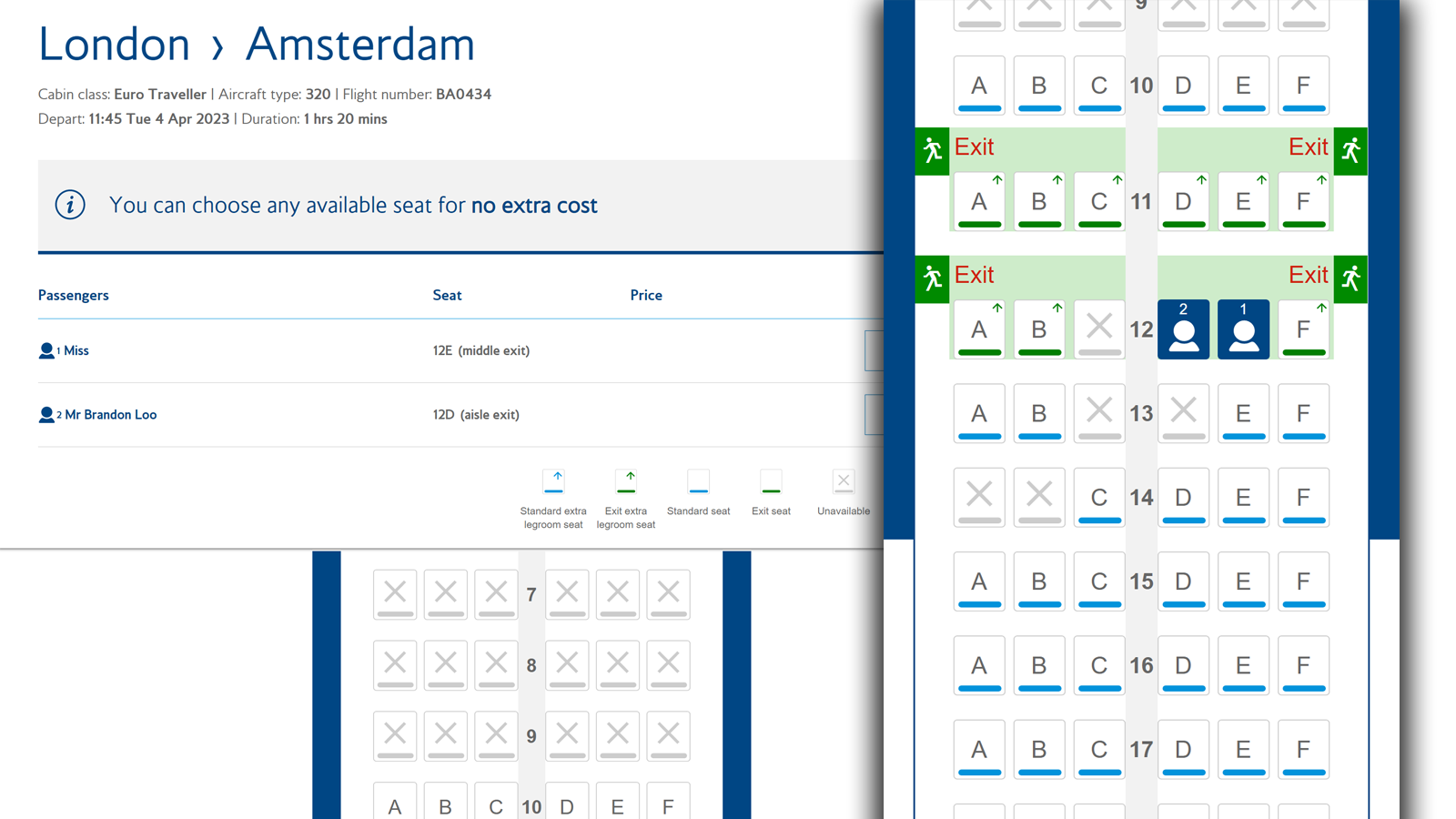 You see, on these new Airbus A320neos, British Airways actually uses two different types of seats. Rows 1-12 are outfitted with the Collins Aerospace Pinnacle seats with more padding, 3″ of recline, AC power, an additional literature pocket and a four-way adjustable headrest. Seats have an average pitch of 30″ (76.2 cm). Sounds okay, right?
But if you venture to Row 13 and beyond, you'll find considerably slimmer Recaro SL3510 seats with 28-29″ (71-73.6 cm) pitch, no recline, no AC power and no headrest (see an image on FlyerTalk here). In the words of Mufasa, 'You must never go there, Simba'.
That's easier said than done, though. Rows 1-12 are generally reserved for Club Europe/Business Class. It's only in cases such as my flight, where Business Class isn't as full, where you might get an opportunity to reserve an Economy seat in those prized rows. On a longer flight, I'd consider paying for seat selection in this section.
Back onboard, where I'm blissfully unaware of this class divide within Economy, Row 12 is fabulous. With 35″ (89 cm) of pitch, I'm pretty much as comfortable as I can be on a short-haul flight.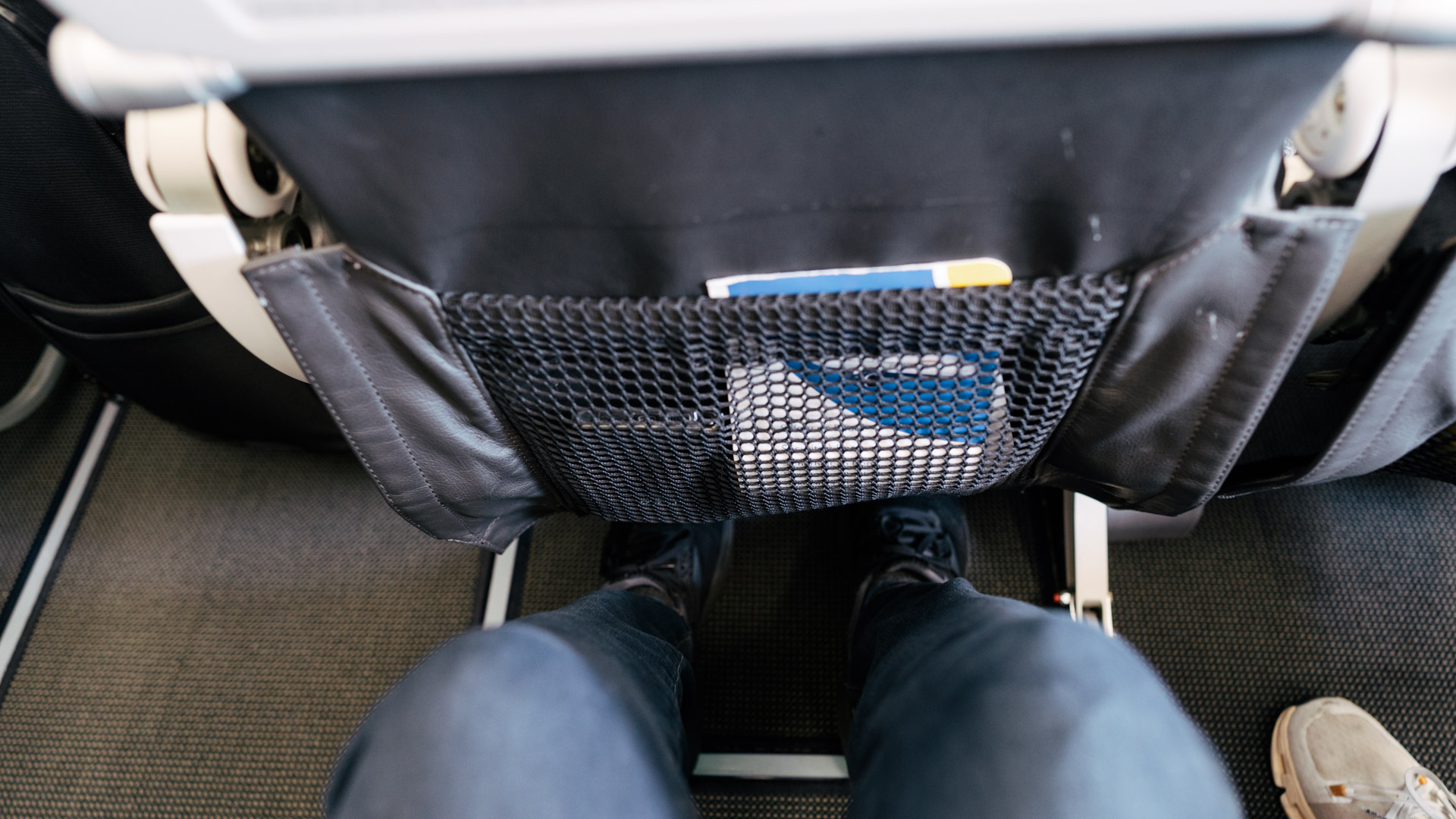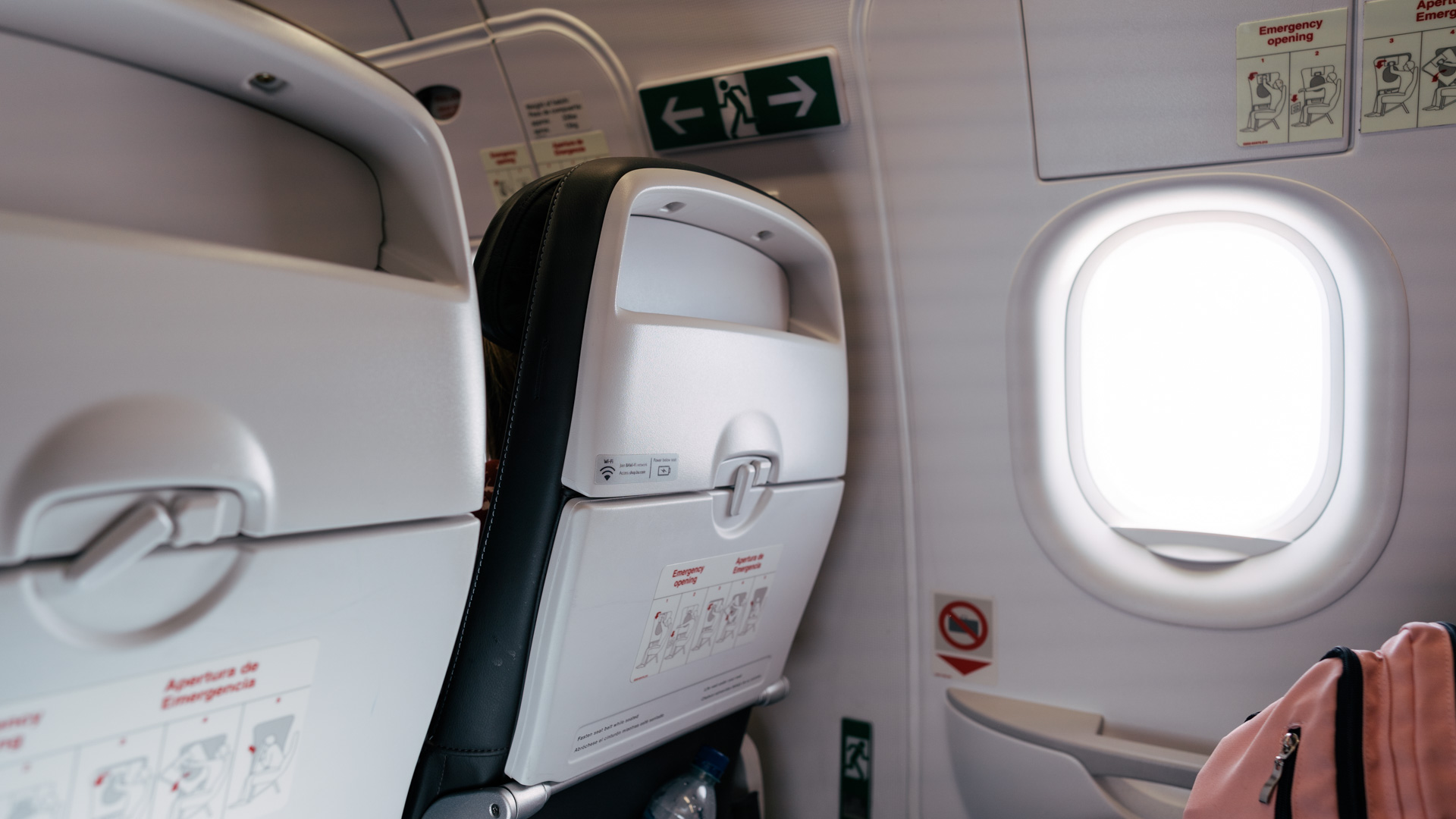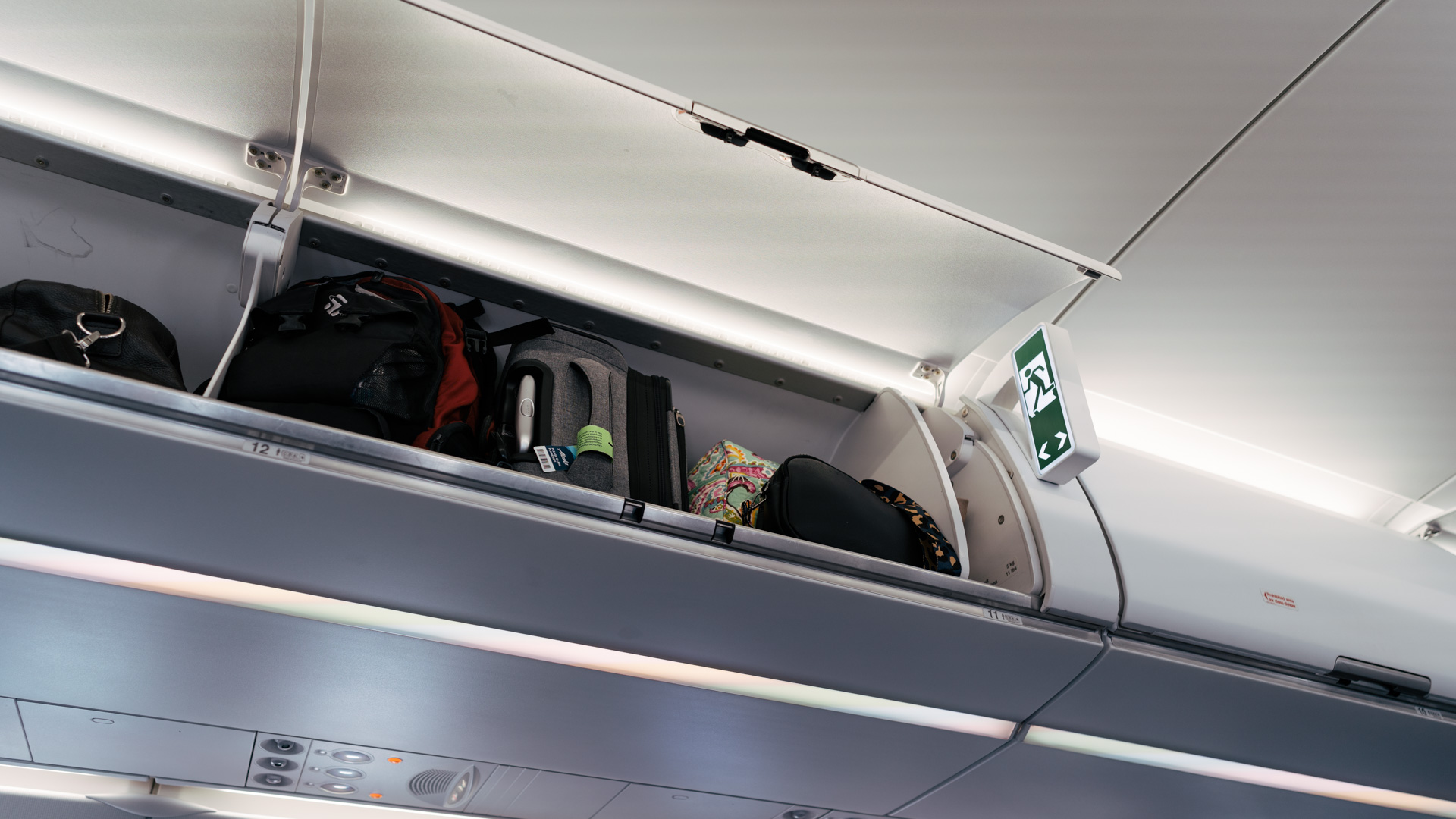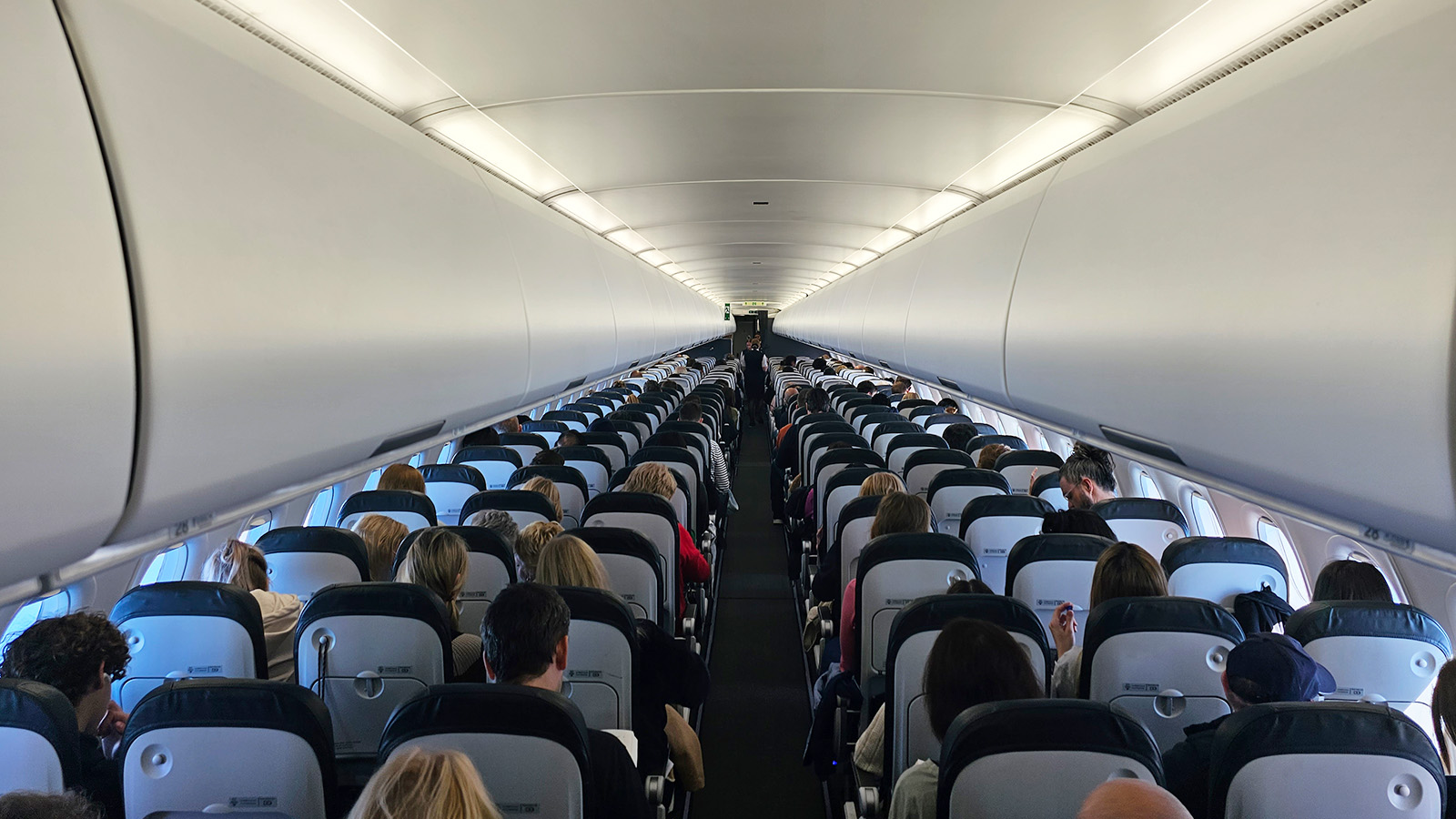 British Airways Airbus A320neo Economy dining
The flight to Amsterdam clocks in at under 90 minutes (sometimes closer to 60 minutes). British Airways serves a light snack and some water in Economy. You can pre-order additional food through the High Life Café, which I think is a great initiative in general. Knowing that I have access to the First Lounge, I wouldn't usually order any more food for onboard.
But in the interest of providing a well-rounded review (I do take my job seriously…), I pre-order a delectable selection of treats to share including a Tom Kerridge ham hock and smoked cheddar sandwich, an afternoon tea box with a scone, jam, cream and fudge bite, along with a bottle of prosecco to wash it all down. All the makings of a perfect, albeit pricey (£15.95 or ~AU$31.5), picnic in the sky with my fiancée.
Alas, after the snack service… nothing. I flag down a cabin crew member and it turns out that due to the strike action, no other food has been loaded and I need to contact the High Life website for a refund. Oh well.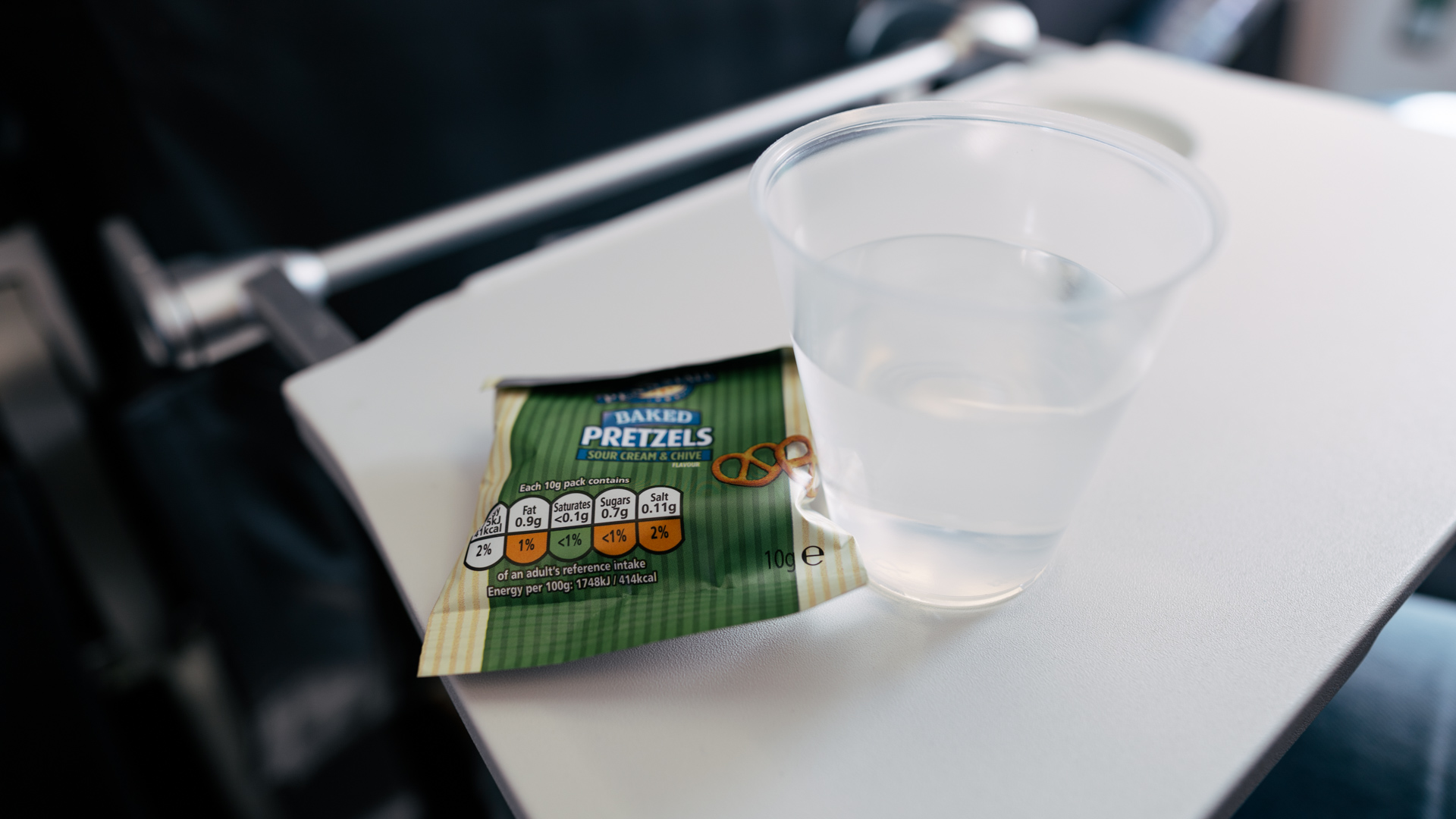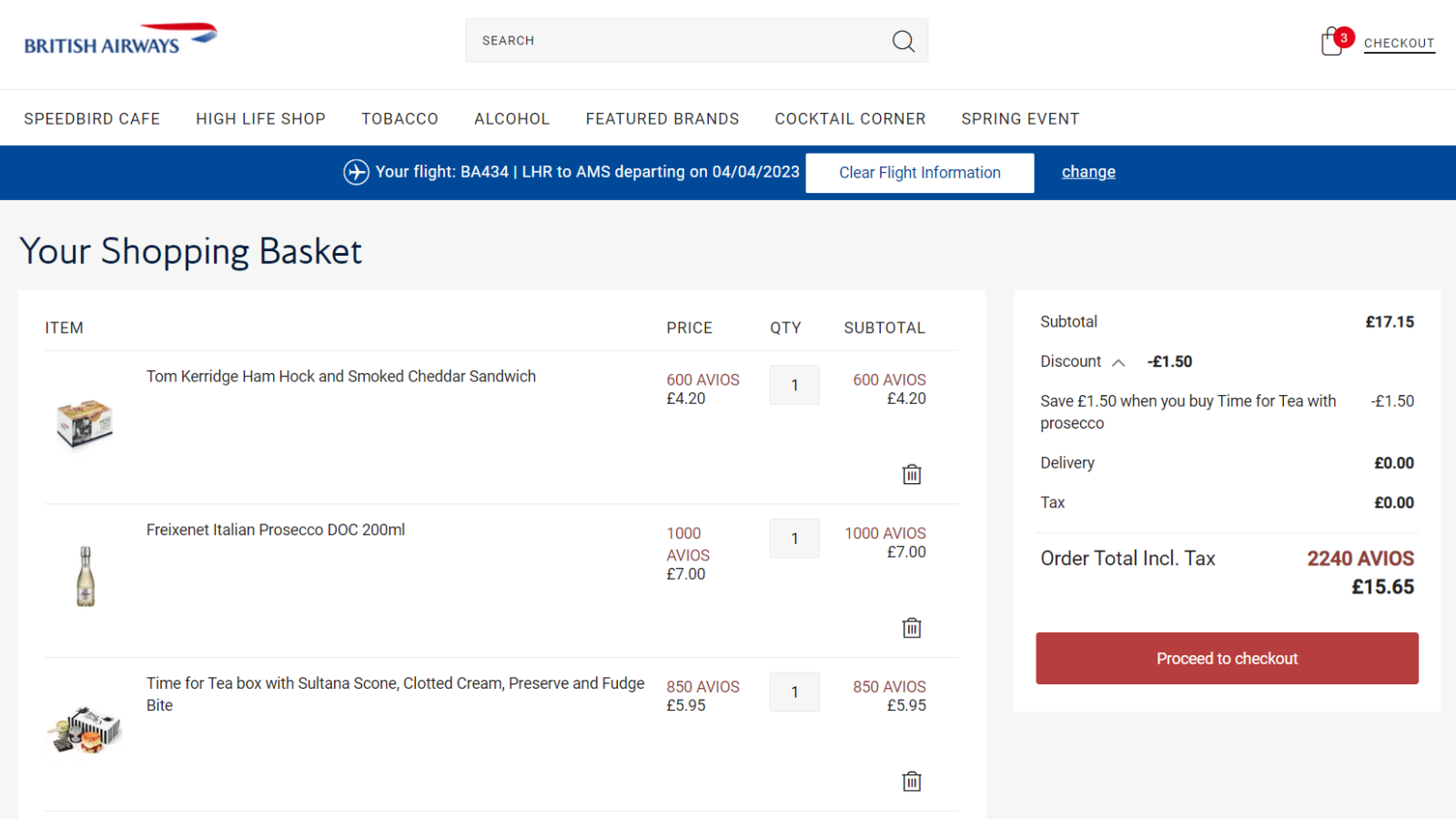 British Airways Airbus A320neo Economy amenities
All of British Airways' Airbus A320neos are outfitted with Immarsat-powered Wi-Fi. I don't test it out on this flight, but prices start from £1.99 (~AU$3.95) for a messaging plan to £4.99 (~AU$9.85) for high-speed access. Every seat has a USB charging outlet, and seats from Rows 1-12 also have an international AC plug. These are located underneath the seat. There are no video screens on the Airbus A320neos.
Economy passengers can use one of two lavatories towards the rear of the aircraft. Both are 'slimline' models with the crew jumpseat integrated outside it. It's very narrow – you better do some stretches in the aisle first!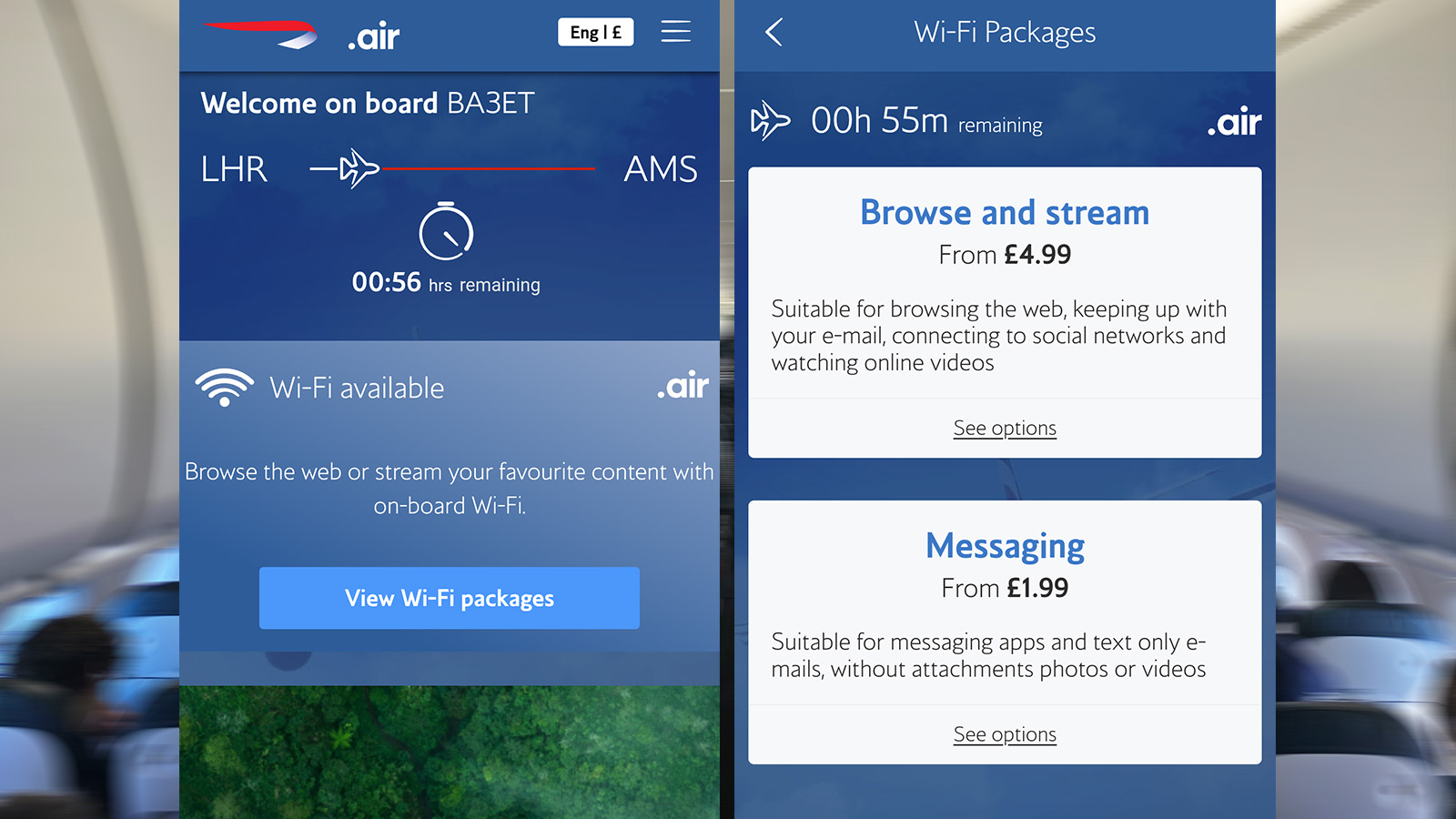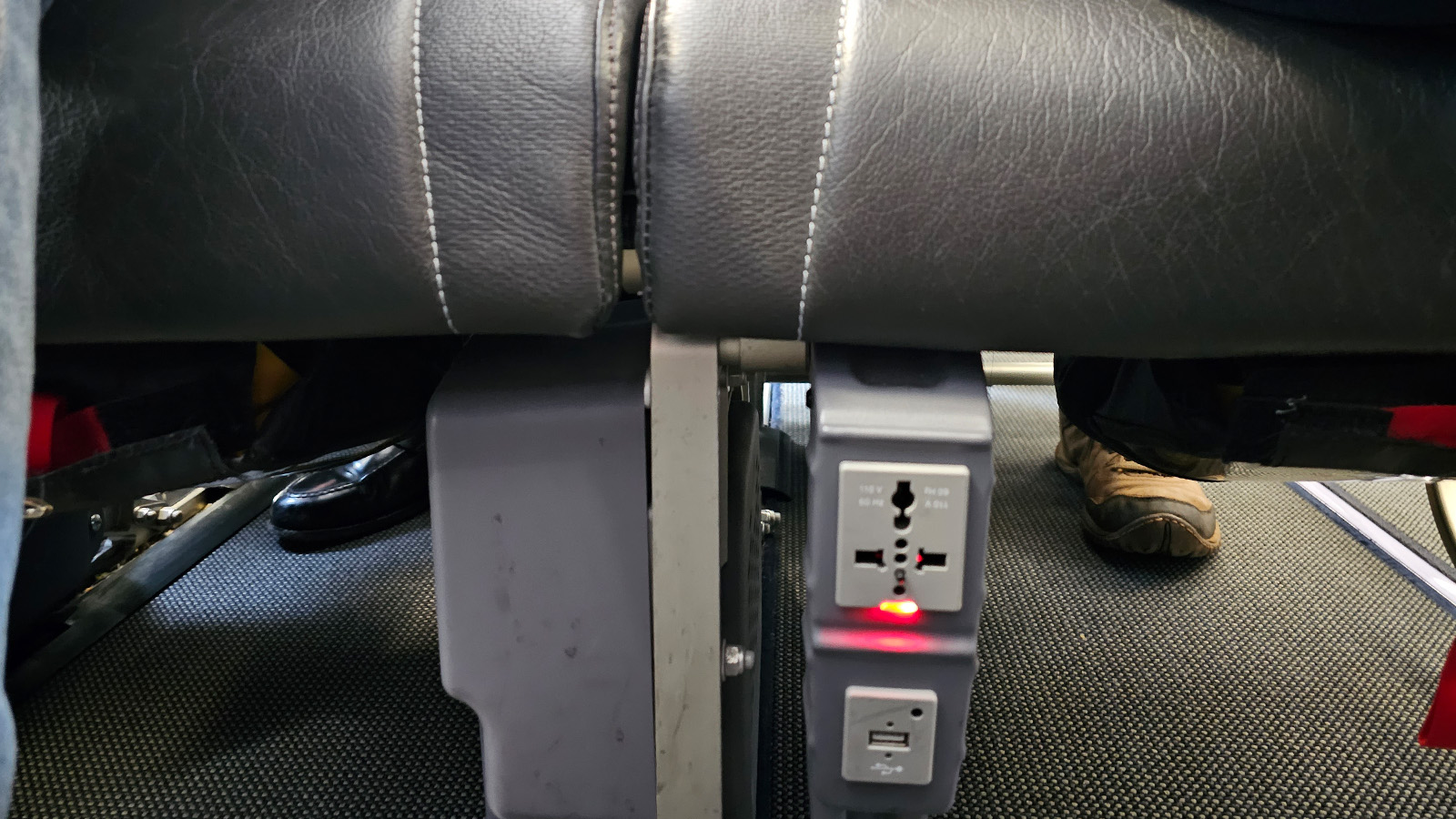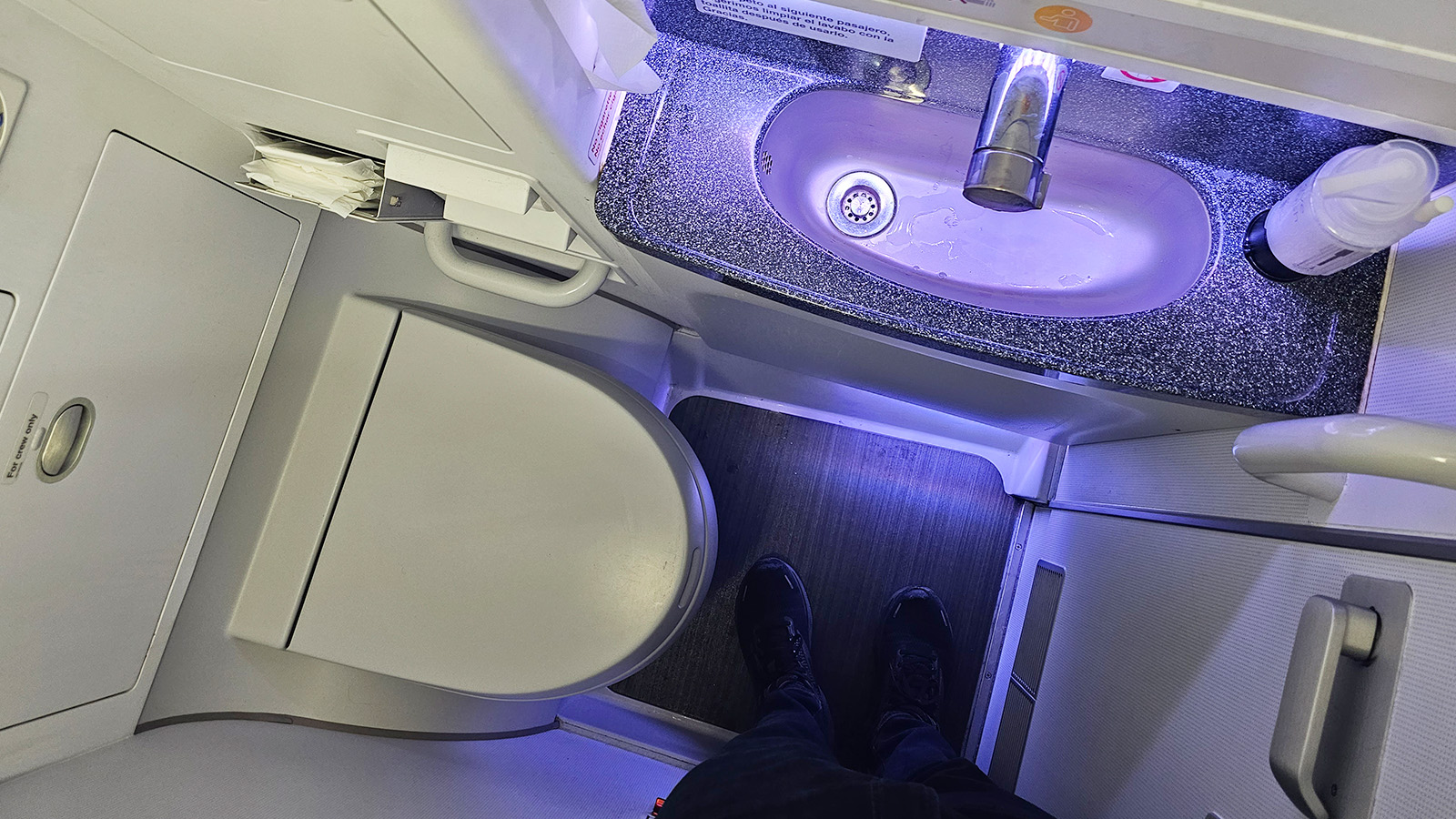 How to book this flight with points
With Avios, it's very easy to book British Airways Economy flights through Executive Club. Simply start a search with Avios and enter your flight details. Flights marked as 'Off Peak' are cheaper in Avios.
This flight only cost 9,250 Avios + £0.50, per person. I only have 7,500 Avios, though that's not a problem as British Airways lets you pay fewer Avios in exchange for more cash. I settle on 3,700 Avios + £32.5 (~AU$64) per person, which is still reasonable. The Economy Plus fare is a stunning £286 (who would pay that?), giving my Avios a terrific theoretical value of 6.85 pence (13.48 cents Australian), each.
Even with a lower cash fare as my baseline, the Avios redemption represents excellent value no matter how you look at it. You can also book this flight with Qantas Points, Asia Miles, AAdvantage Miles and many other partner oneworld programs. With Qantas Points, an Economy seat costs 10,000 points + £37 (~AU$73), one-way.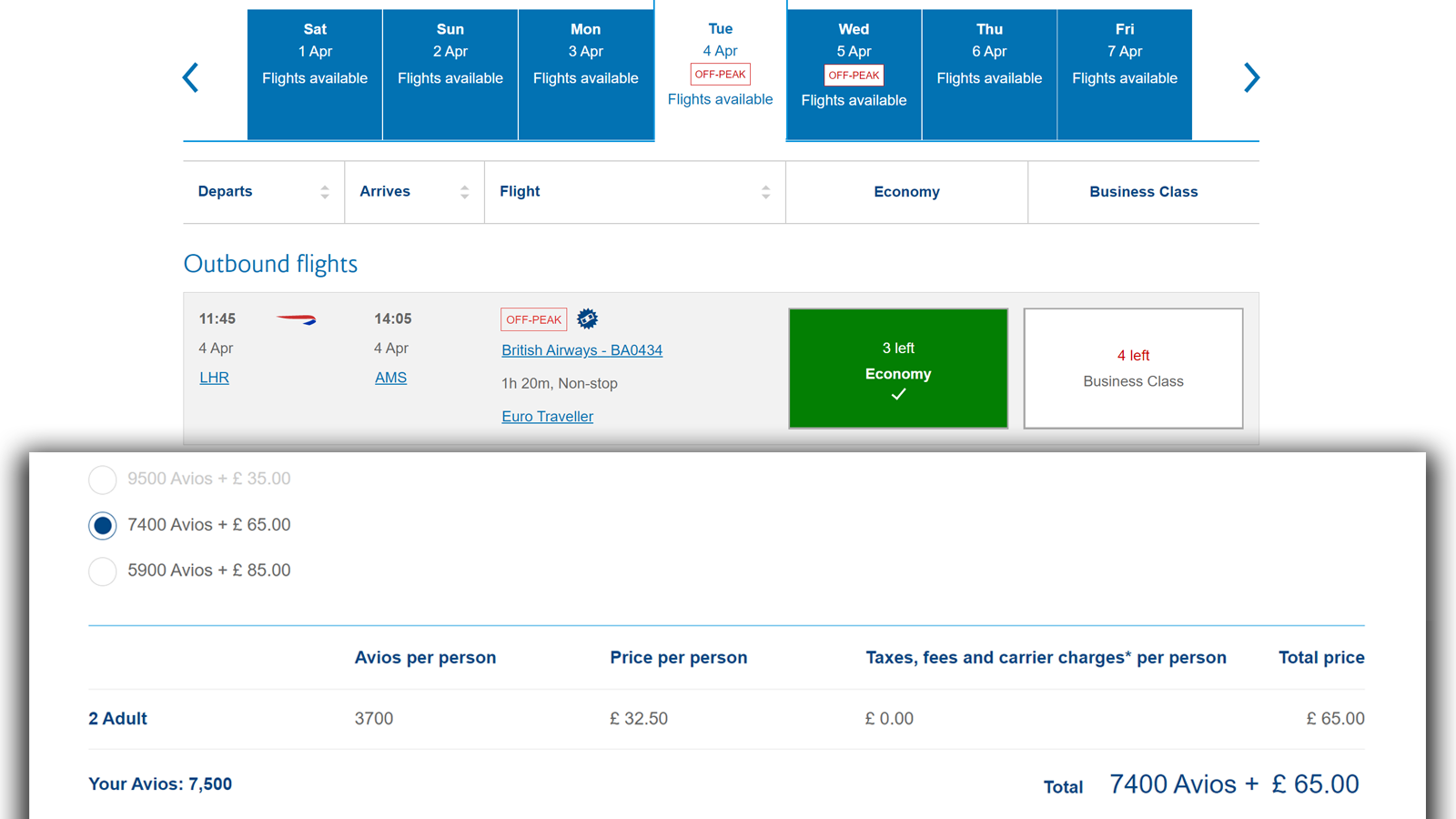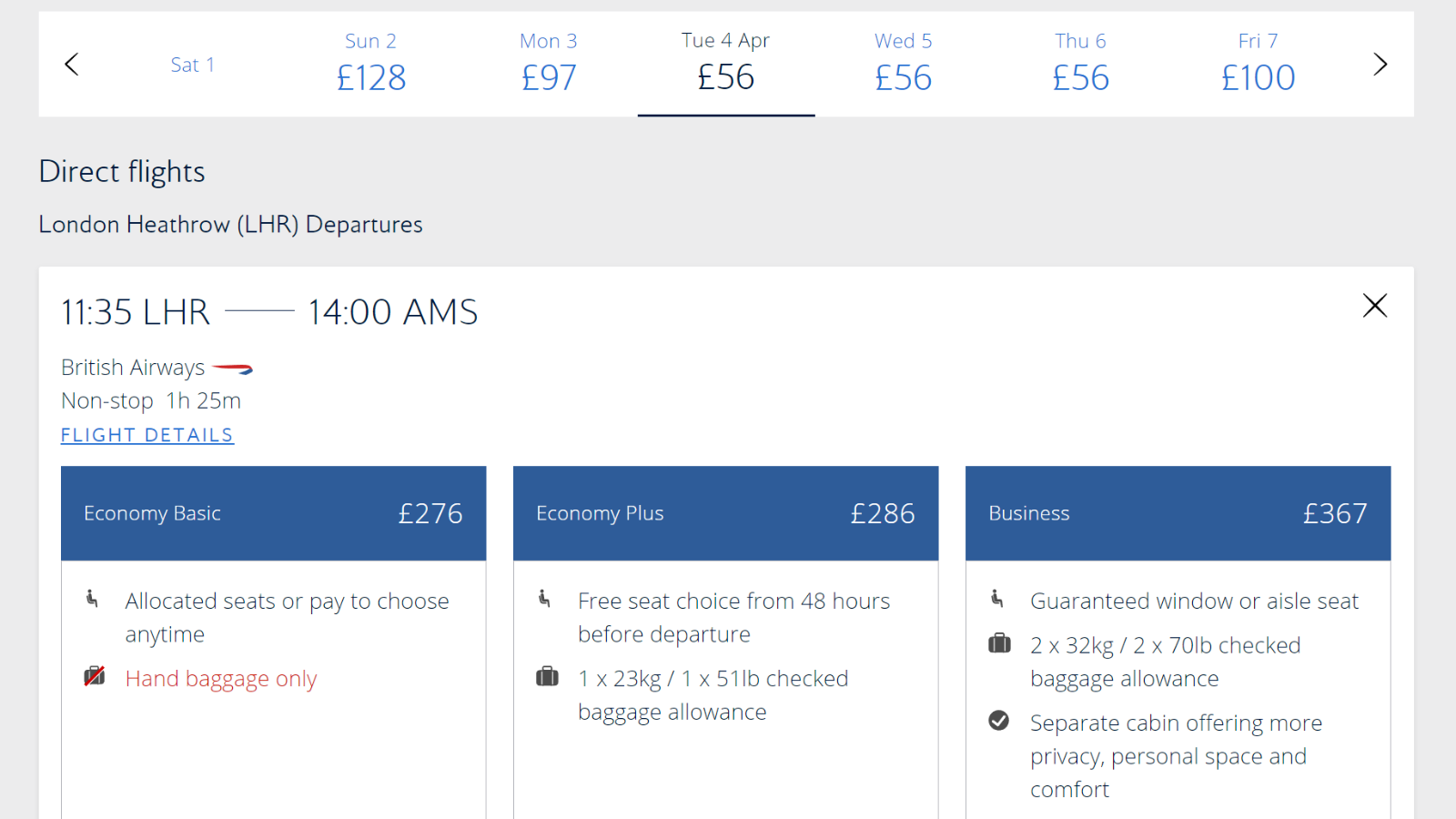 ---
Transfer Citi Prestige rewards points to Qatar Airways Privilege Club Avios, which can then be converted to British Airways Executive Club Avios!
---
The verdict
I admit that British Airways' Airbus A320neo leaves me with mixed impressions. Though the aircraft is modern and fresh inside, British Airways is slowly eroding customer comfort with slimmer seats and higher densities. A seat pitch of 28-29″ isn't great for a full-service carrier, especially when low-cost airlines like Ryanair are flying with 30″ pitch. Of course, I'm lucky to be able to stretch out in Row 12 and highly recommend that row to anyone able to select it.
The ground experience and staff we encounter along the way are all excellent – no complaints there. It helps that Terminal 5 is well-signed and hosts lots of facilities. If you have oneworld Sapphire or Emerald status, then your Euro Traveller experience with British Airways should be fairly smooth. Even though Amsterdam is a mere skip away, the journey still feels like a proper international flight… up to boarding.
But the value for money that Avios provides can't be overstated. Even if you're down to your last few thousand Avios, a British Airways Economy flight might be within reach with a reasonable co-payment.
Speaking of Amsterdam, it's our first time visiting, and we are absolutely in love with the region. One of our trip highlights is driving down to the sleepy village of Giethoorn for a few nights. Cycling around marsh forests and paddling through quiet canals leaves us thirsty for a return trip.
But maybe in Club Europe with Avios or on the Eurostar train, next time.
Photography by Brandon Loo, who travelled at his own expense.
---
Stay up to date with the latest news, reviews and guides by subscribing to Point Hacks' email newsletter.
British Airways Airbus A320neo Economy (London – Amsterdam)
was last modified:
September 11th, 2023
by