The 'Trans-Tasman Bubble' that promised hassle-free travel between Australia and New Zealand this year looks like it won't be going ahead in 2020, due to continued community transmission of the coronavirus within our shores.
Despite this, it's likely that travel across the Tasman will likely be one of the first international links allowed when overseas travel restrictions start to relax once more. So if you are looking to take a trans-Tasman trip in 2021 or just looking to brush up on your knowledge of how to use Qantas Points to travel to New Zealand, then this guide is for you.
To help you plan your future New Zealand getaway, here are the best ways to book flights with Qantas Points. Don't forget, it's still easy to earn Qantas Points on the ground.
COVID-19 DISCLAIMER: The situation regarding COVID-19 is constantly changing, and the impacts on travel remain quite fluid. We endeavour to keep our content as up to date as possible in this dynamic environment.
Introduction to using Qantas Points for travel to New Zealand
New Zealand is one of Qantas' biggest international markets; something that will be even more so as the Red Roo gradually reopens its overseas network. Your Qantas Points could book a seat on Qantas, Emirates and Jetstar flights across the Tasman.
With a choice of Economy or Business Class across the board (and even First Class on a certain route), there is no shortage of ways to use your Qantas Points.
1. Using Qantas Points for Qantas flights
Qantas has a fairly robust Trans-Tasman network with Sydney, Melbourne and Brisbane having connections to at least three of the following New Zealand cities: Auckland, Wellington, Christchurch and Queenstown.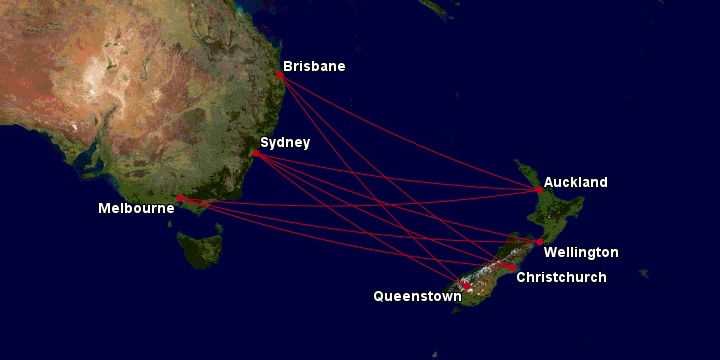 (The Red Roo previously had an Airbus A330 seasonal service between Perth and Auckland over the summer holidays, but this has been discontinued).
The vast majority of flights are on the Boeing 737, which has a stock-standard 3-3 layout in Economy and 2-2 layout in Business:

Selected flights to Auckland may be operated by the Airbus A330s boasting Qantas' older-gen 'Business Suites' with individual aisle access and lie-flat seats. Economy isn't too shabby either with a 2-4-2 layout down the back.

Reward seats on all Qantas flights between the eastern states and New Zealand share the same points pricing, as follows. Taxes and surcharges are extra; roughly $140pp each way.
| | | |
| --- | --- | --- |
| Qantas | Economy | Business |
| East Coast Australia to New Zealand | 18,000 Qantas Points | 41,500 Qantas Points |
N.B: Qantas does have a limited partnership with Air New Zealand. However, that only covers domestic codeshare flights within each country, not for travel between Australia and New Zealand.
2. Using Qantas Points for Emirates flights
Emirates runs a unique connection between Sydney and Christchurch on its flagship Airbus A380s, which also feature First Class suites. Reward seats on this service are still available for booking through 2021.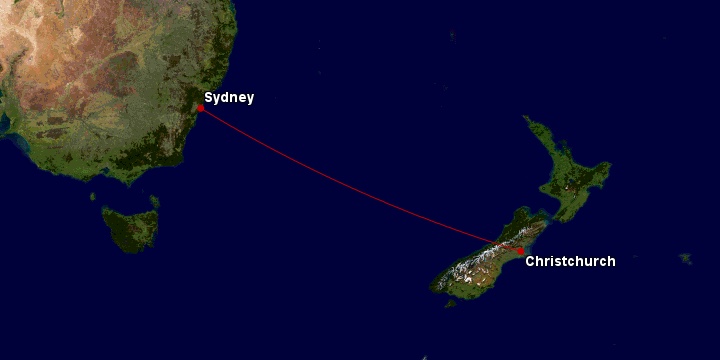 You can't go wrong with Emirate Economy Class with a 3-4-3 configuration on the main deck of the plane. Business Class on the upper deck looks a bit drab, but should still be a comfortable way to fly, especially with access to the in-flight bar.

Want to go a step up and fly Emirates First Class? Indulge in a private suite and even Qantas First Class lounge access on the ground in Sydney.

Here are the Qantas Points needed to enjoy Emirates' service across the Tasman before taxes — the rates are the same as flying Qantas.
| | | | |
| --- | --- | --- | --- |
| Emirates | Economy | Business | First |
| Sydney to Christchurch | 18,000 Qantas Points | 41,500 Qantas Points | 62,200 Qantas Points |
Ad – Scroll down to continue reading.Minimum spend, terms & conditions apply.
3. Using Qantas Points for Qatar Airways flights
In early August 2020, Qatar Airways unveiled plans to fly between Doha and Auckland, via Brisbane, from later in the month.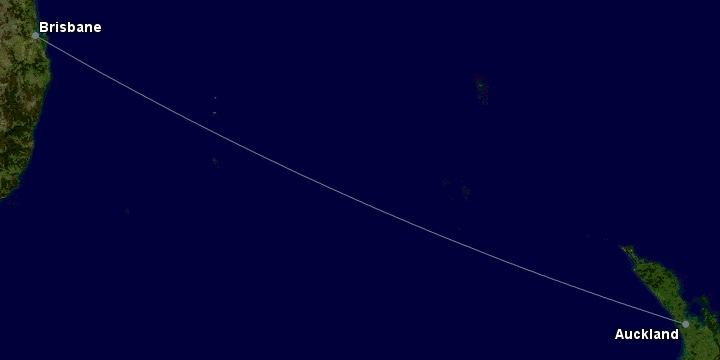 This means there could eventually be a Brisbane-Auckland leg that is potentially bookable via Qantas Points once COVID-19 border restrictions are relaxed. With the Airbus A350-1000 rostered on this service, it could result in the luxurious Qsuites being flown across the Tasman.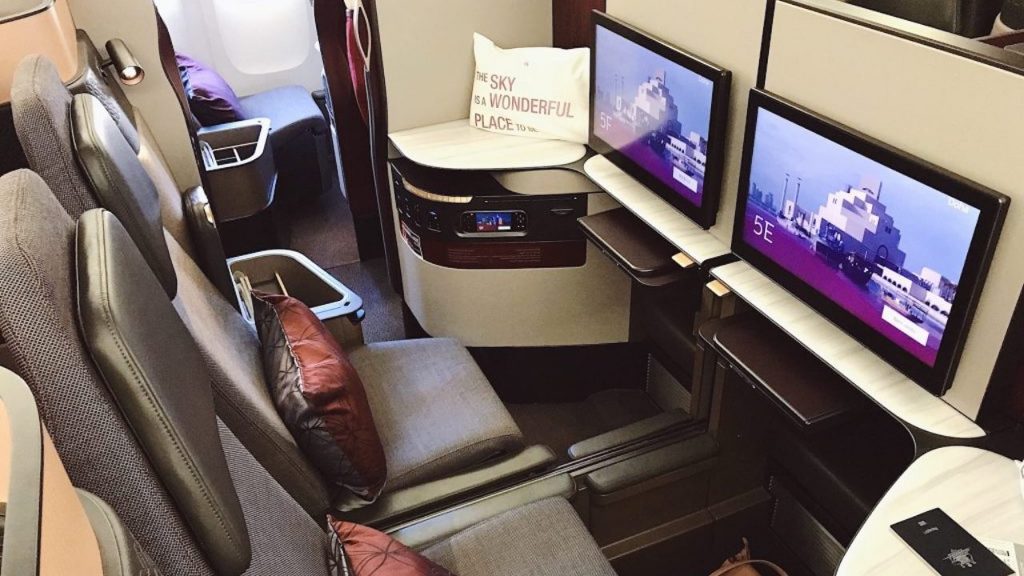 Of course, there's no word yet on when that would happen. But if it does, here are the Qantas Points needed for Qatar Airways.
| | | |
| --- | --- | --- |
| Qatar Airways | Economy | Business |
| Brisbane to Auckland | 20,000 Qantas Points | 43,800 Qantas Points |
4. Using Qantas Points for Jetstar flights
While there's nothing special about flying Jetstar Economy, the carrier's main advantage is that it does fly to New Zealand from the Gold Coast, so those residents don't need to backtrack to Brisbane or Sydney first.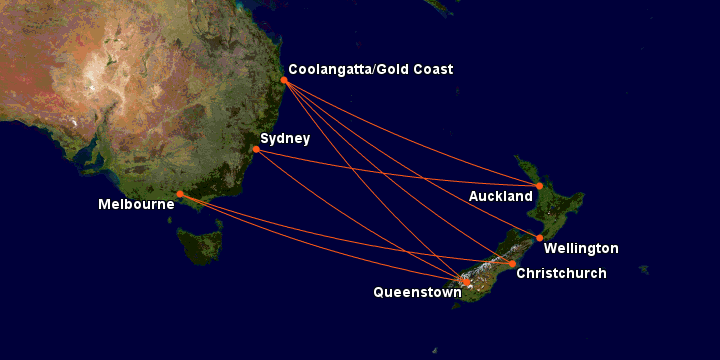 One benefit of using Qantas Points for Jetstar flights is that 20kg of baggage allowance is automatically included. However, you still need to pay extra for meals and seat selection.
Economy is the usual 3-3 layout with a tighter pitch between each row than Qantas — go for an extra legroom seat if you can. Meals can be pre-ordered at a small discount or purchased onboard (below is a Sumo Salad offering).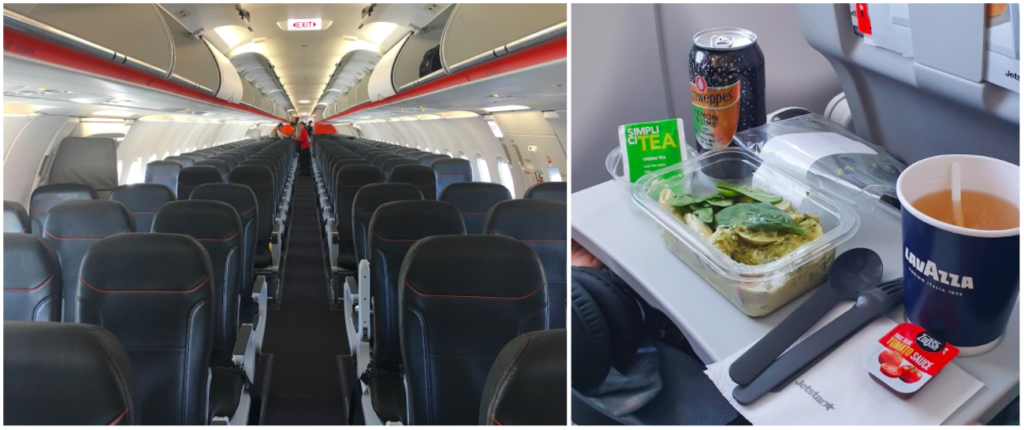 As Jetstar cash fares are often quite cheap when on sale (especially during the 'return for free' promos), be sure to compare ticket prices before using Qantas Points to redeem a reward seat.
For example, if the taxes you paid on a Jetstar reward seat booking were similar to purchasing a fare with cash, then it might be better off to save your points for another time (an exception to this rule might be if you're seeking the additional flexibility of a reward seat).
Learn more about when it's good to use points for flights in Economy. As Jetstar only operates one cabin class on Trans-Tasman flights, there is one flat figure for the number of Qantas Points needed.
| | |
| --- | --- |
| Jetstar | Economy |
| East Coast Australia to New Zealand | 14,400 Qantas Points |
5. Using Qantas Points for LATAM flights
Although South American-carrier LATAM broke away from the oneworld alliance in May 2020, the airline remains a partner of Qantas. Fortunately, it means Qantas Points can continue to be used on LATAM's flights, including its fifth-freedom routes between Australia and New Zealand.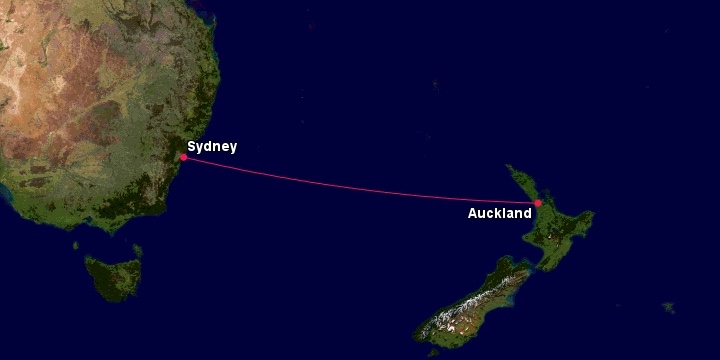 LATAM usually flies a Boeing 787 between Sydney and Auckland four times a week — we've reviewed the experience here. While the service is generally polite, we found that the onboard amenities were slightly lacking compared to Qantas.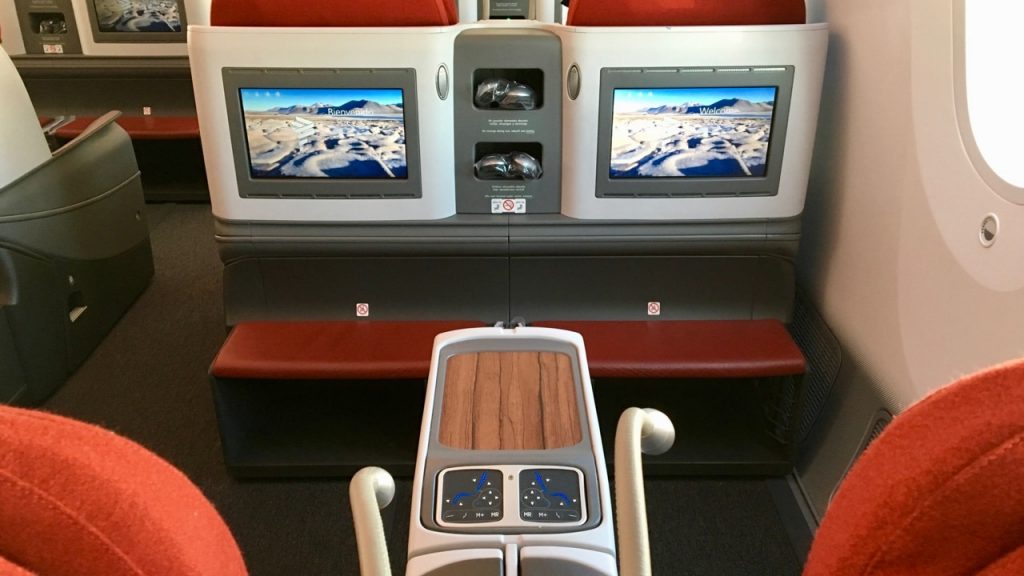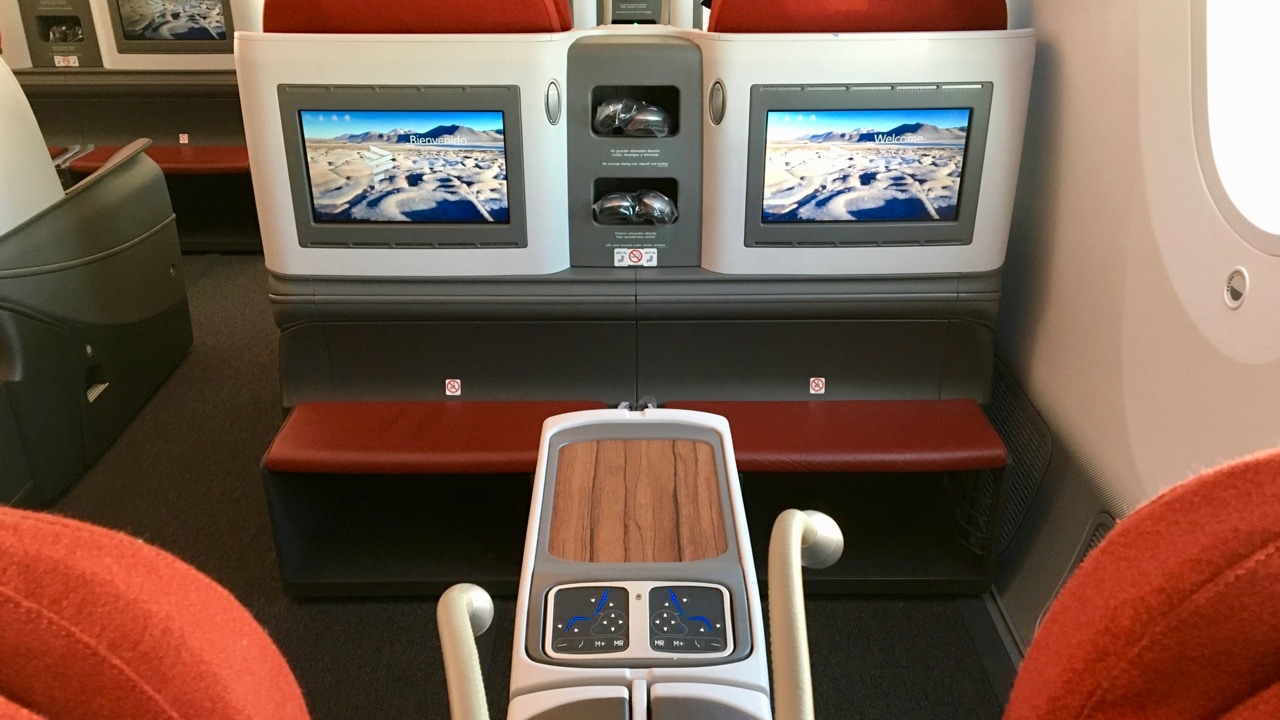 Here are the Qantas Points you would need for the Sydney-Auckland dash flying with LATAM:
| | | |
| --- | --- | --- |
| LATAM | Economy | Business |
| Sydney to Auckland | 20,000 Qantas Points | 43,800 Qantas Points |
Summing up
Qantas Points provide you with five distinct pathways to fly to New Zealand. On the top end of the scale, there's Emirates and Qatar Airways. Qantas itself is a decent all-round option followed by LATAM, while Jetstar is a budget choice.
(China Airlines also flies from Brisbane to Auckland, but Qantas Points can only be used on China Airlines flights to Taipei).
If you're looking for some hotel accommodation ideas for your stay in New Zealand, make sure to check out Qantas Hotels to also earn Qantas Points towards your trip.
As a reader helpfully pointed out, the cash co-payment on reward flights between Australia and New Zealand can be prohibitively high in comparison to a standard Economy ticket, especially when departing from Australia.
One tactic that could work for some people is to book one leg with cash and the other leg with points — of course, this does add some complexity to the booking especially if it comes to cancelling or changing the fare.
All things being equal, if you had a choice between Jetstar Economy for 14,400 Qantas Points or Qantas Economy for 18,000 points, I would suggest choosing the Red Roo for greater comfort.
If it eventuates, Qatar Airways Qsuites Business Class for 43,800 Qantas Points might be the all-round winner as the onboard experience is likely to be exceptional.
On the other hand, if it was a choice between Qantas Boeing 737 Business Class for 41,500 points or Emirates First Class for 62,200 Qantas Points, it would be very tempting to splurge on Emirates. After all, the concept of First Class is becoming increasingly obsolete, so why not enjoy it while you can?
Frequently asked questions
Can I get Qantas Points on Air New Zealand?
Only in limited situations when flying a Qantas-codeshare on an Air New Zealand domestic or regional flight, connecting from an international flight from Australia.
What does 100,000 Qantas Points get you?
For Australia-New Zealand flights, having 100,000 Qantas Points could get you two return Economy tickets with Qantas, three return Economy tickets with Jetstar, or one return Business Class ticket with Qantas or Emirates.
How many Qantas Frequent Flyer points do you need for a flight?
For Australia-New Zealand flights, you'll need a minimum of 14,400 Qantas Points to fly one-way between the two countries in Jetstar Economy. Other airlines and cabin classes will need more points.
How to redeem Qantas Points for flights to New Zealand
was last modified:
February 22nd, 2022
by