Do you have around 20,000 Qantas Points? If so, then you can fly Business Class! In this guide, I give three airlines to choose from and outline the pros and cons of each.
Which is the cheapest Business Class flight I can book with Qantas Points?
1. Qantas Business Class within Australia
With 18,400 Qantas Points, you can fly Qantas Business Class on any route in Australia that is less than 600 miles in length. Here are some examples:
Depending on the route, you can expect to pay $40-60 in taxes for one of these one-way Business Class redemptions.
On almost all of these flights, you'll be sitting in a recliner Business Class seat for 1-2 hours.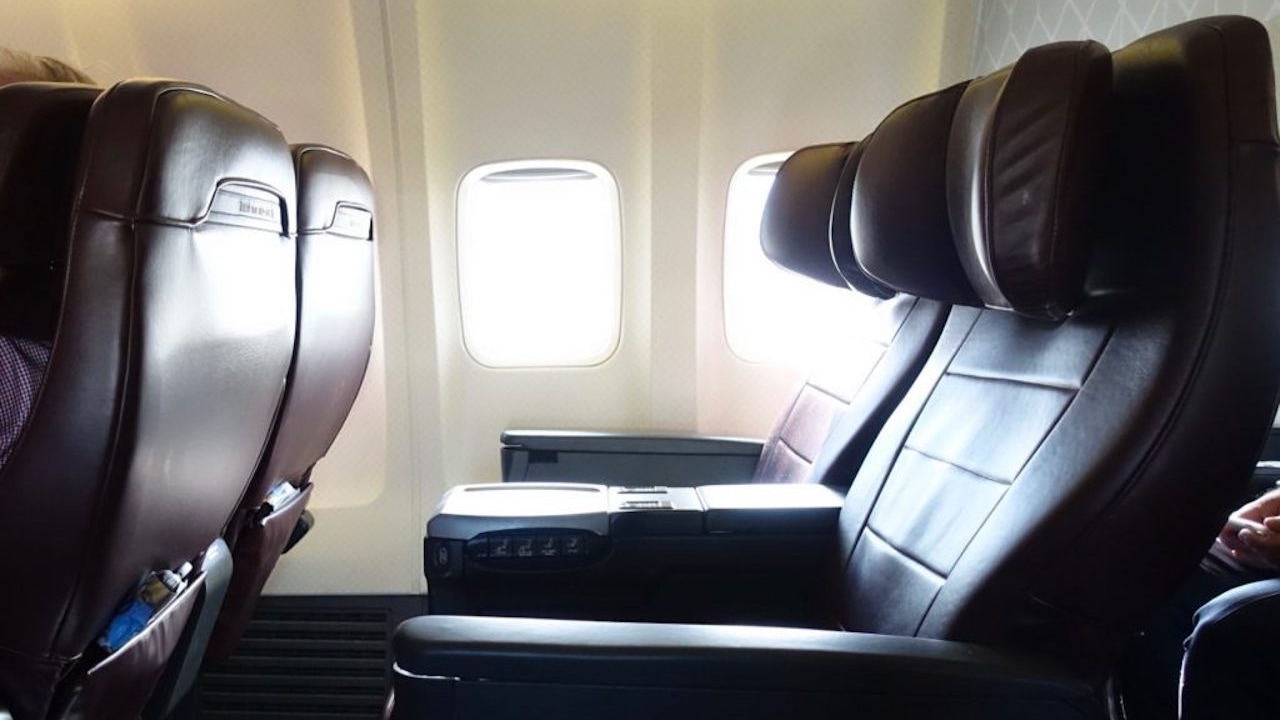 However, if you can get on an Airbus A330 instead of a Boeing 737 between Sydney and Melbourne, opt for that. You'll get an improved seat, which is lie-flat in a 1-2-1 configuration.
You're most likely to find this product departing around 7am from both cities, and 7:30/10pm from Melbourne/Sydney.
Regardless of the aircraft, you'll get an increased checked baggage allowance, priority boarding and a full meal with complimentary drinks.
One of my favourite things about flying Business Class on Qantas (or Virgin Australia) within Australia is that you get access to a lounge before your flight. In the larger cities of Sydney, Melbourne, Brisbane, Perth and Canberra, you can get into the Qantas Domestic Business Lounge.
In smaller cities like Adelaide, the Gold Coast and Hobart, the inferior but still acceptable Qantas Clubs are on offer.
2. Emirates Business Class within the Middle East
Your second option is to fly on Emirates, one of the world's top airlines, which operates out of its hub in Dubai. Again, you can fly Business Class for 18,400 Qantas Points on one-way flights to destinations within 600 miles of Dubai.
It's most likely that you will fly on a Boeing 777, which will feature angled-flat seats in a 2-3-2 configuration.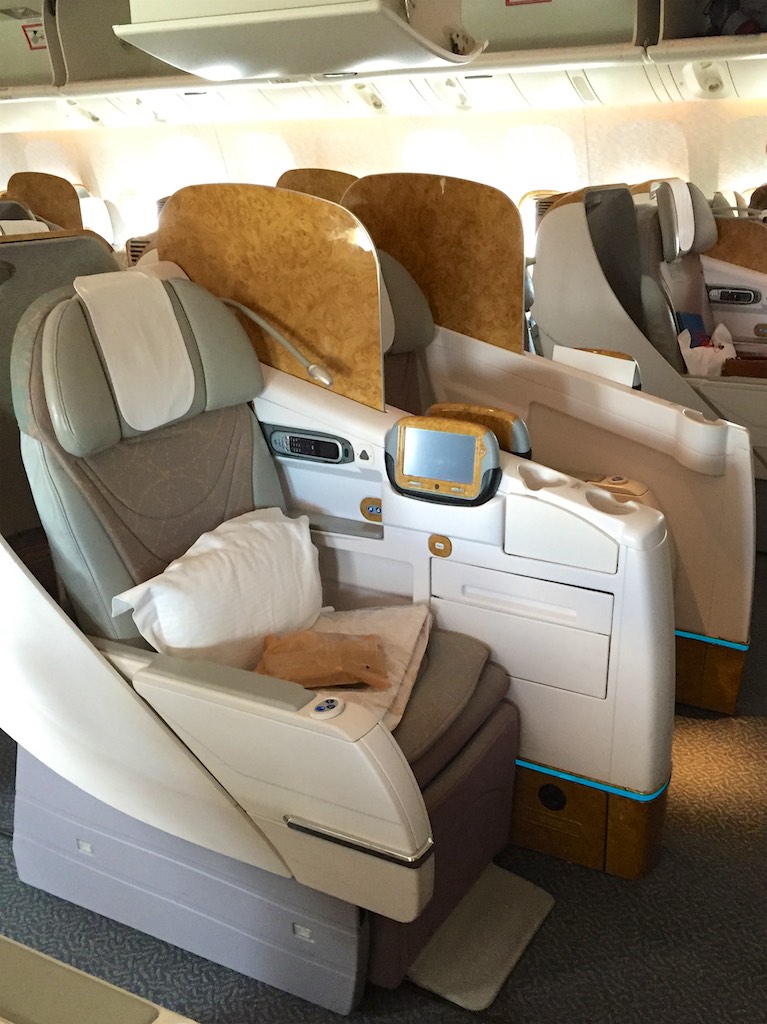 Even though they are short flights, it would be best to avoid being in the centre seat as you'd be stuck between two people.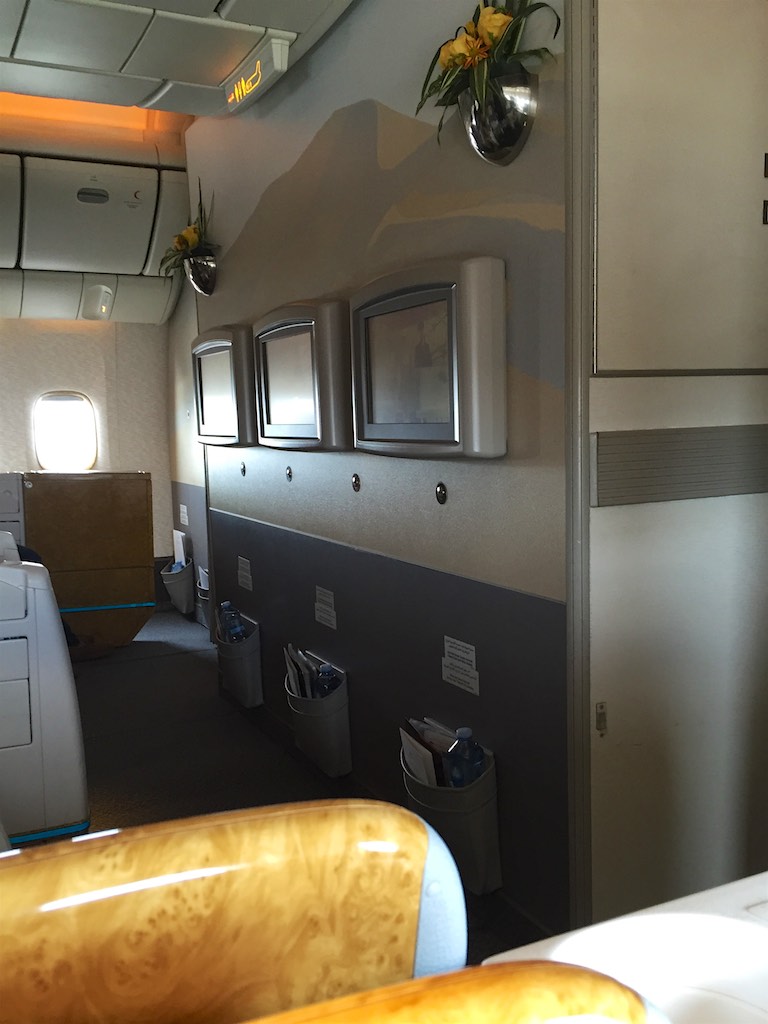 You'll get access to the Emirates Business Class Lounges, which offer lots of delicious food, complimentary drinks, high-speed wifi and hot showers.
Beware though: taxes are higher—much higher—when flying Emirates. You can expect to pay ~AU$450 when departing Dubai, which is crazy expensive and probably not worth it. If you're going to fork out that cash, consider spending 9,200 points more to fly in First Class.
However, there are two sweet spots if you still want to fly Business Class:
travelling from Kuwait to Dubai (rather than the other way round) will halve your taxes
flying from Singapore to Penang, Malaysia (a fifth freedom flight) will only cost ~$60
3. American Airlines within the US
Your third and final option is to take a short domestic flight within the United States on American Airlines. Examples include:
Anywhere within California, e.g. San Francisco to Los Angeles
Los Angeles to Las Vegas
Los Angeles to Reno (near Lake Tahoe and Burning Man)
New York to Boston
New York to Washington
Anywhere within Texas, e.g. Dallas-Fort Worth to Austin
Orlando to Miami
Chicago to Nashville
On all of these flights, you'd be on very similar recliner seat to the one Qantas flies.
However, the main difference is that Business Class passengers travelling on airlines within the US don't automatically get lounge access before their flight. An exception is made for Qantas elites.
The good news is that of the three options listed above—Qantas, Emirates and American Airlines—AA has the lowest taxes. They tend to be US$5.60 per flight, which is AU$8-9.
Ad – Scroll down to continue reading.Minimum spend, terms & conditions apply.
How do I book these flights?
It's easy—you can do so directly on the Qantas website. Just select the Use points option to see if there is award availability on your desired route and date.
Summing up
With just 18,400 Qantas Points, you can fly Business Class.
It's most likely that you fly Qantas within Australia. Just make sure your flight is under 600 miles in length to get the cheapest price. Qantas is usually quite generous with releasing Business Class award seats on its domestic flights. Factor in taxes of $40-60 one-way.
Your second option with Emirates is probably less likely given you'll need to make your way to Dubai. Plus, there are high taxes on these bookings. If you really want to try out this product, the cheapest way to do it is flying between Singapore and Penang.
Finally, there are lots of American Airlines routes that you can fly Business Class on for cheap. Plus, the taxes are under $10. However, be aware that AA is the stingiest of these three airlines when it comes to award availability, so be sure to book ahead (at least three months in advance, if you can).
You may also be interested in the cheapest First Class flight you can book with Qantas Points. (Spoiler: you need less than 30,000 points.)
The cheapest Business Class flights you can book with Qantas Points in 2020
was last modified:
March 28th, 2020
by