Emirates is widely known for the Airbus A380, but the carrier also boasts the world's largest fleet of Boeing 777 jets. These fly to destinations all over the globe, including selected flights from Dubai to Australia and Europe. So what's the Business Class experience like aboard the Emirates Boeing 777?
There are many similarities to the superjumbo, including the meals, entertainment content, cabin service and Wi-Fi. But there's a notable difference between the Business Class seats of these two jets. I hop aboard a flight from Germany to take the Boeing 777 for a spin.
Check-in, lounge and boarding
Today, I'm jetting from Frankfurt to Dubai in Emirates Boeing 777 Business Class – following a high-speed rail journey from Munich the night before, on the same ticket. Once in Frankfurt, I complete check-in via the Emirates mobile app and receive my boarding pass with ease.
Speaking of convenient, I've also pre-booked Emirates' complimentary Chauffeur Drive service to whisk me to Frankfurt Airport. In Business Class, it's a perk for travellers booked on a Saver, Flex or Flex Plus fare. And it sure is handy. My driver arrives at the hotel five minutes ahead of schedule in a shiny new Mercedes-Benz EQE 350+. It's a very comfortable ride – but that's to be expected of a car that, in Australia at least, retails for $135,000+.
Just note, Chauffeur Drive isn't included when travelling on a ticket booked using points or miles from any program. Or for that matter, for travellers who upgrade from Economy to Business Class. It's also not part of the package when travelling on a Qantas QF codeshare flight – or for Emirates' own passengers when booking a Business Class Special ticket.
I don't have any checked baggage this time, so once we pull in at Frankfurt Airport, I head straight to passport control. The queue is very short, so I'm through the formalities and bound for the lounge within a few minutes.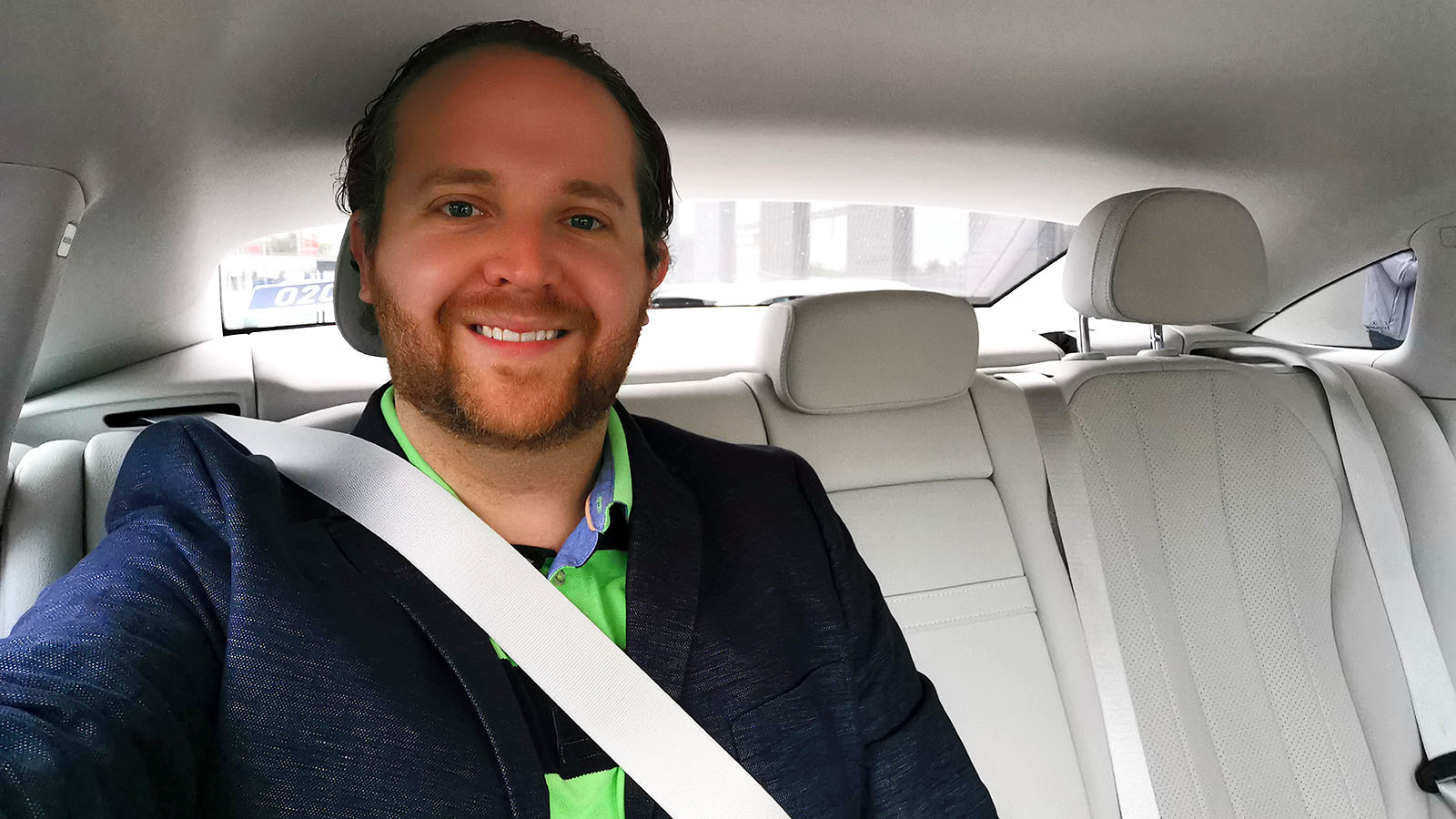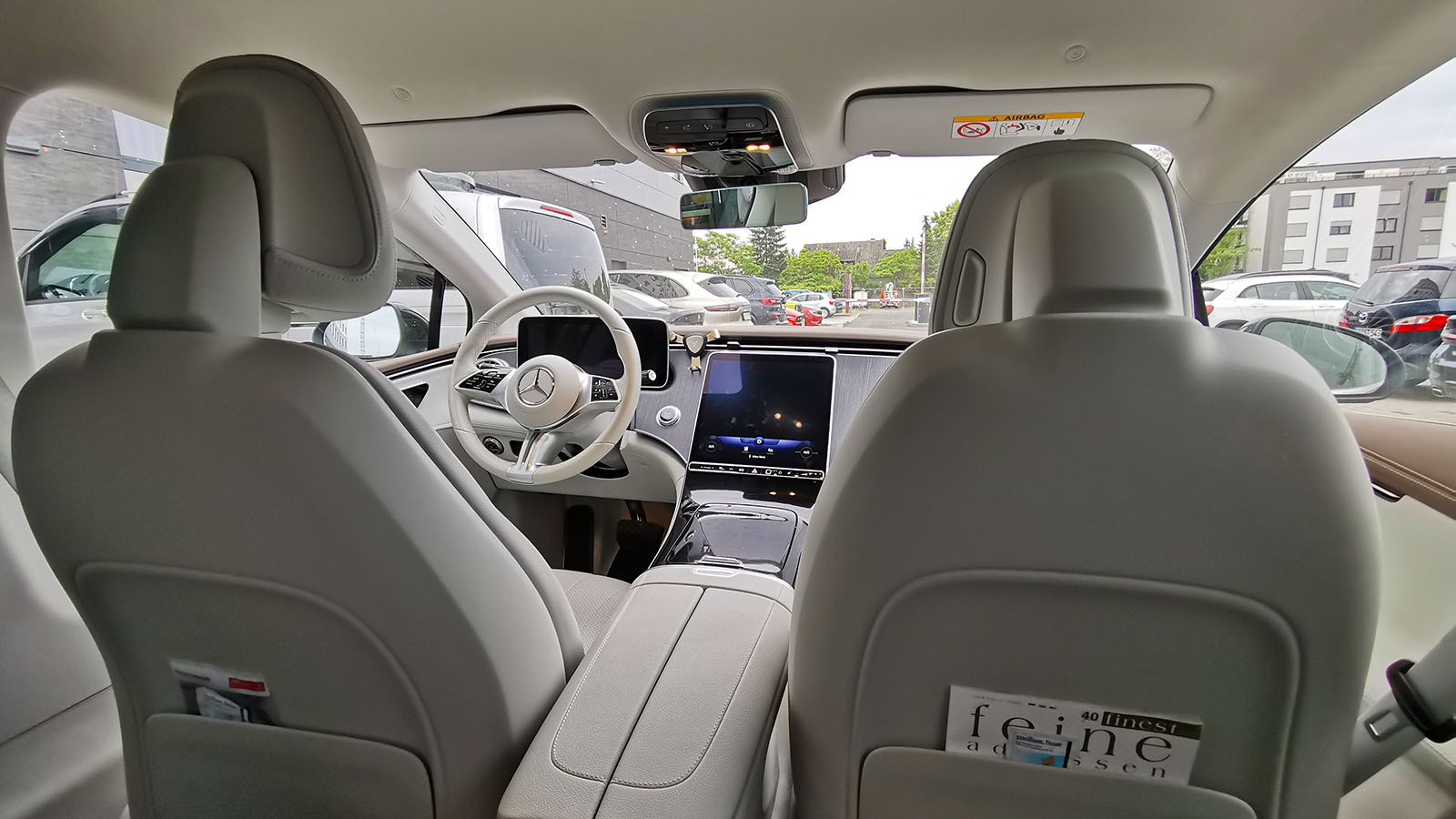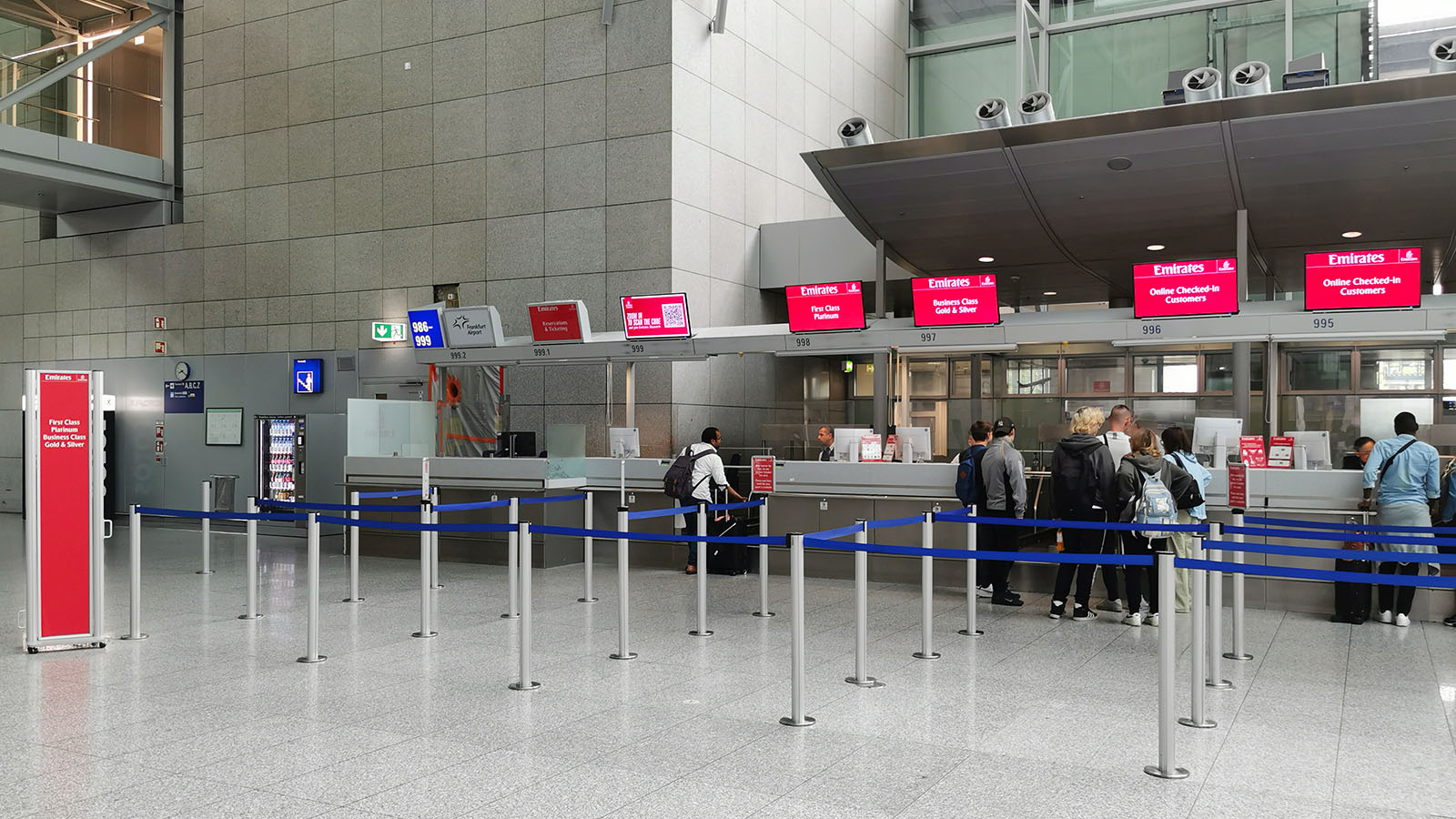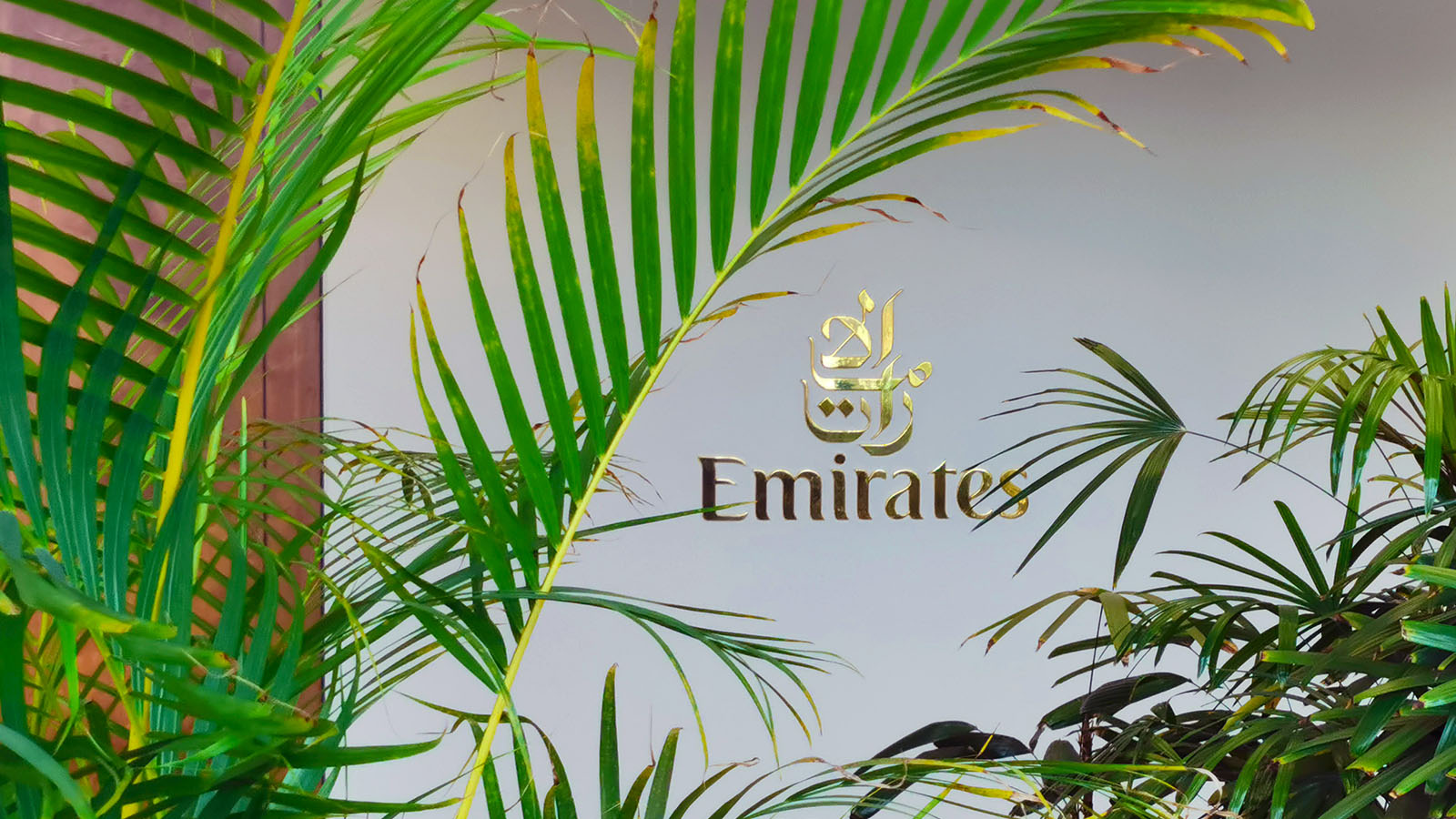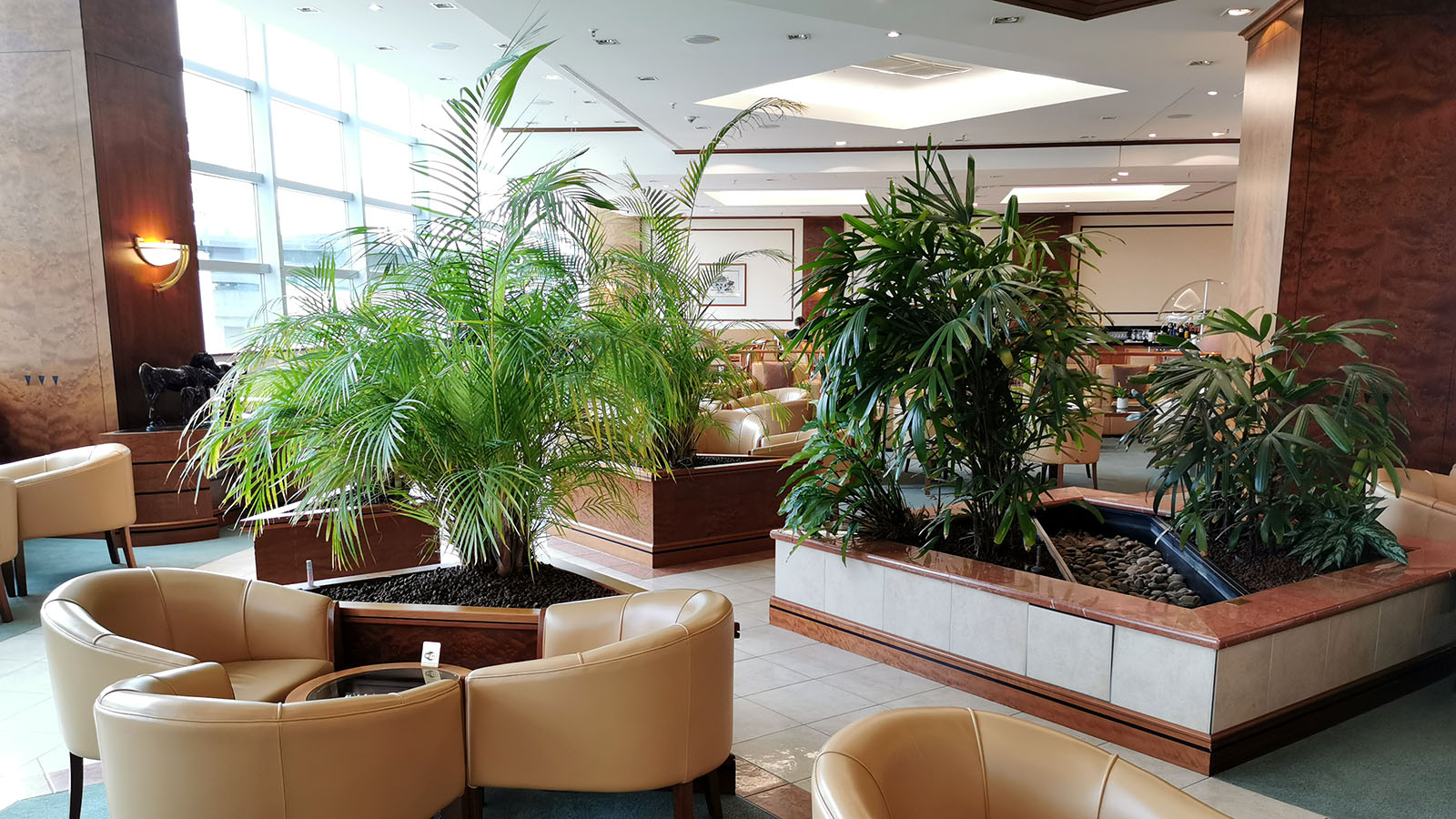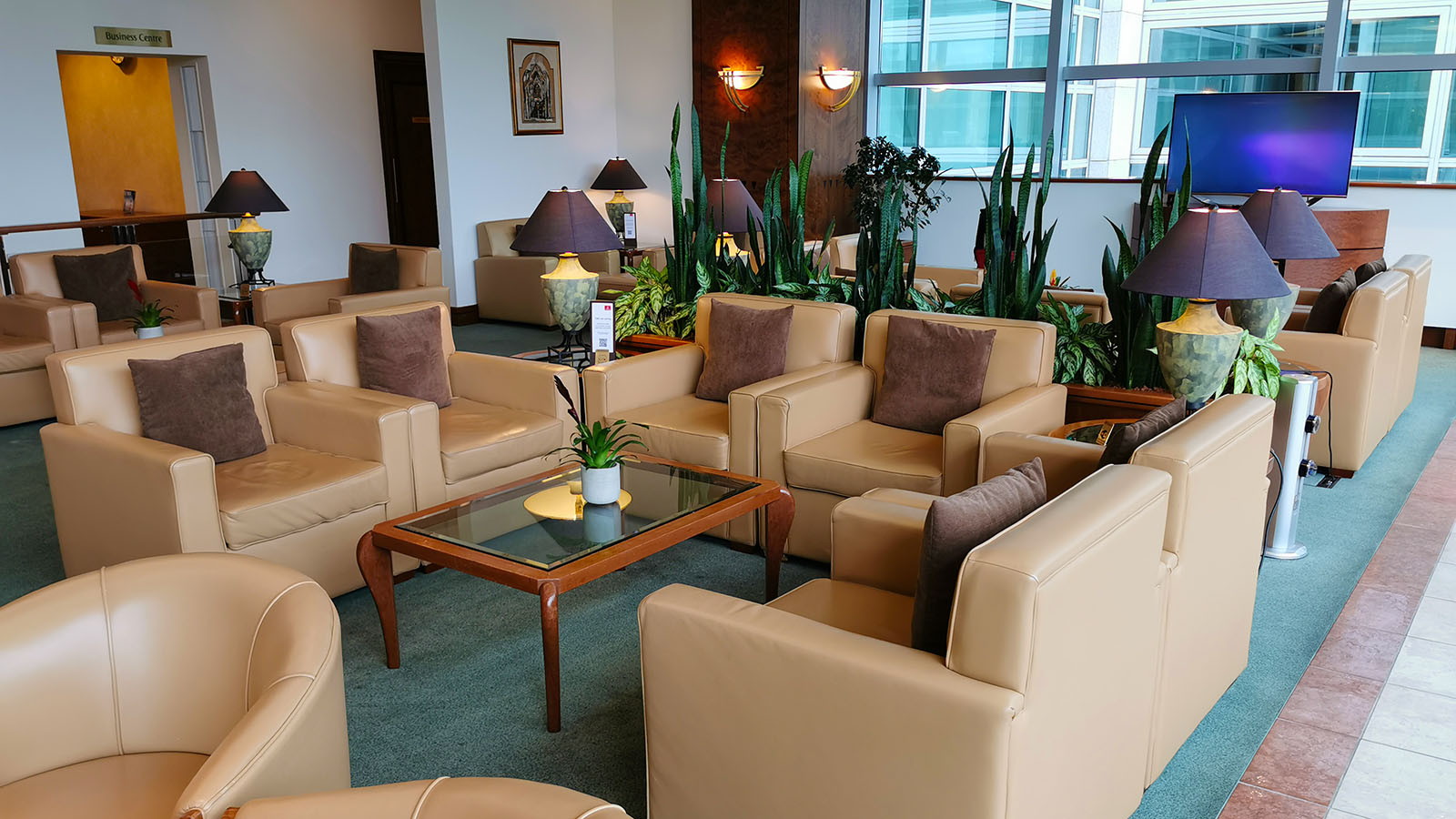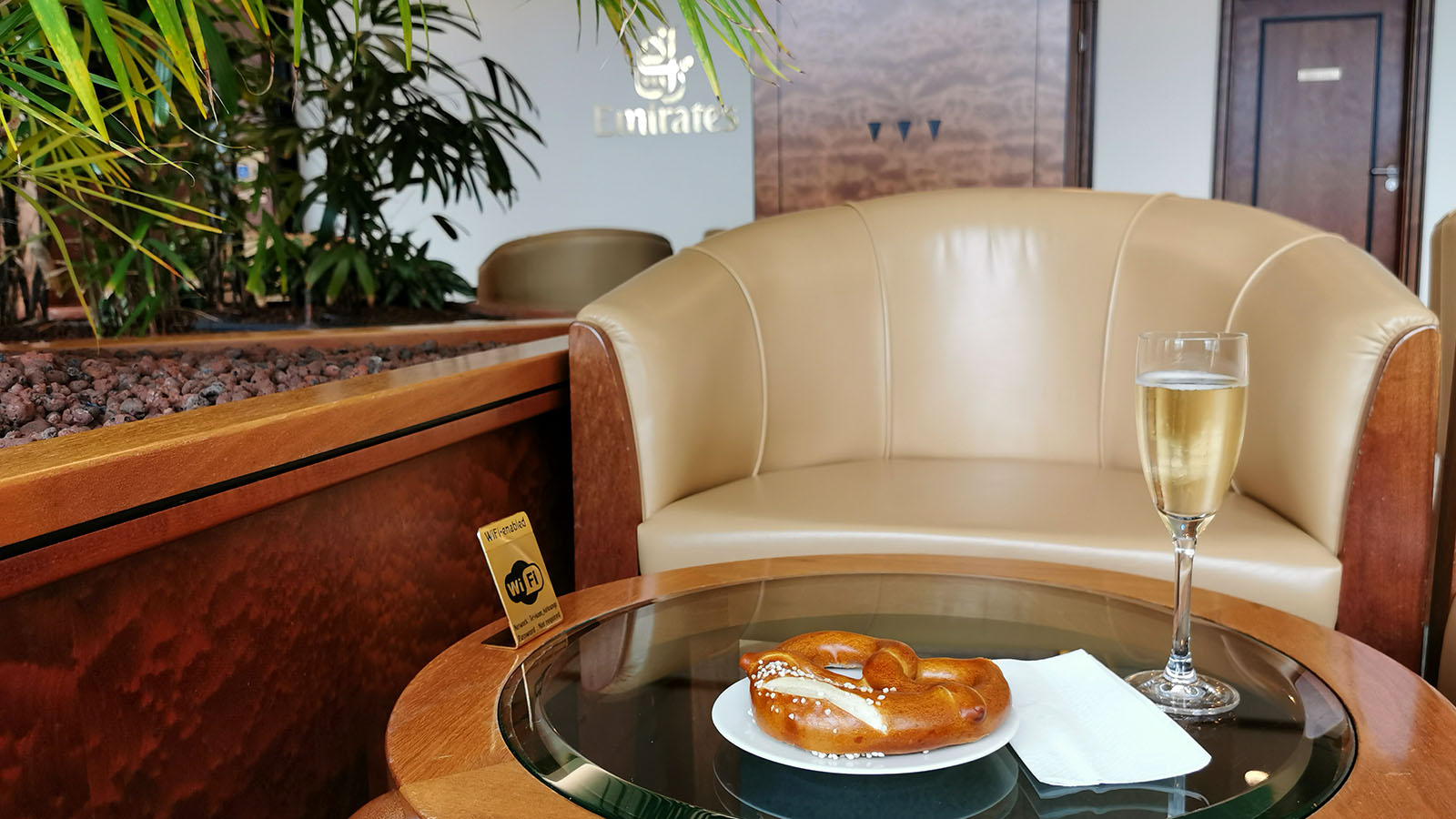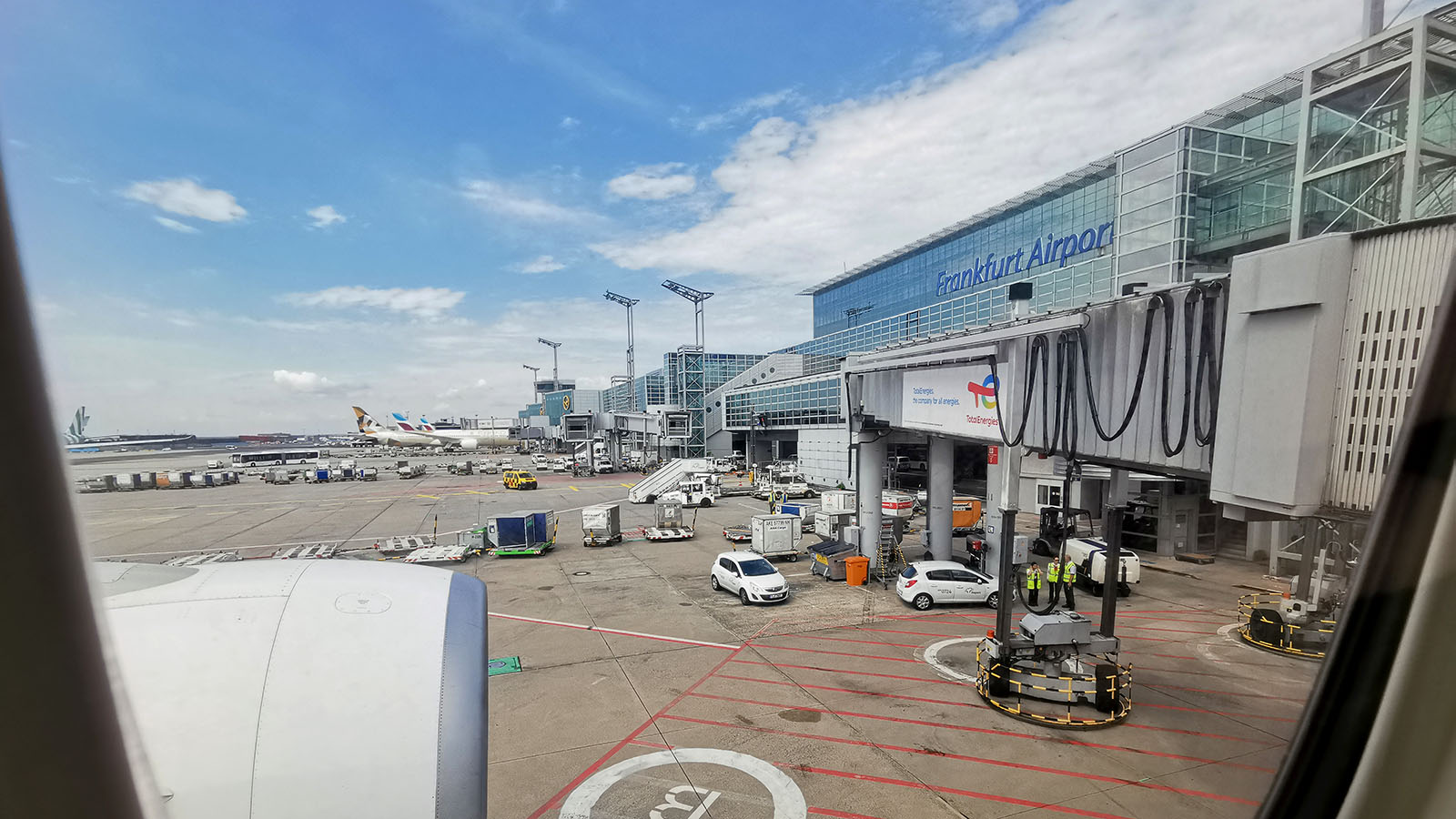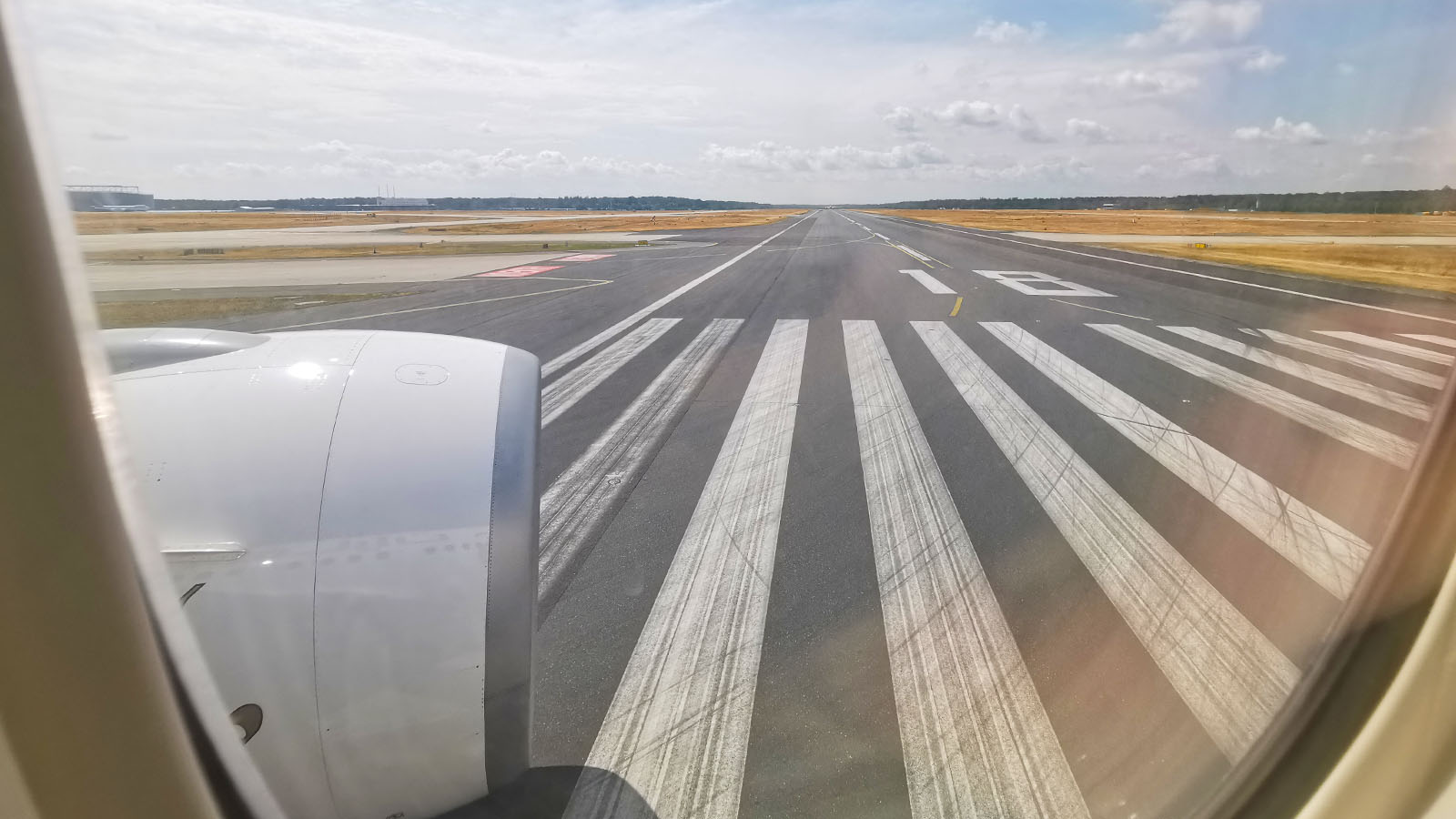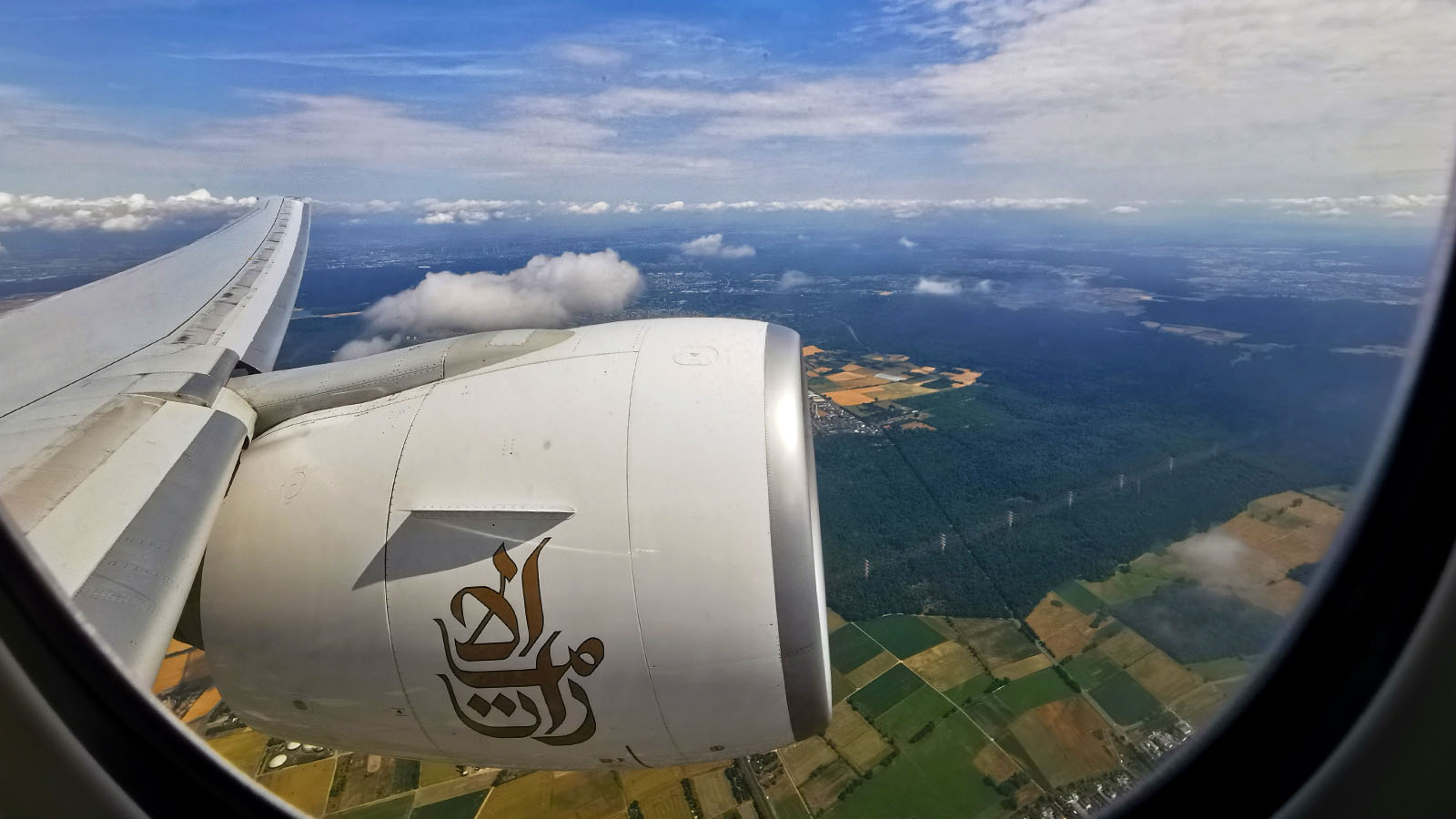 Emirates operates its own lounge in Frankfurt. There's a lot of greenery throughout the space, which creates quite a calm vibe. It's the perfect environment for a cheeky glass of Veuve and one final pretzel before leaving Germany. Access is complimentary for all Business Class passengers, except those on a Business Class Special fare. That's where status comes in handy – Gold or above in Emirates Skywards or Qantas Frequent Flyer. Otherwise, entry costs the local equivalent of US$184.45 at the door (circa €175, which is ~AU$287).
Security takes place at the gate, where I make a beeline for the short priority queue. From there, there's a quick passport check (given I didn't visit the landside counters), and with a priority call for premium passengers, I'm on board.
Emirates Boeing 777 Business Class seating
Between Frankfurt and Dubai, Emirates operates both the Boeing 777 and the Airbus A380 – and Business Class looks very different between these two planes. The superjumbo is Emirates' flagship, with an onboard lounge and direct aisle access from every Business Class seat. On the other hand, the Boeing 777 adopts a 2-3-2 layout in Business Class.
Yes, that means there's a middle seat. And yes, on a full flight, every passenger in the cabin either needs to step across a seatmate to access the aisle or be stepped over themselves. So naturally, if you can weave the Airbus A380 into your plans, that'd always be my first pick. And from Frankfurt, the mid-afternoon A380 service to Dubai offers the best connection times when flying onwards to Australia anyway – so that isn't too difficult.
But today, I've deliberately booked a longer connection through Dubai to take the Boeing 777 for a spin – so let's talk about it. While solo flyers may pine for the A380, high-flying couples might appreciate the Boeing 777 more. That's because you can sit together by the windows: enjoying not only the view, but also making the flight itself more of a shared experience. By comparison, on the A380, the only pairs of Business Class seats are in the middle of the cabin.
Parents travelling with a child may also appreciate the trio of seats in the centre of the Boeing 777 cabin. Pop the young one in the middle and it's easy to take turns caring for them, without getting up or switching seats. With three return flights per day between Dubai and Frankfurt, you can choose the plane that's most appealing to you.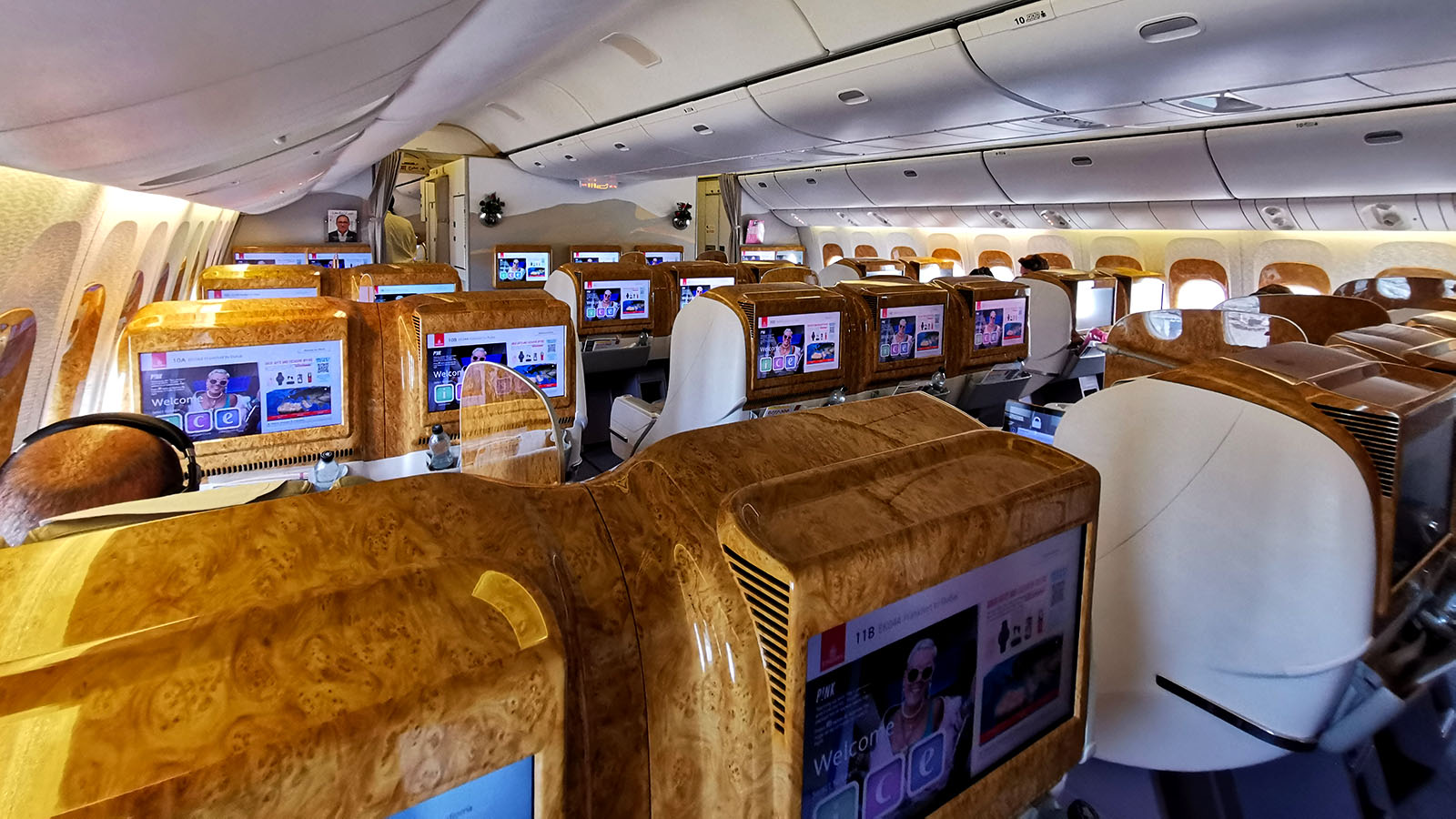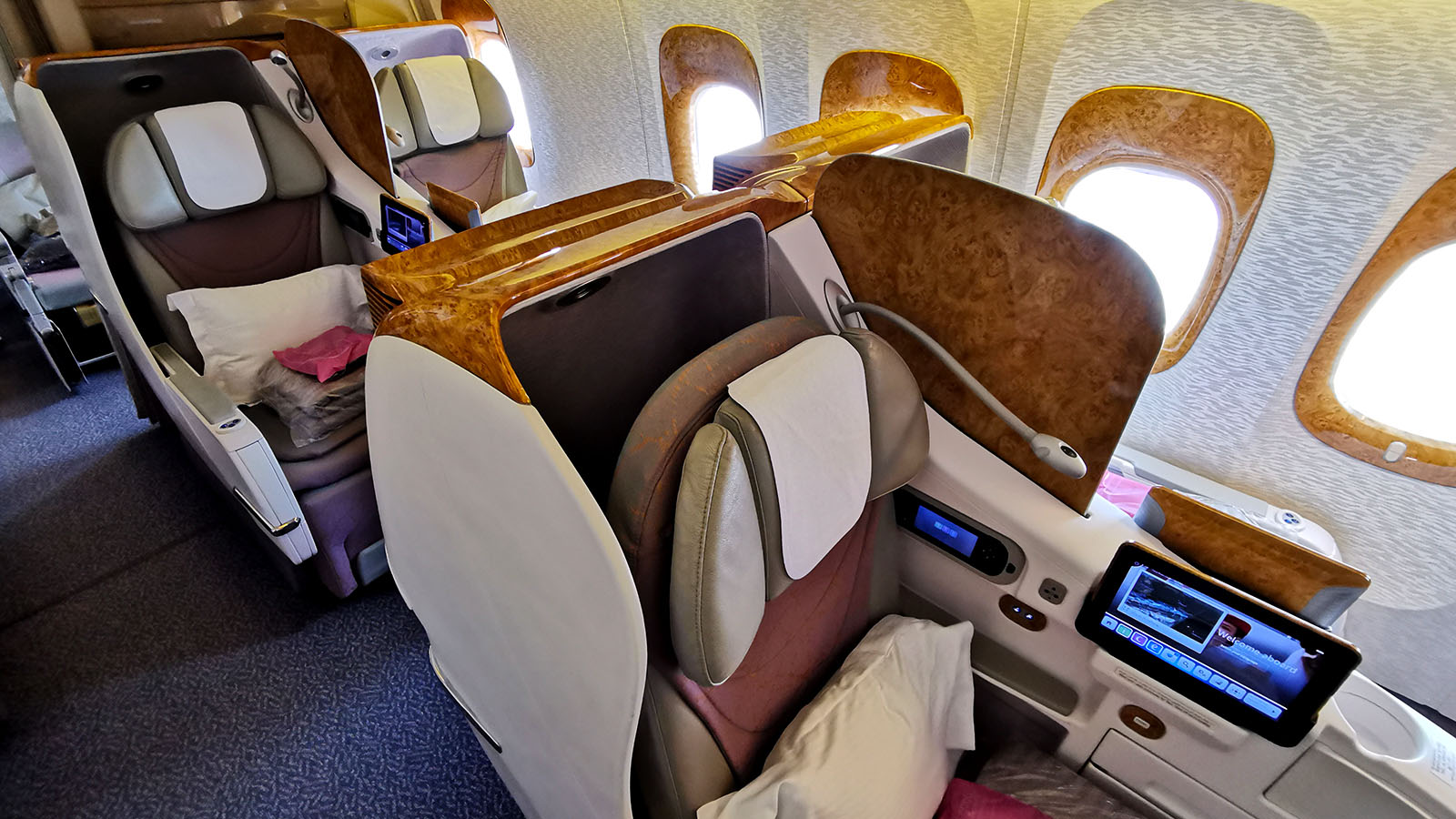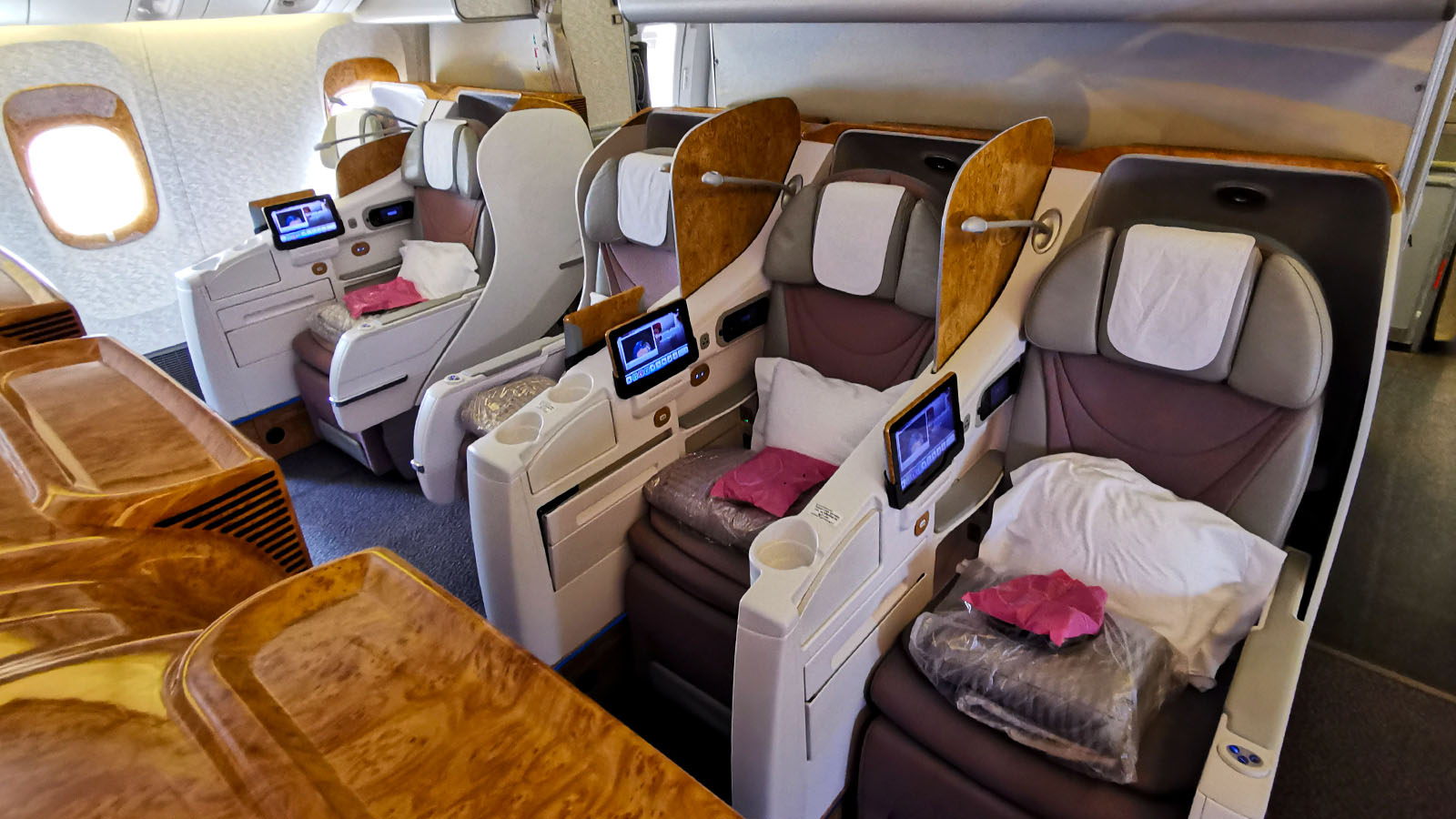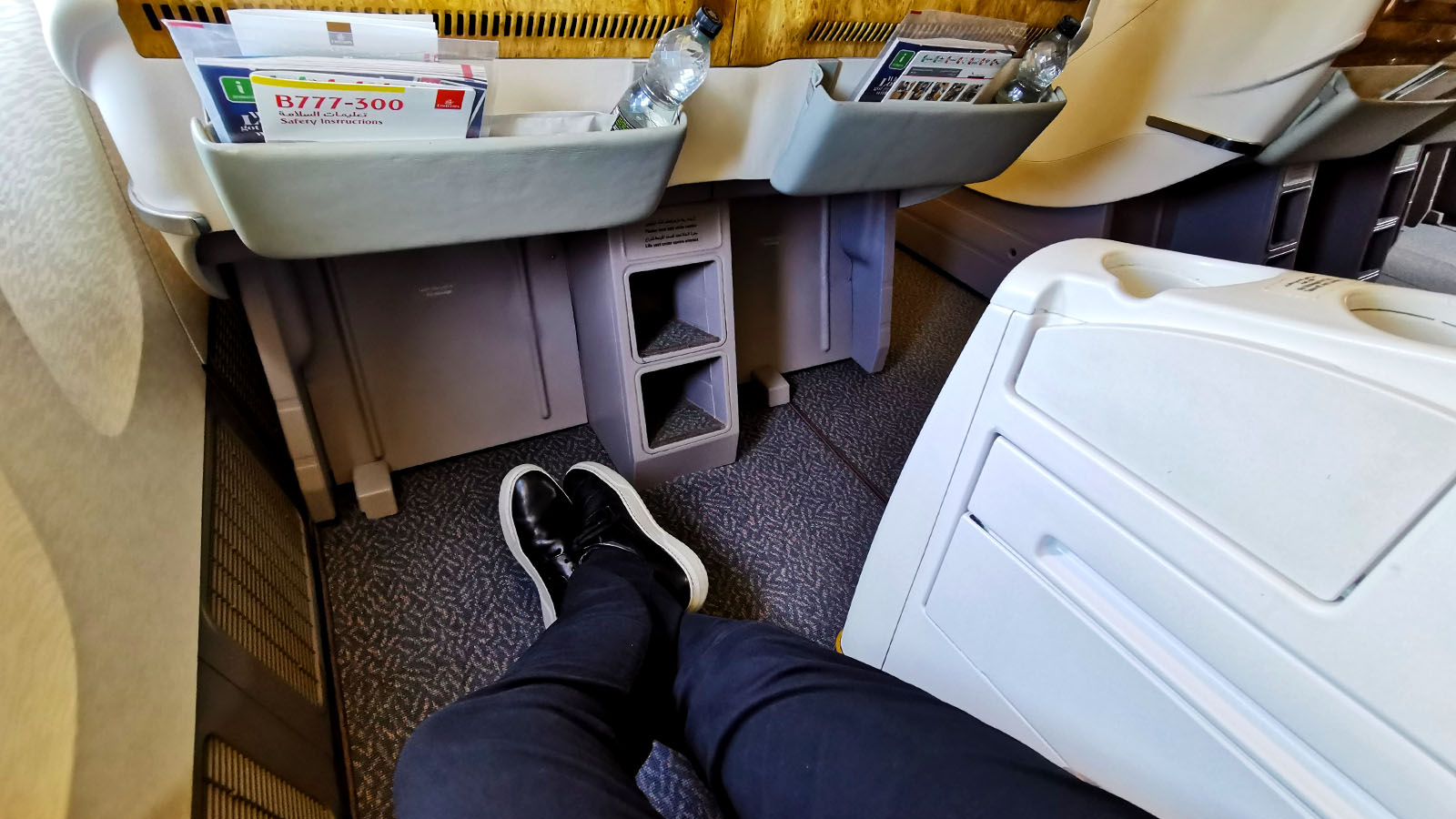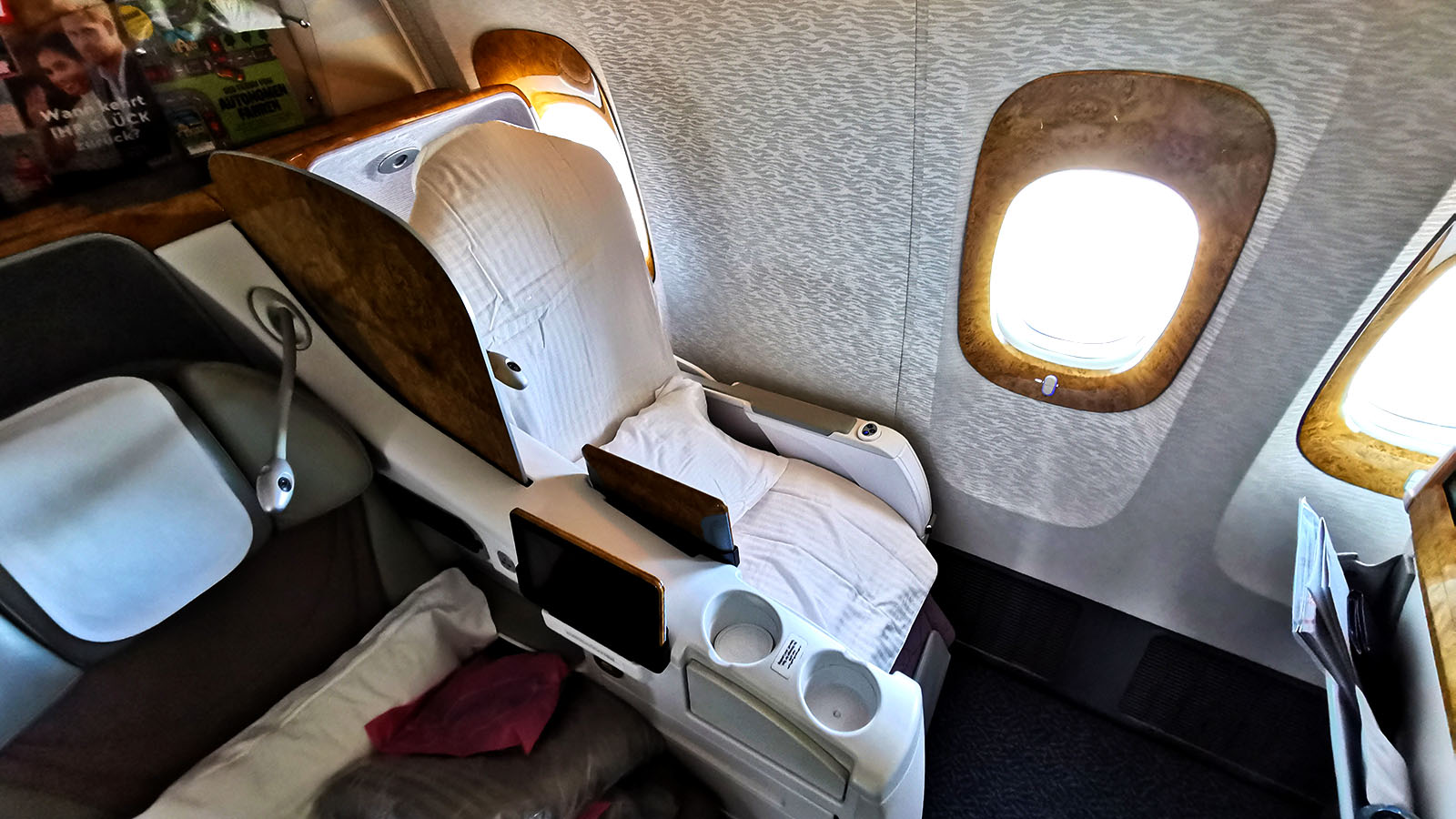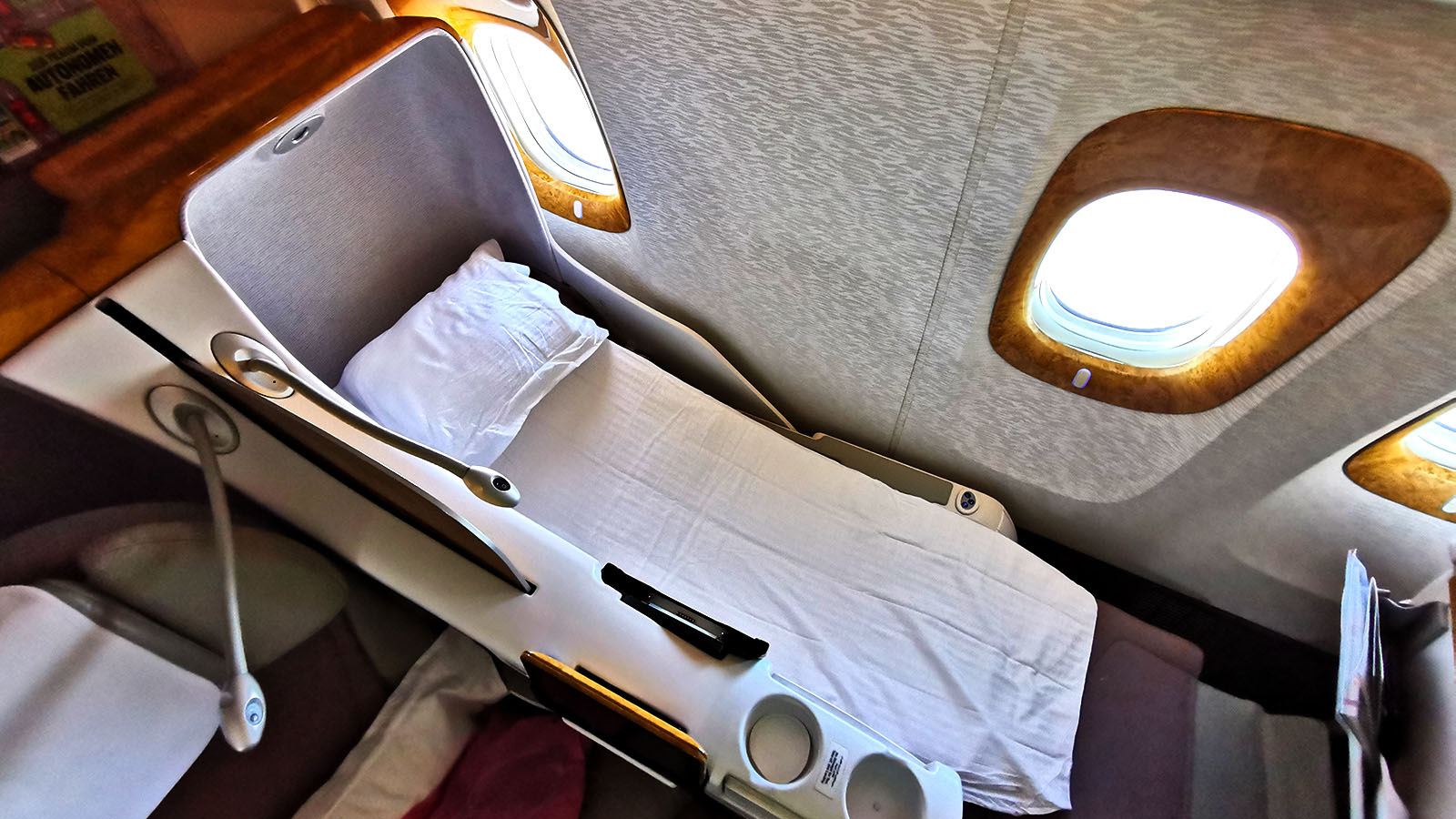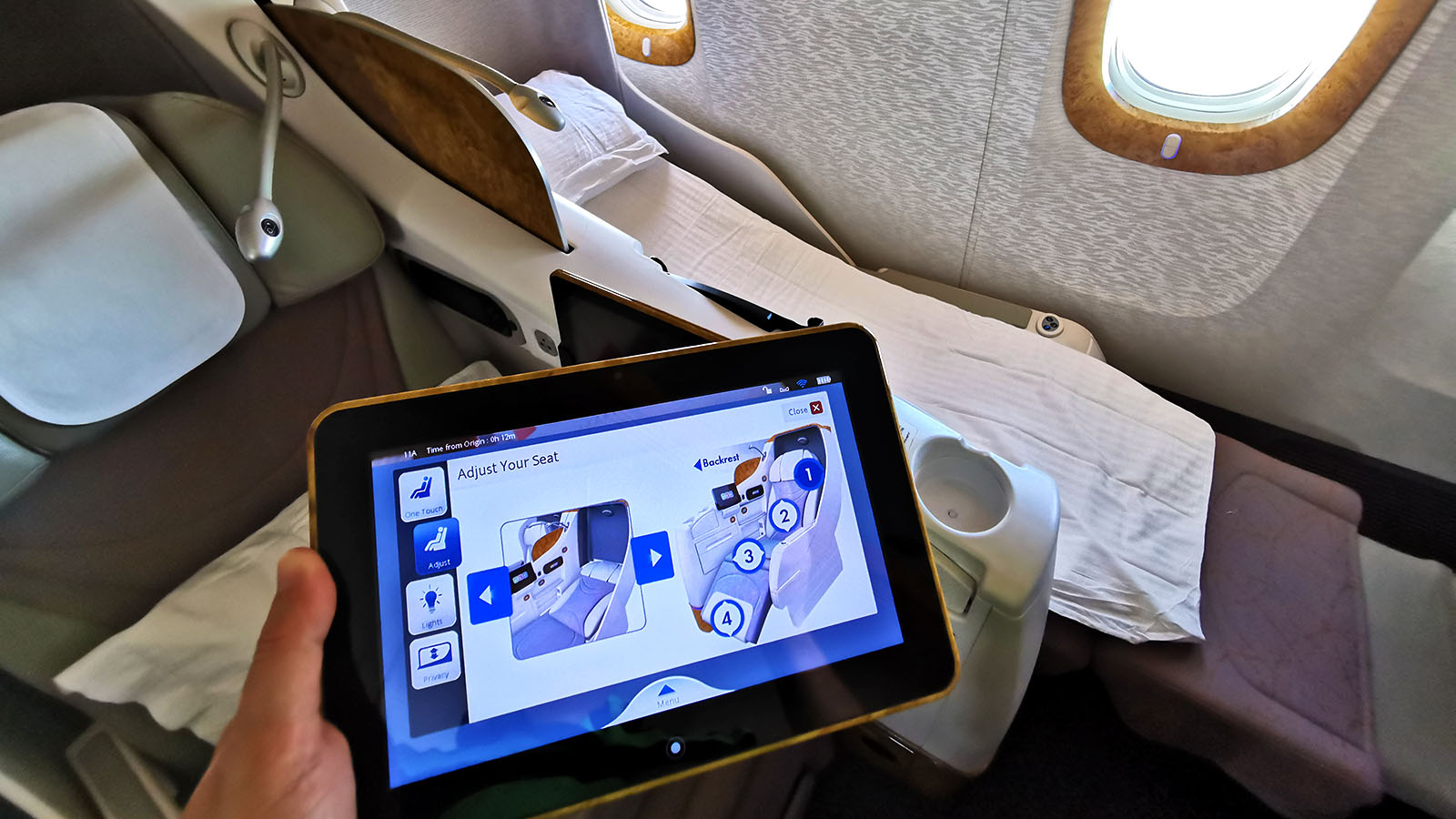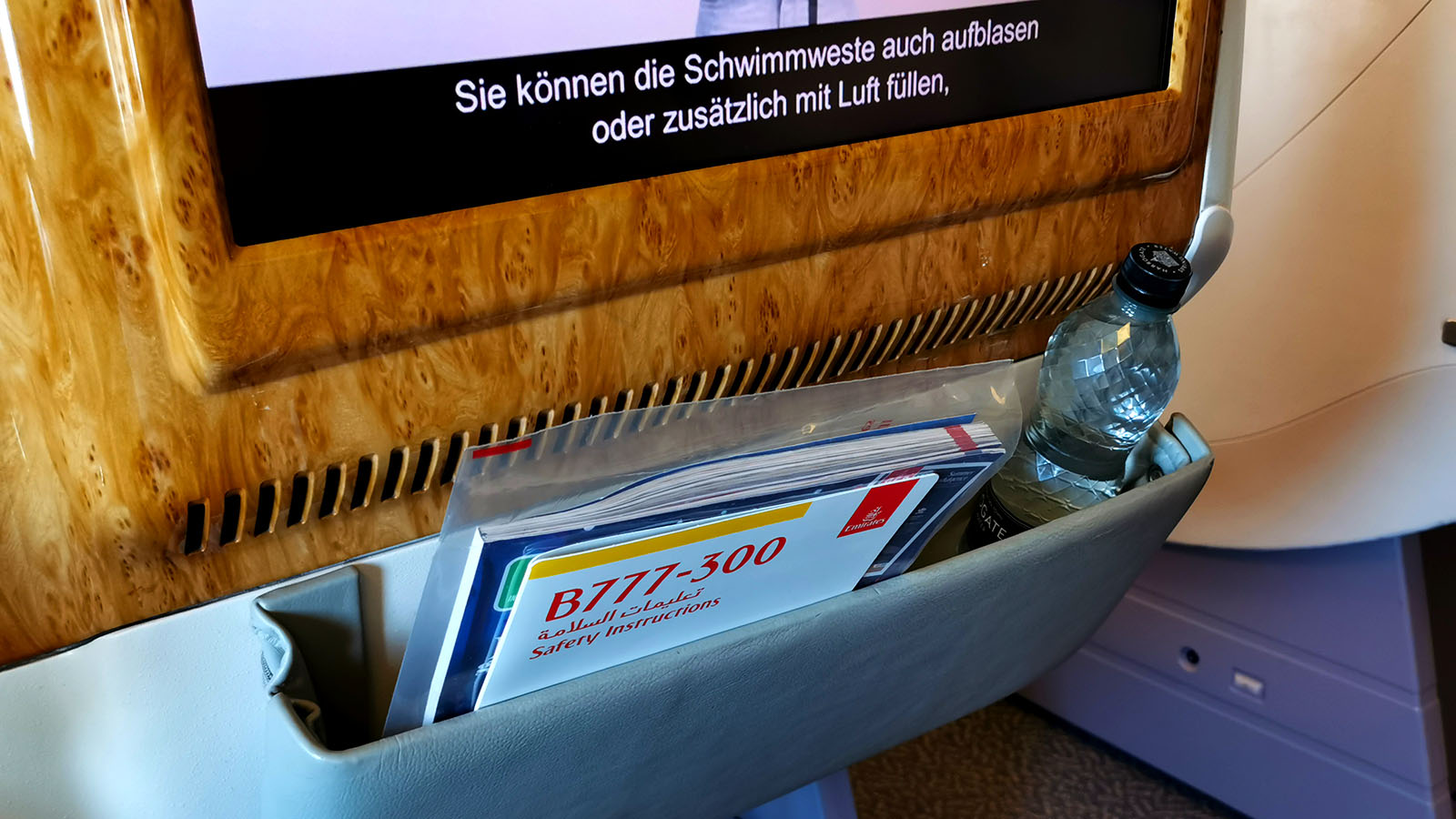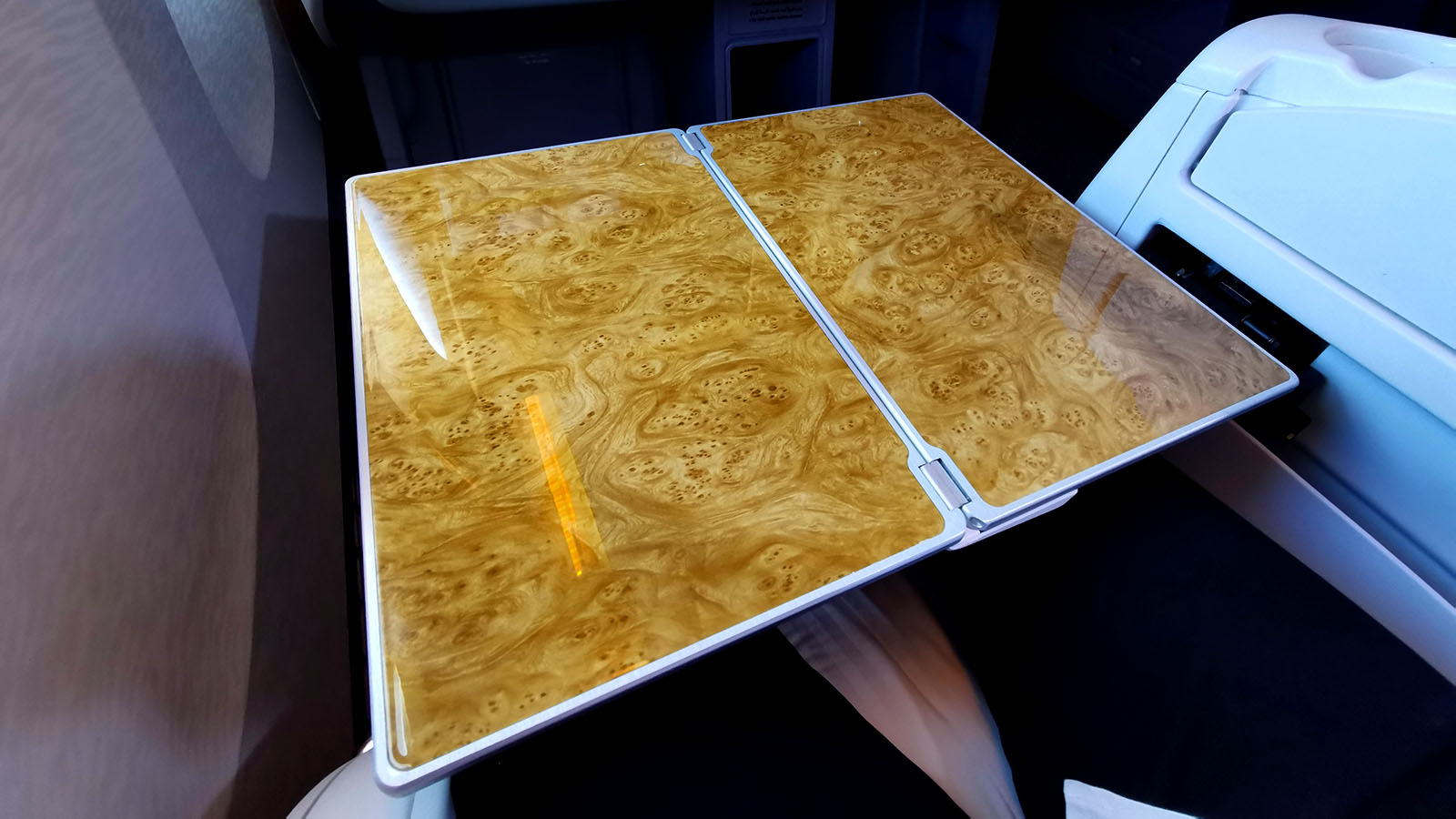 On this plane, there's plenty of room to stretch out and get comfortable. Granted though, on most of Emirates' Boeing 777s, the Business Class seats convert into angled-flat beds. Sure, that's not ideal. But I'm still able to comfortably nap for a couple of hours before it's time to pack up and land.
For what it's worth, I've also previously flown Emirates' Boeing 777 from Brisbane to Dubai – in the middle seat, no less. And on that 14-hour journey, I managed a full eight hours of sleep. Certainly, this isn't in the same league as products like Qatar Airways' Qsuite. But it's still a significant step above the reclining chairs in Emirates' Premium Economy and Economy.
Food and beverage in Emirates Boeing 777 Business Class
This Emirates Boeing 777 flight is a daytime service – and with an 11 am departure from Frankfurt, the Business Class meal service is lunch.
But first, there's a drink before take-off. After enjoying bubbles in the lounge, I'm pacing myself to enjoy wine with lunch. So even though Champagne is an option, I begin with a simple glass of fresh orange juice. Once we're in the air, I spot Veuve on the menu and need no encouragement to enjoy a glass with olives on the side.
For the meal itself, I opt for the traditional Arabic mezze as my starter. It's a classic dish and a staple not just of the airline, but the destination itself. Today's plate offers hummus, muhammara and baba ghanouj, along with a stuffed vine leaf. The bread is perfect for dipping, and the Riesling (Robert Weil Kiedricher 2021 from Rheingau, Germany) is a great complement.
For the main course, there's a choice between a seared beef fillet, chicken mandi or a pan-fried pike perch. I feel like changing to a red, so the beef it is. It's served with braised leeks, mashed potatoes and runner beans in a slightly peppery jus. It's cooked between medium and medium well, and pairs nicely with a glass of 2010 Château Ripeau from Bordeaux. The subtle blackberry hints in the wine are a pleasant adjunct to the more savoury flavours of the dish.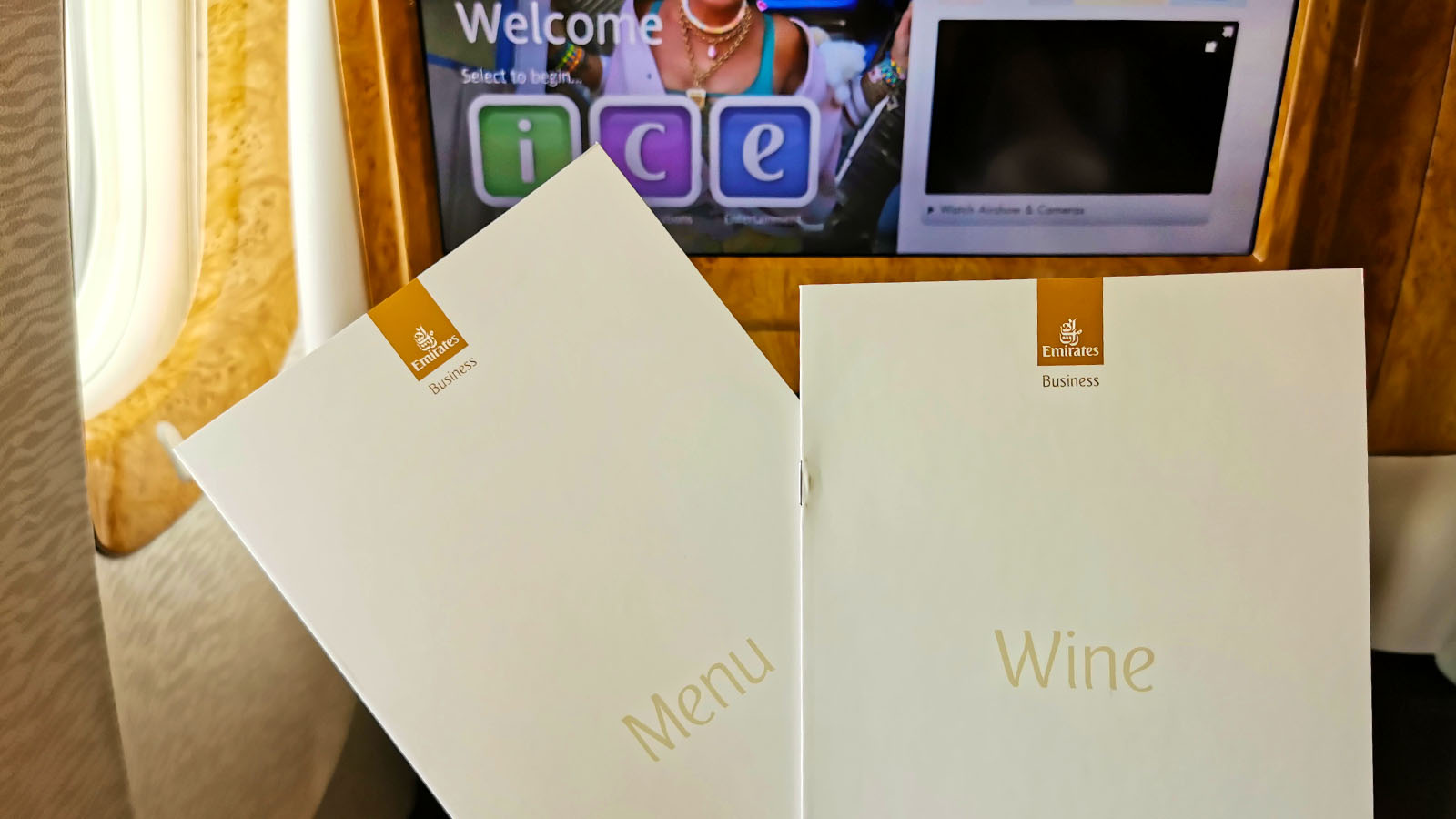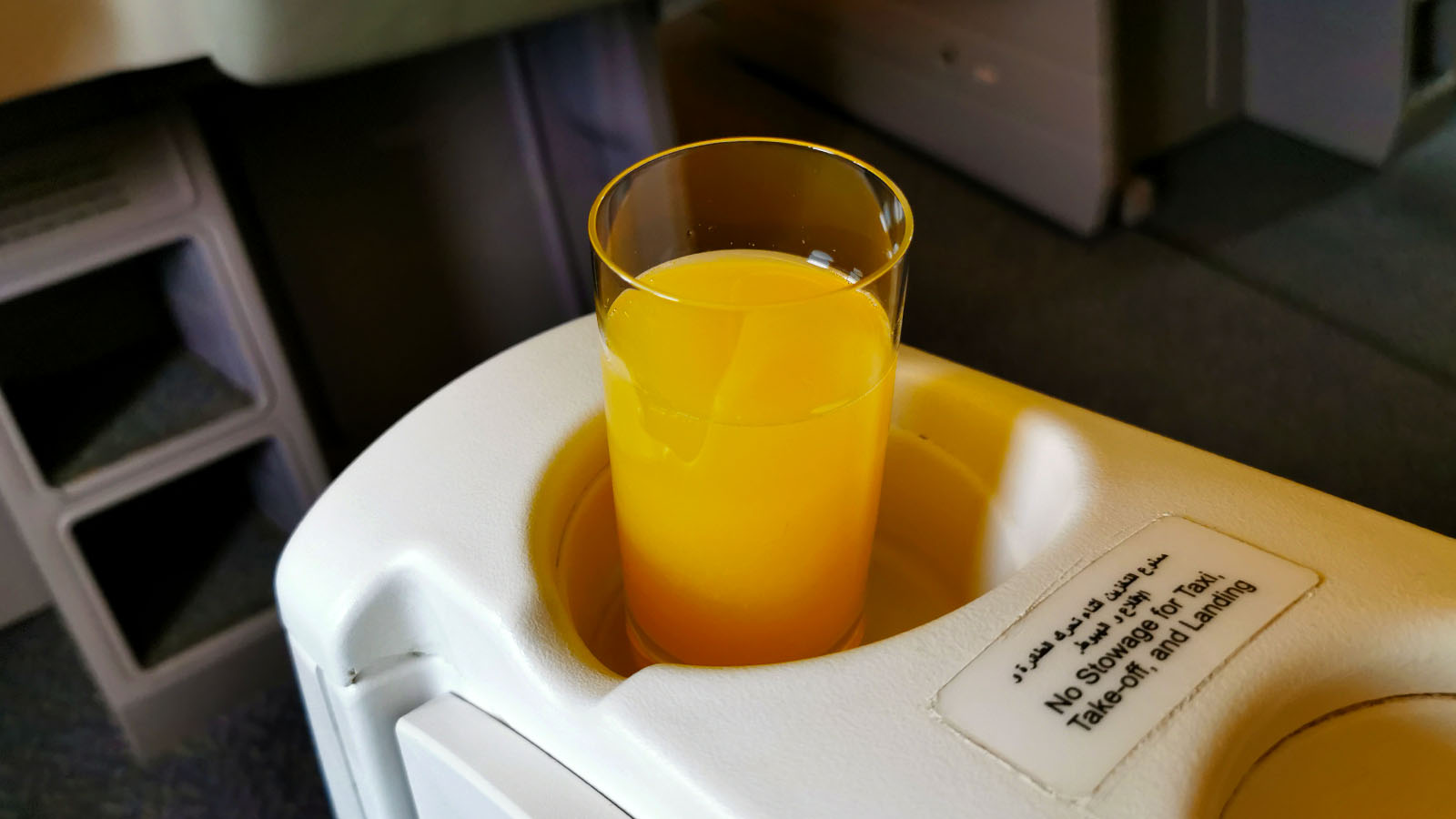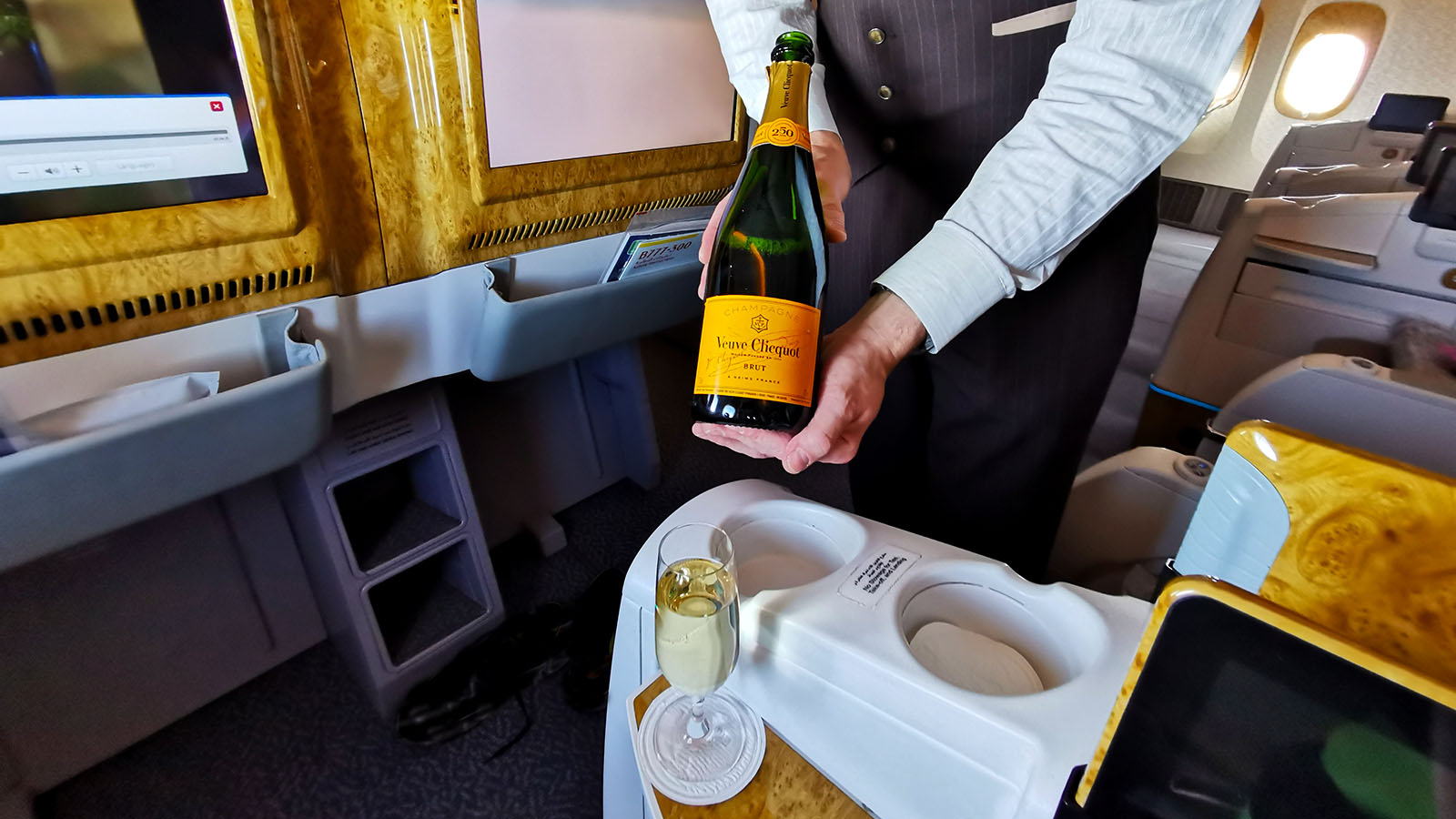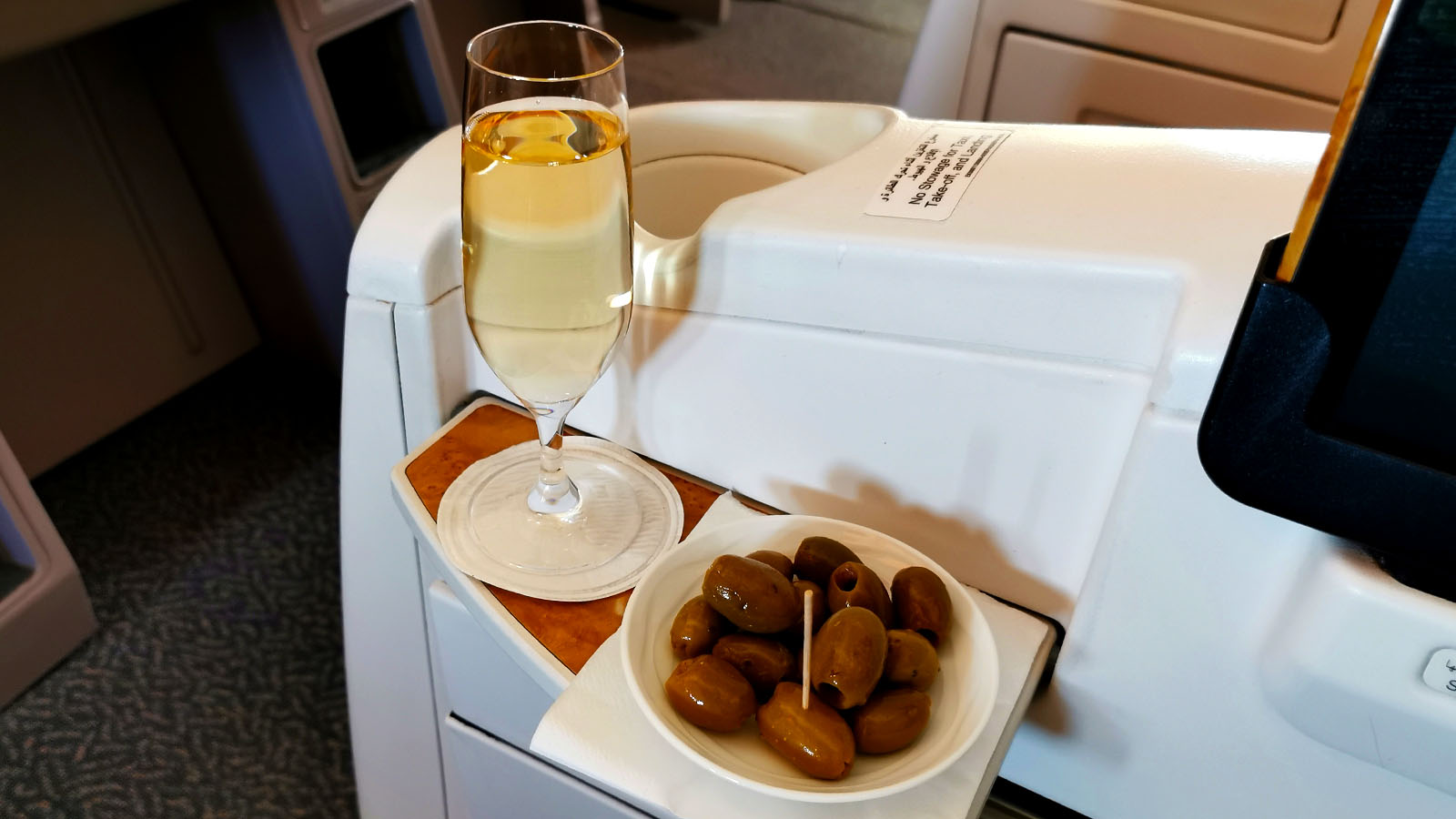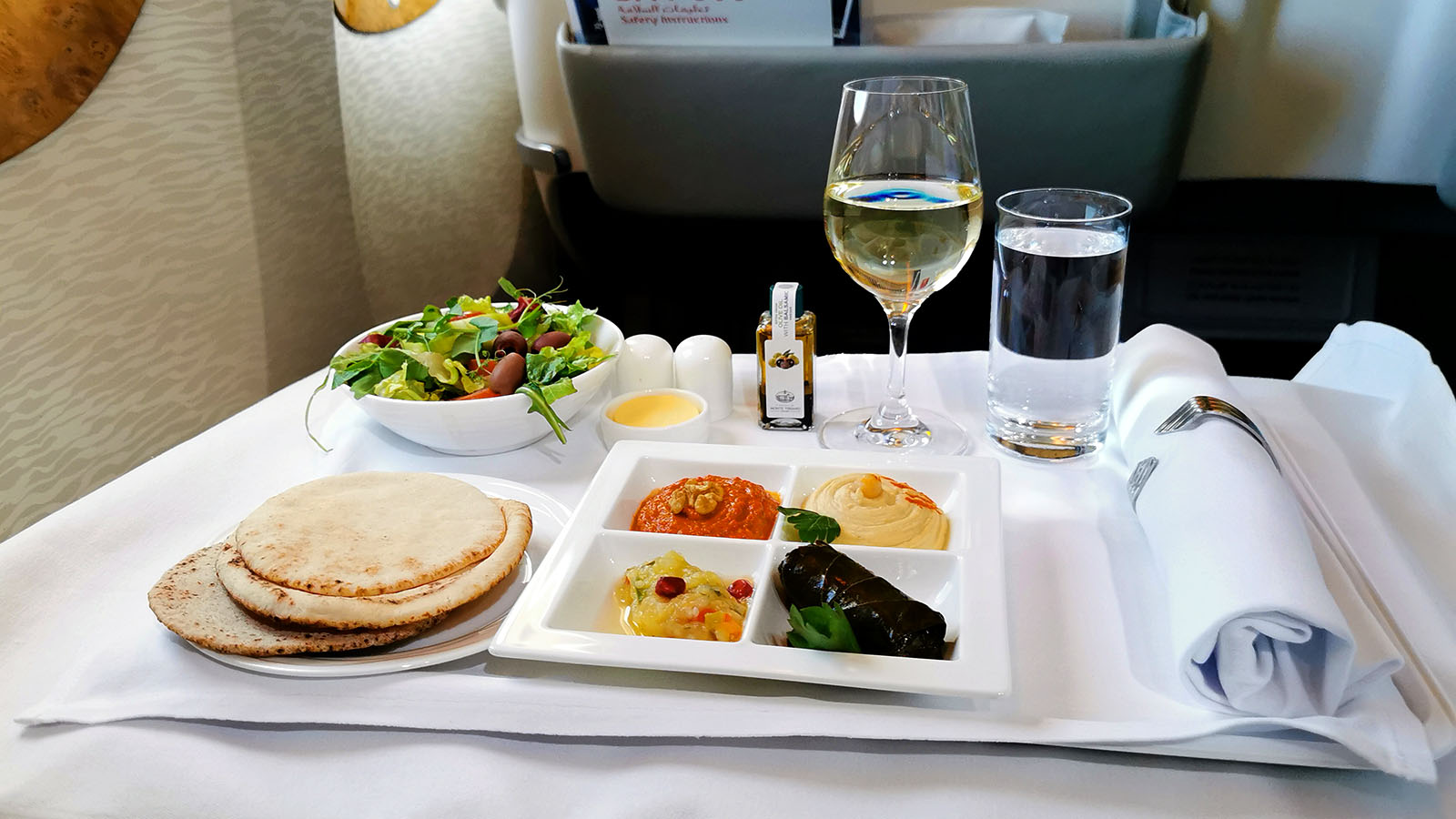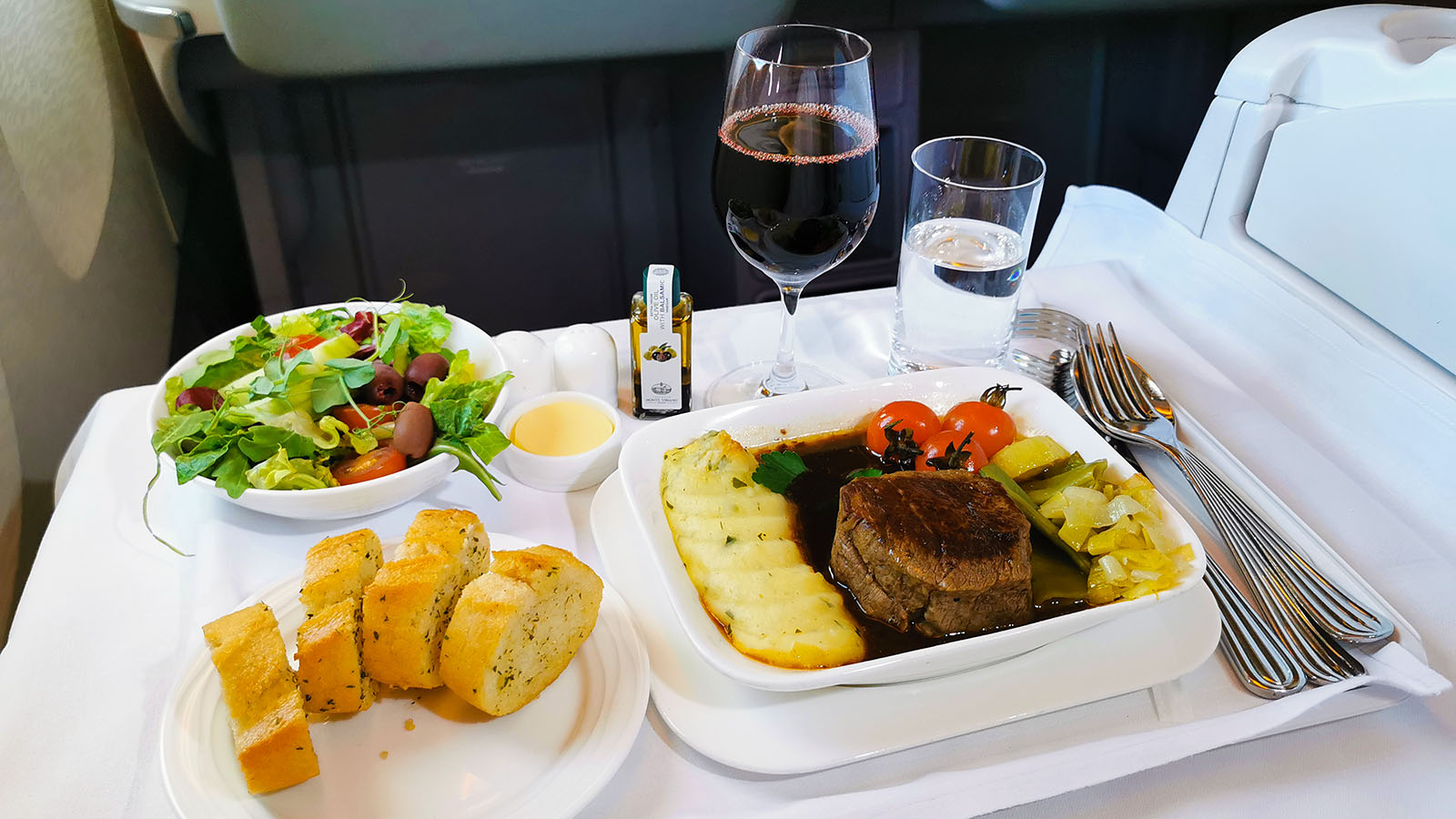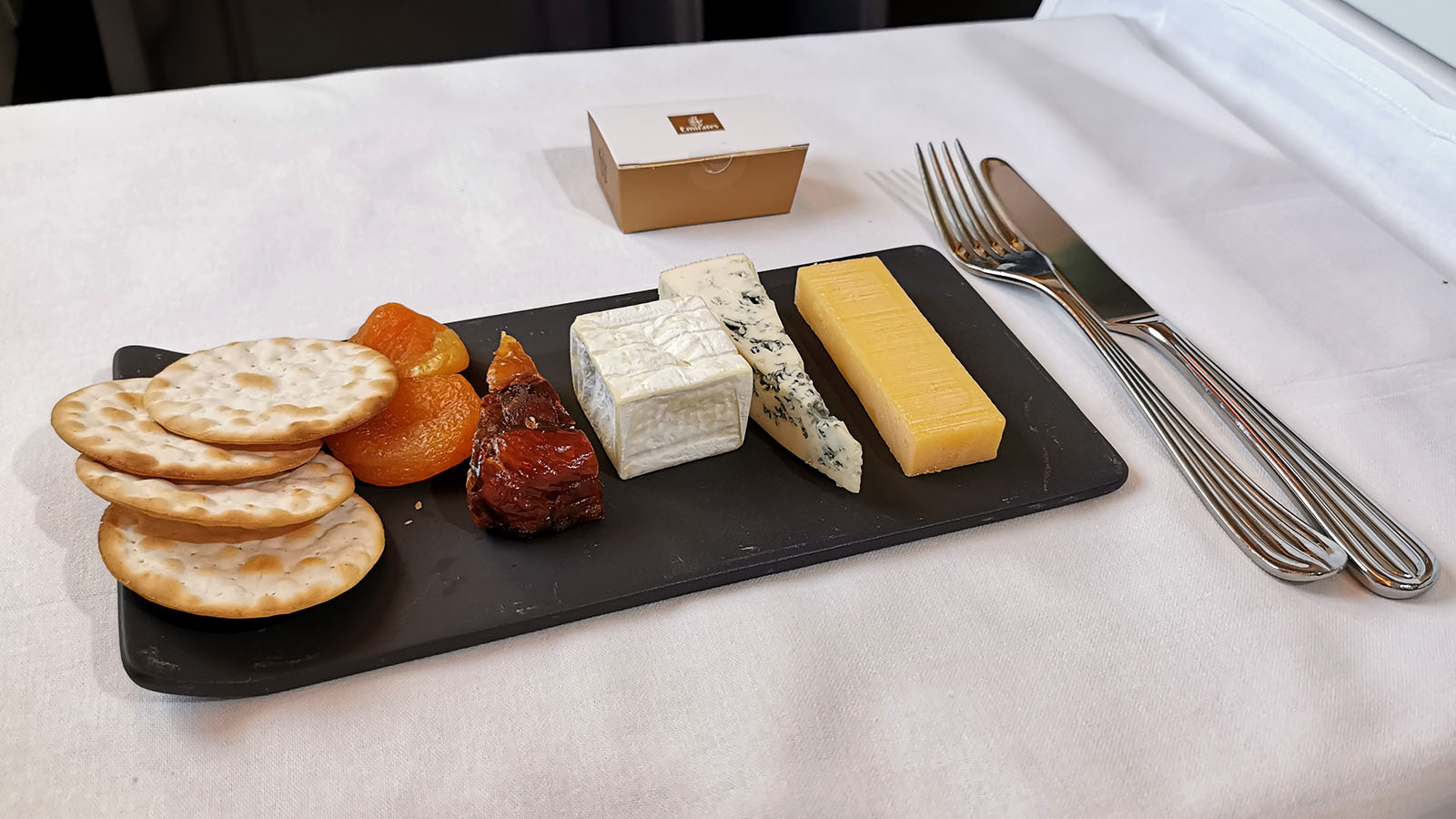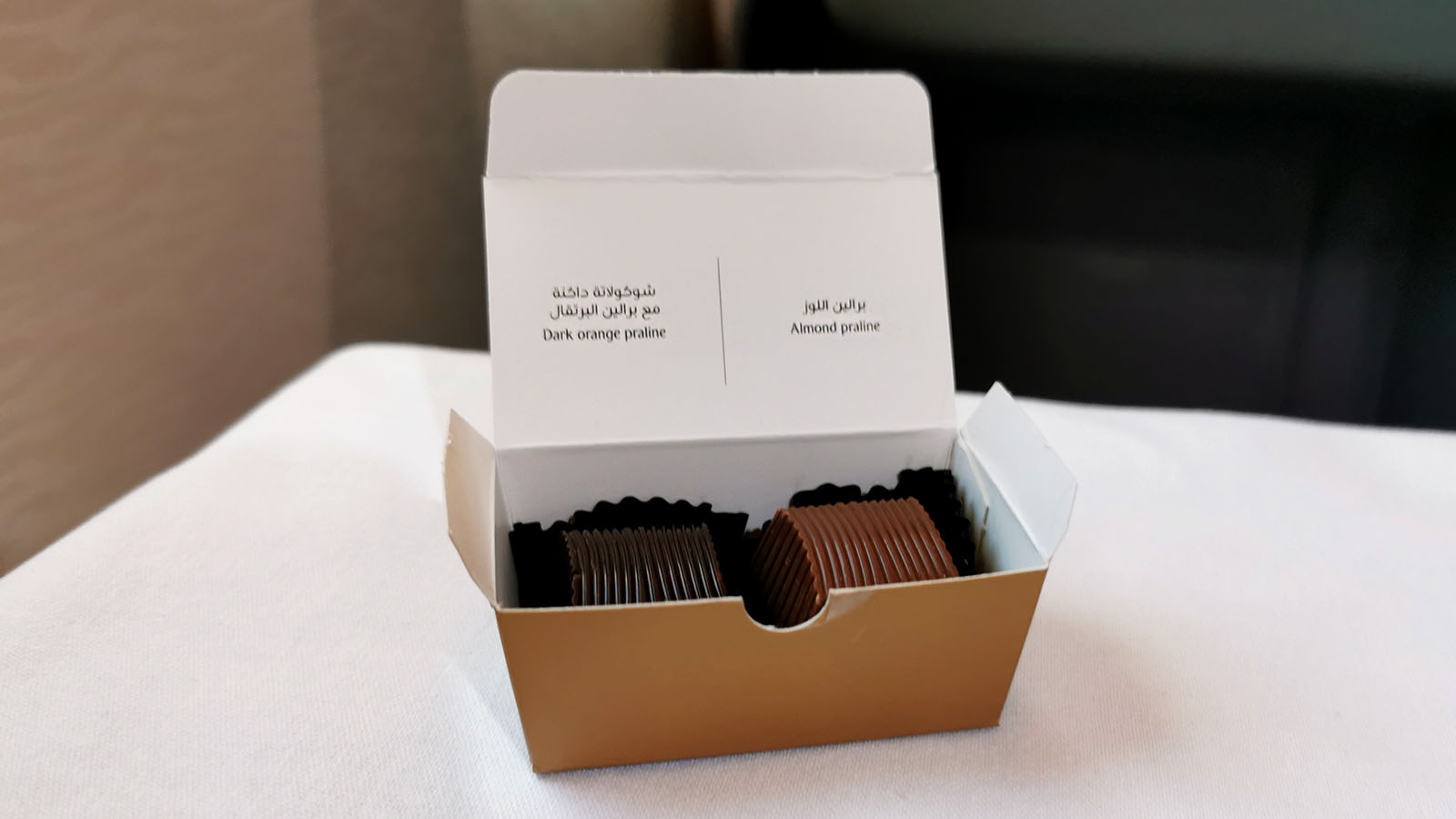 There's a comprehensive menu of sweets to follow, but I'm in the mood for cheese. The options on today's flight are Beemster Signature (Dutch gouda), pavé de brebis (French milk cheese) and Dorblu (German blue). I figure, why not try them all – and do exactly that. I'm tempted by the Sandeman 20-year Tawny, but change to water – knowing I have many hours of lounging ahead of me in Dubai. Tasty pralines finish things off, and it's time for my nap.
Emirates Boeing 777 Business Class service and entertainment
There's plenty to watch on Emirates' inflight entertainment system, ICE. It stands for Information, Communication and Entertainment – and of course, the latter is the most fun. I notice that the content selections are a little different than on my Emirates Airbus A380 flight earlier the same week. But both planes offer access to live satellite TV.
As it happens, the timing of my flight from Frankfurt coincides with State of Origin Game Two. It's taking place in Brisbane – my home city. And by tuning in to the live feed from Sport 24, I can watch the game as it happens while enjoying lunch in Emirates Boeing 777 Business Class. Given the Maroons win this round 32-6 against the Blues, it's quite good timing.
I also appreciate how there's more than one way to browse through the content. I can touch the large screen in front of me, which is the most obvious way. But there's also a tablet (which Emirates calls a 'mode controller') to the side. You can retrieve this from its dock and use it to adjust everything in your space. That could be the TV channel, the lighting, the position of your seat – whatever takes your fancy.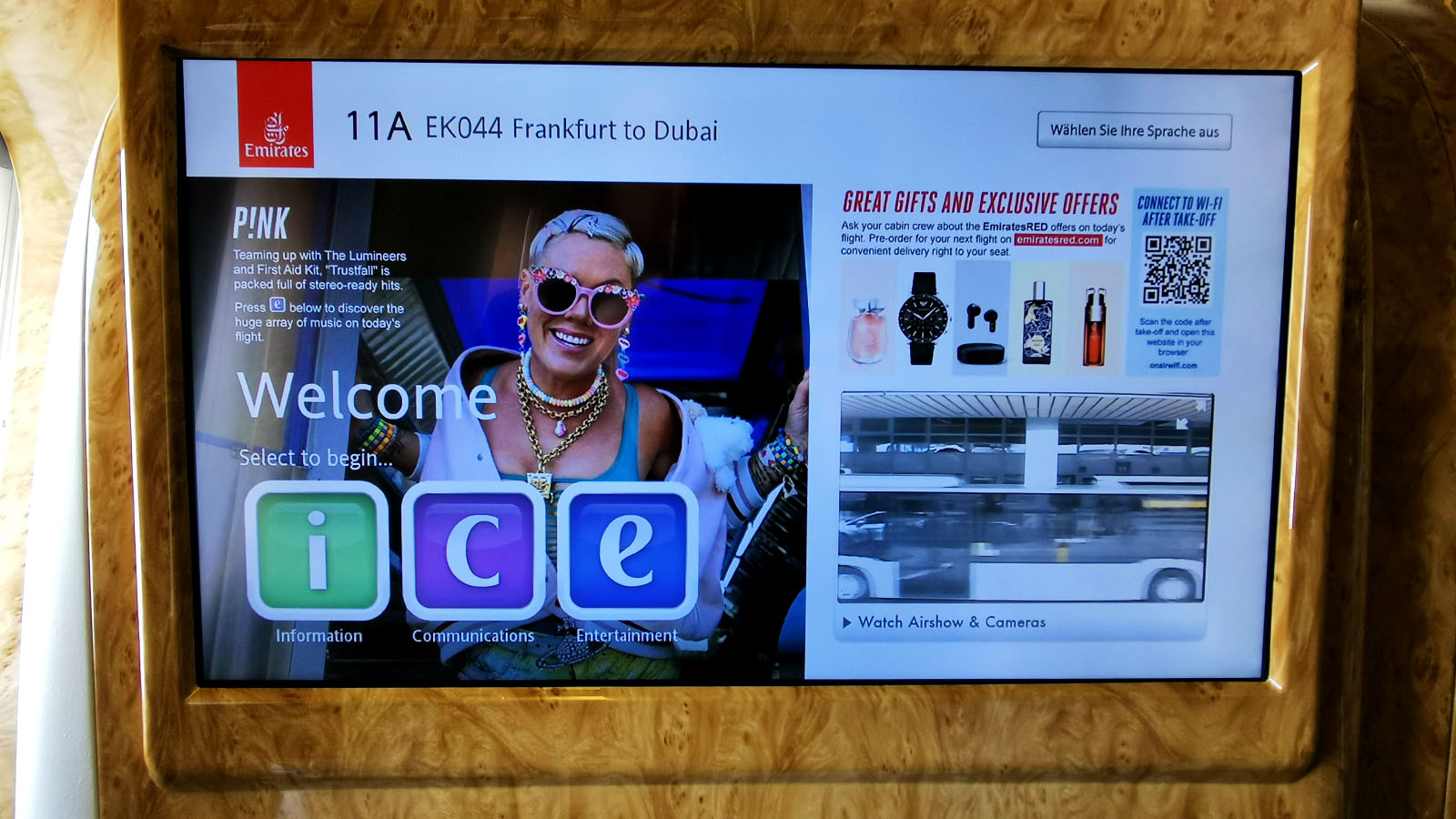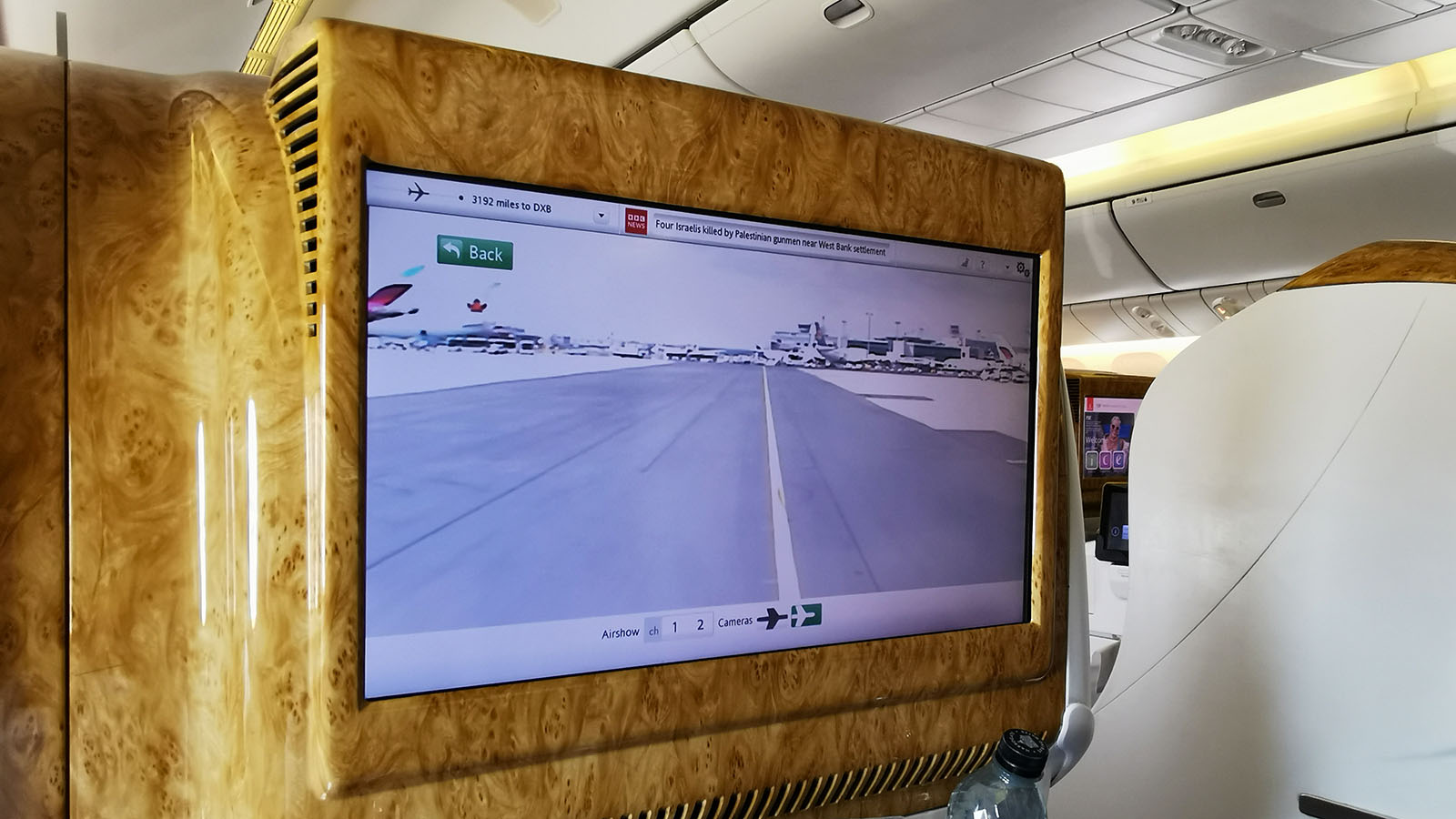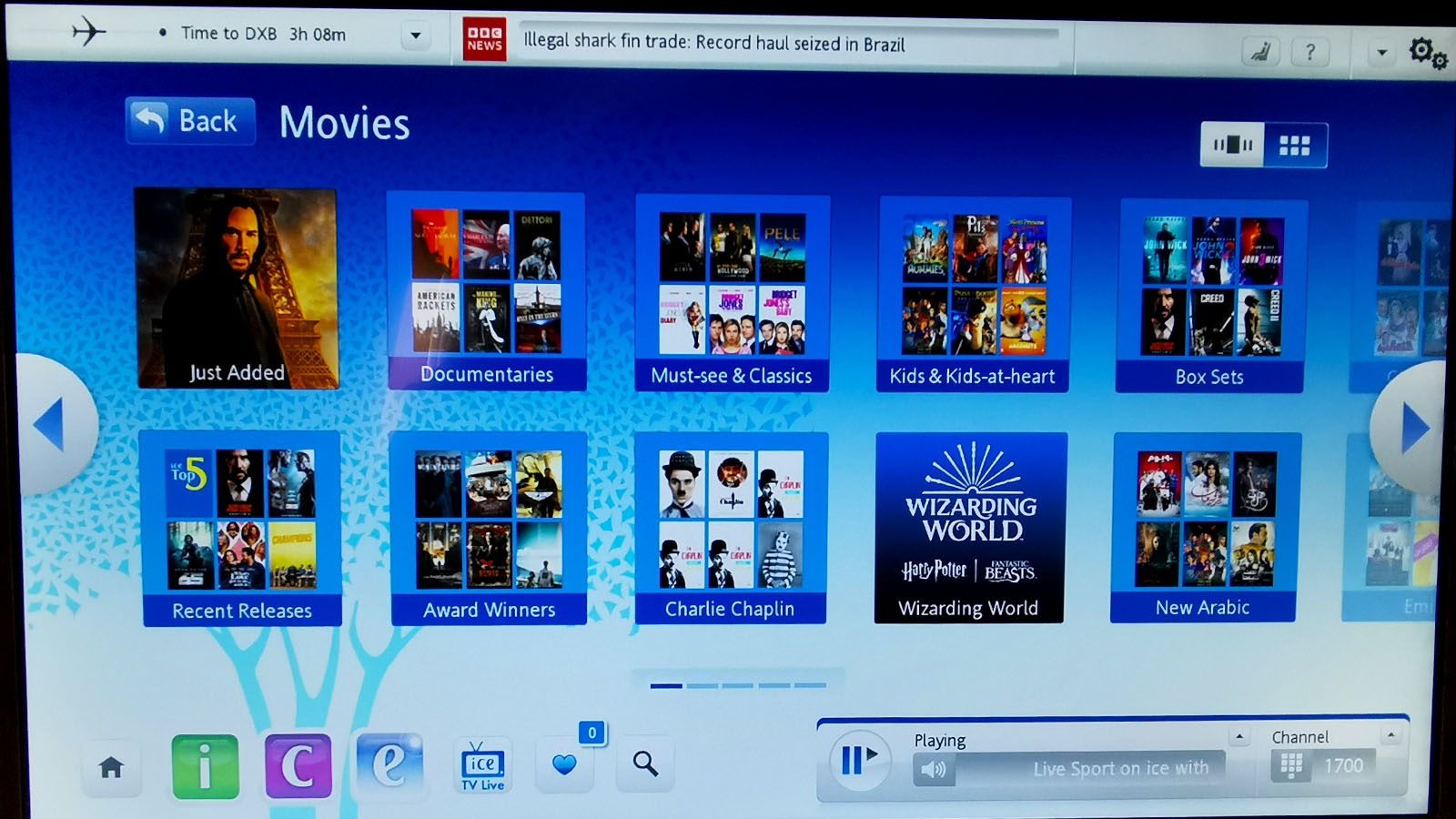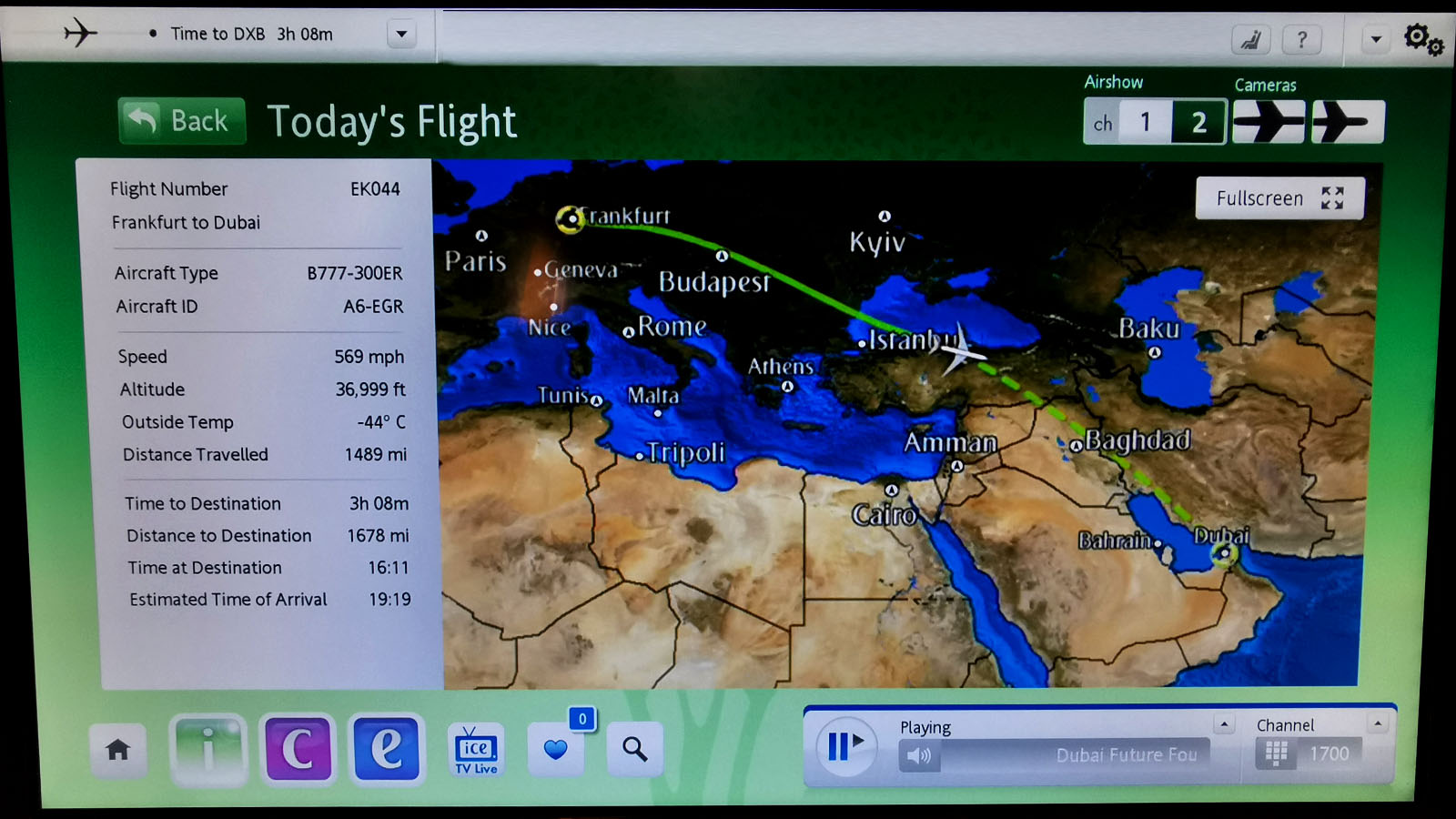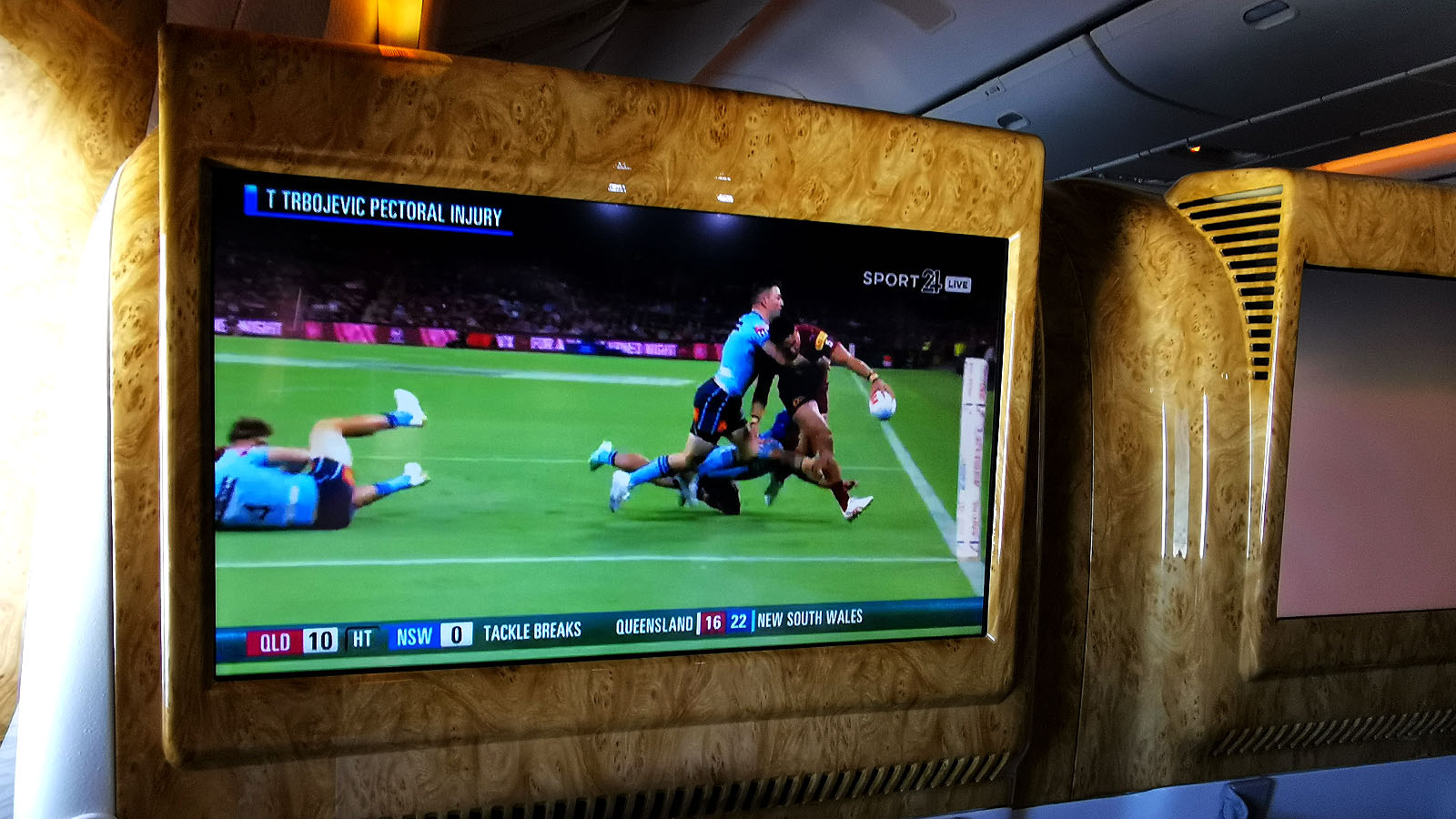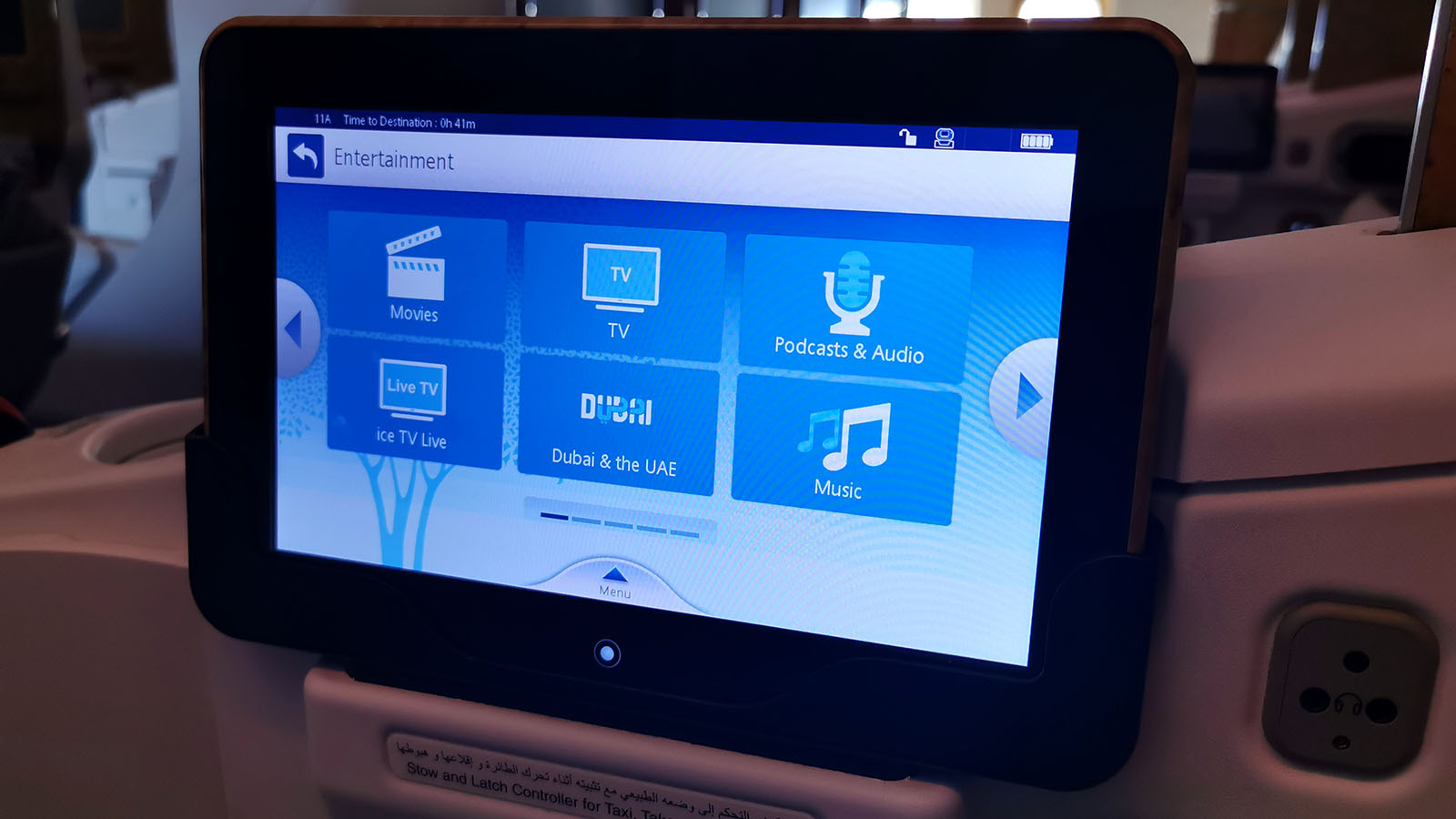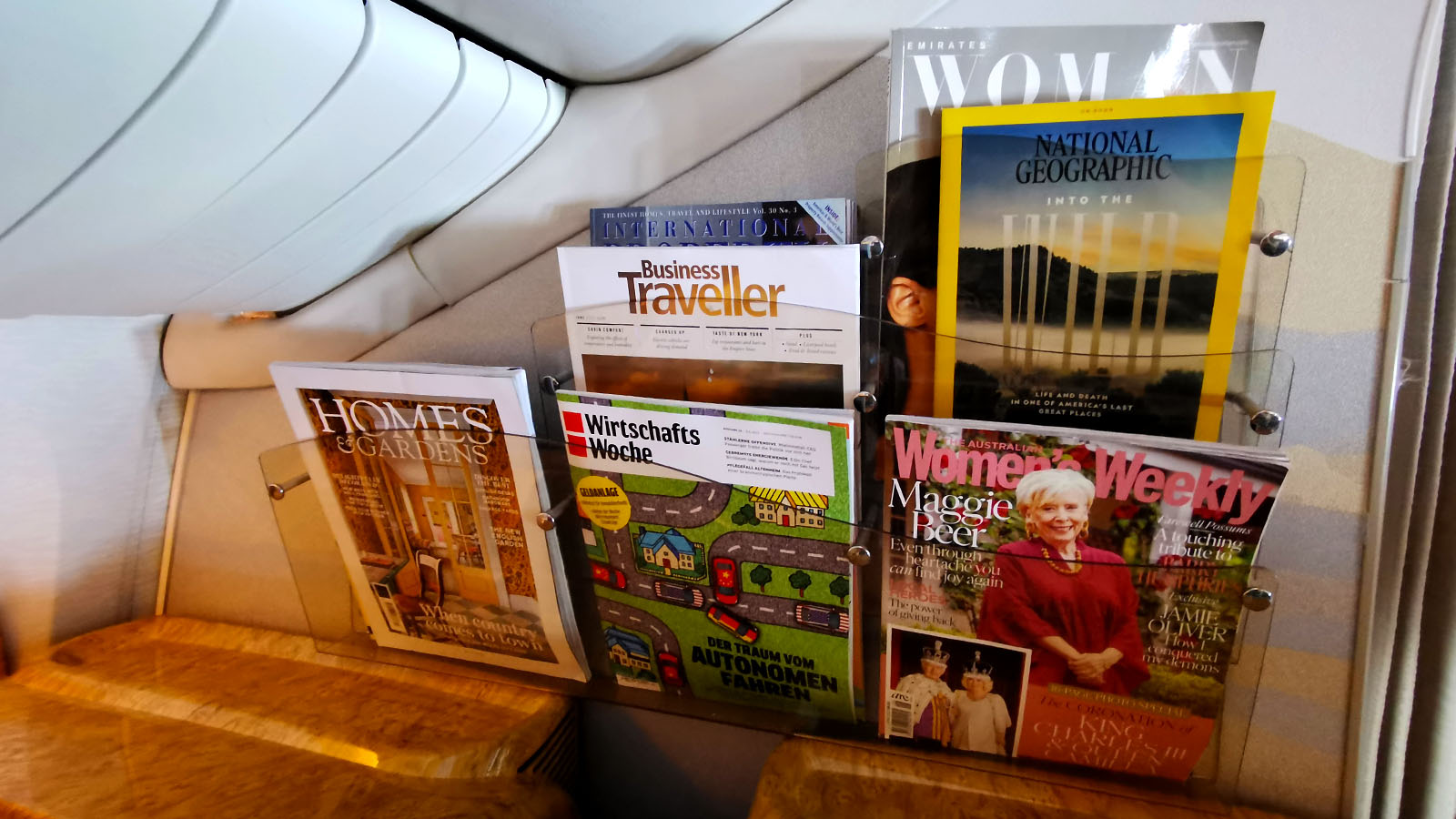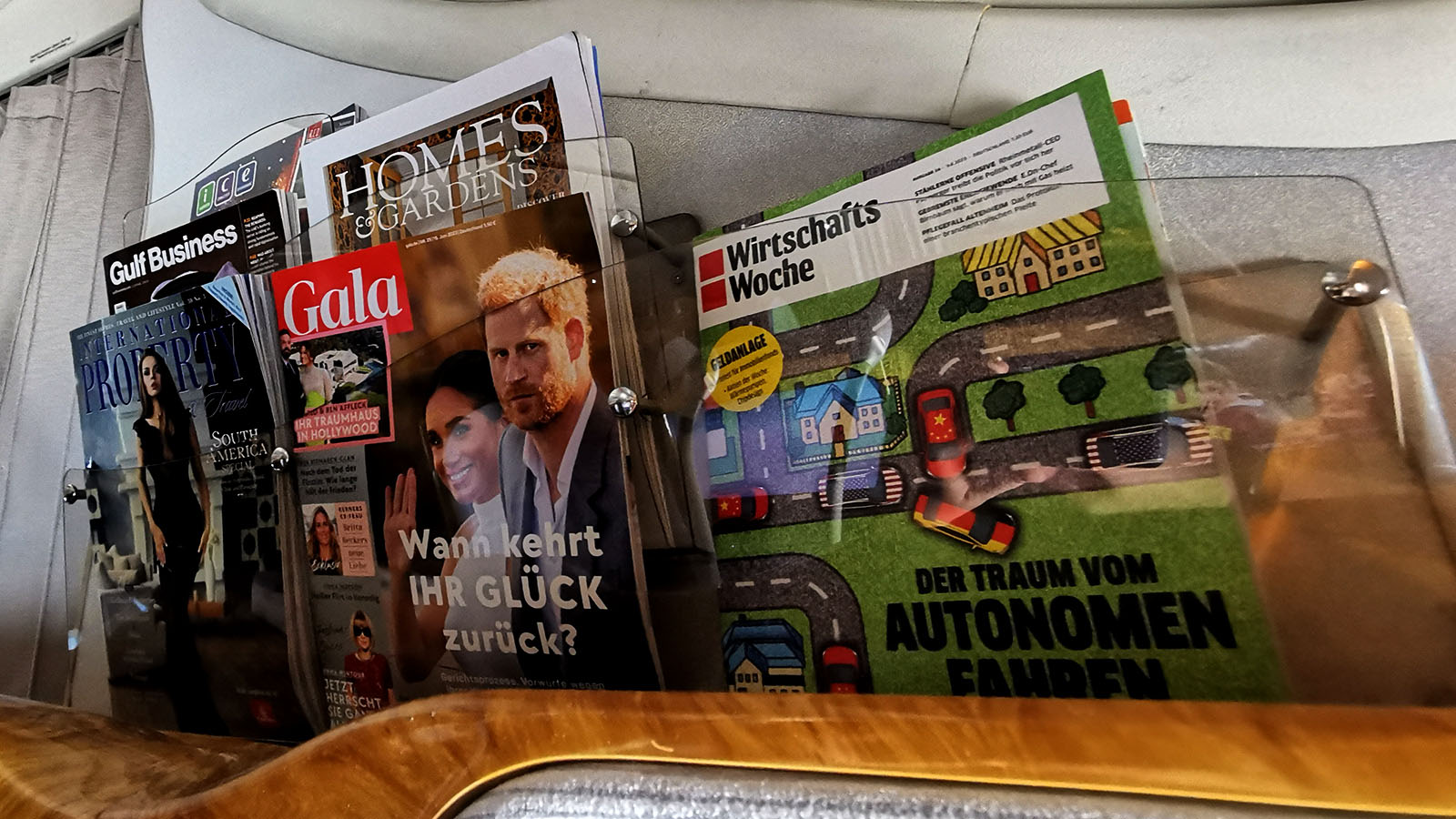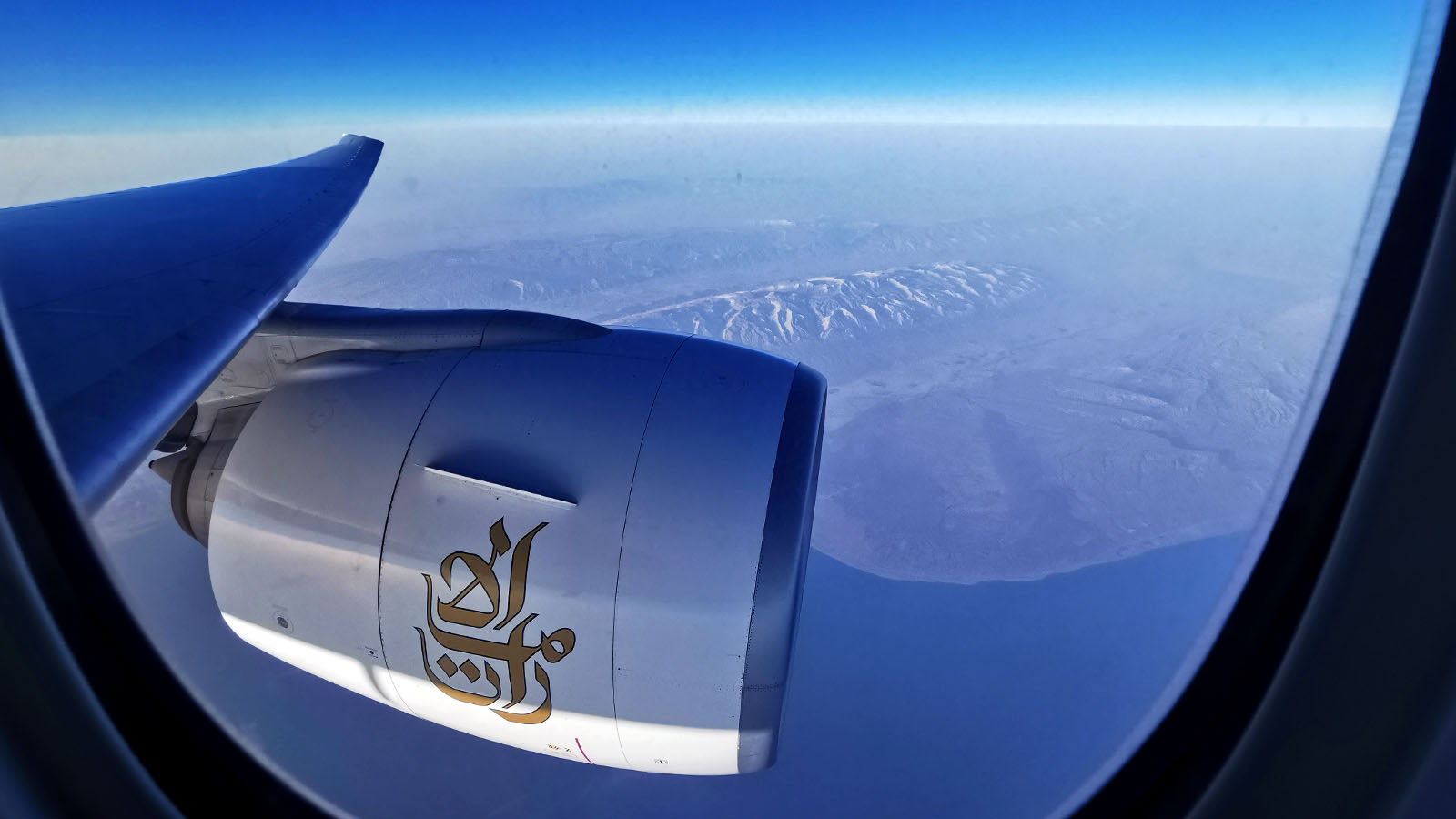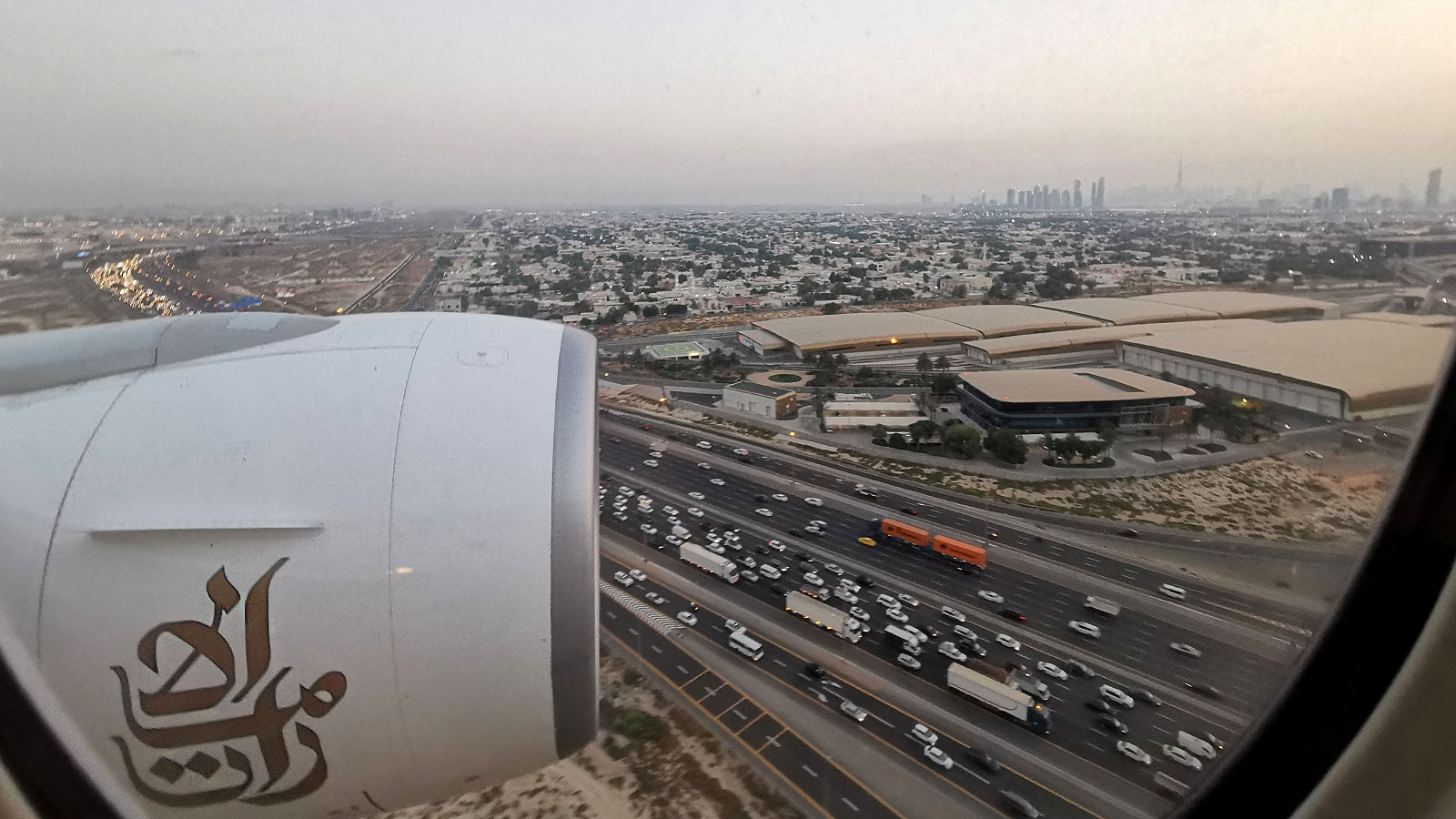 Emirates also offers Wi-Fi access on most flights. Normally, I'd purchase a full flight plan and get some work done. But my own plan on this leg is mainly to enjoy lunch – and the game, and a nap. So as a cheaper alternative to the flight pass (US$17.99), I buy the messaging pass for US$4.99. It works well and supports text-based messaging through selected apps like WhatsApp and Messenger. There's also a selection of reading material in the cabin.
On the service front, cabin crew are delightfully attentive. After the purser (Stephen) delivers a warm greeting referencing my Qantas Platinum status, I'm left in the capable hands of Nemo. That name's easy to remember, particularly after introducing himself as 'Nemo, like the fish' – which gets a laugh from every passenger.
The verdict
Whether you end up on an Airbus A380 or a Boeing 777, many elements of the Emirates Business Class experience remain the same. For starters, on eligible fare types, the journey begins with Chauffeur Drive and lounge access. And when it comes to inflight drinks and dining, the offerings are the same there too – just varied by time of day.
There's also inflight Wi-Fi, where eligible Skywards members can connect for free or at a discount when their Skywards number is on the ticket. Add to that, vast entertainment choices including live satellite TV. And rounding out the experience, Emirates' signature Business Class cabin service – which I often find is marginally more attentive on Boeing 777 flights, owing to the much smaller cabin.
But as many frequent flyers know, the big difference between the two aircraft is Emirates' Business Class seat. And in fact, as the Emirates Skywards boss confirms to Point Hacks, many travellers deliberately seek out the A380 when spending their miles to book or upgrade to Business Class.
All things being equal, I'd go for the A380 as well. But when a superjumbo flight doesn't coincide with your schedule, now you know what awaits aboard the alternative. Just be sure to choose your seats in advance to avoid ending up in the middle. In fact, my strategy as a solo flyer is to select an aisle seat in the centre group. I figure that the adjacent middle seat will be the least popular choice and stay vacant unless the flight is full. On today's flight though, it's empty enough to secure a neighbour-free seat by the window. And it still beats Premium Economy.
From us, it's 3.5 stars overall, reflecting the strength of the food, beverage, service and lounge aspects of the experience, balanced by the contrast between the airline's Boeing 777 and Airbus A380 Business Class seats – and the Business Class products of its close competitors.
Also read: Ultimate Emirates First Class luxury to Europe with Qantas Points
All photography by Chris Chamberlin, who travelled as a guest of Emirates.
---
Stay up to date with the latest news, reviews and guides by subscribing to Point Hacks' email newsletter.
Emirates Boeing 777 Business Class (Frankfurt – Dubai)
was last modified:
October 25th, 2023
by