Plaza Premium Group CEO Song Hoi See spots opportunity in post-pandemic travel
Exclusive: We catch up with the creator of the world's first independent airport lounge.
Posted:
August 31, 2023 - 10:00 am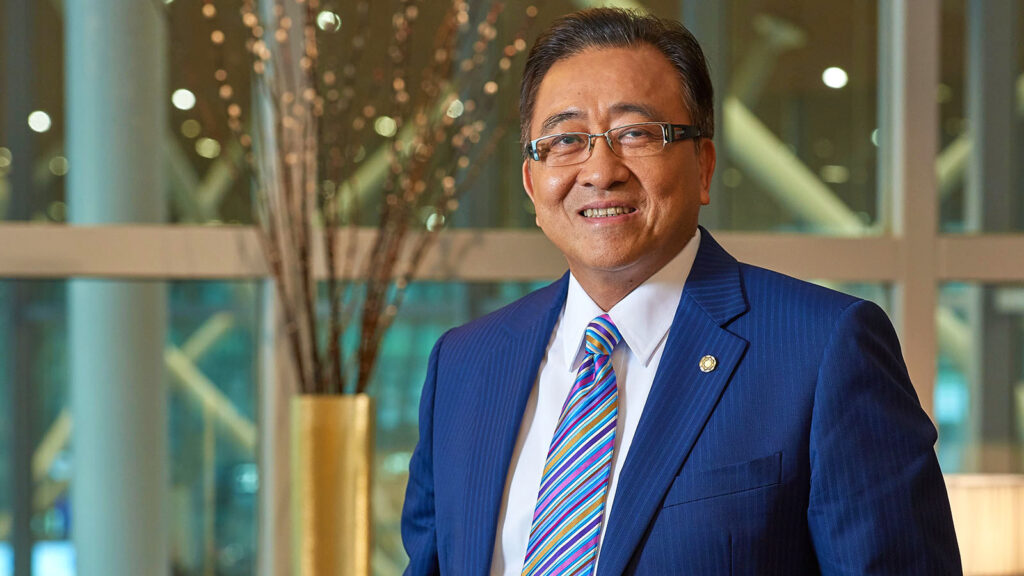 What we'll be covering
With the worst impacts of COVID-19 behind us, the travel industry is roaring once again. And it's a particularly pleasant transition for companies like Plaza Premium Group (PPG). After all, PPG is headquartered in Hong Kong – a city that endured protracted travel bans and restrictions throughout the pandemic. But there's still work to do on the road to recovery.
While some Plaza Premium lounges have permanently closed, others remain shuttered on a more temporary – but still, ongoing – basis. And for that matter, many more Plaza Premium lounges are set to open in the years to come.
For a deeper dive into what travellers can expect over the months and years ahead, I catch up with Plaza Premium Group CEO, Song Hoi See. Song isn't any 'ordinary' CEO – he's also the founder of Plaza Premium itself, and the person credited with creating the world's very first independent airport lounge back in 1998.
Since then, Plaza Premium Group has ballooned to offer facilities in more than 200 locations spanning over 30 countries and regions. But that journey began here in Song's home city, Hong Kong.
How did COVID-19 change Plaza Premium Group?
Clearly, a lack of passengers and flights is going to impact any airport lounge operator. Especially when local restrictions prevent the lounges from even opening. But as the green shoots began to emerge after the worst of those closures, the recovery proved quite strong for Plaza Premium Group.
Of passengers departing Hong Kong, 'before COVID, we only captured about 3% of the total (in our lounges),' Song shares. But once lounges could reopen, passengers didn't just come flocking back – many more began stopping by. 'During COVID, (PPG captured) nearly 10% (of all travellers), but that's now dropped back between about 5.5% to 6%.'
'Would you realise that's why people use more lounges, because of COVID?' Song ponders. 'People sort of still have a phobia. They don't want to be in the public (terminal). So that's the reason they go to the lounge. That's why we benefit.'
While not driven by a pandemic, that same thought process – seeking something better than the public airport terminal – drove Song to open his very first lounge back in 1998. After a high-flying career in banking, Song's next role saw him travelling in Economy Class – missing the lounges he'd grown accustomed to.
'You have to think outside the box. People travelling Economy – it doesn't mean they don't have money, and they still want quality. (Even if) you cannot get First Class in the air, you can get First Class in the airport.' By extension, flying Economy shouldn't mean you 'cannot use the lounge. That is not my idea. My idea is open to everybody.'
But moving forward, 'don't look at us as just a lounge operator,' Song says. 'We are going into meet and greet services. We are going into the hotel business and F&B. Our intention is (to) provide 360-degree service in the airport ecosystem.'
Ad – Scroll down to continue reading.Minimum spend, terms & conditions apply.
Priority Pass and Plaza Premium Group reunite
After a two-year split, Priority Pass cards are once again accepted for access to Plaza Premium Group's many lounges. This includes the company's facilities in Sydney (departures and arrivals), Melbourne, Brisbane, and the newest PPG lounge Down Under, Adelaide. But what drove that long gap in acceptance?
'Commercial reasons,' Song hints. 'We wanted to make sure that we're paid enough to make it workable and viable.' Of course, for those not familiar, Priority Pass pays a fee to lounge operators every time a cardholder visits their lounge. Priority Pass then collects its own revenue by selling lounge memberships to individuals and financial institutions.
'Priority Pass – they do not own a lounge. So what they do is go and consolidate with all the lounge players and group them together,' Song reiterates. 'They put (their membership cards) into the markets and sell them to the banks – the other consolidators.'
But at the time of the break-up, the fees paid by Priority Pass to Plaza Premium Group 'didn't reach our level. It's very hard to continue to provide (the service) because the rent is increasing all the time. Labour costs (are) increasing, (there's) inflation, the food (cost) is also increasing as well.'
So the agreement with Priority Pass strikes something of a compromise. Guests with a Priority Pass membership can once again visit Plaza Premium's lounges, but may not have the same experience as other guests. Quite often, additional charges apply to Priority Pass members for premium alcohol or to use the lounge's shower facilities.
But here's a tip. Travellers with an American Express Platinum Card or Centurion Card should present their Amex card – rather than their accompanying Priority Pass card – when entering a Plaza Premium Lounge. For these premium Amex cardholders, extras like showers are gratis.
What could replace Plaza Premium Group's Wellness Spa in Brisbane?
Pre-COVID, Plaza Premium Group occupied two separate spaces at Brisbane Airport. There was the main Plaza Premium Lounge – which has since returned. But around the corner sat a second facility: Plaza Premium's Wellness Spa.
Detached from Plaza Premium's usual lounge access partnerships, the spa was a wholly pay-in service. And as it turns out, the demand from paying guests just isn't enough to justify its return. 'We handed it back (to Brisbane Airport),' Song says of the space previously occupied by the Wellness Spa.
'We closed the Wellness Spa because we can see that the traveller is still not used to this kind of (service) yet. A lot of people thought, okay, this lounge is only for CIP customers, not for the rest.' And unlike access to the company's main Brisbane lounge, there were no partnerships signed with airlines to grant high-flyers treatments in the separate Wellness Spa.
But its closure means that there's now a vacancy for something else in its place. Perhaps even an American Express Centurion Lounge to mirror Sydney and Melbourne, which Plaza Premium could operate.
'We talked to American Express about this,' Song shares. 'But I think, for (the) time being, the number (of eligible passengers departing Brisbane) is not justified yet. I'm sure they would love to open (a Centurion Lounge in Brisbane) because that will give them a lot of visible branding.'
'When they can justify it, they'll come to us to look for space for them. We work very closely (with Amex) because it's no point for American Express to open lounges everywhere. First, it's very costly. Second, maybe the membership is not big enough to justify that.'
Plaza Premium Group operates Amex's Centurion Lounge facilities in Sydney and Melbourne. It also runs Sydney's SkyTeam Lounge.
Looking further afield – lounging in London on arrival
Most of Plaza Premium Group's lounges are located in airport departure halls. But a small number are situated landside. These lounges are perfect for passengers to use on arrival – especially after touching down from a long overnight flight. They also serve travellers who've made it to the airport before their airline opens for check-in.
Along with Sydney, Plaza Premium arrivals lounges are available in key airports such as London Heathrow. Pre-COVID, PPG counted a trio of Heathrow arrivals lounges spanning Terminal 2, Terminal 3 and Terminal 4. But that triad is now a pair, and could shrink even further to just a single arrivals lounge.
'We closed down the arrivals lounge in terminal two – permanently closed,' Song advises. Notably, arrivals lounges are most popular with passengers landing in the morning. After all, they're in need of a refresh after a long flight, and at that time, it's usually too early for hotel check-in. Later in the day, when a hotel room awaits, most travellers will venture straight there instead – bypassing the lounge.
'Normally, the afternoon (means) a big gap,' Song acknowledges of these passenger habits. When open, the lounge in Terminal 2 was predictably busiest 'in the morning … so the economics don't work for us. That's the reason we closed it down in London.'
It seems, Plaza Premium's arrivals lounge in Terminal 4 could suffer the same fate. 'When the lease is up, maybe we'll consider closing (T4 arrivals), unless the airport authority can reconfigure the rent. The rent is not cheap.' As for Plaza Premium Group's arrivals lounge in Terminal 3, its future appears safe for now. It's a small space located a short walk outside the terminal itself.
At the end of the day, if passengers are particularly keen for an arrivals lounge, train transfers between Heathrow's terminals are free. Terminal 3 is also a short underground walk from Terminal 2. Just be sure to check the latest opening hours once the Terminal 3 arrivals lounge reopens.
Also read: Plaza Premium plans suite of Australian domestic 'ST' lounges
Feature image courtesy of Plaza Premium Group.
---
Stay up to date with the latest news, reviews and guides by subscribing to Point Hacks' email newsletter.
Plaza Premium Group CEO Song Hoi See spots opportunity in post-pandemic travel
was last modified:
August 31st, 2023
by