Plaza Premium plans suite of Australian domestic 'ST' lounges
Exclusive: 'ST Lounge' would rival the Qantas Club, Virgin Australia Lounge and Rex Lounge.
Posted:
August 10, 2023 - 2:30 pm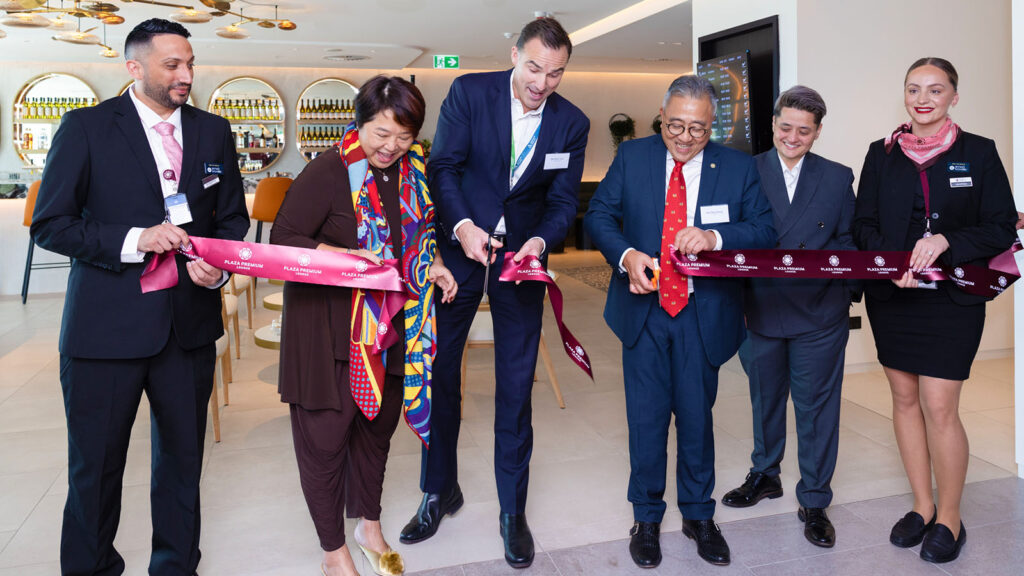 What we'll be covering
With a network of international lounges across Sydney, Melbourne, Brisbane and now Adelaide, Plaza Premium is setting its sights on the country's domestic market. And with a brand-new concept to boot: the 'ST Lounge'.
Short for Smart Traveller Lounge, the name cleverly reinforces the group's growing loyalty program of the same name. But shortening the lounge to 'ST' is sure to pique the curiosity of frequent flyers, prompting them to learn more about that very program.
In an exclusive interview with Point Hacks, Plaza Premium Group founder and CEO, Song Hoi See, outlines his vision for Australia's domestic market.
Multiple locations planned for Plaza Premium's domestic ST Lounge
The company's ST Lounge concept is so new that discussions are continuing around where those facilities could be located. But Plaza Premium has numerous domestic airports in its sights.
'We are in the planning stage,' shares Song. 'To get a space is not that easy – and we had to get the airports to buy into the concept. But we have the relationships with Priority Pass and DragonPass. We have Mastercard, American Express and a lot of other financial institutions,' whose cardholders can access lounges connected to the Plaza Premium network.
Typically, companies like Plaza Premium need to pay rent, a commission on sales or a combination of both to secure floor space in an airport terminal. And Song sees those existing relationships as a key advantage of the ST Lounge. Whereas other competitors may take six months to get similar partnerships up and running, Plaza Premium could be ready to welcome a wealth of domestic travellers on day one.
'We are planning (an ST Lounge) in Hong Kong, and also we want to do it in Australian domestic airports,' Song reinforces.
'You see a lot of people travelling domestic. For example, Sydney to Melbourne, Melbourne to Adelaide, or to Perth or Brisbane. These are what we call a curve corner. I say, if you can complete that curve corner, it gives a lot of convenience to travellers.'
'They can (even) come for a meeting. The customer could come into the lounge, sit down, have a discussion, and fly out. A lot of people do that in Australia.'
Clearly, watch this space.
Ad – Scroll down to continue reading.Minimum spend, terms & conditions apply.
Packages and memberships for Plaza Premium domestic lounge access
Given the ST Lounge brand, Song is quick to make the link to loyalty.
'People who have (Smart Traveller) points can burn their points (for ST Lounge visits),' he advises. And in a step forward for the Plaza Premium Group, the company also plans to sell annual memberships to domestic ST Lounge locations. That's similar in concept to how carriers like Qantas and Virgin Australia sell yearly memberships to their own-brand airline lounges.
The advantage of an ST Lounge membership, though, is that passengers could visit when travelling with any airline. Particularly as a growing number of flyers and businesses take a more cost-conscious approach to travel, being able to book a cheaper flight while still having a lounge to visit has quite the appeal.
It's too early for Song to advise how much access to Plaza Premium's domestic ST Lounge venues could cost. But in addition to yearly subscriptions, guests could also purchase one-off entry at the door. Additionally, the company plans to sell visits in packs of 10-20. For many, Song sees this as a more appealing gift choice than a physical present.
'I'm sure at Christmas, a lot of people give parcels as gifts. I have a similar experience at Christmas, (with) too many of them sent to my office. I say to my colleagues, please take it home – because there are too many of them. I'd say thank you (to the sender), but that thank you only lasts for a couple of days.'
Now, 'I try to get rid of this thing,' Song quips. 'But if you can buy lounge access, like what I was talking about with ST Lounge, that would last you for one year. That will be very useful, and I'd say, this is a better gift.'
What to expect in an ST Lounge
On the one hand, the new ST Lounge brand allows Plaza Premium to promote its loyalty program to Australian domestic travellers. And for that matter, to others who fly through the company's home city of Hong Kong. But it's also a way to differentiate the experience.
Song sees ST Lounge as the new entry-level. At the opposite end, Plaza Premium First is the group's top-tier lounge. By extension, locations branded as 'Plaza Premium Lounge' sit in between. To use another analogy, Song agrees with my suggestion that ST Lounge will be akin to what an airline might provide in a nice regional lounge – rather than in a flagship space.
'Maybe it's not as luxe as what we have here,' he says during our meeting inside the new Plaza Premium Lounge at Adelaide Airport. For Plaza Premium's domestic ST lounges, the style would be 'maybe toned down a little bit.'
His plan for ST Lounge is to 'create a very conducive environment for people to have a quick meal and also a place to work. (But) people are very discerning with what they want. They want a good quality of service.'
'Passengers are (also) in different categories. Some people are willing to pay high. It's just like in the plane. Some people pay First Class, Business Class, Premium Economy, Economy. It doesn't mean the people travelling Economy cannot use the lounge. That is not my idea. My idea is open to everybody.'
'You have to think outside the box. People travelling Economy – it doesn't mean they don't have money, and they still want quality. (Even if) you cannot get First Class in the air, you can get First Class in the airport.'
After all, Song's burgeoning family empire is built around that entire concept.
Also read: Plaza Premium's Adelaide lounge – a tour in photos
Feature image courtesy of Plaza Premium, picturing festivities at the opening of the company's Adelaide lounge.
---
Stay up to date with the latest news, reviews and guides by subscribing to Point Hacks' email newsletter.
Plaza Premium plans suite of Australian domestic 'ST' lounges
was last modified:
August 24th, 2023
by