If your travel plans have you stopping over at Sydney, particularly with a long or overnight transit, then Aerotel Sydney is here to help. It's the first in-terminal hotel at Sydney International Airport and the 10th Aerotel in the world, with a footprint reaching Singapore, London and more.
The rooms here are small, but they have just about everything you need to refresh during the day, or to get a good night's sleep before a long day of flying. Here's our first look at the Aerotel Sydney.
Location and impressions
Aerotel Sydney is located landside, which means it's before security and immigration. That's great for travellers who have an early start. Since Sydney Airport has a curfew, many flights take off in the morning, with check-in opening from 4:00 am.
I arrive at Sydney International Airport at 9:00 pm, the night before I'm due to fly out. It's not too hard to find the Aerotel – I go down to the arrivals levels and head to the left, near where the Virgin Australia transfer counters are located.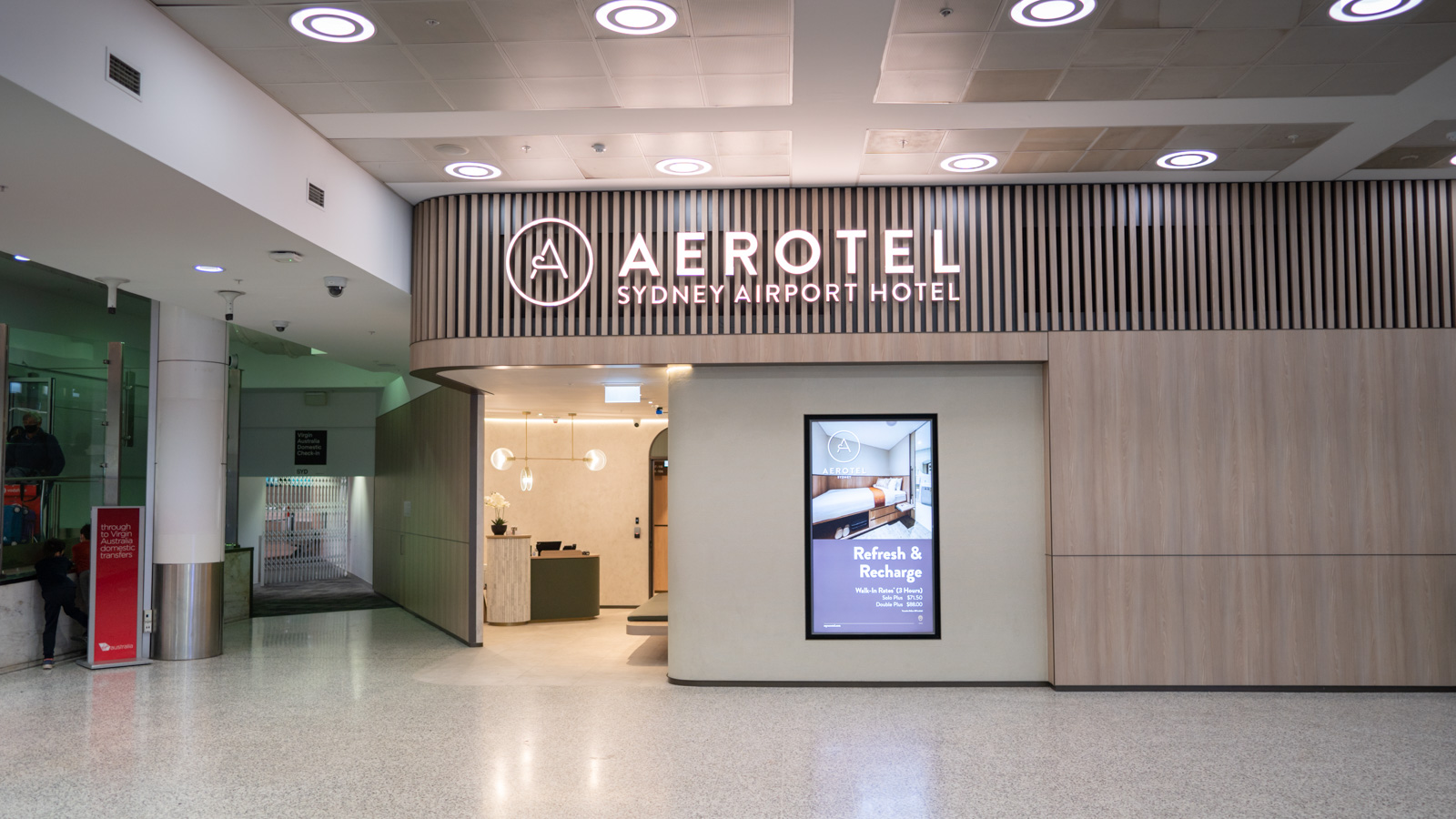 I have to say it's quite surreal to be wandering around the halls of a near-empty airport! But the Aerotel Sydney does have a 24-hour reception. If you're arriving out-of-hours, there's also an external entrance and doorbell to alert the staff that you're here.
Unlike the nearby Rydges, the Aerotel is a very small hotel. It's inside an airport, after all. Check-in is done quite quickly, and I am allocated a Double Plus room. There are just 15 rooms at this property – some are for single travellers, but most can accommodate up to two people.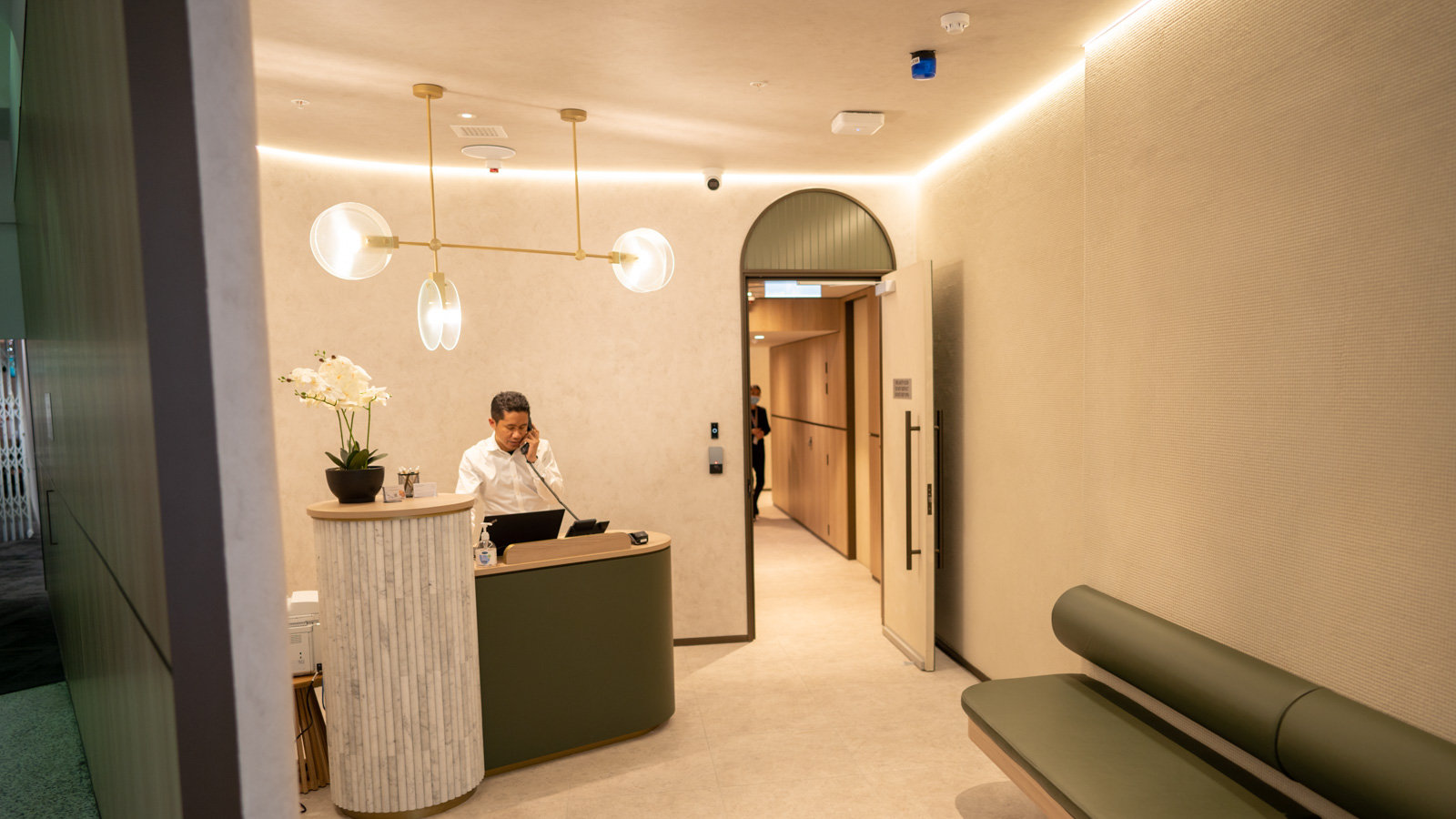 Aerotel Sydney Double Plus Room
The room
I'm staying in Room 112 tonight, which is a double room on the edge of the hotel. It's certainly a compact space – comfortable enough for just me, but perhaps a little tight if I was travelling with my partner.
The basics are all here. The double bed is very comfortable, with quality linens and plush pillows. There's space to hang up some clothes behind the door. Ironing facilities are provided on request. A clock and tissue box are on a nearby shelf. The clock is pretty neat – it only briefly illuminates when it detects sound in the room. So be sure to clap for the time!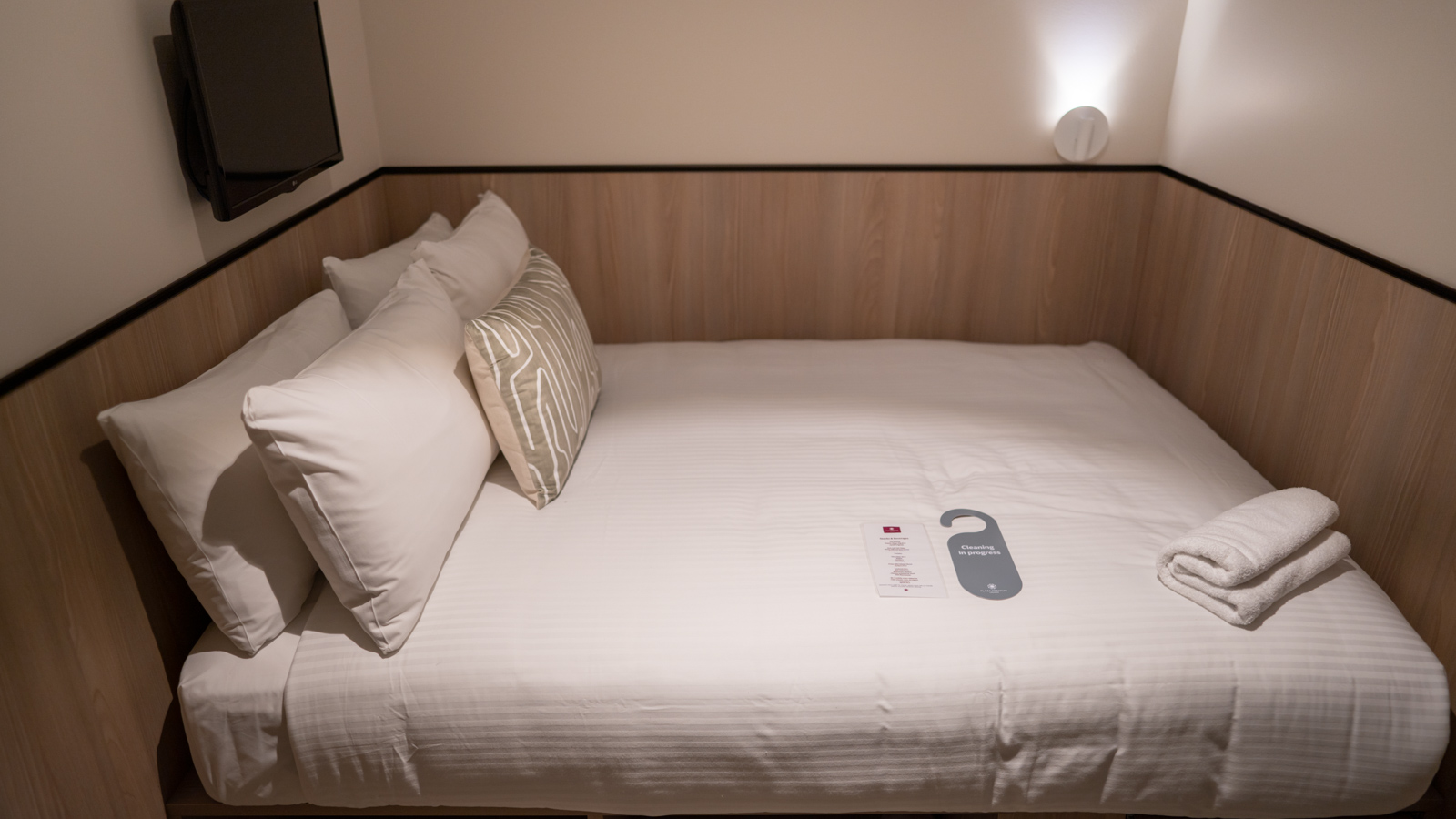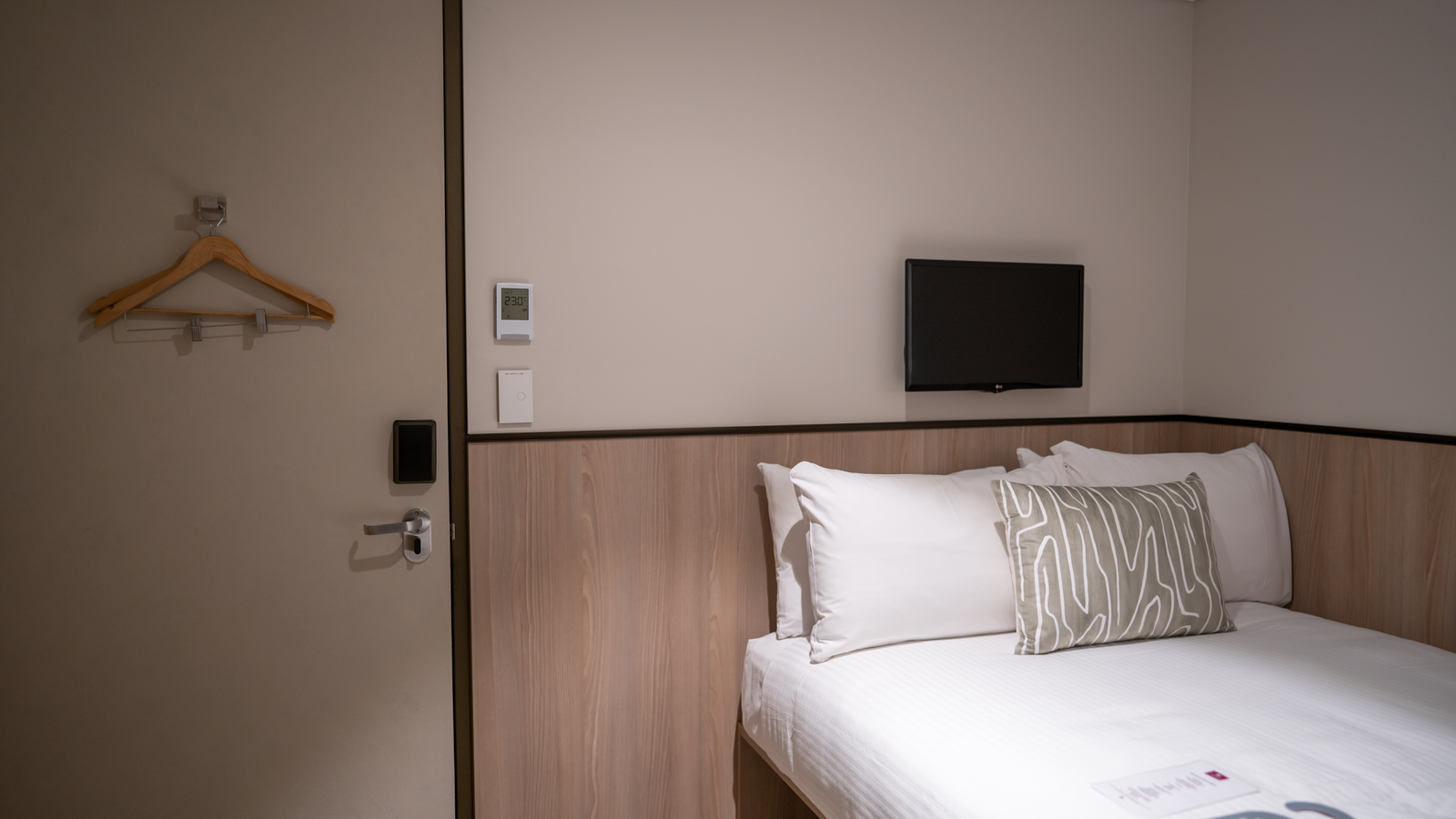 The room might get a bit tight if you're bringing bigger bags. But my hand-carry comfortably fits in the clever spaces under the bed. There are two power points by the side of the bed and a pull-out table and drawer. I also spot the room phone here, which I later use to call reception.
Oddly, the bed is made up the wrong way around – it should be facing the TV, and I should be sleeping next to the pull-out bedside table! I'm sure this is easy enough to fix, but it didn't bother me as I just wanted to sleep.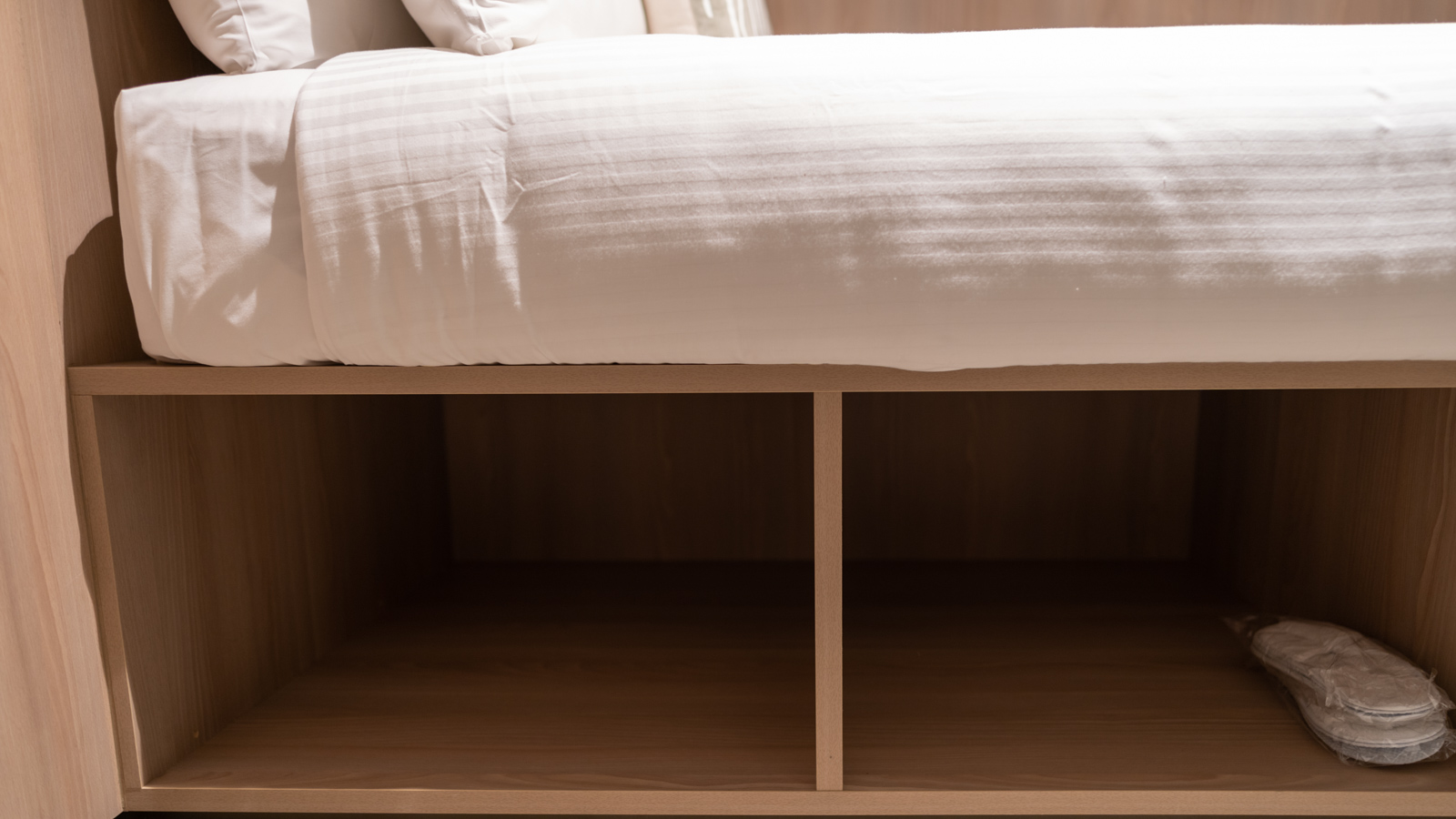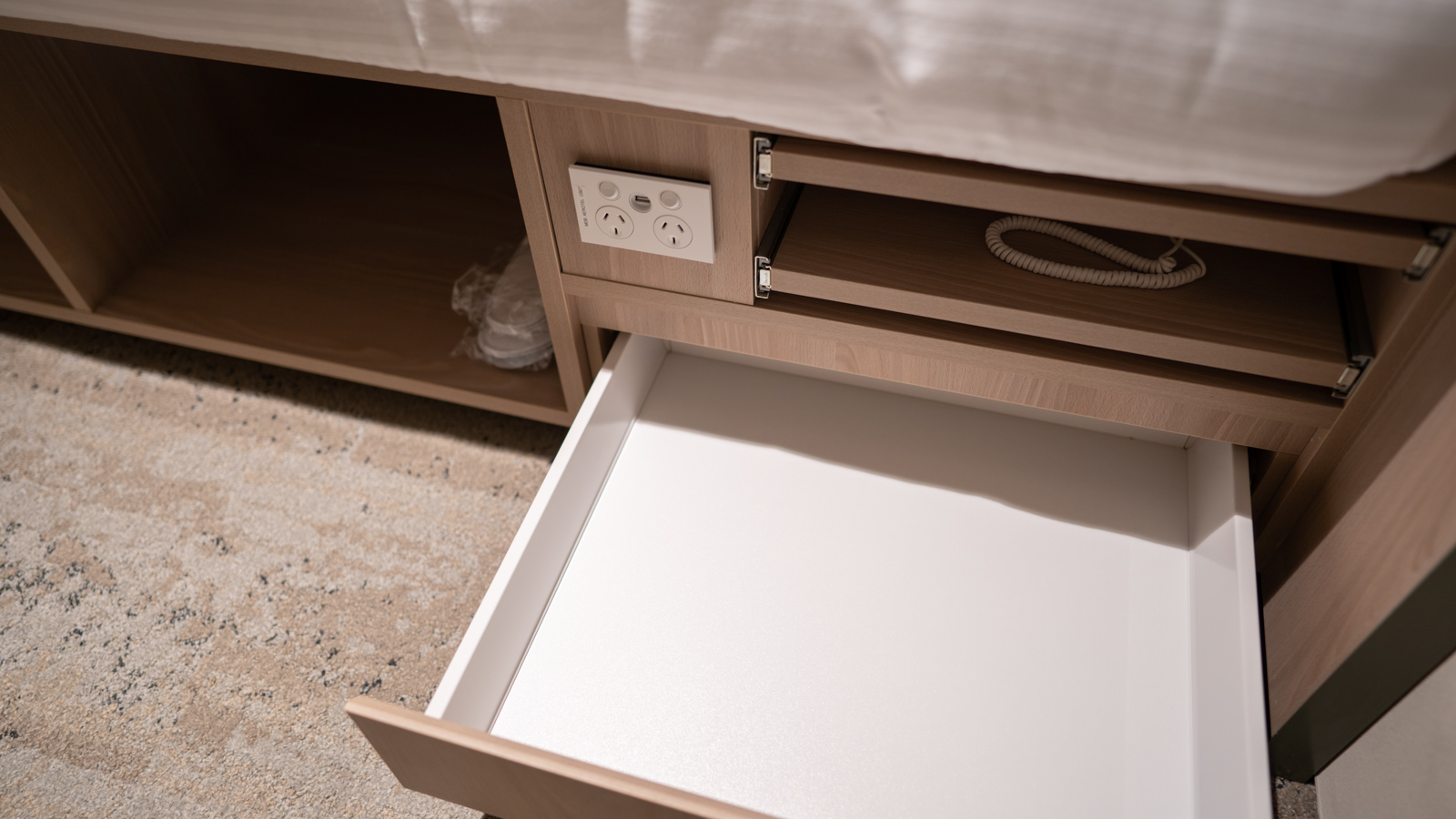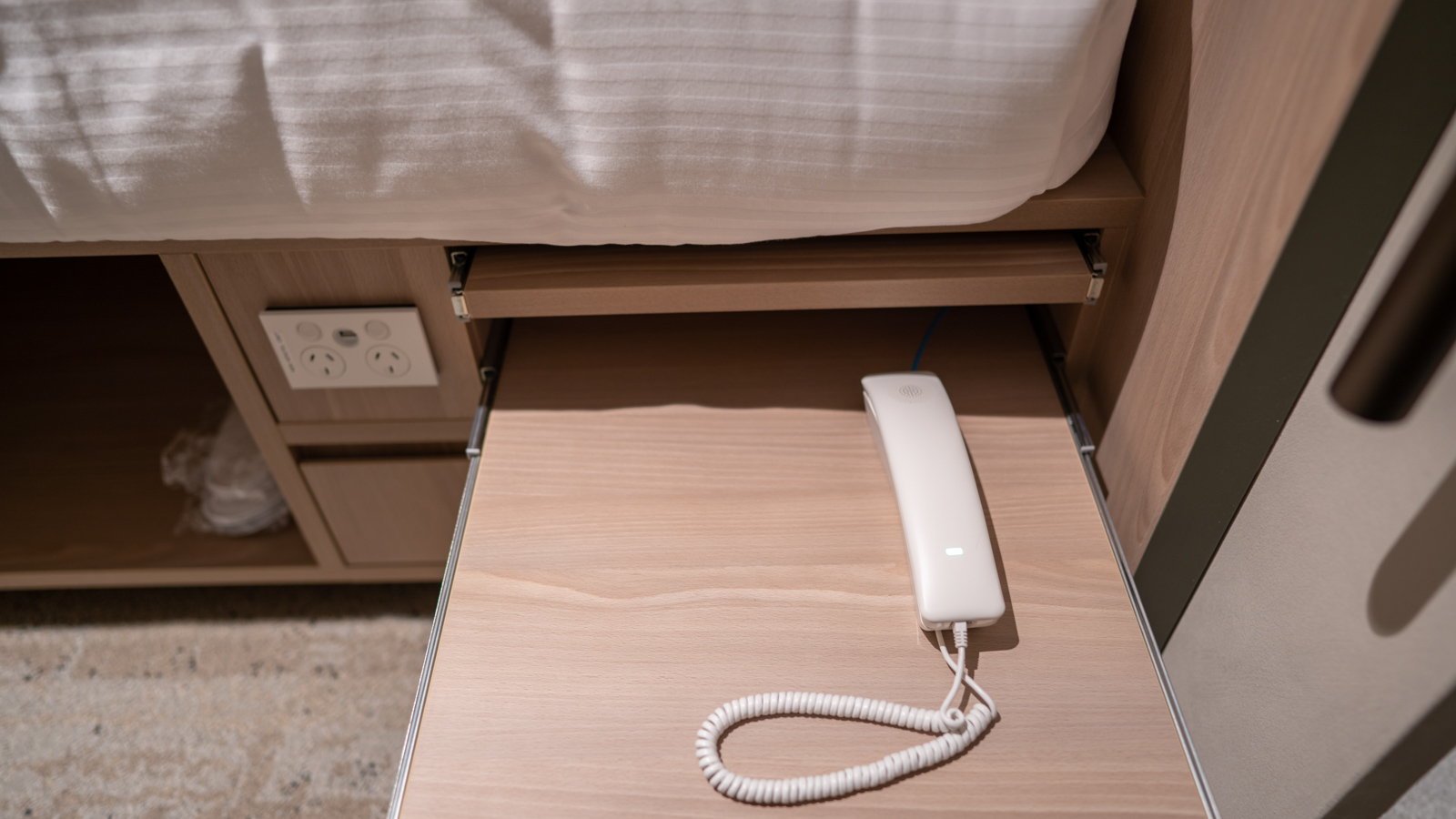 I also find that the room is too hot initially. The in-room clock is reporting a stuffy 25°C, and the room's climate controls aren't working. But once I find the room phone and call Reception, they are able to reduce the temperature to a much cooler 19°C.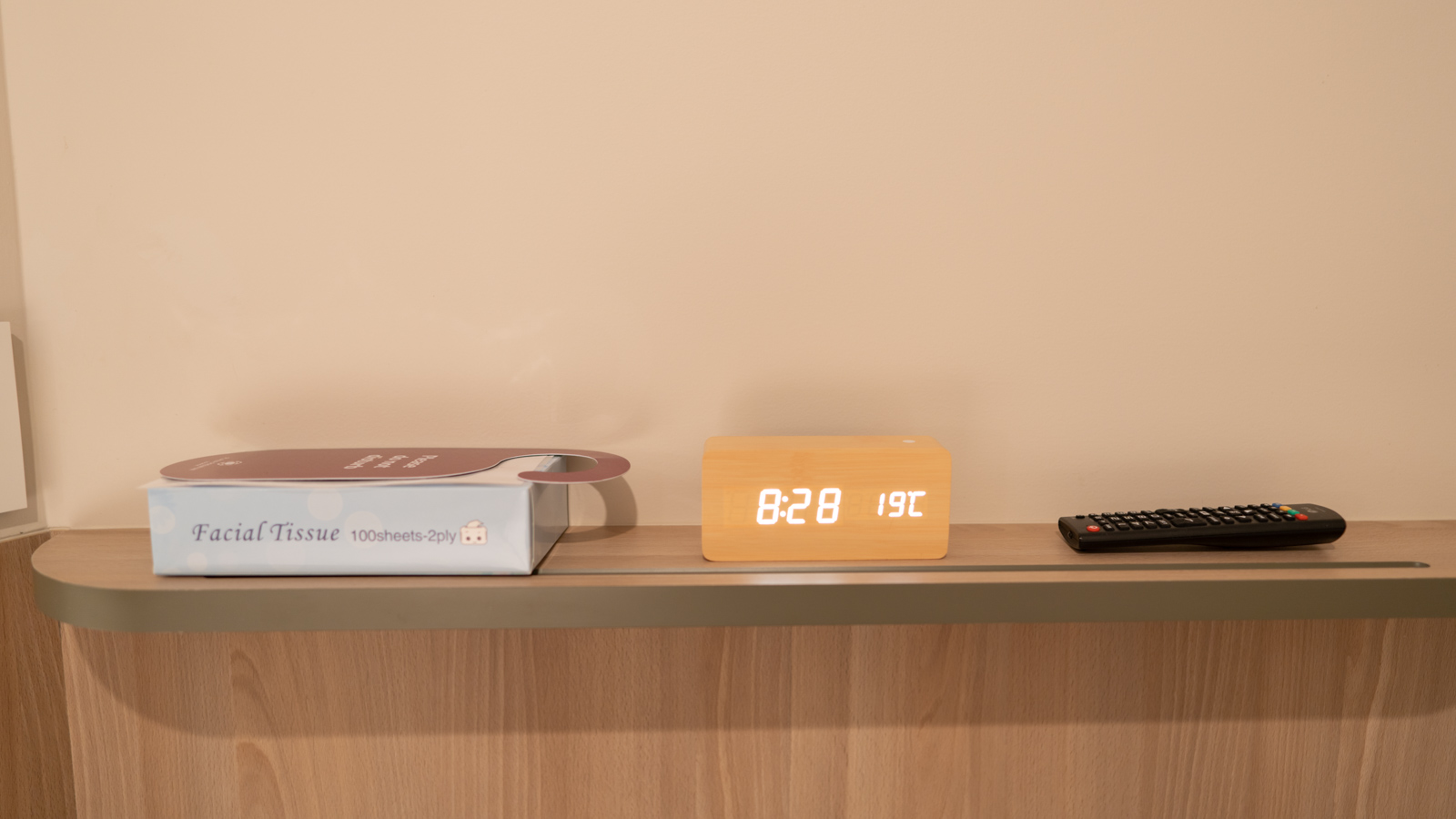 Hopefully, the room climate control will be operational soon. But full marks to the hotel staff for service recovery and fixing the issue on the spot.
The bathroom
I'm pleasantly surprised by the (comparably) vast bathroom. Given the unique triangular shape of the room, there's some extra space here for bags if you need it. Quality Appelles Apothecary products are found by the basin and in the shower.
With a wall-mounted hairdryer and various mini amenities provided in a basket, I think most travellers will have everything they need here to freshen up before and/or after a flight.
I take a much-needed invigorating shower in the evening and the next morning – the water pressure is strong and the temperature good.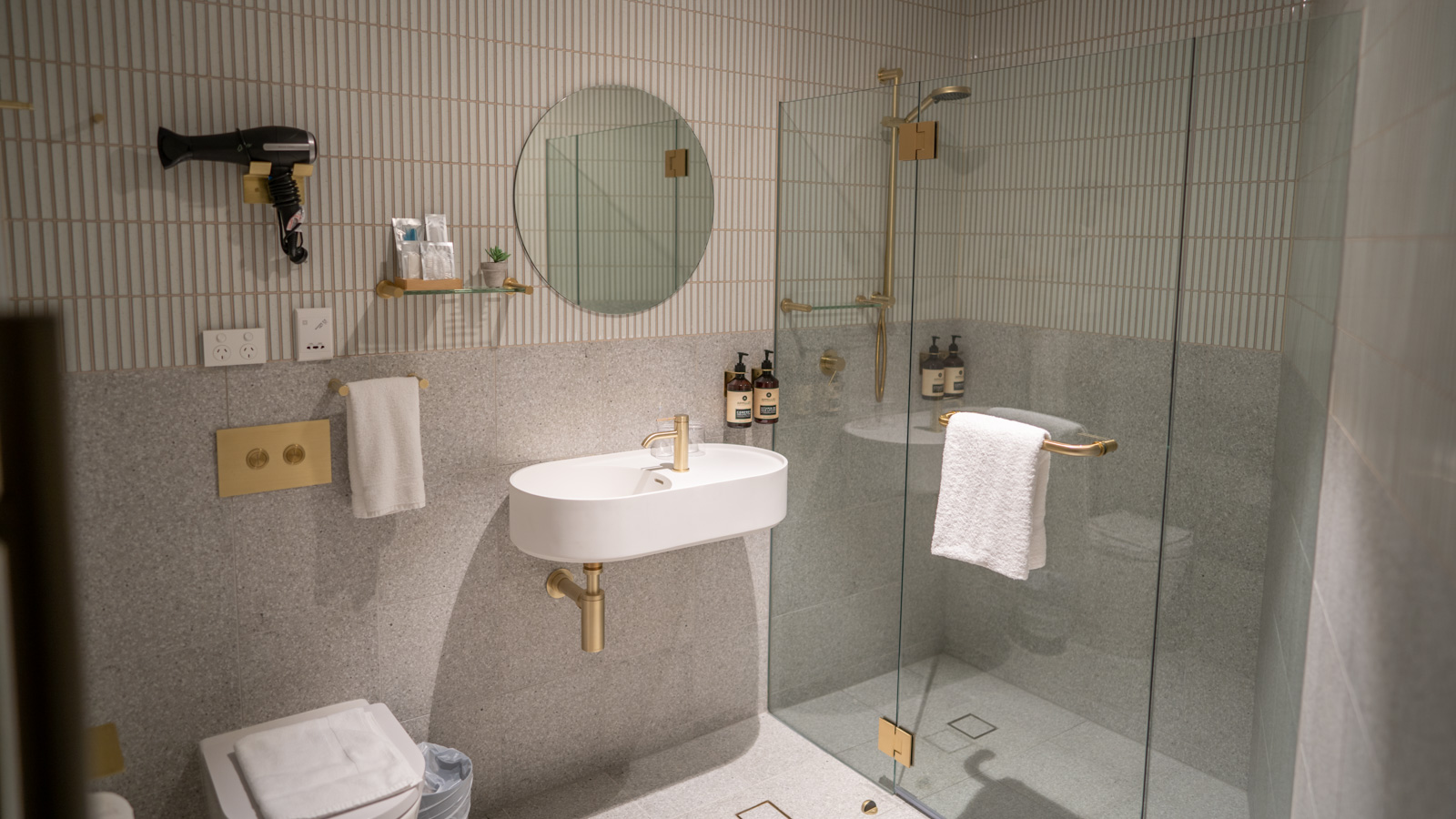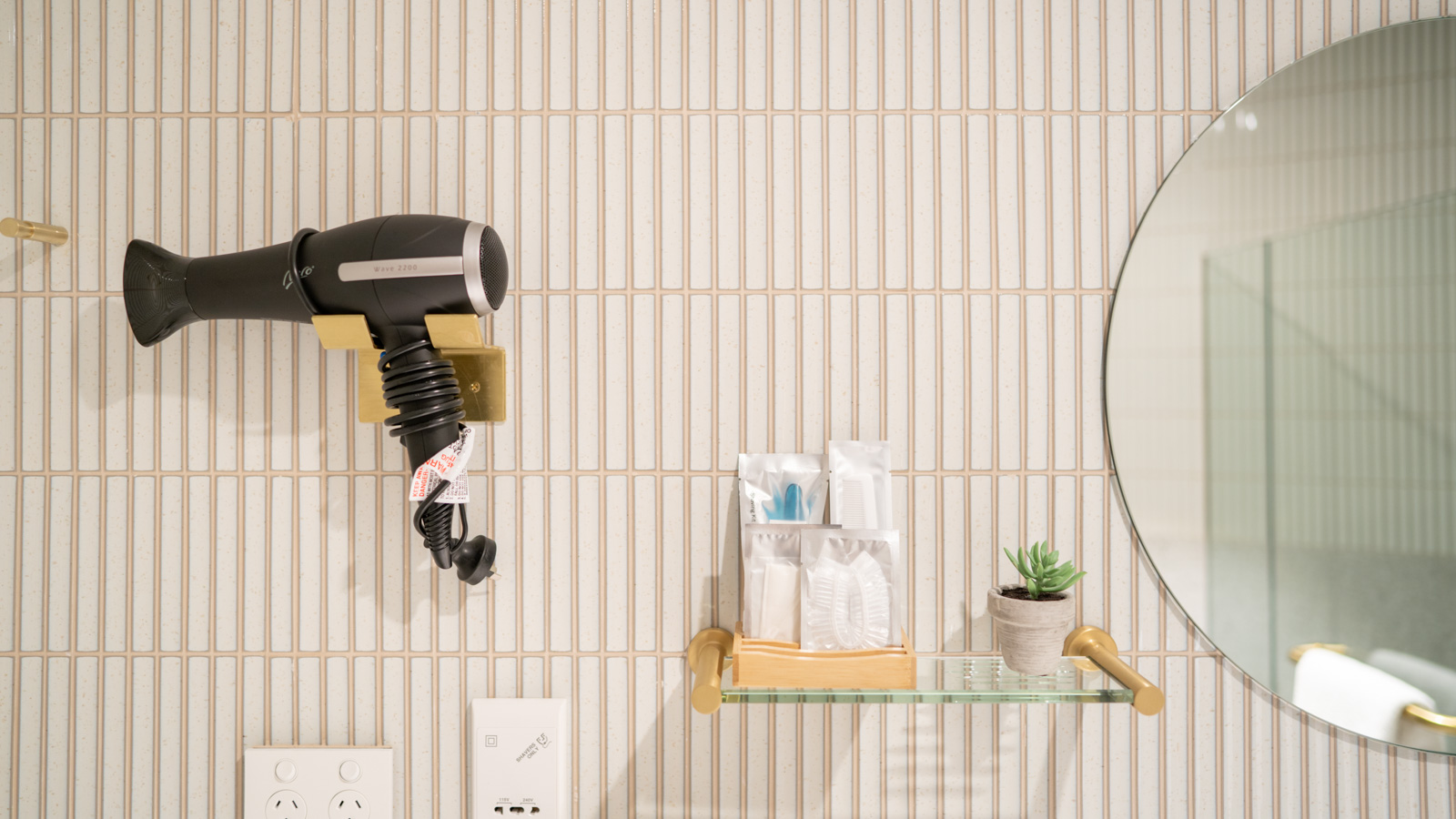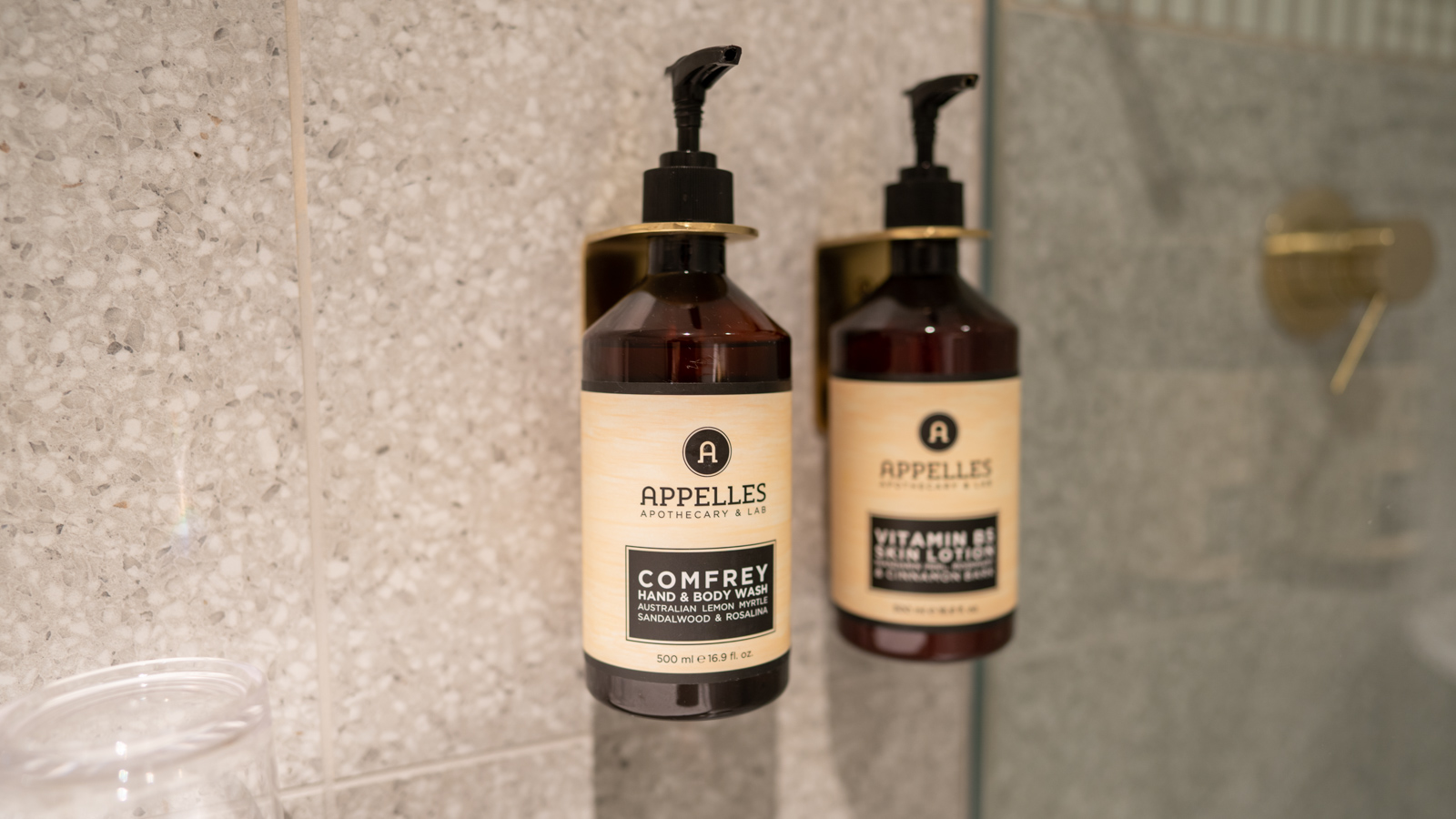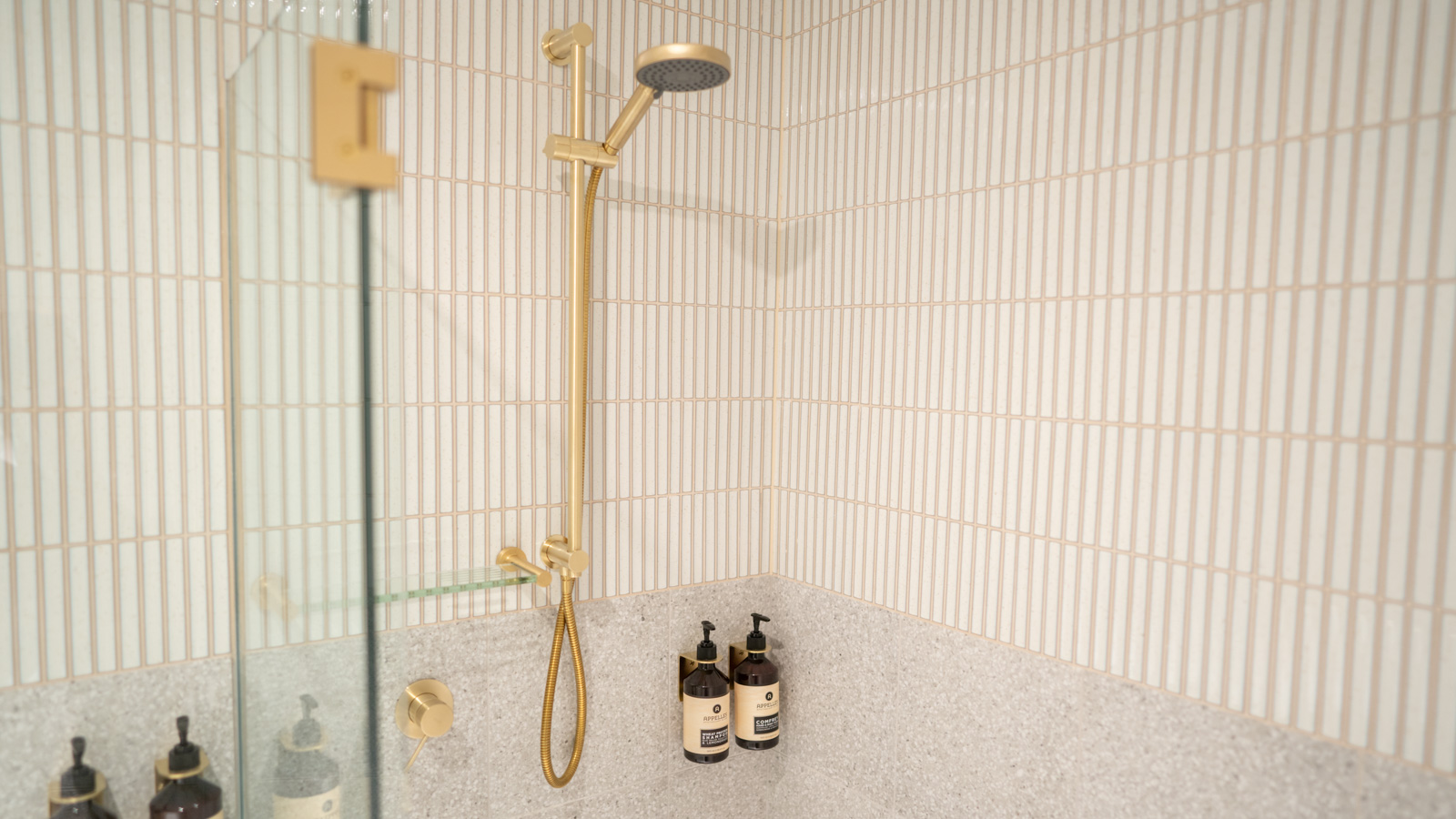 Hotel amenities
Dining and refreshments
There's no onsite restaurant, of course. The arrivals hall McDonalds and various cafes are usually open until 10:00 pm. Otherwise, there's a small in-room menu that includes drinks, snacks and sandwiches.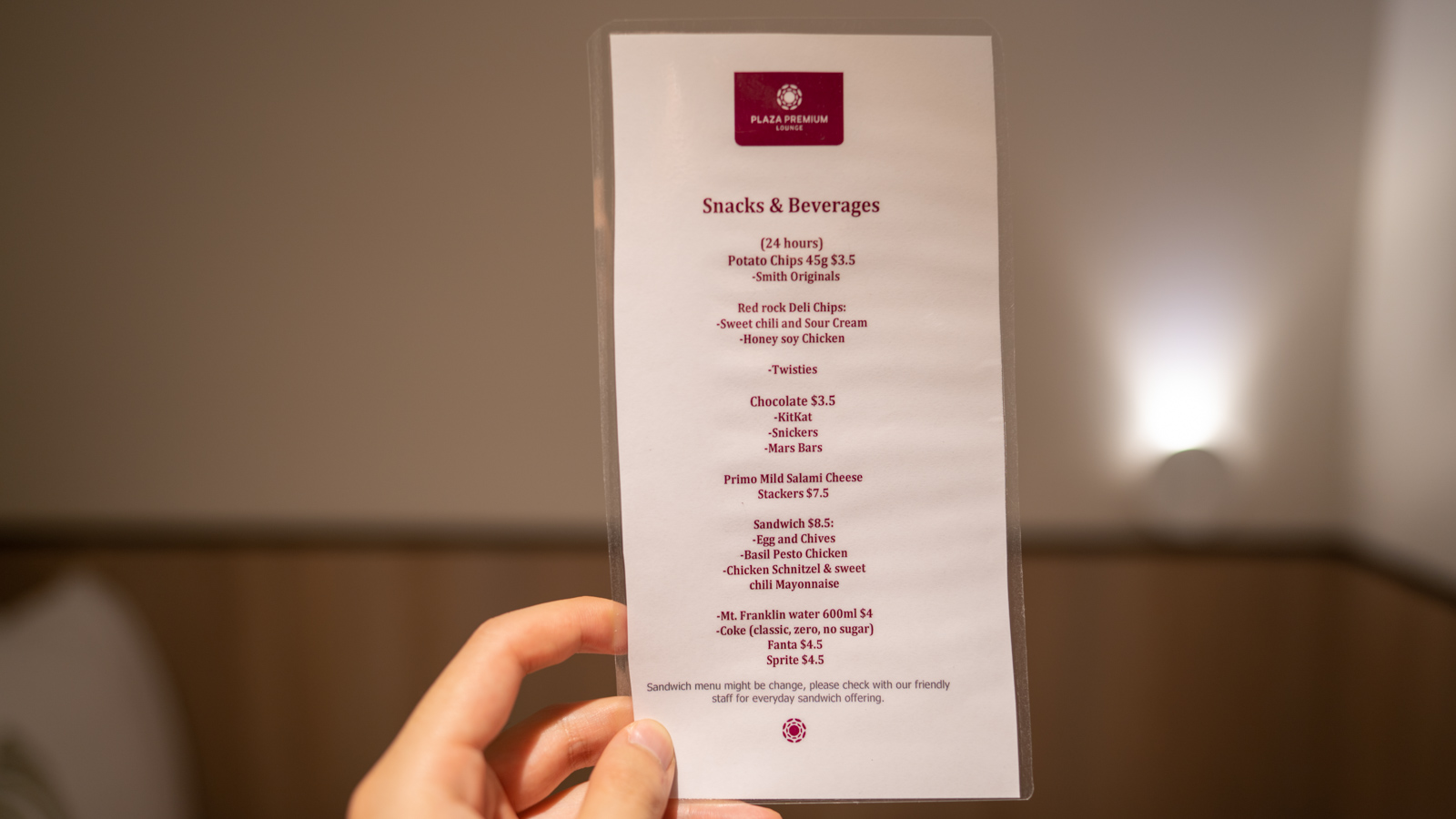 Aerotel Sydney does provide free filtered drinking water, tea, coffee and light sweet snacks in the hallways. There are two snack stations – one in each wing of the property.
Plaza Premium Arrivals Lounge
Aerotel Sydney is also home to the new Plaza Premium Arrivals Lounge, which will welcome passengers looking to freshen up after their flight. It's a compact lounge area with a cafe and separate shower facilities.
It's still in the soft-opening phase at the time of writing, but it will soon be a place where hotel guests can tuck into a quick breakfast before they leave.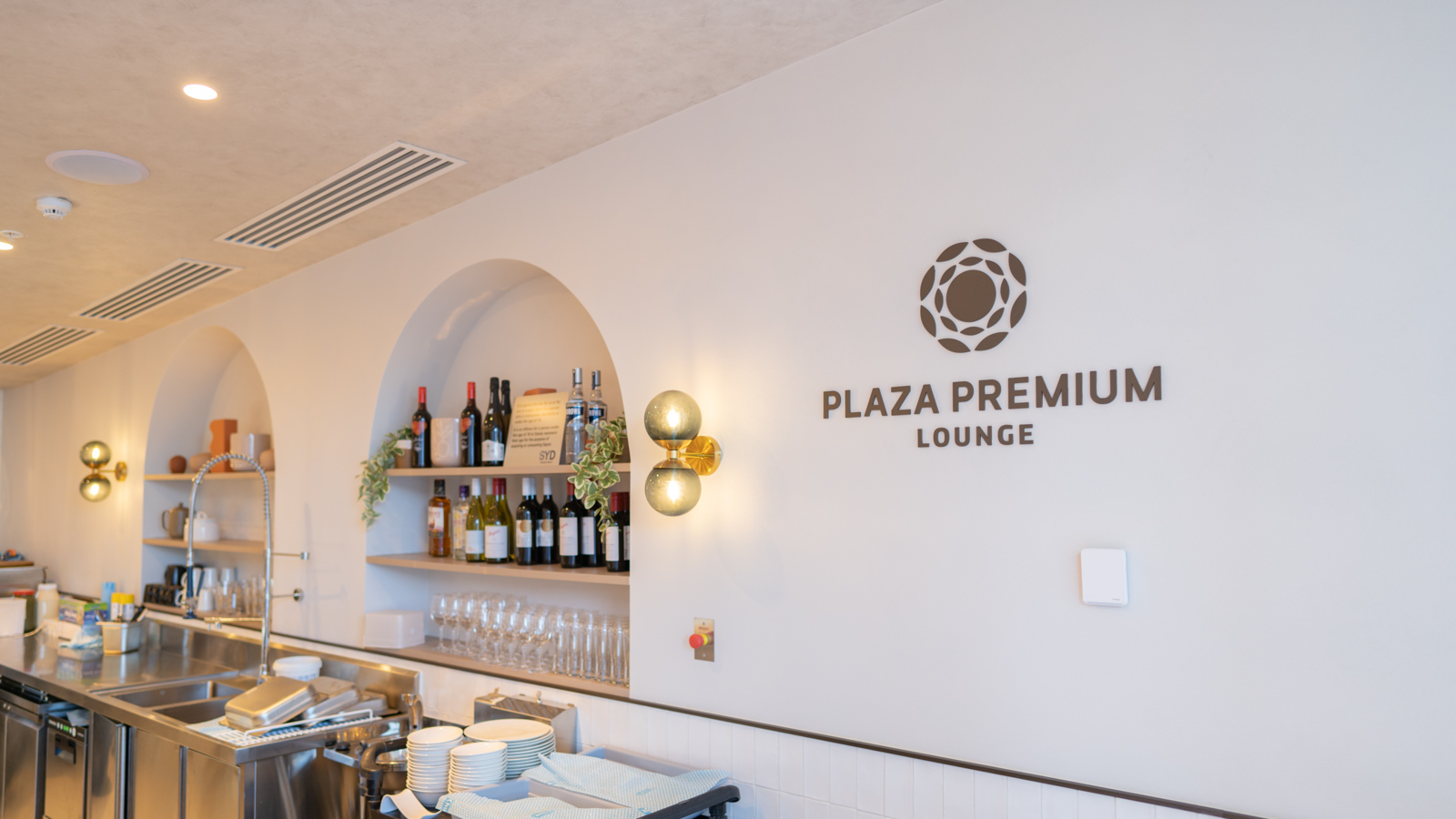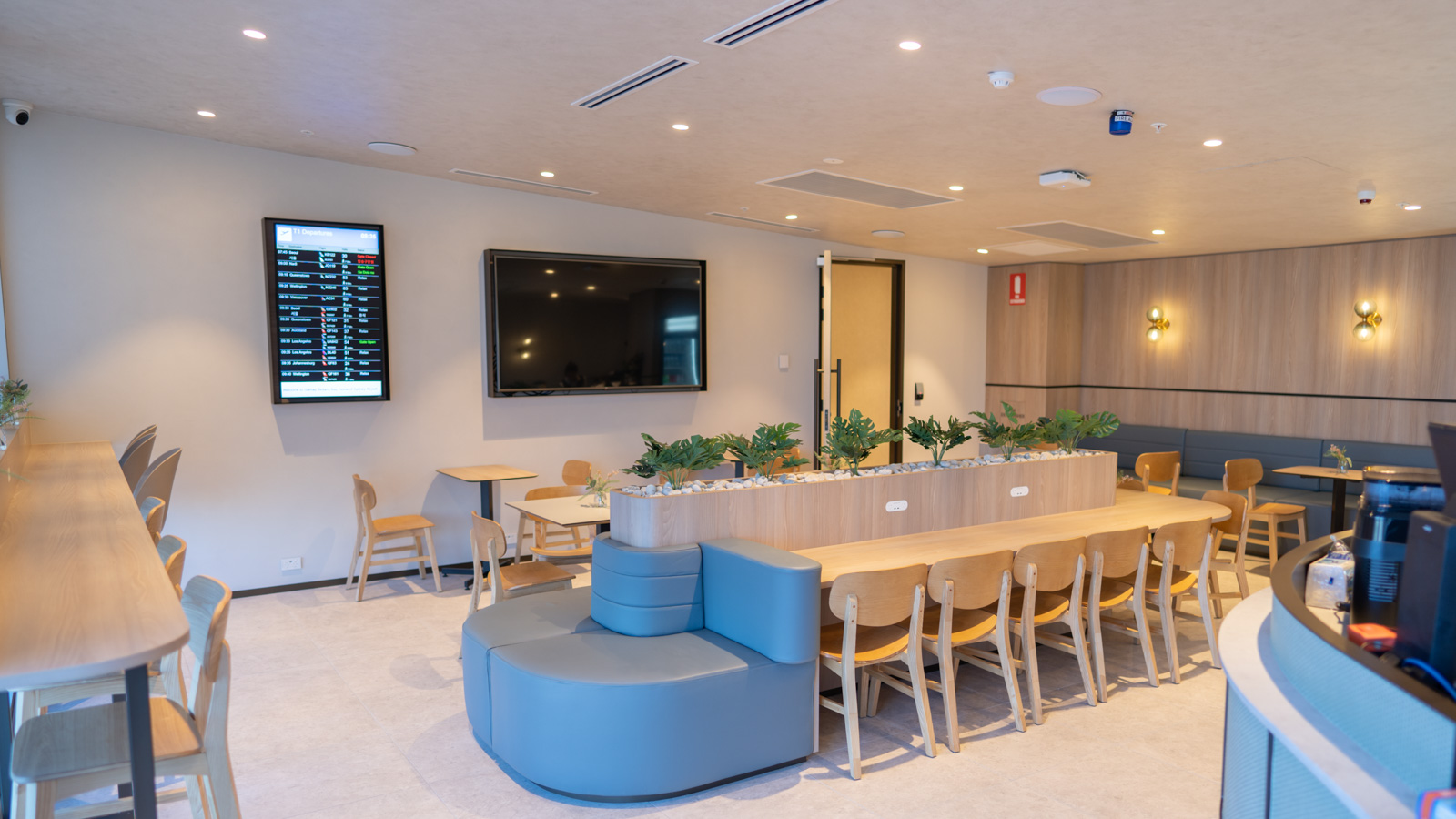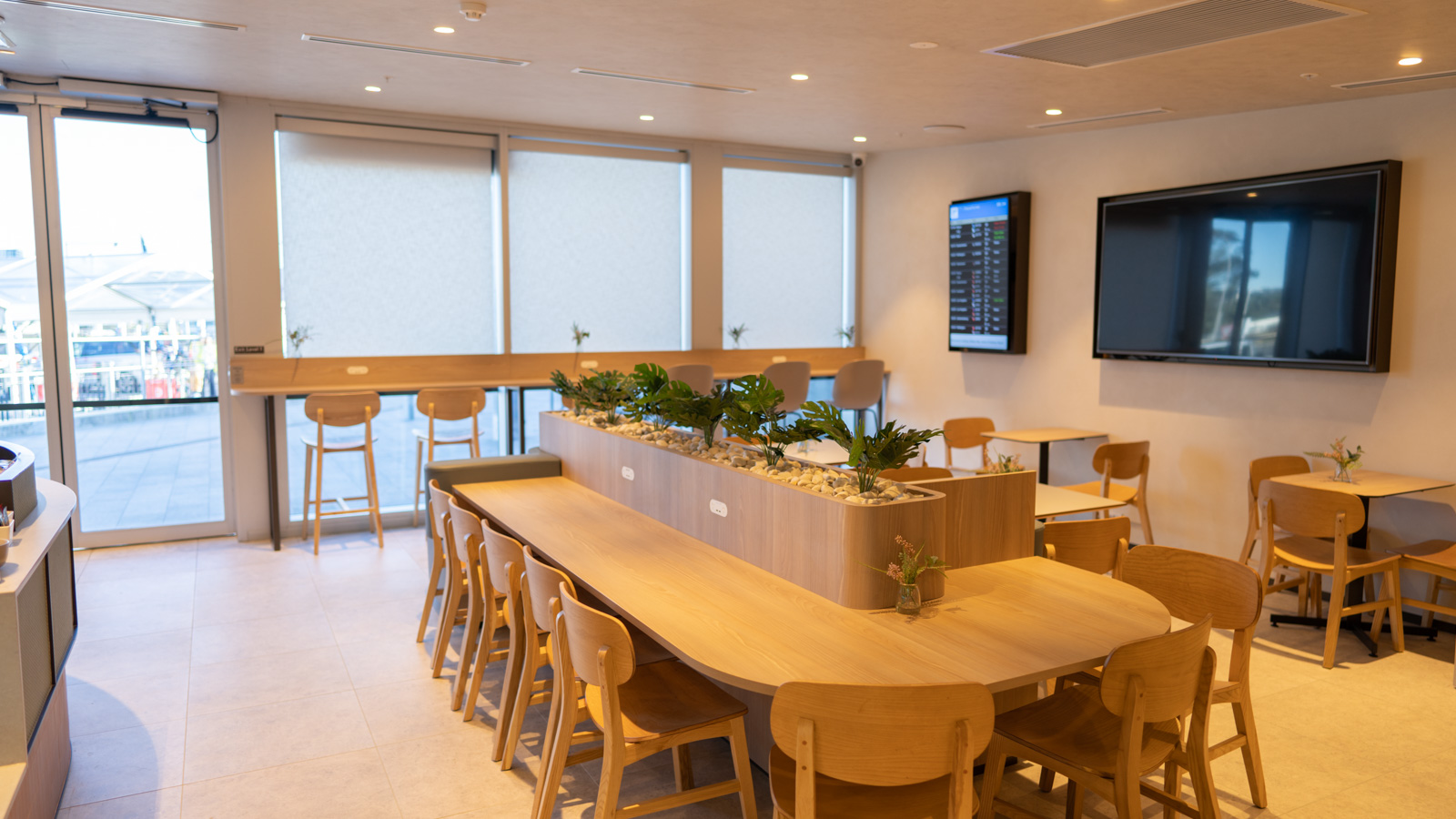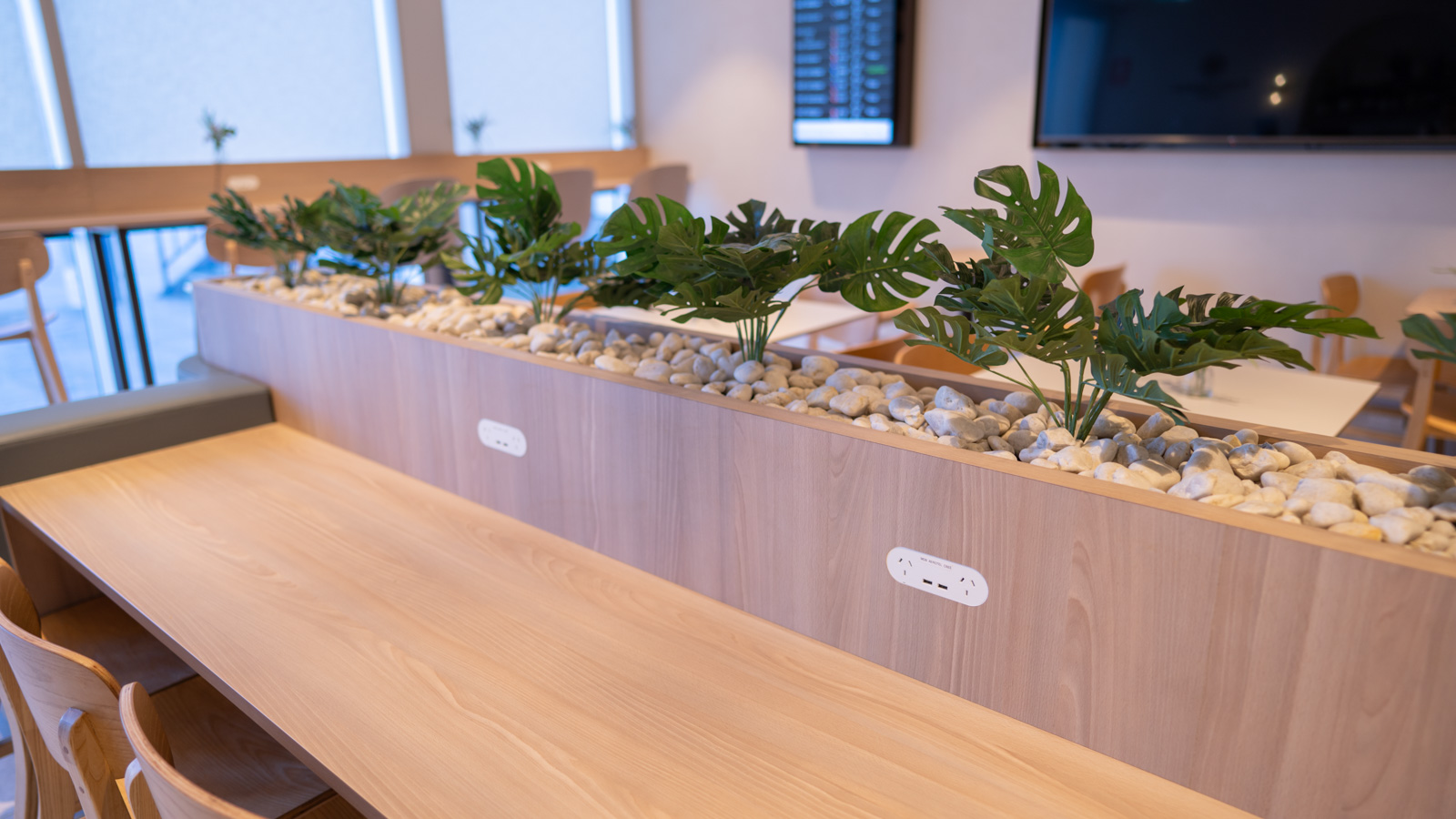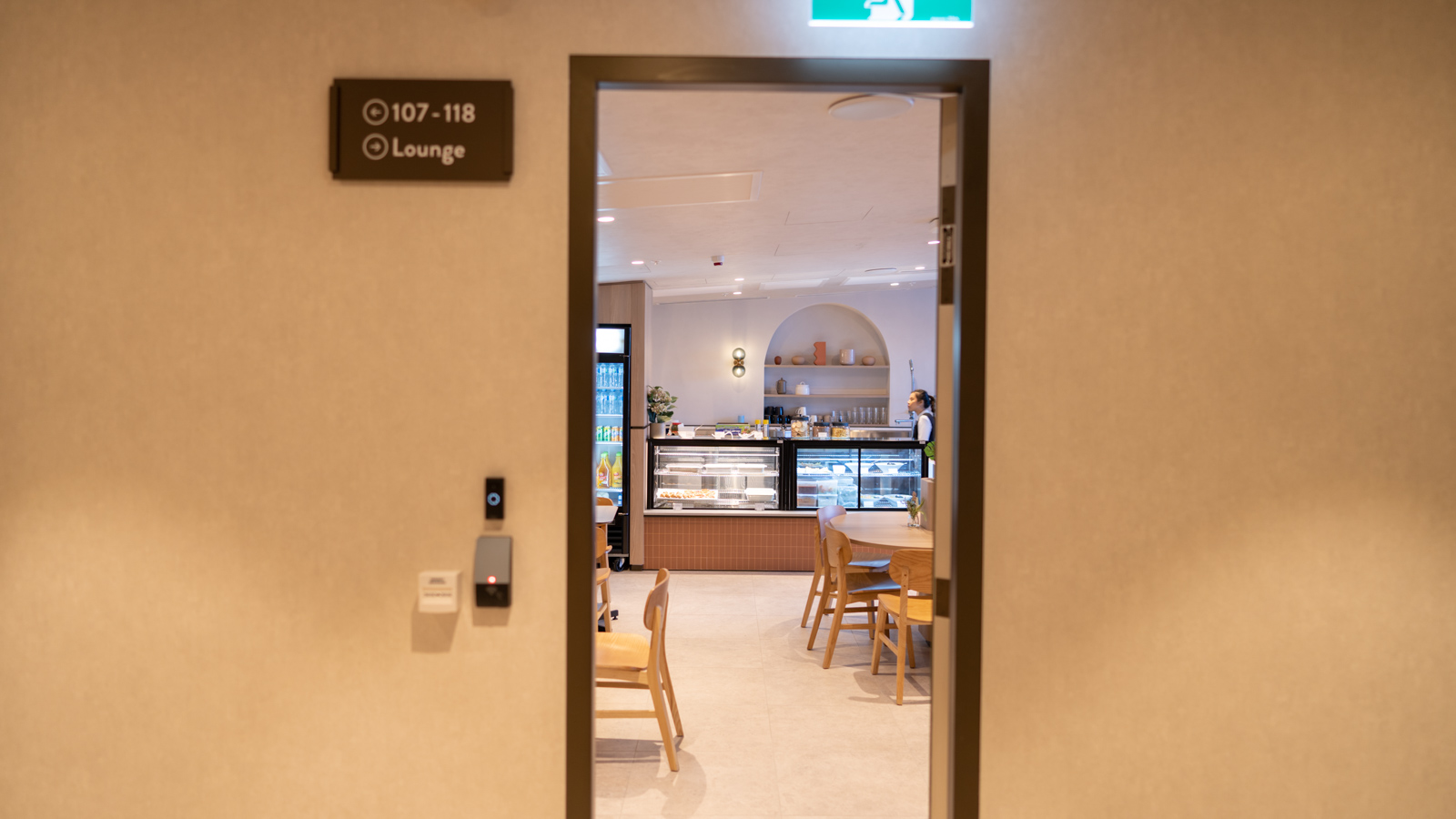 Summing up
Overall, Aerotel Sydney is a comfortable and budget-friendly way to spend the night. Being located inside Sydney International Airport is great, as I can just take the escalator straight up to the check-in hall the next day. Just keep in mind the rooms are small and the facilities are limited, but it ticks all the other important boxes otherwise.
Rooms can be booked by black of hours or overnight. Indicative rates are:
Single: $71 for three hours, $99 for six hours, $178 for overnight
Double: $88 for three hours, $115 for six hours, $214 for overnight
Aerotel is operated by the Plaza Premium Group, so you can earn points in the Smart Traveller program. Members also get 10% off the room rate when booking directly through Aerotel.
Photography by Brandon Loo, who stayed as a guest of Aerotel Sydney.
Review: Aerotel Sydney Airport transit hotel
was last modified:
February 16th, 2023
by