New Amazon Prime benefit for Amex Platinum Card Members
Stay up to date with Luxe Listings Sydney via Prime Video – a key inclusion of Amazon Prime.
Posted:
March 2, 2023 - 6:00 am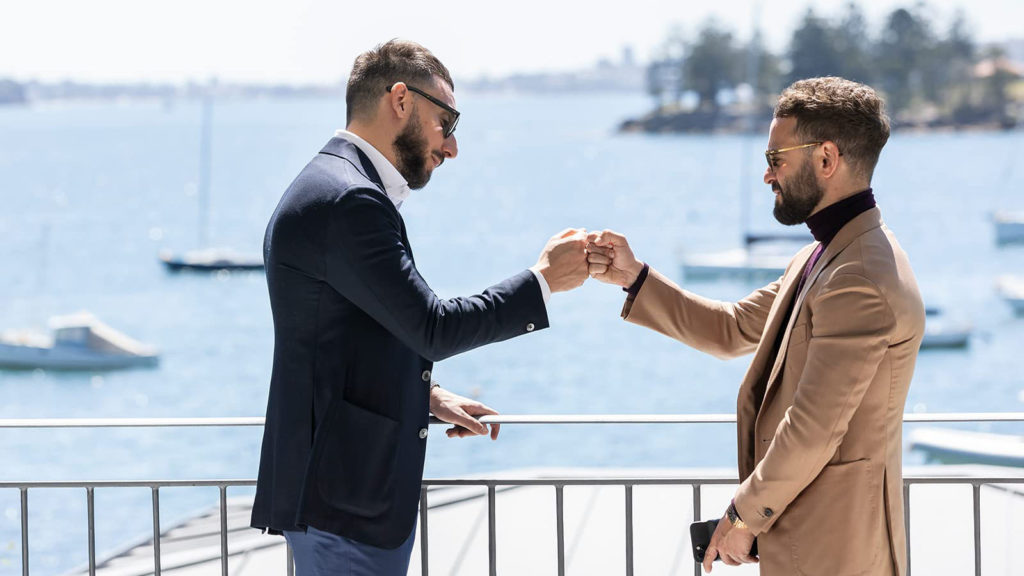 What we'll be covering
American Express Platinum Card Members now have a new benefit to enjoy. That's a recurring statement credit for a subscription to Amazon Prime. Whether paying for Prime by month or year, simply save the offer to the Platinum Card, and use that card to pay those Prime dues.
Like other Amex Offers, those charges will later be offset via a statement credit posted onto the American Express account. Effectively, it's like getting Amazon Prime for free!
The benefit is capped at $84 per calendar year. That's enough to cover the discounted $79 annual subscription.
Here's how to get started with the new Amazon Prime Platinum Benefit.
What is Amazon Prime?
Amazon Prime is a subscription service with benefits across shopping, video streaming, music and reading. A single subscription – $9.99/month or $79/year – grants access to the entire suite of perks.
Prime members receive:
Free delivery on all Prime eligible items with no minimum spend, when shopping online with Amazon.
On international purchases with Amazon, free delivery to Australia on orders of AU$49 or more. (Temporarily though, this is available with no minimum spend).
Receive discounts when paying for priority delivery.
Unlimited streaming of movies, TV shows and more via Prime Video.
Stream music and podcasts ad-free via Amazon Music Prime.
Read e-books, short works, comics, children's books and more via Prime Reading.
Via the Amazon Prime Platinum Benefit, Amex Platinum Card Members can essentially enjoy all of the above for no extra cost, over and above the Platinum Card's usual annual fee.
Amazon Prime American Express Platinum Benefit
Keen to put the new Amazon Prime Platinum Benefit to good use? You'll need to start by saving the offer to your eligible Platinum Card. Just note, the offer is only available via the primary Platinum Card. Additional Cards and Account Cards aren't eligible for the offer, or for additional credits.
If you already have and use the Amex Australia mobile app, just head to the 'Offers' tab. If you have multiple American Express cards linked to the online account, you'll need to select the Platinum Card first, before hitting 'Offers'.
From there, keep your eyes peeled for the 'Platinum Benefit with Amazon Prime' offer, and save it to your card.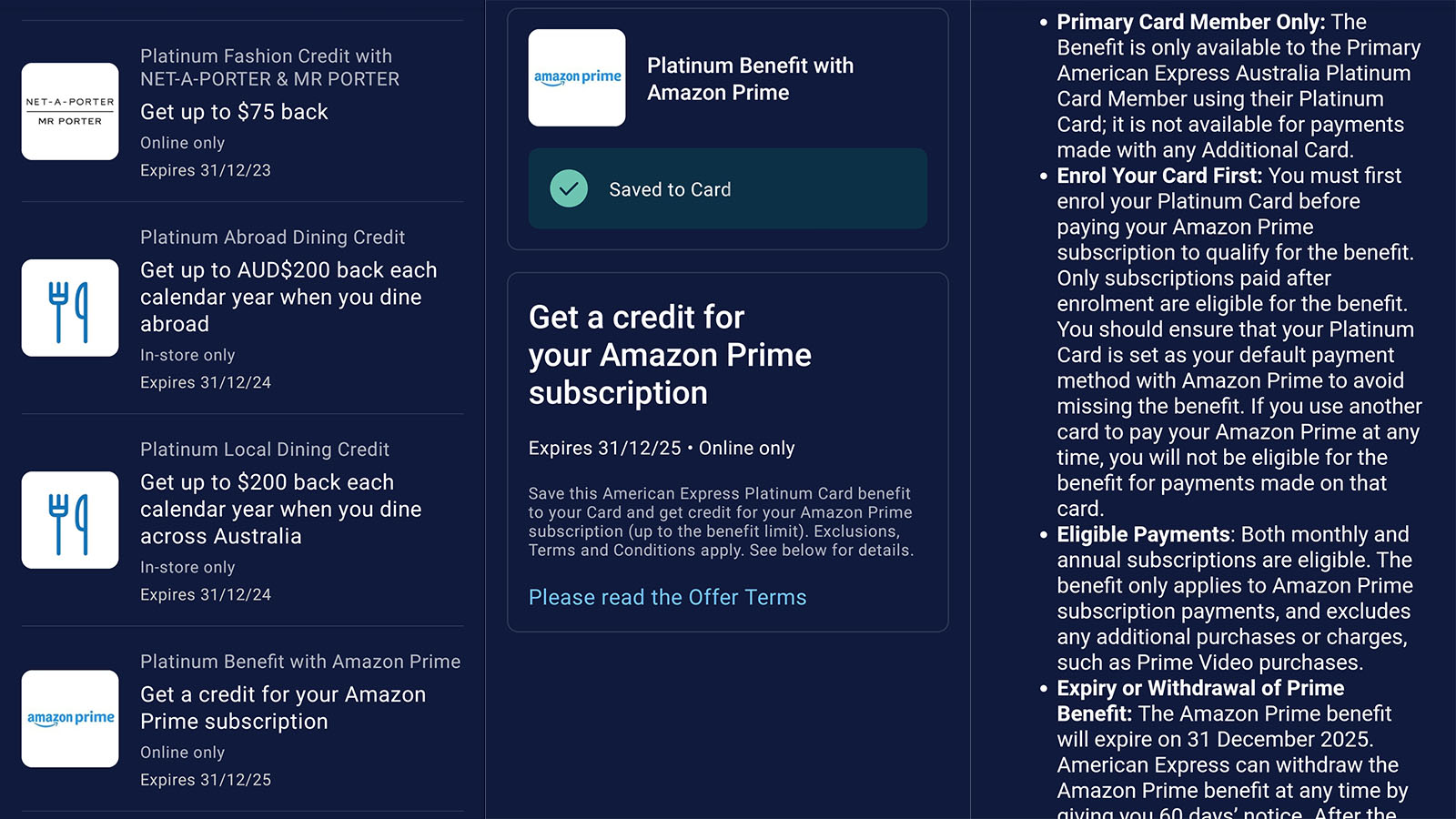 Otherwise, you can also save the offer via the American Express website. After logging in, head to the 'Offers' section. Platinum Card holders will find this under the banner 'Get a credit for your Amazon Prime subscription'.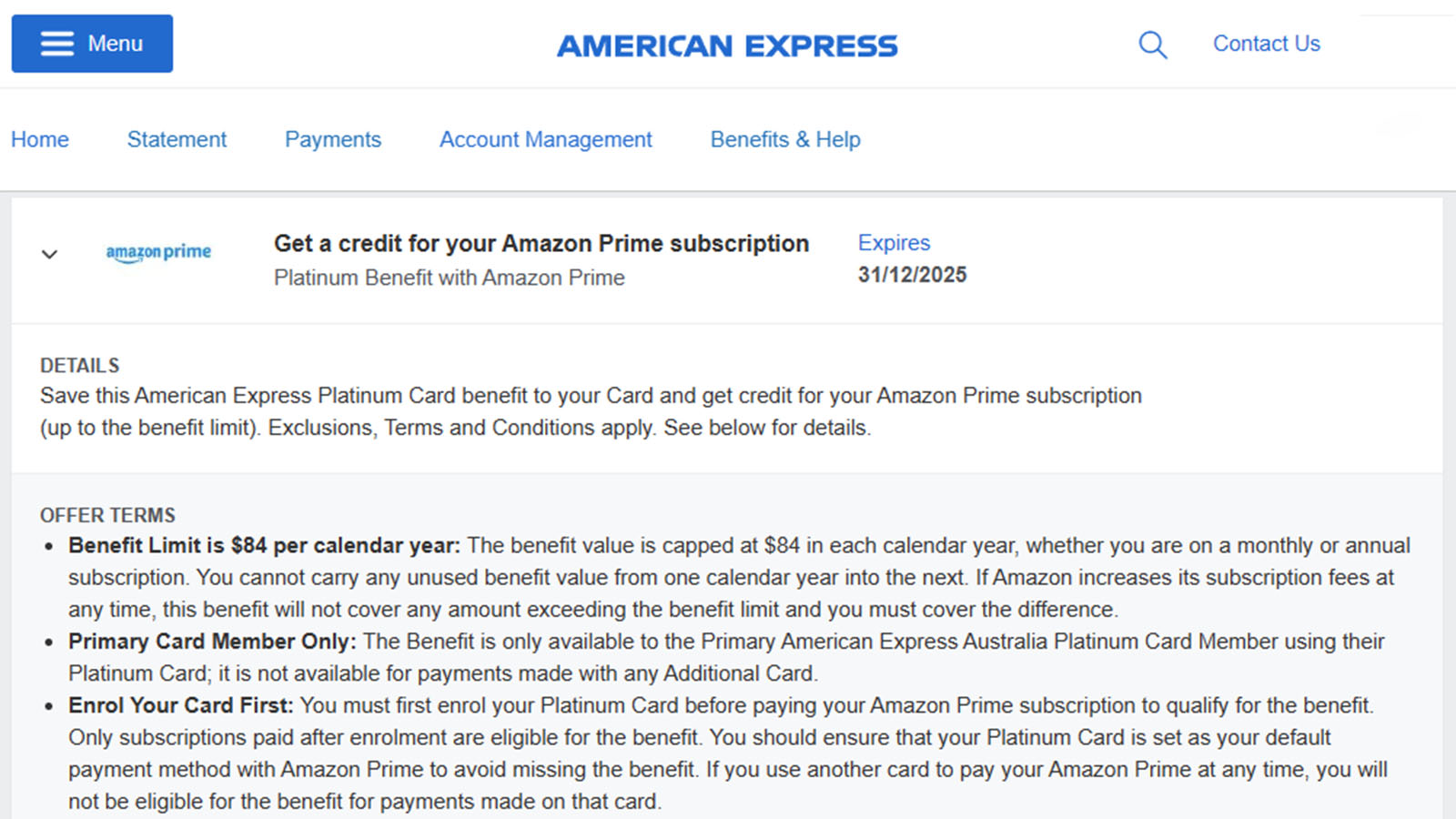 The credit doesn't apply to purchases made from Amazon, including shopping items and additional spend on premium Prime Video content. Only the Prime subscription itself is eligible for a statement credit.
It's also good to remember that at American Express, 'Platinum Card' refers only to the metal charge card. It's this card on which the Prime Benefit is available. Other Amex cards with 'Platinum' in the name, such as the Platinum Edge Card and the Velocity Platinum Card, are not eligible.
Ad – Scroll down to continue reading.Minimum spend, terms & conditions apply.
Setting up your subscription payments on Amazon
With the offer now saved to an eligible Platinum Card, be sure to use that same card to pay for your Amazon Prime subscription. Don't simply add the card to your Amazon account – ensure it's set as the preferred card for those recurring charges.
Existing Prime members can easily nominate their preferred subscription payment method here.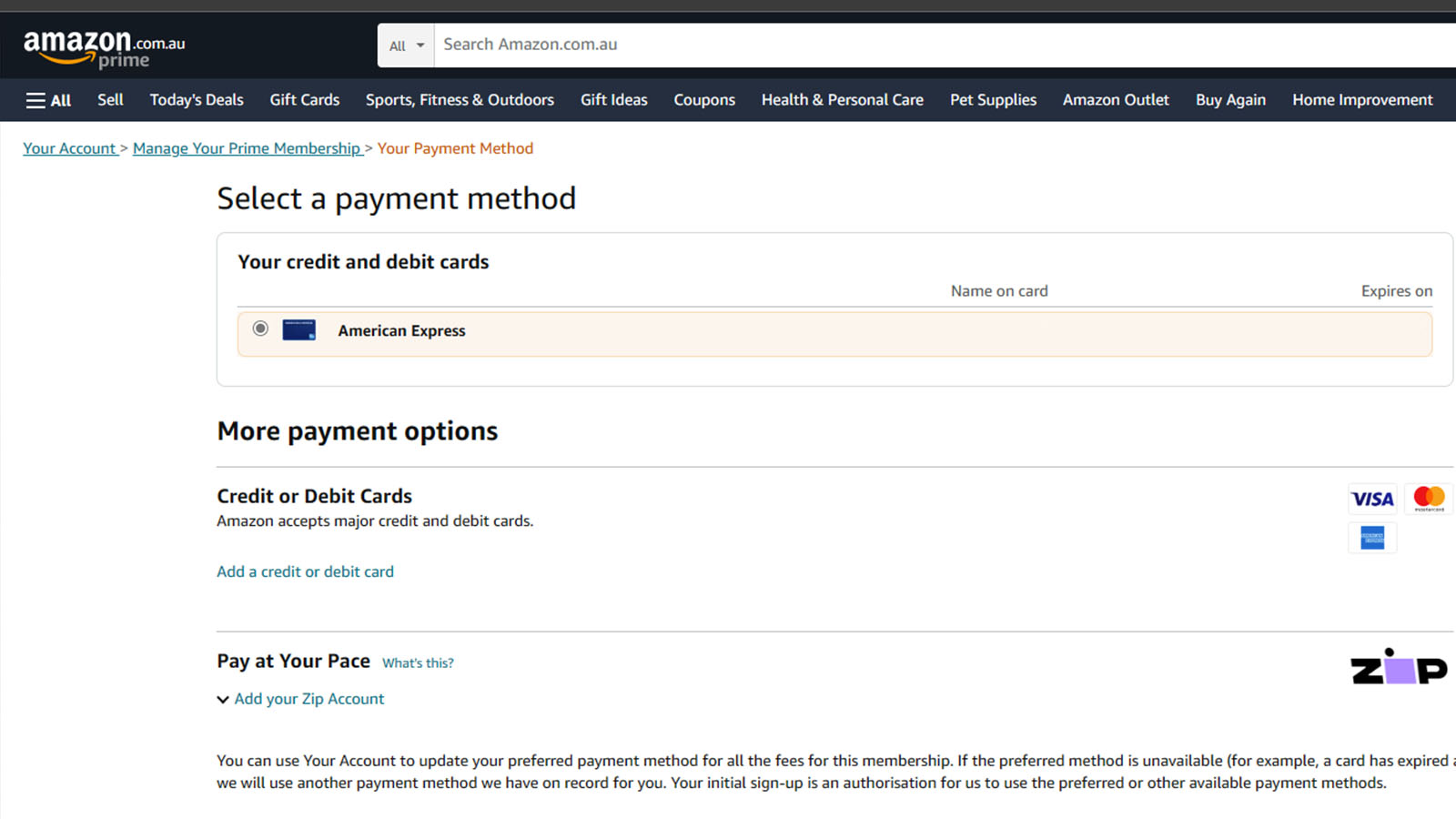 Avoid using third-party payment processors like PayPal for this. The offer only triggers when the primary Platinum Card – on which the offer is saved – is used directly with Amazon for those subscription charges.
The Platinum Benefit credit works whether you choose to pay monthly or annually. Annually usually gives the best value, but the yearly credit via Amex is generous enough to cover Prime fees paid monthly, should that be your preference.
Amazon Prime joins other fresh Amex Platinum benefits
The American Express Platinum Card has long been home to a suite of travel perks. Namely, unlimited access to eligible airport lounges, elite status with multiple hotel chains, complimentary Accor Plus membership and more.
In recent times, additional benefits have been added to the existing perks – many of which mirror the format of Amex Offers. For instance, Platinum Card members can receive $75 back every six months when shopping at Net-A-Porter and Mr Porter.
Under more recent improvements, Platinum Card Members can also enjoy up to $200 back each calendar year when dining at eligible Australian restaurants. Additionally, Platinum Card Members can save a further AU$200 per year when dining abroad at participating locations.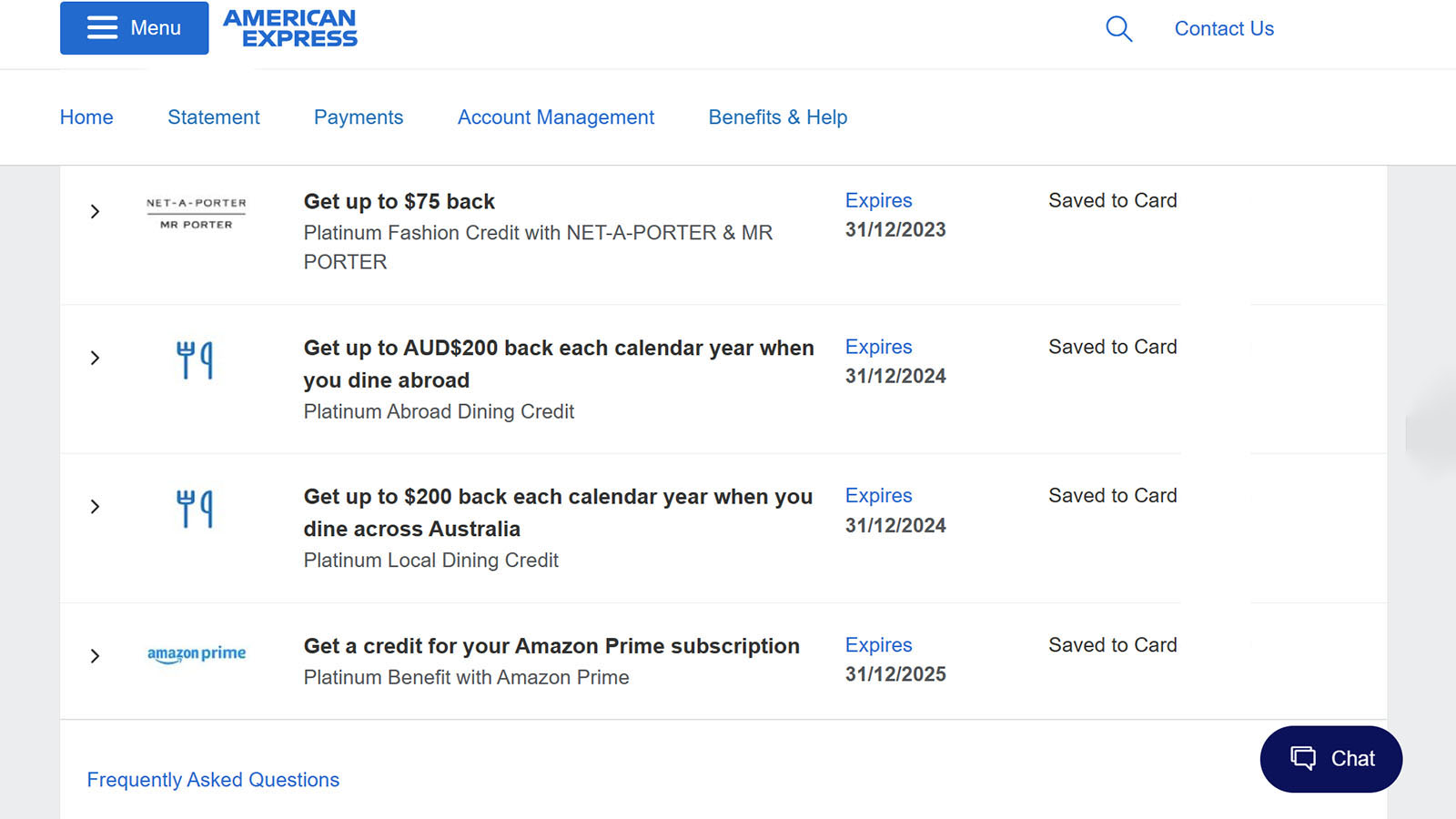 To access all of these benefits, Platinum Card Members must save each offer to their primary Platinum Card. That same primary card must then be used to make each qualifying purchase. Additional Cards and Account Cards aren't eligible for these Platinum-specific benefits, but may be eligible for other Amex Offers.
Summing up
It's great to see Amex adding value to the Platinum Card. Certainly, a product with a $1,450 annual fee won't be for everybody. But for savvy spenders and travellers, the overall value provided by the Platinum Card may well exceed the cost of that yearly fee.
Including the new Amazon Prime perk, here are some of the other Platinum Card benefits:
A $450 Platinum Travel Credit each year to spend on flights, hotels and more.
Complimentary Accor Plus membership valued at $395/year, which includes a free hotel night and Accor Live Limitless Silver status.
A yearly $200 dining credit within Australia, and a further AU$200 dining credit when eating out abroad.
Up to $150 back each year via the Platinum Fashion Credit at Net-A-Porter and Mr Porter.
Be credited for your Amazon Prime subscription – a $79 value, based on the annual plan price.
Already, that's $1,474 in value that can be accessed after paying the card's $1,450 annual fee. Add in the card's broader perks, and the appeal heightens.
For instance, Platinum Card members also enjoy unlimited access to 1,400+ airport lounges. Among them, Virgin Australia domestic lounges when taking an onward Virgin Australia flight. Two unlimited Priority Pass memberships are included too.
There's also gratis and perpetual Hilton Honors Gold, Marriot Bonvoy Gold and Radisson Rewards Premium status. Joining that, a complimentary subscription to The Australian, the ability to earn uncapped points, and more.
Different perks will appeal to different cardholders. But by broadening those dollar-based rewards, it becomes clearer on paper how a cardholder could get value in paying a four-figure annual fee. Those who travel regularly may find that easier than most.
Also read: American Express Centurion Lounge review, New York JFK
Feature image courtesy of Prime Video.
---
Stay up to date with the latest news, reviews and guides by subscribing to Point Hacks' email newsletter.
New Amazon Prime benefit for Amex Platinum Card Members
was last modified:
August 25th, 2023
by