Fancy a stint aboard one of the world's longest flights – or indeed, the very longest? Taking a few moments to plan how you'll spend your journey can really pay dividends in the air.
I've just return from the United States, where I managed to hop aboard two flights among the world's 'top 10' lengthiest voyages. And when you're spending almost 19 hours in the air, knowing what you'll do next can really help the hours fly by. Here's where I flew:
As longer flights become the norm and Qantas' Project Sunrise is finally full steam ahead, here's what to expect when you're floating at 40,000 feet for almost an entire day. And of course, a few of my tips to make the journey more comfortable. It'll sure beat asking yourself, 'are we there yet?' on endless loop!
What are the world's longest flights?
Itching to traverse one of the longest routes in aviation? Here's a rundown of the ten longest passenger flights currently in service. We've ranked these by the direct distance from airport to airport.
| | | | |
| --- | --- | --- | --- |
| Rank | Route (and vice versa) | Airline | Distance |
| 1. | Singapore to New York JFK | Singapore Airlines | 15,349km |
| 2. | Singapore to Newark | Singapore Airlines | 15,344km |
| 3. | Perth to London Heathrow | Qantas | 14,499km |
| 4. | Singapore to Los Angeles | Singapore Airlines | 14,114km |
| 5. | Bengaluru (Bangalore) to San Francisco | Air India | 14,004km |
| 6. | Sydney to Dallas Fort Worth | Qantas | 13,804km |
| 7. | Manila to New York JFK | Philippine Airlines | 13,712km |
| 8. | Singapore to San Francisco | Singapore Airlines and United Airlines | 13,593km |
| 9. | Atlanta to Johannesburg | Delta Air Lines | 13,581km |
| 10. | Dubai to Los Angeles | Emirates | 13,420km |
You may notice some familiar 'really long routes' absent from the table above. For instance, Auckland to Doha on Qatar Airways and Houston to Sydney on United Airlines. At the time of writing, these non-stop flights aren't currently running and so aren't ranked here.
Interestingly, while Qantas' new service from Perth to Rome certainly feels like a long way to fly, it doesn't crack the current 'top 10'. For now, it sits in rank #13.
Speaking of Qantas, the airline's temporary Darwin-London route stretched farther than its Sydney-Dallas flights. But with Qantas now flying to London again via its usual haunts of Perth and Singapore, Darwin-London is no more.
The world's longest flight: Singapore to New York JFK
With a daily flight from Singapore to New York's JFK Airport, Singapore Airlines is a surprisingly practical way for Australian travellers to jet to The Big Apple. After all, the journey to New York always has at least one stop: so why not make that Singapore's Changi Airport?
As I step on board, the crew don't dare mention that this is the longest flight in the world, lest they make passengers think about just how many hours they're about to fly for.
I'm in Business Class, which means there's a bed when I need sleep, and space to work when I'm awake. For me, this near-19-hour flight doesn't feel quite as long as it sounds.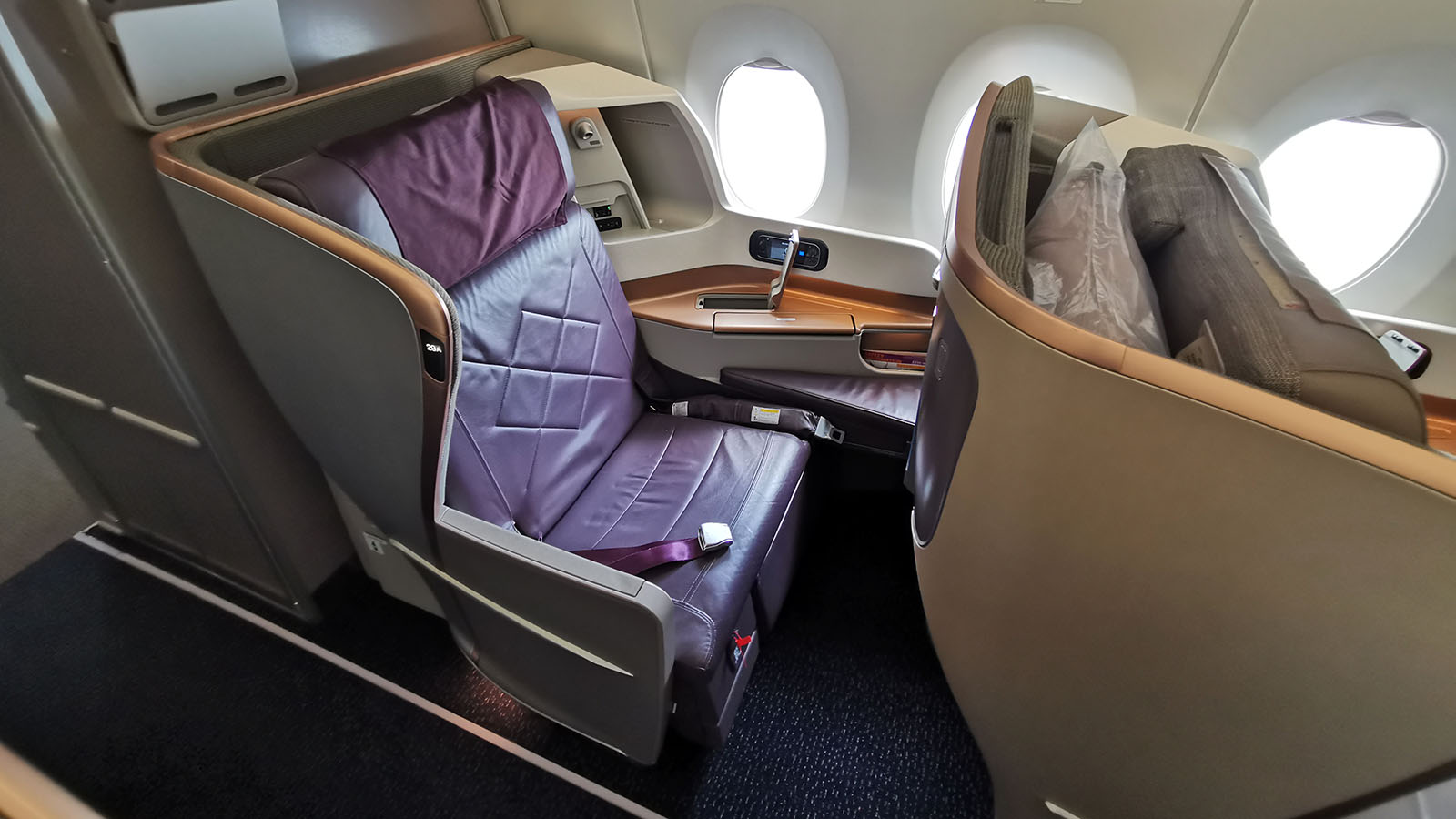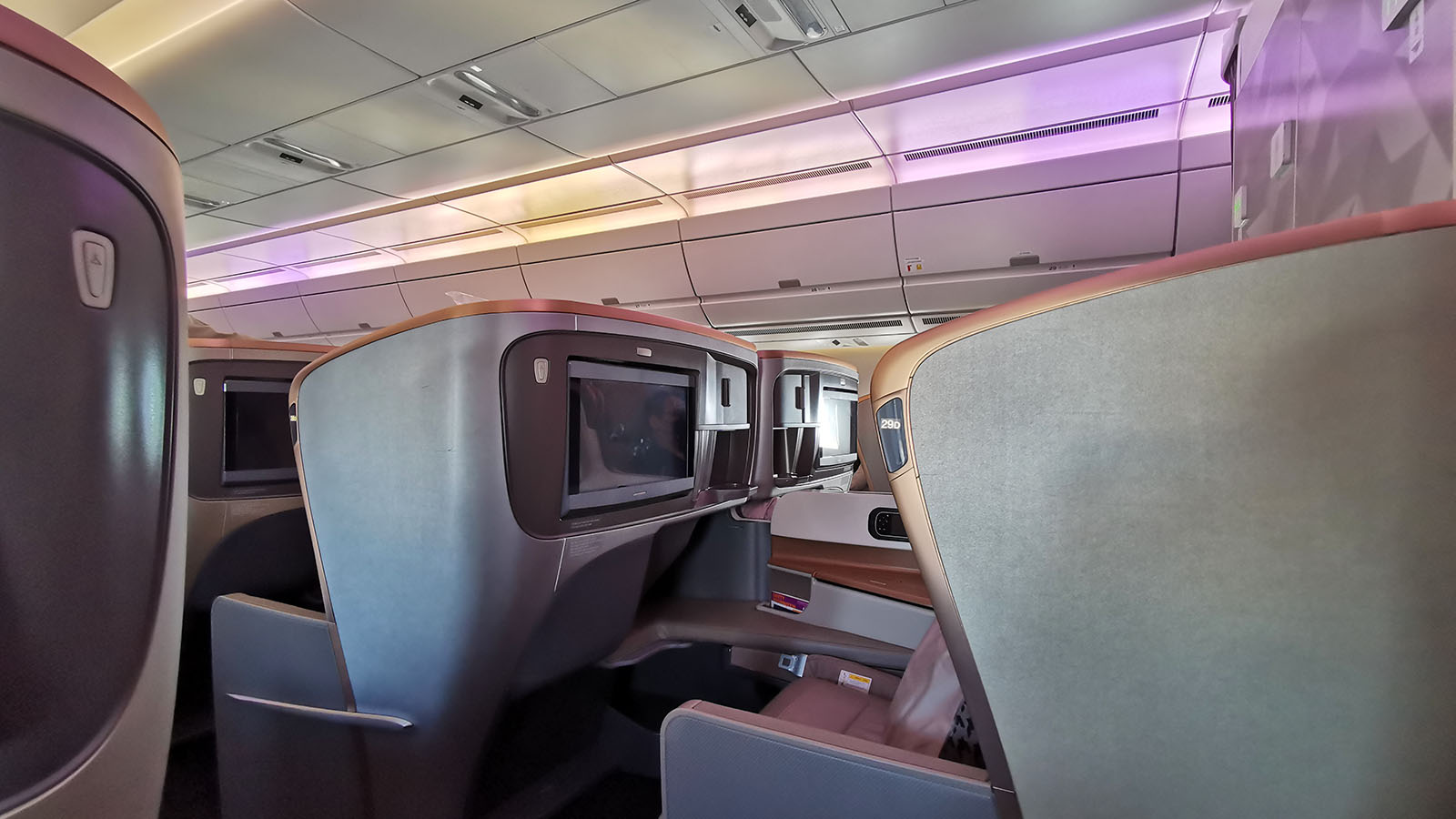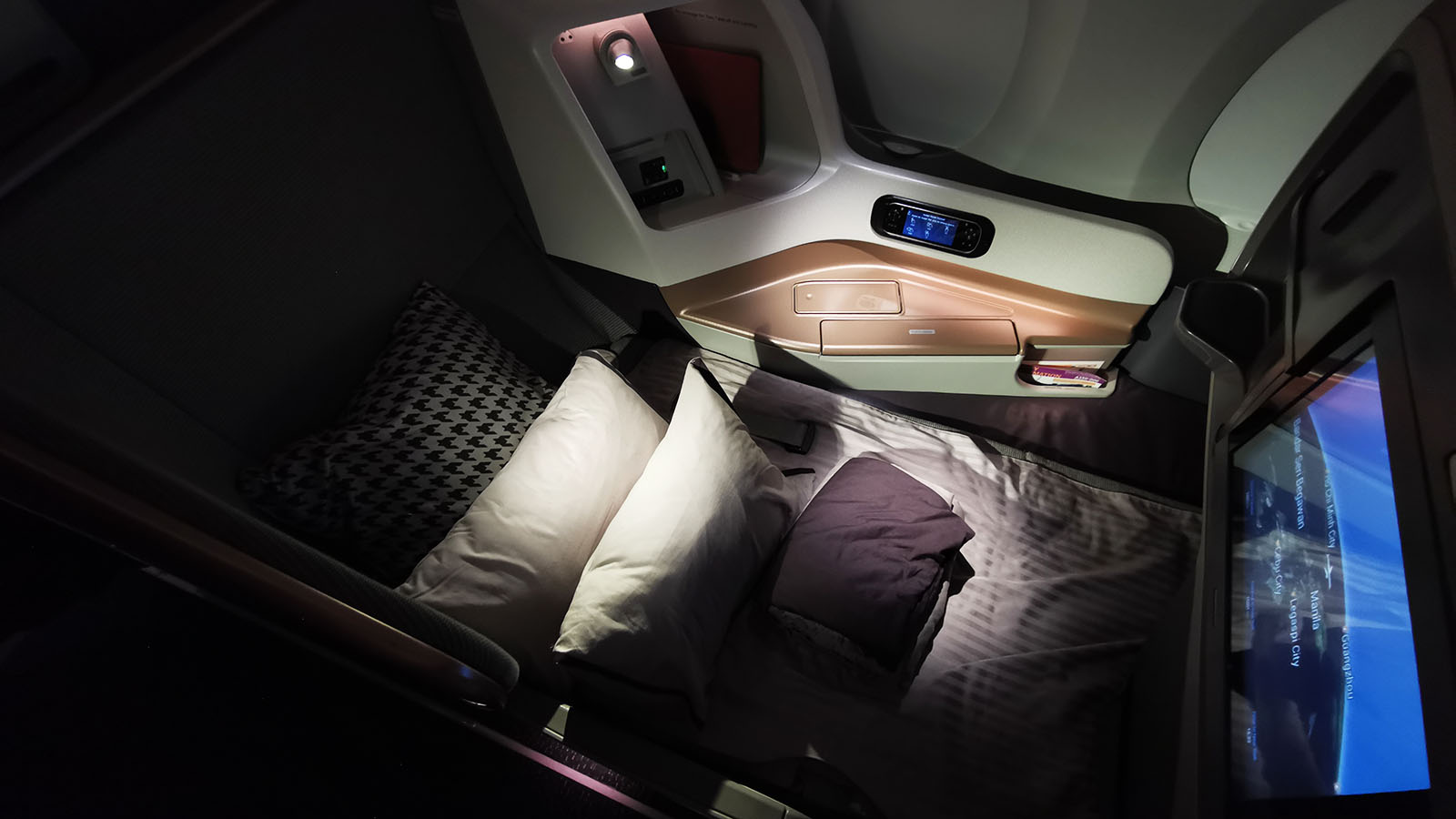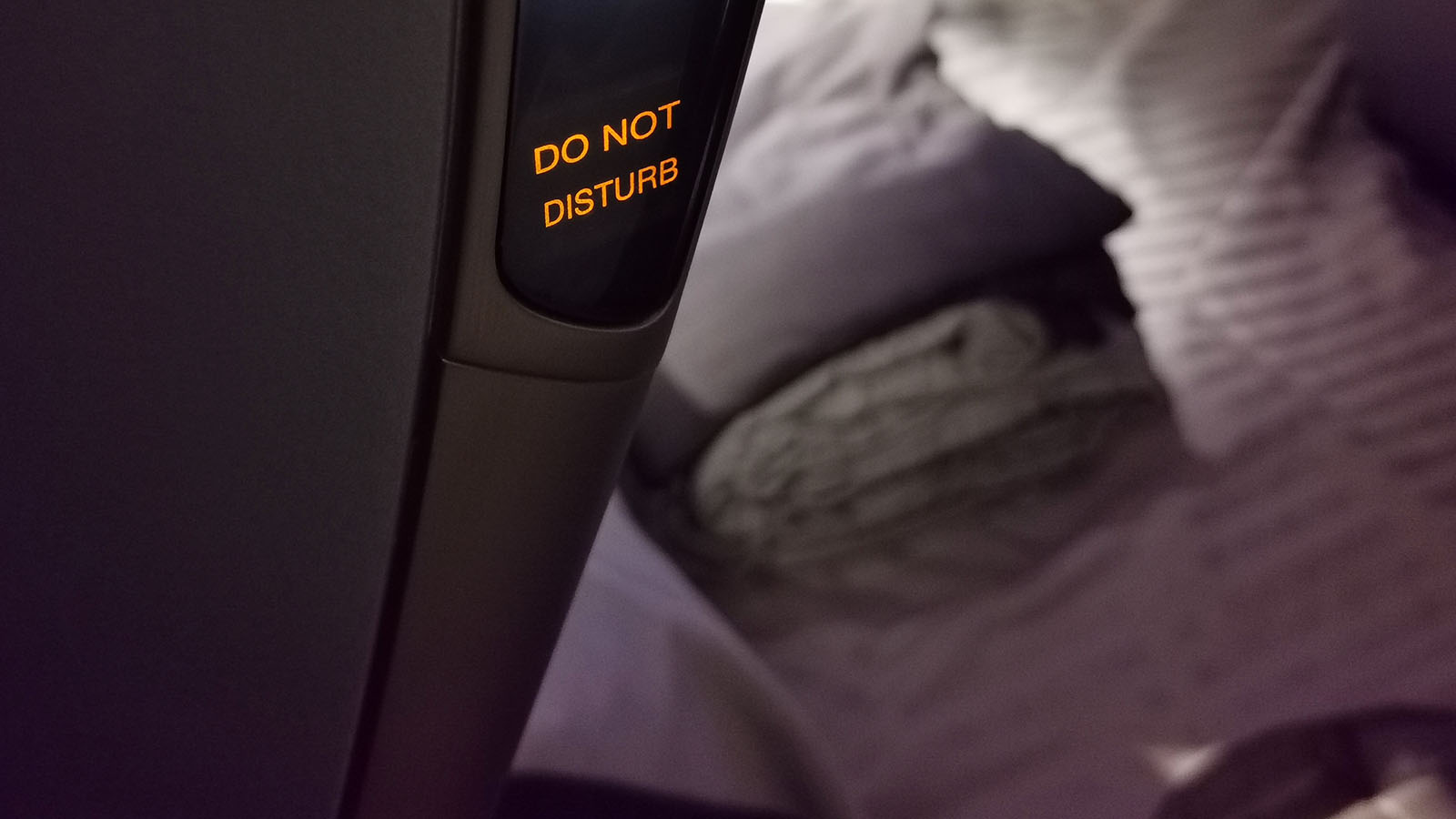 All told, I get around six hours of sleep. That happens earlier in the flight, leaving me time enough for a full day's work, as well as a movie or two.
Singapore Airlines certainly won't let you go hungry. And on this flight, you're able to order what you like, when you like. This helps when you'd rather sleep than eat – or vice versa.
Using Book The Cook before the journey, I'm able to pre-book the airline's iconic lobster thermidor dish. Normally, it's only served in First Class, but if you're flying Business Class, it's available by request. Having little things like this to look forward to certainly makes the trip breeze by.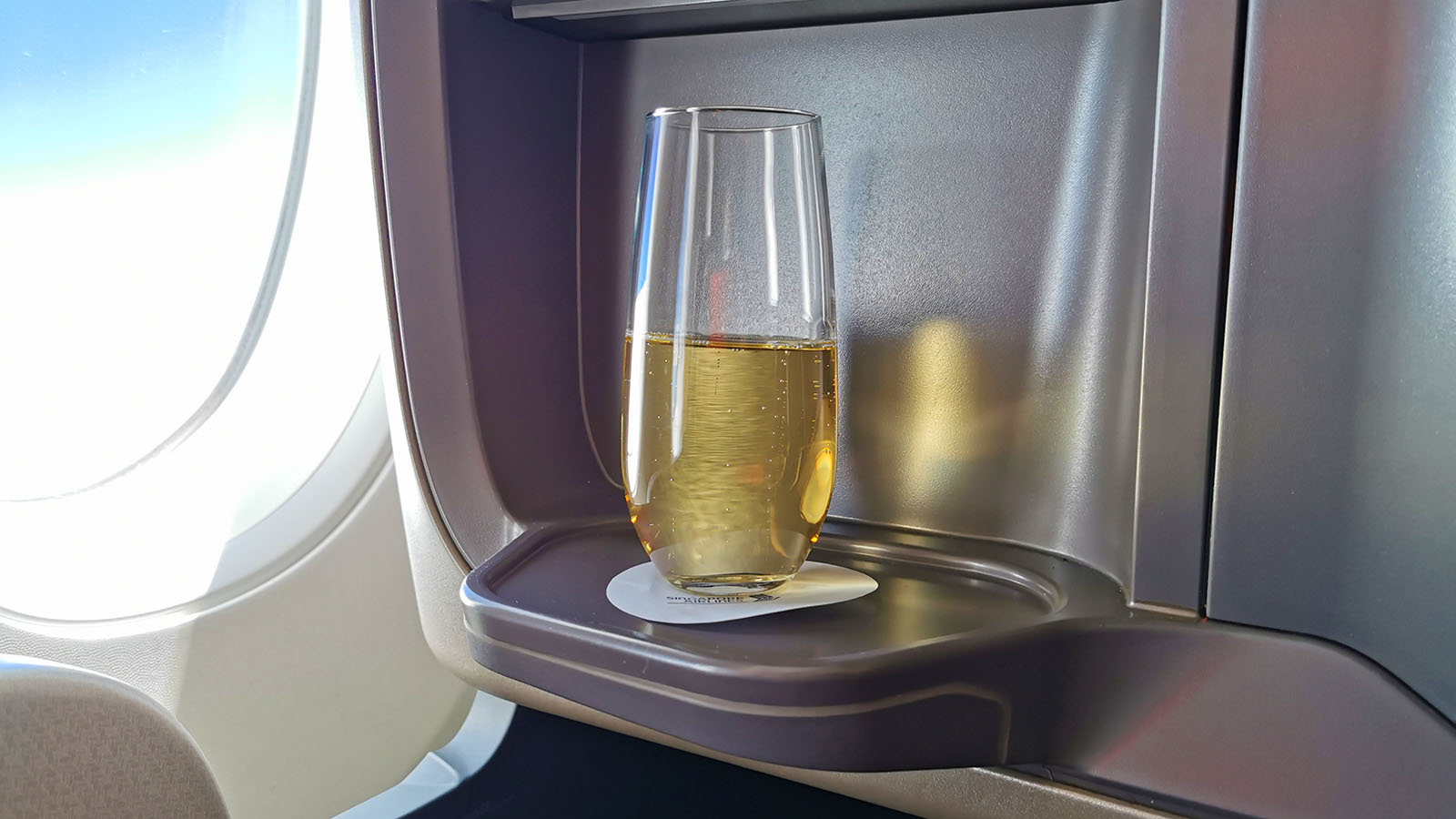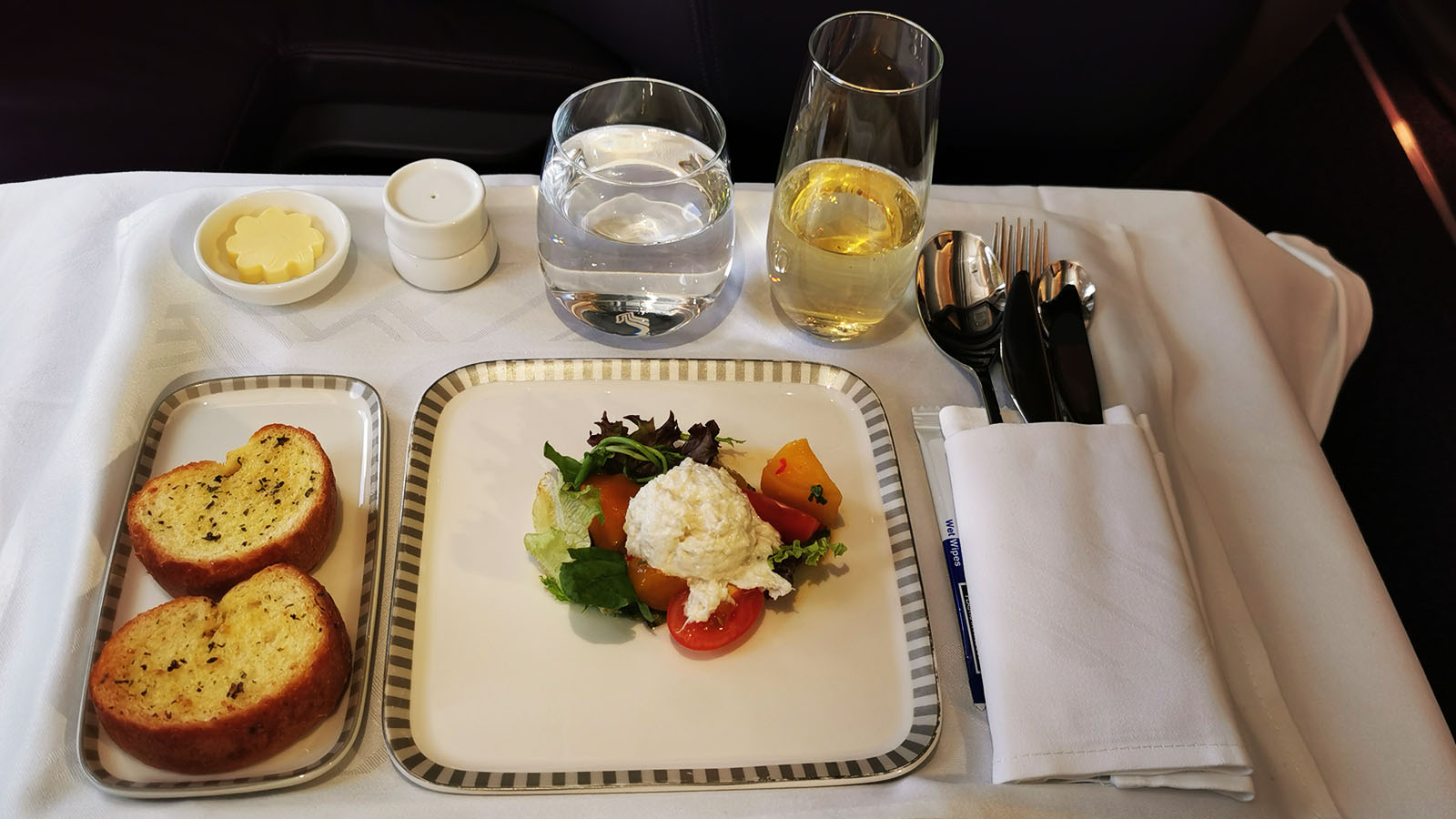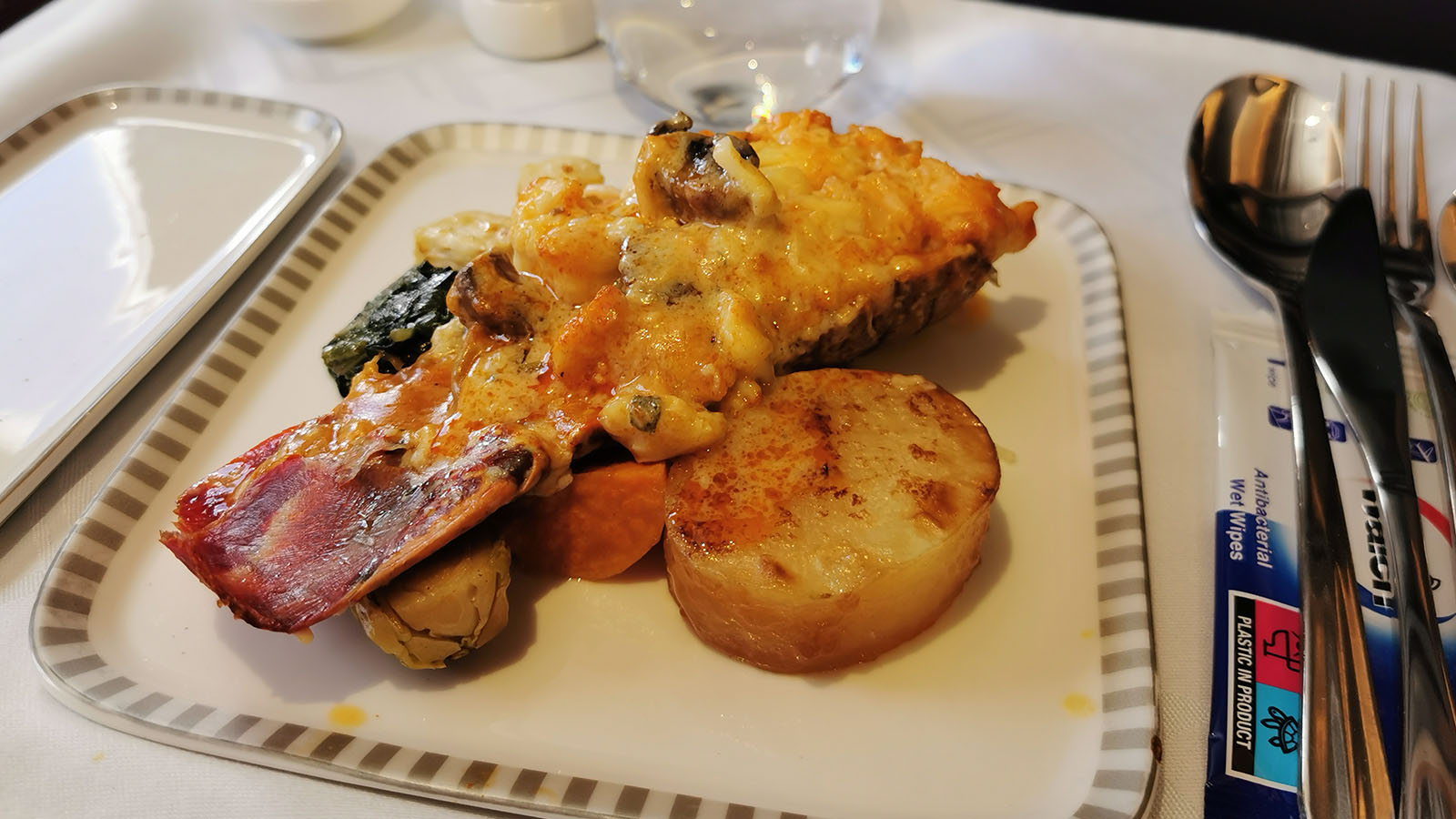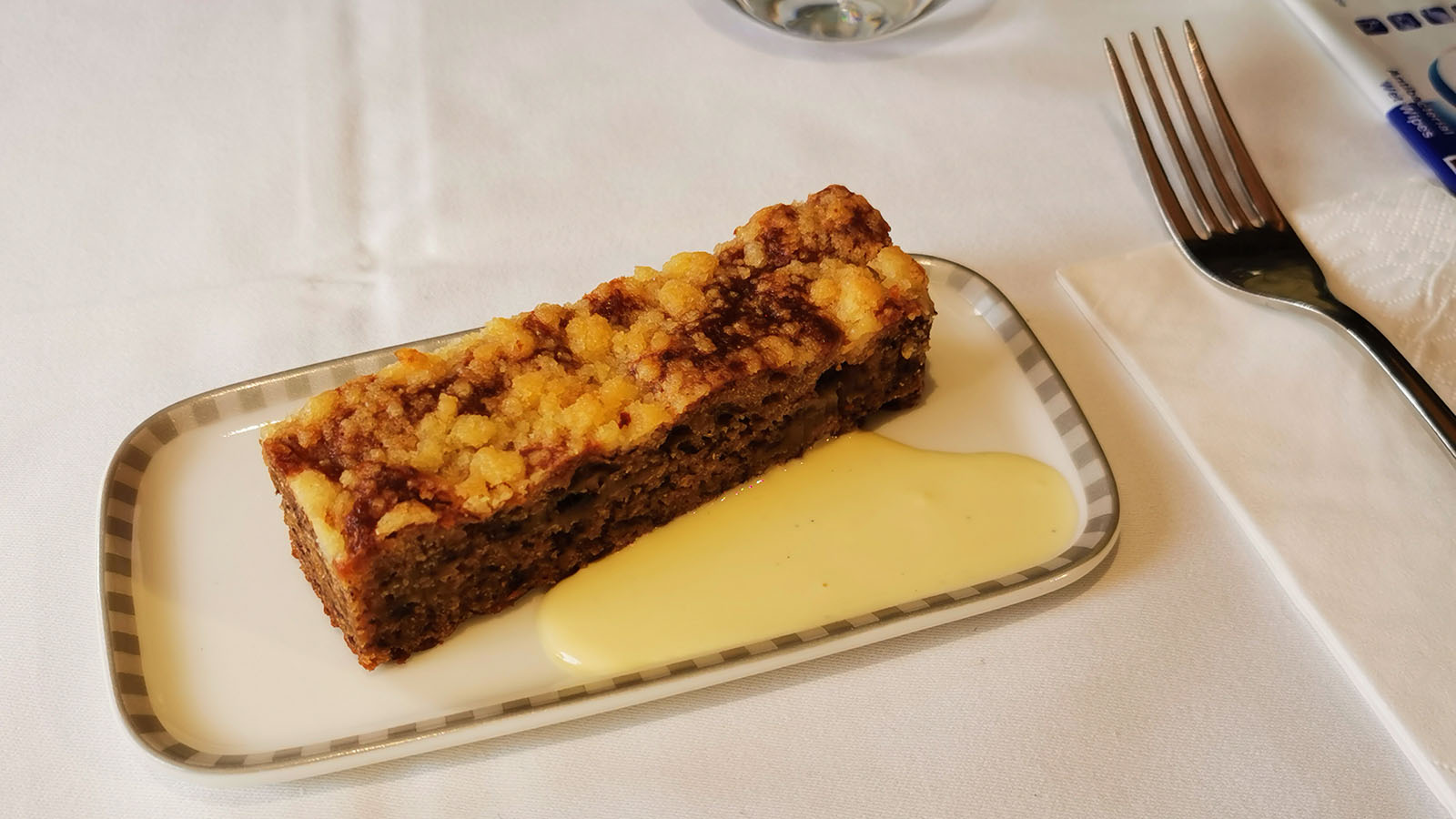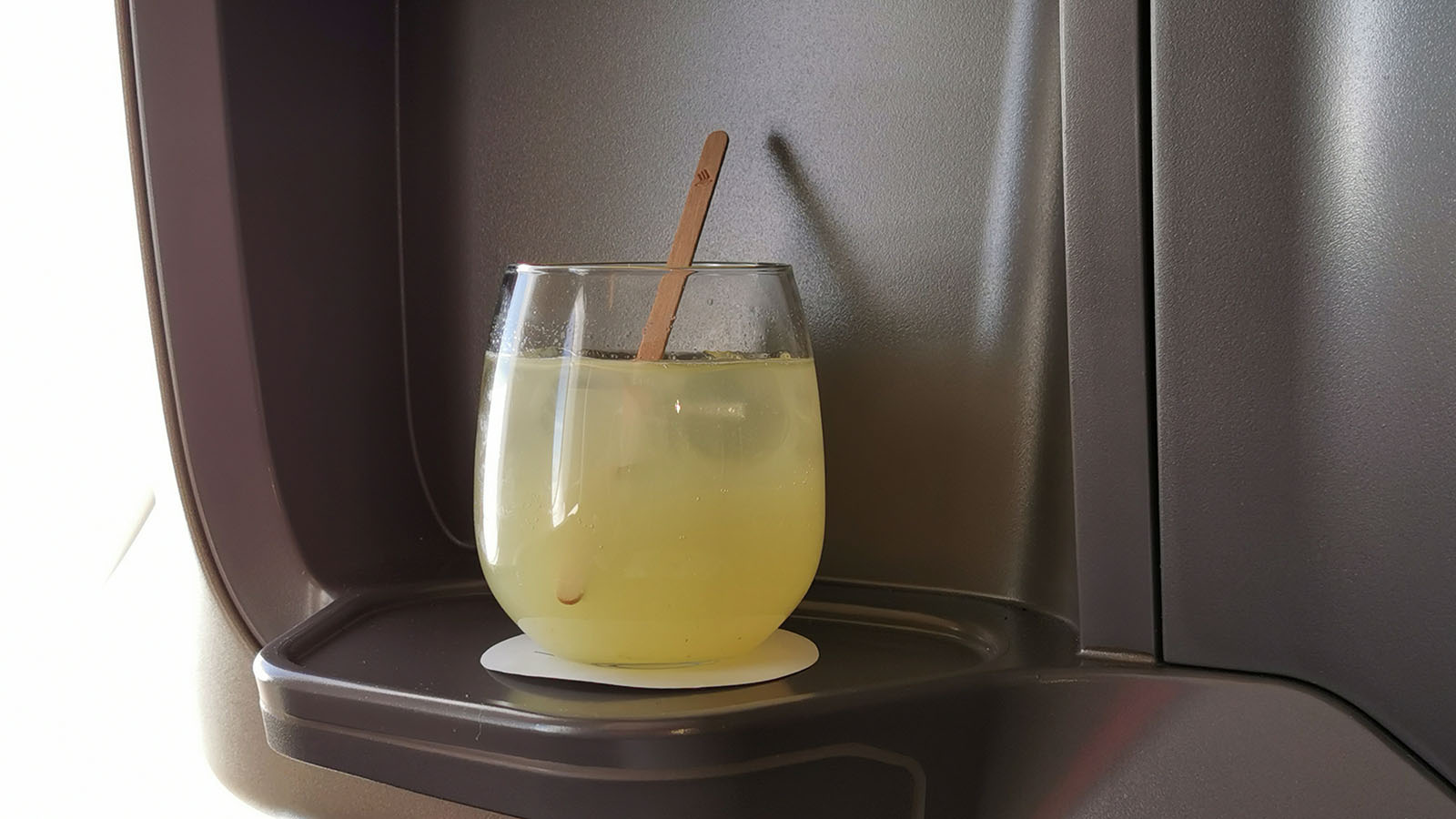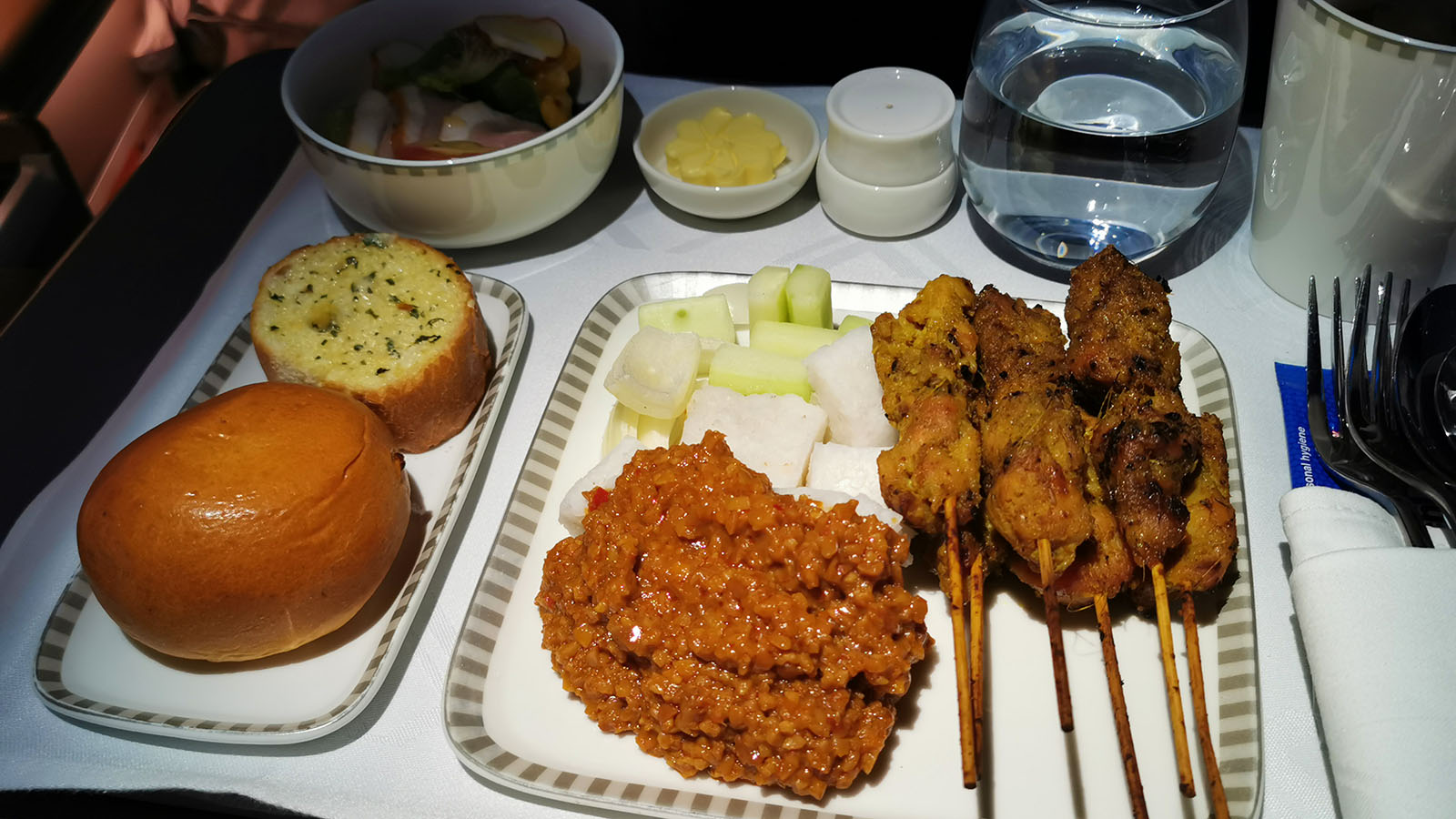 Another thing that helps? A bottomless supply of vintage bubbles: the 2014 Piper-Heidsieck Brut Champagne, to be precise. There's also a cocktail menu – and again, you can indulge whenever the temptation strikes.
Flight review: Singapore Airlines Airbus A350 'ultra long range' Business Class (Singapore – New York JFK)
Ad – Scroll down to continue reading.Minimum spend, terms & conditions apply.
The world's sixth longest flight: Dallas Fort Worth to Sydney
Bound for Australia, Qantas' non-stop flight from Dallas Fort Worth (DFW) to Sydney clocks in as the world's sixth longest. Surprisingly though, it feels much shorter than Singapore-New York, even though it's only two hours less.
That's because it's a late evening departure from DFW and an early morning arrival into Sydney. Once you're flying and finish supper, it's time to sleep. You'll wake in time for breakfast, and you're practically there already.
In Business Class, Qantas adopts a familiar 1-2-1 seating layout. As on Singapore Airlines, that provides direct aisle access to everybody in the cabin. But as a point of difference, Qantas uses a staggered configuration instead.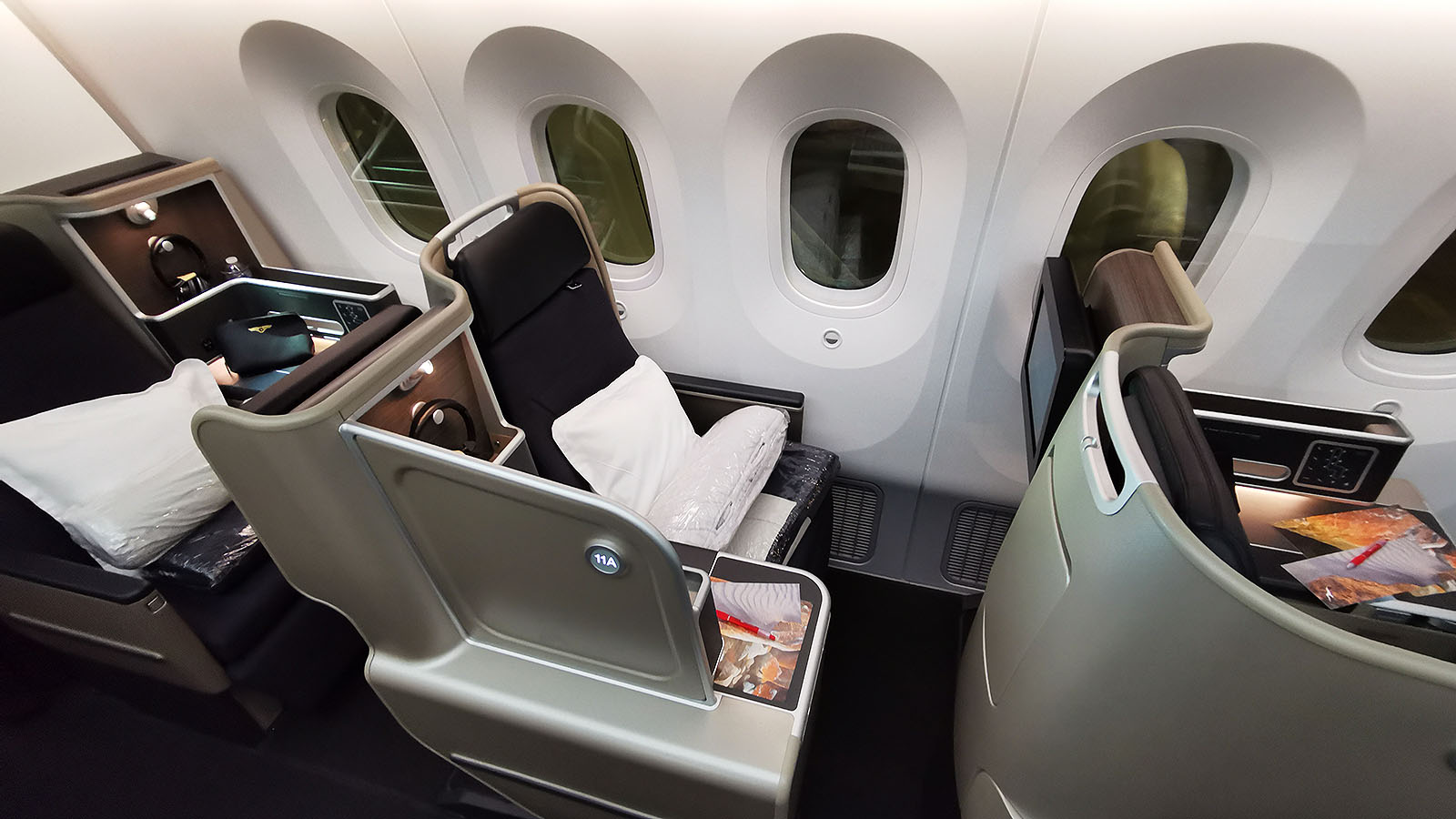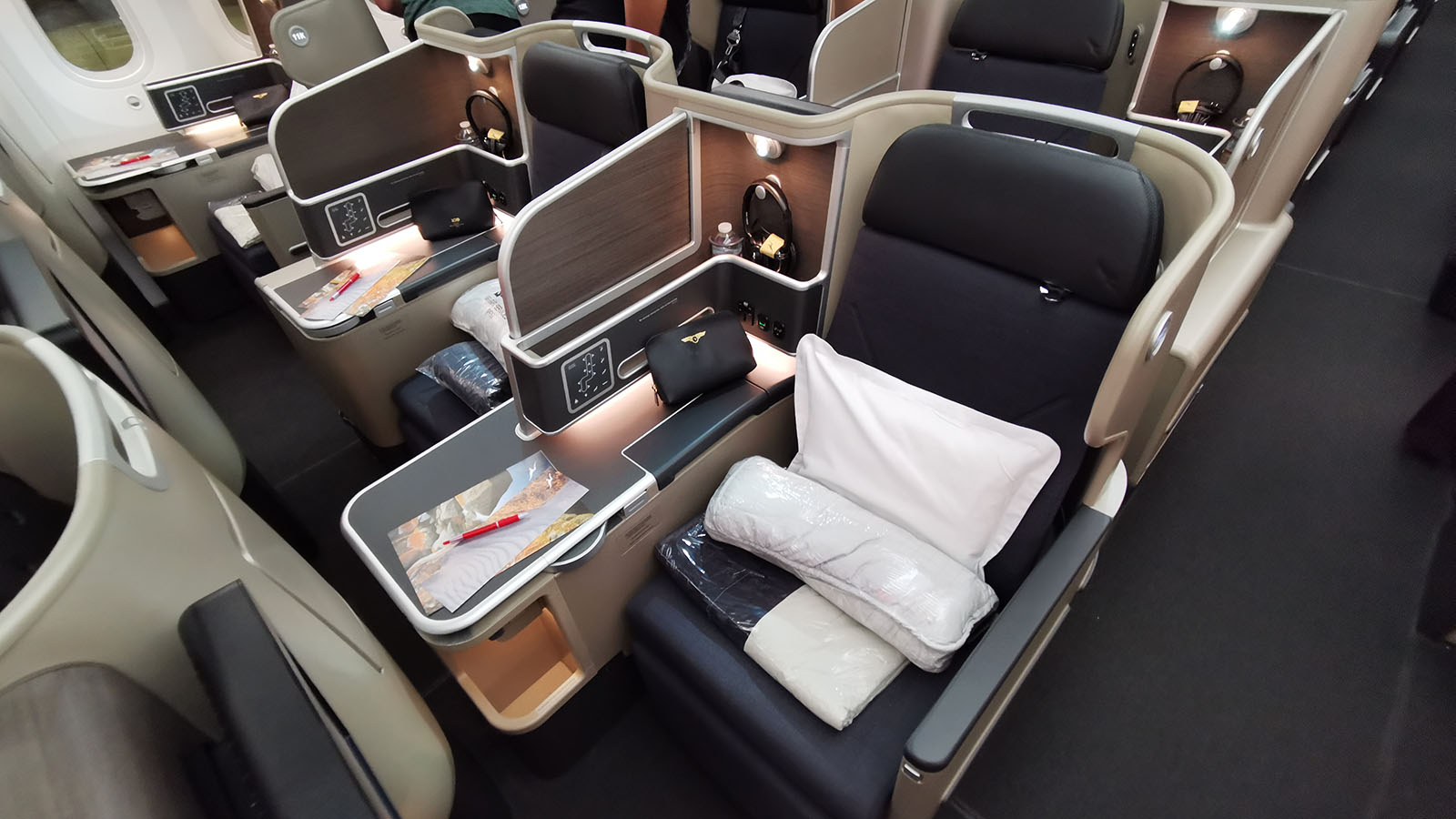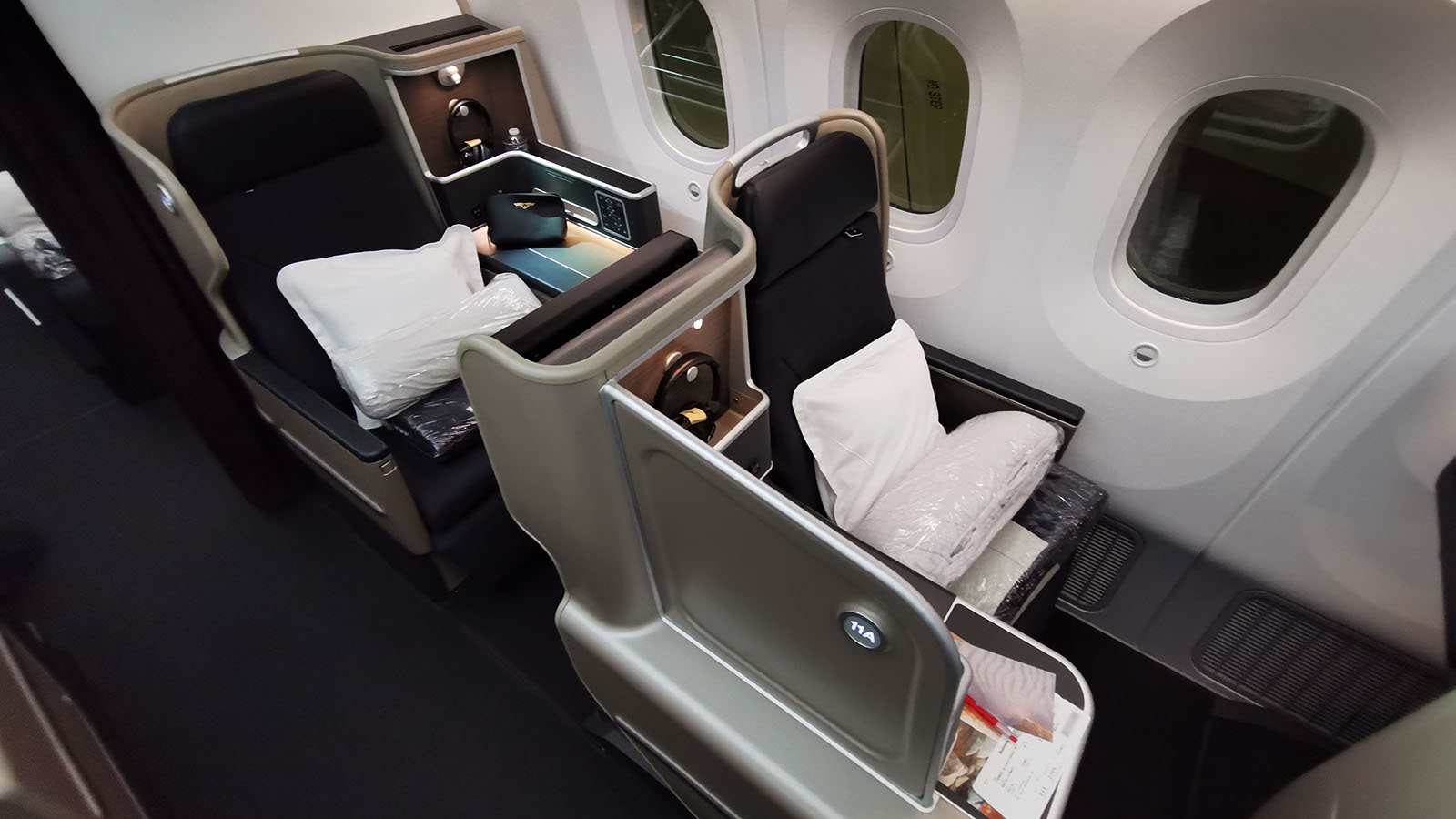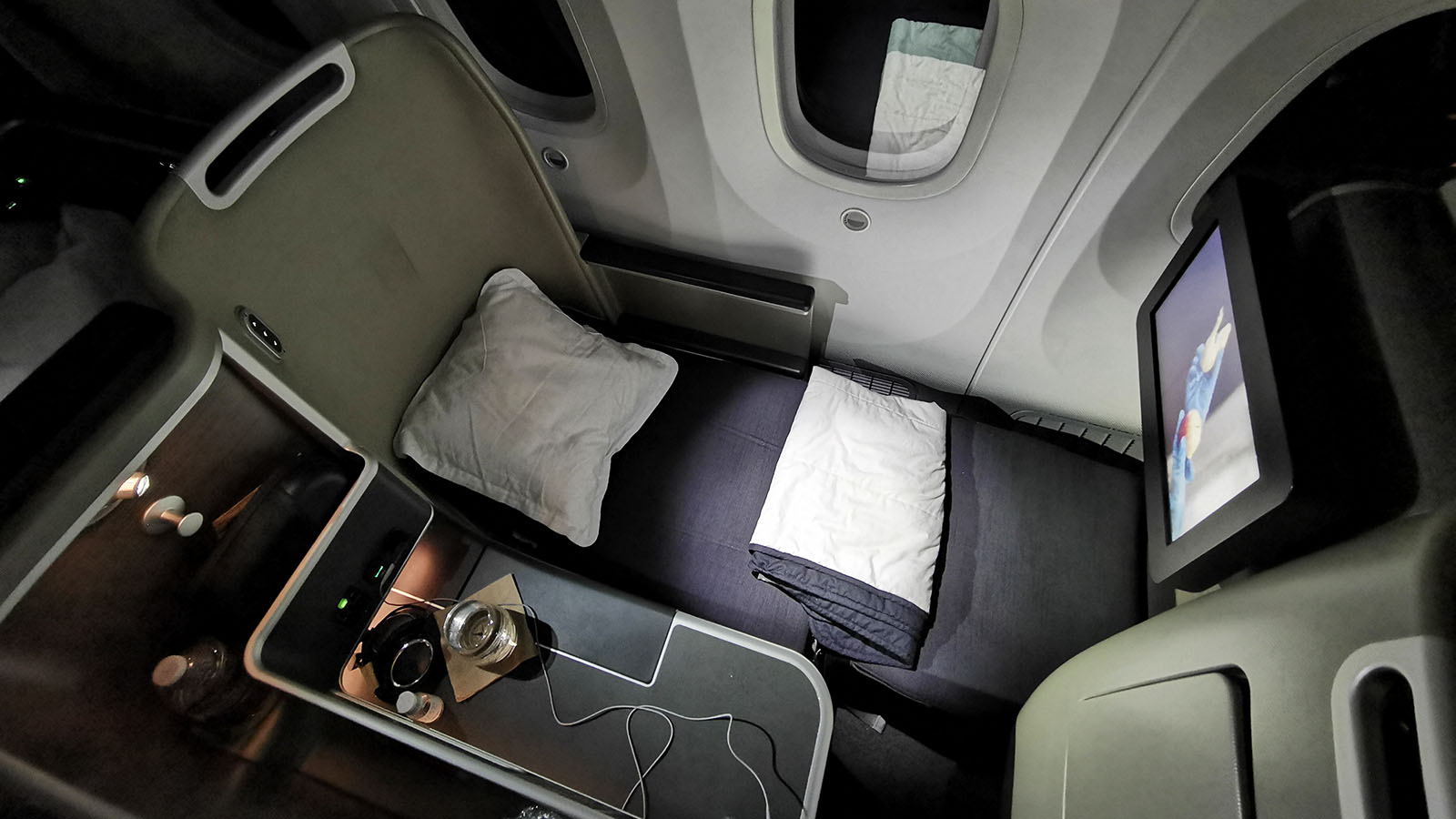 In one row, seats reside closer to the aisle – while in the next, they're further away. On a long flight like this, you'll definitely want one of those 'further away' seats. You're just that little bit further away from any noise, and minimise the risk of being bumped and awoken once you've dozed off.
On the food front, Qantas wasn't quite comparable to Singapore Airlines. The meal after take-off comes on a single tray, and the service is just a main dish with a small side salad. Anything to follow, such as dessert, is delivered on its own.
There's an anytime snack menu to tide you over until breakfast. But with only two options – and both of them bread-based – it'd be nice to have more variety. As breakfast also came as a sandwich, fewer carbs in general would be a nice improvement.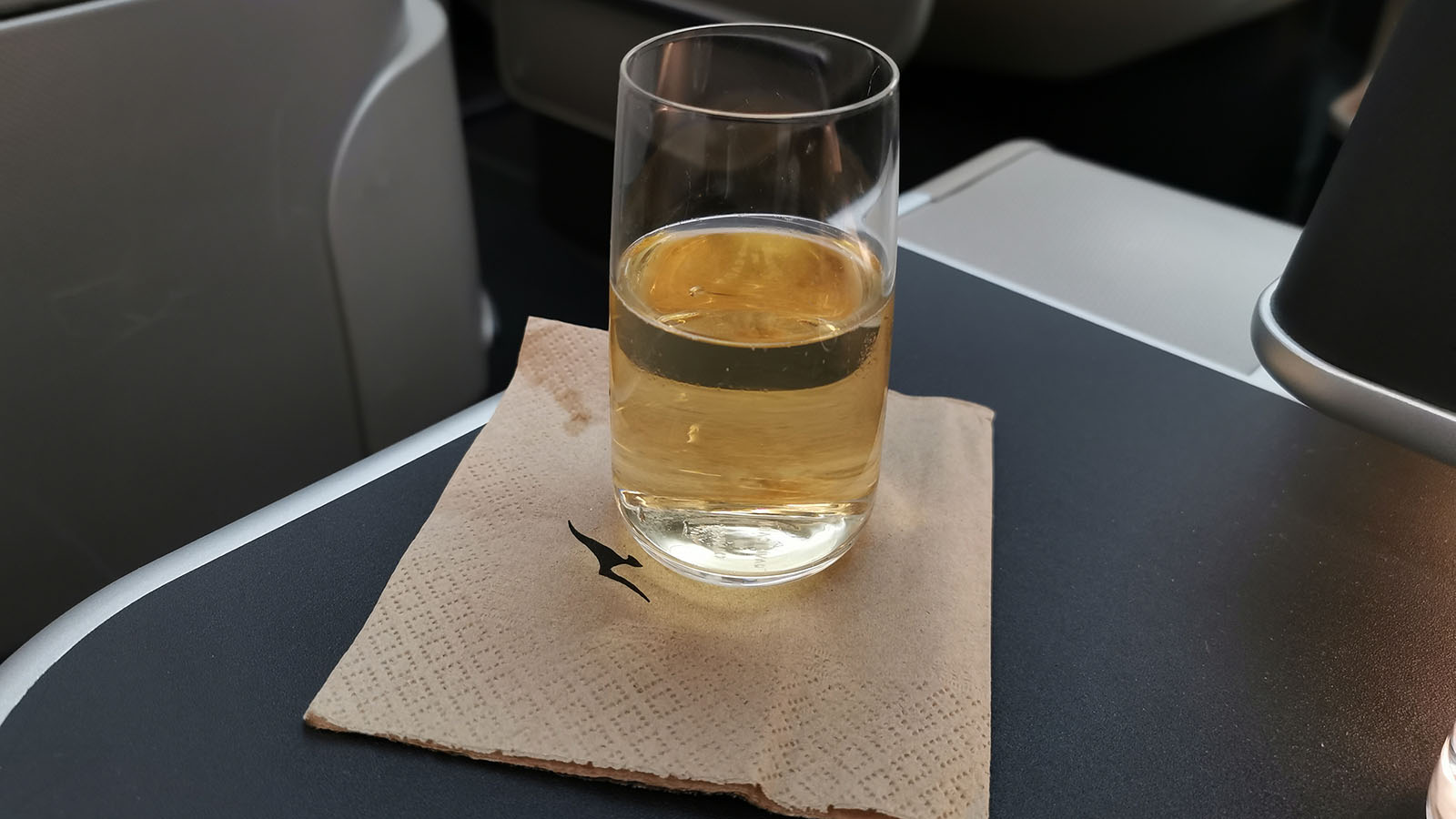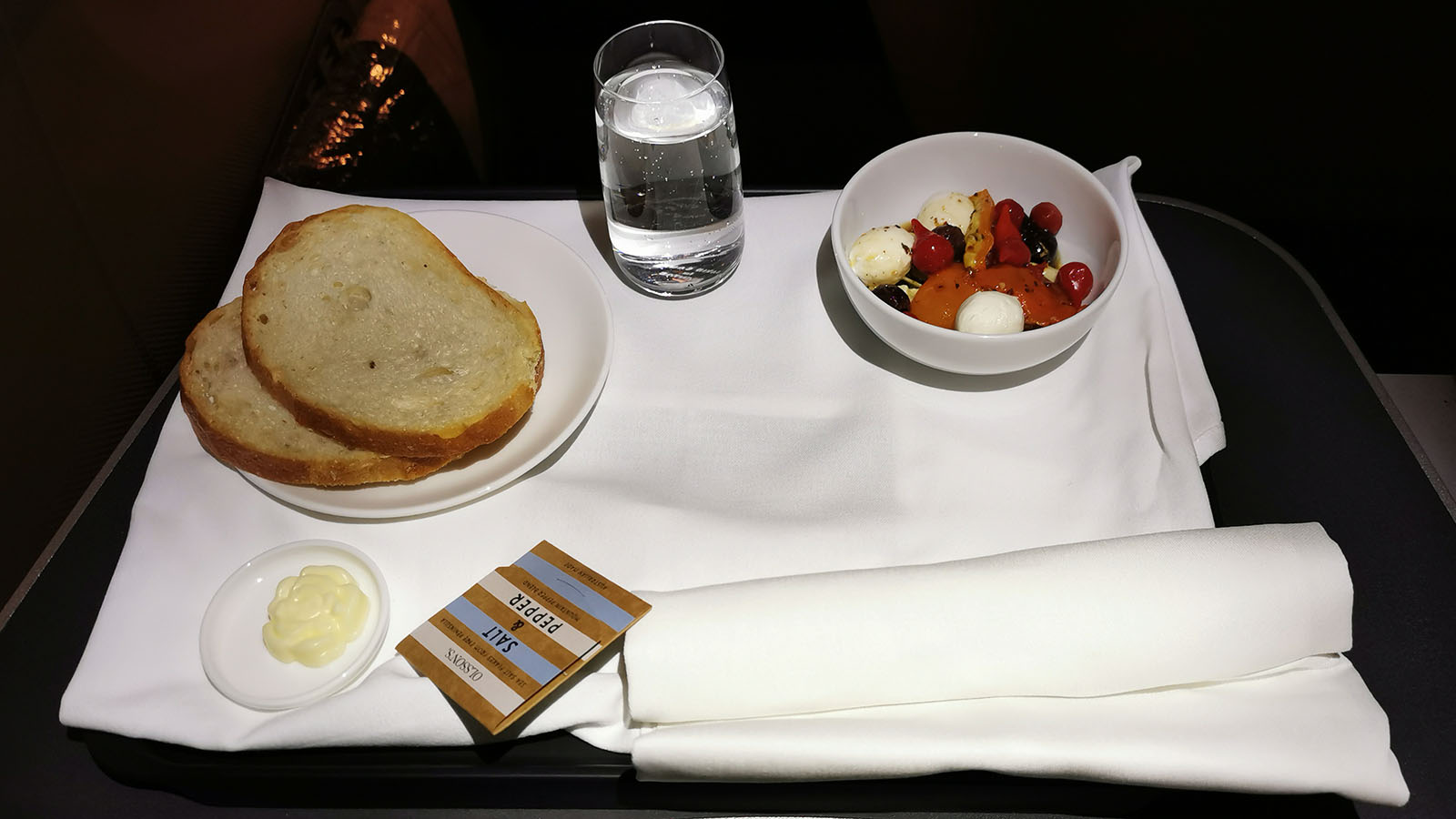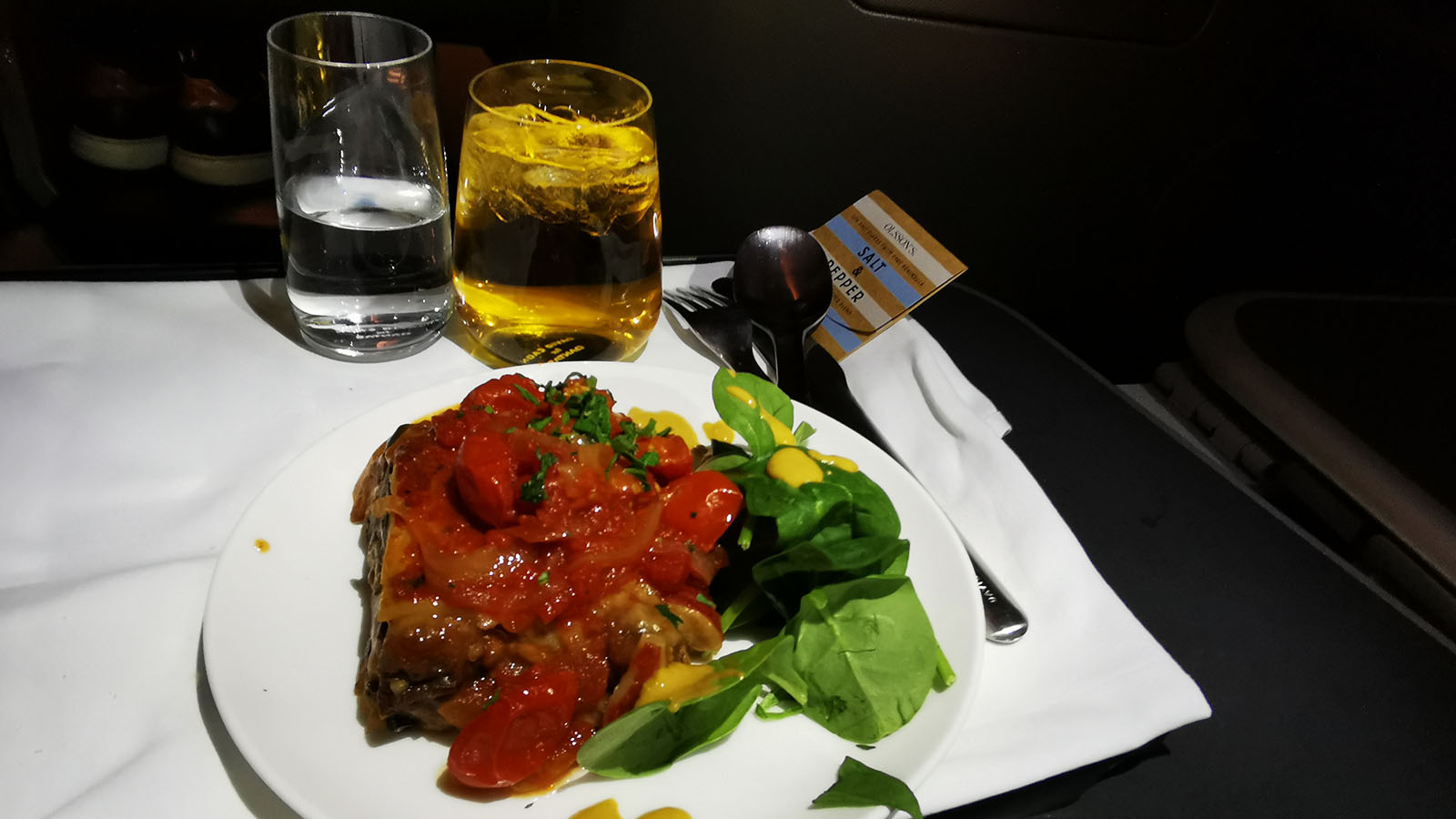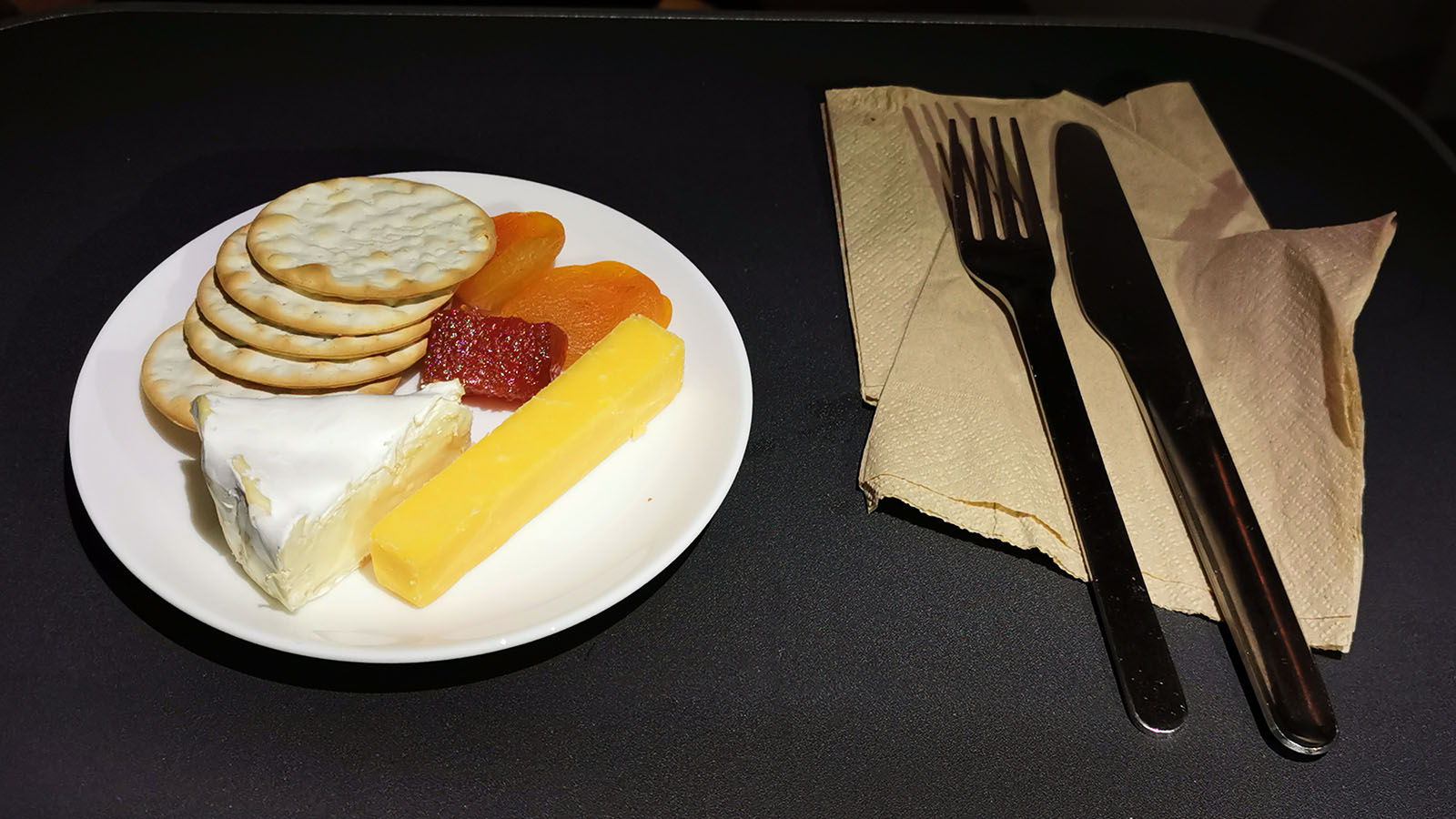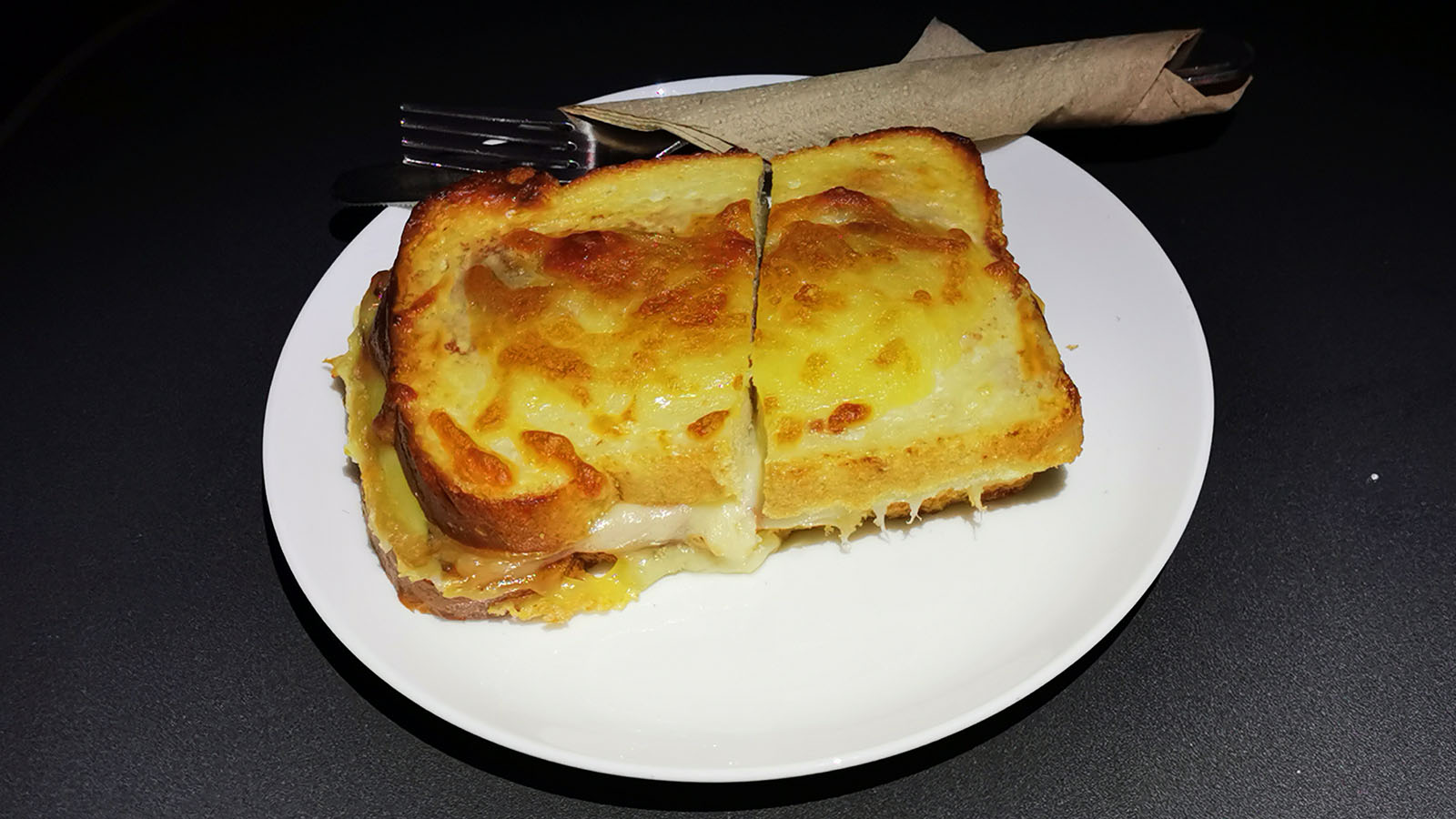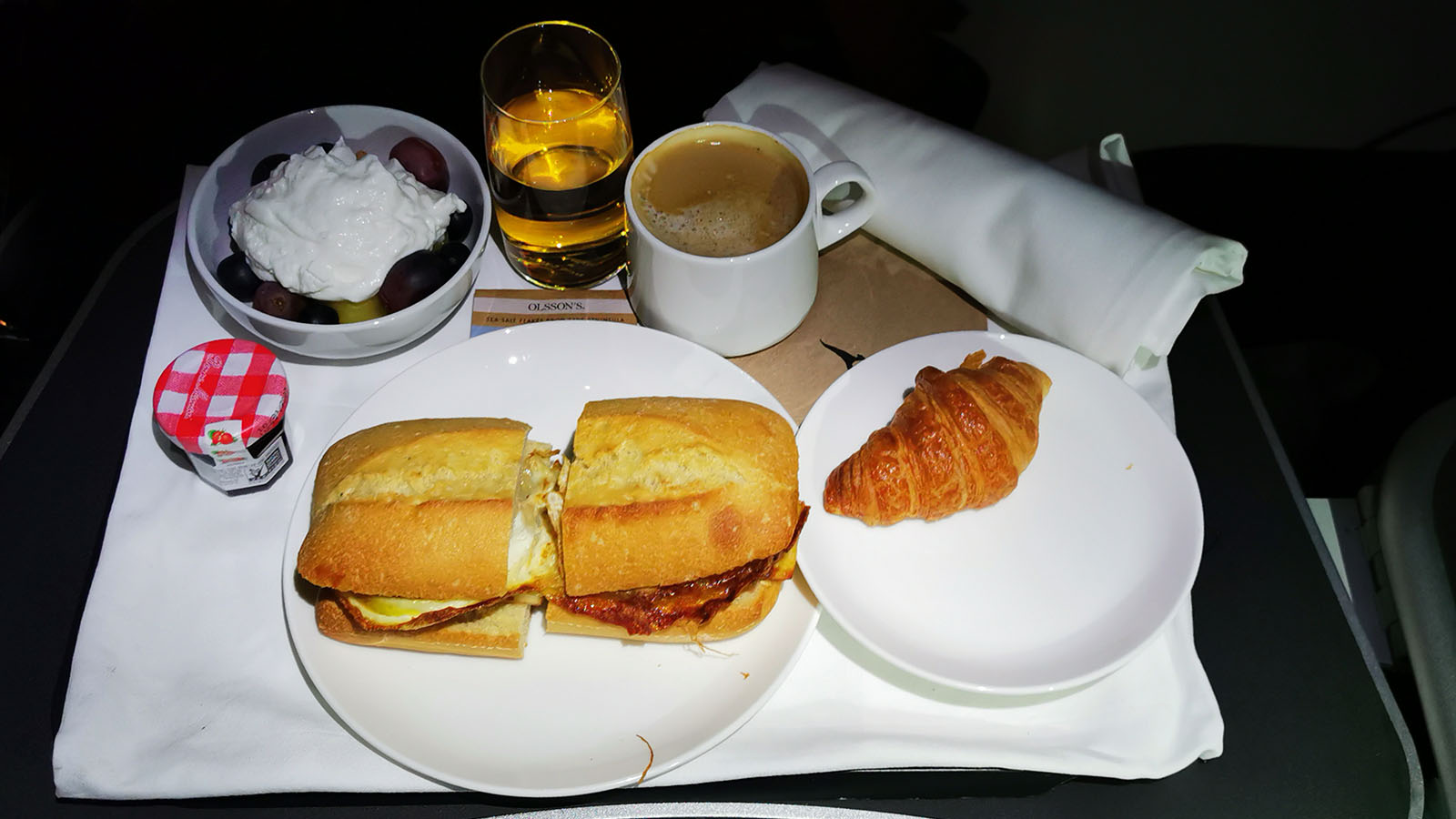 Qantas' limited beverage menu also doesn't sit toe-to-toe with Singapore Airlines'. In terms of bubbles, there's one non-vintage Champagne: and if you'd like a cocktail, there's also just one.
While Qantas was still adequate for an overnight flight, I'm glad my daytime journey was on Singapore Airlines!
Flight review: Qantas Boeing 787 Business (Dallas/Fort Worth – Sydney)
Tips for managing jet lag on your journey
The real advantage of these long flights is landing with practically no jet lag. But that doesn't happen by accident – I'd planned my sleep ahead of time to hit the ground running.
This was hardest to do from Singapore to New York. It's a lunchtime departure from Singapore and an early evening arrival on the same calendar day, but with almost 19 hours spent in between.
My strategy? Take off from Singapore, and start the flight with lunch. After all, that's the time zone you'd still be on. But afterwards – and perhaps after a movie – close the shades, turn your seat into a bed, and get some shuteye.
I did just that, and given I was already a little sleepy from being up early the same day, it wasn't too tricky to doze off. I also awoke at what was morning local time in New York, meaning my body was adjusting to the destination time zone before we were even there.
With a good 10 hours to go and an early evening arrival, we land at the perfect time for an evening check-in and a proper night's sleep on the ground. I did just that and was bursting with energy the next morning – ready to venture out and about the next day.
Flying back to Australia from Texas, adjusting back to Australian time took much less planning. The late evening departure and early morning arrival already give a good roadmap for sleep.
I was just mindful not to go straight to sleep after leaving Dallas. By staying up for supper first, it was closer to a more typical bedtime when I finally closed my eyes.
I landed in Sydney and went straight to work. A strong coffee on the ground sure helped, but again, I didn't spend the day sleepy.
Summing up
Ultra-long-haul flights won't be everybody's cup of tea. And if you're flying Economy Class, taking two shorter hops might be preferable to one long stretch – especially to stretch those legs after hours of sitting still.
But if you're booking Business Class, travelling from A to B without a detour via C is a great way to go. It pays to plan your sleep, sure. But overall, what's not to like about travelling in comfort right from where you are to where you need to be?
It'll certainly be interesting to see just how popular Qantas' Project Sunrise flights are, once they enter service in 2024. That's when the airline plans to launch non-stop routes from Australia's east coast right through to the likes of London and New York.
When they do take off, they'll nudge Singapore Airlines' mammoth Singapore-NYC trek from the top of the leader board. But will passengers gravitate towards them, especially if booking Economy Class? Time will tell, but Qantas certainly believes they will.
Curious to learn more? Listen to our latest podcast – The world's longest flights (w/ Chris Chamberlin)
Photography by Chris Chamberlin, who travelled to New York as a guest of Singapore Airlines, and from Dallas Fort Worth to Australia at Point Hacks' expense. Feature image courtesy of Gustavo Fring/Pexels.
---
Stay up to date with the latest news, reviews and guides by subscribing to Point Hacks' email newsletter.
Tips for travelling on the world's longest flights
was last modified:
August 29th, 2022
by