If flying non-stop from Australia to Europe in the lap of luxury is your dream, then Qantas' new Sydney-Perth-Rome service is truly a dream come true. Take my word for it – I've stepped off the first-ever flight.
Where else can you enjoy a sumptuous Italian-inspired dinner after take-off, sleep the night away in a lie-flat bed with pyjamas, and tuck into a filling breakfast before arriving in Rome just as the day begins?
After Qantas announced that the first-ever Sydney-Perth-Rome service would be a Points Plane, we wasted no time here at Point Hacks. I locked in a Business Class seat onboard the inaugural Dreamliner service from Perth to Rome. The cost? Just 108,400 Qantas Points and AU$435 in taxes for a 16.5-hour flight in Business Class.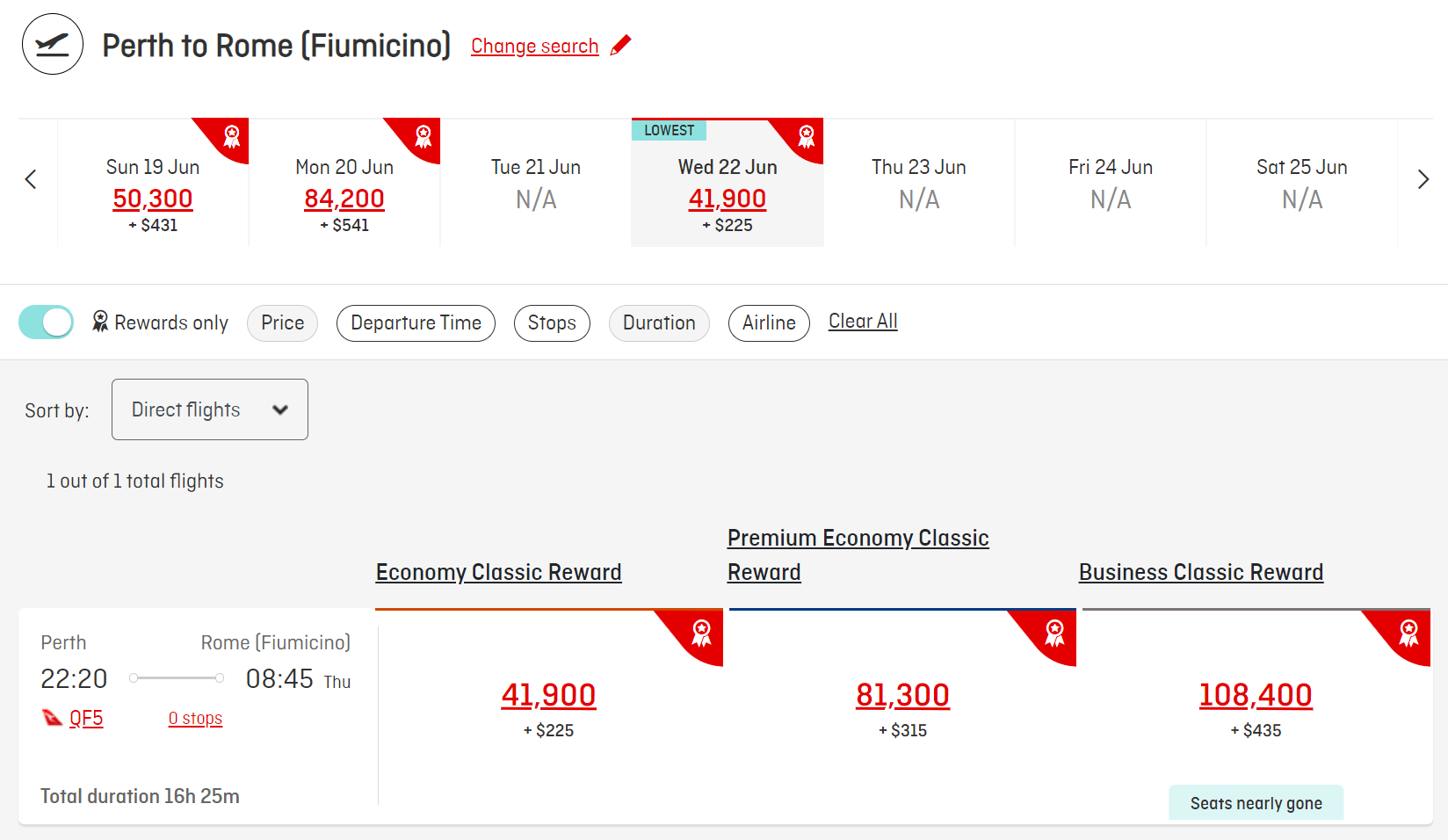 Even after the Points Plane sold out, I've seen Qantas occasionally release some extra Business Class reward seats throughout the year. So, if this route returns in 2023 and beyond, you'd better get your Qantas Points ready. Perth-Rome is one of the best-value international Qantas flights you can secure with frequent flyer points.
Plus, it's always great fun being on the maiden voyage of a launch route. If more maiden flight Points Planes like this come up – where anyone can book with points – I say go for it.
QF5 first flight: the ground experience
It's Wednesday 22 June 2022, and I can barely contain my excitement as I arrive at Perth Airport's Terminals 3 and 4. I've had my fair share of interesting flight experiences in the past, but I haven't experienced anything quite like the novelty of a route launch.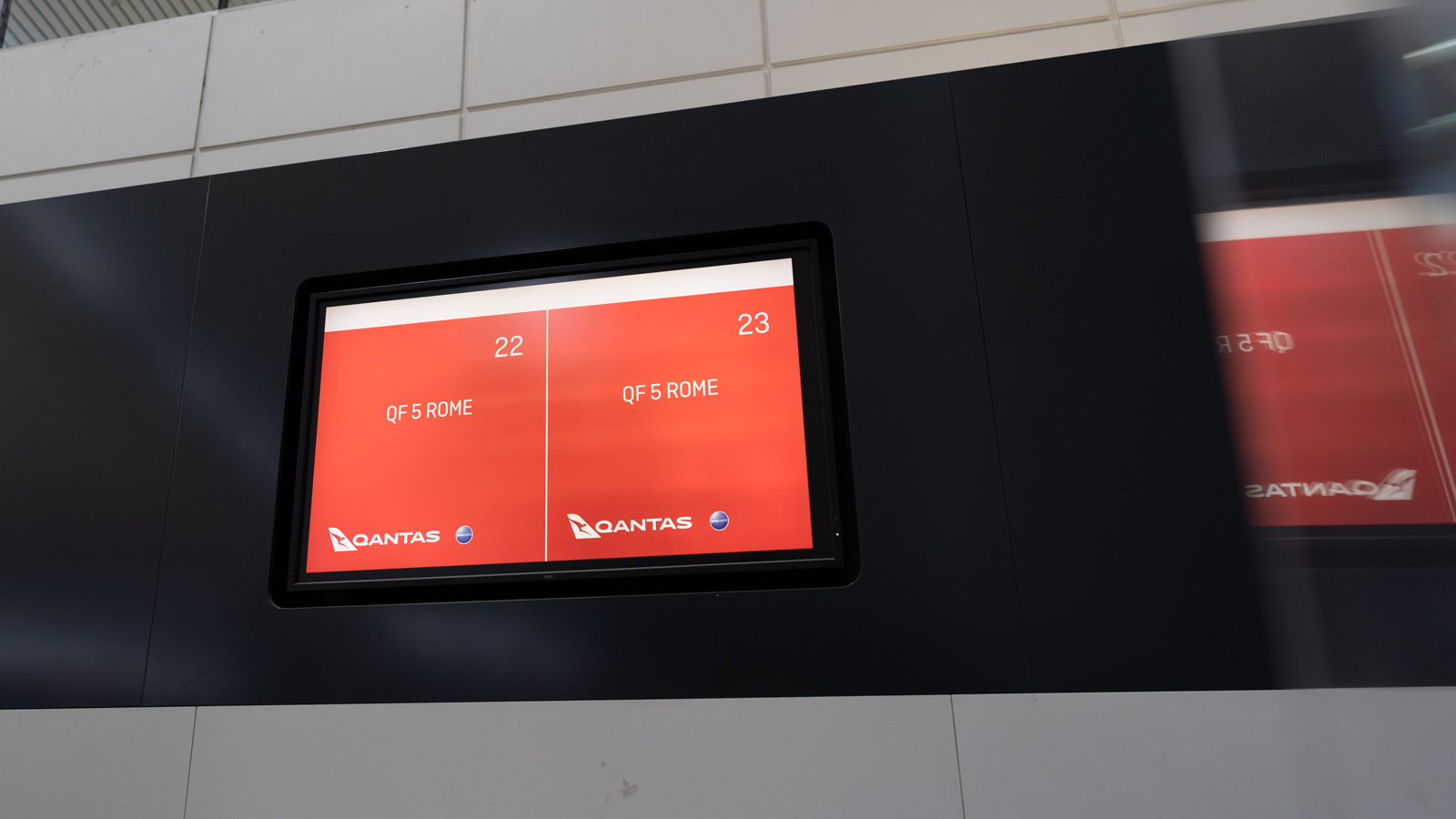 Now, to be clear, today isn't the official launch of the Perth-Rome route. That honour goes to the second flight on 25 June, which will be filled with the likes of Qantas CEO Alan Joyce, WA Premier Mark McGowan, plus a host of dignitaries and other media outlets.
But a first flight is a first flight, no matter how you spin it. And this will be the longest non-stop flight I've taken in Business Class, which is certainly an exciting personal milestone!
Check-in at Terminal 4
Although the flight departs from Perth Airport's Terminal 3, check-in is done at the nearby Terminal 4. It's a rather smooth, if unremarkable affair.
Because this area is normally used for domestic flights, there's only a small counter area reserved for international departures. I don't have to wait long at the 'Service' counter for priority processing with a Business Class ticket, which suits me just fine. I'm eager to just relax in the lounge.
With my boarding pass in hand, I quickly scoot over to Terminal 3, where the upgraded CT security scanners make quick work of domestic screening. But because Qantas runs its international flights out of a special wing within the domestic terminals, there's border control and a second international-grade security check to go through, before I emerge on the other side of the frosted doors as an international passenger.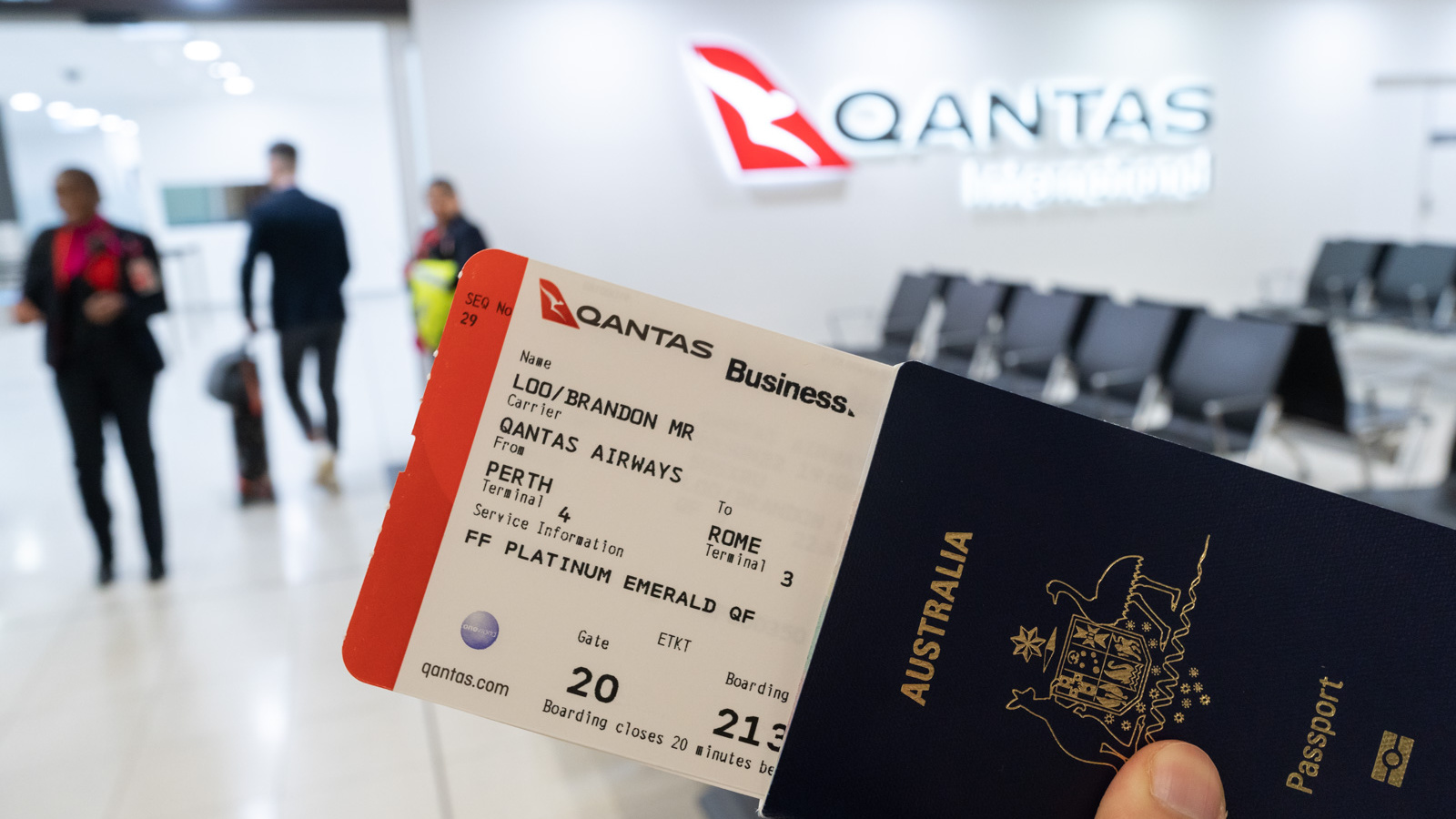 Qantas Perth International Transit Lounge
When a lounge is purpose-built from the ground up – for a flagship flight, no less – you know it's going to be a good one. After Qantas announced non-stop Melbourne-Perth-London flights in 2018, the airline also unveiled a new lounge designed for passengers on the ultra-long-haul route.
As one of Qantas' 'Premium' lounges, it rolls out the welcome mat to a wide range of passengers, including those travelling in Business Class. But even if you're flying in Economy or Premium Economy, you can still get in with a Qantas Club membership, Qantas Gold status or higher, or the equivalent elite status with oneworld and partner airlines.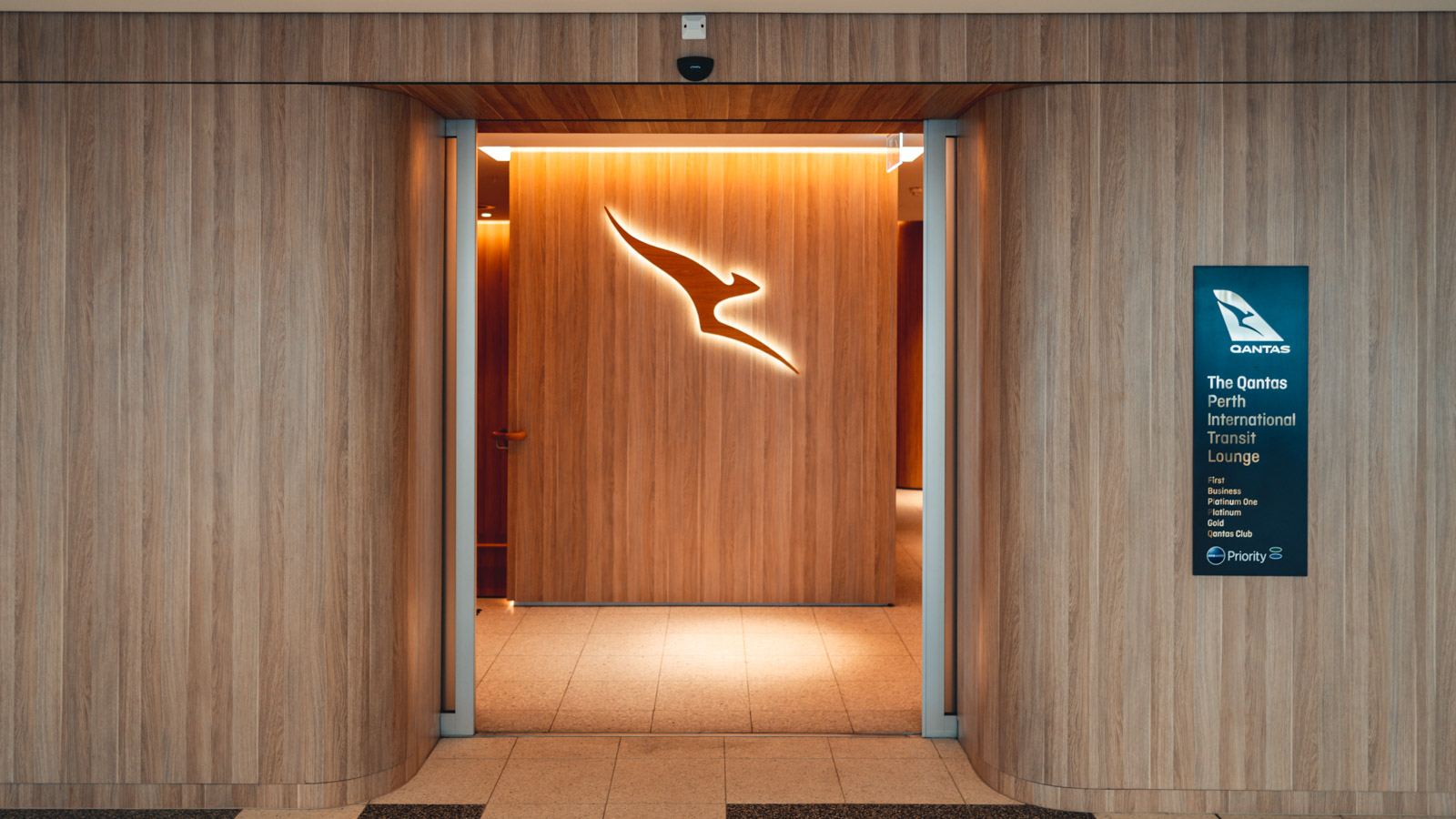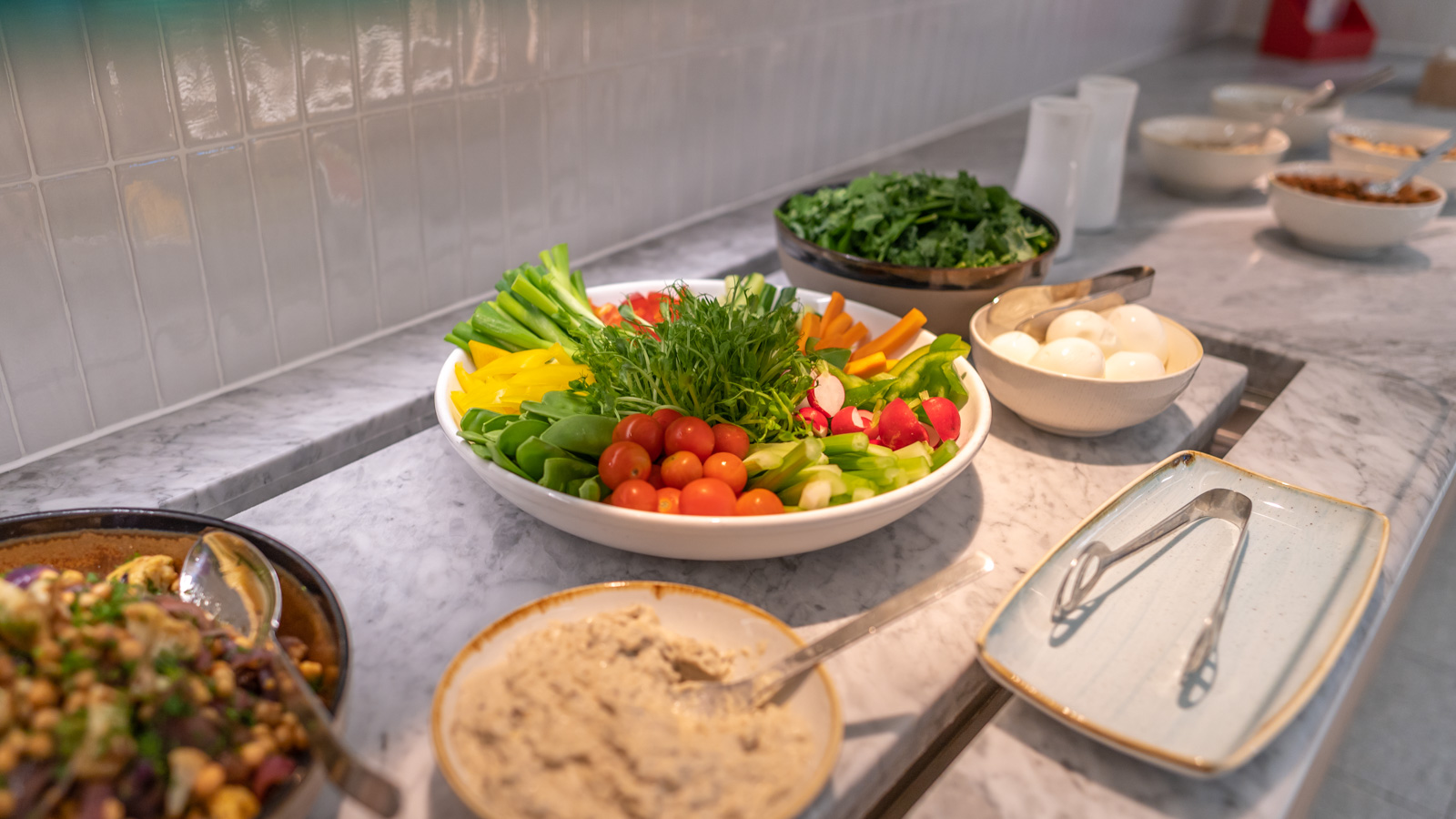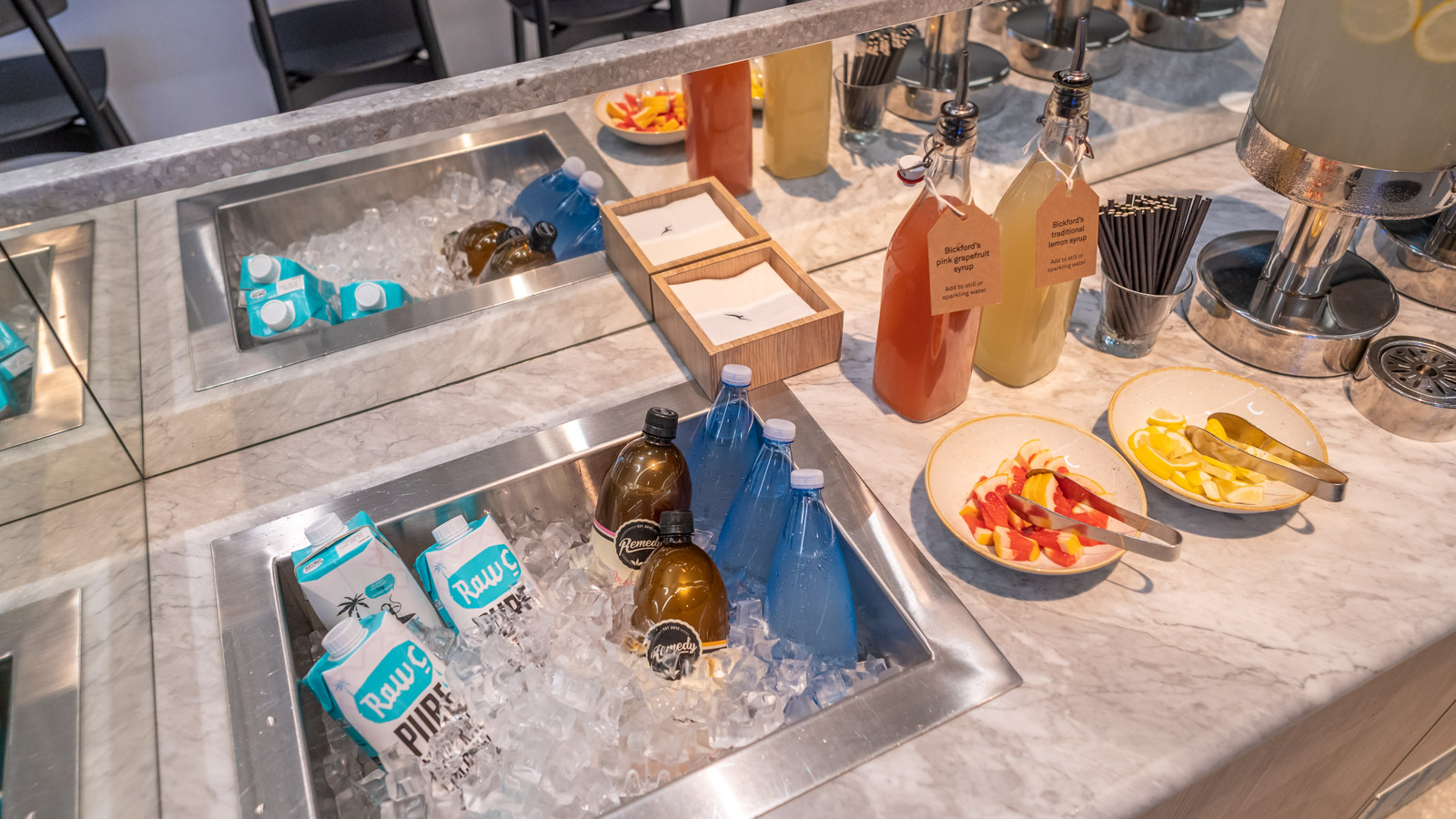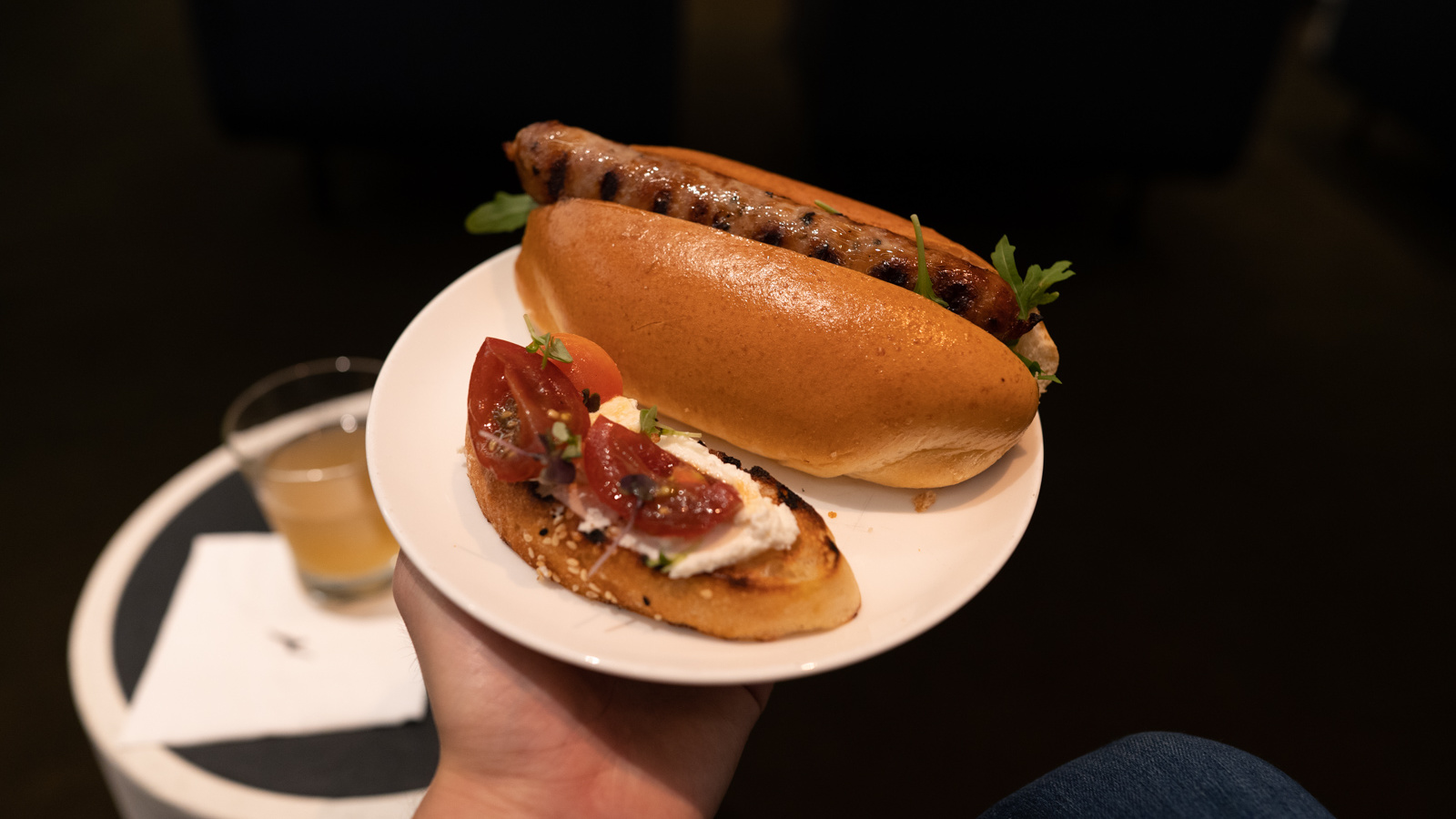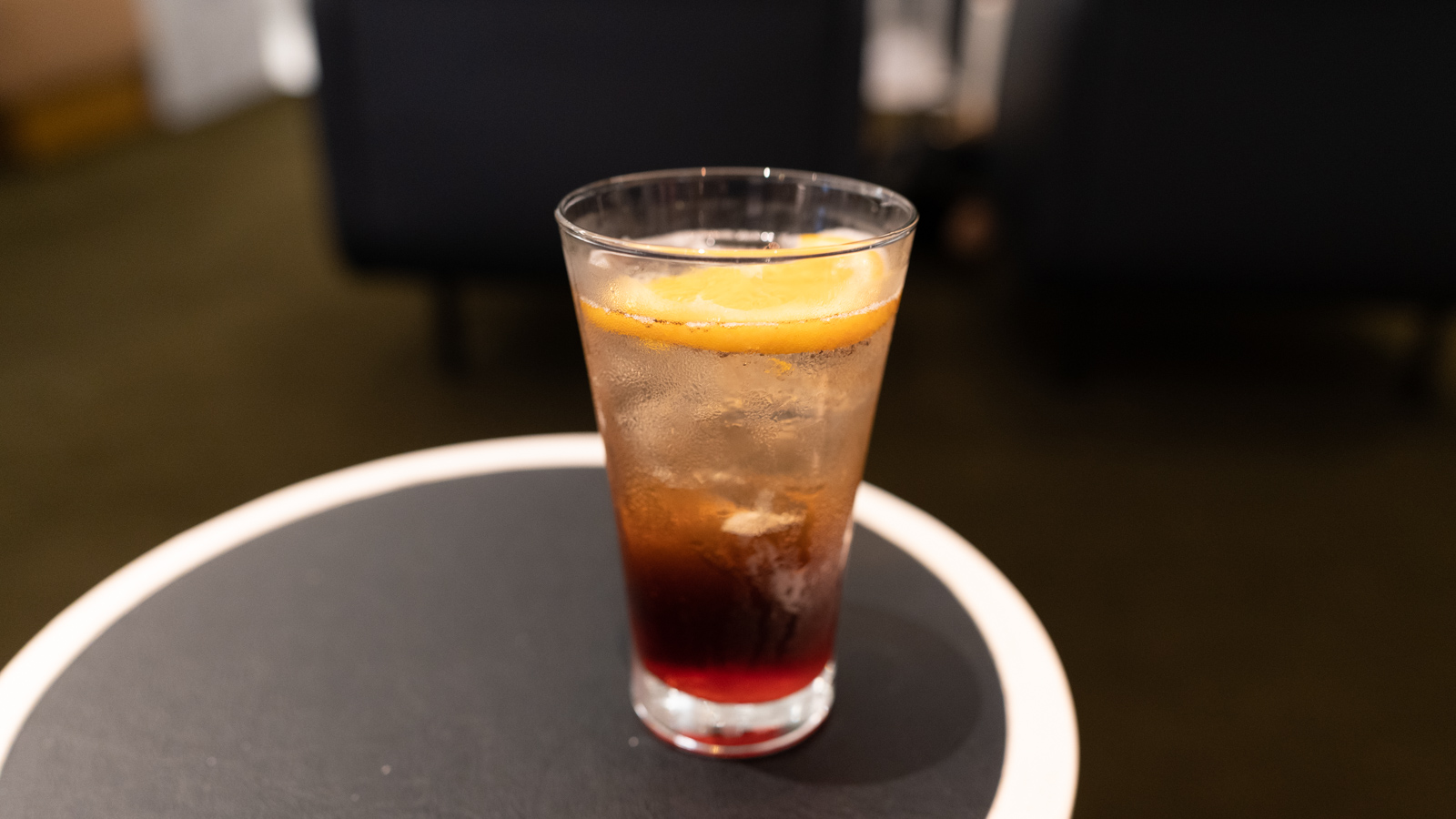 I've already reviewed this lounge recently. In short, it's one of the Red Roo's best efforts. Sure, it doesn't compare to the International First Lounges that some lucky guests can access in Melbourne and Sydney. But for a Business Class lounge, the food is fresh, wholesome and delicious. My favourite is the grilled prawn skewers, while bracing negronis are the drink of the day.
There are 15 shower suites with jet lag-busting light therapy. Even if some might think it's a bit of a gimmick, there is actual research behind it. In this case, a bit of mood lighting goes a long way.
Speaking of jet lag, now is when I wind my watch back six hours to match Rome's local time. It's only about 3 pm there right now. As part of my efforts to realign time zones, I make a mental note to stay up for the first few hours of the flight and enjoy a leisurely dinner on board.
When I eventually go to sleep, it should match up with bedtime in Rome. In theory.
Boarding
Before long, it's time to bid adieu to the lounge and head out to the gate nearby ahead of boarding. The flight is almost full. We're told there might just be three seats left in Economy. I spy many young families who are invited to board, with the little ones in tow.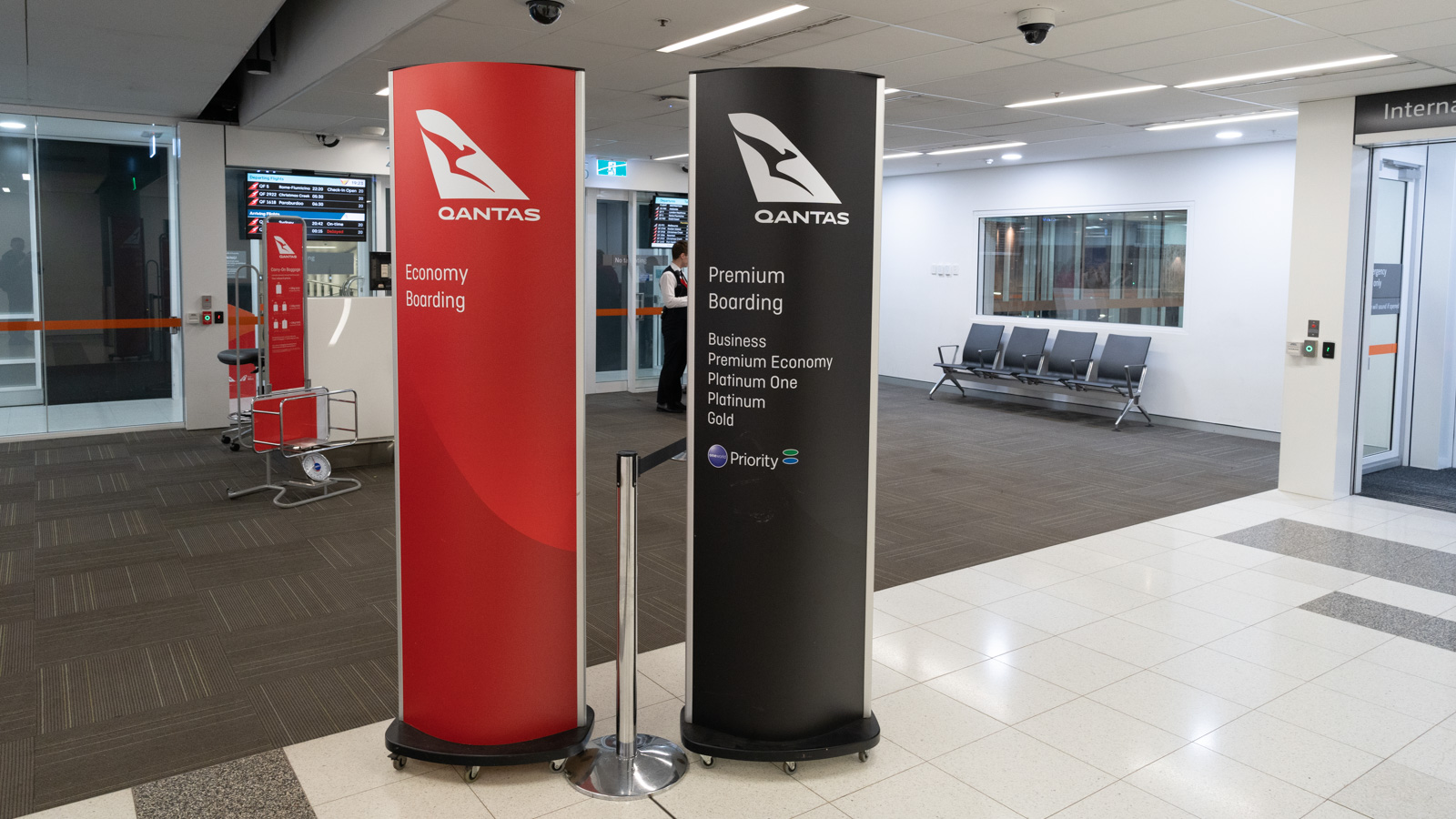 And before long, it's the moment I've been so eagerly anticipating. I dutifully line up to be among the first onboard the Qantas Boeing 787 Dreamliner to Rome in Business Class.
QF5 Perth-Rome flight diary: take-off and dinner
The crew cheerfully welcome us onboard and I make my way to my Business Class suite, 3K. This is one of the few window seats that afford more privacy because I'm seated directly against the window. The side console provides a buffer from the aisle. It does make it a bit harder to manoeuvre in and out of the seat, but that's a small price to pay.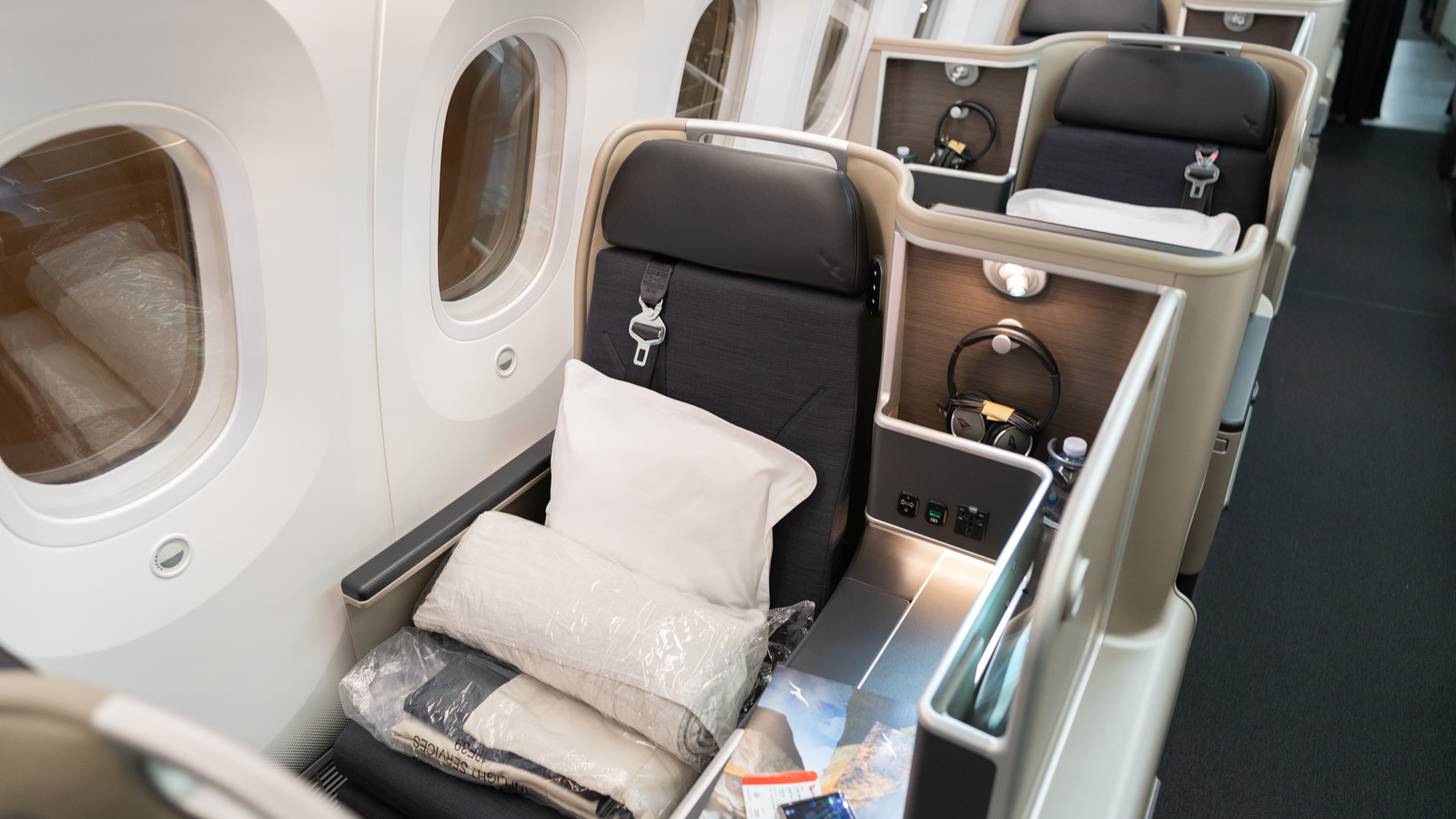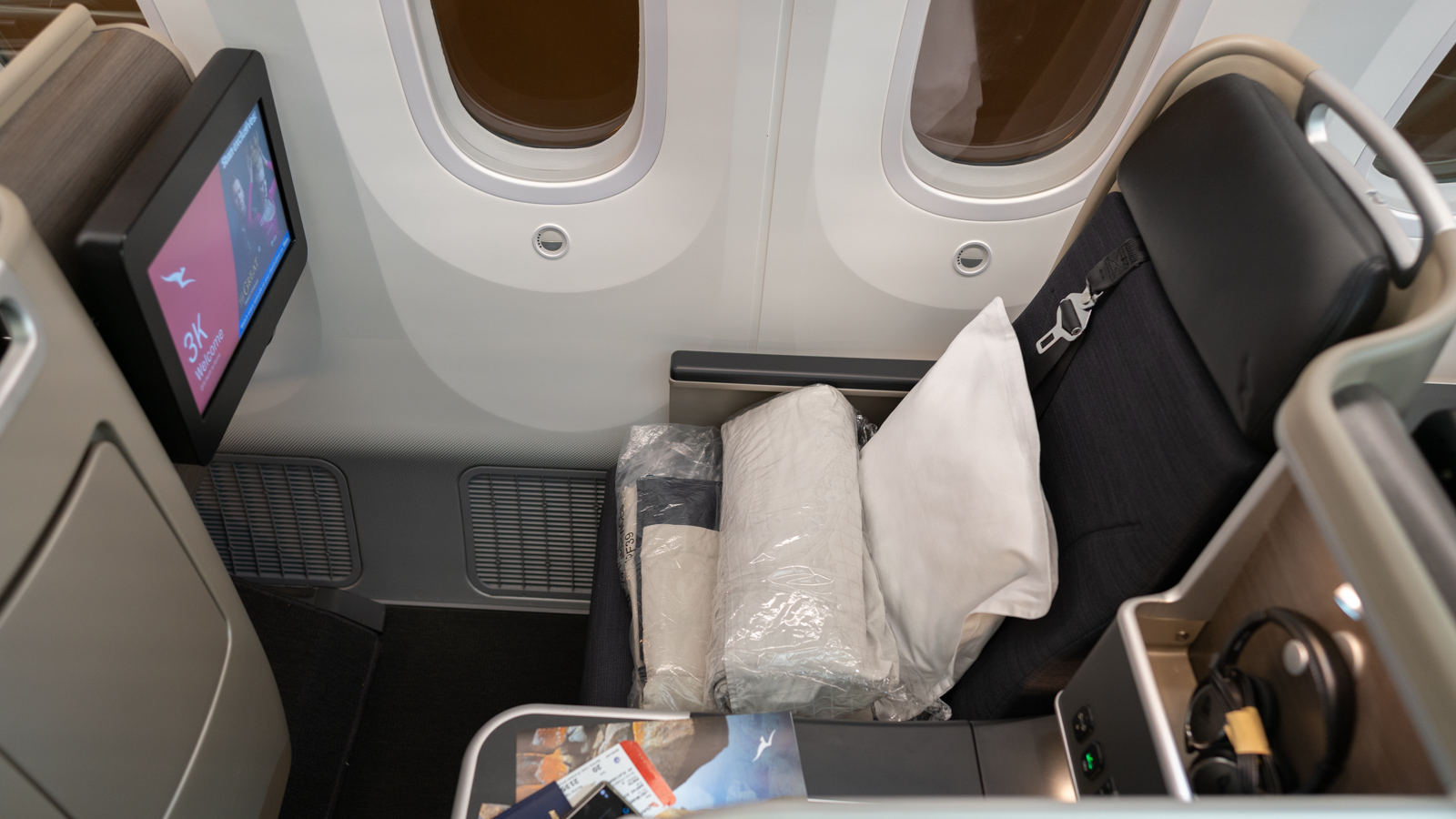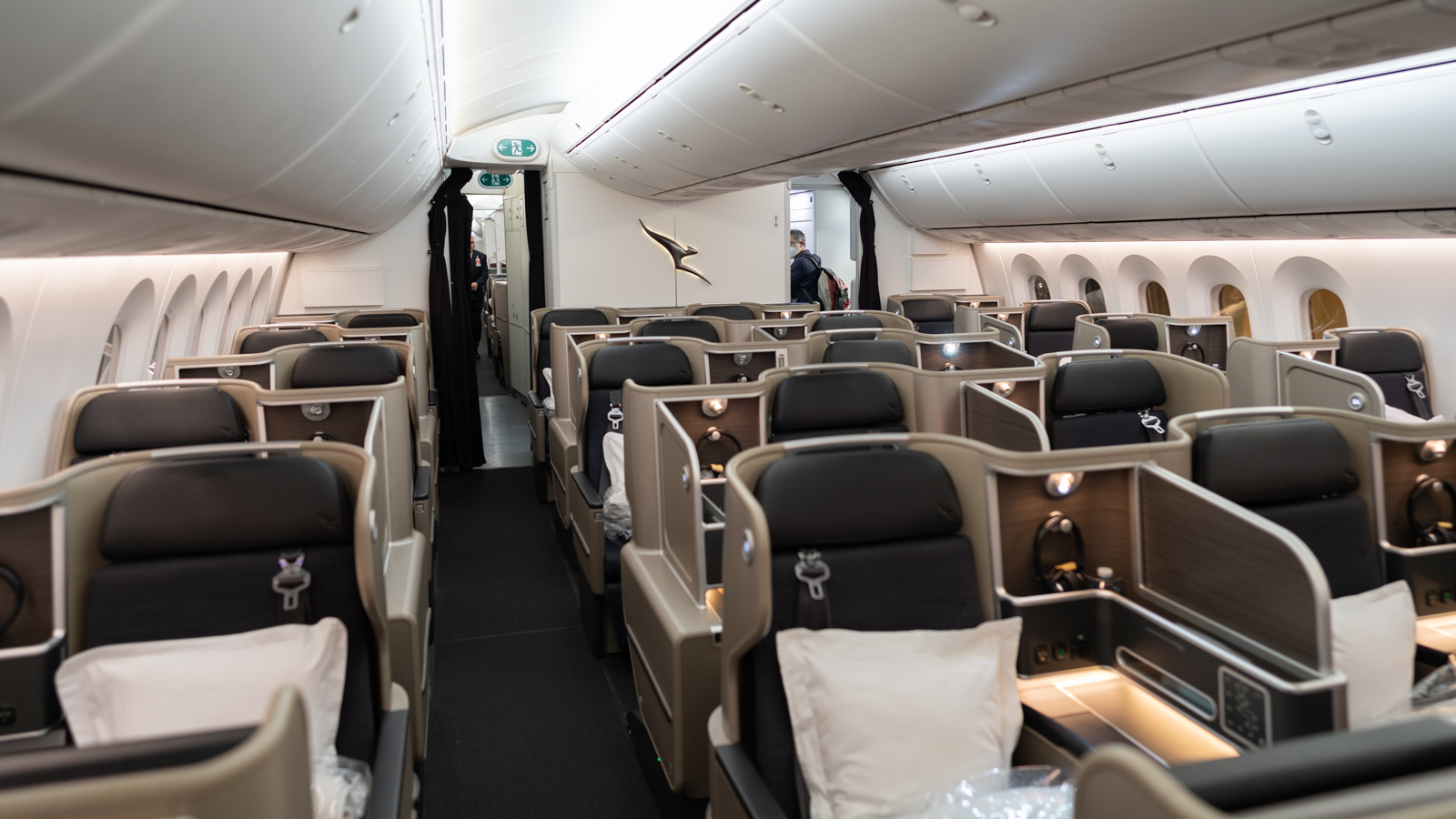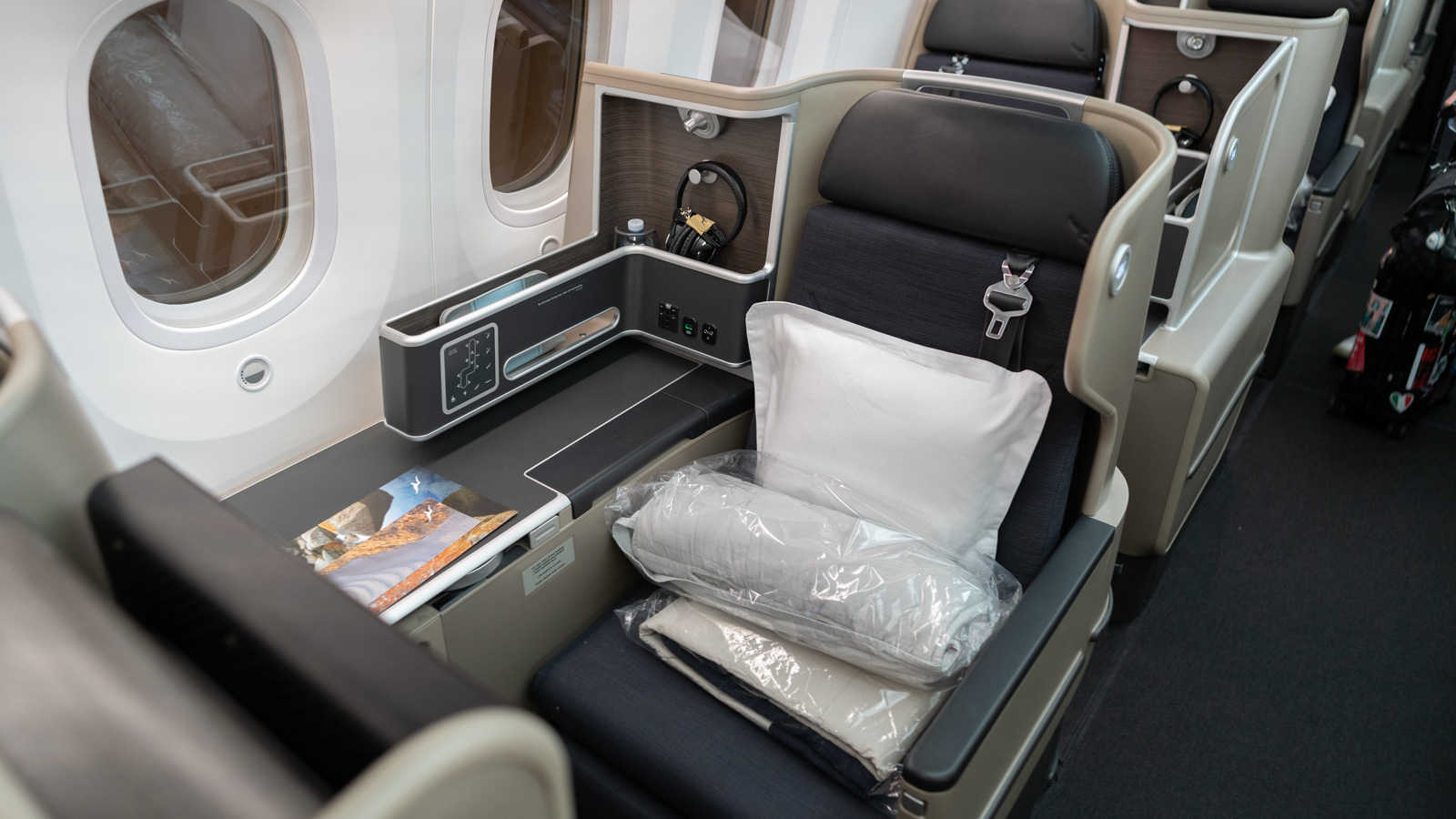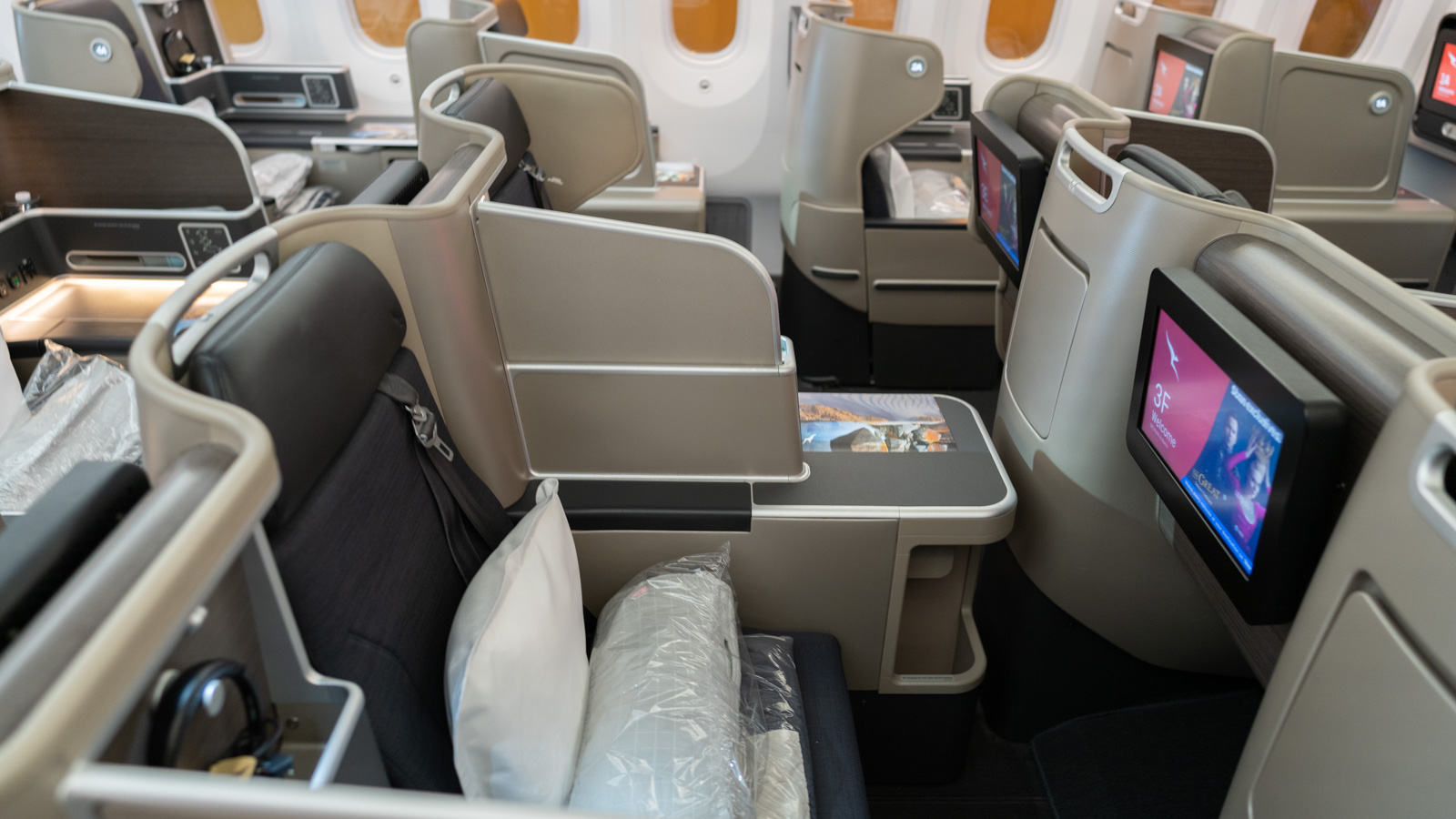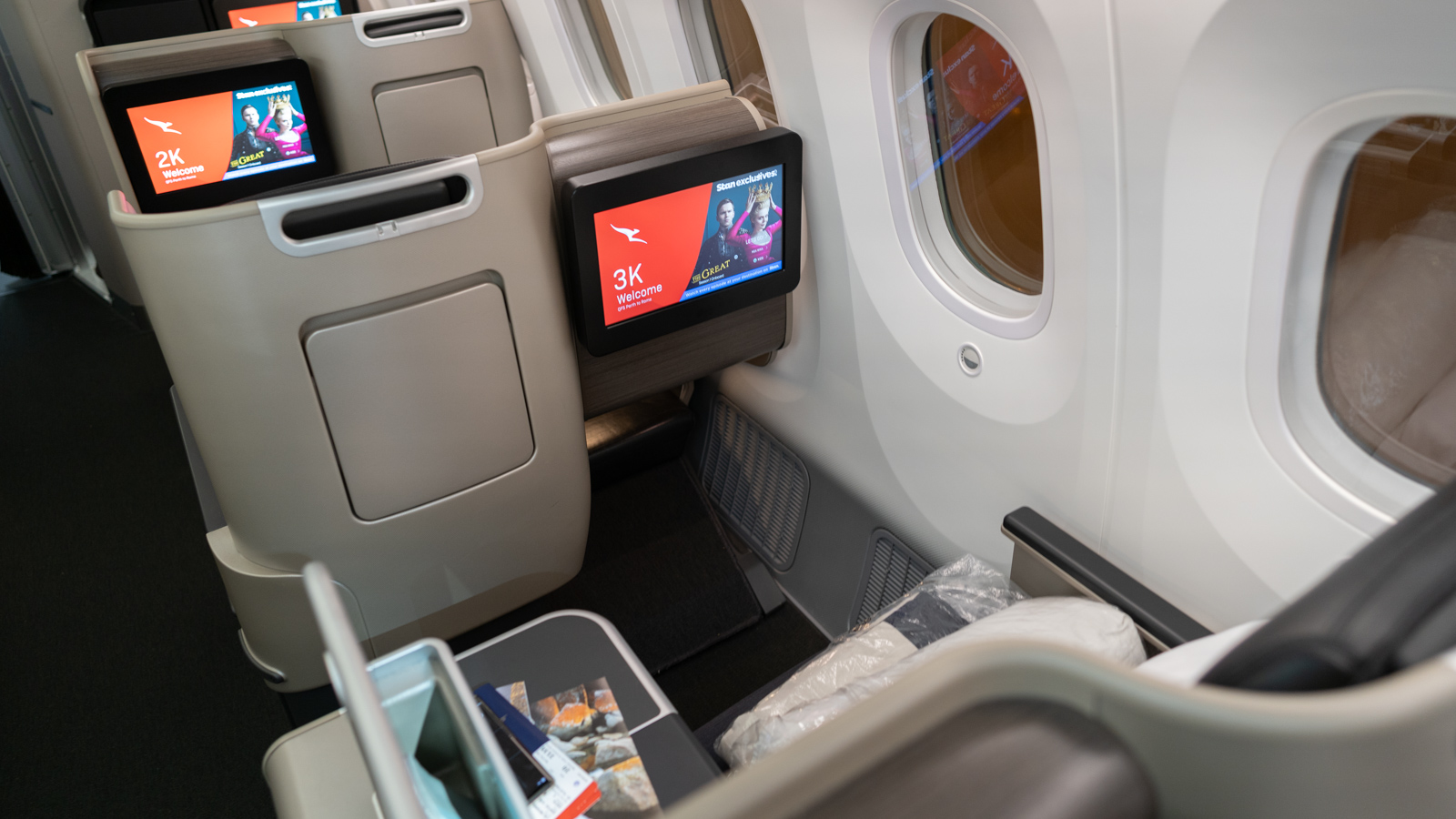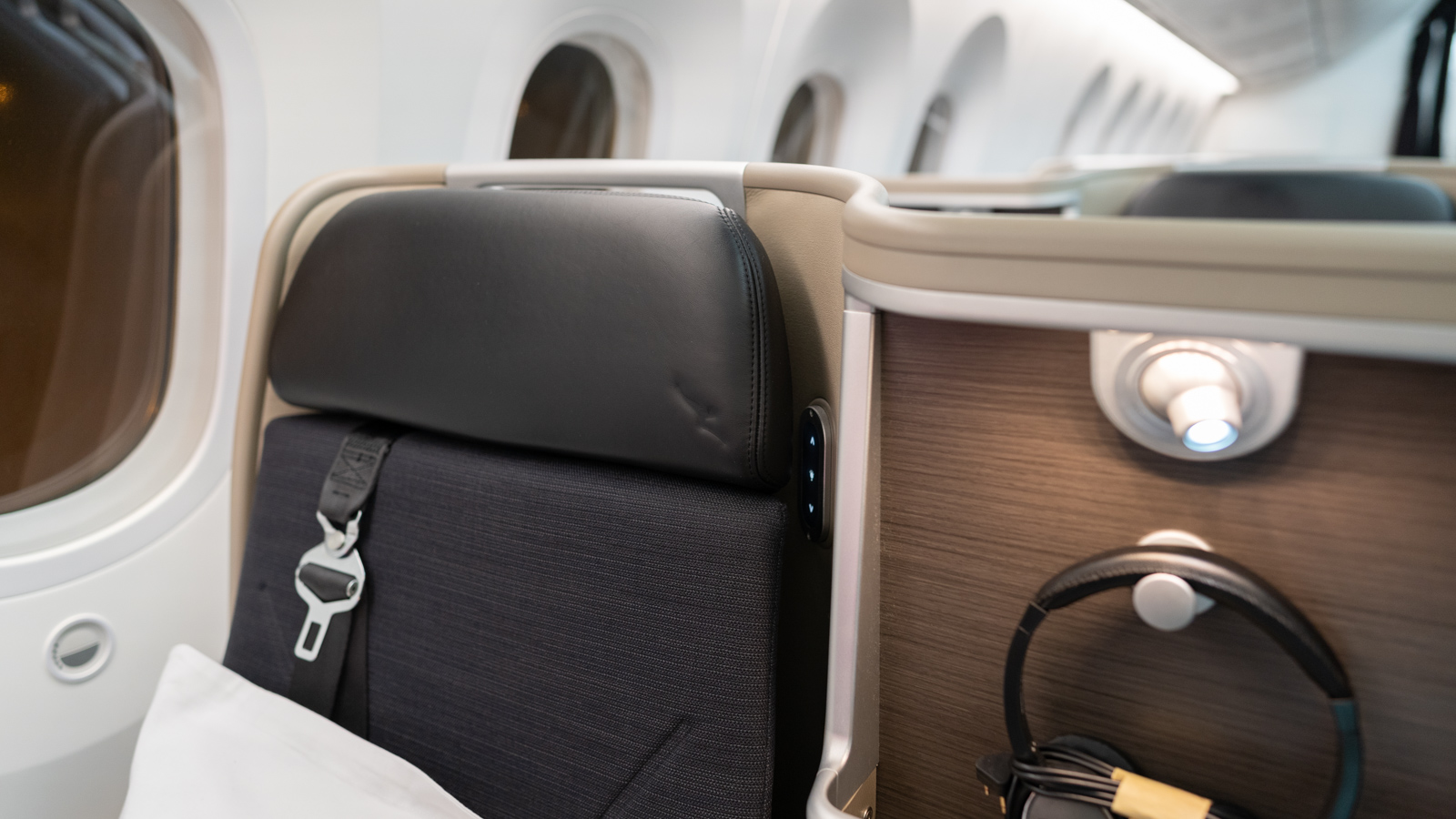 The Business Suites will be familiar to anyone who's flown on Qantas' Airbus A330s or refurbished Airbus A380s. Set in a staggered 1-2-1 layout, seats alternate being close to the aisle or the window.
I'm handed a glass of Jacquart Cuvee Brut NV Champagne, which fuels the light, bubbly feeling in my stomach. At my seat is the signature Qantas Business Class bedding, including a fluffy pillow, duvet and mattress pad. I'm also sized up for a pair of Qantas Martin Grant PJs (the M/L size suits me just fine) and find a smart-looking amenity kit to help me freshen up. I much prefer these sleek retro designs over the pre-COVID versions.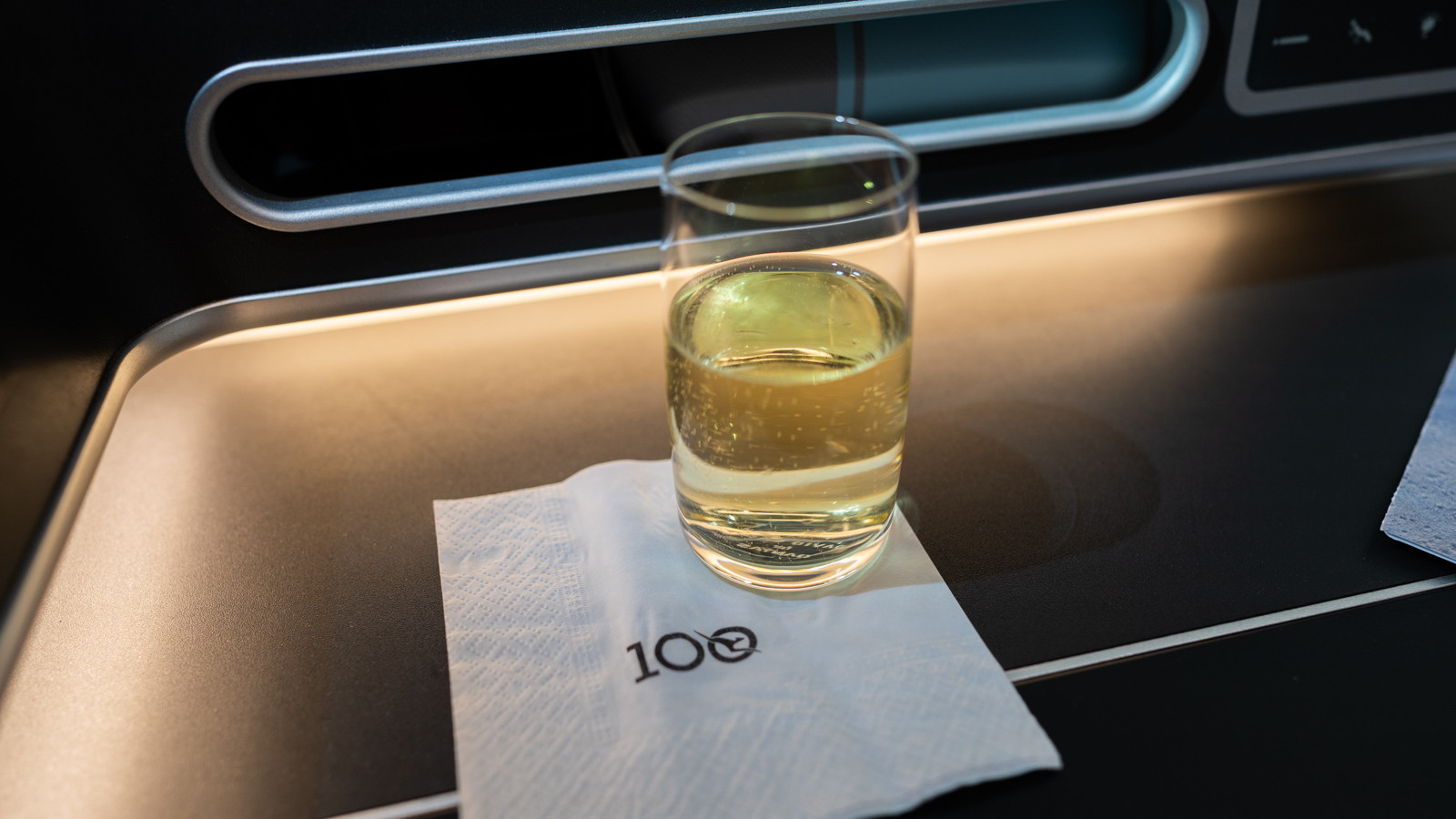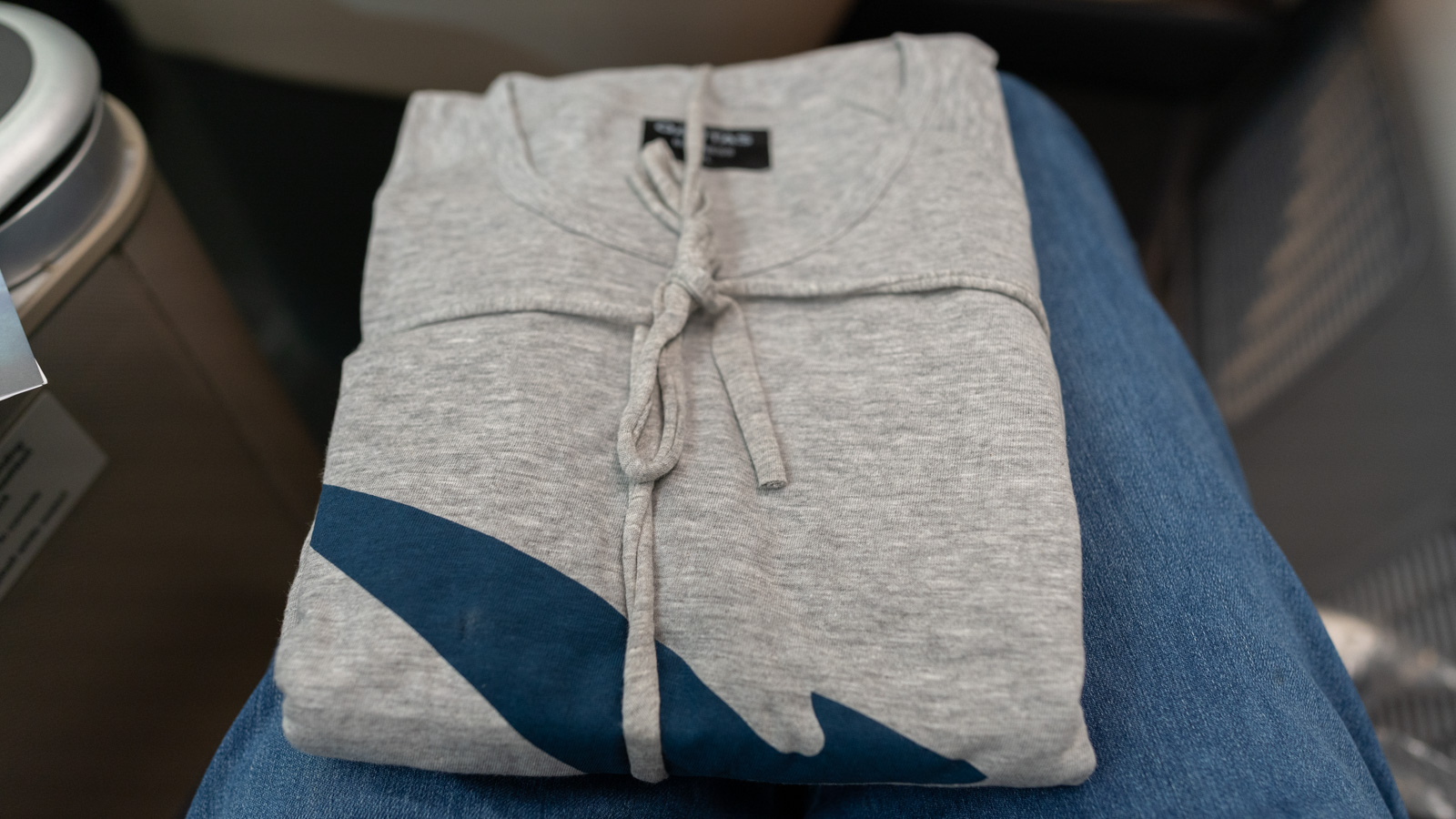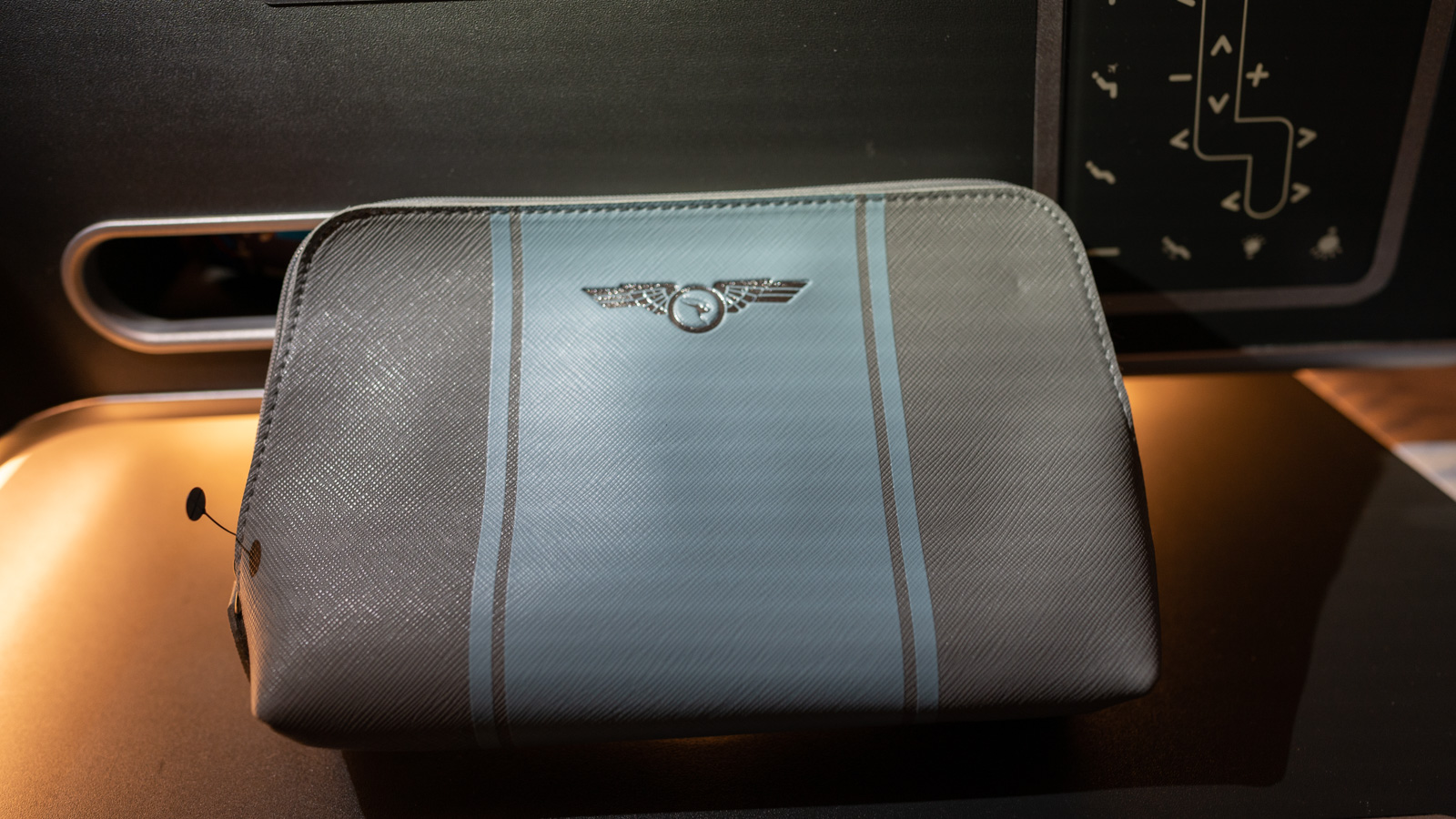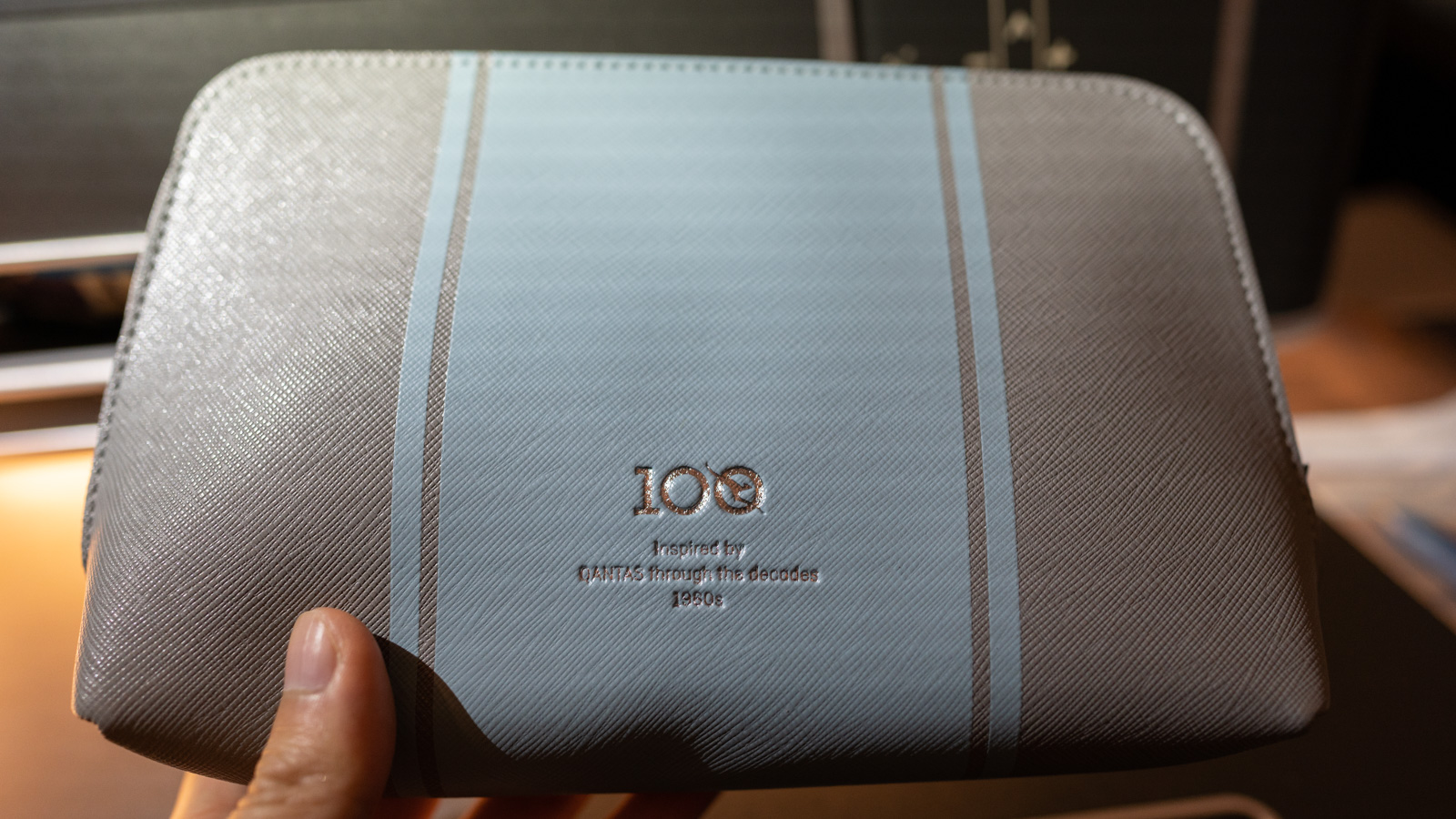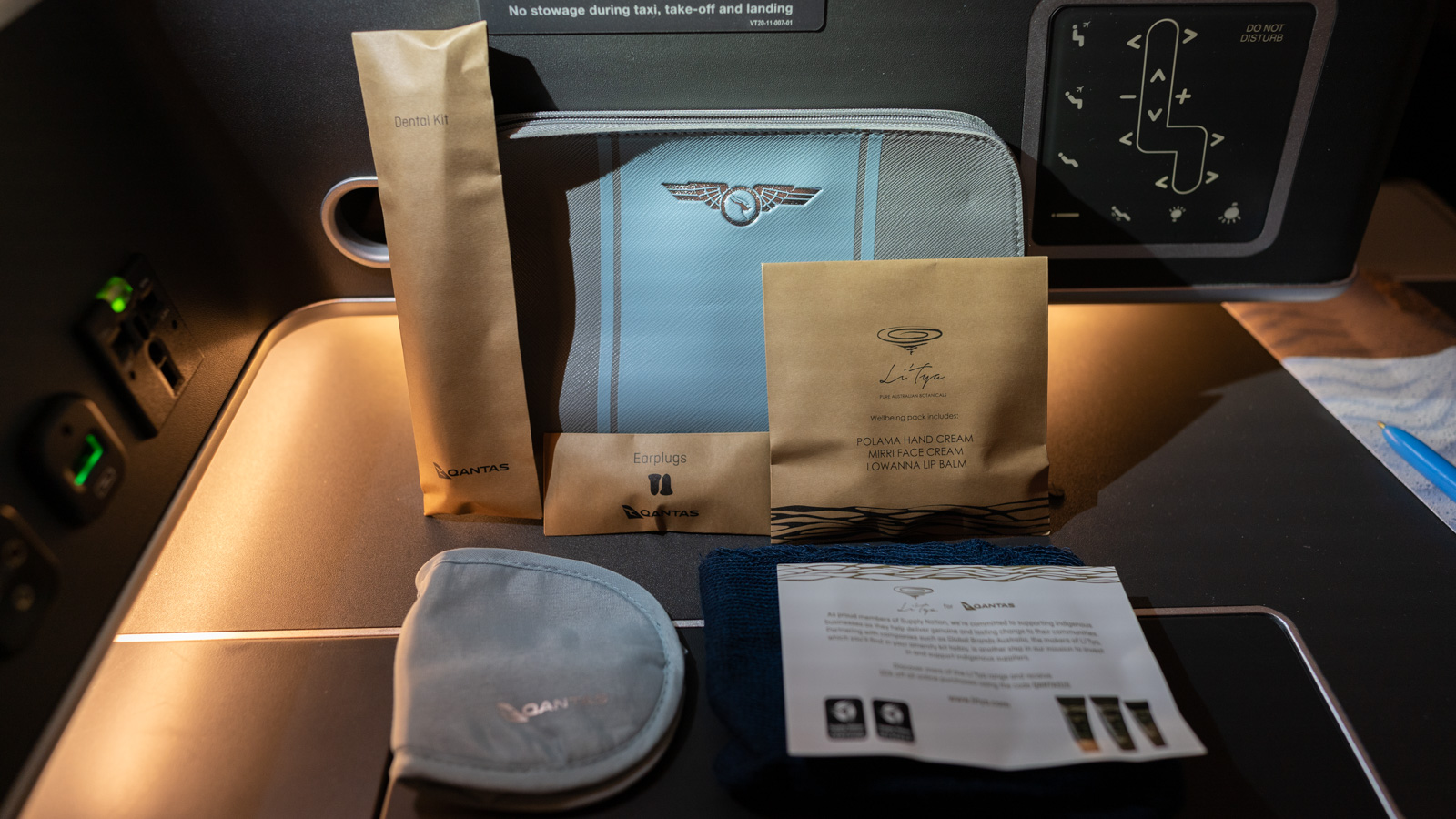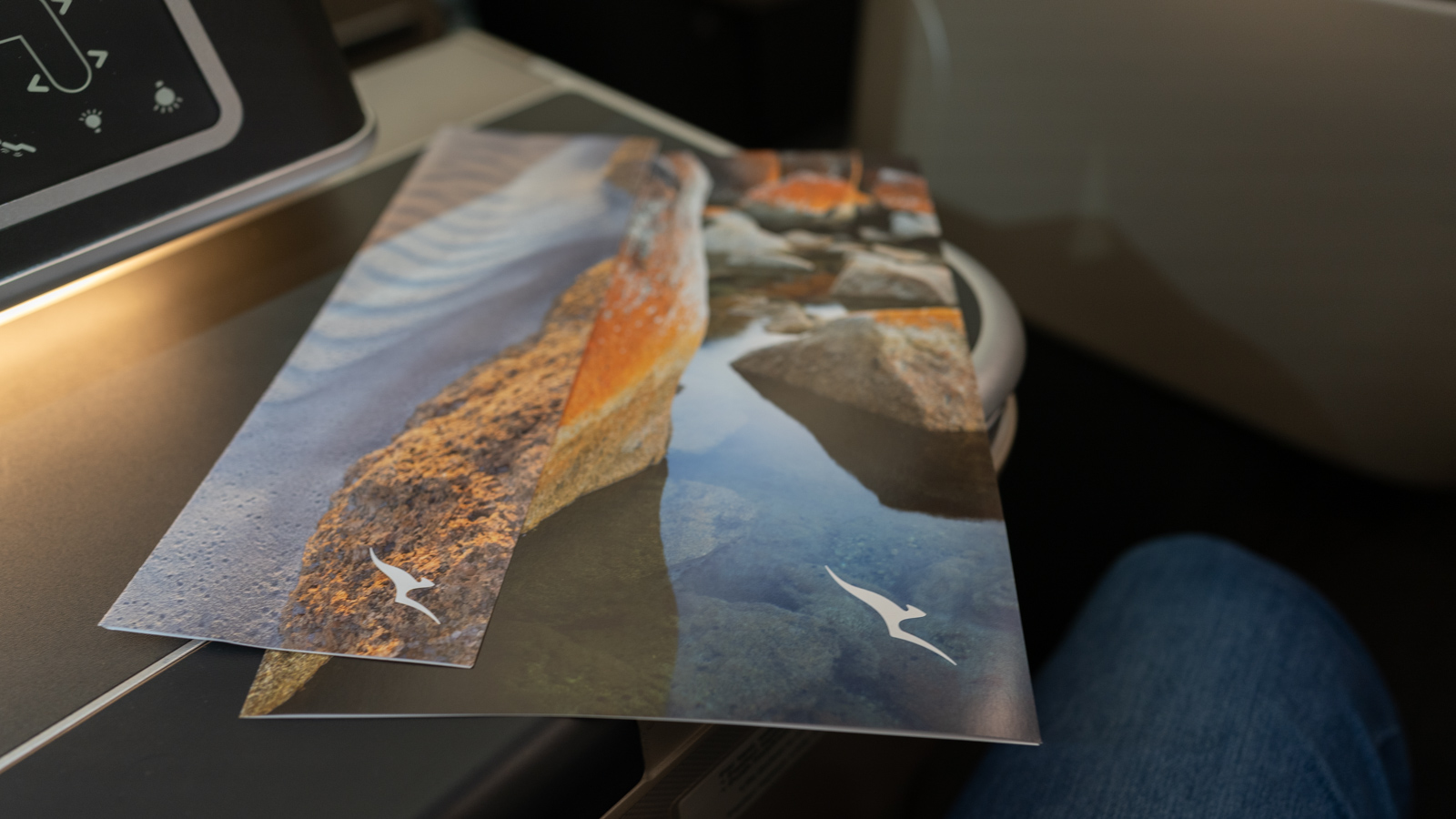 And just before we take off, there's a surprise! Everyone gets a commemorative certificate for being on the first Points Plane. While I was a little let down at the lack of festivity at the gate, this certificate will make a nice memento.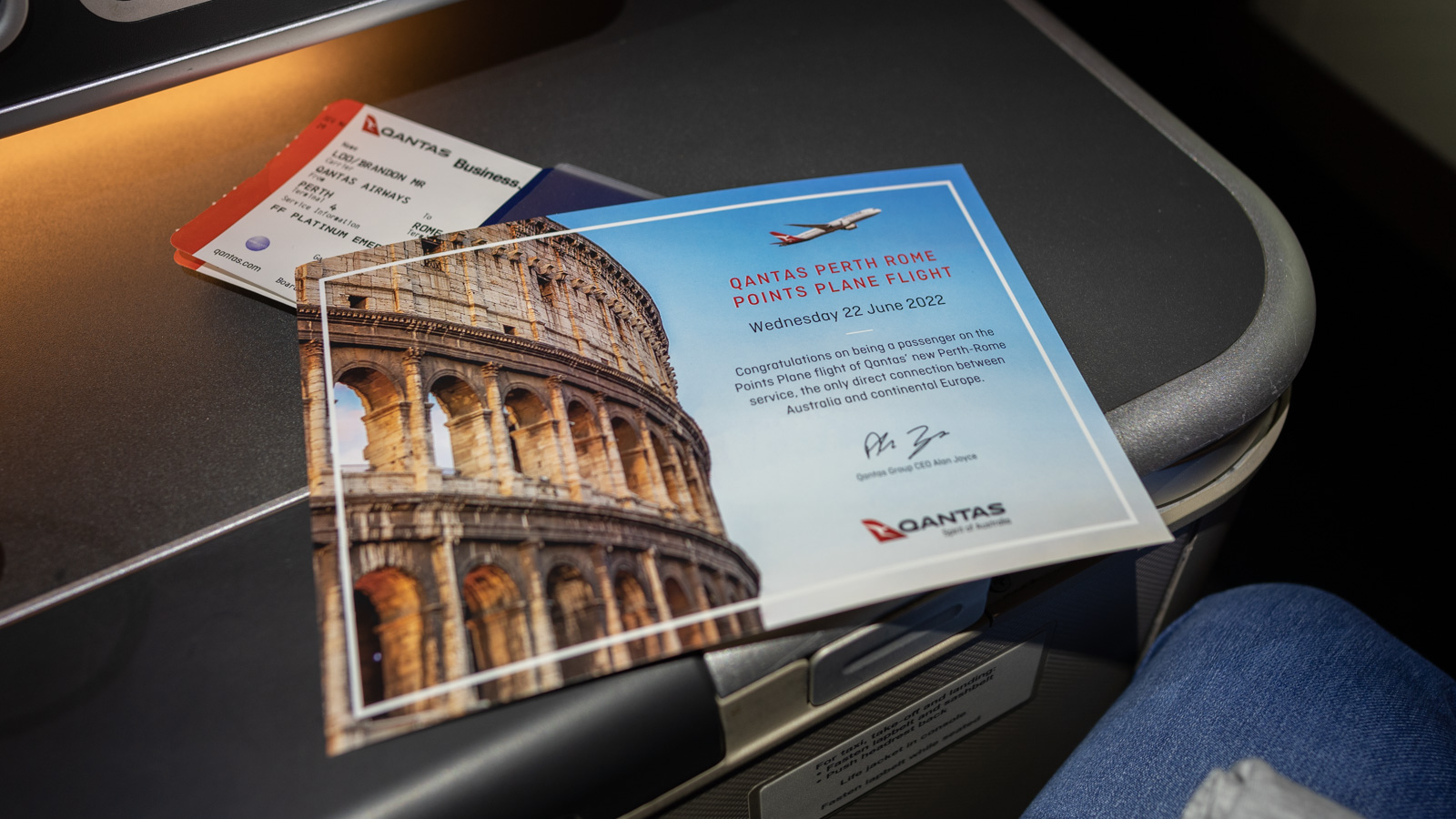 Hour 1
4:30 pm Wednesday in Rome | 10:30 pm Wednesday in Perth
We glide gracefully into the air just after 10:30 pm in Perth. To help settle into my routine, I browse the inflight entertainment selection and choose a movie to put on over dinner. The 'Premiere' section has the latest Hollywood movies including Death on The Nile, which is my pick. I also earmark Uncharted for later.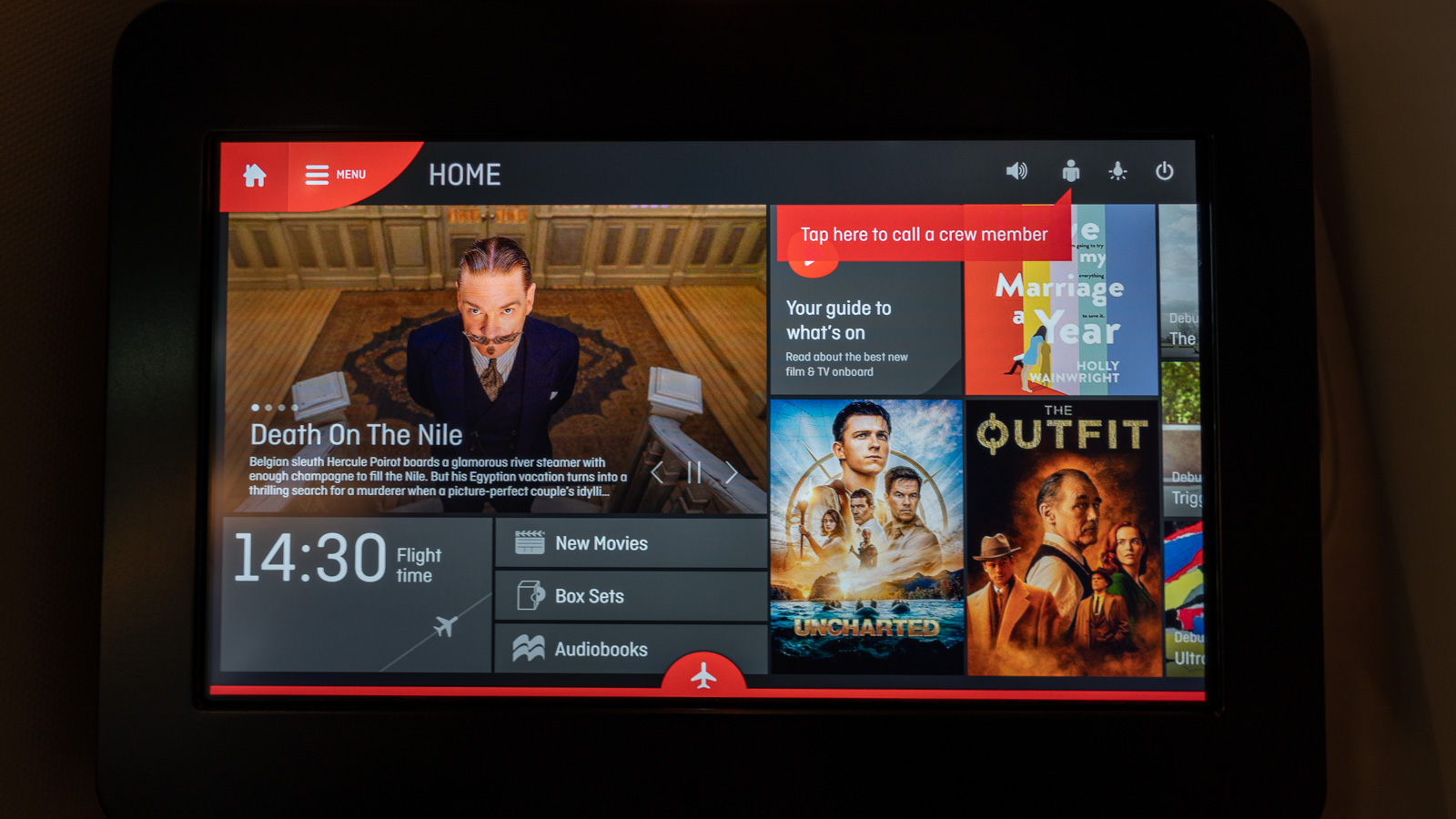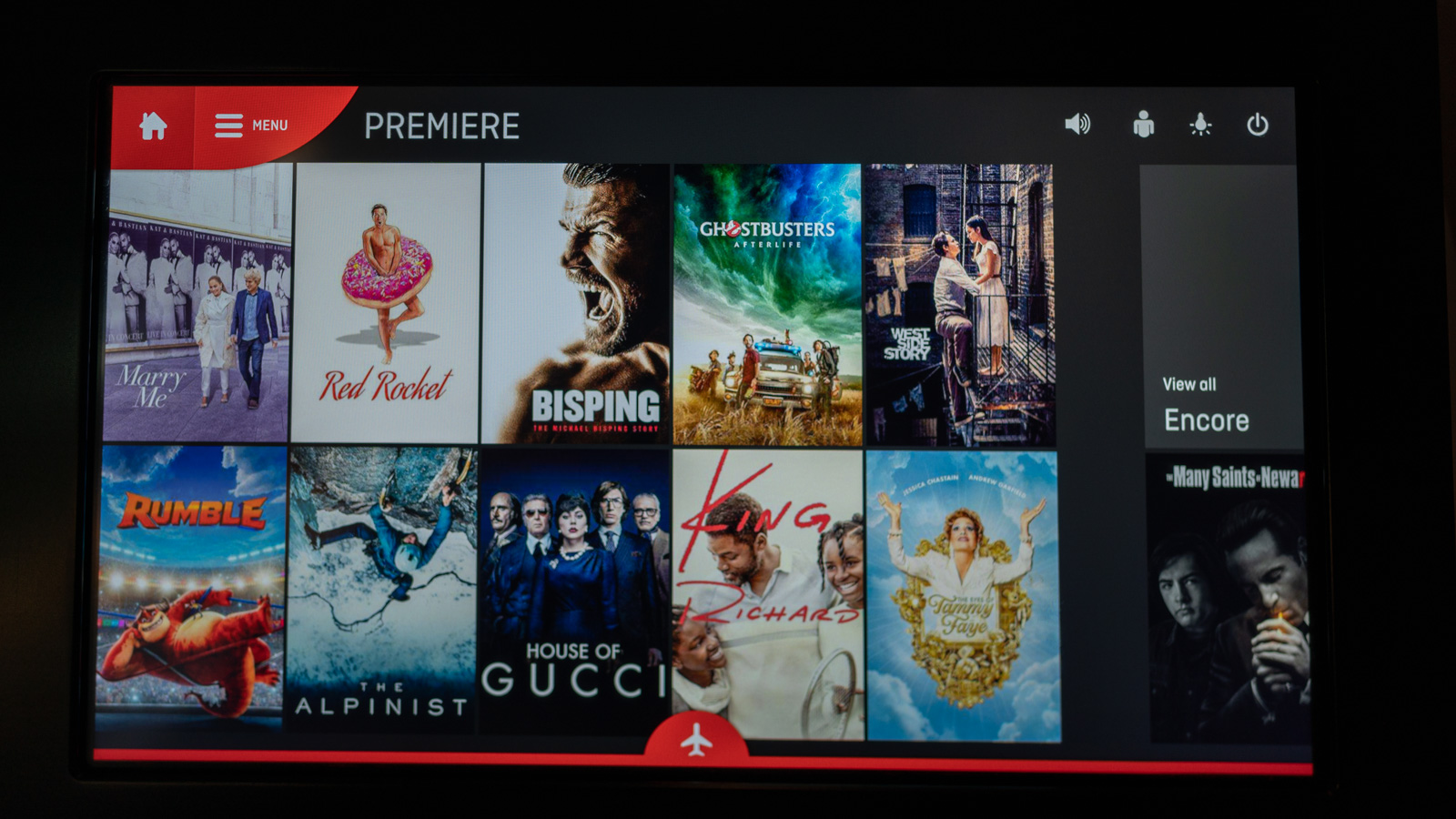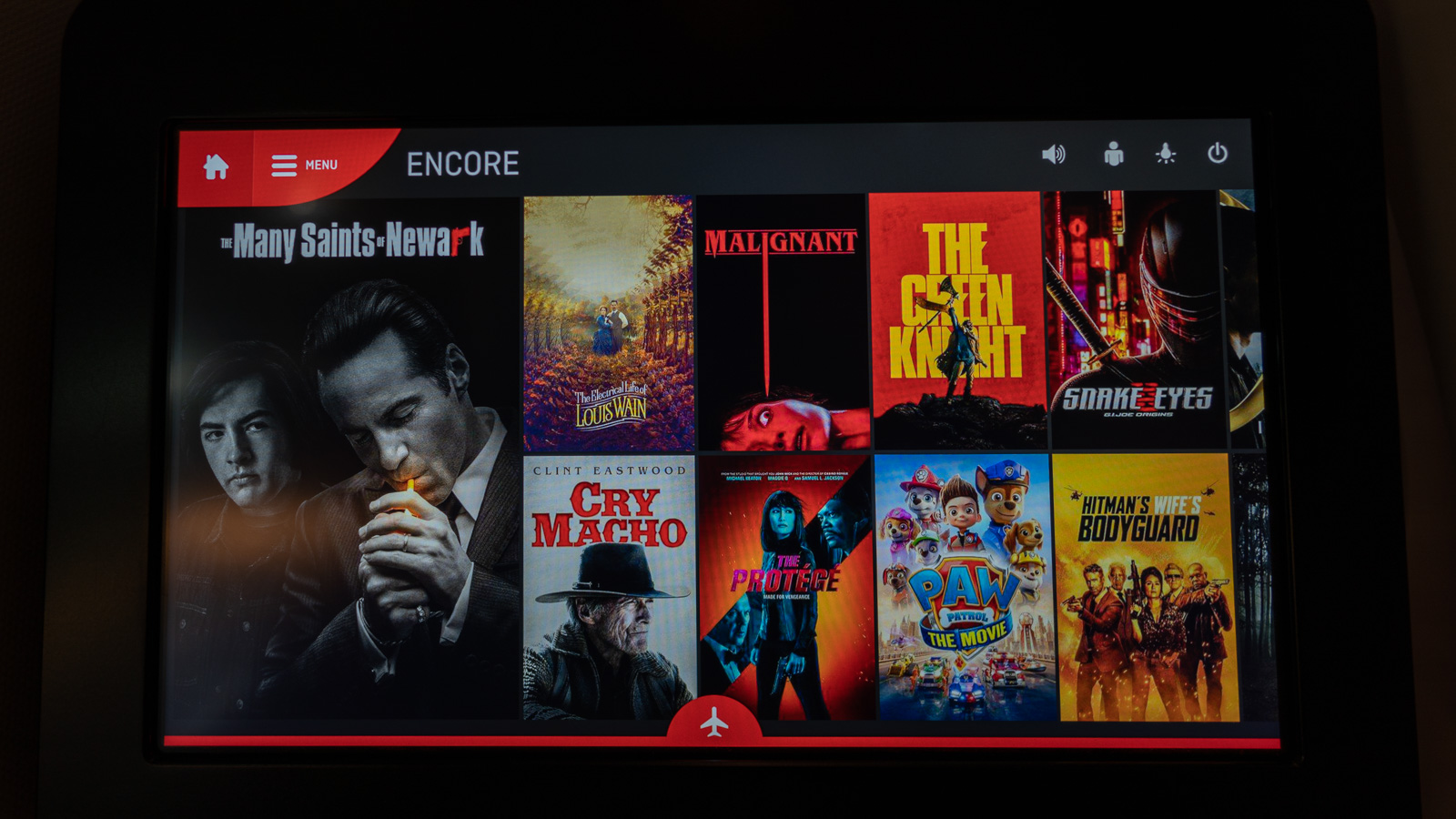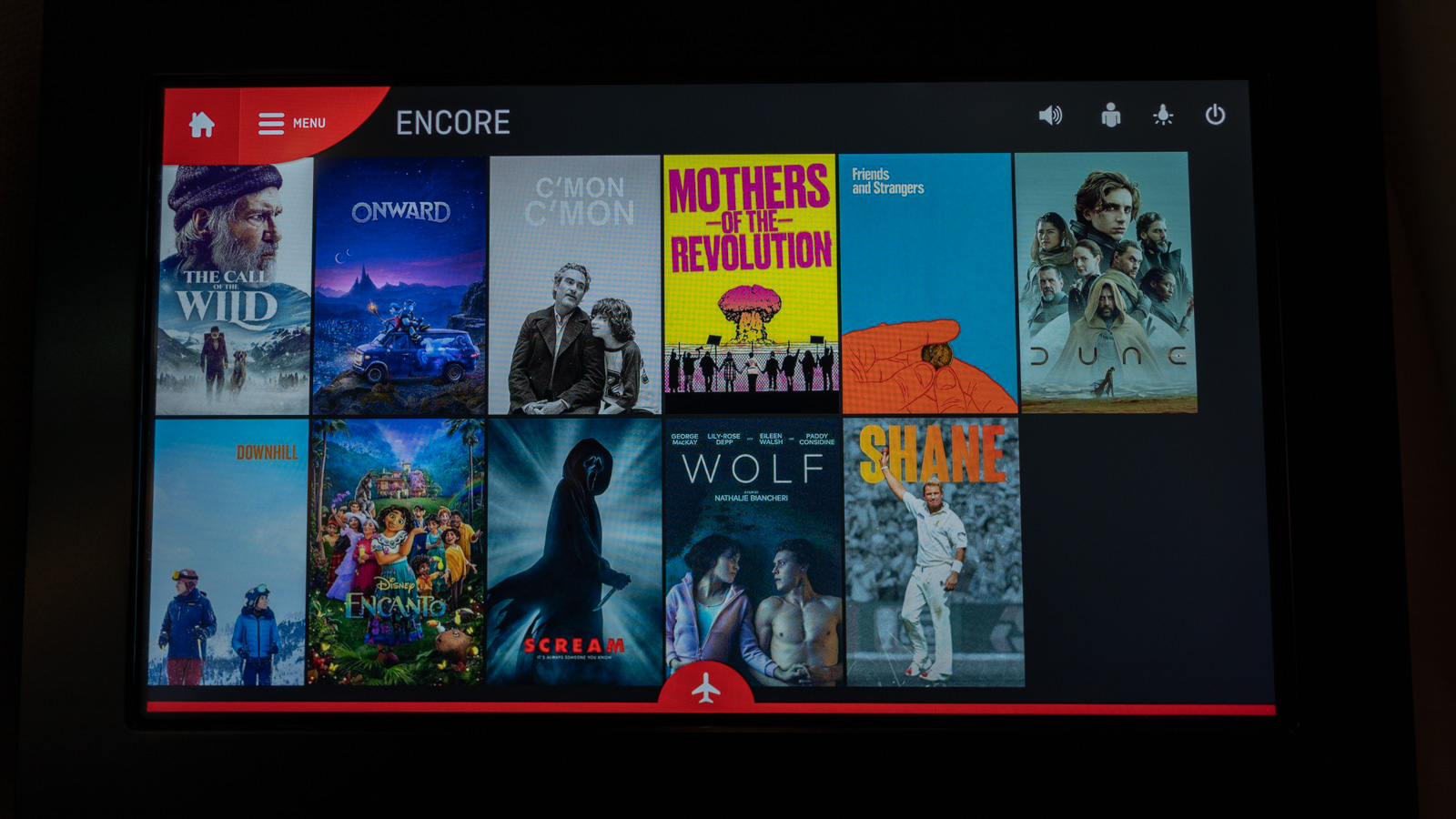 Another highlight of Qantas' entertainment system is the TV box sets section – perfect for binging on a full season of a show while on a long flight. Fittingly, HBO's Euphoria is on my list as well. Music and games round out the entertainment options.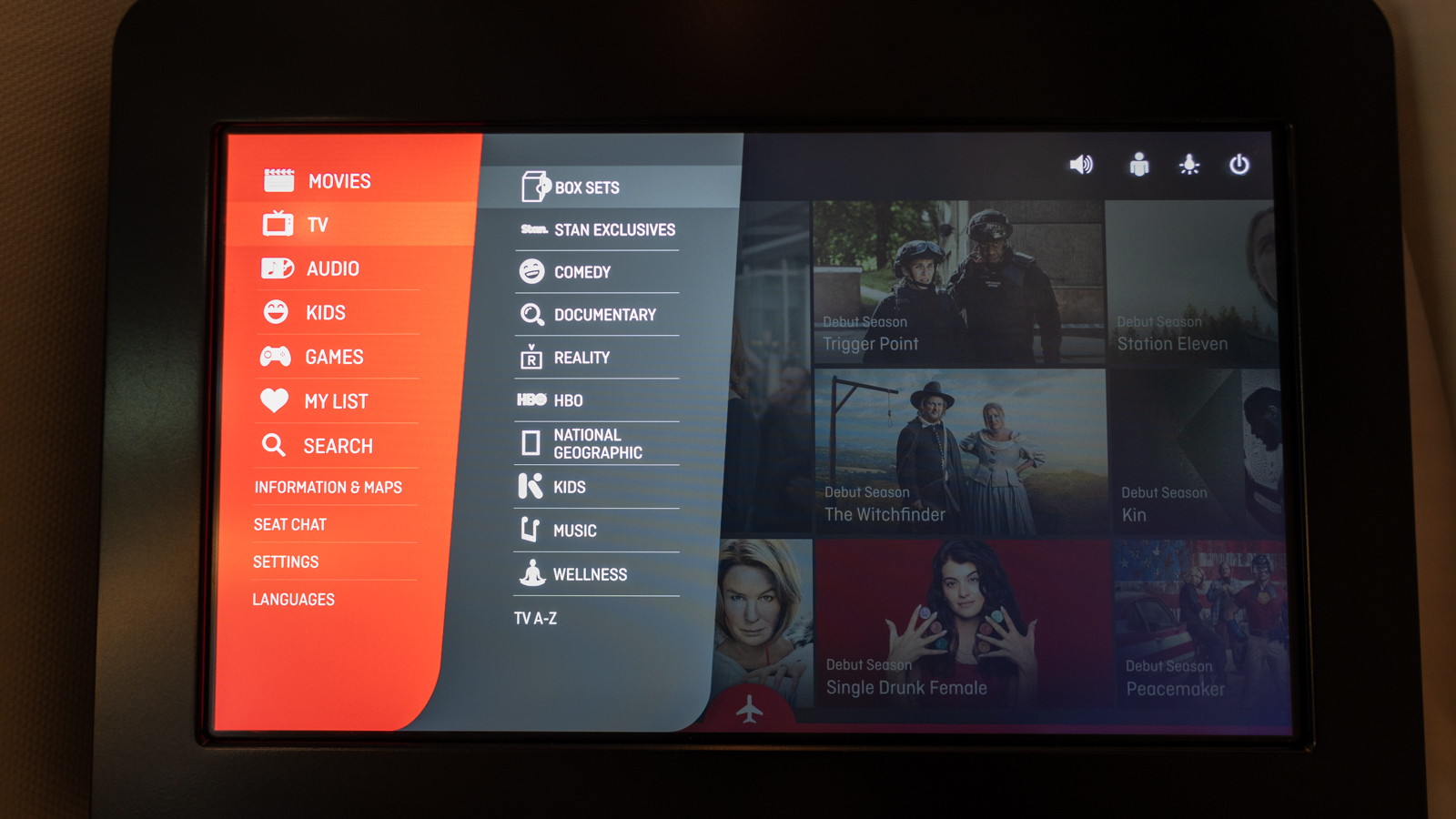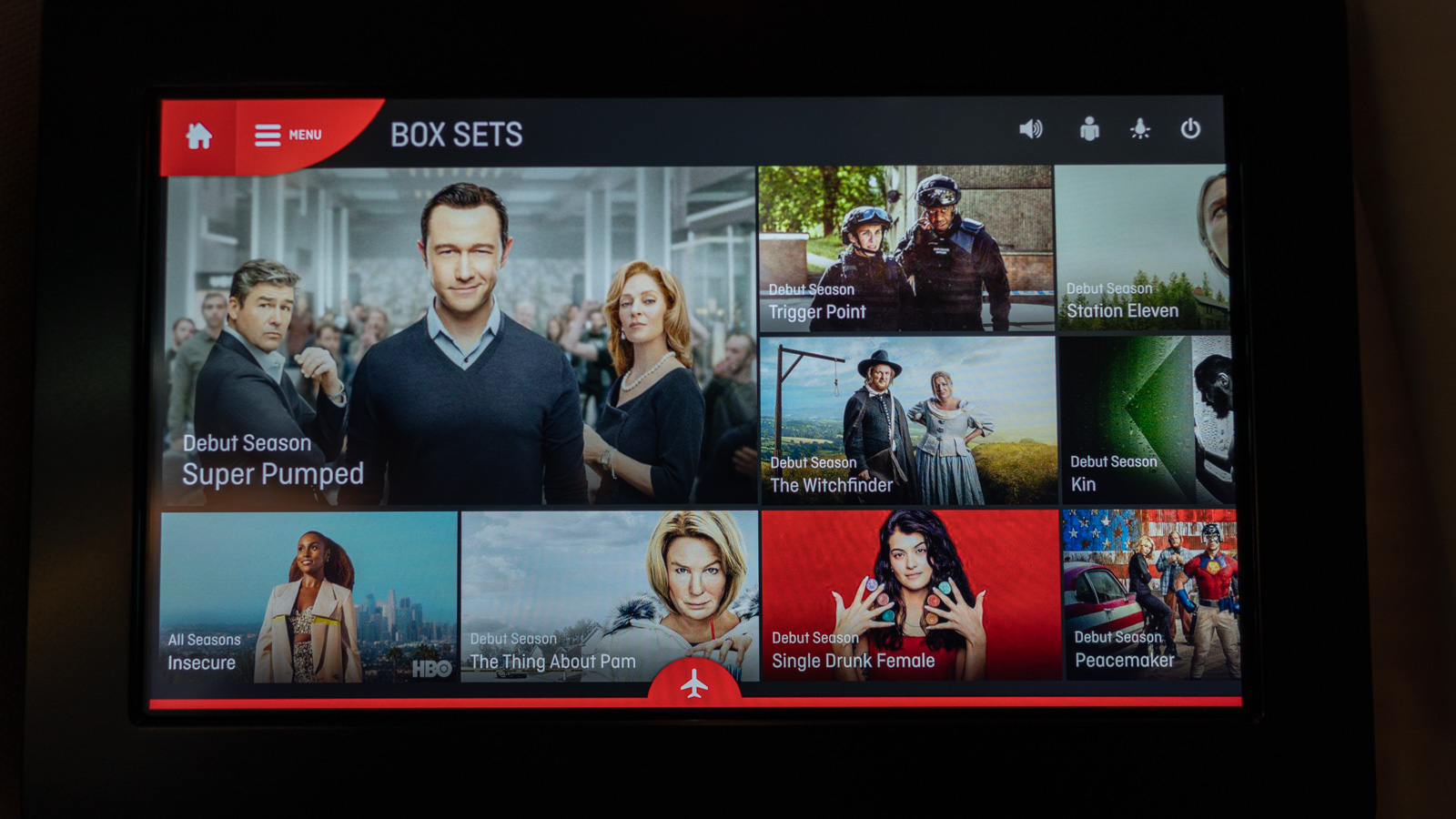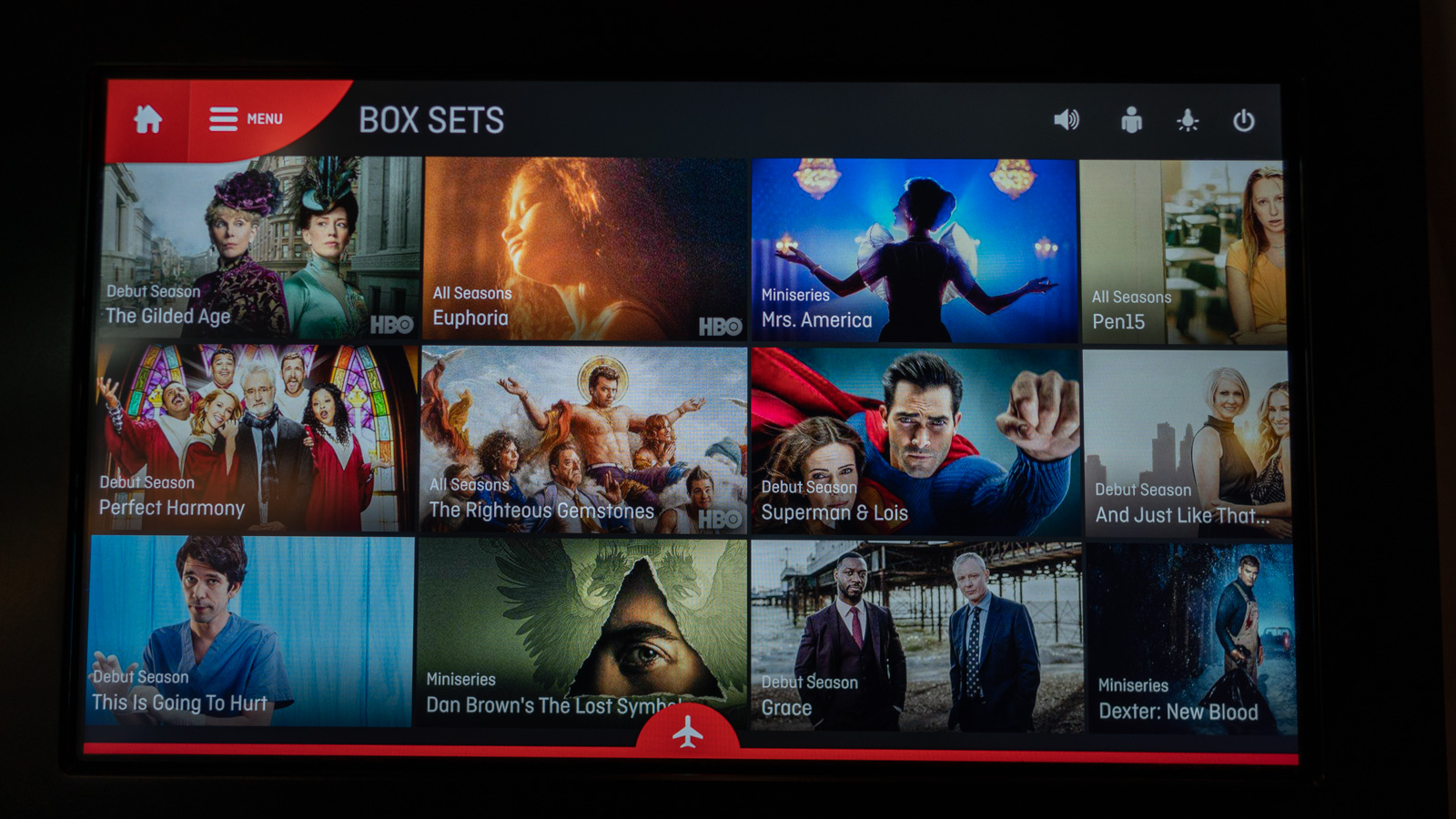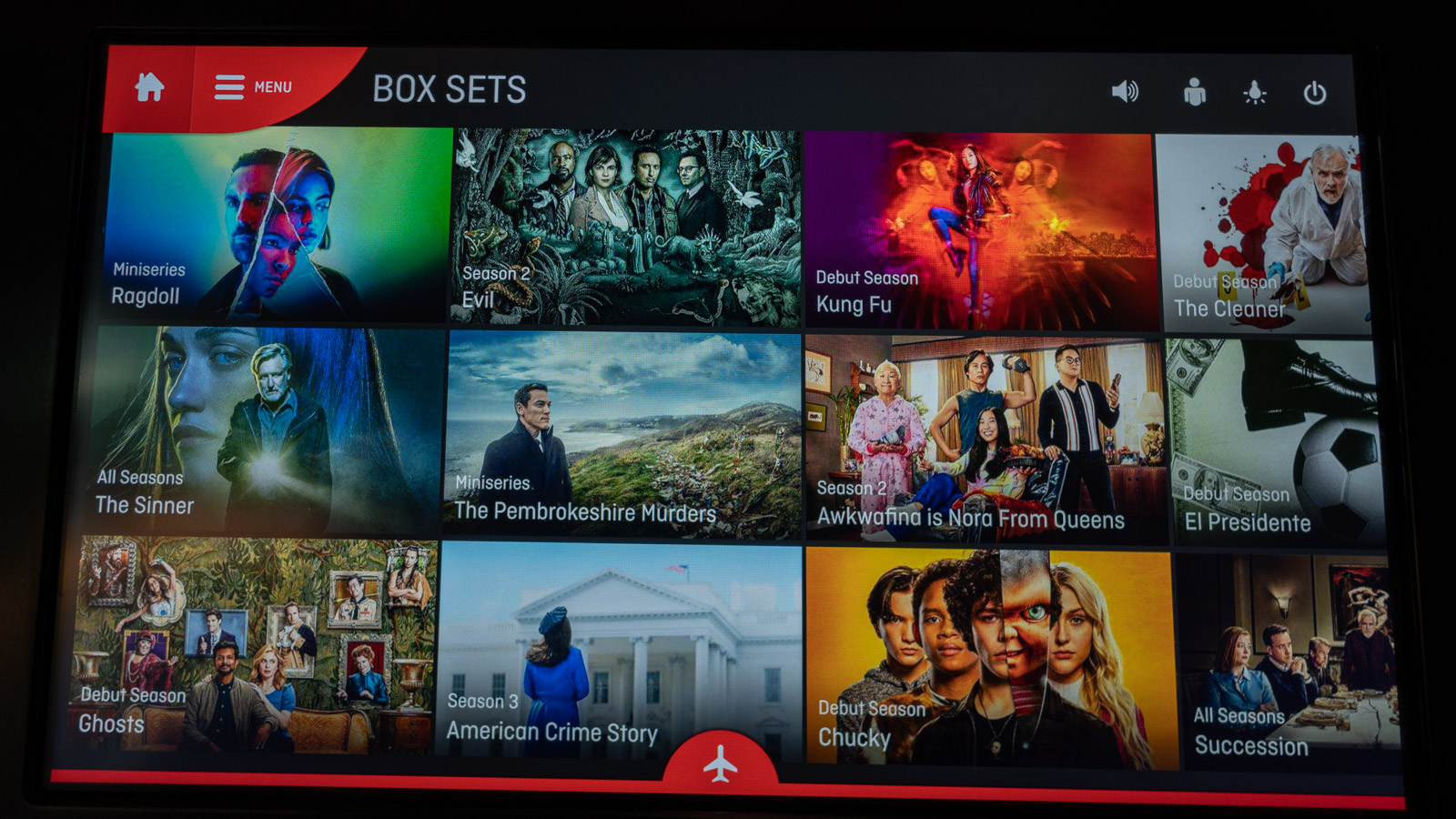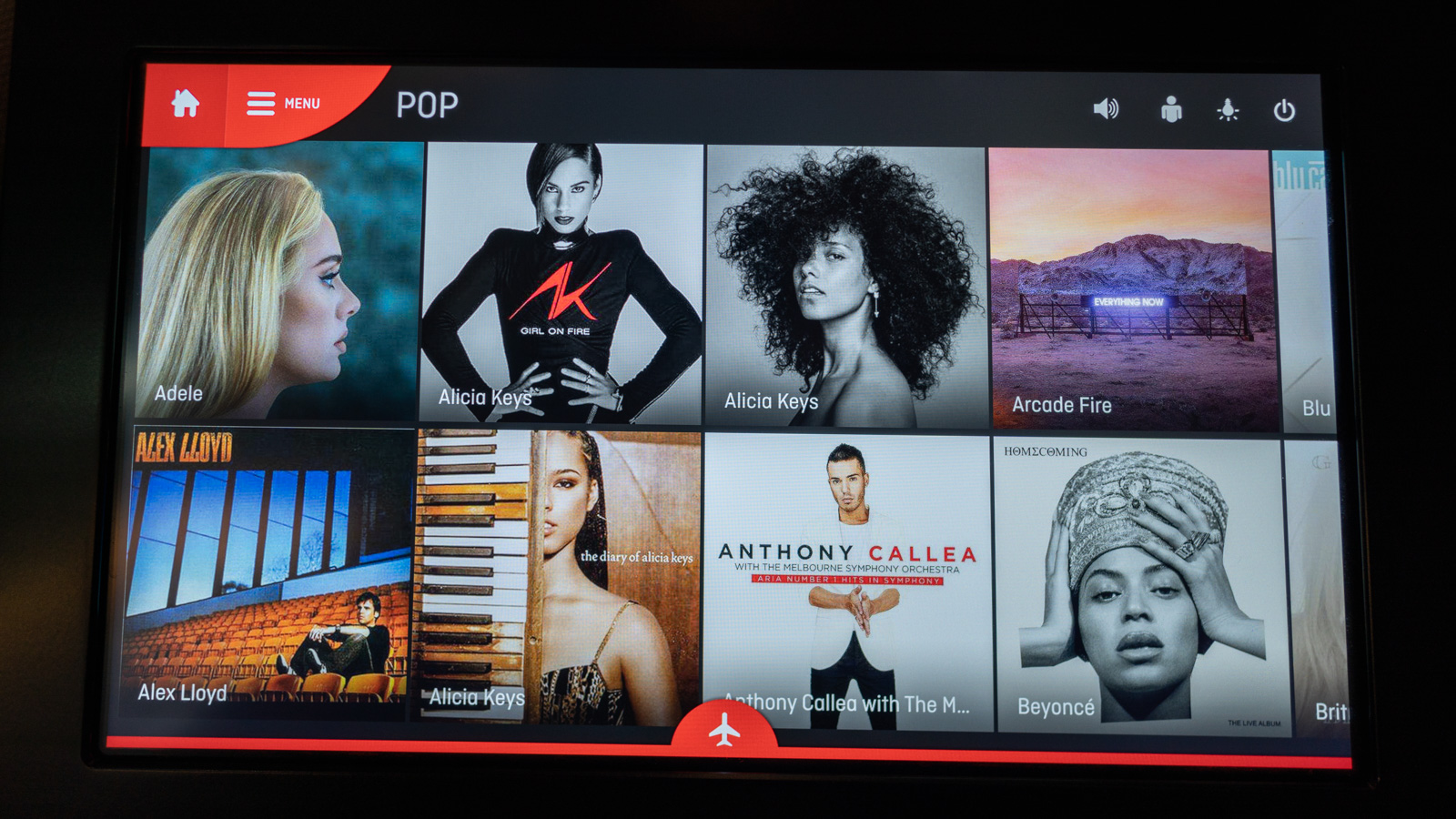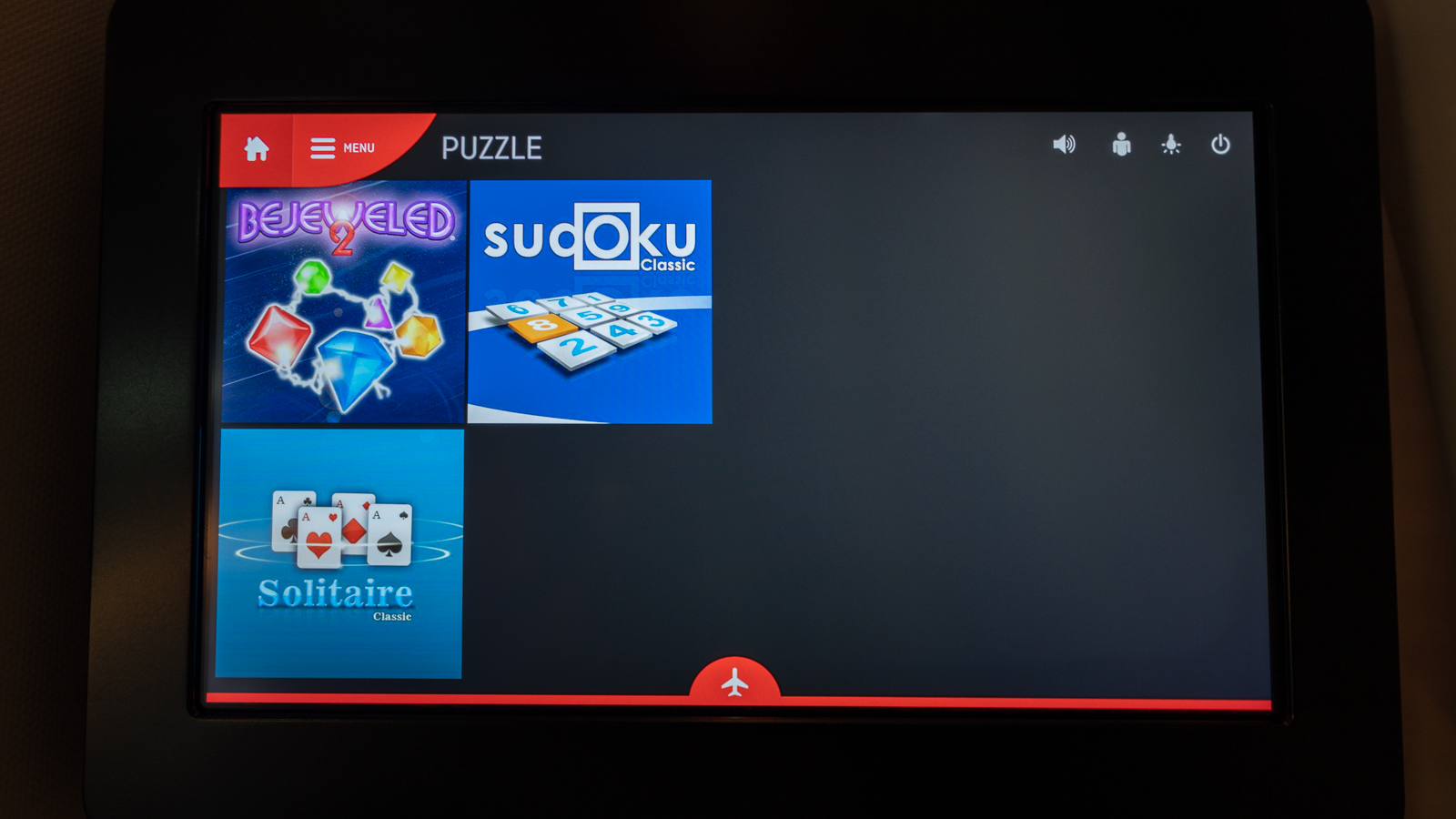 Hours 2-3
5:30 pm Wednesday in Rome | 11:30 pm Wednesday in Perth
The drinks trolley stops by and when it departs, I have my obligatory white wine – a Margaret River Chardonnay – in hand. Yes, I know I'm not taking this 'beating jetlag' thing very seriously. But it's always 5 pm somewhere in the world, and right now, that place happens to be Rome. Salute! Also, supper is served.
The Neil Perry menu is quite slim for this flight. I know some travellers will have an issue with this – for many, Business Class is a chance to feast. That's traditionally my thinking too.
But approaching this menu with an open mind, I'm pleasantly surprised. Most passengers in Business Class would have either flown from Sydney – where a full dinner is served – or started in Perth like me, where they can eat in the International Transit Lounge. Plus, given that it's so late at night, sleep becomes a priority.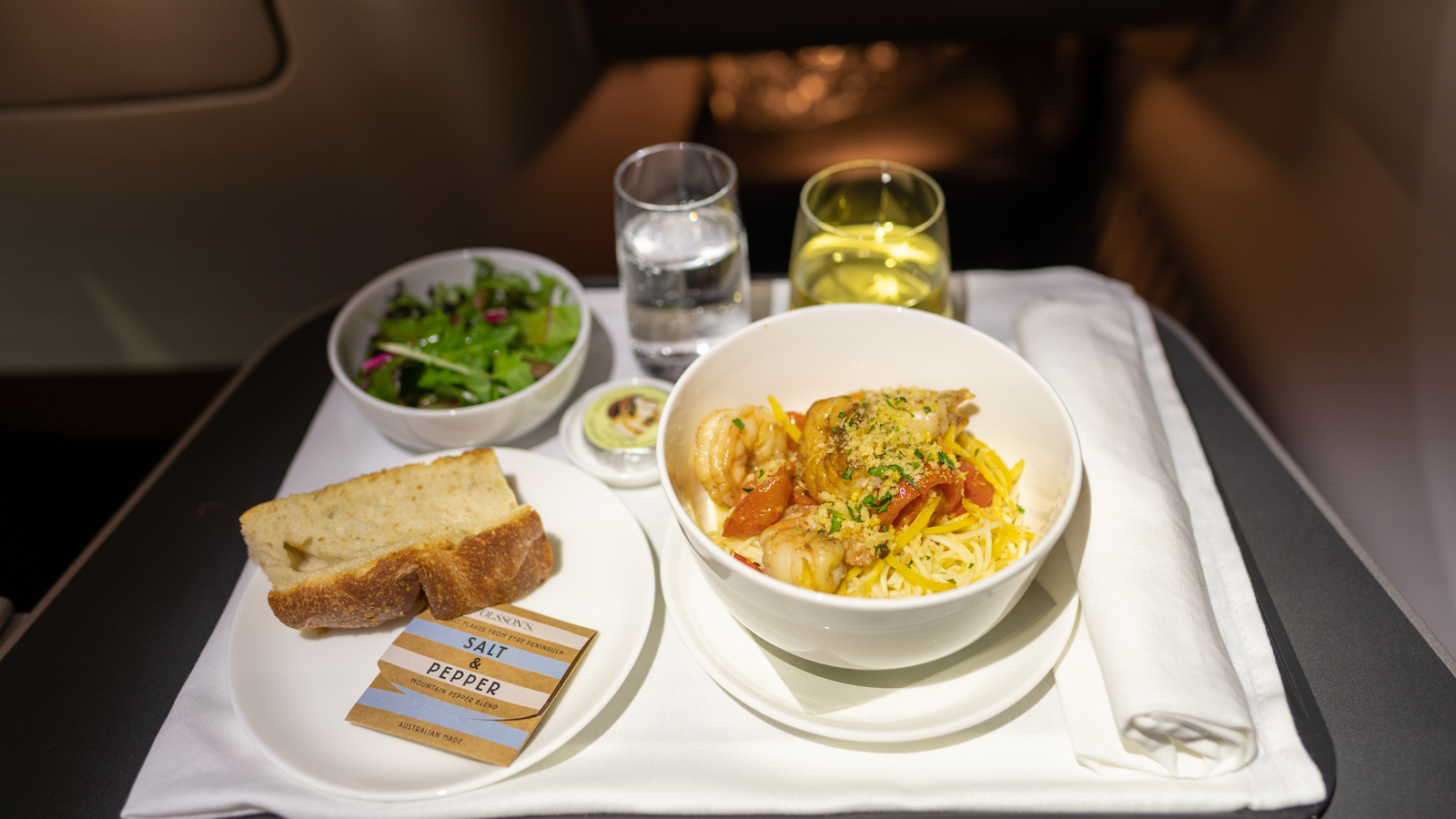 I tuck into the delicious bowl of prawn spaghettini, which comes with a side salad and a slice of focaccia with Pepe Saya butter. The prawns are perfect – plentiful, juicy and peppery.
It's not a super-fancy dish by any means, but after I devour the sizeable tiramisu to finish, I feel perfectly comfortable. Not hungry, and not stuffed to the point where I'd be nursing a grumbling stomach instead of sleeping.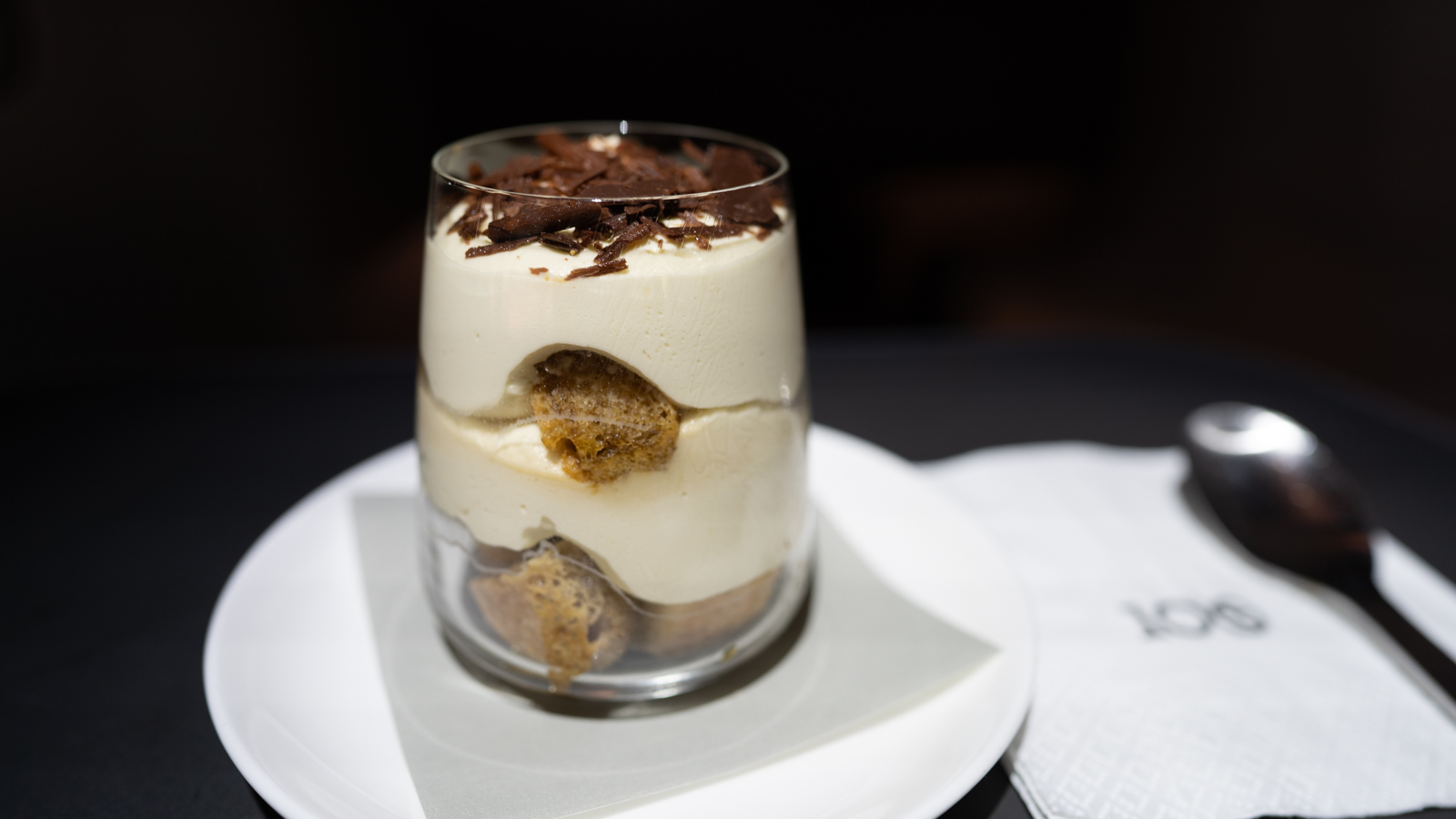 QF5 Perth-Rome Flight Diary: cruising
Now that dinner is done and everyone is settled in, a sense of calm descends upon the cabin. I glance around – nearly everyone has now changed into their Qantas PJs, slapped on the mattress pad, and reclined the seat to snooze.
Hours 4-8
7:30 pm Wednesday in Rome | 1:30 am Thursday in Perth
I've only started watching Death on The Nile when dinner was served, so the movie is in full swing now (and by that, I mean there have been a few murders. Time to shine, Poirot). After the film's big 'whodunnit' reveal, it's about 8:30 pm in Rome. We're cruising somewhere alongside Singapore and Kuala Lumpur. The friendly Customer Service Manager (CSM), John, swings by for a chat. He mentions I'm the only passenger in Business that's still awake.
Just as well that I'm fighting a losing battle with sleep. You know what they say about the best-laid plans. I order a hot jasmine tea to settle down, and head to the lavatories to slip into my Qantas PJs.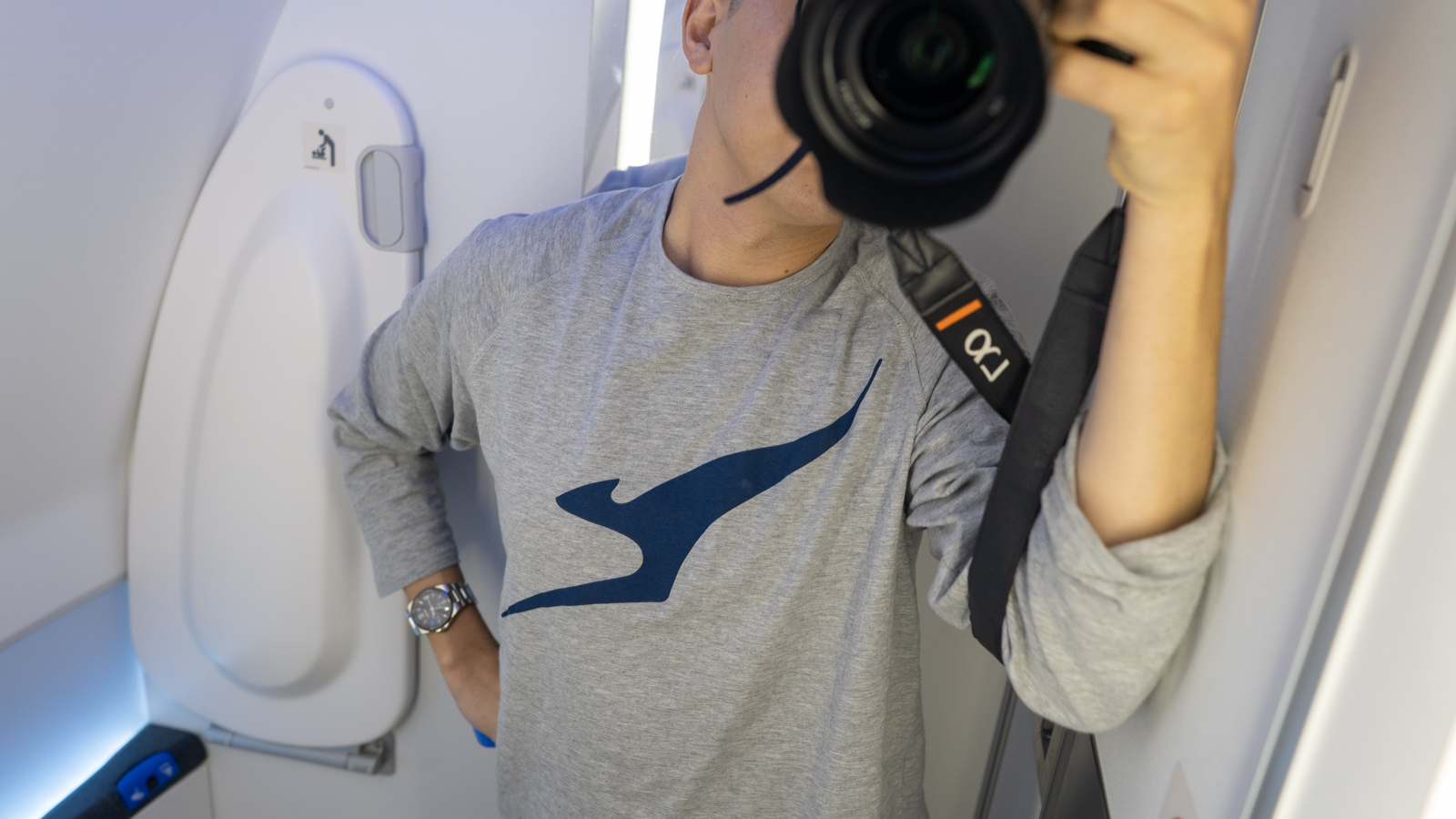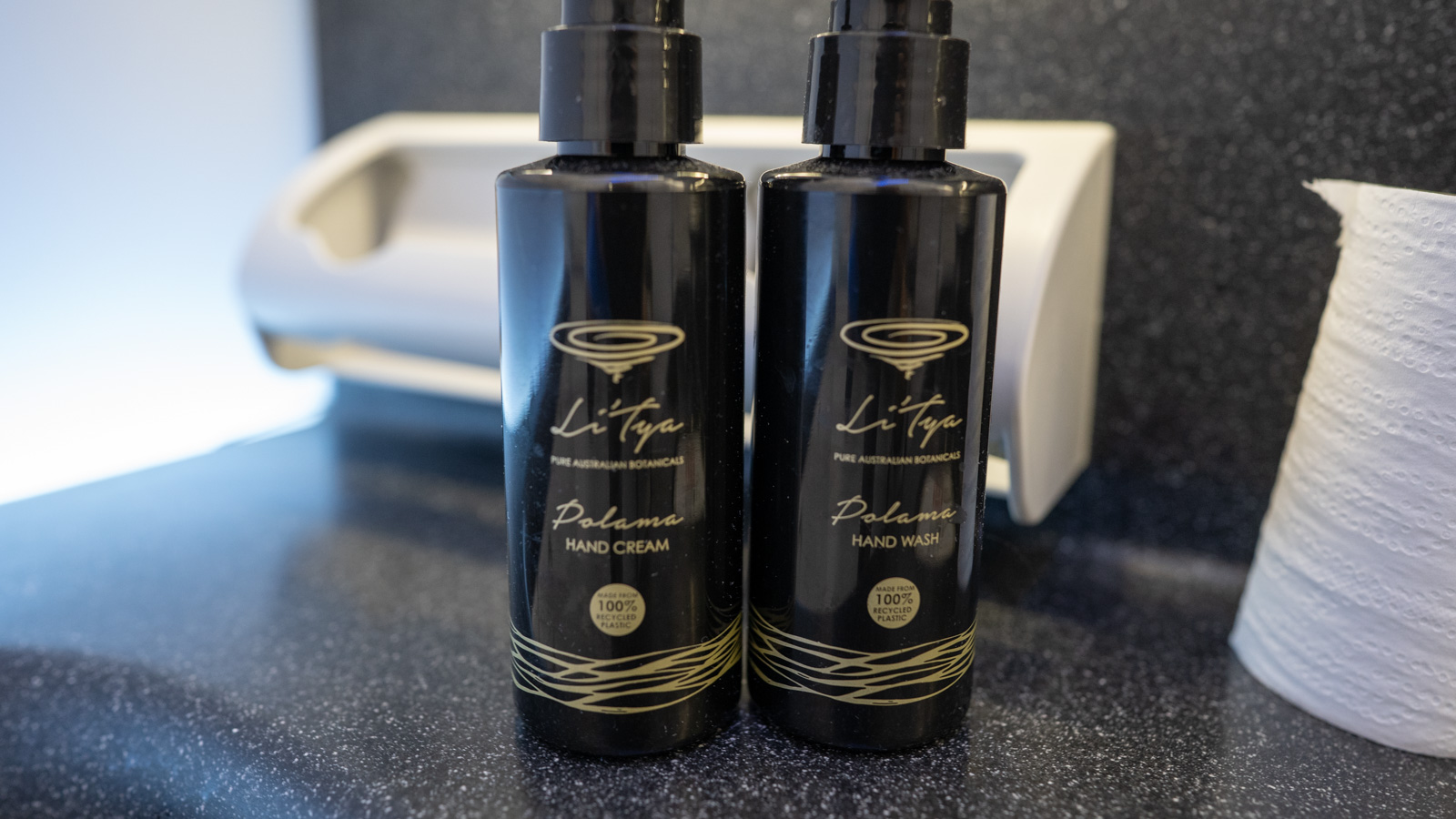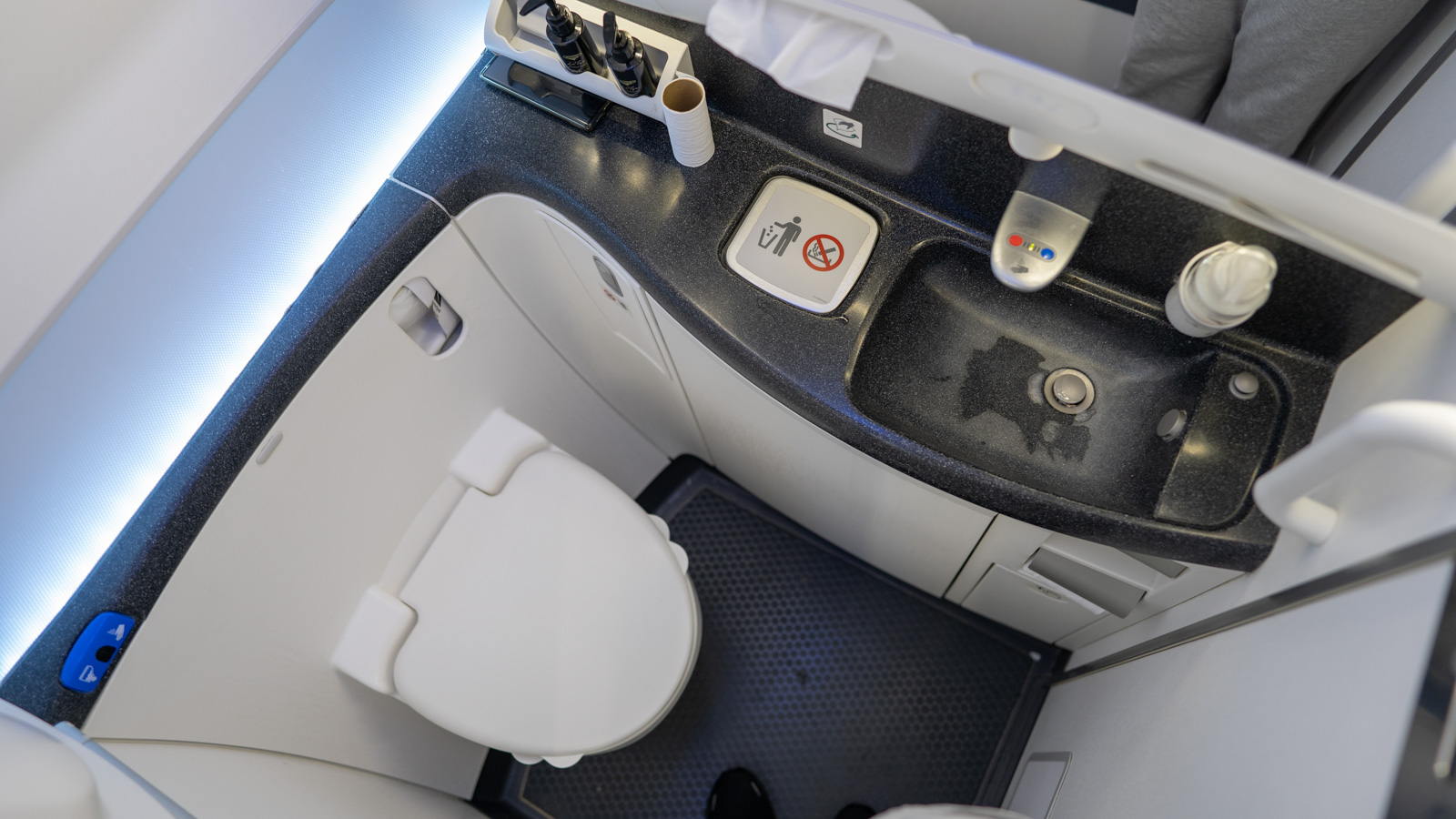 The M/L size pyjamas are comfortably baggy on me. There's nothing too remarkable in the lavatories, except for Li'Tya amenities including face cream. The Dreamliner does boast improved comfort with a lower effective cabin altitude. But moisturiser wouldn't go amiss after more than half a day in the air.
Side note: one of the coolest things about flying Qantas international Business Class is seeing everyone walking around in their Qantas PJs. It's almost like a cult.
Once I've sipped my tea, I recline the bed flat and slip on the provided eye mask and ear plugs. I'd love to report that I slept beautifully for the next eight hours, but alas, that's not meant to be. I'm a light sleeper and even in a Business Class bed, I toss and turn a bit.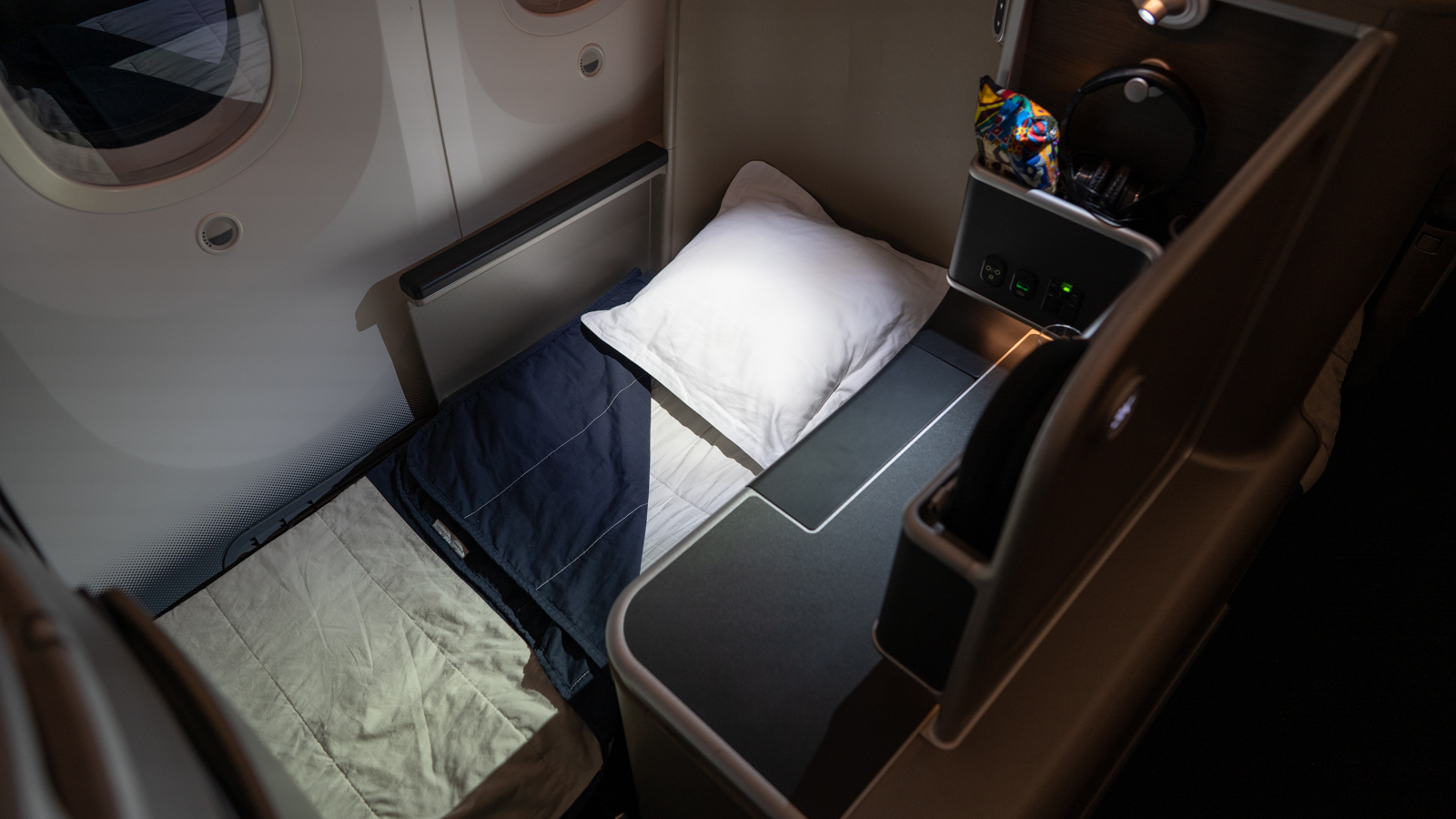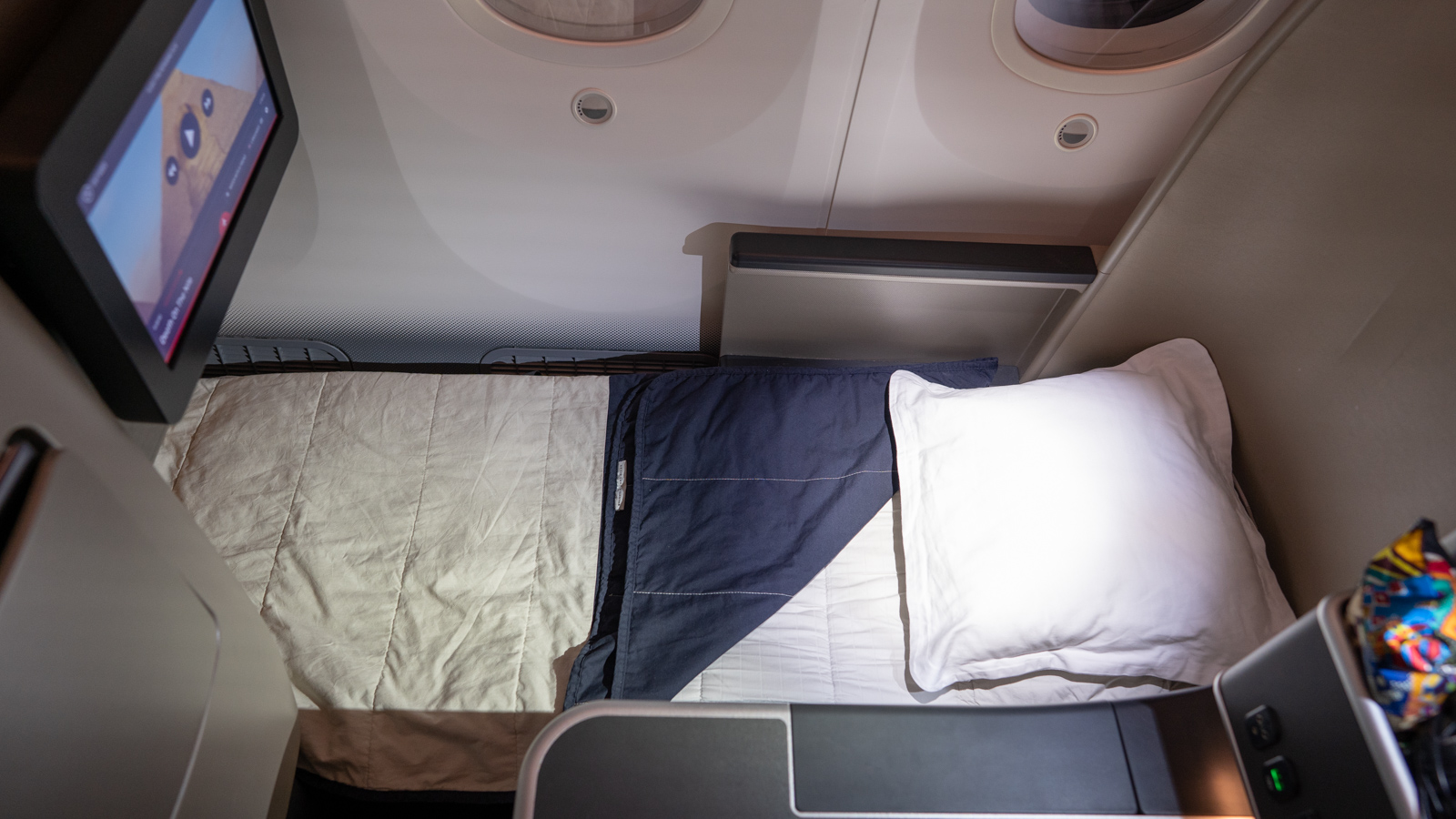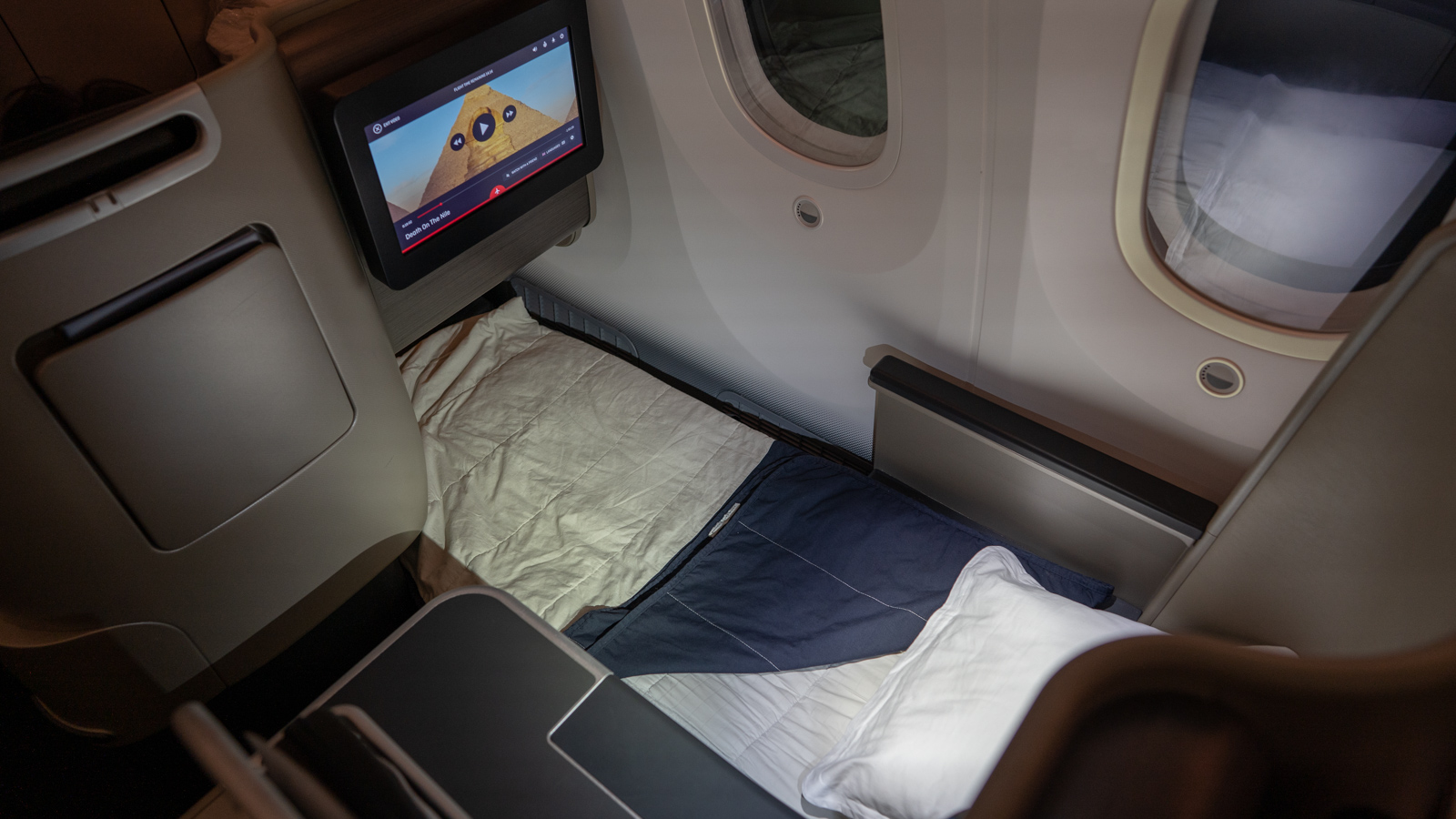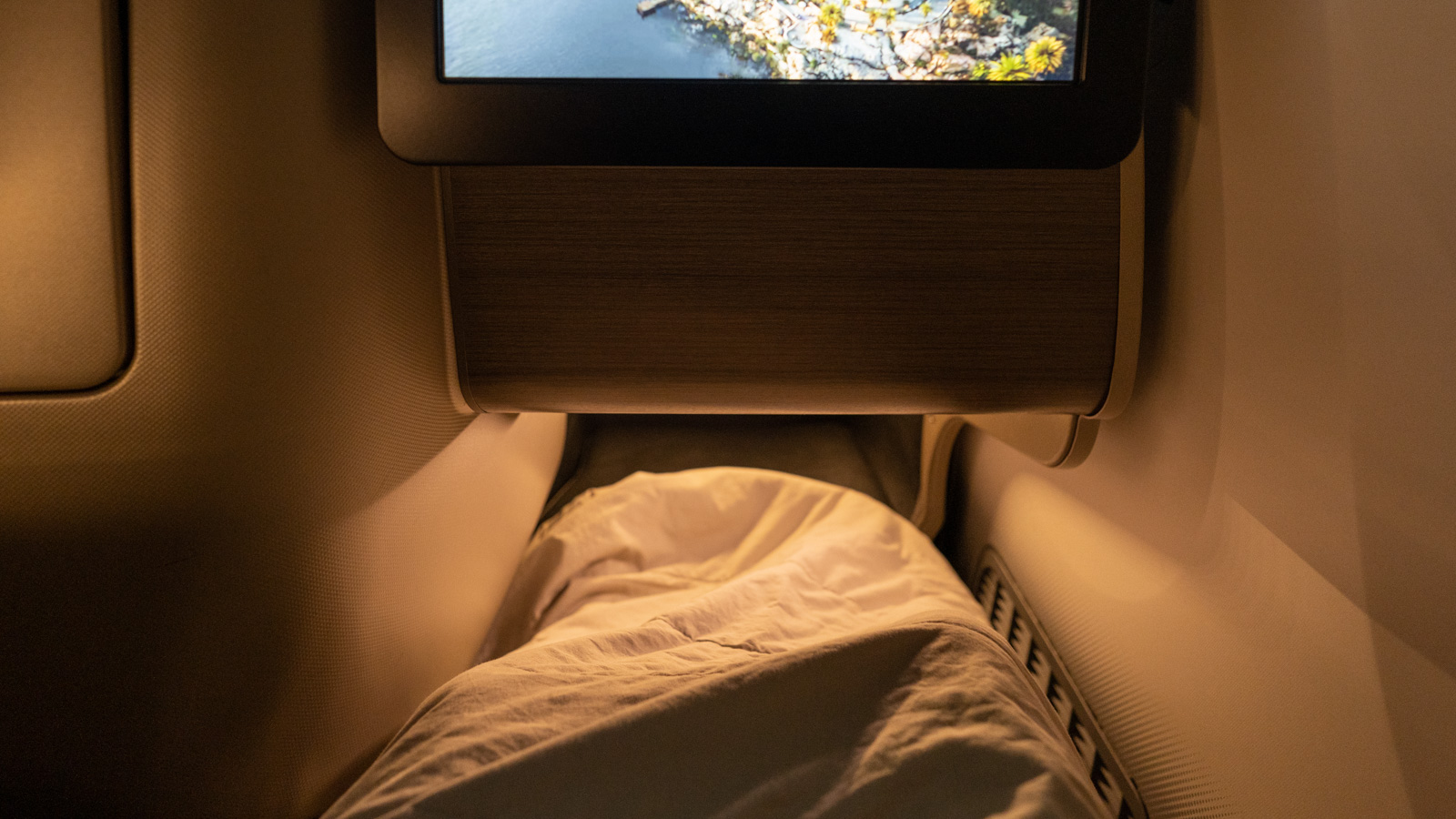 But when I next check my watch, three and a half hours have passed. It's a start.
Hour 9-11
12:30 am Thursday in Rome | 6:30 am Thursday in Perth
'Ding.' We bump into some turbulence somewhere near India, and seatbelts need to be fastened. Though I'm lying flat, I've already done up my seatbelt somewhat loosely around my waist. Coincidentally, we're now at the mid-point of the flight. 8 hours down, eight hours to go.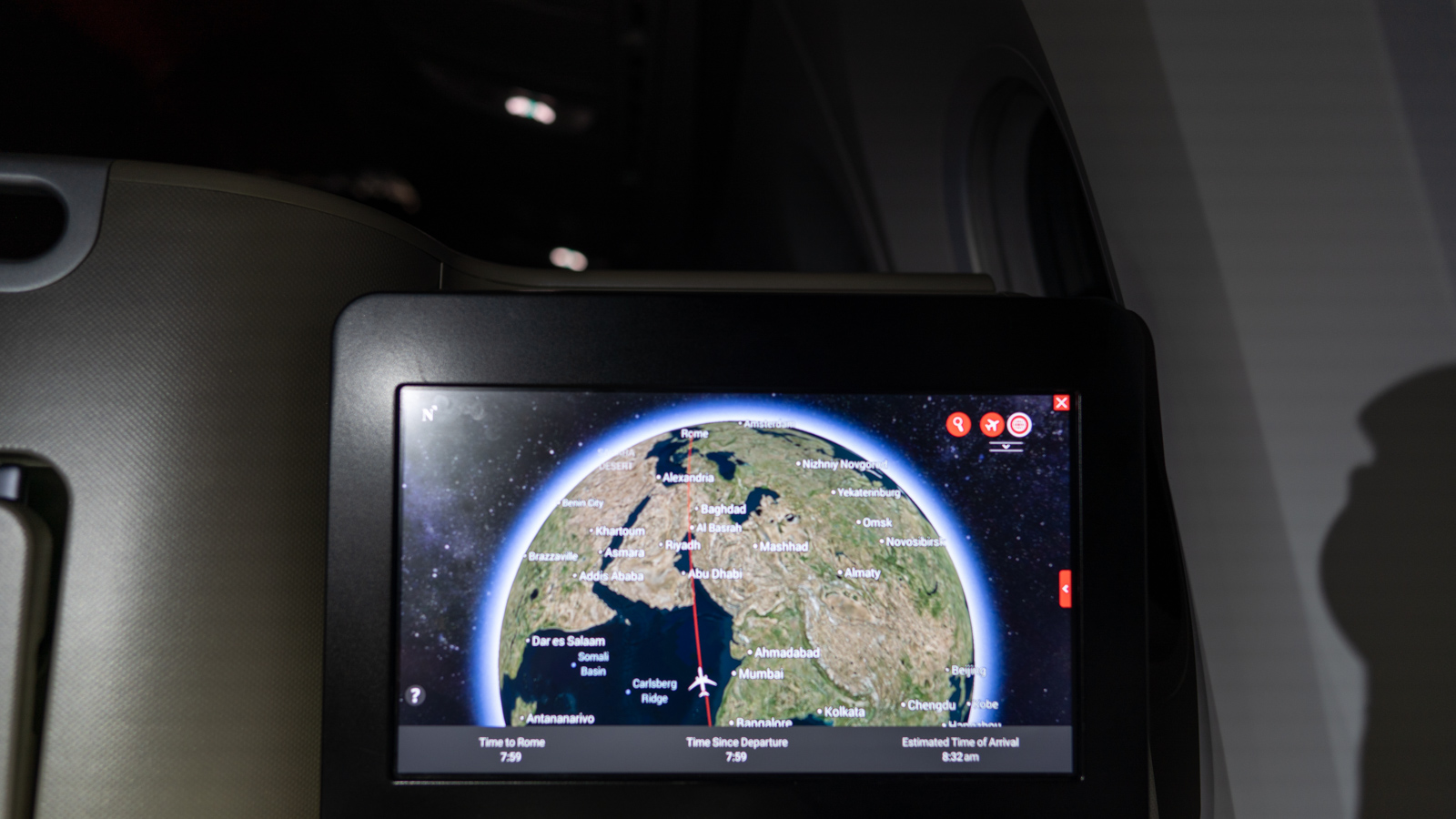 I'm soon napping again, but the seatbelt sign repeats its 'ding' at 2 am, 90 minutes later. Once the latest bout of turbulence is finished, I venture into the galley to look at the snack selection.
A few of the cabin crew are working here, and there's another passenger deep in conversation with them. The snack selection is decent, including crisps, veggie dips, chocolates, fruit, cookies, coconut water and kombucha.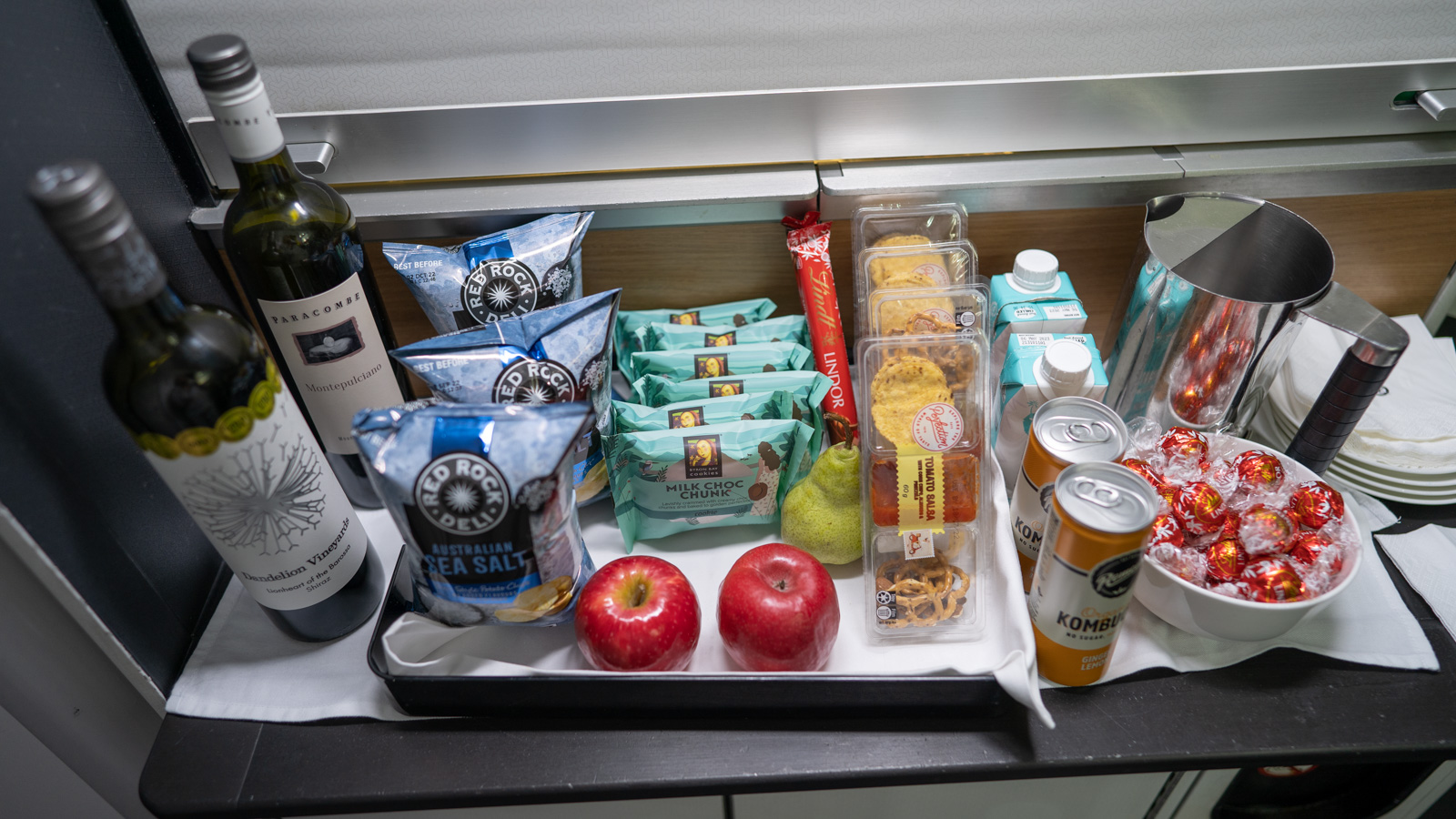 I also take this opportunity to order off the on-demand hot snack menu. Not wanting to deal with the oiliness of a croque monsieur, I choose the quiche instead. Served with a side salad and paired with the kombucha I've nabbed from the galley, it's a filling combo.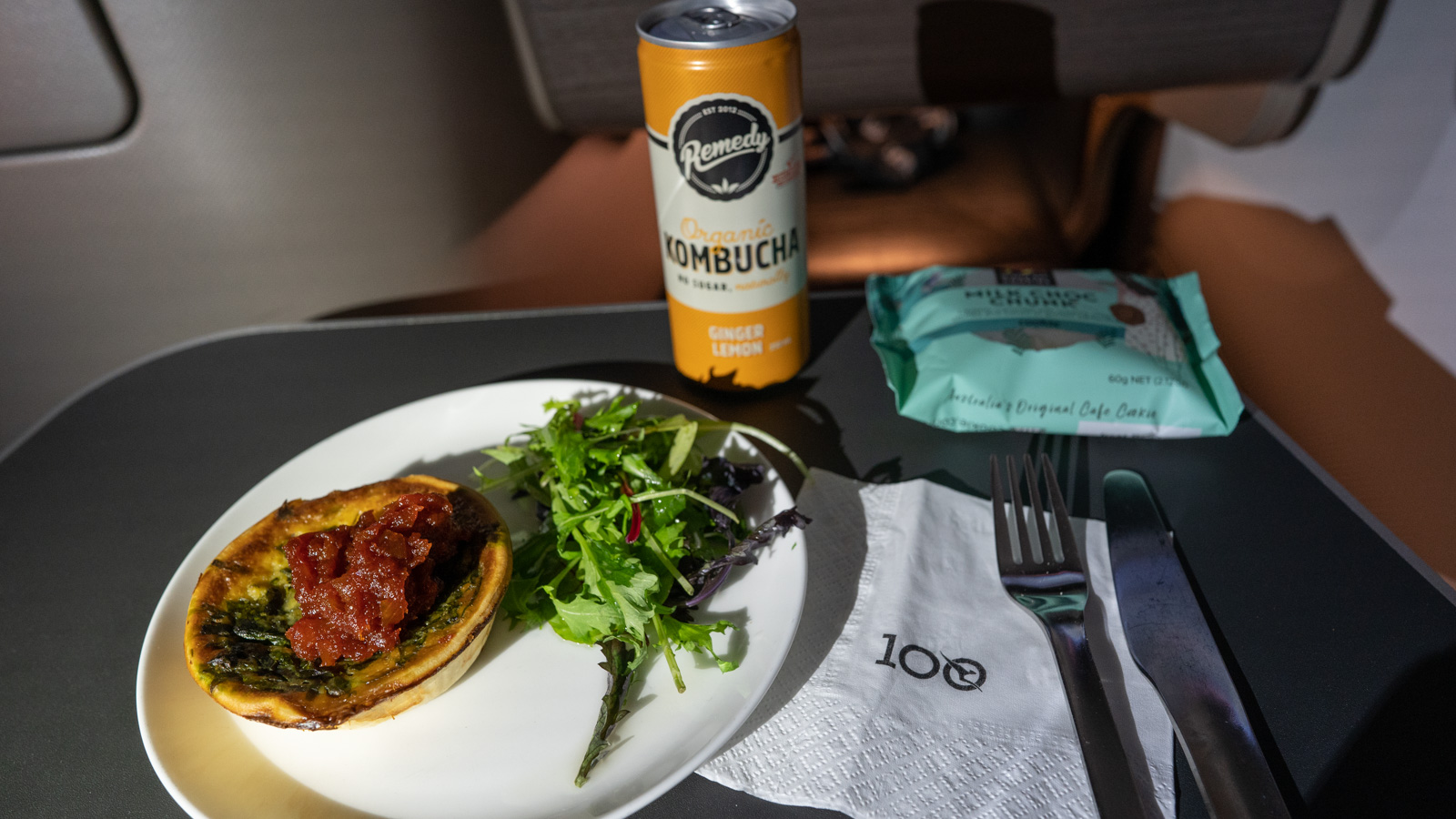 Hours 12-14
3:30 am Thursday in Rome | 9:30 am Thursday in Perth
I know I'm not going to get much more sleep, and there's also this flight review to write. Refuelled by the snack, I power up my laptop and start processing the photos from the trip so far. The tray table is sturdy and perfect for being productive. I've even brought my mouse, and there's plenty of space for it on the side.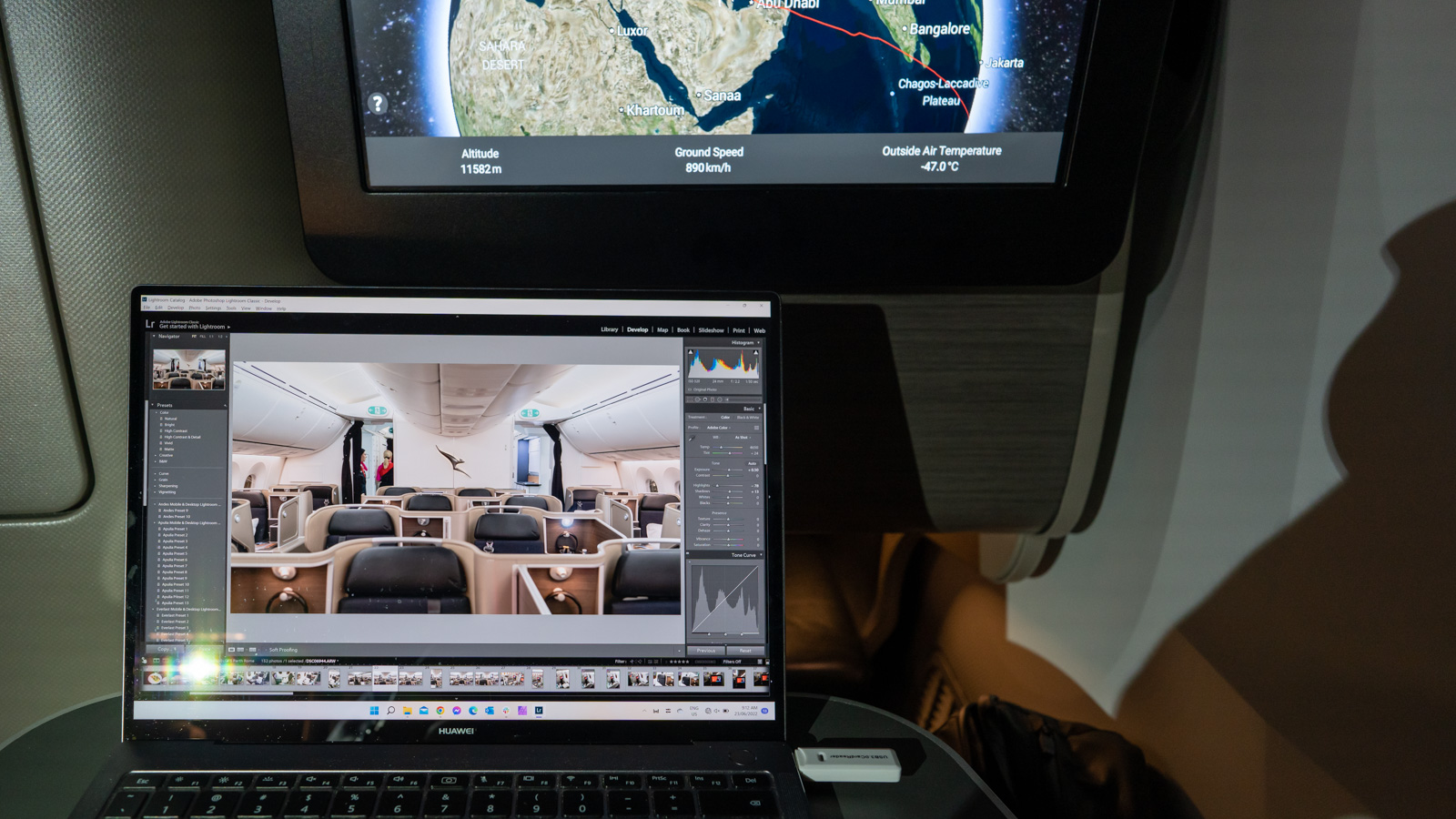 My AC power brick provides a steady supply of juice, so my laptop remains fully charged. Really, the only thing sorely missing from this arrangement is inflight Wi-Fi. Qantas isn't yet geared up for Wi-Fi on international flights, so hopefully, this is a void they can fill soon.
Meanwhile, I spot the sunrise out of the corner of my eye. But the cabin remains dark because the crew have locked the electrochromic windows to the darkest setting. It's surprisingly efficient and still feels like nighttime in the cabin.
After two hours of work, it's now 5:30 am in Rome and we're cruising above Ankara, Turkey (soon to be Türkiye). There are still three hours and 30 minutes left until we reach Rome, but breakfast isn't served until two hours before arrival. Time to snooze.
QF5 Perth-Rome Flight Diary: breakfast and landing
Hour 15
6:30 am Thursday in Rome | 12:30 pm Thursday in Perth
After a somewhat-restorative 90-minute nap, I'm up again ahead of breakfast. Most of my fellow passengers appear to be awake as well. The windows in the galley let in a lot of light, so a few travellers are gathering here. I have a lovely chat with Arik, another points enthusiast who's going backpacking in Europe.
One of the crew, Paige, is making espresso shots in the front galley. The conversation veers toward Melbourne coffee culture. I don't have a lot to contribute.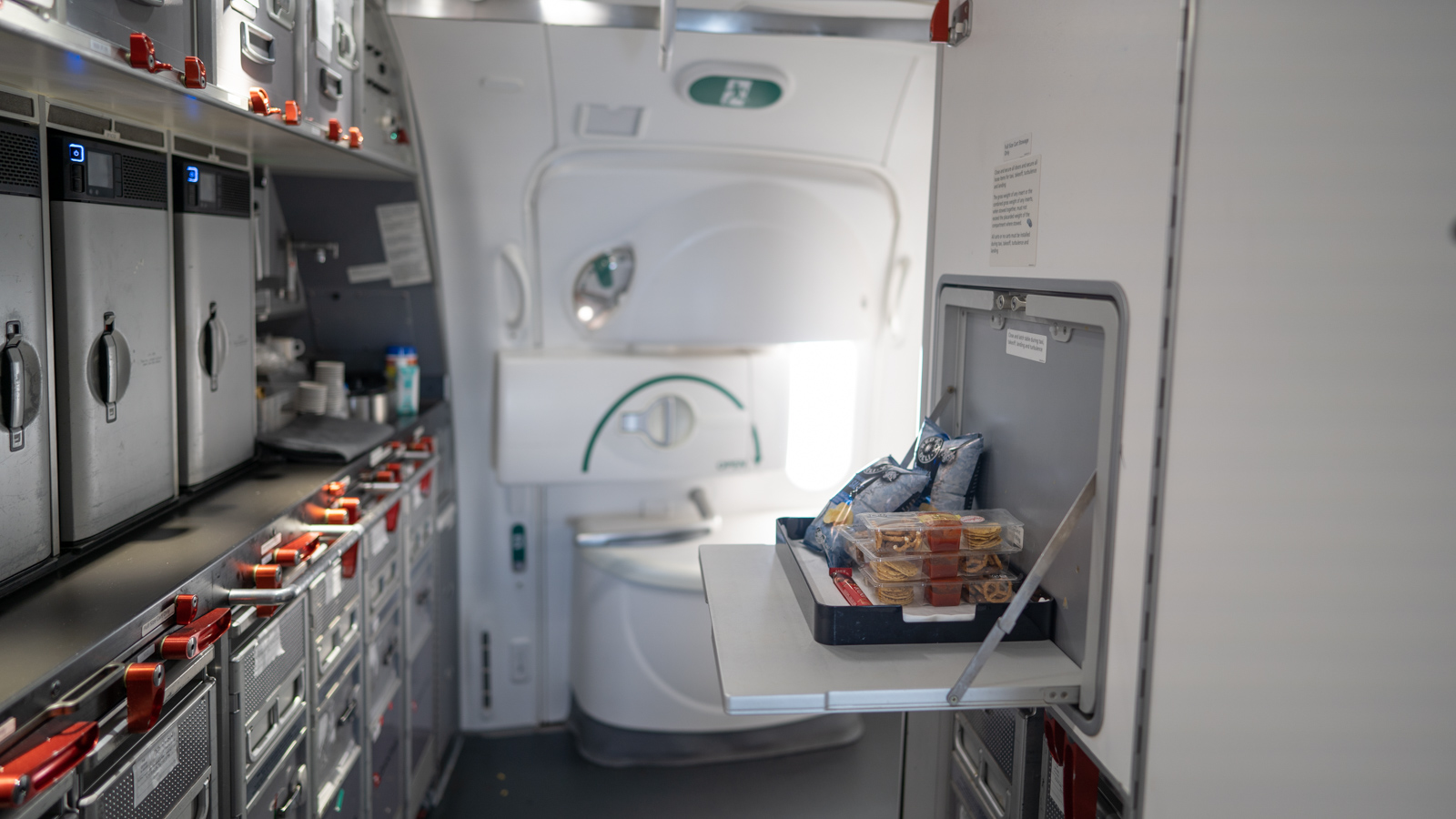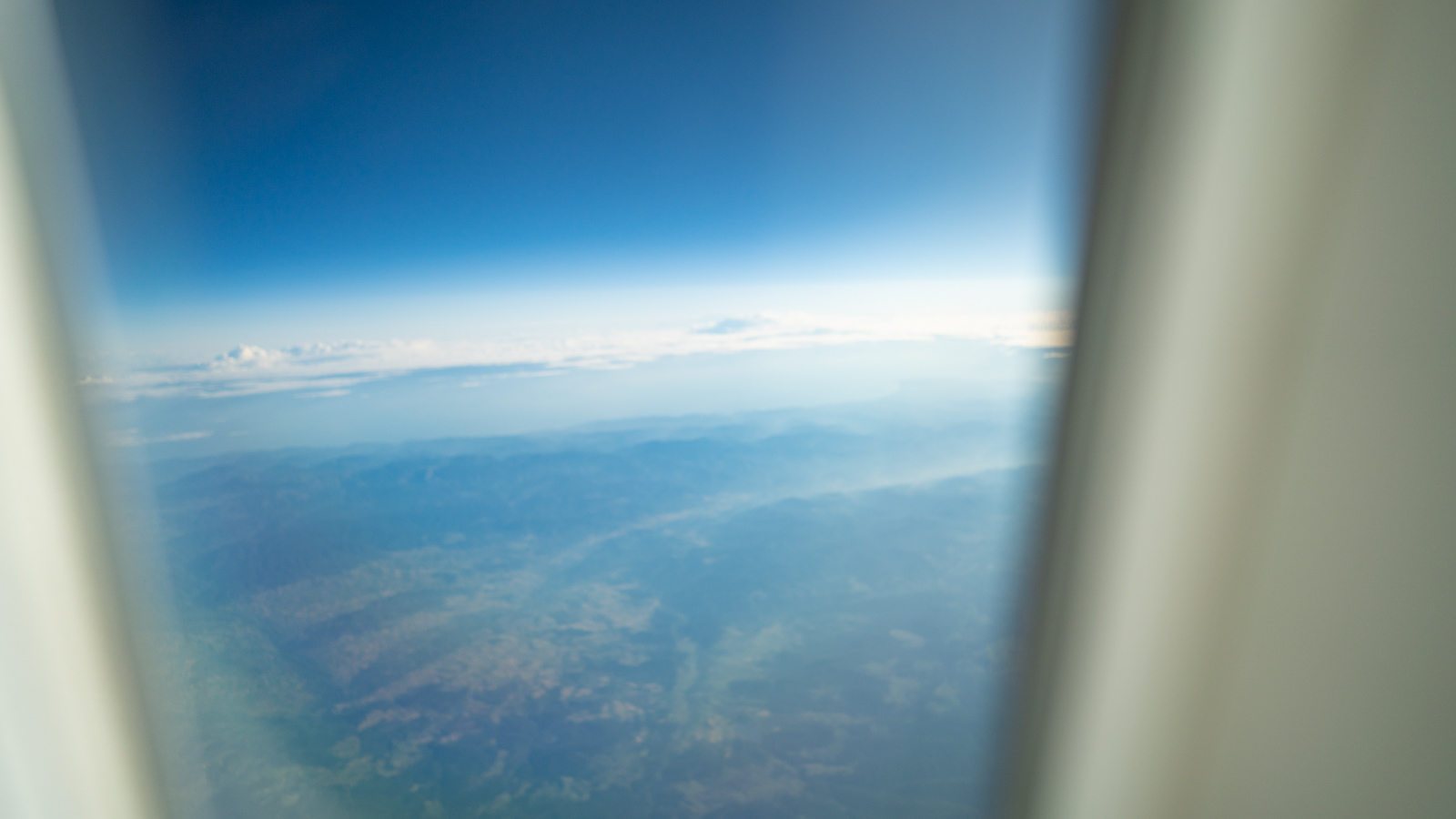 Hour 16
7:30 am Thursday in Rome | 1:30 pm Thursday in Perth
Breakfast is served as we reach the final hour of flying. I indicated my options on a 'wake-up card' at the start of the flight, so everything comes on one tray. I order scrambled eggs with bacon, mushrooms and tomato. It's cooked very well – the eggs aren't powdery. The blueberry danish is crunchy and fresh fruit is a good way to finish off the meal.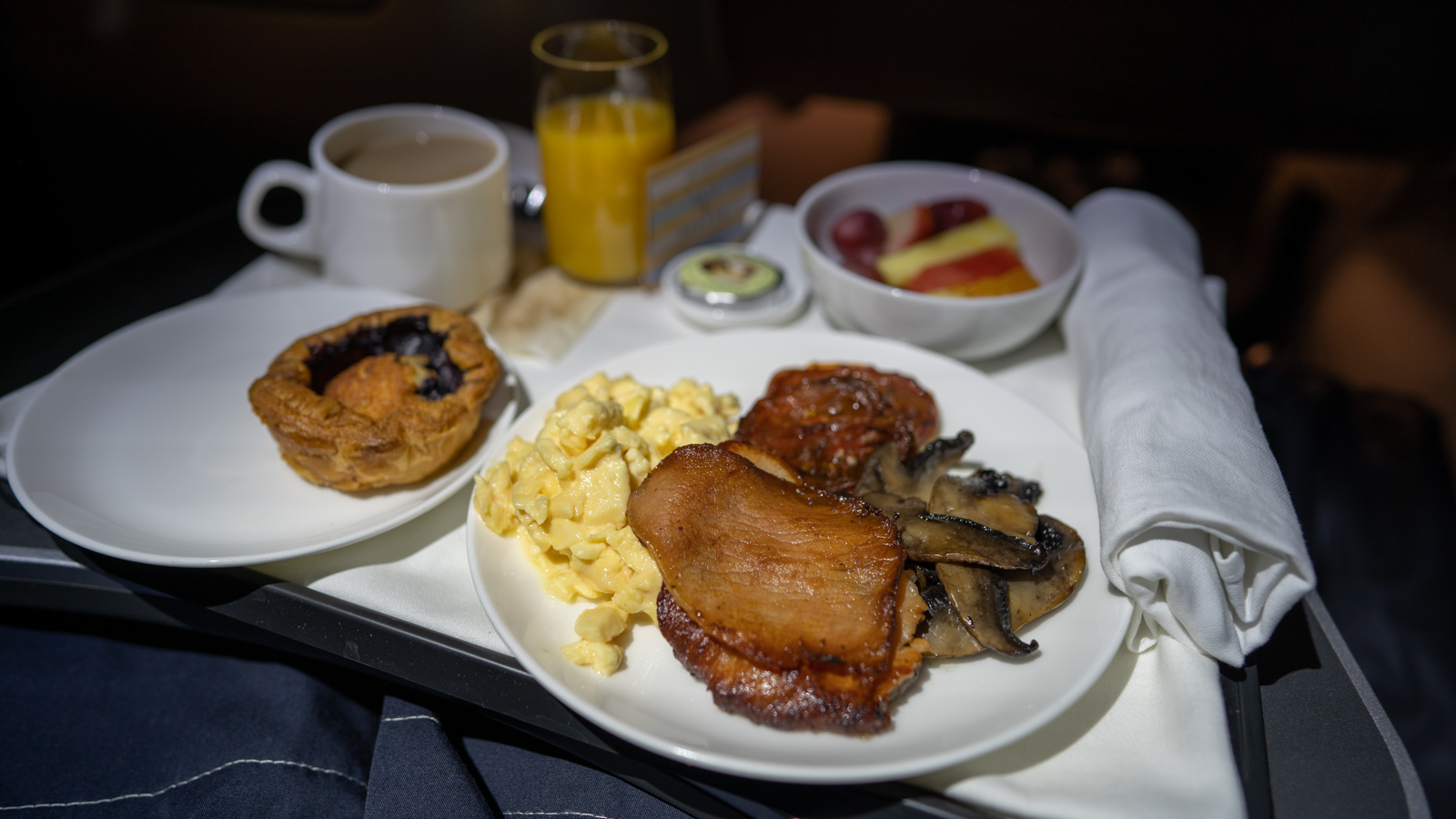 There are only 40 minutes left once my tray is taken. The windows have become unlocked, so sunlight streams through the cabin as we descend into Rome. I reflect on what a mammoth journey this has been. But lounging around in my PJs, alternating between work, eating and rest, I feel this has been a very comfortable flight.
The cabin crew members I mainly interacted with – Candy, Paige and John – are friendly and provide exemplary service. This is Qantas at its best. I hope it stays that way.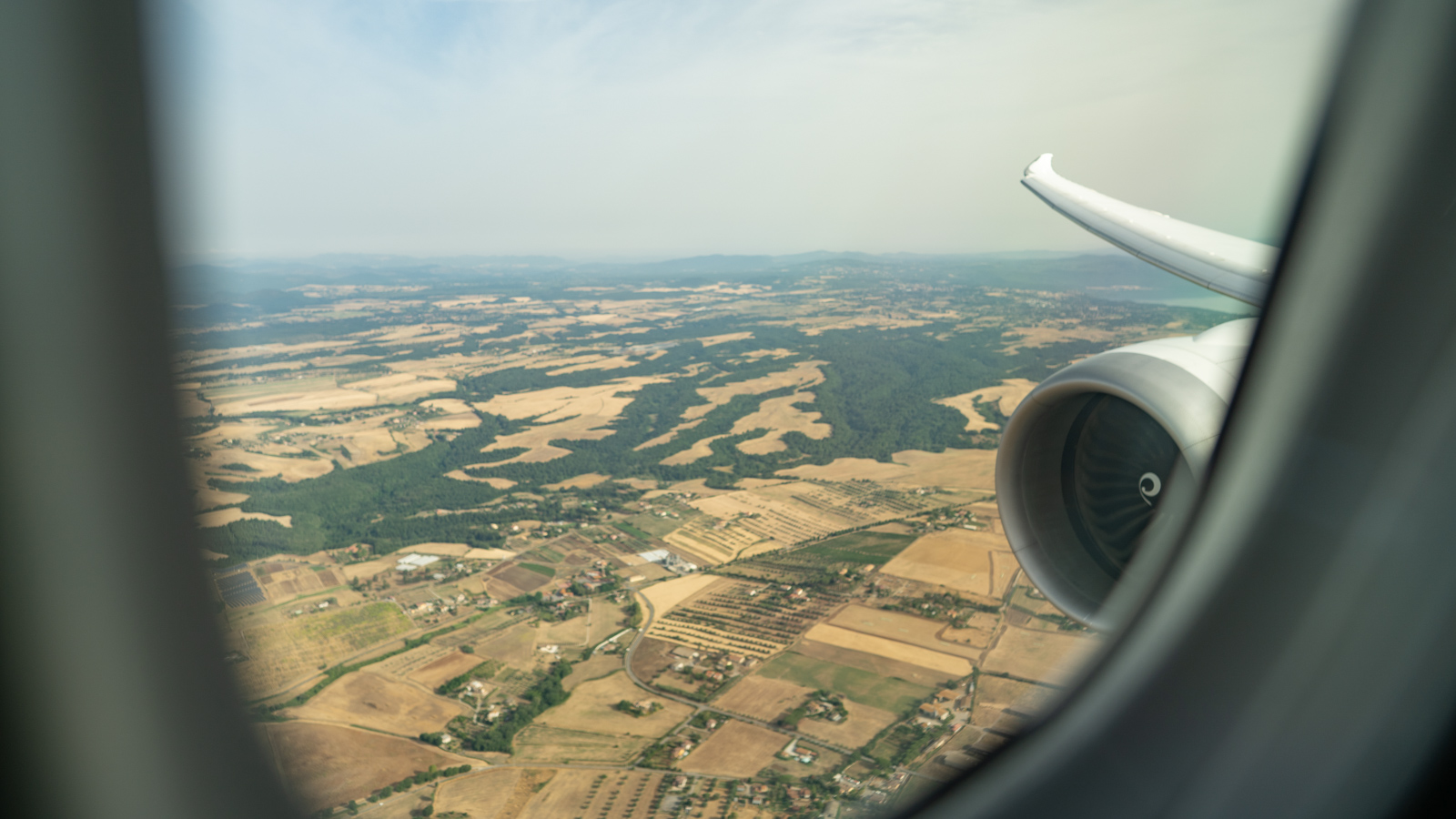 Our arrival in Rome is fairly standard – no water cannons or anything like that. We are given a cute Italian flag bracelet though. Just to remind everyone that we're now in Europe, there is a 30-minute wait for bags. But Business Class priority baggage does emerge swiftly and I'm soon onboard the Leonardo Express to Roma Termini station.
An abundance of good food awaits.
How to book this flight with points
Here are the Qantas Points needed to fly this route:
| | | |
| --- | --- | --- |
| Qantas Points | Perth-Rome | Sydney-Perth-Rome |
| Economy | 41,900 pts | 55,200 pts |
| Premium Economy | 81,300 pts | 108,400 pts |
| Business | 108,400 pts | 144,600 pts |
Happily, the Perth-Rome leg is a sweet spot for Perthians like myself. The great-circle distance is roughly 8,300 miles (13,360 km), which is just within the 'Zone 8' (7,001 – 8,400 miles) pricing on the Classic Flight Reward chart. Adding Sydney to the route bumps up the pricing to the maximum of Zone 10, which is a hefty increase in the points needed.
There are reward seats available outside of the Points Plane promotions, but the ones in premium cabins tend to be snapped up very quickly. For my return journey, I had no difficulty securing an Economy reward from Rome to Perth with Qantas Points. I saw a few Business and Premium Economy rewards at the time, but they didn't last long.
Because this route is seasonal, our advice is to keep an eye out for travel dates from June 2023 onwards. If (or hopefully, once) Qantas adds Perth-Rome flights back for next year, there might be a chance that reward seats for all the dates will drop at once. We post major reward seat updates on our Facebook page, and some of our followers have been successful in getting Business Class reward seats on the Sydney-Perth-Rome route!
Summing up
Given that this is a launch flight on a new high-profile route, I'm mindful that Qantas will be pulling out all the stops to ensure everyone has a great experience. I hope this high standard carries through the rest of the season.
But this is a Points Plane that anyone with Qantas Points can book. From the view of a paying passenger, I still rate the experience quite highly. I feel that 108,400 Qantas Points + $435 is an excellent price to pay for a 16+ hour Business Class experience that lands directly in continental Europe.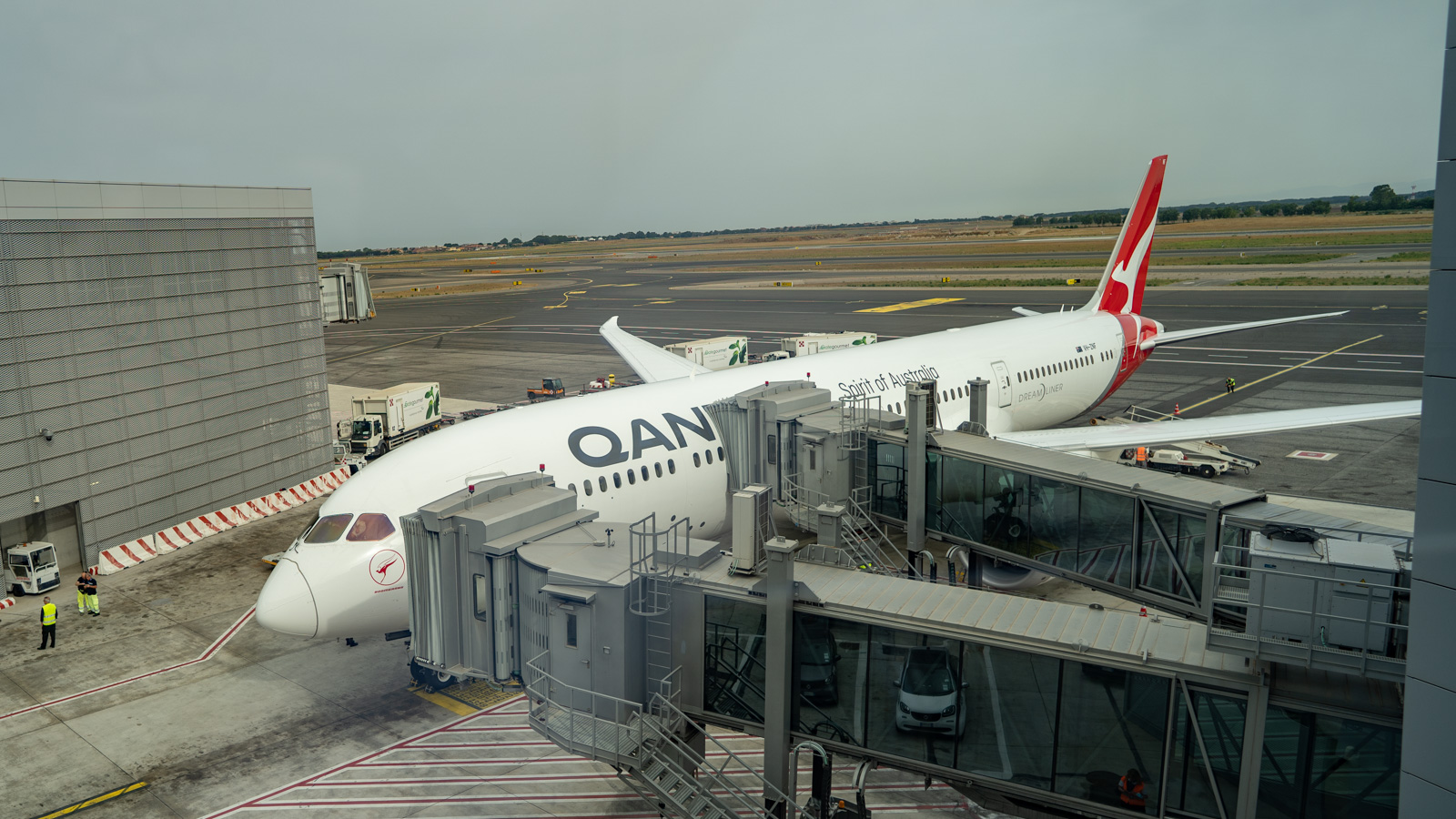 The Boeing 787 Business Class Suite is an excellent seat, with plenty of storage, space and functionality. Add Qantas' soft touches, and it's a very comfortable experience. The bedding is superb and the iconic PJs are ultra-comfortable.
Perhaps the onboard dining isn't quite as fancy as other competing Business Class products – Qatar Airways' extensive dine-on-demand menu springs to mind as a market leader. The Neil Perry dining certainly kept me sated during the flight, but there's always room for improvement and refinement. Those with larger appetites might not be fully satisfied.
But Qantas is clearly going for the 'wellbeing' angle here with lighter and healthier options. I have to say that it worked out quite well for me on this flight.
Circling back to points, Qantas seems to be making a habit of launching new routes with Points Planes. So if this happens again, I strongly recommend booking in Business Class right away. Nitpicking aside, it's a fun ride.
All photography by Brandon Loo, who travelled at Point Hacks' expense.
Flight Diary: Qantas Boeing 787 Business Class (Perth – Rome launch)
was last modified:
June 25th, 2022
by