Singapore Airlines' SQ256 flight is one of many daily flights that the carrier operates from Brisbane to Singapore. The timing of the flight is ideal if you've got an onward connection in the evening. And if you're staying in the Lion City, this daytime flight will have you touching down in Changi Airport with plenty of time to hit the town.
So if you're taking off from Brisbane with SQ256, here's what to look forward to.
SQ256 flight time
SQ256 departs Brisbane daily at 9:20 am with a scheduled arrival of 3:30 pm local time into Singapore's Changi Airport. The total flight time is just over eight hours.
If Singapore is your final destination, a mid-afternoon arrival will have you poised for a dinnertime reservation or a stroll through the hawker centres. Alternatively, if you're onward-bound, SQ256 connects with various destinations across Asia and Europe. For instance, you could hop over to Bangkok or Kuala Lumpur at 5:30 pm or 6:35 pm respectively with time for a quick refresh in one of Singapore Airlines' lounges. And with many of Singapore Airlines' flights bound for Europe departing after 11:00 pm, you'll have more than enough time to explore the wonders of The Jewel or hit up the pool at the Aerotel Singapore, Changi Airport before your connecting flight.
SQ256 aircraft type and seating
SQ256 is serviced by Singapore Airlines' medium-haul Airbus A350 with two cabin classes available.
Business Class on SQ256
Given that there's no First Class cabin on this flight (you'll only find that on Singapore Airlines' A380s), Business Class is your ticket to the pointy end. The 40 seats in Business Class are arranged in a 1-2-1 layout and split across two cabins separated by a galley. The smaller of the two cabins is behind the galley, with just 12 seats. All passengers can enjoy direct aisle access in Business Class.
Even though it's a daytime flight, you may want to catch up on some sleep – and that's where the spacious Business Class flatbeds come in handy. When you're not snoozing, you'll enjoy a generous seat width of 28 inches.
If you're travelling as a couple, keep an eye out for 'honeymoon seats' – two seats in the middle block that are side-by-side as opposed to seats next to the aisle. On SQ256, these are seats D and F in rows 11, 14, 16, 18, 19 and 21. And if you're flying solo and want a seat closest to the window, opt for seats A or K in rows 12, 15, 17 or 20.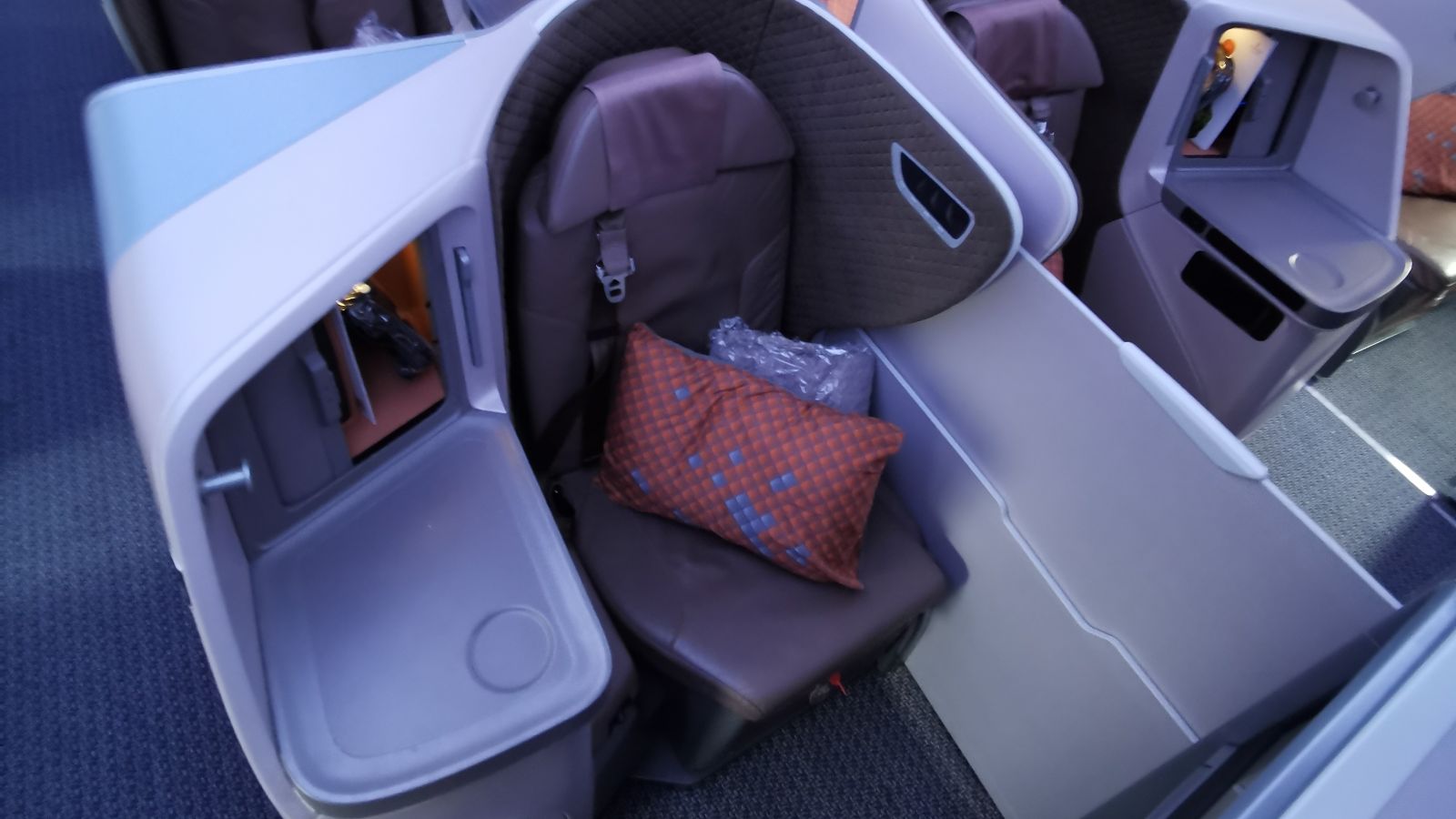 Economy Class on SQ256
SQ256 has 263 Economy Class seats arranged in a 3-3-3 layout and split over two cabins. These seats offer an 18-inch width and a pitch of 32 inches. If you're looking for extra legroom, choose any seat in rows 41 or 55, or opt for 56 A or K. On the other end of the spectrum, you'll want to avoid row 70 altogether. These seats have a limited recline and are adjacent to the bathrooms and galley, which lends itself to excessive foot traffic.
Lounge access when flying SQ256
Singapore Airlines SilverKris Lounge, Brisbane
Eligible departing passengers have access to Singapore Airlines' very own SilverKris Lounge in Brisbane. It's a small space, but it's fitted with all the pre-flight amenities you'll need. This includes an assortment of light bites and substantial feeds from the buffet, shower rooms and plenty of power points to charge your devices. The lounge is only open three hours prior to Singapore Airlines departures – for SQ256, that's 6:20 am.
Here's how you can gain access to the SilverKris Lounge:
Business Class passengers
Singapore Airlines KrisFlyer Gold members (+1 guest)
Other Star Alliance Gold frequent flyers (+1 guest)
Virgin Australia Velocity Gold, Platinum and Beyond members travelling in any class on a Singapore Airlines flight (+1 guest)
Holding Star Alliance Gold status is particularly handy if you travel with Star Alliance member airlines as you'll have access to over 1,000 airport lounges worldwide, including the SilverKris Lounge in Brisbane. If you're flying within the Star Alliance network regularly, you can fast-track your way to Gold with the HSBC Star Alliance Credit Card.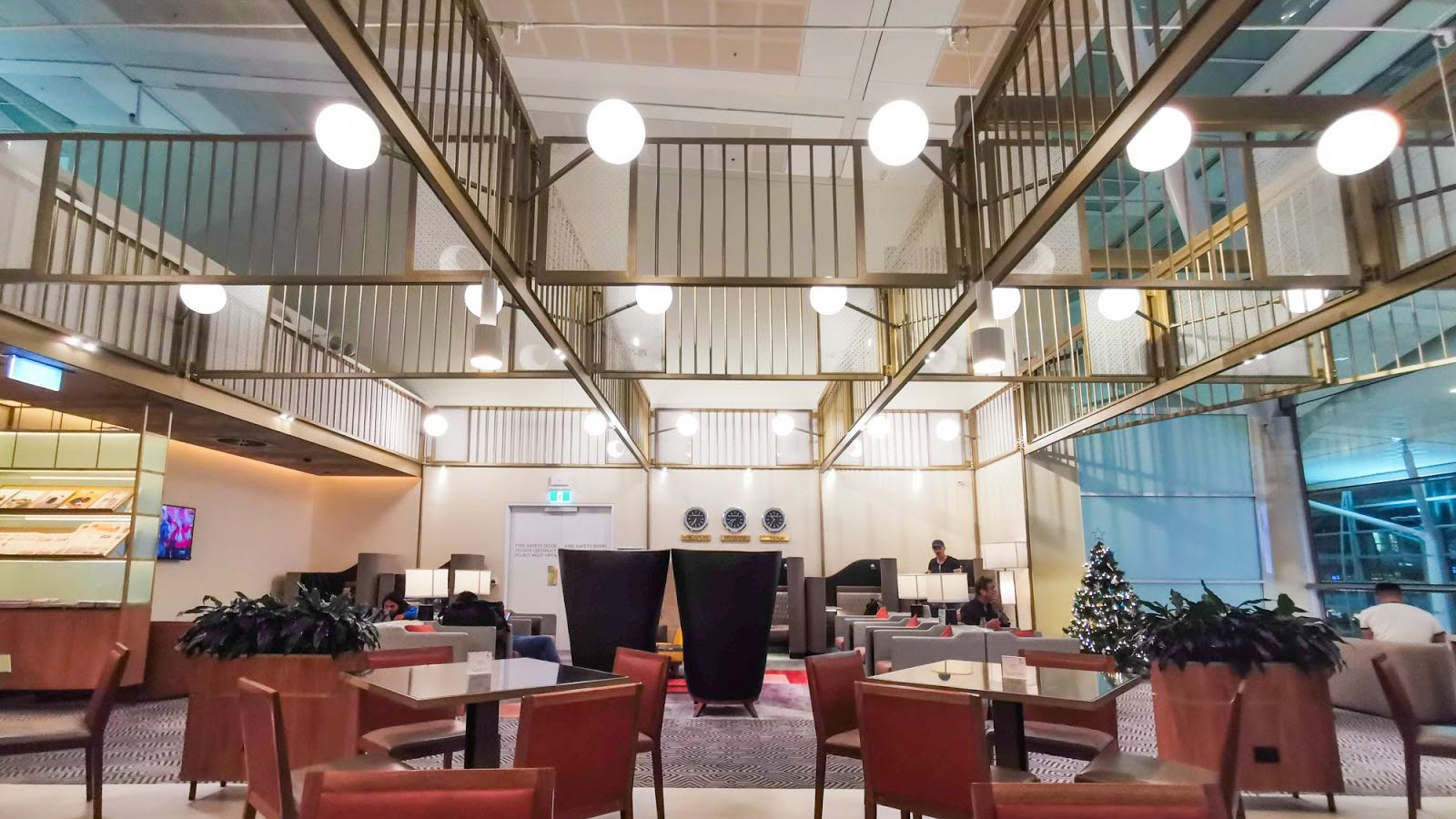 Booking SQ256 using points
With some KrisFlyer miles up your sleeve, you can book flights with Singapore Airlines. Here's how many you'll need to fly from Brisbane to Singapore.
| | | |
| --- | --- | --- |
| | Economy | Business |
| Brisbane to Singapore | 30,500 | 68,500 |
KrisFlyer miles required are per person, one way. Taxes, fees and charges are also payable and vary by route.
KrisFlyer miles are a valuable points currency to hold, and thankfully it's easy to earn KrisFlyer miles in Australia. Alternatively, Velocity Points can be transferred to KrisFlyer miles if you're a few miles short of a redemption. And if you've got a credit card that earns points with a flexible rewards program, you could also convert these to KrisFlyer miles. For instance, the Citi Premier credit card allows you to earn Citi reward Points that can be transferred to a number of partners including KrisFlyer.
Alternative flights
SQ256 is just one of the daily flights that operate from Brisbane to Singapore. Keep an eye out for these flight numbers if you've got alternate plans or can't find availability:
SQ236 on an Airbus A350, departing at 2:45 pm
SQ246 on an Airbus A350, departing at 11:50 pm
And if you're flying from elsewhere in Australia, here are some other routes operated by Singapore Airlines:
SQ278 – Adelaide to Singapore
SQ204 – Cairns to Singapore
SQ252 – Darwin to Singapore
SQ208, SQ218, SQ228, SQ238 and SQ248 – Melbourne to Singapore
SQ214, SQ216 and SQ224 – Perth to Singapore
SQ212, SQ222, SQ232 and SQ242 – Sydney to Singapore
Singapore Airlines' budget carrier Scoot also operates codeshare flights on some of the routes above. Flights operated by Singapore Airlines will begin with SQ followed by three digits, while Scoot-operated codeshare flights have a flight number beginning with SQ but followed by four digits instead.
For more ways to fly to Singapore from Australia, take a look at our guide on how to hack your way to Singapore with points.
Featured image: Duy Nguyen, Unsplash
FAQs
What type of plane is used for SQ256?
Singapore Airlines' flight SQ256 is serviced by an Airbus A350 with two cabin classes.
What time does SQ256 depart Brisbane?
SQ256 departs Brisbane daily at 9:20 am.
Does Singapore Airlines flight SQ256 have Premium Economy?
No, SQ256 only offers Business Class and Economy Class from Brisbane to Singapore.
How often does SQ256 fly?
SQ256 flies daily from Brisbane to Singapore.
What terminal does Singapore Airlines flight SQ256 arrive at Changi Airport?
SQ256 arrives at Terminal 3 of Singapore's Changi Airport, though this may be subject to change.
Singapore Airlines Flight SQ256 (Brisbane – Singapore)
was last modified:
October 10th, 2023
by