Fiji is a favourite for travellers from Australia. Just a four-hour flight from the east coast will land you in this tropical paradise, made up of over 300 islands. With so much to see and do, knowing where to stay and the different types of accommodation available in Fiji can help you plan your holiday.
And did you know that you can travel to Fiji for less by using Qantas Points or Velocity Points? Jet there with Qantas from just 18,000 points, or fly with Virgin from 17,800 points – plus fees and taxes. Cards like the Qantas American Express Ultimate or Westpac Altitude Qantas Platinum can give your points a boost, especially if you want to fly to Fiji in style on Fiji Airways' Business Class.
If you hold status with a hotel loyalty program in Australia, it's worth exploring properties in Fiji before you decide where to stay. Your membership may include additional perks like complimentary breakfast, late check-out or even a room upgrade.
So brush up on your language skills and get ready to say 'bula' to Fiji. Read on for our ultimate accommodation guide to create your dream Fiji trip.
Where to stay in Fiji: the best places for every traveller
Fiji's sprawling islands are busting with countless experiences to cater to every visitor. Natural landscapes, crystal-clear waters and friendly locals make up the nation's heart and soul. And with each area of Fiji boasting its own unique charm, you're sure to find somewhere that you'll love.
We'll cover everything you need to know about Fiji accommodation in our ultimate guide. Discover where to stay in Fiji for shopping, snorkelling and sightseeing, as well as the different types of accommodation in Fiji. There truly is something to suit every traveller in this South Pacific oasis.
Read on to learn about some of the most popular Fiji destinations to help you choose where to stay.
Where to stay in Fiji for first-timers: Nadi
If you're flying to Fiji from Australia, it's likely that Nadi will be your entry point. Located on Fiji's main island, Viti Levu, Nadi is the third largest city and one of the country's main tourist hubs. Just a 15-minute drive from the city centre, Nadi International Airport handles 96% of the country's passengers.
You can use Nadi as a gateway to Fiji's gorgeous islands, with many tours and transport options departing from here. However, it's also worth spending some time in the area to find your bearings before you set off to explore Fiji.
Nadi is home to many of Fiji's major attractions, making it a great area to stay in during your trip. The Garden of the Sleeping Giant covers over two hectares and showcases more than 30 types of orchids. You'll also find the southern hemisphere's largest Hindu temple, Sri Siva Subramaniya Temple, on the outskirts of Nadi. Top off your stay with a visit to Fiji's Culture Village to watch indigenous performances and learn about the local way of life. First-timers will love the array of activities in Nadi as an introduction to the diversity of Fiji.
Nadi accommodation
Given its proximity to the airport, there are plenty of hotels in Nadi that are suitable for a layover or a longer trip. Many accommodation options in Nadi are reasonably priced, and you'll find plenty of global brands to choose from. Nadi is also a favourite destination for backpackers, with hostels lining the beachfront and along the town's main road. For the budget-conscious, you can spend a night in Nadi for the cost of a pub meal.
While Nadi is brimming with tourists and landmarks, it's difficult to gauge the natural features of Fiji in this busy town. Get your bearings, then venture beyond Nadi to discover the lush green landscape around Viti Levu.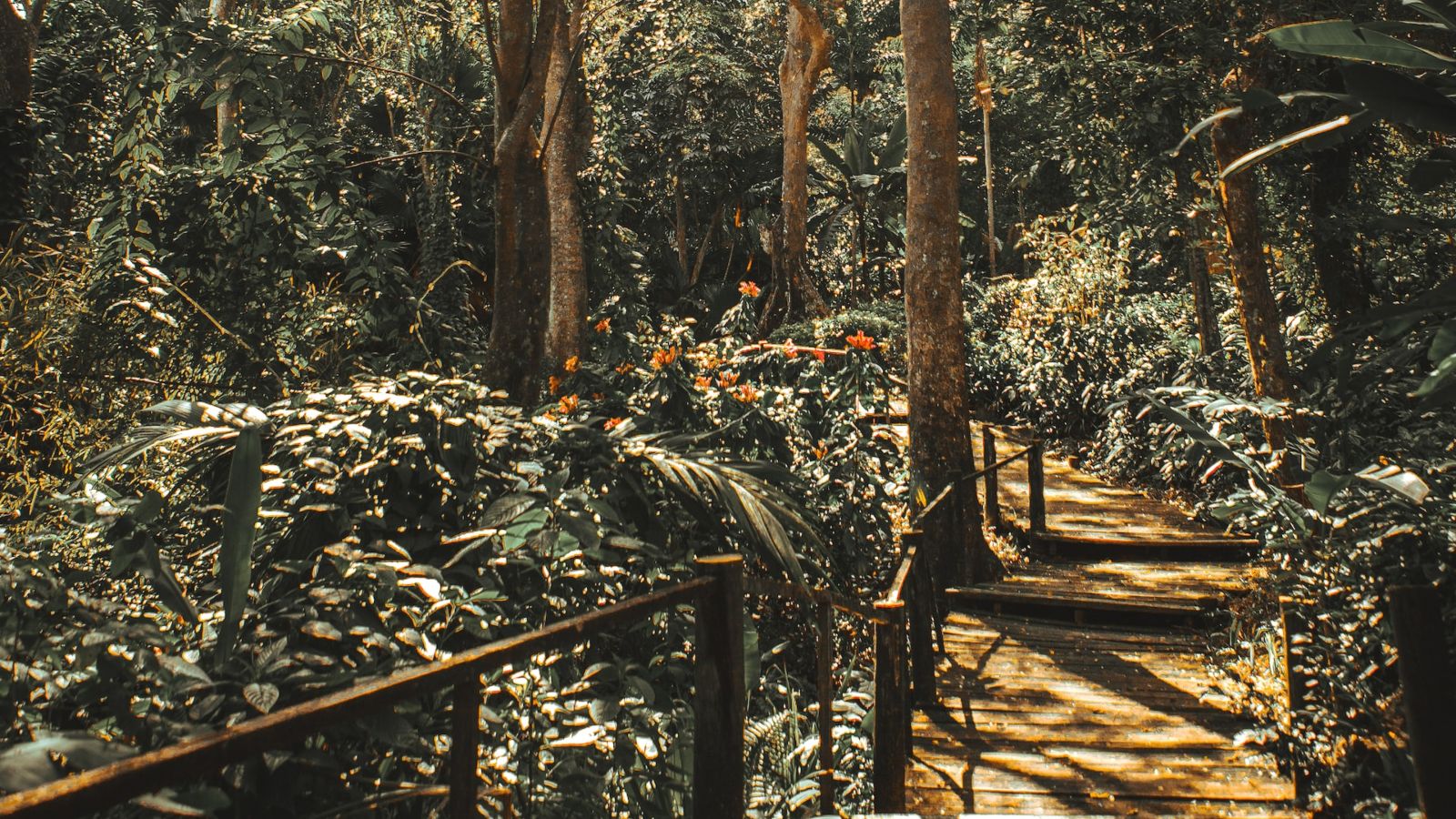 Where to stay in Fiji for shopping: Suva
Suva is the capital of Fiji and the country's largest metropolitan city. As soon as you emerge from Nausori International Airport you'll be met with a modern city atmosphere. Towering apartment blocks and office buildings line the busy streets, while locals dart in and out of shops. The city is Fiji's political and economic hub, and you'll find plenty of government buildings, including the president's official residence.
Shop 'til you drop in Suva. With plenty of affordable shopping options, you'll find an array of clothing, accessories, local crafts and more. Suva Municipal Market sells plenty of fresh produce, and you can pick up a freshly-squeezed juice to quench your thirst while exploring. History buffs will love the Fiji Museum, where you can learn about the history and cultural evolution through various attractions.
Suva accommodation
Like any large metropolis, you'll find a mixture of accommodation in Suva to suit all budgets. Three-star hotels in the city centre are just as common as five-star luxury hotels from top brands. Many hotels have rooms and facilities to cater to families, while couples can enjoy the high-end hotels on offer. There are even Airbnbs to book in Suva, with private room options that are ideal for solo travellers.
If you're travelling to Fiji, it's unlikely that you'll want to stay in a big city. There are certainly things to do in Suva, but the real charm of Fiji is in its less dense areas. Trade in the car horns and pedestrian traffic for a cool cocktail and sand between your toes.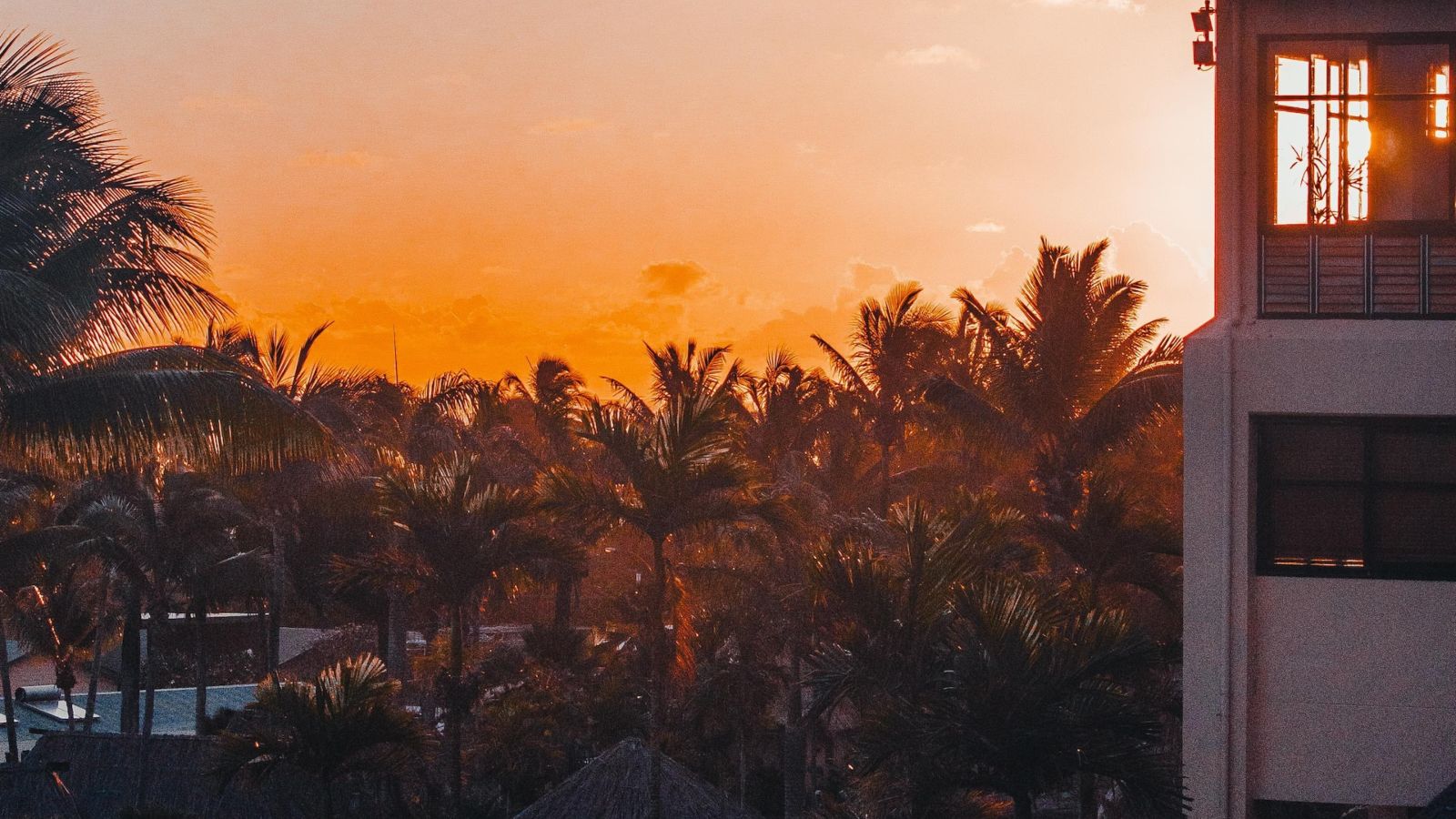 Where to stay in Fiji for nightlife: Denarau
Denarau is located a short drive from Nadi, but the area feels vastly different. Port Denarau is the main access point for boats and ferries conducting tours from Nadi. It's also home to private berths for yachts and catamarans.
Staying in Denarau is a great base for island hopping and day trips. Snorkelling and scuba diving tours depart from Denarau, as well as whale and dolphin spotting tours. Plenty of operators also offer jet skiing, kayaking and stand-up paddle boarding.
The area around Denarau boasts an upscale selection of restaurants, bars and shops. Pop into any of the resorts along the coast and you'll be met with stunning ocean views. Many bars in Denarau offer happy hour – but since you're on Fiji time, there's no need to rush. Once you've filled up at any of the seafood restaurants or steakhouses, you can relax with plenty of live entertainment in Denarau to see you through the night.
Denarau accommodation
Denarau is the perfect place to lap up island luxury. The area is home to some of Fiji's most stunning resorts, including the Sofitel Fiji Resort & Spa. Many properties give you direct beach access, so you can go from breakfast in bed to a cocktail on the sand in moments. There are plenty of family-friendly resorts offering activities for kids, as well as romantic couples' resorts for a more quiet getaway. While it's possible to find some hotels and resorts on the more affordable end of the scale, Denarau's accommodation options are well worth the splurge.
Denarau is great for tourists, which may be a downside for some. The area is filled with amenities aimed at visitors, with little light shed on local life. And budget travellers will find more options in nearby Nadi. If you're looking for true island vibes sans the resort boundaries, jump on a boat from Port Denarau to discover the natural landscape of Fiji.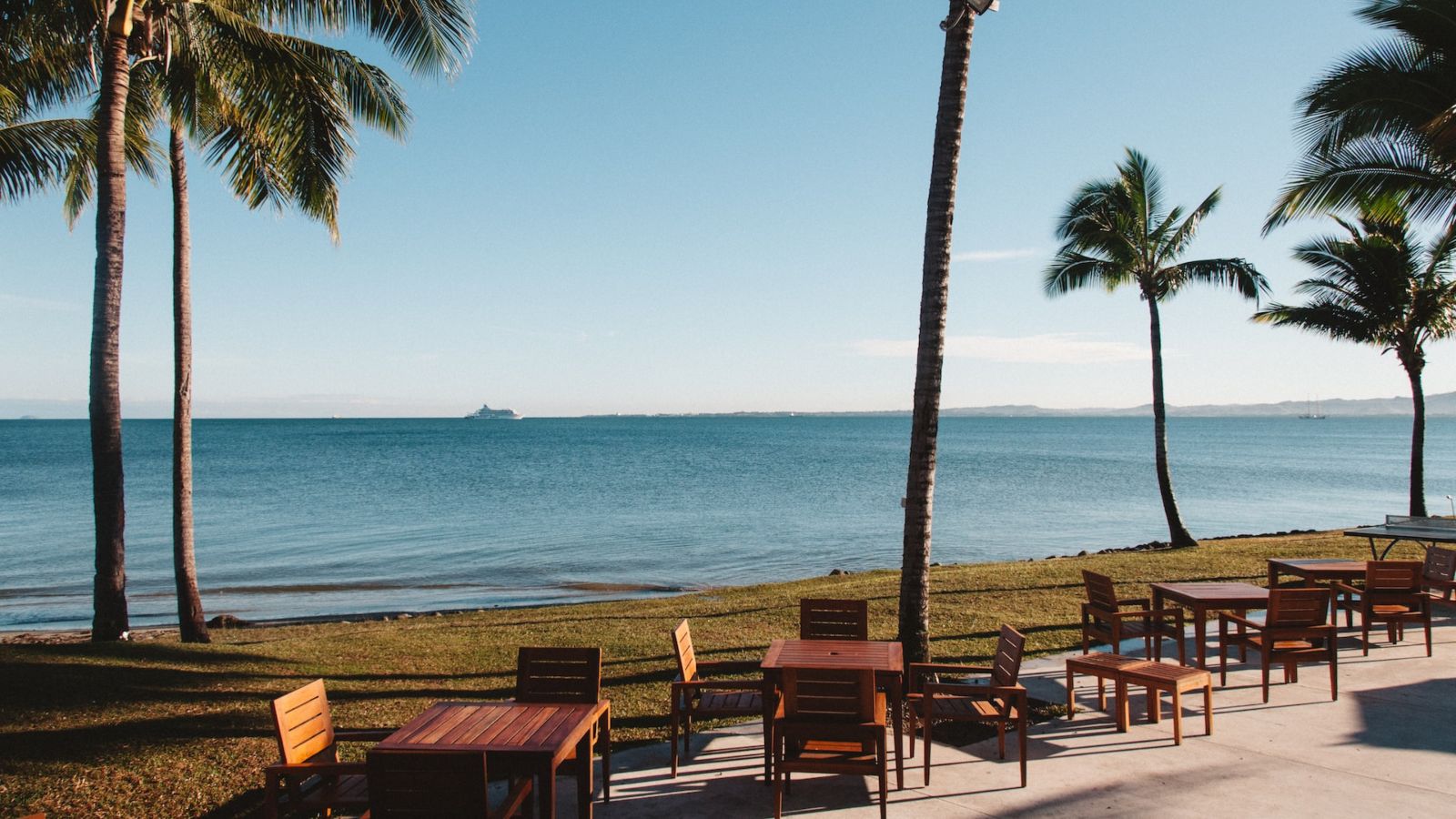 Where to stay in Fiji for beaches: Yasawa Islands
Dreaming of an island paradise? You'll find it in Yasawa Islands. Accessible by plane or boat from Viti Levu, you'll find some of Fiji's best beaches here. Although it's well known among visitors, the Yasawa Islands are noticeably quieter than many of Fiji's larger areas.
Without the distractions of busy roads and bustling bars, you can soak up the serenity of the Yasawa Islands. White sand beaches are in abundance, complemented by lush greenery and clear blue waters. Nature lovers and ocean fiends will find plenty to love, with hiking and diving both popular things to do in the Yasawa Islands. And even if you don't fall into any of those categories, you'll appreciate the choice of activities, including cooking lessons, craft classes and beachfront massages.
Yasawa Islands accommodation
All-inclusive luxury resorts are one the most popular accommodation options in the Yasawa Islands. You don't need to venture far to experience the best of Fiji, with many resorts in Yasawa Islands offering a comprehensive program for guests. Experience a kava ceremony, engage in authentic cultural activities or go on an organised diving or snorkelling tour. And if you're celebrating a special occasion, some accommodation providers in Yasawa Islands offer couples' packages, so it's worth enquiring before your stay.
The Yasawa Islands are a secluded paradise. However, this is reflected in the cost of food and services, which is often more expensive than on Fiji's main island. The quality of resort restaurants is excellent, but once you've exhausted all the options, there's not much to satisfy adventurous eaters beyond the property. If you're looking for more flexibility beyond an all-inclusive package, other areas of Fiji will give you the opportunity to roam at your leisure.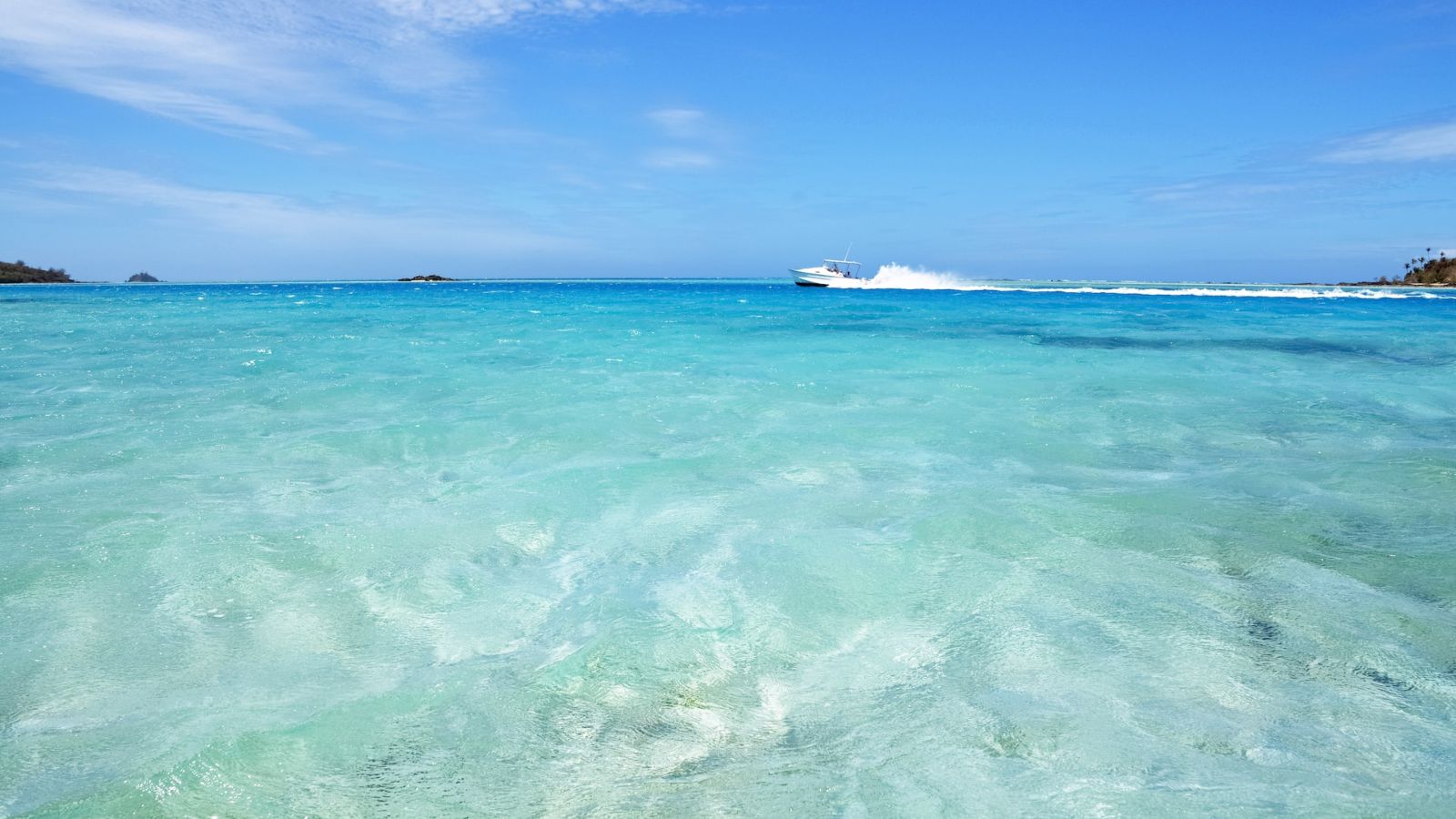 Where to stay in Fiji for snorkelling: Coral Coast
Fiji is known for being the 'soft coral capital' of the world, and there's no better place to see it for yourself than on the Coral Coast. Over 80km of crisp, white sand stretches along the south of Viti Levu, between Sigatoka and Suva. It's well worth the one to two-hour drive from Nadi to reach some of Fiji's most unspoilt beaches.
Transparent waters provide perfect visibility for exploring the Coral Coast. Here you'll find a vibrant collection of coral that is home to over 1,500 marine species – many of which can be spotted during Fiji's dry season. If you're undertaking your PADI certification, booking accommodation in the Coral Coast gives you easy access to the ocean to complete your training. Many resorts on the Coral Coast offer kayaking or snorkelling equipment hire, or you can go on a family-friendly snorkelling tour. With so much to explore, the Coral Coast is one of the best places in Fiji for marine enthusiasts.
Prefer to stay above the water? You can scale (or simply admire) the Coral Coast's sand dunes, reaching heights of up to 60 metres. Dubbed one of Fiji's natural wonders, the Sigatoka Sand Dunes cover over 650 acres. The adjoining park houses various plant and bird species, both native and introduced, as well as reptiles, butterflies and fruit bats.
Coral Coast accommodation
Accommodation on Fiji's Coral Coast is incredibly good value, given that it's one of the best places to stay in Fiji with kids. Hotels on the Coral Coast offer plenty of water-based activities, and you'll find quality restaurants on-site. The Coral Coast can be done as a day trip from Nadi, but it's worth booking accommodation overnight to make the most of your visit.
A trip to Fiji's Coral Coast will make you feel like your stresses are far away. However, restaurants and shops are also far away from this coastal escape. If you're looking to indulge in a spot of retail therapy, you won't find much to satisfy along the Coral Coast. Don your goggles and take to the water, or choose accommodation in another area of Fiji if you prefer to be out and about.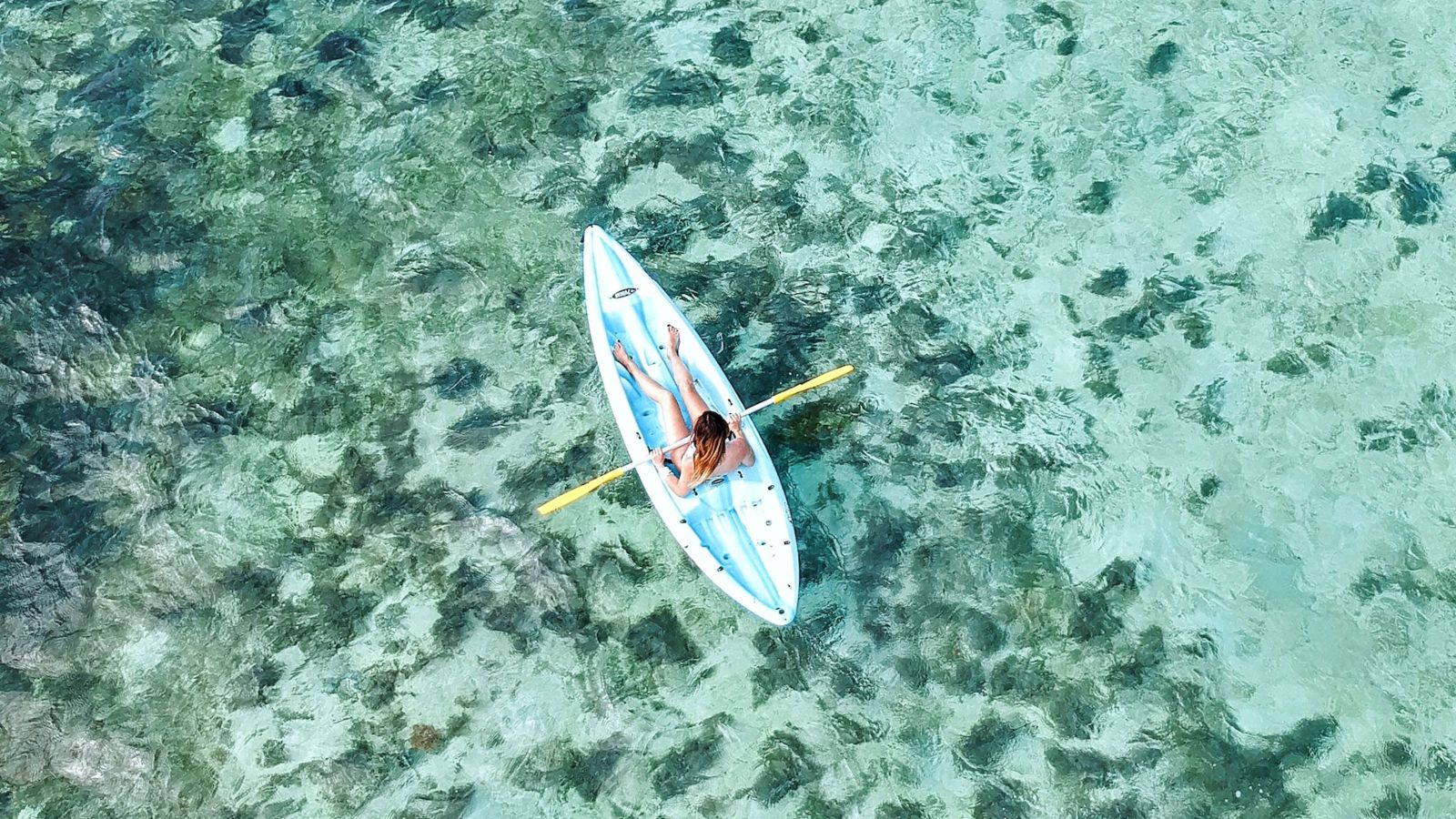 Where to stay: the types of Fiji accommodation to choose from
Once you've decided on the best area to stay in Fiji, the next step is choosing your accommodation. There are plenty of ways to enjoy Fiji's islands, and selecting the right stay can enhance your experience. Check out the different types of accommodation you can book in Fiji for your next holiday.
Fiji hotels: familiar comforts
For many travellers, a hotel is their first choice when it comes to accommodation. What's not to love about breakfast in bed, a pillow menu and an on-site bar for a cheeky nightcap? And in the event that you're on a late flight arriving in Fiji, a 24-hour reception is strongly welcomed.
Hotels in Fiji tick all the boxes when it comes to comfort – sometimes even literally. Most are equipped with air conditioning, or you can head to the hotel pool to cool down in Fiji's warm weather. Some hotels in Fiji even offer direct access to a private pocket of the beach. And when you book a hotel, you'll enjoy a superior level of service thanks to the warmth of Fijian hospitality.
Scattered across Fiji's islands are the world's biggest hotel brands. You'll find budget-friendly hotel accommodation, as well as ultra-luxurious options for a magical getaway. Deals can even be found by signing up to a hotel loyalty program like Accor Live Limitless, Marriott Bonvoy or IHG One Rewards to earn and redeem points on your booking.
When it comes to accommodation options in Fiji, hotels are just one of many. While they're a familiar go-to, there are other ways to maximise your Fiji holiday. It's not every day that you can embrace the island lifestyle, after all. Some may prefer to save the junior suite for their next city break and explore the selection of unique island stays instead.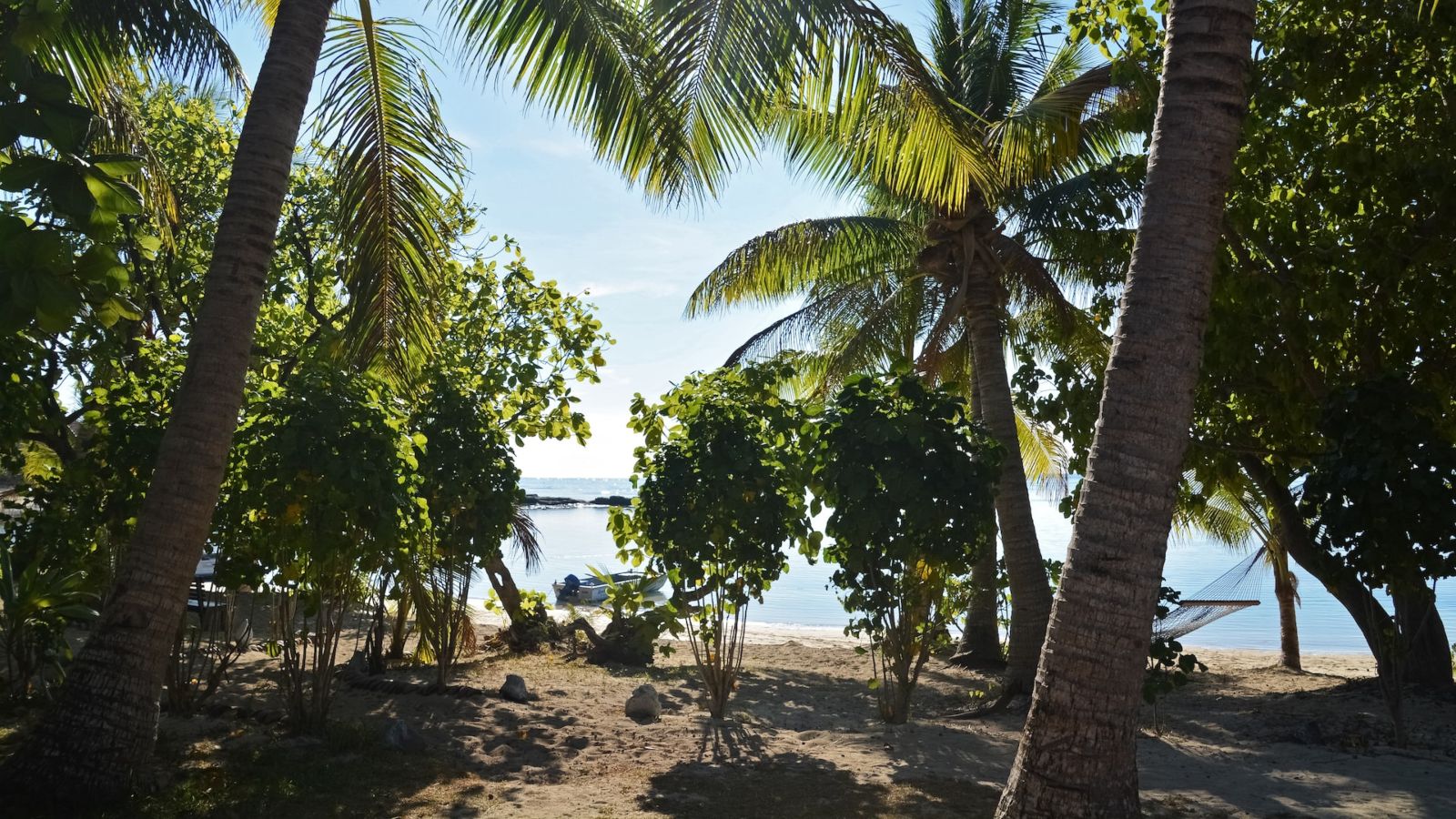 Fiji resorts: an all-inclusive escapade
If you're planning a Fiji holiday with kids, it's important that there's plenty of entertainment and activities on offer. Thankfully, many Fiji resorts have you covered with family-friendly programs to keep even the fussiest little ones entertained. Cooking classes, craft activities and sporting competitions are on the agenda, in addition to playgrounds, paddle pools and games rooms. And they've even kept parents in mind, with many family-friendly Fiji resorts offering babysitting services to provide some much-needed downtime.
A Fiji resort holiday isn't limited to families, though. Many properties are tailored for a romantic retreat, offering in-room massages, spa treatments and upscale dining options. In fact, resorts are a popular choice for couples visiting Fiji on a honeymoon. Enquire with your chosen resort to find out what honeymoon packages are available – some include a bottle of wine, a dinner on-site or even a pamper session. For a truly all-inclusive experience without having to venture far, choose a resort in Fiji that offers nightly entertainment or day tours.
The convenience of an all-inclusive Fiji resort holiday may come at a cost, though. More often than not, you can organise your own tours and activities at a fraction of the cost. And with all the essentials close by, you may miss out on discovering all that Fiji has to offer outside of the resort. Savour the resort life, but be sure to explore beyond the property.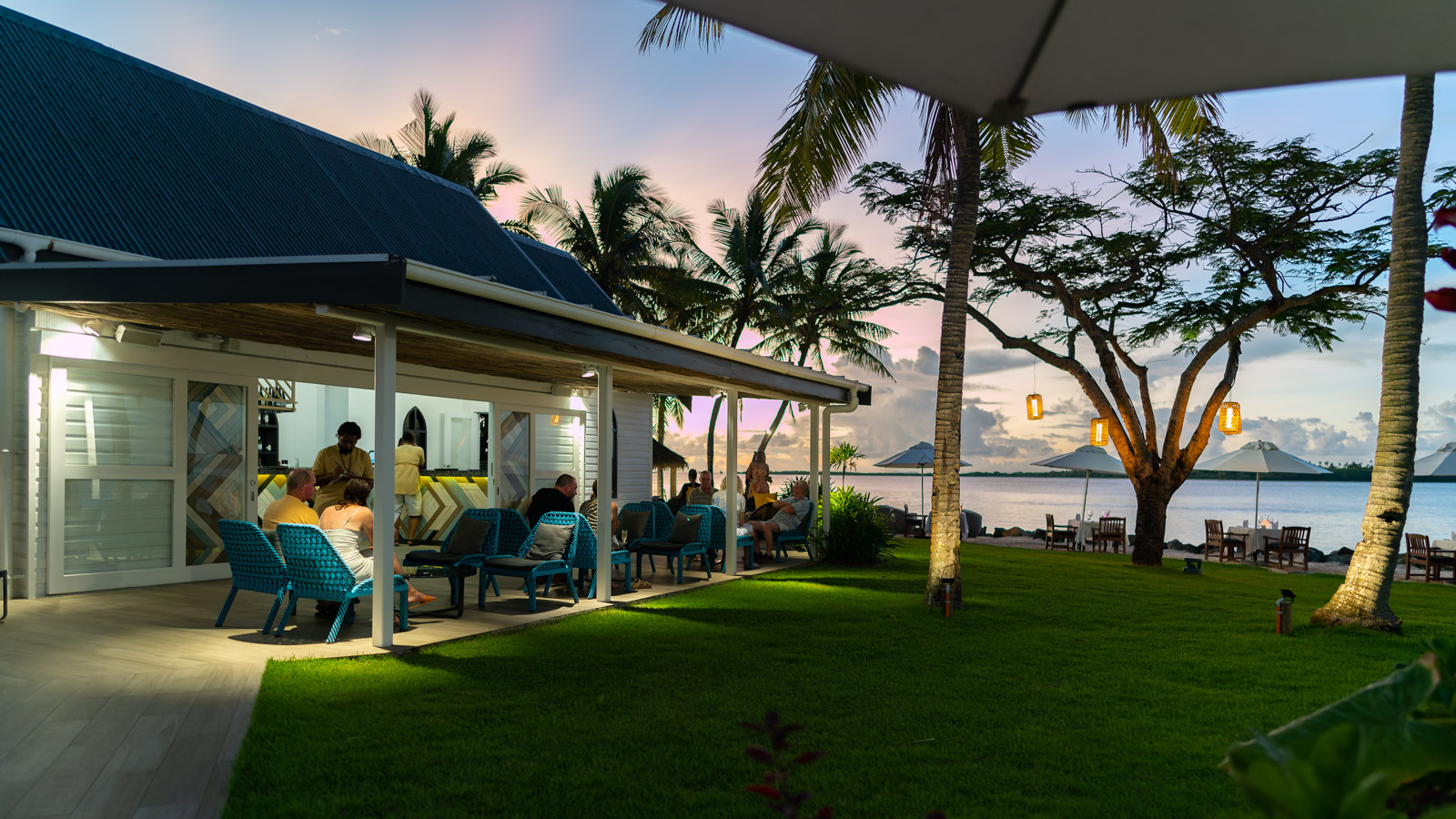 Fiji Airbnbs: live like a local
There's no better way to learn about a culture than by immersing yourself in it. And that includes booking accommodation in Fiji that allows you to experience the local life. Airbnbs are fast becoming a popular choice for accommodation in Fiji. Not only do they provide spectacular views and a personalised experience, but you can find some truly unique stays. Think eco villas in a rainforest, sleeping in a treetop hideaway, or even staying in an Airbnb in a rural village in Fiji. And there's no need to just book one – why not mix up your stay by booking a few different Airbnbs in Fiji?
If you're heading to Fiji as a group or family, Airbnbs are a great solution for keeping your companions close. It's often cheaper to book a single Airbnb property – with multiple bedrooms and communal spaces – than it is to book several rooms at a hotel. There's ample room for private downtime when required, but you can also connect with your group without the distractions of other hotel guests.
Airbnbs in Fiji aren't equipped with all the amenities you'll find at hotels and resorts, such as bars, restaurants or even a spa. If you consider yourself a social butterfly, you'll have to venture outside the property to meet new people – it won't be as easy as ducking down to the adjacent hotel cafe. Flexibility is a huge drawcard of Airbnbs, allowing you to tailor your Fiji trip to your liking. However, if you prefer to relax and have your itinerary taken care of, an all-inclusive resort may be better suited.
Although they're great for groups, it's important to keep in mind Airbnb's global ban on parties, which took effect in August 2020. All Airbnb bookings automatically include Airbnb's AirCover for the safety of each guest.
Get more out of your stay when you book an Airbnb through Qantas. You'll receive 500 bonus Qantas Points on your first Airbnb booking, plus earn one Qantas Point per $1 spent.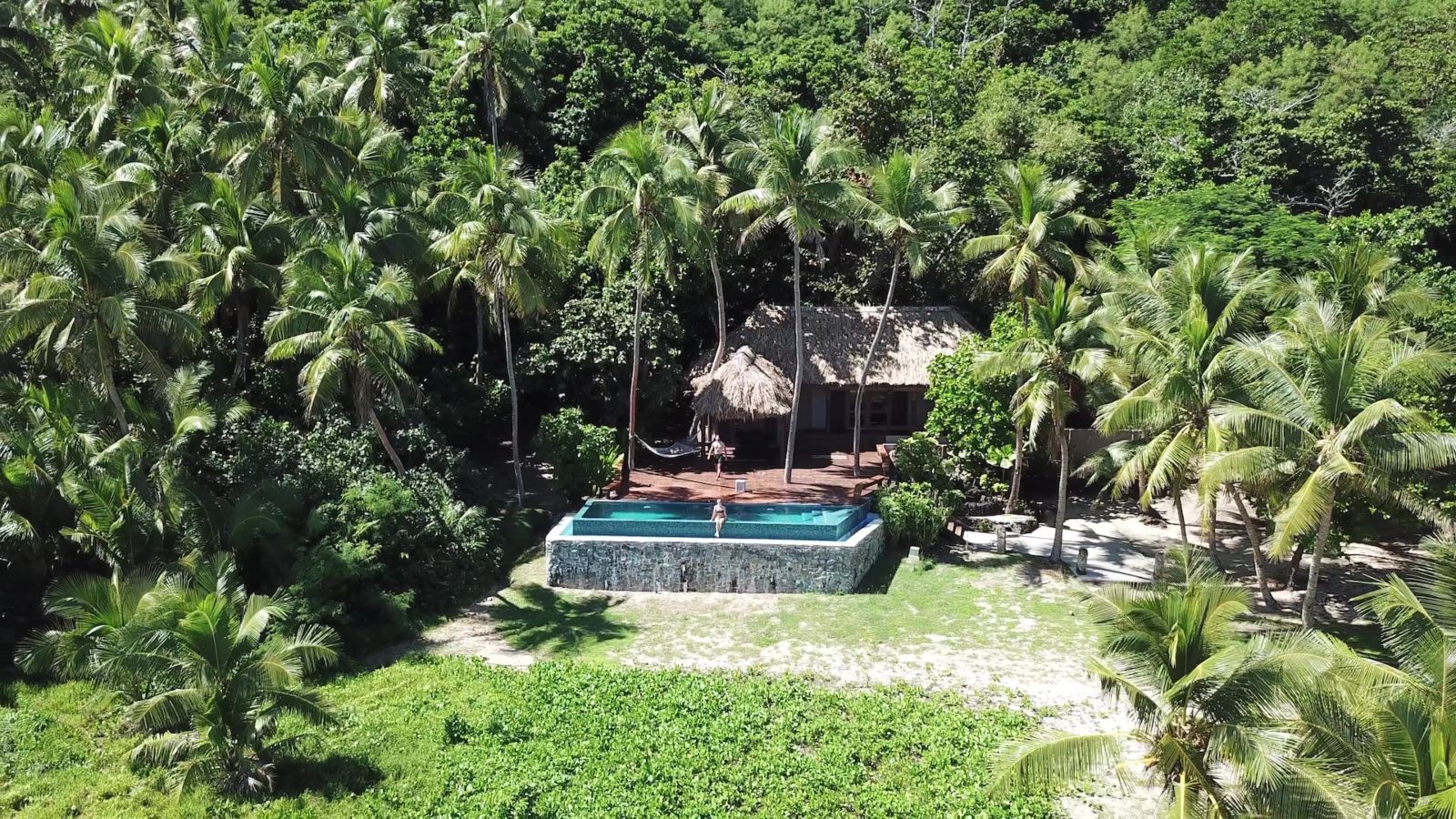 Fiji hostels: budget-friendly accommodation
Fiji is an excellent destination for solo travellers. Not only is it safe and easy to navigate, but there are plenty of accommodation options for those travelling alone. Hostels are scattered across Fiji's main island of Viti Levu, and you'll also find plenty in the Yasawa Islands.
Many hostels in Fiji offer exclusive programs for their guests. Jump on a mini-bus for a day trip, or partake in an evening kava ceremony. There are also movie nights, table tennis tournaments and quiz nights, as well as wellness activities and walking tours. If you love making new friends on your travels, there are plenty of opportunities to connect with others when you book a hostel in Fiji.
You'll save on accommodation costs with communal spaces in hostels like kitchens and bathrooms. If you prefer your own space, some Fiji backpackers hostels offer ensuite rooms so you can still enjoy the social perks at your leisure.
The little luxuries – like turn-down service and a fully-stocked minibar – won't be found at backpackers' accommodation in Fiji. Affordability is the priority, and you can save a few dollars by forgoing some creature comforts. If you're travelling as a family and need access to a wide selection of amenities and entertainment, it may be worth forking out the extra and booking an all-inclusive resort for your Fiji holiday instead.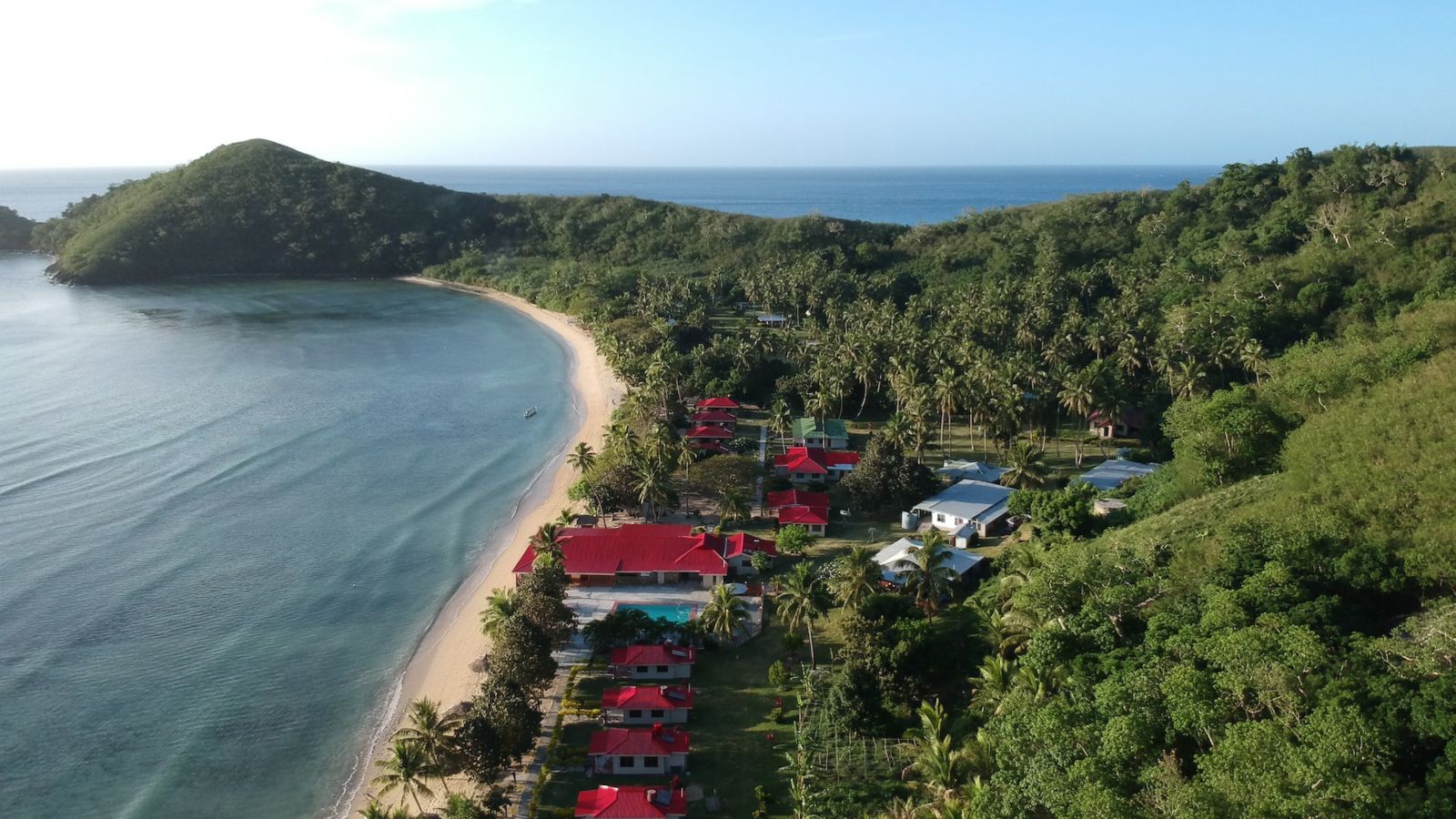 Plan your Fiji holiday today
Found your dream accommodation in Fiji? It's easy to fly from Australia to Fiji, so you can start crossing off your bucket list sooner.
Qantas, Fiji Airways, Virgin Australia and Jetstar offer direct routes from Fiji to Australia. And you can even enjoy a comfortable flight with Fiji Airways A330 Business Class.
Check out all of our Fiji travel guides for our top tips for your next Fiji holiday.
Featured image: Savir C, Unsplash
Your ultimate guide to Fiji accommodation: where to stay
was last modified:
August 24th, 2023
by