Wandering down the pathways of the lush gardens, the air misty and heavy after an overnight shower, you could be forgiven for thinking you were in a jungle. But then you catch a glimpse of the turquoise pool and the thatched roof of the spa. This is the Sofitel Fiji Resort & Spa, set among all the action on Denarau Island.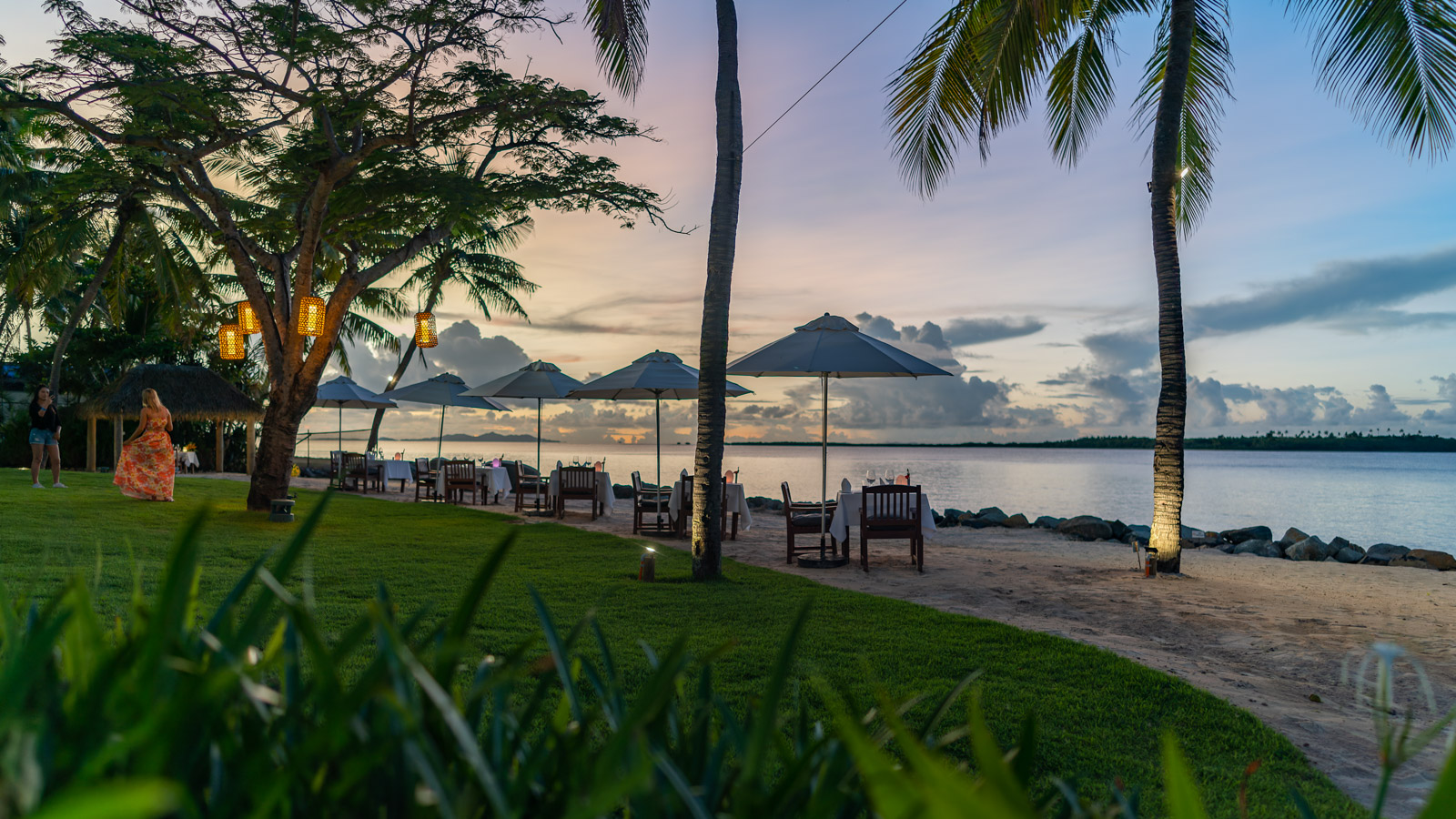 Denarau Island isn't a true island as such – it was painstakingly created from reclaimed mangrove swamps in the late 1960s. But now, it's a bustling tourist destination and marina, home to a centrepiece 18-hole golf course and many big-name resorts.
The Sofitel Fiji Resort & Spa is one such example and a popular one at that. During my stay, I speak to Michael Bell, Director of Sales & Marketing at the hotel. He tells me the property is as popular for business travellers looking to host a conference, as it is with families and couples looking for a luxe getaway.
Here's my take on this 5-star resort, from the comforts of a Luxury Oceanside room – with Beach Club Plus Access – to all the dining and activities on offer.
Hotel location and first impressions
The Sofitel, and Denarau Island in general, are the closest resorts to Nadi International Airport. It's a 25-minute drive away. This makes Sofitel a top pick for business travellers and those who want a relaxed stay without long airport transfers.
Denarau Island Marina is also where many inter-island tours and transfers depart, including a snorkelling trip I'm taking the following day.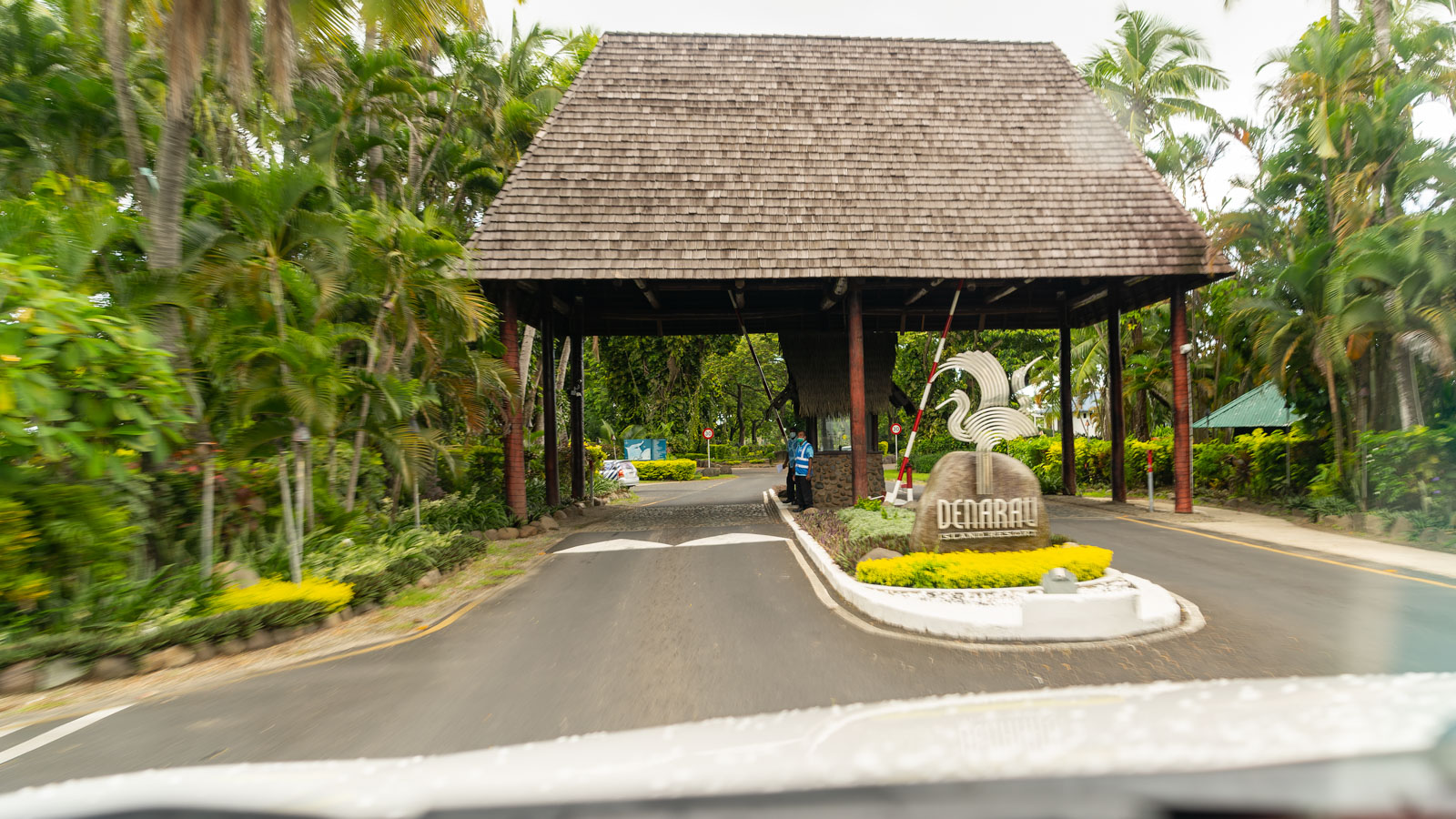 I land at Nadi in the evening, after an excellent flight from Melbourne in Fiji Airways Airbus A330 Business Class. As I leave the airport, the dark clouds are threatening to break loose. By the time I arrive at the Sofitel, it's bucketing down.
Checking-in
At the main reception, the staff address me by name the moment I step out of the car. It's almost like magic. After a friendly round of 'Bula', they tell me that my room comes with Waitui Beach Club access. That means I get to complete my check-in at the club reception, on the adults-only side of the resort.
What follows is a frenetic (but expertly-piloted) buggy ride through the rain.
Thankfully, the private beach club check-in experience is far calmer. I'm warmly greeted by Solo and offered a welcome drink – a tasty orange mocktail – while he checks in another couple. Soon, I'm issued my keys and a map of the resort, before being dropped off at my room nearby.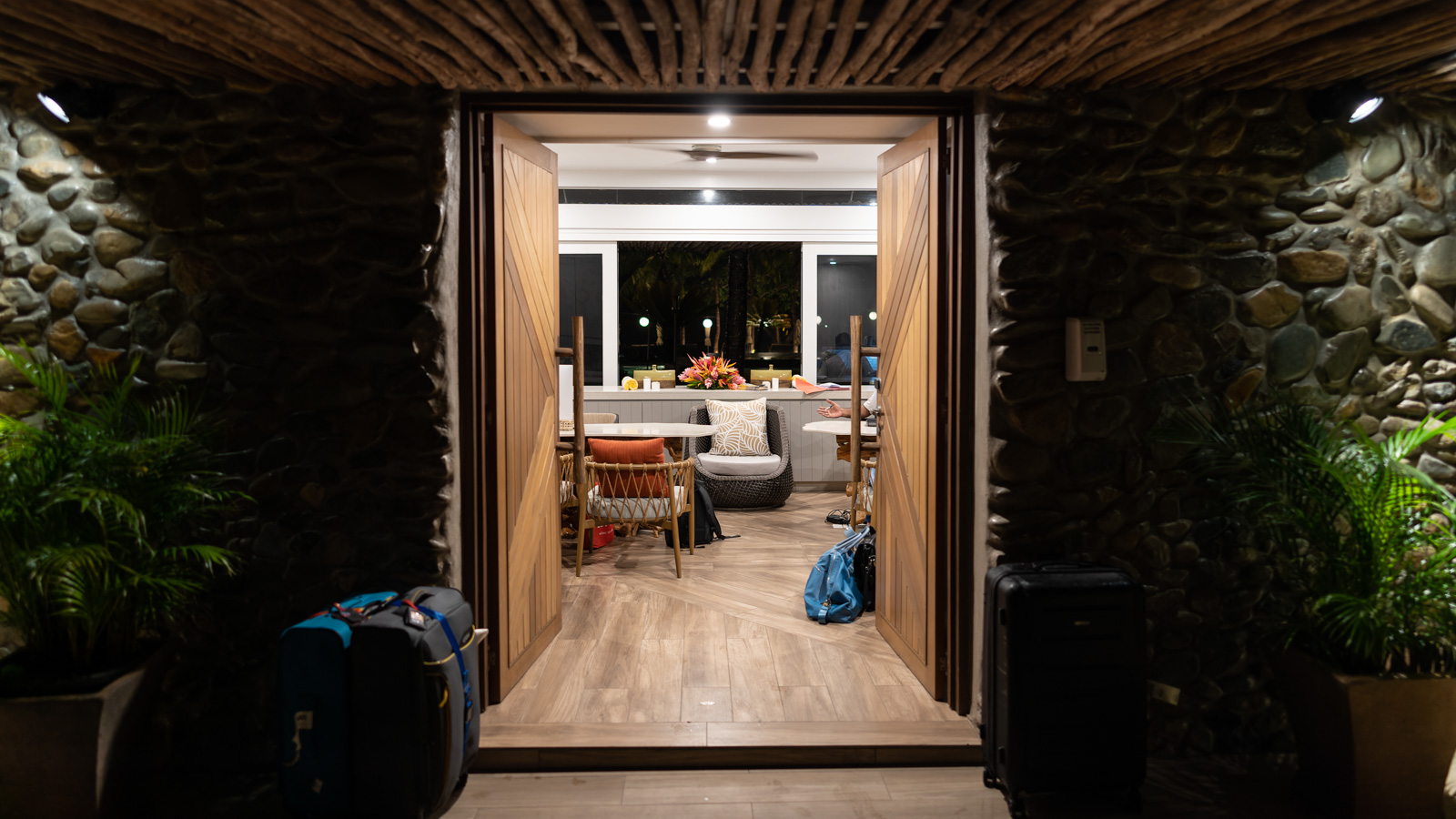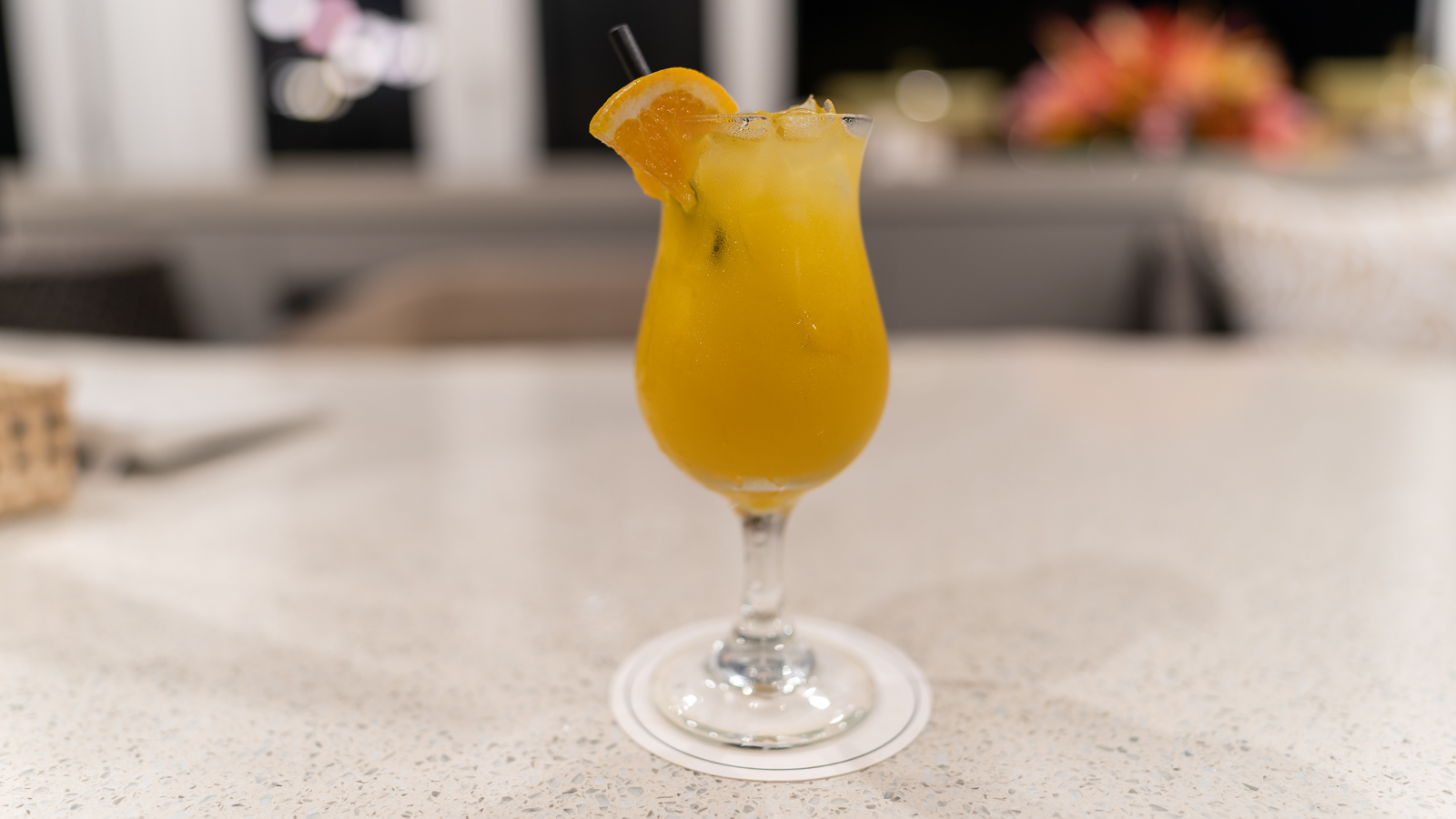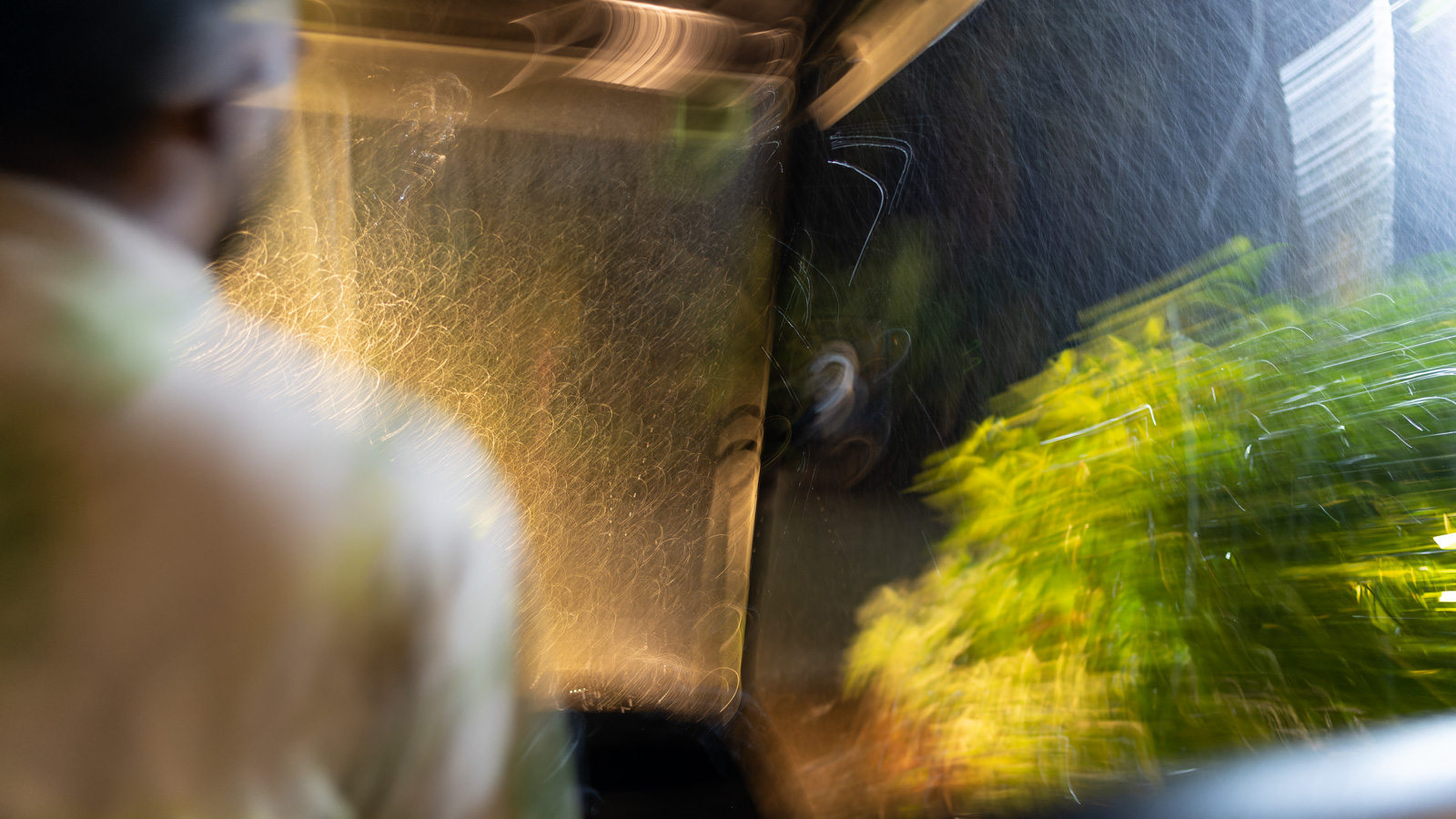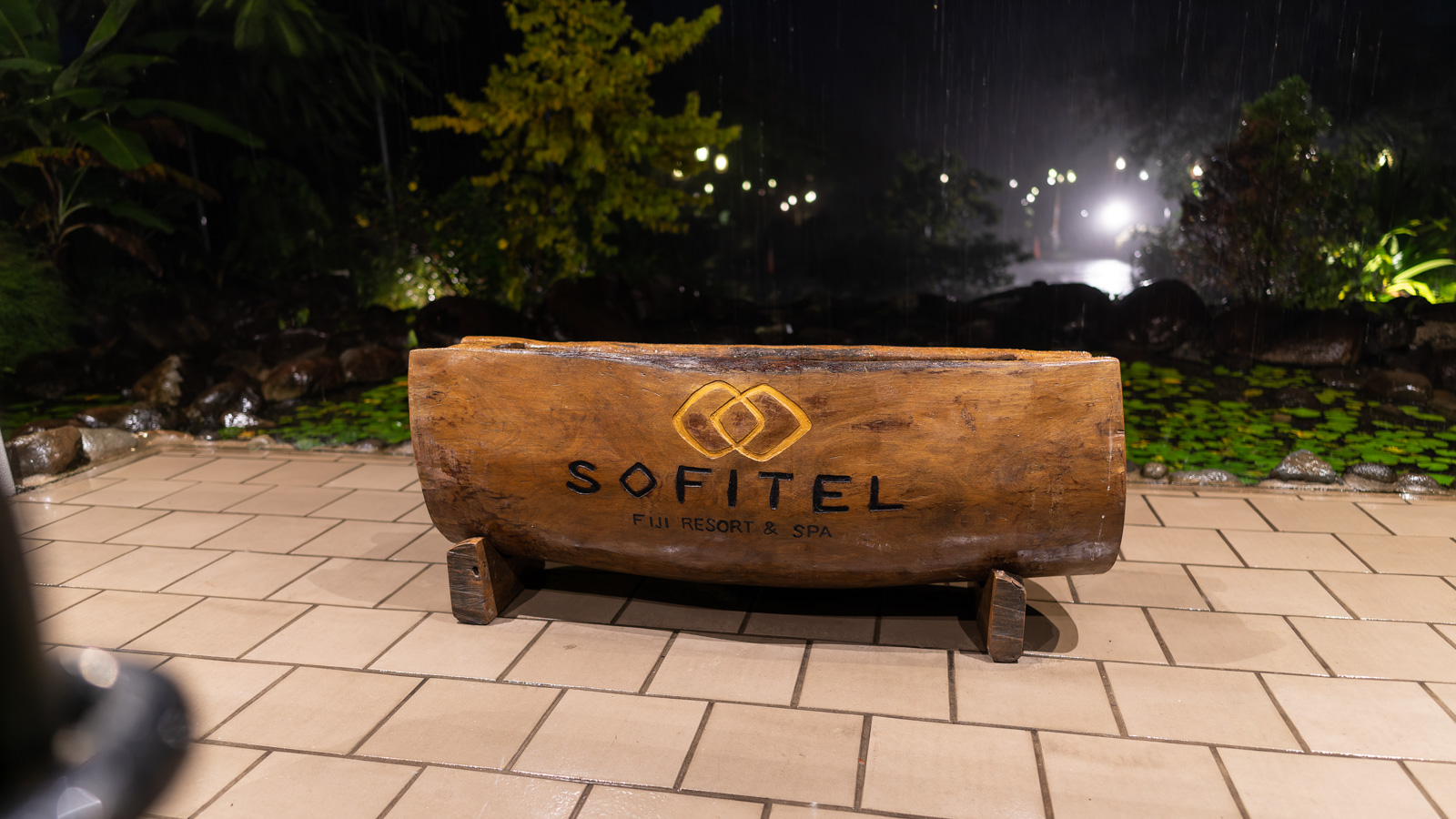 The Sofitel Fiji has two separate accommodation buildings – one on the left and one on the right, with the central lobby, shops and some restaurants in the middle.
Both are broadly similar, being three levels high and with three separate wings forming a 'T' shape. The left building is on the adults-only side of the result, near the Waitui Beach Club pool, and that's where I'm staying.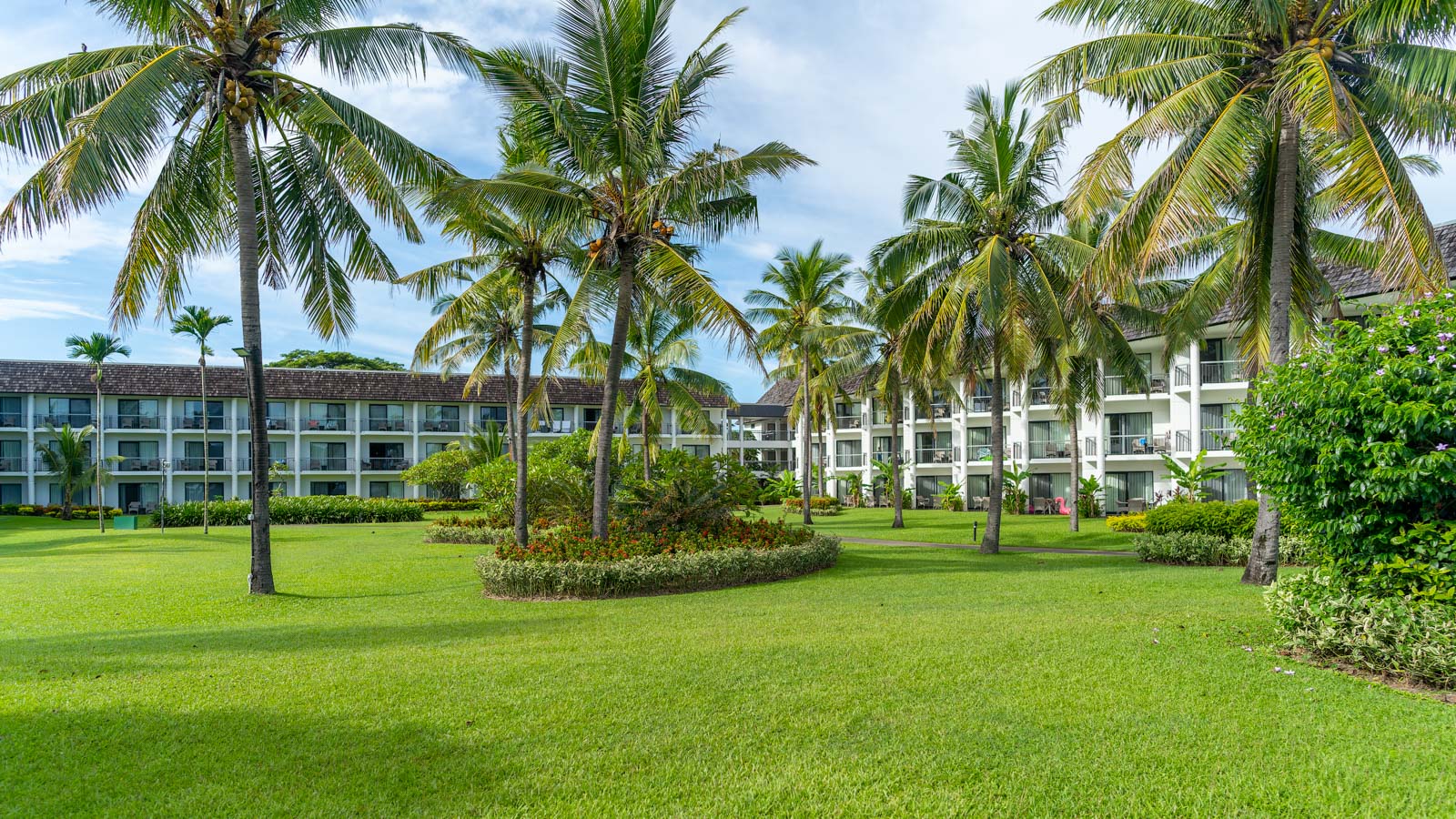 Sofitel Fiji Luxury Oceanside Room
The main space
All the Luxury rooms at Sofitel are tagged as 'Oceanside', though that might not be the best description. I've got a good view of the ocean, but I'm certainly not right in front of it. Still, the 35 sqm rooms are beautifully designed, with fresh LED mood and accent lighting throughout.
I especially love the feature circular mirror which commands the eye. A large bottle of water is provided, which you can refill at a filtered water station outside. It's a great eco-friendly initiative.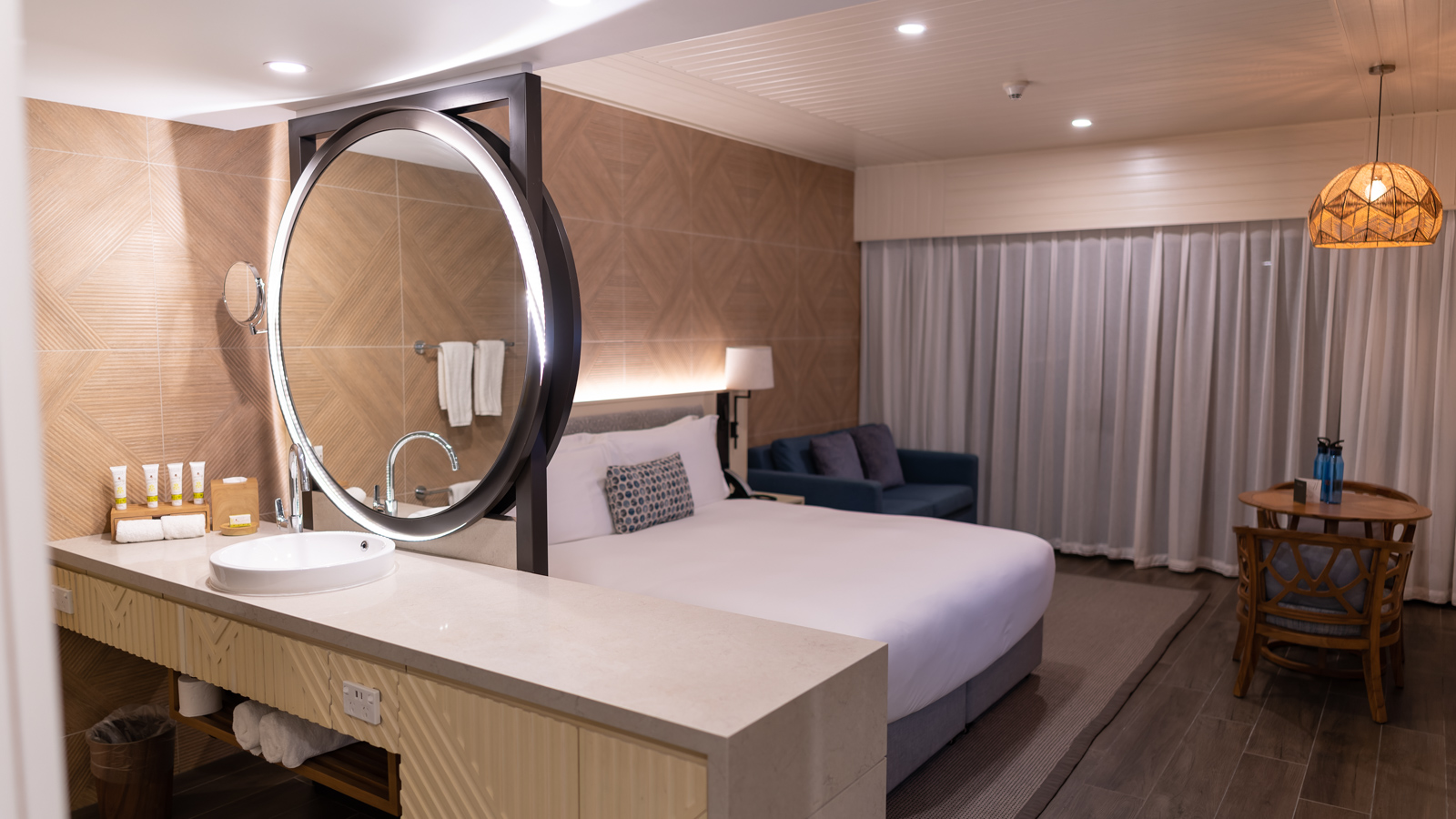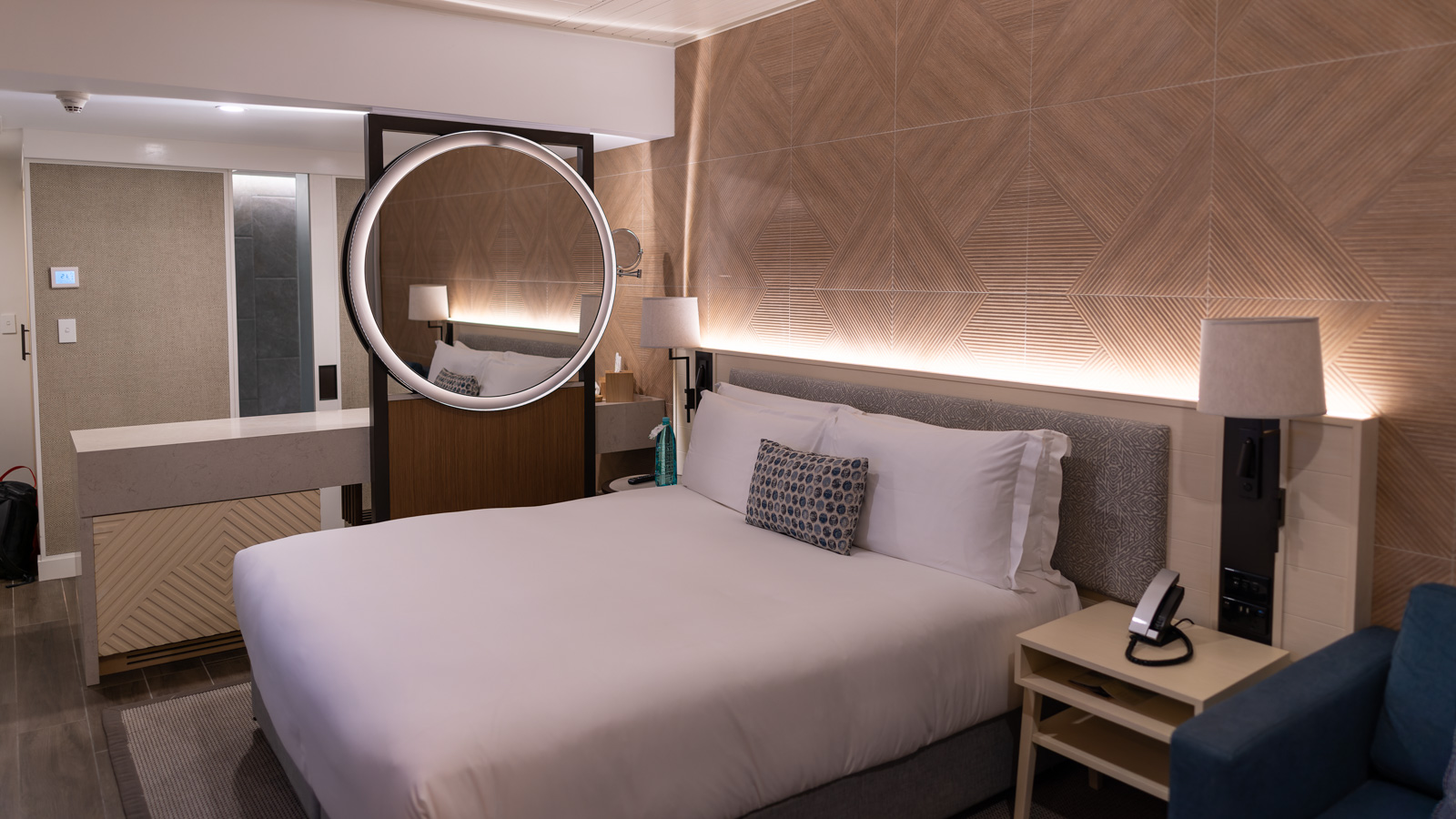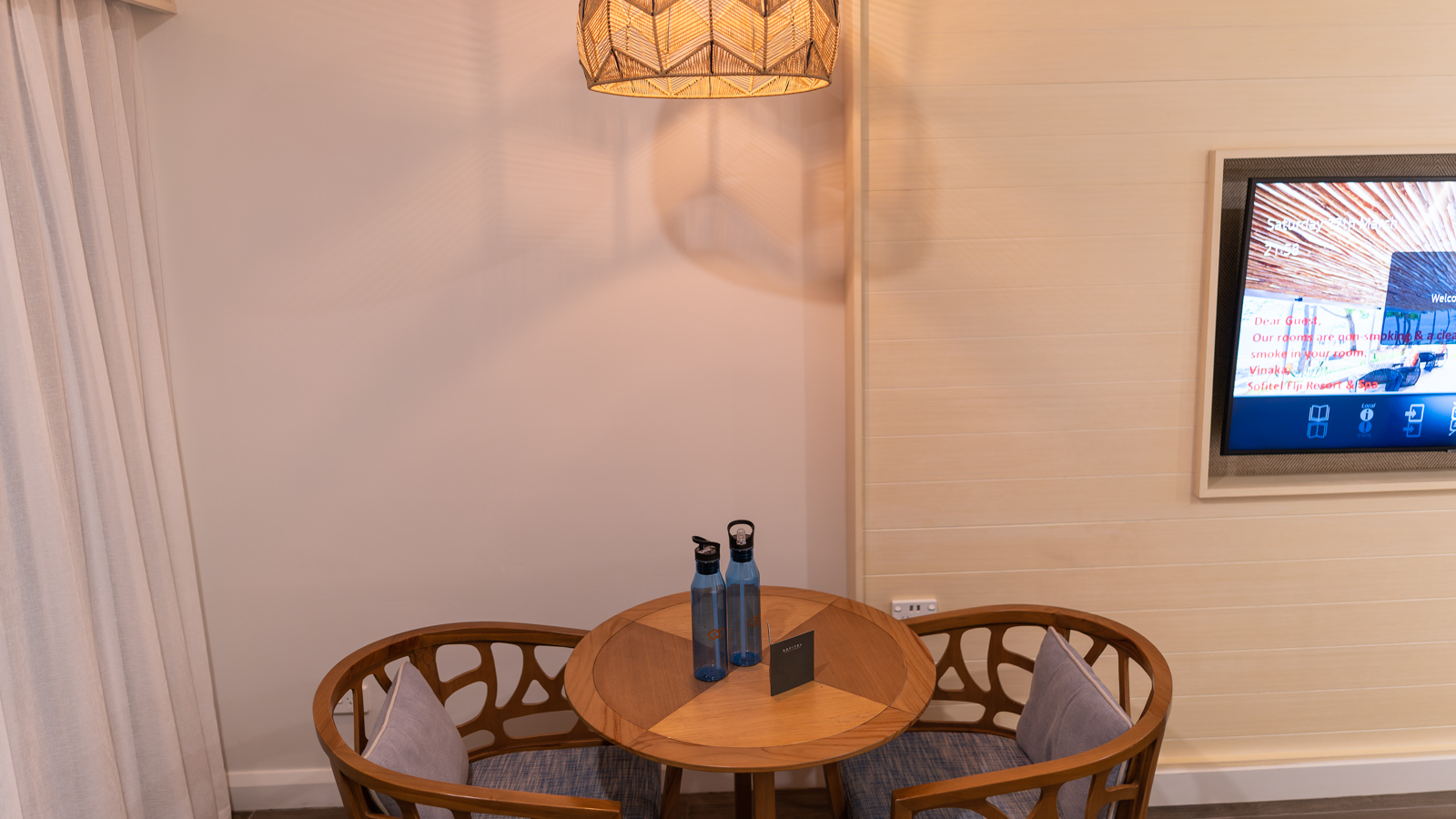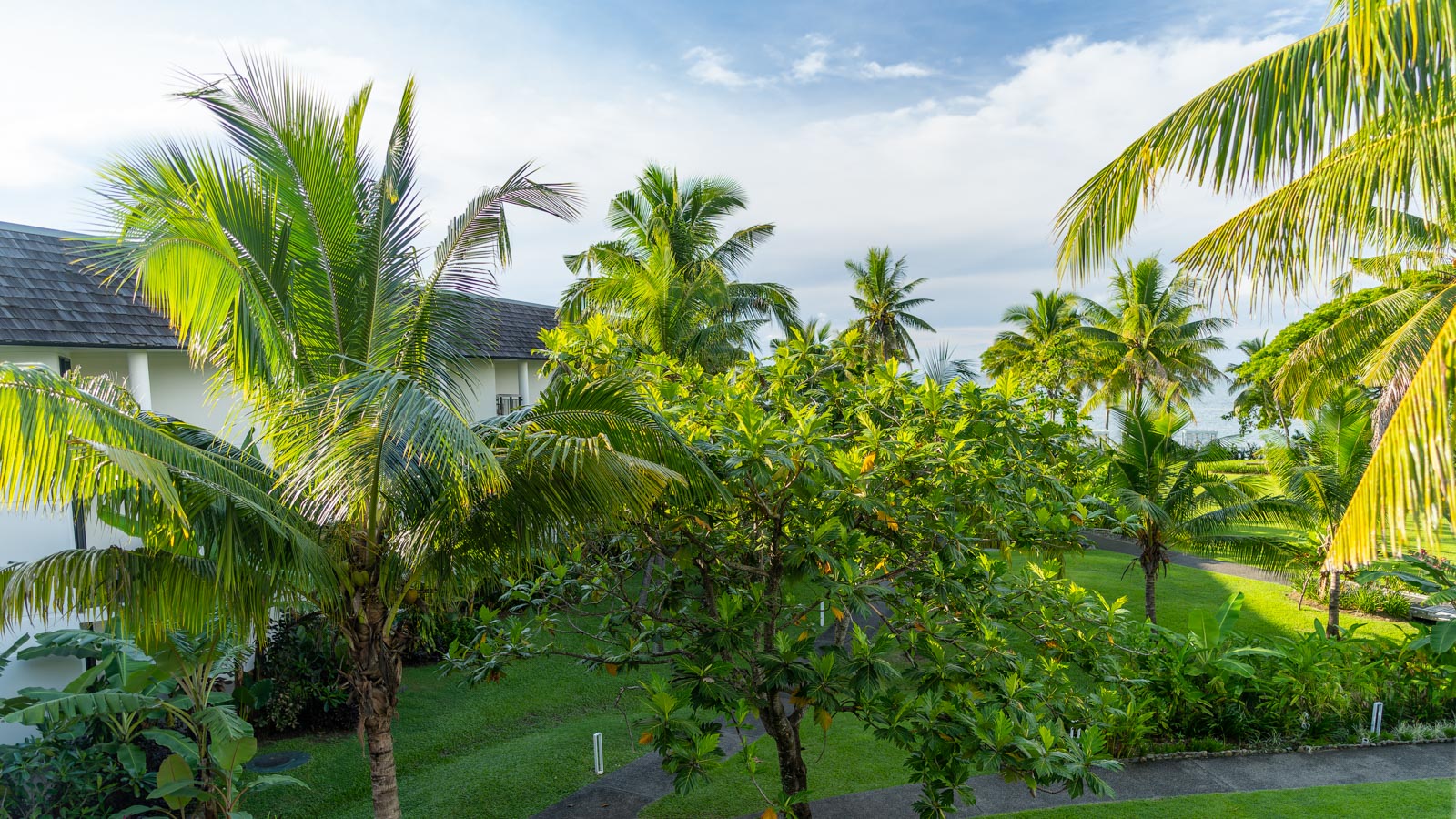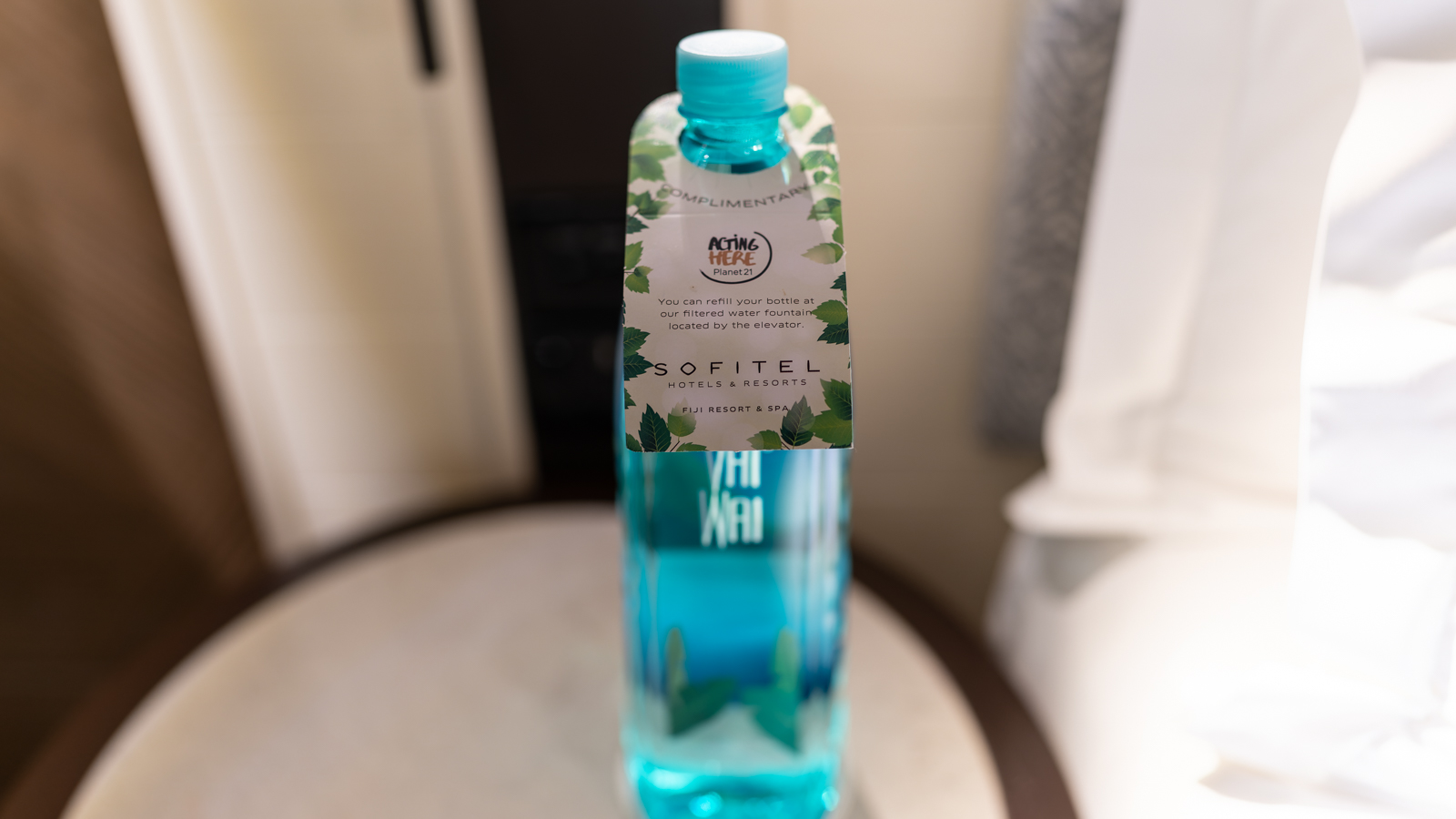 The bed is up to Sofitel standards, but it's the pillows that take the crown. They're supremely comfortable and ridiculously oversized – I'd happily take them back with me if it wasn't, you know, stealing.
The minibar
In Luxury rooms, the minibar is complimentary and replenished daily. Enjoy a range of soft drinks, snacks, and cans of Fiji Gold and Fiji Bitter beer. I'm able to help myself to tea and instant coffee as well.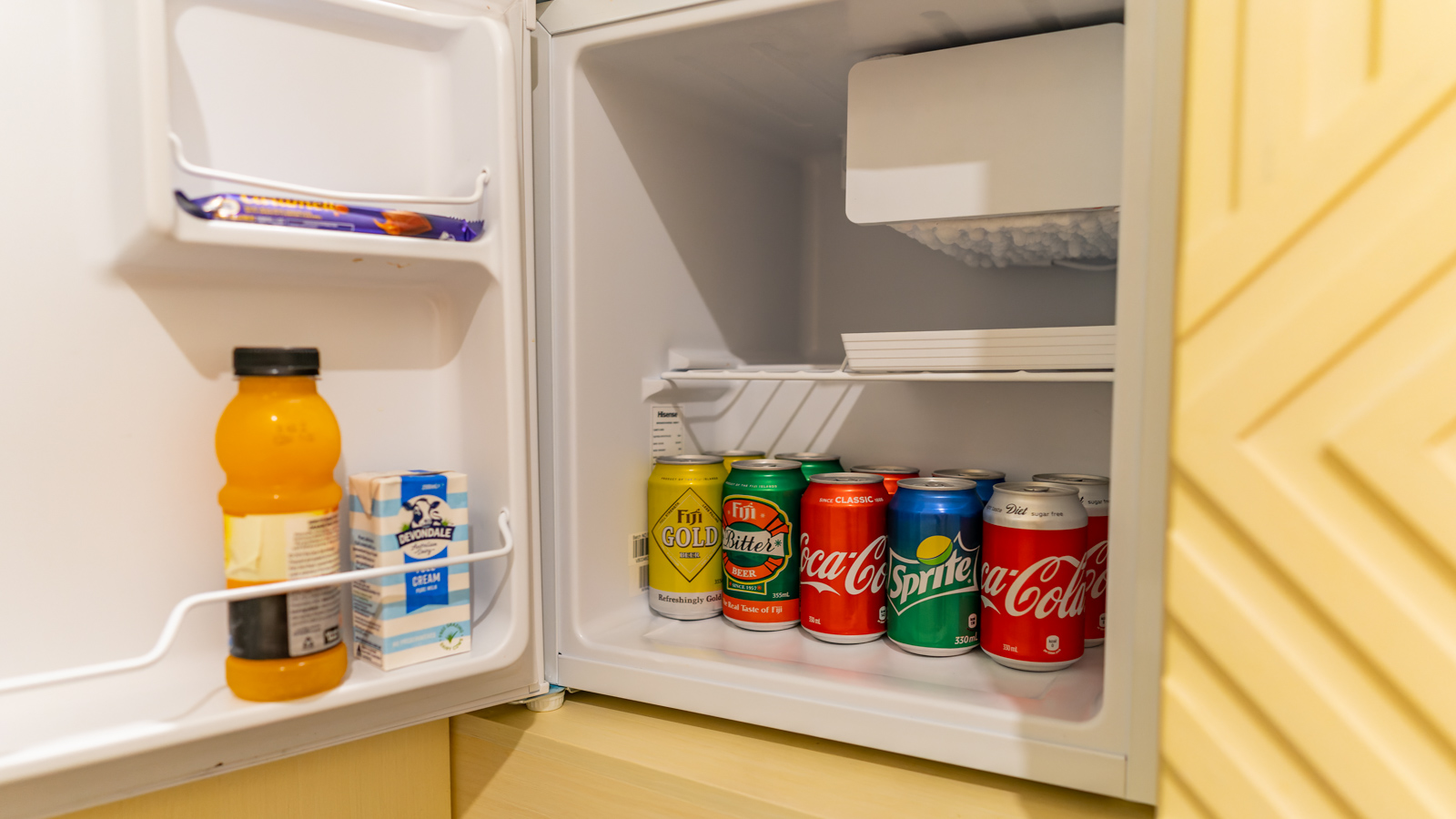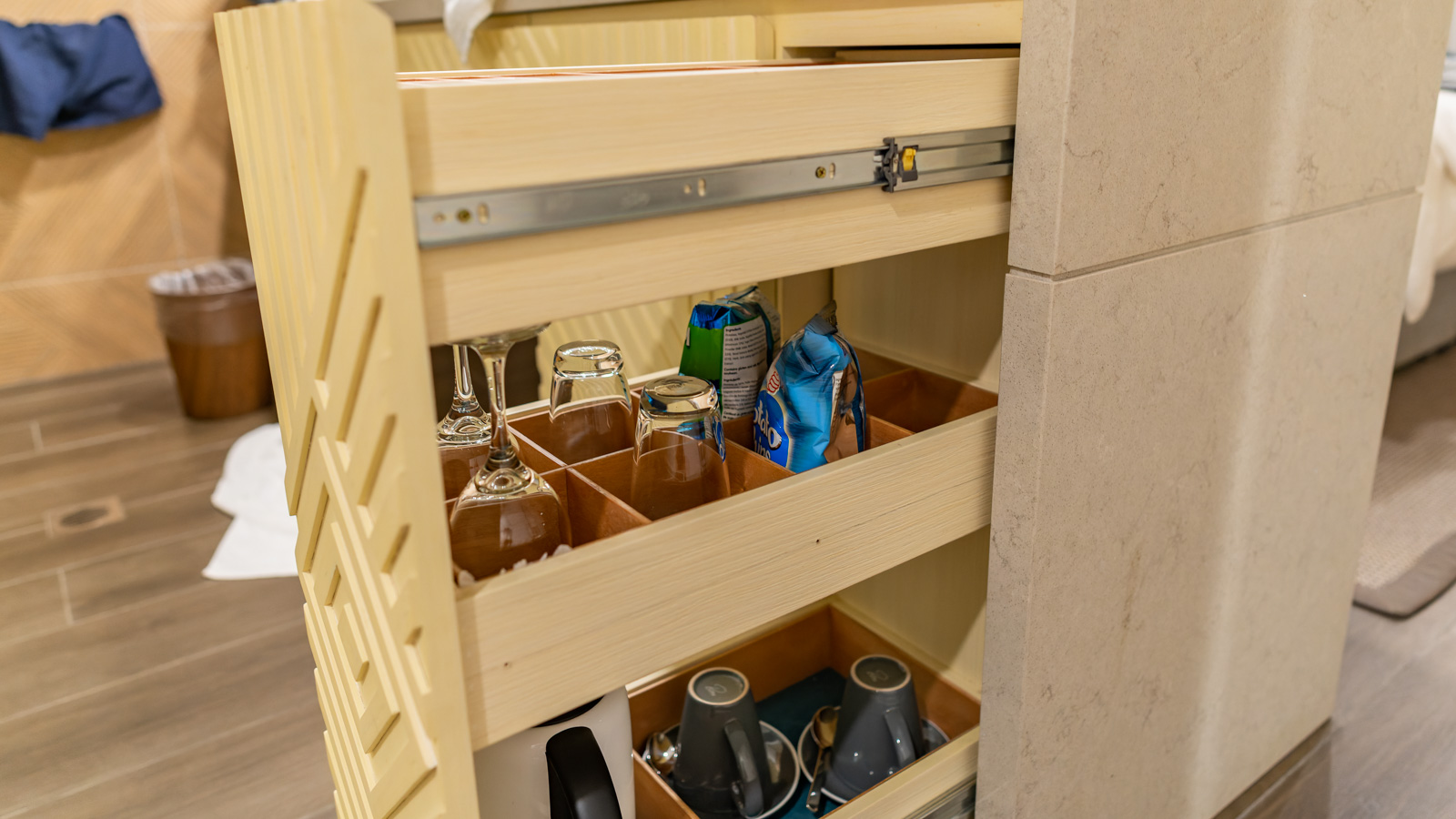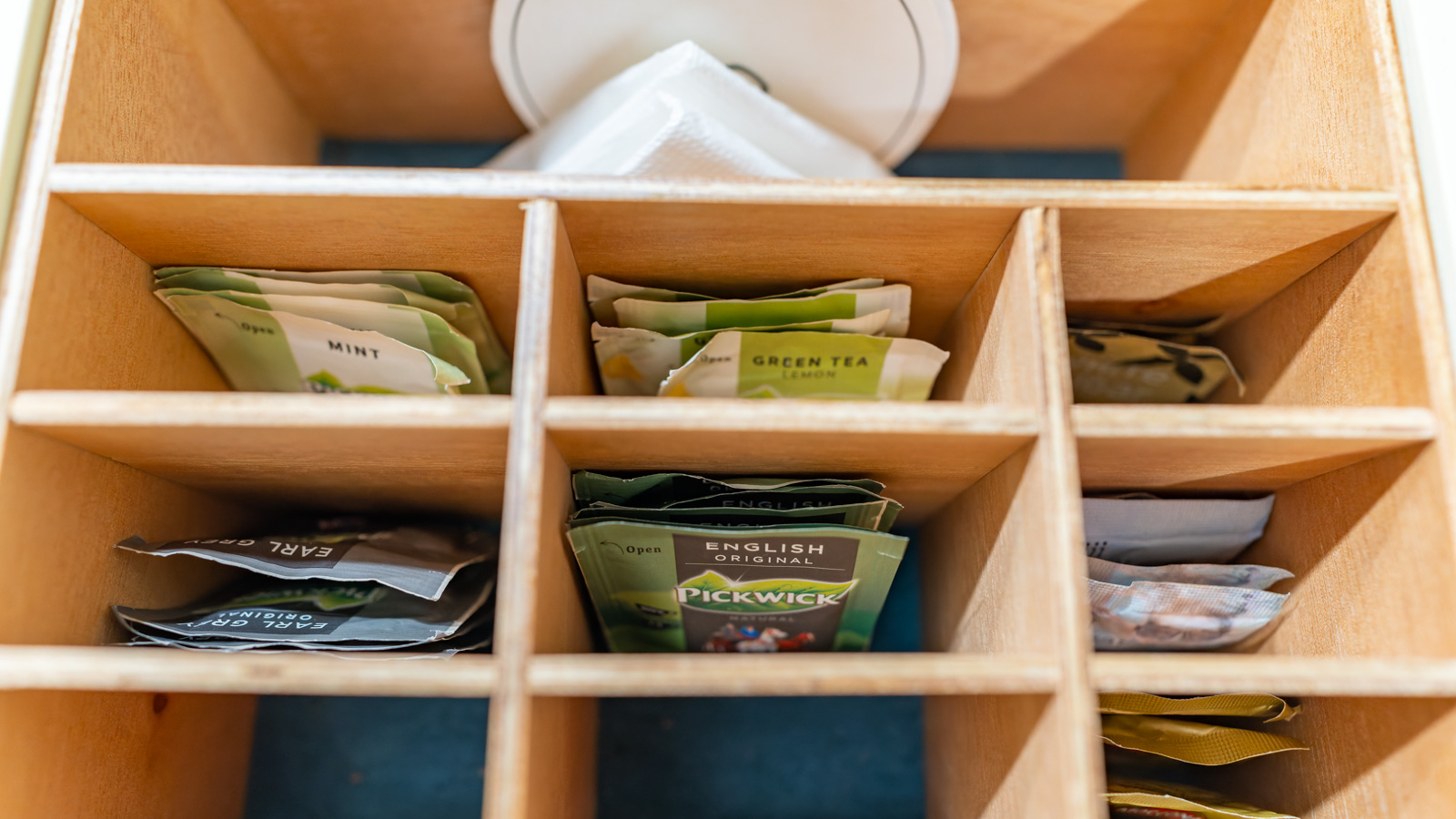 The technology
Room lighting controls and power points can be found next to the bed. Fiji uses the same plugs and voltage as Australia, so no converters are needed for us.
The 55″ TV houses a free movie channel (great for kids). But I use it more for its directory, which includes the room service menu and handy contact numbers to make restaurant reservations. It also displays Fiji Airways' flight information in case you want to turn your room into an airport lounge.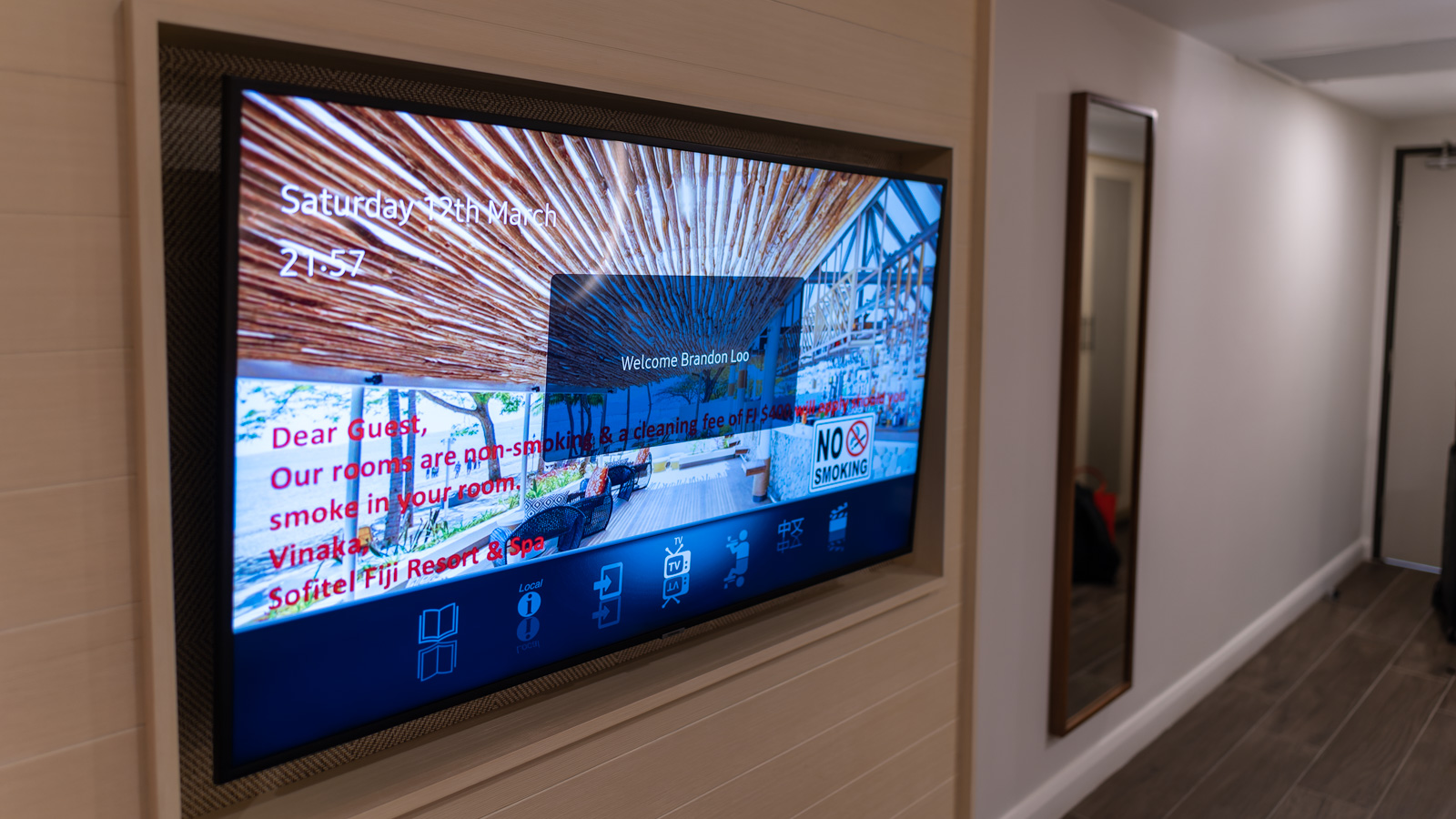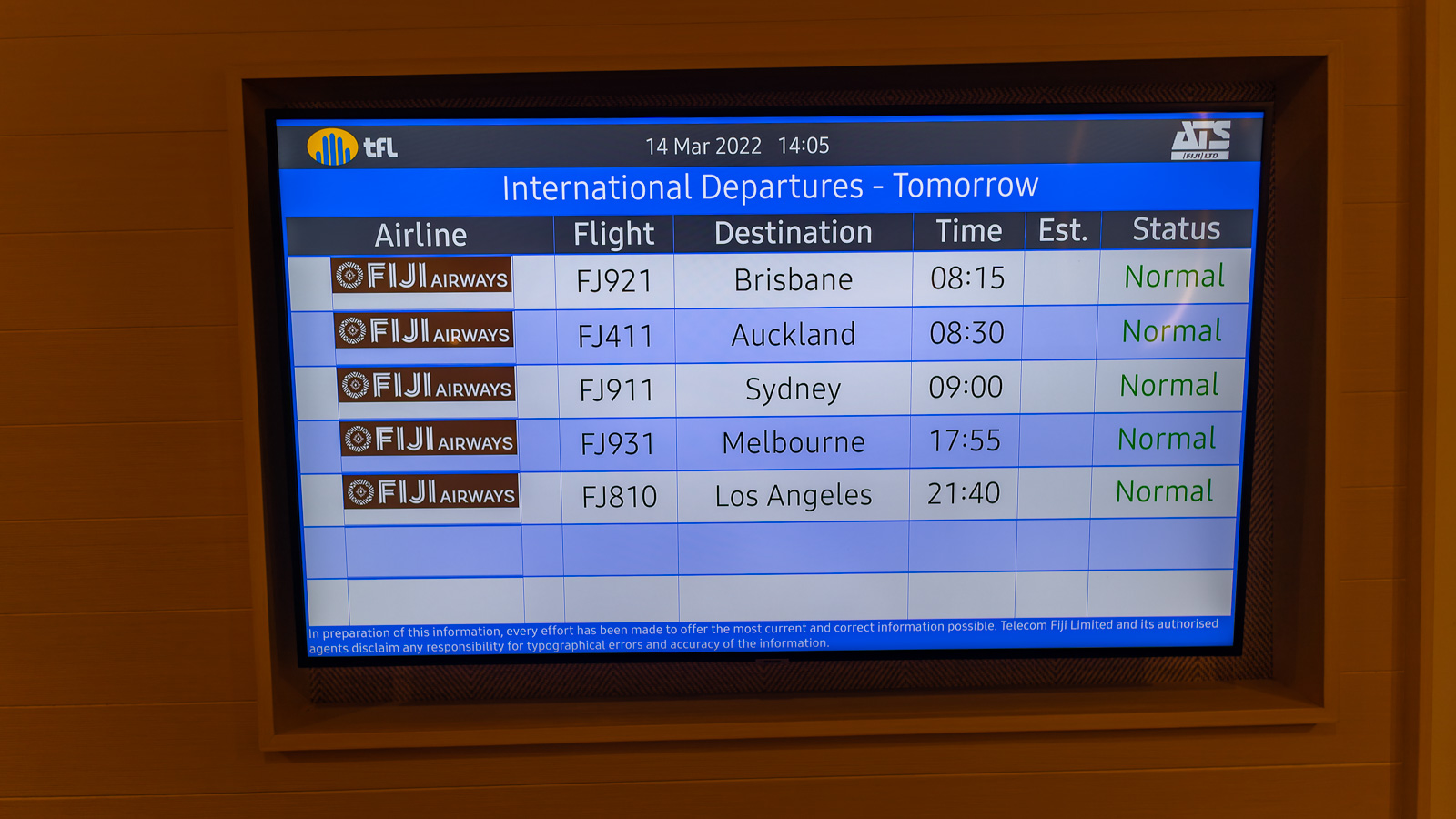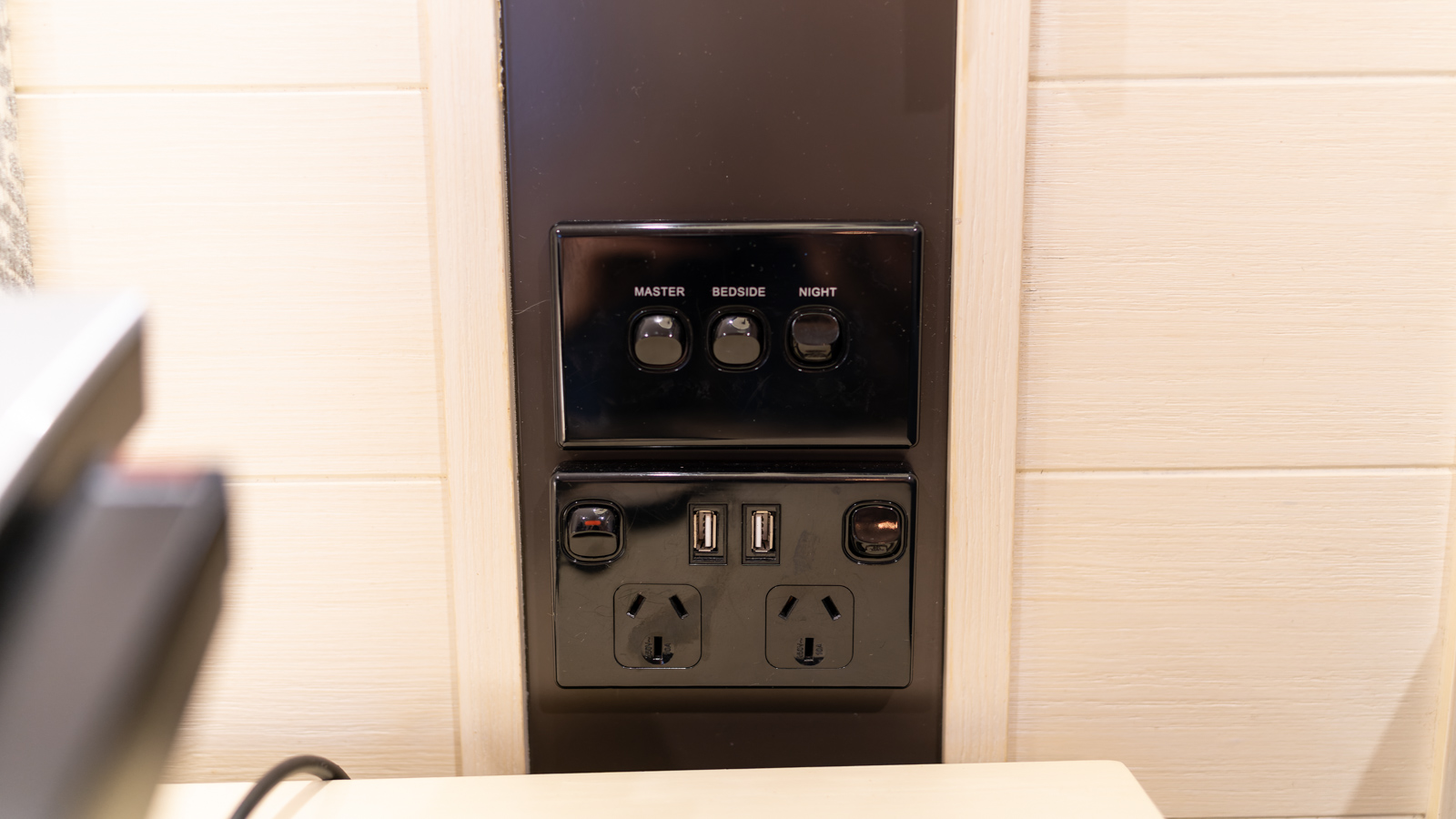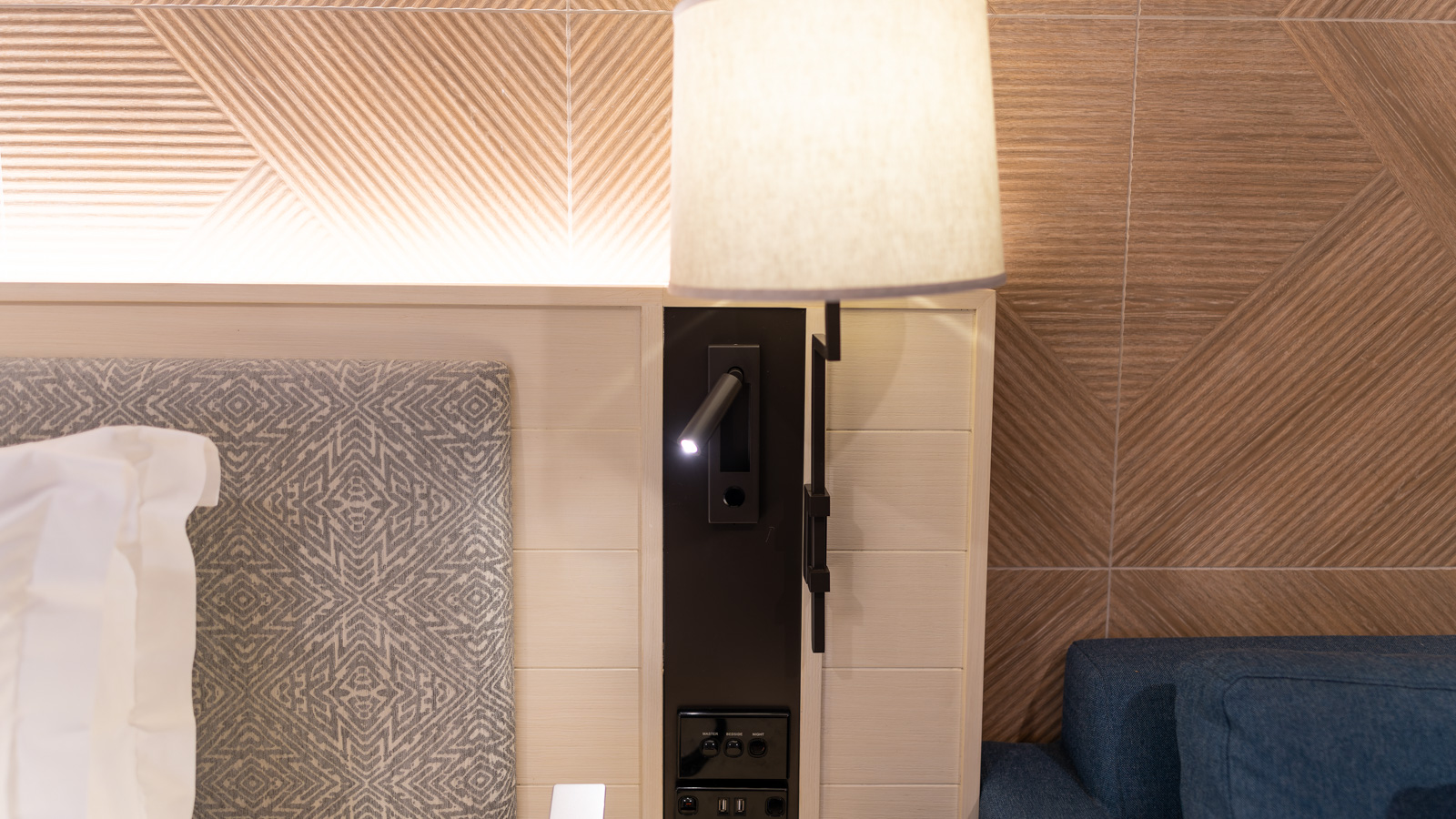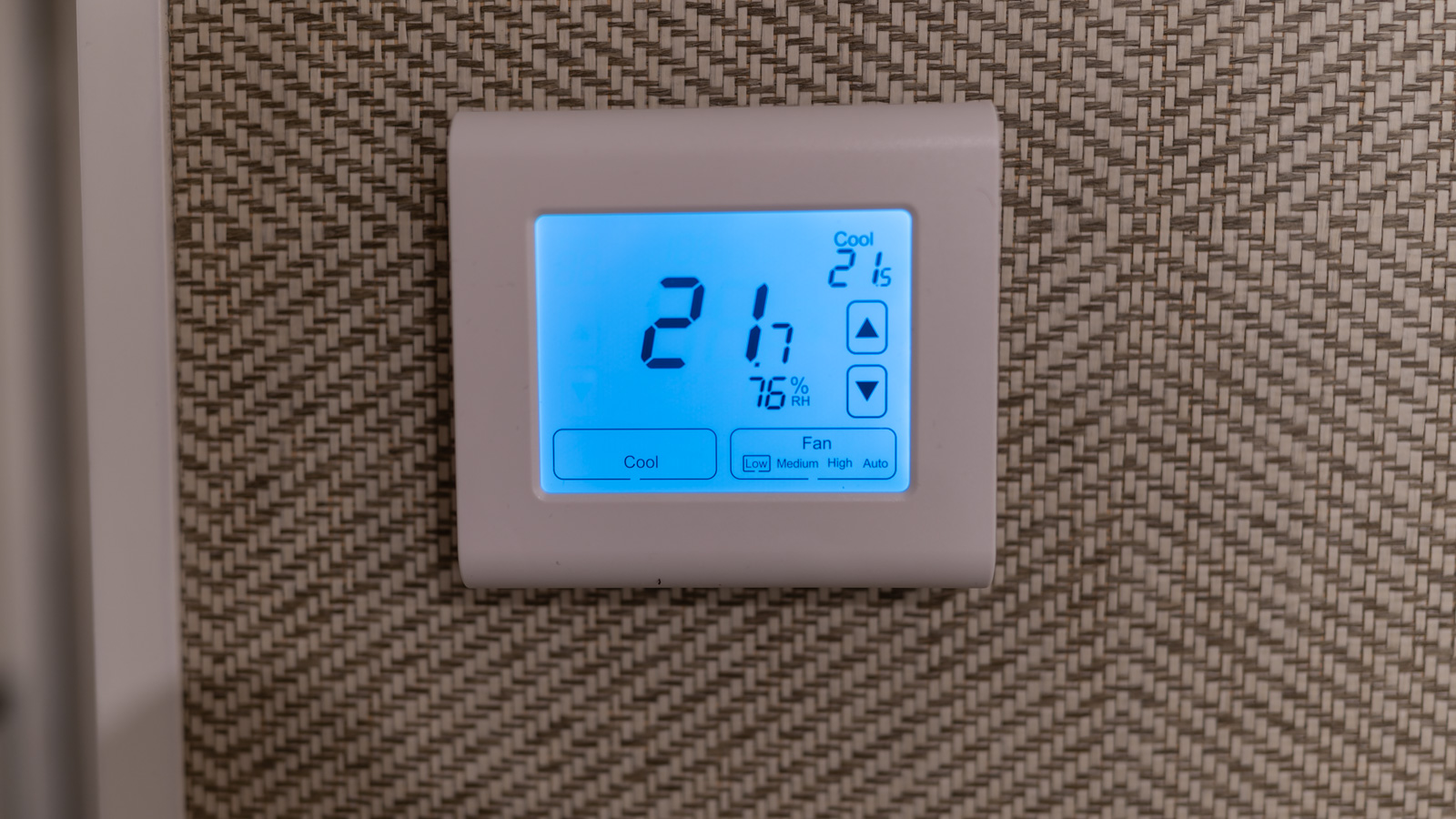 In-room Wi-Fi is free and reasonably fast, with both download and upload speeds hovering at 20 Mbps. Your Fiji vacation snaps will have no problem being beamed out to the interwebs!
The bathroom
While the vanity is in the same space as the bedroom, the rest of the bathroom is behind a sliding door. There's a toilet and reasonably powerful shower, stocked with Sofitel Fiji's own range of products.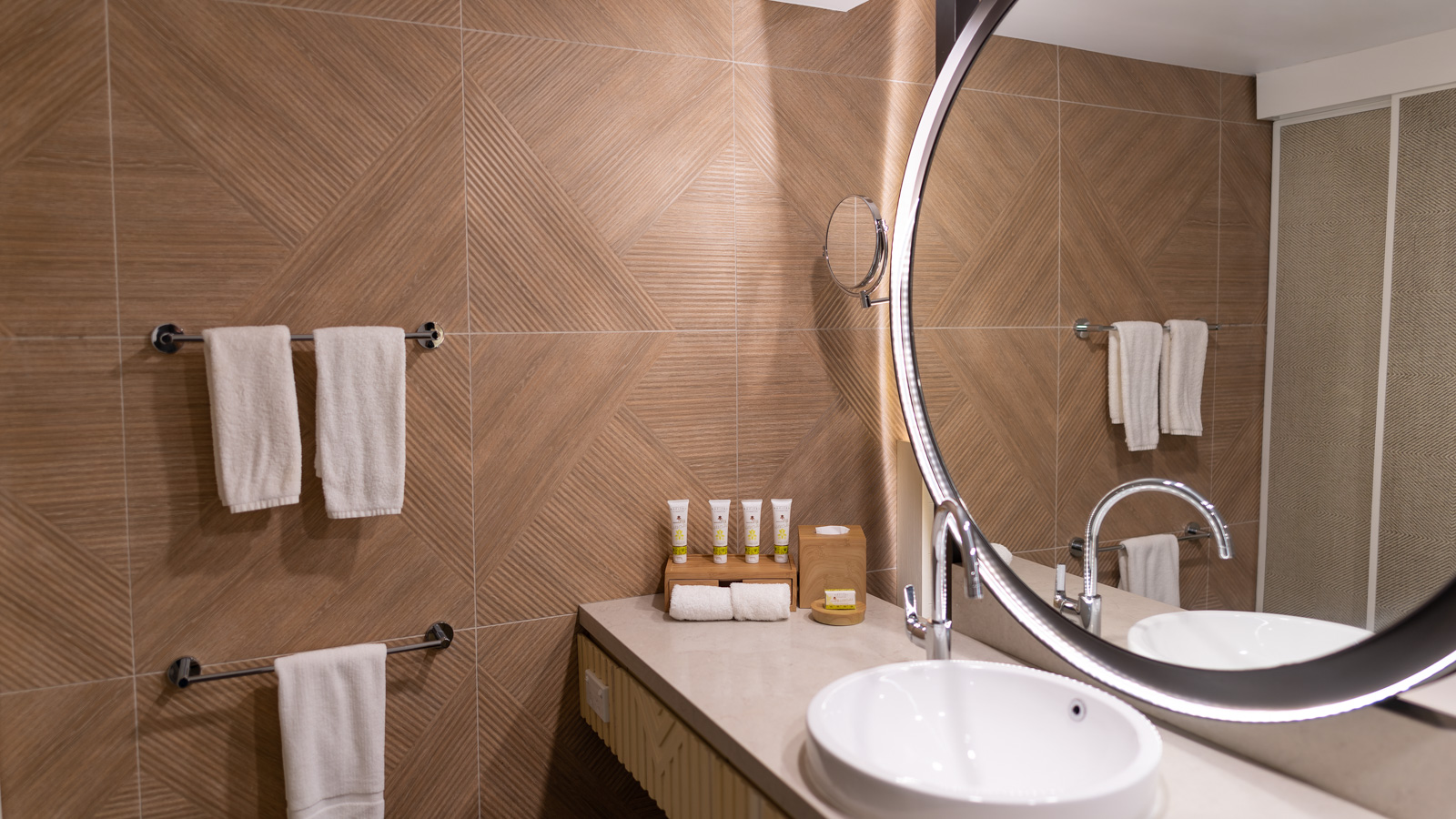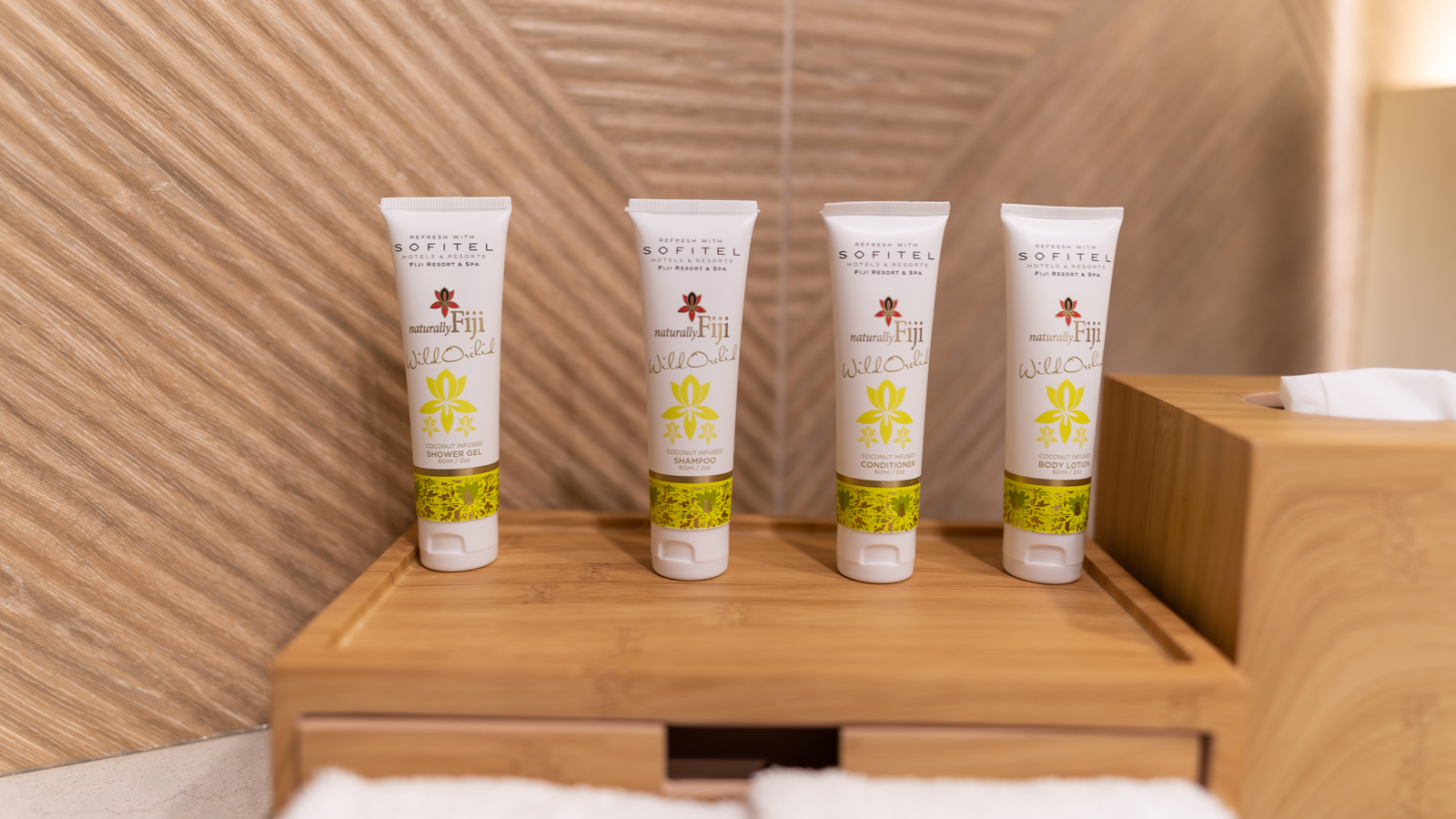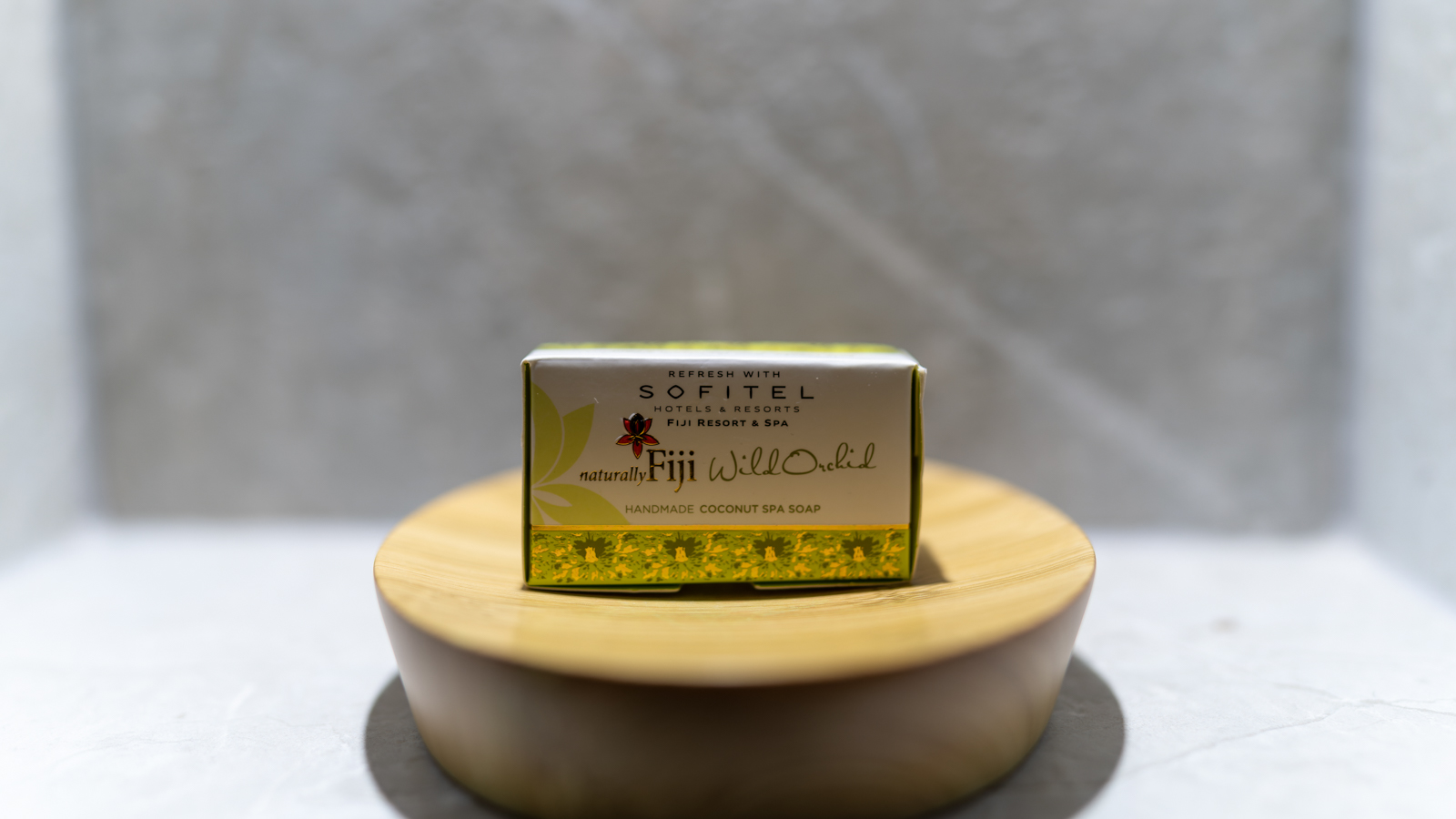 All-in-all, the Luxury room is a great place to spend the night and get cleaned up. I'd compare it very favourably to hotel rooms in Australia. But there's nothing particularly 'Fiji' about the room, and you'll probably want to spend most of your time indulging in the resort facilities.
Sofitel Fiji resort facilities
The resort grounds are huge. If relaxing and sipping cocktails by the pool is your thing, you could probably spend days here without leaving. I'm sure many people do. Join me on the grand tour.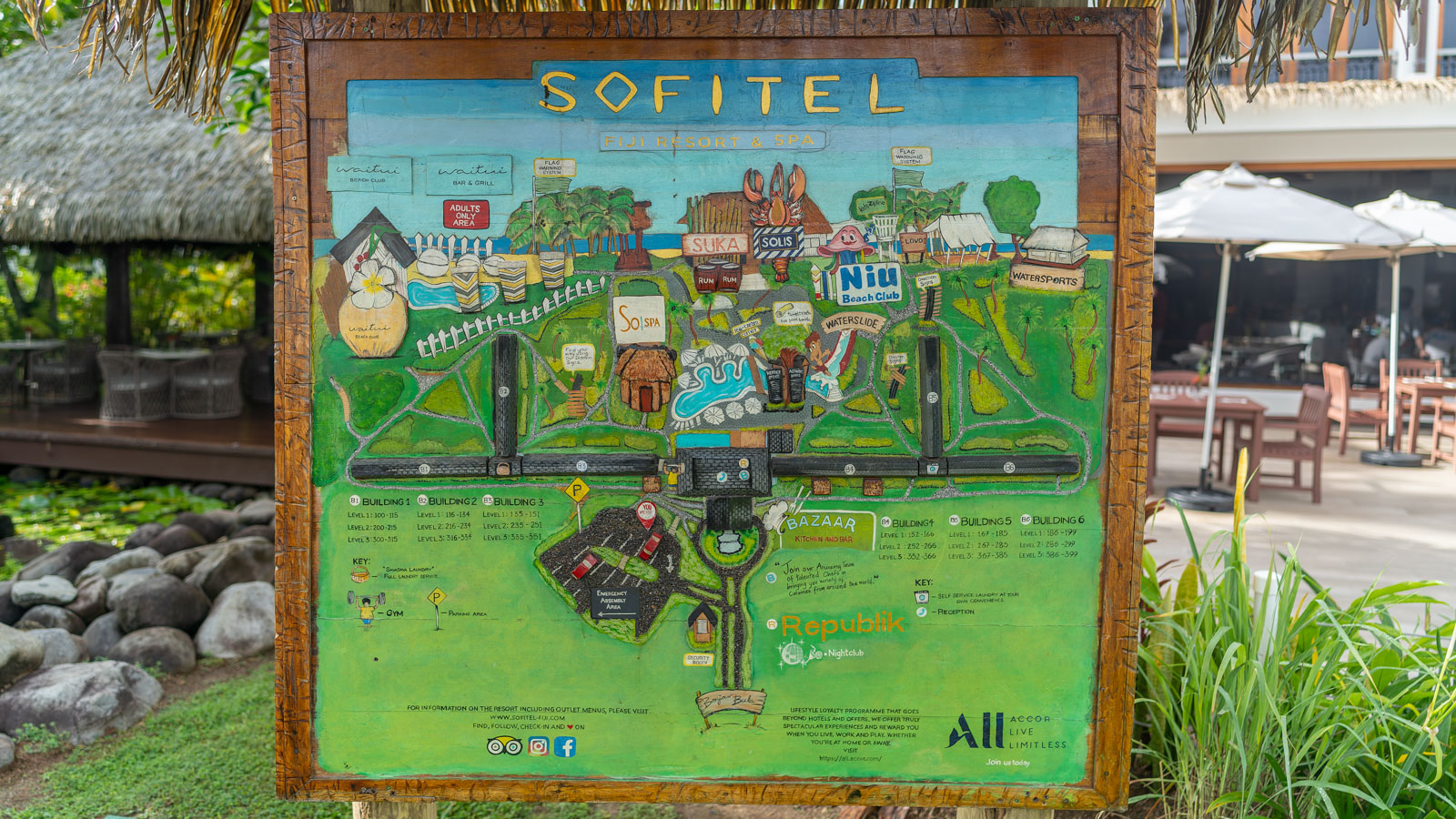 The Journal Lounge
As the resort's executive lounge, the Journal Lounge is quite an exclusive space. In fact, if you didn't know about the hotel lounge, you'd probably walk right past it. It's located on the ground floor of the main lobby, directly opposite the entrance of the Bazaar buffet restaurant.
Access is restricted to those booked in Luxury rooms with 'Beach Club Plus' access, as well as elite Platinum, Diamond and Black members of the Accor Live Limitless loyalty program. Complimentary continental and a-la-carte breakfast is served in the morning, with free cocktails and nightcaps in the evening.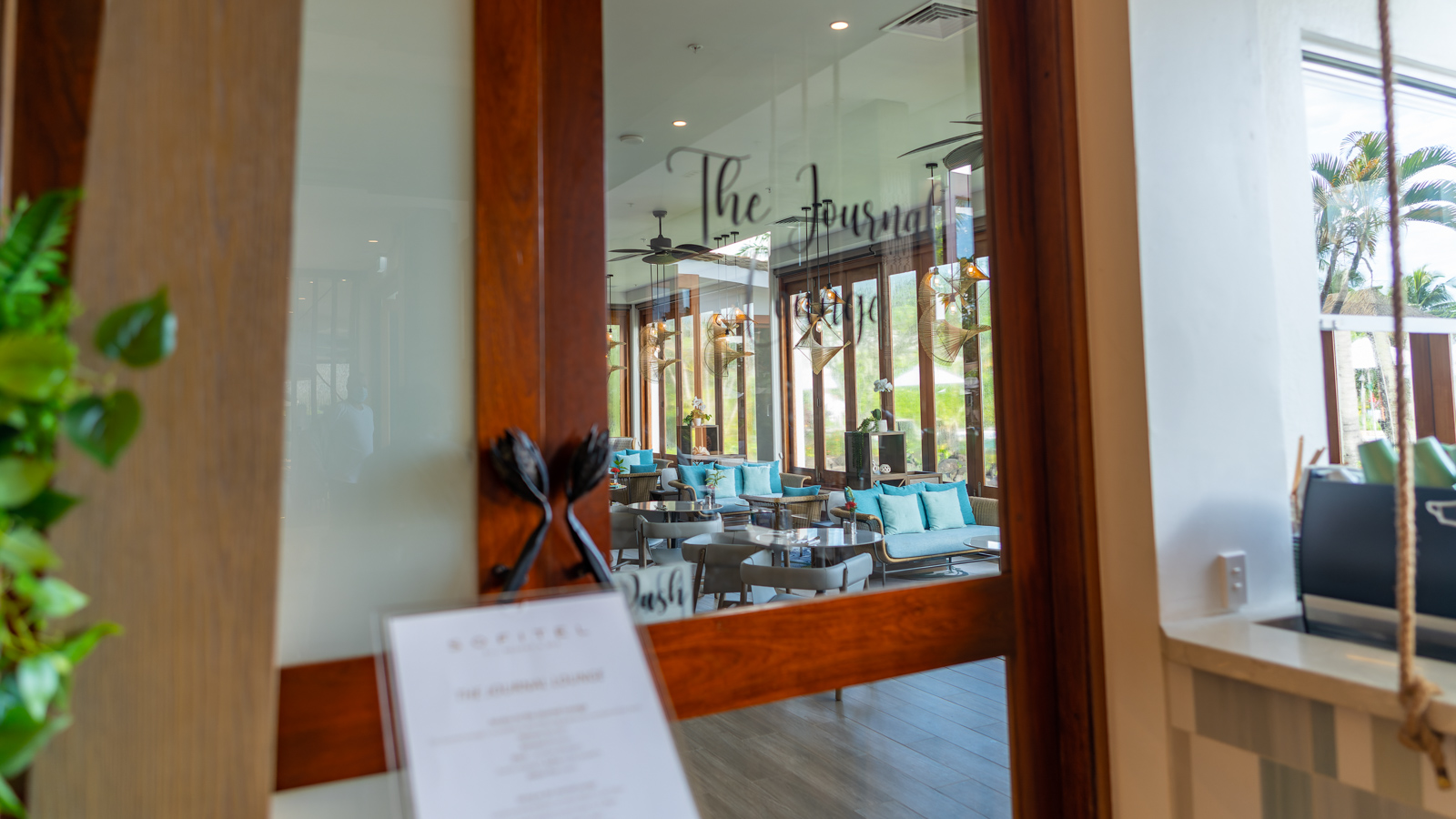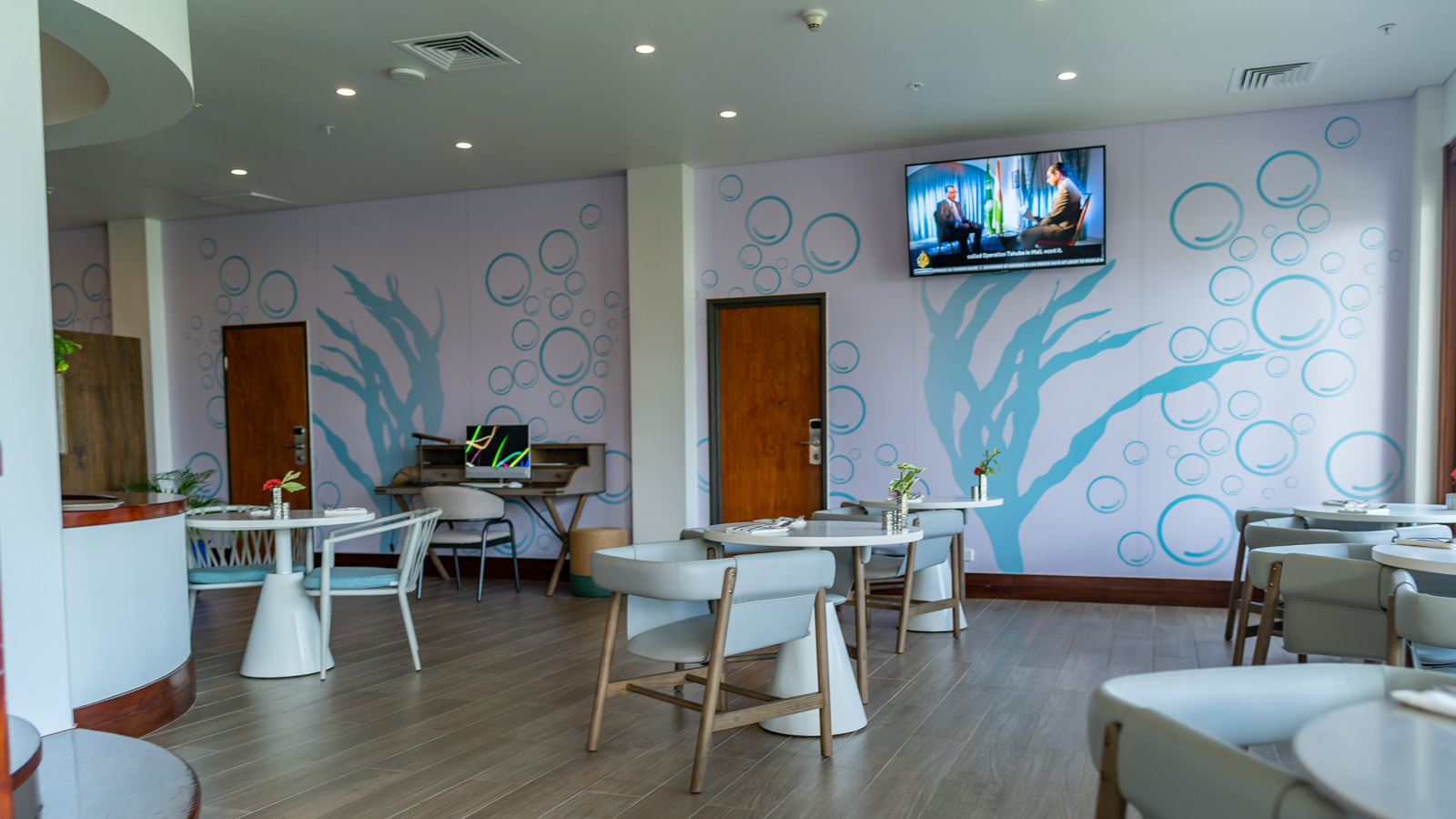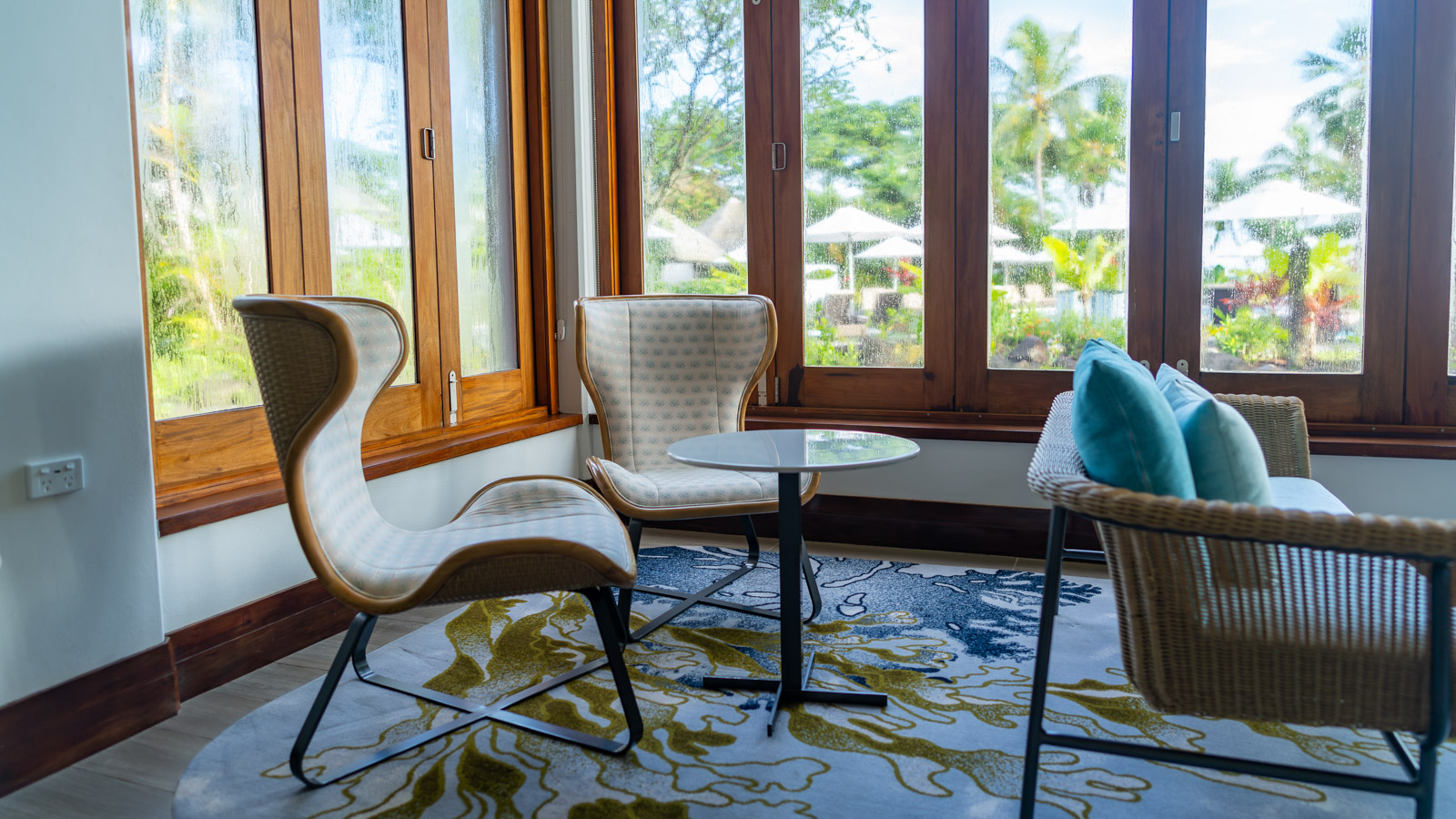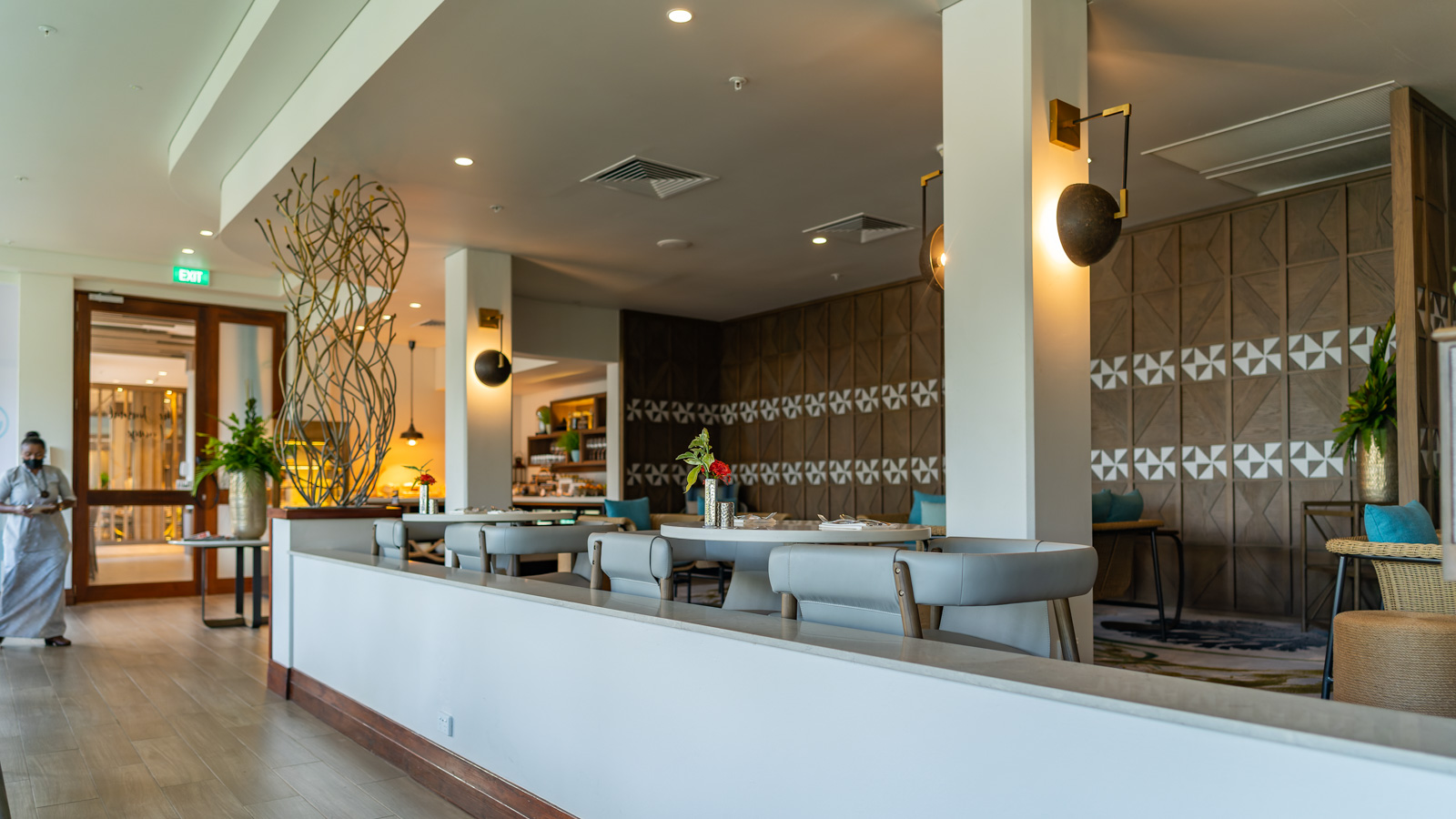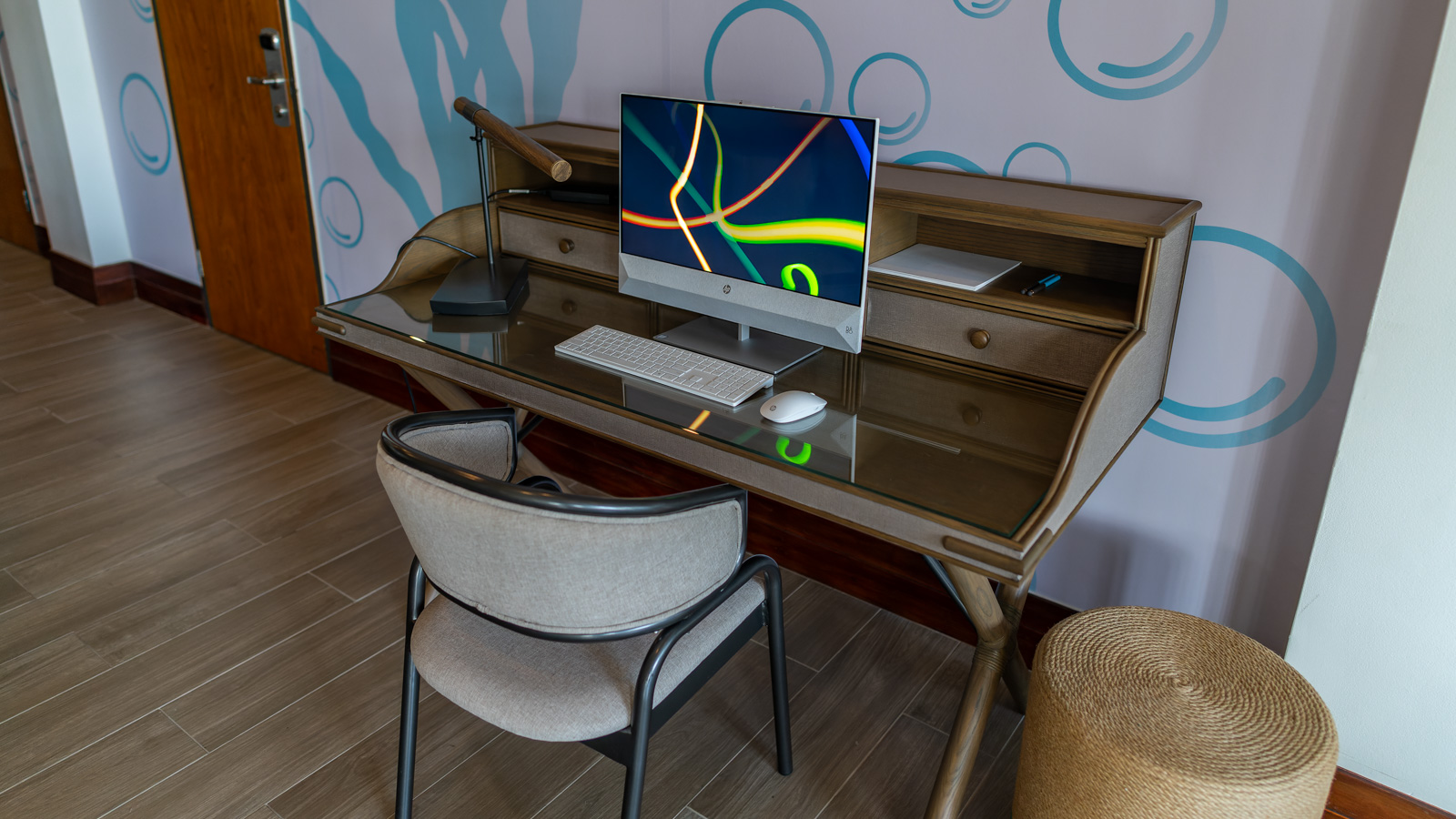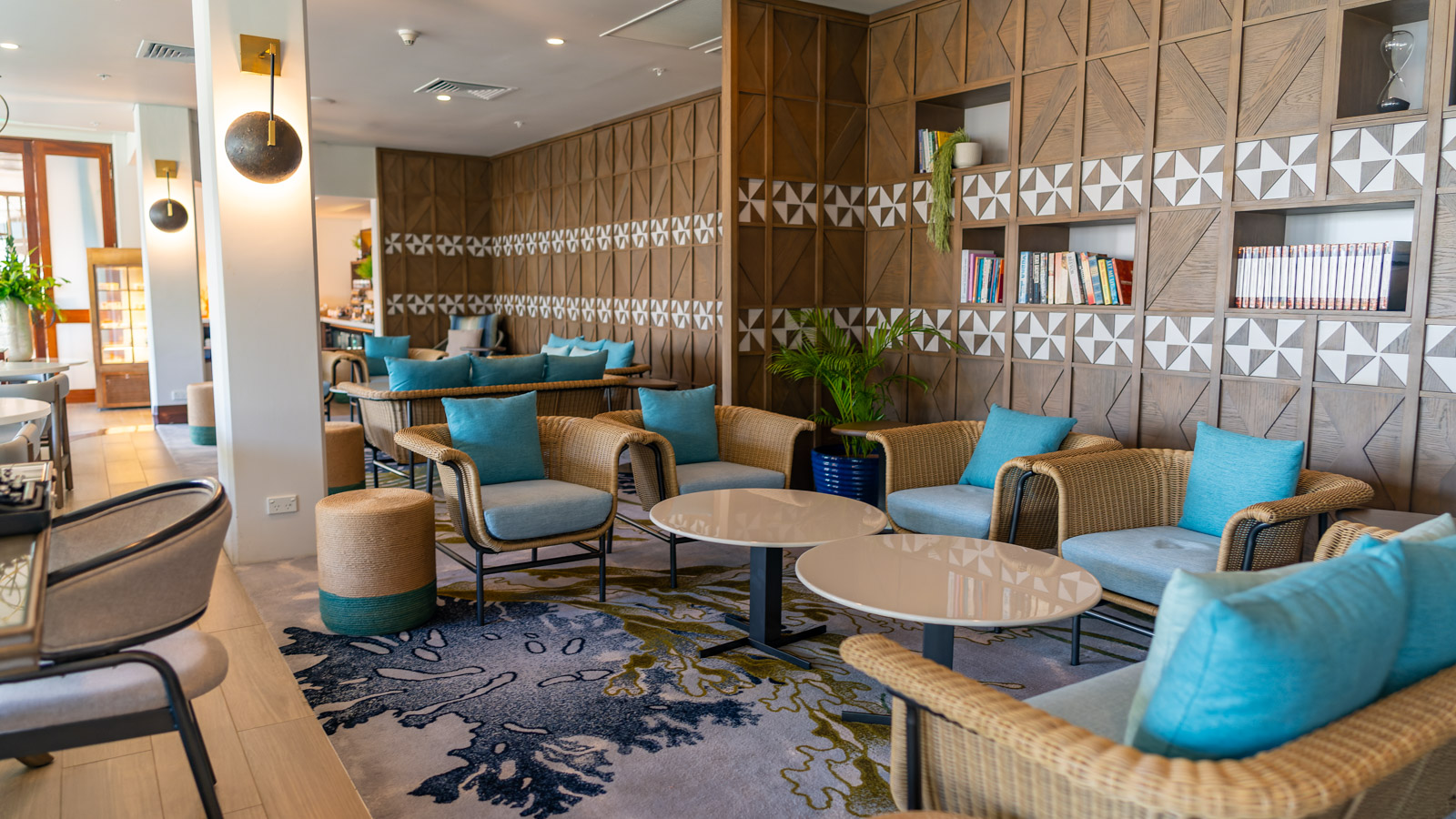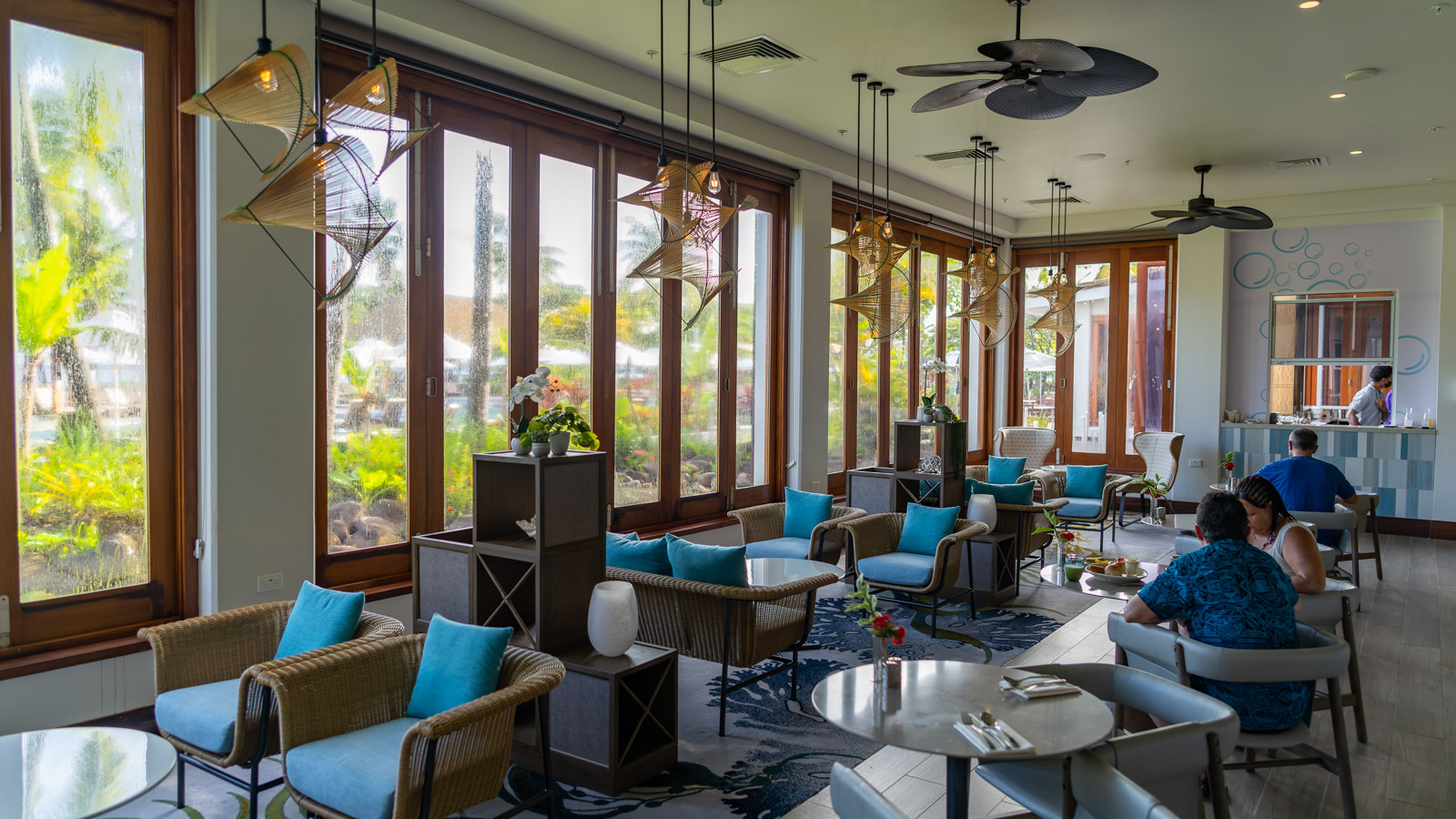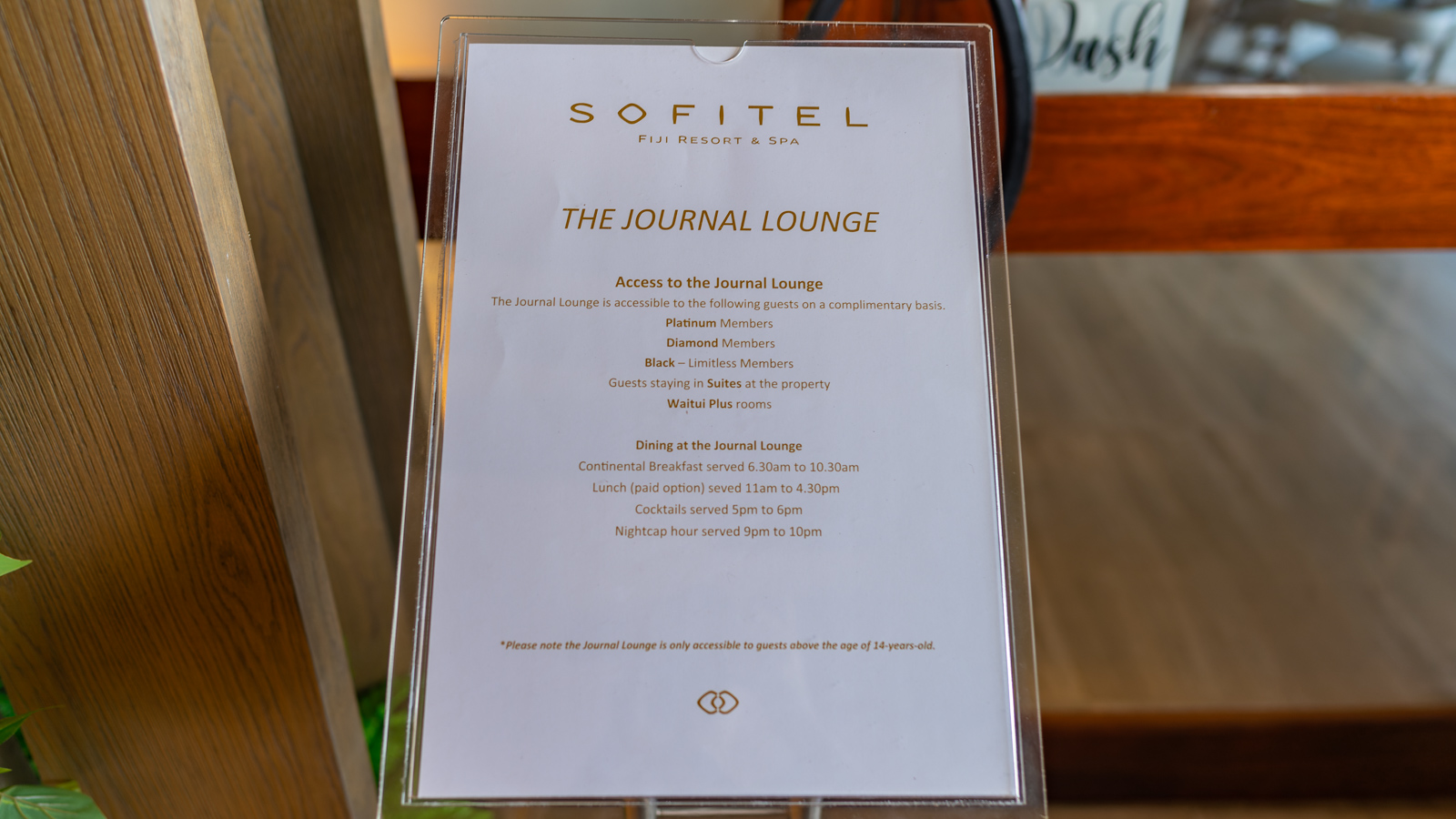 If you need to get a bit of work done on your trip, then the Journal Lounge is the perfect place to set up and plug in.
Waitui Beach Club
Looking to relax poolside with some peace and quiet? You can't go past Waitui Beach Club. This adults-only sanctuary sits on the edge of the resort and features an infinity pool gazing out towards the ocean. It also boasts dedicated staff and a restaurant so you'll have no reason to leave.
I can't emphasise how much quieter this area is compared to the main pool, which is heaving with families. Easy access to seating and towels is a great perk too, as there's a token system for towels in the main pool. I while away a few hours here on Monday, doing some light work on my laptop before going for a refreshing dip.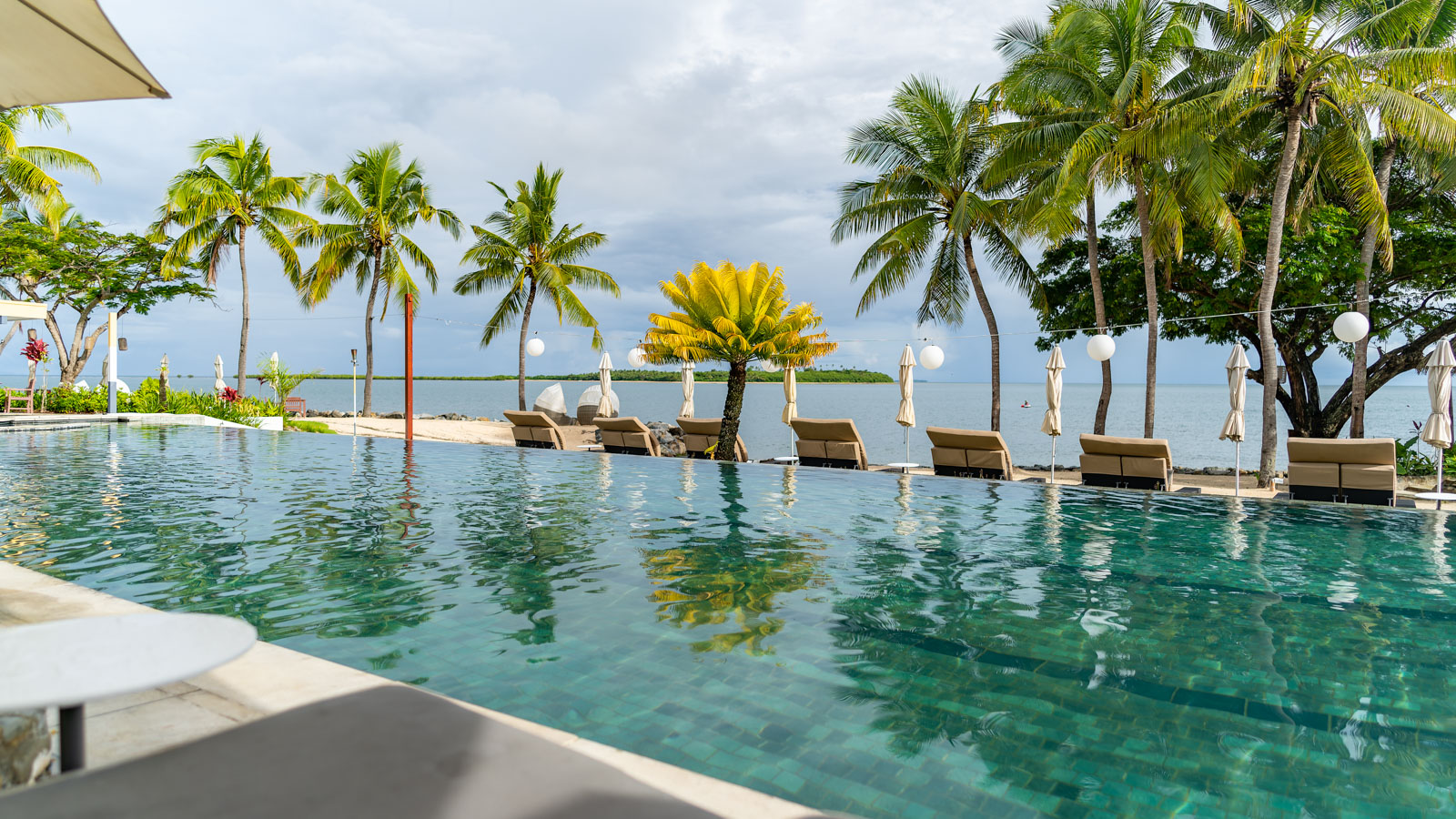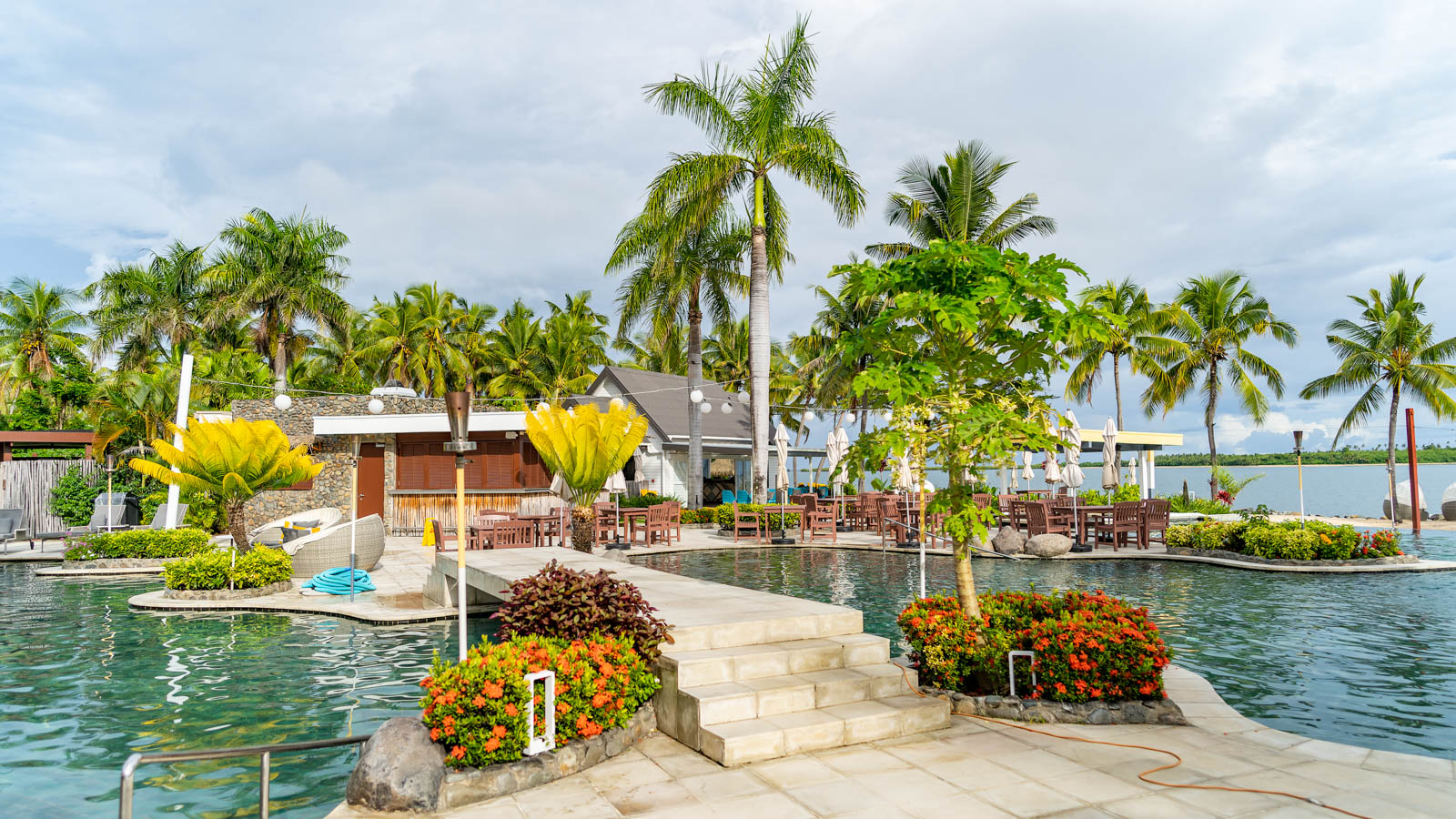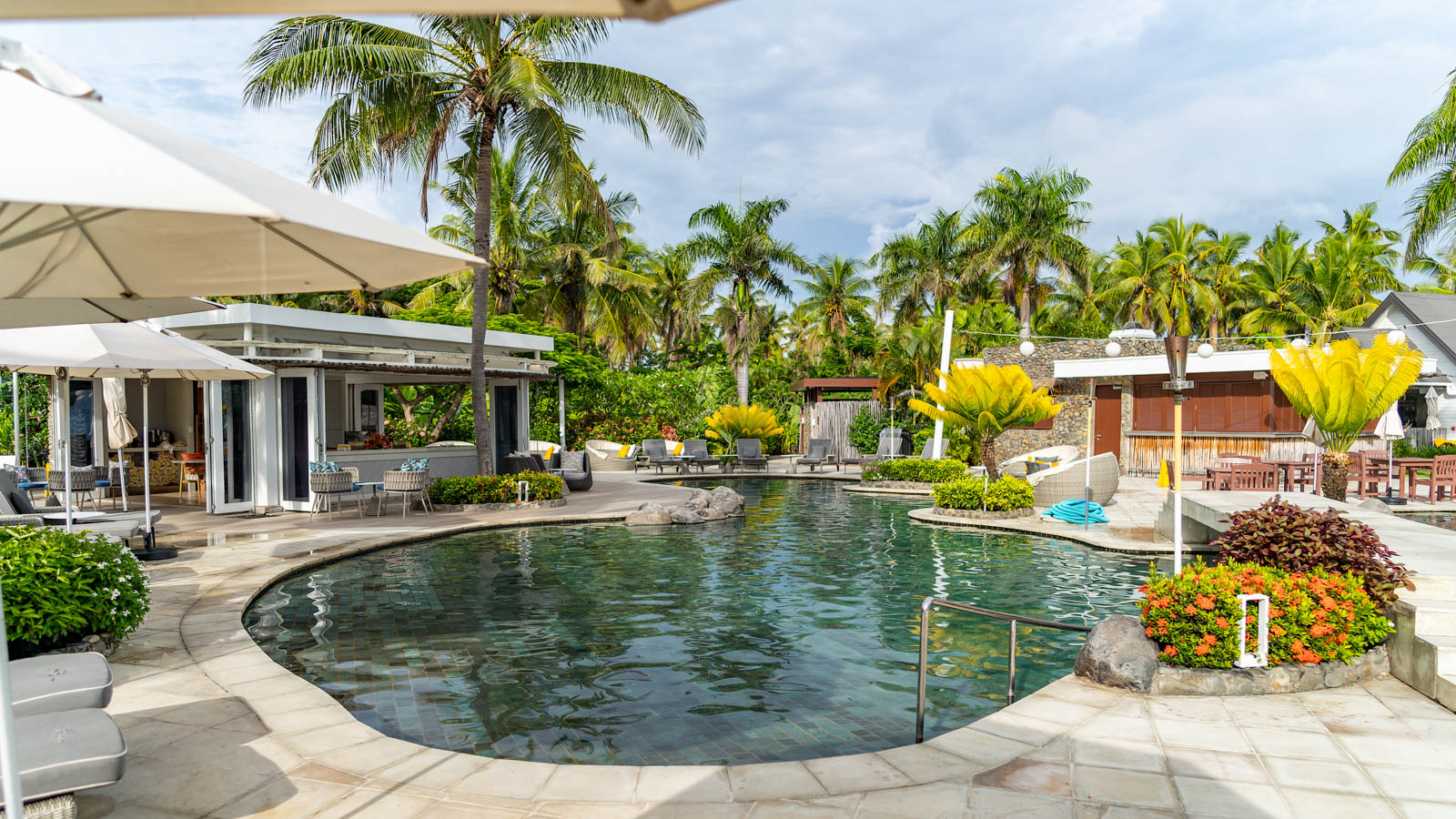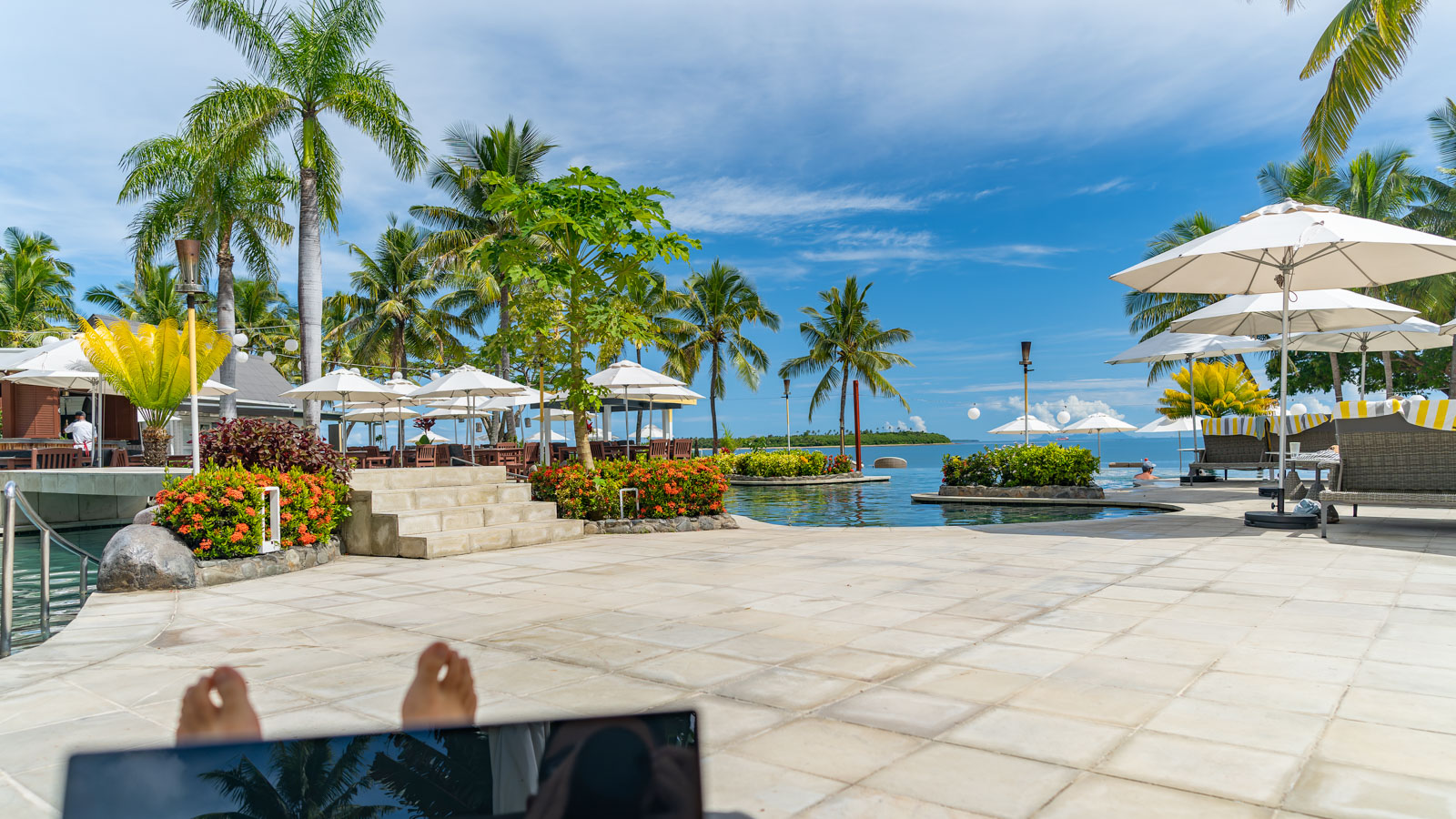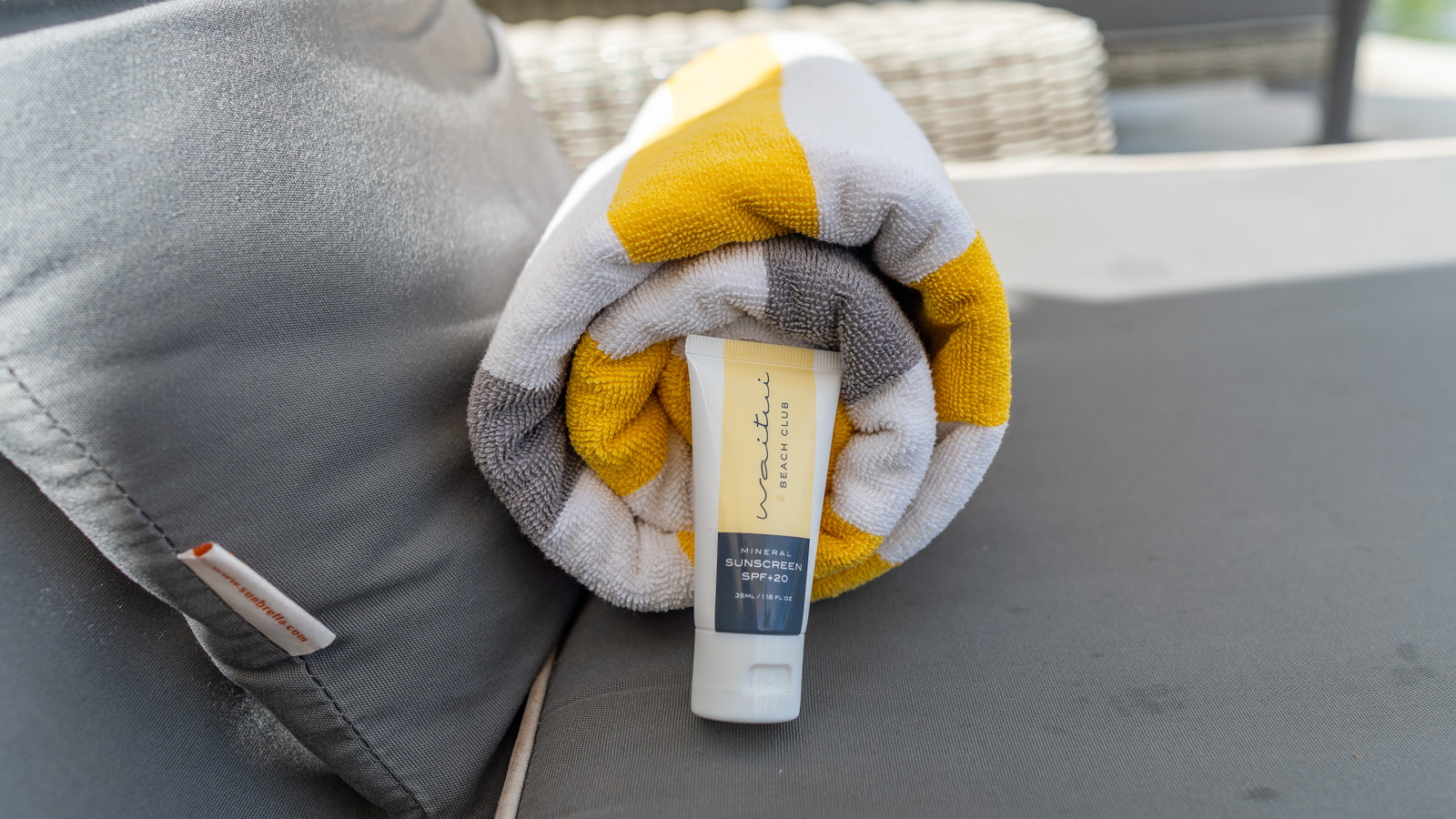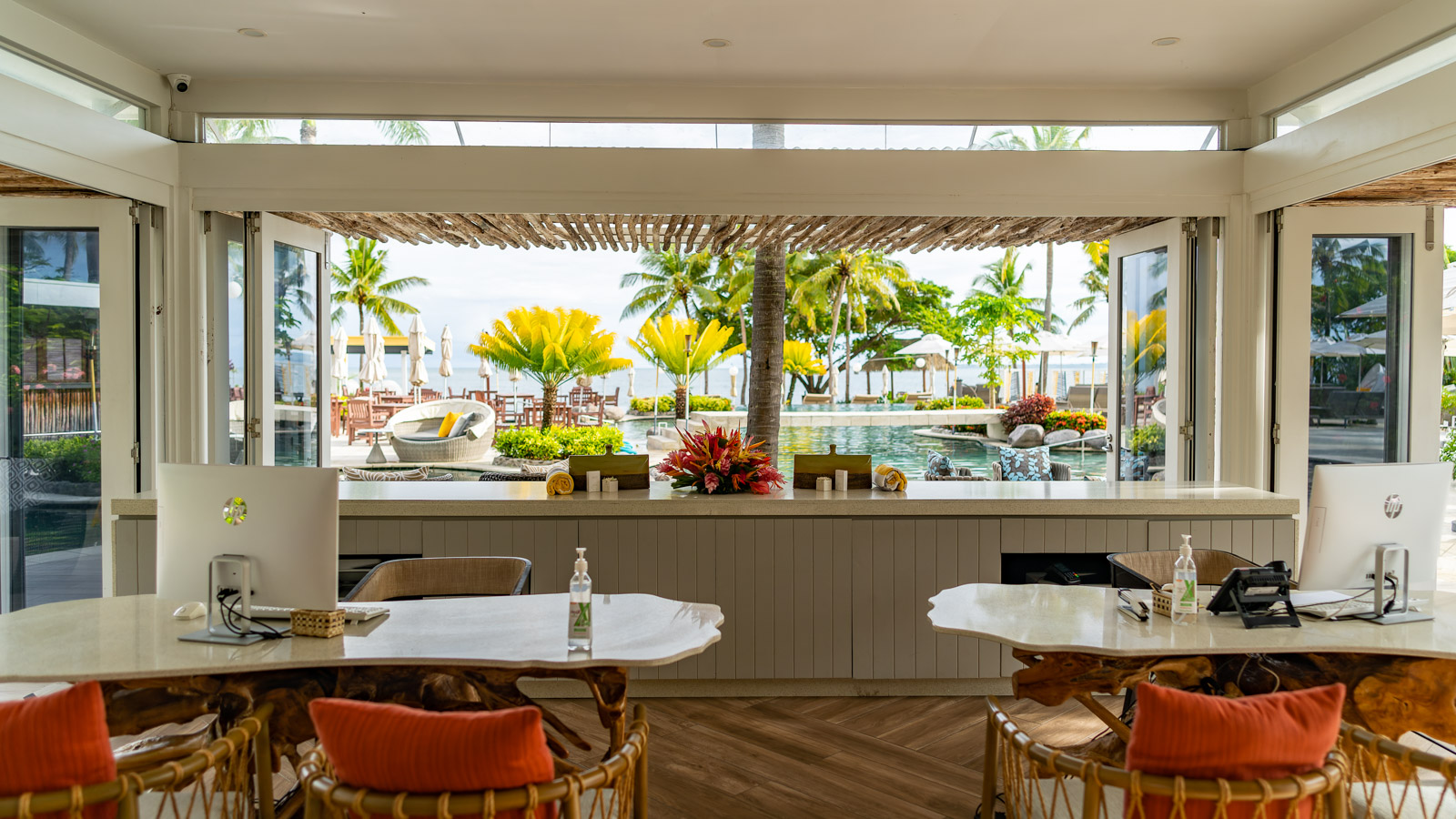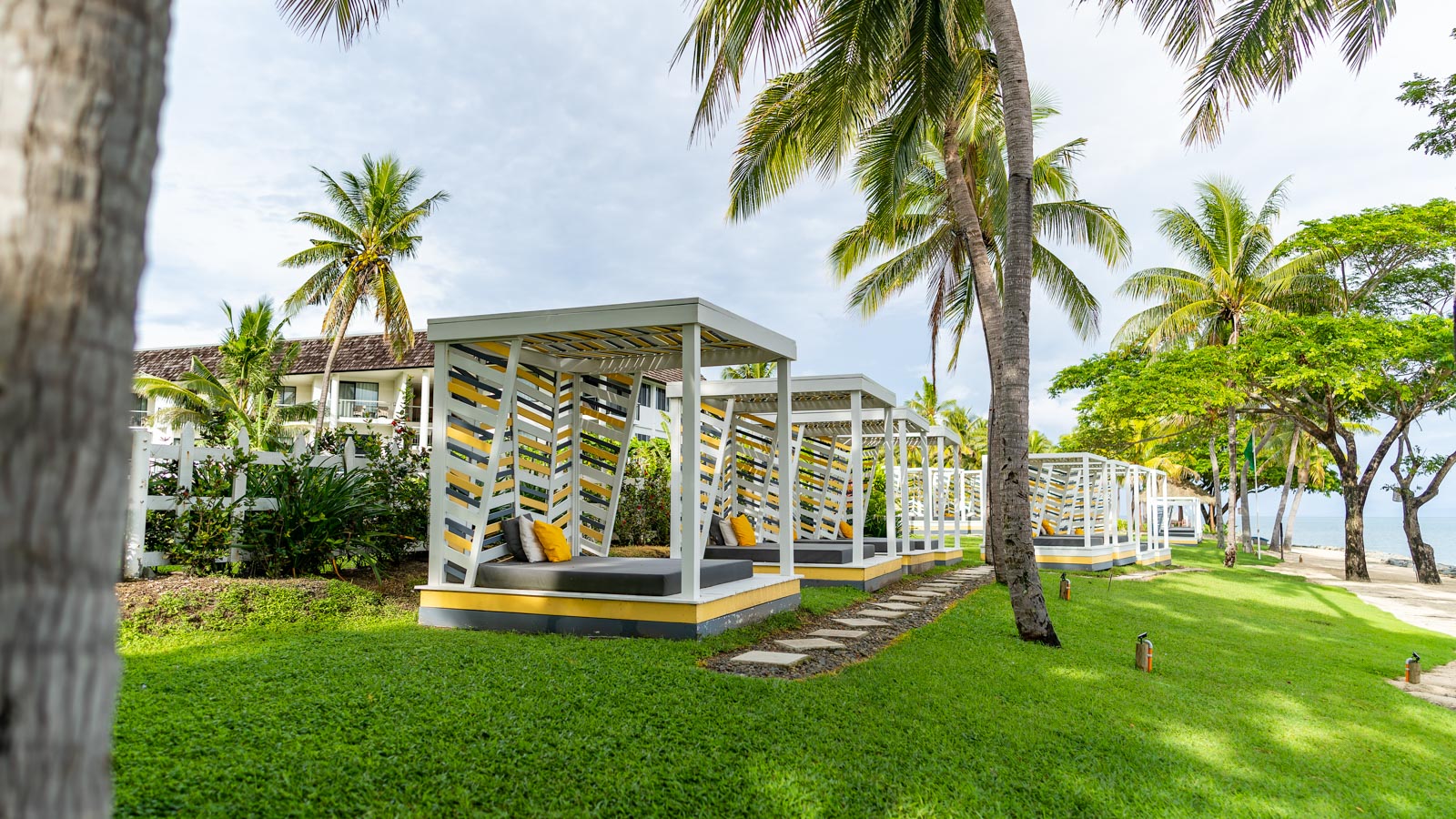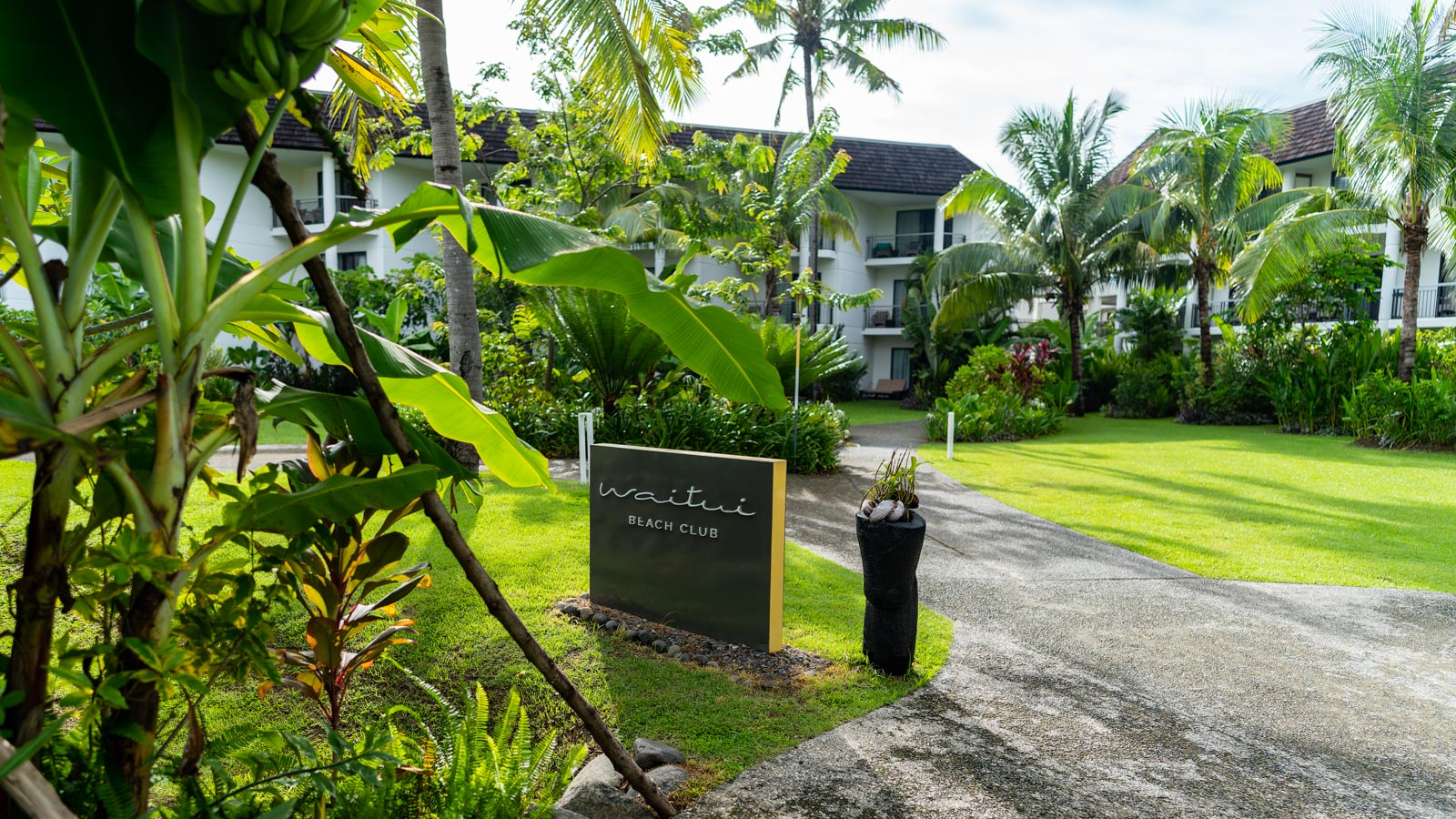 The easiest way to add Waitui Beach Club access is to book a Luxury room tagged with 'Beach Club Access'. This covers unlimited access for your stay. Otherwise, day passes may be available depending on demand.
As Michael Bell explains to me, part of the allure of Waitui Beach Club is that every guest is guaranteed an empty daybed whenever they visit. Because of this, day passes are limited and sometimes not offered.
The main resort pool
If you're travelling with kids or prefer a livelier atmosphere, the central main pool is the place to be. There's a daily timetable of fun events, including the ever-popular aqua aerobics, set to pulsating music. And when it's time for a bite, food and drinks can be ordered to your sunbed.
Kids can whiz down a water slide to their heart's content, and join in the multitude of afternoon activities including volleyball in the pool.
You get towel tokens when you check-in, which can be swapped for towels at the main pool. Don't forget to return your towel later to get the token back, which is collected at check out. Otherwise, a fee might be charged. Lucky there's no token system for hotel pillows.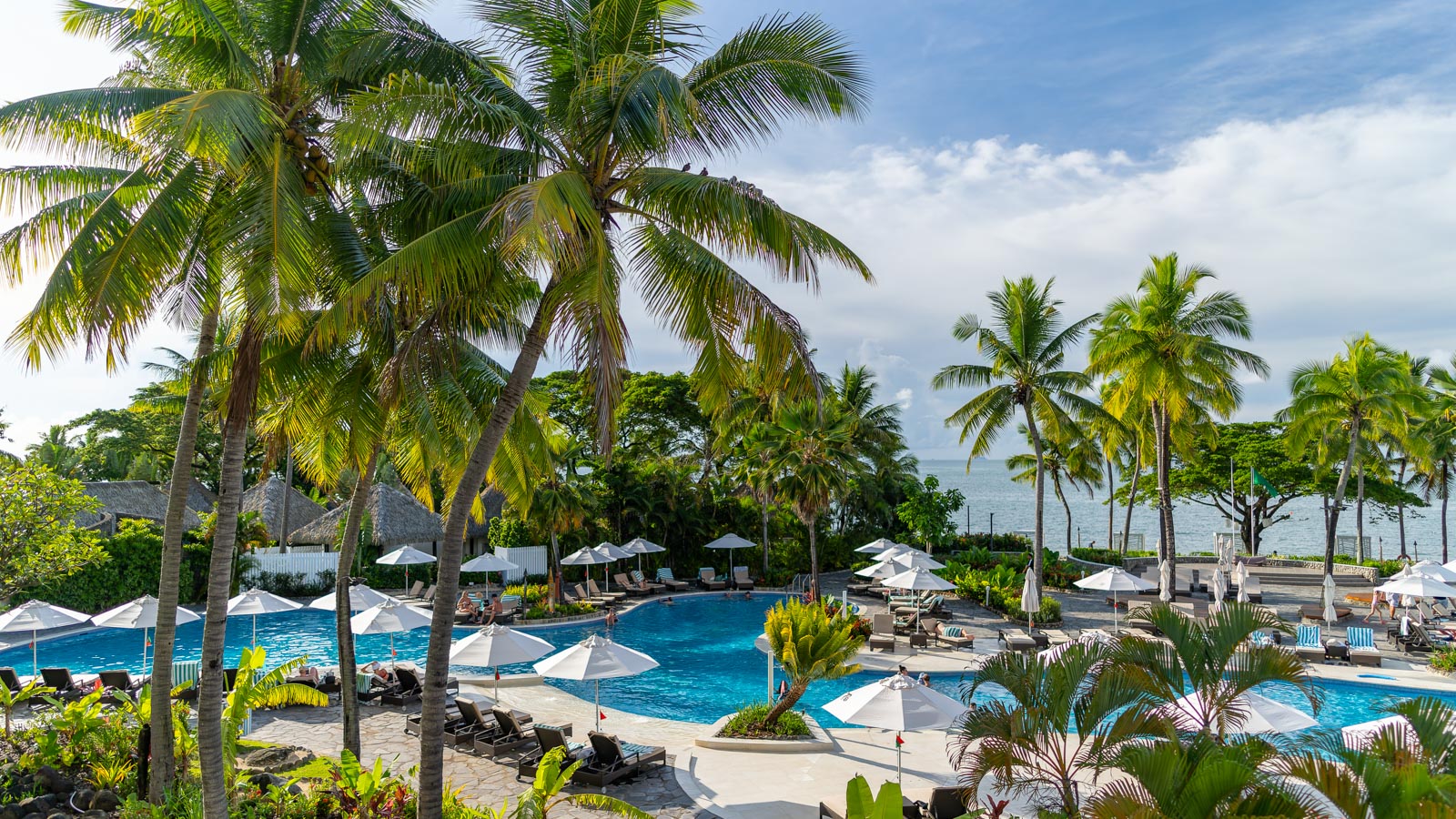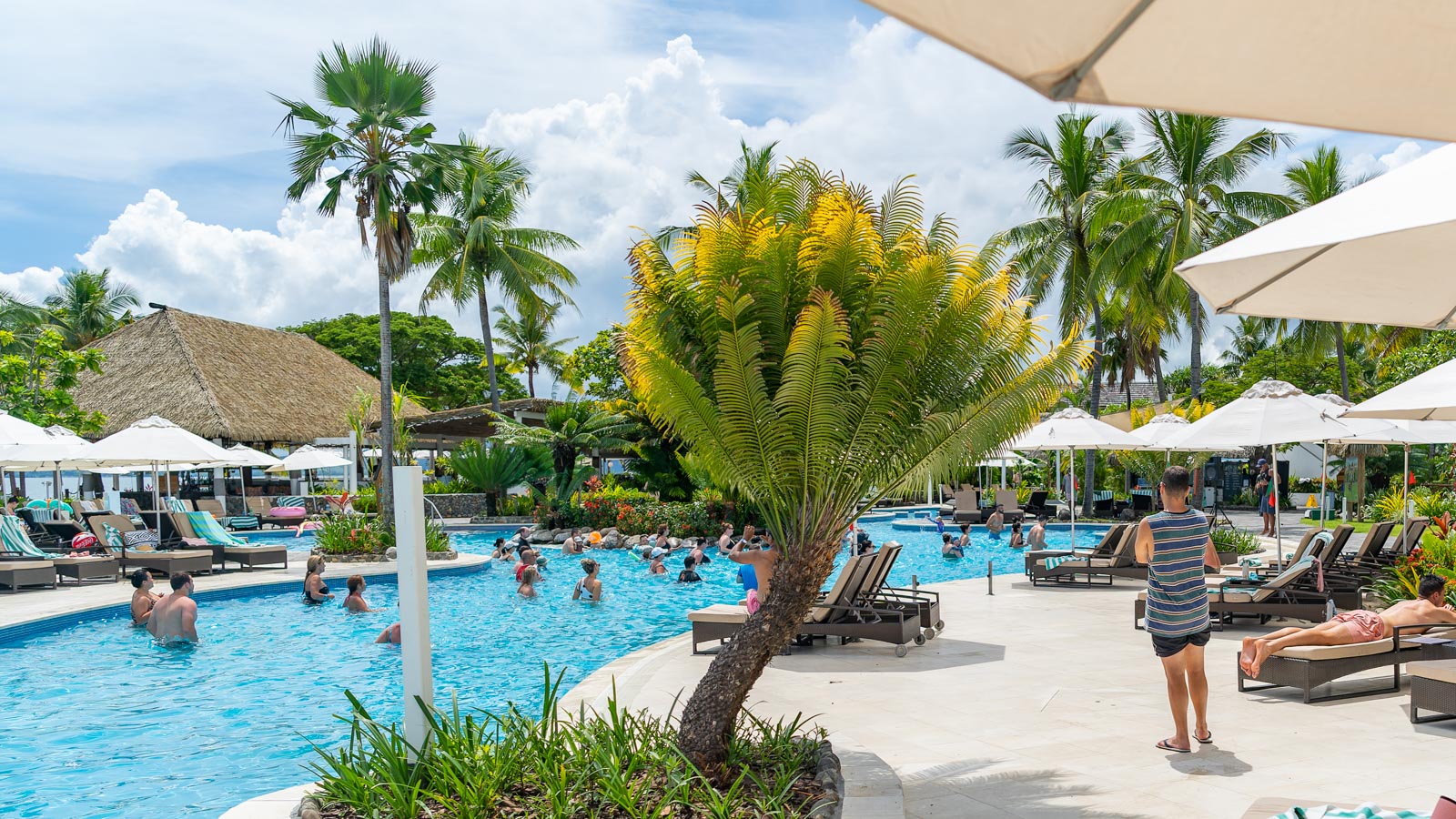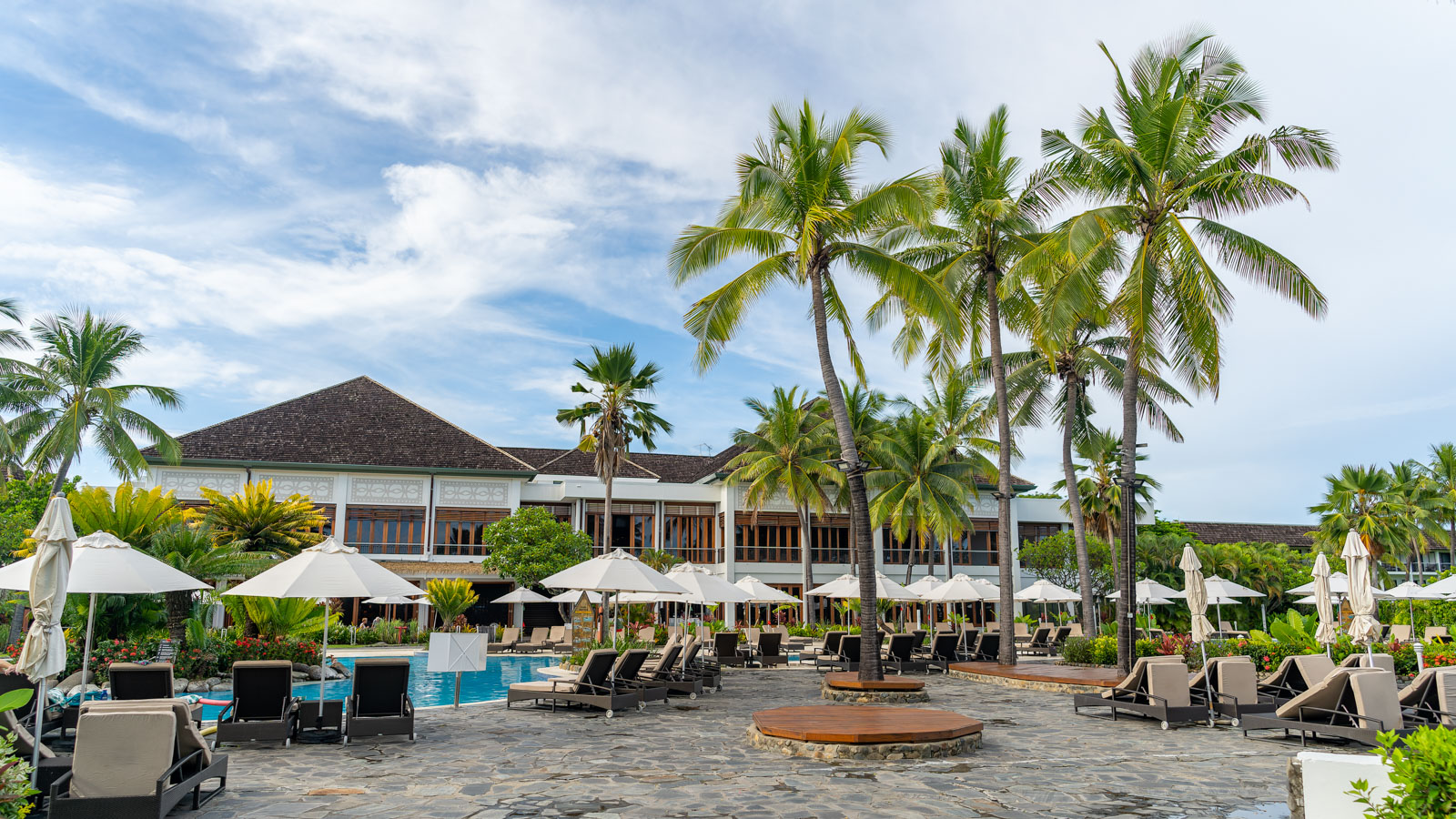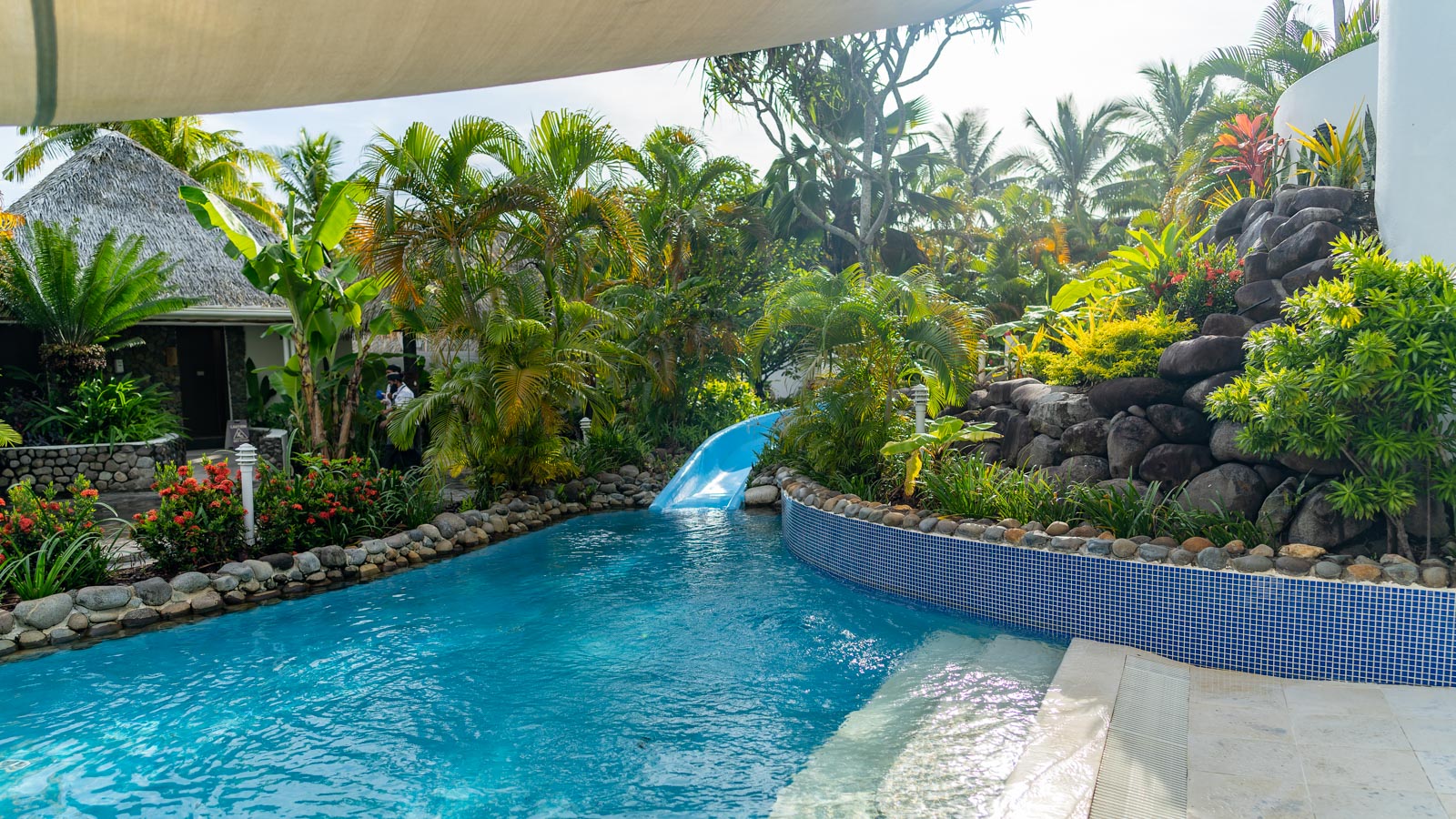 Niu Beach Club
Travelling with the young ones? If you'd like some 'me time' at the spa or at Waitui Beach Club, you'll need to do something about the children. Luckily, the Niu Beach Club is the answer. Bookings are essential.
With three sessions a day, kids from three to 12 years of age will be well looked after. Kids' meals are only FJ$15 (AU$9.60) each, charged to your room, though you need to collect them during lunch and dinner times. As I walk past the gated club, I spy a large outdoor playground and even a zipline! What a time to be a kid.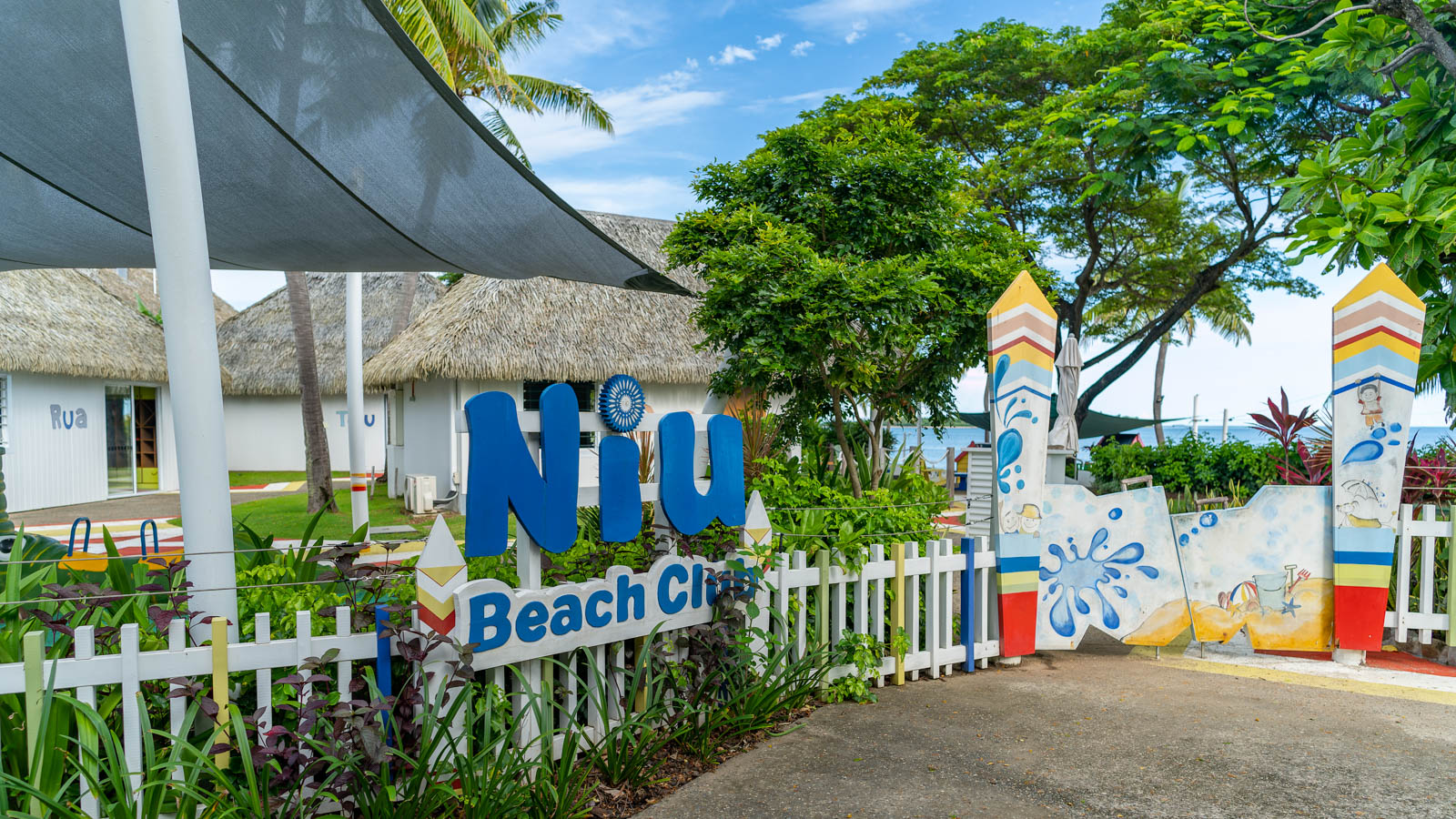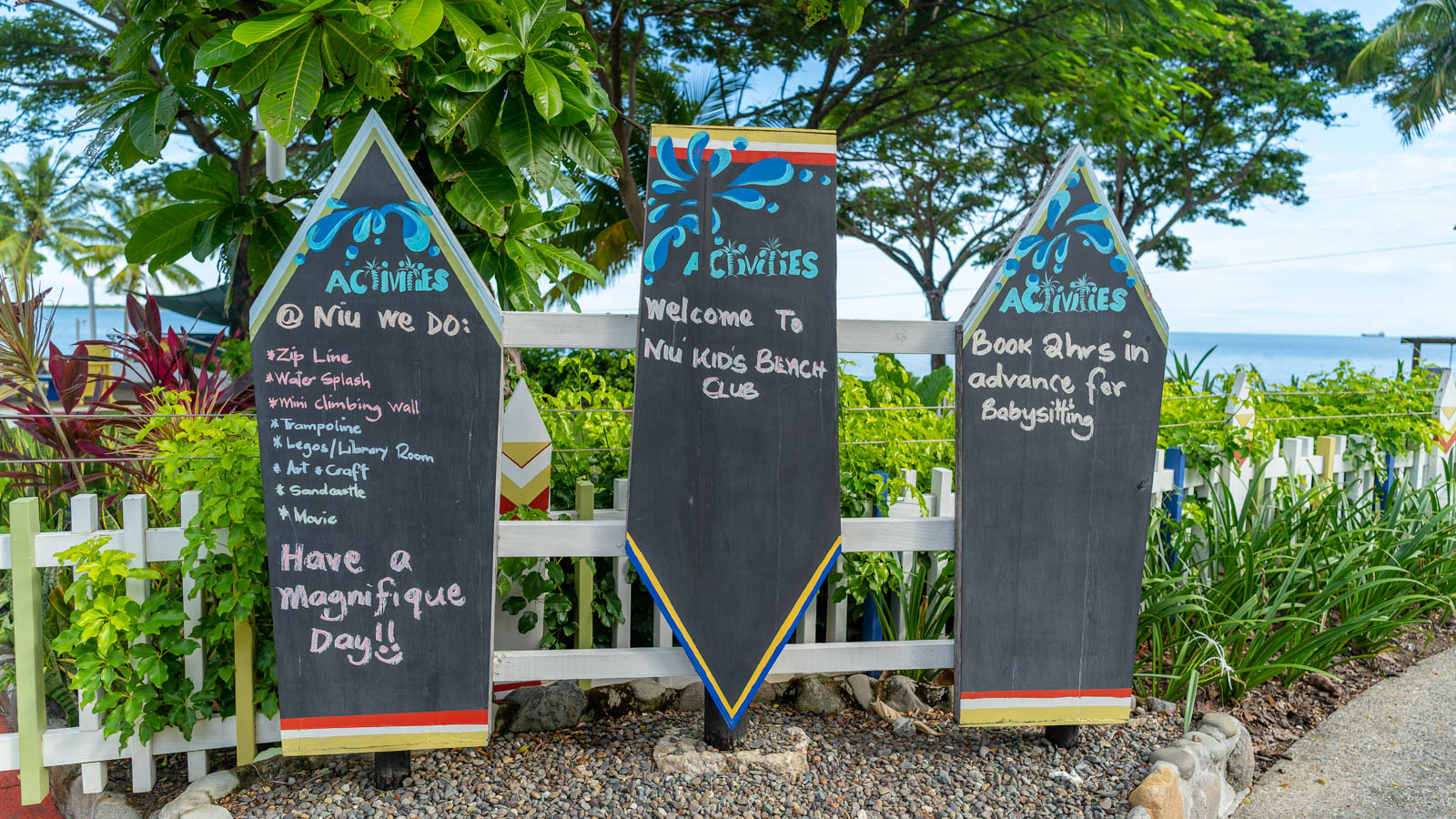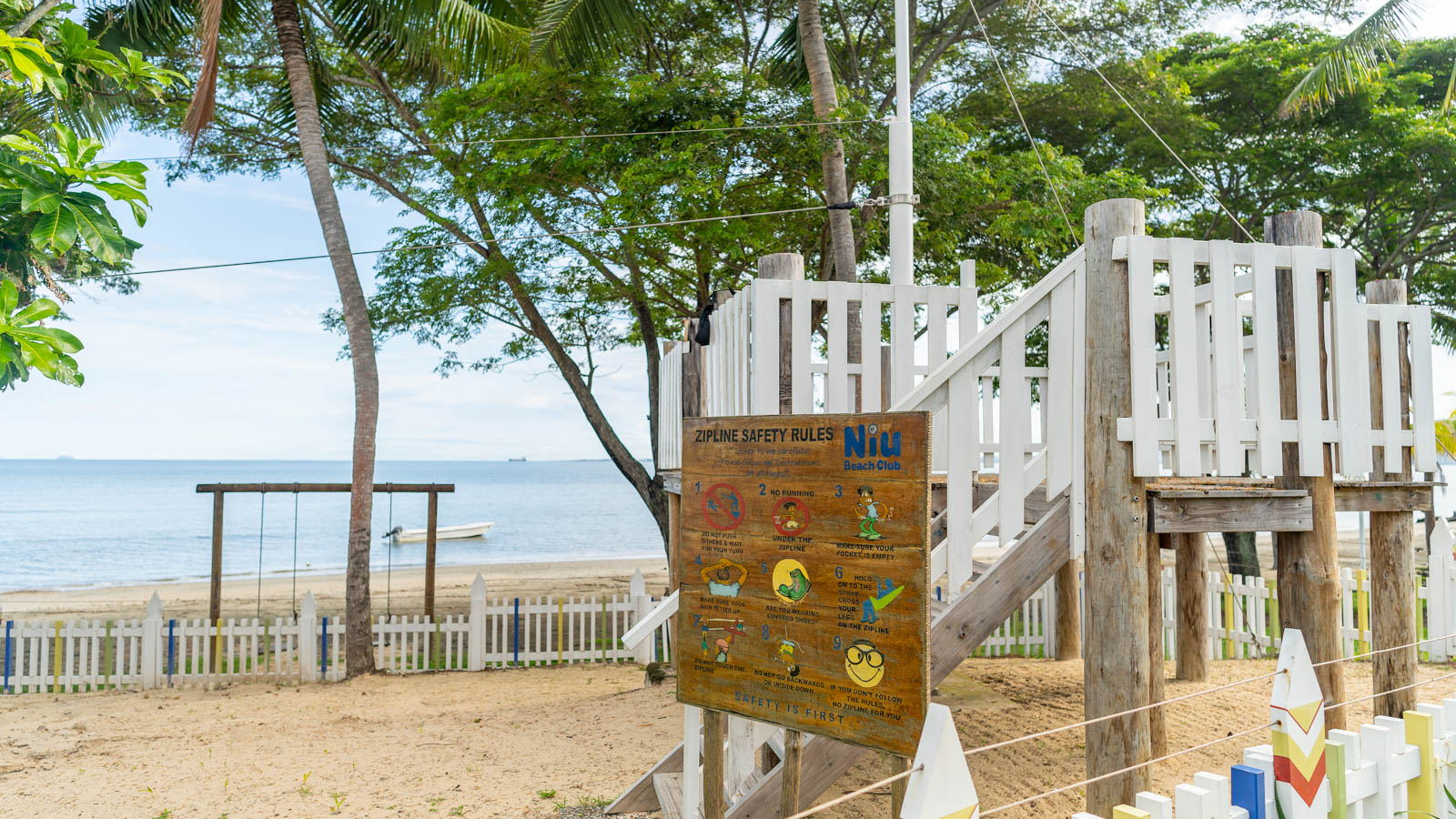 The Sofitel Spa and Salon
I didn't get the opportunity to partake in a treatment, but the Sofitel So Spa and Salon has a veritable menu. Each individual treatment bure is designed for individuals or couples wanting a private session. If I visited again, I'd be eyeing up the 'Exhilarating Body Massage' (FJ$140, about AU$90) for sure.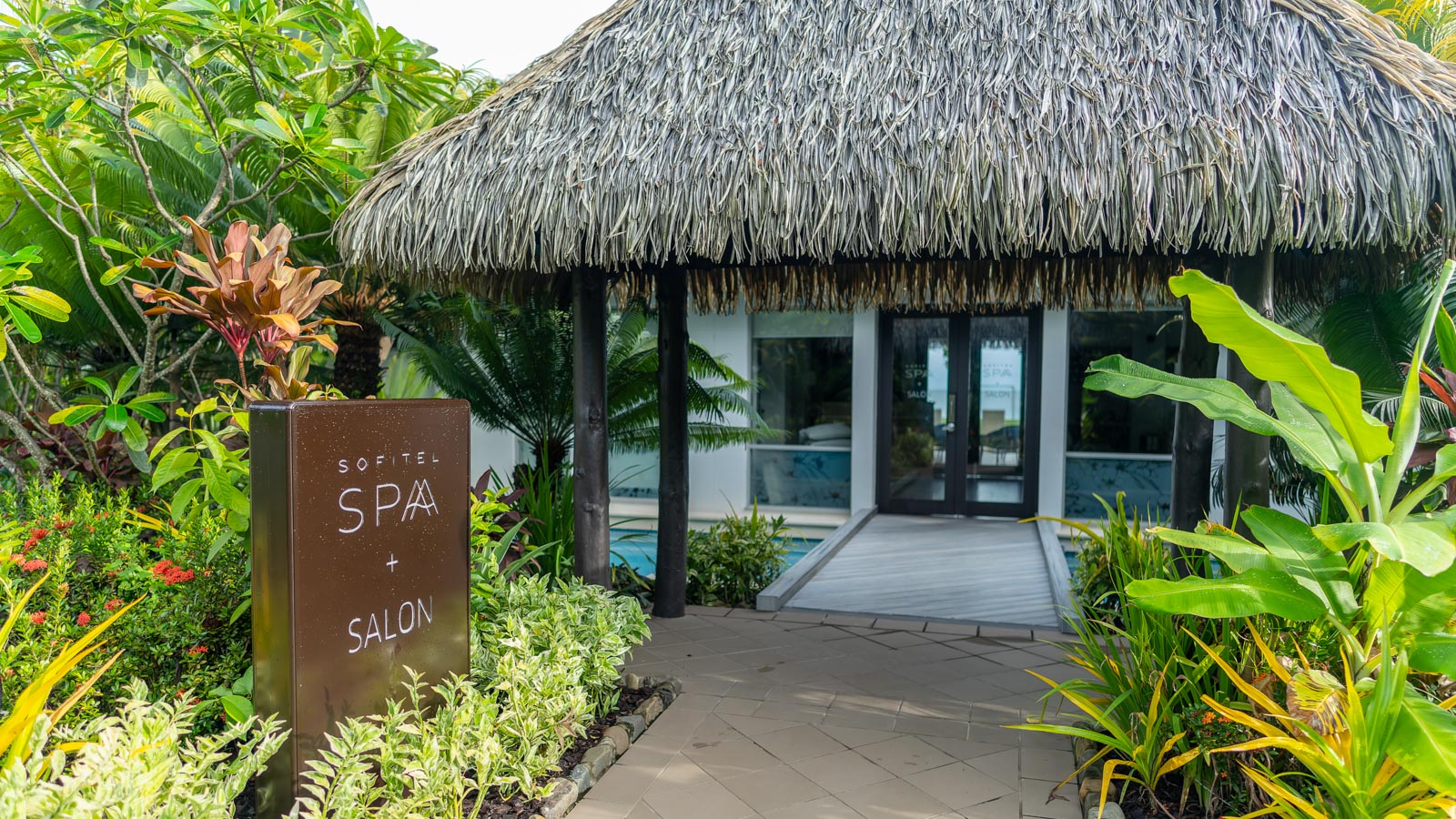 Sofitel Fitness Centre
It's not just a hotel gym, but a well-equipped fitness centre and personal trainer. There are plenty of free weights, cardio equipment, and even TVs with workout routines in case you want something to follow. And as someone who does Les Mills classes back at home, I'm thrilled to see BodyPump equipment. The instructor tells me they're looking forward to holding group sessions again soon.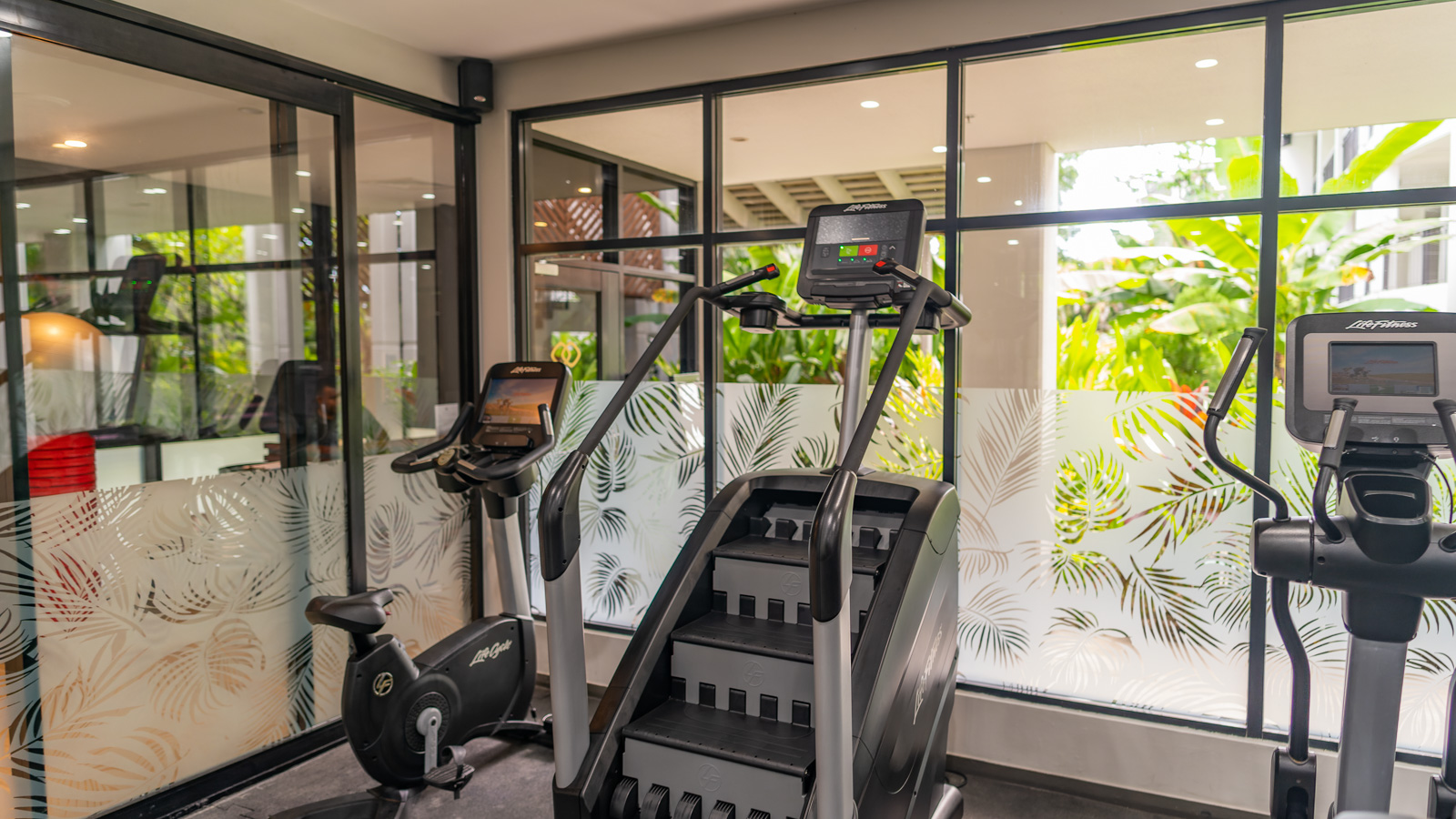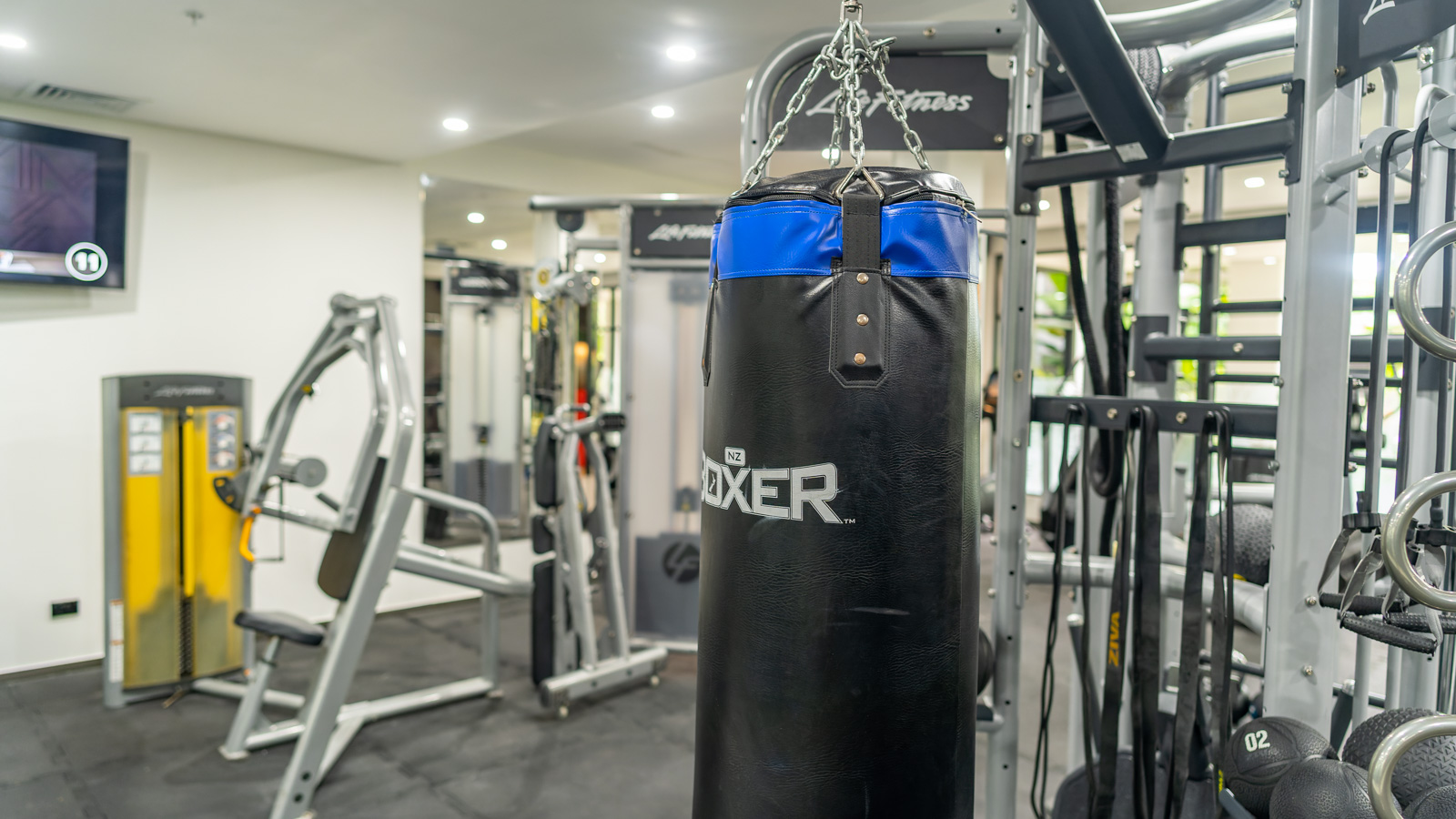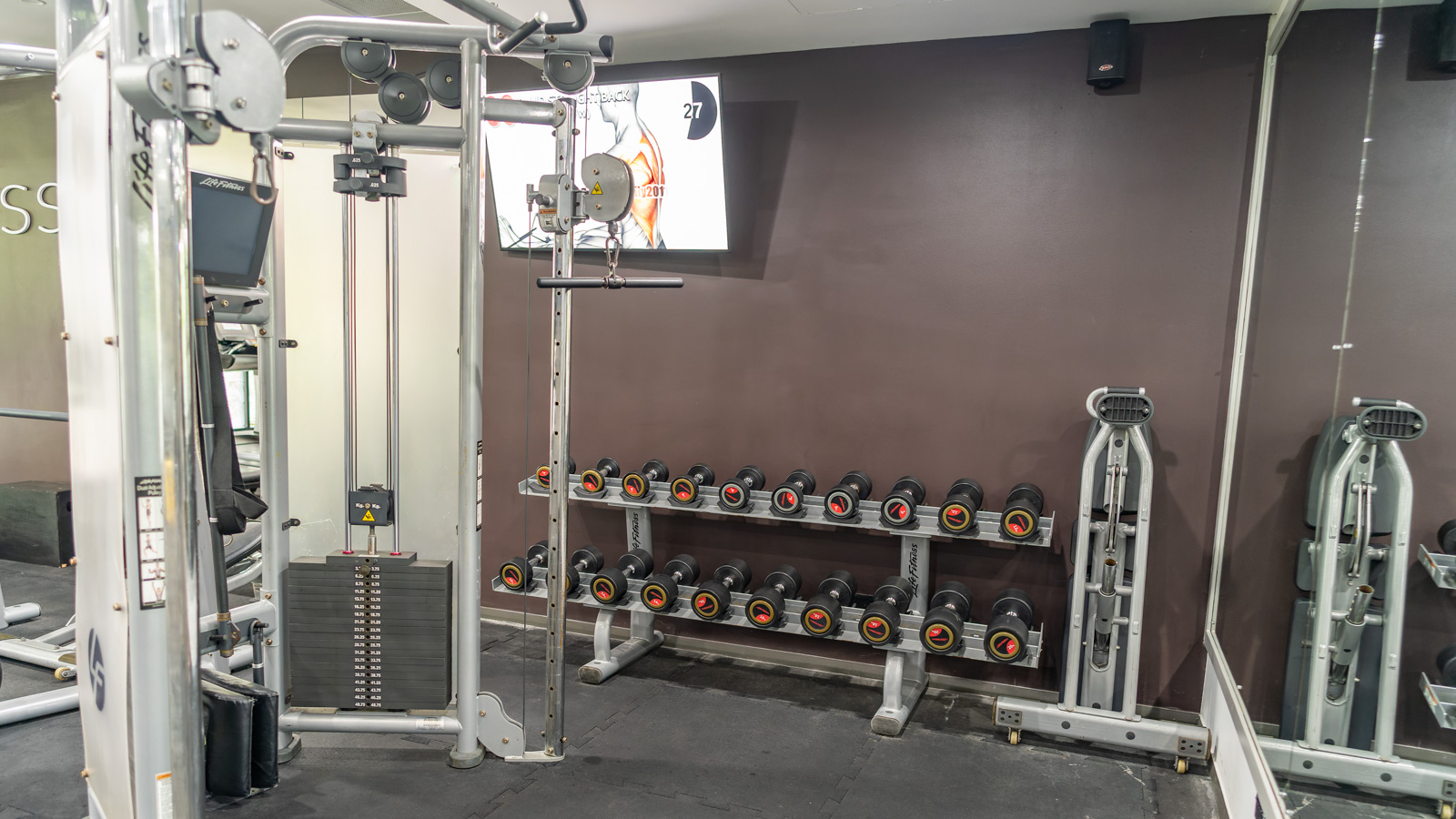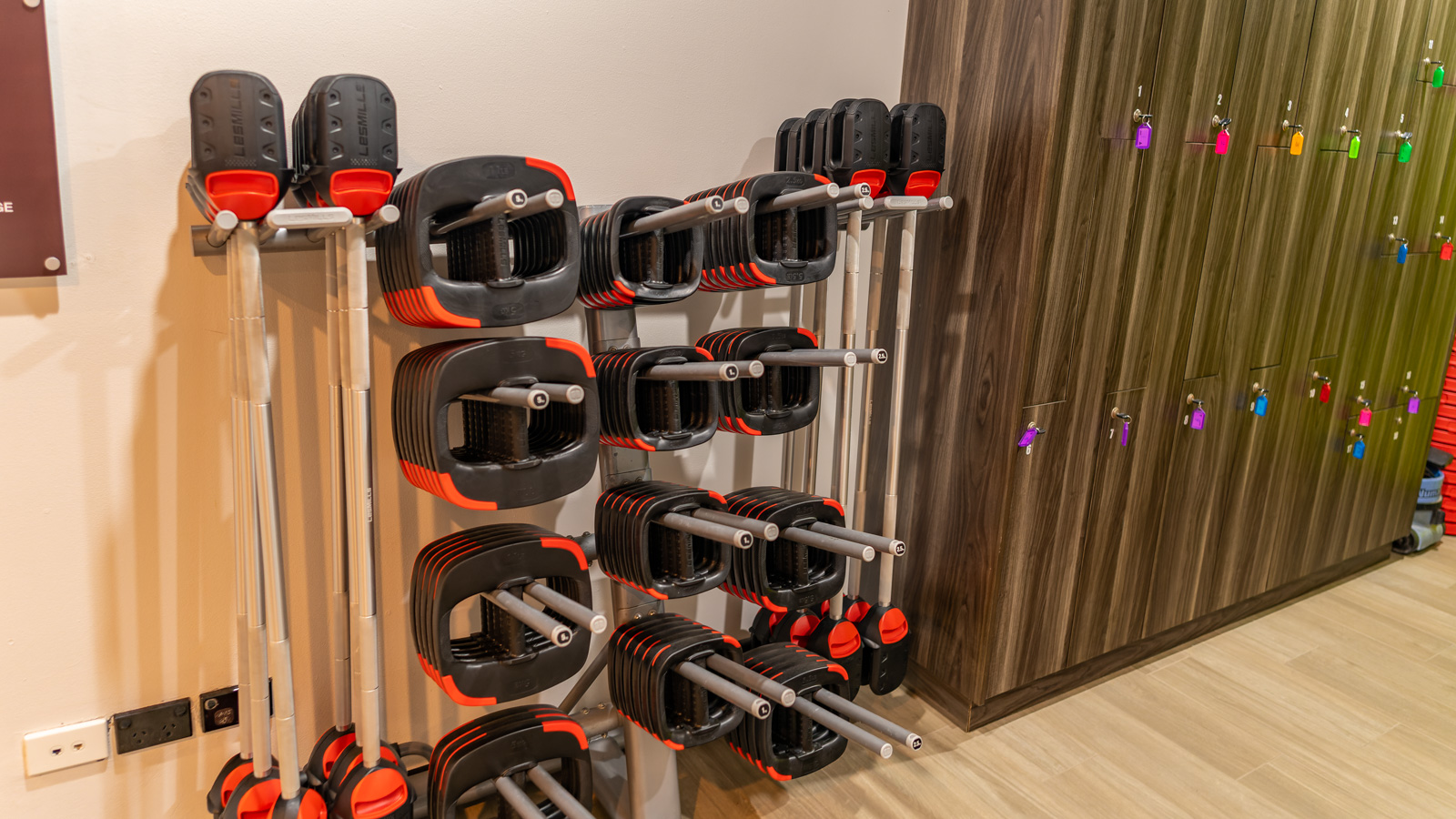 Fiji Airways Resort check-in and shopping arcade
Located at the front of the hotel, inside the La Parisienne cafe, there's an interesting sight. It's a Fiji Airways check-in counter! It's staffed from 5 am to late morning, welcoming all Fiji Airways passengers except for those heading to the US (due to local requirements).
Here, you can drop off your luggage and get your boarding pass. The bags are taken securely to the airport, so you're free to enjoy some breakfast and make your own way to the airport later.
In this area, there's also a handy shopping arcade including a Pure Fiji store (which had better prices than Australia) and a Jack's of Fiji shop for souvenirs.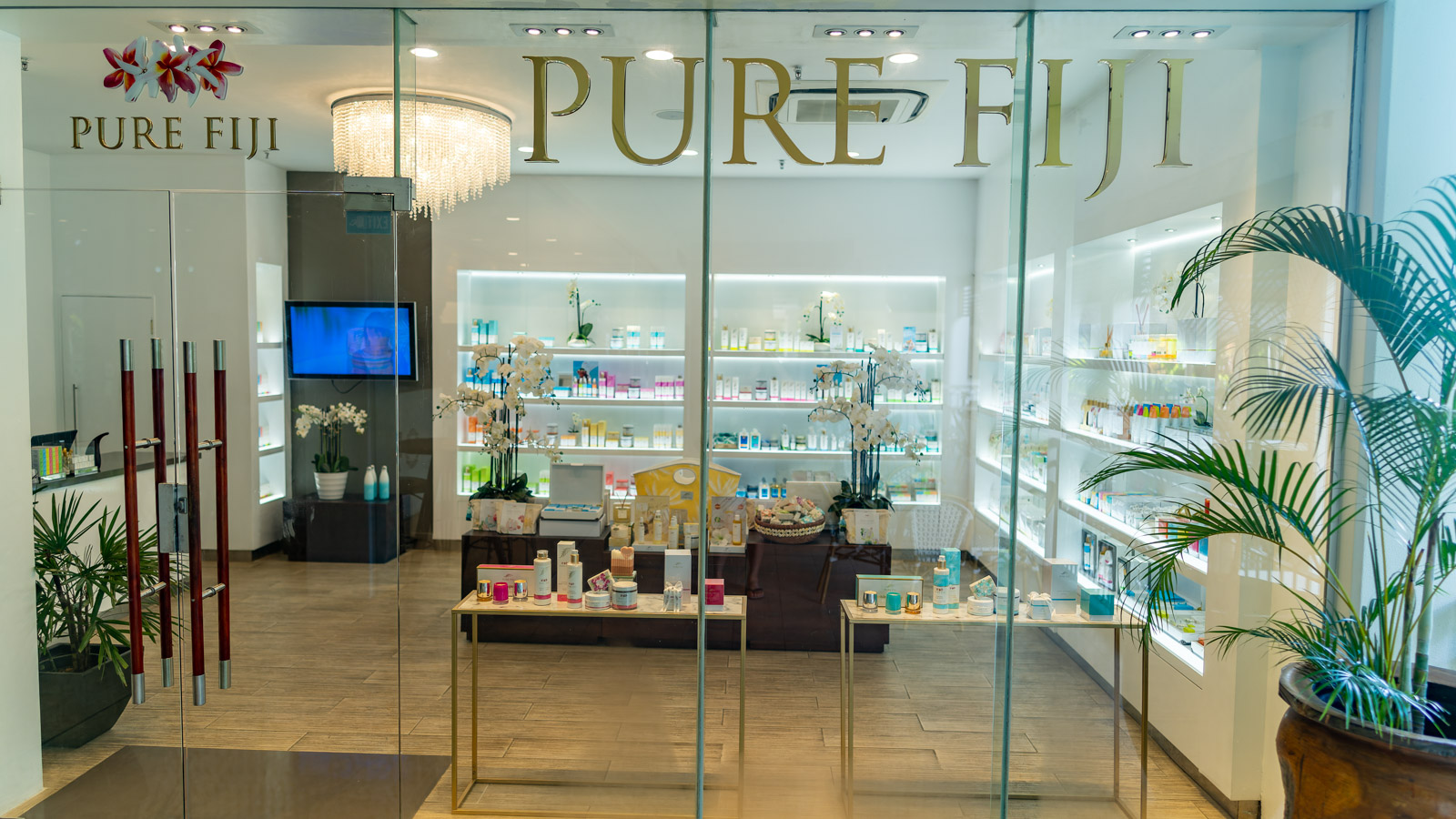 Dining at the Sofitel Fiji
The Sofitel Fiji Resort & Spa has three main restaurants, and a few other smaller bars, cafes and lounges. Over the three nights I'm here, I dine at all the main restaurants for breakfast and dinner, plus try out the Journal Lounge and room service. My verdict: the restaurants and lounge are mostly a hit, but room service is a miss.
I'm also an Accor Plus member, which means I get 25% off dining at Accor properties as a solo traveller. (If you travel with a partner, you'll both get a whopping 50% off instead).
During my stay, I don't make it to Republik Night Club, which serves drinks from 9 pm to late on Fridays and Saturdays, or La Parisienne, the hotel lobby cafe. But here's my take on everything else.
Bazaar Kitchen & Bar
Bazaar is a buffet restaurant, with six distinct cooking stations including Japanese, American Grill, and more. As all rooms include breakfast at this resort, you'll probably find yourselves here in the morning.
The options are almost overwhelming – eggs, bacon, steamed buns, sushi, congee and fruits are just the tip of the iceberg. Even the fussiest eater should be able to piece together a tasty morning meal.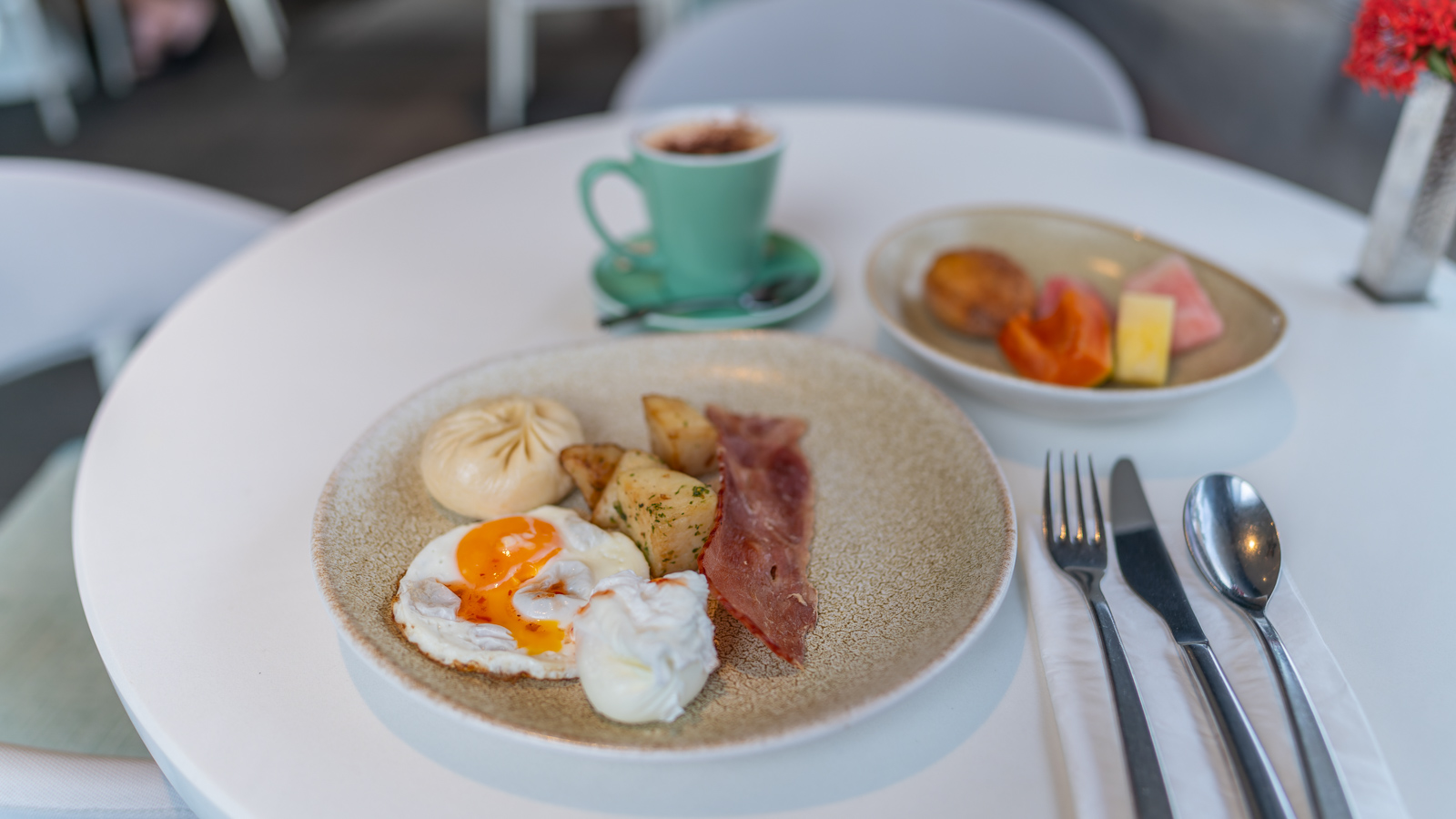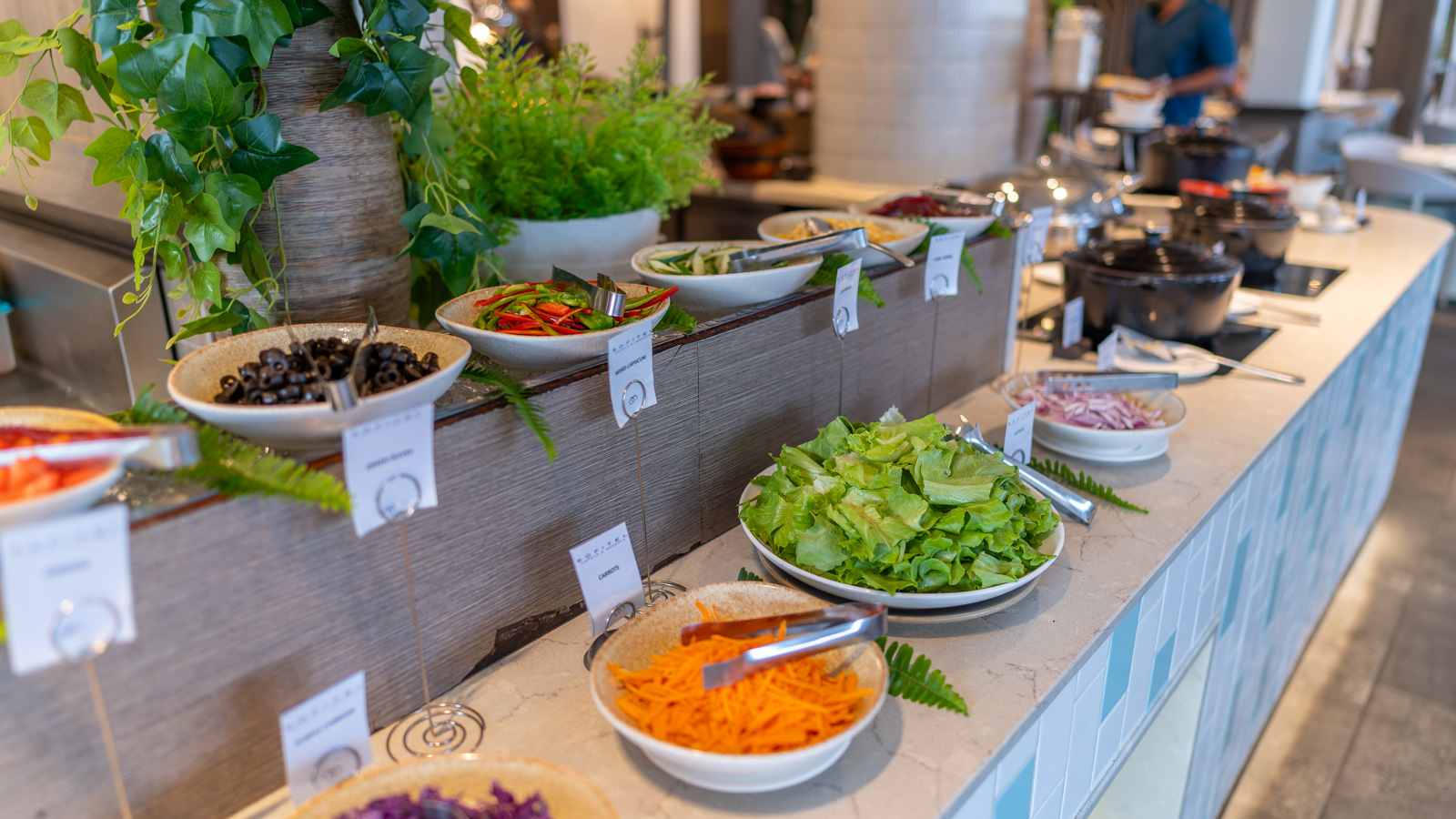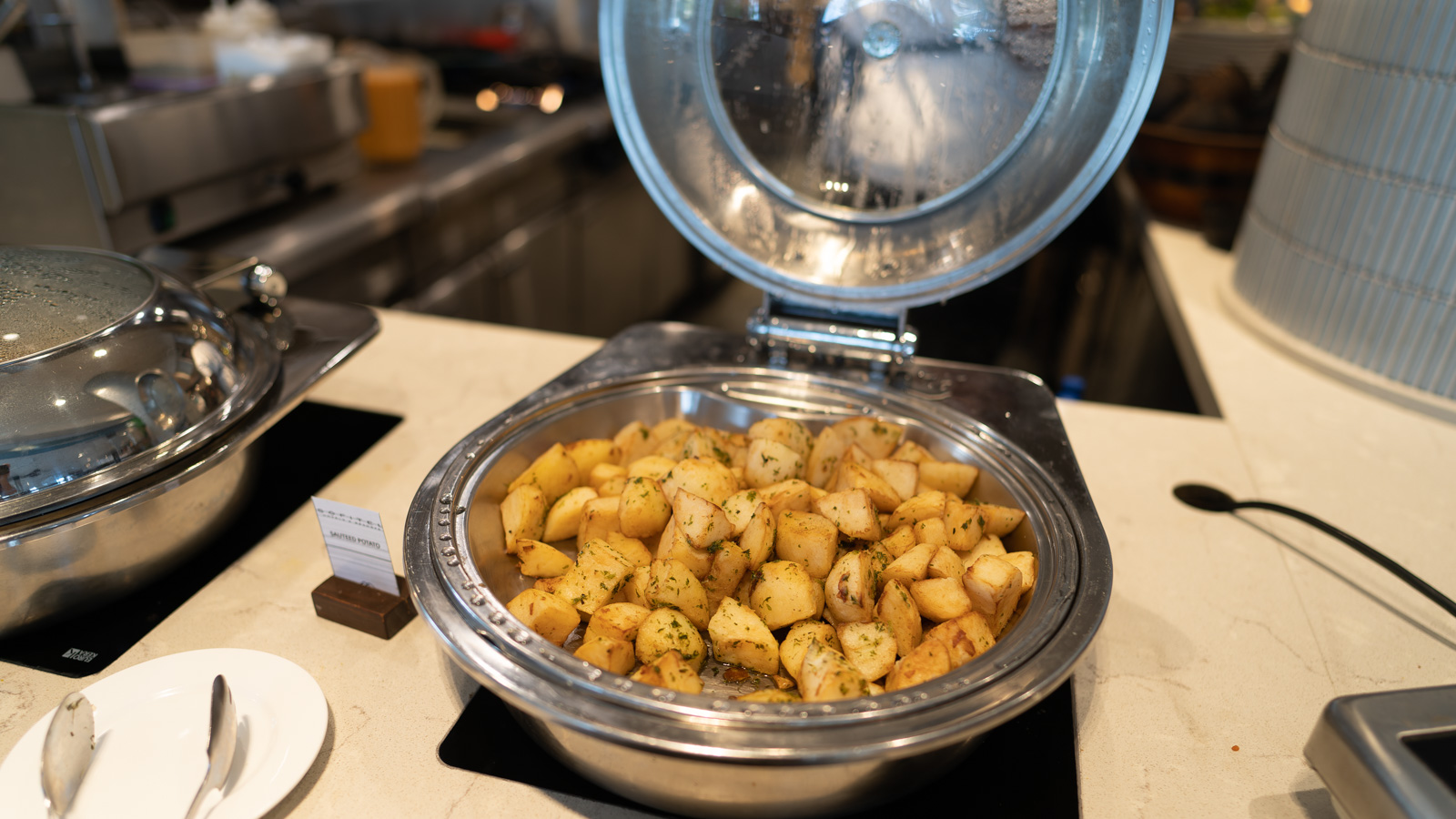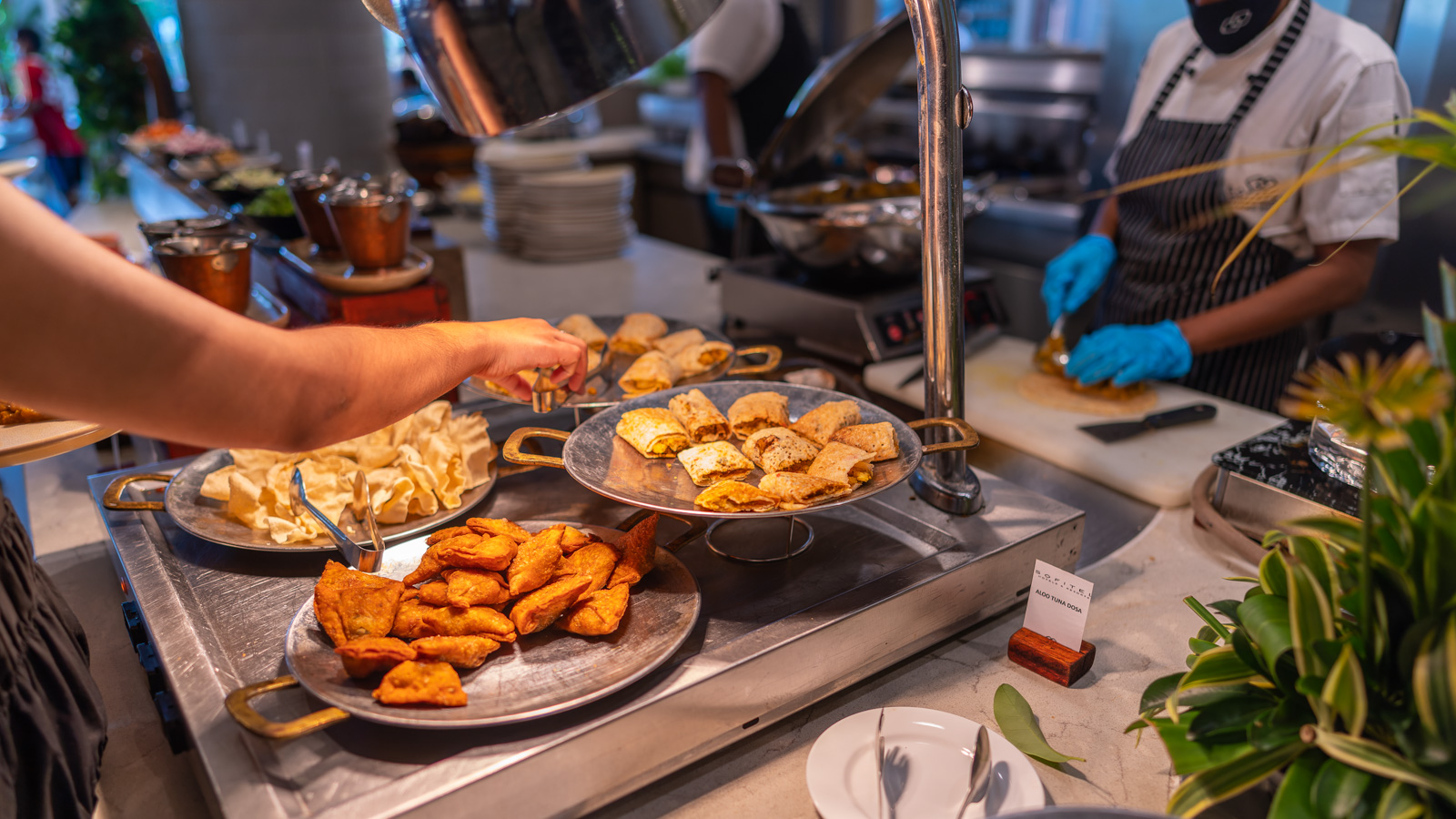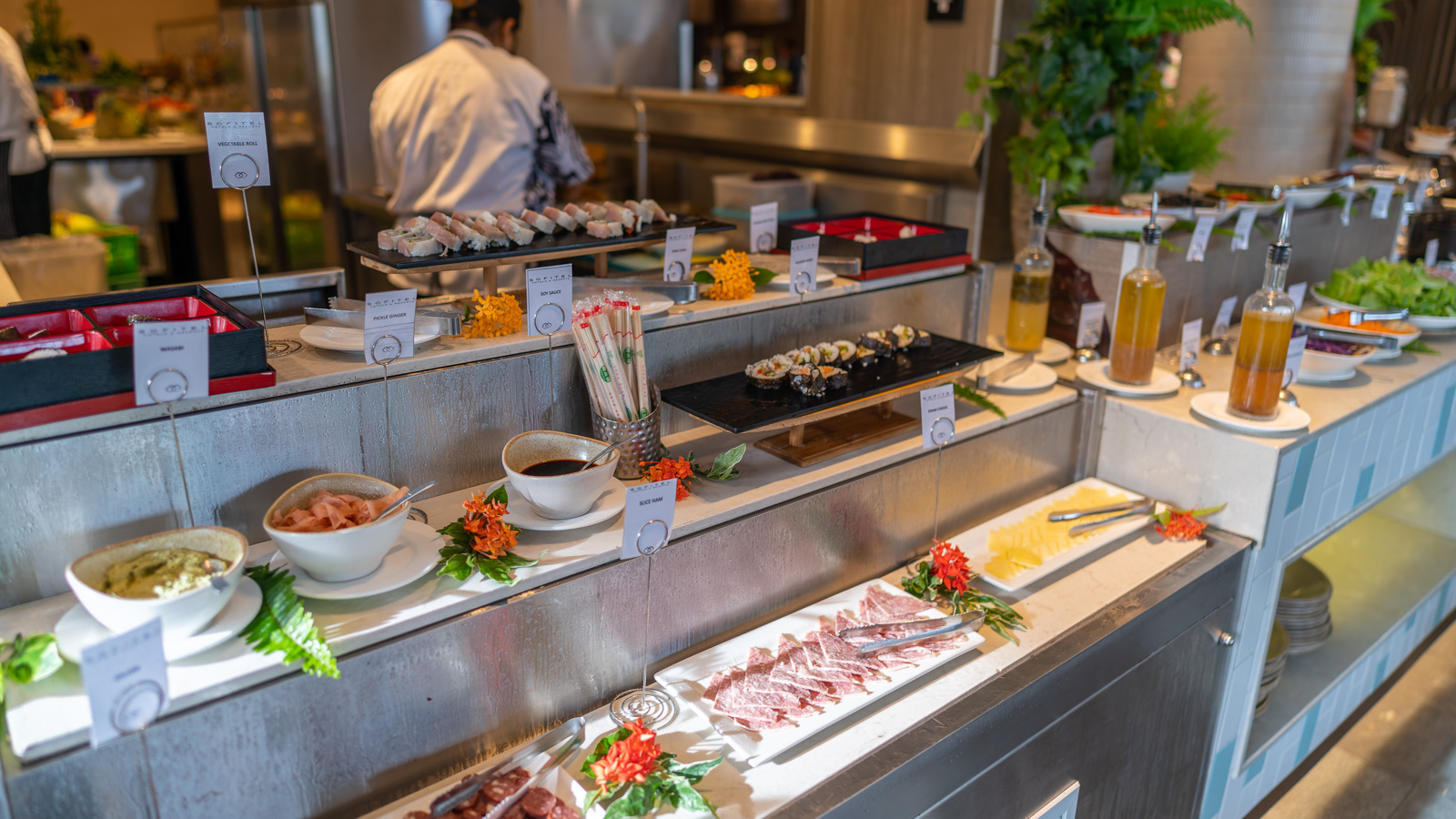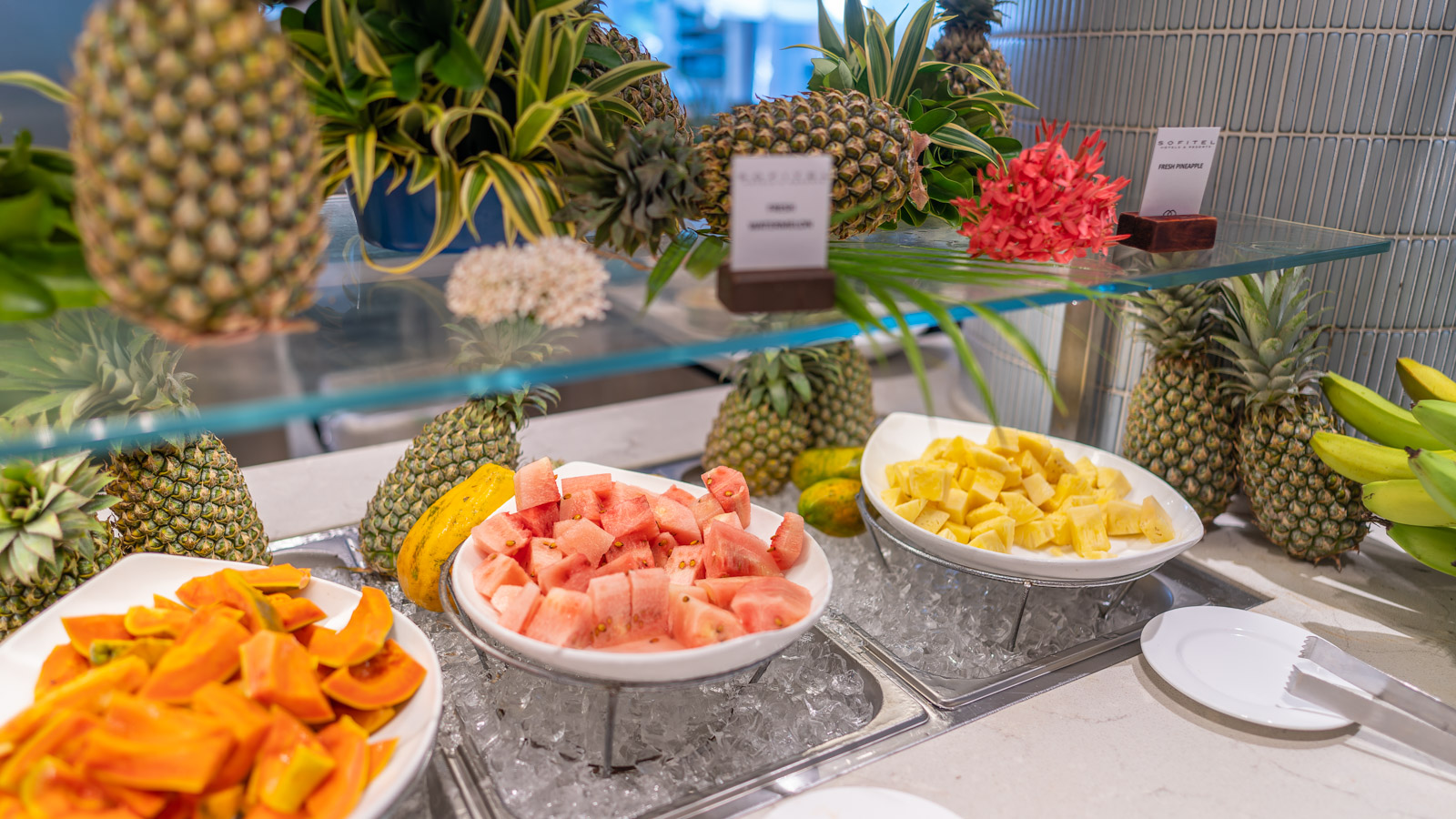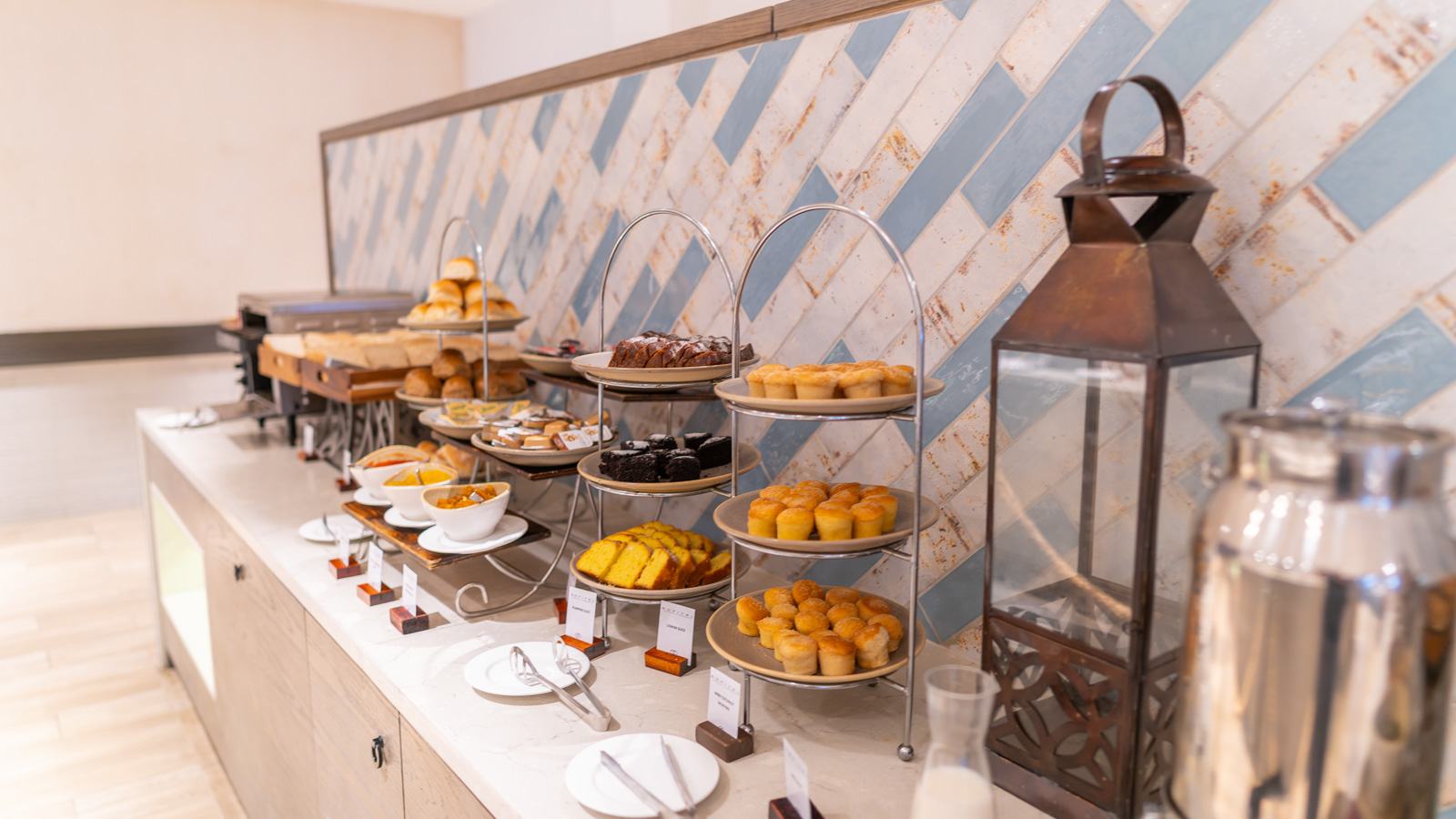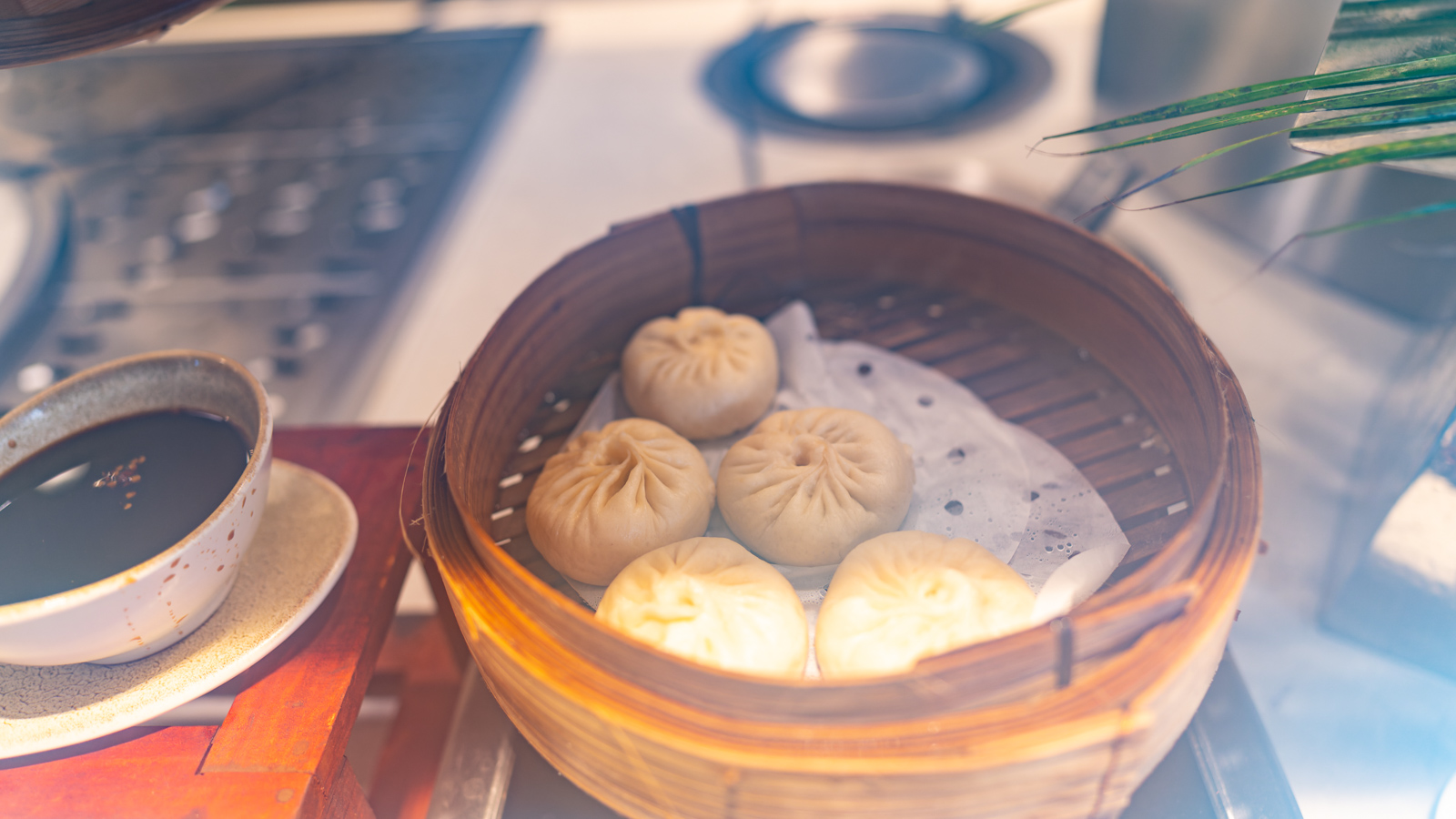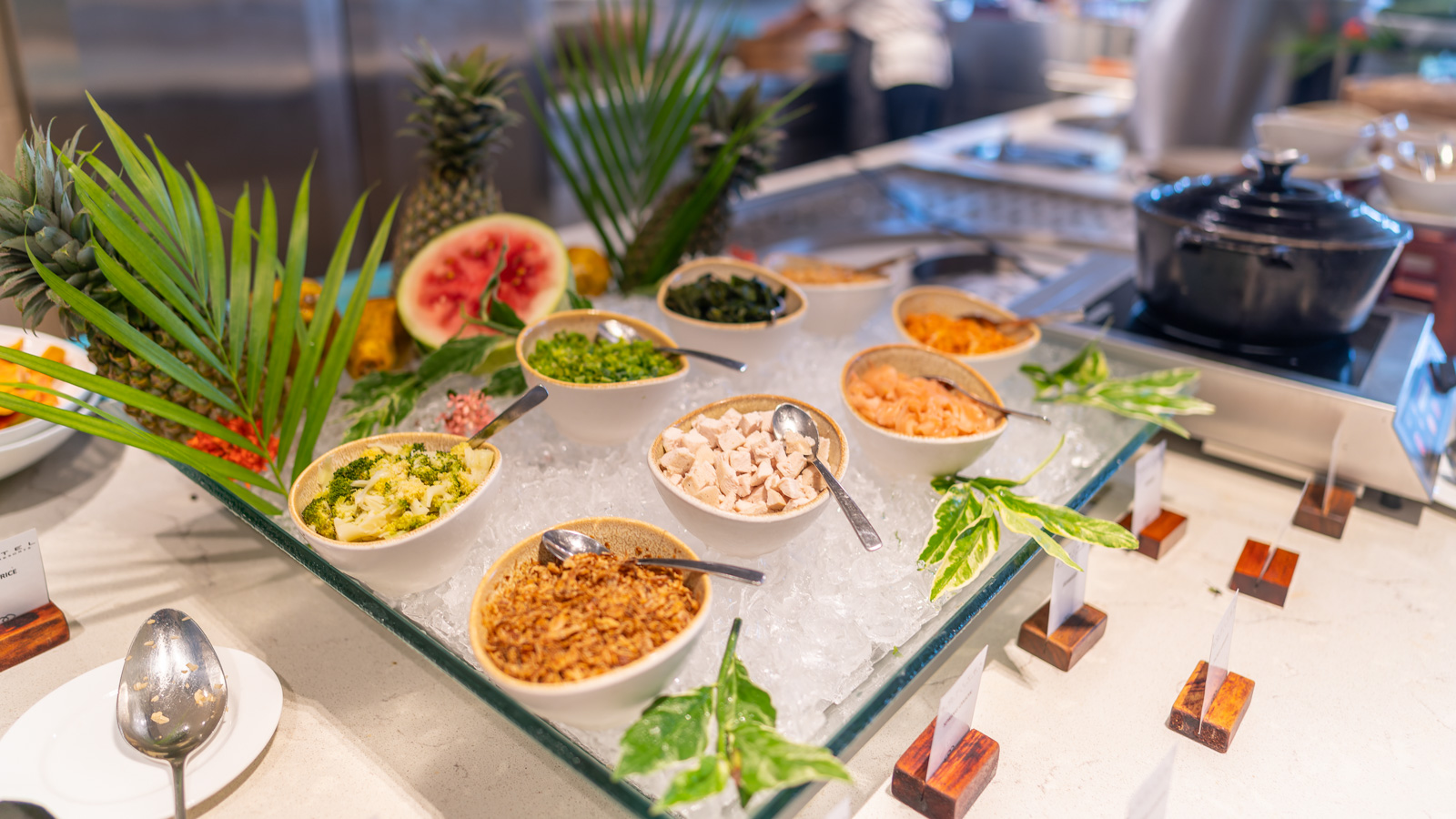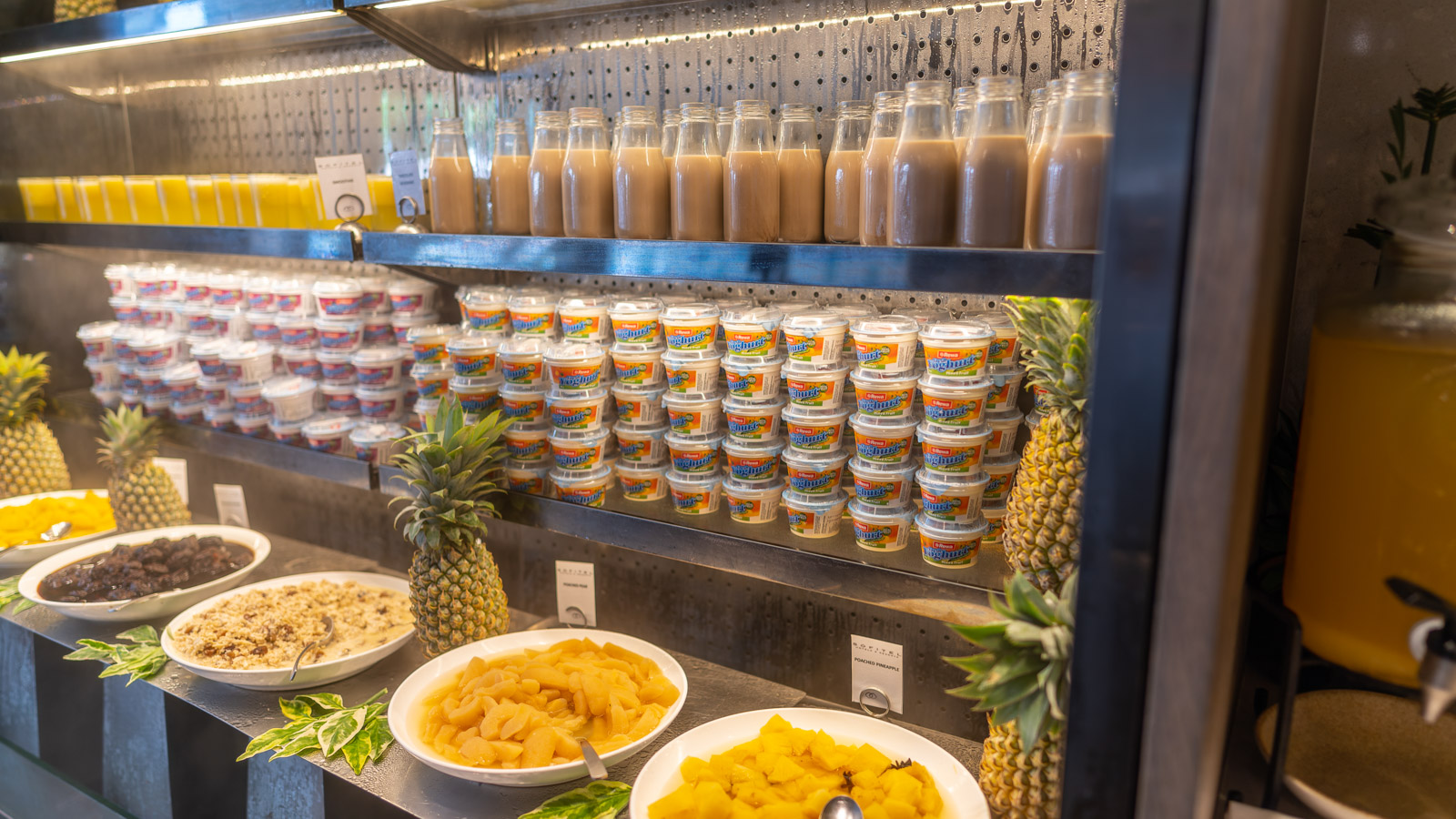 You can come back here for a paid buffet lunch or dinner, though I wasn't able to fit it in.
The Journal Lounge
My second breakfast is at The Journal Lounge. Given its exclusivity, there's only one other couple dining here during my visit, compared to the many people at the Bazaar buffet restaurant next door.
There's a small continental buffet selection, but the a la carte menu is where things get interesting. I settle on Chef Gurjeet's Egg Bhurji – a simply sensational Indian take on scrambled eggs cooked in spices.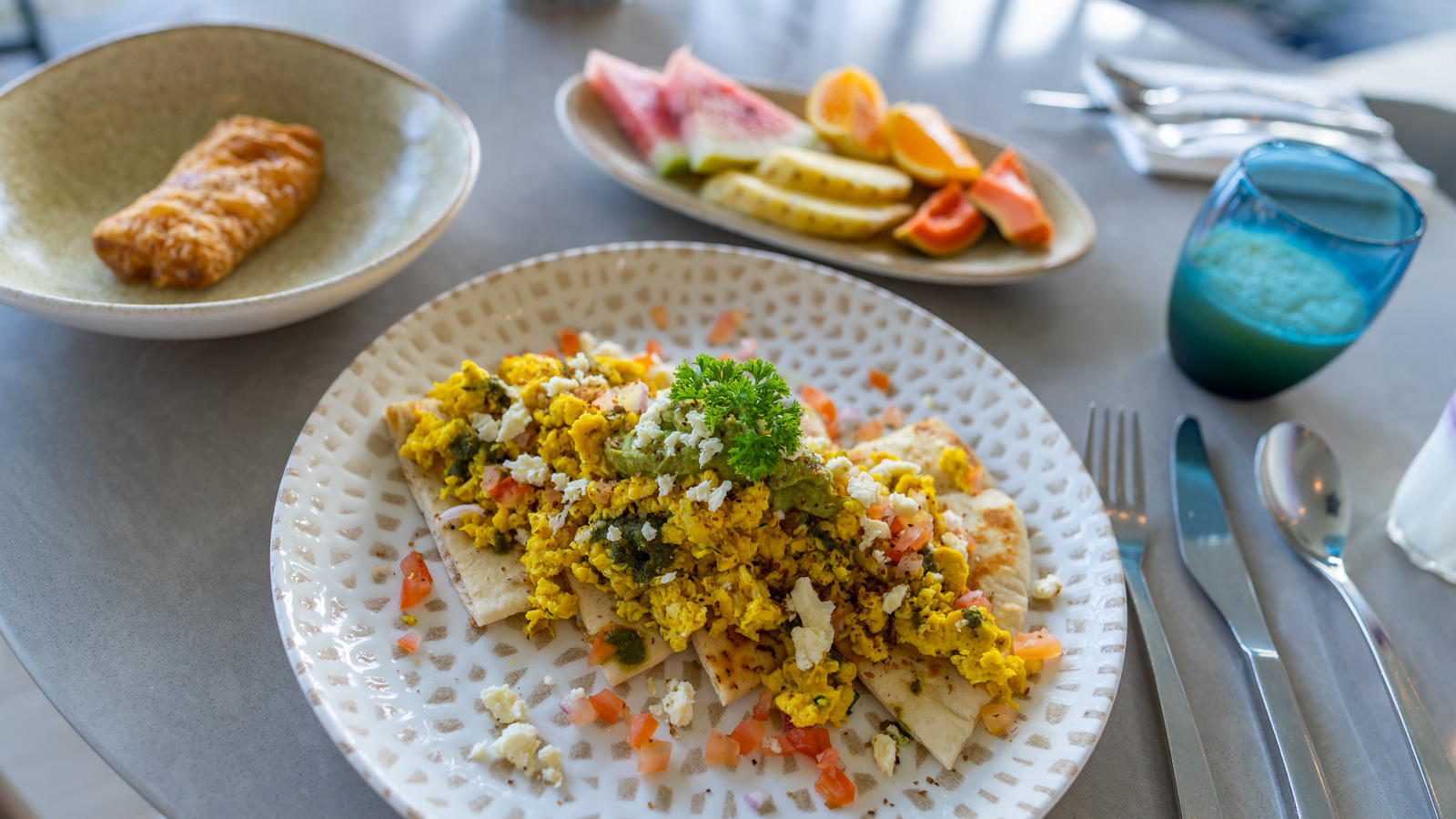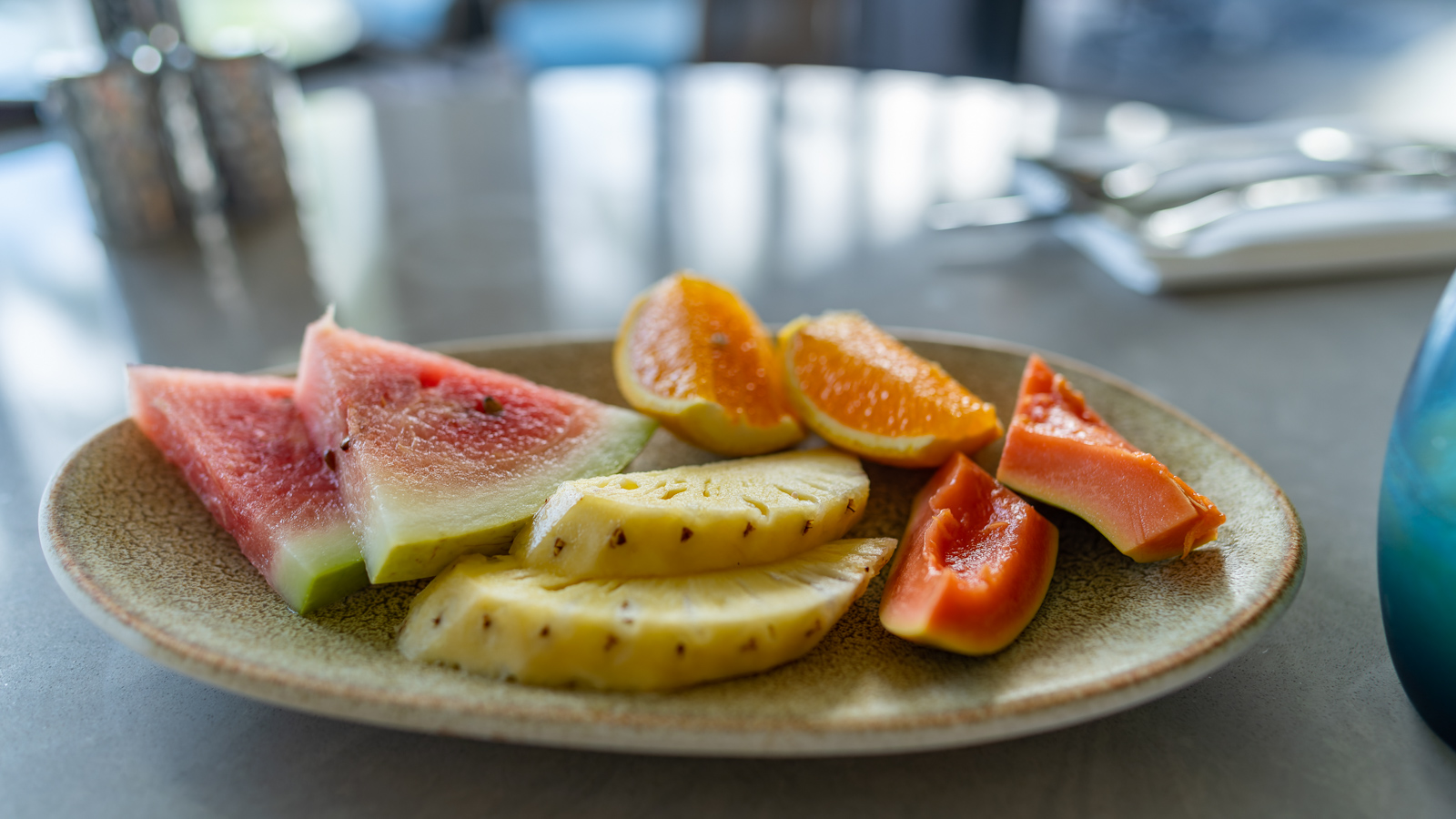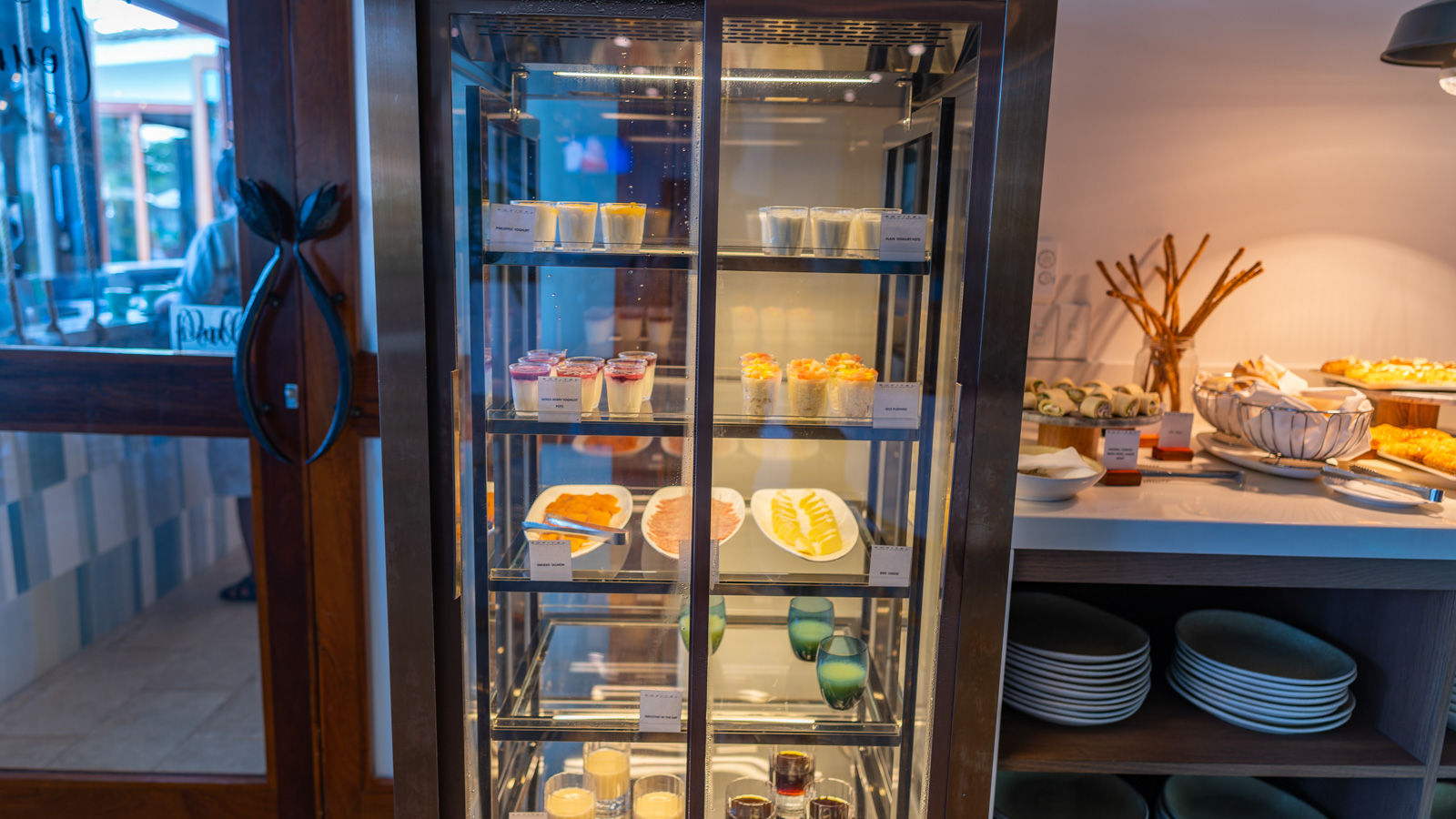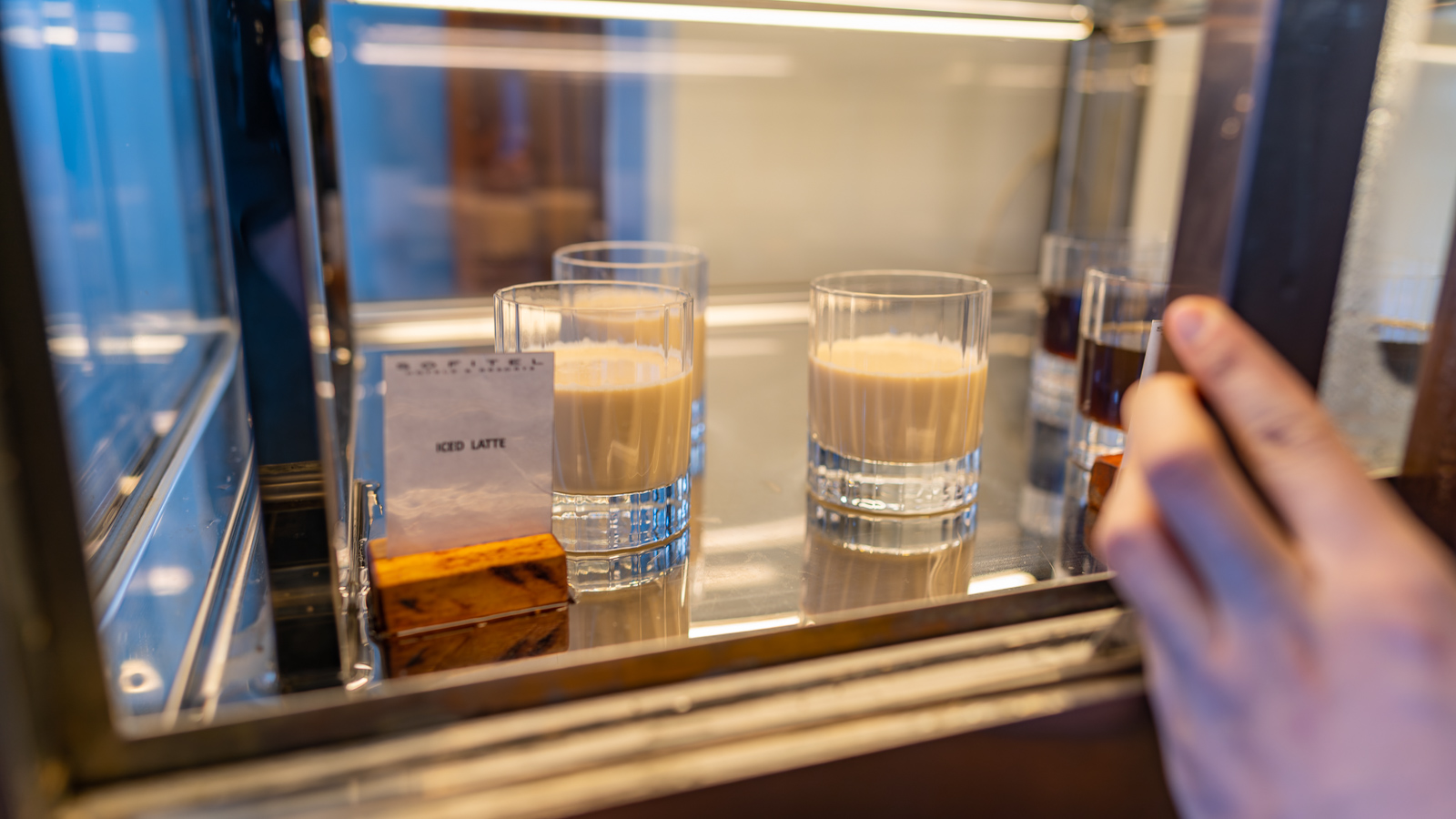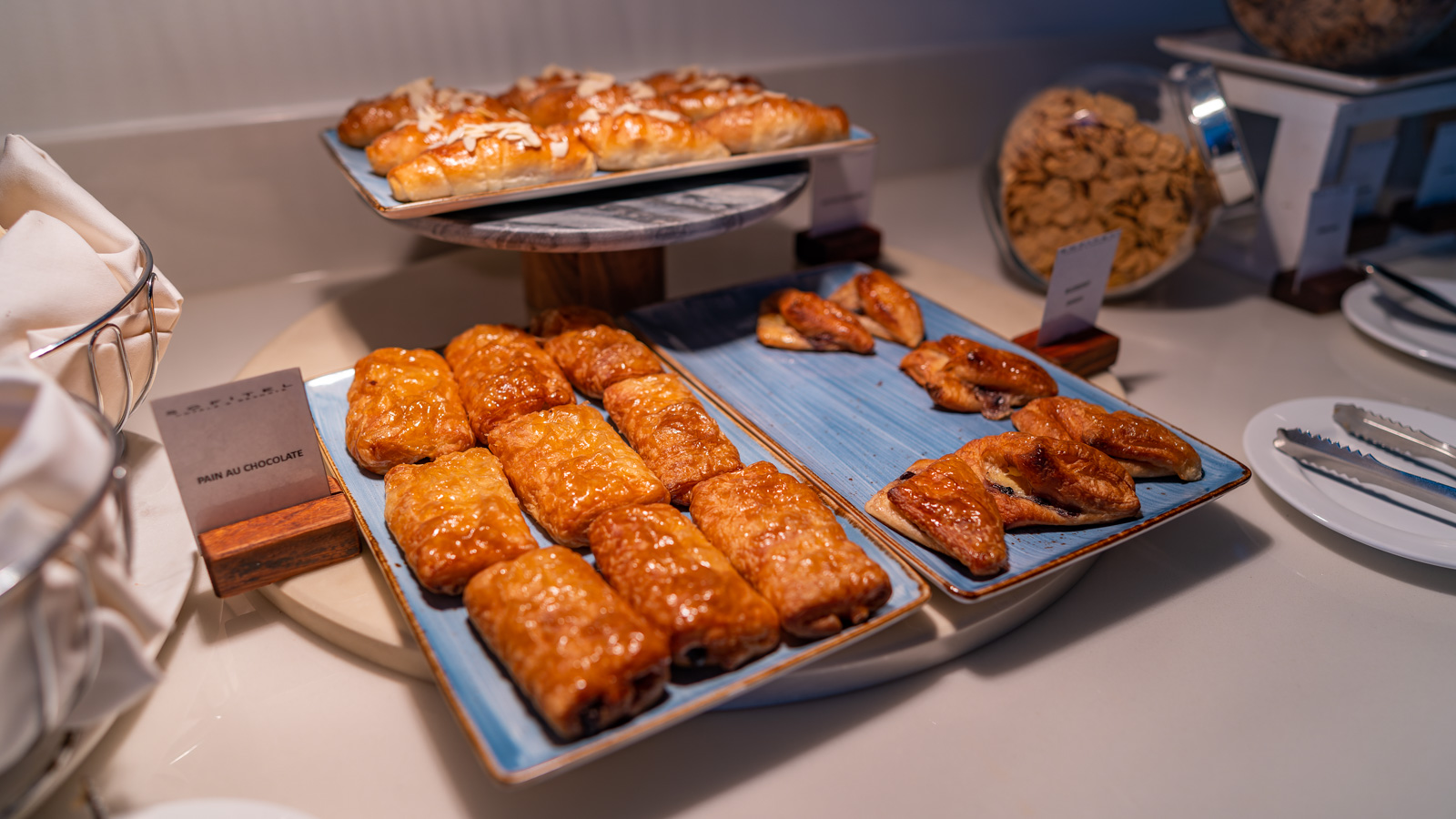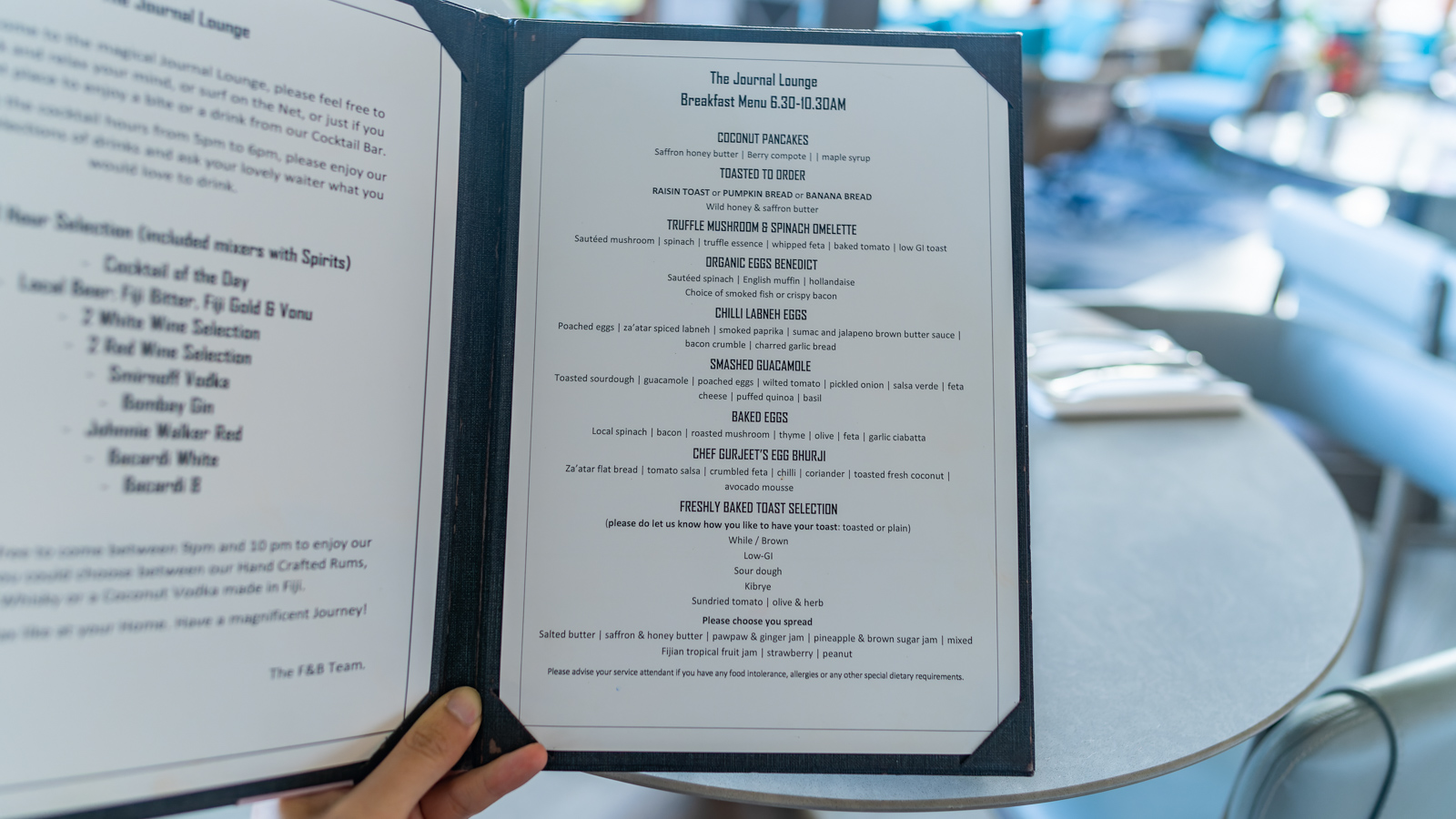 Solis Restaurant
Seafood lovers should flock to Solis, which specialises in Mediterranean seafood cuisine. It's also the main restaurant pumping out poolside snacks (pizzas, burgers and more) and kids' meals.
I dine at dinner, starting with the Solis Signature scallops, squid and chorizo. It's a delightful concoction of seafood and sausage in a spicy tomato base. I'm also offered a bread roll and butter on the side.
Next up, I opt for the Signature Kokoda entrée served in a main course size. This is a traditional Fijian delicacy of marinated local fish with coconut cream. But I found the serving was too big – it's probably best left as an entrée size!
The mango parfait is a sweet ending, particularly with the toasted coconut ice cream. With a strong-hitting 'Appelder Fresher' gin-based cocktail on the side, dinner comes to FJ$66 (AU$42) after the Accor Plus discount, which is quite reasonable for three courses and a drink.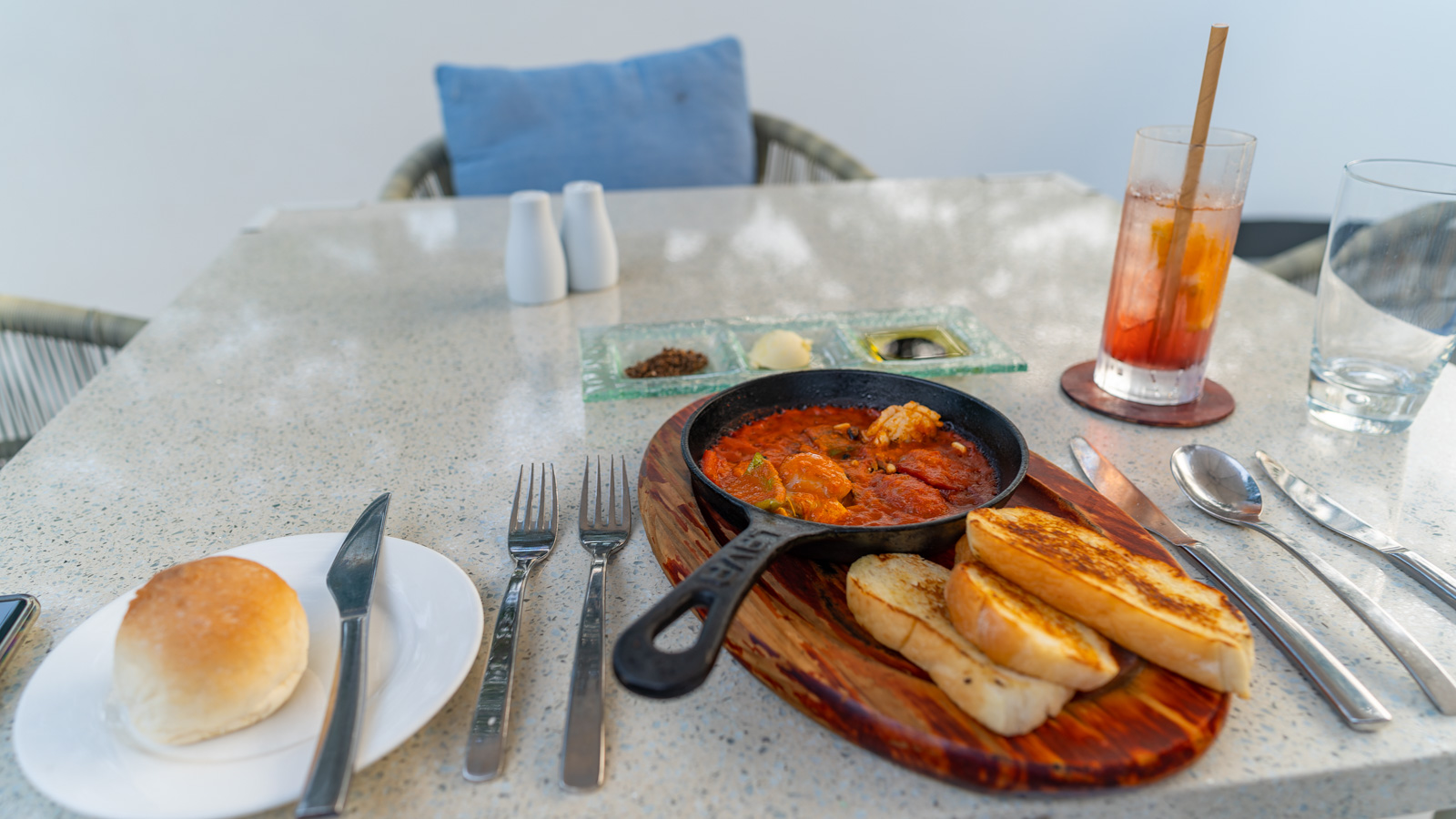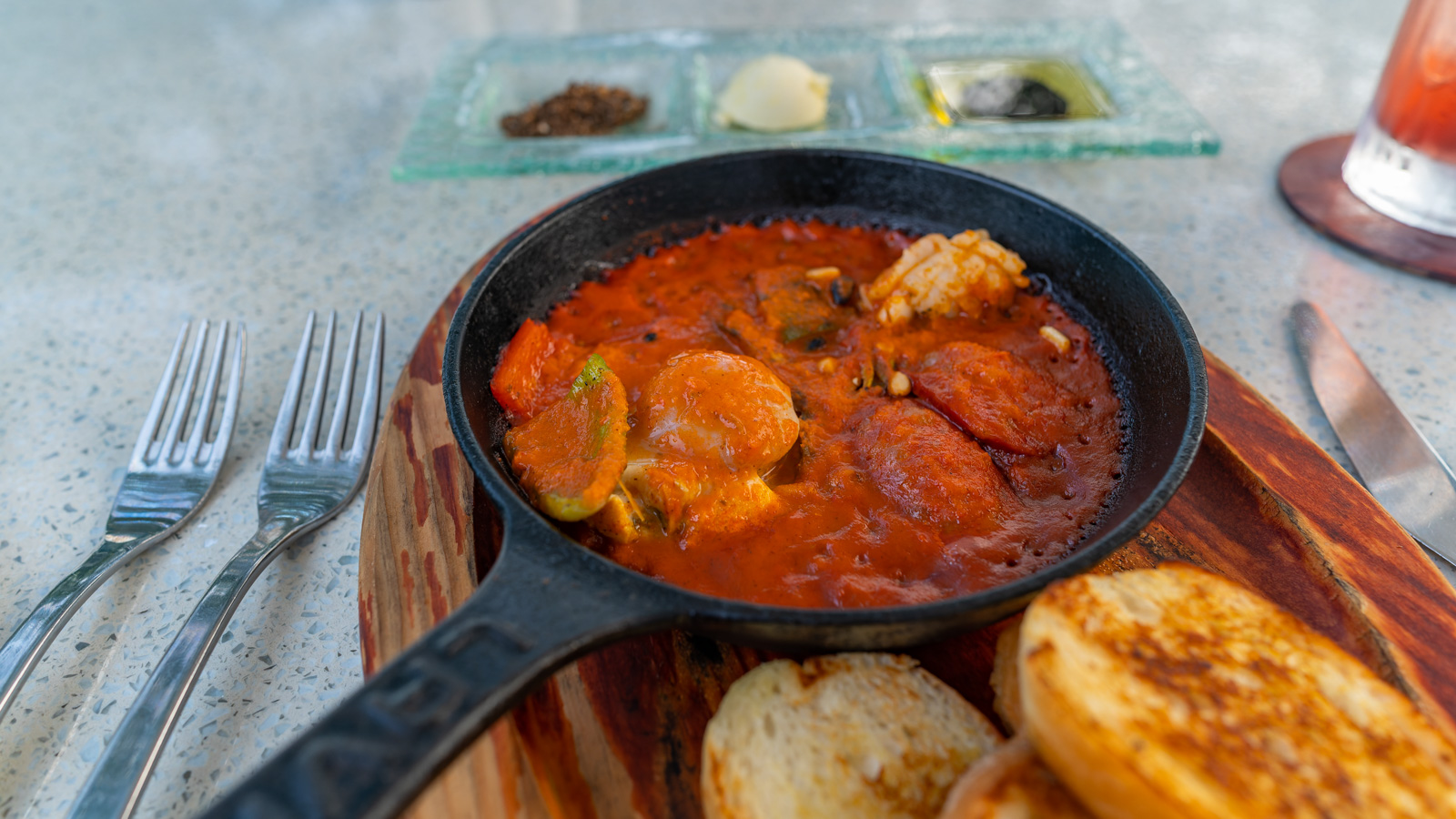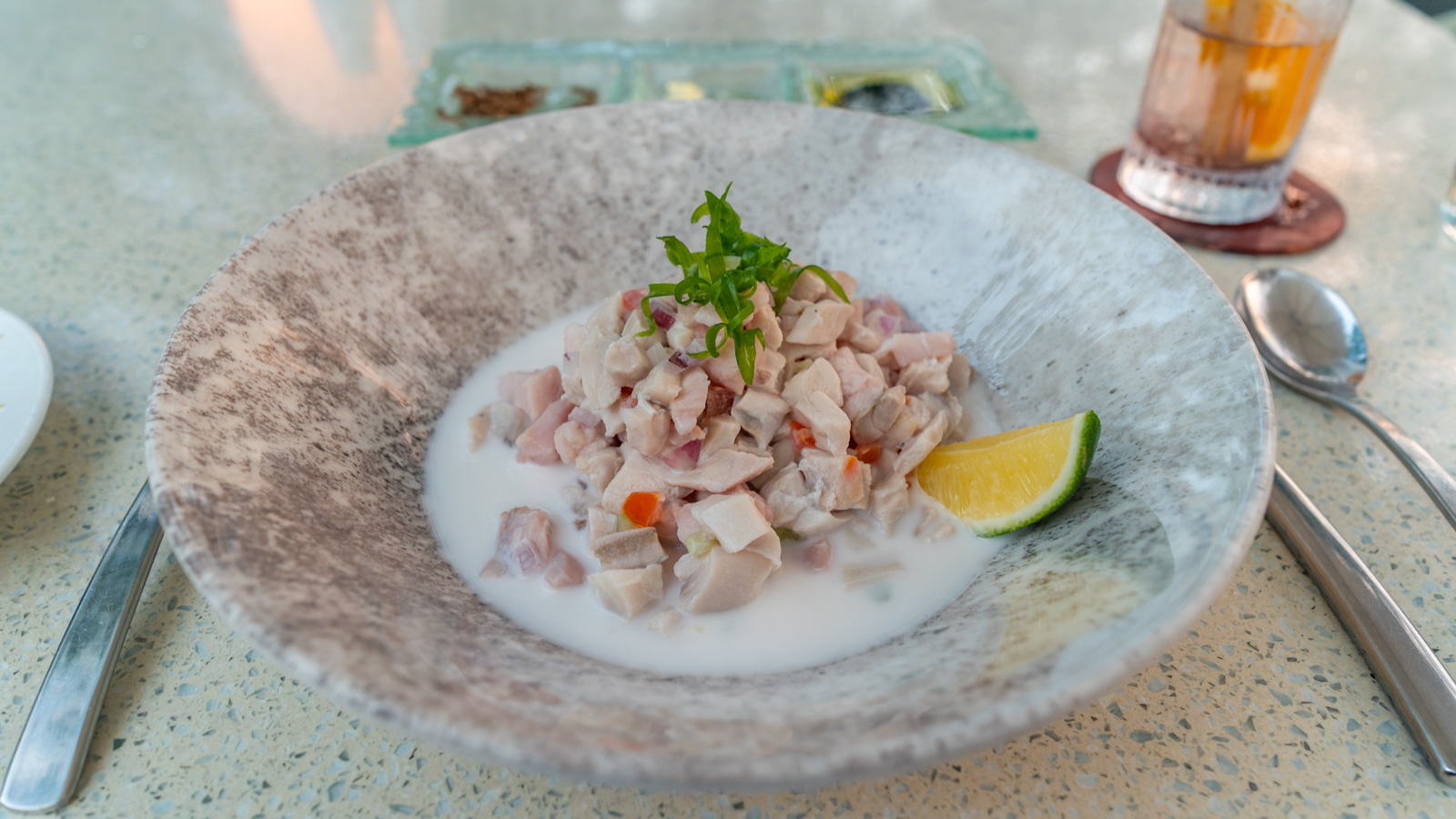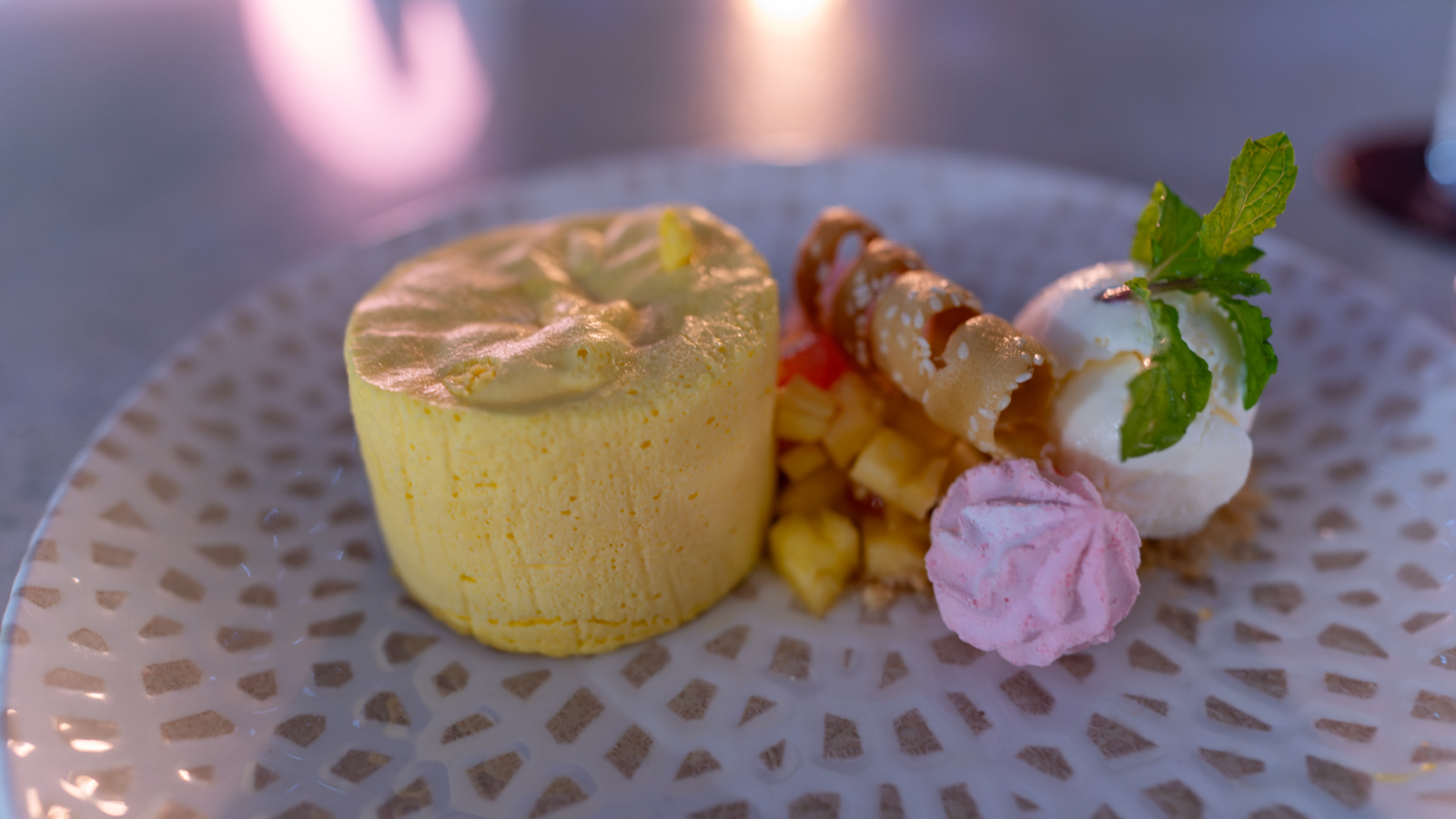 Waitui Bar & Grill
Once you're done lounging away the day at the Waitui Beach Club, why not enjoy a kids-free dinner at Waitui Bar & Grill? It's an upscale evening location, set amongst the infinity pool. There are even some highly-coveted private dining tables set up along the beach!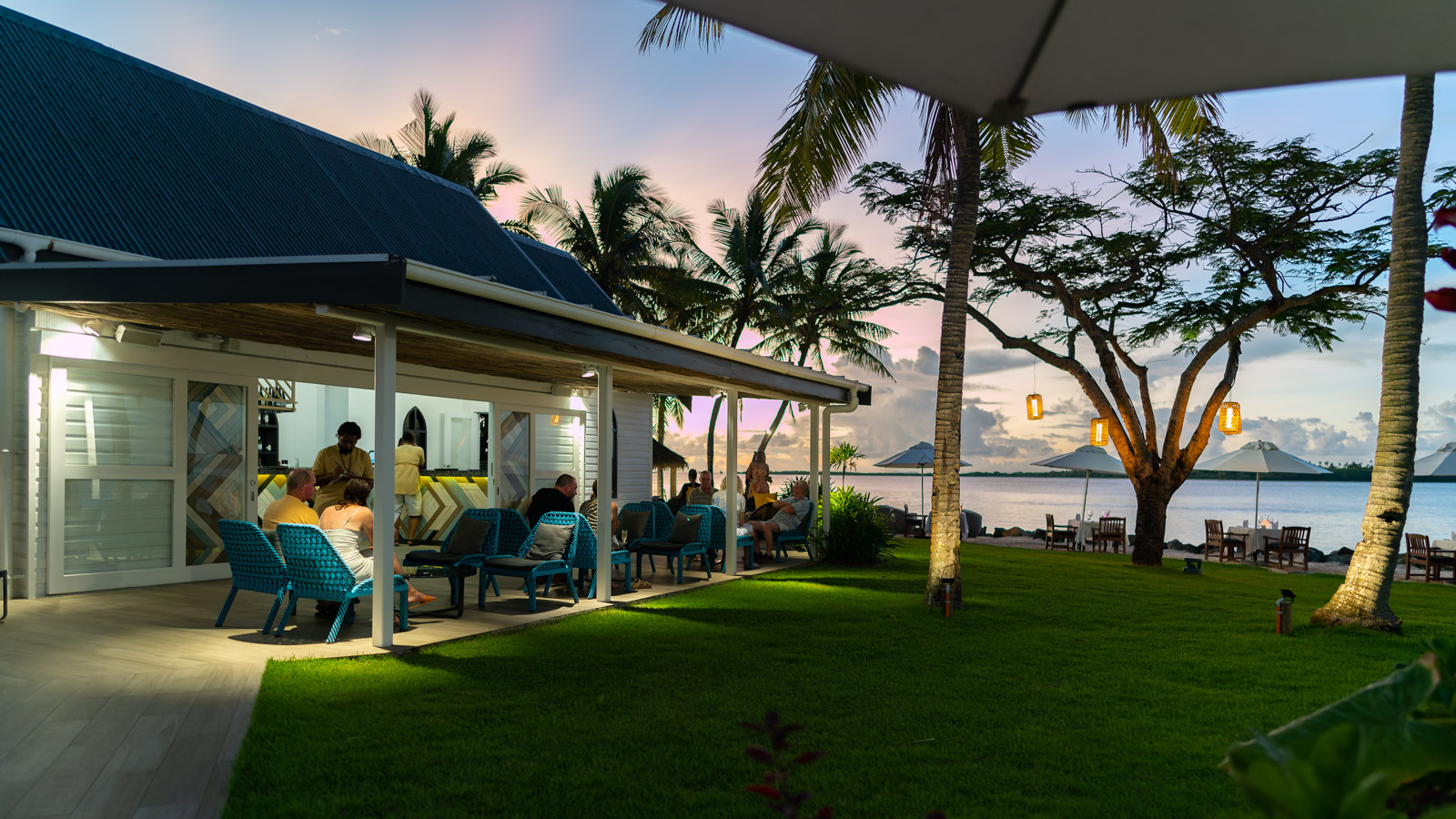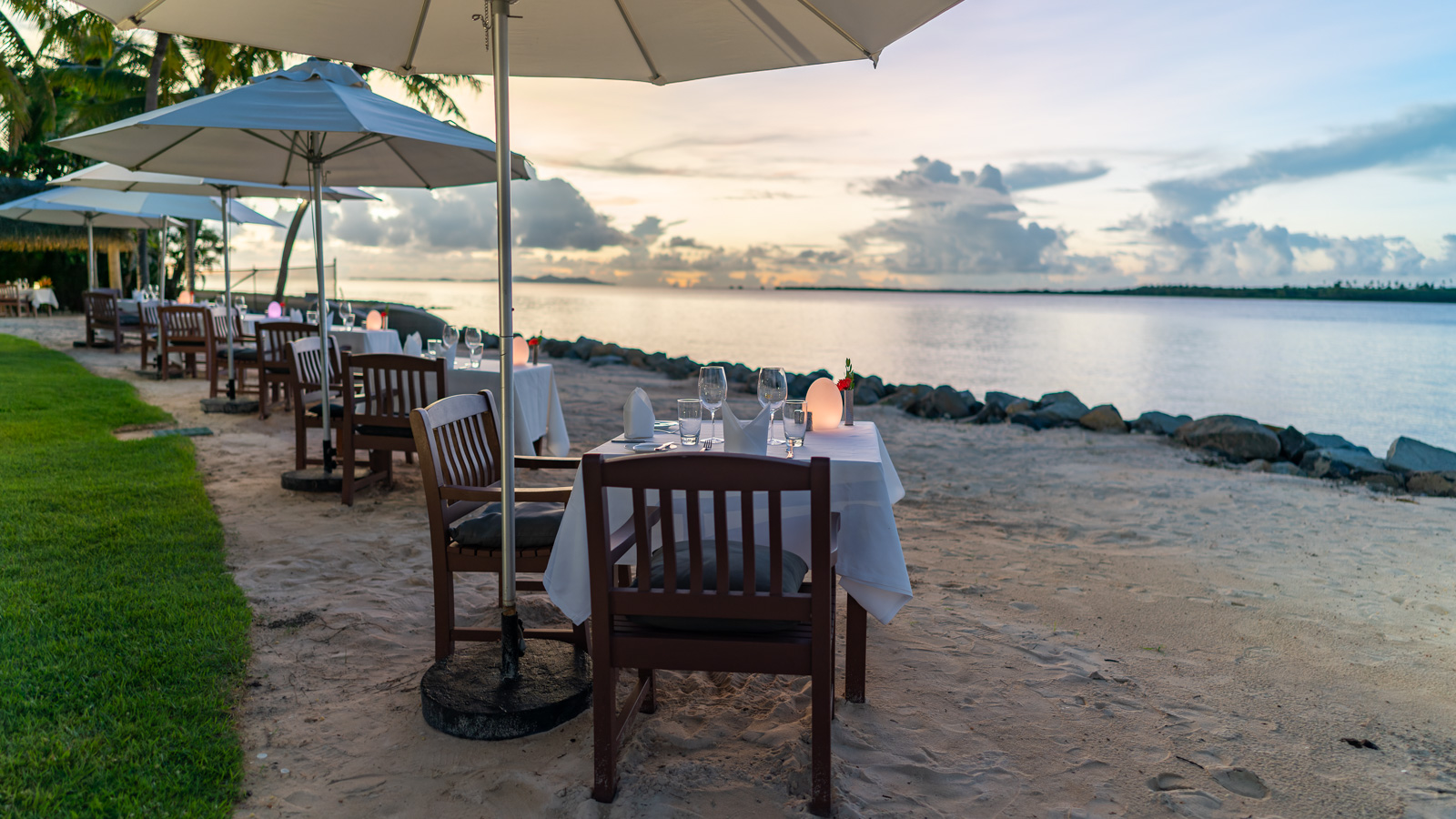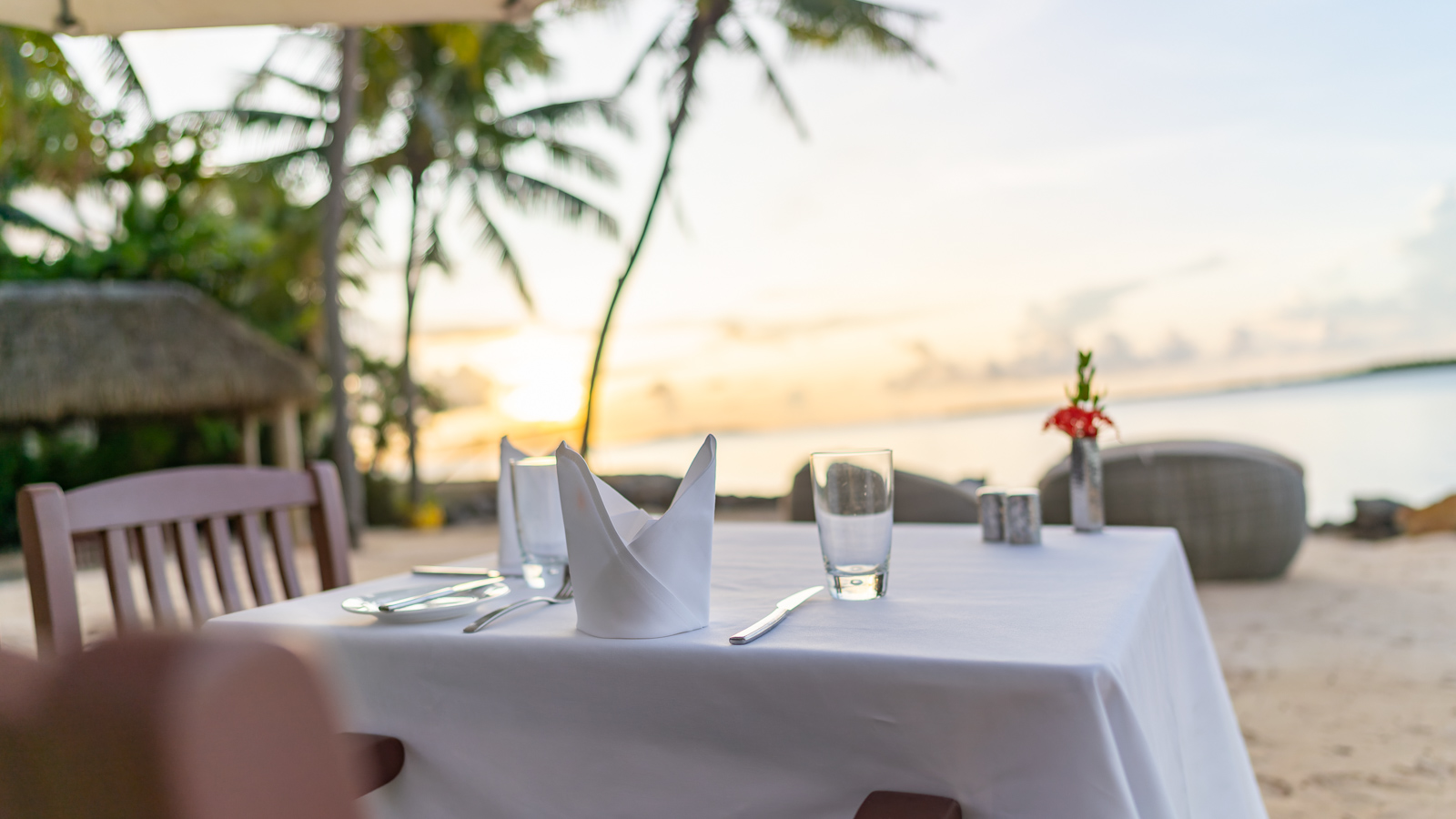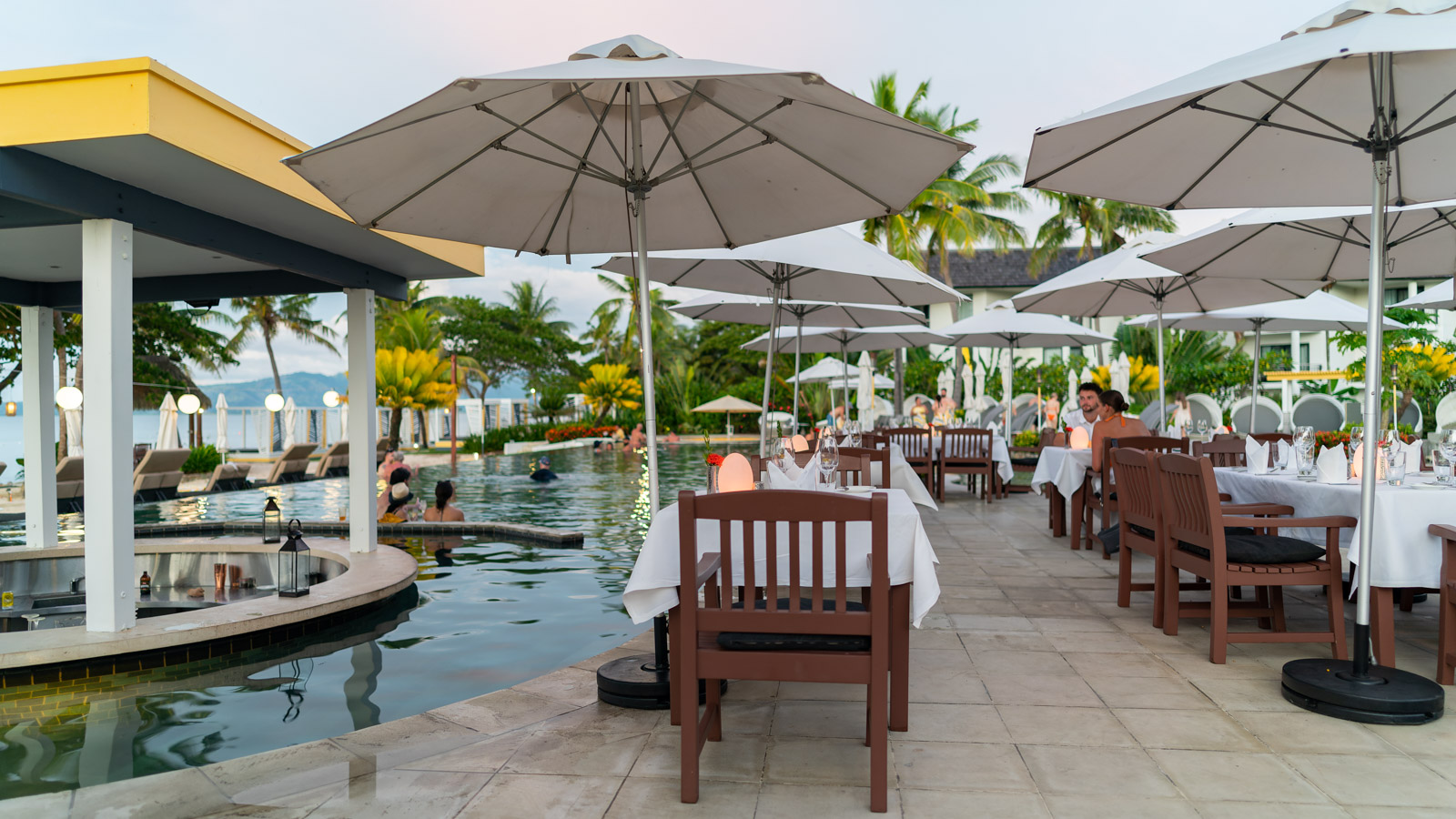 My evening at Waitui actually starts at 5 pm, where complimentary bites and beverages are served for beach club guests. These are all so delicious – particularly the chicken tikka and fried fish bites.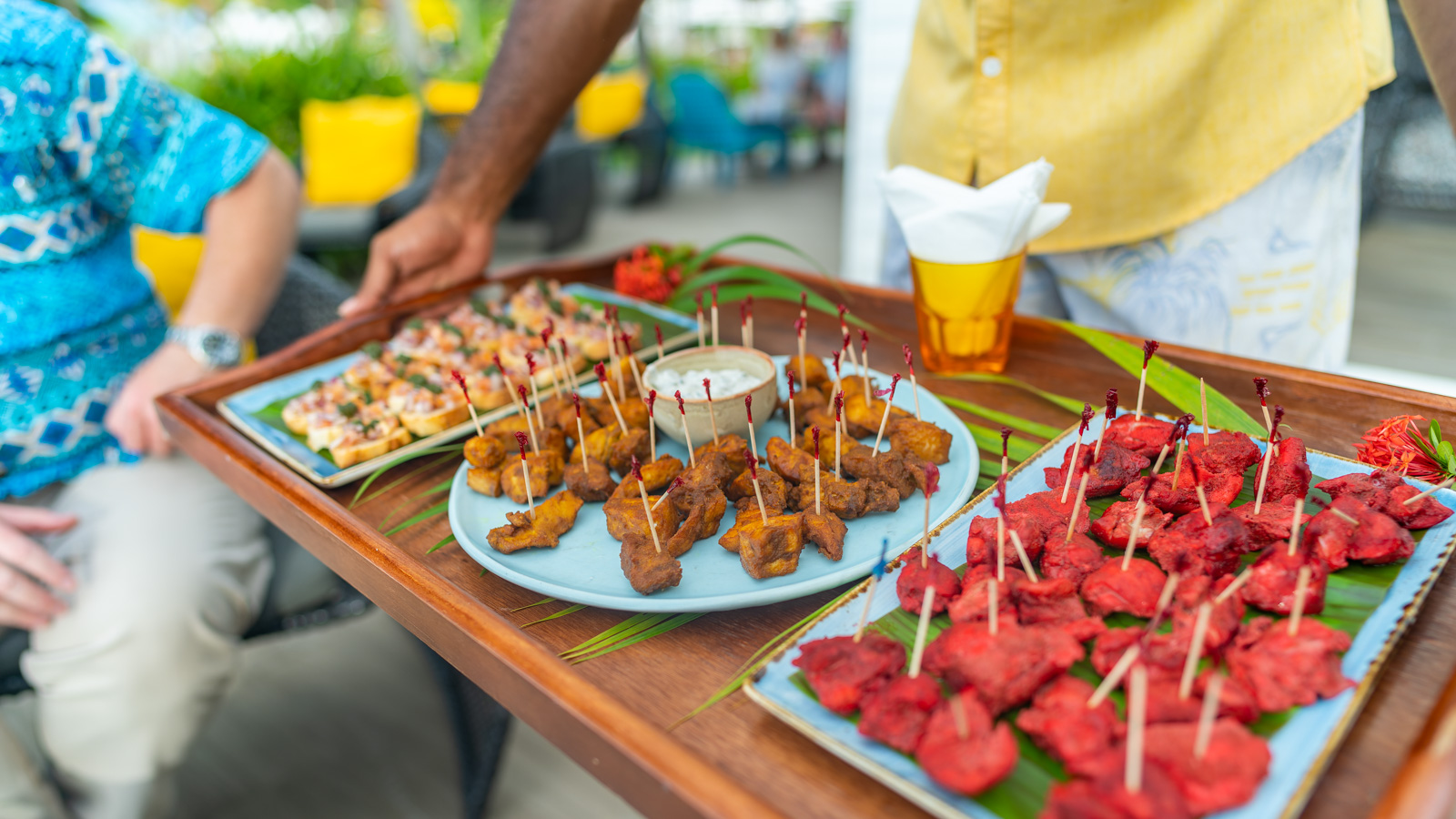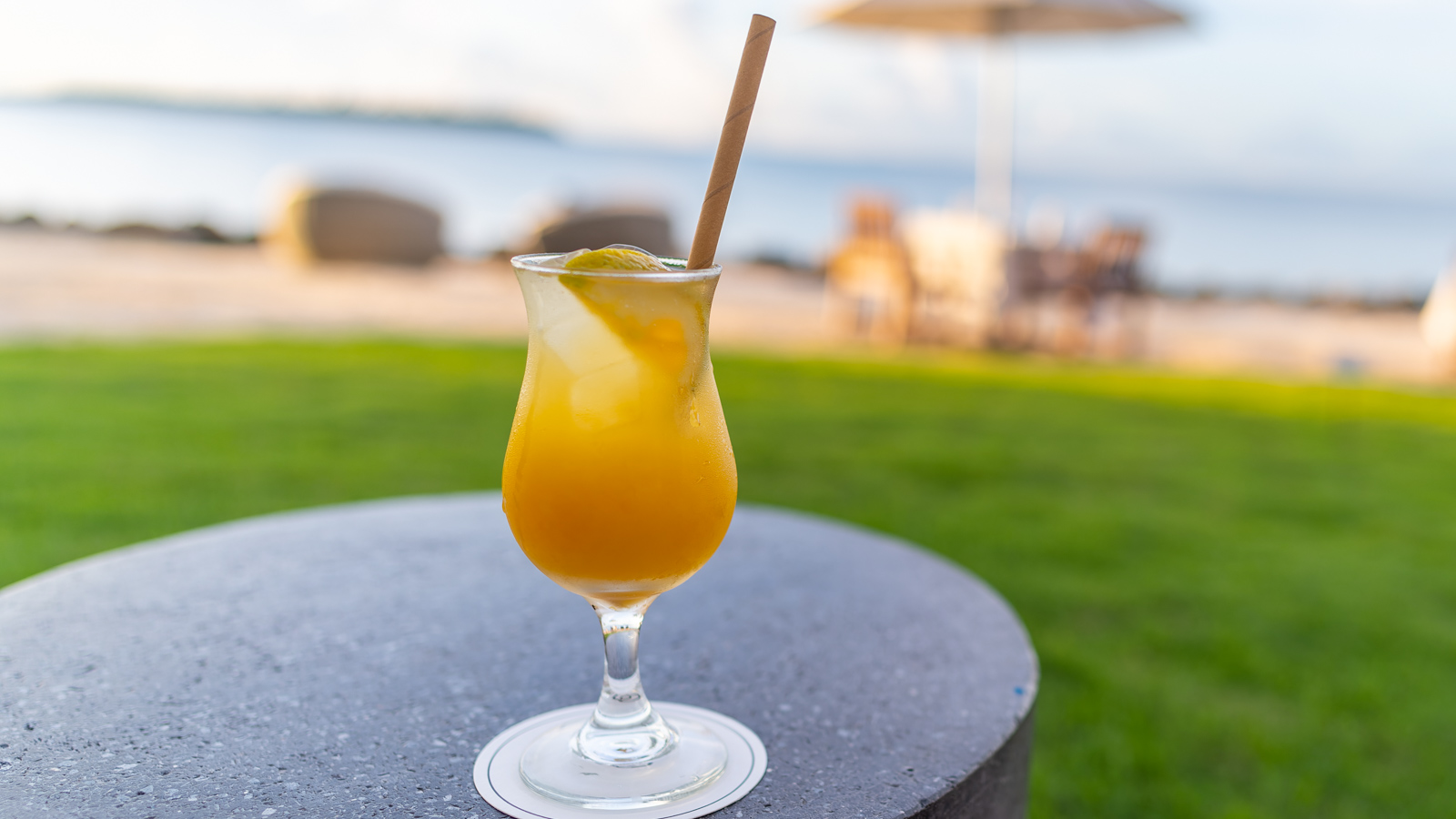 I've managed to sneak in a last-minute dinner reservation at 6 pm, but be aware that Waitui Bar & Grill is frequently booked out for dinner. You'd do well to book a while ahead if you know your dining plans already.
The final night dinner at this resort calls for something special, so I go straight for the grilled local Yasawa Green Tail Lobster. At FJ$55.5 (AU$35.4) after my Accor Plus discount, it's a tasty and affordable indulgence. A complimentary bread basket is offered, though I do wish the lobster came with a proper salad on the side.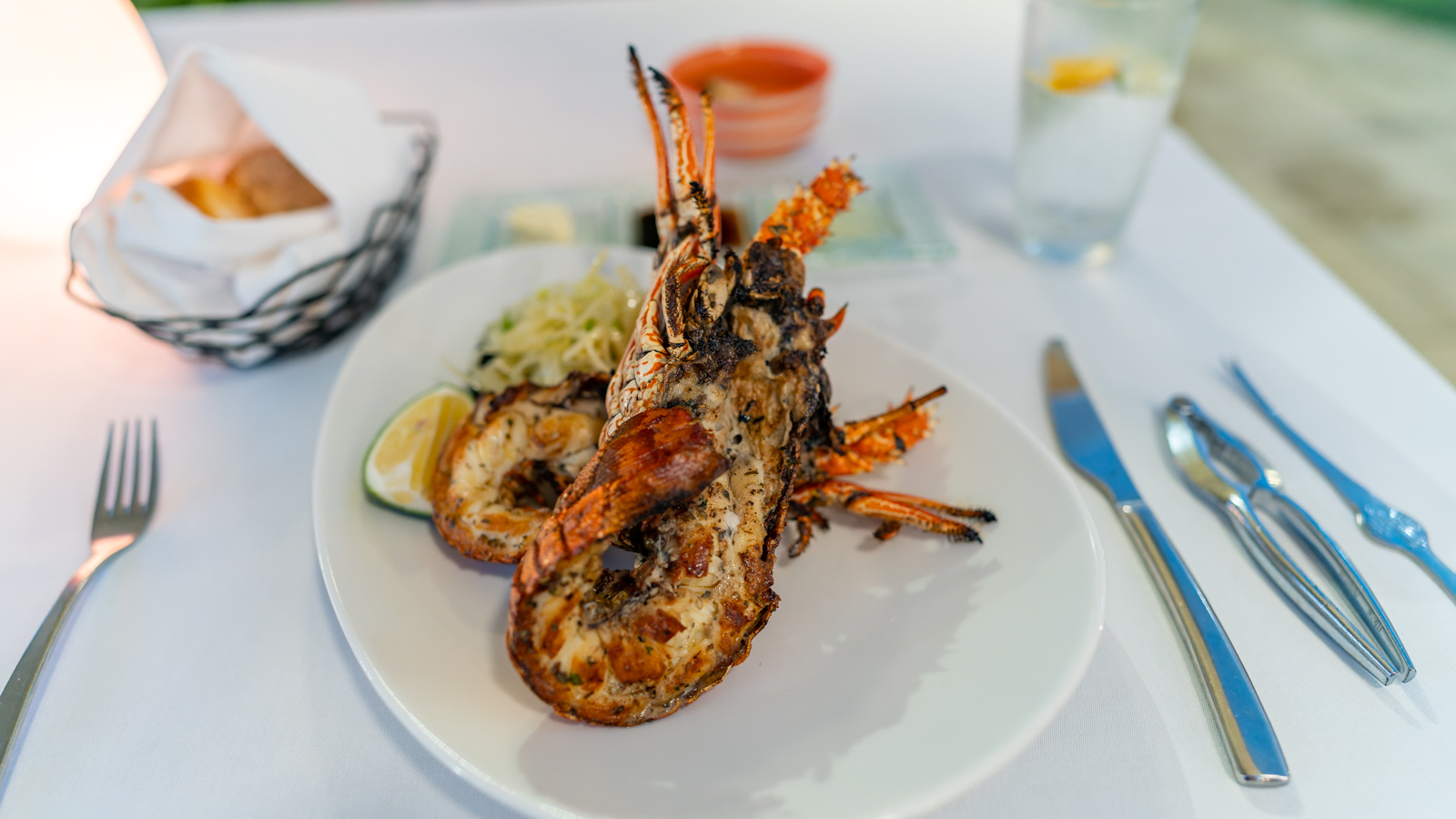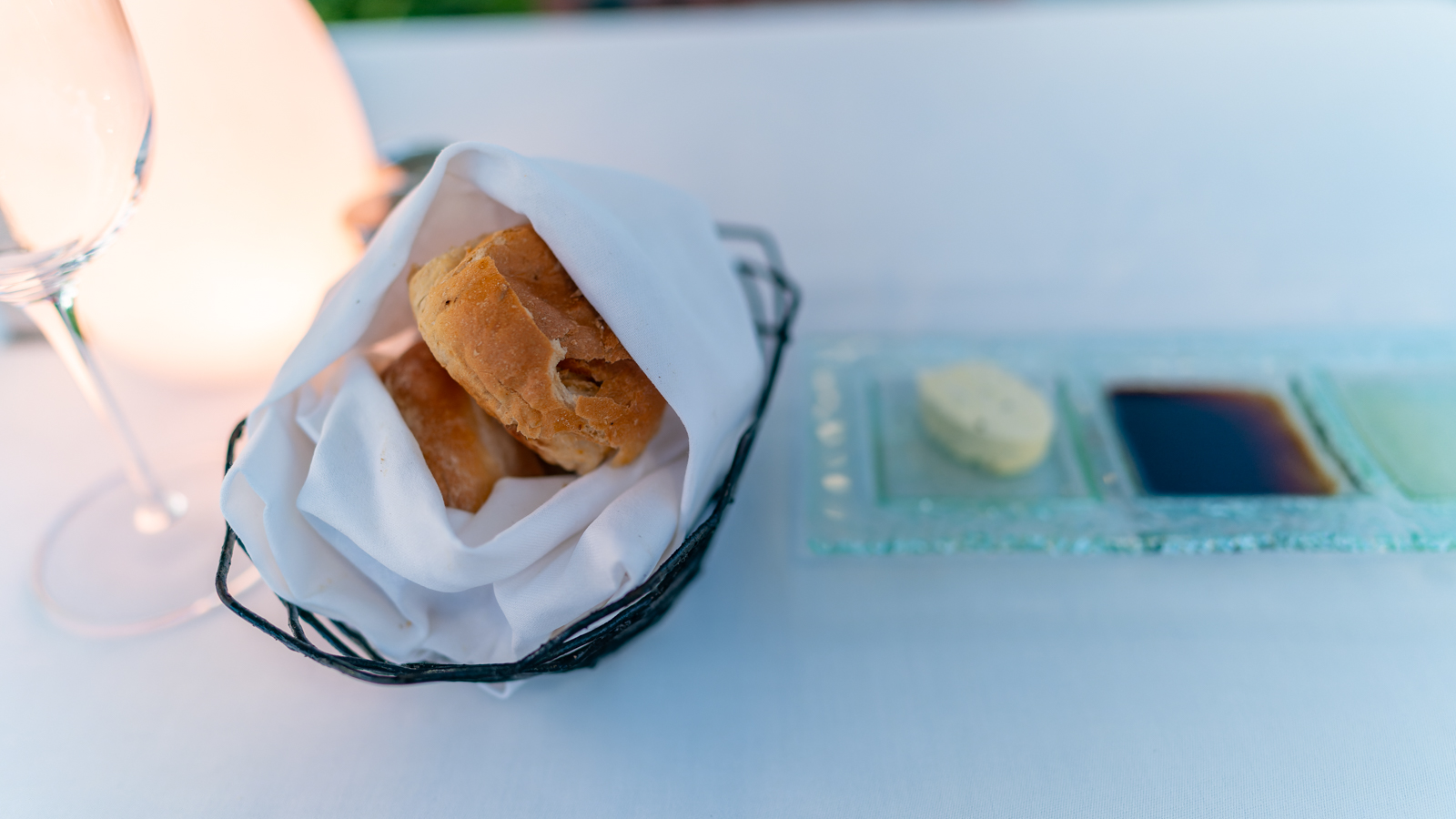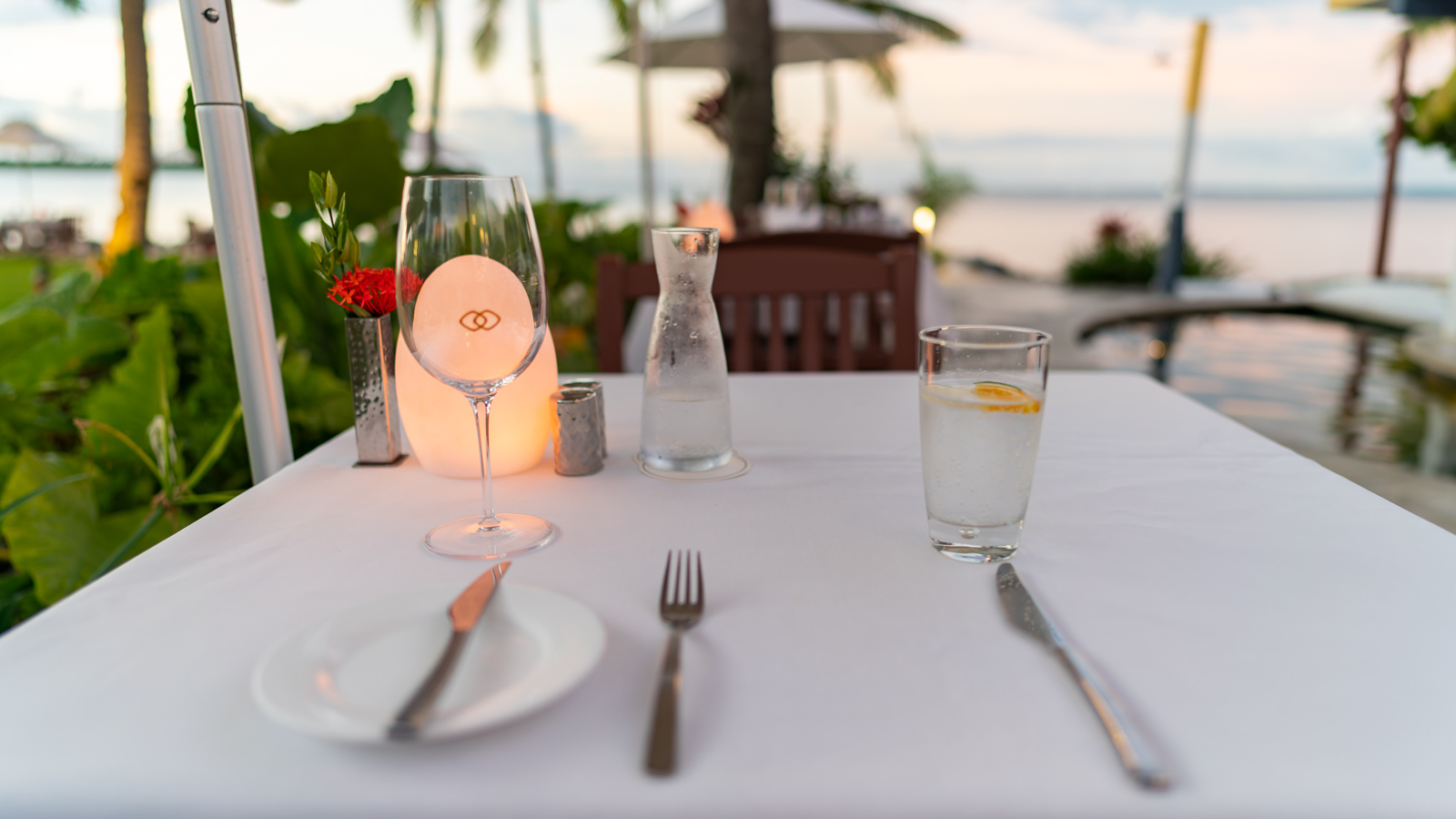 Sofitel Eats: room service dining
Here's where my gastronomy experience fell flat. On my first night, the restaurants were closing and it was pouring down with rain by the time I checked in and reached my room. That calls for room service.
I eventually find the room service menu on the TV, after 10 minutes of searching for a paper menu. Thinking I'd try something with local produce, I settle on battered mahi-mahi fish and chips, FJ$34 (AU$22).
As promised, my dinner comes within 30 minutes in a cute 'Sofitel Eats' bag. But the fish is oily, the chips limp, and the meal came without the promised salad or sauce. There's also no cutlery!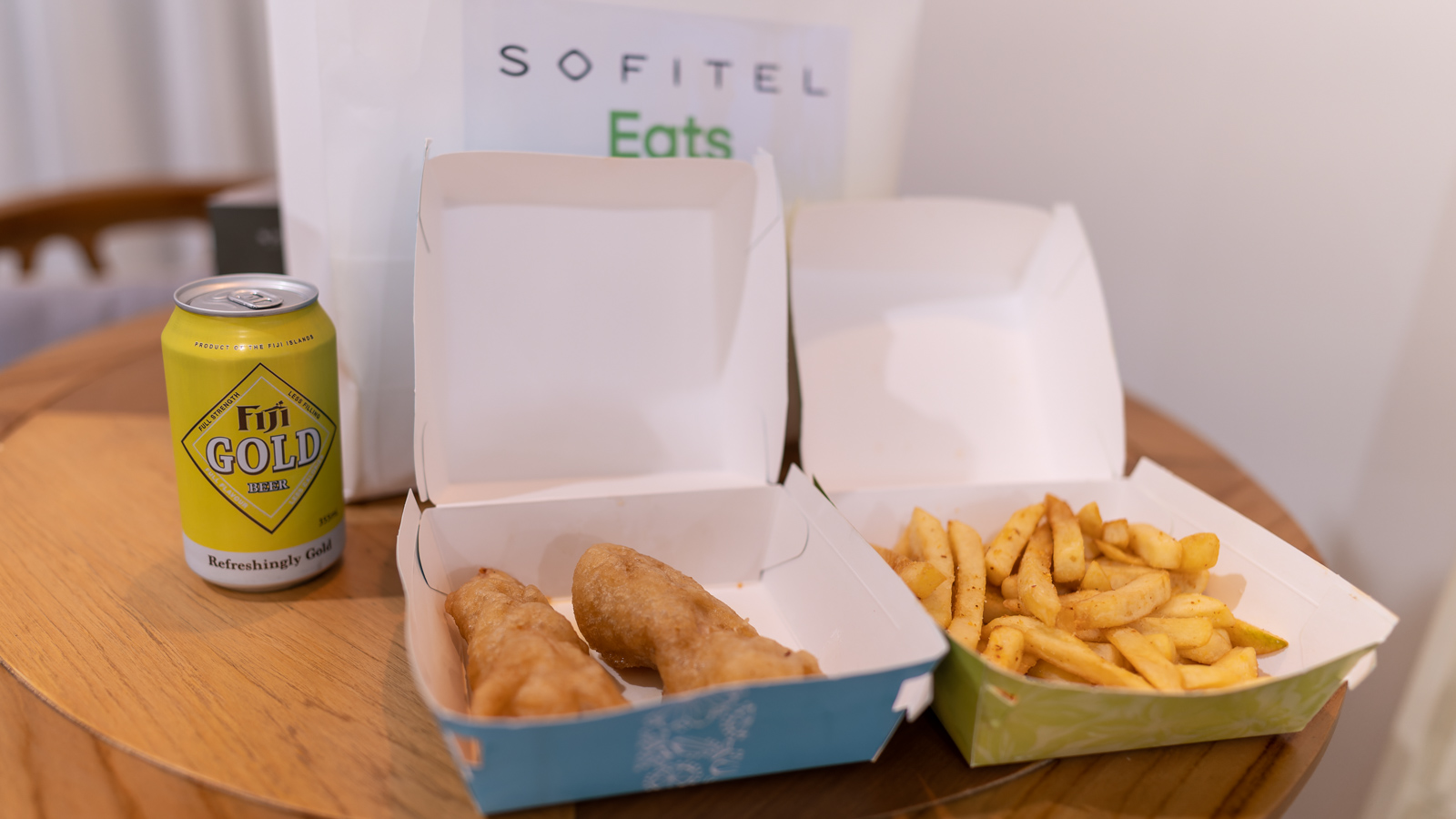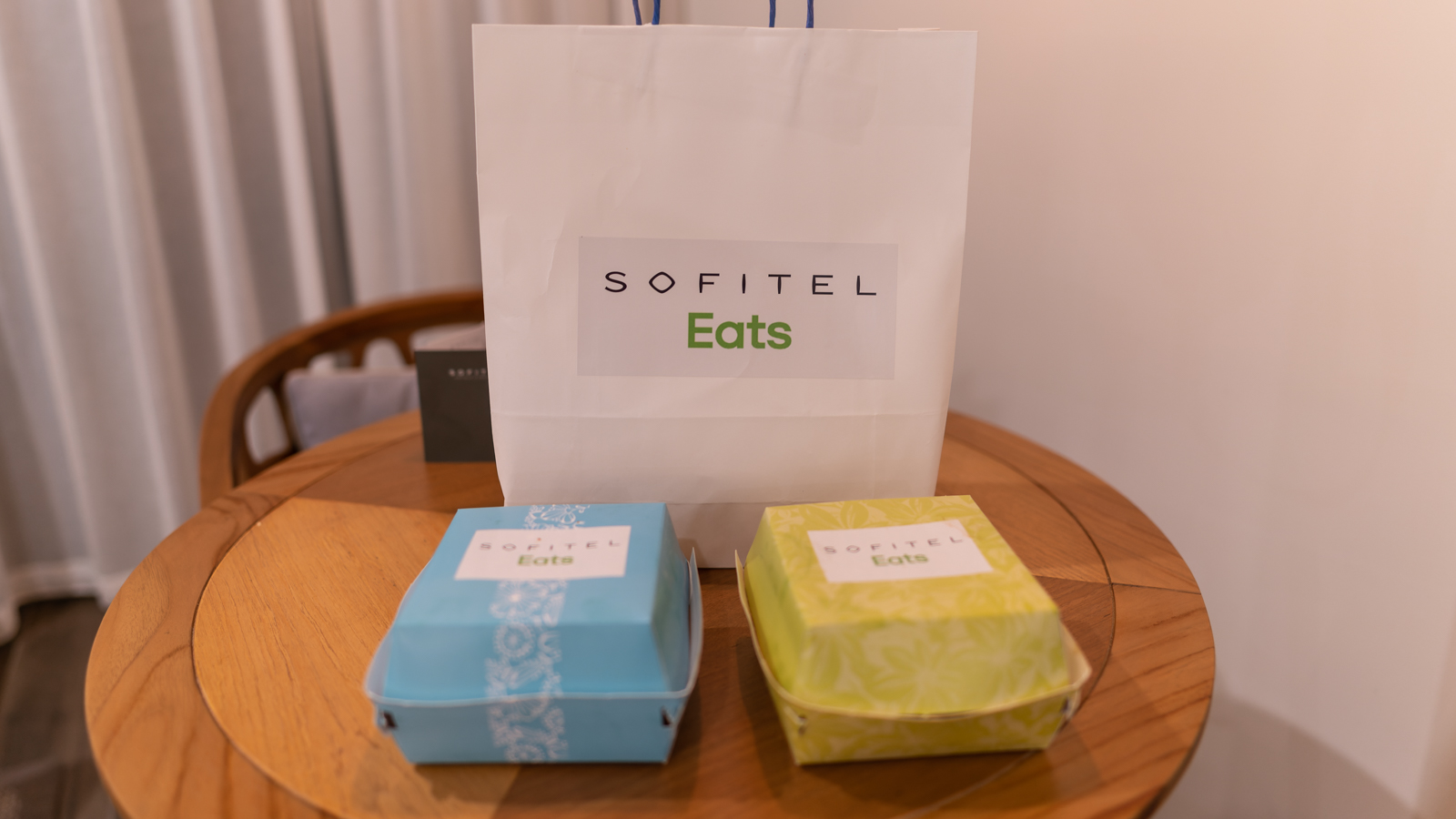 I'd suggest putting room service in the 'only if you have to' category for now. Thankfully, there are plenty of great restaurant choices throughout the resort.
Service and amenities at Sofitel Fiji
The staff are a credit to Sofitel Fiji. From the moment I arrived and every time I returned to the resort, I was addressed by name, which is quite a surprise. (Then again, maybe it isn't since I didn't see any other solo travellers there at the time!)
If you stay at Sofitel Fiji Resort & Spa for a while, chances are you'll get to know some of the staff members well and vice versa. It's a very pleasant atmosphere here.
In the Waitui Beach Club area, Solo took excellent care of the guests. He personally arranged to sort out my check-out after dinner on the final night, knowing I had to get up at 5 am the next morning for my Fiji Airways flight to Sydney. (I flew the Airbus A350 Business Class back, which is an experience in itself).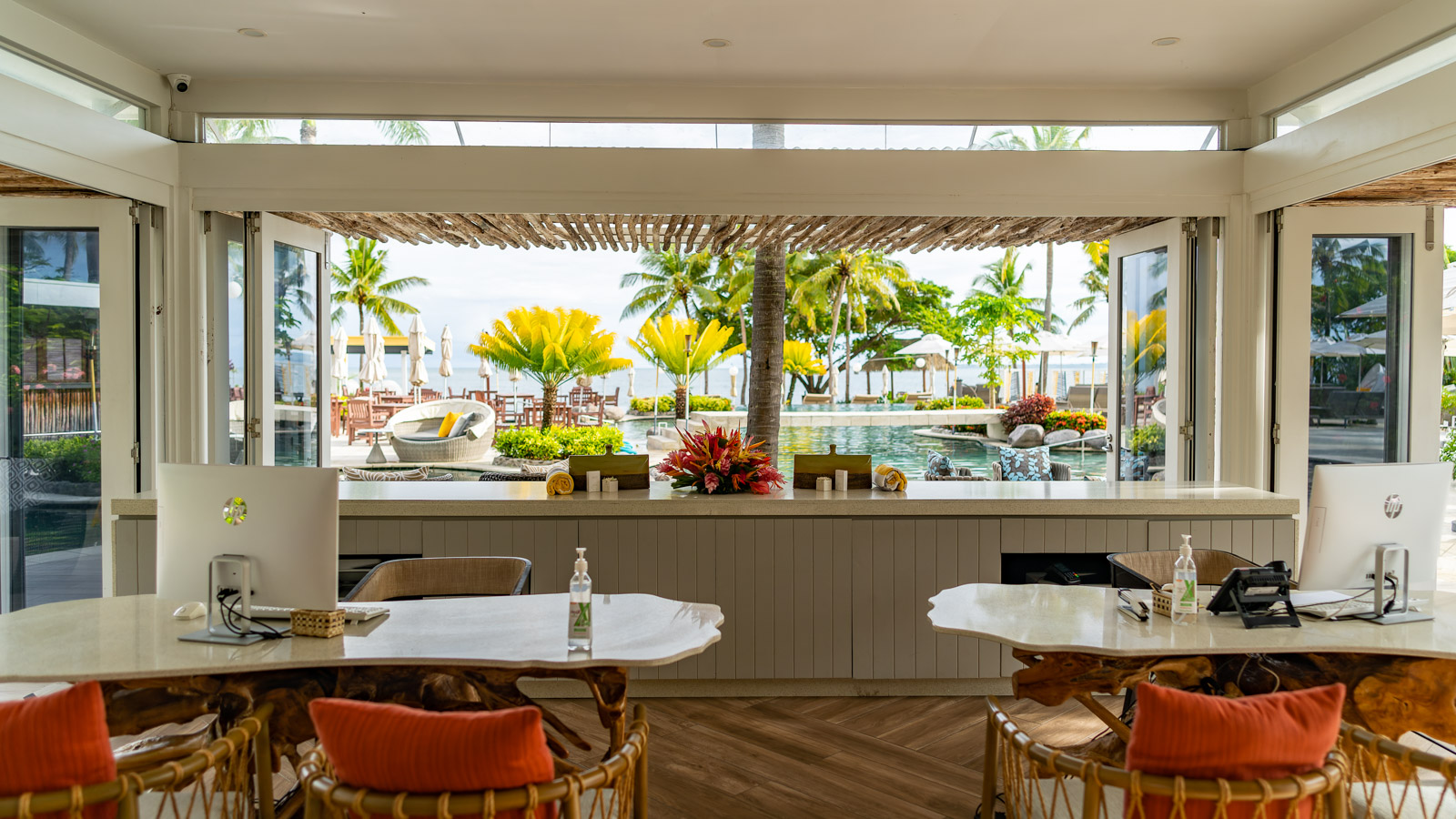 Luxury rooms with Waitui Beach Club access include complimentary laundry daily. I take advantage of this one morning and get my freshly-laundered clothes back that same afternoon.
If you splurge on a Luxury room with Waitui Beach Club Plus access, a complimentary massage is thrown in as well as access to The Journal Lounge.
Earning and using points at Sofitel Fiji
As I travelled in the March shoulder season, room rates weren't too bad at all. We paid around AU$960 for three nights in a Luxury Oceanside room with breakfast – including a 10% discount as an Accor Plus member. This was a flexible rate, so a non-flexible rate would have been even cheaper.
Prices will increase during peak travel periods, which is mid-year. I'd be happy to visit Fiji in March again, knowing that it does rain most nights, but is usually clear during the day.
Accor members earn at least 25 points per €10 spent, with bigger bonuses if you hold status. As a Gold status holder, I earned 2,434 points, worth around €48.68 or AU$71. Every 2,000 points are worth €40 off a future bill, so I'm pretty happy with that haul.
I'll also earn three Qantas Points per AU$1 spent, thanks to the Accor-Qantas partnership. That's another 2,880 Qantas Points to add to my balance!
Summing up
My stay at Sofitel Resort & Spa was excellent. The resort facilities are exceptional, and dining is great across the board, except for the room service mishap. The Waitui Beach Club experience is sensational if you're after that relaxed, carefree, dare I say kid-free holiday.
But even if you are a family, you'll still feel at home here. There is plenty for the young ones to do, from the pool to the kids club. I'm told there's also an Arcade Zone that's due to open shortly. Catering more to teenagers, it'll feature video games and more.
As Australia and Fiji open to the world, don't miss your opportunity to take a well-deserved break overseas. The resort life awaits.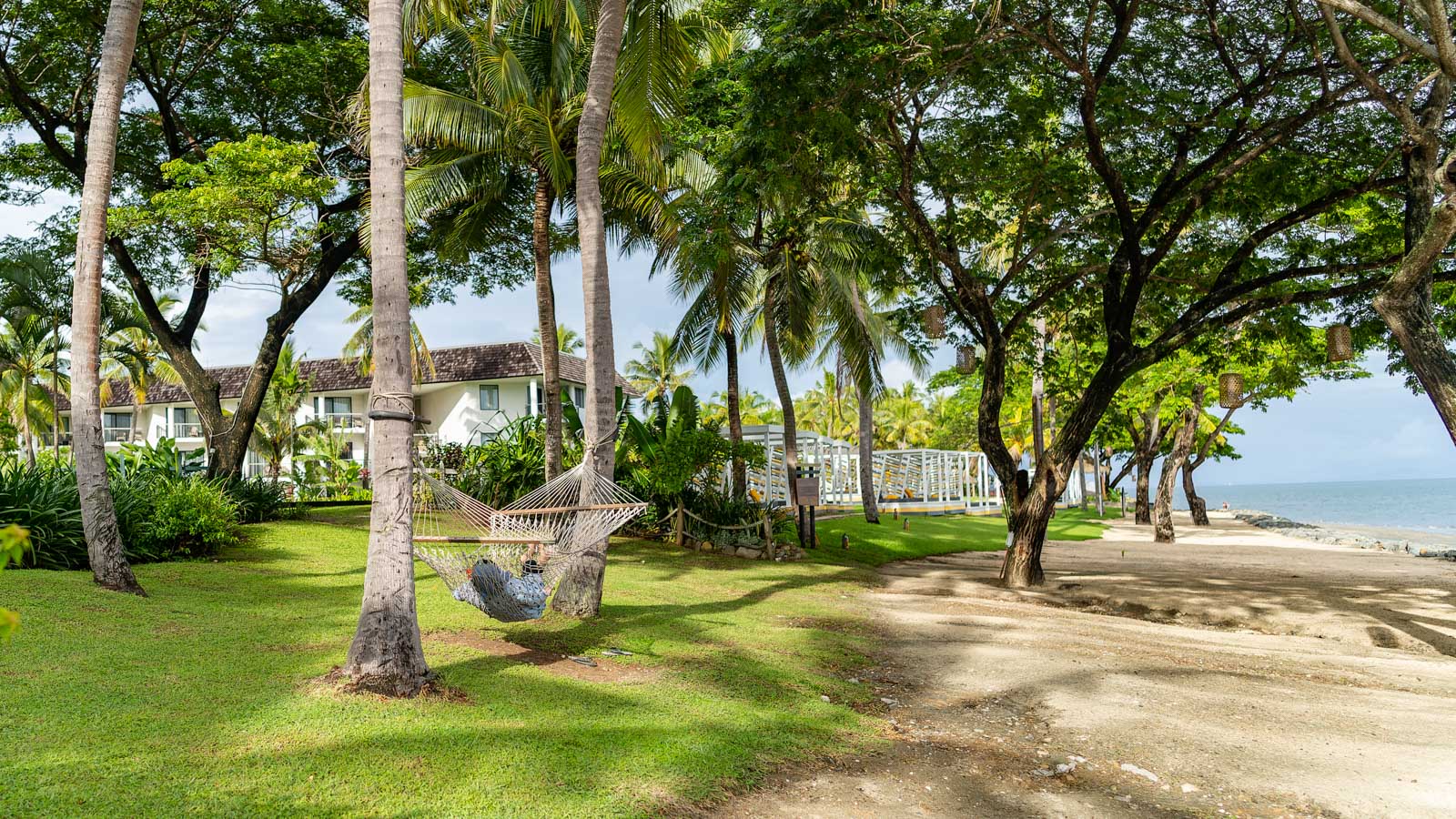 ---
If you're an Accor Plus member, you can book 3 nights in a Luxury room with Waitui Beach Club access for FJ$3,075 (AU$1,999) including daily breakfast and three-course dinners, laundry, minibar, and a 60-minute massage.
---
Have the latest news, reviews and guides delivered to your inbox. Sign up for our newsletter →
Photography by Brandon Loo, who travelled at Point Hacks' expense. He received upgraded 'Beach Club Plus' access during his stay courtesy of the Sofitel Fiji.
Sofitel Fiji Resort & Spa, Denarau Island
was last modified:
May 5th, 2022
by