I'm a sucker for a cracking deal and fun travel experiences; that's no secret. So I knew I had to bite when Velocity Frequent Flyer released Access Keys for Virgin Voyages' maiden cruise season in Australia for just 79,999 Velocity Points.
My fiancée and I haven't cruised together yet, so this is a great opportunity to experience it on a 'young and hip' carrier such as Virgin Voyages. Their marketing line of all-inclusive specialty dining, essential beverages and an eclectic range of entertainment is alluring. The sweet icing on the top is the opportunity to revisit Tasmania – where we lived together for two years – during the voyage.
Fast forward a few days, and I had the 5-night cruise, a hotel stay in Melbourne and return flights from Perth booked for just 72,100 points + $92, per person. It is a relative bargain, considering it only cost me around $545 to acquire the points and travel benefits to assemble a package worth more than $5,600 with current cash prices.
The Virgin Voyages Access Keys I purchased for this redemption are still available at the time of publishing (29 September 2023) until the allocation of 1,000 keys sells out or 5 October 2023, whichever occurs first.
In case you're not aware, Virgin Voyages is an adults-only cruise line (i.e. 18+). This itinerary would not be suitable for a family with children.
This case study is geared towards beginners in the world of points. Seasoned Point Hacks readers will likely be quite familiar with the concepts in this guide.
How much did my Virgin Voyages cruise holiday cost?
To put things in perspective, here's how much we spent to book all the major components of the trip (flights, hotels and cruise). I've also included the comparable cash price as of 29 September 2023.
| | | |
| --- | --- | --- |
| | We paid (2 people) | Current cash cost (2 people) |
| Perth to Melbourne flight | 28,200 Velocity Points + $106 | $658 (2x Economy Choice) |
| Hotel in Melbourne for one night | $0 with Accor Plus Stay Plus perk | $387 (Accor Plus member rate) |
| 5-night Virgin Voyages cruise | 79,999 Velocity Points + $0 | $3,824 (Sea Terrace cabin) |
| Melbourne to Perth flight | 36,000 Qantas Points + $78 | $738 pp (2x Red e-Deal) |
| TOTAL | 144,199 airline points + $184 | $5,607 |
For ease of calculation, the combined total of Qantas and Velocity Points (144,200) yields a maximum theoretical value of 3.76 cents per point for this redemption, which is on par with some Business Class redemptions.
If I had to pay for everything without points, I'd probably aim for cheaper hotels and flights to trim the budget. That would decrease the theoretical value of the points to me. But overall, I'm still happy with the deal I've nabbed.
1. Perth to Melbourne with Virgin Australia
Velocity Frequent Flyer recently introduced tiered reward seat pricing for domestic Economy. There's 'Tier 2' – what we normally pay as the standard rate – plus a new lower 'Tier 1' and a higher 'Tier 3' for off-peak and peak travel, respectively. I'm glad they've made good on the promise to make cheaper Economy reward seats available at the lower 'Tier 1' rate.
The first flight of the day, which I'm aiming for anyway, is available for the lower price of 14,100 Velocity Points + $53 per person. I'm happy to lock that in.
Cash price: $329 for Economy Choice.
Value per point: 1.96 cents per point.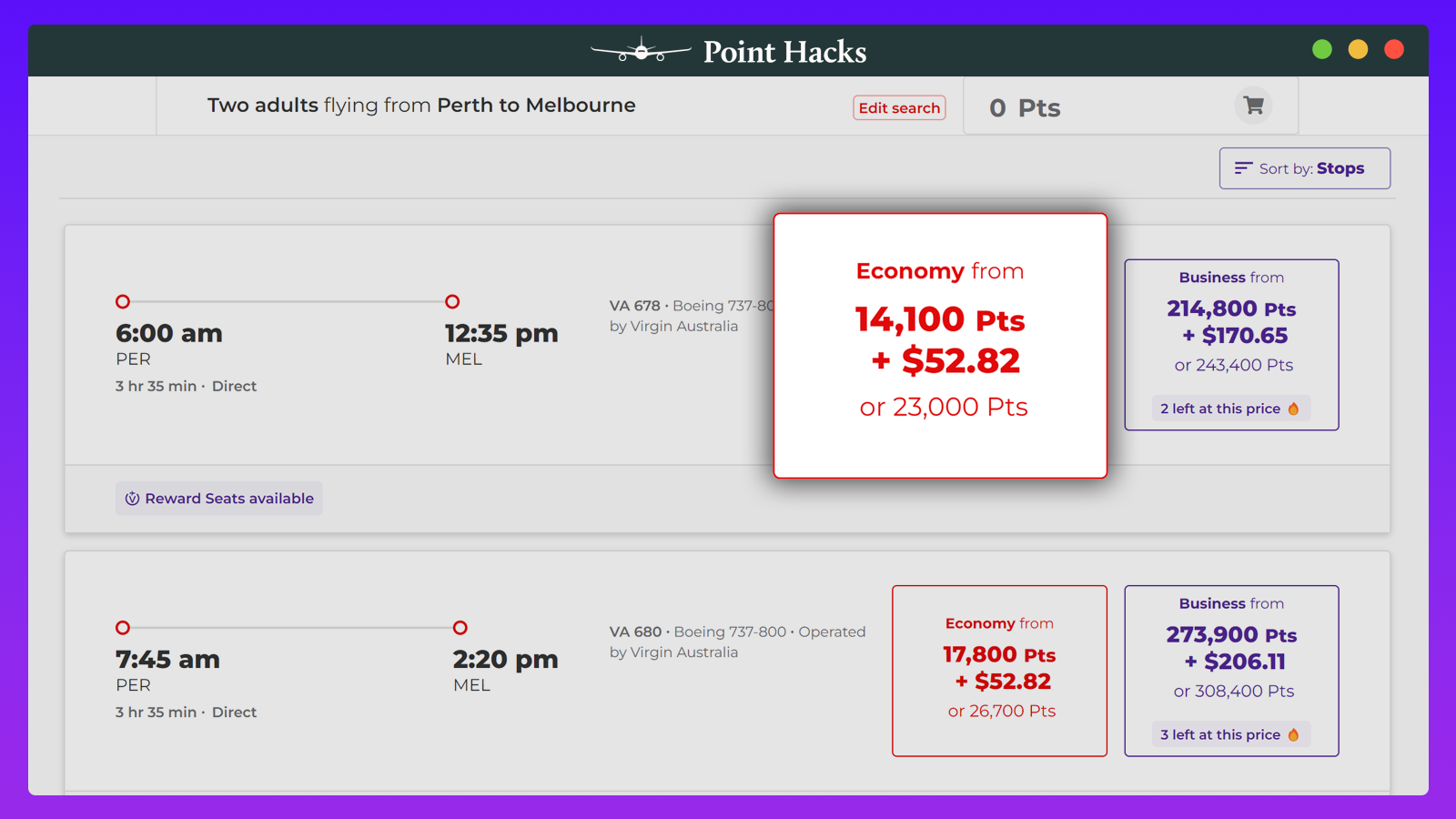 2. Night in Melbourne with Accor Plus
One of the key perks of Accor Plus membership is the Stay Plus free night credit. When booked far enough in advance, you can often redeem the free night when room rates on properties costing more than $300/night. Accor Plus membership costs $399 a year, or you can get it included with the American Express Platinum Card ($1,450 annual fee).
In my case, I used my Stay Plus on a room that was selling for $549 that same day! That sort of value is unheard of with Accor Plus. However, only one Stay Plus allocation was left that day, as noted in the screenshot, so it's not easily replicable.
To make this case study easily imitable, I've valued the cash cost at $387 instead. From my searches, when the cash price at Quay West Suites Melbourne is $387 or lower, I can reliably use the Accor Plus Stay Plus benefit to get the night for free. So you can, too.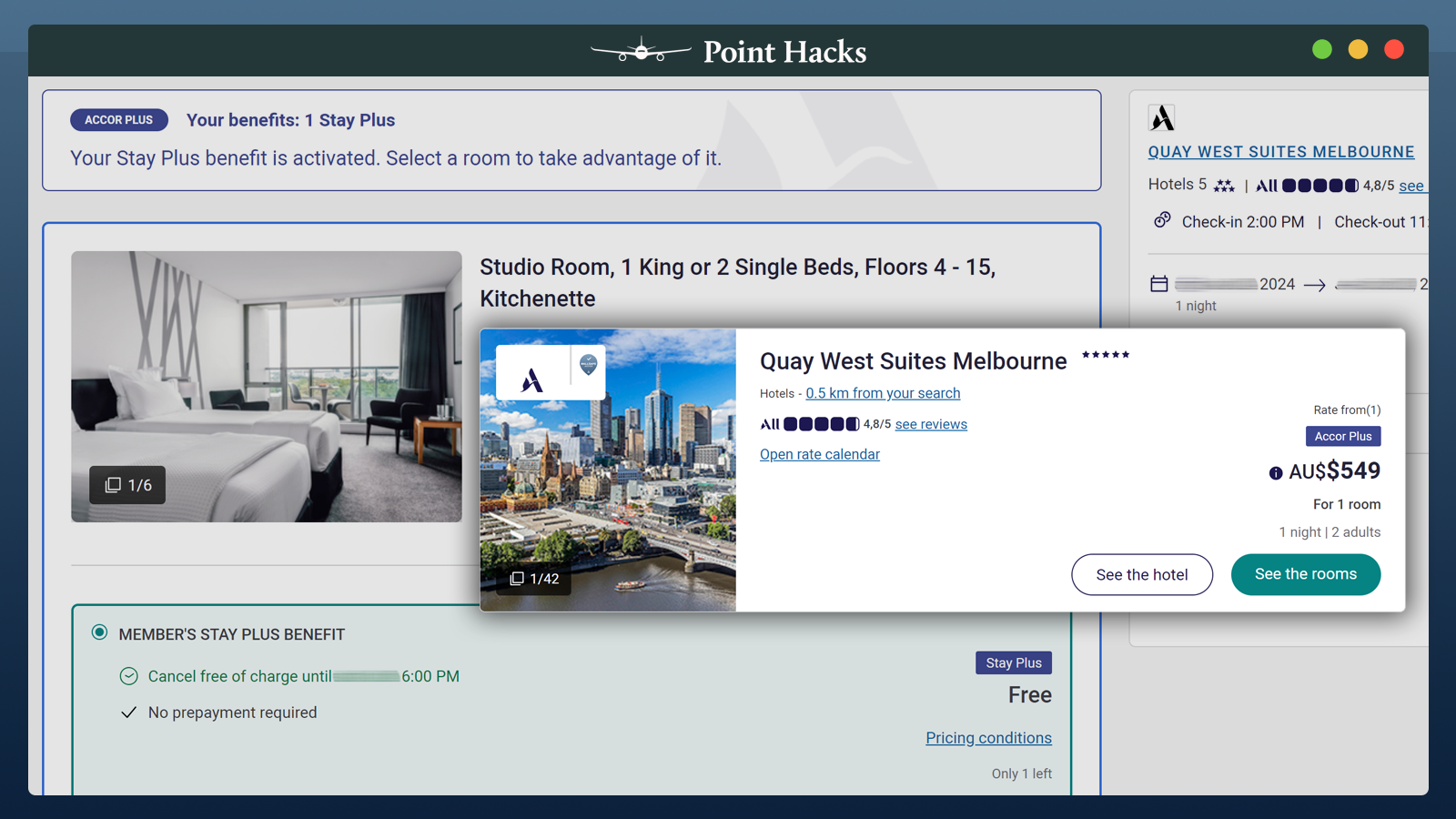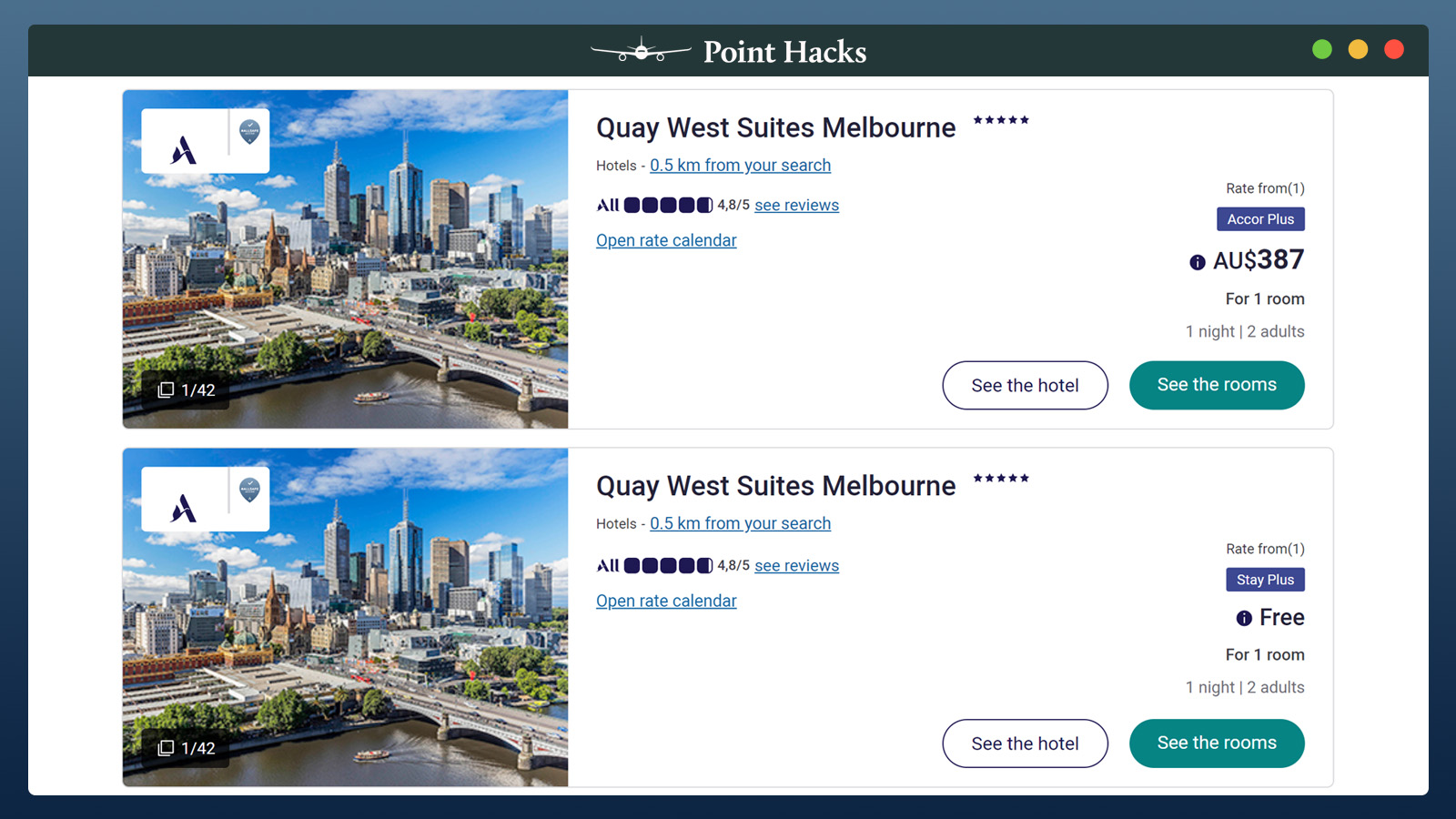 3. Five-night cruise with Virgin Voyages
The heart of this itinerary depends on the ability to buy an Access Key to a Virgin Voyages cruise for only 79,999 Velocity Points. The code fully pays for a Sea Terrace (balcony) cabin for up to two sailors, on selected 3-6 night itineraries.
Virgin's six-night cruise (around $4,400 per cabin) offers the best value per point. However, due to time constraints, I settled for the five-night cruise, which is currently $3,824 per cabin.
Cash price: $3,824 for Sea Terrace (two people), after discounts.
Value per point: 4.78 cents per point.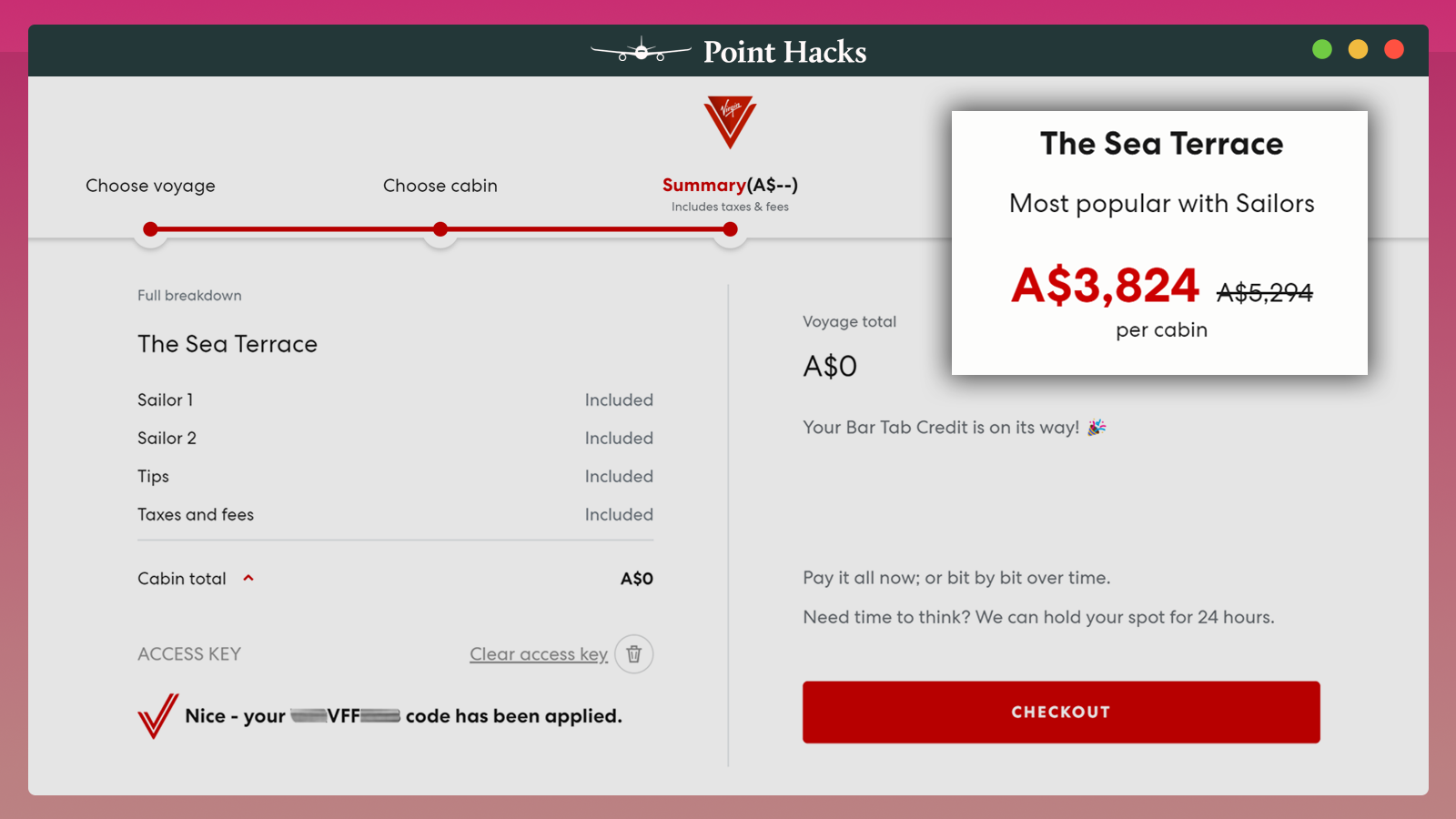 4. Melbourne to Perth with Qantas
To shake things up, I'm opting to fly home with Qantas Points. Whenever I go to Melbourne, my favourite way to fly home is on QF9, the international flight from Melbourne-Perth-London. I enjoy the international-style service onboard the Boeing 787, but the other key perk is access to the Qantas International First Lounge with Platinum status.
Qantas Economy Classic Reward seats from Melbourne to Perth cost 18,000 points + $39 one-way, and you can book QF9 with points as a standalone flight.
Cash price: $369 for Red e-Deal.
Value per point: 1.83 cents per point.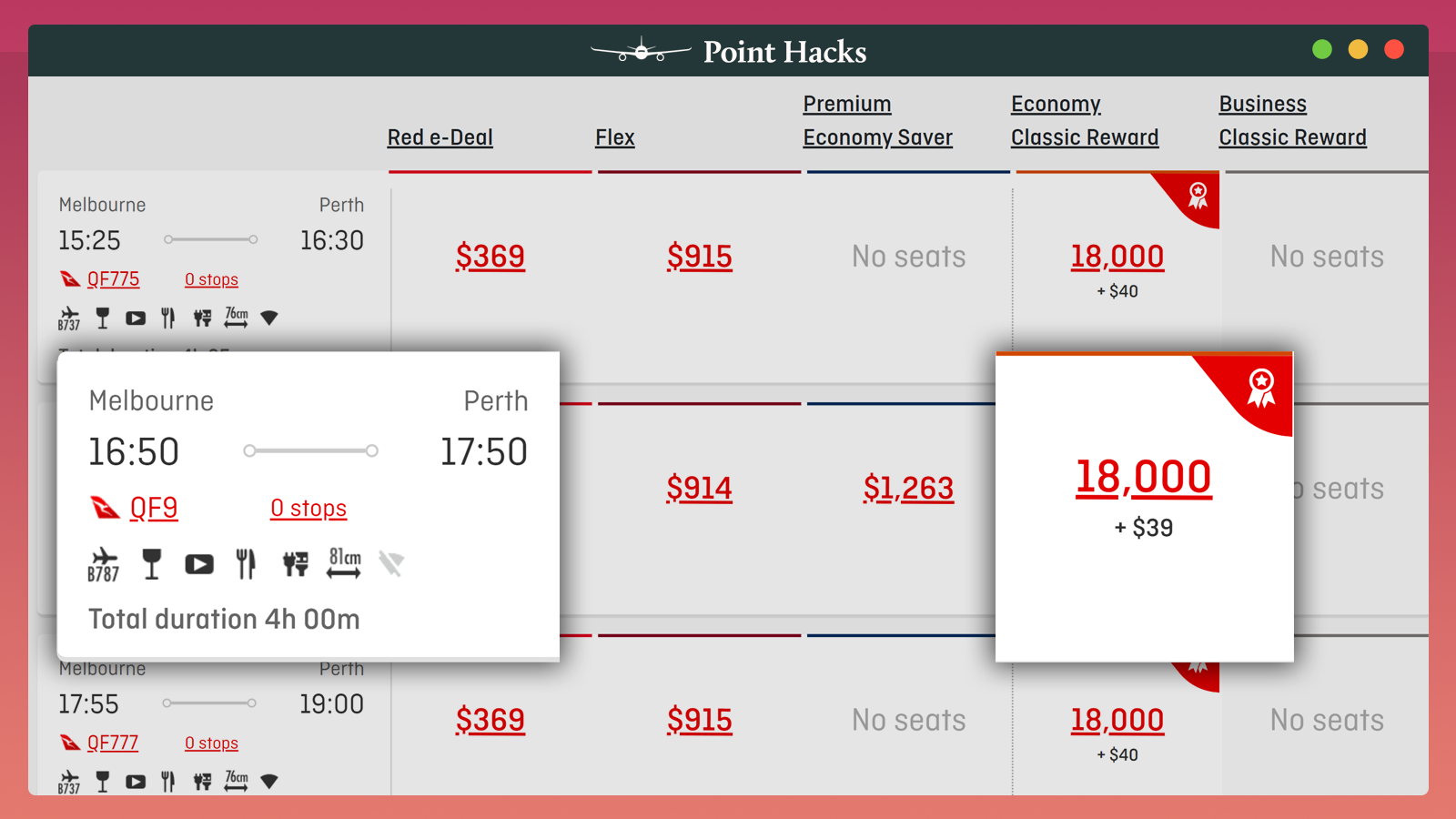 Ad – Scroll down to continue reading.Minimum spend, terms & conditions apply.
How about the cost of obtaining the points?
I paid only 144,199 points + $184 overall to book all the main elements of the trip, but how much did those points cost me? We'll need to delve into how I earned the points to get the full picture of how much this trip costs.
In short, I spent around $545 in fees and memberships to get everything I needed to build this trip. If I didn't incur a fee to earn some points (i.e. it's something I was going to buy anyway, and there was no extra cost to earn points), then I would consider those points as essentially 'free'.
1. Earning 108,999 Velocity Points
My main current credit card strategy is to focus on cards earning Velocity Points or flexible bank reward points. While I can't speak to what cards I have exactly due to privacy reasons, here's what I earned.
Near the end of 2022, I applied for a bank Visa Platinum-grade card through the Point Hacks exclusive, which was offering:
75,000 bonus Velocity Points in the first year ($1,500 minimum spend) – redeemed in March 2023
$95 annual fee in the first year (but with $145 back in credits and bonuses, which I'll disregard here)
In April 2023, I took out a different bank Platinum-grade Mastercard card with this offer:
70,000 bonus Velocity Points in the first year ($4,000 minimum spend) – earned in May 2023
$99 annual fee in the first year (reduced as an existing customer).
That's 145,000 Velocity Points for a net cost of just $194 in annual fees! That means the 108,999 Velocity Points I used for this redemption cost me around $145.83 in annual fees.
Cards that have similar offers and fees, which you may wish to consider, include:
(I also earn Velocity Points from day-to-day spending, flying and car insurance, which you can see above. Our 'Favourite Offers and Deals' page may mention insurance products that offer bonus Velocity Points.).
---
Shore up your Velocity Points balance with Citi Rewards points, which transfer to Velocity 2:1 with the Citi Premier card.
---
2. Earning 36,000 Qantas Points
I don't have an active Qantas-earning credit card for day-to-day transactions, since my focus is on Velocity. Instead, I've turned to other means to earn Qantas Points.
This year, I earned 30,000 Qantas Points (60,000 Everyday Rewards points) from switching my health insurance to a provider offering bonus Everyday Rewards points. The bonus points didn't cost me anything, as I would still pay for health insurance regardless. I saved money through slightly lower premiums and got six weeks free for the promo.
I also bought two dozen bottles of wine from Qantas Wine for an event. There wasn't a spectacular bonus (3,000 points a case), but it was still a decent haul at $141.88 per dozen. I can't attribute a cost to these points either since I needed the wine, and the points were a bonus. (It would have been different if I purchased the wine solely for the bonus points – I would include it in the calculation then).
So it's fair to say that I earned the 36,000 points for the Melbourne-Perth flights at no additional cost.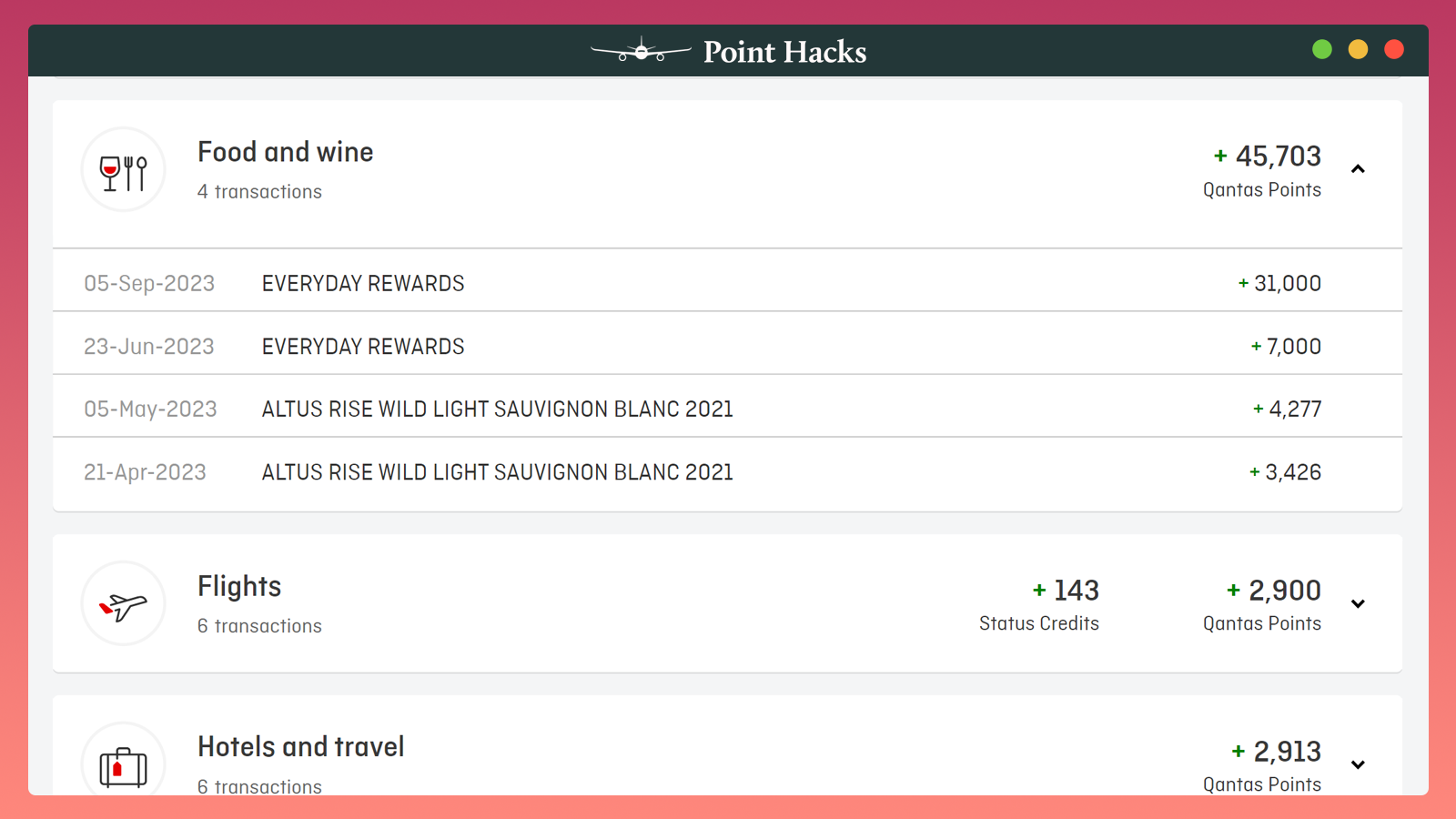 If you need more Qantas Points, you'll easily get 75,000 points or more from a single credit card sign-up, such as the ANZ Frequent Flyer Platinum card.
3. The Accor Plus membership
Of course, you can also disregard this section and book a hotel with a lower rate outright to save on costs. I already have an Accor Plus membership, so I'm seeking to maximise its benefits.
The final puzzle piece is the Accor Plus membership, which grants the free night I used in Melbourne. The default cost is $399 a year, which I use in this example. Yes, the membership cost is a bit higher than the price of the night in my example ($387), but Accor Plus adds many other money-saving benefits in addition to the free night so that it can be good value.
Incidentally, you can get Accor Plus through the American Express Platinum Card as part of the hefty suite of benefits the top-tier card provides. And if you happen to be holidaying somewhere Accor Plus is cheaper – such as Indonesia – you might be able to sign up there by enquiring at the hotel.
Summing up
I'm excited to embark on the Virgin Voyage cruise in a few months! The itinerary was easy to put together with points, but I do need to highlight that the cruise offer is a limited-time promotion. The Virgin Voyages Access Key is still on sale on the Velocity Rewards Store (at the time of writing) until 5 October, unless sold out earlier. So this trip isn't one you can replicate afterwards unless future Access Key promotions are released.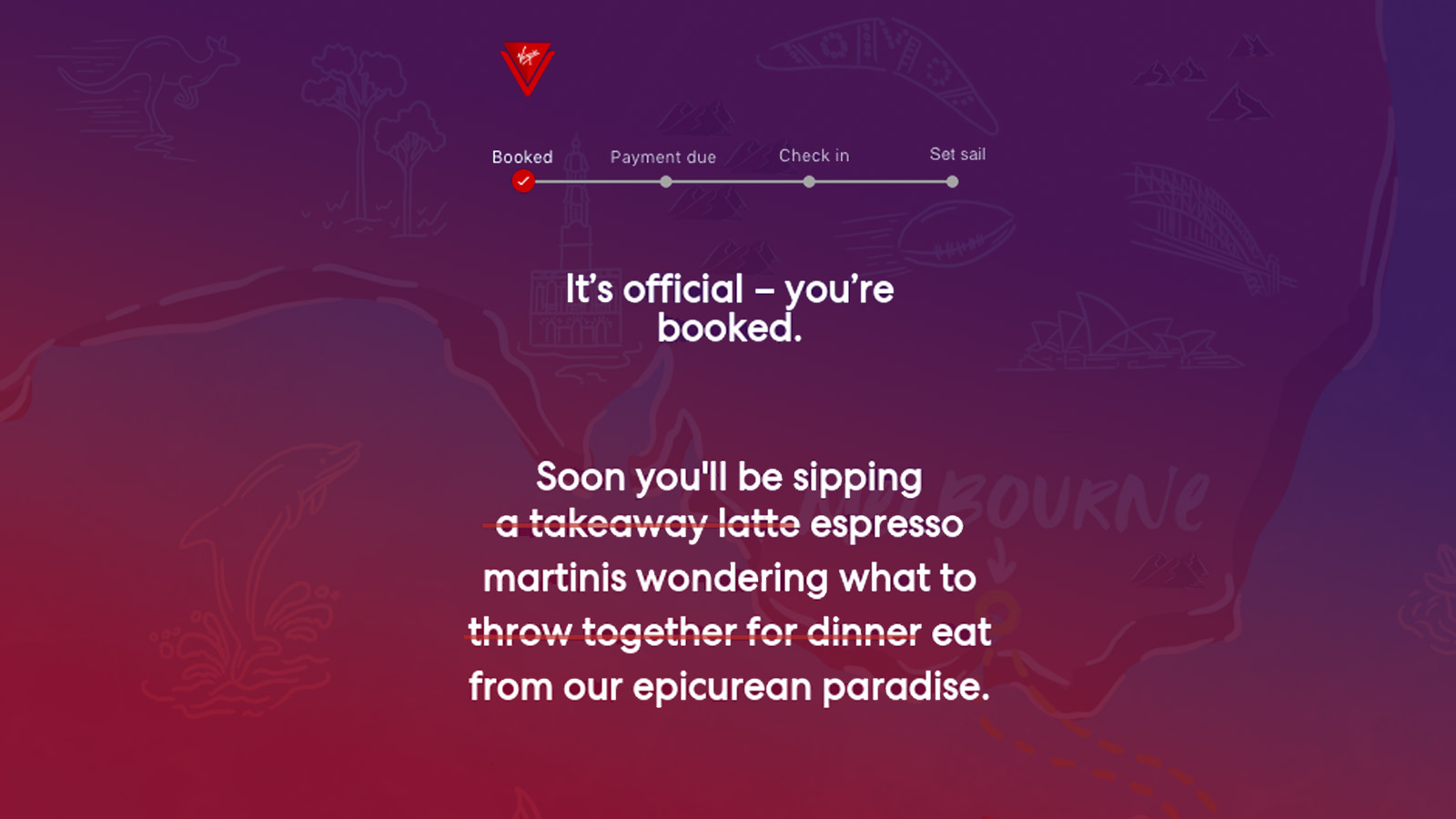 My flights are all in Economy, and I had no difficulty finding availability with points – something that mirrors the experience of Chris, who is also happy to use points to fly domestic Economy. After all, it's only 3-4 hours between Perth and Melbourne, and those points saved can go towards future travel. I have to say, the ease of booking these flights is a huge relief compared to the hours I might spend hunting down international Business Class reward seats.
With many of my points earned from everyday spending, the main costs I encountered are the credit card annual fees and the Accor Plus membership, which I'm factoring in as I'm using the Stay Plus benefit on this trip. Honestly, I only spent around $545 in fees and memberships and $184 in fees and taxes to make the whole trip happen – return flights, hotel and the cruise for two.
Turning $729 into a $5,607 cruise holiday? That's the magic of points.
Brandon booked the whole trip at his own expense, using his frequent flyer points.
Case Study: Turning $729 into a $5,607 cruise holiday with points
was last modified:
September 29th, 2023
by