Velocity Frequent Flyer offers a rare customer-friendly feature called Family Pooling, which enables some family members living at the same address to consolidate Velocity Points and Status Credits into one account.
This is especially useful for families and couples that usually fly together, but might not earn enough points individually for a decent flight reward. In this beginner's guide, we'll go how to set up the Family Pooling and why you should do so, instead of keeping the points in separate accounts.
How do I set up Velocity Family Pooling for a couple?
To start pooling points with your significant other, you must first be living in the same address together (or you'll run the risk of having your Velocity accounts shut down if an audit is conducted).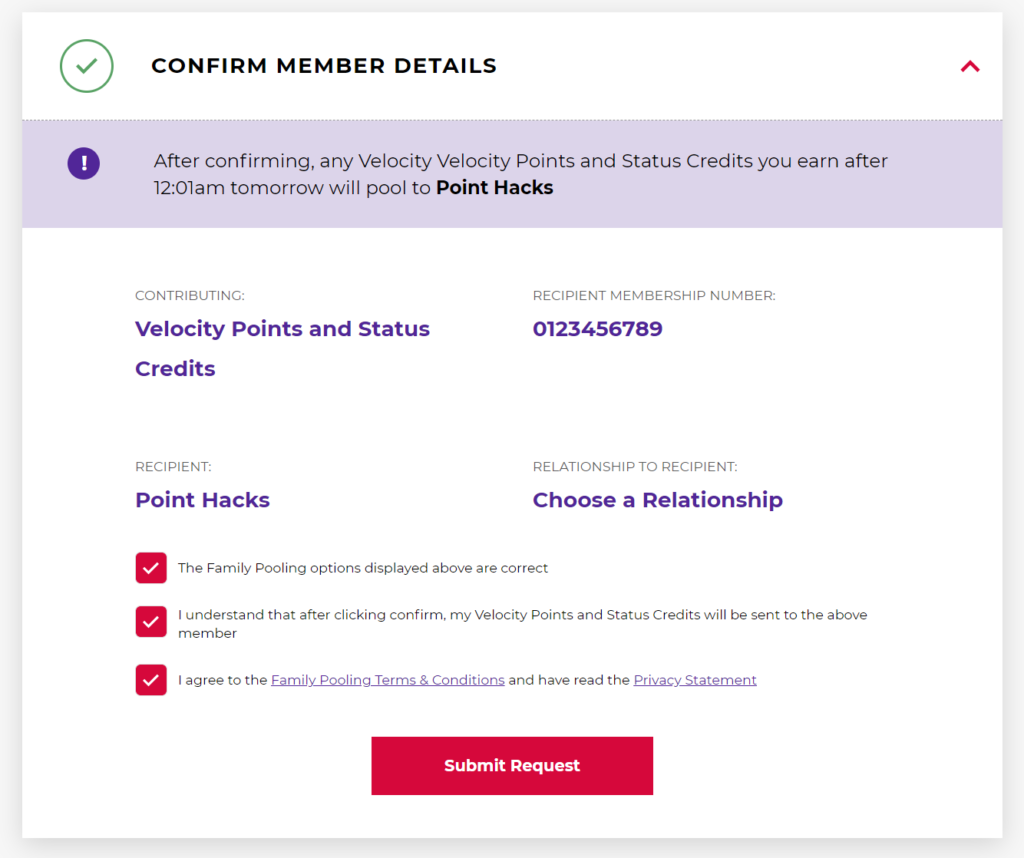 Decide who will pool their points and who will receive the points as the beneficiary.
For the person who will be pooling the points (not receiving), head to the Velocity Family Points Pooling page
Choose whether to pool Velocity Points only or both points and Status Credits
Enter the details of the person receiving the points (the beneficiary), including first name, last name and their Velocity membership number
Choose 'Domestic Partner', 'De Facto', or other suitable relationship as appropriate from the drop-down menu
Confirm the Family Pooling details, noting that only points and Status Credits earned after 12:01am the next day will count
Click or press 'Submit Request' to set up the pool
How do I use pooled Velocity Points for Business Class flights?
Once all the Velocity Points are in the beneficiary's account, Virgin Australia Business Class flights can be booked as usual — either outright as a Business Reward booking, or as an upgrade from a paid economy fare.
For more information, visit our guides on how to upgrade flights with Velocity Points, and how to use Velocity Points for Business Reward flights.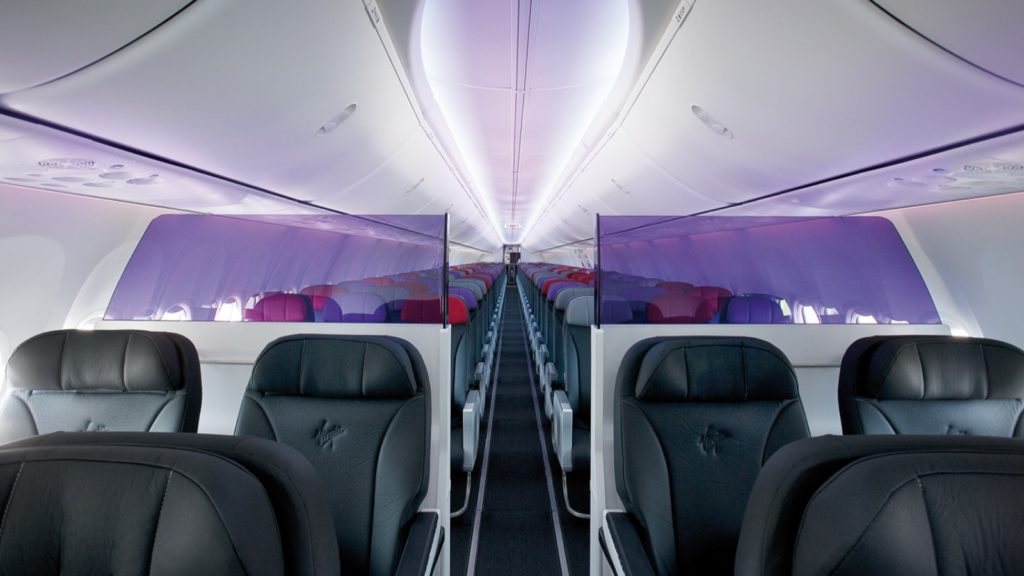 Ad – Scroll down to continue reading.Minimum spend, terms & conditions apply.
Why should I use Velocity Family Pooling as a couple?
Even if there are just two of you in the pool (as opposed to the maximum of 6 people including children), there are a few benefits to Family Pooling to consider which may tip the scales for you.
1. Manage your points transfers
Firstly, it's easier to consolidate points compared to Family Transfers. Yes, you can normally transfer points to family members. However, these are restricted to four transfers each membership year and have a minimum of 5,000 points per transfer.
By using Family Pooling, all your points will be swept across to the beneficiary, regardless of how big or small the number is. Plus, you'll save your four Family Transfers for future use.
2. Reach Velocity Gold or Platinum status sooner for more benefits
Secondly, it's easier to reach elite Velocity status when pooling Status Credits as well. Rather than each of you keeping your Status Credits and falling short, pooling them means one of you might reach Velocity Gold or Platinum status quicker.
If you've got the elite status, you'll be able to treat your partner to the same perks including lounge access, better seating, and priority processing (check-in, boarding & baggage claim) at the airport.
3. It's better to book all passengers in the one itinerary
Finally, it makes life a lot easier when one person books for the couple in the same booking, rather than each person making their own booking, especially if one person has elite status that allows for better seating options.
For example, Velocity Platinum members get free Economy X extra-legroom seating on domestic and short-haul international flights, which also includes up to 9 travelling companions — however, they must also be on the same booking for this perk to apply.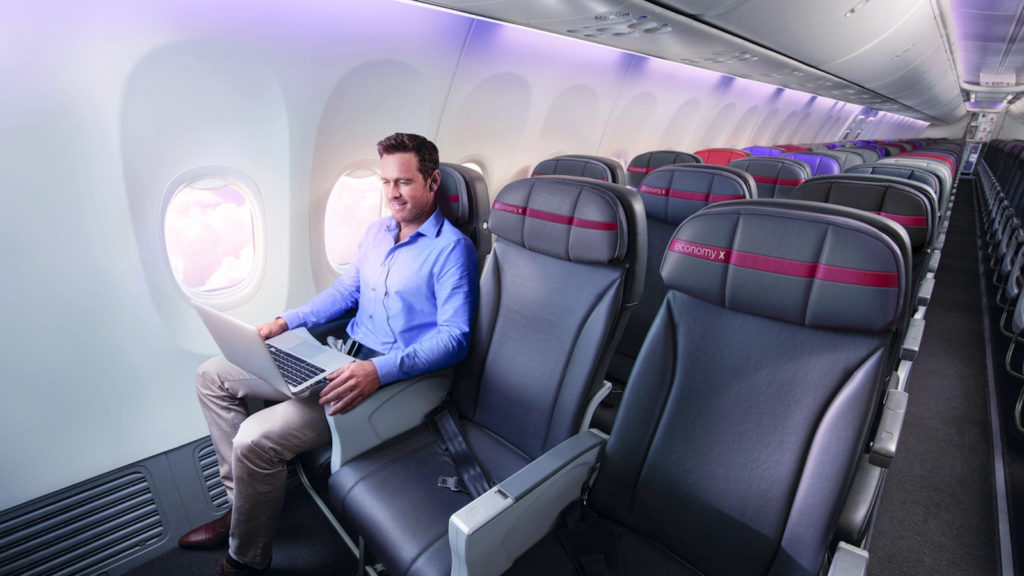 When it comes to Business Class upgrades, being on the same reservation means you'll have the chance to be upgraded together, based on the highest Velocity status level of the passengers.
Case study: how could a couple benefit from Velocity Family Pooling
Let's say Jamie and Mike live in Perth and want to fly to Melbourne in Business Class for the Australian Grand Prix (when interstate travel is once again unrestricted). Their target is to reach 142,000 Velocity Points, which is enough for two Business Class return tickets.
Jamie is the savvier Points Hacker and earns 100,000 Velocity Points from a credit card sign-up, plus she flies regularly for work. Mike doesn't contribute as much and only earns Velocity Points through Flybuys, which in turn is earned from shopping at Coles.
Eventually, Jamie has 138,000 Velocity Points in her account and Mike has managed to accumulate 4,350 Velocity Points from Flybuys transfers.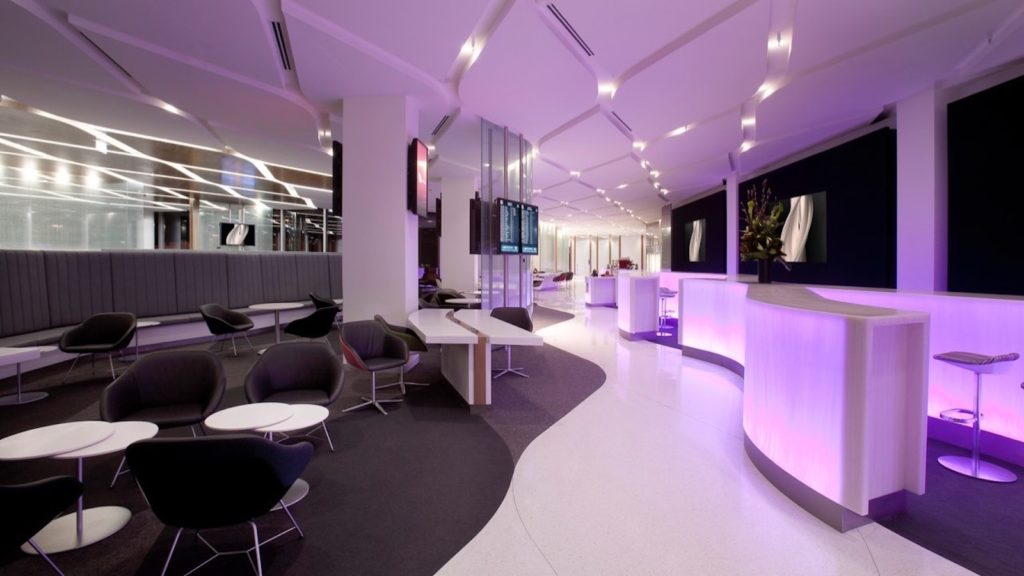 1. Example with Family Pooling
If they had set up Family Pooling in advance (e.g. Mike pools to Jamie), then Mike's points from Flybuys transfers would automatically be sent to Jamie as they are earned. This means Jamie would have 142,350 points, enough to book the return Business Class flight for two.
Neither of them would need to use a Family Transfer.
2. Example without Family Pooling
If the couple had not pooled their points, then they are a bit short. Mike doesn't have enough points to transfer to Jamie, as the minimum per transfer is 5,000 points.
Therefore, Jamie must use one of four yearly transfers to send points to Mike. She could send him 66,650 Velocity Points which then gives both of them enough points to redeem a Business Class ticket separately.
But if they want to be on the same reservation for convenience, then Jamie would need to send Mike all of her points. However, the maximum transfer limit is 125,000 points per transaction.
Jamie would need to use two of her four yearly transfers to make it work — or she could use one to send some points to Mike, and then get him to use one of his transfers to send his new balance (now more than 5,000 points) back to her to make up the full amount.
They would need to use 1 or 2 Family Transfers to make this work.
Summing up
Family Pooling is an extremely valuable perk for Velocity Frequent Flyer members. While it's primary attraction is the ability to pool Status Credits to reach elite status faster, it can also be useful to pool points.
This is especially in the case where one individual may not earn a significant number of points on their own, but pooling it to a family member or significant other could help them out greatly.
Remember that Family Transfers are limited to four a year per member, so using Family Pooling instead to overcome this is a good strategy, as you may need to retain the ability to transfer points down the track to other family members.
How couples can use Velocity Family Pooling for Business Class flights
was last modified:
April 2nd, 2022
by