Within the highly-competitive Middle Eastern market, Qatar Airways doesn't offer Business Class. That would be too… pedestrian. Instead, these regional flights are branded as First Class, even though the seats are still what we'd consider to be Business Class.
With that comes an elevated level of service – and if you're departing from or transiting in Doha – access to the fabulous Al Safwa First Class lounge. (But on the flip side, it also means you have to pay the 'First Class' rate when using points for a reward seat, except with AAdvantage miles. Those perks don't come for free).
After an eye-opening visit to the stunning country of Jordan, I grudgingly headed back to the airport to embark on my Qatar Airways First Class flights from Amman to Doha to Sydney, which I booked with Qantas Points at the time.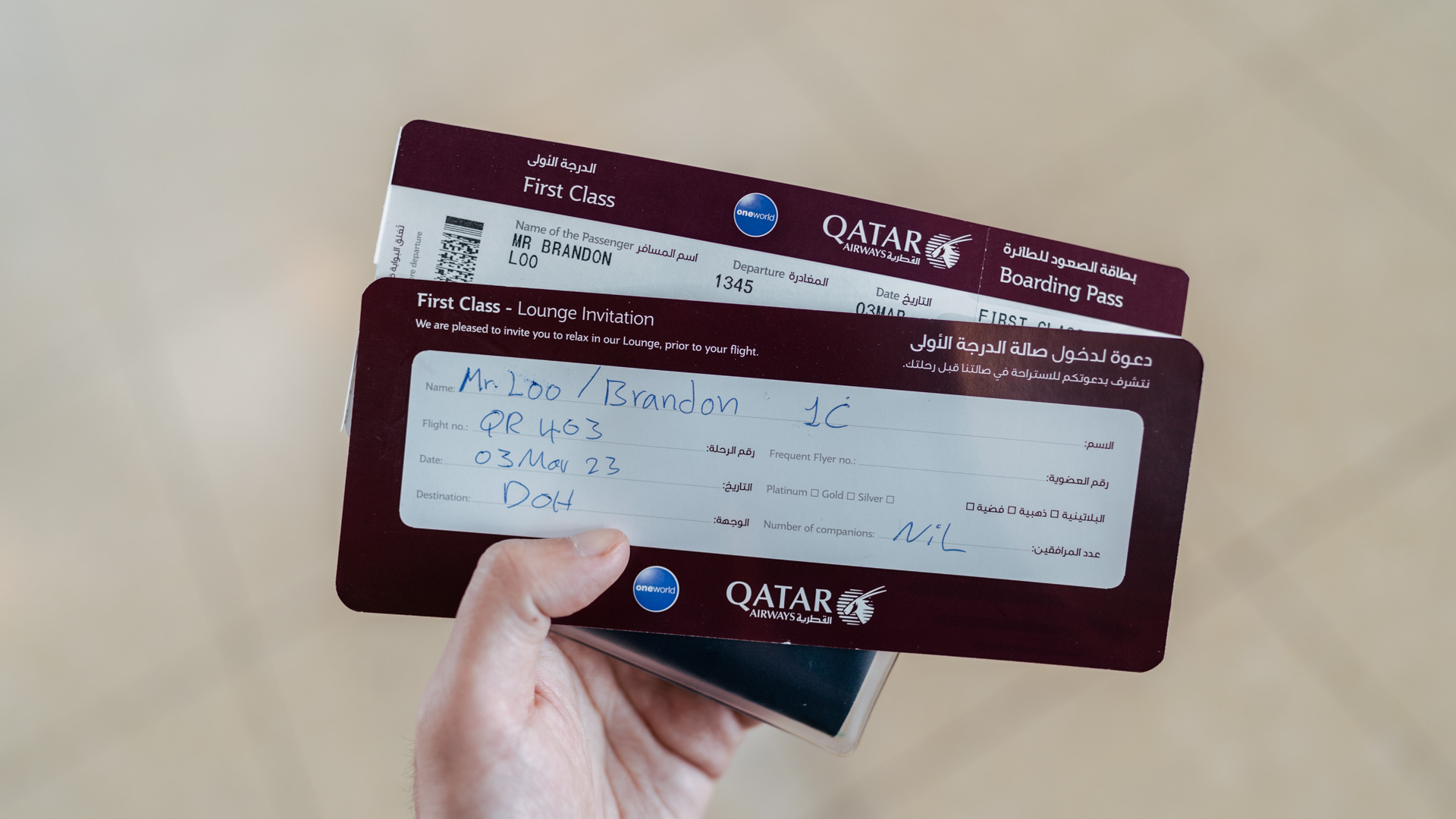 In typical Qatar Airways fashion, the seating for this flight was constantly changing. When I first booked, it was going to be on an Airbus A330 with lie-flat seating. It later changed to an Oman Air Airbus A330 (under a lease arrangement) with the Apex Suites, and then to a newer Qatar Airways A320 with fully-flat beds in a 2-2 layout.
But on the day of the trip, the cabin was swapped again to the older Qatar Airways A320 with recliner seats. It's no big deal for me – after all, this is a 150-minute flight during the afternoon.
Fun fact: Qatar Airways pretty much rosters its entire fleet on this route, depending on what jets are available. You could be flying on the Boeing 787-8 or even the massive Airbus A350-1000 with Qsuites… I really missed out!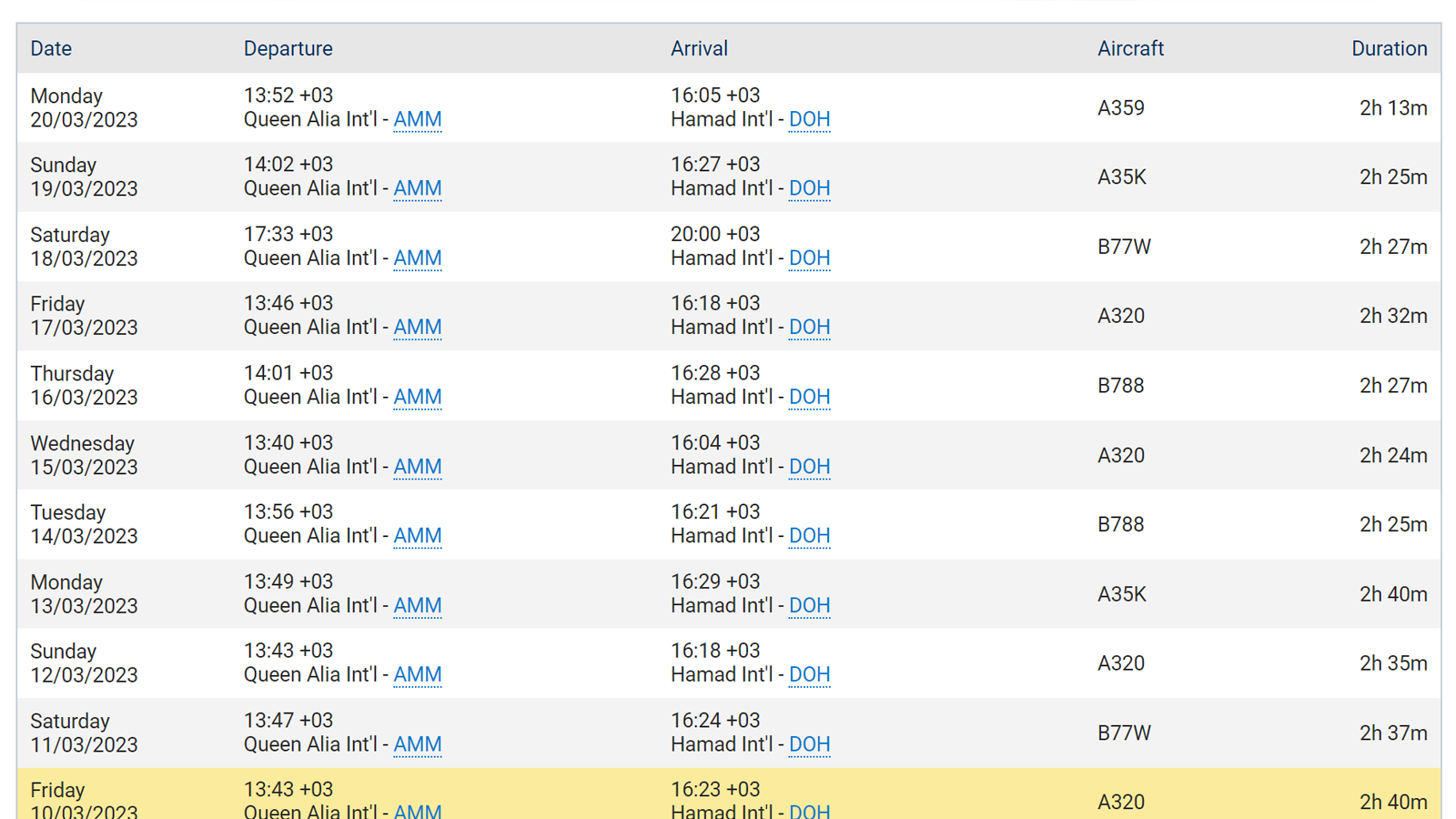 Check-in, lounge and boarding
At Amman's Queen Alia International Airport, access to the check-in hall is only available to passengers. There's an initial baggage scan before you can get in. Afterwards, the experience gets a bit breezier with a dedicated First Class check-in lane. My bags are tagged and promptly sent into the abyss.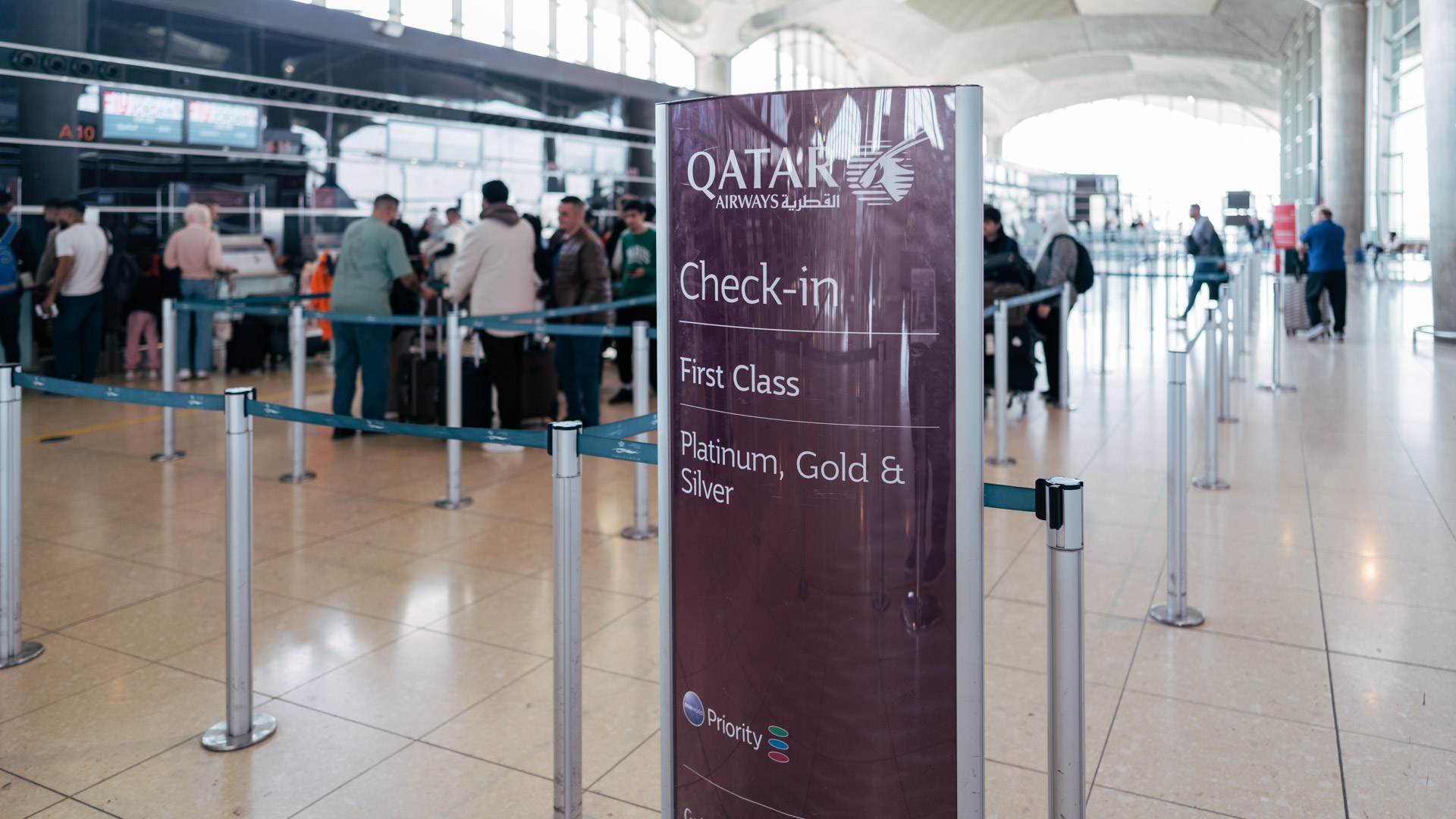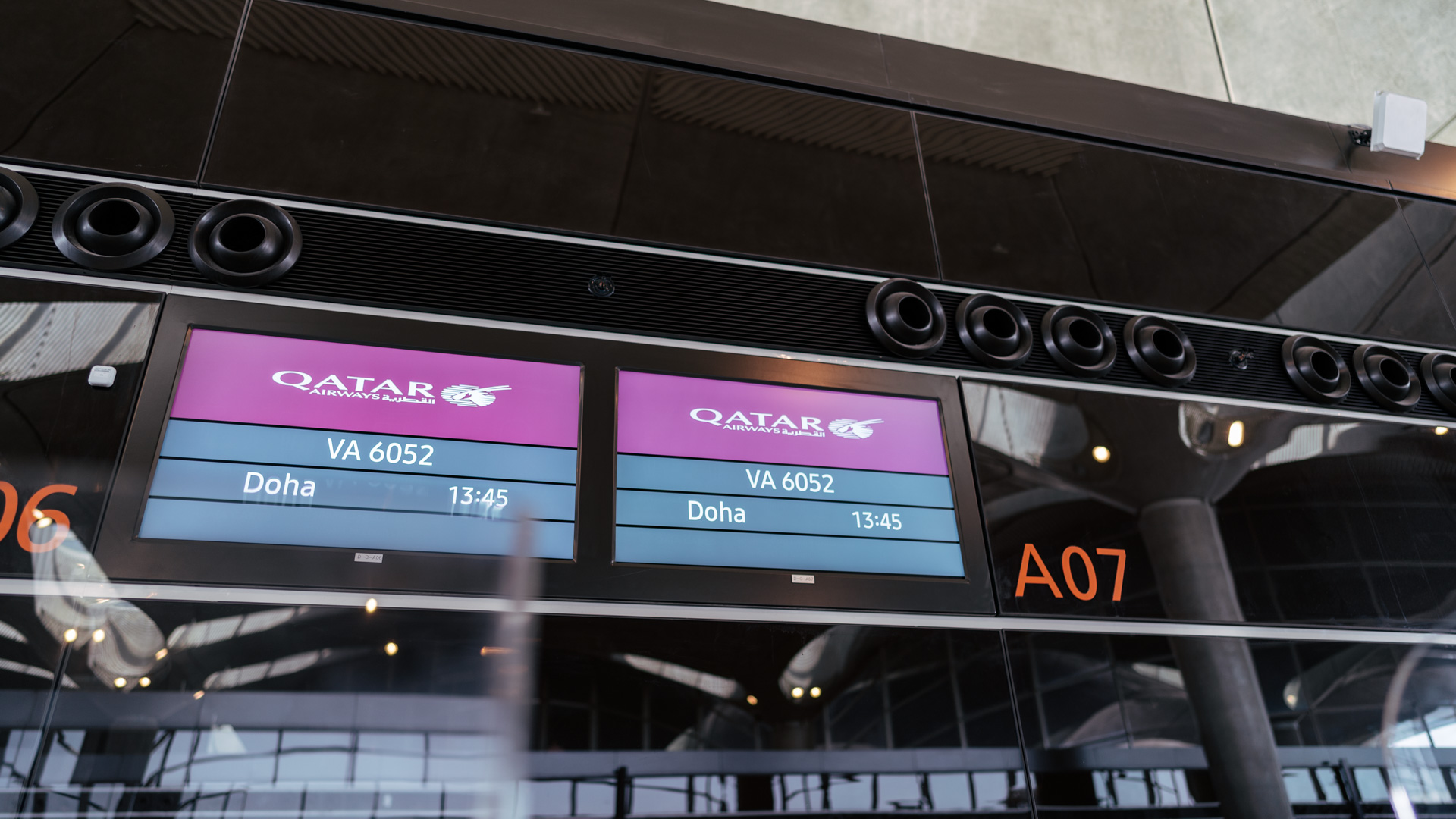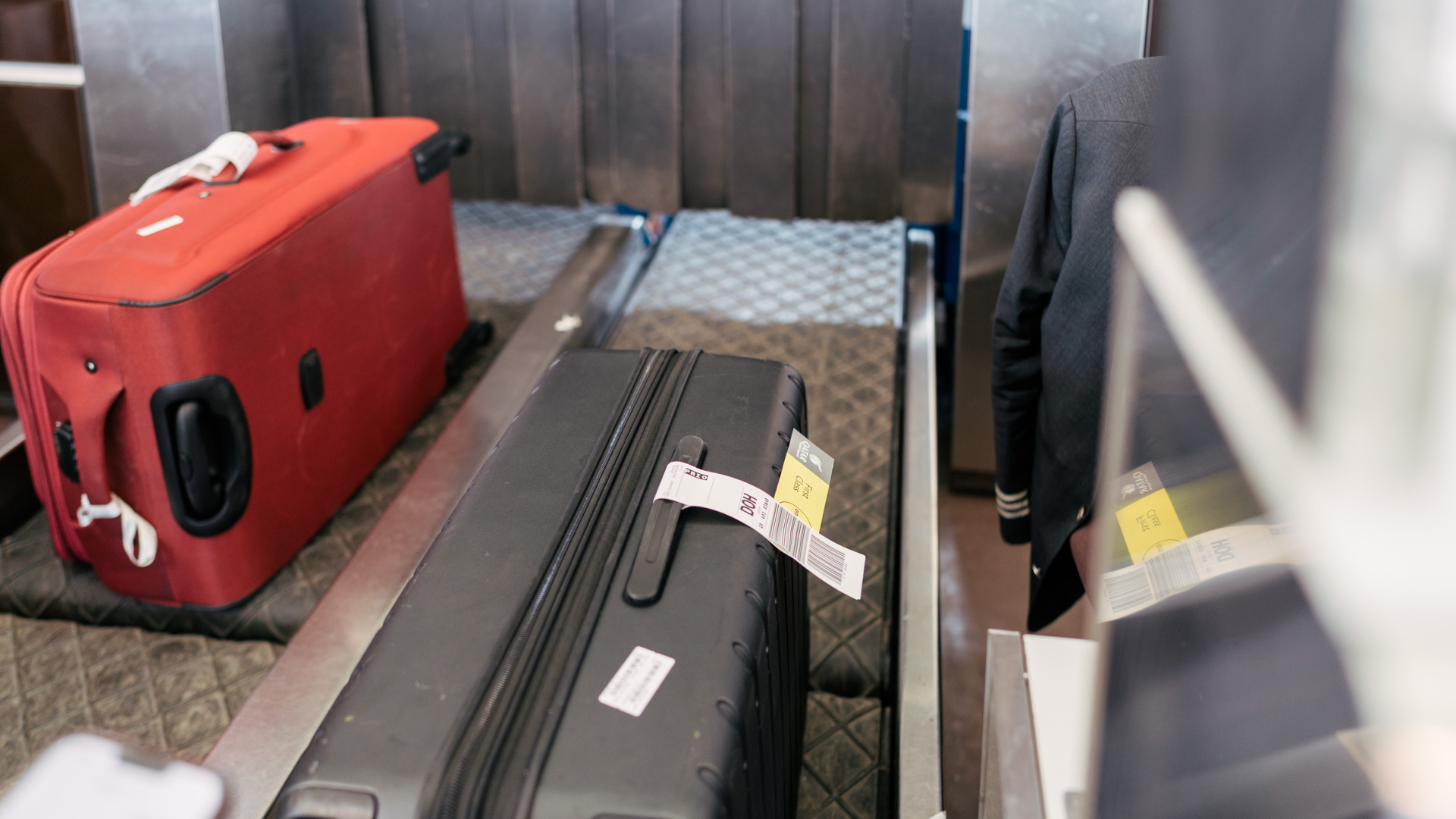 Unfortunately, Qatar Airways hasn't organised access to the Fast Track lane for immigration and security. It's a glaring oversight, given that Emirates has a sign here for its premium passengers. Deciding against spending JOD 5 (AU$10.6) for the privilege of skipping a few minutes of waiting, I persevere with the main queue and complete the formalities reasonably quickly.
Qatar Airways use the Royal Jordanian Crown Lounge in Amman, which is that carrier's flagship lounge. Overall, I'm quite impressed with it – particularly by the freshly-made manakish (flatbread pizzas) and the automatic soft-serve machine (yes, I can be a child at heart). The Crown Café also serves up excellent coffee.
Boarding for this particular flight could be generously described as casual. No priority lane signage was present at the gate, but with the single-aisle jet being only 50% full, we still boarded on time and efficiently.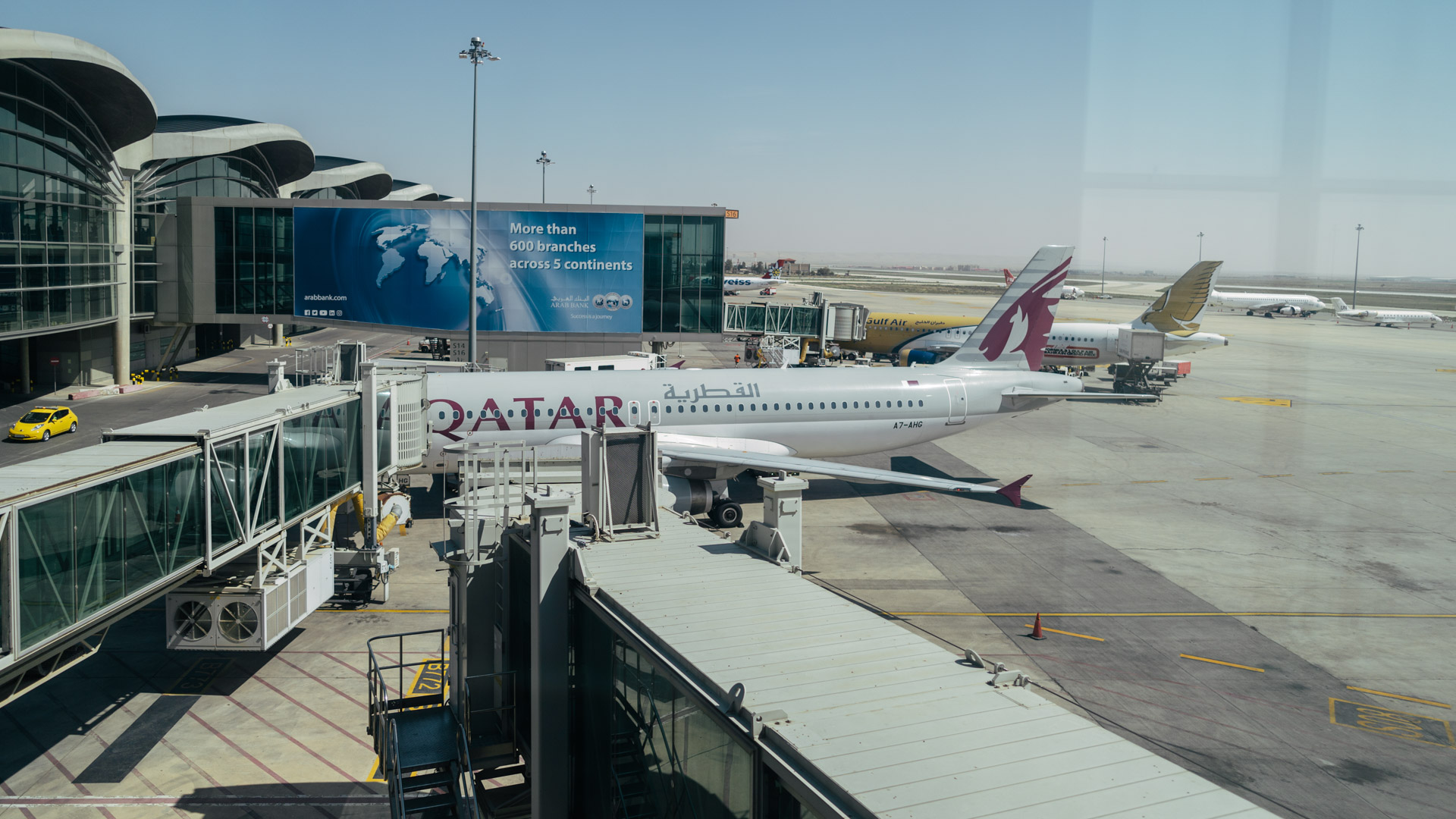 Qatar Airways Airbus A320 First Class seating
Out of the 29 Airbus A320s in Qatar Airways colours, only 11 have updated seats with fully-flat beds at the front. The other 18, including the one flying me back to Doha today, have standard recliners instead. The seats are arranged 2-2 over three rows – check it out on AeroLOPA. Of course, I'd rather be kicking back in Qsuites if I had the choice, but these recliners are also completely fine for this flight.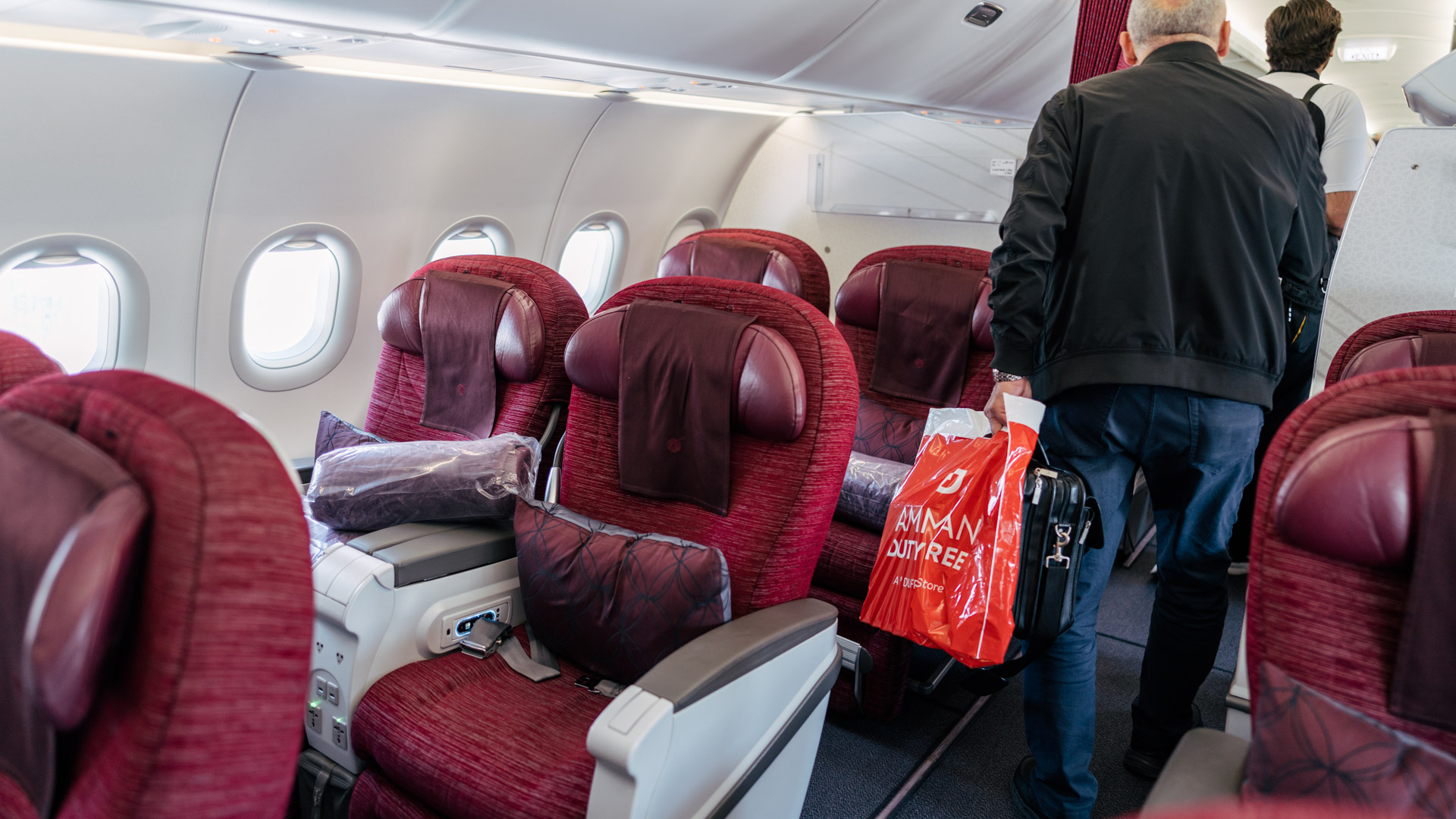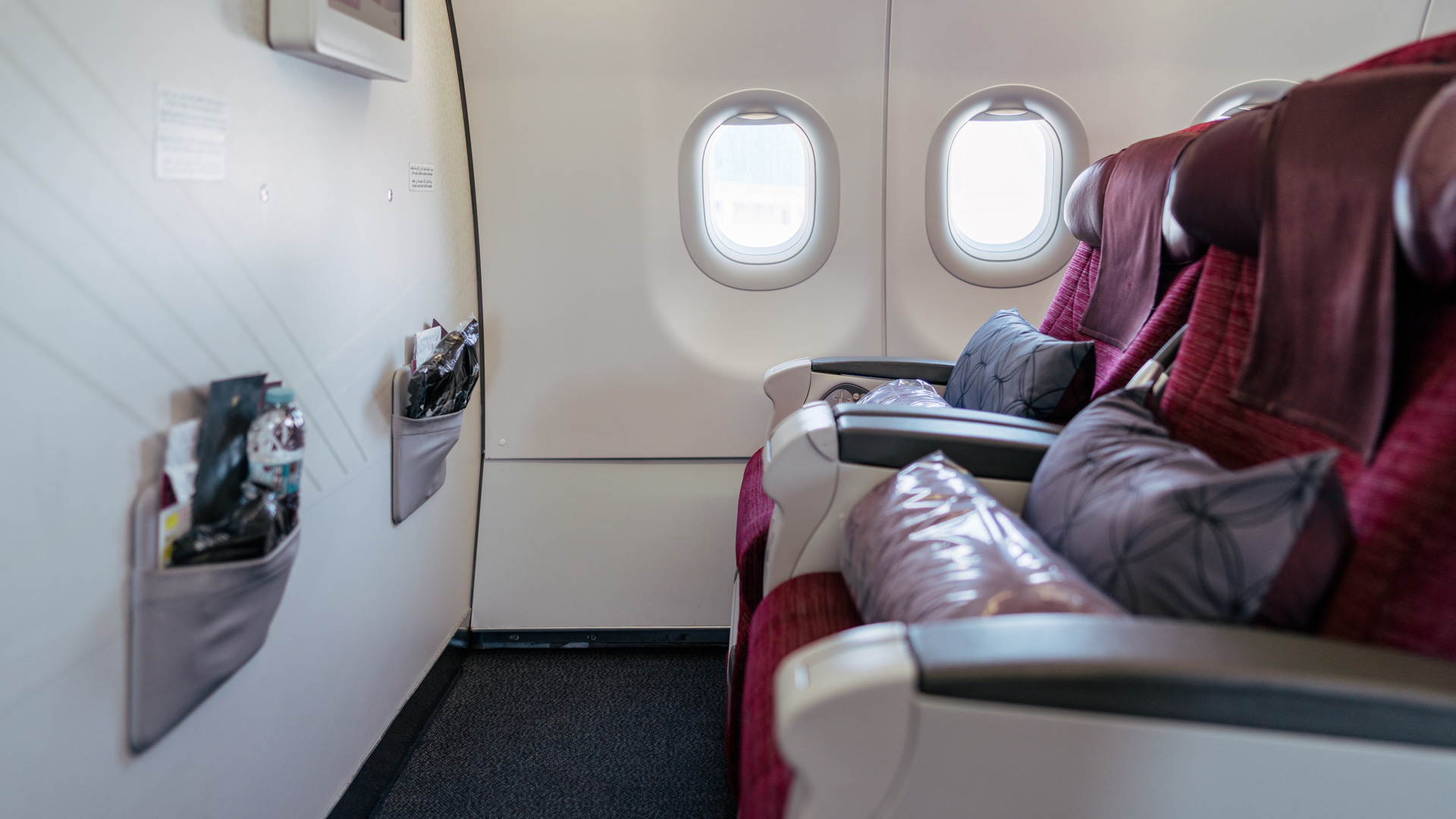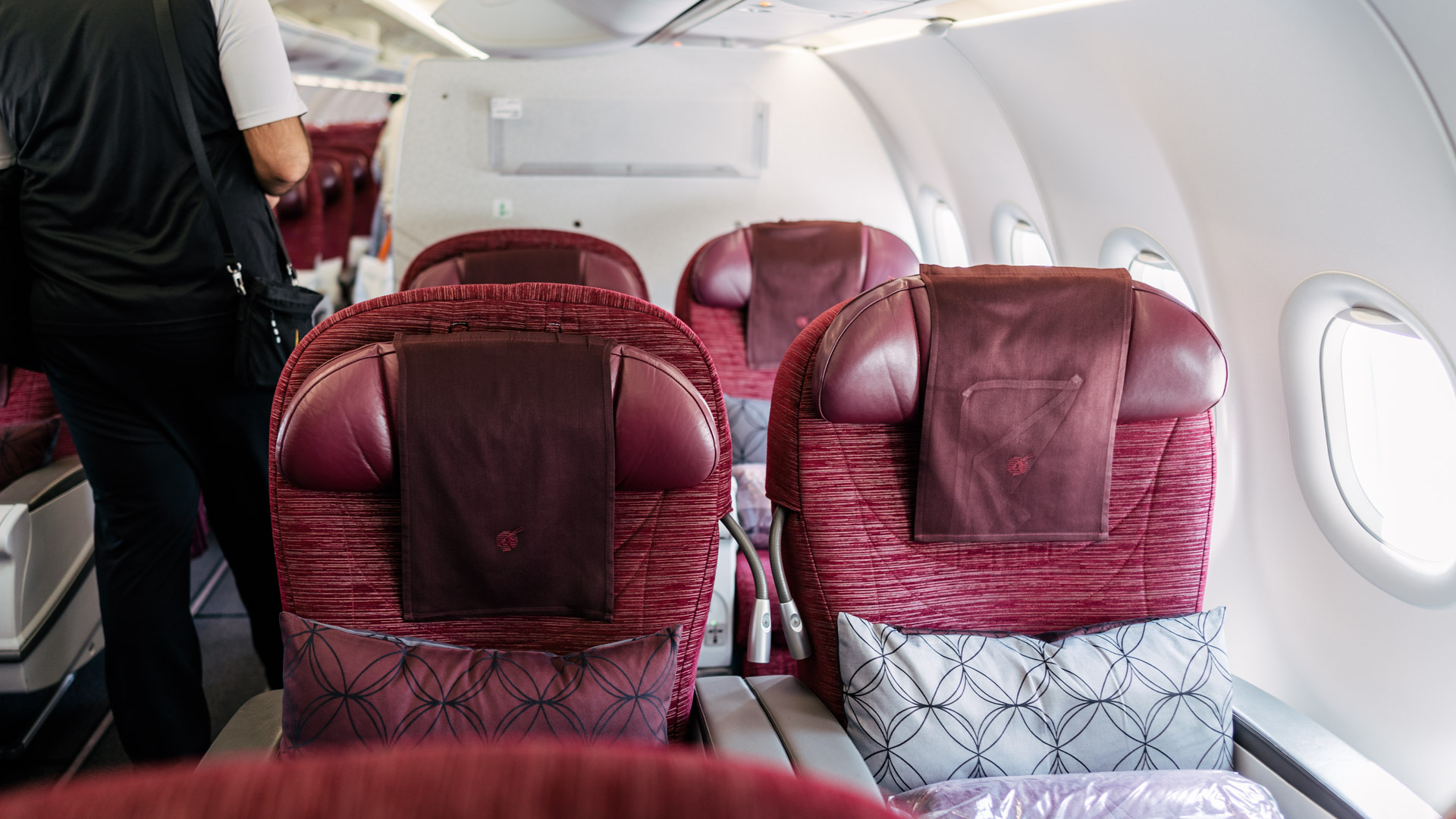 With an identical layout to the Qantas Boeing 737 Business Class that many of us are familiar with, comparisons are inevitable. Qatar Airways generously gives 45″ (114 cm) of pitch between rows, compared to 37″ (94cm) on the Red Roo. The other major point of difference is that the Qatar Airways seats have electronic controls for reclining and the legrest, whereas most other carriers just opt for manual controls instead.
As expected, I'm still too tall to use the legrest effectively (it would need to swing up higher and extend longer than the space allows), but it should be pretty comfortable for many other travellers.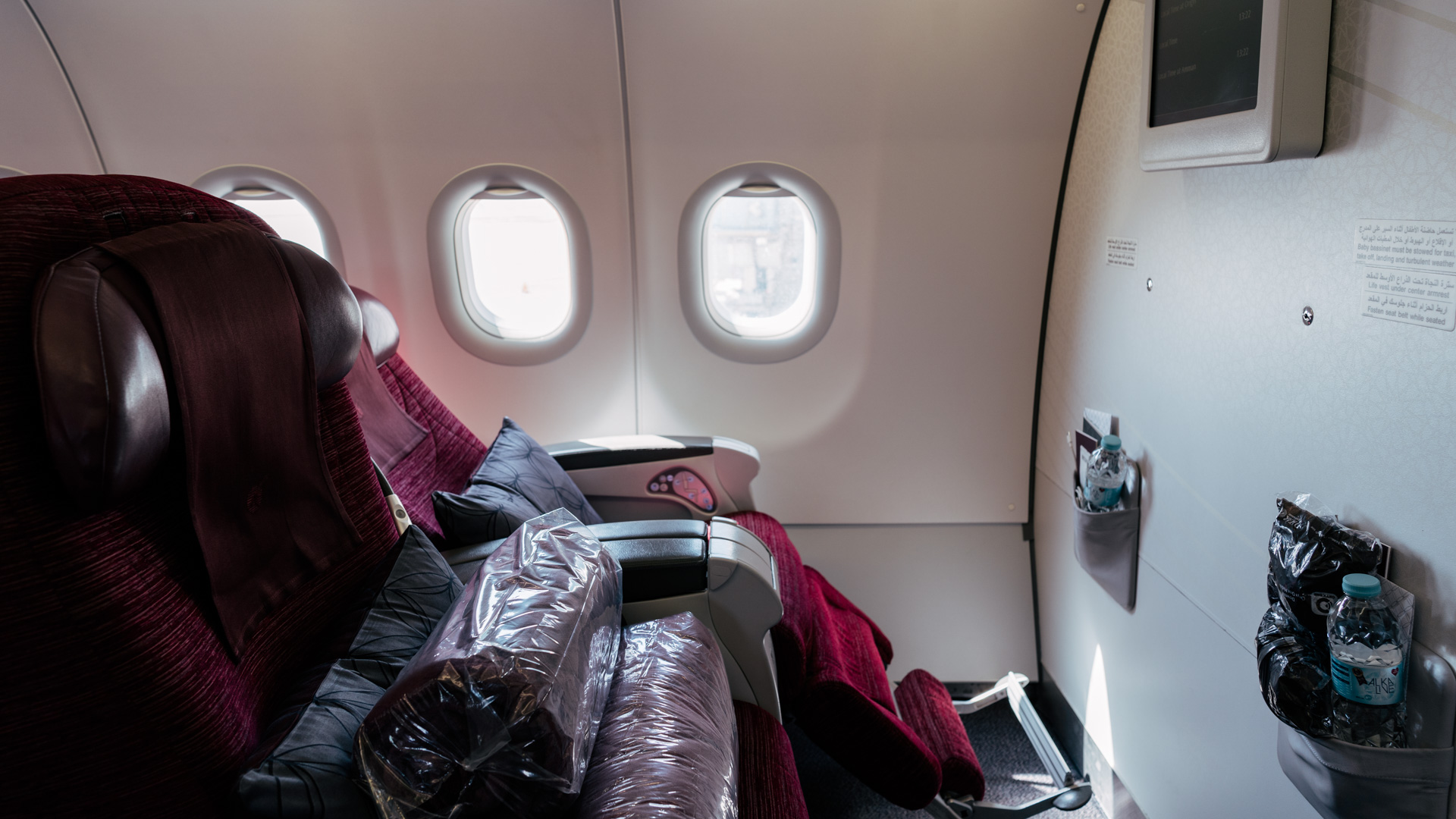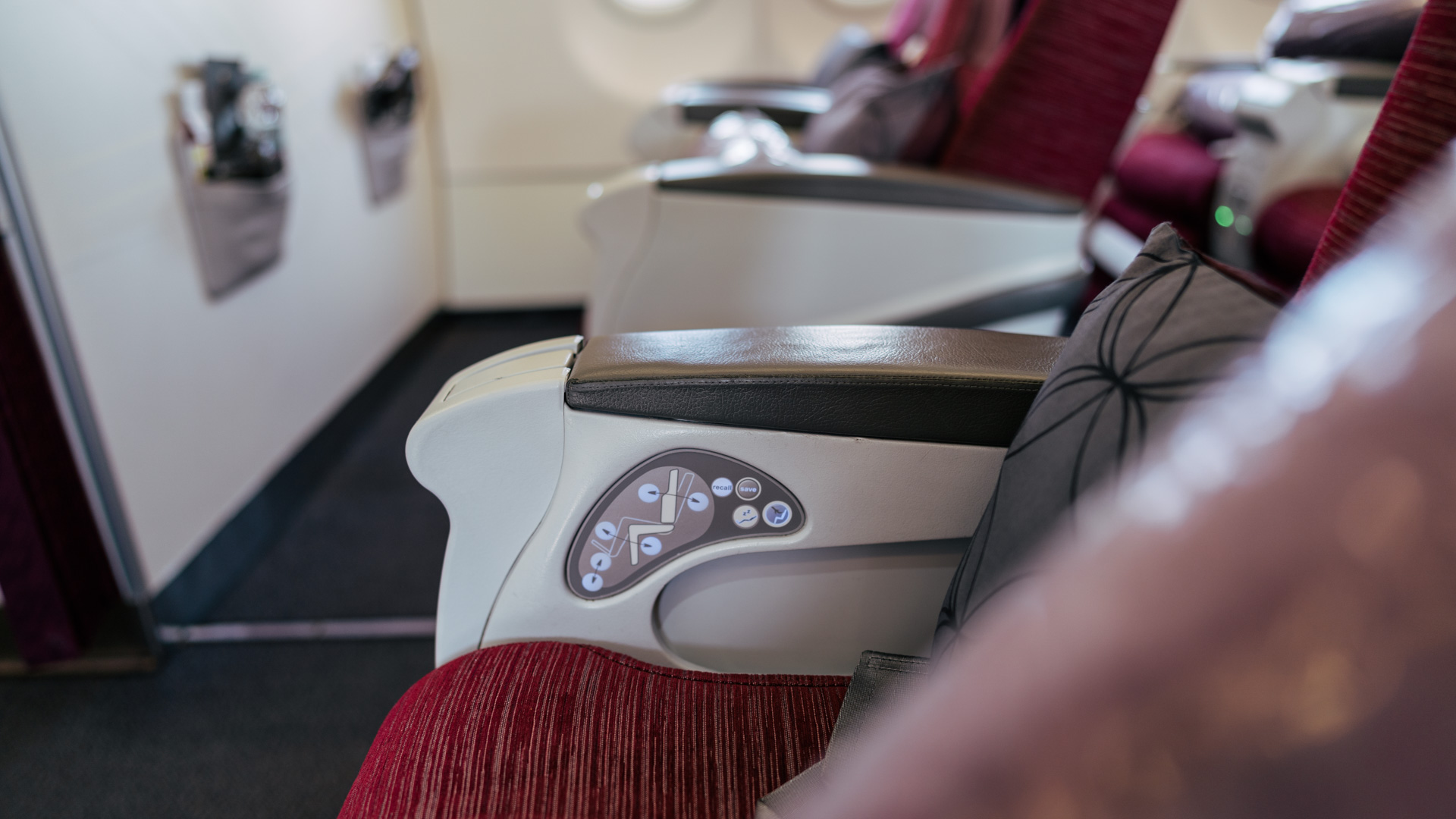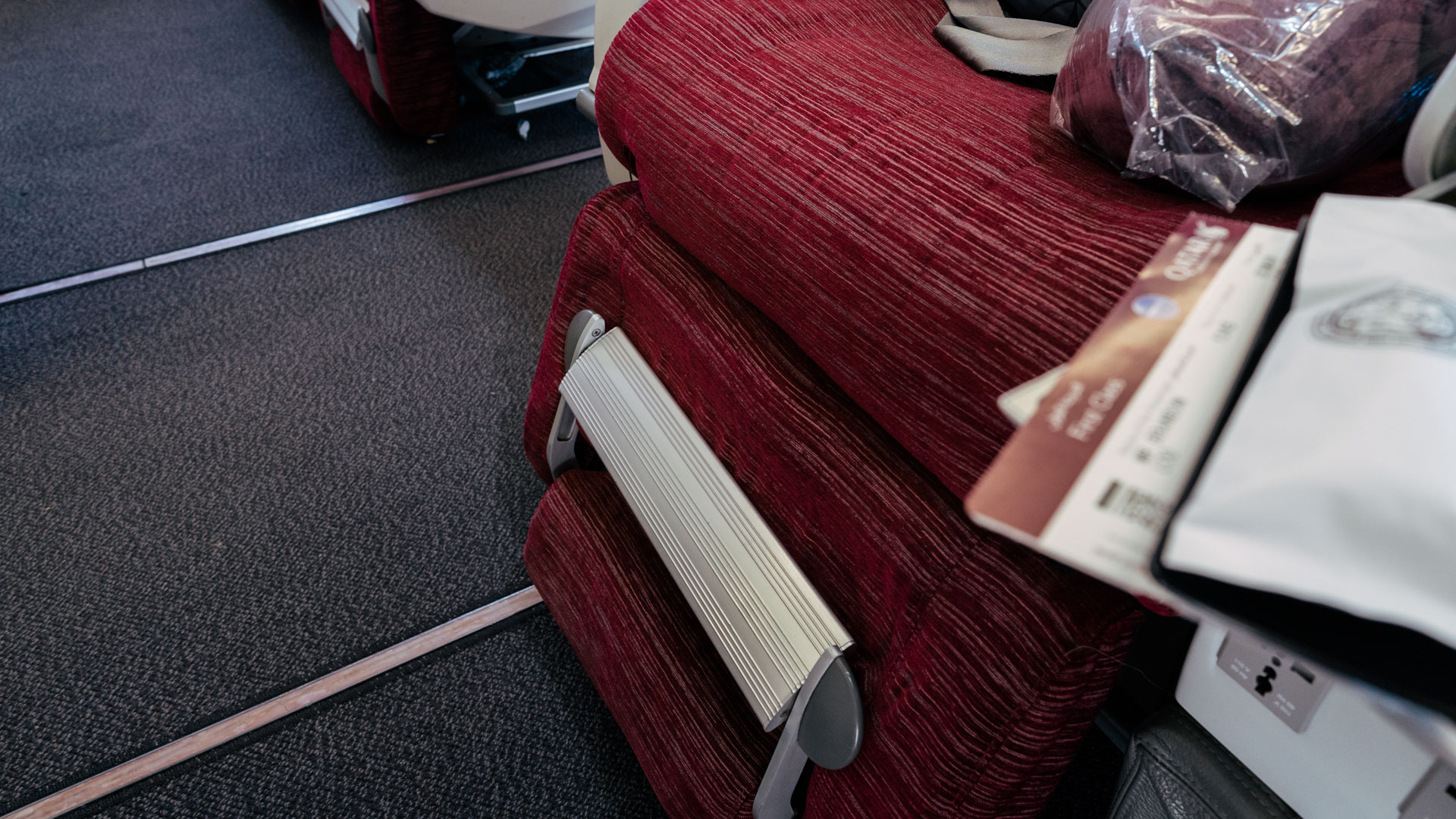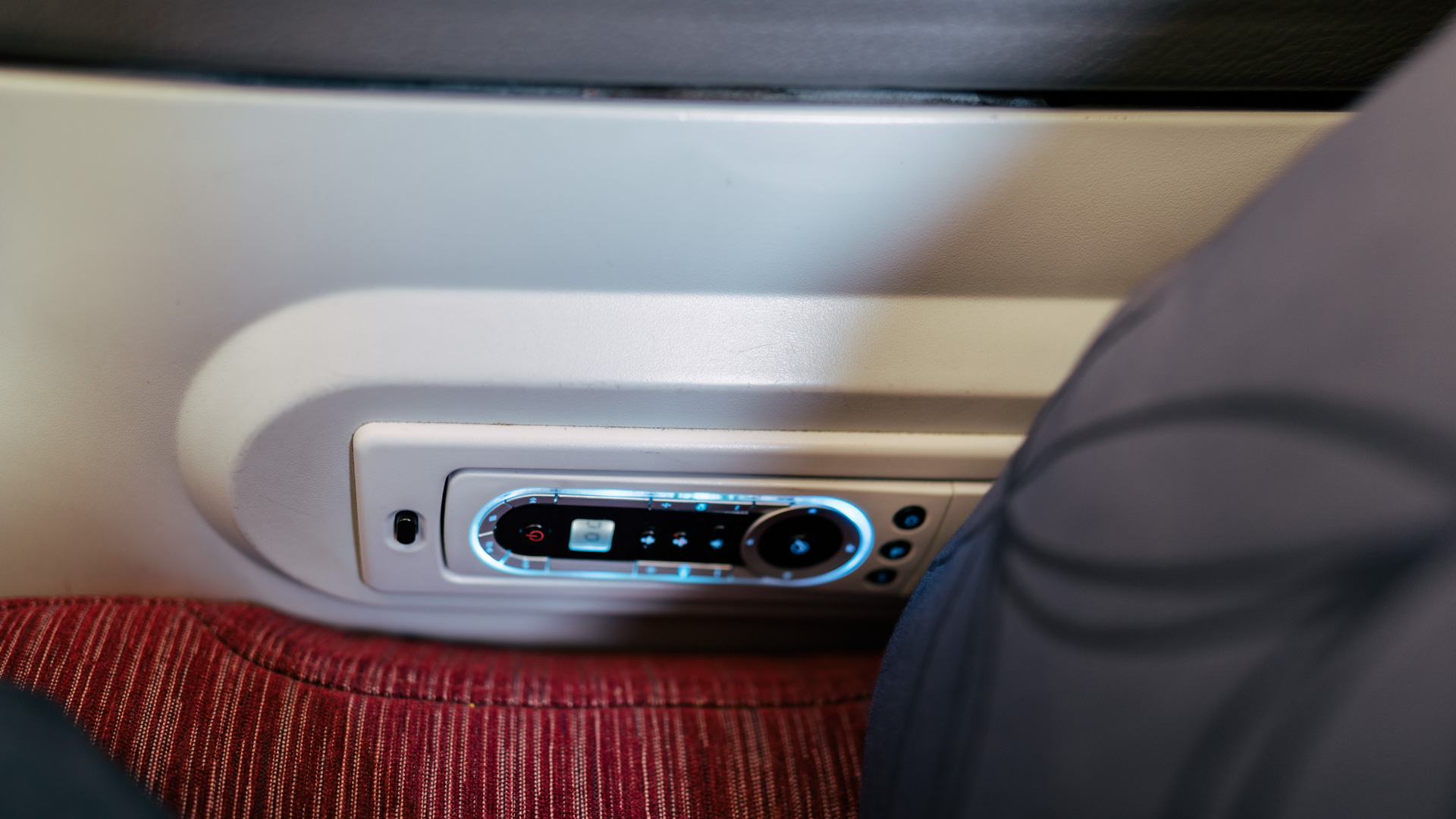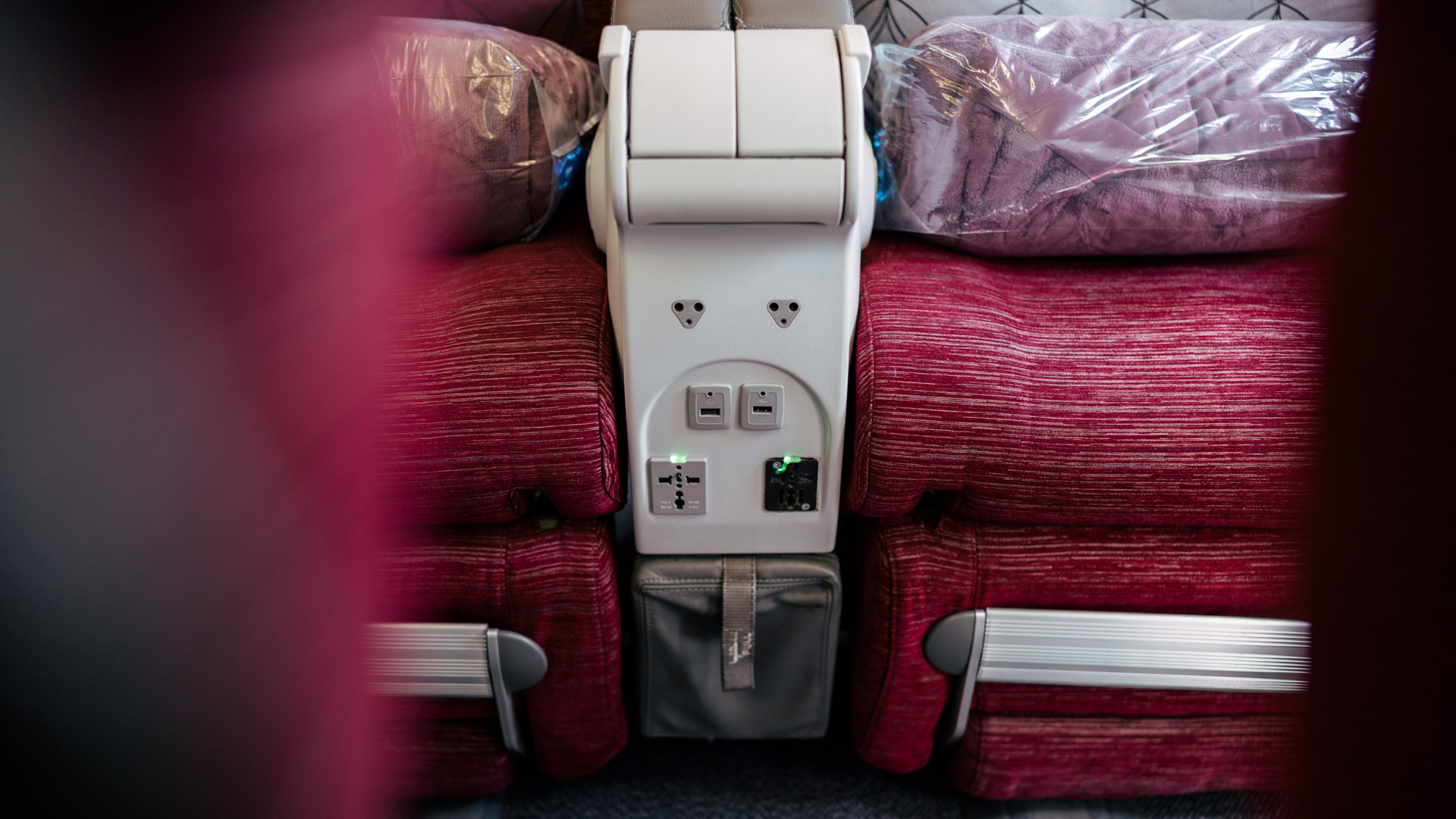 Finally, the other features of the seat include an inflight entertainment controller tucked inside one armrest. You'll find the headphone plug, a USB port and a power outlet on the central console. Storage is limited to the literature pocket in front of you, and those travelling in the first row (such as myself) need to stow bags in the overhead lockers.
Qatar Airways Airbus A320 First Class food and beverage
With a 2.5-hour flight such as this, the food and beverage service becomes the star of the show. I've previously had some excellent meals on flights of similar lengths (check out my review of Singapore Airlines from Singapore to Bangkok). But Qatar Airways' dine-on-demand model really takes the cake.
Pre-departure service
Before take-off, we're all treated to the First Class tradition of Arabic coffee and dates. This is my third time enjoying Arabic coffee, and I have to say I now enjoy it immensely. There's something about those sweet tones against the bitterness of the coffee that just opens up the palate.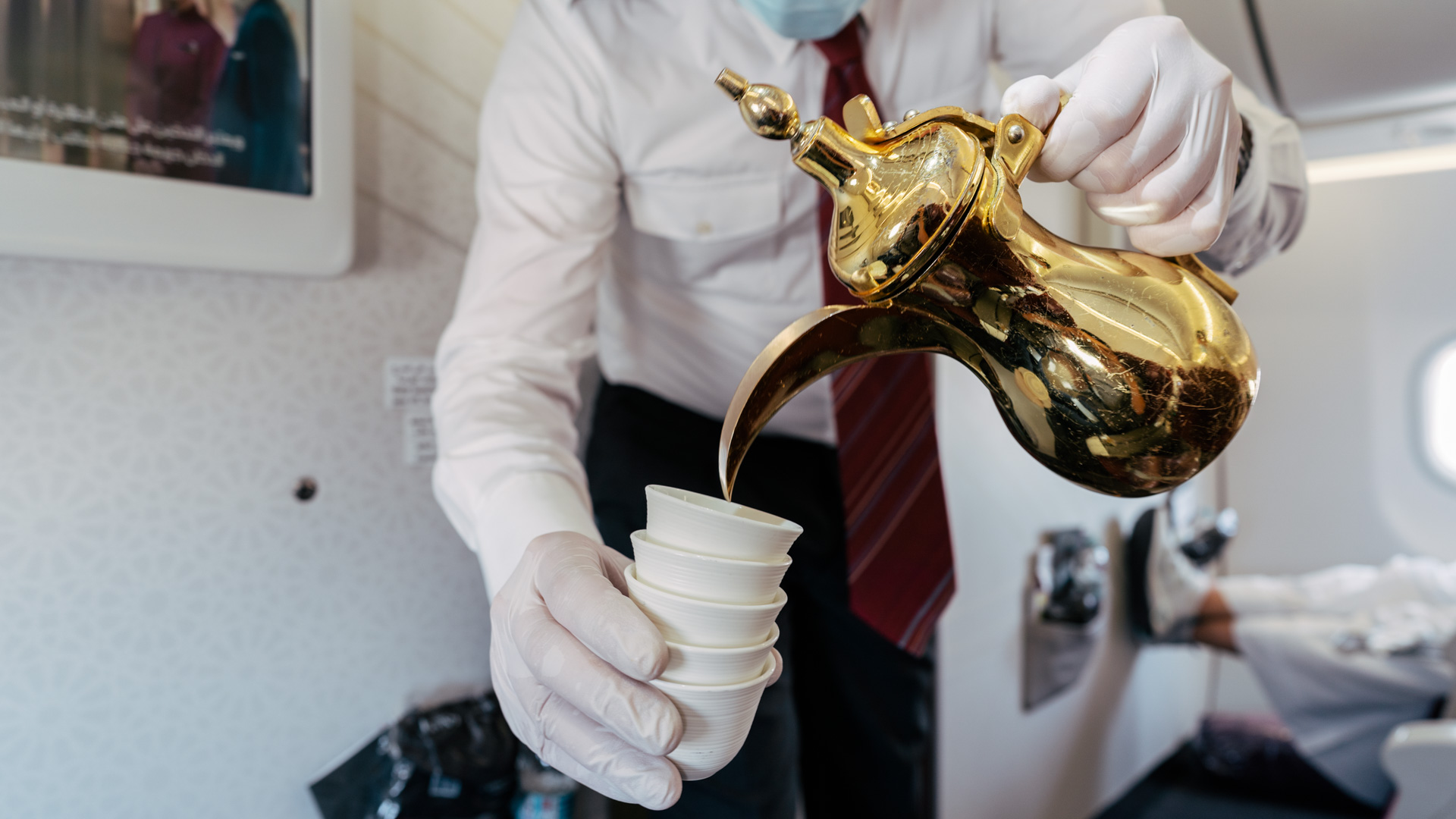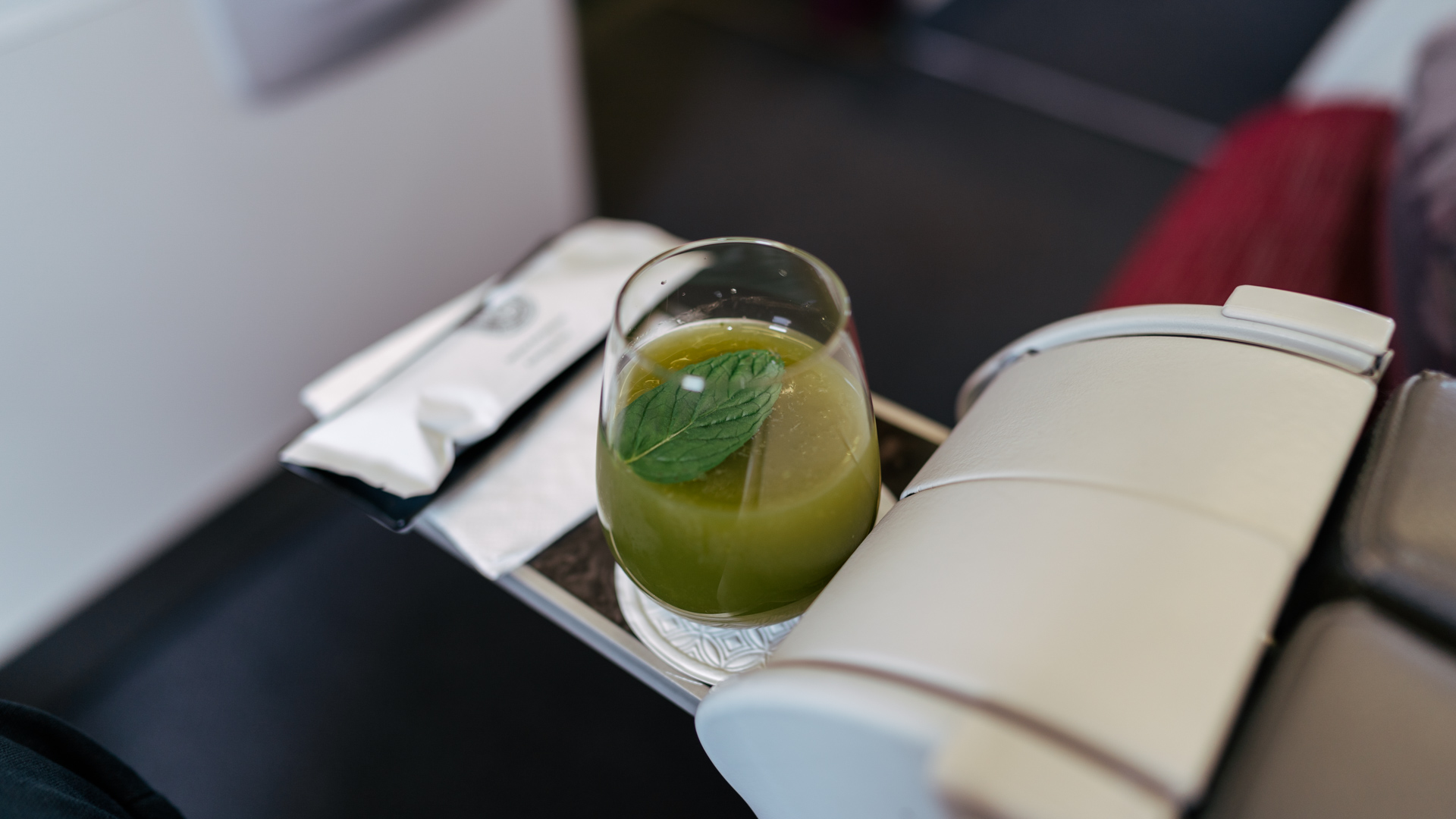 I'm also asked if I'd like a pre-departure beverage of my choice, so I choose Qatar Airways' signature lemon and mint juice. It's less sweet than I remember which is a good thing, and I also find it very refreshing. The drink is served alongside a pre-packed Diptyque refresher towel, which is lightly scented.
On this flight, we're being treated to a three-course menu. I'm asked for my selections before take-off to speed things up. With the choice of appetiser simply being 'yes or no', I opt for the Angus beef tenderloin for mains and skip dessert.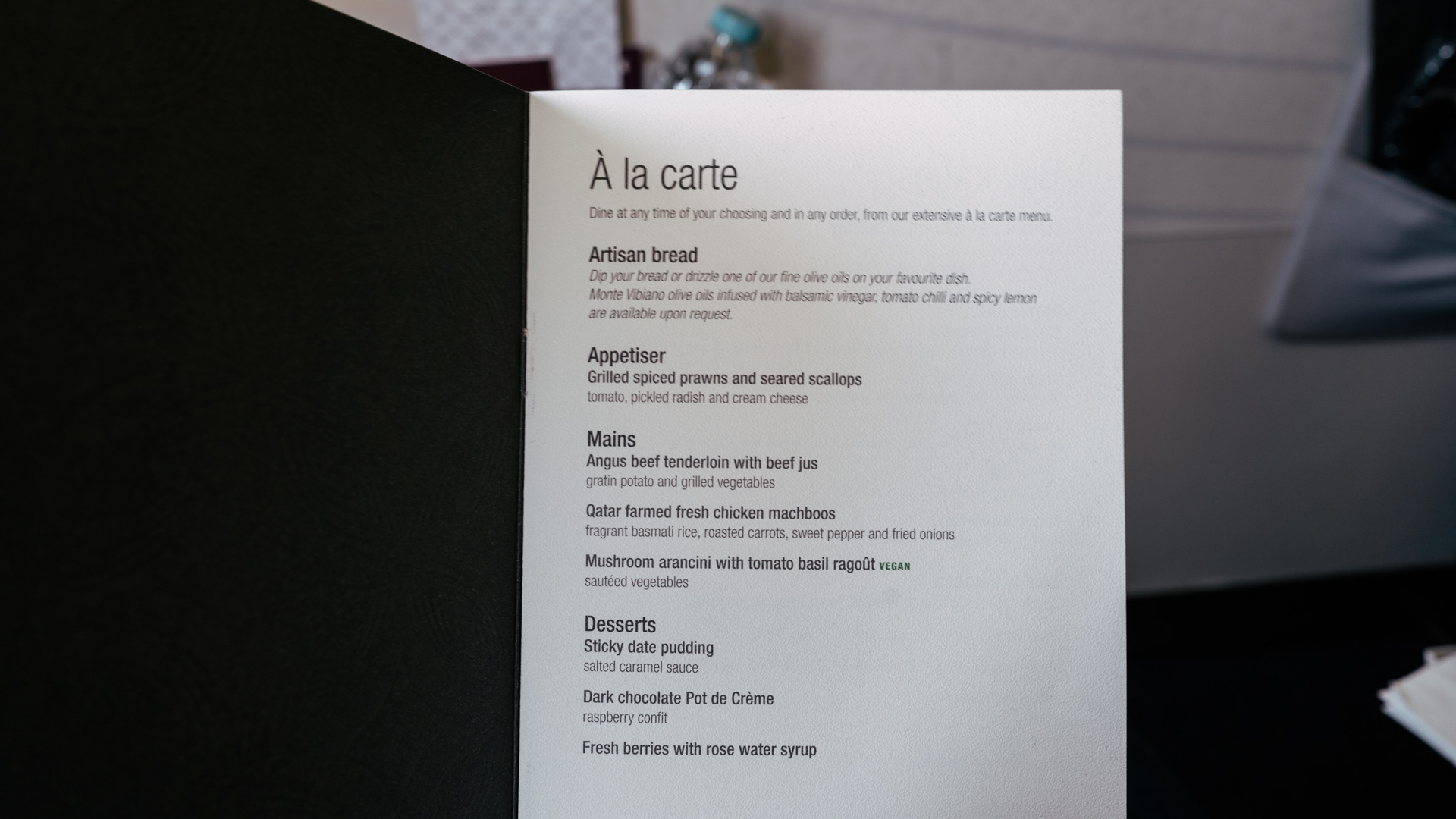 Three-course meal service
After take-off, the crew come around to offer a quick drinks run. This time, I ask for a glass of the Laurent-Perrier Alexandra Grand Cuvée Rosé 2006 – my first experience with a Champagne Rosé. It emanates a deep copper hue and similarly gives a burst of richness on the tongue. Served with warmed smoked nuts, they're a perfect pairing.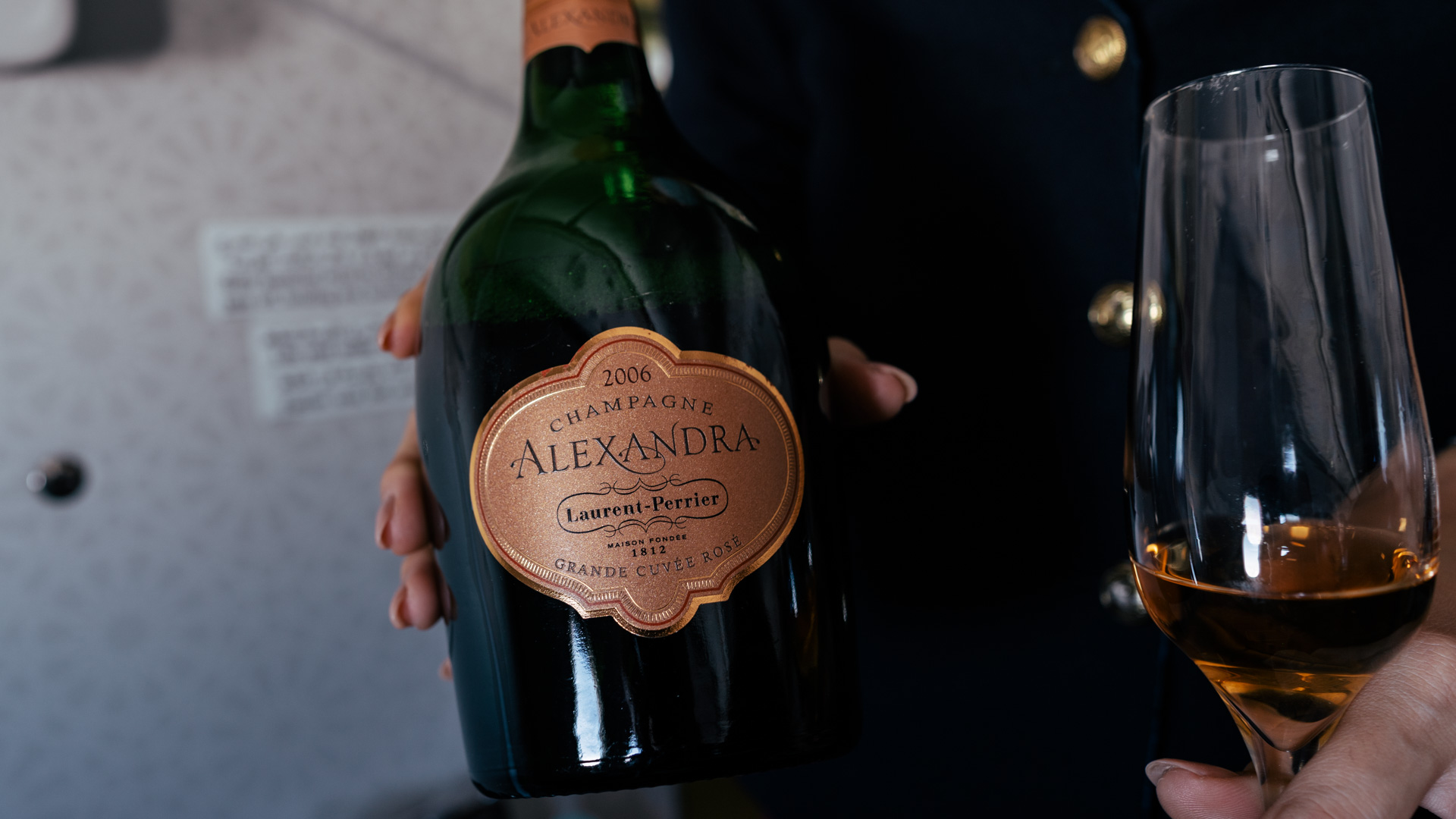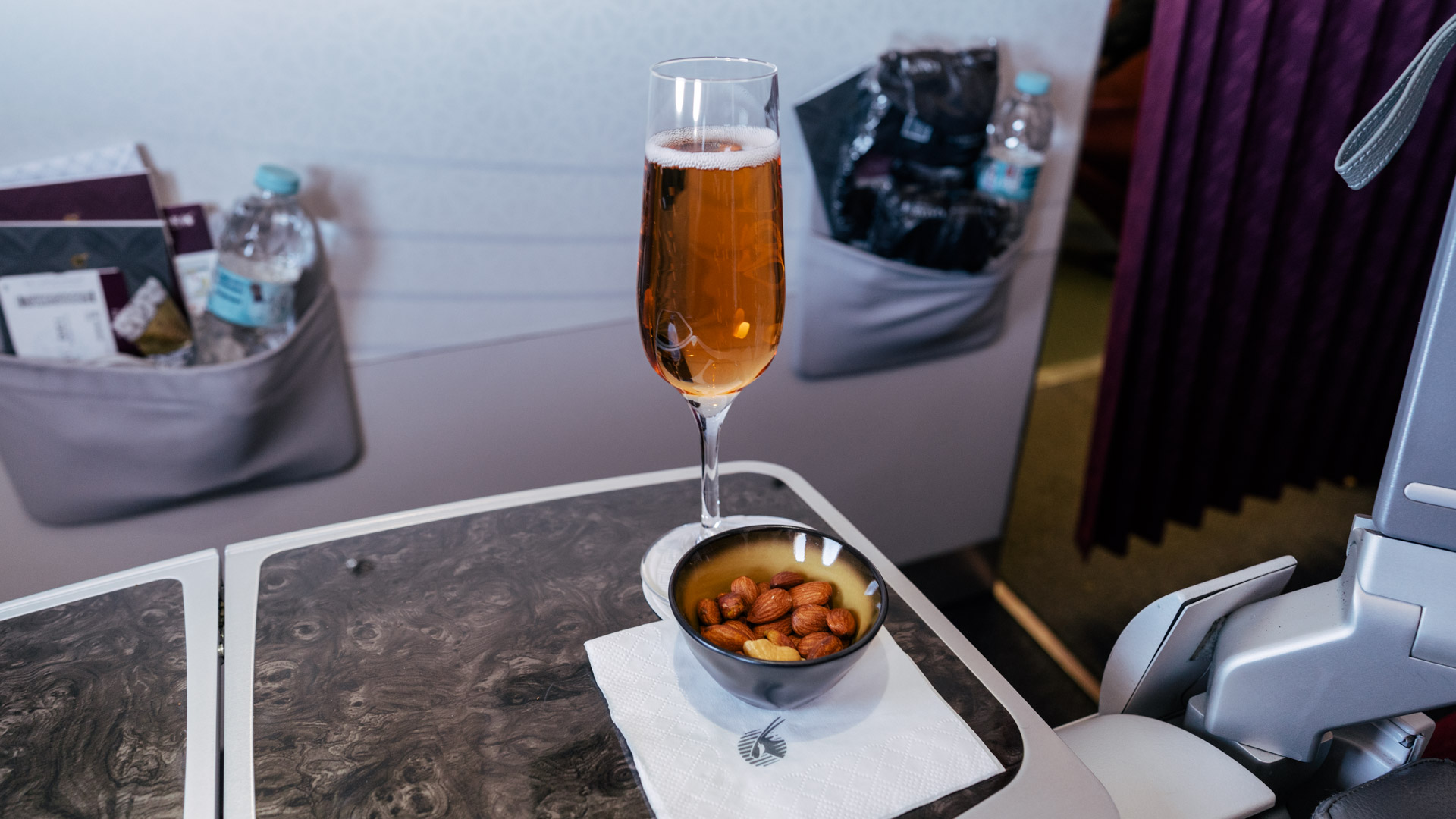 The grilled spiced prawn and seared scallop plate is a marvellous starter. Served chilled, the seafood is still juicy and the vegetables taste as if they've just been picked. This is one plate where I am mopping the sauce up to the end.
The Angus beef tenderloin is above average – definitely full marks for portion size and the sides. I love the creamy and crispy gratin potato, but the steak is ever-so-slightly overdone and the beef jus is a tad too peppery for my liking. Still, it's an enjoyable meal and I'm just too stuffed to even consider having dessert at this point.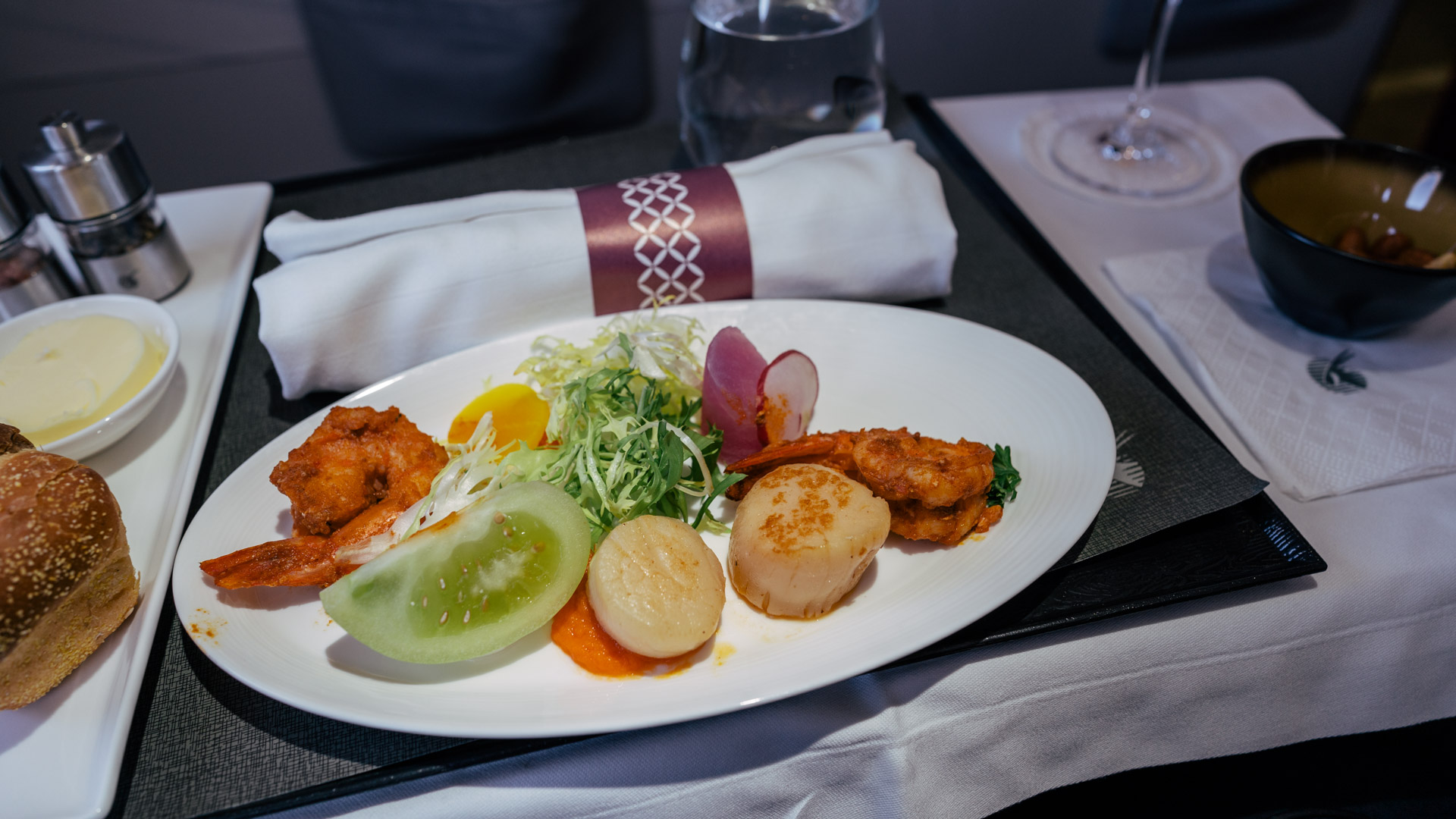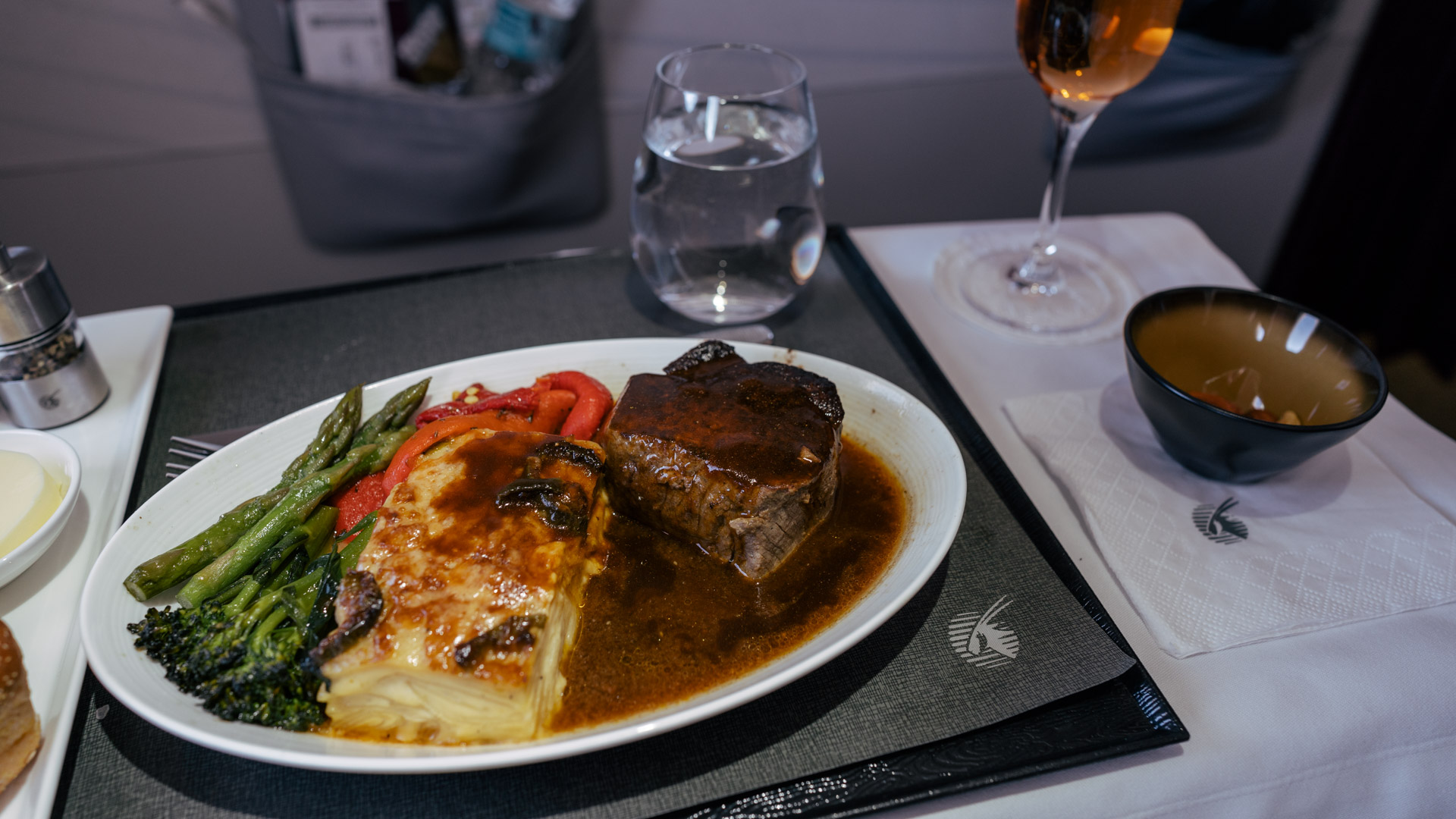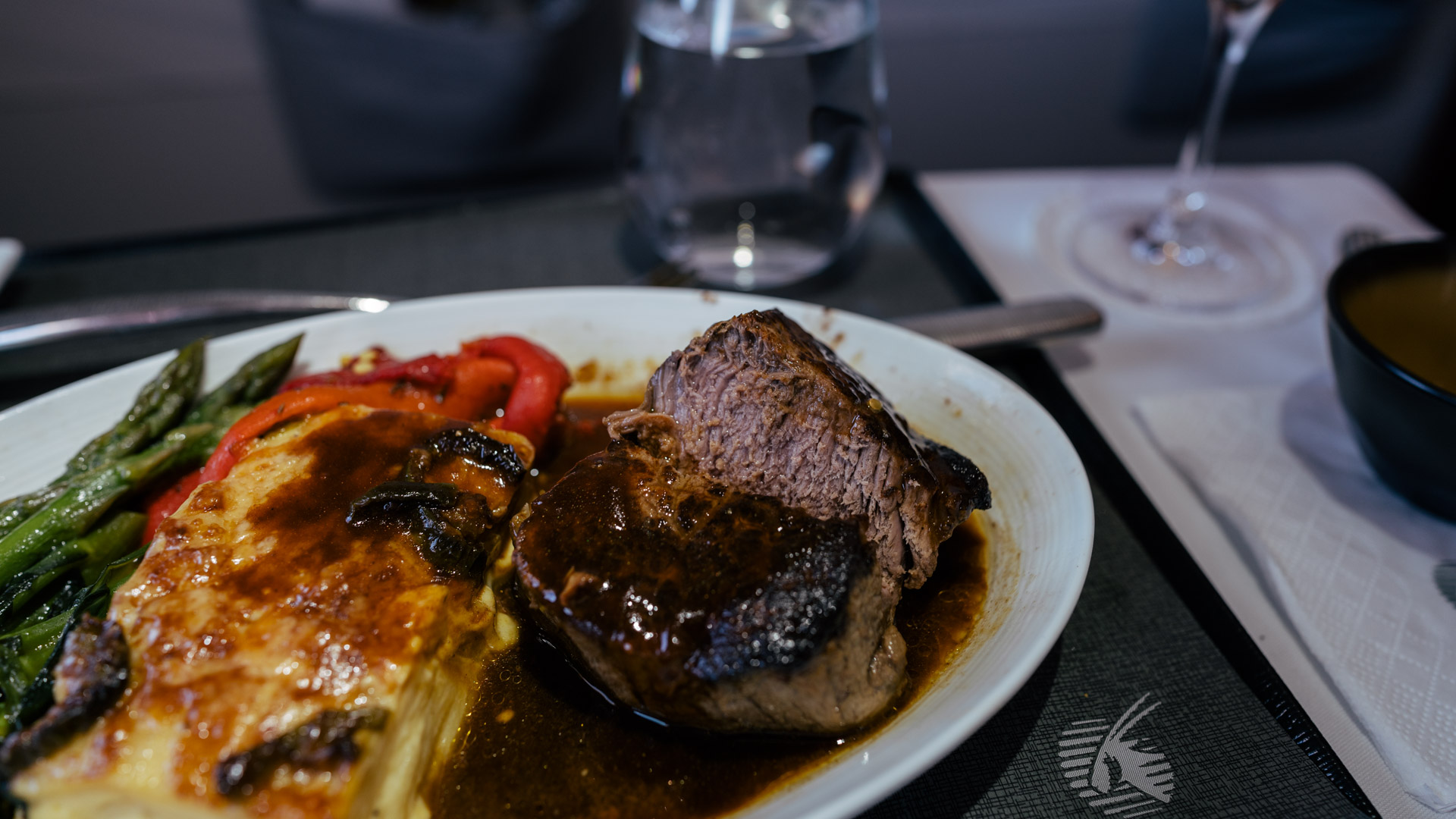 Beverage menu
While I didn't have any other drinks on this flight, Qatar Airways provides a comprehensive selection of alcoholic and non-alcoholic drinks. The wine list for this flight is very extensive, featuring entries from the likes of Bordeaux, Australia, New Zealand and Chile:
Champagne:
Gosset But Grande Reserve Champagne NV
Laurent-Perrier Alexandra Rosé Champagne 2006
White wine:
Albert Bichot Montagny Premier Cru Chardonnay 2018
Leyda Coastal Vineyards Garuma Sauvignon Blanc 2021
Ken Forrester Old Vine Reserve Chenin Blanc 2021
Red wine:
Château Belgrave Haut-Médoc (Grand Cru Classé) Bordeaux 2014
Kangarilla Road The Devil's Whiskers Shiraz 2018
Lawson's Dry Hills Reserve Pinot Noir 2019
Dessert and port:
Markus Molitor Zeltinger Schlossberg Auslese 2017 (Dessert)
Niepoort 20 Years Old Tawny Port
In the mood for spirits? You may like the Glenlivet Single Malt Scotch Whisky, or perhaps Grey Goose Vodka and Hendrick's Gin. Soft drinks, mocktails and hot drinks are listed below.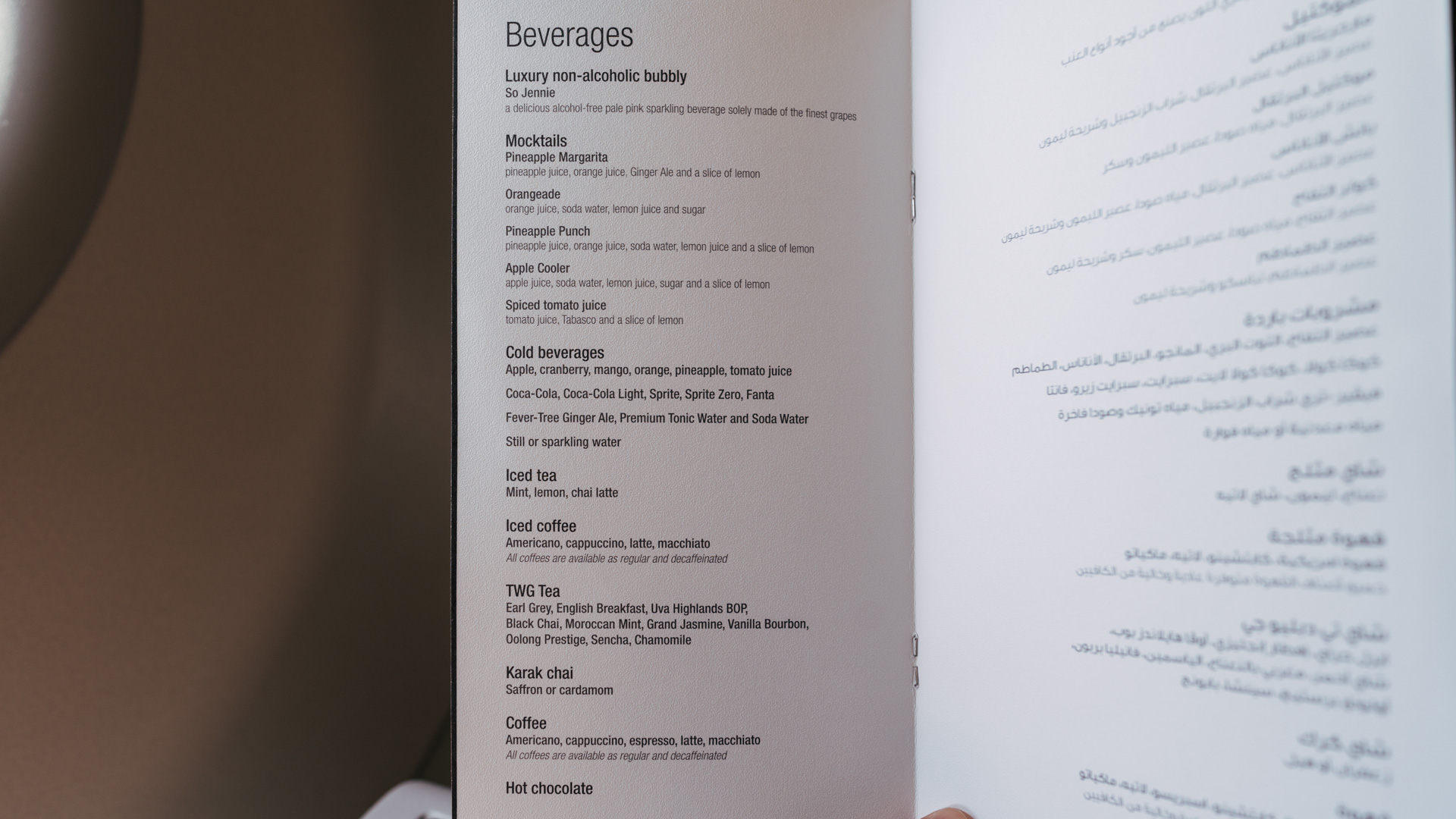 Qatar Airways Airbus A320 First Class amenities
Being a single-aisle jet, there aren't too many amenities to speak of. Each seat does come with a plush pillow and duvet, which you can see in the photo below.
The 10.6″ entertainment touchscreen comes out of the centre console. Unfortunately, it's a bit hard to position over the table tray while you're having a meal, so I just use the screen from the neighbouring seat. But I can definitely foresee this being an issue if you have someone next to you. There is no inflight Wi-Fi on this Airbus A320.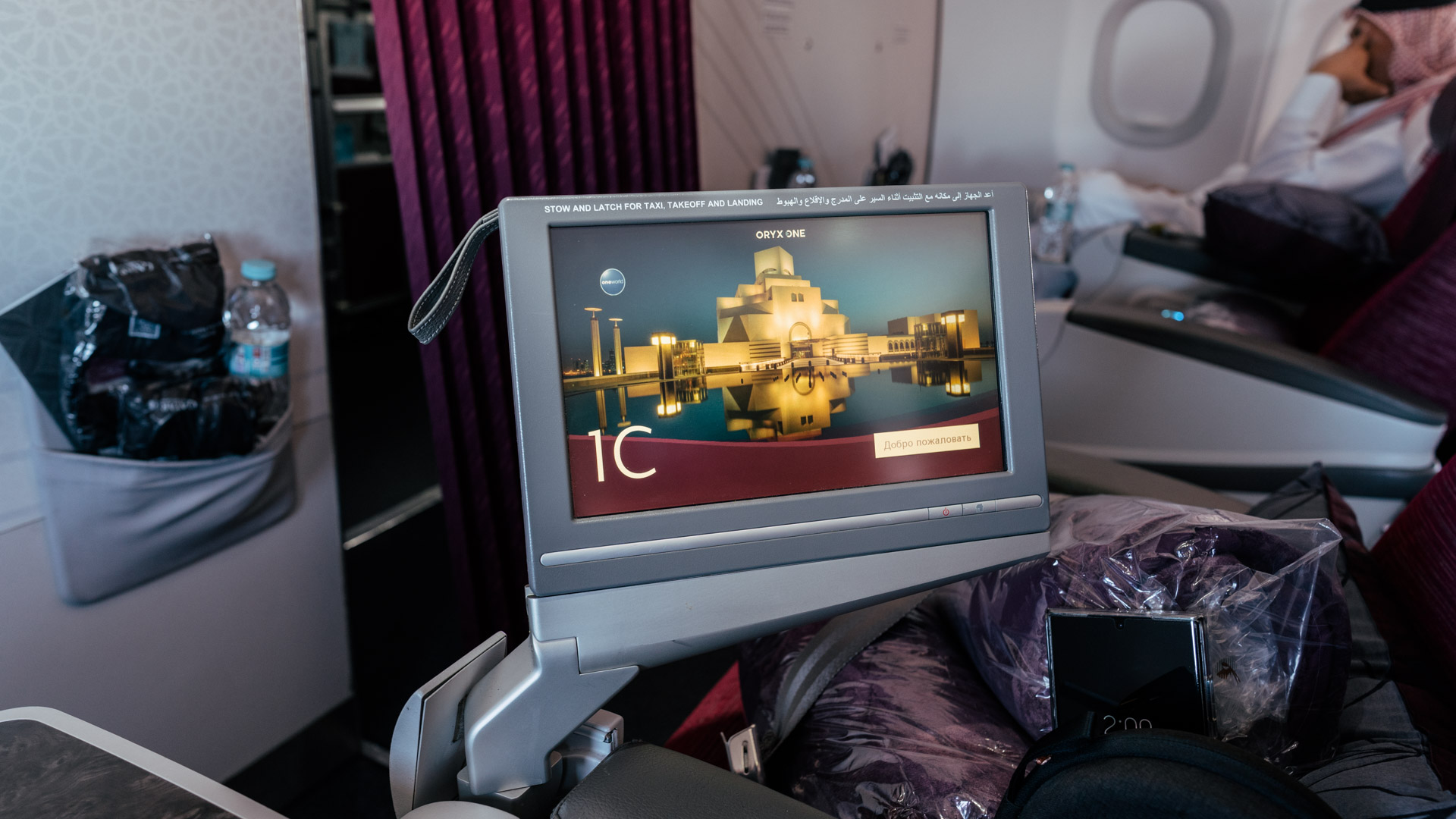 A water bottle and noise-cancelling headphones are provided, in case you didn't bring your own. You can browse Qatar Airways' inflight entertainment library to see what's on your flight.
Qatar Airways Airbus A320 First Class landing experience
Our flight arrives at a remote gate, which necessitates a transfer bus to the terminal. But thankfully, there's one more First Class perk here – we are treated to a dedicated First Class bus.
Outfitted with only 14 burgundy leather seats, the bus' air-conditioned interior is blissfully cool and whisks us away to the terminal the moment all seven First Class passengers have disembarked. It's a welcome change to my Economy remote gate experience, that's for sure!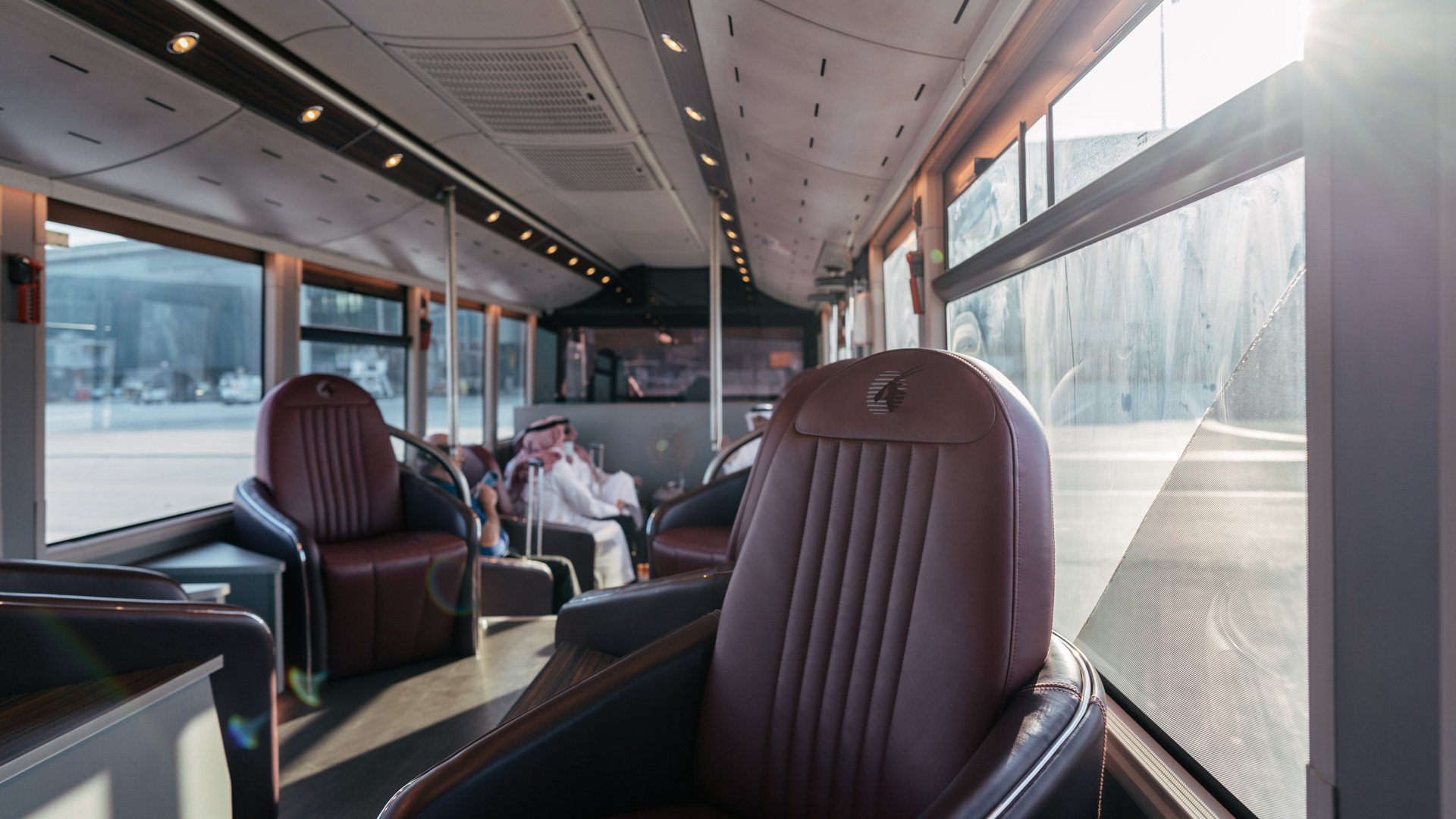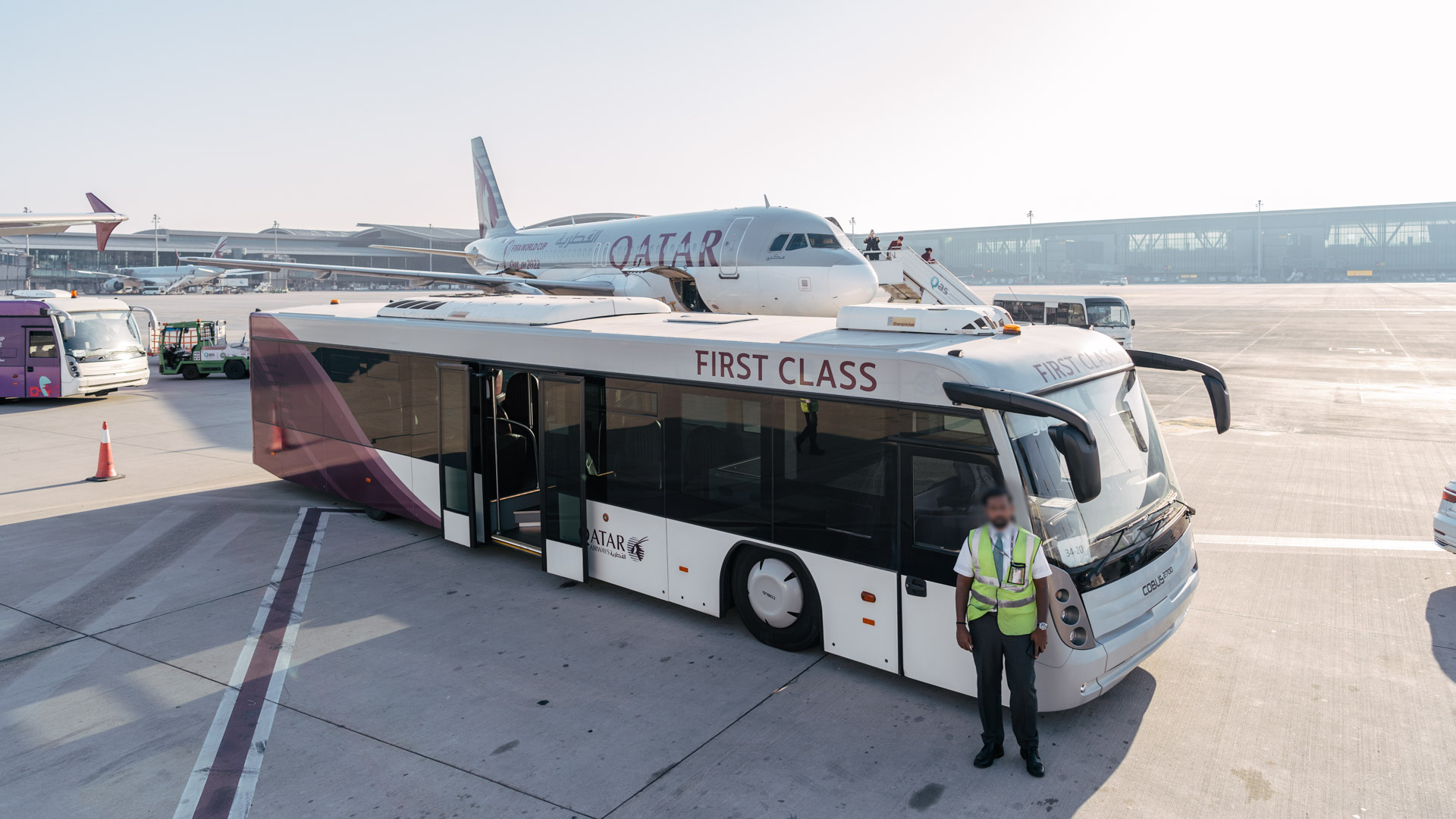 Also read our review of the Qatar Airways Premium Arrival Lounge, Doha →
How to book this flight with points
This flight is part of a Qatar Airways trip I booked with Qantas Points back in July 2022 for 259,300 Qantas Points + AU$1,176 in total, going:
Perth-Doha-Amman in Economy, transiting through Doha.
Amman-Doha in regional First Class with a stop in Doha for one night.
Doha-Sydney in proper Airbus A380 First Class the following evening.
You can book this Amman-Doha leg on its own in regional First Class for:
43,500 Qantas Points + £156.60 (~AU$290), or
38,000 Velocity Points + AU$508.2.
However, as of March 2023, Qatar Airways premium cabin reward seats with Qantas Points only appear to be available in the few days leading up to travel. Conversely, availability via Velocity Points is bountiful throughout the whole year, though sadly, the carrier charges on top are also significantly higher.
For better value, you can chain the Amman-Doha flight to Doha-Perth or Doha-Sydney in Qatar Airways Airbus A380 First Class. Since both flights are in First Class, you'll pay a streamlined rate in points for the journey.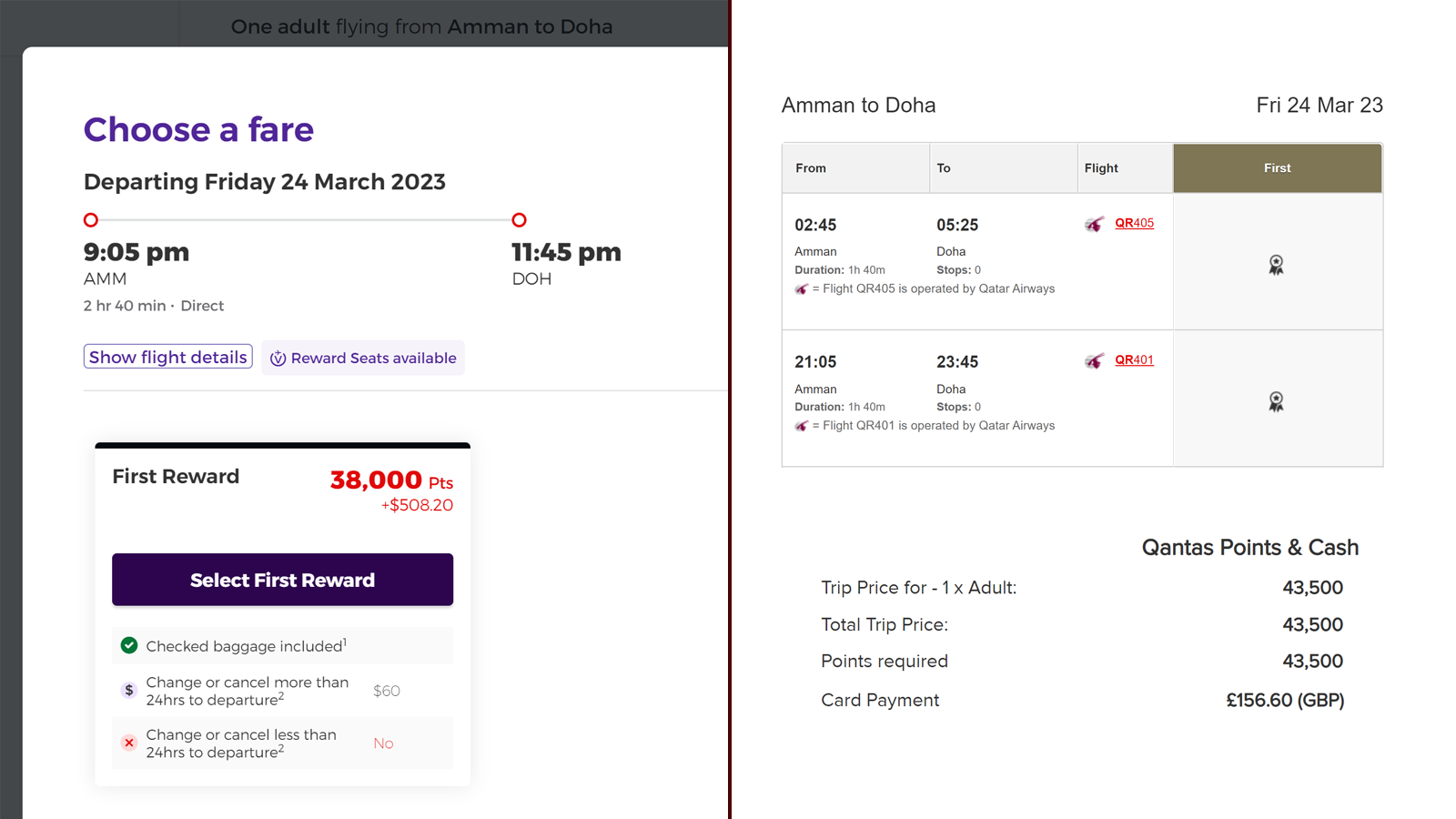 If you're not chained to the Qantas or Velocity programs, both American Airlines AAdvantage and Qatar Airways Privilege Club offer better rates and low (or no) carrier charges.
American Airlines AAdvantage: 30,000 miles + US$80.45 (~AU$121)
Qatar Airways Privilege Club: 39,000 Avios + JOD 106.75 (~AU$225)
Summing up
Despite the minor inconvenience of flying in Qatar Airways' most basic premium cabin, I still have a completely enjoyable flight in regional First Class. If you look at the service Qatar Airways provides compared to a similar single-aisle Business Class flight between Sydney-Auckland on any local airline, well… there's simply no comparison.
These regional flights around the Middle East are essentially Business Class service dressed up under a First Class ribbon. The only discernable differences are better lounge access in Doha, Arabic coffee and dates before take-off, access to a First Class transfer bus (if needed) and the premium arrivals experience in Doha.
It's mostly a five-star experience, but I've knocked a star off for fleet inconsistency on this route and not having Fast Track access in Amman.
To be honest, this flight isn't terribly great value as a stand-alone points redemption (particularly if you're paying high carrier charges). But the value does improve if you're connecting to or from a longer flight. And pricing aside, it's an experience to be pampered so much on a short flight.
Photography by Brandon Loo, who travelled at Point Hacks' expense.
Qatar Airways Airbus A320 First Class (Amman – Doha)
was last modified:
April 4th, 2023
by