Jordan's national carrier, Royal Jordanian, is a mid-size airline that operates just one lounge across its network. Located within Amman's Queen Alia International Airport, the Crown Lounge (not to be confused with KLM's Crown lounges) offers a fresh take on the lounge experience, with many 'outlets' offering a range of sips and bites for guests.
After a thrilling week in Jordan – including a visit to Petra, Wadi Rum, and the Dead Sea – it's sadly time for me to fly home. With a Qatar Airways First Class ticket all the way from Amman to Sydney via Doha, a quick visit to the Royal Jordanian Crown Lounge awaits. Here's what you can expect in this flagship lounge, which is also open to Priority Pass members.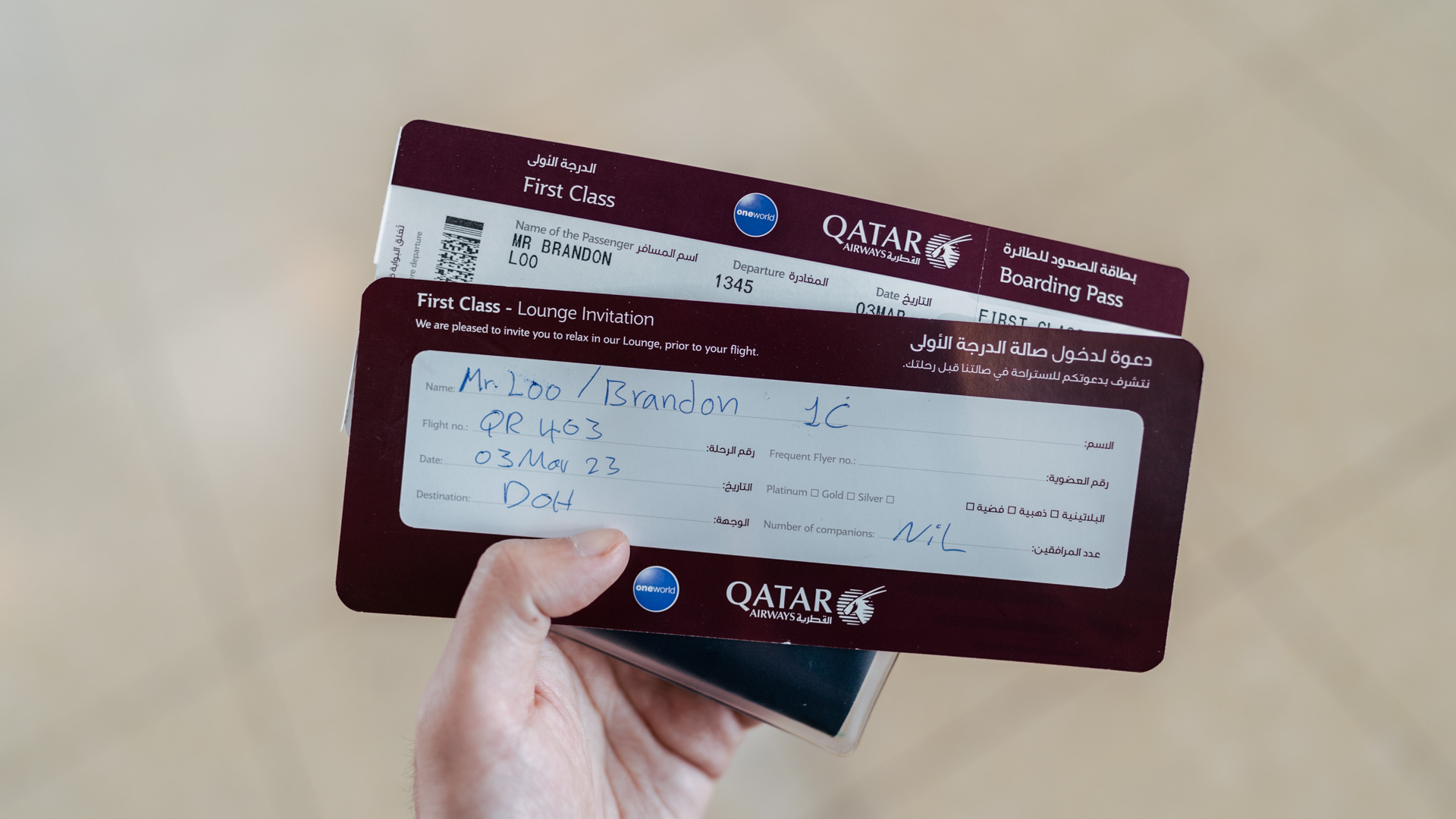 Lounge location and details
It takes me a while to find the lounge entrance as I've missed it initially. But it's actually quite easy to get to – after security, just cut straight through the duty-free maze and head toward the windows. The lounge entrance is to the right, opposite McDonald's. Check-in at the reception here, before taking the lift up to the lounge.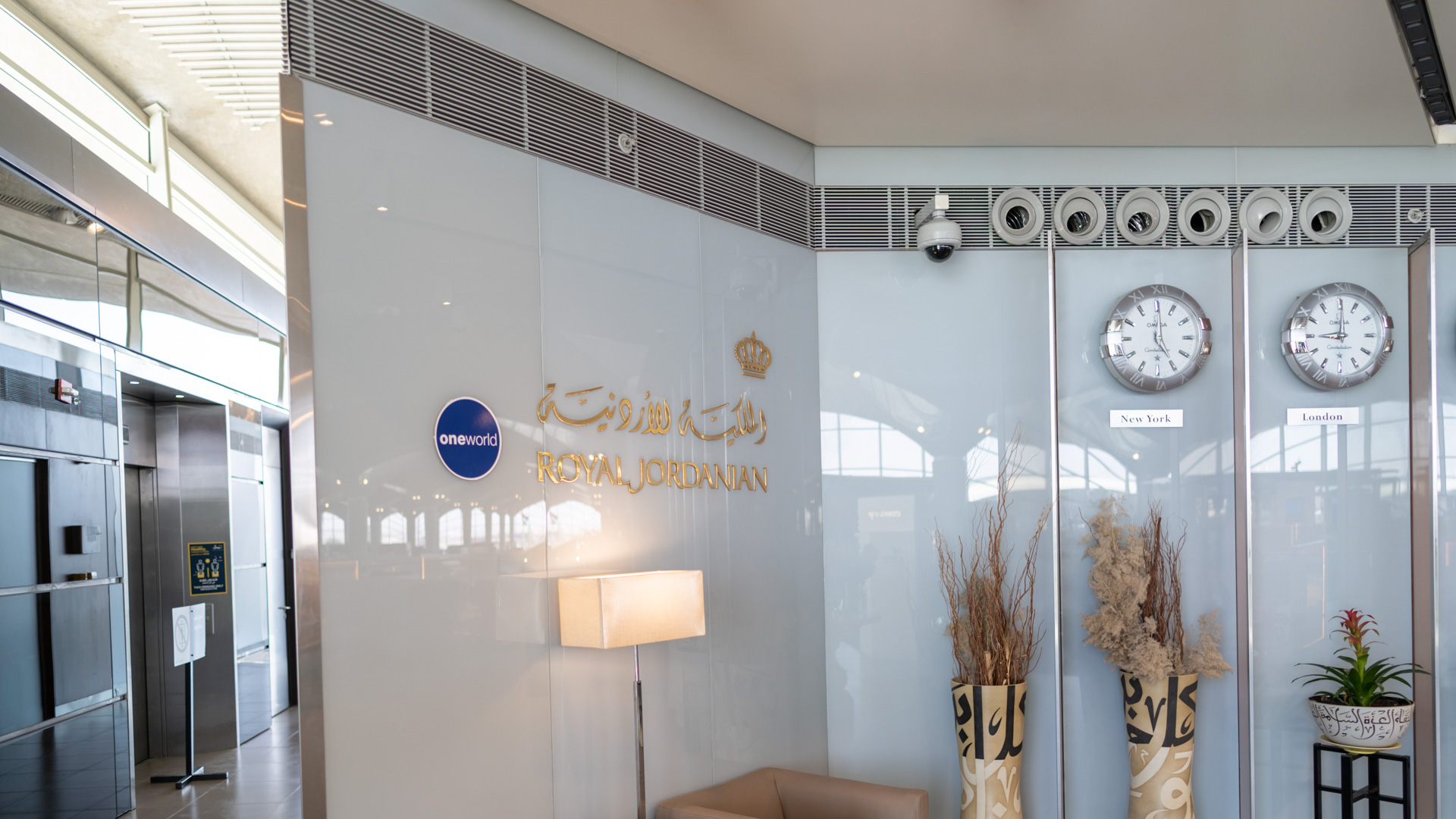 The Royal Jordanian Crown lounge is open around the clock, so you'll be able to access it any time after you've cleared immigration and security.
Lounge layout, seating and dining
The Crown Lounge sprawls over most of the mezzanine, overlooking the main terminal below. This lends the lounge an excellent, airy ambience, not unlike those I've experienced at Hong Kong International Airport. The lounge has two wings, so you'll need to choose what takes your fancy initially – pizza and coffee, or light bites and a drink.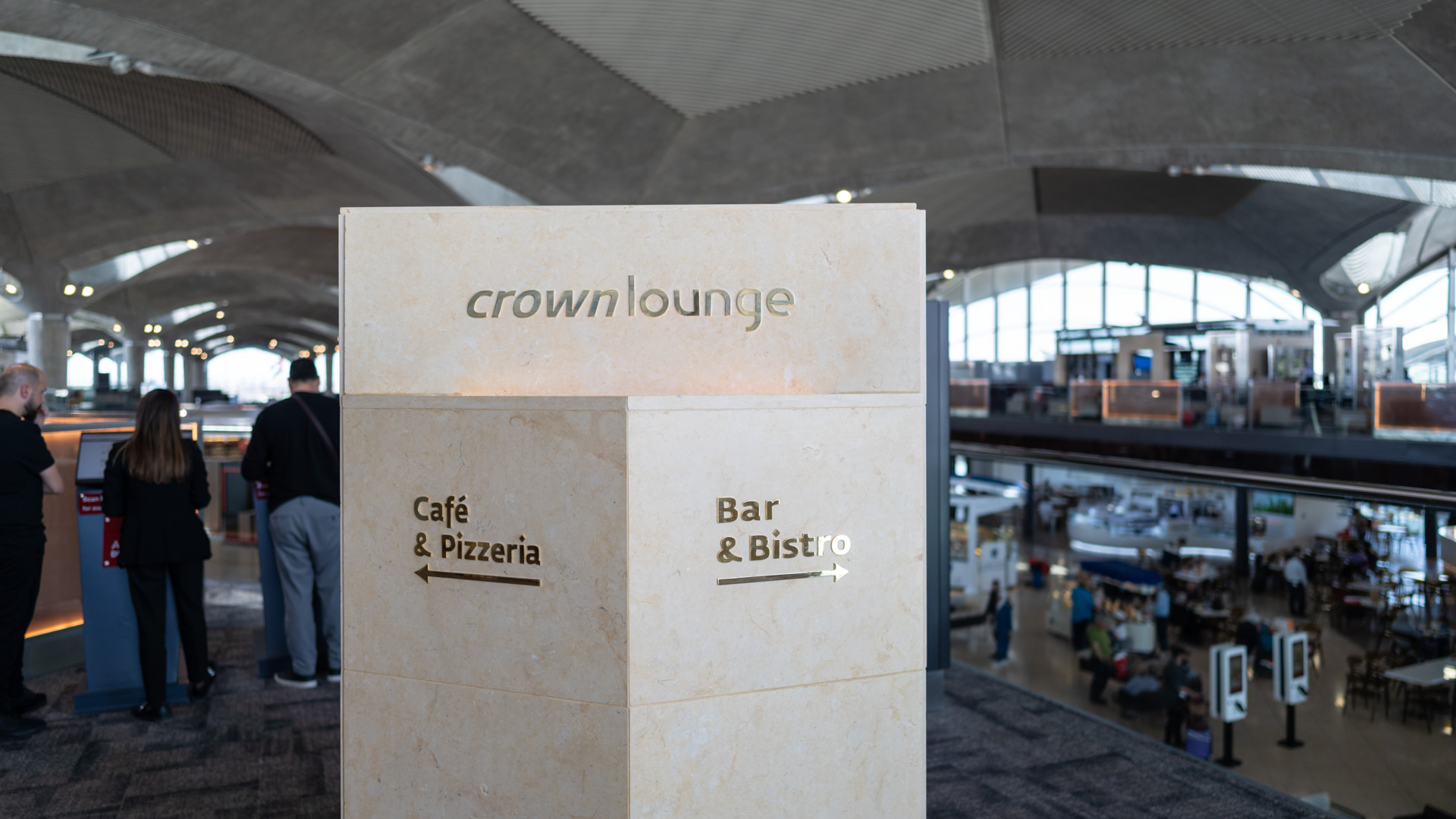 Café and pizzeria area
With a midday visit, I veer to the left to see what's being offered. I have to say, this section is my favourite. It's large, quiet, and filled with an eclectic range of food areas, including a soft-serve ice cream machine! Add to that stylish furniture and wide-open spaces – this lounge is looking pretty.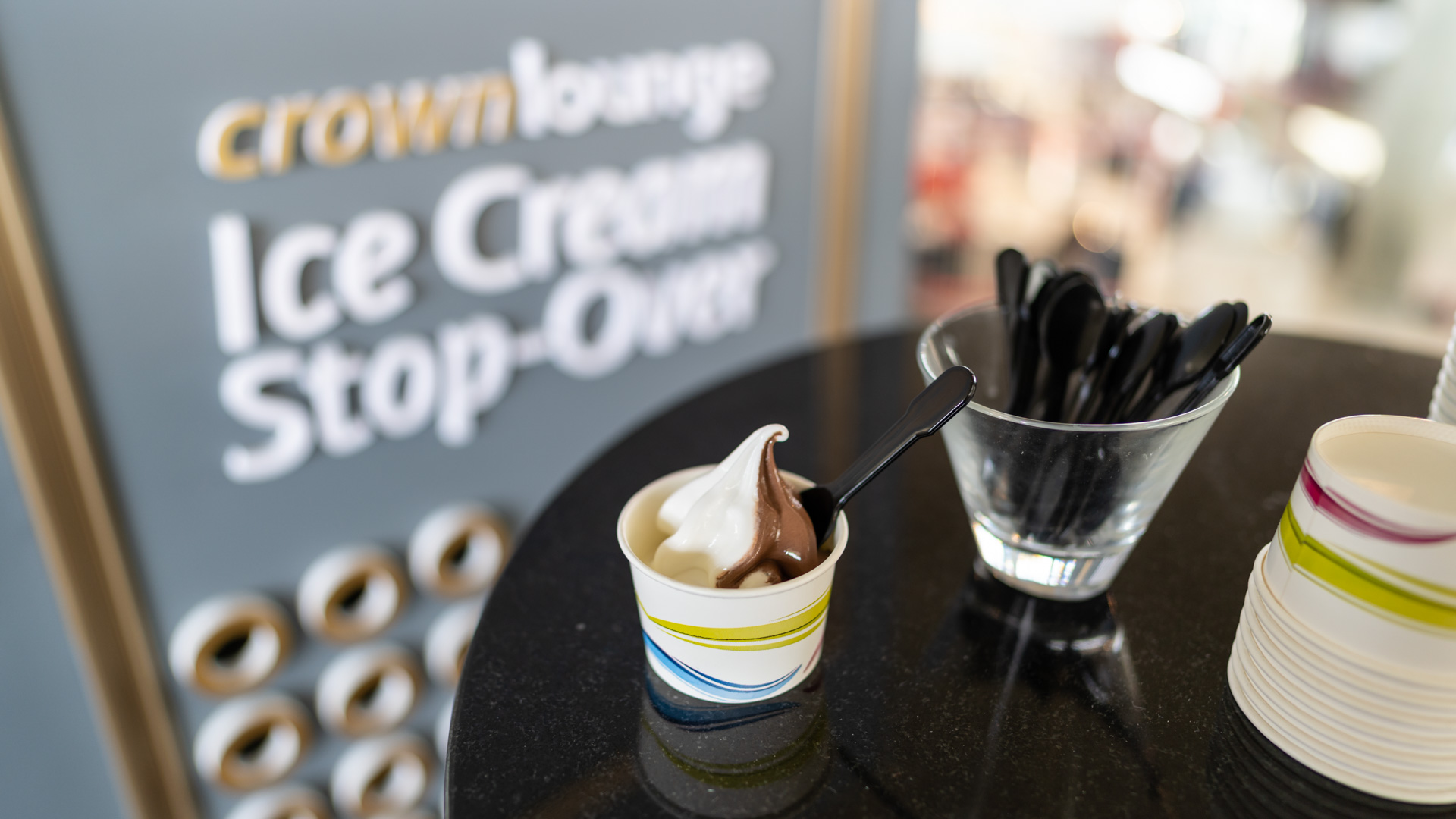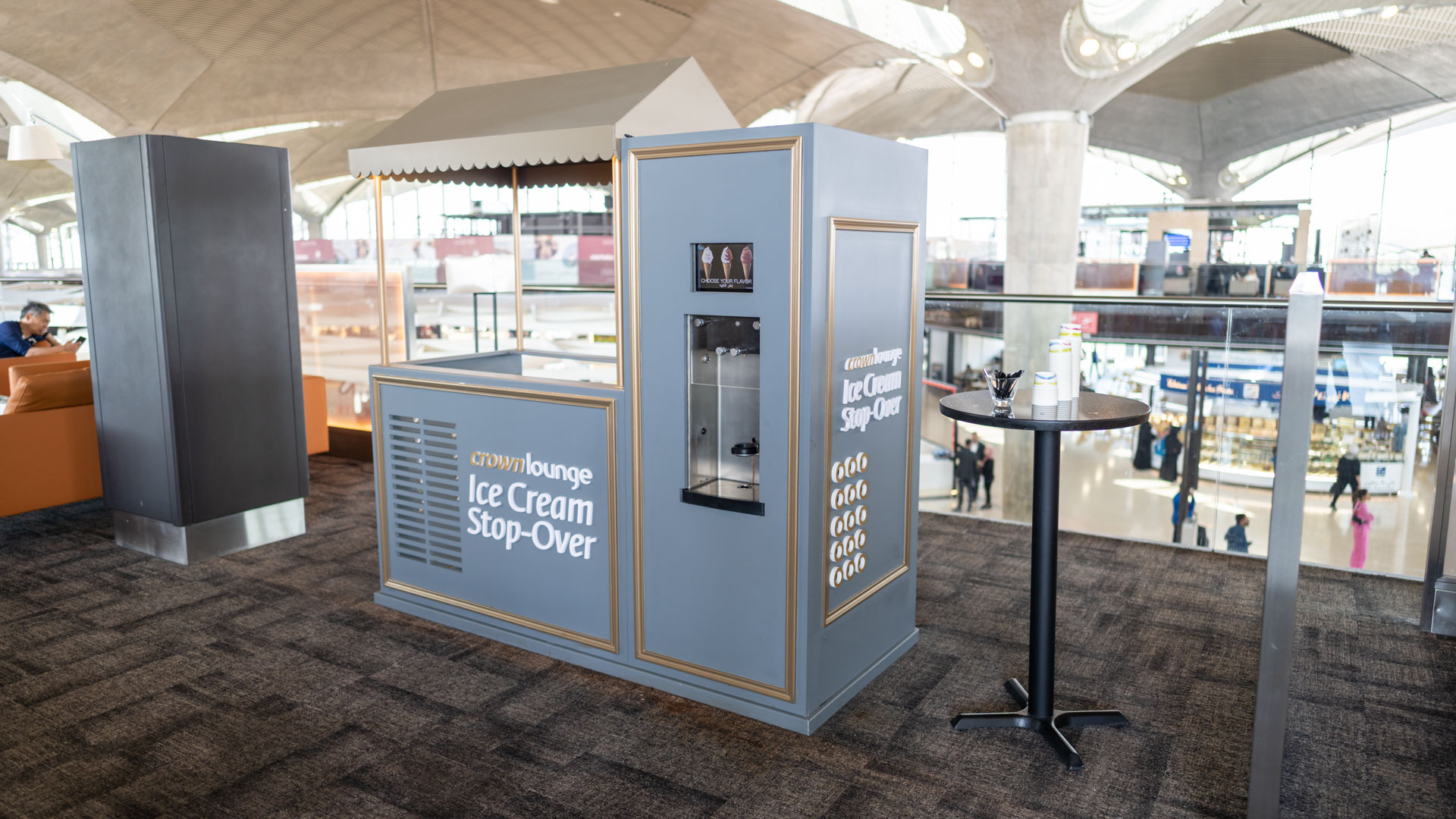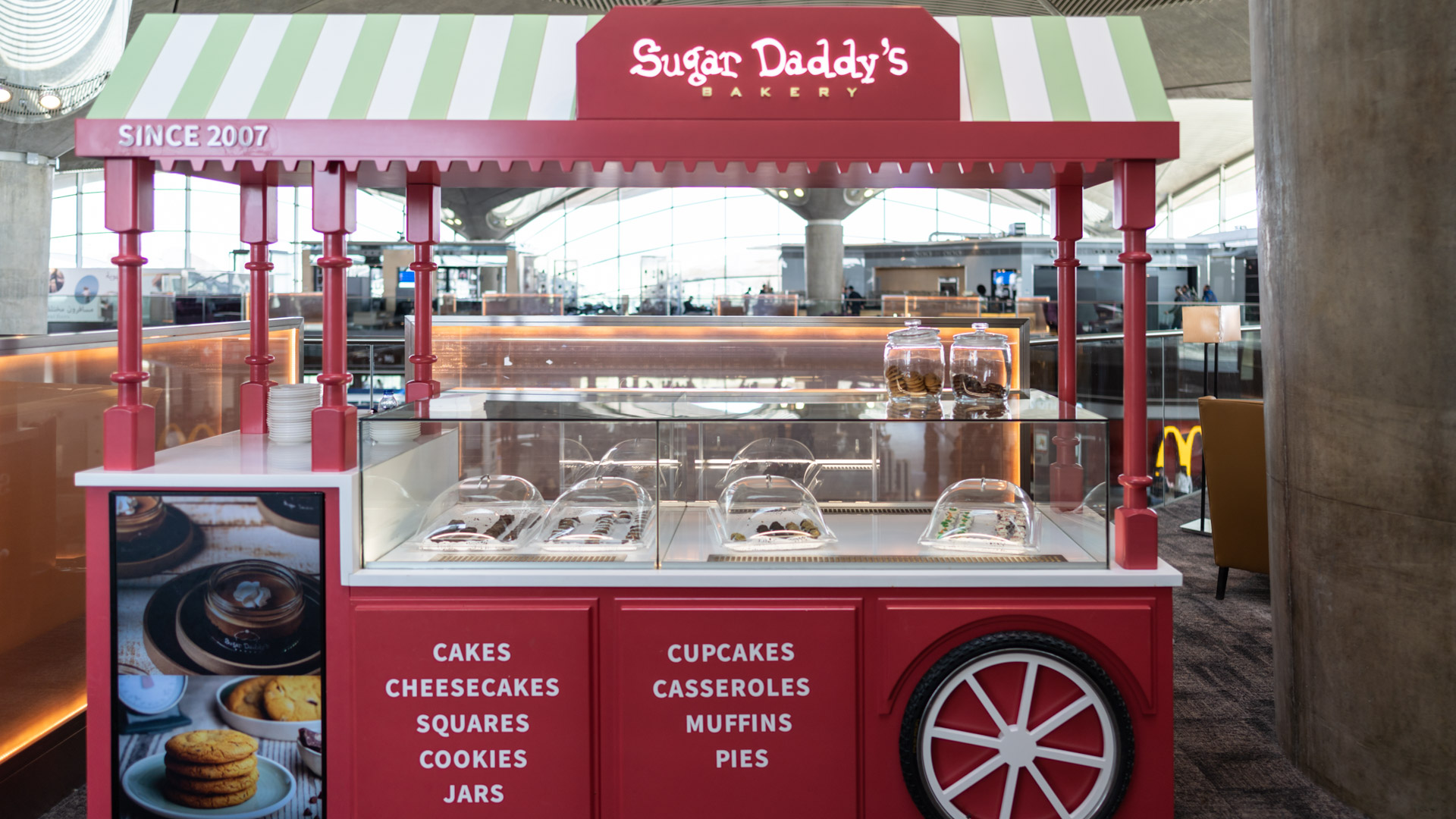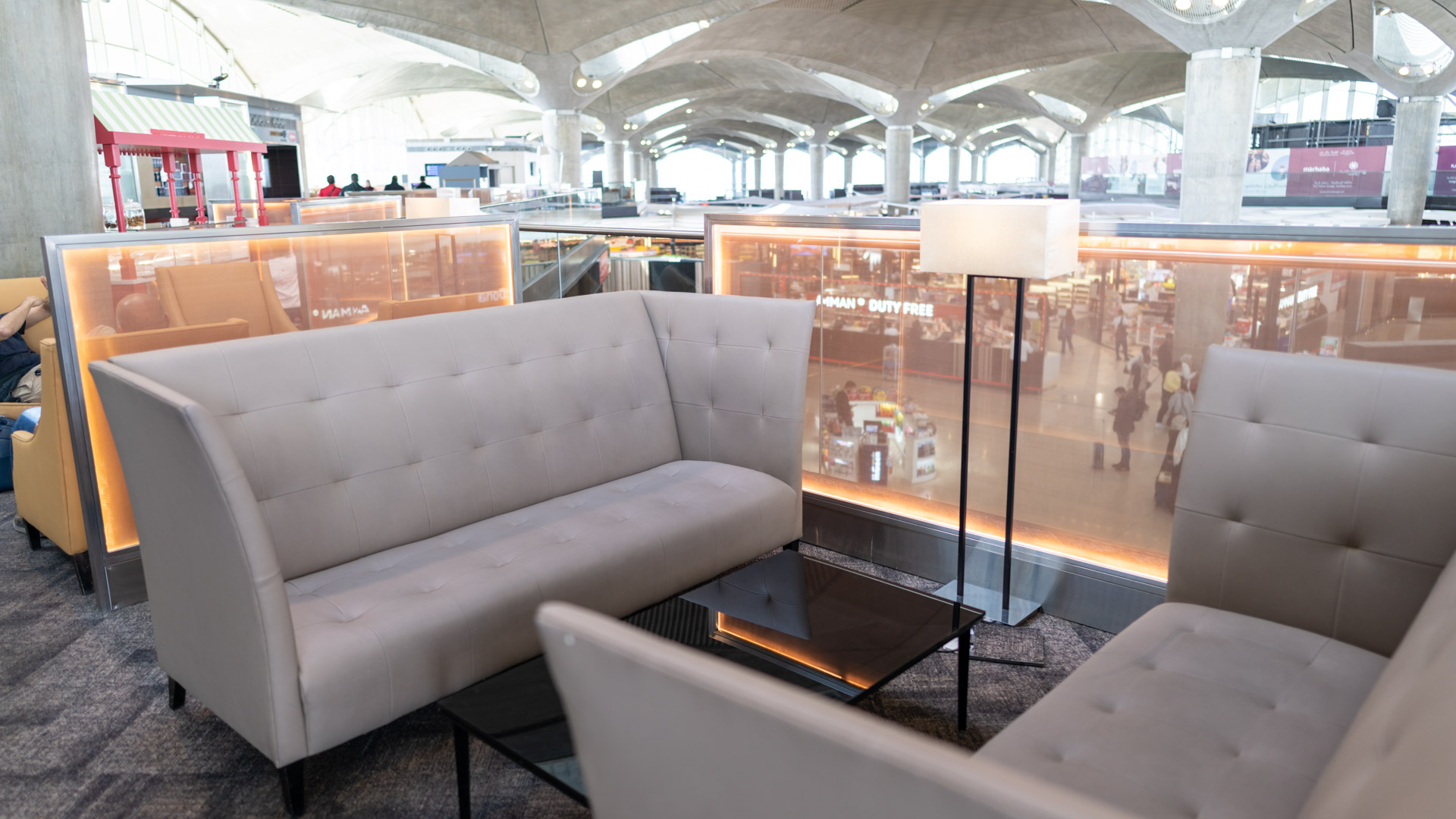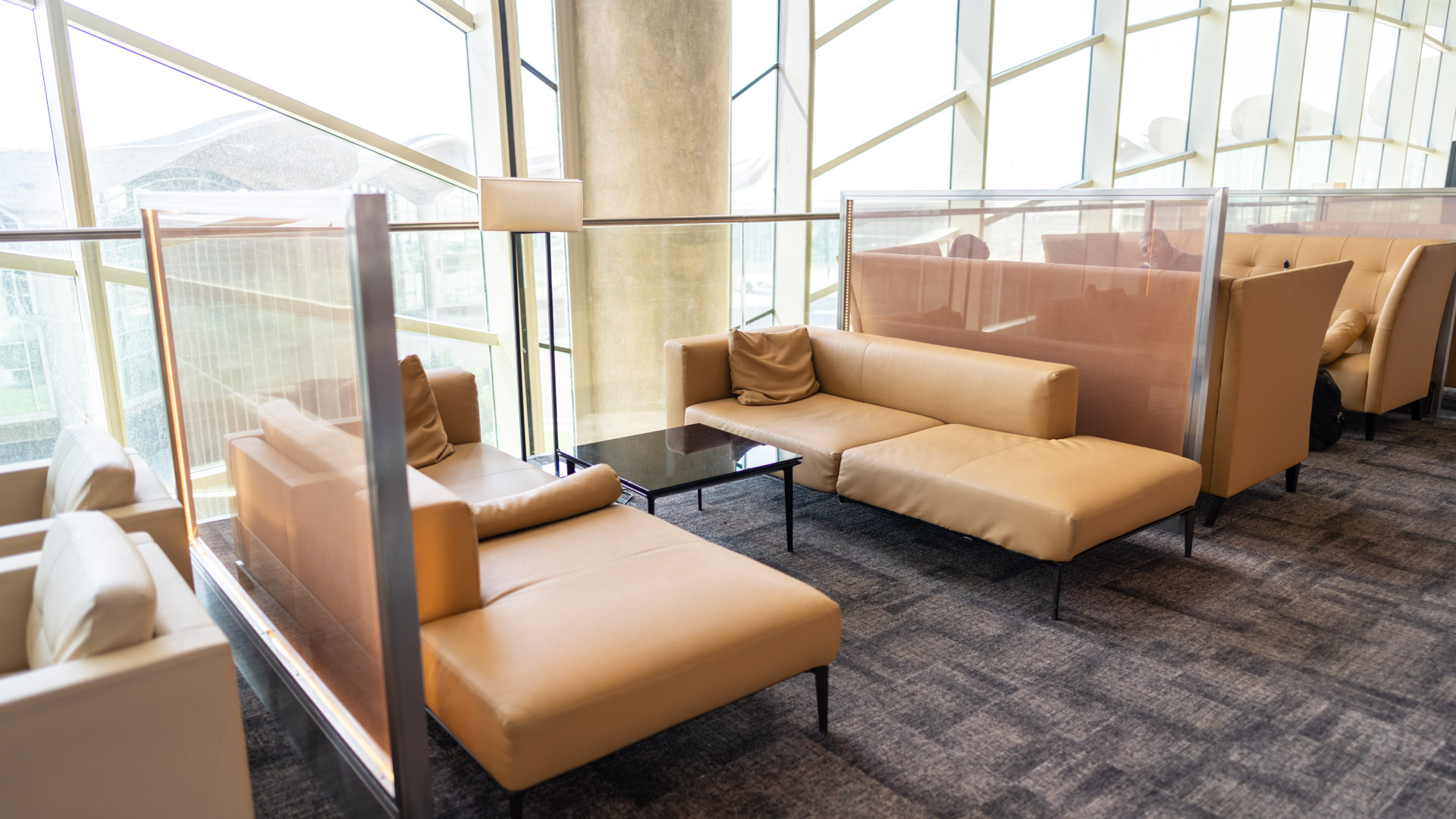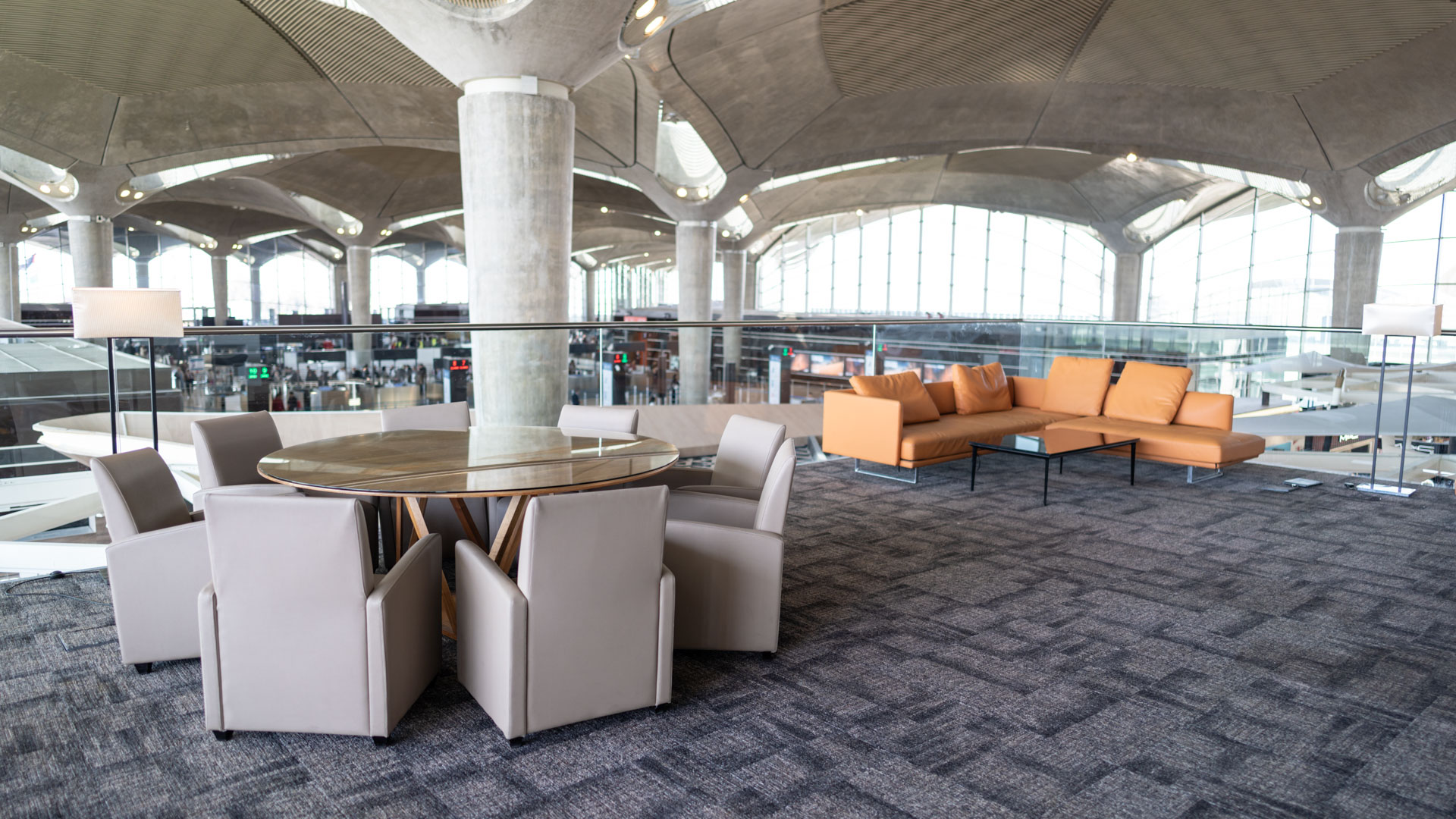 Want a decent cup of coffee? Luckily, the Crown Café doesn't disappoint. Prepared with local Al Ameed coffee, the talented staff can whip up a range of drinks ranging from familiar espresso-based coffees to traditional Turkish coffee and even cold brew. I order an iced latte that's both full of flavour and refreshing.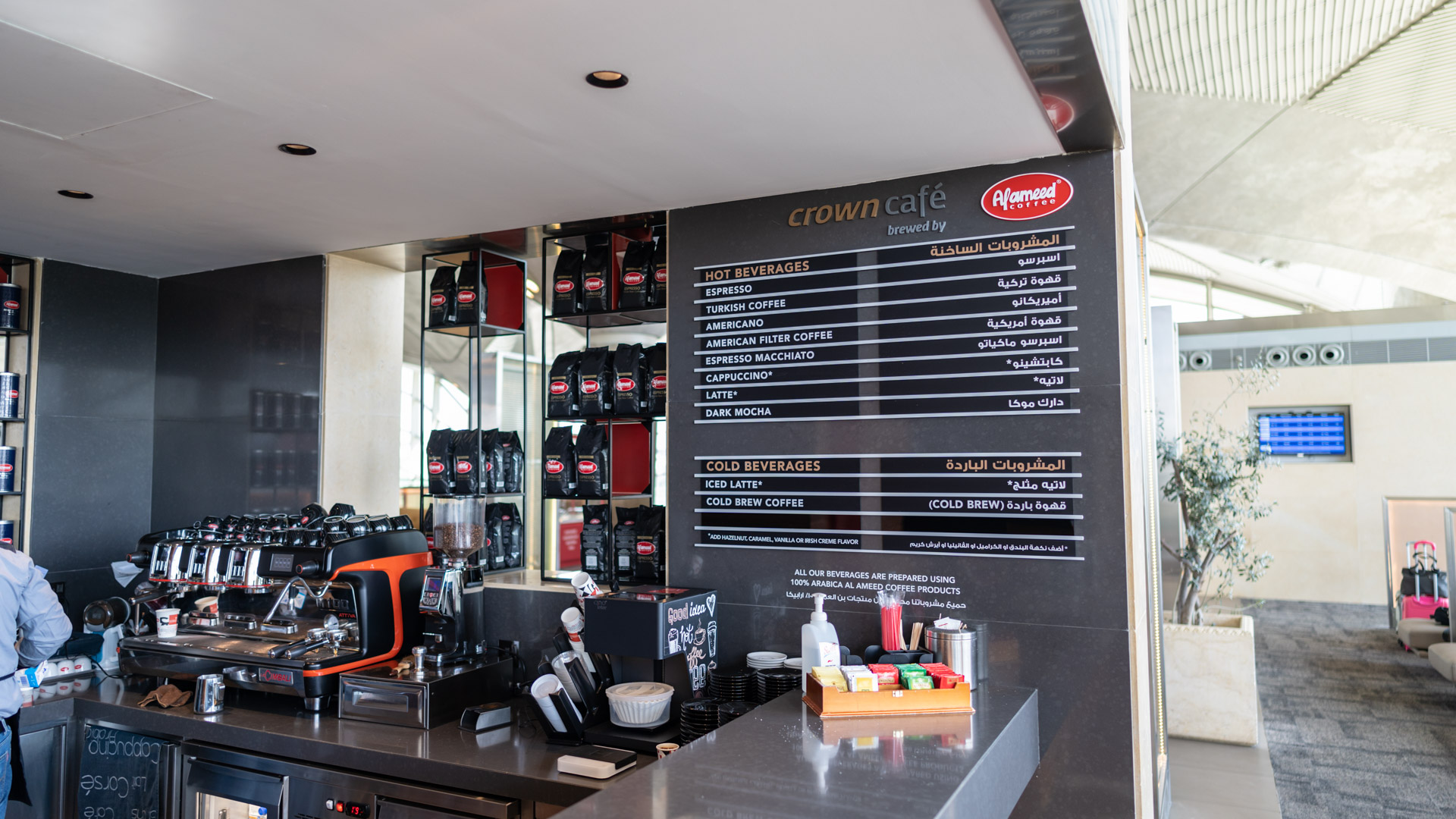 Finally, the pizzeria doesn't cook your typical Italian-style pizzas. Instead, it serves up a range of locally-inspired manakish including plain cheese, as well as za'atar and olive oil on pita bread. They're both baked fresh, replenished on demand and utterly delicious. Nearby is a deli counter with a selection of cheese, crackers, cakes and other similar nibbles.
Though coffee, ice cream, and manakish aren't a typical brunch combination, they're more than enough to keep my appetite at bay while I'm waiting for the flight.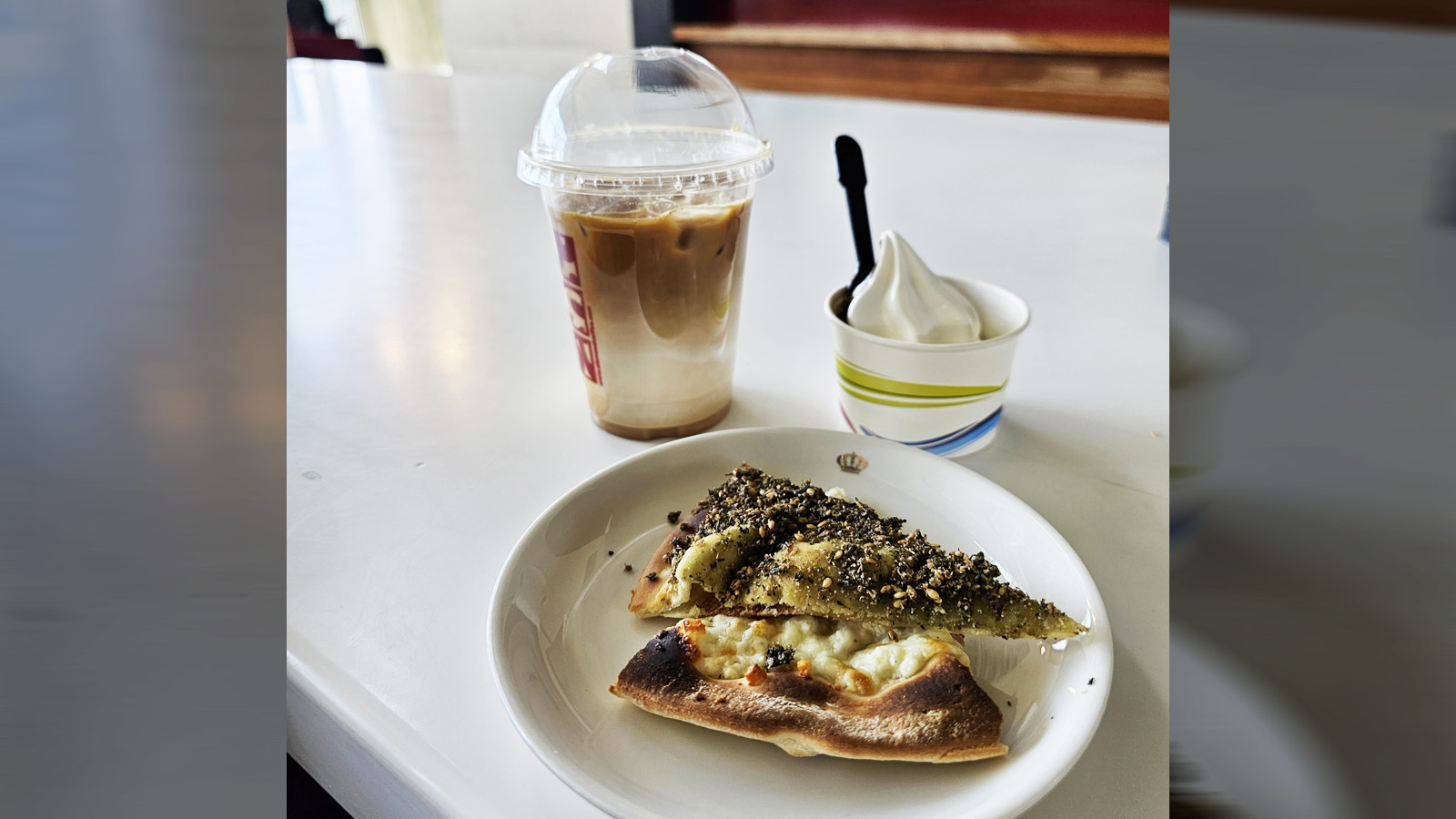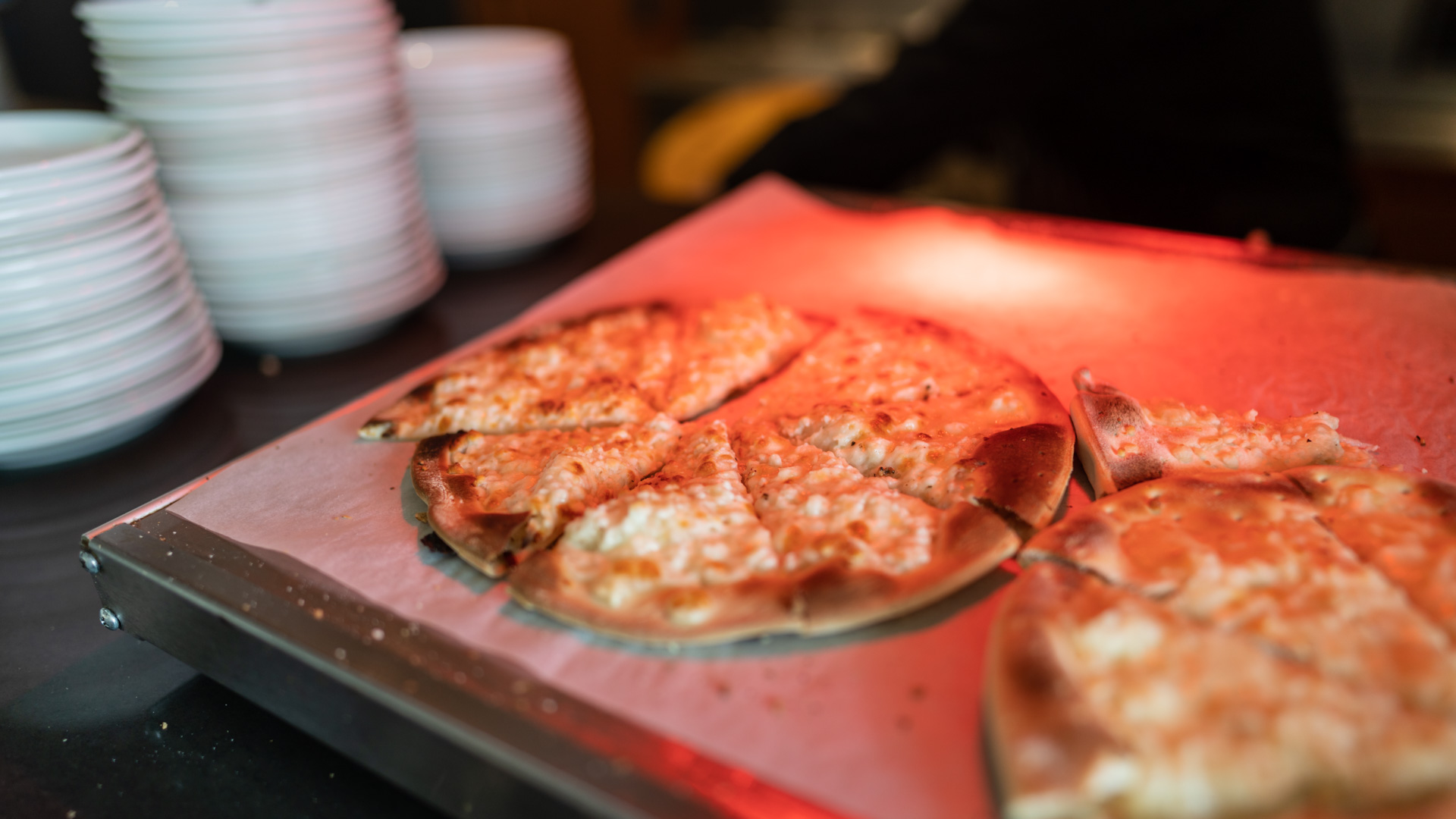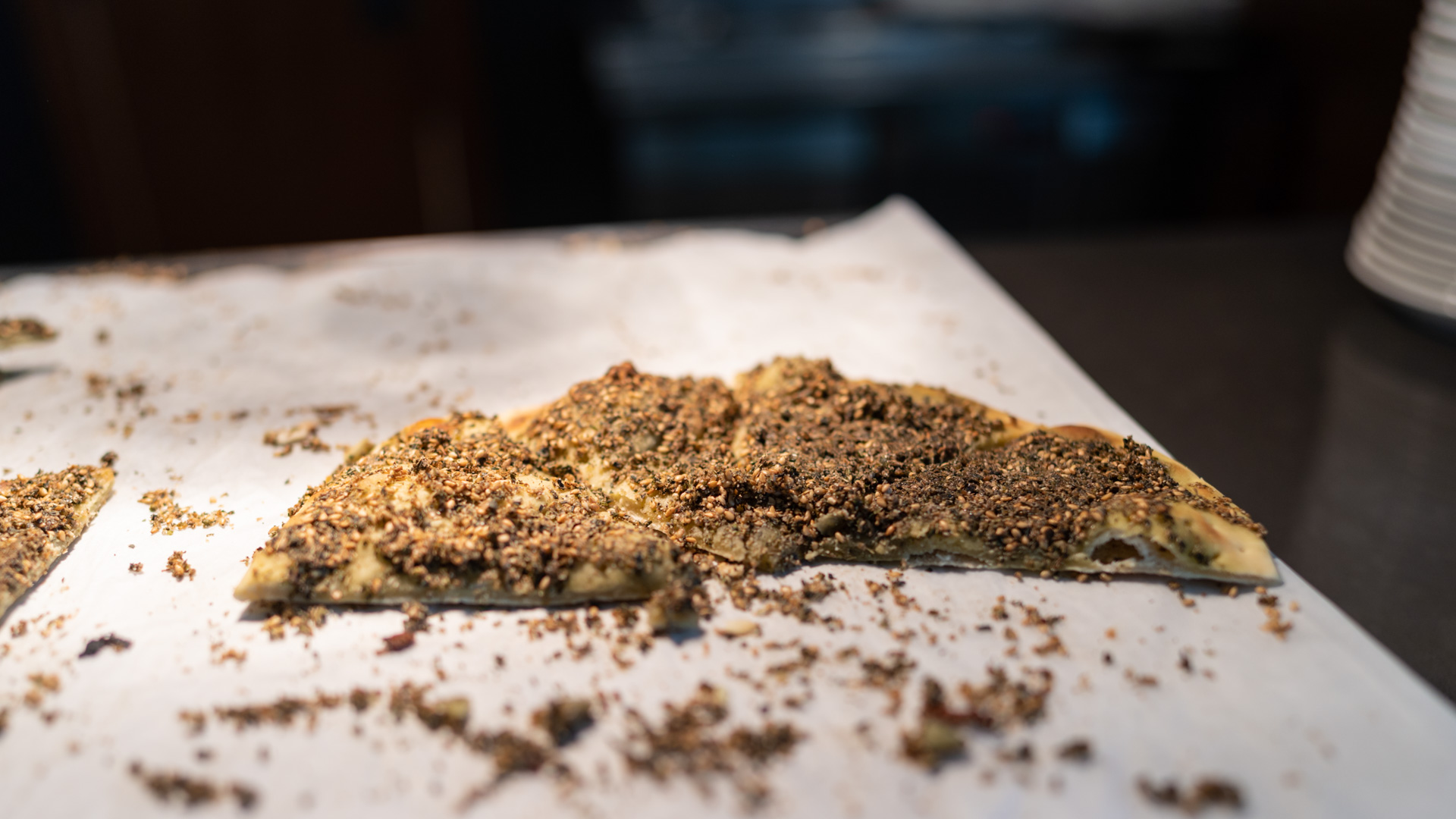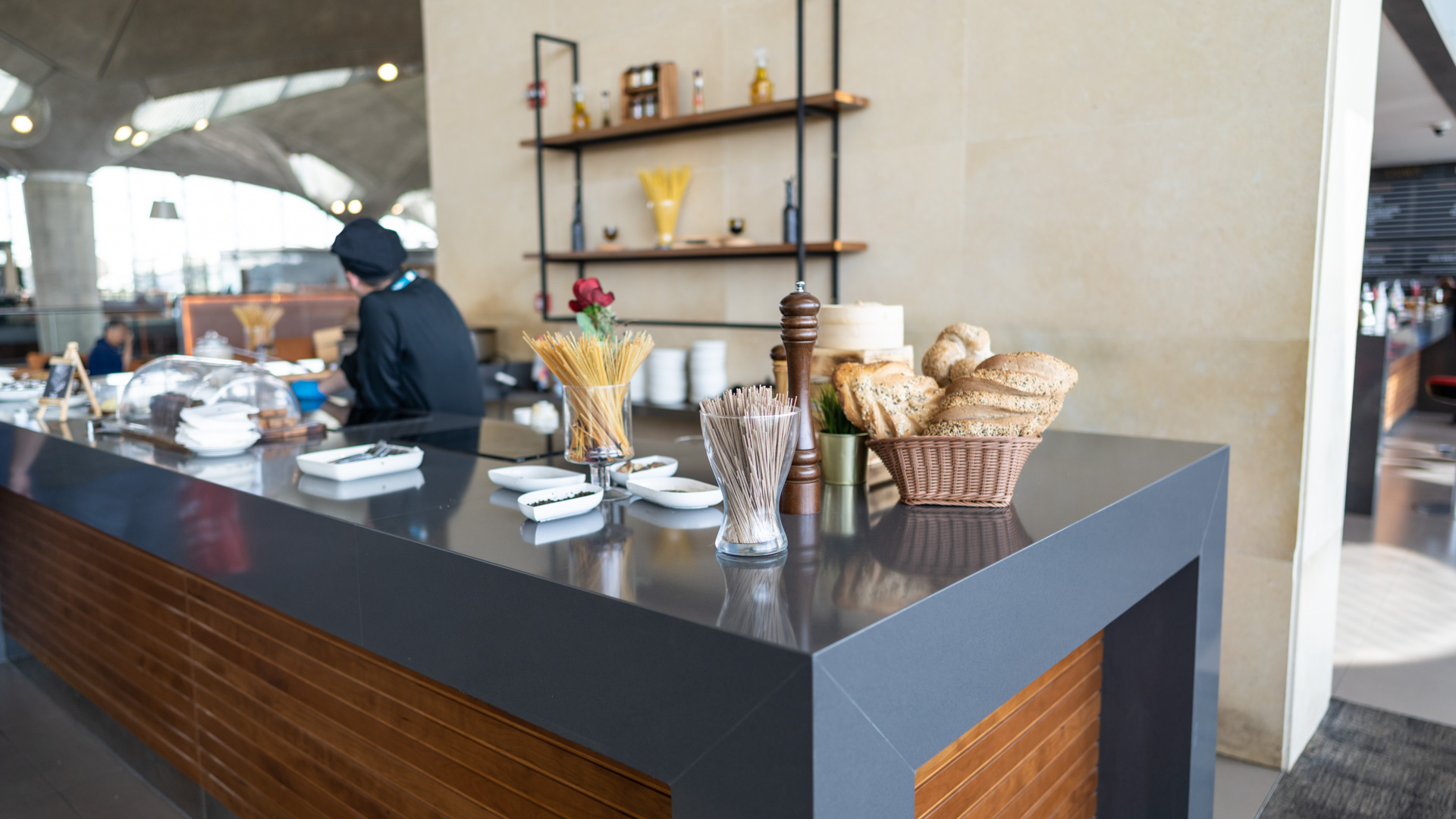 Bar and bistro area
The right-side wing houses the bar and bistro – both the traditional elements you would expect to find in a lounge. Unsurprisingly, the food here is fresh and inviting with a Levant twist, such as baba ghanoush with pomegranate and salad with labneh (yoghurt cheese) balls.
The only peculiar observation I make is that they're still serving breakfast at midday, with hash browns and sausages remaining in the bain-marie. While it did look like they were starting to swap over to lunch foods eventually, I had to leave for my flight before the changeover was completed.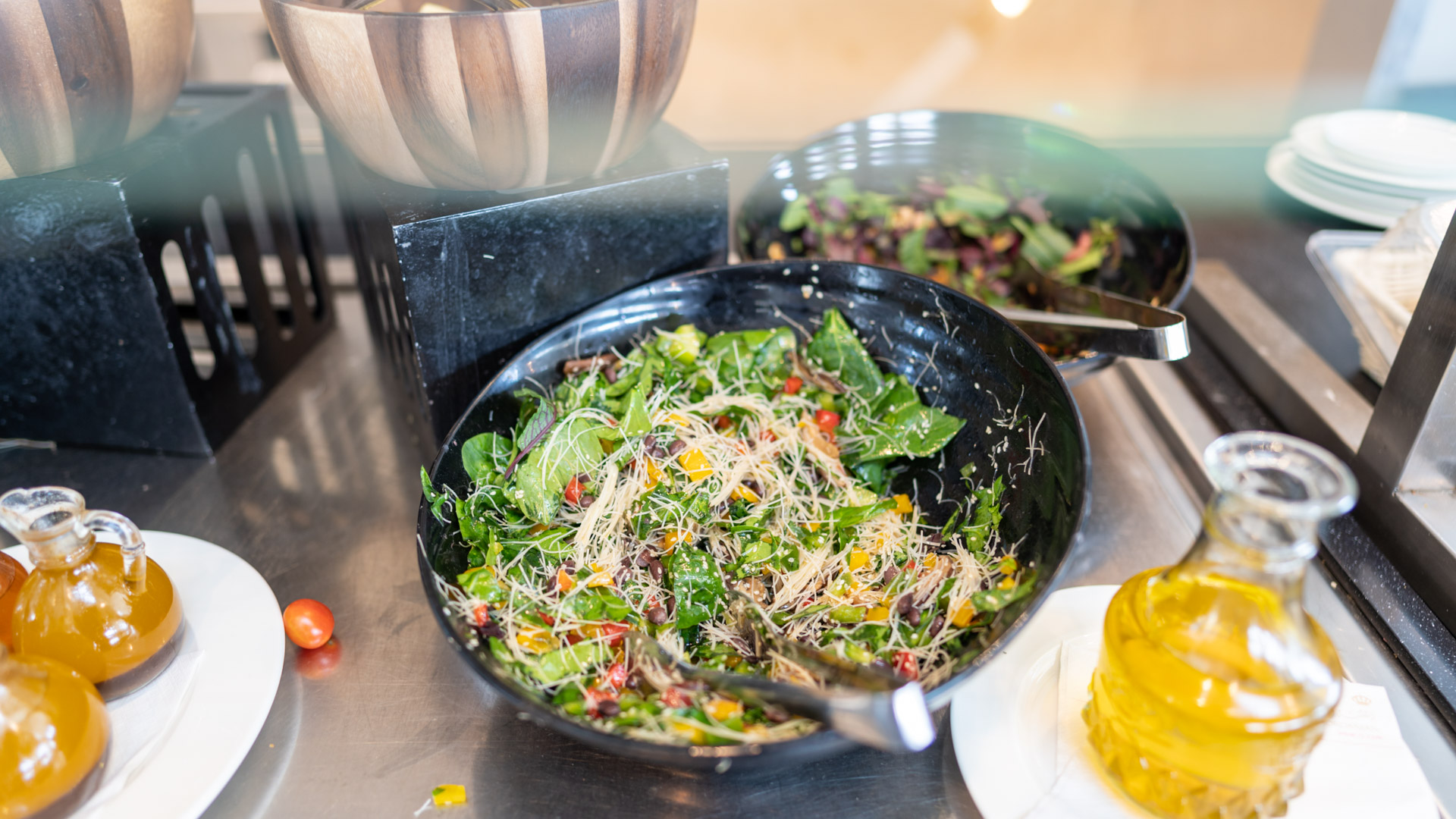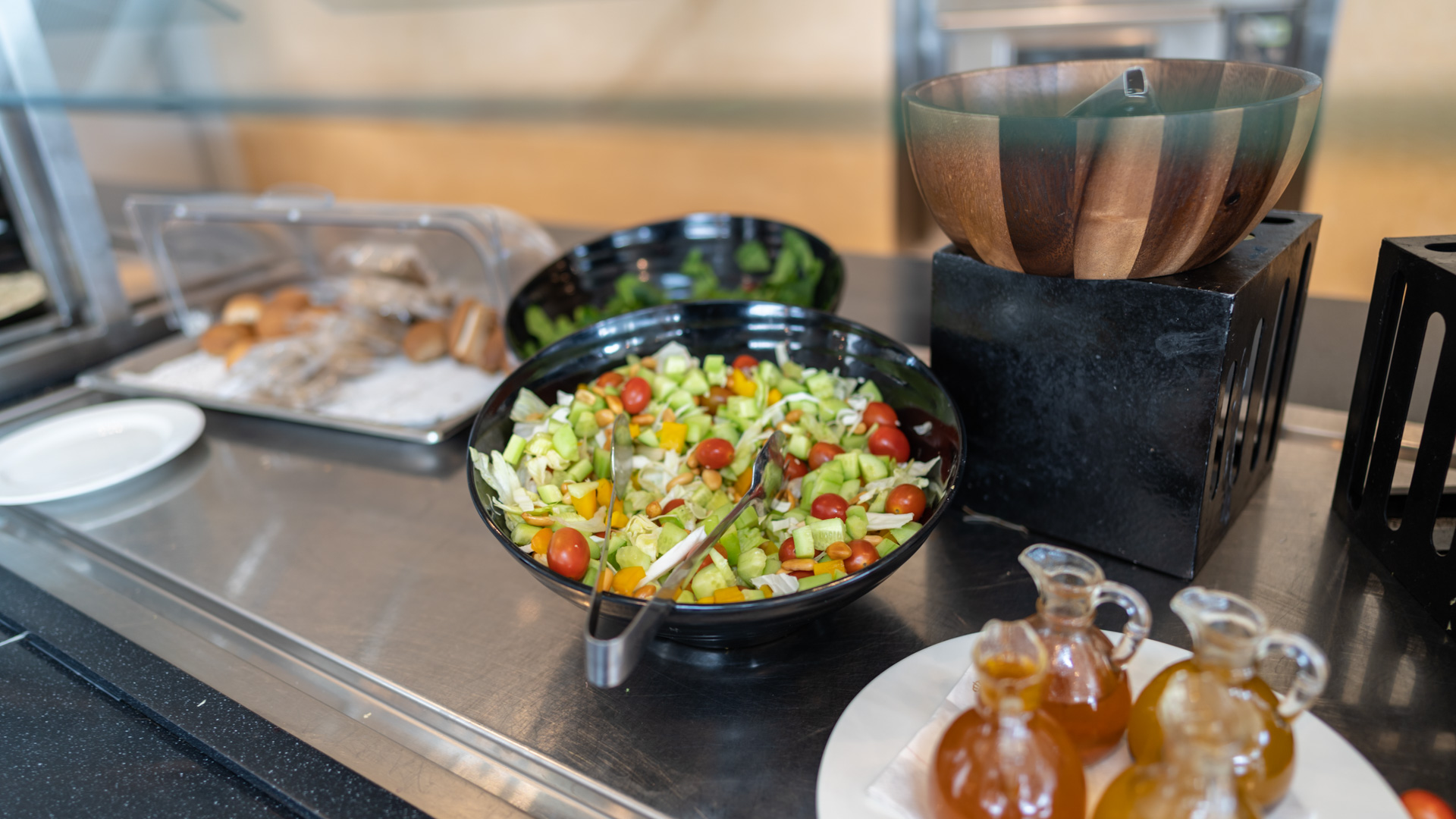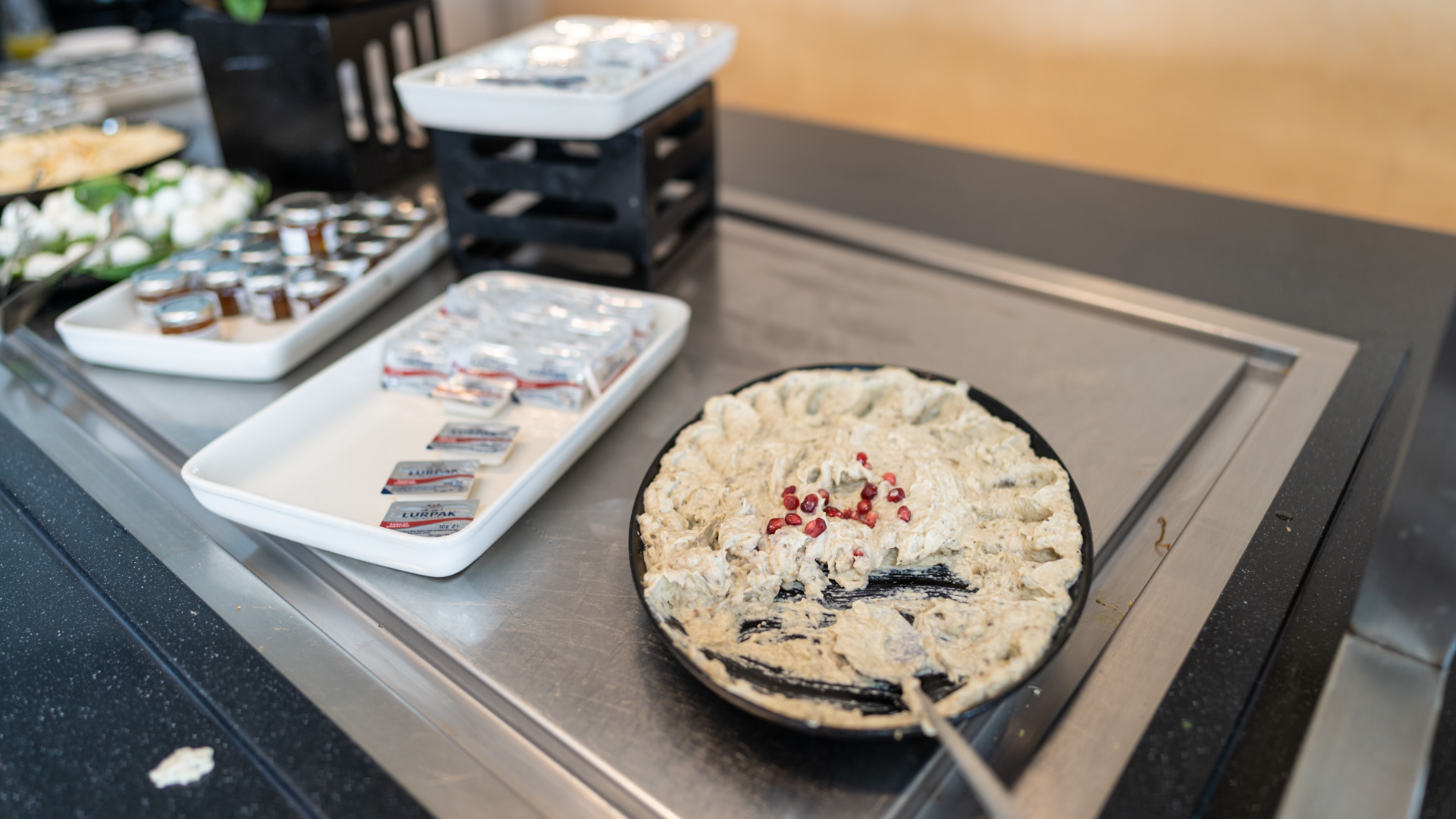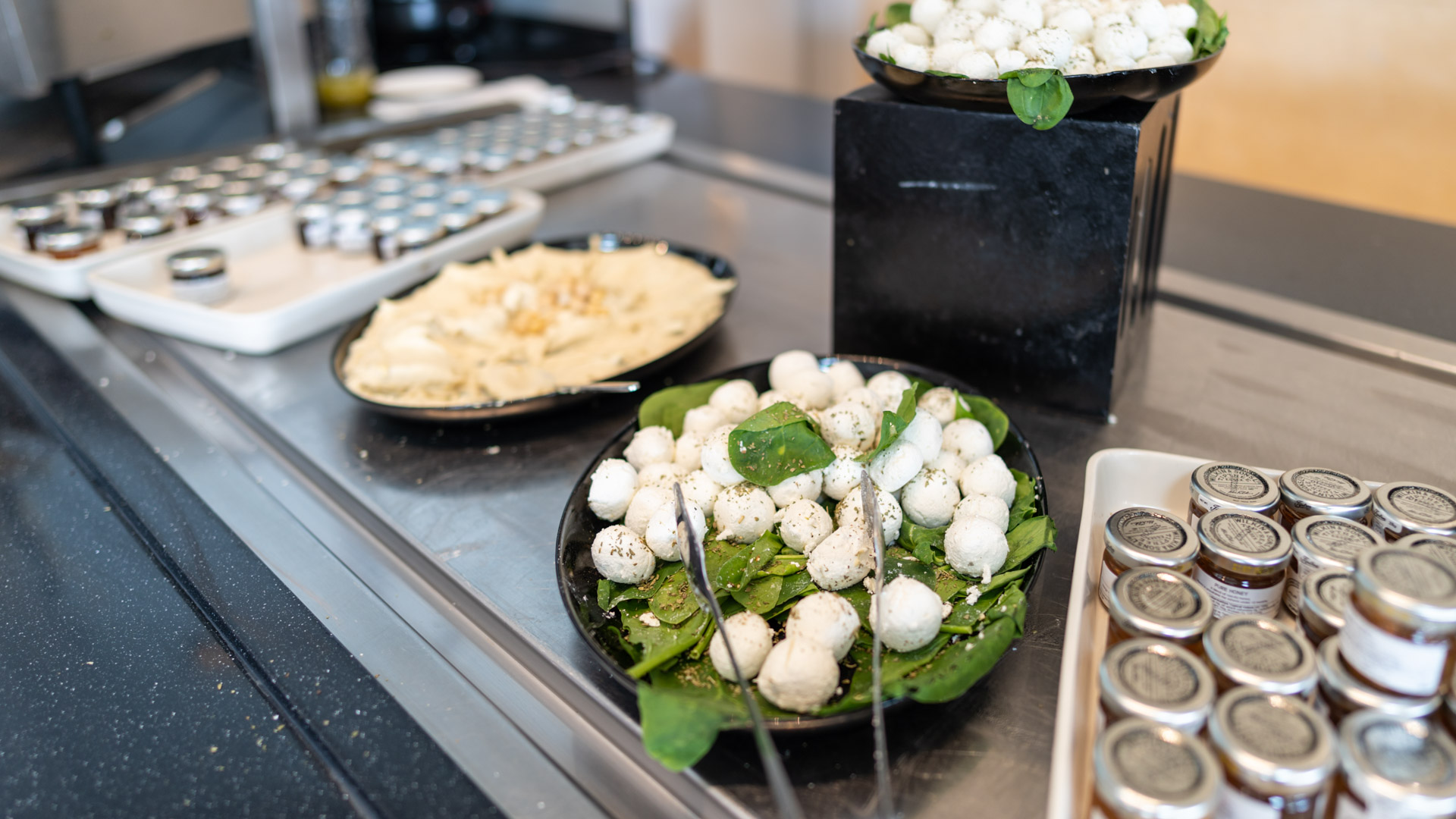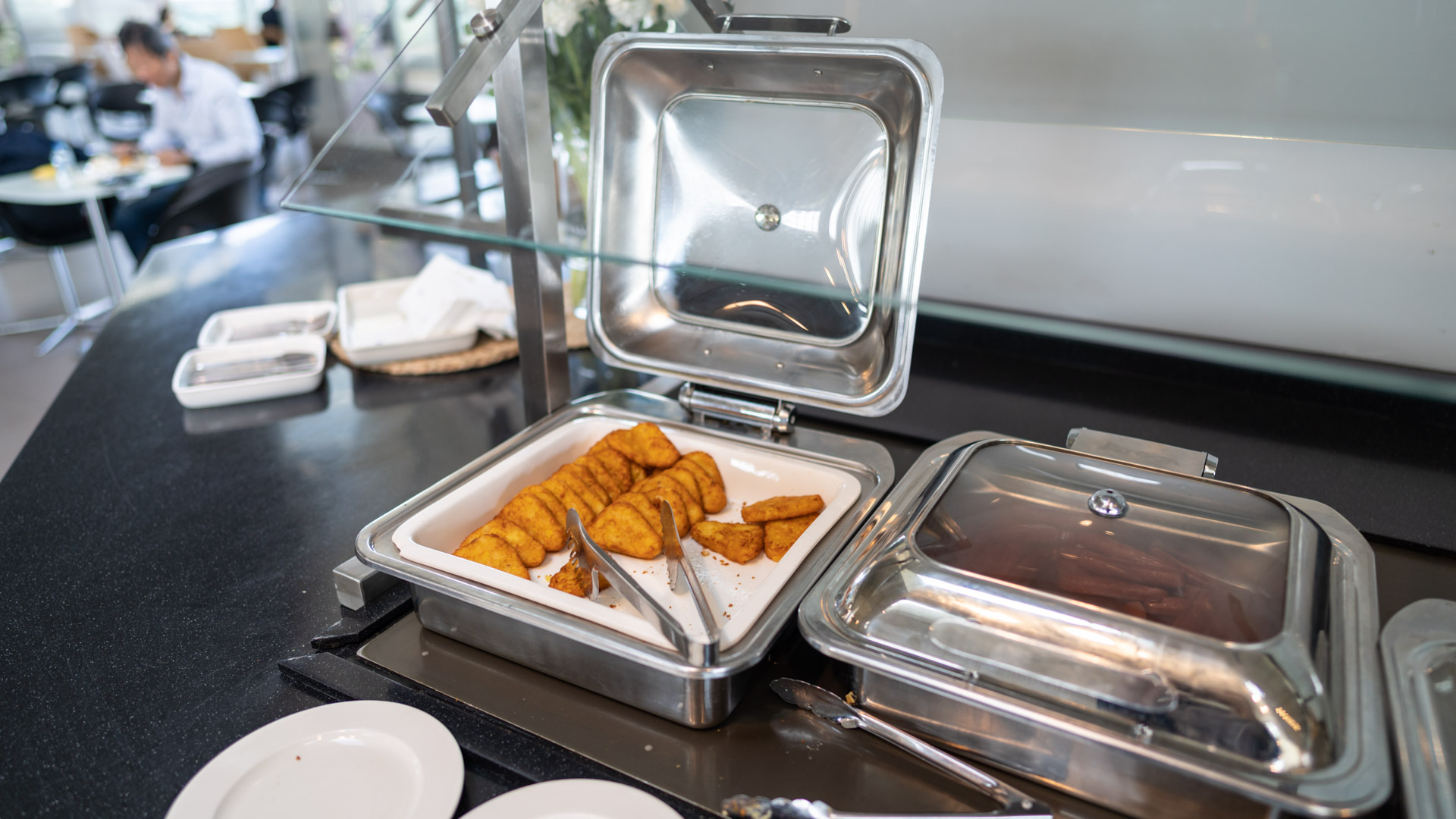 Unwind at the well-stocked bar. Beers from Stella Artois and Carakale (a Jordanian micro-brewery) are on tap, while the shelf holds a good range of spirits – Tanqueray gin, Johnnie Walker Black Label whisky, 1800 tequila, Ciroc vodka and Arak Haddad Crystal (another local gem made from aniseed).
Wine isn't so much a focus here, but the lounge keeps things local with Jordan River 2021 sauvignon blanc and 2021 merlot on offer, stored in temperature-appropriate fridges.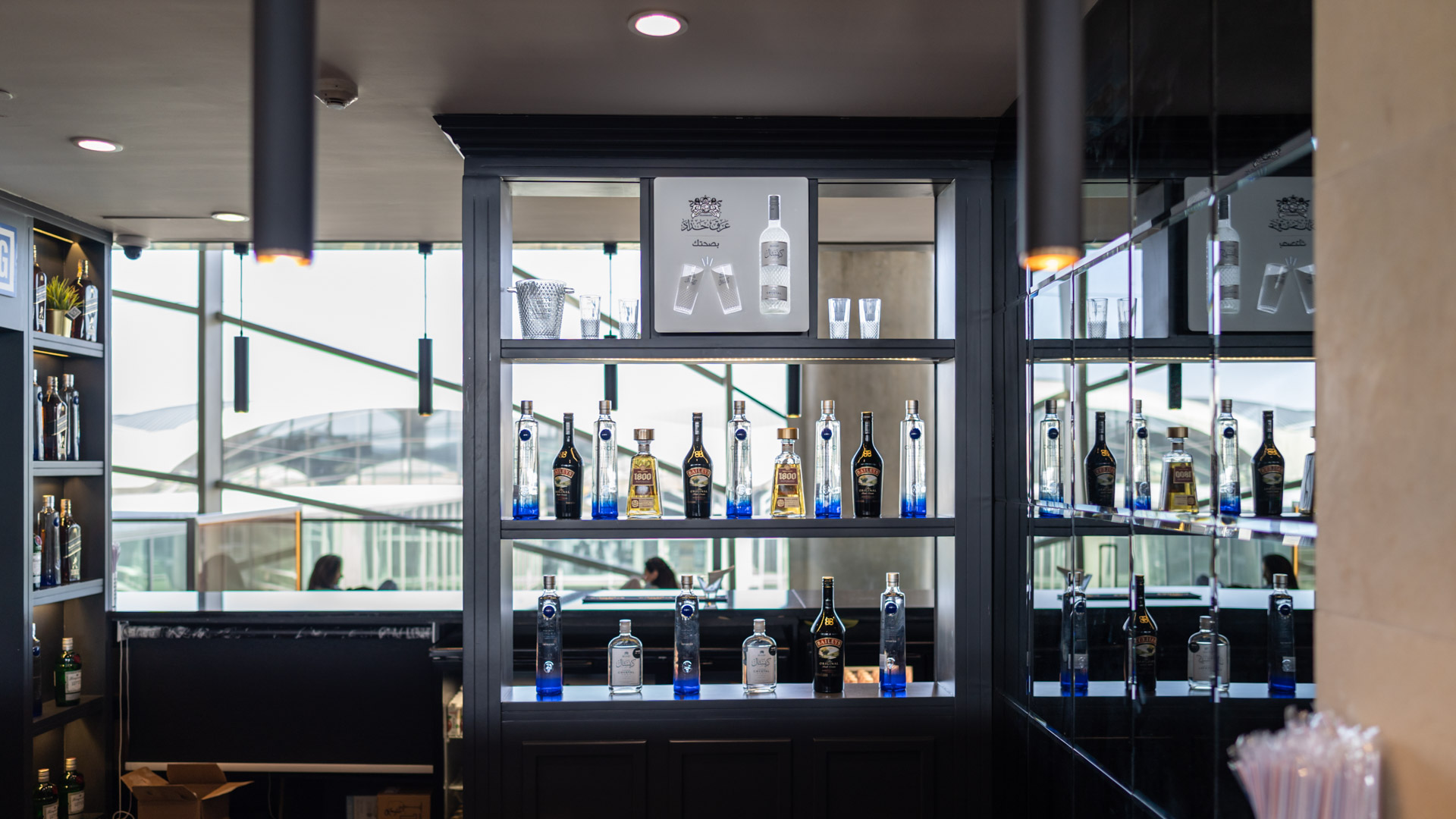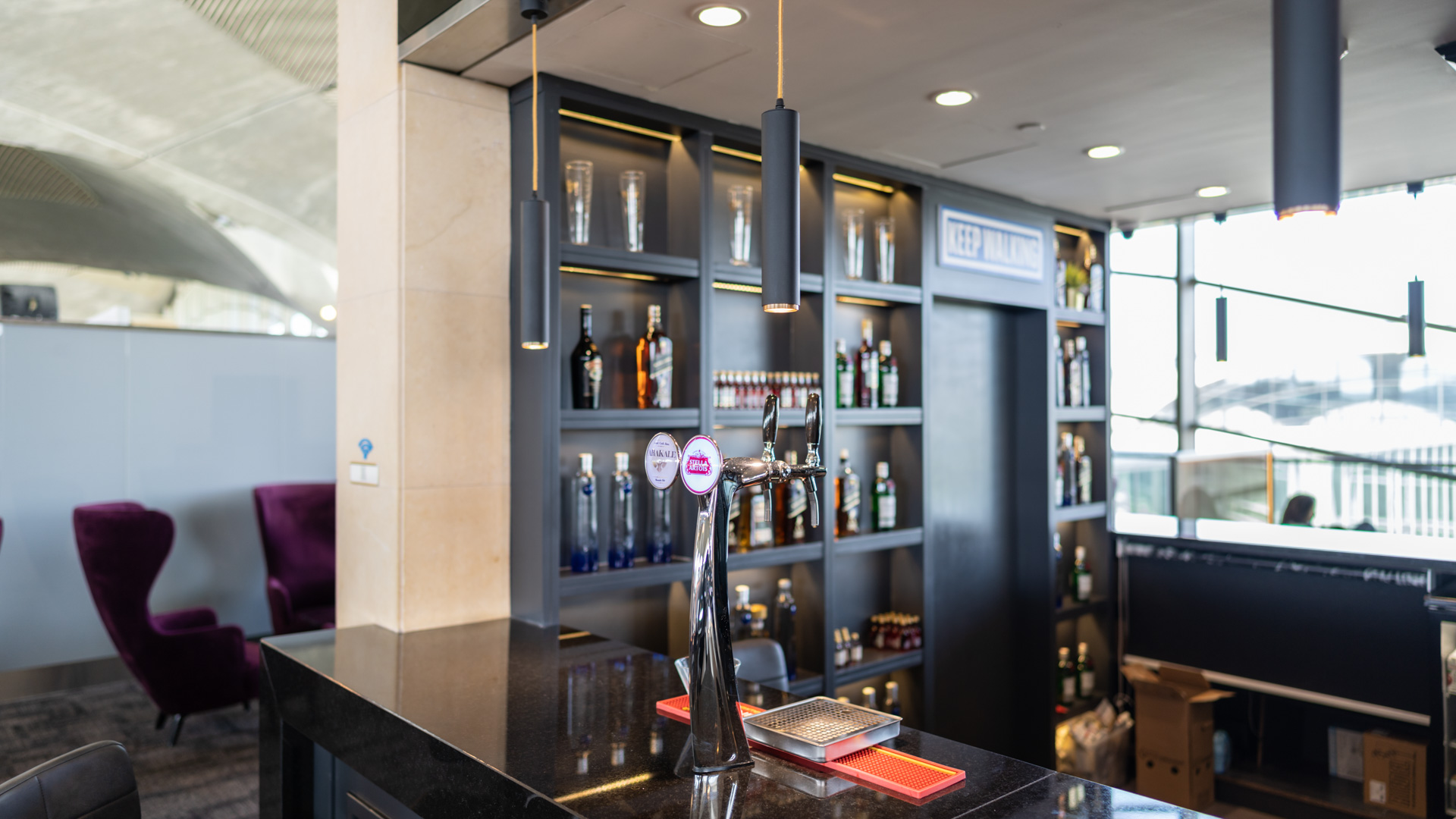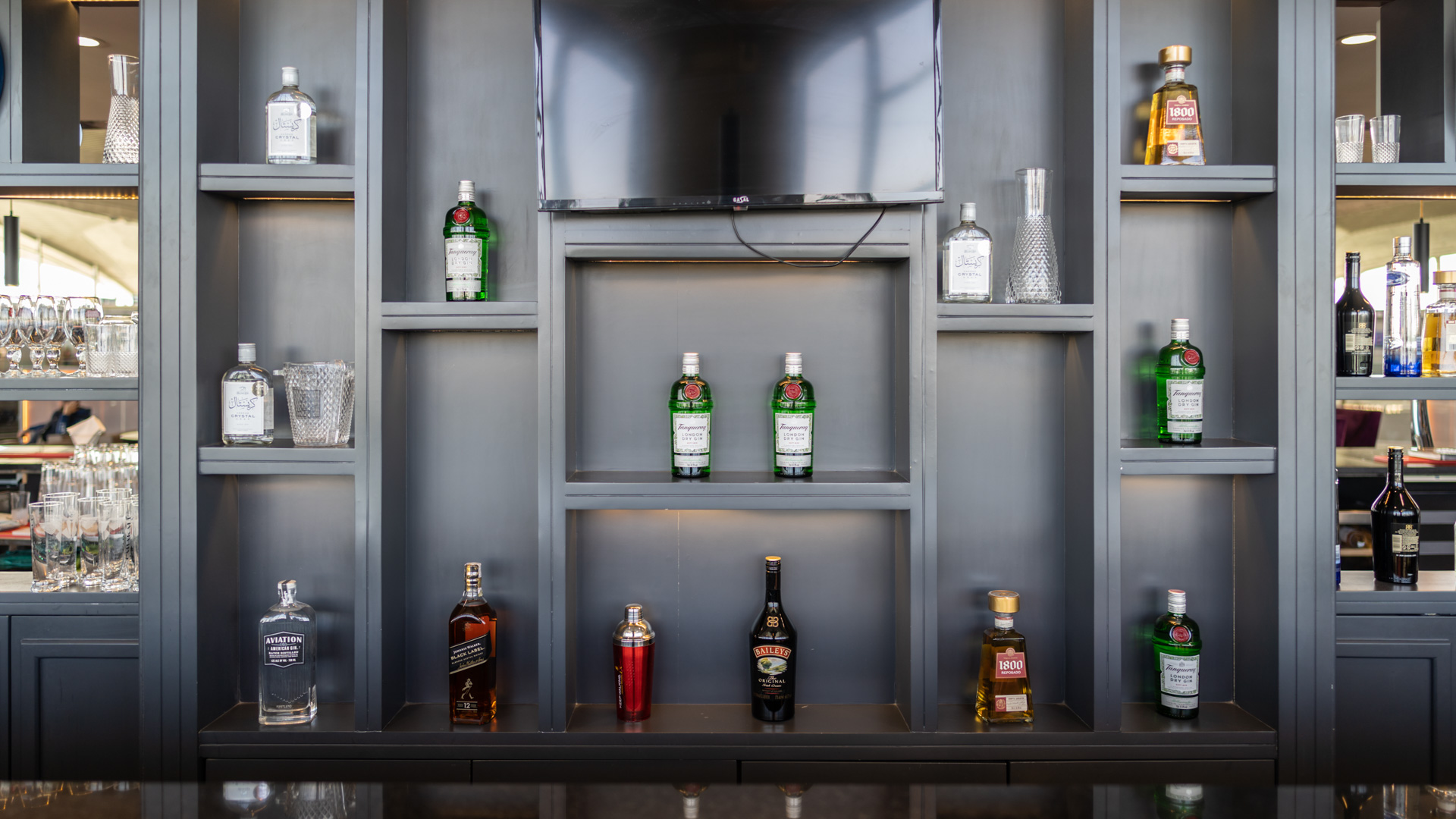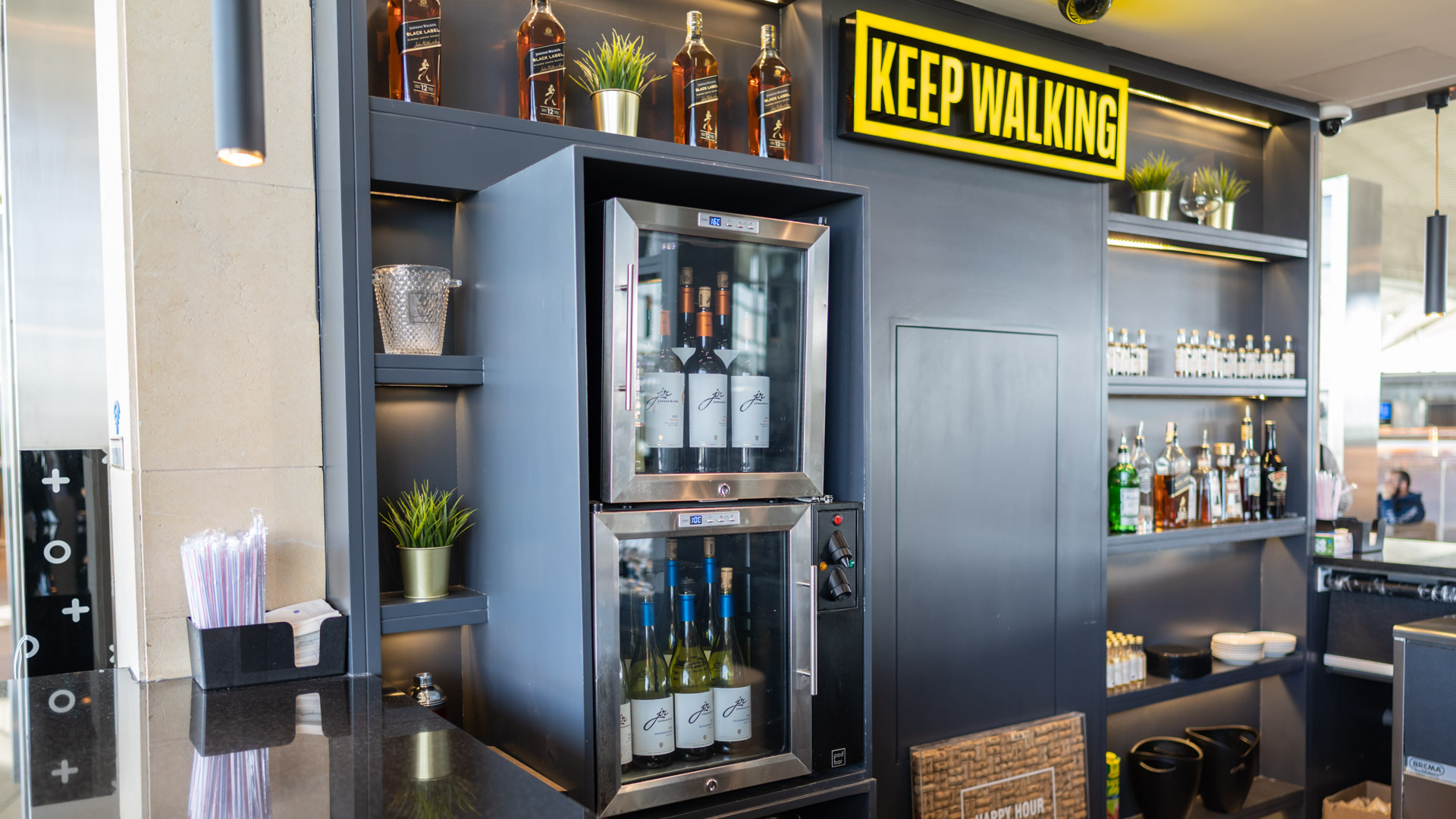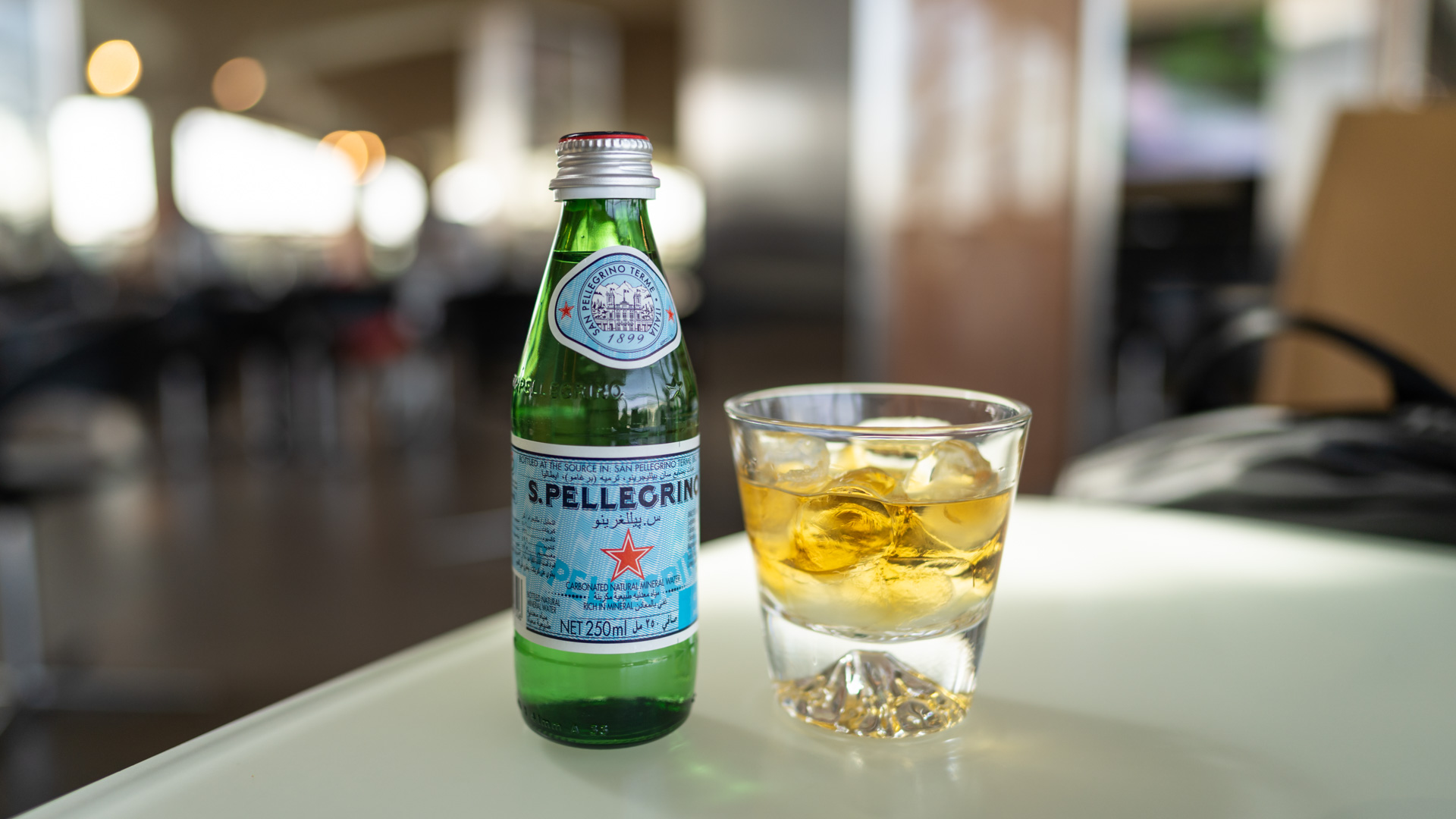 Finally, there is an Aghati Sweets stall offering delicious small bites of Middle Eastern desserts. I try a delectable pistachio variant of baklava, which is nutty and not too sweet. What a great way to end the lounge experience.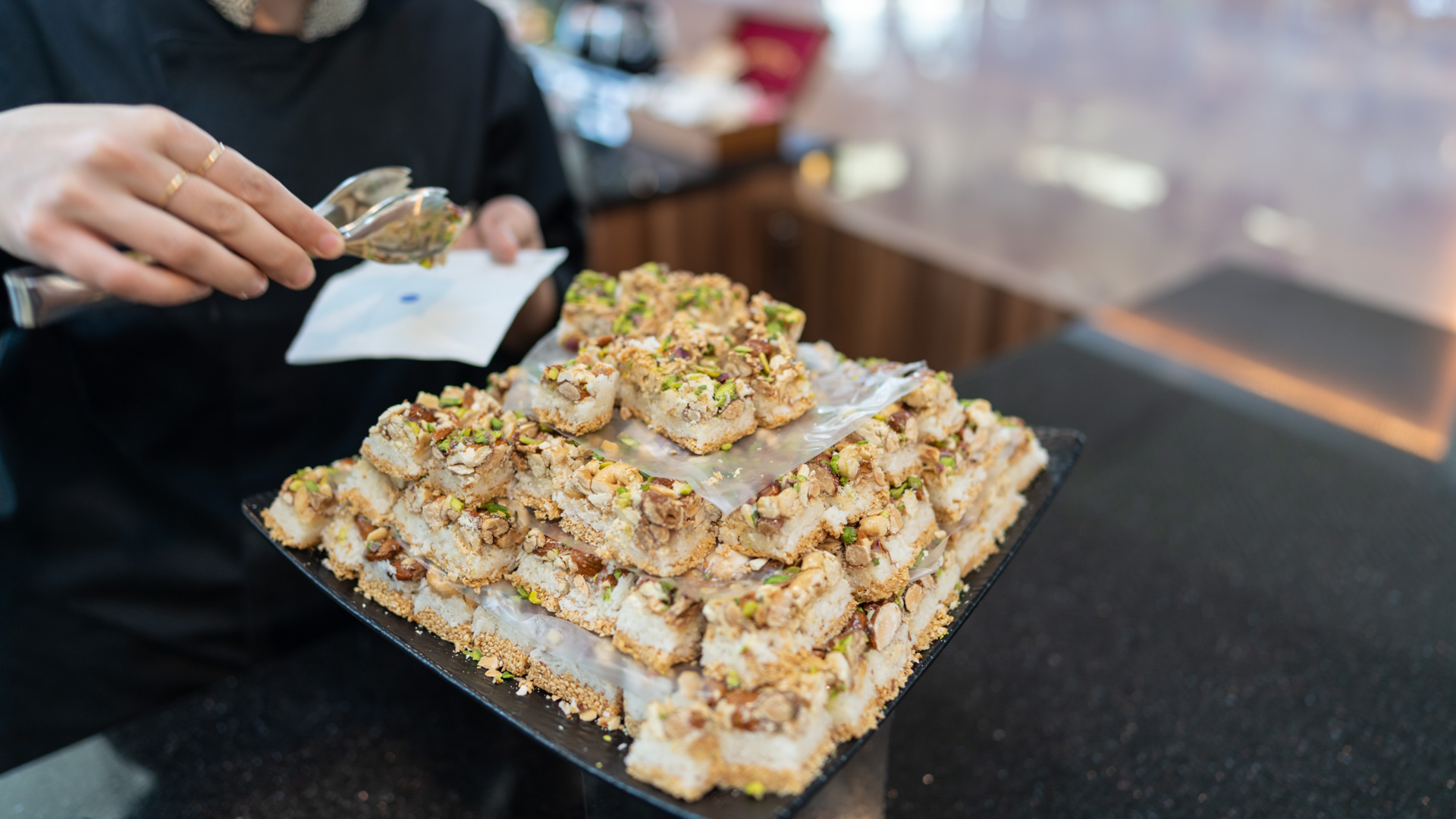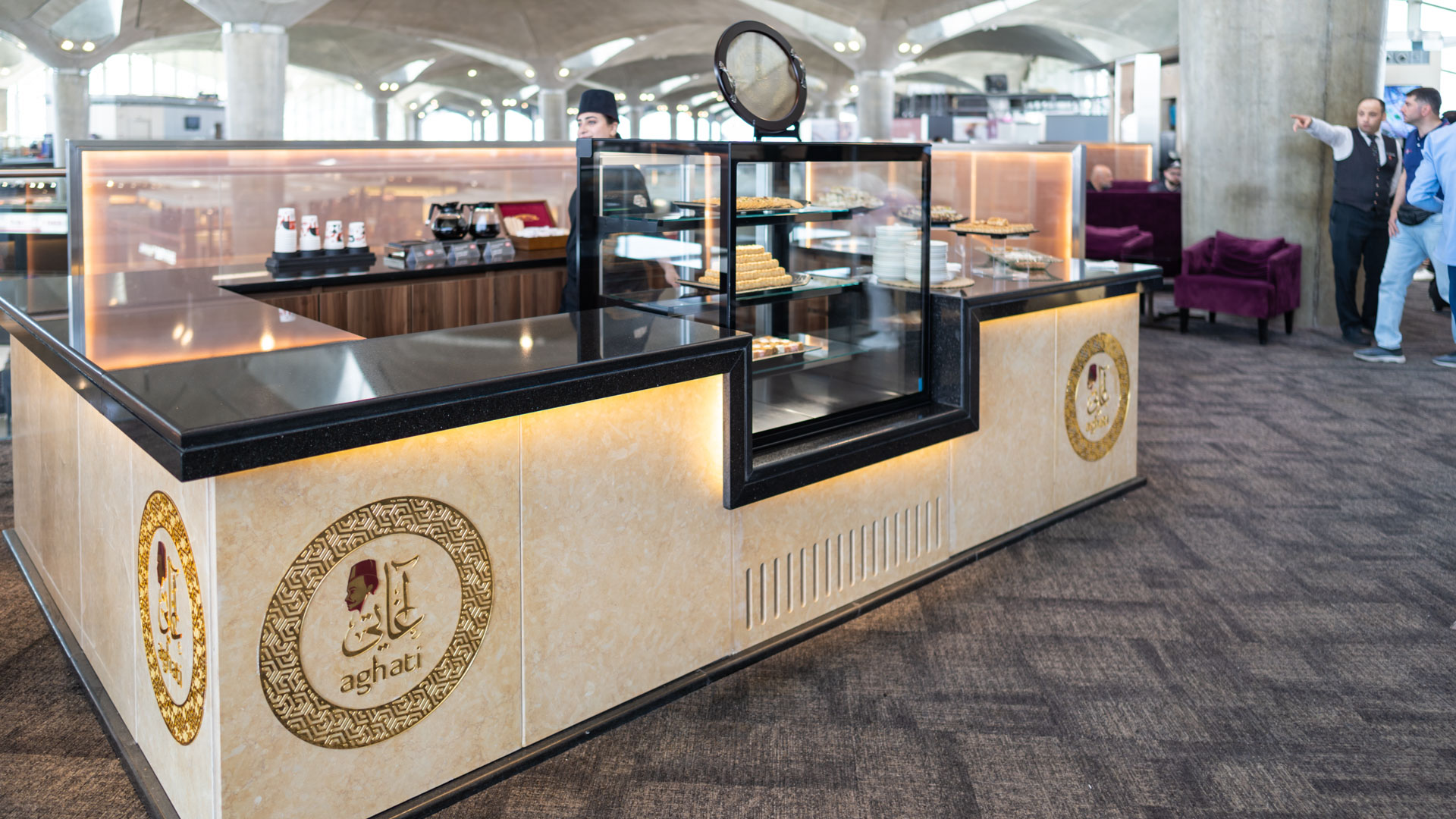 Lounge amenities
While the food and beverages in this lounge are very good, unfortunately, the same can't be said for the amenities. The lounge's Wi-Fi is painfully slow and couldn't crack 1.80 Mbps in either uploads or downloads. After testing it out, I promptly turn it off to use up my phone data plan's remaining quota, which is much faster.
The bathroom facilities are probably the weakest aspect of the lounge. The men's room on the bar/bistro side is hot and stuffy and only has a few cubicles. There are additional toilet and shower facilities on the pizzeria/café side, which I would recommend visiting instead.
Power points are not located at every seat, so you might need to hunt around for them. Look along the edges of the lounge and at floor panels near lighting fixtures. Finally, kids can find some entertainment in a small nook near the end of the café/pizzeria pier with TVs and gaming consoles – just ask the staff for the controllers.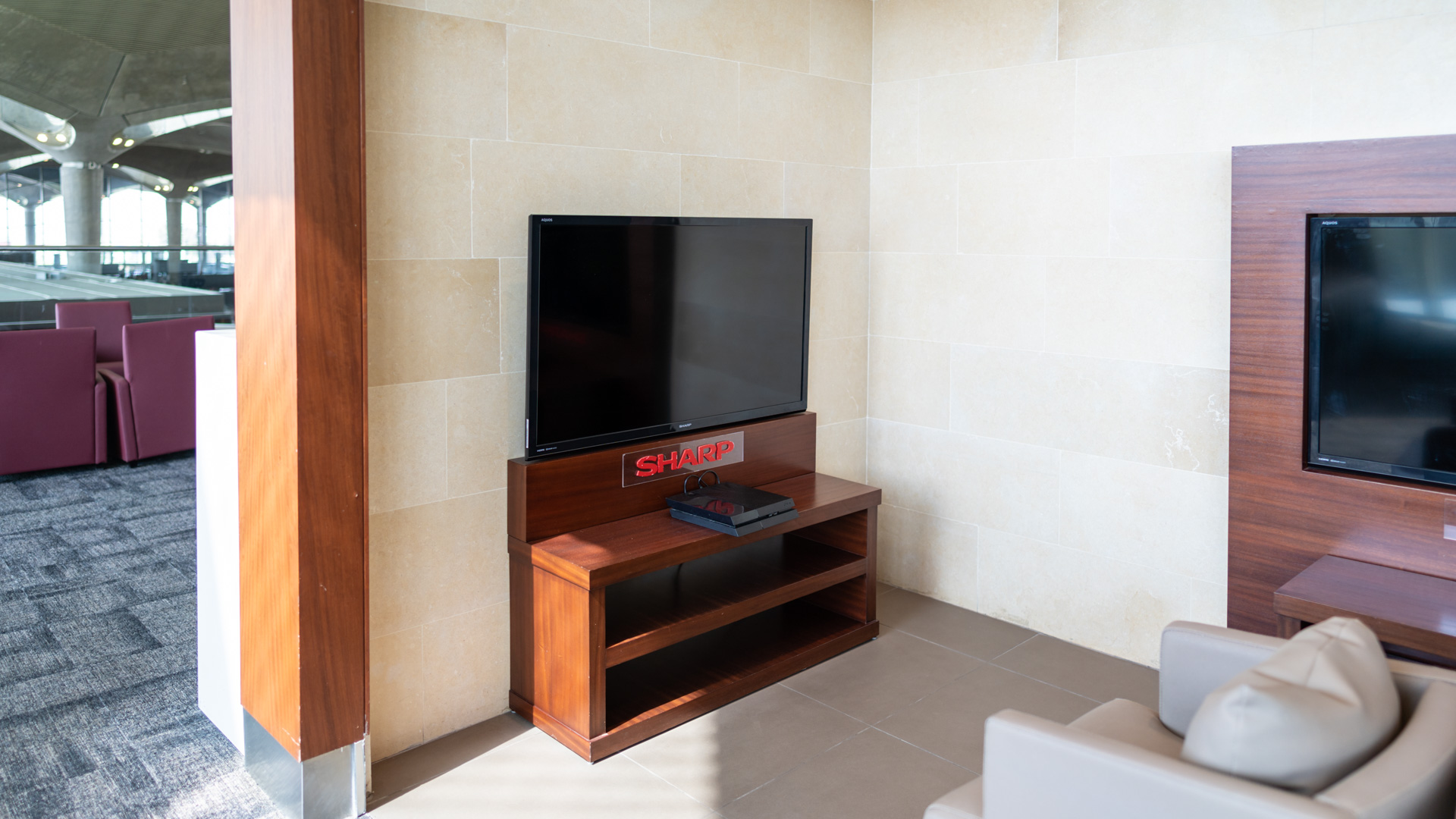 Access to the Royal Jordanian Crown Lounge, Amman
Thanks to a wide guest list, any passenger departing Amman can have access to the Royal Jordanian Crown Lounge, either for free with an appropriate ticket, or through a paid lounge membership such as Priority Pass.
Class of travel:

Royal Jordanian Business Class and Qatar Airways regional First Class.
Business or First Class with oneworld partner airlines.
Business or First Class with contracted airlines including (but not limited to) Saudia, Oman Air, Aegean Airlines, Kuwait Airways and Yemenia.

Connecting flights: Passengers connecting between a oneworld long haul (5+ hour) flight in Business Class and a oneworld short haul (<5 hour) flight in a lower cabin on the same day, or before 6 am on the following calendar day. Entry via this method is provided under oneworld's global lounge policy.
Airline frequent flyer status: Royal Club Gold and Platinum (+1 guest) when flying Royal Jordanian, a oneworld carrier or partner airline from Amman.
Alliance frequent flyer status: Oneworld Sapphire and Emerald equivalent, including Qantas Gold and Platinum when flying with a oneworld carrier out of Amman.
Partner frequent flyer status: Gold and Platinum-equivalent members of partner airlines flying out of Amman may have access to this lounge (e.g. Velocity Gold and Platinum when flying Qatar Airways).
Paid membership:

Priority Pass and DragonPass.

Lounge pass: Purchase a three-hour pass starting from JOD 30 (AU$64) per person when flying Royal Jordanian without lounge access.
Summing up
The Royal Jordanian Crown Lounge is a pleasant place to wait before boarding your flight out of Amman. I particularly love the variety of food and beverages on offer, including the cute 'food hall' vibe that the lounge has. I'm also impressed with the lounge's focus on local food and beverage, including sourcing wine and spirits from nearby producers.
Still, there are a few things missing to elevate the lounge from 'great' to 'exceptional'. Some are easy fixes, such as faster Wi-Fi, while the bathroom and power outlet situation could do with some more work. Still, I'd happily visit this lounge with Priority Pass if I didn't already have access with a ticket.
---
Explore the Royal Jordanian Crown Lounge Amman below.
---
Stay up to date with the latest news, reviews and guides by subscribing to Point Hacks' email newsletter.
Royal Jordanian Crown Lounge, Amman
was last modified:
March 22nd, 2023
by