Ever dreamed of visiting scenic Kangaroo Island? Then this one's for you. Thanks to an incredible flight hack, you can fly from the east coast to Adelaide for 12,000 Qantas Points in Economy (just 8,000 points from Melbourne) – and then on to Kangaroo Island that same day points-free!
Talk about a sweet spot.
Fittingly, my recent jaunt to Kangaroo Island was sweet indeed. Jam-packed with stunning scenery and iconic Australian wildlife, the island offers the perfect weekend getaway for couples and families.
Here's how to spend 48 memorable hours on Kangaroo Island – plus how to score a bonus flight there from Adelaide.
The flight hack
Booking with points is different to booking with cash. Because reward flights are based on zones, you can sometimes nab a bonus flight if you're travelling to two destinations within a single zone.
Take my flight from Brisbane to Kangaroo Island via Adelaide. From Brisbane, Sydney and Canberra, it costs 12,000 Qantas Points in Economy to fly to Adelaide. Pleasingly, it also costs just 12,000 points to fly from those cities to Adelaide – and then on to Kangaroo Island that same day. It's in the same zone, you see! The hack also works from Perth (where it's 18,000 points) – as well as in reverse. You just have to travel via Adelaide.
Any way you slice it, you're getting the Kangaroo Island flight points-free.
If that's not a shining example of a flight hack, I don't know what is.
With current state border restrictions, this hack only applies on the flight home for most travellers. But we expect it to work both ways again soon. Maybe book in a month or two's time to be safe.
Ad – Scroll down to continue reading.Minimum spend, terms & conditions apply.
Getting sorted
Kangaroo Island is just a hop, skip and a jump from Adelaide.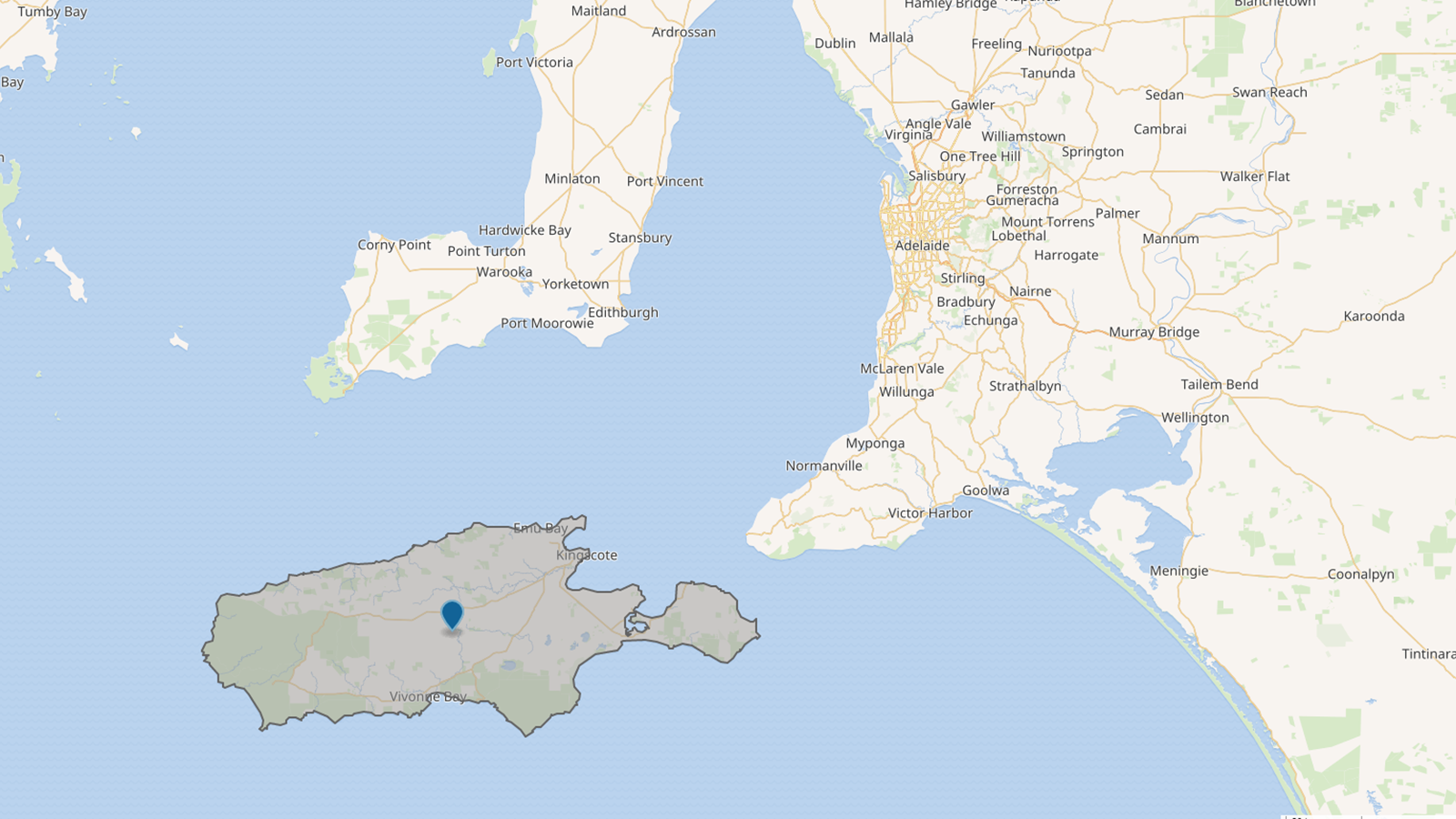 After my flight from Brisbane earlier in the day and a transit in Adelaide, I'm ready for the short hop to Kangaroo Island.
The flight from Adelaide to Kangaroo Island
Looking for a spot of adventure? Qantas uses the zippy Bombardier Dash 8 Q300 to fly between Adelaide and Kangaroo Island – a turboprop with striking propellers in place of the usual jet engines. I land an aisle seat right by the propellers. And trust me, you'll want to pack a pair of over-ear noise-cancelling headphones! Thankfully, my Bose QC35 work a treat.
Otherwise, it's smooth sailing – with hardly a spot of turbulence on the entire flight.
The plane has a cosy 2-2 layout – perfect if you're travelling as a couple or family of four. Though with a flight time of just 40 minutes from gate to gate, there's not a whole lot of time to get cosy. I'm only two crackers into my cheese and cracker pack when the seatbelt sign chimes on for landing. Peckish after a long day of travelling, I power through.
With no one in the window seat beside me (happy days), I spy glimpses of green and indigo blue on the descent into Kangaroo Island's Kingscote Airport. It's a tantalising taste of the nature to come.
Driving on Kangaroo Island
After picking up my zoomy hire car (a Toyota Corolla Hybrid), I hit the open road on my way to the hotel. With a typical speed limit on the island of 110 km/hr – and no traffic to speak of – I flick on cruise control and prepare to settle in. But I'm not even five minutes out from the airport when I spot my first kangaroo. Word is there are up to 65,000 of these muscular marsupials bounding around, meaning they outnumber residents by 14 to one!
But they're by no means the only wildlife on Kangaroo Island. En route to the hotel, I have to slow down to honk a trio of jolly birds out of the way. For an accustomed city-dweller, these close encounters with wildlife leave me breathless with wonder.
The Kangaroo Island Seafront hotel
As I near the four-star Kangaroo Island Seafront, ocean glimpses give way to expansive ocean views. Given I'm arriving late (around 8:30 pm), I've prearranged to have my room keys left in a secure lockbox.
I pull up at the hotel, fling my bags into my room, and race out before the sun sets to capture the play of light on the water. Against the deep blue sea and sky, the sinking sun casts a yellow glow across the horizon. Colourful jagged rocks tumble down into the water, as if hurled by an artistic giant.
In the silence, it's simply magical.
Happily, the silence extends to my secluded Garden Villa at the Kangaroo Island Seafront. Tucked away from the street behind a bank of trees, it's clean and soothingly peaceful. Sliding doors separate the lounge and mini kitchen from the inviting bedroom. Though if you can land a waterfront room (they'd already sold out when I booked), I'd suggest you nab one instead!
Of course, once the world-famous Southern Ocean Lodge reopens (it burned down in the bushfires of 2020 and there are plans to rebuild), luxury-seekers may prefer to hang their hat there.
I finish up with a nightcap at the nearby Penneshaw Hotel.
Preparing to explore Kangaroo Island
The next morning, I'm eager to start exploring. But my room rate includes breakfast, making for my first pit stop. (Plus, the hotel staff had called me the day prior to take my order – it'd be rude not to show). I indulge in an orange juice and good ol' cooked breakfast before taking a walk around the hotel.
In the morning light, the view is even more picturesque. It's a strange feeling to be looking back at the Australian mainland. Though the sound of crashing waves and squawking birds reminds me that this is no ordinary business trip!
Soon after, I hit the road, keeping an eye peeled for those lively kangaroos.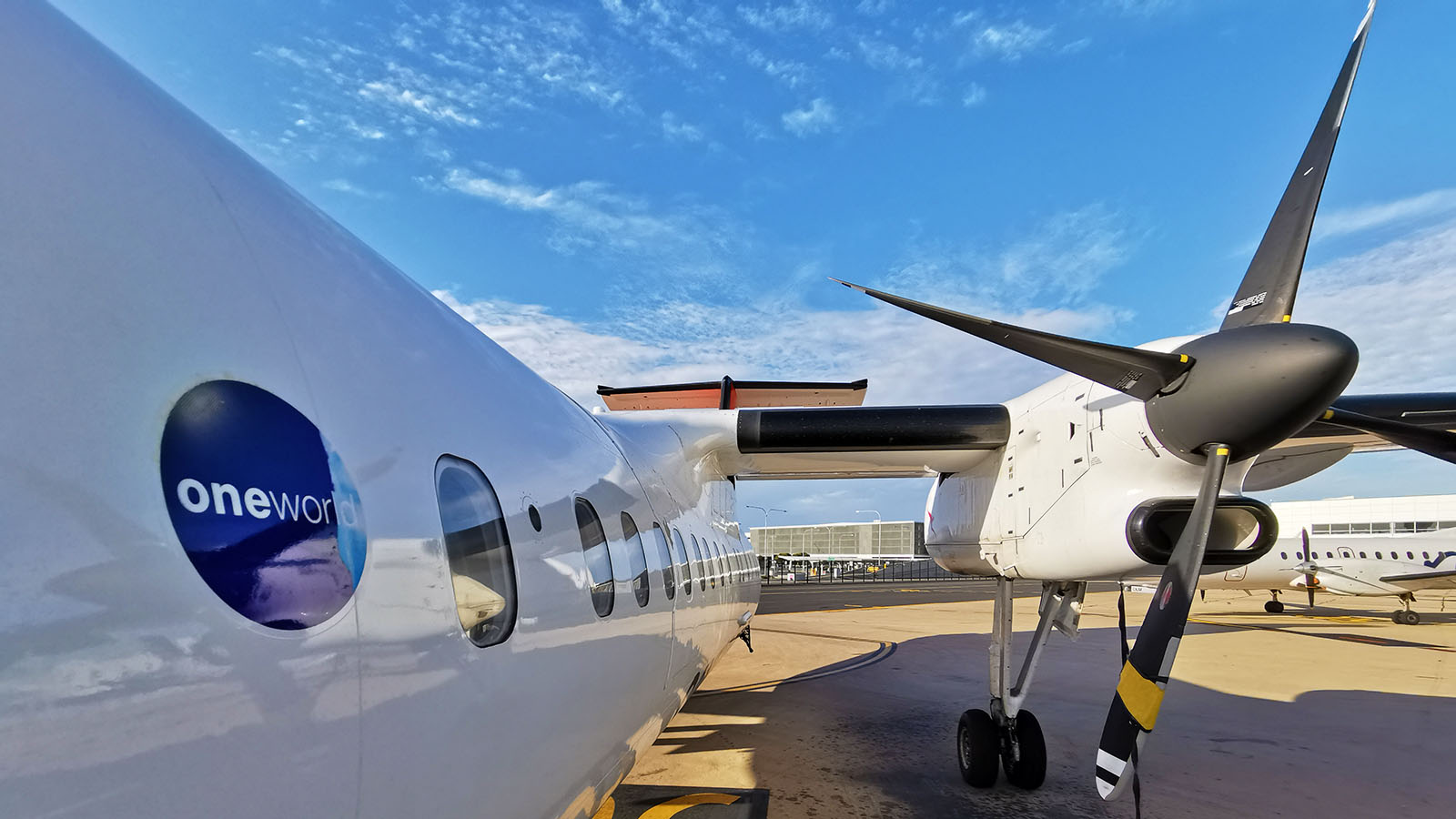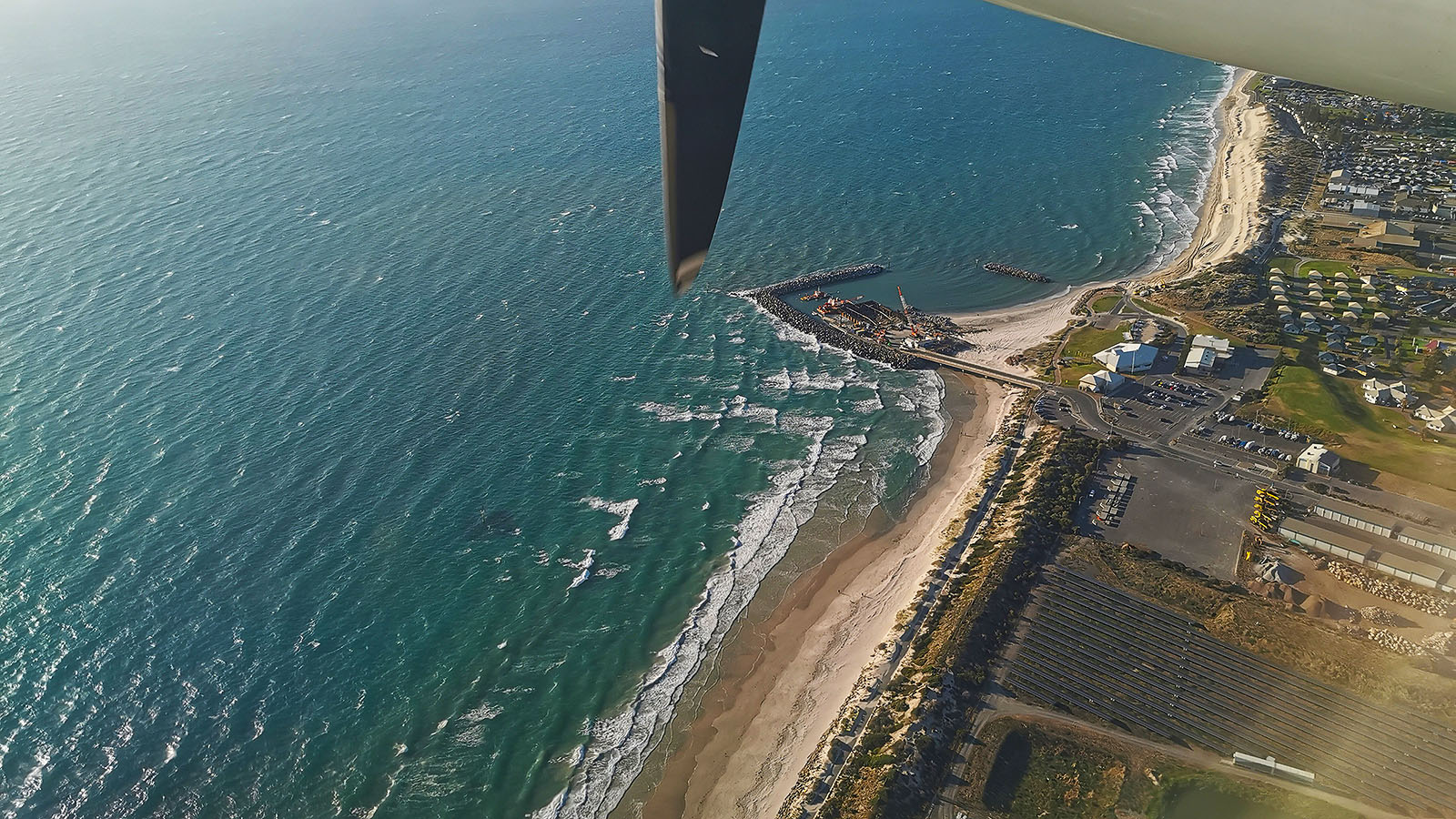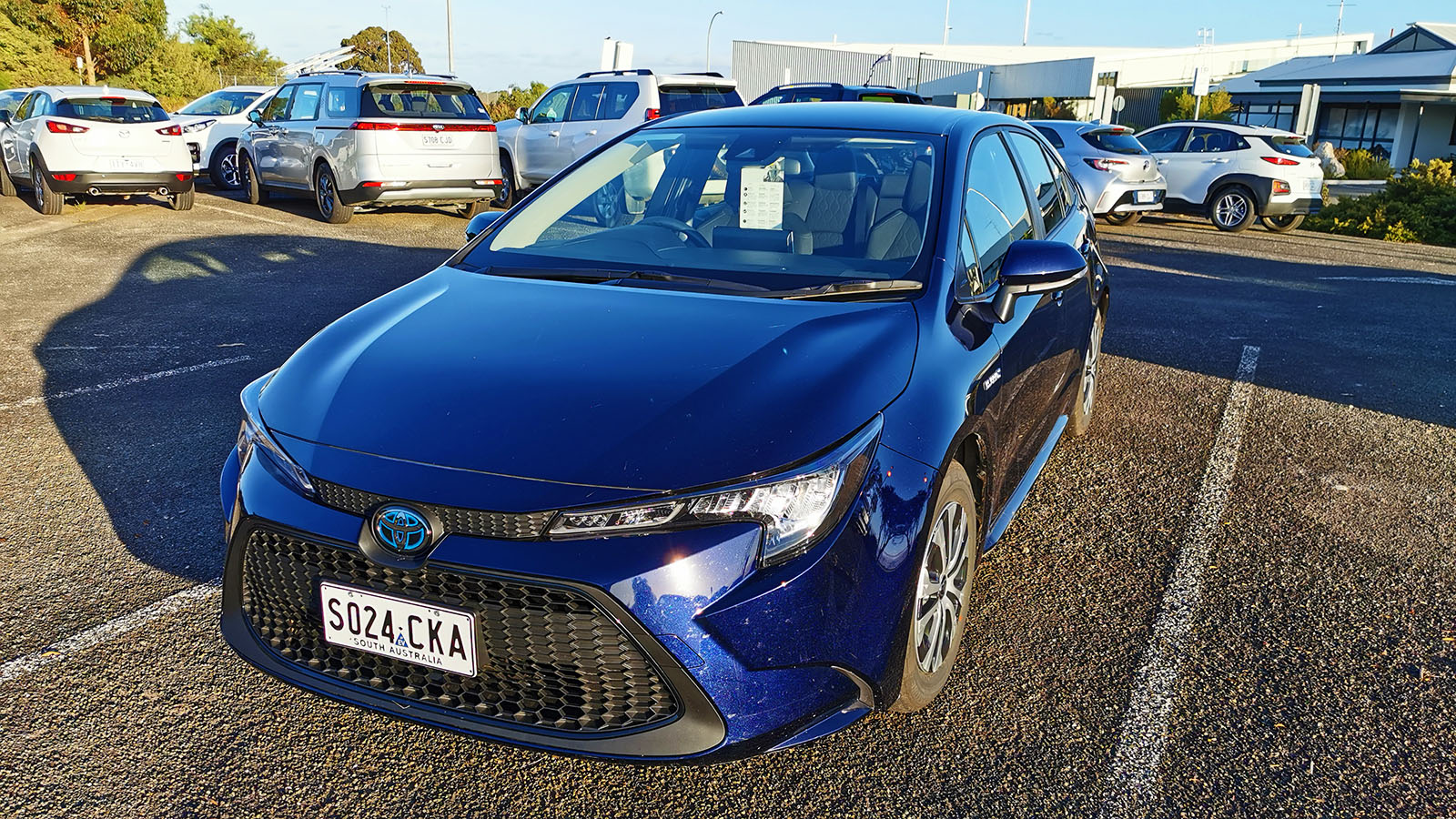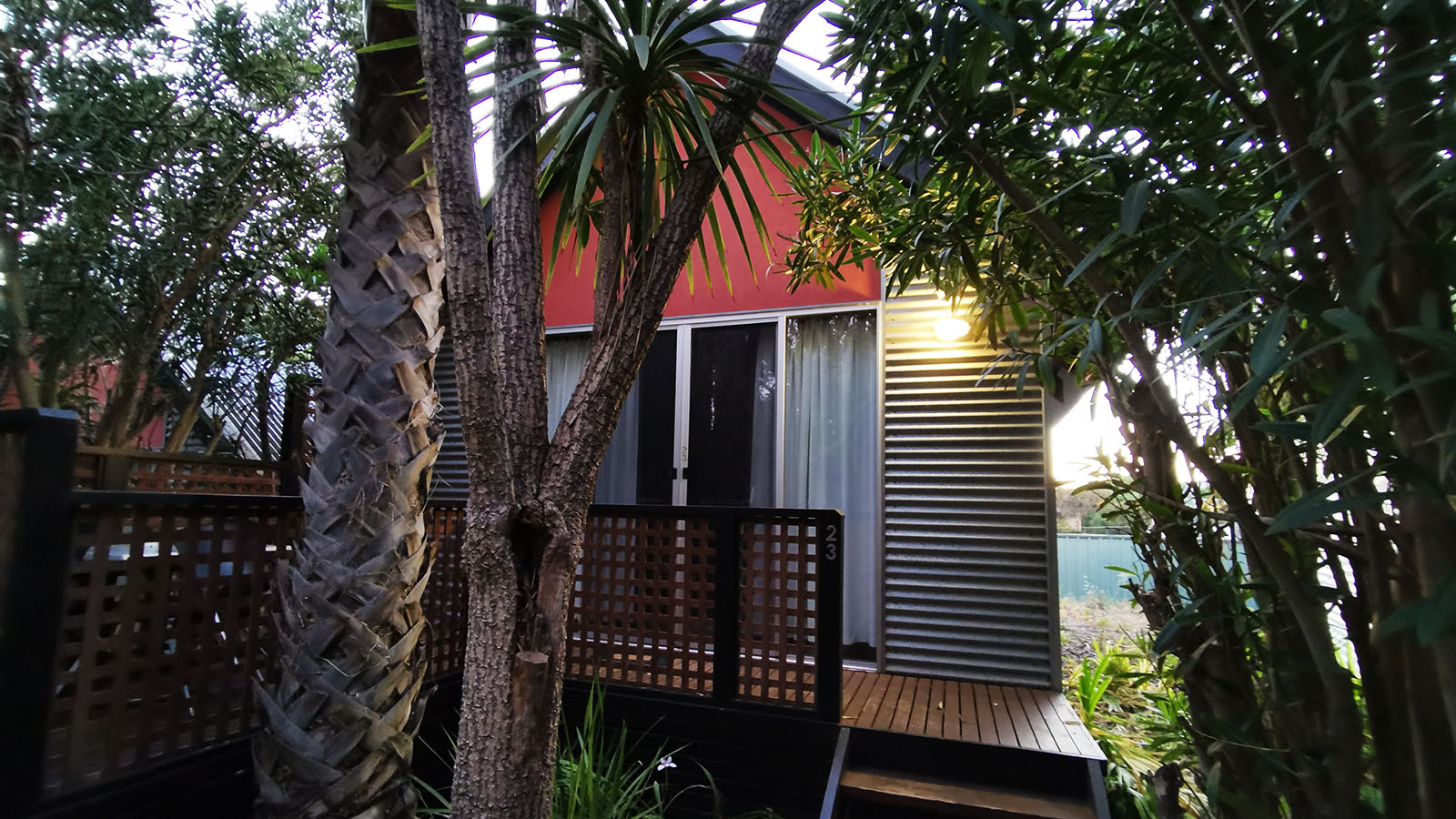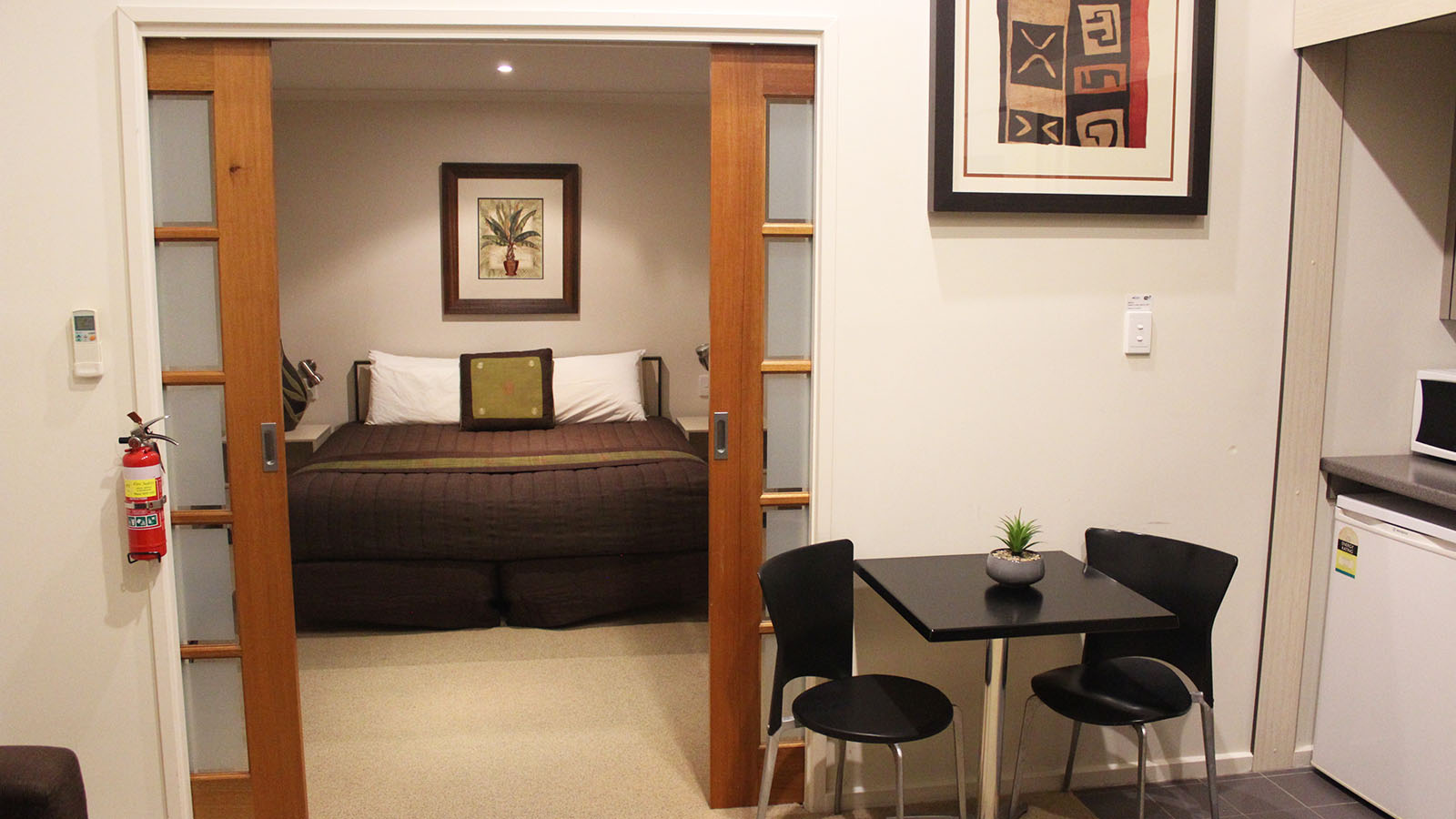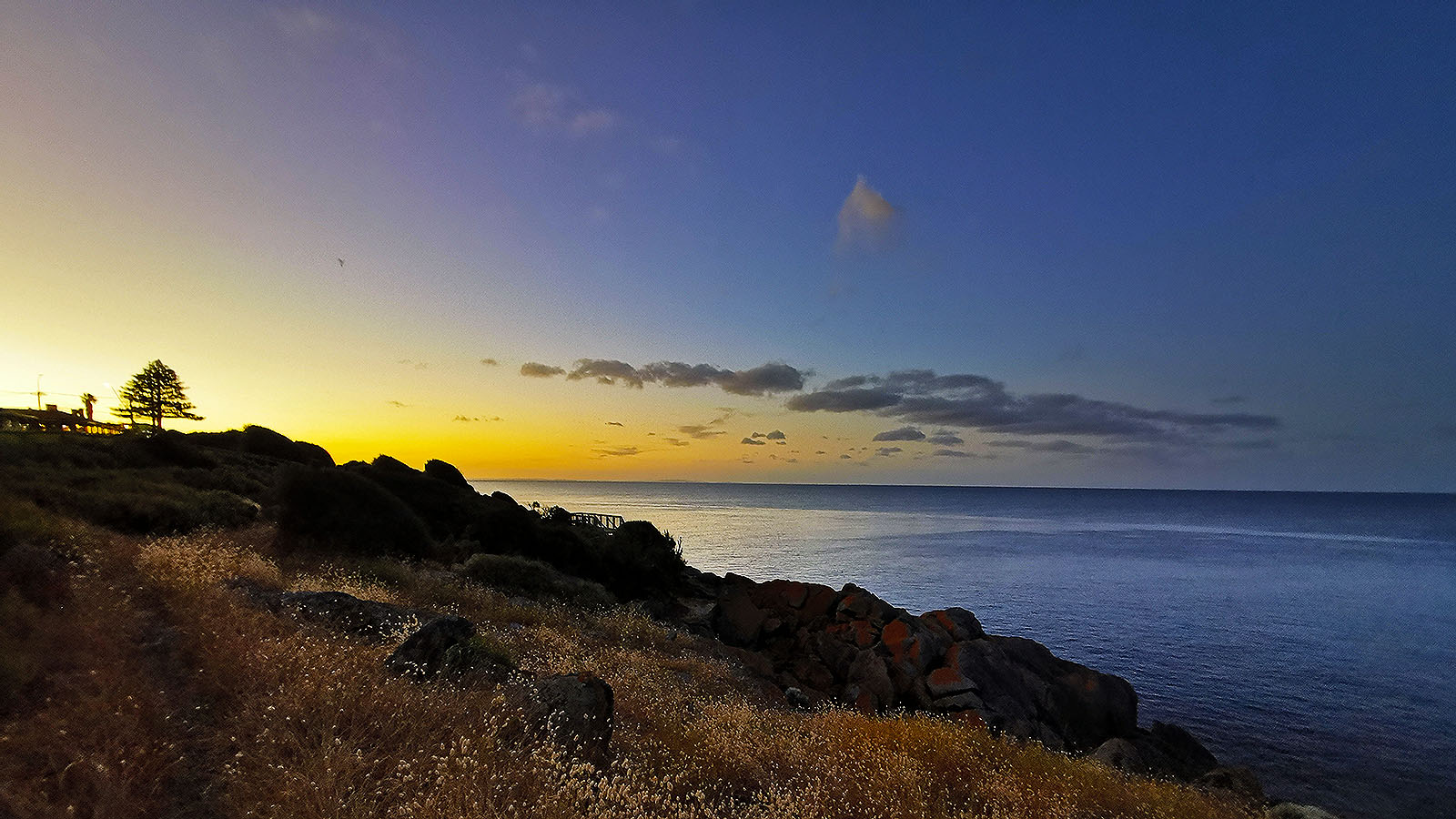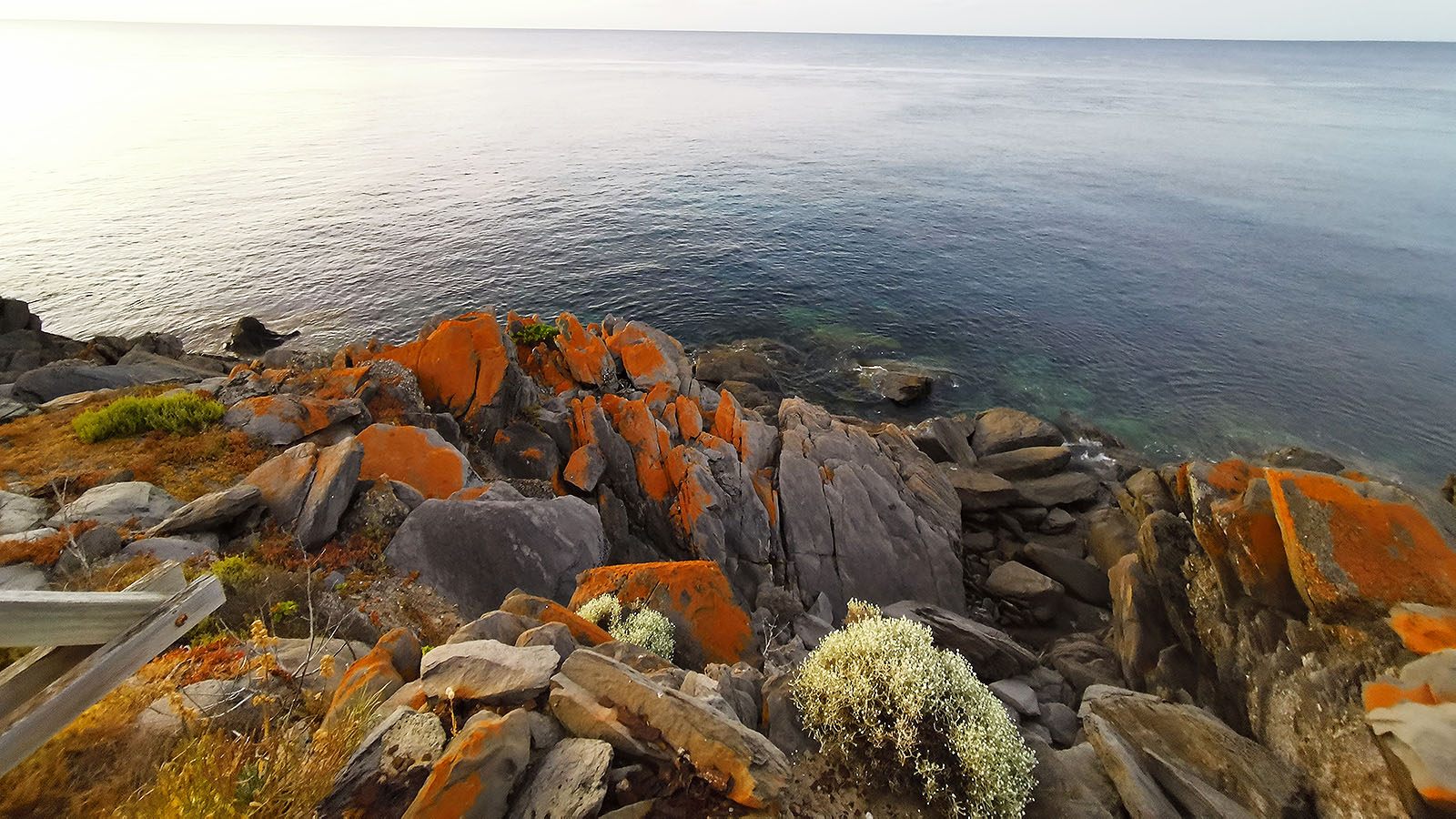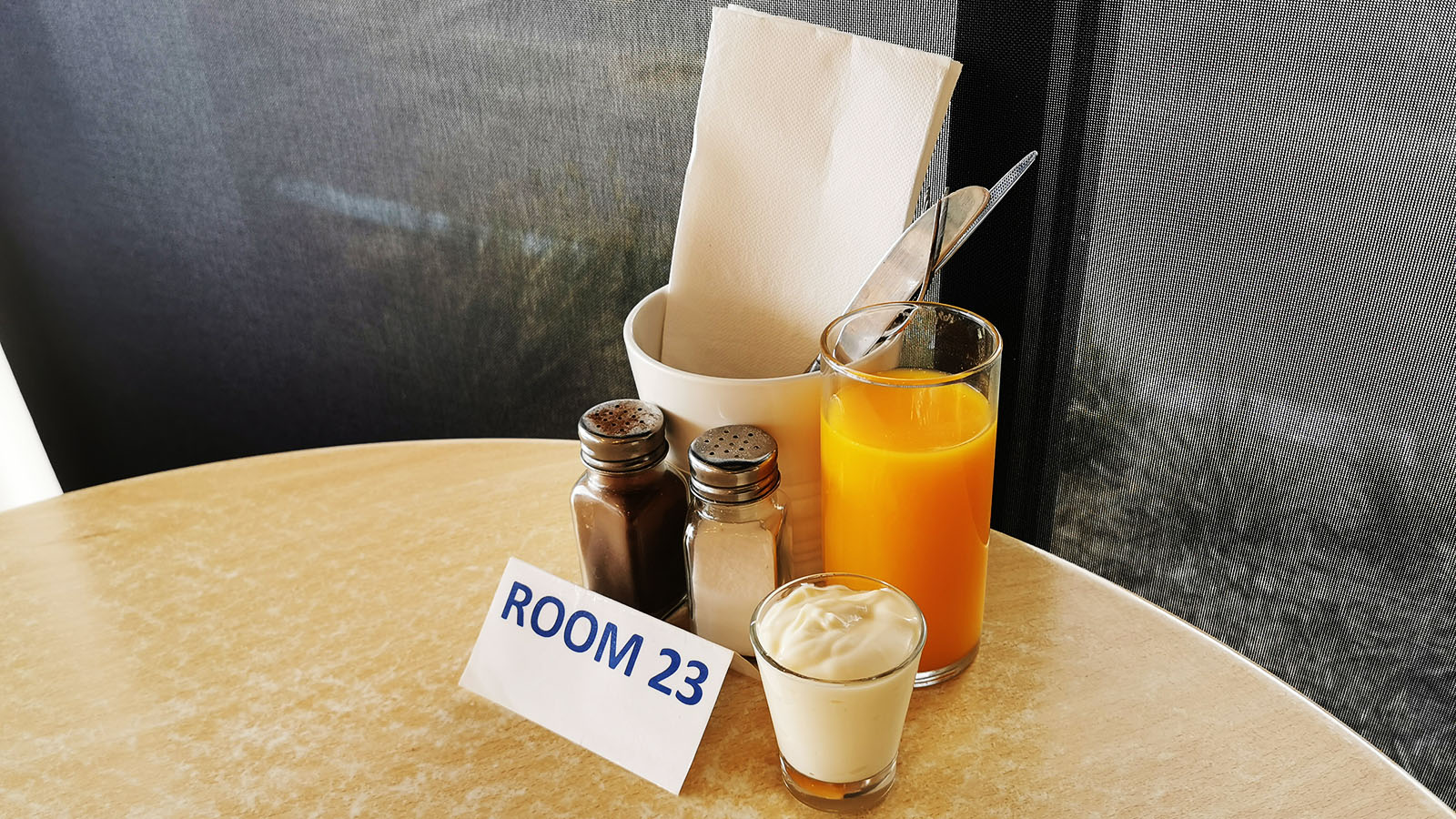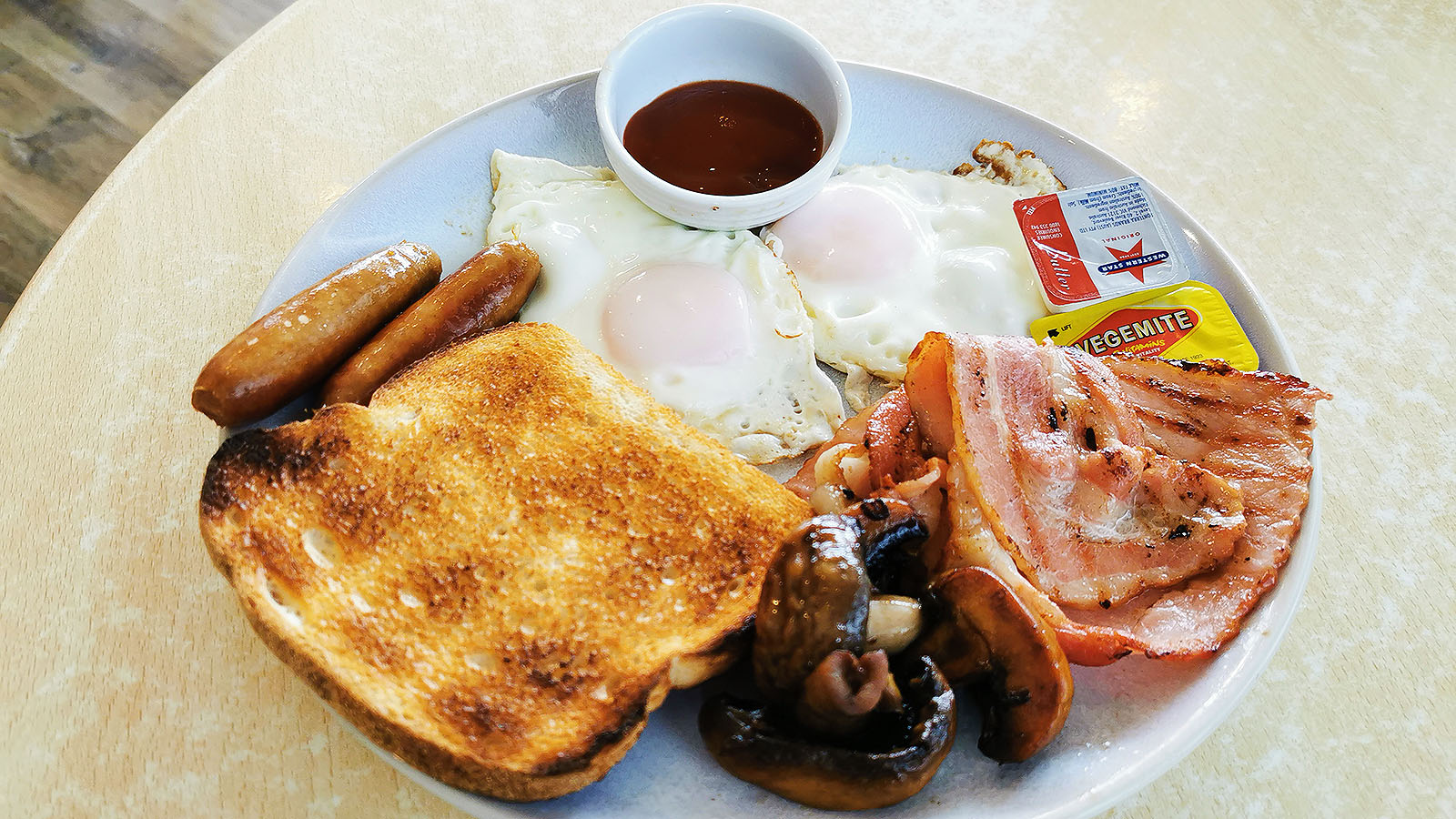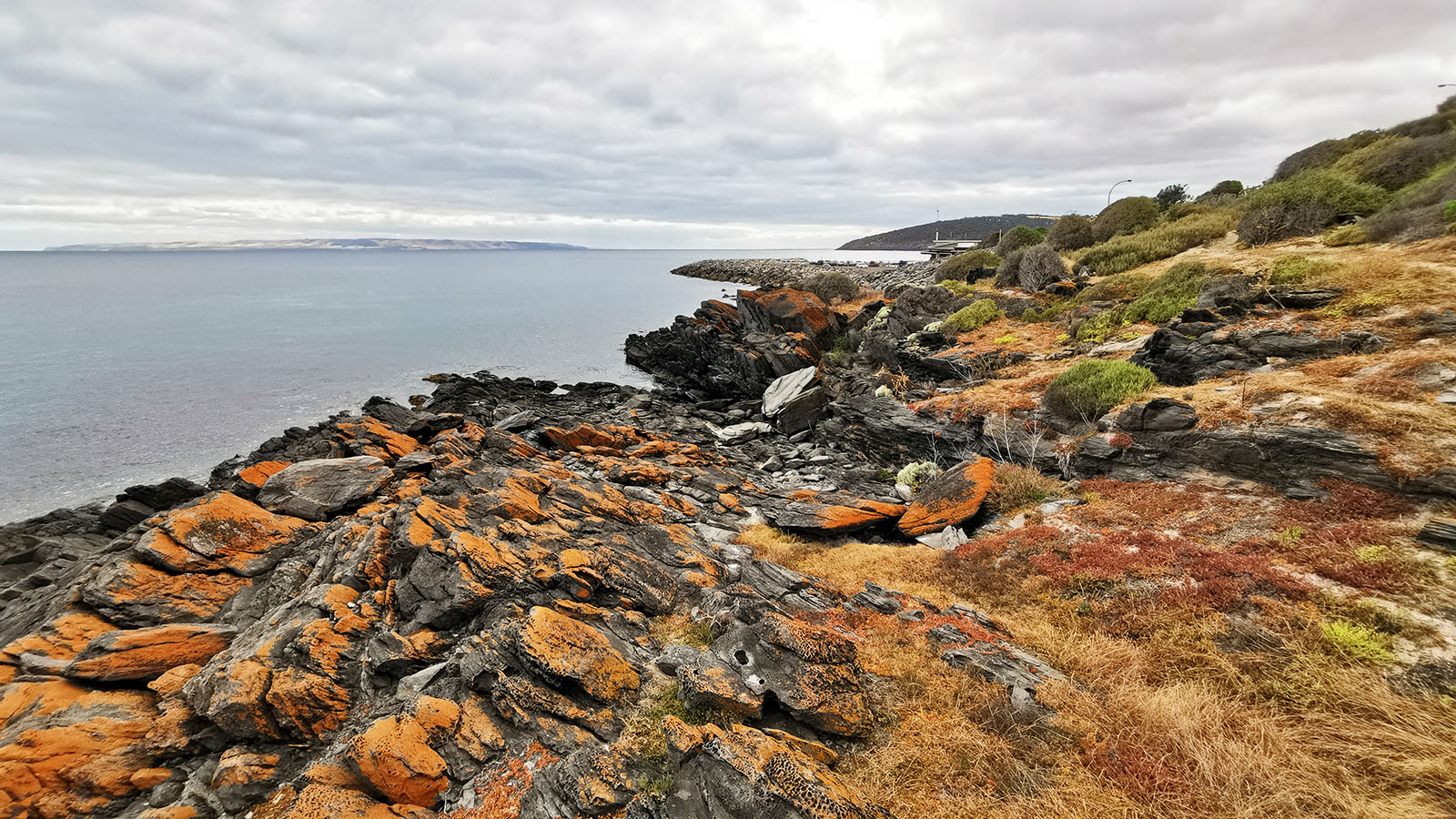 What to do on Kangaroo Island
Prospect Hill Lookout
Like all good adventures, my first stop is unplanned. A sign for 'Prospect Hill Lookout' whizzes into view, and I can't help but pull over to explore. Prospect Hill is the highest point on Kangaroo Island. But it's an easy climb – around half an hour up and back. Though even on a cool day, it's sweaty work climbing all those stairs! The view over scrubby sand dunes to the turquoise water beyond, though, makes it well worth it.
Flinders Chase National Park
I return to my car for the scenic drive to Flinders Chase National Park, just over an hour away. My tip? Book your entry ticket online, and take a screenshot of your booking. There's no phone reception in the National Park (though there's a free Wi-Fi hotspot at the entrance if you need it). A quick flash of my phone and everything's sorted.
Keep in mind, you'll be driving around Flinders Chase National Park – it's too vast to walk. Even if you fancied a hike, there are no walking tracks beside the at times nail-bitingly windy roads. A driving map is included with your entry ticket. It's moving to see parts of the landscape still regenerating after the bushfires, which ravaged the island in January 2020.
Though it's not on the map, it's worth stopping at Bunker Hill Lookout. The view extends out over the trees to the horizon beyond. See what I mean by vast?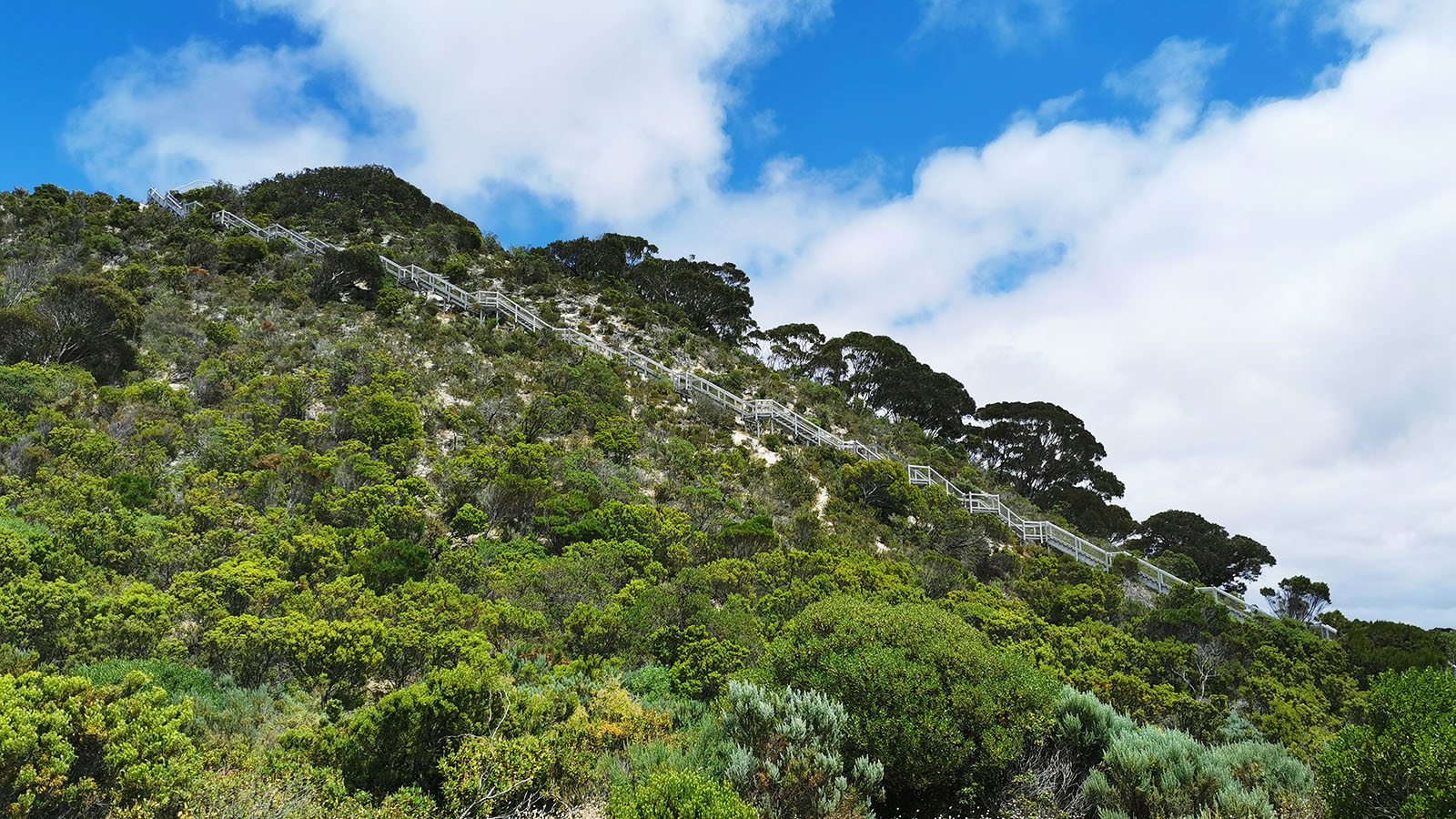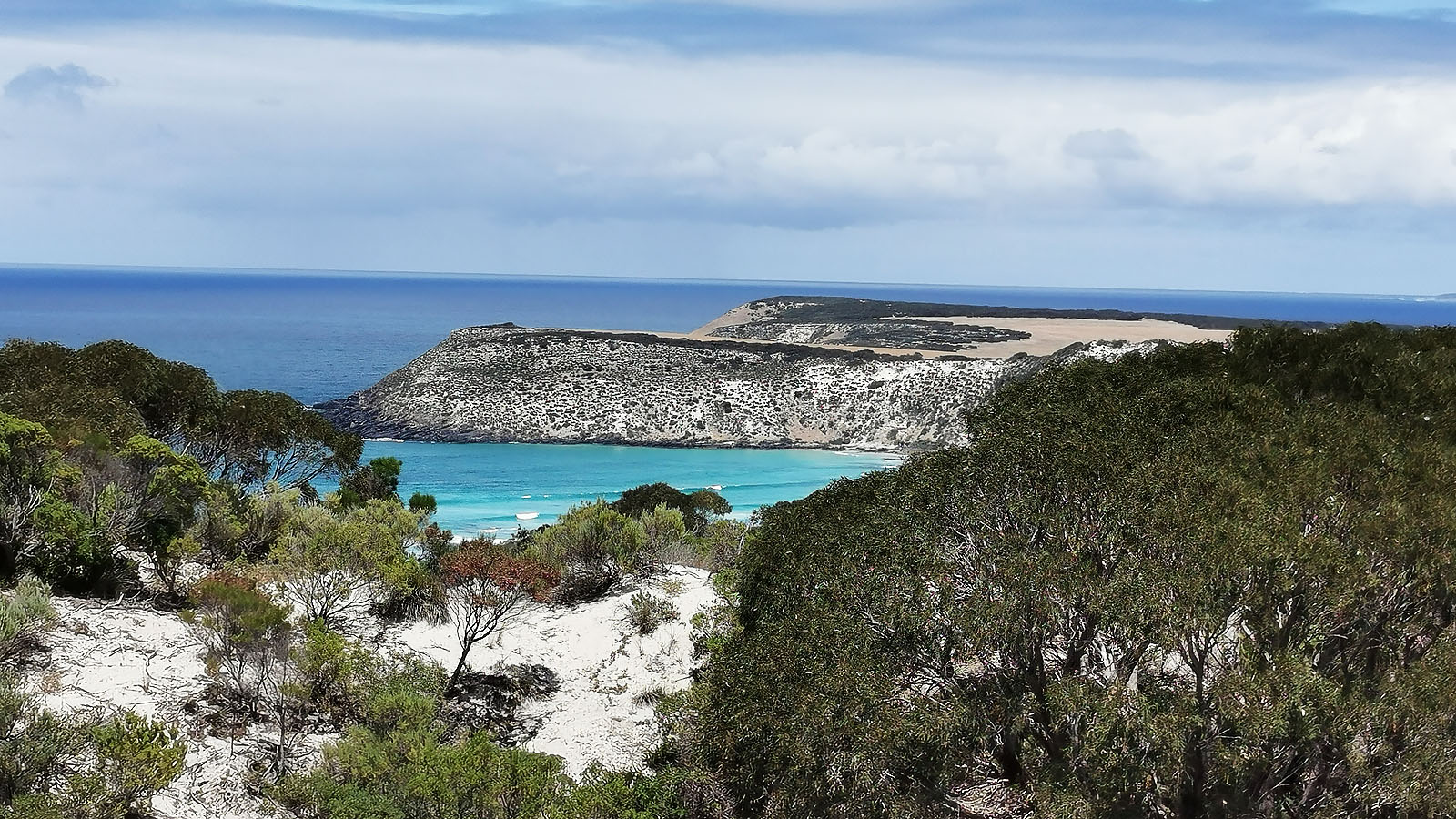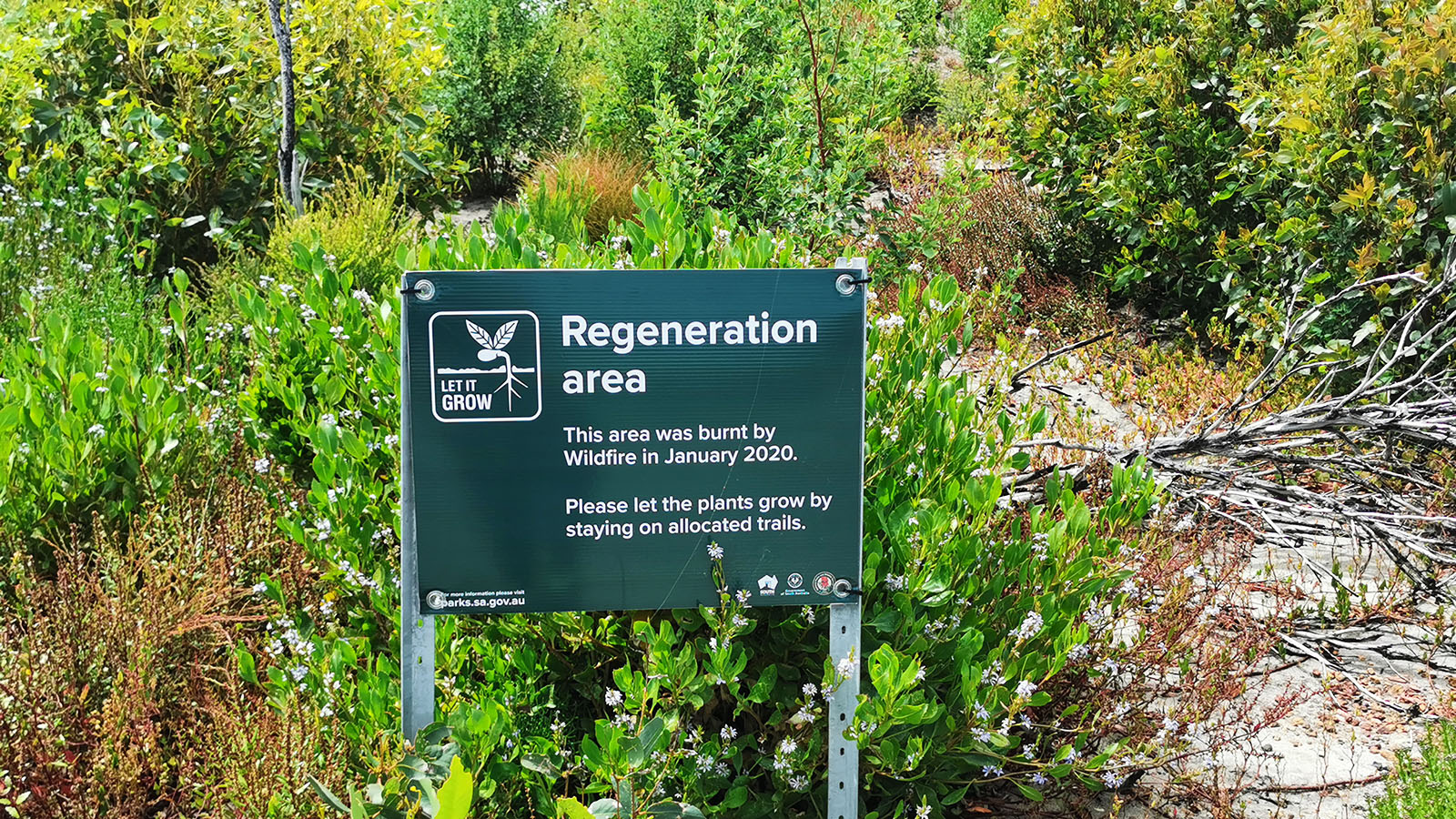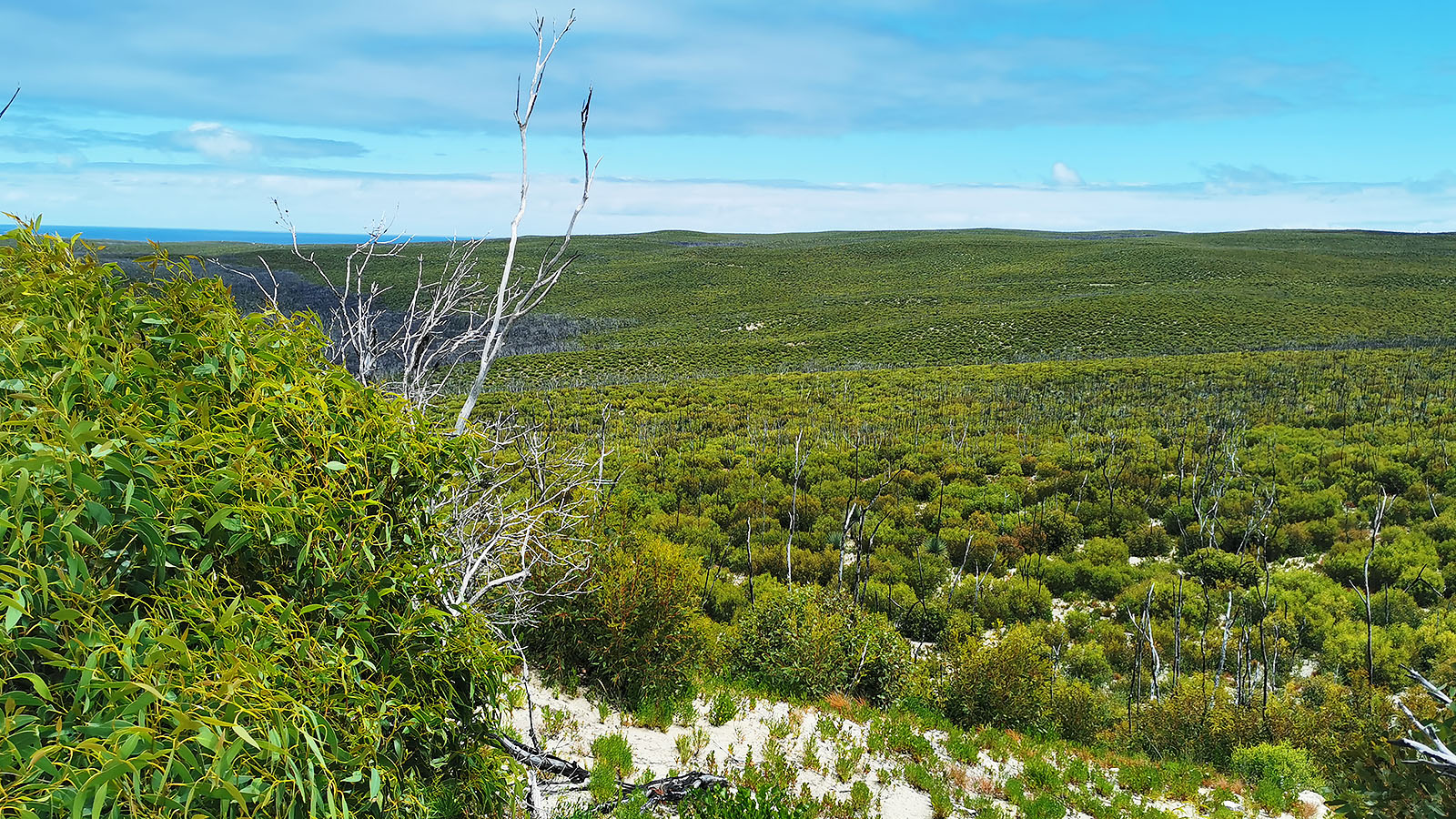 Cape De Coudic Lighthouse
Next stop is the Cape De Coudic Lighthouse. A sandstone tower topped with a striking red dome, the lighthouse was built in 1909 to guide ships to safety. In fact, there were 14 shipwrecks off the treacherous Flinders Chase coast between 1875 and 1906!
Given you can't venture inside the lighthouse, I'd suggest parking at nearby Admirals Arch instead. From here, you can gaze back at the lighthouse to your heart's content. Though energetic souls may prefer the roughly 15-minute walk between the two.
Admirals Arch
The scenery around Admirals Arch is spectacular. From the carpark, the walking trail offers views of the rocky landscape and out to the heaving ocean beyond. I even spied seals in the distance! To be honest, the arch itself was a bit dull on the inside – and it didn't smell great. But you can't go all that way and not see it.
Weirs Cove
If you're the sort of traveller who prefers the road less travelled, then Weirs Cove is for you. The rocky and semi-unsealed road means that most people bypass the lookout here – a big mistake. I had the views over the cliffs and azure ocean all to myself. Other than the sound of waves and melodic birdsong, it's peaceful and somehow quiet. Just remember to drive slowly to avoid the many little pebbles wreaking havoc with your tyres.
Remarkable Rocks
Remarkable Rocks are as described – utterly breathtaking. I'm awed and amazed by the staggering, abstract forms. I walk around and between and beneath them, soaking up their many shapes and shades. Nature sure is wonderful.
Just remember to be ultra-careful when exploring here. There are numerous signs emphasising the danger of this site – after all, it's right on the cliff's edge. My advice? Wear sturdy shoes, tread carefully, and avoid the site altogether if it's slippery or wet. But when it's safe to explore, the otherworldly beauty is second to none.
Seal Bay
And… missed it by a good two hours! Turns out, the last entry is at 4 pm. Though in all honesty, I've seen so many seals over the past few hours, I'm kind of sealed-out. I shift my attention to sourcing a much-needed evening coffee. BP servo, I salute you.
Later, I return to the Penneshaw Hotel for a tasty seafood dinner.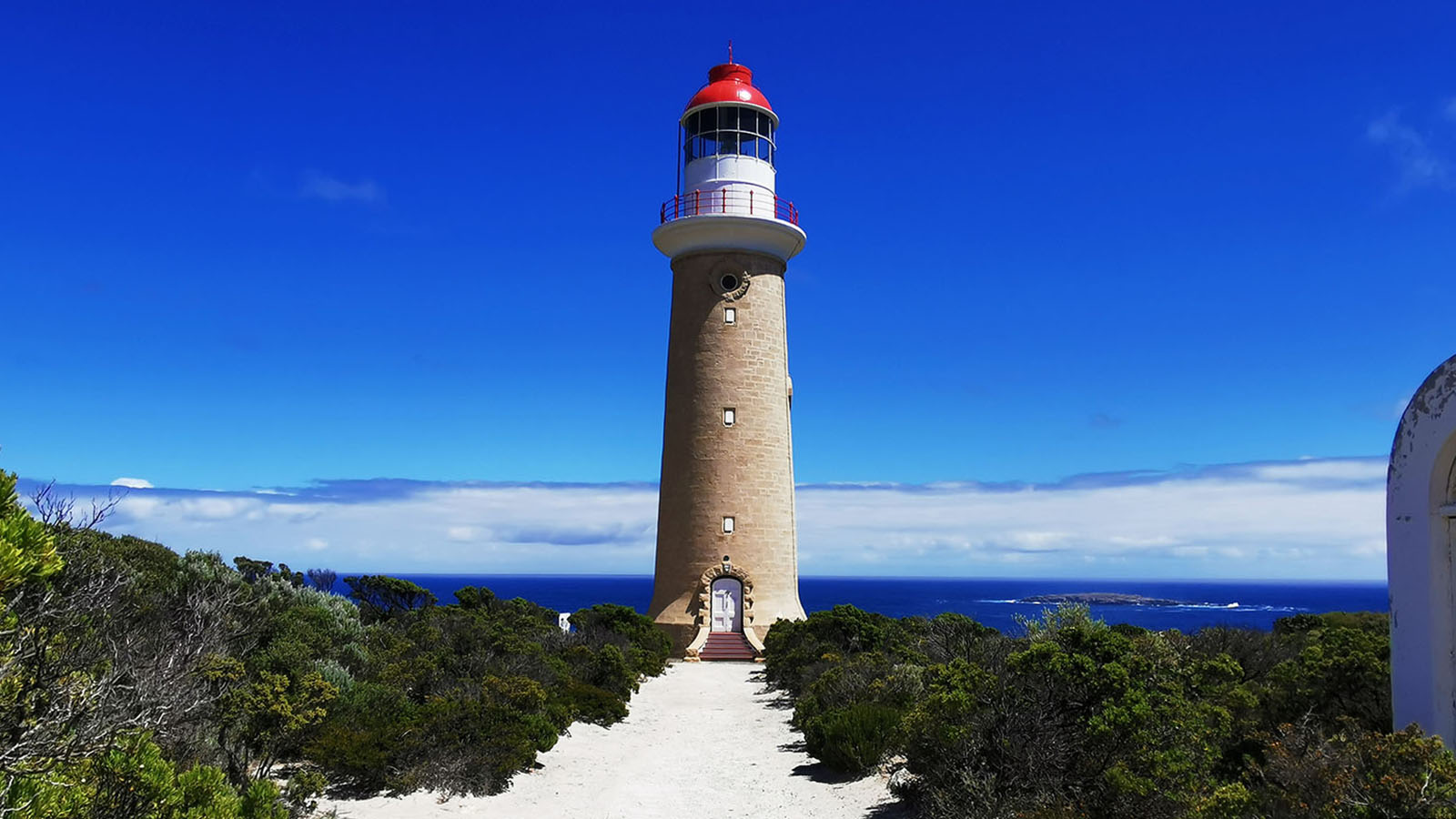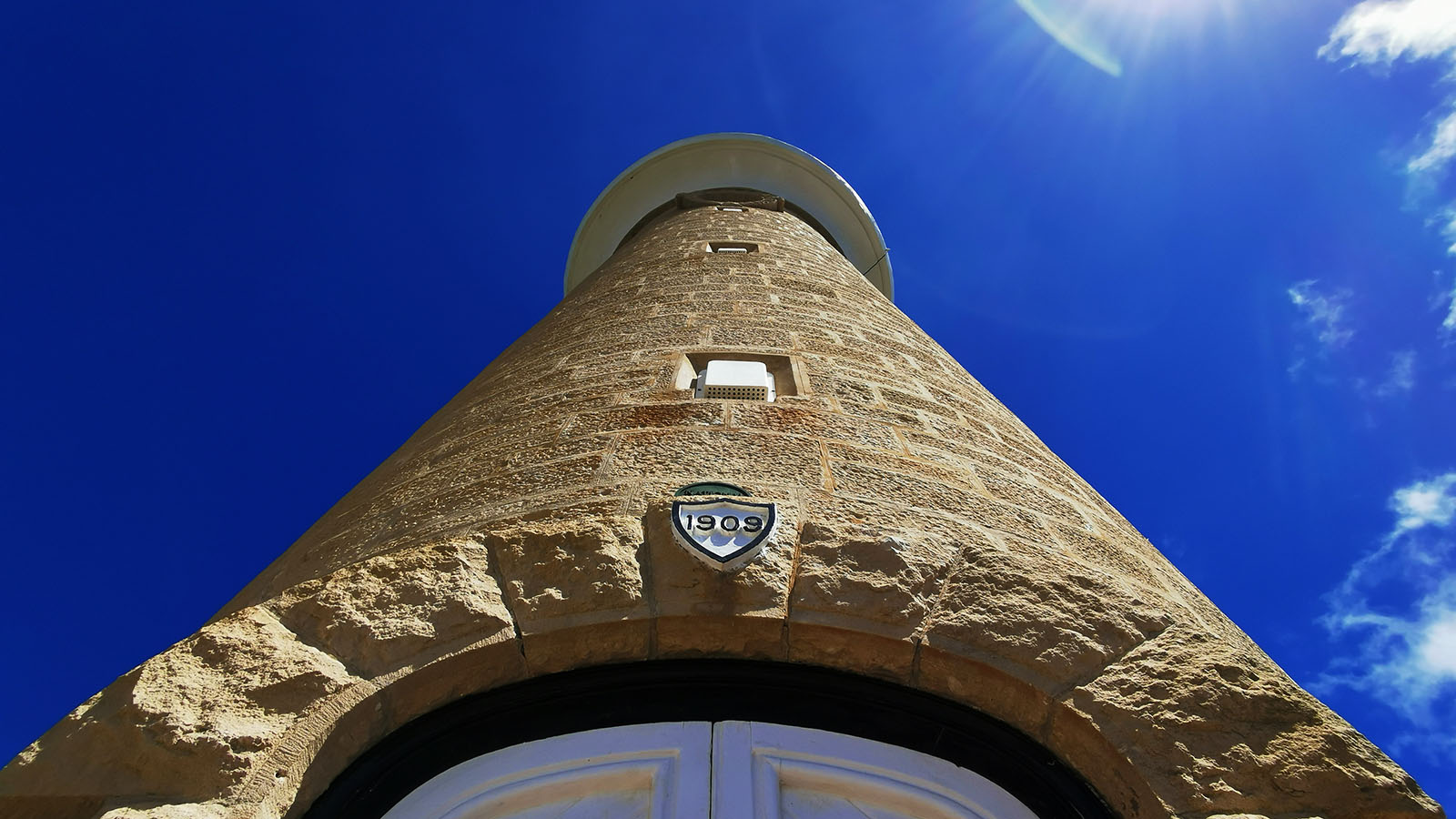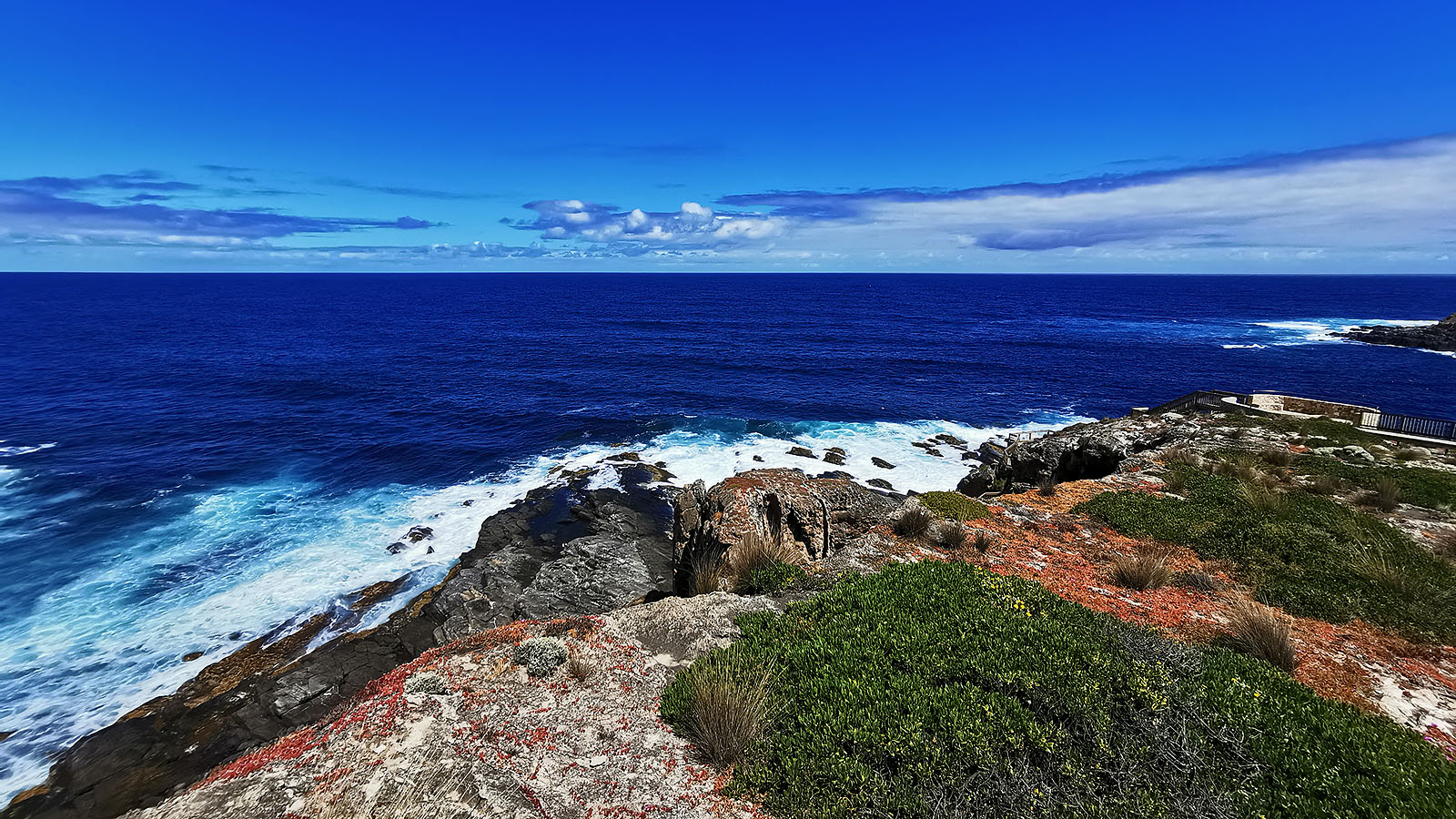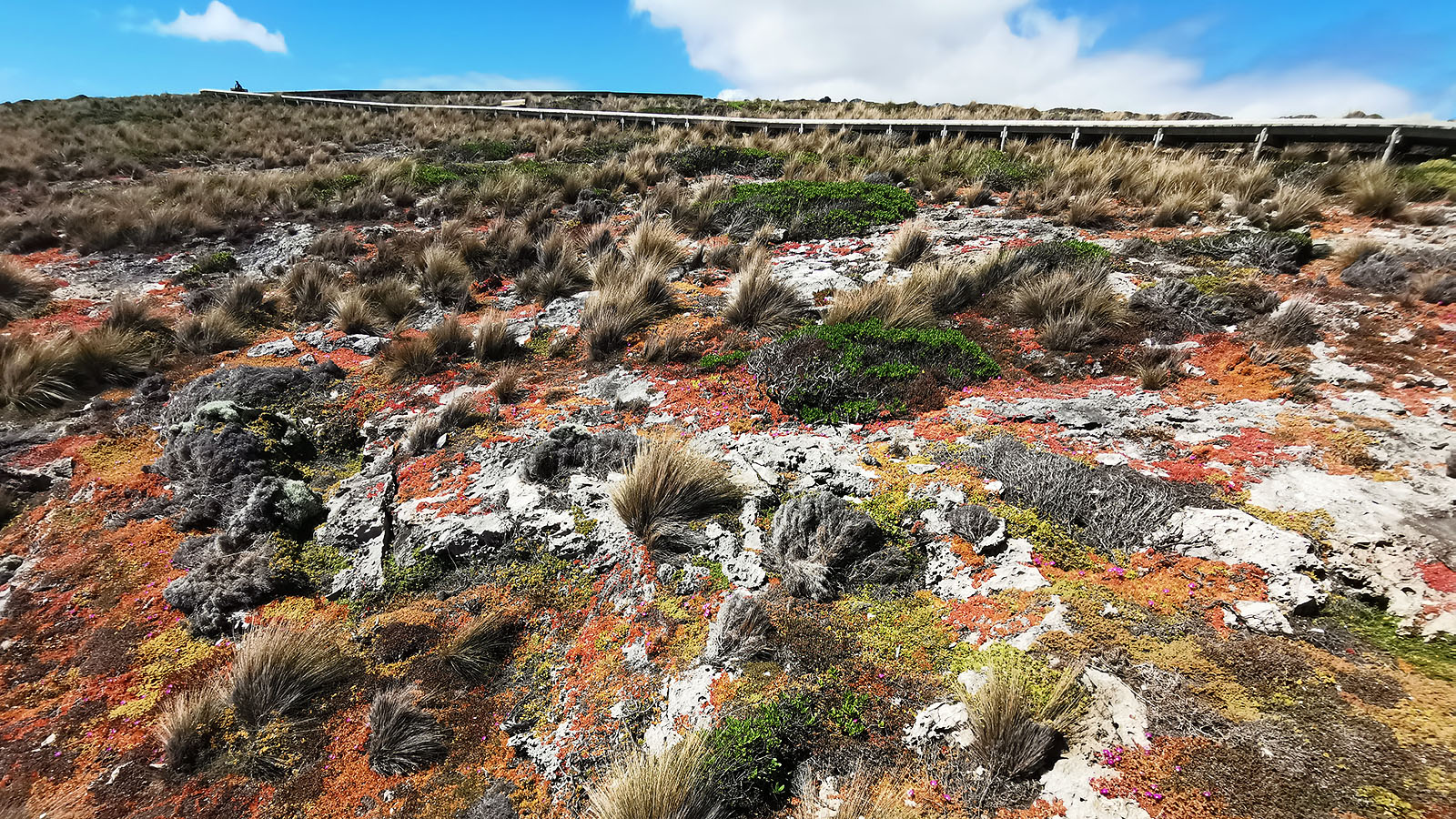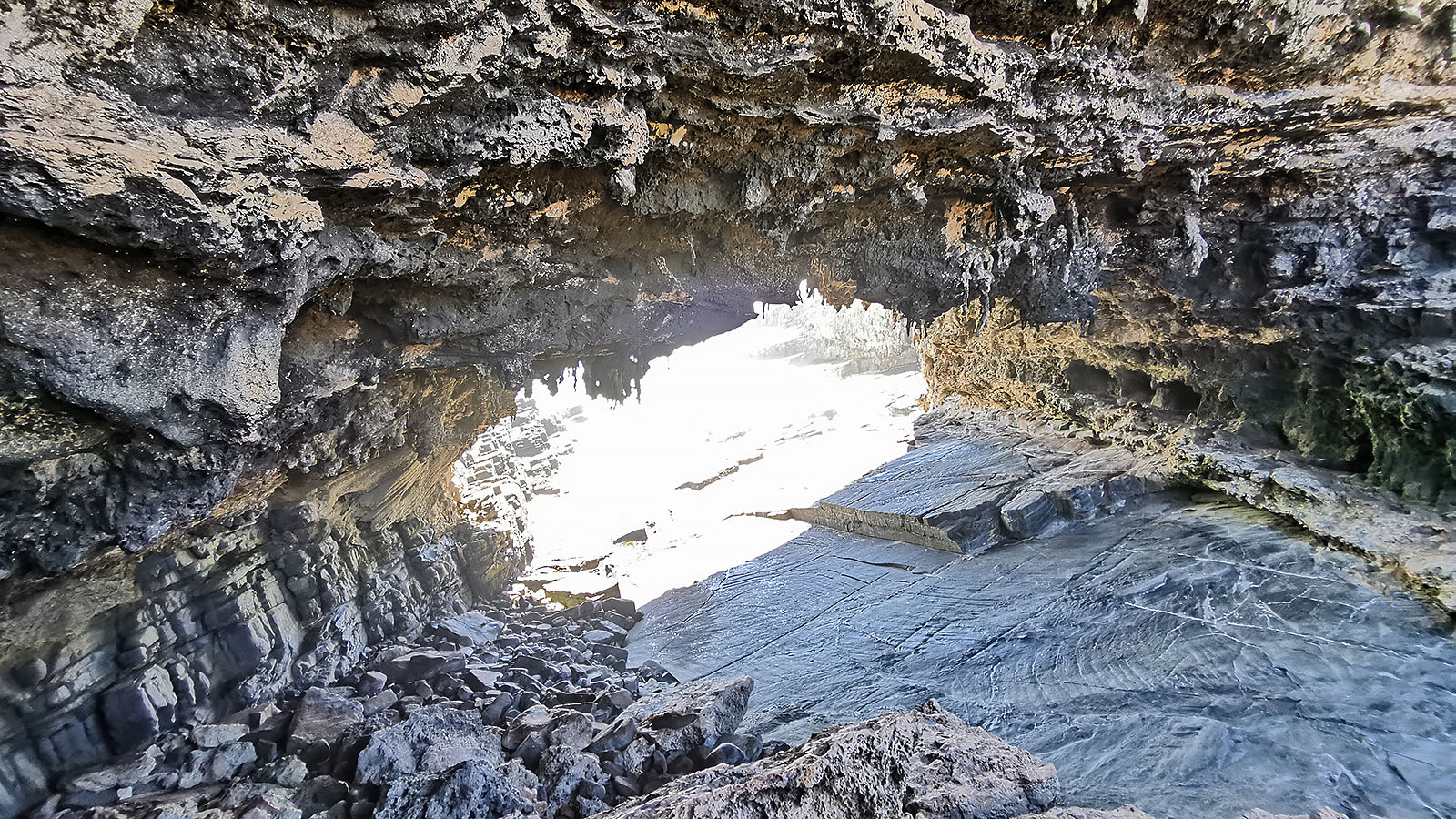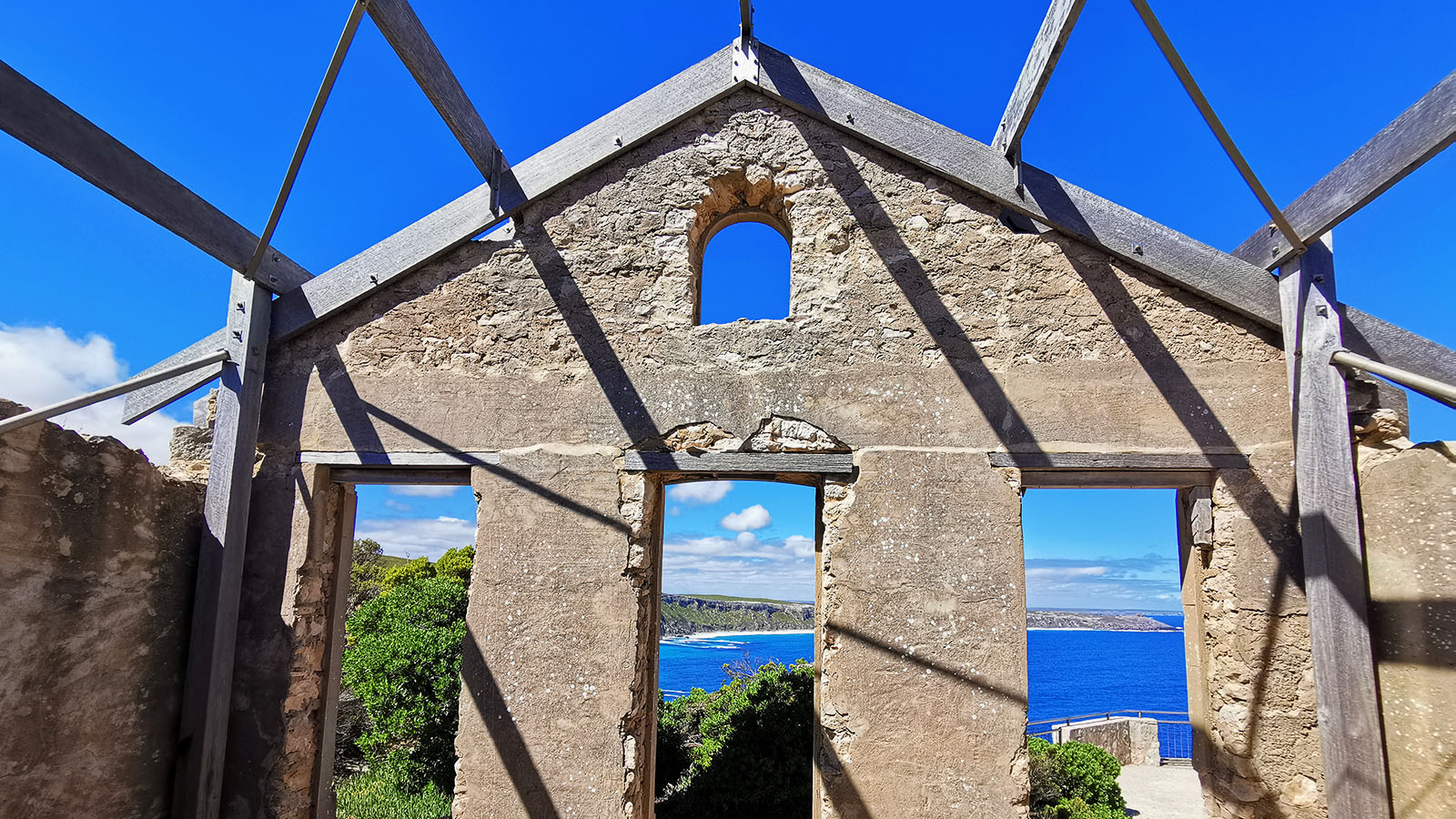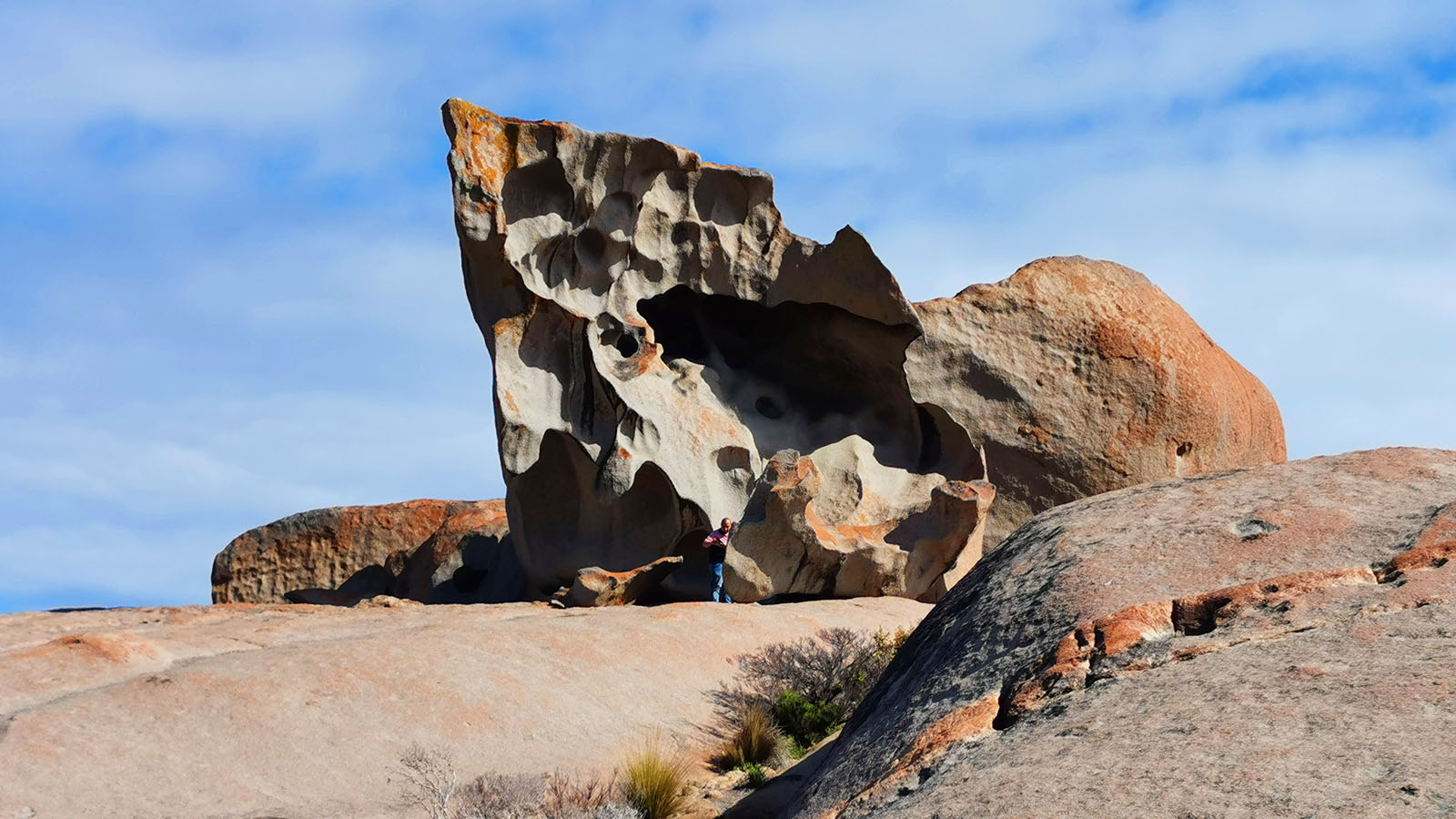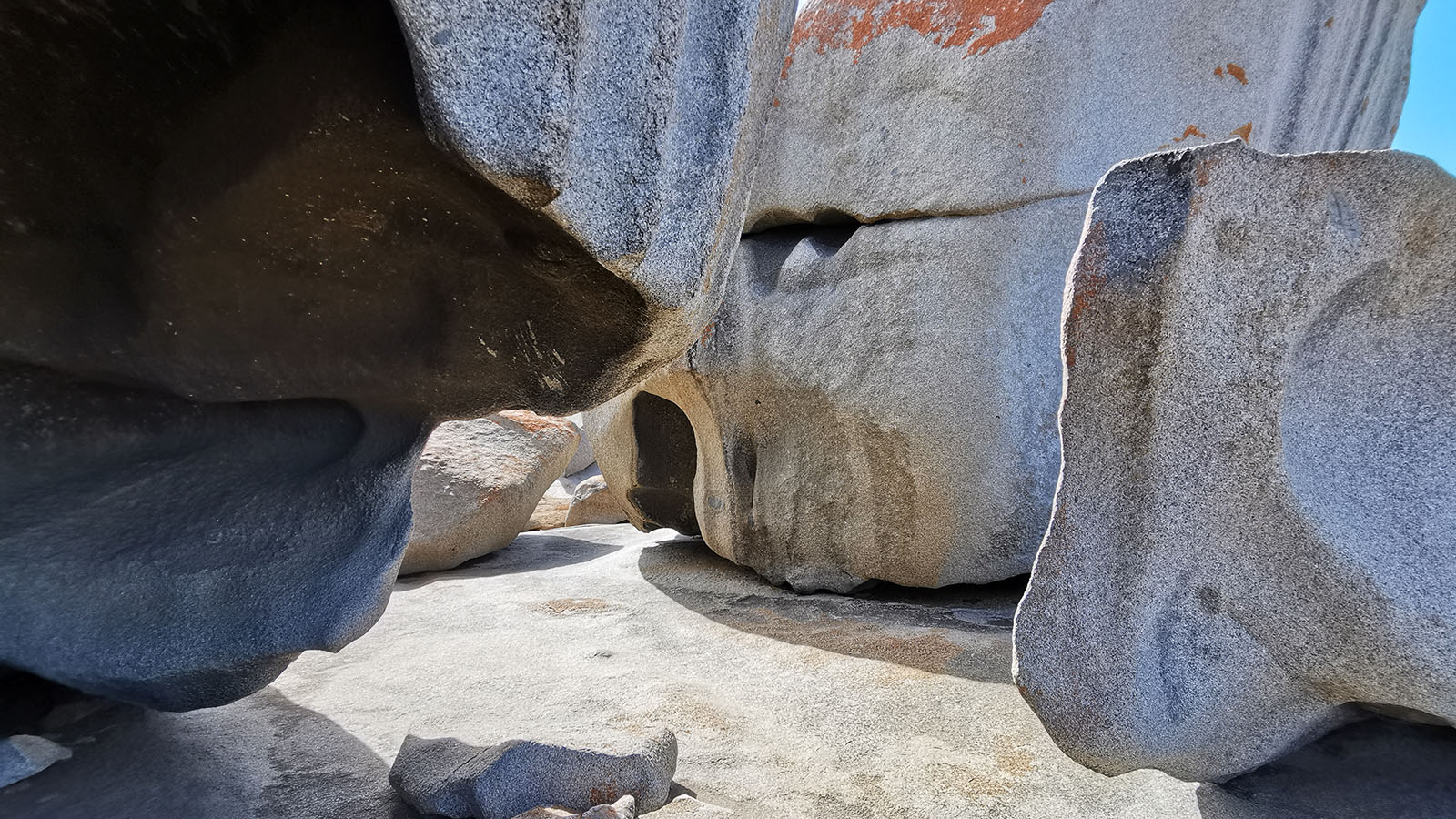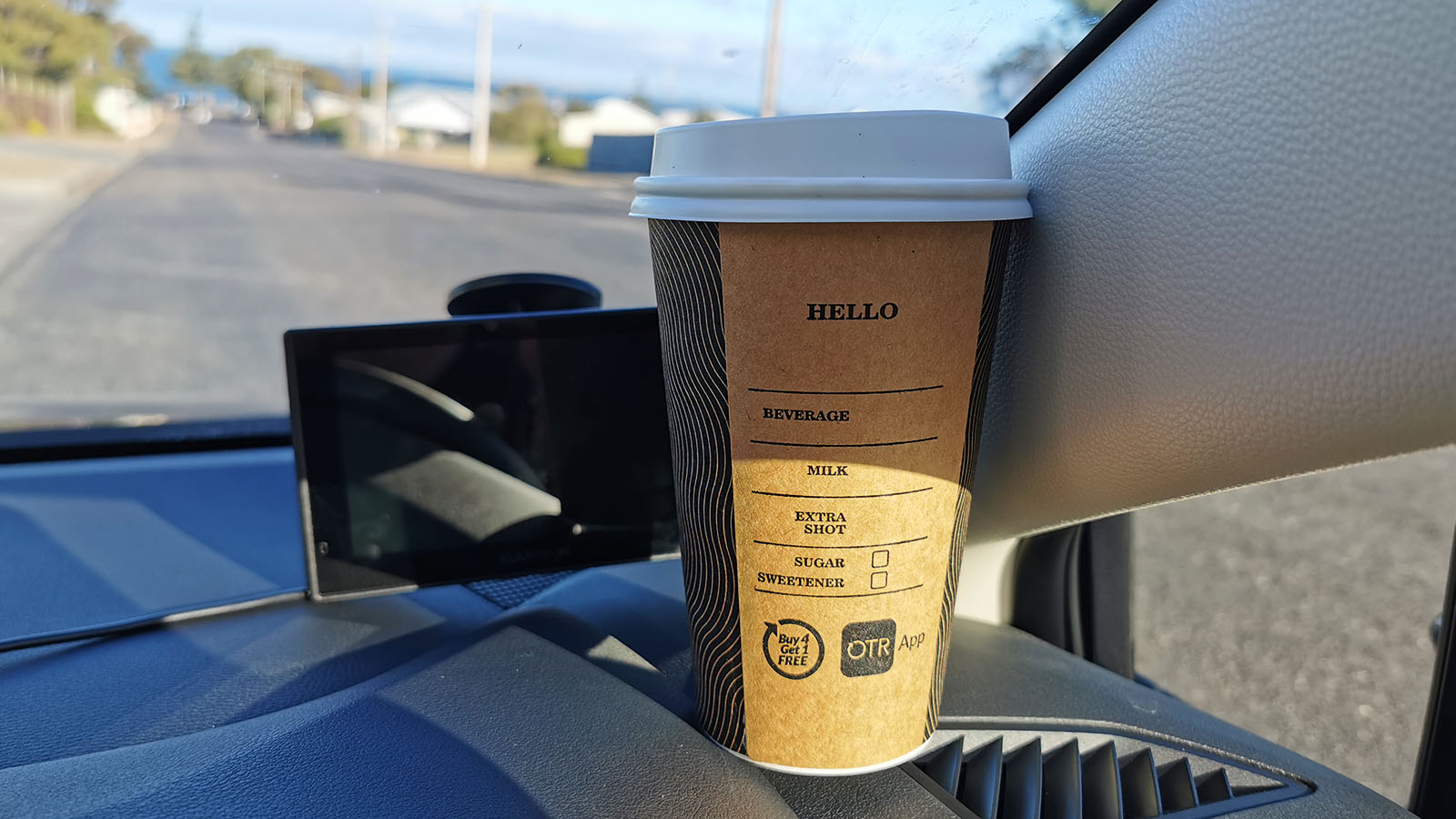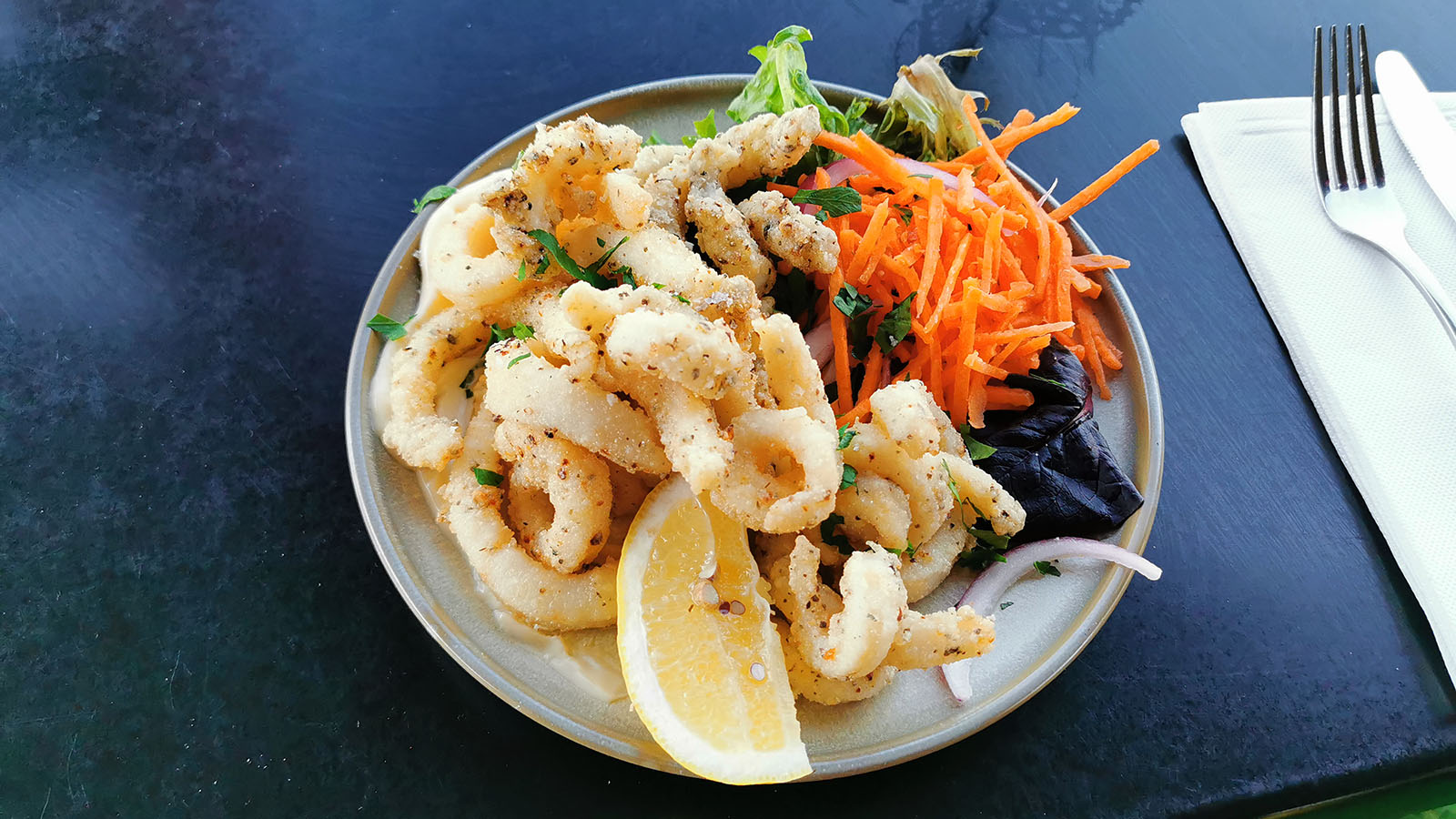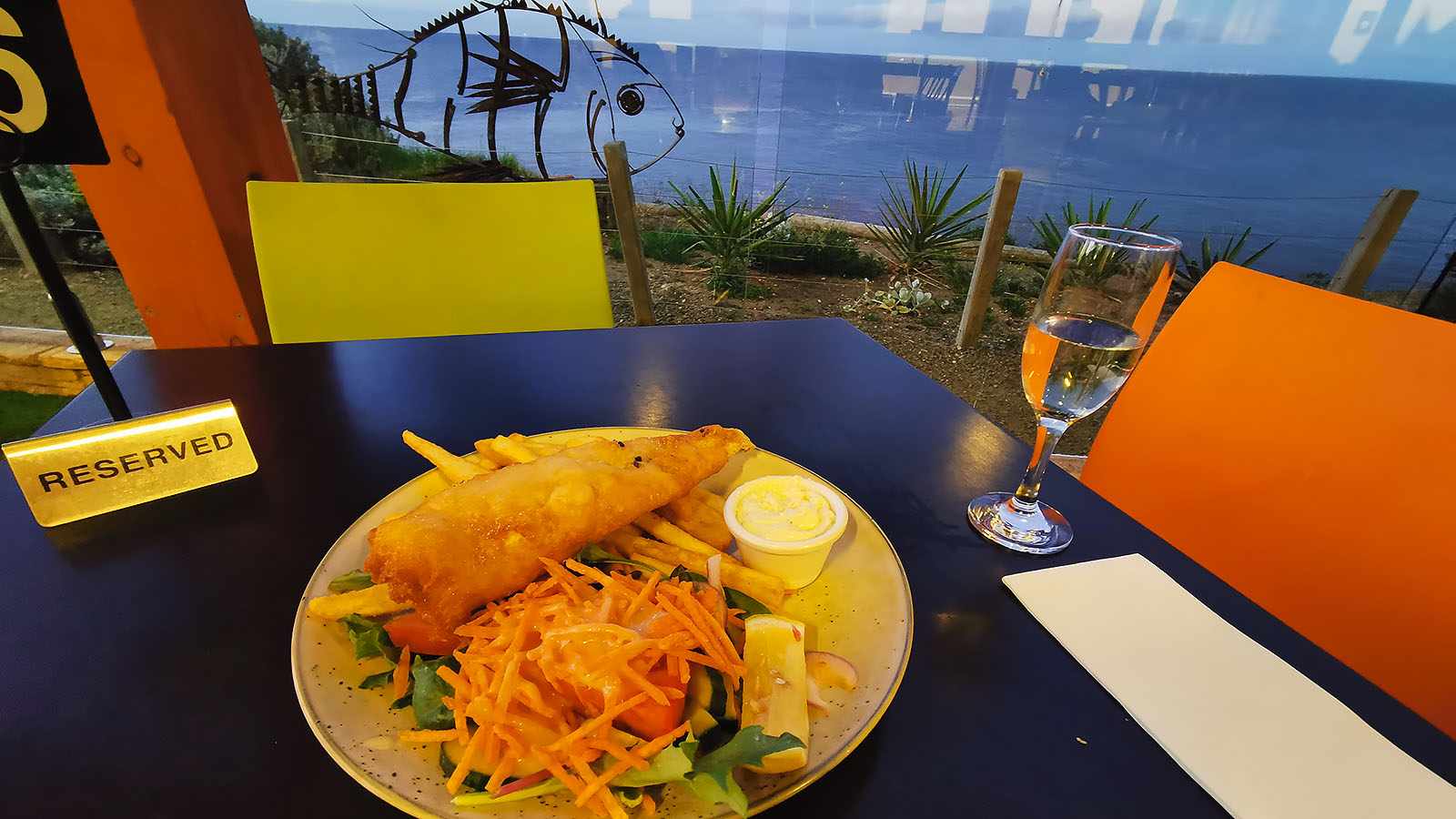 Exploring Penneshaw
After savouring another waterfront hotel breakfast the next morning, I'm checking out of the Kangaroo Island Seafront when I hear an enticing sound – band music carried on the wind. I follow my ears and discover the vibrant Penneshaw Markets. Packed with artists, artisans and local wares, it's bordered by some charming cafes. I'm itching to explore, but sadly there isn't time. Yet another reason to return to Kangaroo Island.
Emu Bay
Given I'm flying home this afternoon, I have just 15 minutes to soak up the beautiful Emu Bay.
Talk about a textbook Australian beach. Powder-white sand, glistening turquoise water, the sound of joyous kids' laughter coming from the nearby park… It's so inviting I have to physically tear myself away. Next time, I'll linger over a barbeque or lazy afternoon swim.
Kangaroo Island Spirits
Fond of gin? Then you'll want to save time for a tasting at the renowned Kangaroo Island Spirits. I take a seat at a rustic wood table in the garden – foolishly, right in the sun. A waitress delivers my gin flight. It's fascinating to taste the different flavours and botanicals in each. I relocate to the shade, but it's too late – my final gins are languishing in a puddle of ice.
I console myself with a tasty bacon and cheese flatbread from About Thyme, and a bottle of mulberry gin to take home.
Speaking of home, it's time to get a move on. I dash to fill up my hire car and return it to the airport before catching my flight to Brisbane via Adelaide.
Kangaroo Island, it's been a pleasure.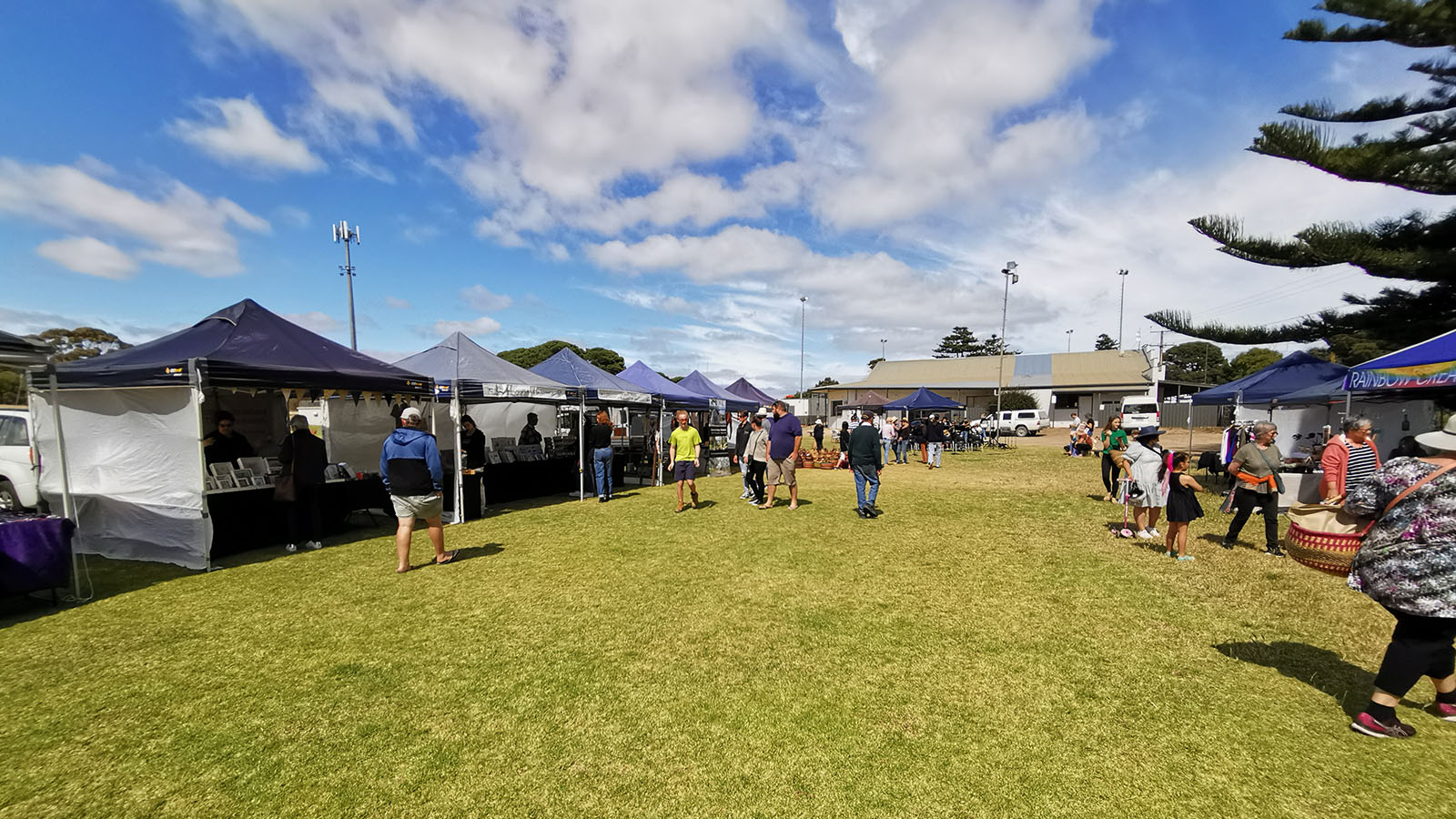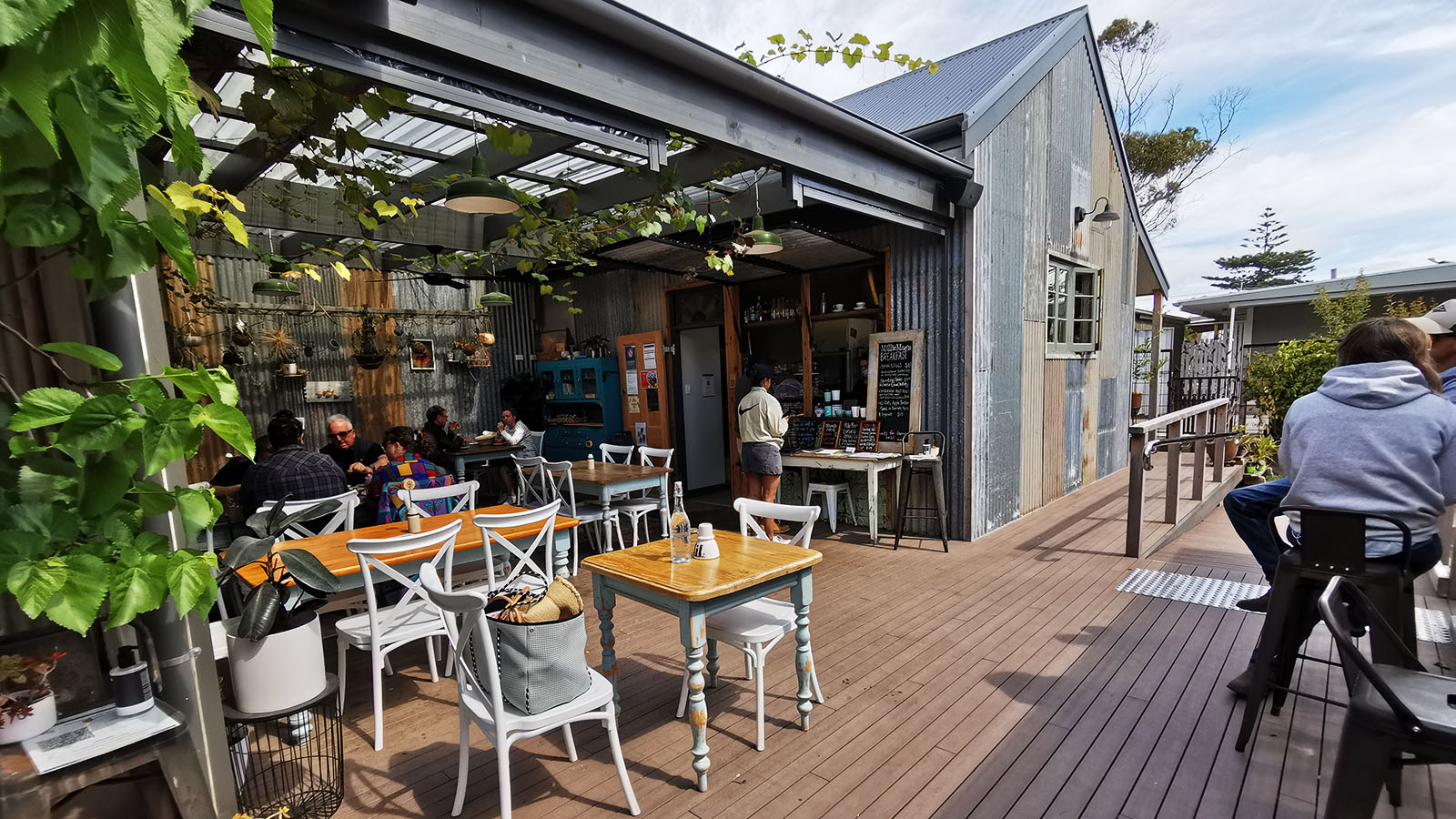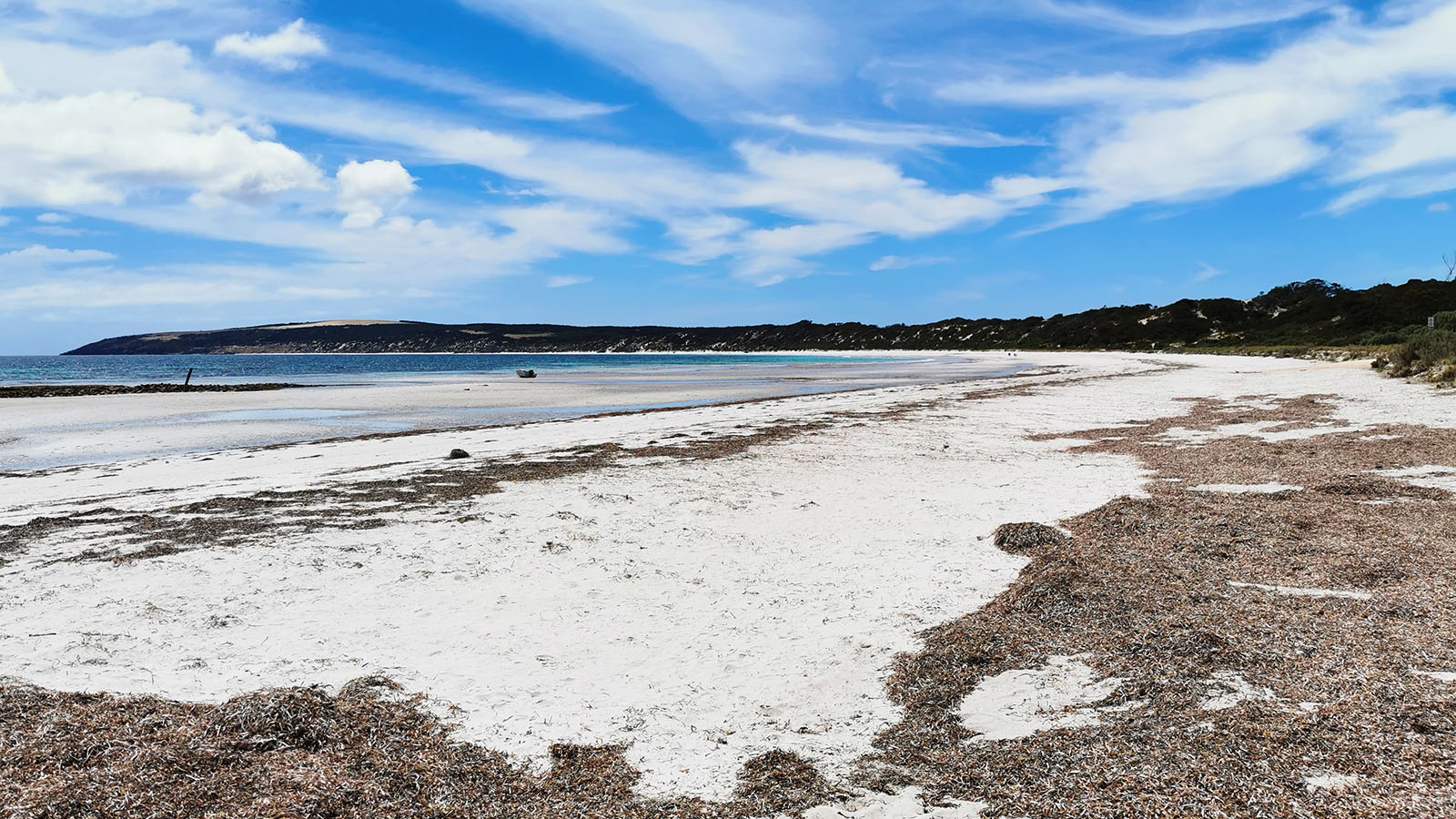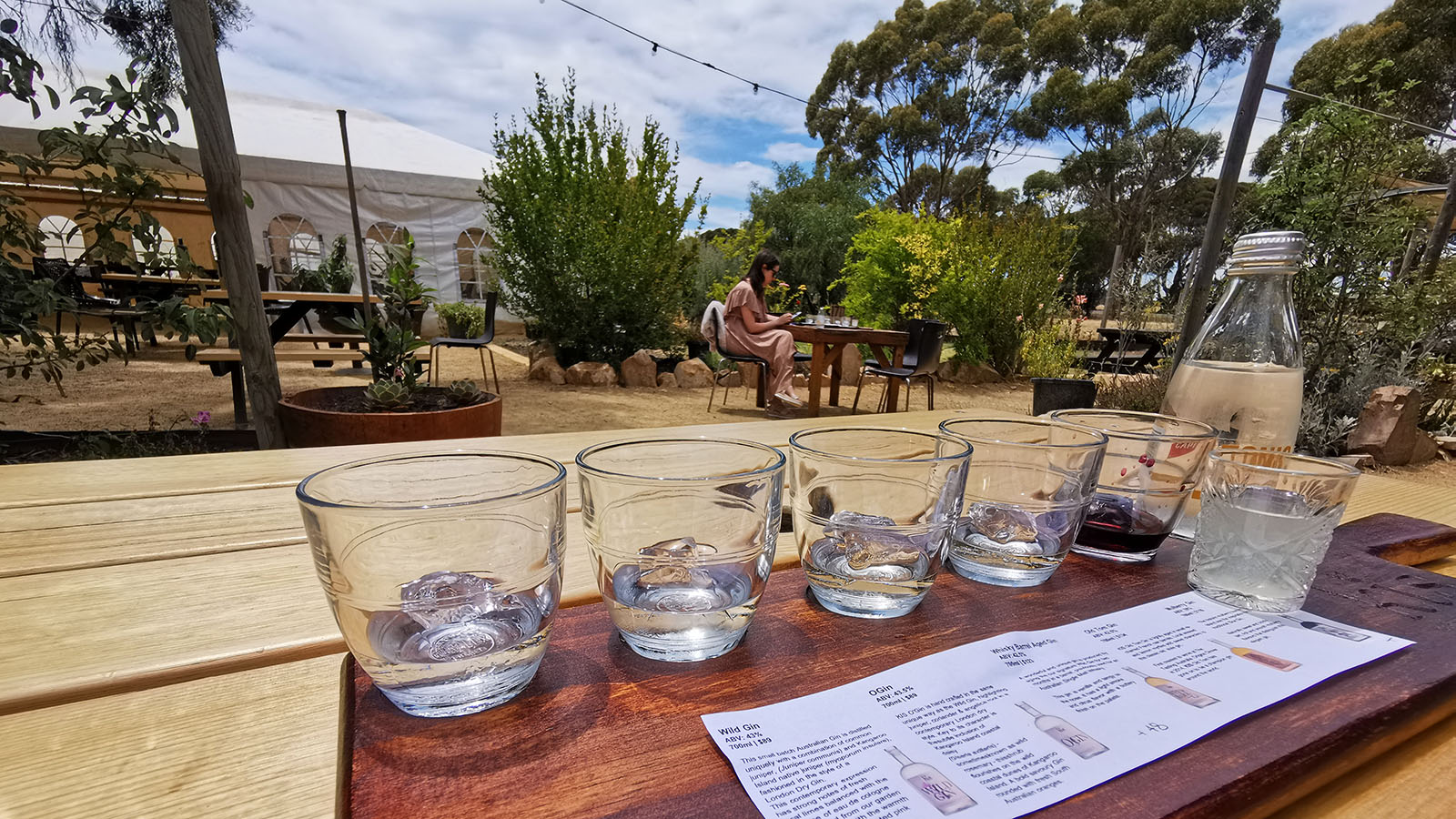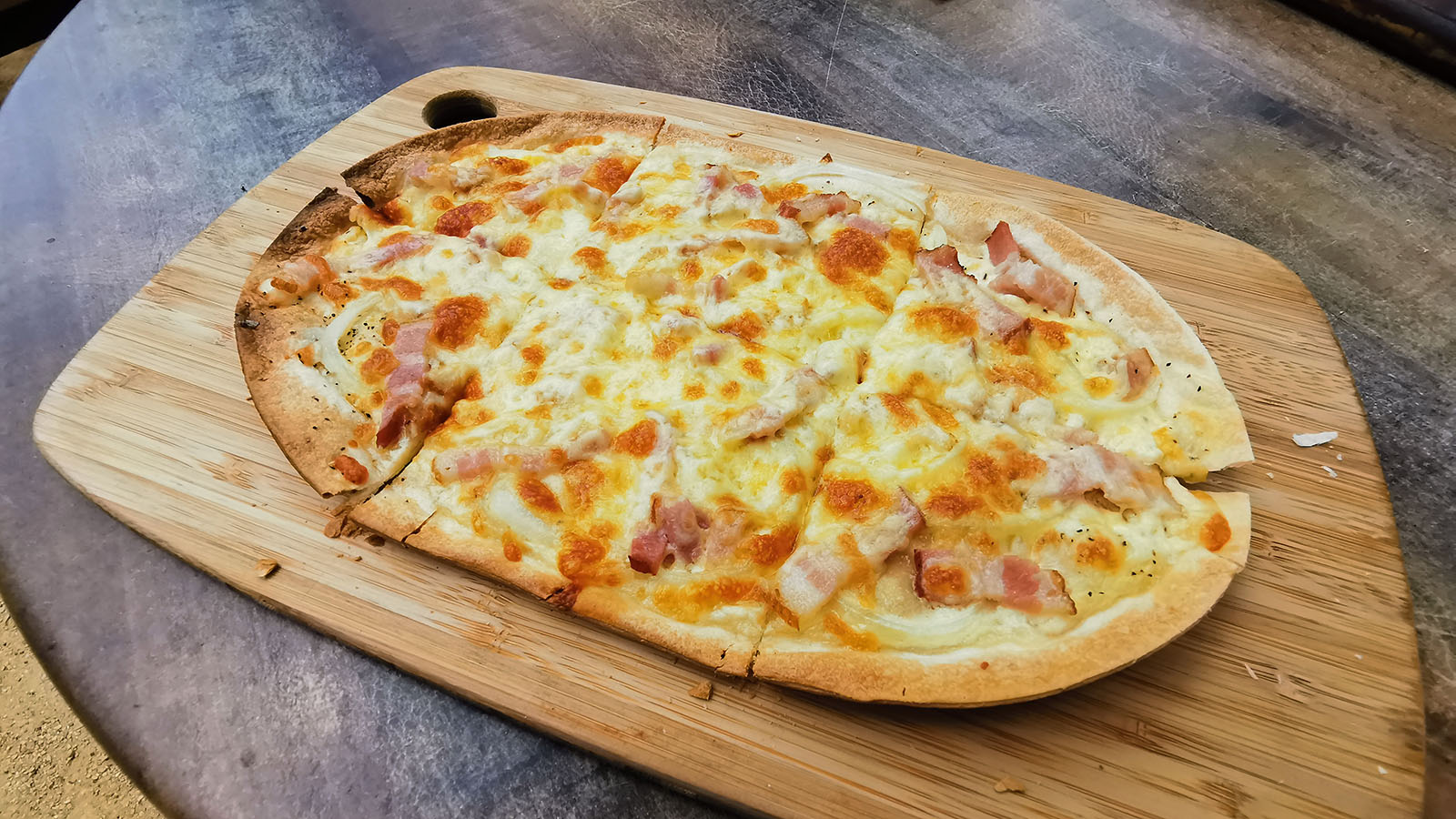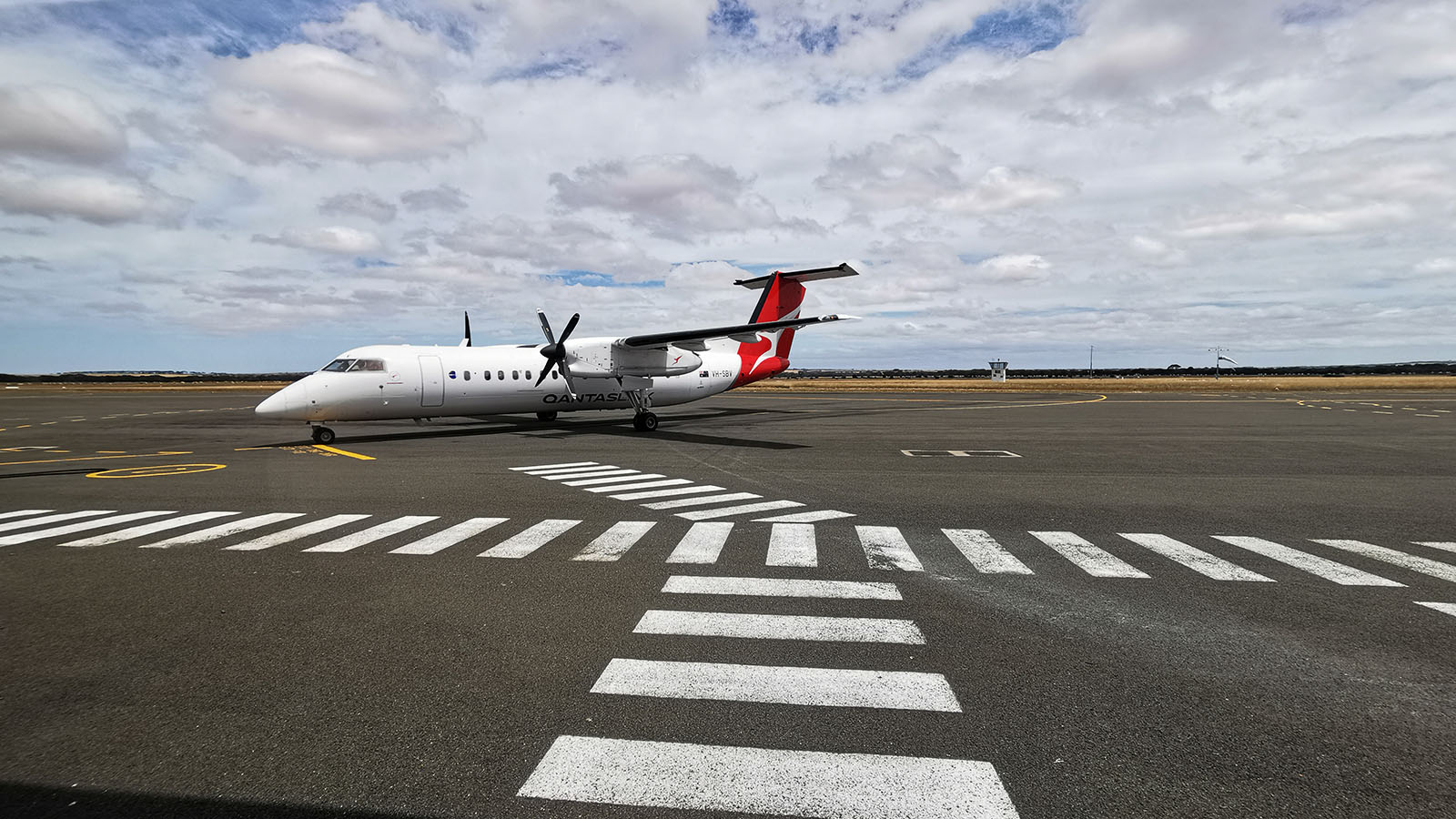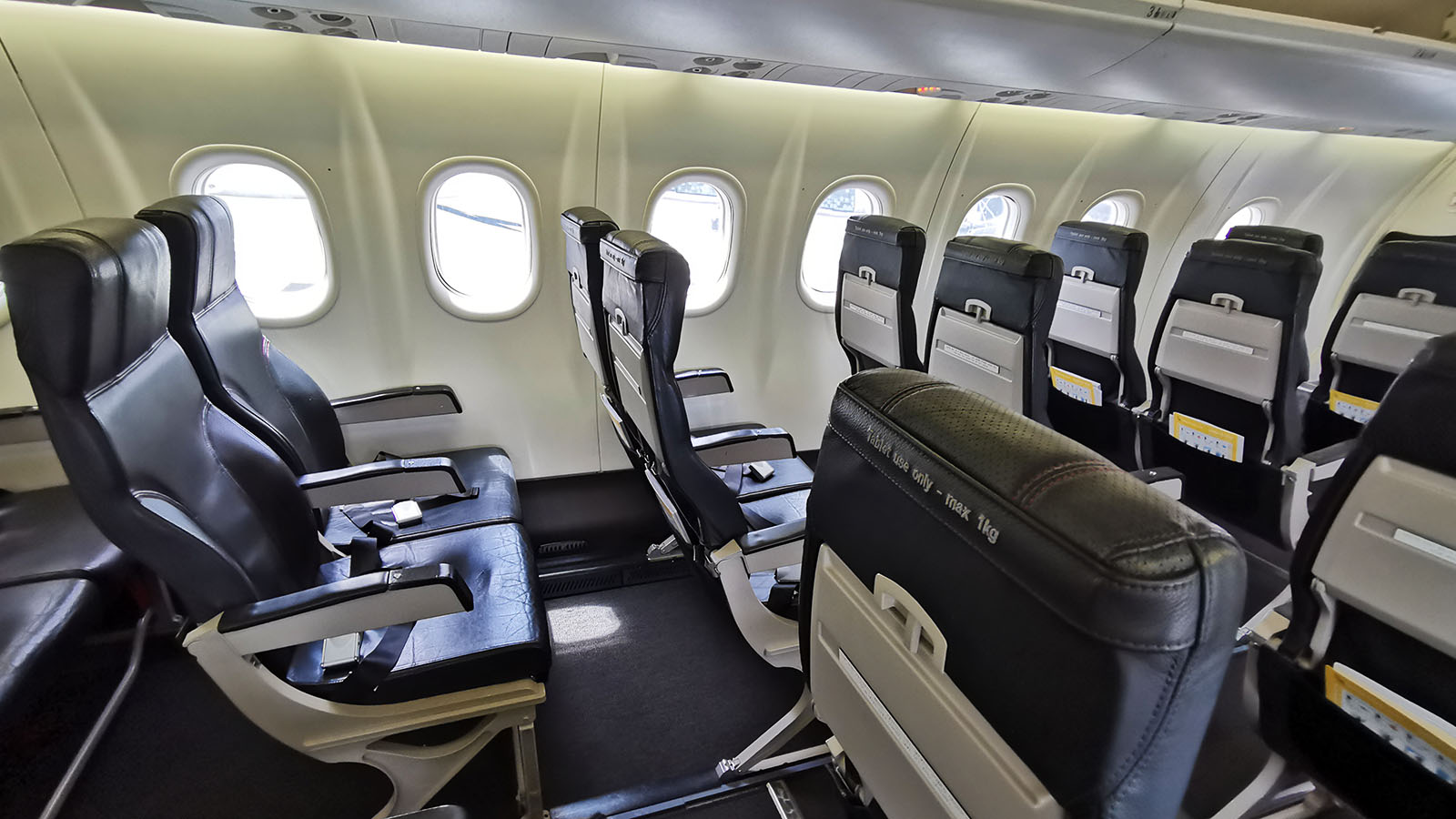 Points, glorious points
You know the real beauty of a trip to Kangaroo Island, though? The bonus flight. But only if you book with points.
Let's take a look.
The flight
A Qantas reward ticket from Brisbane, Sydney and Canberra to Kangaroo Island via Adelaide costs 12,000 Qantas Points, plus $76 in fees and taxes. With a cash fare at the time of booking of $338, this netted us a value of 2.18 cents. We regard this as great value – especially in Economy.
And it's only 8,000 Qantas Points to fly from Melbourne to Adelaide, with a same-day connection on to Kangaroo Island costing no extra points. A bonus flight to Kangaroo Island – what's not to love?
On my flight home from Kangaroo Island to Brisbane via Adelaide, I booked a Qantas Business reward for 27,600 Qantas Points (with Economy on the short KI-Adelaide hop, which does not offer Business). With cash fares on the same itinerary selling from $1,289, I scored a cracking redemption value of 4.39 cents per point. Again, the flight from Kangaroo Island to Adelaide cost no extra points – meaning I nabbed it points-free.
Car hire
Of course, the points fun needn't stop with the flight. There's still a car to hire! This is a necessity on Kangaroo Island, given there are no taxis or Uber – and next-to-no public transport. And with sights located far apart, you'll be driving an awful lot. I clock up 510 km in under 48 hours.
Budget and Hertz both offer car hire at Kingscote Airport. But given the Budget counter closed just 15 minutes after my scheduled arrival, I went with Hertz.
Plus, as an Amex Platinum cardholder, I get discounted rates with Hertz. I score 15% off, bringing my tally to $258.85 for the weekend for standard car hire (Toyota Corolla or similar). That's a flexible rate, paid at the counter on arrival. So there's no loss if you need to change dates.
And if you're not already a member, it's worth signing up for free to Hertz Gold Plus Rewards to earn Velocity Points on your car hire. Just pop your Velocity number into your Hertz account and reservation when prompted. You'll earn four Velocity Points per $1 spent, or even more with Velocity status. Velocity Gold and Platinum members can also opt-in to elite status with Hertz Gold Plus Rewards, which provides benefits like car upgrades. And this is the opportunity to use them.
The hotel
My first piece of advice? Accommodation on Kangaroo Island is limited and very popular, so don't leave your hotel booking to the last minute!
I booked the Kangaroo Island Seafront through American Express Travel. The promotional rate of $480 for two nights included breakfast – roughly the same price as a booking without brekky made elsewhere.
Holding an Amex credit card like the Qantas Ultimate, Explorer, Platinum Edge or the Platinum Card? Then Amex Travel is also a way for you to spend your Amex Travel Credit. With the $450 credit from the Amex Qantas Ultimate card, for instance, you could have paid less than $30 for the weekend's accommodation.
Qantas Hotels is another great place to search for hotels. You can earn at least three Qantas Points per $1 spent. But it's not always the cheapest (a booking for the same dates was over $20 dearer than American Express Travel), so be sure to compare the rate against booking sites.
And that's it! Enjoy this nature-filled paradise – it truly is glorious.
Additional reporting by Antonia Strakosch.
Itching to earn oodles of bonus points to experience this amazing redemption? Check out our credit card offers below, which will easily cover 2-plus return flights with points to spare. And of course, sign up for free to our value-packed newsletter to stay up to date with our latest offers and experiences.
Featured deals
48 hours on Kangaroo Island – plus how to score a bonus flight from Adelaide
was last modified:
July 24th, 2023
by