Off the Australian mainland, scenic Kangaroo Island should be on every traveller's bucket list. When you're ready to hop across, QantasLink is standing by to fly you there. Its all-Economy Bombardier Dash 8 Q300 services zip across from Adelaide Airport in under 30 minutes.
It's one of the quickest domestic flights in Australia, so here's what to expect.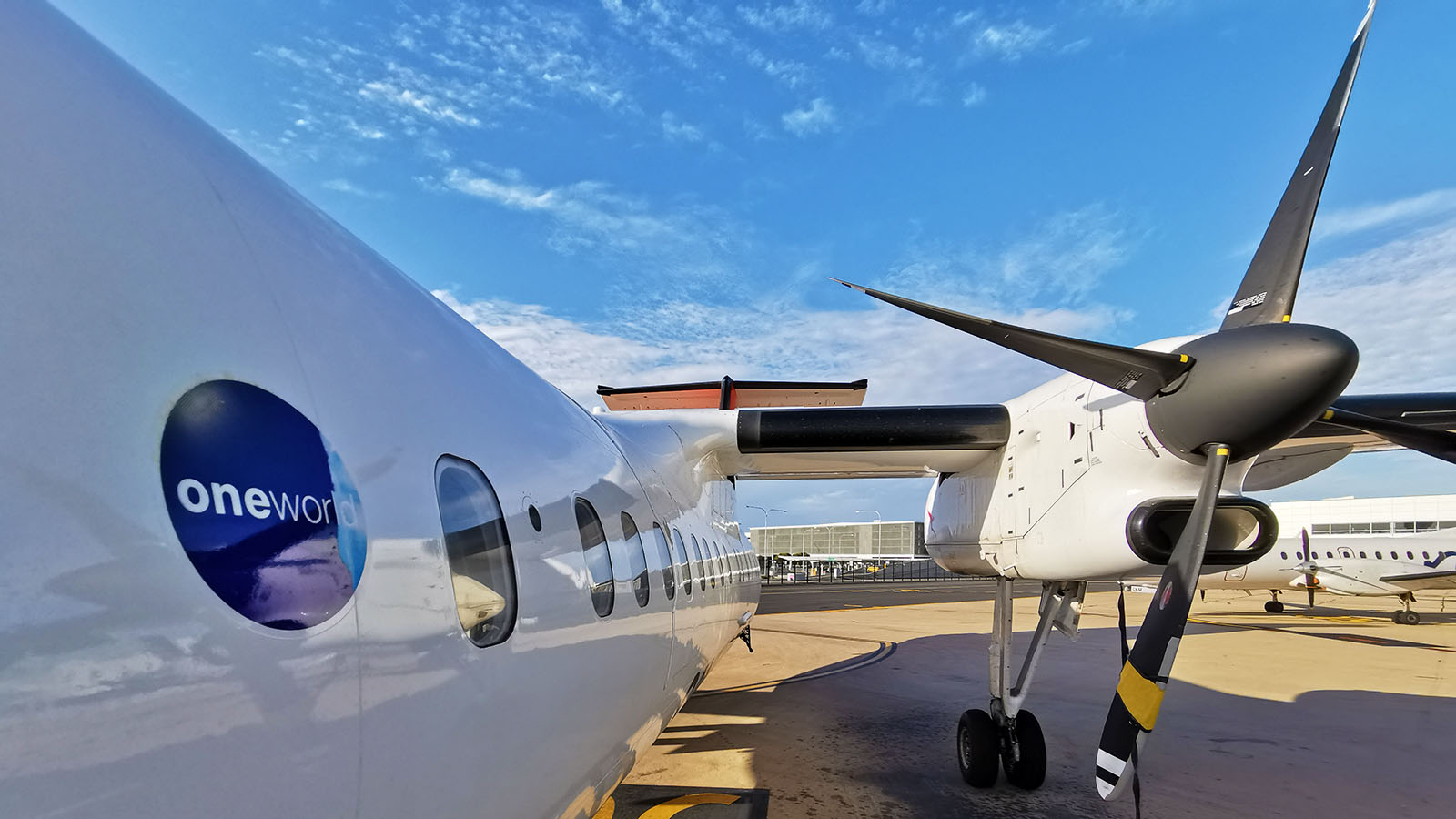 Check-in, lounge and boarding
Connecting from Brisbane onward to Kangaroo Island, I already had my boarding pass in-hand. But if you're checking in at Adelaide Airport, staff at the Qantas counters can help you out.
After security, there's a Qantas Club lounge for eligible flyers here in Adelaide. Access isn't included with standard QantasLink Economy fares, as you'd expect. If you hold Qantas Gold status or higher though, or are a Qantas Club member, this stop is for you!
With many hours of travel under my belt that day – and another flight to go – the coffee counter was a great first stop. My skim latte arrived promptly, and gave the energy boost I was looking for. On this Friday afternoon, the lounge itself was bustling, but not excessively busy.
For a snack, staff serve these individually plated by request. You'll see your choices on display – and I must say, the butter chicken made for a nice early dinner. Before long, it's time to board.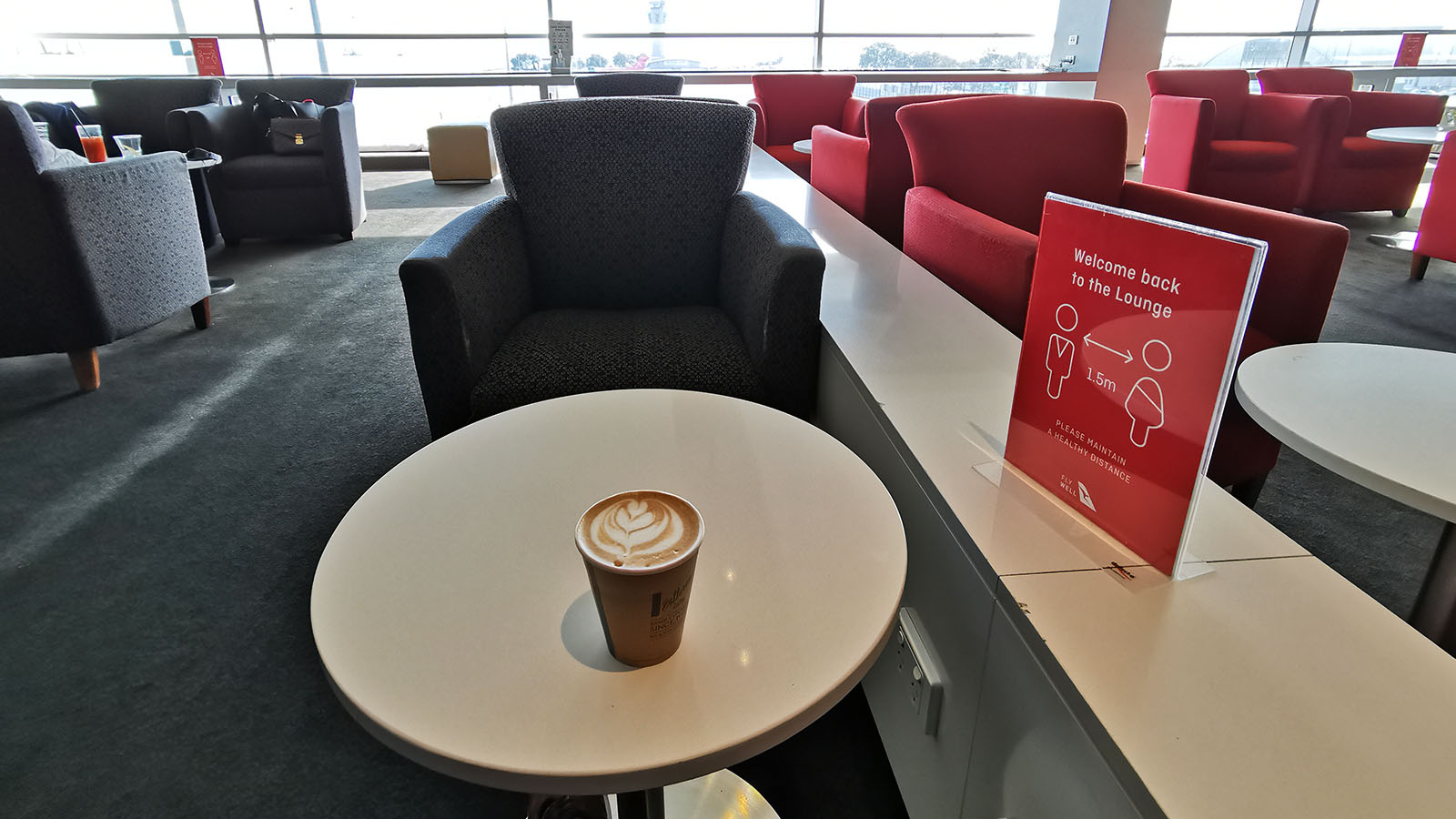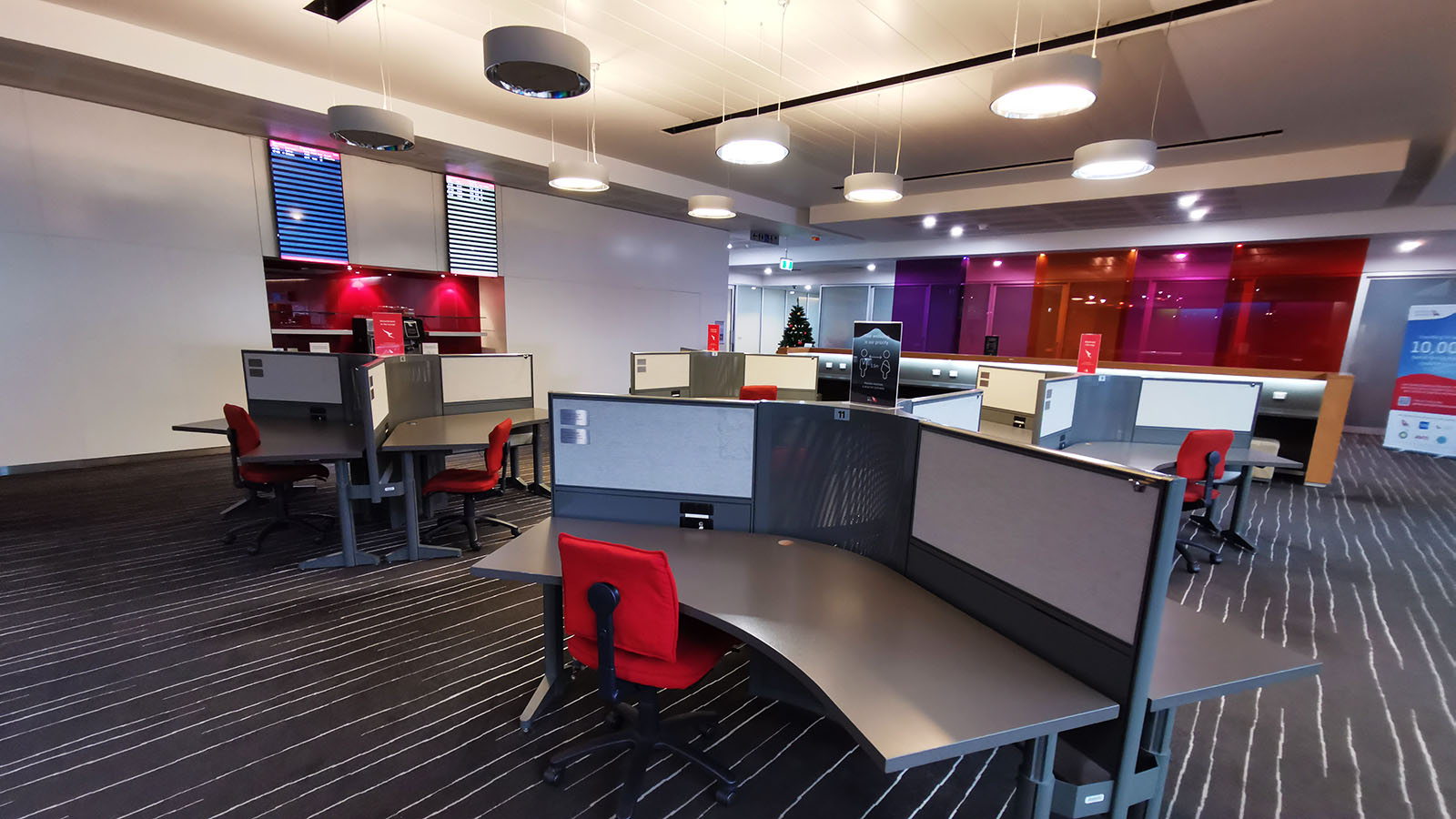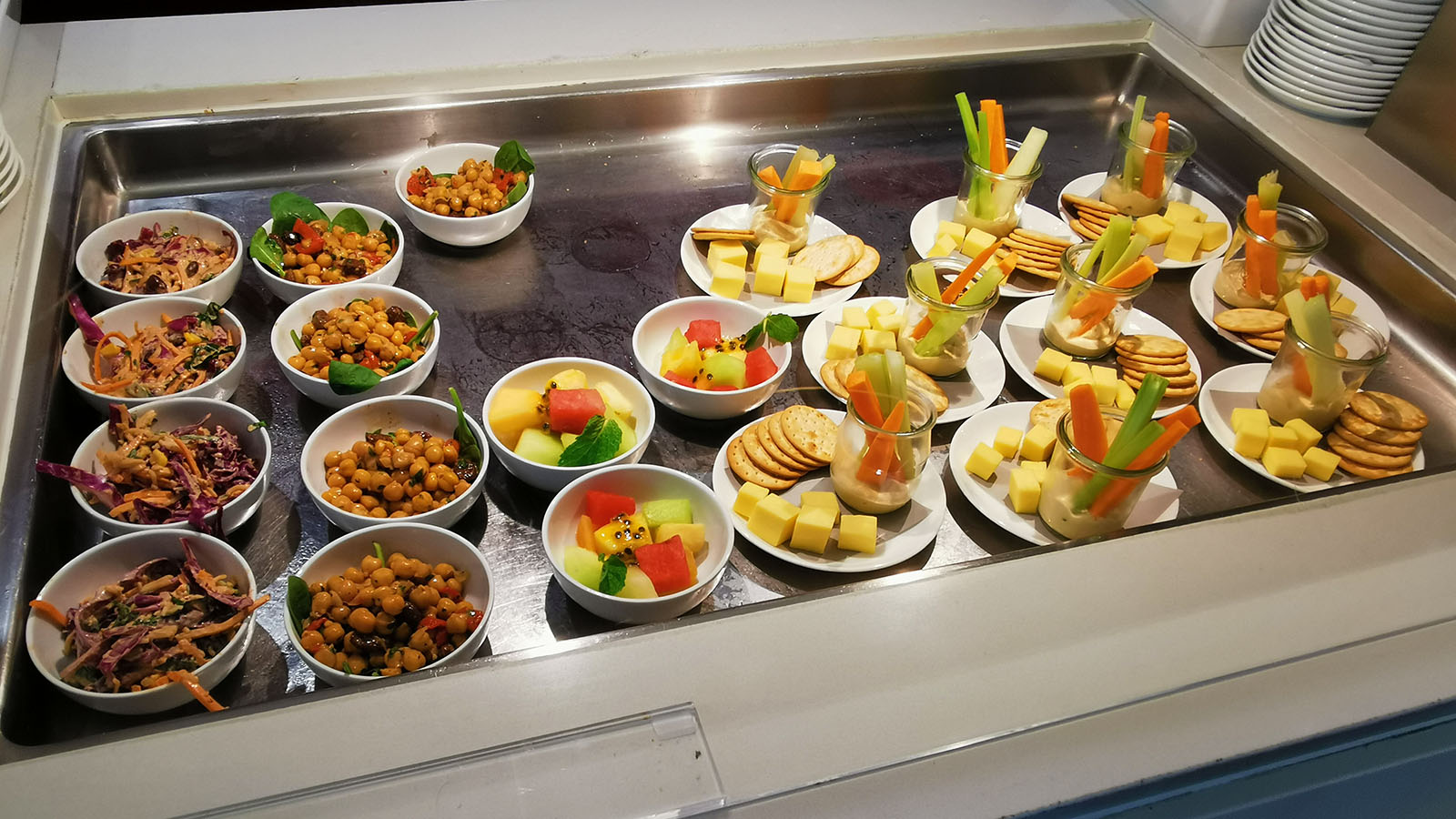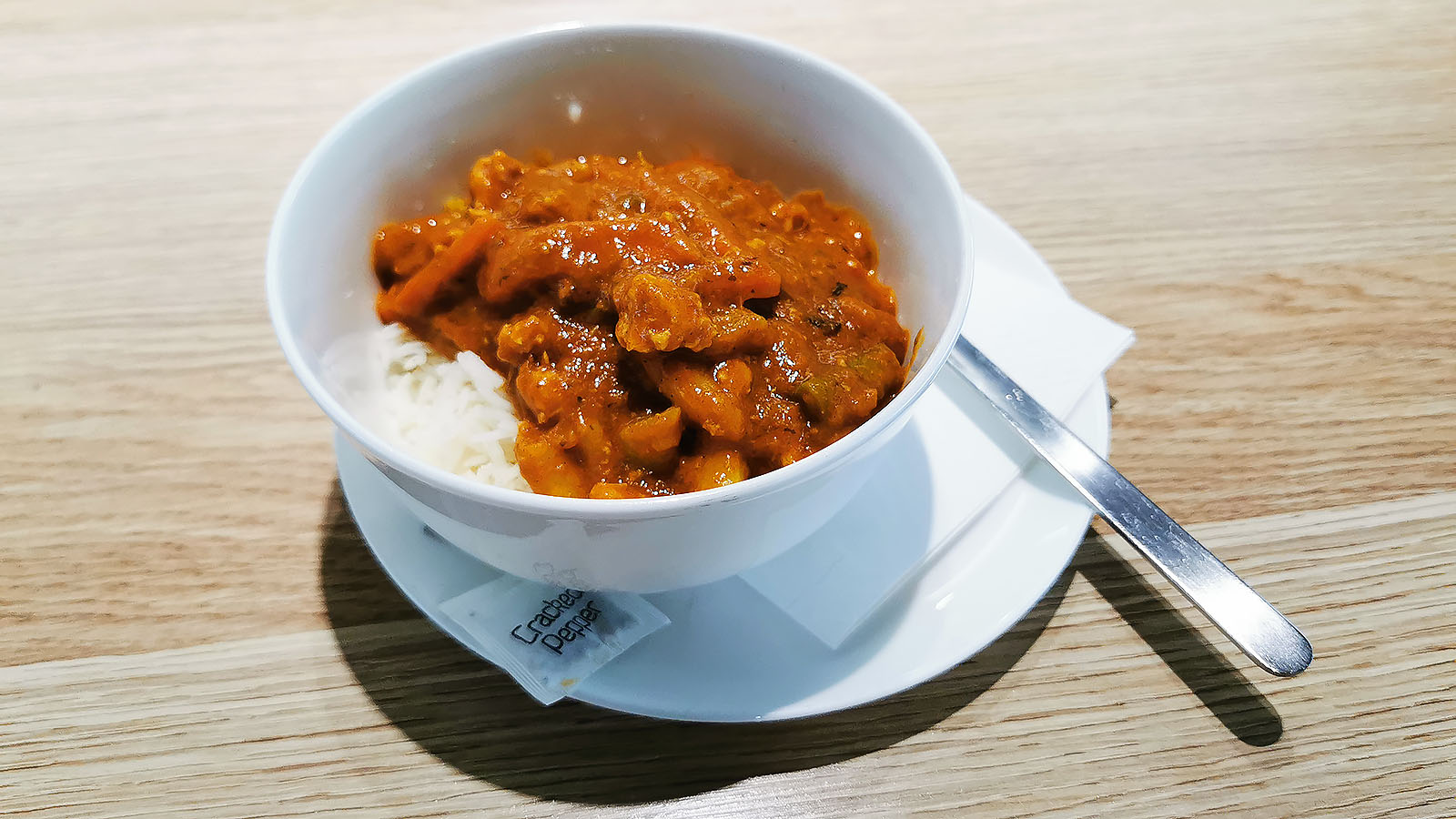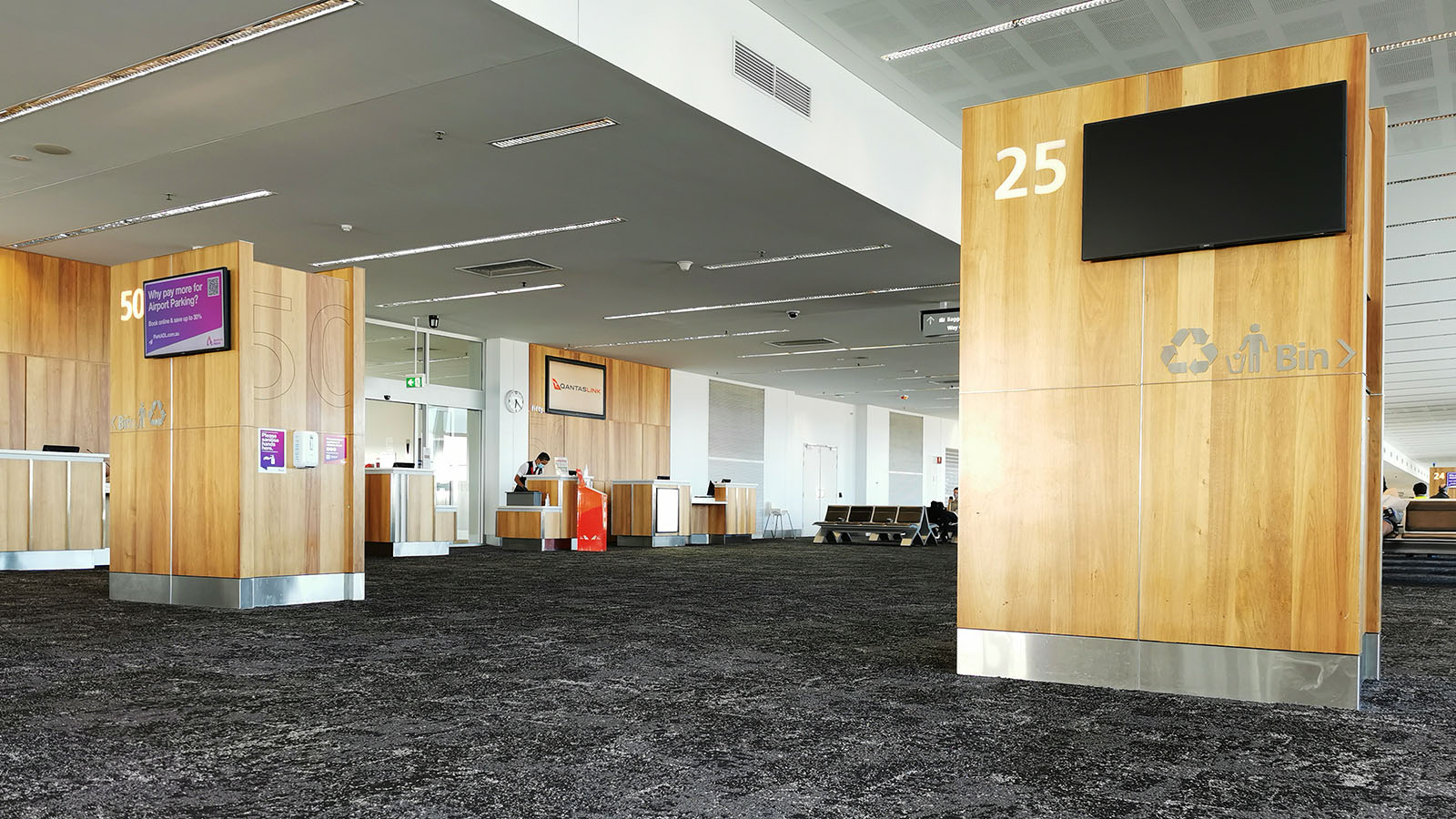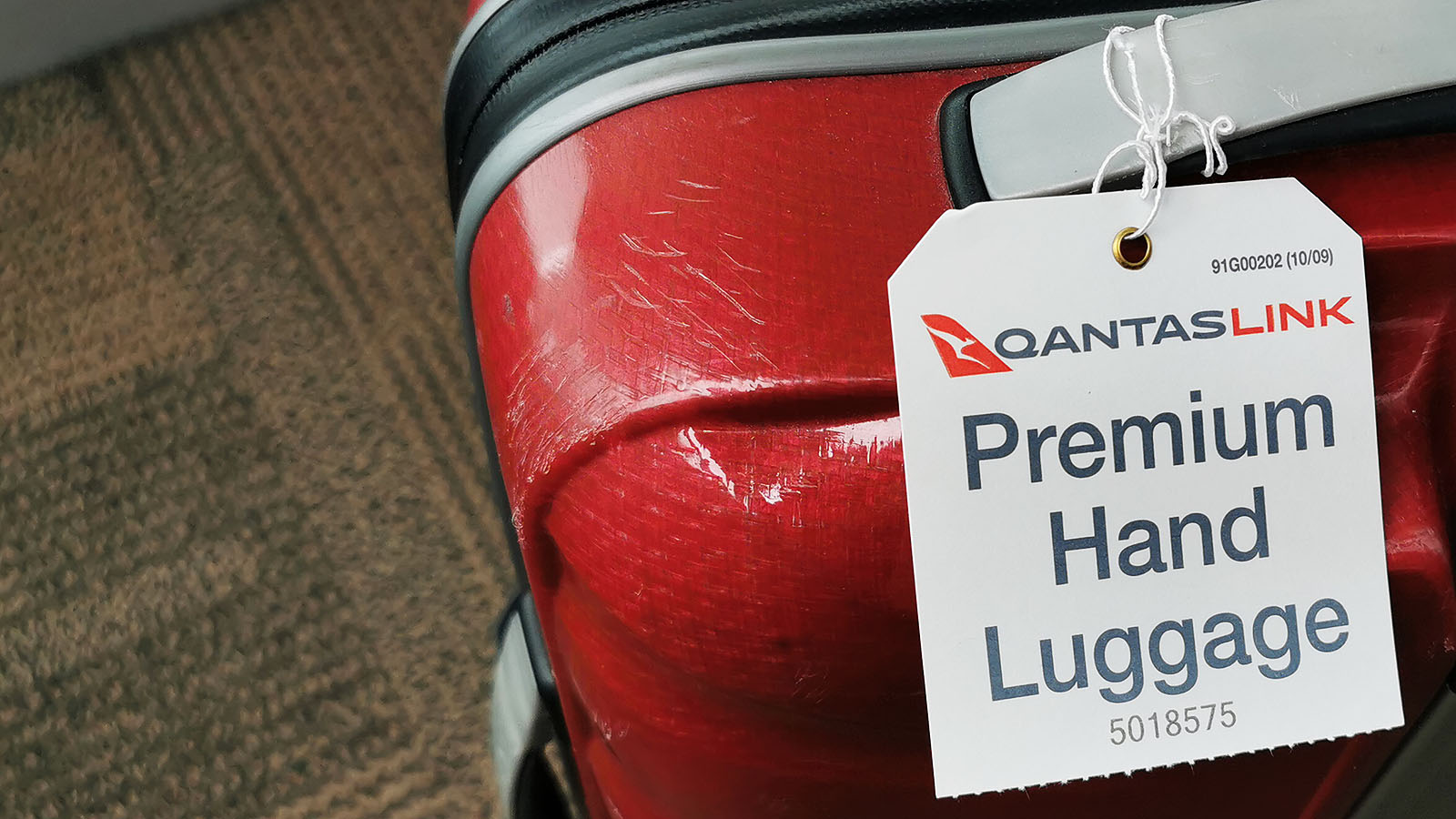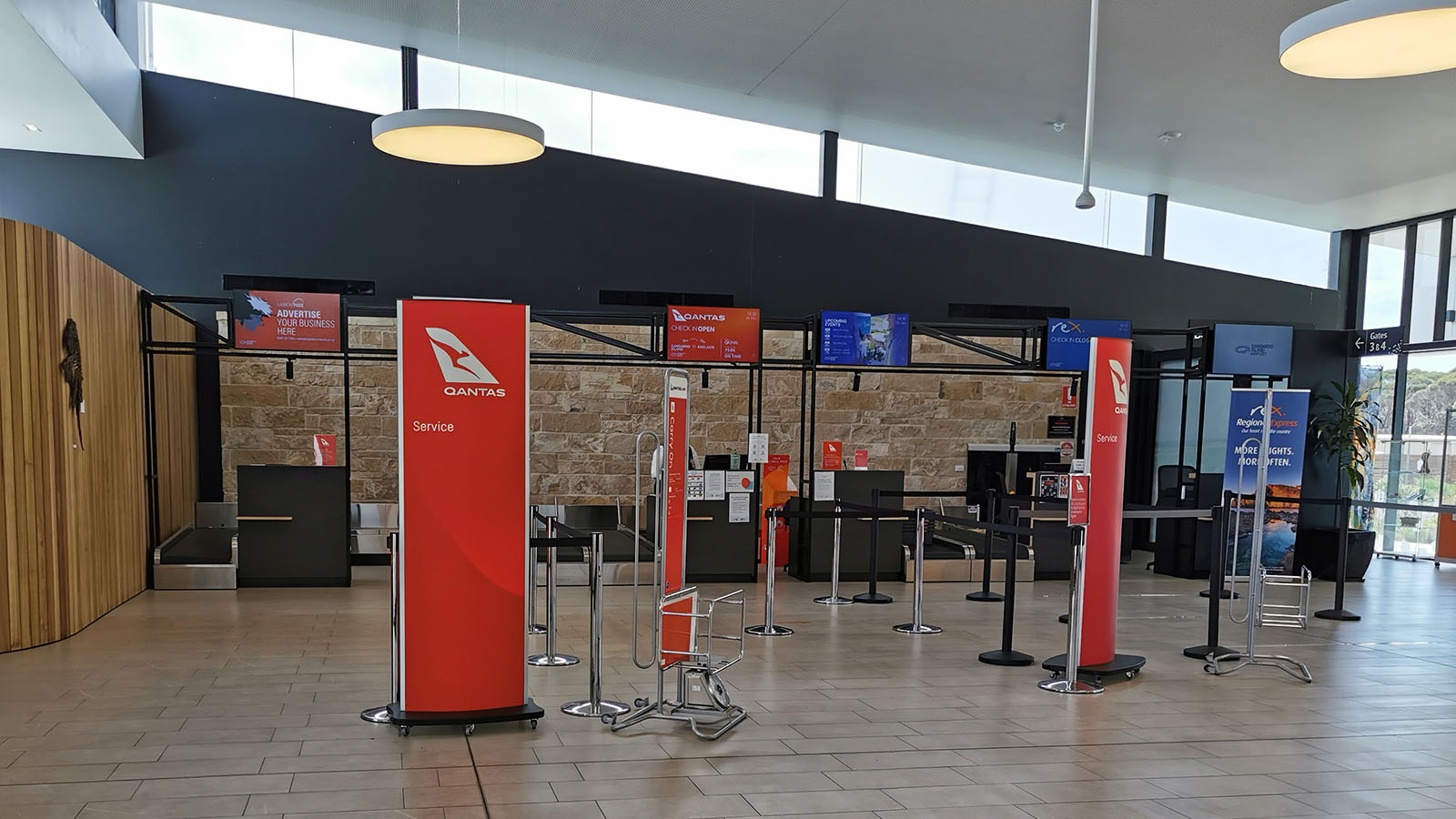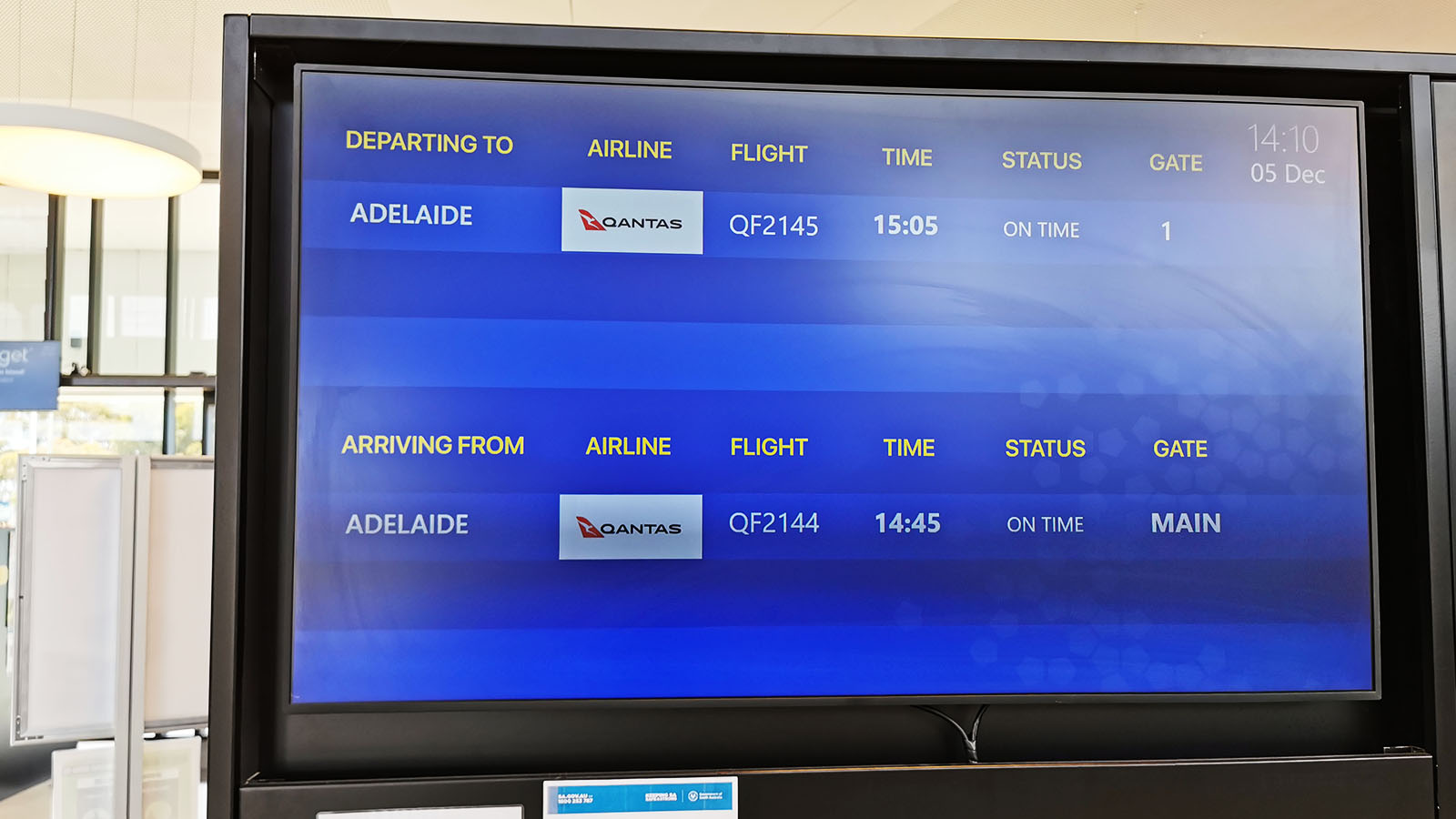 As these QantasLink Dash 8 Q300s have limited overhead locker space, larger cabin bags are tagged at the gate. They don't go into the hold with the other baggage, though. They're instead marked as 'Premium Hand Luggage'. You simply leave the bag at the steps of the plane when you board, and collect it from the same place when you land. Simple!
This worked a treat on both legs of the return trip, and saved waiting around the baggage carousel each time. If you do have bags to check, this shouldn't take long at Kingscote Airport. But don't arrive too early, as there's no Qantas lounge here.
QantasLink Dash 8 Q300 Economy seating
Perhaps the best thing about travelling on a QantasLink Q300 is that there are no middle seats in Economy. That's right, none! You're instead guaranteed either an aisle or a window.
You won't be able to select your preferred seat until check-in time. But before then, you can indicate your preference for either an aisle or a window. When online check-in opens 24 hours before the flight, you'll be automatically assigned a seat, and can then change if you prefer.

So which seats are best? Those in rows one and 10 offer the greatest legroom. But as they're also emergency exit rows, there's no at-seat storage here for take-off and landing. As well, 1E/1F face backwards, towards 1C/1D. That could be great when travelling as a group, but less so among strangers.
In general, taller travellers may prefer a standard aisle seat rather than a window. That's because you can stretch out easily underneath the seat in front, whereas those against the windows have more limited legroom.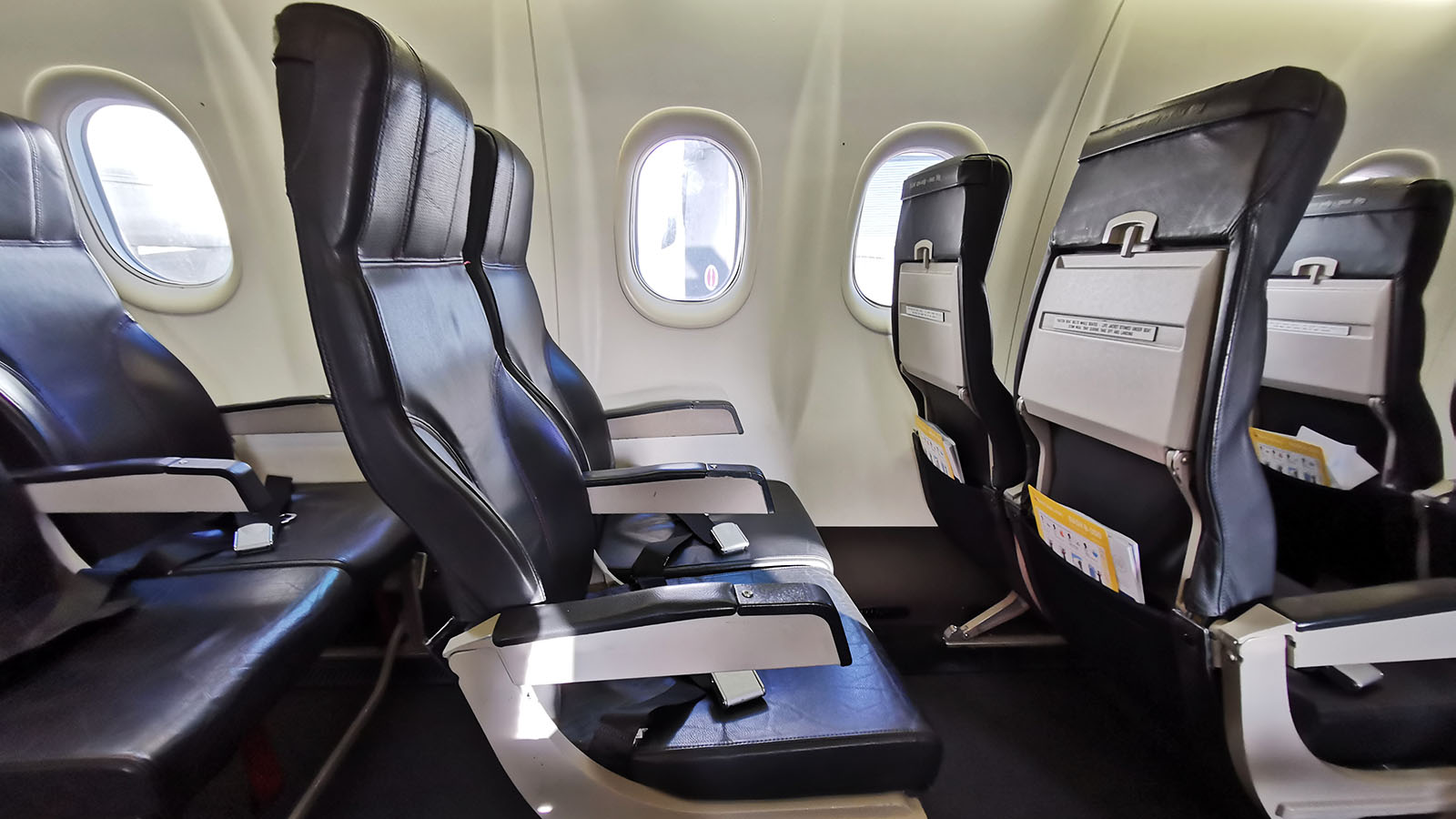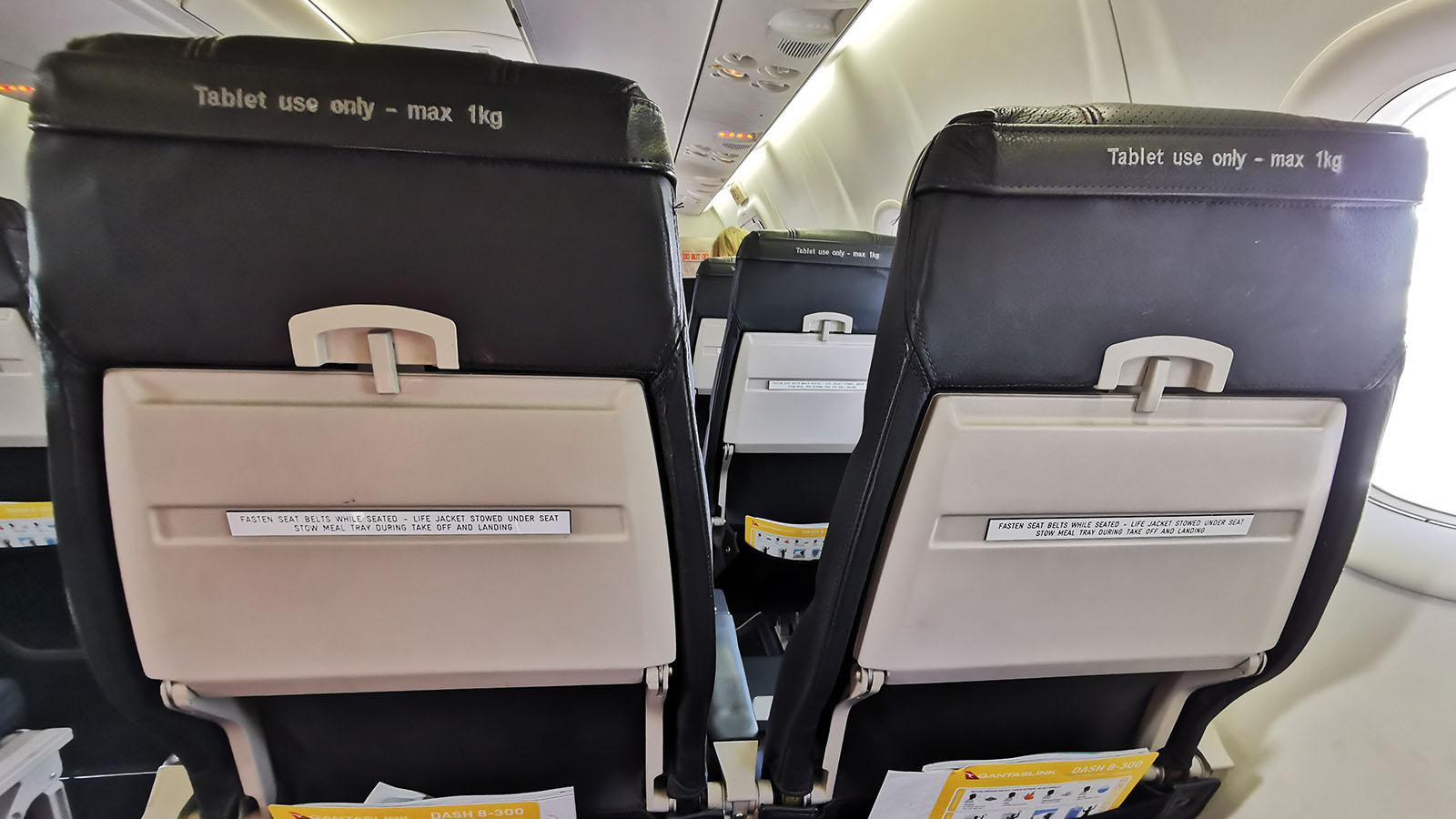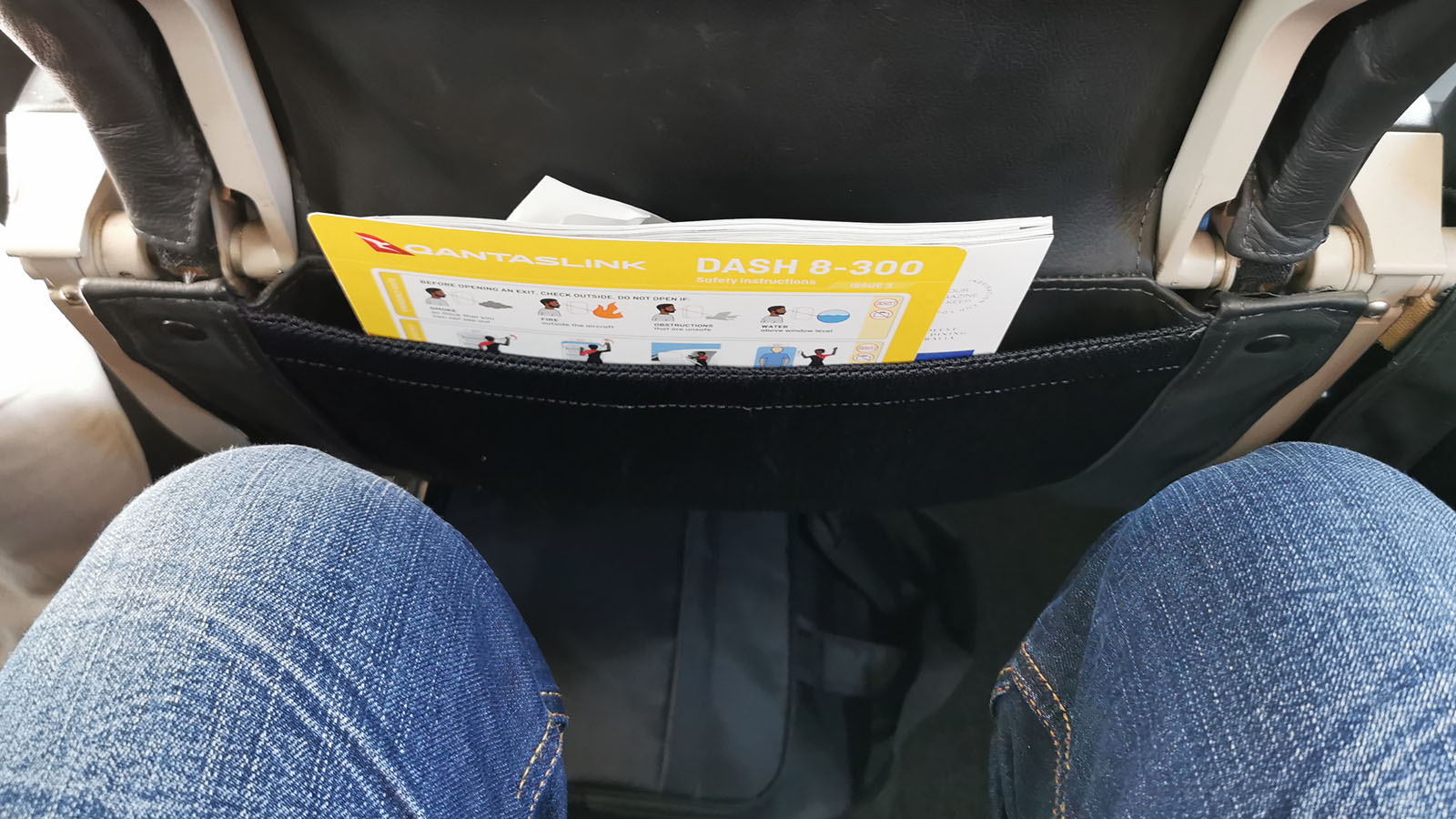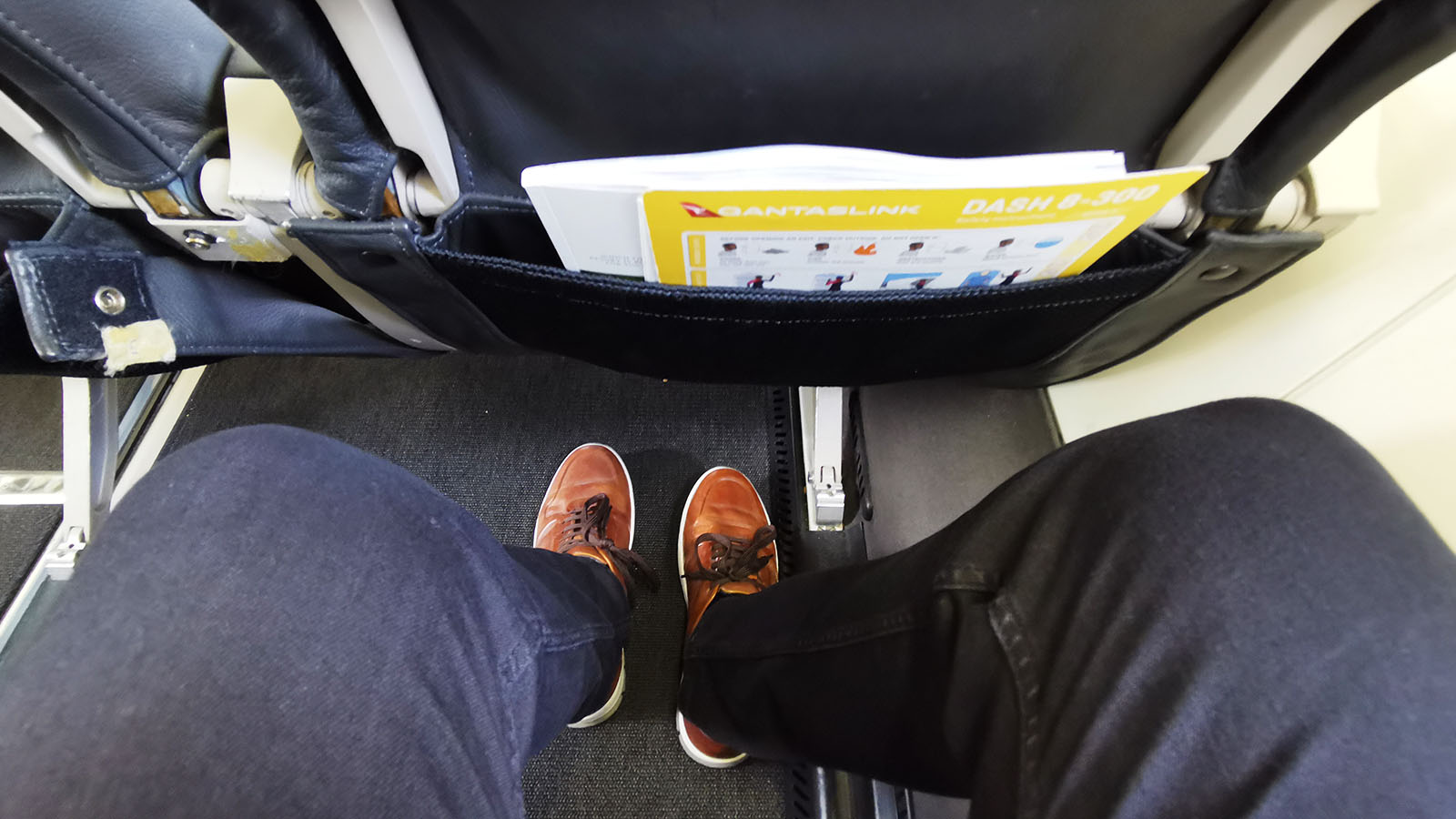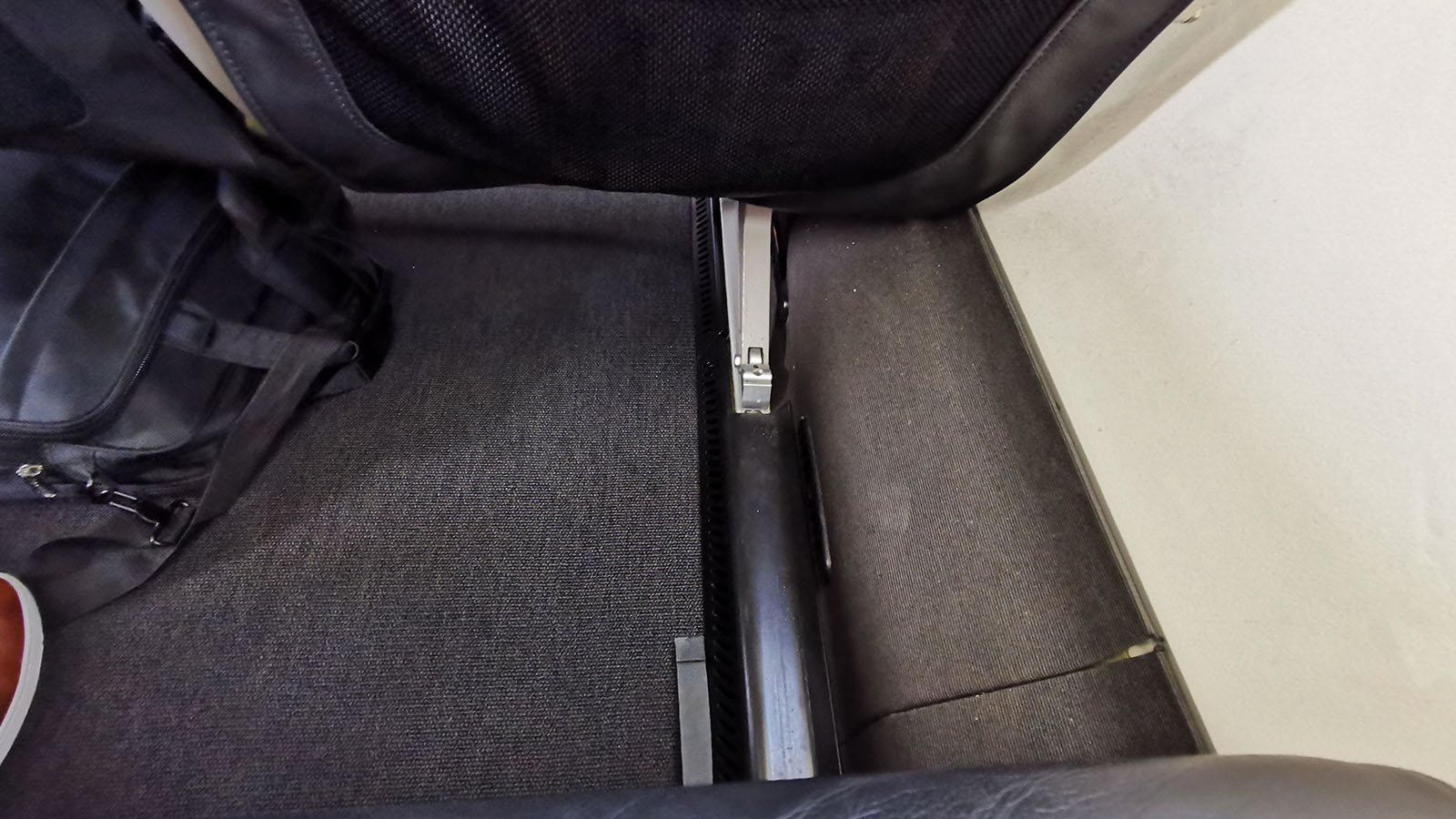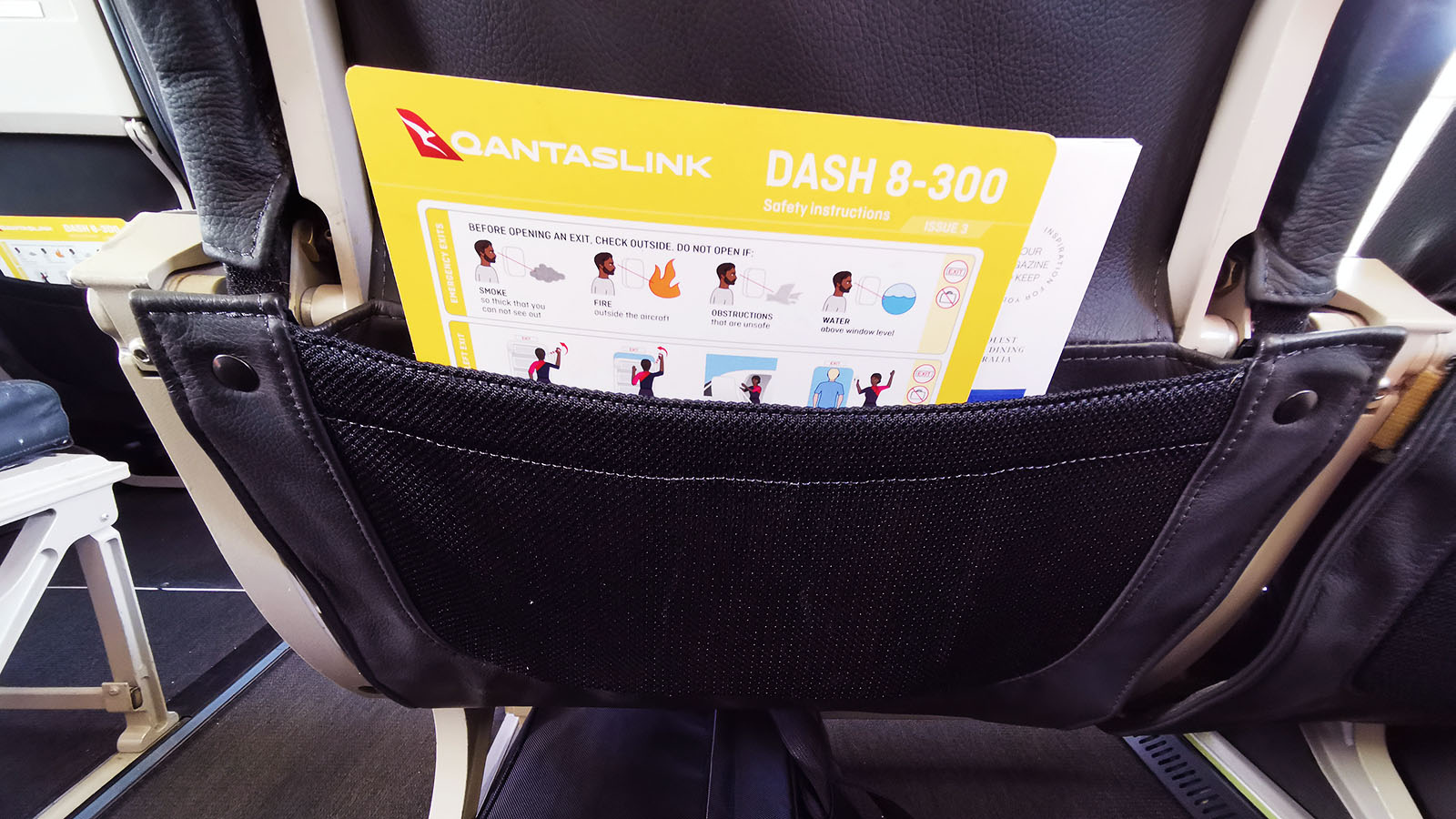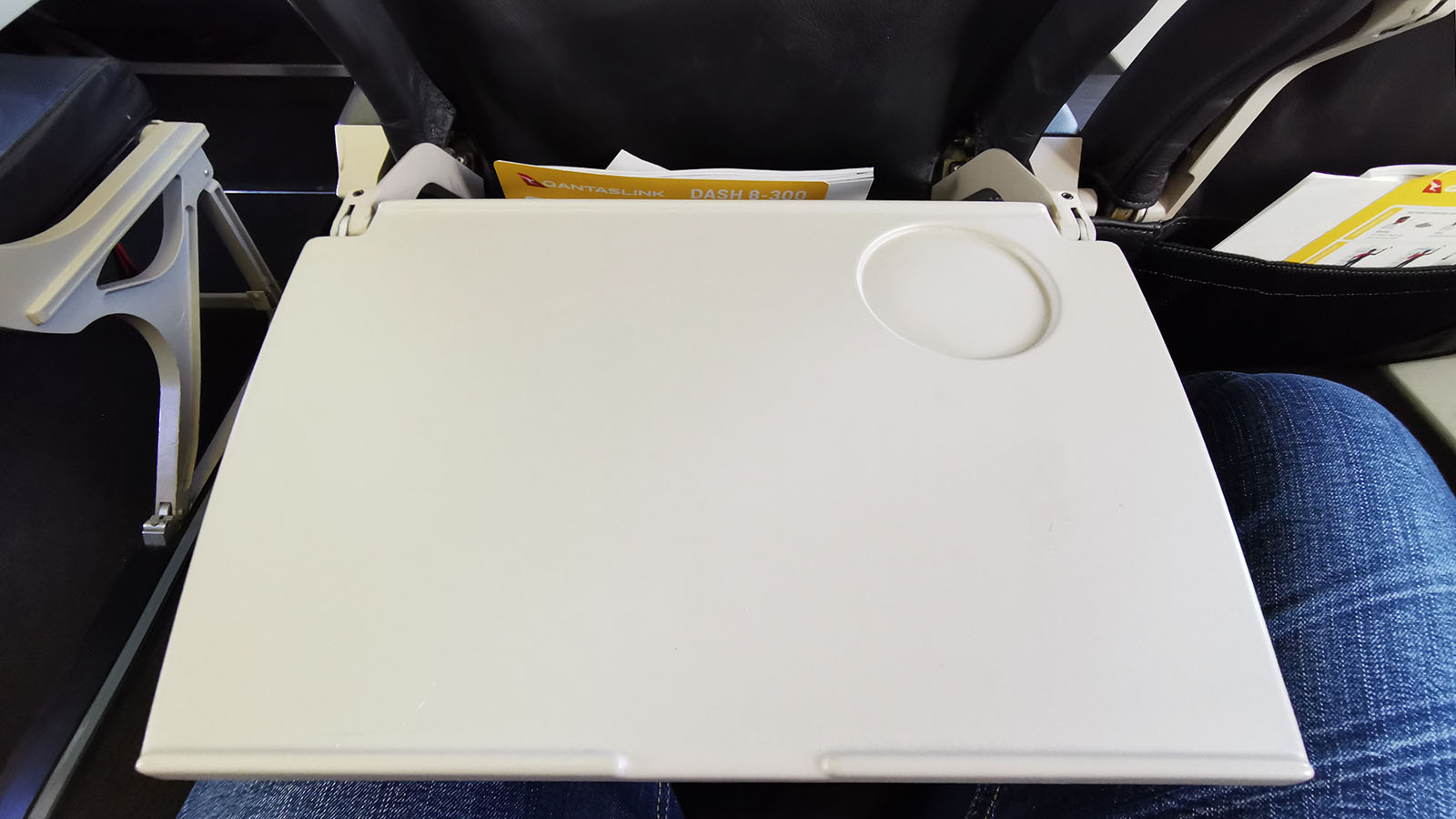 The seat is otherwise what you'd expect of QantasLink. A fold-down tray table offers space to enjoy a snack, or for any quick laptop work. A storage pouch is large enough for tablets, headphones and other goodies.
There's also enough room around the knees without having them squished into the seat in front, which is always great to see in Economy.
QantasLink Dash 8 Q300 Economy food and beverage
With these flights barely clocking 20 minutes in the sky, the food and beverage service is a swift one.
Between Adelaide and Kangaroo Island, expect a bottle of water, plus a snack. On the evening departure out of Adelaide, this was a simple serve of cheese and crackers. On the mid-afternoon return, a small bag of cookies sufficed.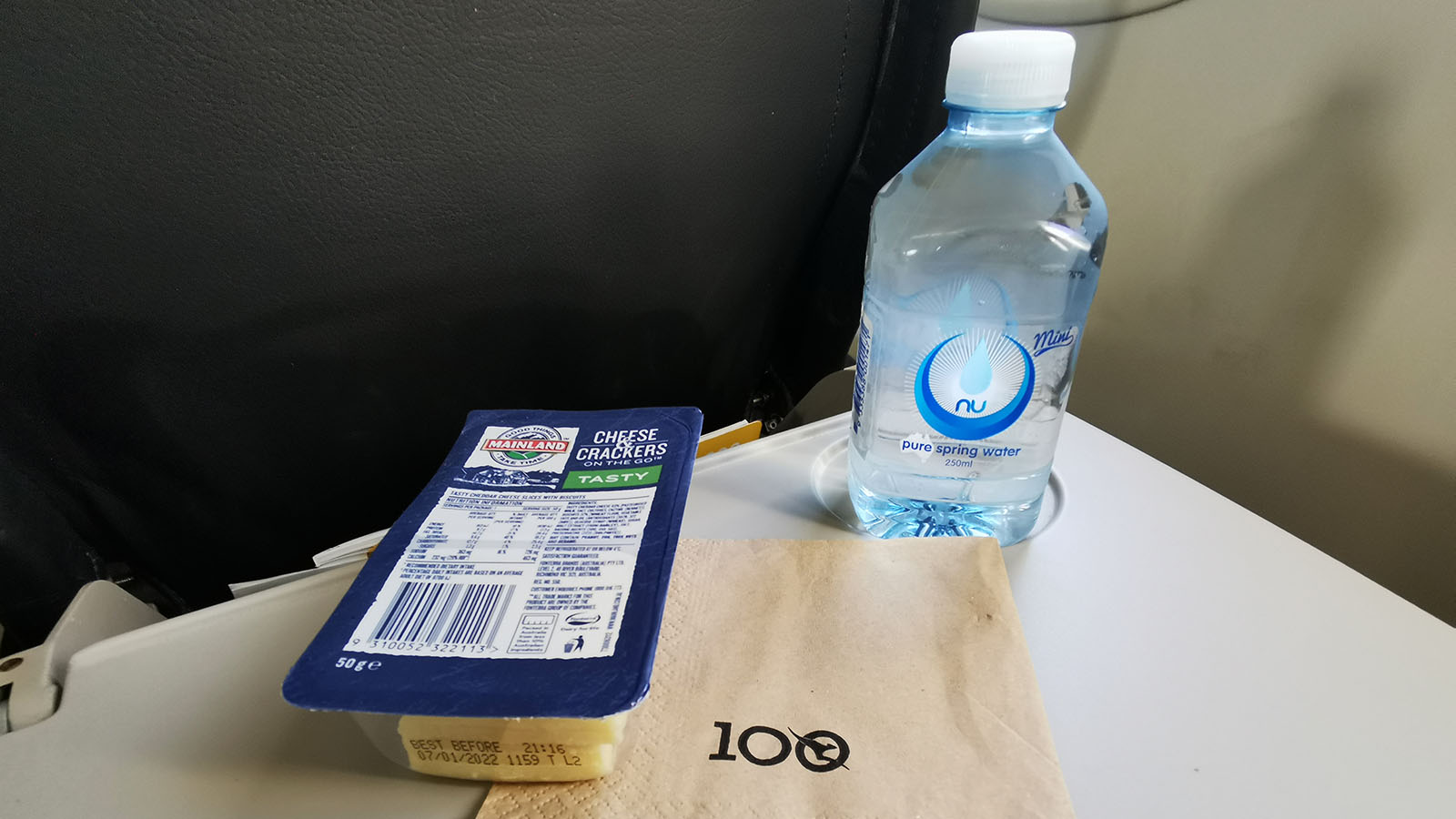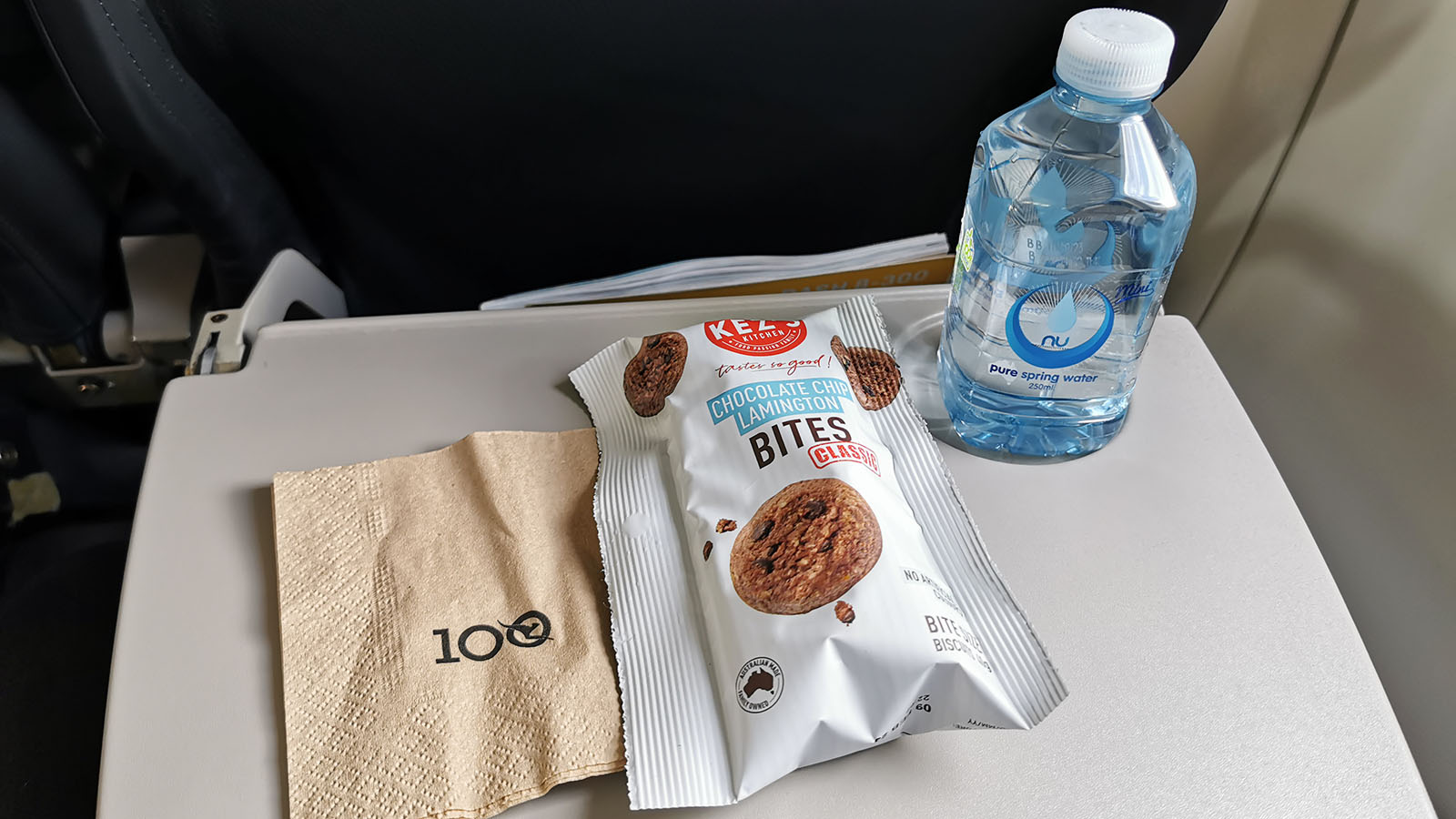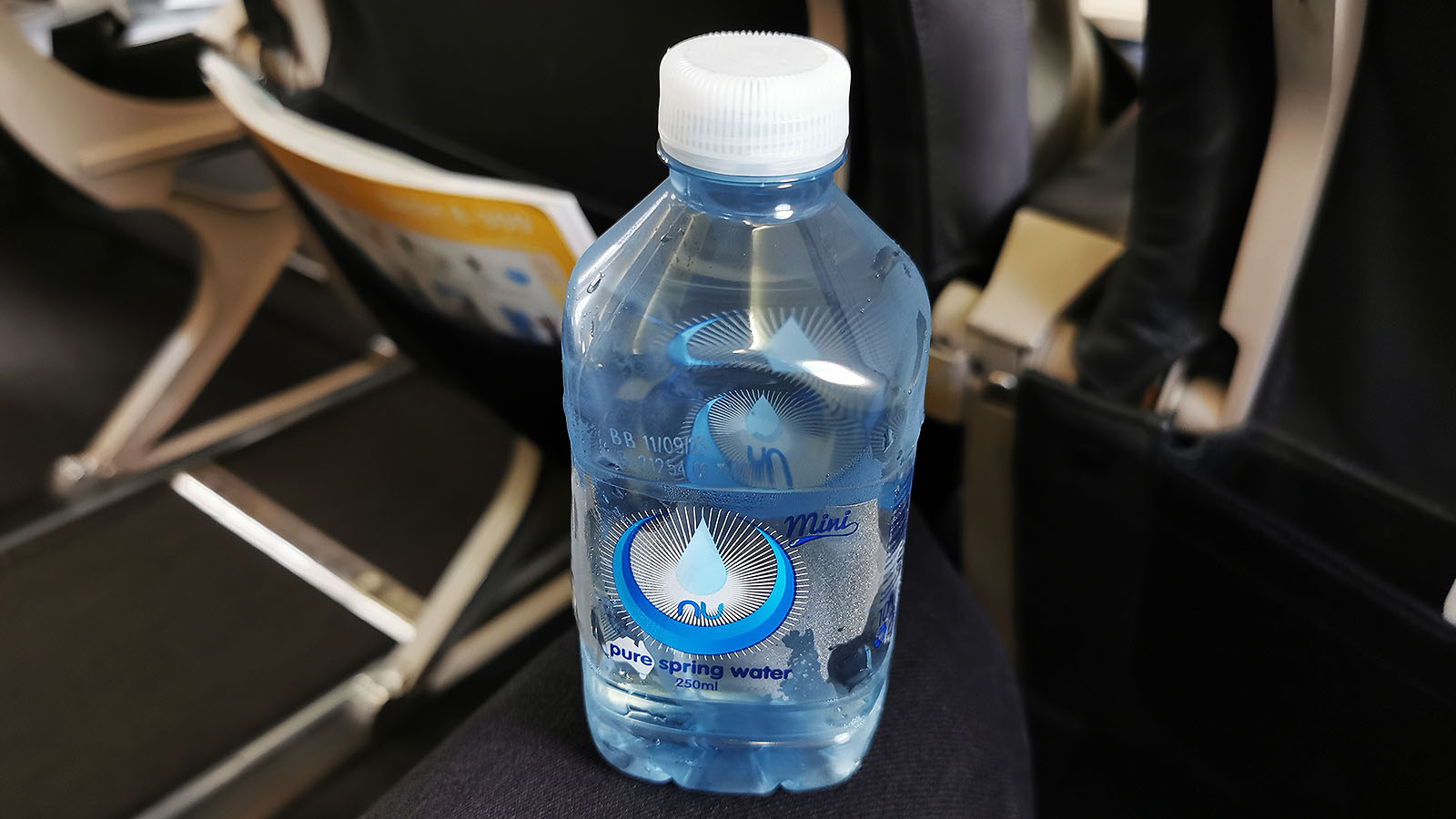 That mid-afternoon return to Adelaide also saw the crew serve water before take-off. As there's no Qantas lounge at Kingscote Airport – and the cafes at the airport were shut – that was certainly appreciated.
QantasLink Dash 8 Q300 Economy service and entertainment
On flights as short as this, there's really no need for inflight entertainment. And that's just as well, because QantasLink doesn't provide any on the Dash 8 Q300. But the gorgeous views out the window more than make up for it.
If you've packed your own tablet, there's a tablet holder available for most passengers – except in row one. Though the stand on my Surface Pro 8 was just too wide for the narrow holder (unsurprising on a smaller regional plane). Happily, it was a perfect size for the tray table. The table also has a raised edge, which keeps your gadget from sliding off into your lap.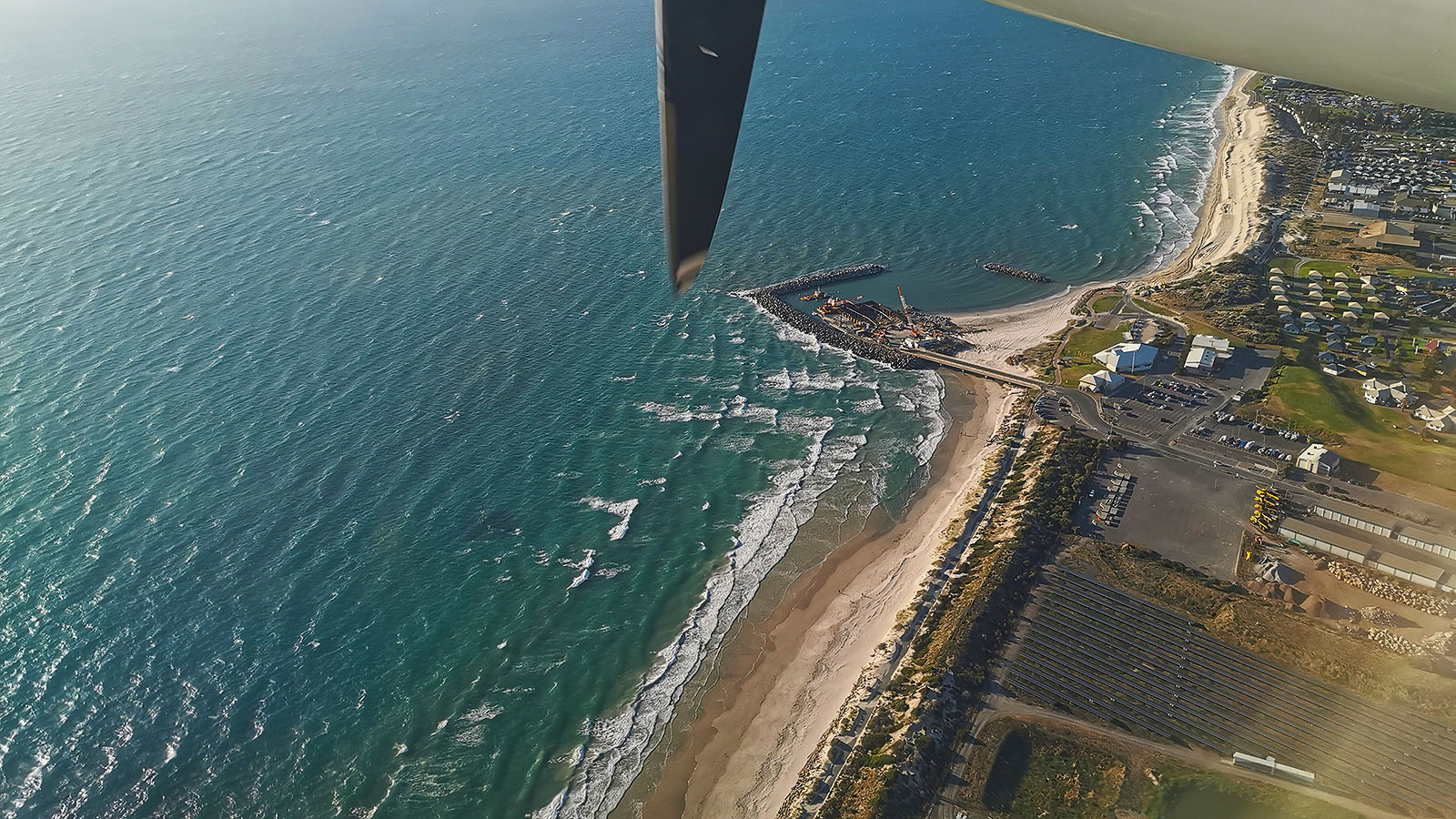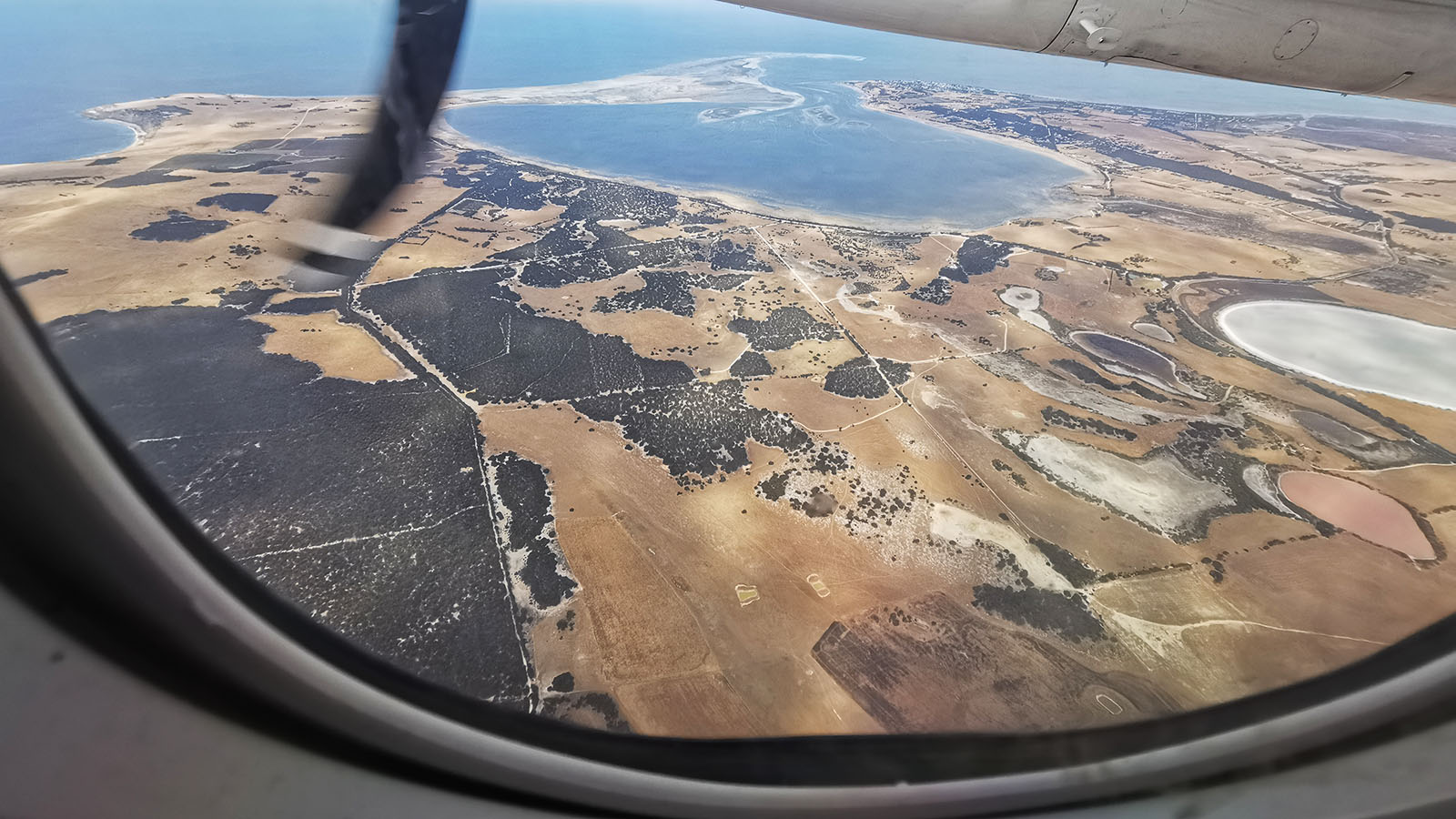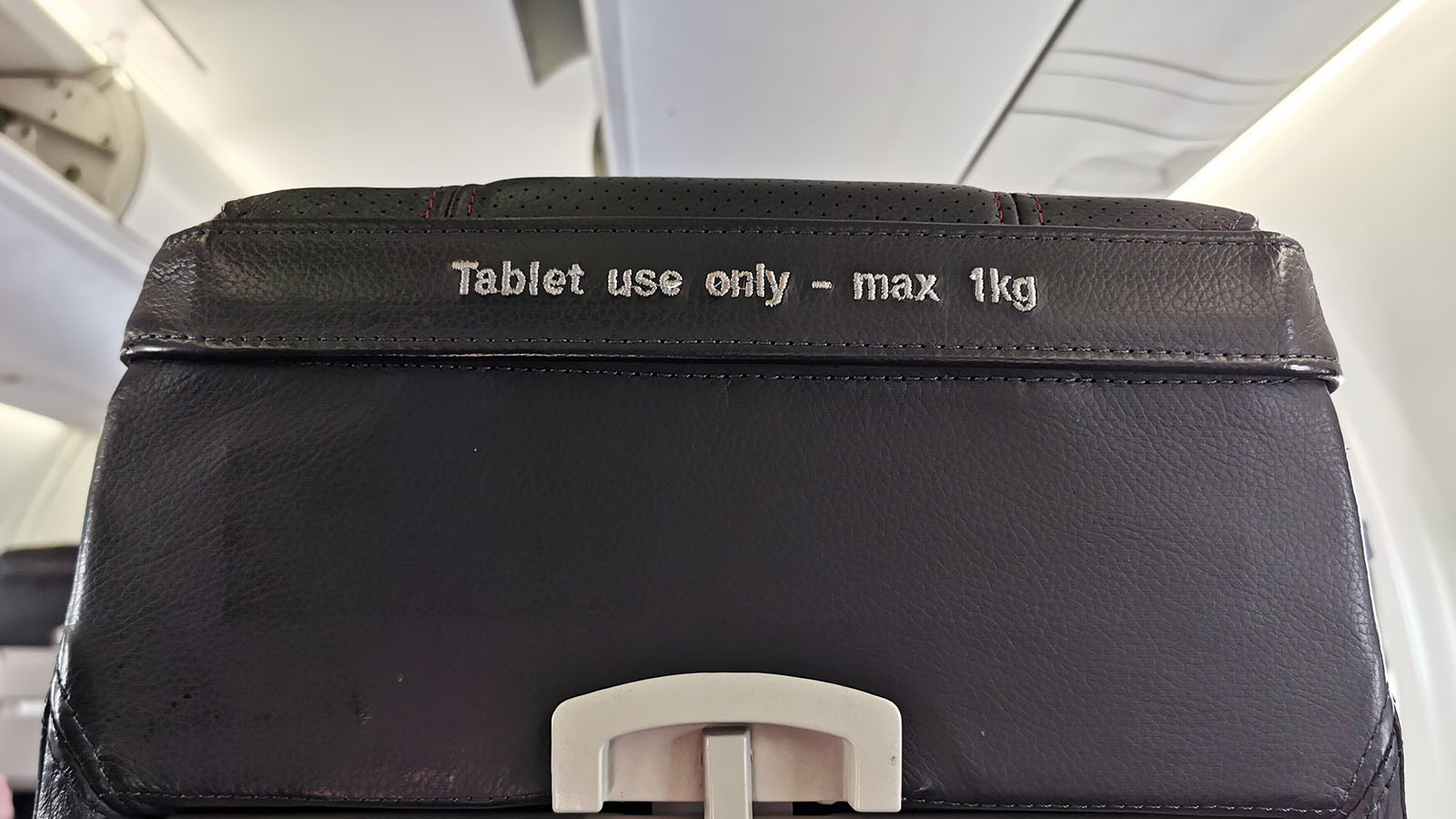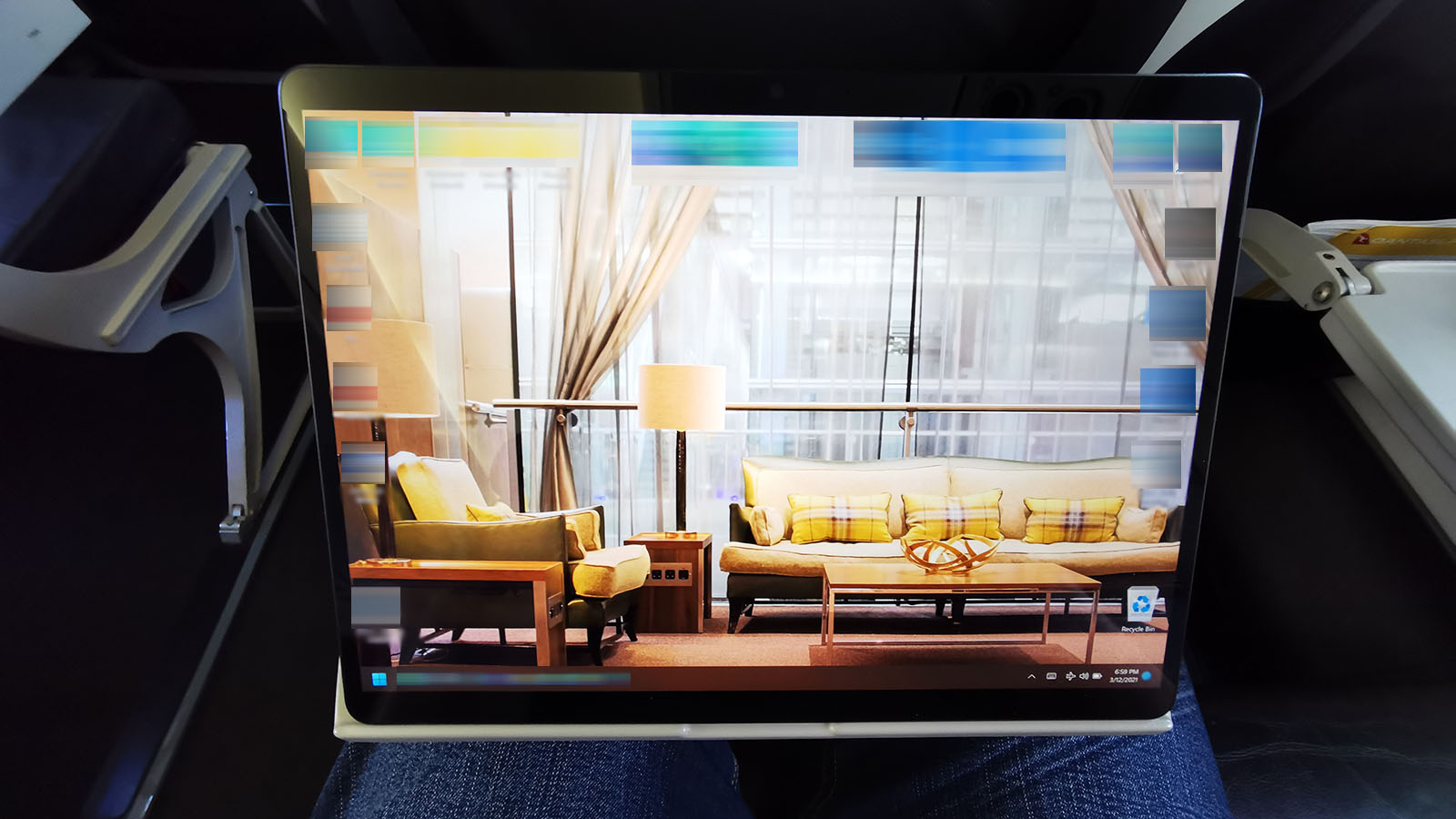 On another note, I'd highly recommend packing noise-cancelling headphones if you have them. The over-ear kind in particular (I have the Bose QC35) helped drown out the propeller noise.
Interactions with the crew on this flight were brief but polite. Other than a quick greeting at the door, and an offer of the refreshment, there really isn't time to chat. The seatbelt sign comes on almost as soon as it's switched off, and suddenly we're there.
Summing up
QantasLink's flights are a convenient way to reach Kangaroo Island, particularly if you're travelling from another state. While there's also a ferry service to the island, these generally depart from Cape Jervis on the mainland. That's over 100km from Adelaide Airport, and certainly not as easy for most interstate visitors.
In fact, when booking using Qantas Points, you may even be able to reserve these Adelaide-Kangaroo Island flights without spending any extra points. For example, use Qantas Points to fly from Brisbane to Adelaide, and a same-day connection onwards to Kangaroo Island doesn't cost any extra points. How's that for a freebie?
All photography by Chris Chamberlin, who travelled at Point Hacks' expense.
QantasLink Bombardier Dash 8 Q300 Economy (Adelaide – Kangaroo Island)
was last modified:
January 5th, 2022
by