The termination of the Virgin Australia-Air New Zealand partnership on 28 October 2018 saw the introduction by Virgin Australia of direct Melbourne to Queenstown services. Virgin Australia, Jetstar and Air New Zealand all fly this route year round, but noteably, Virgin Australia is the only carrier to offer Business Class, with Jetstar and Air New Zealand providing an all Economy layout.
Virgin however will find some competition during the winter months, with Qantas recently announcing seasonal direct flights between Melbourne and Queenstown between 21 June and 27 August 2019 using Boeing 737 aircraft fitted with 12 Business Class seats.
While this guide specifically covers the flight itself, do note that Business Class guests have access to The House lounge in Melbourne and the Manaia Lounge in Queenstown at the respective ends of the journey.
Fleet & routes
We cover the fleet and routes of Virgin Australia's 737-800 in our overview here.
The cabin & seats
The cabin layout is the same as that found in Business Class on domestic services, with a 2-2 configuration across 2 rows for a total of 8 seats. The small number of seats allows for quite personalised service, given the customer to staff ratio is small.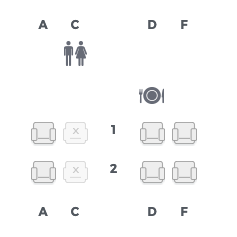 The seats are all leather recliners offering a pitch and width of 37 and 19.5 inches respectively, and I found them to be very comfortable. So much so, that I began to almost doze off just before landing, which was not something I wanted to do given the amazing scenery that greets passengers on descent into Queenstown.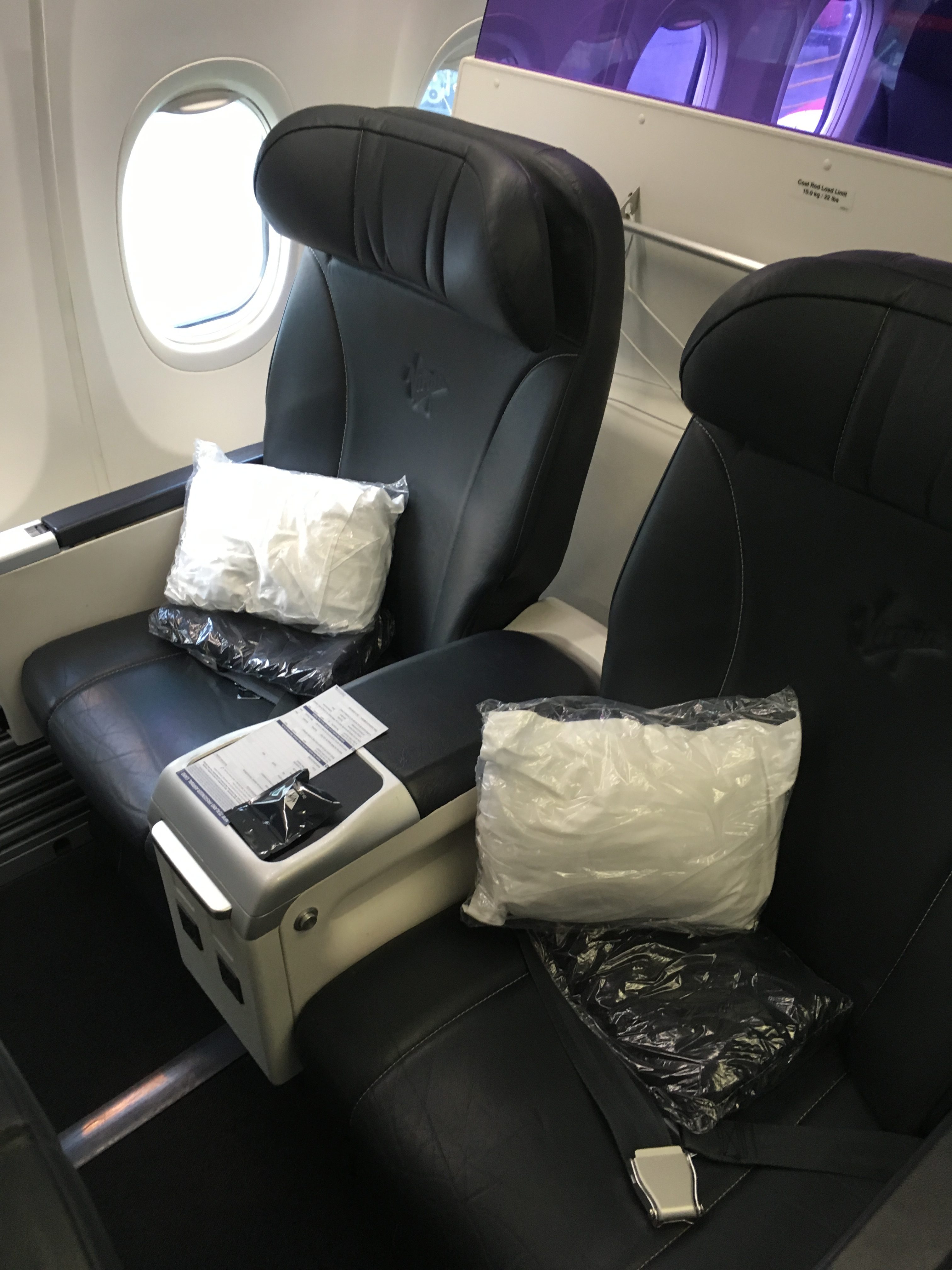 Being around 5'10" tall, I found there to be plenty of leg room, and had no trouble fully extending my legs out.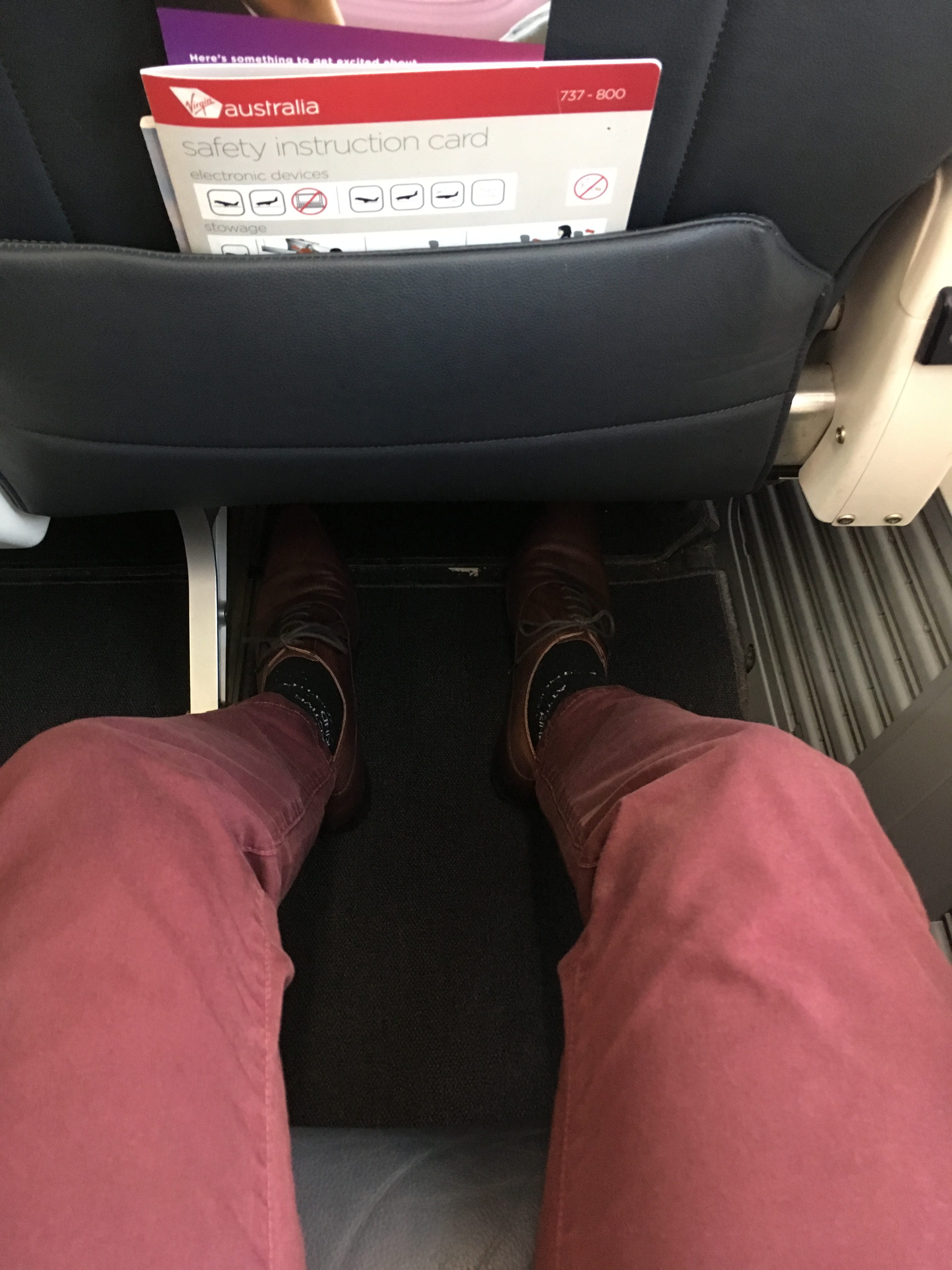 The centre console offers plenty of elbow room, along with an extendable tray for drinks. I didn't have a seat mate on this flight, so was able to use this area for my tablet a drink.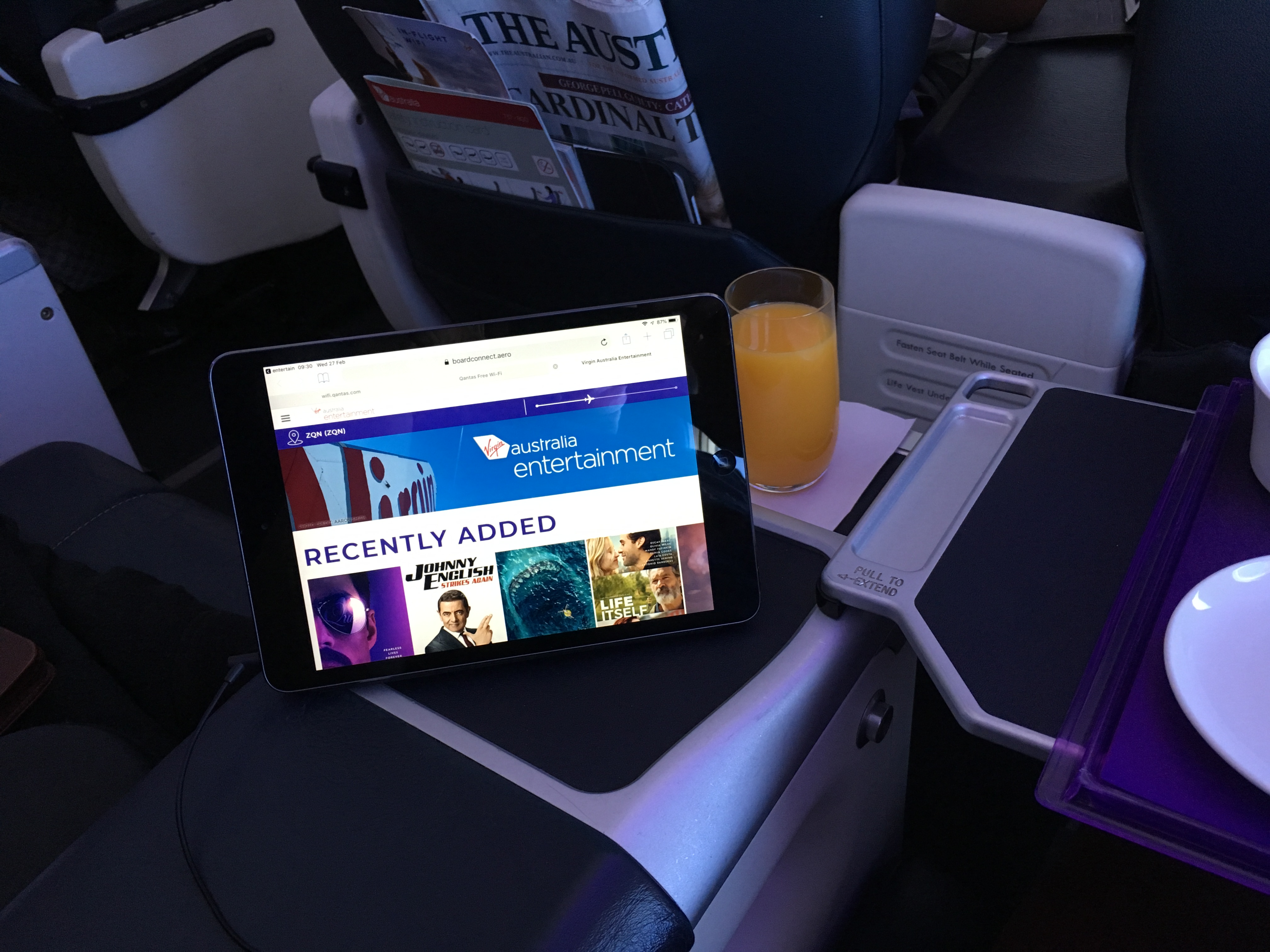 The tray table was large enough to fit the meal tray and extends to the centre console, providing extra sturdiness to easily carry laptops and other heavier objects. A bug bear of mine is getting tray tables that don't extend to the centre console, making them quite flimsy and always having the fear that your gear will slide right off the table. I had no such concerns on this flight.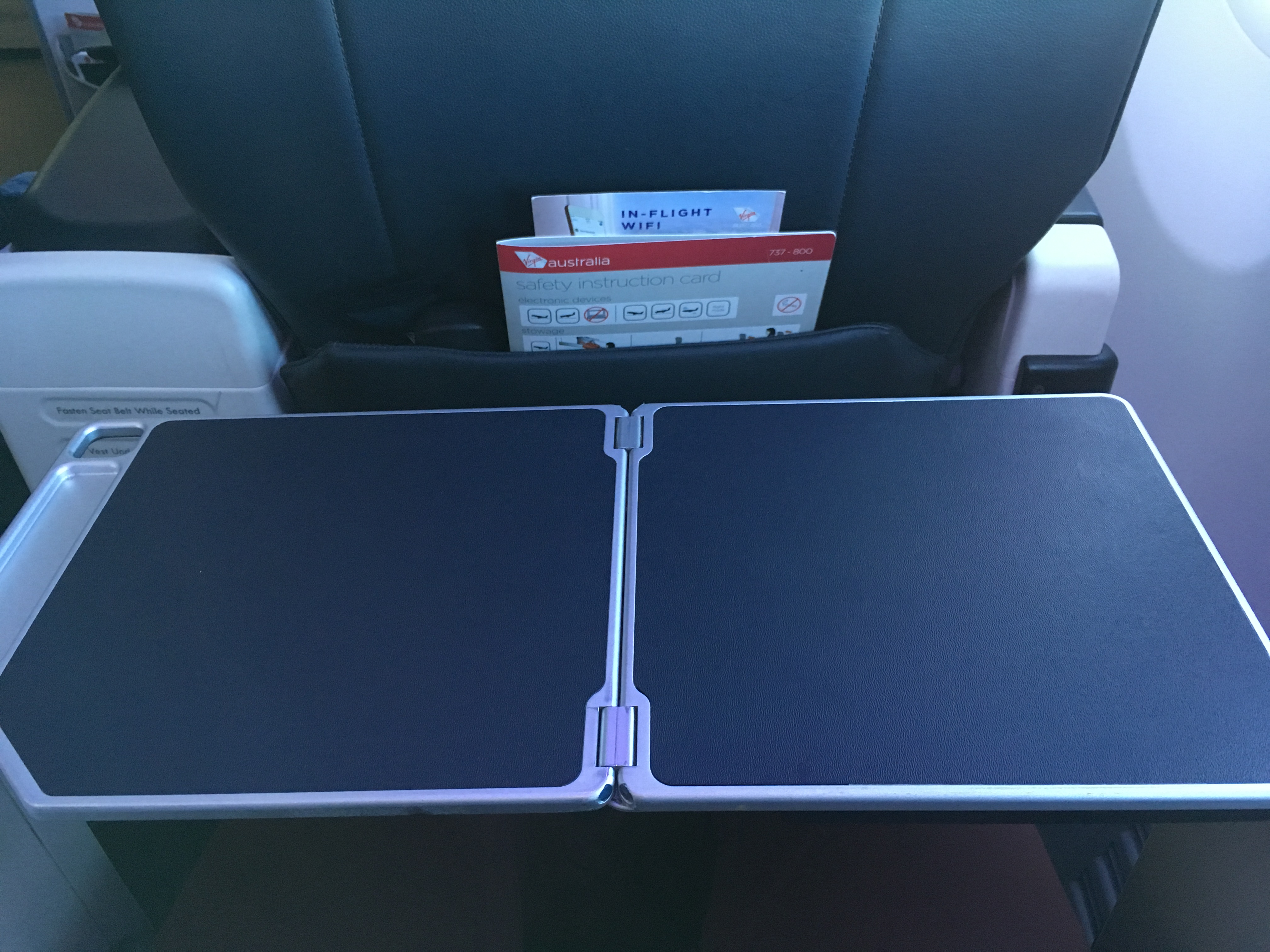 Seat choice
I was seated in 2F and generally prefer row 2 of Virgin's 737 Business Class for a few reasons. Firstly, the bulk head in front of row 1 does restrict some space to fully stretch your legs out, especially if you are tall, as you are unable to slide your legs beneath the seat in front of you. Also, row 2 allows you to fully recline your seat without the concern that you are distracting the seatmate behind. While this is less of an issue in Business Class, I still get comfort in knowing nobody is seated behind me.
Food & drink
Upon getting settled into my seat, I was quickly offered a welcome drink of sparkling or still water or orange juice. I elected for the latter, and was very pleased to see that it was 100% squeezed pure orange juice that was perfectly chilled. I love my pure OJ, so decided to have a second drink before departure. I reasoned that you can't have enough Vitamin C.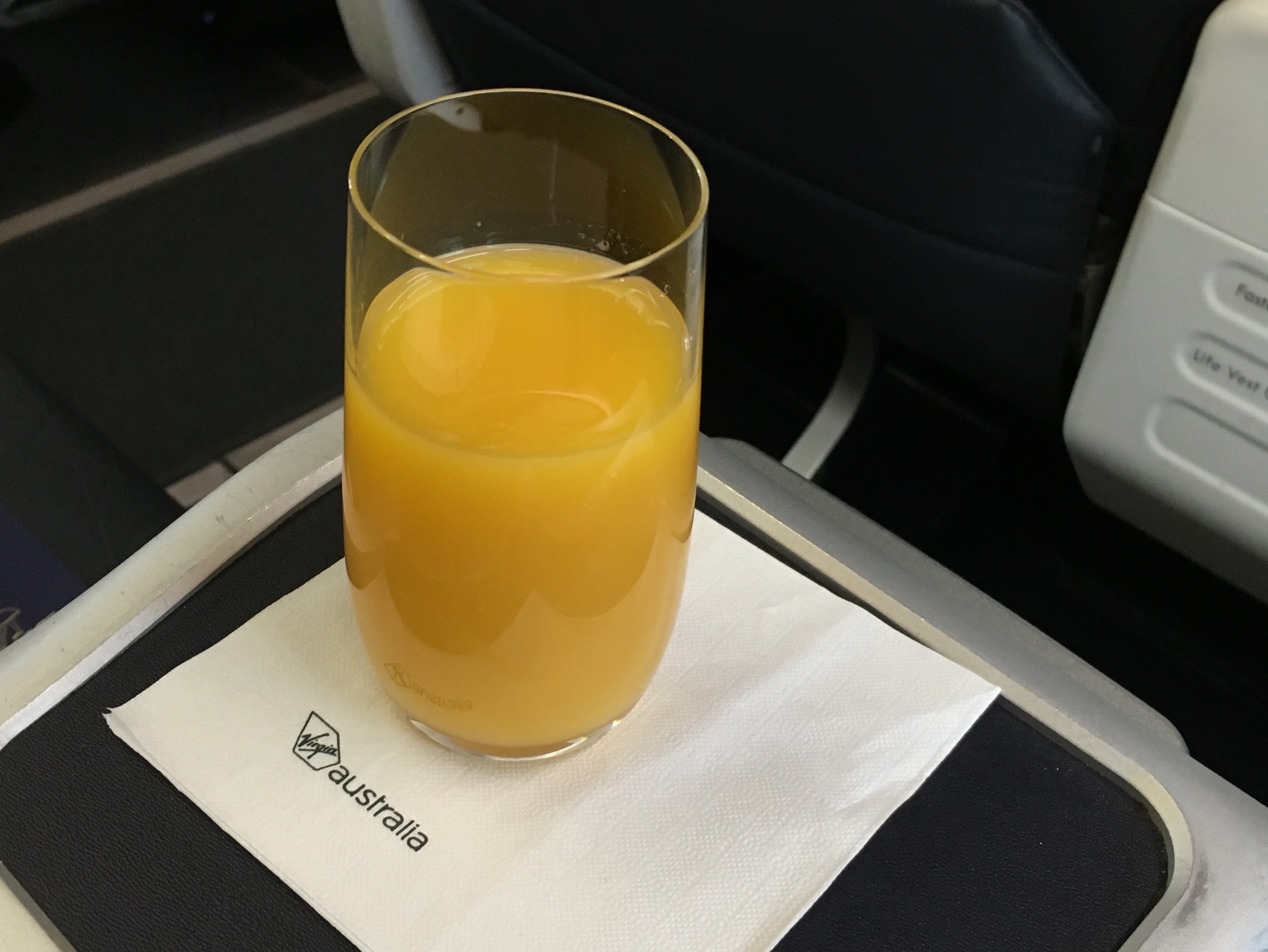 As with domestic Business Class, there was no printed menu on offer, rather the cabin crew ran through two options, taking down your order and then preparing the meals in the galley. On today's flight the option were a bacon, cheese and onion toastie or bircher muesli with strawberries, blueberries and yoghurt.
I initially chose the toastie, and while at first I was not convinced that it would be filling given its size, I was pleasantly surprised. Toasties can be a bit hit and miss and on some other flights, were either quite tasteless or absolutely dripping in oil. This was not such an occasion. The toastie was perfectly made and left me satisfied without feeling overly full.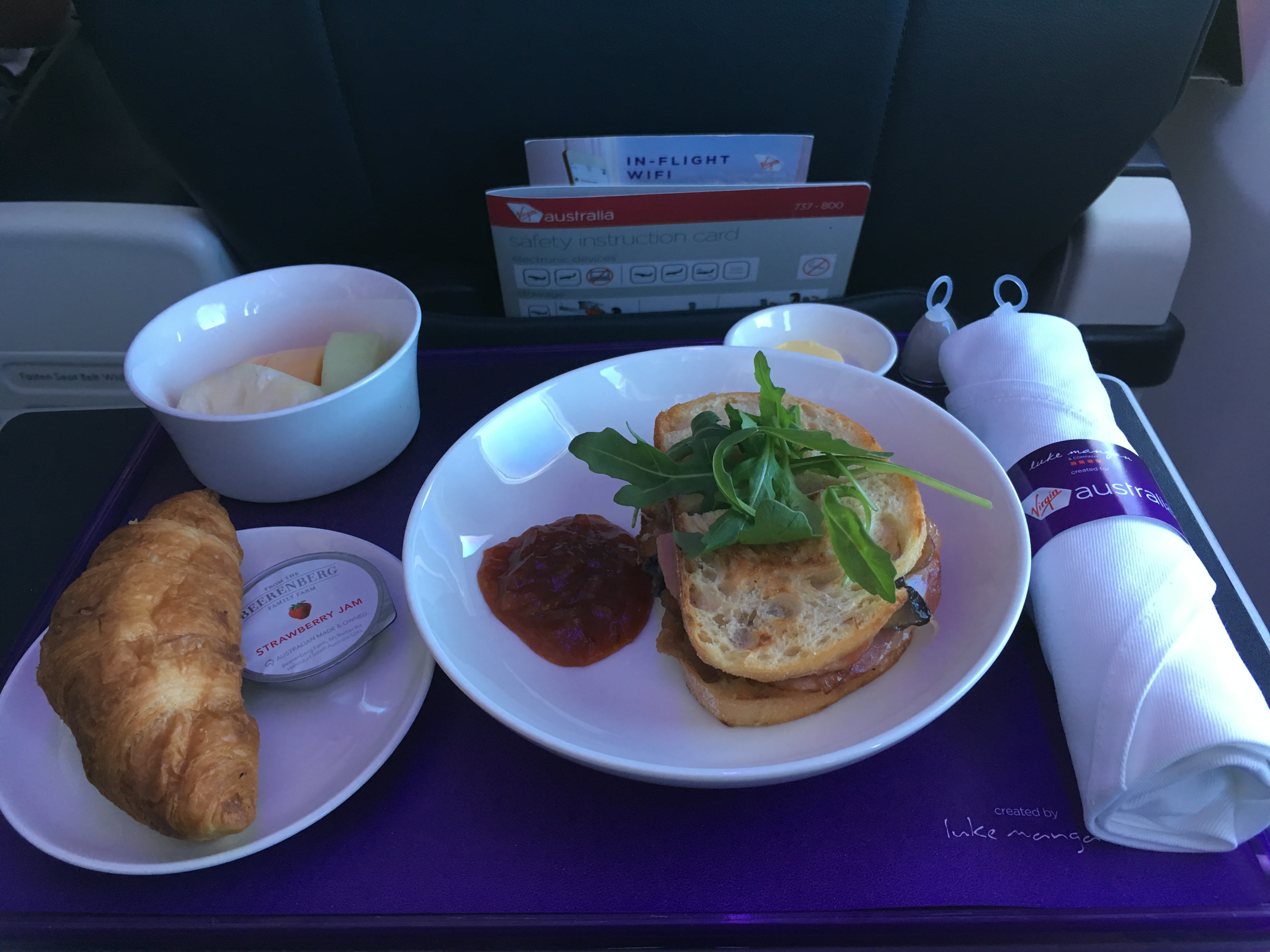 Later in the flight, I was offered a spare bircher muesli and while I was quite full at the time, felt it my duty to order it for the purposes of this review. Like toasties, bircher muesli can be hit and miss, sometimes tasting quite bitter or at the other extreme, too sweet. I felt the balance here was just right and it is not an understatement to say it was one of the better bircher muesli I have tasted.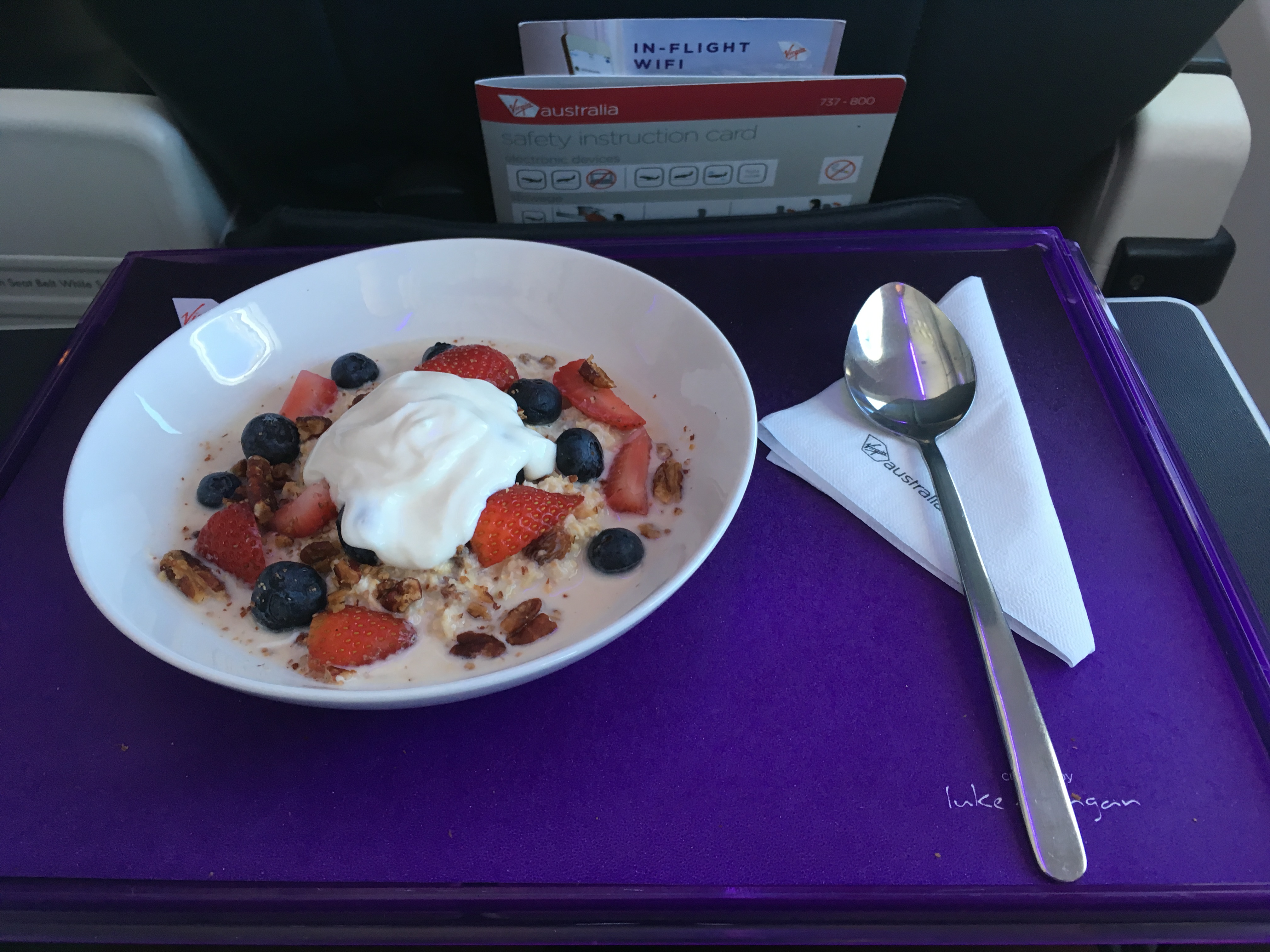 The meal was finished off with a cup of coffee, which was the filtered variety rather than the better Nespresso that are found on Virgin's A330 'The Business' flights.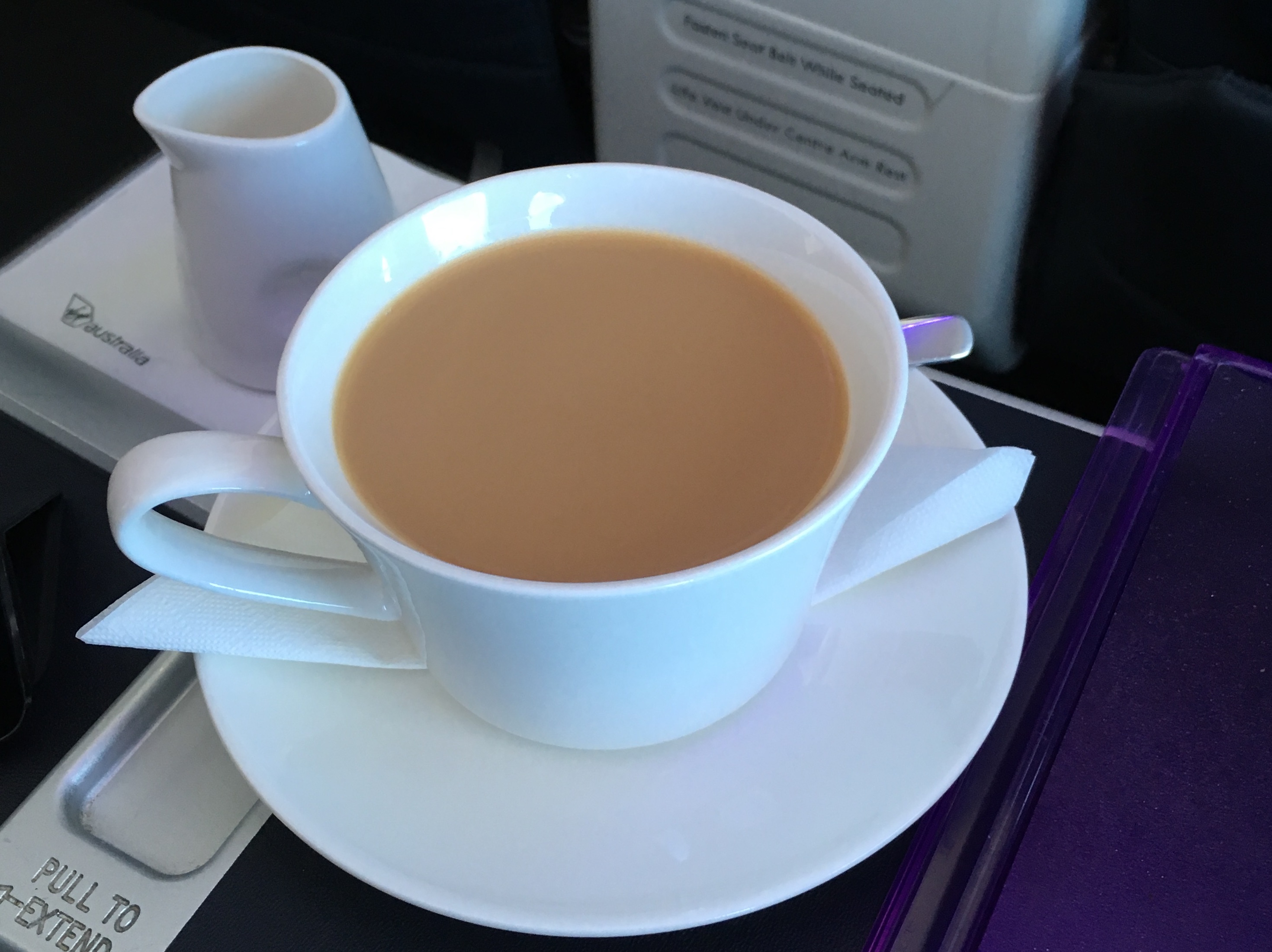 Customer service
With few exceptions, it is usually hard to fault the Business Class service on Virgin Australia services, and this was no exception. As stated above, having only 8 seats in the entire cabin as opposed to 12 or more that are frequently found on other airlines allows for a heightened level of service to be given to Virgin's Business Class customers.
All staff that I interacted with from check-in to disembarkation were polite, friendly, and willing to engage in brief conversation. What stood out for me is the pride that the staff had for the airline, especially for this particular route. A number of staff made sure to point out that Virgin Australia is 'the only airline flying Business class on this route'.
Requests for additional drinks were handled in a professional and timely manner, and the staff went out of their way to explain the in-flight entertainment and wi-fi available, along with frequently scanning the cabin to ensure that all guests were comfortable and didn't have any outstanding questions or requests.
Inflight entertainment
Virgin Australia branded tablets were made available to all Business Class customers, which included a variety of Movies, TV Shows, Radio and e-Books.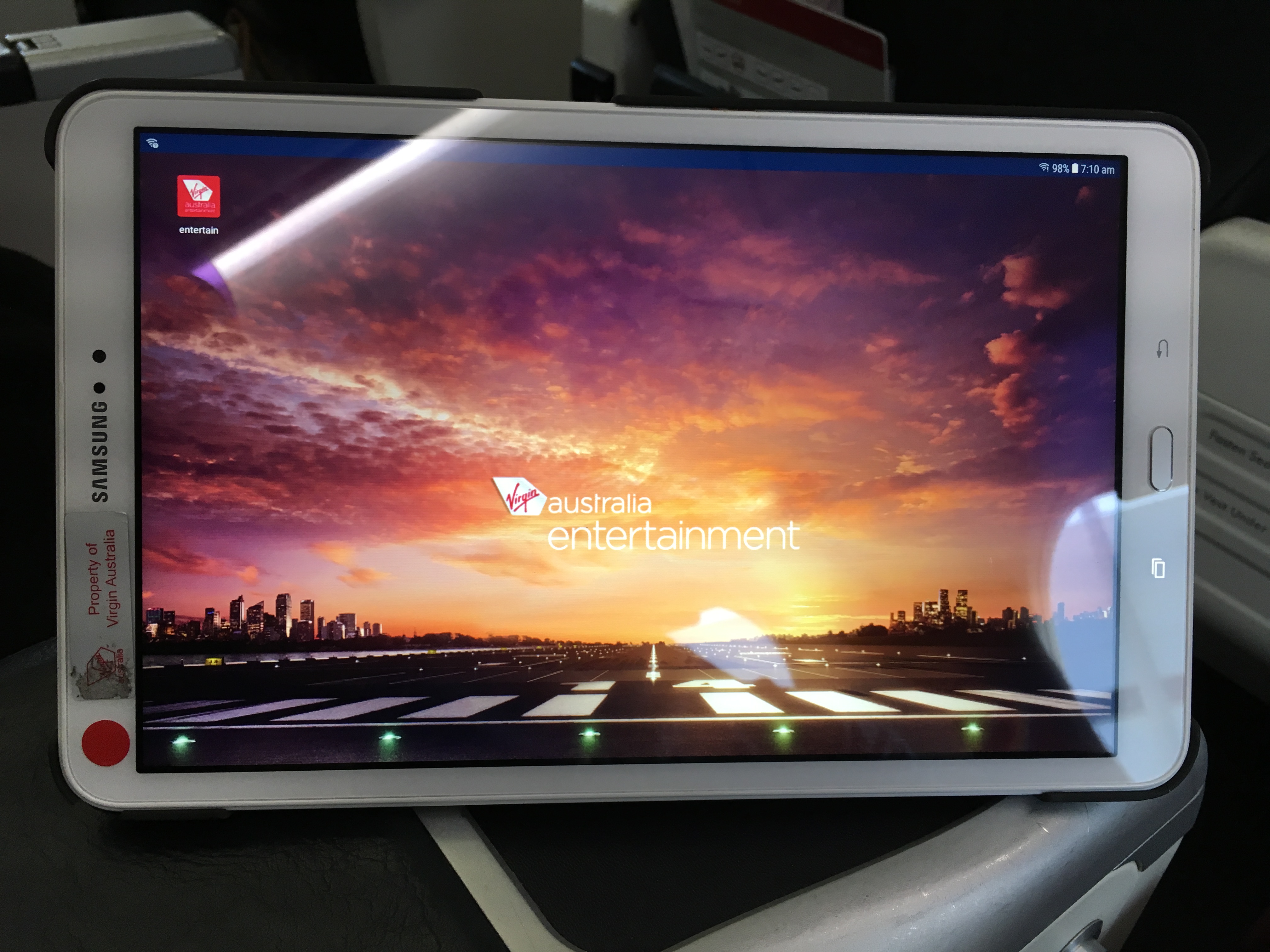 The range of movies and TV shows was adequate, however my staple of watching 90's comedies like Friends was unfortunately not available, with more modern TV shows predominantly making the shortlist.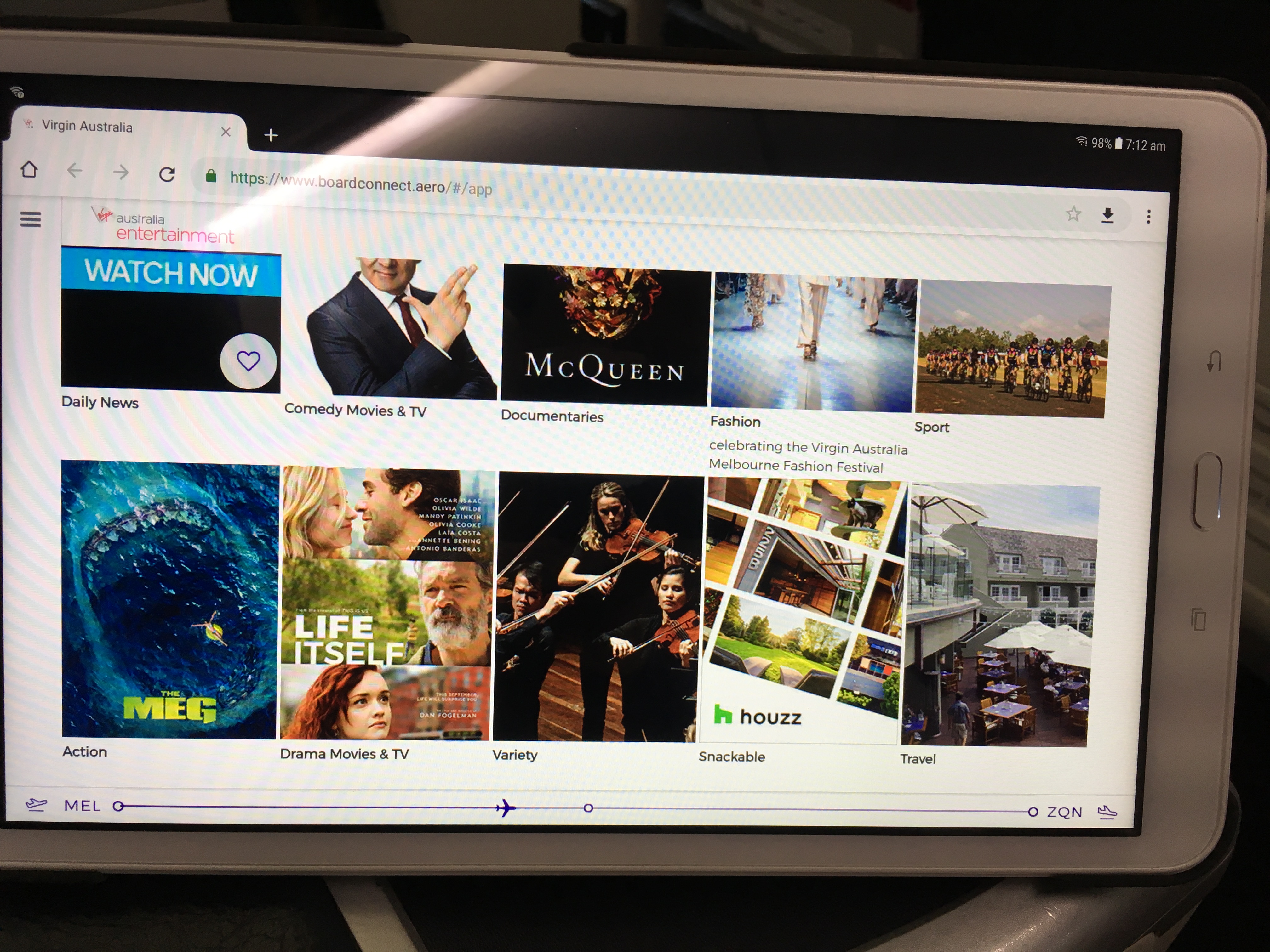 The aircraft was also equipped with wi-fi entertainment streaming that could be accessed using the Virgin Australia app.
Complimentary newspapers were also given out, with the selection being The Australian, The Australian Financial Review and The Age.
Amenities
This aircraft was equipped with wi-fi, providing 15 minutes of free browsing before being requested to purchase a wi-fi package. Details of these packages are shown below.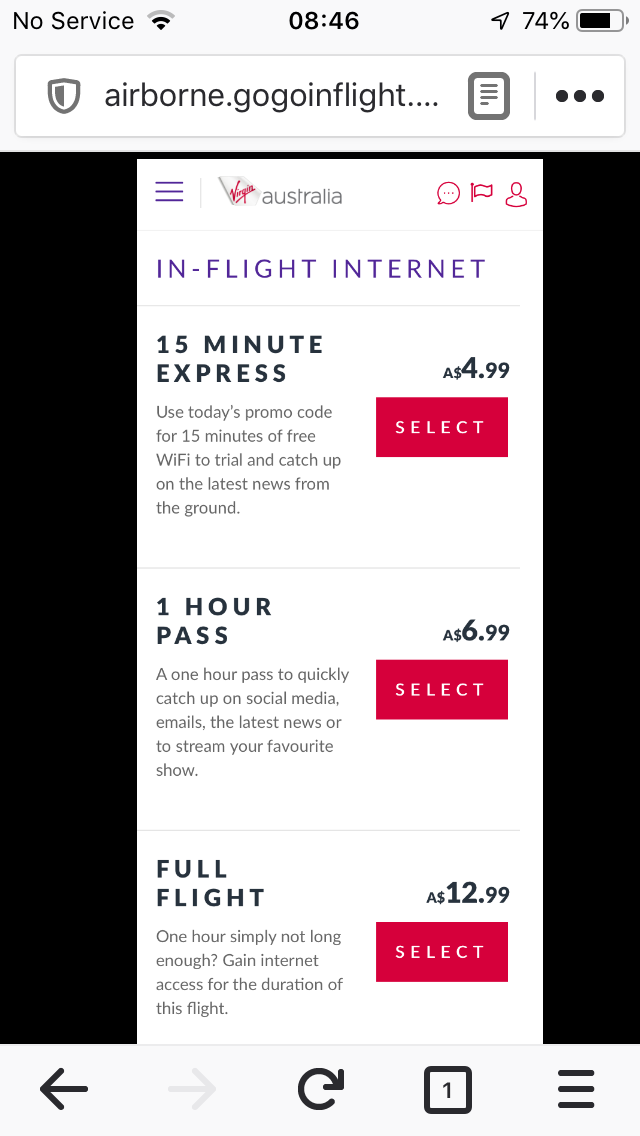 Activating the free 15 minutes wi-fi was quite simple. You click on 15 minute express service, which takes you to the screen below. I filled in my email address and clicked on the + promo code.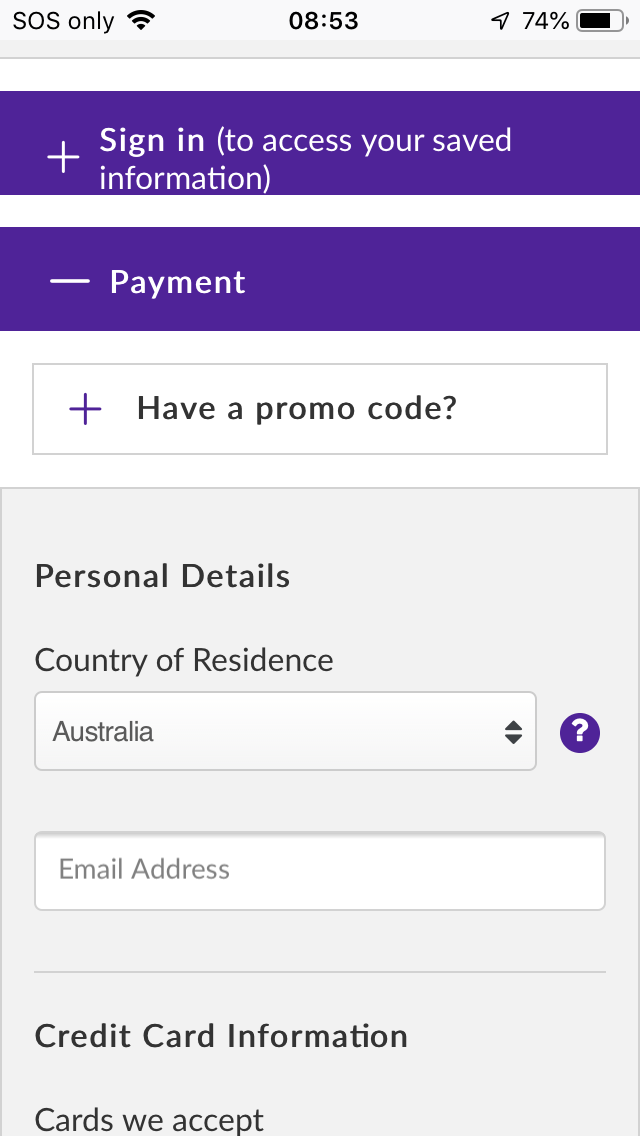 I did have difficulty in that the promo code should have automatically popped up, but for some reason it was not showing on my iPhone, and had to request the code from the cabin crew.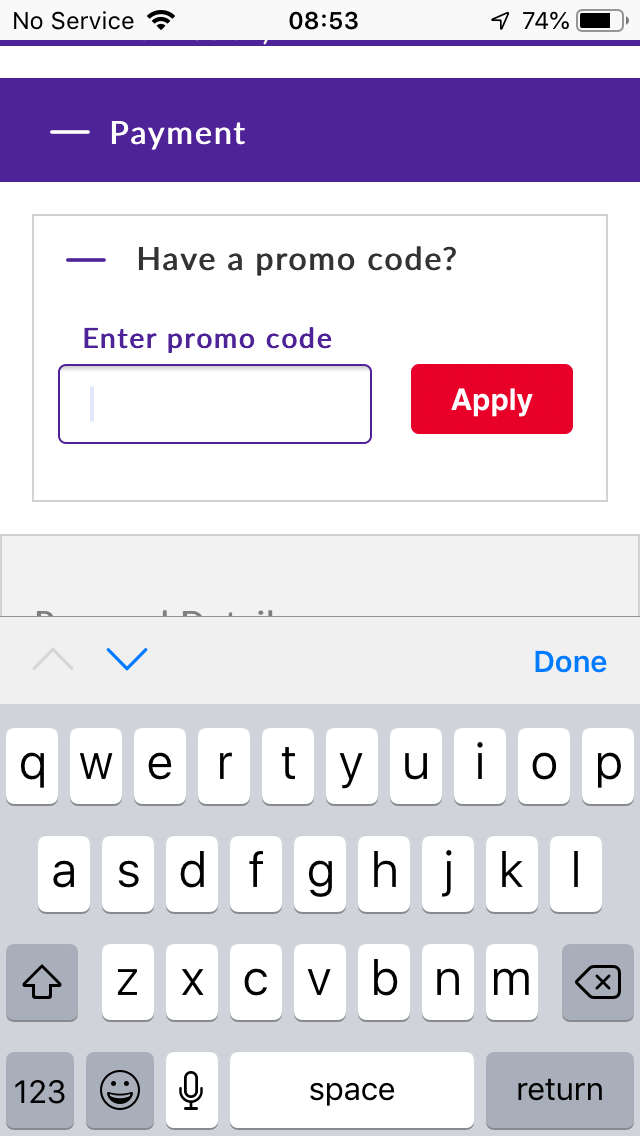 Once you come to the final screen with the total cost and discount applied, you are ready to go!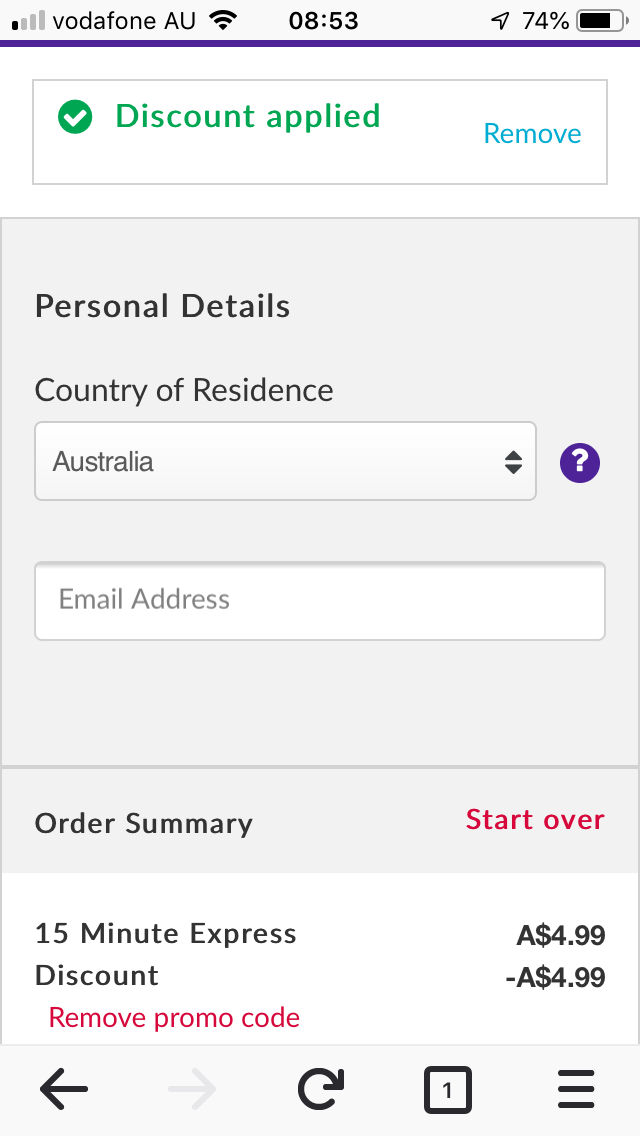 I found the speed of the internet to be pretty fast, definitely in line with speeds experienced on the ground.
How to redeem points for this flight
You can redeem for this flight using Velocity Points, KrisFlyer miles or Etihad Guest miles.
For details on how to redeem for this flight, read our overview here.
Lounge access
Passengers departing from Melbourne or Sydney get access to the excellent former Etihad Lounge – The House, with à la carte dining.
You can also get access to Virgin Australia's own lounge in Melbourne.
Summing up: why choose this flight?
Being the only carrier to offer Business Class on this route year round provides a great incentive to choose this flight if you're looking to experience a premium level of comfort for your trip from Melbourne to Queenstown. It is definitely worth considering for special events such as wedding anniversaries or romantic getaways, or if you have a large stash of Velocity points to use up.
What is great
Friendly staff and exceptional service
Excellent catering
Very comfortable seat
Fast wi-fi
What is not great
Filtered coffee
Lack of variety in comedies (at least have Friends!)
The writer flew from Melbourne to Queenstown courtesy of Virgin Australia.
Virgin Australia 737-800 Business Class review – Melbourne to Queenstown
was last modified:
October 15th, 2021
by