For those looking to fly from Australia's east coast to Japan and beyond on Qantas Points, Japan Airlines flies daily from Melbourne to Tokyo Narita on the Dreamliner. (Sydneysiders can instead fly direct from Sydney to Tokyo Haneda). Up the pointy end, a Business Class reward seat will set you back just 90,000 Qantas Points. The best bit? Take out a single frequent flyer credit card with a nifty sign-up bonus and you'll be well on your way to jetting to Japan up the pointy end.
As you might expect, JAL Business Class is revered for its 'soft product' – the seamless service and delicious food. And on that front, I can report it's up there with the best.
En route to beautiful Belgium, I fly in JAL's lauded 'Sky Suite' from Melbourne to Frankfurt via Tokyo Narita. Here's what you can expect on that first 10-hour leg.
Also read: Beautiful Belgium: fly Business Class to Europe with JAL on points
Check-in, lounge and boarding
Check-in
With my flight's unfortunate departure time of 7:20 am from Melbourne, I arrive at the International Airport at 4:30 am bleary-eyed and in desperate need of a second coffee. The Economy queue is already filling up, but I'm pleased to spot only two groups ahead of me in the Business line.
After just five minutes, I've got my boarding pass and I'm off to security. The process is painless and I'm headed for the lounge in around 10 minutes. That's about as effortless as international check-in and security gets.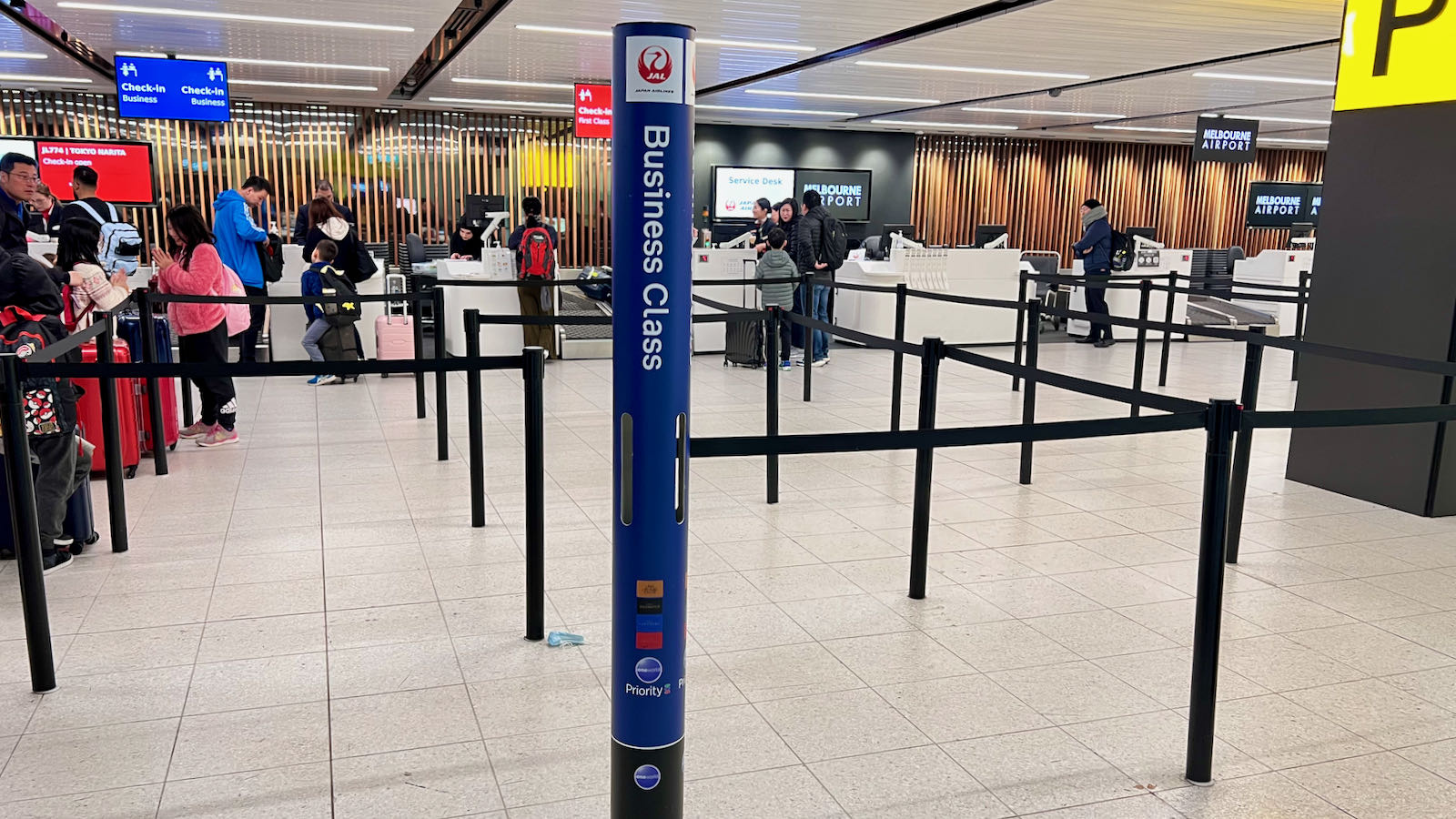 Lounge
JAL doesn't operate its own lounge in Melbourne (nor do a number of other oneworld airlines such as Qatar). But as a Business Class passenger, I can access both the Qantas International Business Lounge and the Marhaba Lounge. I plan to visit both, stopping first at the Marhaba Lounge for a life-saving coffee and then swinging by the Qantas Lounge for breakfast.
Heading through the bright red entrance of the Marhaba Lounge, I'm not expecting much. I reviewed this lounge before my Qatar Qsuite flight from Melbourne to Doha in September 2023, en route to Marrakech, and was mildly enraged by the food and beverage offering. In terms of physical footprint, though, the Marhaba Lounge outshines Qantas with expansive tarmac views and comfy leather armchairs. It's barely 5 am, so I plan to make a coffee from the self-serve machine and then sink listlessly into an armchair until the caffeine kicks in.
So I'm pleasantly surprised to find that the Marhaba Lounge puts its best foot forward at breakfast time. Coffee turns into scrambled eggs with bacon, sausage and spinach (I adore a breakfast buffet that offers greens). This hot brekkie floods my brain with energy and endorphins – both of which I'm in dire need of.
Given I've still got over an hour to kill before 7 am boarding, I resurrect my haggard face in the spacious bathroom, knowing there'll be a selfie or three on board. Those craving a shower can make use of the shower cubicle.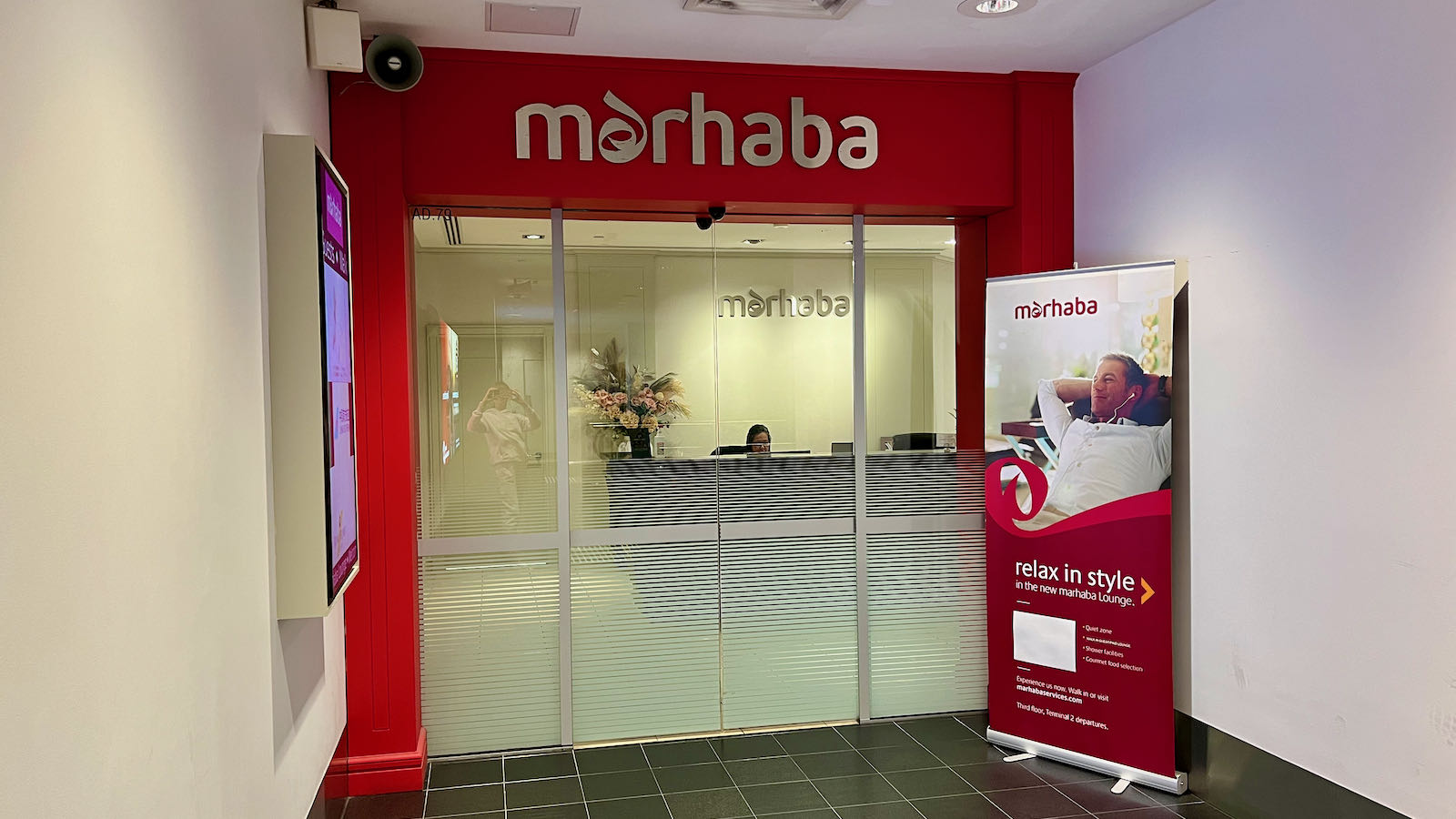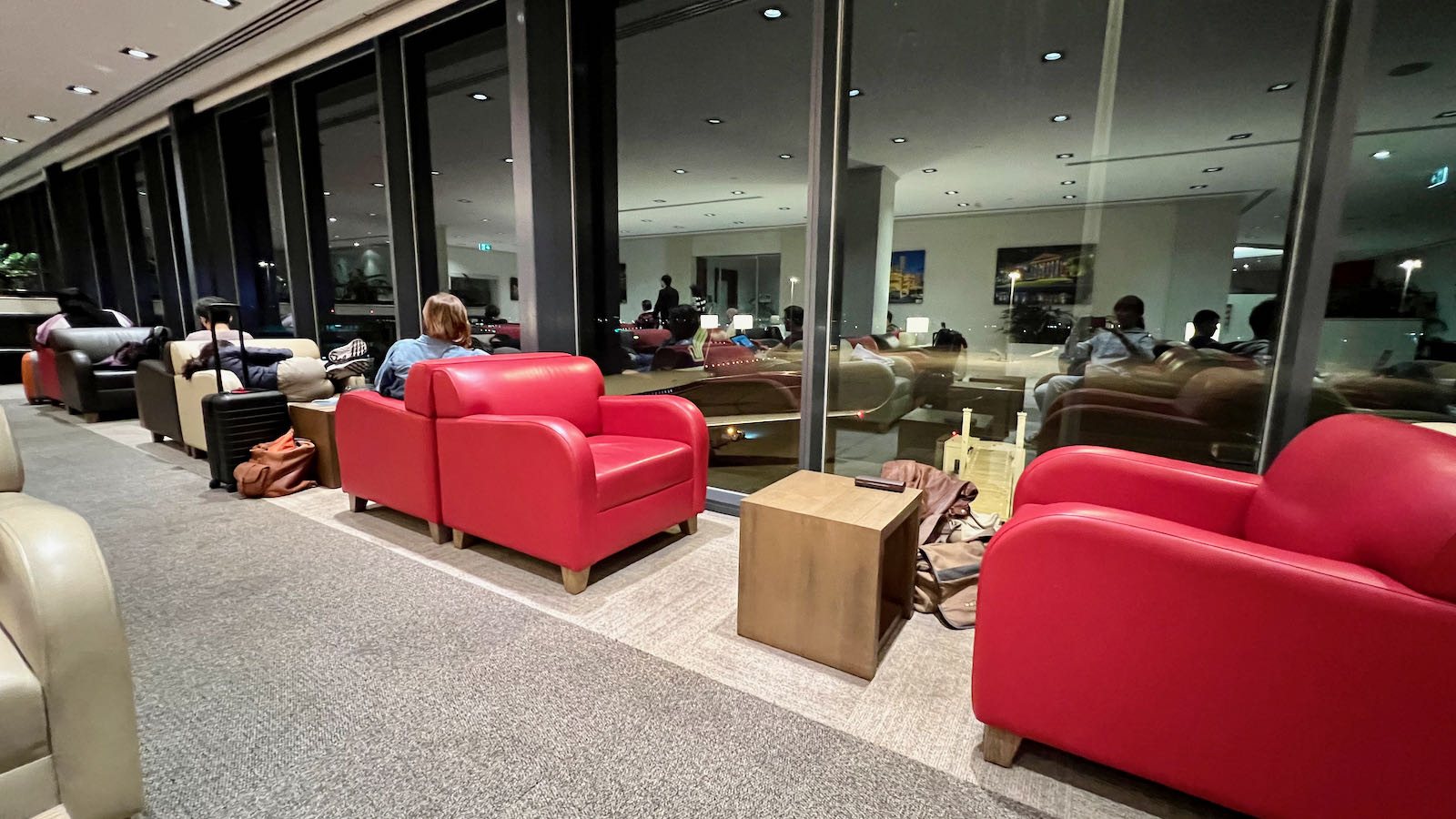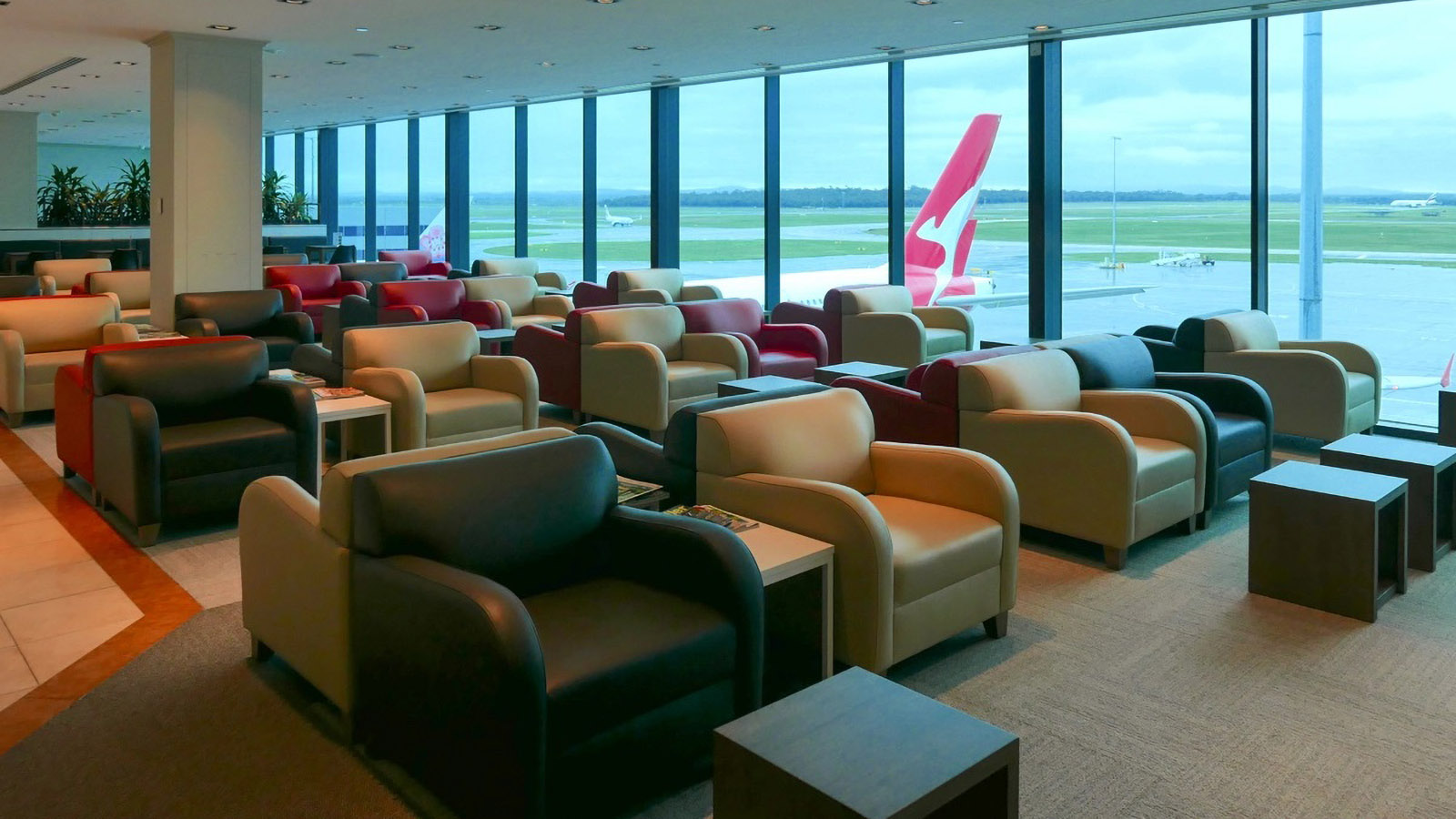 Boarding
I arrive at the boarding gate around 6:45 am, convinced I'll be the first eager Business Class passenger there. So I'm disappointed to spot a few Business passengers already ahead of me in the queue. So much for being first on board and snapping pics of the empty cabin.
However, the moment I step on board my cares vanish. I'm greeted by name and directed to my Sky Suite with a warm smile and the slightest of bows. This sets the tone for what proves to be the most exceptional service I've ever experienced in the sky. But more on that in a moment.
Japan Airlines Boeing 787-8 Seating
The Sky Suite
This is the first of my two flights to Frankfurt aboard JAL's Dreamliner, with its lauded Sky Suite fit-out. In Business Class, the 787-8 Dreamliner features 38 suites in a 2-2-2 layout, with the unique feature of direct aisle access even for window suites thanks to a narrow right-angled corridor. It sure beats clambering over your seating companion when nature calls. You'll also find the Sky Suite on the Boeing 777, though on this aircraft Business Class features a 2-3-2 layout.
I find the Business cabin to be quite bland, with burgundy seats, pops of dark grey and white walls. I always appreciate a touch of aesthetic flair in the cabin itself, rather than when designers just pay attention to the seat or suite. Qatar and Emirates excel in this category (though admittedly Emirates' blingy gold and burled wood vibe isn't for everyone).
But back to the suite itself. I always choose a window seat if possible, and on my Melbourne-Tokyo Narita flight I secure suite 3A on the bulkhead (though I'm crushed to discover that other window suites sport three windows while mine only sports two). I guess it's what you could call a First World Problem.
Entering the suite via the narrow corridor, I discover my own private cocoon. Once the privacy divider to the neighbouring seat is raised after take-off, the sense of privacy only increases. But I must confess the suite feels a bit narrow – even claustrophobic – with a 'closed-in' feeling I don't experience on Qsuite, even with its sliding privacy door shut.
While the Sky Suite has a seat width of 52 cm between armrests – the same as Qsuite – the suite itself features very little additional space. A typical Business Class seat control panel allows you to customise the seat's position to your preference.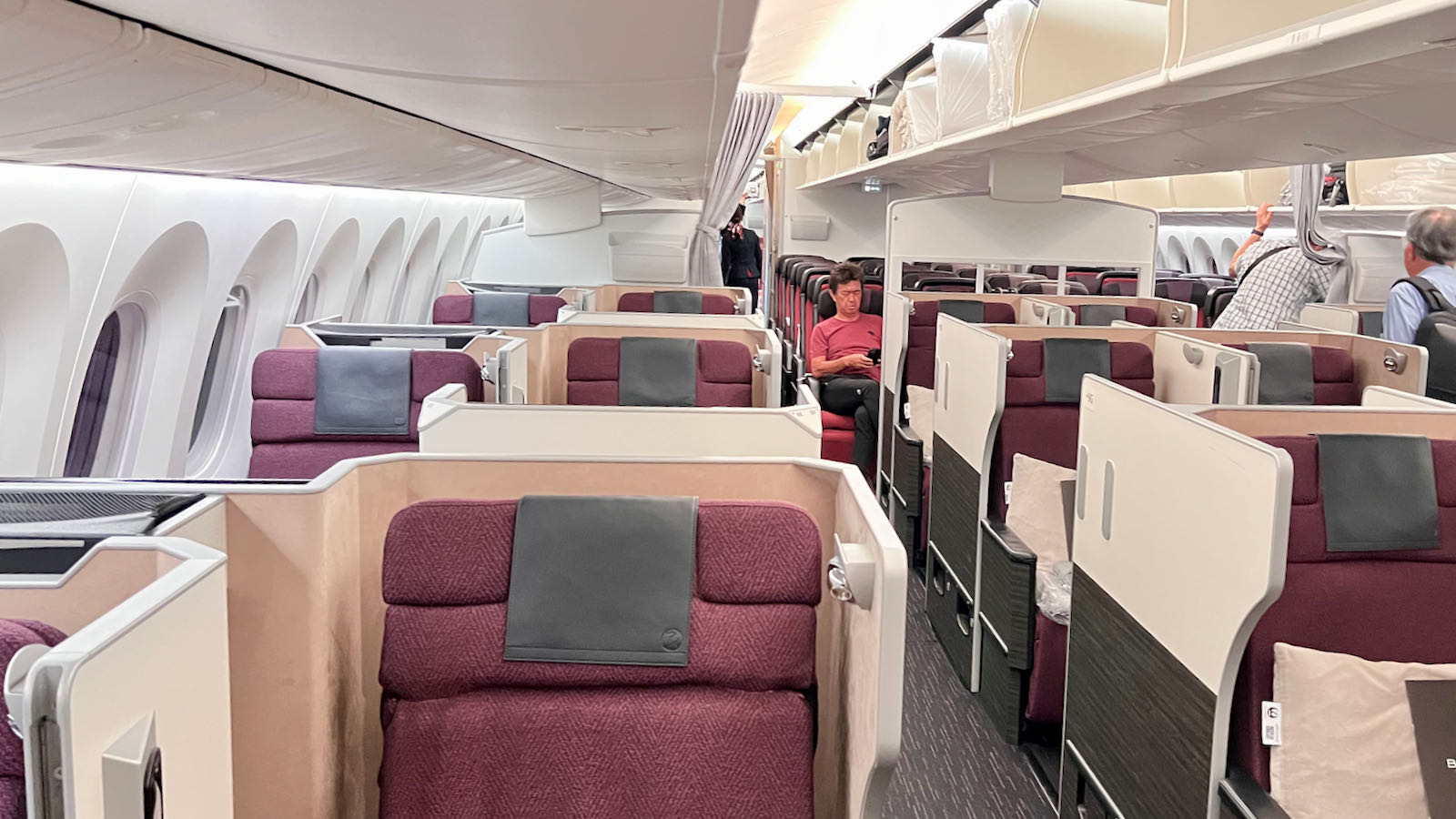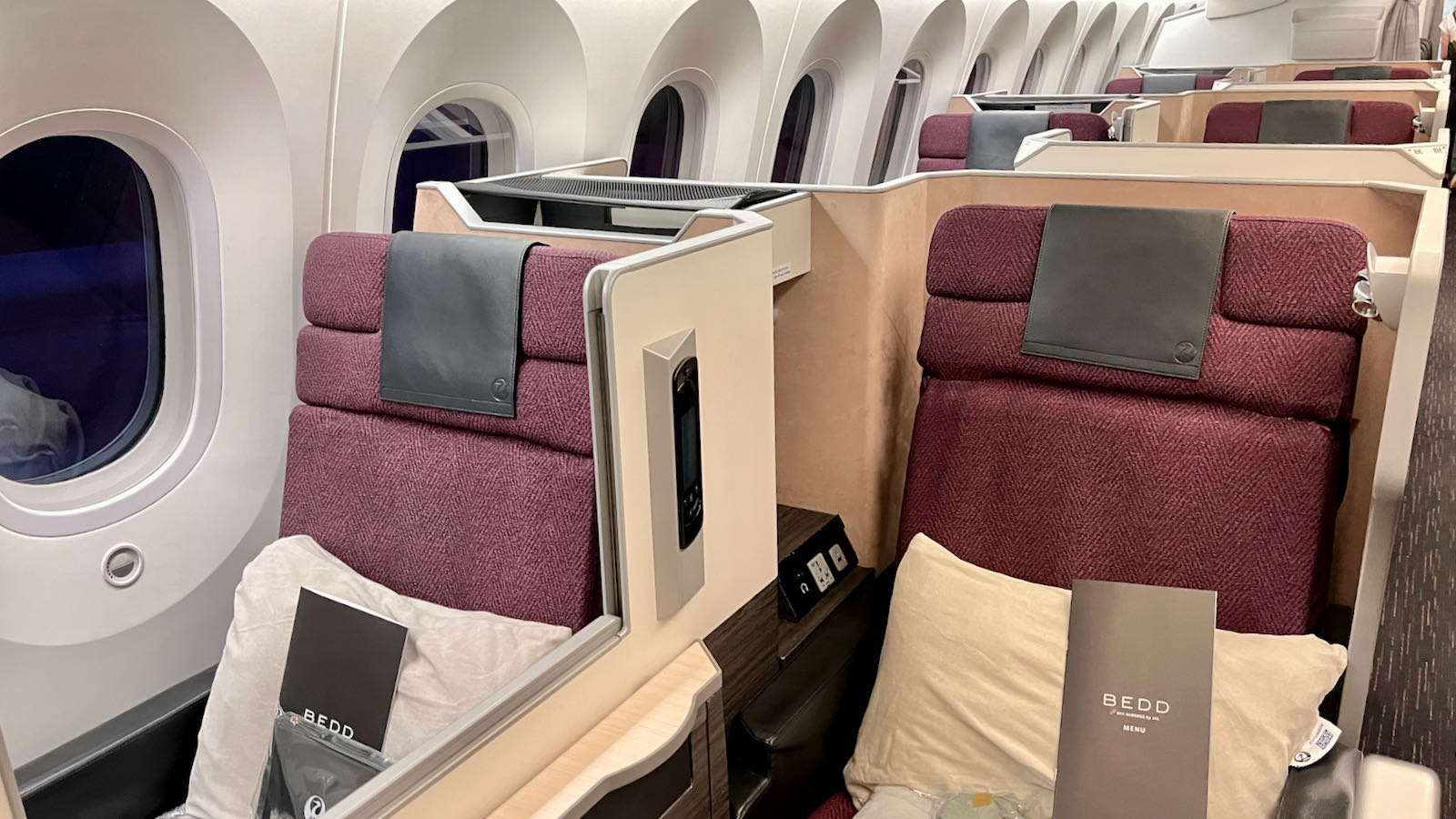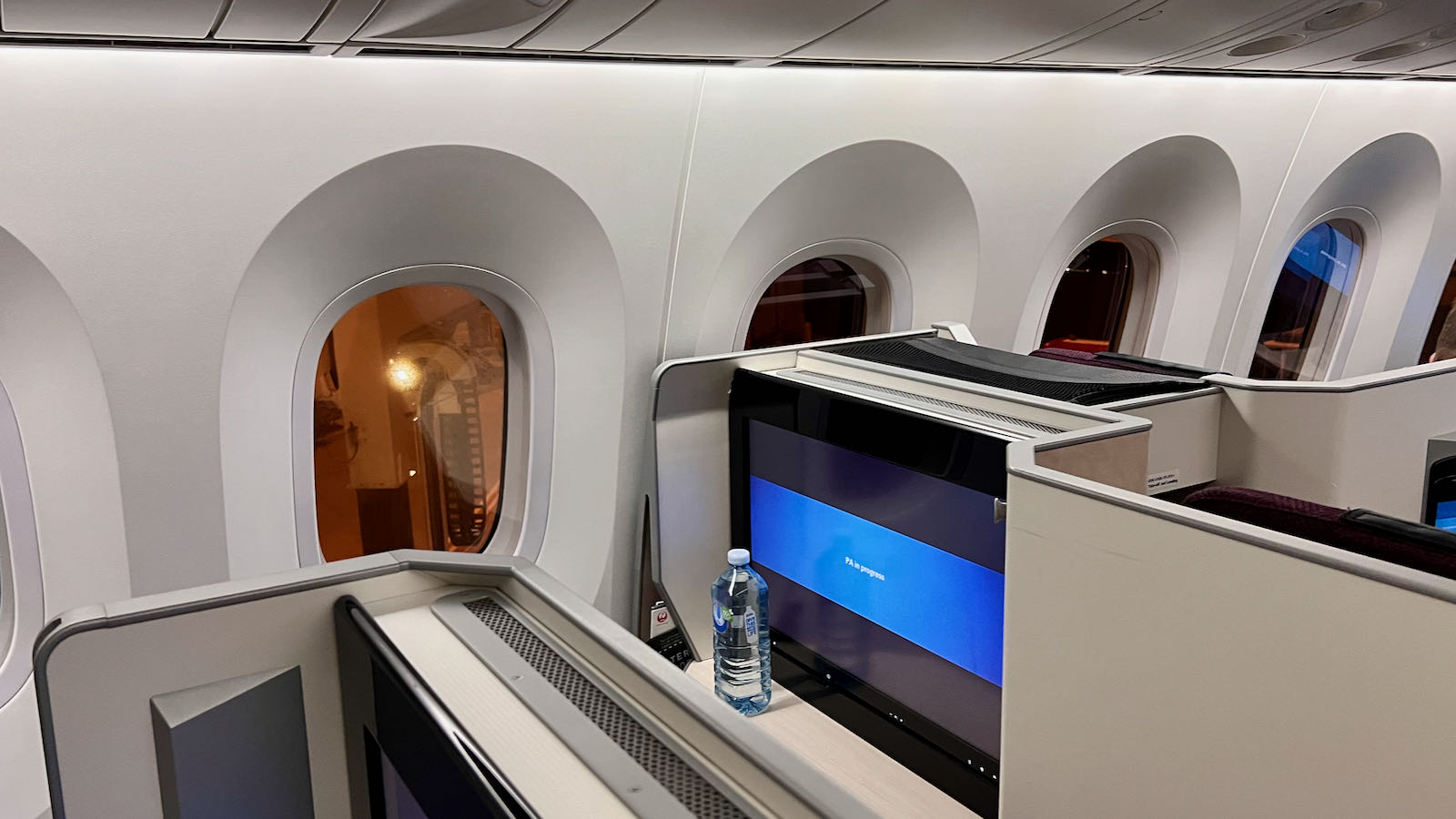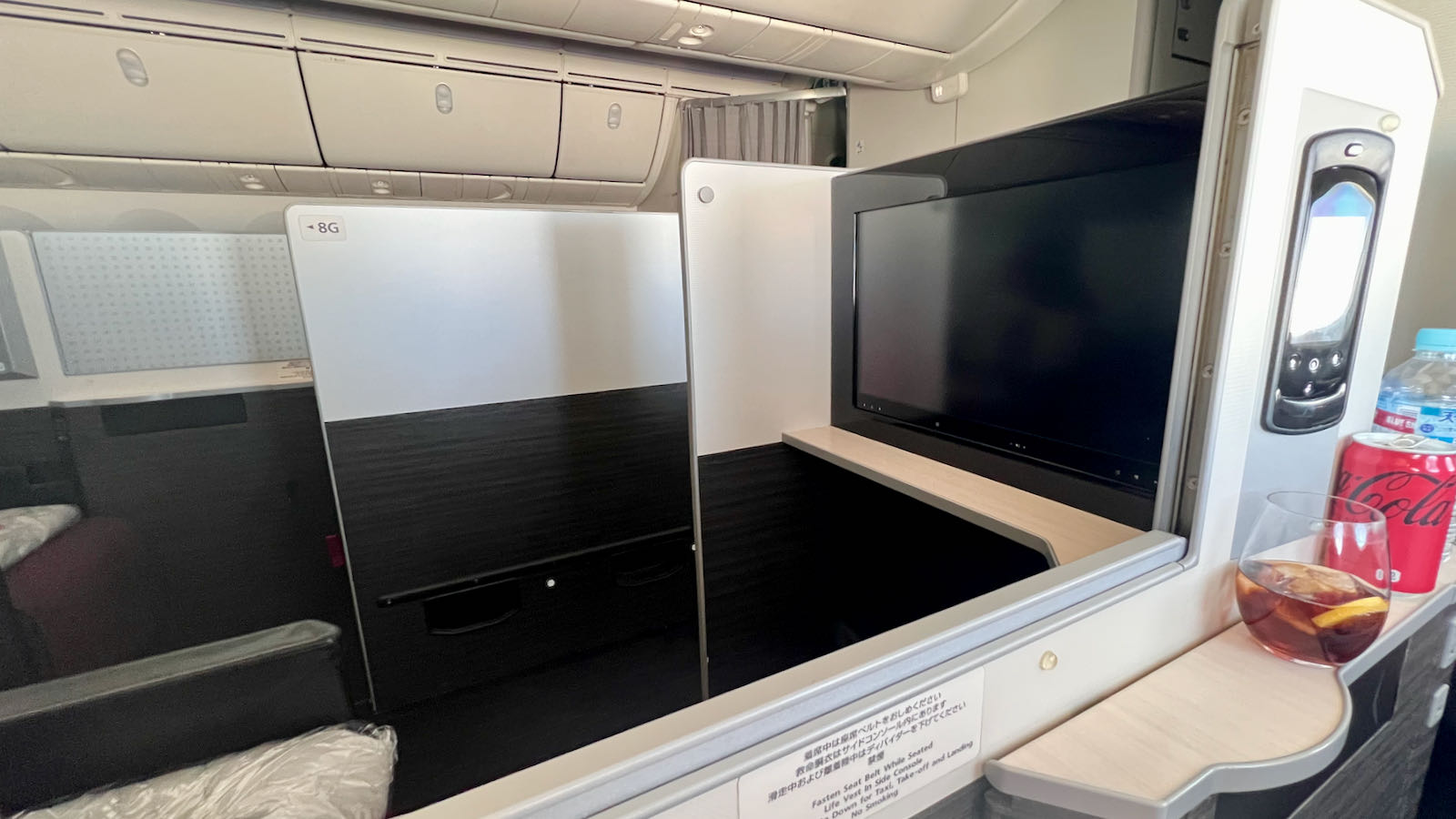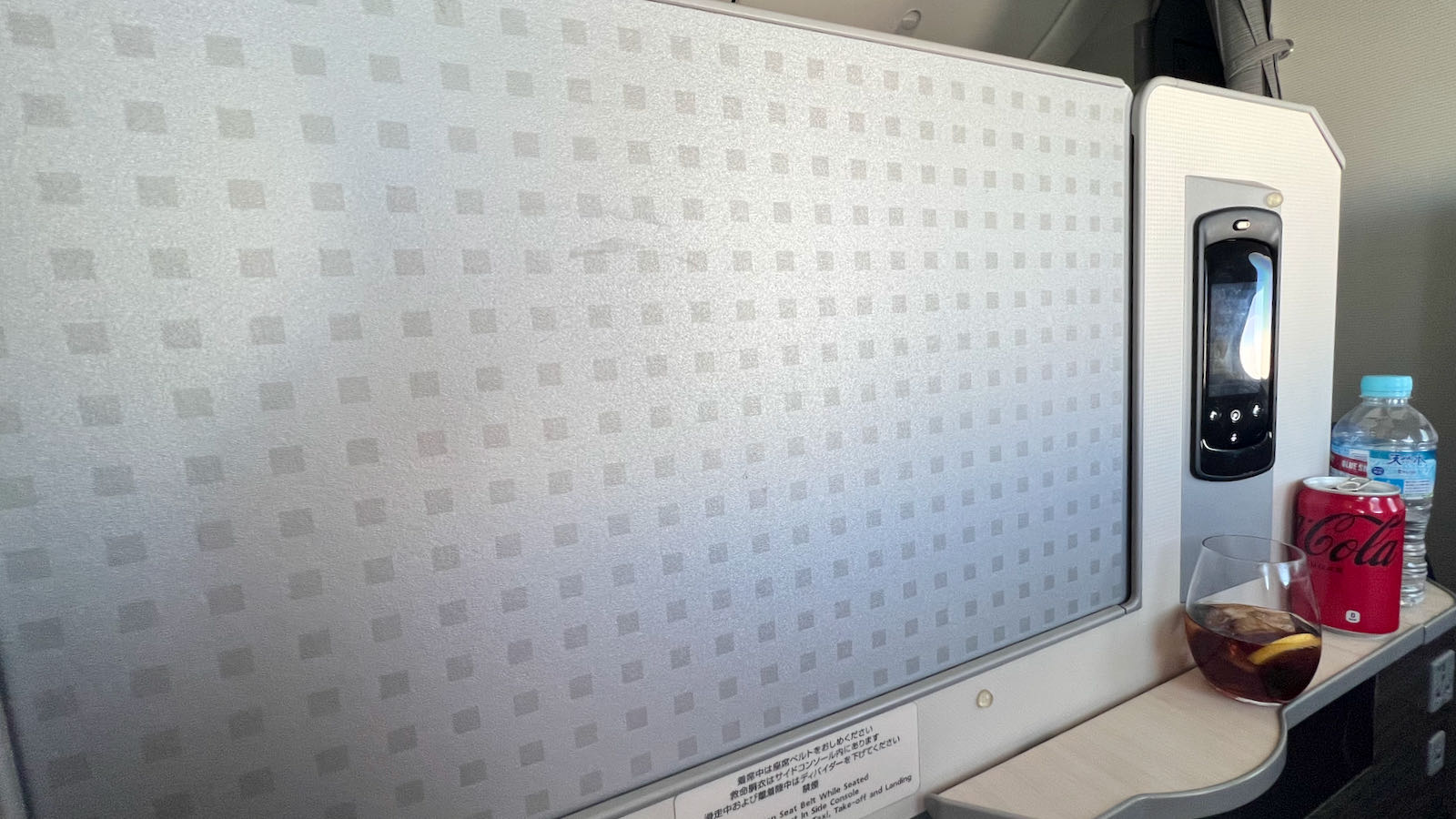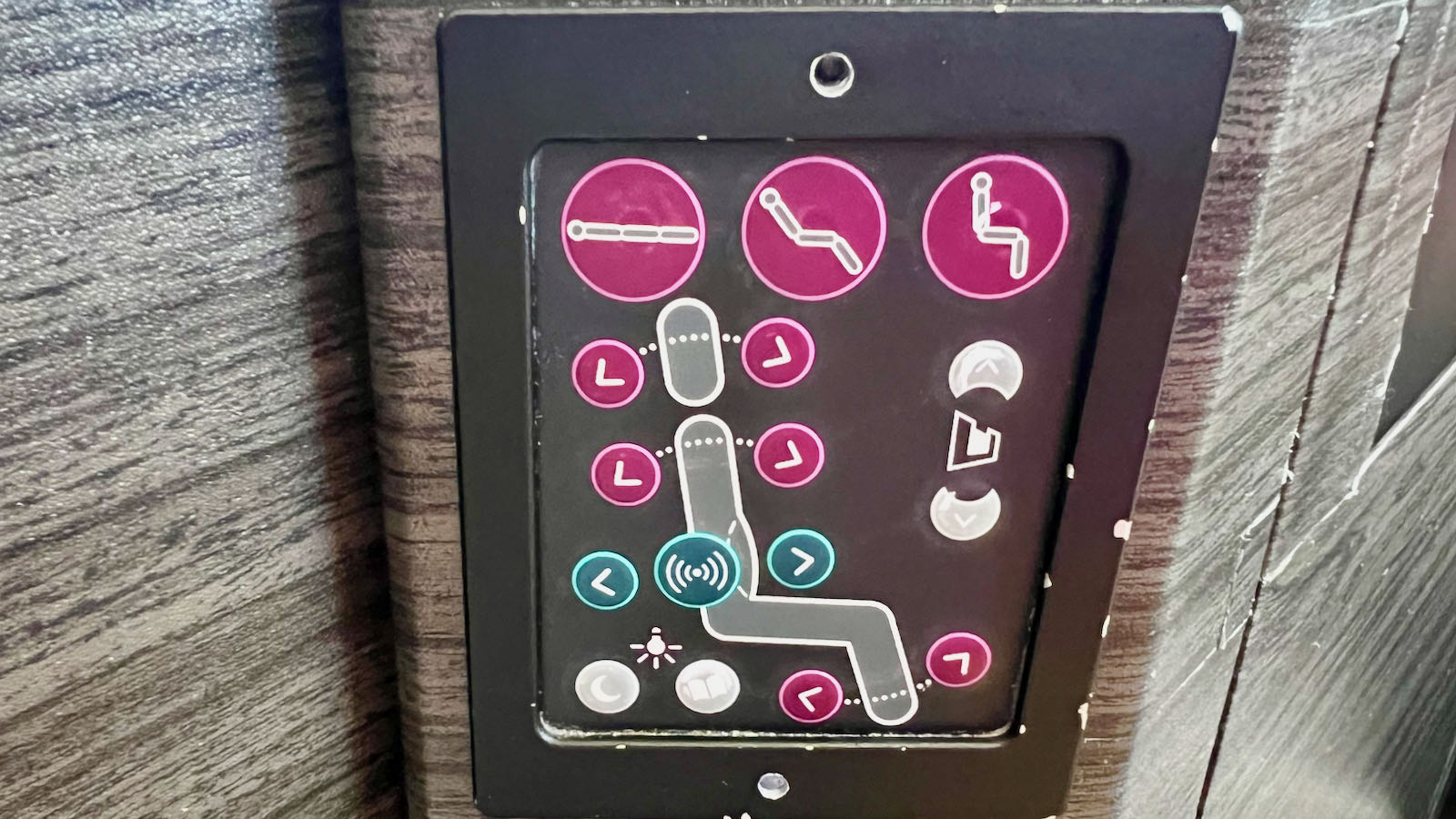 Storage and lie-flat bed
I find the storage options in the suite to be very limited. Sure, I can stash my handbag beneath the footwell when the seat is upright. While there's a small overhead storage shelf on window and centre seats, I don't discover this until my second flight from Tokyo to Frankfurt.
For the 10-hour flight from Melbourne to Tokyo, I end up stashing items I need at hand (phone, water bottle, tissues, lip balm – the list goes on) along the narrow strip that runs beside the privacy divider to the suite next door. The strip is so narrow I'm forced to arrange my goodies in a conga line as if I'm preparing to play a game of dominoes. Which I'm certainly not.
After my cruel 3:30 am wake-up time, I'm angling for a nap straight after breakfast (a delicious smorgasbord that's the undisputed highlight of my trip – see below). While other less-experienced or perhaps just more independent punters convert their own seats into lie-flat beds, I have no qualms asking the delightful cabin crew if they'd mind making up my bed while I pop to the bathroom. They're only too happy to – a reassuring sign when Business Class crew on some other airlines I've flown have been known to grimace before begrudgingly asking you to stand aside.
I return from the bathroom to find a cosy made-up bed, replete with an Airweave mattress and pillow, fastened seatbelt and jauntily-arranged cardigan that JAL offers for wear on board. The bed has a width of 65 cm and a length of 188. I clock in at 175 cm, so I've got a pleasing 13 centimetres to spare. Admittedly, I'm too juiced up on coffee, Champagne, sake and plum wine to sleep (I'm not an alcoholic – I just take my job seriously). But I appreciate stretching out for an hour or so.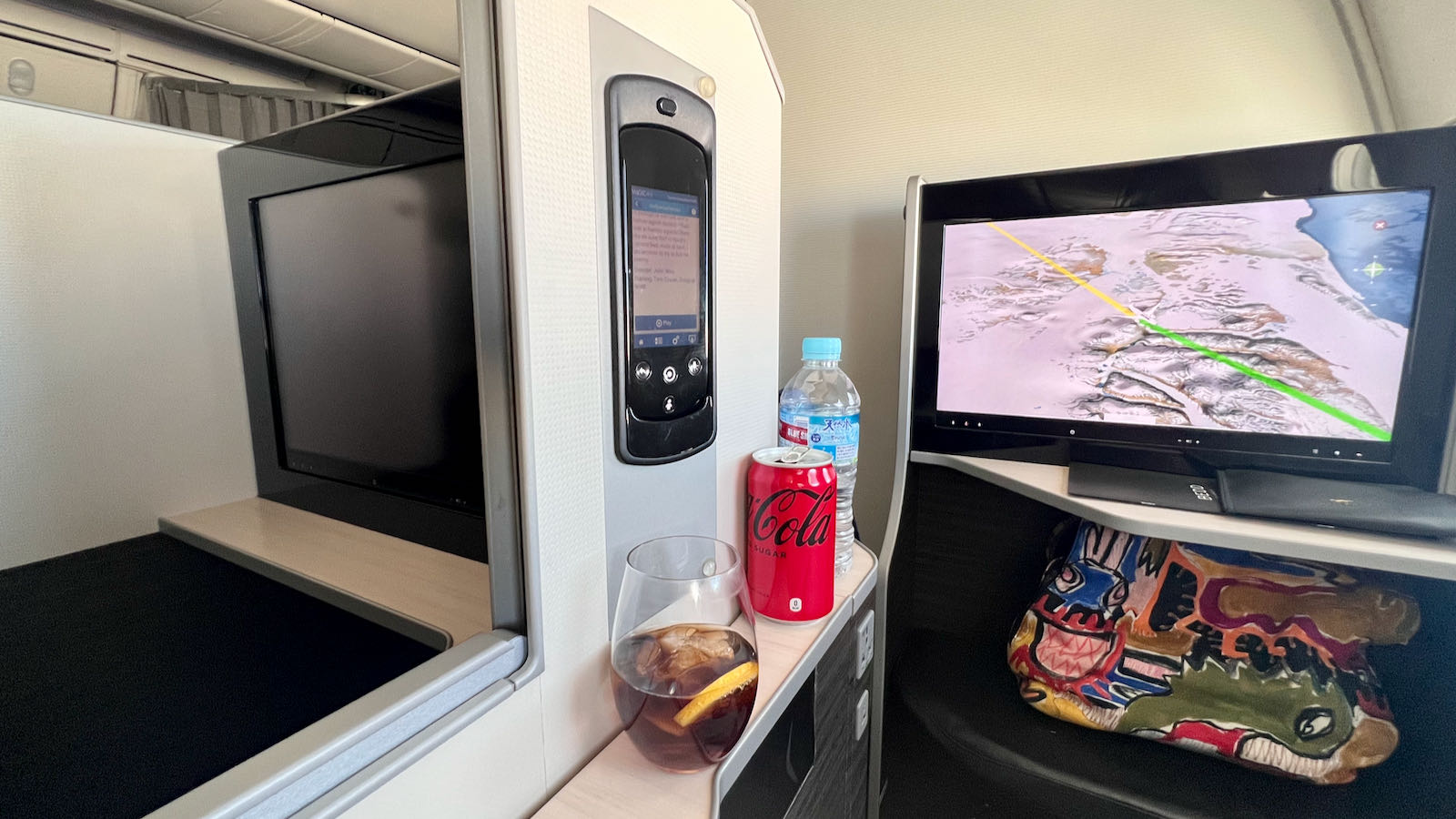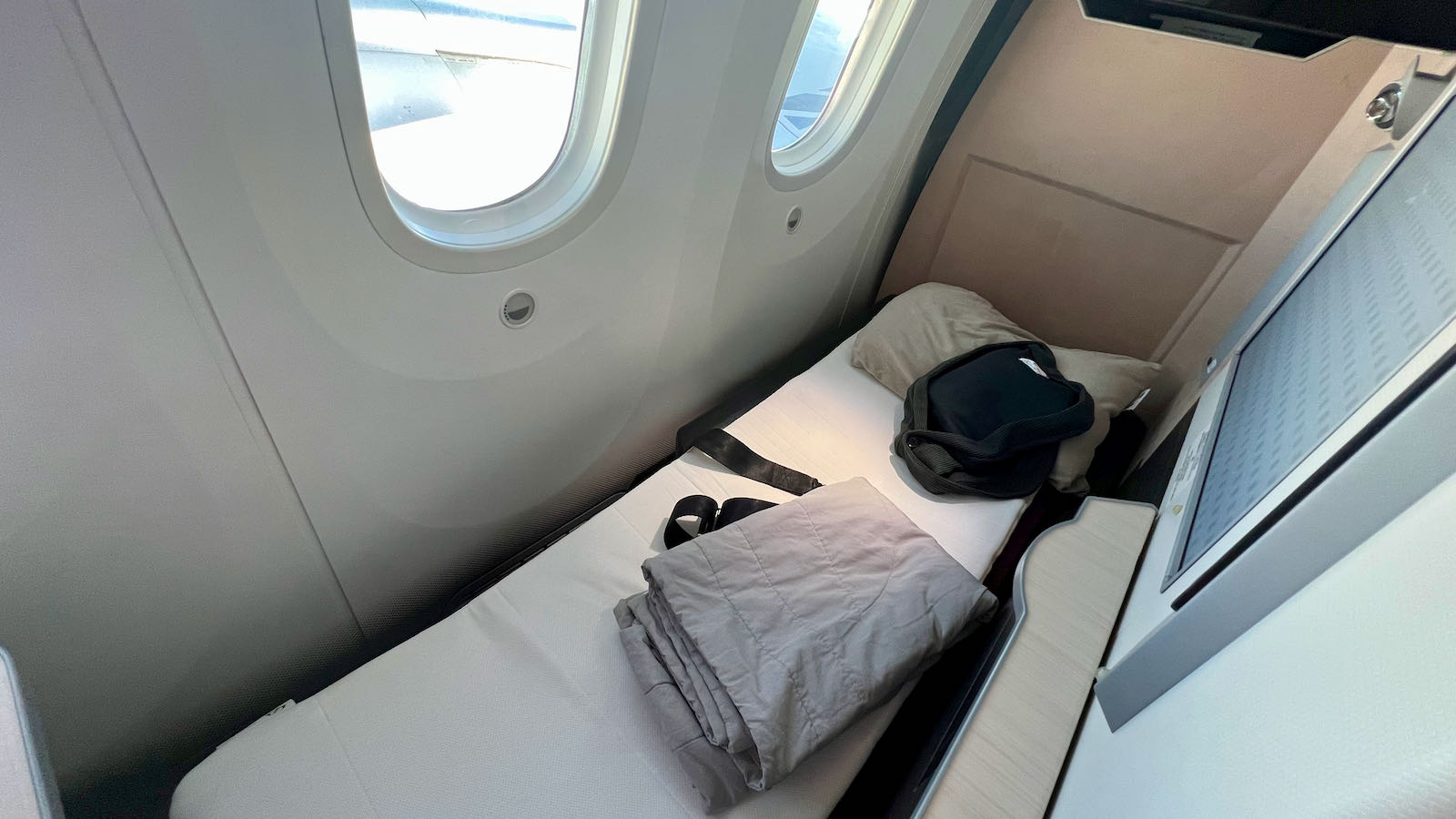 Japan Airlines Boeing 787-8 Food and Beverage
Beverages
After I'm settled in my suite before takeoff, I glance eagerly at the passing crew member for a glass of Champagne. But unfortunately there's no tray making the rounds – not even with juice and water. Boo.
Once we're in the air, though, crew waste no time in stopping by with a bottle of Drappier Champagne. Drappier isn't an especially inspiring drop as non-vintages go, but I won't say no. A savoury nut mix is served alongside.
In what should come as no surprise, the alcohol exacerbates my sleepiness. So I promptly order a coffee, hoping for a piccolo latte with plenty of crema – the best bit. But filter coffee is the only option. It isn't great, and I only drink half. More alcohol it is.
Of course, you can't fly Japan Airlines without at least trying the sake. From the two options, I select the limited edition 'Sha-raku' Junmai Daiginjo. My crew member offers the enormous bottle up for inspection. I can't read a thing, but the gold characters and sheer size sure make an impression. Though not as much as the generosity of the pour, which is literally the size of my neighbouring glass of water. I'm shocked and impressed.
The mellow sake is served cold, with a perfectly balanced and lingering finish. Thank goodness there's plenty more of it. Plump black and green olives and nuts dusted with icing sugar are the perfect accompaniment. I'm on a roll now – and I've sufficiently lined my stomach – so I move on to Japanese plum wine. My crew member suggests serving it with soda water and ice, an excellent suggestion.
The plum wine is an actual revelation. Savoury and rich with earthy plum and almond notes, it reminds me of a great manzanilla sherry. Consider me converted.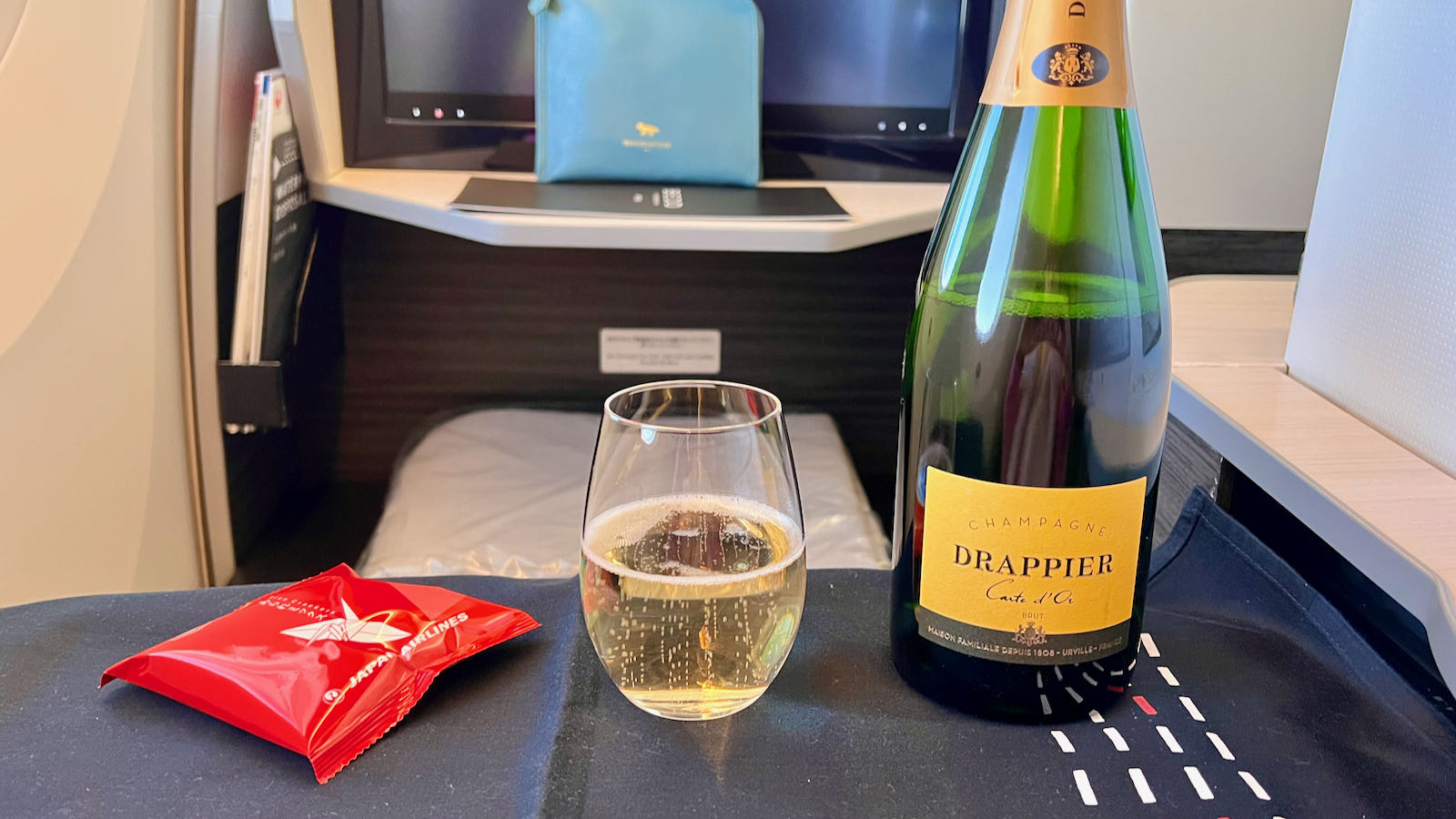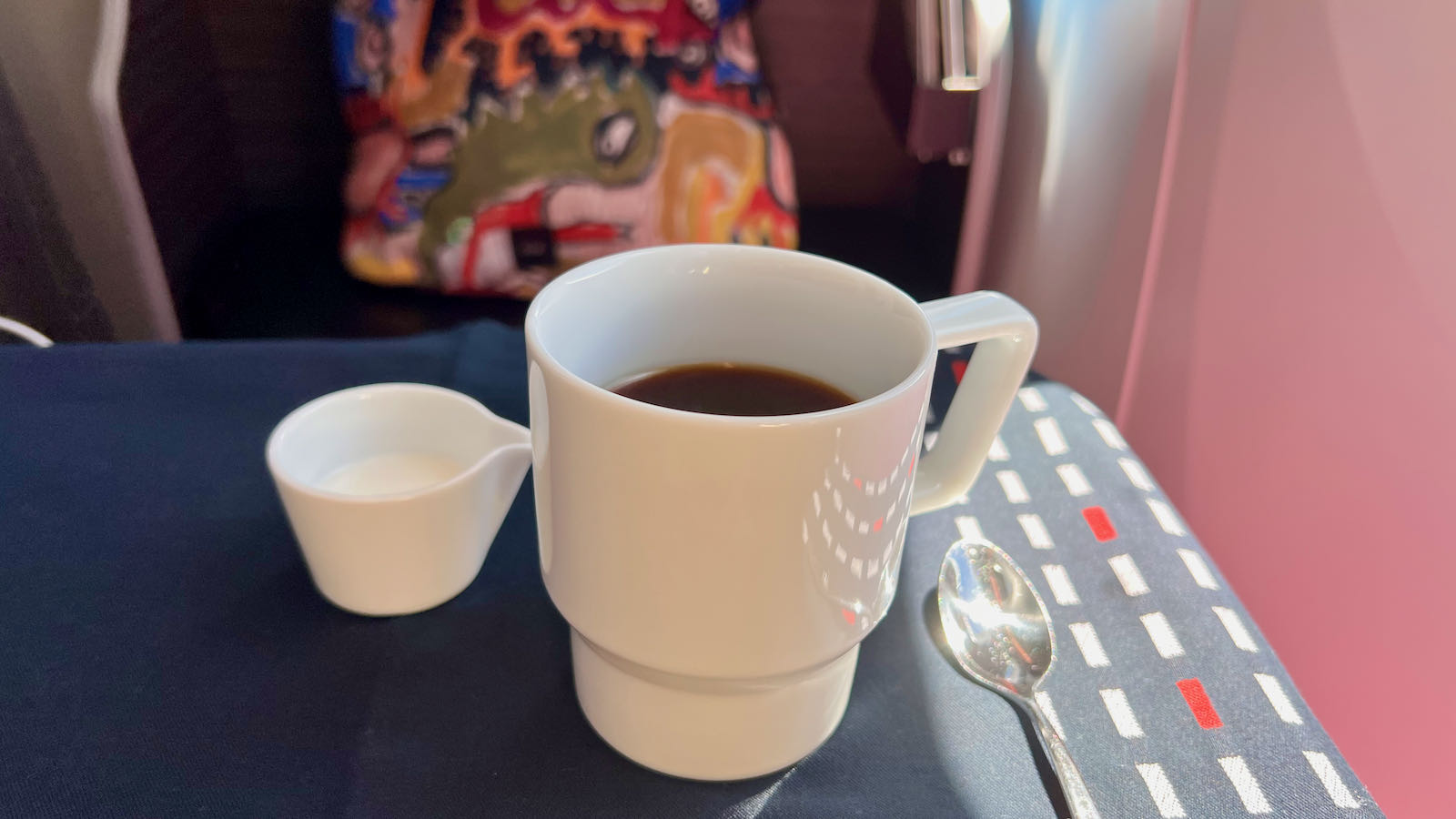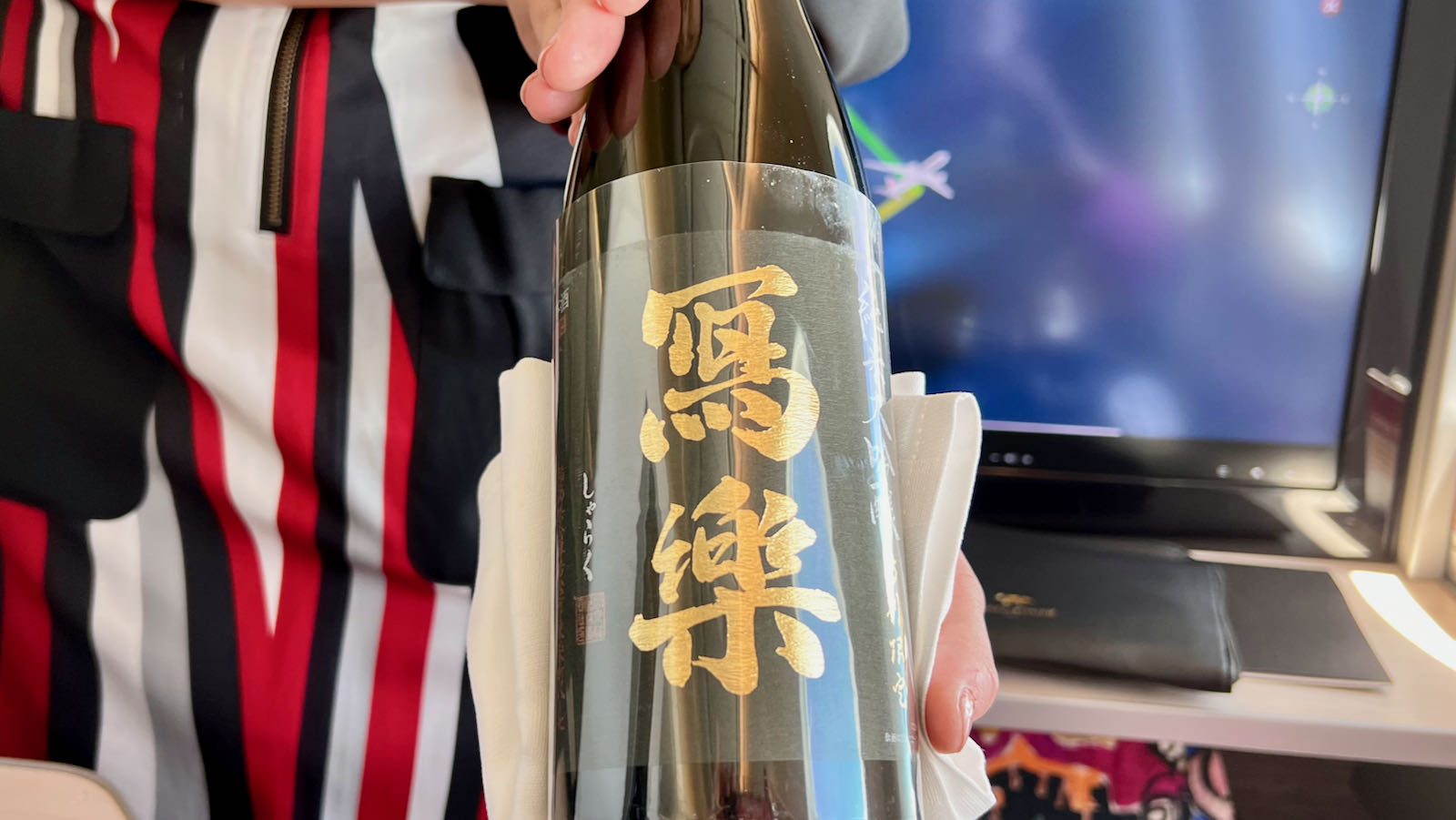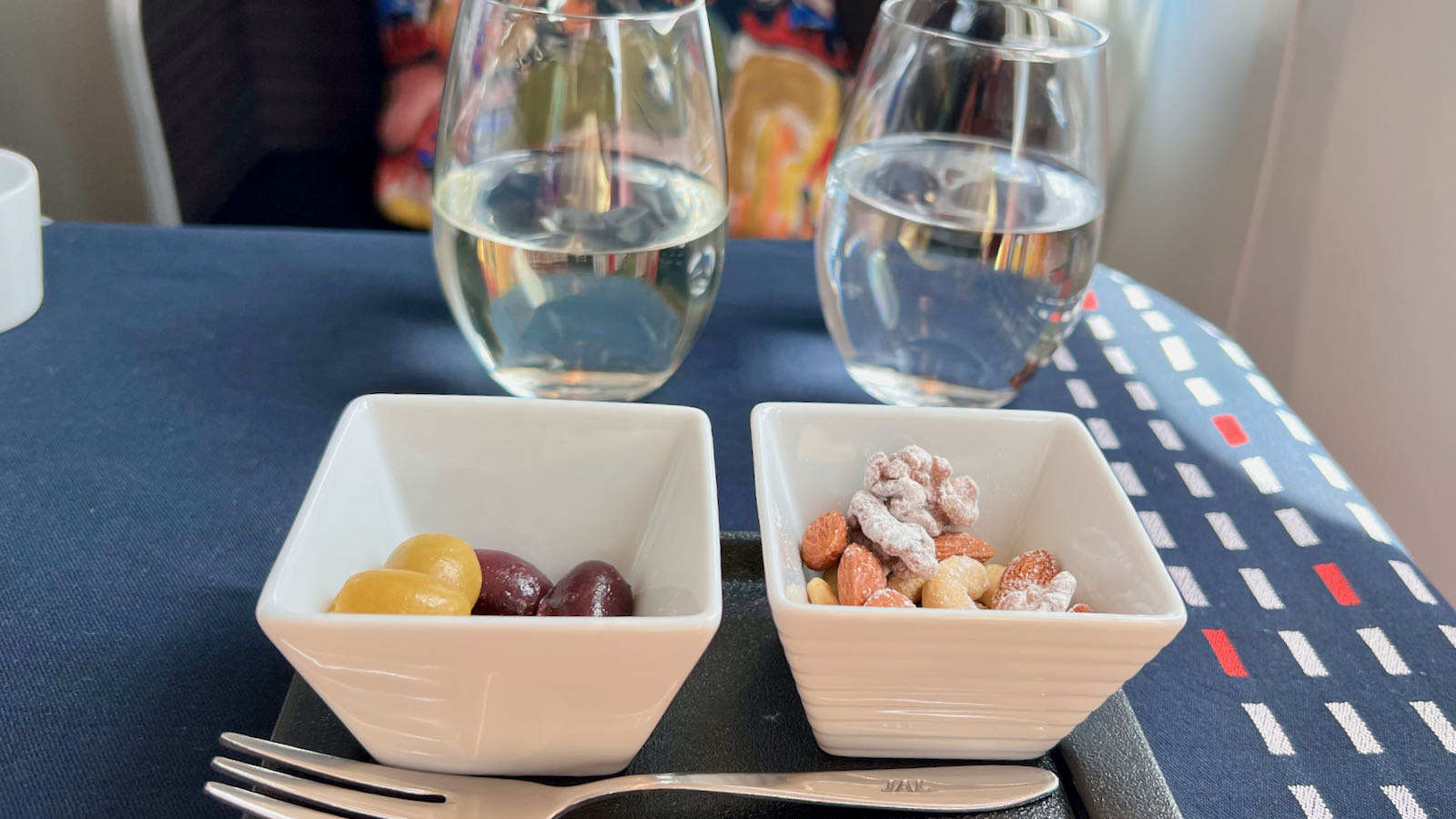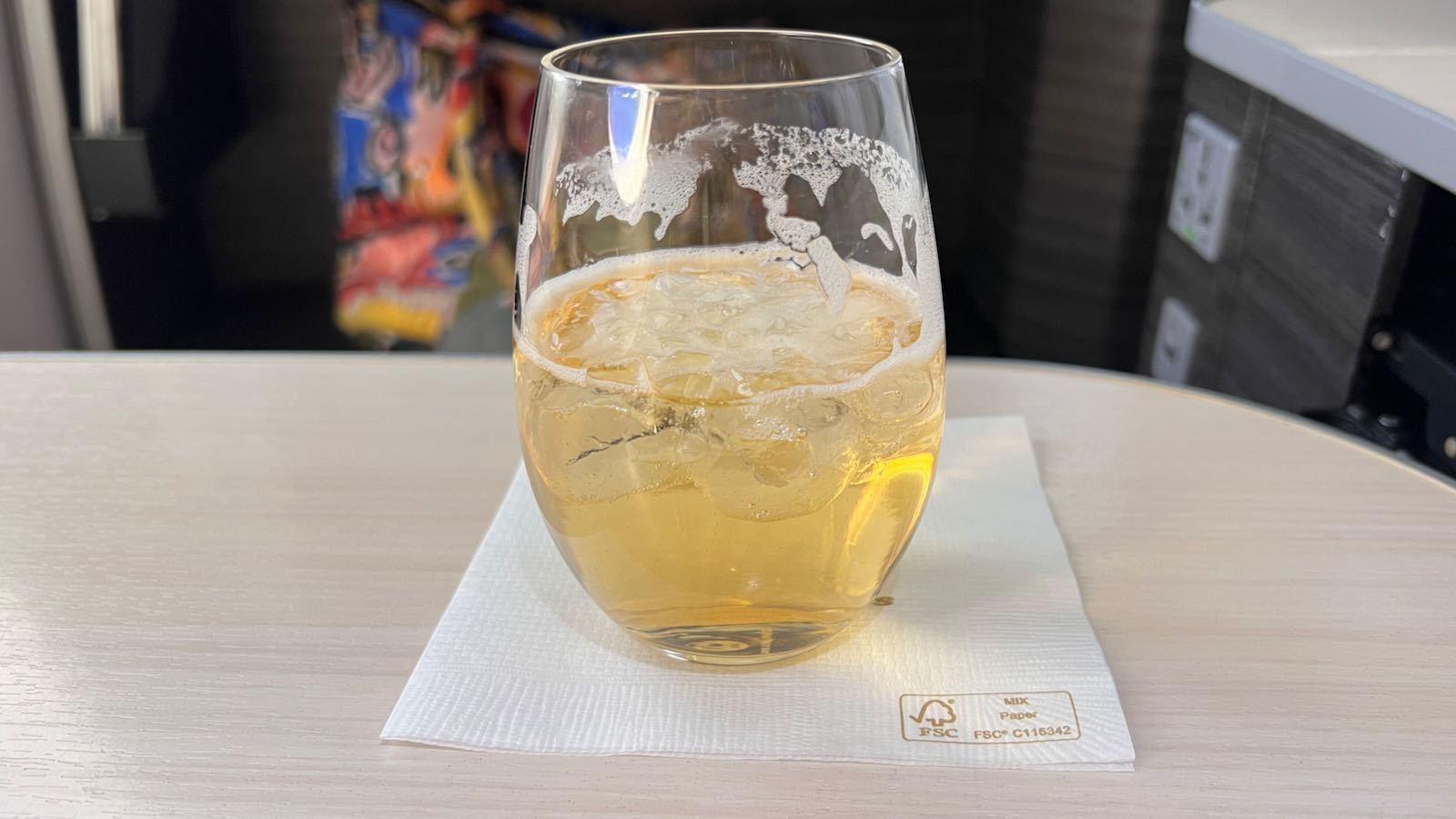 Breakfast
I'm a scrambled egg and avo girl, so Asian breakfasts aren't usually my thing. But I also subscribe to the 'when in Rome' philosophy. So I order the traditional Japanese breakfast, and what follows thrills me. The menu lists a series of small items, each highlighted in grey. And that's all my eyes see.
Visually, the bento box is like a detailed artwork, the many intricate dishes reminding me of the brushstrokes on an Impressionist painting. And I find it has the same uplifting effect on me. To give you a sense of the sheer variety and promise of deliciousness, I'll list the dishes below.
Soy-simmered celery
Shrimp cake with mushroom sauce
Fresh fruits (pineapple and watermelon in this instance)
Shitake mushroom and zucchini with sesame vinaigrette
Simmered sweet potato
Chicken cake and cucumber skewer
Deep-fried taro with short-necked clam
Green soybeans with miso-grilled duck
Simmered octopus
Japanese omelette
Some of the dishes are served in beautiful ceramic Noritake bowls, which only heightens my sense of anticipation. As I progress through the dishes, chewing slowly to soak up every ounce of flavour, I feel my eyes open wider, as if I've been existing in a state of blindness and can now finally see. The soy-simmered celery tastes like inspired pickles, while the sesame dressing on the mushroom and zucchini is so lovely I could eat it all day. And the smoked duck? Best not get me started.
Sadly my appetite clocks out, leaving some exquisite bites unbitten. So imagine my astonishment when my crew member clears my plate and announces my main course is on its way. I'm sorry, there's more? It turns out grilled 'Yu-an' style Tasmanian salmon with rice and miso soup is still to come, which my crew comments will pair perfectly with the Drappier Champagne. This in itself impresses me deeply, as unbidden food and wine pairings always do.
I pick at the salmon, eating just the succulent tail and deliciously crisp skin. I'm so elated after this incredible breakfast I find it difficult to sit still.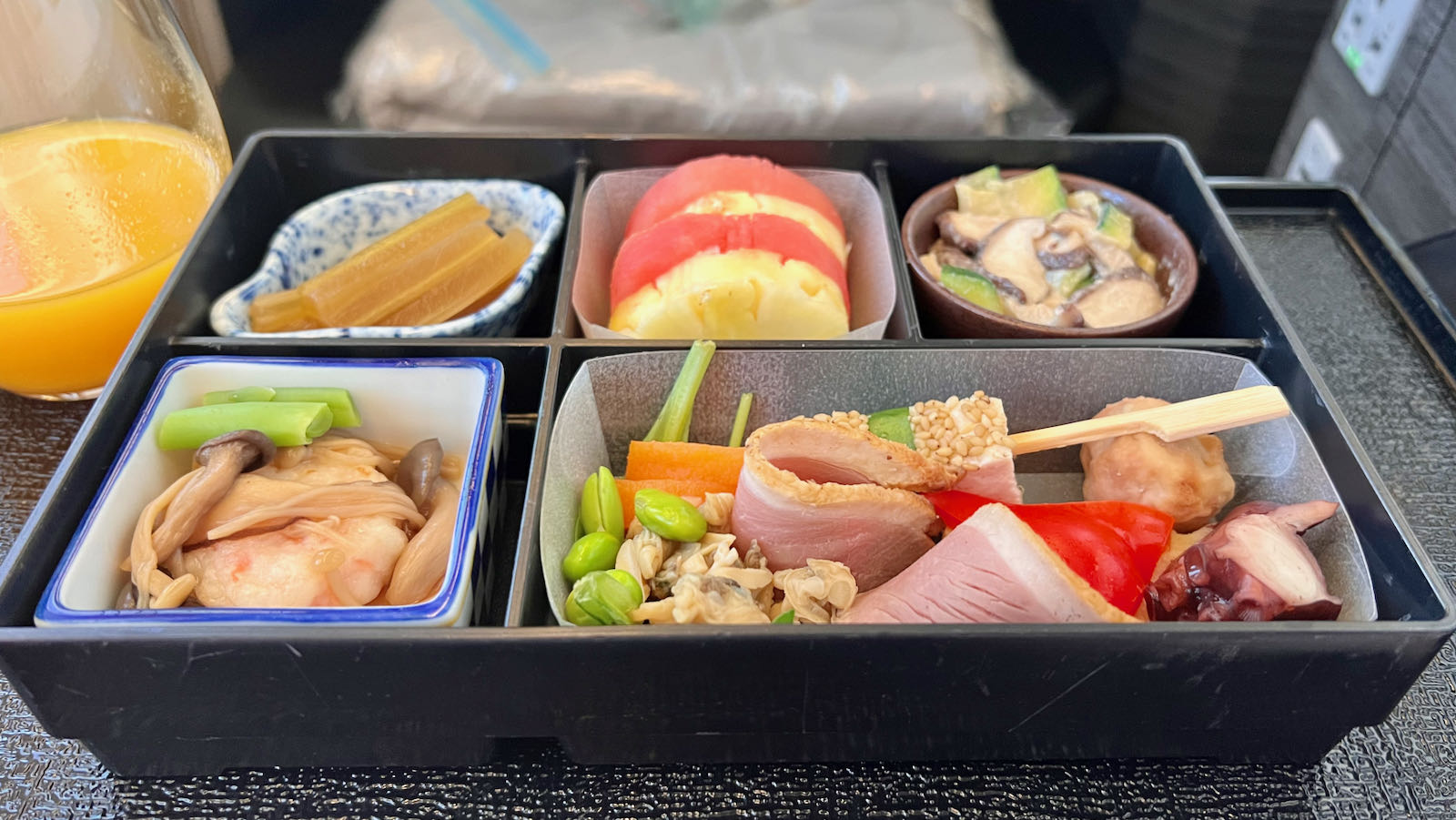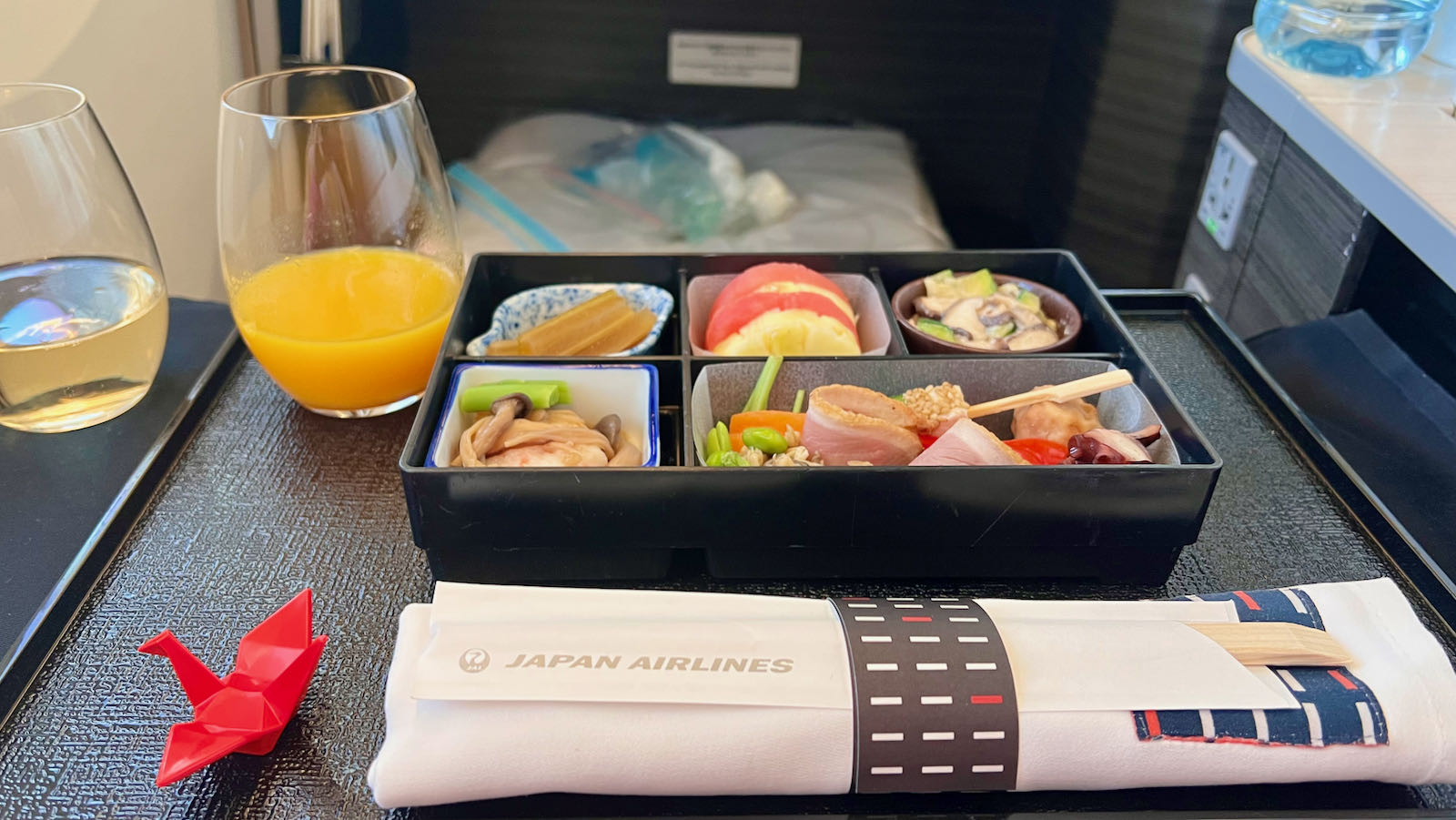 Dinner
The crew serve a light-ish dinner two hours prior to landing. In the name of variety, I go for the Western menu this time, which includes a smoked duck and mango salsa salad, beef bolognese pasta and chocolate raspberry cake.
Unlike almost everyone else in the world, I'm not a huge fan of bolognese, finding the sauce uninspired and the pasta too, well, carby. But the sauce here is rather tasty, with a noticeable depth of flavour from the slow-cooked carrot and celery, though the pasta is a tad overcooked.
But the highlight of the meal is without doubt the chocolate and raspberry cake. A gleaming chocolate-covered orb reminiscent of a giant cherry, its mousse-like texture and pure raspberry flavour combine to create a memorable dessert I can still taste now. And that's always a good sign.
Snacks are also available throughout the flight on request. These include a choice of two sandwiches – chicken avocado or beef and vegetable – plus assorted cheeses and fruit. The chicken sanga is tasty, though the cold cheese plate disappoints me. Cheese needs – nay, demands – to be served at room temperature. I acknowledge this may be difficult given these snacks are prepared upon ordering. In my book, best not to offer cheese at all.
Asian snacks on offer include three types of noodles: chanpon, udon and soba.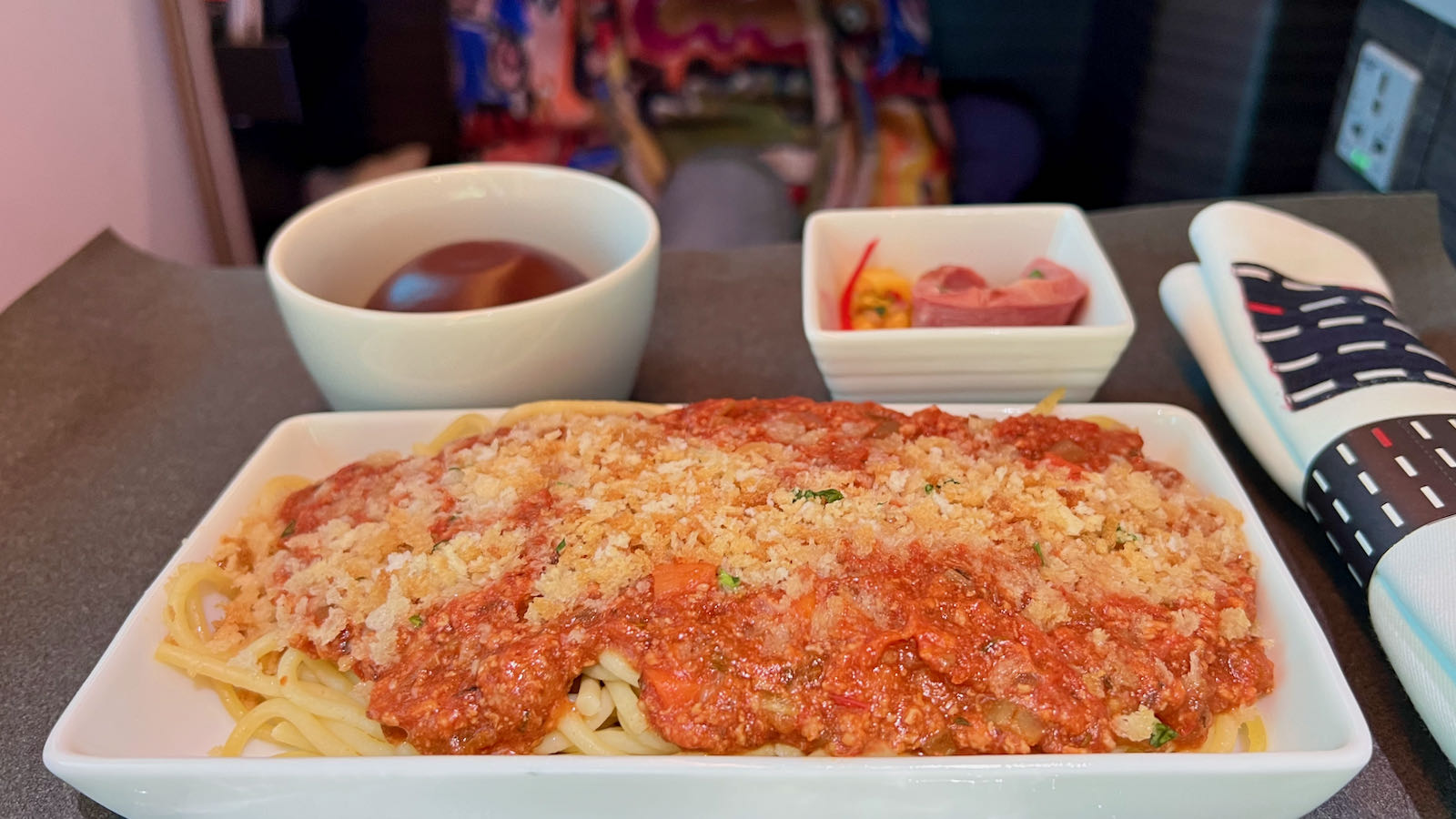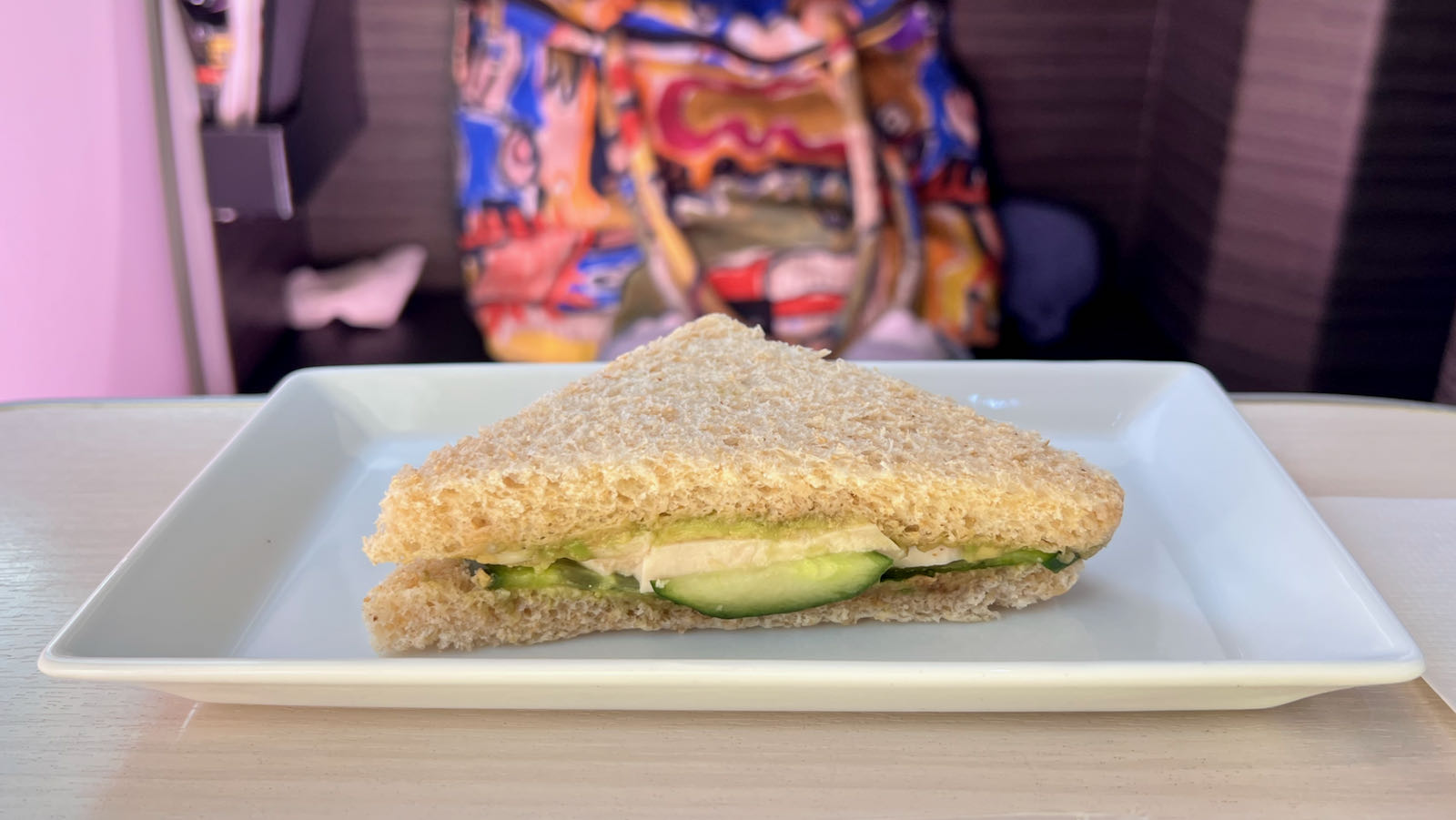 Japan Airlines Boeing 787-8 Service
As I mentioned earlier, the service in JAL Business Class outshines anything I've experienced in the sky. The crew are universally lovely and hospitable, fulfilling my every request with a genuine smile. What sets this service apart, though, is the sense of respect they extend to me, which borders on quiet admiration. I almost feel unworthy of such treatment, with no Nobel Prizes to my name or Dalai Lama-esque qualities to write home about.
But that's the thing. The hospitality of Japanese culture infuses each interaction, with every passenger I witness receiving the same treatment. It's a heartening experience that motivates me to do better in life – to volunteer more and shower strangers with acts of kindness. What other airline can you say that about?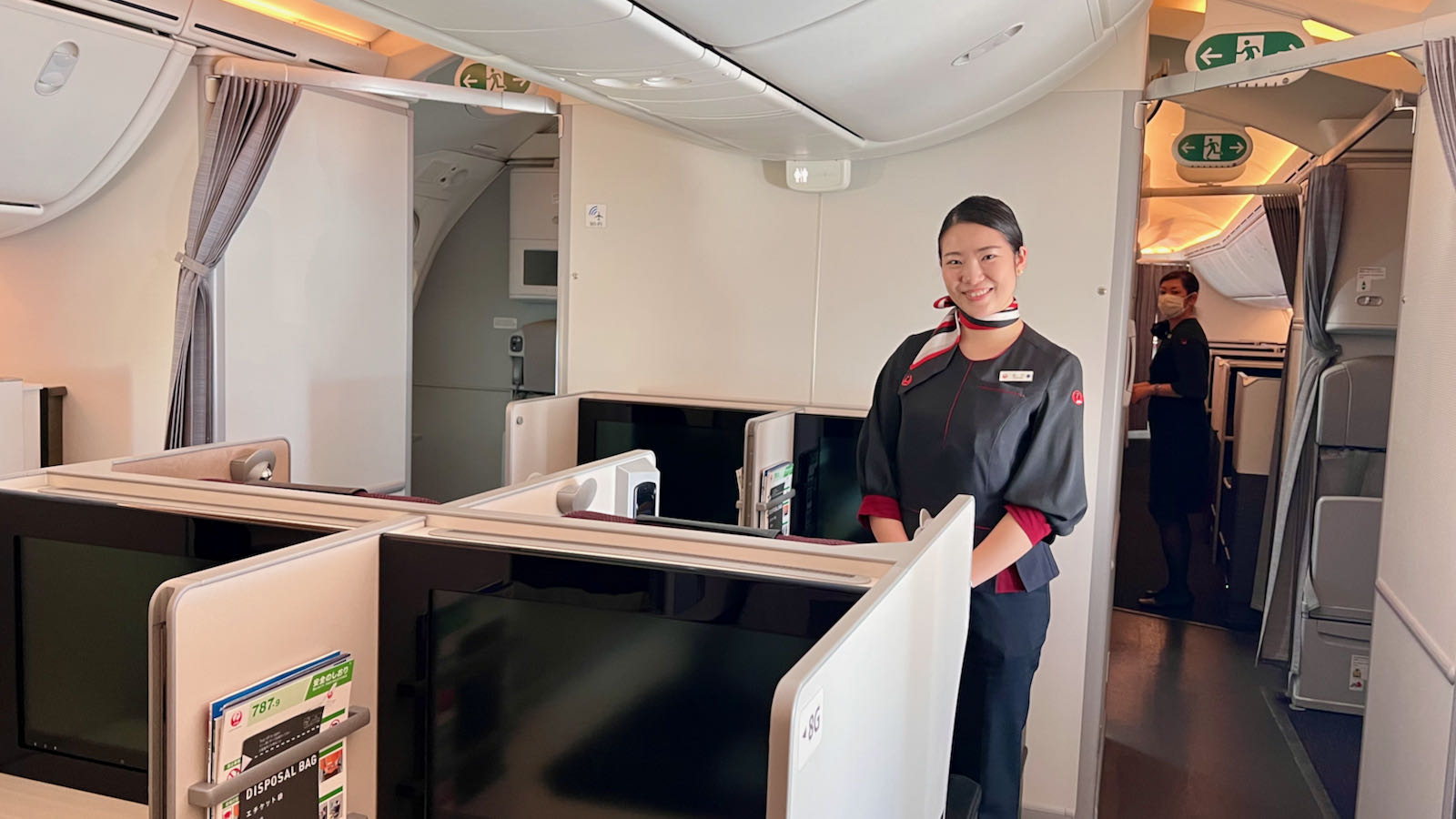 Japan Airlines Boeing 787-8 Amenities
Amenity kit
JAL's Business Class amenity kit is by Parisian label Maison Kitsuné, housed in a handsome deep grey pouch with gold embossing. Though in truth, the contents disappoints me a little. A dental kit, tissues, a face mask, earplugs and a cheap eye mask aren't going to set the world on fire or make me feel pampered. But they get the job done.
JAL also provides slippers in Business Class, along with a cosy cardigan for lounging or sleeping onboard.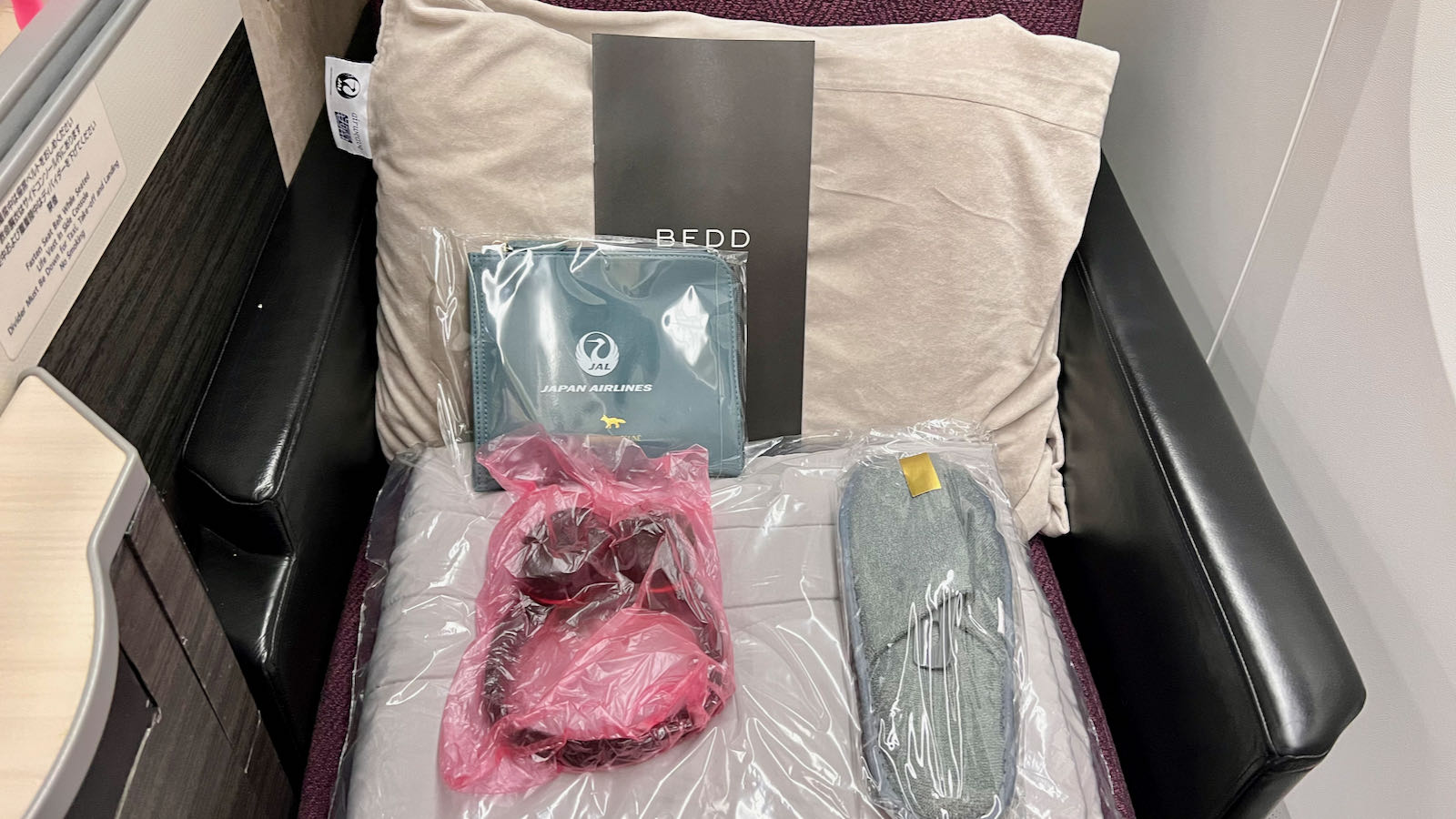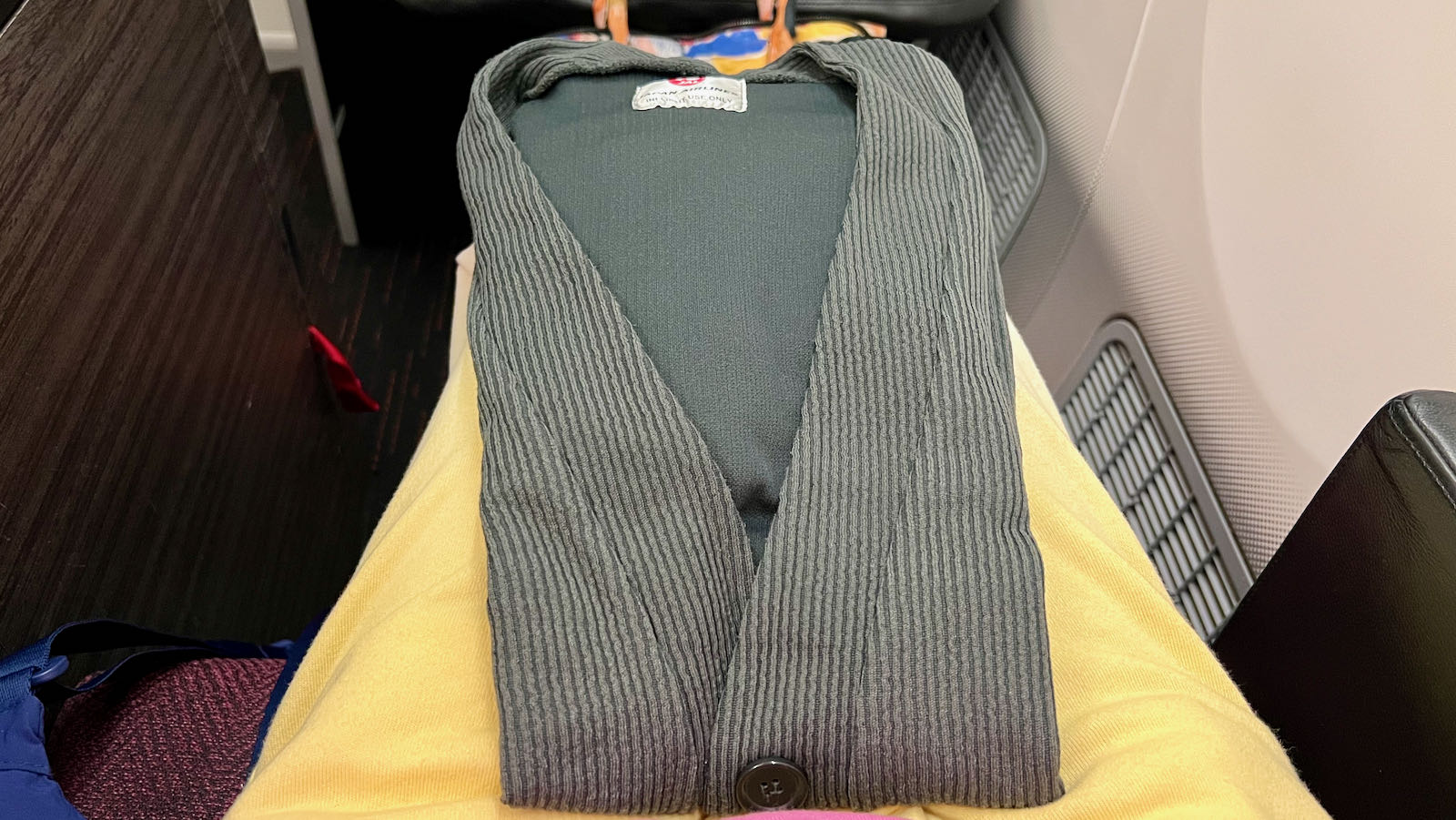 Entertainment
On the Dreamliner, JAL uses the Magic entertainment system, with movies and TV shows, games and a range of audio content. I find the handheld control on the panel to my left difficult to navigate and not especially responsive, and the entertainment touchscreen is too far from my seat to use it without leaning forward.
JAL provides SONY noise-cancelling headphones, which block out some engine noise but certainly not all. In my view, they could look to improve the experience by replacing the clunky handheld control with a seamless touchscreen version.
As usual, I spend most of the flight with the moving map up on the screen. On my later flight from Tokyo to Frankfurt, which clocks up a whopping 15-hour flight time thanks to the need to fly around Russia, we soar over the wondrous frozen peaks of western Alaska. Had the moving map not alerted me to this fact I would have missed this majestic view.
There's also a universal power point and USB port on the right of the seat for handy charging.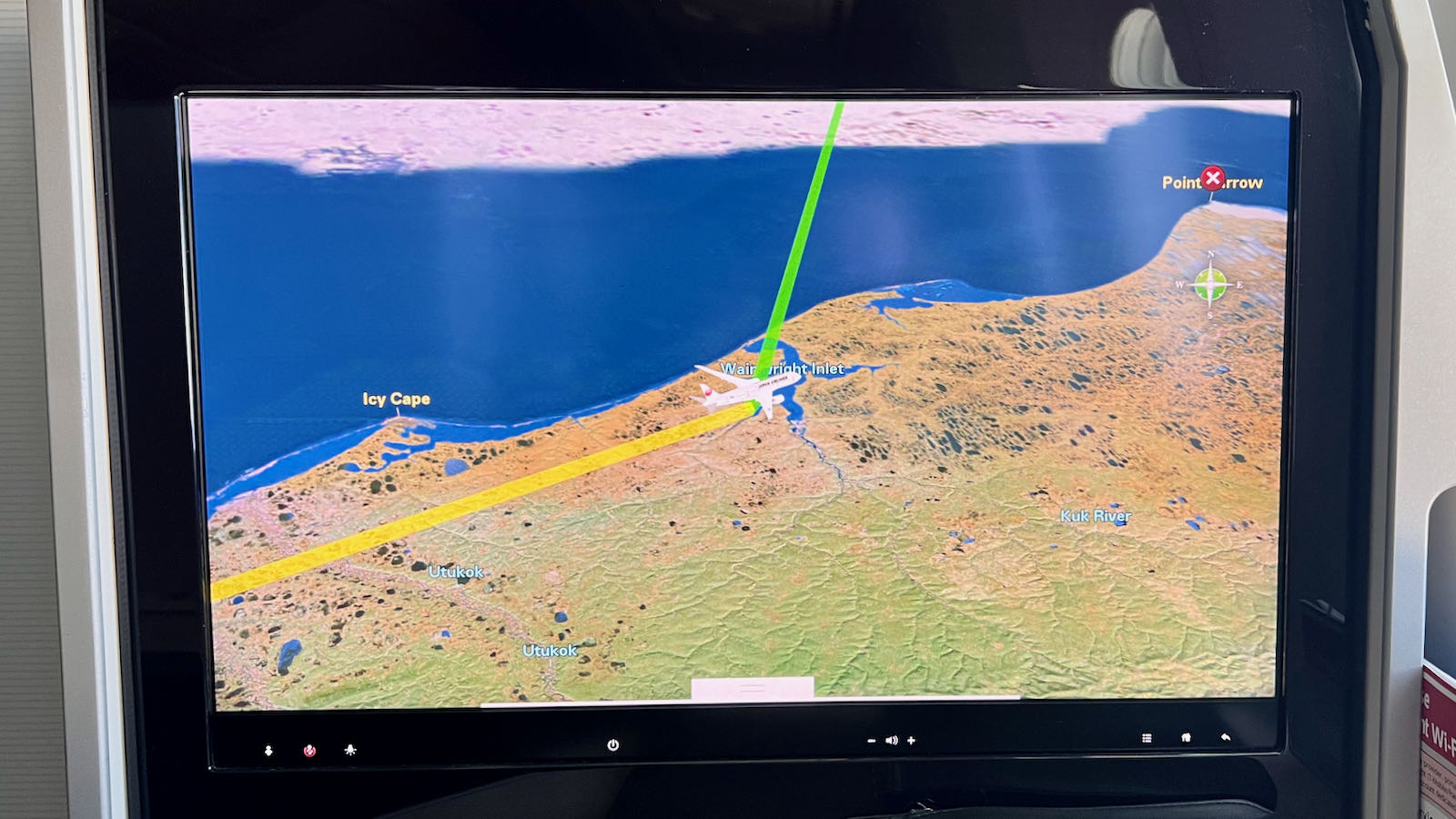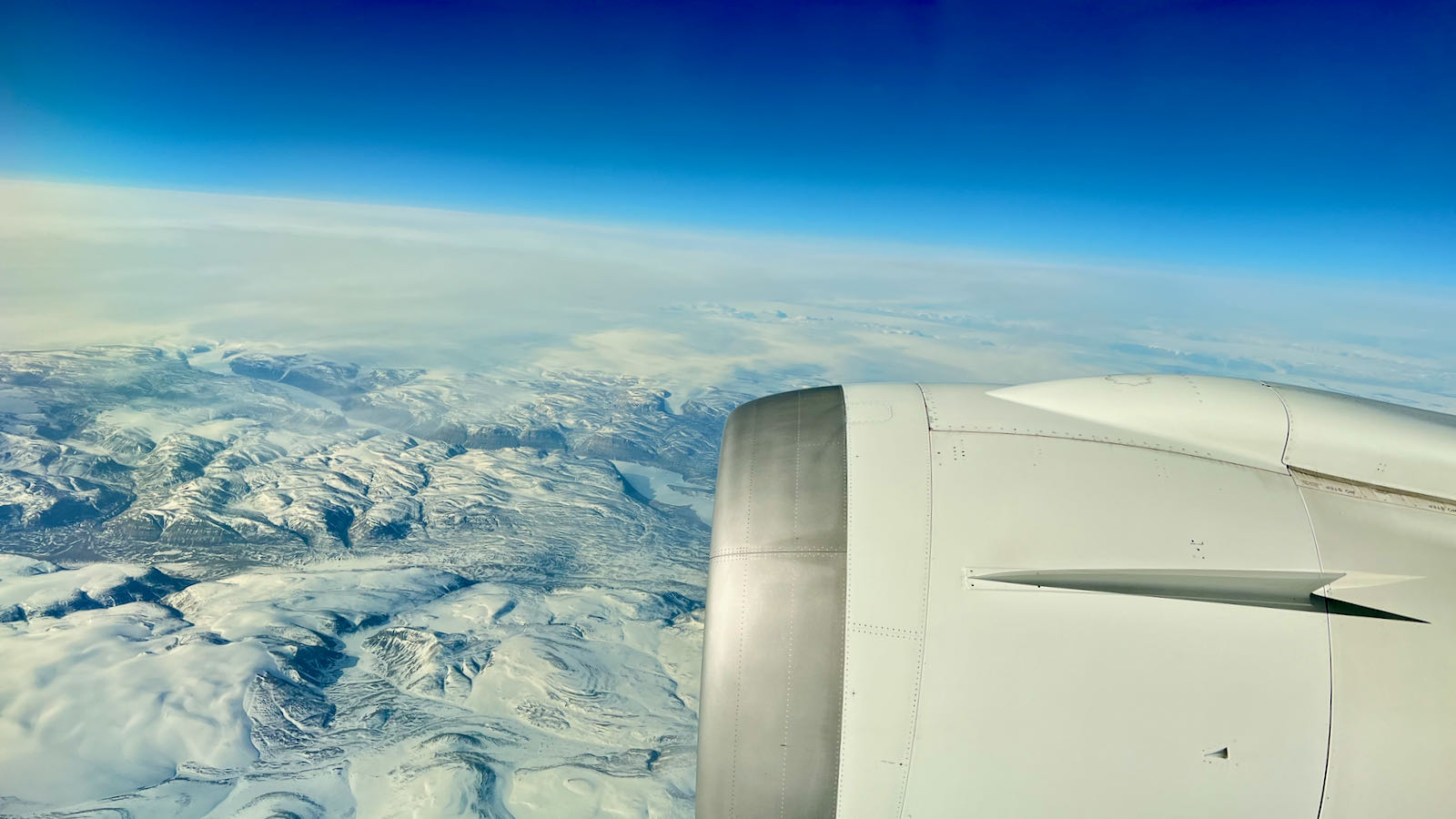 Wi-Fi
Wi-Fi is available for purchase on board, with a handy card detailing the different options. I opt for the 24-hour 'Flight Plan' for US$18.80 (US$16.80 for JALCARD holders). There's also the option to purchase one hour for US$10.15, or three hours for US$14.40.
The Wi-Fi works well with only a few short outages, allowing me to send pics of yours truly basking in Business Class luxury to my envious family back home.
How to book this flight with points
With Japan Airlines a member of the oneworld Alliance, you can easily book JAL reward seats on the Qantas site. Just 90,000 Qantas Points will score you a Business Class seat from Melbourne direct to Tokyo Narita, while it's 159,000 points to fly in Business from Melbourne all the way to Frankfurt. My two flights to Europe set me back just $146 in fees, taxes and carrier charges – one of the lowest cash co-payments of any airline in the oneworld alliance.
A bargain, I hear you ask? It's a hell yes from me.
Summing up
JAL 787 Business Class isn't the most luxurious product I've flown – that title goes hands-down to Qatar Qsuite. I find the Sky Suite narrow, the storage situation frustrating and the coffee subpar by Melbourne standards. The entertainment hand control and amenity kit could also use some work, and it sure wouldn't hurt to offer a small glass of Champagne before takeoff. It is Business Class, after all.
But if onboard service and food matter to you as they do to me (we'd no doubt be friends), then you'll likely find the experience of flying Japan Airlines Business a joy. I know I sure do.
Also read: Japan's hidden gems – 15 off-the-beaten-path places to visit
Photography by Antonia Strakosch, who travelled at Point Hacks' expense.
---
Stay up to date with the latest news, reviews and guides by subscribing to Point Hacks' email newsletter.
Japan Airlines Boeing 787-8 Business Class (Melbourne – Tokyo Narita)
was last modified:
October 16th, 2023
by