Sooner or later, every holiday comes to an end. And when Maui is your vacation destination, Hawaiian Airlines' Premier Club serves as one final stop before that flight out.
Sure, it's a reasonably basic space. But it still beats sitting out in the public terminal. Here's what to expect during your last moments in picturesque Maui.
Location
On the Hawaiian island of Maui, Kahului Airport is home to almost all commercial flights and airlines. That makes it the perfect location for Hawaiian Airlines' Maui Premier Club.
After you've made the scenic drive from your Maui pad, make a quick stop past check-in. If you qualify for Premier Club lounge access, there's a good chance you can also use Hawaiian Airlines' priority check-in lanes. Naturally, this gets you processed and through to the lounge even faster.
With check-in and then security taken care of, walk through Kahului Airport's main central atrium. You'll then find the Premier Club along the concourse that's straight ahead. It's also adjacent to gate 17.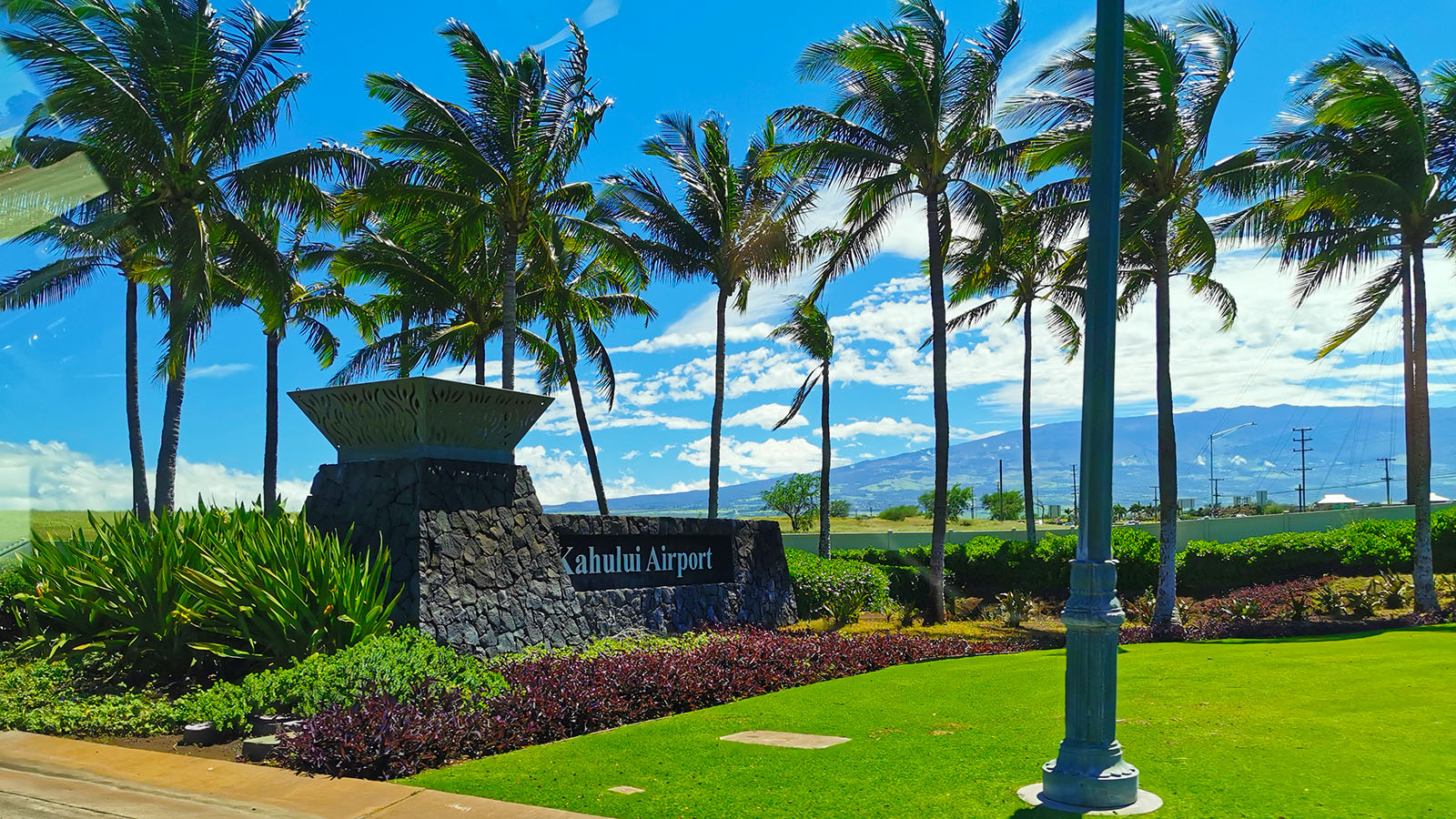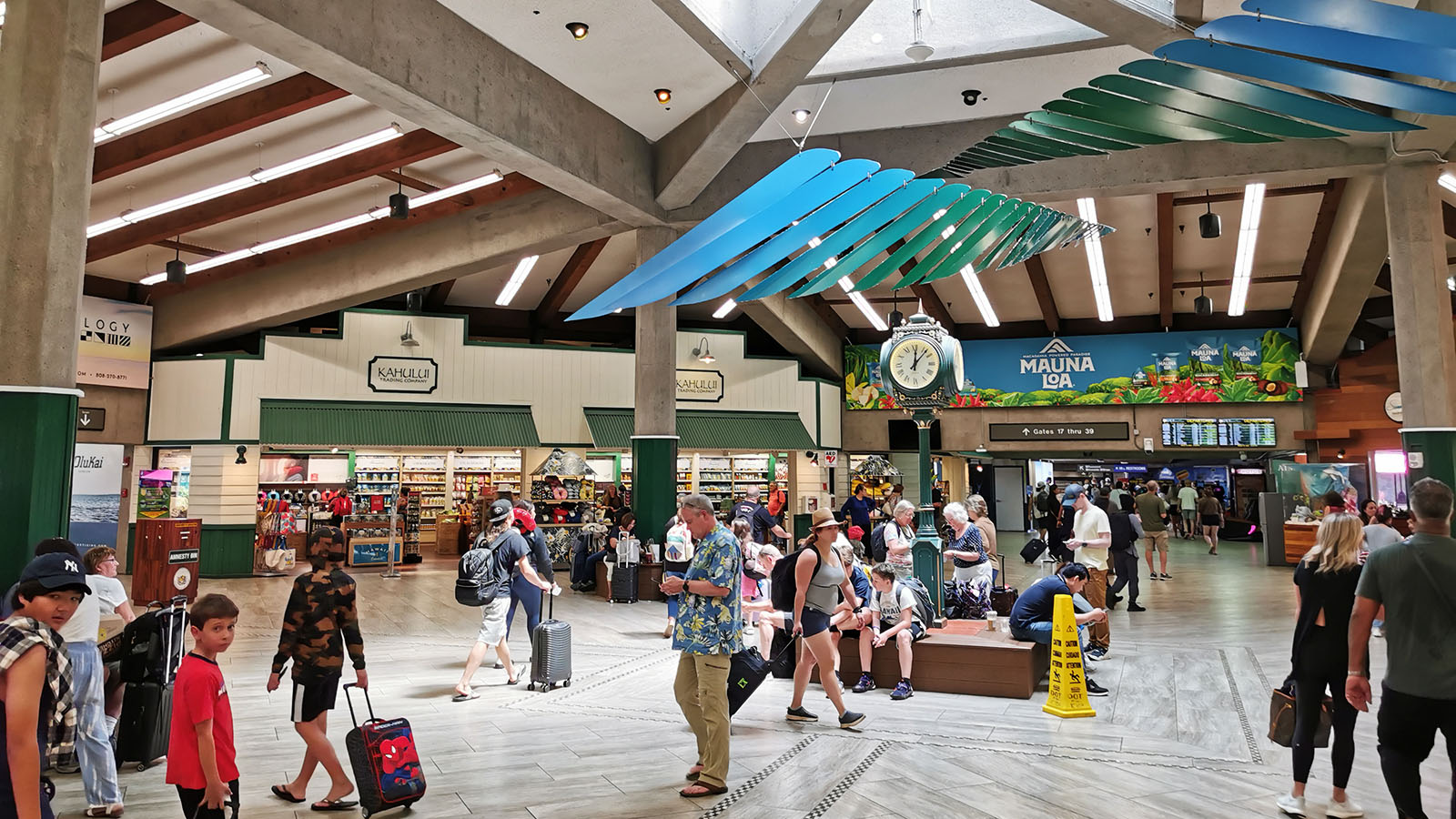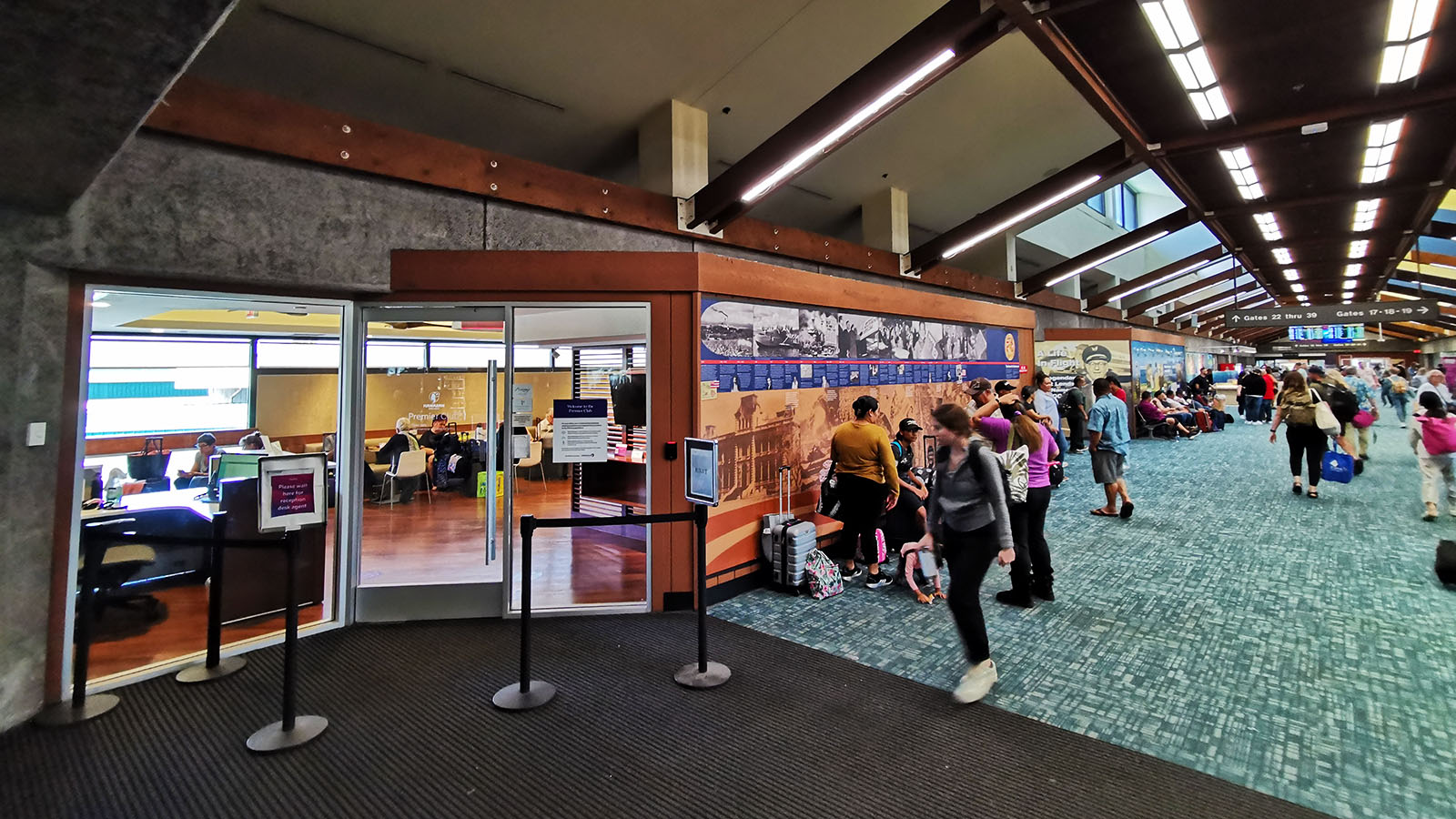 Conveniently, most Hawaiian Airlines flights depart from the gates nearby. It's a very short walk from the lounge to my flight across to Honolulu, which is departing from just a few gates down.
This Premier Club opens at 6 am daily and closes each night at 8:30 pm. On busy days and during peak times, the lounge may open slightly earlier at 5:30 am.
Layout and seating in Hawaiian Airlines' Maui Premier Club
It's best to characterise Hawaiian Airlines' Maui Premier Club as worthy of a brief pit stop, rather than a longer stay. For one thing, it's a relatively small lounge. And for that matter, it's a busy one, too.
Walking past reception finds a lot of casual, comfortable-looking seating – but just about every chair is full. If I'd entered by using Priority Pass, I'm not sure where I would have sat. At least, until somebody got up to depart.
Fortunately though, I'm flying First Class with Hawaiian Airlines. Not only does Hawaiian break away from the norm by including lounge access on US domestic-only tickets, but there's another perk. Guests in First Class can avail themselves of extra, 'reserved' seating.
I'm reminded of this perk at reception, so I do a lap of the lounge to see what's available. Tucked away in the very far corner is just what I've been hoping for: a table with power, perfect for laptop work.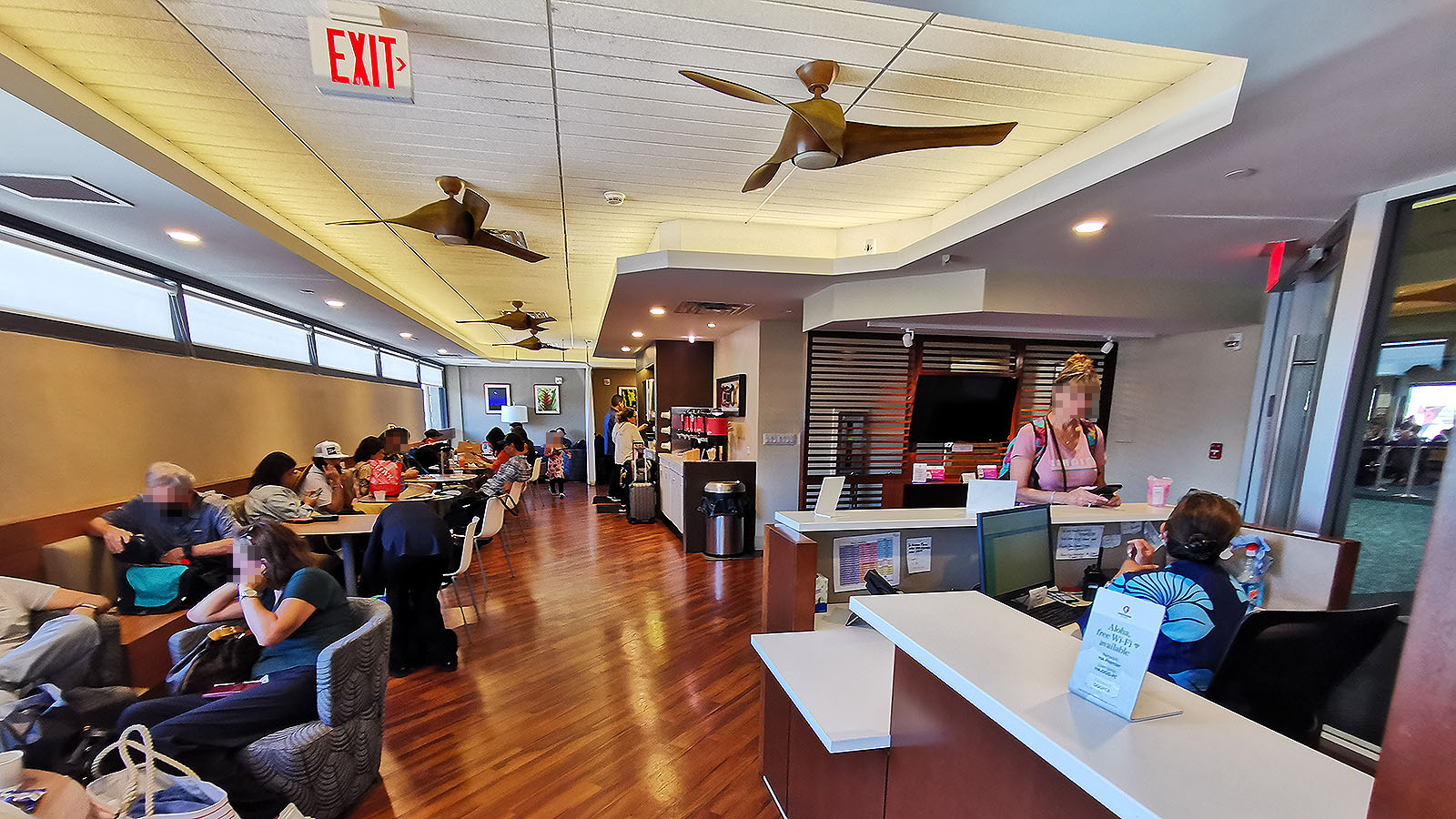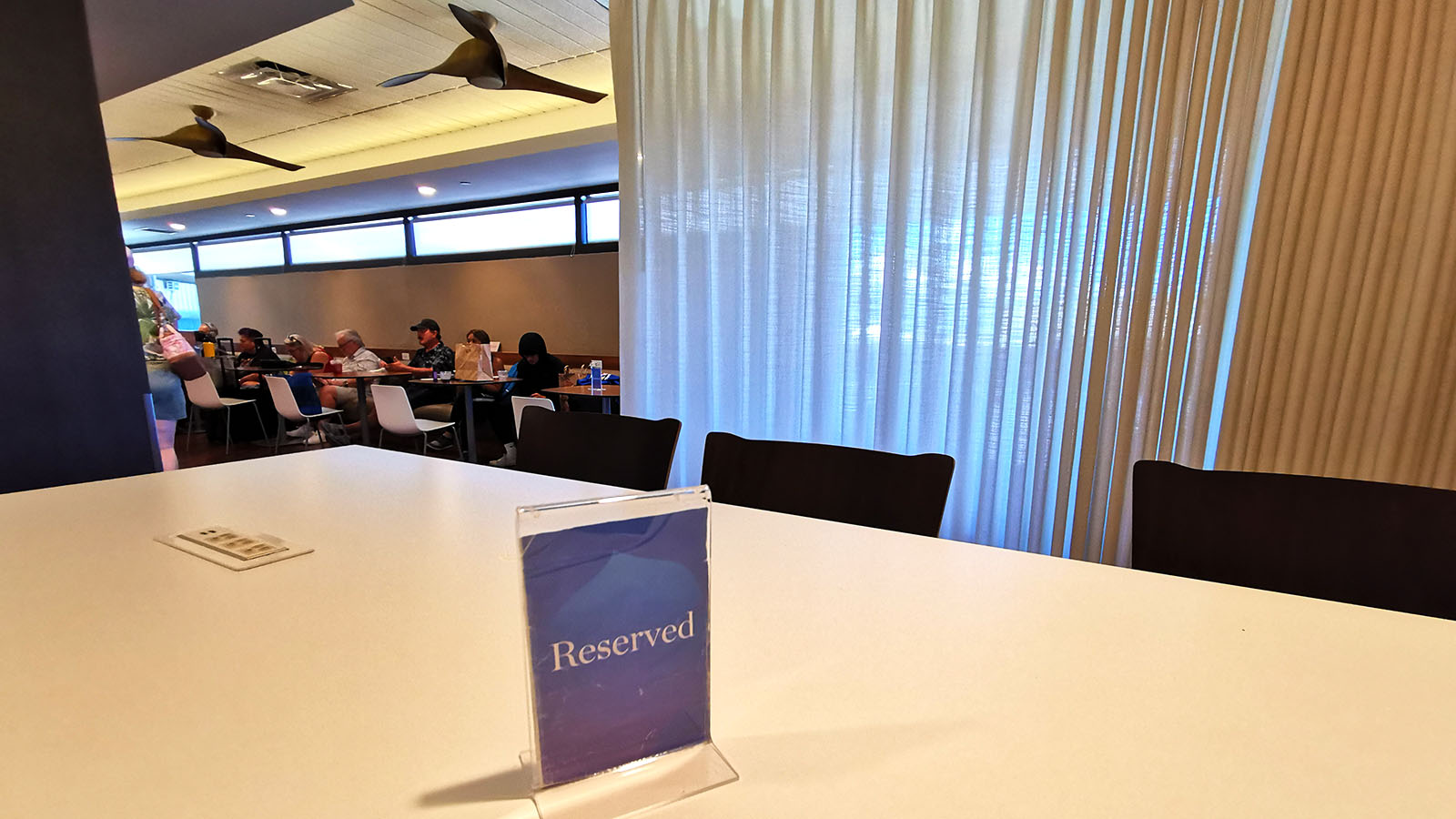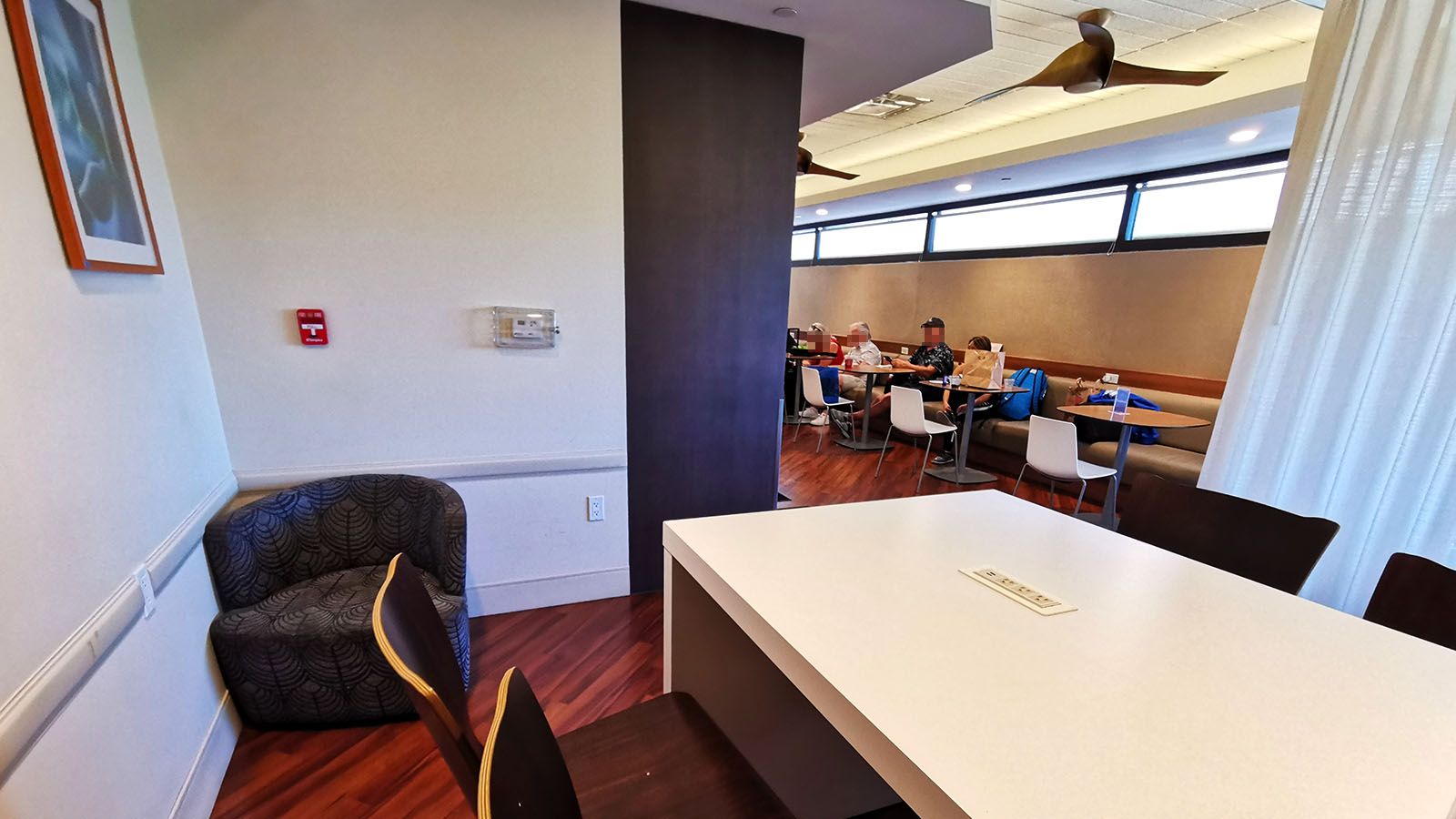 I'm a little earlier than usual for such a short flight – and there's a reason. When I arrived in Maui a few days earlier, I encountered a two-hour traffic jam on the drive from the airport to the hotel. A drive that should have only taken 20 minutes or so. I don't want to risk being late, so here I am… three hours early.
It's great having a quiet place in the corner to plug in and get some work done. As it's a big table and the lounge is full, it gets slightly busier as time goes by. But everybody is on the same wavelength – typing away and sitting quietly. If on holiday mode though, I'd be keeping an eye on the other sofa-style seats to kick back.
Lounge amenities
Again, Hawaiian Airlines' Maui Premier Club is quite cosy. It's so small that you'll find the nearest restrooms out in the terminal itself. With space at a premium, I think the airline is making the right choice by maximising in-house seating instead. Particularly so, given how full the lounge is for the entire time I stop by.
Accordingly, the most useful amenity – particularly for the airline's visiting international guests – is Wi-Fi. Even during its peak times, speeds are reasonable.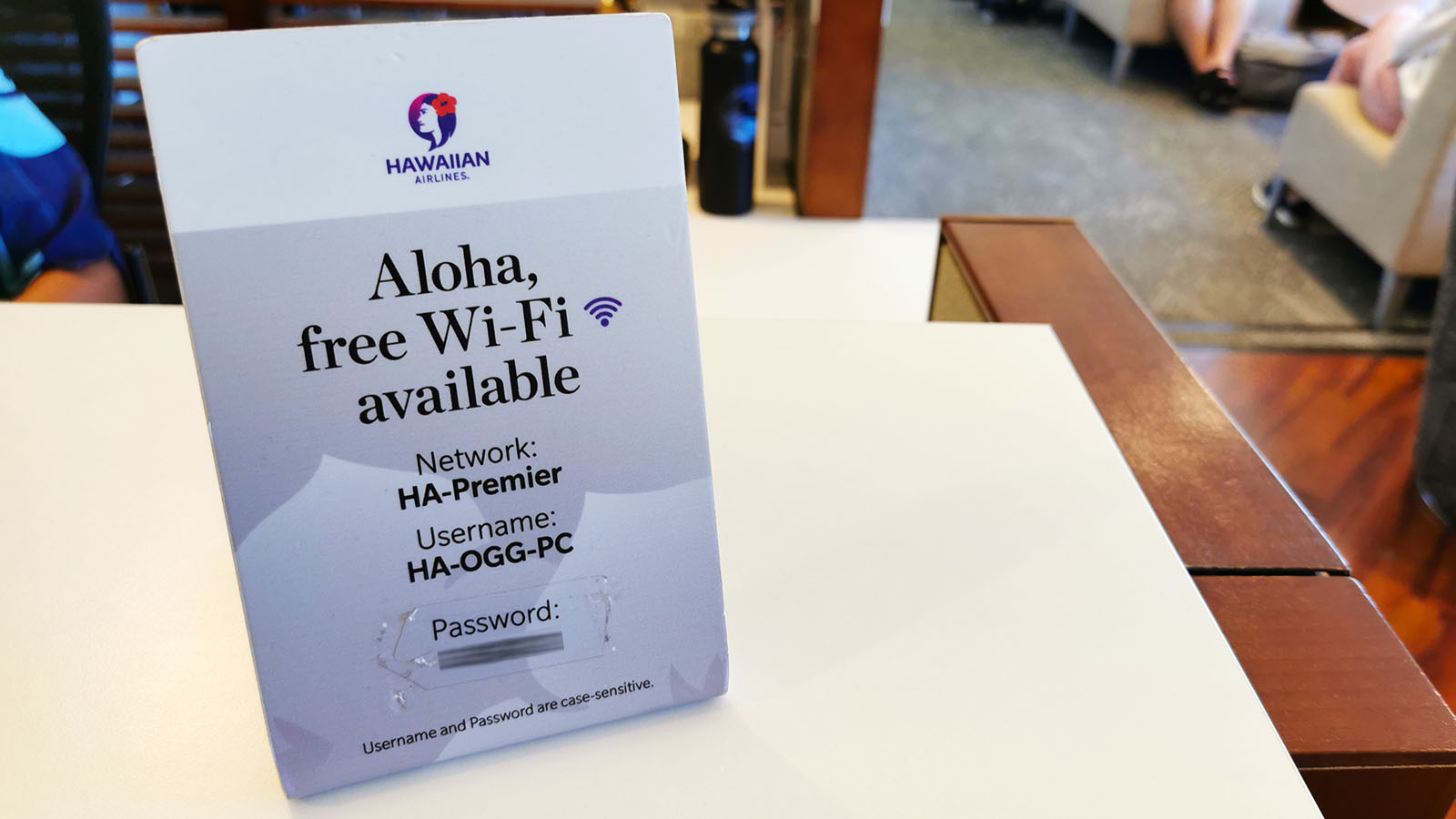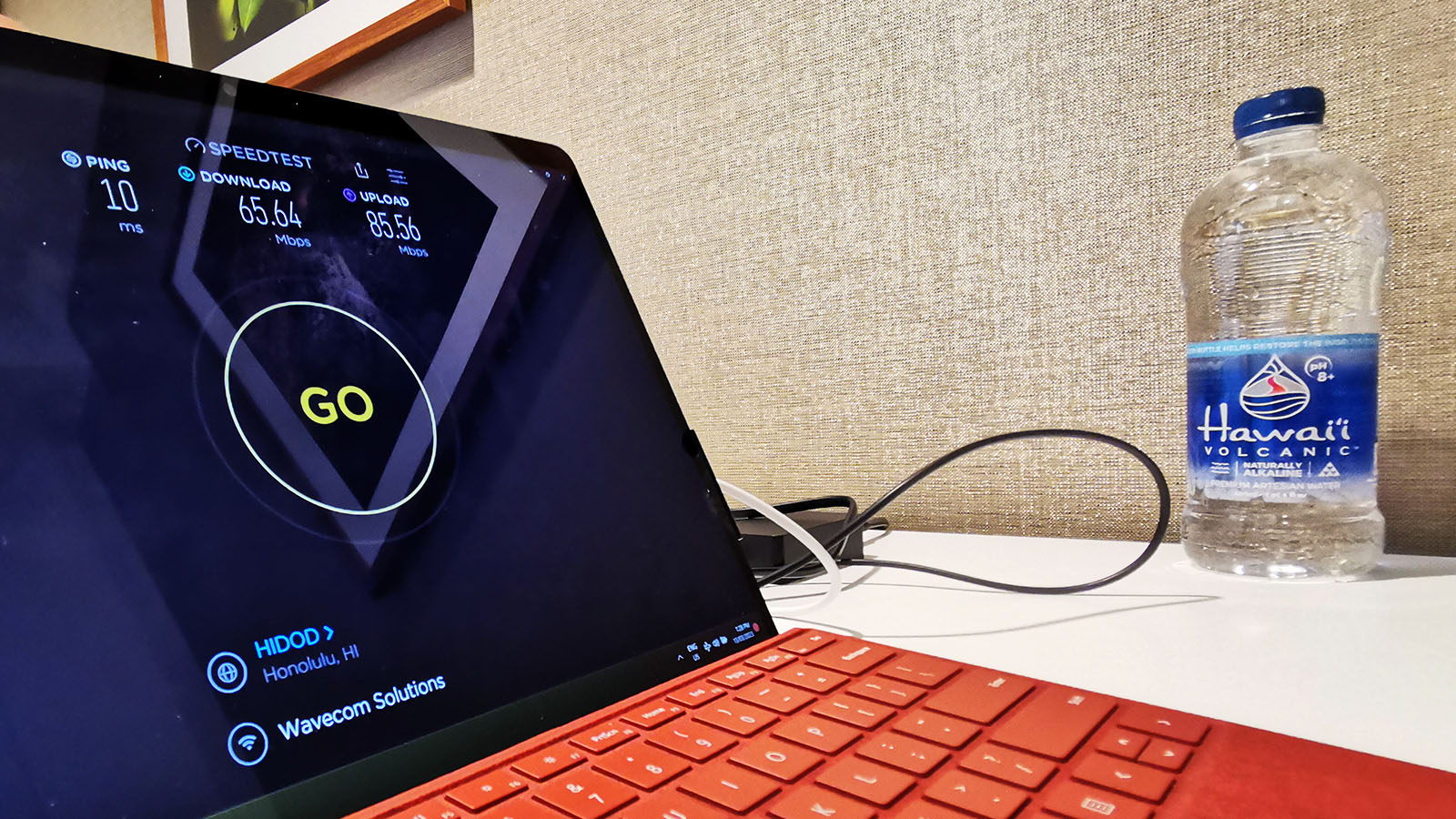 During my stay, tests reveal average download speeds of 65Mbps. Uploads are even faster, at around 86Mbps. This is perfect for just about everything. On the download front, it won't take too long to load up your device with content to enjoy during the flight (via your preferred streaming app and subscription). And if your holiday is coming to an end, you can upload images super fast.
Just keep your US power adapter close at hand. As you'd expect, the outlets here are standard US-style, rather than the international-style sockets you often see on planes.
Food and beverage in Hawaiian Airlines' Maui Premier Club
Hawaiian Airlines has two tiers of lounges. Its more premium category, found only in Honolulu, is The Plumeria Lounge. That's where you'll find favourites like hot food, alcohol, and other substantial bites like salads. But here in Maui, Hawaiian Airlines offers a standard Premier Club.
To draw an Australian comparison, think of The Plumeria Lounge as being like a big city Qantas Club. And the Premier Club as akin to a Qantas Regional Lounge somewhere like Launceston. In short, don't expect a lot – and you won't be disappointed.
Food is limited to light snacks such as potato chips and pretzels. Drink-wise, you have the choice between a couple of filtered coffees. There's also hot water for tea, a soft drink dispenser and a machine for ice and water.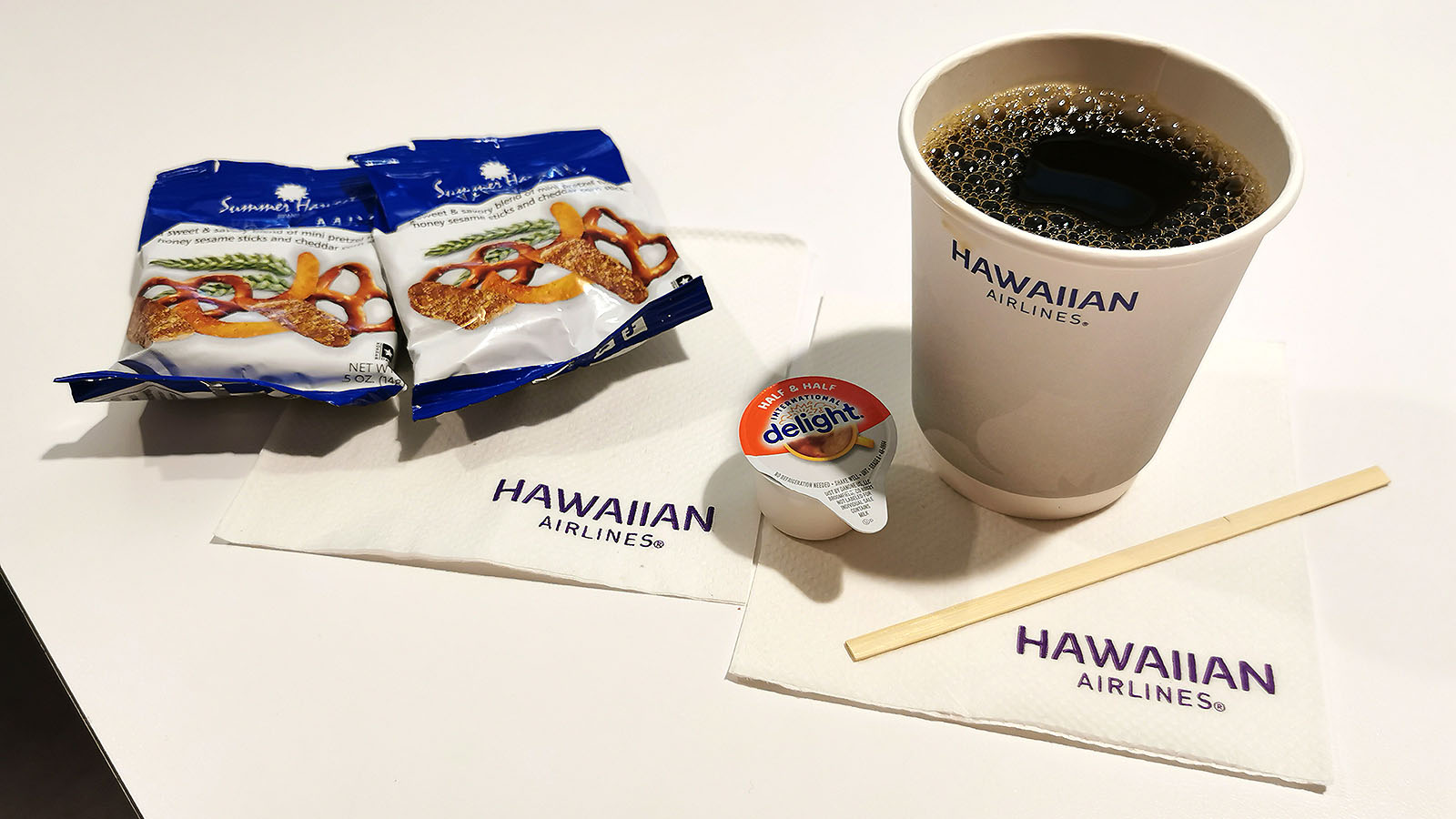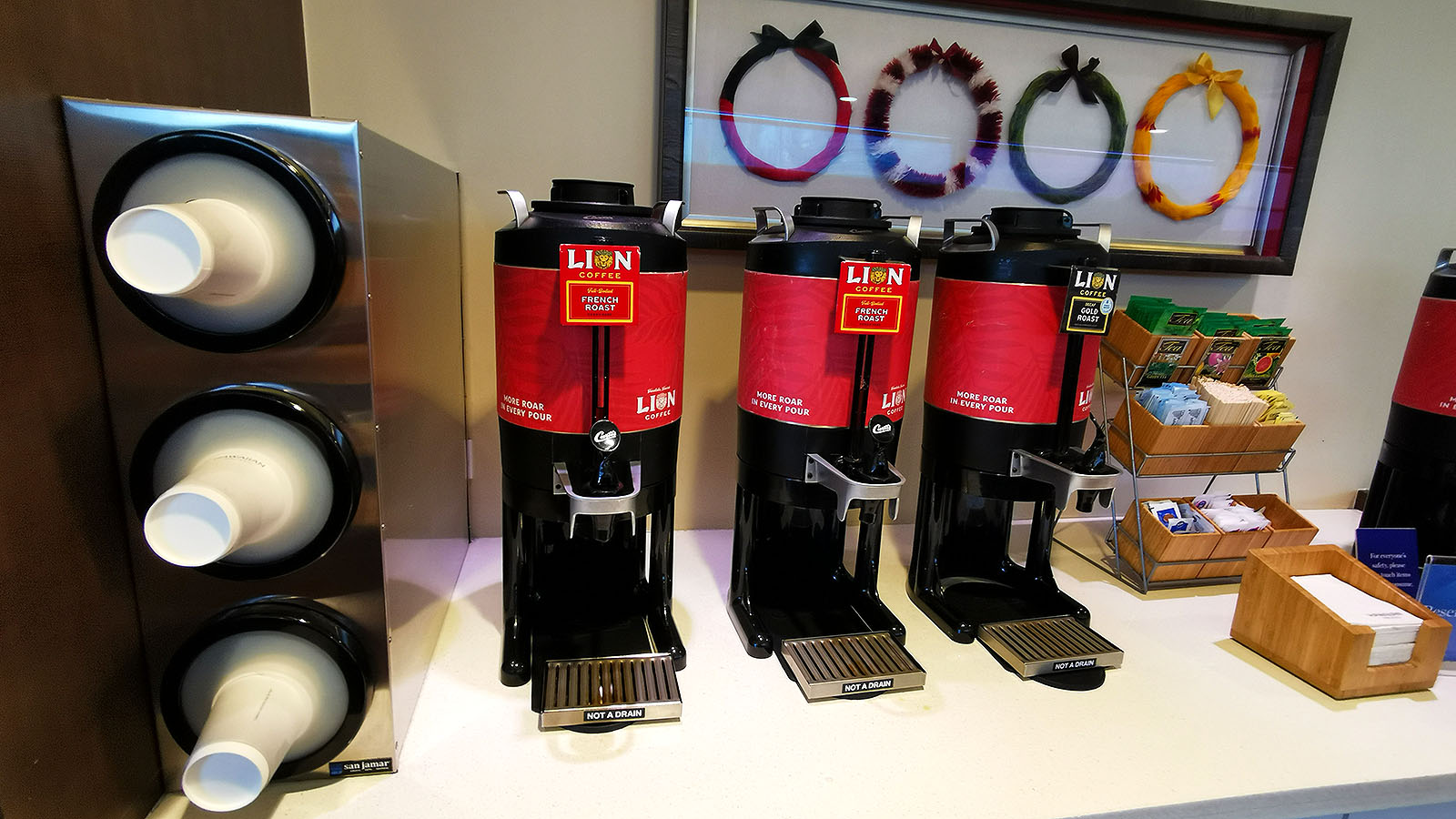 Remember, standard liquid restrictions apply at US airports – and most international terminals elsewhere. But it pays to know that the restrictions apply to the contents of a bottle, not the bottle itself. Translation: you can bring a large, empty water bottle through security. Then in the lounge, fill it up for the flight ahead.
Still, there's a lot of room for improvement here. Even if the lounge doesn't have a kitchen to produce hot food, there's a lot you can do with a simple fridge. That Qantas Regional Lounge in Launceston still has cheese and crackers, after all…
Knowing that the same snacks from the lounge would be the only food available on the plane, I leave early to purchase a quick lunch elsewhere. Then it's off to the gate and onwards to Honolulu.
Accessing the Hawaiian Airlines Premier Club in Maui
Here's a quick rundown of who qualifies for access to Hawaiian Airlines' Premier Club in Maui:
Passengers flying onwards in First Class with Hawaiian Airlines. That's what Hawaiian calls its premium cabin on inter-island and other domestic flights.
HawaiianMiles Pualani Gold and Platinum members departing on a Hawaiian Airlines flight (+2 guests).
Members of the Hawaiian Airlines Premier Club lounge program departing on a Hawaiian Airlines flight (+2 guests).
Travellers with a Priority Pass card departing on any airline. Guest entitlements or fees will vary by individual membership.
Unfortunately, there's no access for elite members of Hawaiian Airlines' partner frequent flyer programs. This means a Virgin Australia Velocity Gold or Platinum card won't get you through the door. But remember, you could always book Hawaiian Airlines First Class using Velocity Points – which then includes lounge access.
Speaking of First Class, it pays to know the rules. I've checked in for my flight online, and other than confirming my seat selection, the airline's mobile app doesn't mention anything about a lounge. Similarly, if you swing past a kiosk at the airport and happen to print a boarding pass there, there's no mention of the lounge, either.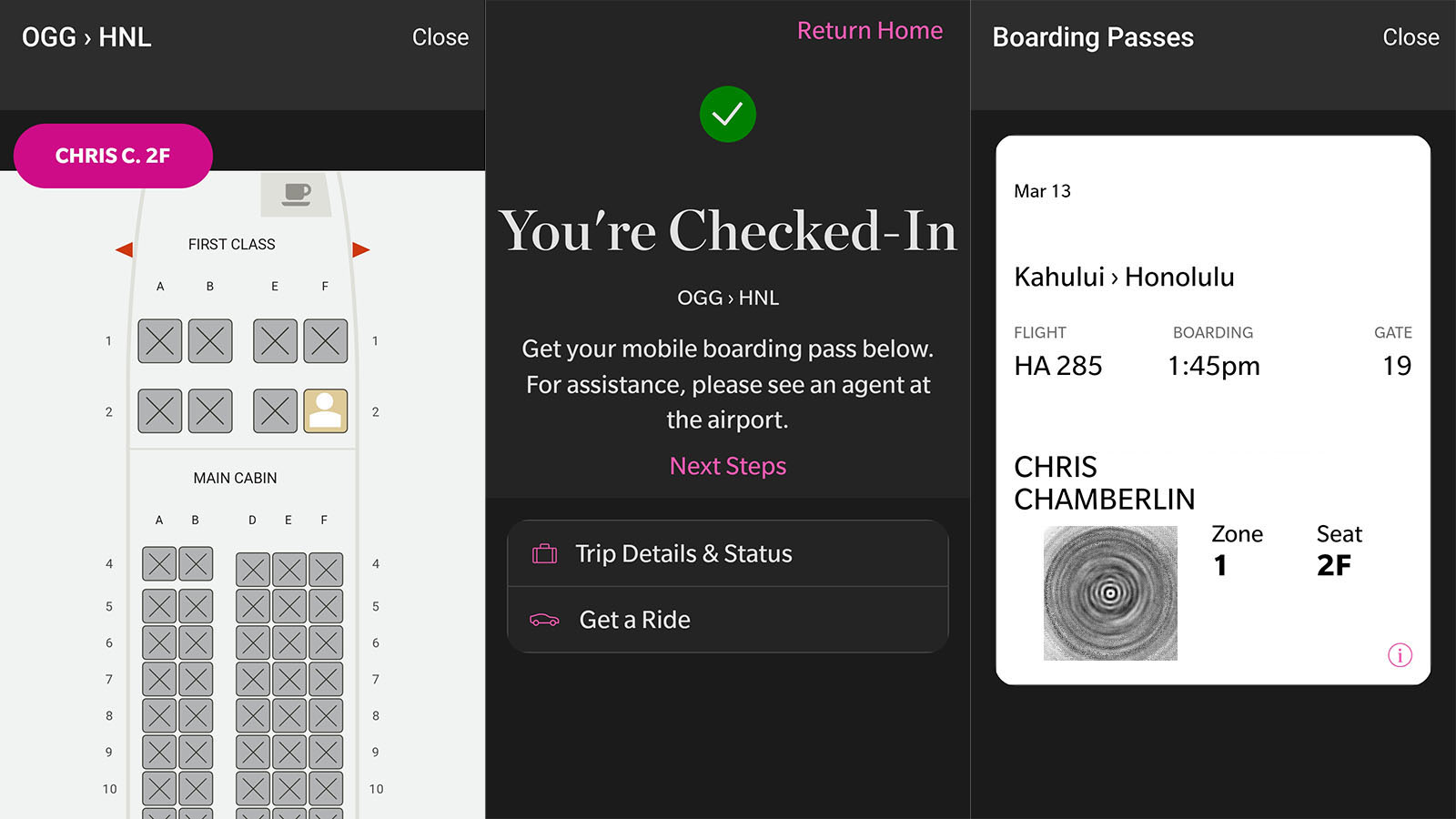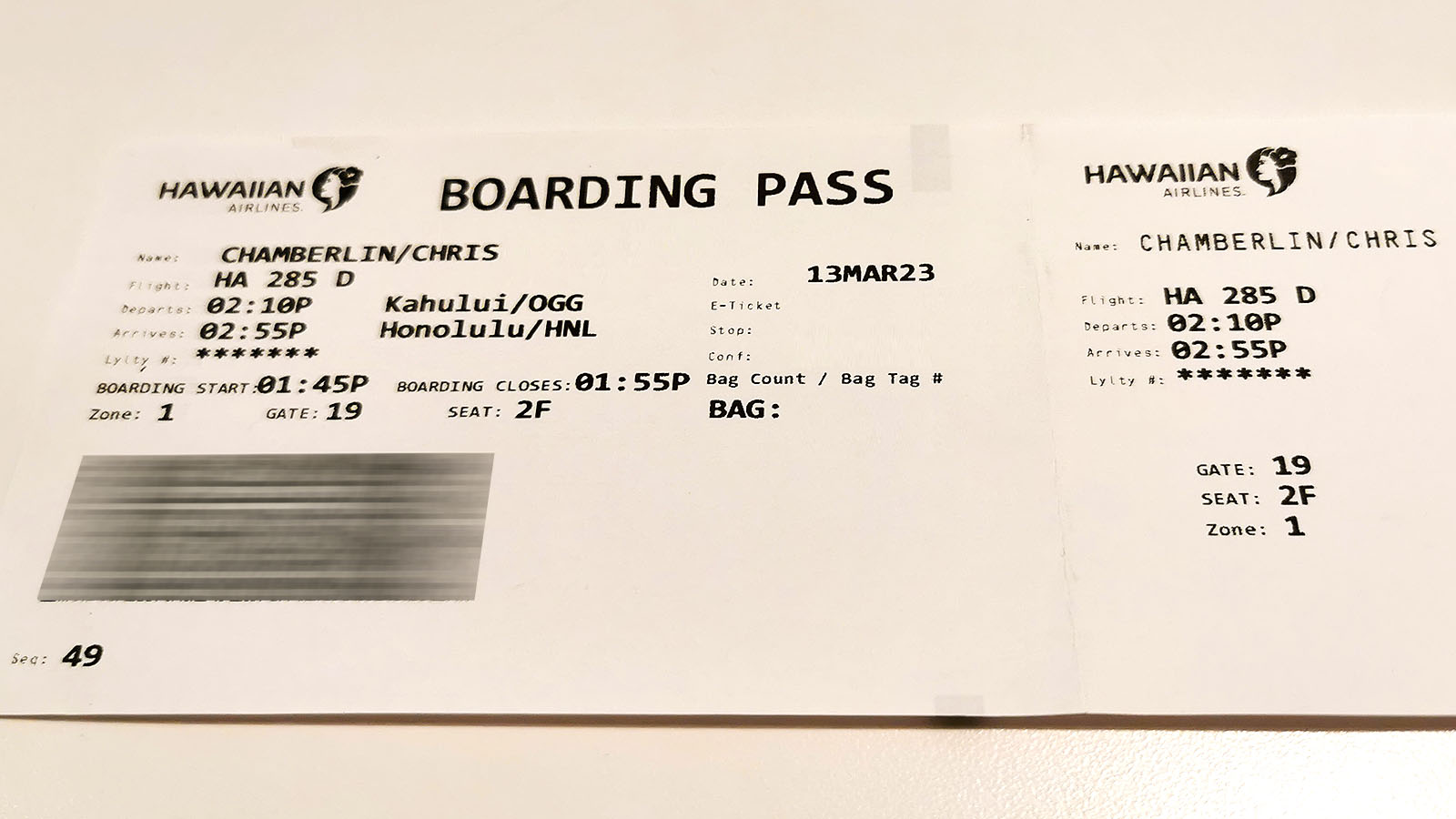 For that matter, there aren't any signs at Kahului Airport pointing towards the lounge. You really need to prepare for your trip by knowing it's there and knowing if you can enter.
Hawaiian Airlines could make the travel experience much easier by putting a quick note about lounge access on the boarding pass. Or through the mobile app, reminding where the lounge is located. This won't help guests who turn up with a Priority Pass card, but would still make things easier for the airline's core premium customers.
Summing up
There's no doubt, Maui is a very leisure-driven destination. Aside from a lucky few who visit places like this on business (myself included), most people venturing through Kahului Airport are on holidays. And for that crowd, the Premier Club is likely 'good enough' – especially if the flight ahead is a quick inter-island hop.
From Hawaiian Airlines' perspective, most travellers visiting lounges like this are stopping by for a quick cup of coffee, and not much more. After all, most aren't going to spend 2-3 hours in a regional Premier Club, when their flight is a mere 45 minutes from gate to gate. But as somebody who did spend that long, I was pleased to have space to work and be productive.
Without a doubt though, some more food choices wouldn't go astray. It could start with basics, like cheese and crackers… and progress through to healthy choices like salad. At least, that'd mean not having to leave the lounge at lunchtime to find something to eat. Hey, it's a start…
Also reviewed: Hawaiian Airlines Premier Club, Honolulu
Feature image courtesy of Hawaiian Airlines. Other photography by Chris Chamberlin, who travelled using HawaiianMiles provided courtesy of Hawaiian Airlines.
---
Stay up to date with the latest news, reviews and guides by subscribing to Point Hacks' email newsletter.
Hawaiian Airlines Premier Club, Kahului (Maui)
was last modified:
July 24th, 2023
by