Flying to paradise doesn't get better than this. Whether you're about to start your island escape or end your getaway in absolute style, Fiji Airways' Airbus A350 Business Class is the way to do it. Lie-flat seats, silky blankets and unpretentious dining – this flight left me wondering where the last four-and-a-half hours disappeared to.
Best of all, we booked with Qantas Points and paid only AU$135 in cash for this one-way leg. And happily, Business Class reward availability isn't too hard to come by, even for two people travelling together.
Here's why you should put Fiji Airways at the top of your list.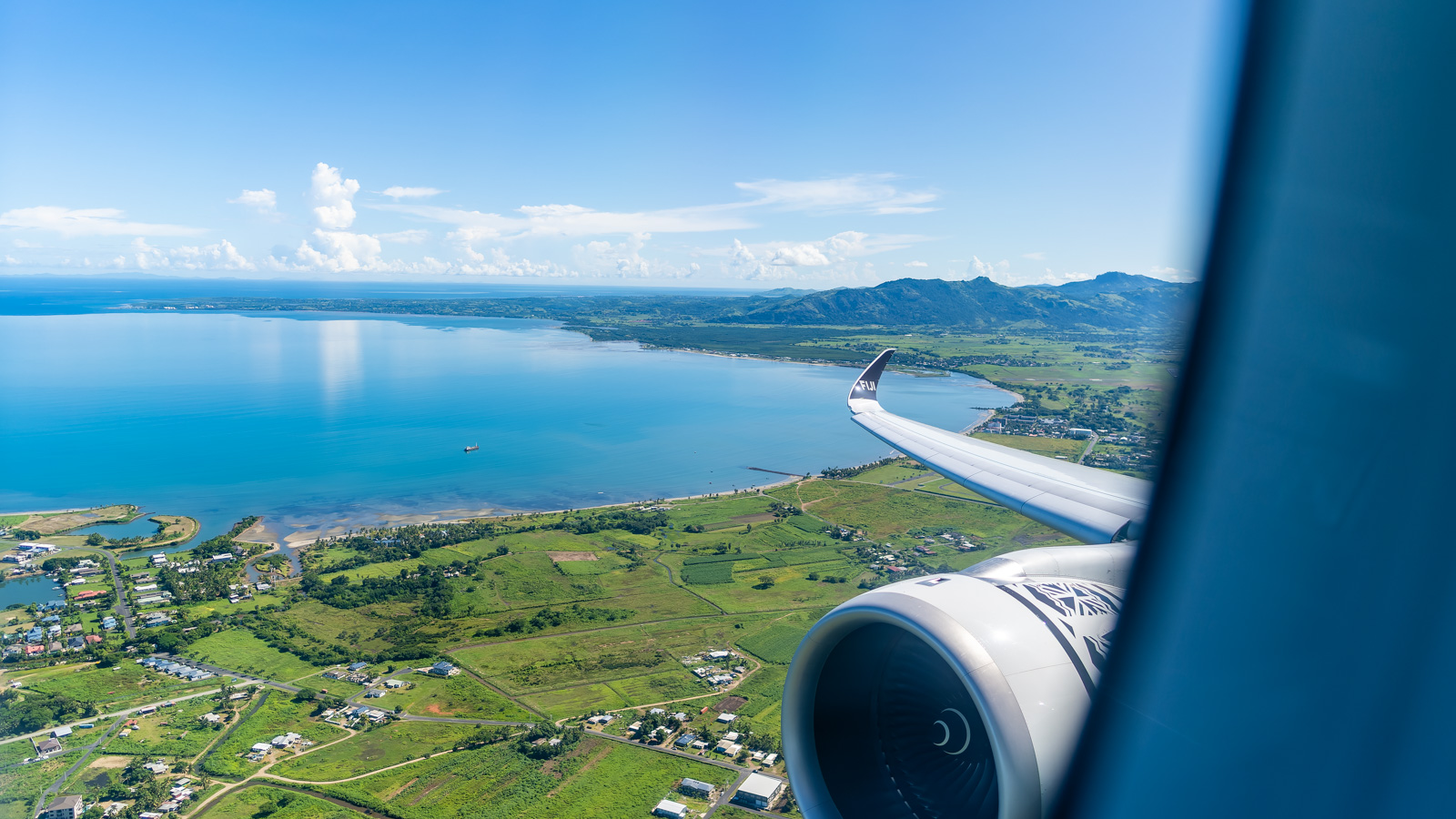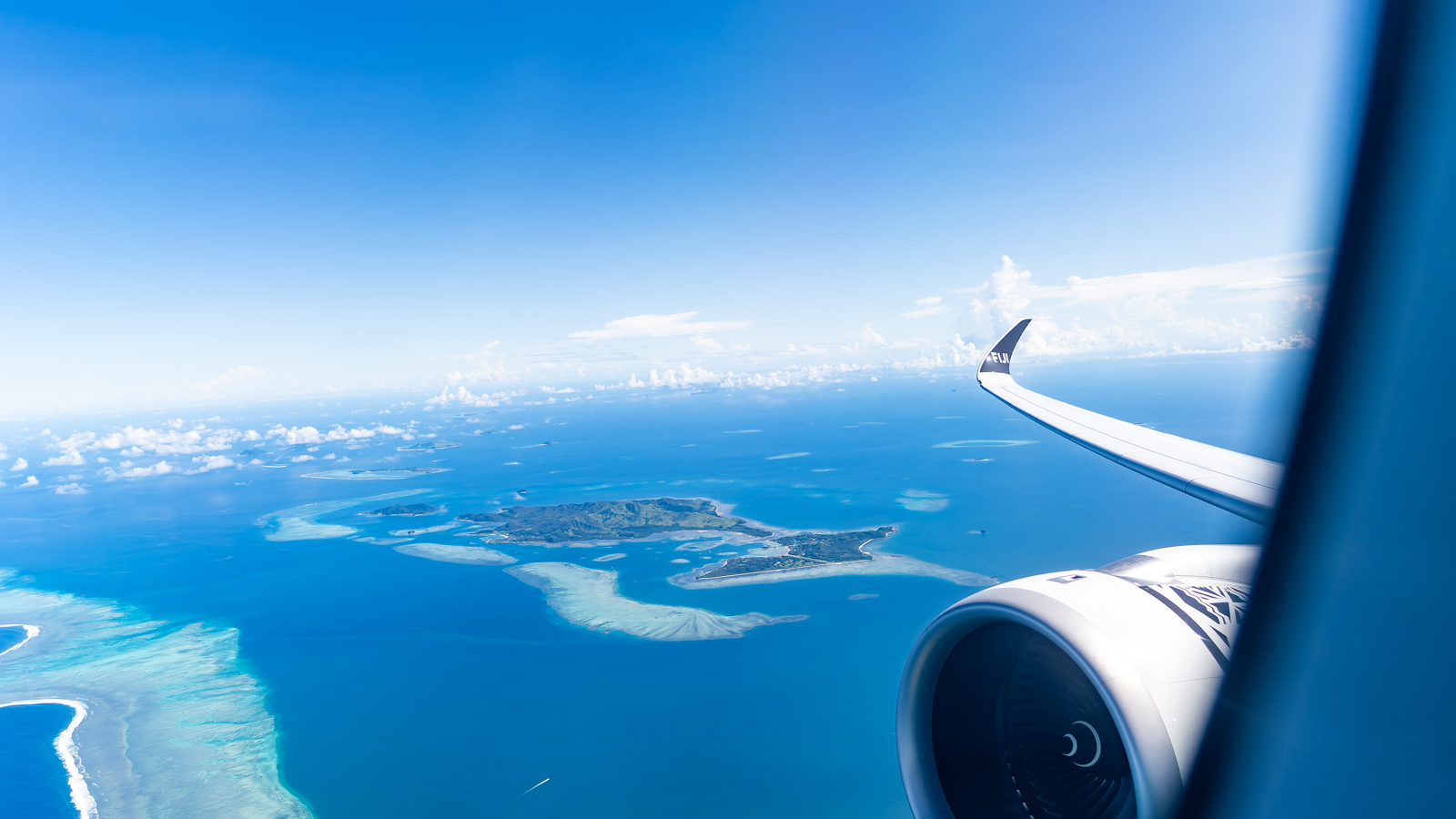 Before the flight
Resort check-in
Bleary-eyed, I'm up at 5 am ahead of a 9 am departure. I'm staying at the Sofitel Fiji Resort & Spa, which is just under 30 minutes drive from the airport. But this hotel has a trick up its sleeve – an on-site Fiji Airways check-in desk!
Thanks to a partnership with Fiji Airways, I'm able to get my boarding pass and drop off my checked baggage before I even set foot in my awaiting airport transfer. Soon, all the formalities are done and I'm on my way to Nadi International Airport. How slick is that?
(Resort check-in is available in the morning for Fiji Airways passengers except those travelling to the USA. Check with the hotel to confirm opening hours during your stay).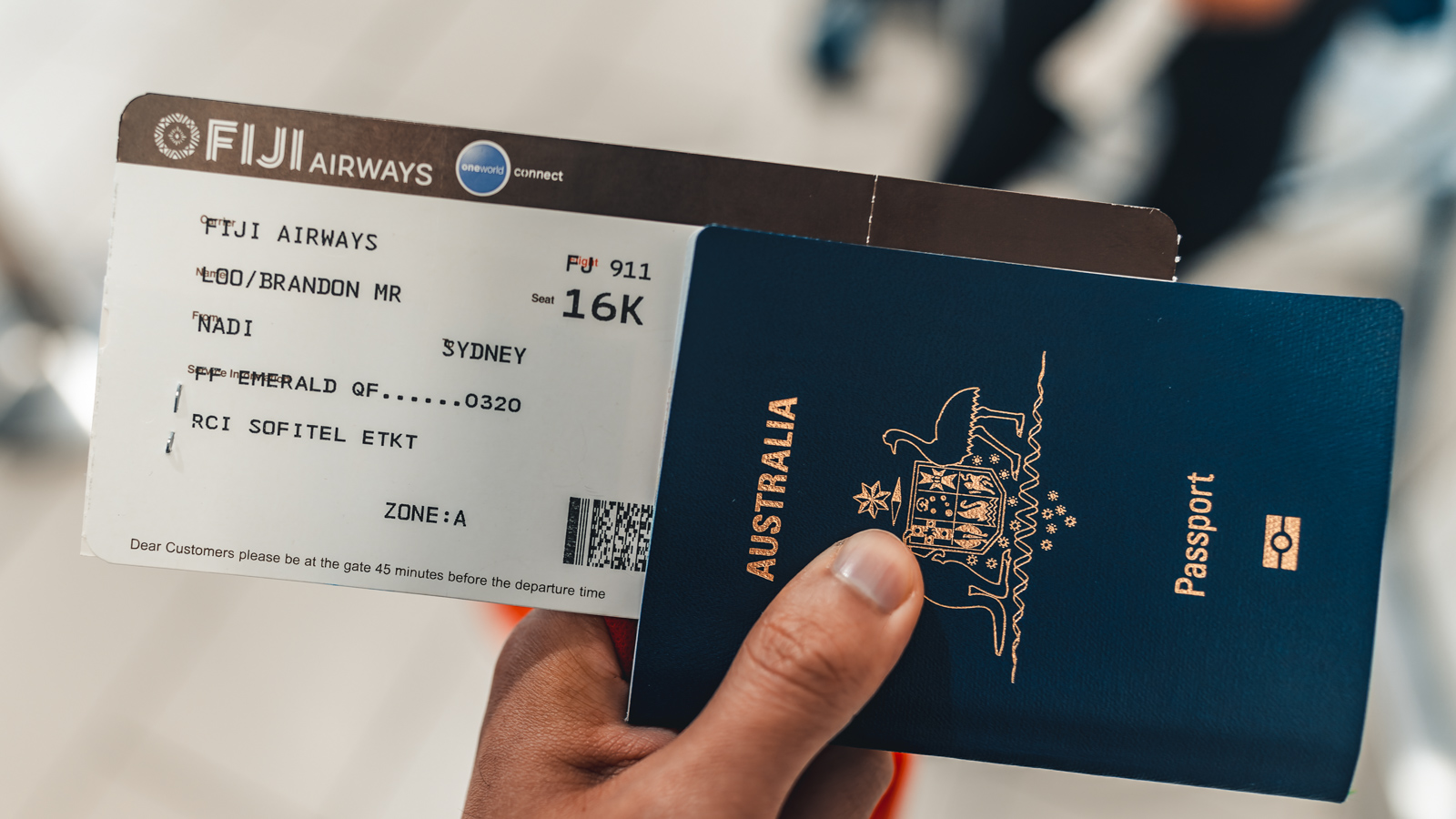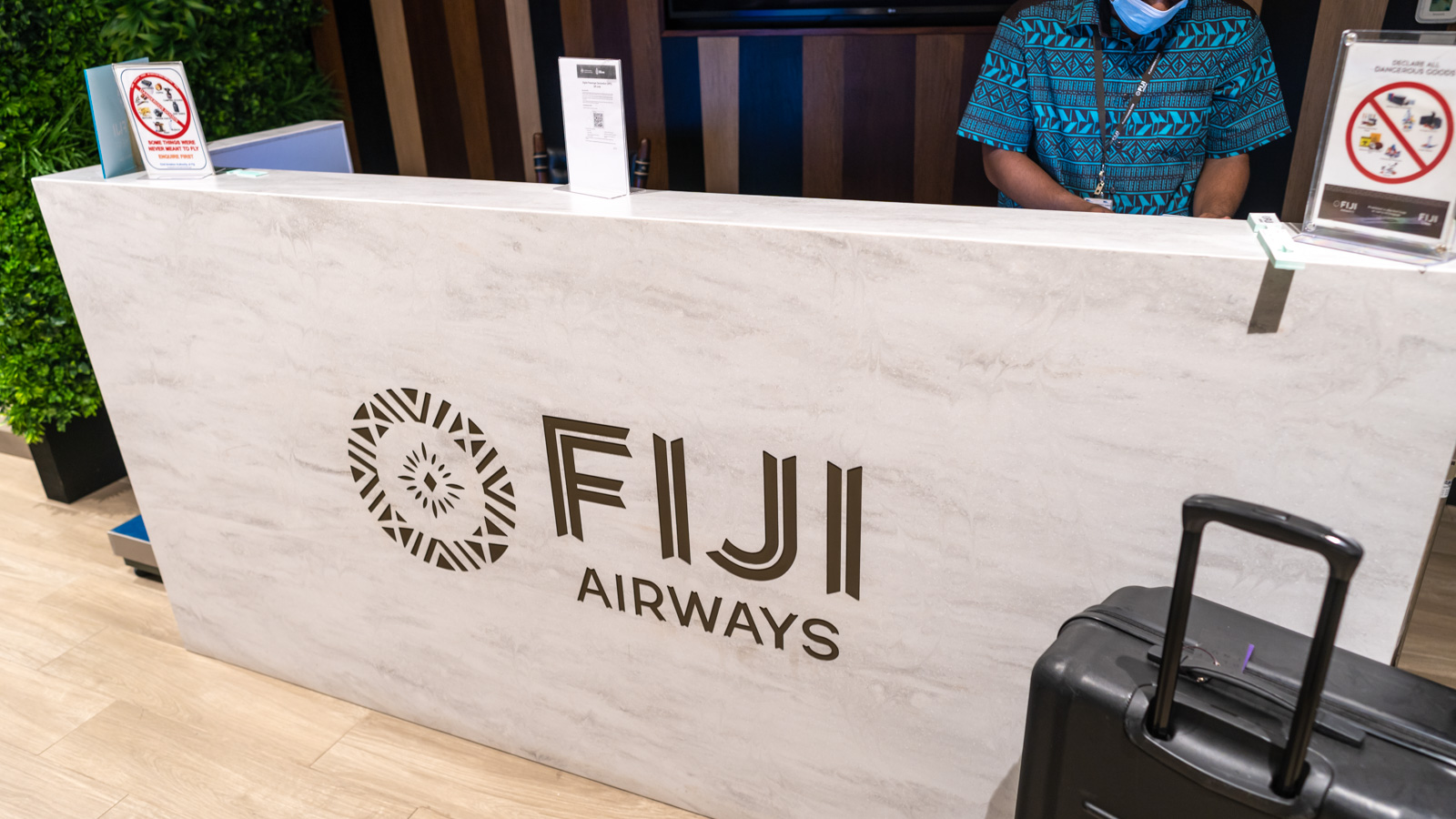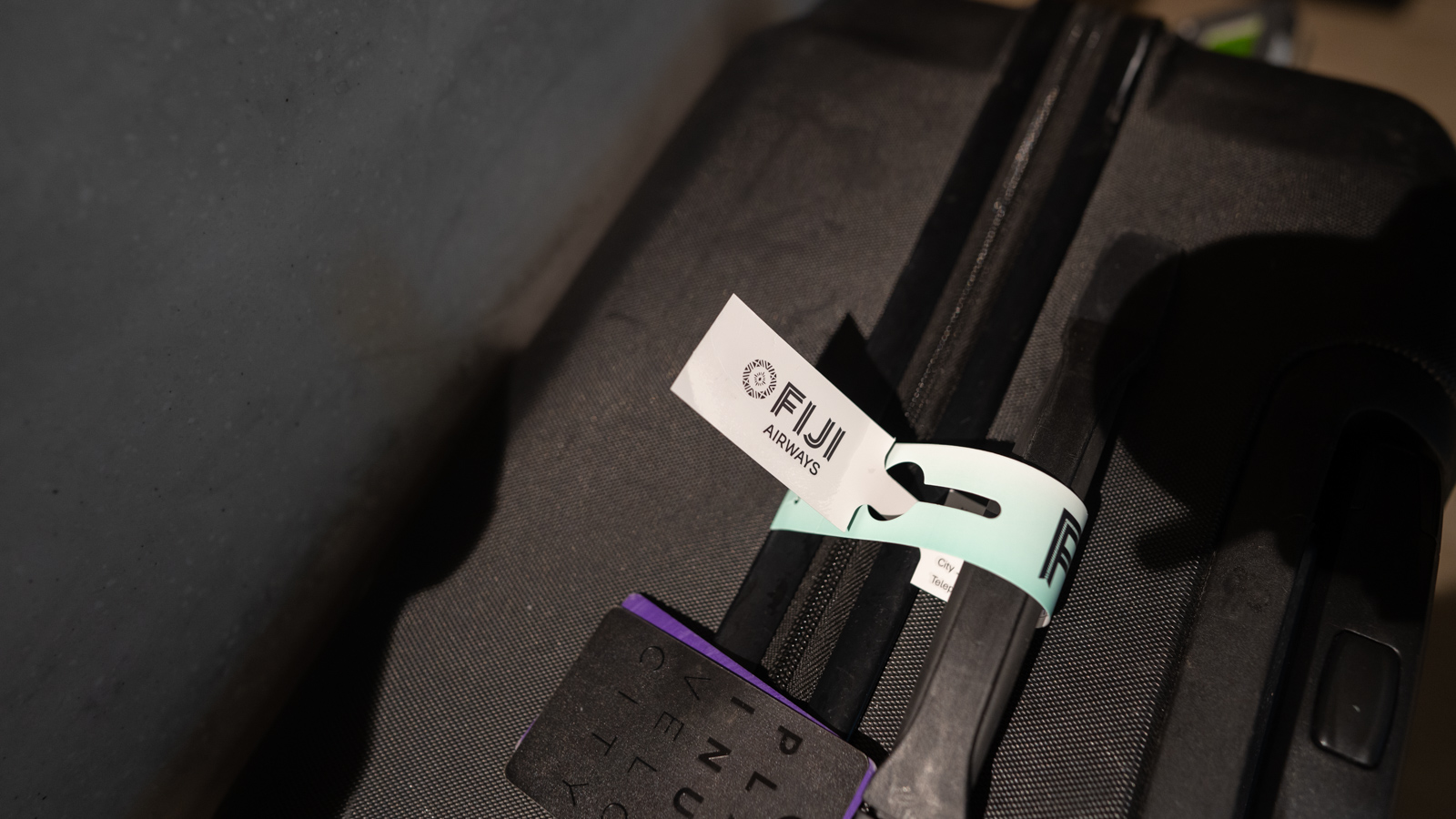 At the airport
Once I arrive, I breeze past the busy check-in area and make my way through immigration and security. From there, it's straight to the Fiji Airways Premier Lounge for a light breakfast. I also take the opportunity to do my first duty-free shop in over two years.
Nadi International Airport features outdoor covered walkways leading to the aerobridges. Boarding the flight is somewhat chaotic because the different outdoor 'gates' share common boarding zones. If you want to maximise time in the lounge, I'd say go for it.
When our flight is called, I head through the priority boarding lane to get on early. There's another checkpoint just afterwards where I submit to the Australia-mandated secondary security screening, pick up my sealed duty-free and also enjoy great views of the plane bringing me back to Sydney.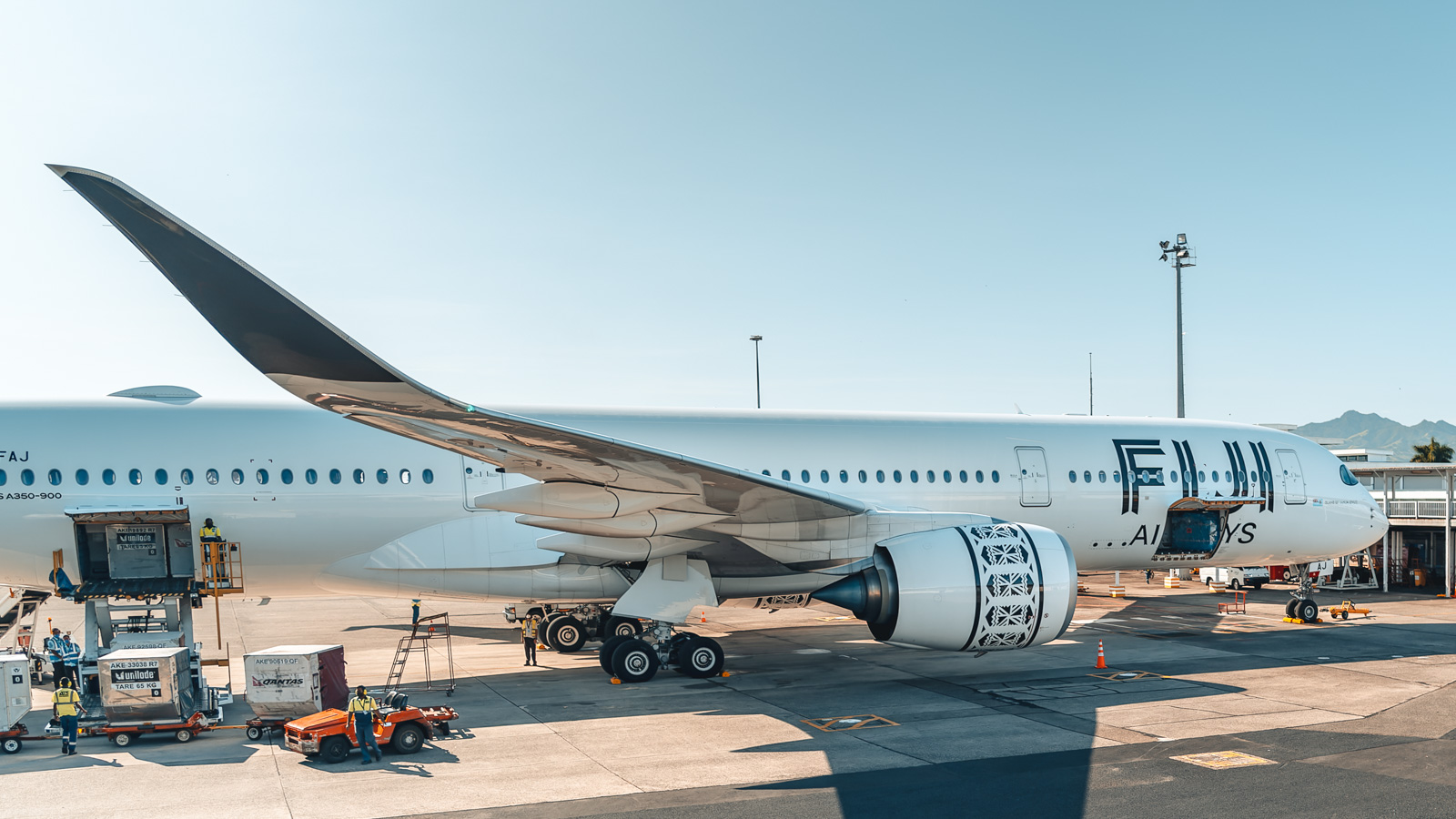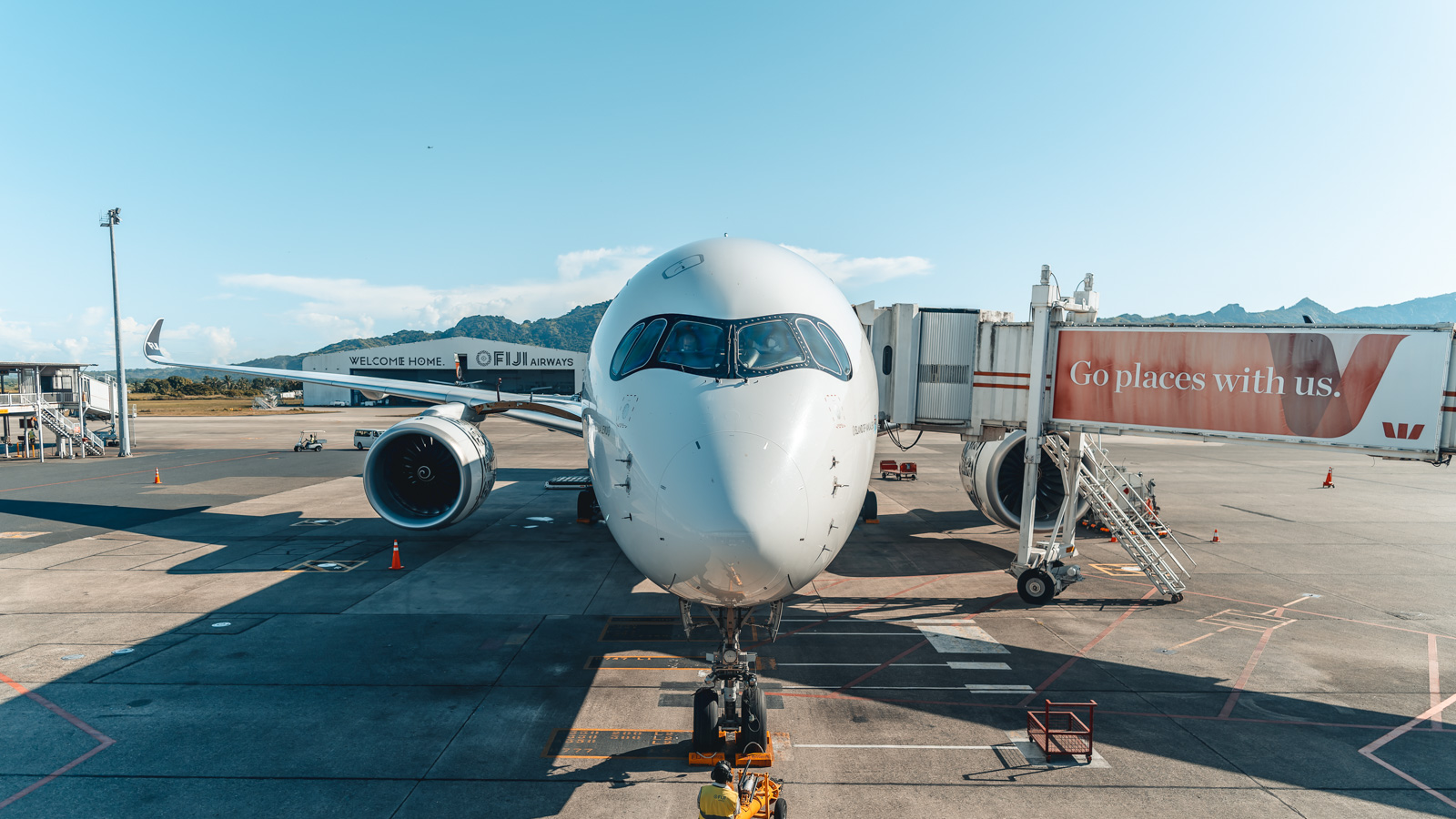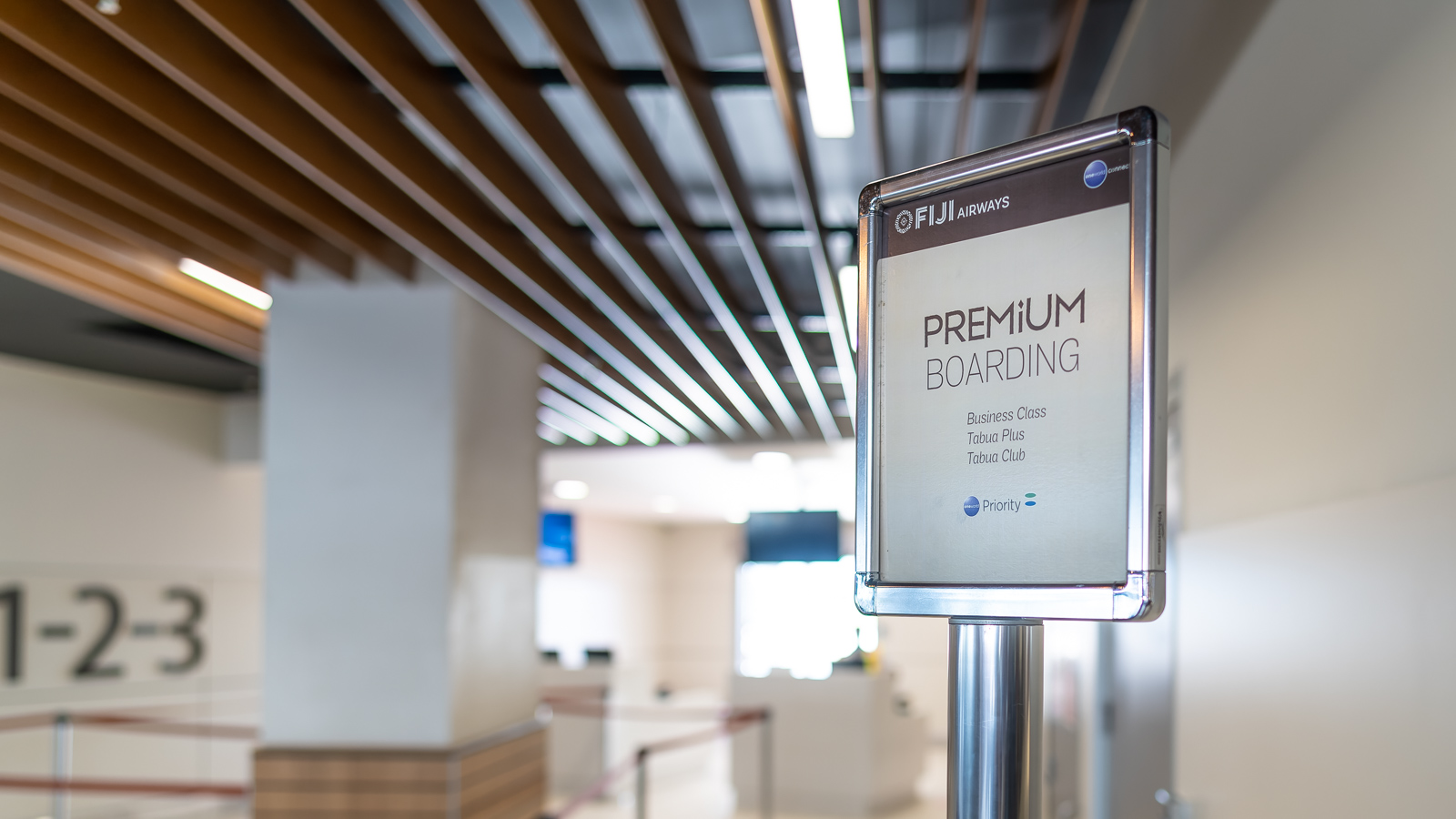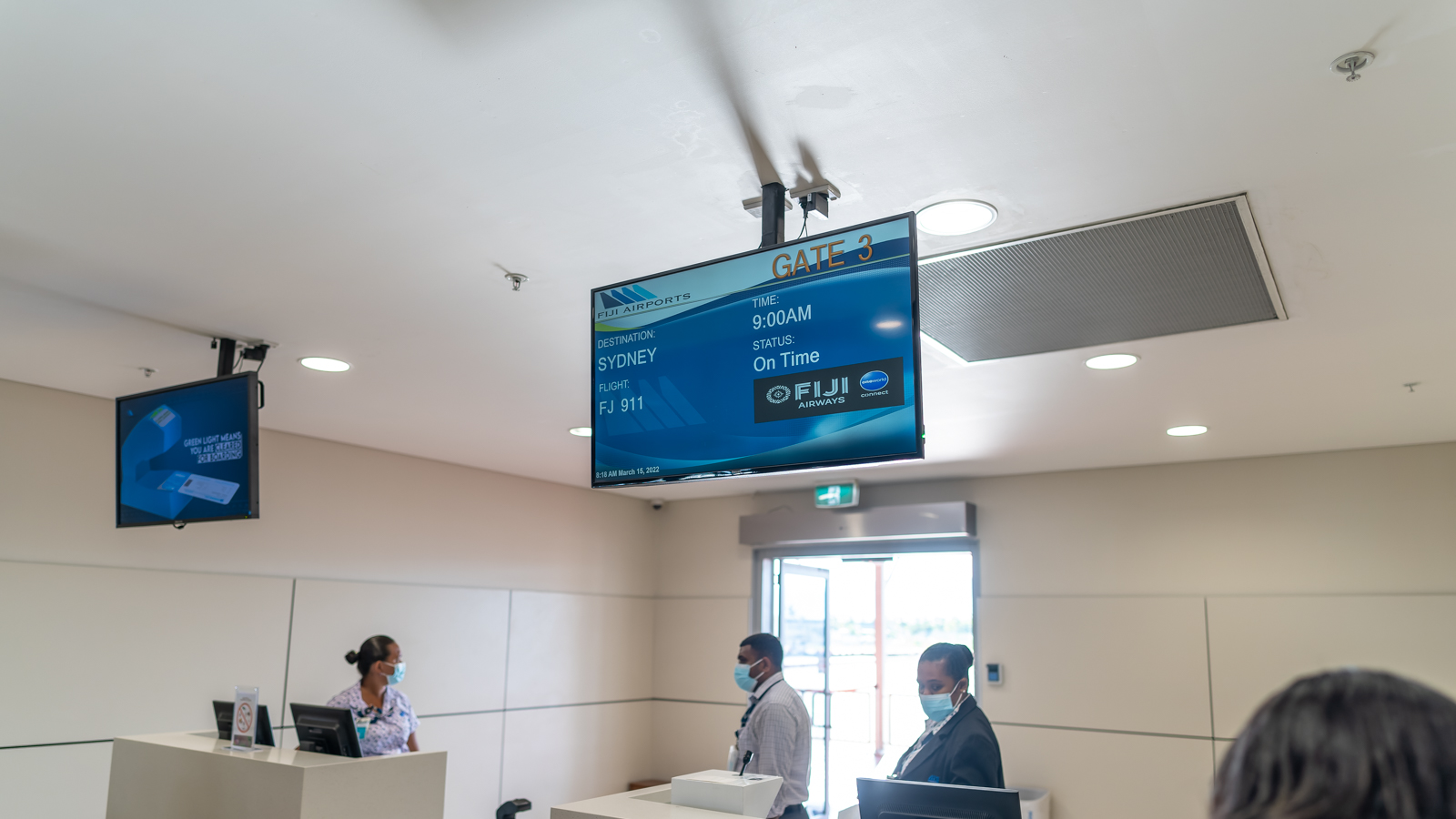 First impressions: boarding, cabins and seats
I always find it a treat to fly on an Airbus A350. Everything looks new and sleek, from the digital seatbelt sign screen to the oversized windows and colourful LED lighting.
As the pride of its fleet, Fiji Airways' flagship jet is no exception. In fact, Fiji Airways has just two Airbus A350s on its books, which usually fly the Nadi-Sydney and Nadi-Los Angeles routes.
Checking out the Airbus A350 Business Class seat
There are 33 Business Class suites in a 1-2-1 layout, based on the industry-leading Collins Aerospace Super Diamond. If they look familiar, that's because Virgin Australia's old widebody 'the business' was modelled from the same family. Each seat offers fully-flat beds, easy aisle access and modern touches that make travelling a breeze.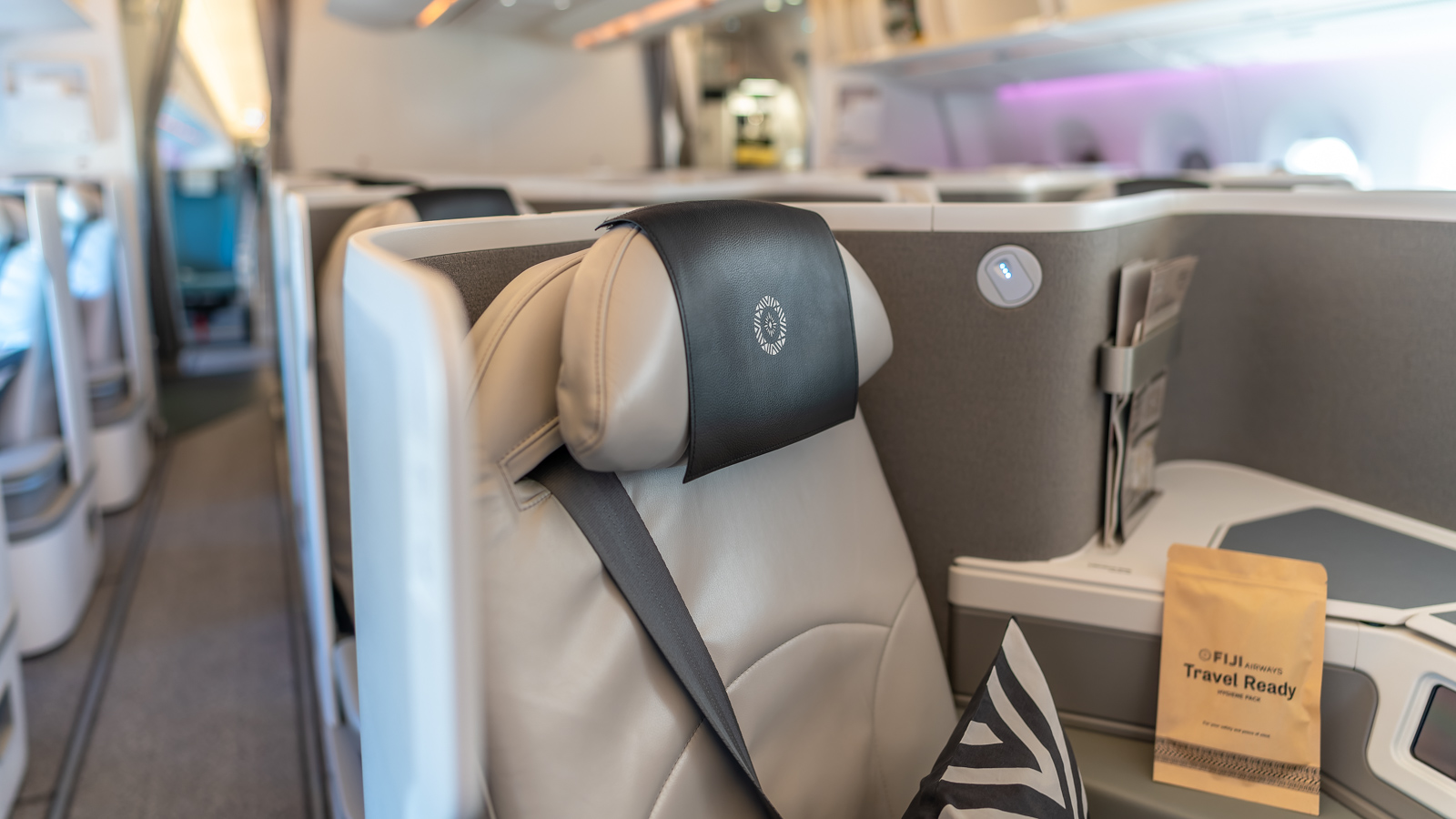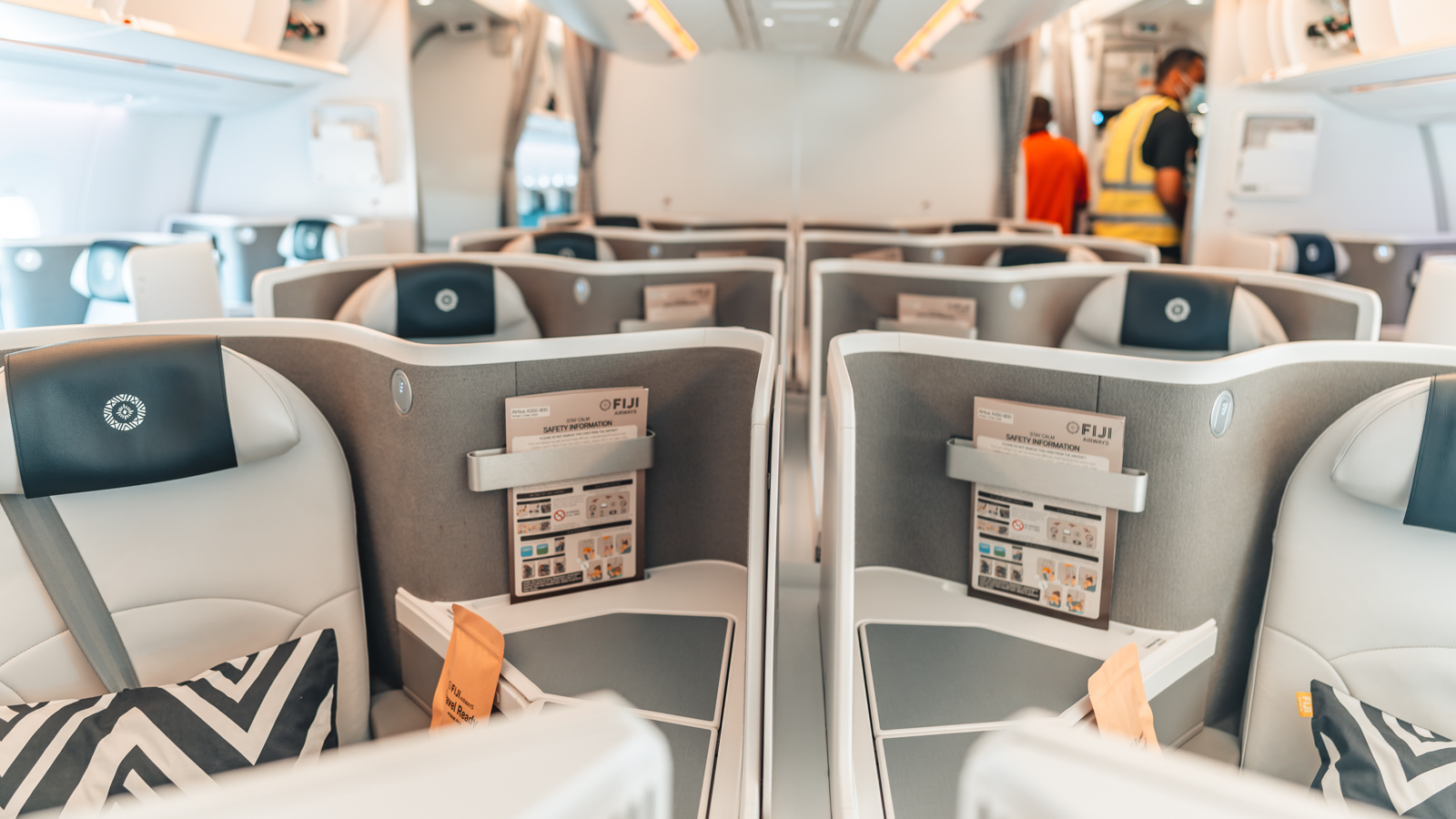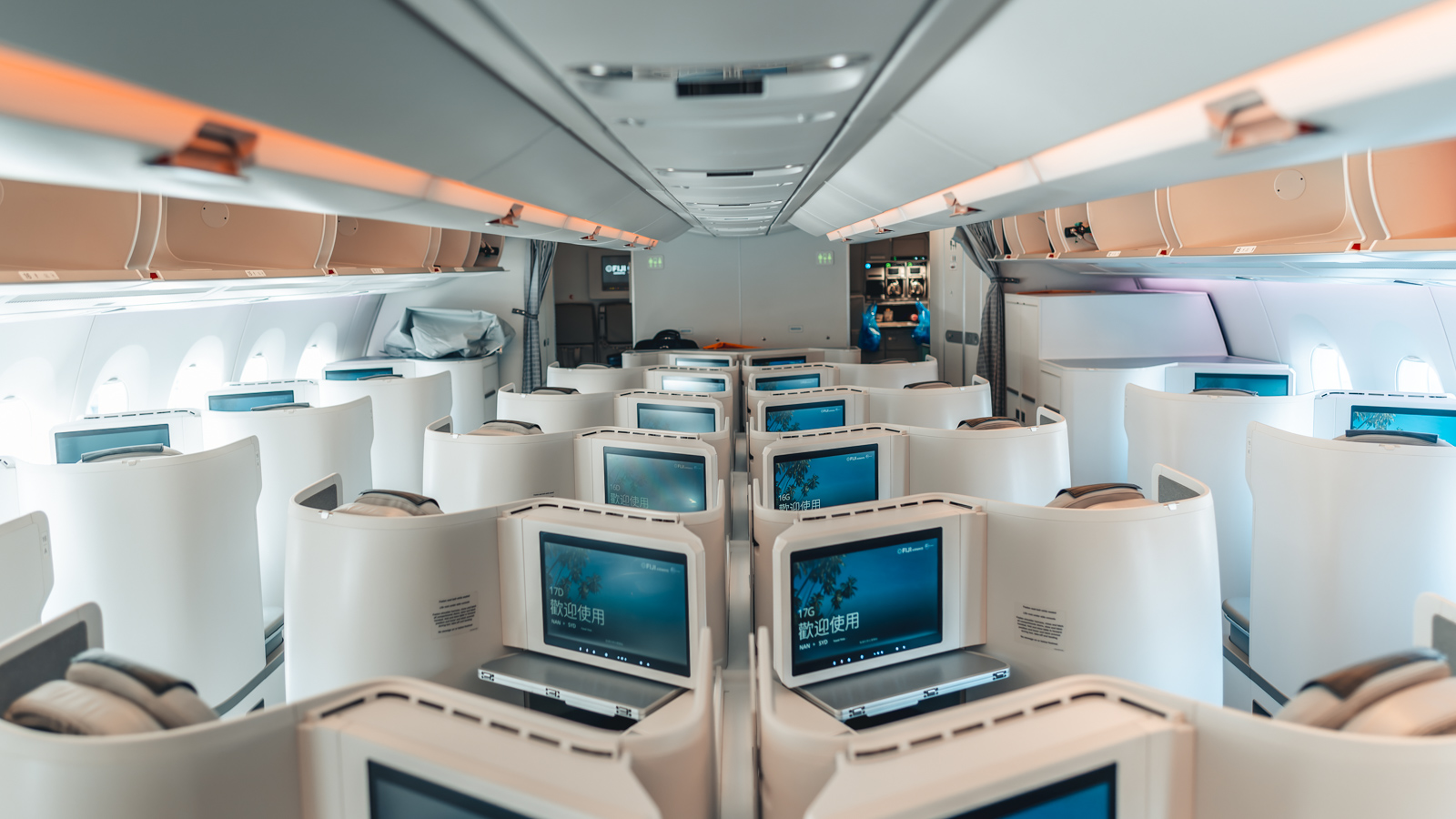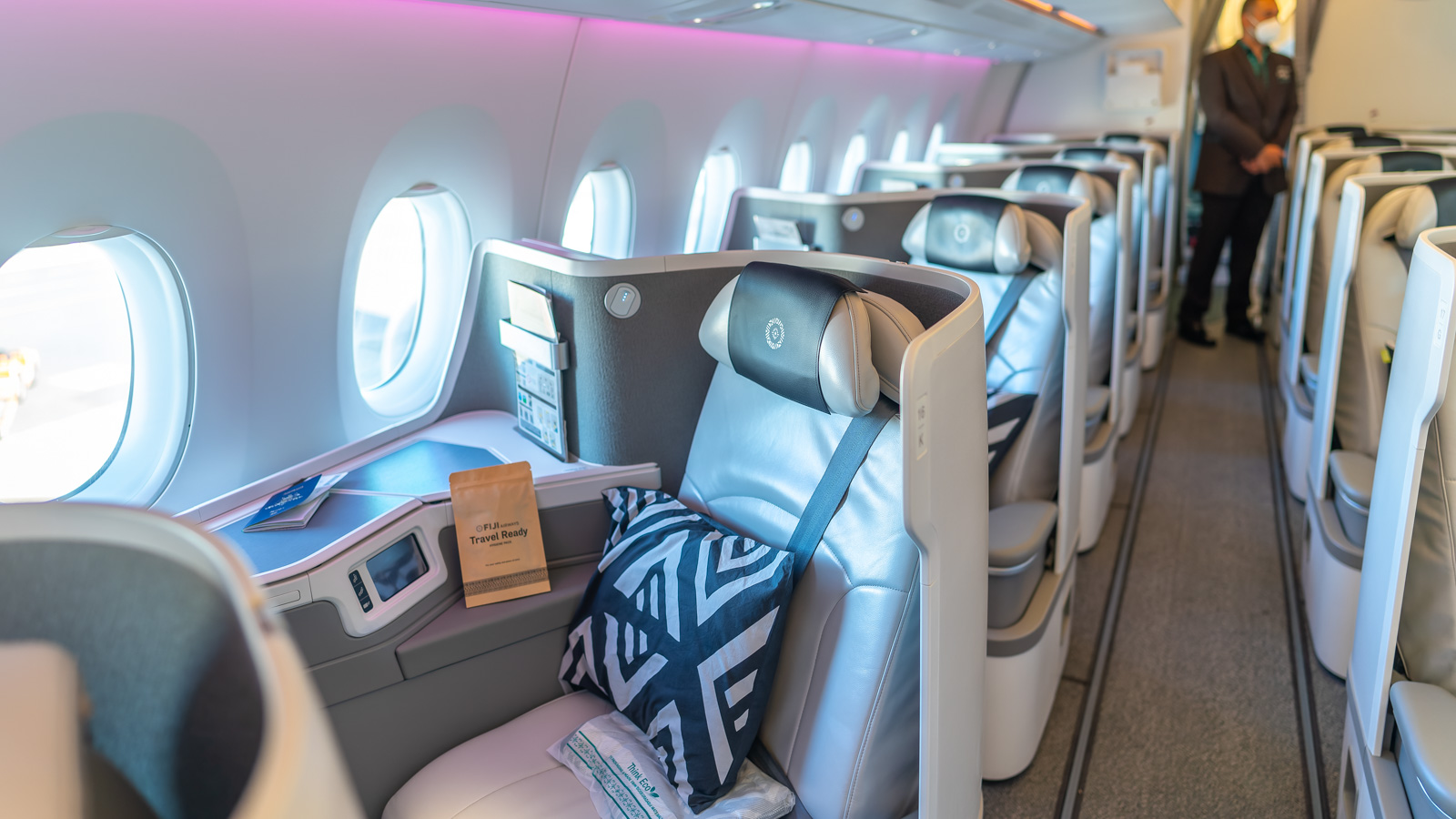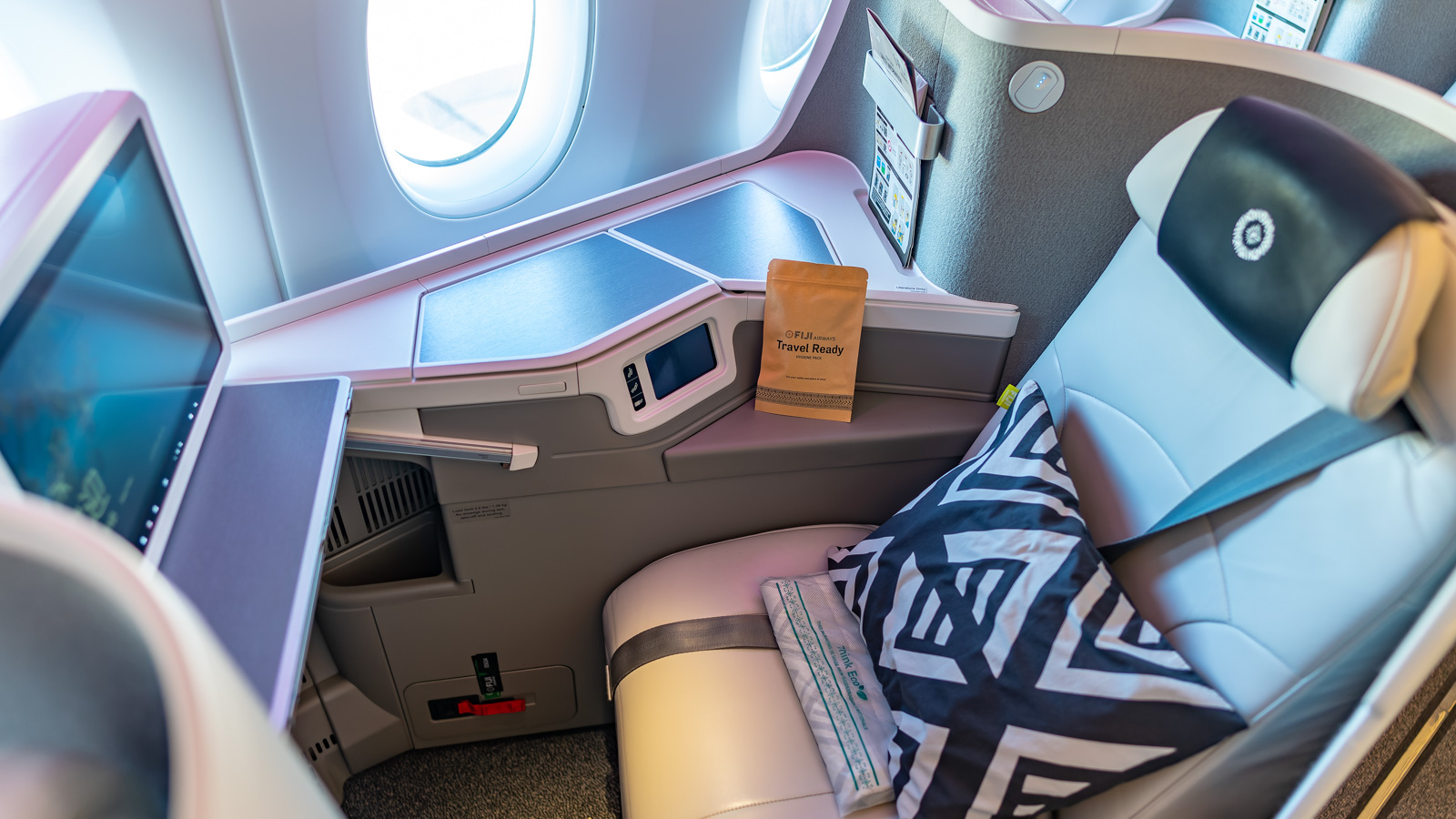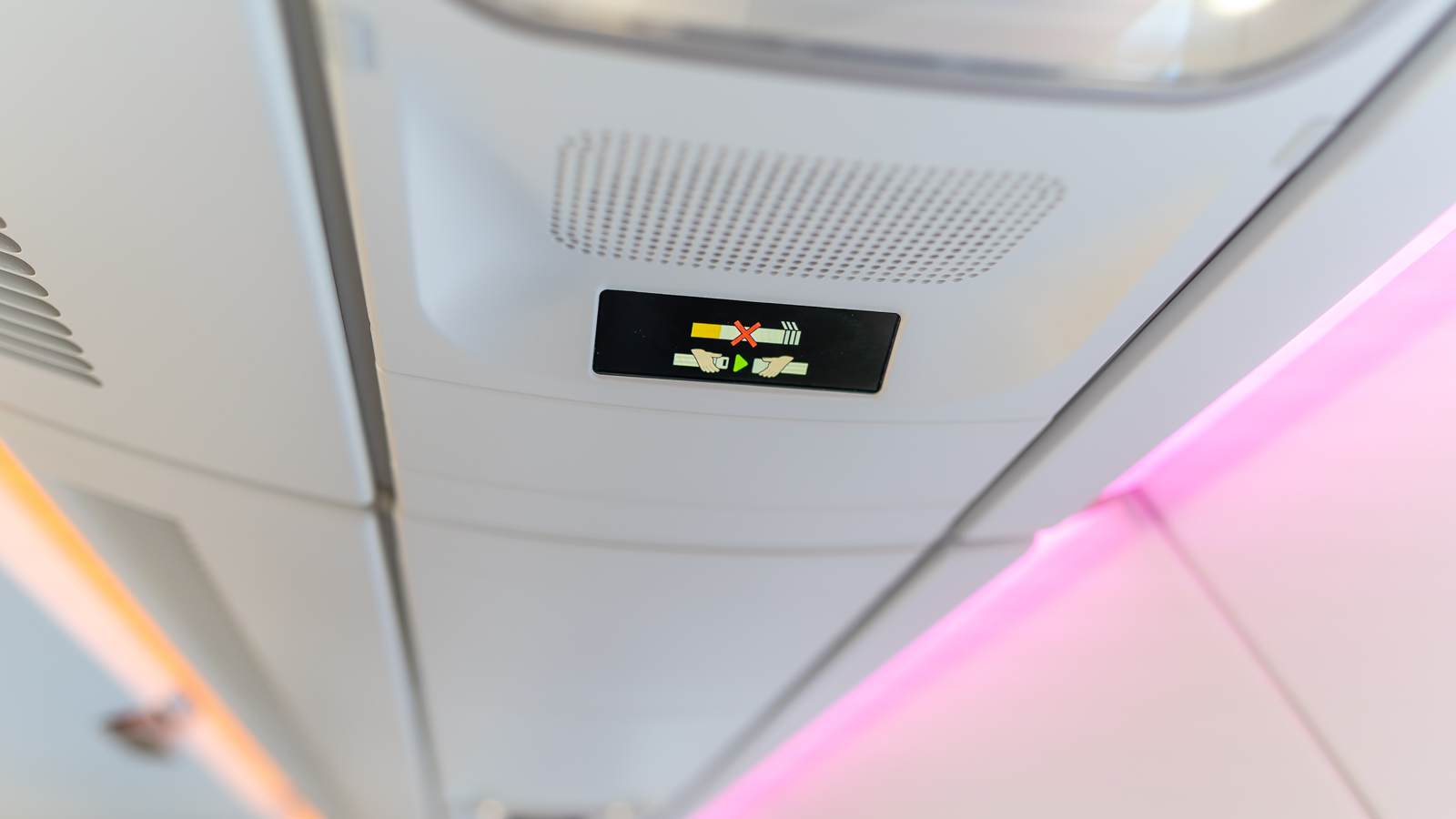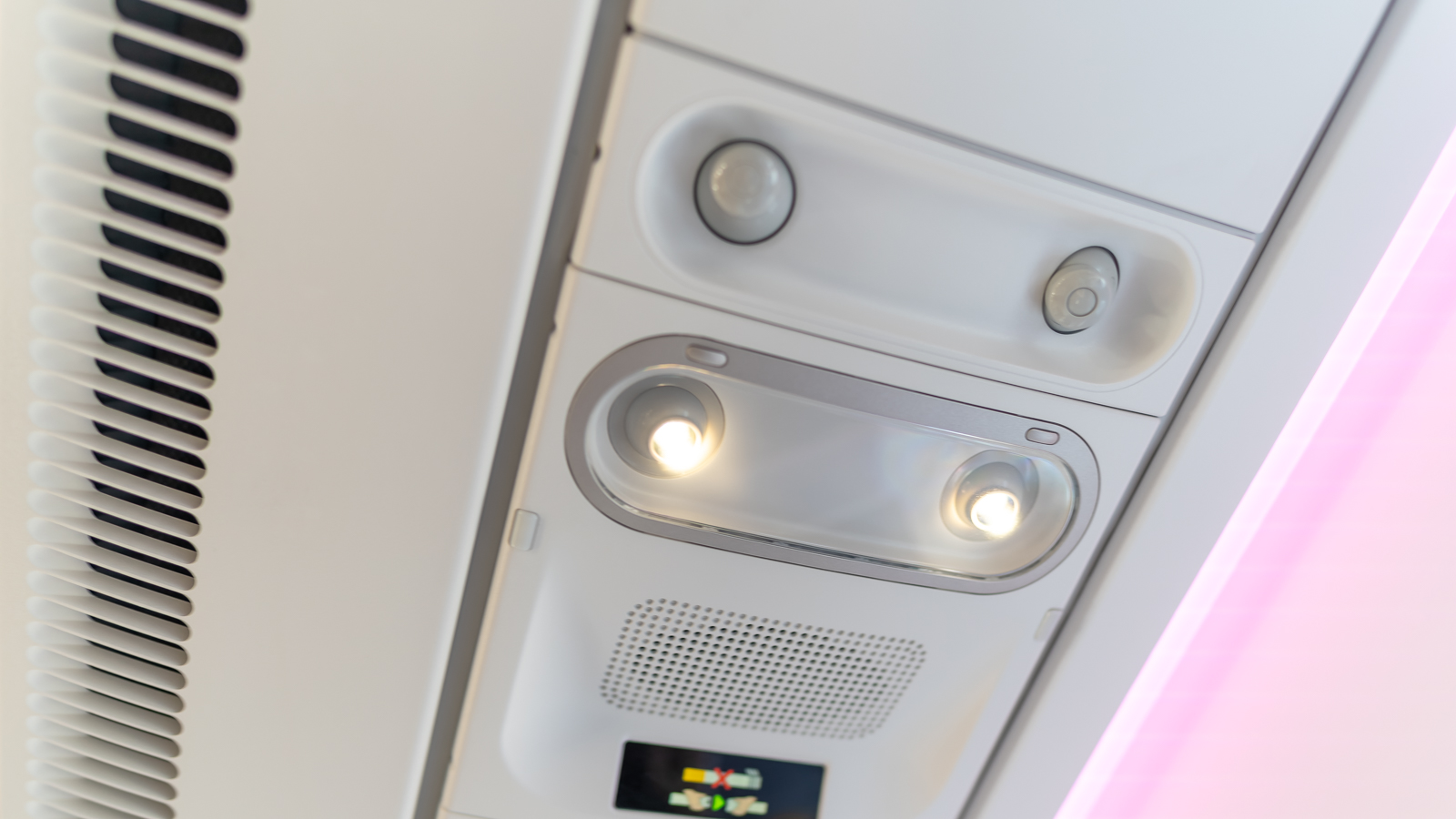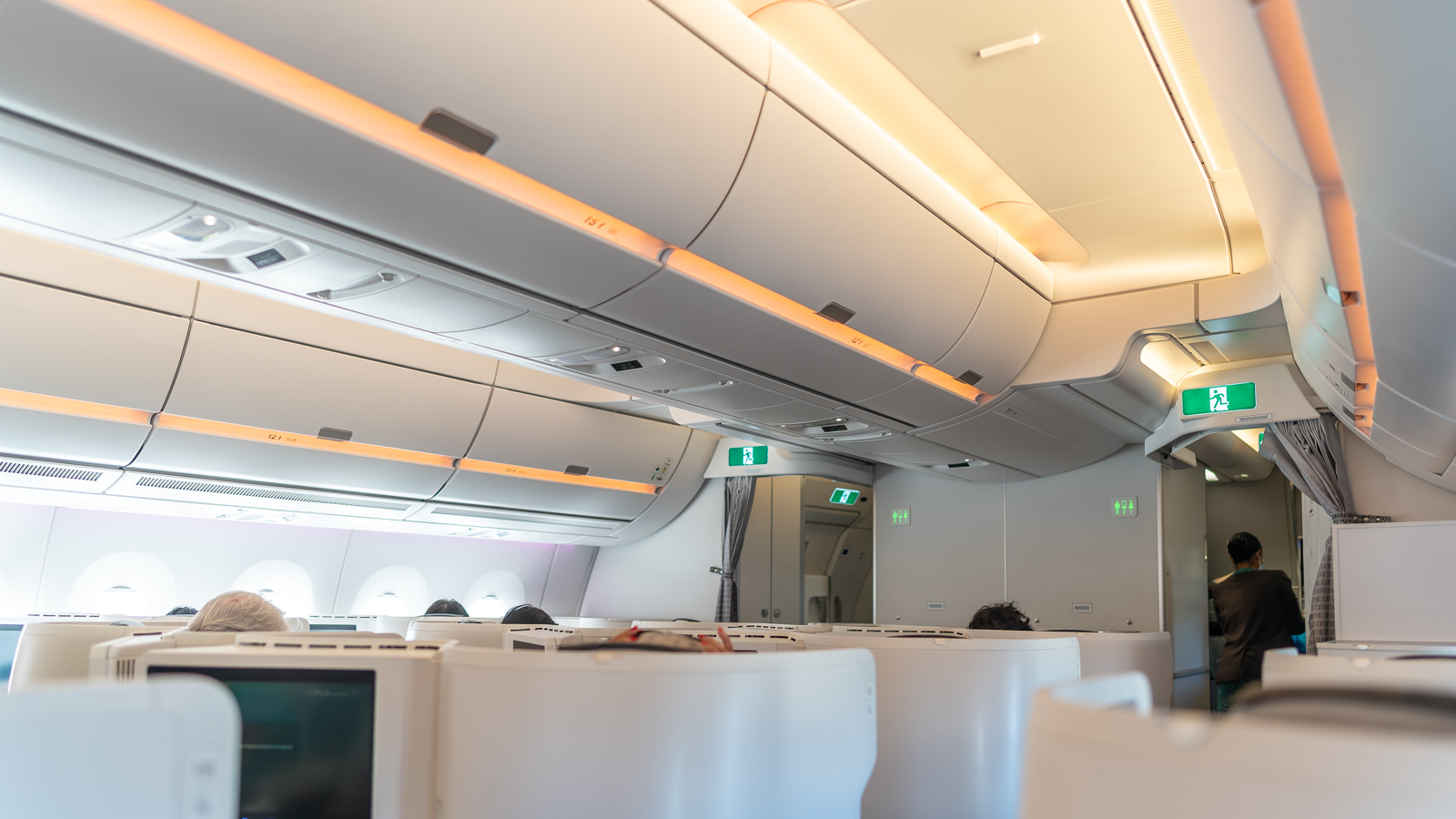 There are quite a few nifty storage compartments around the seat. On the aisle, the armrest can move up and down. It also contains a water bottle and noise-cancelling headphones.
On the console side, you can easily store a phone, passport and other small accessories. Larger items are best left in the overhead lockers – you can't leave anything in the footwell during take-off or landing. I like the easy-to-use touchpad for adjusting the seat, which also has some manual button shortcuts.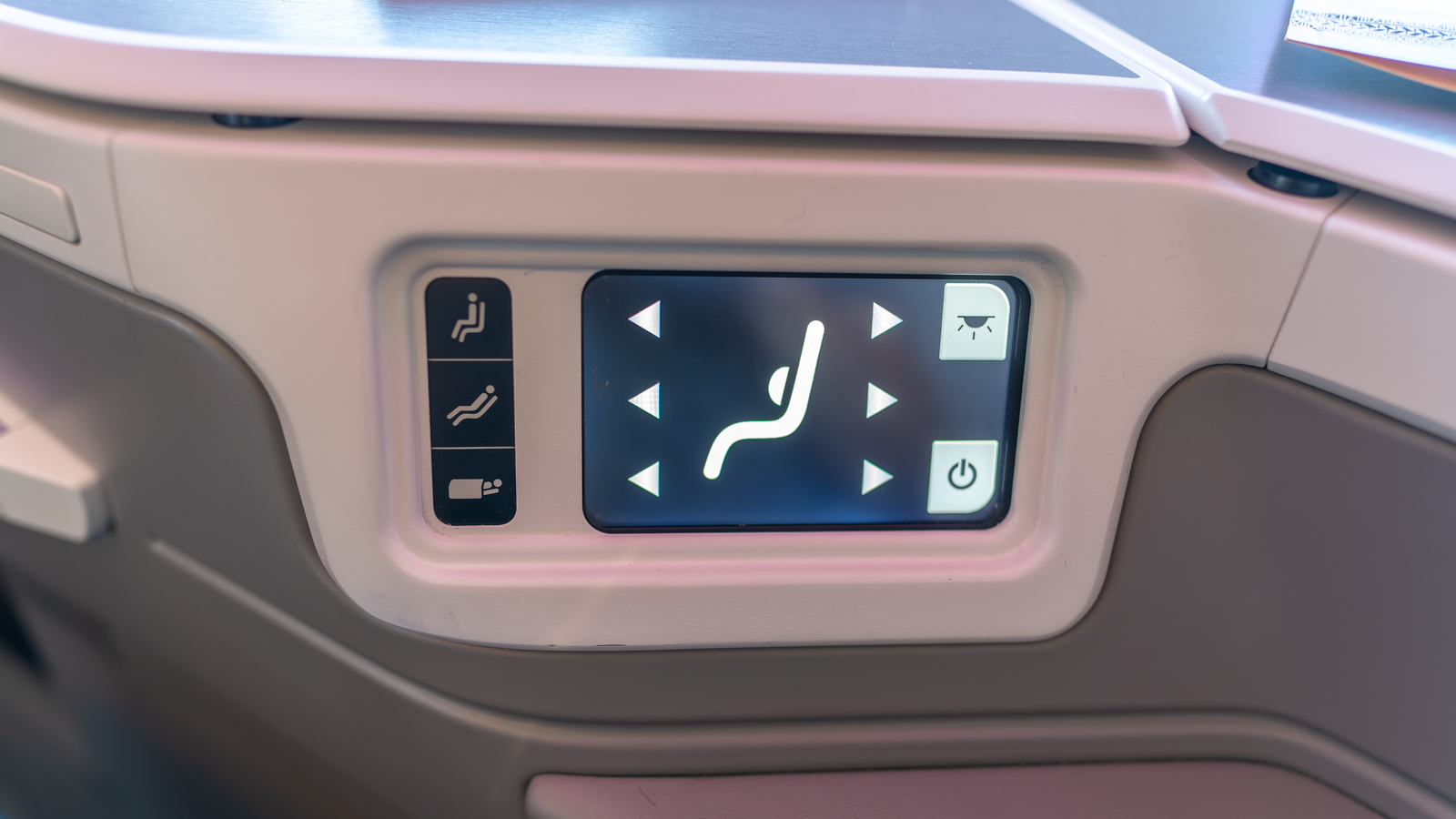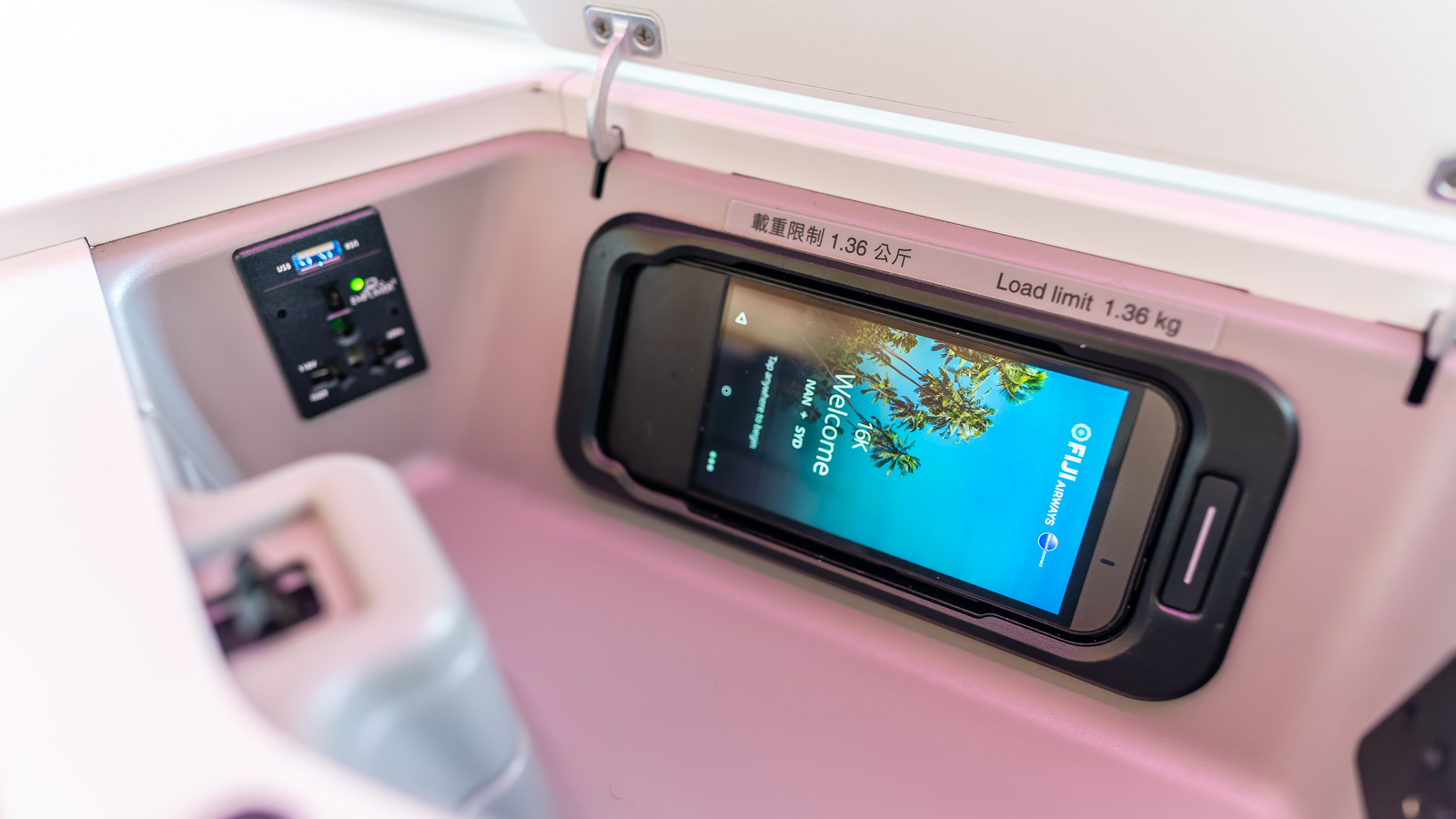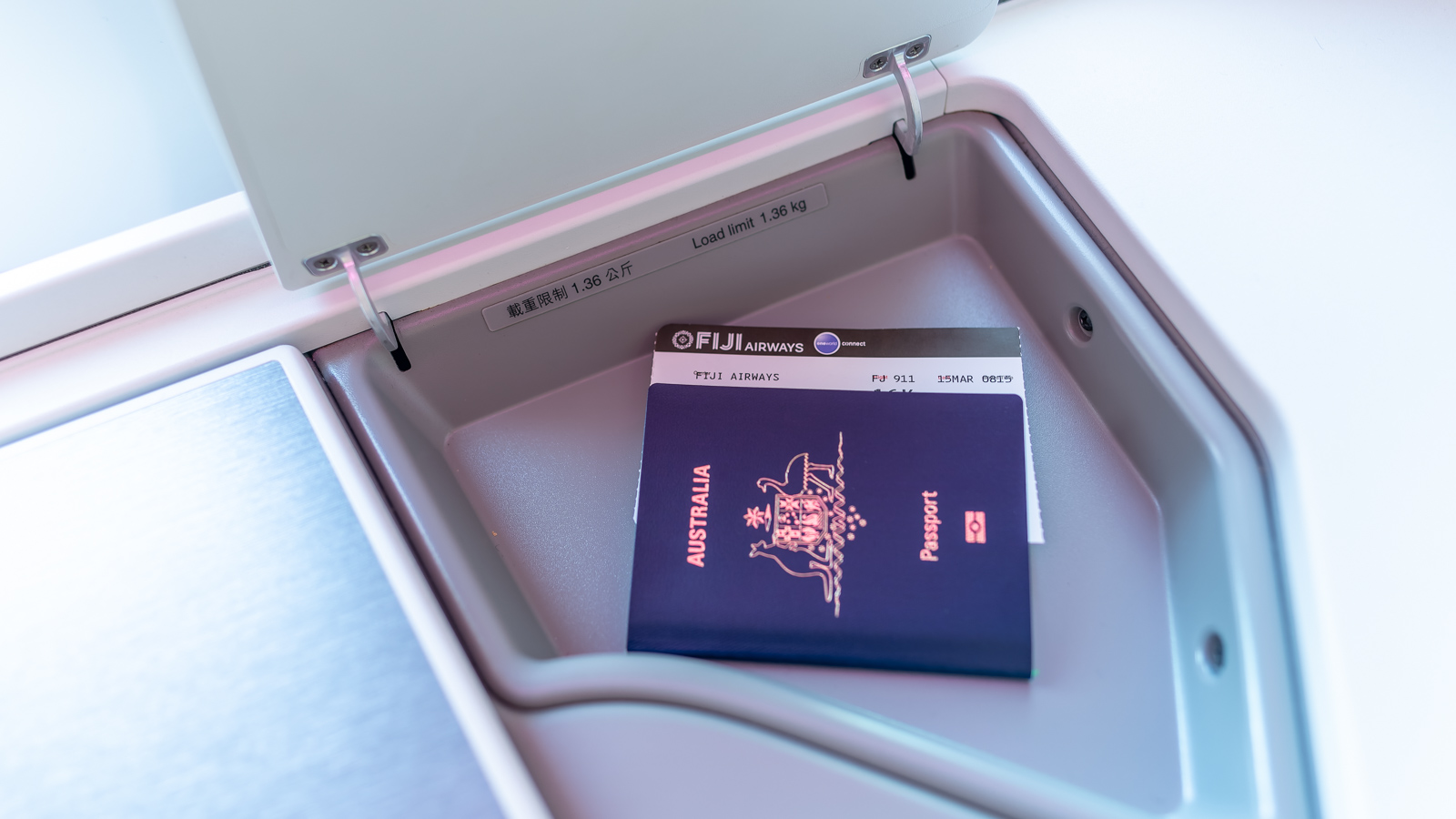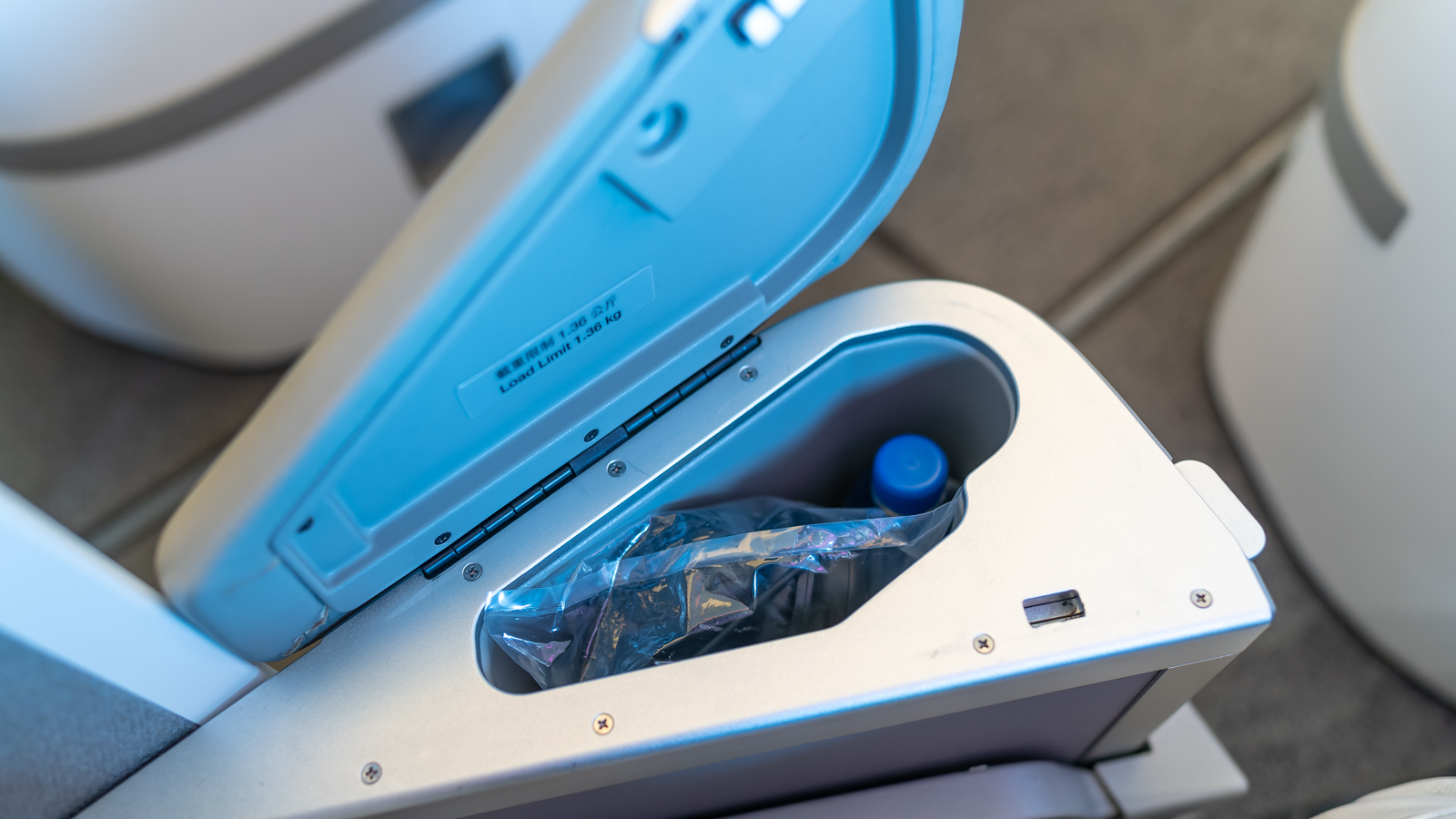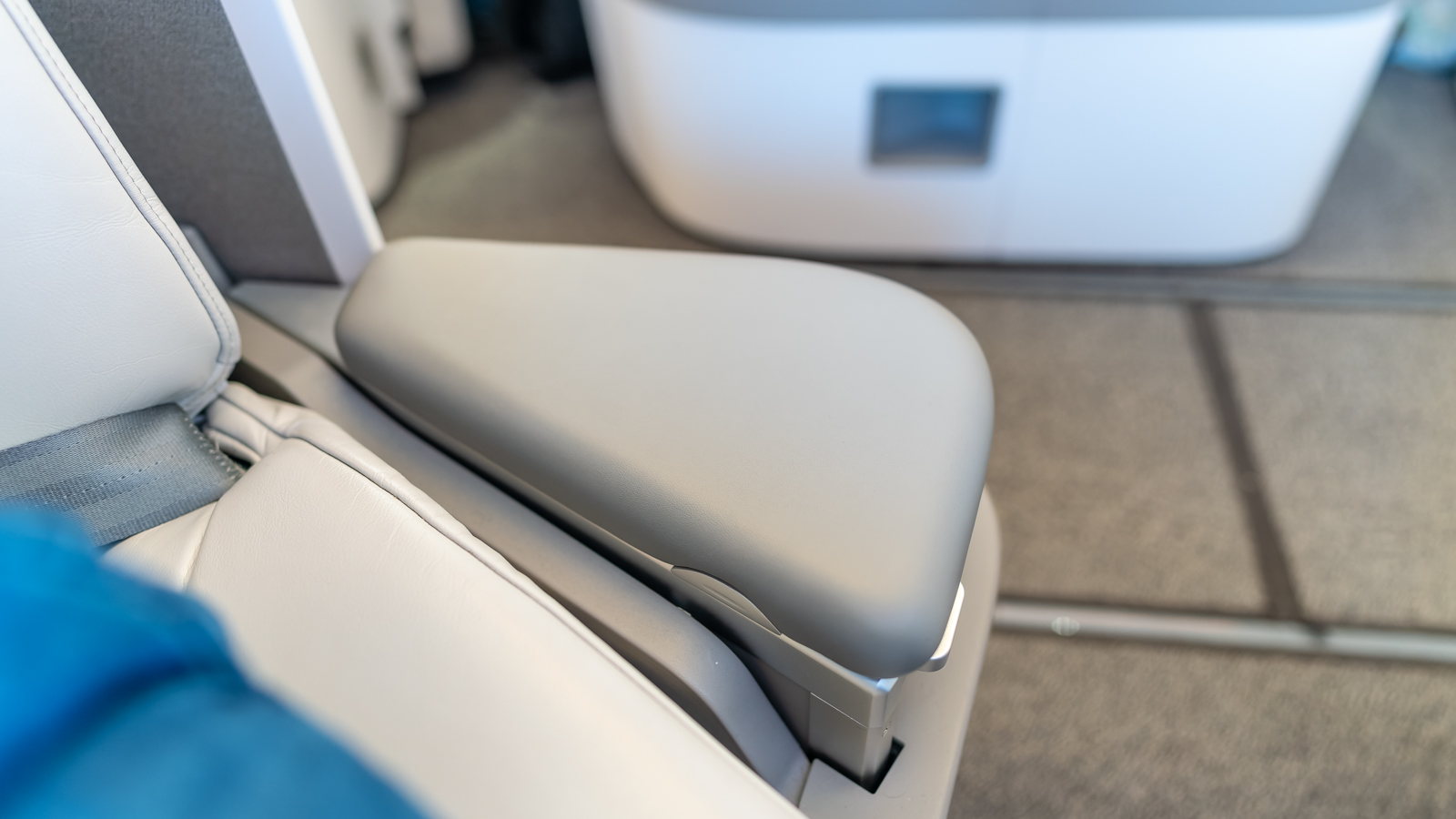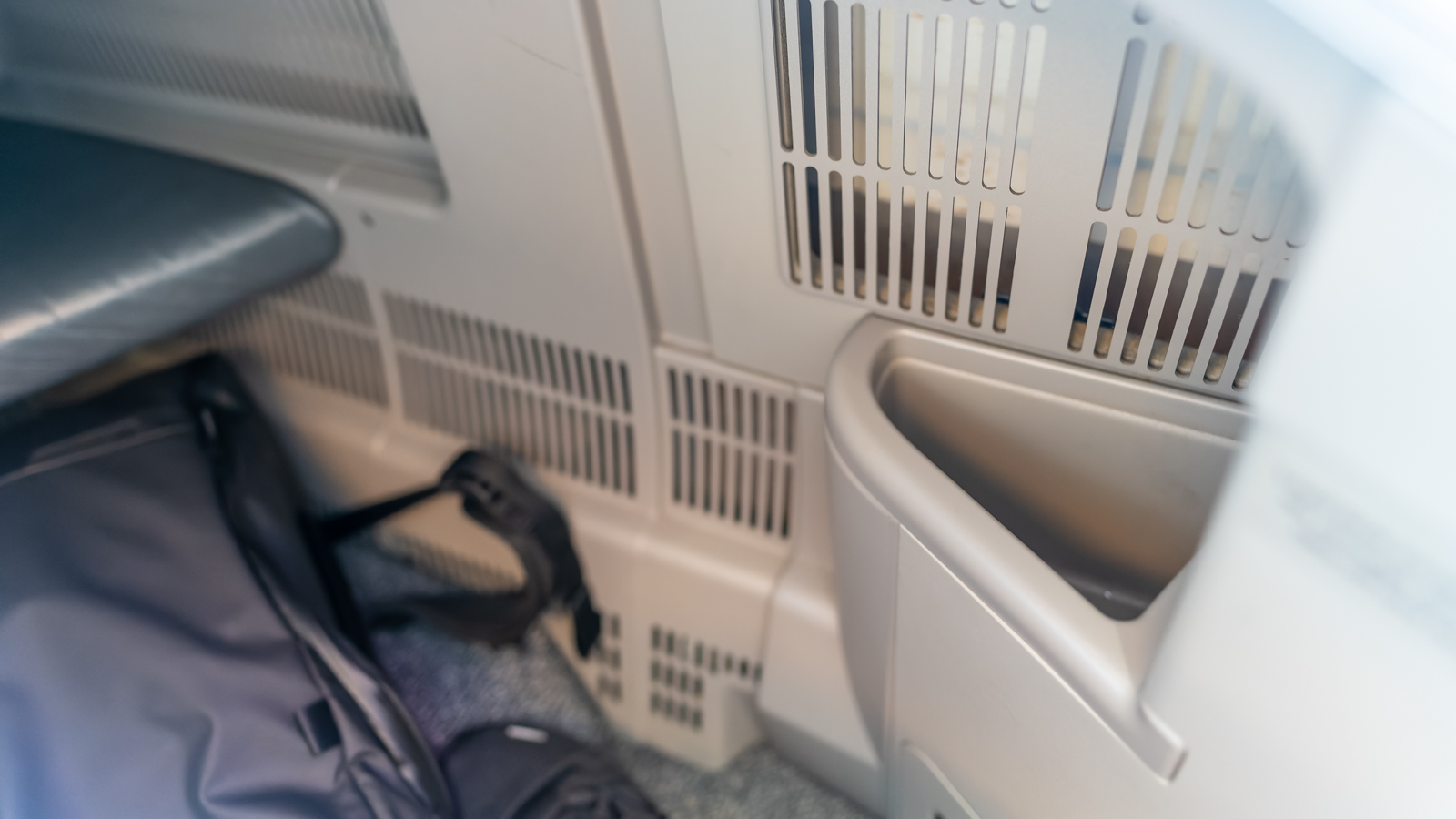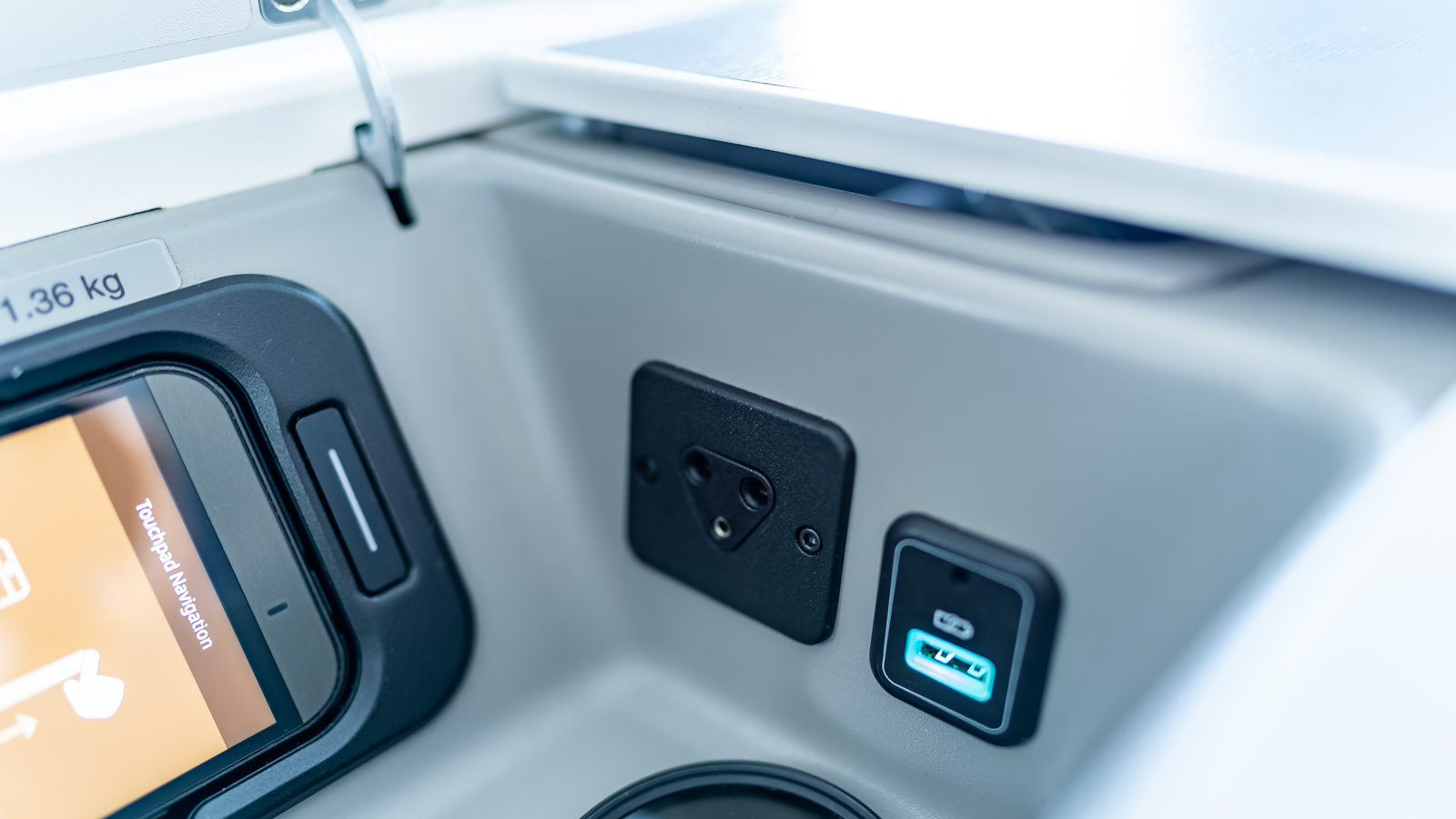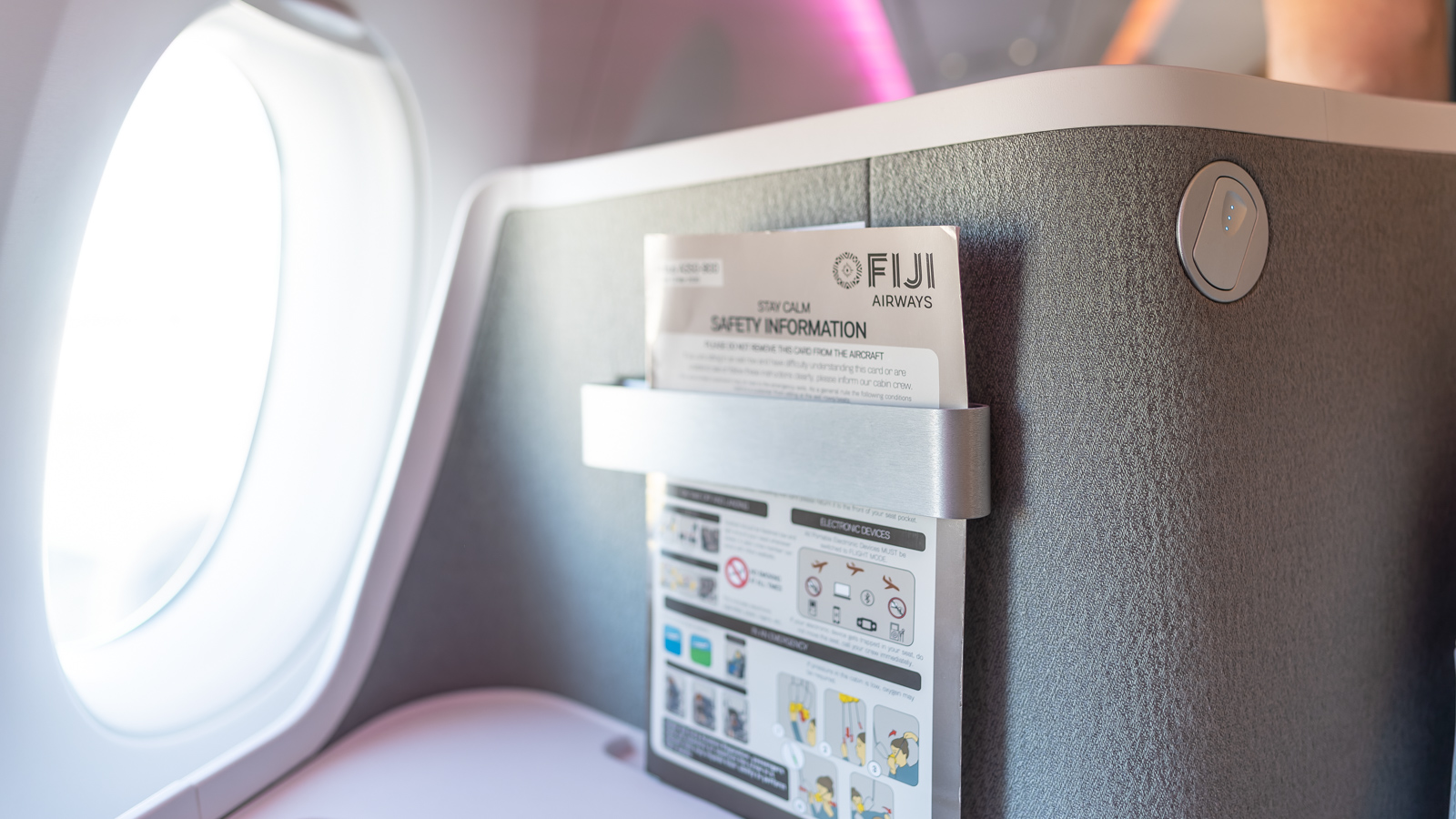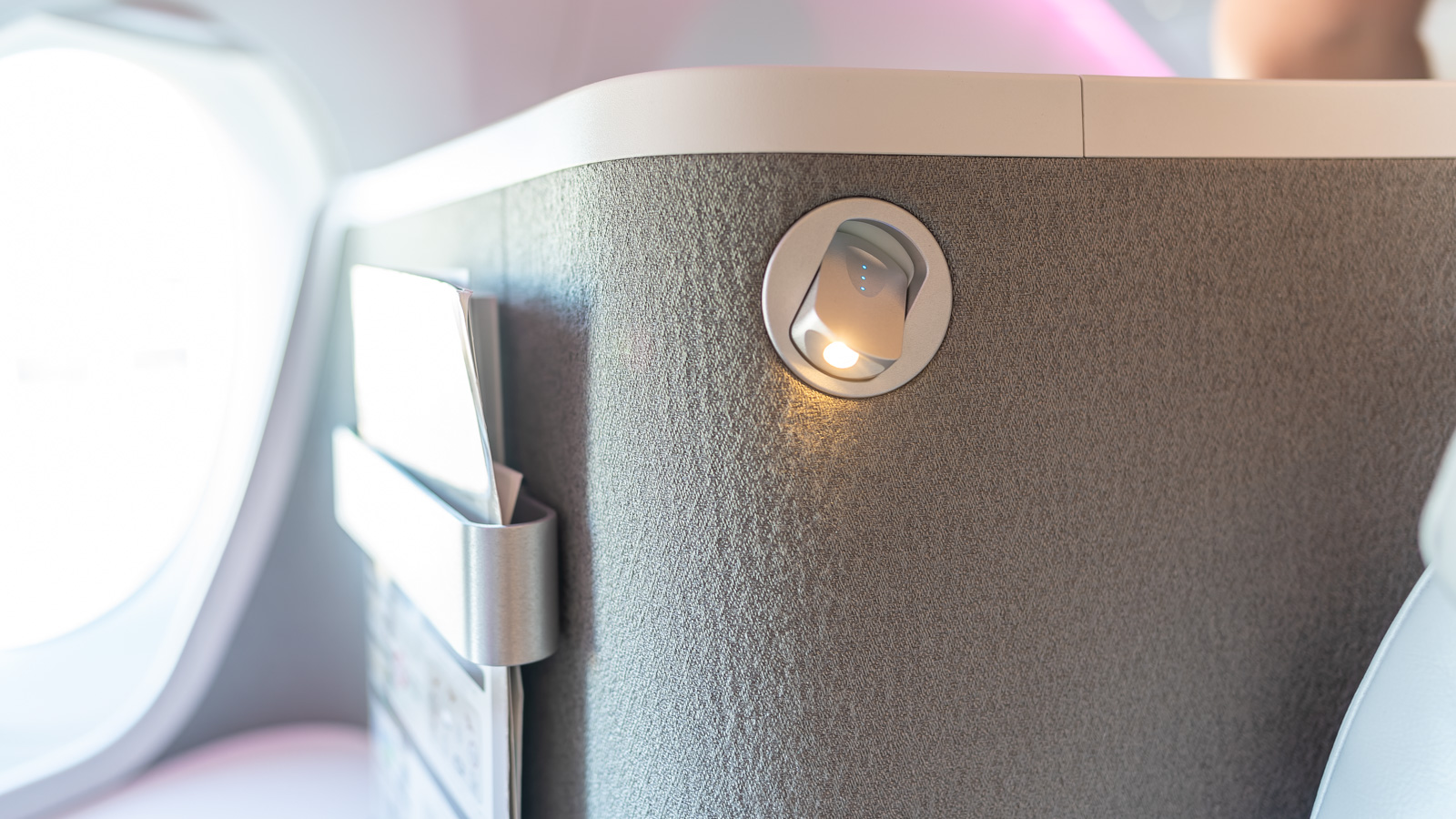 Speaking of the footwell, it tapers off a bit at the end but is otherwise comfortable for my 183 cm frame. With a press of a button, the whole seat folds down into a comfortable fully-flat bed. Still feeling the effects of an early wake-up alarm, I'm content to stay in this position as we cruise over the Pacific.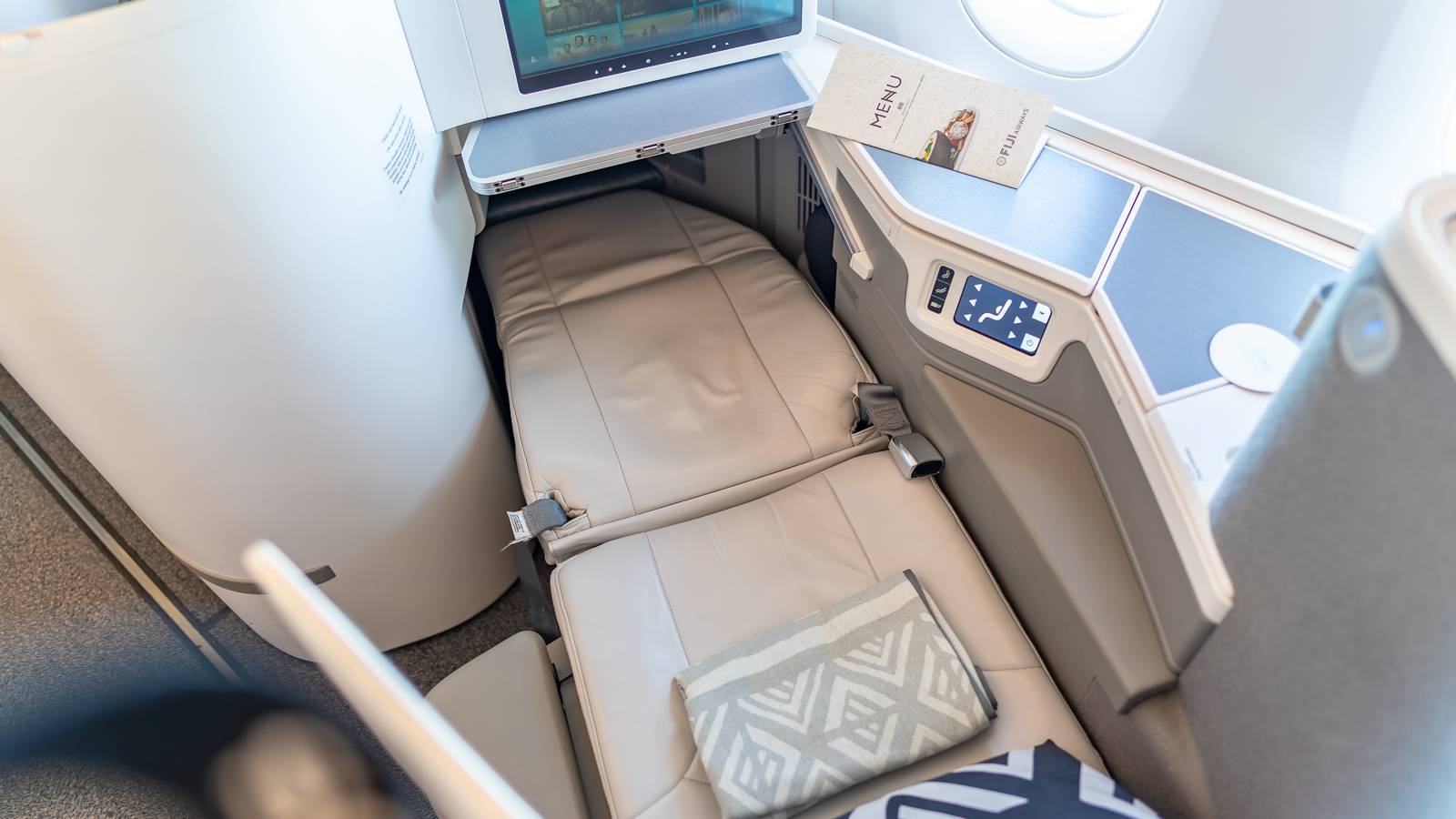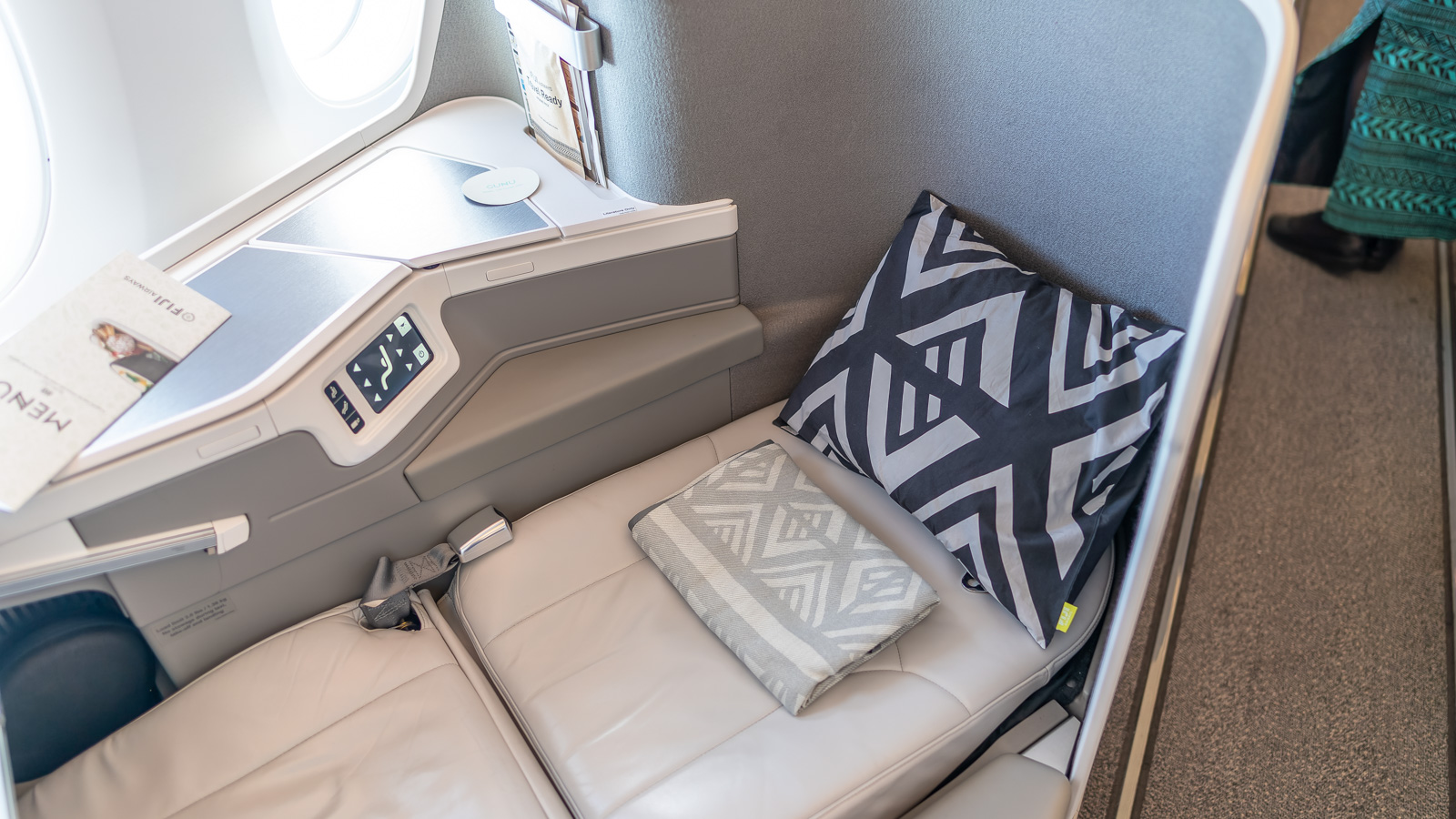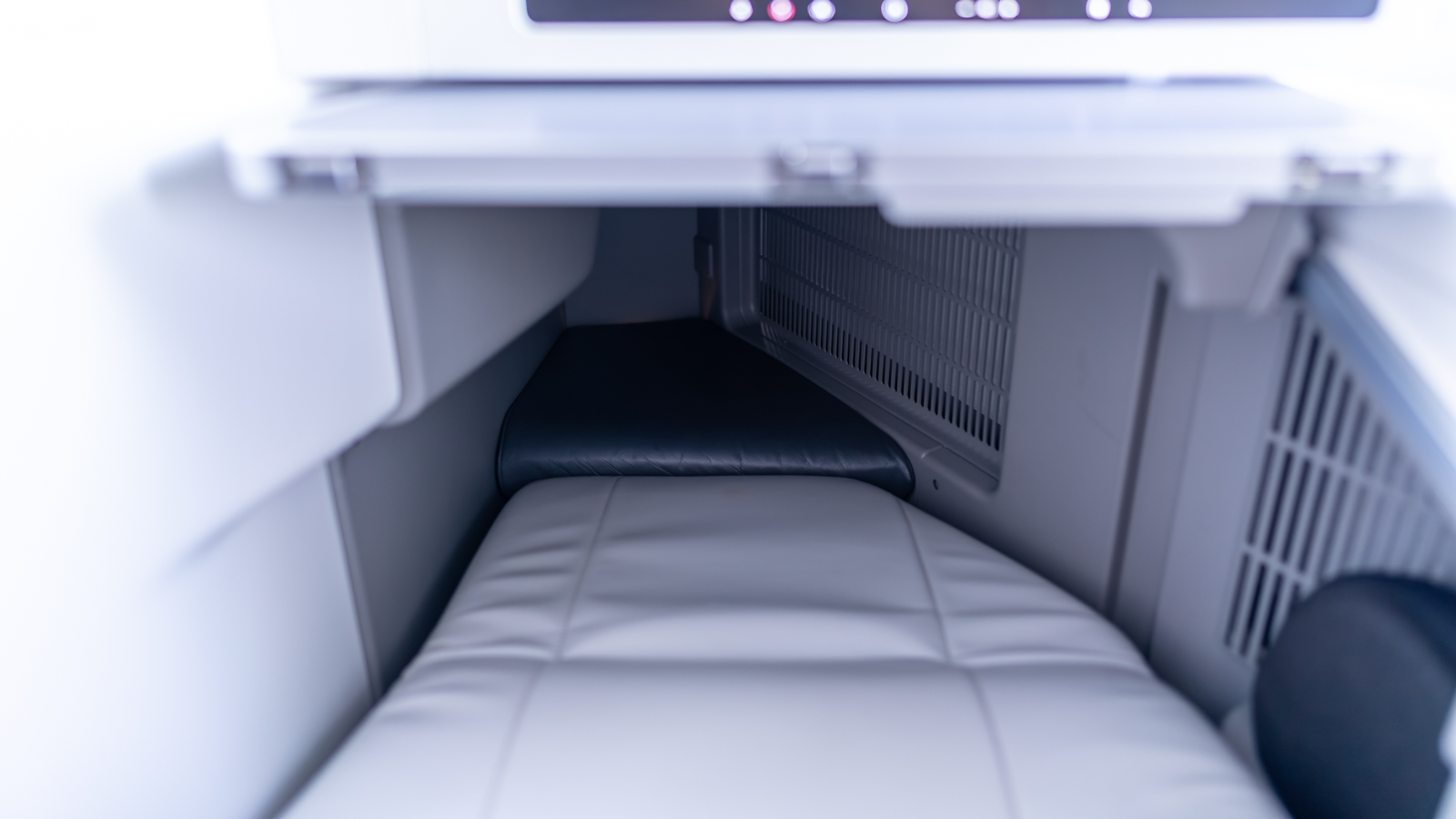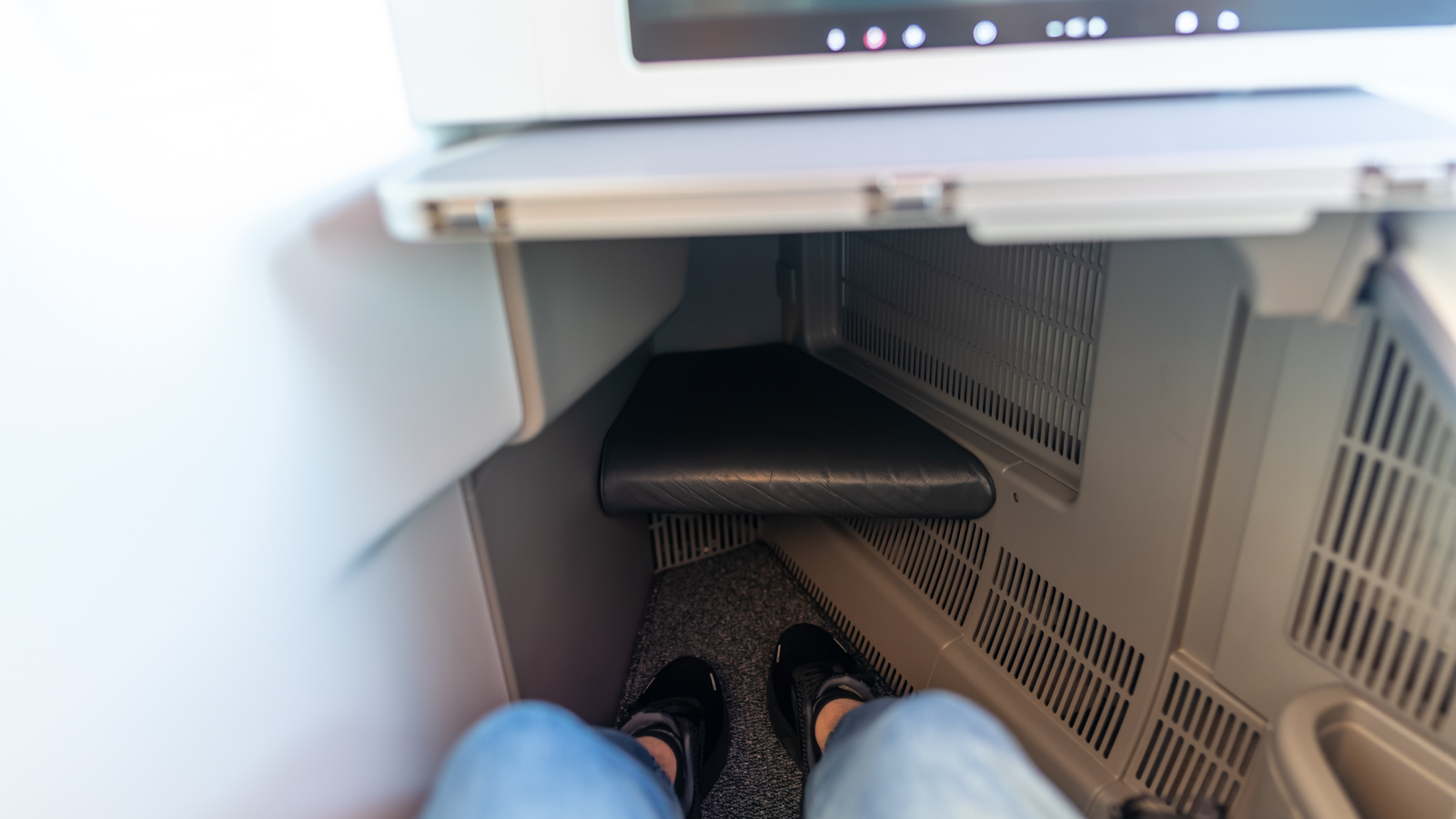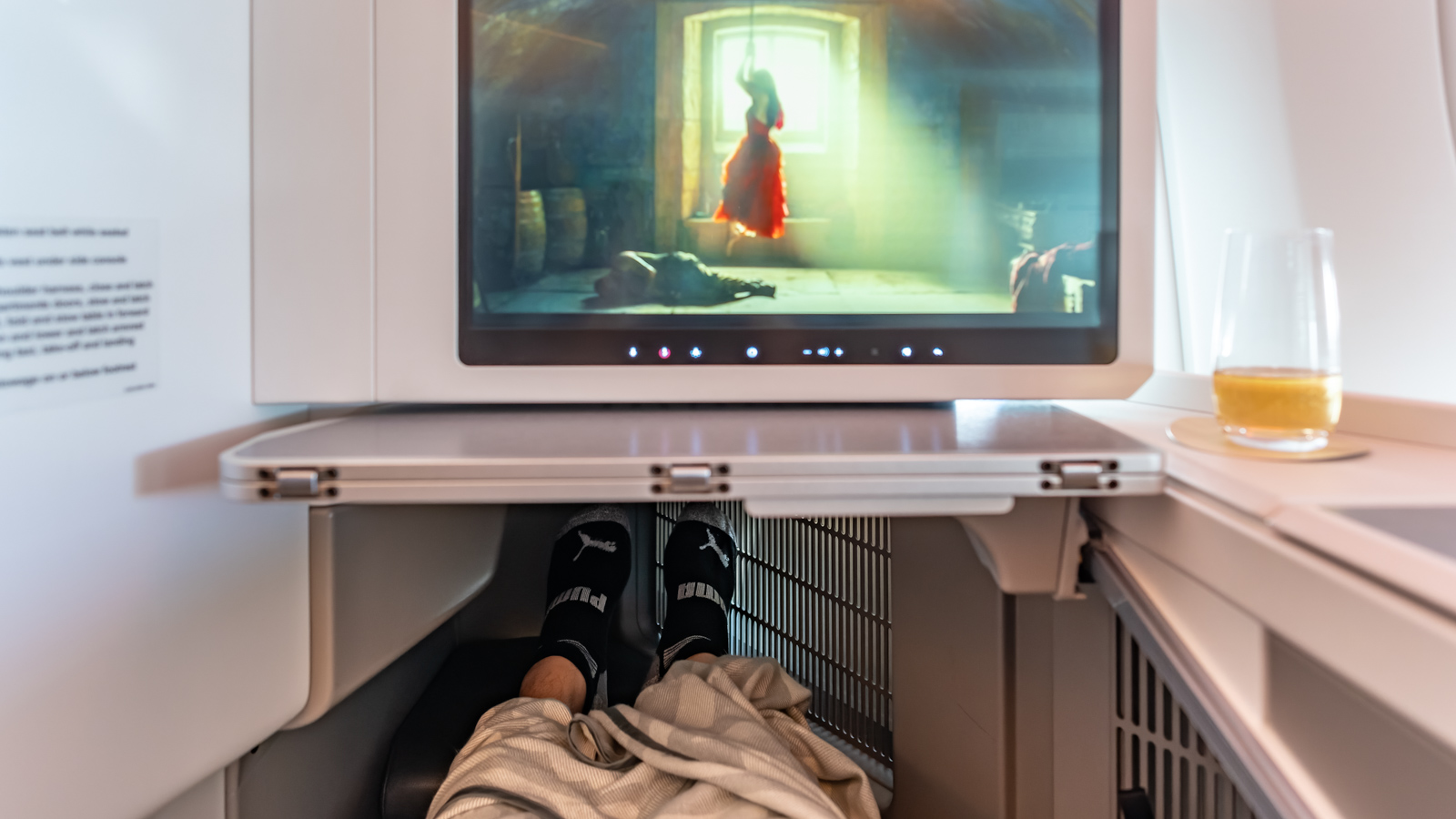 The tray table is stowed under the entertainment screen. Which the click of a latch, it slides down and can be unfolded into a sturdy large surface for working or dining.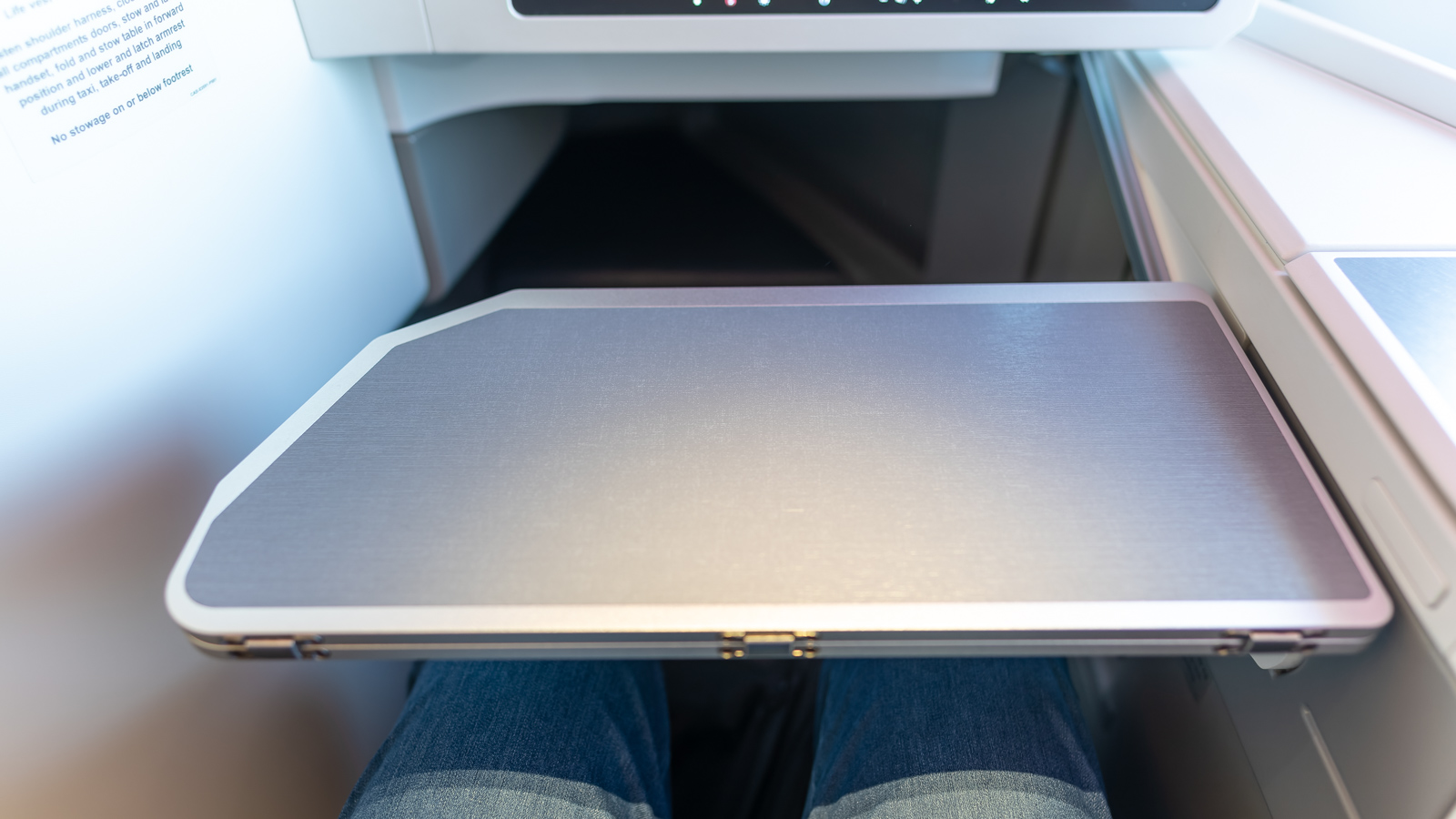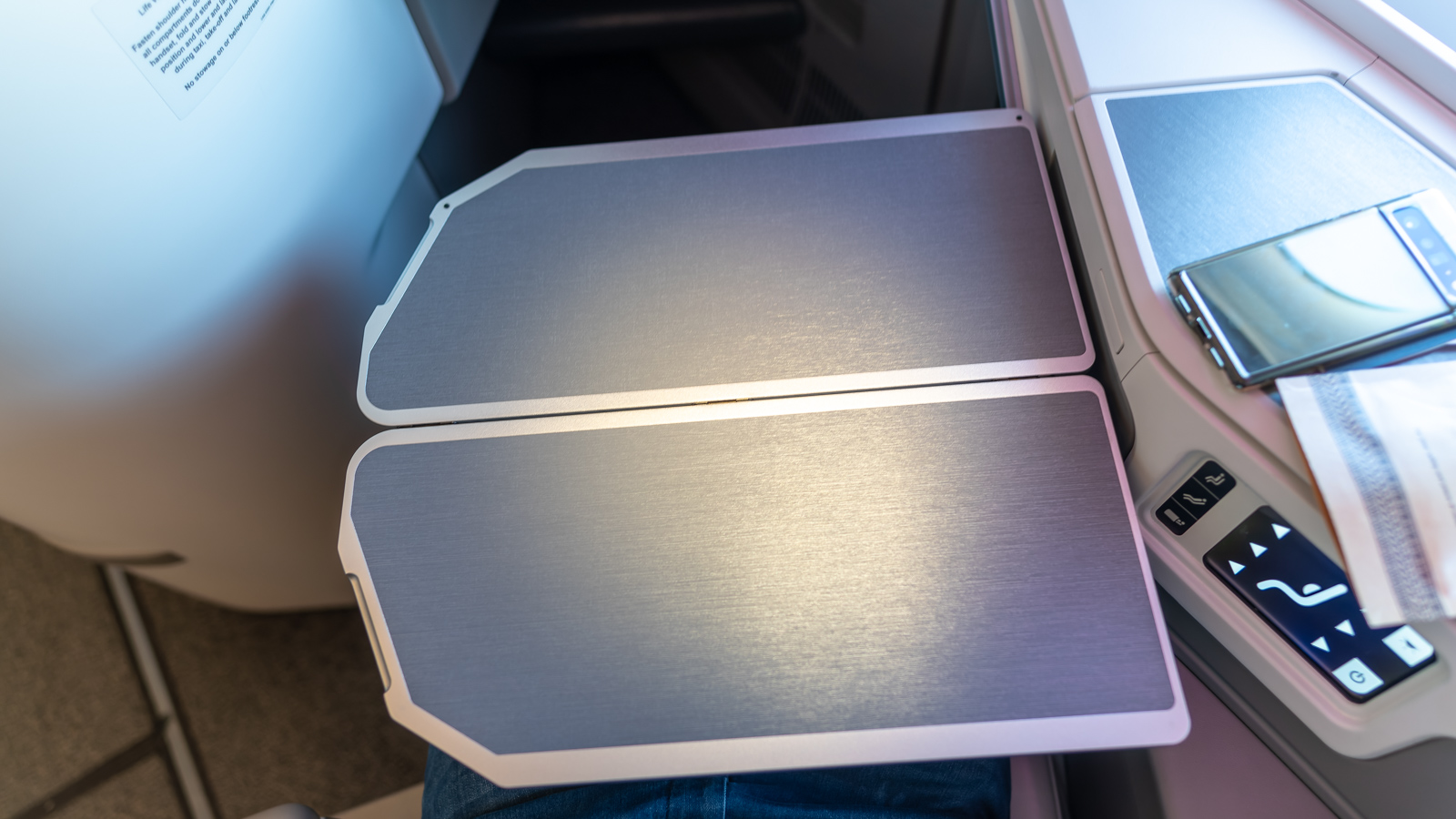 Pre-flight drinks and goodies
As I settle into my seat, I find a 'Travel Ready' kit with spare masks and alcohol wipes. In one of the compartments is a bottle of Fiji Water, while the cabin crew drop off a hot towel and Pure Fiji-branded hand sanitiser.
I'm keen on a glass of bubbles to temper my excitement, but it's only 8:30 am and I'm given a choice of water or juice before departure. (In case you're wondering, Fiji Airway's signature rum cocktail doesn't make an appearance at breakfast either. Oh well). The juice does taste overly sweet and concentrated – I'd pick water next time.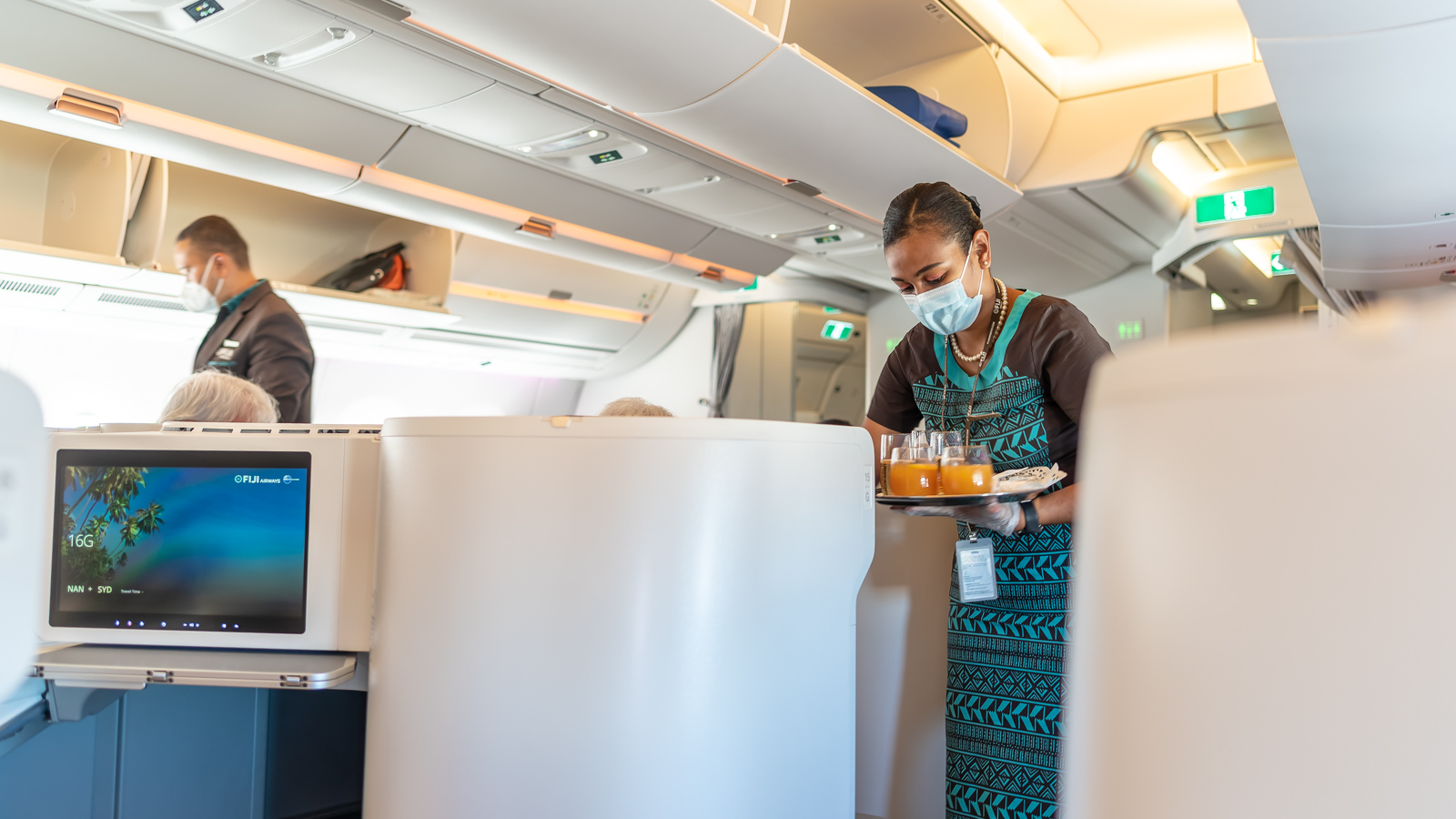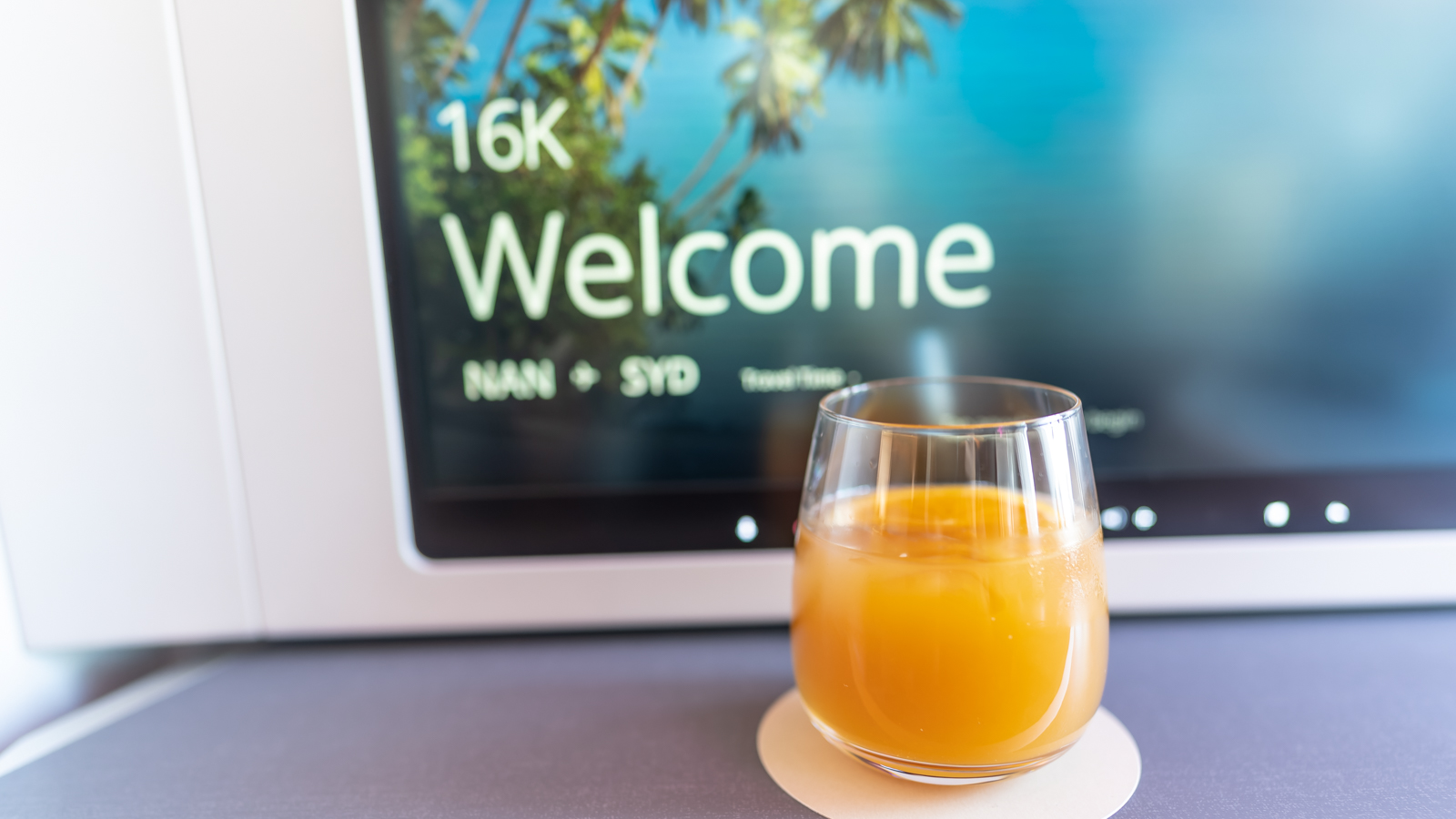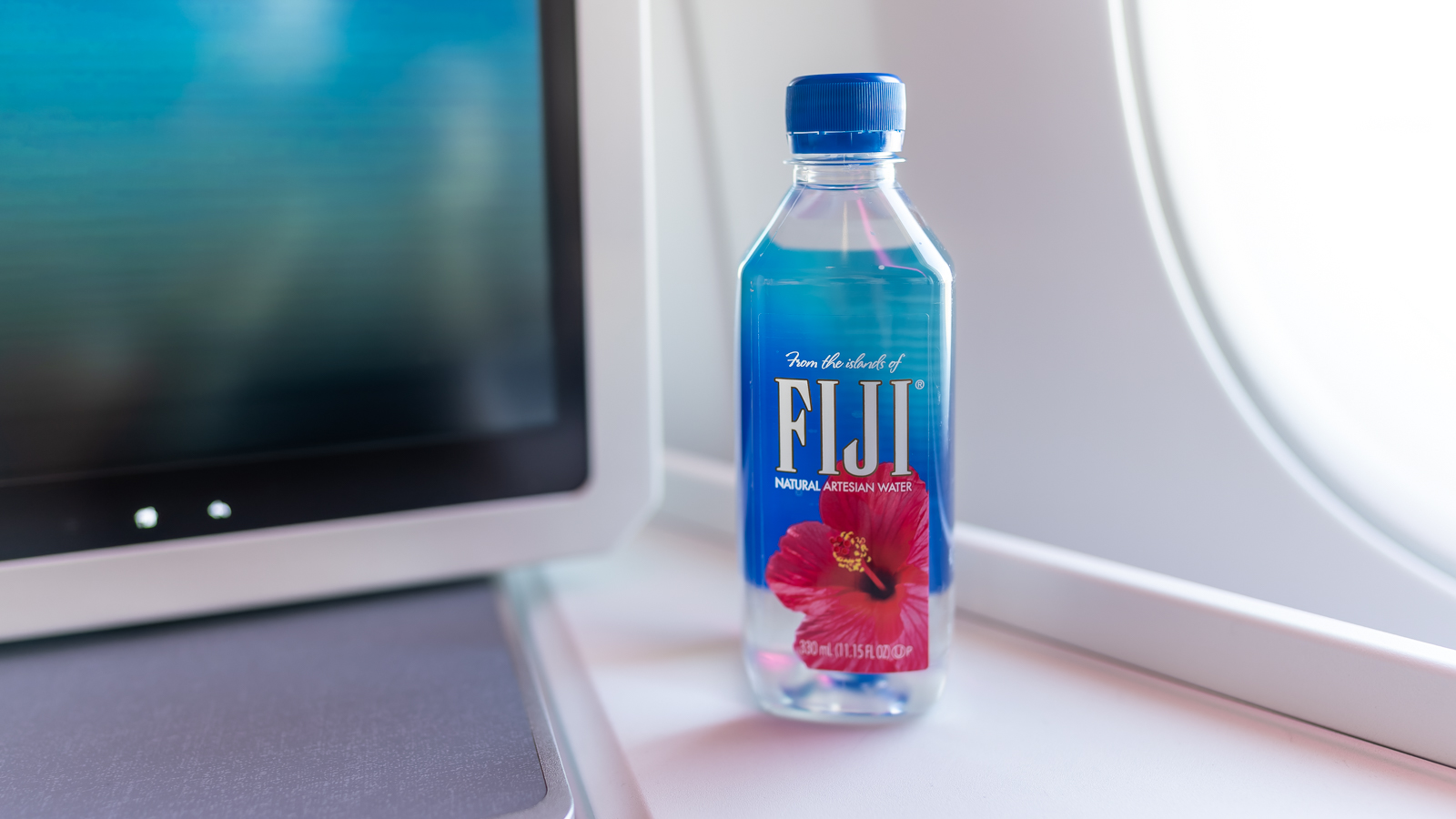 Food and drinks
With a 9 am take-off and 12:30 pm arrival time, the theme of our onboard meal is brunch. Now, I'm not usually a fan of airline breakfasts because the options are often pedestrian. But brunch is a bit more varied, though not quite to the level of Fijian chicken curries and grilled fish mains that I'm hoping to see.
To kick things off, I ask for a shot of Fiji Rum and Coke on the rocks. It's refreshing, but mixed so strong that I spend the next 20 minutes in a daze!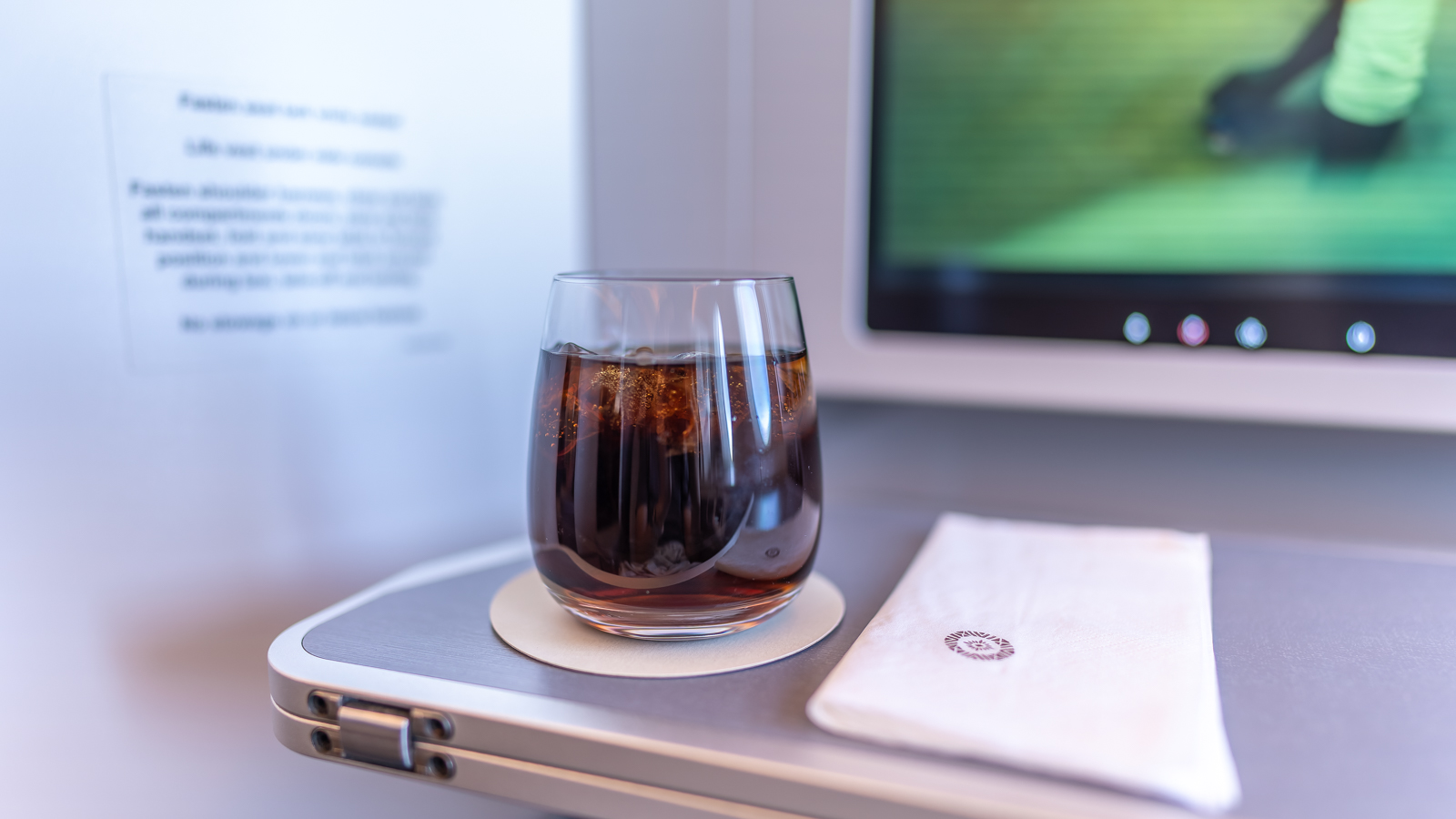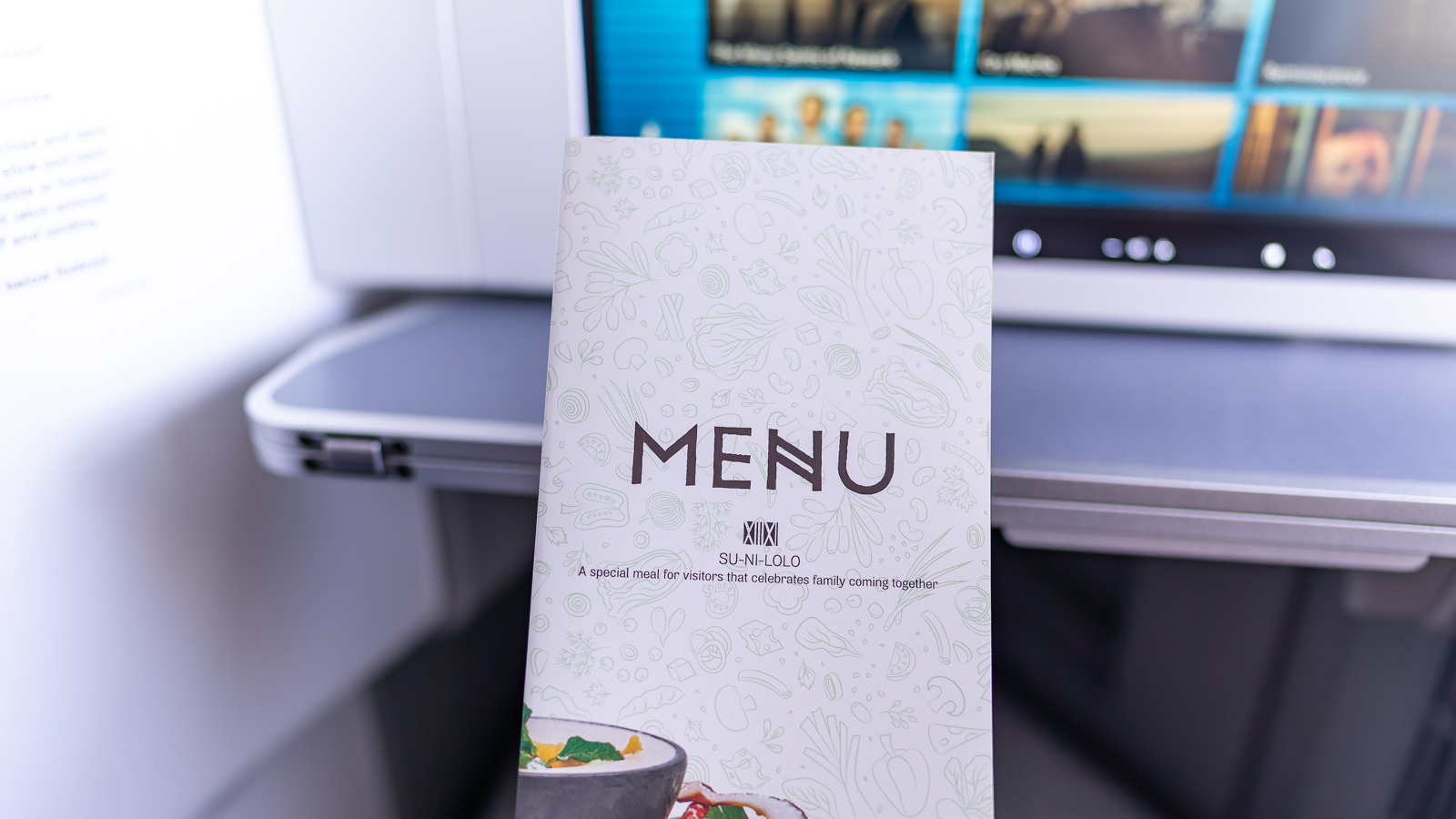 After drifting back down to Earth, I enjoy a light first course of fruit (pineapple and papaya), a muffin and yoghurt parfait. For mains, I choose the most un-breakfasty option possible – the warm chicken slider. It's certainly not photogenic, but grilled chicken and gooey cheese in warm brioche does hit the spot.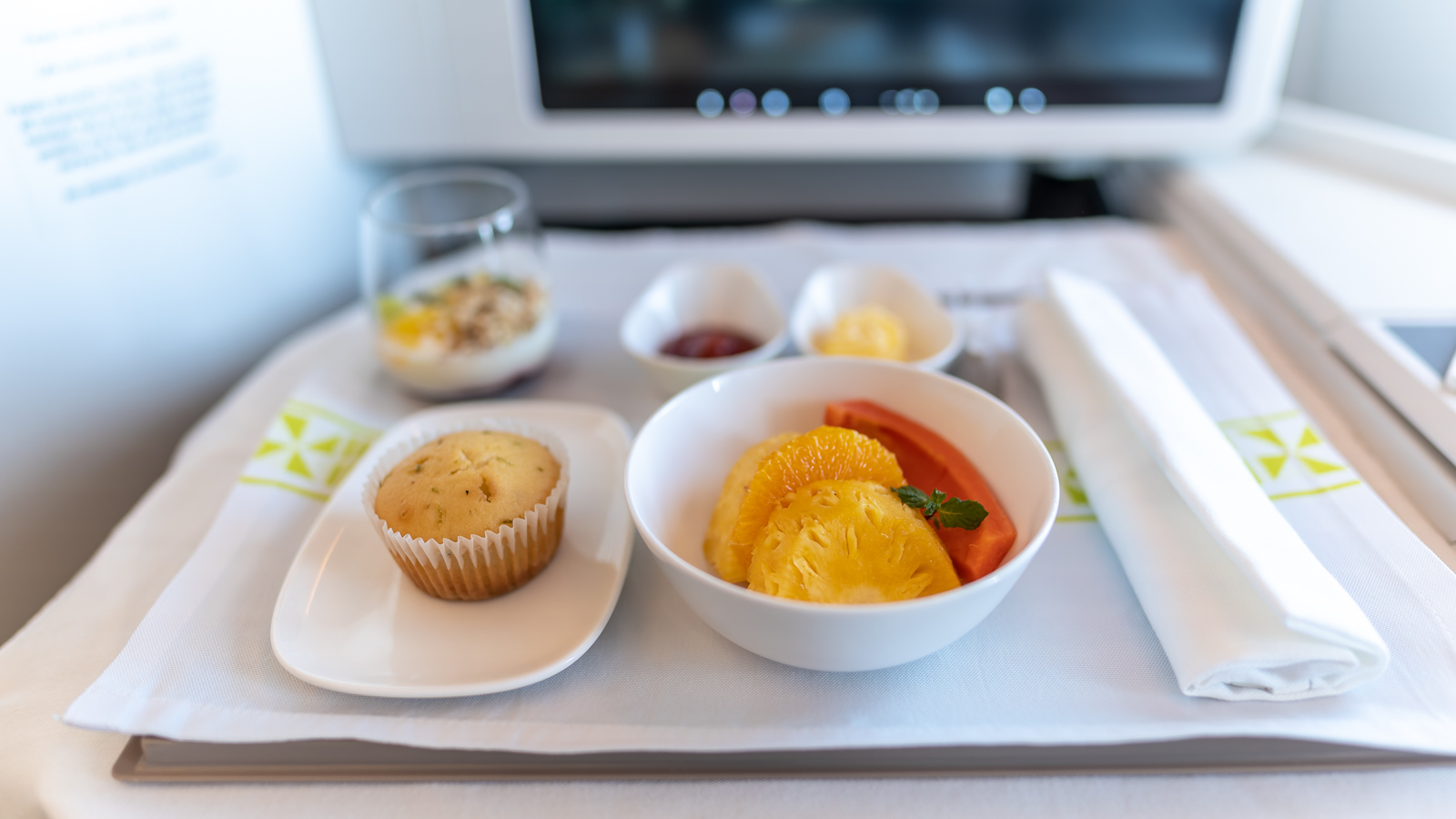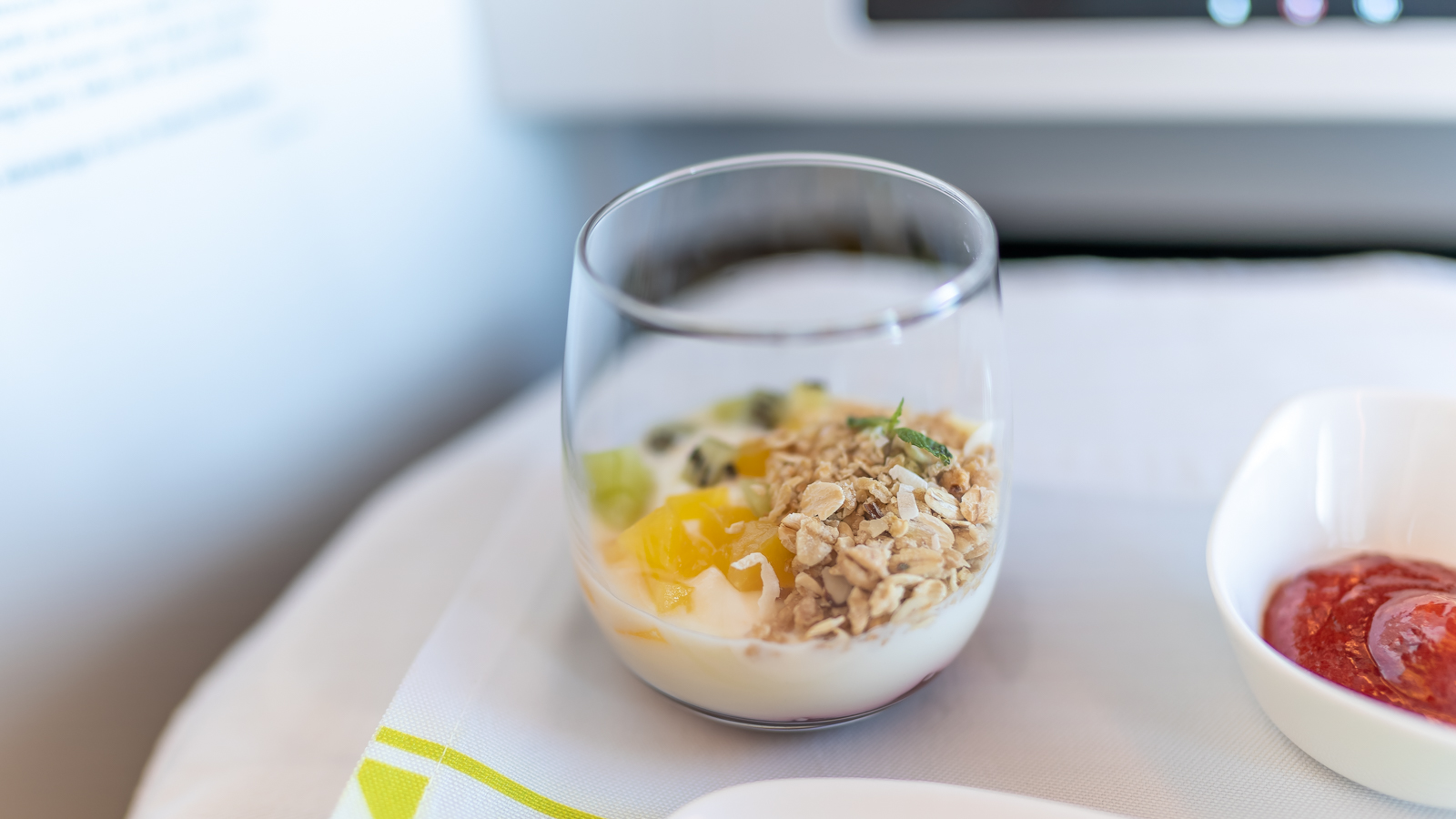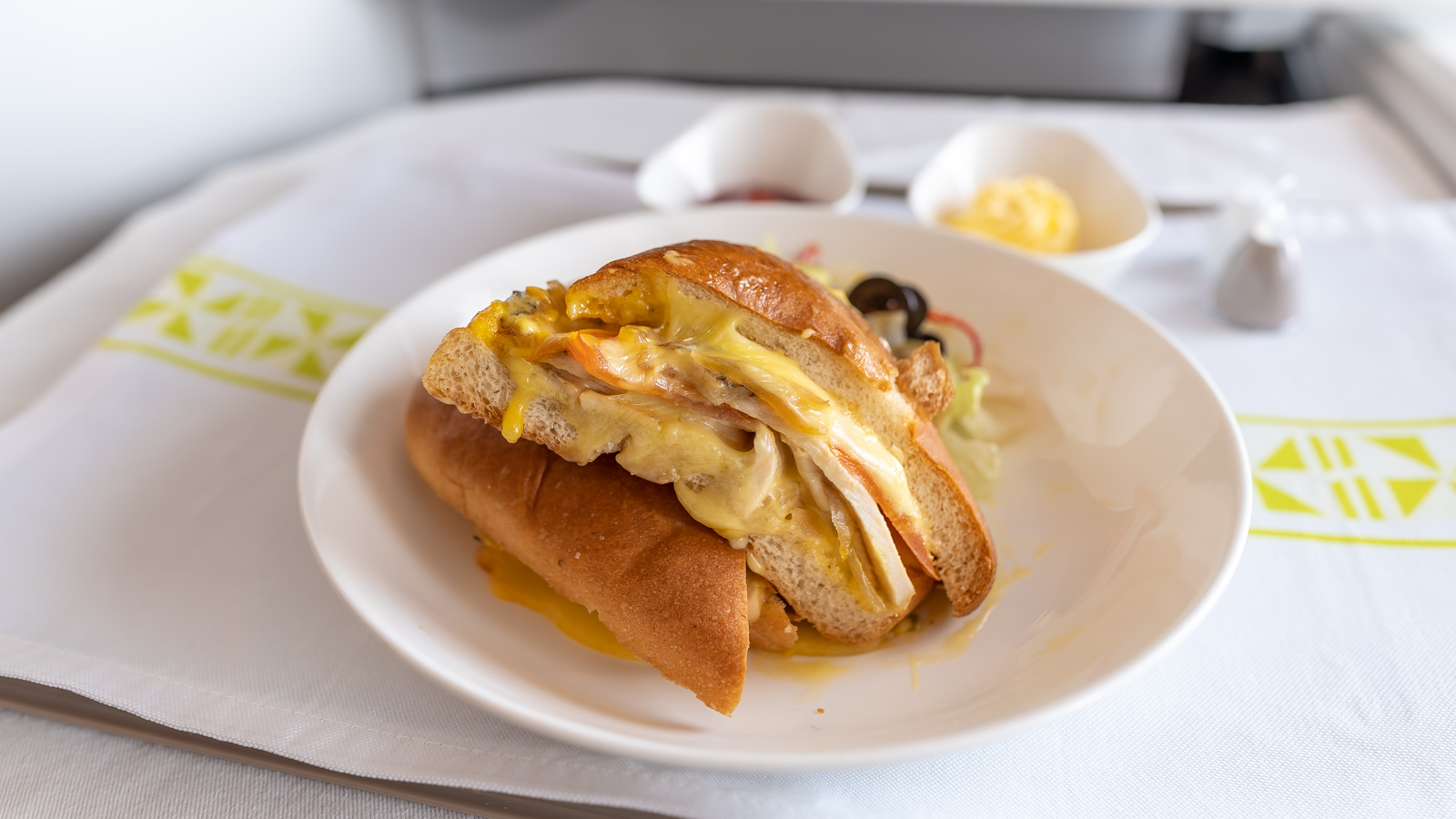 After my run-in with the rum, I decide to stay clear of alcoholic drinks for the rest of the flight. But I did enjoy the Chanoine Grande Reserve Champagne on my previous flight from Melbourne – delightful with a fruity sweetness. (Disclaimer: I am not a wine connoisseur, yet.)
The menu on this service isn't as exciting as my Melbourne-Nadi afternoon flight the previous week. But it's still a good standard for short-haul Business Class.
Inflight entertainment
Fiji Airways carries the same entertainment library on the Airbus A350 as the Airbus A330. But with a larger, clearer 17″ touchscreen and a modern zippy interface, the experience is much smoother here. And don't miss the awesome external cameras, which live-stream the view from above or underneath the jet.
The new release movie selection is decent, including late-2021 hits such as James Bond's No Time to Die. But TV buffs will still have to persevere with the lucky dip of three episodes per show. And if you have a remote interest in geography, I highly recommend spending some time with the 3D, customisable moving map.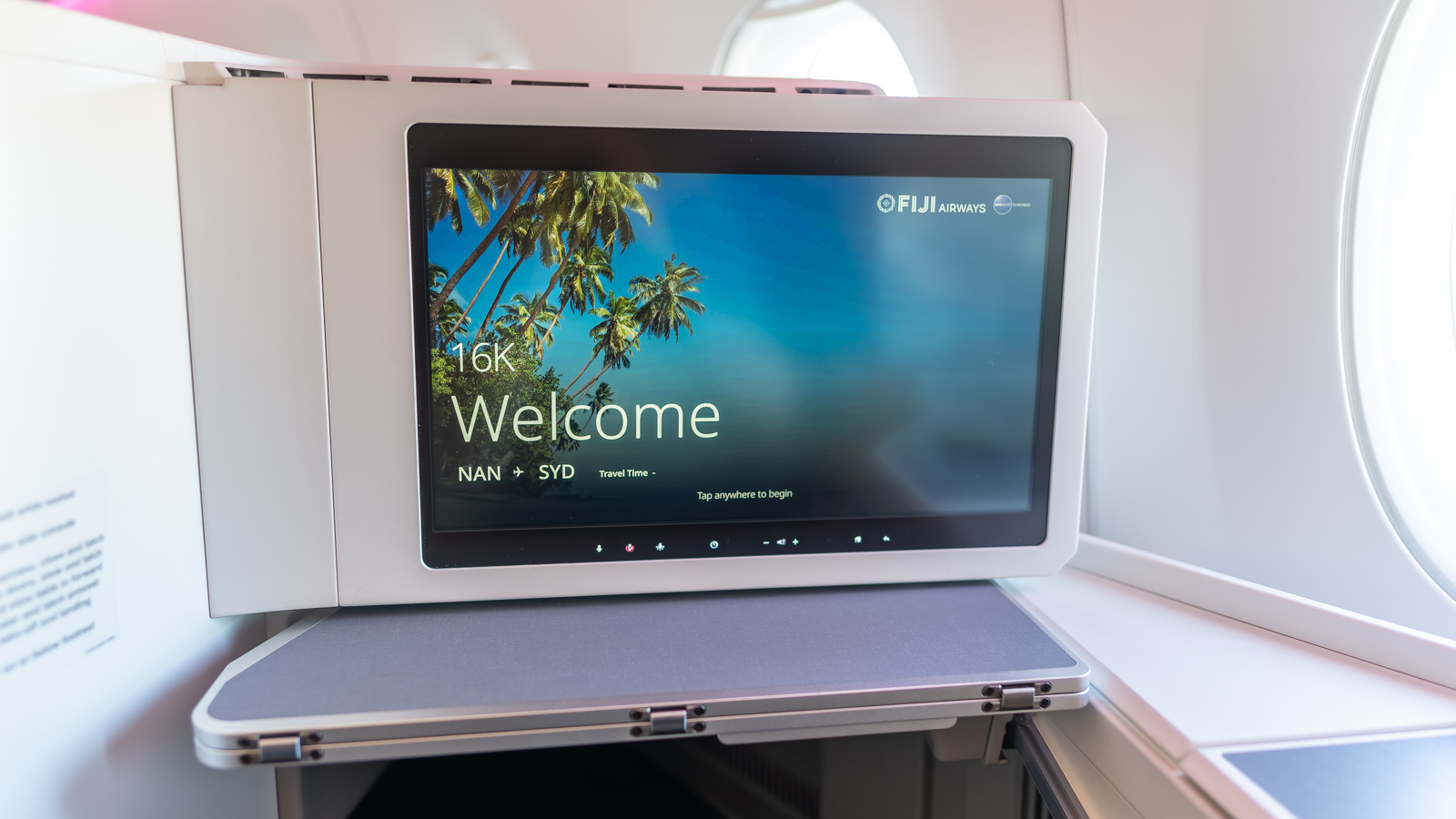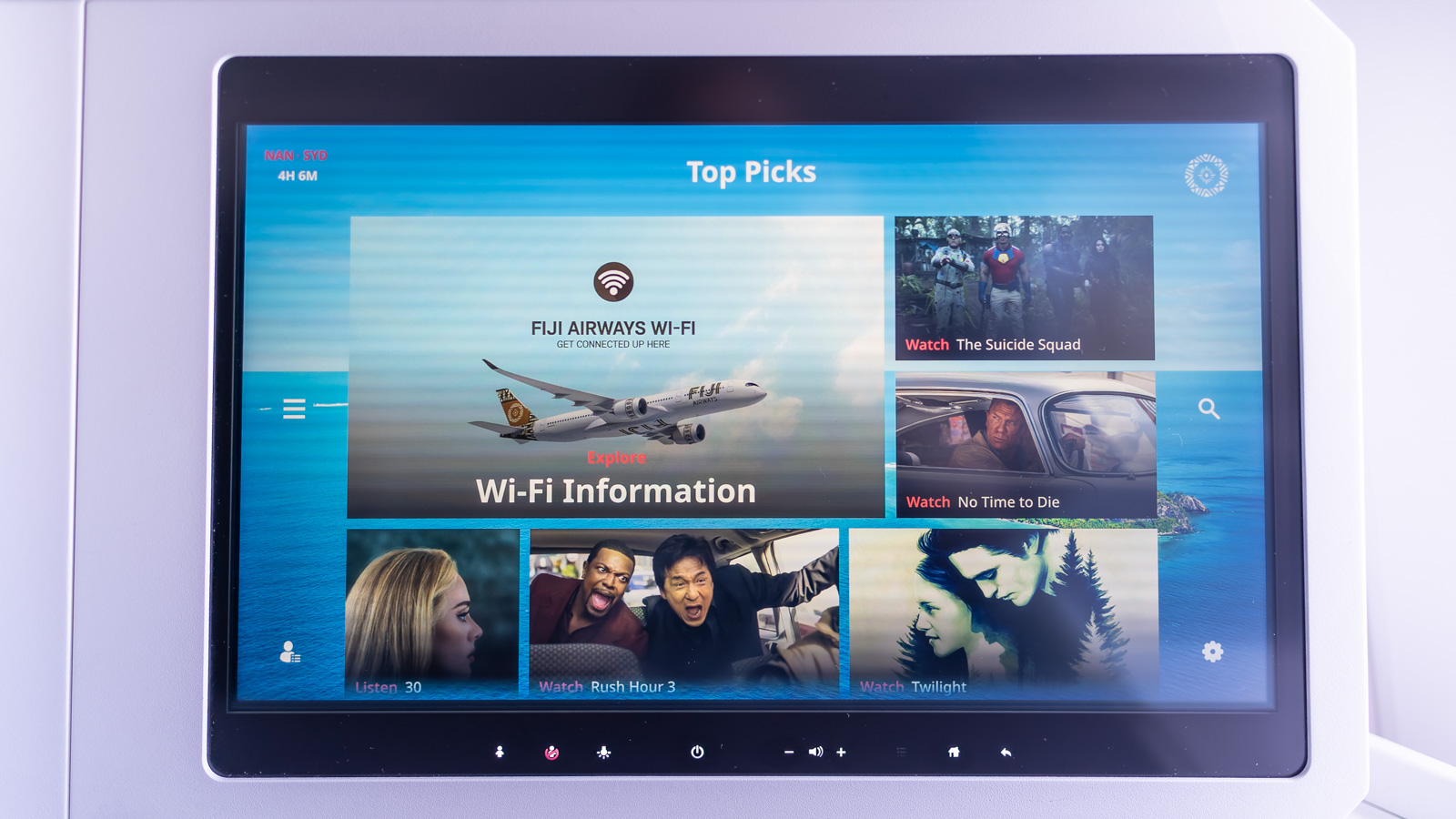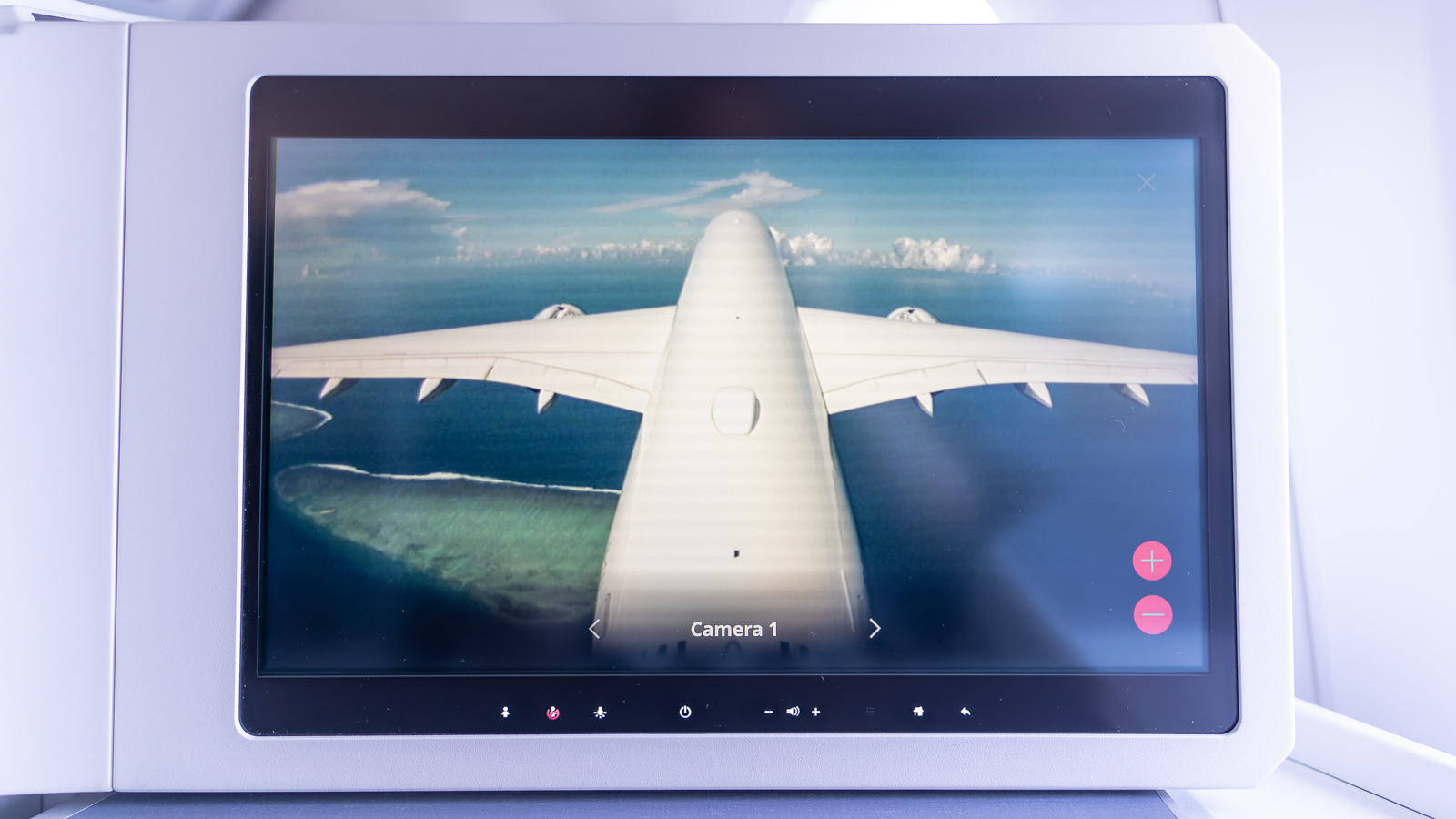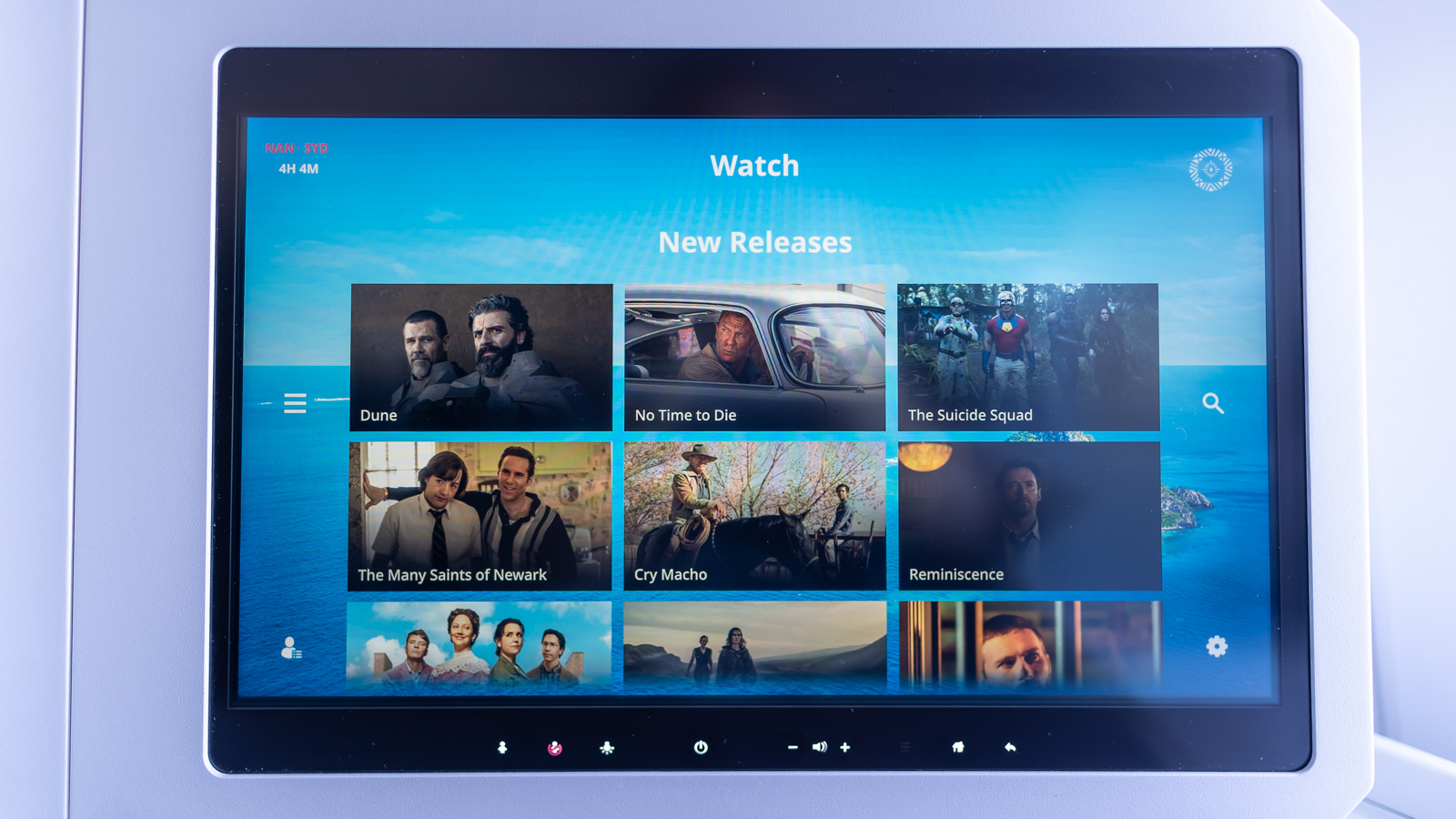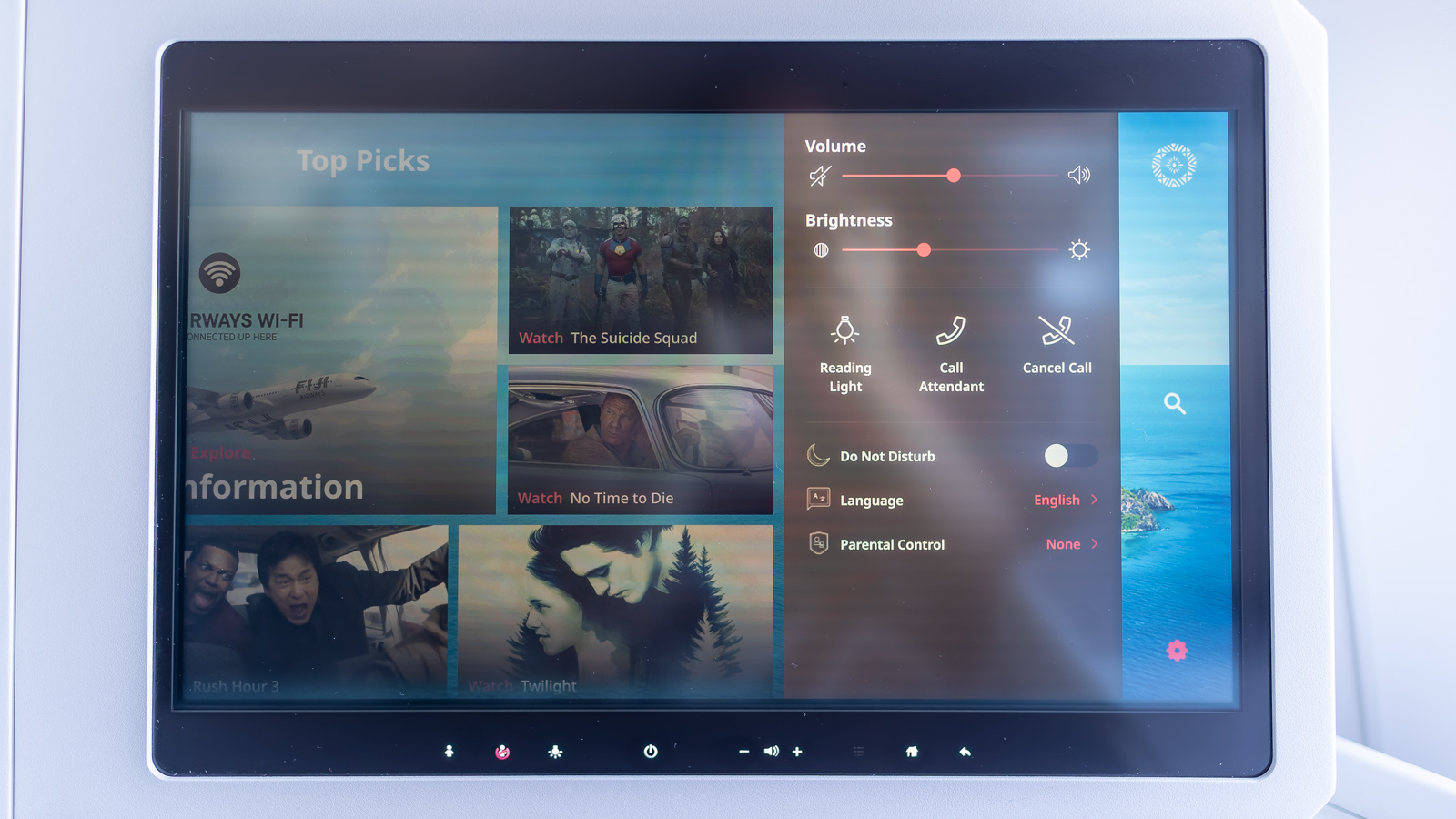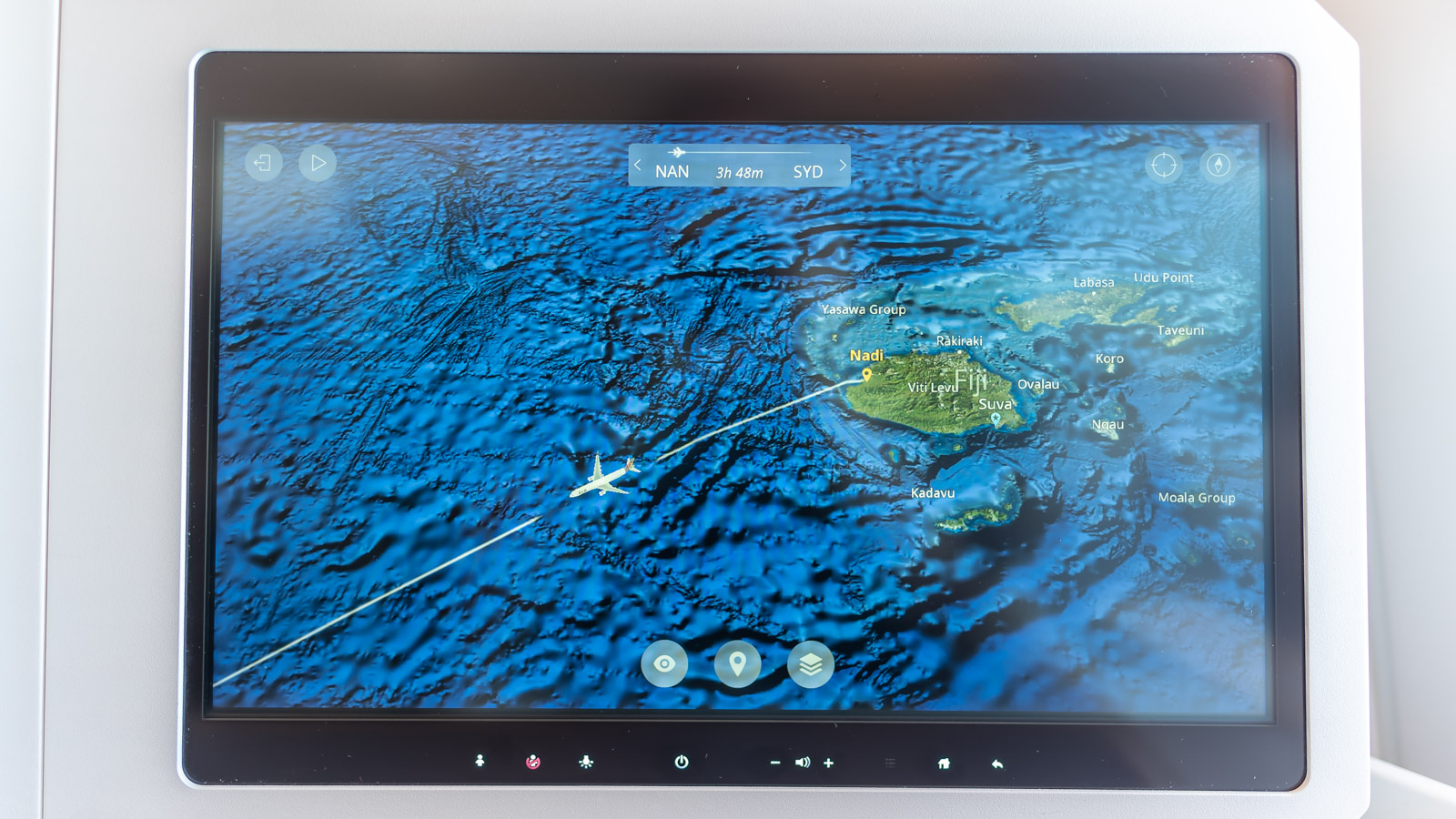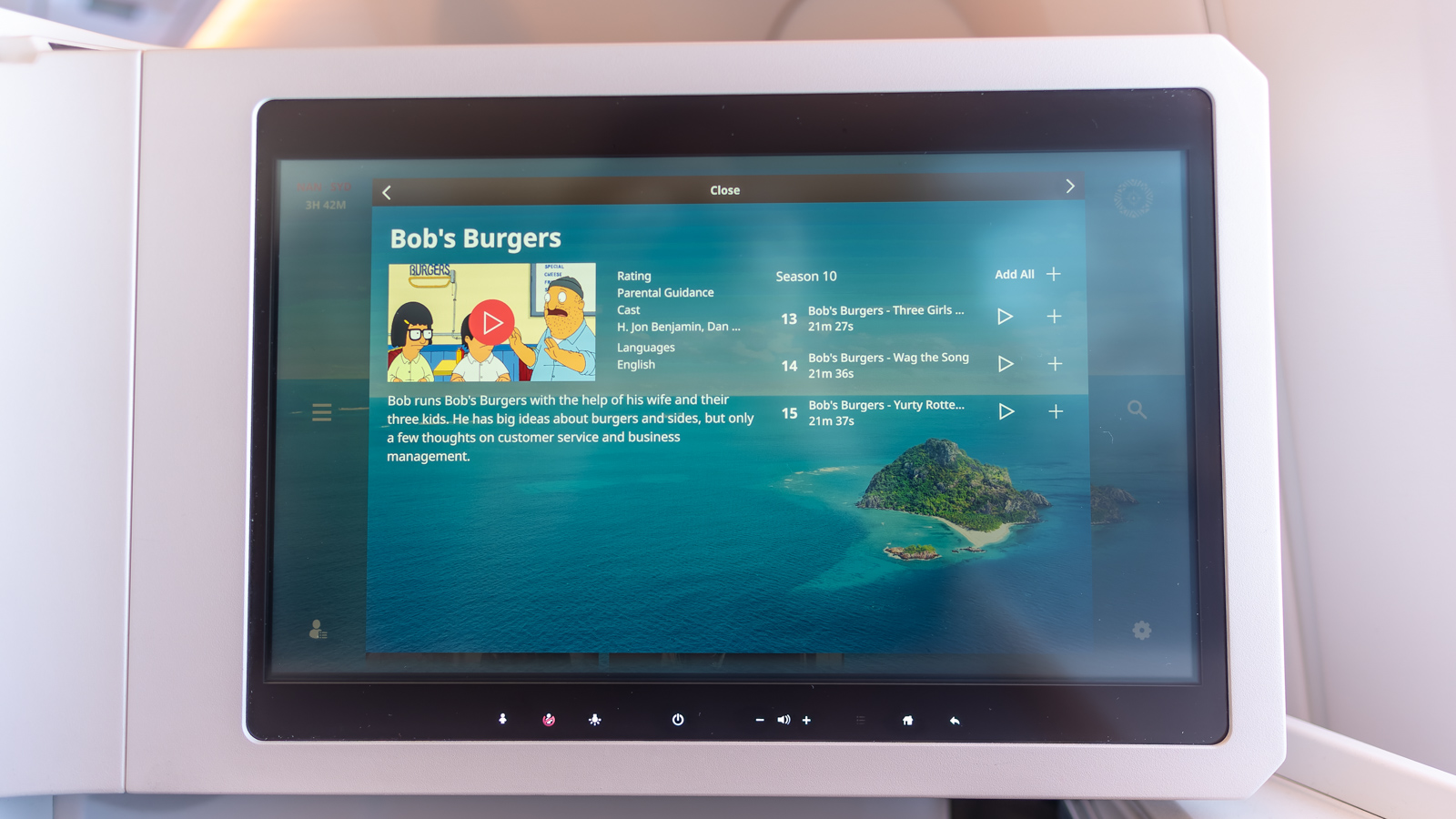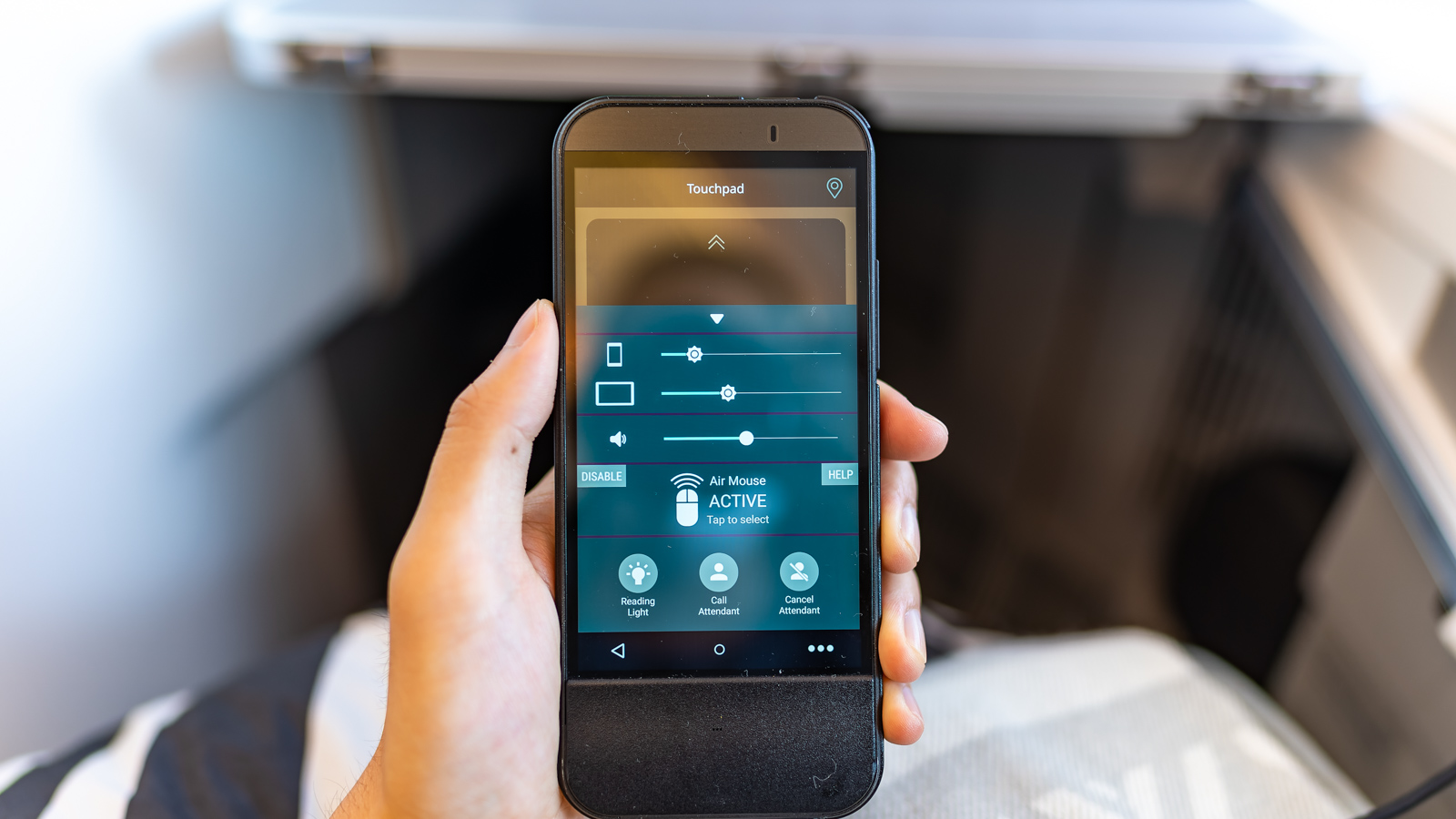 Fiji Airways' Airbus A350 has decent inflight satellite WiFi. Access isn't free, and you have to pay for data usage rather than time limits. At the time of writing, pricing was:
| | | |
| --- | --- | --- |
| Plan | Data (MB) | Price (USD) |
| Text | 20 MB | $2.95 |
| Light web | 60 MB | $7.95 |
| Standard web | 120 MB | $14.95 |
| Web plus | 500 MB | $24.95 |
For review purposes, I buy the 'Light web' plan for US$7.95 (my card is charged AU$11.20). It works well – once I'm connected, some notifications come through and I'm able to have a quick text chat. I then burn the rest of my allowance on a speed test. 13 Mbps download and 3.4 Mbps upload isn't too shabby considering we're at 30,000 ft.
Service and amenities
As this is a daytime short-haul flight, we don't get amenity kits, duvets or mattress toppers in Business Class. That's alright though, as the blanket and pillow are more than adequate. They're silky and light but still feel very premium.
After take-off, I start charging my phone. The area around the plug is quite spacious and my charging brick fits with ease. I also like how the console design allows for cables to come out when the cover is closed.
I never travel without my headphones, but a decent pair of Phitek noise-cancelling cans are sealed and ready to go at each seat. Fiji Airways makes an announcement that headphones will be collected before landing, though most people I saw were able to keep them until we arrived.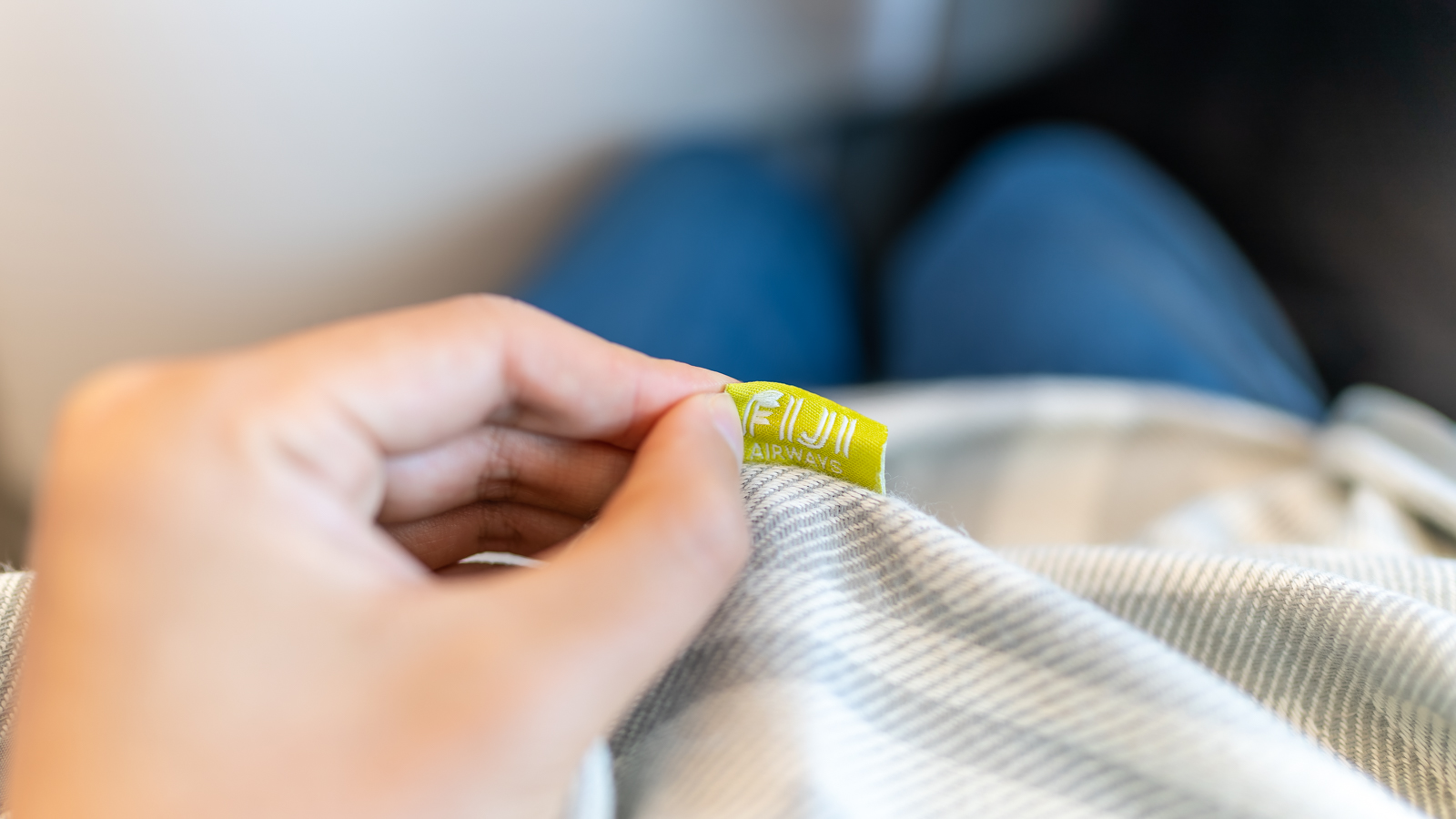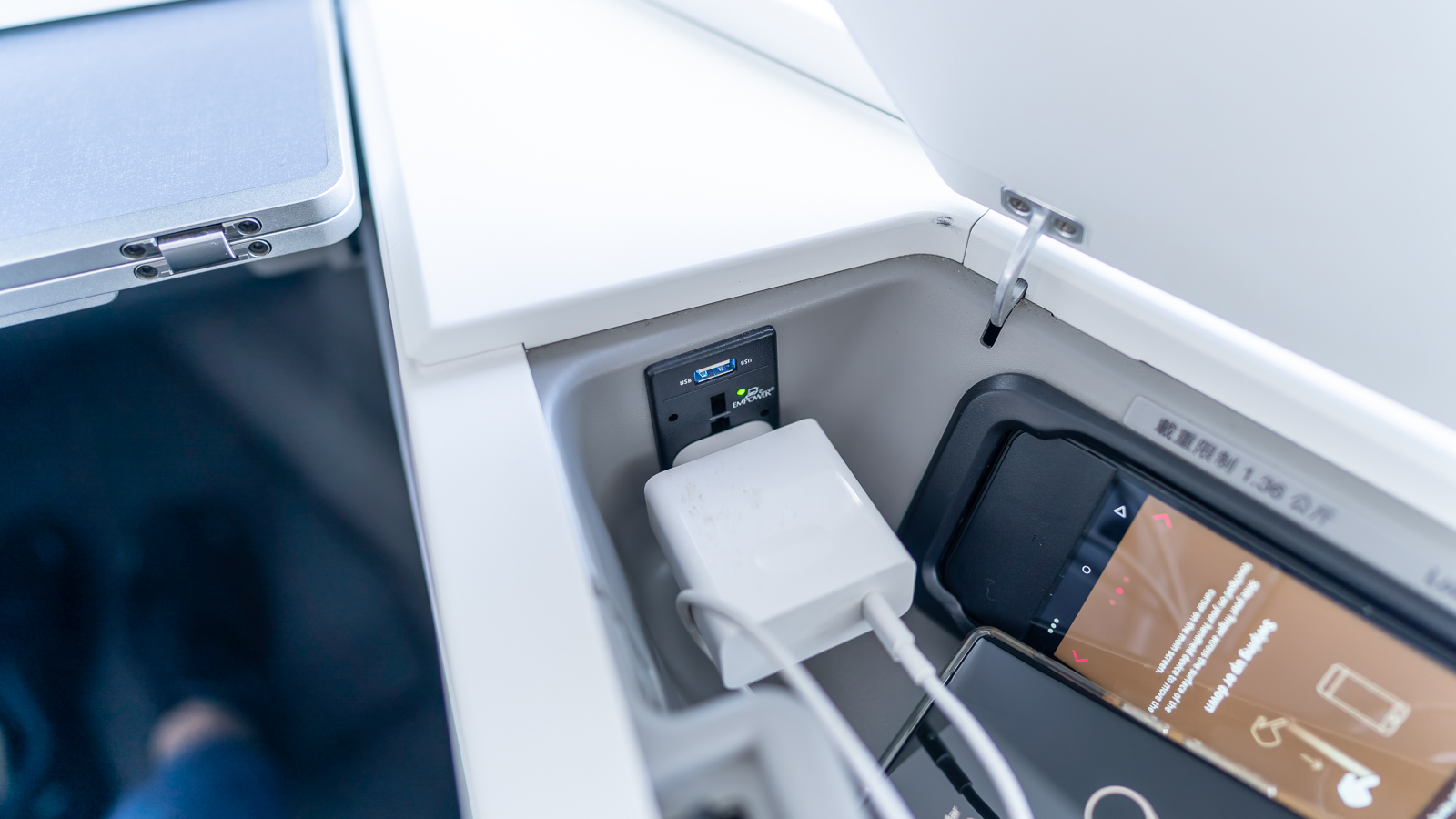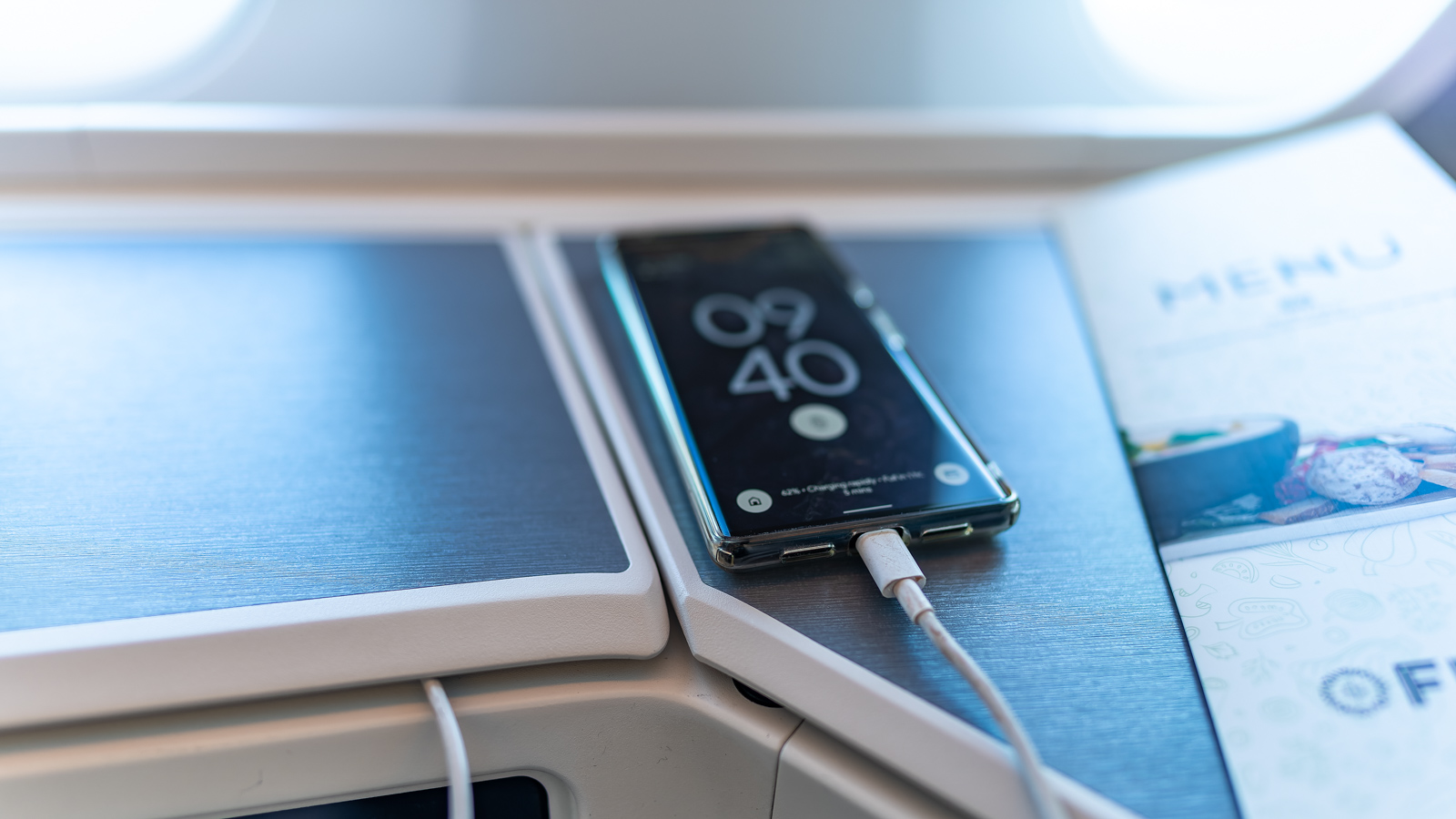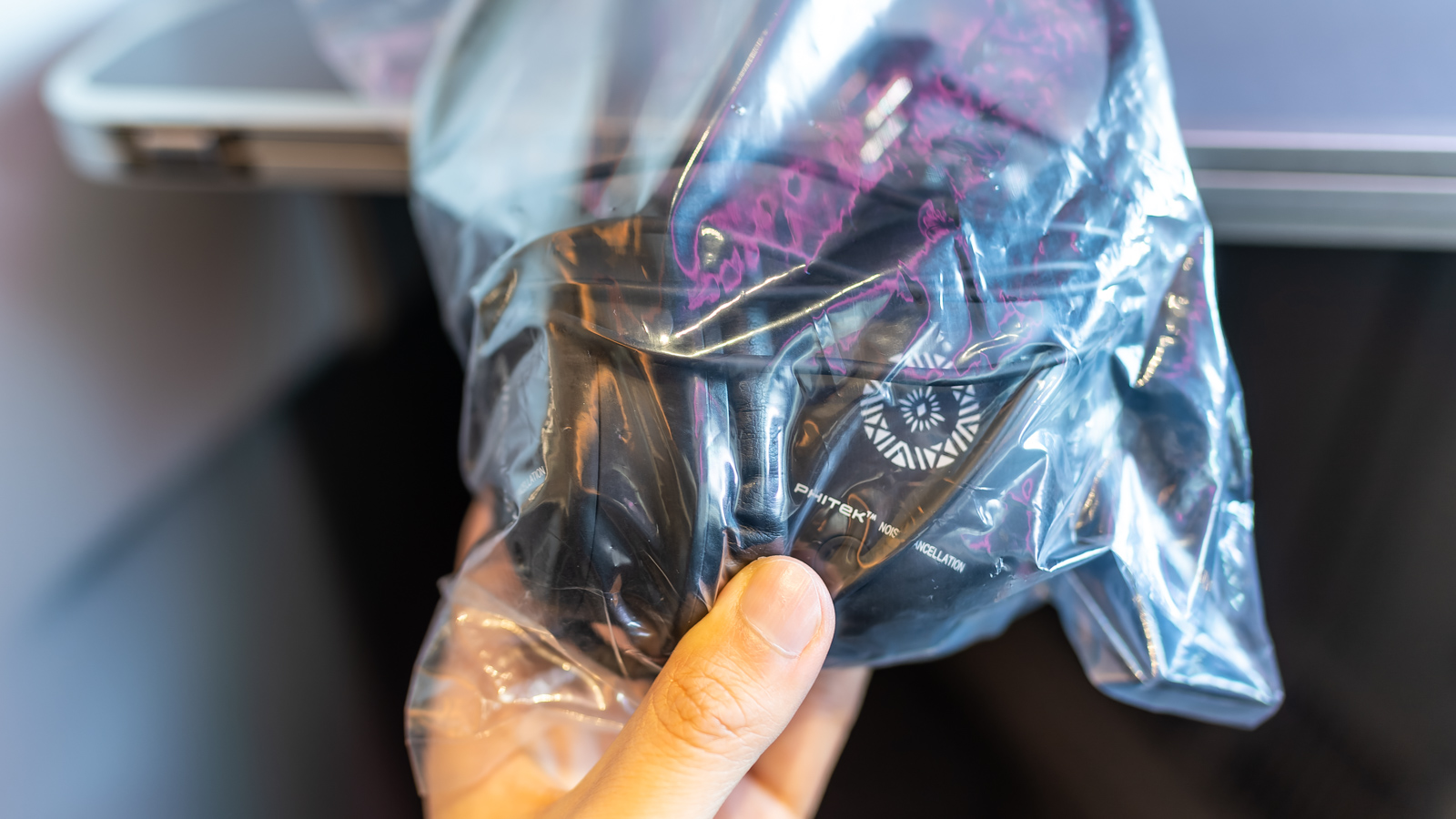 Service on this flight is casual and friendly, though not as personalised as on my flight over from Melbourne. The crew showcases typical Fijian hospitality and seems happy to be back in the air.
How can I use points for this flight?
Fiji Airways is a oneworld connect airline, which means it's not in the full oneworld alliance. But you can book the airline's Business Class with popular programs such as Qantas Frequent Flyer, Alaska Airlines Mileage Plan, American Airlines AAdvantage and Cathay Pacific Asia Miles.
Here's what it should cost you to book a Business Reward on Fiji Airways between Sydney and Nadi:
| | | |
| --- | --- | --- |
| Program | Economy | Business |
| Qantas Frequent Flyer | 18,000 pts | 41,500 pts |
| Alaska Airlines Mileage Plan | 17,500 miles | 32,500 miles |
| American Airlines AAdvantage | 15,000 miles | 30,000 miles |
| Cathay Pacific Asia Miles | 15,000 miles | 30,000 miles |
Fees and taxes are extra – around AU$135 one-way from Nadi to Sydney.
Qantas has the highest rates, but it's probably also the most convenient option for Aussie-based frequent flyers. If you do have Asia Miles (or a card that can transfer points to Asia Miles) then that could be a savvier choice.
If you book on the Qantas website, there's a chance you can nab the Qantas codeshare on Fiji Airways as a Classic Flight Reward (it's QF3868 instead of FJ911). Doing so gives you extra perks such as lounge access in Economy if you have Qantas Gold status or higher, plus you'll earn Status Credits as a Points Club/Plus member.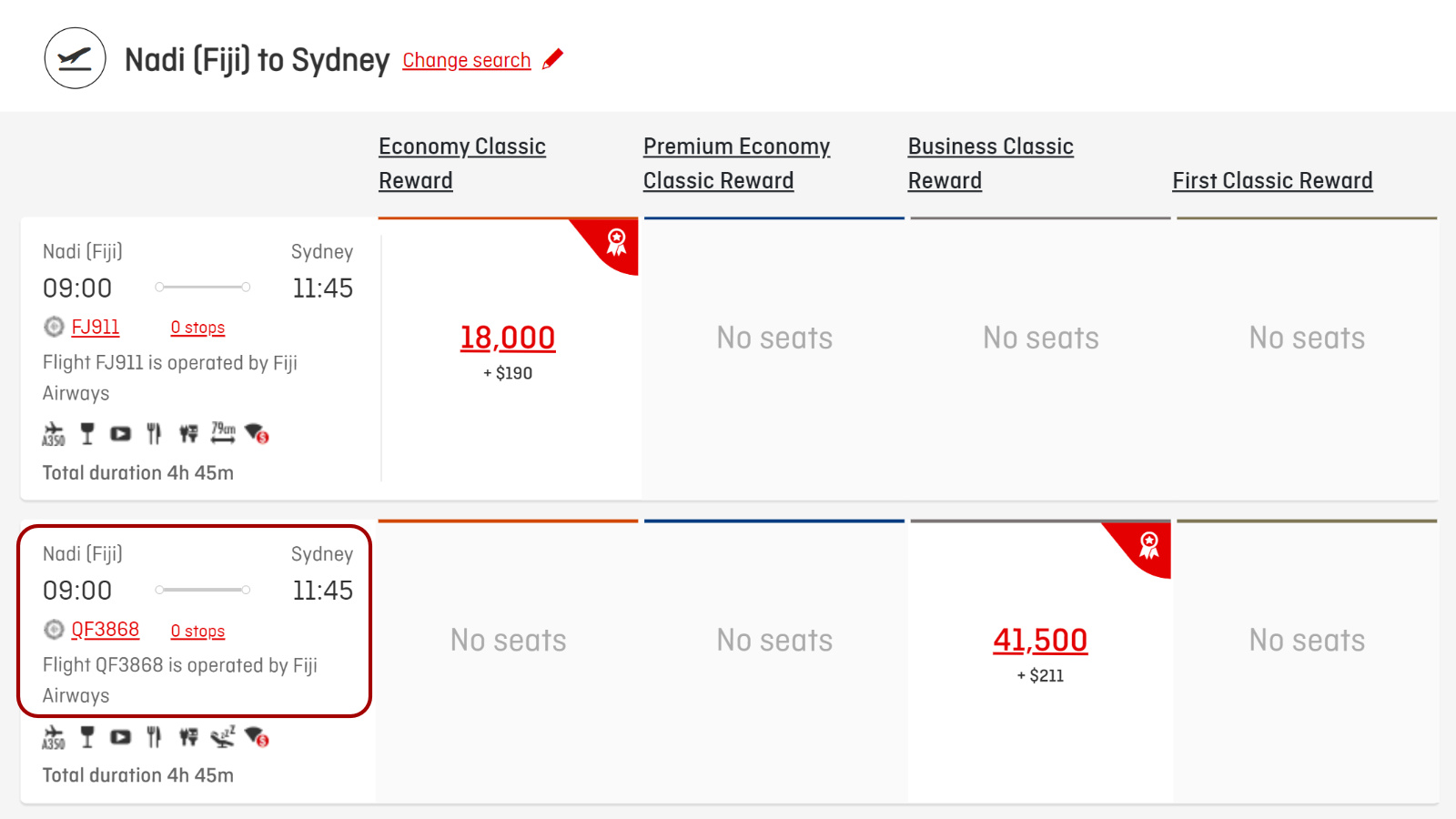 For this trip, I booked the Qantas codeshare for 41,500 points and earned 32 Status Credits with Points Club.
---
Fly to Fiji in comfort with someone special. With the right credit card sign-up bonus, you'll have enough points for at least two one-way Business Class flights in no time!
Summing up
For a short daytime international flight, I can't ask too much more from Fiji Airways. Sure, I would've loved to tuck into a full lunch menu instead of brunch. But that doesn't really matter when I'm reclining in a comfy Business Class seat with drinks and entertainment on demand.
Fiji Airways Airbus A350 Business Class is the perfect treat for 41,500 Qantas Points or 30,000 miles. Reward availability is good and you can normally find at least two seats. Save up your points and travel with a loved one between Fiji and Australia in style. Go on, you've earned it. And you won't regret it.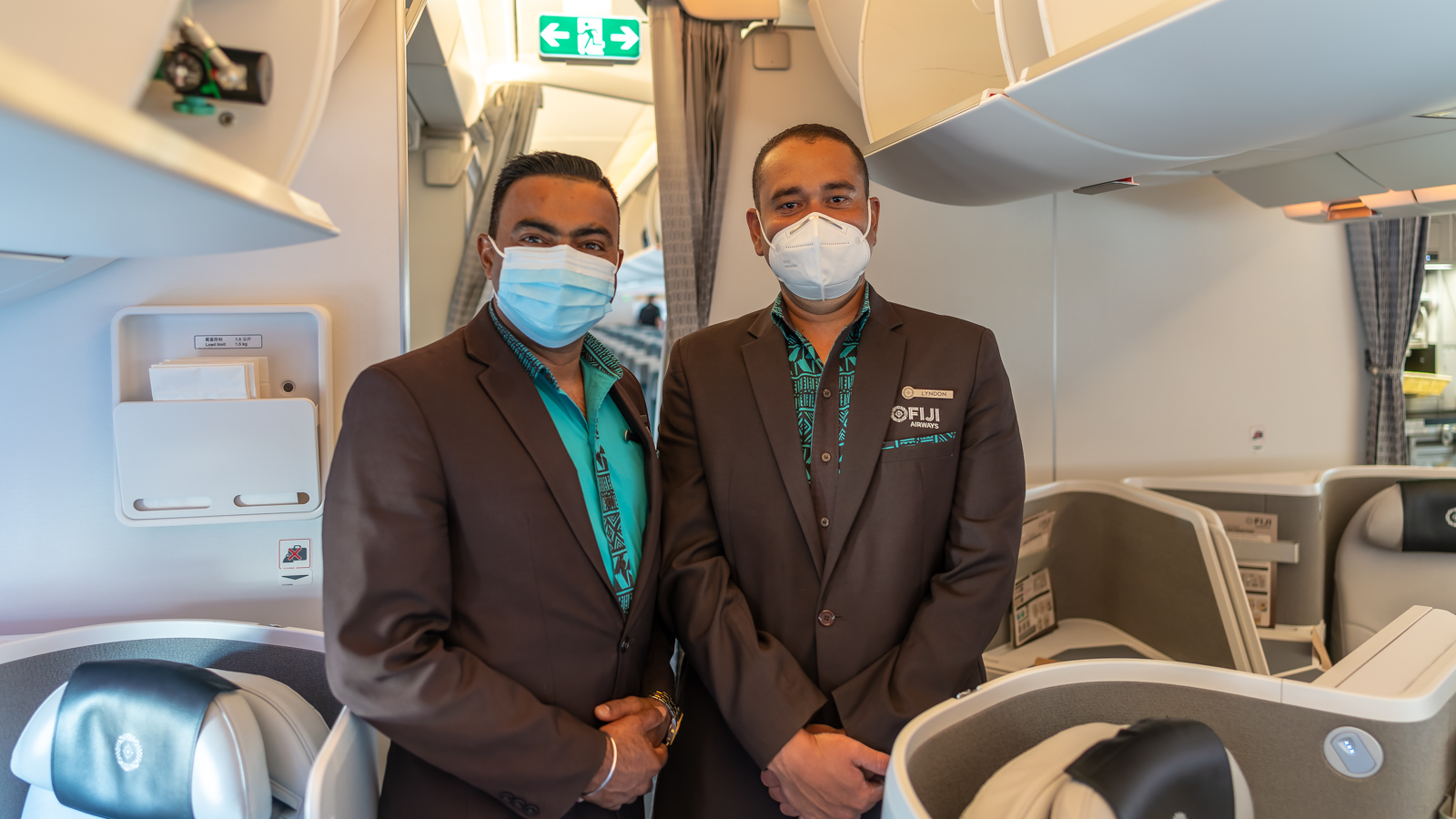 Have the latest news, reviews and guides delivered to your inbox. Sign up for our newsletter →
Photography by Brandon Loo. Point Hacks paid for the fare with points.
Fiji Airways Airbus A350 Business Class (Nadi – Sydney)
was last modified:
May 3rd, 2022
by