Alaska Airlines Mileage Plan is a bit of a secret weapon for seasoned point hackers. This program occasionally sells miles cheaply to use on partner airlines like Qantas, Cathay Pacific and Singapore Airlines. These carriers are immensely popular with Australian-based travellers, with domestic and international destinations all covered.
With the right promo, it could cost as little as AU$932 to fly from Australia to Hong Kong in Business Class all-inclusive. You can check the latest buying miles offers in our dedicated guide here. This article is more of a first-step guide for those wanting to learn about the benefits of Mileage Plan.
How do I buy Mileage Plan miles?
If you're a Mileage Plan member with an account more than 10-days old, it's very easy to buy miles. (If you don't have an account yet, sign up now to take part in future offers).
Head to the Mileage Plan buy/gift/transfer miles landing page.
Log in to your Mileage Plan account when prompted.
Choose the number of miles you wish to purchase.
Enter your payment information to complete checkout.
Your purchased Mileage Plan miles should be ready for use almost instantly.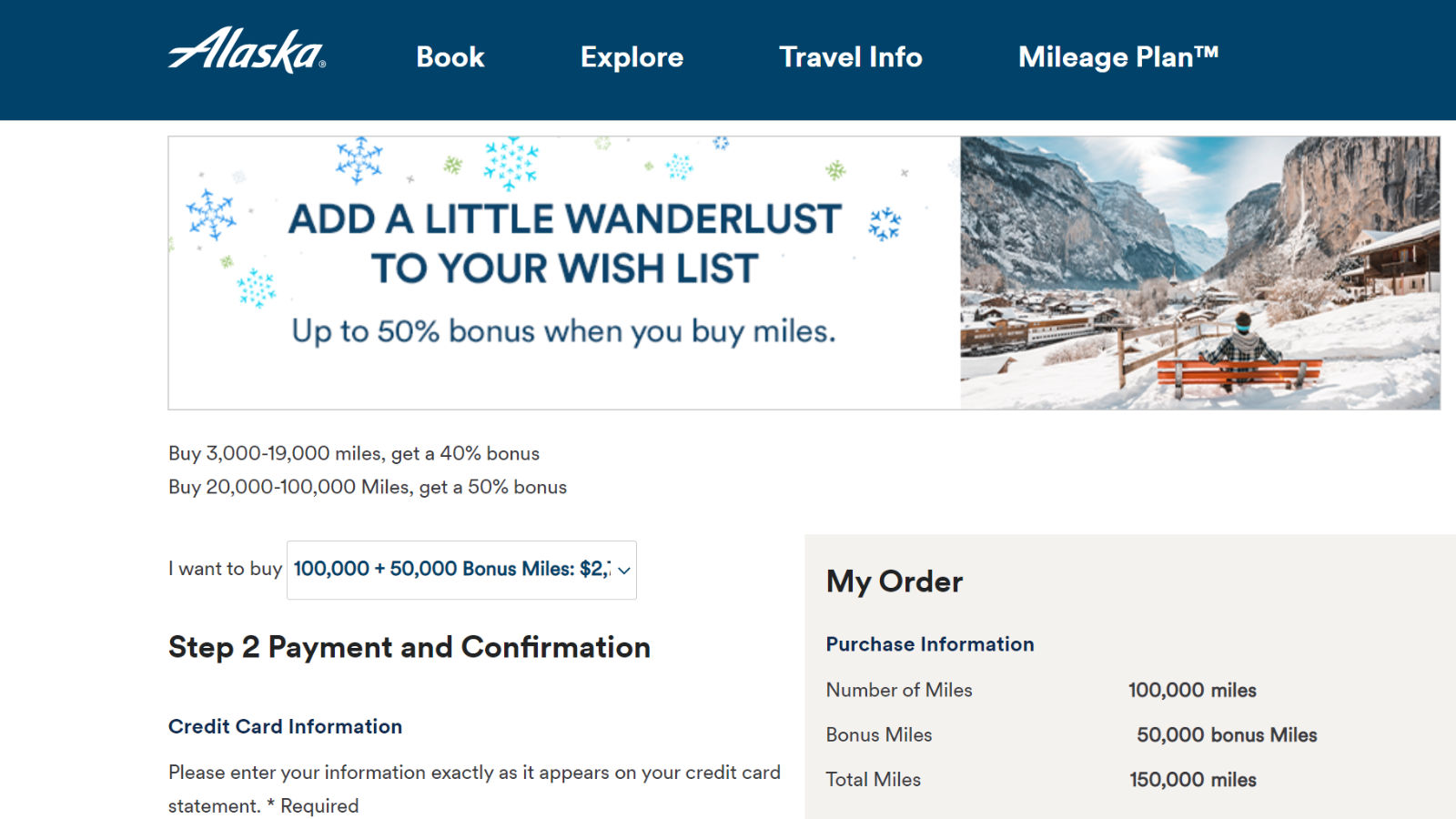 Other ways to earn Alaska Airlines miles
If you have American Express Membership Rewards points, you can transfer them to Marriott Bonvoy. From there, you can convert your points into Alaska miles. You can also credit certain flights to your Mileage Plan account, such as from Qantas, Singapore Airlines and Cathay Pacific.
Things to watch out for before purchasing miles
Some readers have previously noted that purchases made using an Australian credit card have been declined. Some agents have also mentioned that only cards issued in the US, Canada or Mexico would work. We've not had any issues using an Australian-based American Express Platinum Card. But let us know how you go with the payment.
You can purchase a total of up to 150,000 miles per calendar year (unless you are an elite member, in which case there is no limit). The website, points.com, also has a limit of four transactions per 30 days, per credit card. If you happen to be buying miles more frequently than that, consider using another card.
Mileage Plan miles expire after 24 months of inactivity in your account, though you may be able to reinstate them with a fee. Still, we recommend you only buy miles with a specific flight redemption in mind.
Where can I go with Mileage Plan miles?
Despite being a smaller boutique airline, Mileage Plan has a surprising number of individual partnerships – such as with Singapore Airlines. Alaska Airlines is also a full oneworld member, which opens up a huge range of partners and flights. See the full list of Mileage Plan partner airlines here.
Because Mileage Plan uses a region-based chart, you can get some pretty good value across the board. Just keep in mind one important fact: you can't book every route that a partner airline offers. For example, Singapore Airlines doesn't offer flights from Australia to Singapore with Mileage Plan miles.
Use the Mileage Plan award chart to see which routes are available. Simply choose which region you're travelling from and to. The eligible airlines and routes will be displayed. Note that you can't mix and match different airlines for a journey – though you can create separate bookings to get around this.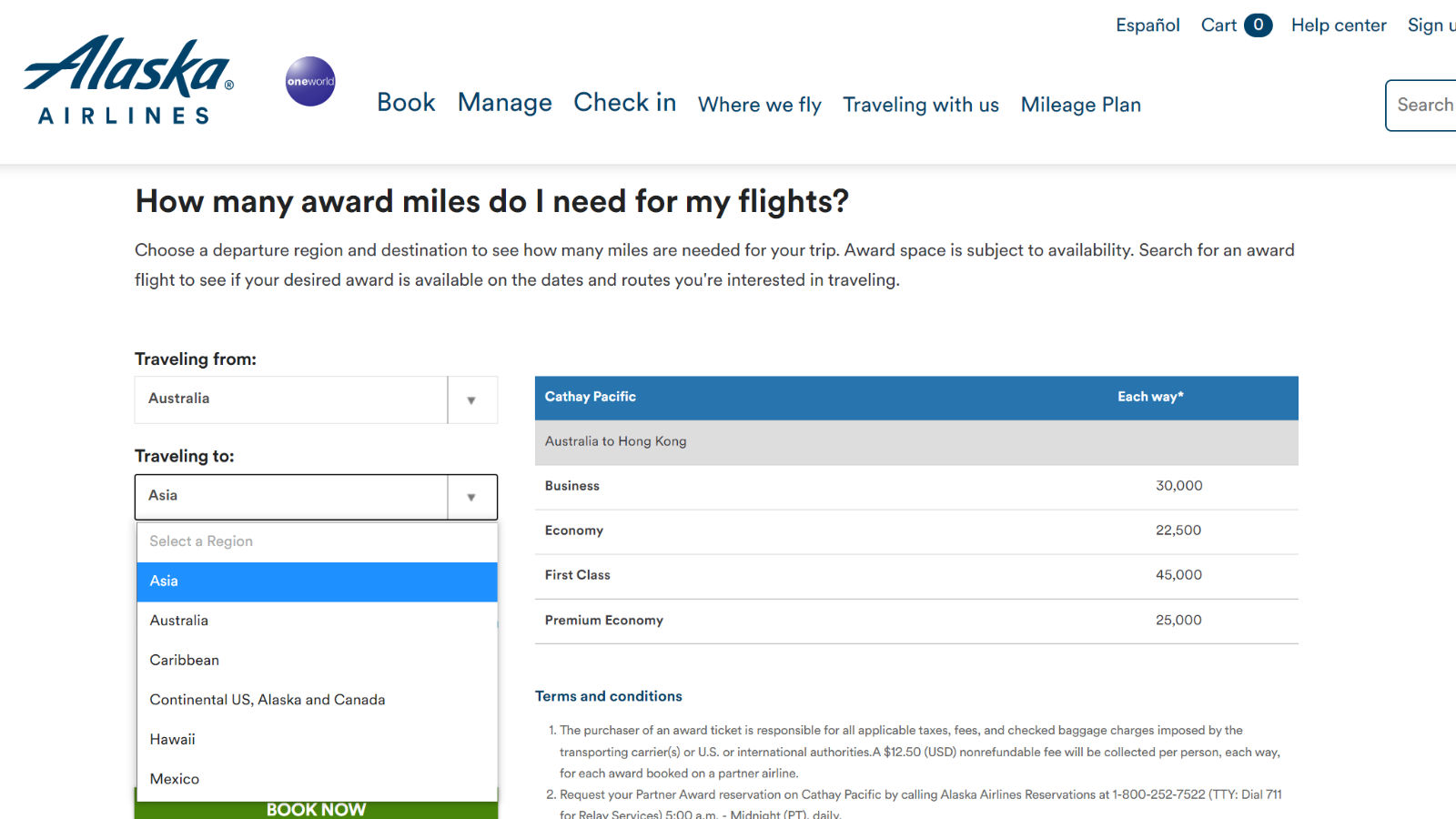 Here are some of our top picks:
Airline
Route (one-way unless indicated)
Cabin
Mileage Plan miles
Cost of miles in USD
with a 50% bonus promotion
Cathay Pacific
Australia to Hong Kong
Business
30,000 miles
$591
Australia to the US via Hong Kong
Business
60,000 miles
$1182
Singapore Airlines
Two flights within South East Asia via Singapore
First
35,000 miles
$689.5
Fiji Airways
Australia or NZ to Hawaii via Fiji
Business
45,000 miles
$886.5
Qantas
Australia to the US
Business
55,000 miles
$1083.5
Australia domestic
Business
20,000 miles
$394
Korean Air
Australia to the US return via Seoul
Business
125,000 miles
$2462.5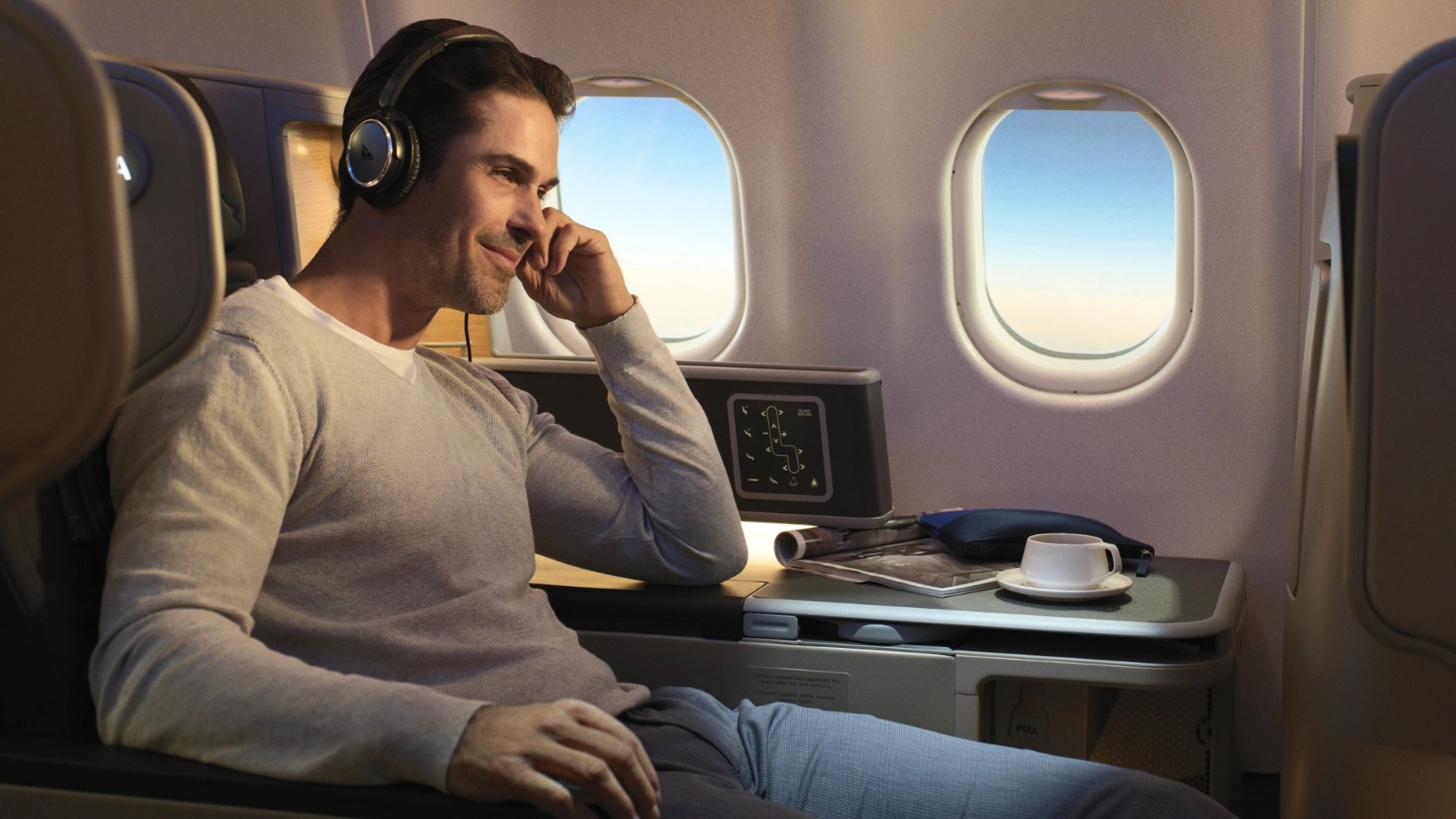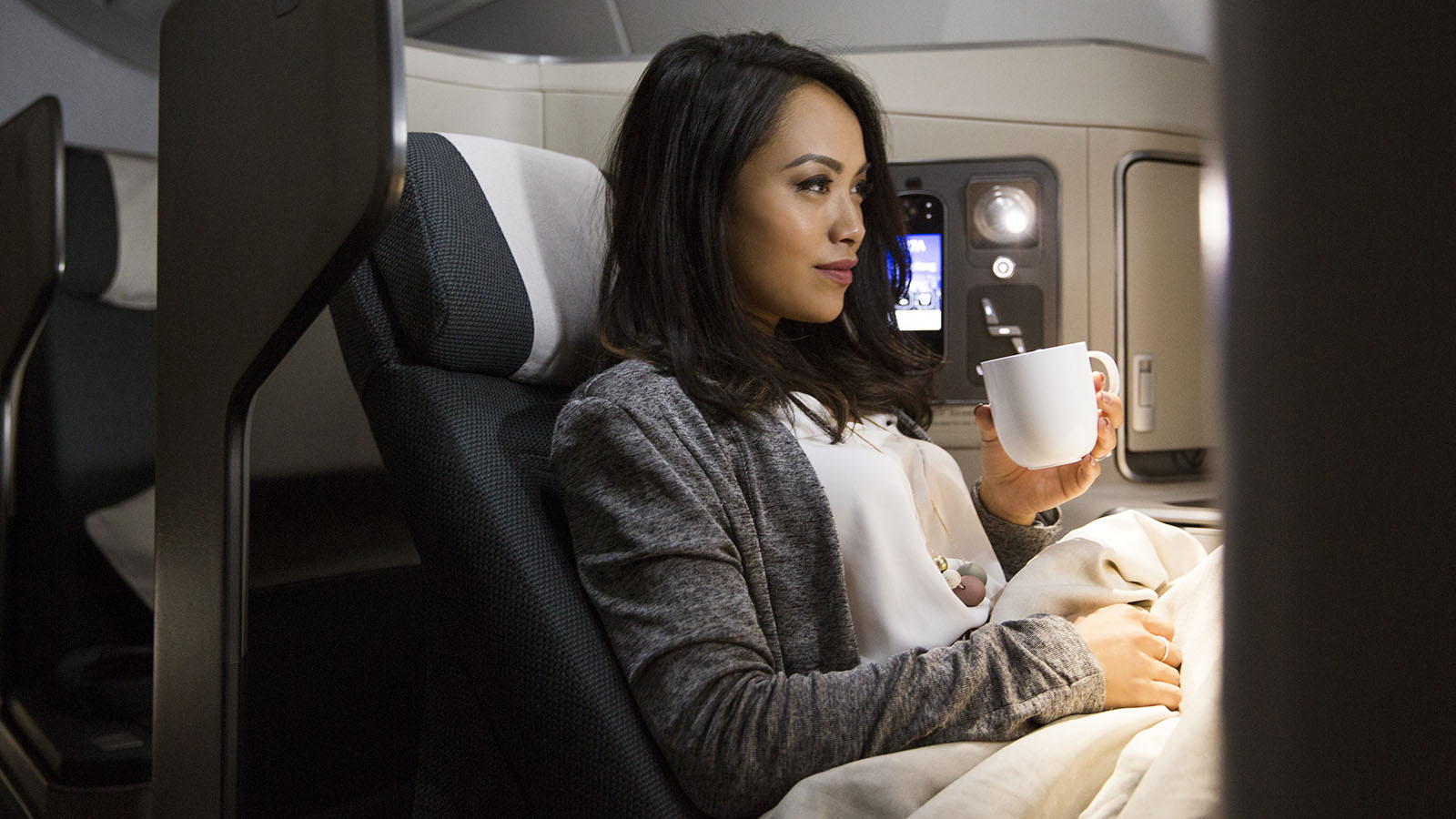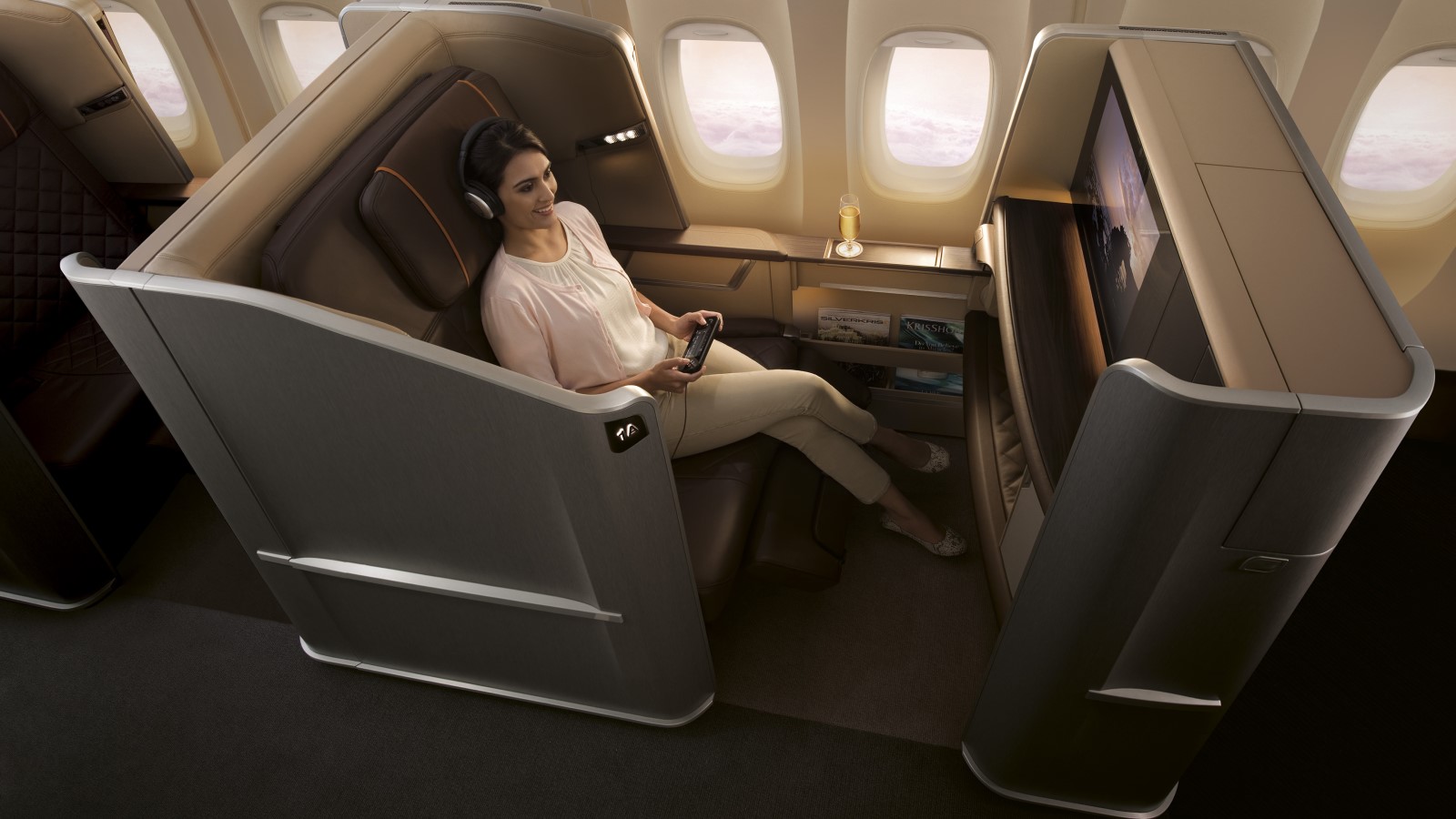 Our favourite 'sweet spot' is Australia-Hong Kong for just 30,000 miles with Cathay Pacific in Business Class. After all, Economy is 22,500 miles, so paying 7,500 miles more for Business is a no-brainer.
Let's say you want to book two people return – that's 120,000 miles. When there's a 50% bonus miles promotion, you can buy that for US$2,365. Add US$50 in booking fees and approximately US$260 in taxes. All-up, your per-flight cost is US$669 (AU$932) for each Business Class flight!
Free stopovers on a one-way ticket
Alaska Airlines has another surprise up its sleeve – one free stopover at the partner airline's home port! For example, that's Hong Kong with Cathay Pacific and Nadi with Fiji Airways. To book a stopover, simply create a multi-city booking on the Alaska Airlines booking page.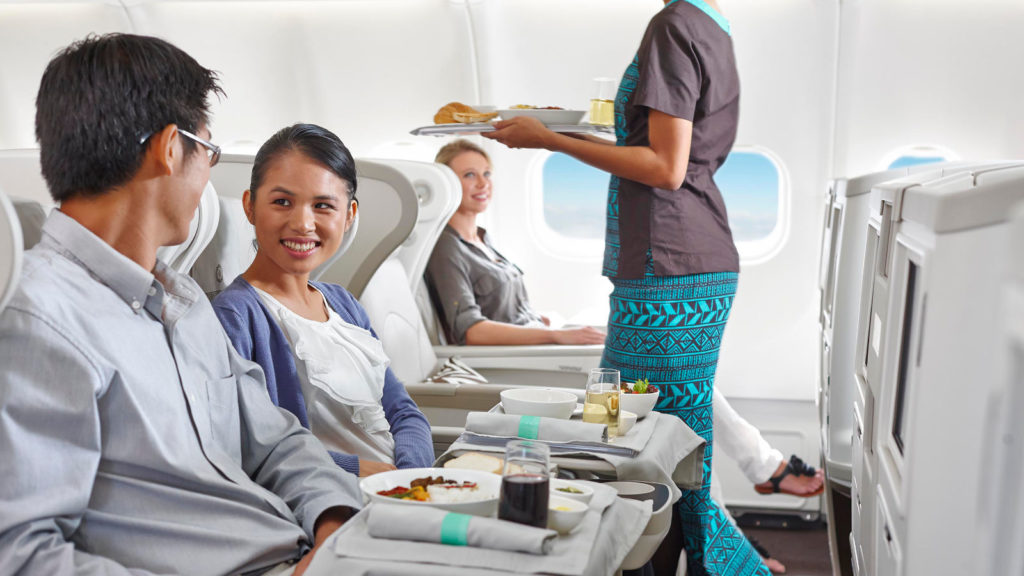 For example, fancy a tropical island getaway from Sydney that includes both Fiji and Hawaii? Normally, it costs 45,000 miles to fly Australia-Fiji-Hawaii with only a short transit. But you can swap that transit for an extended break in Fiji before continuing.
It's simple. Simply search 'Sydney to Nadi' on your departure day, and 'Nadi to Honolulu' on the day you want to depart Fiji. If available, both award seats will be combined into one booking, and you'll pay the same number of miles as if you flew with a straight transit. Neat, right?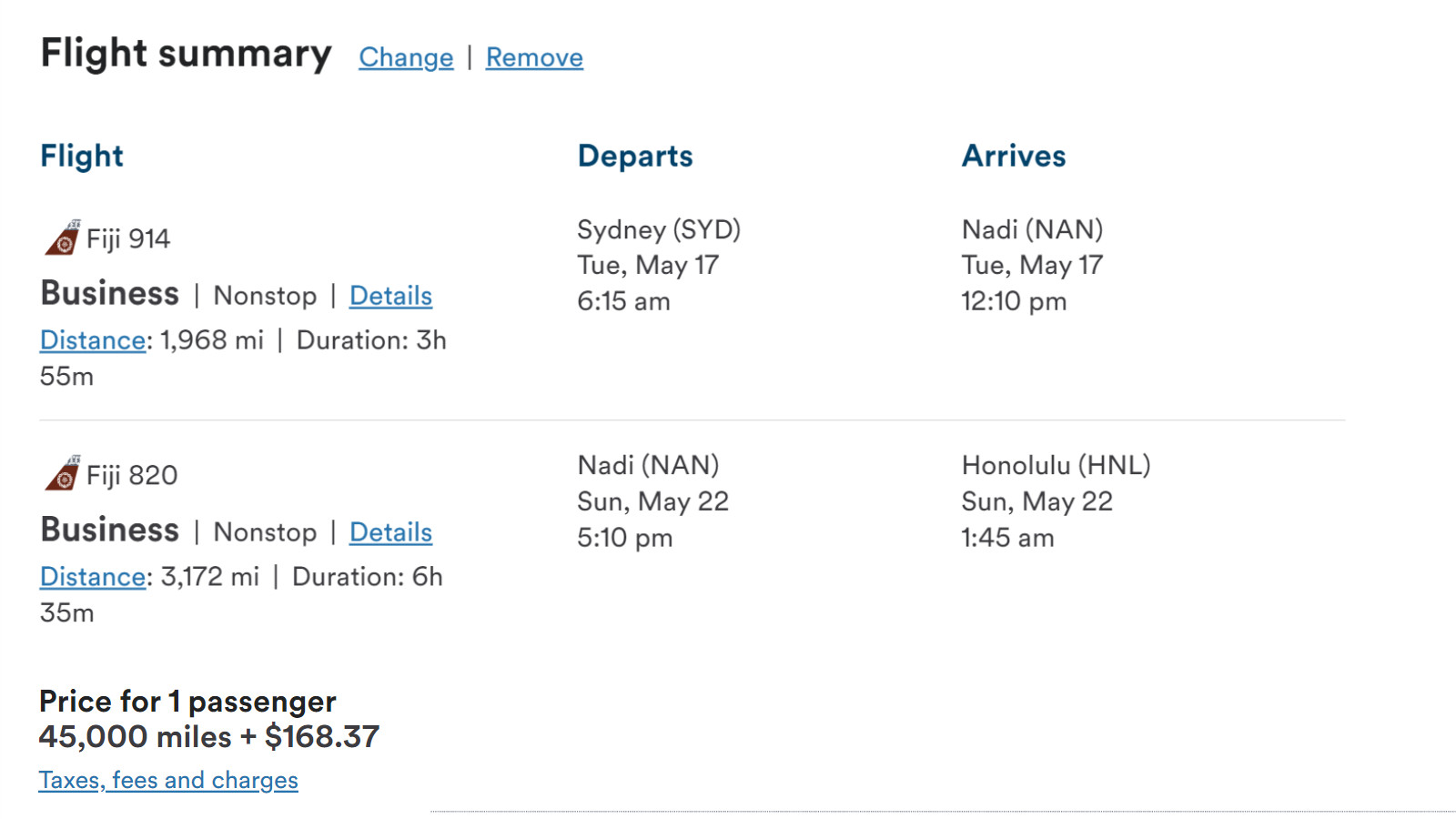 With a 50% bonus miles promotion, you can buy 90,000 miles for US$1,773.75. Add US$336.74 in taxes, and that's a total cost of US$2,110.49 (AU$2,945) for two people to fly from Sydney to Hawaii in Business, with a stopover in Fiji.
How do I book with Mileage Plan miles?
It's pretty easy to book with Mileage Plan online, for most airline partners. Simply head to the booking page, tick 'Use miles', and enter your search. Available award seats will show up with the number of miles and taxes required. The prices include a US$12.50 partner award booking fee, which is charged per person and each way.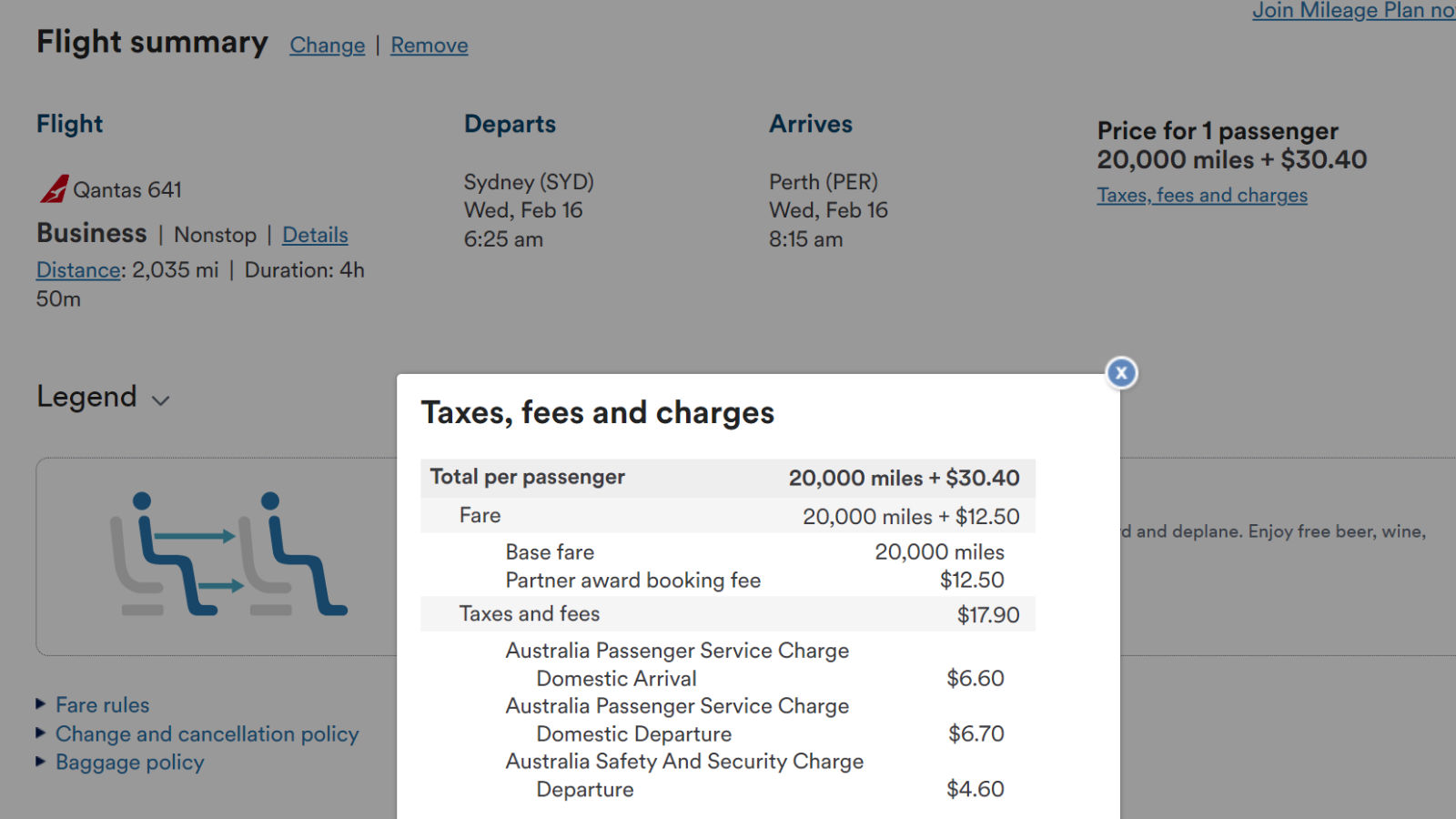 Unfortunately, not all carriers are bookable online. In particular, Cathay Pacific awards have to be booked at least 72 hours in advance over the phone. Call Mileage Plan on +1 206 244 0751 (international USA number) to make the booking with your miles.
Since you can't see Cathay Pacific availability online, try using the British Airways Executive Club website as a starting point. Simply search for the same route using Avios. If award seats appear, chances are Alaska Airlines can book it too.
In terms of changes and cancellations, you should expect to pay a US$125 per person fee. This is waived for MVP Gold members and higher.
Summing up
We really do think Alaska Airlines Mileage Plan miles are one of the best frequent flyer points you can hold. With a wide breadth of high-quality partners, low award rates on certain routes, frequent sales on miles and free stopovers, Mileage Plan really is the full package.
Of course, with COVID still putting a spanner in the works, we don't recommend you buy miles without a firm use in mind. But if you're looking to travel somewhere soon, definitely look into Mileage Plan.
This content contains affiliate links from which Point Hacks may earn commissions from transactions generated from new customers, bookings and general enquiries. Find out more here.
How to buy Alaska Airlines Mileage Plan miles for cheaper flights
was last modified:
March 30th, 2022
by