With Qantas no longer offering direct Delhi-Sydney flights, the route is now the exclusive territory of Air India. Using its modern Boeing 787-8 jets, passengers may have high expectations of Air India's long-haul Business Class. But how does India's national carrier really stack up at the pointy end?
Having flown Qantas Business on my journey from Australia to India, I hopped aboard Air India for the flight home to find out.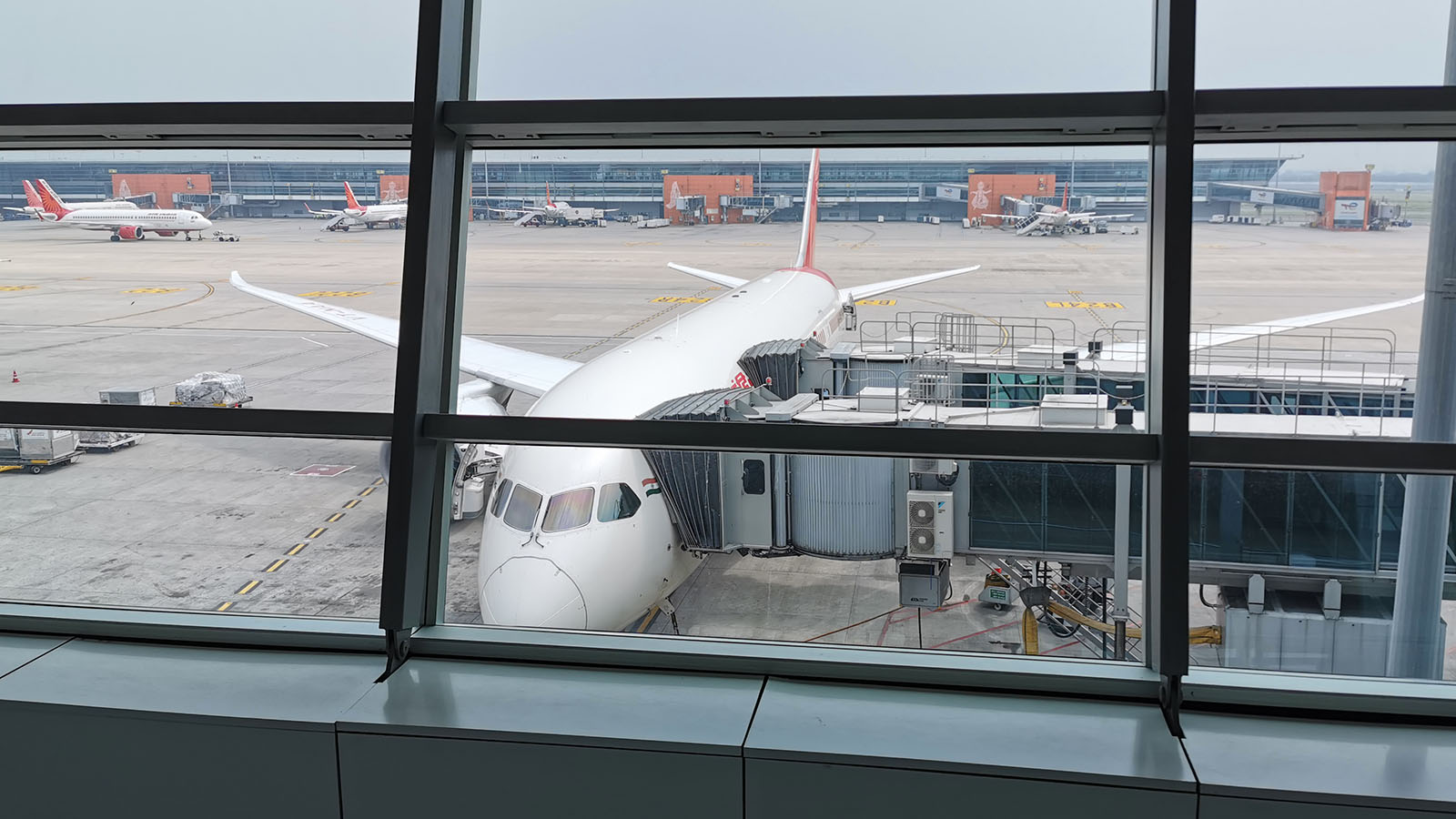 Check-in, lounge and boarding
My day begins in Bengaluru, with a domestic Air India flight up to Delhi ahead of my Australia-bound connection. Once I've arrived in Delhi, I venture through the airport's 'Business & First Class' international departures channel.
With very few people in front of me at security and passport control, I'm done with the formalities in no time. Of course, an Air India Business Class ticket grants access to priority check-in if you're beginning your journey in Delhi.
But with my boarding pass already printed in Bengaluru, I didn't need to stop by.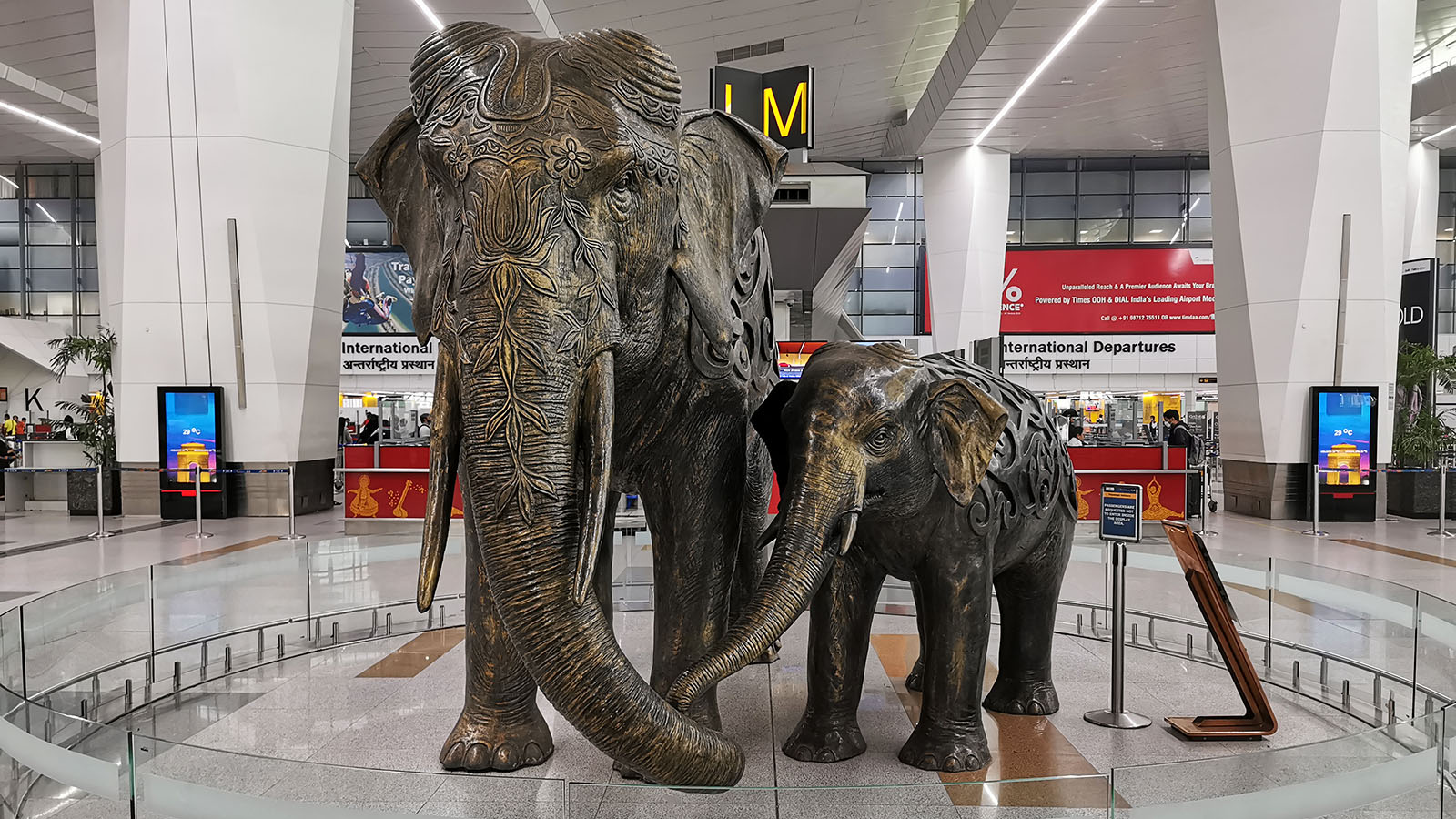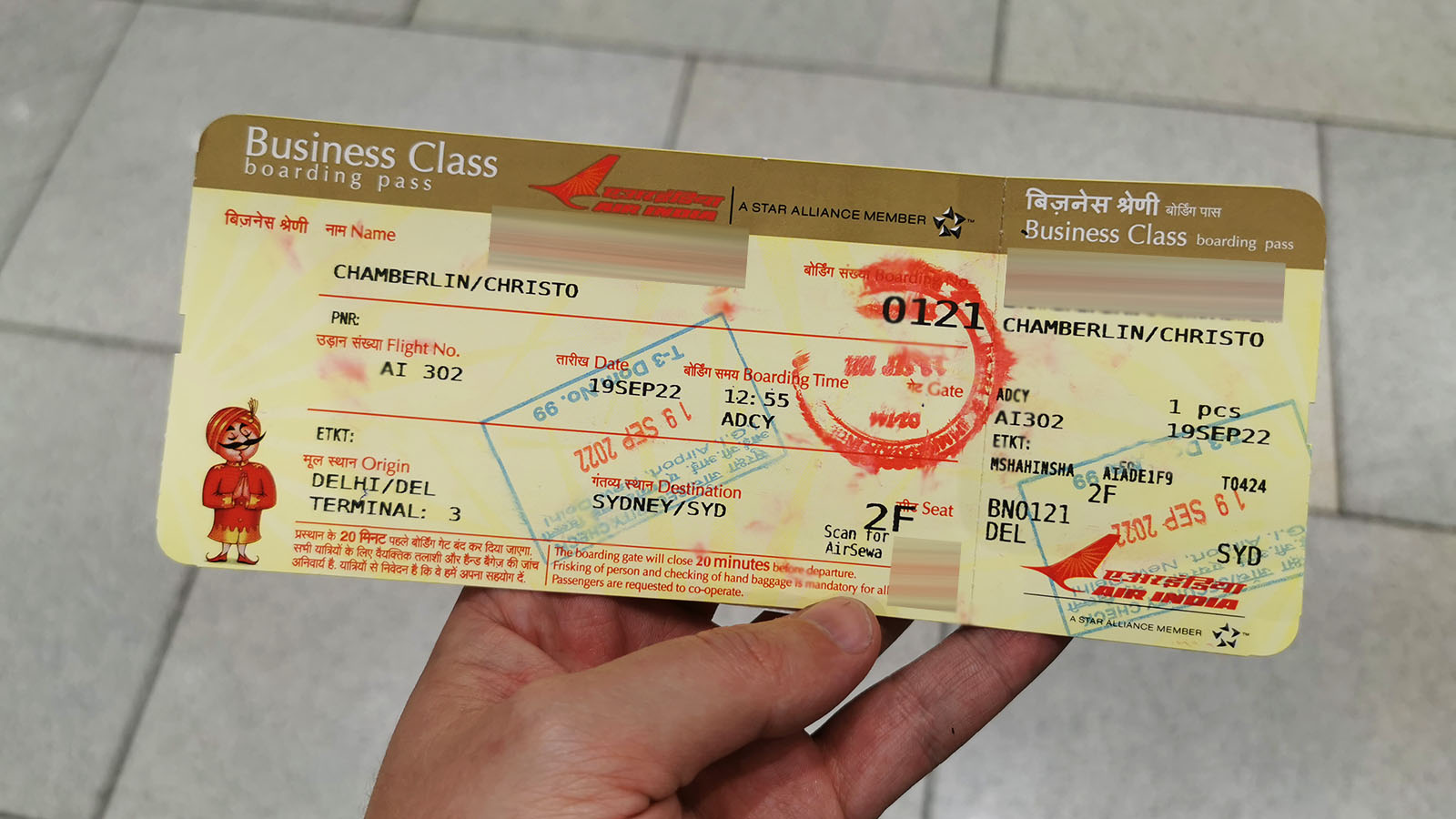 Venturing to Air India's international Business Class lounge in Delhi
Once you're in Delhi's departures area, Air India's international Business Class lounge awaits. It proves to be a quiet space with an array of seating and refreshments, but it's not quite the experience I'd expect of a flagship 'home hub' lounge.
With hours to go before boarding, it's unfortunate that very few power points are available to keep my laptop powered up. There are some, but they're not in the places I'd like to sit.
Air India's website also describes its international lounge as offering the 'finest collection of drinks'. But in reality, the lounge is now dry – so the finest thing you'll get is a soft drink. It's certainly a bold claim to make of a self-serve drink fridge, and of a staffed 'bar' that serves the same refreshments.
There's a selection of light snacks and a few hot items on the food front. Having eaten breakfast on my connecting flight into Delhi and with meals to enjoy on the flight ahead, I don't feel the need to indulge here.
In fact, after a very early start, I'm feeling a little sleepy and could really do with some strong natural light. After all, I don't want to doze off and miss my connection! That search finds me relocating to a nearby café. A latte here costs AU$6.30 and provides me with a nice place to set up and work.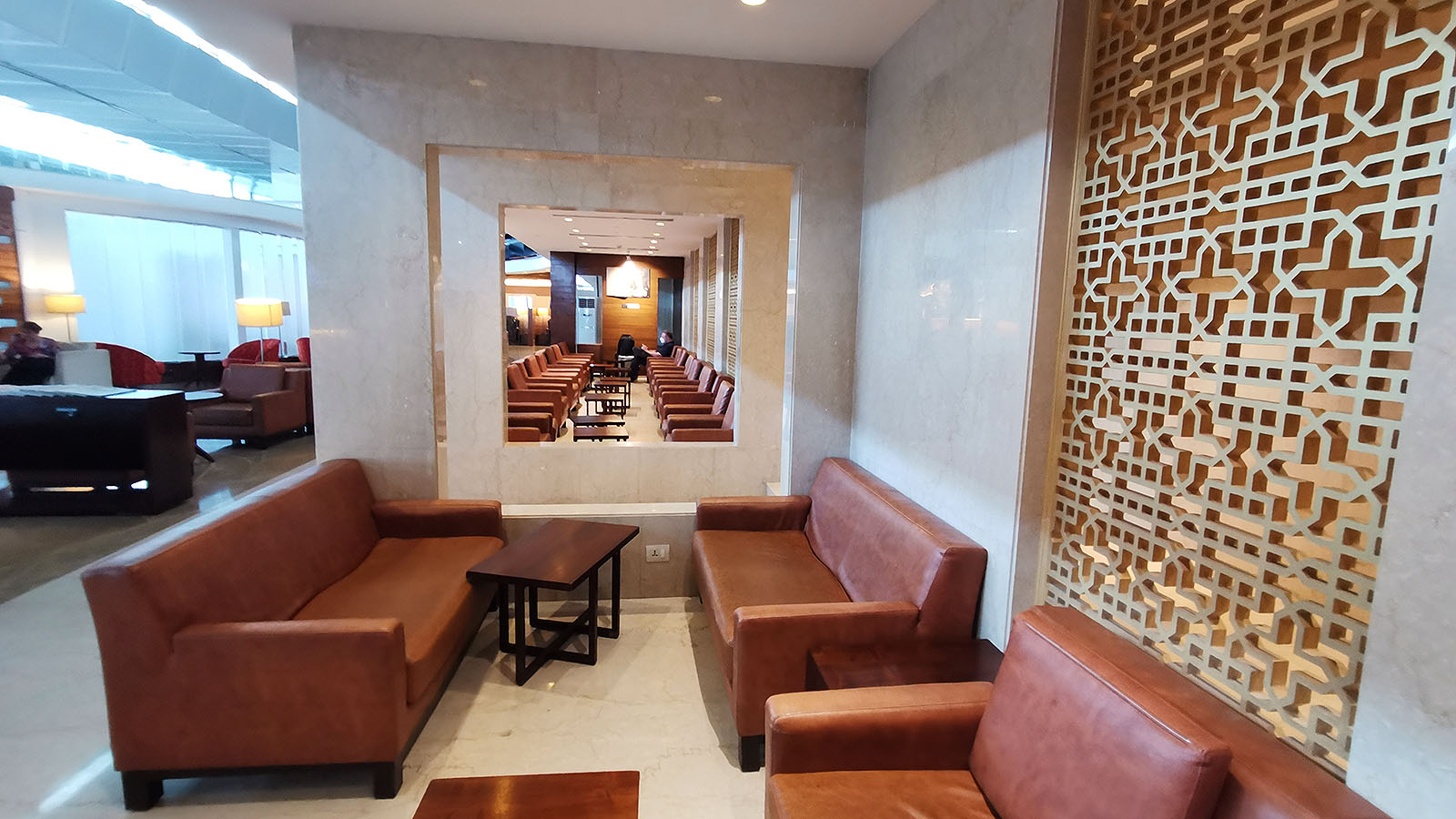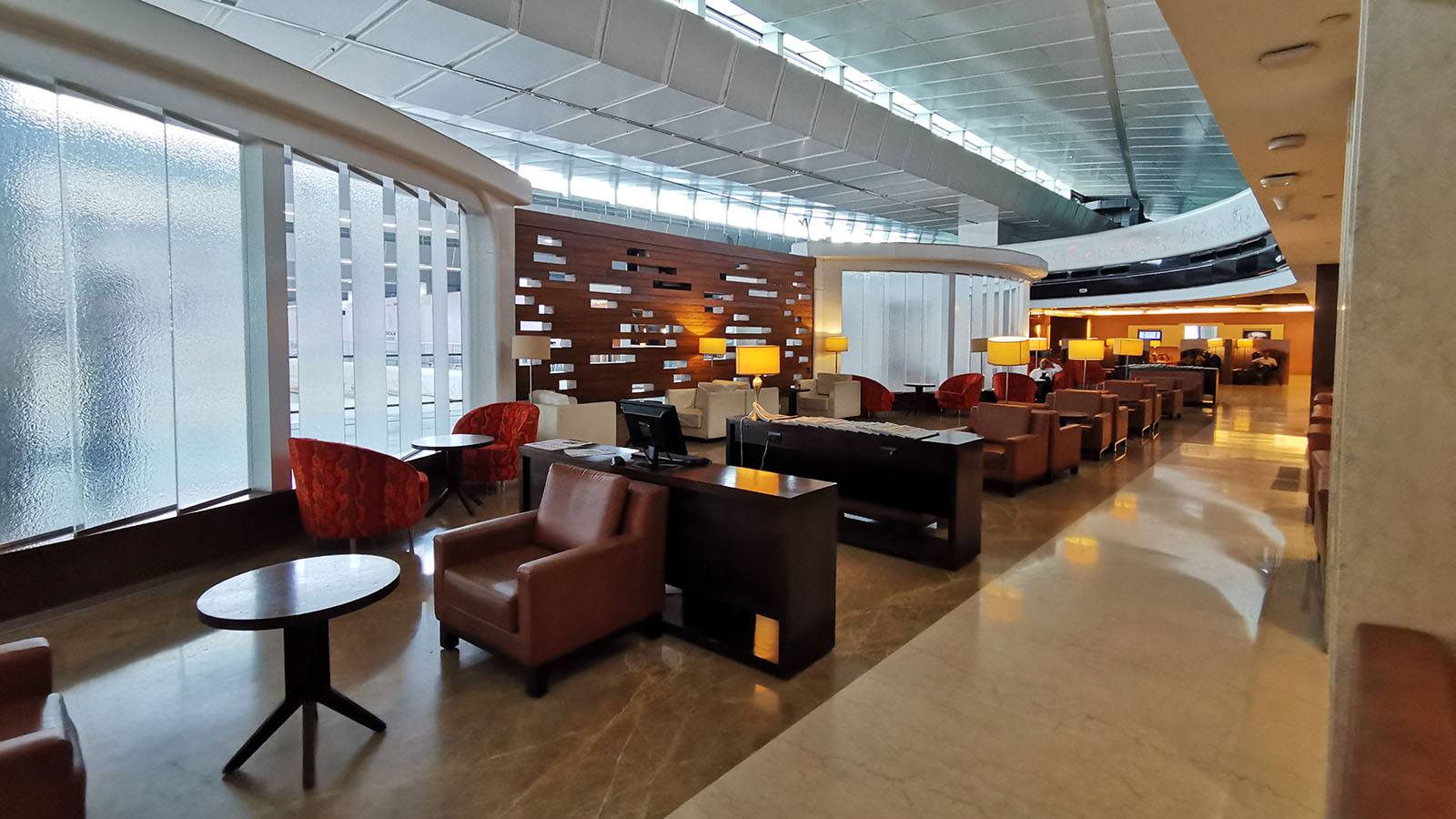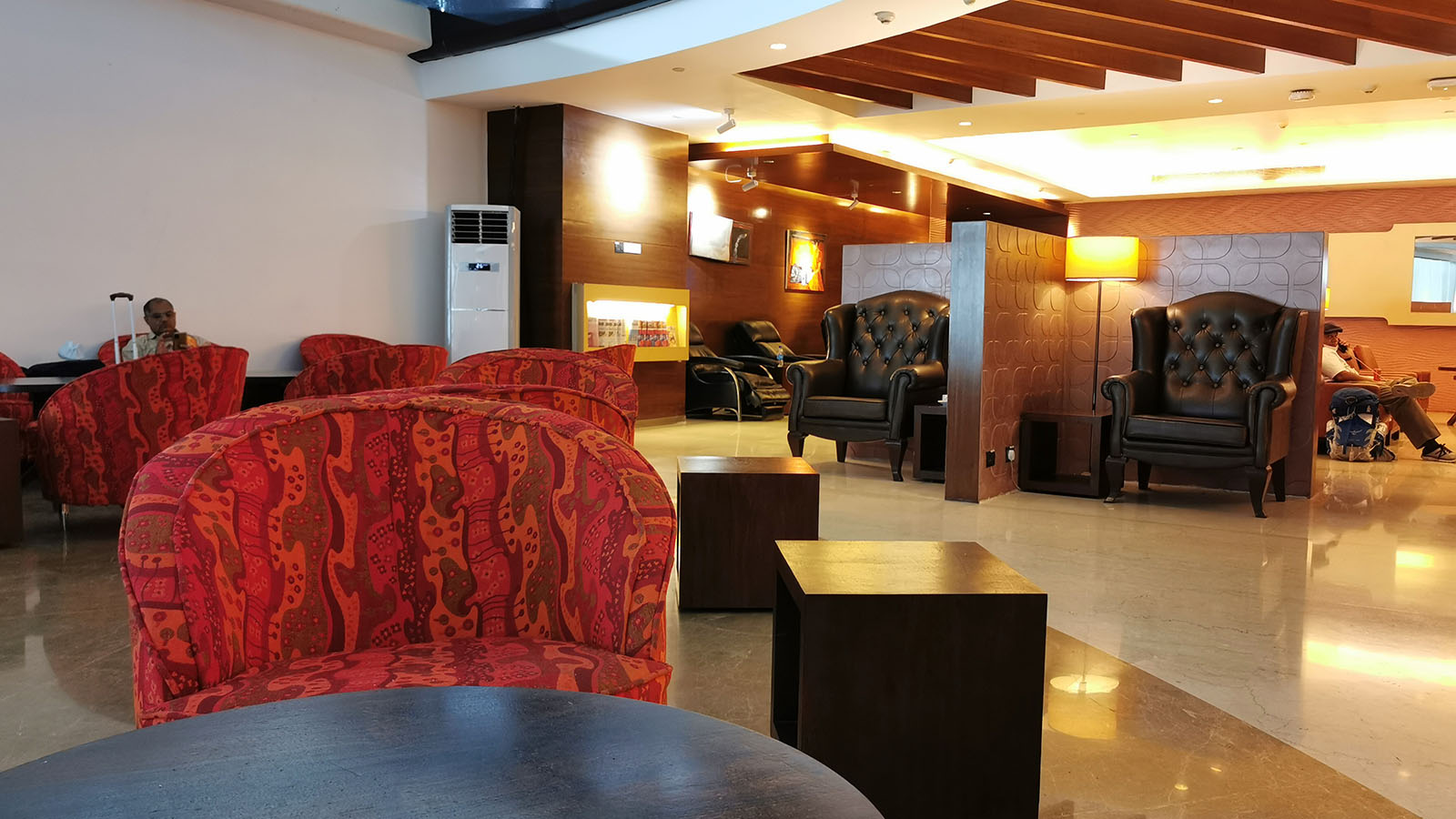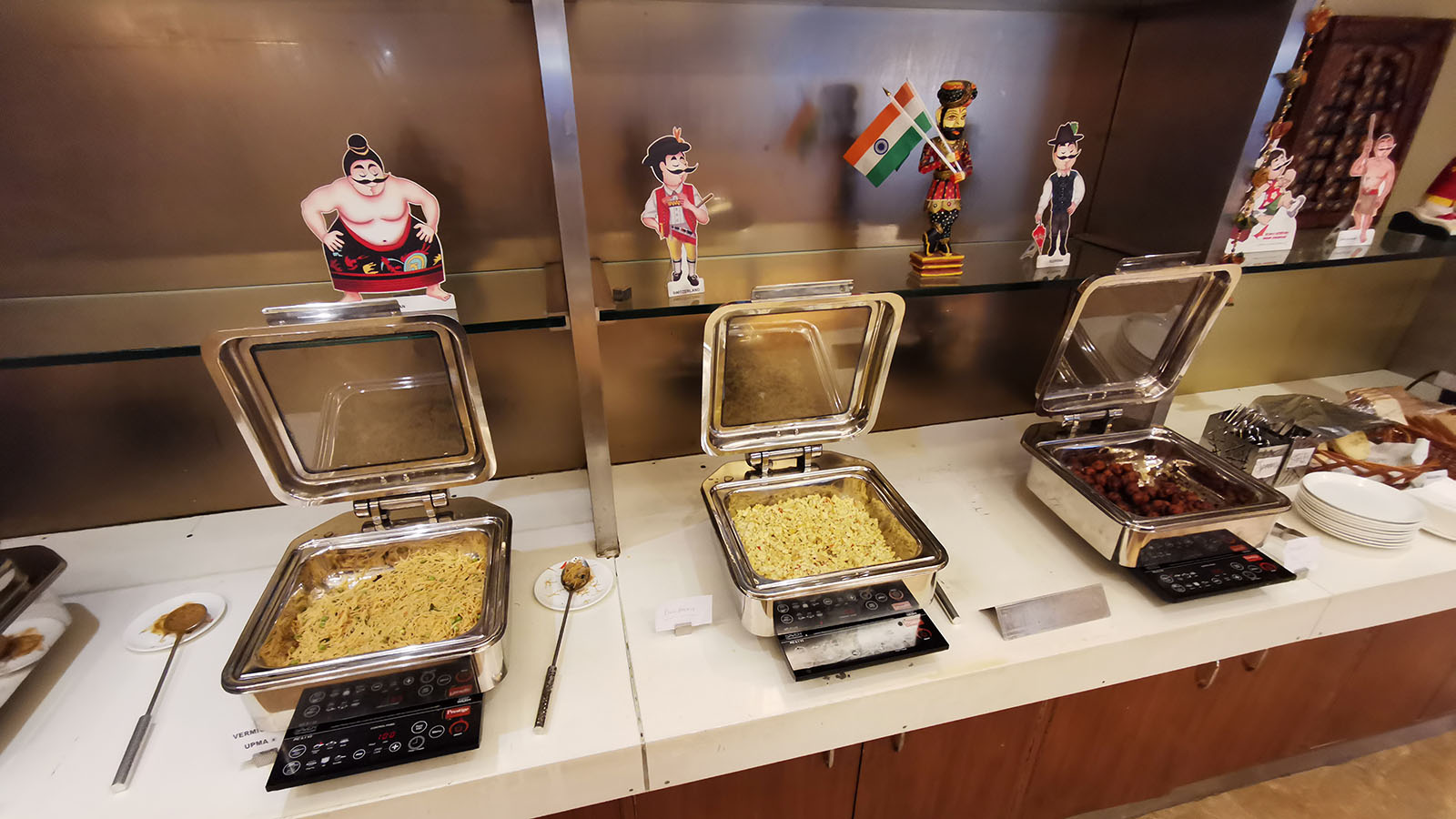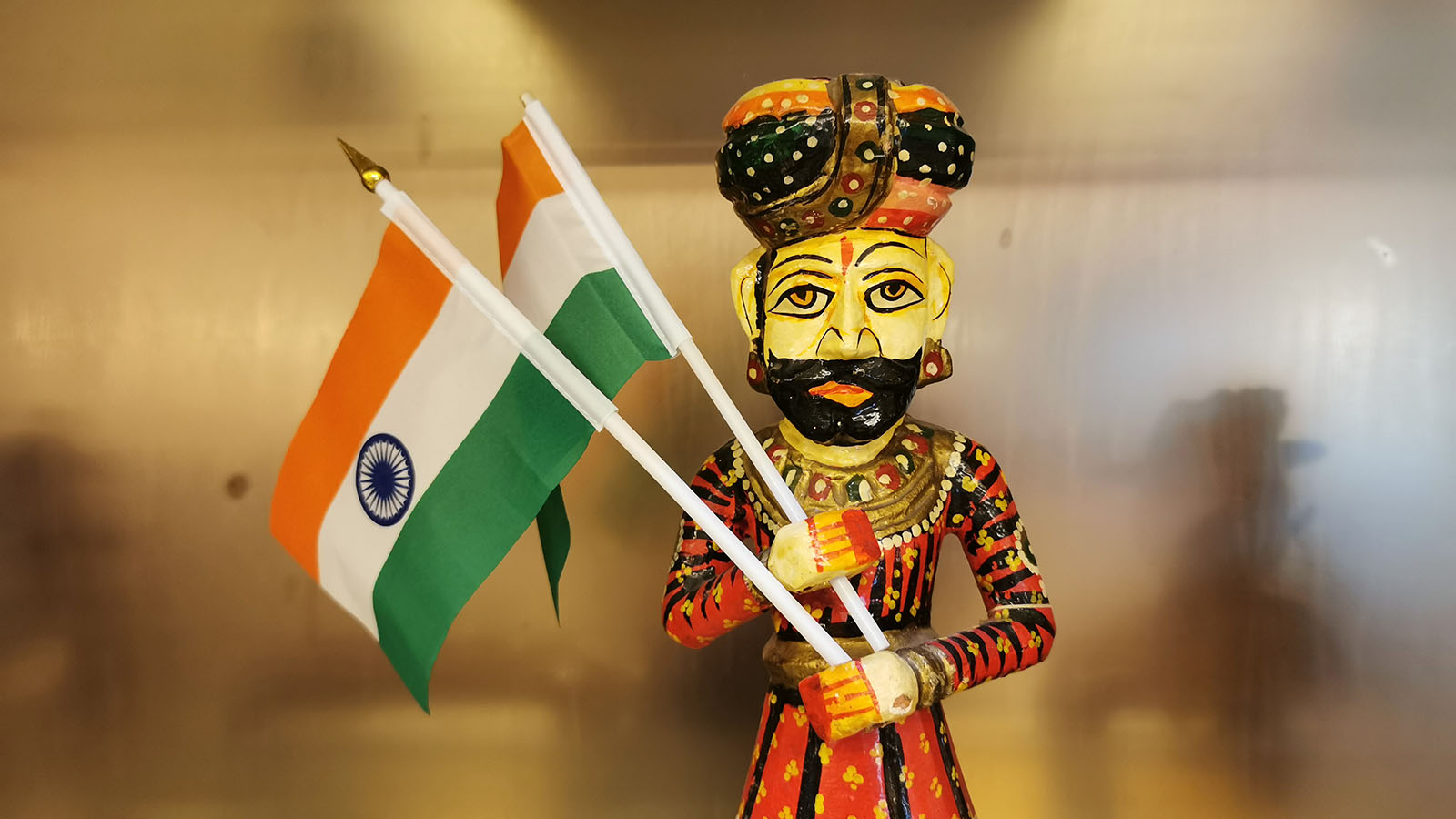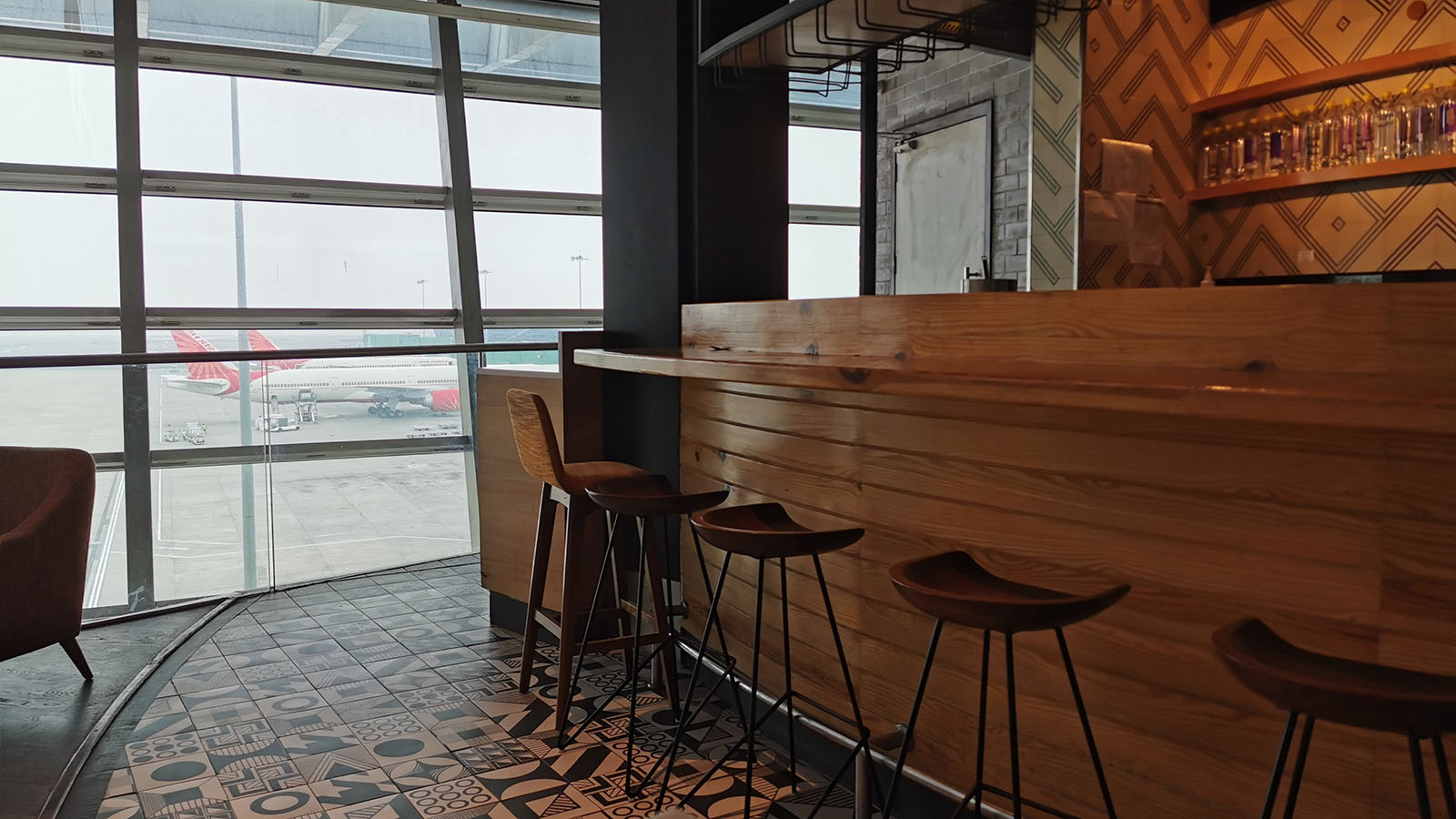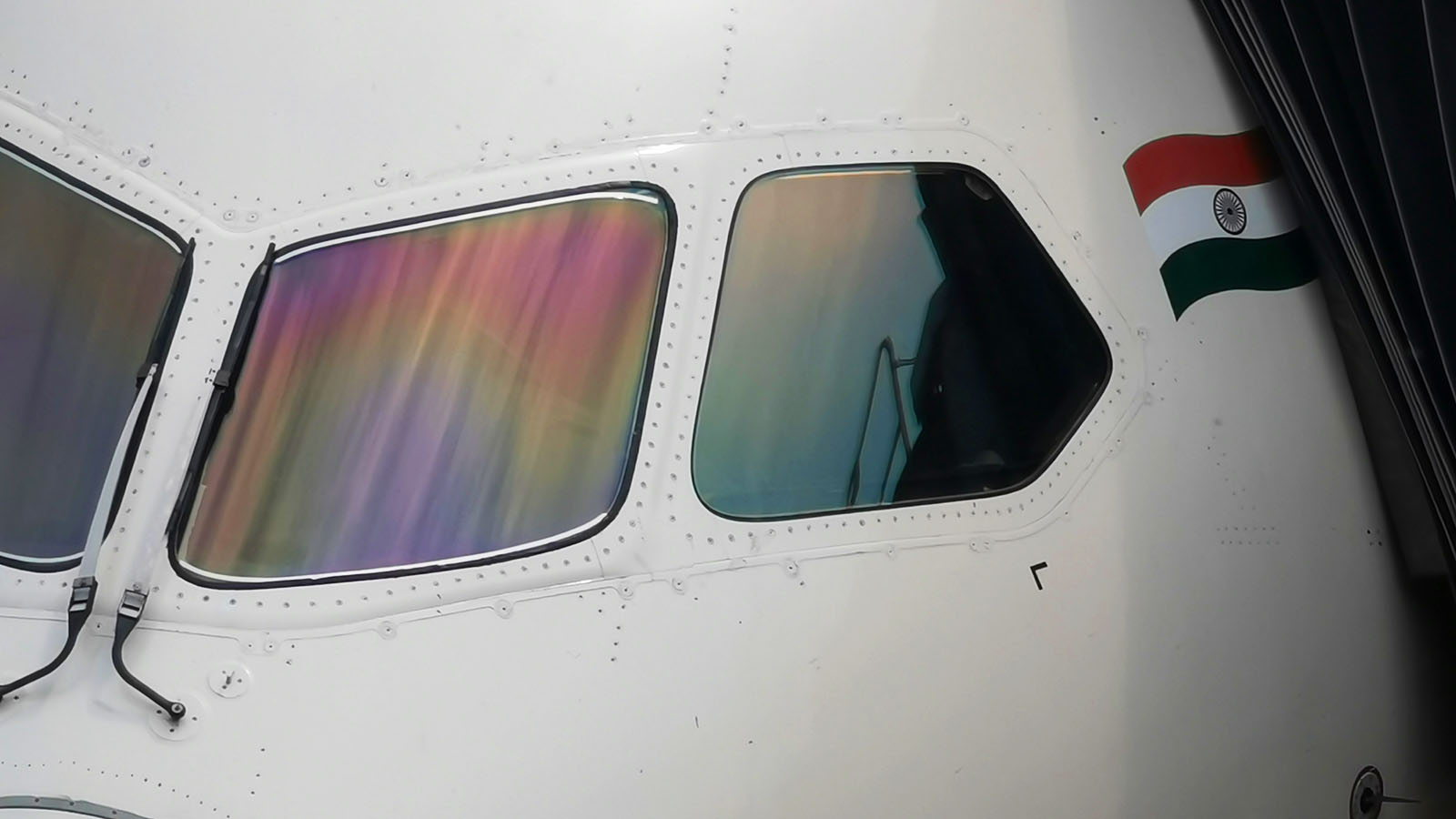 I find a suitable bench with laptop power and even airport views. It's just a shame that I have to leave the Business Class lounge for something so basic.
I venture to the gate just before boarding begins and spot our Air India Boeing 787 ready and waiting for the Business Class journey ahead. Before long, priority boarding is called and I'm swiftly settling in.
Air India Boeing 787 Business Class seating
Air India uses a 2-2-2 seating configuration in Business Class aboard its Boeing 787s. Given that most other airlines switched to 1-2-1 layouts many years ago, Air India's offering isn't competitive for solo flyers. On this plane, passengers in the window seats need to step past (or over) their seatmates. Of course, you'd be that obstruction in the adjacent aisle seats.
This puts the best seats in the centre of the cabin, where each passenger has direct access to a different aisle. Those travelling as a pair may be more amenable to a duo by the windows.
It also has to be said that Air India's seats feel out of place in a modern Boeing 787 cabin. The Dreamliner could have been Air India's chance to reinvent its Business Class offering. But Air India's seat is the same model that I flew almost 10 years ago aboard Air China's Airbus A330. It gets the job done, but it's not up there with the best of modern Business Class.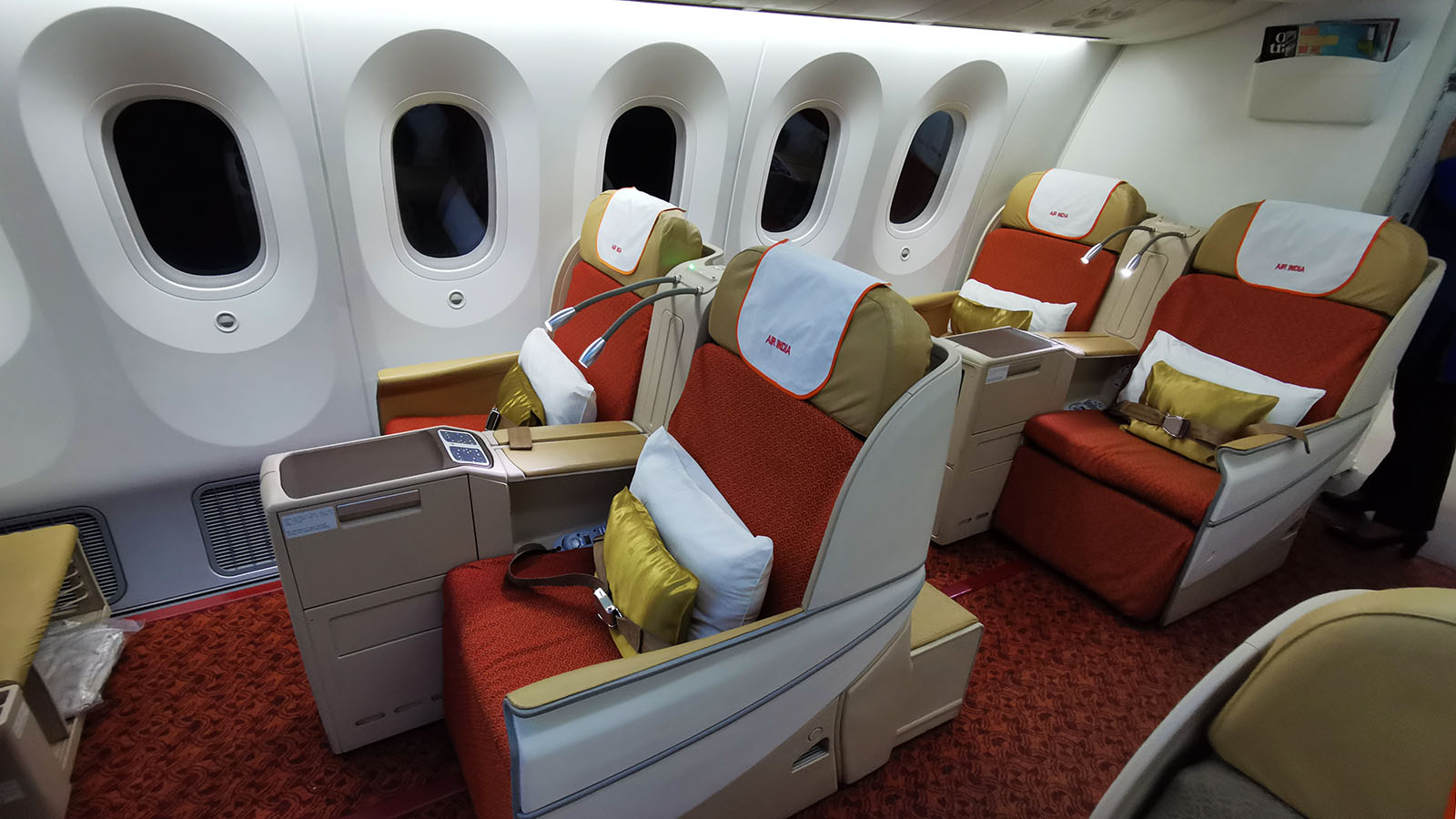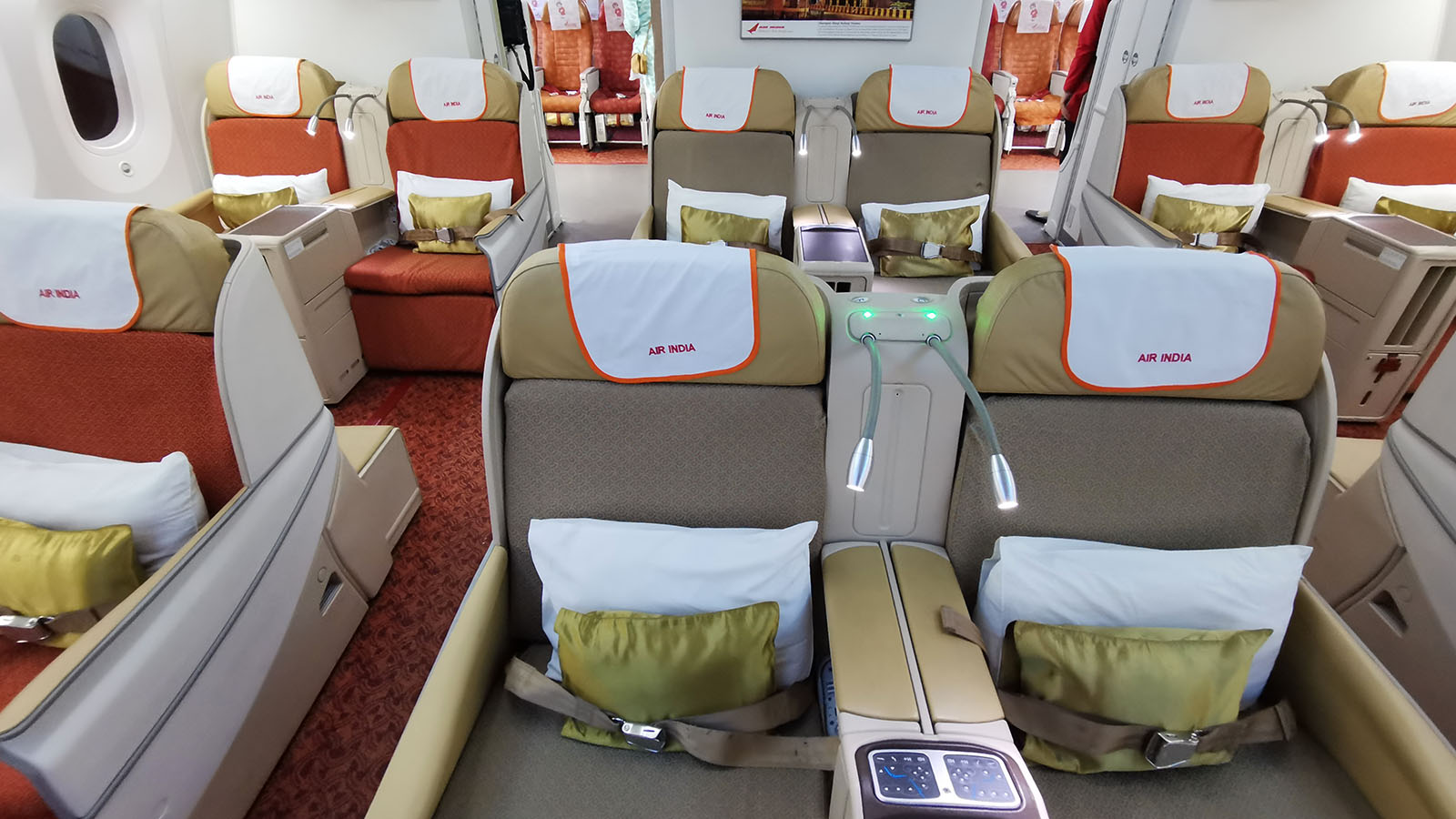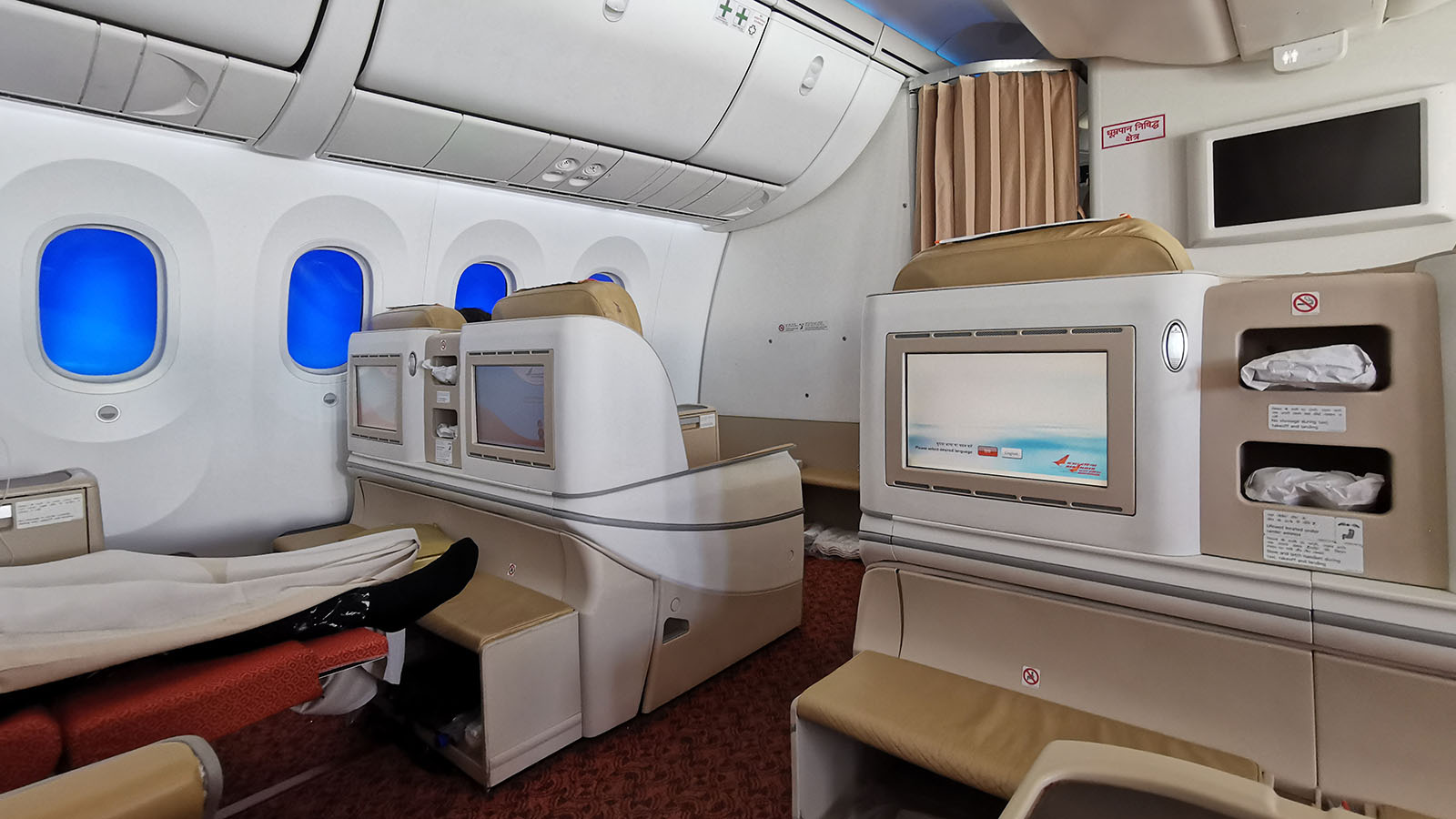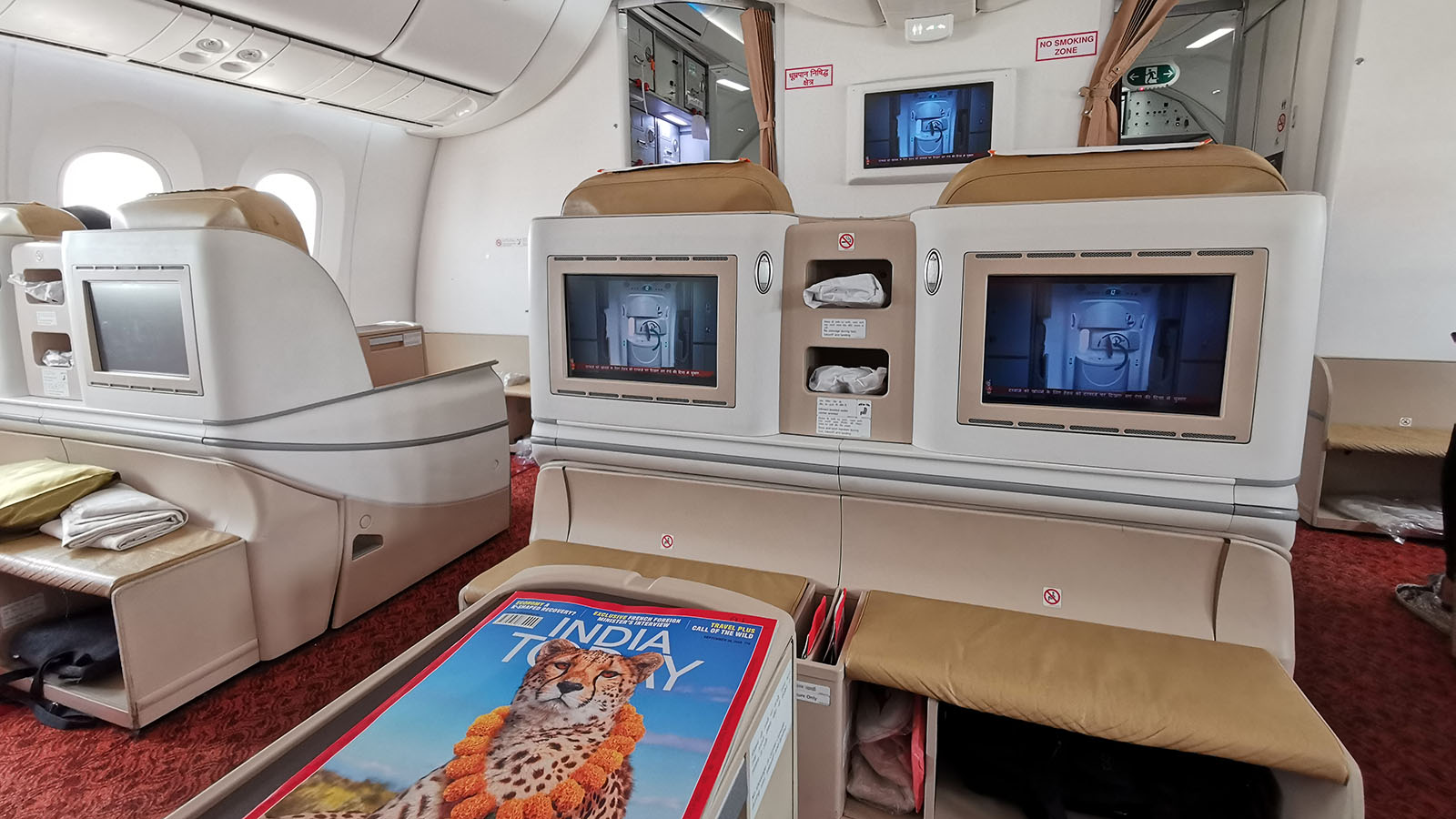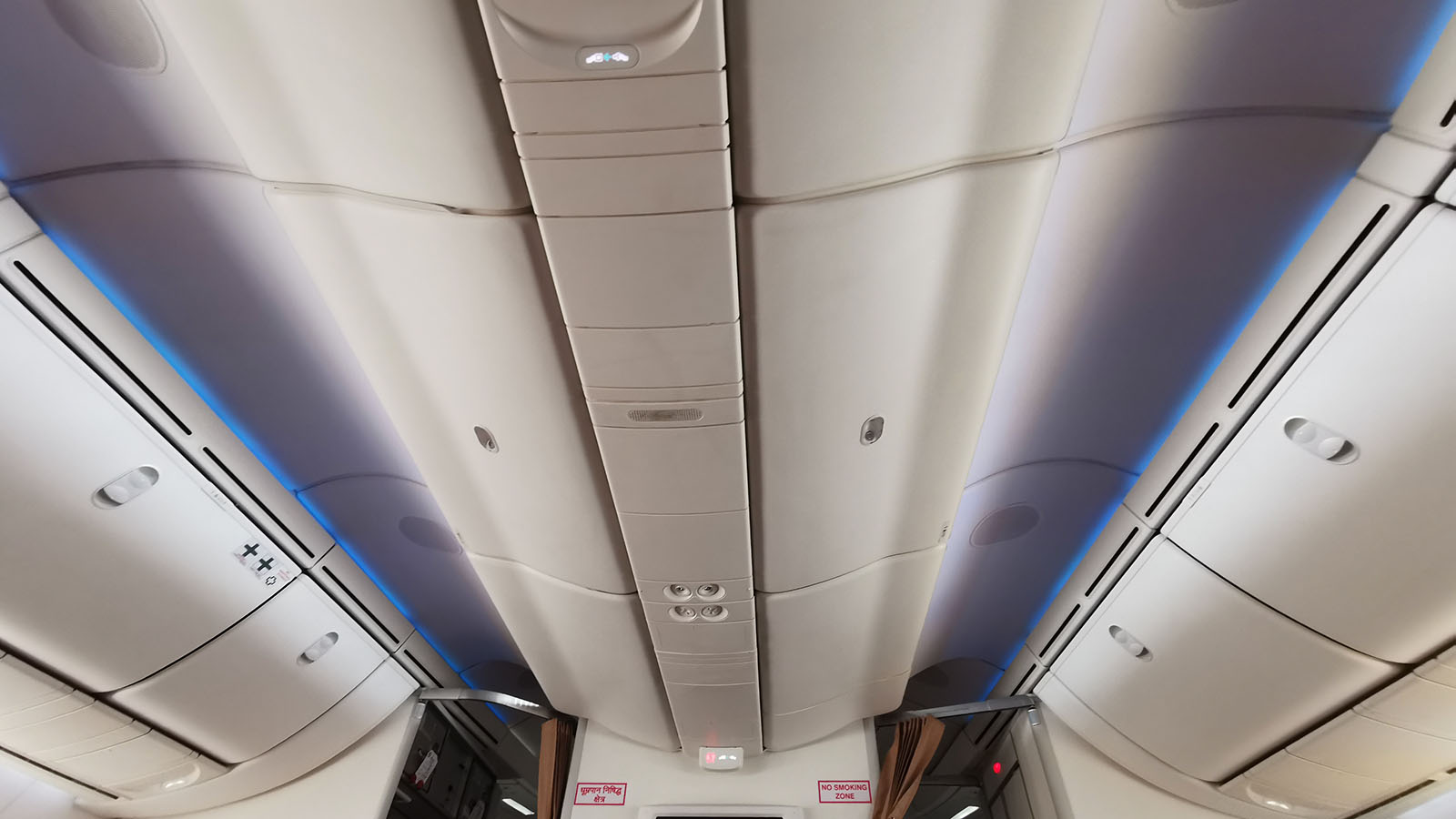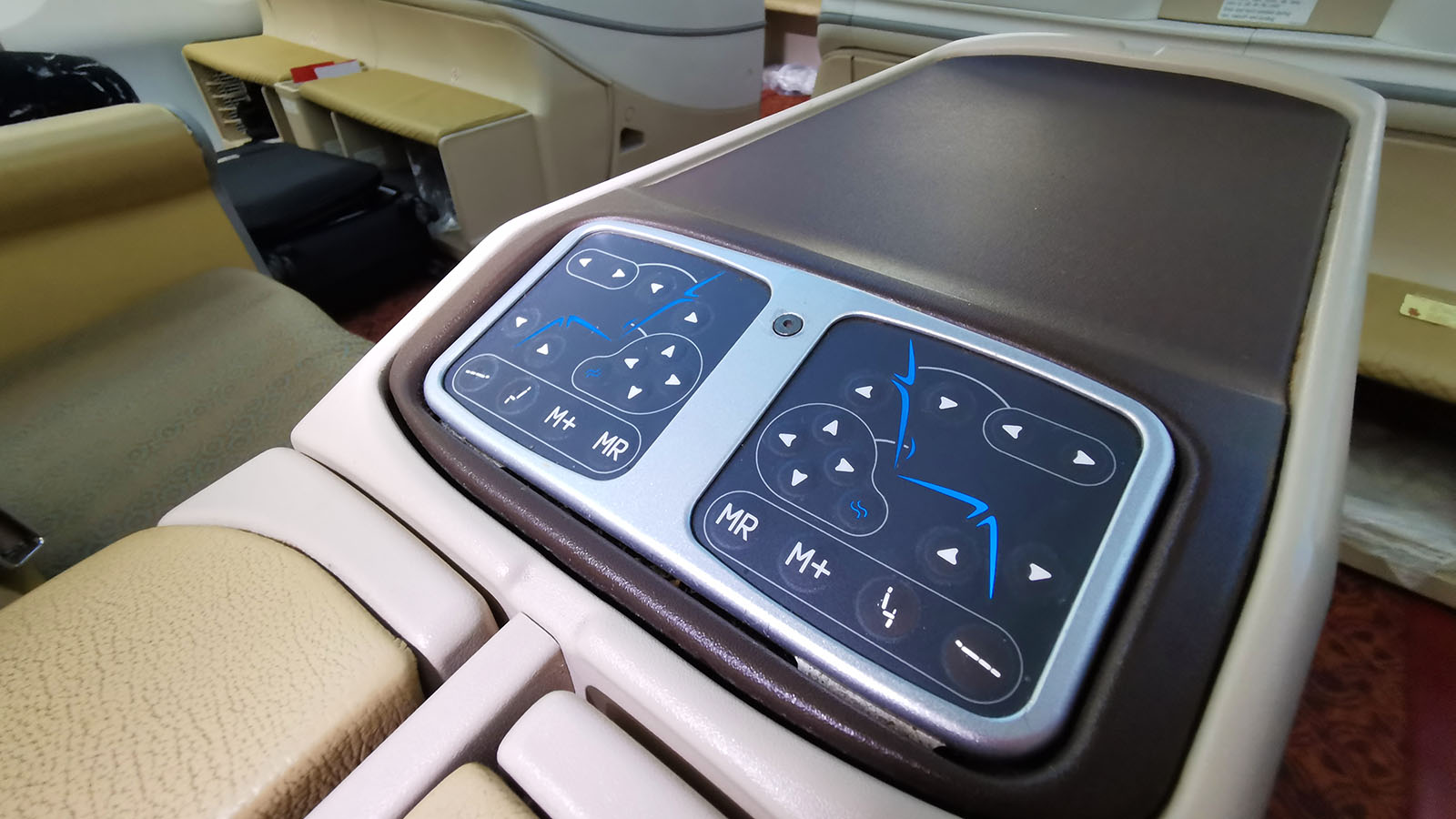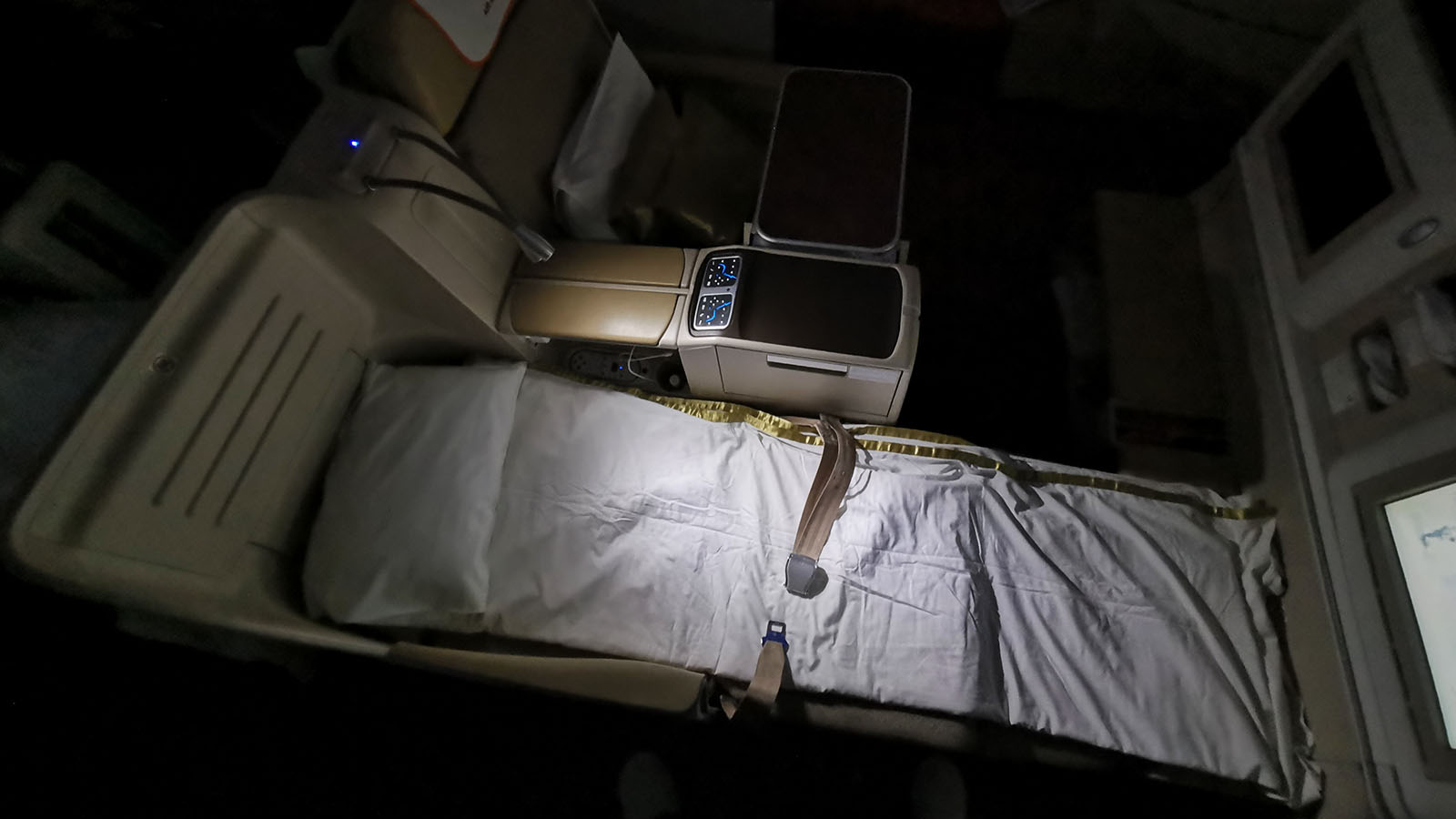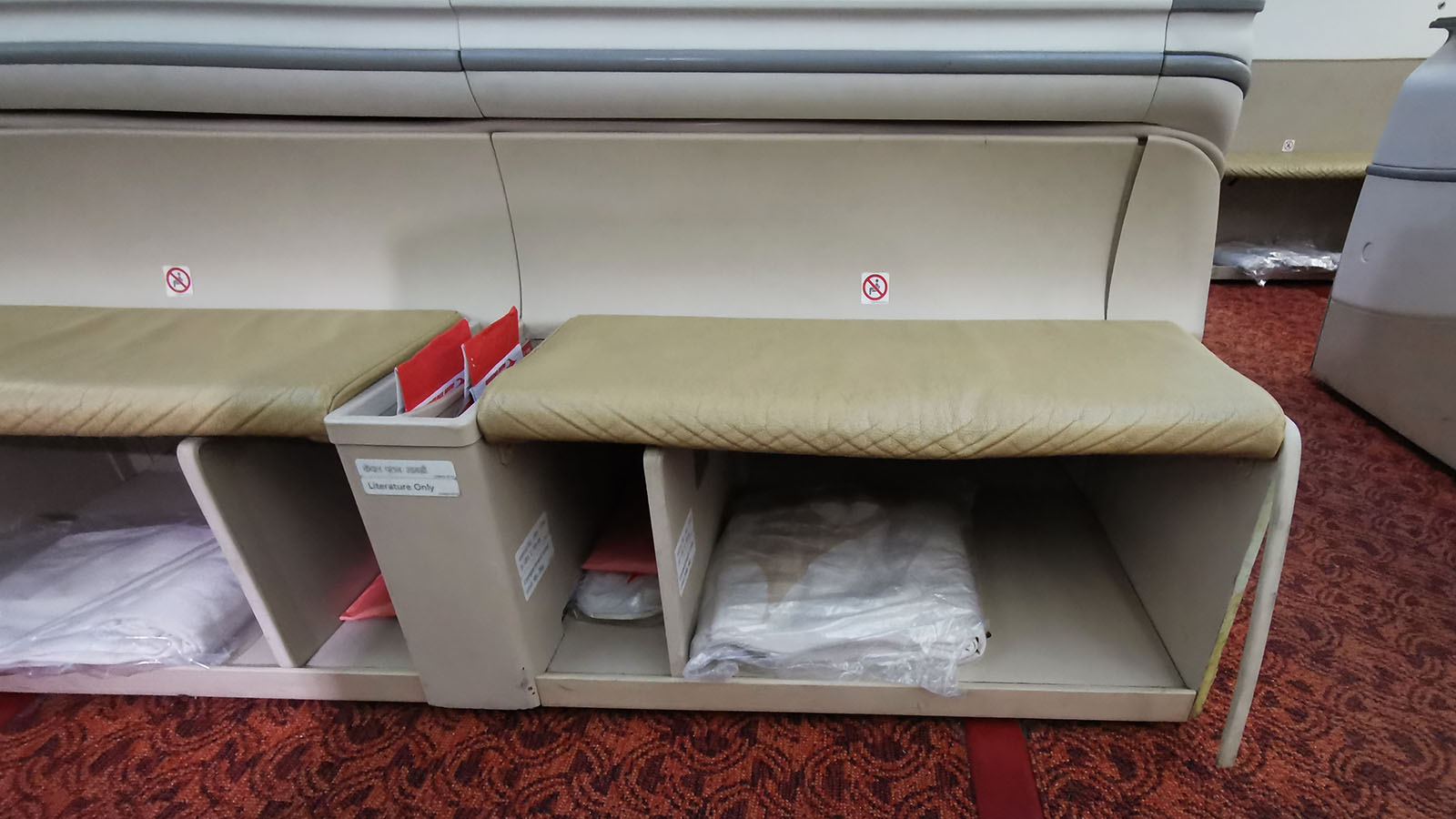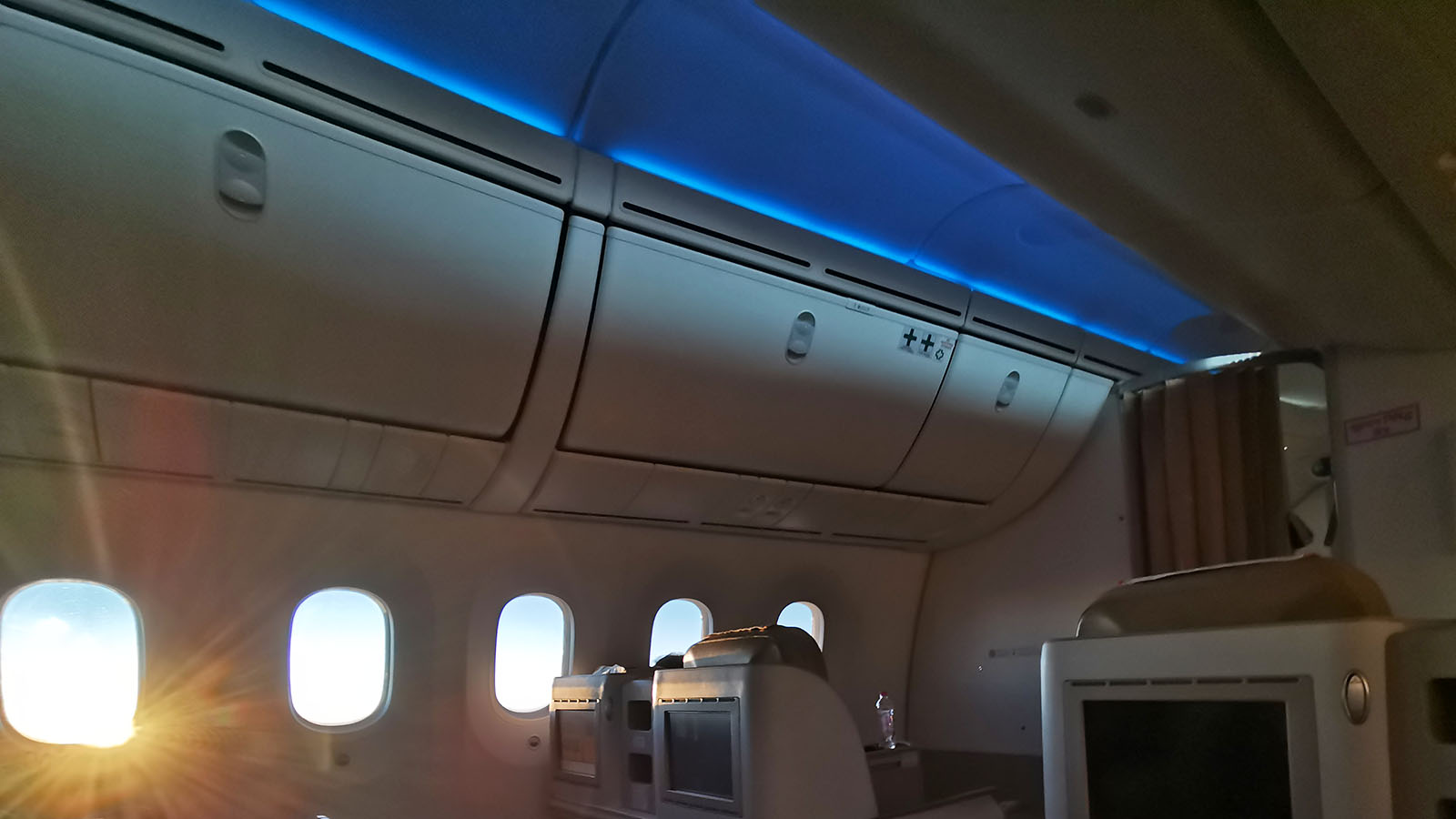 So what do you get? There's plenty of storage around the seat, at least. Laptop bags easily fit underneath the footrest. And in fact, because it doesn't move, you can use that footrest during every stage of the flight. This includes take-off and landing if your legs are long enough.
You also get a flatbed. Particularly for an overnight flight, it's still a big step up from what you'll find in the best cabins on carriers like Malindo Air, Scoot, and on Jetstar's Boeing 787s. But against the likes of Qantas and Singapore Airlines to India, Air India's seat doesn't quite measure up.
If you're booking using points or miles though, there may be times when Air India is the only carrier with Business Class availability. Air India Business Class would still be a comfortable choice compared to the alternative of flying Economy Class.
Air India Boeing 787 Business Class food and beverage
The Air India hospitality begins before take-off, with a glass of buttermilk or watermelon juice on offer. Having quite enjoyed the watermelon juice on my earlier connecting flight, I was more than happy to indulge in a repeat.
After take-off, the crew make their way through the Boeing 787 Business Class cabin with the bar cart. While there's Champagne (Lanson Brut NV), I save that choice for later and go for a gin and tonic instead. It's served with a choice from a roving snack basket, from which I select the salted cashews.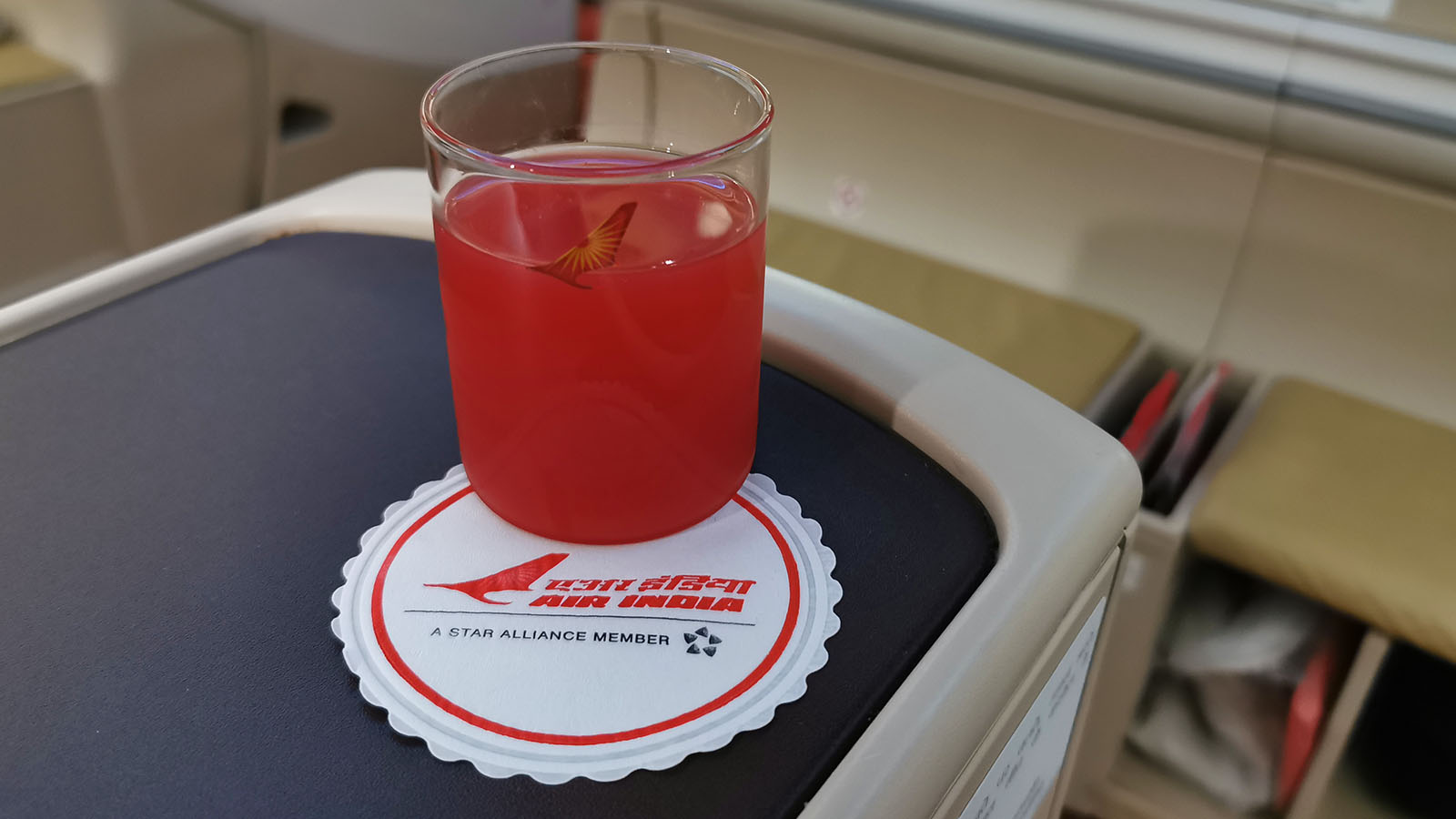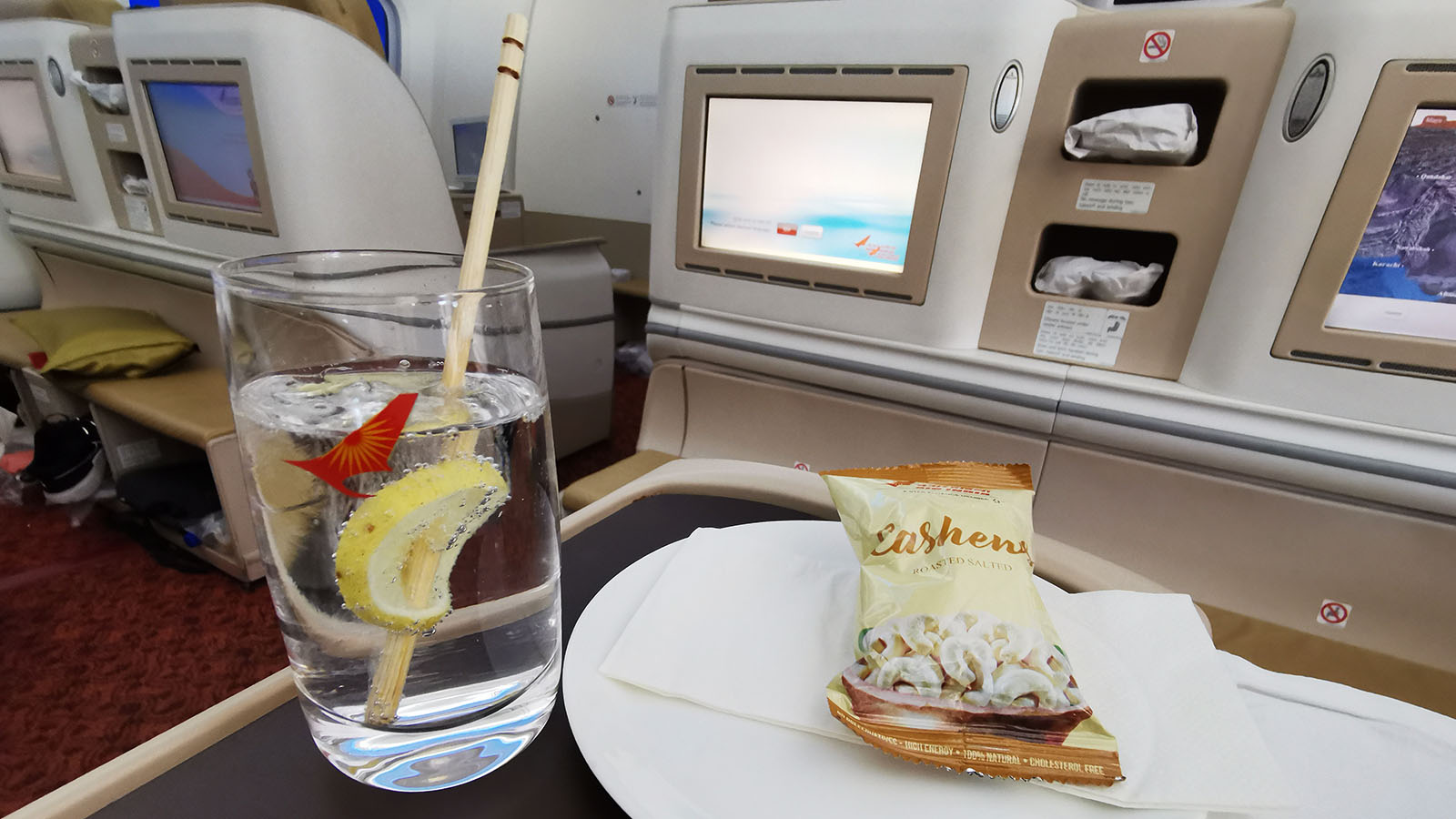 Lunch
Then it's time for the first meal. As you'll find right across India itself, vegetarian isn't a 'special meal' – it's a choice you can always expect.
Here in Air India Boeing 787 Business Class, appetiser choices are:
Vegetarian: Caprese salad with pesto and olives.
Non-vegetarian: Chicken mortadella salad with English mustard, potato, papaya fan, lettuce, cherry tomatoes and a parsley sprig.
I'd mainly been eating vegetarian food this trip and so continued that habit. While the Caprese salad was a small portion even for a starter, it was tasty nonetheless. There's also bread and butter on the side – and I take this chance to enjoy a glass of that Champagne.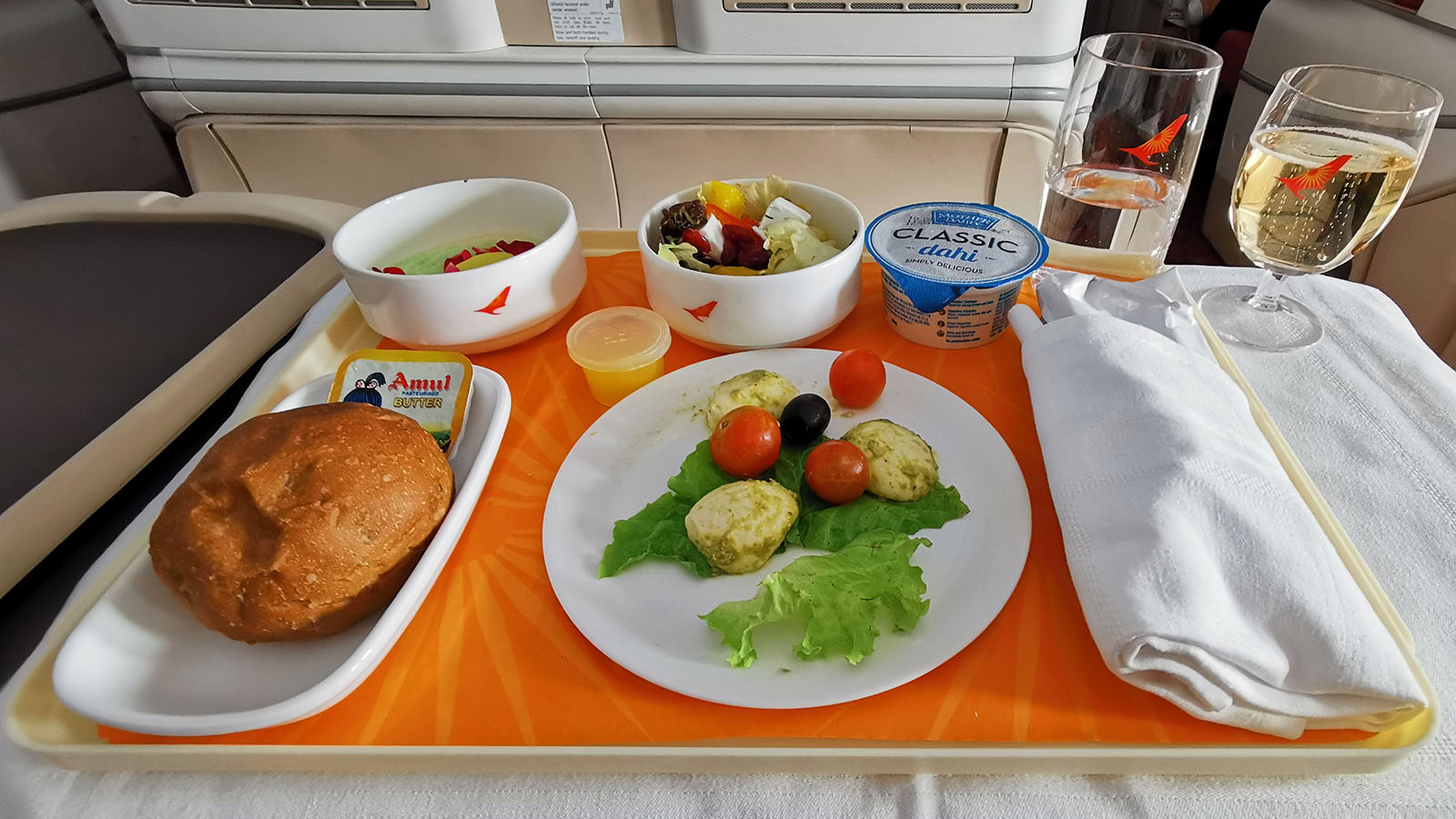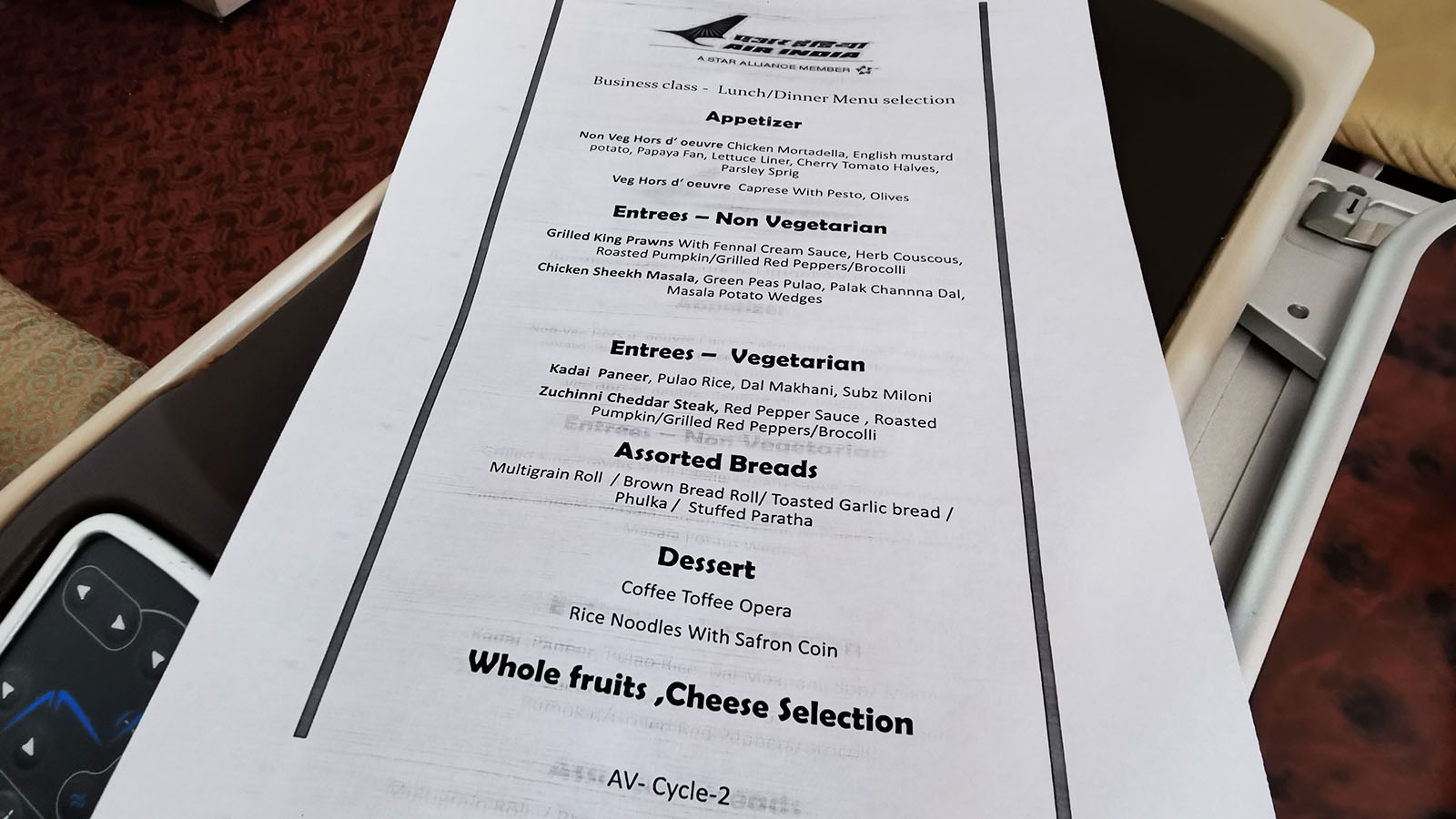 The main course
Orders for the main are also taken with the appetiser. Options on today's Air India Business Class flight are:
Vegetarian: Kadai Paneer with Pulao, dal makhani and subz miloni. That's a cooked and spiced cottage cheese with rice, a lentil-based dish and seasonal vegetables in garlic and spinach sauce.
Alternative vegetarian: Zucchini cheddar steak with red pepper sauce, roasted pumpkin, grilled red capsicum and broccoli.
Non-vegetarian: Grilled king prawns with fennel cream sauce, herb couscous, roasted pumpkin, grilled red capsicum and broccoli.
Alternative non-vegetarian: Chicken sheekh masala with green peas, Pulao, palak channa dal and masala potato wedges. That's chicken kebabs with rice as well as a mix of spinach, chickpeas and lentils. And of course, served with peas and those potato wedges.
The Kadai Paneer sounded like the most filling vegetarian choice and was also quite tasty. It comes with bread wrapped in foil to keep it warm, which was nice to mix with a little of everything. Having said that, I would have liked a choice over the side bread and dessert. The menu gave options for both, but when the meal trays arrived in the cabin, both had already been placed for everyone.
The rice noodle dessert provided was refreshing – I just had my eyes on the alternative, a coffee toffee opera cake, which wasn't to be.
Cheese and biscuits are available after the meal, so I had some to finish up. I then curled up and went to sleep – it'd been a long day already, and this bedtime got me closer to being back on Sydney time.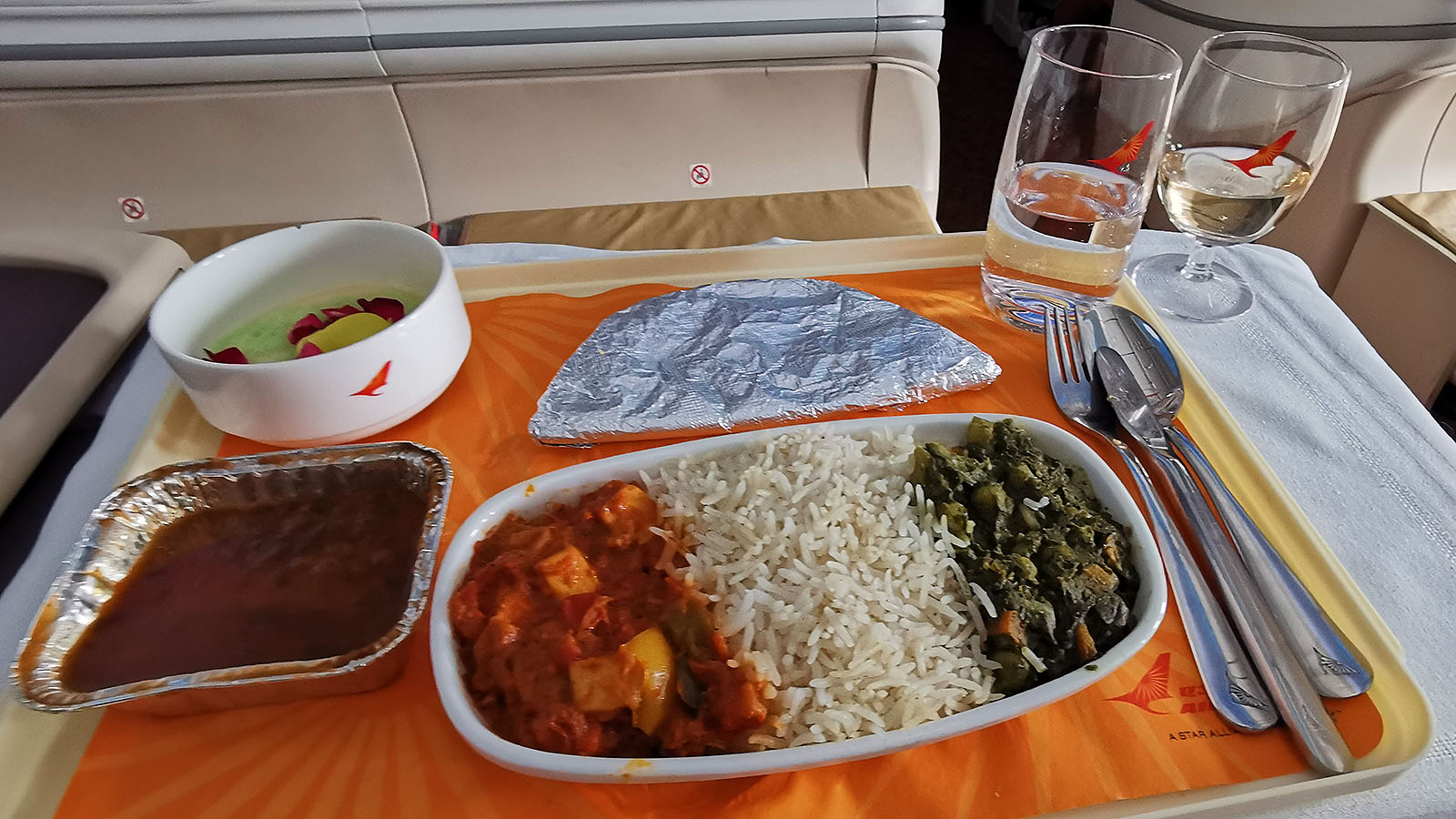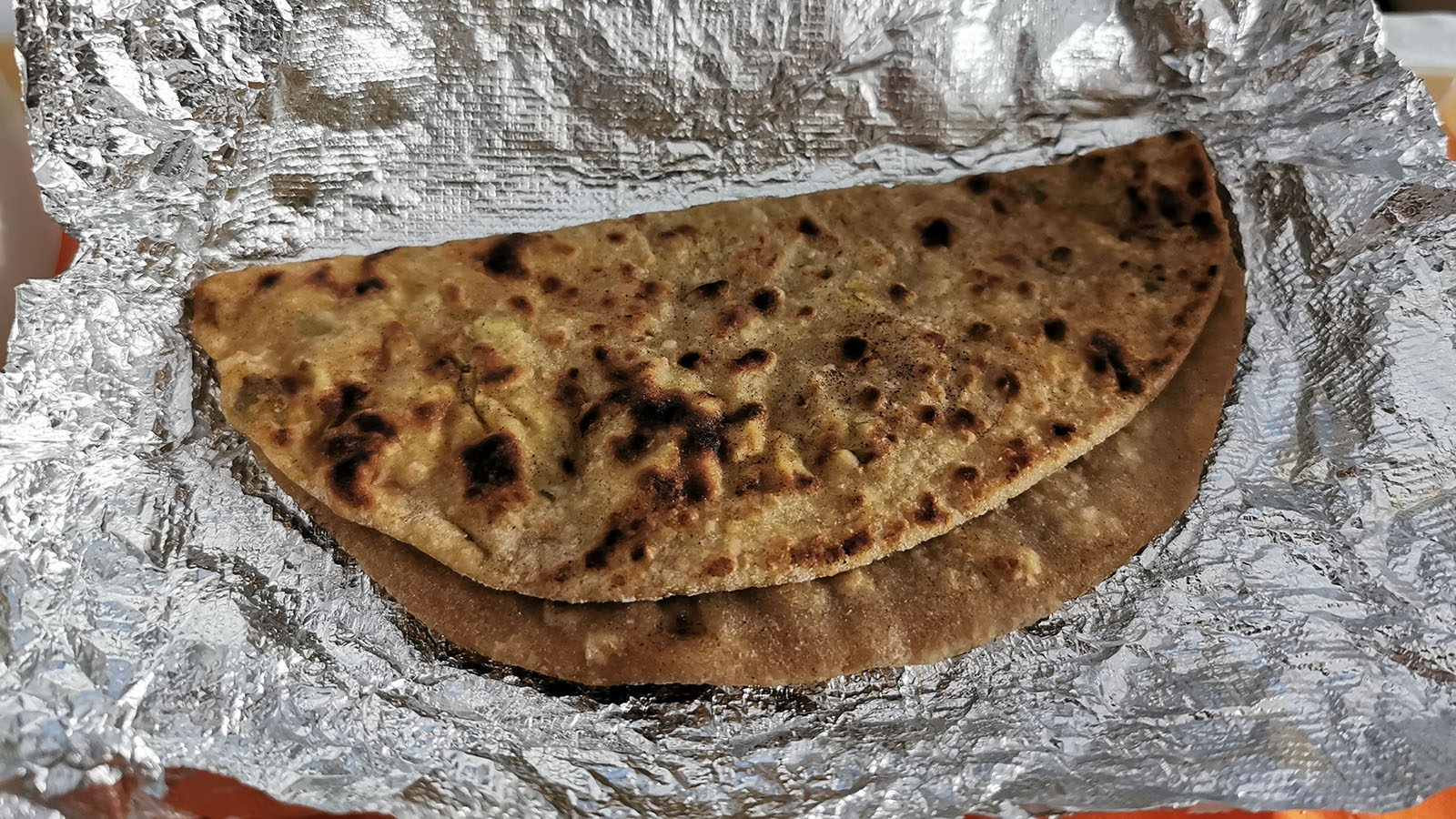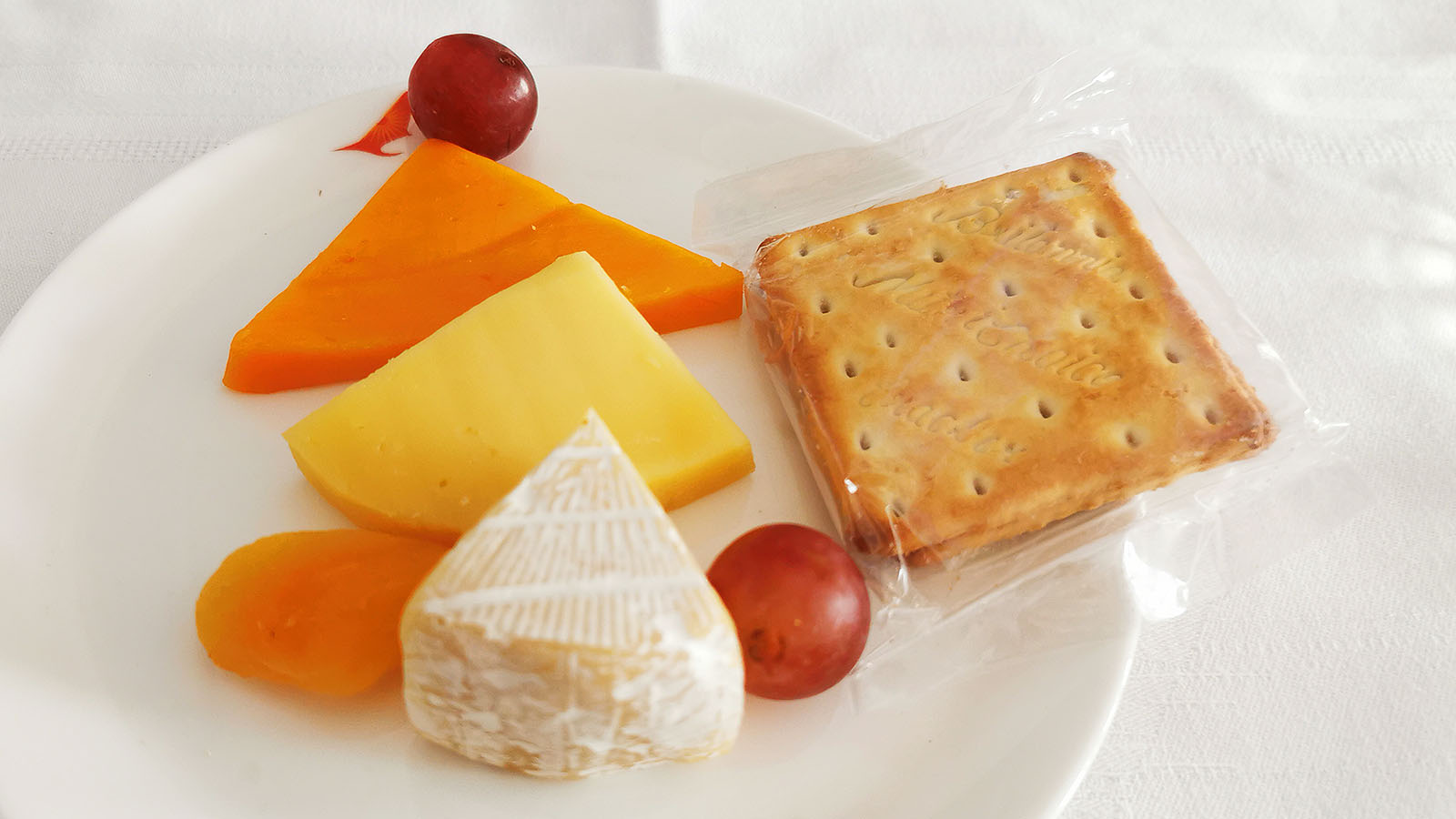 The next meal: just four hours later…
The main reason I book Business Class on overnight flights is to sleep. A 12.5-hour journey like Delhi to Sydney lends itself perfectly to a meal after take-off, a solid rest, and breakfast before a 7 am landing. But apparently, Air India doesn't see Business Class in the same way.
Rather than let passengers sleep, the cabin lights beam back to full fluorescent white just four hours after finishing the last meal. That's at about 1 am local time in Sydney: right when you'd want to be asleep to minimise jet lag.
With those lights disturbing my rest, I get up and think it must be time for breakfast. But then I check the time…
The crew confirm there'll be no breakfast service later in the flight – this is meal two of two. But I ask nicely if I can just eat my choice closer to landing, and they were very happy to accommodate. I just wish I'd been given that option sooner – and had been wearing an eye mask to stay asleep when the lights were cranked up.
That's definitely the game plan I'd adopt if taking this flight again.
Dinner #2 turned breakfast
Fast-forward to 5:15 am local time in Sydney, and it's a slightly more reasonable hour for a pre-arrival breakfast. Drawing from that 'midnight menu', my meal choices, are:
Vegetarian: Chickpea and paneer wrap with masala steamed corn.
Alternative vegetarian: burrito bowl.
Non-vegetarian: Chapata murg tikka (charcoal-grilled chicken) wrap with masala steamed corn.
Alternative non-vegetarian: burrito bowl (meat not disclosed).
On the side with all options: mini Idli chaat and an apple cinnamon cake.
I go for the vegetarian wrap, along with the side bites. Unfortunately, the wrap is quite dry and flavourless, so I don't finish it. The apple cinnamon cake is a more pleasant way to conclude.
I also order a coffee to help wake me up. While not detailed on the menu, there's more to choose from than your typical filtered brew. My cappuccino is surprisingly decent, even if it doesn't fill the cup.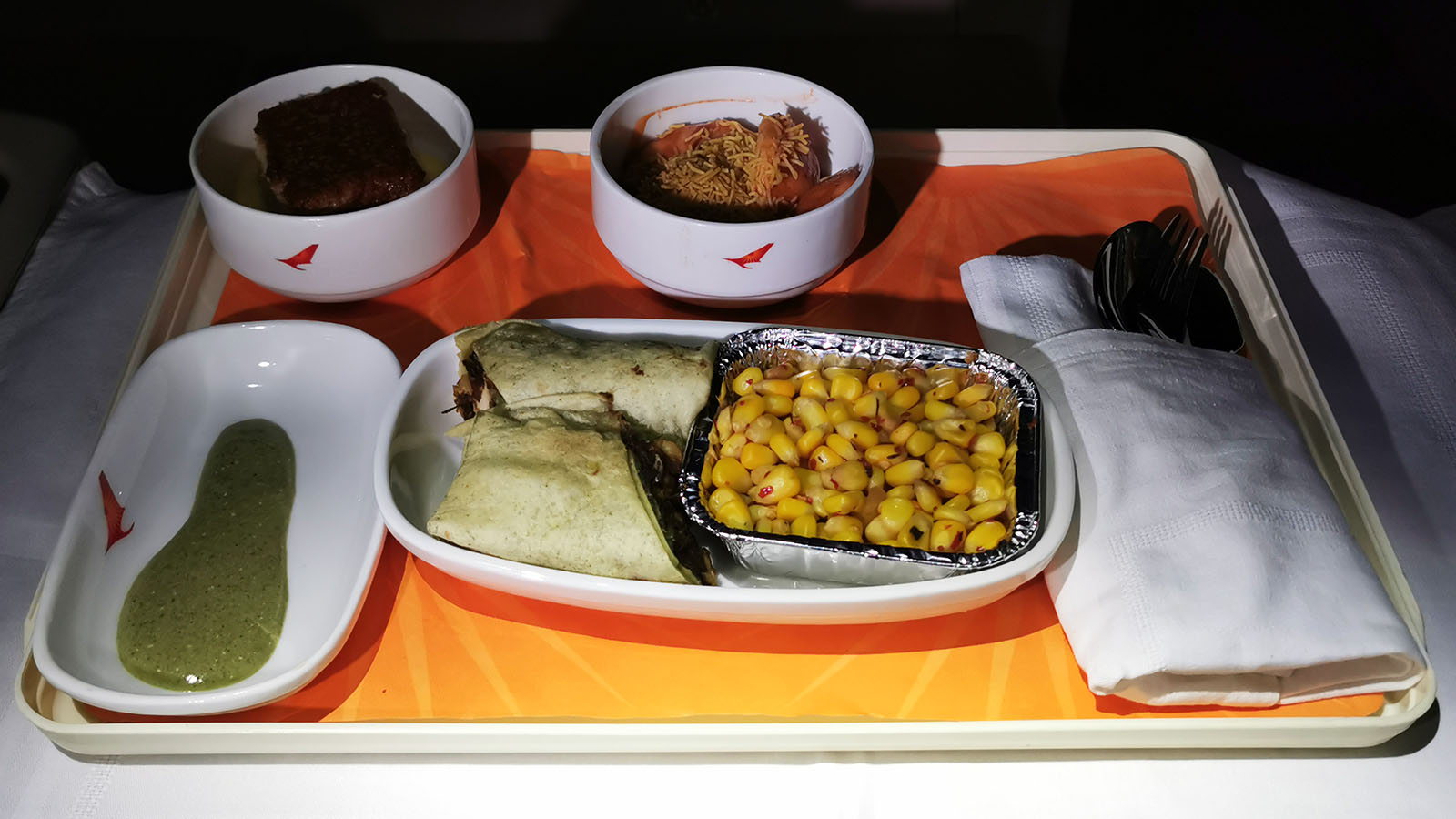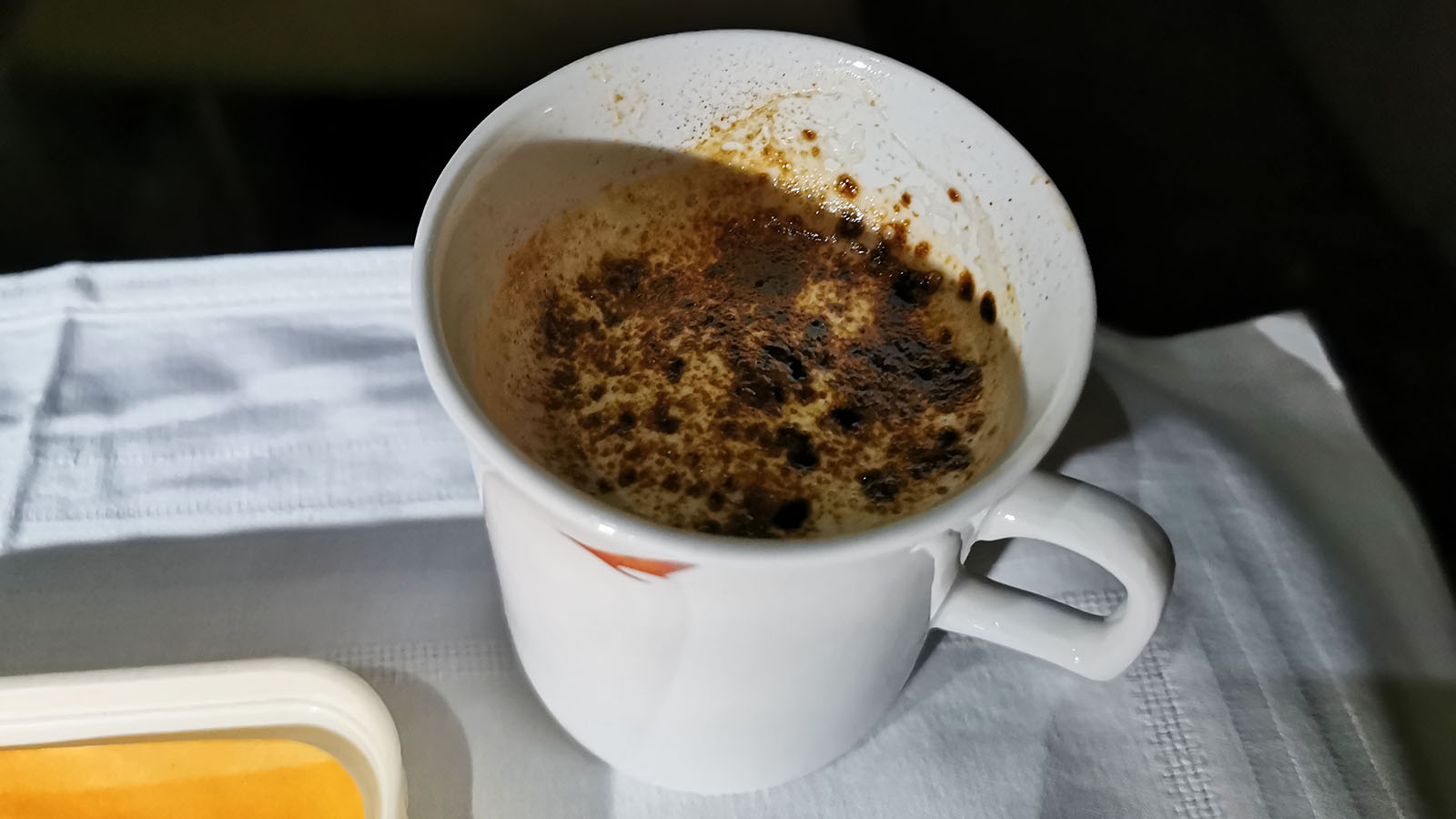 On another note, it's a shame that the menus provided are poor-quality photocopies on plain A4 paper. While that's better than no menu at all (as was the case with the wine list, or lack thereof), it certainly doesn't convey a premium feel in Business Class.
Air India Boeing 787 Business Class service and entertainment
While aspects of the meal could certainly be improved, the service itself pleasingly has more of a premium tilt.
Before take-off, the crew stop by to deliver an array of amenities. Those begin with reading material, with a reasonable number of English-language picks among the selections. There's also a well-stocked amenity kit, a blanket, socks, slippers and pyjamas. This is an overnight flight, after all.
Throughout the 12.5-hour journey, I rarely have to touch the call bell. It proves useful when the cabin is dark – such as to say 'ready for breakfast' – but otherwise, the crew are responsive to glances and empty glasses.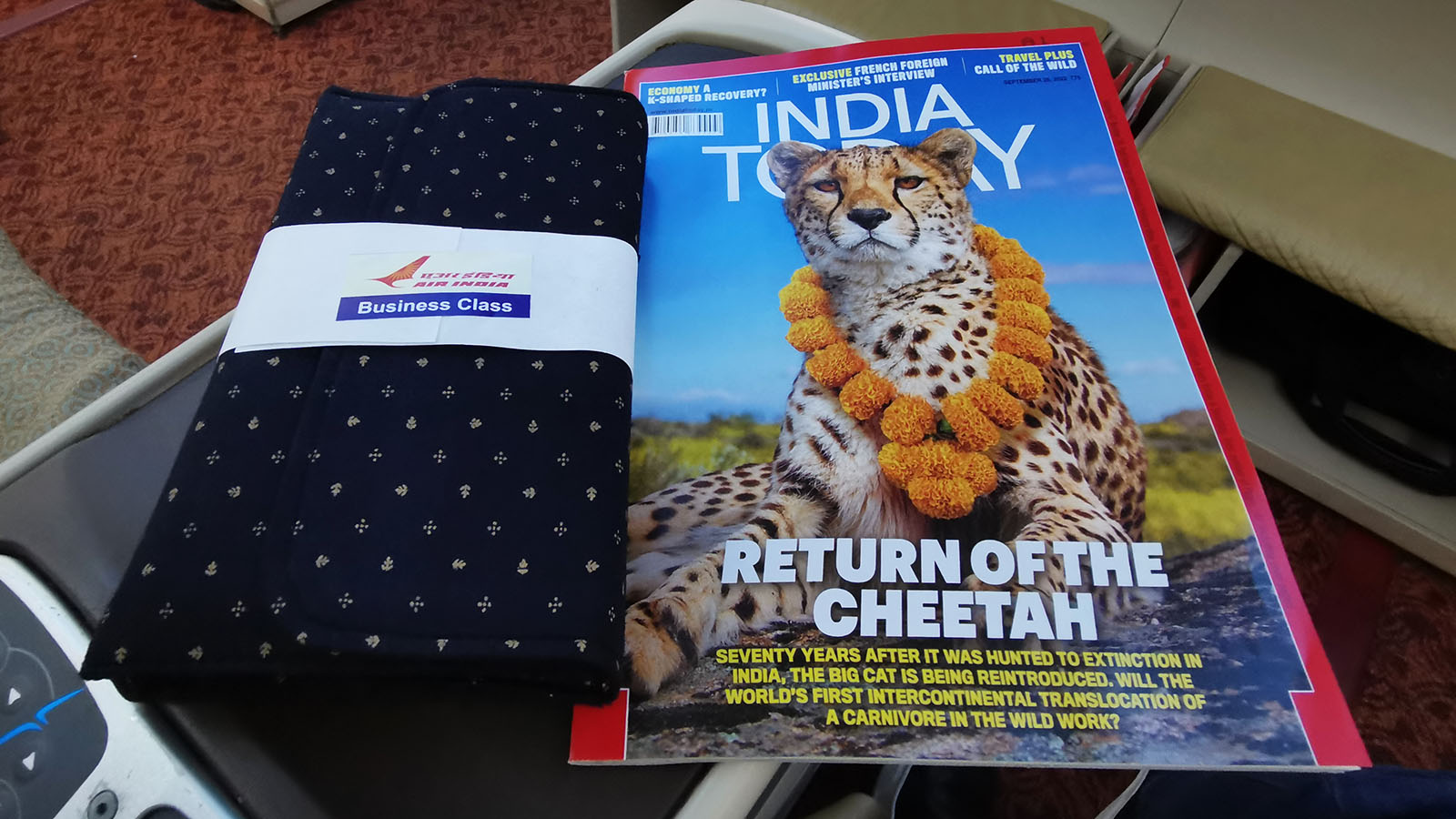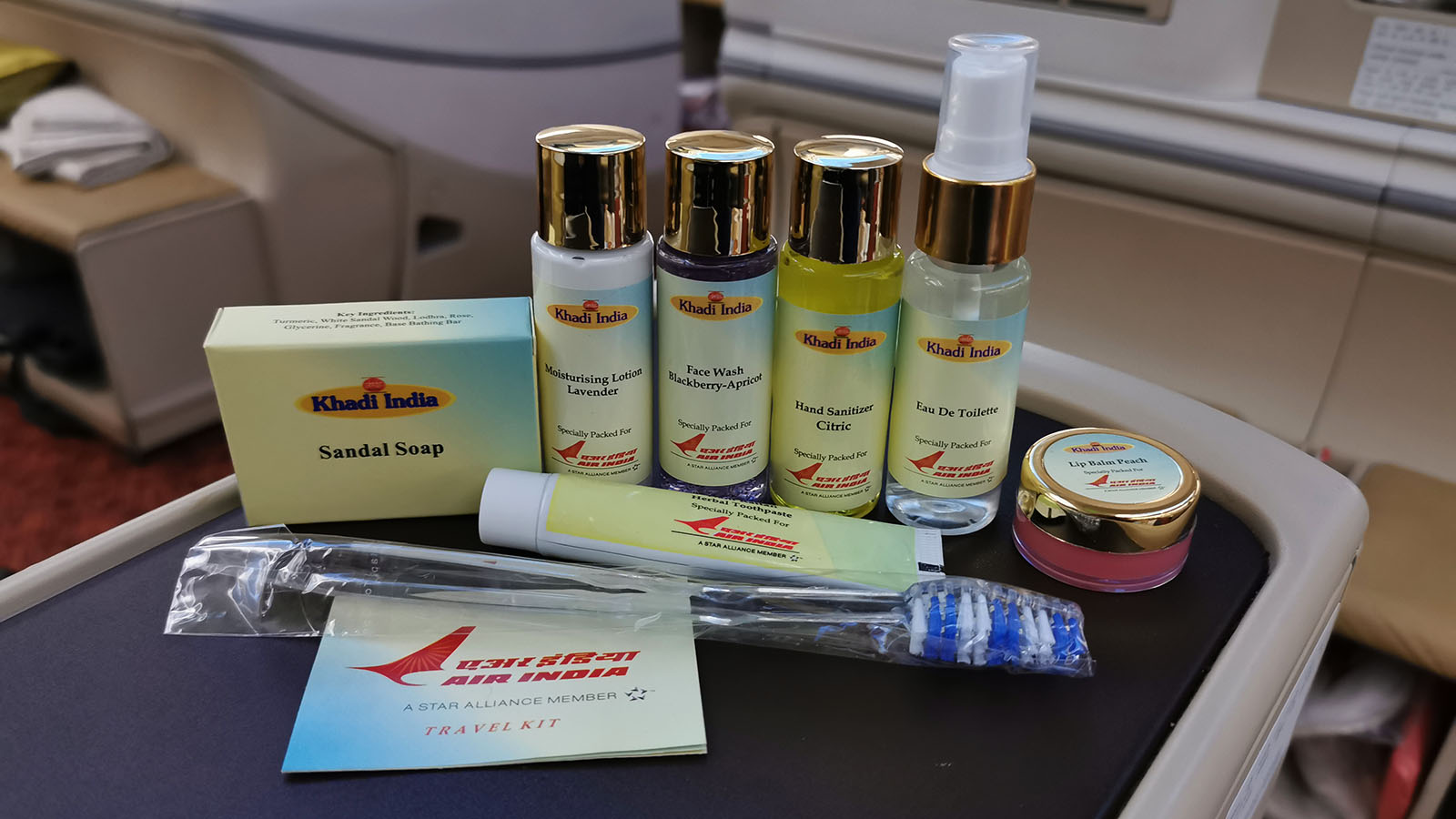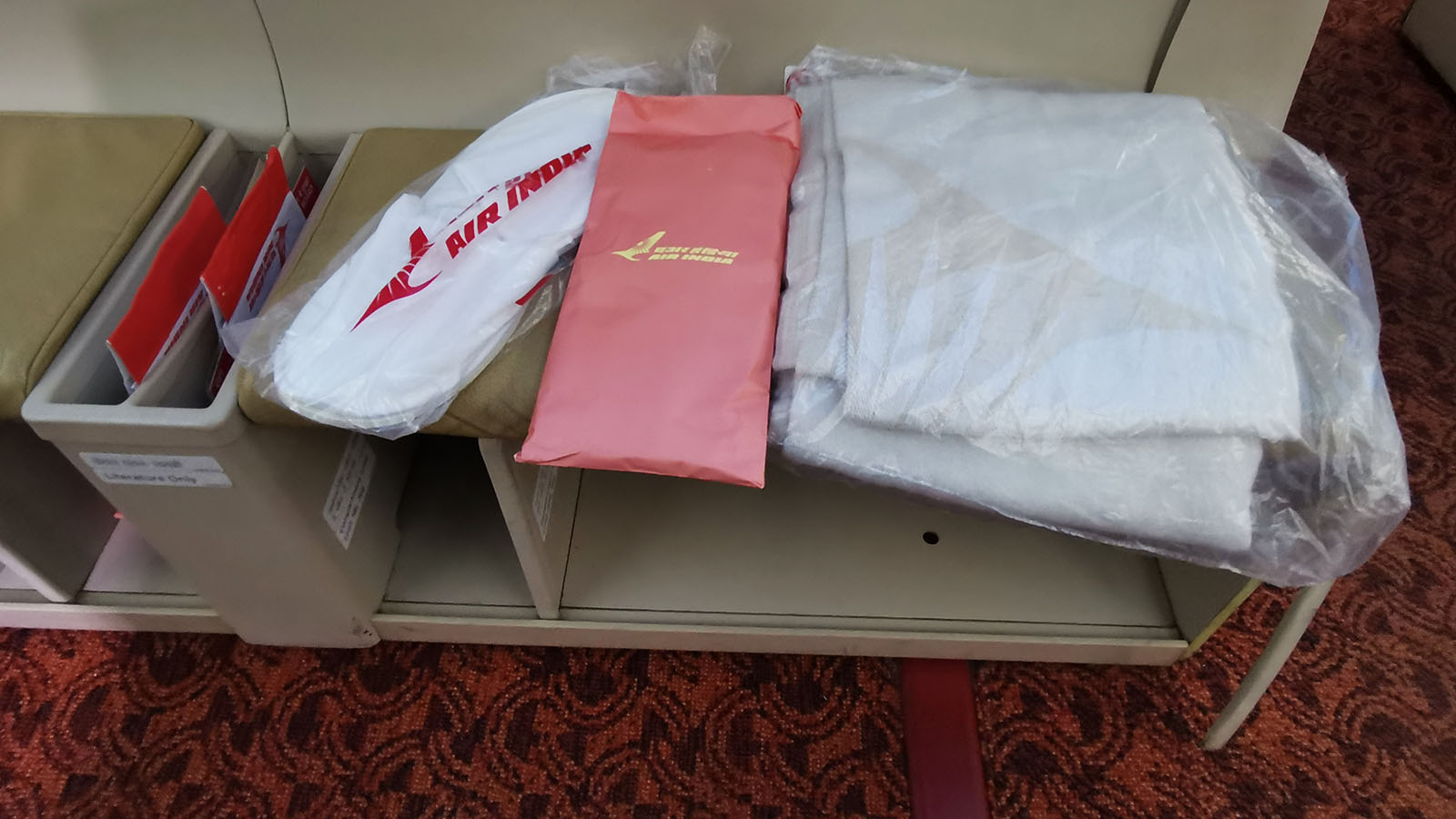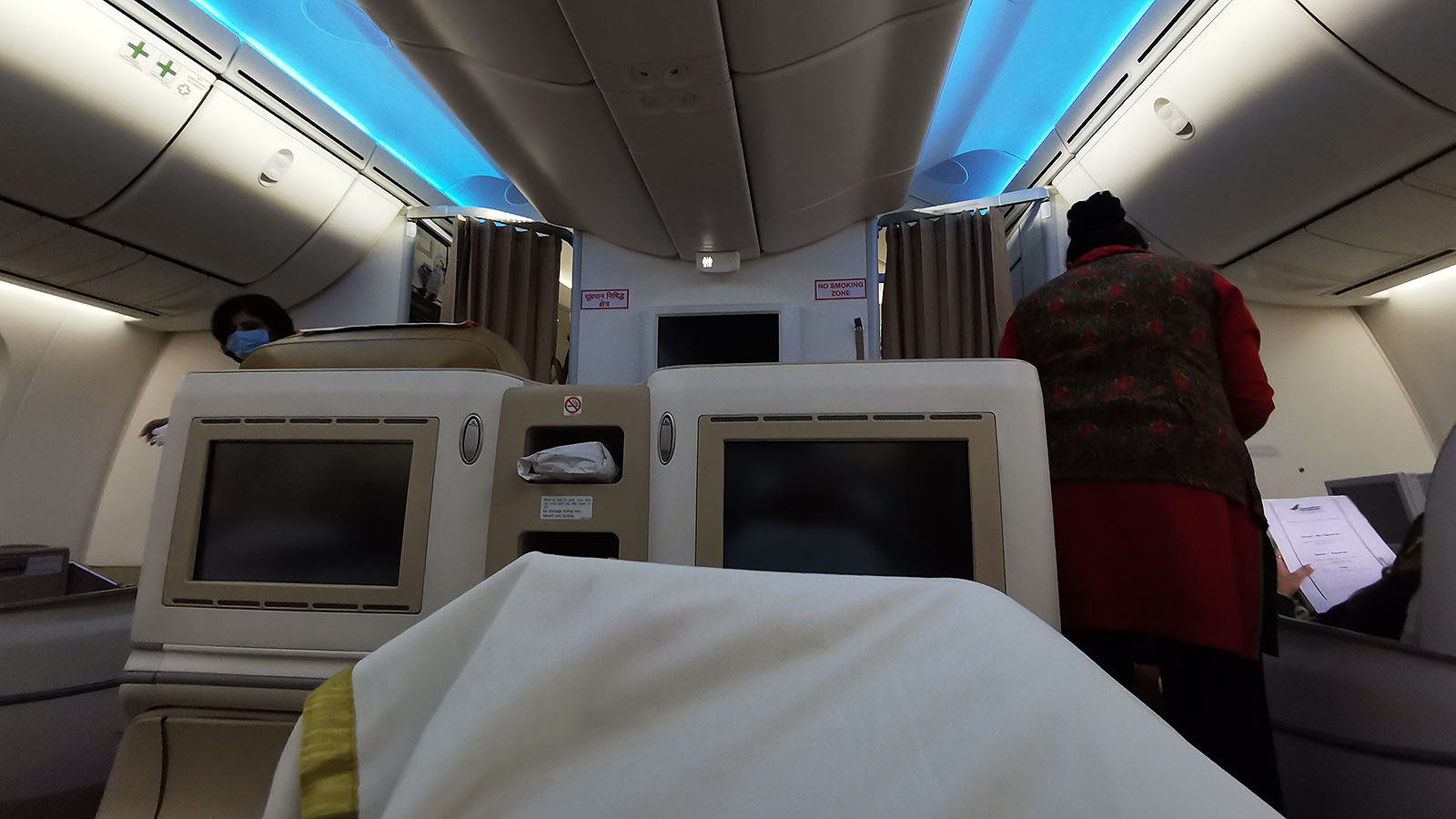 On the entertainment front, Air India's Boeing 787s provide 15.1-inch widescreen panels in Business Class. They're fixed in place, except at the bulkhead where they fold out.
The supplied over-ear headphones are okay, but I always pack my own premium pair. To the content itself, selections are rather light. The 'music' and 'games' categories are devoid of any material, while 'Hollywood Latest' stocks just four films.
I pass some time by enjoying one of those titles, Long Story Short. But having made its debut in February 2021, it's not exactly a fresh release. At first, it also appears there are no TV shows in the catalogue. But I eventually find them tucked away within the 'Video Features' category in the corner of the home screen.
I catch an episode of Shark Tank (USA) as we prepare for landing. It's a light way to wrap up the trip, but was oddly encoded in '4:3 widescreen letterbox' format. For the non-tech-heads, that generated an unnecessary big black border right around the entire screen, almost like a picture frame. This didn't make for the easiest viewing.
Service concludes with another safety demonstration prior to landing. That's certainly a new one for me.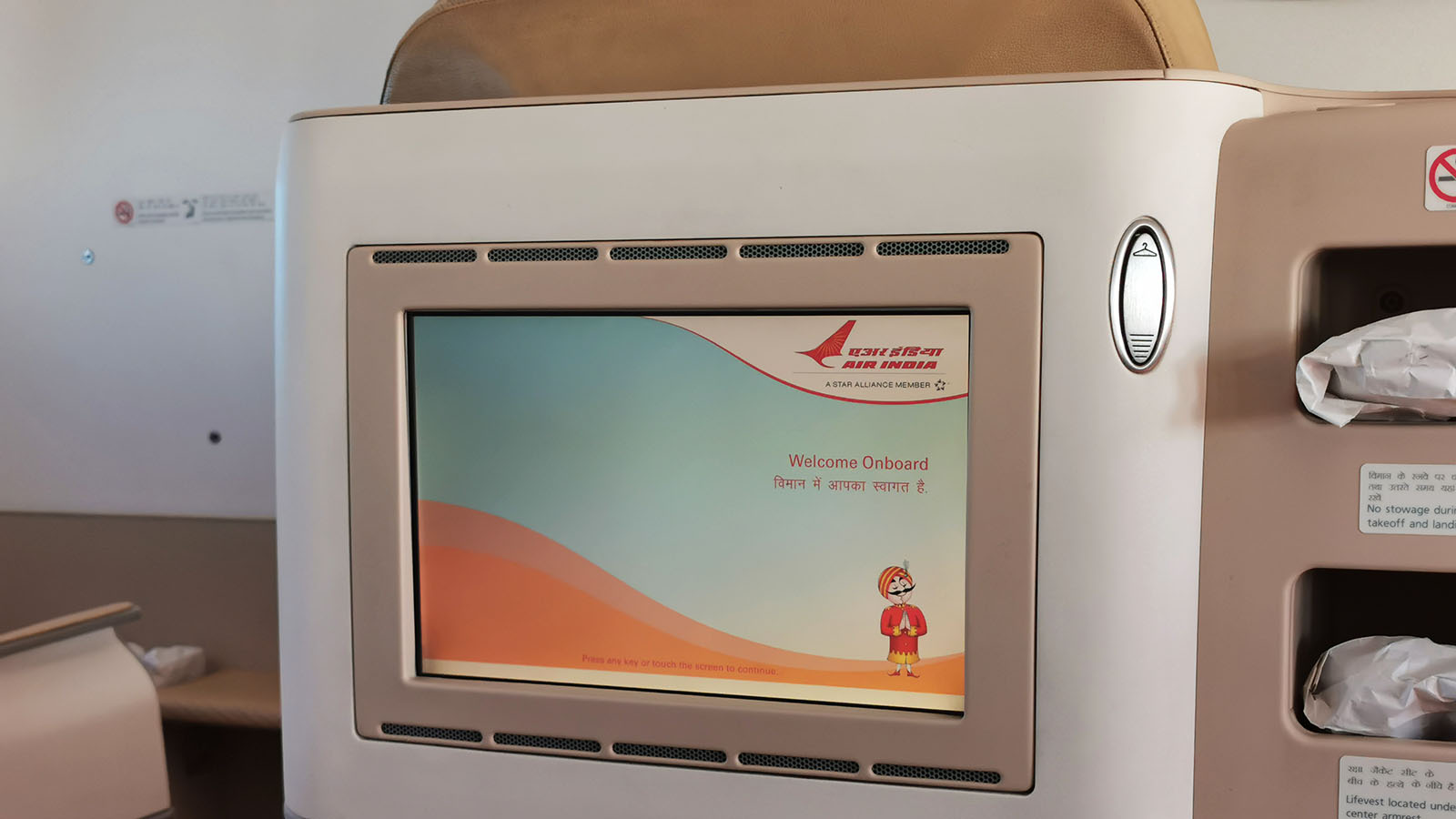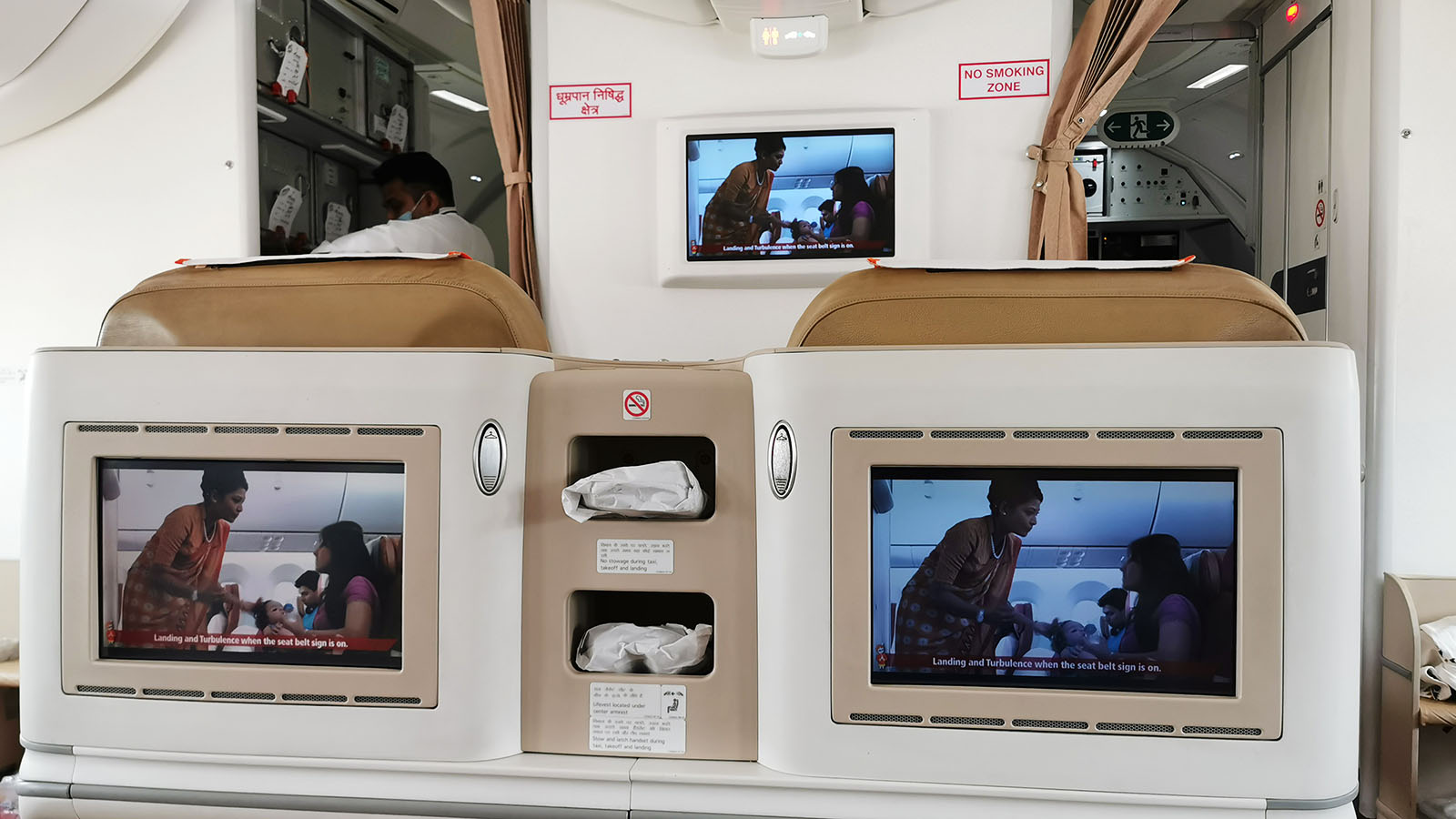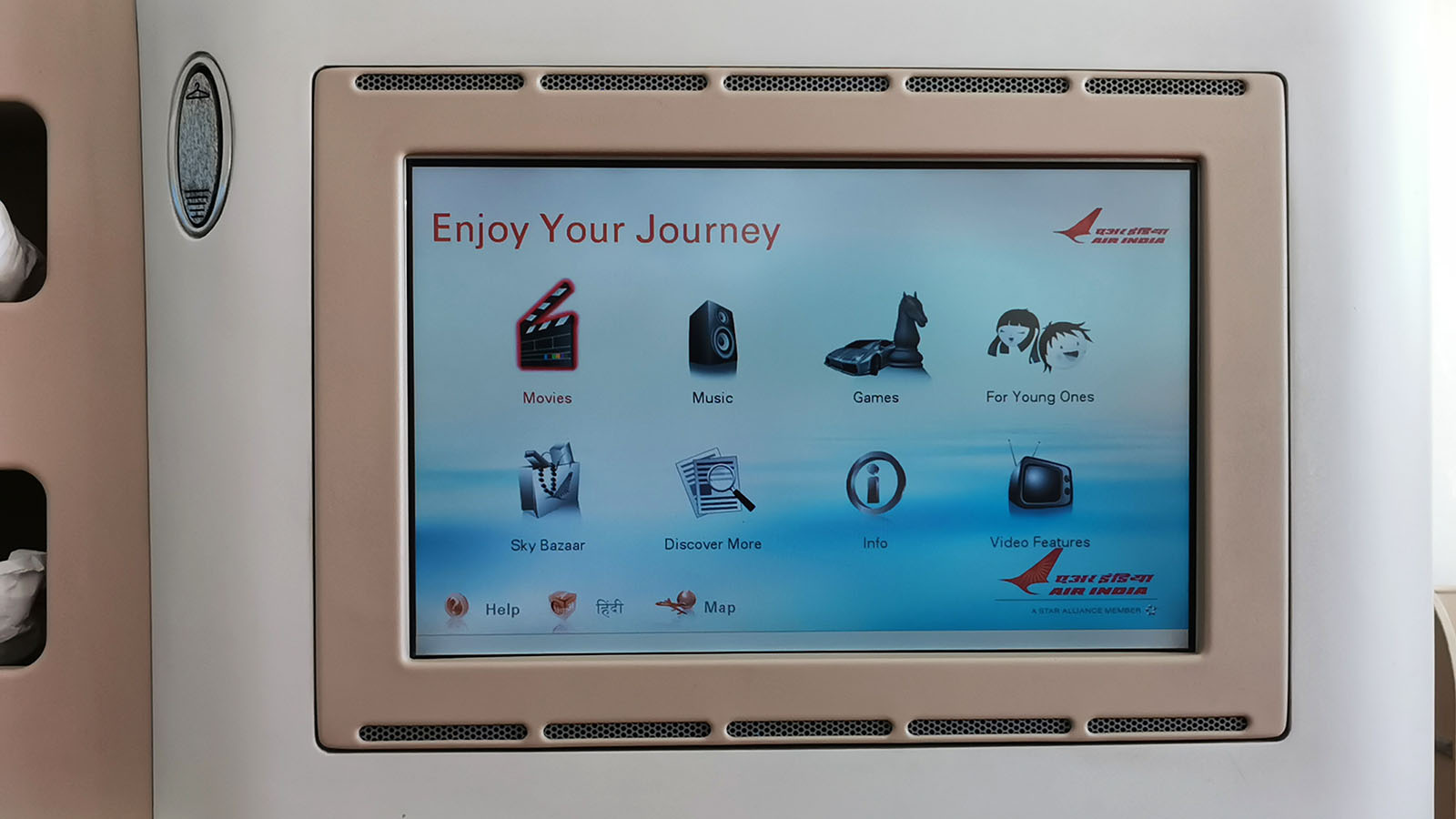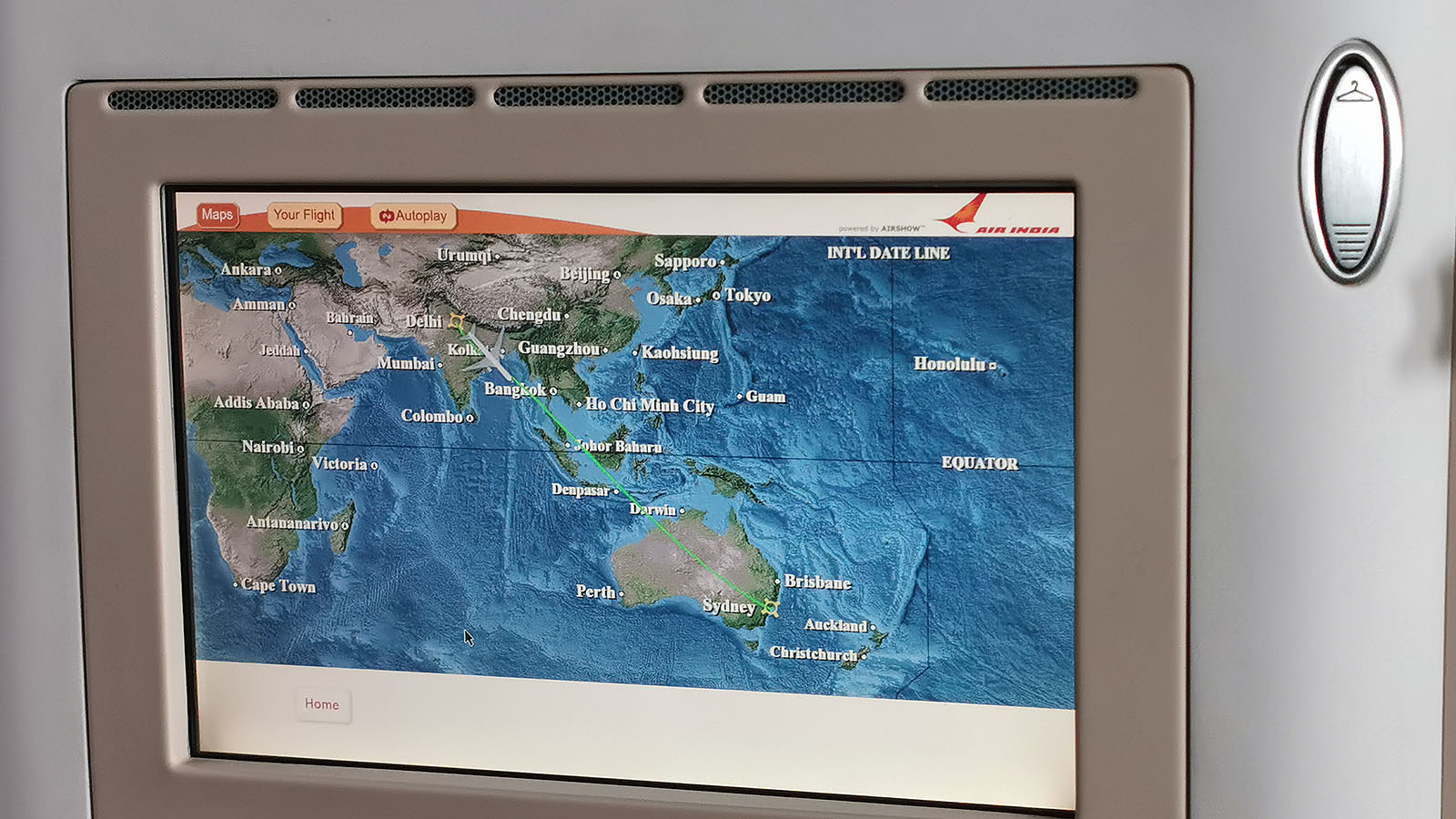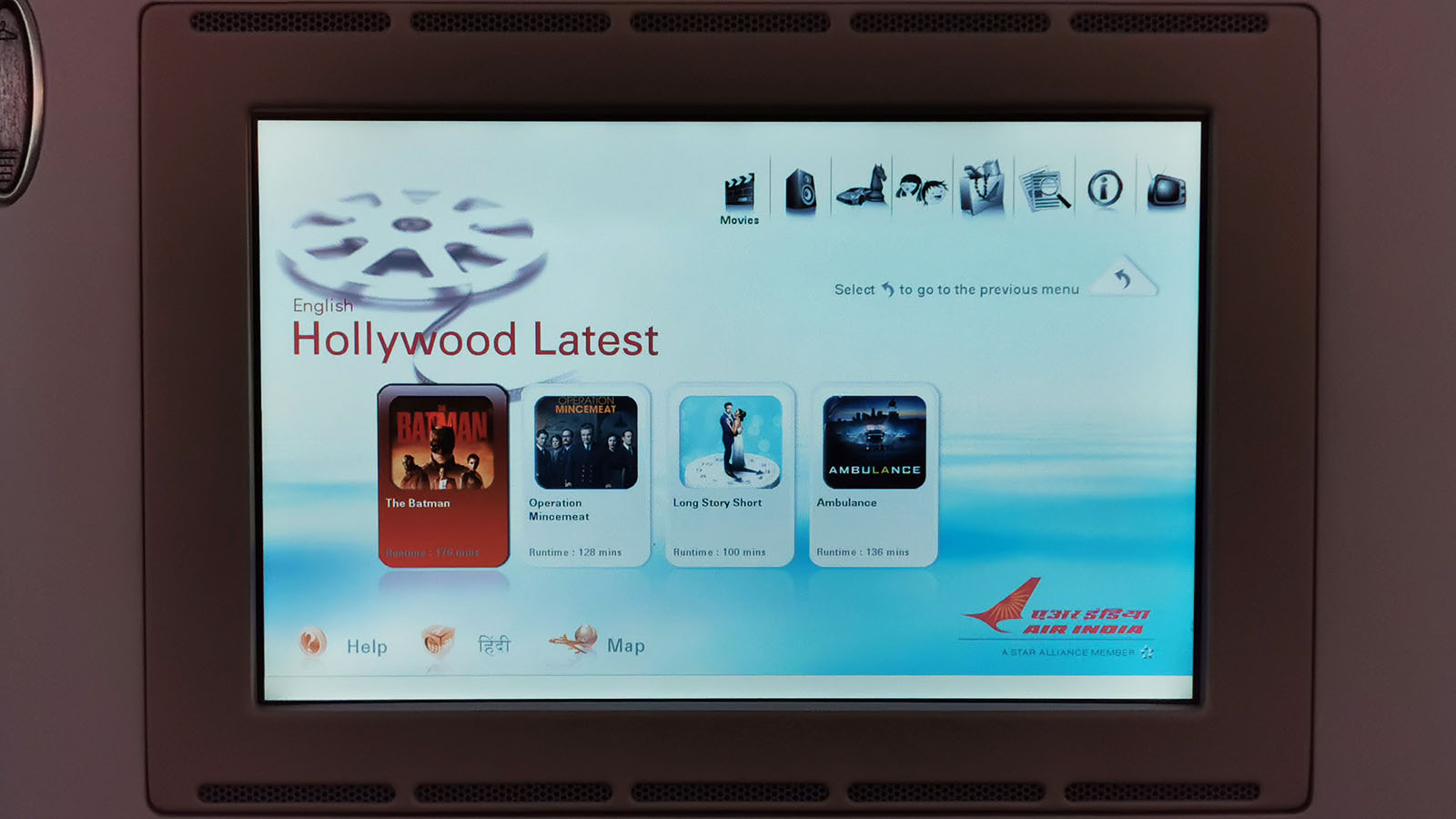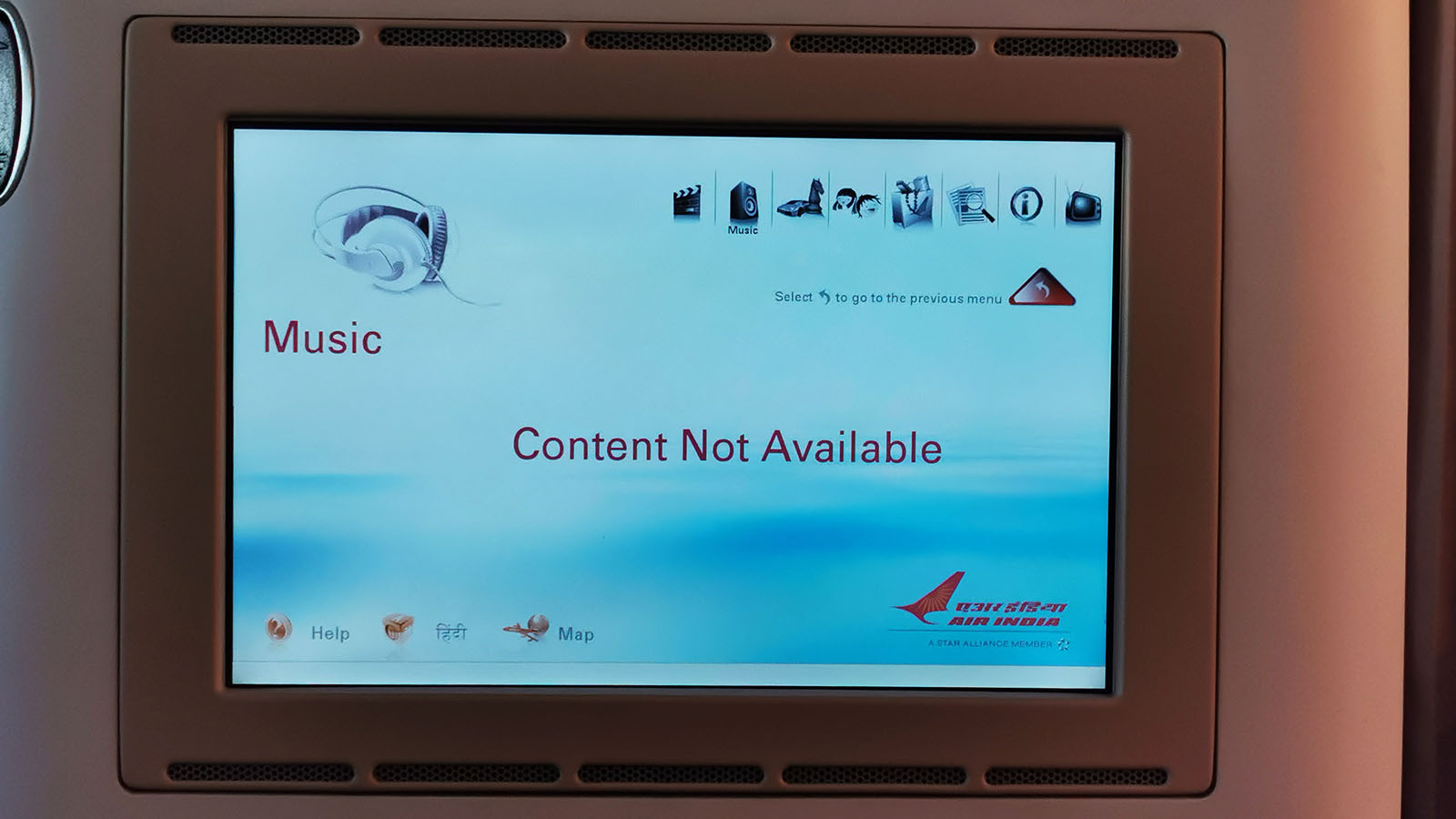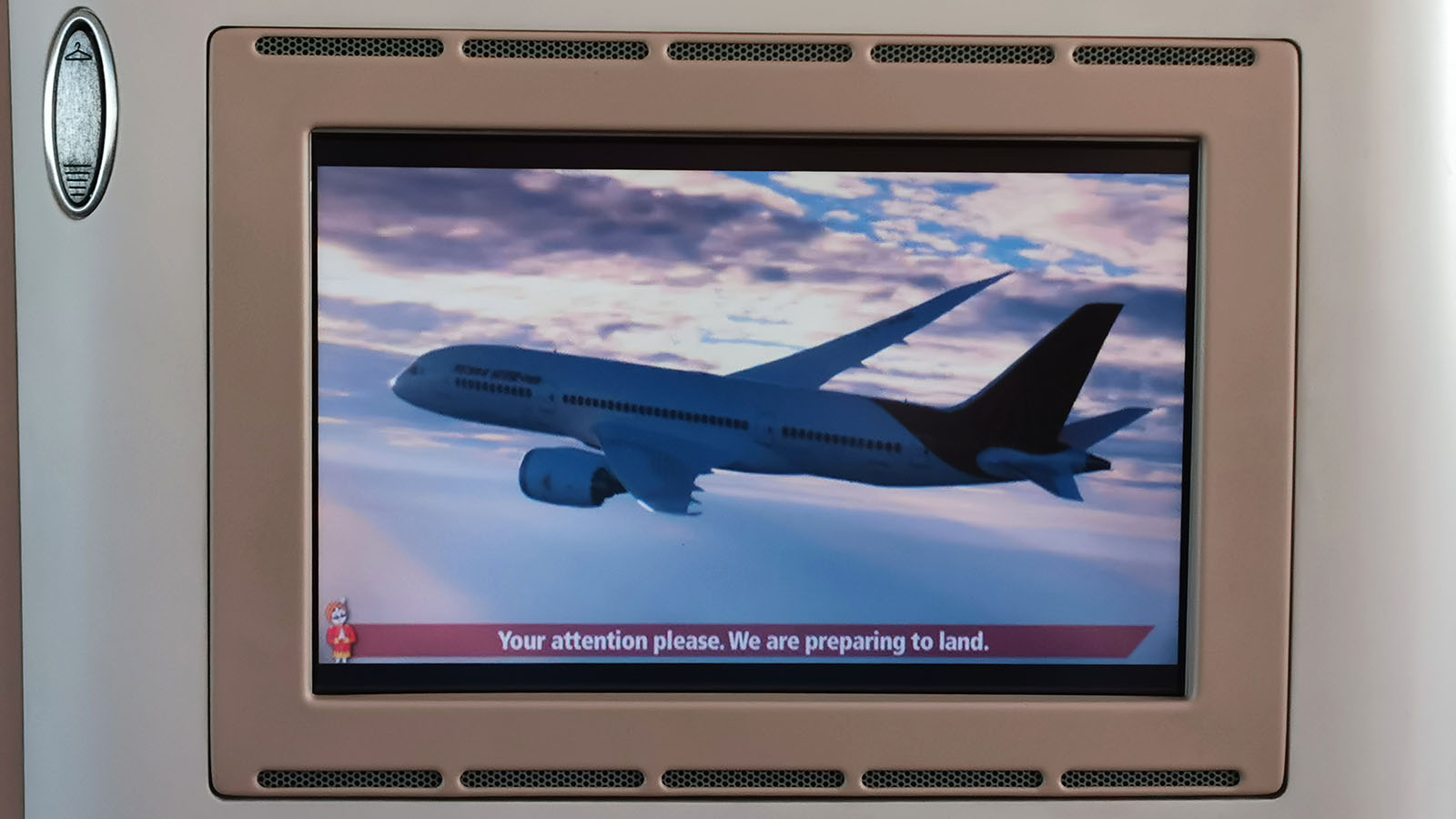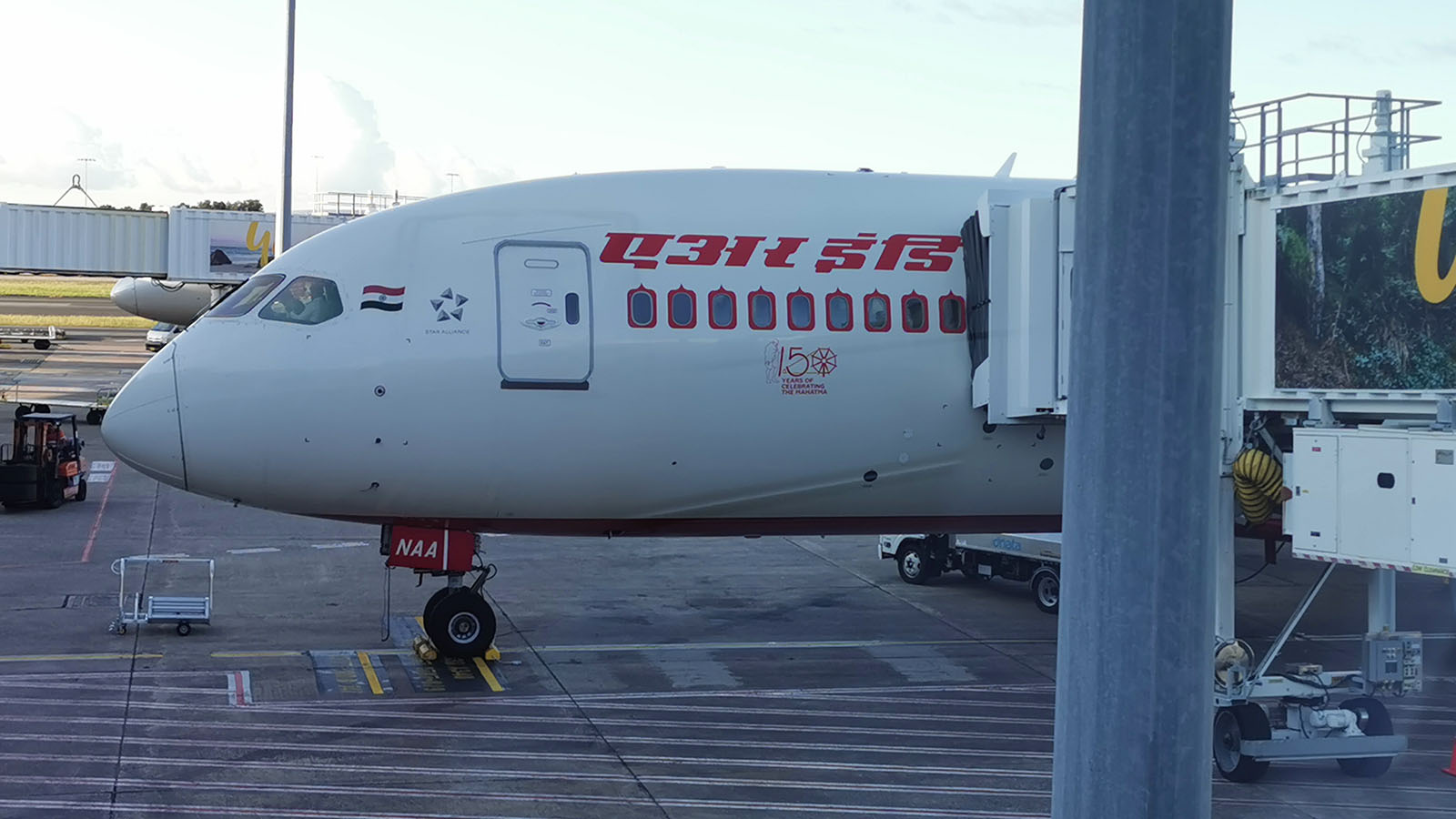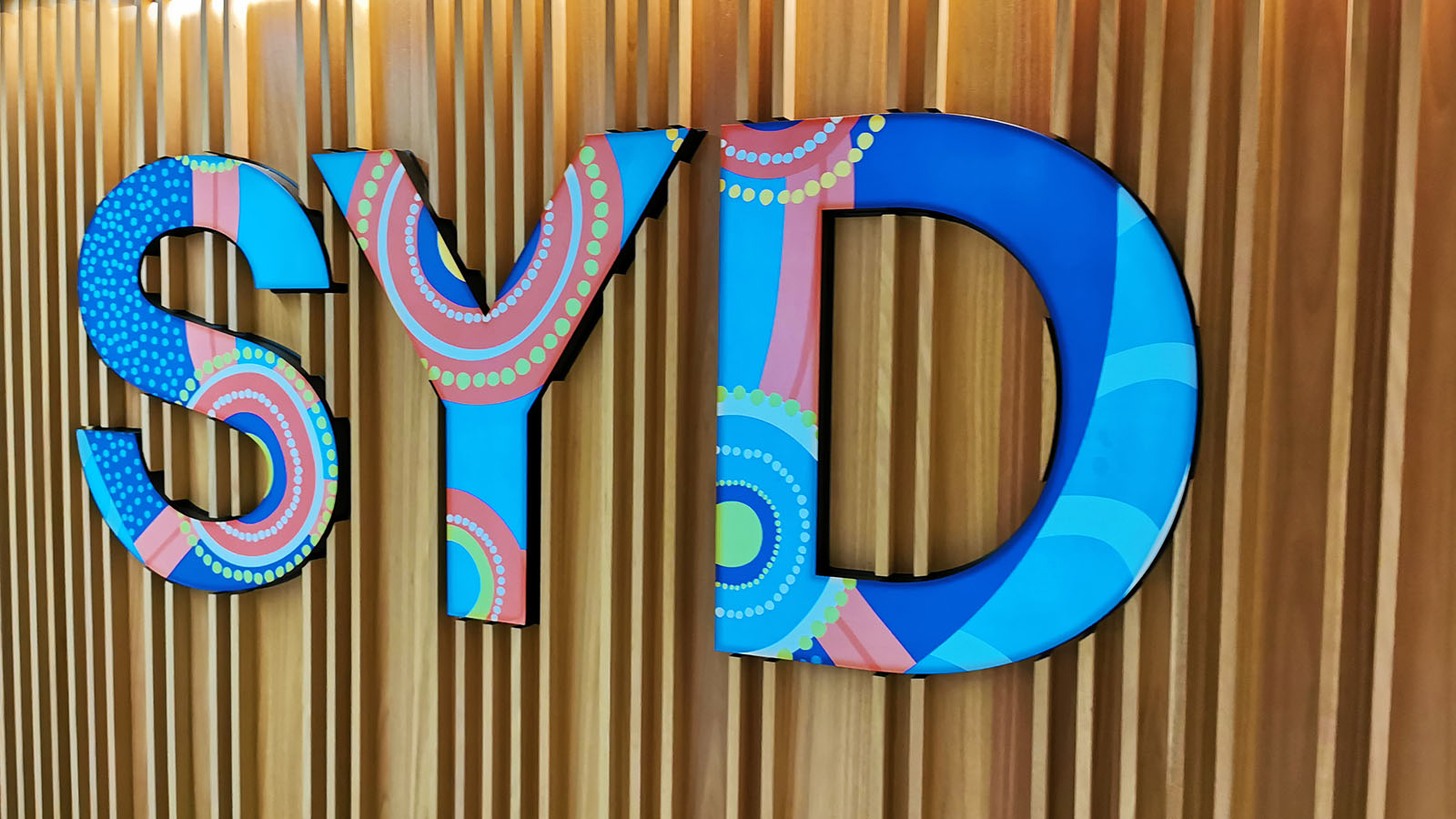 Summing up
I didn't know what to expect from Air India's Boeing 787 Business Class. But after a surprisingly good Air India domestic Business Class experience that same day, my expectations were somewhat heightened before boarding. As it turns out, they shouldn't have been.
On the plus side, Air India is now the only airline with non-stop flights between Delhi and Sydney, after Qantas withdrew from the route. Qantas still flies Delhi-Melbourne – but if you're jetting between Delhi and Sydney, Air India is the fastest way to get to your destination.
Service on this international leg was also of a high standard. The crew were clearly doing what they could to improve the experience, and it was nice of them to provide flexibility with the timing of that second meal.
But in terms of the departure lounge, as well as the Business Class seat and the inflight entertainment, there's room to improve. The 'full lights on' midnight meal should also be reconsidered – or at the very least, advised before passengers head to bed so they can better-plan their flight.
That's not to say I wouldn't fly Air India again: especially now that I know what to expect. But when booking using KrisFlyer miles, the cost is certainly on the higher end. You're effectively trading greater comfort on another airline for the convenience of a direct flight with Air India.
Delhi-Sydney on Air India now costs 110,000 KrisFlyer miles in Business Class, one-way. But to make the same journey on Singapore Airlines via Singapore, you'd part with only 92,500 KrisFlyer miles instead. Flying Qantas from Delhi to Sydney via Melbourne also clocks in at 94,900 Qantas Points in Business Class.
In short, Air India is a passable long-haul option to keep up your sleeve, but it wouldn't be my first choice unless convenience was the deciding factor. I feel that with a little effort and determination, Air India could be twice as good as they are today. So for now, it's 2.5 stars from me.
Feature image courtesy of Air India. All other photography by Chris Chamberlin, who travelled at Point Hacks' expense.
Also read: The Taj Mahal beckons: visiting India's stunning masterpiece
---
Stay up to date with the latest news, reviews and guides by subscribing to Point Hacks' email newsletter.
Air India Boeing 787 Business Class (Delhi – Sydney)
was last modified:
November 2nd, 2022
by