Nothing says India like the Taj Mahal. People travel from far and wide to marvel at its magnificence, and it's easy to understand why.
We've all seen it in photos, and maybe in a documentary or two. But what's it really like to visit the Taj Mahal for yourself, and how can you make the most of your time here? With both Qantas Points and KrisFlyer miles to spend, I packed up and jetted off to India to find out.
Welcome to one of the Seven Wonders of the World. It doesn't get much better than this.
Getting to Agra, India
While you might know the names of many larger Indian cities like Delhi, Kolkata and Mumbai, the Taj Mahal resides in one that's lesser-known: Agra. At first glance, it can seem difficult to get here, given that Agra doesn't have its own international airport – just a smaller one serving Indian domestic passengers.
But it's quite straightforward. As a first-time visitor to India, I found it simplest to jet from Sydney straight to Bengaluru in the country's south. Flying Qantas Business, this cost 94,900 Qantas Points plus $212 in taxes and fees, one-way.
From Bengaluru, I hopped aboard an IndiGo domestic flight direct to Agra Airport. While IndiGo is a new Qantas partner, Bengaluru-Agra flights aren't yet part of that Qantas-IndiGo tie-up. So I booked a cash fare to get me here. At about AU$350 return including checked baggage and inflight meals, it's both super easy and easily affordable.
Once Agra gets added to Qantas' codeshare map, you'll be able to earn and spend Qantas Points on those Bengaluru-Agra flights. That's only possible when flying with IndiGo on a QF flight number – so while booking IndiGo direct didn't earn any points, it was still a comfortable way to fly.
As an alternative, you can fly into Delhi from abroad, with Qantas and Air India offering direct flights from Australia. Onwards from Delhi, you can't fly directly to Agra, but it's about four hours by car or a little over five hours by train.
Whatever you do, I'd recommend pre-booking a driver through your hotel. When you're arriving at an unfamiliar airport or railway station, it really takes the hassle out of the experience. Your hotel can also help arrange a trusted local guide – and that's exactly what I did.
Hiring a guide wasn't very expensive, either. For the whole day, it only cost ₹7,500, plus ₹1,500 in obligatory tips for the guide, driver and the concierge who lined everything up. All told, that's about AU$174: a real steal. Even the airport limousine transfers were cheap here – roughly AU$24 each way. Money well spent.
Catching my first glimpse of the Taj Mahal
I'd booked my Taj Mahal ticket online in advance, and it certainly made things easier on my trip. But when my guide collects me from the hotel, he has a better idea for the first stop in Agra: Mehtab Bagh park.
Why would we go there, when the Taj Mahal itself is ready and waiting for me to step inside? Simple: because from Mehtab Bagh, you can see the Taj in all its glory. In fact, when we visit, we're the only people there. It's a real hidden gem: and that's exactly why you hire a guide, for that local knowledge.
Thanks to this tip alone, I practically have one of the Seven Wonders of the World to myself to admire. Seeing it from a distance makes me realise just how big the building is. Even with my camera's long zoom lens, people look like ants compared to the majestic structure behind them.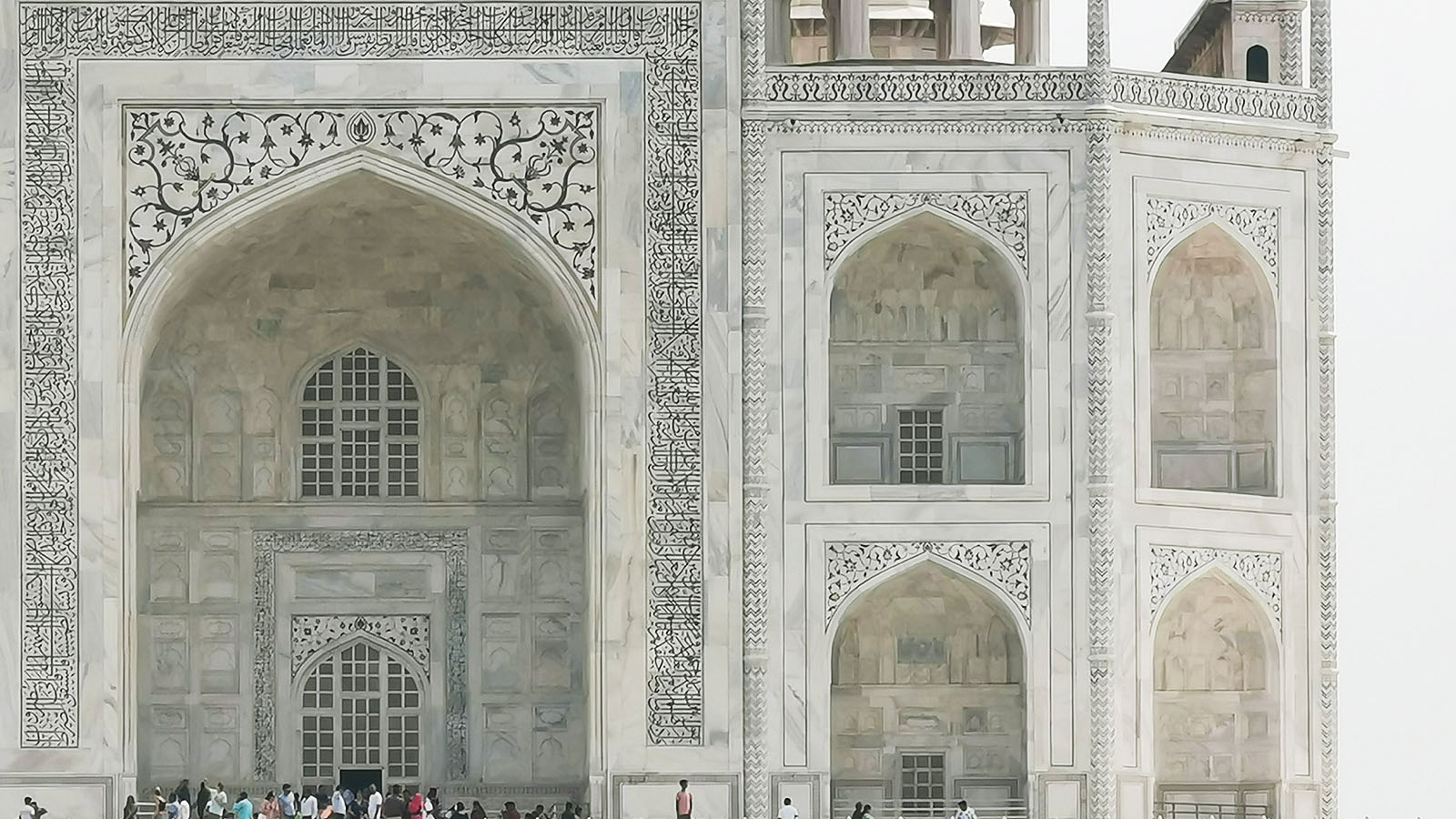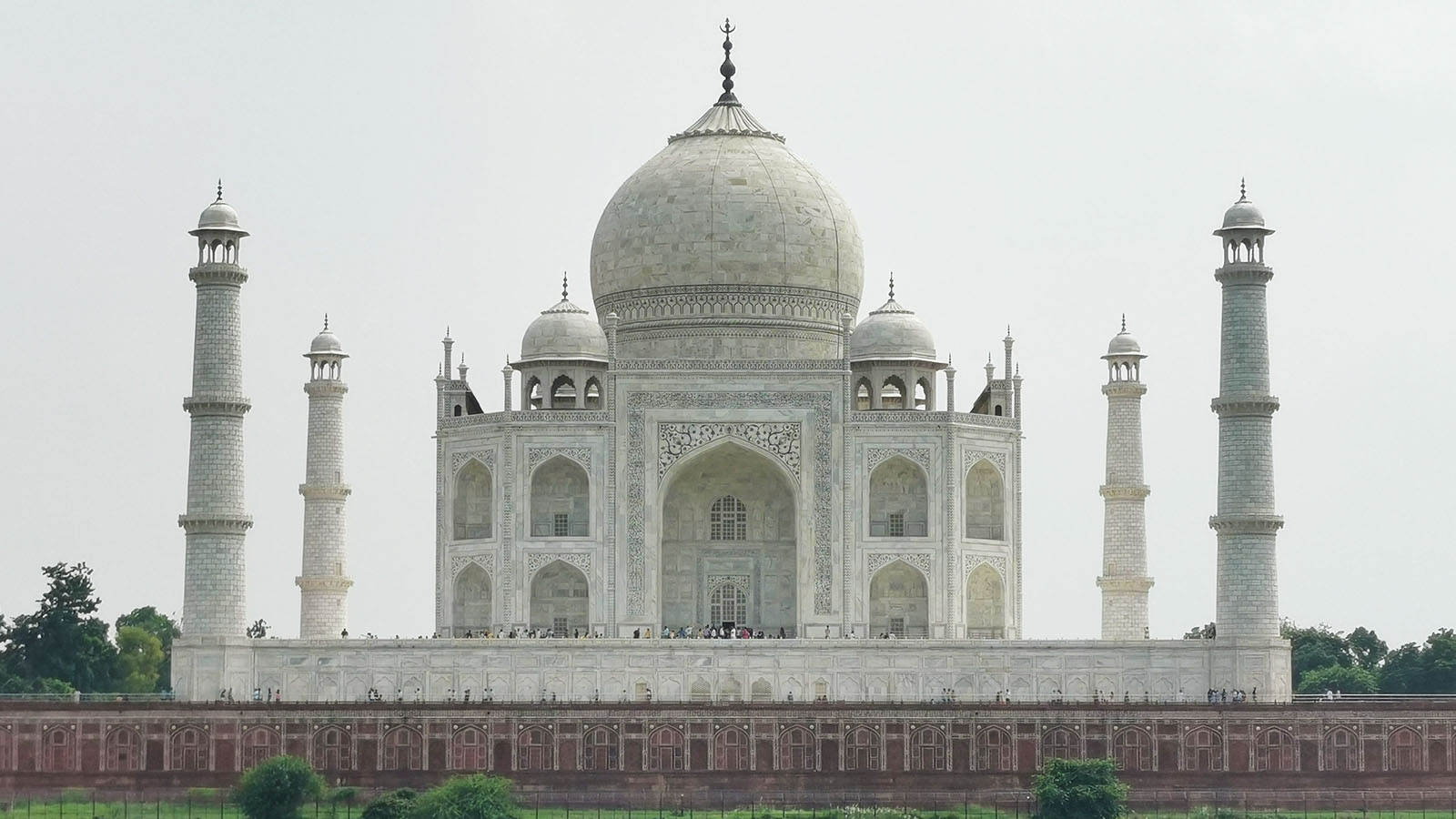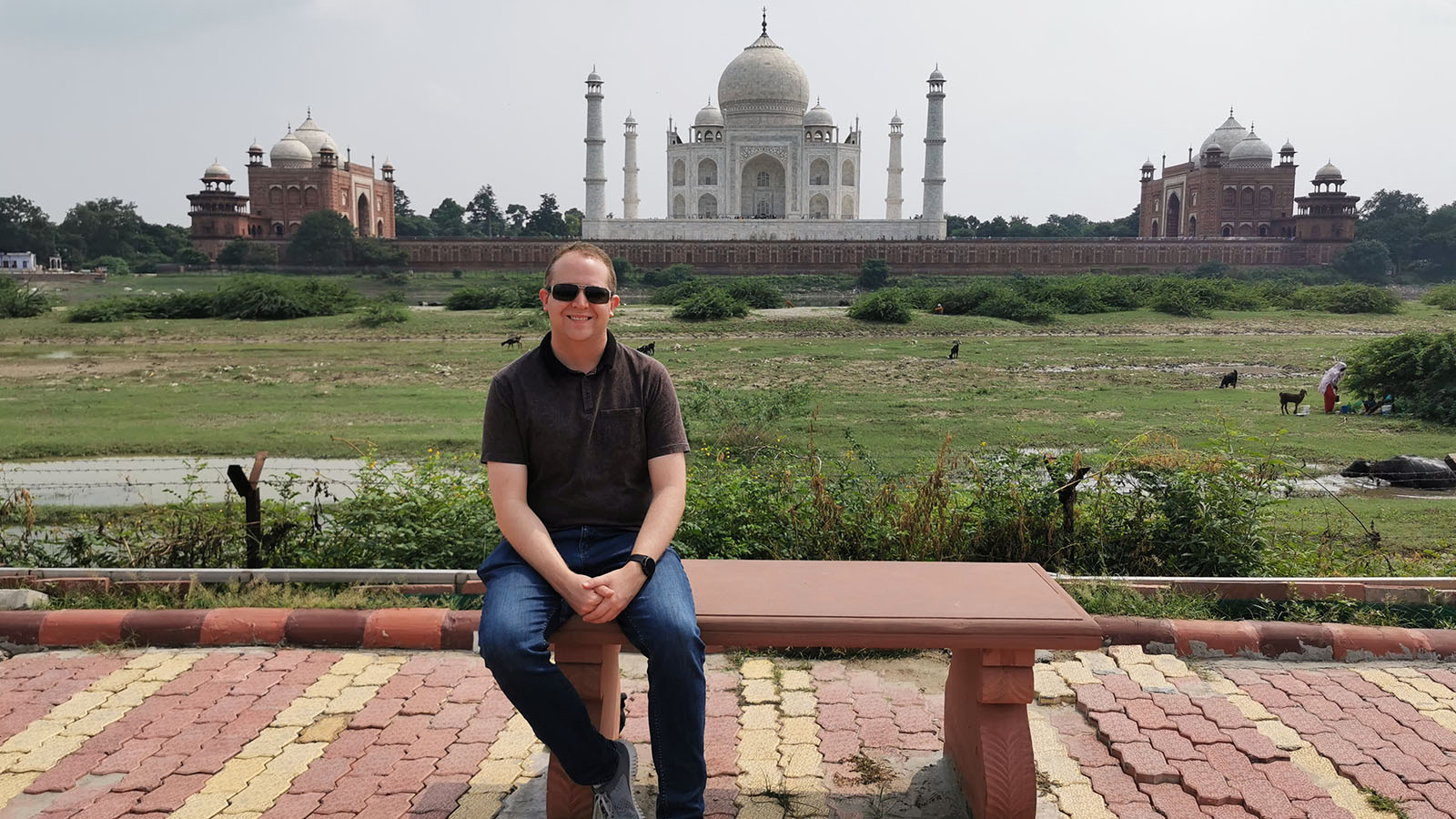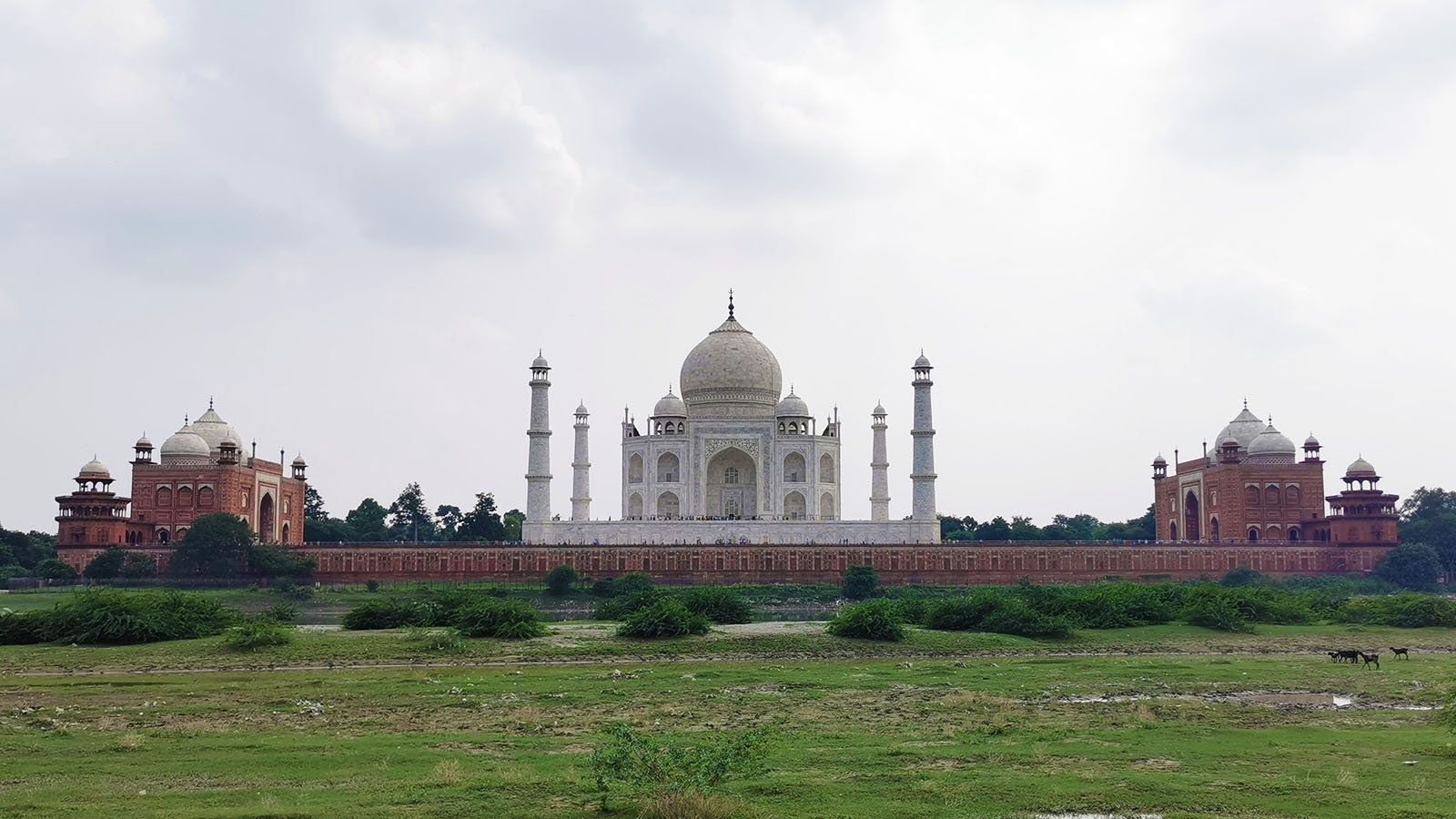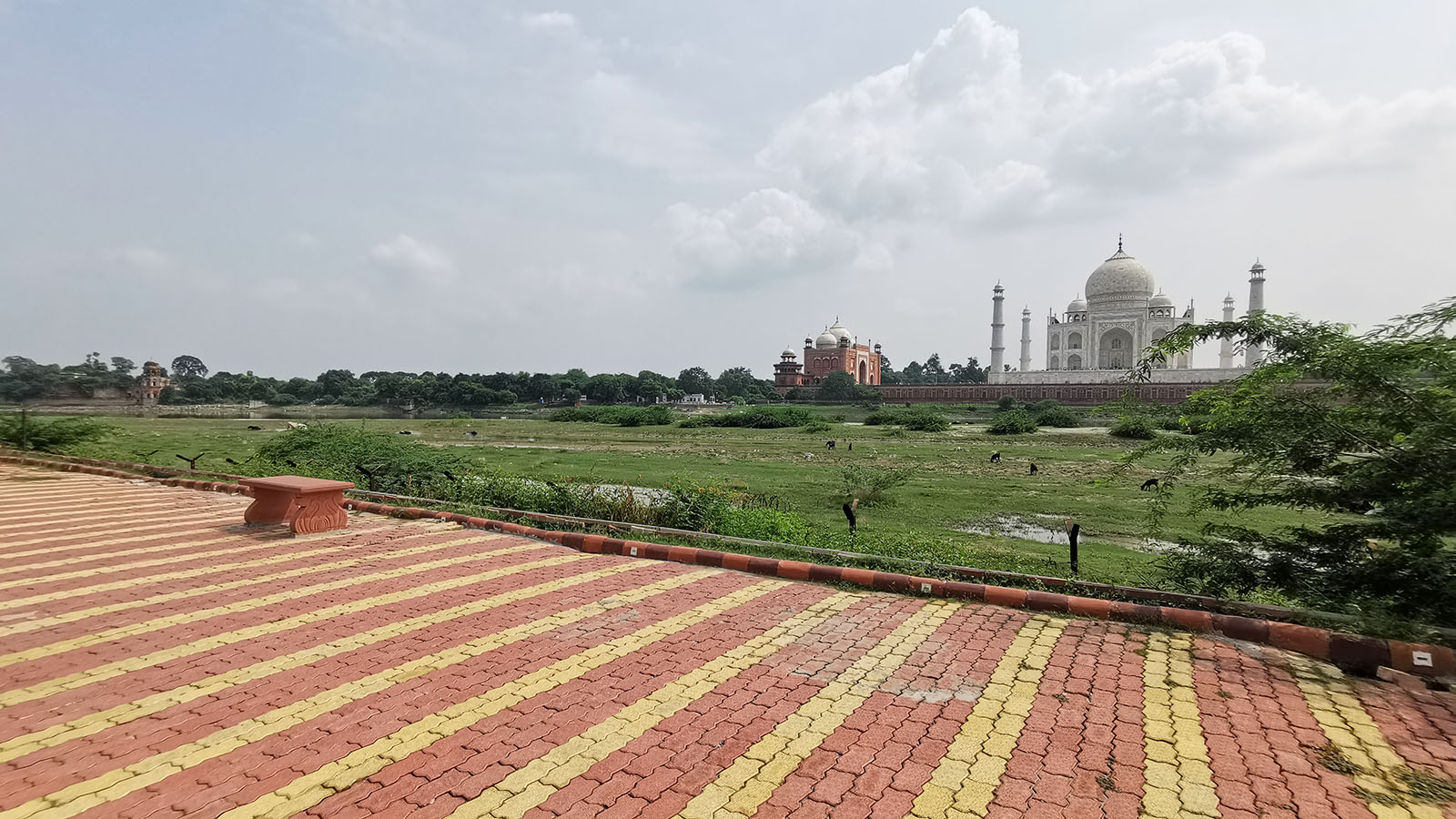 It's hard to describe the feeling of having one of the world's biggest tourist spots all to myself. Here, I'm not fighting with crowds… It's just me and the Taj Mahal. Here's a quick glimpse.
My guide certainly earned his tip with this one alone, but we've barely begun our full adventure.
My next stop in India: the Taj Mahal itself
I've seen the Taj Mahal from afar, but now it's time to get up close. My guide really knows the lay of the land, whisking us through a VIP entrance – which means there's no queue at all.
We're straight into the 'Jilaukhana' forecourt, which leads towards The Great Gate. Every visitor walks through this structure – and the view as you pass through is hard to beat. You're looking straight towards the Taj Mahal, which is centred in front.
Compared to the view from Mehtab Bagh, from here, you're looking at the opposite side of the Taj Mahal. But you wouldn't know it, because this eight-sided building is perfectly symmetrical. Compared to the park, the foreground looks a little different though, as you'd expect. When you see how many people are enjoying the gardens in front, you truly appreciate the treat of that first, quiet stop.
We make our way through the crowds surprisingly easily, as my guide has another trick up his sleeve. While almost everybody flocks to the main central path, there's another route through the trees on the left-hand side. It's again much quieter – we pass only a handful of people along the way.
It's a good trick to remember, because anybody can walk this way. As you'll see from the first image below, you still get some terrific views of the Taj Mahal – and for the most part, without all the people.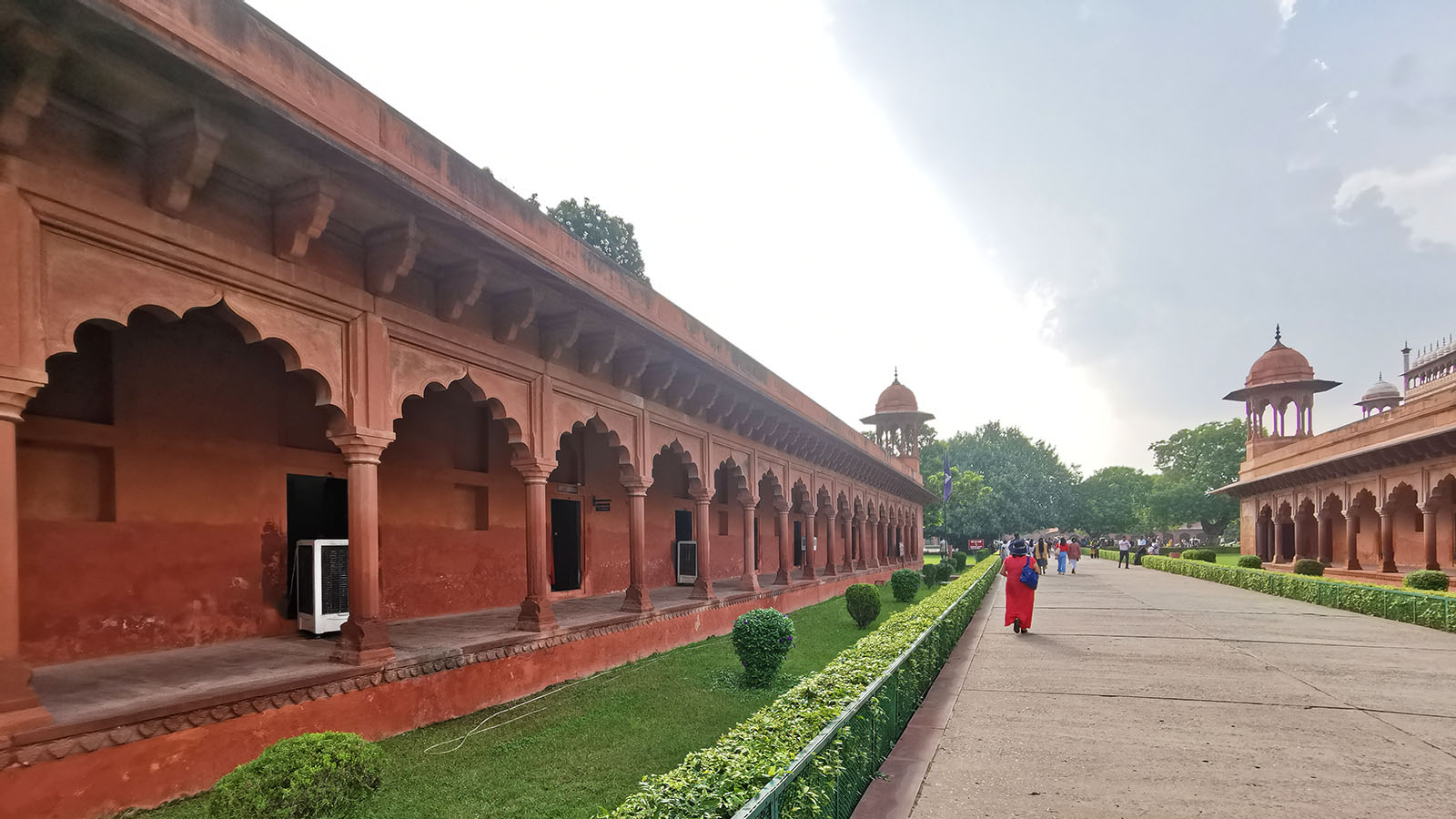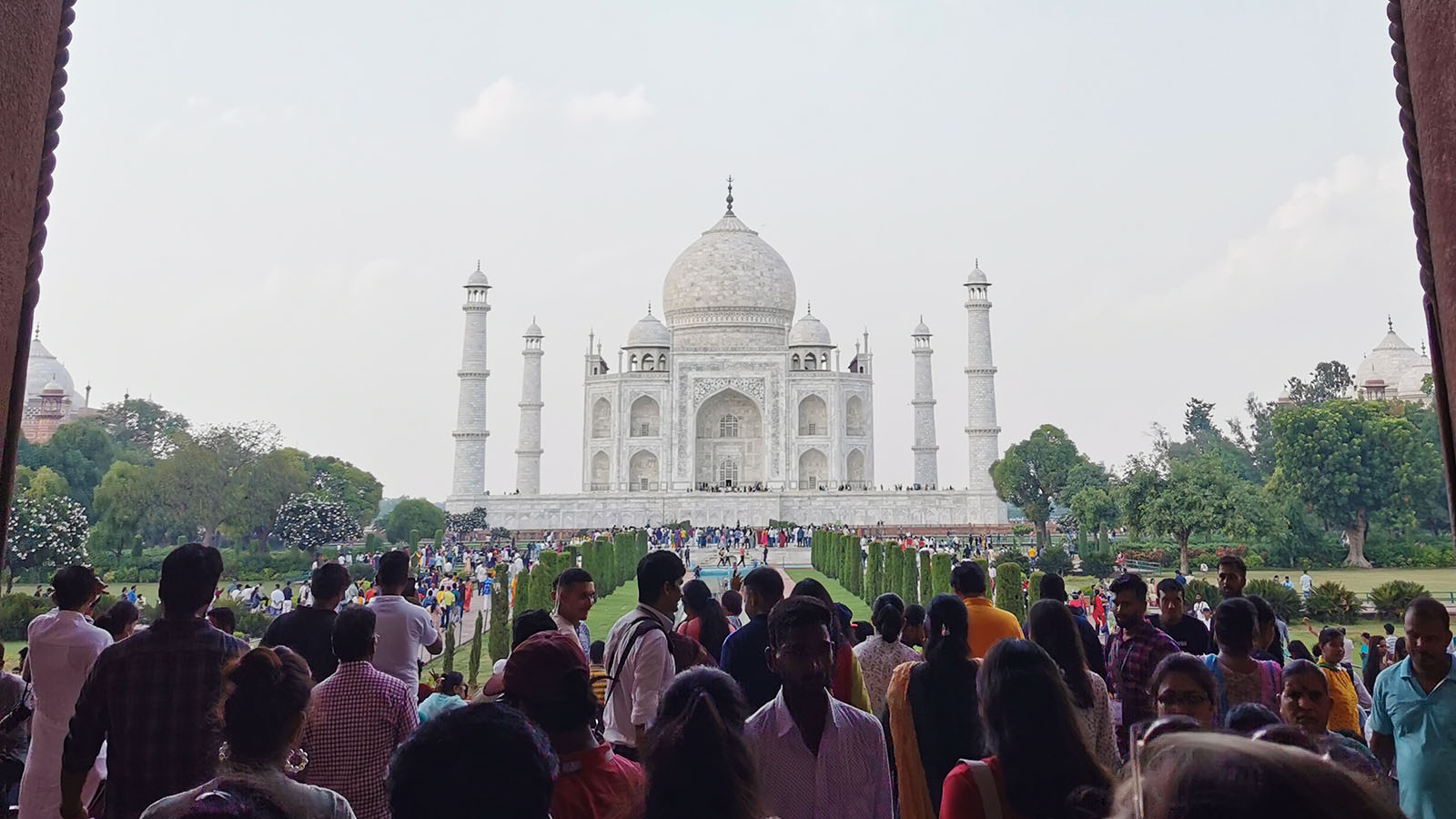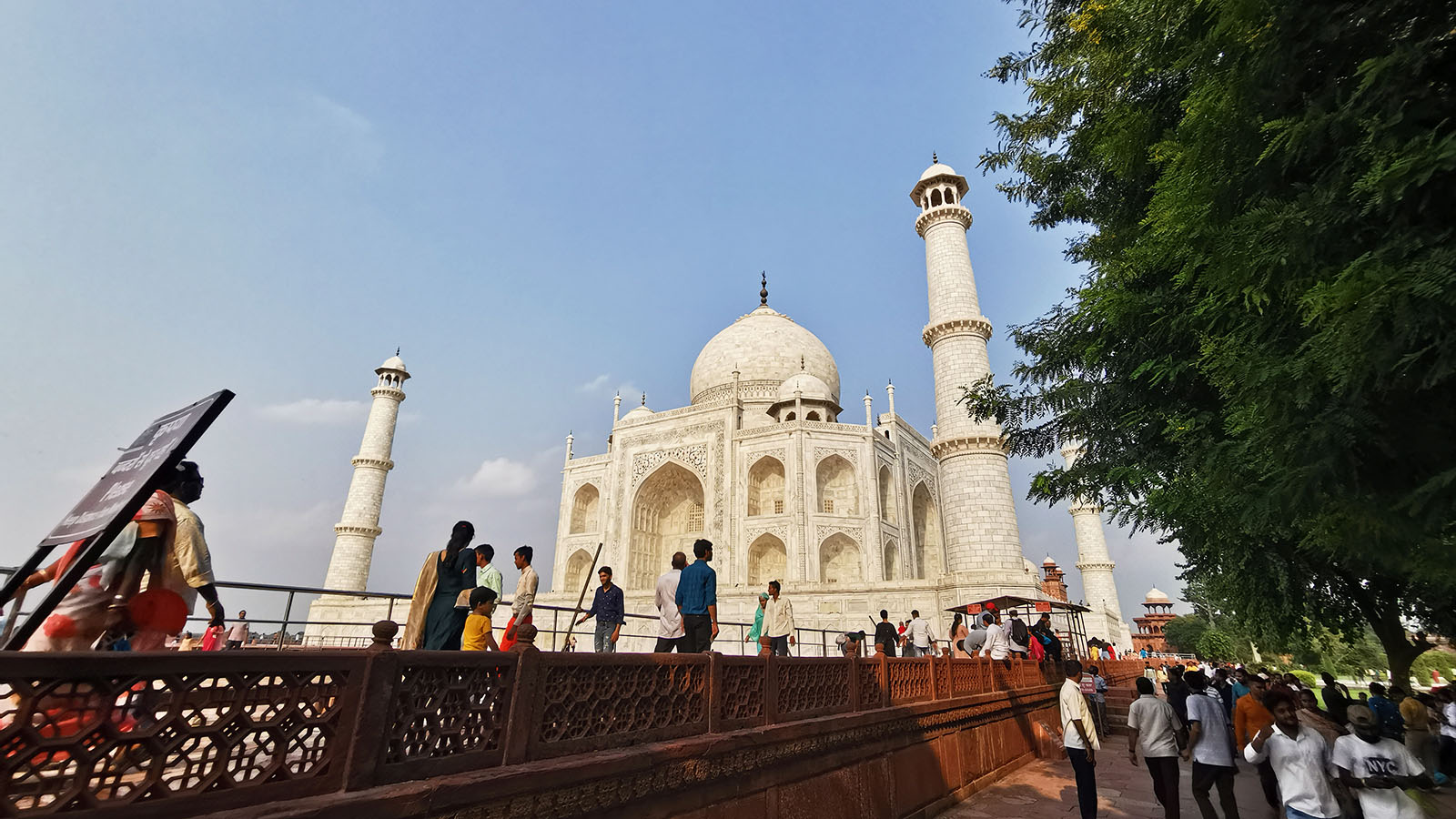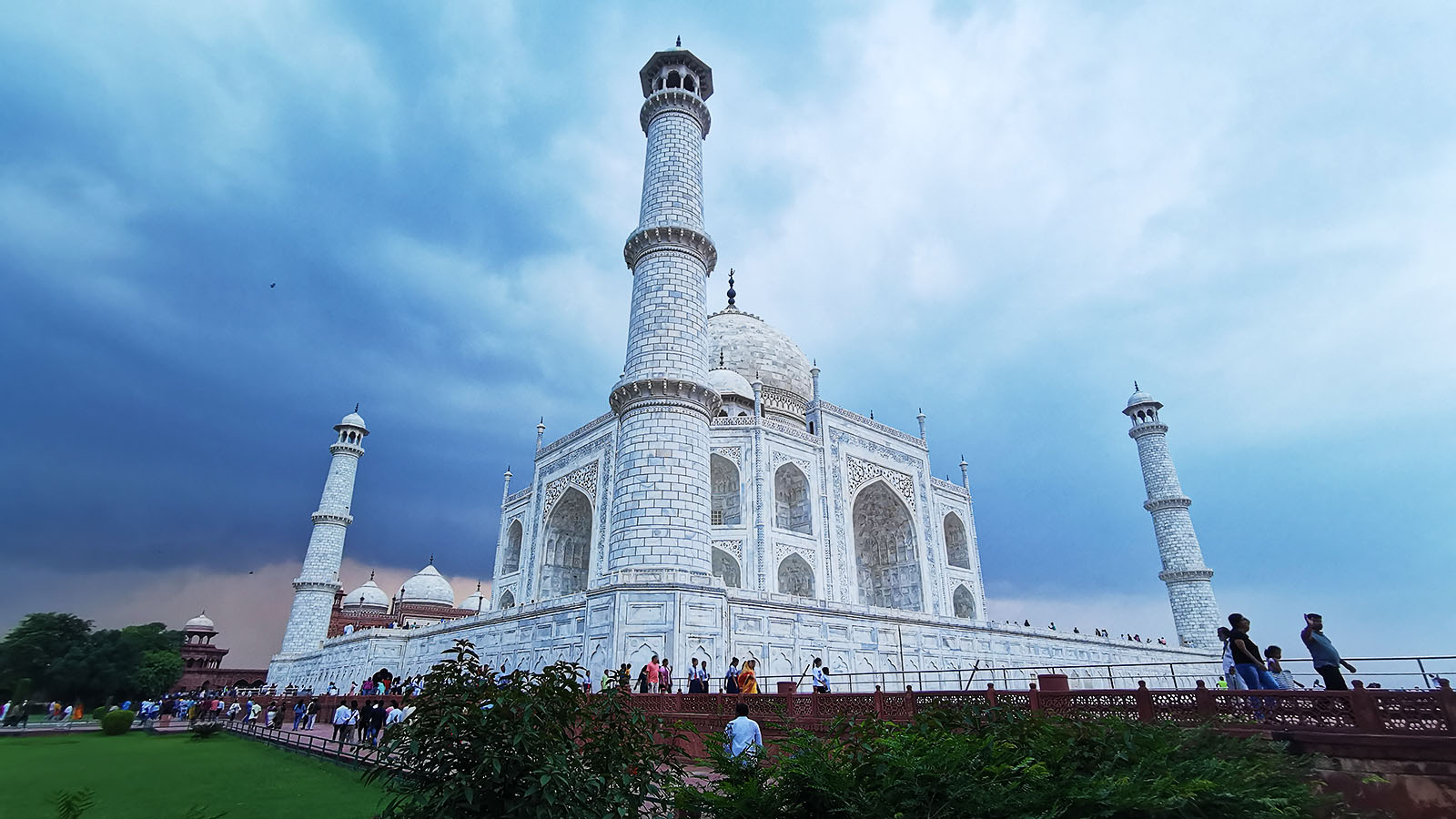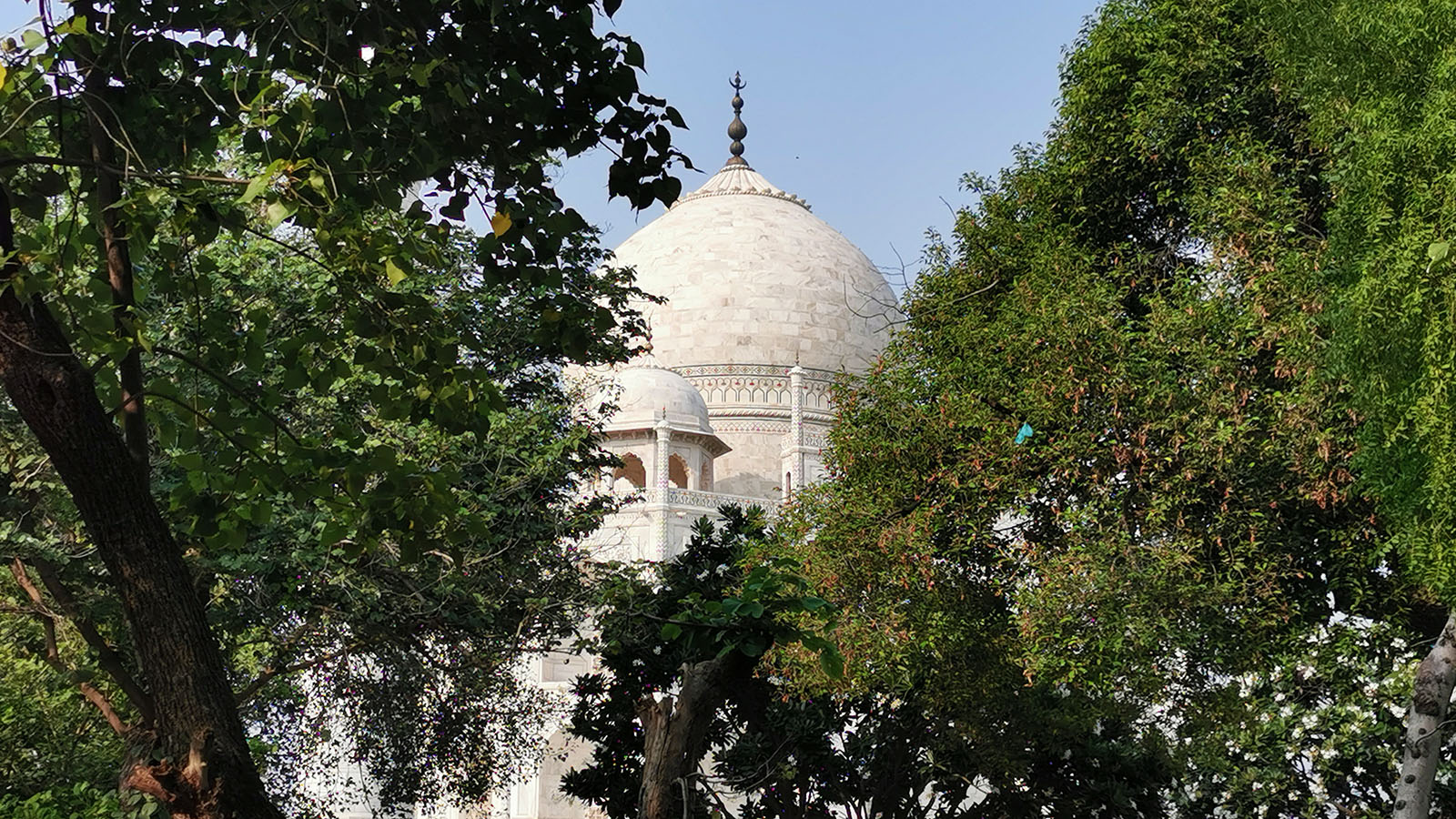 You can explore the grounds as you like – but with the right ticket, you can step inside the Taj Mahal itself…
Ad – Scroll down to continue reading.Minimum spend, terms & conditions apply.
Up close with the Taj Mahal
When booking your ticket, there are two choices. One is 'Taj Mahal only', while the other is 'Taj Mahal with Mausoleum'. Both get you through The Great Gate and into the main grounds, to admire the building in its infinite glory. But take it from me: buy that mausoleum add-on.
It's only ₹200 extra, which is less than AU$4. In return, you can get up close to the building and even step inside. With an express entry lane for foreigners to this separate area, my guide knows exactly where to go: we're again straight through, with zero queuing.
While the Taj Mahal still looks great from a distance, being so close to the building allows me to really admire the detail. It's simply beautiful, wherever I look.
Precious stones are woven into its design. Everything is symmetrical, and there's a script framing many of the structure's arches. And here's an interesting fact, revealed by my guide.
While that writing looks to be the same size from bottom to top, it's actually an optical illusion: but an intentional one. As the script gets higher up, the characters get larger and larger. When you're standing on the ground below, this gives the visual effect of having everything appear to be exactly the same size.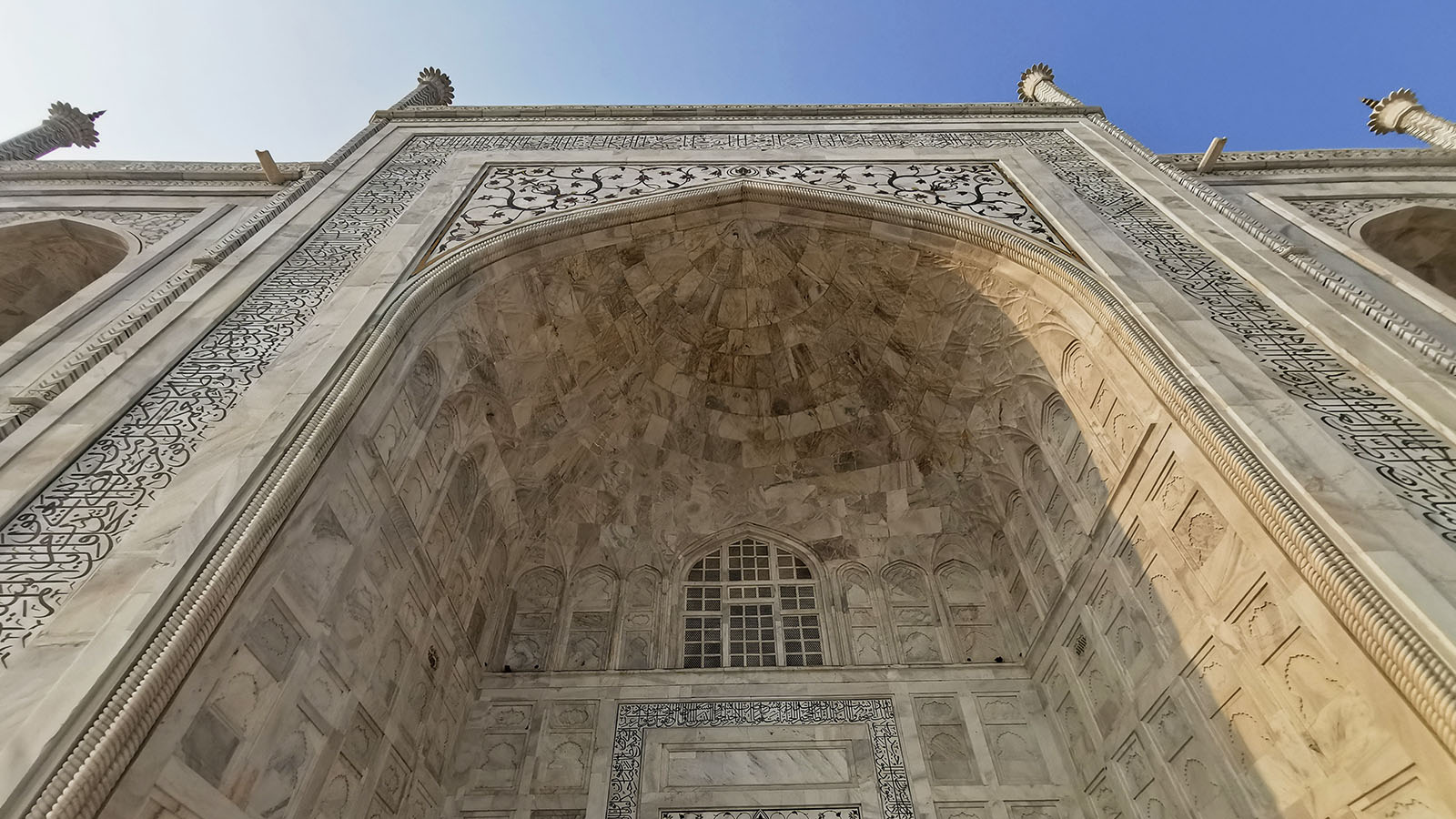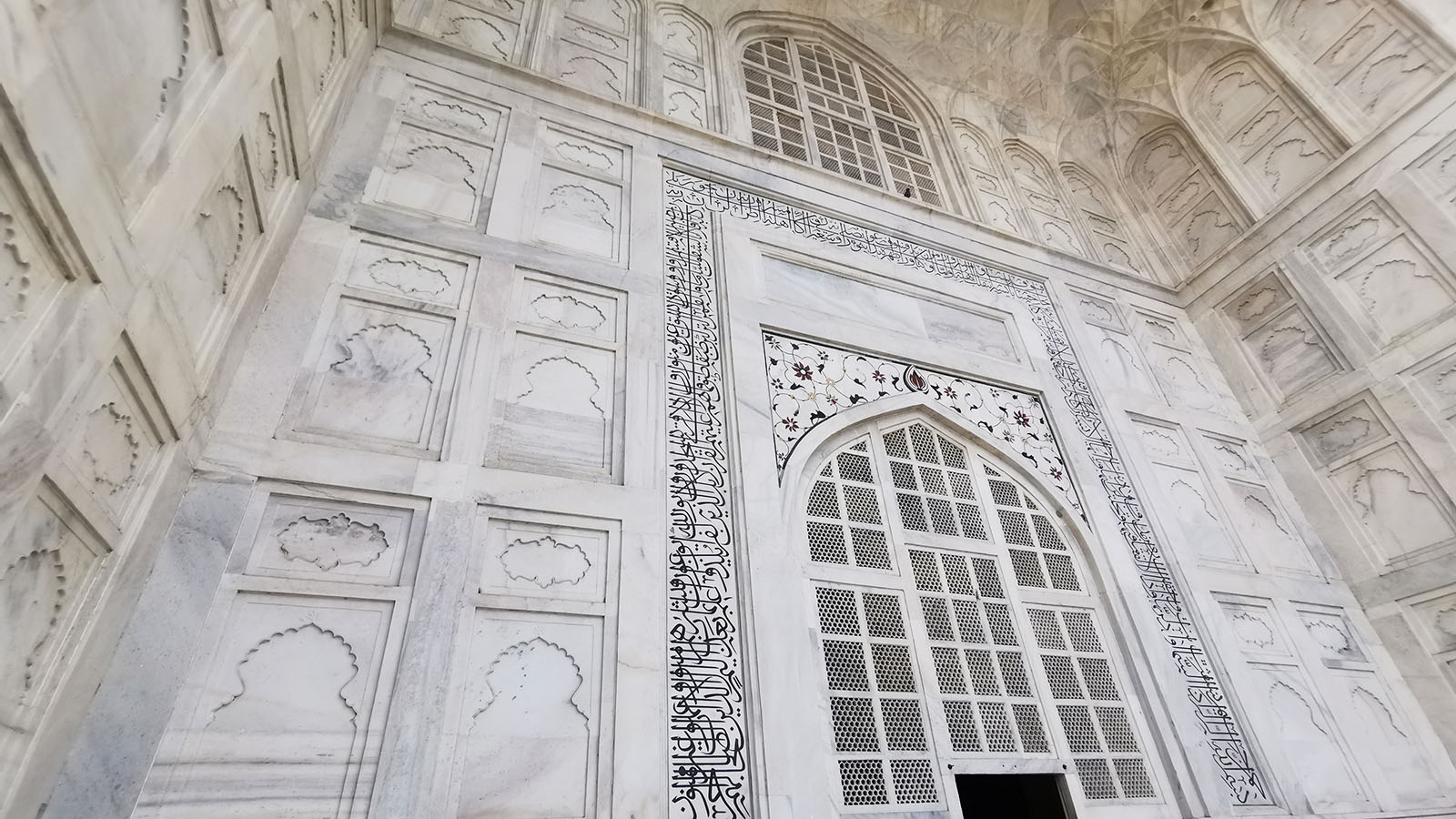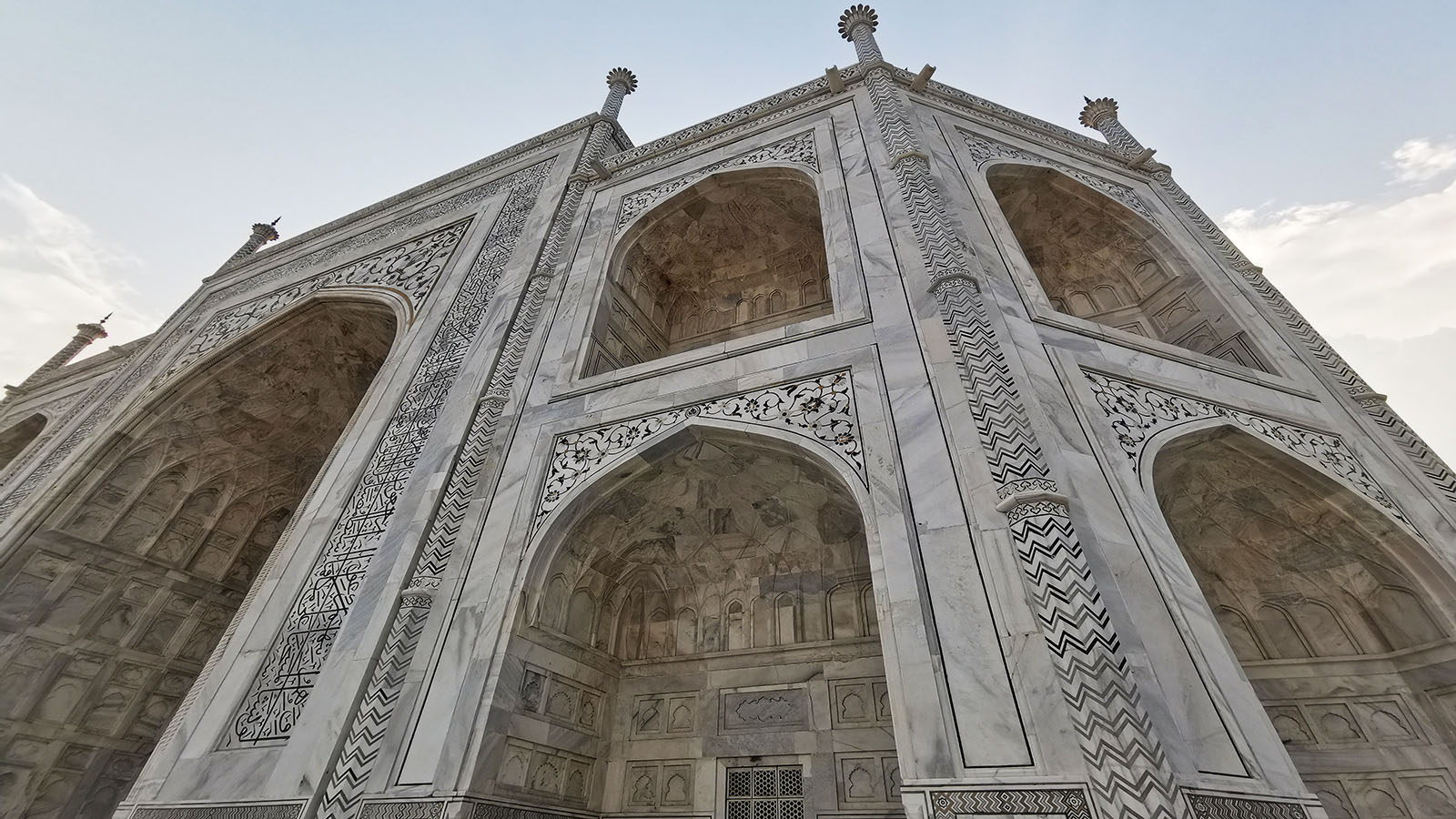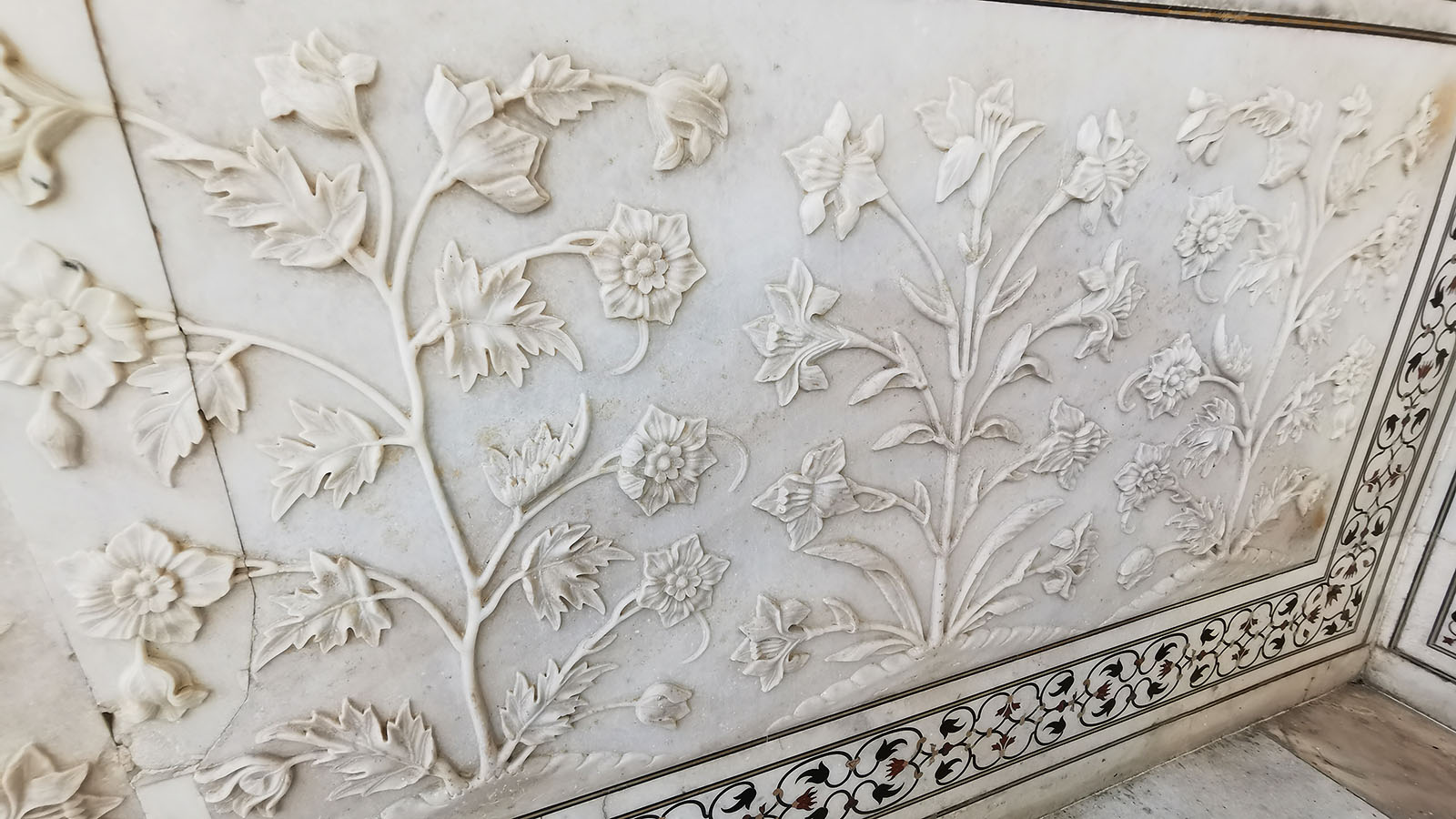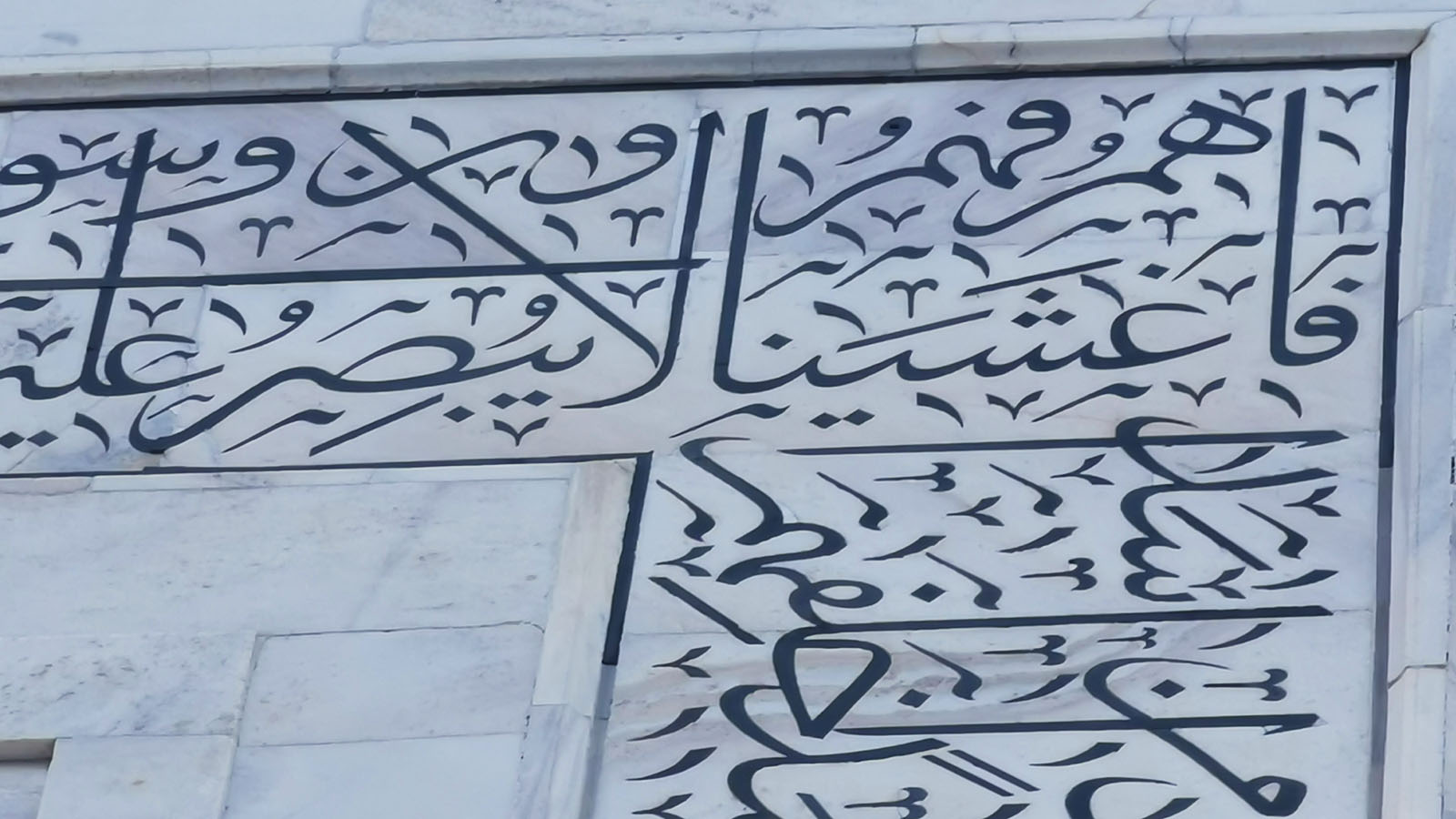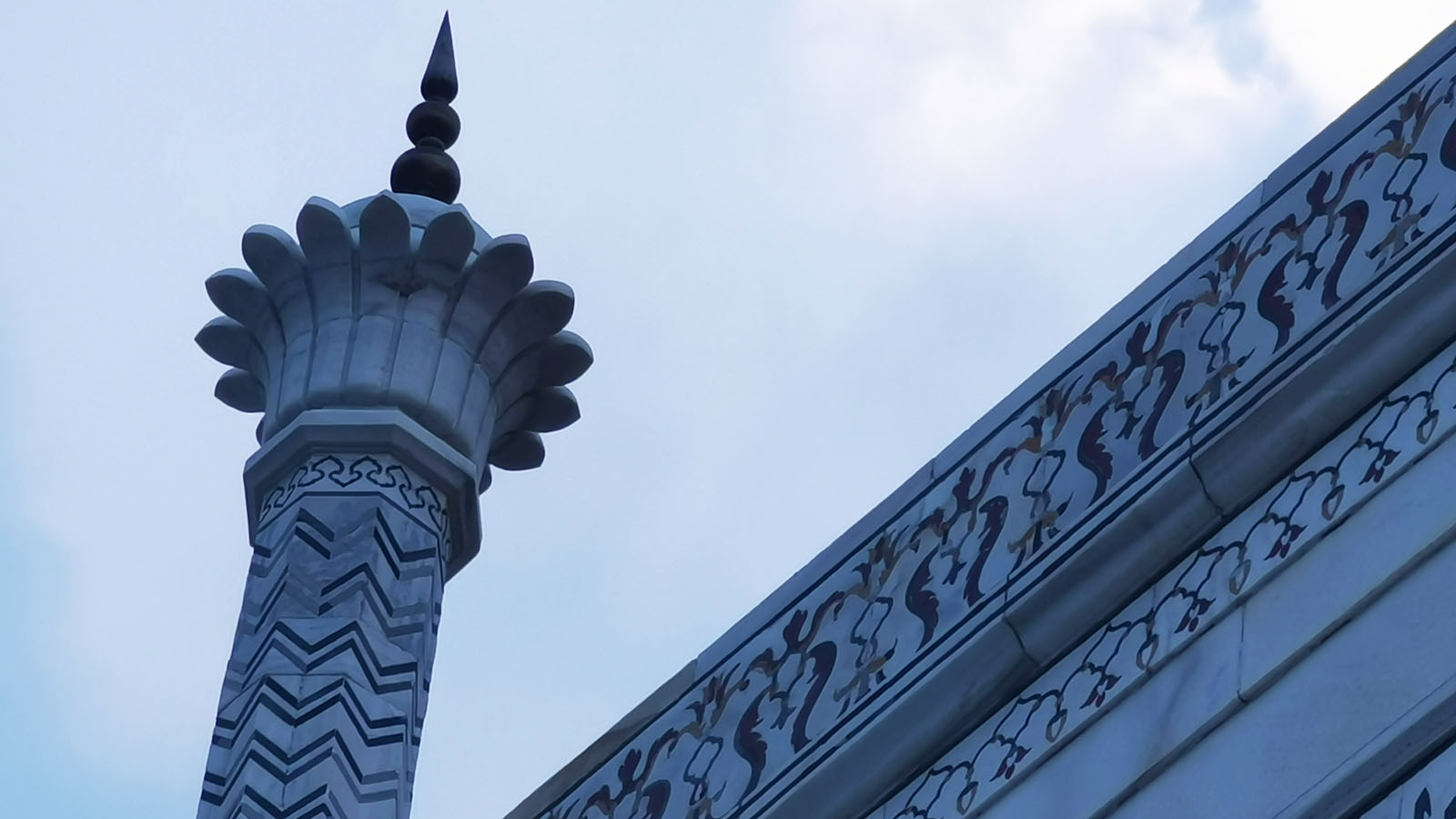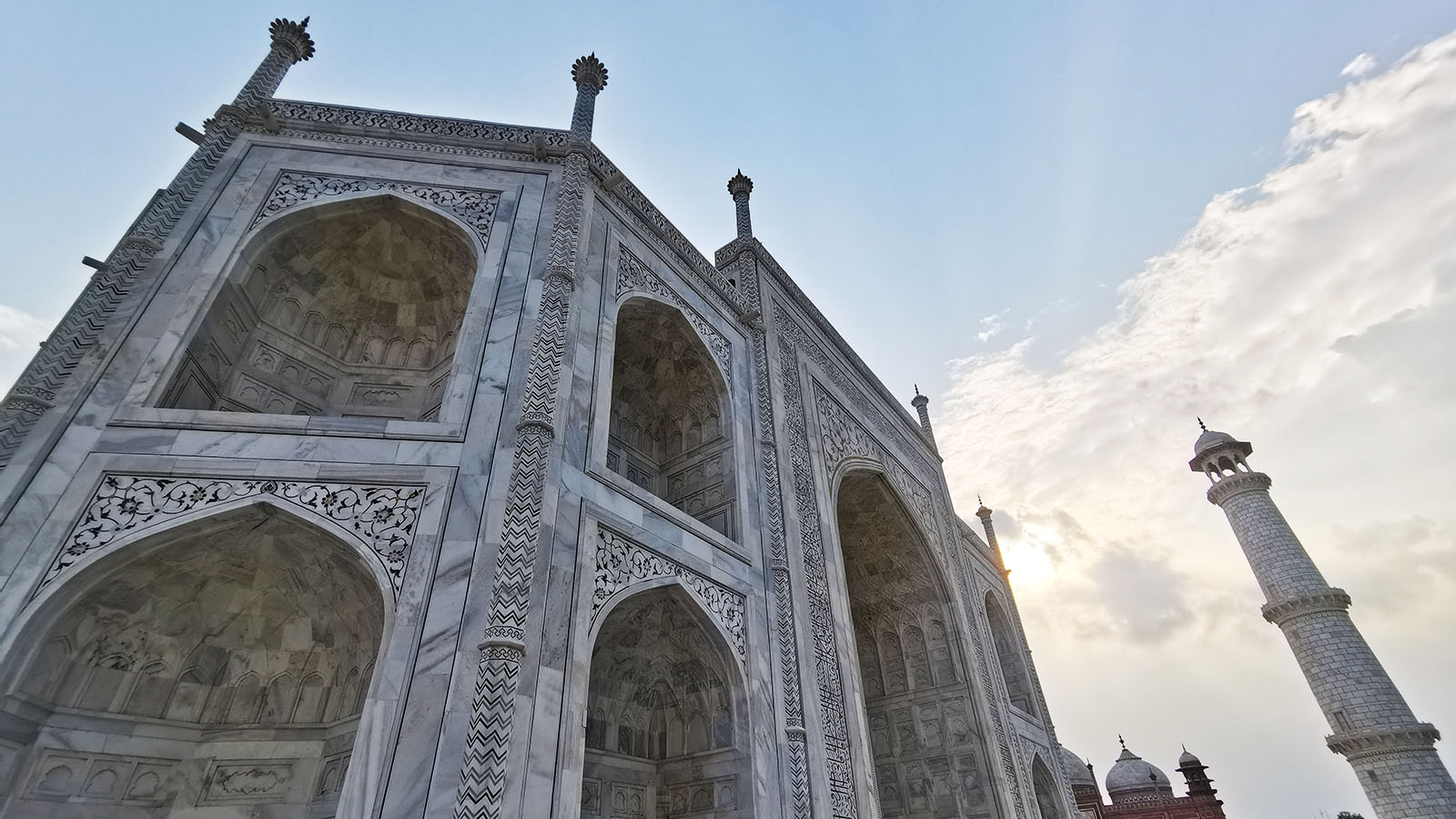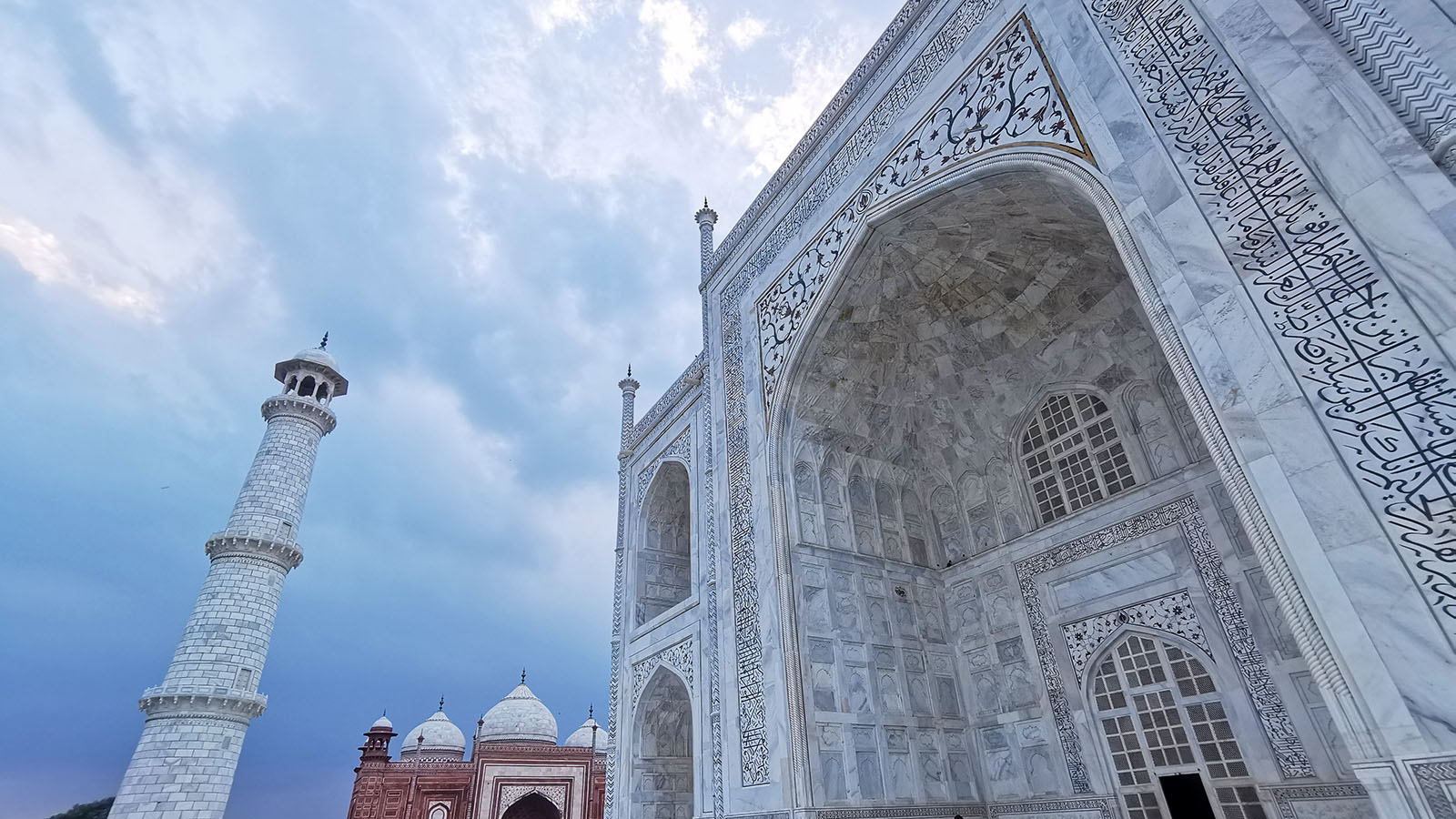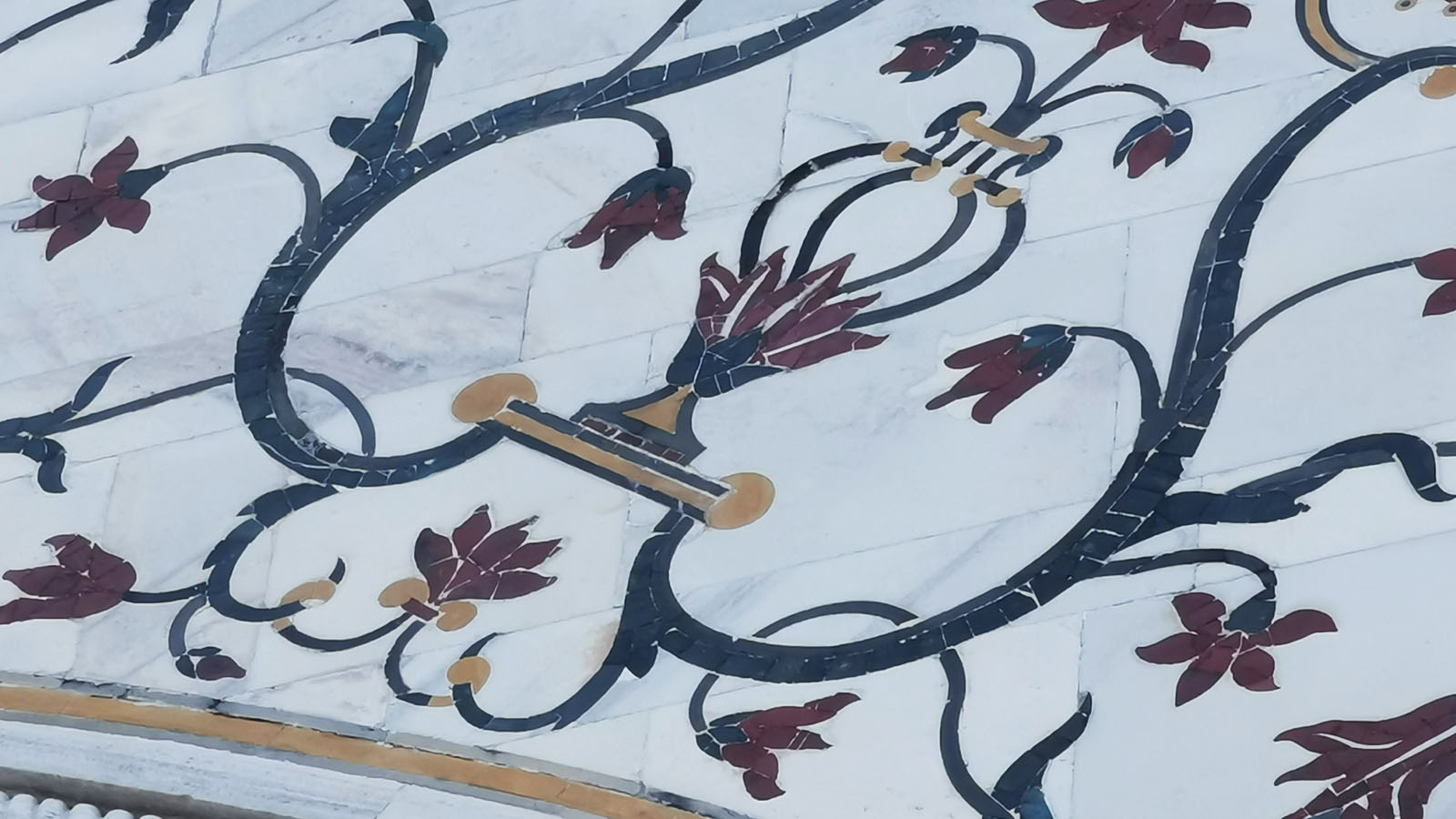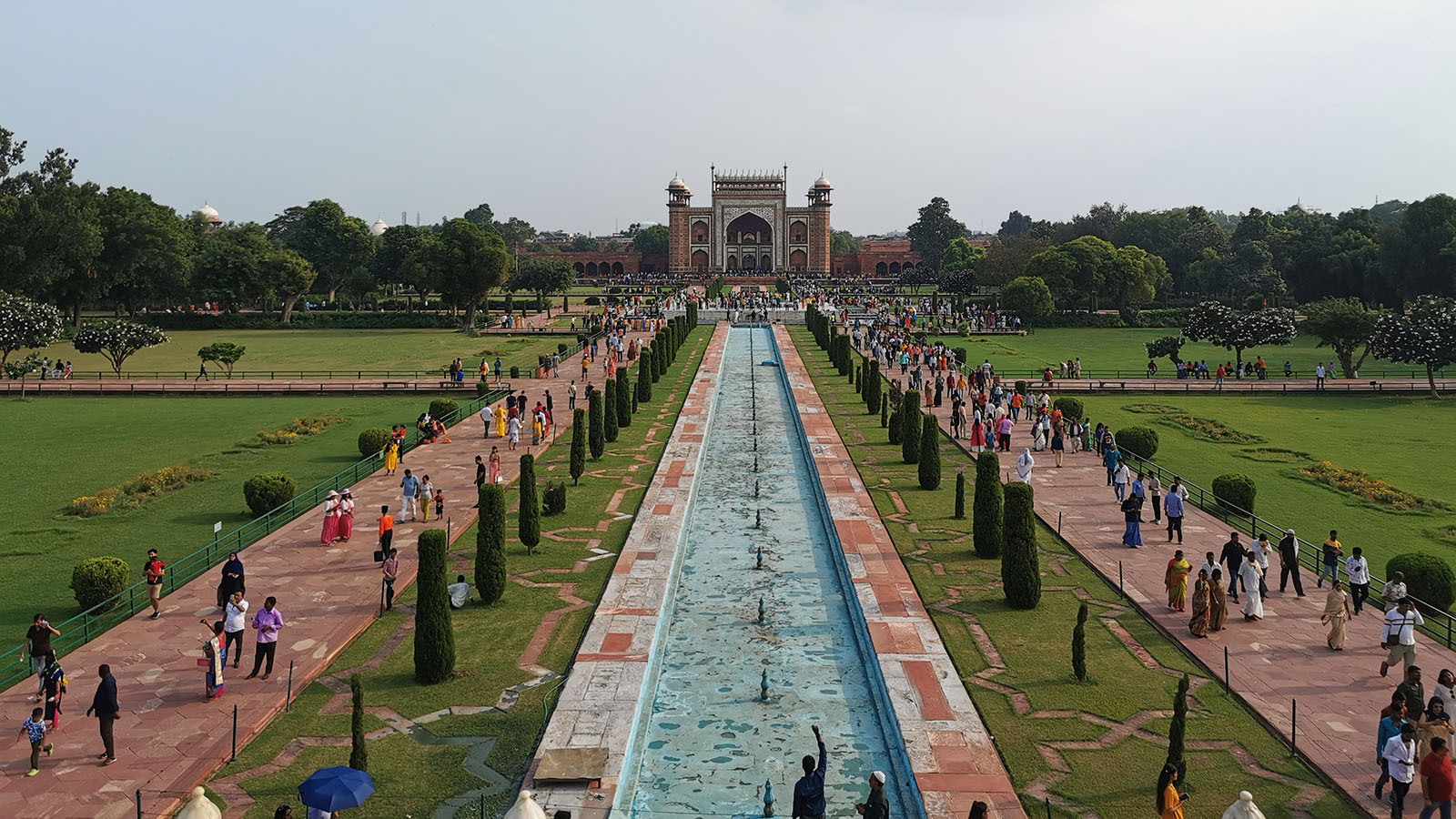 When you stop to remember that the building was constructed back in the 1600s, it's a real 'wow' moment. No computers, no mechanical cranes, no scissor lifts to help out… It's all done precisely by hand.
Photos aren't allowed inside the mausoleum itself, which is where you can admire many of the Taj Mahal's other finer details. But here's a one-minute glimpse of the experience outside.
This is still just a small taste of the full experience. You'll have to visit and enjoy it for yourself!
Other sights to explore near the Taj Mahal
The Taj Mahal isn't the only drawcard in Agra. And when you've travelled this far, you may as well visit a couple of other great spots nearby.
On our journey, my guide takes me to the Itimad-ud-Daula Tomb – commonly known as the 'Baby Taj'. No, it's not a mini replica of the Taj Mahal. But many believe it was something of a first draft, built around 10 years before work started on that better-known masterpiece.
As with the Taj Mahal, there's a main gate to frame your entrance to the gardens. The structure is also almost symmetrical, with great detail going into its design. It's an interesting spot to spend some time – and again, in relative peace and quiet.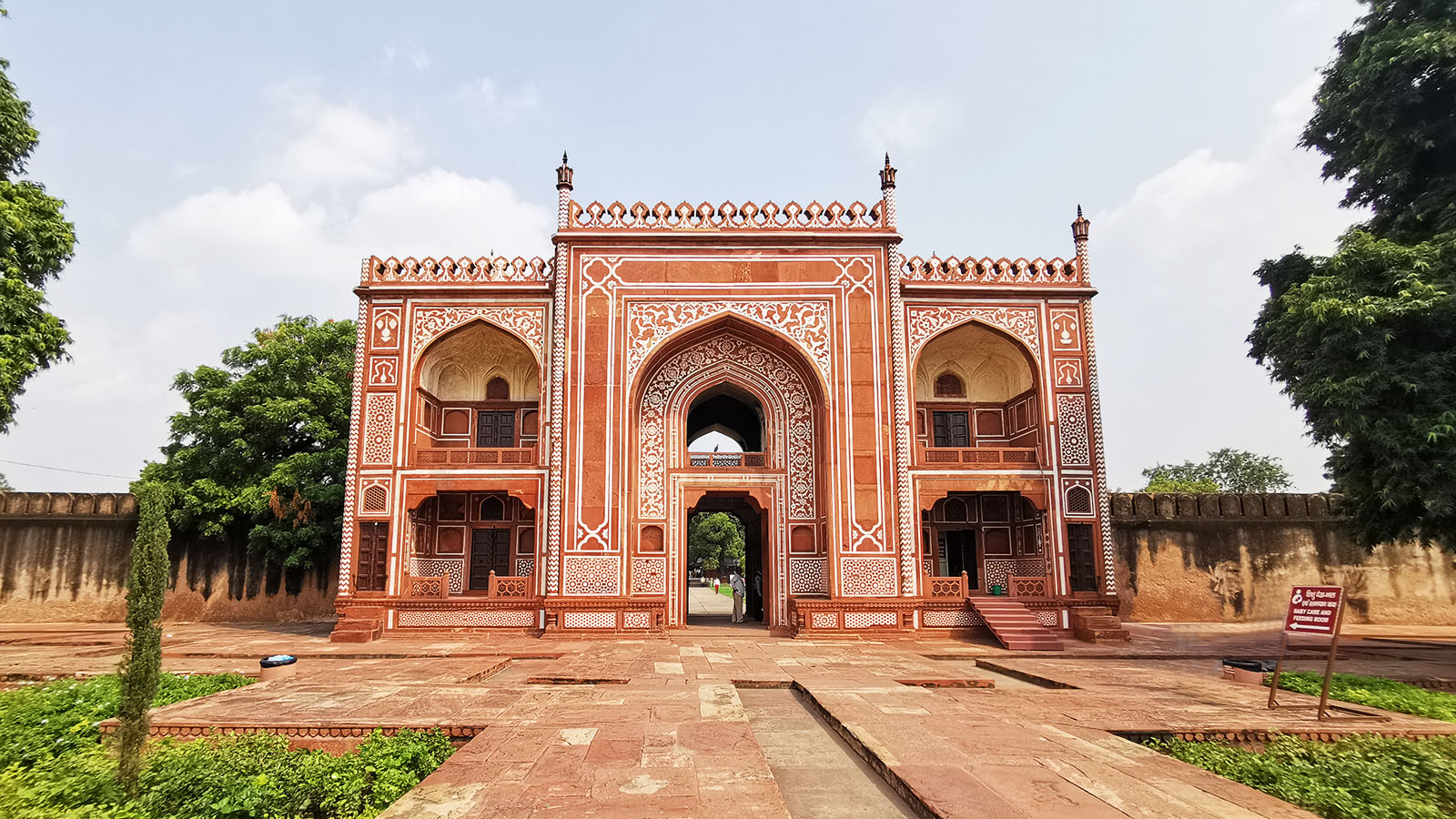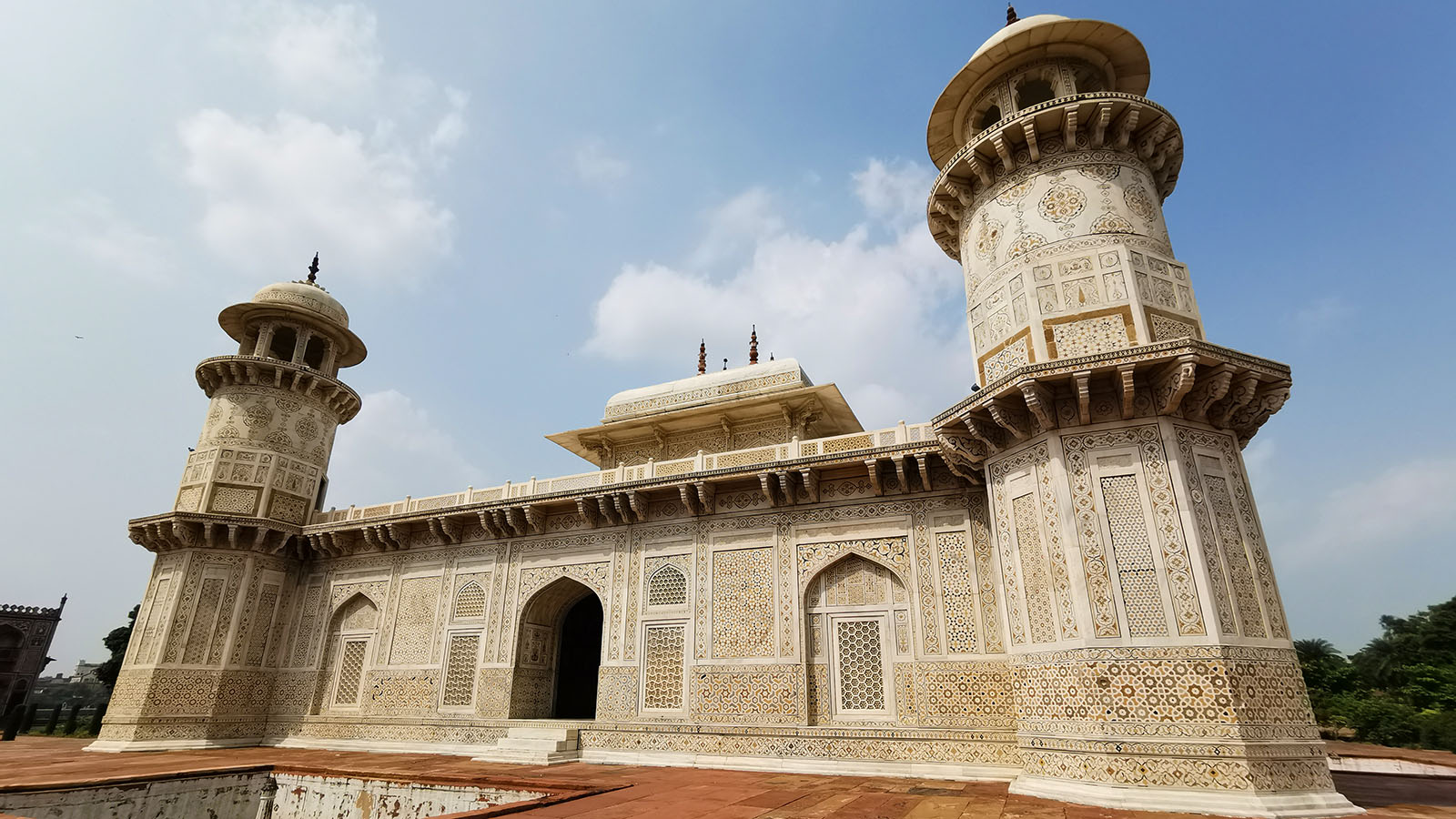 The other spot on our itinerary is Agra Fort. And yes, there's a section where you can spot the Taj Mahal from a distance. But the fort precedes both the 'real' Taj and the Baby Taj, being built in the 1500s.
It's interesting to explore a little more of India's history, and again, to admire the intricate buildings from centuries ago.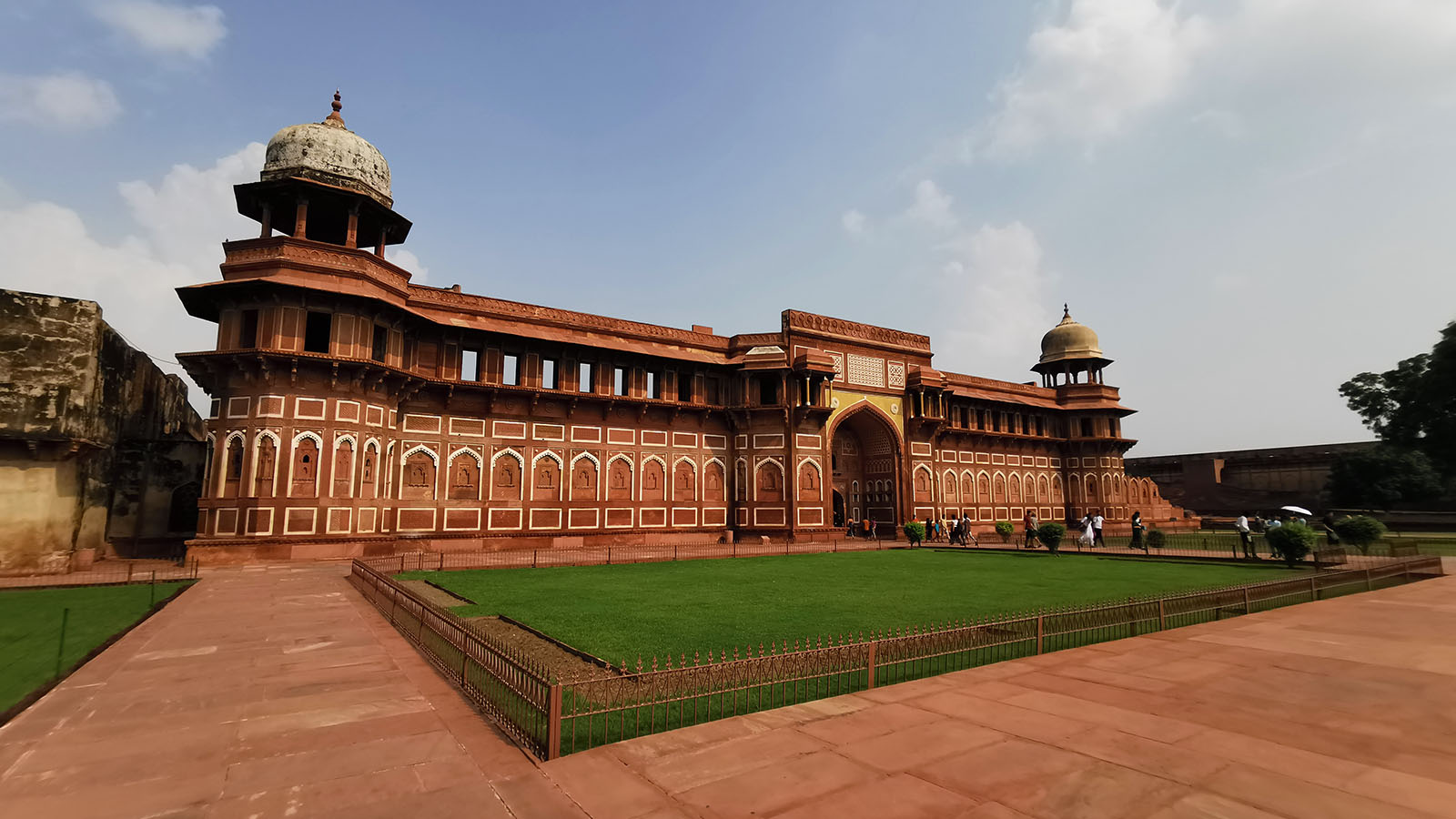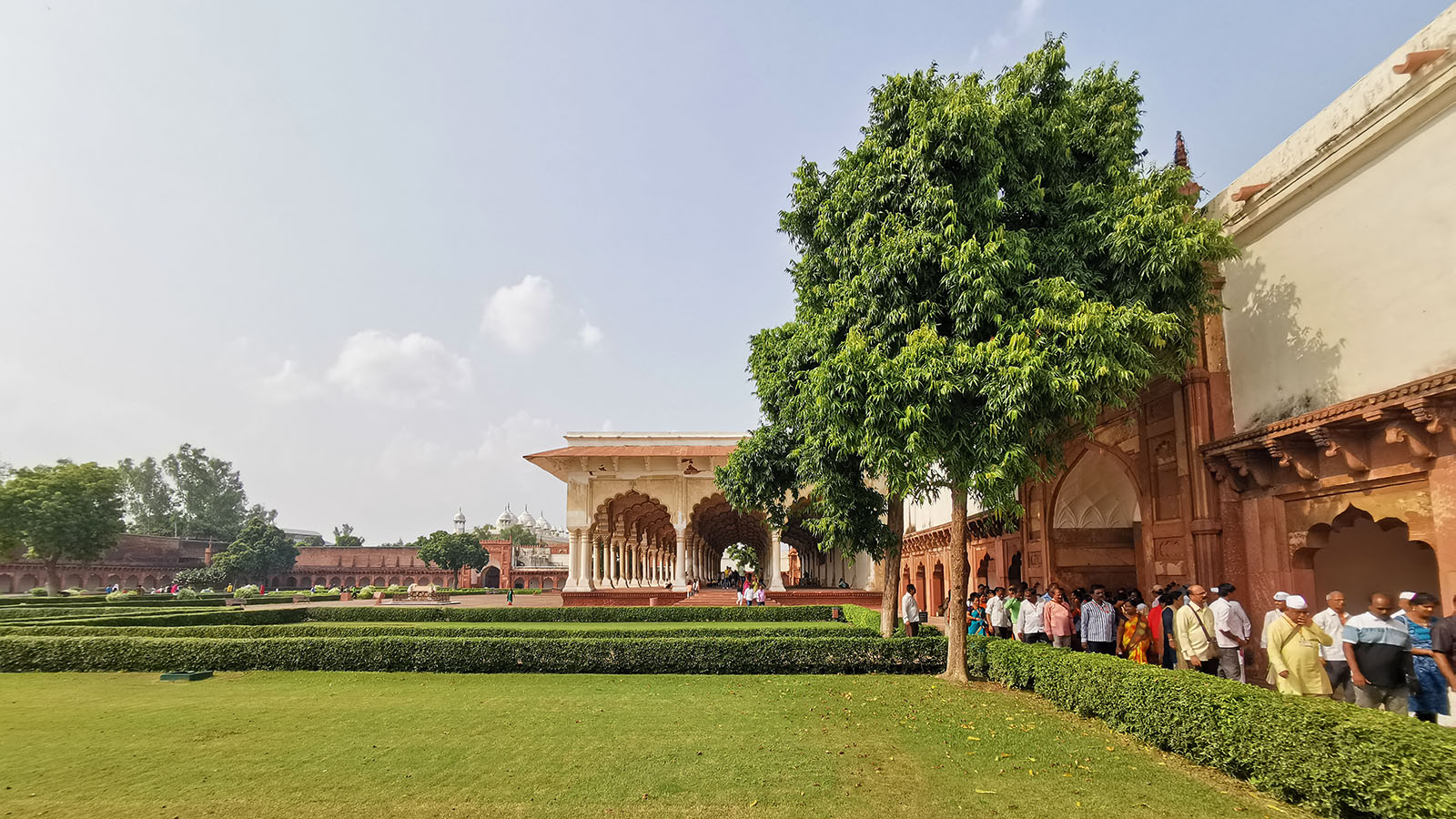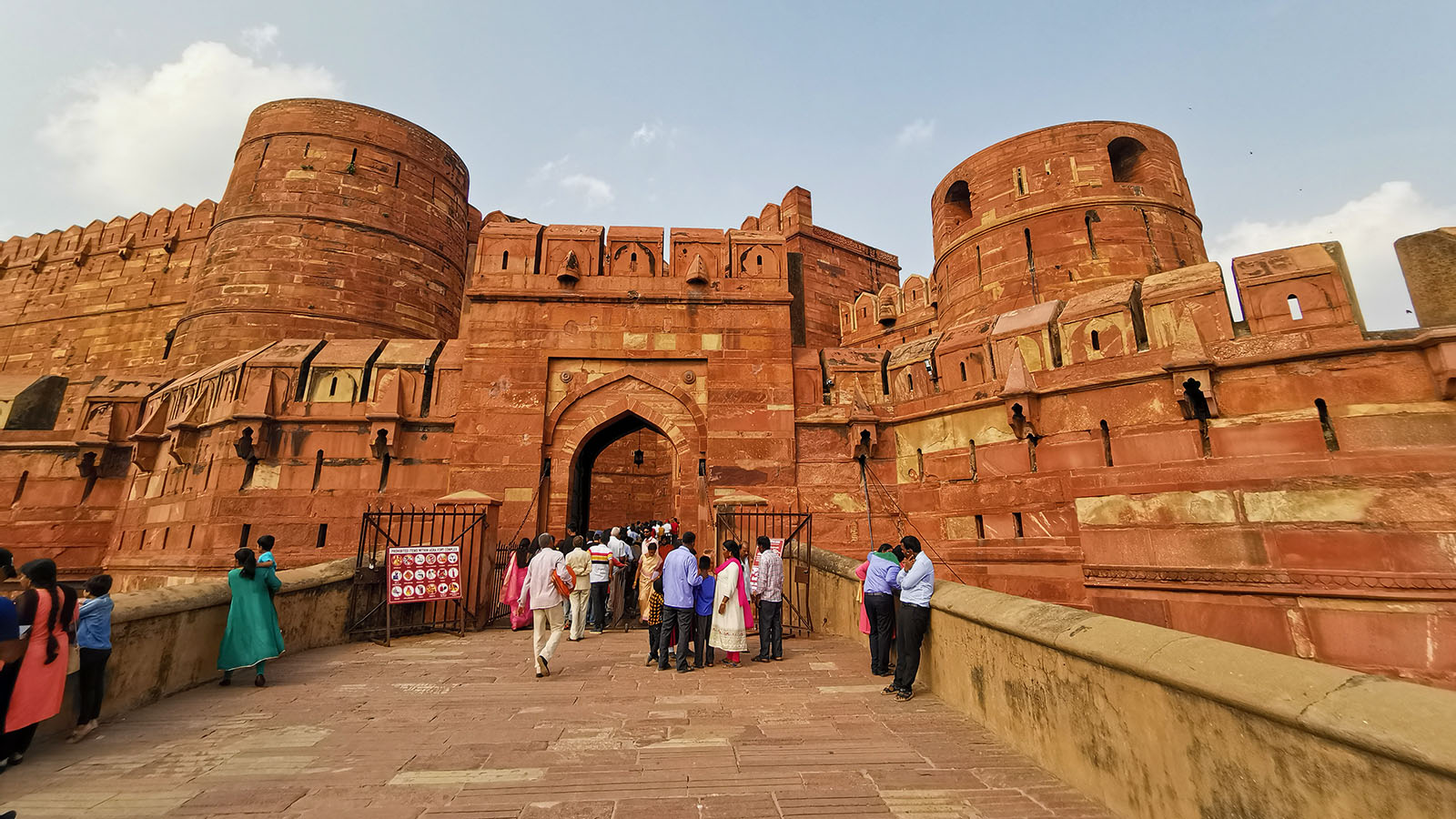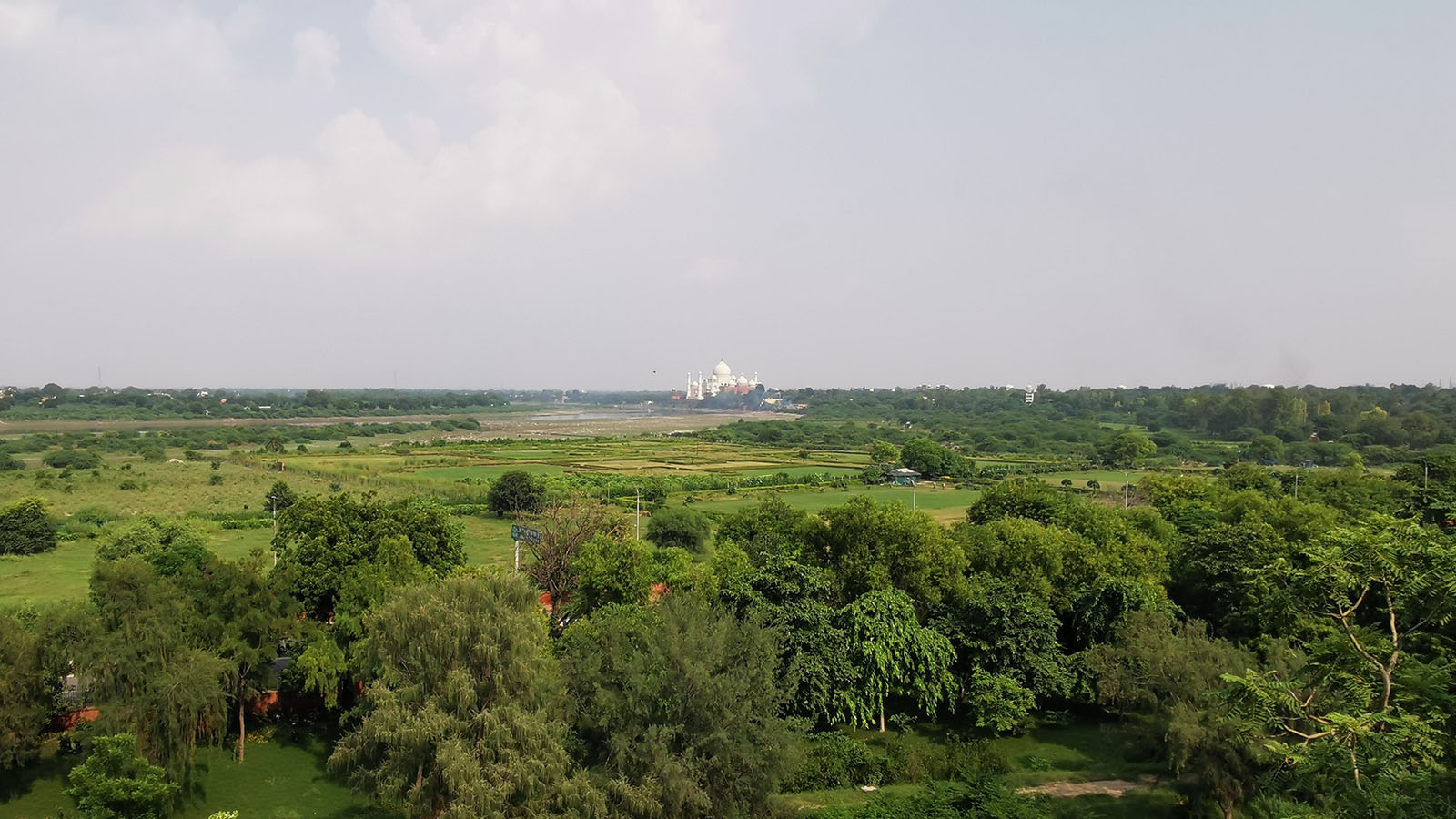 With all these monuments so close together, you can do everything above in just one full day of sightseeing. With more time up your sleeve, I'd recommend venturing to the Taj Mahal again – but at a different time than your first visit. Sunrise, daytime, sunset and after-dark each offer a different experience.
I'd hoped to catch both daytime and sunset in my single visit, but stormy weather got in the way. It's clear I need to return!
Tips for visiting India
A journey to India requires a little more planning than many other destinations. But it's actually quite straightforward once you've got the basics sorted. We've done the hard work for you, so that you can make the most of incredible India.
Getting an Indian visa
As a foreigner visiting India, there's a good chance you'll need some form of visa.
For most Australian tourists, that's simply an e-Tourist Visa. These can be requested online and come with a validity of either 30 days, one year or five years on the same passport. You'll need to request yours no later than four days before travel: but ideally, as soon as you're planning your trip.
Be sure to apply only through the official Indian Government website. Via that linked page, you can also explore the other e-Visa choices if you'll be travelling for business, a conference or another purpose.
Just be aware that e-Visa holders must enter and exit India through specific border crossings only. Fortunately though, most major airports are on that list. Those in Delhi, Mumbai, Chennai, Kolkata, Bengaluru, Hyderabad, Ahmedabad and many others are A-OK.
Some travellers may instead require a pre-arranged visa: the traditional passport sticker kind. This process is more complex and takes longer, but it's still doable. For instance, working in publishing, I required a full visa to visit India as a journalist. That took about a month from the initial application to 'visa granted'.
Whatever your circumstances, allow plenty of time and you should be fine.
Closer to travel, you'll also need to complete India's Air Suvidha declaration form online. Your journey will be smoothest if you print the pass it provides, as this needs to be verified and stamped at the airport ahead of passport control.
Getting to India
Both Qantas and Air India offer direct flights between Australia and India. Singapore Airlines and SriLankan Airlines also provide easy one-stop services to India via Singapore and Colombo, respectively.
But the challenge is that Agra – and by extension, the Taj Mahal – doesn't have a major international airport within close proximity. There's Agra Airport, but it only hosts Indian domestic flights operated by one airline: IndiGo. Even then, there are only a small number of domestic routes available.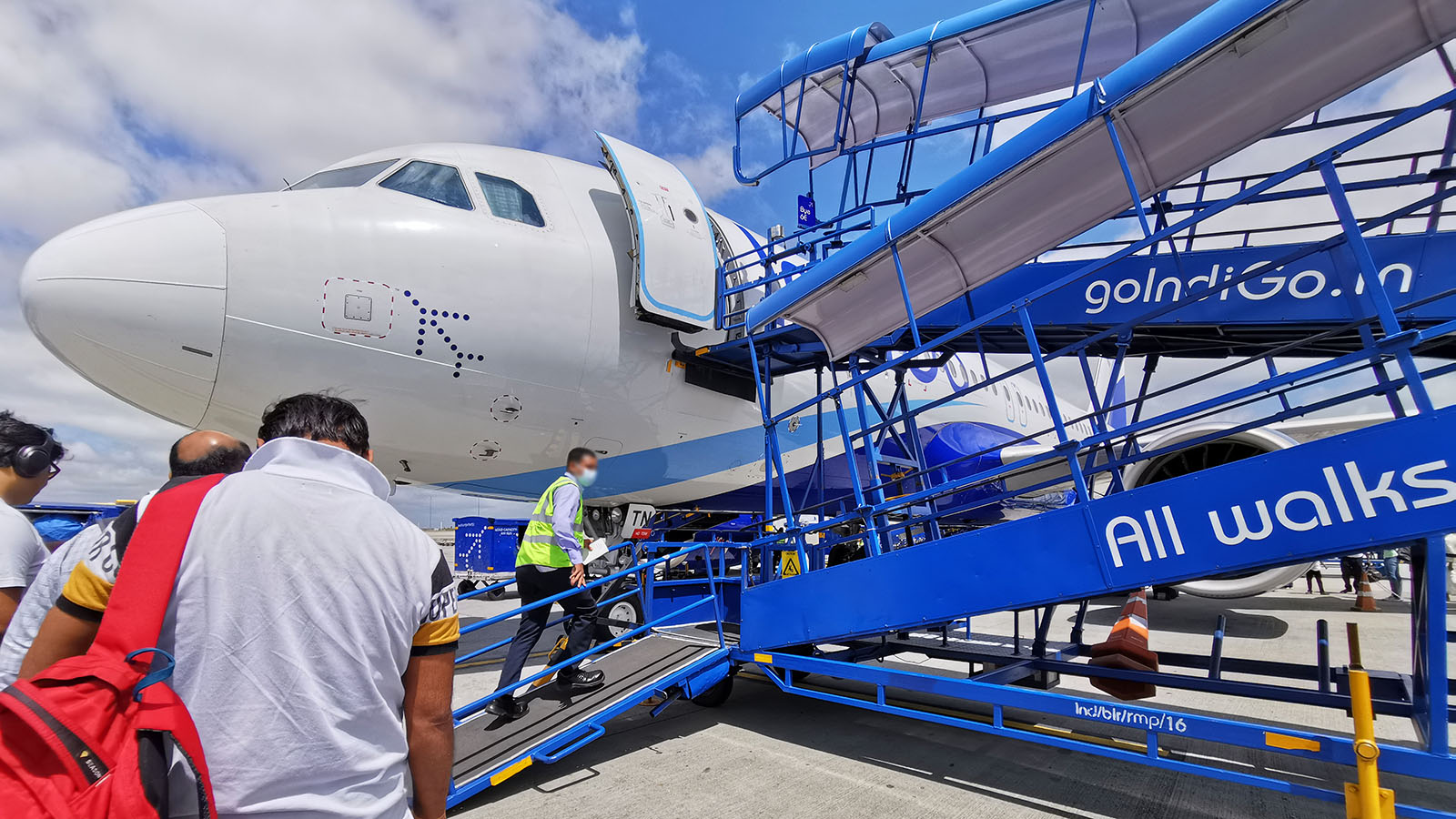 After arriving in Bengaluru on Qantas and enjoying a couple of nights there, I was fortunately able to fly from Bengaluru to Agra direct on IndiGo. Once outside Agra Airport's protected walls – it's also an Indian Air Force base, so security is tight! – the drive to the hotel was about 20 minutes.
The major alternative is to fly directly into a larger airport, Delhi, which we've covered further above.
Also read: The Point Hacker's pocket guide to Bengaluru
Safety and security in India
It's a good idea to read Smart Traveller's advice for India. While parts of the country are classed as 'reconsider your need to travel' and 'do not travel', places like Agra, Bengaluru and Delhi don't fall under those higher-risk categories.
Now, it's fair to say that Smart Traveller's advice can still sound daunting, even for India in general. But let me tell you, my trip went off without a hitch. I came prepared by taking some basic yet sensible precautions – and they kept me out of trouble.
It's best to leave any expensive jewellery at home in Australia. And for that matter, don't carry more than you need when you're out and about. Remember, small yet valuable items are easy targets for pickpockets and thieves. By not flashing these items around, you can avoid drawing attention to yourself.
Bottom line: be aware of your surroundings, keep your eyes peeled, don't flaunt your valuables and you'll be perfectly fine. Tourists are very welcome here, and most locals will make you feel exceedingly welcome, so don't be deterred.
Accessing money in India
Speaking of valuables, Agra is one of those places where cold hard cash is essential. I love earning credit card points as much as the next person, but here, cash really is king and you'll need it to get around.
Getting cash while you're here can be tricky, too. Most hotels don't have on-site ATMs and won't provide cash over the counter. And when you do find an ATM, there's a good chance your foreign cards won't be accepted.
If you see an ATM from Kotak Mahindra Bank or SBI (State Bank of India), save yourself the trouble: your card won't work. Trust me on this: I tried cards attached to the networks of Visa, Mastercard, American Express and even Diners Club. But every time, it was 'ATM says no' (things weren't blocked on the Australian side, I did check).
So what do you do? I went exploring and spotted a DBS-branded ATM. I recognised DBS as being a Singaporean bank and figured that if an international card was going to work, it'd work here.
After some trial and error, I learned that this DBS ATM was 'Visa only'. Following all my previous ATM frustration, I couldn't have been happier to hear that cash drawer start whirring! I may have even done a little dance…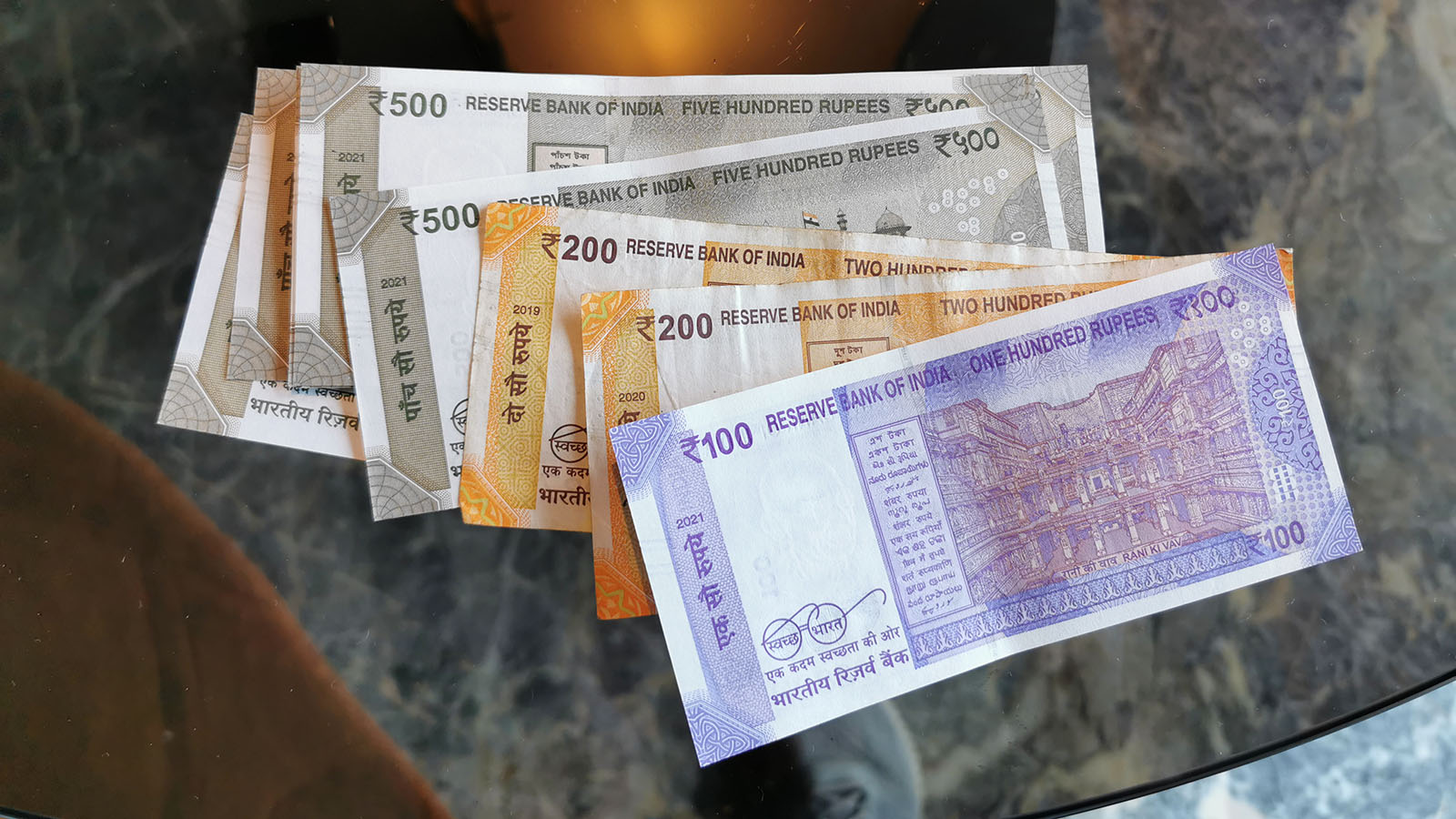 I didn't need much: 5,000 rupees (about AU$94) was enough to cover the many small transactions I couldn't pay by credit card, including tips for drivers and my local guide.
Credit cards can still be used for all the 'big stuff': flights, hotels, Uber, cars and activities booked through the hotel – and of course, the Taj Mahal entry ticket I'd pre-booked online.
Getting around
My biggest overall tip: arrange airport transfers via your hotel before you arrive.
Repeat: arrange airport transfers through your hotel!
Particularly if it's your first visit to India, it's quite comforting having somebody ready and waiting for you on arrival. It really does take the stress out of travelling.
In fact, it was only when I reached out to my Agra hotel that I discovered Agra Airport was also an Air Force base. They said that for security reasons, my driver couldn't meet me at the terminal doors. I'd first have to catch a bus to the airport's 'main gate' – for which I would need cash (50 rupees: about AU$0.94).
Here I was, thinking I could just land and take an Uber to the hotel. I don't know how long it would have taken me to figure that one out, had they not given me the inside scoop! And I was especially glad to have a driver here, given the volume of taxi touts ready and waiting at the door of that bus. Once they saw my transport was spoken for, the sea of people parted.
Beyond airport transfers, Smart Traveller has warnings about using general taxis and public transport in India. So I relied on Uber where needed and it worked really well. It was super cheap, too: a 20-minute ride costs just a few Australian dollars. Even with the maximum tip allowed via the Uber app (100 rupees, about AU$1.90), those rides were still only about AU$5 each.
Ola is a popular alternative, but I found it would only let me pay by cash in India. Given my hassles in withdrawing rupees, I was happy to stick with Uber which allowed for easy credit card payments. You can even use Uber to order a tuk-tuk!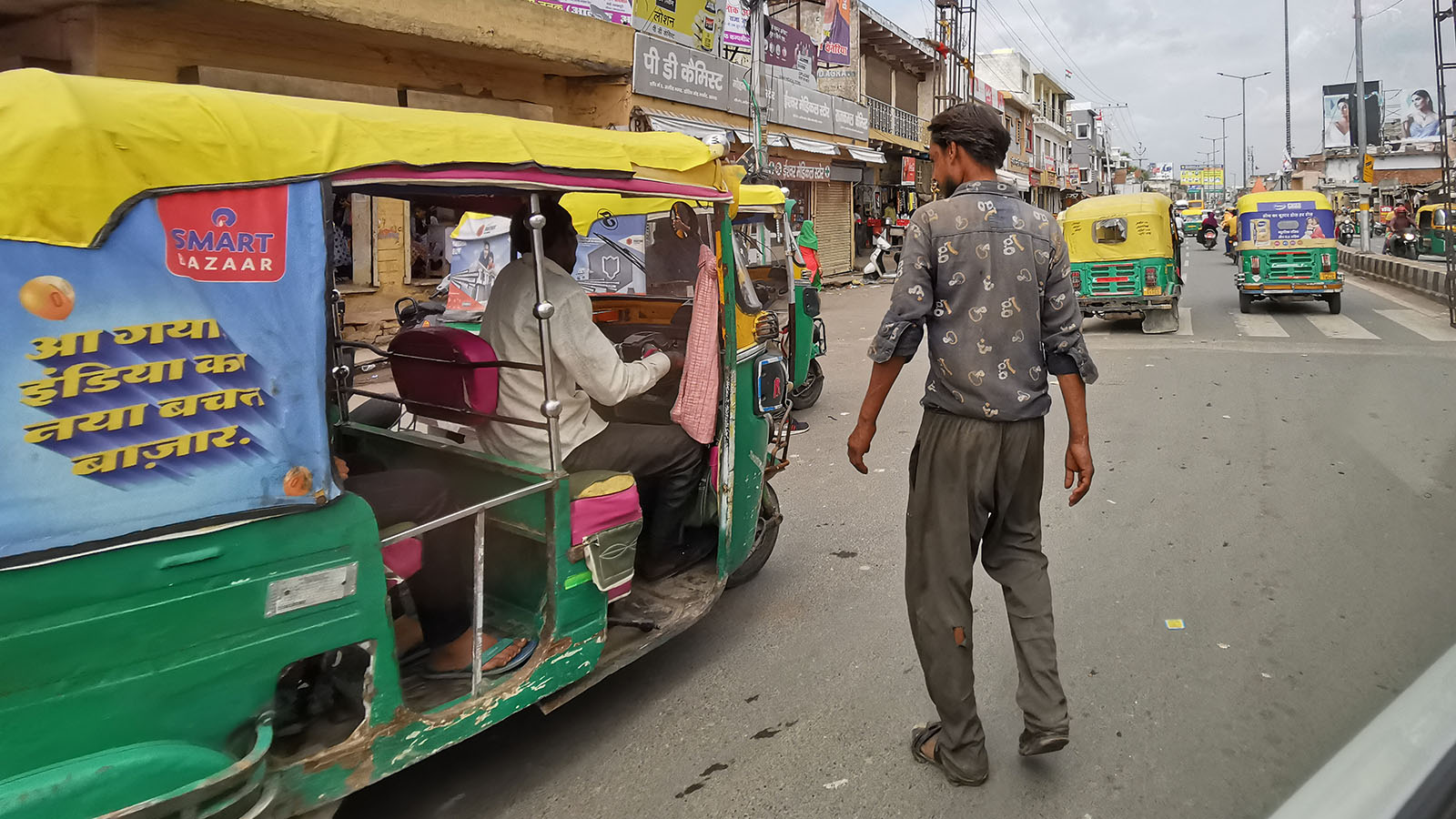 Hotels in Agra, and airports in India
There aren't too many international chain hotels in Agra itself, but a few brands have a presence. With Marriott Bonvoy Gold status, I opted for the ITC Mughal, a Luxury Collection Resort and Spa. It's a fine hotel with a nice breakfast spread, and one that didn't break the bank at just ~AU$180/night for a standard room.
That said, these basic 'Mughal' rooms and chambers are in need of refurbishment. They're fine, but quite dated. The Royal Mughal suites here are far nicer and have club lounge perks – I'd book that next time.
You've also got properties such as Radisson Agra, attached to Radisson Rewards. But wherever you stay and however you get here, you'll need to find your way through airport security.
If you're boarding a domestic flight within India, there are no liquid restrictions. It's just like taking a short hop within Australia: water bottles are fine here. If you're passing through international security though, the usual '100ml liquid rules' apply.
But other things work a little differently in Indian security, so listen up. At the checkpoint (domestic or international), you'll need to remove all metal items from your bag and place them separately in the screening tray.
That can really slow things down: out comes everybody's laptop, camera, headphones, Bluetooth mice, travel adapters, charging cables, power banks… the list goes on. For obvious reasons, I chose to leave my wallet inside my bag and that didn't cause a fuss despite having two metal credit cards inside.
Even if you don't trip the metal detector, expect to be checked by a hand-held scanner as well before you're free to pass.
Health
You've mastered the visa process, breezed through the airport checkpoints and got your rupees, but don't forget about your health.
To enter India, you'll either need to have received a full course of a COVID-19 vaccine or undertake a negative COVID test just prior to travel. Given the ever-changing nature of COVID restrictions, refer to official sources for the latest requirements.
While we're talking vaccines and medicines, this is one trip where a visit to a travel doctor is a good move. Depending on exactly where you're headed within India, there are shots and medications that will be highly recommended.
If you're a frequent international traveller, you may already be covered for the basics: typhoid, hepatitis, tetanus, flu, and of course, COVID-19. But many doctors also recommend a Japanese encephalitis jab too. Speak to your doctor to see what's recommended and required for exactly where you'll be visiting.
Malaria can be a risk in India too, and there are preventative medications available. But on seeking expert medical advice for my travels to Agra and the Taj Mahal, my malaria risk was deemed low. Instead, a very strong insect repellent was provided by my travel doctor, and it certainly got a workout!
Unlike the many recommended vaccinations, proof of a yellow fever vaccine may be required by Indian authorities for those who've previously visited a yellow fever-risk country. Again, defer to official sources for the latest government policies.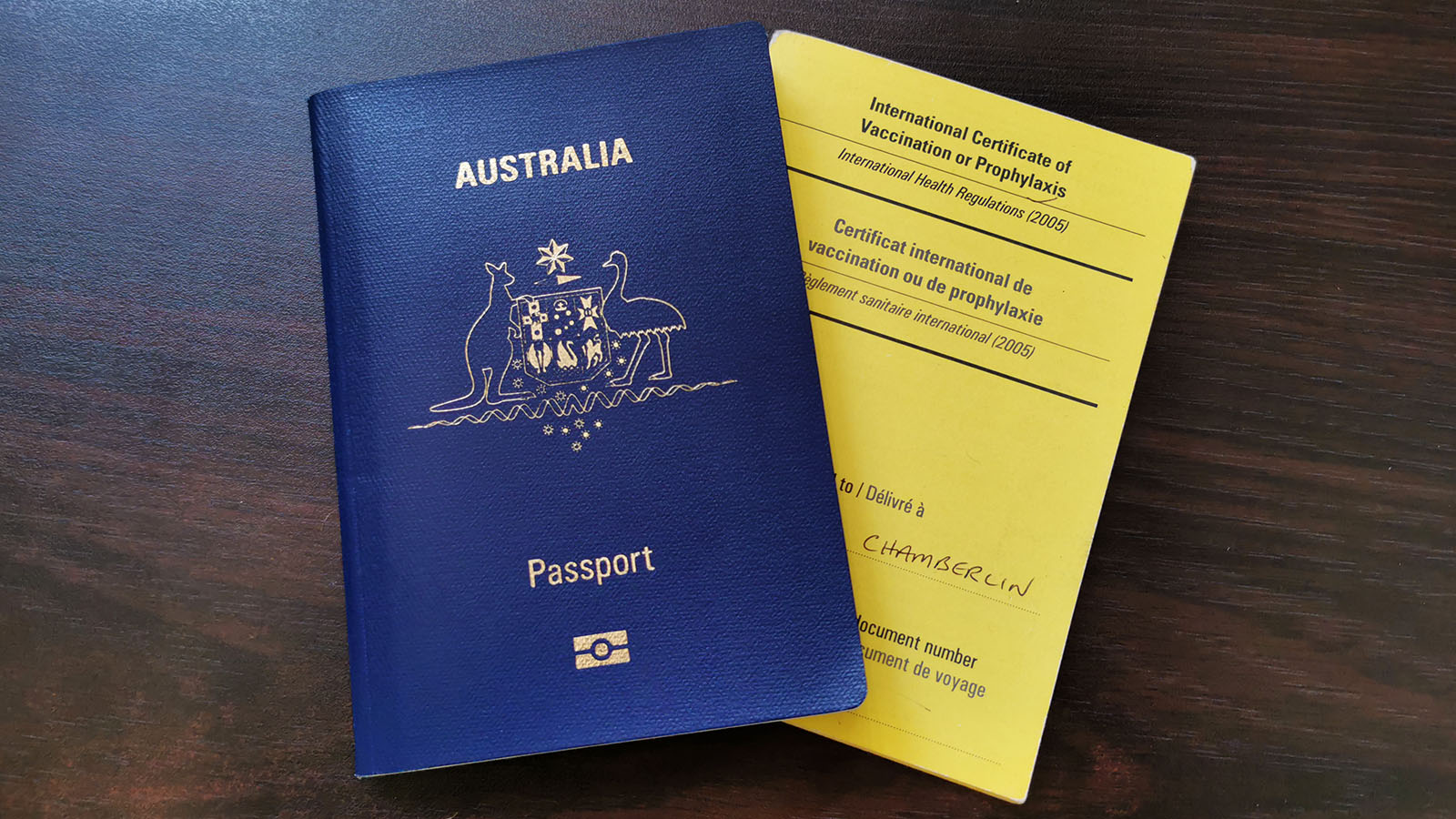 This aspect of the trip required the most planning – and yes, it's a bit of a hassle. But having now ticked the boxes, it'll be a lot easier for me to return: and to explore many other parts of the world, too.
At the time of writing, masks are also mandatory on flights to, from and within India.
Food safety
Ah, the 'Delhi belly' – one part of a trip to India that's best avoided. But what can you realistically do?
My advice: eat at the hotels, at upscale restaurants elsewhere, and at chains in major locations such as airports where food safety standards are generally highest. With vegetarian dishes also plentifully available, I largely ditched meat for a week too. The fewer ingredients that need precise refrigeration, the better!
Yes, it's boring. And yes, the first thing I ordered when I returned to Australia was a chicken Caesar salad – and it was glorious being able to eat anything again and not overthink it. But my goal in India was to avoid getting sick, and I certainly didn't go hungry in the process.
The food I enjoyed at the Conrad Bengaluru, ITC Mughal (Luxury Collection) in Agra and Taj Bangalore before my flight home was all fantastic. And that being the case, I'd certainly be a little more adventurous next time.
Some travel doctors also suggest taking bovine colostrum tablets during the trip as a preventative measure to help keep your stomach at ease. Ask your travel doctor or pharmacist whether these could be suitable for you.
Note as well, you can't drink the tap water here: and don't use it to brush your teeth, either. Your travel doctor will also be able to prescribe some emergency medicines to keep up your sleeve, just in case.
Summing up
My trip to India was phenomenal, and I'd highly recommend it. But it's also fair to say that India won't be for everyone.
For instance, I wouldn't recommend India for a first-time international tourist. Places like New Zealand and Singapore are more popular for a reason. They're simple, they're safe, general food standards are high across the board and you don't need a plethora of jabs and medicines to prepare for the trip.
Yet for the more experienced traveller – or perhaps, the more curious – India is just incredible. There's a lot of planning involved, sure. And with an Indian visa required as well, that does add more complexity.
But was it all worth it to see one of the Seven Wonders of the World? It's a simple answer.
Absolutely.
---
All photography and videography by Chris Chamberlin, who travelled to India at Point Hacks' expense.
The Taj Mahal beckons: visiting India's stunning masterpiece
was last modified:
October 19th, 2023
by