Inside Air India's $100 billion project to become a 'premium global airline'
New planes, seats and lounges are just the start for the 'new' Air India.
Posted:
August 11, 2023 - 2:30 pm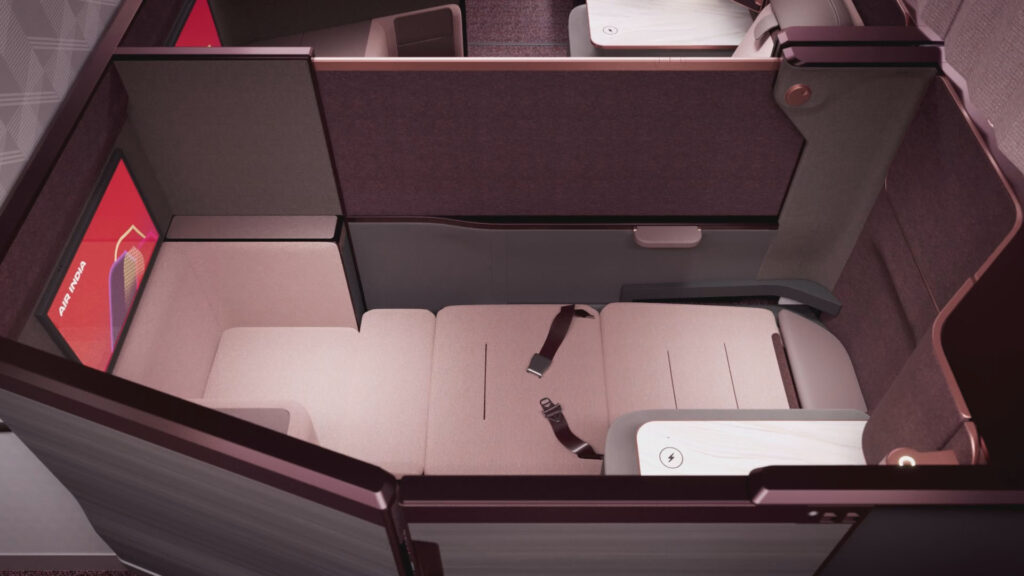 What we'll be covering
Air India is charting a course towards a new beginning. Not only can travellers look forward to experiencing brand-new planes, cabins and lounges, but the airline even has a new logo and livery to drive the message home. That is, the Air India of tomorrow will be a big step above the Air India of the past – and of today.
It's an ambitious five-year plan and a costly one at that. Right now, Air India has a staggering 470 brand-new aircraft on order from Airbus and Boeing. Combined, these jets are worth AU$107 billion at list prices. On top of this, the company will also spend a further AU$613 million in replacing the interiors of its existing long-haul fleet.
Ultimately, Air India plans 'to become a world-class airline with an Indian heart.'
Steering the ship is Air India's new Chief Executive Officer and Managing Director, Campbell Wilson. A previous career veteran of the Singapore Airlines Group, he's no stranger to aviation. Or for that matter, to running a premium carrier.
At Singapore Airlines, he rapidly rose through the ranks. From his humble beginnings as a New Zealand-based sales manager, he ascended to become the company's Senior Vice President of Sales and Marketing.
Along the way, Wilson also spent five years as the CEO of Singapore Airlines' low-cost offshoot, Scoot. He returned to the role in April 2020 – right as COVID was shutting down the world, and the aviation industry. After keeping Scoot afloat through the worst of the pandemic, the challenge of reinventing Air India as a 'premium global airline' was clearly too tempting to pass up.
Here's a look at how India's home Star Alliance carrier plans to make that happen.
New Air India branding and livery
An airline's logo is always the first port of call. After all, it's something travellers see long before they get to their seats on departure day. As the first hint that Air India is becoming more modern, a new logo forms part of a fresh livery.
That livery makes its debut in December 2023 aboard a factory-fresh Airbus A350. And once it lands, frequent travellers to India will notice a number of differences.
Right now, Air India's livery makes strong use of an 'iconic Indian window shape', echoed right across the plane. This approach is being retired, in favour of a broader gold window frame that instead takes flight on the tail. Air India says this symbolises a 'window of possibilities'.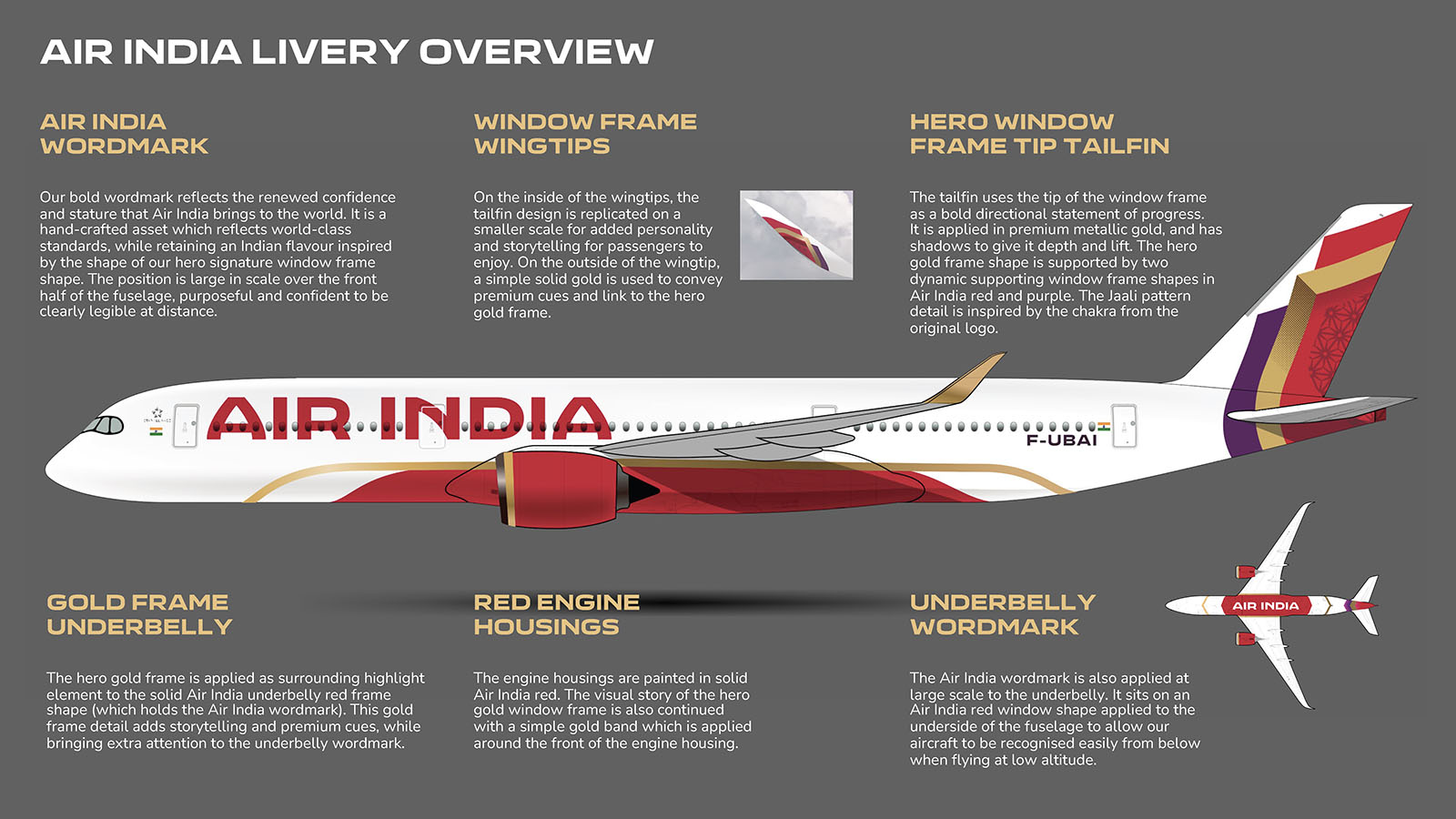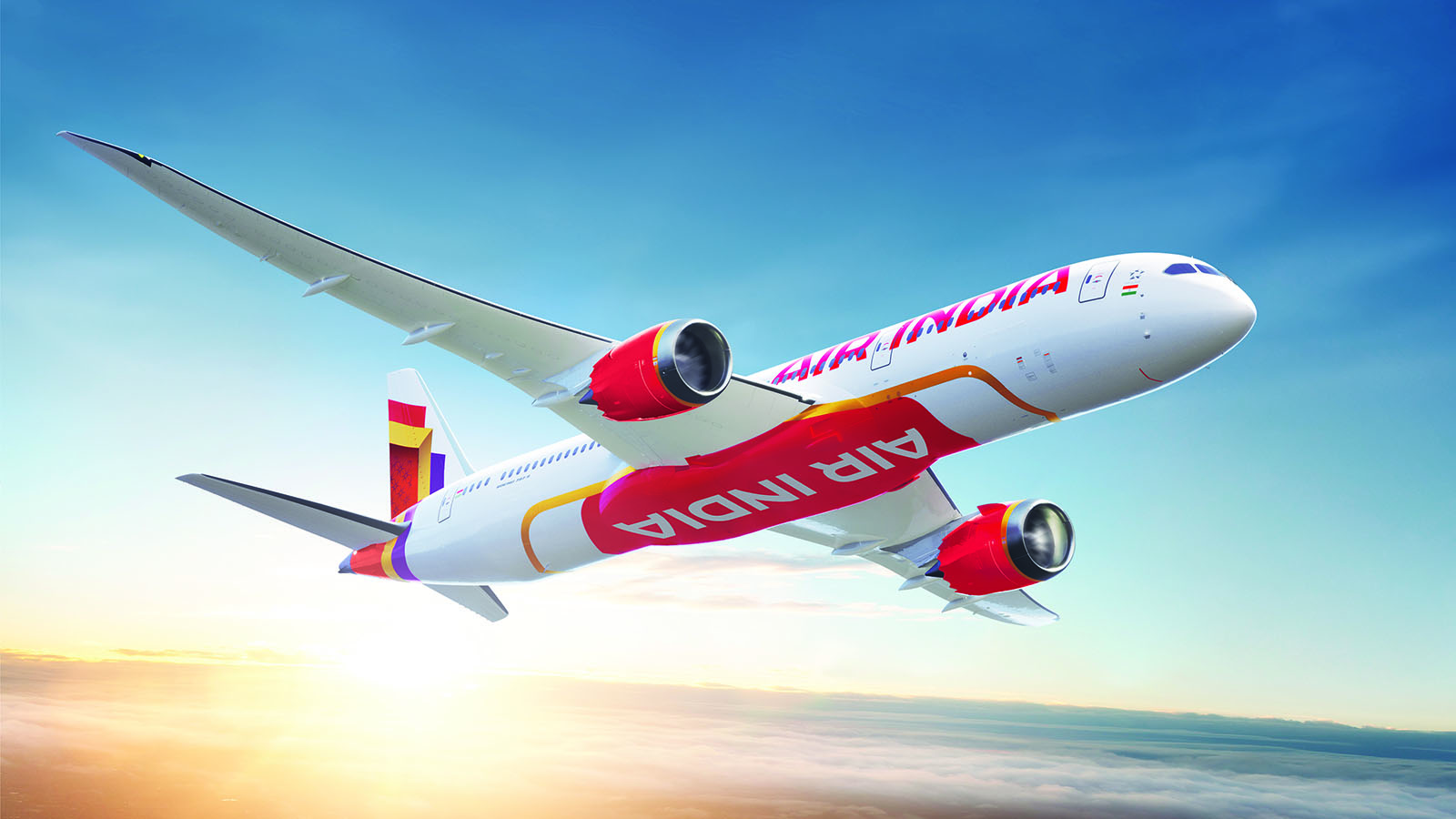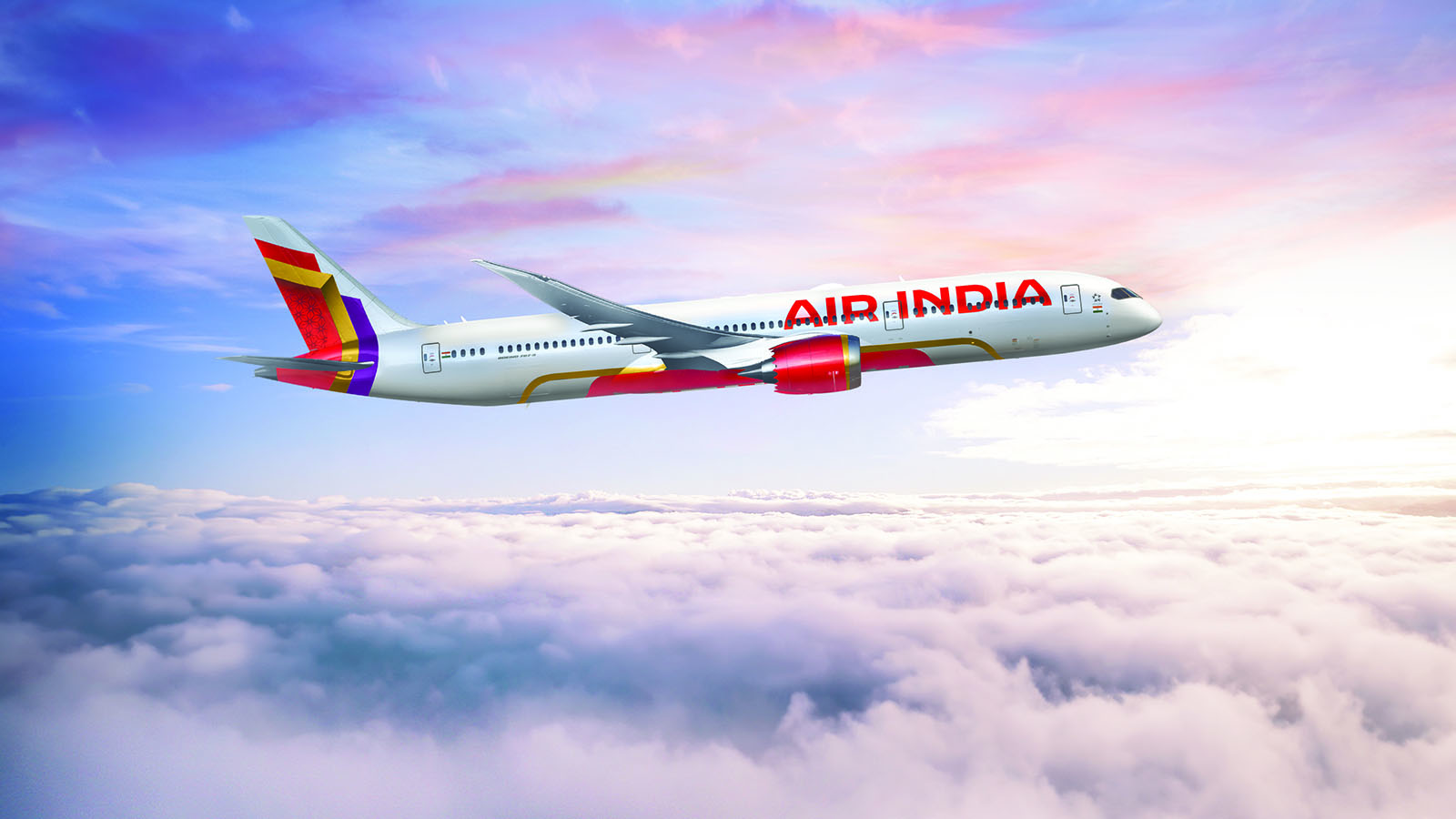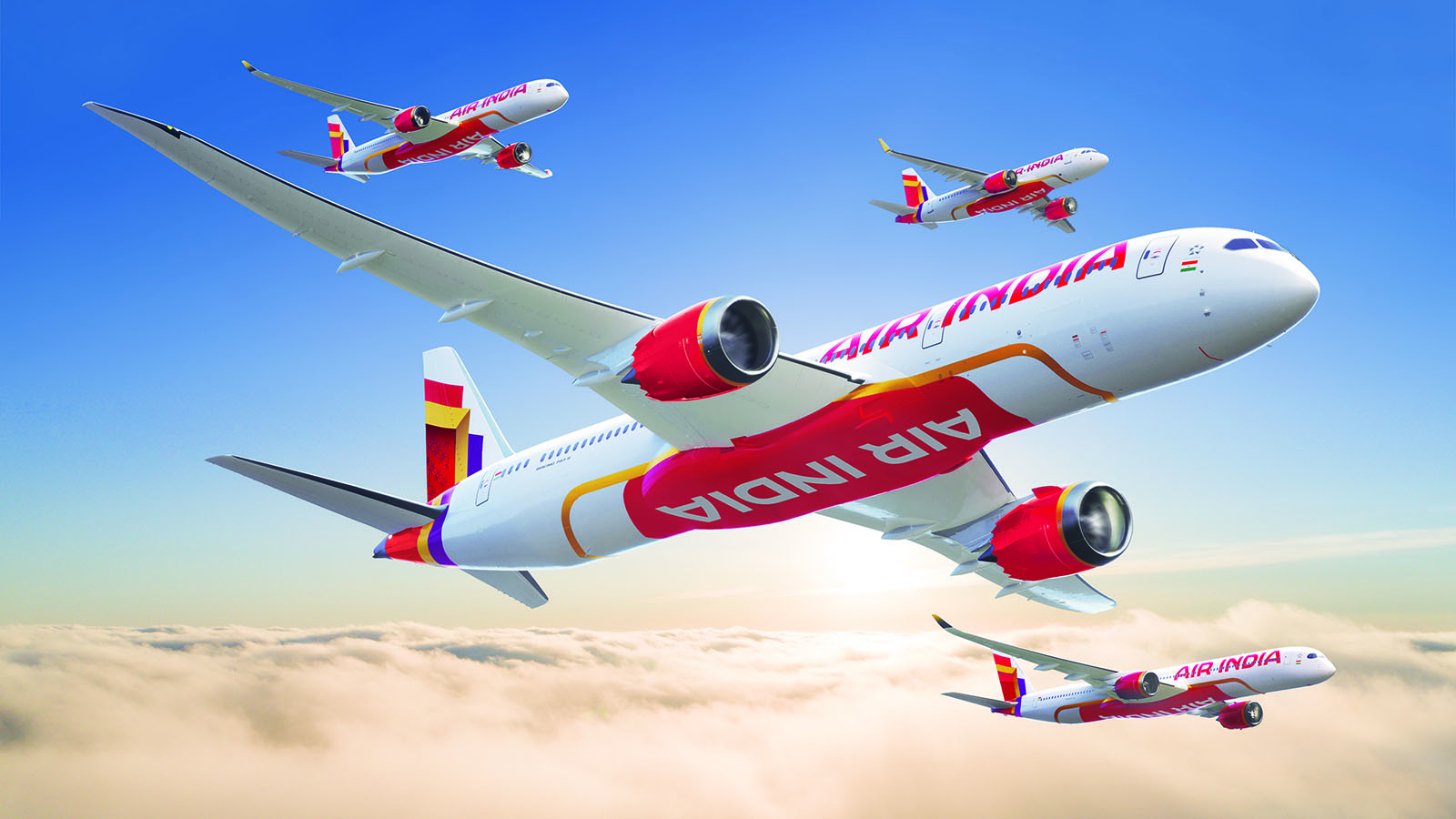 That frame on the tail is enhanced by bold notes of purple and red. This represents 'progressiveness and the airline's bold, confident outlook for the future.' Colours on the aircraft body draw on deep red, aubergine and gold. Along with a new custom-designed font, the design aims to blend confidence and warmth and 'position Air India as premium, inclusive, and accessible.'
Our transformative new brand reflects an ambition to make Air India a world class airline serving guests from around the globe, and that represents a new India proudly on the global stage.

The new Air India is bold, confident, and vibrant, but also warm and deeply rooted to its rich history and traditions that make Indian hospitality a global benchmark for standards in service.

Colours, patterns, shapes and how they come together and what they represent matter, but our actions speak so much louder. We are in the midst of a total transformation to reimagine the role of India's flagship airline.

– Campbell Wilson, Air India Chief Executive Officer and Managing Director, August 2023
Ad – Scroll down to continue reading.Minimum spend, terms & conditions apply.
Air India plans stunning new cabin interiors
To be frank, Air India doesn't win many favours with frequent flyers over the seats it currently offers on most long-haul flights. For instance, on services from Delhi to Sydney and Melbourne, the carrier uses a Boeing 787. Normally, that'd be a good thing. But inside those modern cabin calls, Business Class finds a very dated seat.
Fortunately, Wilson isn't one to mince his words or side-step a problem. And those last-generation seats are very much on his radar.
Air India has committed to attain the highest standards of product and service befitting of a world class airline. We know that, at present, the cabin product on our 40 legacy widebody aircraft falls short of this standard.

We are confident that … the new interiors will delight customers and show Air India in a new light. We are working closely with partners to accelerate the refit process as fast as possible.

-Campbell Wilson, Air India Chief Executive Officer and Managing Director, December 2022
That's where the eye-watering investment in new planes and seats comes into play. Not only is Air India spending AU$107 billion on 470 new aircraft (at list prices), but the carrier is also forking out AU$613 million in refurbishments. This includes significant upgrades to its existing Boeing 787 fleet, as appears on flights to Australia.
Cabin configuration may vary by aircraft, but Air India is teasing this sneak peek at what's to come. And yes, this includes fresh First Class Suites as well as Business Class seats with closing doors. Premium Economy – a cabin that aims to balance cost and comfort – also gets a wider rollout.
Air India says that by March 2024, one-third of its widebody fleet will gain these upgrades. The carrier expects the entire process to take around 2.5 years to complete. After which, Air India's 'entire long-haul fleet will be reborn'.
Along with the more visible upgrades, some of the aircraft's softer touches are also getting a level-up. There'll be new inflight entertainment systems added, along with a broader rollout of inflight internet.
The carrier's colossal aircraft order includes 40 Airbus A350 jets. A further 20 Boeing 787s will also join the Air India fleet, along with 10 of a new type, the Boeing 777-9. A further 400 single-aisle jets will follow, being a mix of Airbus A320/A321neos and 190 Boeing 737 MAX planes.
Review: Air India Airbus A320neo Business Class (Bengaluru – Delhi)
New lounges and a rebooted loyalty program
Cementing Air India's vision in the sky, new lounges are also on the way.
The carrier is committing to 'building completely new lounges at Delhi and New York JFK airports.' We're yet to learn what shape these will take. But if the cabin teaser is anything to go by, we can expect a significant upgrade over the facilities currently available at these airports.
In other airports, the airline now boasts '100% lounge access coverage for premium customers at all destinations.' In other words, unlike some airlines, you won't be left sitting in the terminal when flying Business Class, wherever your travels may take you.
Early next year, the carrier will also unveil a 'completely redesigned loyalty program'. The goal? To 'enable thousands of new redemption possibilities.' It'll be interesting to see if the move makes it easier for Australians to meaningfully engage with Flying Returns.
For the time being, it's not possible to earn points with Air India on Australian credit card spend. Flying Returns also isn't one of Marriott Bonvoy's many points transfer partners. This means the popular 'Amex to Marriott' transfer trick doesn't help here.
But as a Star Alliance airline, Air India flights can be booked through various partner frequent flyer programs. For instance, via Singapore Airlines KrisFlyer. Through KrisFlyer at least, the booking process is usually straightforward via the Singapore Airlines website or over the phone.
Taxes and fees are also very low on Air India flights. A recent Business Class reward booking via KrisFlyer for Bengaluru-Delhi-Sydney cost me less than AU$100 in related charges. With new cabin experiences to look forward to, over time, those redemptions will become a lot more appealing.
Also read: Air India Boeing 787 Business Class review (Delhi – Sydney)
Imagery and video courtesy of Air India.
---
Stay up to date with the latest news, reviews and guides by subscribing to Point Hacks' email newsletter.
Inside Air India's $100 billion project to become a 'premium global airline'
was last modified:
August 24th, 2023
by