This Star Alliance airline has been aggressively expanding into Australia, flying direct from Sydney, Melbourne and Brisbane to Vancouver, offering an alternative to flying through Los Angeles or San Francisco.
I used 80,000 United MileagePlus miles + ~$82 AUD in taxes per person for this one-way flight.
Fleet & Routes
Air Canada has fitted the 'Executive Pods' to its fleet of Boeing 777 and 787 aircraft, which fly from Sydney, Melbourne and Brisbane.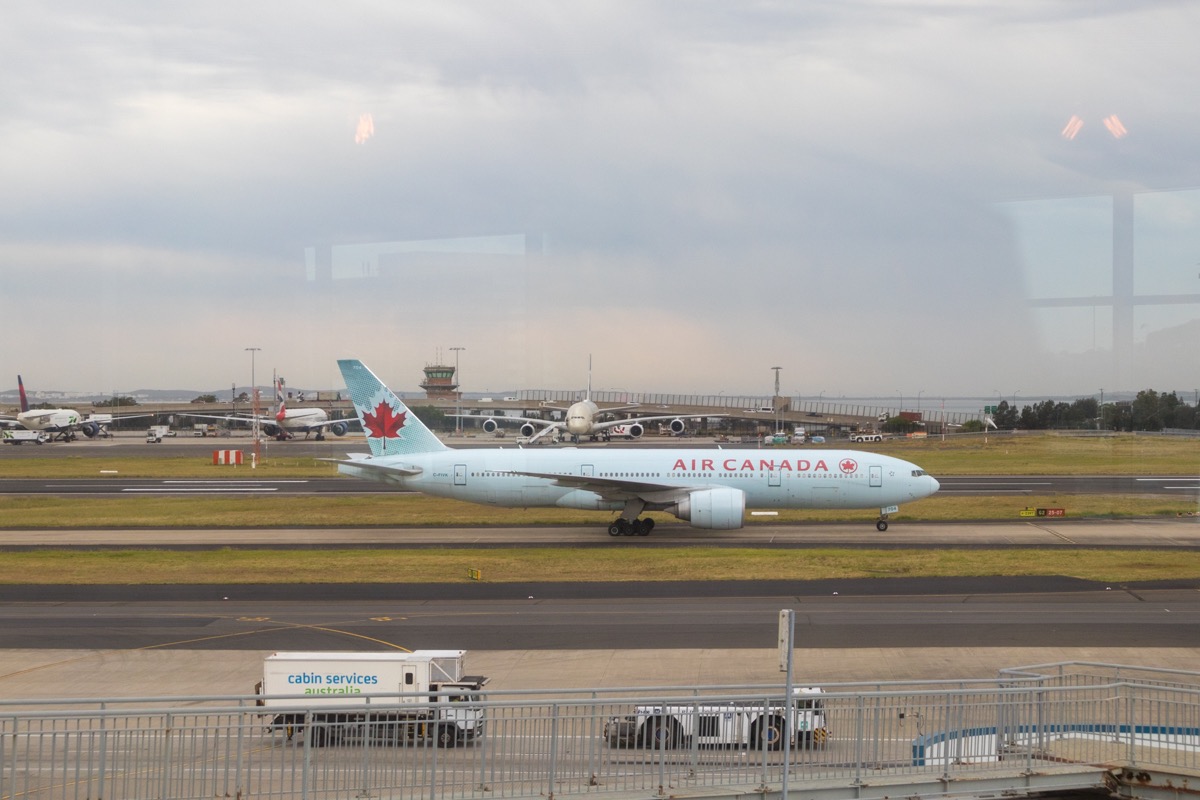 The Cabin: Seats & Seatmap
Air Canada currently has six Boeing 777-200LR configured with 40 'Executive Pod' Business Class seats: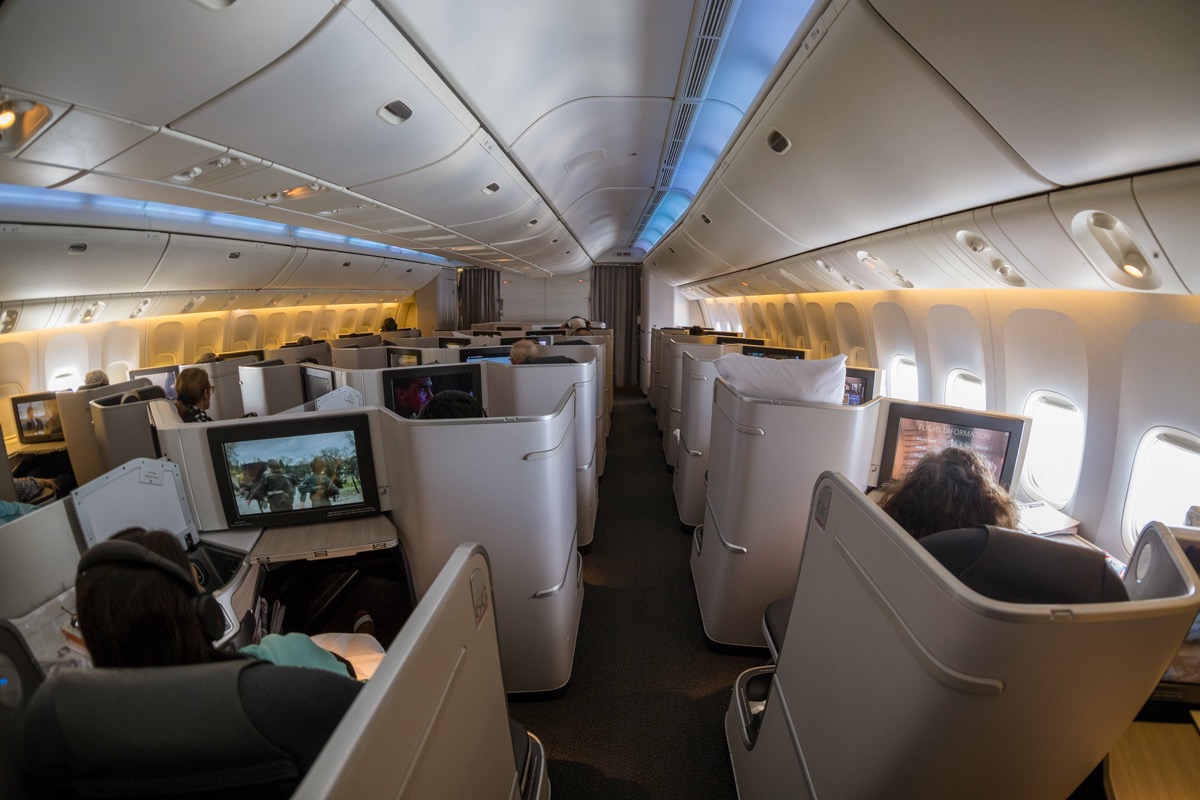 24 in Premium Economy: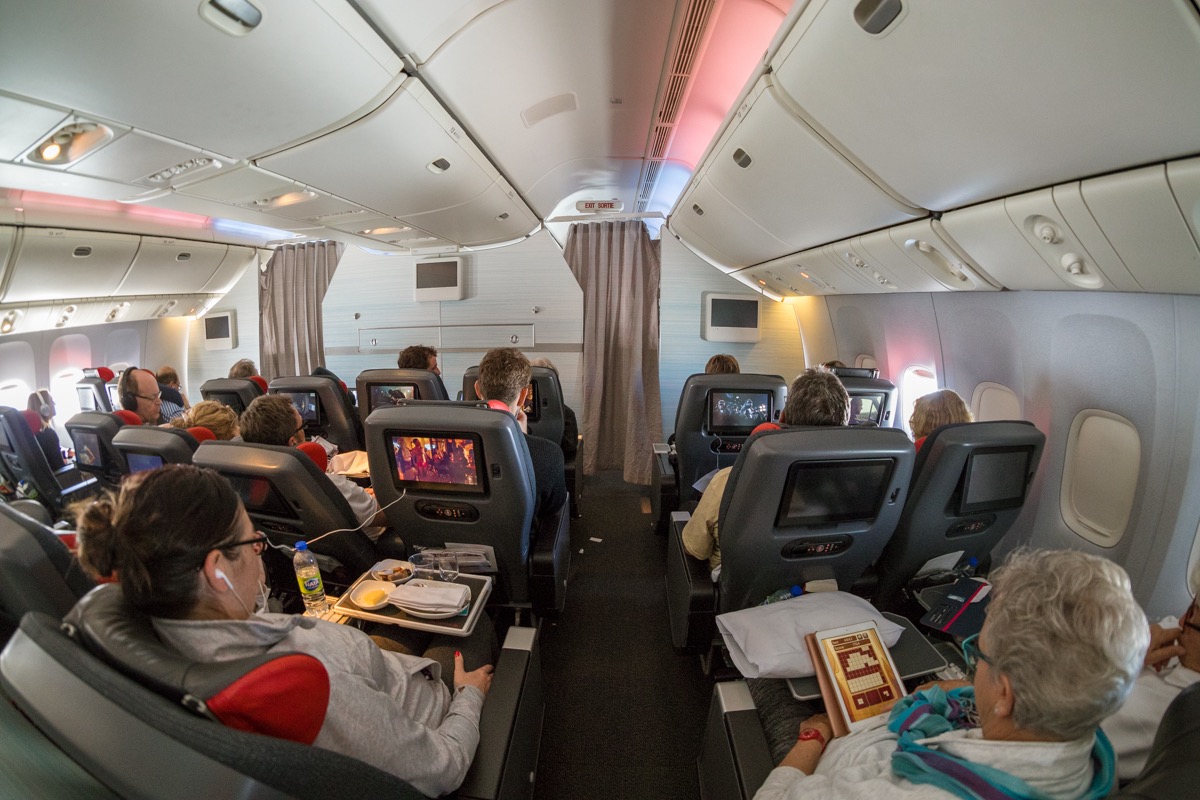 and 236 in Economy Class: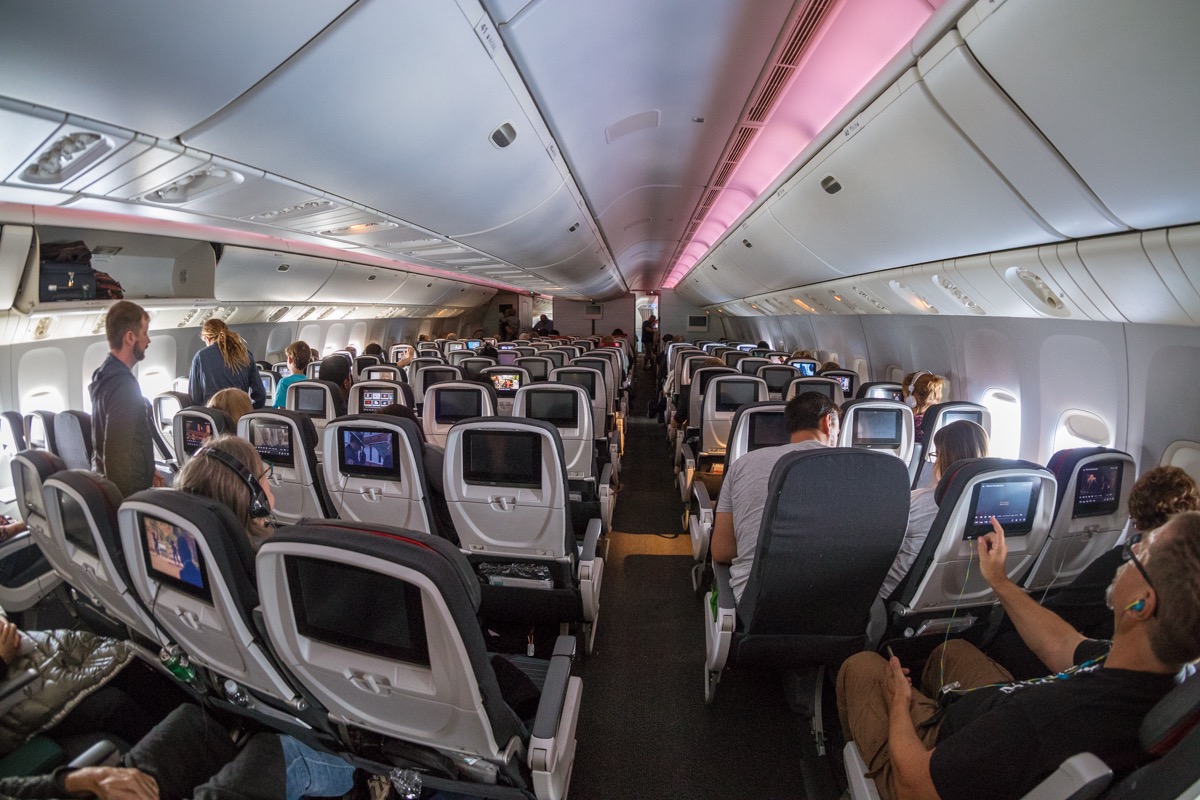 Air Canada has selected the excellent Rockwell Collins (formerly B/E Aerospace) Super Diamond reverse herringbone seat for its 777 and 787 fleet. Positioned in a 1-2-1 configuration, all seats have direct aisle access: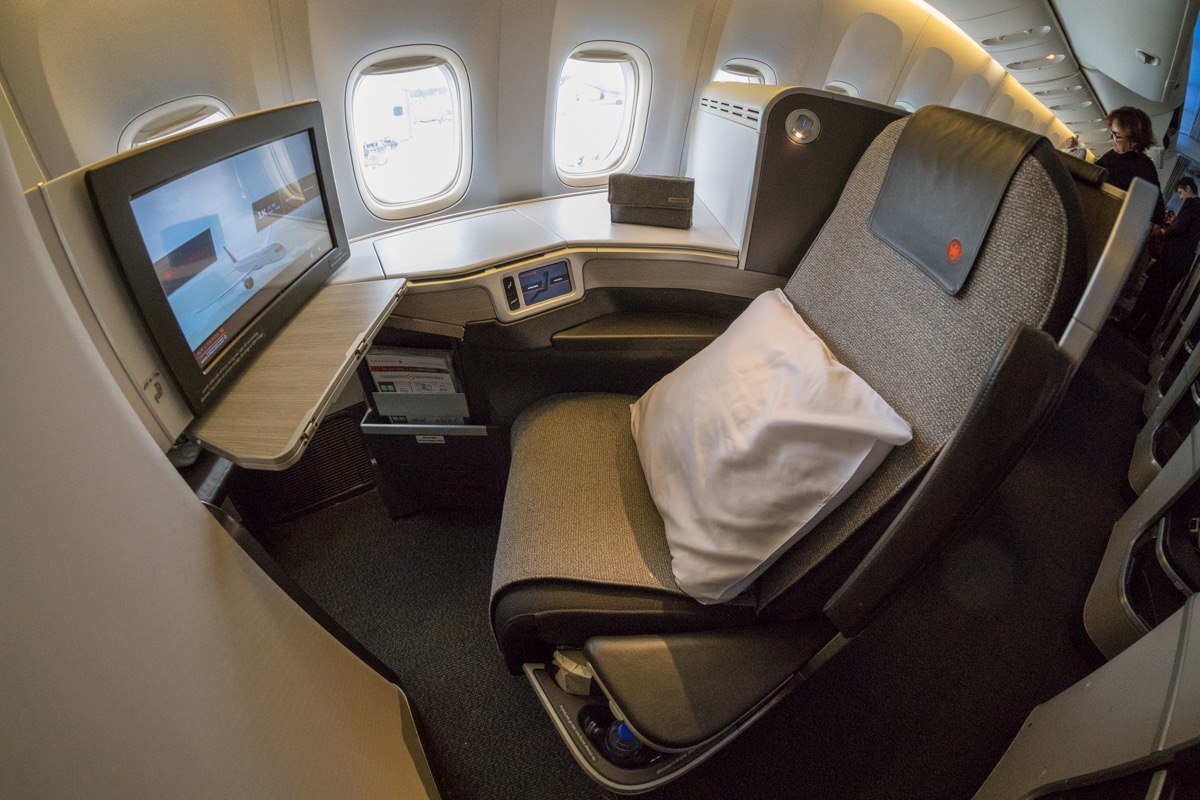 and are convertible into a lie-flat bed.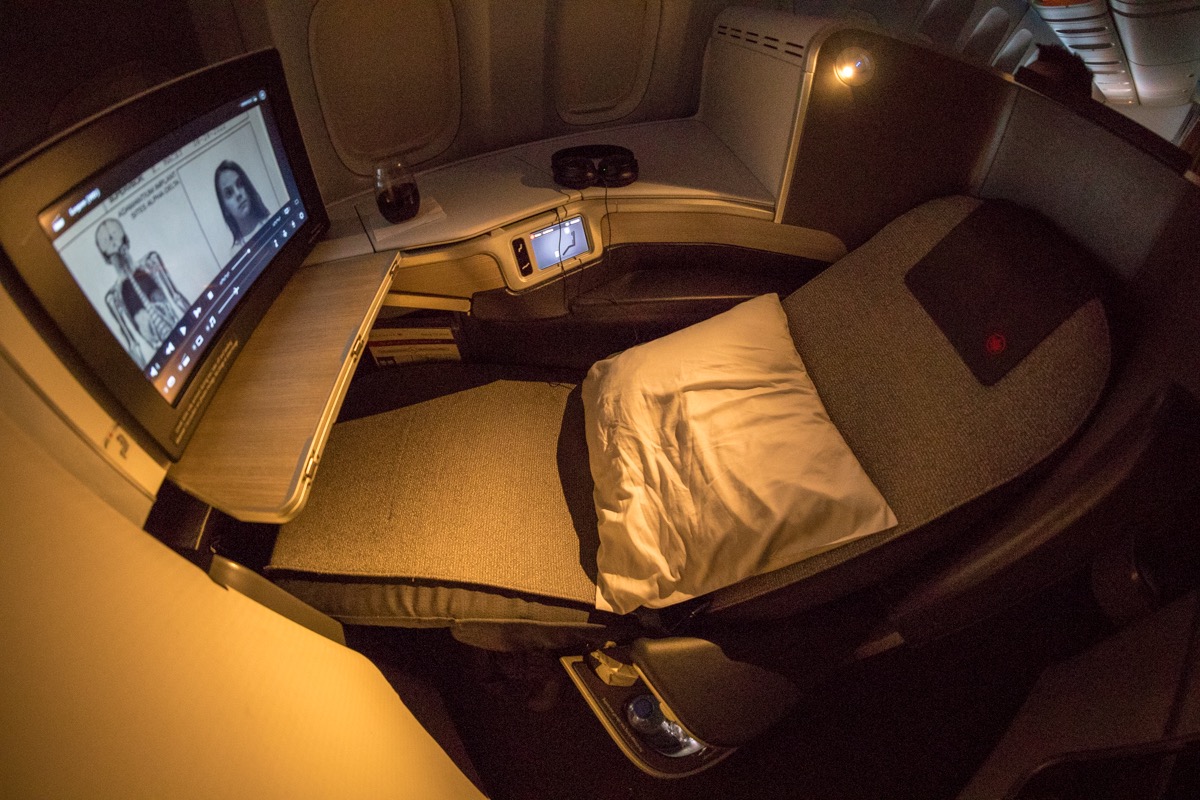 A large pillow and duvet is provided however there is no 'turn down service' or mattress topper.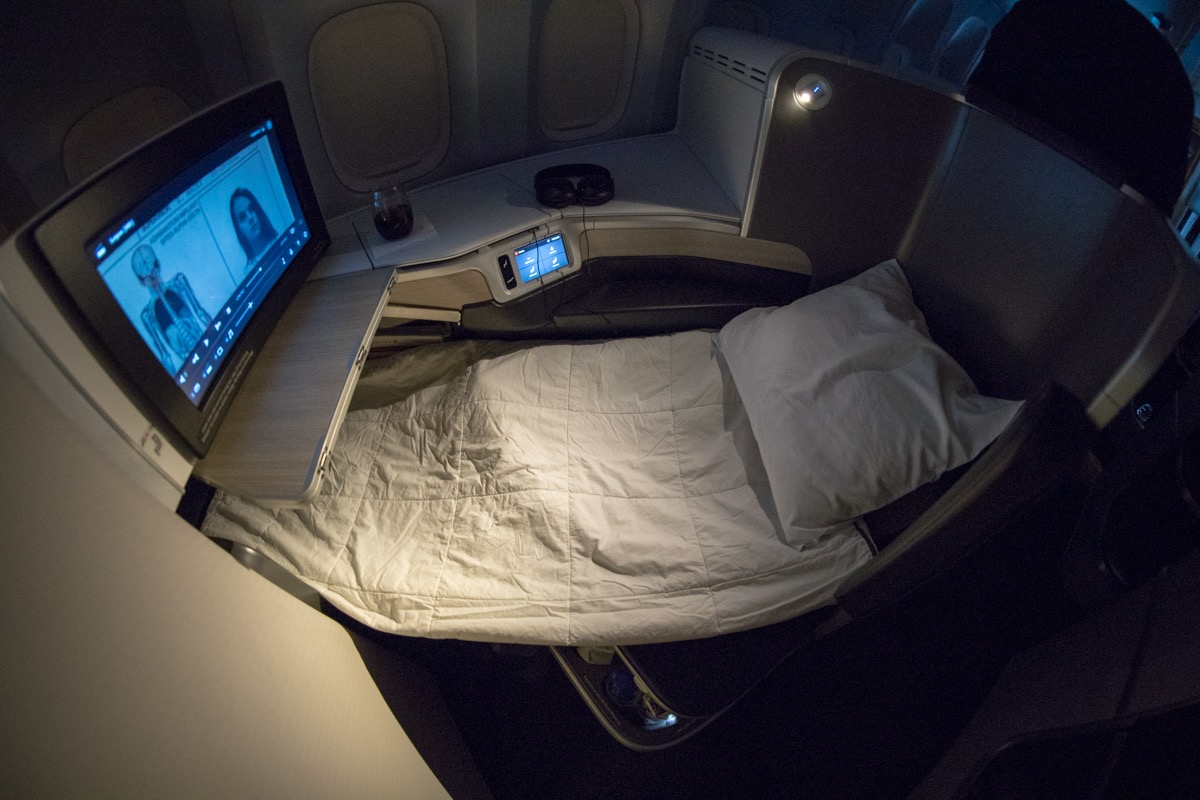 26 seats are in the front cabin and 14 in the rear mini-cabin (pictured below).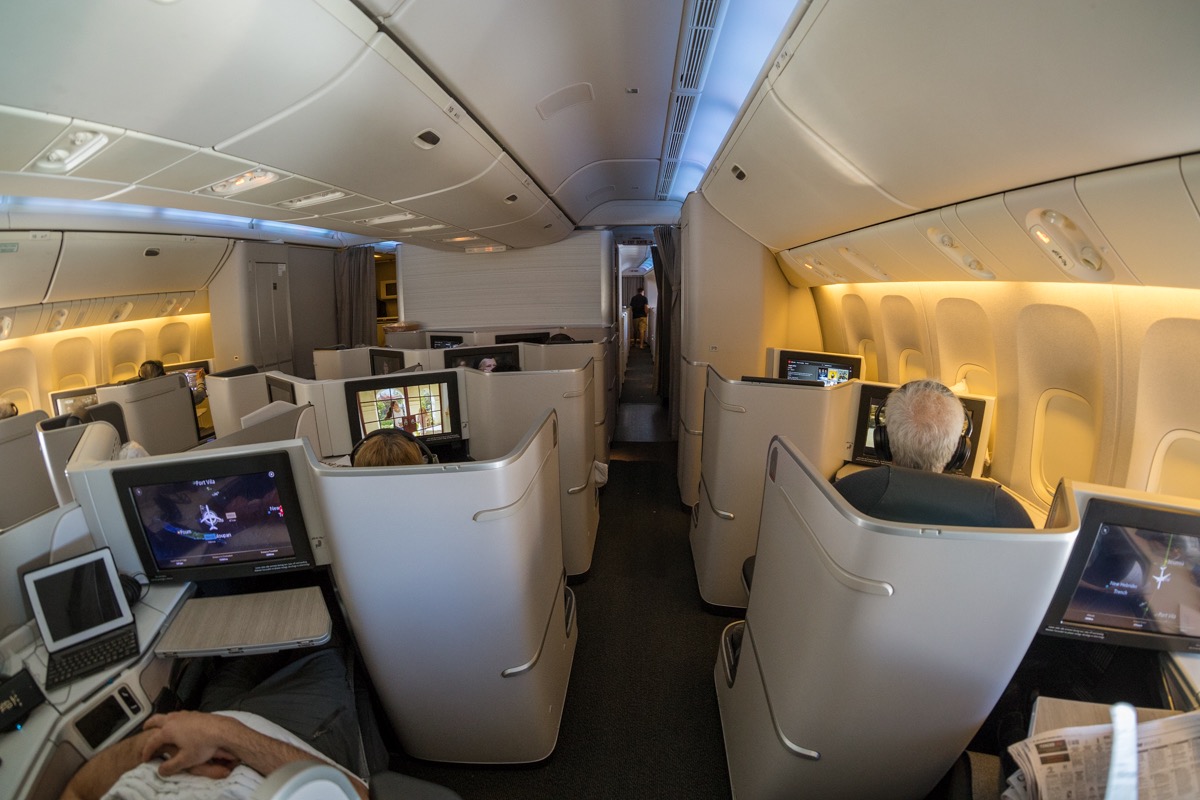 Virgin Australia flies a larger 777-300ER with the same seat type between Australia and LA, so it is hard not to make comparisons. Unfortunately, unlike Virgin Australia, Air Canada does not have a bar onboard.
There is excellent storage around the seat including a deep storage bin alongside the window where the remote control, headphone jack, USB and power adapter are located. This means you can charge small electronic devices and have the lid closed so everything is out of sight.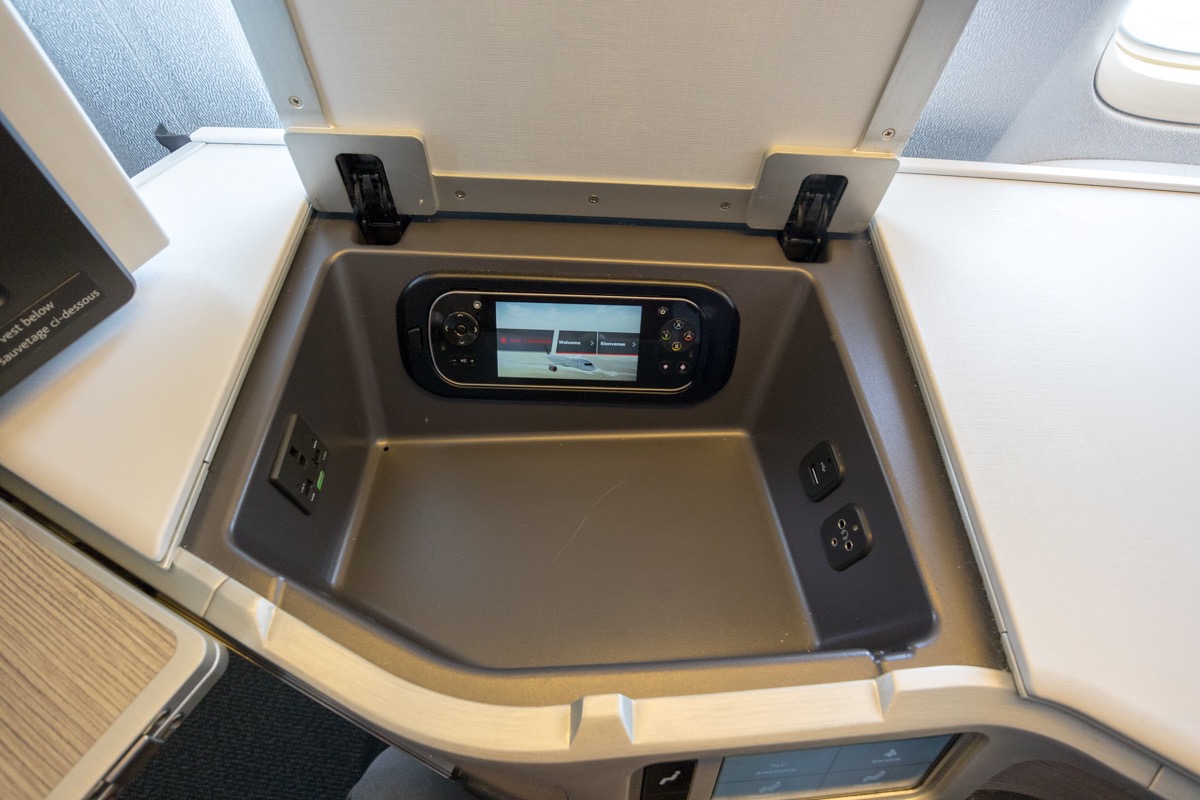 The literature pocket is located under the tray table alongside the window, as well as another storage pocket in front.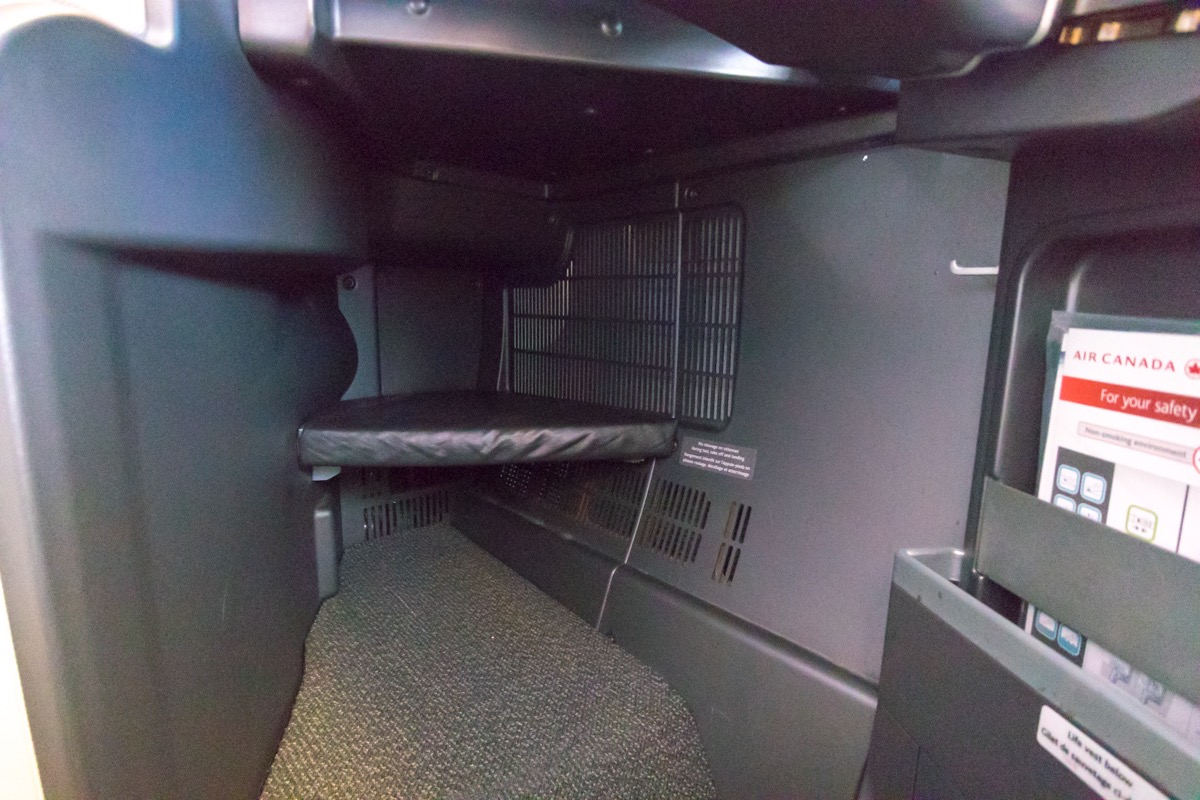 Additional storage space is located under the armrest, however, this is exposed to the aisle, so I would not recommend storing anything of value in there.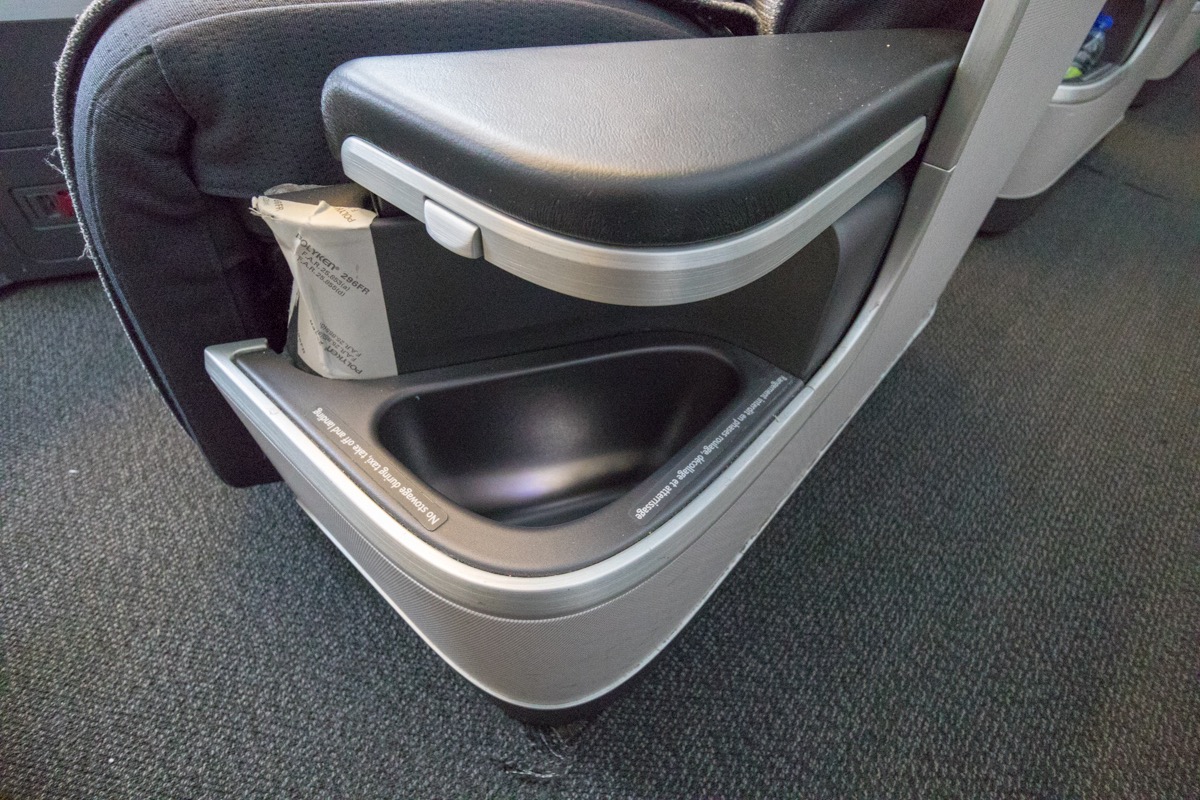 The seat has an electronic height adjustable headrest and massage feature. As my seat controller completely froze during the flight, I was temporarily unable to adjust the seat, however, thankfully a restart of the seat fixed the issue.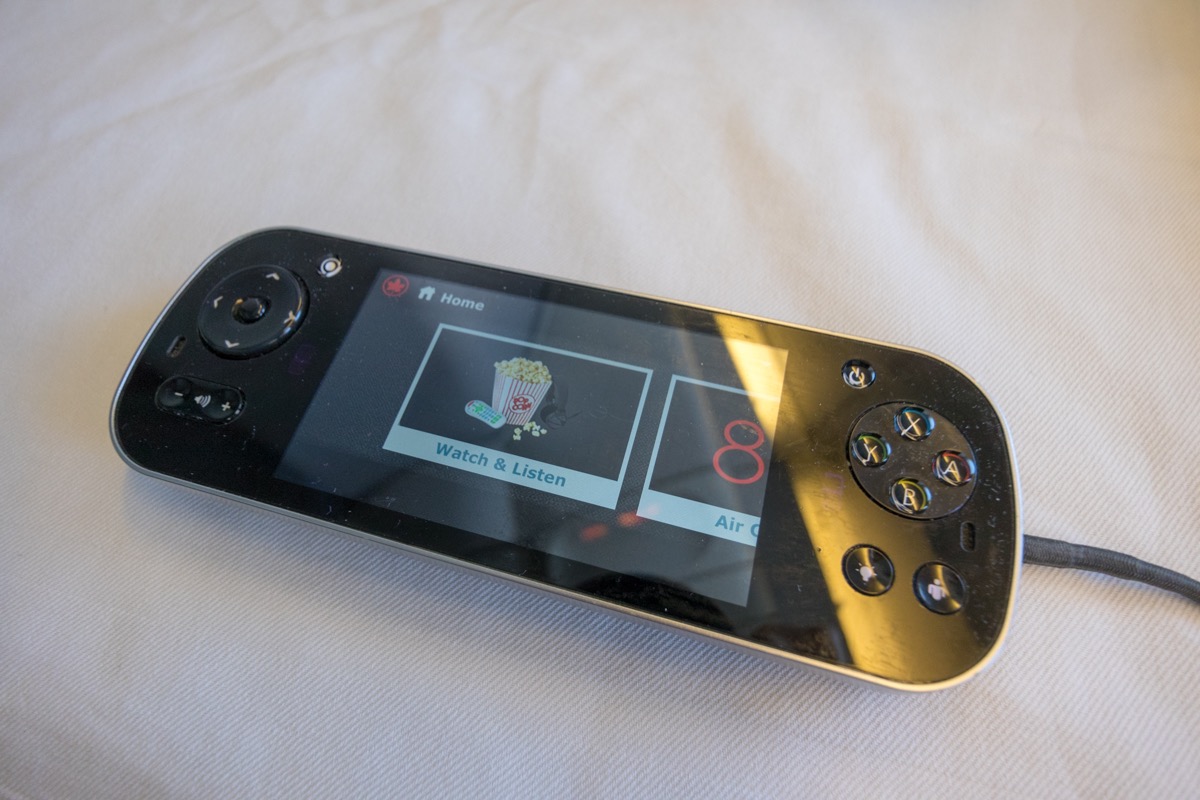 Seat choice
Here is what the seat map looks like (ignore the Xs on this particular flight booking):
Window seat lovers will choose any A or K seats, which angle towards the window, whilst those travelling together would usually want the E and F centre pair, which angle towards each other.
Do note that the privacy divider between the seats cannot be lowered.
However, if you're travelling with someone, you might opt to both enjoy windows seats, which is what we selected.
I was seated in 1K and it felt very private due to the bulkhead which extends into the cabin. Row 8 in the rear cabin would feel the same yet may have more traffic, considering the toilets are located directly in front of these seats.
Read our guide on how to choose the best seat for your flight here.
Service: Food & Drink
After take-off, warm nuts and a drink are offered.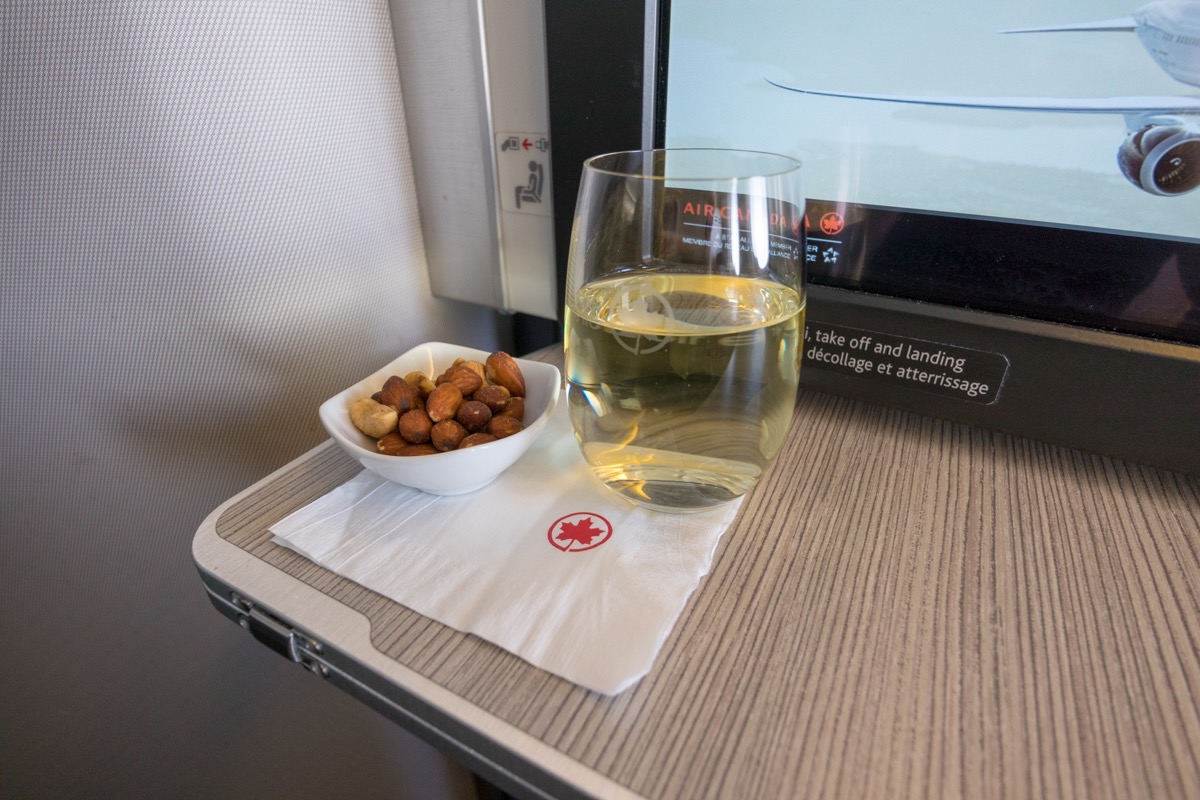 The lunch service included delicious yellowfin tuna for appetiser with a mixed salad.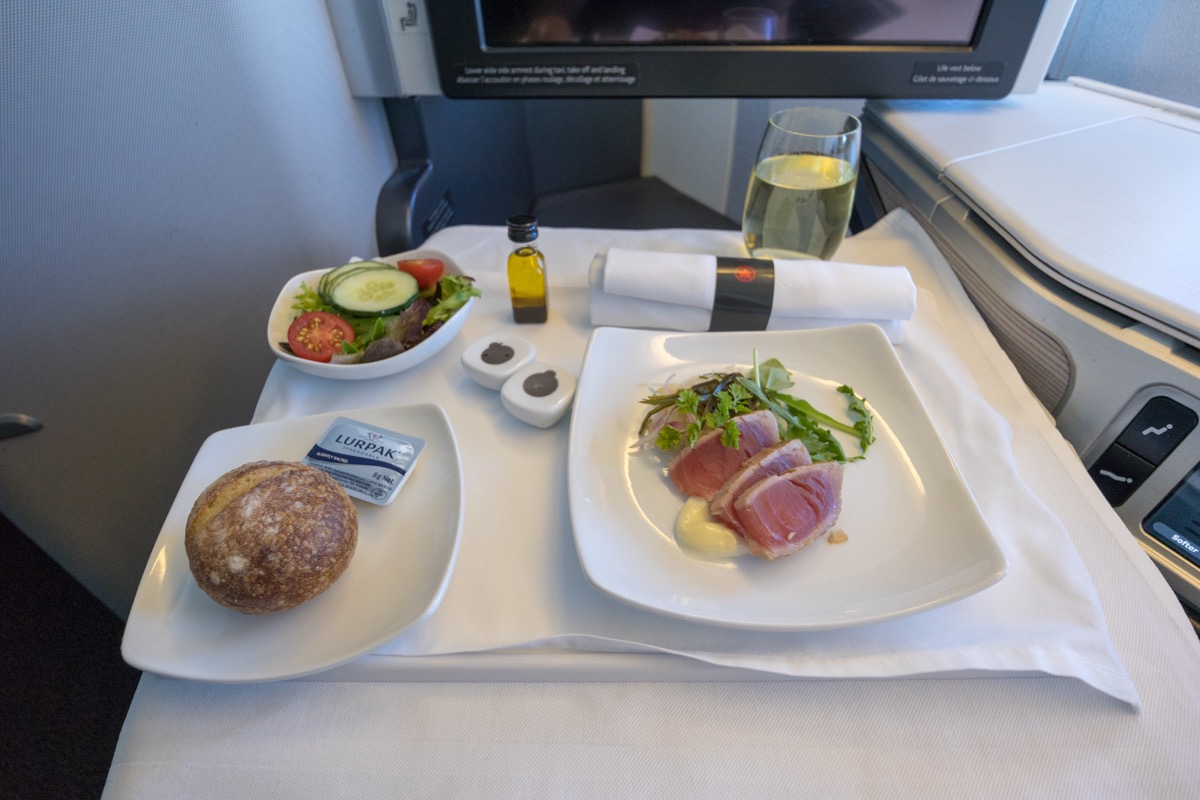 For the main, I selected the seared salmon and my partner had the herb-crusted lamb—both were cooked perfectly and were full of flavour.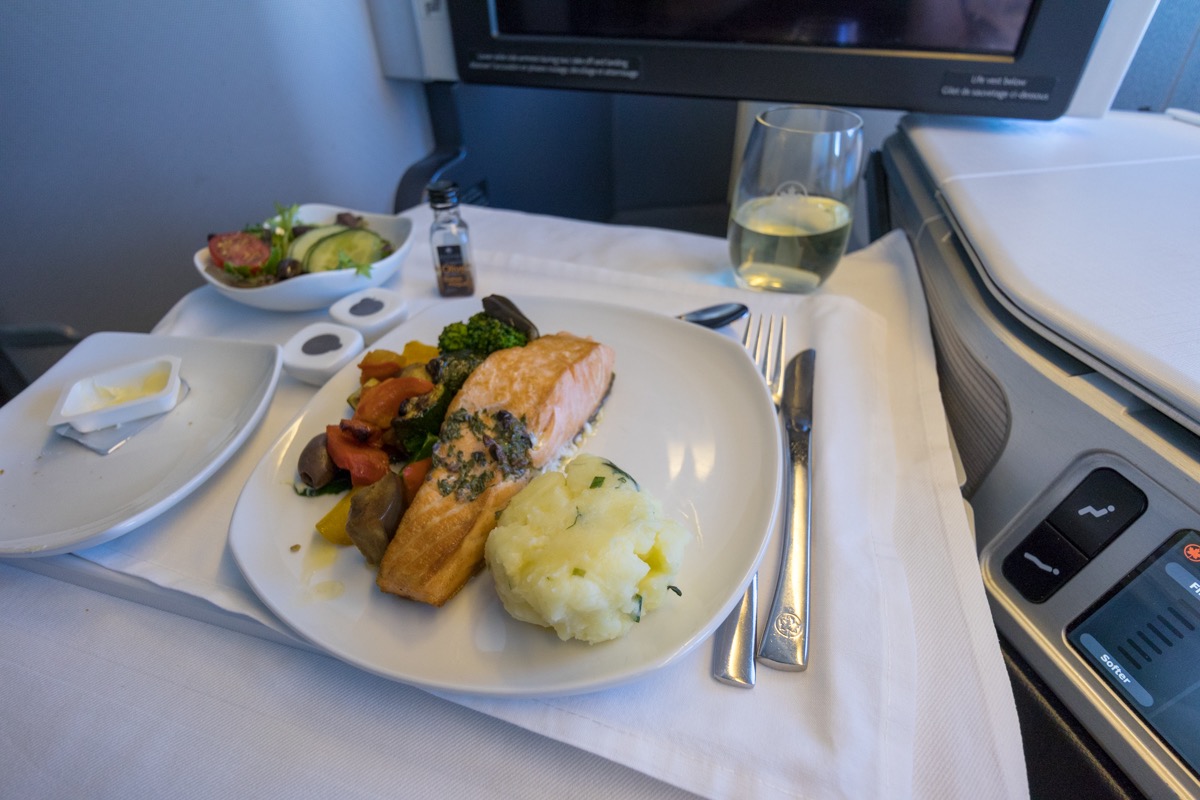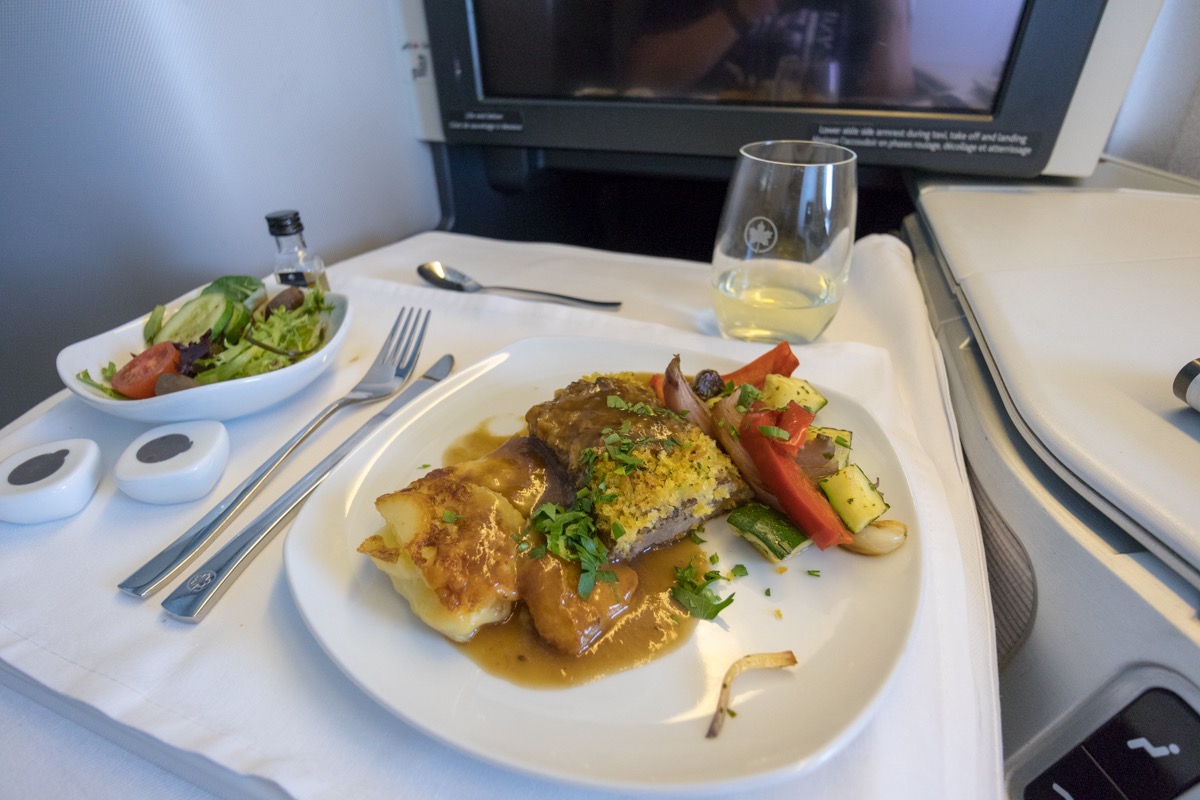 The Spanish Treixadura wine paired perfectly with my seafood dishes.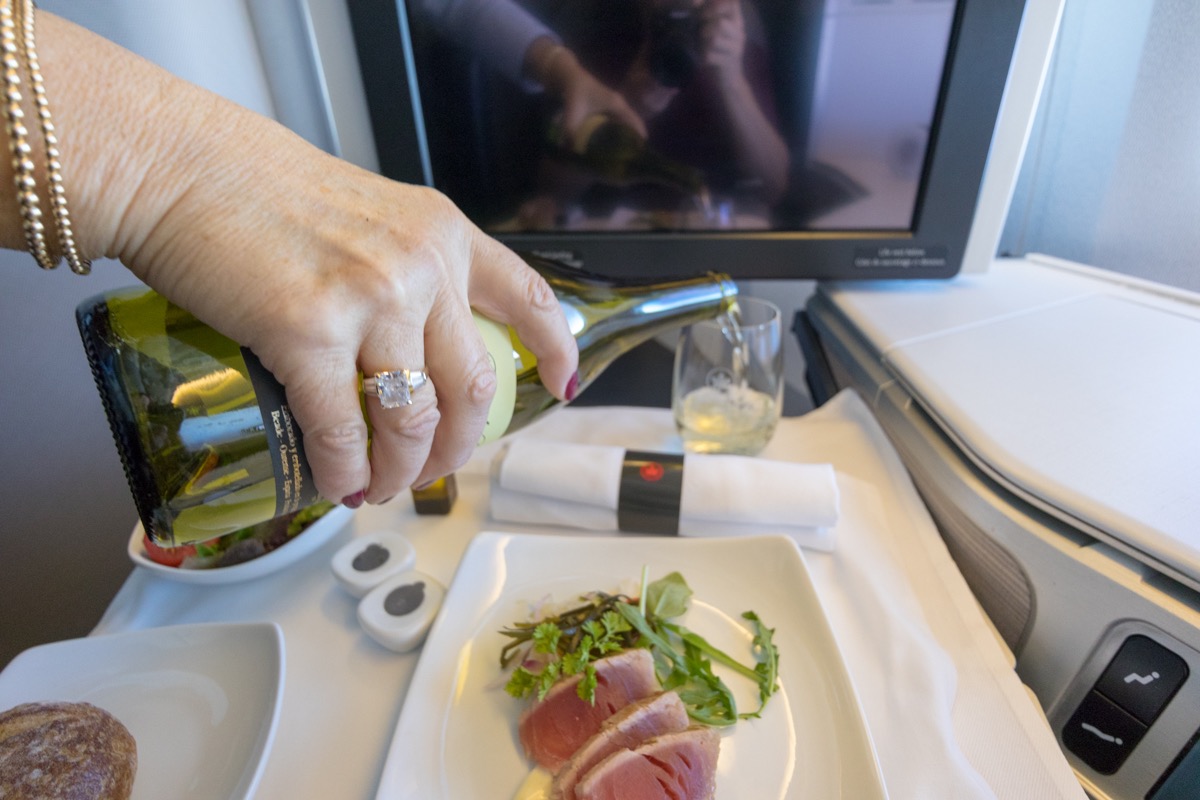 Dessert was a selection of cheese, ice cream or a slice of pumpkin cake.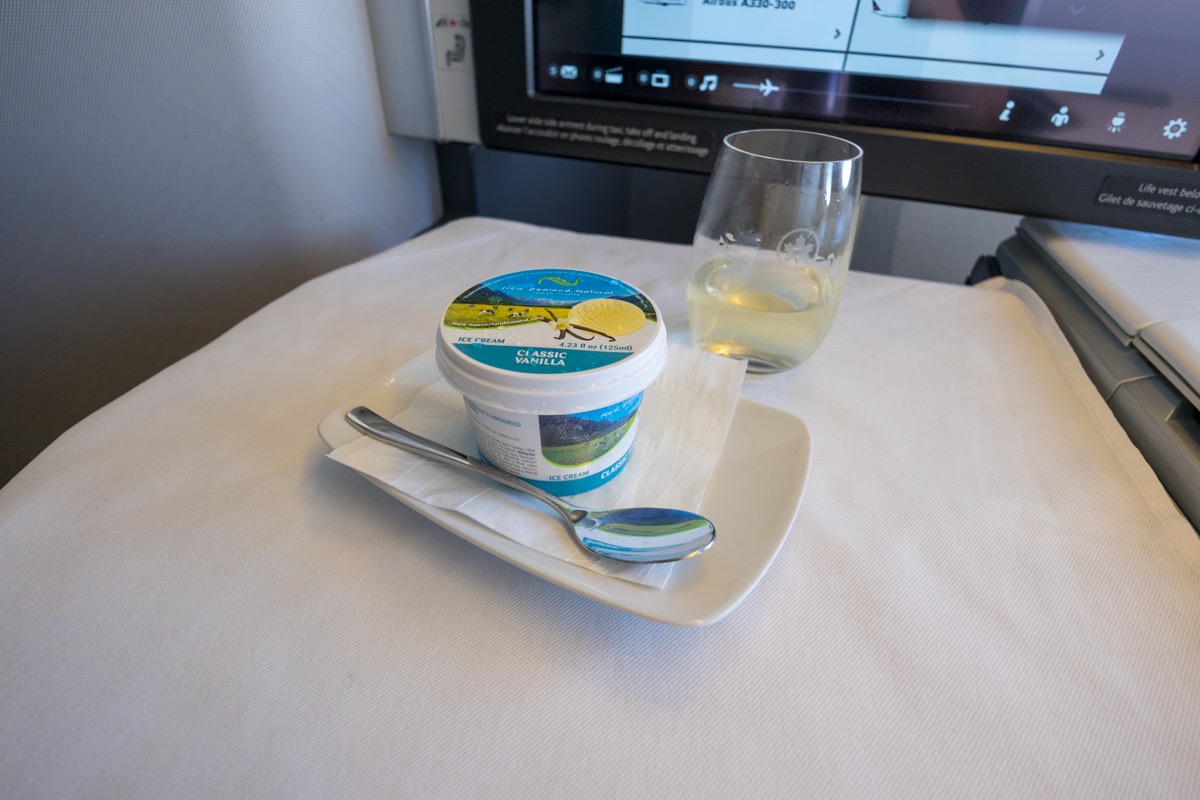 A breakfast service is offered before landing in Vancouver, which included a choice of an omelette, crepe or pasta.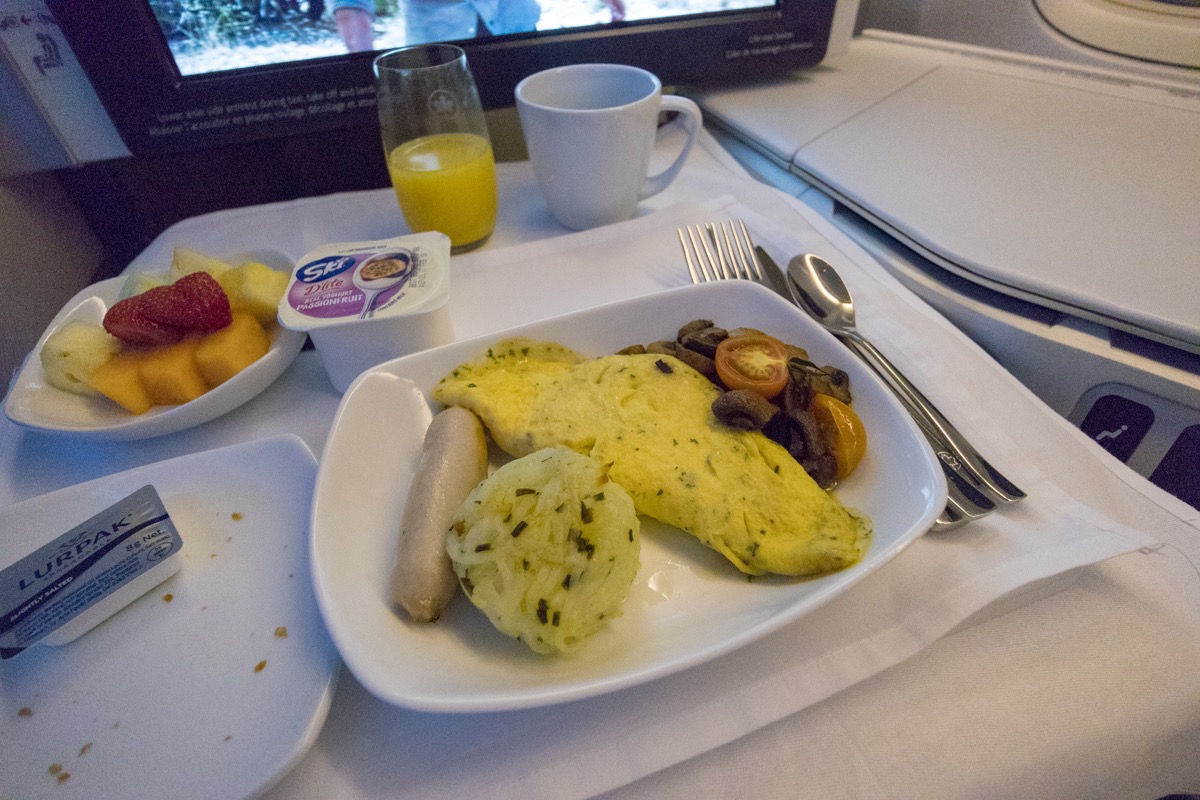 Meals are served from a trolley with dinnerware pre-set on trays, which doesn't feel as premium as Virgin Australia's restaurant-style meal experience, although it does make for faster food service.
Air Canada also allows you to 'Dine Anytime' (like on Qatar Airways) but this must be arranged with the crew prior to take-off.
Here is the food and drink menu from my flight:
The crew were professional and personable. The cabin service manager personally introduced himself before departure from Sydney.
The crew were also very attentive offering refills to drinks and checking if we needed anything a few times after the meal service. I never had to use the call bell.
Inflight Entertainment
A large 18-inch fixed-angle HD display sits in front and you can either select content from the responsive touchscreen or from the wired hand controller. Noise-cancelling headphones are also available.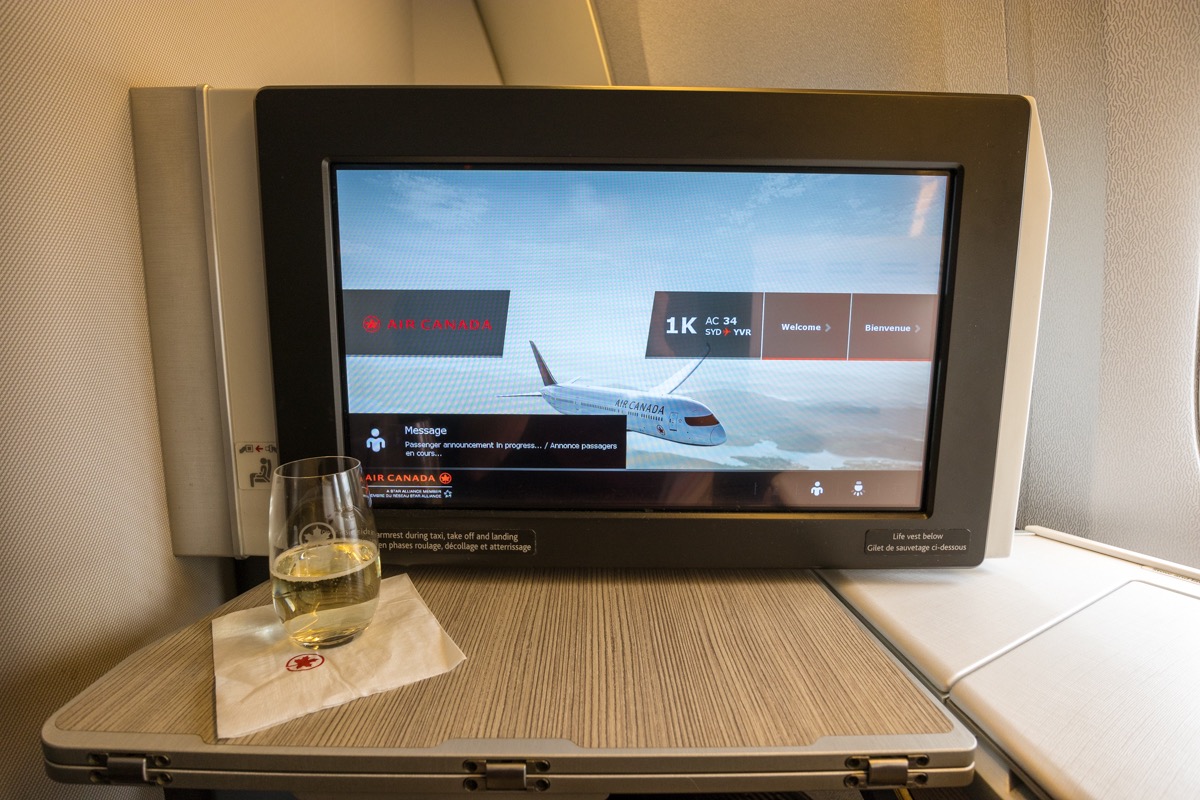 There was a large selection of content including new-release movies and TV shows.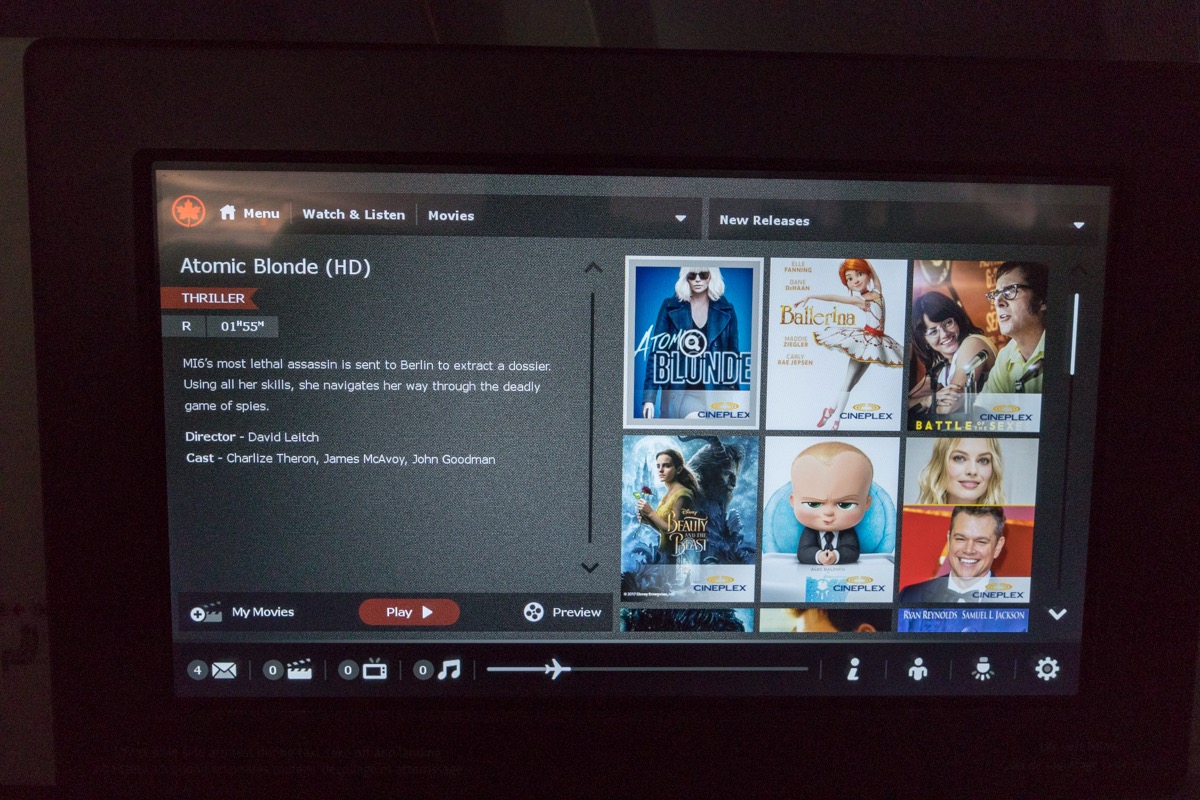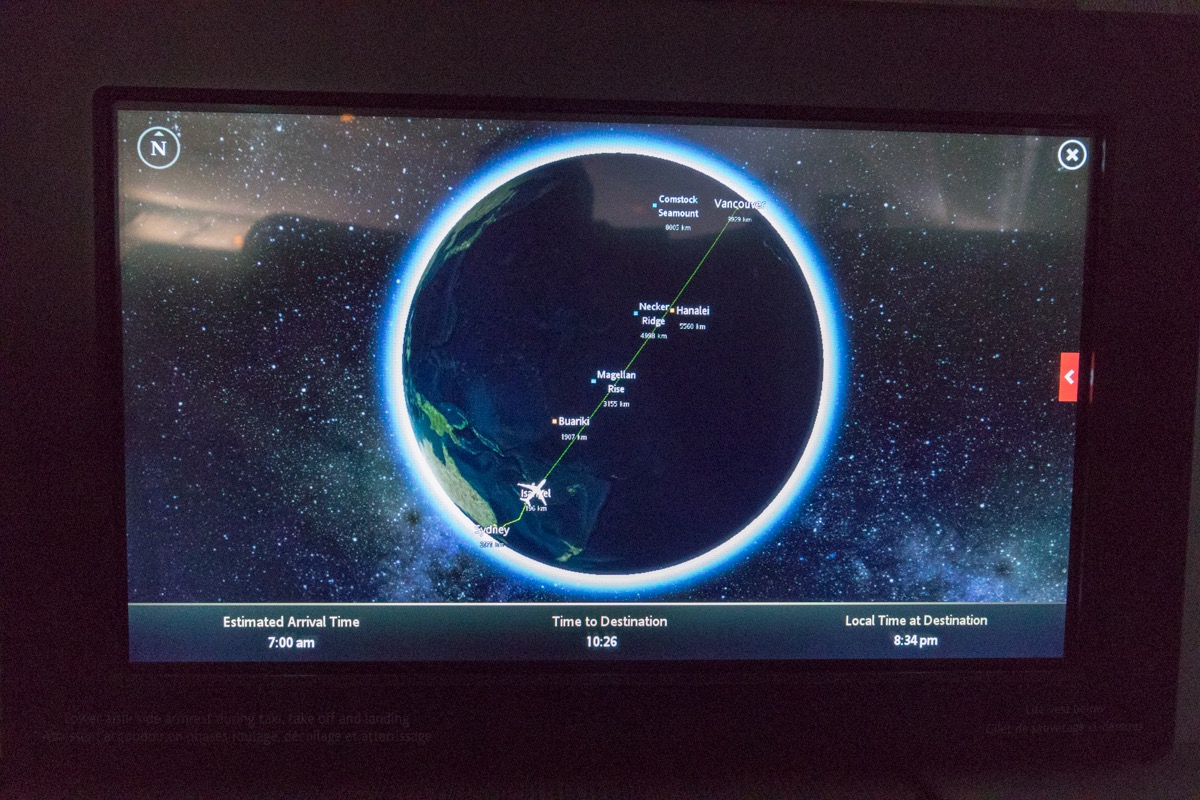 Amenities
One lavatory is located at the front of the aircraft and two more where the cabin is split into two. The lavatories afford amazing views out the window!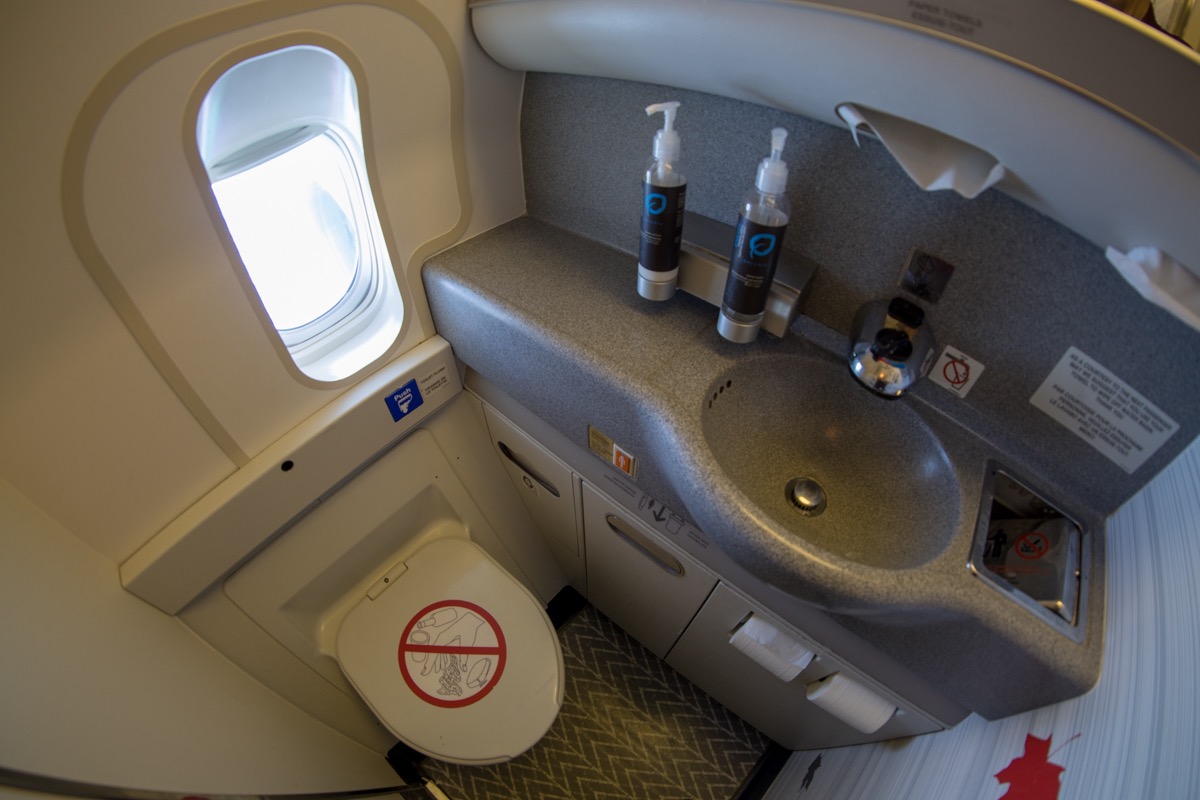 You'll receive a small fabric amenity kit with a magnetic lock, including socks, earplugs, toothpaste, a toothbrush and an eye mask.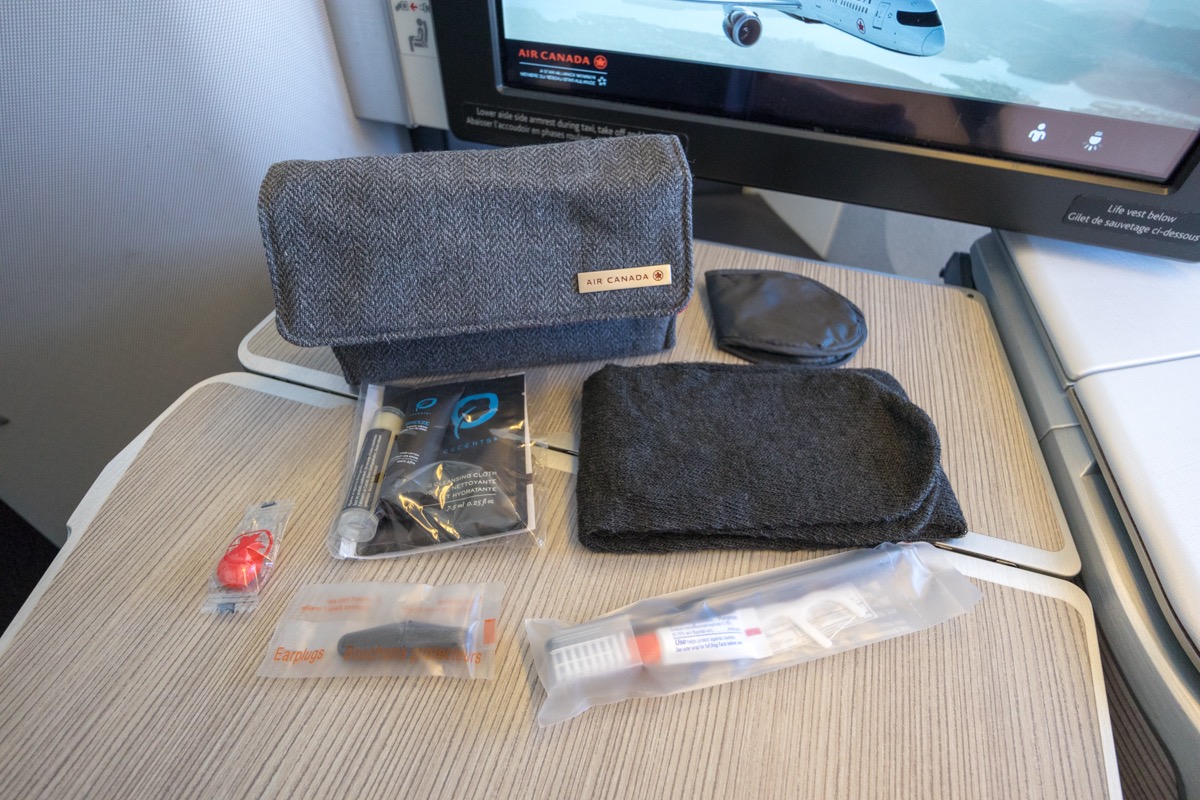 The slippers are a very welcome addition.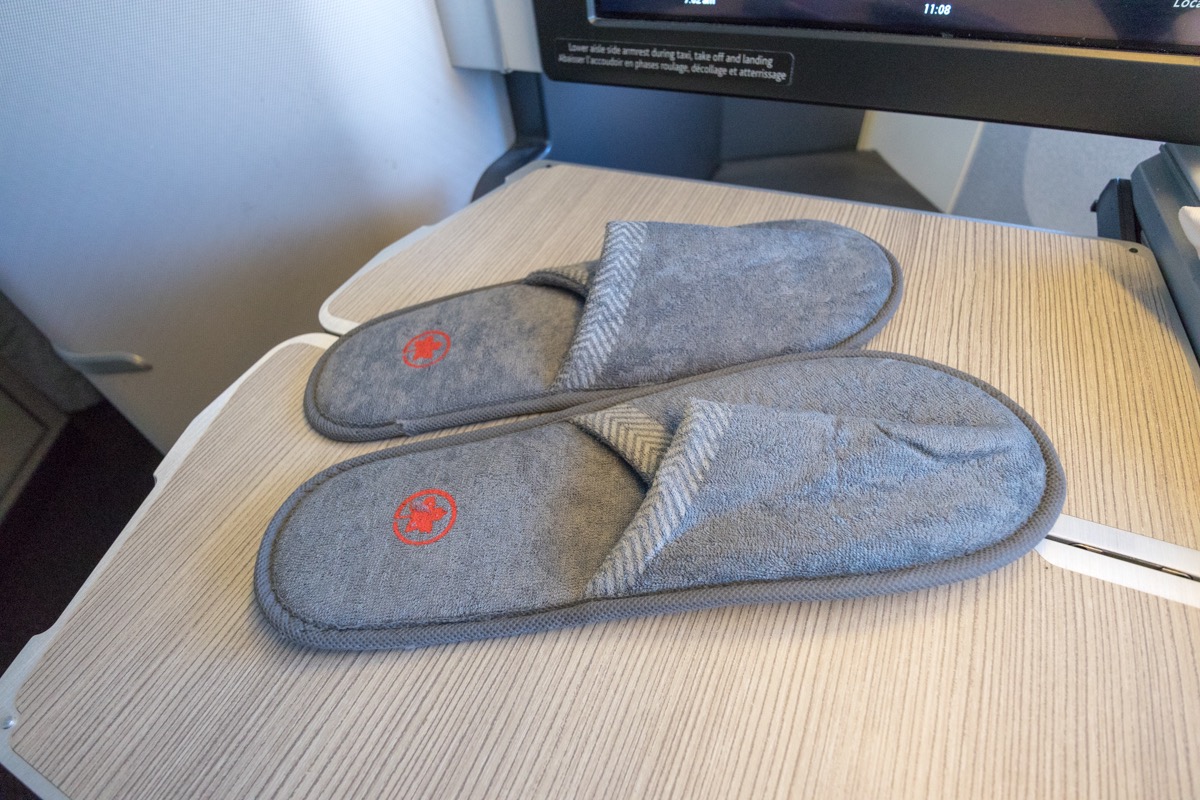 How to redeem points for this flight
Lounge Access
Guests travelling in Business Class are offered to use the Air New Zealand or Singapore Airlines lounges at Sydney Airport (same case in Brisbane and Melbourne).
In the other direction, you'll gain access to the well-rated Air Canada Maple Leaf Lounge.
Those with Priority Pass access may want to compare it to the Plaza Premium Lounge, however, the latter's reviews mention a dated decor and crowded atmosphere.
Our other Transpacific flight reviews
Summing up: why choose this flight?
North American carriers do not have the best reputation, yet I was really impressed by Air Canada.
The crew were professional, friendly and attentive. The seat was great yet really needs a mattress topper to make it more comfortable to sleep on.
I look forward to Virgin Australia and Air Canada strengthening their new relationship to include codesharing and earning and burning Velocity points on flights to and from Australia, as that will make redemption bookings far more accessible.
I would happily fly Air Canada again without hesitation.
Supplementary images courtesy Air Canada.
Air Canada Boeing 777-200LR Business Class overview
was last modified:
January 24th, 2022
by