As part of an annual trip to Europe in May this year I booked a return Asia Miles First Class redemption booking from Sydney to Frankfurt flying Qatar Airways to Frankfurt and Cathay Pacific return to Sydney.
Qatar doesn't offer First Class on the flight from Doha to Frankfurt, nor does Cathay offer First Class from Hong Kong to Sydney, but I specifically selected this routing to tick off several personal firsts; first time experiencing Qatar, first time on an Airbus A350, and first time flying Cathay Pacific First Class.
I used my corporate American Express Platinum Charge card to transfer 260,000 Amex Membership Rewards points to Asia Miles.
Qatar Airways A350 Fleet & Routes
As of May 2017, Qatar Airways has 13 Airbus A350-900 aircraft in its fleet with another 30 A350-900 and 37 A350-1000 still to come.
Qatar Airways flies its A350s between Doha and:
Adelaide (upgrades to QSuite-equipped A350-100 from 16 August 2019)
Boston
Frankfurt
London
New York
Paris
Philadelphia
Singapore
Zurich
and plans to fly the A350 to the following destinations by the end of 2017:
Barcelona
Brussels
Dublin
Geneva
Tehran
Tokyo Haneda
Vienna
The Cabin & Seats
The Business Class cabin has a total of 36 seats split into two zones separated by the second door entrance and the bar.
Up front there are 24 seats arranged in a reverse herringbone 1-2-1 configuration and there are another 12 seats behind the bar.
Further back there are 247 economy seats arranged 3-3-3.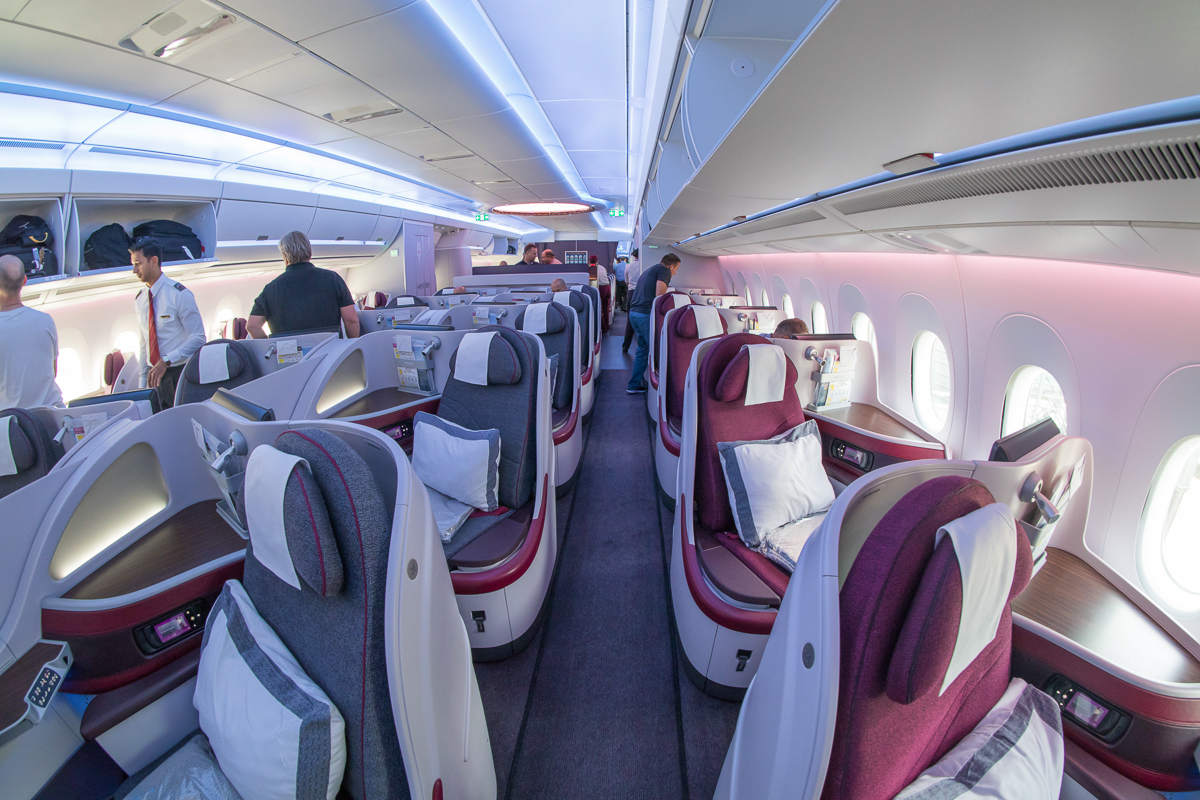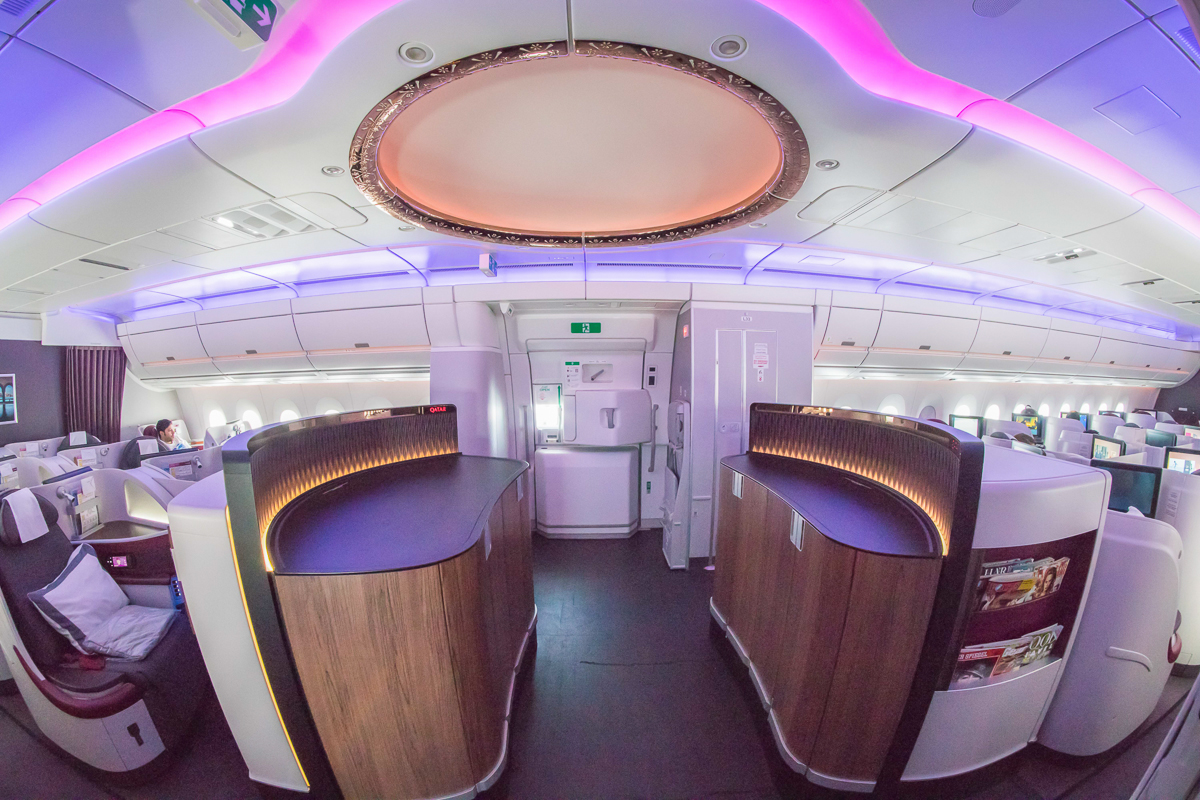 There are no overhead bins down the centre of the cabin, making the cabin feel very spacious.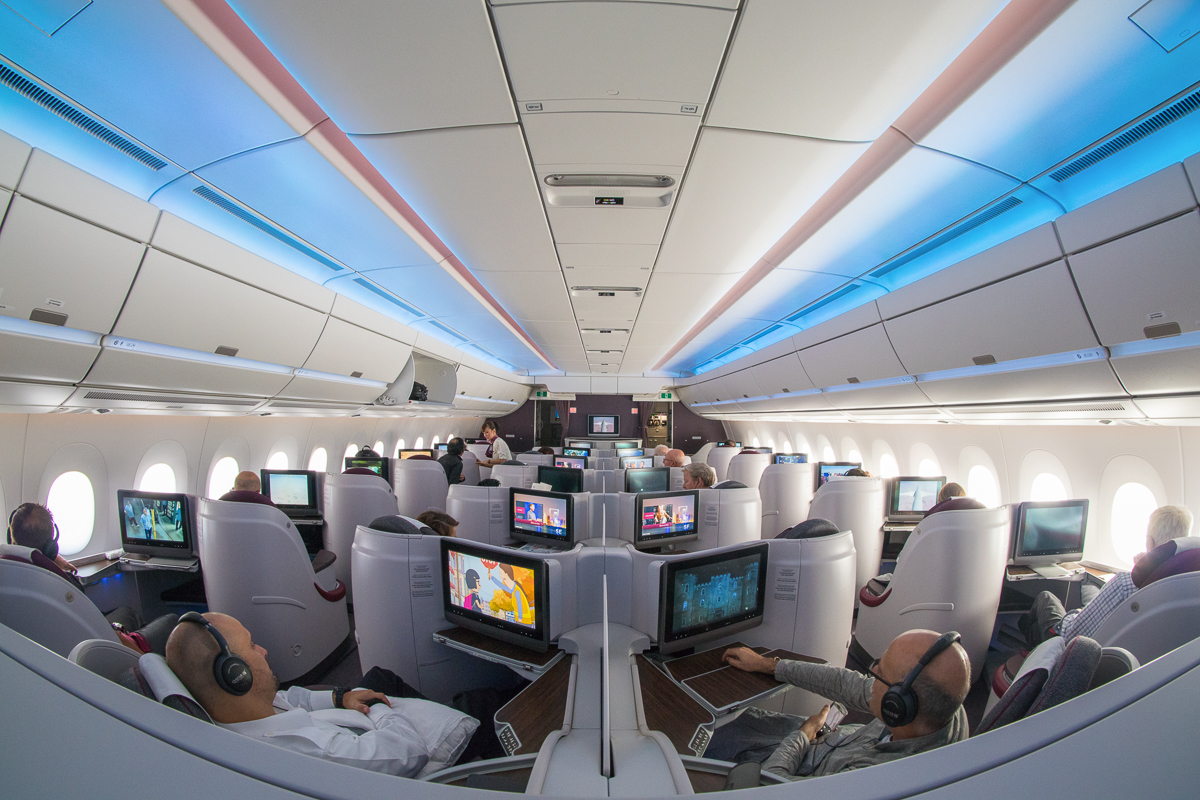 Qatar Airways has installed its latest generation Business Class seats onto its new A350. The seat is manufactured by B/E Aerospace and is also the same seat used on its Boeing 787 and Airbus A380.
The excellent 'Super Diamond' seat may look familiar to some Australian frequent flyers as it's also the same seat used by Virgin Australia in 'The Business,' although both seats are heavily customised by their respective carriers.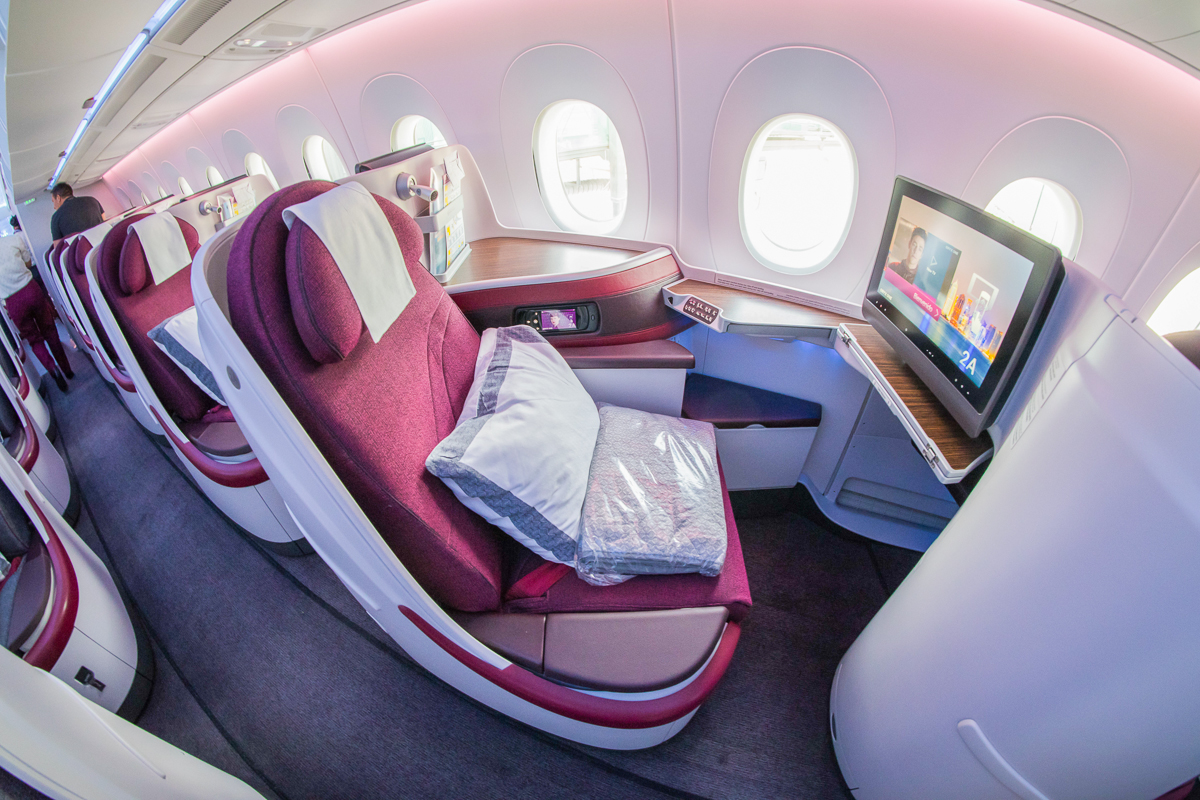 The only downside to the Qatar Airways version was the lack of wings on the seat shell to provide some privacy at head level.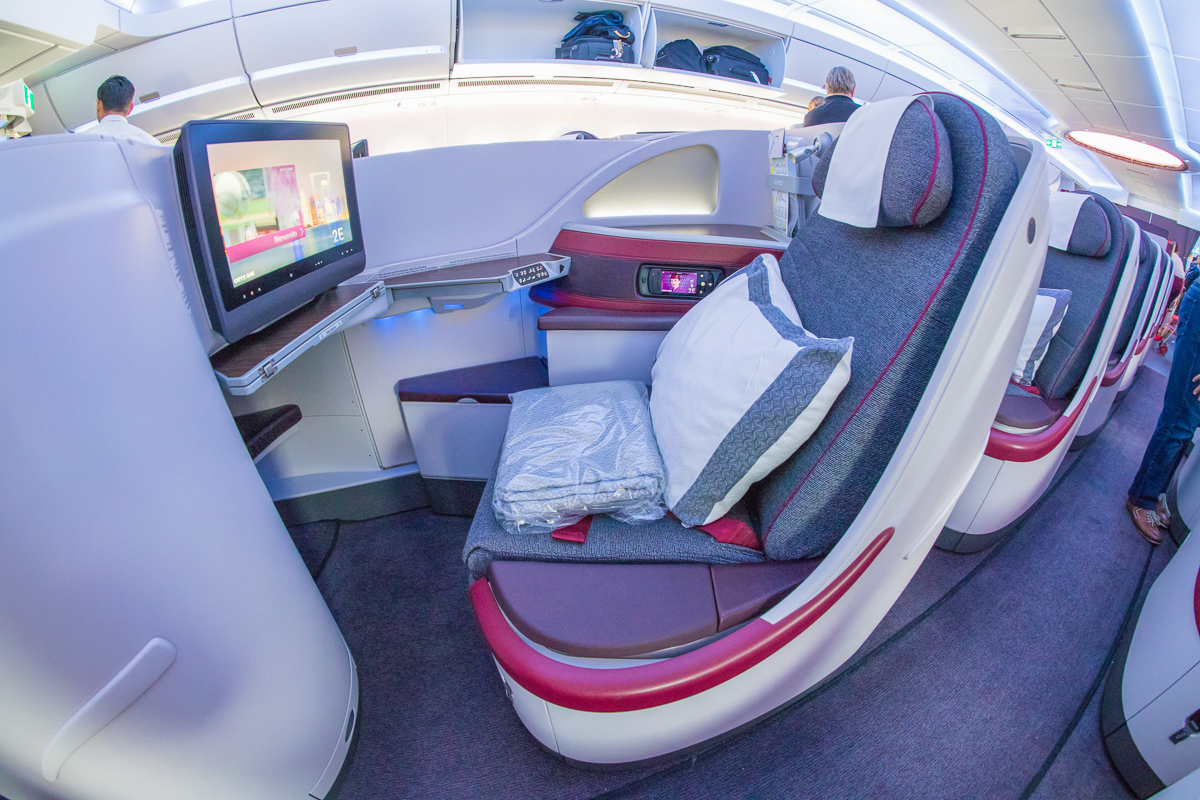 Here is the seat adjustments and seat belt detailing: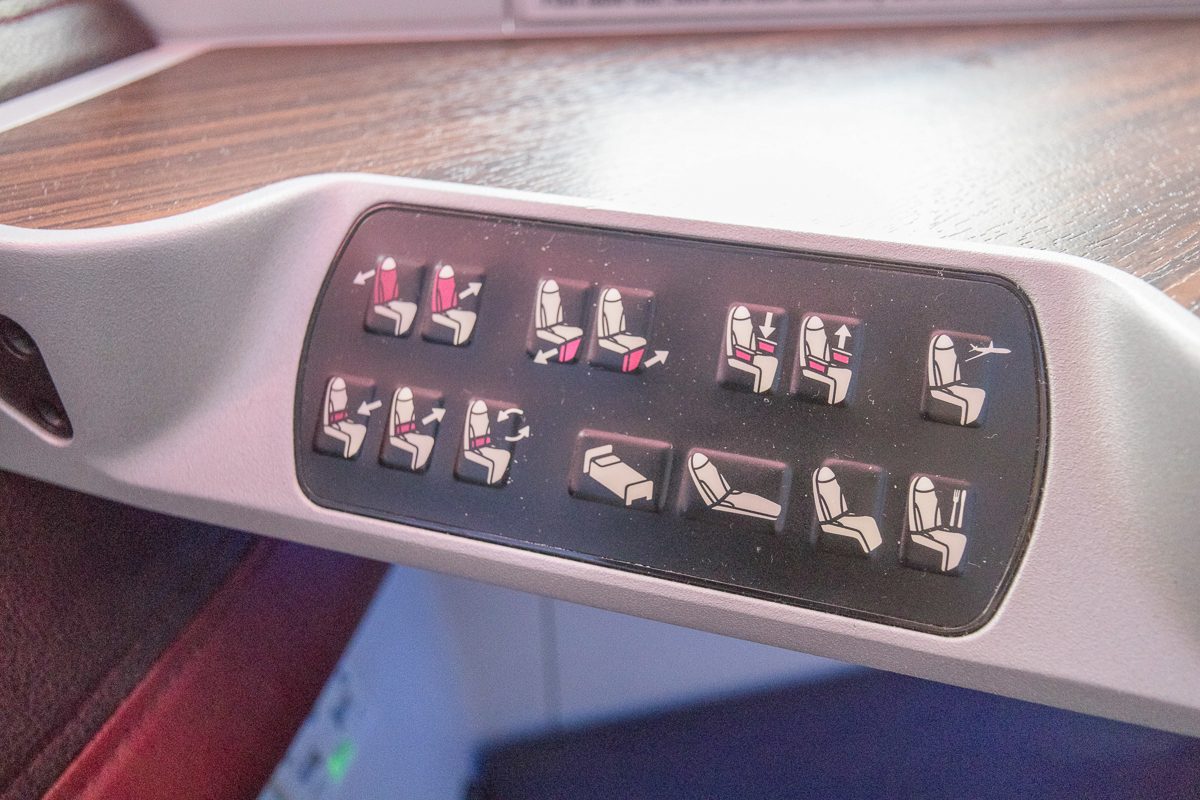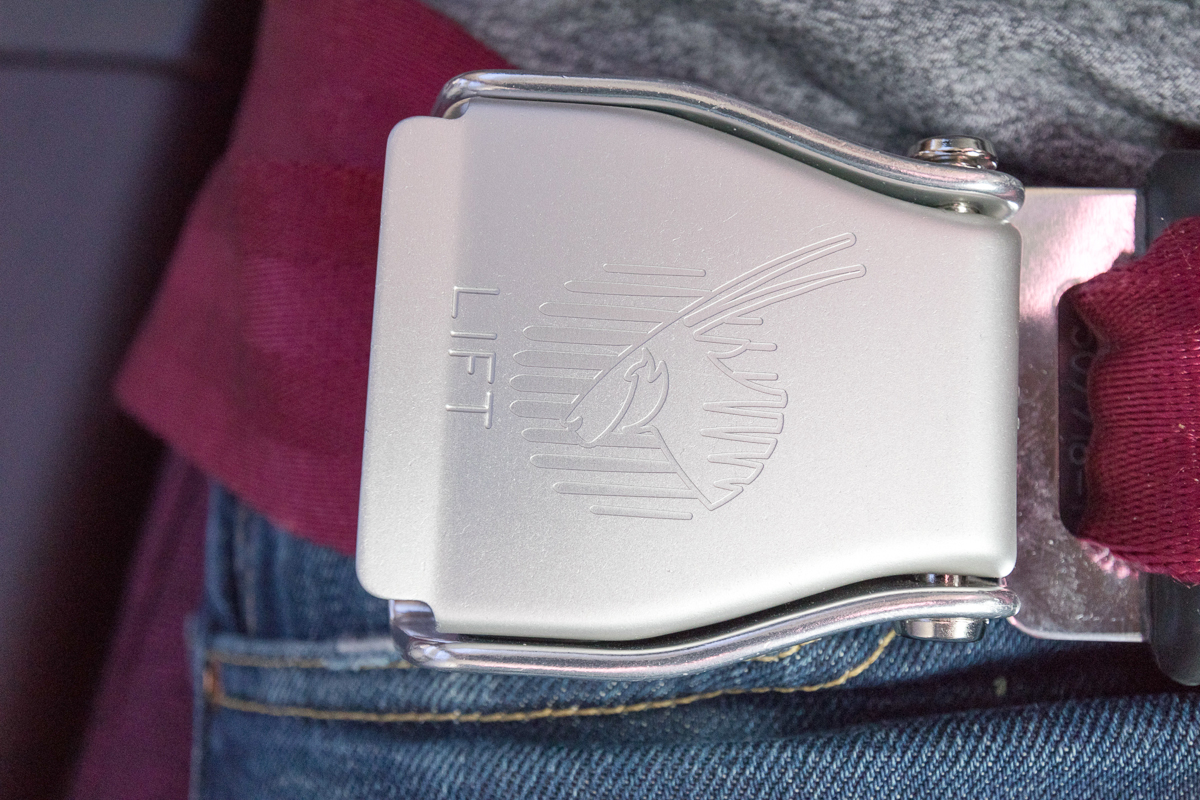 There is excellent storage around the seat, with a bench along the window with literature holder; drawer under the seat in front which was perfect for shoes; armrest which had a water bottle; and noise-cancelling headphones plus a large storage bin next to your knee which has USB adapters nearby.
This storage bin was great to charge valuable electronics in the with the lid closed with everything out of sight.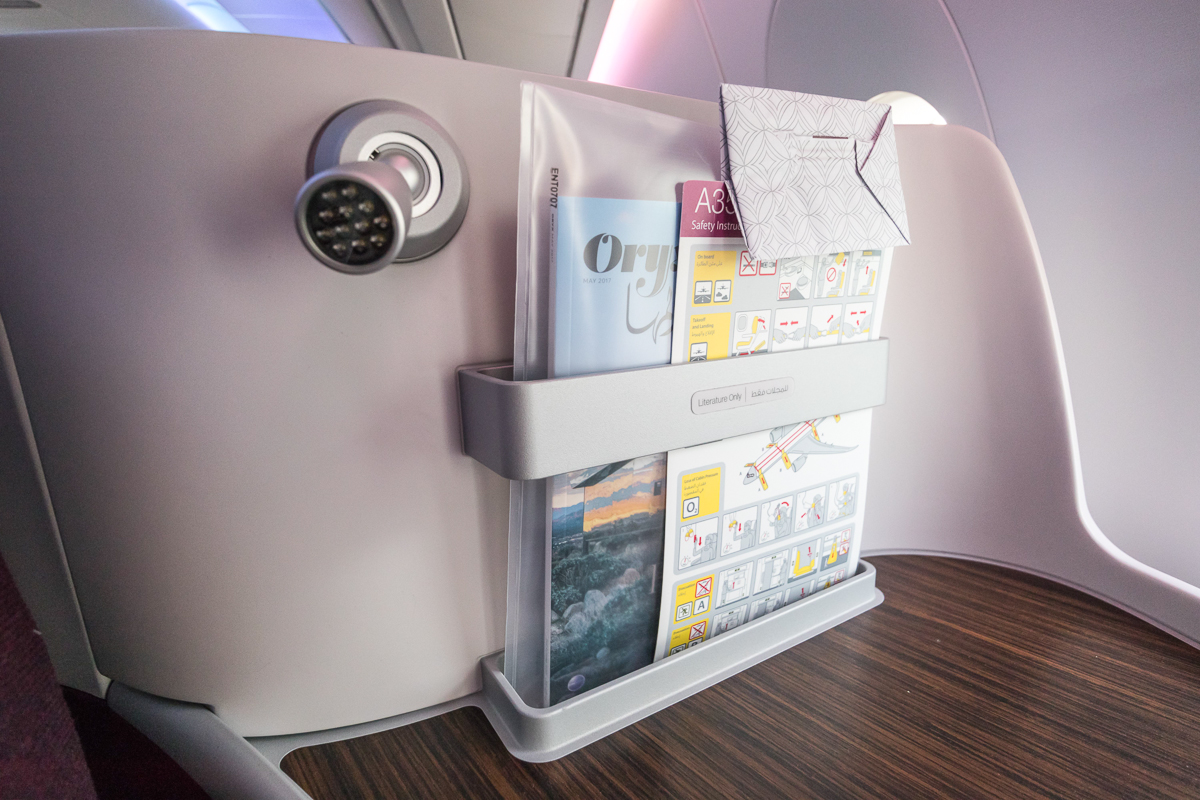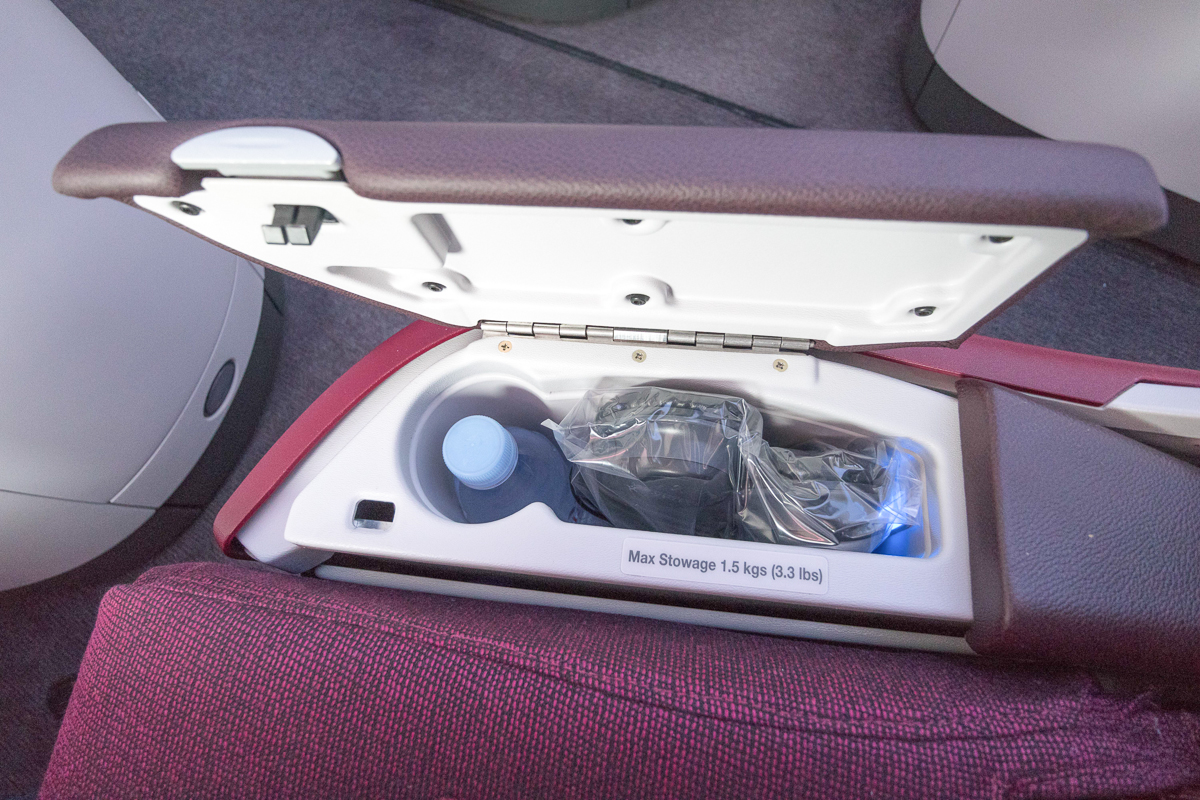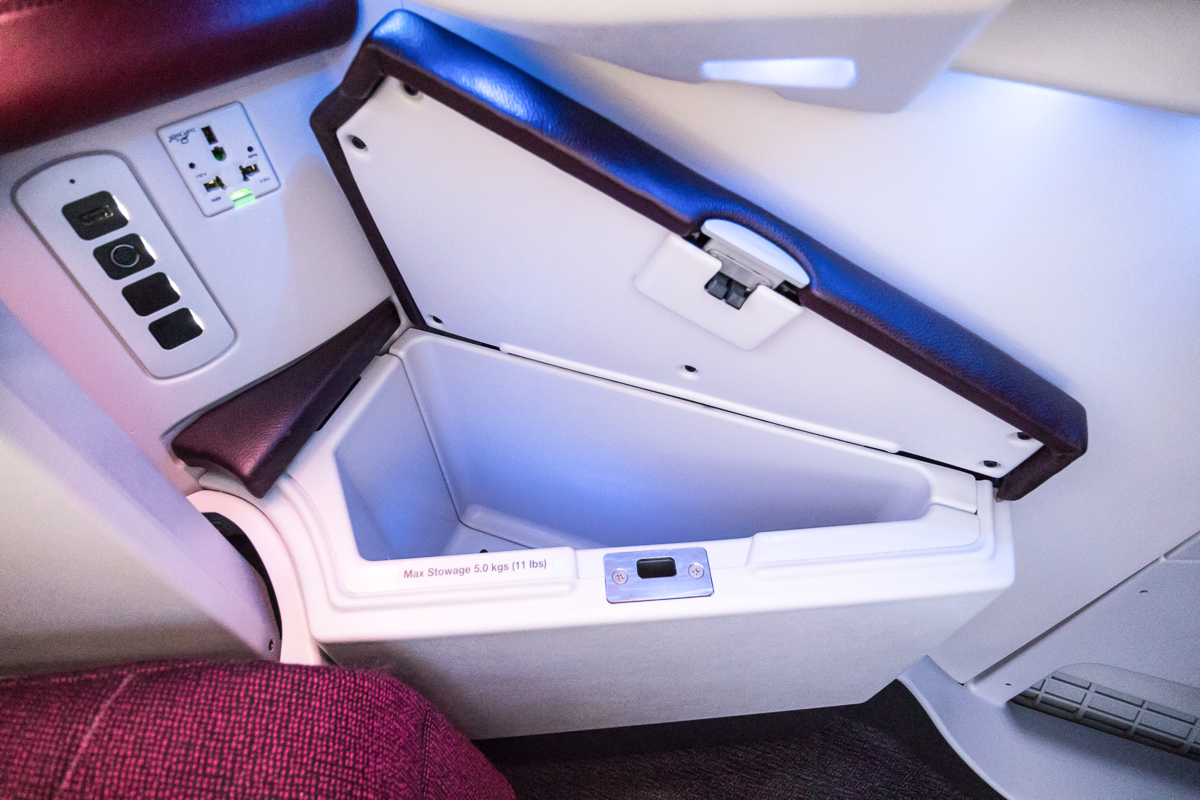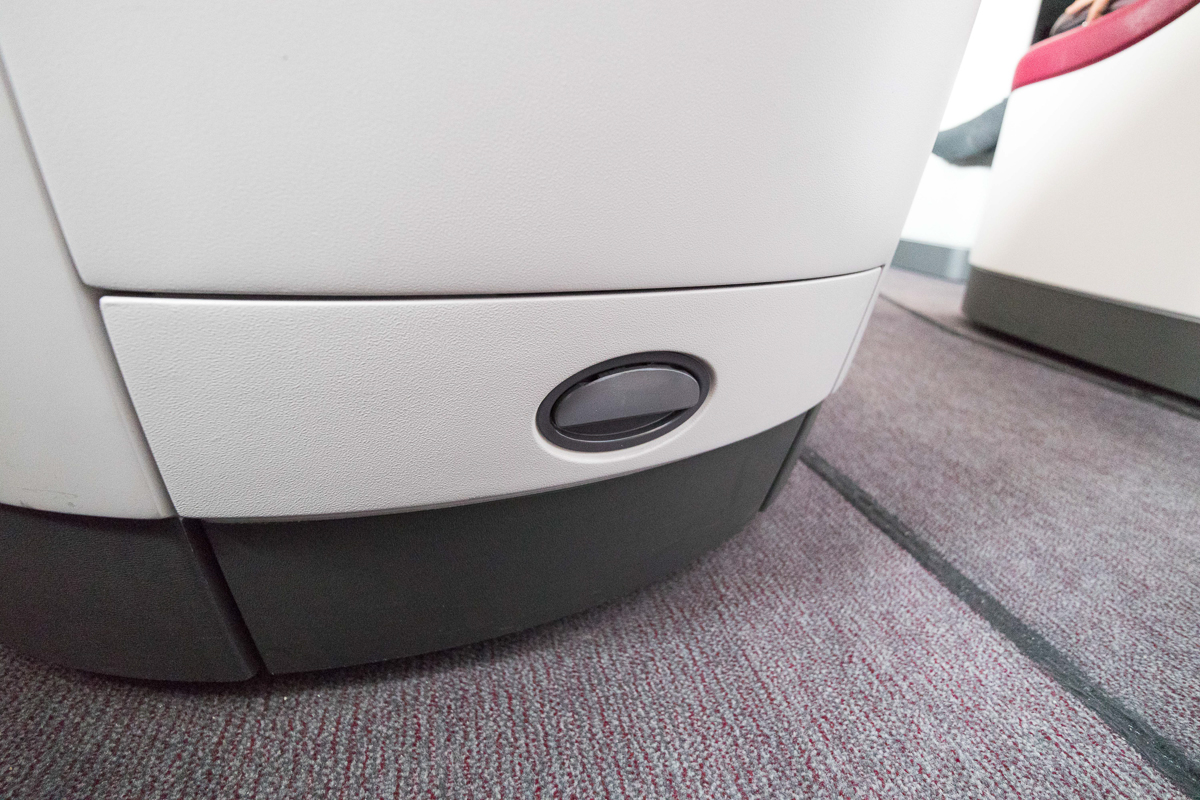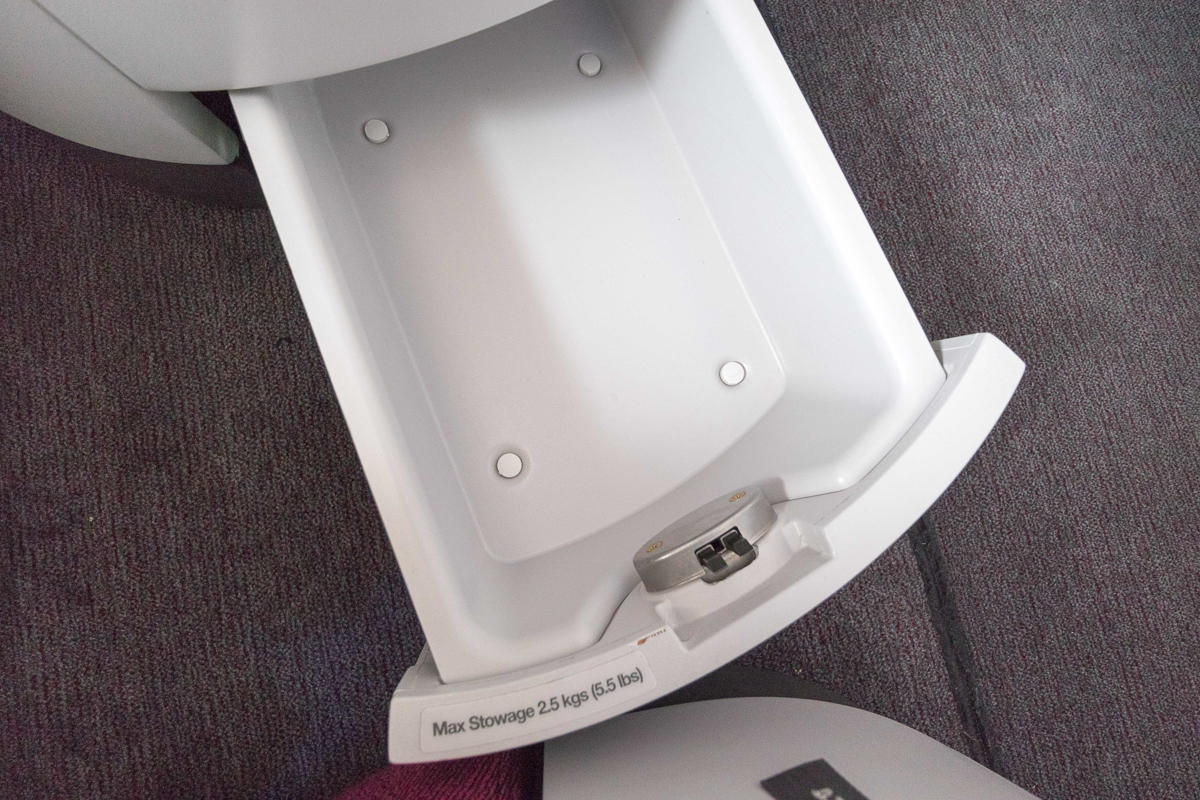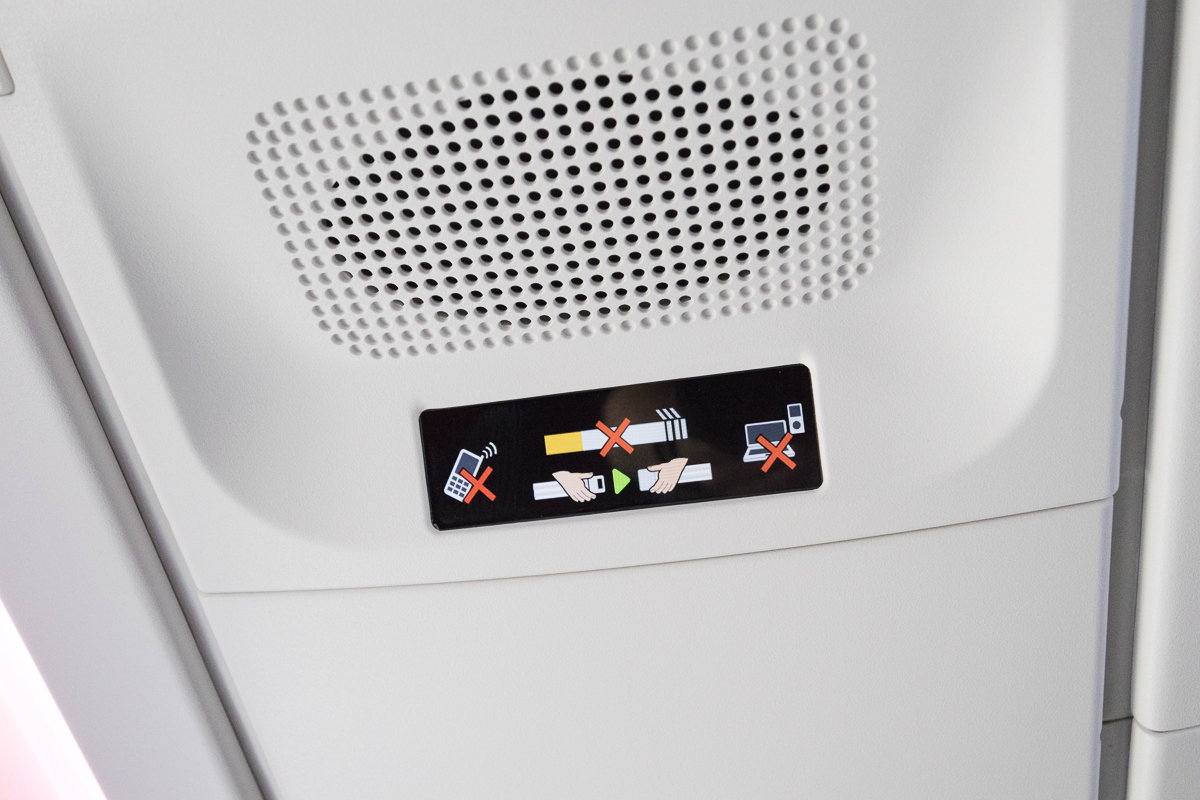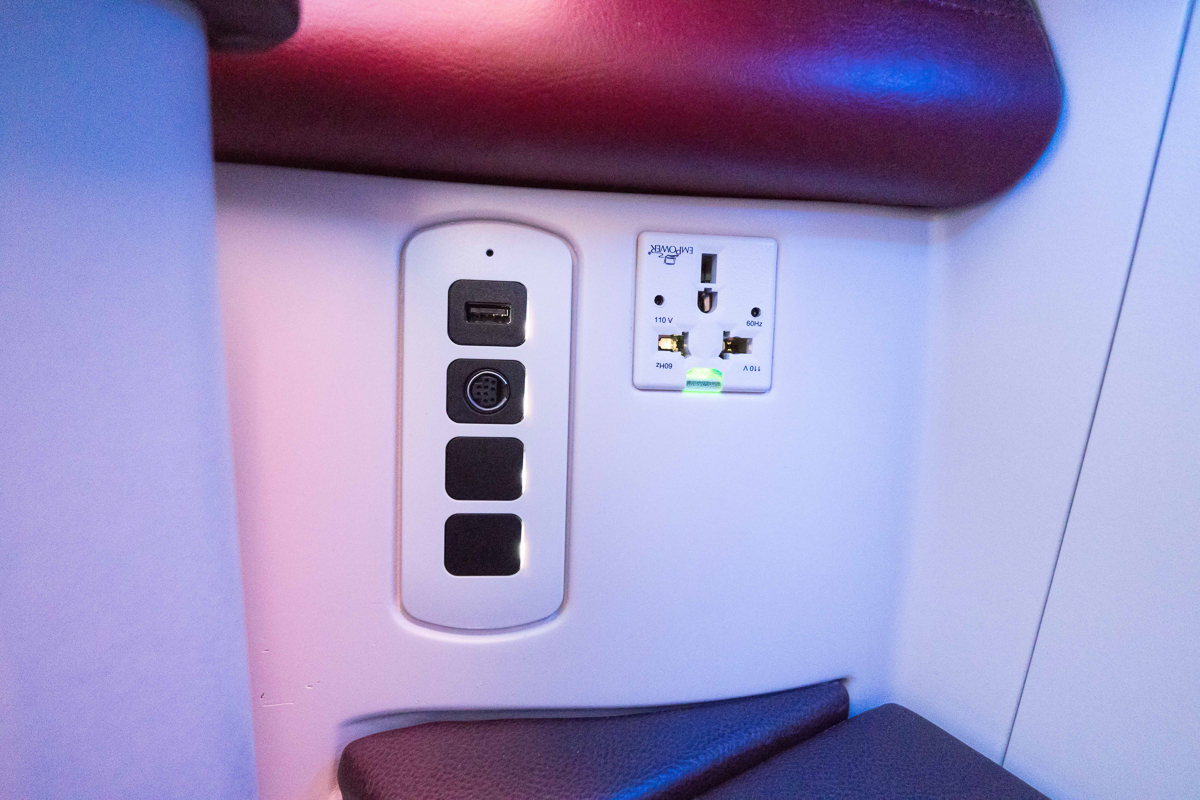 The tray table slides out from under the TV and flips over: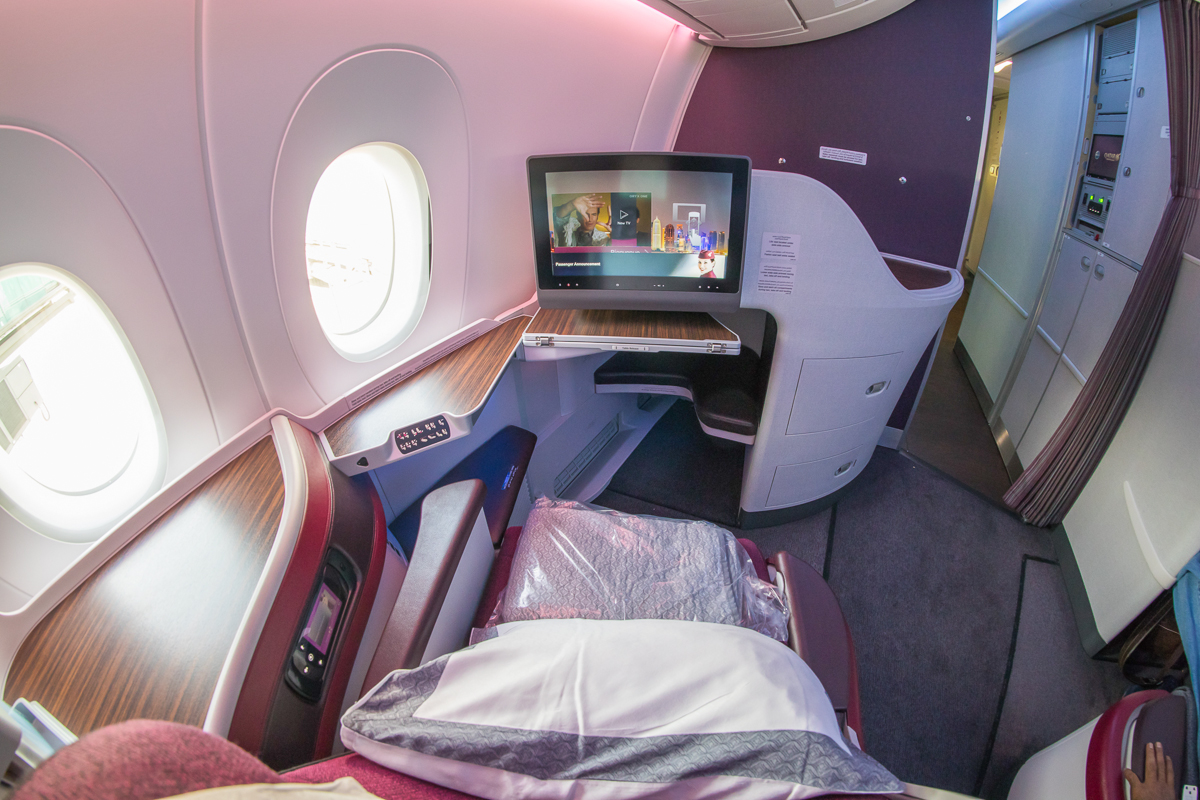 The cabin LED lights transitioned from pink/blue during boarding to completely pink after the meal service: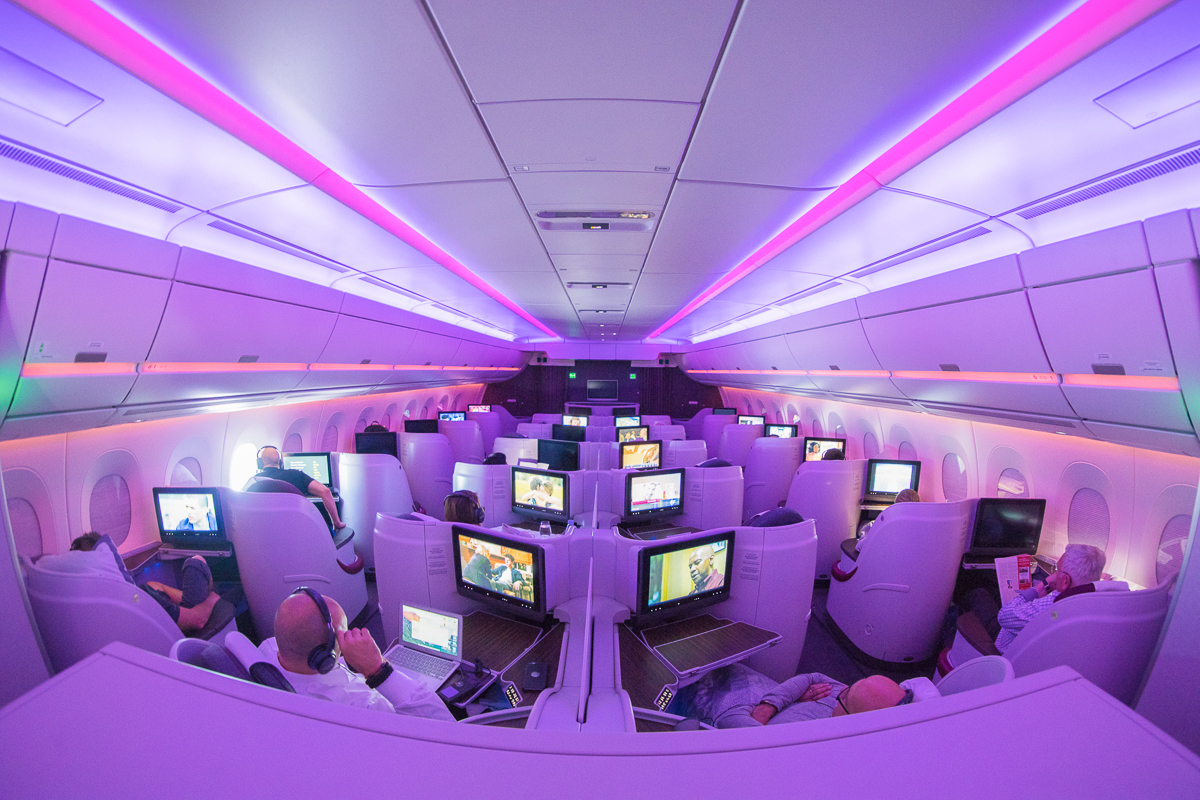 The seat converts to a lie-flat bed, however, as it was a daytime flight to Frankfurt, no pyjamas or turndown service was offered. Instead, a light blanket was provided.
The lid of the storage bin and lowered armrest also become part of the flatbed, providing excellent width: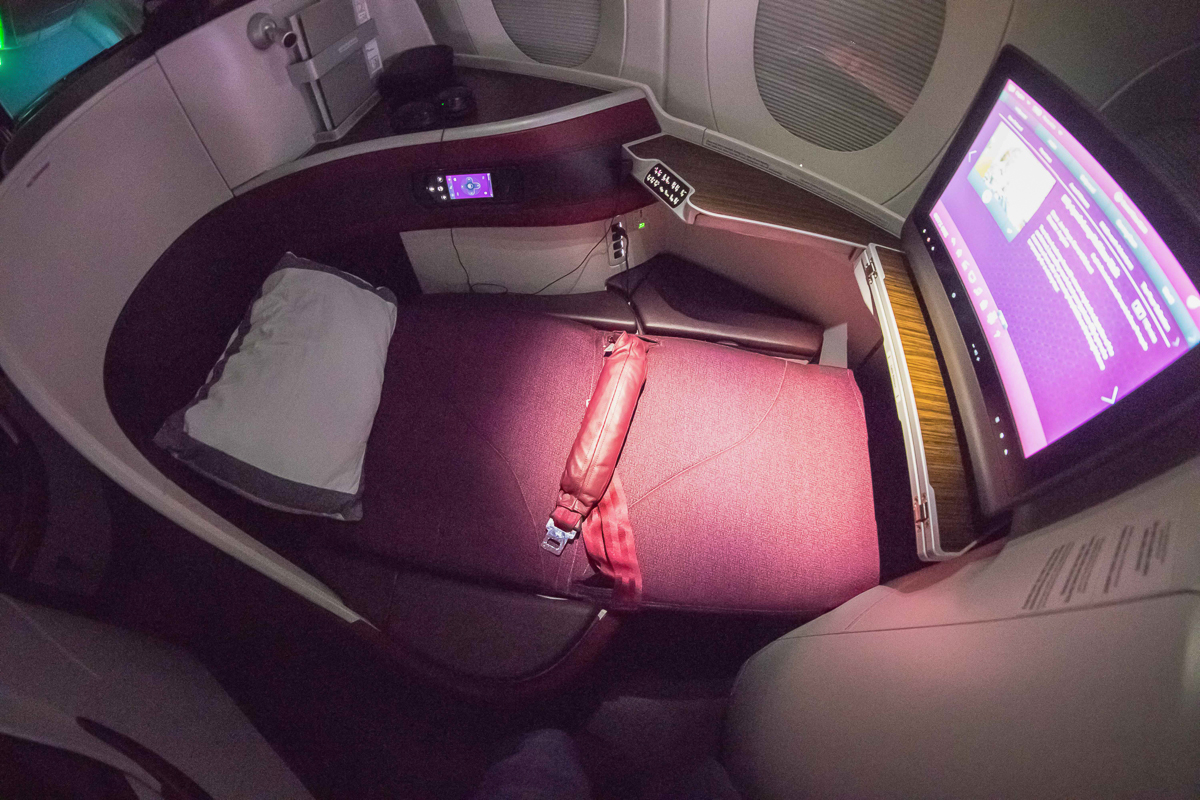 Seat Map & Seat Choice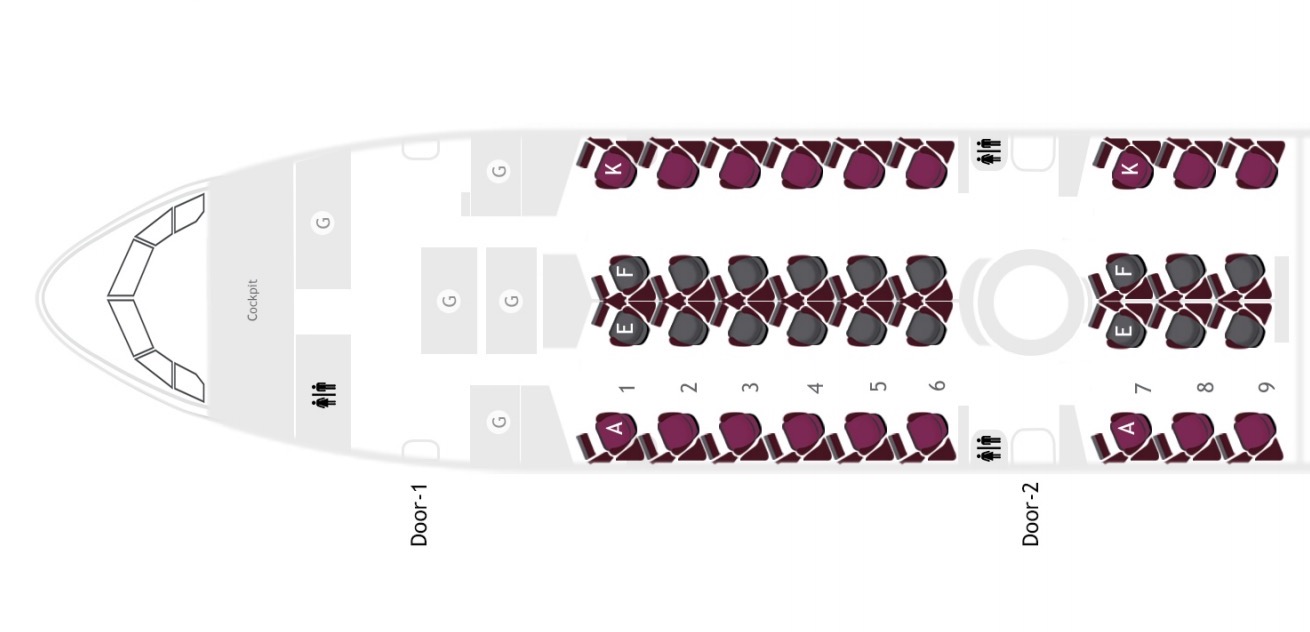 You can't go wrong with any seat.
Window seat lovers will choose any A or K seats, which angle towards the window, whilst those travelling together will want an E and F centre pair which angle towards each other.
Even if you are assigned an E or F seat and you're travelling solo, the privacy dividers are raised between the centre pairs on boarding so you don't have to worry about any awkwardness between you and your neighbour when someone raises it.
Read our guide on how to choose the best seat for your flight here.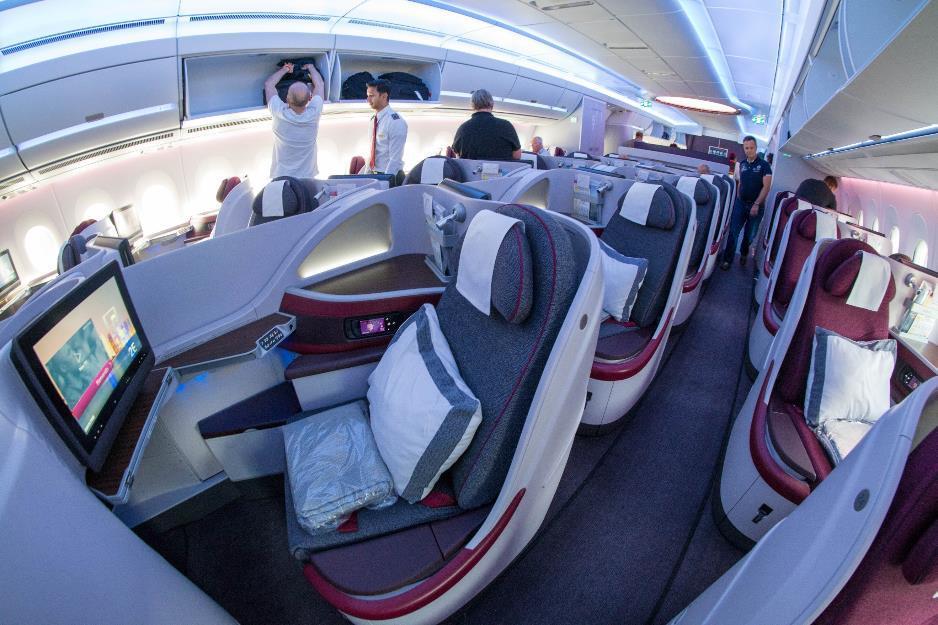 Service: Food & Drink
Before take-off, I was offered a glass of classic or rose champagne, mimosa, orange juice or water: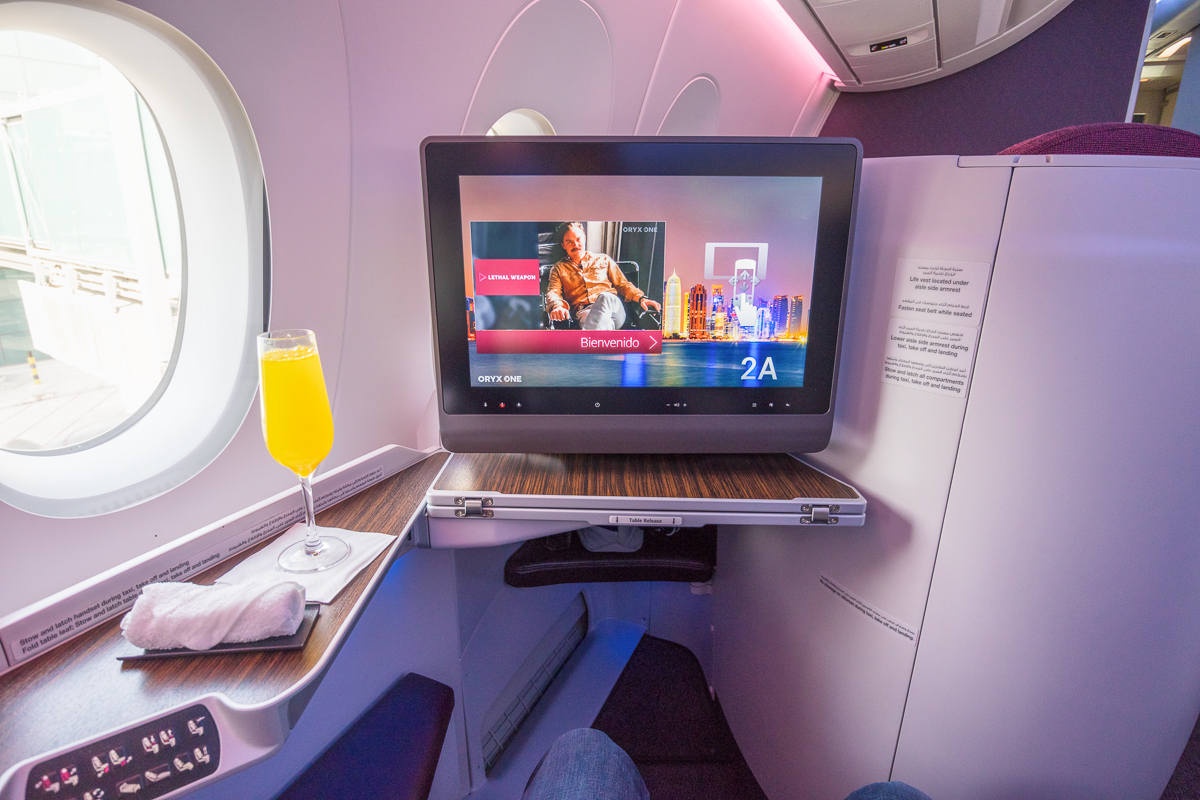 I was impressed that the Cabin Service Manager, Mee, personally introduced herself to everyone in the Business Class cabin by the time the meal service started.
Although I had just been served breakfast on the flight from Sydney, breakfast was the first meal offered on the flight to Frankfurt. The menus are beautifully presented and have extensive meal options.
There are no trolleys through the cabin or meal trays, and the crew sets your tray table before the meal arrives. The breakfast was cooked to perfection and I'm not sure if it is due to the quality of the galley equipment or the lower cabin pressure of the A350 but everything had more flavour compared to the First Class A380 meals from Sydney.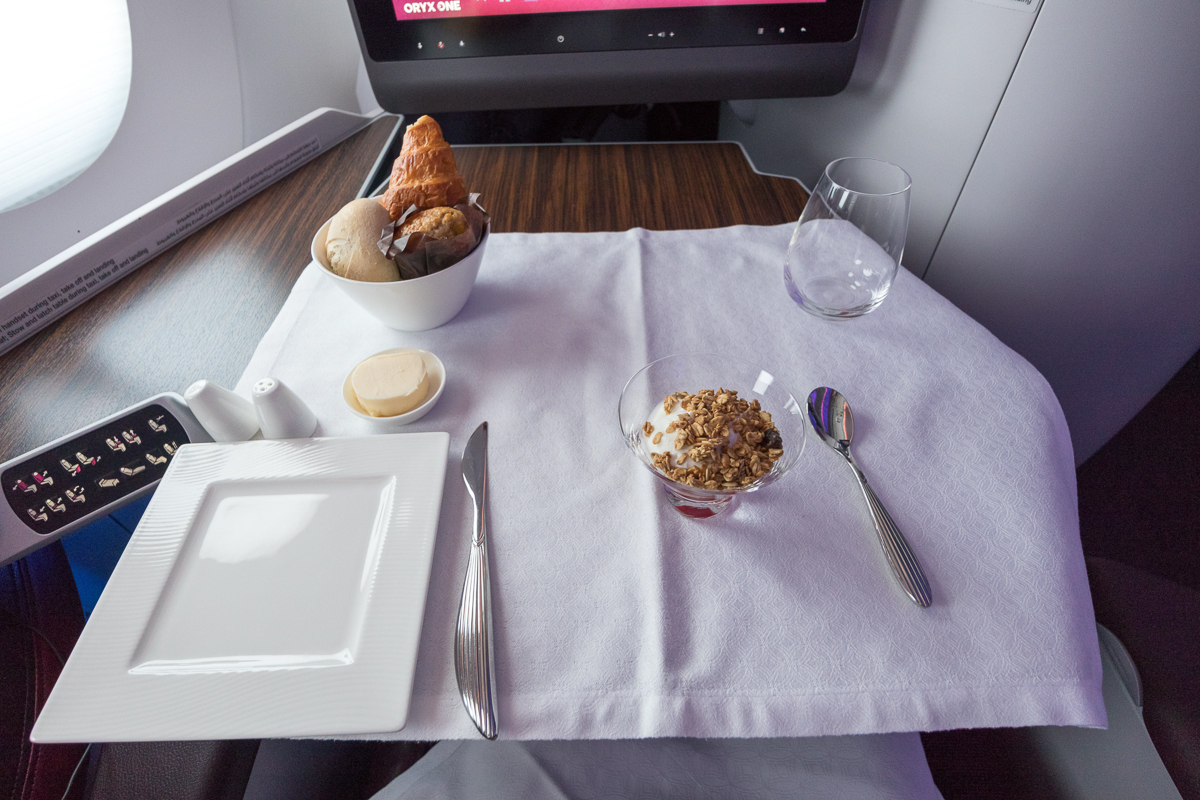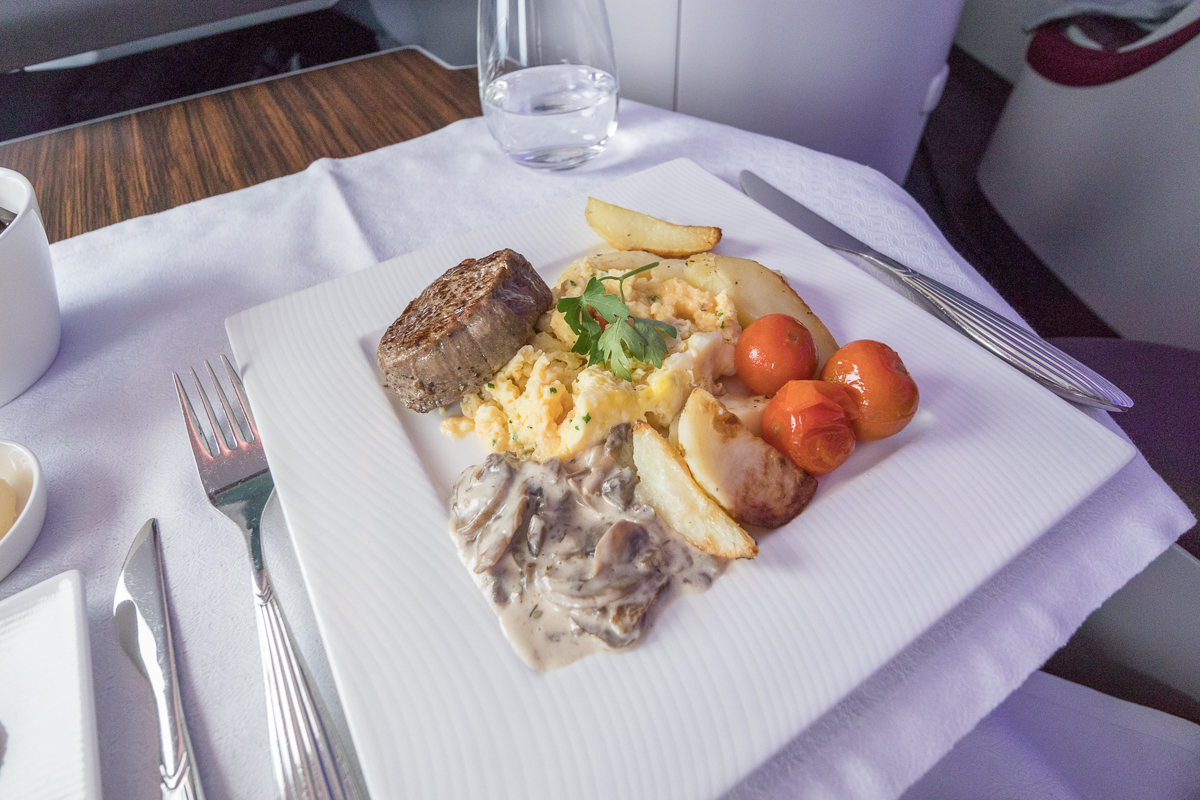 Although the crew didn't come through the cabin offering a second meal service, you could order anything from the 'light options' menu at any time during the flight. Two hours before landing I ordered the linguine pasta in Pomodoro sauce which was delicious.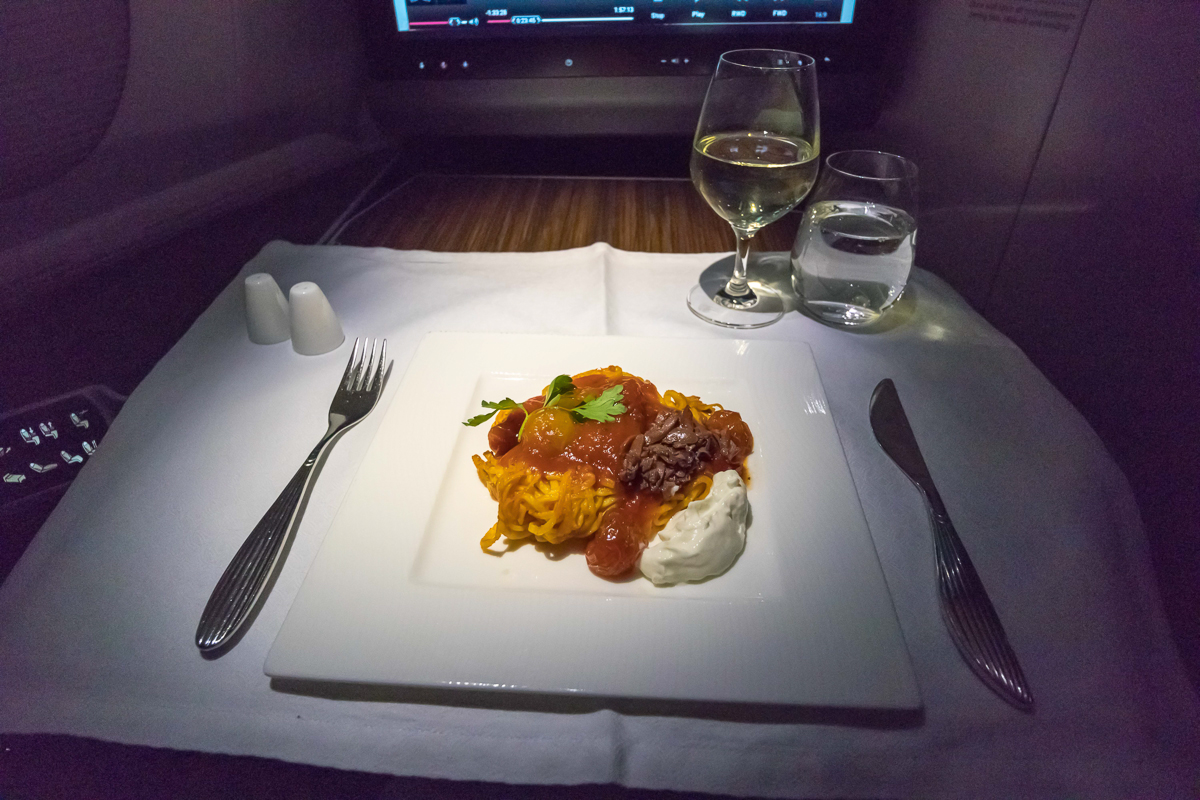 Here are the menus from the flight:
Inflight Entertainment
The 17″ touchscreen was very responsive, with a wide selection of movies and TV shows: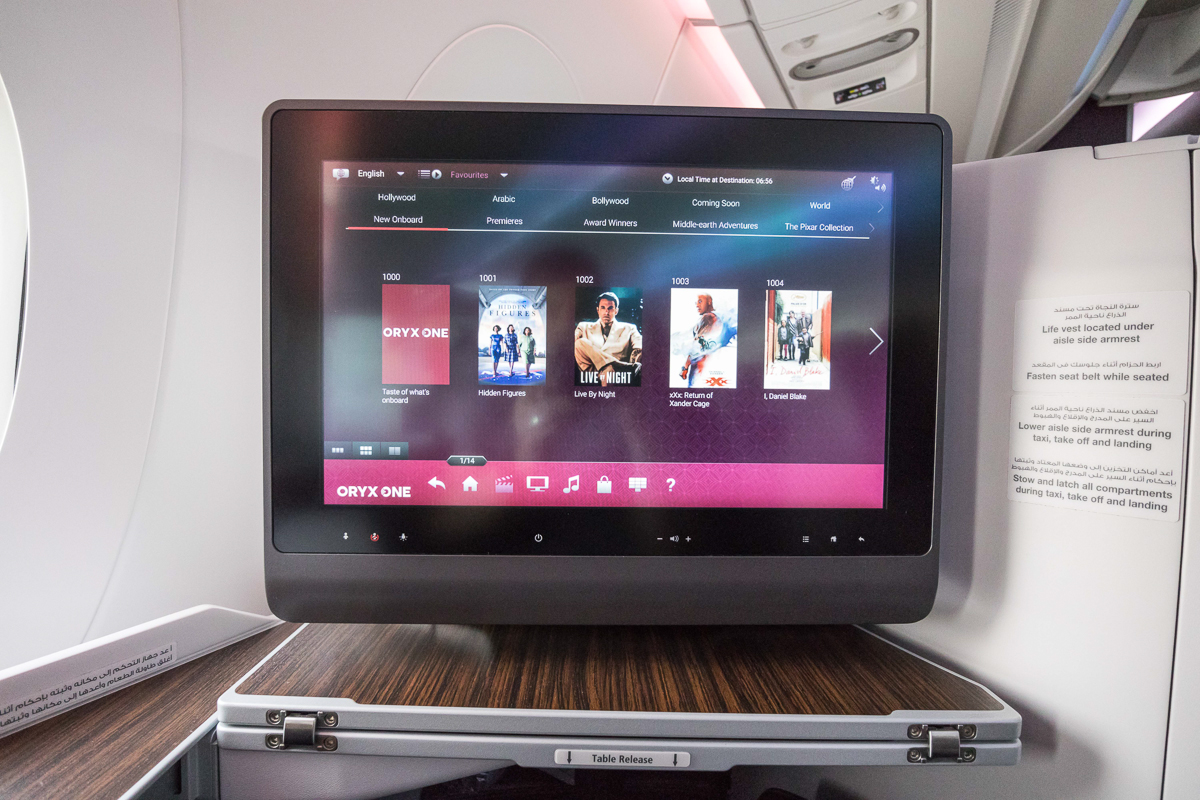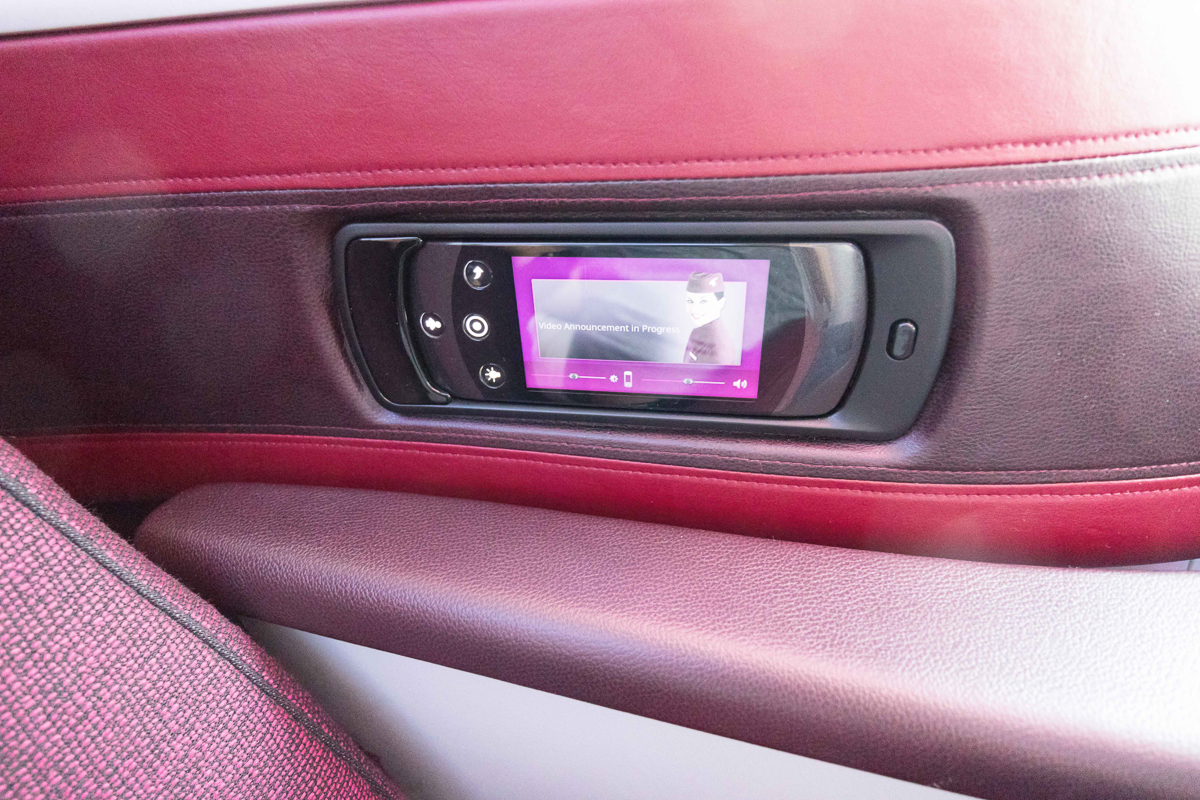 A personal favourite feature was the progress bar, which you could drag to any position during a show which made it convenient to get to a point in a movie I didn't finish on the flight from Sydney: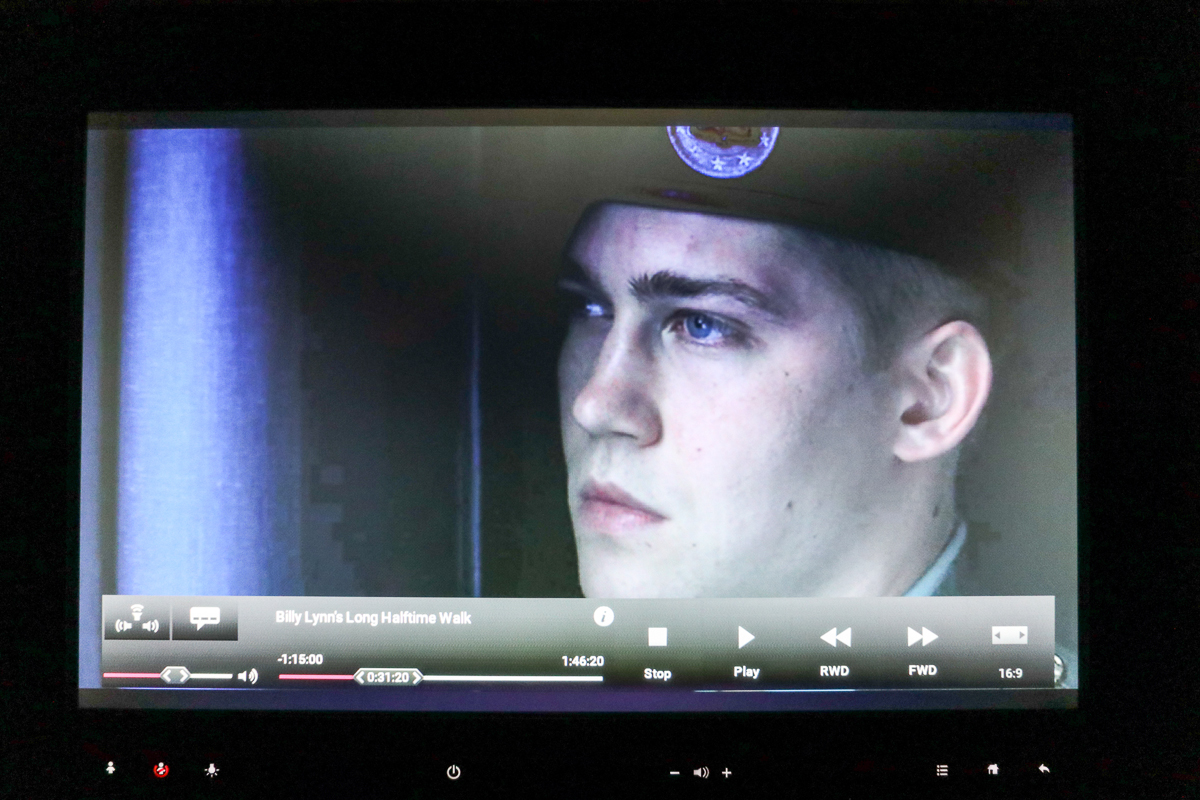 Although wifi was available, I did not get a chance to test it.
Inflight Amenities
The onboard bar is located between the two Business Class zones, with bathrooms on either side: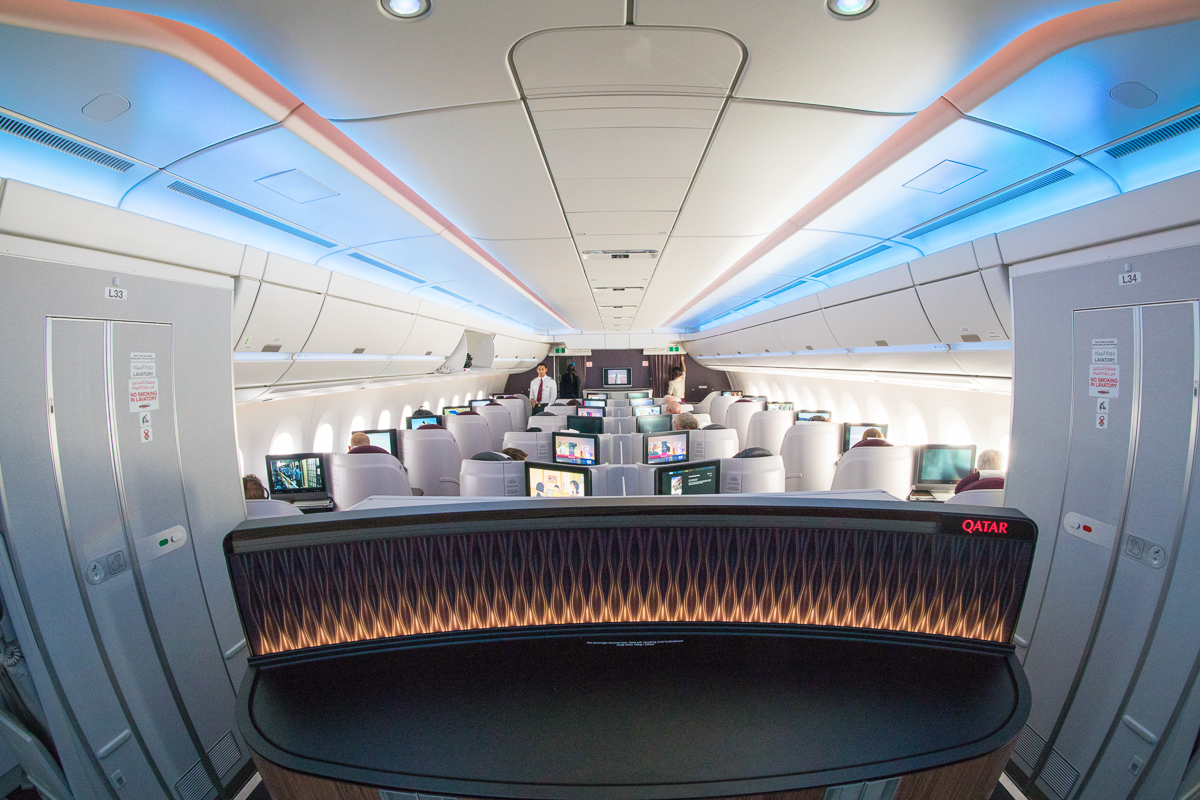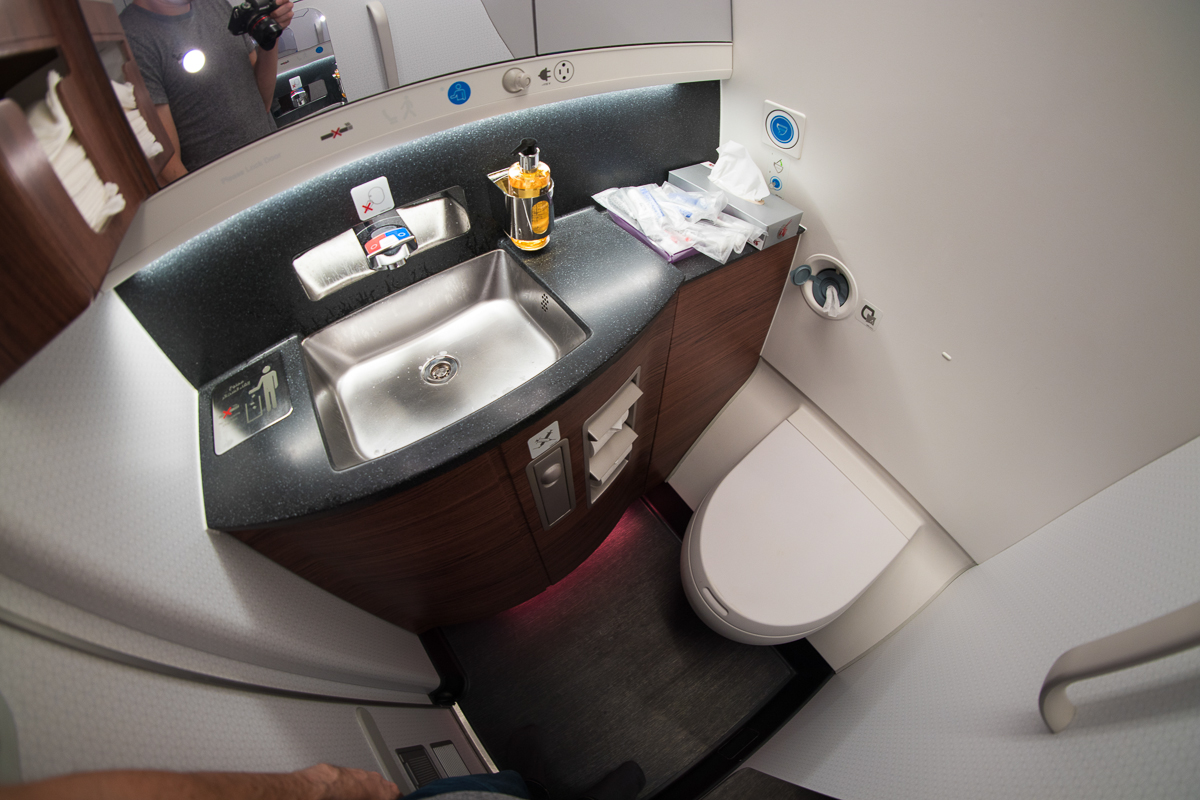 After the meal service a selection of Godiva chocolates, fresh fruit and champagne was setup on the bar: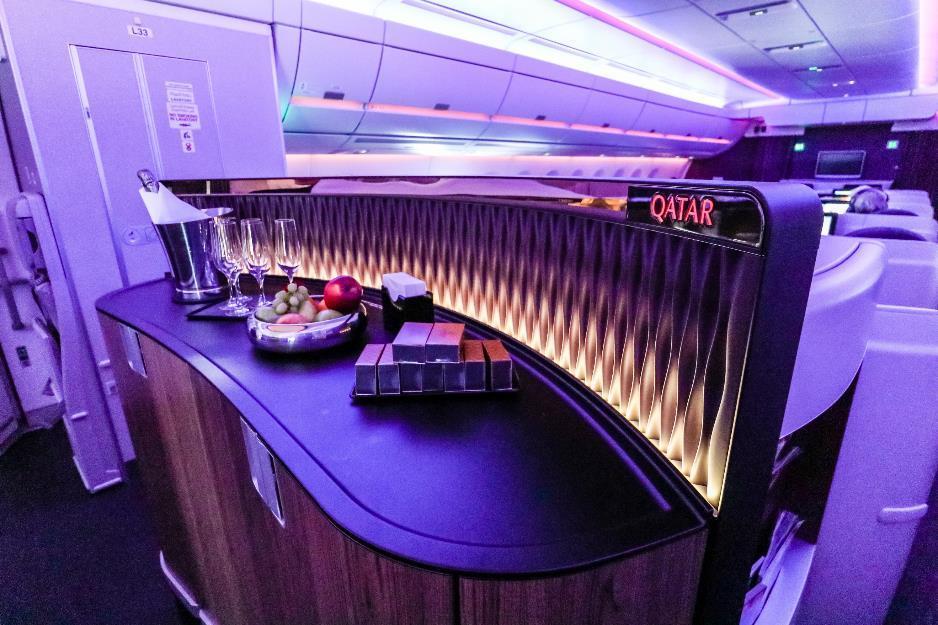 Business Class passengers receive a BRICS amenity kit which include products from Castello Monte Vibiano Vechio, with lip balm, hydrating facial mist and anti-ageing moisturiser, eye mask, ear plugs and socks: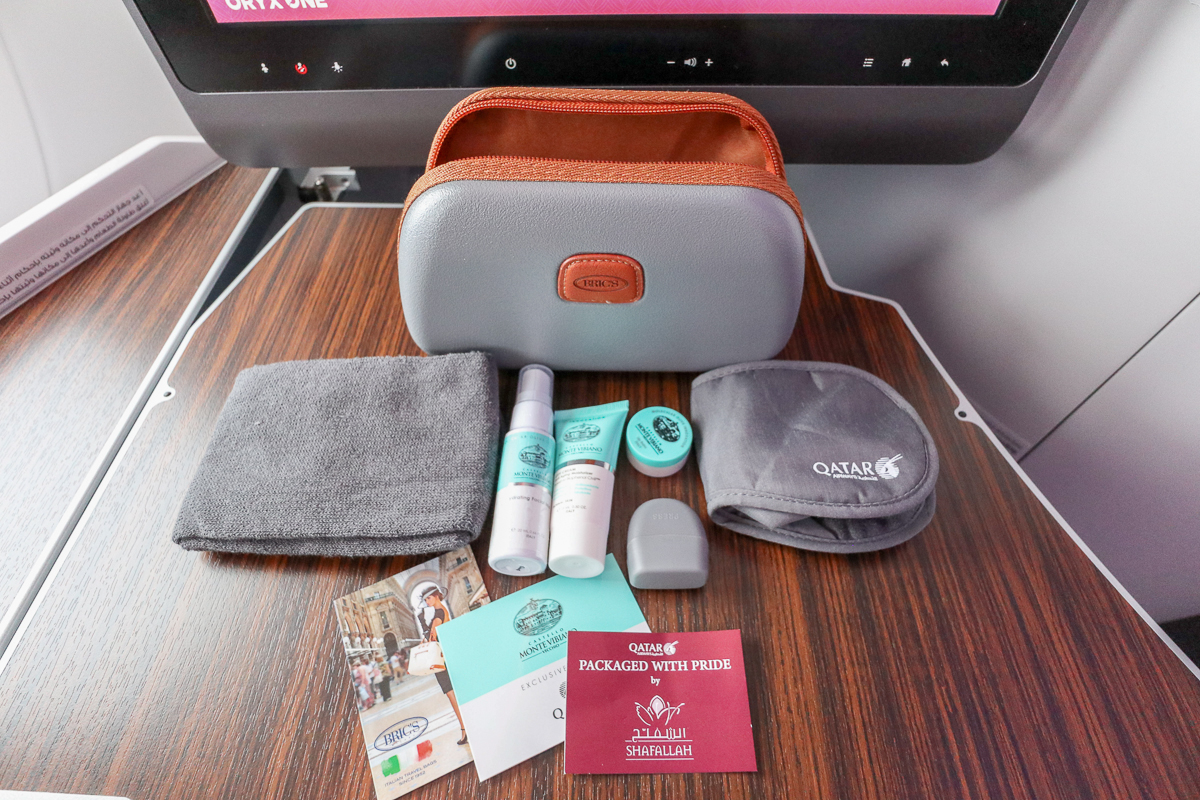 How to redeem points for this flight
Read our full guide to using points for travel on Qatar Airways here.
Other Qatar Airways overviews
Summing up
Both Qatar Airways and the Airbus A350 aircraft lived up to my high expectations, unlike my First Class flight to Doha, which was very similar to Keith's experience on the A380.
The seat is consistent and comfortable for all passengers with many storage spaces and is wide enough when converted to a bed.
The service provided by the crew was professional yet personable. They also anticipated my requirements by offering me another coffee during breakfast and top-ups to my wine over lunch.
There was extensive food and beverage options and everything I tried tasted wonderful. Plus, the fact there were no trolleys or trays during the meal service made it feel like a truly premium Business Class experience.
I would have no hesitation booking another Qatar Airways Business Class flight.
Here are the things to expect on your first Business Class flight.
Qatar Airways A350 Business Class overview
was last modified:
March 25th, 2022
by