Even when there isn't a Qantas Double Status Credits promotion, going on a 'status run' is one of the most efficient ways to rack up those Status Credits so you can enjoy (or keep) those elite perks sooner.
Status runs aren't limited to just taking flights solely to boost your Status Credits. You can work smarter, not harder, by making small tweaks to existing holiday or work travel plans to maximise your Status Credits earn.
Here are some of the best flights to take in order to fast-track your way to Qantas Silver status or above. Remember, you need to accumulate:
Silver: 300 Status Credits (250 SCs to retain)+ 4 QF sectors
Gold: 700 Status Credits (600 SCs to retain) + 4 QF sectors
Platinum: 1,400 Status Credits (1,200 SCs to retain)+ QF 4 sectors
Platinum One: 3,600 Status Credits (at least 2,700 SCs from QF tickets)
You may also be interested in the routes that can earn Velocity status the quickest.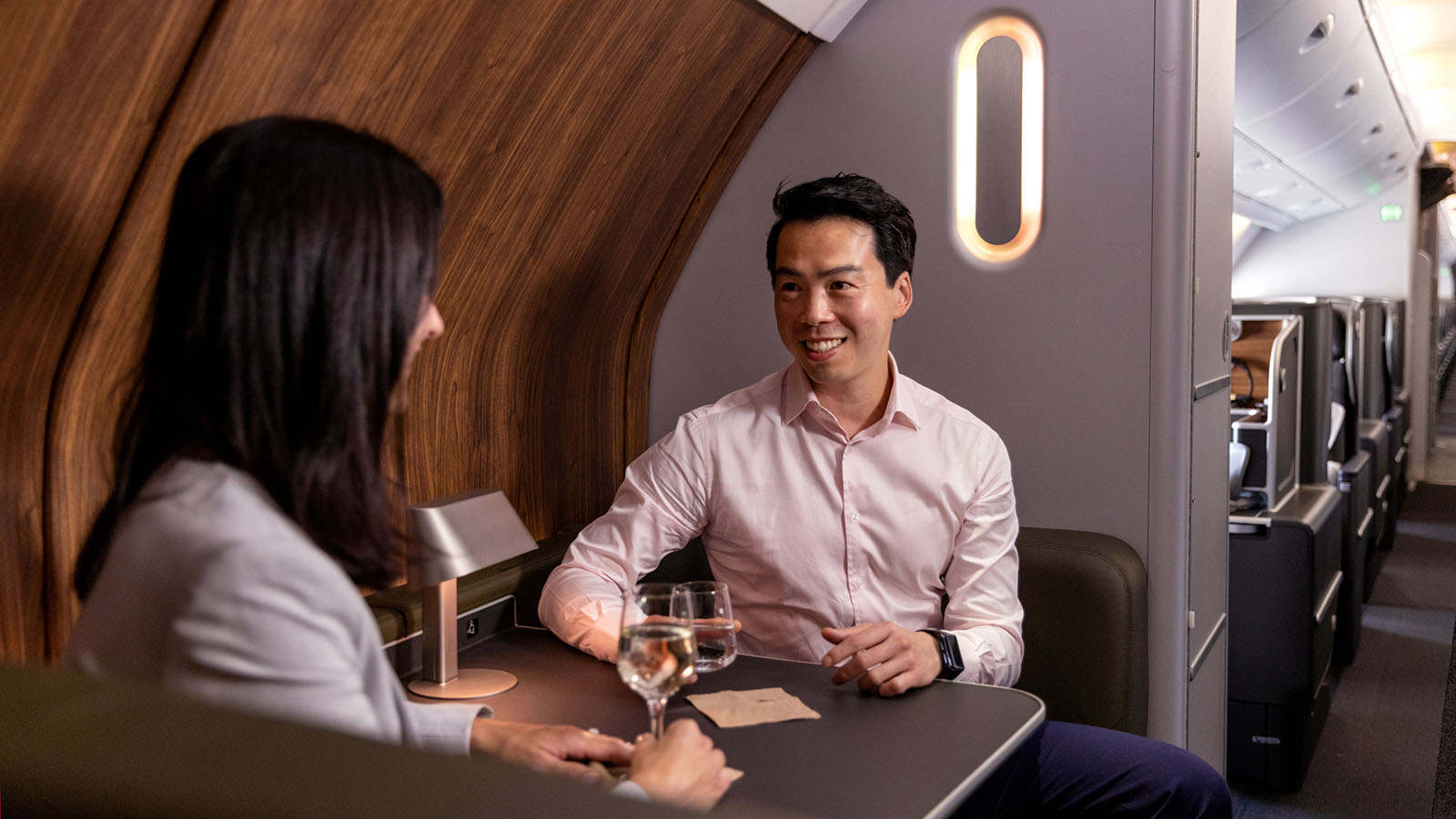 Top tips to maximise a Qantas status run
The goal of a status run is to earn as many Status Credits as possible while keeping costs low. Good news – this generally means paying for sale Business Class fares, so at least you can enjoy the journey in greater comfort. Of course, you can still do status runs in Economy, but the earn rate is much lower, so keep this in mind.
Here are our top tips at a glance for maximising Status Credits.
Buy Business Class fares, particularly on international routes.
Purchase a return ticket.
Stick to Qantas-operated flights.
Make as many connections as possible.
Try to originate your journey in a smaller capital city or regional airport to lower the price.
When travelling to Bali or Auckland, try to fly via Sydney on the Airbus A330 for more comfort.
If you have Points Club or Points Club Plus, you'll earn some Status Credits on reward flights (reduced from normal earn rates). But it's better than nothing and they do get doubled when a Double SC promotion is on.
If you want to guarantee a spare seat next to you, purchasing a 'comfort seat' over the phone will earn you a second set of Status Credits. It costs the same as the base fare, but without additional fees or taxes.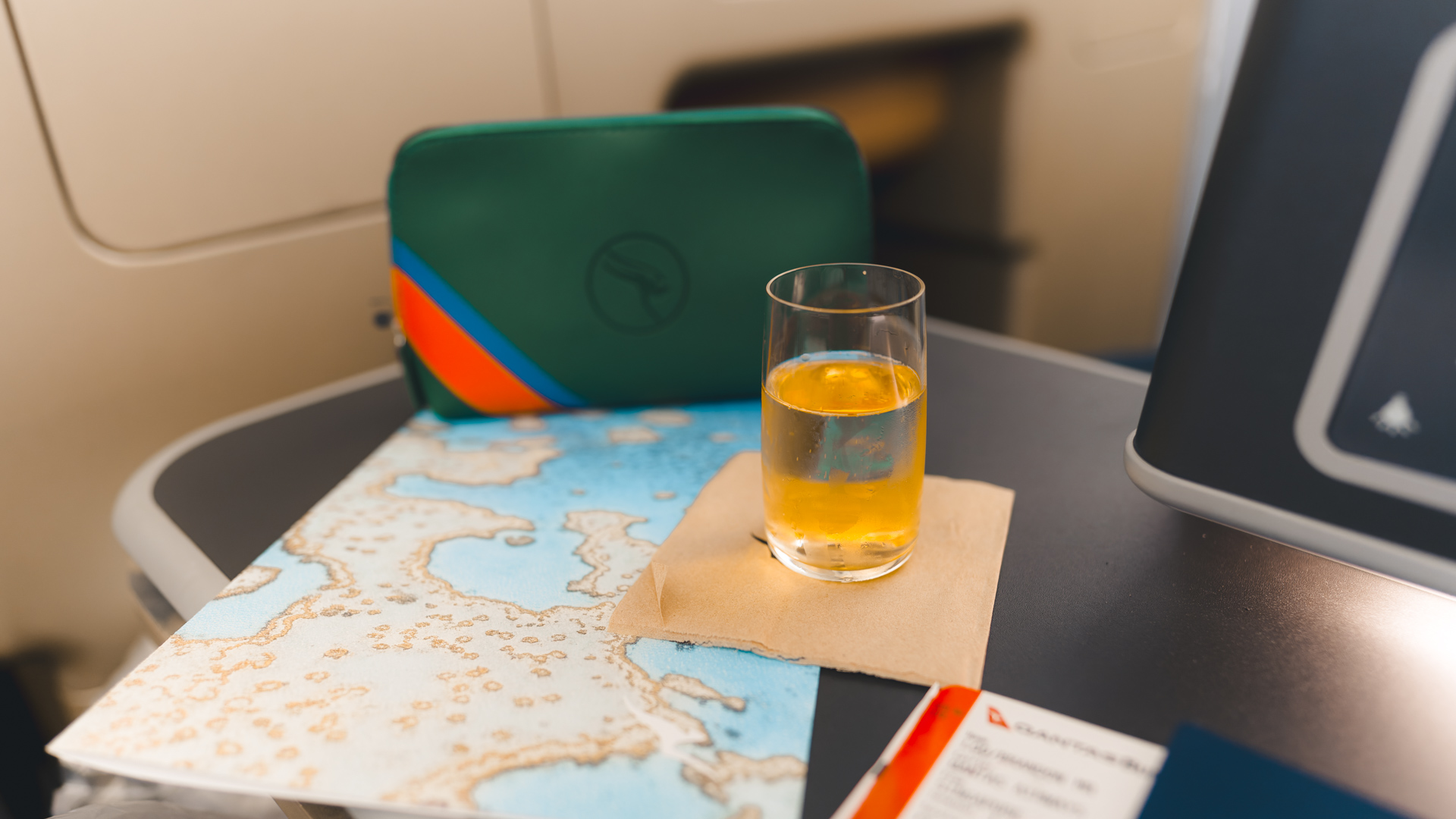 Best routes to do a Qantas status run on in 2023
The fastest and cheapest way to accumulate lots of Status Credits is to fly Qantas international Business Class via multiple cities, especially when there is a Double Status Credits promotion. Nouméa is a particular favourite of savvy frequent flyers, due to its sharp pricing during sale periods.
Here are some routes that have been quite popular with readers:
Bali (via Sydney/Melbourne)
Jakarta (via Sydney)
Nouméa (via Sydney/Melbourne/Brisbane)
Auckland/Christchurch/Wellington (via Sydney/Melbourne/Brisbane)
Tokyo (via Sydney)
Santiago (via Melbourne & Sydney)
London (via Brisbane & Singapore)
Pricing can be very variable so we won't post many specific examples, but in general, aim for dates that have Business Sale availability. The example below features a simple Brisbane-Melbourne-Christchurch return for $1,351. During a Double Status Credits promotion, you could net 480 SCs at the cost of $2.81 each, which is decent.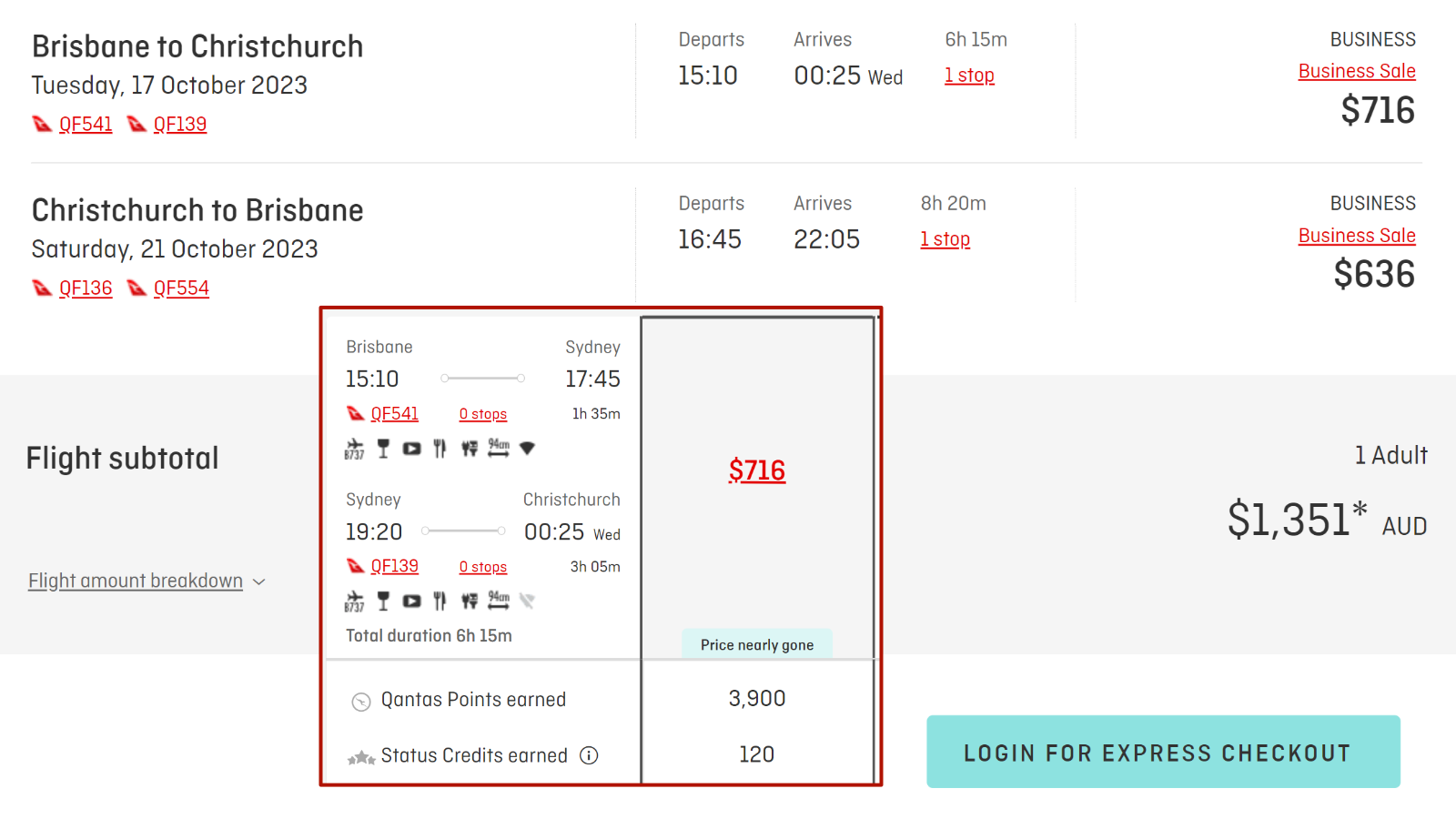 We've left out domestic routes because the fares are generally much higher. But if you mainly fly domestically, try to fly to/from regional ports via one or two stops.
As a rule of thumb, you want to try to keep costs under $4 per SC during Double Status Credit promotions. If you can get it under $3 (like in the example above), then that's a winner.
Ad – Scroll down to continue reading.Minimum spend, terms & conditions apply.
Don't ignore Jetstar Plus, Max and Business Max bundles
A little-known tip is that Jetstar Plus, Max and Business Max bundles earn Qantas Points and Status Credits at quite high rates, at odds with the low-cost nature of the airline.
Economy Plus Bundle: earns at standard Economy rates
Economy Max Bundle: earns at flexible Economy rates
Business Max Bundle: earns at Business rates
For example, flying Jetstar Boeing 787 Business Class from Cairns to Osaka will earn you 130 Status Credits one-way, with fares as low as $1,000. The catch is you need to book a Business Max fare which costs around $200 more than the base Jetstar Business fare.
Or if you're just hopping from Sydney to Melbourne, $164 will get you flying like a king. Specifically, the Economy Max bundle includes full fare flexibility (free changes and refund to credit), inflight meal credit, 30kg baggage, free extra legroom seating, 1,200 Qantas Points and 20 Status Credits.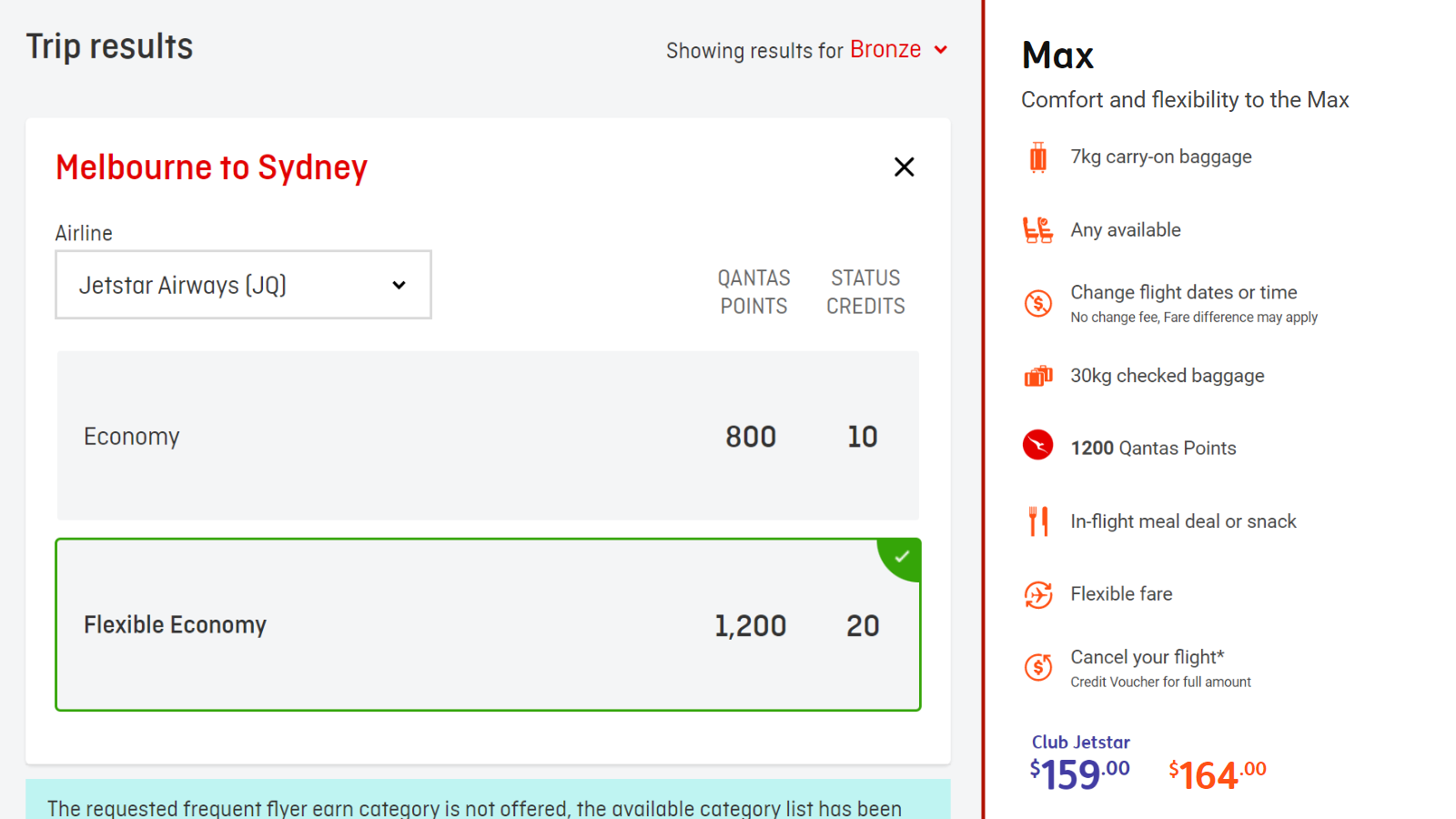 That's not bad, considering the cheapest Qantas fare of the day is $150 for discount Economy, which earns 800 Qantas Points and 10 Status Credits and has change fees.
International airline partners offer Qantas Status Credits
If you fly with Qantas oneworld partners, such as American Airlines or British Airways, you can also earn Qantas Status Credits by putting your Qantas Frequent Flyer number on the booking.
American Airlines' domestic First Class (equivalent to our Business Class) is usually affordable, compared to Australian pricing. This gives an excellent way to bolster your Status Credits while you're stateside.
For example, a US$640 (AU$920) First Class fare from Chicago to Los Angeles via Dallas Fort Worth could earn you 160 Status Credits on the side. These flights ('R' code) credit as Business Class with Qantas.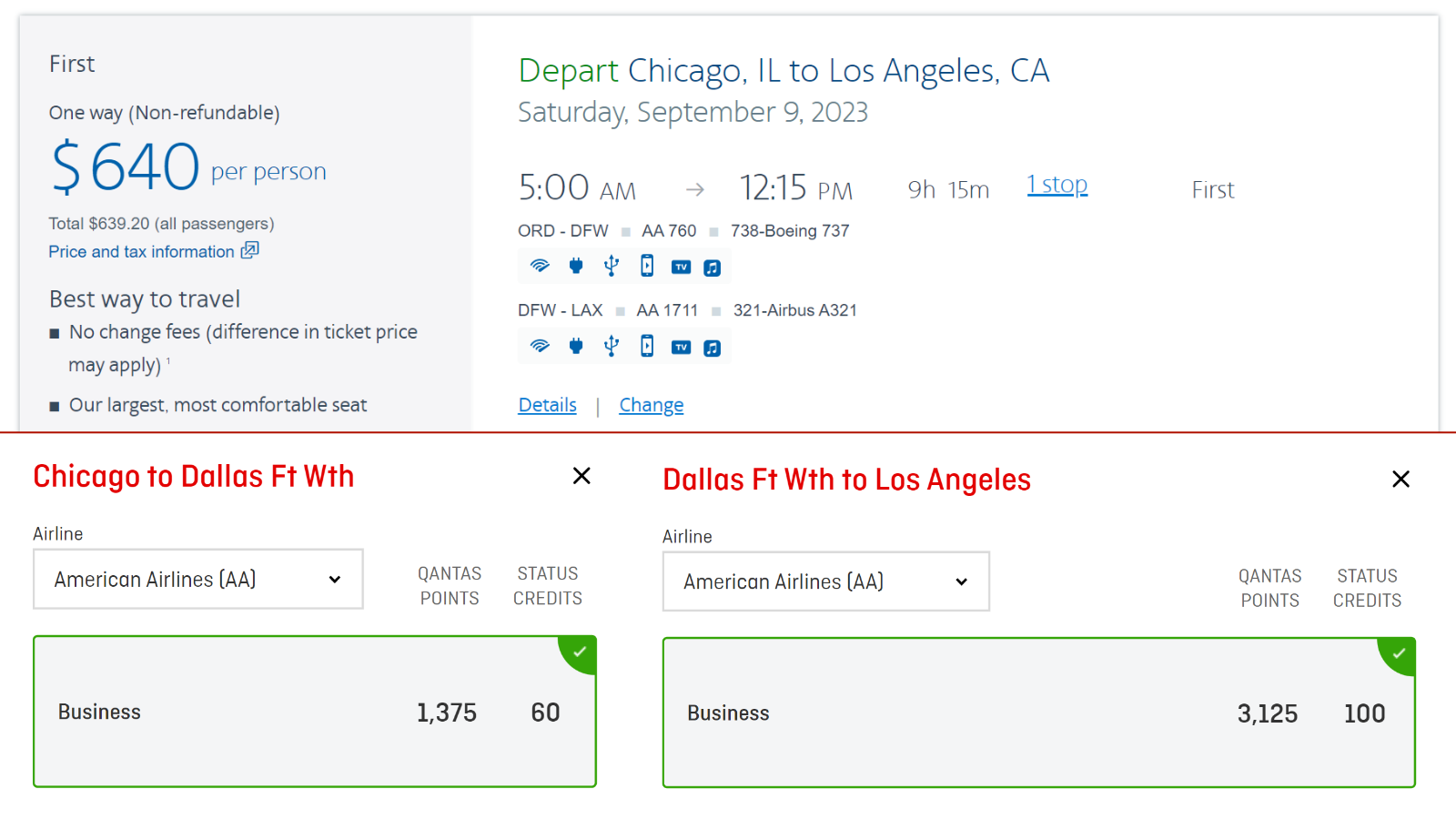 As our sister site, Australian Frequent Flyer, also reports, other airlines and routes you could consider are:
British Airways Club Europe (intra-Europe Business Class): earns at Business Class rates and fares can be quite good if you're connecting via London.
Cathay Pacific Business Class (intra-Asia): you can get around 300 Status Credits for a return Business Class journey with Hong Kong as a transit point (e.g. Seoul to Singapore). Fares can be had for under AU$1,200 return.
Malaysia Airlines Business Class (intra-Asia): although Status Credits earning rates are heavily curtailed for MH flights to Australia, New Zealand, Europe and the Middle East, that's not the case within Asia. A Singapore-Kuala Lumpur-Seoul return journey would net 240 Status Credits for $2,985.
Finnair round the world fares in Business Class: Finnair sometimes has round the world Business Class sales for under $6,000 per person. If you can get all flights on oneworld partners, you'll earn many hundreds of Status Credits.
Summing up
If you are looking to lock in your Qantas Frequent Flyer status and have some cash on hand, then the routes above could be some good ones to research. Remember, the more segments flown, the more Status Credits are earned. The trick is to find discounted fares that involve transits to make the most of your journey.
Want to understand the basics of Status Credits? Make sure to watch our video below:
Do you have any other suggestions to add to our guide for the benefit of other Point Hacks readers? Share in the comments below!
The best Qantas status runs and tips in 2023
was last modified:
September 21st, 2023
by