Hotels.com is perhaps one of the best-known third-party hotel booking platforms out there. It's easy to use and has a simple rewards premise: stay 10 nights and get 1 for free.
In this guide, we'll explore how the Hotels.com Rewards program works, and what you might want to consider it in tandem (or instead of) other traditional hotel loyalty programs.
How does Hotels.com Rewards work?
Hotels.com Rewards is really simple — for every 10 nights you book and stay through Hotels.com (at any of the 1 million+ eligible properties), you'll earn one free night to the average value of the 10 bookings you made.
This means you're earning an effective rebate of at least 10% on any eligible booking you make through Hotels.com. Over 500,000 properties are eligible for free reward nights.
Unless you're a top-tier member of a brand loyalty program like World of Hyatt, Hilton Honors or Marriott Bonvoy, Hotels.com will almost always reward your hotel spend more simply and effectively.
One thing to bear in mind — the value of the free nights does not include taxes and fees from the previous bookings made for that night credit. You will also have to pay taxes on your free night redemption.
There's also a $5/night redemption fee if you go through the Hotels.com website, although this is waived if you book through the official app.
How do I redeem Hotels.com Rewards night credits?
Once you've collected 10 nights worth of 'Stamps', you'll get a credit for a free night in your account to the value of the average 10 nights that have earned you that credit.
Spent $2,500 overall to earn that free night? You'll get a $250 credit.
Redeeming is as simple as booking any other available hotel and room that Hotels.com have included in their Rewards program, which covers a range of premium chain and boutique properties, down to mid-scale hotels and self-contained apartments.
Keep in mind that some hotels or apartments will allow you to earn Hotels.com Rewards stamps, but not be eligible for a free night.
It is possible to redeem multiple free nights in a single booking too, and free nights are refundable. If you cancel a reservation (within the cancellation terms of the booking) then you'll get the free night credit back into your account within a couple of hours.
How do I maximise my Hotels.com Rewards night value?
There are a number of simple tips that could help you along your way to a free night sooner rather than later.
Look out for double nights offers and utilise them if you can
Consider using some of the left-field options available on Hotels.com over Airbnb
Book for other people
Pay for work-related trips, redeem for leisure
Redeem for higher value nights than the nights you earn
Let's get into these in more detail.
1. Using targeted double or extra Hotels.com Rewards nights
Occasionally, Hotels.com Rewards may email you with a promotion code for two Rewards nights stamps for each one night you book and stay within a specified window.
This is a great deal, as it will bump up your effective rebate to 20% and get you to your 10 nights and free night credit faster.
2. Using Hotels.com instead of Airbnb where possible
Don't get us wrong — Hotels.com can't compete when it comes to home and apartment-style accommodation, and you can even earn Qantas Points with Airbnb bookings.
That said, it pays to do a search on Hotels.com as well as Airbnb, just to see what 'apart-hotels' or non-traditional accommodation might be listed, and able to earn the all-important reward night stamps.
3. Book using Hotels.com for other people's travel
This one is a great earner if you end up booking hotels for other people – whether that's at work or for your friends family.
It's really simple — you make a reservation with the primary guest as the traveller who is actually travelling but from your Hotels.com account. You'll earn the reward night credits.
4. Pay for work trips, redeem for leisure
If you are self-employed and claim some travel as a tax deduction, or expense your work travel back to your employer, Hotels.com Rewards is a great way to earn some benefit back to you.
Especially for those self-funded work travellers, picking up night credits from work travel, which you can then redeem for free leisure nights down the track is a good win.
5. Redeem for higher value nights than the nights you earn
This is a key concept. If your earning nights are of high value, but your target redemption night is under the average rate of your earn, you will not get credited the difference.
Aim to save your Hotels.com credit redemptions for higher-value rooms than your usual choices, where you can.
Ad – Scroll down to continue reading.Minimum spend, terms & conditions apply.
Can I use promo codes on Hotels.com and still earn rewards nights?
Unfortunately, using a promo code to discount your stay will usually result in no Hotels.com Rewards nights being earned. This is usually displayed in the checkout.
If you know you can book through Hotels.com frequently enough to earn and then use a free night, you're usually going to be better off avoiding using a discount code and earning Hotels.com credits instead.
What are the downsides of Hotels.com Rewards?
Hotels.com free night credits do expire. If there is no activity (a booking or a redemption) associated with your Hotels.com account in 12 months, then you'll lose those credits.
Same applies for the Hotels.com Rewards stamps that are building up to a free night. You'll lose those (and won't be able to earn a credit from them if you added future bookings) with the same amount of inactivity.
Also note that if you hold elite status with the hotel's loyalty program, they are unlikely to give you the benefits you would normally be entitled to if you booked directly with them.
This issue is common to most online travel agents and is designed to get you booking directly with the chain where possible.
What is Hotels.com Rewards Silver & Gold Status?
Hotels.com offers additional perks to loyal customers who book many nights with the platform.
Silver is available to members who have booked 10 nights in during the current membership year — essentially anyone who's been able to earn a free rewards night from the program.
The published benefits of Hotels.com Silver are priority phone service, early sale access, and a 'no hassle travel guarantee', which aims to minimise hotel charges and cancellation fees if you have a problem with a booking.
Gold requires 30 nights within a membership year, with the primary benefit being Gold Exclusives such as free breakfast or airport transfers at some properties, and room upgrades at certain VIP Access hotels.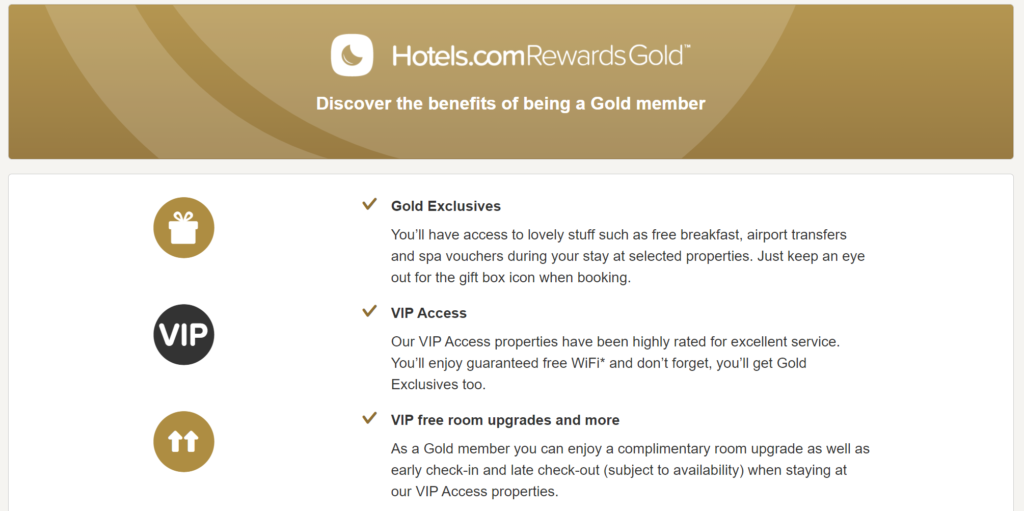 Due to the coronavirus pandemic, Silver and Gold members with a membership renewal date between 1 February 2020 to 31 January 2021 will automatically receive a one-year extension.
Summing up
Hotels.com is a simple and rewarding program. If you're usually the type to stay more than 10 nights a year in hotels, then you could benefit greatly from the free rewards night feature.
It works best for self-funded or self-organised travellers, who are able to make their own bookings and control the payments. If you can book travel for other people too, then that's a bonus!
Just remember that reward night credits and stamps expire after 12 months of inactivity, so be sure to lock some stays in. Due to COVID-19, stamps and reward nights due to expire between April and December 2020 will be extended indefinitely for now.
This content contains affiliate links from which Point Hacks may earn commissions from transactions generated from new customers, bookings and general enquiries. Find out more here.
This article was originally written by Keith Mason.
Guide to Hotels.com Rewards program: how to save 10% or more on hotel bookings
was last modified:
May 15th, 2022
by