Hotels.com Rewards (formerly Hotels.com Welcome Rewards) is usually my primary hotel loyalty, although this year my travels will lead me to focus on Starwood – but that's an anomaly.
Last year I used Hotels.com and managed to earn an average rebate of around 16% on my hotel spend, and with a vast range of hotels and accommodation types to choose from, it's my go to program for making paid hotel bookings.
It won't be for everyone, but here's how it works for me. If you end up signing up for Hotels.com Rewards making bookings through them, then it would be greatly appreciated if you do so using my affiliate link below and help support the site.

---
This content contains affiliate links, through which Point Hacks may earn commissions from transactions such as new customers, bookings and enquiries. Further information on our advertising policy can be found here.
---
Guide to Hotels.com Rewards program: offers savings of 10% or more on hotel bookings
was last modified:
April 7th, 2020
by
How Hotels.com Rewards works
Hotels.com Rewards is really simple – for every 10 nights you book and stay through Hotels.com (at one of the 235,000 eligible properties for Rewards night earn), you'll earn one free night to the average value of the 10 bookings you made.
This means you're earning an effective rebate of at least 10% on any eligible booking you make through Hotels.com.
Note that from 27 November 2019, there'll be a redemption fee of US$5 for every reward night redeemed through the website. However, bookings through the app will not have this cost applied.
I think that unless you're a top-tier member of a brand loyalty program like Hyatt, Hilton or Starwood, Hotels.com will almost always reward your hotel spend more simply and effectively.
The biggest benefits are…
Simplicity of earn and redemption
Vast choice of hotels to earn and redeem at, not just a single chain
Genuinely good customer service for frequent customers (Hotels.com Rewards Silver status and above)
One thing to bear in mind – the value of free nights does not include taxes and fees from the previous bookings made for that night credit.
In many countries these are minimal, but in the US particularly taxes and fees can make up tens of dollars per night of the price of a booking, reducing your Hotels.com night value a little.
Redeeming Hotels.com Rewards night credits
This is the really simple part. Once you've triggered 10 nights, you'll get a credit for a free night in your account to the value of the average 10 nights that have earned you that credit. Spent $2,500 to earn that free night? You'll get a $250 credit.
Redeeming is as simple as booking any other available hotel and room that Hotels.com have included in their Rewards program, which seems to me to be about 75% of their inventory. It's most of the good places at least.
You will find that some more niche hotels or apartments will offer Hotels.com Rewards earn, but not redemption, so keep that in mind.
It is possible to redeem multiple free nights in a single booking too, and free nights are refundable – in the sense that if you cancel a reservation (within the cancellation terms of the booking) then you'll get the free night credit back into your account within a couple of hours.
How I maximise my Hotels.com Rewards night earn and value
Look out for double nights offers and wait for them if you can
Consider using some of the left-field options available on Hotels.com over Airbnb
Book for other people
Pay for work-related trips, redeem for leisure
Redeem for higher value nights than the nights you earn
Let's get into these in more more detail.
Using targeted double or extra Hotels.com Rewards nights
Occasionally (usually around once every few months) Hotels.com Rewards will email you with a promotion code for two Rewards nights for every one you book, and possibly, stay, within a given window.
This is a great deal, as it will bump up your effective rebate to 20% and get you to your 10 nights and free night credit faster.
I have previously had a free night offered to me for leaving a review on the site…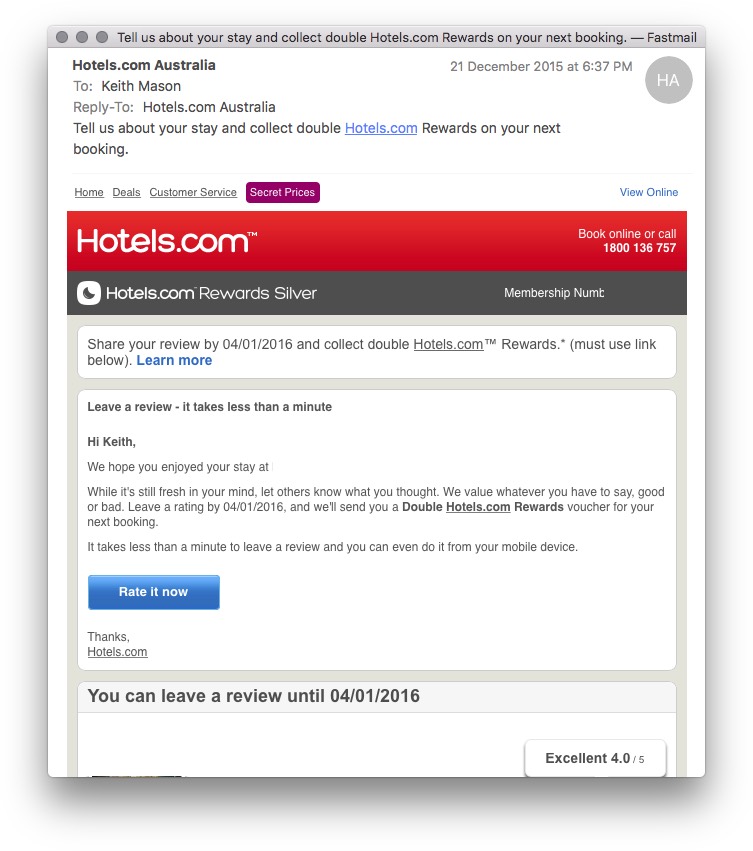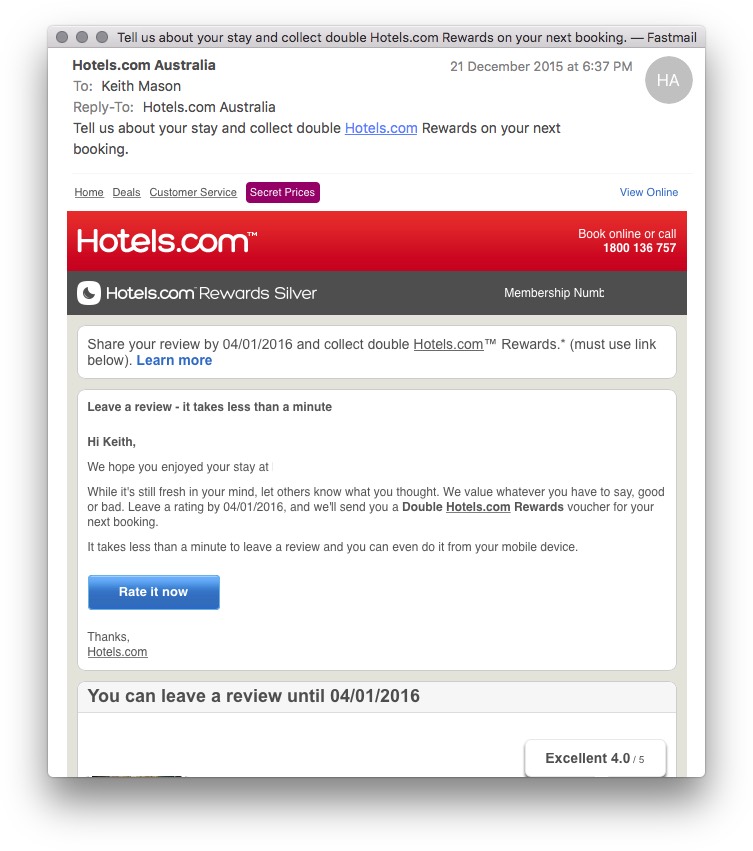 … or for booking using the Hotels.com app.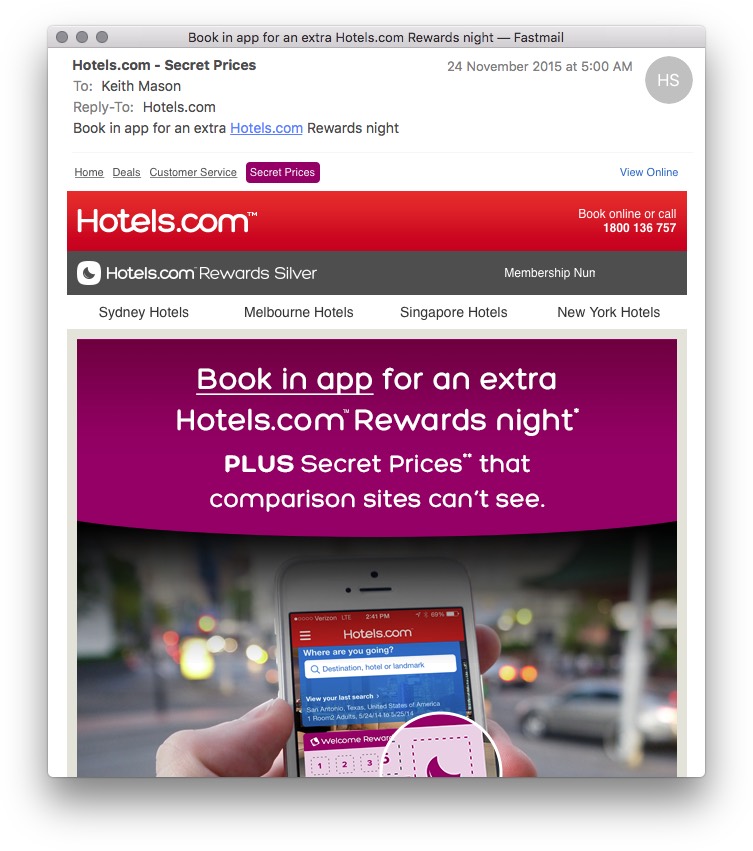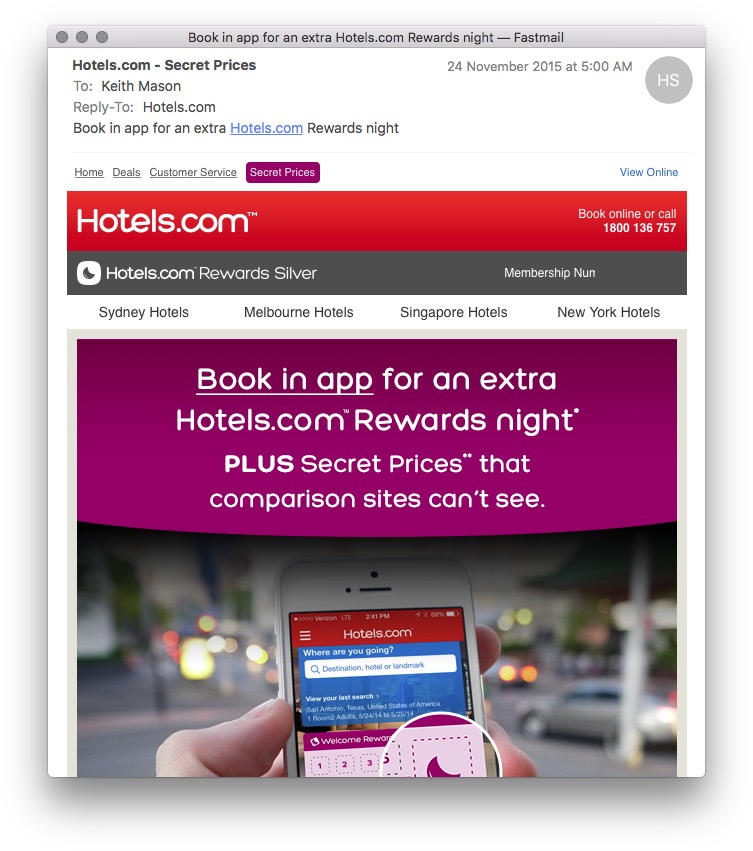 The extra free night offers is how I got my Hotels.com return up to 17% in the last 12 months.
Using Hotels.com, where possible, instead of Airbnb
I'm a big fan of Airbnb, don't get me wrong – Hotels.com can't compete when it comes to home and apartment style accommodation, and there's even a points earning option with Airbnb now too.
That said, I'll always do a search on Hotels.com as well as Airbnb, just to see what 'apart-hotels' or non-traditional accommodation they might have, and see whether I can pick up any additional Rewards nights.
Book using Hotels.com for other people's travel
This one is a great earner if you end up booking hotels for other people – whether that's at work or for your friends family.
It's really simple – you make a reservation with the primary guest as the traveller who is actually travelling, but from your Hotels.com account – and you'll get the Rewards night credits.
Pay for work trips, redeem for leisure
If you are self-employed and claim some travel as a tax deduction, or expense your work travel back to your employer, Hotels.com Rewards is a great way to earn some benefit back to you.
Especially for those self-funded work travellers, picking up night credits from work travel, which you can then redeem for free leisure nights down the track is a good win.
Redeem for higher value nights than the nights you earn
This is a key concept. If your earning nights are of high value, but your target redemption night is under the average rate of your earn, you will not get credited the difference.
That example of $2,500 of spend to yield a $250 rewards night credit I gave above? If you redeemed for a $150 value night, you would lose the $100 difference.
Instead, aim to save your Hotels.com credit redemptions for higher value rooms than your average, where you can.
Beware – Hotels.com Rewards & Promo Codes
Usually the promo codes for 5%, 8% or sometimes even 10% off a booking will usually result in no Hotels.com Rewards nights being earned. This is usually displayed in the checkout.
If you know you can book through Hotels.com frequently enough to earn and then use a free night, you're usually going to be better off avoiding using a discount code and earning Hotels.com credits instead.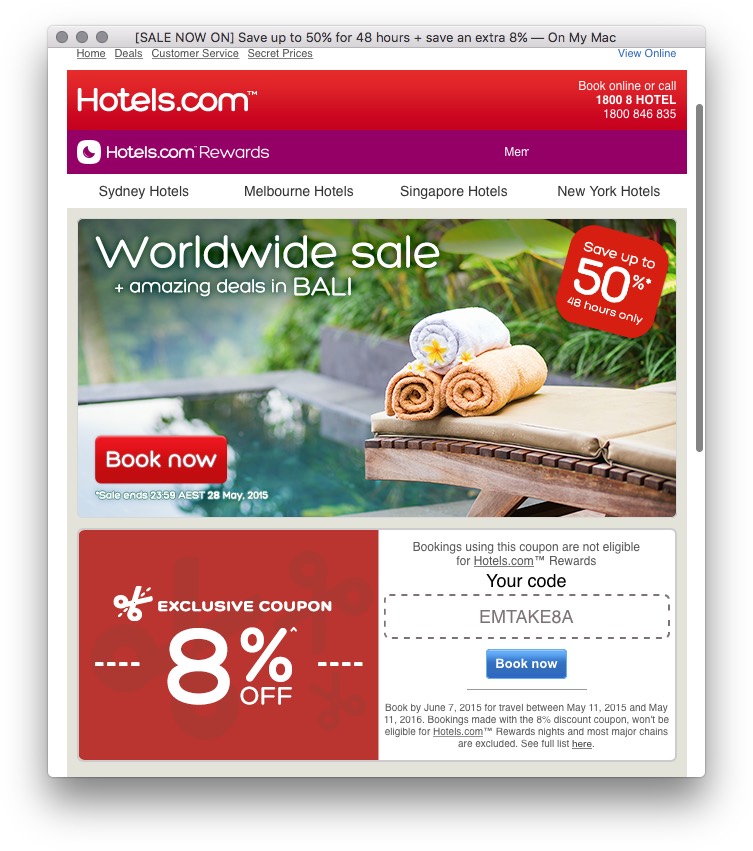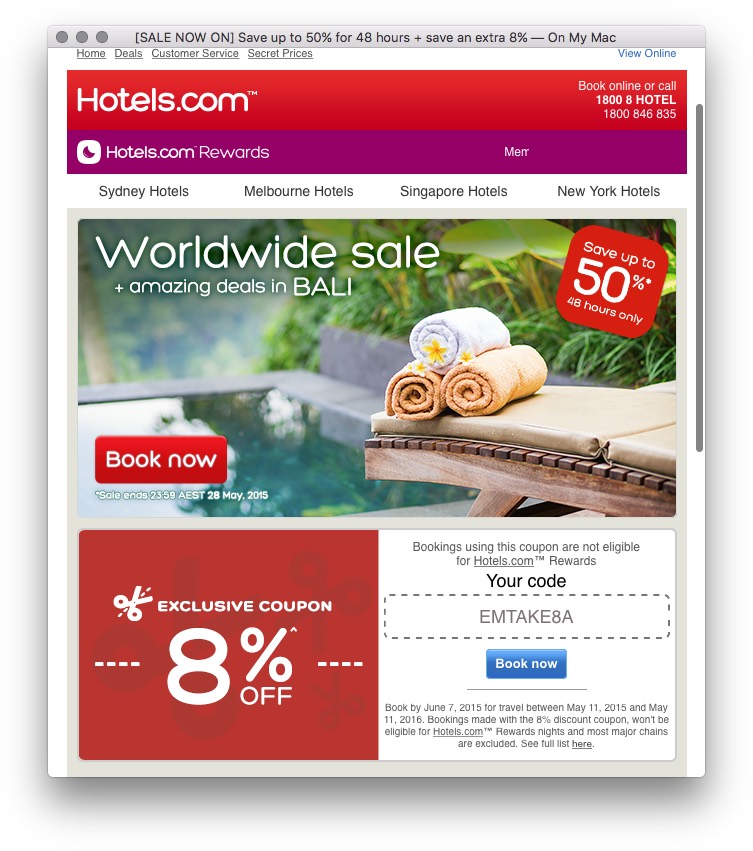 Downsides
Hotels.com free night credits do expire. If there is no activity (a booking or a redemption) associated with your Hotels.com account in 12 months, then you'll lose those credits – so don't forget.
Same applies for the Hotels.com Rewards nights that haven't yet earned you a credit – you'll lose those (and won't be able to earn a credit from them if you added future bookings) with the same amount of inactivity.
Also note that if you hold elite status with the hotel's loyalty program, they may or may not give you the benefits you would normally be entitled to if you booked directly with them – it is up to the staff, so make sure you are nice to them!
Hotels.com Silver & Gold Status
I have been a silver Hotels.com member for a while.
Silver is available to members who have booked 10 nights in during the current membership year, which is going to be most people who have decided that Hotels.com Rewards will work for them given that's the amount of nights it takes to earn a free night credit.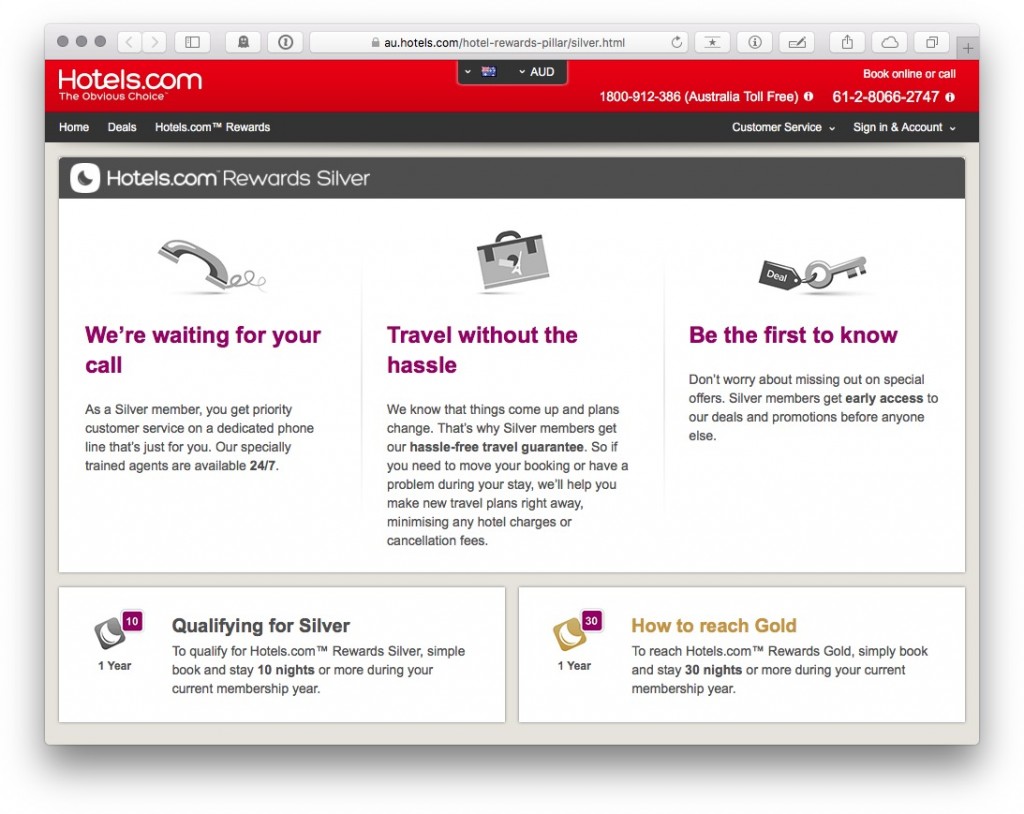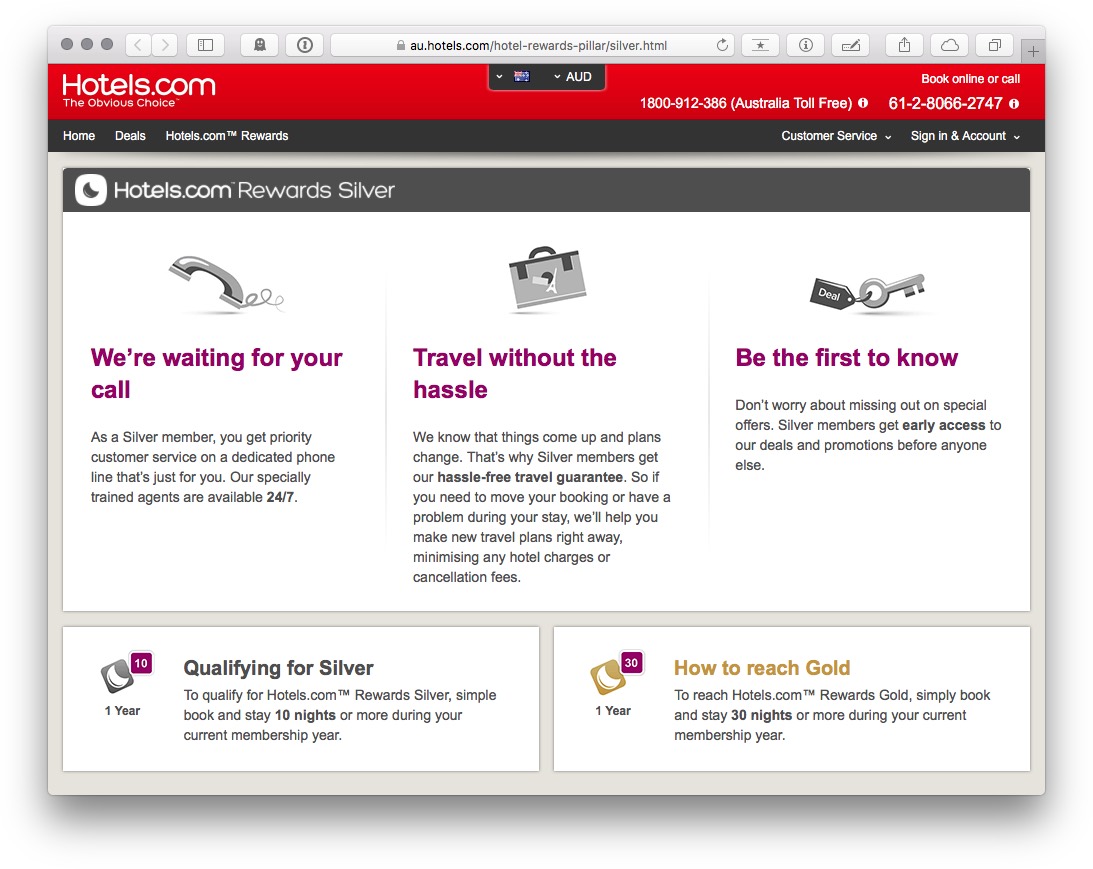 The published benefits of Hotels.com Silver are priority phone service, early sale access, and a 'no hassle travel guarantee'.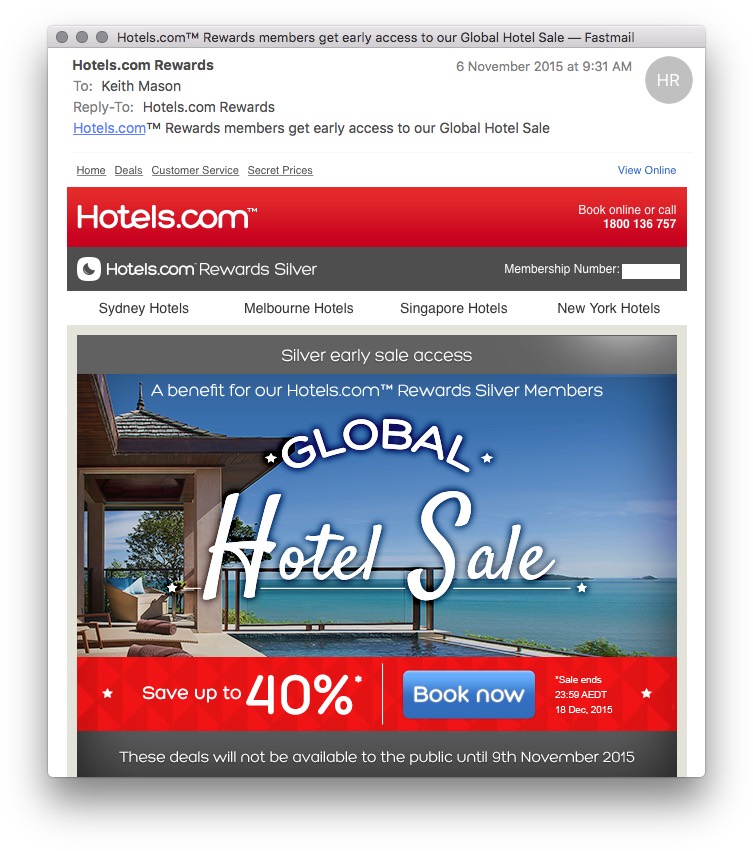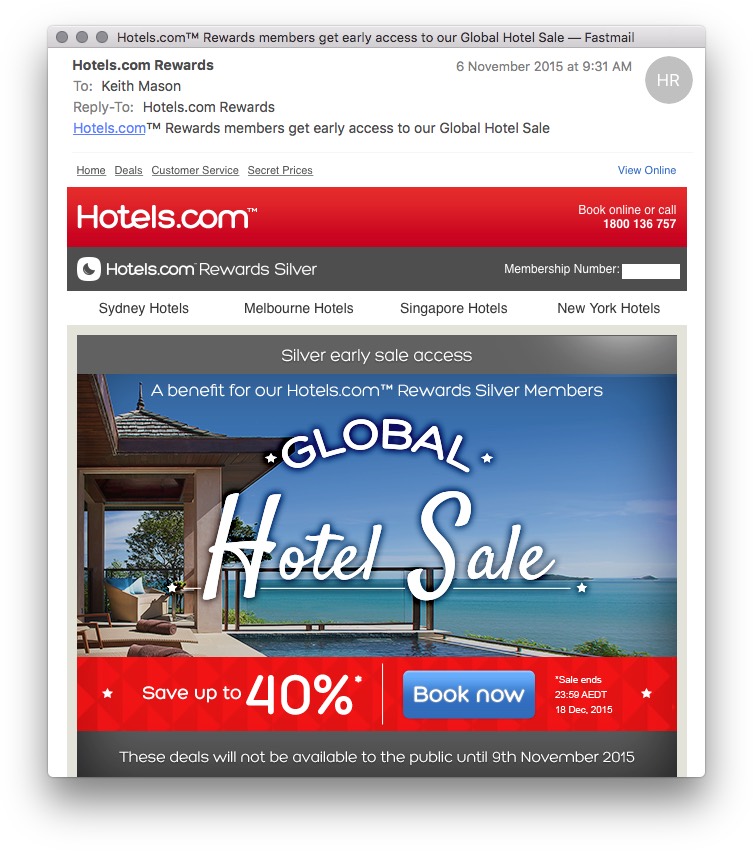 An early sale access email thanks to Hotels.com Rewards Silver
Here's how the no hassle travel guarantee is described:
We know that things come up and plans change. That's why Silver members get our hassle-free travel guarantee. So if you need to move your booking or have a problem during your stay, we'll help you make new travel plans right away, minimising any hotel charges or cancellation fees.
I have found on several occasions that this has actually worked out well for me, with the rules bent on two otherwise non-refundable reservations. This has saved me more than a few hundred dollars in lost nights, so I do rate their service.
Gold then requires 30 nights within a membership year, with the primary benefit on top of silver being additional discounts. I have no experience of this, so can't comment on the value of aiming for Gold.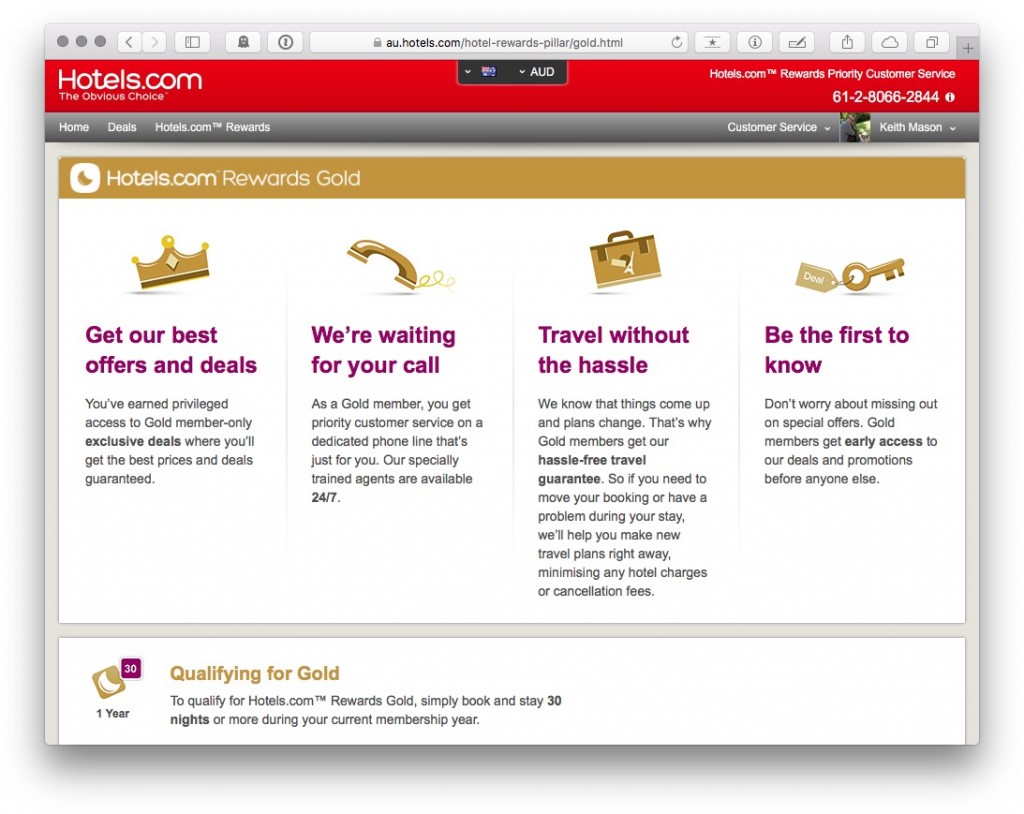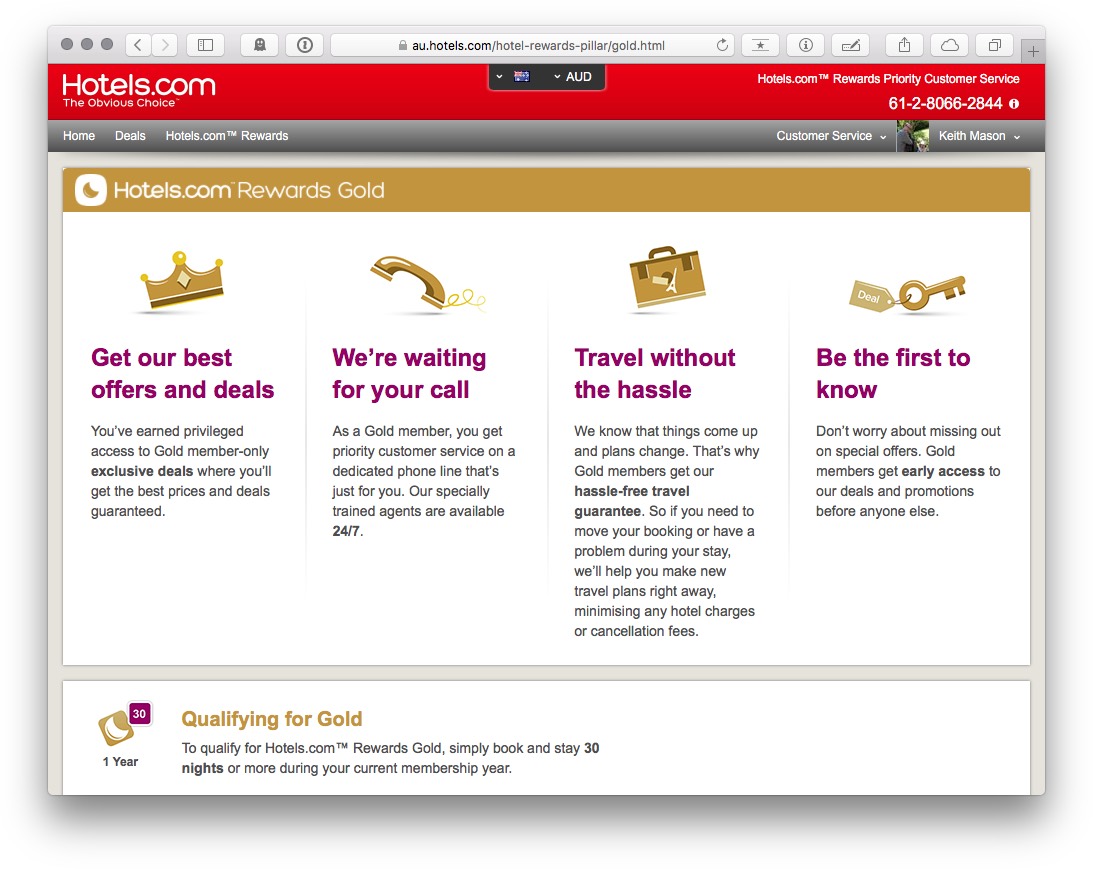 Alternatives to Hotels.com Rewards
There's one caveat to this guide!
I haven't dug deeply into Expedia Plus as one of the main alternatives.
From my initial research it seemed like there was more complexity with Expedia Plus, with generally lower returns for most bookings with some more lucrative promotions available to help top up your Plus points. I'll look at this again and write it up in future.
There's also credit card travel programs like American Express Fine Hotels and Resorts, or the Citi Prestige 4th night free benefit, which may also away your loyalty away from aggregators like Hotels.com.
Summing up – Hotels.com Rewards
Hotels.com is simple and rewarding program if you decide directing most of your hotel spend toward Hotels.com might make sense for you.
It works best for self-funded, or self-organised (i.e. you can make the bookings instead of an employers travel agent) travellers, where you are controlling the booking and payment method.
Remember the 12 months of inactivity rule, and you should be earning some credits fairly easily.
Guide to Hotels.com Rewards program: offers savings of 10% or more on hotel bookings
was last modified:
April 7th, 2020
by