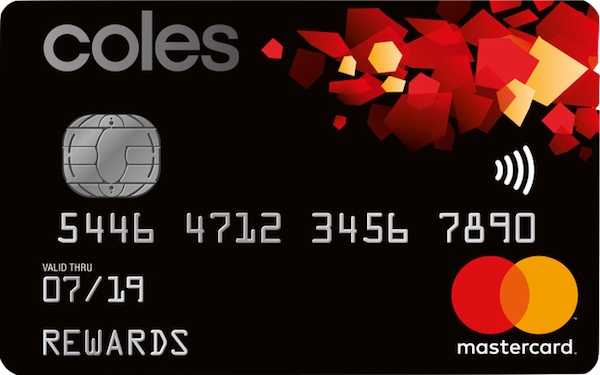 The Coles Rewards MasterCard is offering 20,000 bonus flybuys points when applying using code PROMO3 for new customers who apply and are approved before 30th June 2017 and make a purchase within the first 30 days. flybuys points are transferrable to Etihad Guest, Velocity Frequent Flyer or redeemable at Coles Supermarkets checkouts. There's an $89 annual fee, and the card also offers no international transaction fees on purchases.
20,000 bonus flybuys points for new customers until June 30th 2017 (terms apply)
Earn 2 flybuys points per dollar spent - with flybuys transferrable to both Velocity & Etihad Guest (T&C's and transfer limits apply)
Equivalent earn rate of 0.87 Velocity points or 0.8 Etihad Guest Miles per $1 spent, if transferred
No international transaction fees on purchases not in Australian Dollars
Combined flybuys and credit card - includes Coles Pay Tag for convenience
$89 p.a. annual fee
Apply online using the promotion code "PROMO3" and make a purchase within 30 days of card approval to trigger bonus points
Offer available to new customers only and excludes cash advances and cash equivalents
Offer ends: June 30th 2017
Read the Coles Rewards Mastercard guide →
Point Hacks receives up to $135 per applicant for this card. More about this →
The Coles Rewards Mastercard has appeal to points collectors looking for a solid Visa/Mastercard with a number of good value features and flexibility in how you can redeem your points.
In particular, flybuys' tie-up with Etihad Guest and Velocity makes this card appealing for those interested in frequent flyer points, especially with the reasonable annual fee of $89. The card makes an appearance on both our highest earning Velocity credit cards and highest earning Etihad Guest miles credit cards guides.
Note that you'll need to use the promotion code PROMO3 when applying to select the 20,000 flybuys point bonus.
The card is offering a 20,000 bonus flybuys points (note the terms and conditions on this above) which is one of the highest bonuses this card has offered – it's worth the equivalent of 8,700 Velocity points or $100 at the checkout in Coles – but the value in this card goes beyond just a bonus, as there are appealing points earn rates from spend too.
Coles also recently confirmed to us that there would be no changes to the card in the near future as a result of changes to interchange fees that are impacting points-earning cards in 2017, stating:
Coles is not making any changes to the way flybuys members earn or redeem points as a result of the new cap on interchange fees. flybuys remains free to join and members earn points on every dollar spent at Coles, as well as on purchases from partner retailers.
This is a no-frills card designed for the everyday shopper – there are no travel perks such as lounge access – as it's a supermarket-branded card after all.
However, when it comes to standalone Visa/MasterCard credit cards that earn points into flexible points programs with decent points earn rates, the options are very limited – and the Coles Rewards MasterCard deserves to be considered for its relatively low annual fee, a solid points earn rate from spend, and no international transaction fees.
Card Details
| | |
| --- | --- |
| Card | Coles Rewards Mastercard |
| Loyalty Program | flybuys |
| Points earned from spend | 2 flybuys points per $ spent on eligible purchases |
| Overseas transaction fee | None |
| Minimum Income | $25,000 p.a. |
| Annual fee | $89 p.a. |
Effective Frequent Flyer Program Point Earn Rates
| Partner Frequent Flyer Program | Equivalent partner points earned |
| --- | --- |
| Velocity Points | 0.87 points / $ spent |
| Etihad Guest Miles | 0.8 Miles / $ spent |
Earning flybuys points with the Coles Rewards Mastercard
You'll collect 2 flybuys points for every dollar you spend on the card. This is equivalent to a 1 cent discount on groceries (or when redeemed for gift cards or other products from the rewards store).
If you choose instead to transfer flybuys points to Velocity or Etihad, you'll pick up 870 Velocity Points for every 2,000 flybuys points, or 4,000 Etihad Guest Miles for every 10,000 flybuys points transferred.
Reduced to a point per $ earn rate, this equates to 0.87 Velocity Points or 0.8 Etihad Guest miles per dollar, and you can transfer flybuys points to these programs at any time you choose.
In my experience points from purchases show almost instantly in my flybuys account as a daily sweep the day after purchases clear, rather than a monthly sweep which makes it easier to access the points for a redemption more quickly without having to wait.
No international transaction fees on purchases
The card joins a small but growing list of cards offering no fees on purchases that aren't made in AUD. You'll save the 2-3.5% commission some credit cards will charge you on overseas purchases and still earn points in the Australian dollar equivalent.
Free delivery at Coles online when paying with your Coles Credit Card
If you shop online at Coles and need to be able to book a more specific time for delivery than their free flexible delivery time option (already available to everyone), then the free delivery benefit as a cardholder is going to be useful – it's available once you spend $100 or more.
It's going to offer most value to the more frequent Coles online shoppers, naturally, but even those who shop online with Coles less frequently – but meet the $100 spend criteria – could find it useful to be able to select a delivery slot at no additional cost.
Combined flybuys and credit card, with Coles Pay tag
Not so much a feature of the account, but a nifty convenience. Your credit card comes with your flybuys barcode printed on the back, so one less card to carry around in your wallet.
You can also get a Pay tag to stick on the back of your phone, again pre-printed with your flybuys barcode (which can be quite convenient when using the self-scanner at Coles checkouts when shopping) and a contactless chip to use for PayPass without pulling your wallet out.
Pay tags aren't issued for supplementary cards, unfortunately, which would be a handy win for households using the card with more than one cardholder.
Insurances and interest fee period on purchases
If you are approved for a credit limit of $6000 or higher you'll be issued with the Platinum variant of the card, with all the same features but the addition of a limited Merchandise Protection insurance. You'll need to read the PDS yourself to assess its suitability for you.
The card also offers up to 62 days interest free on purchases, which is one of the longest interest free periods on rewards cards in Australia.
With most cards offering 44 or 55 days (from the time a statement period begins until payment is due), and some of the recent devaluations cutting interest free days, this card has a clear benefit if you are looking for more interest free days on purchases.
What this means is that as long as you pay your full balance every month, the time between making a purchase on the card and having to pay it off is longer.
The longer the time period, the more time that money could potentially be working for you in other ways, such as sitting in a mortgage offset account saving you interest, or earning you even more points in a different account.
Note that you can't use this card for business purposes
The PDS for the Coles Rewards Mastercard does state clearly that points won't be earned for transactions deemed to be partially or wholly for business purposes as this is a card targeted at consumers for personal use.
The PDS does not explicitly exclude points being earned for government or ATO transactions, so if you have a personal tax bill to pay, you should be able to earn points on the transaction.
Summing up – Coles Rewards Mastercard
If you're not in need of travel benefits such as lounge access from a Visa / MasterCard, and want to use a card that offers a solid rate of return in points from your day to day spend, the Coles Rewards Mastercard can make a fantastic addition to your wallet and offer you a solid alternative to the big bank offerings. This is especially true if you spend on overseas transactions where the lack of international transaction fees could save a significant amount, whilst still earning your points.
And on top of that, flybuys are becoming an increasingly valuable currency that can be used for a vast range of redemptions, including your groceries, for flybuys travel, gift vouchers and, of course, for transfers to both Velocity and Etihad Guest.
Point Hacks Credit Card Information
Point Hacks is published by Newformula Media. Newformula PTY LTD (ACN: 609 361 051) is a credit representative (486568) of Eurofinance Corporation Pty Ltd (Australian Credit License: 393845). In some instances, Newformula PTY LTD receives a commission or benefit for referring you to the services of a credit provider. This commission or benefit is disclosed at the point of referral to the credit provider. This website does not provide credit, assist you in obtaining credit, or advise you to apply for any particular product from a provider.
We have not taken into consideration your circumstances or financial situation when providing the information on this website. It is important you read the relevant PDS from the product issuer and seek the independent advice of an appropriately qualified professional before making a decision on a product.
While we invest a great deal of time and energy into ensuring we provide with you with the most up to date and accurate information, we do not warrant the accuracy of statements or information contained on the Website relating to third party goods and services, including credit card information, loyalty schemes and rewards. You acknowledge that such information and materials may contain inaccuracies or errors and we expressly exclude liability arising from any person acting on those statements or information to the fullest extent permitted by law. Where conditions or warranties are implied by law and cannot be excluded, our liability will be limited to the re-supply of information. You should confirm the accuracy of information provided on this Website with the third party product provider before acting on it.