With Virgin Australia on its way out of voluntary administration with the help of Bain Capital, perhaps the time is ripe to crack open a case of wine and look towards rebuilding your Velocity Points balance.
Buying drops through Virgin Wines could just be the perfect solution, as there are often great bundle deals to be had that include a few cases of wines and some extra points on top. You also earn 2 Velocity Points per dollar spent on wine.
Read on for our roundup of the latest Virgin Wines offers.
Current offer: $99 dozen delivered + 1,000 Velocity Points
Until 31 October 2020, score 1,000 bonus Velocity Points and six free bottles of red or white wine when you buy a case of six for $99, all with free delivery. You will also earn 198 Velocity Points on the transaction.
You can view which red and white wines are included on the offer page.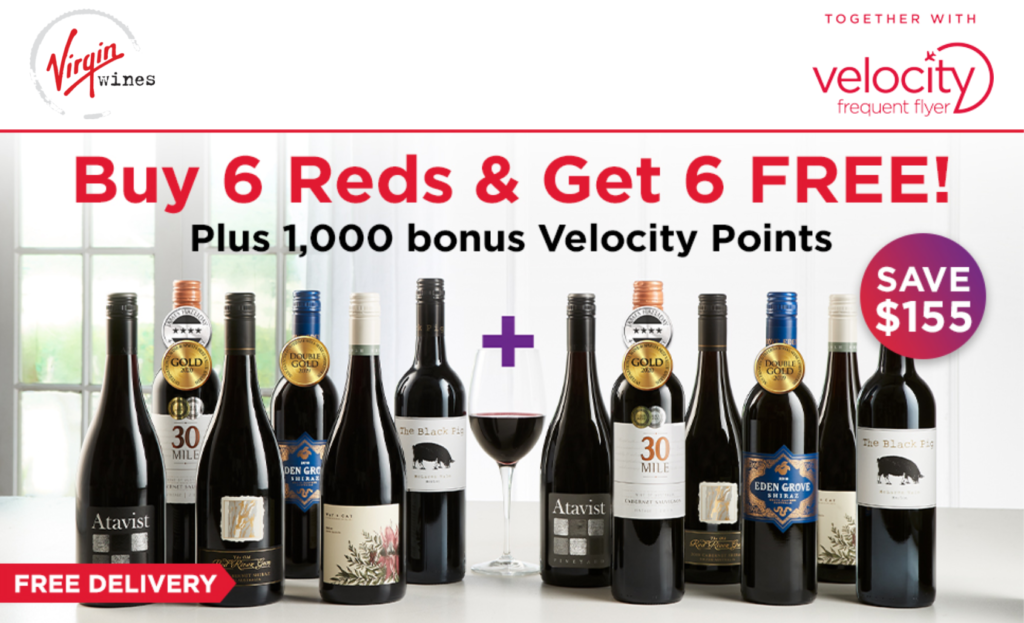 Offer history
Sometimes knowing how Virgin Wines has run this offer in the past may help you to decide if you should take advantage of it now.
September 2020: 12 bottles of wine + 1,000 Velocity Points for $99 delivered.
June 2020: 12 bottles of wine + 2 stemless glasses + 3,000 Velocity Points for $99 delivered
December 2019: 12 bottles of wine + bottle of French Champagne + 2 Champagne flutes + 3,000 Velocity Points for $139 delivered.
Summing up
While Virgin Wines doesn't usually have offers as lucrative as Qantas Wines, there are usually decent promotions to be found throughout the year, especially with bonus wines or glassware often thrown in.
There's also still some uncertainty surrounding the Velocity Frequent Flyer program, but we expect more information to come out by the end of 2020 as Bain completes its acquisition of Virgin Australia.
The latest Virgin Wines deals for bonus Velocity Points
was last modified:
September 22nd, 2020
by