Velocity Frequent Flyer has a partnership with Uno home loans to offer points when you perform a check on your existing home loan, or take out a new home loan or refinance.
Uno is essentially an online mortgage broker that also advertises perks such as regular checks of your home loan against competing products, and alerts where it finds situations that could save you money.
Taking out a home loan is a serious business, so we would never suggest that you go with Uno just for the sake of Velocity Points. And if the following Home loan offer is one that may be appropriate for you, make sure to consult with your accountant or a financial professional before signing up.
Offer 1: Check your home loan health for 1,000 Velocity Points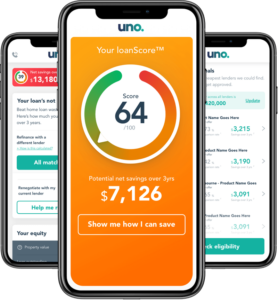 This is a fairly simple deal. Fill in your loan details at Uno LoanScore to see their indicative rating of how your home loan compares to the current market. You'll get 1,000 Velocity Points for your trouble, though be aware that Uno may use your data to contact you later on.
This offer is only available once per Velocity number and does not apply to any address with an existing LoanScore subscription. A credit check is not performed for this service.
Ad – Scroll down to continue reading.Minimum spend, terms & conditions apply.
Offer 2: Take out a new loan to earn 150,000 Velocity Points
Uno just upped their bonus offer, take out a new home loan (or refinance) on a loan of $250,000 or more by 31 March 2021, and settle by 31 May 2021 to earn 150,000 Velocity Points. There are some situations where this might not apply, including if you renegotiate terms with your existing lender.
As usual, be sure to compare Uno's offered interest and comparison rates to other lenders, as well as any associated fees and charges. Also, read the terms and conditions on earning Velocity Points with Uno.
Summing up
Velocity's unique partnership with Uno opens up some less-traditional ways to earn points, with home loans. It's an easy 1,000 points to check your home loan score and potentially find ways to save on your repayments.
If you actually settle an eligible loan through Uno, then an even-bigger bounty awaits. Don't need a mortgage? Check out the biggest Velocity sign-up bonuses on credit cards instead.
Disclaimer: Point Hacks does not have any affiliation with Uno.
How to earn Velocity Points by checking your home loan
was last modified:
August 24th, 2023
by