Since September 2022, Velocity Frequent Flyer members can spend Velocity Points when shopping online at Myer. For those who'd rather not spend their points travelling, it's a move that allows Velocity Points to unlock even more rewards on the ground.
From everyday essentials through to Christmas gifts, electronics, fashion and everything else for sale at Myer, these can all now be purchased by spending points. This new option provides marginally better value than cashing in Velocity Points on a gift card.
Myer has also released a 'points-only catalogue' showing some of the deals you can get with Velocity Points (though in reality, it's just the usual stocktake sale catalogue converted into points).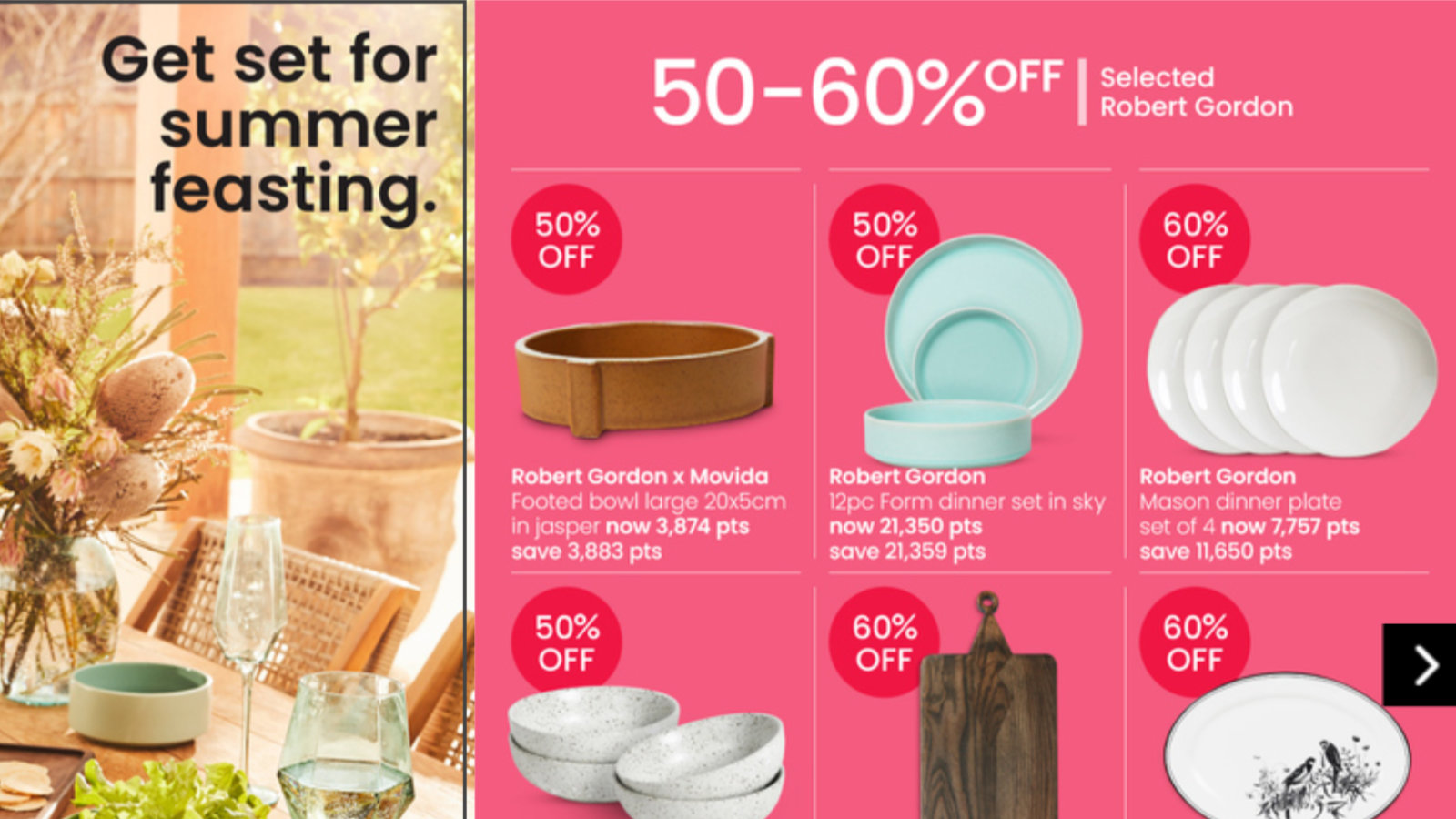 Spending Velocity Points when shopping at Myer
When shopping on the Myer website, the option to spend Velocity Points now appears on the payment page. We've crunched the numbers, and for every Velocity Point you spend, the amount payable in cash comes down by approximately 0.515 cents.
For example, a $65 product costs 12,621 Velocity Points, while a $129.99 purchase can be covered with 25,241 Velocity Points. While you can't spend Velocity Points in-store, it's possible to spend Velocity Points on 'click and collect' orders placed online. Velocity Points can also be used to pay for purchases in part or in full.
Myer is loved for its quality brands and commitment to value which makes the national department store a fantastic partner in the expansion of the Velocity program. We are already looking forward to what is next for customers as part of the partnership.

– Nick Rohrlach, Velocity Frequent Flyer CEO, 13 September 2022
Members of the separate Myer One loyalty program will also continue to earn Myer One shopping credits on orders paid for using Velocity Points. The earn rate on these spends will be as though the purchase was made in dollars. That's two shopping credits per $1 spent, or the equivalent in Velocity Points.
Ad – Scroll down to continue reading.Minimum spend, terms & conditions apply.
Earning Velocity Points at Myer
Speaking of earning rates, it's not currently possible to directly earn Velocity Points from Myer. You also can't convert Myer One shopping credits into Velocity Points. But there are ways you can boost your Velocity Points balance at Myer.
One way, when shopping online, is to click through the Myer page of the Velocity e-Store website. Do this before each order and you can earn two Velocity Points per $1 spent from Velocity itself.
The same is true of 'click and collect' orders as well. If you know what you want before you venture in-store, it's a nice little earner. You can also double-dip, earning Velocity Points via the Velocity eStore and Myer One shopping credits in Myer's own loyalty program.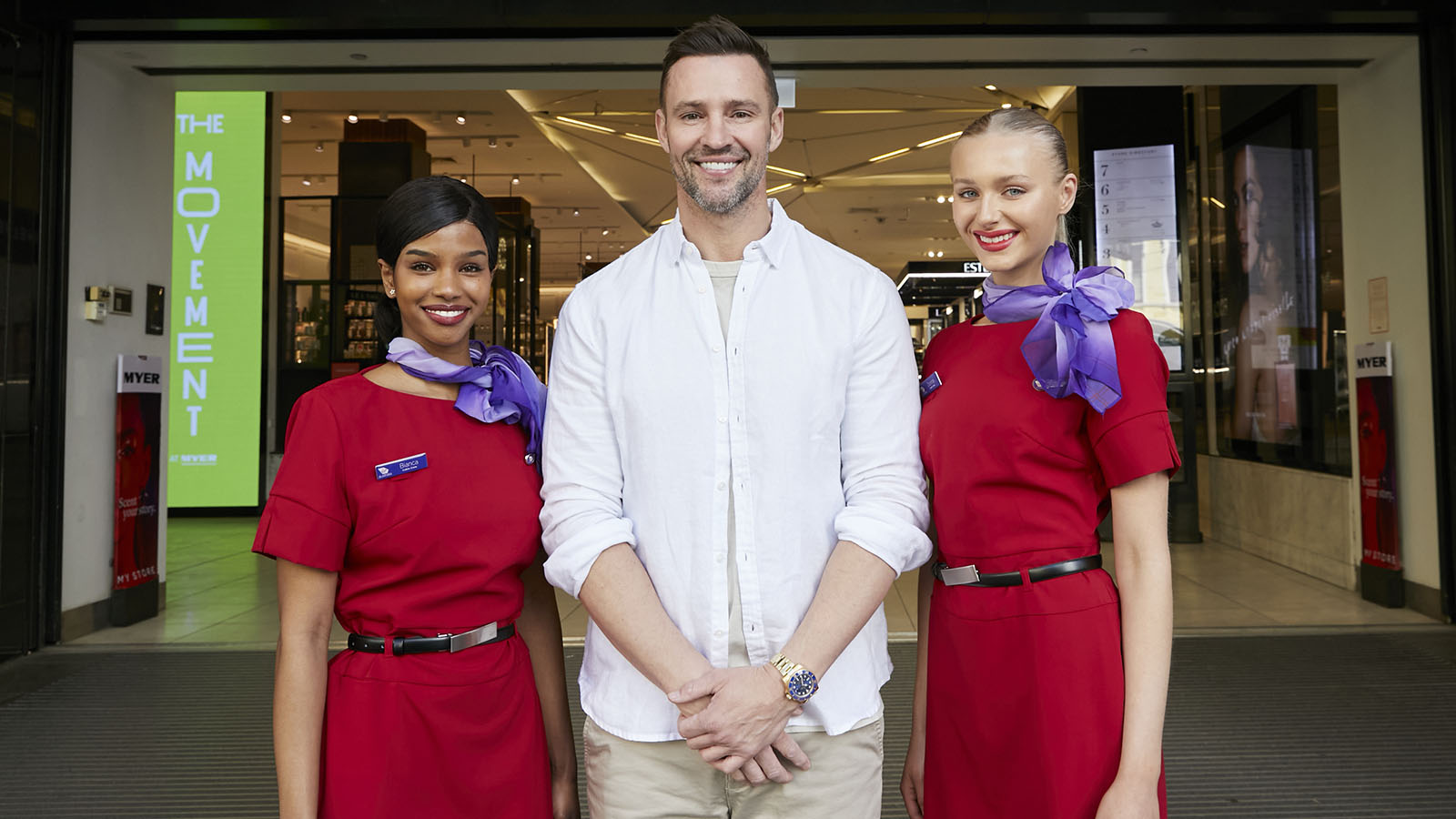 Separately, if you're not spending Velocity Points, you can pay for your purchases using a points-earning credit card. To make things easy, Myer happily accepts all cards and has no payment surcharges.
If you're in the Velocity camp, you could earn 1.25 Velocity Points per $1 spent via the American Express Velocity Platinum Card. Or the equivalent of 1.125 Velocity Points (2.25 Membership Rewards points) per $1 spent via the American Express Platinum Card.
Don't have an American Express? There are other options, too. Myer is a bonus points partner on the NAB Rewards Signature Credit Card. These spends can deliver 2.5 NAB Rewards Points (equal to 1.25 Velocity Points) per $1 spent. Using the NAB Rewards Platinum Credit Card, you could take home two NAB Rewards Points (worth one Velocity Point) per $1 spent instead.
There's also the CBA Ultimate Awards credit card, which generates two Awards points (one Velocity Point) per $1 spent at department stores including Myer, up to $10,000 per monthly statement period.
Spending Velocity Points at Myer vs redeeming for Myer gift cards
Before this new partnership, Velocity members could already redeem their Velocity Points for a Myer gift card. This indirectly allowed Velocity Points to be cashed in for spending at Myer.
This remains available, with the option to directly redeem points on the Myer website providing Velocity members with a simpler path to achieve the same goal. Of course, being able to redeem Velocity Points for a gift card is still the only way to use Velocity Points towards an in-store purchase at Myer.
But how do the two options compare?
As above, when you spend your Velocity Points via the Myer website, you'll get approximately 0.515 cents in value per point redeemed. On the other hand, it costs 19,500 Velocity Points to purchase a $100 Myer gift card, which can be spent in-store or online.
At that rate, spending points on a gift card provides 0.512 cents of value per point. That's marginally lower than the value gained by spending points directly with Myer, but not significantly so.
Of course, we still maintain that the best use of Velocity Points is on flights. And especially in Business Class, where the value provided per point is many multiples of what can be gained on the ground. But not everybody enjoys travelling – or perhaps, have far too many points than they have a practical use for – and this pathway at Myer provides one such path to spend them.
Summing up
Spending points at Myer provide Velocity members with yet another option. But of course, this certainly won't appeal to everyone.
Members who are already spending their hard-earned points on flights aren't likely to stop. But those who've never bothered earning frequent flyer points can view things differently. It's not uncommon for people to see frequent flyer programs as irrelevant if they don't often fly. But when points become easier to spend, for some, they become more attractive to earn.
Taking the complexity out of the redemption process also makes the customer journey easier. Now, Velocity members don't have to spend points on a gift card first, only to go and spend that gift card. They can simply redeem their points for what they want at Myer, when they want it.
And hey, if people are happy spending their points on the ground, that leaves more frequent flyer seats available for those in the know. It's a win-win.
All images courtesy of Virgin Australia and Myer.
---
Stay up to date with the latest news, reviews and guides by subscribing to Point Hacks' email newsletter.
Guide to spending Velocity Points online at Myer
was last modified:
January 17th, 2023
by