Emirates hikes reward seat charges for the fourth time!
Posted:
June 20, 2022 - 2:01 pm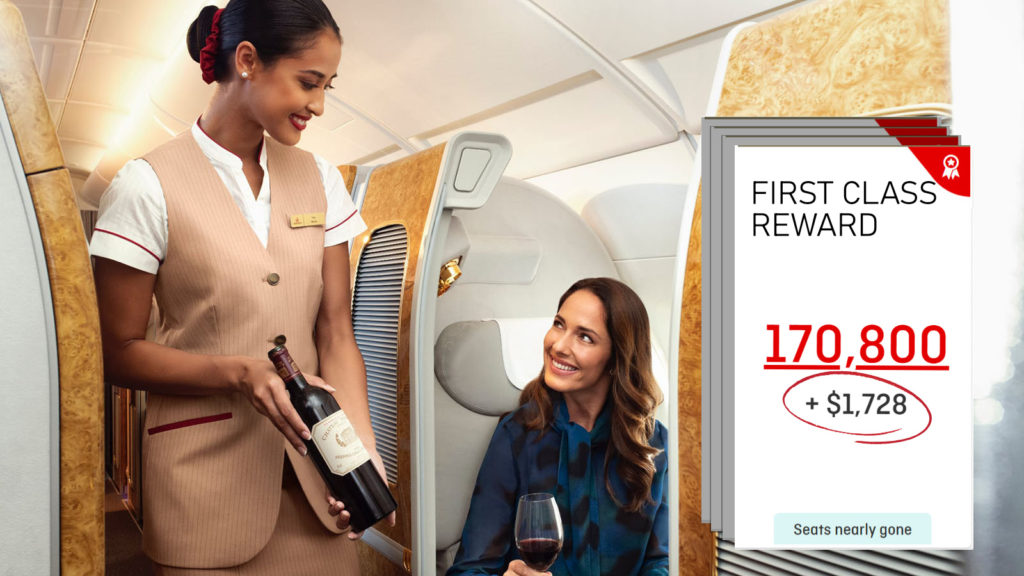 What we'll be covering
In the wake of increasing oil prices, Emirates is slamming frequent flyer members with a fourth price hike on carrier charges in just the last three months. If you want to use your Qantas Points or Skywards Miles for Emirates Business or First Class, be prepared to pay through the nose.
Emirates reward seats are a popular way for Qantas Frequent Flyer members to burn off their points. With a huge presence in Australia and an unparalleled network out of Dubai, it's hard to beat the convenience of booking Emirates. But since early 2022, it has also become a whole, whole lot more expensive.
Qantas Frequent Flyer is one of the few remaining programs that still offer Emirates First Class rewards. Unfortunately, that perk now comes at an increasingly steeper cost. First up, Qantas moved Emirates to the pricier 'Partner' reward table in August 2020. You now need roughly 15% more points to book the same reward seat.
And with a fourth increase on the carrier charges that are levied on reward seats, Classic Flight Reward redemptions on Emirates flights are seriously devalued.
How much have the Carrier Charges increased by now?
We'll use a Perth to Vienna Emirates First Class redemption as an example. That's what Point Hacks writer Brandon has booked for September 2022. From March 2022 to now, here's how much the overall fees and charges have increased, per person.
March 2022: AU$452 per person
March 2022: AU$794 per person
April 2022: AU$1,339 per person
June 2022: AU$1,728 per person
Over a three-month period, that's a 282% increase! While crude oil prices have increased significantly since the Ukraine conflict started, it's certainly not proportional to Emirates' carrier charge increase.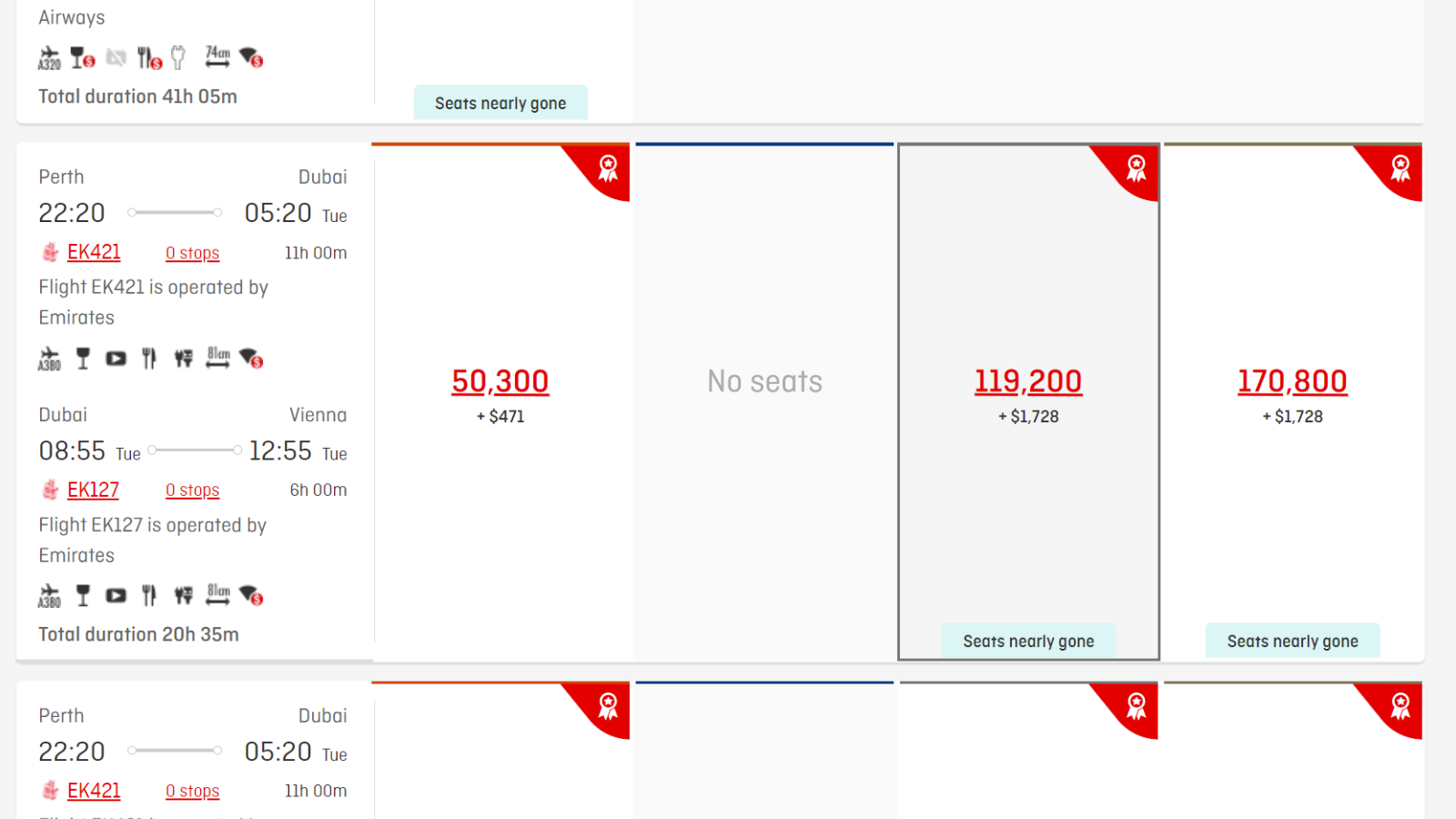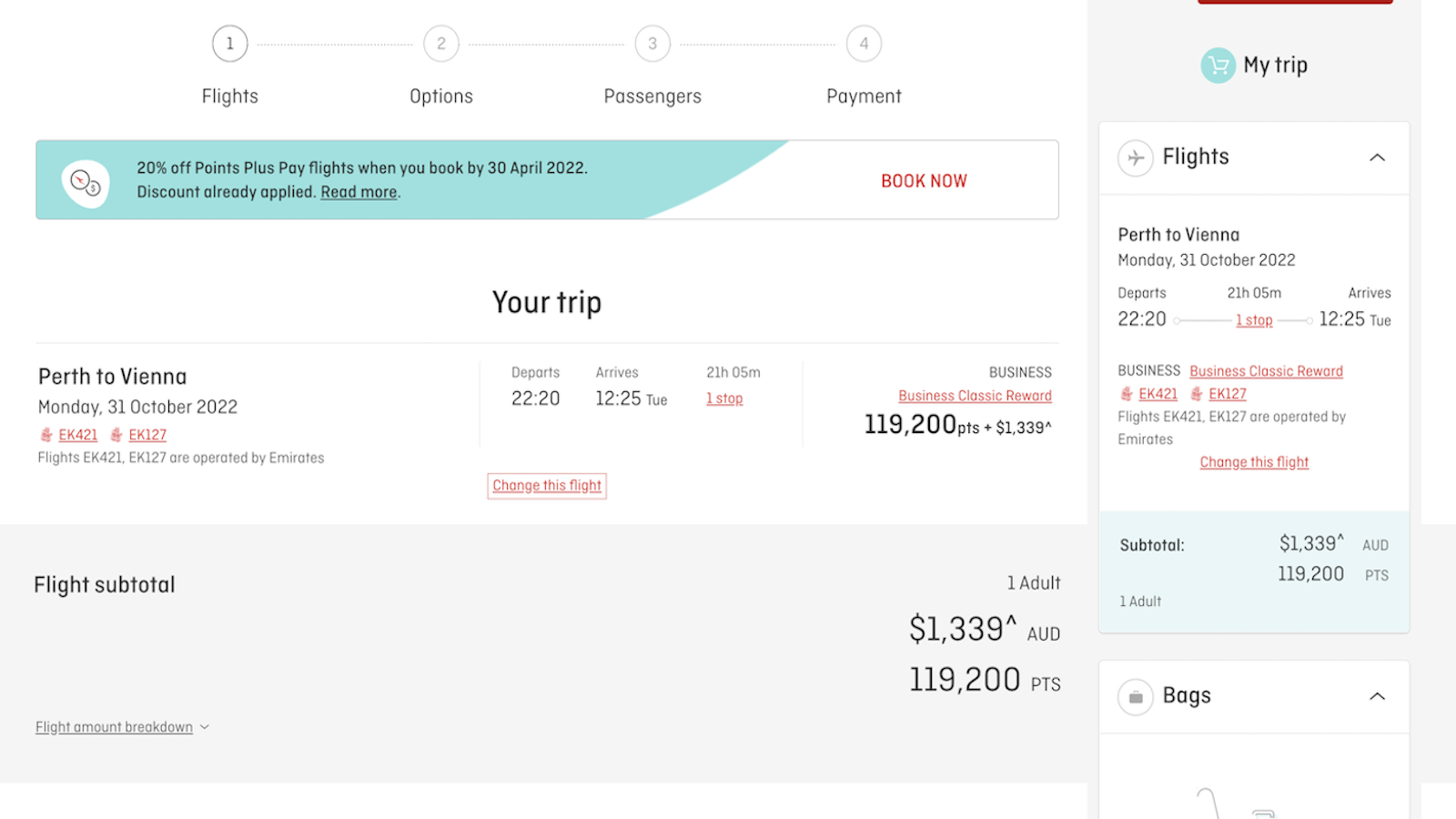 Why this latest increase is (still) unacceptable
At Point Hacks, we don't want to unnecessarily criticise what is sometimes a necessary 'enhancement' that maintains the financial viability of a service or product. However, this string of carrier charge increases is hard to justify.
But, from our example, we can see that the three recent carrier charges have increased the cost for a Qantas Frequent Flyer member from $452 to $1,728, a 282% increase.
At this point, it is hard to conclude anything other than a cash grab by Emirates under the guise of increasing fuel costs. We've reached out to Emirates for further comment and we will update this guide accordingly.
Ad – Scroll down to continue reading.Minimum spend, terms & conditions apply.
When did Emirates first increase carrier charges?
The first hints that something was brewing came on 28 February 2022, when US blog One Mile at a Time reported that Emirates was increasing fuel surcharges through its own Skywards program. At that time, we checked reward seats on Qantas and found that the pricing hadn't changed.
But on 5 March 2022, an eagle-eyed member of a frequent flyer Facebook page spotted that the increased carrier charges were now being passed through Qantas Frequent Flyer.
Emirates tells us the original hike in charges was in response to the current escalation in fuel prices.
Emirates, like other airlines, has been impacted by the surge in fuel prices. We have therefore implemented a modest increase on the Carrier Imposed Charges applied to Skywards Classic Rewards. This enables us to respond to market dynamics without increasing the number of Miles required for flight rewards. It also allows us to reduce or remove these charges more easily in the future, where appropriate.

Emirates spokesperson – March 2022
Meanwhile, Qantas confirmed to Point Hacks that it plays no role in determining Emirates' carrier charges.
Any changes to carrier charges on partner airline reward seats are determined solely by the partner airline, not Qantas.

Qantas spokesperson – March 2022
We've previously said that Qatar Airways Business rewards were amongst the most expensive with Qantas Points. But now, Qatar Airways Qsuites suddenly look a lot sweeter compared to Emirates Business Class. If you find availability, you'll only pay around AU$650 in one-way fees and surcharges for a Business Class reward.
Is it still worth redeeming points for Emirates?
In short, not in Economy. For Business and First Class, the increases in carrier charges are certainly painful. But you're still getting above-average value for your points in those premium cabins.
Taking Perth to Vienna again, you'll pay 100,600 points + AU$942 in carrier charges for a return Economy redemption. You can buy a cash ticket for around $1,800 return. You'd only get 0.85 cents per point. Save your points for another trip.
In Business Class, you have to fork out 238,400 Qantas Points + $3,456 in carrier charges for a return ticket. A cash ticket for the same dates is about $8,400 return, so you're getting 2.07 cents per point. But as an alternative, why not consider buying a cash Business Class ticket with another carrier? You can score return sale fares in the $6,000 region with smaller carriers.
In First Class, the value might still be there. A return ticket is 341,600 Qantas Points + $3,456 in carrier charges. But since cash fares are currently at $15,800 return, you're getting an improved 3.61 cents per point.
Summing up
Emirates has massively devalued its reward seats by hiking up carrier charges across both the Skywards and Qantas Frequent Flyer programs. There have been four significant price increases over three months, which is totally inconceivable.
This means it will cost you significantly more if you want to travel in Emirates Business or First Class. Given that Qantas Frequent Flyer is probably the most accessible way to access Emirates First Class with points, we're a bit of a captive market. Your choices are to pay up or look at a different carrier. Having said that, there are other airline options within the Qantas program that now offer much better value, which is a saving grace.
Emirates reassures us that these changes are intended to be temporary. We will definitely be monitoring fuel prices to ensure that Emirates is true to its word and reduce its fuel charges should oil prices fall significantly.
Over at the Velocity Frequent Flyer program, Etihad also levies carrier charges which range from US$150 to US$320 on Business and First Class rewards. But these aren't as extreme as Emirates' new charges.
With Qantas Points, we've found that Finnair is one the best carriers to book, as they don't charge any carrier charges. You could fly from Singapore to Helsinki in Business Class and pay as little as AU$60 in charges. That's a breath of fresh (Nordic) air.
Additional updates by Brandon Loo.
Emirates hikes reward seat charges for the fourth time!
was last modified:
August 24th, 2023
by