Over the next few weeks I'm going to get into more detail on how I power search for points flights by using Award Nexus – it's a great tool, and one that I use every week, if not more.
While it's requires a modest paid subscription – I'll get into that later – the amount of time it can save when it comes to finding seats to use your points is pretty extraordinary.
And saving time means you can search for more flight and route options, potentially finding you alternative flights you hadn't considered. Or use that time to play with your kids instead of sitting in front of a computer swearing at Qantas.com.

How Award Nexus works
Award Nexus is a power interface for searching a range of different airline websites for points redemption availability. You can search multiple sites, dates, cabins and routes at once. You don't actually see the airline website while your search is underway, and all the results are summarised into a table and/or calendar for you to review in one place.
Ad – Scroll down to continue reading.Minimum spend, terms & conditions apply.
Award Nexus Pricing
Award Nexus is not free, let's get that out the way first. Pricing is based, of course, on a points basis. One Award Nexus point is used for a single search – which is a date, route and specific airline website combination.
For example:
If I search for one passenger travelling between Sydney and Los Angeles, in Business Class, on one specific day, via the Qantas search only – that will cost one point.
Add on an extra two days – that same search will now cost 3 points.
On top of that – I add on Sydney to Dallas – that total search cost will be 6 points
And if I want to search Business & First Class, for the two routes, across three days, that will cost 12 points.
It's pretty simple.
Here's the pricing: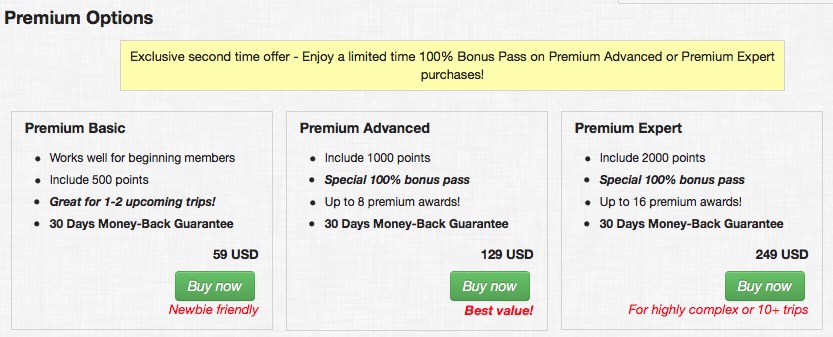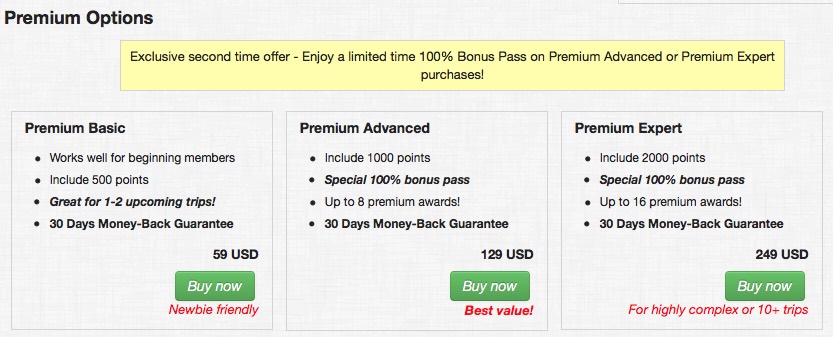 Personally, I buy the highest number of points for the biggest bonus, as I know I'll use them up over the course of a few months. But you might prefer to go in at a lower level, that's fine. Other than the one-off purchase of points to use for searches, there's no other subscription or monthly commitment.
If you are a member of FlyerTalk, you are eligible for a free community membership of Award Nexus.
Performing your first search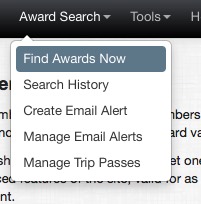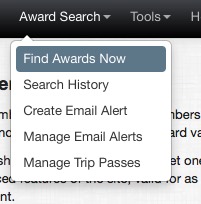 Once you're signed up, head over to 'Award Search > Find Awards Now'.


From there you'll see a large input screen where you can start triggering a search. This is where the magic starts. Key things to remember – once you start a search, it can't be stopped, so the points for that search get used up. So it's worth checking your inputs before you start.
There is also a limit of 70 points per search to ensure that you aren't waiting too long, and you don't go too overboard.
The key fields are of course the from, to and dates. You can input a single city airport code (e.g. SYD, MEL, LAX, DFW) into each one. There's also an autocomplete if you type a city name, which is handy.


However you can't just hit 'go' after adding your route and date details – you also need to specific how you want to search – which airline site. Say you have Qantas Points, the obvious choice is to use the "QF" option. But that may not be the right choice – if you know you are searching for flights on a oneworld partner, then usually the BA (British Airways) site gives the most reliable results.
As a result there are some handy quick blue buttons which will check the right airline search boxes for you depending on your search.
But as we have written about here on Point Hacks, Qantas Points can be used for non-oneworld airline flights – Jetstar, Emirates and Fiji Airways primarily. So you might need to choose "QF" depending on your actual route.


I'll get into choosing the right airline site way more deeply in another post, but thankfully there is also an Award Nexus FAQ on how to pick the right airline site.
The other spot to pay attention to is the cabins dropdown: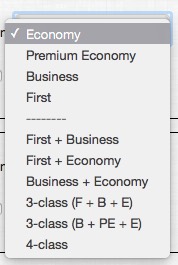 This is where you choose what cabins you want to search. The more you choose, the more Award Nexus points you'll use, of course. And which you choose will be based on how many points you have and whether you can afford (or are aiming for) the higher cabins. There are a few default combination options too.
At this point – after route, dates, cabins, airline site are all selected – you can start a search. Results will be re-tuned in a calendar format unless you are only searching over a few days.
In this example below, I've searched for some award flights to Honolulu using Qantas.com (to include Fiji Airways and Jetstar results), and come up with a range of results. The results in bold are the best fit to my input criteria – most direct, in the cabins I selected. Other results are less appealing for a number of reasons, but Qantas.com returns them so Award Nexus shows them.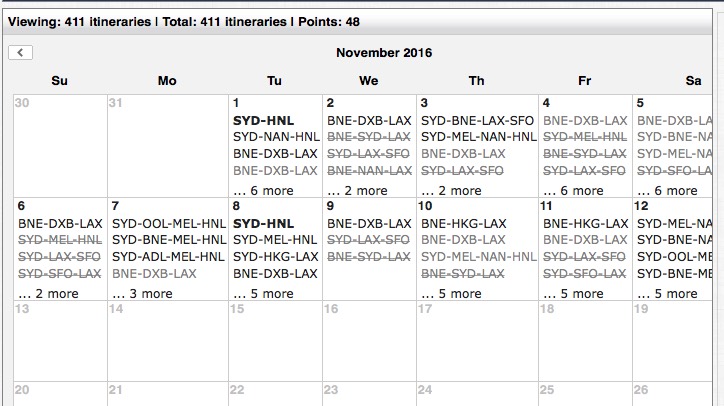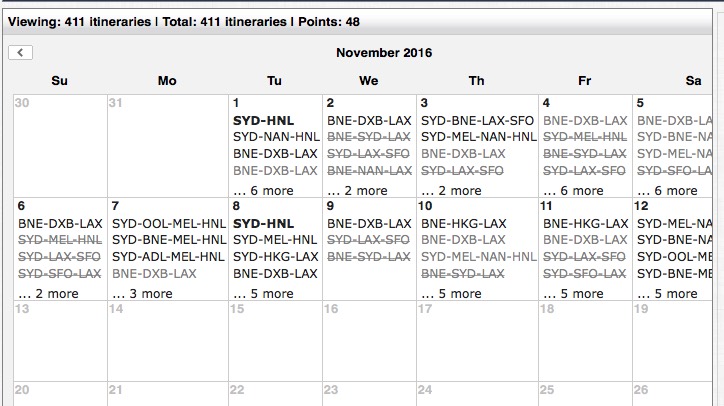 Finally, you can click on a specific result and get the full flight details.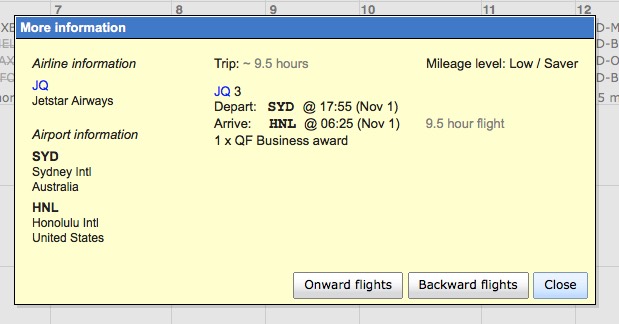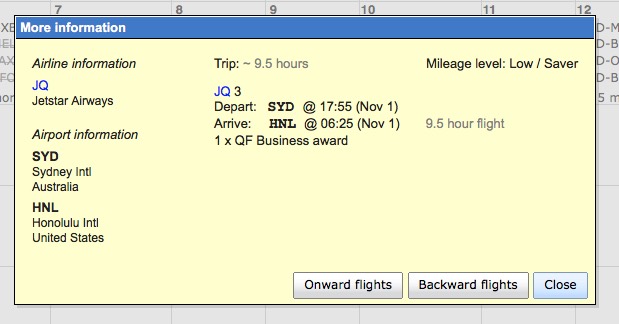 The best part is that because Award Nexus is searching the airline sites, if you do the search yourself it should mirror what you find through Award Nexus – it would just take you a whole lot longer to do in the first place.
For example, for a domestic flight search, I could include QF (for Qantas and Jetstar results) and DL (Delta, for Virgin Australia results) in one hit, without searching both airline websites. That's assuming I have the Velocity points and Qantas Points to use, of course.
Summing up
This covers the absolute basics when starting to search using Award Nexus. From here, we'll cover off a range of methods and tools for creating complex multi-stop itineraries, look at which airline sites to search for different reasons, and also look at automating some of the searches if you can't find what you're looking for first time around.
We'll also take a look at some of its drawbacks, and where you can go wrong.
Note: Award Nexus are not a sponsor of Point Hacks, but are a good friend to the site. We get no kickbacks from highlighting their product, it's just a good tool.
How to start searching for points flights like a pro with Award Nexus
was last modified:
November 9th, 2020
by