Emirates explains carrier charges on reward flights
It now costs almost $3,500 p.p. in fees to use points for a First Class return ticket to Paris.
Posted:
August 14, 2023 - 2:00 pm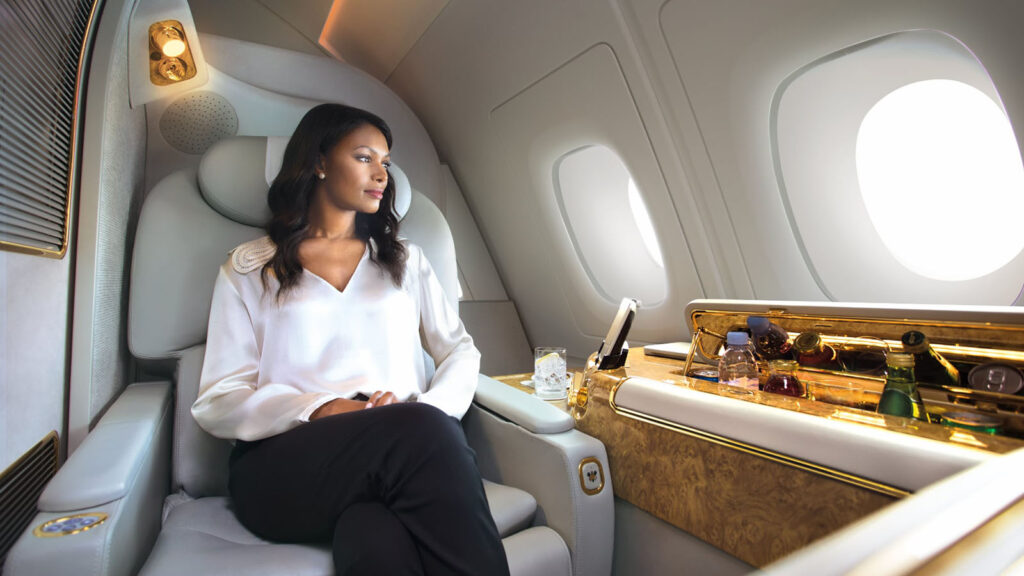 What we'll be covering
It's no secret that one of the best ways to spend frequent flyer points is on a Business Class or First Class ticket. After all, who doesn't love a bar on a plane – or even an inflight shower? But landing one of those iconic reward flights with Emirates now comes with some very weighty carrier charges.
Planning a First Class honeymoon to Paris, for instance? You'll need to add almost AU$7,000 to your wedding budget. Now, that's not going towards the reception. This chunk of change merely covers the fees that Emirates now charges when booking a pair of Sydney-Paris First Class return tickets on points.
That's not to mention the 910,000 Qantas Points or at least 960,000 Skywards miles also needed for the same. And don't forget, you'd be paying the taxes and airport fees on top as well. All told, using points with Emirates can now be quite an expensive exercise.
This wasn't always the case – so why are Emirates' carrier charges now so stratospheric? In this exclusive Point Hacks interview, I catch up with the Divisional Senior Vice President of Emirates Skywards, Dr Nejib Ben-Khedher, to find out. I also learn a little more about Skywards along the way.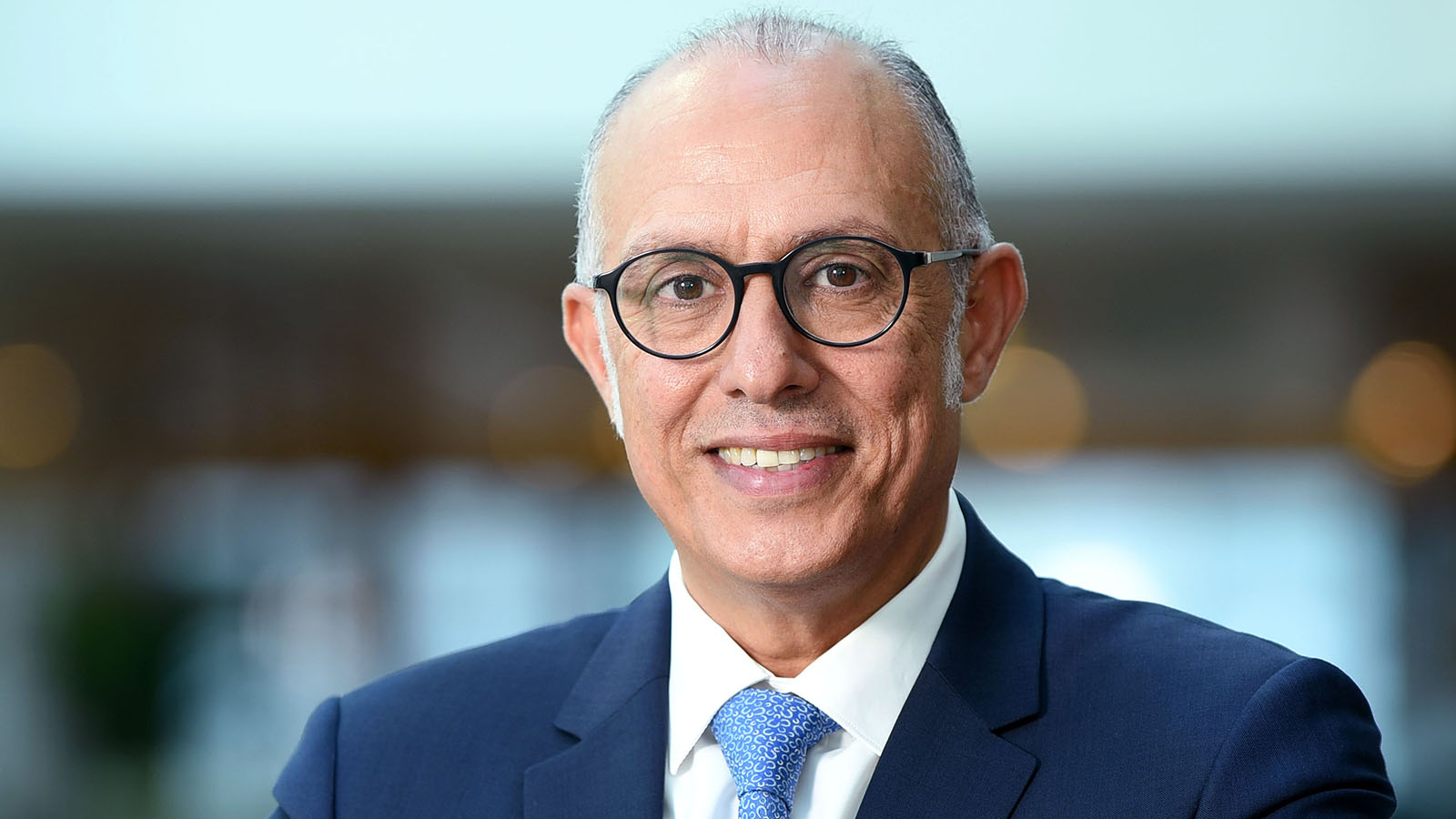 Booking reward flights on Emirates using points
When it comes to using points for Business and First Class on Emirates, travellers have many ways of going about it. The most popular option is to book a traditional reward seat via Emirates' Skywards program. You can also do the same through many of Emirates' partners – including Qantas Frequent Flyer.
Skywards members have the option of 'Cash+Miles' too. That's Emirates' equivalent of a 'points plus pay' reward booking. And of course, Skywards miles can be used to upgrade. Either from Economy Class to Business Class, or Business Class to First Class.
'I looked at the numbers from last year,' Dr Nejib begins. '35% of (Skywards) miles were redeemed on reward seats. 28% were actually on Cash+Miles, and 18% on upgrades.' The remainder is generally spent on the ground, in one way or another.
'The aspirational rewards – the ones where we see a good engagement from members – are the upgrades and the classic rewards. If you want to gain that loyalty and have that stickiness in the program, these are the things that people are looking at. Especially upgrades and classic rewards on Business and First Class.'
But carrier charges aside for a moment, how does Emirates decide how many miles to charge per flight or upgrade to begin with?
'You can think of us as buying, if you will, seats from the airline. And you know where the fares are going. So we've got to work those economics.'
Like many other frequent flyer programs, Emirates' Skywards program earns revenue when selling its miles to partners. For instance, when a customer converts points from their credit card into Skywards miles, the credit card company is actually buying those miles for the customer in the background.
In effect, the more miles needed to book a flight, the greater revenue that represents for Skywards behind the scenes.
Availability of reward seats on Emirates flights
While classic reward bookings are the most popular, they're not available on every Emirates flight. This is, of course, standard across the airline industry. After all, if people knew they could book any flight at any time for a fixed number of points, there'd be little reason to ever pay for a ticket.
But as Dr Nejib acknowledges, reward seats are part of what keeps a member loyal to Skywards. And by extension, to Emirates.
'Availability of reward seats is not where it used to be,' he explains. 'If I look six months from now, 38% of our flights have availability for classic rewards.' However, Emirates has two tiers of reward seat pricing, and that figure includes both. Saver reward seats are the most desirable on Emirates, requiring the fewest miles. Flex awards are more widely available but require more miles to book.
'The Flex ones are much more available than the Saver ones,' Dr Nejib acknowledges. 'We have to make that equation work for us internally as well, as we kind of buy these seats from our revenue optimisation (team).'
'So the access to reward seats continues to be there, but not as much as maybe the pre-pandemic level. Hopefully now with the capacity back, we'll see (more) available to our members and to Qantas members.'
'However, I think it's not just an Emirates challenge right now. There's high demand for travel. Most airlines are not back totally to full capacity on pre-COVID levels. So we have to acknowledge the fact that reward seats and upgrades may not be as available as they used to be pre-pandemic.'
'I think this is probably a matter of another year or two, where we get back to where we were before and can cater totally to our membership (with) these aspirational (rewards).'
And then, these are those Emirates reward seat carrier charges…
Alongside the number of points or miles needed to book a flight, travellers can also expect to pay something on the side. Sometimes, this is a relatively small amount, simply to cover the genuine government tax and airport fees. But on most Emirates flights, reward seat bookings attract significant 'carrier charges' as well.
Unlike those mandatory taxes and fees, carrier charges are added at the airline's choosing – and are paid onwards to the airline itself. Sometimes, they go by other names like 'fuel surcharges' or even 'YQ', in industry speak. But they all do the same thing: increase how much you have to pay in real money when booking a flight using points.
To be fair, carrier charges are far from exclusive to Emirates. Qantas, Virgin Australia, British Airways, Etihad Airways, Lufthansa, Qatar Airways and Virgin Atlantic levy them too – to name just some of many. But where Emirates stands out is the sheer cost of those charges. These apply not only through Skywards but also via most partners, including Qantas.
To illustrate, let's look at a return First Class journey between Sydney and Paris in early 2024. We'll use Qantas Frequent Flyer as an example, being the way that many Aussies choose to book Emirates flights. Alongside the 455,000 Qantas Points required, there's also AU$3,856.90 payable in real money.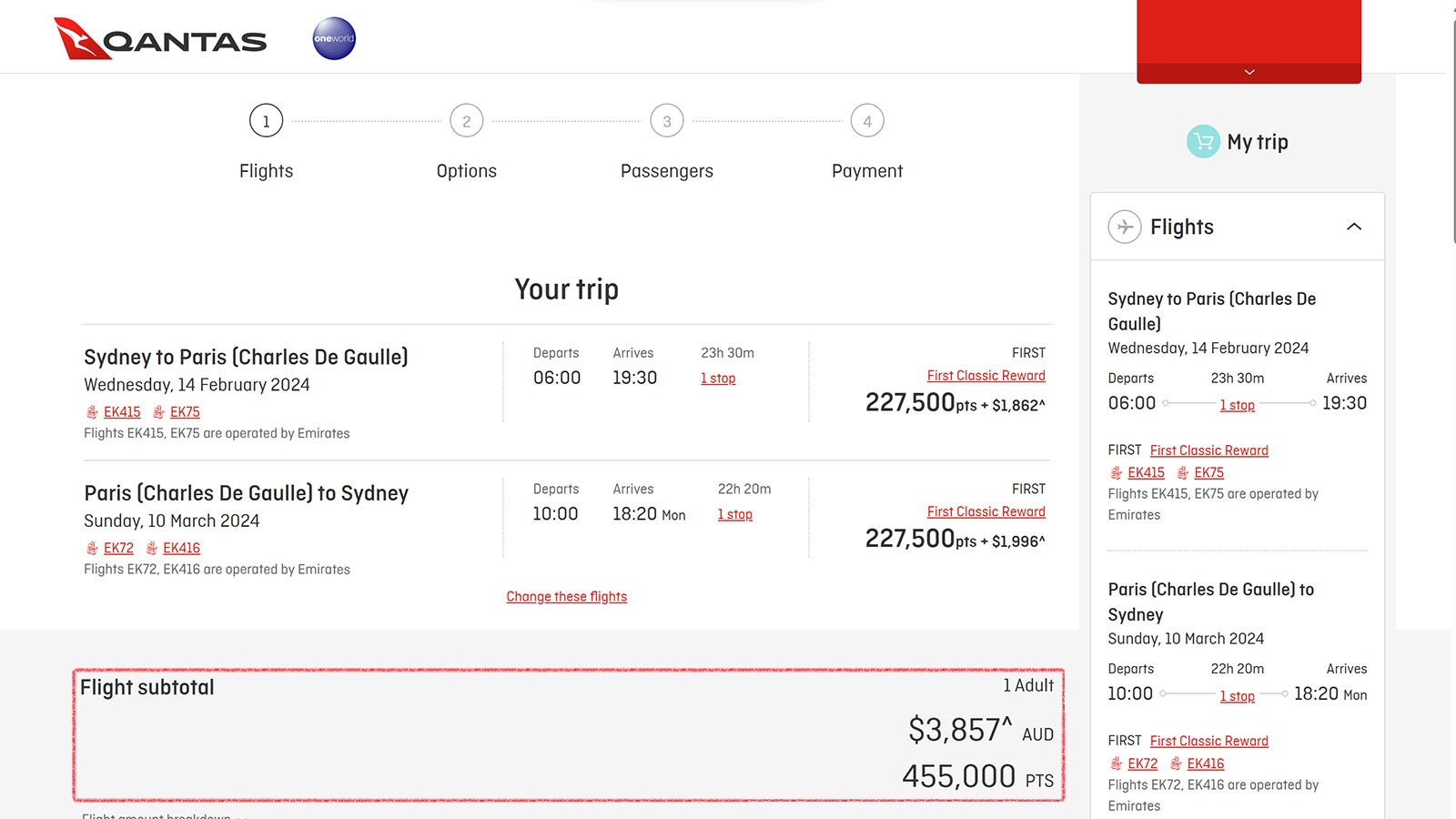 Of the full AU$3,856.90, $372.10 represents the genuine taxes and fees. But the remaining AU$3,484.80 is entirely 'carrier charges'. Remember, that's per person, per return trip. Fly as a family of three and that's over AU$10,000 in fees imposed by Emirates itself, just to spend the frequent flyer points you've already earned.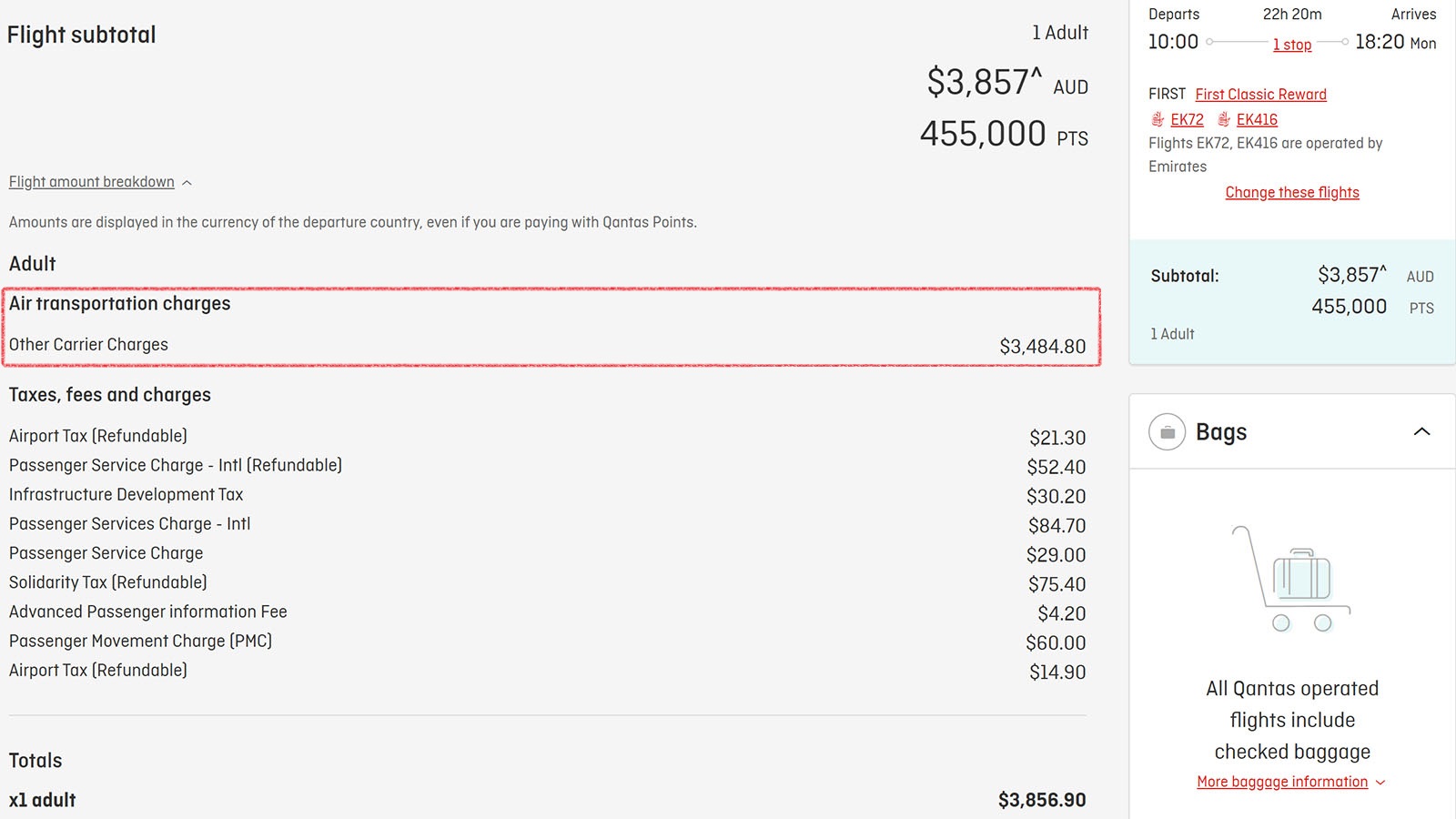 That's no small surcharge or service fee. It's practically at the level of paying for a flexible Economy fare and using points for an 'upgrade'. Except, this is an outright reward seat booking on Emirates, without the benefits of a paid ticket – such as being able to earn points along the way.
Ad – Scroll down to continue reading.Minimum spend, terms & conditions apply.
Emirates' rationale for its hefty carrier charges
Given that sticker price, we had to ask – why is Emirates electing to charge such high fees when travellers claim a reward using their points? Dr Nejib explains.
'Well, firstly, it is aligned with what we do on the commercial side of things. And second, truly, it's about the cost that we're incurring as well – and the costs have gone up. We're trying to find the right balance between the cash portion that you're paying in terms of these fees, and then the number of miles.'
Following some recent (and more modest) increases to mileage rates, Emirates is aiming to keep 'the main number of miles as stable as possible. So for us, it's a continuous balancing act, if you will, between the two.'
On the extent of the cost, 'we understand that this is not something that is sometimes extremely popular with our members. But we try to just make those adjustments. And obviously, we look at the impact of this and try to adjust (redemption costs downwards) as much as possible. But it's truly driven by the economics.'
'It's not where we're trying to make money, truly. It's just much more about the economics of miles and the cost of miles, and then the cost of flying as well.'
But it must be said, there are many other airlines offering flights between Australia and Europe. And for the most part, reward seats on these competitors can be booked with much lower fees. Or in some cases, with no carrier charges incurred at all. I took the chance to raise this with Dr Nejib.
'Chris, it's a competitive world out there. We continue, obviously, to watch all of this and ensure that we continue to be competitive. But keeping in mind the product that we're offering as well, there is a premium.'
What motivates people to continue booking reward flights on Emirates?
It seems Emirates' carrier charges are here for the long haul. But that poses its own question. Given the costs involved with redeeming points or miles, why would frequent flyers continue to book with Emirates? Especially so, if the traveller's same points could secure their flights with a competing airline at a lower cost.
'People see value in being part of this program and having access to the inventory that we're providing, especially in premium cabins,' Dr Nejib offers.
'For us, we will continue to watch this very closely and ensure that we continue to be competitive. And then, again, make sure that we're also getting members to appreciate the product that we're offering,' which 'continues to be extremely aspirational. And we see it in the numbers – we're at 32 million (Skywards) members today.'
'Don't forget, we're a global carrier. International carrier is the image of Emirates. But you know, that puts us as one of the largest airline loyalty programs outside the US and China. Indicators for us say that people continue to see value in what we're doing.'
Earlier, Dr Nejib cited Emirates' product as one of the considerations behind the airline's overall reward pricing. But interestingly, flights operated by Emirates' flagship Airbus A380 require the same number of base miles as booking a journey aboard the Boeing 777. The A380 has more seats, but it's also in higher demand among those in the know.
'Our frequent flyer members, who know the product extremely well, have a crush on the A380,' Dr Nejib chuckles. And in a strong hint at what's to come, 'we have other products coming to the market that are gonna have a wow factor (akin to the) A380.'
'But you know, the A380 has a special place in people's hearts, and that's where people are looking when they (search) for an upgrade or a reward ticket.' It seems when you have planes sporting cocktail bars and inflight showers, those carrier charges start to become more tolerable – for some, anyway.
Air Canada Aeroplan avoids Emirates' carrier charges
We've mentioned how Emirates' carrier charges apply to most classic reward bookings. But there's one major exception – Emirates flights booked via Air Canada's Aeroplan program. And it's no glitch or accident. When using Aeroplan Points with Emirates, travellers only pay the genuine taxes and fees, plus Aeroplan's CA$39 partner booking fee (per ticket).
Add to that, and unlike some of Emirates' partner programs, Aeroplan members can use their points to redeem flights in Emirates First Class. Again, sans carrier charges. That same return First Class jaunt between Sydney and Paris would cost only CA$367 (AU$417) on the side. But as a trade-off, the journey also costs 874,000 Aeroplan Points round-trip.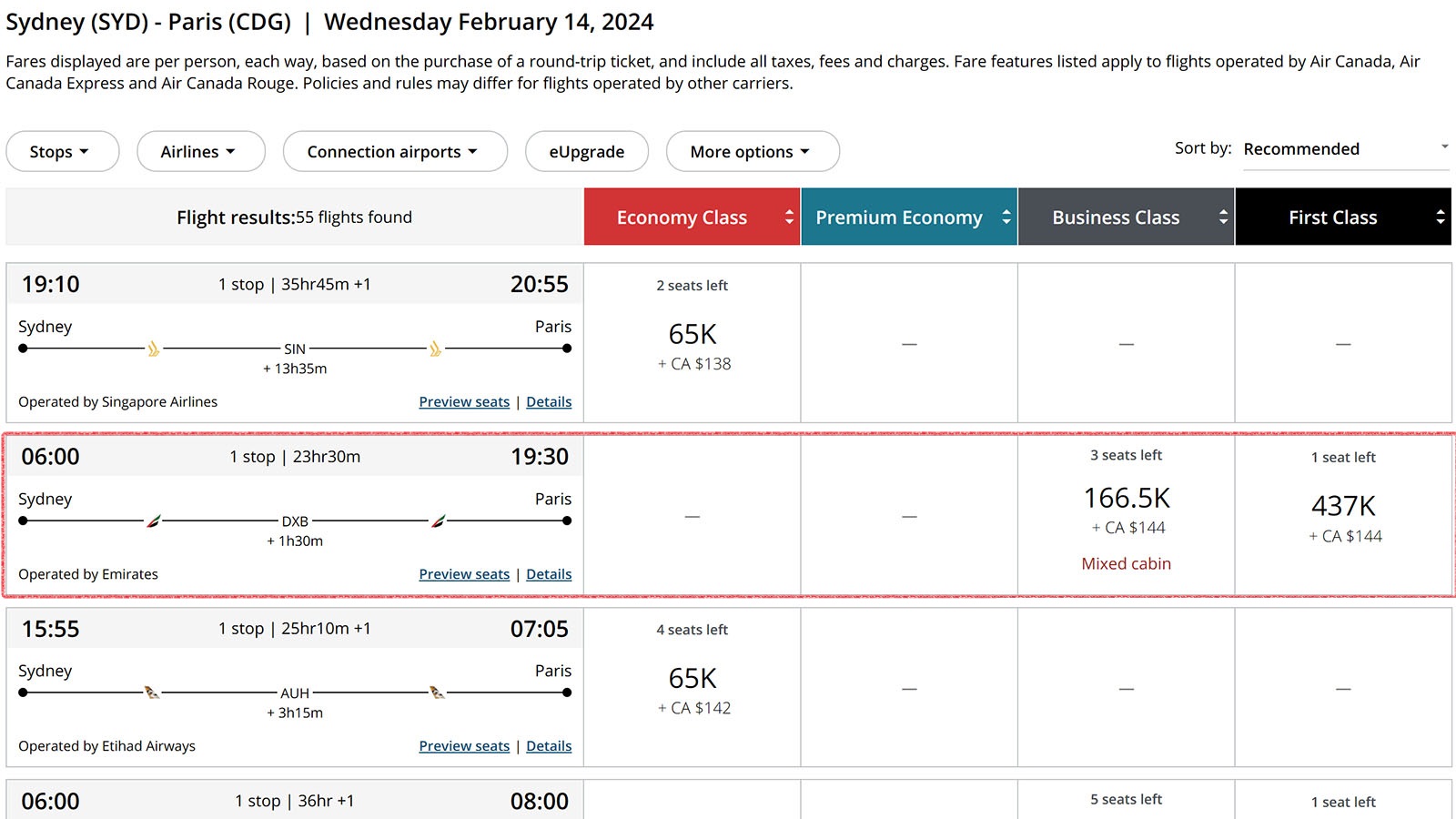 Still, it poses a thought. With carrier charges absent via Aeroplan, wouldn't that encourage too many people to change tack and bypass Skywards entirely?
'You know, it's something that we look at. In the economics that we work on, or the commercial negotiations with Aeroplan – and Qantas too – this comes into discussion. There is a level of protection for our Skywards members. But, you know, that's in the commercial negotiations.'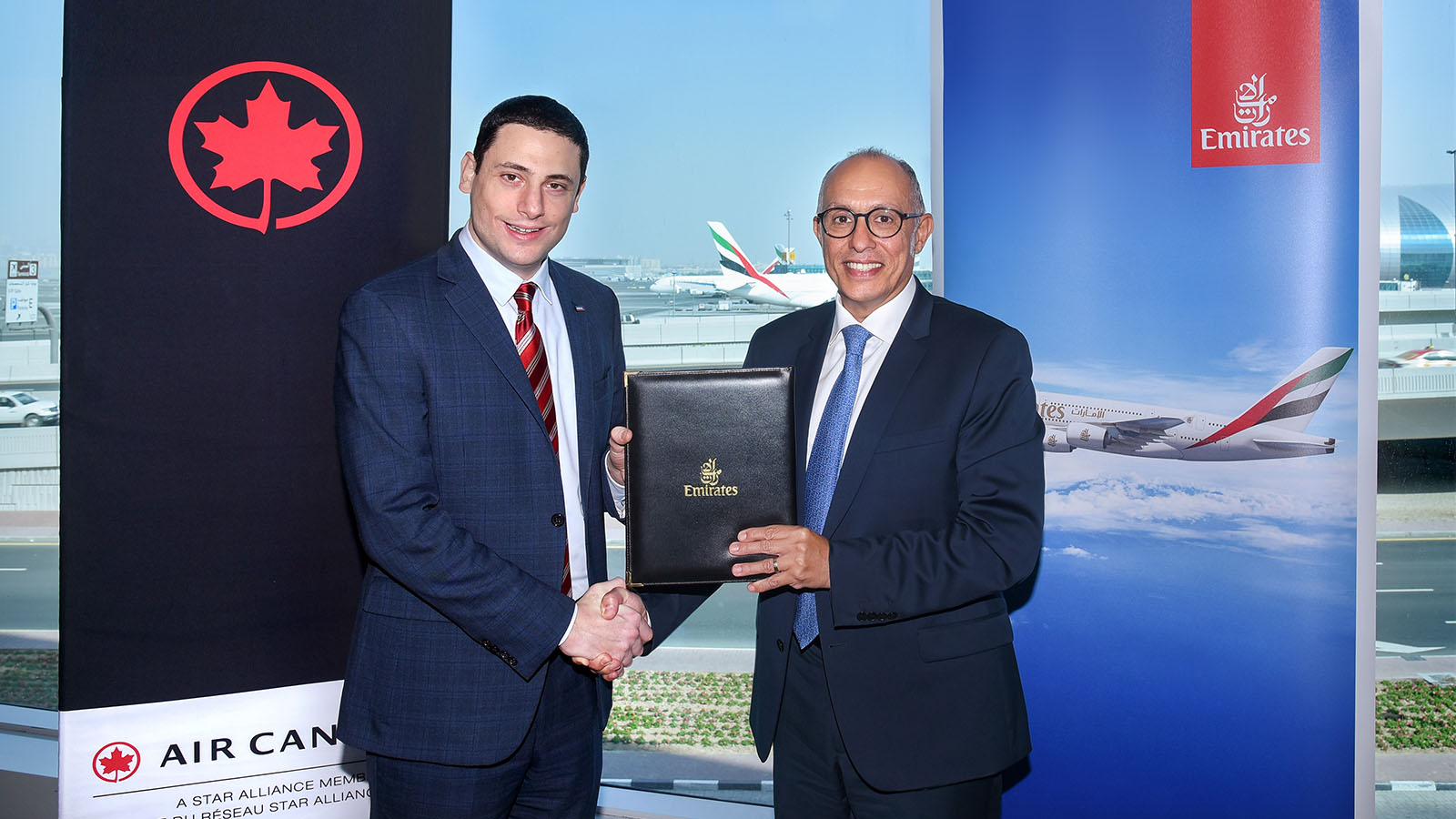 Still, we're curious. If carrier charges are payable through programs like Skywards and Qantas Frequent Flyer, why don't Aeroplan members have to pay the same?
Dr Nejib explains, 'Aeroplan decides how they're going to charge their members for those seats. And they really wanted to have that as an aspirational reward for their members. So in our negotiations with Aeroplan, we decided that that's the way.'
Reading between the lines, it seems Aeroplan may be paying Emirates a higher price for those redemptions behind the scenes in lieu of the customer paying carrier charges. This may explain why Emirates First Class reward seats booked via Aeroplan require significantly more points compared to other programs. Or that the priority for Aeroplan is to prefer the use of points over a member cash co-contribution. After all, Aeroplan sells those points to partners. The more points needed to book a flight, the more revenue Aeroplan earns before offsetting the redemption.
Cash+Miles, an alternative to hunting for reward seats
When you have a large balance of Emirates miles to spend, classic rewards and upgrades generally provide the best value. But not everybody has – or ever will have – hundreds of thousands of miles to burn on a flight.
For some, using smaller stashes of miles can be an appealing choice to save a little coin. And the numbers speak for themselves, with over one-quarter of all Emirates miles now redeemed through the carrier's Cash+Miles platform.
'It provides an opportunity to use your miles on any flight, any day, any cabin. So it doesn't have any restrictions (on availability) compared to reward seats,' Dr Nejib highlights. 'And Australia ranks among the highest in terms of people using Cash+Miles for flights.'
Globally, around one in every 10 bookings made via Emirates' website has a Cash+Miles component. But 'when we look at Australia and New Zealand, we're talking about 15%. So it's very interesting to see that.'
Dr Nejib confirms my suspicions that Cash+Miles is most common with infrequent flyers – and those who have fewer miles to spend. As it happens, about 90% of all Cash+Miles bookings are made by entry-level Skywards Blue members.
Equally, the average Cash+Miles redemption is around 10,000 miles. 'It's people who have that type of balance that are actually using Cash+Miles (more than others).'
'But increasingly, when there is no (classic reward) availability … people (will) revert to using Cash+Miles. Because it's, again, available on any cabin, any day, any fare. You don't have to think about it.'
Our tip? If you're already buying an Emirates airfare, you might consider saving your points for an upgrade instead. You can spend your miles at a fixed rate… and you'll avoid those pesky carrier charges.
Also read: Emirates' VP Barry Brown talks Premium Economy, loyalty, flight network and more
Photographs courtesy of Emirates. Screenshots of the respective websites generated by Point Hacks.
---
Stay up to date with the latest news, reviews and guides by subscribing to Point Hacks' email newsletter.
Emirates explains carrier charges on reward flights
was last modified:
August 25th, 2023
by