Our time in Whistler, and our stay at this hotel was the cornerstone of our big trip this year. As such I had hopes it would deliver a great family ski holiday for us, and it didn't disappoint.
I've already gone into plenty of detail about how I researched, and then used Starpoints to book, our preferred rooms. A hotel of course has much more to deliver to make a stay go well though.
The key things that worked about the Westin was it's location, and how well logistically the was set up for skiing (thankfully!). Some other small aspects were lacking but because it was so simple to get out on the snow and start enjoying ourselves, they were easy to overlook.
Getting to the Westin
Unless you have plans to drive further afield, there's absolutely no need to keep a car for your stay, although with kids we decided to make a one way rental from Vancouver to Whistler with Avis, the only rental car option in town.
Without kids you can catch an airport shuttle or bus from Vancouver relatively easily. In either case the journey takes around 2.5 to 3 hours.
After checking in there's actually little need to visit the lobby again, with most of the action on the first floor and above which allows guests to walk out straight out into the village for shops and skiing.


The Westin is a sprawling complex of three wings and sits at the edge of Whistler's pedestrianised Village. It's literally next door to the main ski lift up Whistler mountain (the Whistler Village Gondola) and just another couple of minutes to the same for Blackcomb.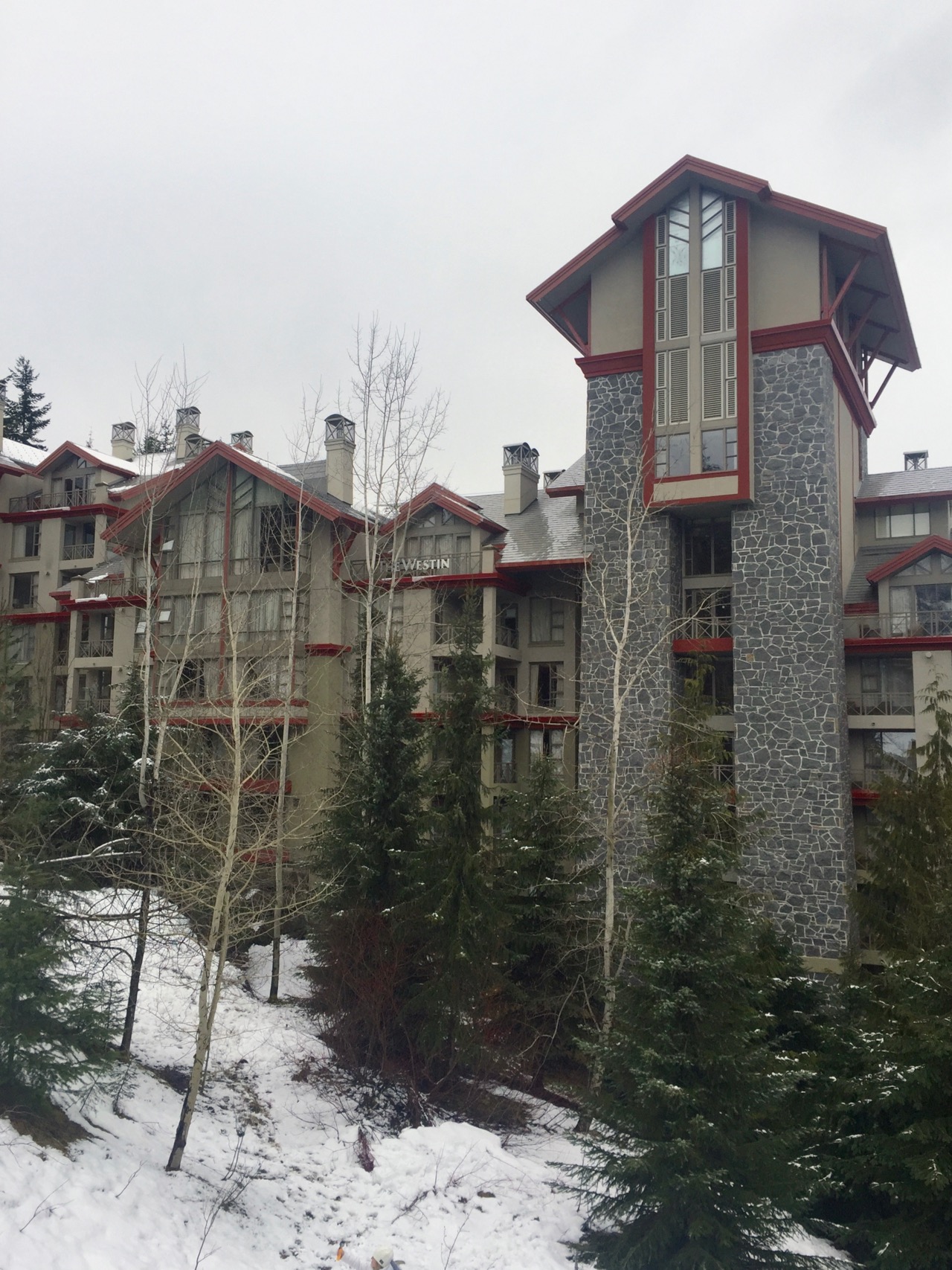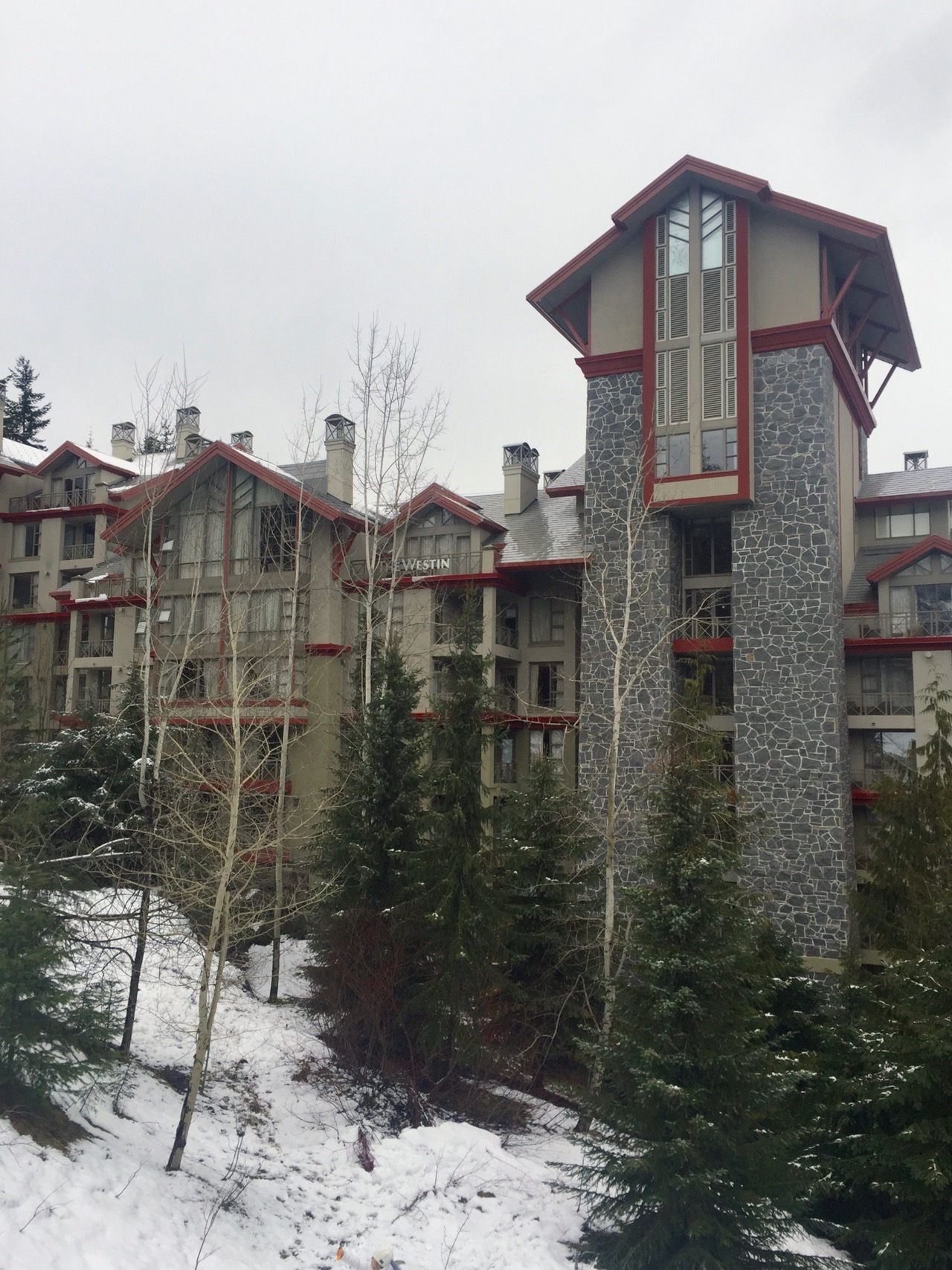 You can see how close to the hotel is to the Gondola in this panorama – that street on the right takes you on the short walk, say 50 metres, to the entrance to Can-Ski which is the ski rental and shop within the hotel itself. More on this later.
Westin Whistler One Bedroom Suite
Onto the rooms. We had booked a One Bedroom Suite which was connecting to a Deluxe Twin Suite, giving us three double beds across two bedrooms, two bathrooms and two small kitchens! I understand that most, if not all rooms at the Westin offer a kitchenette like these.
The One Bedroom Suite opens from the hallway directly into the kitchen area, with a small dining table that will seat four.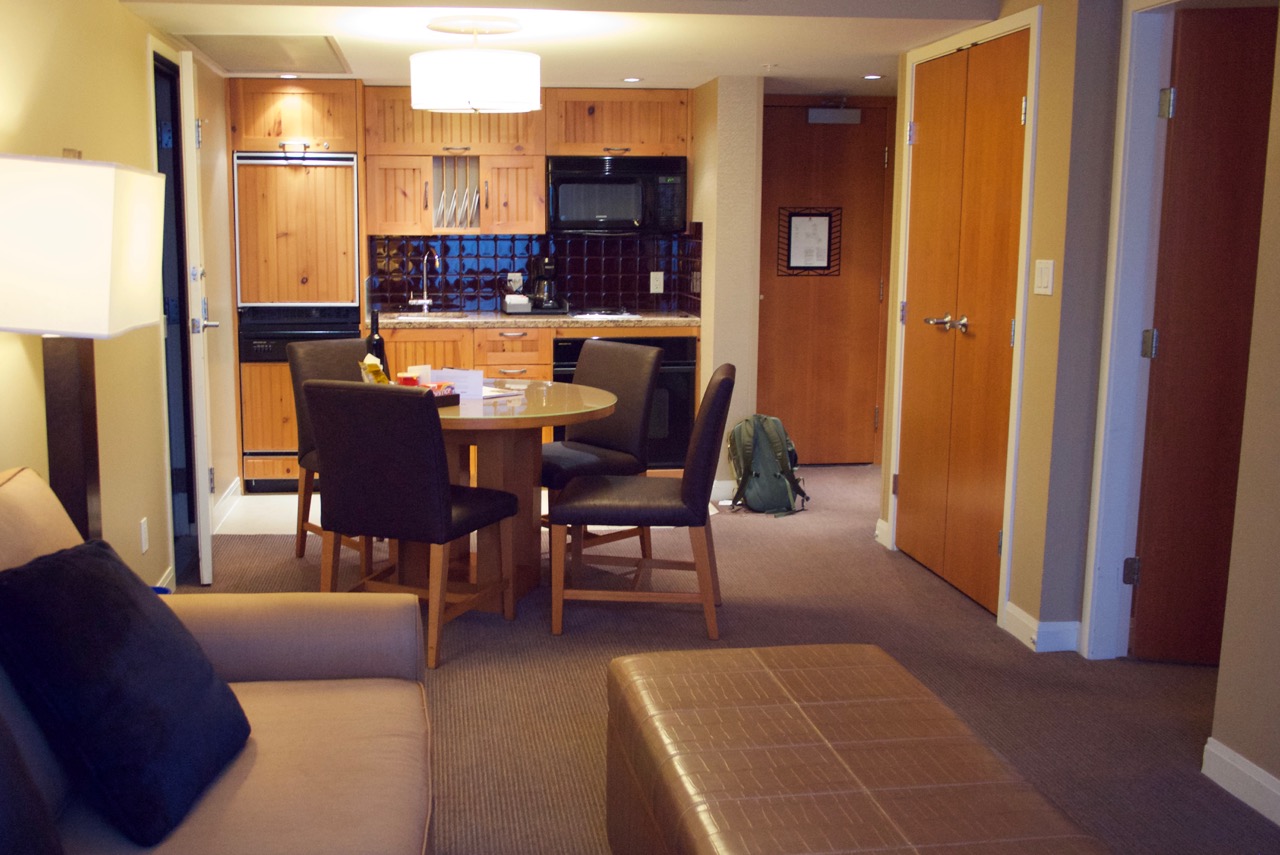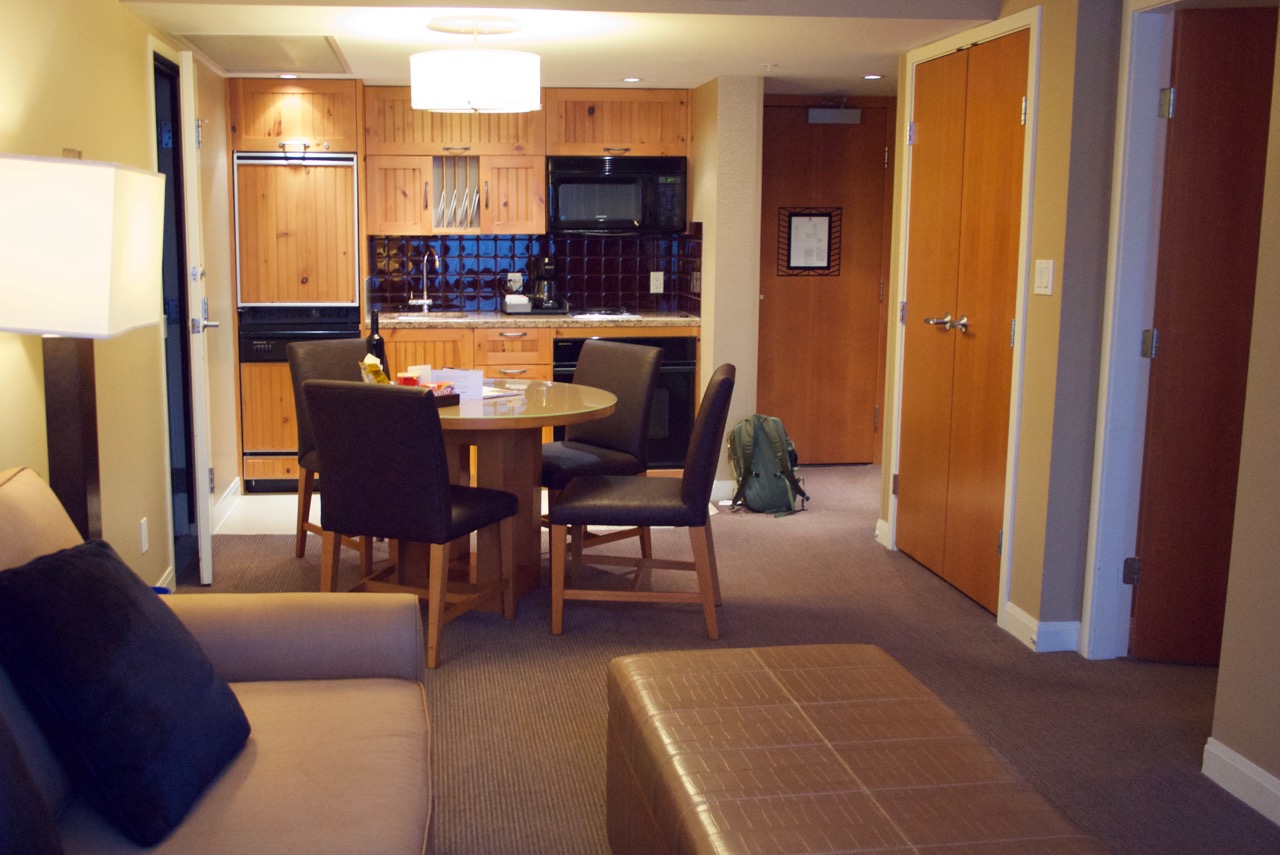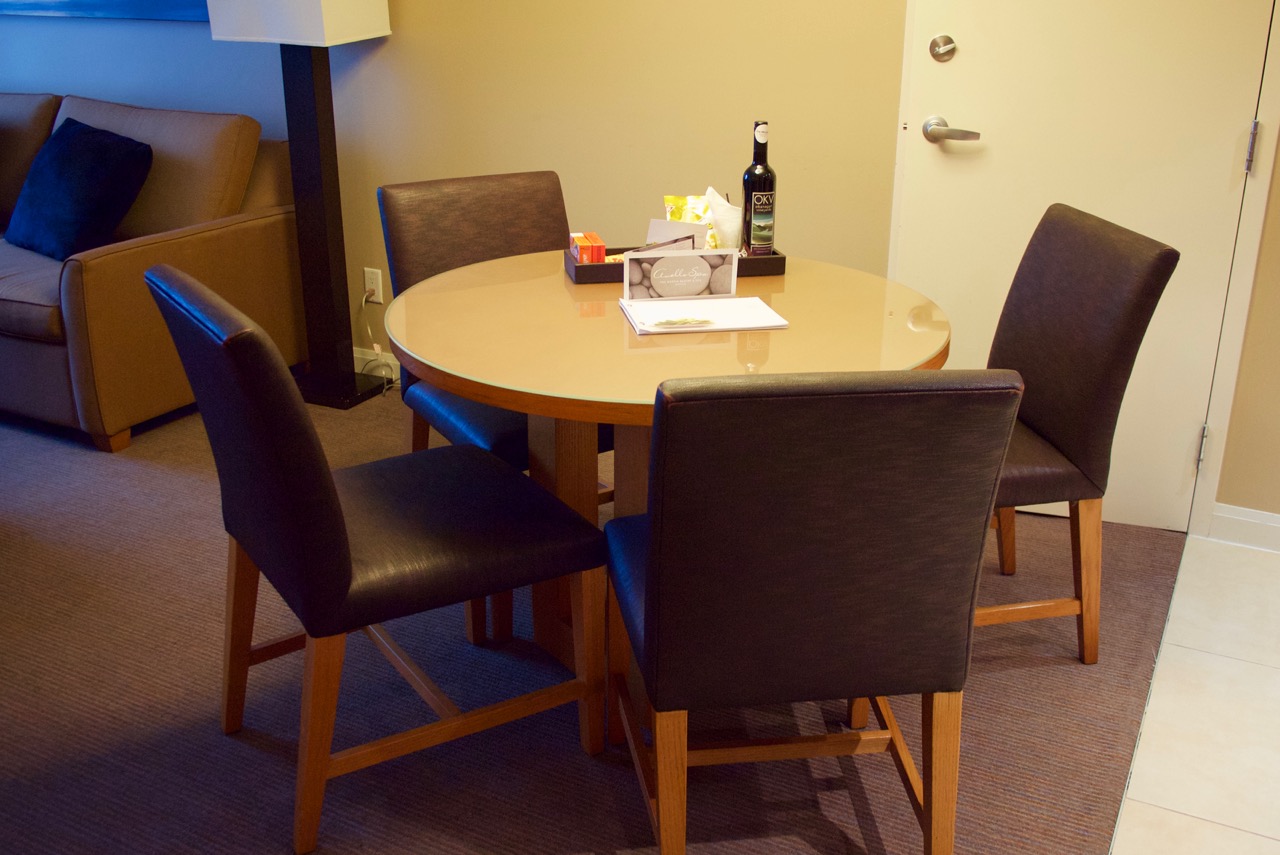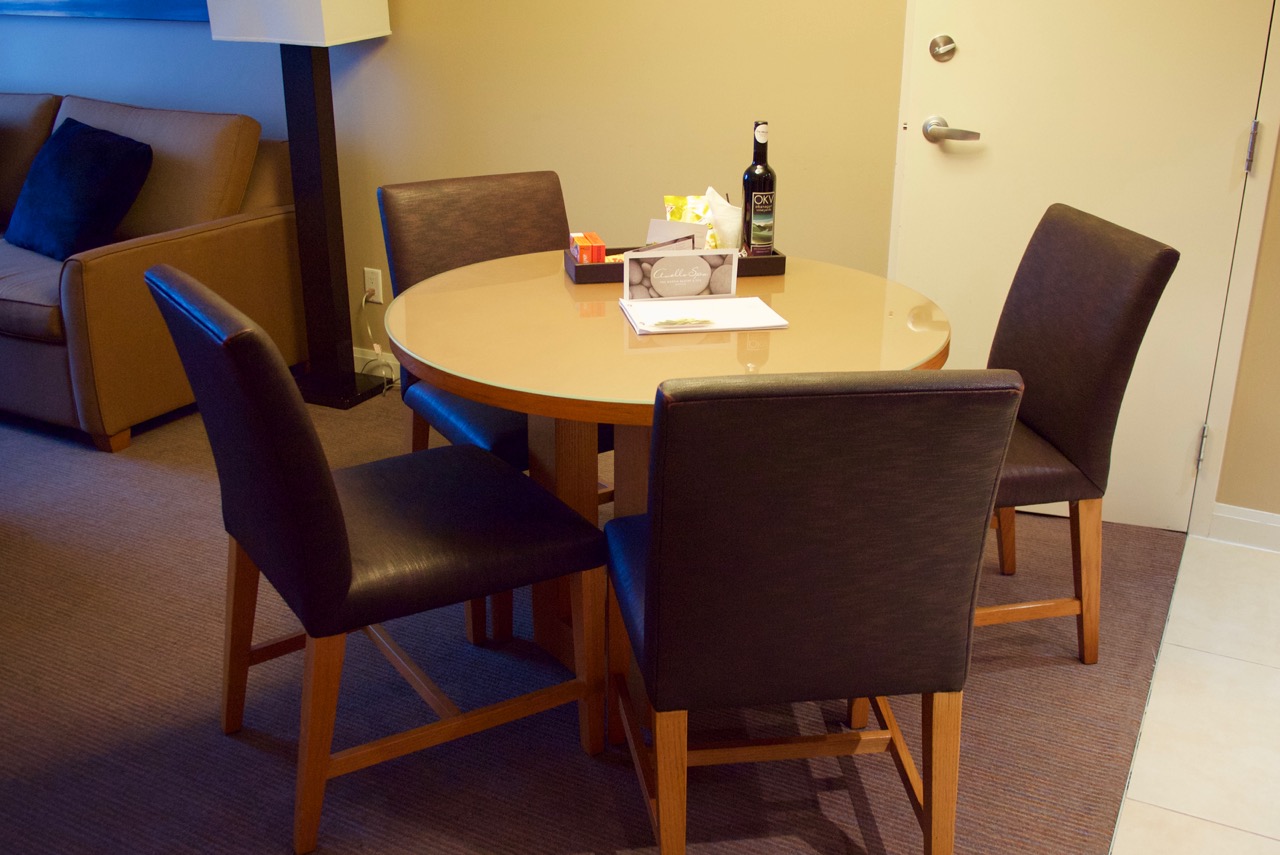 The kitchen is just large enough to be usable for full meal preparation and is also well equipped. There's a dishwasher, microwave, oven and fridge-freezer along with enough space in the cupboards to store groceries.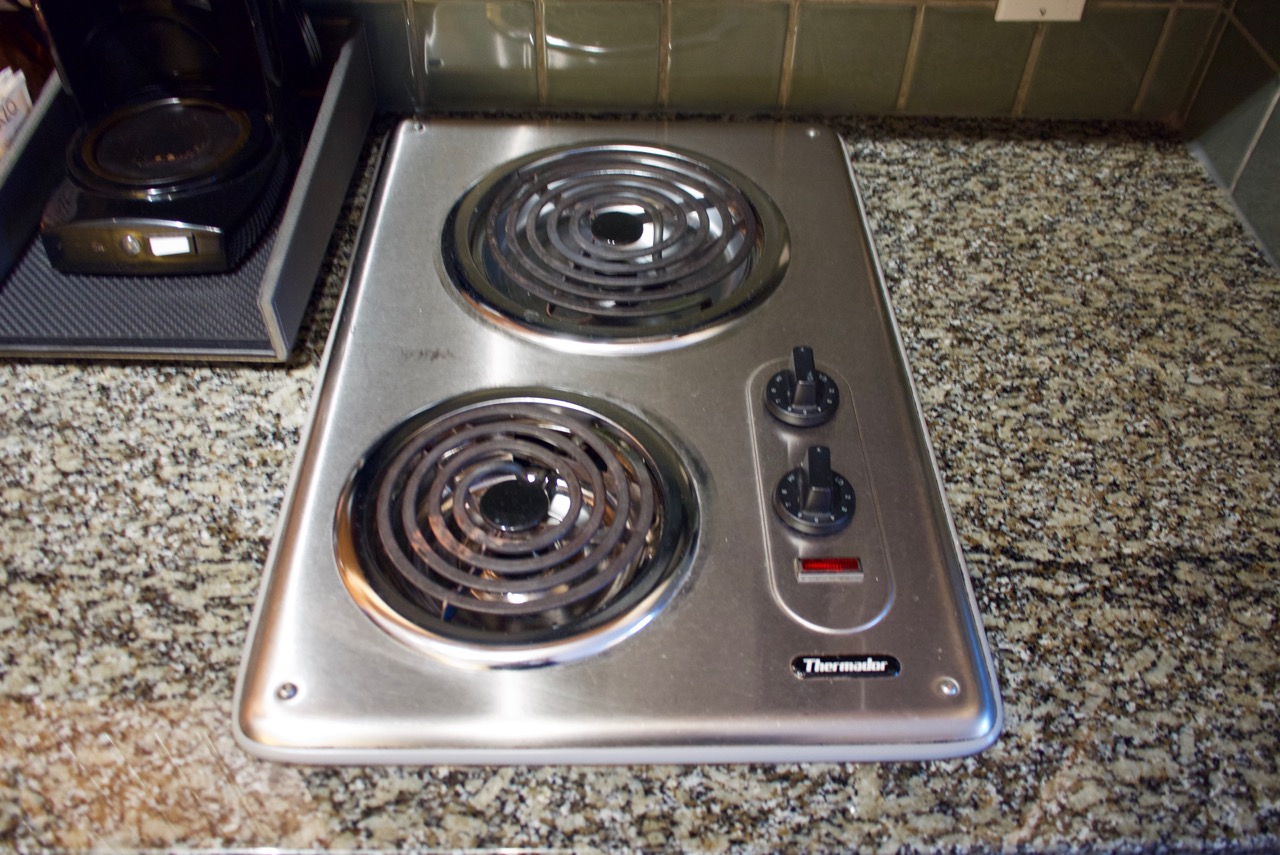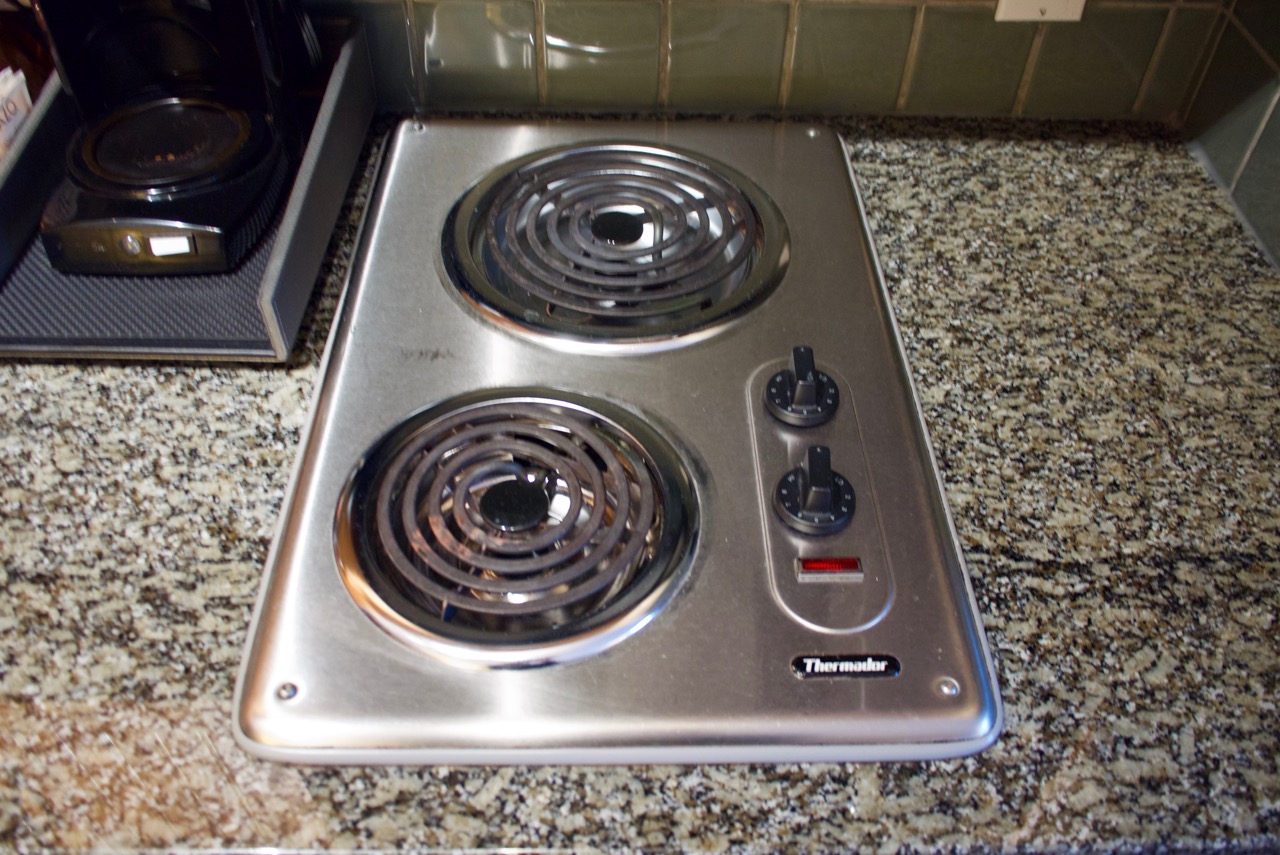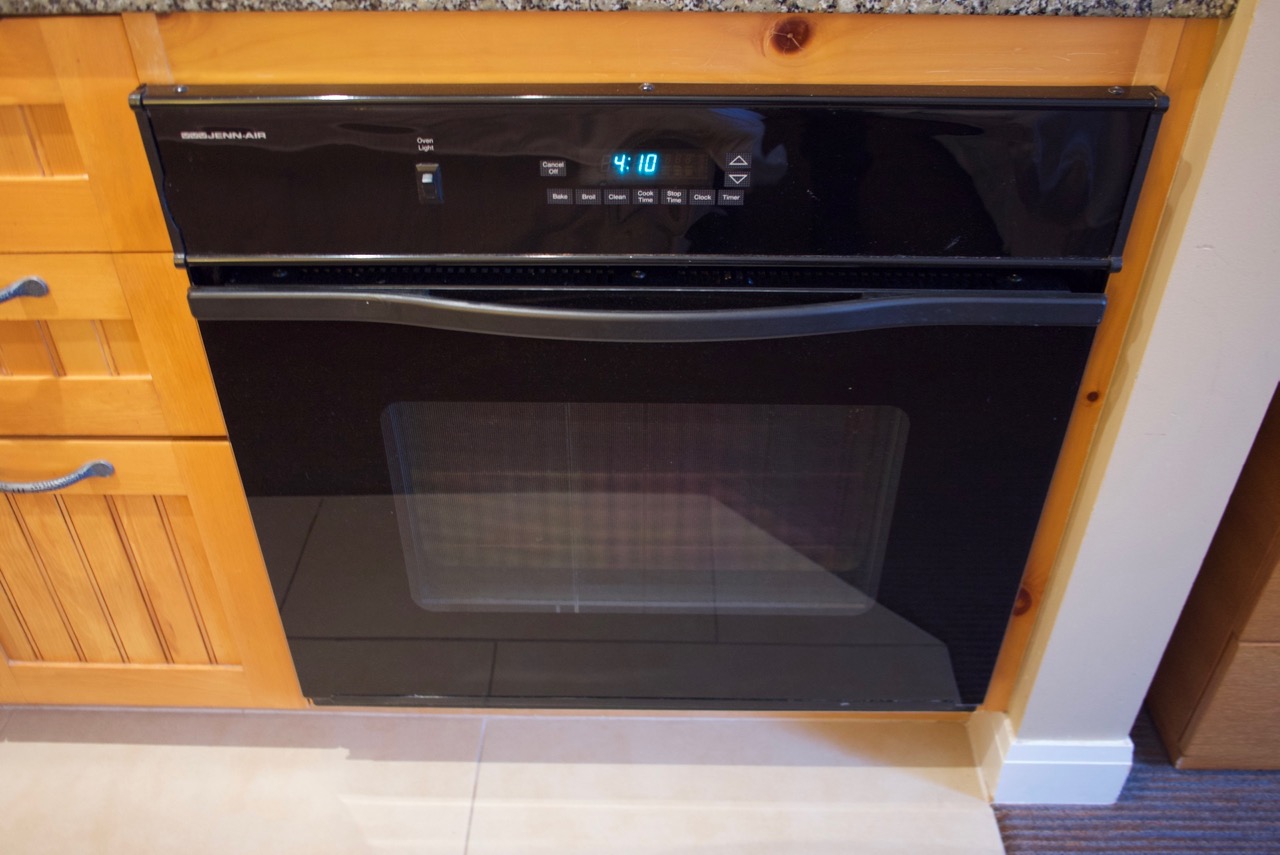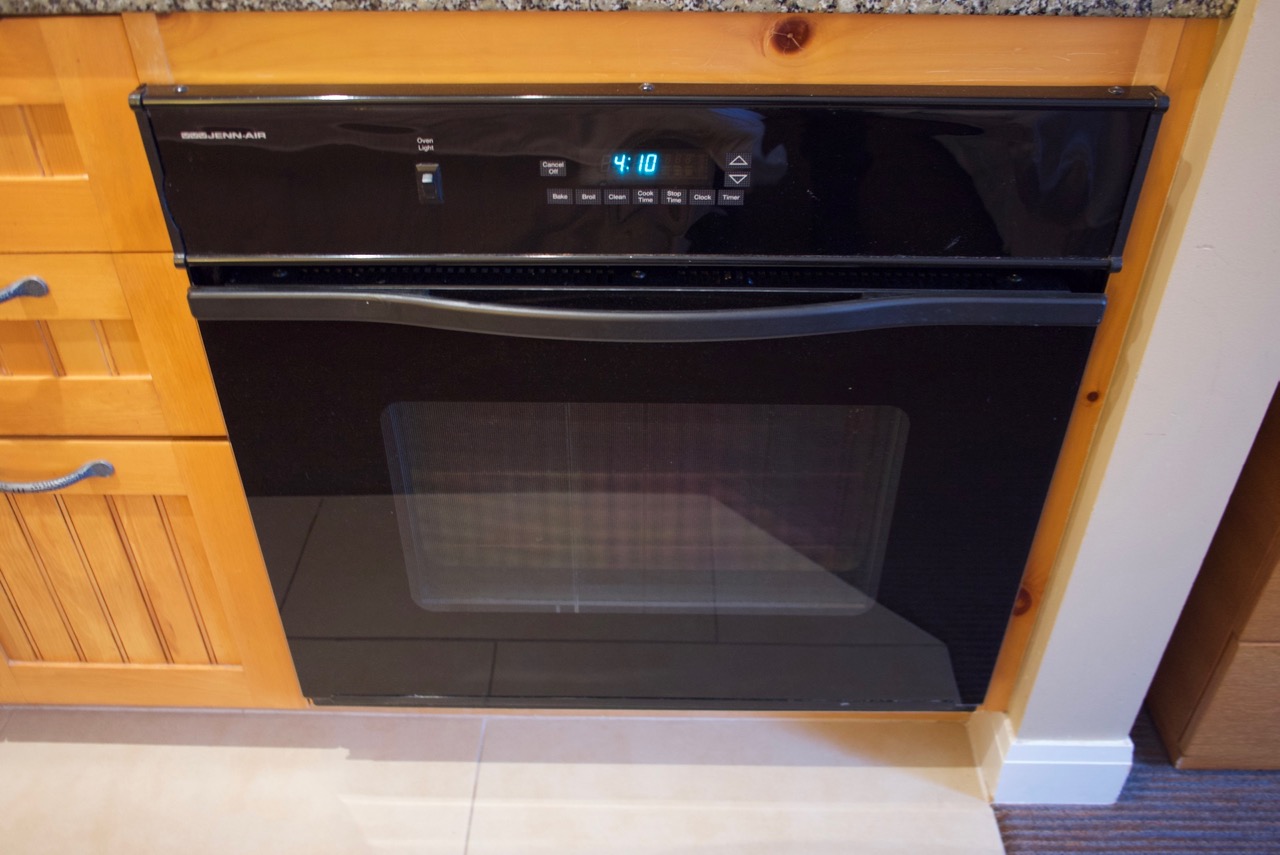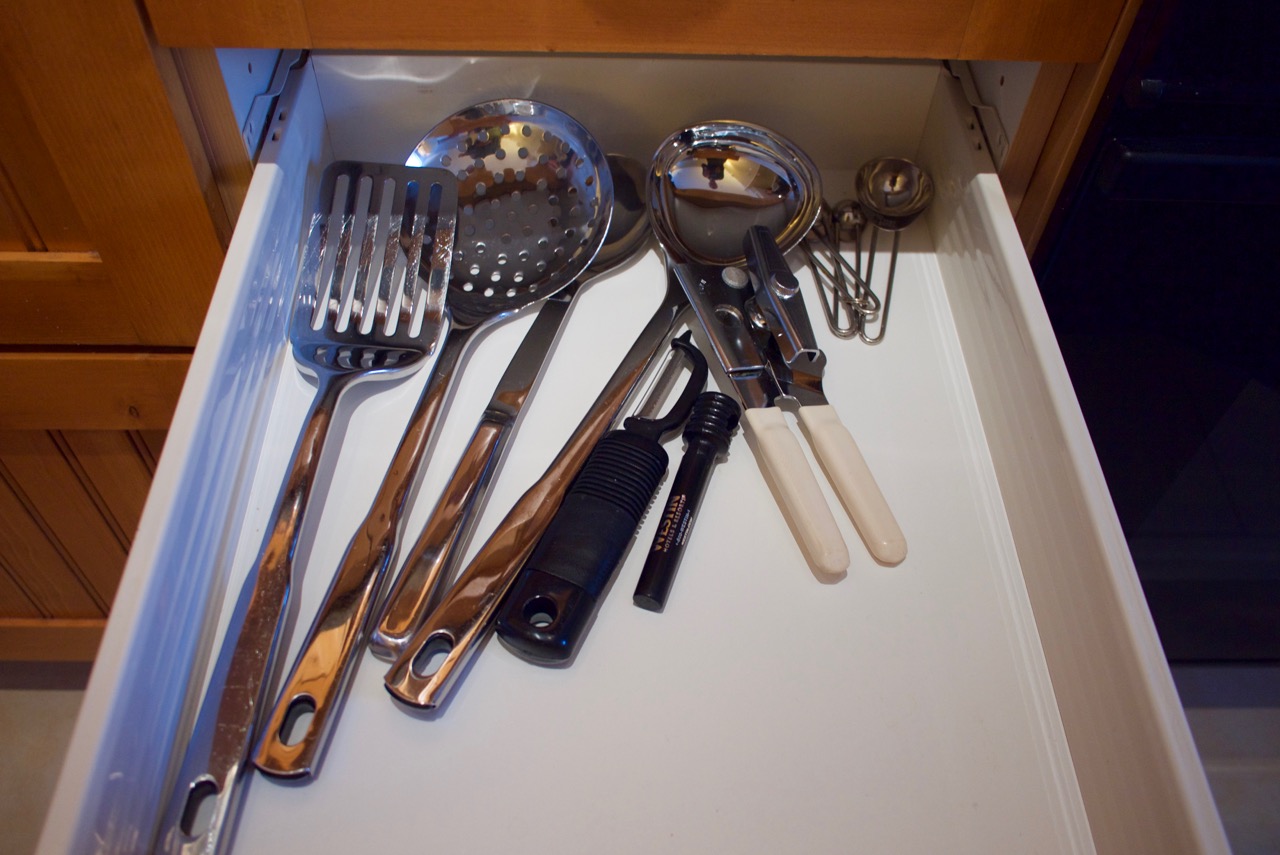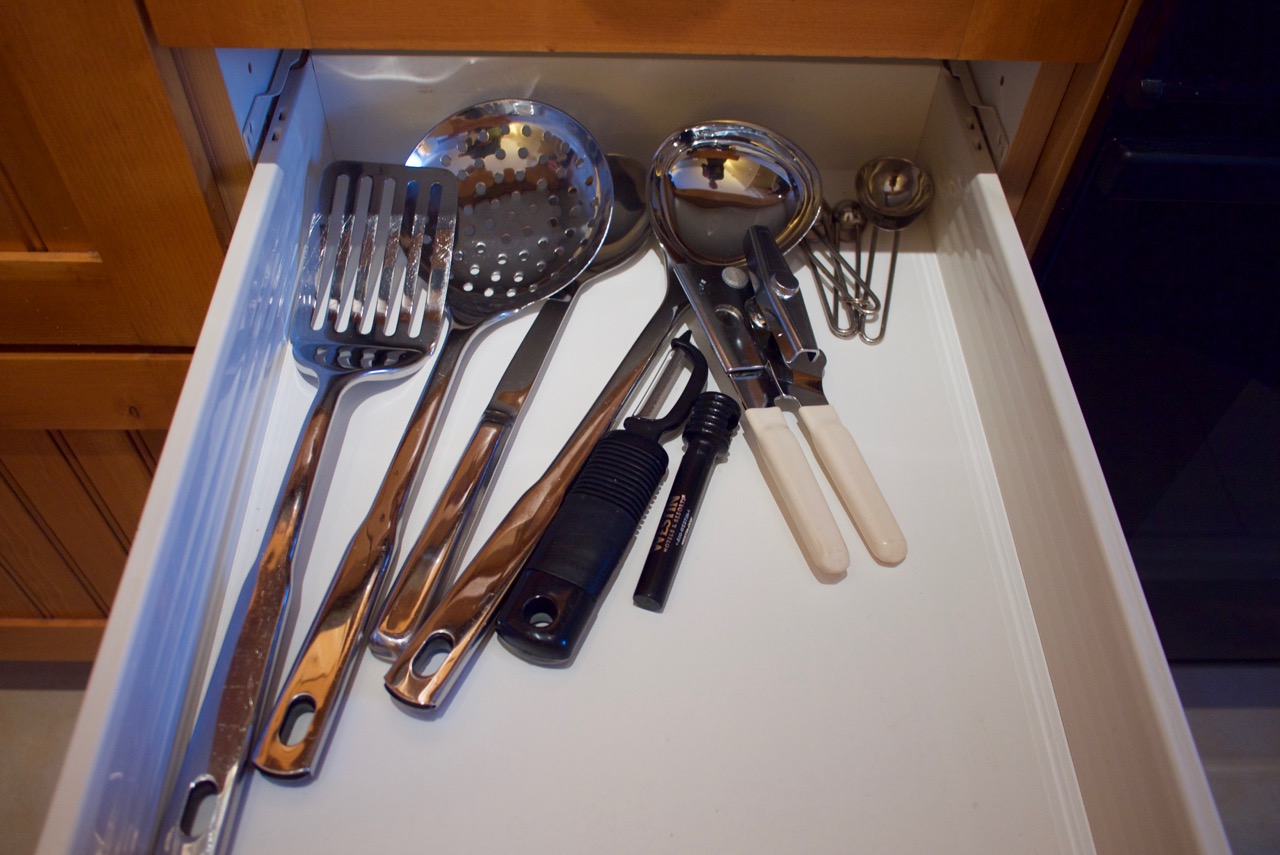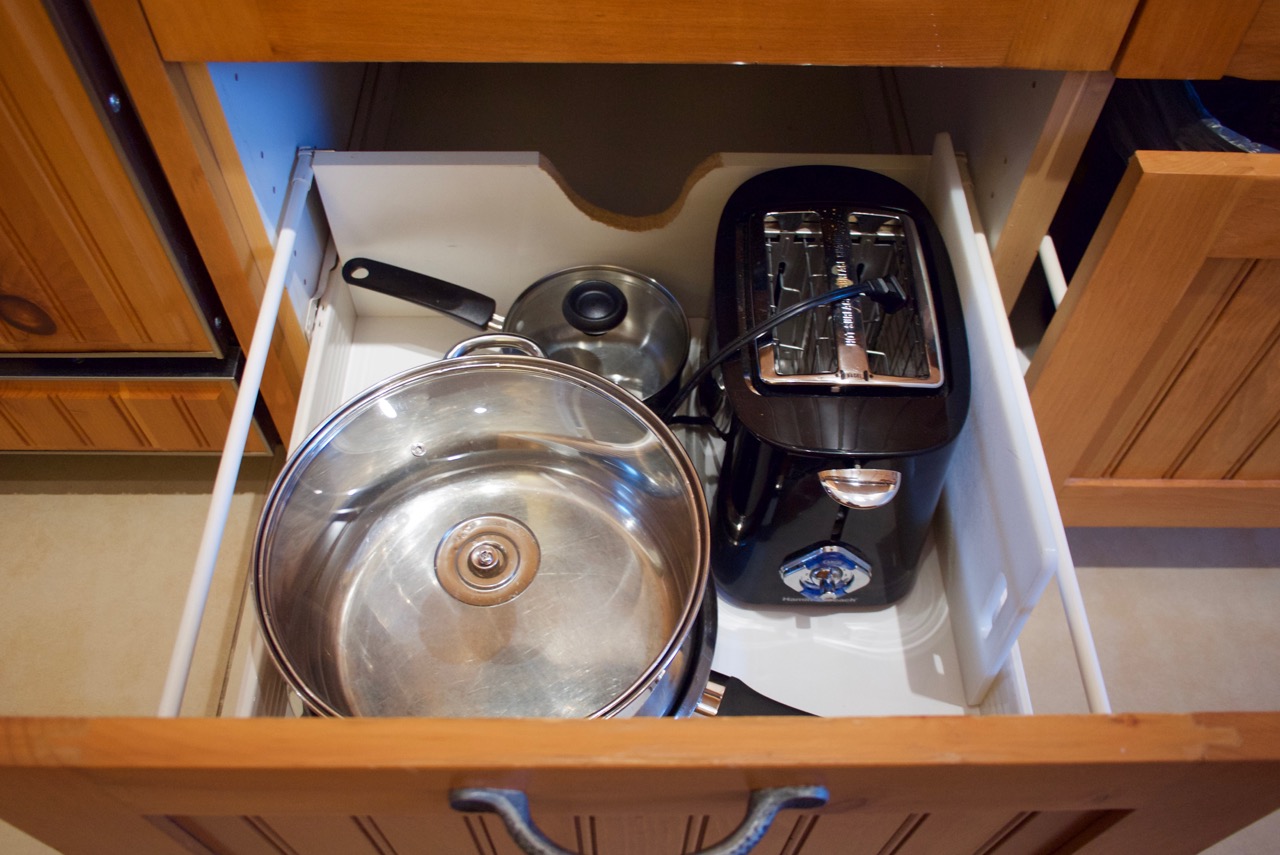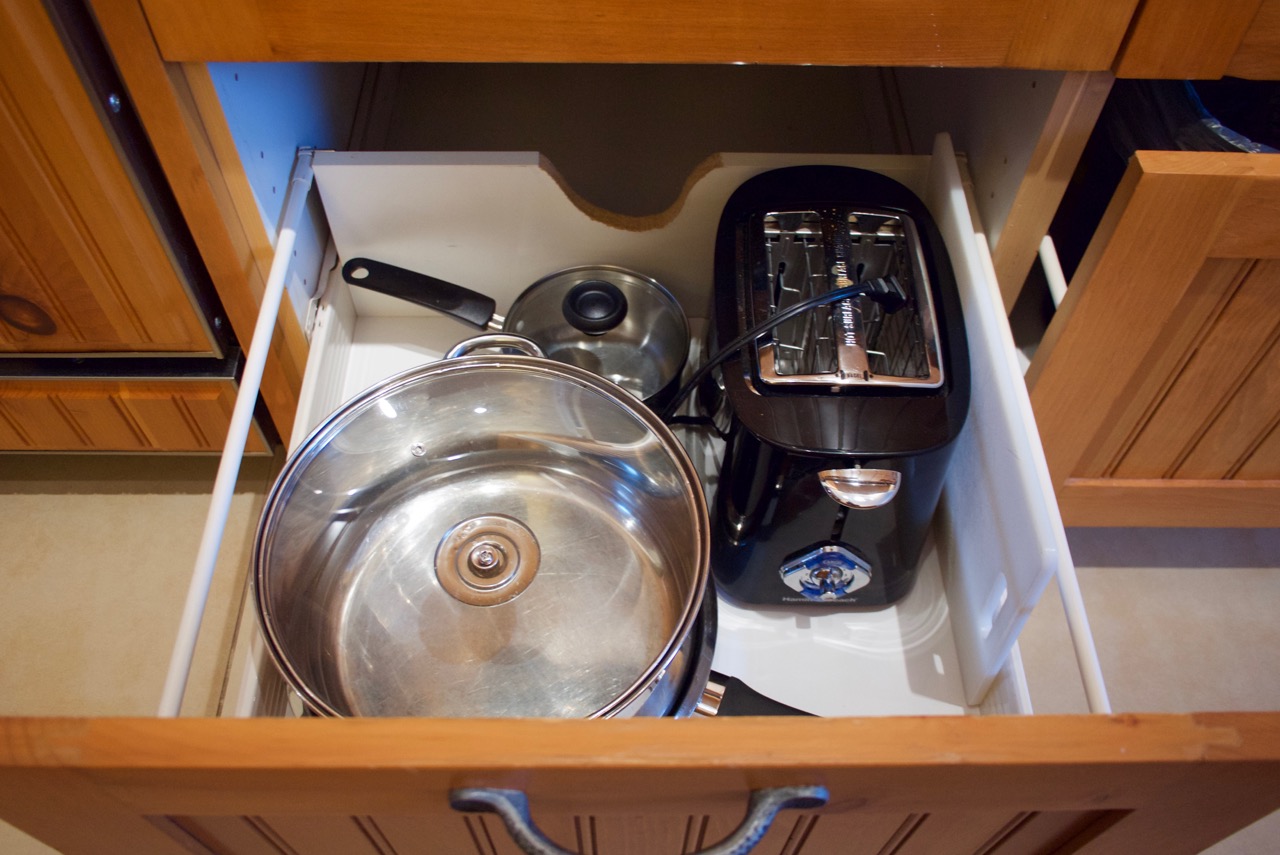 The door to the connecting Deluxe Suite is next to the kitchen / dining area.
There's then a lounge area with a couch that's comfortable for two, an armchair, ottoman and wall mounted TV with gas fireplace underneath. There's a door out to a small balcony which, unsurprisingly, we didn't use – but would be nice for summer.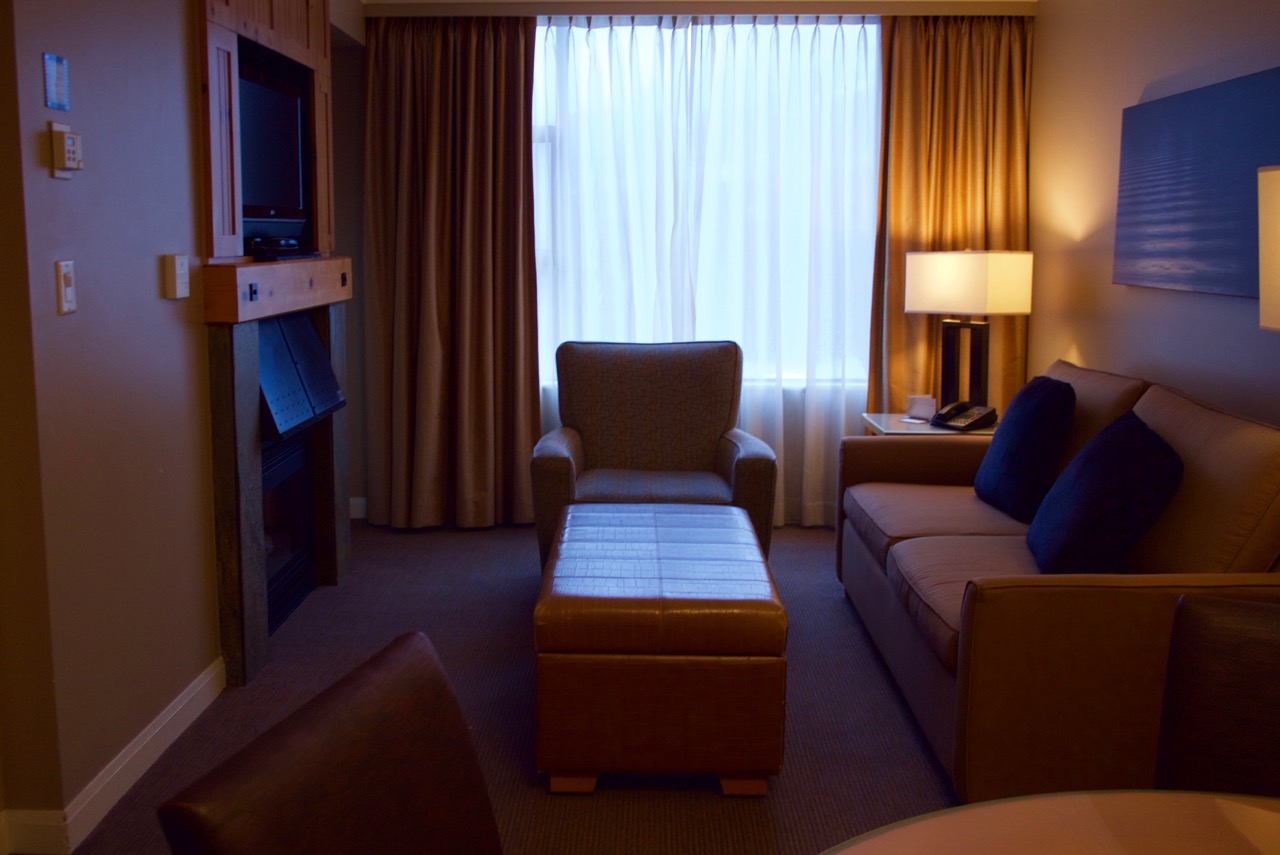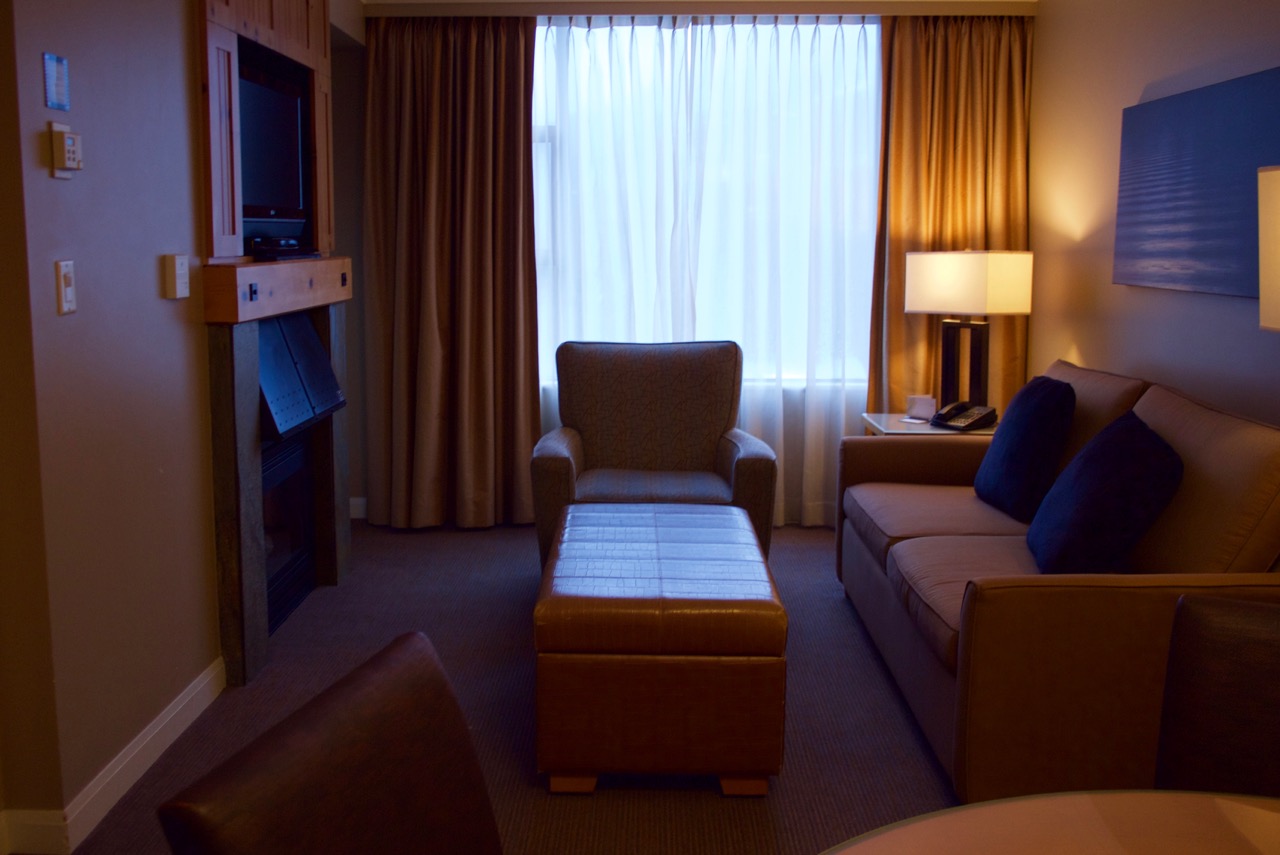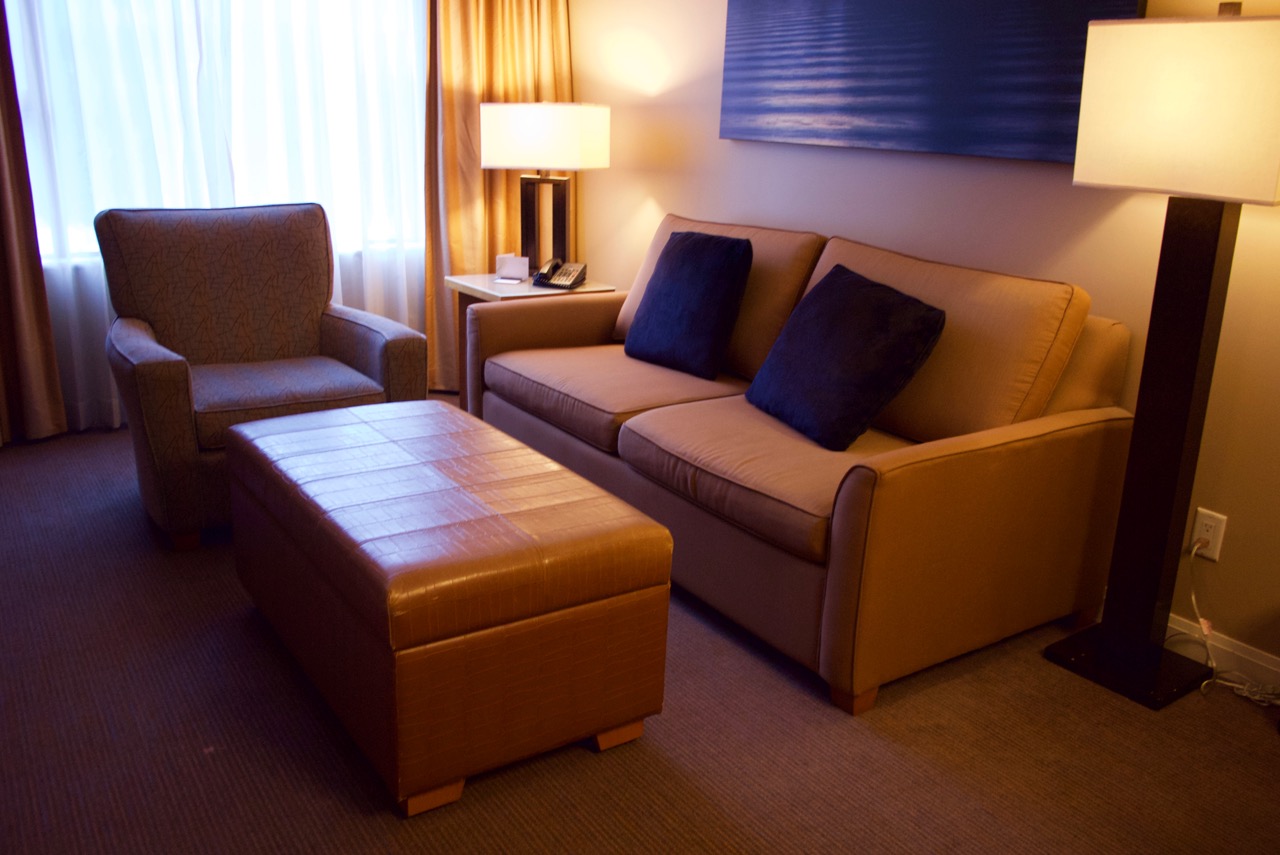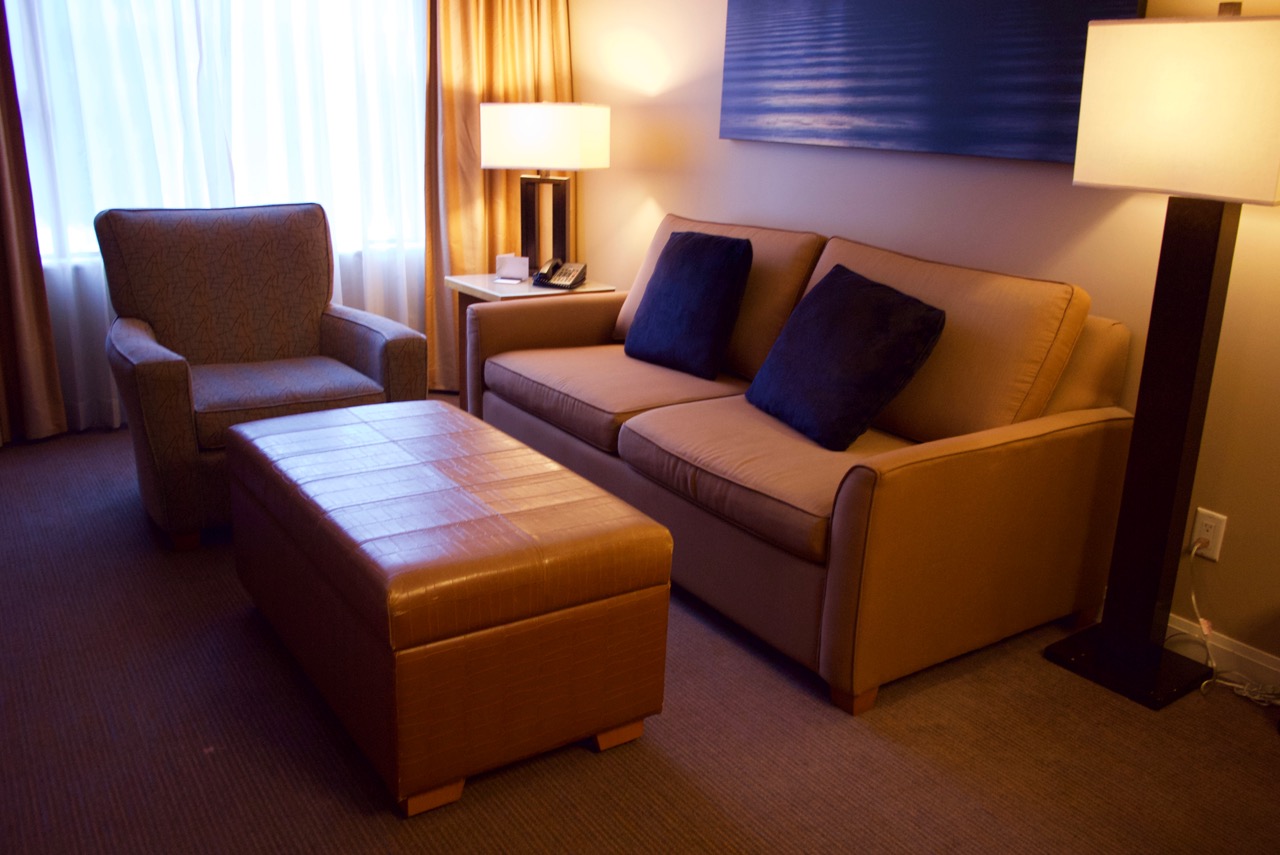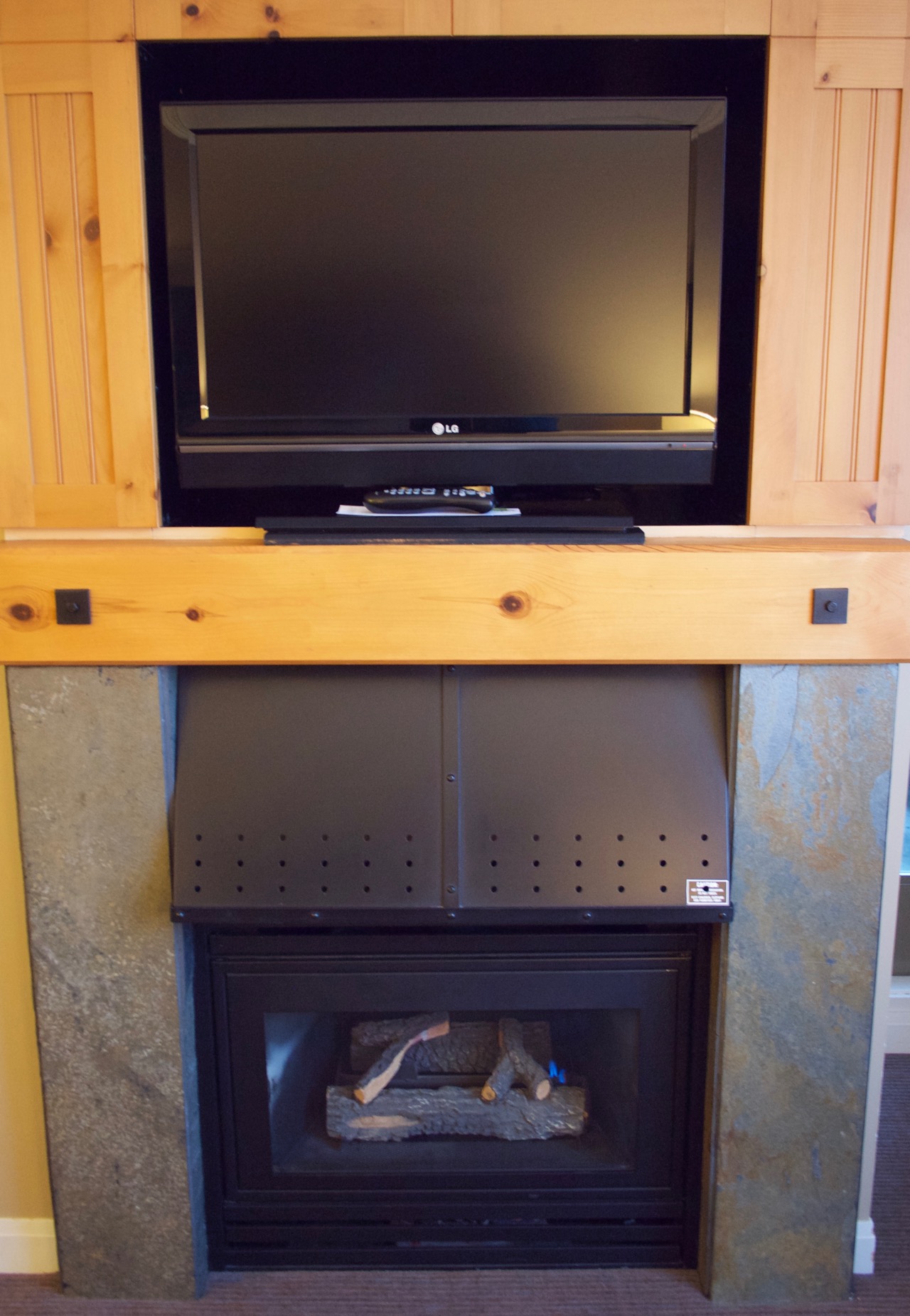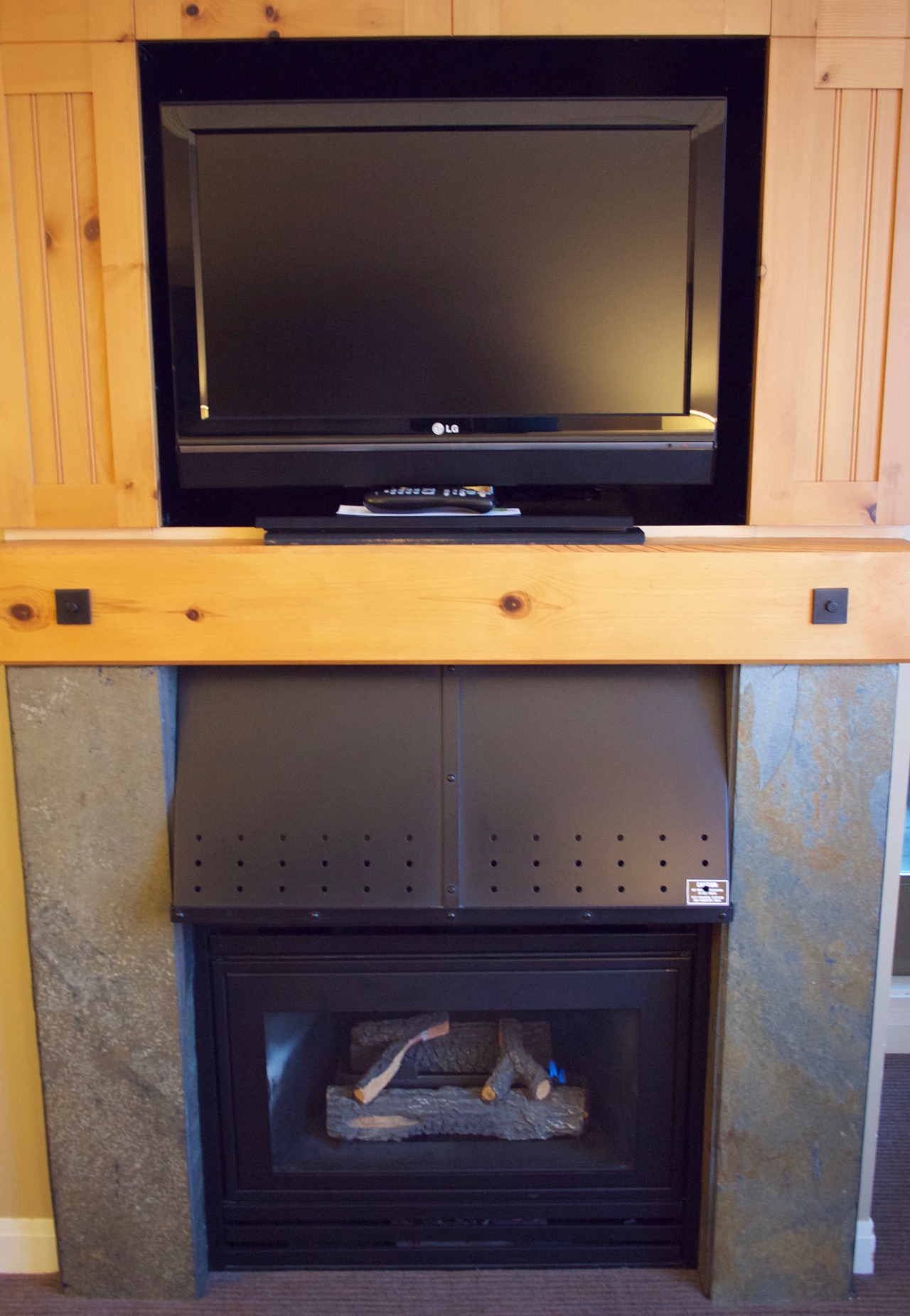 The door to the bedroom opens up from the lounge, and we had a great view from the bed of the hotel pool and golf driving range. The weather was so cloudy and snowy that it took nearly a week to realise there were some pretty big mountains opposite too.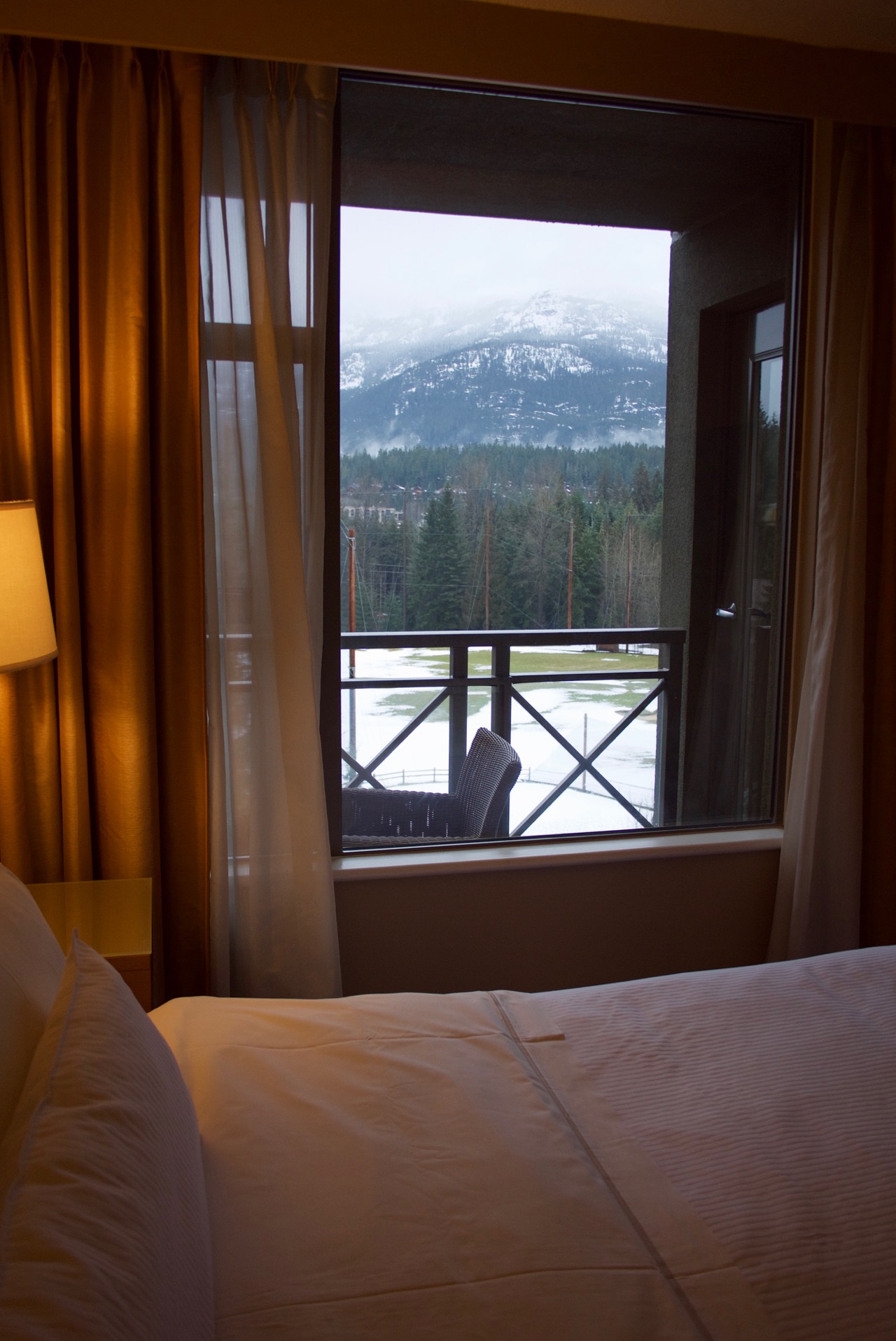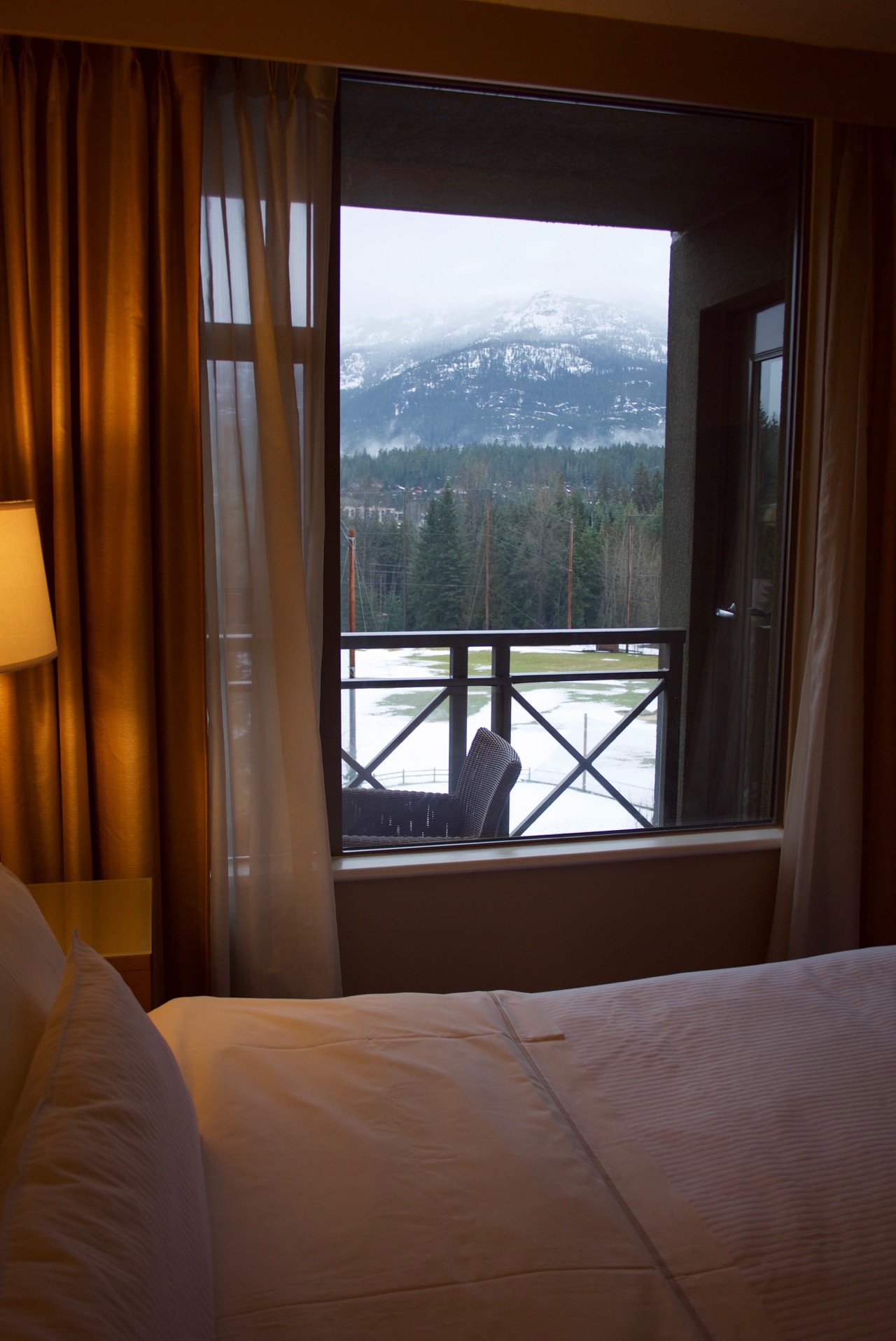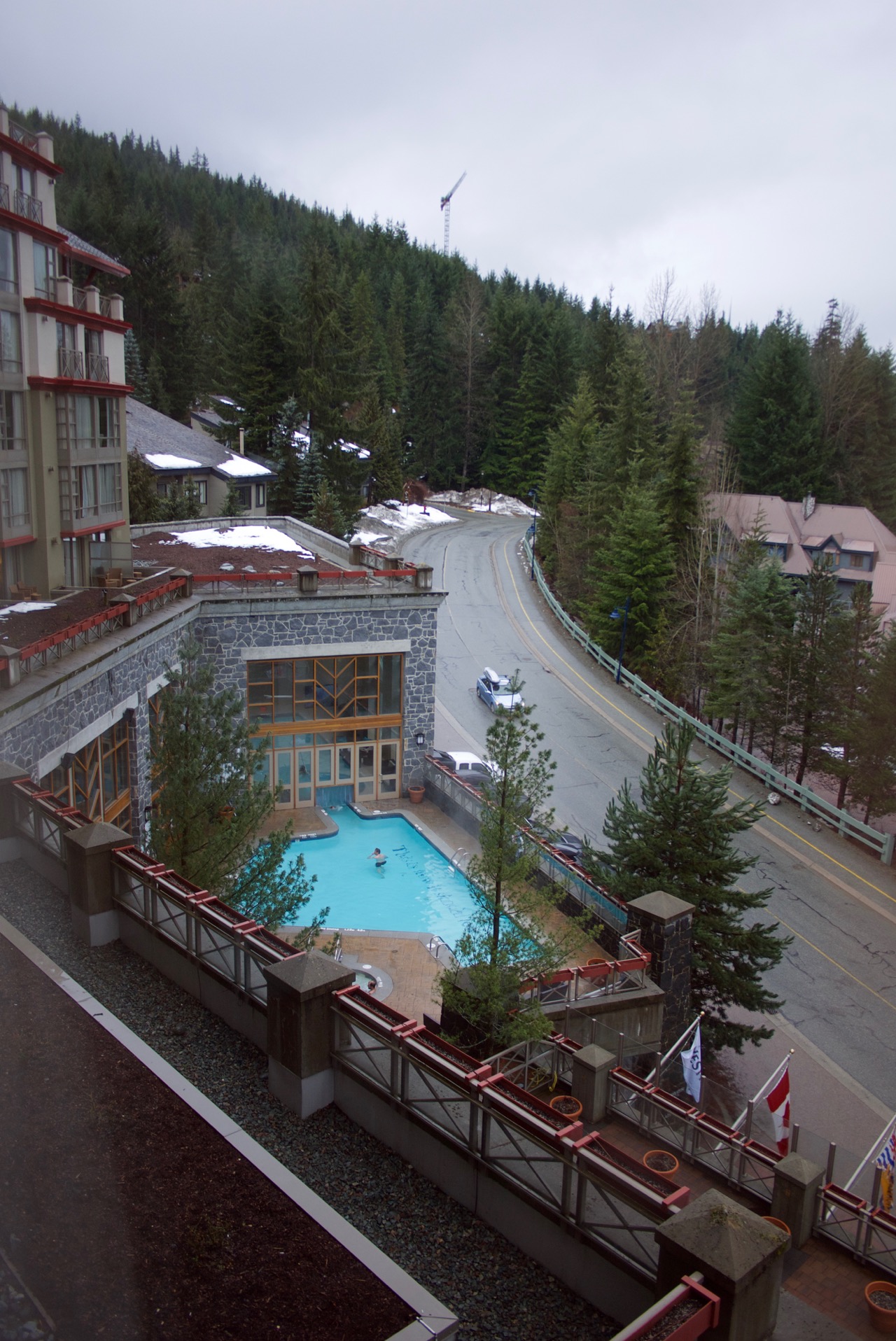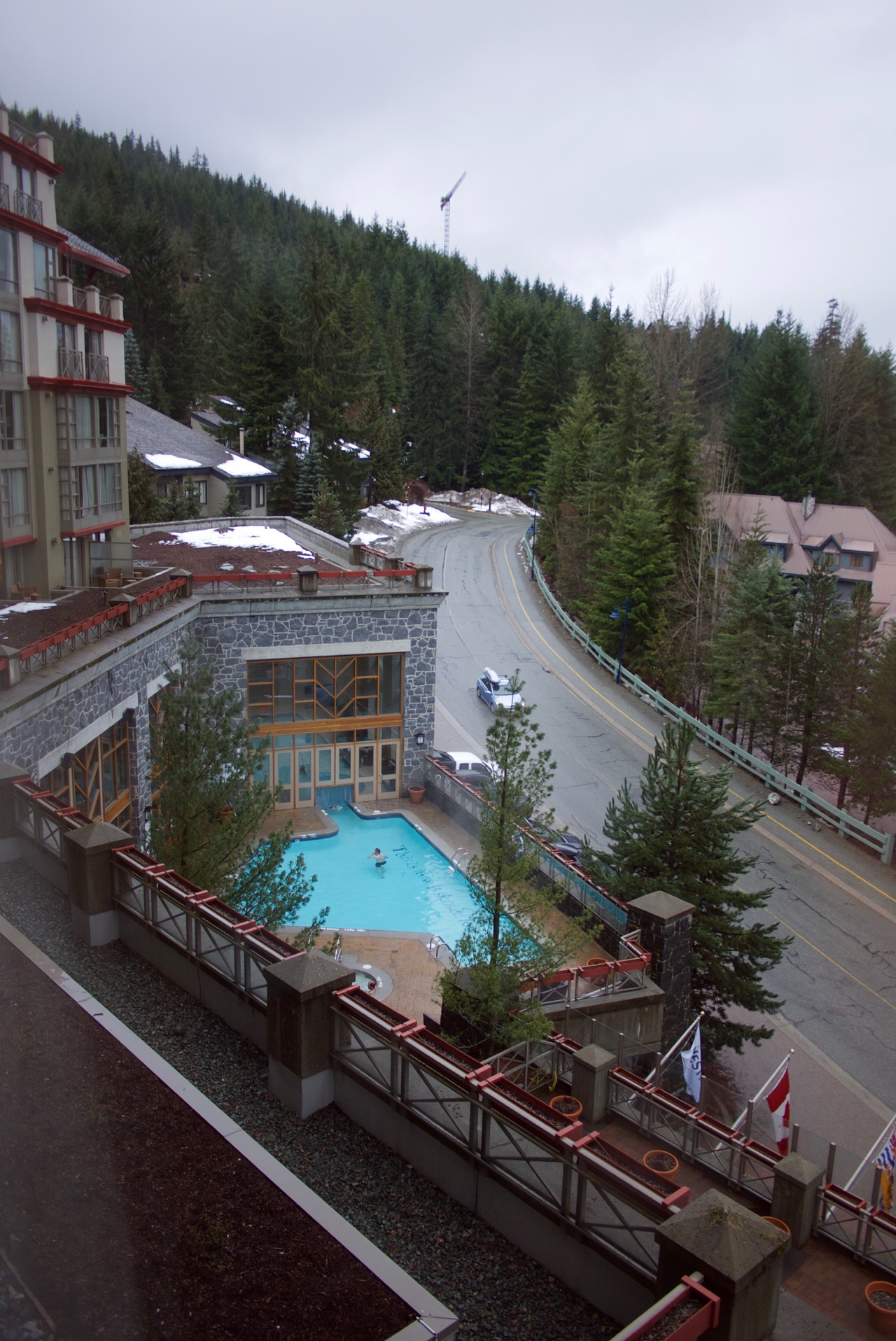 Westin Whistler Deluxe Twin Suite
The biggest complaint about this suite is that it's called a suite. It was a perfectly nice twin room with a kitchenette, but not a suite.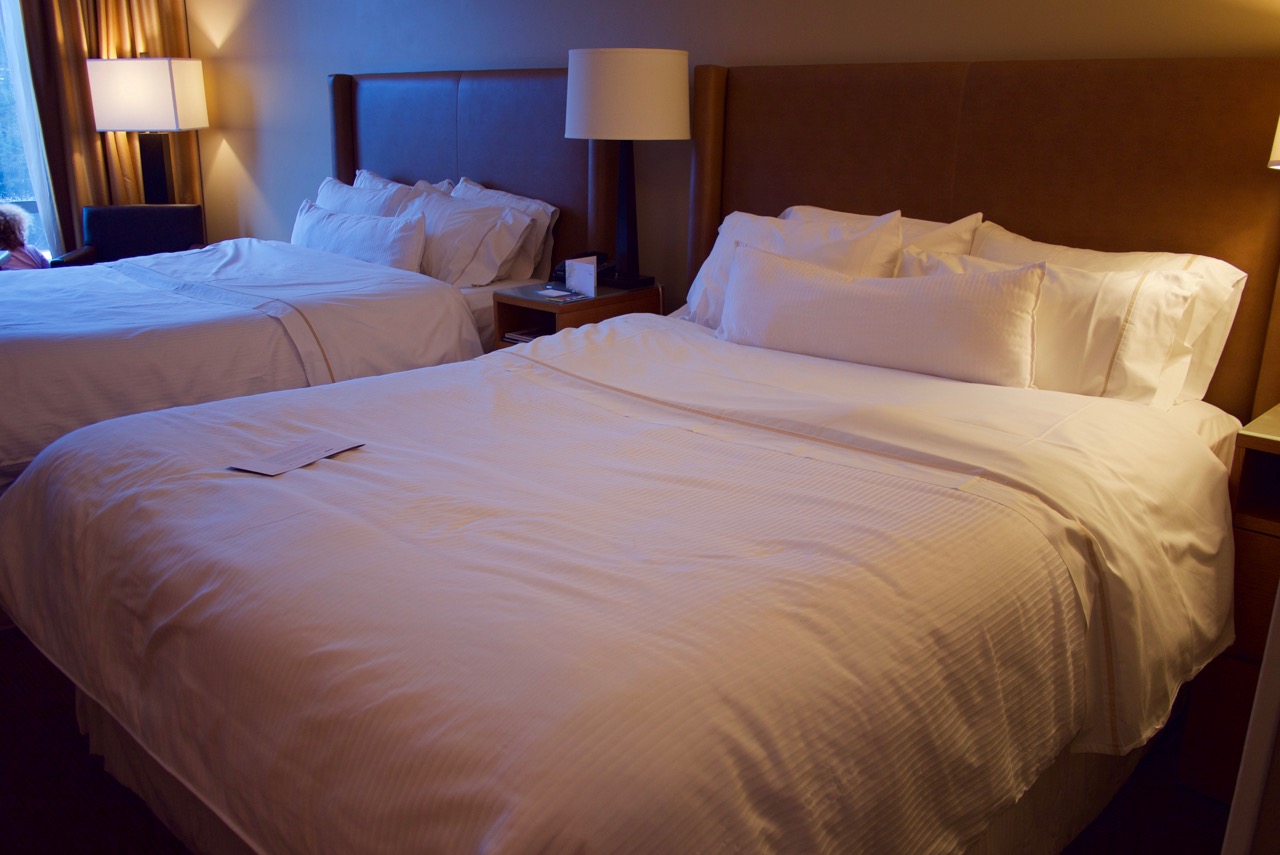 The beds were large and comfortable and there was enough room near the window for a small table and two chairs. If I was just staying in the suite I wouldn't want to try cooking a full meal here on a regular basis as there was very little space between the beds and the kitchen space.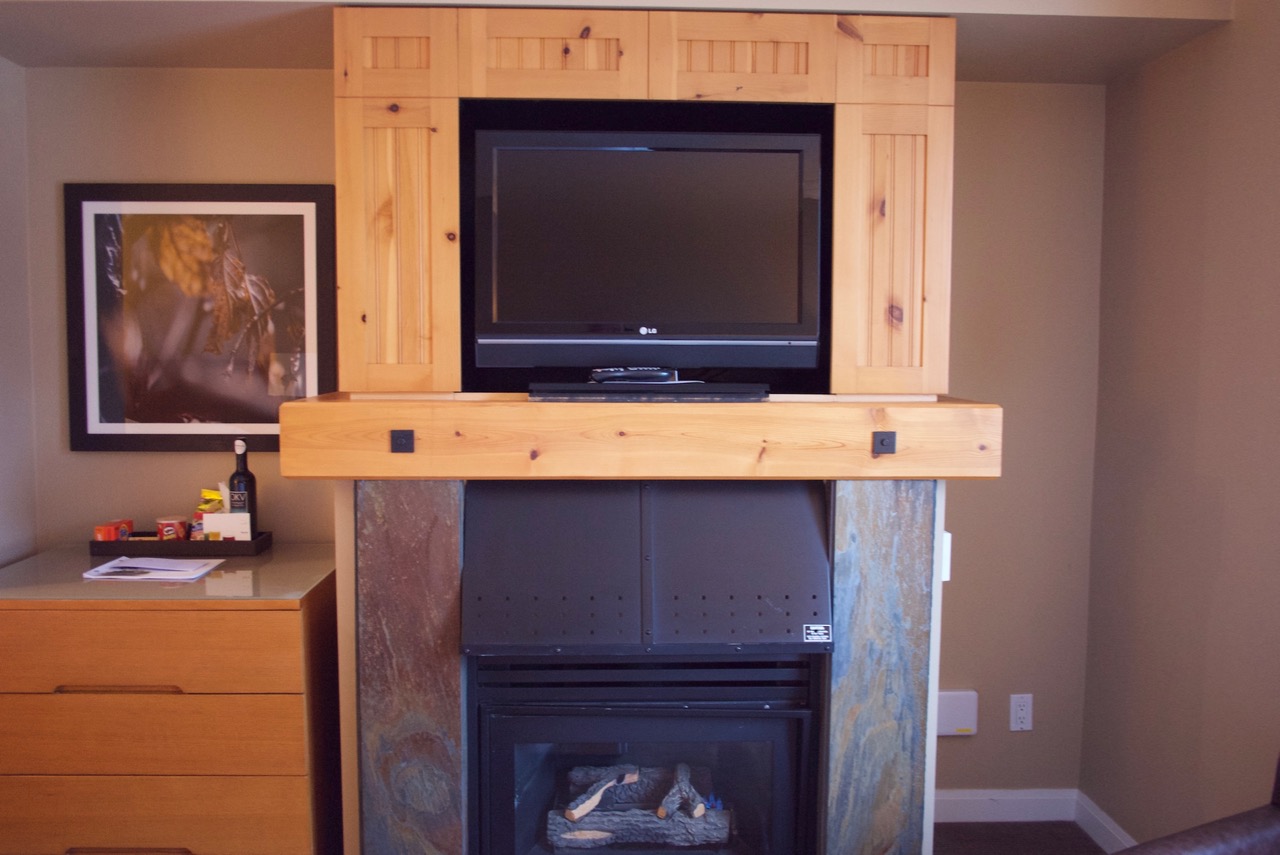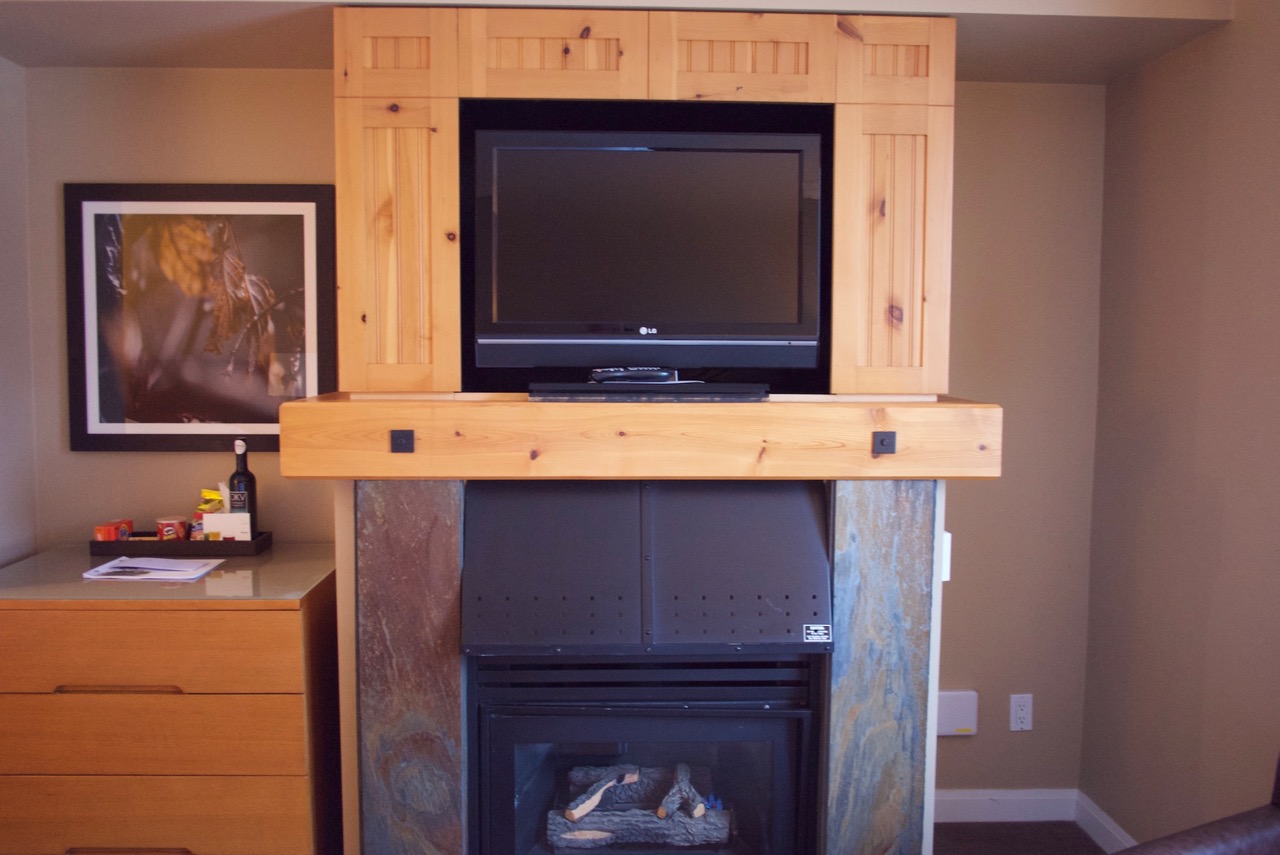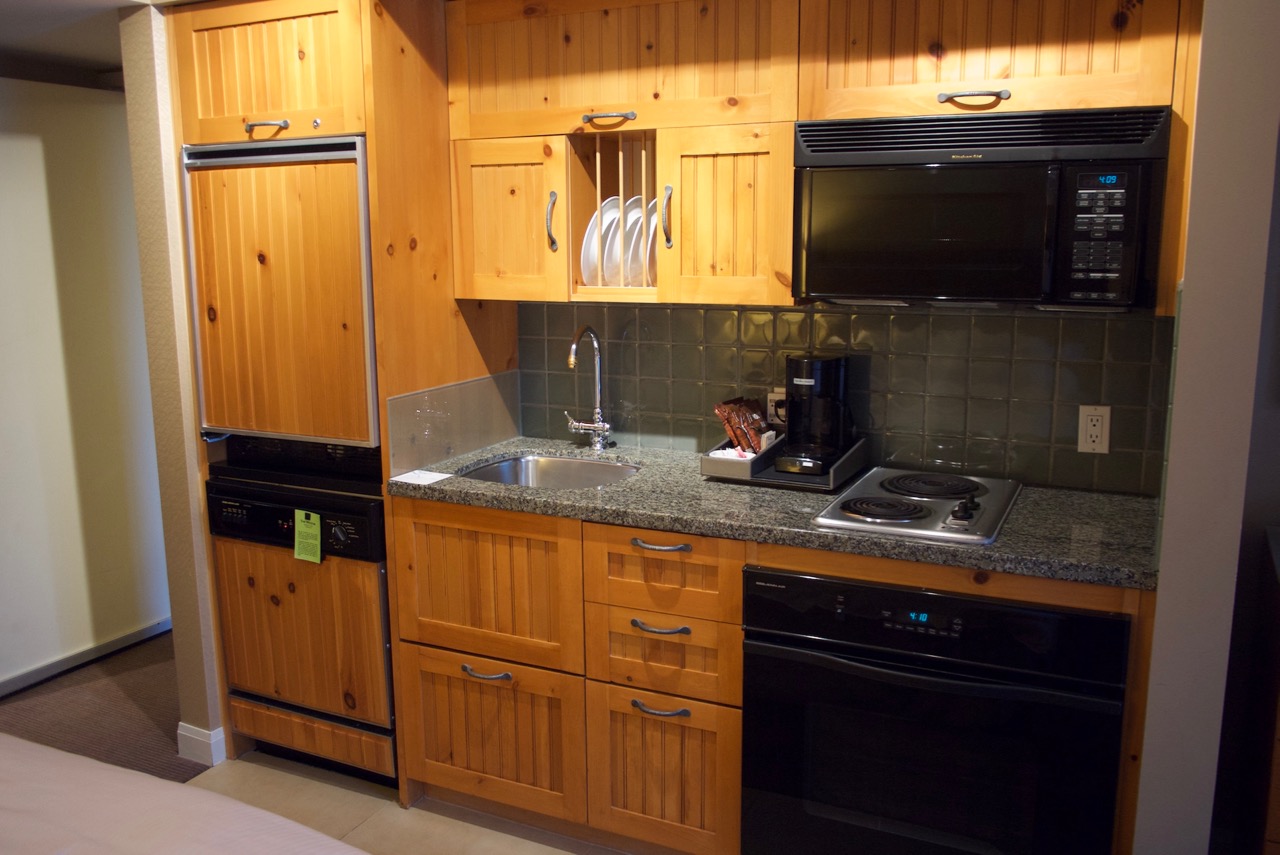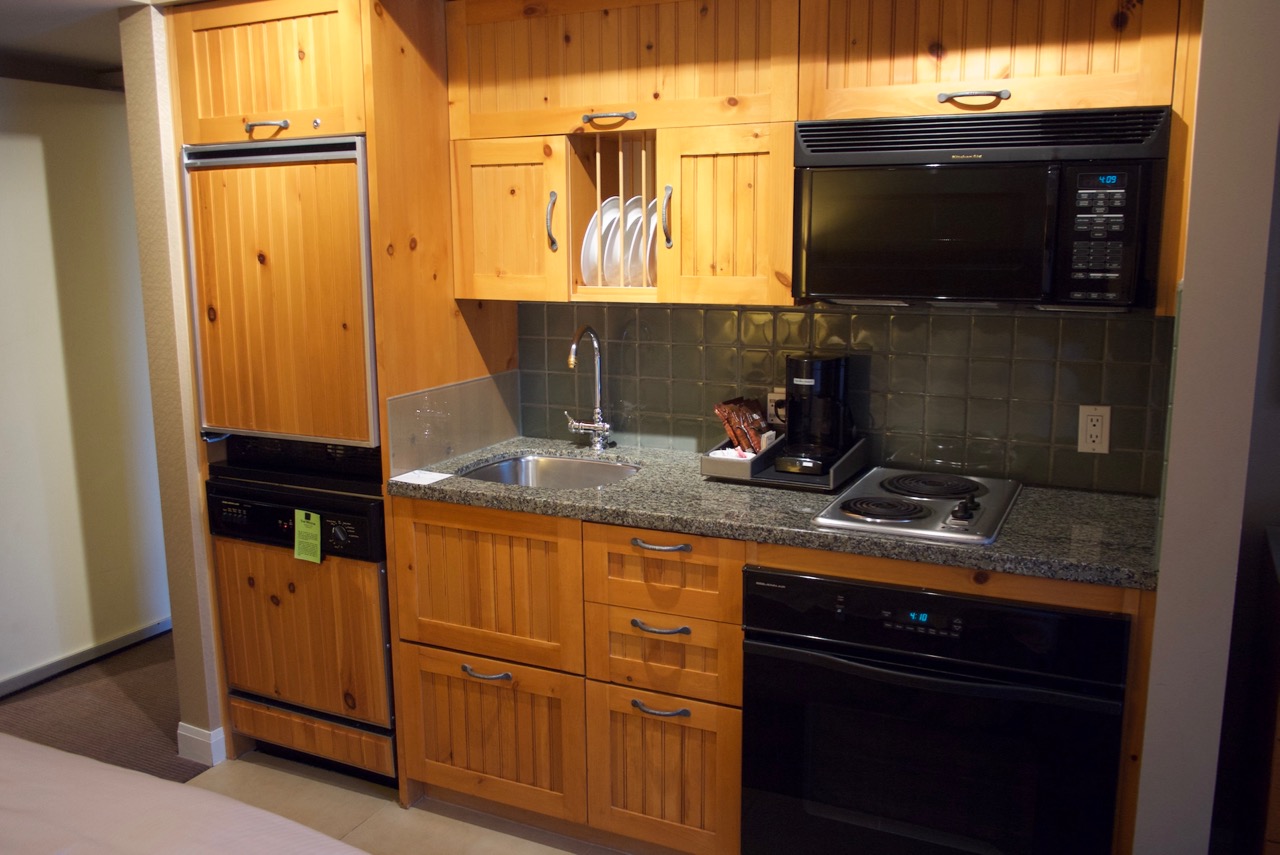 Combined with the One Bedroom Suite though and these two rooms were great for a family stay.
From both rooms we had some great views out above the hotel pool to the mountains beyond. It was very peaceful.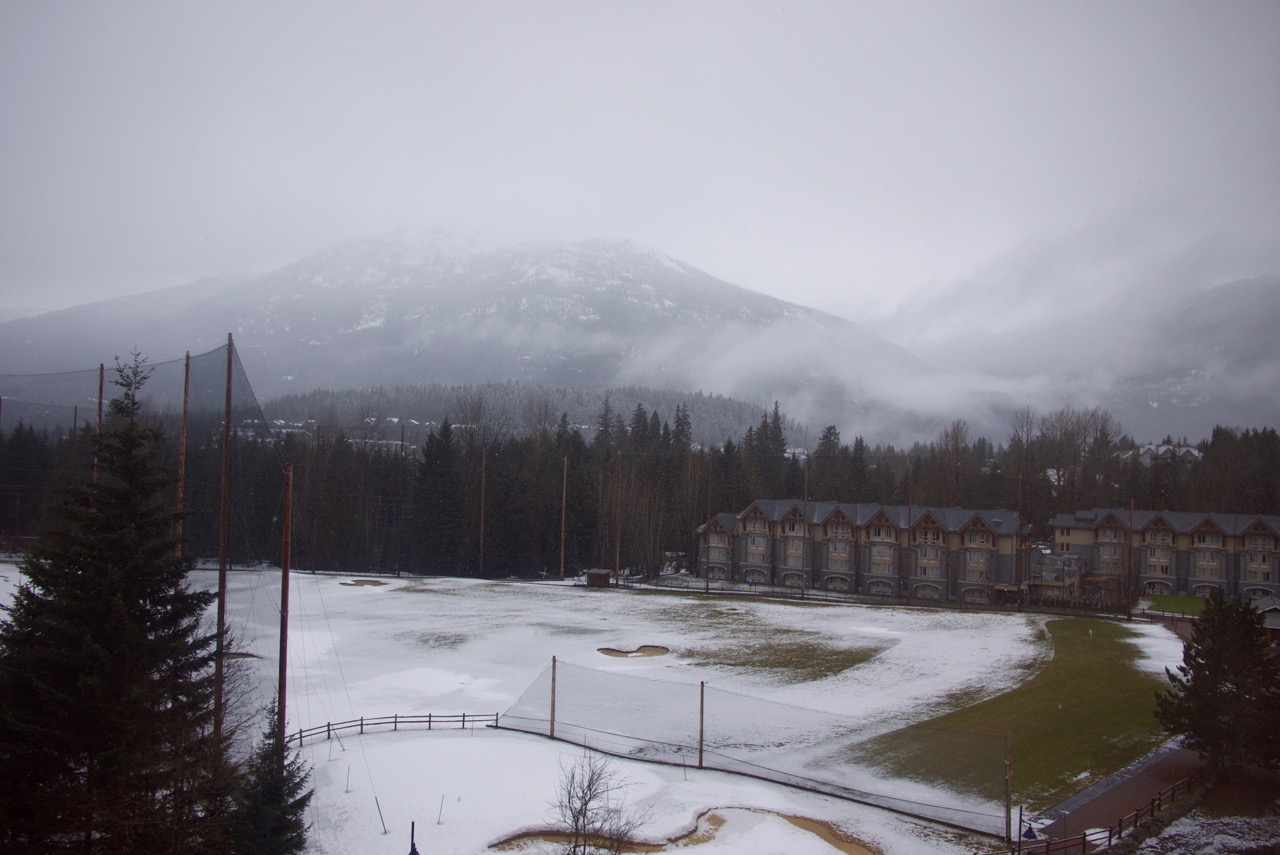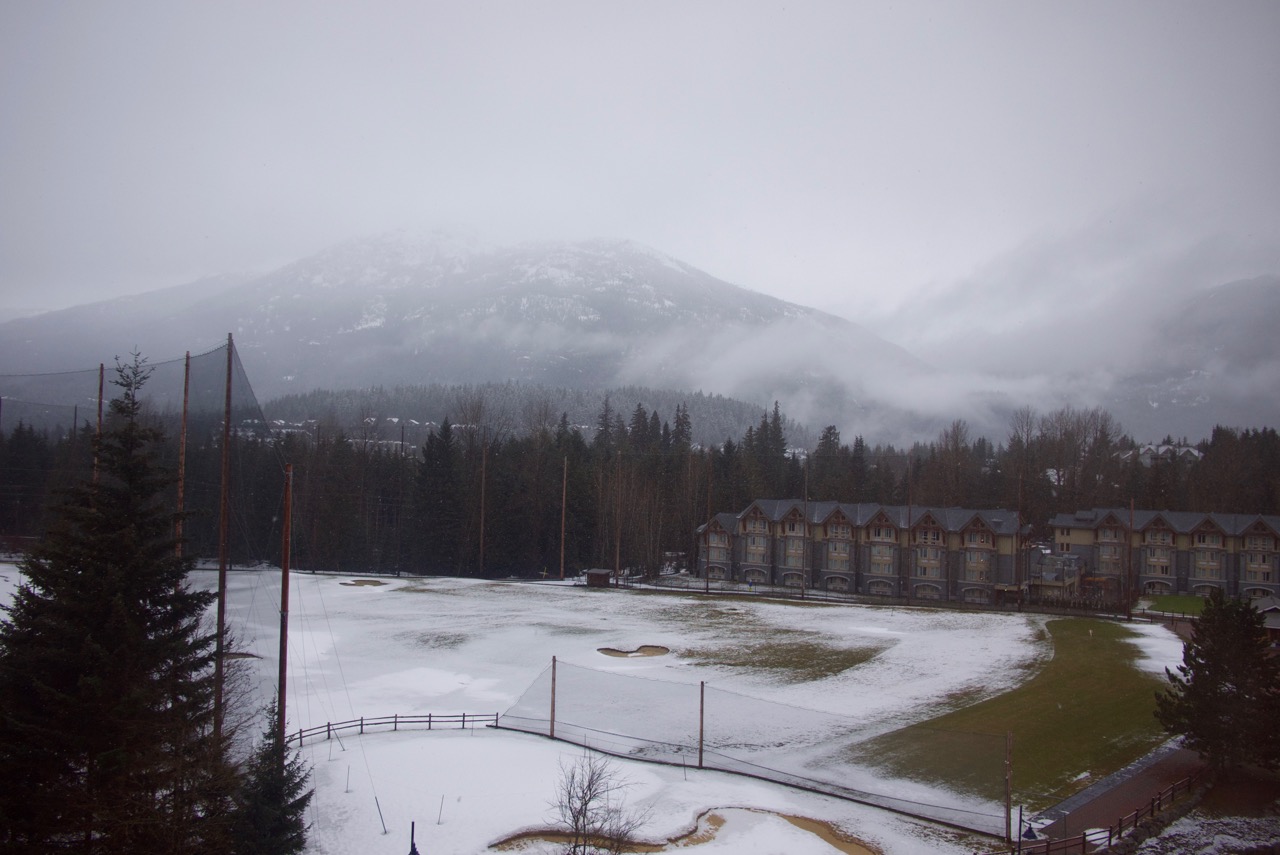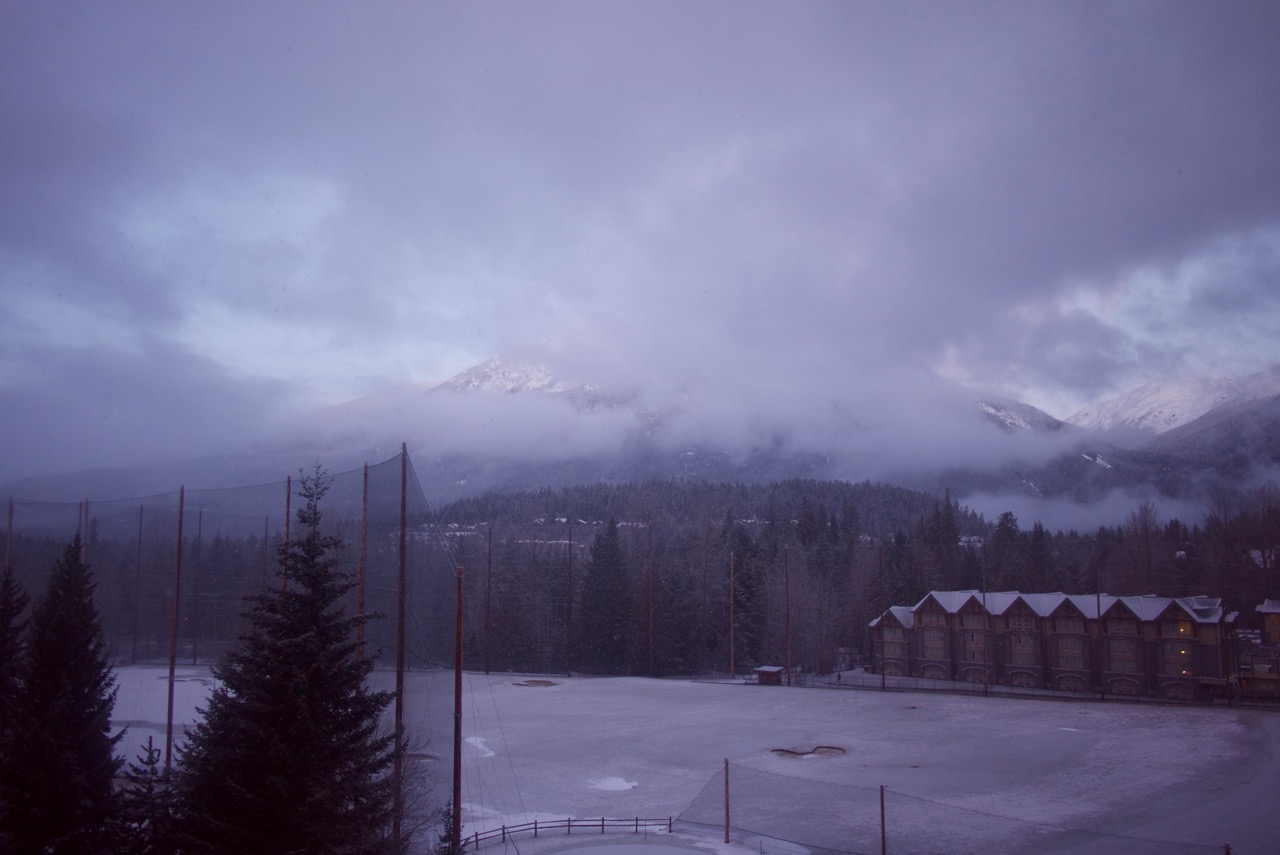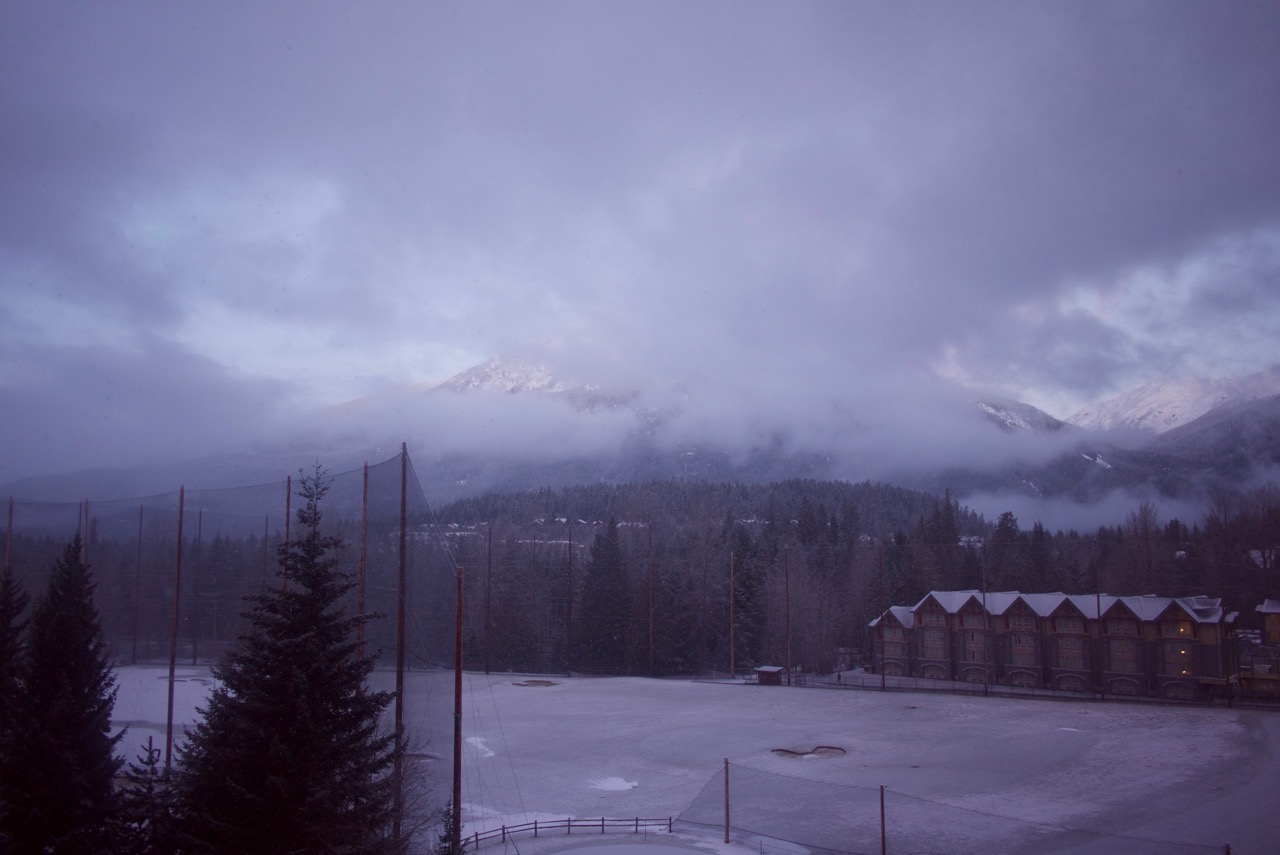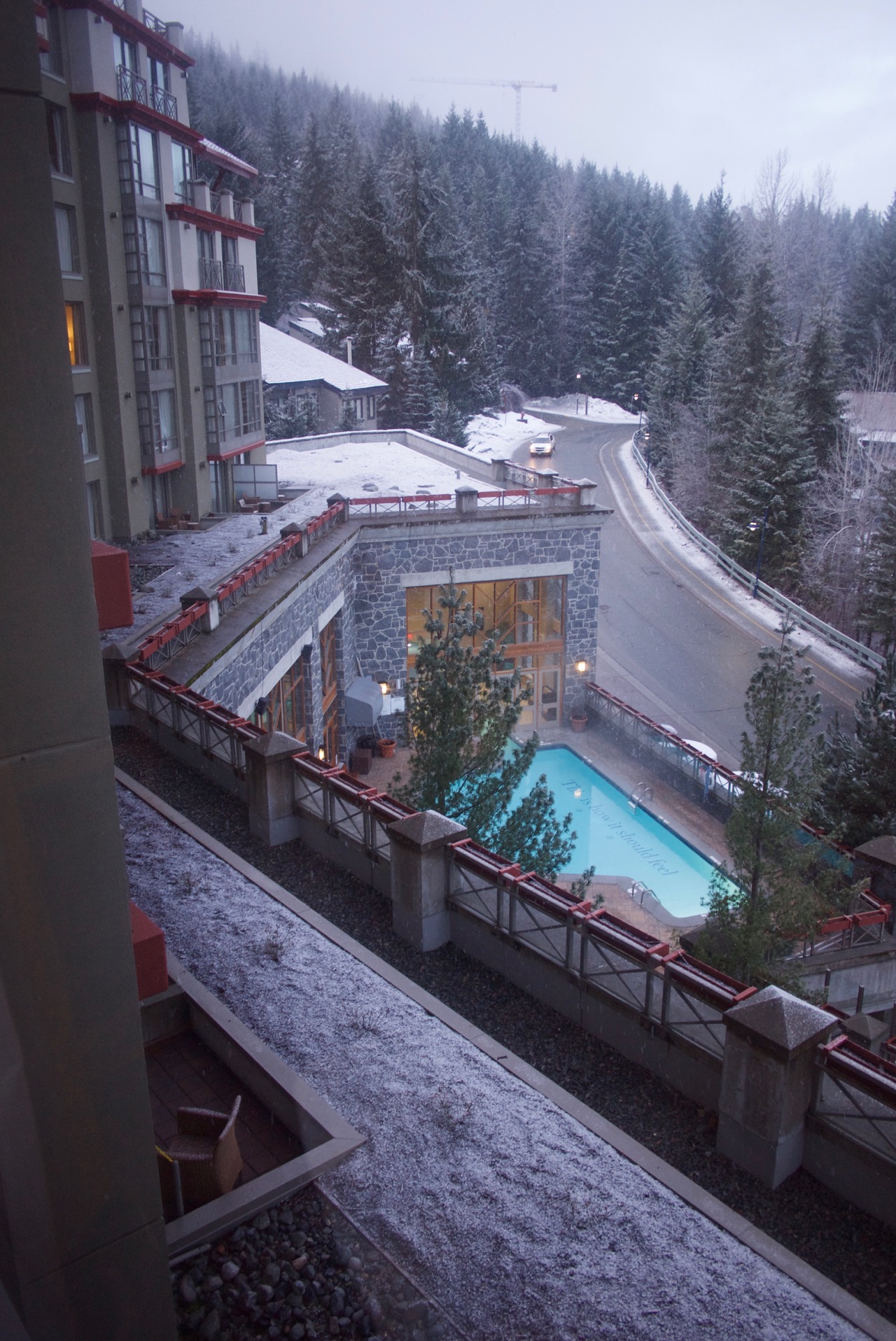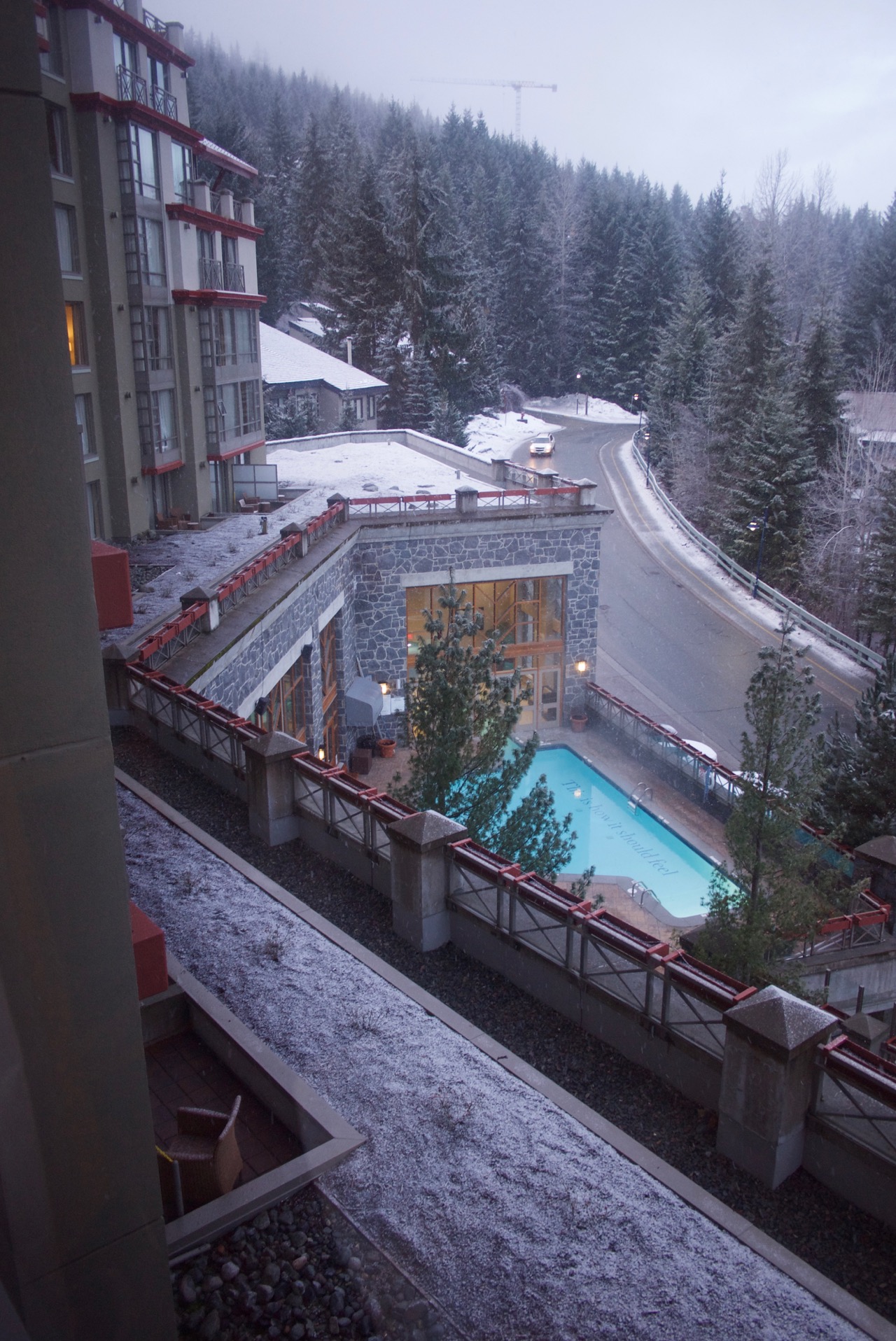 Around the Hotel – Lobby, Shops & Dining
As I mentioned before, the Westin is actually a really big building. The lobby that you'll arrive into, assuming you get dropped off at the hotel's main entry for cars and buses is pretty vast with an open fire and a heap of seating. Unfortunately there's no reason to hang out here, it's a functional space only – no drinks or or food on offer, with all the dining happening a level above.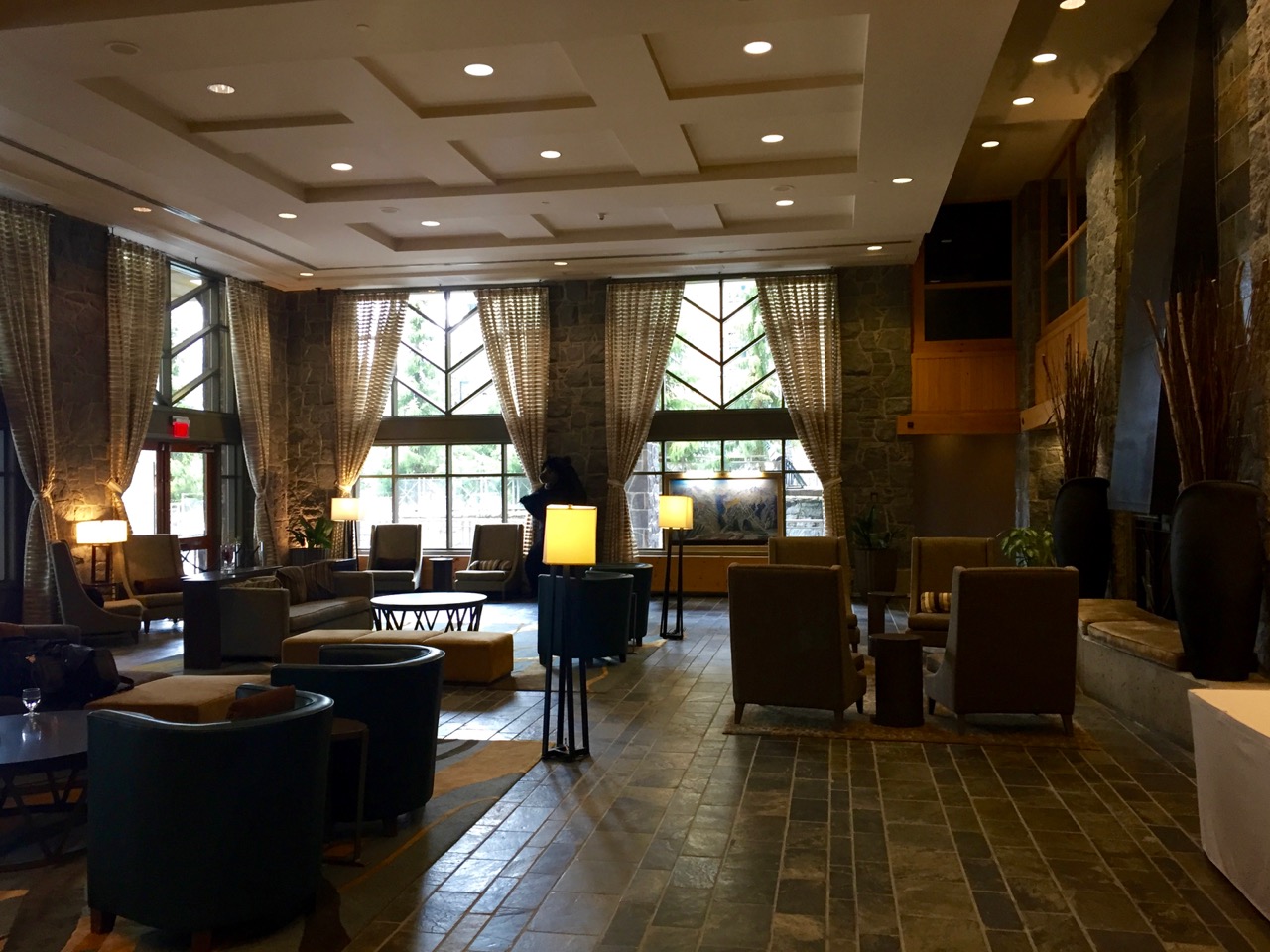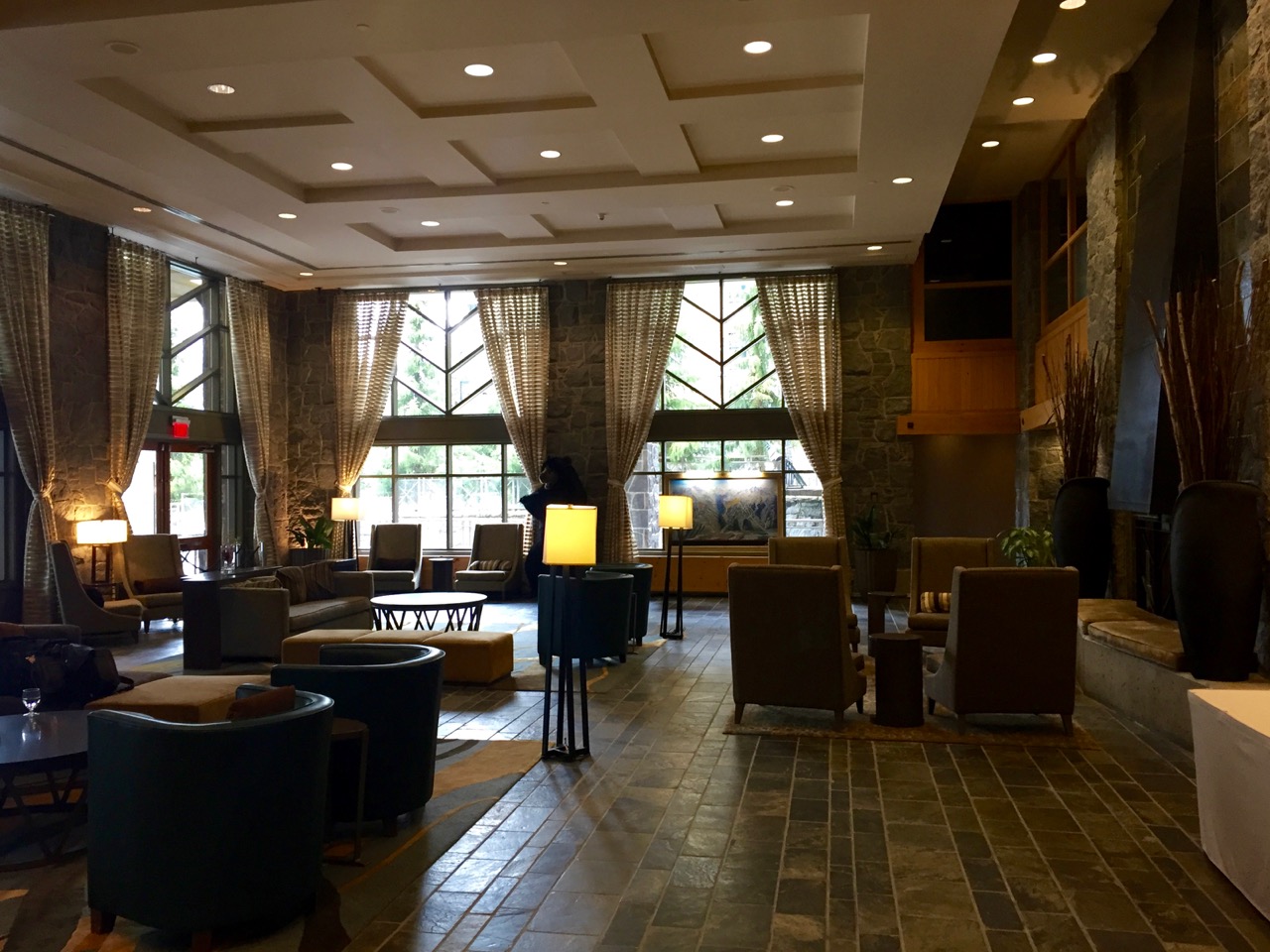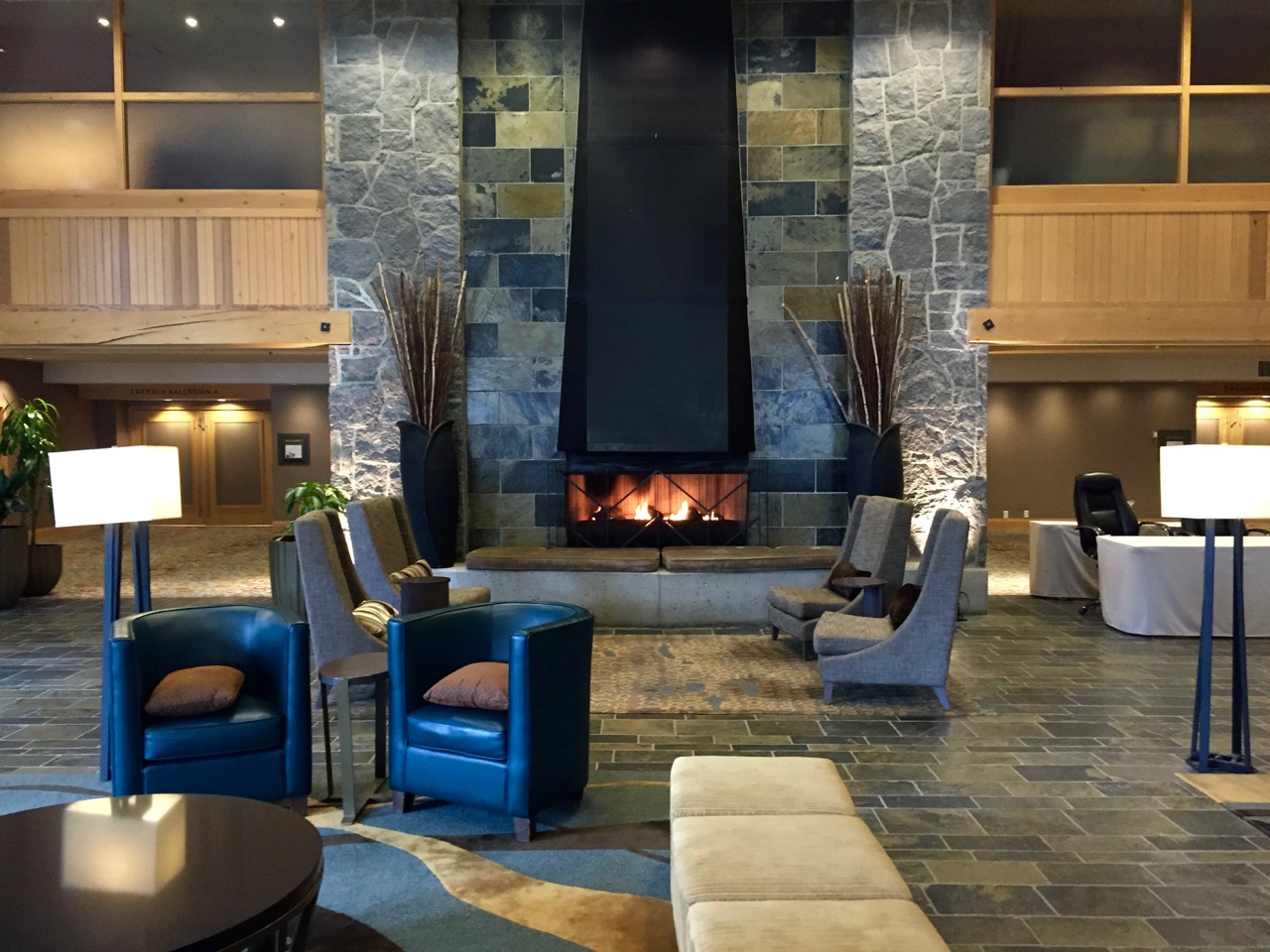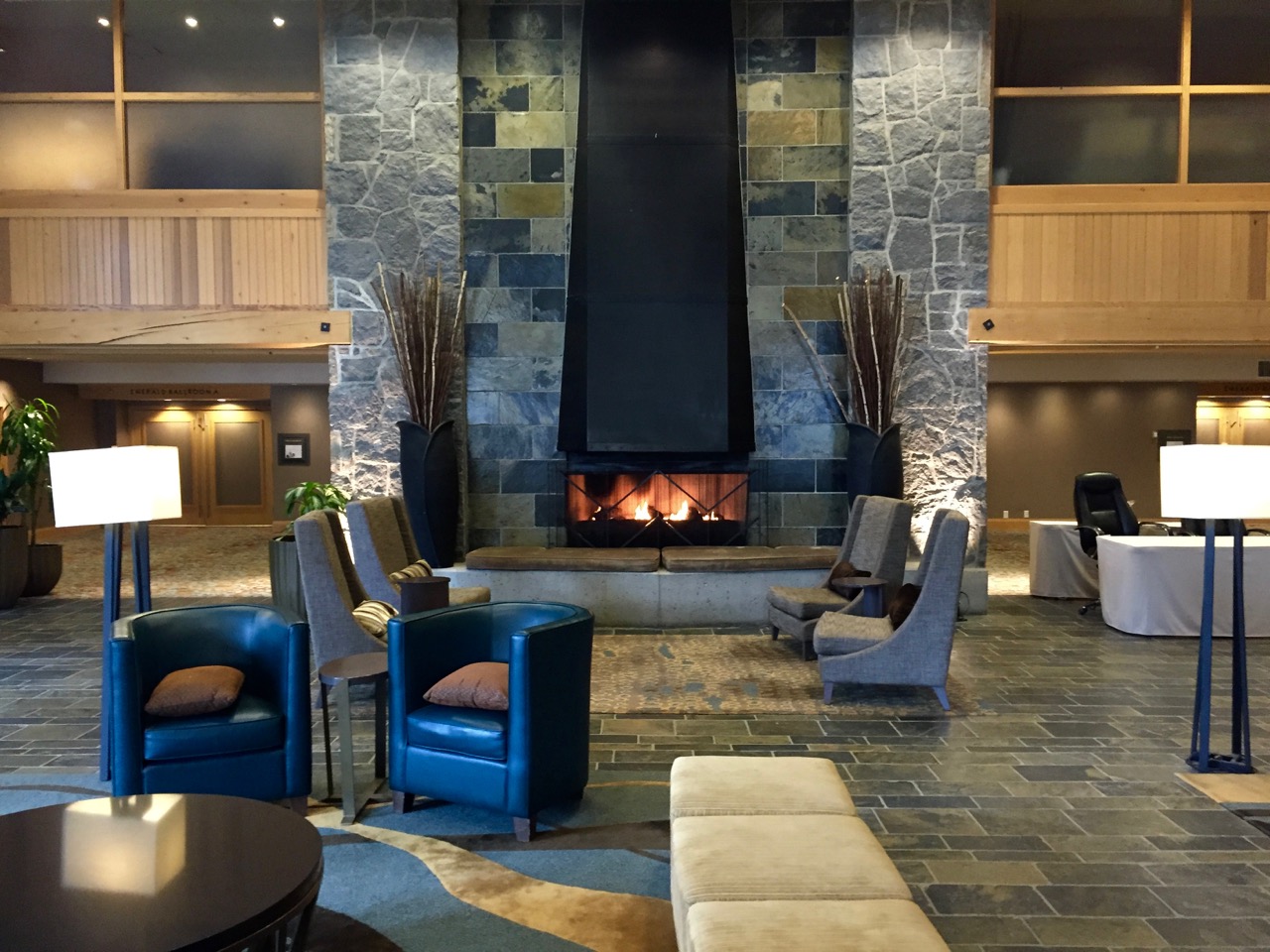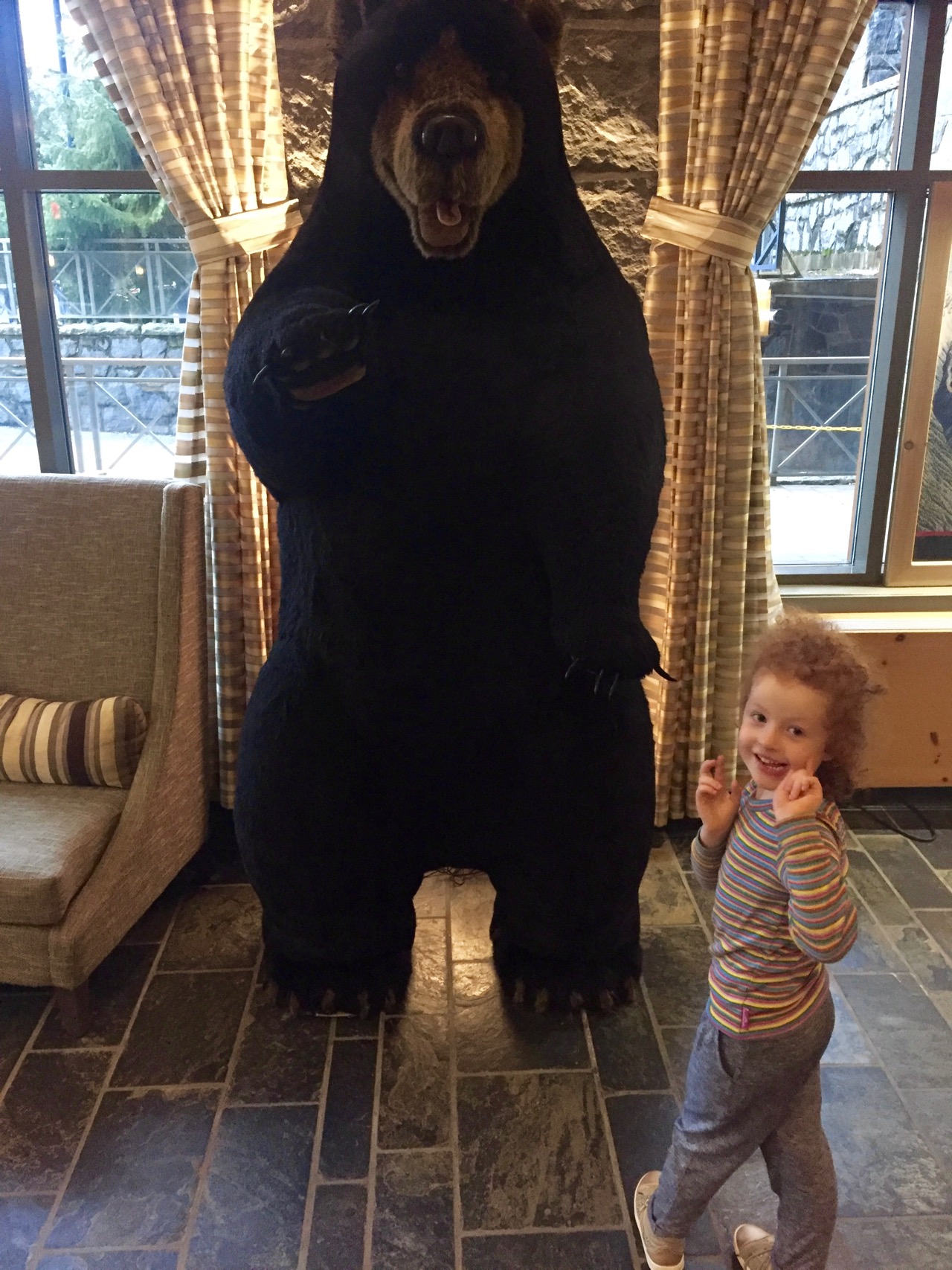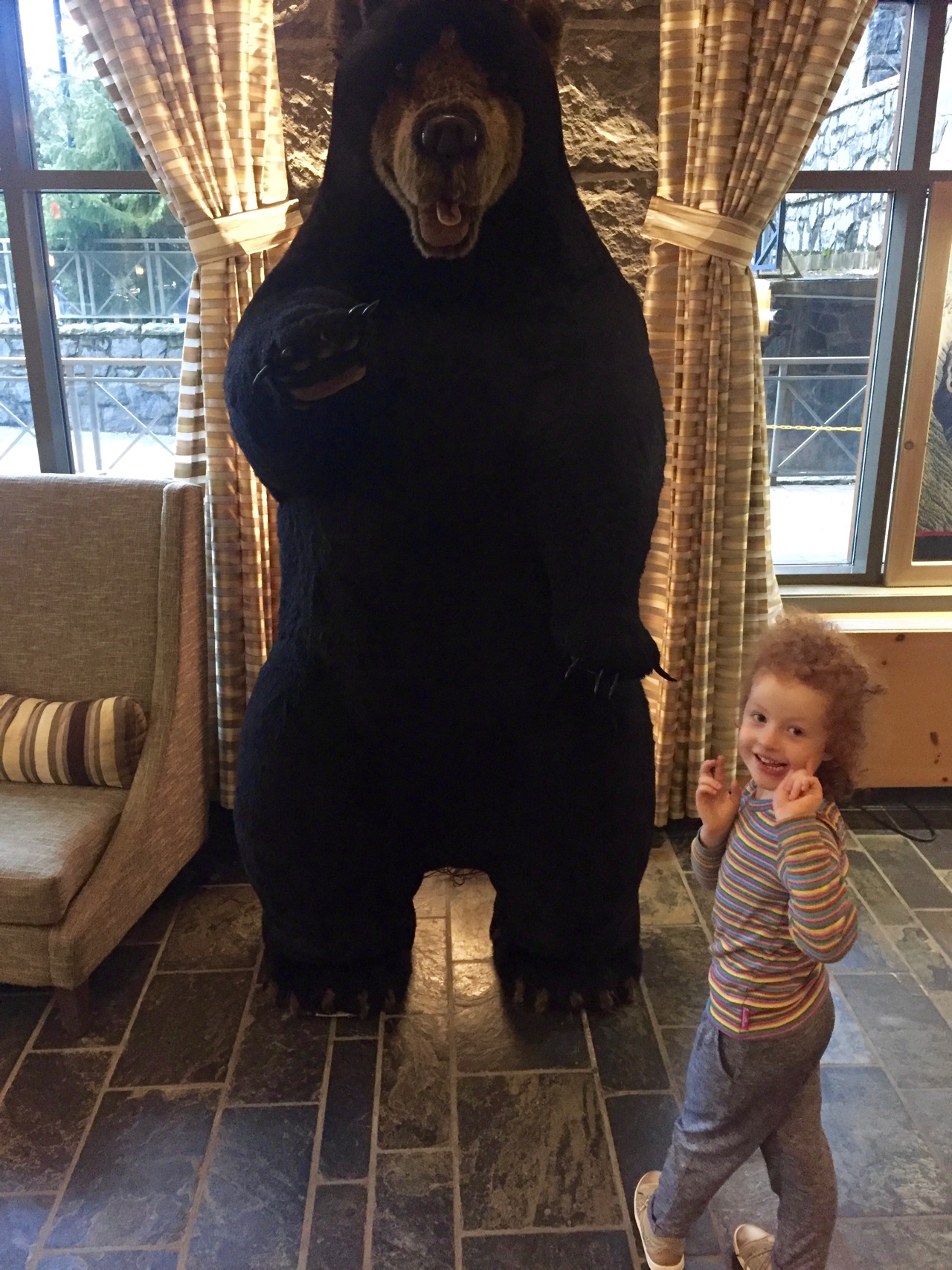 There's a pretty cool Grizzly through. And no, it's not real.
The conference and event halls just off from the lobby were set up on most days as a kids activity space, which was a neat idea. There was a ping pong table and computer games for older kids and some craft supplies for younger ones. We didn't notice this until near the end of our stay though as we had no need to come down to the lobby, as I mentioned before.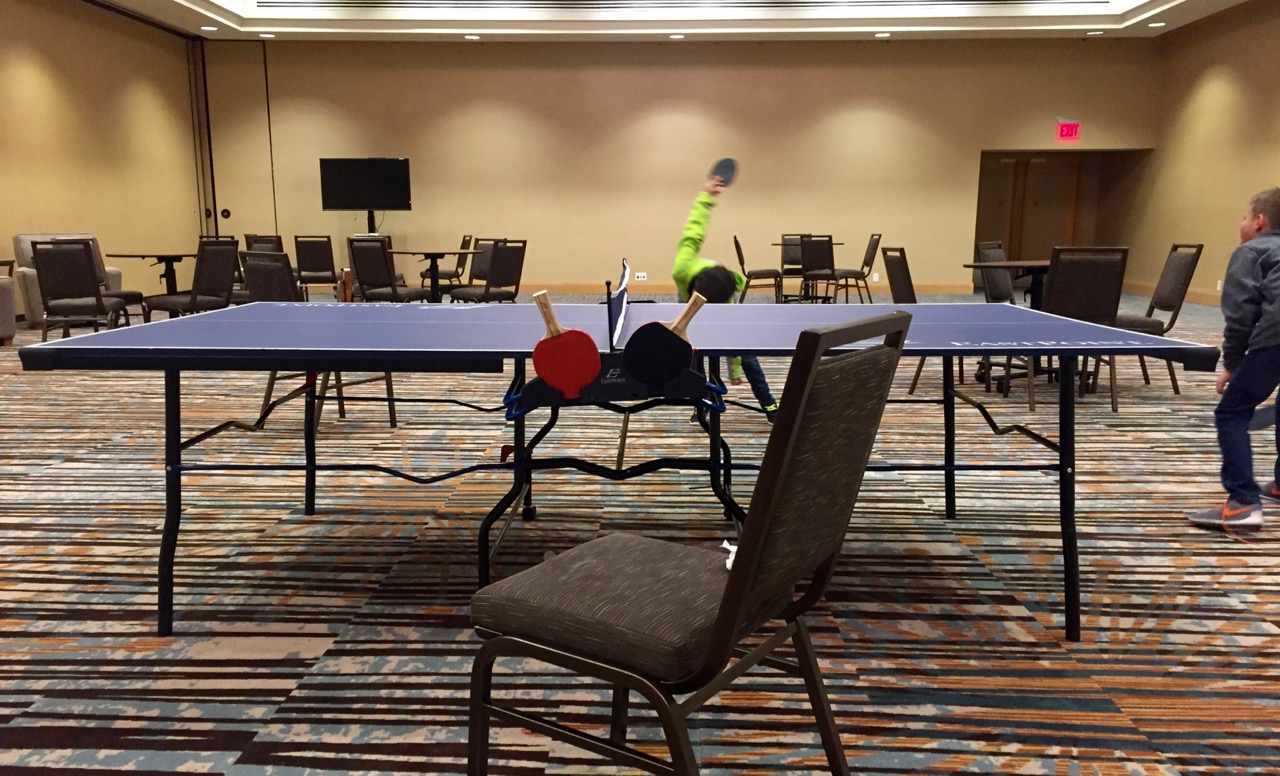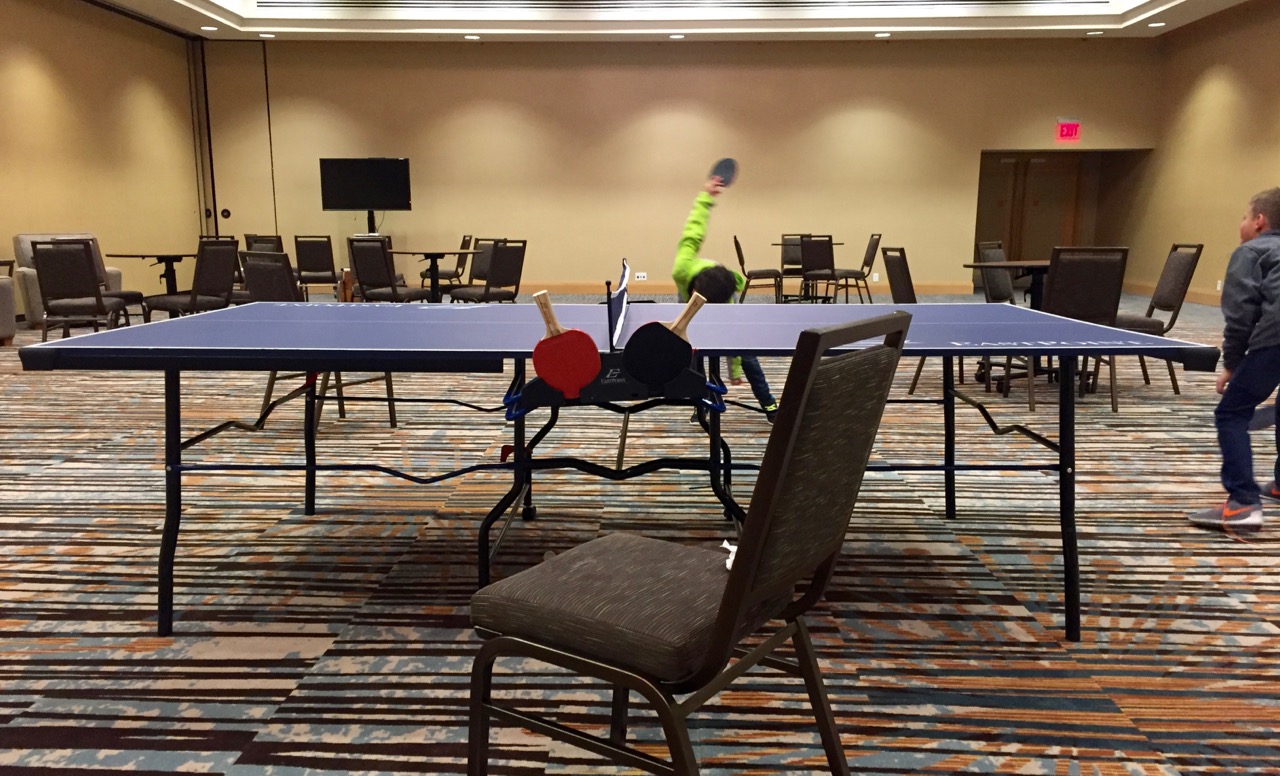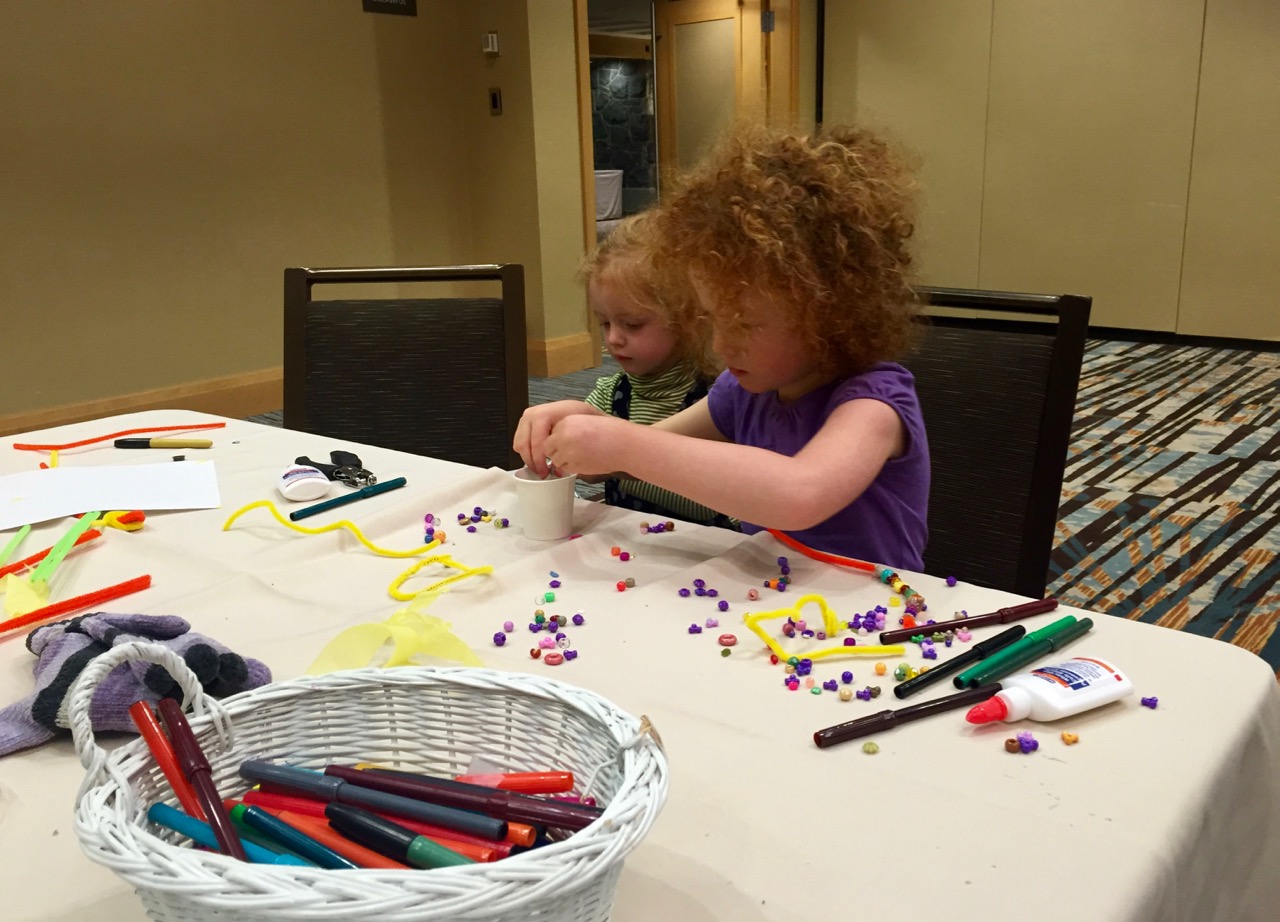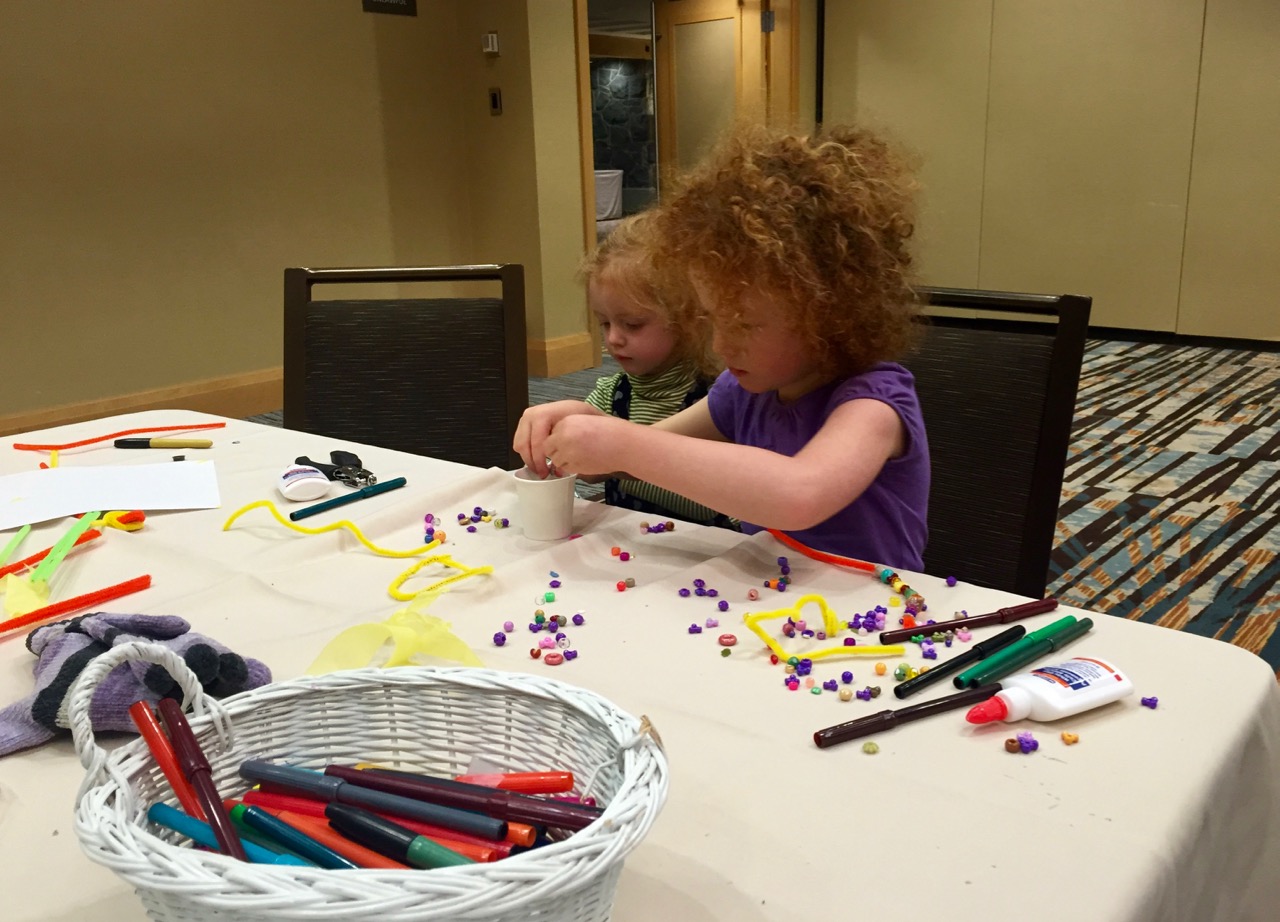 There's a long hall that runs the length of the hotel that bridges the hotel restaurant and bar at one end, to the exit out to the Village at the other (through the Can-Ski ski shop). Can-Ski is mountain-owned and can offer rental and sales of ski equipment and clothing, although you'll find a slightly wider selection by venturing further out into Whistler Village.
The hallway within the hotel houses a number of independent art stores and a Japanese restaurant which is not operated by the hotel (ka-ze).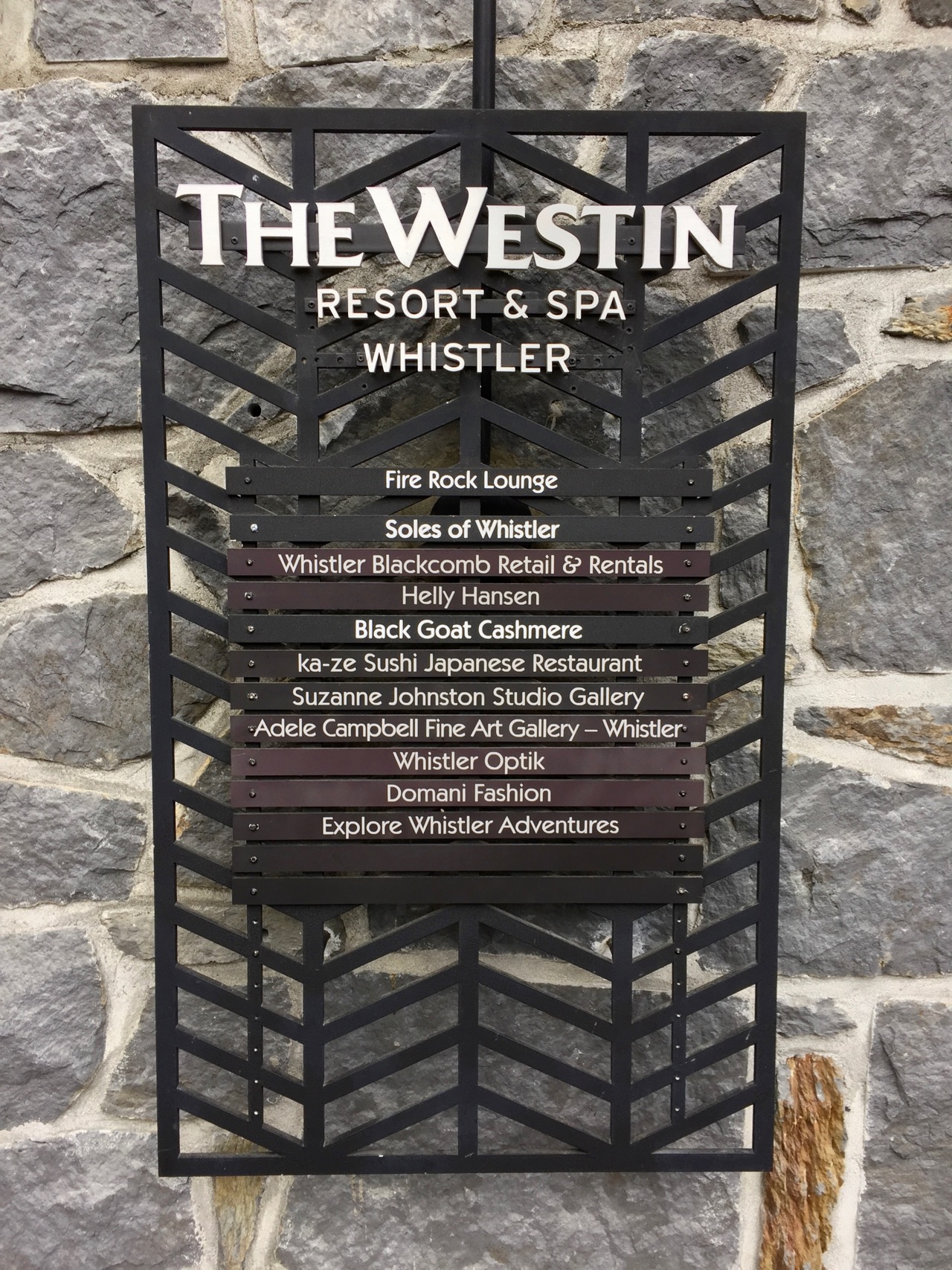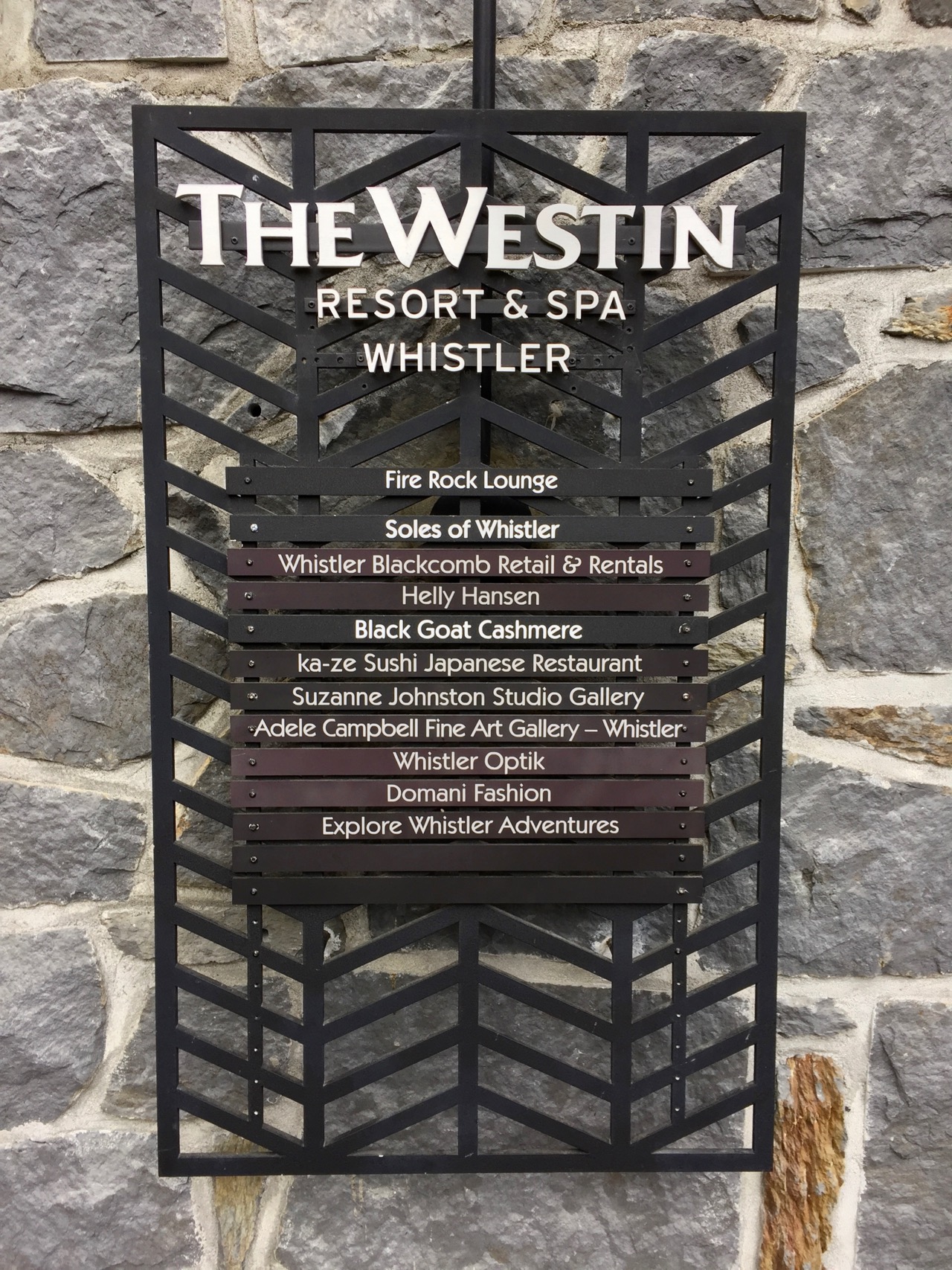 Ka-ze offered some mean Sushi and good value lunch specials, although our evening meal there was not spectacular. But it was a great alternative to the hotel bar or restaurant for variety.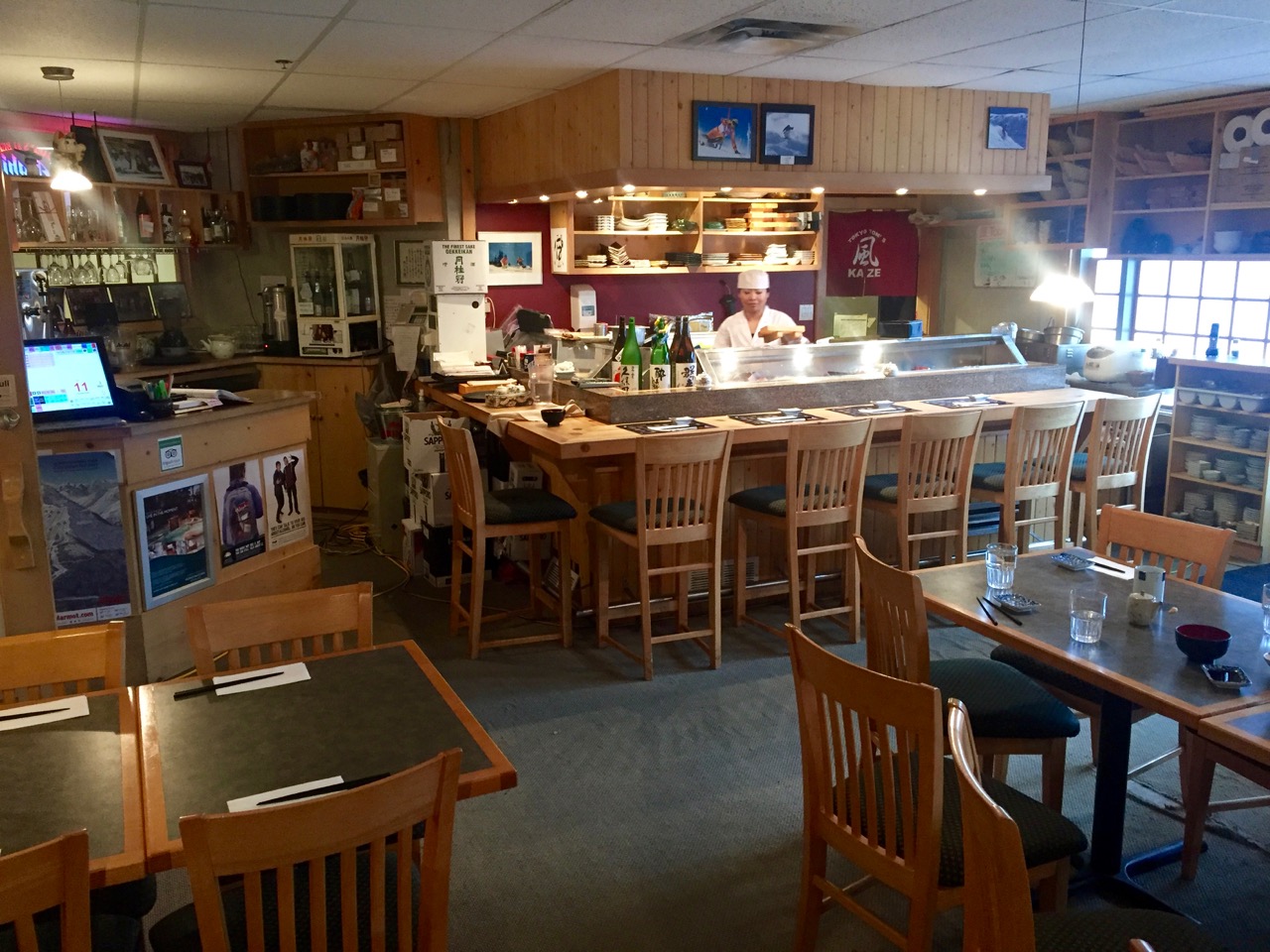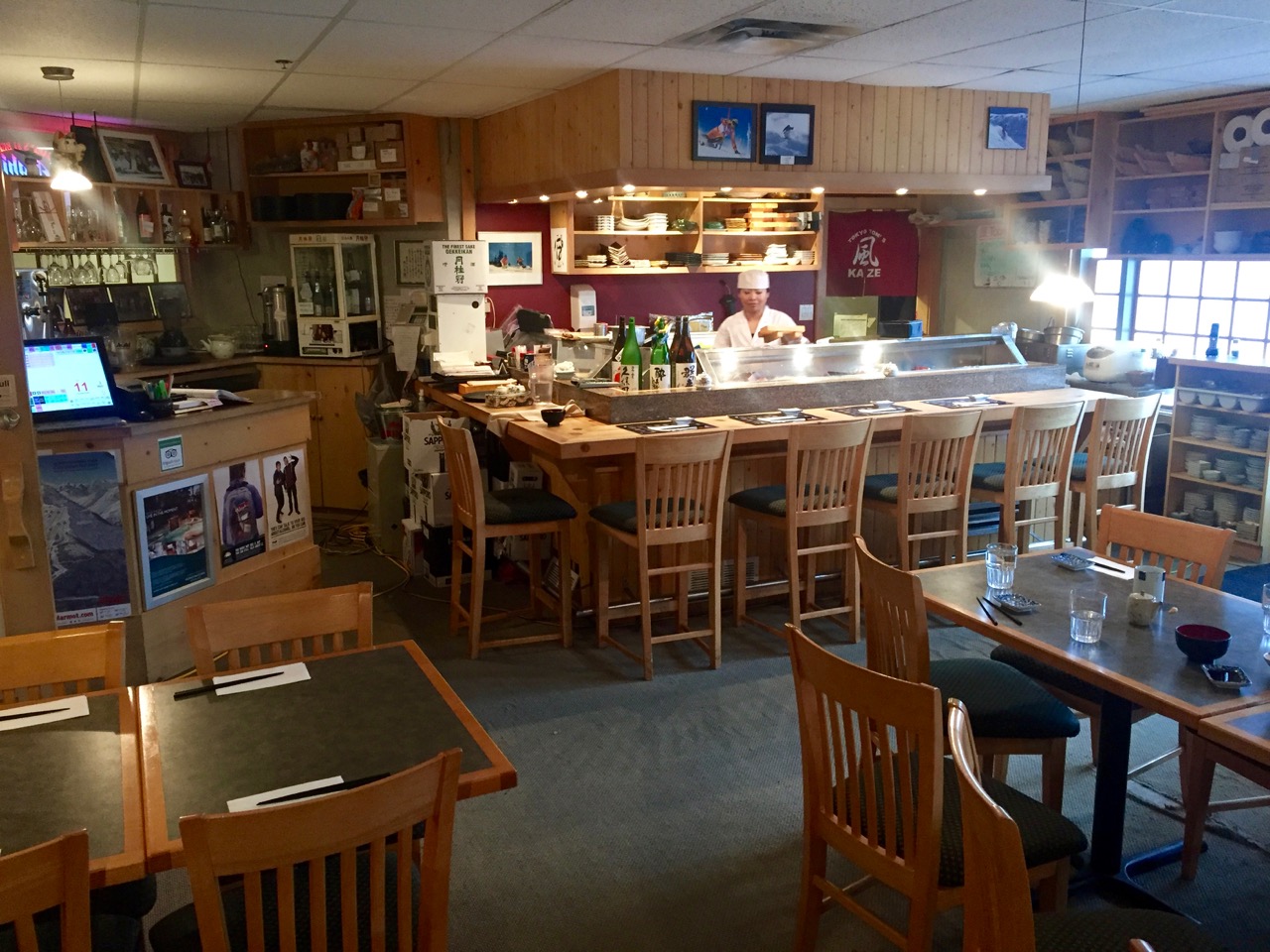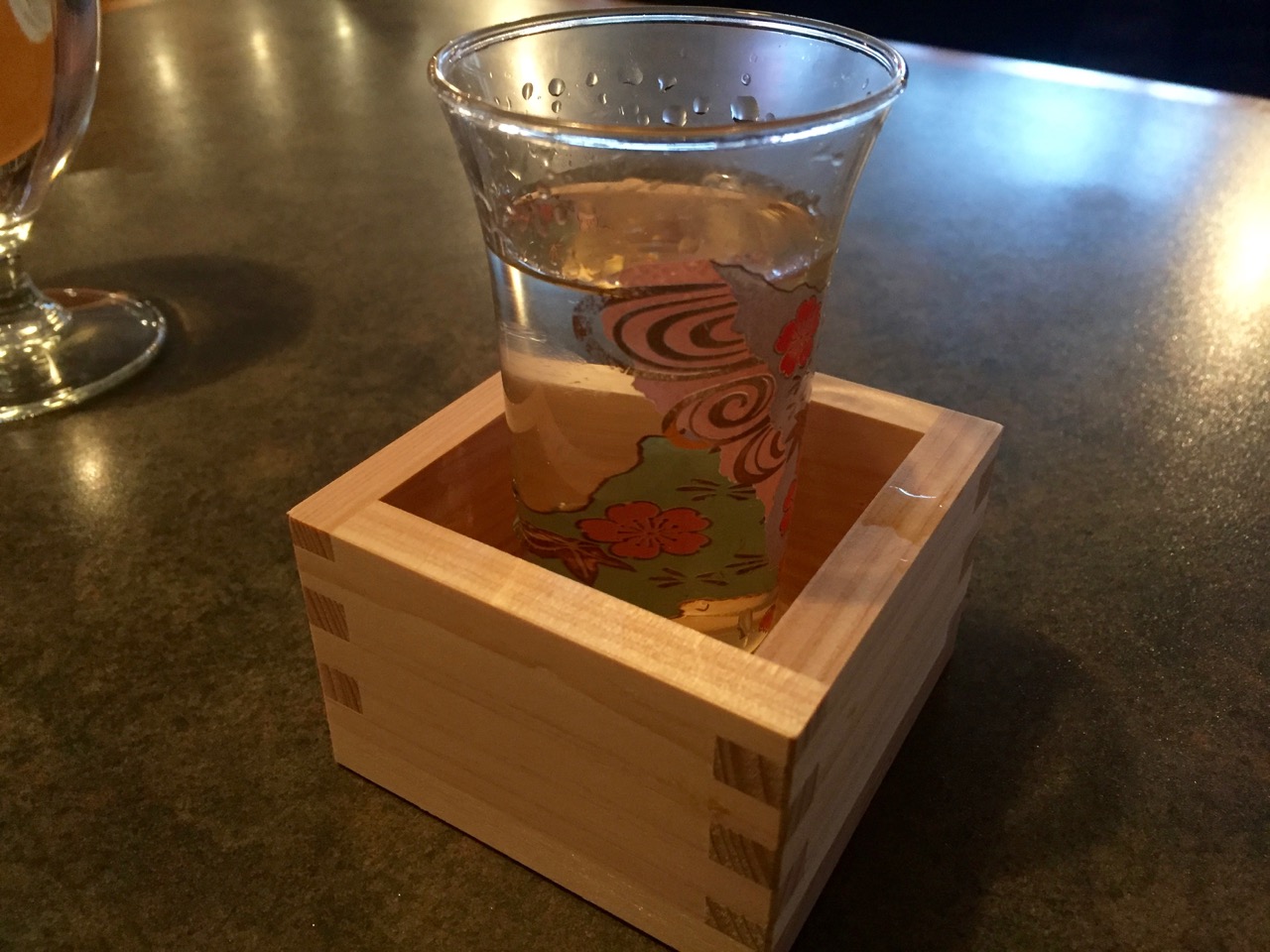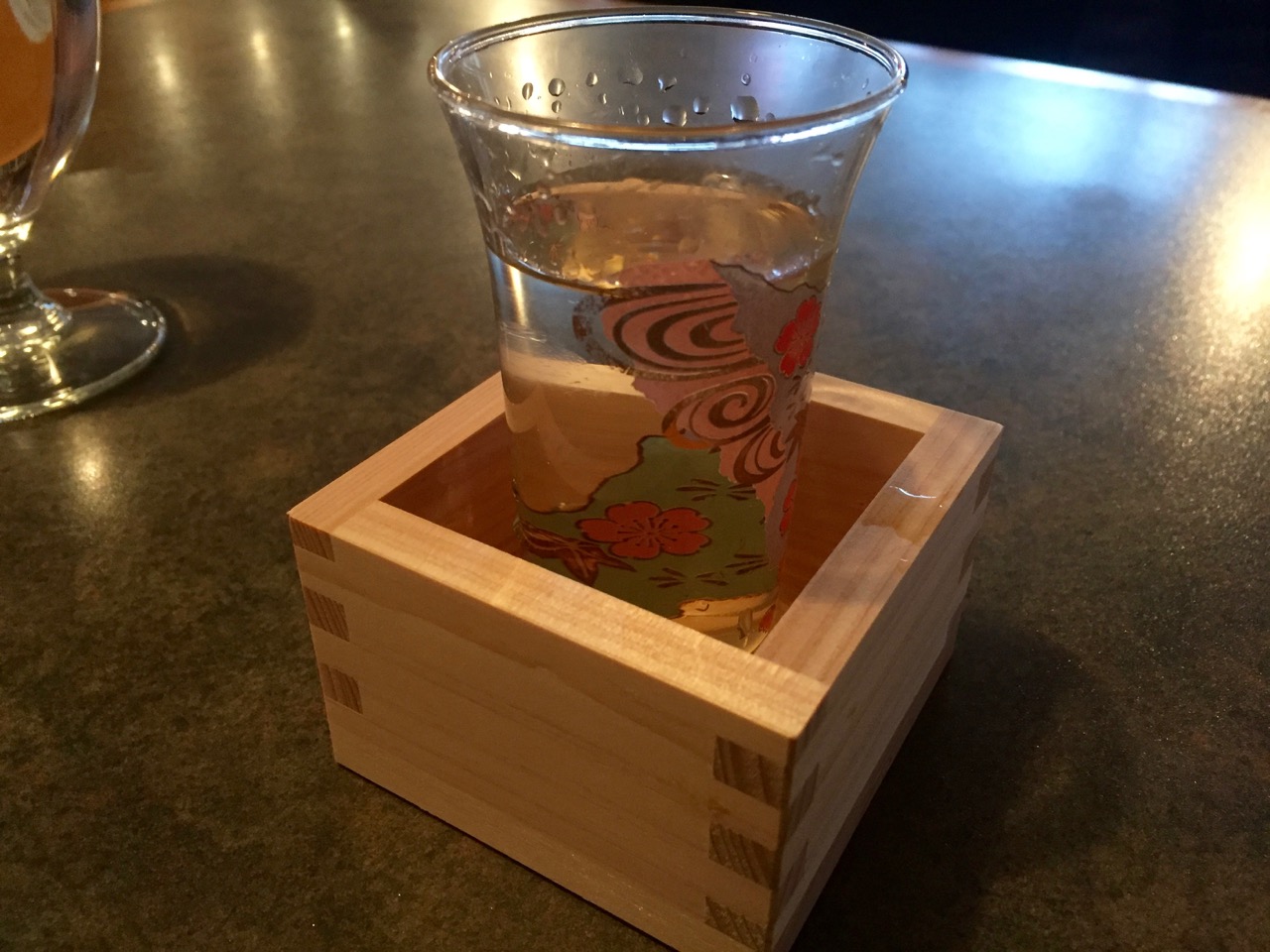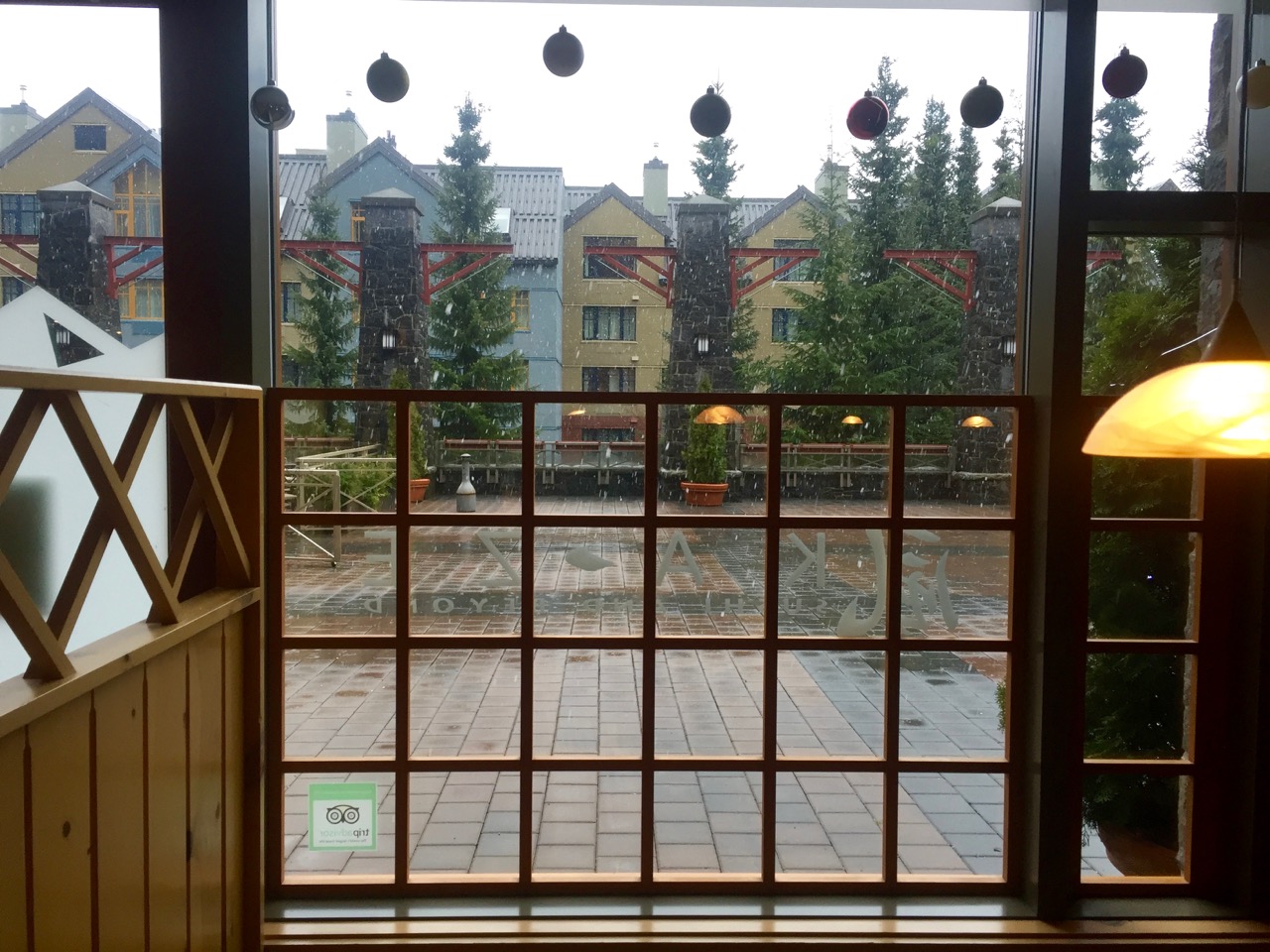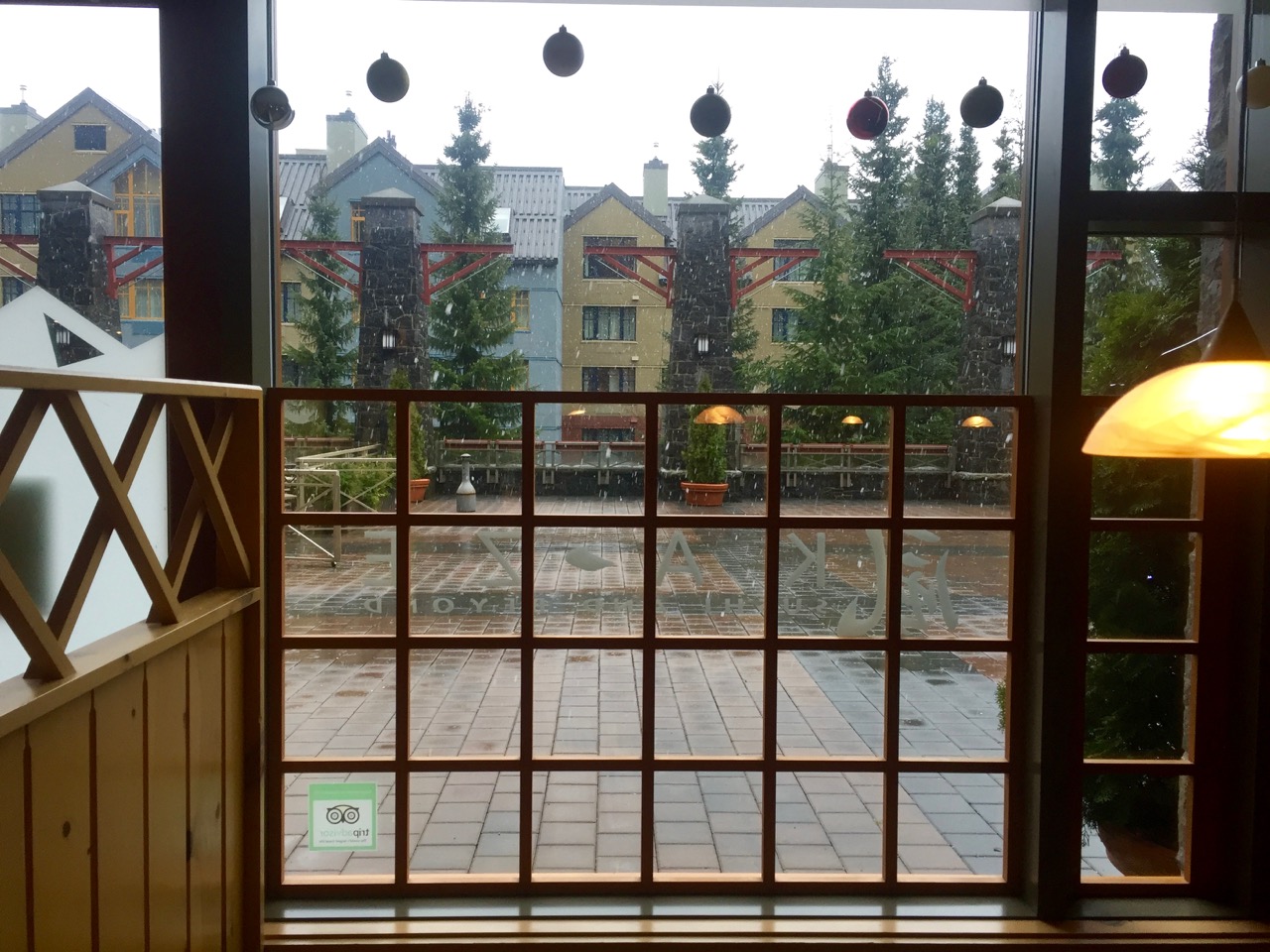 Not pictured, but this hall also houses the non-Westin run 'Whistler Kids' daycare. Our two year had several visits here and ended up really enjoying the place, mainly thanks to the staff who were really friendly and always took the kids outside for a ride in their wagons, a play in the snow, (or lie in a puddle, in our case).
The Westin' Whistler's main restaurant is Grill & Vine. This is also where they run a large buffet breakfast each morning.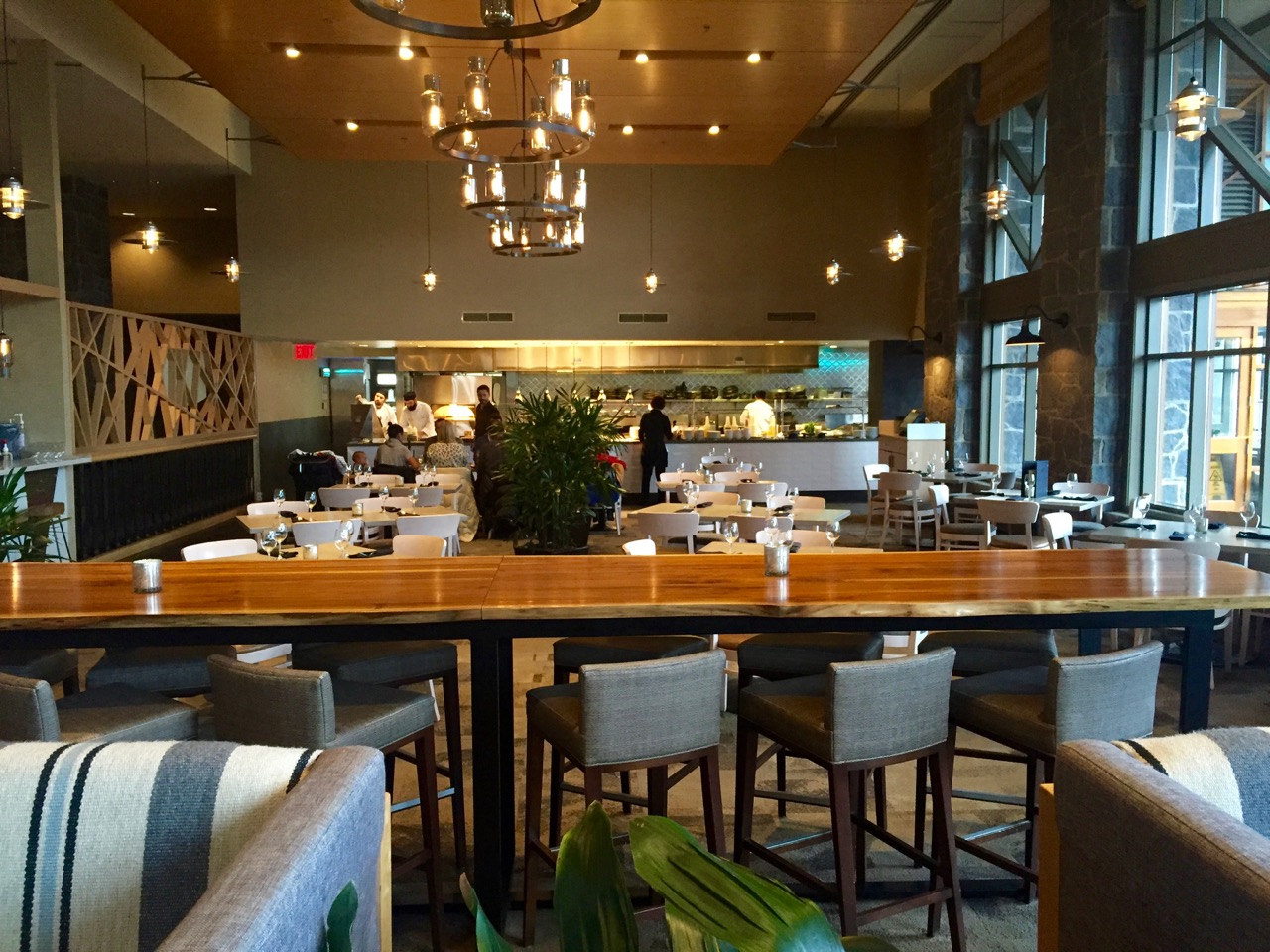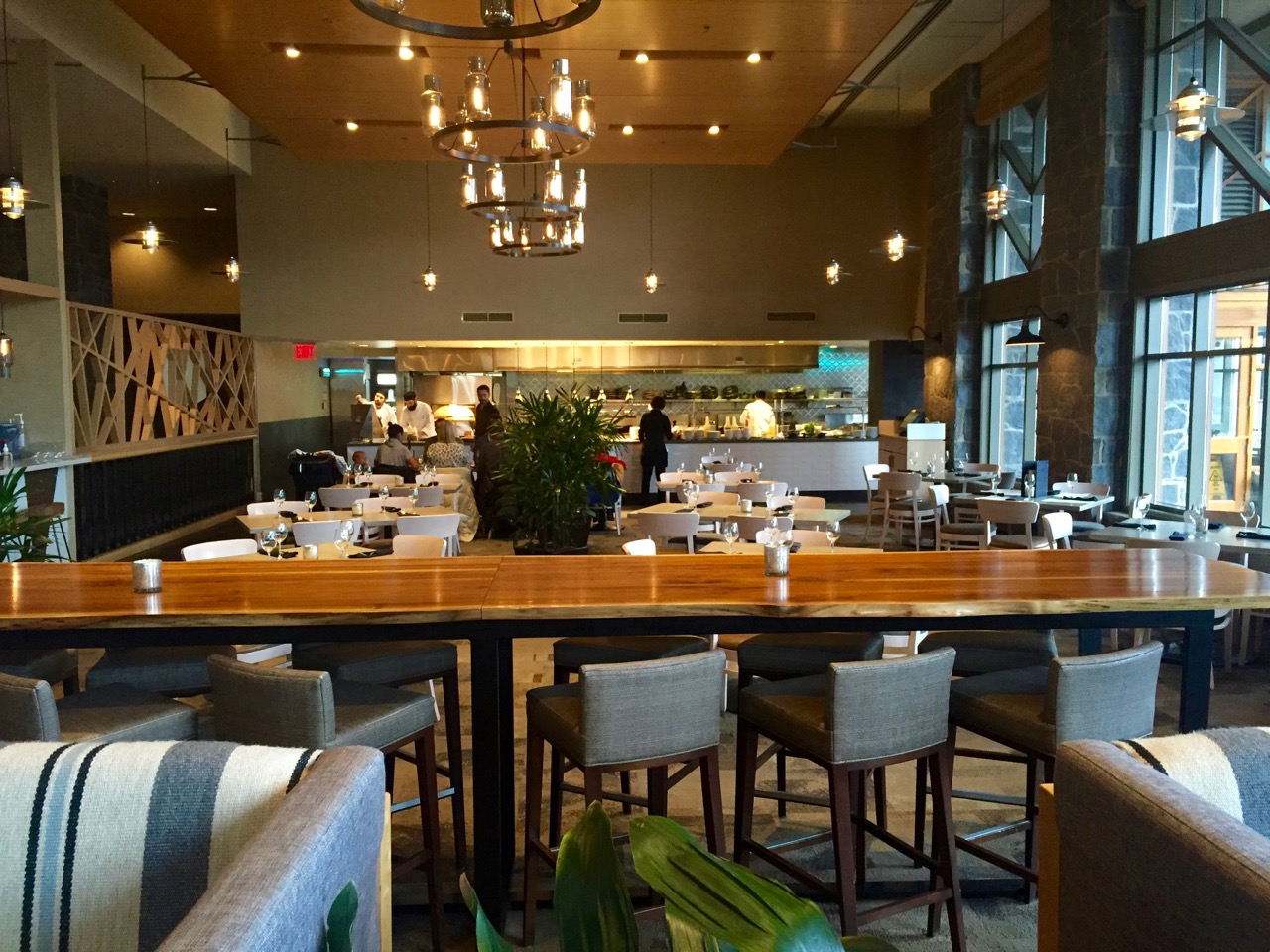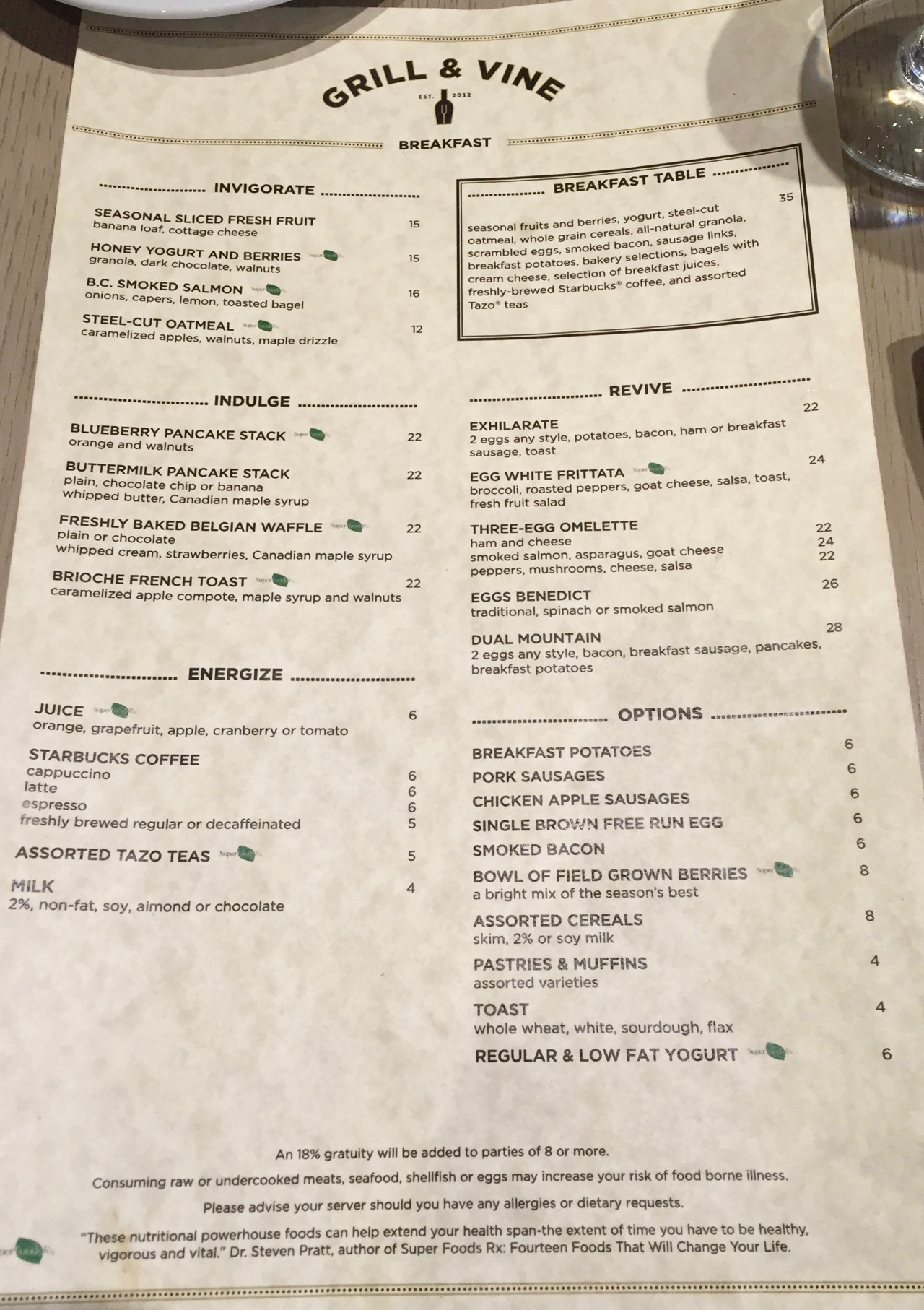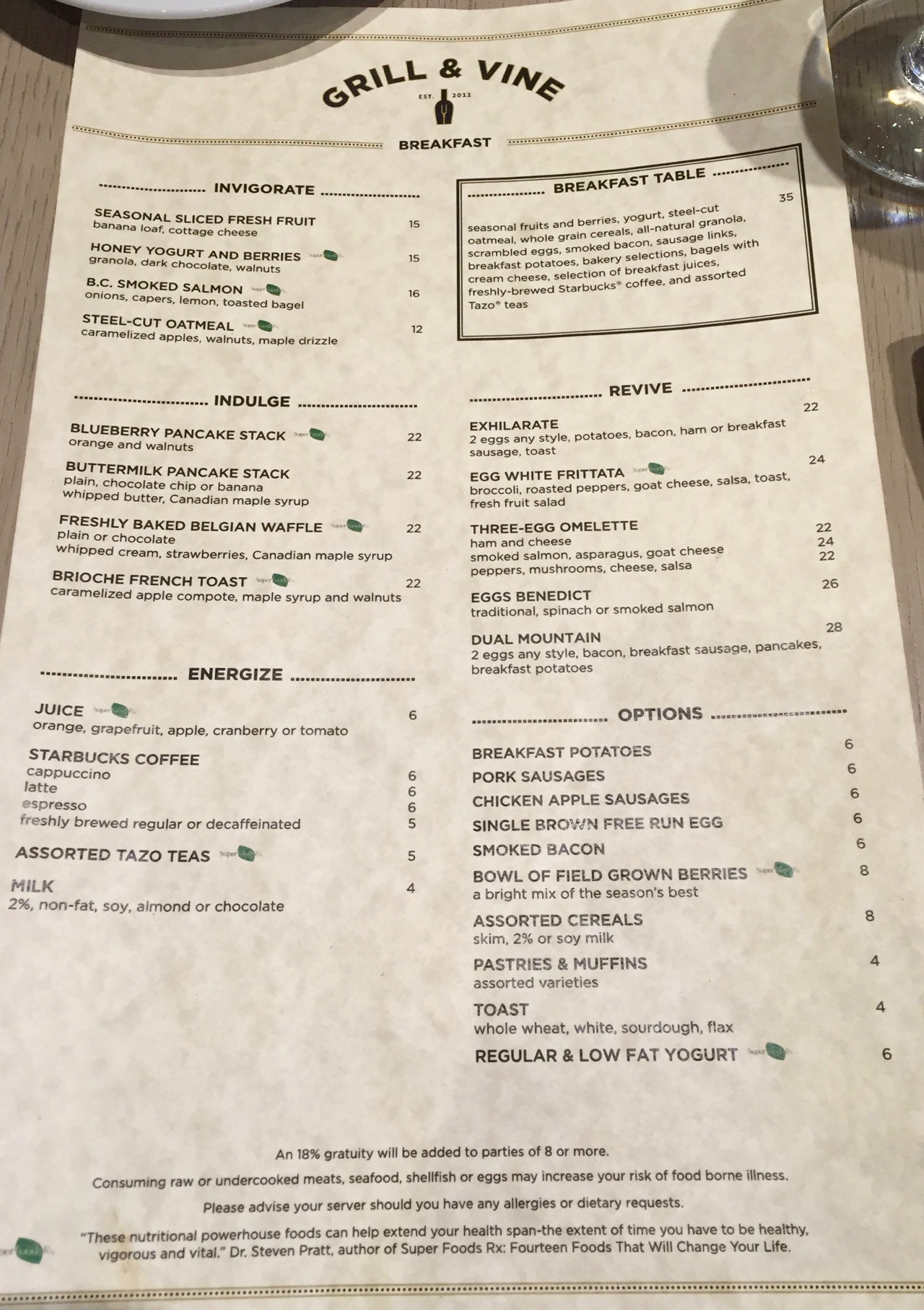 One of the best things about the place is the free food on offer for kids as part of Starwood's efforts to be more family friendly. There were a small number of good quality kids meals and sides could be ordered free of charge alongside an adult meal.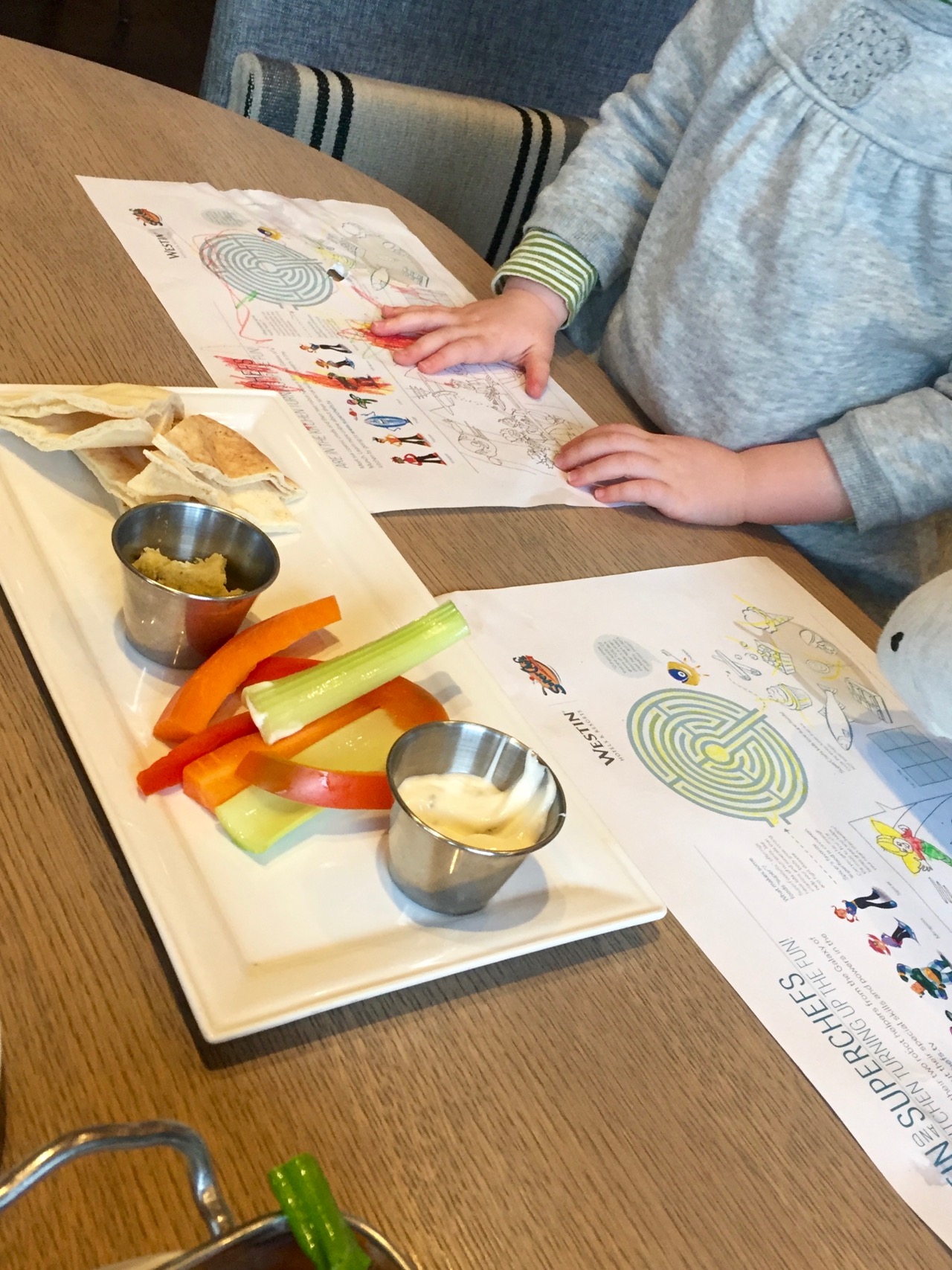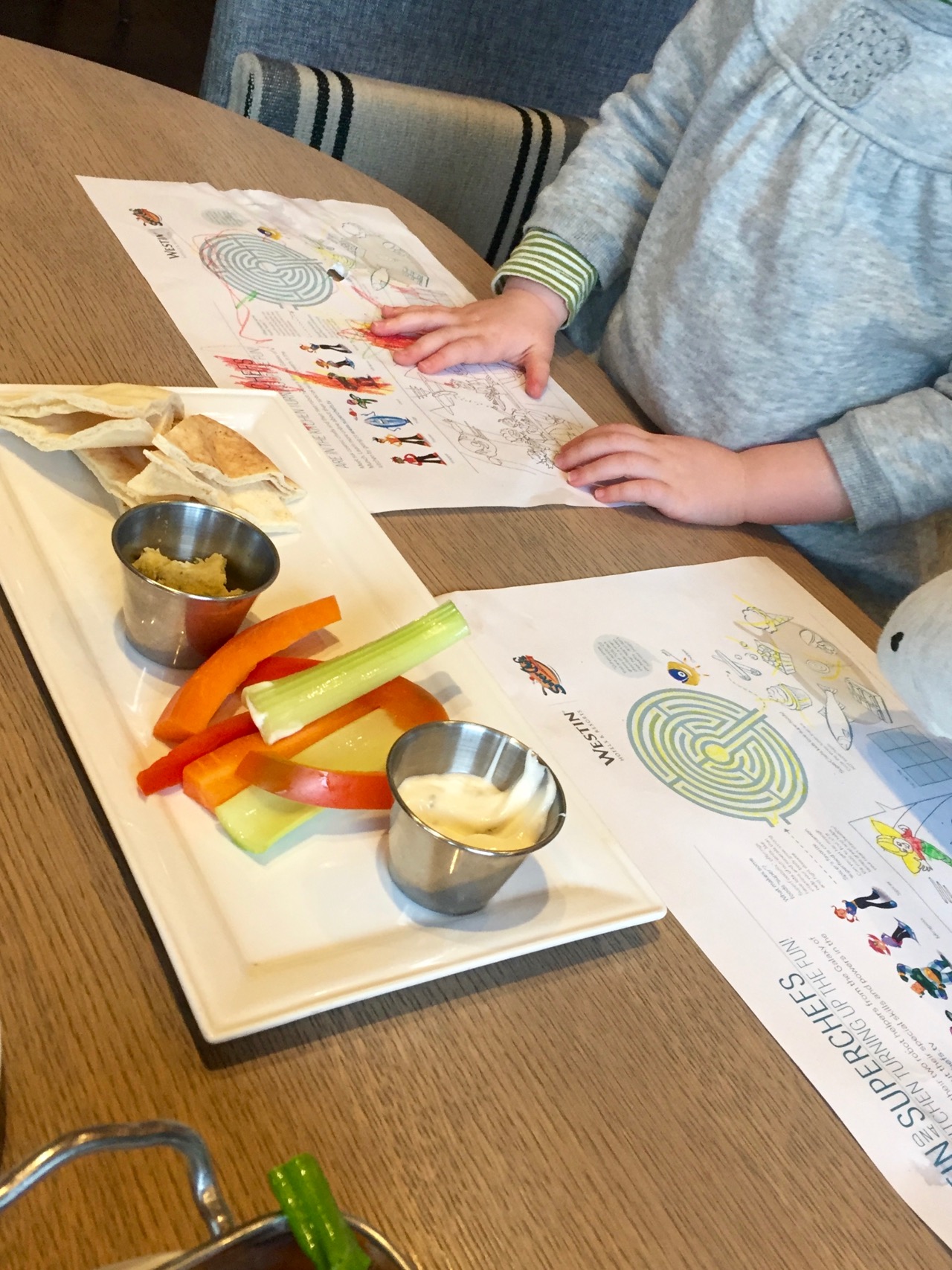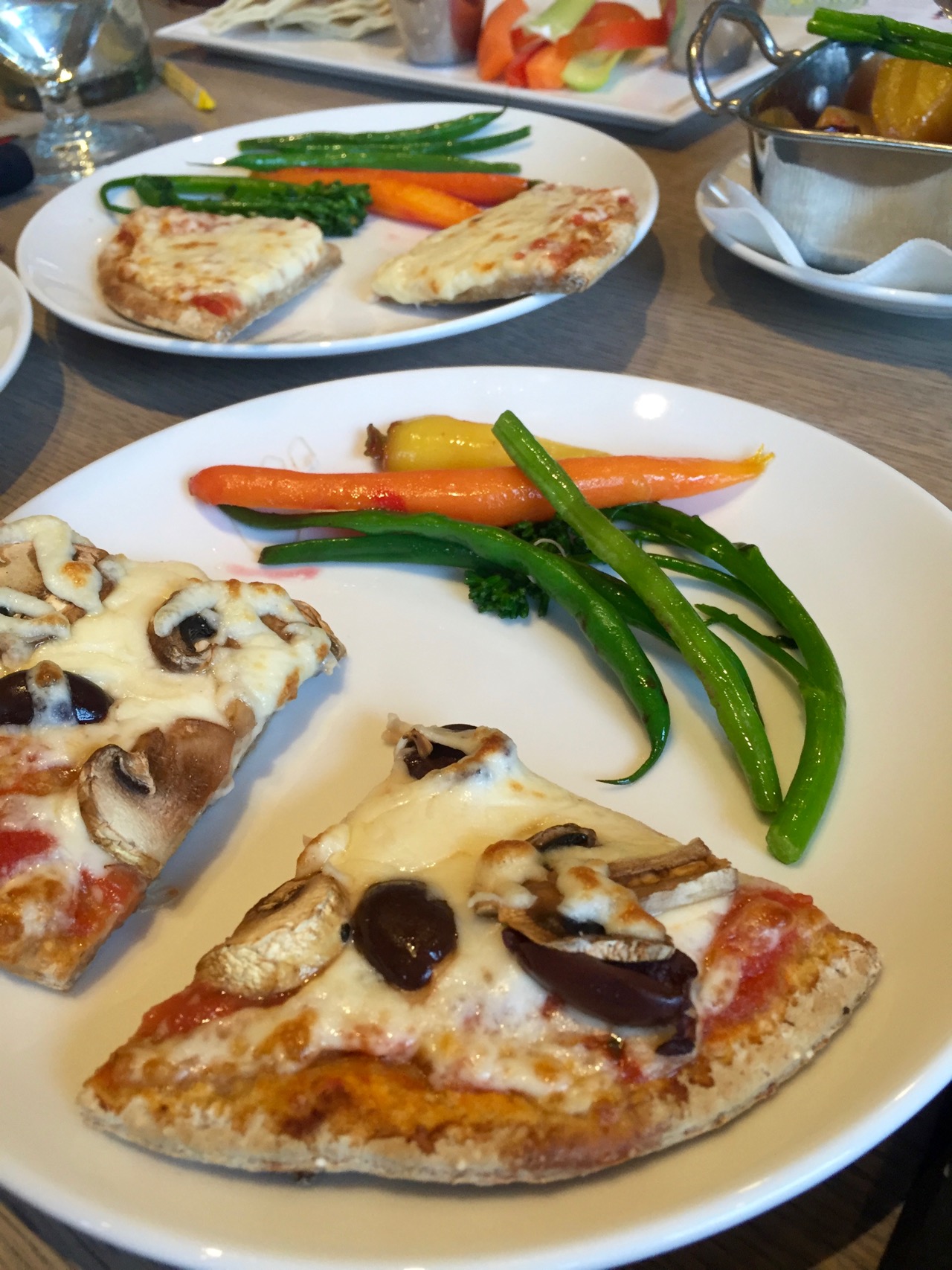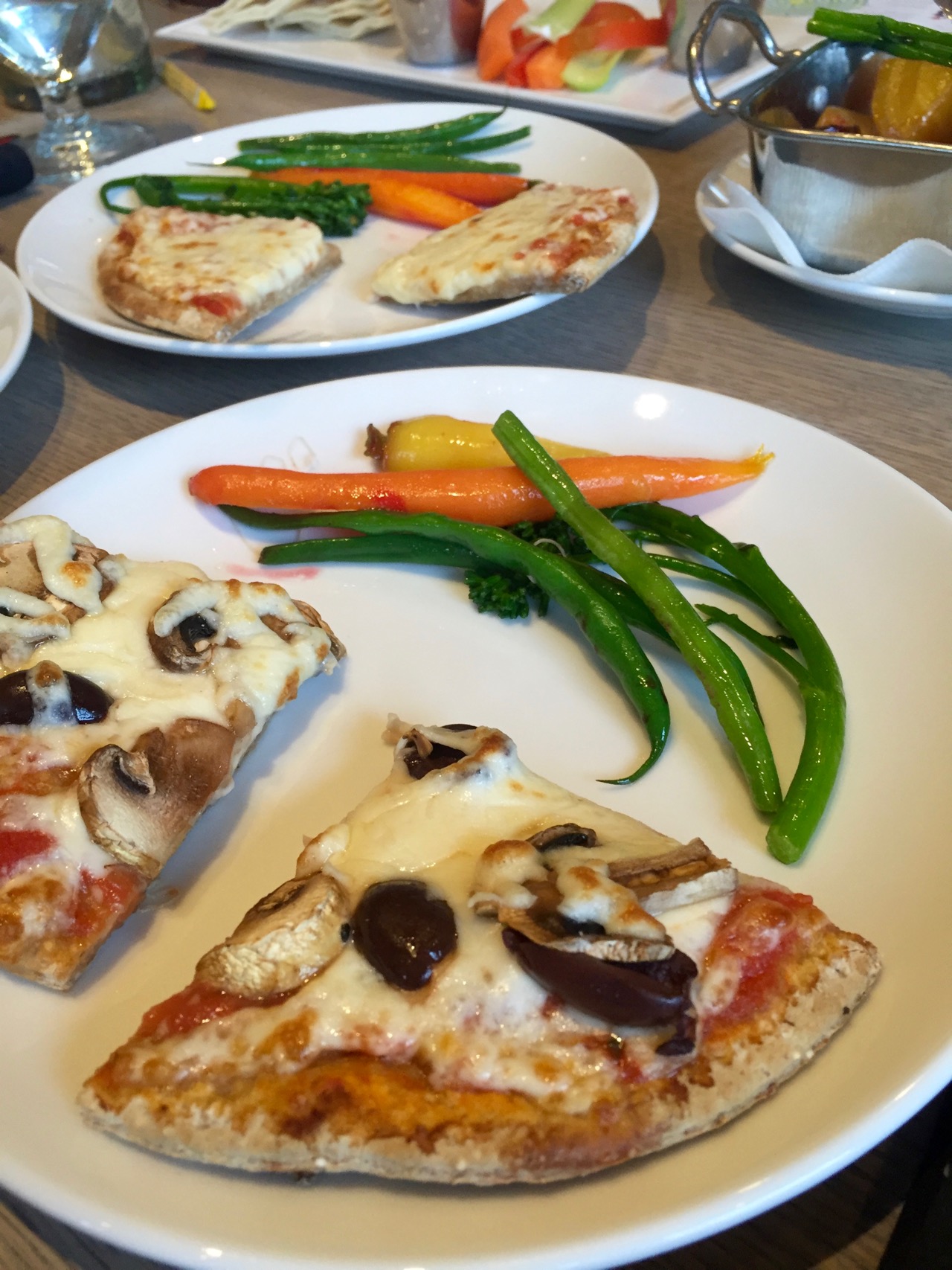 We took advantage of this a few times, although of course it was more economical as a whole to cater in our room given we had the facilities and time to be able to do so. The food coming out of the kitchen, and the service, were both great quality.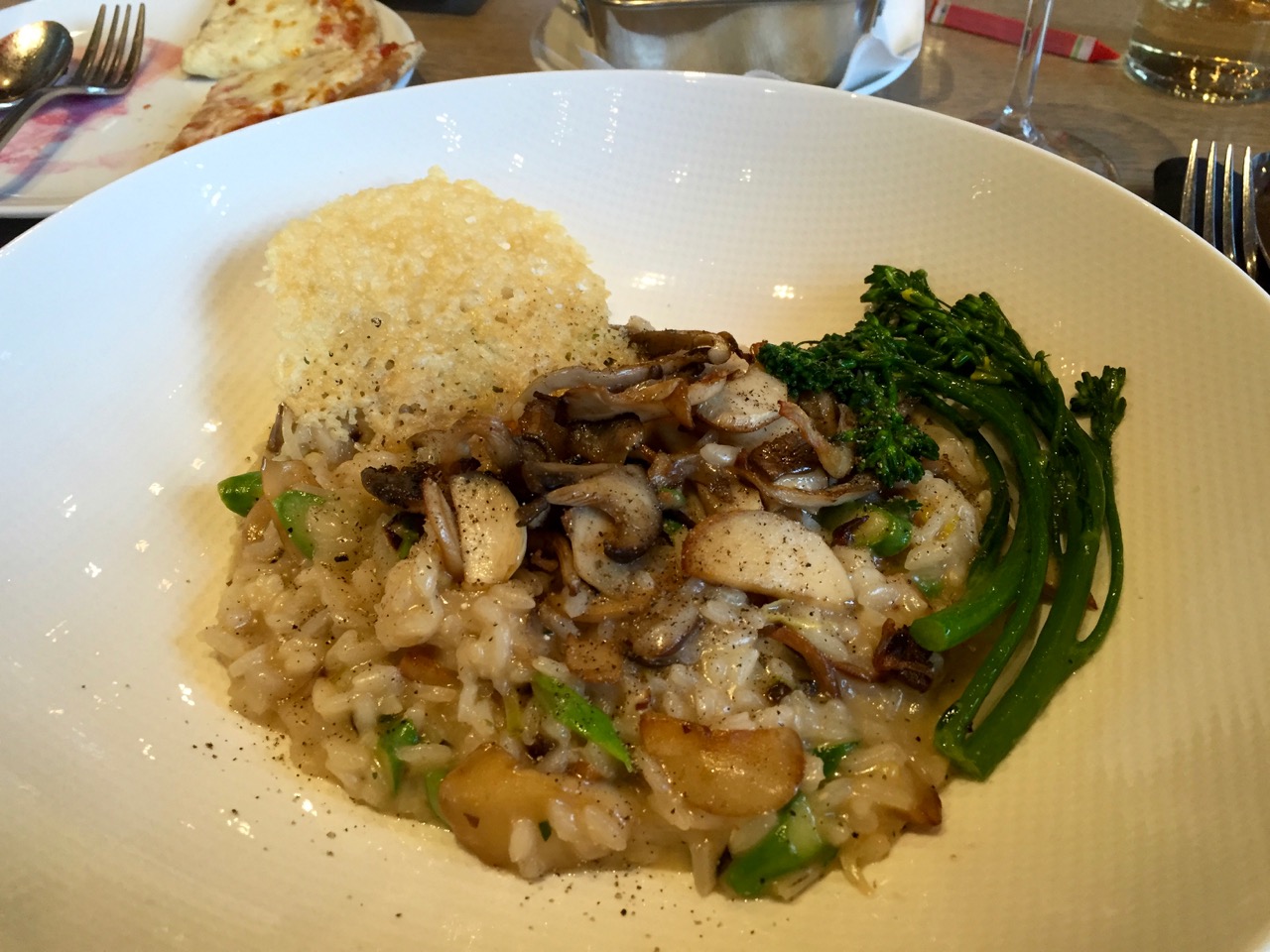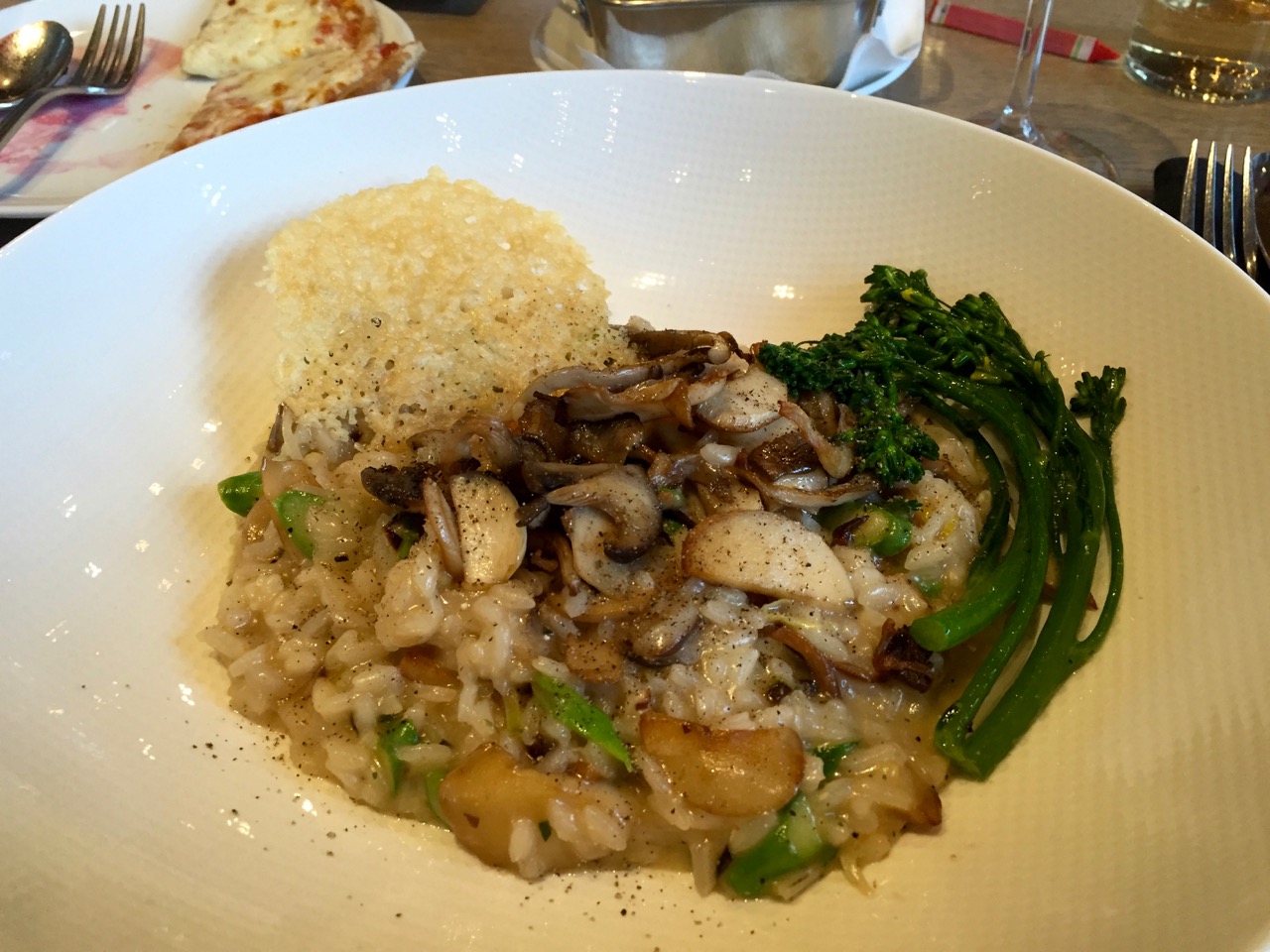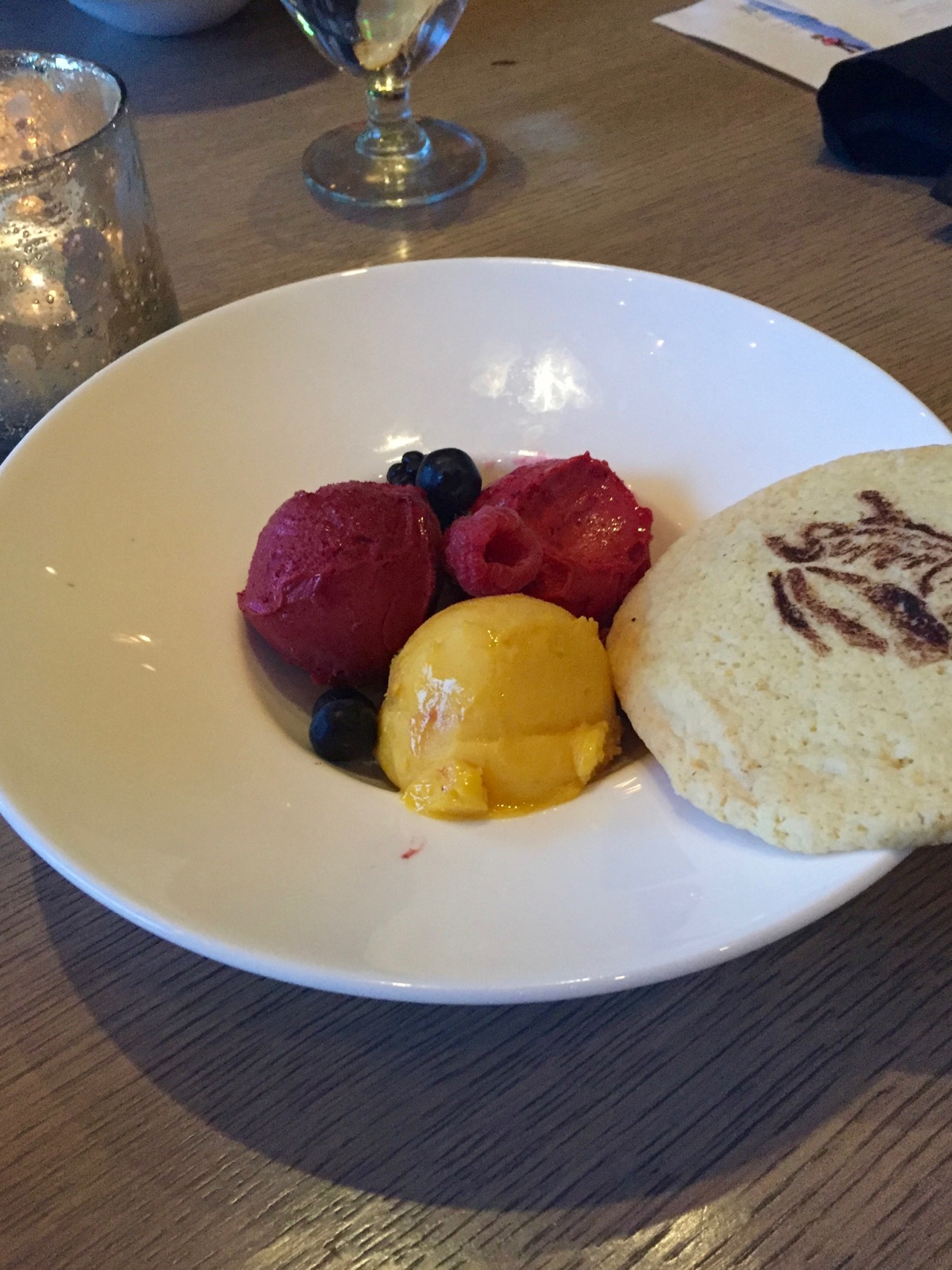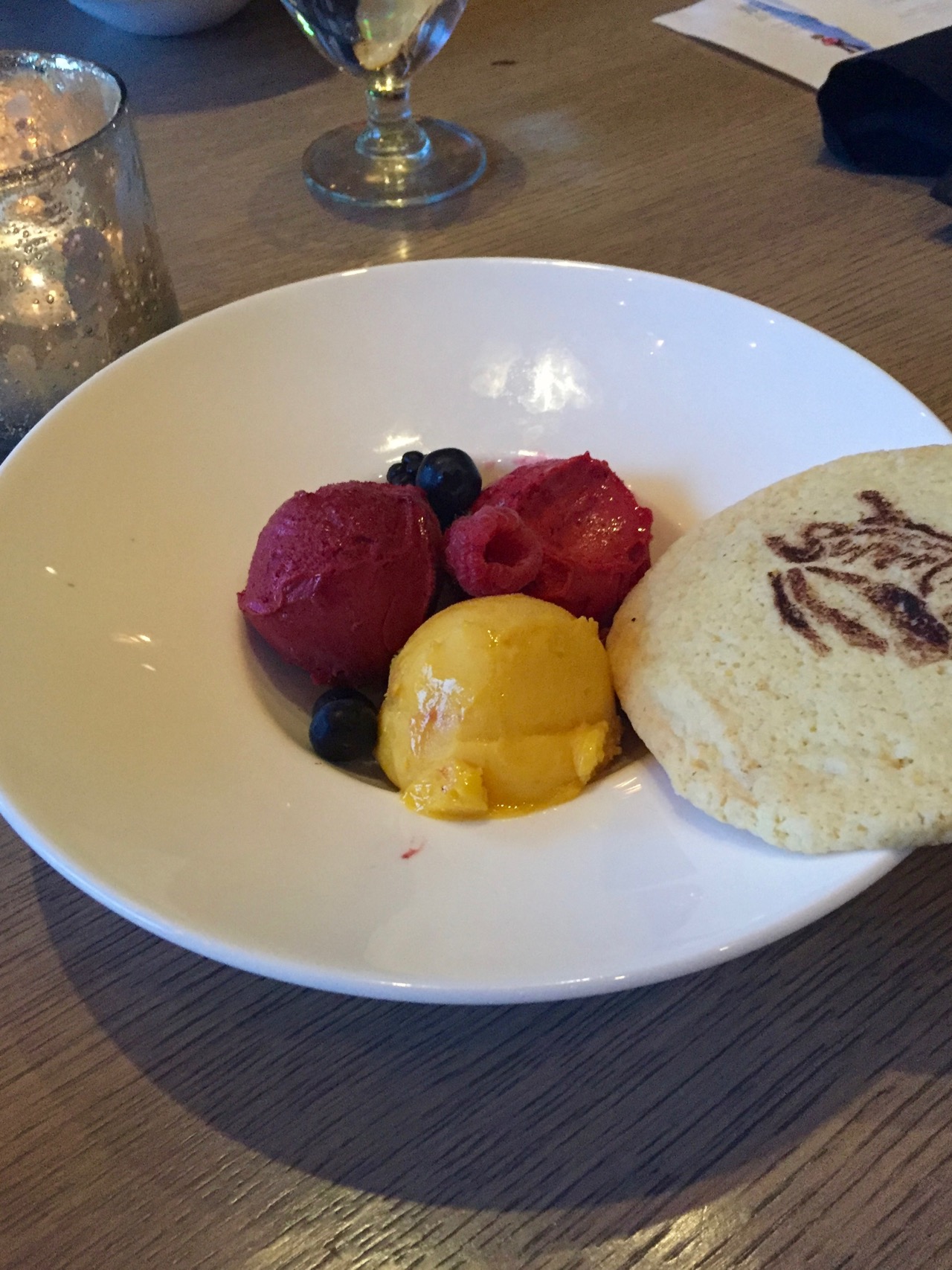 The breakfast buffet in the Grill & Vine was pretty good, but wasn't included as part of our room rate. I would have put on several kilos if we had eaten it regularly anyway, so that was probably for the best, but we did sample it on a couple of down days when we had some time in the morning to enjoy it.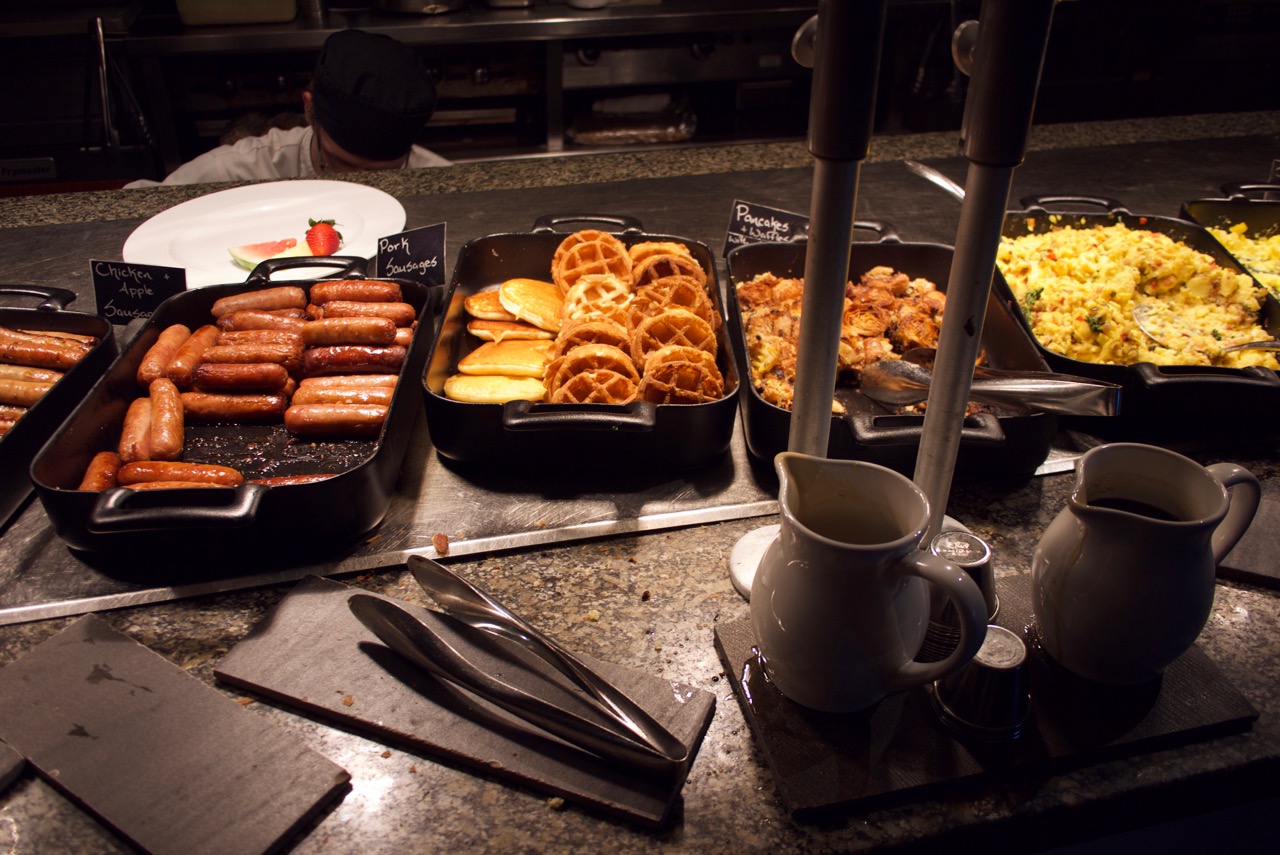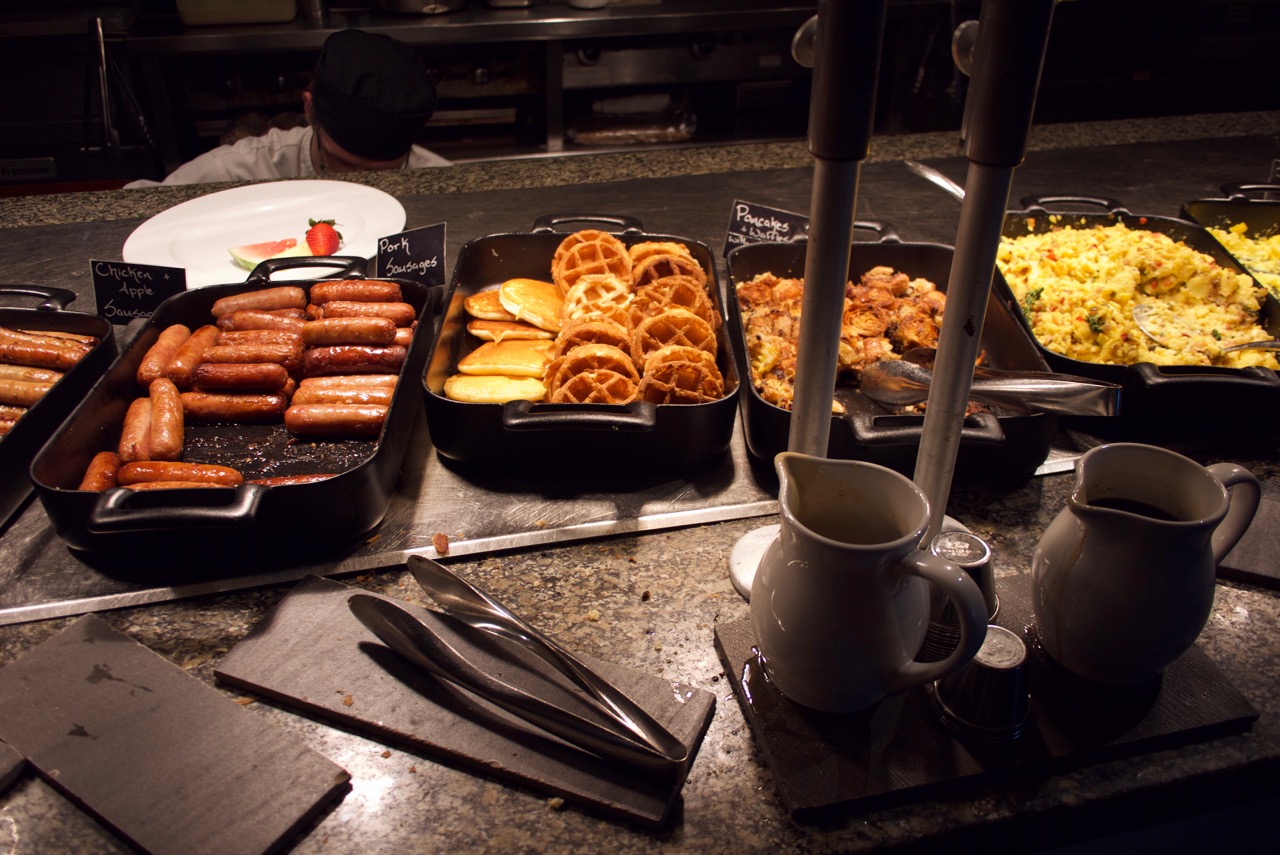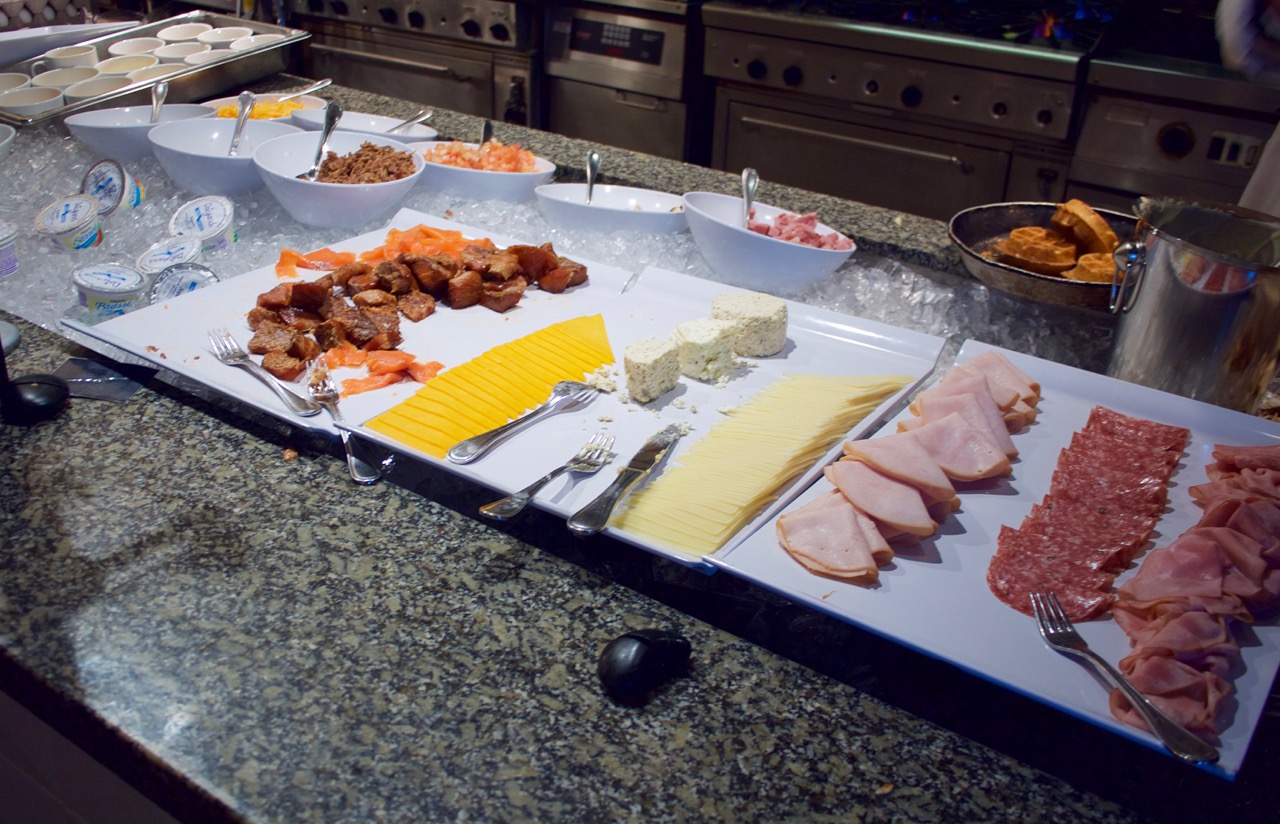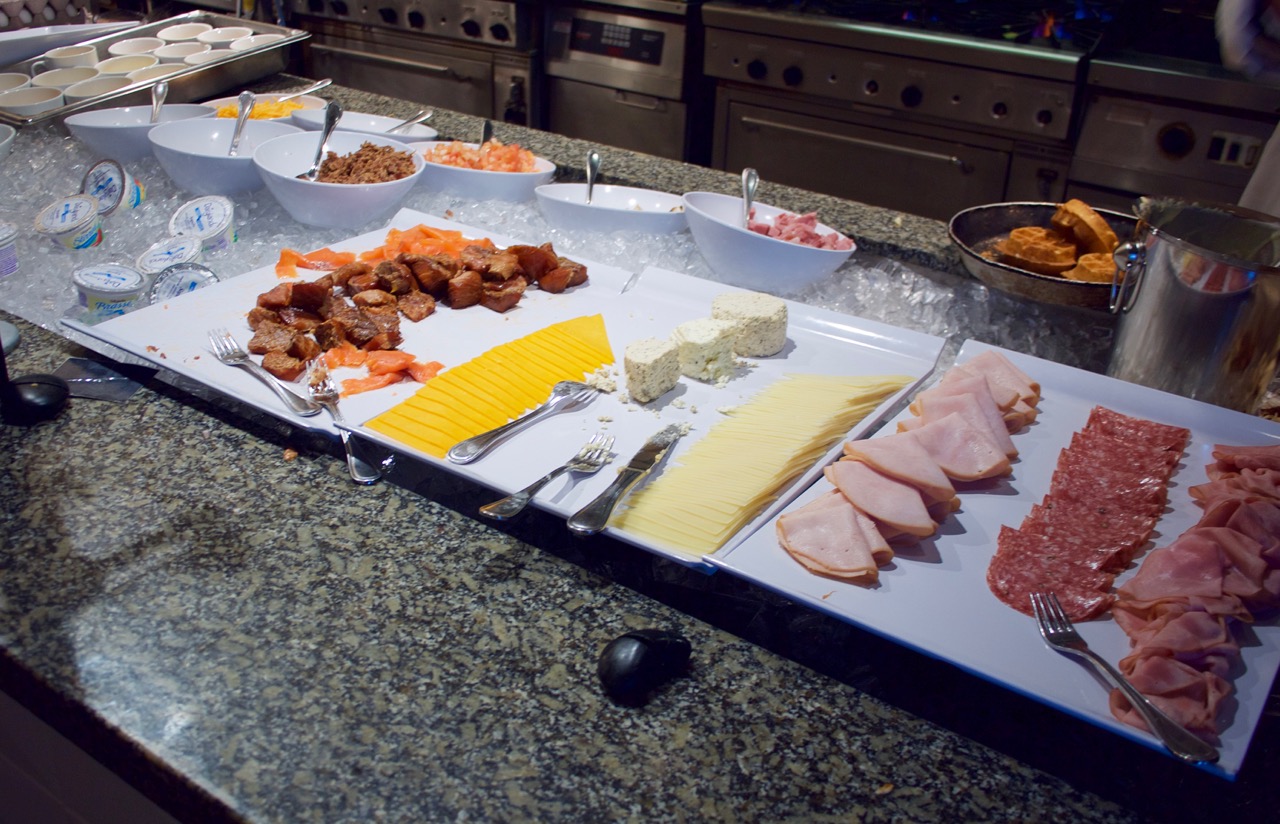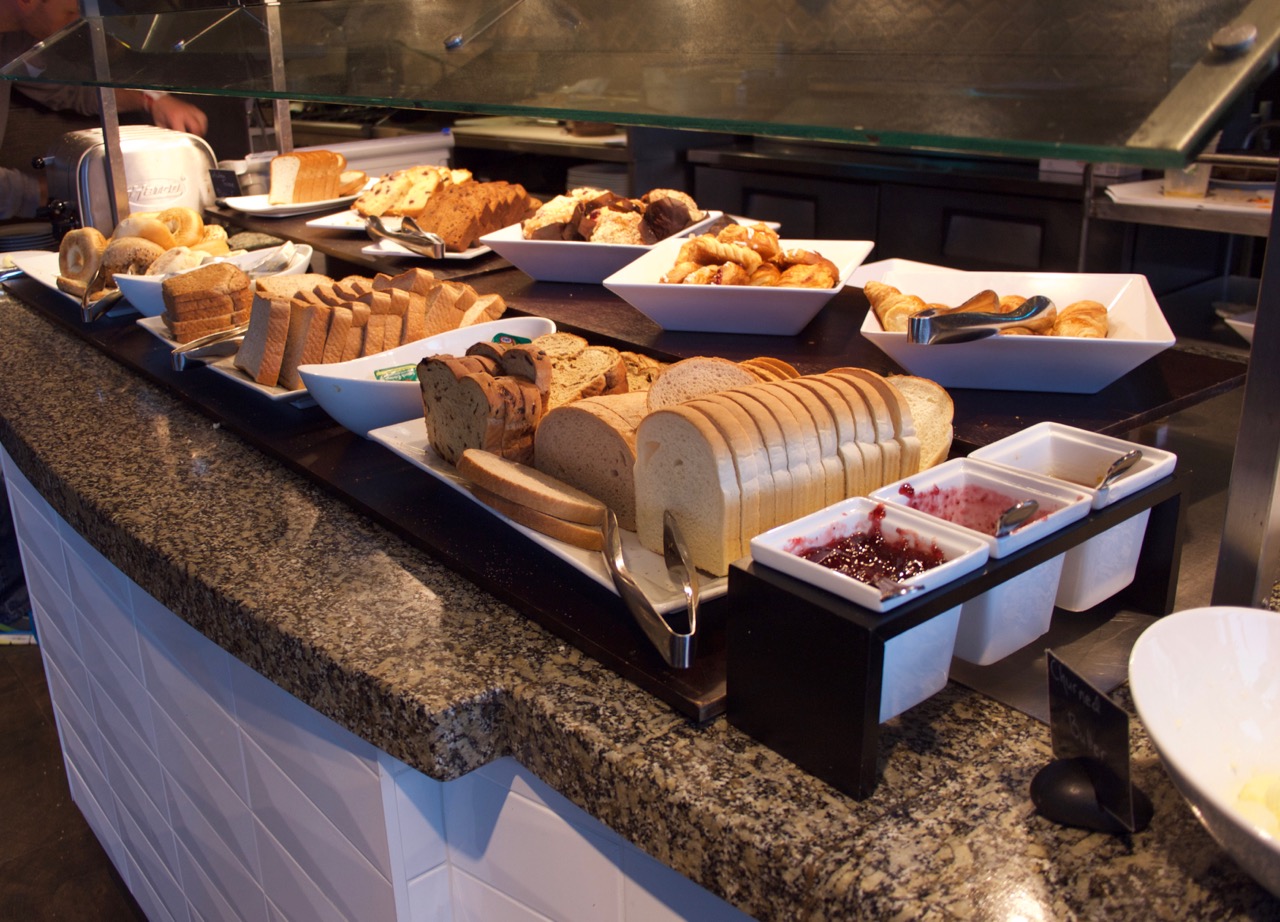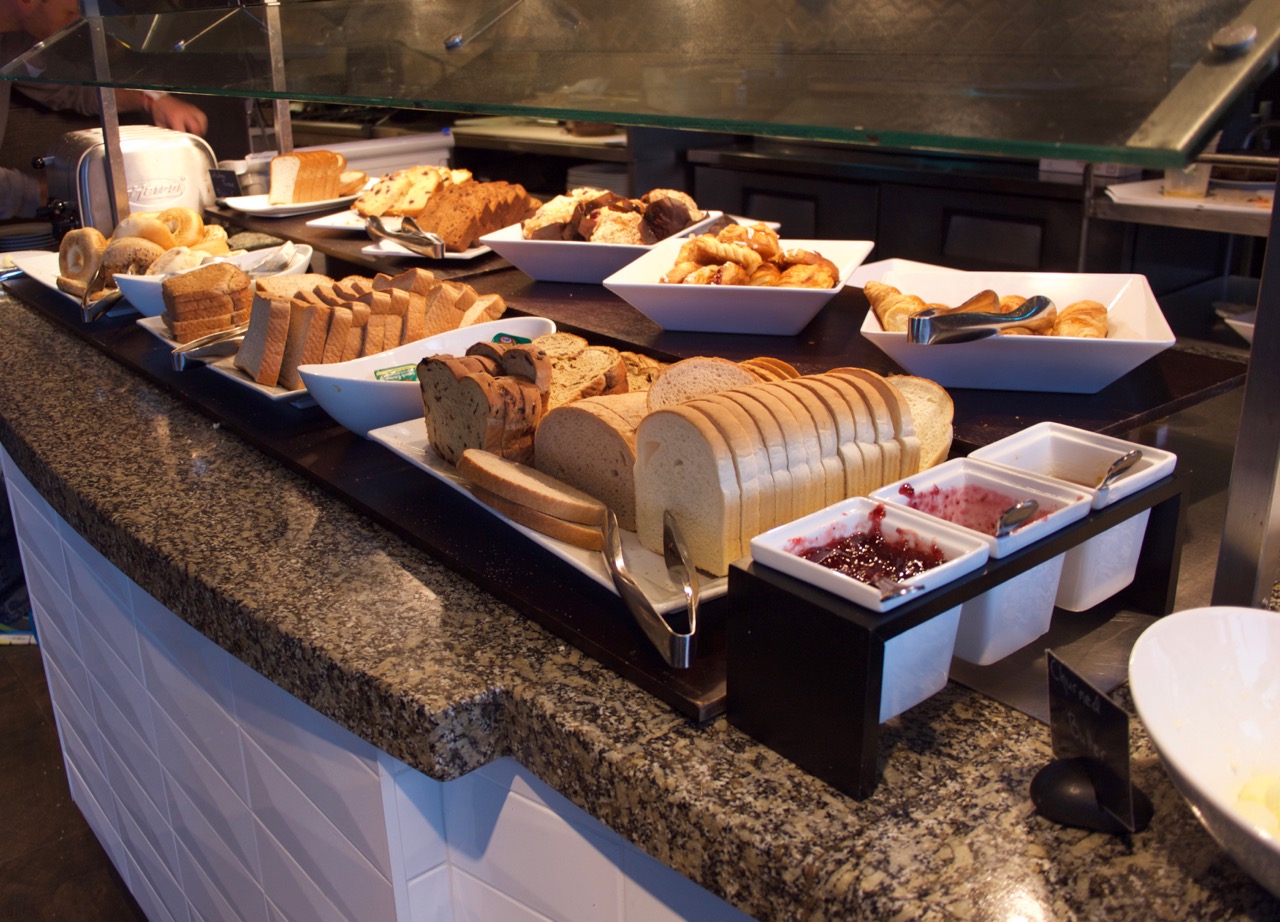 At the entrance to Grill & Vine is a small coffee and snacks kiosk, which was handy for sandwiches, cookies, that kind of thing.
And directly opposite that is the hotel bar – Firerock Lounge – was open from late morning and had a very friendly atmosphere for families and adults alike. It was an easy space to hang out and watch some ice hockey and grab a beer, and they were flexible about serving food from the kids resort menu as well.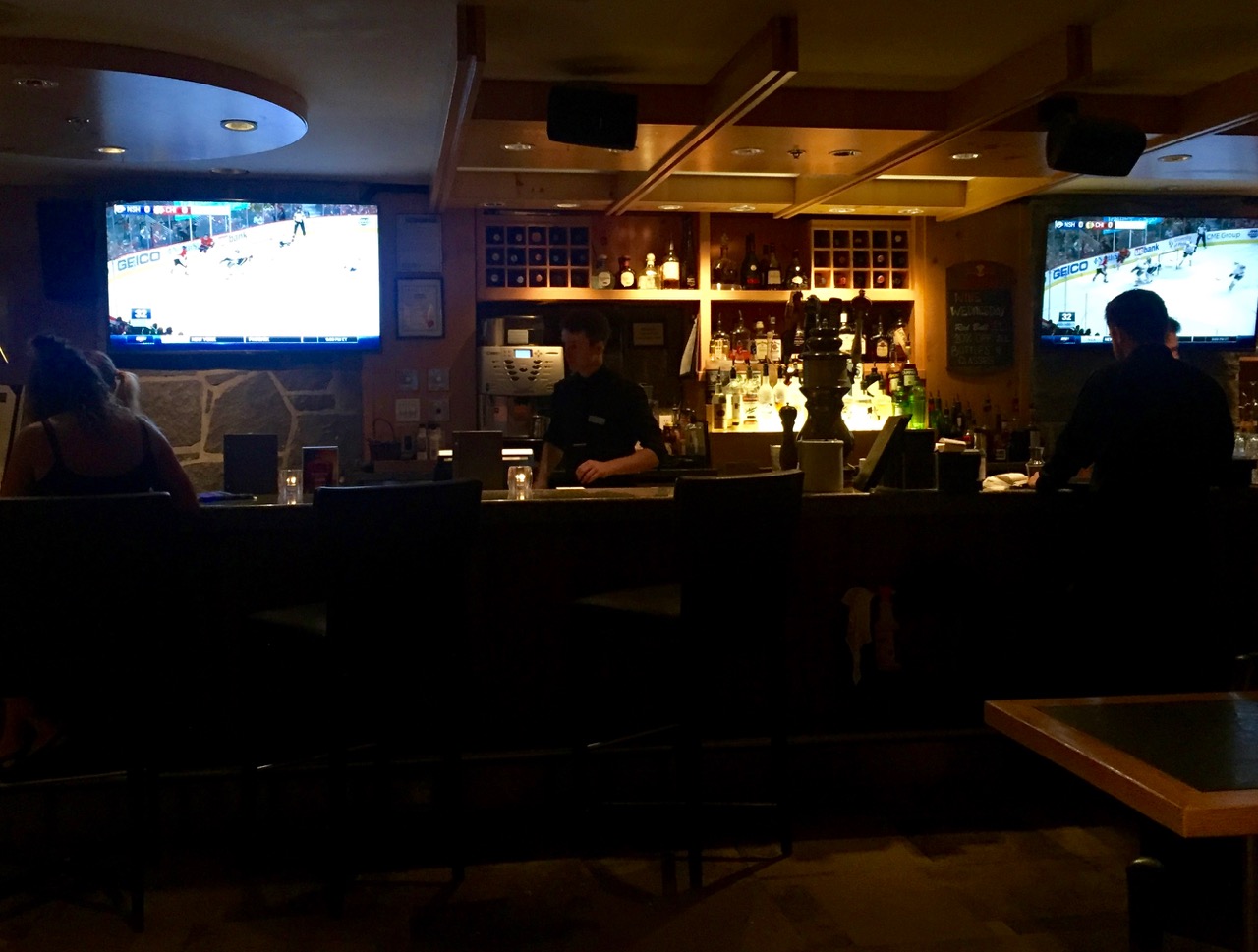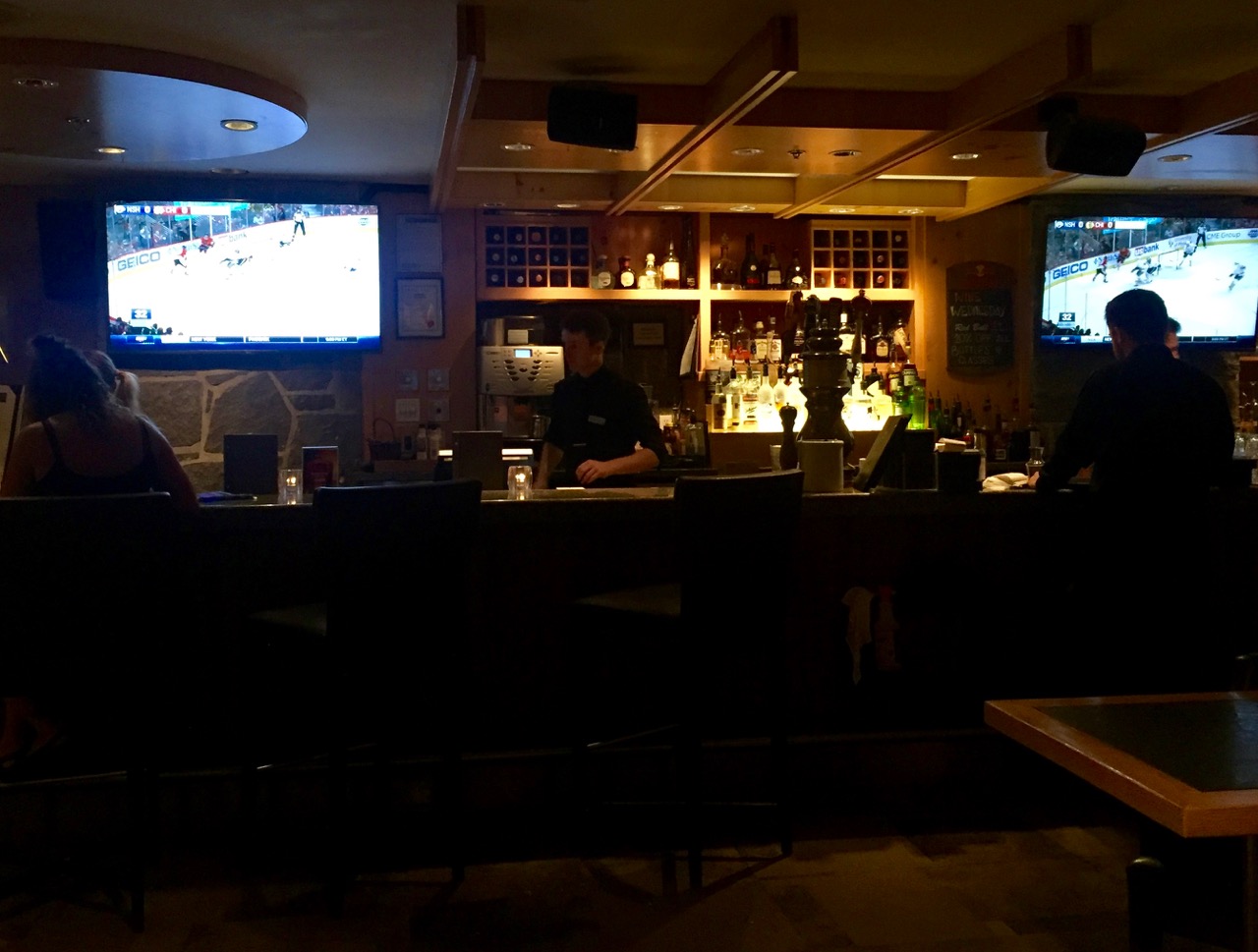 As a visitor, not a guest, both of the bar and restaurant are easy to access and would be worth a visit if you ended up near Whistler Village Gondola at the end of your ski day.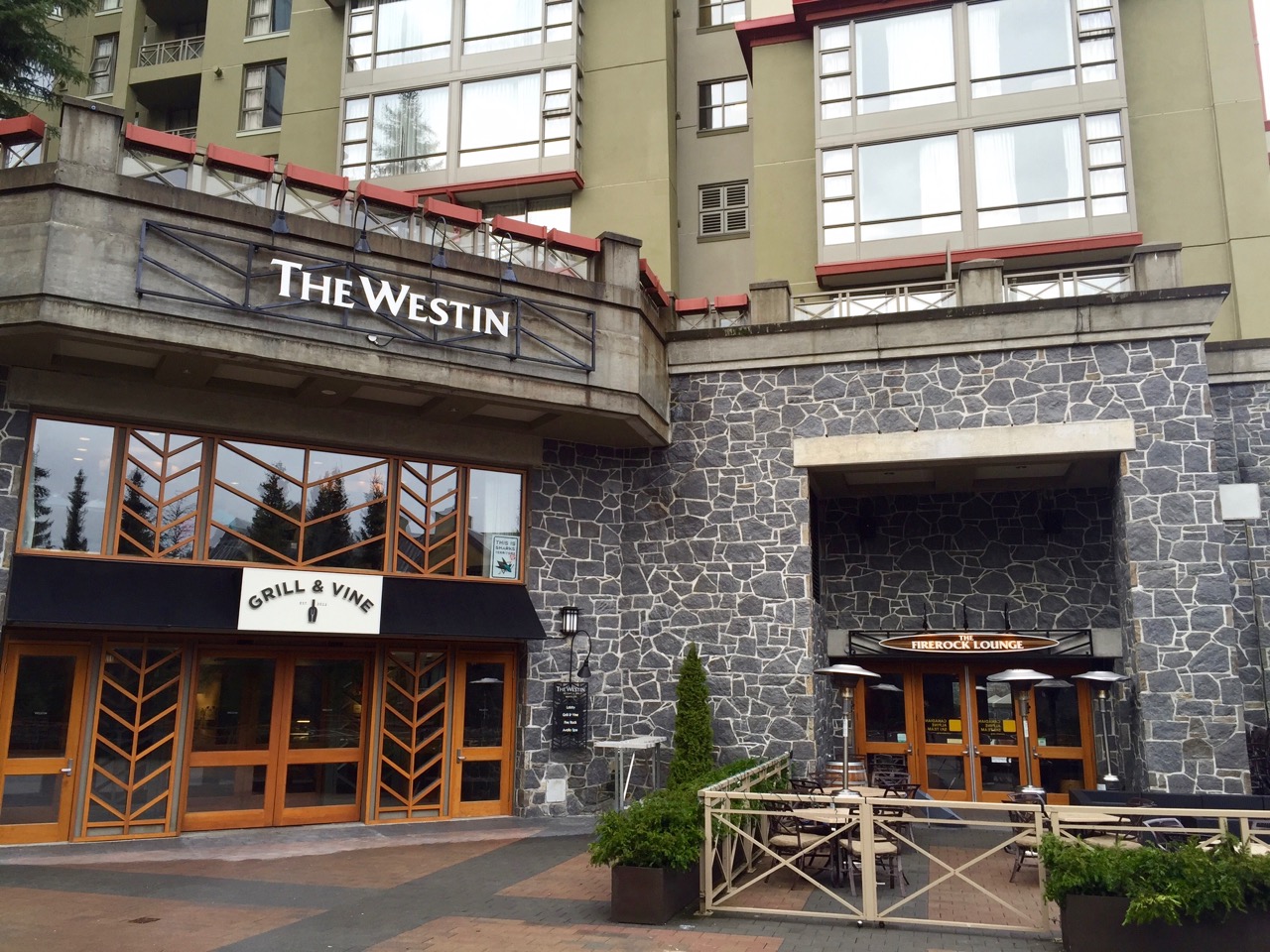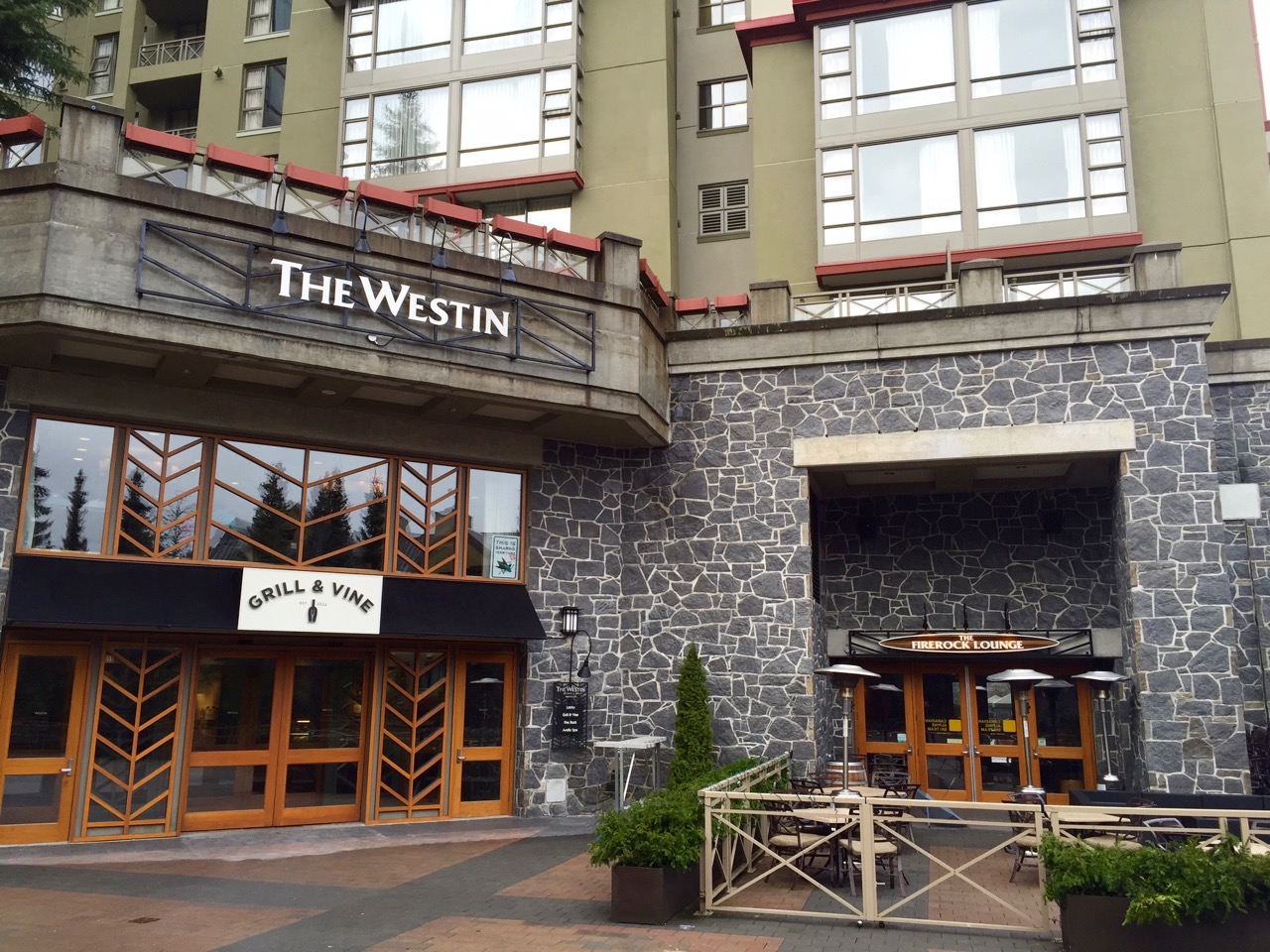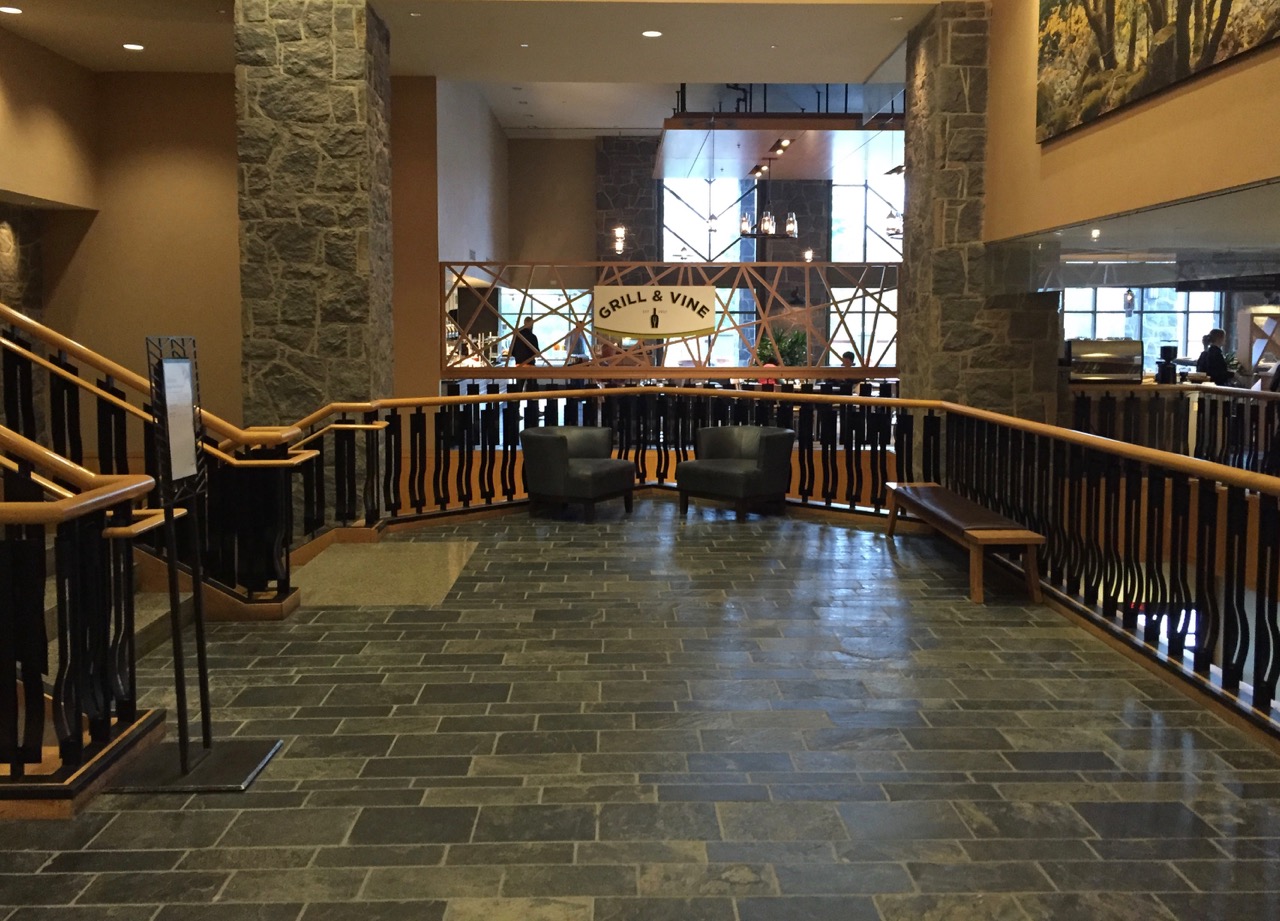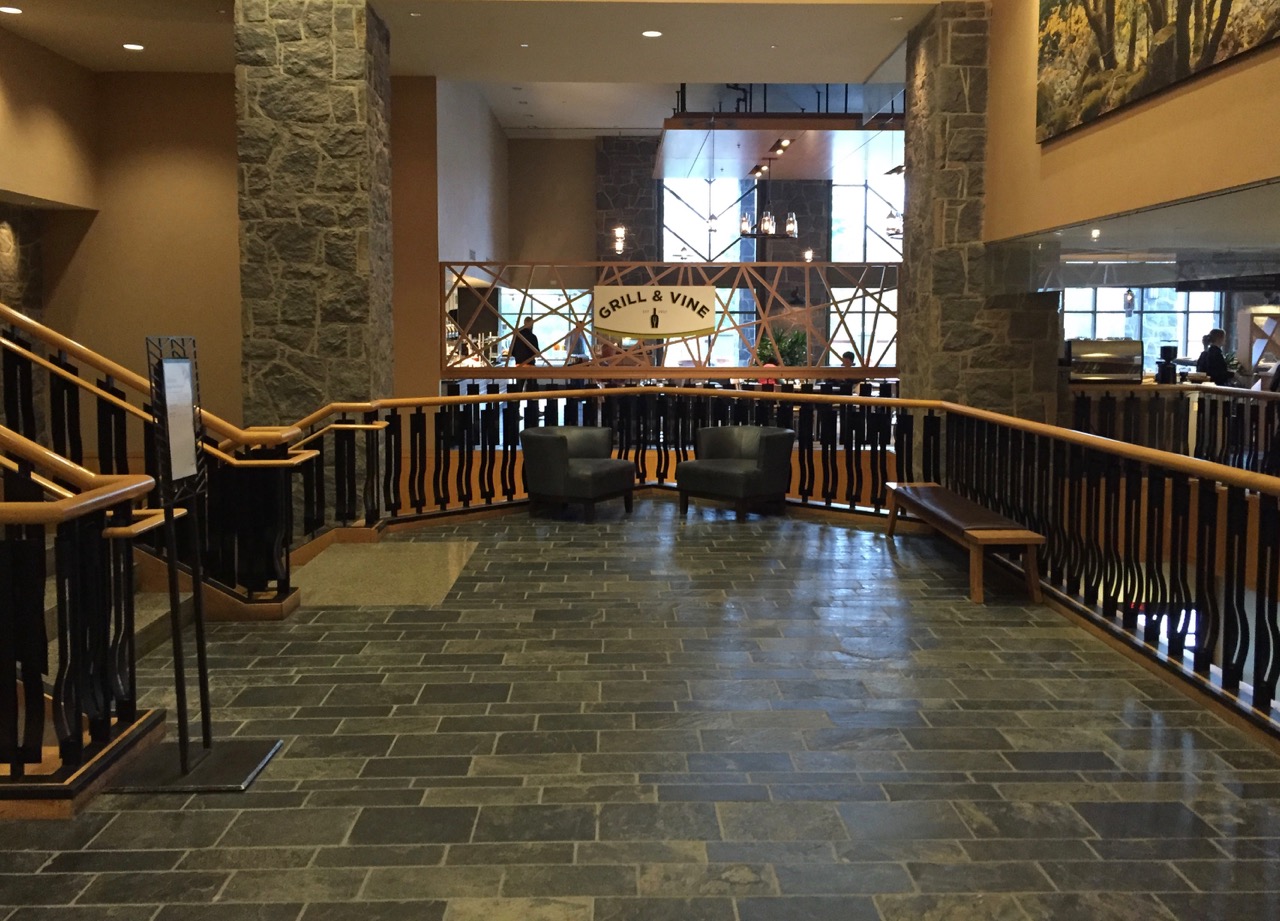 Westin Whistler Resort & Spa Facilities
The hotel's indoor/outdoor pool and two hot-tubs are a nice drawcard but in reality were very busy every afternoon between 4pm and 6.30, which is not surprising. It was a bit of a fight to find a spot in the hot tub, and the pool was just a touch cold to want to enjoy it for an extended period of time, for me at least. It was still pretty fun though.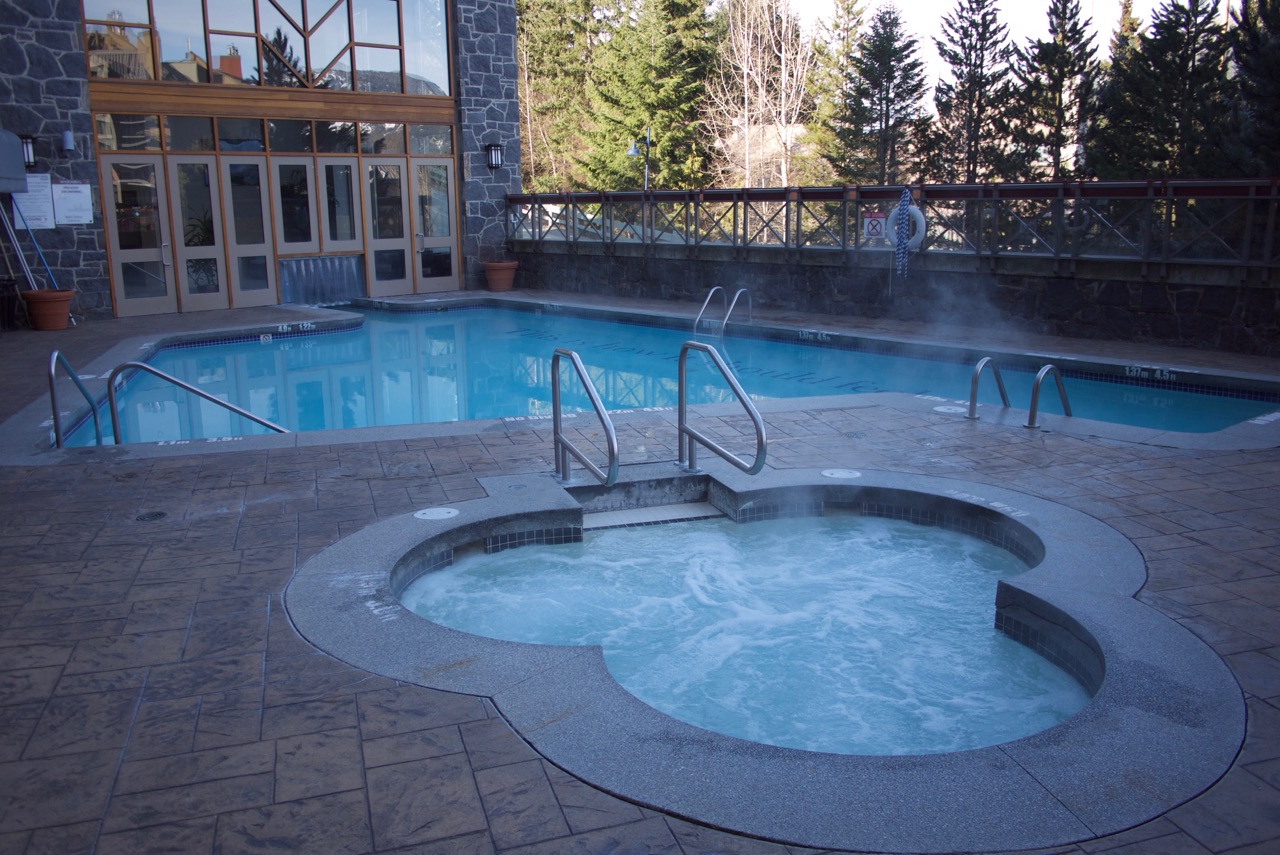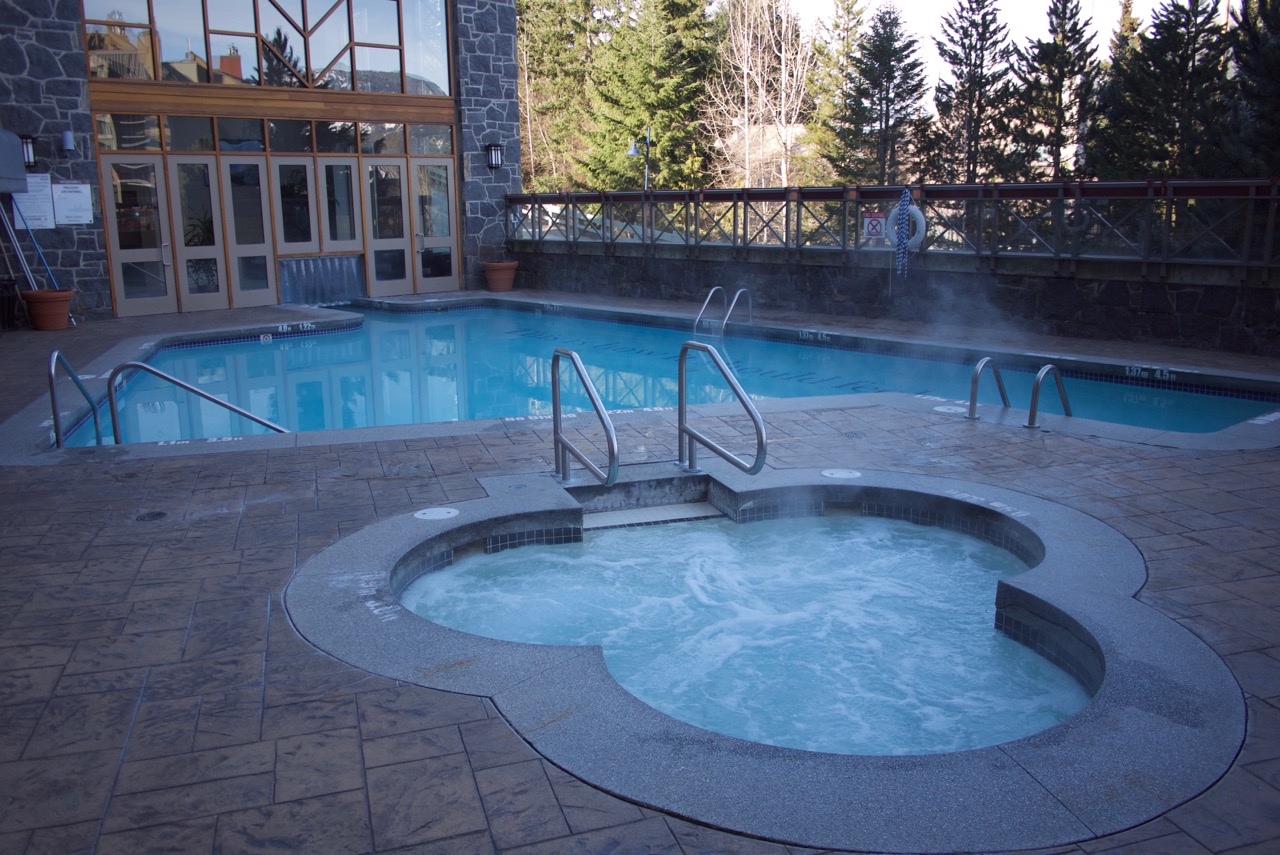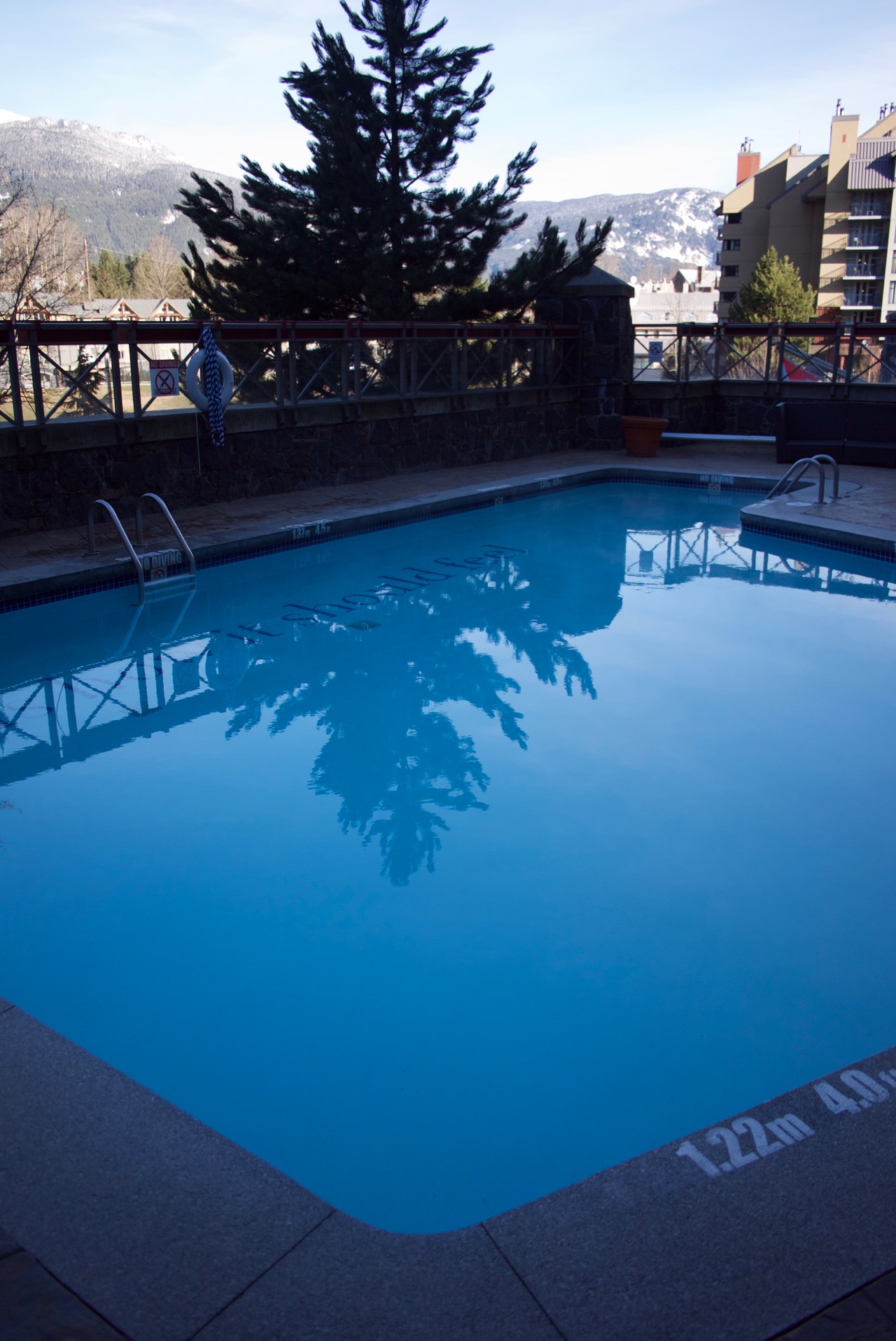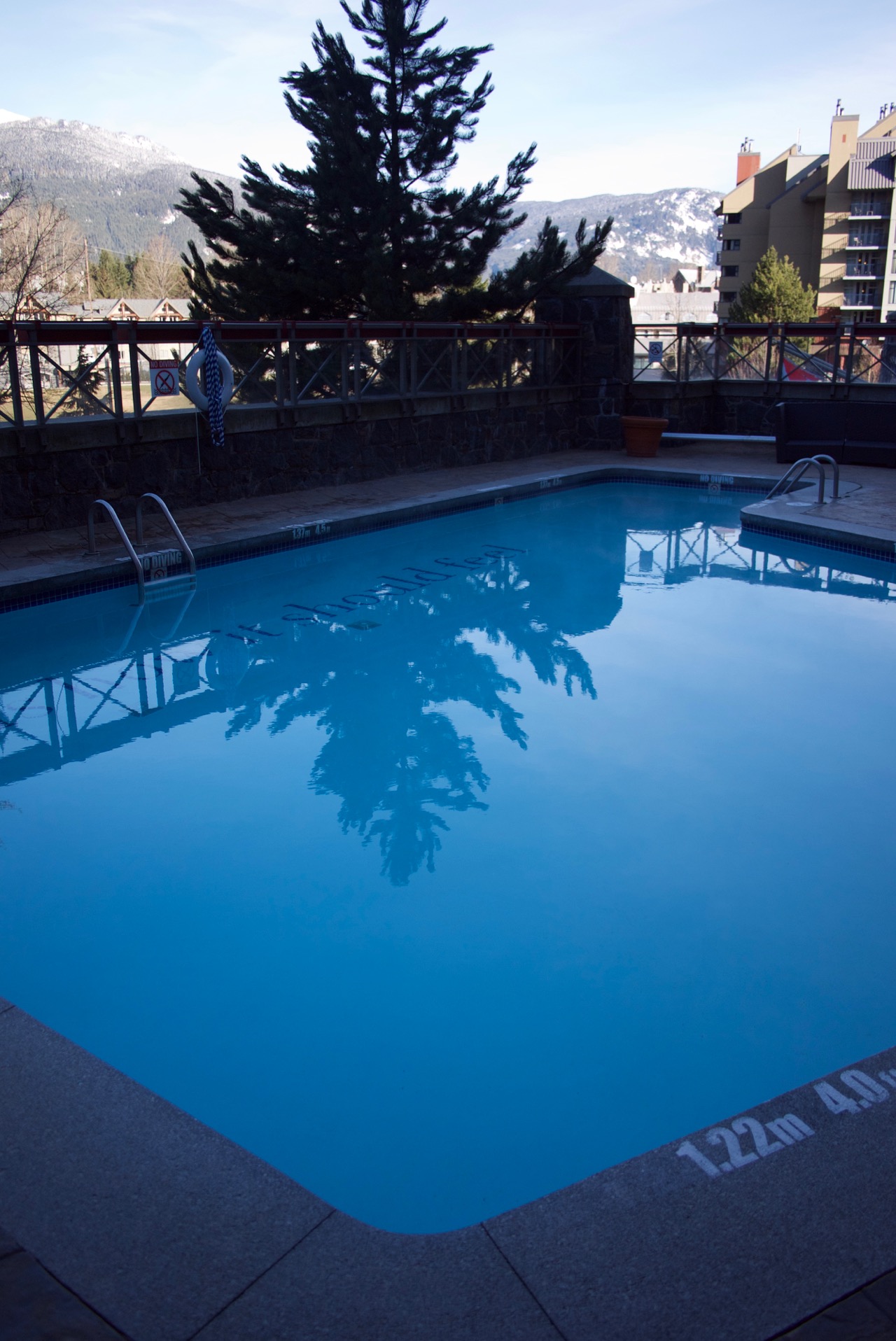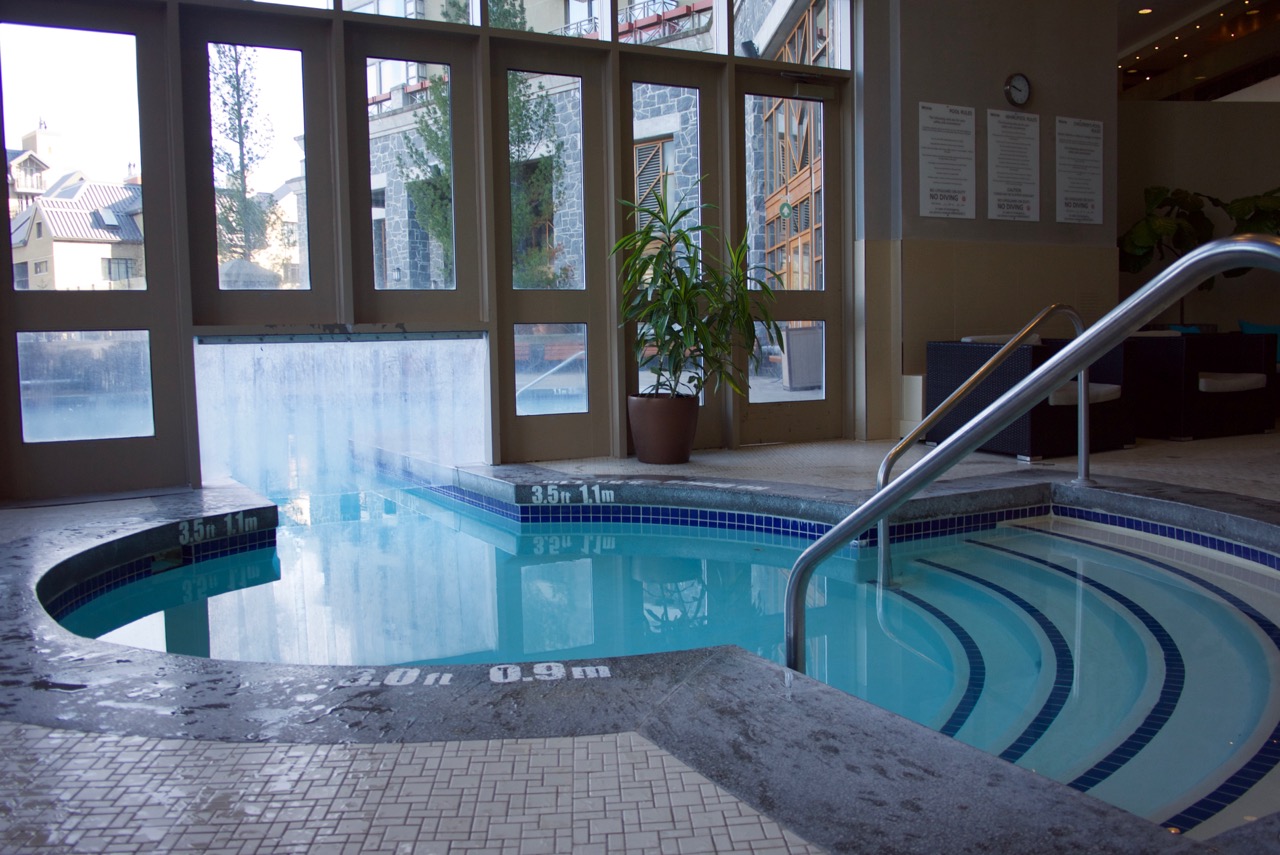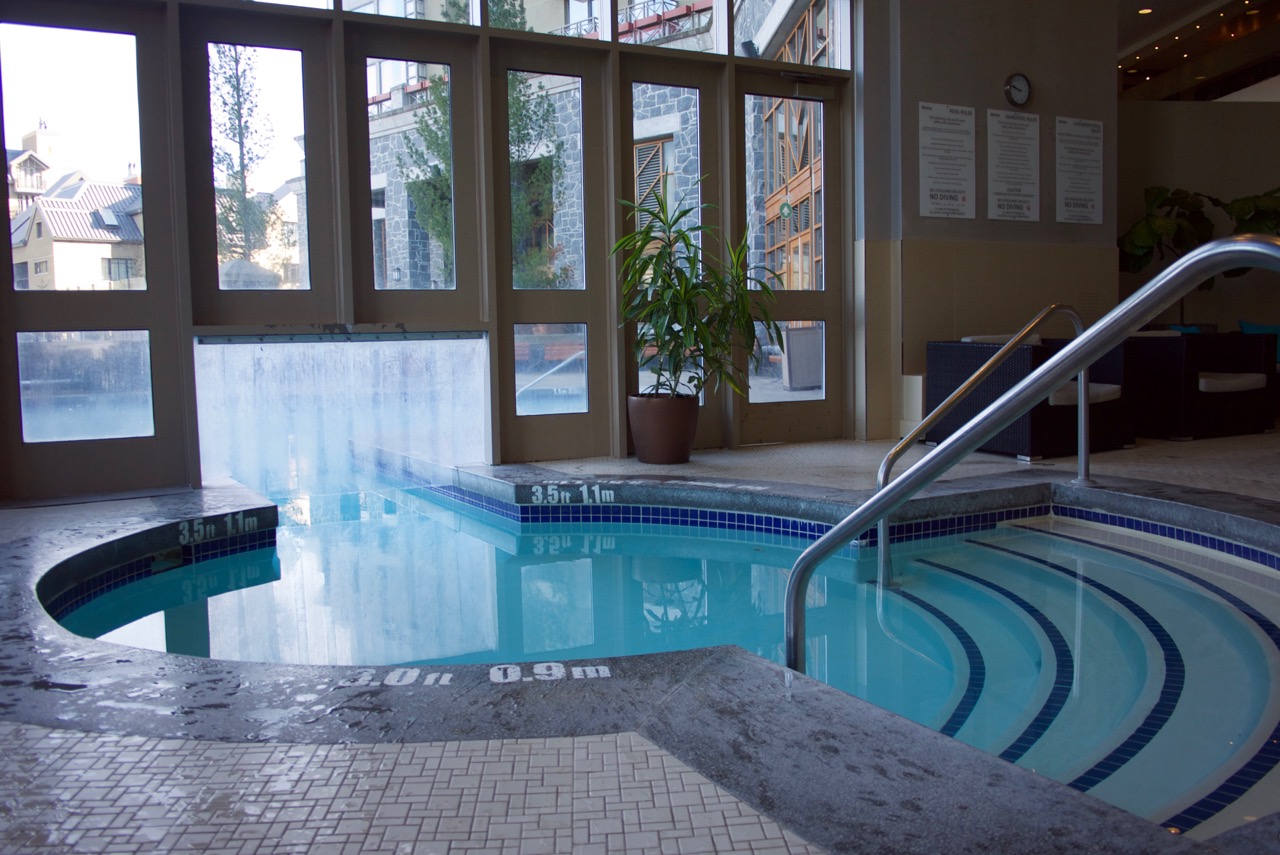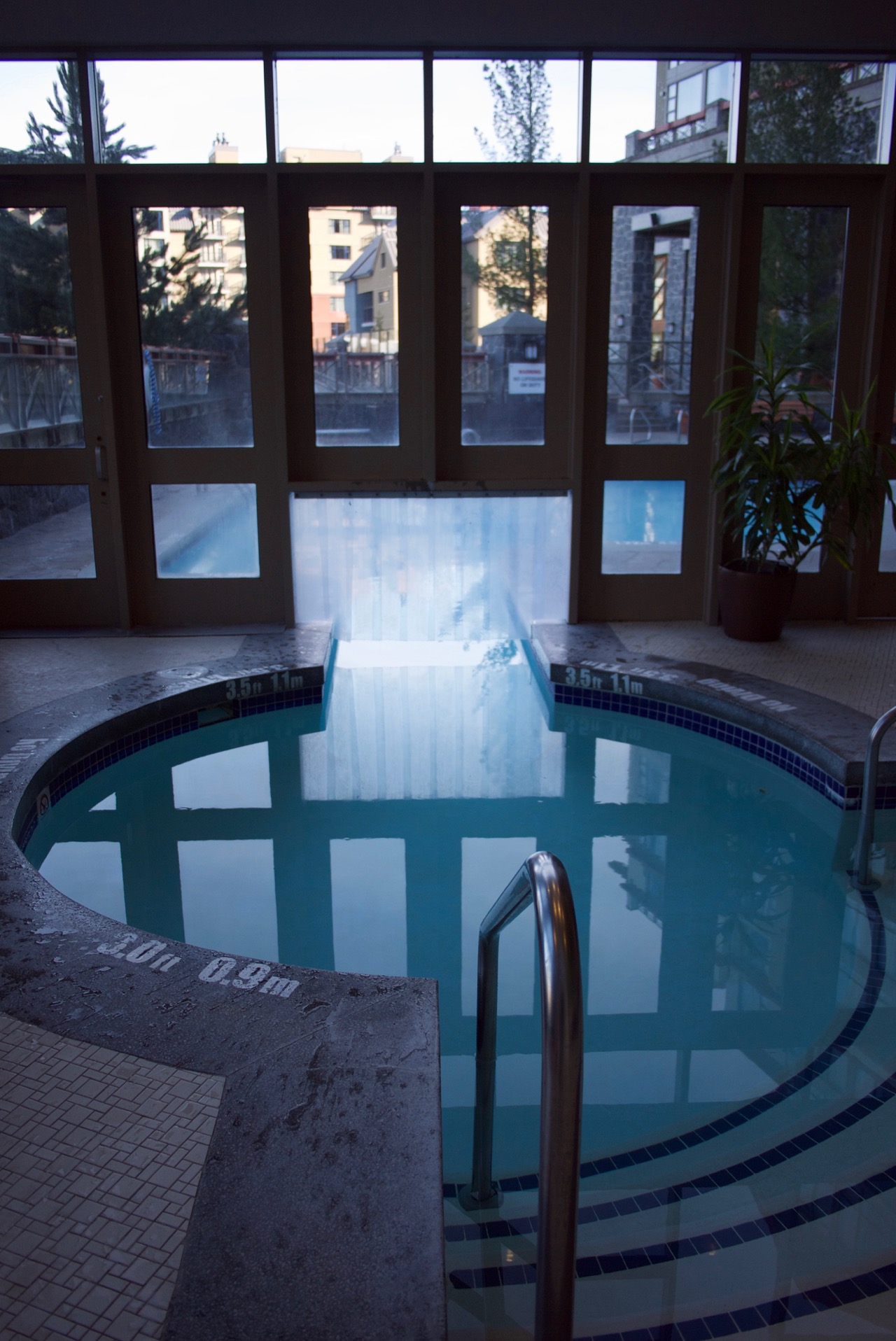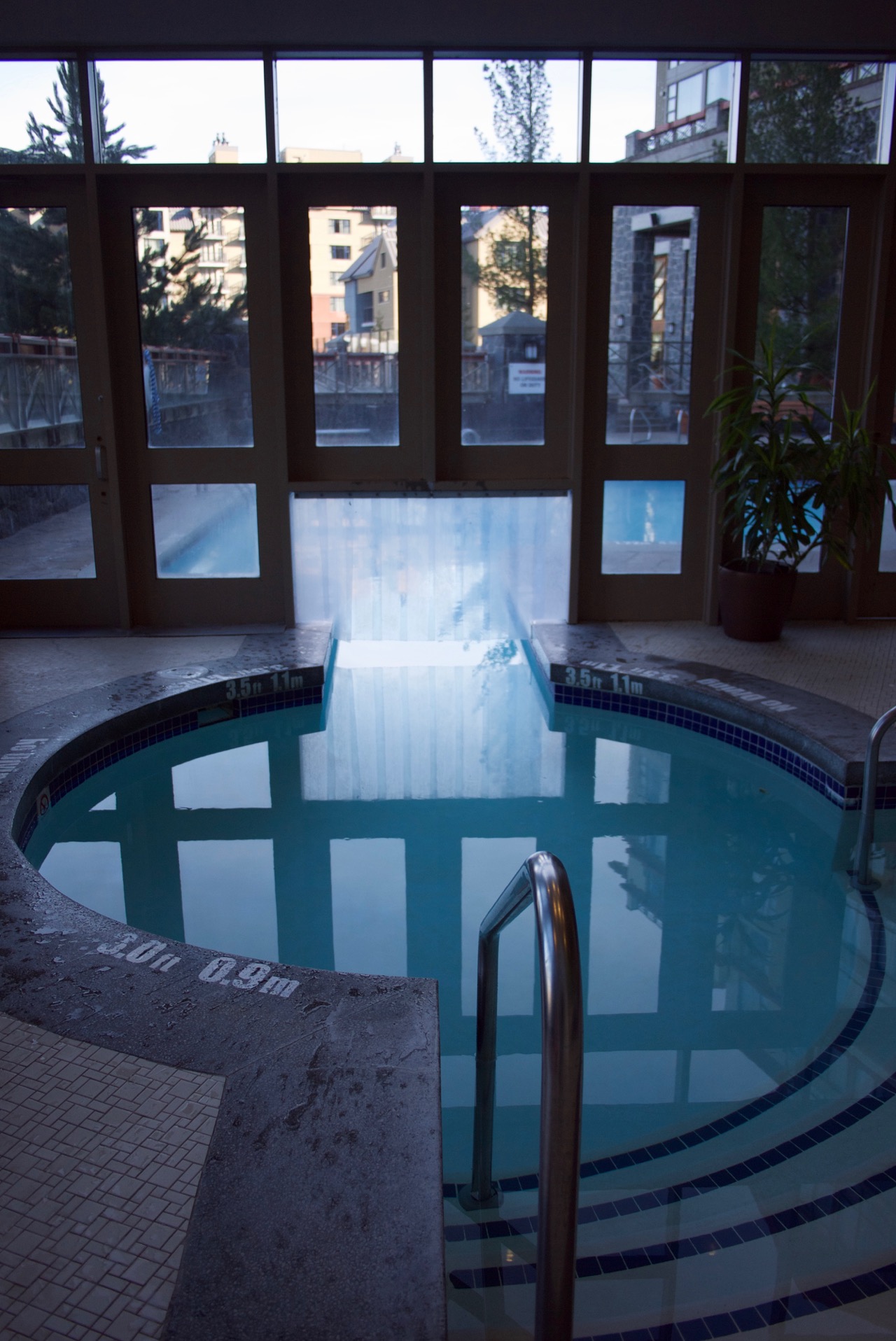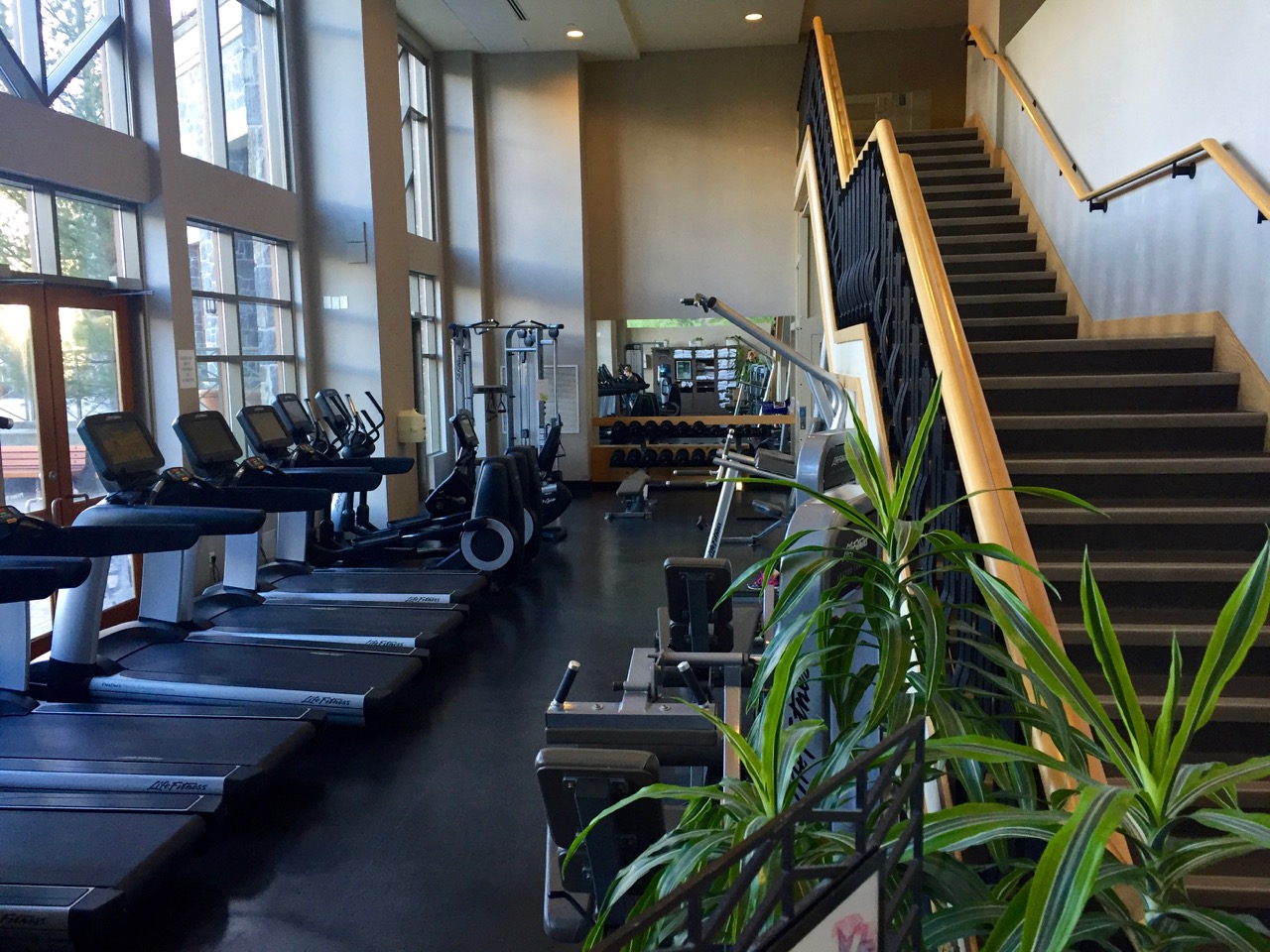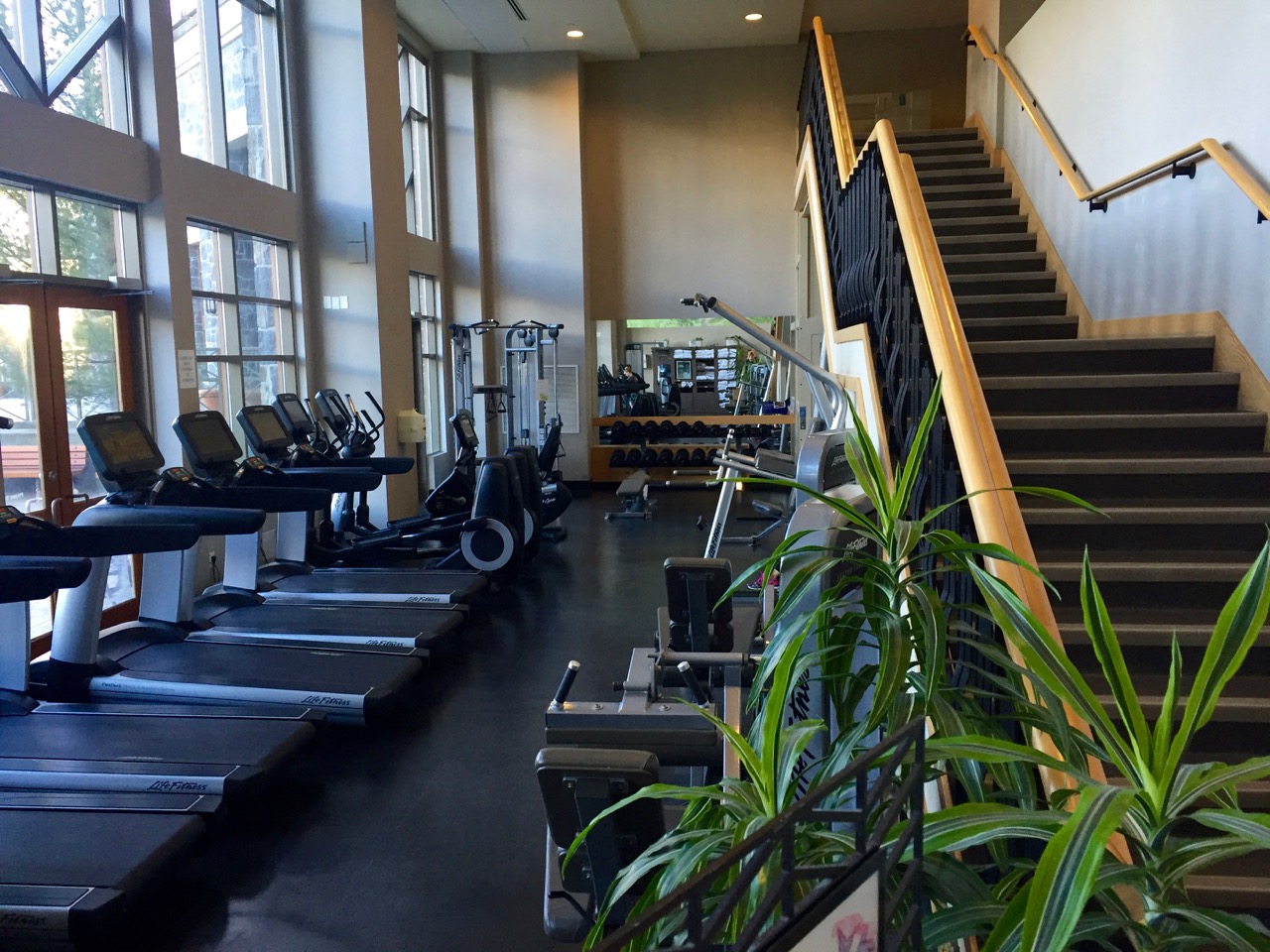 During the day it was much quieter, so on the odd days we had some time free I preferred to go down to the pool when it was less chaotic.
We also didn't try out the hotel's spa, instead preferring to make an effort to go to Scandinave which was a pretty amazing experience.
Skiing in Whistler
I can't not talk about the skiing in Whistler. The mountain has been on our checklist of places to go for a long time, and I was really excited to finally go.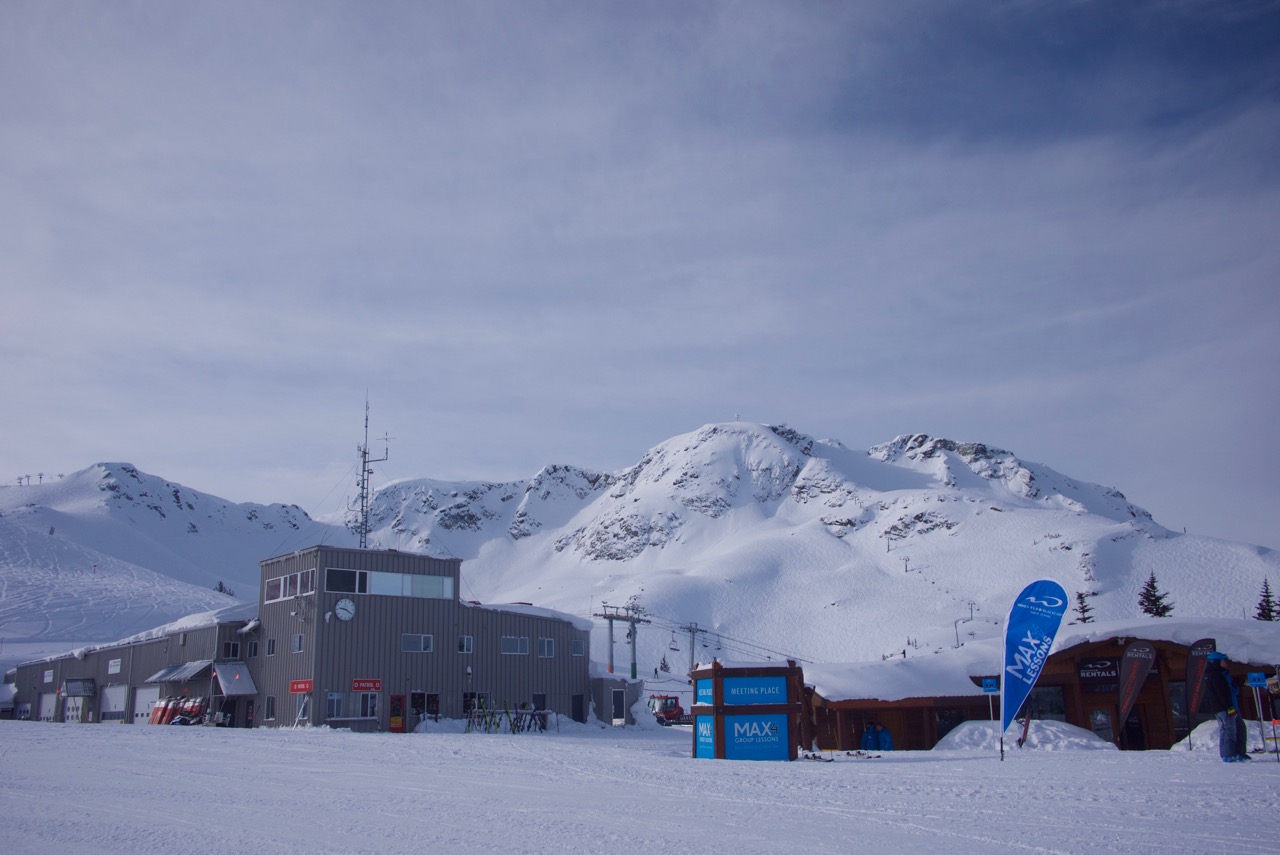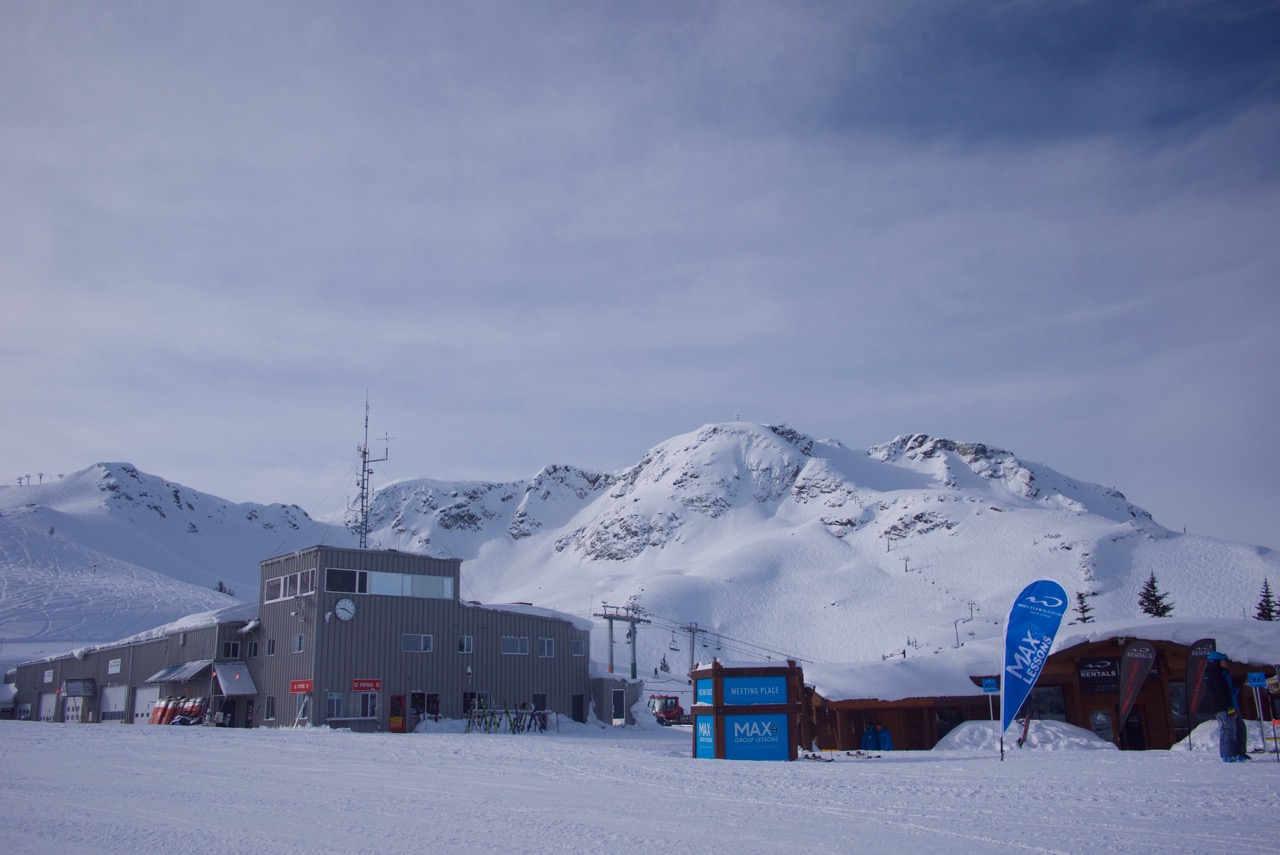 We had a ton of snow fall in the time we were there, with only maybe 3 or 4 days with any sunshine. Great for powder skiing, less great for going exploring and figuring out how to navigate around both Whistler and Blackcomb mountains.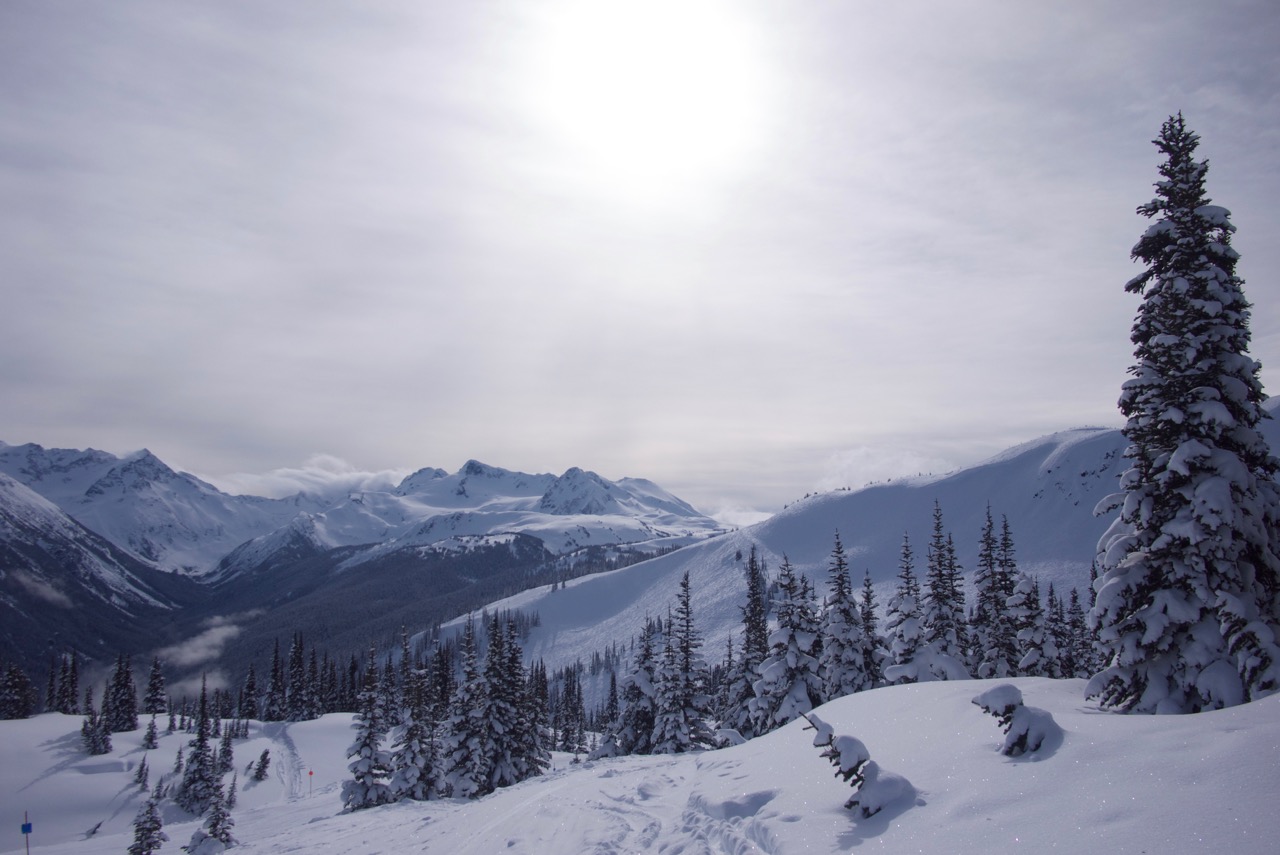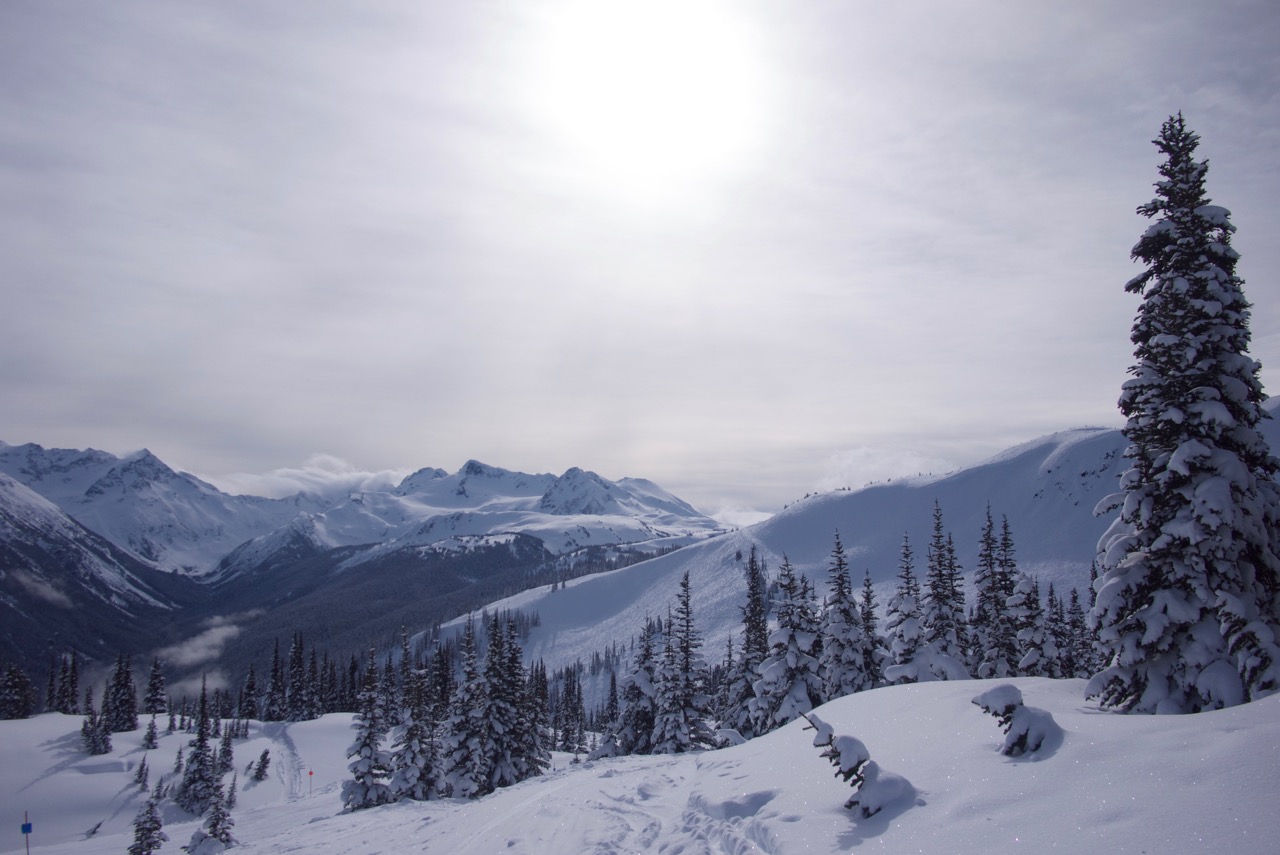 Talking of which, one of the highlights for kids and adults alike is spending 20 minutes on the world's longest and highest unsupported Gondola, the Peak2Peak, between both mountains. These pictures were taken on the better days!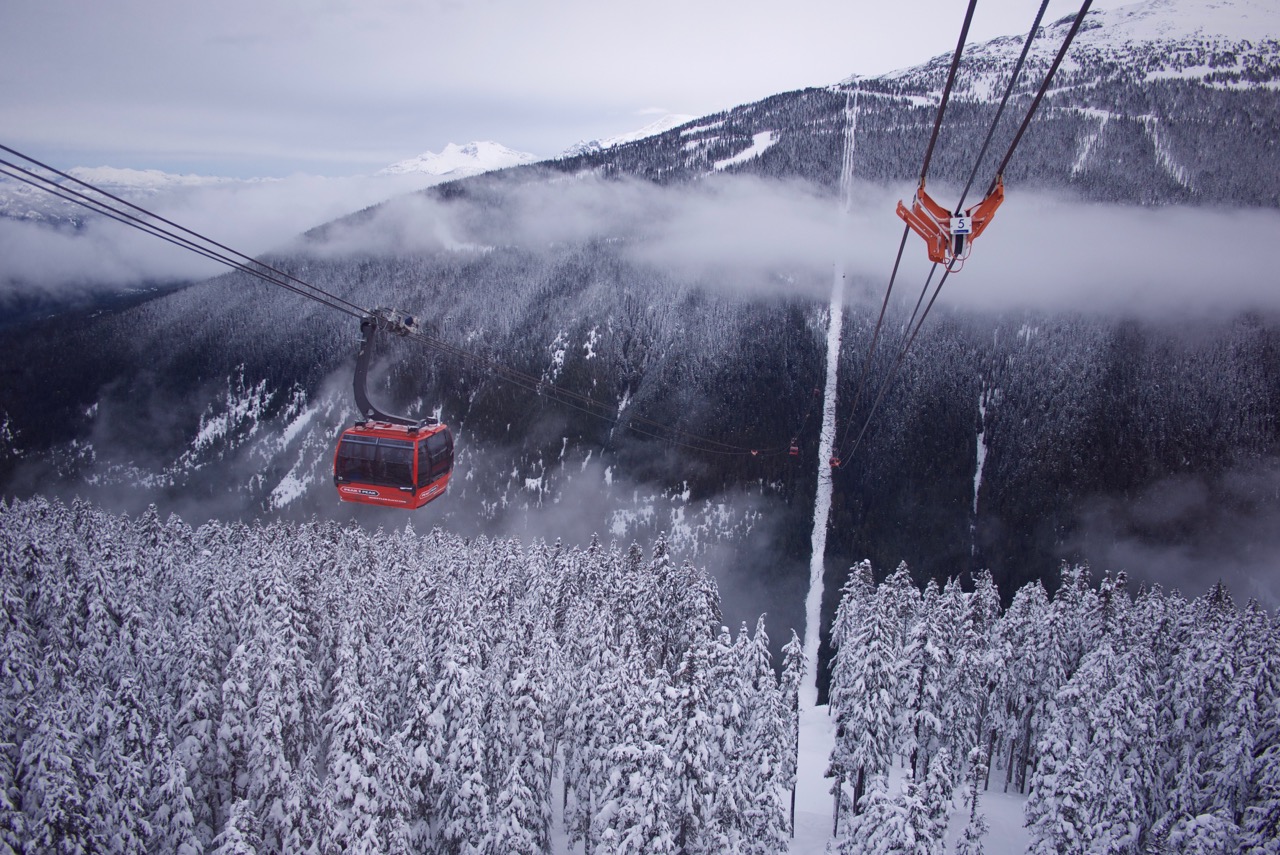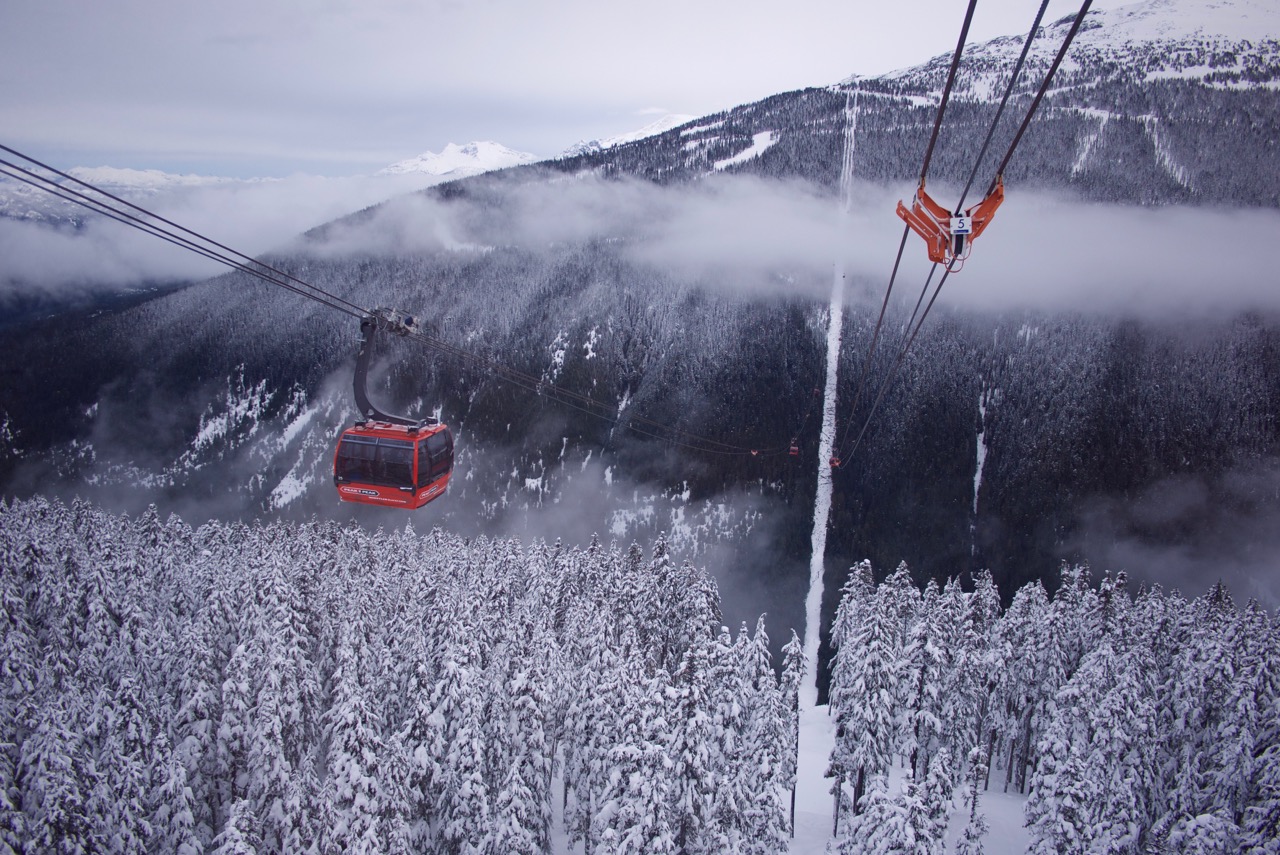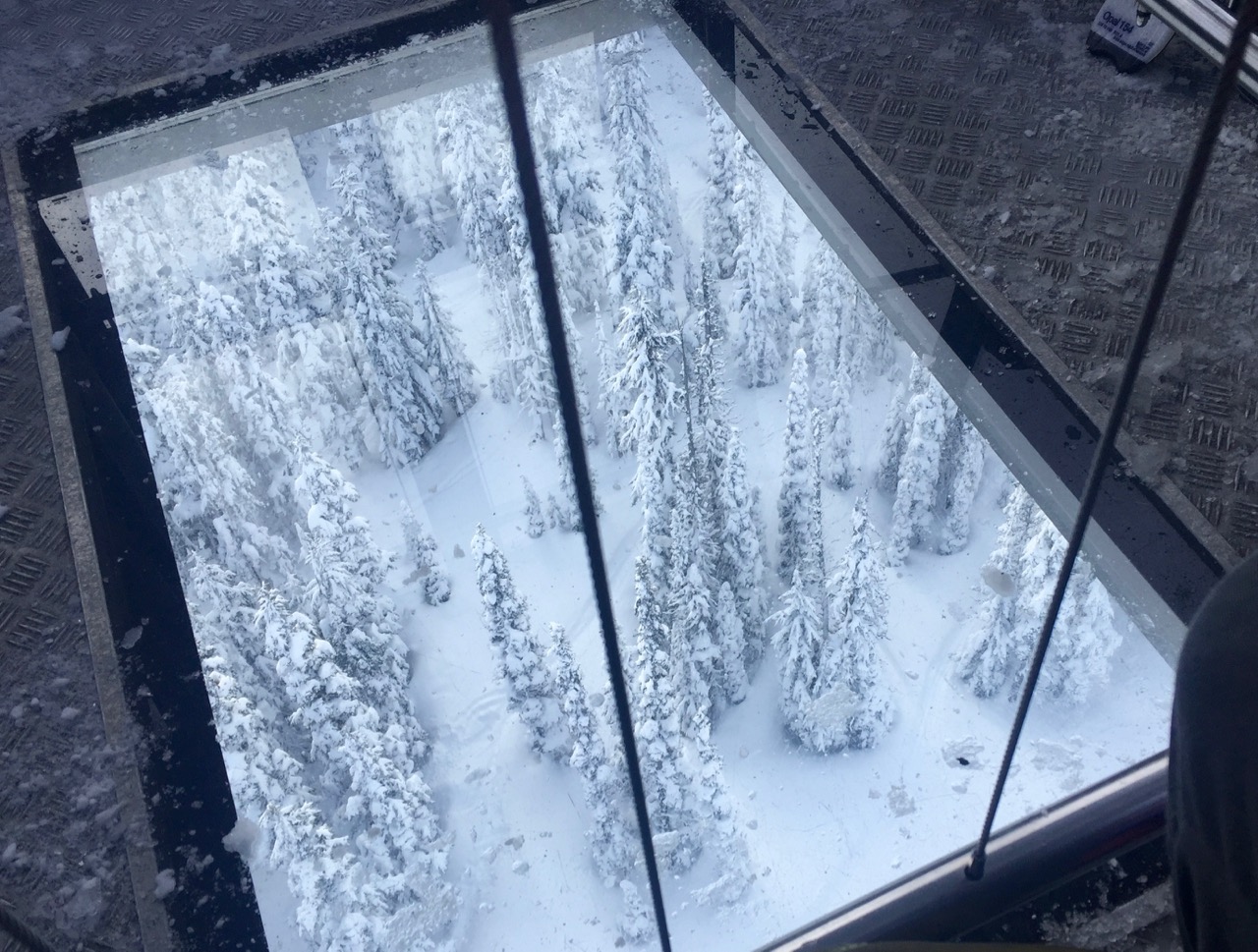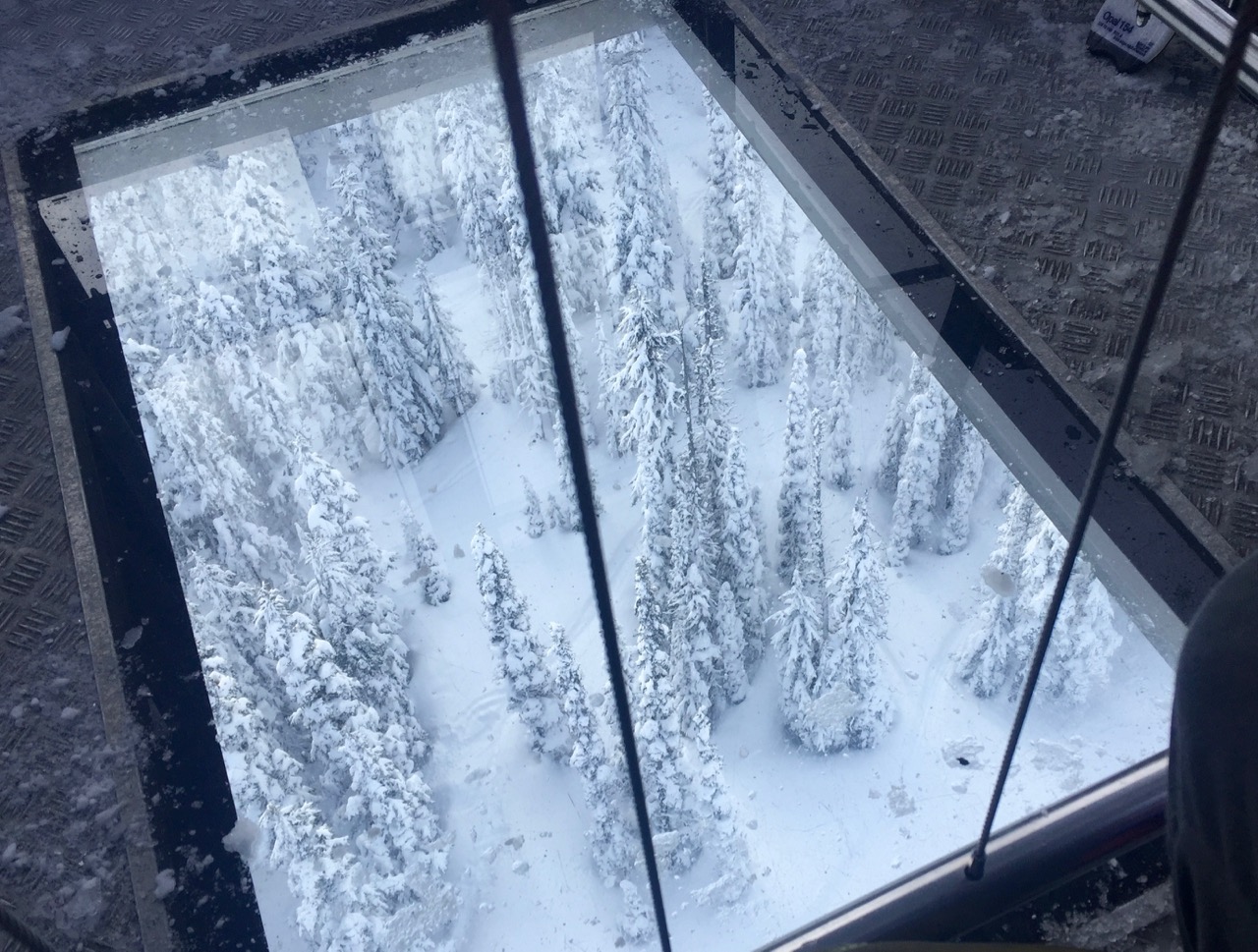 As I mentioned earlier, the hotel is generally well set up for skiers. The location near to the Gondola is key, but the Ski Valet service which will store your equipment (not boots though) when you're not skiing makes managing the available space in your room much easier, as well as giving kids with small arms way less distance to carry their gear.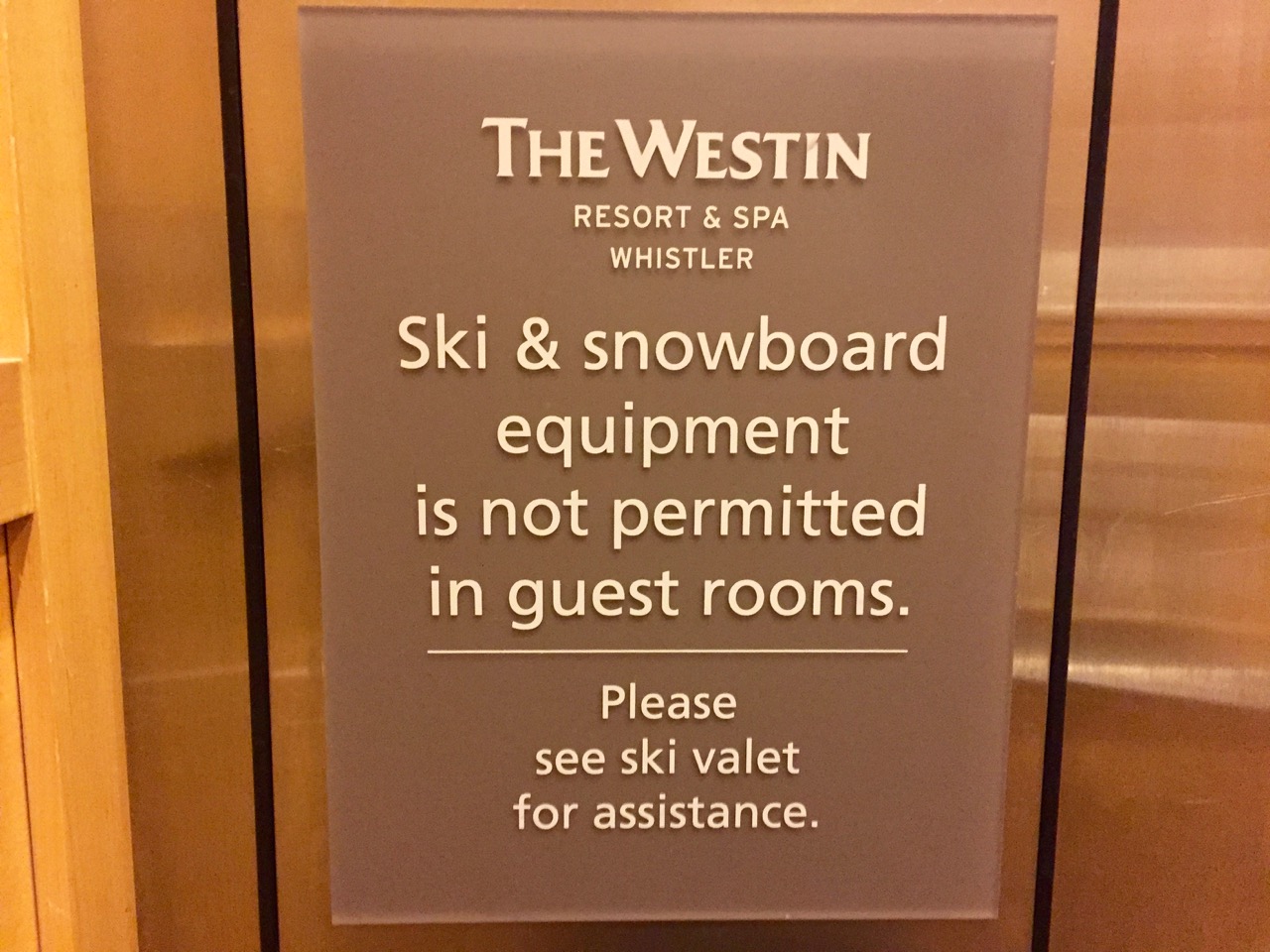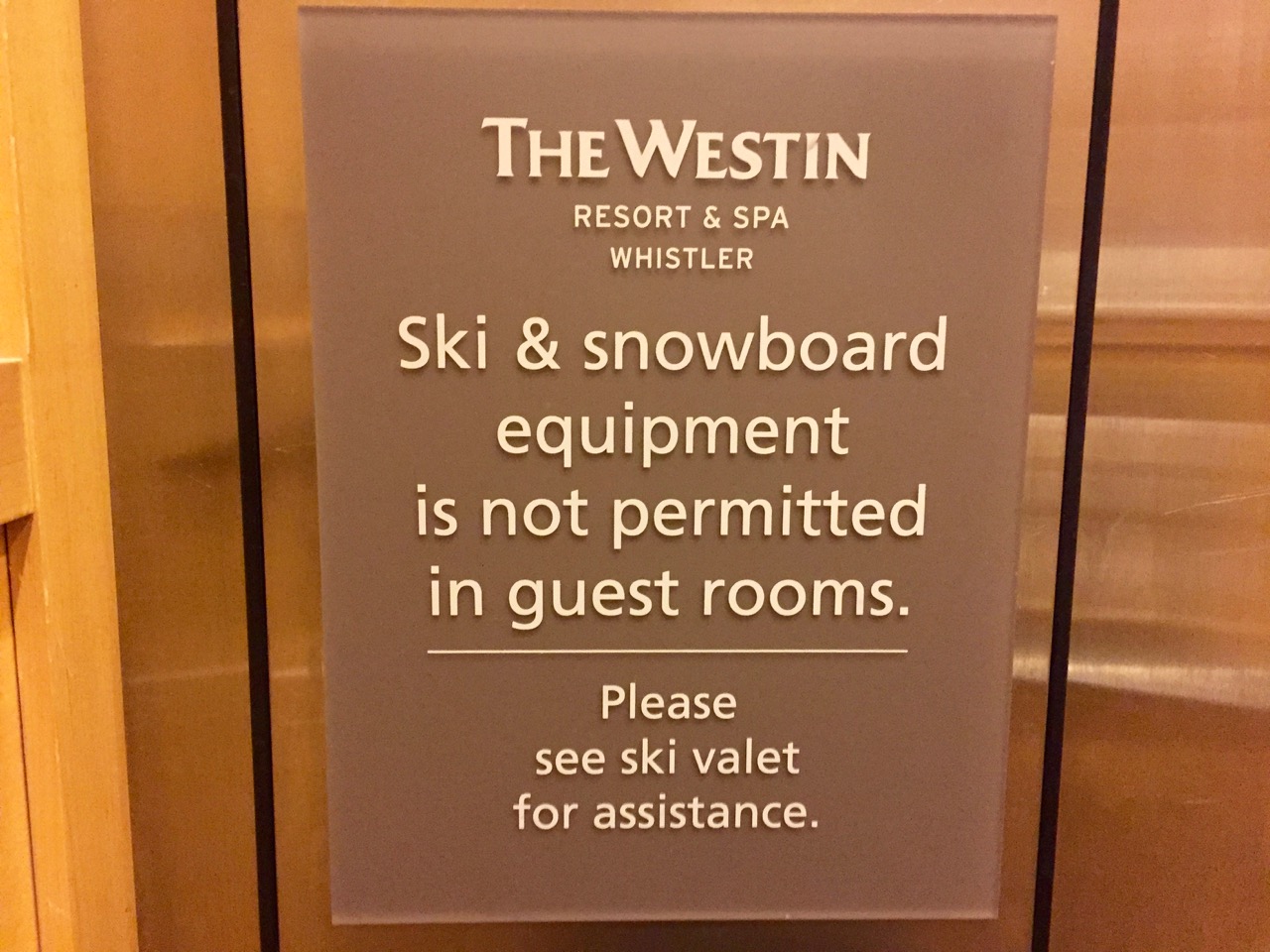 In the morning you just line up (it never took more than a couple of minutes), say your name, get handed your gear, and then walk the 50 metres to the Gondola queue. Too easy.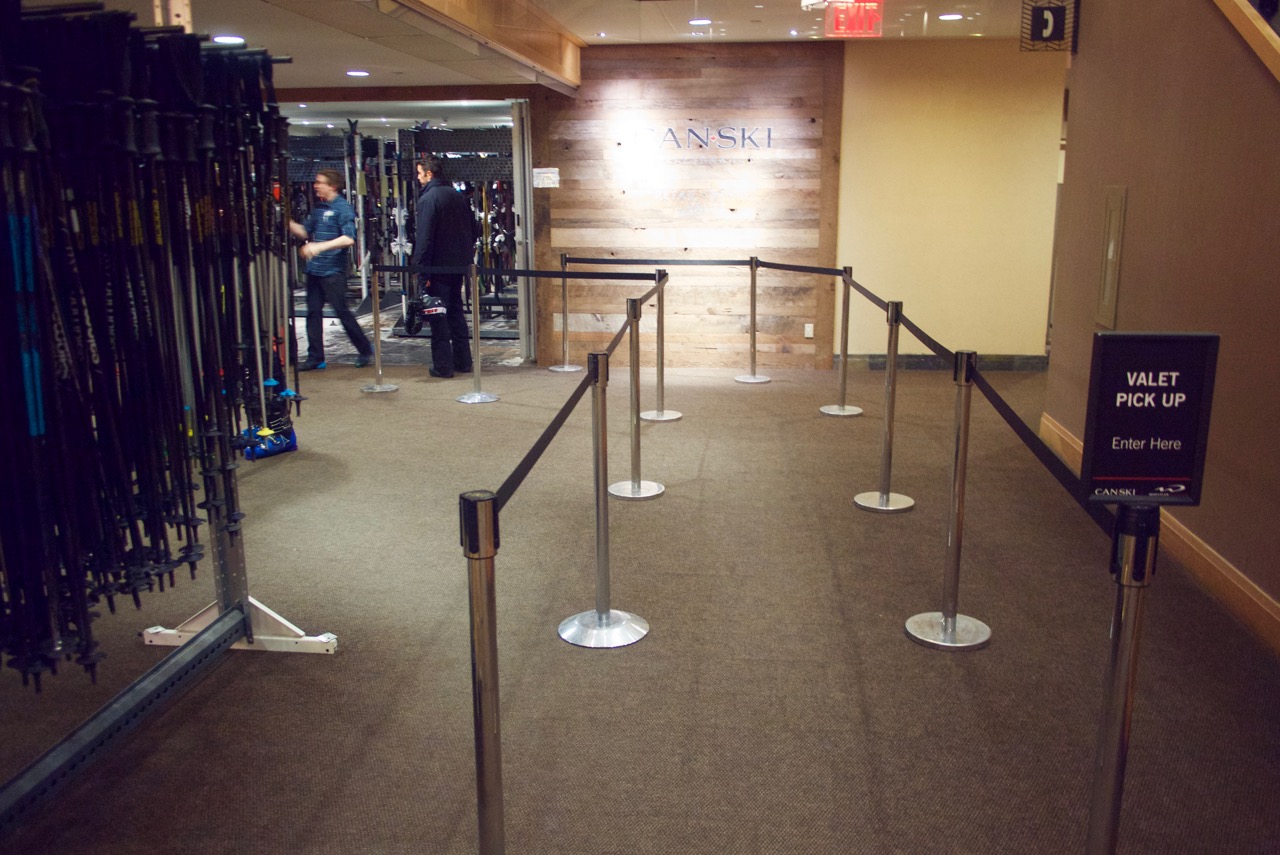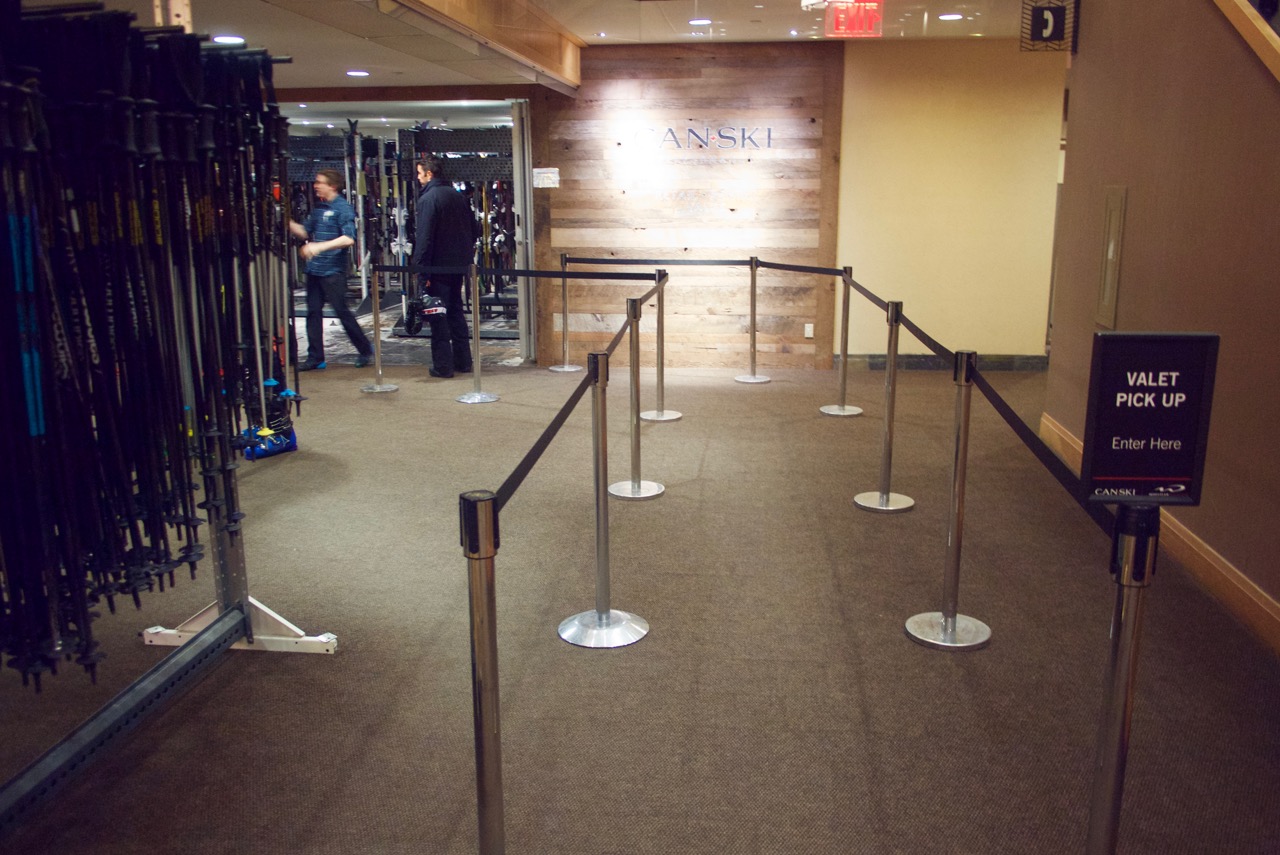 From 2pm the hotel also ran a small drop-off point at the foot of the home run to allow your to step out of your skis and just hand them to someone to take to the valet. The valet service was included in the One Bedroom Suite booking, but otherwise is sometimes charged for other room types.
I was also lucky enough to go cat-skiing for my last day on the snow with Powder Mountain. Recommended x10 for good skiers, a very fun experience.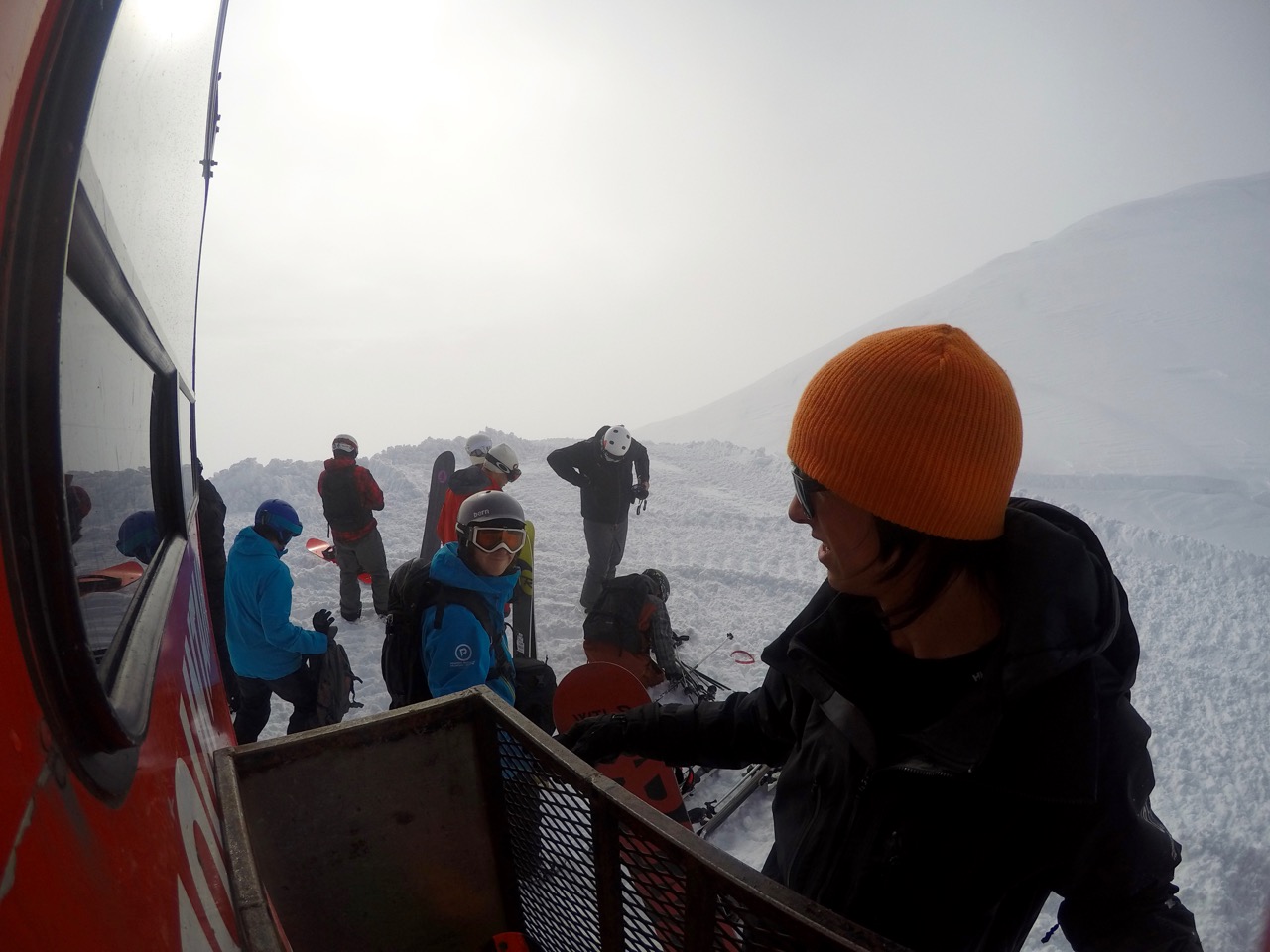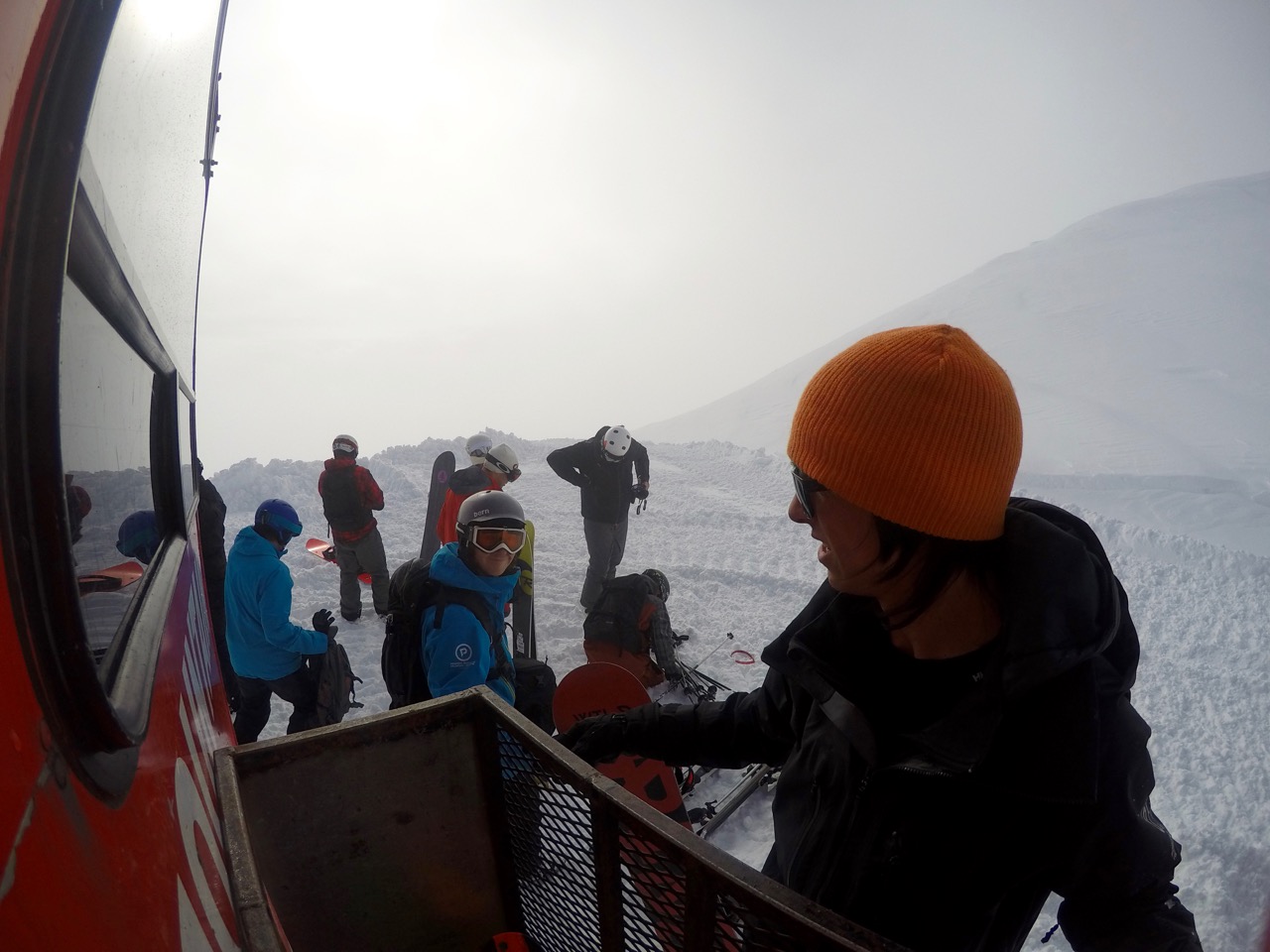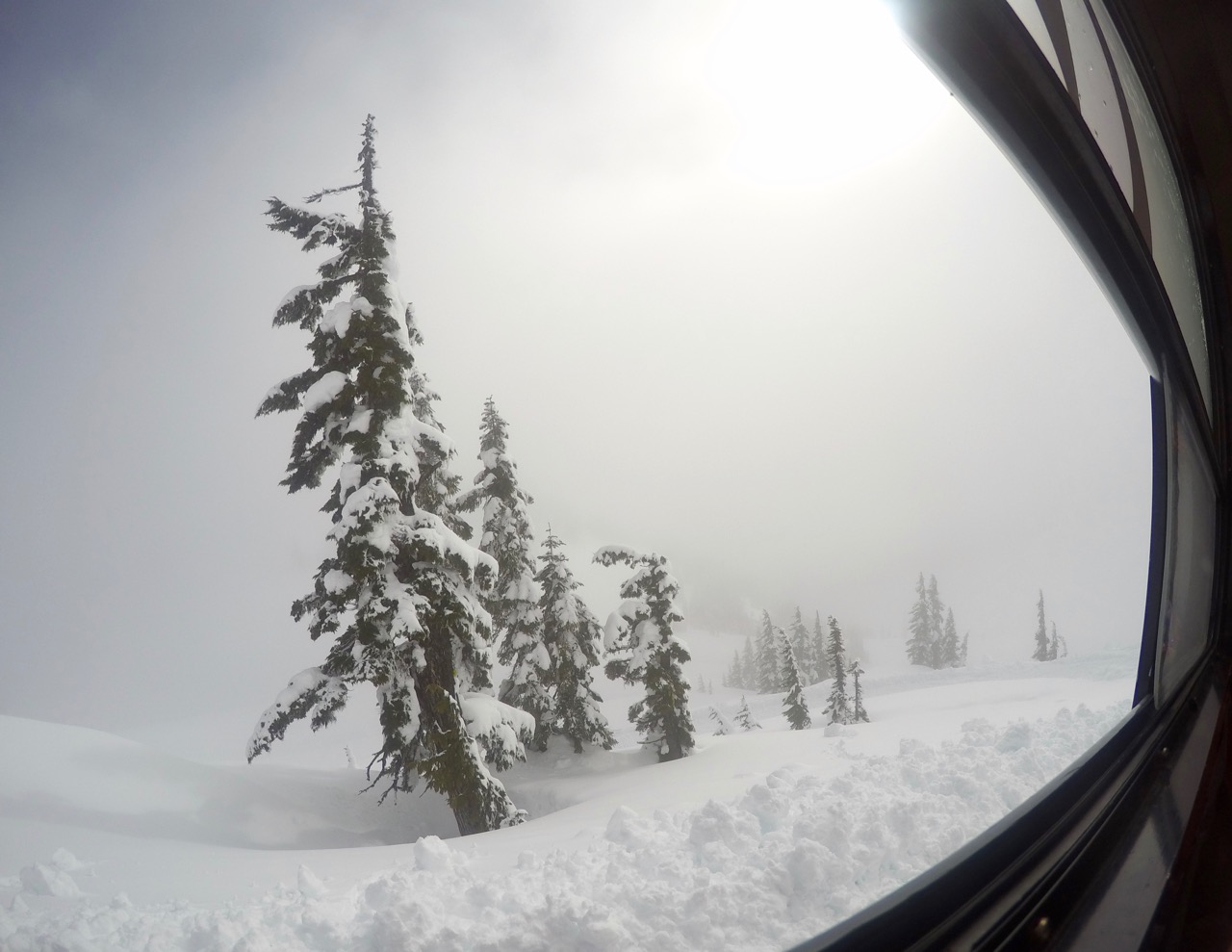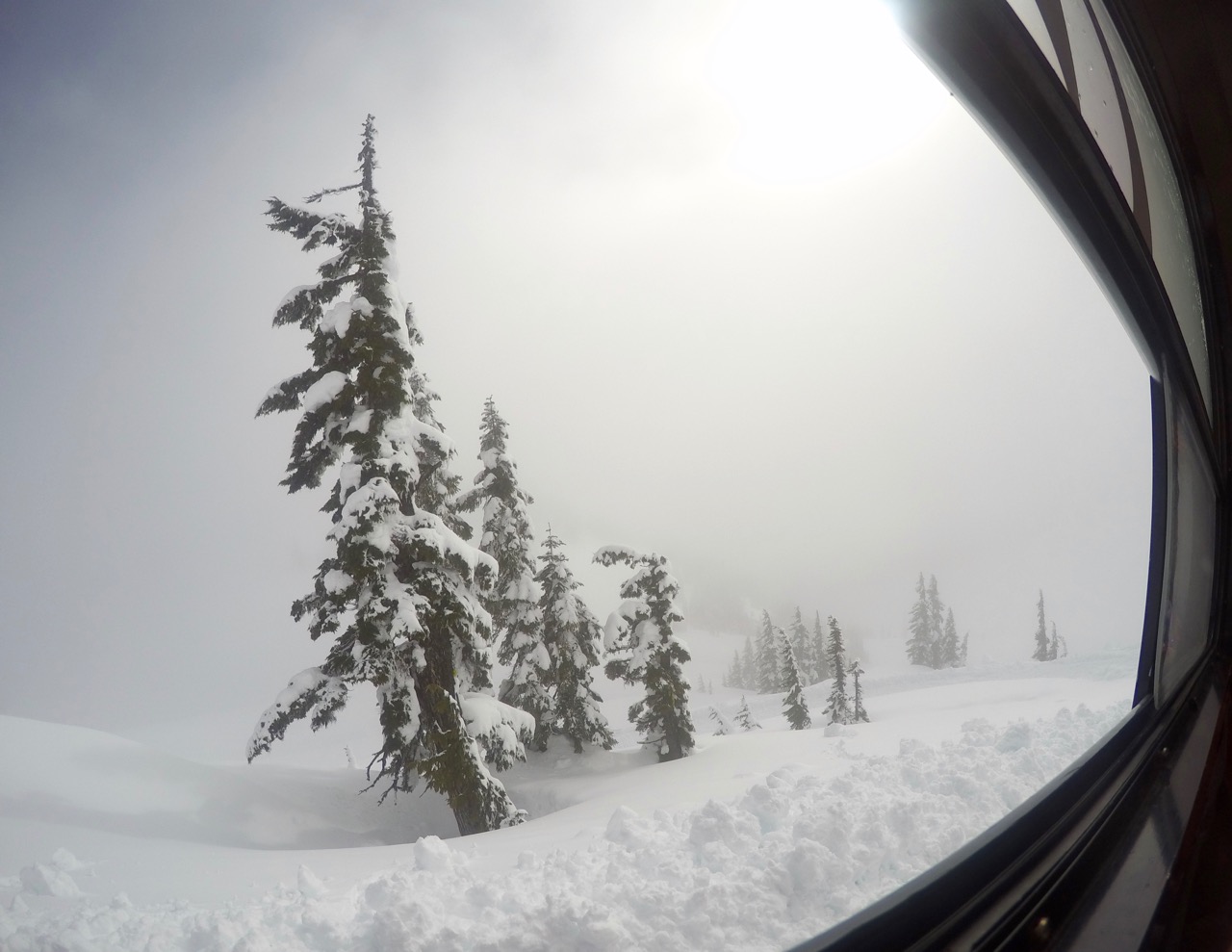 Other Westin reviews
Summing up – the Westin Whistler
There were a few things the hotel could do better. Small niggles, let's say. In short:
There were really few places in the room to hang gear at the end of the day. This was a massive oversight in the room design, we ended up draping coats and thermals over TVs, door handles, you name it. A few hooks hung on the wall in each room would have made a huge difference.
The rooms are probably mid-life in terms of wear and tear. Some are probably starting to need a refurbishment. Our rooms were fine, nothing was falling apart but there was nothing too special about the furnishings or general design, while the dishwasher and other appliances made a lot of noise, which when in a small space was a little intrusive
What's definitely spot on though were genuinely enthusiastic staff who were always willing to help, and a well laid-out and exceptionally well-located hotel for skiing, in one of the world's best ski and famous ski areas.
Review of the Westin Whistler for our family ski extravaganza – a look at the One Bedroom & Deluxe Suites, the hotel and skiing in Whistler
was last modified:
March 23rd, 2022
by