I'm working my way through my rather mammoth review of the Westin Whistler at the minute, after our stay there back in March. As a keen skiier, it was a great hotel and we had an awesome stay – helped a lot by securing the right room type in the hotel when using points.
When you look at redeeming Starpoints for hotel stays, the rooms that pop up online are usually the base room category. This is one of the biggest challenges of using points for hotel stays generally – how to get access to premium rooms without shelling out.
Given the research and booking aspect of this stay was key in making our time there so good, it's worth me using this as a case study of how I leveraged a mixture of purchased Starpoints, plus transfers from Membership Rewards, into what was essentially a two bedroom / two bathroom apartment with kitchen, lounge, and three beds.
Here are the options Starwood have for getting into premium rooms using points, and how that worked for me in Whistler.

Ad – Scroll down to continue reading.Minimum spend, terms & conditions apply.
Options for redeeming Starpoints for larger rooms
There are a handful of ways you can use points for larger rooms as Starwood hotels. Given I'm keen to travel with my family, finding a room that's large enough for four, preferably with some living space and/or a small kitchen, is really important. I spend way too long trying to find the right room!
I also massively prefer trying to lock in the exact room type I want (especially when travelling with kids), rather than dealing with an upgrade lottery – and I'll happily pay for that certainty too.
So I used the option of a Suite Upgrade award to confirm the room types we were after.
Using Suite Upgrade Awards to redeem points for Suites outright
There are two types of upgrade redemptions in Starwood Preferred Guest – room upgrades and suite upgrades. The difference is fairly evident between the two, one will get you a better room (up to, but not including a Suite) and the other will get you into a Suite.
Here are the price points for each type of reward:
| Category of Property | Room Upgrade points required | Suite Upgrade points required |
| --- | --- | --- |
| 1 | 1,000 - 1,500 | 3000 |
| 2 | 1,000 - 1,500 | 4000 |
| 3 | 1,000 - 1,500 | 7000 |
| 4 | 1,000 - 1,500 | 10000 |
| 5 | 1,500 - 2,750 | 12,000 - 16,000 |
| 6 | 1,500 - 2,750 | 20,000 - 25,000 |
| 7 | 1,500 - 2,750 | 30,000 - 35,000 |
For this example, the Westin Whistler is a category 5 hotel.
Note: From March 6, 2018 onwards, the Westin Resort & Spa Whistler will be upgraded to Category 6 which will also increase the redemption rate for a standard room to 20,000-25,000 per night.
Availability for eithber type of reward is not shown online. This is the key thing to remember – you're going to need to call and research availability directly with the Starwood Customer Service team (who are excellent, in my book).
I have also had great success emailing them too – try yourself at [email protected].
You can apply Suite Upgrade Awards on either paid or award stays, however upgrades on paid stays are only confirmed a maximum of 5 days in advance. Upgrades on award stays can be booked immediately.
I started by researching the out of pocket cost to get an understanding of the value I might receive by redeeming points.
These screenshots are not of the actual prices on offer for our booking, but give you a rough idea of the kind of pricing for this hotel.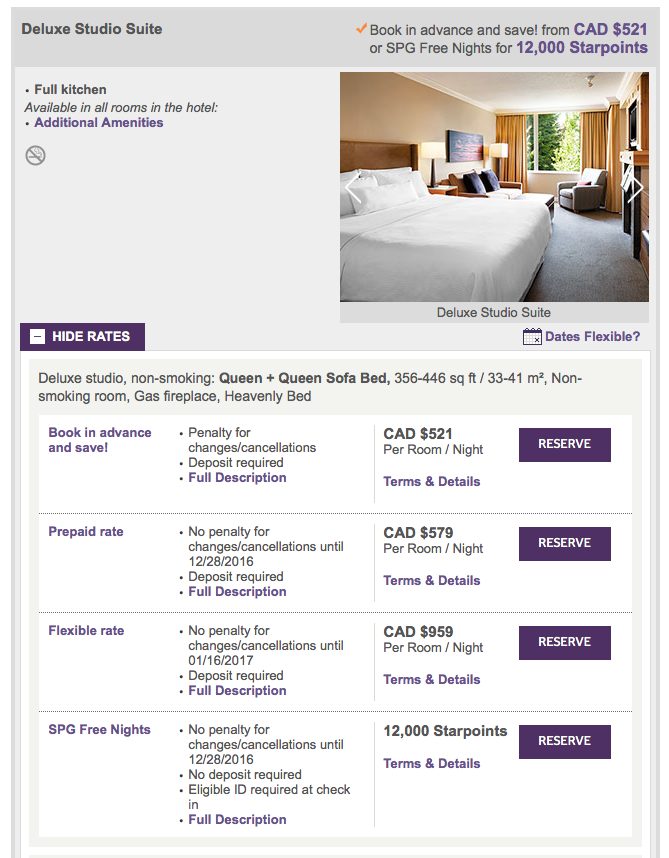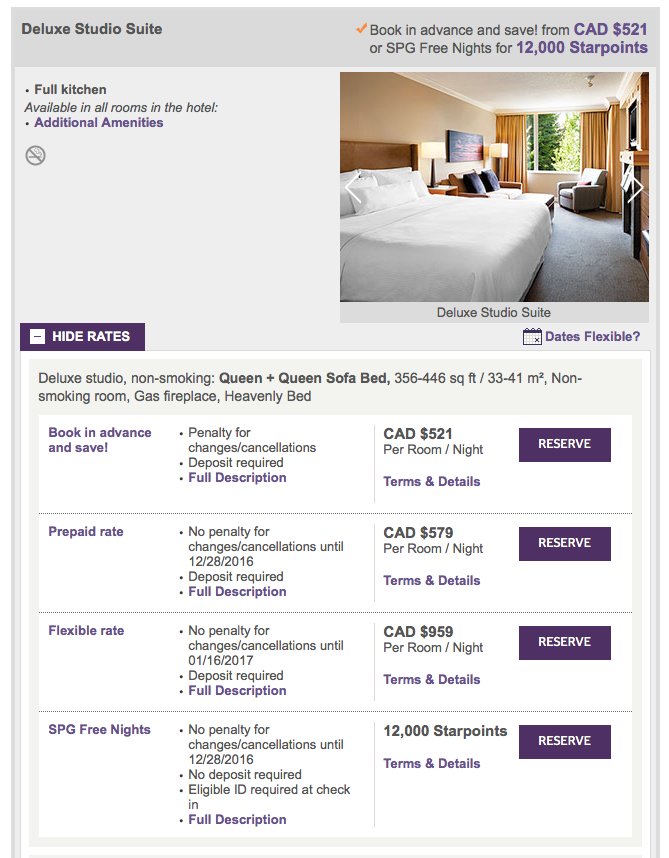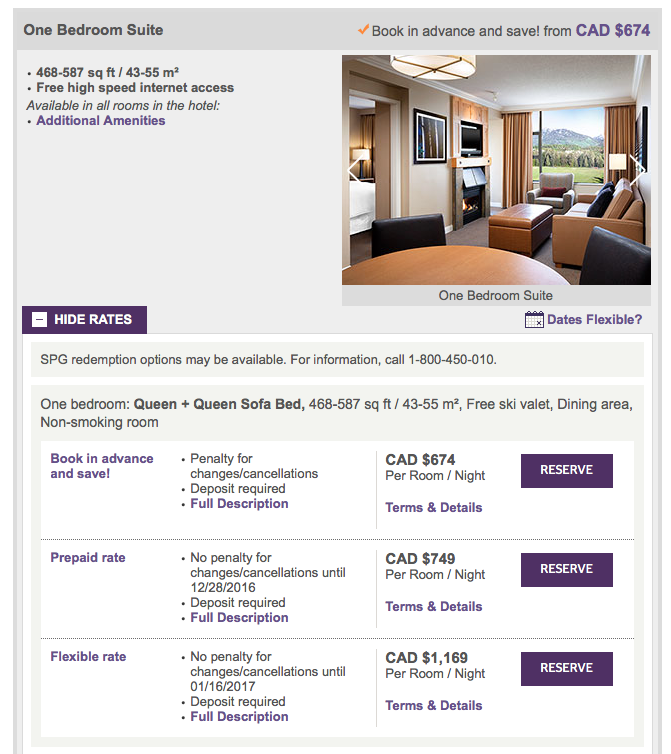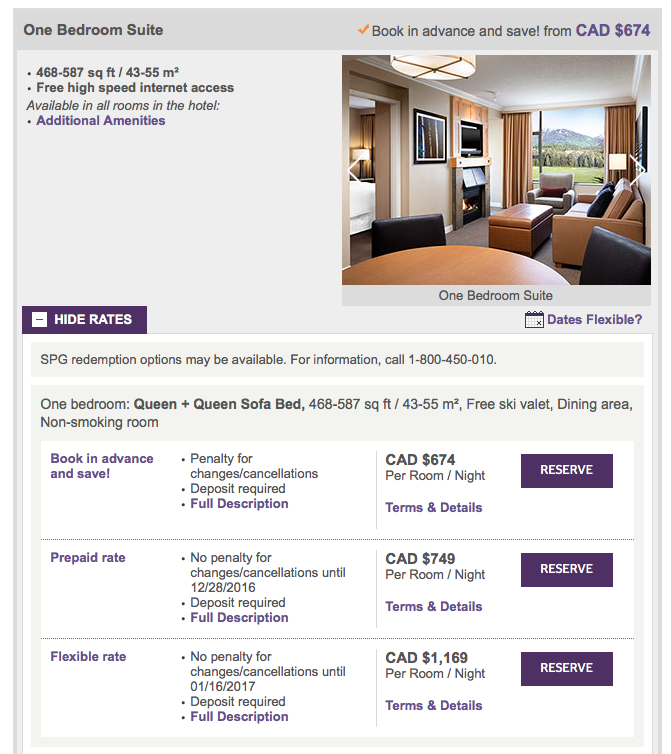 I was after a One Bedroom Suite, along with a standard twin room (the Deluxe Studio Suite). The standard room redemption was 12,000 Starpoints per night.
I then got in touch with the SPG team confirming that the suite upgrade option in this case was an additional 12,000 Starpoints per night.
So all up, the One Bedroom Suite came to 24,000 Starpoints per night, versus a comparison rate of around $850 / night for our stay.
I also leveraged Starwood's 5th night free redemption offer (which applies for any room type redemption) to bring that cost to 96,000 Starpoints per 5 night block, versus spending $4,250 for the same room.
This yielded a 4.42c per Starpoint redemption value, which is well above the price at which I value Starpoints, and at which they can be purchased when on sale usually around 3c.
For an additional standard room, I then used a combination of some paid nights (for when nightly rates were low enough to warrant spending cash) and 12,000 Starpoints per night (when rates were higher) too.
Alternative: Redeeming for Premium Room (not Suite) upgrades, and using these as no award availability busters
This tip is especially useful if the Starwood website is showing no availability for a standard room redemption, which might then have you think that no rooms are available for redemption at that hotel. That's often not the case.
Remember that chart above which states that room upgrades are available for as little as 1,000 extra points per night? Well, they aren't shown online, and if you give Starwood a call you might find yourself able to open up a room redemption for a few thousand extra points.
You'll be prompted to call as part of the booking flow if there are possibly premium rooms available:


Again these premium room redemptions are confirmable immediately if you are paying for the room entirely using points, but not if you are trying to upgrade a paid stay.
And on the plus side, you'll also find yourself in a better room!
Alternative: Try using the SPG50 rate
Another option for using points to get yourself into a larger room at lower cost is to enquire about "SPG50".
This award will give you 50% off the rack rate for up to 5 nights, which is the non-sale, flexible rate, of any room type at most Starwood Hotels. The best part? This discount will only cost you 1,000 Starpoints, total.
This only gives value in specific circumstances – where the hotel is not selling discounted flexible rates at all, and you can pull out SPG50 as a trump card to help bring the paid cost down.
Given that SPG50 can be used on any room type, this can help to discount the cost of a suite dramatically, but only under those specific circumstances. If there is a promotional rate on a room without SPG50 you'll often find the room ends up being more expensive when using SPG50 than without.
Summing up – picking up room upgrades when using Starpoints
Starwood's room upgrade options are not the easiest to understand, and it's often hard to find value from using points for upgrades.
That said, there are some circumstances where it can make a lot of sense to use points for a room upgrade – it depends on how much you want that room type.
In my case at the Westin Whistler it was non-negotiable to have this combination of rooms to have enough room for us (and guests we had stay with us) during our stay, so it was worth spending the extra points.
How to get suite and premium room redemptions with Starwood Preferred Guest
was last modified:
August 26th, 2018
by